A great pair of hiking pants offers comfort, freedom of movement, the versatility to perform well in a range of environments, and durability over the long haul. In terms of materials, many of today's top pants are made from lightweight nylon for breathability and protection from wet and windy weather, and increasingly come with features like zip-off legs and articulated knees. Depending on the season in which you will be hitting the trails, thickness and breathability matter as well. Below are the best hiking pants of 2020. For more information, see our comparison table and buying advice below the picks. For an alternative, we also cover hiking tights and leggings below.
 
Best Overall Hiking Pant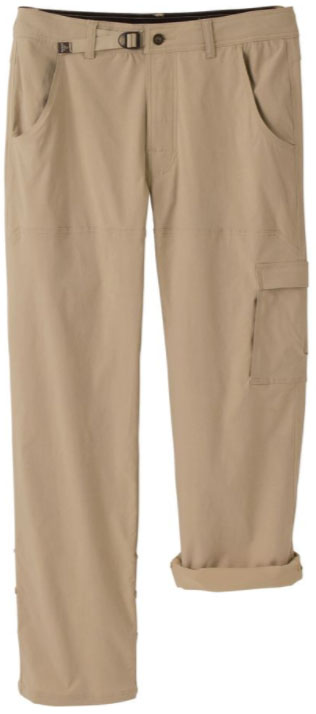 Materials: 97% nylon, 3% spandex
Weight: 13.6 oz.
Belt included: Yes
What we like: Extremely comfortable and versatile.
What we don't: Breathability can be an issue in hot weather.
We've tested a wide range of hiking pants over the years, and you'd be hard-pressed to find a better combination of comfort and performance than with prAna's Stretch Zion. Doubling as a great climbing pant, you get nice range of motion thanks to the stretchy fabric, and we really like the semi-slim cut that moves with you. In terms of features, the Stretch Zion has a zippered cargo pocket, which is helpful for storage, snaps for rolling up the legs, and a low-profile waistband adjuster to the right of the top button. All told, the Stretch Zion is just about the whole package in a hiking pant and look good around town too (much better than most other hiking-ready models). 
Our only real gripe with the prAna Stretch Zion comes when wearing them in hot weather. The nylon build has a DWR treatment and is a bit more substantial than some other pants on this list, almost resembling a lightweight softshell. This added thickness does make them run a little warmer during summer hiking and backpacking. On the flipside, the shell fabric is durable and can handle a range of weather conditions—we've even worn them snowshoeing. For a thinner-feeling and more breathable pant, albeit with less causal appeal, see the Outdoor Research Ferrosi below. 
See the Men's prAna Stretch Zion  See the Women's prAna Halle
A Close Second (With Better Breathability)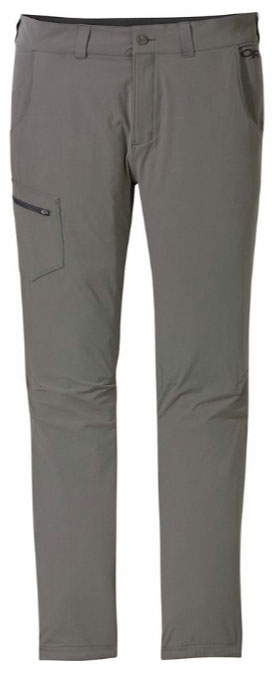 Materials: 86% nylon, 14% spandex
Weight: 12.5 oz.
Belt included: No
What we like: More breathable than the Stretch Zion above.
What we don't: Does not come with a built-in belt; less casual appeal than the Stretch Zion. 
Seattle-based Outdoor Research knows a thing or two about tough conditions, so it's no surprise that the Ferrosi is one of our go-to hiking pants. Despite a lightweight feel, the Ferrosi's nylon shell is both comfortable and stretchy. In addition, the fabric is excellent for temperature regulation: it's tough enough to cut the wind and shed a light rain but breathes when the thermometer starts to climb. It's worth noting that the Ferrosi got a light update recently, including a horizontal zipper on the thigh pocket (it used to be vertical) and no zippers on the rear pockets, but the formula largely remains the same.
From our experience, the Outdoor Research Ferrosi and prAna Stretch Zion above are two of the top hiking pants for 3-season conditions. If you plan on using these pants exclusively on the trail, we give the nod to the OR and the improved breathability. If you want a pant that wears well around town and for travel, the prAna is the better option and has more casual appeal. Additionally, the Ferrosi is a bit more simplistic—we'd like to see an included belt or waist adjuster like the Stretch Zion, and the OR's pockets are on the small side. But for hitting the backcountry, the Ferrosi is one of our all-time favorite designs.
See the Men's Outdoor Research Ferrosi  See the Women's Outdoor Research Ferrosi
Best Budget Hiking Pant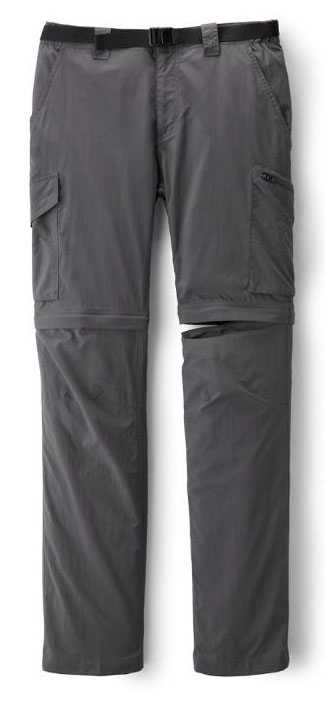 Materials: 100% nylon, polyester mesh panels
Weight: 12.6 oz.
​Belt included: Yes
What we like: A great value and pockets galore.
What we don't: Cut is a bit baggy and the materials won't last forever.
For casual hiking and even summer backpacking, the Columbia Silver Ridge are a great value in a hiking pant. Offered at reasonable $60 and often available for considerably less on Amazon, these pants perform well with breathable and quick-drying fabrics (this also makes them popular among travelers). They are convertible, meaning the legs zip off and the pants easily become shorts. And with two deep and very accessible cargo pockets and a zippered security pocket, you won't be lacking in storage. All in all, we've been pleasantly surprised with the performance and comfort of these pants.
What are the shortcomings of the Columbia Silver Ridge? Despite being reasonably well-built for the price, the materials feel relatively thin and don't provide as much weather protection as some of the pricier options on this list. In addition, the zippers certainly aren't the smoothest we tested and getting the legs back on takes some finesse. Finally, the cut is baggy for our taste, and for long days on the trail we prefer a more tapered design. But it's hard to argue with the price or vast color and size options, which is why we've included the Silver Ridge here. And for those who don't need or want the zip-off capabilities, the pant also is offered in the Silver Ridge Cargo.
See the Men's Columbia Silver Ridge  See the Women's Columbia Silver Ridge
Best High-End Hiking Pant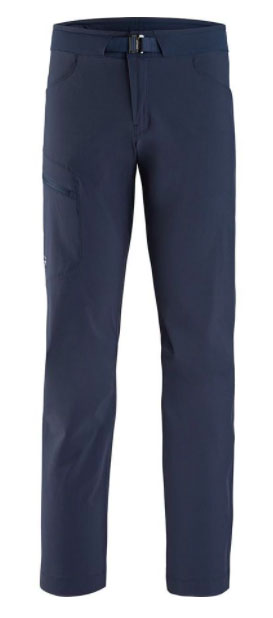 Materials: 86% nylon, 14% elastane
Weight: 9.7 oz.
​Belt included: Yes
What we like: Premium build and breathability.
What we don't: Pricey for a lightweight hiking pant.
Many trekking pants from technical brands like Arc'teryx are heavy and almost shell-like in feel. That's why we were so excited when the Lefroy was released, which is one of the company's lightest pants at less than 10 ounces and built specifically for warm conditions. The Lefory breathes extremely well with AirPerm fabric, has a good amount of stretch, and has our favorite fit on this list that isn't too baggy or too tight. You can use this pant for hiking and backpacking and it also makes a good option for travel.
If you're planning on a full slate of summer hiking or want a pant that will last for years, the Arc'teryx build quality is worth the extra cost. The company always seems to pay attention to the small details and the Lefroy is no exception. However, these pants are considerably more expensive than other lightweight options like the OR Ferrosi and budget Columbia Silver Ridge. The Ferrosi in particular is a very viable competitor with similar stretch and breathability—although it doesn't have a belt like the Lefroy—and the Silver Ridge will cost you half as much or even less.
See the Men's Arc'teryx Lefroy
 

Best Softshell Pant for Alpine Use
Materials: 88% nylon, 12% elastane
Weight: 12.3 oz.
​Belt included: Yes
What we like: Tough, mountain-ready build with great stretchiness.
What we don't: Expensive.
Arc'teryx's Lefroy pants above are a great match for summer heat, but on a trek through Peru's Cordillera Huayhuash, we turned to the more serious Gamma LT. What sets this softshell pant apart is its fantastic stretchiness, durability, and weight. We wore it all day in the alpine for nine days while hiking, setting up camp, filtering water, cooking, and lounging, and it came home looking like new. Moreover, the Gamma LT's high-quality softshell fabric was stretchy enough to layer comfortably over thermal pants in the cold evenings and retained its shape through it all.
At $189, the Gamma LT is far and away the most expensive pant on our list. For most 3-season backpacking trips, you can spend significantly less and be just as pleased with the performance. We also found that the metal fastener on the integrated belt can cause some discomfort underneath the hipbelt of a pack, although this likely won't be a problem for everyone. All in all, the Gamma LT isn't an all-around pant like our top picks, but for alpine adventures when you need a step up in toughness and weather protection without adding much weight, it's a terrific option.
See the Men's Arc'teryx Gamma LT  See the Women's Arc'teryx Gamma LT
Best of the Rest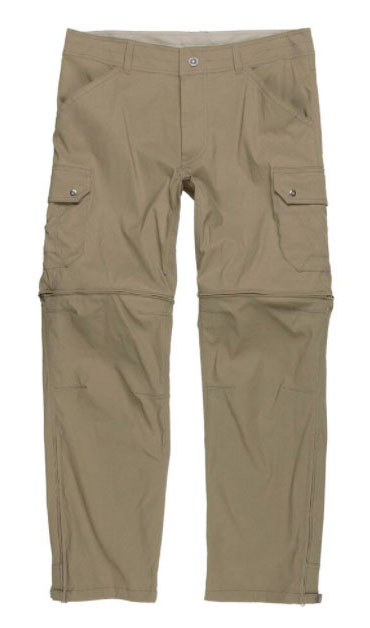 Materials: 95% nylon, 5% spandex
Weight: 1 lb. 1 oz.
​Belt included: No
What we like: A versatile pant with ample storage.
What we don't: Baggy fit and a bit heavy.
Kuhl clothing has a distinctive look often with contrasting stitching, but it's the durable fabric that won the Renegade Convertibles a spot on this list. The thoughtful mix of materials and solid construction makes the Renegade impressively tough, and the generous amount of stretch is a nice upgrade from another Kuhl hiking pant we've tested, the Liberator Convertible. The fit of the Renegades is a little baggy for our tastes, but those that like a relaxed cut should find them perfectly suitable.
As with the Liberator, the Renegade's convertible design is among the best. We particularly like its low-profile styling that does a decent job of disguising the zippers. If you're the type that likes to carry a number of gadgets in your pockets or will be using the pants for travel, the Renegade offers a ton of storage options. In addition to the standard two front and rear pockets, you get cargo pockets at both sides that have another set of "compartment pockets" inside for stowing valuables. This may be overkill for those prefer to hike without being weighed down, but we appreciate the unobtrusive design nonetheless.
See the Men's Kuhl Renegade Convertible
Materials: 94% nylon, 6% spandex
Weight: 10 oz.
​Belt included: No
What we like: Stretchy and a great fit.
What we don't: Drawcord adjustment isn't as good as a belt.
Billed as a lightweight hiking and travel pant, the Patagonia Quandary balances performance and casual needs. And we've found it checks all the important boxes: clean styling, articulated knees, gusseted crotch, and a tough but light fabric with a DWR coating. Further, the fabric is bluesign-approved, which means the pants are sourced from and made with sustainable materials. 
In many ways, the Quandary is a lighter and simpler alternative to the ever-popular prAna Stretch Zion above. Both offer good stretch and an athletic fit that pleases hikers and urban explorers alike, but we prefer the belt adjustment on the prAna's to the Quandary's internal drawcords. And although the Patagonia's 3-ounce weight savings and streamlined design may appeal to warm-weather backpackers, we still favor the more versatile and tougher Stretch Zion for most uses.
See the Men's Patagonia Quandary  See the Women's Patagonia Quandary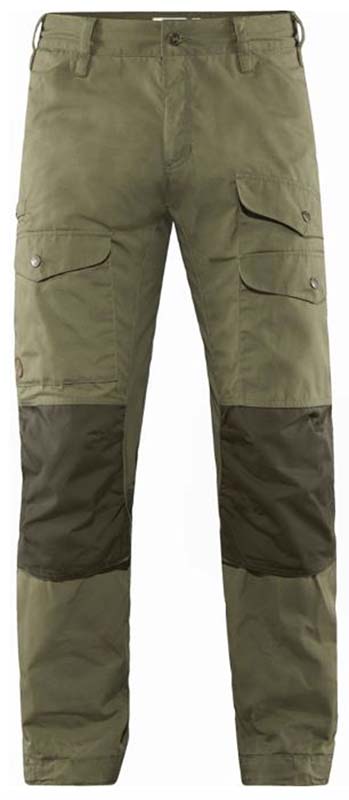 Materials: 65% polyester, 35% cotton
Weight: 1 lb. 3.7 oz.
Belt included: No
What we like: Tough, durable, and now more breathable.
What we don't: Thick and not ideal for covering long distances. 
It's rare in 2020 to see hiking pants with cotton—or any outdoor gear for that matter—but the Vidda Pro from Swedish company Fjallraven is a different breed. This pant is made from Fjallraven's tough G-1000 material that is 35 percent cotton, which is heavier than most other options on this list, and we all know that it doesn't exactly shine in terms of water resistance (for waterproofing, Fjallraven recommends applying their environmentally friendly beeswax for added protection). On the flipside, the thickness of the G-1000 fabric allows you to move through brush and slide over rocks without worrying about tears. Simply put, the toughness and durability can't be beat. 
It's worth noting that we've included the new Vidda Pro Ventilated version here. Released last year, this design takes the original and adds side zips between the thigh and knee for dumping heat along with stretch fabric on the insides of the legs for better mobility. Both are positive changes in our opinion and make the pant more versatile. We still don't love the Vidda Pro Ventilated for hikers and backpackers covering a lot of ground, but for off-trail jaunts (think fishing and hunting) or extra warmth and protection around camp, it's an interesting option. 
See the Men's Fjallraven Vidda Pro Ventilated  See the Women's Vidda Pro Ventilated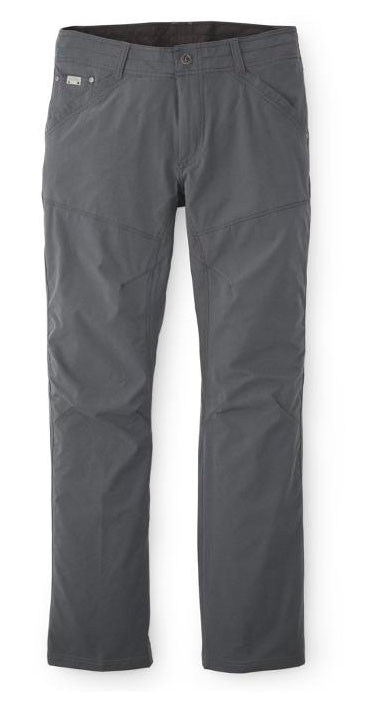 Materials: 100% polyester
Weight: 14.4 oz.
Belt included: No
What we like: Great crossover design for hiking and daily use.
What we don't: None of the pockets have closures; does not come in a women's version.
Kuhl makes a dizzying array of hiking pant models, and there are more quality options aside from the popular Renegade Convertible above. For something a little different, the sleek Silencr hits the sweet spot between performance and casual wear. The softshell material is tough, comfortable, and resists the elements well including a DWR finish. But the design of this pant is so streamlined and clean that it's easy to wear around town. It's true that the Silencr isn't as mountain-ready as other softshell models like the Arc'teryx Gamma LT or Outdoor Research Cirque II below, but we love the crossover appeal.
Our biggest gripe with the Kuhl Silencr pant is that none of the pockets have closures or even clips. With two large cell phone pockets along with four standard pockets on the front and back, the storage options are plentiful, but none allow you to securely stow your electronics or wallet. This isn't a deal-breaker for us, however, and the Silencr still has a lot going for it in terms of versatility. For a hiking pant that can be worn every day, it's a nice option.
See the Men's Kuhl Silencr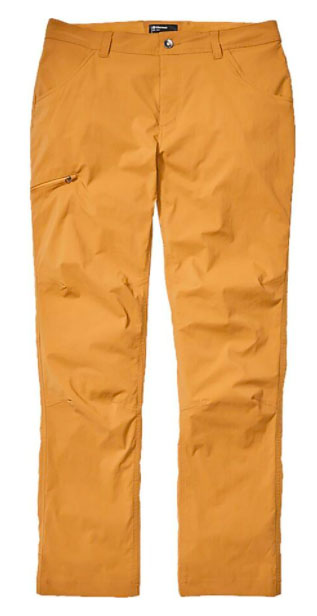 Materials: 94% nylon, 6% elastane
Weight: 10.1 oz.
​Belt included: No
What we like: Lightweight and a good price.
What we don't: Not that stretchy and small leg openings don't fit well over boots.
For hiking in hot weather, the Marmot Arch Rock offers impressive temperature regulation at a decent price. For $5 to $10 less than the competition, the Marmots have a full suite of features like articulated knees, a gusseted crotch, and a hand-sized zippered closure along the right pant leg. They also are among the lightest hiking pants on our list at just over 10 ounces, but managed to hold up well while hiking and scrambling in Utah's canyon country. In temperatures topping 80 degrees Fahrenheit, they kept us nearly as comfortable as the premium Arc'teryx Lefroys above.
Despite good performance in hot weather at a value price, we have the Arch Rock toward the bottom of our list because they just aren't as versatile as the competition. The pants are too thin for true 3-season use, significantly less stretchy than the OR Ferrosi, and can't match our top picks in build quality. Additionally, they have a surprisingly small opening at the bottom of the leg, which is difficult to fit over standard hiking boots like our Salomon Quest 4D 3s. The lack of stretch in that area is a notable oversight and limits the Arch Rock's optimal compatibility to low-top hiking shoes.
See the Men's Marmot Arch Rock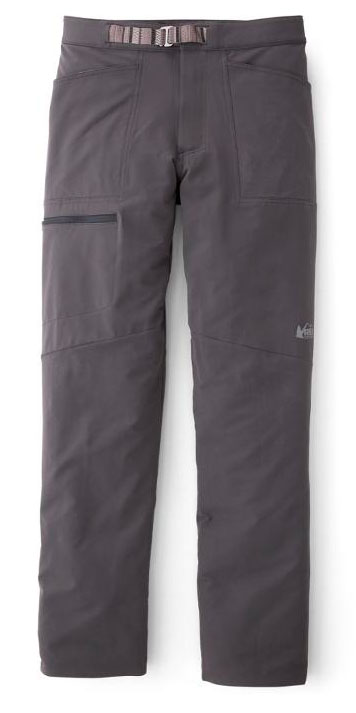 Materials: 63% nylon, 26% polyester, 11% spandex
Weight: 14.6 oz.
Belt included: Yes
What we like: Incredibly versatile and super comfortable.
What we don't: Not ideal for hot conditions.
Most hikers head straight for a lightweight nylon pant, which is the makeup of many of our choices above, but we can tell you first-hand that a burlier softshell is underrated. Here's the story: the REI Activator V2 feels thicker than a true summer pant and weighs a bit more than popular models like the OR Ferrosi or Columbia Silver Ridge, but you get more for it. The softshell fabric is noticeably burlier yet still supremely comfortable, and we wear this pant start to finish on long trail days. It's tough and helps block out those sharp branches you walk by, handles camp with ease (both in sitting on rough ground and providing a boost in warmth), is water- and wind-resistant, and hikes as well as any pant on this list.
The biggest concern with a softshell pant like the REI Activator V2 is that it will run warm. In practice, we've taken it on hikes up to 70 degrees Fahrenheit and have not experienced any overheating, which is a pleasant surprise. We wouldn't bring the Activator on a true summer or desert hike in hot conditions, but it's a nice 3-season pant that can take you all the way down to near freezing. All in all, we can't help but love the versatility and performance boost of the Activator, which has made it one of our go-to trekking pants. 
See the Men's REI Activator V2  See the Women's REI Activator V2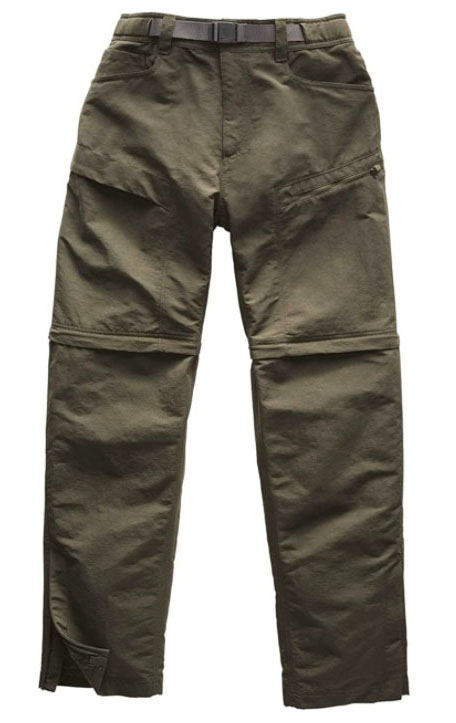 Materials: 100% nylon
Weight: 15 oz.
​Belt included: Yes
What we like: Durable and includes a belt.
What we don't: Baggy fit and lower-quality materials.
Year after year, one of the best-selling hiking pants is The North Face Paramount Trail Convertible. With an all-nylon shell with a DWR coating, zip-off legs, and an included belt for adjusting the fit, these pants do the job for most hikers who don't need a serious performance piece. It doesn't hurt to have The North Face name behind them, and the Paramount Trail does come in about $30 cheaper than the Kuhl Renegade Convertible above.
However, in testing the Paramount Trail, we were struck by the fact that these pants fall short in just about every measurable category. Our biggest complaints center on fit. We prefer a more tailored, athletic cut for hiking—and understand the appeal of a relaxed fit—but the Paramount Trail is so baggy that it almost feels like wearing a ski pant. Moreover, the excess fabric makes a noticeable swishing sound at each step that quickly becomes an annoyance. Finally, the all-nylon construction doesn't stretch and generally feels cheaper than a $70 pant should. If you prefer a generous fit or have an allegiance to The North Face, give the Paramount Trail a look. Otherwise, we prefer the options above.
See the Men's TNF Paramount Trail  See the Women's TNF Paramount Peak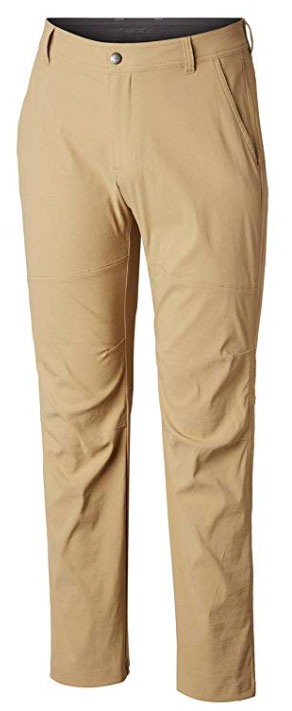 Materials: 96% nylon, 4% elastane
Weight: 13.1 oz.
​Belt included: No
What we like: Great price for a softshell hiking pant
What we don't: Can be too hot for summer use.
A surprise inclusion on this list, the Columbia Royce Peak II offers great cool and even cold-weather performance at a very good price. This budget softshell won us over with its excellent fit and stretch. They shed water and rain well, and were our favorite pants for winter activities when you don't necessarily need a seam-sealed waterproof option, like snowshoeing. A gusseted crotch and articulated knees that deliver excellent range of motion and comfort are notable features at this price point. A nice, low-profile mesh pocket along the outer hem is both great for storage and can be unzipped to release hot air while hiking.
One feature missing on the Royce Peak II, and particularly for this style of pant, is a drawcord cinch along the bottom of the legs to better seal out the elements. In addition, at this price point, the fit and build quality can't quite match some of the higher-end pants on this list. But outside of these complaints, the Royce Peak works well for 3-season (non-summer) outdoor use and is a good value. 
See the Men's Columbia Royce Peak II  See the Women's Columbia Saturday Trail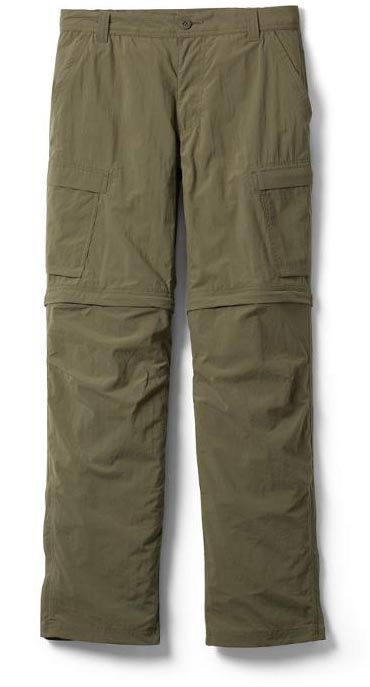 Materials: 100% nylon
Belt included: No
What we like: A reasonably priced convertible pant.
What we don't: Strange fit and no integrated belt.
REI Co-op has an interesting history with hiking pants and the lineup frequently changes. We really liked the Screeline in year's past, but that model has been discontinued (at least for the time being). And the Activator V2 above is a very solid softshell option, but it's not a traditional hiking pant for warm spring and summer conditions. The Co-op's biggest seller is the Sahara, which is an attractively priced convertible pant at $70 but has its fair share of shortcomings, which is why it's included so far down this list. 
What are our concerns with the latest Sahara Convertible? Past versions were on the normal to baggy end of the spectrum, but REI went in the other direction here with a fit that is too slim for some people. Further, the pant no longer includes an integrated belt, which is a feature that we really appreciate. Last but not least, the unzipping process of these convertible pants has become more arduous and now requires you to sit down and remove your shoes (or squeeze them over top). Taken together, the Sahara certainly aren't the worst hiking pants out there, but we prefer the convertible options from Columbia and Kuhl above. 
See the Men's REI Sahara Convertible  See the Women's REI Sahara Convertible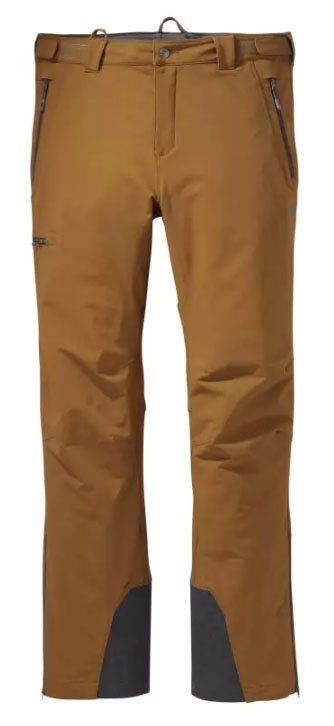 Materials: 50% nylon, 43% polyester, 7% spandex
Weight: 1 lb. 5.8 oz.
​Belt included: No
What we like: Super tough and water-resistant. 
What we don't: Heavy and overkill for most conditions.
Without intending to open a new can of worms, certain types of cold-weather hiking and bushwhacking beckons a more serious pant than the options above. For this reason, we've added a technical softshell to this list: the Cirque II from Outdoor Research. This pant offers an impressive mix of protection from the elements and mobility: it's water-resistant, breathable, and tough enough for off-trail adventuring that might tear some of the lighter weight pants to shreds (the face fabric of the Cirque II is a burly 90D). For hiking, the double-weave stretch fabric allows for much better range of movement and breathability than you get with a rain pant or hardshell.
Keep in mind that the Cirque II is a specialty pant. It's listed as being ideal for "high-energy alpine climbing, mountaineering, and ice climbing," so it's clearly built with alpine conditions in mind. The pant is water-resistant but not waterproof, meaning that it will eventually soak through in sustained downpour. And at over 1 pound 5 ounces ounces, it weighs roughly double most lightweight hiking pants on this list. But for fall, winter, and spring hiking in nasty or off-trail conditions, the Cirque can be your bomber hiking pant. It doubles well for snowshoeing and spring skiing.
See the Men's Outdoor Research Cirque II  See the Women's Outdoor Research Cirque II
Hiking Tights/Leggings

Materials: 87% polyester, 13% spandex
Weight: 10.8 oz.
What we like: Just-right fit, features, and performance.
What we don't: More expensive than trail-running models.
Many tights you see on the trail are simply repurposed yoga or running models, but the Patagonia Pack Out is a hiking design through and through. First off, the tights work well with a backpack: the strategically placed pockets and smooth waistband aren't prone to bunching even when you tighten the hipbelt. Further, Patagonia's polyester/spandex blend hits a fantastic balance of comfort and durability. It's stretchy and soft along the interior but won't get torn up while sitting on rocks or squeezing between branches. And the clincher for many is the Pack Out's functional organization: the two drop-in pockets are sized right to fit a phone and other small items, and you can keep things secure with the one zippered thigh pocket.
At $89 and with a moderately thick construction, the Pack Out is pricier and a little warmer than a standard pair of yoga or trail-running tights. It also doesn't have the lounge-worthy, lightweight feel of those models, but it's not far off and more versatile overall. And in wintertime, the Pack Out can pull double-duty as an insulating layer for snowshoeing or even skiing. This multi-sport appeal justifies the steep price tag for us and lands the Pack Out at the top of our list.
See the Patagonia Pack Out Tights
Materials: 71% nylon, 29% elastane
Weight: 5.5 oz.
What we like: Excellent build quality and performance. 
What we don't: Not quite as soft as a yoga pant.
For serious hikers in the market for leggings, Arc'teryx's Oriel can pretty much do it all. The well-rounded design excels at anything from hiking and rock climbing to casual wear around town. We love the breathability, which helps you stay comfortable in a range of temperatures. And it's hard to knock the build quality or styling: the nylon and elastane blend is stretchy and soft, the legging has minimal seams, and it should last as long as any pair of tights on this list.
A nice bonus with the Oriel is storage: you get two low-profile cargo pockets (one on the side of each thigh) that fit items like a wallet or phone. We've known hikers who actually sew their own phone pockets on the outside of their hiking tights, so this is a super handy feature for navigation, safety, and taking pictures while on the trail. Moreover, the pockets are designed to be compatible with a harness, which is a nice touch for climbers. For similar quality but more warmth, try the Gore Infinium-equipped Arc'teryx Trino SL Tight. 
See the Arc'teryx Oriel Leggings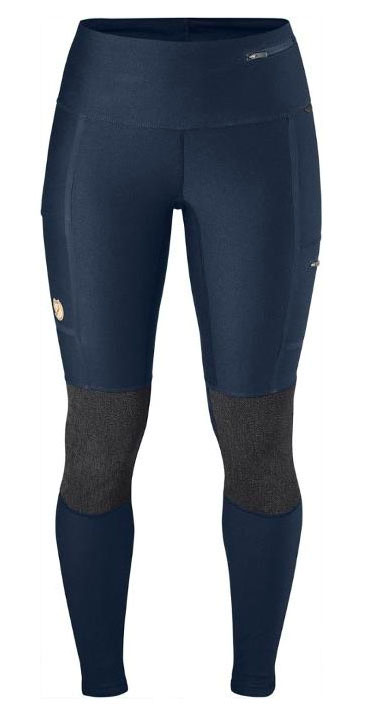 Materials: 82% polyamide, 18% elastane
Weight: 9 oz.
What we like: The ultimate performance tight.
What we don't: Pricey and a bit thick for hot weather.
The two models above are quality outdoor tights, but Fjallraven takes the performance concept to the next level with the Abisko. At a whopping $175, these trekking tights are not for the faint of heart, but as we've come to realize over the years with Fjallraven, they do offer some unique value in the market. In terms of the design, you get great freedom of movement with a stretchy body material, along with panels of tougher reinforced fabric on the knees and rear. The result are tights that truly are ready for the mountains and should stand up to a healthy amount of wear of tear.
Keep in mind that the Abisko Trekking Tights are overkill for many uses and too expensive for many people. The reinforced panels are nice and we like the storage (one large pocket on the right leg, a smaller zippered pocket on the left, and a zippered pocket at the hip), but you'll really need to get out a lot to make the added investment worth it. Further, the polyamide material is a bit denser than standard polyester and not as good in hot conditions. That said, the quality and performance characteristics of the Abisko are undeniable and we like the sleek Scandinavian styling.
See the Fjallraven Abisko Trekking Tights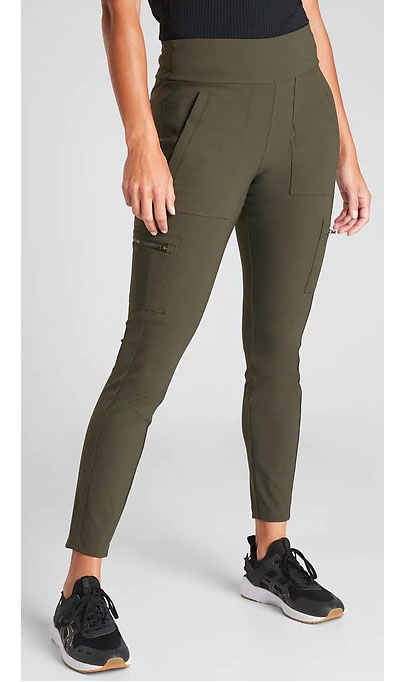 Materials: Nylon/spandex blend
Weight: Unavailable
What we like: A hiking-specific model from one of the best in the business.
What we don't: Expensive and not everyone needs so many pockets.
Gap-owned Athleta is a yoga pant giant, but they've expanded into the hiking world with the Headlands Hybrid Cargo. This tight is one of the priciest on our list, but it's also the best-equipped. There are a total of six zippered pockets, and the nylon/spandex fabric is a top performer in terms of balancing toughness and breathability. It's worth noting that the Headlands is best considered a hybrid pant/tight as it has a burlier feel and slightly looser fit than a standard legging, although that doesn't diminish from its comfort or performance.
What drops the Athleta Headlands Hybrid down our rankings is value. At over $100, it's pricey even among hiking tights and doesn't have enough to show for it. The fabric is durable and has a nice feel, but the sheer number of zippered pockets will be overkill for most. That said, if you want a hiking-specific model that's built to last and will value the added organization, the Headlands Hybrid might be worth the investment.
See the Athleta Headlands Hybrid Cargo Tight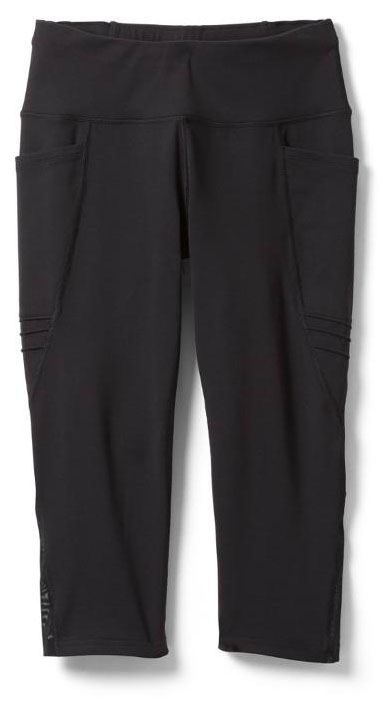 Materials: 90% nylon, 10% spandex
Weight: Unavailable
What we like: A nice option for those who like compression; good styling.
What we don't: Not as hiking-centric as other options on this list.
Seattle-based Oiselle has been making big strides in the running world of late, and we like their Triple Threat for hiking too. The key feature is compression: the brand's proprietary Nyelle nylon/spandex fabric provides extra support, which runners and other athletes claim helps with injury prevention and recovery (you've likely seen the compression sock fad among runners and compression sleeve fad among basketball players). And the lower material along the back of the Triple Threat is less supportive but more breathable to help keep you cool.
All in all, we like the compression concept used here, and particularly if you plan on using the tights both for hiking and running. In addition, Oiselle has good styling overall—the Triple Threat certainly looks sleeker than the hiking-centric Fjallraven above. Keep in mind that the Triple Threat has a mid-calf cut and therefore leaves the lower leg and ankle exposed, which is fine for those staying on trail but means less ankle protection if you're moving through brush or branches (there is a full-length version for $18 more). Further, the pockets along the waistband can interfere with the hipbelt of a loaded pack (but the side pockets won't have this issue).
See the Oiselle Triple Threat Capri Tights
Hiking Pant Comparison Table
| Pant | Price | Materials | Weight | Convertible | Belt |
| --- | --- | --- | --- | --- | --- |
| prAna Stretch Zion | $89 | 97% nylon, 3% spandex | 13.6 oz. | No (available) | Yes |
| Outdoor Research Ferrosi | $80 | 86% nylon, 14% spandex | 12.5 oz. | No (available) | No |
| Columbia Silver Ridge | $60 | 100% nylon | 12.6 oz. | Yes | Yes |
| Arc'teryx Lefroy | $119 | 86% nylon, 14% elastane | 9.7 oz. | No | Yes |
| Arc'teryx Gamma LT | $189 | 88% nylon, 12% elastane | 12.3 oz. | No | Yes |
| Kuhl Renegade Convertible | $99 | 95% nylon, 5% spandex | 1 lb. 1 oz. | Yes | No |
| Patagonia Quandary | $79 | 94% nylon, 6% spandex | 10 oz. | No | No |
| Fjallraven Vidda Pro | $165 | 65% polyester, 35% cotton | 1 lb. 3.7 oz. | No | No |
| Kuhl Silencr | $85 | 100% polyester | 14.4 oz. | No (avaialble) | No |
| Marmot Arch Rock | $75 | 94% nylon, 6% elastane | 10.1 oz. | No | No |
| REI Co-op Activator V2 | $100 | 63% nylon, 26% polyester, 11% spandex | 14.6 oz. | No | Yes |
| The North Face Paramount | $70 | 100% nylon | 15 oz. | Yes | Yes |
| Columbia Royce Peak II | $60 | 96% nylon, 4% elastane | 13.1 oz. | No | No |
| REI Co-op Sahara Convertible | $70 | 100% nylon | Unavail. | Yes | No |
| Outdoor Research Cirque II | $150 | 50% nylon, 43% polyester, 7% spandex | 1 lb. 5.8 oz. | No | No |

Hiking Tight/Legging Comparison Table
| Tight | Price | Materials | Weight | Pockets | Length |
| --- | --- | --- | --- | --- | --- |
| Patagonia Pack Out | $89 | 87% polyester, 13% spandex | 10.8 oz. | Drop-in (2), thigh (1) | Full |
| Arc'teryx Oriel Legging | $89 | 71% nylon, 29% elastane | 5.5 oz. | Thigh (2) | Ankle |
| Fjallraven Abisko Tights | $175 | 82% polyamide, 18% elastane | 9 oz. | Thigh (2), waist (1) | Full |
| Athleta Headlands Hybrid | $108 | Nylon, spandex | Unavail. | Thigh (2), hand (2), back (2) | Full |
| Oiselle Triple Threat Capri | $78 | 90% nylon, 10% spandex | Unavail. | Thigh (2), waist (3) | 3/4 |
Hiking Pant Buying Advice

Hiking Pant Materials
Hiking pants typically are made of a nylon blend, and most of the options here have at least a small amount of built-in stretch via elastane (spandex). A higher percentage of elastane will result in a stretchier feel, which can be especially nice for those who tend to size their pants on the tight side. The added give in the material also can be a real boon on the trail, and even more so when it comes to setting up a tent and moving around camp. The Outdoor Research Ferrosi and Arc'teryx Lefroy are two of the stretchiest hiking pants available (86 percent nylon and 14 percent spandex), while the Fjallraven Vidda Pro Ventilated are all polyester and cotton and have no give. 
In addition to nylon hiking pants, there are a few softshell pants on this list such as the Arc'teryx Gamma LT, REI Co-op Activator V2, and Outdoor Research Cirque II. These essentially are tougher and more weather-resistant pants that are ideal for alpine conditions, cooler weather, precipitation, and bushwhacking. For truly wet weather, however, it might be worth opting for a fully waterproof model like the Marmot PreCip Eco, which is a rain pant that will keep you dry but lacks breathability for extended treks.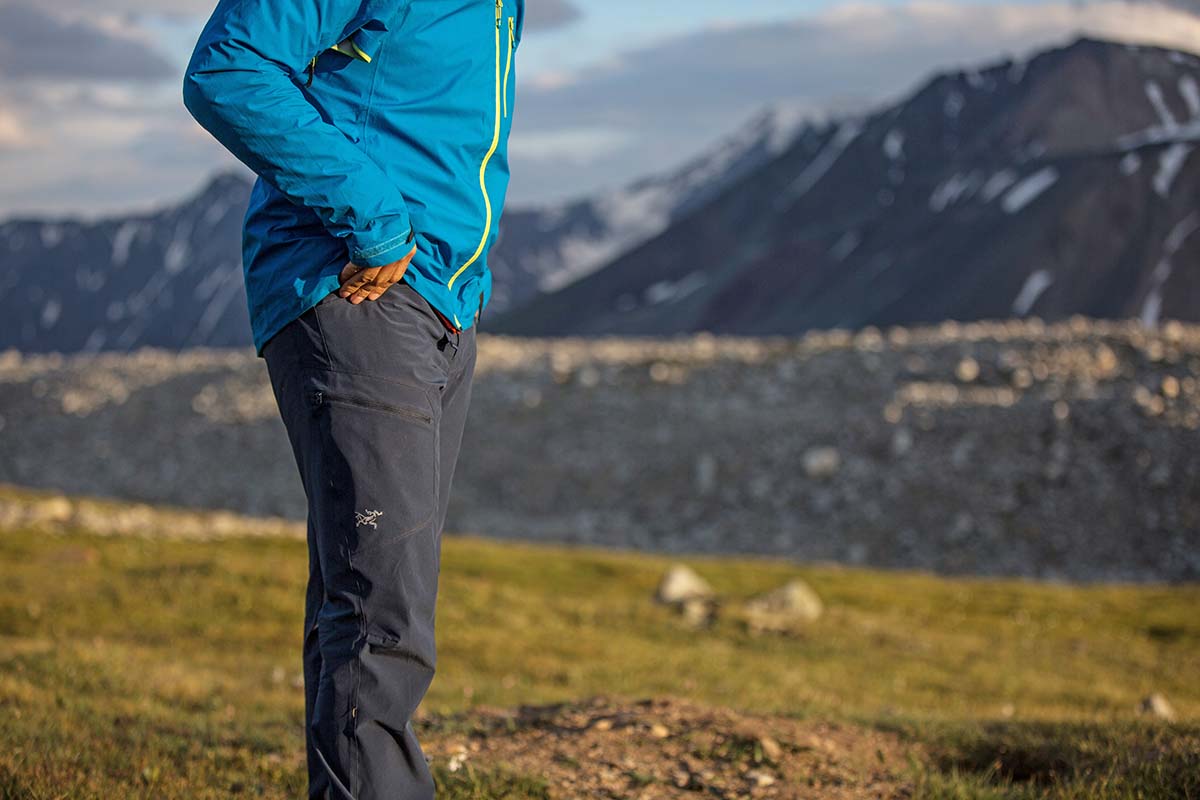 Weight
Unlike other types of outdoor gear, for most hikers the exact weight of their pants isn't a top consideration (after all, you're not usually carrying them on your back). We've worn pairs ranging from 8 to 17 ounces on everything from day hikes to multi-day treks, and only the 1-pound-1-ounce Kuhl Renegade Convertible felt a little heavy on the trail. And if you're like us, you bring a single pair of pants and clean it along the way. However, if you will be carrying pants in your backpack, lightweight and packable designs like the Outdoor Research Ferrosi (12.5 ounces) and Arc'teryx Lefroy (9.7 ounces) are great options. On the other end of the spectrum, for high-alpine adventures when you need added weather protection and durability, taking on extra weight for a pant like the 1-pound-5.8-ounce Outdoor Research Cirque II may be worth it. To help highlight differences in weight, we've included the numbers in both our product specs and comparison table.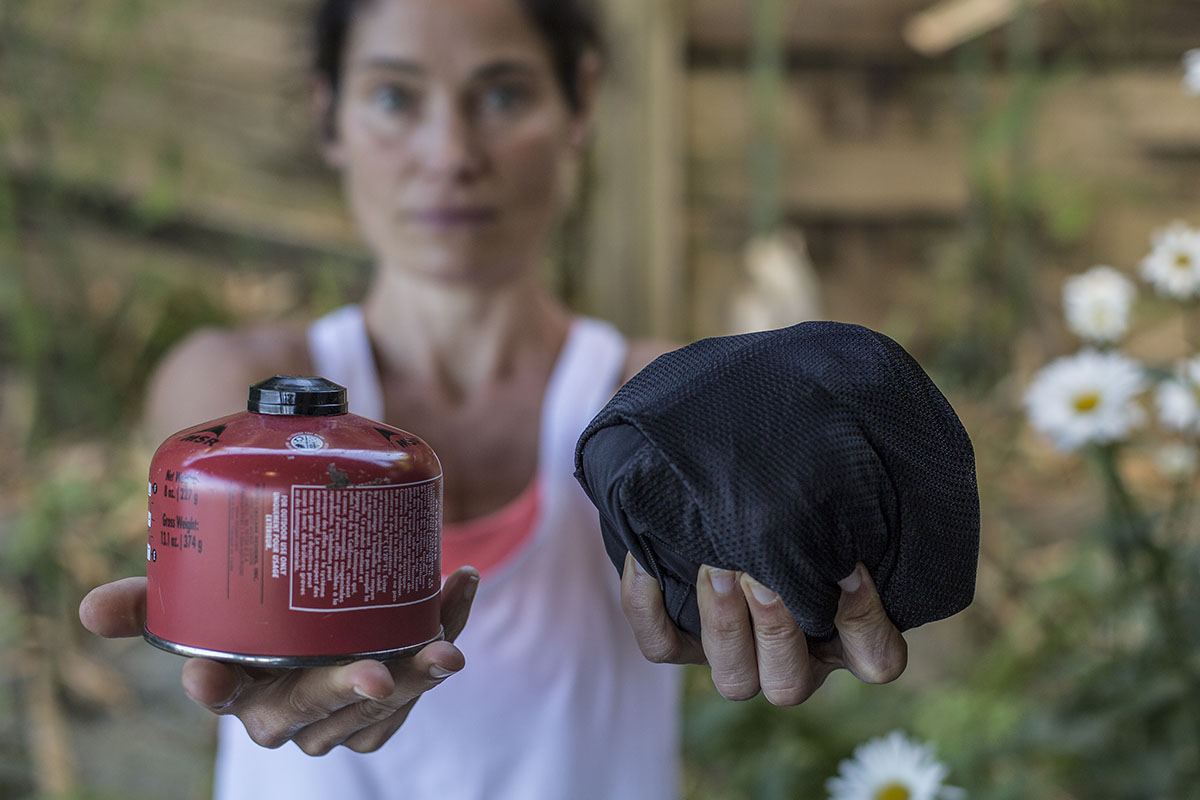 Pockets
Pockets aren't for everyone—we often prefer to not overload our hiking pants with excess bulk—but organization can be a plus for some. Hiking pants will typically offer a few of good storage options in the form of a cargo pocket or two. One standout in our group is the Kuhl Renegade Convertible. These pants have creative storage options with large zippered thigh and compartment-style pockets. The various sizes means you should be able to find a spot for just about anything you decide to throw in. But if you're like us, a simpler design like the single side pocket you get with the prAna Stretch Zion or Halle is plenty.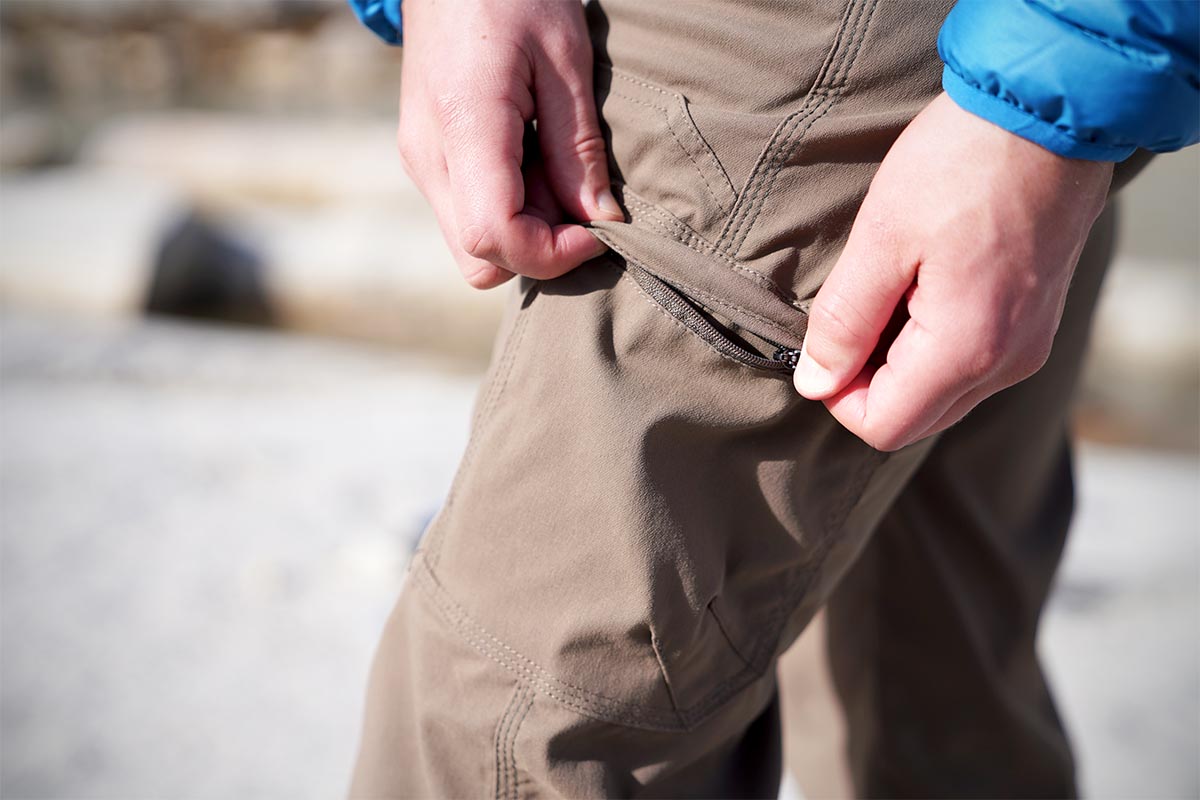 Articulated Knees and Gussets
Two wonderful design features to look out for in your hiking pant search are articulated knees and gussets built into the crotch of the pants. Articulated knees mimic a person's walking motion by creating a natural bend in the knee area of the pants. In contrast to a traditional, straight-legged pant, the improved range of motion is immediately apparent. A gusset is a patch of diamond shaped fabric that runs along the inner thigh of the pants, replacing a standard seam. As with an articulated knee design, the extra fabric improves range of motion and general fit and comfort.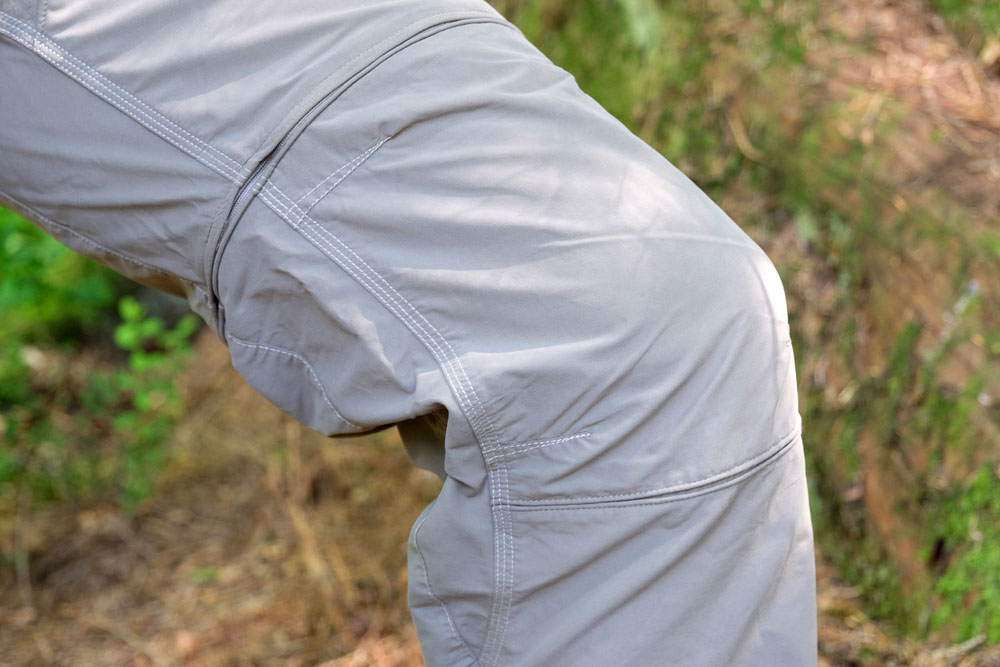 Originally popular with climbers that required a good fit to perform at peak levels, these features have trickled down nicely into the hiking pant world. There are extra costs associated with the greater complexity in constructing the pants, so short day hikers on well-maintained trails with flatter grades or those on a budget can probably go without either. But the very tangible benefits can be enjoyed by just about everyone, so we highly recommend stretching the budget and choosing pants that include both. It just makes for a more comfortable wear.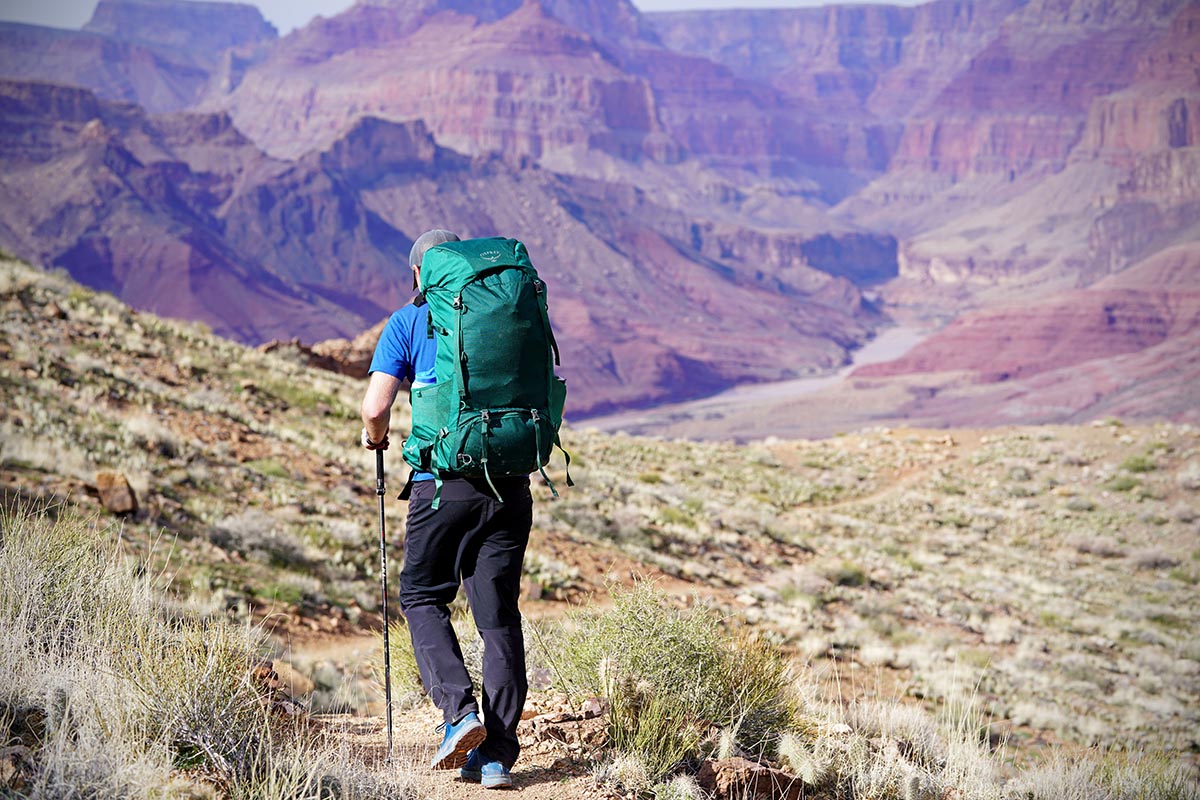 Integrated Belts
Dialing in the fit can often be a difficult thing, so those that fall in between sizes (like yours truly) really appreciate a waistband with a little adjustability. Enter the integrated belt. One of our favorites is the prAna Stretch Zion, which has a low-profile, small adjuster made of webbing at the front of the pants that resembles a shortened belt. The downside of an integrated belt, particularly one that wraps all the way around your waist, is the extra bulk, which can potentially interfere with a backpack's hipbelt. The Columbia Silver Ridge has a full-length belt as well as some elastic in the waistband, which strikes us as a bit more than necessary.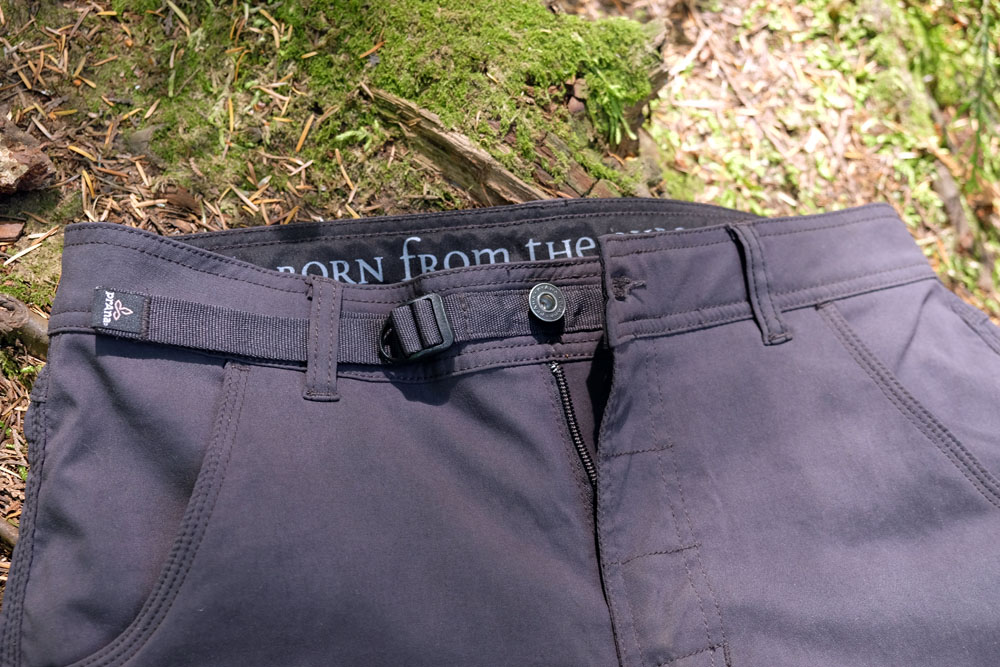 Water Resistance
No hiking pant that you'd want to bring along on a summer backpacking trip will be truly waterproof. The reasons for that are the same reason you don't often find yourself hiking in a fully waterproof jacket unless it's actually raining: they just don't breathe as well. So how good are hiking pants when the rain starts to fall? Depending on the model, they can actually be pretty decent performers. And as a result, we often prefer to keep our hiking pants on rather than swapping out for a rain pant even in a rain shower.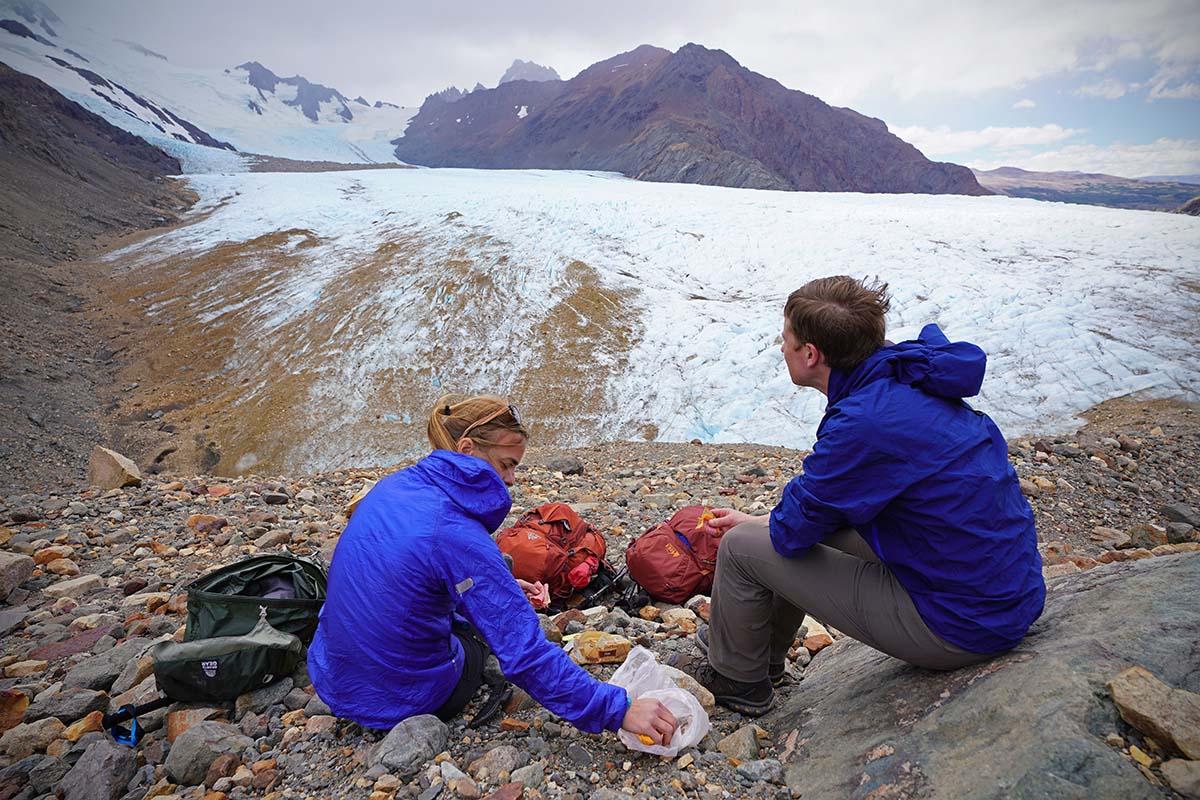 Most hiking pants shed light rain pretty well, thanks to a durable water repellent coating (you'll often see if listed as DWR), which makes the droplets bead up and roll off. And, as long as you avoid a more casual cotton construction, the nylon blends aren't very prone to soaking up moisture. If and when they eventually soak through, drying time isn't too shabby either, reason enough for us to recommend sticking to hiking pants in all but the most extreme rainy days (and this is coming from a group of Seattleites).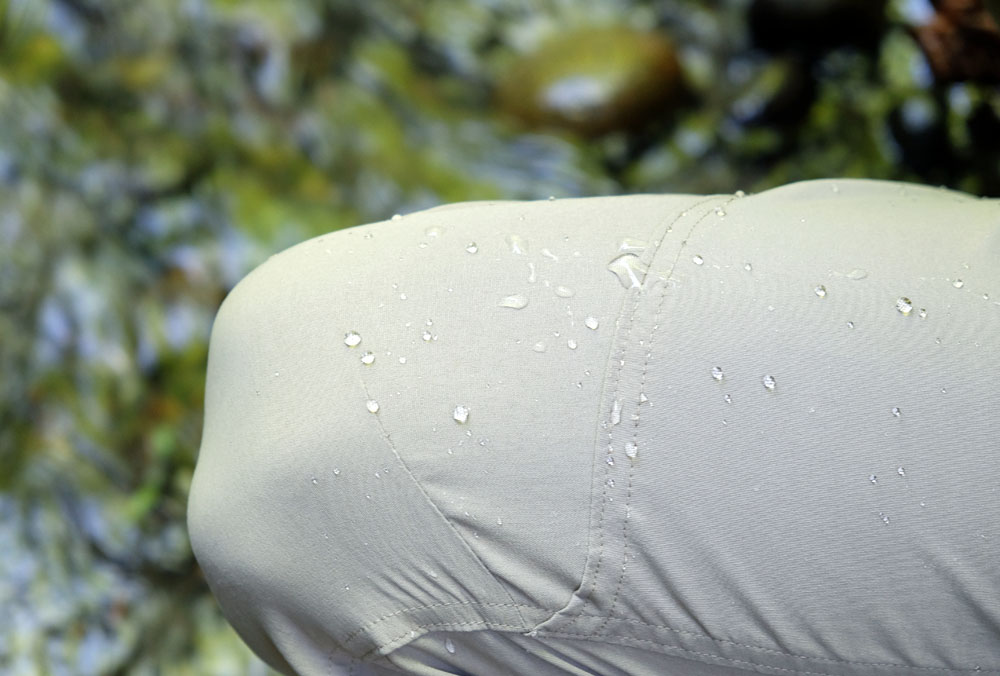 Thickness and Durability
How thick the material is will play a big role in a hiking pant's best uses. You'll see anything from tropical and summer ready thin pants all the way to medium thick softshell pants in the "hiking pants" category, so it's important to know what you're looking at. From our list, pants like the Columbia Silver Ridge Convertible and Arc'teryx Lefroy excel in hot temperatures with their thin, breathable fabrics. Many of the core models above are designed for 3-season use, like the Outdoor Research Ferrosi, prAna Stretch Zion, and Kuhl Renegade. And thicker pants like the Arc'teryx Gamma LT, REI Co-op Activator V2, and Outdoor Research Cirque are great for the alpine, shoulder seasons, and even light winter use. Keep in mind, throwing on a pair of baselayers underneath can make many 3-season pants very agreeable in the wintertime as well.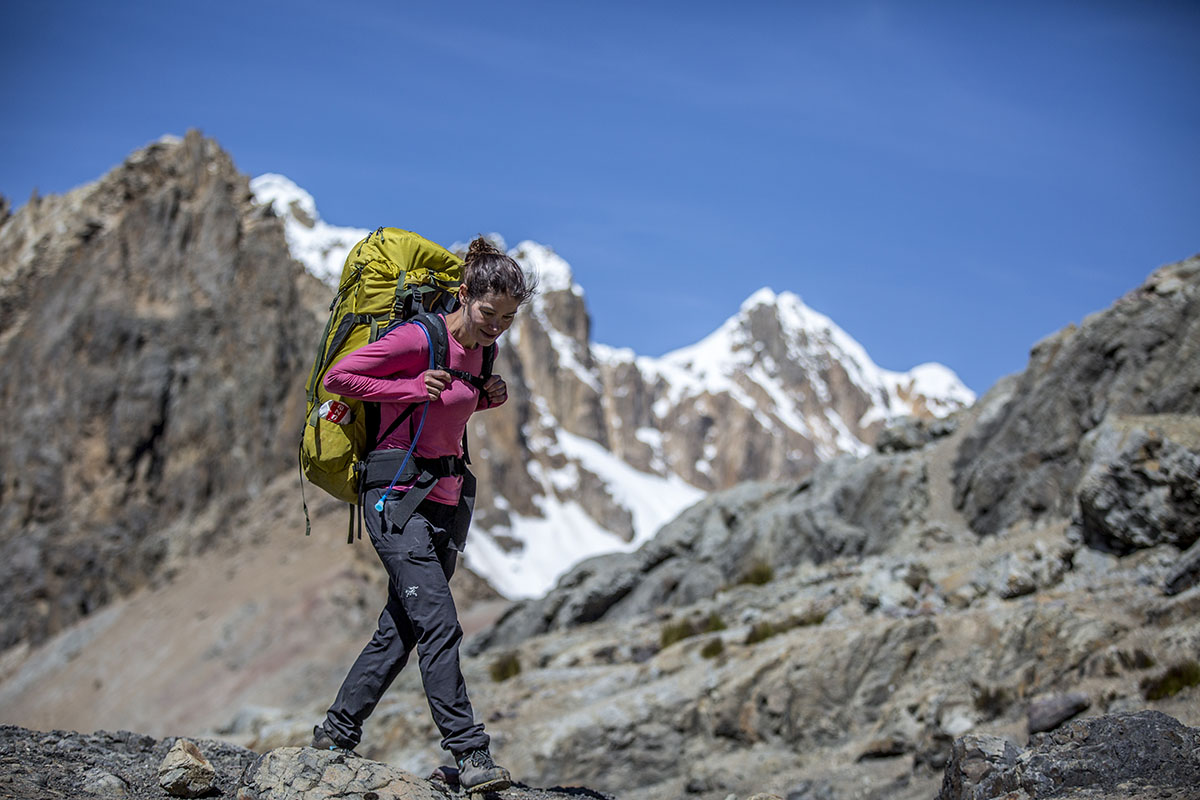 Beyond temperature considerations, thickness often correlates with durability and tear resistance. Most of the softshell-style pants like the Columbia Royce Peak, prAna Halle, and prAna Stretch Zion are tough enough that we had few concerns brushing up against and squeezing between rocks and brush on the trail. Both the Arc'teryx Lefroy and OR Ferrosi have surprising levels of durability despite their lighter feel. Truly summer-specific pants like the Columbia Silver Ridge are more tear-prone and should be restricted to more casual hiking and backpacking.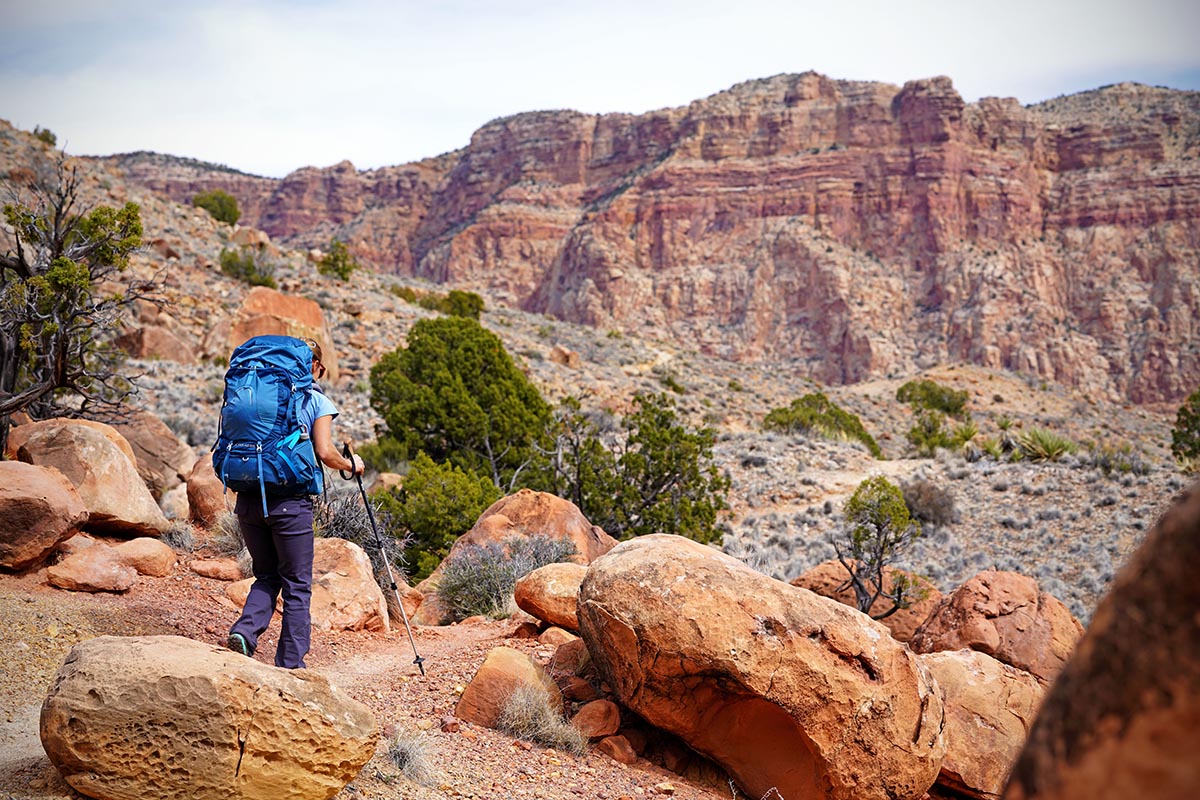 Convertible and Roll-Up Pants
With the ability to zip off and convert into shorts, convertible pants are a popular choice for year-round hikers and outdoor adventurers. The benefits are readily apparent: a 2-in-1 style means you don't have to pack extra clothing, and it's a quick process to increase leg ventilation. It's no wonder many pants that made our "best of" list have a convertible model.
And while we do appreciate the flexibility a convertible pant brings, in use, it's still not for everyone. Outside of the potential qualms that some have about the look, zip-off pants are often not as practical as you'd probably think. The extra zippers can be a pain to use, and no matter the design, they add weight and bulk. And in designing a pant that has to accommodate the additional pinch points the zippers create, you'll often get a baggier fit. One of the better designs on the market, the Kuhl Renegade is still a bit bulkier-feeling than a standard hiking pant, even with its low-profile zippers. As a result, roll-up pants are becoming more and more popular in both men's and women's styles. The big benefit is you don't have to fuss with zippers, all that's required is a low-profile button and some tabs to secure the pant legs, and you get many of the ventilating benefits of a zip-off in a ¾ length.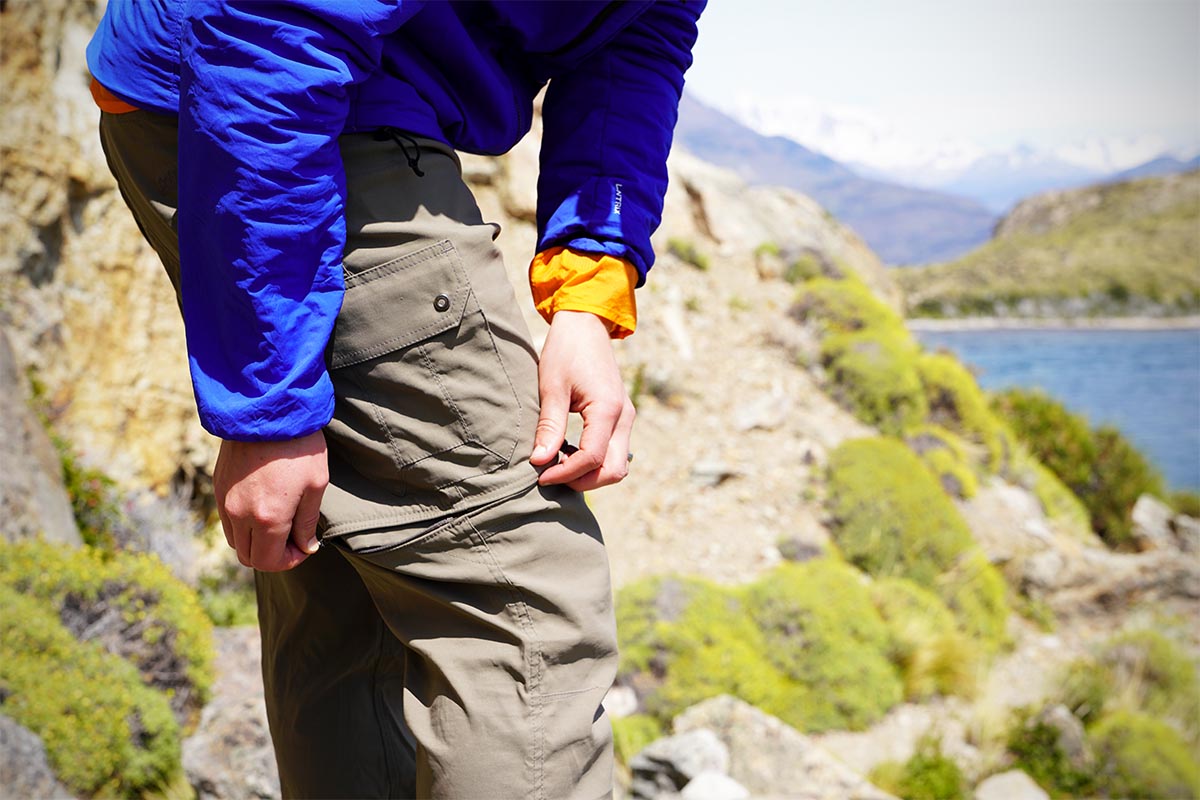 Crossover Hiking/Everyday Pants
Many of the pants on this list are hiking-centric and look more at home on-trail than off. That said, we do appreciate a hiking pant that can double down for everyday use or be worn for travel. In particular, brands like Kuhl and Patagonia (depending on the model) tend to crossover well as everyday pants. Even our #1 pick for 2020, the prAna Stretch Zion, are roughly equally as capable for hiking as the Outdoor Research Ferrosi below, but we gave them the final nod because the design and styling have greater everyday appeal. And our Fjallraven Vidda Pros look so unique that we always jump on an opportunity to wear them. The point is, if you like to wear your hiking pants around town, there are a number of good options for that.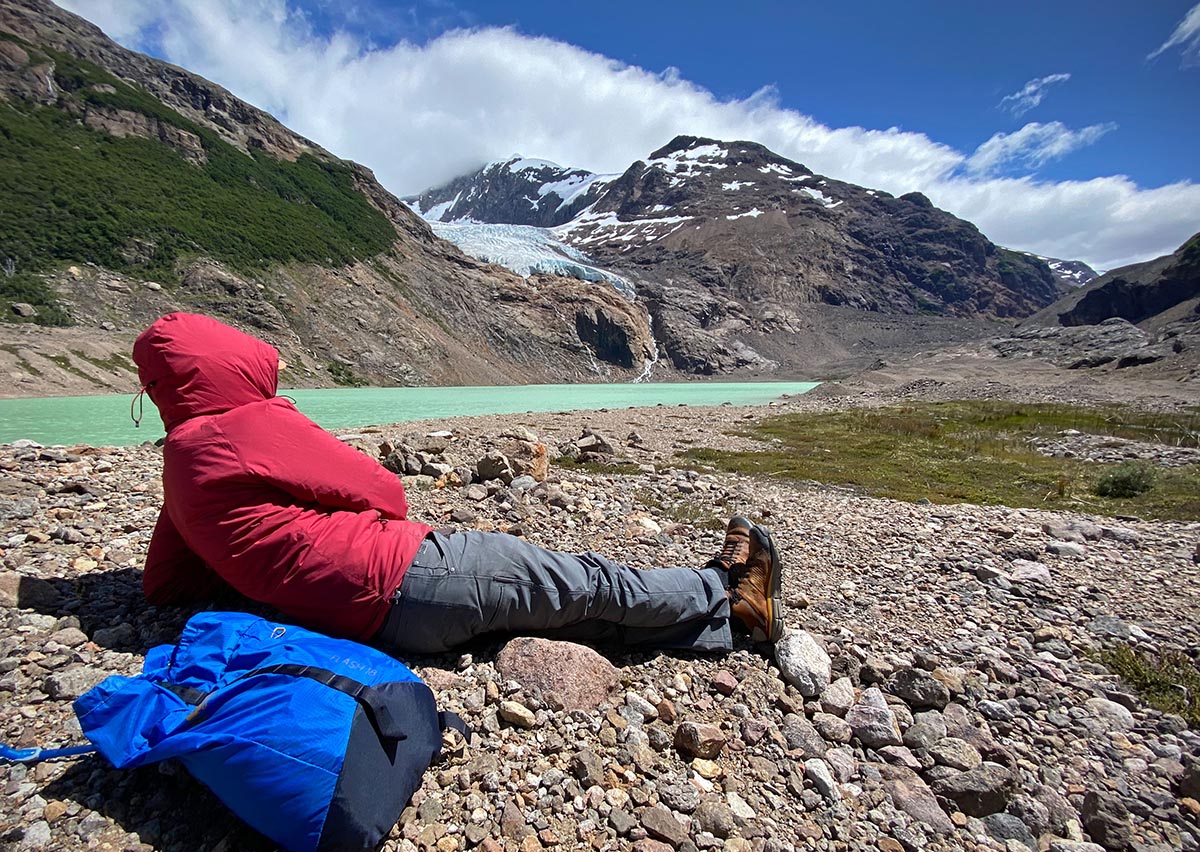 Fit
Finding the right fit in hiking pants can be a tough task, particularly in the past when the options were more limited. At that time, we found that the Rab brand was one of the few offering a more agreeable cut that didn't feel excessively baggy. Nowadays, there are a number of pants that hit that sweet spot for us, with an athletic fit that isn't overly tight. Outdoor Research, prAna, and Arc'teryx all have this concept down quite well, and REI and Columbia have recently changed the fit of a number of their pants to bring them in line with the competition. For a more relaxed fit, the Kuhl Renegade strike us as a good balance of a bit of extra space without swishing around like a pair of old windbreakers. One pant that we nearly omitted from this list in part due to its too-baggy fit is the über-popular The North Face Paramount Trail. Its excessively loose and bulky fit had a serious impact on its trail performance.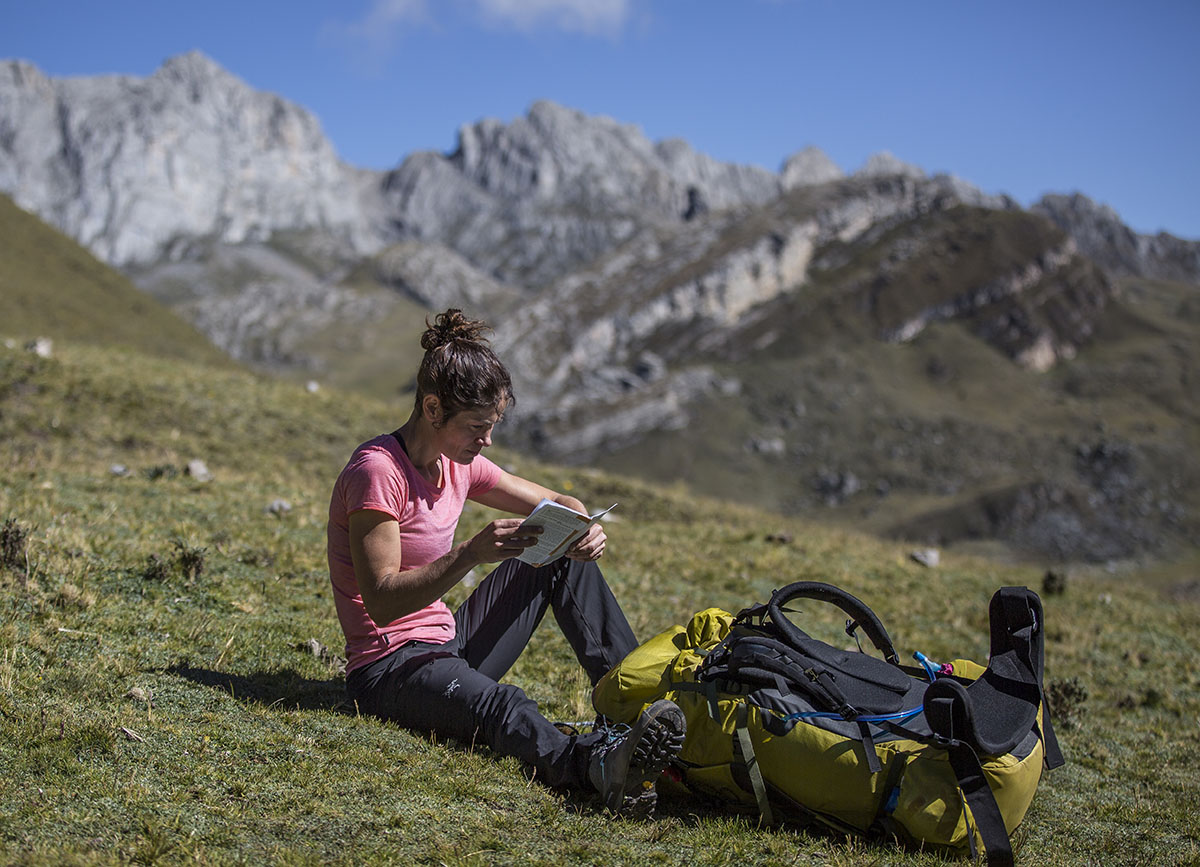 Hiking Pants vs. Hiking Shorts
If you're heading out on an overnight backpacking trip or the weather is iffy, pants are the obvious choice. But hikers that hit the trail in the warm summer months are left with a difficult decision: pants or shorts? Choosing full-length pants give you better protection from the sun and help keep dirt and rocks from getting into your shoes. Further, they're the preferred selection for technical hikes or summit bids to reduce the number of scratches or cuts you get when brushing against rocks or branches. But we love shorts for day hikes on well-maintained trails. Shorts are cheaper (typically about $10 to $20 less than a comparable pant), and offer better freedom of movement and ventilation. The final option is convertible pants, which give you the ability to swap between styles, although they come with a fair number of downsides (we cover those in detail in the convertible pant section above). 
The good news for those that want to pick up a pair of shorts is that many of our favorite pants are offered in this style. In general, the shorts versions have a similar fit, fabric blend, and pocket layout as their full-length counterparts. From the models we've worn, we think prAna's Stretch Zion are the best. They narrowly beat out the Ferrosi in this case with their very flexible feel, generous storage, and two inseam options (although the women's prAna Halle is only offered in one length). Other favorites include the aforementioned Ferrosi and Kuhl's durable men's Renegade and women's Kliffside shorts. And if you want a superlight and breathable option, a trail-running-specific short can do the trick (we've worn a range of styles from Salomon, Brooks, and REI). The biggest downside with running shorts is that you give up some durability with their thin polyester constructions.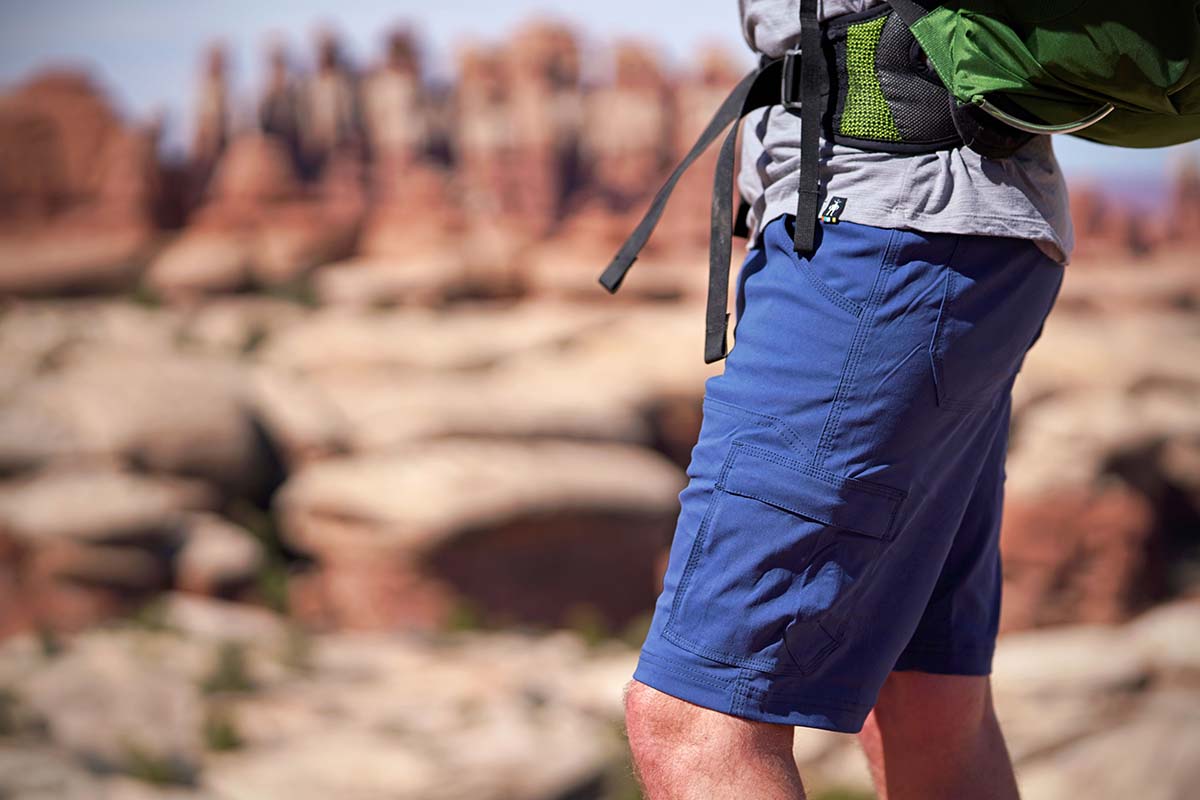 Hiking Tights/Leggings
Not everyone wants to wear traditional nylon hiking pants on the trail, and particularly among the younger crowd, we've noticed an emergence of tights. This can take a lot of forms, from standard yoga/stretch pants—think Athleta or Lululemon—to more serious trail-running models and even hiking-specific options from brands like Patagonia, The North Face, and Arc'teryx. Our picks above include both styles, and you certainly can achieve high levels of comfort without the weight or bulk of a traditional hiking pant.
Keep in mind that many tights are not as performance-oriented as the pants on this list. The nylon or polyester may be decently breathable and wick some moisture, but it won't be as abrasion resistant or tough overall. But for those staying on trail—think casual day hiking and uses that don't involve rubbing up against rocks or crashing through branches—a fine argument can be made for tights. It's worth nothing that of course, both men and women can wear hiking tights, but aside from trail-running and baselayer models, the market generally is geared toward women and listed that way by most manufacturers and retailers.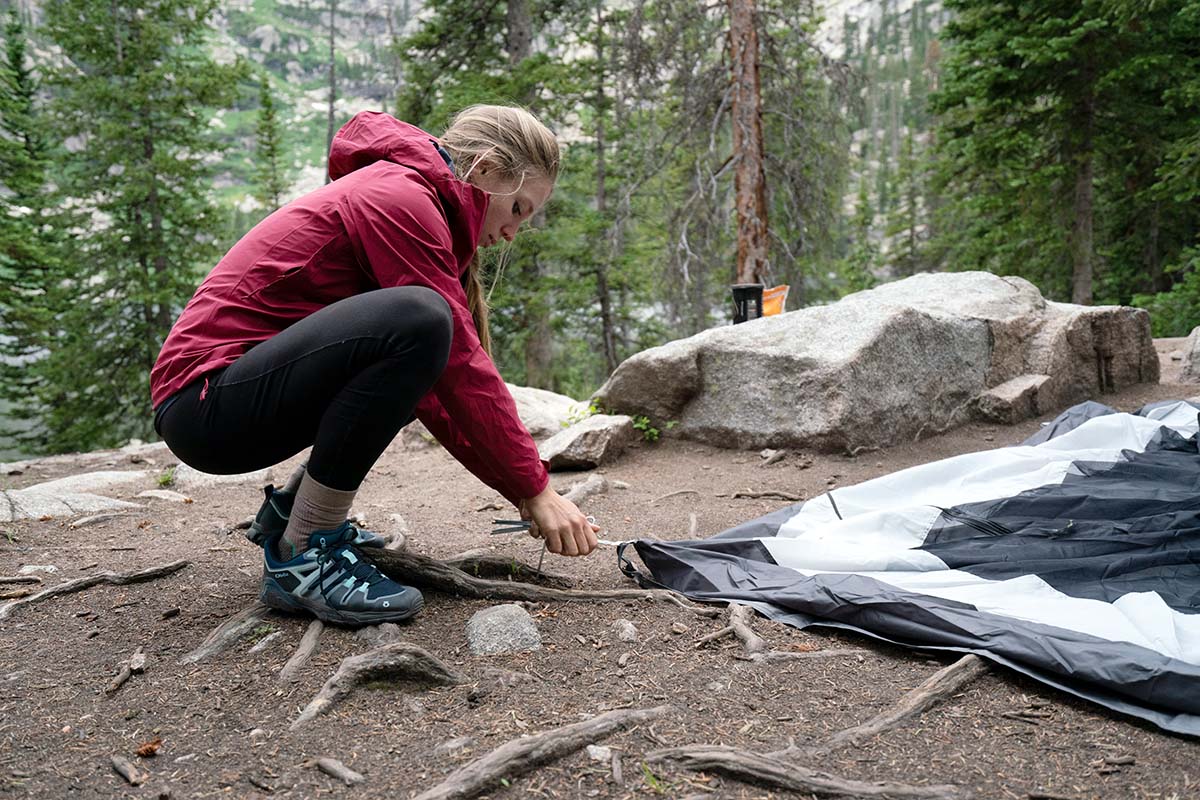 Women's Hiking Pants and Leggings
Our picks above were selected based on the experiences of both male and female testers, and you'll notice that wherever available we link to both the men's and women's versions. In addition, we've included a section on hiking tights and leggings, which are largely geared toward the female market. But due to this category's noteworthy variation in styles, we've also created a unique round-up of the best women's hiking pants and leggings. In this article, you'll find many of the same models here (names and colorways often differ) in addition to a variety of women's-specific pants. 
Back to Our Top Hiking Pant Picks  Back to Our Hiking Pant Comparison Table
Learn More About Hiking Gear