It's hard not to admire the utility of the humble ski pole. A pair of ski poles serves a number of purposes, from helping you set a rhythm for turns, to propelling you along flat sections of trail, to having a crutch to lean on in long lift lines. For this list, we've broken our top picks for the 2023-2024 season into two categories: downhill poles intended for running laps at the resort and lightweight backcountry designs for touring. For further guidance, see our comparison table and buying advice below the picks.
 
Downhill (Alpine) Ski Poles

Shaft: Aluminum (16mm)
Baskets: Standard, powder
Weight per pair: 1 lb. 1 oz.
What we like: Ergonomic grip and slick strap system.
What we don't: Pricey for an aluminum pole.
For all-mountain skiing, sturdy aluminum poles make the most sense. They're durable—usually bending from a hard impact rather than breaking like carbon fiber—and plenty lightweight for days at the resort. Our favorite aluminum downhill pole is the Leki Detect S, which hits the mark with its tough construction, ergonomic grips, and innovative strap system that we outline below. The Detect lacks the weightless feeling of a full carbon design, but it's reasonably light at just over a pound per pair, has a noticeably durable feel that should hold up well over the long term, and undercuts most carbon poles by $20 or more. Taken together, it's a well-rounded design that checks all the boxes for most resort-goers.
The "S" in the name stands for Leki's Trigger S system, which allows you to separate the strap from the pole. We've found it practical for getting on and off the chairlift, although the time saved is pretty minimal. There also is a safety element to the design: A built-in spring will release the strap under upward tension, disconnecting you from a potentially hazardous swinging ski pole. Added up, its combination of performance, features, and price make the Detect S our favorite all-around ski pole on the market for the 2023-2024 season. A couple other quality designs from Leki to have on your radar are the Bold Lite S, which costs around the same but features different grips and straps and boasts an ice tip for firmer conditions, and the Qntm Pole, a cheaper ($70) but less premium alternative with a streamlined strap design.
See the Leki Detect S

Shaft: Aluminum (18mm)
Basket: Powder
What we like: All the weekend resort skier really needs at a hard-to-beat price.
What we don't: Not a performance ski pole; no longer comes with two baskets.
Ski poles aren't all that exciting, but Völkl's Phantastick does an admirable job at pumping some life into a relatively simple design. Specifically, the range of colors (including yellow, green, and red) and vibrant grips stand out among a pretty dull crowd of competitors. It also helps that they're priced right at $59 and tough with an 18-millimeter diameter shaft, making them among the most popular ski poles on the market. The latest version only comes with powder baskets—past models included both standard and powder baskets—but the all-around value remains hard to beat.
Outside of the flashy appearance, the poles are standard fare but plenty good for most downhill skiers. The alloy construction is heavier than carbon or even premium aluminum (note: Völkl does offer a thinner 16mm variation, as well as a $99 carbon model). The Phantastick also lacks the slick strap system of poles like the Leki above, but it's also significantly cheaper than a "performance" ski pole. And that extra money could instead be allocated to better skis or boots—gear that will have a much more significant impact on true performance. For these reasons, the Völkl Phantastick is our favorite budget option.
See the Völkl Phantastick  See the Women's Völkl Phantastick

Shaft: Aluminum (18mm)
Basket: Standard
What we like: Cheap, simple, and does the trick.
What we don't: Only comes with a single basket and susceptible to bending.
Stepping down in price from the Völkl above are Evo's value-oriented Merge Ski Poles. The case for these is simple: They're $50, offered in a nice range of colors (three at the time of publishing), and hit the mark for casual resort use with an 18-millimeter aluminum shaft, average-sized grips, and a standard, hardpack-friendly basket. And did we mention they're $50? That makes the Merge the most affordable pick to make our list, and they often cost even less during sale periods.
For the price, the quality of these poles is surprisingly high—one benefit of buying from Evo's in-house brand—but it's important to set reasonable expectations in terms of performance. You don't get the barely-there feeling of a premium option, the grips aren't comfortable with their hard-plastic construction, and the aluminum build tends to bend under heavy stress. Additionally, the standard discs will sink quickly in the deep stuff. But for casual resort riders who don't set overly lofty expectations, there's very little to complain about. For a step up in performance, Evo also offers the $65 Refract, which boasts a more durable 7075 aluminum build and wider baskets for all-mountain use.
See the Evo Merge

Shaft: Carbon composite (22mm)
Basket: Powder
Weight per pair: 1 lb. 1.6 oz.
What we like: A light-but-tough option that can hold its own in deep powder.
What we don't: Expensive for only modest weight savings and basic grips.
In contrast to the aluminum models above, Black Crows opted for carbon composite with their premium Furtis poles. While this often translates to a drop in durability—carbon is vulnerable to breaking from hard impacts—Black Crows did a good job combatting the typical pitfalls by using a beefed-up, 22-millimeter shaft (the thickest on our list by 4mm). This doesn't fundamentally change carbon's tendency to crack under stress, but it would take a lot of force to snap these poles. And if weight matters to you, the Furtis checks in at just over 1 pound per pair and feels very light in the hands.
The biggest downside of the Black Crows Furtis—which isn't all that surprising given its carbon build—is cost. Among the downhill-focused designs here, only Leki's Carbon 14 3D below is pricier at $190, although that pole uses a much thinner 14-millimeter shaft that won't stand up as well to long-term, aggressive use. Another drawback is the Furtis' round and fairly basic grip, which isn't as comfortable for all-day use as more upgraded, ergonomic designs. Finally, casual resort-goers who don't care too much about weight can save considerably with a simple aluminum model like the Völkl Phantastick above or Black Crows' own Meta below. But we really like the Furtis for its balance of weight and sturdiness, and the 90-millimeter powder basket and extended grips make it a viable option for the occasional tour. For a cheaper carbon option from Black Crows, check out their popular Stans, which has a noticeably thinner (13mm) shaft but will save you a considerable $80.
See the Black Crows Furtis

Shaft: Aluminum (18mm)
Basket: Standard
Weight per pair: 1 lb. 1.6 oz.
What we like: Tough, affordable, and includes Salomon's strap safety tech.
What we don't: Only comes with one basket and doesn't stand out in any other area. 
Joining the Völkl Phantastick and Evo Merge above is another high-quality but affordable ski pole to have on your radar: Salomon's Arctic S3. For around $10 more than the Phantastick, the Salomon is another tough, no-nonsense downhill design with a sturdy 18-millimeter shaft that will stand up well to aggressive resort riding. As its name suggests, the Arctic also includes Salomon's S3 safety technology, which is similar to Atomic's SQS tech featured in their BCT Freeride poles below and designed to automatically disconnect the strap from the pole in the event of a fall. The rest of the design is decidedly basic—including just a single all-mountain basket and fairly subdued colorway options—but the Arctic checks all of the boxes for most resort skiers at a very approachable price point.
As we touched on above, the Salomon Arctic S3 and Völkl Phantastick offer similar overall performance, but the latter will save you $11 per pair. You don't get Salomon's S3 tech mentioned above, but the Phantastick's 7075 aluminum shaft is notably stronger than the 6061 variety that Salomon uses. The Völkl also comes in five colorways compared to the Salomon's two, including more vibrant red, green, and yellow designs (in addition to standard white and black). But the Arctic S3 is no slouch, and the auto-release strap has its appeal for new riders and those who want a little added assurance when pushing their limits. For those who don't need or want the safety tech, Salomon's standard Arctic will save you around $15 (it's a few bucks less than the Völkl).
See the Salomon Arctic S3

Shaft: Carbon fiber (14mm)
Basket: Standard
Weight per pair: 1 lb. 0.6 oz.
What we like: Stiff carbon fiber that's light; Trigger 3D system adds an extra dose of safety.
What we don't: Thin and even more expensive than the Black Crows Furtis above.
Leki's Carbon 14 3D is the more premium resort design here but packs in a ton of tech for the price. With the latest update to their popular Trigger strap system, Leki increased the release angle to 220 degrees, which makes it easier to come out in the event of a crash. The feel and swing weight are fantastic, and the carbon fiber has a nice flex for effortless transitions between turns (aluminum feels stiff by comparison). With only a 14-millimeter diameter, the Lekis are thin, but the high-quality build holds up well to everyday downhill punishment—just avoid the terrain park.
As with other pure carbon ski poles, the Leki's biggest downsides are price and durability. For reference, the Carbon 14 3D costs $10 more than the Black Crows Furtis above without offering much added performance on the slopes. They do weigh around an ounce less per pair, but that's a negligible difference. And the thin construction and standard baskets limit its usefulness to bombing down groomed runs (for reference, the Furtis comes with wider and more versatile powder baskets). But for those who can afford it and ski enough to enjoy it, the Carbon 14 3D is a great high-end ski pole from one of the best brands in the business. For a cheaper aluminum option that shares many of the same features, see Leki's Spitfire 3D.
See the Leki Carbon 14 3D

Shaft: Aluminum
Basket: Powder
Weight per pair: 1 lb. 4.8 oz.
What we like: Tough, reliable build with Atomic's handy strap safety feature.
What we don't: The most expensive aluminum alpine poles on our list; relatively heavy.
Atomic is a stalwart in the ski industry, and their BCT Freeride SQS pole is a tough, no-nonsense design for freeriders who frequently venture off-trail and into the sidecountry. One clear strong suit is durability: The quality 7075 aluminum makes for a robust pole built for aggressive riding. And Atomic also included their SQS—short for Safety Quick Release System—technology, which disconnects the strap from the pole if it gets caught on a tree or chairlift (similar to Salomon's S3 tech included in their Arctic poles above). This added safety feature, along with the BCT Freeride's sturdy construction, makes it a great option for anything from carving groomers to taking big hits in the terrain park.
At $120, the Atomic BCT Freeride SQS falls into a bit of an awkward spot pricewise. It's cheaper than carbon options like the Leki Carbon 14 3D and Black Crows Furtis above but pricier than aluminum designs like the Völkl Phantastick ($59) and Salomon Arctic S3 ($70), both of which are also very tough and reliable with 18-millimeter aluminum shafts. As we touched on above, the Arctic also features a similar auto-release strap, although it's a step down in durability with a 6061 aluminum construction (the Atomic's 7075 alloy shaft is noticeably stronger). Whether or not that's worth the additional $50 is up to you, but the BCT Freeride SQS leaves little to be desired in terms of all-around performance and durability. For those looking to shave weight, Atomic's AMT Ultra SQS (15.2 oz.) costs the same but swaps in a carbon shaft and a narrower, on-piste basket. 
See the Atomic BCT Freeride SQS

Shaft: Aluminum (18mm)
Basket: Powder
What we like: A functional, good-looking all-mountain design at a great price.
What we don't: Only comes with powder baskets.
Black Crows is known for their colorful and contemporary skis, and that personality trickles down nicely into their ski pole collection. The Meta is a case in point: For just $60, you get a great-looking pole with poppy chevron patterning (many of their skis display similar shapes on their topsheets) and a nice selection of bright colorways. And unlike the similarly budget-friendly Rossignol Tactic below, the Meta boasts wide powder baskets that make it the more capable choice for sidecountry use and areas that get consistently good snowfall. 
It's worth noting that Black Crows opted for 5083 grade aluminum here, which is decently strong for its weight (Evo's $10-cheaper Merge above uses the same type of alloy). Hitting big drops or features at the park wreaks havoc on all ski pole designs, but the Black Crows are well equipped to handle regular use and abuse. We do wish the poles also came with smaller-diameter hardpack baskets for high-speed use on groomers, but for only $60, the Meta is an impressively well-rounded and fun option that's sure to stand out on the slopes.
See the Black Crows Meta

Shaft: Carbon (10.4mm)
Basket: Standard
Weight per pair: 1 lb. 2.7 oz.
What we like: Super light, low drag, and affordable for a full carbon build.
What we don't: Not very durable.
Goode is credited with starting the carbon fiber trend for ski poles about 30 years ago. And our current favorite in their lineup, the G-Carbon, holds true to the brand's history of high-quality designs. What immediately jumps out is the very thin diameter of the pole: while most lightweight models are about 14 millimeters around, the G-Carbon is a spindly 10.4 millimeters. This "pencil" design keeps weight and drag to an absolute minimum, and the non-tapered shape gives the Goode pole a smooth flex for transitioning between turns. 
The G-Carbon is impressively strong given the thin construction, but it's not one we'd recommend for off-trail use or if you're hard on your gear. Instead, it's a great match for flying down a groomer where its effortless swing weight and aerodynamics shine. And we'd be remiss not to mention price here: At $100, the G-Carbon is an excellent value and the cheapest fully carbon option on our list by a wide margin. Take good care of it, and you won't be disappointed. For another affordably priced carbon option from Goode, check out their $60 SuperMax, which lacks the feathery swing weight of the G-Carbon but is another well-executed design from the Utah-based brand. A final alternative to consider is Evo's $90 Overland Carbon, although that pole has a thicker and heavier 13-millimeter construction.
See the Goode G-Carbon
Shaft: Aluminum (18mm)
Basket: Standard
What we like: Good hardpack performance at a low price.
What we don't: Very basic and a little heavy.
For beginner skiers, a ski pole functions as a way to set a rhythm for your turns and boost yourself up after a fall. The materials, weight, and ergonomics matter very little—just make sure to get the proper length. For these basic needs, the Rossignol Tactic is a great value option. It uses a heavier and cheaper aluminum than our top picks, but that means very little for cruising the green runs.
Compared with the $10-pricier Black Crows Meta above, the Tactic is the preferred option for hardpack. It includes a smaller-diameter basket (60mm vs. the Meta's 90mm) that won't get in the way, and its shaft has the same 18-millimeter diameter as the Black Crows for decent durability (although the Meta uses higher-strength aluminum). Plus, the Tactic's modest color scheme may appeal to folks who aren't ready to draw too much attention to their developing skill set. For a similar design at a lighter weight, check out Rossignol's Tactic Carbon Safety, which integrates 20% carbon in the shaft and retails for a reasonable $100.
See the Rossignol Tactic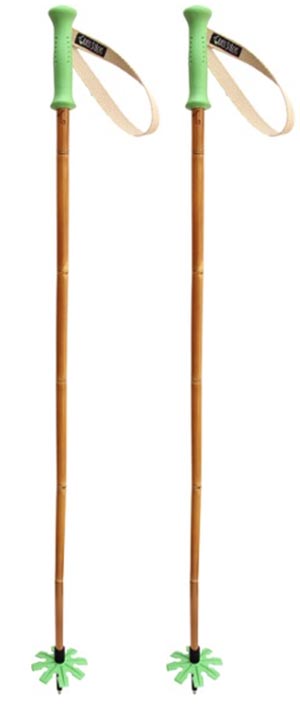 Shaft: Bamboo
Basket: Standard
Weight per pair: 1 lb. 2 oz.
What we like: Sustainability focus and made in the U.S.
What we don't: Unproven long-term durability.
Unlike the options above, Grass Sticks uses an all-bamboo construction in their poles, and we think the material choice makes a lot of sense: bamboo is reasonably strong but still flexible enough to bend rather than snap under pressure, and it doesn't require the same amount of resources to manufacture and produce as aluminum or carbon. Further, these poles are made in the U.S. (in the ski town of Steamboat Springs, Colorado, to be exact) and stand out among the fairly dull and muted competition with their light-colored shafts and vibrant straps and grips.
Why do we have the Original Bamboo poles ranked here? Despite the sustainability focus and trendy looks, these poles don't have the time-tested track record of the models above. Grass Sticks does provide a generous two-year warranty on their poles (after that, they will replace each broken pole for $22 plus shipping or send a new pair for $42 plus shipping), but long-term durability still is unproven compared to seasoned brands like Leki and others above. And the Grass Sticks are decidedly on the basic end of the spectrum, with simple rubber grips and only one included basket (you can purchase more separately). These concerns are enough to push the bamboo poles down our list, but they're undeniably a fun option at a decent price.
See the Grass Sticks Original Bamboo
Backcountry (Touring) Ski Poles

Shaft: Aluminum (14mm)/carbon fiber (12mm)
Basket: Powder
Weight per pair: 1 lb. 2 oz.
What we like: Light feel and premium build.
What we don't: Expensive and you'll need to be careful with the carbon lower.
With backcountry ski gear, you're constantly trying to balance weight with performance and durability, and nobody pulls that off better than Black Diamond. Their Razor Carbon Pro Pole is our top choice for ski touring and finds that happy medium. The two-piece design has a durable aluminum upper that is as thick as many downhill poles at 14 millimeters, but it keeps the weight in check at 1 pound 2 ounces (for the 100-125cm version) by using a thin 12-millimeter carbon fiber lower. So long as you avoid smacking the carbon section on a rock, the poles should hold up for the long term.
The quality of the construction also plays a big role in their number-one ranking. Black Diamond uses our favorite adjustment system here, the FlickLock Pro, which has given us secure, slip-free support for both backpacking and skiing (note: The latest system has a forged aluminum build that's lighter than prior versions but still highly durable). All told, it's glove-friendly, simple in use, and trustworthy. Further, you get nice touches like a touring ring for choking up in short, steep sections or traverses and breakaway grips in case the poles get stuck in place or you crash. In the end, the Razor Carbon Pro wins out not because it's the lightest or most affordable—it's not—but it's a good one to trust on deep backcountry explorations. Ounce-counting backcountry riders and ski mountaineers should also check out BD's Vapor Carbon poles, which aren't adjustable but check in at a scant 12 ounces per pair.
See the Black Diamond Razor Carbon Pro

Shaft: Aluminum (18mm/16mm)
Basket: Powder
Weight per pair: 1 lb. 6 oz.
What we like: A robust and fully featured backcountry pole. 
What we don't: All-aluminum construction adds weight; standard baskets sold separately.
G3 is a backcountry-focused company, so it comes as no surprise that their Via ski poles are a real standout for touring. Offered in both carbon and aluminum options, we've included the latter here for its excellent combination of durability and all-around performance. The two-section design collapses down reasonably small for strapping to the outside of a pack (collapsed length is 37.4 in. for a size small and 45.3 for the long version), and the hooked tip on the foam grip is very functional for adjusting your bindings' heel risers on steep slopes (there are also attachment points for securing tent guylines). Finally, we appreciate the extended grips and removable straps, both of which can help when navigating tricky terrain.
It's worth noting that we previously had the aforementioned Via Carbon on our list, which shares many of the same features including the hooked tip, good collapsibility, extended grips, and removable straps. As expected, the carbon variation wins out in weight at 1 pound 2.2 ounces per pair (around 4 oz. less than the Via Aluminum), but the trade-offs are a jump in price ($165) and more susceptibility to cracking from hard impacts. In this case, the value of the aluminum model is too hard for us to pass up. A final alternative to have on your radar is BCA's Scepter Aluminum, which has a similarly competitive feature set for $23 less than the Via Aluminum, including a hooked tip, extended foam grips, releasable straps, and a two-section design that collapses down reasonably small (41.3 in.) for strapping to a pack. The BCA is largely out of stock at the time of publishing, but if you can track a pair down, the value is hard to beat.
See the G3 Via Aluminum

Shaft: Aluminum 
Basket: Powder
Weight per pair: 12.6 oz.
What we like: The cheapest and lightest backcountry poles on our list.
What we don't: Some won't love the non-adjustable build. 
The touring options above are adjustable in length, but there's something to be said for the simplicity of a one-piece pole. Dynafit's Tour is just that: You don't get the ability to change length, but its burly, all-aluminum construction easily outperforms the competition in toughness. Along with the clear advantages in durability, the Tour is also the cheapest backcountry option on our list at just $80 without sacrificing much in the way of performance or features. We especially like the long grip extensions for navigating steep or uneven slopes and hooked tip for adjusting bindings or flipping risers without having to bend down. Tack on a scant 12.6-ounce weight for the pair—the lightest design to make our list this season—and the result is a feathery but reliable companion for long slogs into the backcountry.
The Dynafit Tour offers an undeniably great value, but the lack of adjustability will be a dealbreaker for some riders. We personally like being able to shorten our poles on the uphill and extend them for flat sections and when descending. It's also helpful being able to compress your poles if you need to go hands-free when navigating sketchy or scrambly terrain. On the flip side, the Tour won't unexpectedly collapse when you plant, and the lack of moving parts is an obvious feather in the Tour's cap when it comes to long-term durability. In the end, the Tour won't be for everyone, but it's a hardwearing option for aggressive riders who seek out big lines or are prone to bending their adjustable poles. Another quality fixed-length design that we like is Black Crows' Oxus, although it's a considerable $50 pricier than the Dynafit, checks in 2.6 ounces heavier, and has a more streamlined feature set (no generous grip extensions or hooked tip).
See the Dynafit Tour

Shaft: Aluminum (16/14mm)
Basket: Powder
Weight per pair: 1 lb. 2.5 oz.
What we like: Great price for an adjustable and durable backcountry pole.
What we don't: A little heavier than carbon and doesn't collapse down very small.
Backcountry ski poles are an expensive bunch, but Leki's $100 Helicon Lite hits a real sweet spot in terms of price and performance. For $20 more than the Dynafit Tour above, the Helicon boasts Leki's proven Speed Lock + mechanism for customizing length depending on terrain or to stow in or on a pack, along with a mixed-thickness aluminum construction (16mm at the upper and 14mm at the lower) that's confidence-inspiring for regular backcountry use. You also get premium touches like extended foam grips and a straight edge on each basket for tweaking bindings or removing ice buildup from your skins.
As we've covered above, aluminum is heavier than carbon, although the Leki Helicon Lite checks in at a reasonable 1 pound 2.5 ounces per pair. For reference, most similarly built designs are heavier, including Black Diamond's 1-pound-4.9-ounce Traverse and Atomic's 1-pound-4.5-ounce Backland FR. The Leki's collapsed length isn't particularly impressive at 37.8 inches, but it's considerably shorter than the Atomic (by around 6 in.) and perfectly serviceable for securing to a pack occasionally. The Helicon Lite also undercuts both alternatives by $15-$30, giving it the clear edge in value. In the end, you'd be hard-pressed to find a better mix of durability, weight, and overall performance for the price, earning the Helicon a respectable spot on our list for 2023-2024. 
See the Leki Helicon Lite

Shaft: Carbon fiber (16mm/14mm)
Basket: Powder
Weight per pair: 1 lb. 1.6 oz.
What we like: The lightest adjustable backcountry poles on our list.
What we don't: Very expensive and prone to cracking.
Salomon is no stranger to demanding backcountry travel, and their MTN Carbon S3 poles are a nice reflection of the brand's expertise in this realm. Right off the bat, we'll note that the MTN is the only all-carbon backcountry pole to make our list, which has its pros and cons. On the bright side, these poles are some of the lightest here at just over 1 pound per pair, coming in just a few ounces heavier than Dynafit's non-adjustable Tour (12.6 oz.) above. Salomon also beefed up the upper section with 16-millimeter carbon (the lower shaft is 14mm) and added Kevlar reinforcements at the bottom to fend off dents and dings from sharp ski edges, trees, and other trail obstacles. Aluminum is still the better match for aggressive riders who like to push their limits (it's more prone to bending rather than snapping under pressure like carbon), but the MTN Carbon S3 is reasonably durable for an all-carbon design.
However, in addition to being less resistant to impacts, carbon also typically costs more than aluminum. The MTN Carbon S3 is no exception: At $200, they're the priciest poles on our list and reserved for experienced backcountry riders who prioritize weight above all else. But price and durability aside, Salomon made very few other concessions: The MTN Carbon is premium in every way, from the mixed rubber and foam grips with generous choke-up extensions to the rotating powder baskets that move around the shaft to adjust the angle of contact with the snow. Similar to their downhill-focused Arctic model above, the MTN Carbon also boasts Salomon's S3 tech that detaches the strap from the pole in the event of a fall. Again, these all-carbon poles are a little specialized for most, but weight-focused backcountry riders will find a lot to like.
See the Salomon MTN Carbon S3

Shaft: Aluminum (18mm)
Basket: Powder
Weight per pair: 1 lb. 4 oz.
What we like: A proven folding design for those looking to minimize packed size. 
What we don't: More complex than standard telescoping poles. 
For the ultimate in packability, Black Diamond's Compactor is a proven choice. The three-piece folding design collapses down to a diminutive 16.3 inches and checks in at a reasonable 1 pound 4 ounces per pair, which is impressive given the all-aluminum construction. And like the brand's Razor Carbon Pro above, the Compactor uses BD's FlickLock Pro adjustment system for dialing in fit, which we've found to be very user-friendly and reliable. Not all backcountry riders need such a compact packed size, but it's super helpful for instances when your poles will spend a lot of time secured to your pack or stuffed away—think splitboarding, snowshoeing, or throwing into a duffel bag or suitcase during travel.
All that said, the Compactor's multi-section design translates to less sturdiness and rigidity. The thick aluminum build should stand up decently well to regular backcountry use, but the extra moving parts and components mean more potential failure points over time (some users have reported premature issues with the locking mechanisms and inner cables, in particular). But if take good care of your gear and find yourself going hands-free frequently, the Compactor is a well-executed design from a brand that specializes in remote mountain travel.
See the Black Diamond Compactor

Shaft: Aluminum
Basket: Powder
Weight per pair: 1 lb.
What we like: Extra-long grips make it easy to adjust your hand position depending on terrain.
What we don't: Folkrm recommends sizing up, which results in an unwieldy look and feel; grips can ice up in frigid conditions. 
Many of the designs on our list boast grip extensions for navigating steep or uneven terrain, but Folkrm's Wyeast takes it to the next level with EVA grips that extend about halfway down the pole. The biggest benefit is convenience: The long section of foam means you can grab the pole pretty much anywhere, which is a boon when sidehilling or bootpacking (with other designs, you may have to adjust them mid-traverse or hold them by the cold metal shaft below the grip). The Wyeast also strikes a nice balance between durability and weight with a hardwearing 7075 aluminum construction that checks in at a very competitive 1 pound even for the pair. The rest of the design is relatively simple, although you do get nice touches like a removable strap and rubberized tip for flipping binding risers.
Designs like the Folkrm Wyeast are gaining popularity among backcountry riders, and we certainly understand the appeal. That said, there are some intricacies to consider. First and foremost, Folkrm recommends sizing the Wyeast longer (by 5-10cm) than your standard poles, which gives you more room to work on the skin up with but results in a fairly unwieldy look and feel when descending (a good portion of the pole will be above your hand). We also found the grips prone to icing up and growing slippery in particularly cold and wet conditions. Combined with the polarizing looks, the Wyeast realistically has limited appeal. But for backcountry riders looking for a tough, dependable design that can handle any terrain you throw at it, the Folkrm has its place.
See the Folkrm Wyeast
Shaft: Aluminum (14mm)/carbon fiber (12mm)
Basket: Powder
Weight (single pole): 15.6 oz.
What we like: The ultimate ski mountaineering tool.
What we don't: Expensive (sold as a single pole).
Ski mountaineering in steep, icy terrain comes with its own unique gear requirements, and the best ski mountaineering pole on the market is the distinctive Black Diamond Carbon Whippet. Sold as a single pole, the Whippet has a strong following in the backcountry community for its stainless steel pick at the front of the grip for self-arresting should you fall in a precarious spot. And Black Diamond updated the design fairly recently by adding a quick-release screw on the top of the grip, which allows you to easily remove the metal pick and store it while descending.
As with the other Black Diamond poles that made our list, the rest of the Whippet's features are nicely thought out. Its two-piece construction is easy to adjust with the quality FlickLock Pro system, and it's reasonably durable for a backcountry piece with a 14-millimeter aluminum upper and 12-millimeter carbon fiber lower (an all-aluminum Whippet is also offered for $150, although stock is limited at the time of publishing). Clearly, this is a specific tool for a certain type of skier—don't even think about taking it to the resort—but the Carbon Whippet offers an unmatched level of security should you find yourself bootpacking up a sketchy ridgeline.
See the Black Diamond Carbon Whippet
Ski Pole Comparison Table
Ski Pole Buying Advice
Intended Use
For the majority of skiers, purchasing a set of poles is an afterthought or by necessity after breaking or losing an old pair. The good news is that it's fairly easy to nail down which style is best for you. Below are common skier profiles and our recommended corresponding ski pole type:
Casual Groomed Runs: Fixed-length basic aluminum pole w/standard baskets
Hard-Charging Groomers: Fixed-length durable aluminum or carbon w/standard baskets
Backcountry Touring: Adjustable lightweight carbon fiber w/powder baskets
Mixed Snow Use: Fixed aluminum or carbon fiber (or combination of both) w/replaceable baskets
Terrain Park: Shorter-length, high-strength aluminum w/standard baskets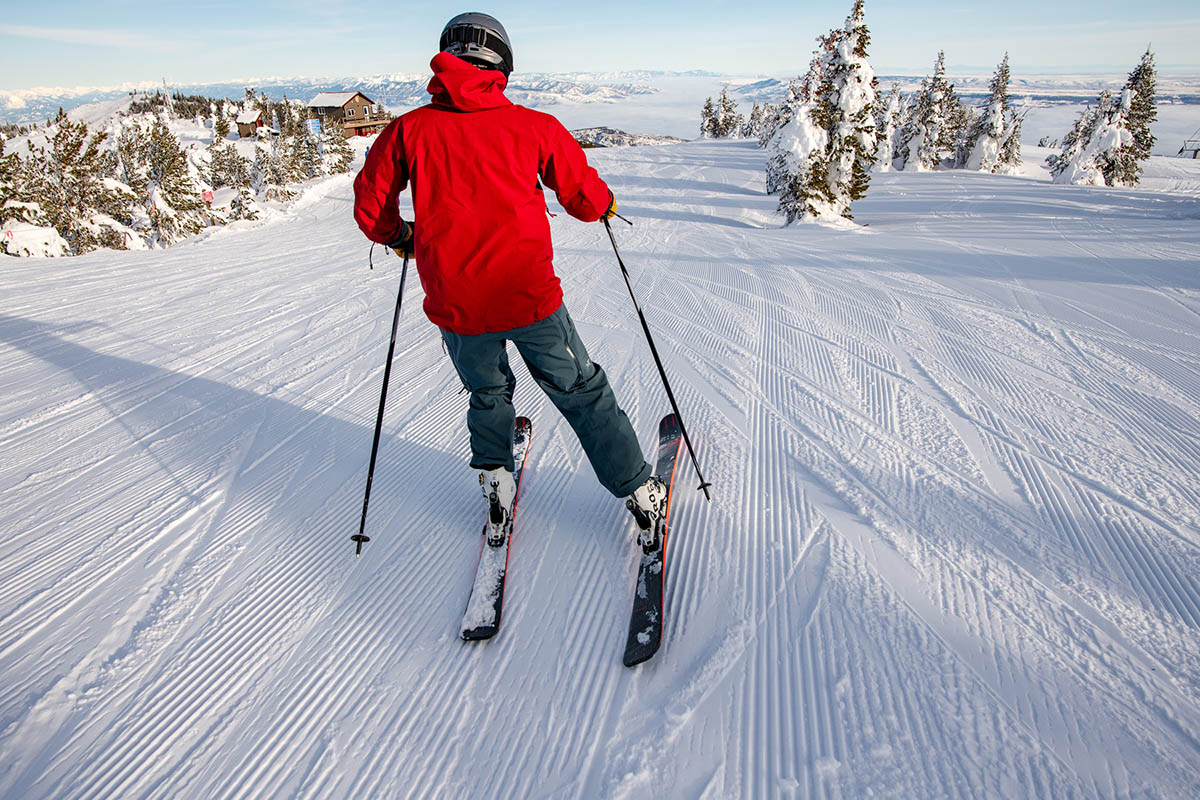 Ski Pole Shaft Materials
Aluminum
The vast majority of ski poles on the market have at least some aluminum in their construction, and most budget-focused resort models use all-aluminum shafts. Cost is a big reason, as lower-grade alloys can be extremely cheap to manufacture. Aluminum is also more prone to bending rather than snapping like carbon and fiberglass, but should you bend it, the poles can often be manipulated back into a reasonable shape.
There are varying thicknesses and qualities of aluminum. Opting for a more expensive and higher-grade aluminum (like you get with our top-rated Leki Detect S) will bring greater strength for the weight, which makes them feel lighter in your hands and should help prolong their lifespan. Casual resort skiing does not put a lot of stress on ski poles (for the most part), so a cheaper model like the Völkl Phantastick ($59)—although heavier and not as tough—is a fine choice. And should you break it, replacement costs are fairly minimal.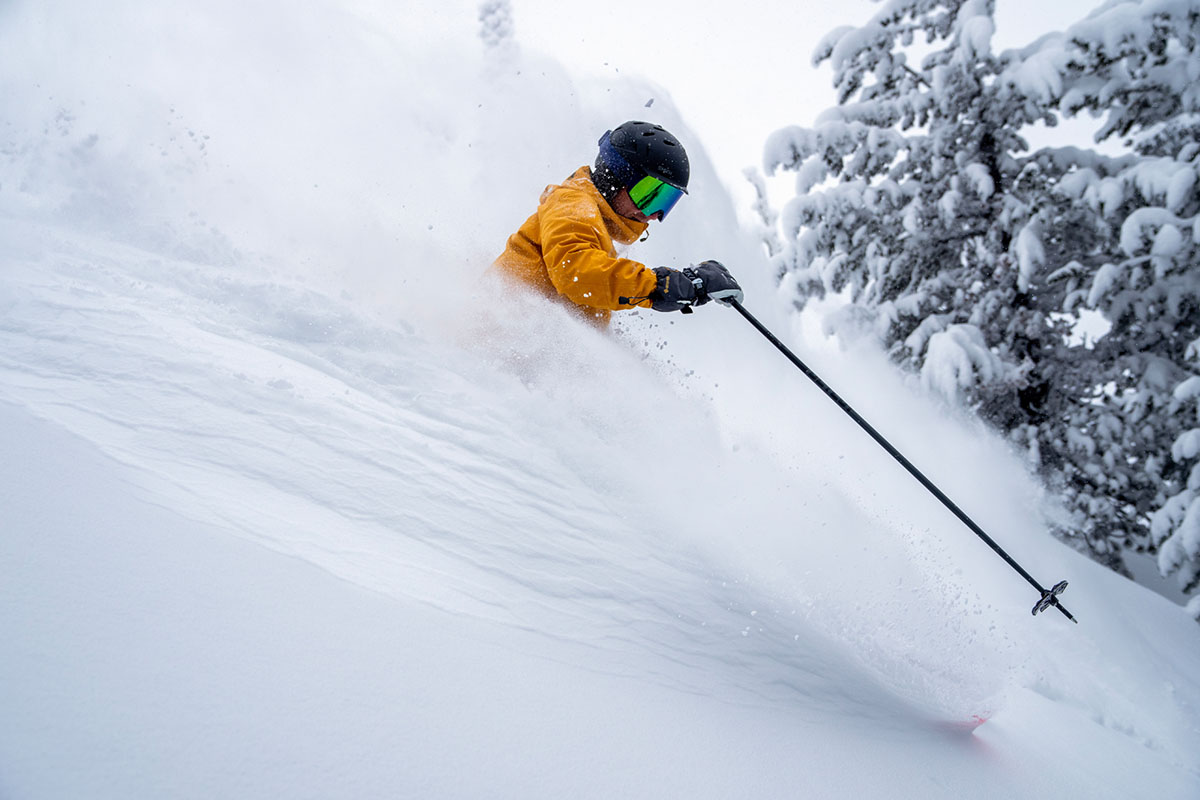 Carbon Fiber
High-end performance and backcountry ski poles often tout a lightweight construction, which more often than not is because there's carbon fiber in the build. And not only is carbon fiber lighter than aluminum, it also has a natural flex under light pressure in contrast to the stiffer alloy. However, unlike aluminum, which bends under heavy stress, carbon may splinter and break. As such, it's not the best material for folks who are hard on their gear or if you hit big features in the terrain park or do the occasional cliff drop. Those skiers would be better served by a quality aluminum pole.
It's worth noting that only one of our backcountry picks (the Salomon MTN Carbon S3) is made exclusively with carbon fiber, and most mix in aluminum either at the top or bottom of the shaft for increased durability. While skiing off piste, it's common to encounter obstacles like rocks and trees, which means your poles have to be able to withstand significant impacts. Resort-focused models, on the other hand, can get away with using all-carbon constructions because inbounds use typically is a bit easier on your gear (there are of course exceptions). Again, carbon is undoubtedly the lightest option, but make sure to weigh the durability part of the equation too, and especially if most of your riding is done off piste.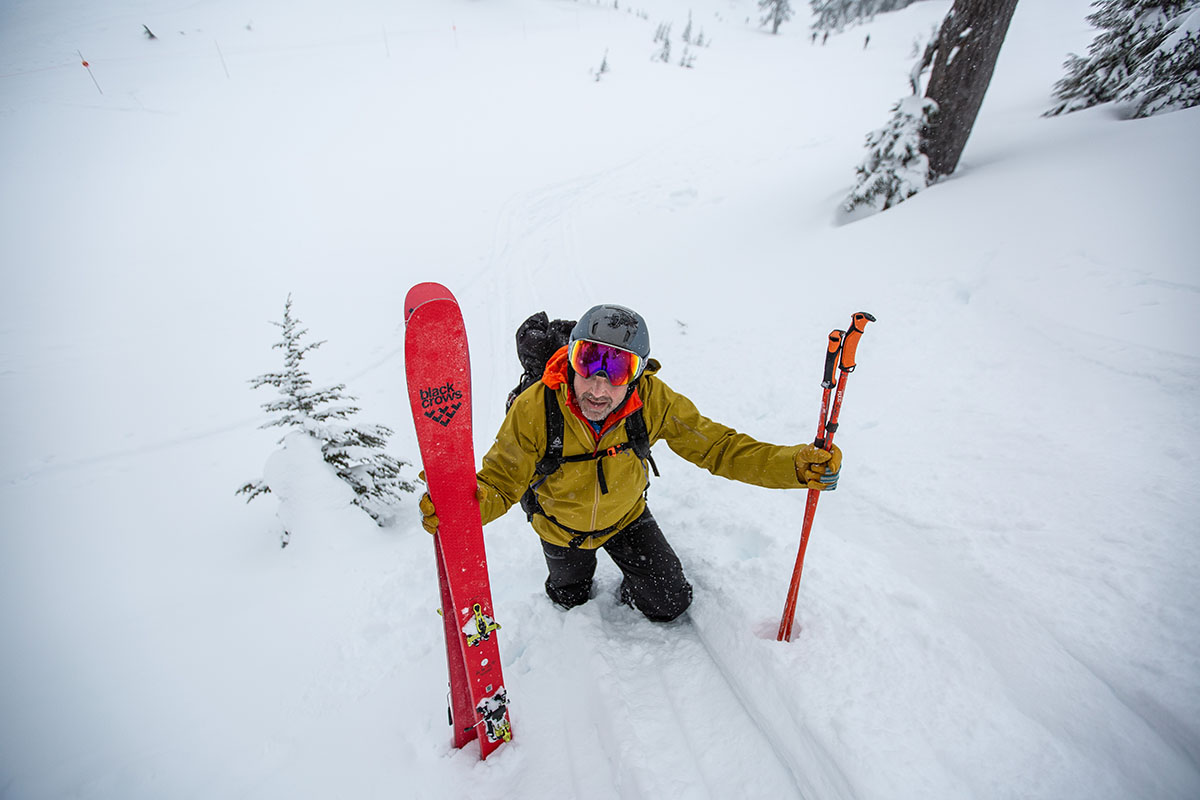 Bamboo
We've included a single bamboo model on our list above: the Grass Sticks Original Bamboo. Like aluminum, bamboo flexes under pressure rather than snapping, which translates to good all-around durability. But for many, the biggest draw is environmental: Compared to aluminum or carbon models, bamboo poles need to undergo far less processing and require less energy output to be manufactured and produced. So far, reviews are positive, but bamboo still is less proven from a long-term durability standpoint. If you're looking for a tried-and-true option for resort use, aluminum remains the most reliable material (and especially for particularly aggressive riders and park use).

Fiberglass
The least common material used in ski pole construction is fiberglass. This is mostly due to its primary constraint: low levels of durability (even lower than a comparable carbon, aluminum, or bamboo pole). The appeal of fiberglass is that it shares similar traits as carbon but at a lower cost: Both materials are lightweight and have a tendency to flex. As such, it's best when blended to increase its structural support. Hybrid aluminum/fiberglass designs reduce weight without compromising as much on durability.

Shaft Diameter
In addition to material, shaft diameter is also important to consider and closely corresponds with durability. The models on our list above range from 10.4 millimeters for the Goode G-Carbon all the way up to 22 millimeters for the Black Crows Furtis, which is a considerable spread. In practice, a thinner design like the G-Carbon or Leki Carbon 14 3D (14mm) is great for keeping weight low, but those poles aren't all that robust for venturing off-trail where you're likely to encounter rocks, trees, and other hazards. At the opposite end of the spectrum, stepping up to the 18-millimeter Völkl Phantastick, Black Crows Meta, or Salomon Arctic S3 makes a lot of sense for aggressive riders or those who regularly hit the terrain park. And poles in the 14- to 16-millimeter range strike a nice middle ground between weight and toughness.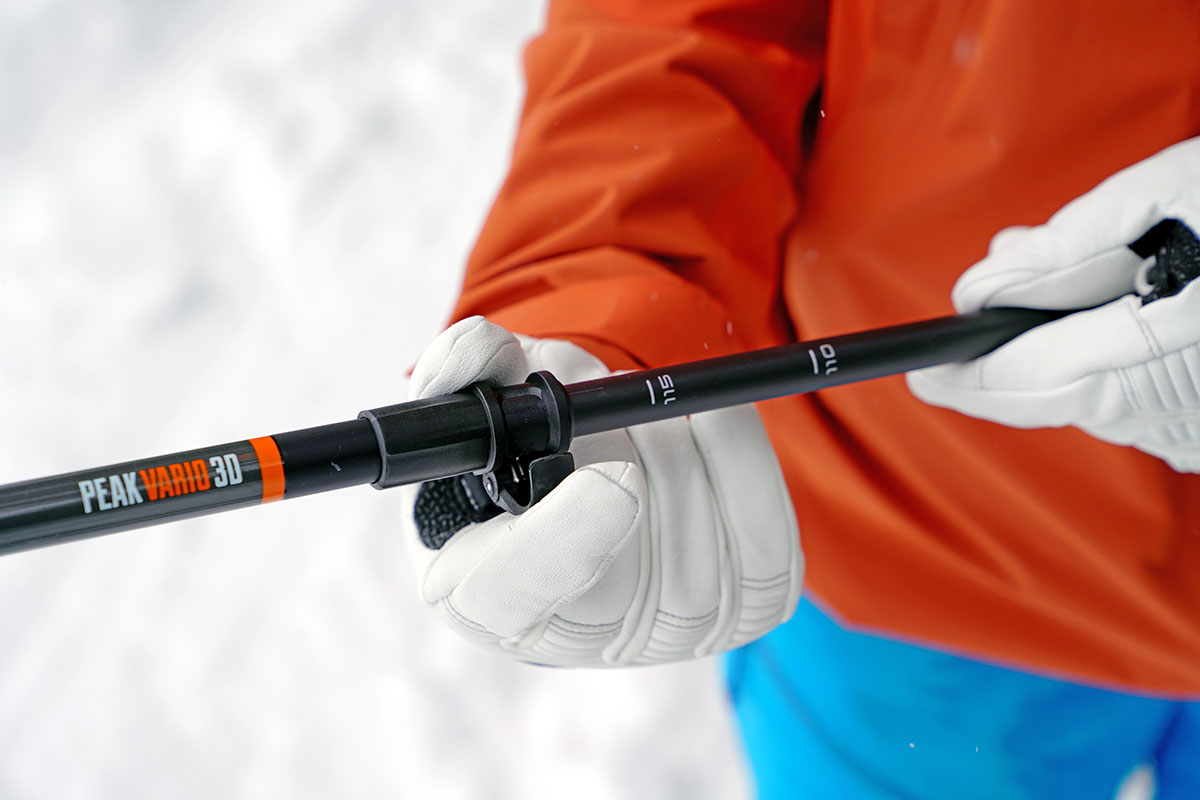 Ski Pole Weight
The weight of a ski pole is most important for backcountry or sidecountry skiers, but resort-goers can still appreciate the lighter feel. The weight of a ski pole most often correlates with material type, but that doesn't mean you should assume a carbon pole will always be the lightest option. As we touched on above, the thickness of the ski pole's shaft also plays a role. If you are comparing an aluminum and carbon pole (with similar features) and the carbon is heavier, you can reasonably assume the carbon pole has a wider diameter.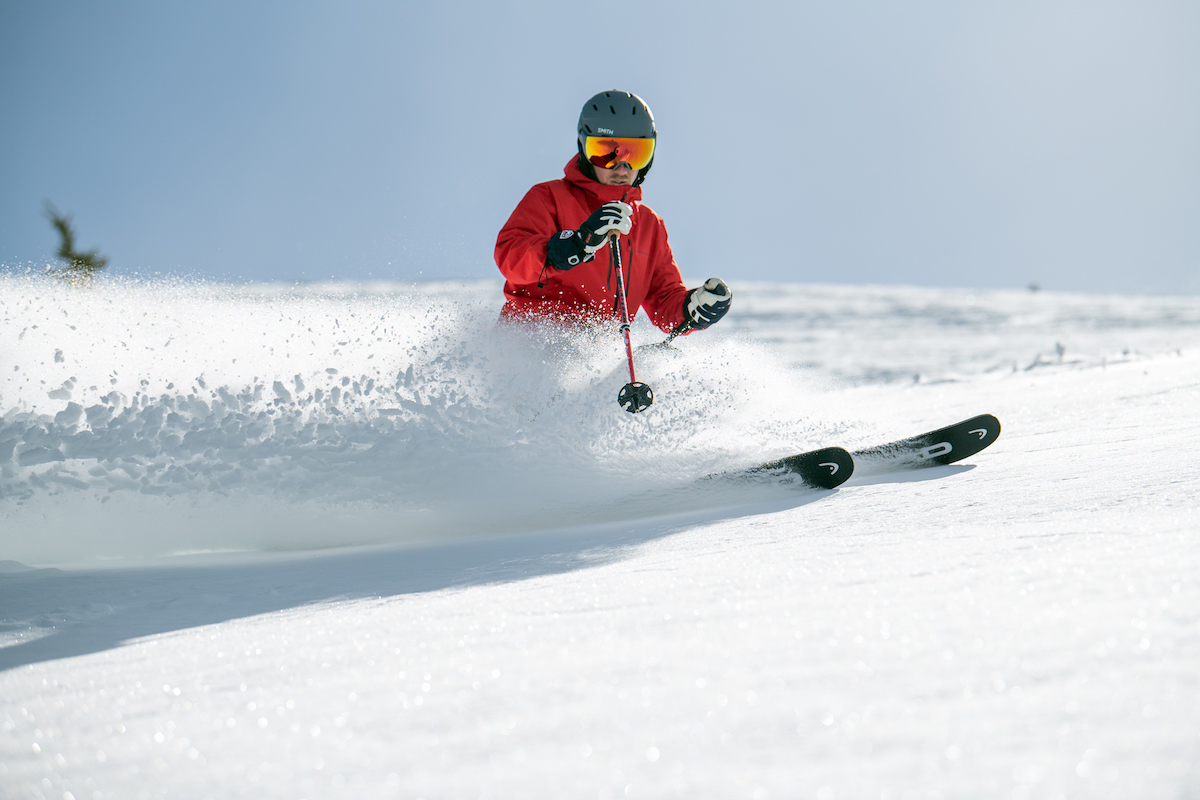 Narrower construction of any material type will be less durable and have a lower stress tolerance, and as a result, we rarely recommend finding the absolute lightest ski pole available. Our backcountry ski pole recommendations—even the relatively thin Black Diamond Razor Carbon Pro—are still tough enough to handle most ski conditions. Opting for an ultralight, all-carbon pole is a viable choice for those embarking on multi-day ski touring missions or skimo races, but expect durability and longevity to drop significantly. In the end, finding the right balance between weight and durability for your particular style of riding should be a key consideration in your ski pole purchase.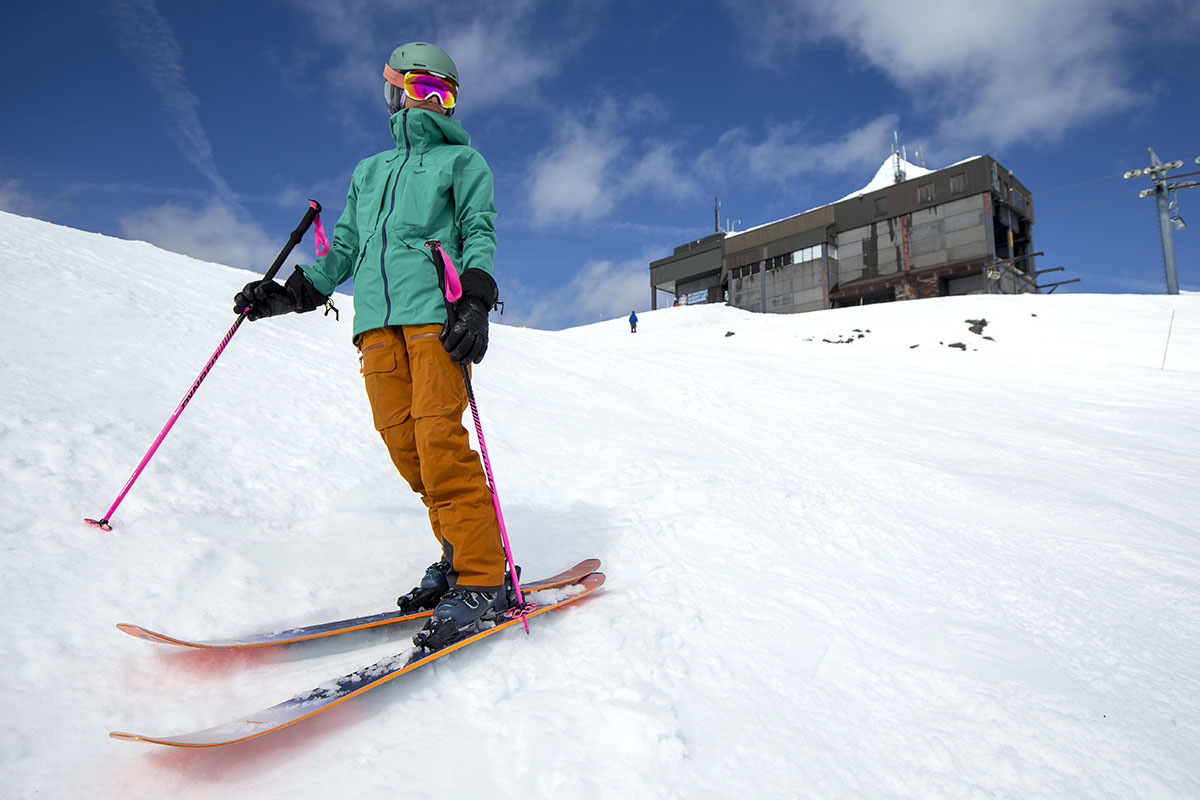 Adjustable (Telescoping) vs. Fixed-Length Ski Poles
An adjustable ski pole is best for out-of-bounds use, and particularly when touring. The reasoning is fairly simple: You'll typically want a shorter length for the uphill and longer for flat sections and downhill. Further, if you need to use your hands for scrambling or navigating up an icy slope with an ice axe, it's nice to be able to compress your poles to stow them in or on your pack (a big reason we like the aptly named Black Diamond Compactor, which measures around 16 in. when collapsed). The main disadvantage of a telescoping pole is the possibility for the clamp to not hold and collapse unexpectedly when you plant. In addition, the separate sections create inherent weak points in the design for potential failure. Choosing a pole from a reputable brand with great locking mechanisms and top-quality materials like Black Diamond, G3, Leki, and K2 always is a good idea, and make sure to test to make sure the clamps are properly tightened before heading out.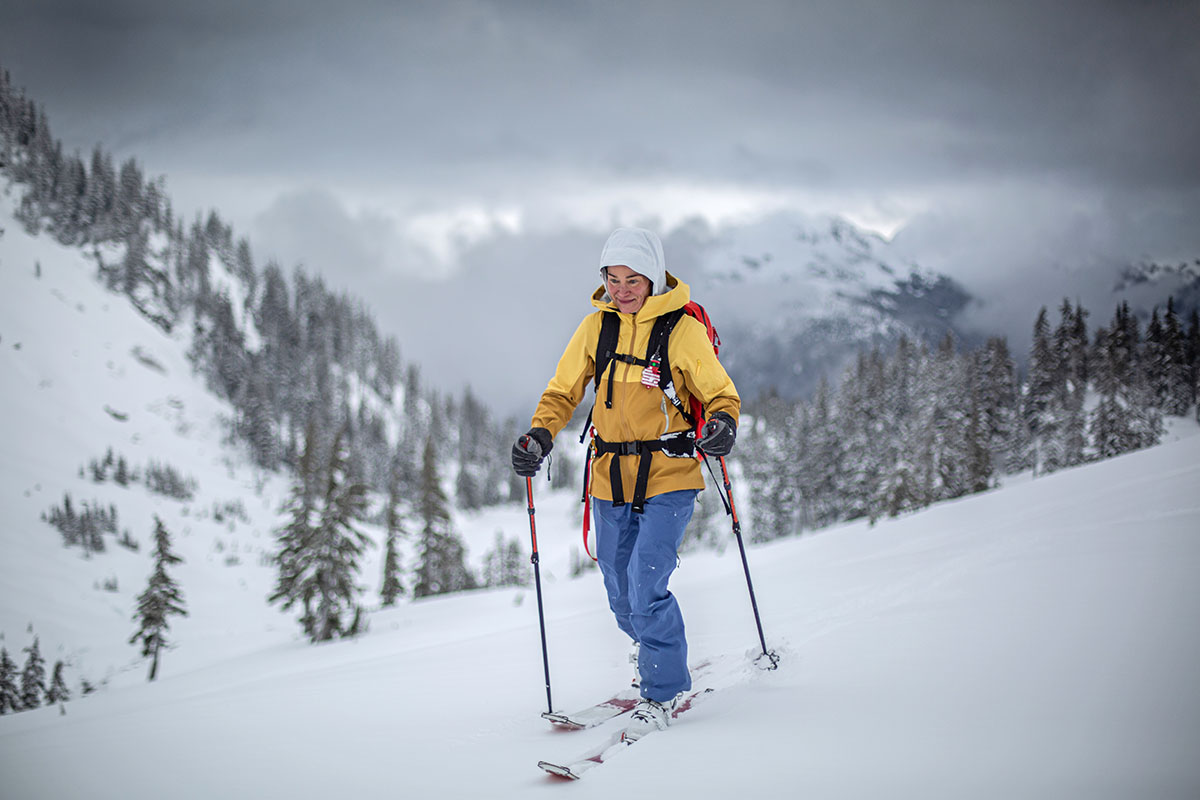 If you exclusively ride inbounds, however, a fixed-length model will save you some money and have fewer moving parts that can break or fail over time. All of our resort picks above are of the non-adjustable variety, since you won't be needing to shorten your poles to travel uphill for significant stretches. And for those who split their time in and out of bounds but only want to purchase one pole, consider your priorities: Would you rather have a simple and reliable design, or do you prioritize the ability to adjust the length of your poles while touring?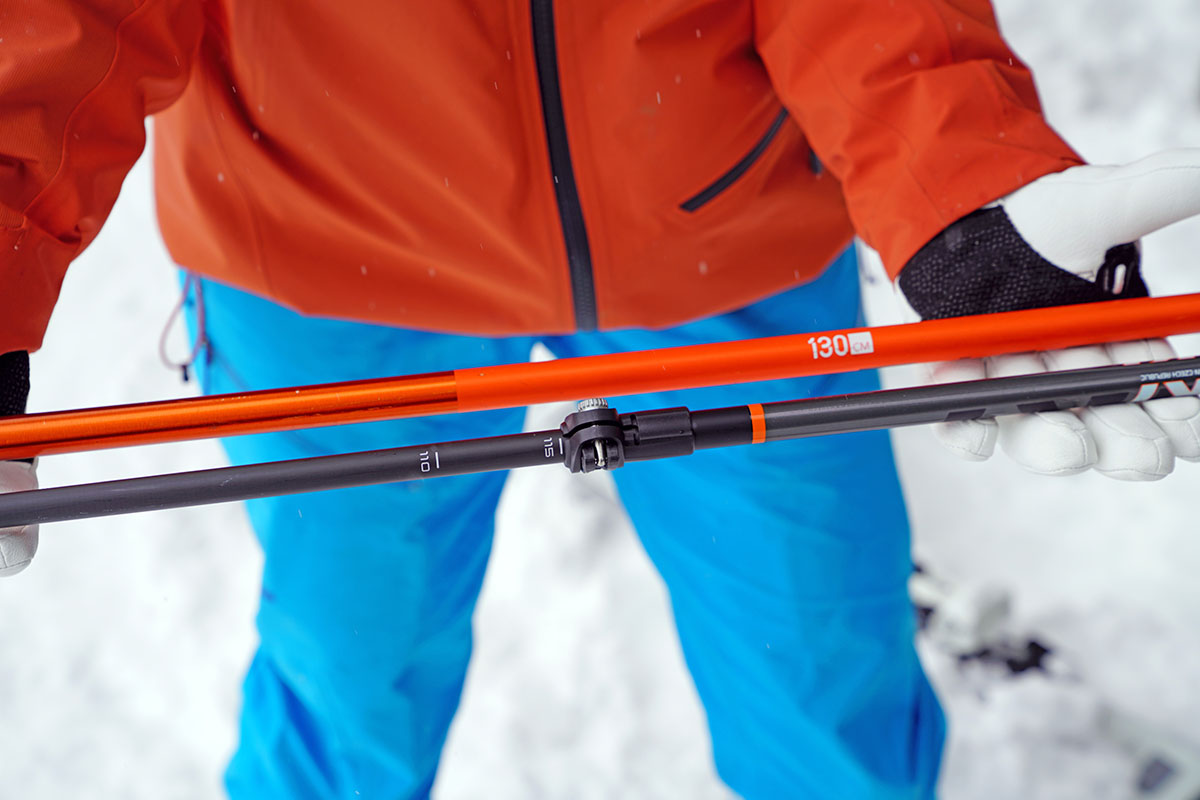 Parts of a Ski Pole
Grips
With a pretty wide variety of materials and shapes, choosing a ski pole grip will most often come down to personal preference and how well the grip fits in your gloved hands. The most common grip materials are plastic and rubber, in part because neither absorbs moisture. Rubber is the more comfortable of the two, and some poles have dual-density foam inside for increased hand comfort. Note that women's-specific ski poles have smaller-diameter grips, which means not all women should automatically assume a women's model is best.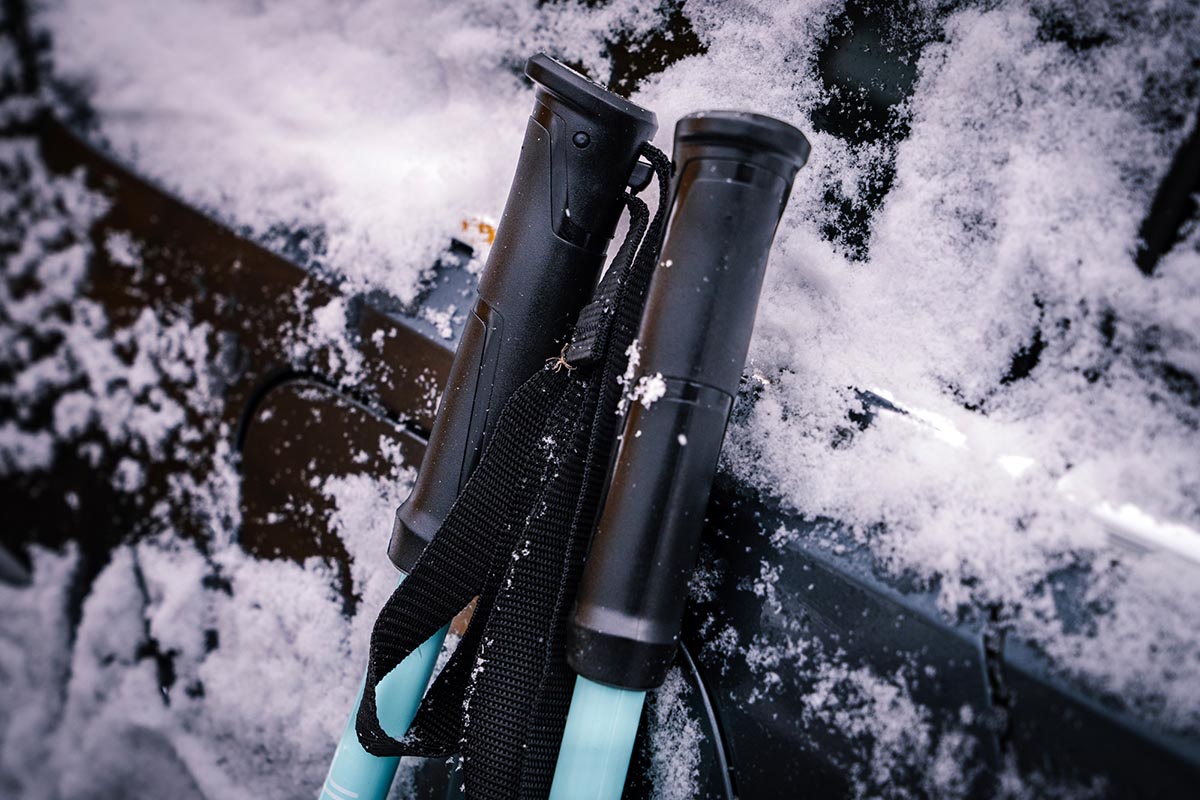 Some high-end models have grip extensions or metal rings that function as a place to choke up on the ski poles if you're trudging up or traversing across a particularly steep section. This feature is usually found on backcountry poles and can be helpful for those who ski tour in varied terrain or bootpack up to a summit. At the extreme end of the spectrum is the Folkrm Wyeast, which boasts an extra-long foam grip that extends about halfway down the pole. With more surface area for you to grab, these long-grip designs make it easier to navigate steep and uneven terrain—great for sidehilling or bootpacking when you'll be choking up frequently. It does result in a noticeably polarizing look and unwieldy feel on the descent, but riders who frequent particularly aggressive terrain may be willing to deal with that trade-off.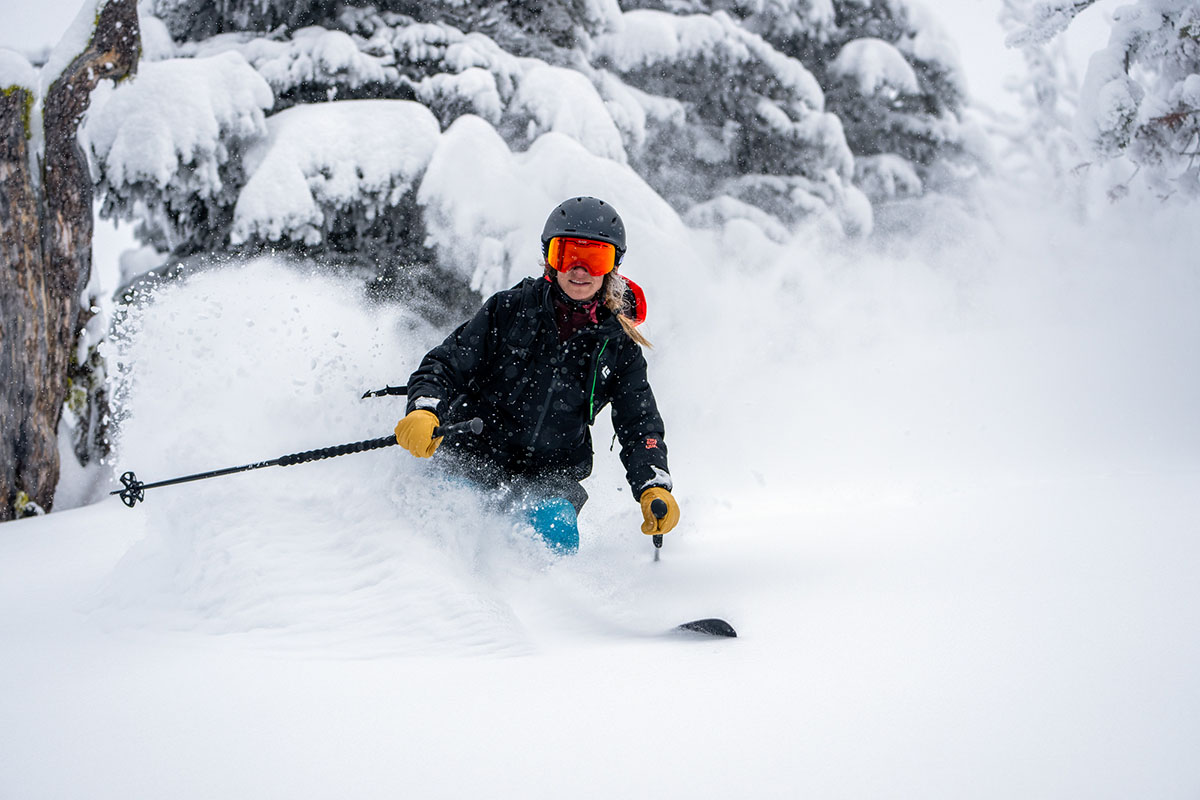 Straps
Tasked with the simple job of keeping the poles wrapped around your hands, the straps on a ski pole are most often made with a pretty basic nylon webbing. As long as the strap is wide enough for your ski gloves—we recommend looking for one that is easily adjustable—any old webbing style strap is all you need. Some high-end models have padding, which may be relevant for downhill racers or those who wear thin gloves.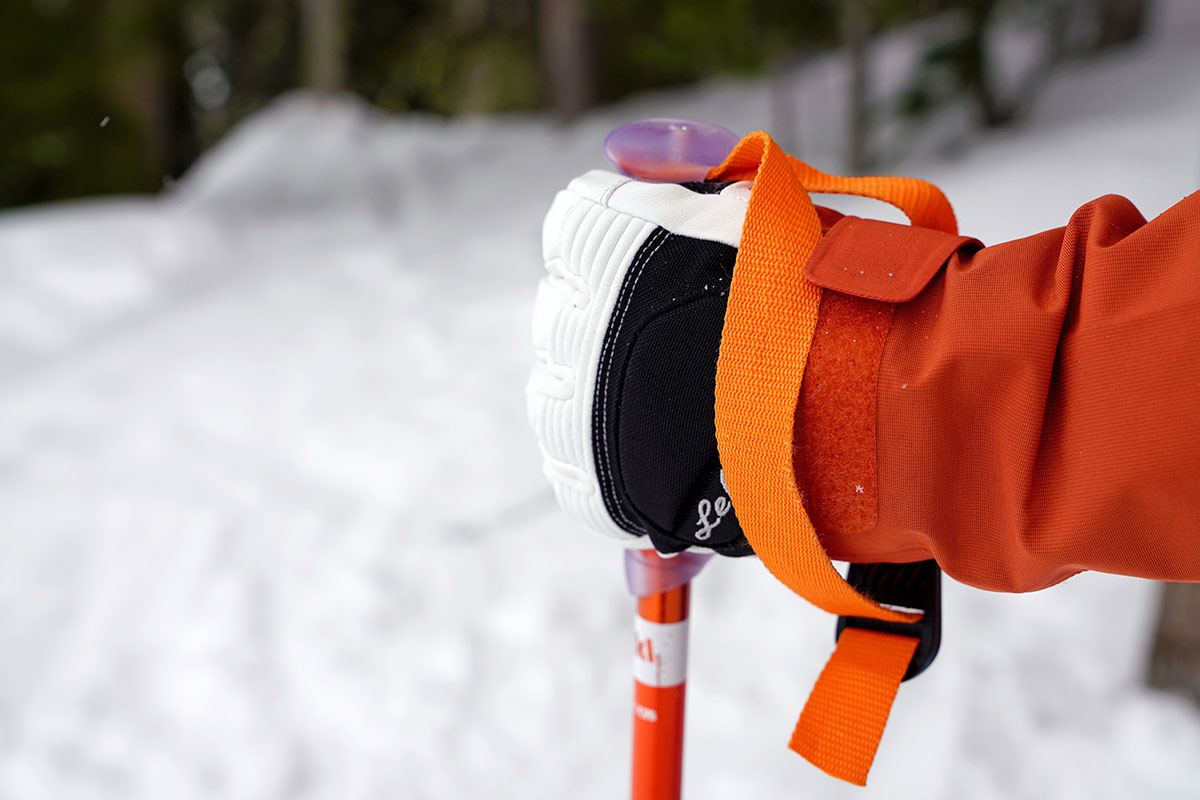 While on the topic, it's worth pointing out that some brands incorporate added safety tech into the straps on their more premium models. For example, Atomic's BCT Freeride uses their SQS (short for "Safety Quick Release System"), which is designed to disconnect the strap from the pole in the event of a snag or fall. It's a similar story with Salomon's S3 tech featured in their Arctic and Mtn Carbon S3 models. Leki takes it a step further with their Trigger S system seen in the Detect S and Carbon 14 3D: Instead of having to take the straps on and off in the lift line, Leki's straps remain around your wrists and can be connected to the ski poles via a small fabric loop. A push of a button along the top of the grip lets you release the straps from the poles, and, in a crash, the poles will disconnect from your wrists under upwards pressure. Some will enjoy the simplicity of the design—as well as the extra safety measure—but whether these features are worth the bump in cost (usually $20-$30 extra) will come down to your priorities as a skier.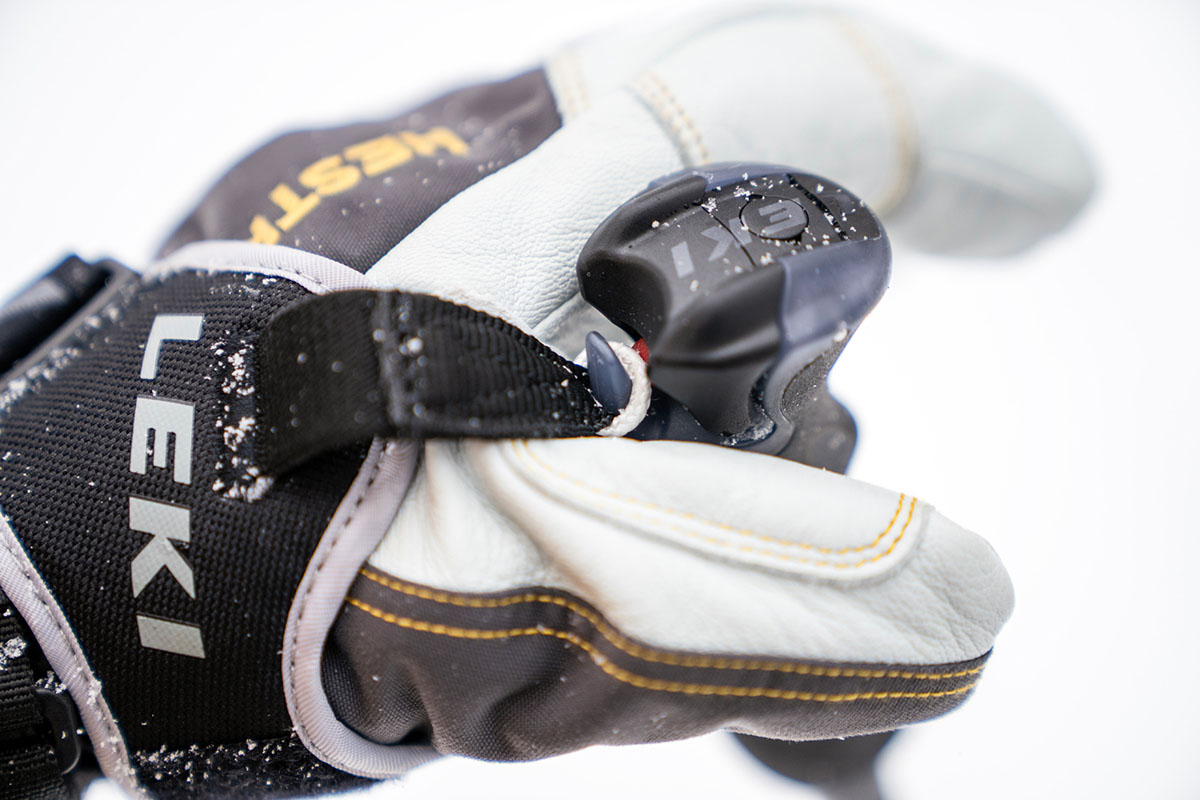 Powder and Standard Baskets
All ski poles have a plastic circular basket connected near the bottom to keep a planted pole from sinking too deeply into the snow. These plastic (or sometimes aluminum) baskets come in varying circumferences, but can be broken down into two general categories: powder and standard (hardpack).
Powder baskets have a greater surface area to keep the poles from sinking as far into the snow when you plant. The circumference of these poles ranges between models and brands, but is approximately 90-100 millimeters (about 3.5 to 4 inches). Standard baskets, also referred to as hardpack or groomer baskets, are what come with most downhill-focused poles and are smaller in diameter. If your ski area gets a mix of snow types or you find yourself spending some days on groomers and others in the side or backcountry, a ski pole with replaceable baskets may be worth it. The Leki Detect S is an example of a pole that has this option: You simply swap out the baskets to match the snow conditions.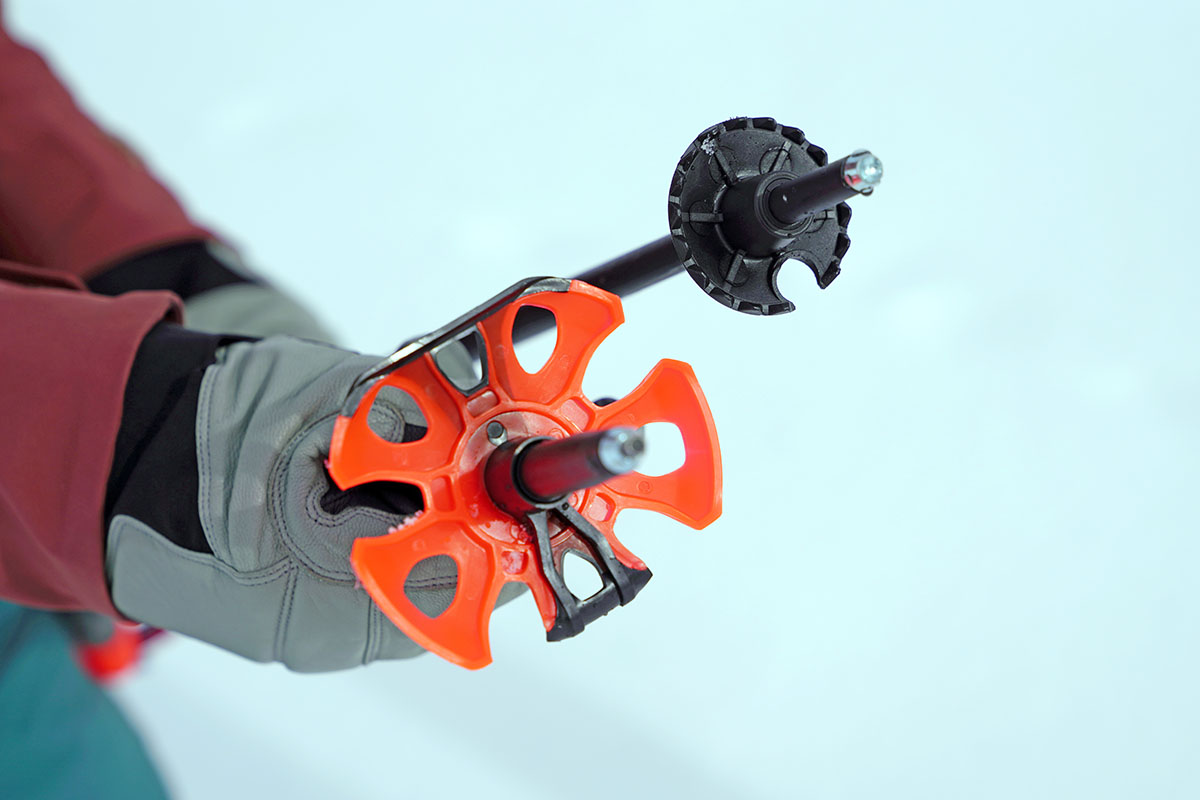 Other Ski Pole Features
In addition to variations in grips, straps, and baskets, some ski poles include additional features that set them apart from the competition. From our list above, notable additions include the stainless steel pick on the front of Black Diamond's Carbon Whippet for self-arresting and the hooked tip on the G3 Via Aluminum and Dynafit Tour for tweaking heel risers or scraping snow off of skis and skins. We did our best to call out any unique and noteworthy features in the write-ups above, as they can be a big help for the right user and activity.

Choosing the Proper Ski Pole Length
It's very important to take the time to choose a ski pole that is the proper length for your height and skiing style. A ski pole that is either too long or too short will impact your ability to smoothly transition between turns and can even knock you off balance. Most online charts use a conversion for total height, and this is a good starting point, but we encourage you to go a step further. For traditional downhill, the measurement should place the grips in your hands with your arms bent at a 90-degree angle. You can get this measurement using a simple measuring tape—and don't forget to throw on shoes (or your ski boots) to get a more exact number. Backcountry and terrain park use requires a shorter pole, and for more details on getting sized for these skiing types, we recommend watching this video put together by ski retailer Evo.
Back to Our Top Downhill Ski Pole Picks  Back to Our Top Backcountry Ski Pole Picks
Learn More About Ski Gear