No matter your ability level, a comfortable boot is an absolute necessity. Nothing ruins a good powder day faster than cold or painful feet, and ill-fitting boots also run the risk of not properly transferring energy to your skis and thereby harming your performance. Amid this doom and gloom, however, is the welcome news that ski boots have never been more foot-friendly than they are today. Most new boots have anatomical shapes and customizable liners and some even come with heat-customizable shells. Below are our picks for the best downhill ski boots for the 2023-2024 season. For more information, see our comparison table and buying advice below the picks. To complete your alpine kit, check out our articles on the best all-mountain skis and ski bindings.
 
---
Our Team's Downhill Ski Boot Picks
---

Best Overall Downhill Ski Boot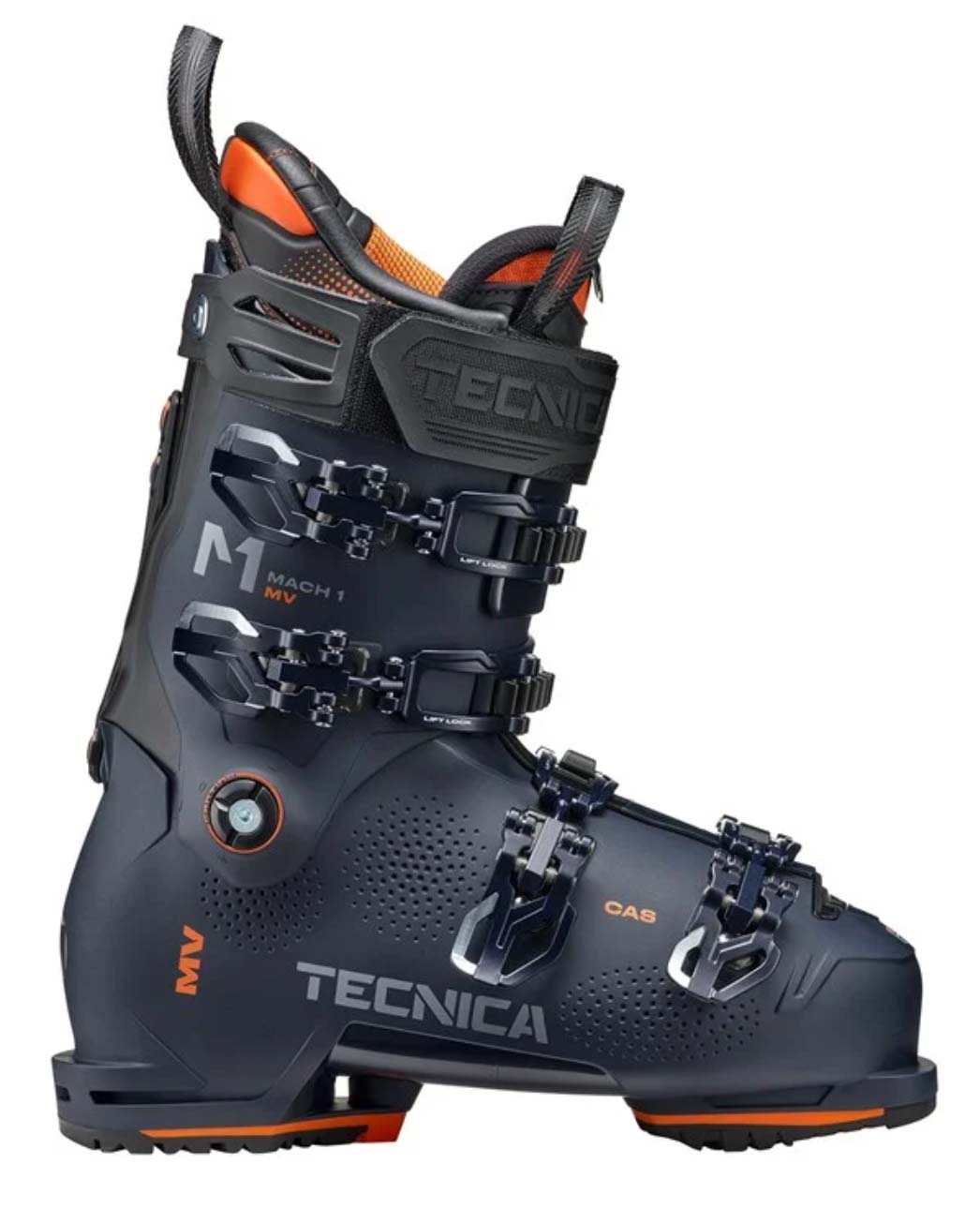 Last: 98, 100, or 103mm (narrow, medium, wide widths)
Flex: 120 (advanced/expert skiers)
Other flexes: 95W, 105W, 110, 115W, 130
What we like: Top-end fit customization and all-around performance.
What we don't: It's a big investment.
A lot of brands tout fit customization as a key feature of their boots, but few go as far as Tecnica with their well-loved Mach1 collection. Built to match the anatomical shape of your foot, you get a highly customizable liner and a tough but reasonably light polyether shell that can be punched, grinded, and all-around manipulated by a bootfitter. In addition, thanks to a greater market emphasis on medium- and high-volume boots, the latest Mach1 120 is offered in a class-leading range of lasts, including low (98mm), medium (100mm), and high-volume (103mm) widths.
The alpine performance of the Mach1 is no slouch either, with a natural stance and predictable power transfer both on and off trail. And Tecnica honed the design for expert-level skiers a couple winters ago with a carbon fiber spine that connects the cuff and shell for improved stiffness and precision. Compared to the all-new Lange Shadow below, the Mach1 stacks up extremely well in build quality, comfort, and all-around performance. The Shadow does get the slight edge for hard chargers with its stout, race-ready feel and class-leading precision and power transfer, but we think the Mach1 is a little more well rounded for advanced all-mountain riders. Tack on the wide range of lasts and excellent shell and liner customization, and you have a market standout.
See the Men's Tecnica Mach1 MV 120  See the Women's Tecnica Mach1 MV 105
Best Downhill Boot for Intermediates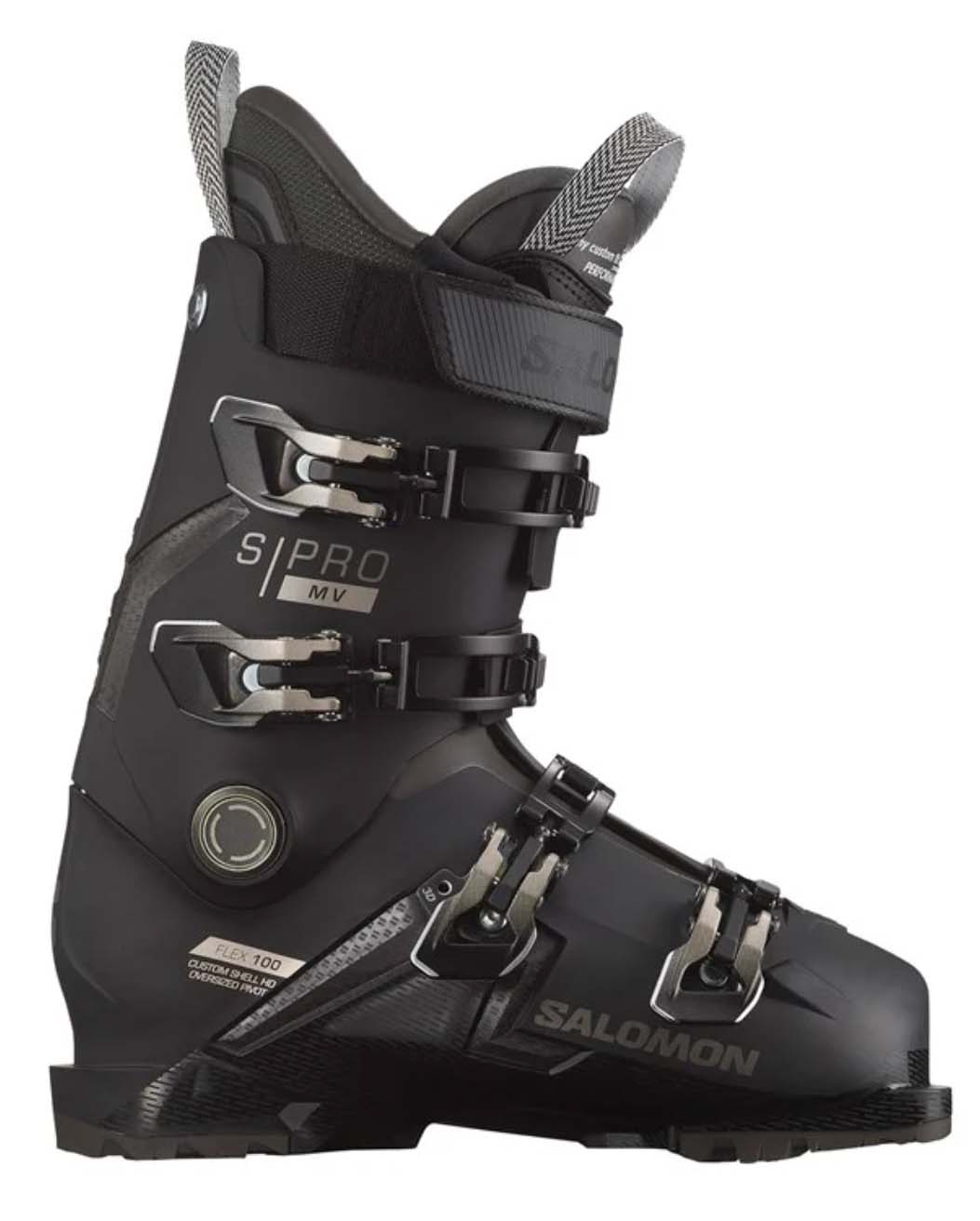 Last: 100mm (medium width)
Flex: 100 (intermediate/advanced skiers)
Other flexes: 90W, 100W, 120, 130
What we like: Lots of thoughtful upgrades from the old X Pro.
What we don't: Fairly pricey considering the flex rating.
Easily one of the most common boots on the hill, Salomon's S/Pro lands in a nice middle ground for intermediate riders. This boot replaced the equally popular X Pro a few years back and came with a few notable upgrades: It's more comfortable with a seamless liner that's smooth even around the toes (read: fewer pressure points), got an uptick in performance with better power transfer from the thinner Coreframe shell, and is noticeably lighter-weight and easier to control. The S/Pro isn't a standout value at $500 for the 100-flex model, but we have little to complain about when it comes to overall performance and construction.
As expected from Salomon, the S/Pro MV 100 boasts a highly customizable and heat-moldable shell, smooth and predictable flex, and plush liner that comfortably holds your foot in place. Further, build quality is up to the French brand's typical standards, so we don't have any concerns about longevity. The 100-flex version should match well for anyone from ambitious beginners to advancing intermediates, but powerful or expert skiers will want to step up to the S/Pro Supra Boa (available in 110, 120, and 130 flex versions). Finally, it's worth noting that Salomon offers the S/Pro in both narrower-width Alpha (98mm last) and higher-volume HV (102mm) variations.
See the Men's Salomon S/Pro MV 100  See the Women's Salomon S/Pro MV 90
Best Boot for Hard-Charging Skiers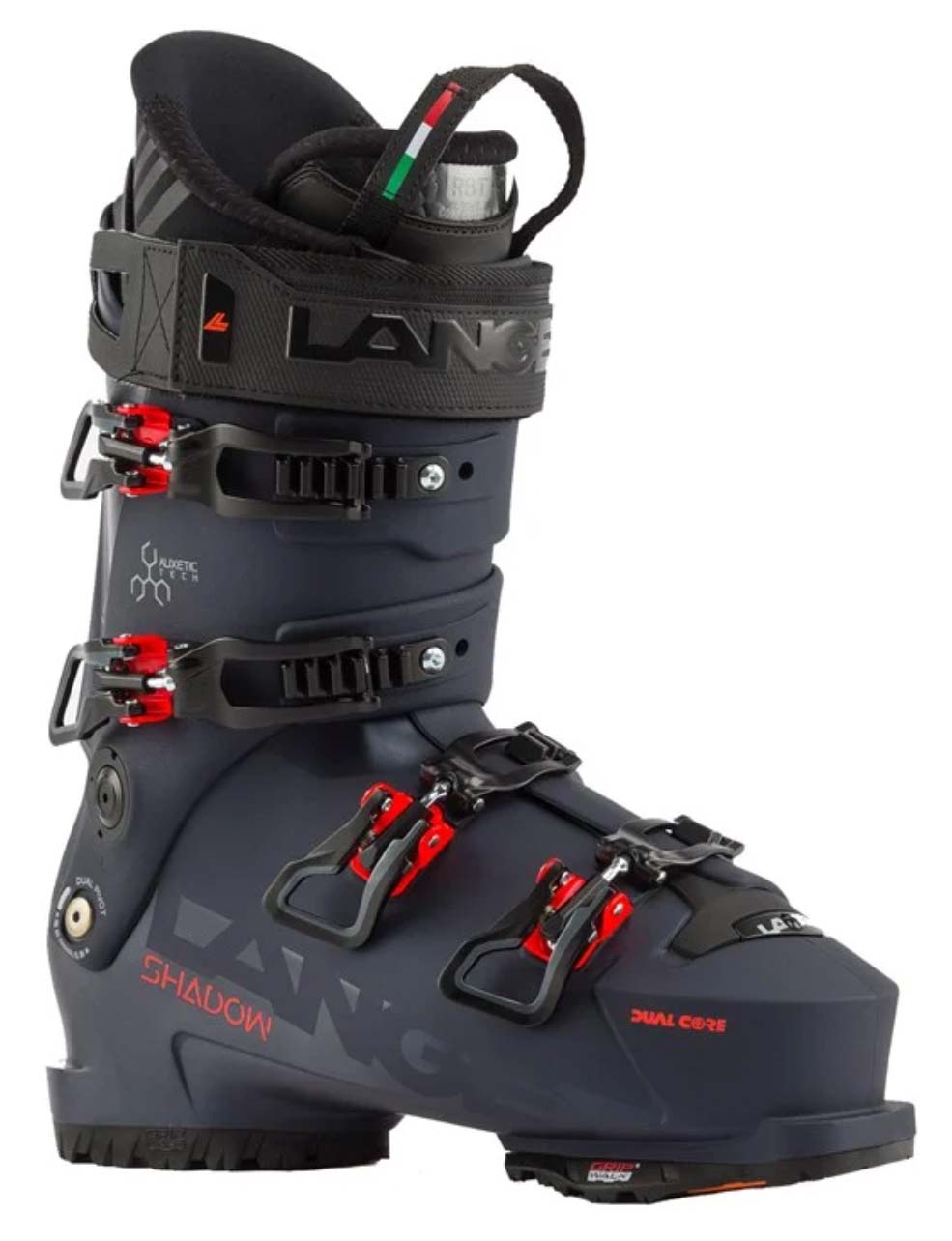 Last: 97 or 100mm (narrow or medium width)
Flex: 130 (advanced/expert skiers)
Other flexes: 85W, 95W, 110, 115W, 120
What we like: New tech delivers fantastic precision and power transfer.
What we don't: Unproven over the long haul; pricey.
It's not too often that a downhill ski boot really shakes up the market, but that's just what Lange has done with their all-new Shadow. Replacing the ever-popular RX series, the Shadow represents a significant departure in design and tech with their Suspension Blade and Dual Pivot concepts. To provide a little context, traditional ski boots are built with two overlapping pieces (the cuff and the shell), which are attached via a spine along the back. With the Shadow, Lange places a "Suspension Blade"—a vertical bar that's shorter and positioned higher than a traditional spine—that connects the cuff to the lower shell via two pivot points on either side of the heel. In theory, this allows the skier to transfer power more efficiently from their legs to their skis—thus saving energy while maintaining power and control.
In the top-end 130-flex version, the Shadow delivers big-time power transfer, standout precision, and excellent shock absorption. And as expected from the brand, the rest of the design is well sorted, with a quality shell that's easily molded, reliable buckles, and an asymmetrical liner that forms nicely to your feet and offers great heel lock. The biggest question we have about the Shadow is longevity, as Lange introduced quite a few new concepts—including that second pivot on the shell. Price is also a notable obstacle at $850, although the Shadow 130 is only $50 more than the corresponding 130-flex version of the Tecnica Mach1 above. One final note here: We've included the low-volume (97mm) version for our performance pick, but Lange also makes the Shadow 130 MV, which features a roomier 100-millimeter last.
See the Men's Lange Shadow 130 LV GW  See the Women's Lange Shadow 115 LV GW
Best All-Mountain Boot with a Walk Mode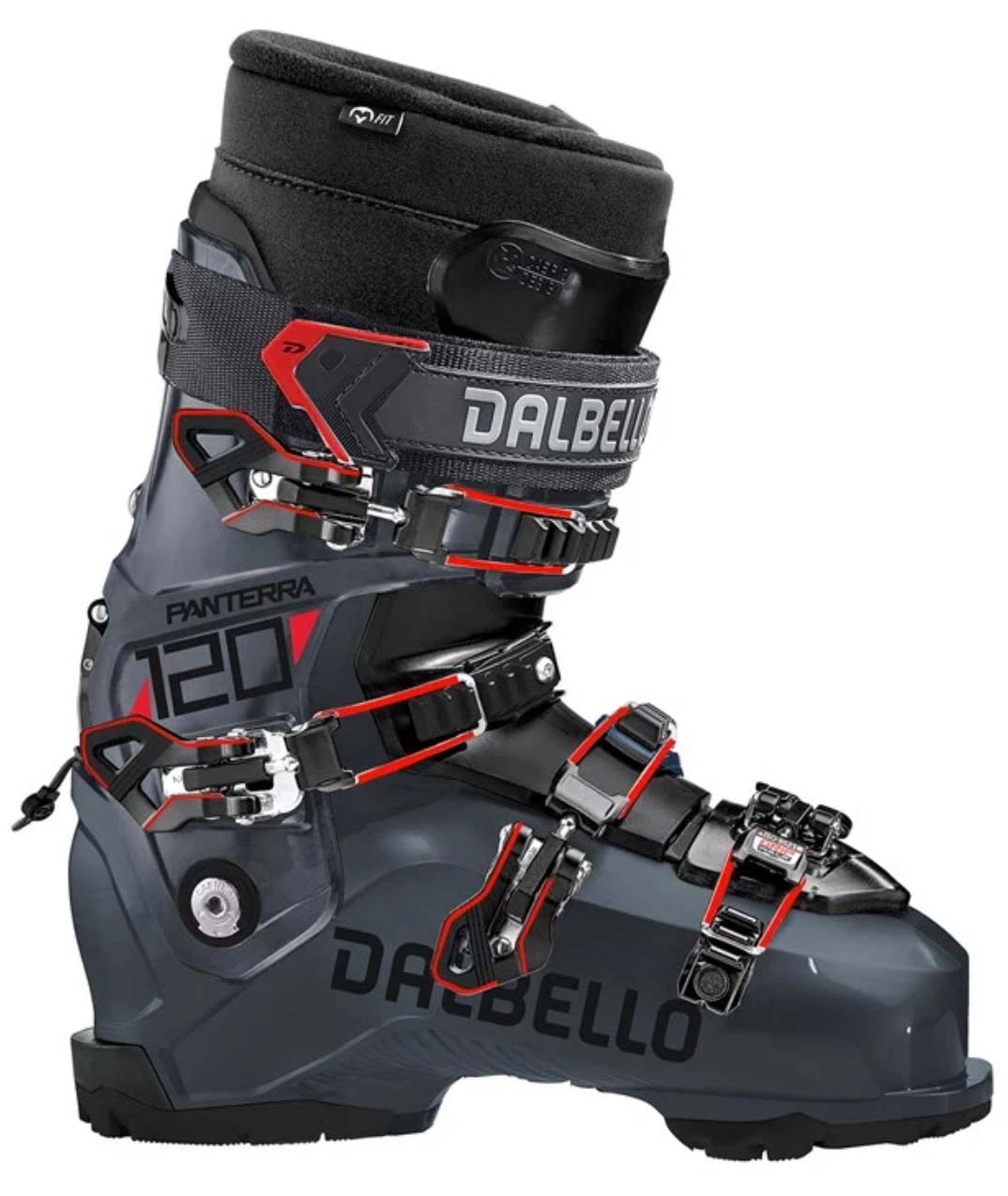 Last: 100-102mm (variable fit and medium width)
Flex: 120 (advanced skiers)
Other flexes: 95W, 105W, 130
What we like: Useful walk mode and smooth downhill performance.
What we don't: Fit technology isn't a universal fix for narrow feet.
A great boot for skiers that cover all of the mountain, the Panterra features a useful walk mode and slick three-piece shell. The lower portion is super stiff for reliable power transfer, while a slightly more forgiving upper flexes smoothly to absorb impacts in the bumps or off-trail. In addition, the high-quality I.D. liners are a real treat: comfortable, light, and resistant to packing out, they land in that ideal space of warmth and support. It adds up to a boot that's well-suited for everything from attacking corduroy to hiking into the sidecountry.
Should you not have the option or not want to spring for a bootfitter, the liner and shell are designed to give a custom fit without any of the after-the-purchase work. Contour 4 Technology means the low-volume performance liner is given a little extra breathing space between liner and shell around the toes, and heel and bend in the foot and ankle. Further, the buckle across the toes allows you to adjust the last width between 100 and 102 millimeters. The result for most folks with normal-sized feet is a snug fit that doesn't pinch at the usual pain points.
See the Men's Dalbello Panterra 120 I.D.  See the Women's Dalbello Panterra 105 W
Best Hybrid Downhill/Backcountry Boot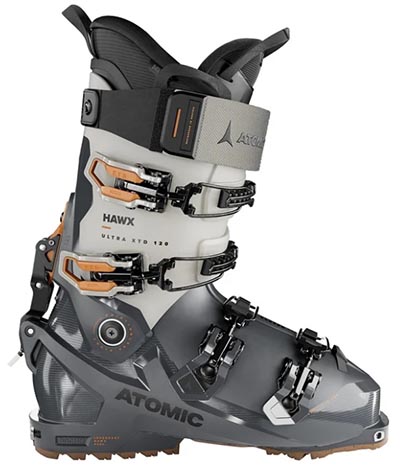 Last: 98mm (narrow width)
Flex: 120 (advanced/expert skiers)
Other flexes: 95W, 115W, 130
What we like: Well-rounded performance for resort and backcountry use; smoother flex with the latest model.
What we don't: Still can't match the comfort, warmth, and performance of a dedicated downhill boot.
A quick glance at the Atomic Hawx Ultra XTD GW reveals that this is no ordinary downhill boot. The slim shape, large walk/ride lever, and tech binding-compatible inserts at the toe are built for backcountry adventure. But what earns the Atomic a spot on this list is its versatile nature—if you split your time between touring and the resort, this is one of the best options yet. The Hawx is lightweight and flexes freely while hiking but is planted and impressively solid for railing a groomer. And with a revamp for 2023-2024—highlighted by a polyurethane shell for a more natural flex—the boot is more predictable and offers a smoother ride than before.
As with any product that aims to balance conflicting priorities—in this case, it's weight and stiffness—there are some downsides. Race-oriented downhillers will likely want a sturdier and more locked-in ride, and while the Atomic is light and offers competitive range of motion, we'd still go with a boot like the Scarpa Maestrale RS for touring exclusively. But if you're investing in a single boot to do it all, the Hawx Ultra XTD deserves a serious look. Of note: The Ultra XTD listed here has a fairly narrow 98-millimeter last, and for those who need a little more room, there's also a Hawx Prime XTD model with a more accommodating 100-millimeter shape. And new for 2023-2024, Atomic has added a Boa version, which swaps the bottom two buckles for the micro-adjustable dial system.
See the Men's Hawx Ultra XTD 120  See the Women's Hawx Ultra XTD 115
Best Ski Boot for Beginners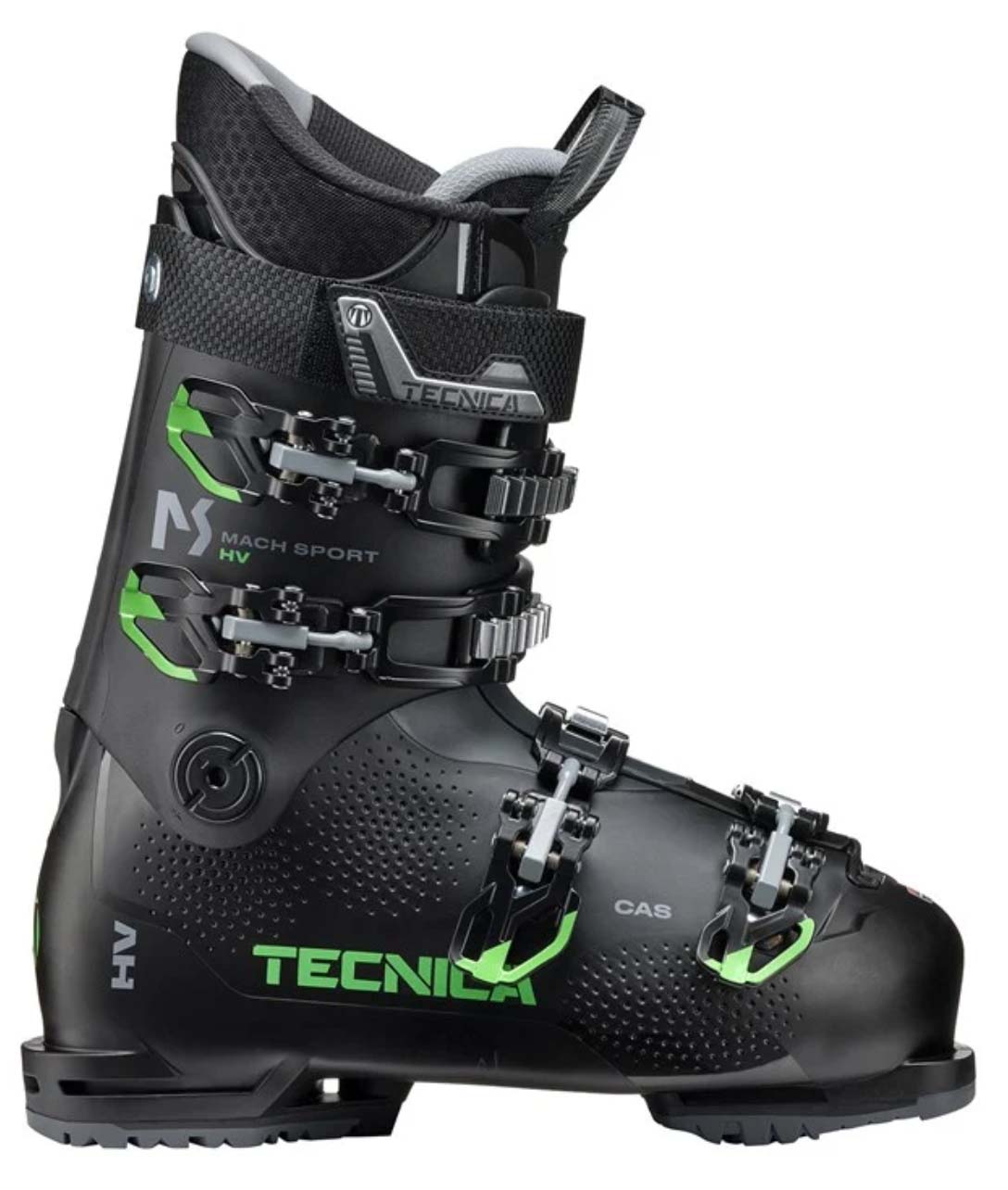 Last: 103mm (wide width)
Flex: 80 (beginner skiers)
Other flexes: 65W, 70, 75W, 80, 85W, 90, 100, 110, 120
What we like: Nice mix of price, comfort, and performance for beginners.
What we don't: Too wide for narrow feet and fast learners will want a little more stiffness.
Beginning skiers look for comfort, ease of use, and warmth for their first pair of boots, and the Tecnica Mach Sport HV 80 provides all of those in spades. Coming from one of the most respected brands in the business—as shown with our top-rated Tecnica Mach1 above—this popular design includes nice touches like high-quality aluminum buckles, cozy liner, and a smooth and reliable flex. You also get a medium/wide last and accommodating shape in general, which limits pinch points to maximize warmth and comfort for most foot types (plus, the shell can be easily customized by a bootfitter). And the Mach Sport is priced right at $350 for the 80-flex men's version (the women's-specific model is slightly softer with a 75 flex).
What are the downsides of Tecnica's Mach Sport HV? Its 103-millimeter last isn't the widest on the market, but the fit is pretty generous all around, which can be a problem for those with narrow calves and feet. Moreover, we think fast learners should invest in a boot with a stiffer flex (Tecnica does offer the Mach Sport in a 90 flex for men and an 85 flex for women, although price increases to $400 and $500 respectively). Overall, despite a couple nitpicks, we think the Mach Sport HV is a great value and a fantastic starter boot for those looking to ditch rental gear.
See the Men's Tecnica Mach Sport HV 80  See the Women's Tecnica Mach Sport HV 75
Best of the Rest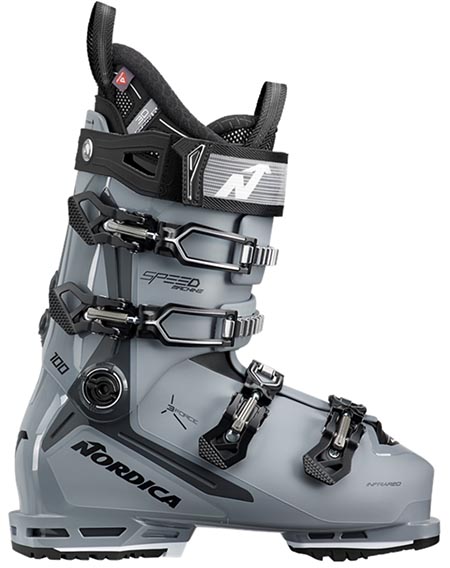 Last: 100mm (medium width)
Flex: 100 (intermediate skiers)
Other flexes: 85W, 95W, 105W, 110, 115W, 120, 130
What we like: Excellent fit customization, comfort, and value.
What we don't: Not a high-performance piece.
Nordica boots are known for comfort, and the Speedmachine 3 100 is no exception. This all-mountain boot has a wallet-friendly price of $500, but includes a cushy, warm liner filled with PrimaLoft insulation and offers fantastic fit customization. Using their proprietary infrared lamp and suction cup system, the liner, shell, and even some of the hardware pieces can be molded by a Nordica bootfitter. Additionally, with the latest "3," Nordica upgraded power transfer and trimmed away some weight with a new, honeycomb-style shell. Tack on four sturdy buckles and a smooth flex, and the Speedmachine 100 makes a great option for lightweight or intermediate skiers.
The Speedmachine's affordable price does have a mild impact on performance. Within the 100-flex, 100-millimeter last category, the mid-range Nordica is a fine alternative to the Salomon S/Pro above, although skiers who get out a lot may appreciate the Salomon's upgraded seamless liner and more proven track. But comfort shouldn't be an issue with the Speemachine, and we really like that Nordica has recognized that a highly customizable shell has real appeal even for casual skiers. Finally, for a wider variation, check out Nordica's Sportmachine 3, which features a similar construction but in a 102-millimeter last.
See the Men's Nordica Speedmachine 3 100  See the Women's Nordica Speedmachine 3 85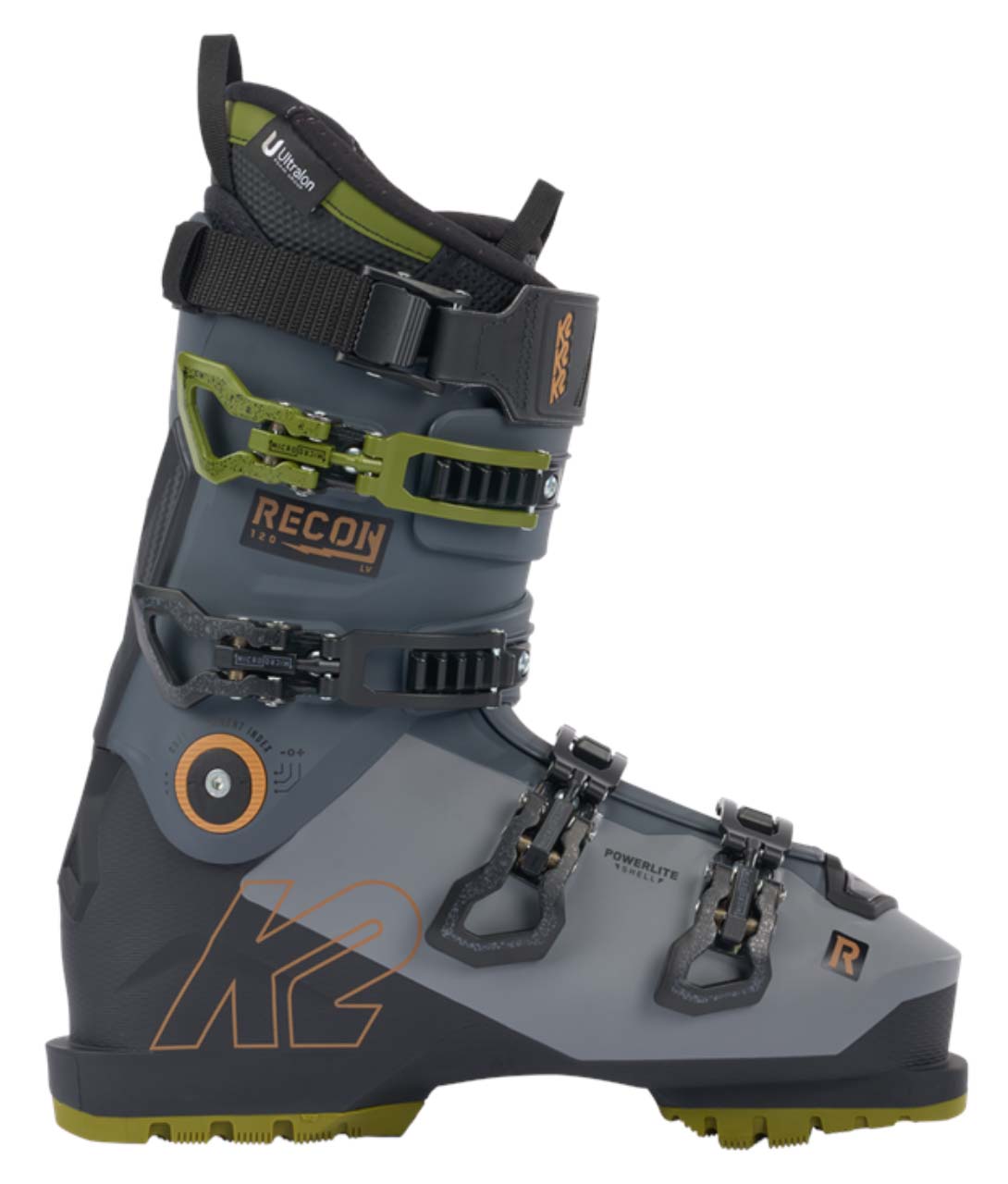 Last: 98 or 100mm (narrow or medium width)
Flex: 120 (advanced skiers)
Other flexes: 75W, 85W, 90, 100, 105W, 115W, 125W, 130, 140
What we like: Lightweight and a solid value.
What we don't: We wish it had a walk/hike mode.
K2's Recon technically replaced the older Spyne, but it's a whole different animal. This all-mountain boot has been designed from the ground up to trim weight wherever possible. The result is impressive: The Recon weighs more than half a pound less per boot than the top-rated Tecnica Mach1 MV 120 above. It's true that an ultralight design isn't as important for downhill use as in the backcountry, but the Recon has a very nimble feel on the slopes that's relatively easy to control. And at a true 120 flex, it's still plenty strong for most skiers when powering through high-speed turns.
Priced at $600, the Recon 120 undercuts most of its direct competition by $50 or more (the 130-flex version is equally competitive at $700). From a performance standpoint, you don't give up a lot—expert-level skiers likely will want to stick with the Tecnica and Lange above for their premium feel, but most should find little to complain about. Another nitpick is that the boot lacks a walk mode, which we think is a logical match given its trimmed-down build for sidecountry bootpacks. But the Recon nails the fun factor, and its excellent price makes it an intriguing resort option.
See the Men's K2 Recon 120  See the Women's K2 Anthem 105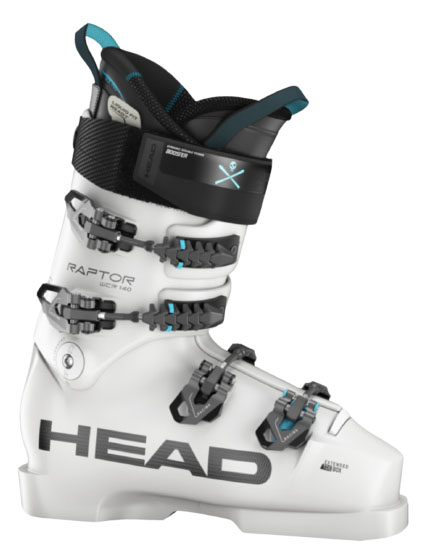 Last: 94, 96, or 98mm (narrow width)
Flex: 140-150 (expert skiers)
Other flexes: 95W, 115W
What we like: Race-level fit and feel.
What we don't: Snug fit is best for narrow feet and serious riders.
The 120 and 130 flex boots above should do the trick for most aggressive riders, but super strong skiers or those with a racing background may be left wanting more. If this sounds like you, the Head Raptor WCR 140S deserves a serious look. This boot packs an extremely rigid 140 flex (adjustable up to 150), top-tier power transfer and feel, and a very snug fit (96mm last for the 26.5 size). In addition, its liner is just thick enough to offer decent protection and comfort while not compromising performance, and the buckles, power strap, and shell all have a quality feel. All told, the Raptor WCR 140S is a fantastic boot for hard-charging, on-piste skiers.
While the steep price and sky-high flex push the Raptor into the racing category, it's a surprisingly versatile design. Unlike the standard WCR models, you get a little extra wiggle room for all-day riding, and the included liner can be custom molded at an authorized dealer. It's still not as comfortable when exploring the sidecountry or the bumps as the all-mountain designs above, but it's warmer and a bit softer than expected. Of note, the 140 model is the top end of the line, but there are also women's variations of the WCR in 95 and 115 flexes.
See the Men's Head Raptor WCR 140S  See the Women's Head Raptor WCR 115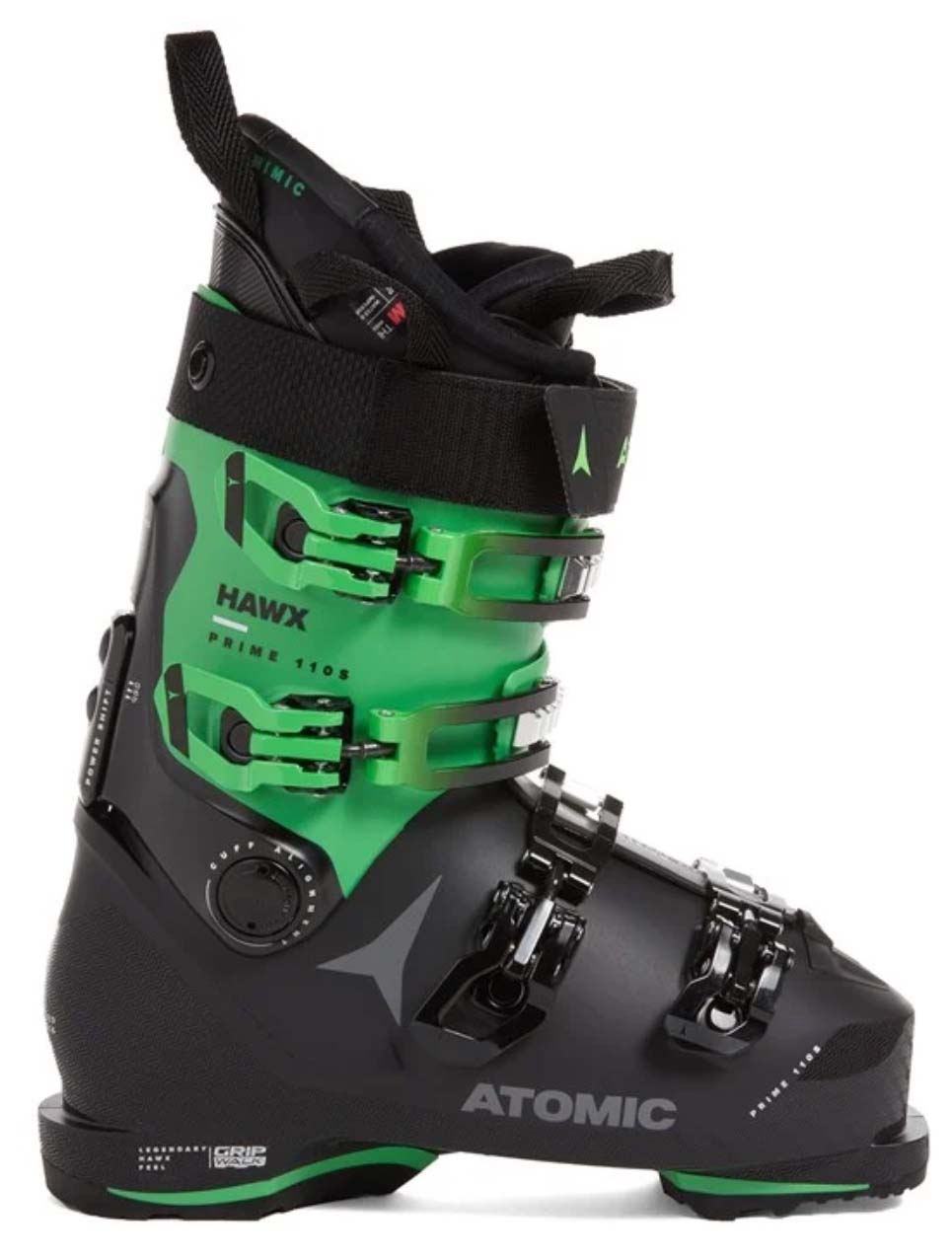 Last: 100mm (medium width)
Flex: 110 (intermediate skiers)
Other flexes: 105W, 110W, 120, 130
What we like: Light but still very comfortable.
What we don't: No hike mode to utilize the trimmed-down weight.
The Atomic Hawx Prime has earned a reputation as a go-to choice for skiers with medium-width feet. Revamped a few seasons ago, they retained that excellent fit but in a new ultralight design. Taking inspiration from their XTD touring model above, the Prime trimmed away about 15 ounces per boot from the prior generation (the number varies a bit based on flex). Importantly, this didn't involve compromising comfort: The memory foam liner, adjustable forward lean, and strong four-buckle layout are all still there.
As with the K2 Recon above, we're not sold on the fact that cutting away a ton of weight from the downhill-oriented Hawx Prime S is all that necessary. It's something you'll appreciate on a long bootpack, but the Prime doesn't have a hike mode to really utilize the slimmed-down design. Also, the Atomic is not as good of a value as the K2 above, which offers very similar performance and quality at a $100 discount (comparing 120-flex models). It's worth noting that Atomic also makes a narrow 98-millimeter version of this boot called the Hawx Ultra S.
See the Men's Atomic Hawx Prime 110 S  See the Women's Atomic Hawx Prime 105 S
Last: 99mm (medium width)
Flex: 110 (intermediate skiers)
Other flexes: 95W, 105W, 115W, 120, 130
What we like: Good price considering its hybrid design; solid downhill performance.
What we don't: Too heavy for more than the occasional ski tour.
Joining the Atomic Hawx XTD above, Tecnica's Cochise 120 is another popular crossover resort and backcountry boot. Toss on a pair of hybrid bindings like Salomon's Shift, Marker's Duke PT, or a Cast Freetour kit, and you can enjoy everything from pre-dawn tours to lift-assisted hot laps. On the uphill, the tech binding inserts, easy-to-access hike lever, and 50-degree range of motion provide smooth and relatively efficient gliding. And pointed downhill, the moderately stiff flex and medium-narrow last add a nice dose of precision. Outfitted with a fairly substantial liner and shell for this hybrid class, the boot won't beat you up skiing in bad snow and is reasonably warm, too. 
Among hybrid resort/backcountry boots, the Cochise hits a good balance of on- and off-piste performance. It falls short of the Atomic Hawx Ultra XTD above in tour mode with less flex and a higher weight, and it can't put the power down like the Lange XT3 Free below, which is a borderline alpine boot. But the Cochise is well rounded and easily undercuts them both in price at $700 ($100 less than the Atomic and $50 less than the Lange). In the end, the Cochise 120 earns a spot on our list as a great match for intermediate- to advanced-level riders who spend most of their time at the resort but want to hit the skin track a few times each winter.
See the Men's Tecnica Cochise 120 DYN  See the Women's Tecnica Cochise 105 DYN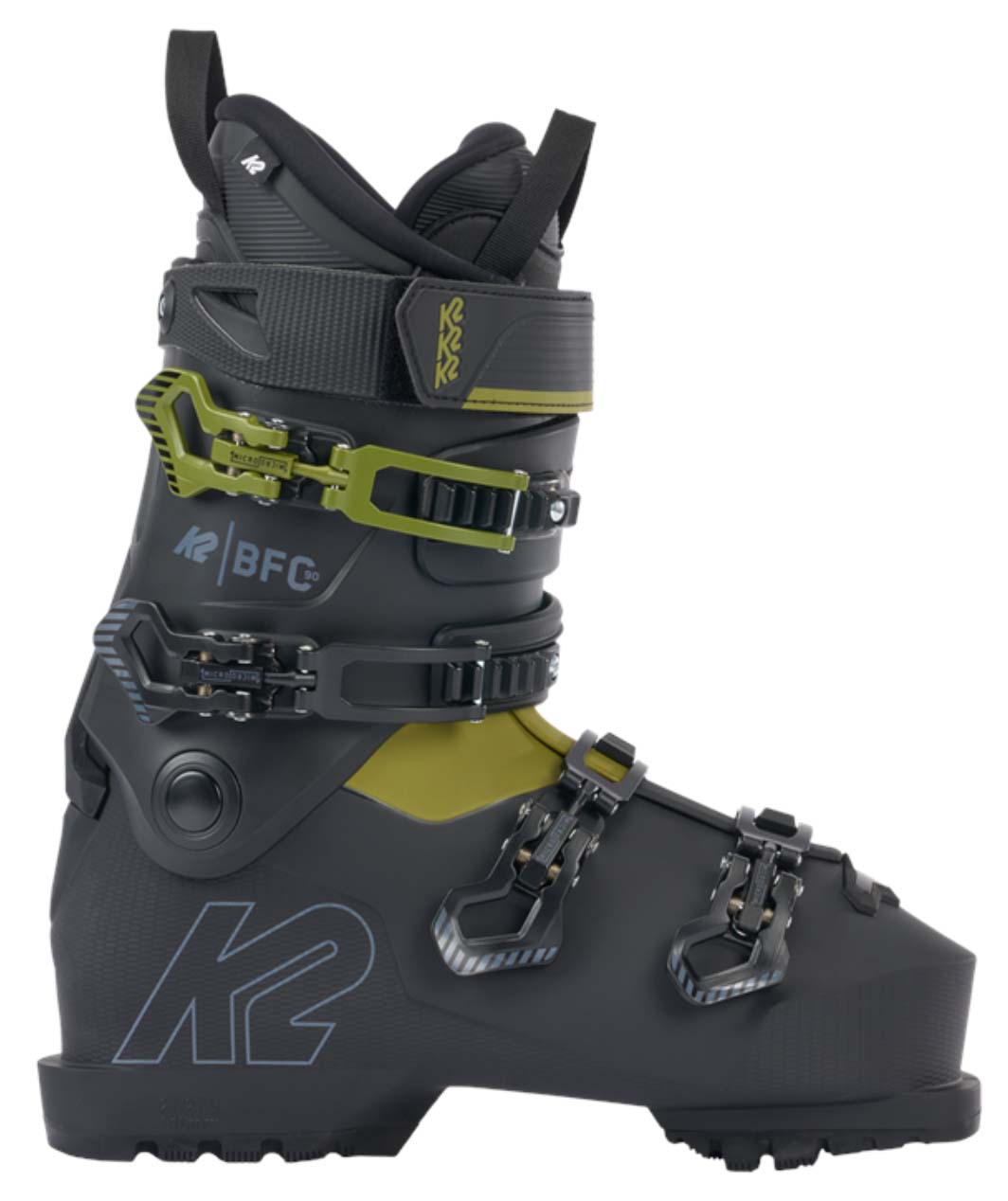 Last: 103mm (wide width)
Flex: 90 (intermediate skiers)
Other flexes: 75W, 80, 85W, 95W, 100, 105W, 120
What we like: A great boot for hard-to-fit feet.
What we don't: Not a precise, high-performance design.
If you love to ski but balk at the pain of wearing your boots all day, the K2 BFC 90 (BFC stands for "built for comfort") could be a good solution. Its 103-millimeter last, high-volume shape, heat-moldable shell, and extra-cushy liner add up to an impressively premium and plush feel. The mid-range 90-flex version here is reasonably priced at $400 and lines up nicely for intermediate and lightweight advanced skiers, and stepping up to the $500 BFC 100 (or women's BFC 95) gets you a walk mode and slightly higher performance threshold. All told, if you're a skier who hates ski boots, the K2 BFC collection is certainly worth a look.
That being said, the K2 BFC line does have some limitations. First, the cushy liner that makes the boot so comfortable does impact power transfer and precision, so it's not a great option for those who love to carve—even in the stiffest 120-flex variation. We're also disappointed that the 80- and 90-flex BFCs don't include a walk mode, which can make it much easier to hike into the sidecountry, trudge across the parking lot, or climb stairs at the lodge. Wide-footed skiers who put a premium on comfort likely won't mind these trade-offs, but they're undeniable drawbacks for more advanced all-mountain skiers who like to venture off-piste from time to time.
See the Men's K2 BFC 90  See the Women's K2 BFC 85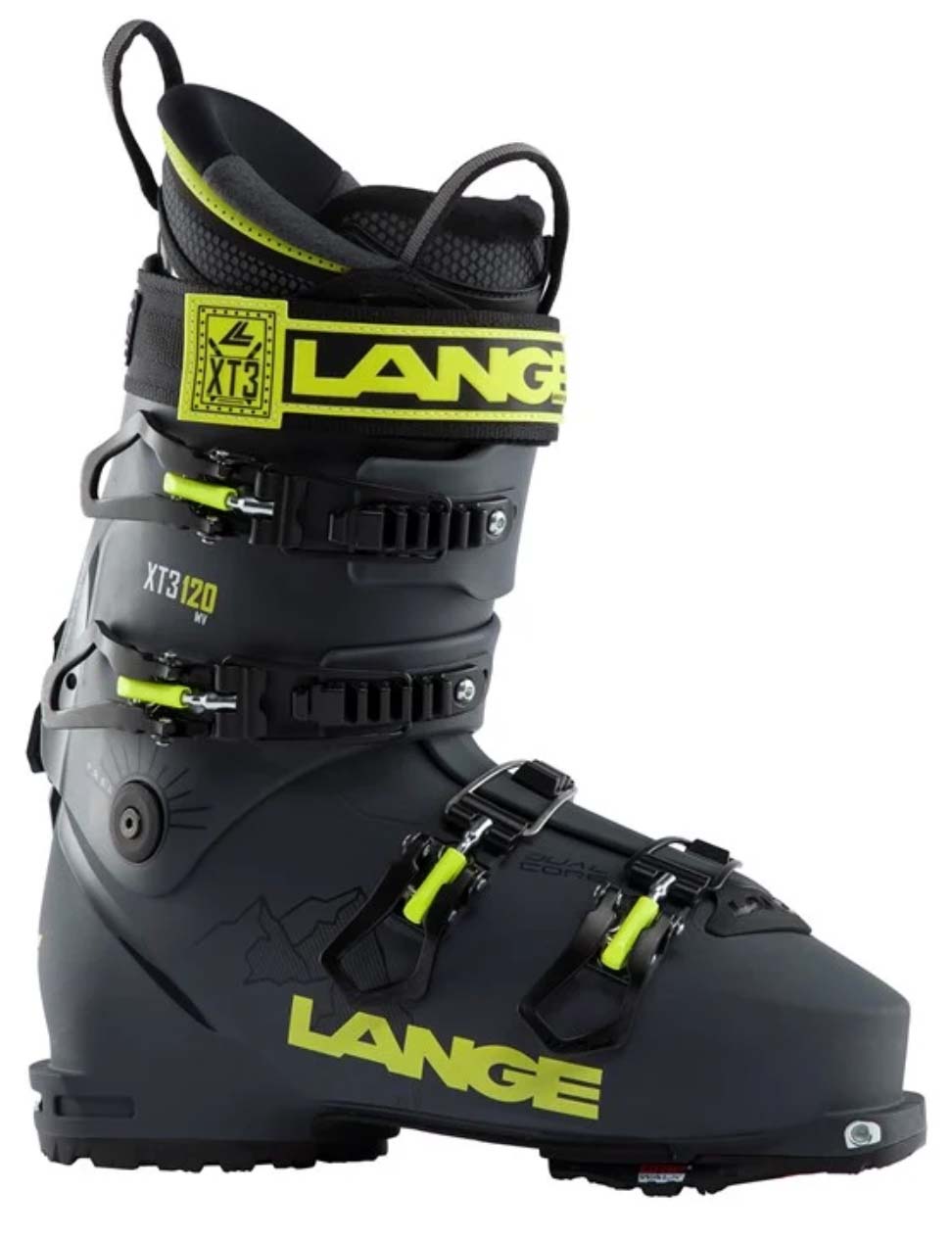 Last: 97 or 100mm (narrow or medium width)
Flex: 120
Other flexes: 85W, 95W, 110, 115W, 130, 140
What we like: Lange comfort and precision with touring capabilities.
What we don't: Not as capable on the uphill as the Atomic Hawx Ultra above.
The Lange XT3 Free takes the comfort and performance of their legendary downhill boots above and trims it down for touring use. It's a great combination for downhill-minded backcountry skiers: The boot is strong enough to be considered a full 120 flex (there are also 130-flex and 140-flex Pro models offered), so you're not compromising in terms of performance. But flipping it into hike mode gets you surprising climbing capabilities. Building on the discontinued XT Free, the latest model has improved range of motion (53 degrees) and a smoother flex when in the open hike setting. It adds up to a boot that is fully comfortable with a roughly 70/30 split between the resort and backcountry.
The Lange XT3 Free and Atomic Hawx Ultra XTD above are competitors in the growing segment of all-in-one downhill/touring boots. In comparing the 120-flex versions, the Lange is incredibly solid on the downhill, but it comes at a penalty in comfort when climbing. Despite having similar weights, the Atomic is a smoother walker and feels less bulky in the process. Reflecting the popularity of the crossover resort/backcountry market, Lange recently expanded its XT3 collection with the Tour Light, which cuts significant weight from the Free thanks to a Grilamid shell and thinner liner... Read in-depth review
See the Men's Lange XT3 Free 120  See the Women's Lange XT3 Free 115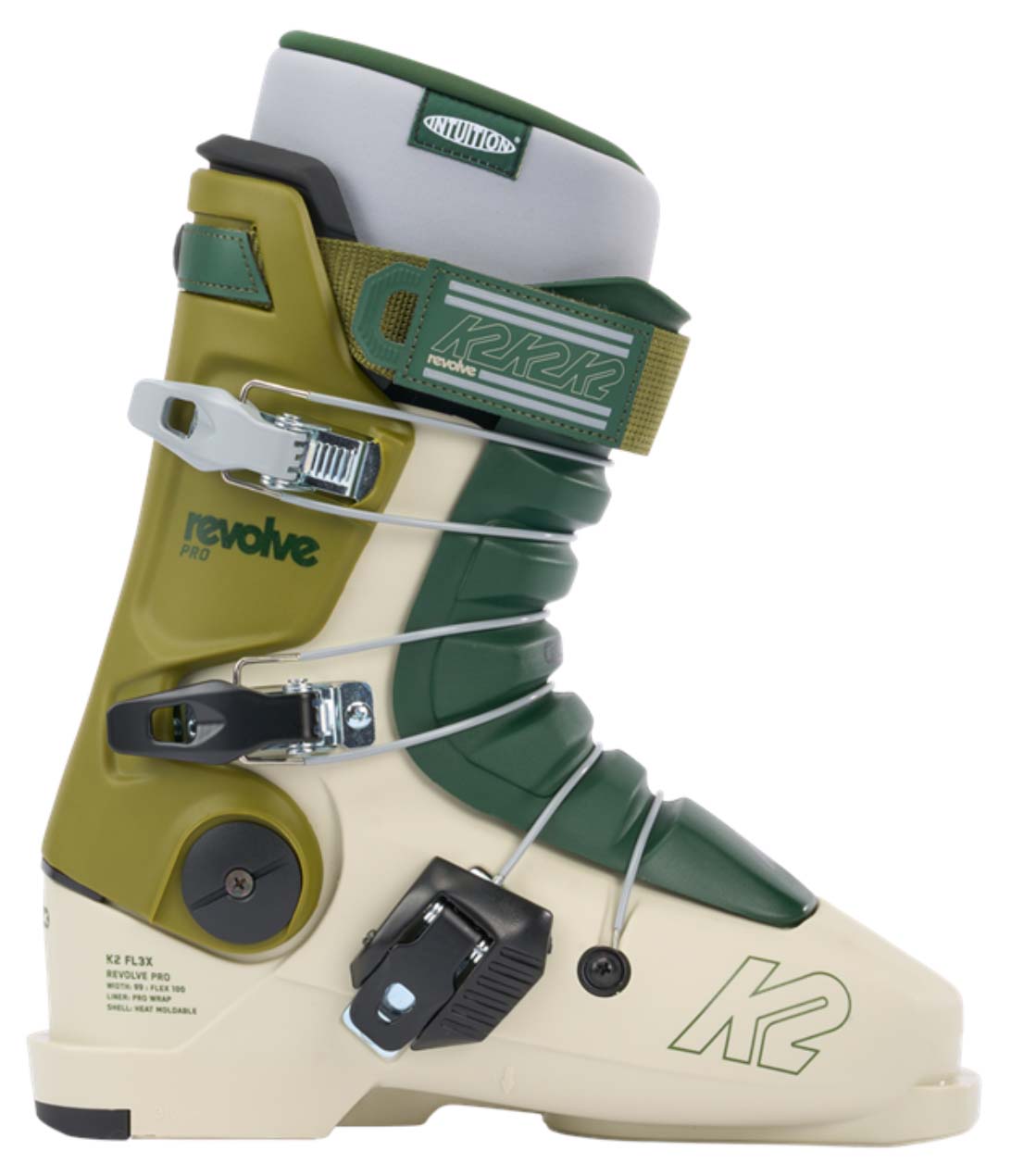 Last: 99mm (narrow width)
Flex: 100 (intermediate skiers)
Other flexes: 90, 90W, 100W, 120
What we like: Born to fly: Lightweight, flexible, and good shock absorption.
What we don't: Design favors freestyle over all-mountain riding.
Full Tilt diehards fear not: The popular boot collection lives on under the K2 FL3X name. The Revolve Pro featured here is their versatile all-rounder, highlighted by a moderately stiff build (rated at 100), premium Intuition liner, and low weight. Tack on the brand's familiar three-piece shell, extra-smooth flex, and shock-absorbing build, and you get standout freestyle performance, whether at the park or hitting natural features on the hill. And the styling is still Full Tilt-approved with contrast coloring on the ribbed tongue and a tri-buckle layout.
In terms of all-mountain performance, the K2 FL3X's lightweight materials allow for playfulness over moguls and in the park, and these boots can snap into turns when necessary. And we love the simplicity: There aren't a lot of moving parts with this boot, but it checks the boxes for mixed all-mountain/freestyle use. That said, the Revolve Pro isn't for everyone—actually, it isn't for a most—as its focus on park performance translates to a drop in stiffness and precision on groomers. But for the right rider—and you likely know who you are—the FL3X is hard to beat.
See the Men's K2 FL3X Revolve Pro  See the Women's FL3X Revolve Pro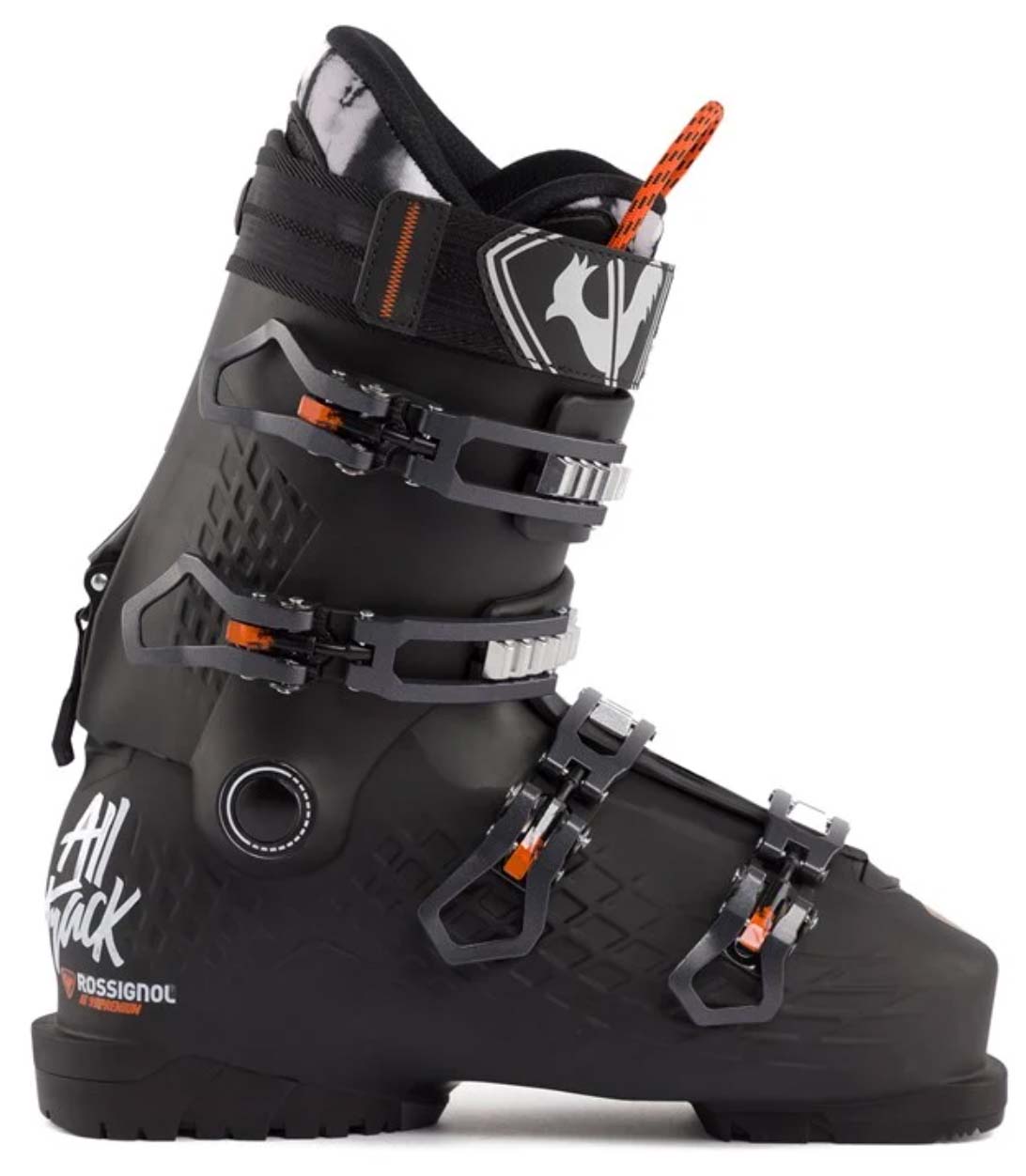 Last: 102mm (wide width)
Flex: 90 (intermediate skiers)
Other flexes: 70W, 80W, 110
What we like: A nice hybrid boot for downhill and sidecountry hiking.
What we don't: Not a standout in any one category.
Rossignol's Alltrack line of boots is extensive and popular among skiers for doing just about everything well. We've picked the Alltrack 90 HV here, which is a nice option for intermediate skiers who stick mostly inbounds but may venture to other parts of the mountain on occasion. Its standout feature in the downhill boot market is the walk mode function, which performs decently well—its 50-degree range of motion is on par with some touring boots, including the Tecnica Cochise above. That said, it still lacks the open and frictionless feel of a true backcountry design, and you don't get tech inserts for dedicated touring use.
But at a palatable $430, the Alltrack 90 is a solid boot for lighter skiers and those who want to start with short bootpacks without taking the plunge on an expensive pair of specialty boots. And we like the comfort factor, too, which is cozy on the foot and decently roomy at 102 millimeters (nice for those with higher-volume feet or if you like to let the toes splay a bit). For more flex options, the Alltrack series has two other models (110 and 130), and the narrower 100-millimeter-width Alltrack Pro line has four (100, 110, 120, and 130).
See the Men's Rossignol Alltrack 90 HV  See the Women's Rossignol Alltrack Pro 80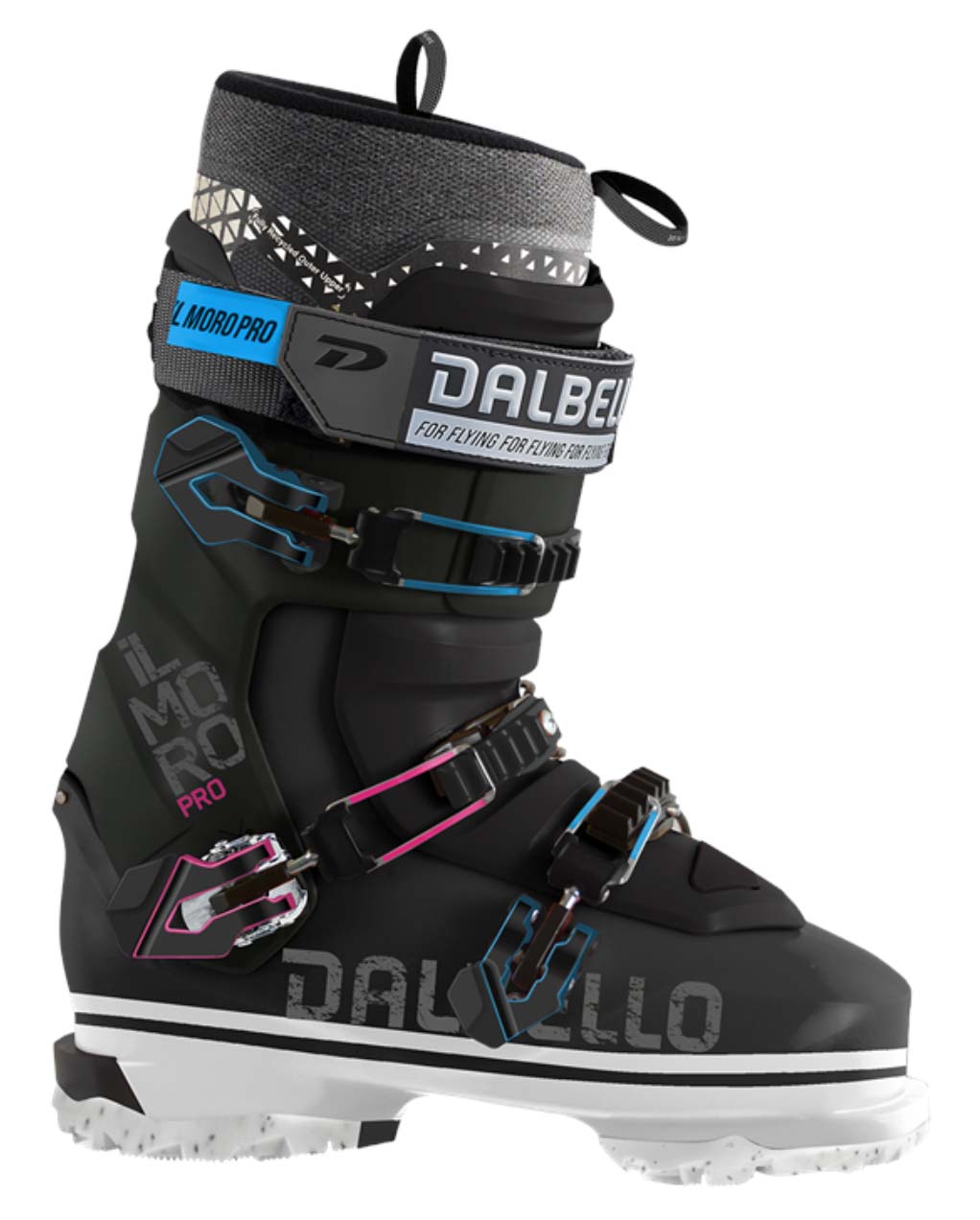 Last: 99mm (medium width)
Flex: 120 (advanced/expert skiers)
Other flexes: None
What we like: An awesome freeride option.
What we don't: Dabello's Panterra is the better all-mountain design.
For a different sort of downhill beast, Dalbello's Il Moro Pro is built for freeskiers who split their time between the park and hunting out big jumps, drops, and features all over the hill. In contrast to the boots above, the Cabrio design on the Dalbello allows for extra flex and a more forgiving ride that takes the sting out of hard landings. And despite the focus on off-piste adventuring, the Il Moro is plenty responsive, sharing the same three-piece shell technology and reliable 120-flex rating as the Dalbello Panterra above.
Unlike the Panterra, however, the Il Moro isn't a top choice for standard all-mountain use (its skate shoe-inspired look is a giveaway). The boot's specialized construction and three-buckle layout emphasizes shock absorption and isn't as steady carving a hard or icy corner. But for the right skier—the Il Moro is a legendary choice for pro freeskiers and freestyle enthusiasts—this is an awesome boot.
See the Dalbello Il Moro Pro GW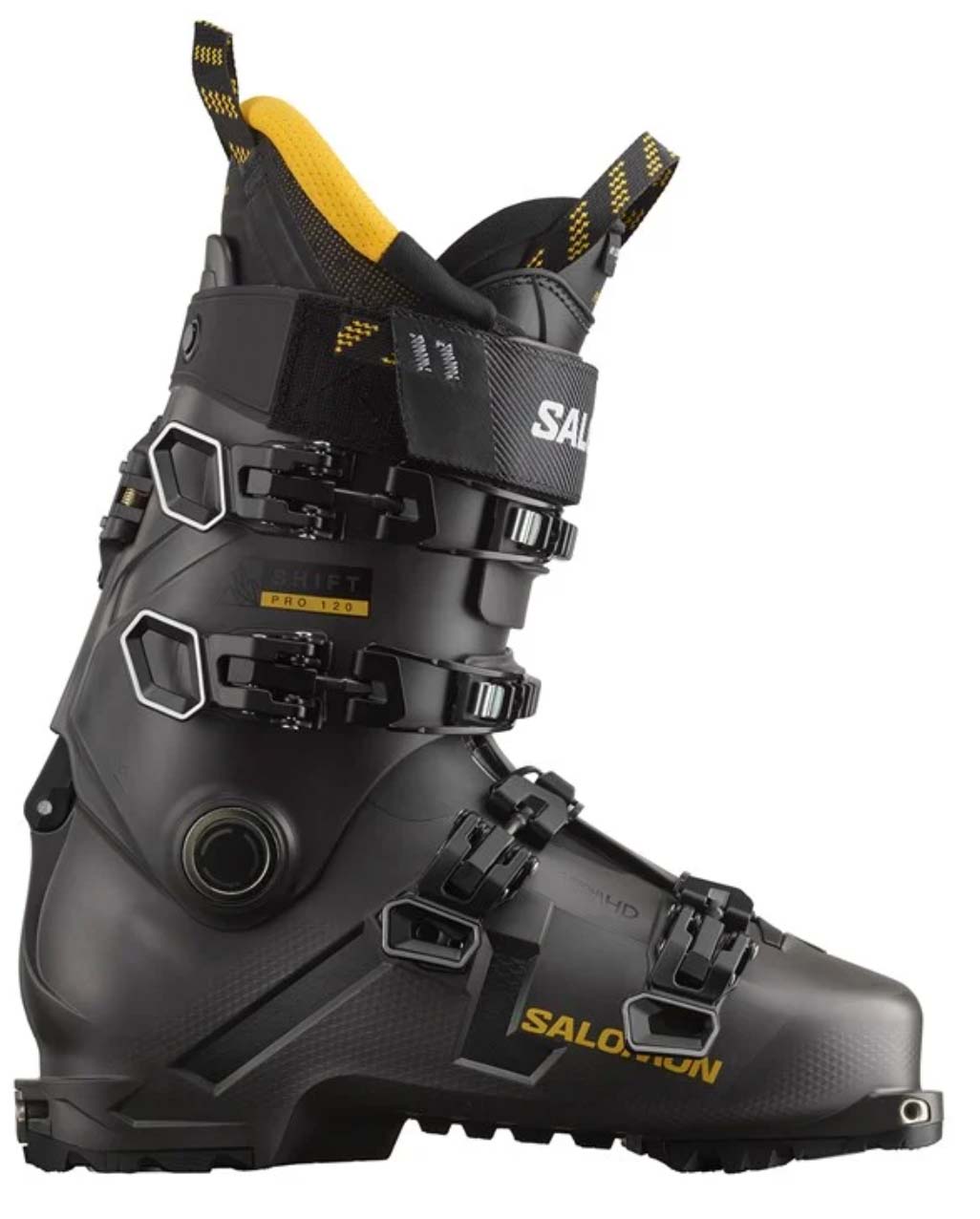 Last: 100mm
Flex: 120
Other flexes: 90W, 100, 100W, 110, 110W, 130
What we like: Custom fit and comfort of Salomon's well-loved S/Pro with a walk mode.
What we don't: Less capable for touring than the Lange and Atomic options above.
The fourth hybrid downhill/backcountry boot to make our list is the Salomon Shift Pro. Sharing a name with the brand's extremely popular touring binding, the boot has a similar intent: Its sturdy four-buckle design puts a premium on downhill performance, but a walk mode, GripWalk soles, and reasonable weight make it decently capable on the skin track. Importantly, Salomon put a premium on fit with the build, and its medium-width 100-millimeter last, high-quality liner, and very customizable shell (like the S/Pro above) should deliver reliable comfort for a variety of foot shapes.
Who is the Shift Pro 120 best for? It can't match the Atomic XTD above in weight and climbing efficiency, and the Lange XT3 Free 120 weighs around the same but offers better range of motion (53° vs. 40° for the Salomon) and power on the descent. This leaves the Pro 120 as a viable option for advancing intermediates that spend the majority of their time at the resort but have plans for a handful of tours each season. In reality, that lines up with a good portion of the skiing market, which is why we fully expect the Shift Pro to be a popular do-it-all choice this winter.
See the Men's Salomon Shift Pro 120  See the Women's Salomon Shift Pro 110
Downhill Ski Boot Comparison Table
| Boot | Price | Last | Flex | Other Flexes | Hike |
| --- | --- | --- | --- | --- | --- |
| Tecnica Mach1 MV 120 | $700 | 98, 100, 103mm | 120 | 95W, 105W, 110, 115W, 130 | No |
| Salomon S/Pro MV 100 | $500 | 100mm | 100 | 90W, 100W, 120, 130 | No |
| Lange Shadow 130 LV GW | $850 | 97 or 100mm | 130 | 85W, 95W, 110, 115W, 120 | No |
| Dalbello Panterra 120 I.D. | $650 | 100-102mm | 120 | 95W, 105W, 130 | Yes |
| Atomic Hawx Ultra XTD 120 | $800 | 98mm | 120 | 95W, 115W, 130 | Yes |
| Tecnica Mach Sport HV 80 | $350 | 103mm | 80 | 65W, 70, 75W, 80, 85W, 90 100, 110, 120 | No |
| Nordica Speedmachine 3 100 | $500 | 100mm | 100 | 85W, 95W, 105W, 110, 115W, 120, 130 | No |
| K2 Recon 120 | $600 | 98 or 100mm | 120 | 75W, 85W, 90, 100, 105W, 115W, 125W, 130, 140 | No |
| Head Raptor WCR 140S | $1,050 | 94, 96, 98mm | 140 | 95W, 115W | No |
| Atomic Hawx Prime 110 S | $600 | 100mm | 110 | 105W, 110W, 120, 130 | No |
| Tecnica Cochise 120 DYN | $700 | 99mm | 110 | 95W, 105W, 115W, 120, 130 | Yes |
| K2 BFC 90 | $400 | 103mm | 90 | 75W, 80, 85W, 95W, 100, 105W, 120 | No |
| Lange XT3 Free 120 MV | $750 | 97 or 100mm | 120 | 85W, 95W, 110, 115W, 130, 140 | Yes |
| K2 FL3X Revolve Pro | $550 | 99mm | 100 | 90, 90W, 100W, 120 | No |
| Rossignol Alltrack 90 HV | $430 | 102mm | 90 | 70W, 80W, 110 | Yes |
| Dalbello Il Moro Pro GW | $699 | 99mm | 120 | None | No |
| Salomon Shift Pro 120 | $700 | 100mm | 120 | 90W, 100, 100W, 110, 110W, 130 | Yes |

Downhill Ski Boot Buying Advice
Boot Flex and Performance
A great place to start your boot search is choosing the proper flex. Nearly every downhill boot on the market is given a flex index number ranging from approximately 60 to 140. Lower numbers are softer, have more give, and are more comfortable, making them ideal for beginner skiers. We cover a couple of our favorite entry-level models on this list, but for a complete look at the best options, check out our ski boots for beginners article.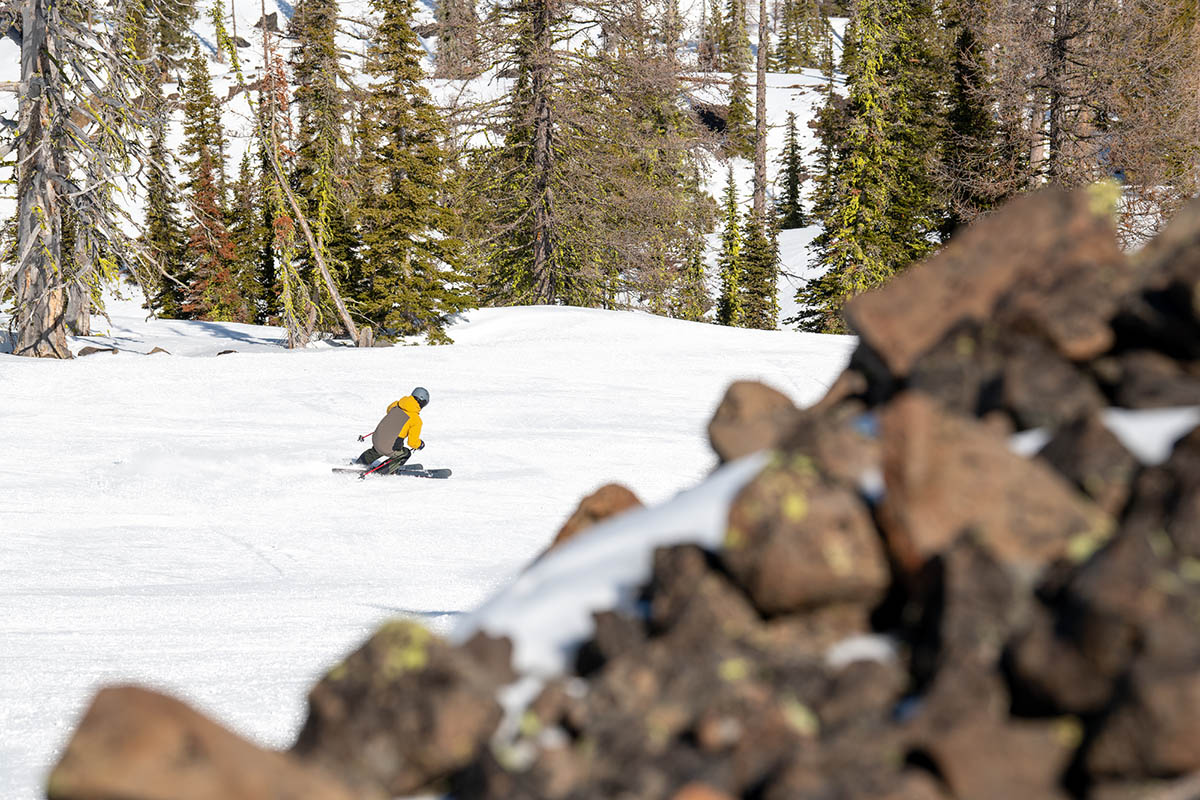 Moving up in stiffness to intermediate, advanced, and expert models gets you a boot that isn't as cushy but more efficiently transfers your inputs to the bindings and skis. Less energy is wasted in flexing the boot forward and the response is instantaneous. Finally, it's worth noting that a preferred stiffness also correlates with your body weight, with heavier and more powerful skiers needing to go with a higher number. Below are general recommendations; there are ranges within ranges but this paints a good picture:
Beginner: 70-90
Intermediate: 90-110
Advanced: 100-120
Expert: 120+
 
Ski Boot Sizing
Ski boot sizing is one of the most difficult things to hone in online. It's not as simple as taking your shoe size and matching it to a Mondo size (ski boot sizing nomenclature) on a chart. The length, width, volume, and underfoot profile need to be dialed in for a boot to be "the one." As a result, we recommend getting to a local shop to get sized. If this is not an option, find a reputable online retailer that allows for returns and order a couple sizes with the expectation that they probably won't fit exactly as you may expect. For a good baseline level of knowledge, here are the most common boot sizing terminology and considerations:

Mondo
Both men's and women's ski boots are listed in unisex Mondo (or Mondopoint) sizing: the length of your foot measured in centimeters. You can measure your foot by tracing its outline on a piece of paper or marking the bottom of the heel and top of the toes. If your foot measures 30 centimeters in length, your Mondo size is 30. Getting measured in a ski shop is preferred, but this is a rough way to do it at home.
Every manufacturer or retailer provides a sizing chart that matches shoe sizes to ski boot sizes, but your actual Mondo size may be a size or two smaller than what you see on the chart. This is because tight fit is recommended with ski boots. Ski boot liners are made of foam and will mold to your feet over time, so it's best to start with a very snug fit and wear them in.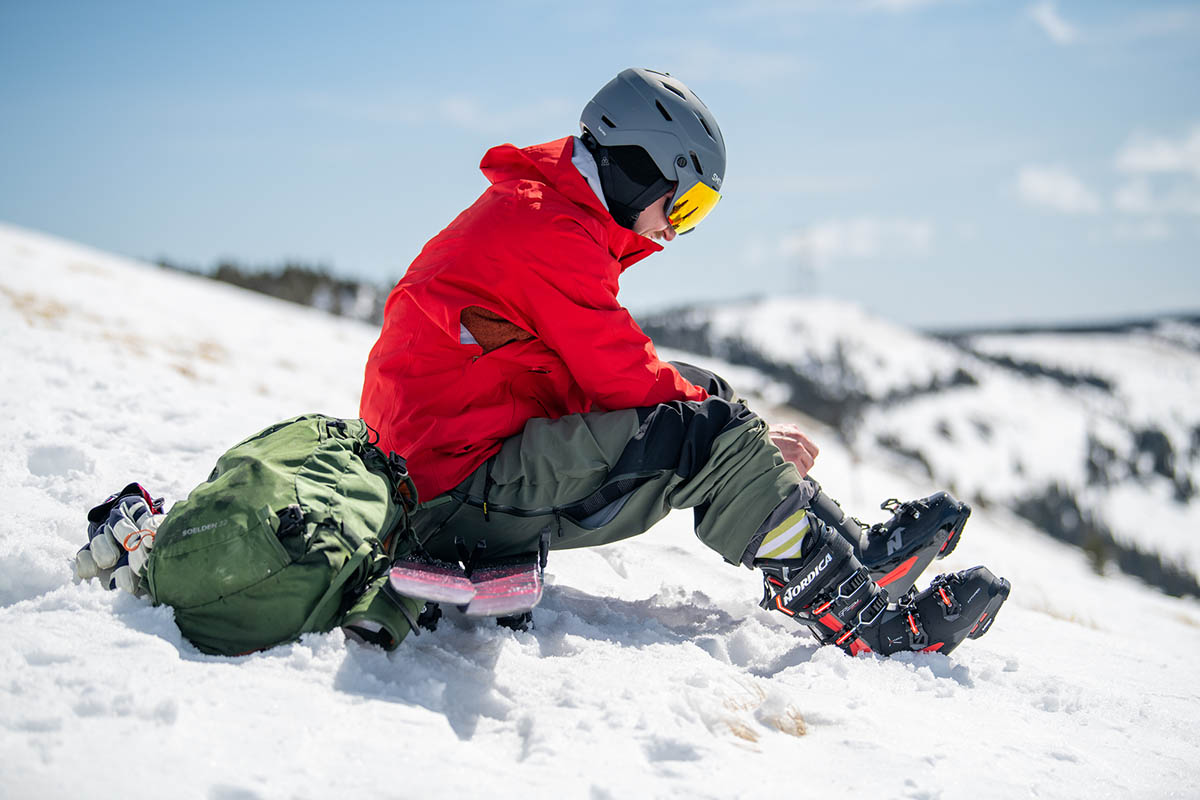 Last
Footbed width, referred to as last, is another important specification for ski boots. This measurement is based on the width of the forefoot and listed in millimeters. Most manufacturers make ski boots with varying lasts to accommodate those with narrow, average, and wide feet. And some models, including the Lange Shadow 130, are made with multiple last options. It's important to get this part of the fit right because side-to-side motion is a given when descending a hill, and a boot that's too loose around the sides of your feet will negatively affect performance.
Narrow: 96-98mm
Average: 99-102mm
Wide: 103mm+
For those with narrow feet or looking for performance boots with a more precise fit, look in the 96-98mm range. Average lasts are around 100-102 mm wide for men and 99-100mm wide for women. Those work well for most skiers with normal width feet. For folks with wide feet, there can be some challenges in finding the right pair. But there are a growing number of boots made in 103mm or wider lasts, including the Tecnica Mach1 HV.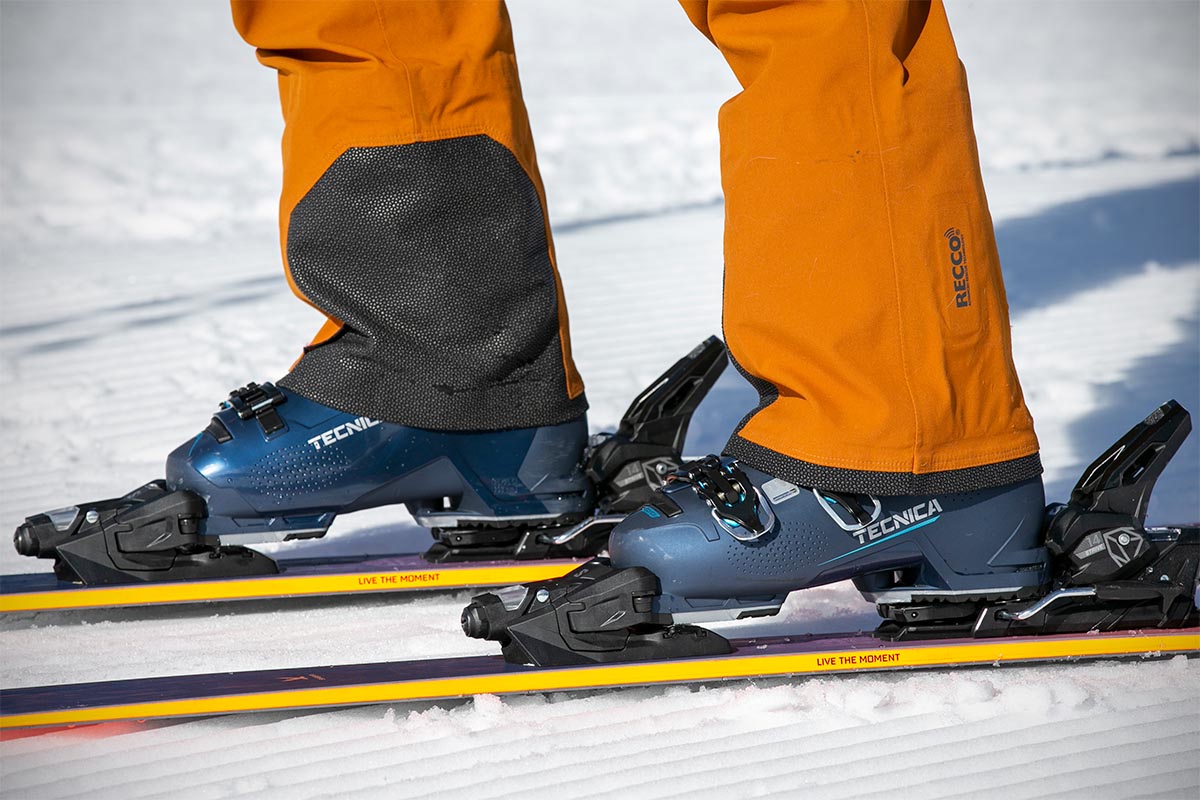 Replaceable Footbeds/Insoles
No matter how well you do in selecting the proper fit, you still may experience discomfort during a full day of skiing. That's where the final piece of the fit puzzle comes in: replaceable insoles. Most downhill ski boot liners have a removable insole, much like a hiking boot. Swapping these out for a quality aftermarket insole that better matches your foot profile can really make a difference. New insoles can provide better arch support, more or less volume, and a heel cup that better locks your feet in place. Good aftermarket insoles can be found from brands like Superfeet and SOLE.
Another alternative is getting a custom footbed from a bootfitter (which requires getting fit in-person). This is an expensive process but can be worthwhile for those with stubbornly shaped feet or who ski a ton each year. You can call your local ski shop and ask if they make custom footbeds.
 
Boot Liners
Most all-mountain ski boots are made up of two independent pieces: a hard plastic outer shell that provides structure and strength and a removable liner that delivers comfort, support, and insulation. The liner is filled with varying amounts of foam, depending on the type of skiing the boot is intended for. It's not always the best idea to get the most plush and cushiest liner (beginners and comfort-oriented skiers are an exception). The softer foam will not hold your foot and shin as well while carving, and it may not mold as well to your feet over time.
Supportive but comfortable is the preferred place to be for most intermediate and advanced skiers. As we mention above, your liner will conform to your feet, so don't be too concerned if it feels snug at first (but make sure it's not overly restricting or that your toes aren't smooshed against the hard-sided shell.).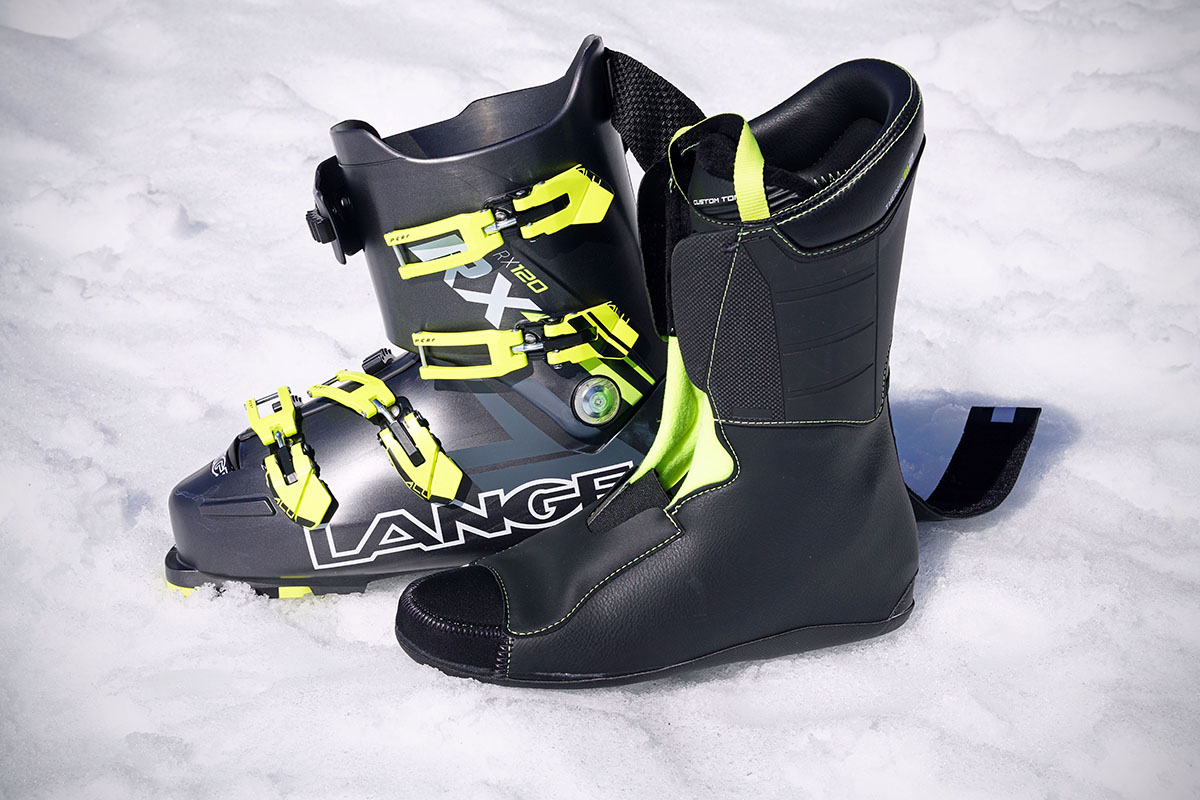 Heat-Moldable Liners
Heat-moldable liners can be custom fit to your feet in a ski shop that has the necessary equipment (styles and equipment can vary between boot brands). This is a nice way to get the liner to fit your feet right out of the box, but isn't mandatory for many folks. You can get much of the same fitting accomplished just by wearing the liners around the house or in a few early season ski days. That being said, it's a useful tool that helps dial in comfort quickly and effectively.
 
Buckles and Strap Systems
To start, it's helpful to know that buckles and strap designs do not vary dramatically between brands. The buckle systems on most downhill ski boots follow a similar methodology: two buckles across the foot, one at the bend near the ankle and another along the shin. Look for buckles made mostly with aluminum for greater durability (plastic is cheaper but a bit more prone to breaking). Some boots try and cut some weight by removing the buckle at the ankle, but for downhill purposes when total boot weight isn't as important, we find it well worth having the more supportive four aluminum buckle design.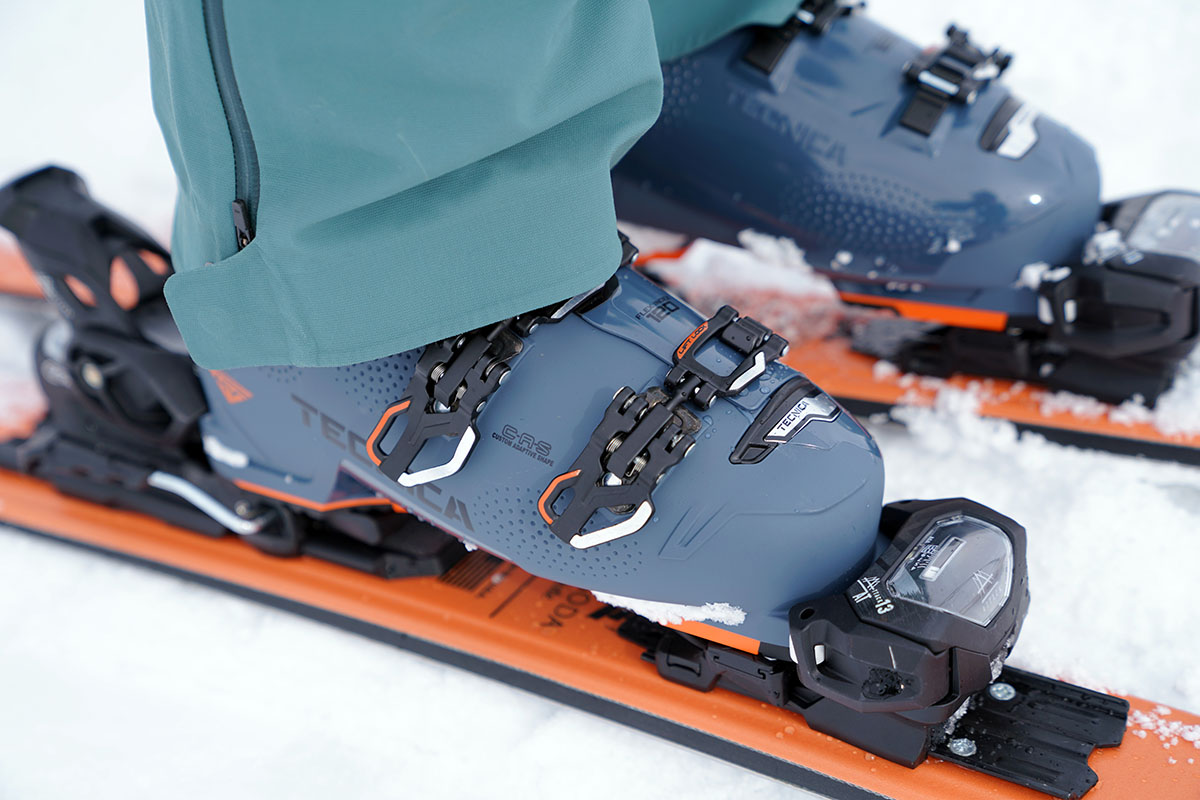 The strap at the top of the boot near the cuff is another important piece of the design. Sometimes referred to as the power strap, it keeps that top portion nicely locked into place to help bring out the full performance potential of your boots—and at a lower weight and more comfort than adding a 5th buckle. Having a full compliment of buckles as well as a quality power strap also helps in really dialing in the fit, which can make accommodating varying sizes of legs and calves that much easier.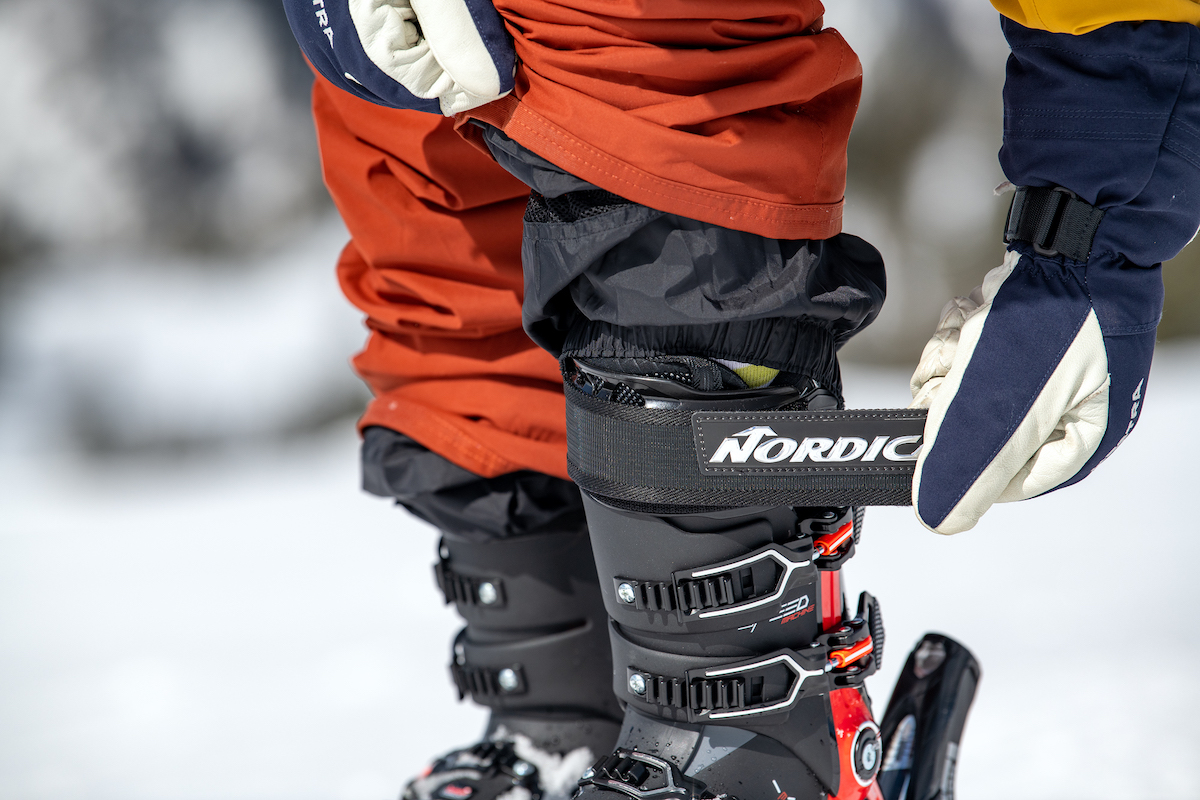 Boot Soles
Shifting to the bottom of the boots, downhill ski boot soles fall into two categories: traditional ISO 5355 models and newer, GripWalk-equipped designs. Starting with the former, ISO 5355-compatible boots are mostly flat underfoot and sized to fit and release from the toe piece on a traditional alpine binding. The main downside is that they're uncomfortable and awkward when you're walking around without skis on or hiking up a bootpack—their shape and simple outsoles lead to an awkward gait and can be quite slippery on anything from hardpack snow and ice to slick bathroom floors.
Enter the GripWalk sole, which has a rockered shape for a more natural stride and a softer plastic/rubber compound for improved traction. GripWalk soles are commonly found on higher-end boots that have an all-mountain focus (the extra grip is a big benefit on sidecountry hikes), although they're becoming more common each year. If you go the GripWalk route, you'll want to verify your bindings are compatible (be on the lookout for an ISO 23223 designation). The good news is that many alpine bindings are now multi-norm-ready, including popular models like the Marker Griffon, Look Pivot, and versatile Salmon S/Lab Shift (which is also sold under the Atomic name).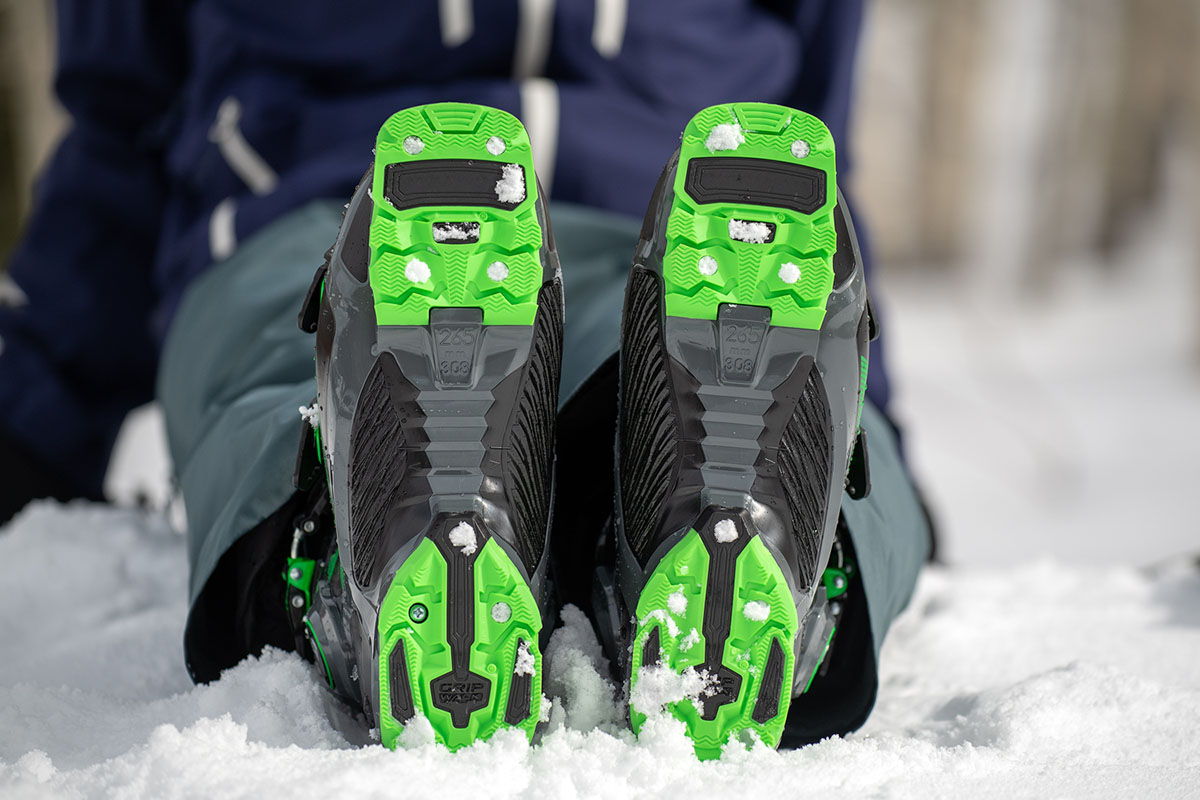 Ski Boot Weight
Until recently, the weight of a downhill ski boot was largely ignored (it's still not listed as a spec on most retailer websites). But with the dramatic growth in backcountry and sidecountry skiing—and an increased spotlight on weight in general in the outdoor gear world—we're starting to see the same lightweight focus in the downhill ski boot market. The benefits of lighter footwear for uphill travel and bootpacking are obvious: You have less weight to move with each step. With that in mind, it comes as little surprise that tech binding-compatible (read: backcountry-ready) models like the Atomic Hawx Ultra XTD 120 GW and Tecnica Cochise 120 DYN are some of the lightest on our list. But even for those riding the chairlift, lightweight boots can make it easier to control and maneuver your skis in tight spaces like bumps and trees and reduce fatigue in your legs on long days.
That said, we don't expect to see ultralight boots take over the resort market anytime soon. Downhill boots are heavy for a reason: the substantial linings provide excellent insulation, the relatively thick shells are quite durable and transfer power well, and quality aluminum parts on the buckles inevitably add weight. In the end, unless you're a big off-trail explorer, we don't recommend putting much stock in a trimmed-down design.

Walk/Hike Mode: Gimmicky or Worthwhile?
You'll see a number of downhill boots that tout a walk or hike mode. In reality, these modes are best enjoyed in the trek from the car to the resort, as they don't have the necessary range of motion and flex to be truly comfortable when walking long distances. In addition, downhill-focused boots are heavier than dedicated backcountry and randonee boots. It's not all bad news, and the walk feature has its appeals for folks that primarily ski downhill but want the option to do some light skinning or hiking. Just steer clear if you need to spend any more than a few minutes heading uphill. Exceptions to this rule include crossover backcountry/resort boot designs like the Atomic Hawx Ultra XTD GW, Lange XT3, and Salomon Shift Pro.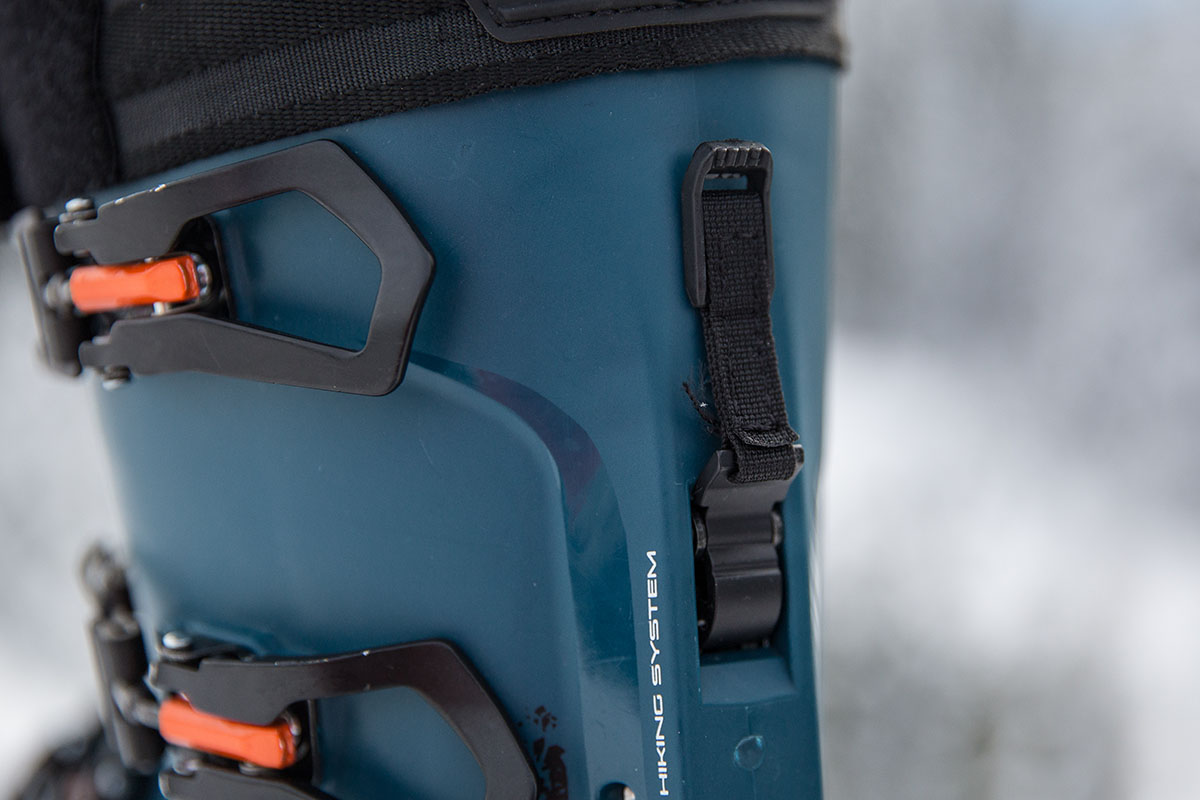 Hybrid Downhill/Backcountry Boots
Backcountry skiing has exploded in popularity in recent years, and many downhillers are adding an alpine touring setup to their quiver. To help make things easier, there are a growing number of crossover boots that perform well on both resort days and while touring, including models like the Atomic Hawx Ultra XTD, Lange XT3 Free 120 MV, Tecnica Cochise, and Salomon Shift Pro above. All have sturdy flex ratings (up to 140 at the stiffest end) but are light enough and boast tech fittings and a walk mode with decent range of motion for occasional uphill use.
That said, if you plan to use them primarily at the resort, there are some compromises to be aware of. The lightweight construction isn't as warm and sacrifices some precision when carving on hardpack, and they can feel harsh in choppy conditions compared to downhill-only models. Additionally, crossover boots are heavier than the vast majority of specialized backcountry designs—often by a pound or more for the pair. But if you don't like the idea of buying two sets of pricey boots or only plan on touring a few times a season, the hybrid downhill/touring concept can be a logical move.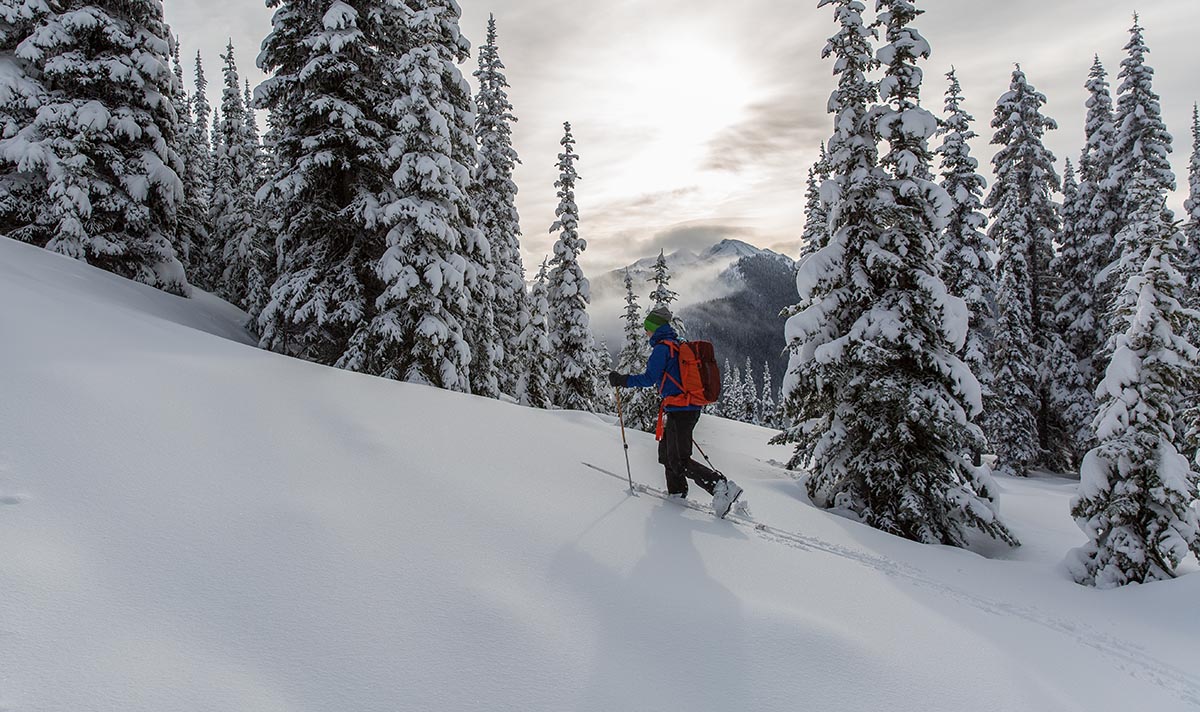 Women's-Specific Downhill Ski Boots
Most ski boots technically are unisex, but a good number of manufacturers make women's-specific variations of their key models. But the question remains: What are the differences between a women's ski boot and a unisex/men's ski boot? To start, women's boots have unique graphics and usually come in smaller sizes (for example, the unisex Lange Shadow starts at a size 24, while the women's Lange Shadow W goes as low as 22). But most importantly, many women's-specific boots have lower flex ratings that make them softer. All of this assumes, of course, that women prefer different graphics, have smaller feet, and want flexier boots, which is often, but not always, the case.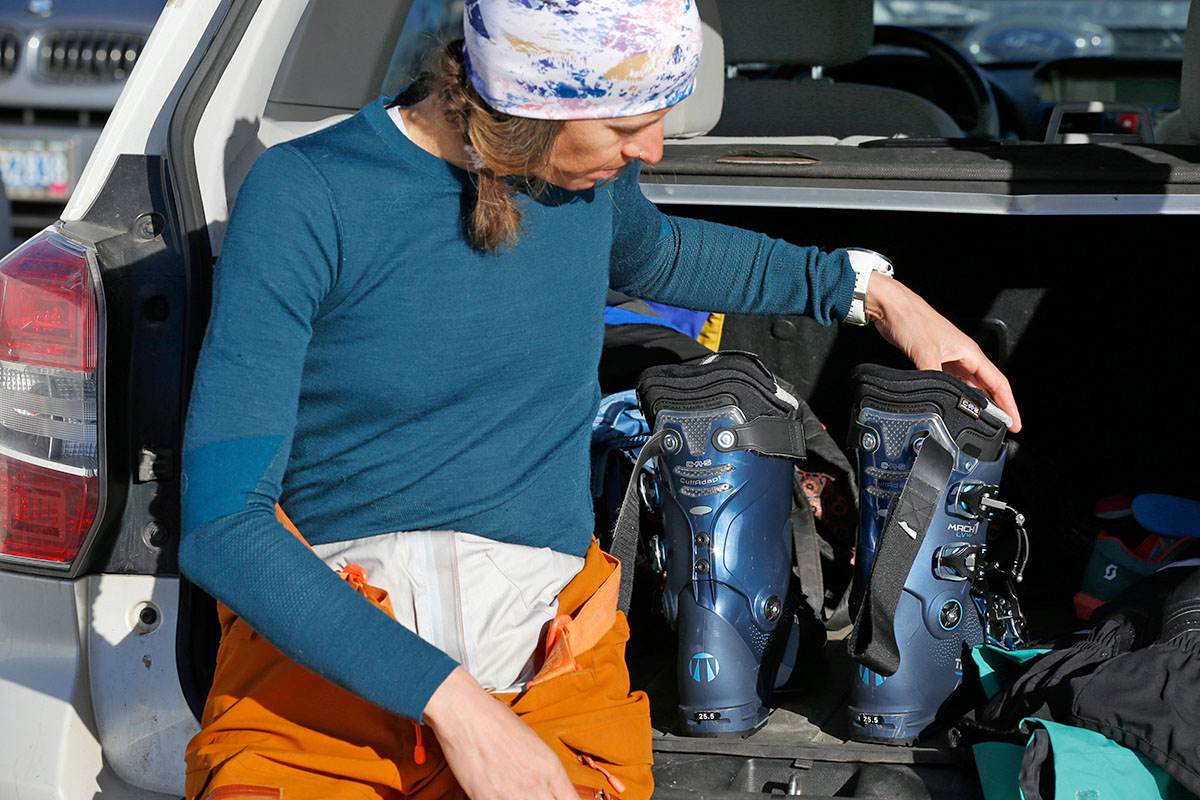 The bottom line is that each ski brand makes their boots with a unique shape, fit, and features. The unisex/men's and women's models embody the distinct qualities the brand aspires to offer. If you identify as female and have found the perfect pair of boots that only come in a men's model, try them on and don't be afraid to go for it (and vice versa). The most significant factors by far are that they feel snug and comfortable and line up with the performance characteristics you're looking for.
 
Boot Warmth and Ski Socks
Modern ski socks reflect the improvements made in boot liner technology. You no longer need a thick, heavy-duty sock, and the market is now full of trimmed-down options. Modern boots are better insulators and far more comfortable, which all adds up to a more enjoyable experience. The best socks are either merino wool or synthetic, and if you can swing the added expense, the wool option is our preferred type for stink prevention and temperature regulation. For a full list of options, see our article on the best ski socks.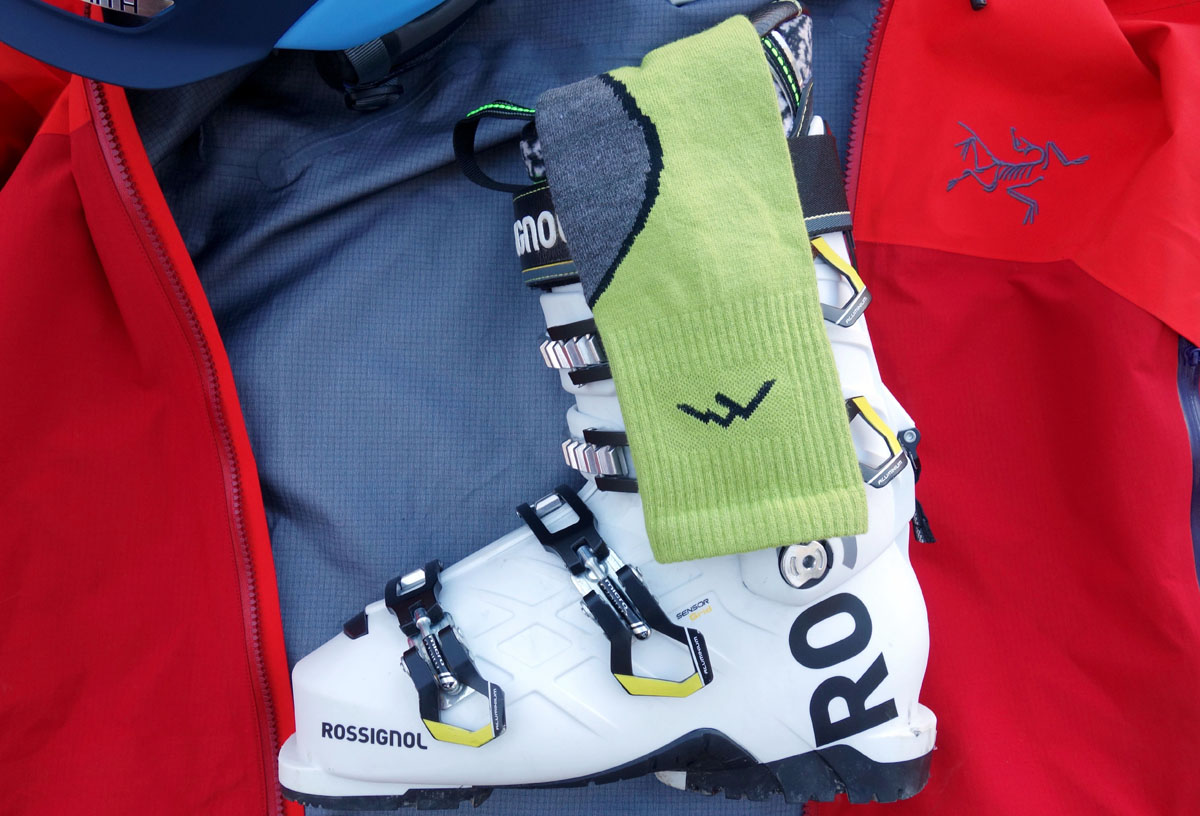 Choosing the Right Skis and Bindings
Boots are a great place to start in assembling your ski kit. For one, it hopefully means you get the pair that end up fitting you best. It also should help guide the rest of your buying considerations. If you choose an advanced boot, you should pick out a correspondingly aggressive binding and ski that can help deliver the performance the boot is capable of. A stiff boot transfers power very efficiently as long as the binding and ski are capable of responding to those inputs. To help get you properly outfitted, our picks for the best all-mountain skis and ski bindings are organized in a similar fashion as boots, broken down by ability level and terrain.
Back to Our Top Downhill Ski Boot Picks  Back to Our Downhill Ski Boot Comparison Table
Learn More About Ski Gear