There's no need for us to tell you the value in staying hydrated, no matter what your day has in store. But looking for advice on which reusable water bottle to choose? That's something we can help with. Below you'll find our top water bottle picks for 2023, which include a range of styles, from classic hard-sided plastic models and ultralight and collapsible designs great for backpacking to premium insulated bottles built to keep your liquids at just the right temperature. For more background information and help choosing the bottle that's best for you, see our water bottle comparison table and buying advice below the picks.
 
---
Our Team's Water Bottle Picks
---

Best Insulated Water Bottle

Category: Daily use
Weight: 13.1 oz.
Insulated: Yes
Capacities: 18, 21, 24 fl. oz.
What we like: Excellent insulating capabilities and premium build.
What we don't: Heavy for hiking and harder to clean than a wide-mouth bottle.
Since its start in 2009, Hydro Flask has established itself as a class leader in insulated water bottles. From their lineup, the Standard Mouth earns our top billing for 2023 by combining excellent insulating performance, a high-quality construction, and a cup holder-friendly design into a smooth-handling yet tough package. Its most impressive feature—and the reason it costs a pricey $40—is the insulated double-wall build that keeps your water cold and coffee hot. In fact, the bottle is rated to keep drinks hot for 12 hours and cold for a whopping 24 hours, and we've had ice cubes live a full day in our Hydro Flask without melting.
All that said, the stout build and impressive insulating performance do come with a weight penalty, and we prefer a lighter plastic bottle like the Nalgene Wide Mouth below when venturing out on the trail. To be clear, the Hydro Flask is perfectly serviceable for short hikes, but ounces add up quickly when covering longer distances. And the narrow body does make this bottle a bit more difficult to clean and stuff ice into than its Wide Mouth sibling, but we've found it easier to drink from on the go, and it also fits into a car cup holder or side pocket of a daypack. For a nice middle ground between weight and ice retention, check out Hydro Flask's Trail series, including the Lightweight Wide Mouth below.
See the Hydro Flask Standard Mouth
Best Budget/Plastic Water Bottle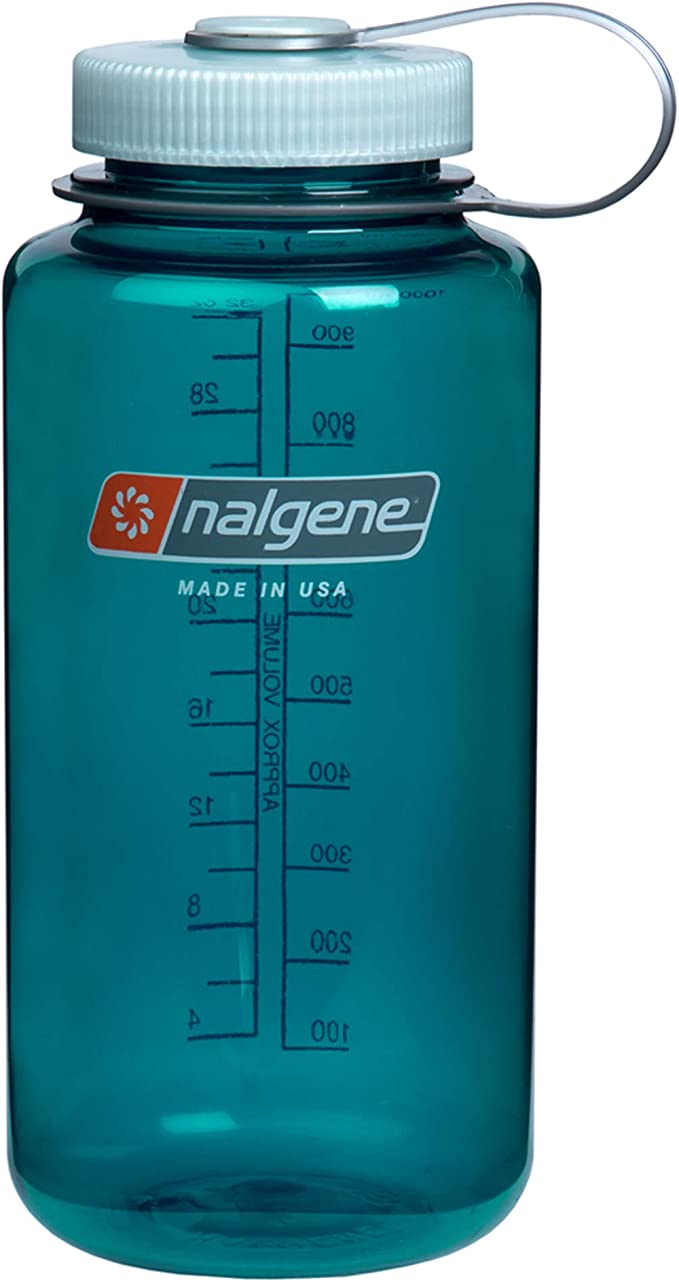 Category: Hiking/daily use
Weight: 6.3 oz.
Insulated: No
Capacities: 16, 32, 48 fl. oz.
What we like: Light, cheap, and durable.
What we don't: Minimal insulation.
Nalgene's Wide Mouth arguably is the most ubiquitous water bottle on the market and a staple in the outdoors, combining a low weight with a simple but functional build for everything from hiking to daily use. And while "budget" is a bit of a misnomer here—reusable water bottles inherently are pretty affordable and will save you a good deal of money in the long run compared to disposable plastic bottles—the Nalgene is an undeniable value at under $20 when compared to premium insulated options from brands like Hydro Flask and Yeti. You don't get the all-day ice and heat retention of those designs, but you're not paying for it either.
Over the years, we've brought our Nalgene on countless hikes, deep into the backcountry, and even toted it up long multi-pitch climbs on our harness without any major issues (apart from the expected nicks and scuff marks). The only major drawback is the lack of insulation, which makes it less appealing than the Hydro Flask above for those who prefer to sip on ice-cold or piping-hot beverages throughout the day (you can purchase an insulated sleeve separately). But for the price, you'd be hard-pressed to find a more versatile or long-lasting water bottle. For those focused on shaving weight, Nalgene also offers an Ultralite version that checks in at just 3.8 ounces but is less durable. And their newer Sustain series incorporates recycled plastic from single-use bottles for around the same price.
See the Nalgene Wide Mouth
Best Ultralight and Packable Soft-Sided Bottle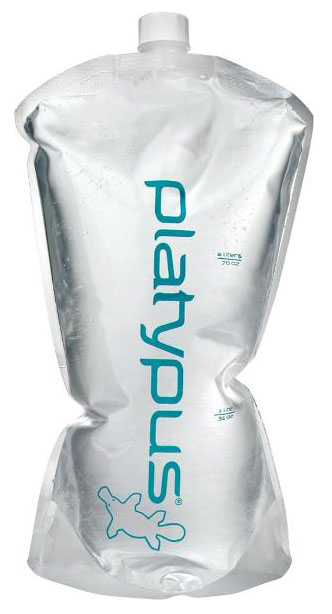 Category: Hiking
Weight: 1.3 oz.
Insulated: No
Capacity: 70 fl. oz.
What we like: Feathery light and highly packable—perfect for stuffing into a pack.
What we don't: Flexible shape often requires two hands for drinking and pouring.
If weight, packability, and cost are paramount to you, it's hard to beat the Platypus Platy bottle. This soft-sided, 2-liter bottle tips the scales at an impressively low 1.3 ounces (it makes the Nalgene above look downright hefty by comparison), can be rolled up to a size that fits easily in your hand or nearly any crevice in a full pack, and comes in at an affordable $19. It's especially telling that this bottle has become a very popular option among thru-hikers, who count every ounce to minimize weight and maximize speed over hundreds (and sometimes thousands) of miles. And importantly, durability is quite good considering the thickness of the plastic: Our Platypus bottles have tagged along on numerous camping and backpacking trips over the years, and most have emerged puncture-free.
What you give up in a superlight design like the Platy is a rigid structure. The soft plastic doesn't hold its shape very well—and it gets worse when the bottle is only partially full—which can make pouring water or even drinking from the bottle a job that requires two hands. Further, the bottle doesn't fit easily into a cup holder or side pocket of a backpack, and you often have to maneuver it in. In other words, it's not a practical option for everyday use, but many committed outdoor-goers will appreciate the low weight and compressible build. For a similar design from Platypus, check out their SoftBottle collection (we like the carabiner-equipped model for hanging off a harness while climbing).
See the Platypus Platy 2.0
 

Best Water Bottle with a Straw

Category: Daily use/hiking
Weight: 13.4 oz.
Insulated: Yes
Capacities: 19, 24, 32, 40 oz.
What we like: Innovative spout design makes it easy to drink through the straw or wide-mouth opening.
What we don't: Heavy for hiking and more moving parts than most competitors. 
The bottles above feature fairly standard openings, but a straw can help avoid spills while drinking on the go. Enter Owala's FreeSip, which boasts a unique hybrid design that provides a best-of-both worlds solution. How it works: The namesake spout allows you to sip through the built-in straw or tilt the bottle back to chug through the wide-mouth opening. In addition to being incredibly easy to drink from, this system also avoids many of the typical pitfalls that come with choosing between a standard- or wide-mouth opening: The FreeSip is fairly easy to clean and fill with ice, while the narrow shape is nicely sized for sliding into a car cup holder or the side pocket of a daypack. Insulating performance is similarly impressive thanks to the triple-layer stainless steel build that's rated to keep drinks cold for up to 24 hours (Owala also offers a cheaper 25-oz. plastic version).
We used to have CamelBak's Eddy+ Renew ranked here, but the Owala gets our vote for a few key reasons. Namely, the Eddy+ has been plagued by reports of broken bite valves and poor flow rates, and the plastic build won't keep beverages cold for very long. The CamelBak does get the clear advantages in price and weight at $16 and 6.6 ounces (it's the better choice for hiking), but we feel the Owala's superior insulating performance is worth those tradeoffs for daily use. Keep in mind that neither design is rated for use with hot liquids, and the straw-equipped lids have more moving parts than standard openings, which can lead to added durability issues and leaks over the long term. On the bright side, Owala does back the FreeSip with a limited lifetime warranty that covers workmanship issues and defects (you'll need to provide proof of purchase from an authorized retailer).
See the Owala FreeSip Stainless Steel 24 oz.
Best Water Bottle with a Built-In Filter

Category: Filter/hiking
Weight: 2.2 oz.
Insulated: No
Capacities: 20, 34 fl. oz.
What we like: Water filtration in an ultralight and compressible package.
What we don't: Does not purify and can be hard to drink from.
Like the Platypus above, Katadyn's BeFree is another ultralight and collapsible design but adds in one key feature that many backcountry travelers need: filtration. Instead of having to carry a separate filter or straw device, you simply fill the bottle up, twist on the combined filter and spout, and drink. In terms of lifespan, the BeFree can treat up to 1,000 liters of water before needing to be replaced, which translates to multiple seasons of use (replacement filters cost $27). All in all, for weight-conscious day hikers, trail runners, and mountain bikers who plan to have access to water along their route, the BeFree's weight, compressibility, and convenience are hard to match.
What do you sacrifice with the BeFree? Like the Platypus Platy, the soft-sided Katadyn (made by HydraPak) lacks the stiff build of the stainless steel and hard-sided plastic models here and requires two hands for drinking and filling. Its rounded body does stuff more easily into the side pocket of a pack, but it's still a bit of a hassle for hydrating on the trail when you don't have both hands free. And it's important to note that the Katadyn only filters and doesn't purify—the Grayl Geopress below adds in purification, which means it's the better option for international travel in less developed regions when viruses are more of a concern. But a filter is fully sufficient for most natural sources, and there's a reason that many long-distance hikers and trail runners swear by the BeFree.
See the Katadyn BeFree Water Filtration System
Best of the Rest

Category: Daily use
Weight: 1 lb. 6.4 oz.
Insulated: Yes
Capacities: 18, 26, 36, 46, 64 fl. oz.
What we like: One of our favorite lid designs in this category.
What we don't: The heaviest bottle on our list and too big for cup holders.
Yeti is best known for their premium and good-looking coolers, but they bring that same expertise to water bottles. From their lineup, we like the 26-ounce Rambler Vacuum Bottle best: It has a stout stainless steel build, extensive color selection, and—not surprisingly—fantastic insulating performance. We particularly love the two-part cap, which consists of the TripleHaul handle that's noticeably robust and easy to grab and a spout underneath that's shatter-resistant and nicely sized for drinking (both can be removed to fill the bottle with ice or for cleaning). It's hard to get excited about water bottles, but Yeti's done an excellent job making hydration enjoyable with the Rambler.
What pushes the Rambler Vacuum Bottle down slightly in our rankings is its weight, which tops our list at 1 pound 6.4 ounces for the 26-ounce capacity. By comparison, our top-rated Hydro Flask can hold a similar 24 ounces and clocks in 9.2 ounces lighter, and their Trail model below is even lighter at just 10 ounces (although it costs $5 more). This might not be a deal breaker on its own, but the lack of cup holder compatibility is the tipping point for us and heavily detracts from the Rambler's everyday convenience. That's not to say the bottle isn't well made, however, and especially if you prioritize drinkability above all else. For a sizable drop in weight (as well as insulating performance and price), Yeti's latest Yonder series trades the Rambler's stainless steel build for plastic but shares the same practical Chug Cap.
See the Yeti Rambler Vacuum Bottle with Chug Cap

Category: Daily use/hiking
Weight: 9.9 oz.
Insulated: Yes
Capacities: 21, 24, 32 fl. oz.
What we like: Lighter than standard Hydro Flasks without sacrificing much insulating performance. 
What we don't: Expensive and still fairly heavy for hiking.
Hydro Flask's Standard Mouth bottle above is our favorite design for its excellent insulating performance and tough build, but many dedicated hikers will find it too heavy for use in the field. Enter the Trail Series, which cuts weight by 25% but retains much of what we love about the original models. Hydro Flask accomplished this by thinning the stainless steel walls, using less burly materials for the cap, and perforating the handle, but the top-notch insulating abilities remain. In fact, in using the bottles back-to-back, we haven't noticed any discernible difference in how long they keep our beverages cold or hot, which is quite an impressive accomplishment.
Apart from the 3.2-ounce drop in weight, the Trail bottle varies from our top-ranked Standard Mouth bottle in a few ways. First off, it uses the brand's wide-mouth cap rather than the standard opening, which is a little harder to drink from on the go. On the flip side, it's easier to clean, fill with ice, and is still cup holder-compatible, which is our main complaint with Hydro Flask's standard Wide Mouth series. But the real clincher for us is cost: At $45 for the 24-ounce model, the Trail is pricier than the already-spendy standard designs, and you can save even more with truly lightweight options like the Nalgene and Platypus above. But for those looking for a daily bottle to keep ice cold that can still be toted into the backcountry, the Trail Series is a versatile choice and one of the lightest double-wall stainless steel options on the market.
See the Hydro Flask Lightweight Wide Mouth Trail

Category: Daily use/hiking
Weight: 7.5 oz.
Insulated: No
Capacities: 18, 27 fl. oz.
What we like: Quality build, looks good, and will keep water cold longer than plastic.
What we don't: Stainless steel dents easily and the narrow opening isn't ideal for cleaning.
If you like the idea of a metal water bottle but don't want to spend a small fortune, Klean Kanteen makes quality single-wall stainless-steel bottles that look great. The 27-ounce Classic comes in at a reasonable 7.5 ounces, and its sport cap means the bottle is both easy to carry and drink from without spilling. We also love the wide range of bright colorways, from standard black to vibrant purple, blue, and orange. And even though the Classic is uninsulated (Klean Kanteen does have a separate insulated series), water seems to stay cooler a little longer than with the see-through plastic options on this list.
What are the downsides of going with the Classic? Klean Kanteens are heavier than plastic bottles and can dent if you drop them (this can be an issue if you dent the base of the bottle and it no longer balances upright). The narrow opening on the Classic (44mm) also makes the bottle a little more difficult to clean, but we love how convenient the included sport cap is for drinking on the move (you can also sub in a few other compatible caps, including steel designs and those with loops for carabiners). Finally, we appreciate that the company has made a strong commitment to being environmentally friendly: Klean Kanteen is a certified B Corp, climate neutral-certified, and many of their bottles (including this one) can be recycled. For added cold retention, their newer TKWide collection is vacuum-insulated and made with mostly recycled stainless steel.
See the Klean Kanteen Classic

Category: Daily use
Weight: 1 lb. 5.3 oz.
Insulated: Yes
Capacities: 17, 22 fl. oz.
What we like: Detachable travel cup is great for sharing your beverage with a friend.
What we don't: The most expensive non-filter-equipped bottle here.
CamelBak has been in the hydration business for more than 30 years, but that doesn't mean they've stopped innovating. Their MultiBev is case in point and arguably the most versatile design here. The most notable feature is the built-in travel cup, which twists off from the middle of the bottle and allows you to quickly and easily share some of your beverage with a friend (it's also nice for rationing tea or hot chocolate on cold days). The second unique feature is the storage-equipped cap that stashes the silicone lid for the travel cup or small items like a couple of tea bags or electrolyte tablets (we almost exclusively use it for the latter, as the lid seems superfluous). Tack on competitive insulating performance—up to 24 hours for cold drinks and 16 for hot beverages (it's a little less for the 17-oz. version)—and the CamelBak stands out as one of the most inventive bottles currently available. 
All that said, the CamelBak MultiBev's added components do come with price and weight penalties. It's true that the two-in-one functionality helps justify the steep price tag—for reference, a Hydro Flask Standard Mouth bottle plus their 12-ounce Outdoor Tumbler would run you an additional $13—but $50 is undoubtedly a lot to spend on a water bottle (especially one that doesn't include a filter). And weight-wise, the CamelBak isn't well suited for hiking at a hefty 1 pound 5.3 ounces. You can leave the travel cup behind to shave some weight, but that would leave the bottom of the bottle exposed to dents and dings. In other words, the MultiBev doesn't stand out from a value or versatility standpoint but fills a nice niche in the water bottle market.
See the CamelBak MultiBev 22 oz.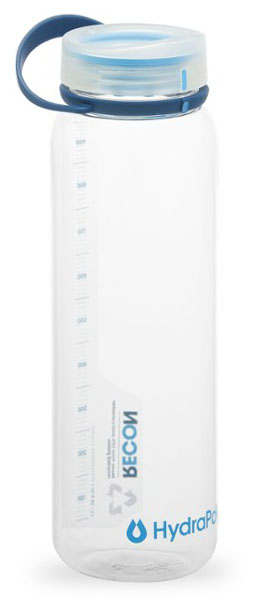 Category: Hiking/daily use
Weight: 6.7 oz.
Insulated: No
Capacities: 17, 25, 32 fl. oz.
What we like: Very easy to drink from and nice slim shape.
What we don't: The twist cap isn't entirely intuitive.
HydraPak's Recon series might appear unremarkable on first glance, but the brand has packed a surprisingly thoughtful feature set into these bottles. For starters, the plastic build utilizes 50% recycled content, the handle is nicely sized and easy to grab (and durable enough to clip to a pack or harness), and the slender shape is perfectly fashioned for car cup holders or sliding into the side pocket of a backpack. And as a small but immediately noticeable bonus, HydraPak added an indented groove along one side, which makes it easy to grip even with gloves on. Finally, the Recon is dishwasher-safe, stain- and odor-resistant, and BPA, BFS, and BPF-free (the latter two have been used as replacements for BPA but are remarkably similar in makeup and could pose similar issues, although they haven't been tested as extensively yet).
Our only gripe with the Recon is its "smooth flow" twist cap, which isn't entirely intuitive and requires tightening the cap and then untwisting it 180 degrees to maximize flow rate. For reference, we admittedly had to go to HydraPak's website and watch a video on how the cap works when we first received the bottle, and it still sometimes takes us a couple tries of twisting and untwisting to get that perfect, smooth flow. But apart from this minor learning curve, the Recon has proven to be impressively easy to drink from, fully leakproof, and highly durable to boot.
See the HydraPak Recon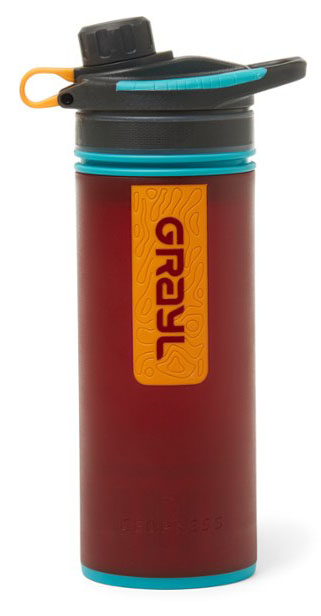 Category: Filter/daily use
Weight: 15.9 oz.
Insulated: No
Capacity: 24 fl. oz.
What we like: Filtration and purification in a portable design.
What we don't: Requires consistent access to a water source; replacement cartridges are pricey (and so is the bottle itself).
For globetrotters and hikers traveling internationally, it's hard to beat the convenience of the Grayl Geopress. While the Katadyn BeFree above filters out protozoa and bacteria, the Grayl purifier takes it a step further by adding protection against viruses too small for most filters, including Hepatitis A, Rotavirus, and Norovirus. The process is simple: Fill the outer shell from any water source, replace the inner unit that holds the cartridge, and use your body weight to press down. In about 15 seconds, you'll have 24 ounces of purified and filtered water. 
There's one very obvious downside to this low-capacity system: Travelers will need consistent access to a water source to stay hydrated. Further, the Grayl will require a new cartridge after only 250 liters or 65 gallons, and replacements are pretty pricey at $37 a pop. However, it's worth mentioning that most purifiers don't filter sediment, while the filter-and-purifier combo of the Geopress does restrict particles like silt and sand from seeping in. In the end, we think the Grayl is a great alternative to disposable plastic bottles for frequent travelers and those headed abroad, but its practicality is limited for uses like backpacking trips. In these instances, we'd go with the much cheaper Katadyn BeFree above (or use a separate, larger-capacity gravity or pump filter). For a lighter and more compact option, Grayl now offers the UltraPress (12.5 oz.), which is also available in a titanium "Ti" version with an outer cup that can be used to heat water or cook simple meals over a camp stove. 
See the Grayl Geopress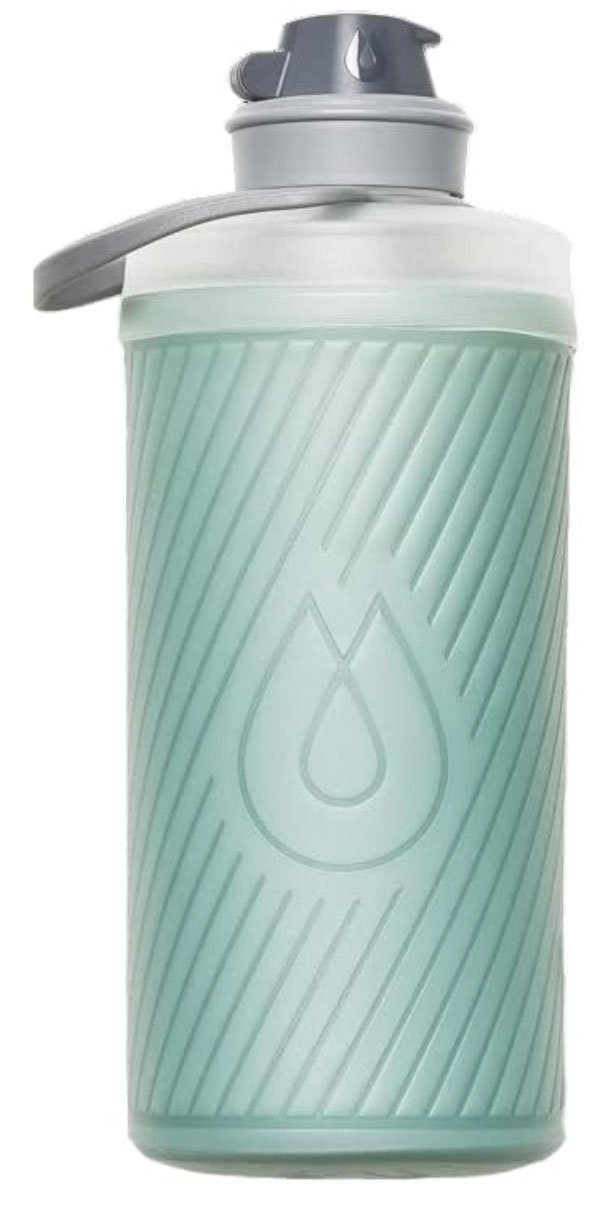 Category: Hiking
Weight: 3.6 oz.
Insulated: No
Capacities: 25, 32, 50 fl. oz.
What we like: Double-layer construction adds a nice boost in durability.
What we don't: Discernible plastic taste (although it does fade over time).
We covered HydraPak's Recon above, which is a well-built hard-sided bottle, but the Flux is our favorite soft-sided option from the brand. Like the Platypus bottles above, the Flux is very light and packable, and we love that the handle doubles as a way to secure the bottle when collapsed (it wraps around the flask like a hair tie). Additionally, the Flux's opening is designed to attach directly to most threaded water filters—including HydraPak's new 42-millimeter Filter Cap—to make backcountry hydration quick and painless, and the twist cap is both leakproof and simple to operate. Finally, durability in particular strikes us as a strong suit: HydraPak uses a dual-layer TPU laminate that gives the Flux a notably confidence-inspiring and grippy feel, which is a nice upgrade from the thin and crinkly Platypuses.
HydraPak's soft-sided water bottle collection also includes the Stash and Stow, both of which are also impressively light and packable (we cover the latter below). The Stow's flip-top cap is a nice alternative to the Flux's twist cap (we like both), while the Stash has a wide-mouth opening that we find harder to drink from, especially while moving. But neither bottle has the textured feel of the Flux, which goes a long way in boosting grip and durability. In fact, our only gripe with the Flux is the discernible plastic taste. To be fair, it has faded considerably after around a month of consistent use, but there's still a faint, rubbery aftertaste. This is a fairly common issue among soft flasks, however, and adding flavored electrolyte tablets (like Nuun) does solve the problem completely.
See the HydraPak Flux

Category: Filter/daily use
Weight: 7.8 oz.
Insulated: No
Capacities: 22, 34 fl. oz.
What we like: Easier to drink from and longer lifespan than the Katadyn BeFree above.
What we don't: It's also heavier, bulkier, and less versatile.
LifeStraw is best known for their namesake straw filter, which allows backcountry travelers to sip straight from bodies of water without any pumping or squeezing. They've taken that technology and integrated it nicely into water bottles, including the plastic Go bottle listed here. The filtering process is essentially the same: A cartridge inside the straw system contains microscopic pores that strain out harmful microorganisms like protozoa (such as Giardia) and bacteria (like E. coli and Salmonella). And the LifeStraw's filter can handle up to 1,000 gallons before it'll need replacing, which is almost four times the lifespan of the Katadyn BeFree above (the BeFree's 1,000-liter rating converts to around 265 gallons).
Another key difference between the LifeStraw and Katadyn is drinkability: Whereas the BeFree has a malleable and collapsible build that requires two hands to sip and fill, the Go's hard-sided plastic body is easy to carry and essentially effortless to drink from. The tradeoff is increased weight and bulk, and unlike the squeezable Katadyn, you can't use the LifeStraw to fill your friend's bottle with clean water, nor can it be rolled up and stuffed into the crevice of a pack. LifeStraw does offer their collapsible Peak Squeeze, which costs $38 for the 650 mL capacity and fills the same niche as the BeFree but is slightly heavier and requires a syringe (included) for proper cleaning. In the end, we still prefer the Katadyn for fast-and-light missions, but the LifeStraw Go is a nice alternative for those who want the convenience of a hard-sided bottle.
See the LifeStraw Go 650 mL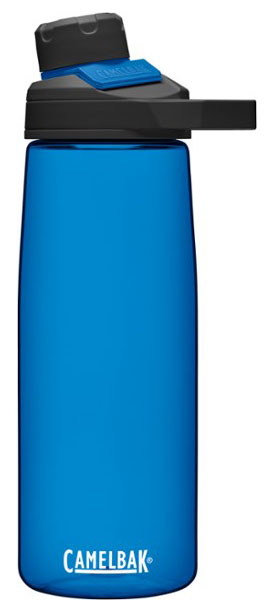 Category: Daily use/hiking 
Weight: 6.2 oz.
Insulated: No
Capacities: 20, 25, 32, 50 fl. oz.
What we like: Nicely sized opening and good assortment of capacities and colorways.
What we don't: Magnetic cap strikes us as a point of weakness.
CamelBak's Chute Mag has been around for years but remains popular for its magnetic cap design that provides a leakproof seal and secures conveniently out of the way when drinking. And the opening itself is perfectly sized for drinking: just wide enough to get a decent gulp without accidentally spilling water all over the place. Recently updated with the use of recycled materials (hence the "Renew" designation), the Chute Mag checks most of the boxes we look for in a quality non-insulated design: It's lightweight, easy to carry, cup holder- and side pocket-compatible, and sold in a nice assortment of capacities and attractive colorways.
Why do we have the CamelBak Chute Mag Renew ranked here? Some users report being confused by the cap—it requires both closing and twisting to prevent leaks—which is an understandable mistake to make (the magnet pulls it in and gives a false sense of security). This can lead to unwanted spills and leaks, and we have concerns about the long-term durability of the thin plastic hinge connecting the cap and bottle. Unless the magnetic top is a must-have for you, we'd rather save with the Nalgene Wide Mouth above, which has fewer breakable parts and will still function just fine should the connecting strap break (ours hasn't after years of use). 
See the CamelBak Chute Mag Renew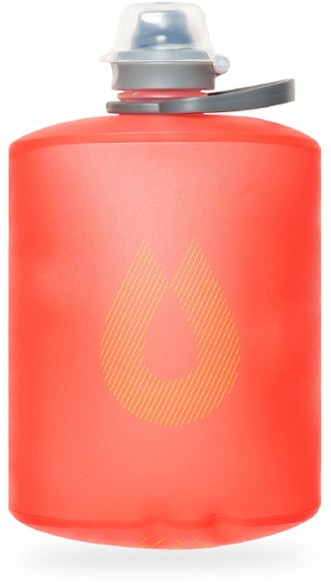 Category: Hiking
Weight: 1.6 oz.
Insulated: No
Capacities: 17, 34 fl. oz.
What we like: Feathery light, collapsible, and easy to drink from while moving.
What we don't: Cap is prone to cracking.
We covered HydraPak's Flux above, but their Stow takes the ultralight crown at a scant 1.6 ounces, making it the second-lightest bottle on our list (right behind the 1.3-oz. Platypus Platy above). And importantly, the Stow is impressively functional for such a minimalist design: It's compatible with most water filters, sports handy capacity measurements on one side for tracking hydration, and is very easy to drink from while on the go with a simple twistable silicone nozzle (just squeeze the bottle). And when you're out of water, just roll the malleable bottle up and secure it with the plastic handle—it compresses down enough to fit in a jacket pocket.
The Stow's lightweight and collapsible design has made it one of our go-to options for toting up multi-pitch climbs: Simply attach the integrated plastic handle with a carabiner to a gear loop on your harness (it can also be secured to the outside of a pack). We've had some concerns of the thin strap breaking or coming undone while chimneying and scraping our way up offwidth routes, but it hasn't failed to date. And the plastic body and multi-component cap don't seem particularly hardwearing either, with a potential for cracks and punctures over time (many users have reported the cap splitting, but ours is in good shape after over a year of consistent use). But at just $17 for the 17-ounce version, the Stow is a cheap, light, and packable supplementary bottle to bring along on any backcountry adventure.
See the HydraPak Stow

Category: Daily use/hiking
Weight: 1 lb.
Insulated: Yes
Capacities: 18, 22, 24, 32, 40, 64 fl. oz.
What we like: A more affordable alternative to the Hydro Flask and Yeti bottles above.
What we don't: The details aren't as well sorted.
Double-wall stainless steel bottles are a pretty pricey bunch, but Takeya's Actives bottle stands out as a more affordable alternative to models from brands like Hydro Flask and Yeti above. In terms of construction, the Takeya is similarly sleek and rugged with a durable exterior and powder-coated finish, comes with a leakproof spout lid that's protected by a hinge cap, and includes thoughtful touches like a silicone base for guarding against scratches and dings and a wide handle for carrying. Insulating performance also stacks up well: The Takeya is rated to keep drinks cold for 24 hours and hot for up to 12, which is on par with our top-rated Hydro Flask Standard Mouth above (for around $14 less on Amazon at the time of publishing).
Where does the Takeya Actives fall short of the pricier competition? While the smaller spout limits spillage, it's harder to drink from and clean than the wider opening you get on Hydro Flask's Standard Mouth and lighter Trail model above. Some users have also reported that the bottle accumulates mold easily, and it's on the heavier end at 1 pound. To be sure, the Takeya Actives is well built for the price and perfectly serviceable for daily use. But committed hikers will want something lighter, and those who prioritize easy cleaning and drinkability will likley prefer one of the Hydro Flasks.
See the Takeya Actives Insulated Bottle
Water Bottle Comparison Table
| Bottle | Price | Category | Weight | Material | Capacities | Insulated |
| --- | --- | --- | --- | --- | --- | --- |
| Hydro Flask Standard | $40 | Daily use | 13.1 oz. | Stainless steel | 18, 21, 24 fl. oz. | Yes |
| Nalgene Wide Mouth | $17 | Hiking/daily use | 6.3 oz. | Plastic | 16, 32, 48 fl. oz. | No |
| Platypus Platy 2.0 | $19 | Hiking | 1.3 oz. | Plastic | 70 fl. oz. | No |
| Owala FreeSip | $28 | Daily use | 13.4 oz. | Stainless steel | 19, 24, 32, 40 oz. | Yes |
| Katadyn BeFree | $50 | Filter/hiking | 2.2 oz. | Plastic | 20, 34 fl. oz. | No |
| Yeti Rambler | $40 | Daily use | 1 lb. 6.4 oz. | Stainless steel | 18 to 64 fl. oz. | Yes |
| Hydro Flask Trail | $45 | Daily use/hiking | 9.9 oz. | Stainless steel | 21, 24, 32 fl. oz. | Yes |
| Klean Kanteen Classic | $20 | Daily use/hiking | 7.5 oz. | Stainless steel | 18, 27 fl. oz. | No |
| CamelBak MultiBev | $52 | Daily use | 1 lb. 5.3 oz. | Stainless steel | 17, 22 fl. oz. | Yes |
| HydraPak Recon | $18 | Hiking/daily use | 6.7 oz. | Plastic | 17, 25, 32 fl. oz. | No |
| Grayl Geopress | $100 | Filter/daily use | 15.9 oz. | Plastic | 24 fl. oz. | No |
| HydraPak Flux | $27 | Hiking | 3.6 oz. | Plastic | 25, 32, 50 fl. oz. | No |
| LifeStraw Go 650 mL | $40 | Filter/daily use | 7.8 oz. | Plastic | 22, 34 fl. oz. | No |
| CamelBak Chute Mag | $16 | Daily use/hiking | 6.2 oz. | Plastic | 20, 25, 32, 50 fl. oz. | No |
| HydraPak Stow 500 ml | $17 | Hiking | 1.6 oz. | Plastic | 17, 34 fl. oz. | No |
| Takeya Actives Bottle | $26 | Daily use/hiking | 1 lb. | Stainless steel | 18 to 64 fl. oz. | Yes |
Water Bottle Buying Advice

Reusable vs. Disposable Water Bottles
There are many obvious benefits to switching to a reusable water bottle over disposable, and the most obvious is reducing waste. By some estimates, over 50 billion disposable plastic bottles are produced each year—that's a lot of plastic that can end up along the sides of roads, in bodies of water, along trails, and in parks. But even if we table the environmental concerns, there are many other great reasons to make the switch to reusable bottles.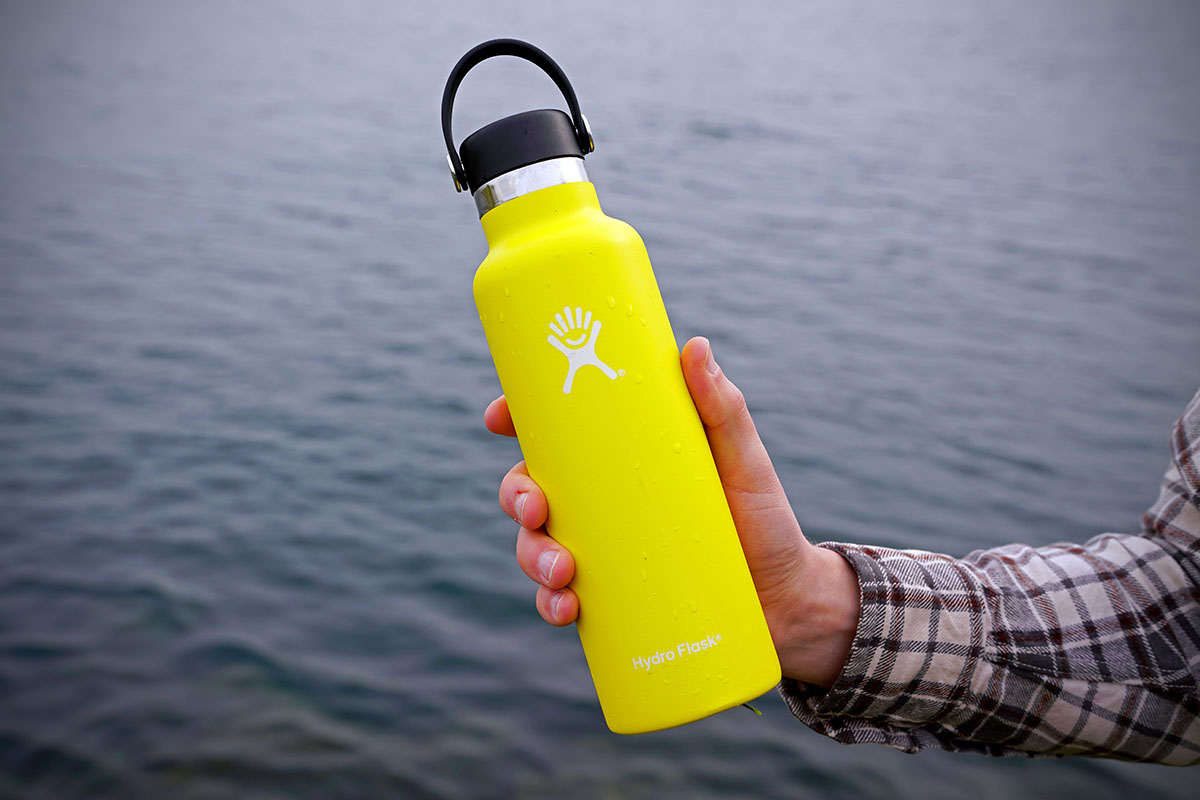 While the choices above range in price from around $15 to $100, bottled water can easily run you that same cost in just a month or two (for reference, a 24-count of Glaceau Smartwater costs around $50 at the time of publishing). Depending on the build quality and material (and how well you take care of it), a reusable bottle should last for years and years. However, it's worth noting that some disposable bottles—Smartwater specifically—are popular among thru-hikers for their feathery weight, easy-to-drink-from flip cap, and narrow, long shape that can be quickly secured with a pack strap. But if you're not hitting the PCT anytime soon, we think the cost is well worth it. Disposable water bottles might be the convenient grab-and-go option, but investing in a reusable bottle will pay off quickly. Plus, some of the options above are downright stylish, which certainly isn't a bad thing. 

Water Bottle Categories: Daily Use, Hiking, and Filter
Daily Use
The most common use for a water bottle is to stay hydrated in daily life: commuting, at work, and around town. In general, everyday bottles need to be durable enough to withstand the occasional drop, and other features we look for include a good hand feel and cup holder compatibility. Considerations like weight are less important here, and while it's often nice to have a spout that's easy to drink out of while on the go, both wide-mouth and narrow-mouth bottles are popular options. Most of the water bottles that made our list excel in everyday life (soft flasks and dedicated filter bottles are two exceptions), and your own priorities will push you toward a specific material type and whether or not you need insulation.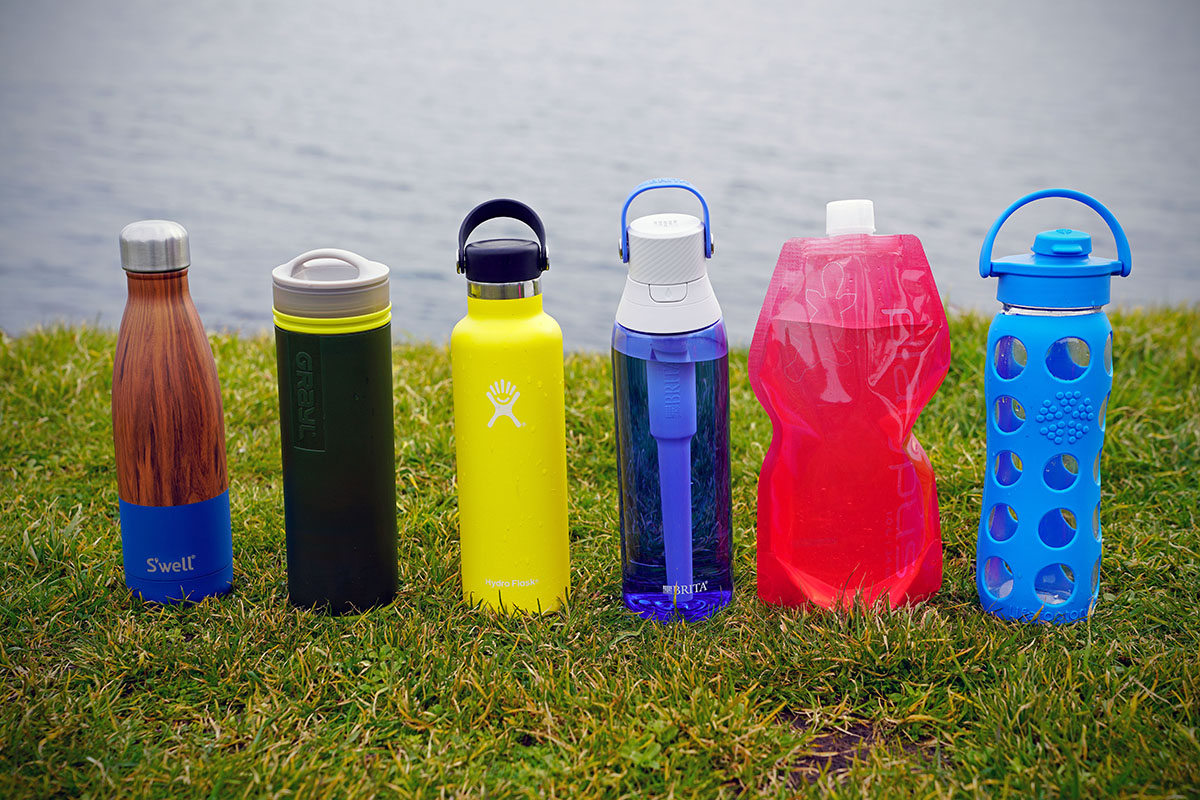 Hiking
Bottles built for hiking and other outdoor pursuits are light but tough, ranging from around 1 to 10 ounces in weight but built to handle drops and rough use typical of the outdoors. Non-insulated models like the Nalgene Wide Mouth are a classic choice, with a 6.3-ounce weight and hardwearing plastic design that stands up well to regular use and abuse. If space is a concern, ultralight and stowable options like the Platypus Platy 2.0 and HydraPak Flux roll down incredibly small and stuff easily into the crevice of a pack. And if you'll be outside in extreme temperatures and don't need to worry about carrying a little extra weight on your back, a burly insulated model can also be a viable option. Hydro Flask and Yeti bottles are popular among campers, rafters, and motorized backcountry explorers for their sturdy builds and ability to keep beverages cold or hot for hours at a time, although these hefty designs have limited appeal for most hikers, and especially those covering longer distances on foot.
Filter
For hikers, runners, and travelers who desire an all-in-one water bottle and filter, there are a growing number of options that fit the bill. Designs like the Katadyn BeFree integrate a filter into the cap/straw, and Grayl's Geopress takes it a step further by adding virus-neutralizing purification to the mix. This makes it the better choice for international travelers, although most backcountry-goers will be perfectly fine with the aforementioned Katadyn for protecting against protozoan cysts and bacteria. If you plan to embark on a long trip with a group, however, we prefer bringing along the traditional separate filter or purifier. You'll get a higher output and capacity from those systems, as well as more flexibility to fill up multiple bottles. To see a full breakdown of options, see our article on the best backpacking water filters and purifiers.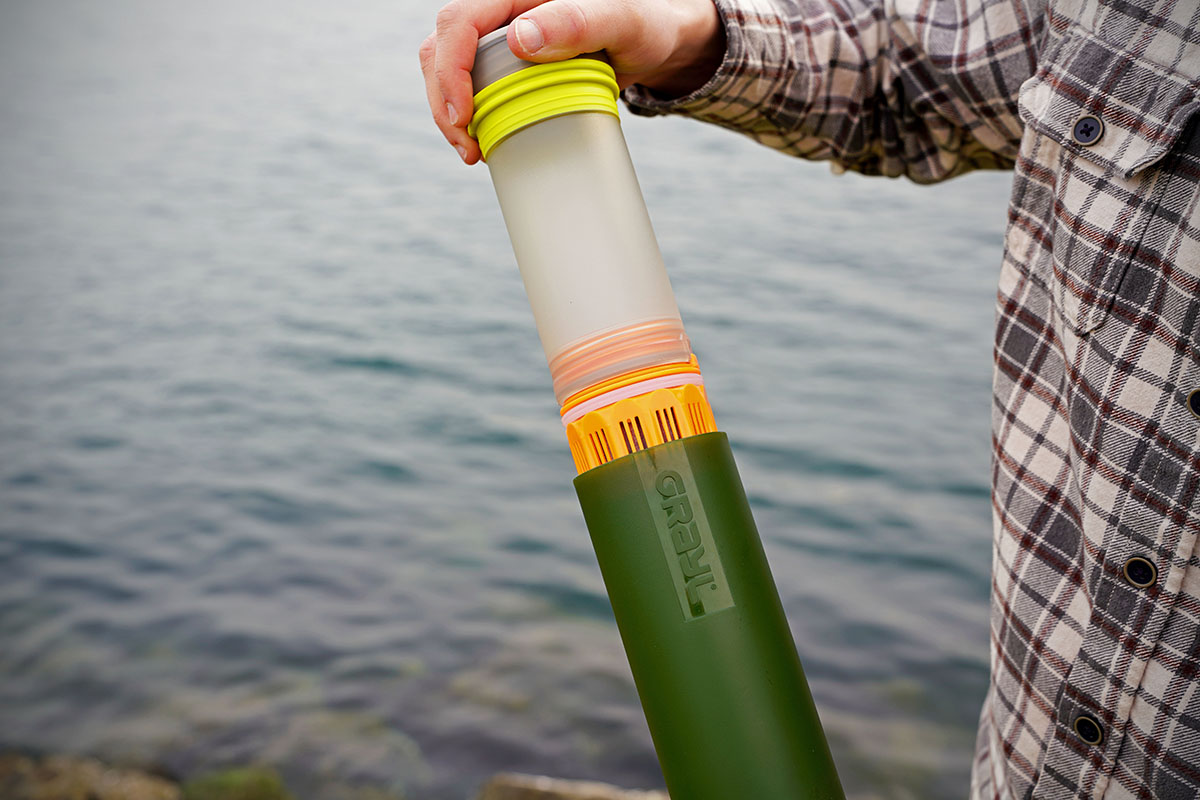 Materials: Plastic or Stainless Steel
All of the bottles on our list above are constructed using one of two materials: plastic or stainless steel. Glass bottles are another option for daily use and growing in popularity due to lack of plastic or metallic taste, but the obvious downside is that they're very vulnerable to breaking or shattering. For this reason, we didn't include any glass bottles in our rankings, but Lifefactory's Glass 22-Ounce with Active Cap is a crowd favorite.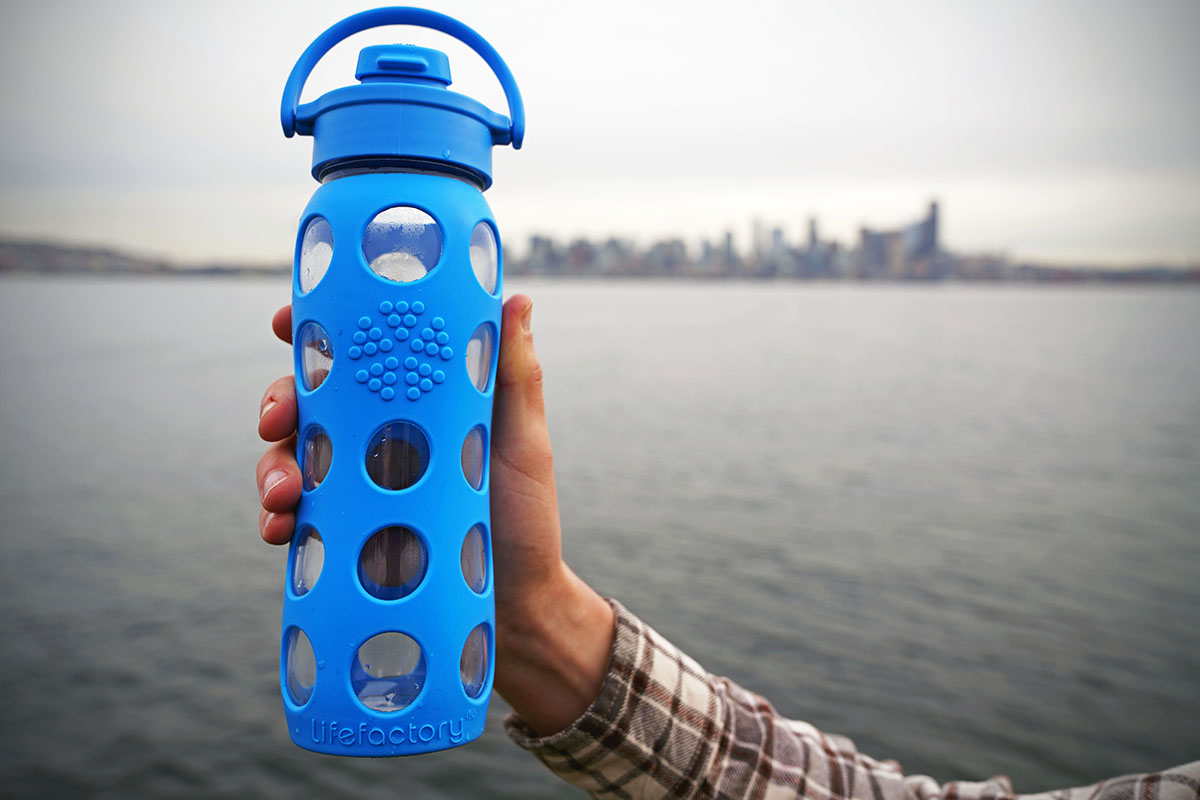 Plastic
Across all of the water bottle categories above, plastic is still the most commonly used material in 2023. The BPA scare from old Nalgene bottles (they're now all BPA-free) has done little to dent enthusiasm for the material: It's affordable, in most cases pretty durable (although less so than most stainless steel), and lightweight. The downsides of plastic bottles are that they can develop a plasticky smell if you don't consistently clean them or leave water inside for a long time, and they typically do not offer any insulation.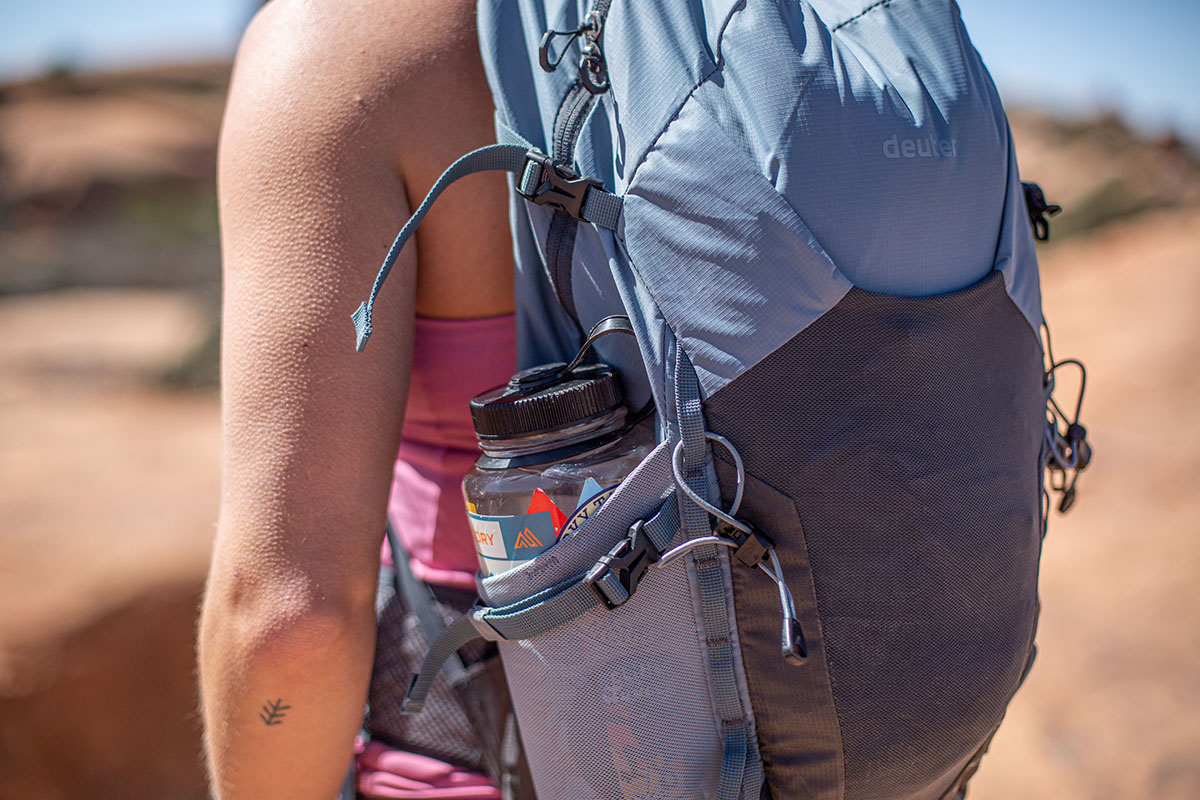 Stainless Steel
For those who don't like the occasional taste or smell of plastic in their water bottles, stainless steel bottles from brands like Hydro Flask, Klean Kanteen, and Yeti above are extremely popular. While it's true that these bottles can have a bit of a metallic taste, they are the more agreeable option for most people. Stainless steel bottles are also known to be very tough and are more likely to dent rather than crack or puncture like a plastic bottle. Further, they are fairly easy to clean and rid of lingering tastes, even if you switch between coffee and water during the day. Finally, for those wanting an insulated bottle, a double-wall stainless steel design is the way to go. Keep in mind that these can be fairly expensive, however, with prices hovering in the $40-$50 range for 24 to 32 ounces of capacity.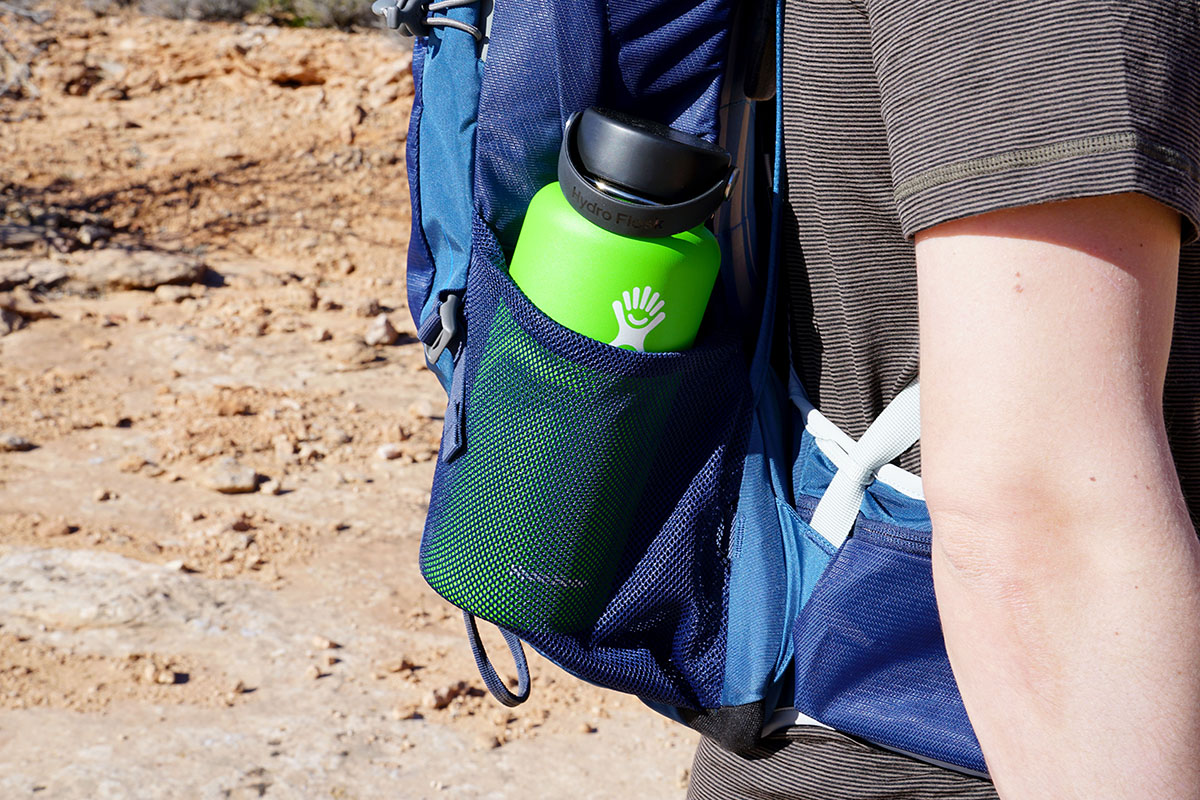 Insulated vs. Non-Insulated Bottles
Double-wall insulated bottles are a fantastic invention—they can keep beverages hot or cold for hours at a time, even in pretty extreme temperatures. For daily use, an insulated bottle like the Hydro Flask Standard Mouth is our preferred choice because it covers all our water and coffee drinking needs. But quality insulated designs are about three to four times more expensive than a comparable non-insulated bottle and add quite a bit of weight. As a result, even though we would love to carry a Hydro Flask while backpacking in the heat, it's just not a practical solution. Our take is if you want to invest in a nice water bottle and don't care too much about weight, you'll most likely be very happy with an insulated bottle.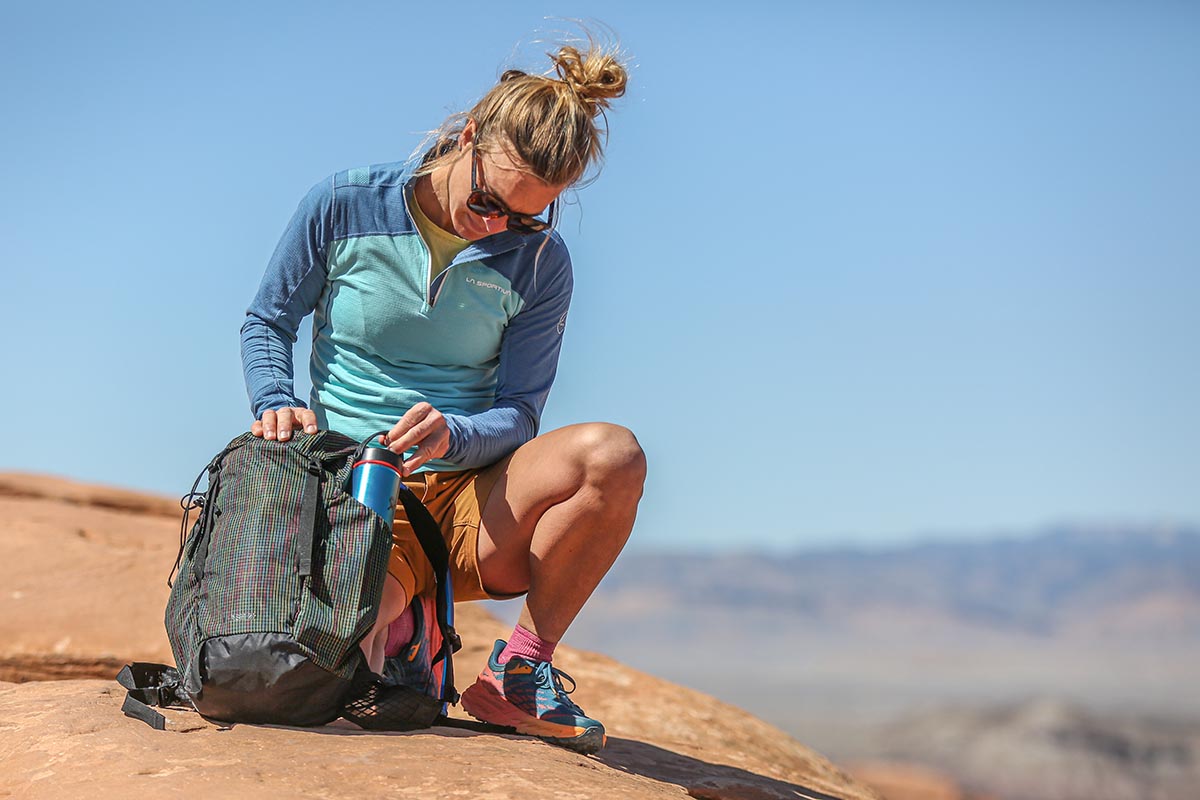 Hard-Sided vs. Soft-Sided (Collapsible) Bottles
A further consideration is whether you want a hard-sided or soft-sided bottle. For everyday use, hard-sided is the preferred option: It has a solid structure that fits easily into a cup holder or backpack side pocket and is much easier to drink from. Hard-sided bottles come in a variety of styles, including insulated and non-insulated stainless steel or plastic, both of which are known for their durability.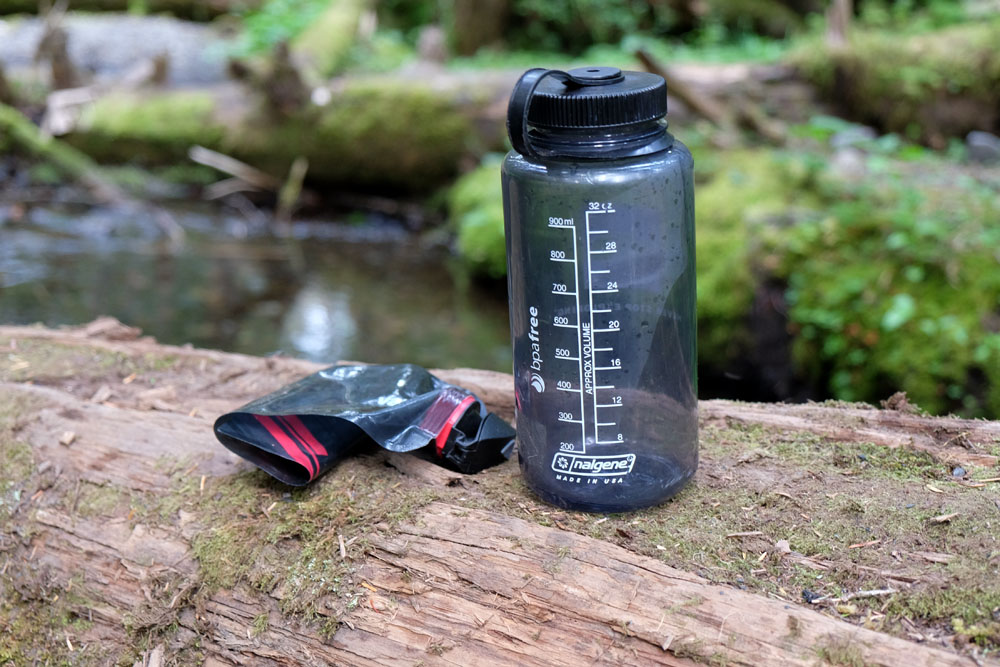 Soft-sided bottles, on the other hand, trade durability for compressibility and weight. Ultralight bottles like the Platypus Platy 2.0L pack down really small and weigh less than 2 ounces. These are great options when you don't have much space—we love them for trail running, fastpacking, and multi-pitch climbing—or want the extra water storage at camp without having to carry bulky bottles on the trail. However, they aren't very convenient as daily pieces, as the flexible shape has a tendency to bend when tilting to drink or pour water. Unless the weight and packability are paramount to you, we recommend going with a hard-sided bottle.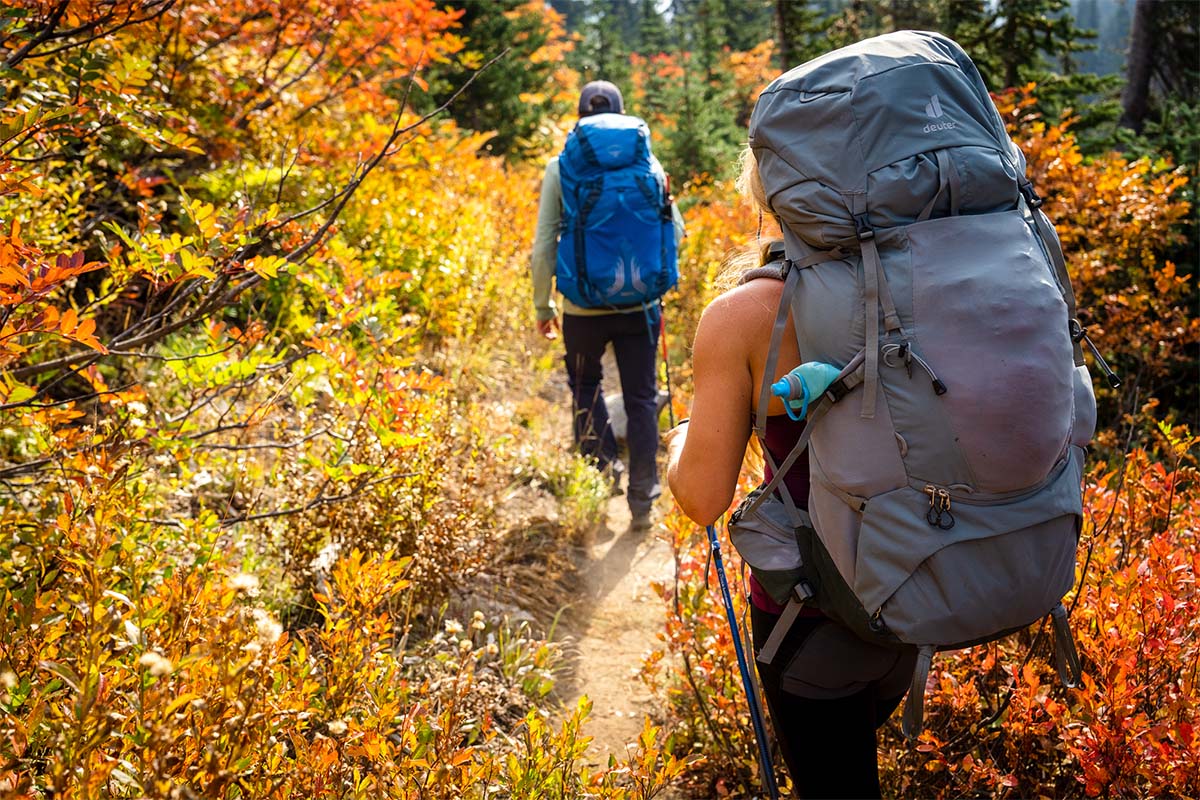 Water Bottle Capacity
Just about every water bottle we have included above is offered in a range of sizes, which we've listed in our specifications. On the small side are bottles around 16 to 18 ounces, which are good for those who value the compact size, but you'll find yourself filling up your bottle quite a few more times throughout the day. Our preference is to size up to the 24- to 32-ounce range to minimize fill ups without being too bulky to carry around. Some models are offered in up to 64-ounce capacities, which are great for water storage (particularly the insulated models for places like remote construction sites), but those are too large for most people to haul around. A final consideration is for folks who put their water bottle in the side pocket of a backpacking pack or daypack. Often, a 32-ounce wide mouth design will be stretching the side holster to the max.

Weight
The weight of a water bottle can vary widely—a look at our table above shows our picks range from around 1 ounce (the Platypus Platy) to well over 1 pound (the Yeti Rambler). Depending on your intended use, this can either matter a lot or not at all. Travelers, backpackers, climbers, and other adventurers who need to carry a bottle for long stretches are most inclined to take weight into consideration. In those cases, it's hard to beat the classic Nalgene, which combines backcountry durability and ease of use at only 6.3 ounces in weight. But for daily use, or when the benefits of an insulated bottle take precedence, it's perfectly reasonable to carry a 20-ounce (or more) bottle. And for reference, 16 ounces of water adds about a pound of weight (1.04 lb. to be exact).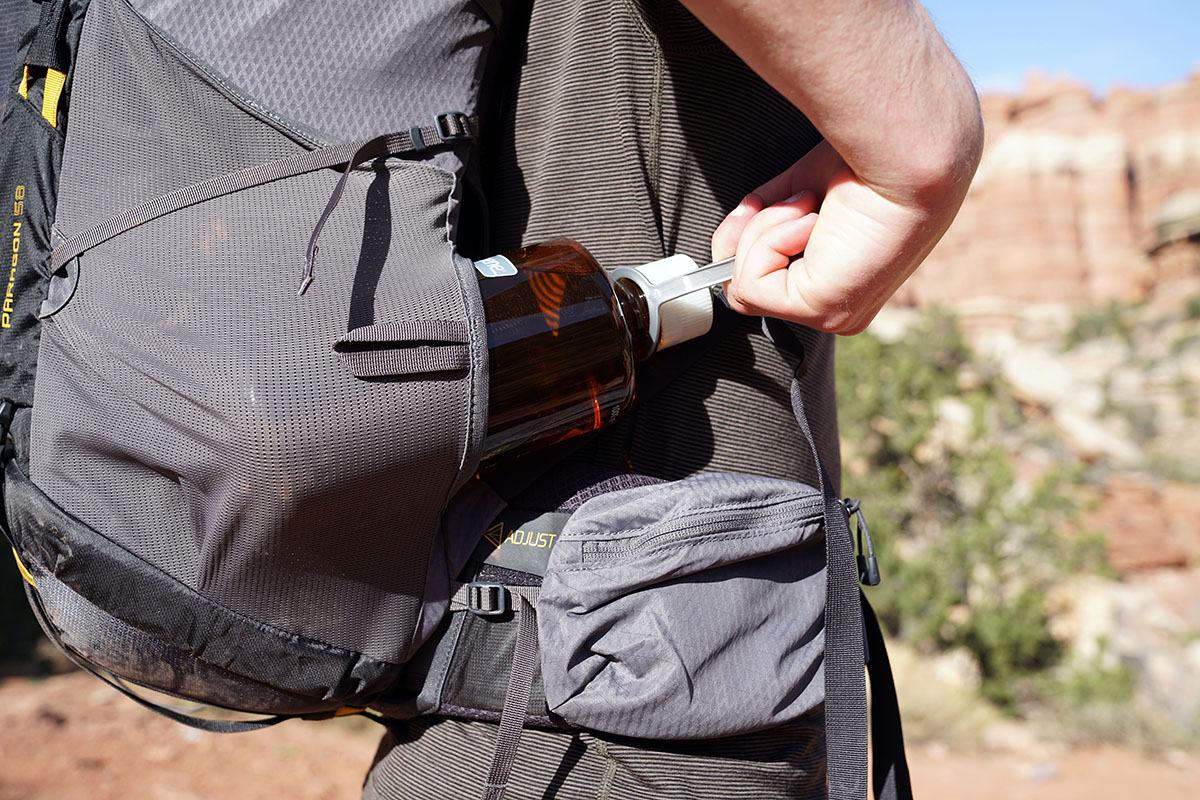 Mouth Opening: Narrow, Standard, and Wide
As the term indicates, the mouth opening refers to the diameter of the bottle with the top removed. There aren't standardized measurements for what qualifies as narrow, standard, or wide, but some general characteristics apply. Logically, a narrow bottle will be the most difficult to fill (and some may require you to shrink down ice cubes to fit inside). Standard openings, like the Hydro Flask Standard Mouth above, often are a little larger than a narrow mouth bottle, but still only just wide enough to fit one or two ice cubes vertically at a time. Wide-mouth bottles are the most versatile and easiest to clean, but they're also prone to spilling while taking a sip. An easy solution, however, is to get the wide-mouth style with a smaller cap and spout (Hydro Flask and many others sell several different lid options for their wide-mouth bottles).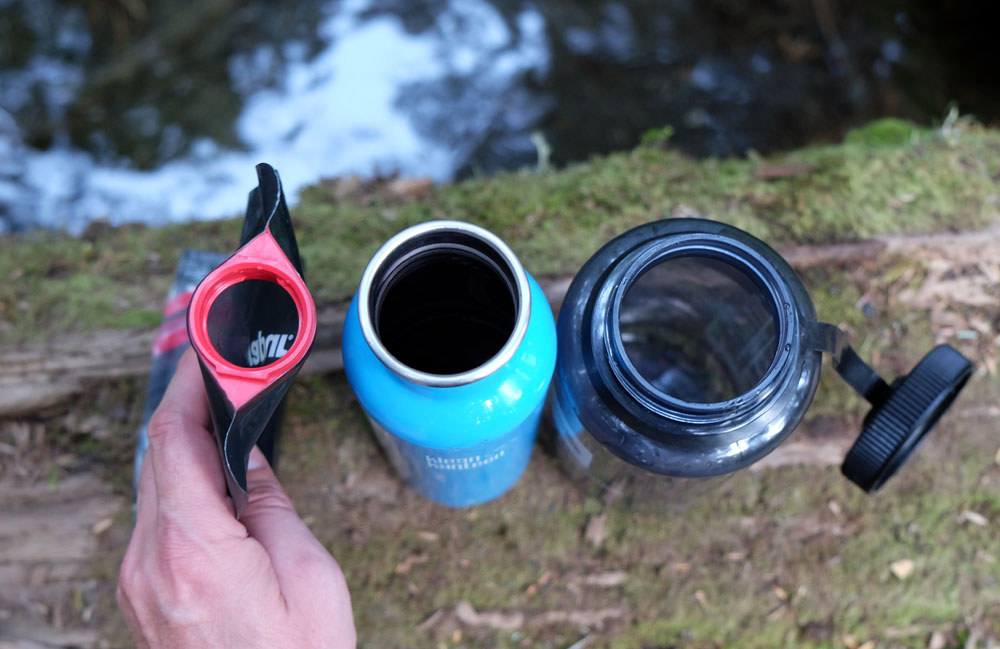 Water Bottle Cap Types
Traditional caps and straws/sippers aside, there are a number of other options when it comes to water bottle cap types. For example, the HydraPak Recon features a twistable cap with a small spout for drinking, the CamelBak Chute Mag Renew has a round, tapered opening underneath the magnetic cap, and HydraPak's Stow has a small, twistable nozzle that requires squeezing the bottle to operate for easy on-the-go hydration. Again, this will ultimately come down to your preferences and what works best for you and your preferred activities. If you don't love the common standard or wide-mouth openings, give one of the other styles a try.

Sippers and Straws
For most, a simple screw-on or pop-top lid is sufficient for drinking water. However, a user-friendly integrated straw has its strong suits, including sipping on the go while reducing the risk of accidental spills. Our favorite straw-equipped design on the market is Owala's FreeSip, which features a unique two-in-one spout that allows you to sip through the built-in straw or tilt the bottle back to chug through the wide-mouth opening. To achieve similar versatility, you can also often add a compatible straw cap to a traditional water bottle. For example, Hydro Flask sells straw lids for both their standard- and wide-mouth bottles, as well as press-in tops for their tumblers (keep in mind, these are not fully spill-proof). 
All that said, straws do add some complexity and weight, which isn't great for hikers. Additionally, straw systems are another thing to clean, can collect mold easily, and many are not very easy or even capable of being taken apart. And finally, those extra parts and pieces create more places where leaks can develop. In general, we aren't as smitten with them as more traditional bottles, but realistically, the straw question is one of personal preference. If you're diligent about cleaning it and like the design, it could very well be your ideal water bottle design.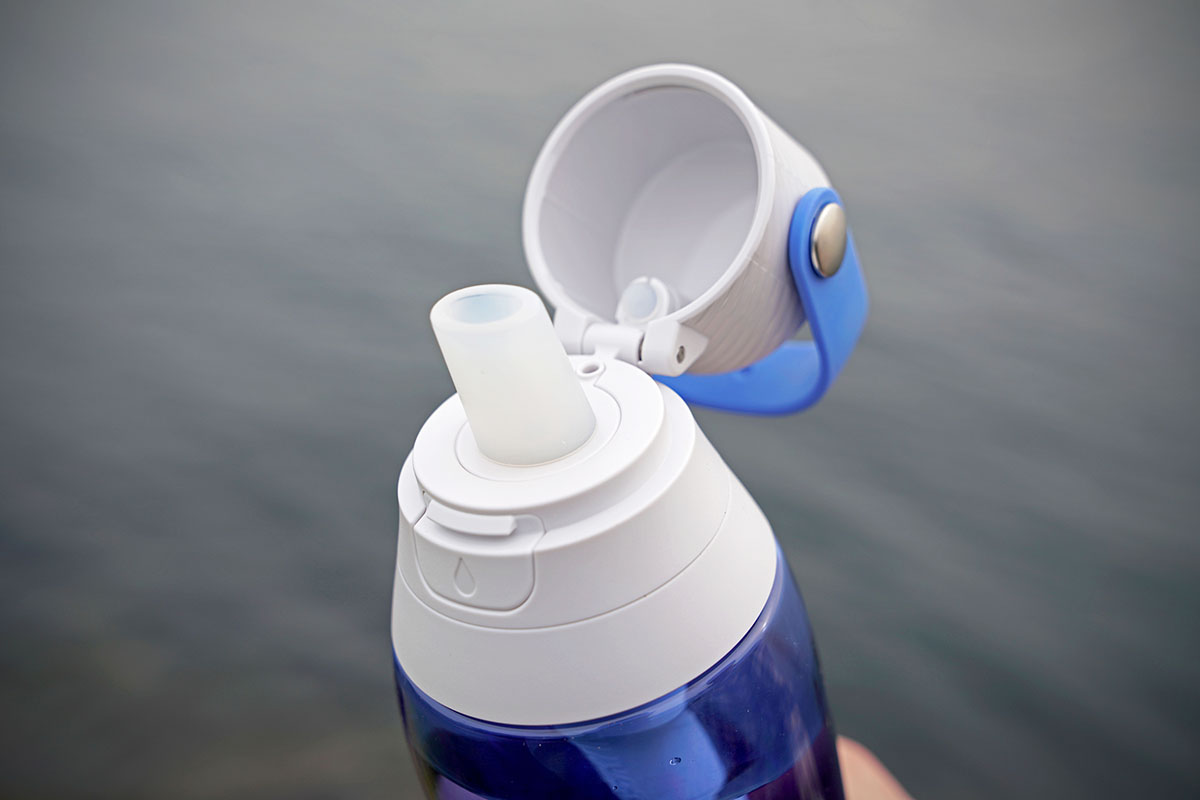 BPA-Free
Bisphenol A (BPA) is a chemical used in hard plastics that—until fairly recently—was present in many water bottles. There is a fair amount of debate regarding the effects of BPA on humans, but the risk is that this potentially harmful chemical can leach from containers into your beverages. We aren't scientists here at Switchback Travel, but the good news is that BPA has all but disappeared from the water bottle industry (although it's still found in other plastics).
If you're concerned about BPA, look for clear labeling. You'll often see prominent stickers that say "BPA free" on the front and all bottles on this list meet that criteria. If you don't see this designation, keep in mind that many plastics are marked with recycling codes, and codes 3 and 7 are often made with BPA. It's also important to remember that the chemical is not found in stainless steel water bottles, which make up a decent chunk of the market and a good portion of our list.
 
Hiking with Water: Water Bottle or Hydration Reservoir?
A common alternative for hiking and backpacking is a water reservoir. These consist of a main bladder or reservoir that holds the water and a drink tube with a bite valve at the end of it. With the tube placed along your backpack shoulder straps, you always have quick access to hydration, which means you're more inclined to drink water—always a good thing on the trail. Weight and capacity are two additional reasons to go with a water reservoir. We've had great luck using both the CamelBak Crux and the Platypus Big Zip for anything from mountain biking to backpacking. Finally, most hydration sleeves are in the center of the pack, which also helps with weight distribution—water bottles on either side pocket can shift weight as you drink from one or the other. For a full list of options, check out our article on the best hydration bladders.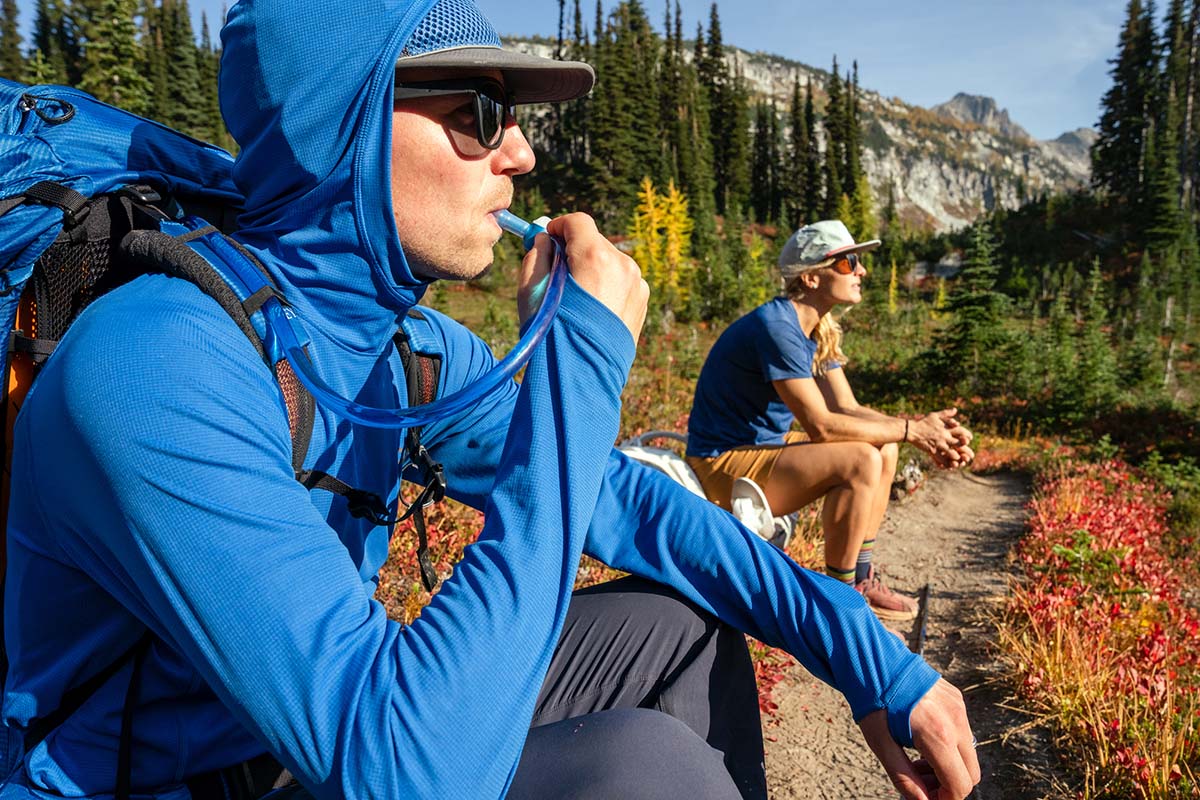 Generally, backpacks are built to accommodate both bottles and reservoirs, with side pockets for storing a bottle and sleeves built into the interior of the pack to slide in a bladder. However, we never rely on reservoirs as our sole water carrier, and particularly when heading out to more remote places. Why's that? The connection between the reservoir and tube is a source of occasional failure, which can cause leakage inside a pack. This is something we experienced on a trip in Utah, and we unfortunately didn't identify the leak very quickly, resulting in some wet clothing and gear. Another downside for hydration systems is their storage sleeve is most often deep inside the main compartment of your pack, while a bottle can quickly be grabbed and filled up. In the end, we always recommend bringing along a water bottle or two as a backup.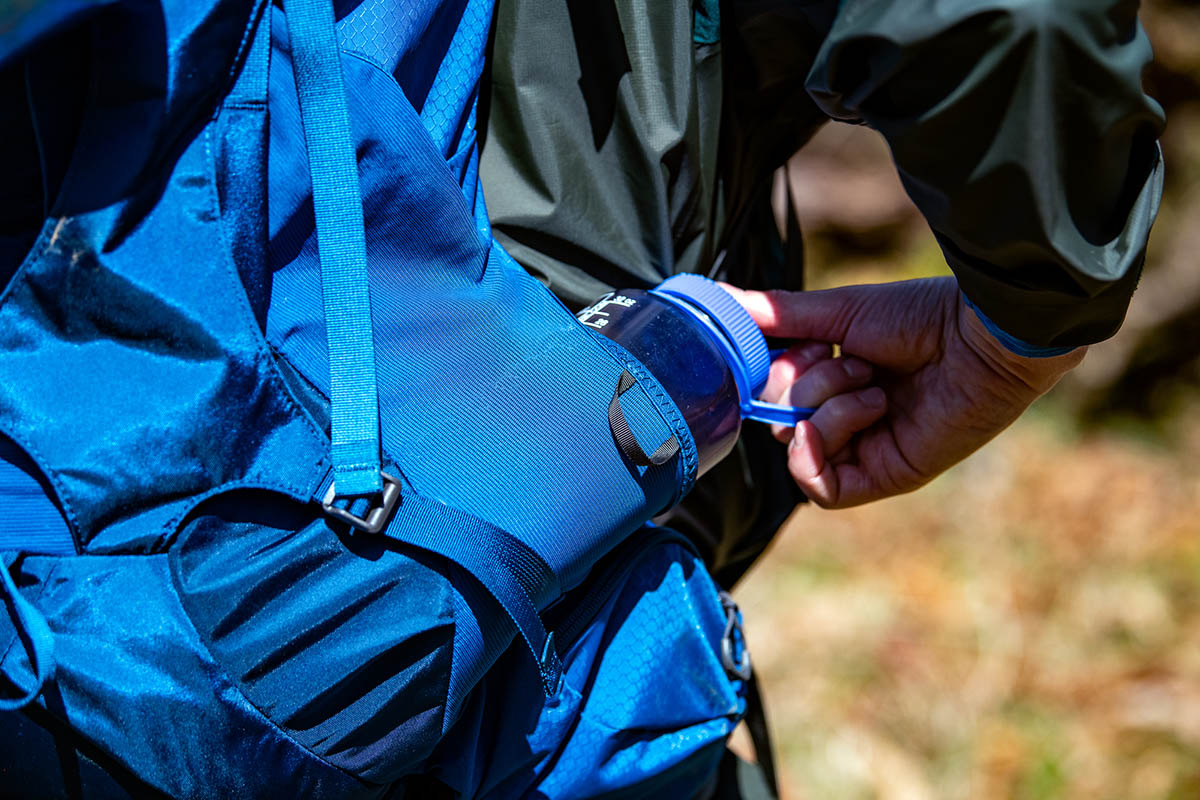 Cup Holder Compatibility
Cup holder compatibility is a deal-breaker for commuters, in particular. Having a water bottle that's too big to fit in a cup holder causes all sorts of issues—we once had our 32-ounce Hydro Flask Wide Mouth soak our passenger seat because the screw-on cap wasn't fully twisted on (we didn't make that mistake again). This can also translate to backpack compatibility: Wide-bodied bottles that don't fit into cup holders are often also too big or awkward to stuff into the side pocket of a pack when you go for a hike.
How can you tell whether or not a water bottle will fit in your cup holder before buying? As a general rule, most wide-bodied, larger-capacity bottles (32+ ounces) will be too big. On the list above, this includes the Nalgene Wide Mouth and Yeti Rambler Vacuum Bottle. Many soft-sided, collapsible bottles (like the Platypus Platy) also will pose an issue, but it depends on the shape. You can usually find the dimensions on the product page for any given water bottle or reach out to the manufacturer directly (REI also sometimes lists compatibility in their product specifications), but most of the time, sizing down to the 24-ounce version of a bottle or less will do the trick.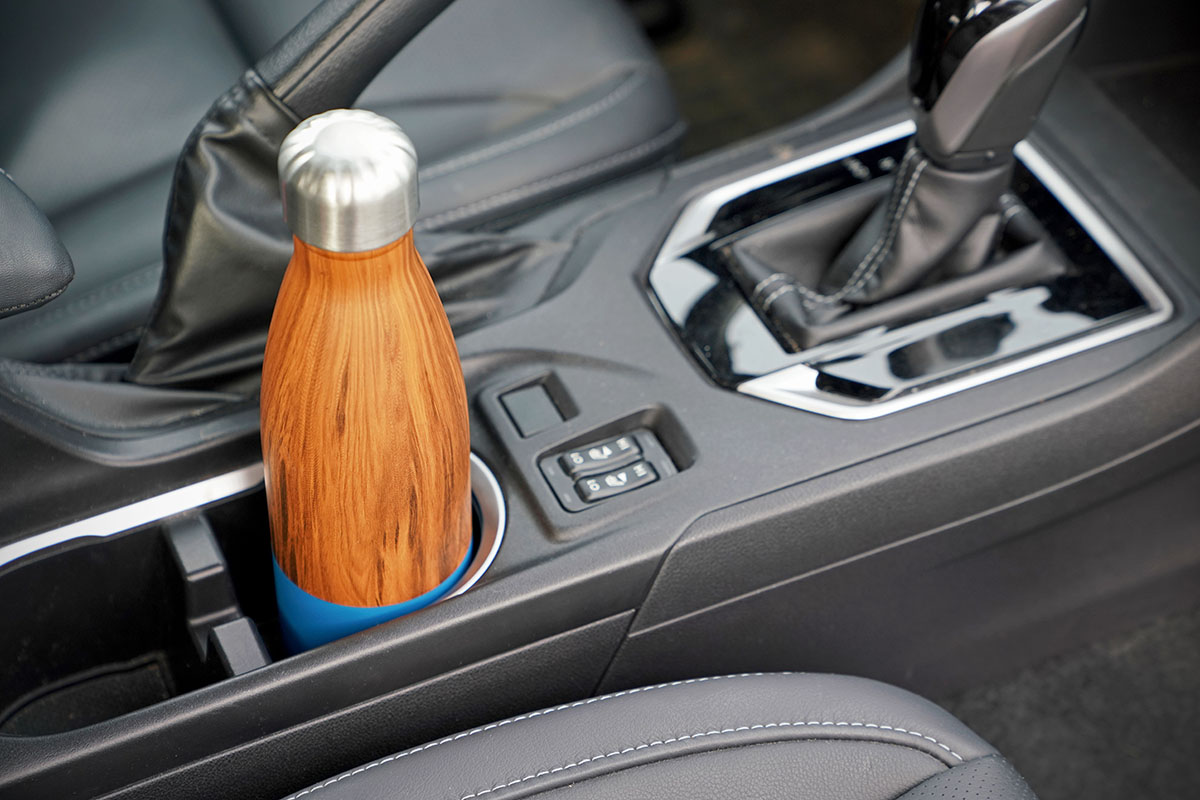 Cleaning Your Water Bottle
No matter what type of water bottle you choose, regular cleaning will ensure better tasting beverages, a longer lifespan, and improved safety for yourself. In most cases, the best way to clean a bottle is with hot, soapy water, and accessories like cleaning wands and straw brushes can be very helpful (Hydro Flask even makes a Straw & Lid Cleaning Set). What's more, many plastic bottles, such as the Nalgene Wide Mouth, are designed to go on the top rack of a dishwasher. Either way you wash your bottle, verifying you've cleaned out the bottom as well as the crevices and threads in the lid are important. Additionally, letting each part completely dry will reduce the chances of any mold or bacteria build up. If more intense cleaning is required, mixing a teaspoon of bleach with water is the recommended method from most manufacturers.
Back to Our Top Water Bottle Picks  Back to Our Water Bottle Comparison Table
Learn More About Outdoor Gear