Ski pants are a critical barrier between you and the elements, and there's a pair to fit every type of skier and budget. Resort goers typically opt for a classic hardshell design with some light insulation to stay warm on the lift rides up. Backcountry skiers have plenty of softshell and hybrid options for improved range of motion and breathability. Of course, some of our recommended ski pants toe the line for those who like to do a little of both. Below are the best ski pants for the 2017-2018 season, along with our comparison table and buying advice after the picks. For more on outerwear, see our article on the best ski jackets.
 

Best for: Resort and backcountry
Insulated: Yes (thin fleece backer)
Type: Hybrid hard/softshell
Weight: 1 lb. 5.3 oz.
What we like: Fantastic build quality, fit, and versatility.
What we don't: Light insulation isn't ideal for extended ski touring.
If we were to pick one ski pant for anywhere on the mountain, for conditions from bluebird to overcast and wet, it would be the Arc'teryx Sabre. These pants have it all: a 3-layer Gore-Tex construction for bomber protection from the elements, softshell fabric for movement, a lightweight fleece backer for a little warmth, and a solid feature set with plenty of storage. More, you get a comfortable athletic fit that isn't too baggy or tight and the sleek styling that Arc'teryx is known for.
In terms of use, the Sabre is an ideal pant for active resort skiers and those who occasionally like to get beyond the ropes. They won't be out of place in the backcountry either, with excellent range of motion from the stretchy material and precise cut, along with big side vents for dumping heat. The light insulation does favor inbounds use overall, but the Sabre pants are among the most versatile on the market and our top overall choice for 2017-2018.
See the Men's Arc'teryx Sabre  See the Women's Arc'teryx Sentinel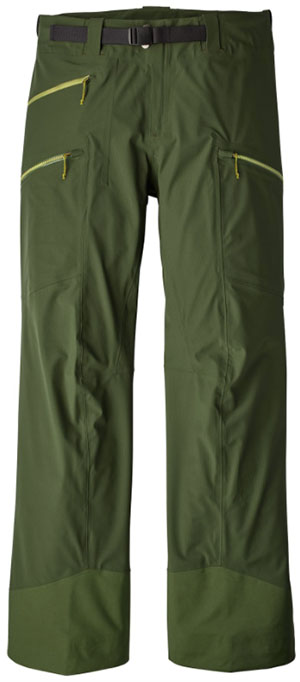 Best for: Backcountry
Insulated: No
Type: Hybrid hard/softshell
Weight: 1 lb. 2.2 oz.
What we like: Light, stretchy, and breathable.
What we don't: Thin and not as resort friendly as the Sabre.
Our number two ski pant brings together the qualities of a hardshell and softshell into a very functional hybrid construction. Billed mostly as a backcountry design, the new Patagonia Descensionist delivers on those promises with excellent stretch, breathability, and a lightweight feel that won't weigh you down on the uphill. And as the name indicates, the pant can withstand deep powder descents with 3-layer waterproofing and a reliable DWR coating. For touring all season long, the Descensionist is a fantastic option.
However, if you want to mix in substantial time at the resort, the Descensionist falls short. The fabric is a thin 50-denier nylon and polyester weave and lacks the warmth and extra protection that you get with the Sabre above. More, in the quest to make the pant as breathable as possible, it isn't as impenetrable to high winds and wet snow as Gore-Tex, so it's not a perfect partner on the chairlift. But with the right expectations, you'll love the balanced backcountry performance and superlight feel of the Descensionist.
See the Men's Patagonia Descensionist  See the Women's Patagonia Descensionist

Best for: Resort
Insulated: Yes (60g synthetic)
Type: Hardshell
Weight: 1 lb. 9.2 oz.
What we like: Proven and tough resort pant.
What we don't: Baggy fit isn't for everyone.
For weekend warriors and those don't want to spend a ton on ski gear, no pant is more popular at the resort than The North Face Freedom. We love the value here: for well under $200 you get a thick 2-layer construction that is super durable and blocks out wind and snow very effectively. The 60-gram Heatseeker insulation is a nice touch for those wanting a little extra warmth (there is a non-insulated version for $140), and the venting system is surprisingly good for a budget pant. The Freedom is a noticeable step down in quality from our top picks, but it covers all the bases for resort skiers at a reasonable price.
Keep in mind that although the Freedom Insulated pants will do the trick for skiing laps and long chairlift rides, performance-minded skiers likely will be left wanting more. To start, the fit is pretty generic—there isn't any stretch built into the fabric and they're quite baggy around the thighs and lower legs. More, it's easy to overheat with the cheap waterproofing technology, and while we like the zippered vents, their placement along the inner thigh creates extra bulk. But we keep coming back to value: the Freedom pants are a proven choice with a surprisingly long lifespan and undercut most of their competition below by $40 or more.
See the Men's North Face Freedom  See the Women's North Face Freedom

Best for: Backcountry and resort
Insulated: No
Type: Hybrid hard/softshell
Weight: 1 lb. 12.9 oz.
What we like: AscentShell fabric balances stretch, breathability, and waterproofing.
What we don't: Fit isn't as tailored as an Arc'teryx piece.
New for last season, the Outdoor Research Skyward Bib is one of the most well balanced designs on our list, meeting demands for both resort skiing and touring. Credit goes to the proprietary AscentShell 3-layer fabric, which stretches like a softshell, is air permeable for excellent breathability, and completely waterproof with taped seams. We have a full season with the Skyward under our belt and it delivered: the bib pant moves with you whether high stepping to break through fresh snow or going into a deep telemark turn. More, a total of 6 pockets provide excellent storage, and the breathable fabric and large side vents kept us cool and comfortable even into the spring.
Similar to the jacket version of the Skyward, the pants fall just a little short of our top choices from Arc'teryx and Patagonia. To start, the air permeable nature of the AscentShell fabric means it won't isolate you from harsh wind like Gore-Tex (but it's no slouch in a winter storm either). And while we like the fit overall—which is not too baggy but not too snug—and the bib keeps everything in place, it isn't as tailored as well as the impressive Sabre above. In truth, these are small nitpicks about an all-around great design, and the Skyward's $299 price makes it a standout for 2017-2018... Read in-depth review
See the Men's Outdoor Research Skyward  See the Women's Outdoor Research Skyward

Best for: Backcountry
Insulated: No
Type: Hardshell
Weight: 1 lb. 4.6 oz.
What we like: Supreme protection and very lightweight. 
What we don't: Costs nearly as much as your powder skis.
For backcountry skiing and deep powder in particular, you won't find better protection than the PowSlayer Bib. First, you get a top-of-the-line Gore-Tex Pro shell made with durable but light 40-denier nylon. Given the toughness and high cut of the bib, it's extremely difficult for snow to enter. Second, the PowSlayer comes with just about every feature that Patagonia offers, from side zips and gaiters to a Recco reflector. Third, the bib is impressively lightweight given all that it is and does, weighing in at around 20 ounces.
What are the shortcomings of the PowSlayer Bib? The most obvious is the price—$600 is as much as many people spend for their skis. The bib also is overkill for those who don't plan on utilizing the backcountry-specific design and features (on-piste skiers need not apply). And in past years, the PowerSlayer Bib had a roomy fit that some people complained was too much pant. Last year Patagonia made an update with a "refined fit," although there is still ample room for layering. For cheaper bib options, see the Outdoor Research Skyward above and Salomon Chill Out below.
See the Men's Patagonia PowSlayer  See the Women's Patagonia PowSlayer

Best for: Resort
Insulated: Yes (60g synthetic)
Type: Hardshell
Weight: 1 lb. 3.5 oz.
What we like: Insulation and a clean design at a reasonable price.
What we don't: Pants are prone to showing wear over time.
For a super clean resort pant with a nice boost of warmth, give the Legendary Pant from Helly Hansen a look. The 2-layer waterproof shell is perfect for those who aren't frequently working up a sweat, and the Legendary has a touch of PrimaLoft in the butt and knees for cold rides on the lift. We also like the simple design from the Norwegian company, which comes in a variety of colors and should go with just about any jacket combination.
In terms of movement, the Legendary incorporates a mechanical stretch fabric not wholly unlike the hybrid hard/softshell pants above. The extra "give" is great for both uphill and downhill travel. Our main issue is with the durability of the fabric: the build quality isn't quite up to par with Patagonia or Arc'teryx and the pants will show more wear over time. But we do like the extra warmth and features, which make the Legendary one of our top resort picks.
See the Men's Helly Hansen Legendary  See the Women's Helly Hansen Legendary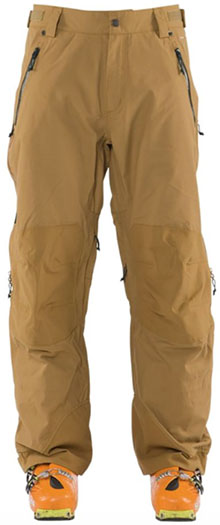 Best for: Resort and backcountry
Insulated: No
Type: Hardshell
Weight: 1 lb. 14 oz.
What we like: A bomber pant that does just about everything well.
What we don't: Fit is still a little baggy for our tastes.
FlyLow Gear flies a little lower under the radar than some of the bigger outdoor gear brands, but the Chemical pants are a standout. Most notably, this is a super tough ski pant with a 3-layer build, Cordura patches in high-wear areas like the knees, and waterproof zippers. Given the impressive level of protection, they ventilate well and you can release hot air in four places: two zippered vents along the inner thigh and two large vents along the outside of your legs. It all adds up to a formula that has generated a cult-like following.
How does the FlyLow Chemical stand up against the competition? It has a premium price, which is on par with the Patagonia Descensionist above. That model wins out in breathability of the fabrics (remember the Chemical has more actual vents), but the Chemical is a more rugged pant that should be able to take plenty of use and abuse. If you ski hard and want a pant to match, this is a great choice.
See the Men's FlyLow Gear Chemical  See the Women's FlyLow Gear Nina

Best for: Resort
Insulated: Yes (80g synthetic)
Type: Hardshell
Weight: 1 lb. 10.5 oz.
What we like: Our favorite insulated resort pant.
What we don't: Ultra pricey.
Arc'teryx is known for their backcountry prowess, but they can make a sweet resort pant, too. Take the Chilkoot, which is insulated and tough but doesn't give up the fantastic fit and detailing we love from the British Columbia brand. The pant is bombproof with a Gore-Tex shell, provides warmth when temperatures really drop with 80-gram synthetic fill, and includes impressively large side zips (at least for a resort pant) for mixing in a sidecountry hike. As expected, the Chilkoot's mobility is fantastic with a streamlined shape, articulated cut, and strategically placed gussets.
Despite the impressive performance, the Chilkoot strikes us as a very hefty investment considering its cold weather focus. If you have a closet full of ski pants, the $525 price probably isn't a deterrent, but the lightly insulated Sabre above is more adaptable and useful for the entire season. All told, if you want a warm pant without compromising on performance, the Chilkoot deserves a serious look.
See the Men's Arc'teryx Chilkoot  See the Women's Arc'teryx Kakeela

Best for: Resort and backcountry
Insulated: Yes (60g synthetic)
Type: Hybrid Hard/softshell
Weight: 1 lb. 15.4 oz.
What we like: Protection of a bib at a good price.
What we don't: 2-layer construction isn't ideal for long days in the backcountry.  
For those that get a lot of powder time, the extra coverage and secure fit that a bib offers is a game changer. But you don't necessarily need to spend upward of $500 or more, which is where Salomon's Chill Out Bib comes into play. We love the value here: for $260 you get great coverage, a 2-layer shell construction with built-in stretch that will keep you dry, and 60 grams of synthetic insulation for a nice uptick in warmth. All in all, the Chill Out Bib is a versatile option for cold backcountry days or resort use.
Salomon categorizes the Chill Bib as "relaxed," but the consensus from users is that it has a pretty regular fit. The suspenders and bib are removable, which is great for easygoing groomer days. In terms of hiking, the insulation and cost-friendly waterproof membrane don't make it ideal for long distances, although it does have substantial leg vents. Quick forays into nearby powder stashes should be just fine.
See the Men's Salomon Chill Out Bib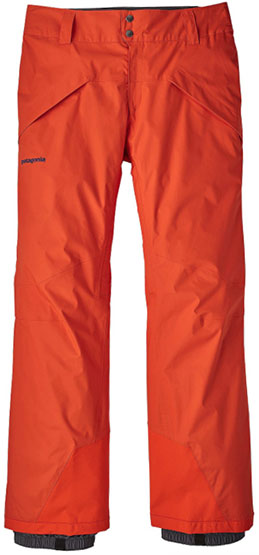 Best for: Resort
Insulated: No
Type: Hardshell
Weight: 1 lb. 7.9 oz.
What we like: Premium construction.
What we don't: Lack of insulation means you'll need a good baselayer.
For resort skiers who want a quality pant without spending an arm and a leg—and who don't want to replace them every couple of years—we recommend checking out the Patagonia Snowshot. These ski pants will keep you dry, move well, and look great in the process. Keep in mind that the Snowshot has no insulation so you will want a decent pair of thermals on chilly days (the women's Snowbelle has light insulation). And the 2-layer construction means that they won't breathe as well as a high-end 3-layer pant (the leg vents will help in dumping heat if necessary).
As with most Patagonia products, the Snowshot aren't cheap but offer a premium build that should last for seasons to come. The extra cost and uninsulated design push them down our list for this season, but they are still a solid mid-range option. And keep in mind these have a relatively baggy fit, but we did find the Snowshot a little more comfortable overall compared with the North Face Freedom above.
See the Men's Patagonia Snowshot  See the Women's Patagonia Snowbelle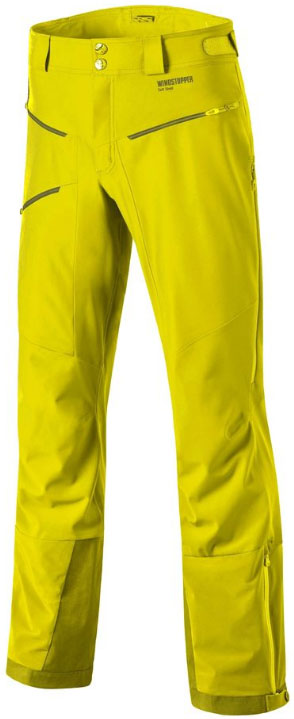 Best for: Backcountry
Insulated: No
Type: Softshell
Weight: 1 lb. 3.7 oz.
What we like: Fantastic uphill touring performance.
What we don't: Chilly for cold days.
For long ski tours when you are generating some serious heat, true softshell pants are more breathable and have better stretchiness than hardshells or hybrids. Dynafit's Chugach is one of our top-rated pants for backcountry use with its lightweight, breathable construction. The Windstopper material blocks out moisture and wind, while the thinner Dynastretch softshell lets out warm air and repels water with a DWR coating. For those really on the move, the Chugach Windstopper rivals the Patagonia Descensionist above.  
The softshell design does have limitations. It isn't ideal for constant contact with the kind of wet snow you often find in places like the Pacific Northwest, and they certainly aren't built for long rides up the chairlift. But those aren't the kinds of skiers Dynafit is aiming for with its Chugach line. If you spend your time on the skin tracks and turning in fluffy powder, these pants offer a winning recipe of mobility and high-output performance.
See the Men's Dynafit Chugach  See the Women's Dynafit Chugach

Best for: Resort
Insulated: No
Type: Hardshell
Weight: 1 lb. 10 oz.
What we like: More tailored cut than The North Face Freedom.
What we don't: Not as good of a value as the Freedom.
The $200 price range is chock-full of ski pant options, but the Marmot Refuge makes its case with a nice fit and modest upgrades from many budget models. Straight away, the water-resistant zippers are a surprising addition for a mid-range design, although we think the glossy finish diminishes the premium look. Additionally, the Marmot is more tailored around the legs than the North Face Freedom or Helly Hansen Legendary above, and they even include a Recco reflector for help in an avalanche scenario. Despite being brand new and unproven in terms of durability, the Refuge certainly looks the part.
What pushes the Marmot Refuge down our list? Most importantly, all of the extras don't hide the budget-oriented waterproof construction, which is comparable to pants costing much less. As such, the question becomes whether or not the features add up to being worth the extra investment. If you want to avoid the baggy fit of The North Face Freedom, the Refuge certainly is viable, but the $60 price difference and lack of insulation are too significant to rank it any higher.
See the Men's Marmot Refuge  See the Women's Marmot Refuge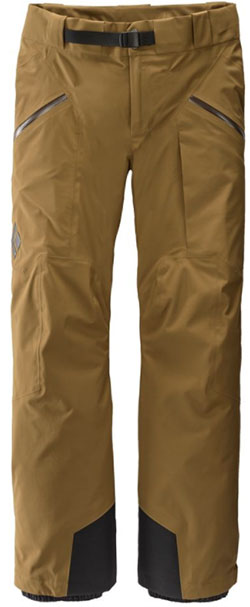 Best for: Resort and backcountry
Insulated: No
Type: Hardshell
Weight: 1 lb. 10.5 oz.
What we like: Tough and equipped for resort and backcountry use.
What we don't: Not as functional or comfortable as the Sabre.
Although relatively new to apparel, Black Diamond is no stranger to deep backcountry lines with their excellent touring and freeride skis. The Mission Pant is built to "do it all," featuring a proven Gore-Tex construction and the right features for dual resort and backcountry use. Importantly, the Mission isn't as stripped down as many backcountry-specific models, and its 70-denier fabric and reinforced cuffs can take a beating around sharp ski gear and lifts. For the growing number of people that split time on both sides of the ropes, the Mission is well worth a look.
In many ways, the Black Diamond Mission follows the design and functionality of the Arc'teryx Sabre above. Both have a tough shell that is reasonably lightweight, great range of motion, and a thin backer for comfort and chairlift protection. Where the Sabre wins out, however, is the built-in stretch. This improves its hikeability, and accordingly we'd take the Sabre over the Mission for backcountry trips. The Black Diamond also has a slightly odd fit and runs pretty long for many folks. But they nailed the build quality and styling, and with a few tweaks we think the Mission pant could be a real winner.
See the Men's Black Diamond Mission  See the Women's Black Diamond Mission

Best for: Backcountry
Insulated: No
Type: Soft/hardshell
Weight: 1 lb. 11.5 oz.
What we like: Super breathable and ready for the backcountry.
What we don't: Delicate materials and limited to backcountry use.
Outdoor Research's Trailbreaker pant is an unapologetic backcountry design. To start, the bottom portion of the pant is a waterproof 3-layer Pertex for fending off snow while breaking trail or descending in powder, and the top is a thin softshell that maximizes breathability and stretch. More, you get large side zips for keeping cool and a dedicated beacon pocket that's strategically placed out of the way so as not to be an annoyance while climbing. To top it off, the Trailbreaker includes removable suspenders on the men's version for a very secure fit.
The downside of the Trailbreaker is that you'll need a second pair of ski pants for resort days. The delicate materials and non-waterproof sections don't play well on a freezing chairlift or spending all day in wet snow. More, the athletic fit is optimized for the uphill and will be snug for those used to the generous cut of a standard ski pant. We would opt for OR's Skyward above as our all-in-one answer, but the Trailbreaker is a fun backcountry alternative.
See the Men's Outdoor Research Trailbreaker  See the Women's OR Trailbreaker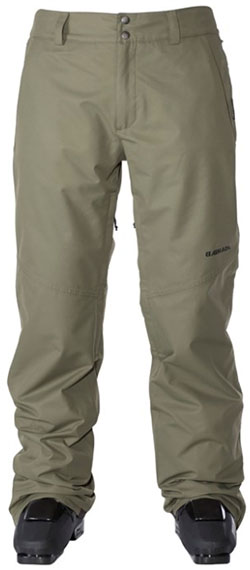 Best for: Resort
Insulated: No
Type: Hardshell
Weight: 1 lb. 11 oz.
What we like: A simple shell at a good price.
What we don't: Long-term durability is questionable.
This is something to be said for simplicity, which is why we like Armada's Gateway.  These non-insulated resort pants offer similar protection from water and wind as the Marmot Refuge above but at a significantly lower price point. You also get seam taping and built-in gaiters, but don't expect much else in the way of features.
Who should buy the Gateway? It's a good budget option for those who don't run cold or mind wearing thermals underneath, and we also like them as a spring-specific pant for when the conditions open up. If longevity is something that you're concerned about—this is a rather inexpensive ski pant after all—Armada does make a number of higher-end options including the 3-layer Basin with a Gore-Tex Pro. The Gateway is the company's leading entry-level offering.
See the Men's Armada Gateway
Best for: Resort
Insulated: No
Type: Hardshell
Weight: 1 lb. 5.7 oz.
What we like: Cheap and backed by TNF's great warranty.
What we don't: Basic build and not insulated like the Bugaboo below.
The North Face squares up the budget and beginner end of the market with the Seymore pants. In many ways, this is a simplified version of the Freedom above, sharing the dual button closure, 3-pocket layout (the women's Sally pant only has 2 pockets), and burly shell with its more popular uninsulated sibling at a $41 savings. There wasn't a lot of thought given to mobility or comfort, and we wouldn't bank on them having a long lifespan, but the Seymore is a minimal and safe investment for someone trying out the sport.
Getting a ski pant for under $100 from a reputable brand like The North Face is impressive, but there are a few considerations to be aware of. First off, the use of cheap materials limits performance for hard chargers, and there aren't any zippered openings for regulating heat like on the Freedom or Armada Gateway above. And among sub-$100 options, this pant doesn't include insulation like the slightly cheaper Bugaboo II below. Skiers that get out a lot likely will find the Freedom or Gateway pants the better choice, but if you're on a tight budget, the Seymore is a serviceable option and comes with The North Face's excellent warranty.
See the Men's North Face Seymore  See the Women's North Face Sally

Best for: Resort
Insulated: Yes (60g synthetic)
Type: Hardshell
Weight: 1 lb. 6.6 oz.
What we like: Bargain basement price.
What we don't: Not exactly a performance piece.
You can find long underwear that cost as much as these ski pants, but if you just need something for keeping you dry while doing laps at the resort, the Columbia Bugaboo II are a nice choice. Featuring Columbia's waterproof and breathable Omni-Tech membrane along with a DWR coating, these certainly aren't the highest-end ski pants on the market but should do the trick. And a nice bonus: the Bugaboo II have 60 grams of synthetic insulation for added warmth on those cold days.
It's important to set reasonable expectations with the Bugaboo II pants. The cheap membrane doesn't breathe well and the fit is generic and baggy. More, don't expect to keep these pants around for a lifetime, but we've had a pair hold up to five seasons of reliable backup use. For occasional resort skiers and general winter use, the Bugaboo II is one of the best values around. 
See the Men's Columbia Bugaboo  See the Women's Columbia Bugaboo
Ski Pants Comparison Table
Ski Pants Buying Advice
Best Uses: Resort or Backcountry
Ski pants are designed for use at the resort, deep in the backcountry, or a mix of the two, so we've included a "best for" specification in our product descriptions and table above. Starting with in-bounds skiing, these pants are built tough—you typically get strong face fabrics, fully waterproof and windproof constructions, and generous fits for layering. If you ski consistently in frigid temperatures, it may be worth considering an insulated design, although we often prefer the flexibility of a thick, non-insulated shell for season-long use.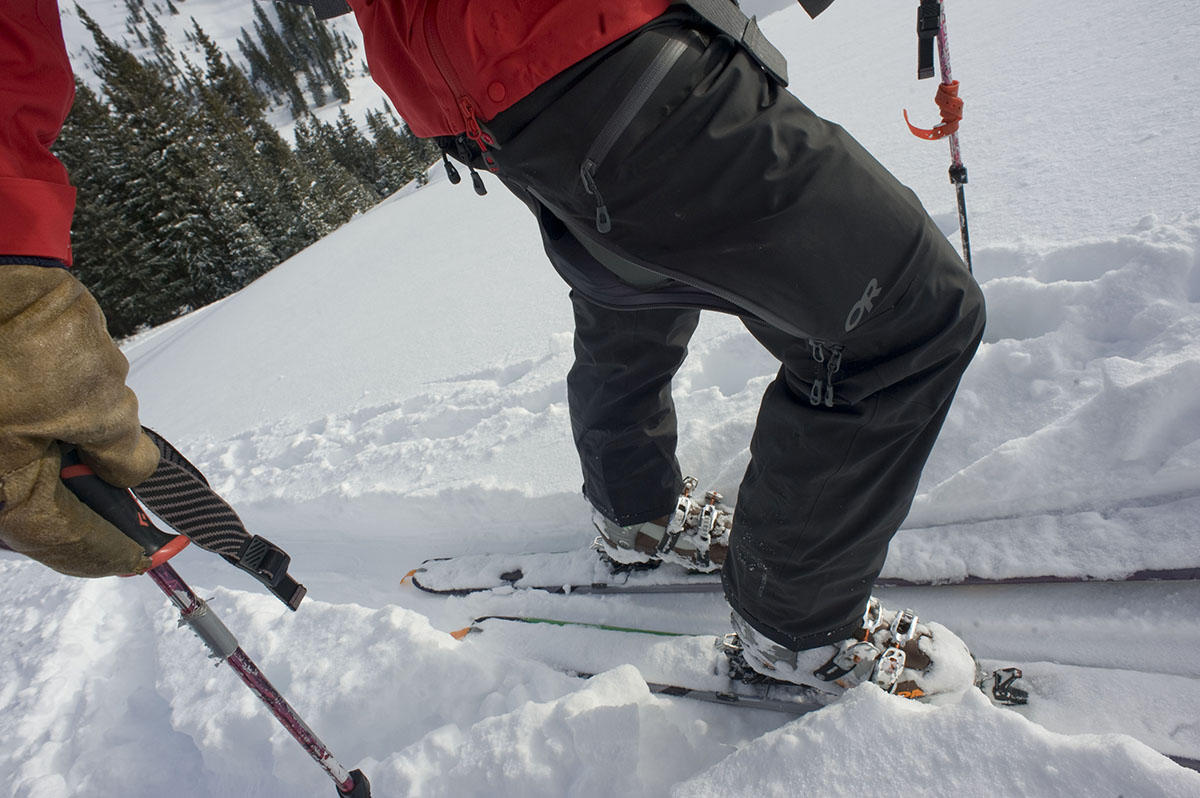 Traveling uphill breaking trail or on the skin track has an impact on your pant needs. First off, mobility and freedom of movement are very important for backcountry use, so you'll often find some form of stretch built into the fabric and an athletic fit. Additionally, breathability is essential—the materials are thinner and you get large zippered side vents for staying cool. Finally, all-out weather protection can sometimes by compromised in the quest to keep you from overheating (whether or not this is a good idea for you will depend on your local weather and snow conditions). For those looking for a single pant for mixed use, we still recommend a substantial waterproof design such as the Outdoor Research Skyward.
 
Hardshell Pants vs. Softshell Pants
Traditionally, the majority of ski pants were hardshells, which offer the maximum in terms of waterproofness, windproofness, and all-around weather protection. Softshells are more air permeable and flexible, but they alone don't block moisture and wind as effectively as a hardshell.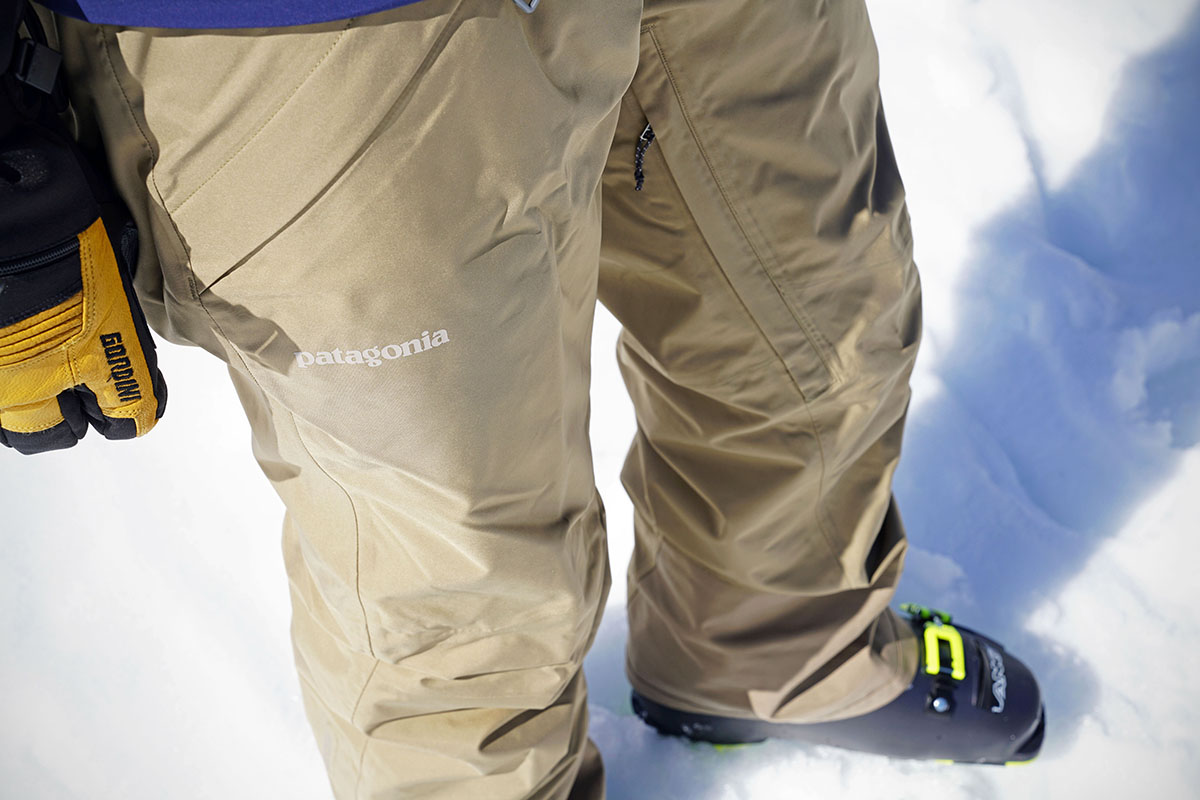 We still like hardshells for resort skiing—10 of the 17 picks on this list fall into the hardshell category—but softshell technology has emerged in a big way. Specifically, companies like Arc'teryx, Patagonia, and Outdoor Research are blending the two by combining 3-layer constructions with softshell fabrics for better movement. Pants like the Arc'teryx Sabre, Patagonia Descensionist, and Outdoor Research Skyward are cutting edge and perhaps the way the future of ski outerwear tech is heading.
One notable downside of softshell fabric is that although it breathes and moves extremely well, it tends to allow for more airflow than a hardshell and is rarely fully waterproof. For these reasons, most ski pants and ski jackets purely for resort use are of the hardshell variety. From our list above, only the Dynafit Chugach Windstopper is a true softshell, and while it blocks wind effectively, the non-waterproof design is a big downside in wet snow.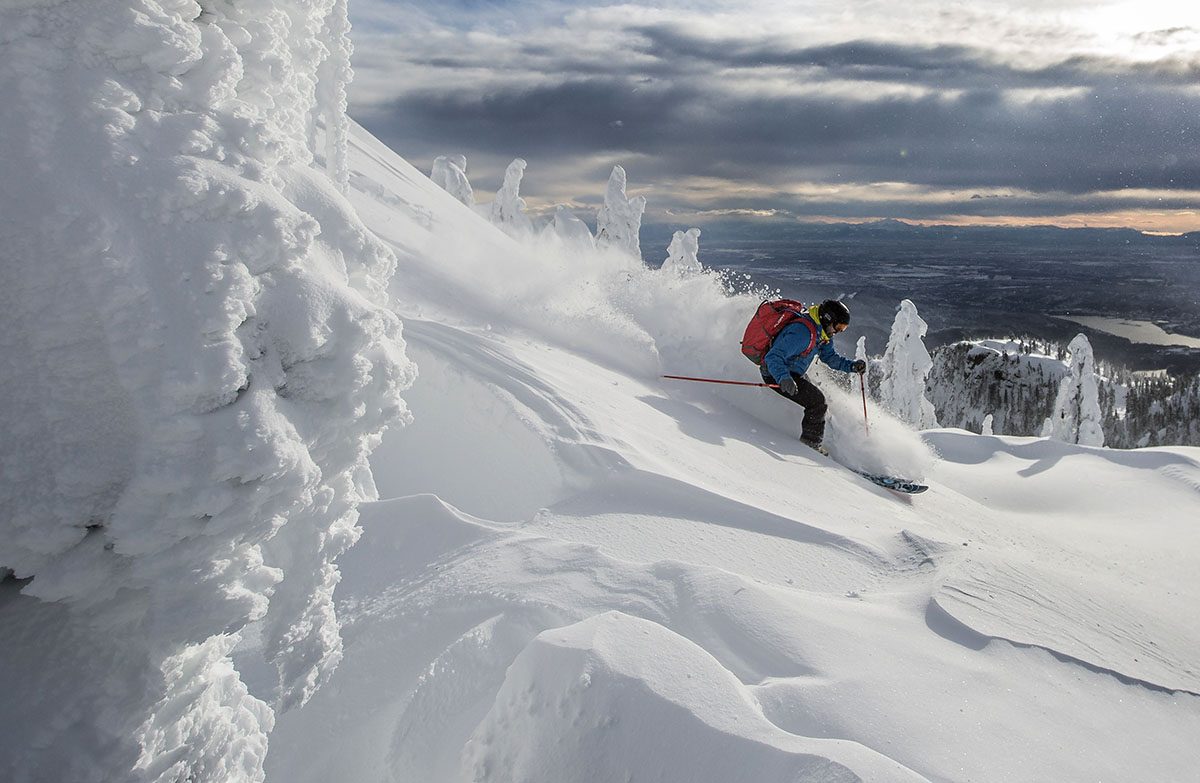 Fabric Layers: 3L vs. 2L
Most premium ski pants have a 3-layer construction, which incorporates three separate pieces of fabric: an outer shell, the actual waterproof and breathable membrane, and an inner lining. This makes it less bulky compared to a 2-layer design (these require a separate, hanging mesh liner along the interior), and also improves breathability and next-to-skin comfort. 3-layer pants are more expensive than 2-layer models and often involve big names like Gore-Tex and eVent. Backcountry skiers strongly prefer 3-layer pants.
Many mid-range and budget ski pants have a 2-layer construction. These are less breathable than 3-layer designs, although the simple designs often use thick fabrics that are quite durable. We've found that 2-layer pants are perfectly suitable for resort use where ventilation isn't as important (those skiing moguls or prone to overheating are exceptions). More, you can save by going this route as some 2-layer ski pants run less than $100 (see the Columbia Bugaboo II). For comparison, the cheapest 3-layer waterproof pant on this list is $299.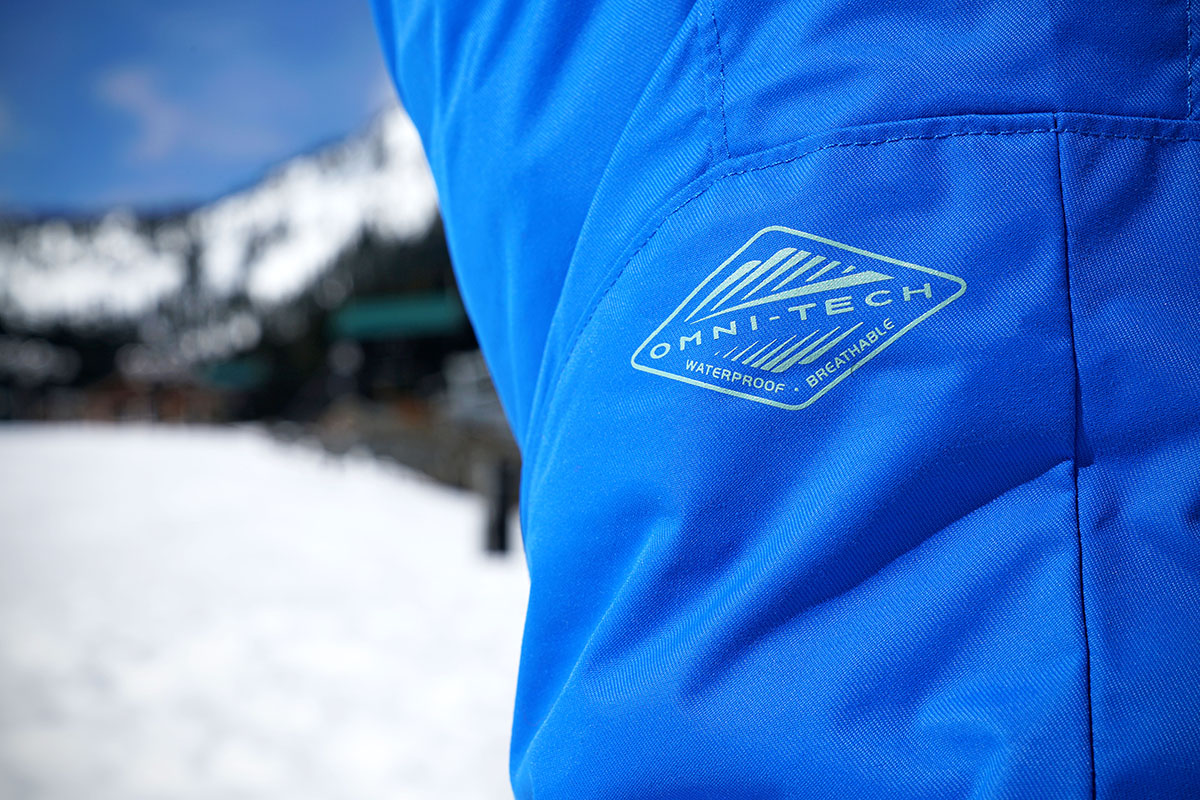 Insulation and Warmth
Insulated ski pants seem like a no-brainer. If it's cold enough for snow, it's logical to bundle up with the warmest stuff available. But that's not necessarily true—it's actually quite easy to keep your legs warm while skiing. A few turns in and you'll start to feel comfortable in all but the coldest temperatures. And if you're skinning, that can warm you up very quickly.
Many resort skiers wear pants with light insulation for added warmth during downtime like riding the lift. As long as you don't bring along your insulated pants on a warm spring day, they are great for cold conditions in the heart of the winter. Most backcountry skiers use shell pants with no insulation—their body is creating a lot of warmth on its own and they actually are looking for ways to dump heat. Other warming responsibilities go to your baselayers. Under most pants a lightweight wool thermal should work just fine for early or late season days, and you can throw on a thick baselayer or a couple of layers to stay warm when the temperature really drops. 
 
Waterproofing
Quality water resistance in a ski pant is an absolute must. They come in contact with snow on nearly every run and really put the membrane and outer fabric to the test. For ultimate waterproof protection, look for a burly hardshell pant made with Gore-Tex, eVent, or NeoShell. Mid-range and entry-level options utilize manufacturer's in-house laminates that are still fully waterproof but won't have as long a lifespan. Seam taping also is important for hard chargers to keep moisture from sneaking through. In terms of waterproofing, spending a little more does get you a nice upgrade in quality and longevity.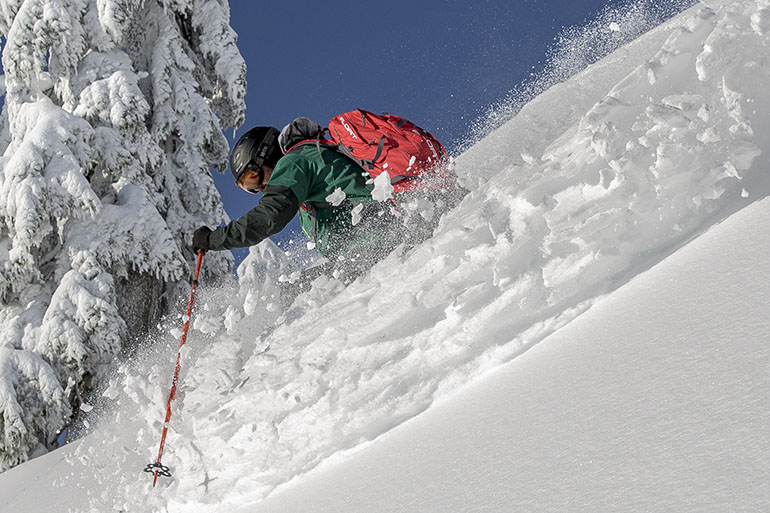 Backcountry skiers have a different set of priorities, so they do not always require full waterproofing. Less time sitting on a chair and more time on the skin track means that some backcountry skiers only need waterproofing in specific areas or a very water-resistant construction. Your needs will vary, but don't automatically discount a partially waterproof or non-waterproof pant for backcountry use.
 
Breathability
The most breathable fabrics are found in softshell pants. Their stretchy and air permeable fabrics allow for the most air to escape, which is great for mild weather backcountry use. Breathability is, however, less important for those that stick to lift-assisted runs and don't venture into the sidecountry. And to help compensate for a less breathable construction, you can use the zippered leg vents that are included on most midrange designs. As a result, resort goers can save some serious dough by not having to spend the hundreds of extra dollars it requires to get into a highly breathable shell pant. No matter your decision, if staying reasonably cool is important for you, don't skimp on your baselayer. It plays a vital role in breathability, drawing moisture off of your skin.
The 3-layer construction Gore-Tex Pro is the ultimate expression of breathability in a fully waterproof and tough shell, but it comes at a hefty price. The Patagonia PowSlayer is a beautiful example of how a quality ski pant can put it all together: burly but light enough, great mobility and super breathable–and then the nearly $600 price brings you back down to reality. If you can afford it, you'll surely enjoy it!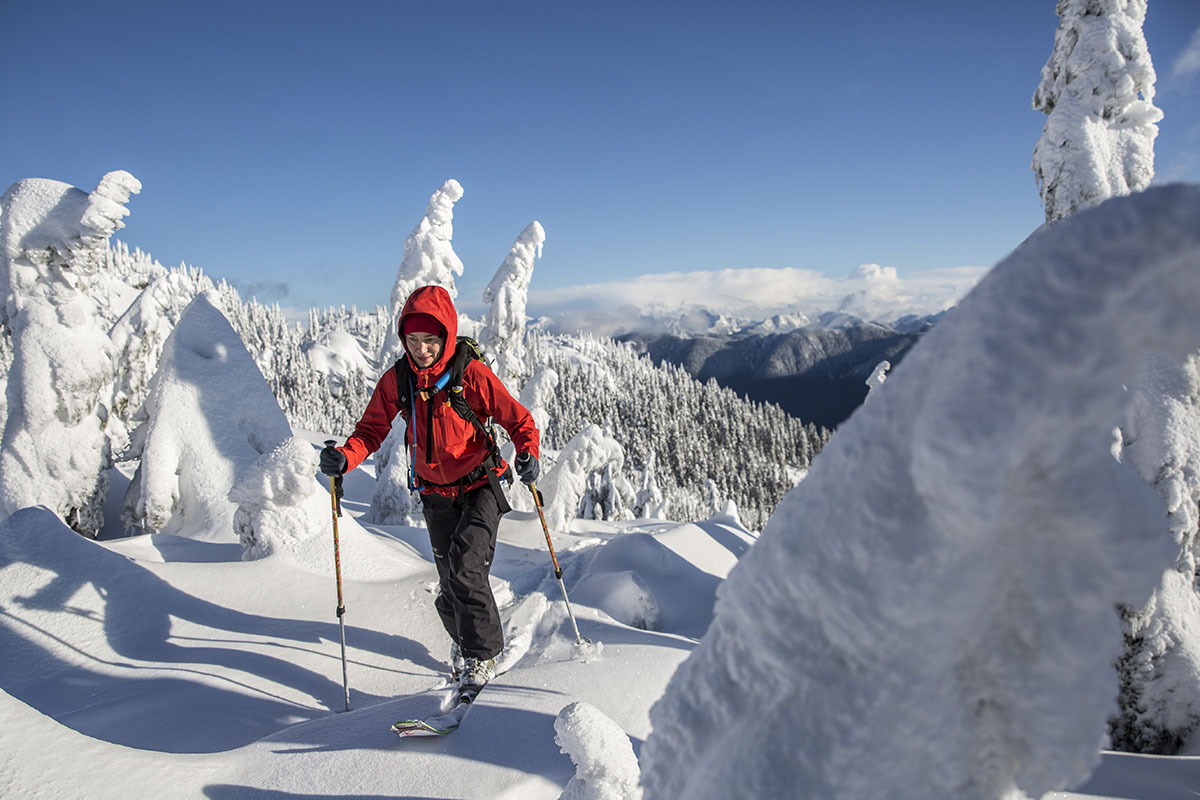 Pants vs. Bibs
Another "either or" decision when choosing ski pants is if you should opt for regular ski pants or a bib. Ski pants are the traditional choice, and what most folks are familiar and comfortable with. They're completely capable for resort or backcountry skiing and are much easier to slip on and off. The primary downside is felt when cold air or moisture finds its way up your back on the chairlift or after taking a fall. 
Bibs are the remedy for these maladies as they offer better protection from the snow, wind, and wet. They also run a little warmer thanks to the extra layering that covers part of your upper body. While you don't have to worry about any discomfort from a waistband, the straps that run over your shoulders can take some getting used to (and you'll need to dial in the fit to keep them from moving around excessively). But deep powder explorers or those that are prone to good falls may prefer bib-style pants. The Salomon Chill Out, Outdoor Research Skyward, and Patagonia PowSlayer are a few of our favorite bib designs.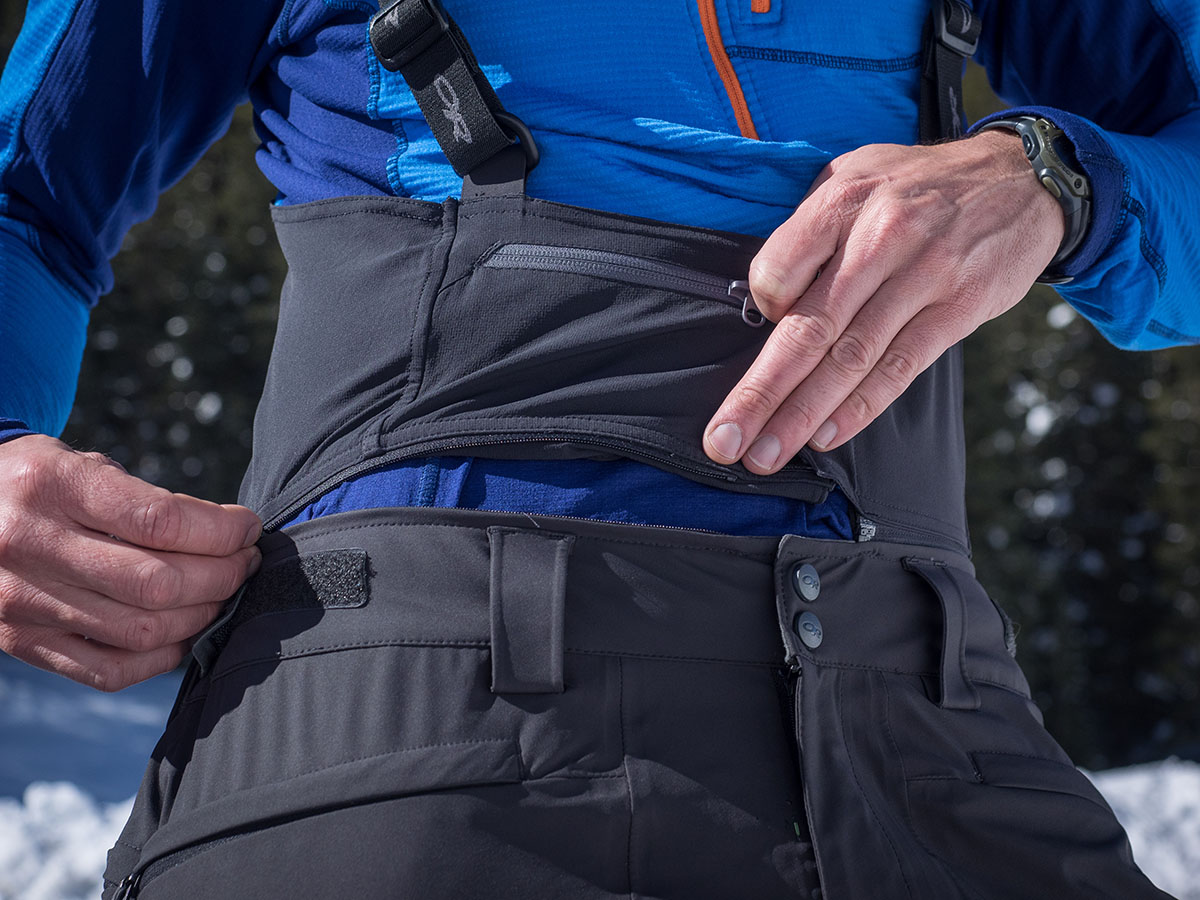 Ski Pant Features
Pockets
Typically, your jacket or backpack will be your primary place to store personal items, but it's still worth checking the pocket situation on a pair of ski pants you're eyeing. We recommend looking for a couple of zippered pockets that can fit snacks or personal effects. Unless you really need the extra capacity, we're not huge fans of cargo pockets for resort skiing—filling them with larger items feels ungainly on the mountain. Backcountry-specific pants put a greater emphasis on storage with dedicated pockets for items like a beacon.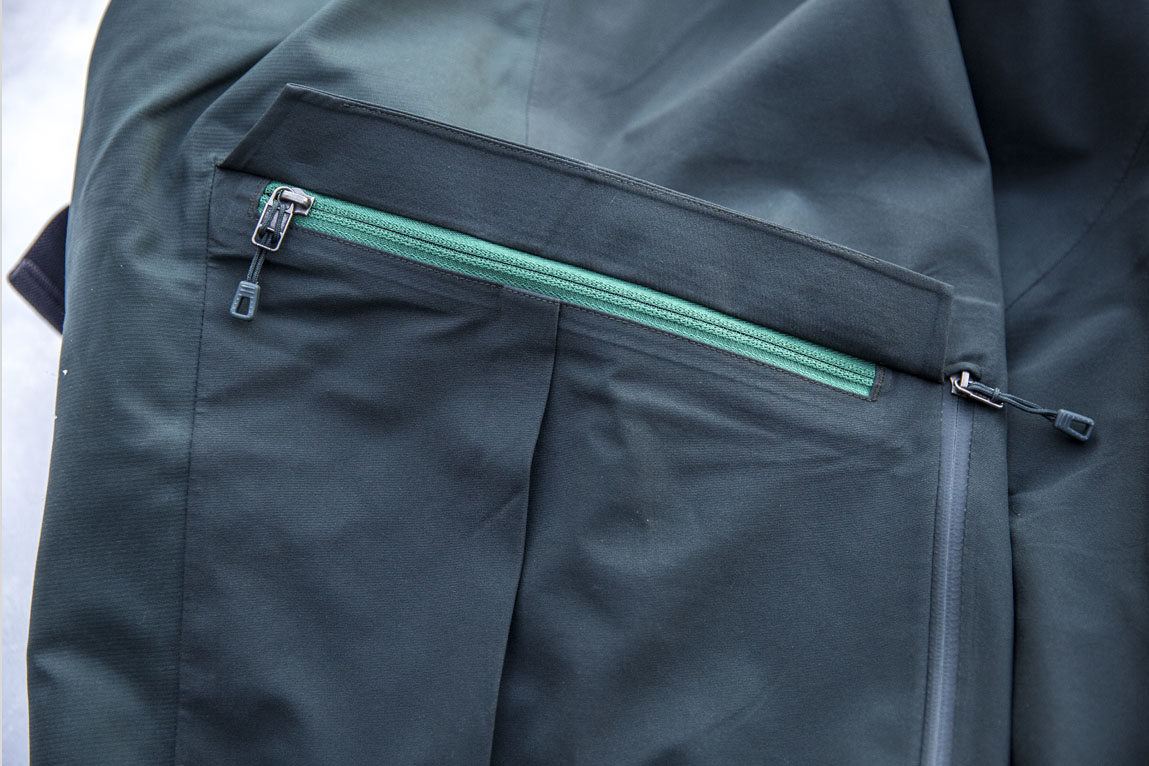 Ventilation
To aid in breathability, most ski pants offer a zippered ventilation system that amounts to pit zips for your legs. The most common locations for the zippered panels are along the inside of your upper legs or on the outside of your thighs. Either style will help dump a lot of heat, although the former design adds unwanted bulk and can occasionally impact comfort. Backcountry-specific pants often place the zippers on the outside of the legs in part for this reason.

RECCO
You may run into RECCO listed as a feature on some mid-range and high-end ski pants. These are for skiers that make their way out of bounds or into areas where they may experience avalanche dangers. The RECCO reflector built into your ski jacket or pant is a passive unit that doesn't require batteries and can be picked up by RECCO detectors often carried by resort search and rescue. They lack the technology and strong signal of a dedicated search and rescue beacon, but they do provide an additional safety measure should you venture off-trail. We've found The RECCO System website helpful if you want more information about the technology.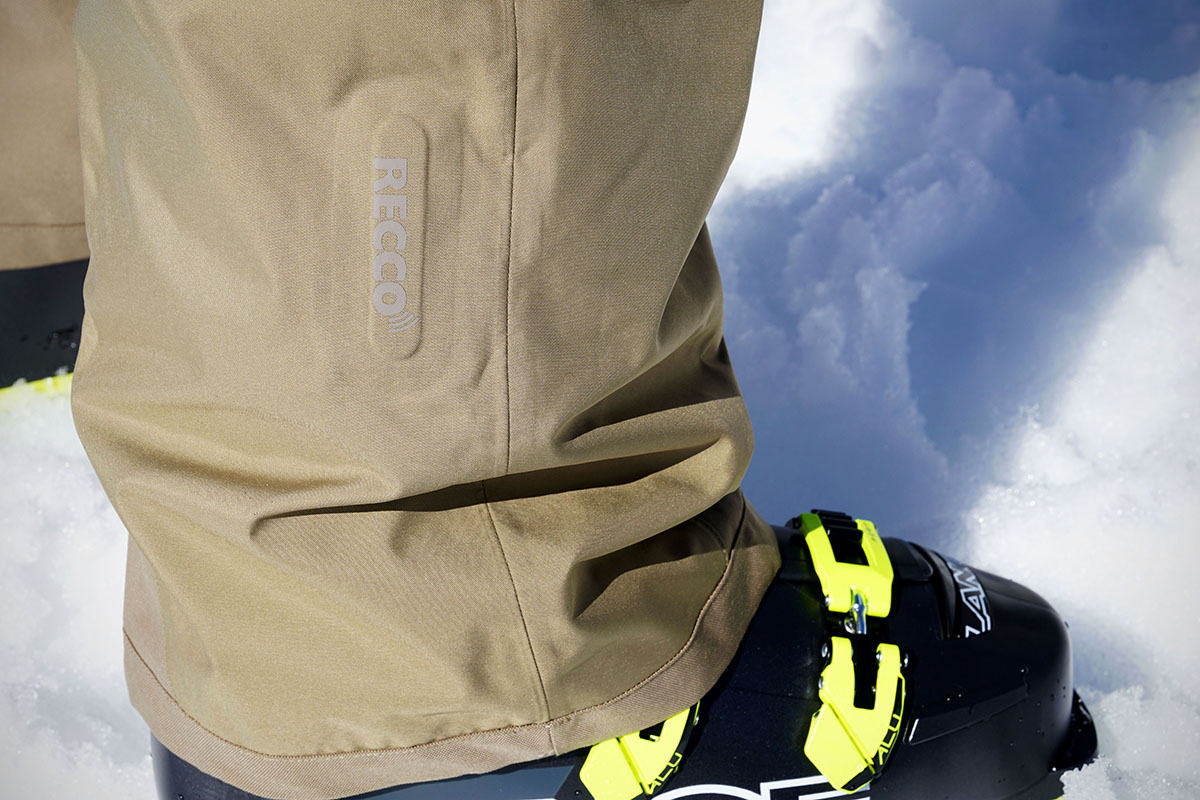 Ski Pant Fit
The best fit, no matter the type of skier or boarder you are, will come down to personal preference. There are, however, some helpful generalizations to be made. Most beginner and intermediate downhill skiers opt for a comfortable fit that is neither too tight nor too baggy. Backcountry touring types lean towards a slimmer cut for easier uphill hiking, and those that spend time in the park are inclined for a loose, relaxed fit. In the end, the most important thing is to find a fit that's comfortable for you. Our preference is a bit of a more tailored fit as long as it doesn't negatively mobility. And it needs to have enough room to comfortably throw on a light or midweight baselayer underneath.
Back to Our Top Ski Pant Picks  Back to Our Ski Pant Comparison Table
Learn More About Ski Gear