Patagonia has an extensive ski shell collection, and their Stormstride Pants slot in as a targeted touring design built to balance protection and breathability during high-output use. I tested the pants throughout a winter of skiing at the resort and in the backcountry and enjoyed the light, stretchy, and streamlined feel but was disappointed by the lack of breathability on mild spring days. Combined with an awkward fit around the upper thighs and minor issues with some of the features, I'd categorize the Stormstride as a good—but not great—backcountry companion. Below I break down my experiences with the Stormstride Pants. To see how they stack up to the competition, check out our articles on the best ski pants and best snowboard pants.
 
---
Table of Contents
---

Performance
Weather Protection
Backcountry skiers typically look for an effective balance between weight and protection, and the Patagonia Stormstride Pants deliver with reliable weatherproofing in a light (1 lb. 0.8 oz.) and streamlined package. For reference, I tested the pants on long ski tours, multi-day hut trips, ski mountaineering objectives, and occasional resort days and came away pleased by their overall protection: The durable water repellent (DWR) coating on the outside is a dependable first layer of defense against falling snow, and the 3-layer H2No Performance Standard shell nicely seals out moisture and wind.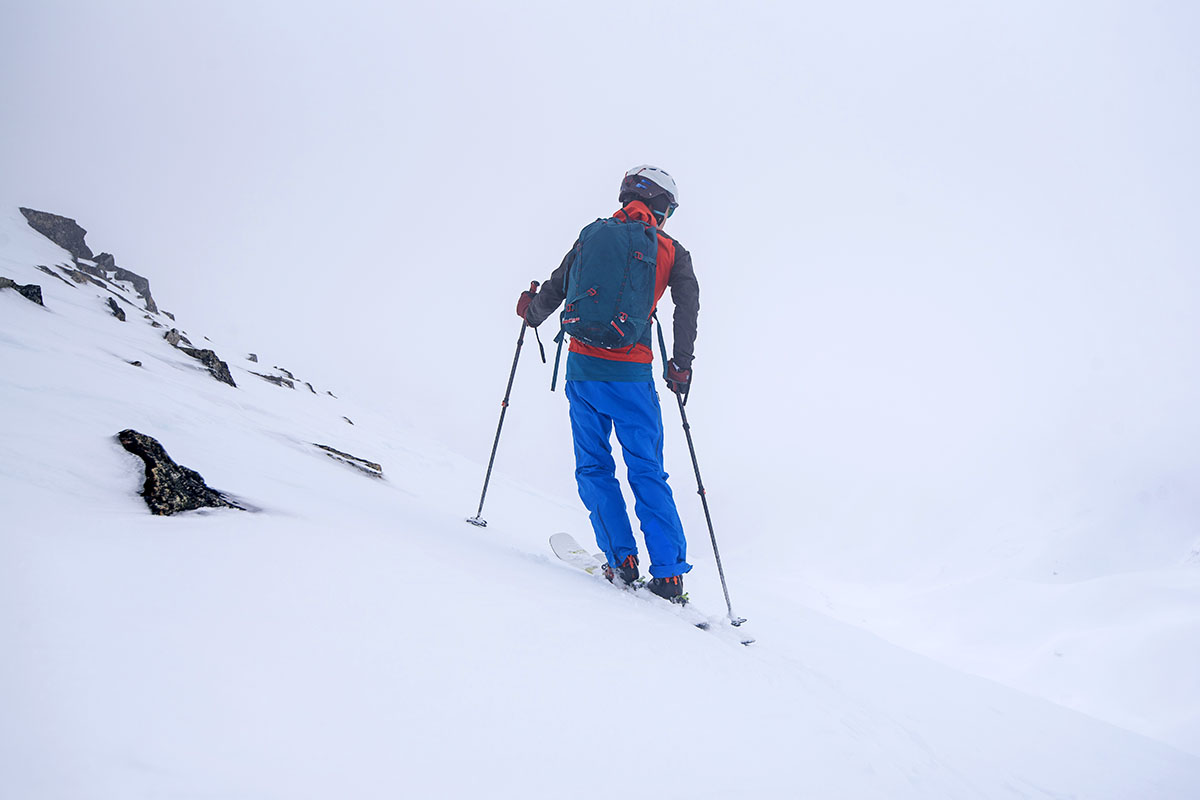 However, due to the pants' lack of breathability (outlined below), I often went without a baselayer underneath in the backcountry and was able to feel a noticeable chill through the pants when sitting down on the snow during breaks. And while reliable overall, the H2No build lacks the nearly bombproof, impenetrable feel of Gore-Tex Pro-equipped designs like the Arc'teryx Beta AR or Patagonia's own PowSlayer Bibs. To be fair, the Stormstride kept me perfectly dry and comfortable on cold, gusty snow days in the middle of winter (even during breaks to transition), but I'd go with a thicker Gore-Tex design in truly inclement conditions with sustained rain or snowfall.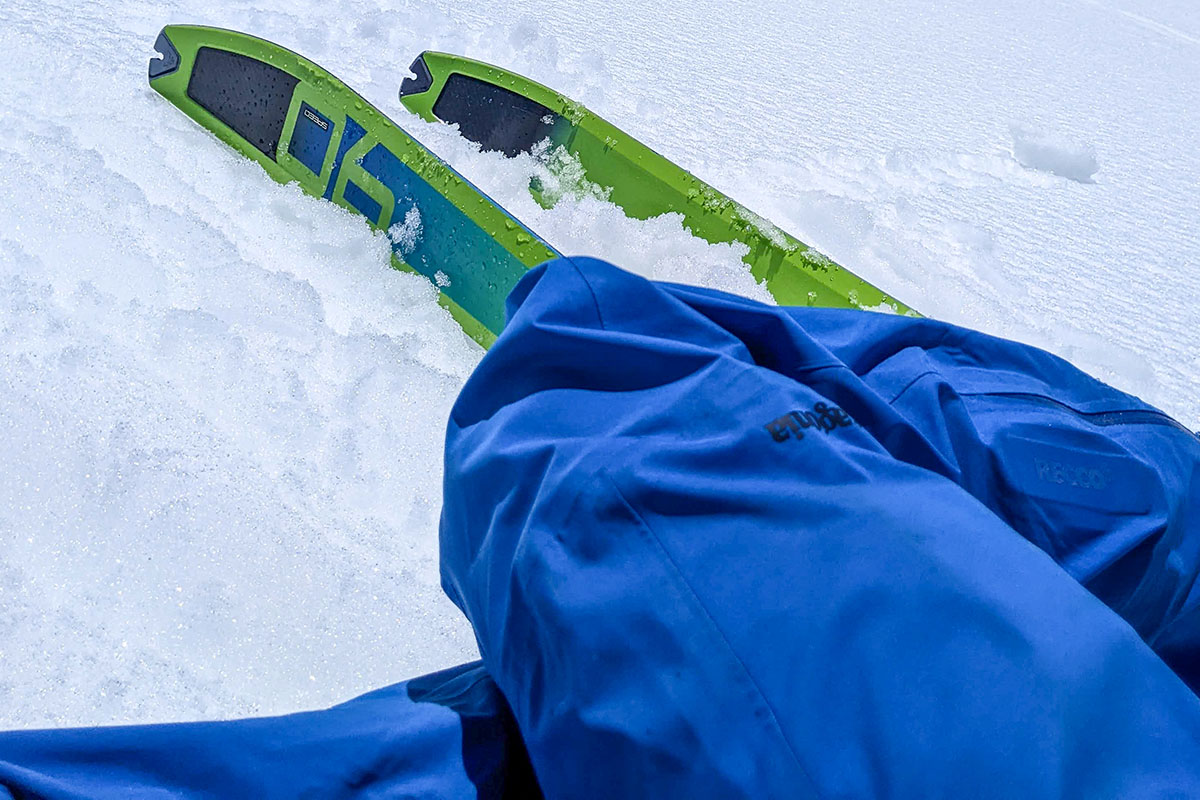 Comfort and Mobility
Comfort is a bit of a mixed bag with the Patagonia Stormstride Pants. On the bright side, the pants are decidedly soft and supple and lack the crinkly, stiff feel you get with some Gore-Tex Pro-equipped designs (such as Arc'teryx's Beta AR). The integrated stretch in the fabric is another highlight and gives the pants a noticeable boost in mobility compared to standard hardshells like the Beta AR.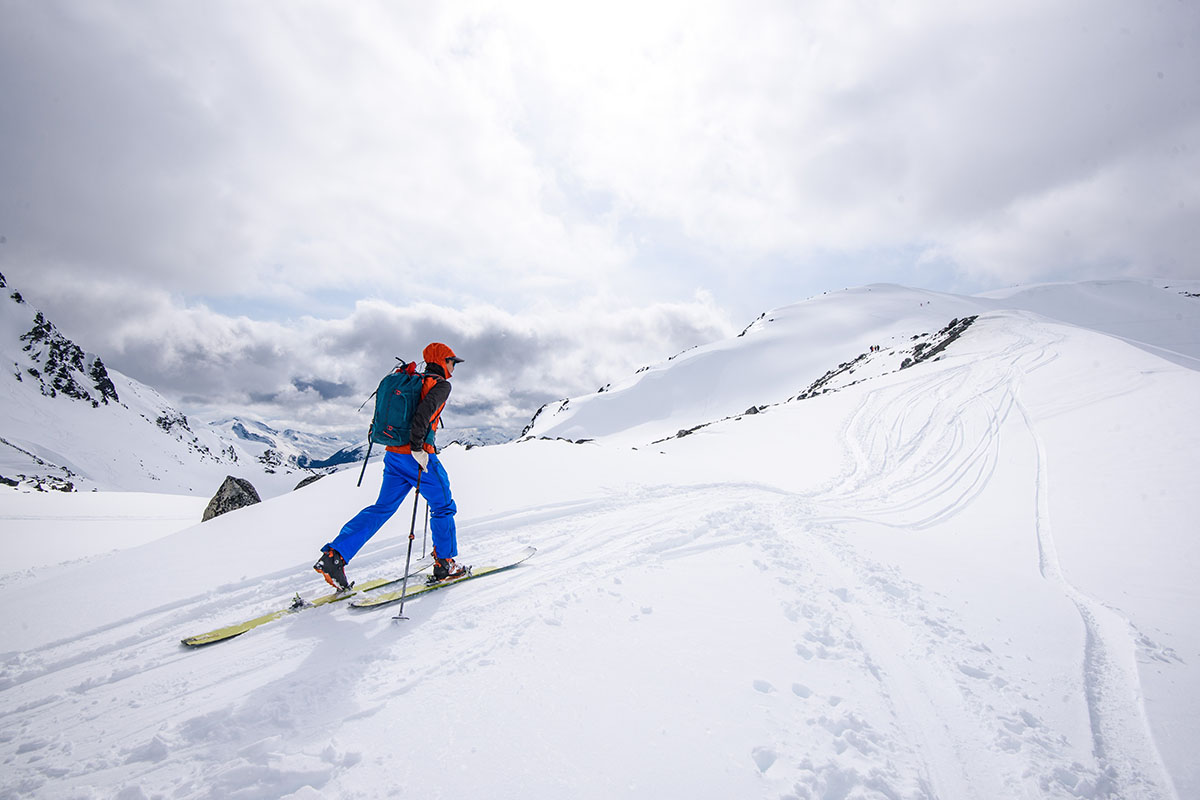 That said, the slim fit (which I break down further in "Fit and Sizing" below) has a big impact on overall comfort. I found the quads and upper thigh areas to be particularly restrictive with very little excess material, which led to some unshapely bunching and bagginess and caused noticeable resistance while touring. Another contributor was the 31.5-inch inseam, which was a little long for me but is relatively average in the larger ski pant market (most of Patagonia's size medium ski pants have a 32-in. inseam, while Arc'teryx's are 32.5). I was able to remedy these issues by adding a belt, but it's not an ideal solution—belts can get in the way under a hipbelt or harness and add obvious bulk. In the end, given the pants' high-output focus, I was pretty disappointed by the fit and wish Patagonia had opted for a more generous cut.

Breathability
Despite their high-output intentions and thinner construction, the Patagonia Stormstride Pants are a little below average in terms of breathability. For reference, I only wore a baselayer underneath on resort days, but even on their own, the pants grew clammy quickly on spring days in the backcountry. You do get zippered vents at the outer thigh for dumping excess heat quickly, although the waterproof coating made them fairly difficult to open and close at first. Given the added effort they took to zip and unzip, I ended up leaving the vents closed and overheating more often than usual while touring. The zippers did loosen up and break in nicely after several outings, but the initial stiffness was an undeniable pain point. In the end, the Stormstride strikes me as a viable match for mid-winter days in or out of bounds, but the lack of breathability is undeniably limiting for mild climates and spring skiing objectives.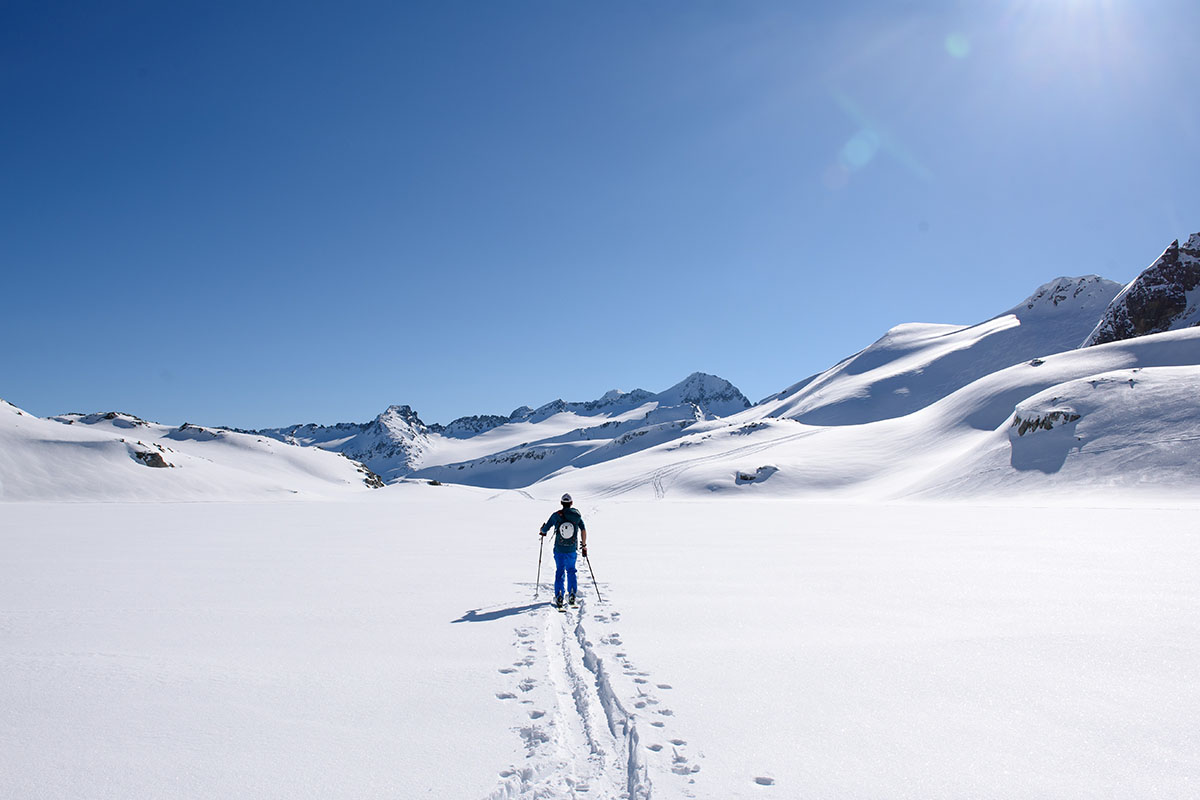 Key Features
The Patagonia Stormstride Pants are relatively minimalist and streamlined to keep weight low, but the feature set should meet most skiers' needs. Starting with storage, you get two zippered pockets (one at each thigh) that are positioned for easy access even under a harness or hipbelt of a ski backpack. Size-wise, they're on the smaller end and just big enough to swallow a cell phone and a few snacks, and the narrow opening made it tough to retrieve items when wearing gloves. By comparison, I strongly prefer the cargo-style pockets on my Arc'teryx Rush and Strafe Cham pants. I wish the zipper pull tabs were bigger, too—I found them hard to grip with gloves on due to the thinness and small knot at the end (a thicker plastic or fabric tab would be much better). And while I appreciate the waterproof coating on the zippers for protecting valuables, as I previously noted, it took a few outings for them to loosen up enough to slide smoothly.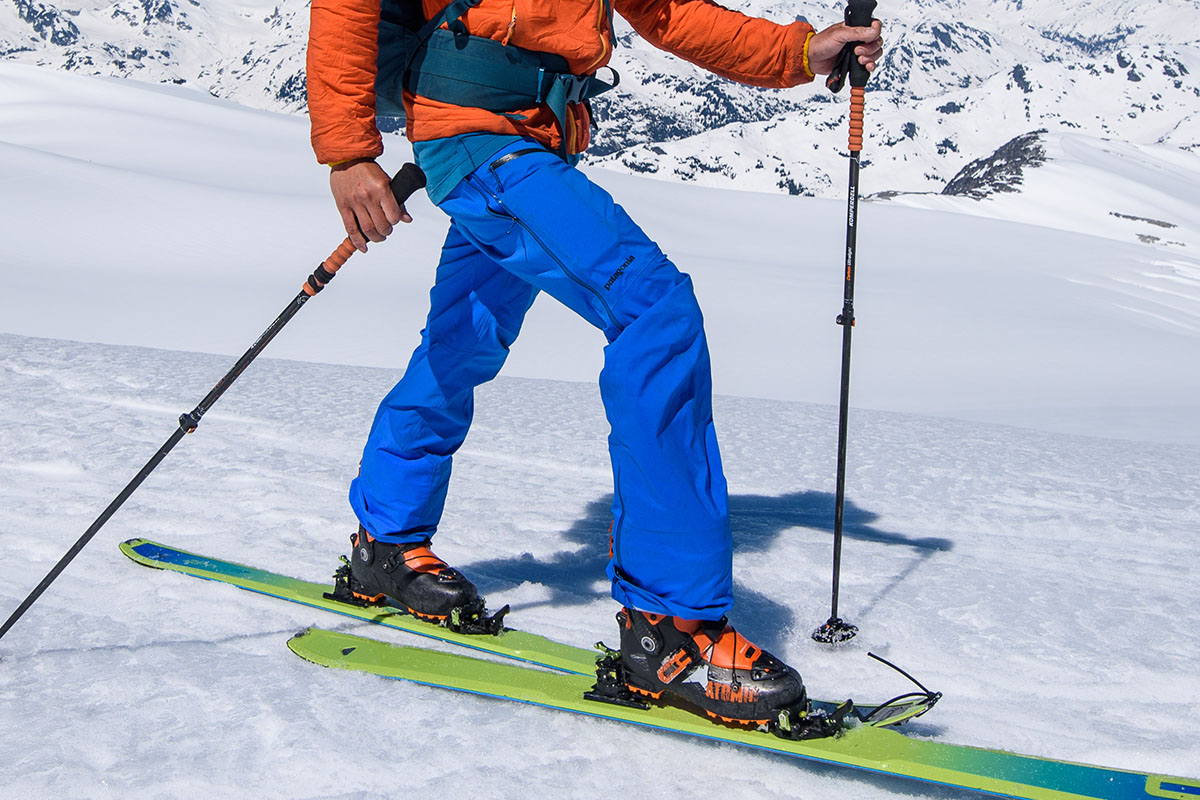 The pants also boast zippered outer thigh vents for quickly dumping excess heat, scuff guards at the instep to protect against abrasion from sharp equipment, and a hidden RECCO reflector above the cuff to help rescuers find you in the event of a backcountry emergency. You also get built-in gaiters that secure with snaps (there are three adjustment positions) and can be expanded via a zipper that runs to about midway up the calf—they were able to accommodate both my low-profile Atomic Backland boots when touring and my bulkier Atomic Hawx at the resort. Finally, there's a loop at the rear for connecting to compatible Patagonia snow jackets and low-profile webbing sewn inside the waistband for adjusting fit around your hips. However, I didn't find the latter to be particularly effective for me—while I like the idea of not needing a belt, the webbing doesn't stay tensioned and led to the pants falling down a few times.

Build Quality and Durability
Patagonia rarely disappoints from a build quality perspective, and the Stormstride Pants have held up admirably to my rigorous testing. To be sure, the 40-denier (D) fabric is on the thin side and requires added care around sharp equipment and gear, but my pair is showing no signs of wear or delamination after around 20 ski days. The scuff guards are free of tears following a full day of climbing up Mount Baker with crampons, and the gaiters have held up similarly well to regular contact with sharp equipment (by comparison, the gaiters on my Strafe Cham pants tore from my boot's ski/walk lever early on). I did manage to break one of the thin zipper pull cords, but replacing it was easy and cheap. Thicker designs like the Arc'teryx Beta AR Pant (80D) certainly inspire more confidence, but the Stormstride should have a healthy lifespan as long as you're willing to exercise some caution around abrasive terrain and gear.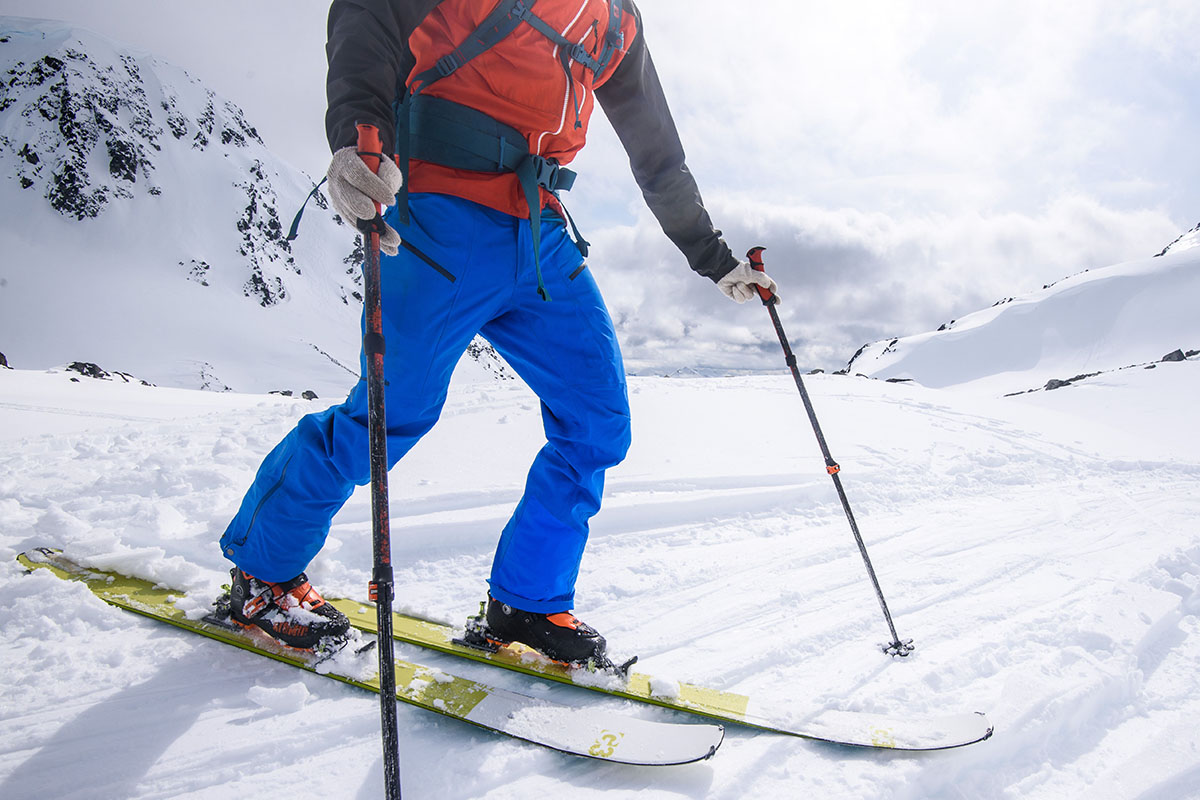 Fit and Sizing
I ordered my usual men's small in the Patagonia Stormstride Pants and found the overall fit to be true to size, although I'm not the biggest fan of the "slim" cut. For reference, I'm 5'9", weigh around 145 pounds, and have a 31-inch waist and found the pants to be relatively restrictive around the quads and upper thighs with little excess material in these areas to move around comfortably. The 31.5-inch inseam was also a bit long for me, which led to some awkward bunching and uncomfortable rubbing against my inner legs while touring and caused the waist to fall down occasionally (although again, that inseam length is pretty standard). Adding a belt quickly solved all of these issues, but I'd still prefer a slightly more generous and less restrictive cut—especially considering the pants' backcountry focus. And if you're between sizes, you'll almost certainly want to size up.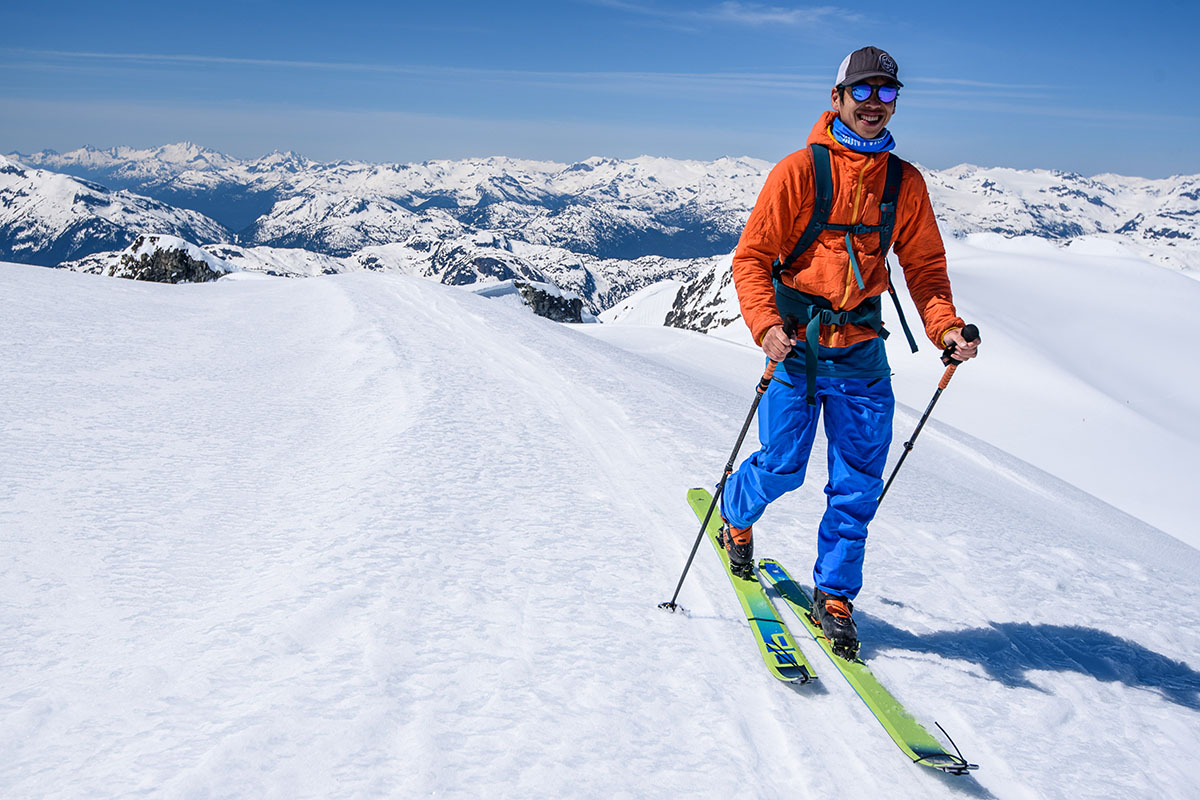 Sustainability
Patagonia is well known in the outdoor world for their focus on social responsibility and sustainability. The Stormstride Pants are case in point: They're made with 54% recycled nylon and Fair Trade Certified, indicating that Patagonia put extra money into production to ensure that workers are compensated fairly and have access to programs like healthcare and childcare services. Patagonia is also a Certified B Corp—a designation that entails meeting strict social and environmental standards and being transparent about production practices and other processes.

Other Versions of the Patagonia Stormstride
I tested the men's Stormstride Pants for this review, and they're also offered in a women's version for $20 less. The women's Stormstride Pants have a nearly identical overall build and feature set but check in a little lighter at 15.6 ounces and come in different colorways (although stock is very limited at the time of publishing). Rounding out the collection, the Stormstride Jacket is available in men's and women's versions, both of which retail for $499. Like the pants, the Stormstride Jacket uses Patagonia's proprietary H2No Performance membrane for waterproofing, has a "slim" fit, and includes added stretch in the fabric for maximizing mobility. You also get helpful ski-specific touches including a helmet-compatible hood, underarm vents, four pockets, and an integrated powder skirt for sealing out snow at the waist.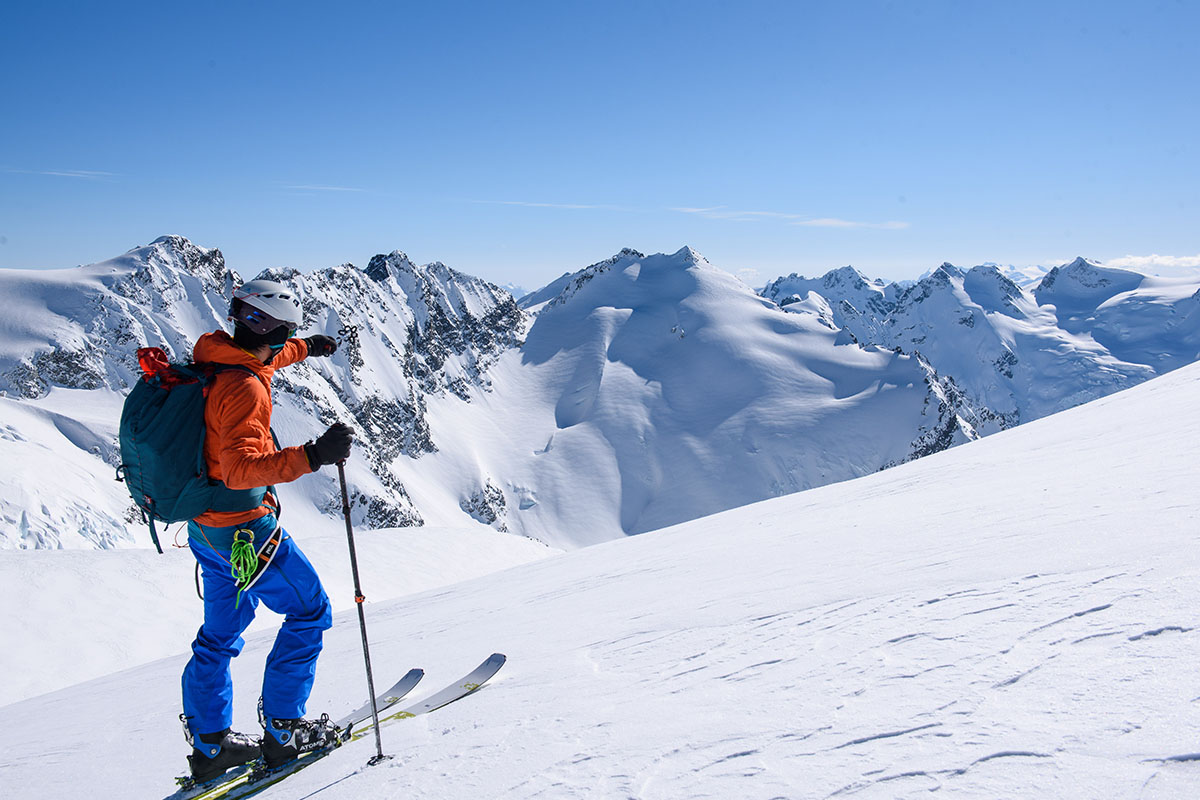 What We Like
3-layer H2No build provides reliable protection in variable backcountry conditions.
Lightweight at just over 1 pound with a sleek and streamlined look and feel to match.
Integrated stretch adds a nice dose of mobility for touring and gives the pants a soft, supple feel.
While thin at 40D, the Stormstride has held up well to rigorous backcountry use with no signs of wear or deterioration to date.
Integrated gaiters are well executed with good adjustability for accommodating a wide variety of ski boots.

What We Don't
Despite their high-output intentions, the pants run warm and grow clammy quickly in mild conditions.
Slim fit is restrictive in certain areas and bunched up awkwardly around my inner legs while touring, which impacted mobility and required adding a belt.
Features could be better executed: The zipper pull tabs are too small and thin to toggle with gloves, the pockets are prohibitively small, and the waist adjustment doesn't stay put. 
Not a strong value at $449.

Comparison Table

The Competition
The Patagonia Stormstride Pants are a protective and streamlined option for cold days in the backcountry, but the lack of breathability is a notable downside for spring outings and those who run warm. Enter Patagonia's own Upstride Pants, which are a step down in price at $279 and forgo waterproofing in favor of a stretchy polyester shell with a DWR coating. The minimalist build is light (15.7 oz.), airy-feeling, and a nice match for long, high-output tours in favorable conditions. Like the Stormstride, the Upstride also includes low-profile webbing sewn into the waistband for tweaking fit, adjustable gaiters, a hidden RECCO reflector, and scuff guards to protect against abrasion from sharp gear. You also get an additional zippered pocket at the right thigh, although there are no vents for releasing excess heat. In the end, the Stormstride is the better pick for season-long use in variable conditions, while the Upstride is a more specialized option that's best suited for spring skiing objectives (note: Both share Patagonia's "slim" fit).
Outside of Patagonia's lineup, Outdoor Research's Skyward II slots in as our favorite backcountry ski pant this year. We were immediately impressed by the Skyward's 3-layer AscentShell fabric that effectively balances stretch, breathability, and weatherproofing. Despite being a little thicker and more durable than the Stormstride at 50D, the breathable fabric and side vents keep you cool and comfortable even into the spring (unlike the Stormstride, which felt clammy in mild late-season weather). The OR also wins out in storage with four total pockets (including a dedicated spot for an avalanche beacon) and adds premium touches like a soft lining along the waistband, articulated knees, and power strap slot integrated into the gaiters—all for $120 less than the Stormstride. Combined with the clear advantages in mobility and breathability, we consider the Skyward the better buy.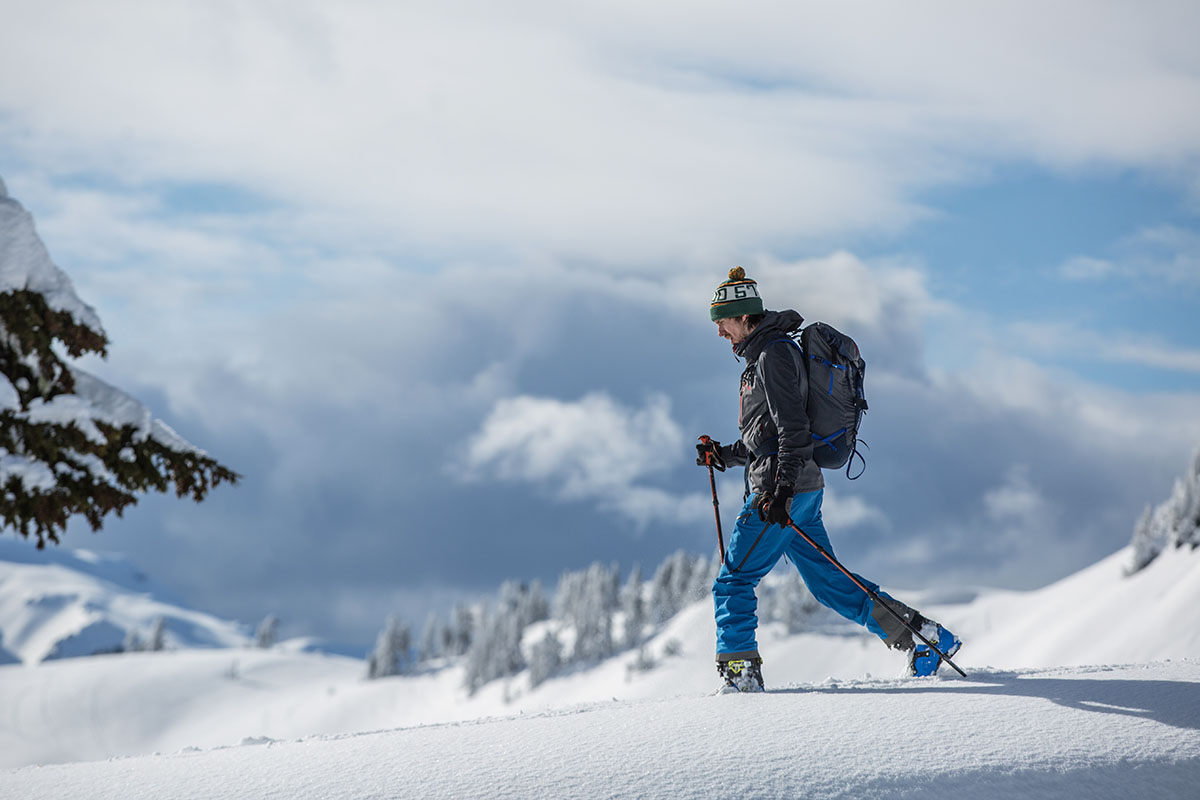 Like the OR Skyward II, Black Diamond's Recon Stretch Pants put an emphasis on comfort and mobility with a woven softshell-like face fabric. Protection is up to snuff with a quality 3-layer construction (BD's in-house design) and full seam sealing, and the generous amount of stretch (16%) is a nice pairing for long days on the skin track. Other highlights include a handy electronics pocket at the right thigh, articulated knees and seat, removable belt, easy-to-access side vents, and "relaxed" fit that makes it easy to layer underneath. Like the Stormstride, the Recon also boasts reinforced patches at the instep and built-in gaiters for sealing out snow at the cuffs. The Recon does weigh around 8 ounces more than the Stormstride without any upgrade in durability, but at $99 cheaper and with similar all-around performance, we consider it the better overall value.
Arc'teryx makes some of our favorite ski shells and pants on the market, and their Beta AR Pant is a classic among alpinists and serious backcountry skiers. In short, the Arc'teryx wins out in most categories over the Stormstride: It gets the edge in protection with a top-end Gore-Tex Pro build, is more durable with a thicker 80D construction and 100D scuff guards, and comes with all of the premium touches we look for at this price point. Finally, the "regular" cut is much more accommodating than the Patagonia's "slim" fit and makes it easy to swap layers underneath without inhibiting mobility. The Beta AR is a little short on ski-specific features—there's only one zippered pocket and no integrated stretch in the fabric for touring—but you'd be hard-pressed to find a better balance of protection and weight (1 lb. 0.4 oz.). For only $50 more than the Stormstride, we think most committed backcountry riders will find the added investment worth it.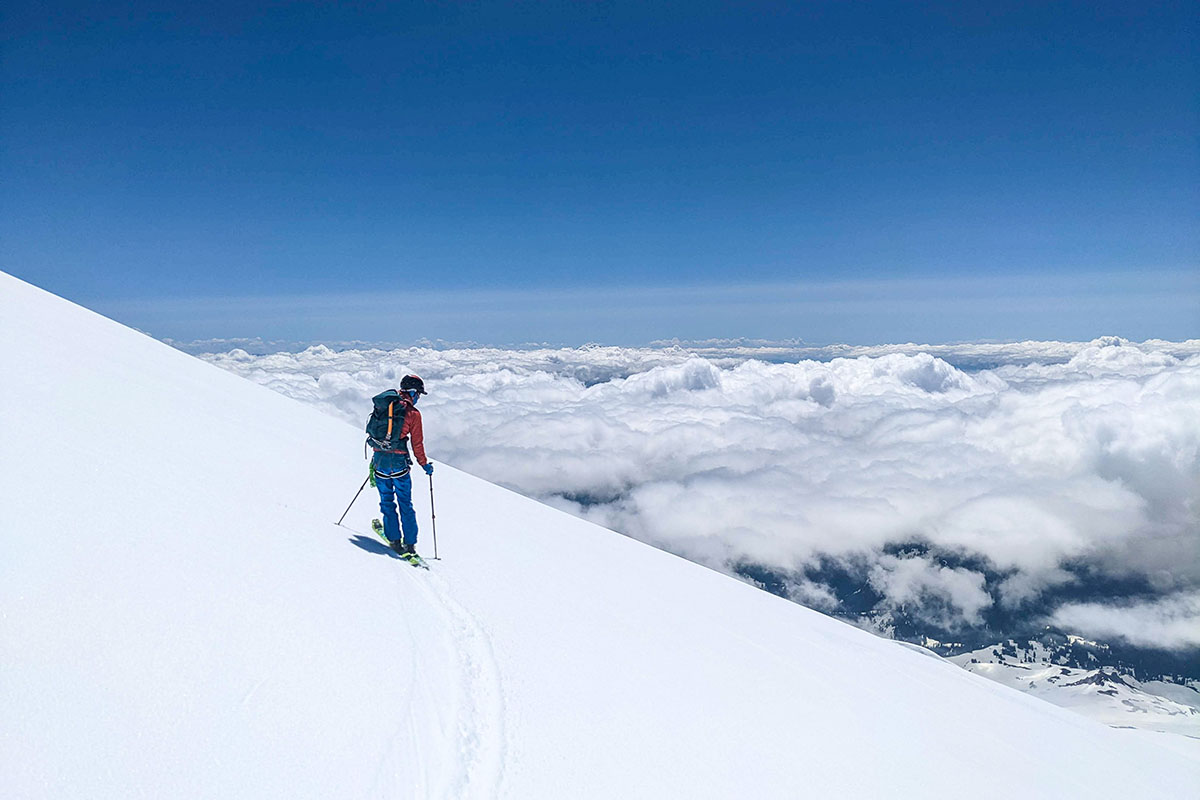 Last but not least is the Strafe Cham Pant, which I referenced a couple times throughout this review and remains one of my go-to touring options. Breathability is great thanks to the pants' air-permeable Schoeller Aerobrane construction, and the four-way stretch and articulated paneling translate to excellent mobility and comfort on the skin track. As I mentioned, the Cham's pockets are much deeper than the Stormstride's and more easily accommodate items like a phone and snacks, and you also get an additional interior space for electronics. Other thoughtful touches include tall and robust Cordura scuff guards and a unique snap system that raises the cuffs to reduce the risk of tearing on crampons. The Cham isn't the most protective option—it's a good pairing for dry snow and mild spring days but doesn't block out wet snow and frigid wind as well as Gore-Tex. However, the Patagonia isn't much better, costs around the same, and falls short in breathability and features, giving the Cham the edge for us.
If you're thinking about buying gear that we've reviewed on Switchback Travel, you can help support us in the process. Just click on any of the seller links above, and if you make a purchase, we receive a small percentage of the transaction. The cost of the product is the same to you but this helps us continue to test and write about outdoor gear. Thanks and we appreciate your support!
Depending on the seller, most products ship free in the United States on orders of $50 or more. International shipping availability and rates vary by seller. The pricing information on this page is updated hourly but we are not responsible for inaccuracies.
Read More From Switchback Travel