Choosing a suitable backpacking pack can be a daunting task, with myriad models touting different capacities, organization, backpanel designs, and more. Thankfully, there's a rhyme and reason to the madness; our breakdown—written by women, for women—will help you identify your personal style of backpacking and what category of pack is best for you. Below are our favorite women's backpacking backpacks of 2023, from reliable all-rounders, to streamlined ultralight models, feature-rich heavy haulers, and simplified entry-level designs. For more background information, see our detailed comparison table and buying advice below the picks.
 
---
Our Team's Backpack Picks for Women
---

Best Overall Backpacking Pack for Women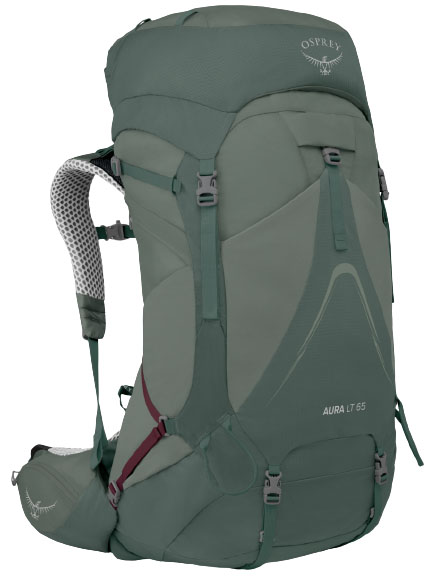 Weight: 4 lb. 0.2 oz.
Fabric: Nylon (210D & 500D)
Capacities: 50, 65L
What we like: The comfort, durability, and performance of a high-end backpacking pack—in a lightweight design.
What we don't: You give up some pockets and organizational add-ons.
The best overall pick isn't always an obvious choice, but the Aura AG LT 65 is a runaway favorite thanks to its well-balanced design. With the LT, Osprey took the organization, comfort, and durability of a high-end backpacking pack and streamlined it, removing all superfluous bells and whistles. What remains is everything you need (and nothing you don't) for brief overnights to week-long sagas, including best-in-class comfort, convenient pockets and storage, reliable weather resistance (including a rain cover), and top-of-the-line ventilation. The Aura AG LT also features an adjustable torso length, and unlike true lightweight models doesn't compromise on durability (it's built with a substantial 500D base and 210D body). At a reasonable 4 pounds and $290, you'd be hard pressed to find a better combination of price, weight, and performance.
But for some backpackers, the Aura AG LT is too much of an all-rounder. Those who like a lot of pockets and organization will appreciate a more featured design like the Gregory Deva 70 below (or the standard Aura AG 65, which adds a second side-zip access to the main compartment, one more lid pocket and two front pockets, and dedicated sleeping bag storage). On the other hand, the Osprey is too heavy to slot into the lightweight category; weight-conscious hikers will want to instead consider packs like the ultralight Hyperlite Southwest 55 (1 lb. 15.6 oz.) or Osprey Eja 58 (2 lb. 13.2 oz.). But in our opinion, the Aura AG LT is an excellent middle ground between the two extremes, making it an easy recommendation for the majority of backpackers—new and seasoned alike… Read in-depth review
See the Osprey Aura AG LT 65
Best Ultralight Backpacking Pack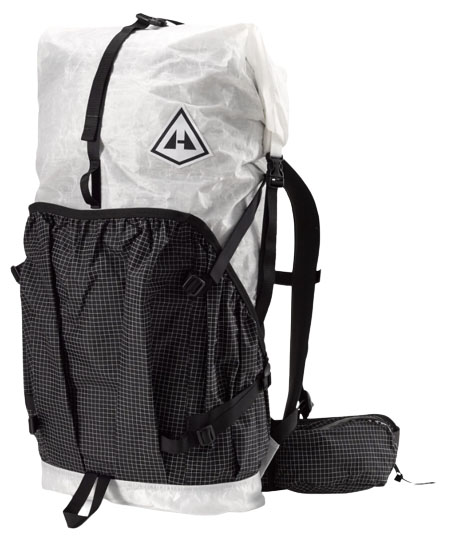 Weight: 1 lb. 15.6 oz.
Fabric: Dyneema (3.5 & 5.0 oz./sqyd)
Capacities: 40, 55, 70L
What we like: A true trail icon; nothing beats the durability and waterproofing of Dyneema.
What we don't: No lid or secondary access to the main compartment; simplified backpanel compromises comfort and ventilation.
There's a lot of value to traveling light on the trail: Not only do you expend less energy with each step, but you're also guaranteed more enjoyment in the process. Once you've paired down the rest of your kit, it's time to start thinking about an ultralight backpack. Hyperlite's offerings sit at the top of the food chain thanks to their fully Dyneema construction, which translates to incredible strength and water resistance at a very low weight. Among their options (which differ in terms of capacity and external pocket fabric), the Southwest 55 is our favorite, featuring 55 liters of capacity spread out between a cavernous main compartment, three burly exterior pockets, and two hipbelt pockets. For just south of 2 pounds, it's an incredibly hardwearing and high-quality pack that should last you season after season of hard use.
If you're transitioning over from a traditional backpacking pack, expect a learning curve with the Southwest. Like most UL models, the Hyperlite does not feature a lid, and with no secondary access to the main compartment, you'll have to empty your whole pack to access contents at the bottom. What's more, although Hyperlite gives a 40-pound load limit for the Southwest 55, most ULers try to keep their base weight (all gear minus consumables) under 10-ish pounds; in other words, you'll want to make sure the rest of your kit is proportionally streamlined. All told, the Southwest is not without compromise, but for dedicated UL enthusiasts looking for the premium performance of Dyneema, it's hard to beat. It's also worth mentioning Hyperlite's Unbound 55 ($399), which is purpose-built for those sticking to the trail (including svelter features and a convenient stretch-mesh dump pocket), but lacks the Southwest's true tank-like feel... Read in-depth review
See the Hyperlite Southwest 55
Most Comfortable Women's Pack for Heavy Loads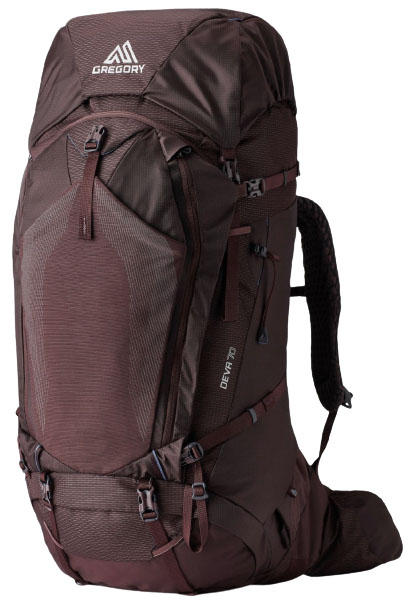 Weight: 5 lb. 1 oz. 
Fabric: Nylon (210D & 420D)
Capacities: 60, 70, 80L
What we like: Top of the line comfort, organization, and load-bearing suspension.
What we don't: Heavy and expensive; too overbuilt for most backpackers.
Some backpackers shave weight by cutting off the end of their toothbrush, while others like to travel with all the comforts of home. If you identify more with the latter, it's worth considering a feature-rich pack like the Gregory Deva 70. The Deva is built to carry up to 55 pounds, thanks to its strong alloy and fiberglass suspension and plush harness, which features a freefloating backpanel, refined lumbar and hipbelt system, and shoulder straps that pivot with the body's movements. And there's no shortage of organization for all your gear, including nine exterior pockets, U-shaped access to the main compartment, cavernous hipbelt pockets, and multiple exterior attachment points. For la crème de la crème of backpacking packs, look no further than the Gregory Deva 70.
But unless you work as a guide or trip leader, regularly shlep expedition-style loads, or have reason to need excessive amounts of organization, it's worth thinking twice about the Deva. In fact, we experienced the copious storage options as a downside—with a dozen separate compartments, you're bound to misplace gear inside your own pack. And held up against more streamlined designs, many of the Deva's features have started to strike us as cumbersome rather than luxurious, including the bulky Velcro fit adjustments and dedicated access to the bottom sleeping bag compartment. Finally, the pack is a pound heavier and $70 more than our top-ranked Aura AG LT, which will get the job done for the majority of backpackers. But if you plan to carry 50 pounds or more, the Deva will shoulder the load better than most... Read in-depth review
See the Gregory Deva 70
Best Balance of Comfort and Lightweight
Weight: 2 lb. 13.2 oz.
Fabric: Nylon (100D & 400D)
Capacities: 38, 48, 58L
What we like: A comfortable and feature-rich pack for the ultralight-curious.
What we don't: You can save a lot of weight and bulk with a pack like the Hyperlite above.
If you're ultralight-curious but not yet ready to take the full deep dive, the Osprey Eja is an excellent backpack to consider. Checking in over a pound lighter than our top-ranked Aura LT, the Eja drops weight with stripped-down features, simple organization, and thinner fabrics. But comfort remains a priority: The body-hugging hipbelt, lightweight aluminum frame, and full mesh backpanel offer significantly more support than the streamlined suspension typically found on UL packs such as the Southwest above, and the design features an adjustable torso length, too. All told, the Eja is a soft landing for those transitioning from the world of traditional backpacking into lighter-weight gear, and a go-to pick for members of the Switchback Travel team.
Compared to the Aura AG LT above, the Eja's biggest compromises come in terms of organization and durability. You only get a single access point to the main compartment, and the fabric on the body is thin 100-denier nylon. Osprey also advertises a 35-pound load limit for the Eja (compared to the Aura's 40-lb. limit), although we've found the Airspeed suspension and Exoform harness to be very comfortable. And if you're looking for a true competitor to a pack like the Hyperlite, this isn't it: The Eja is almost a pound heavier, doesn't offer the durability and waterproofing of Dyneema, and the plush carry system is far more reminiscent of a standard backpacking pack than a traditional thru-hiker pick. But despite its compromises, we've found the Eja to be a really nice middle ground for those balancing comfort with weight-savings. For an even more streamlined design from Osprey, check out the 2-pound Eja Pro 55 ($290); we were impressed by the Pro's well-rounded feature set in our testing, but found that it makes noticeable compromises in terms of carrying comfort and durability... Read in-depth review
See the Osprey Eja 58
Best Plus-Size Backpacking Pack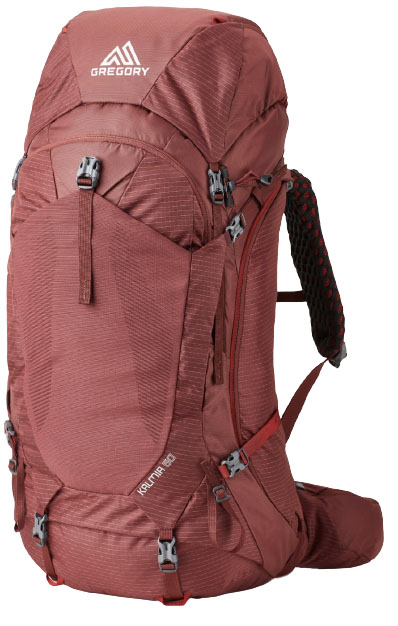 Weight: 4 lb. 11.2 oz.
Fabric: Nylon (210D & 420D)
Capacity: 60L
What we like: A premium pack specifically built to fit diverse body shapes and sizes.
What we don't: Only comes in one color and capacity option.
If you're a plus-size backpacker, you know the challenges inherent in finding outdoor gear and apparel that fits, and backpacks are among the worst offenders. Backpack-giant Gregory Packs has at long last answered the call, offering their popular Kalmia 60 in two plus sizes. The two sizes vary in terms of torso length (which corresponds to height), but both are built to accommodate those who typically fit 2X to 6X clothing. Extended-length straps and padding, a fully adjustable torso length and hipbelt, and hipbelt pockets placed right where they belong (i.e. at the hips) highlight the Kalmia 60 Plus Size's design, which was specifically designed for diverse body sizes.
The Kalmia is the only women's backpacking pack that Gregory offers in plus sizes, but it's one of the most comfortable, fully featured, and durable packs in their lineup. The padded, rotating harness is built to move with your body over rocky and rooted trails, and the suspended mesh backpanel keeps air flowing on hot days. You get no shortage of organization and storage, including seven external pockets and top, side, and bottom access to the main compartment. And the 45-pound load limit means the Gregory can tackle everything from short overnights to weeklong trips. We do wish the pack came in more than one color and capacity, but many backpackers will just be happy the Kalmia exists. Finally, if you're comparison shopping, it's also worth checking out the Extended Fit version of the Osprey Ariel, which offers similar sizing and features.
See the Gregory Kalmia 60 Plus Size
Best Budget Backpacking Pack for Women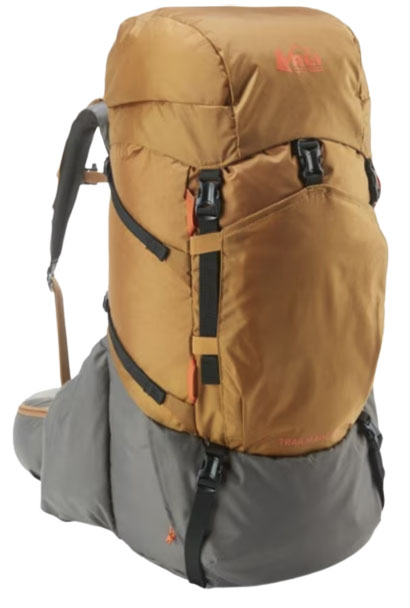 Weight: 3 lb. 4 oz.
Fabric: Nylon
Capacity: 60L
What we like: Decent performance for just $169; sizing is very adjustable.
What we don't: Cheap materials and budget-feeling fit and finish.
We're big fans of everyone getting outside, and are well (and sadly) aware that the cost of gear can often be a significant hurdle. REI Co-op's Trailmade series is built to address this issue, with a small collection of budget-priced backpacking gear. The Trailmade 60 is far from the most premium pack we've tested—in fact, it carries the vibe of a 90's-era hauler—but it certainly gets the job done: We found the suspension to be relatively comfortable on a challenging overnight trip, and organization was fully serviceable with a roomy main compartment, dedicated sleeping bag storage, and six external pockets. For just $169 (and occasionally less during REI's member sales), the Trailmade 60 is an excellent pick for penny pinchers or those who get out just a few times a year.
We'd be remiss not to mention the Trailmade's shortcomings, which are many compared to the premium competition. In short, the fit and finish is what one would expect from a $169 pack—materials are obviously cheap, the shove-it pockets don't stretch as well as mesh alternatives, and we expect the squishy foam on the hipbelt, shoulder straps, and backpanel to lose its soft feel fairly quickly. What's more, the one-size-fits-most torso adjustment (two hipbelt sizes are offered that accommodate XS to 4X) results in a less tailored feel overall. On the other hand, this adjustability makes this pack a great one to share, and the Trailmade's recycled nylon is noticeably more hardwearing than REI's ultralight Flash (below). All told, if you're a new or casual backpacker in the market for a no-frills pack, the REI Trailmade 60 gets our nod as the best budget design of the year. 
See the REI Co-op Trailmade 60
Best of the Rest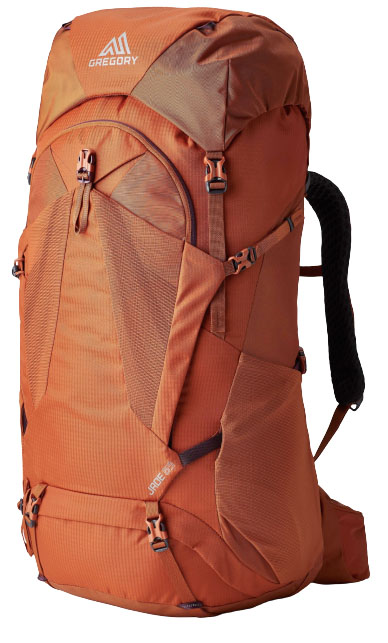 Weight: 4 lb. 3.2 oz.
Fabric: Nylon (400D & 420D)
Capacities: 28, 43, 63L
What we like: More affordable and durable than our top-ranked Aura AG LT. 
What we don't: Less comfortable and refined than the Osprey.
It doesn't get much more premium than Gregory's Deva above, but a strong case can be made for a more affordable and lightweight design like the Jade. At 4 pounds 3.2 ounces and a reasonable $270, the freshly redesigned Jade 63 is a great option for smaller loads (it comes in 28, 43, 63-L versions). You don't get the same level of padding or carrying capacity as the Deva, but the pack offers easy fit adjustments, plenty of mesh along the backpanel to help you stay cool, and a quality feel overall with sturdy zippers and supportive foam. And the Jade doesn't skimp on useful extras either, with features like a U-shaped access to the main compartment, large mesh front and side pockets, and a bear canister-friendly wide shape.
With an all-rounder design that finds a nice middle ground between stripped-down UL models and heavy comfort-first haulers, the Jade goes head-to-head with a pack like the Osprey Aura AG LT above. But while the Gregory gets the edge in price and durability (400D & 420D vs. the Aura's 210D & 500D), the Osprey strikes us as the more refined design, with a higher-end feel, thoughtfully pared-down feature set, and more comfortable suspension (Gregory lists the Jade's load limit at 50 lb., but in our opinion it doesn't carry weight any better than the Aura AG LT). Notably, the Osprey forgoes a dedicated sleeping bag compartment, which you'll either love or hate (we prefer to go without this feature). Finally, it's also worth checking out Gregory's Maven 65 ($280), which subs in a more traditional foam backpanel and thinner fabrics for a significant drop in weight (3 lb. 8.2 oz.)... Read in-depth review
See the Gregory Jade 63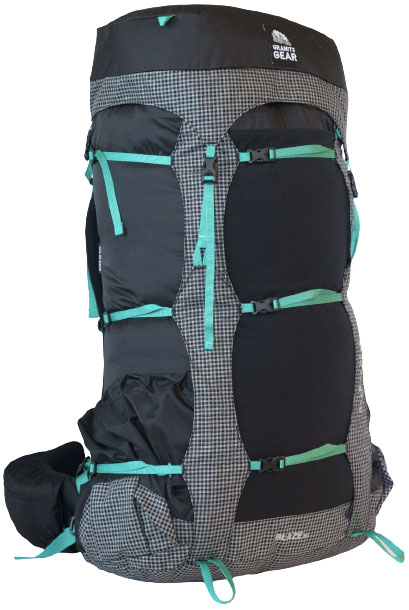 Weight: 3 lb.
Fabric: Robic nylon (100D & 210D)
Capacity: 60L
What we like: Capable hauler at a very reasonable weight.
What we don't: Fit and finish isn't on par with modern designs like the Eja above.
Granite Gear is a classic example of a homegrown brand that makes gear by the people, for the people. The Blaze 60 is their flagship piece, combining heavy-hauling credentials and functional organization at a 3-pound weight. We took the pack on a difficult trek through the Grand Canyon and were pleased with its overall performance: Its sturdy frame sheet and substantial hipbelt and shoulder-strap padding carried a full load extremely well (it's rated for 50 lb.), and the side-zip access to the main compartment made it easy to access our gear on the go. Further, the oversized front and side dump pockets are extremely functional (you can fit two standard water bottles in one side pocket). Most impressively, the Blaze pulls this off while undercutting most of the competition by a pound or more.
What's not to like with the Blaze 60? The padded backpanel favors comfort and support over breathability, and we found it to be stiffer and warmer than a suspended design like the Aura or Jade above. Moreover, the fit adjustments aren't particularly fine-tuned, with heavy velcro patches and difficult-to-reach clips. But these are small nitpicks, and the Blaze joins a pack like the Eja above as a lightweight offering that gives up little in the way of comfort and features. On top of that, many will appreciate its customizable build: You can remove the lid, secure it to the shoulder straps for on-the-go storage, or even convert it to a fanny pack. All told, the Granite Gear is a nice alternative to bigger name brands like Osprey and Gregory, and traditionalists will especially appreciate the standard foam backpanel design… Read in-depth review
See the Granite Gear Blaze 60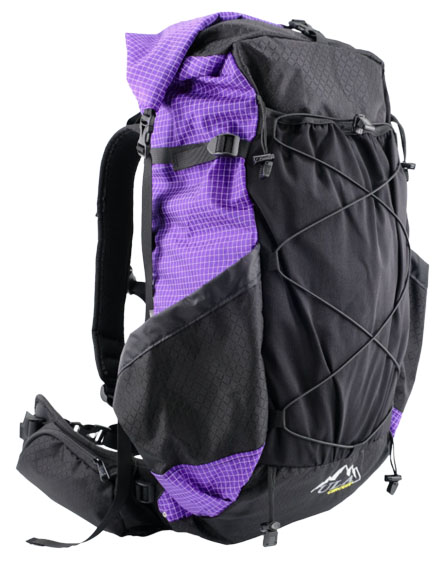 Weight: 2 lb. 5.3 oz.
Fabric: Robic nylon (400D)
Capacity: 68L
What we like: A comfortable and custom-fit UL pack that's $100 cheaper than the Hyperlite.
What we don't: Heavier and not as water resistant as a Dyneema pack.
Utah-based ULA Equipment has gone from a relative unknown to a darling of the PCT and AT in only a few short years. Leading the charge is their 68-liter Circuit, which offers an excellent compromise of weight, durability, and functionality for the thru-hiking crowd and those who keep their loads under 30 pounds. Like the Southwest above, the design is undeniably minimalist but retains good organization with large front and side mesh pockets, zippered hipbelt compartments, and an internal secure stash. We've taken the Circuit on multi-day treks in Patagonia and up 14ers in Colorado, and have been impressed with how easy it is to load up, adjust, and even streamline as a day pack when needed.
Although the ULA Circuit doesn't have that coveted Dyneema distinction, its 210-denier Robic nylon has proven to be very abrasion resistant, and is actually less prone to punctures than the Hyperlite and Zpacks designs (although unlikely to rip, Dyneema has a tendency to form small holes in between fibers). What's more, with a carbon fiber suspension, aluminum stay, and rigid foam backpanel, the Circuit is fully capable of utilizing its generous 68-liter capacity (keep in mind, 20L of this capacity is found in the external pockets). To top it off, it's offered in an impressive range of sizes, and you can customize the torso length, hipbelt size, and shoulder strap style to meet your needs. If you're willing to give up the water resistance, slight weight savings, and brand cachet of the Hyperlite, it's likely you won't be disappointed with the Circuit (and it's a great value at just $280).
See the ULA Equipment Circuit 68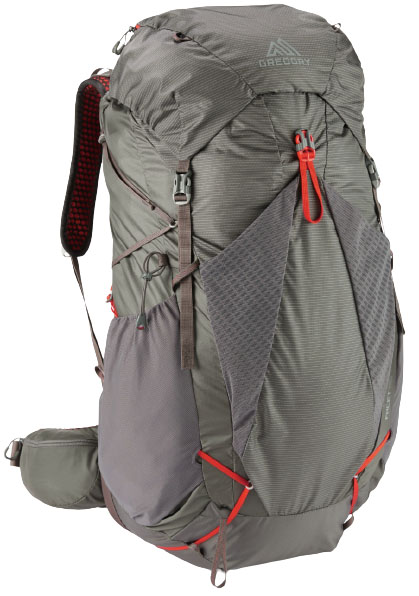 Weight: 2 lb. 8.8 oz.
Fabric: Nylon (100D & 210D)
Capacities: 45, 55L
What we like: If it fits, this is a strong alternative to the Eja above.
What we don't: No torso length adjustment.
Falling into the same category as the Osprey Eja above, the Gregory Facet toes the line between all-around and ultralight categories with a best-of-both-worlds design. If you're accustomed to a traditional backpack but want to dip into the UL world, this is one of the best places to start. At just 2 pounds 8.8 ounces, the Facet is undeniably lightweight (albeit not quite ultralight), but still retains many of the features we expect in a high-end pack, including a suspended mesh backpanel, removable lid, and molded zipper pulls for easy access to the hipbelt pockets and lid. For weekend warriors or long-distance thru-hikers who want that extra level of comfort and convenience, the Gregory is a really solid pack.
In our testing, we actually preferred the Facet to the Eja—the Gregory is more streamlined (the Osprey felt overly bulky at the lumbar), and its exterior is sleeker with fewer external straps. It doesn't hurt that it's $10 less and a few ounces lighter, too. But the Facet has one big flaw: It lacks a torso length adjustment. This isn't especially noteworthy compared to ultralight designs—packs like the Hyperlite Southwest also feature fixed torso lengths—but it's an undeniable shortcoming compared to the Eja. Gripes aside, if the Facet fits (it's available in three sizes), it's an excellent option for weight-conscious backpackers looking for a step up from a true UL design… Read in-depth review
See the Gregory Facet 55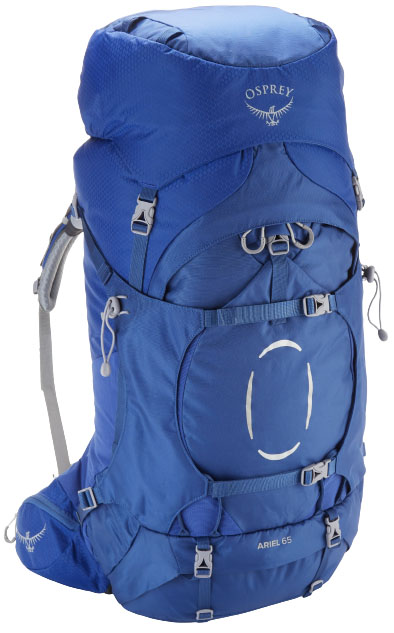 Weight: 4 lb. 14.3 oz.
Fabric: Nylon (210D & 420D)
Capacities: 55, 65L
What we like: Great adjustability and a very comfortable pack for hauling heavy loads.
What we don't: Most backpackers are better off with the Aura.
The Aura AG (and similar Aura AG LT above) is Osprey's leading backpacking pack, but for heavy hauling and light mountaineering, the Ariel offers even more in the way of comfort and features. With a recent update, the pack dropped the AntiGravity (AG) suspension system for an AirScape backpanel, which is less elaborate but still has breathable foam and mesh to help keep you cool (and can handle loads of up to 60 lb.). And you get all kinds of adjustability, including a rip-and-stick system that easily tailors the fit of the shoulder straps and hipbelt, along with ample compression straps and attachment points for ice axes, tent poles, and more. Last but not least, the large J-shaped zipper at the front provides easy on-the-go access to the main compartment.
The primary downside of the Ariel 65 is its weight, which squeezes in just under 5 pounds. On top of that, organization is middling: you only get five external pockets (seven if you're counting water bottle holders) and the hipbelt stashes are oddly placed and difficult-to-reach. For the majority of backpackers, we think the Aura AG LT is the more practical all-around design for 14 ounces less; on the other hand, the Gregory Deva above gets you more capacity for a similar weight (albeit for $35 more). But in terms of premium haulers the Ariel has a lot to offer, and it's also available in an Extended Fit version to accommodate a broader range of body sizes. Keep in mind that Osprey also makes the beefed-up and feature-rich Ariel Plus and stripped-down Ariel Pro, which could be great alternatives depending on your needs... Read in-depth review
See the Osprey Ariel 65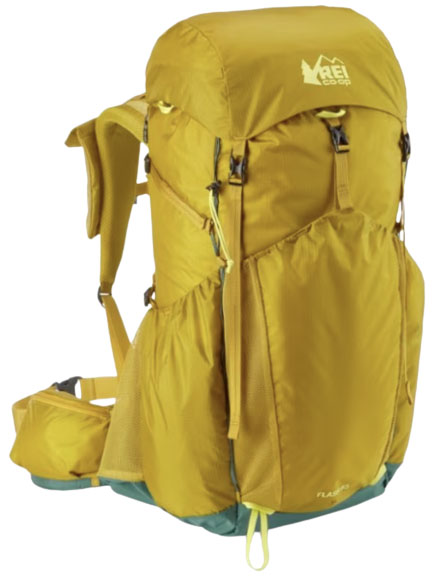 Weight: 2 lb. 12 oz.
Fabric: Nylon (100D & 210D)
Capacity: 55L
What we like: Inexpensive, great adjustability and customization.
What we don't: Materials and carrying comfort are a step down from the Eja or Facet.
REI's packs are reliably high on value, but they aren't usually standouts in terms of performance. However, we've been pleasantly surprised by the ultralight Flash 55, which features a competitively light weight (on par with the Eja and Facet above) and a variety of thoughtful touches, including four large side pockets (great for taller items like a tent or backpacking chair) and a front dump pocket, multiple daisy-chain attachment points, and a convenient roll-top closure. The Flash is also hallmarked by a range of customizable features (REI calls them "Packmod" accessories): Depending on the trip, you can add or remove the compression straps, two hipbelt pockets, and a shoulder strap pocket to shave off up to 7 ounces. For just $199, it all adds up to a steal of a deal for weight-conscious backpackers and penny pinchers alike.
The Flash 55 was recently updated, and the most significant improvements include more durable (and recycled) materials and a built-in torso adjustment. The new model comes in four sizes that vary in terms of length and hipbelt circumference, making it fairly accommodating for a range of body shapes and sizes. But while we've been very pleased with the Flash's performance for two to four-day trips, the aforementioned Eja and Facet have more thoughtfully built harnesses, which translates to improved ventilation and greater comfort with a heavier load (REI lists the Flash's weight limit at 30 lb. compared to the Osprey and Gregory's 35 lb.). Their materials also feel like a step up: The Flash's shoulder straps have a cheap (and noisy) fabric covering, and the front shove-it pocket isn't as stretchy as we'd like. That said, you'd be hard-pressed to find a better deal among lightweight packs, making the Flash a wonderful option for weight- and budget-conscious backpackers.
See the REI Co-op Flash 55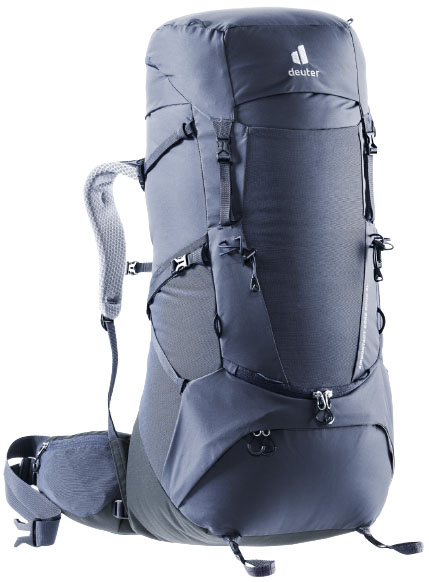 Weight: 4 lb. 11.8 oz.
Fabric: Nylon (235D & 500D)
Capacities: 45, 60L
What we like: Great comfort and organization for $70 to $110 less than the competition.
What we don't: Only available in one size for women; limited load carrying.
Germany-based Deuter has been pumping out quality packs since the early 1900s, and their current collection holds court with premium offerings from brands like Osprey and Gregory. The Aircontact Core is the brand's all-rounder, prioritizing comfort and organization for multi-day backpacking trips. Similar to packs like the Osprey Ariel and Gregory Deva, the Aircontact Core features a thoughtfully built suspension and harness, adjustable torso length, and no shortage of storage, including dual hipbelt and lid pockets and a handy J-shaped zipper on the front. We took the Aircontact Core 60 + 10 backpacking in Washington's Glacier Peak Wilderness, and were very pleased with its comfort and convenience throughout big days on the trail. 
The Deuter is a wonderful value for those who don't want to fork over $300+ for a backpack, but it doesn't quite measure up to the aforementioned Osprey and Gregory. The pack checks in at a similar weight as the heavy haulers, but its load limit maxes out at 44 pounds (compared to the competitors' 55 to 60-lb. limits). Second, the Aircontact Core is only available in one size for women, which translates to a less tailored feel overall. But if you're curious about trying something different than the standard fare, the Deuter is well-deserving of a closer look, and will save you $70 to $110 in the process. It's also worth noting their Aircontact Ultra, a lightweight pack that goes head to head with the likes of the Eja and Facet above... Read in-depth review
See the Deuter Aircontact Core 60 + 10 SL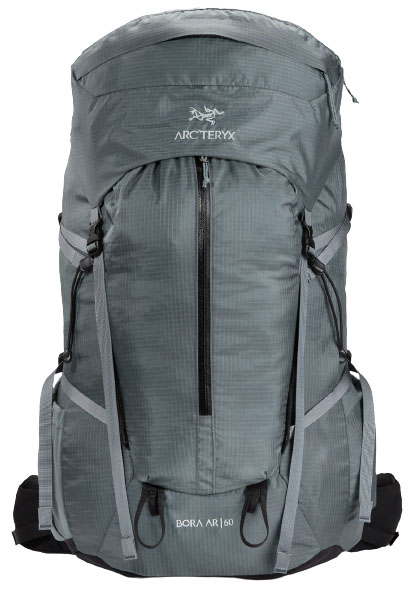 Weight: 4 lb. 1 oz.
Fabric: Nylon (210D)
Capacities: 60, 70L
What we like: Burly, weather-ready build that's great for those who mix backpacking and mountaineering.
What we don't: Less approachable and user-friendly than packs from Osprey and Gregory.
You can always count on Arc'teryx to deviate from the norm, and their Bora 60 is no exception. For starters, the Arc'teryx's harness and suspension is about as techy as it gets in the backpack world, with features like a rotating track-mounted hipbelt, adjustment grid to customize shoulder strap placement, and lightweight framesheet that's reminiscent of carbon fiber. The Bora has always been known for its load-carrying prowess (we used to wear a 95-L version while guiding mountaineering and wilderness therapy expeditions), and the newest iteration carries the torch despite its more streamlined design. And with a sleek exterior and tough, water-resistant fabrics, it's better primed for alpine environments than most packs here.
The Bora is similar to our top-ranked Osprey Aura AG LT in terms of weight and capacity, but in our opinion it's not quite as approachable of a backpack. You don't get the same suspended mesh backpanel that the Osprey is known for, the front dump pocket isn't stretchy, and both hipbelt pockets use stretch-mesh rather than a zipper closure. We also have mixed feelings about the rotating hipbelt, which can feel squirrely on off-camber terrain and pokes into our hips when carrying a full load. If you're routinely mixing backpacking and mountaineering, the hardwearing Arc'teryx has its merit, but for $30 less, we'll stick with the more convenient and user-friendly Aura.
See the Arc'teryx Bora 60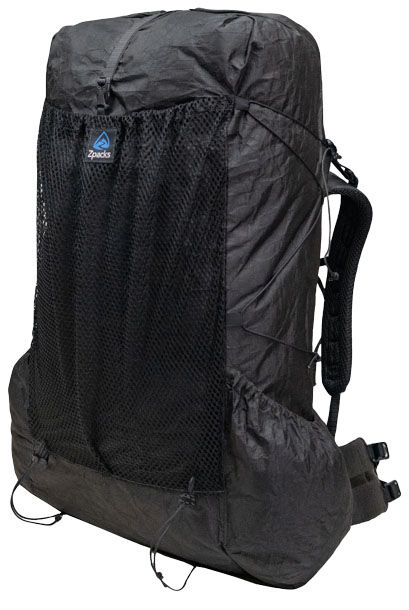 Weight: 1 lb. 4.5 oz.
Fabric: Dyneema (3.3 oz./sqyd)
Capacity: 60L
What we like: Incredibly lightweight; better ventilated than the Hyperlite.
What we don't: Not very durable and doesn't carry loads as well as the other UL packs here.
Weighing well over half a pound less than the next lightest pack on our list, the Zpacks Arc Haul Ultra 60L takes the ultralight crown. The pack achieves its 1-pound 4.5-ounce weight (for the women's medium) with a similar Dyneema build as the Hyperlite above, but in an even more streamlined form (3.3 oz/sqyd vs. the Southwest's 5.0 oz/sqyd). It also cuts out the need for a foam backpanel with a unique "Arc" tensioning system that pulls the middle of the bag away from the back (this also helps a great deal with ventilation). Finally, the Arc Haul Ultra uses an ultralight carbon fiber frame and very basic organization, with just one main compartment and three external pockets (you can add extras like hipbelt pockets to your order, which weigh 0.8 oz. each).
The Zpacks is undeniably lightweight, and in our experience it's surprisingly comfortable with a 30-pound load (we'd hesitate to push it all the way to its advertised 40-pound load limit). That said, we've found its thin fabric to lack durability for rough treatment and off-trail scrambling, and the thin mesh dump pocket can't match the Southwest's hardwearing Dyneema build. What's more, the pocket layout is very limited: We wish Zpacks included an internal zippered pocket and/or hipbelt pocket (both can be purchased separately, but the accessories add both weight and cost). And finally, at $399, the Zpacks isn't a great value compared to a pack like the ULA Circuit. But for serious hikers and minimalist trekkers who prize weight-savings above all else (you know who you are), it's a reliable option that will shave considerable ounces from your back.
See the Zpacks Women's Arc Haul Ultra 60L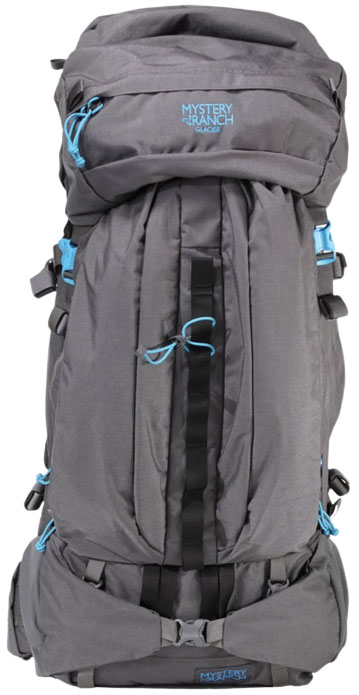 Weight: 5 lb. 9.6 oz.
Fabric: Nylon (550D)
Capacity: 70L
What we like: Super tough and fantastic carrying comfort for heavy loads.
What we don't: Dated design that's extremely heavy and lacks hipbelt pockets.
Mystery Ranch might not be a household name, but the brand can trace the roots of its founder, Dana Gleason, to the legendary Dana Designs packs of the 1990s. From the current lineup, we prefer the heavy-hauling Glacier, which is built to handle rough, expedition-level use and comes loaded with creative design touches. In particular, the floating lid is one of our favorites with its two massive pockets and easy conversion into a functional daypack. And we love the Glacier's build quality overall—everything from the foam to the zippers has a premium, long-lasting feel.
One of the Glacier's main competitors is the Gregory Deva above. Both packs offer excellent carrying comfort, durability, and most of the bells and whistles you could want in a deluxe hauler. However, two useful items missing on the Glacier are hipbelt pockets and a large mesh shove-it pocket on the back. The Deva also has better back ventilation, although it can't match the material quality or toughness of the Glacier. Finally, given its impressive hauling abilities, we'd like to see a larger-capacity version from Mystery Ranch. But if those nitpicks aren't deal breakers for you, the Glacier is a wonderfully built pack that's made to last.
See the Mystery Ranch Glacier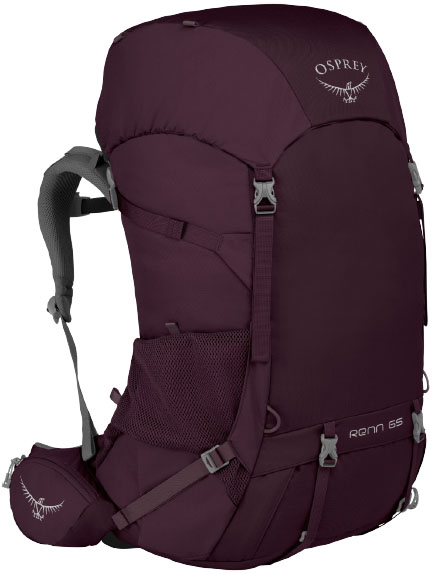 Weight: 3 lb. 7 oz.
Fabric: Nylon (600D & 1000D)
Capacities: 50, 65L
What we like: A very durable backpack for under $200.
What we don't: Lots of design nitpicks; not comfortable with a heavy load.
Last but not least is the Renn, Osprey's entry-level offering. Aside from price, the Renn's most standout feature is its durable materials, which will last season after season of hard use. The pack also features an adjustable torso length, meaning it can be easily shared or passed down between users, and checks in at a reasonable 3 pounds 7 ounces. Finally, all the expected bells and whistles are present, including hipbelt pockets, a ventilated backpanel, side dump pockets, and a dedicated sleeping bag compartment.
That said, there's a lot of reasons we hesitate to recommend the Renn over affordable designs like the REI Co-op Flash or Trailmade above. For one, there's no large dump pocket on the back of the pack, a feature that we've come to rely on for on-the-go storage of items like a jacket or water filter. Second, the fixed lid impacts versatility—we often like to remove our lid for organization at camp, or go without it when carrying a half-full load. And finally, the Renn fails to provide comfort to its 40-pound load limit; on a multi-day trip in the Grand Canyon, we found the padding to be overly stiff and the pack's weight distribution was noticeably worse than the premium competition. All told, unless you're taken by its serious durability, we'd recommend passing up the Renn and considering the other low-priced options above.
See the Osprey Renn 65
Women's Backpacking Pack Comparison Table
| Backpack | Price | Weight | Fabric | Capacities | Access | Pockets |
| --- | --- | --- | --- | --- | --- | --- |
| Osprey Aura AG LT 65 | $290 | 4 lb. 0.2 oz. | Nylon (210D & 500D) | 50, 65L | Top, side | 6 exterior |
| Hyperlite Southwest 55 | $379 | 1 lb. 15.6 oz. | Dyneema (3.5 & 5 oz./sqyd) | 40, 55, 70L | Top | 5 exterior |
| Gregory Deva 70 | $360 | 5 lb. 1 oz. | Nylon (210D & 420D) | 60, 70, 80L | Top, front | 9 exterior |
| Osprey Eja 58 | $260 | 2 lb. 13.2 oz. | Nylon (100D & 400D) | 38, 48, 58L | Top | 6 exterior |
| Gregory Kalmia 60 Plus Size | $310 | 4 lb. 11.2 oz. | Nylon (210D & 420D) | 60L | Top, side | 7 exterior |
| REI Co-op Trailmade 60 | $169 | 3 lb. 4 oz. | Nylon | 60L | Top | 6 exterior |
| Gregory Jade 63 | $270 | 4 lb. 3.2 oz. | Nylon (400D & 420D) | 28, 43, 63L | Top, front | 6 exterior |
| Granite Gear Blaze 60 | $300 | 3 lb. | Robic nylon (100D & 210D) | 60L | Top, side | 6 exterior |
| ULA Equipment Circuit 68 | $280 | 2 lb. 5.3 oz. | Robic nylon (400D) | 68L | Top | 5 exterior |
| Gregory Facet 55 | $250 | 2 lb. 8.8 oz. | Nylon (100D & 210D) | 45, 55L | Top | 6 exterior |
| Osprey Ariel 65 | $320 | 4 lb. 14.3 oz. | Nylon (210D & 420D) | 55, 65L | Top, front | 7 exterior |
| REI Co-op Flash 55 | $199 | 2 lb. 12 oz. | Nylon (100D & 210D) | 55L | Top | 6 exterior |
| Deuter Aircontact Core 60 | $260 | 4 lb. 11.8 oz. | Nylon (235D & 500D) | 45+, 60+L | Top, front | 6 exterior |
| Arc'teryx Bora 60 | $320 | 4 lb. 1 oz. | Nylon (210D) | 60, 70L | Top | 6 exterior |
| Zpacks Arc Haul Ultra 60L | $399 | 1 lb. 4.5 oz. | Dyneema (3.3 oz./sqyd) | 60L | Top | 3 exterior |
| Mystery Ranch Glacier | $375 | 5 lb. 9.6 oz. | Nylon (550D) | 70L | Top, side | 4 exterior |
| Osprey Renn 65 | $190 | 3 lb. 7 oz. | Nylon (600D & 1000D) | 65L | Top | 5 exterior |
Women's Backpacking Pack Buying Advice

Recommended Capacity
Rules about what backpack capacity to aim for are not hard and fast. Multiple factors come into play, such as how many nights you plan to spend out, what time of year you're backpacking (bulkier gear is needed for cold weather), and if you're tacking on any additional activities (e.g. packrafting or mountaineering). The majority of backpackers take short two to three day trips, for which a pack in the 45- to 60-liter range is most popular. If you opt for a capacity on the smaller end of the spectrum, you'll need to make sure your key gear is relatively streamlined (including tent, sleeping bag, and sleeping pad), stick to the essentials, and pack lightweight backpacking food. At 60 liters and more, you have enough space to take on a week's worth of food or a few additional items—great for gear-heavy trips or parents with kids in tow. 
In sum, it's worth considering the nuances of your particular trip and gear when choosing backpack capacity. To get you started, here are general guidelines:
Overnight and/or ultralight gear: 35-55 liters
Long weekend (2-3 nights): 50-70 liters
Extended trips (over 3 days): 60+ liters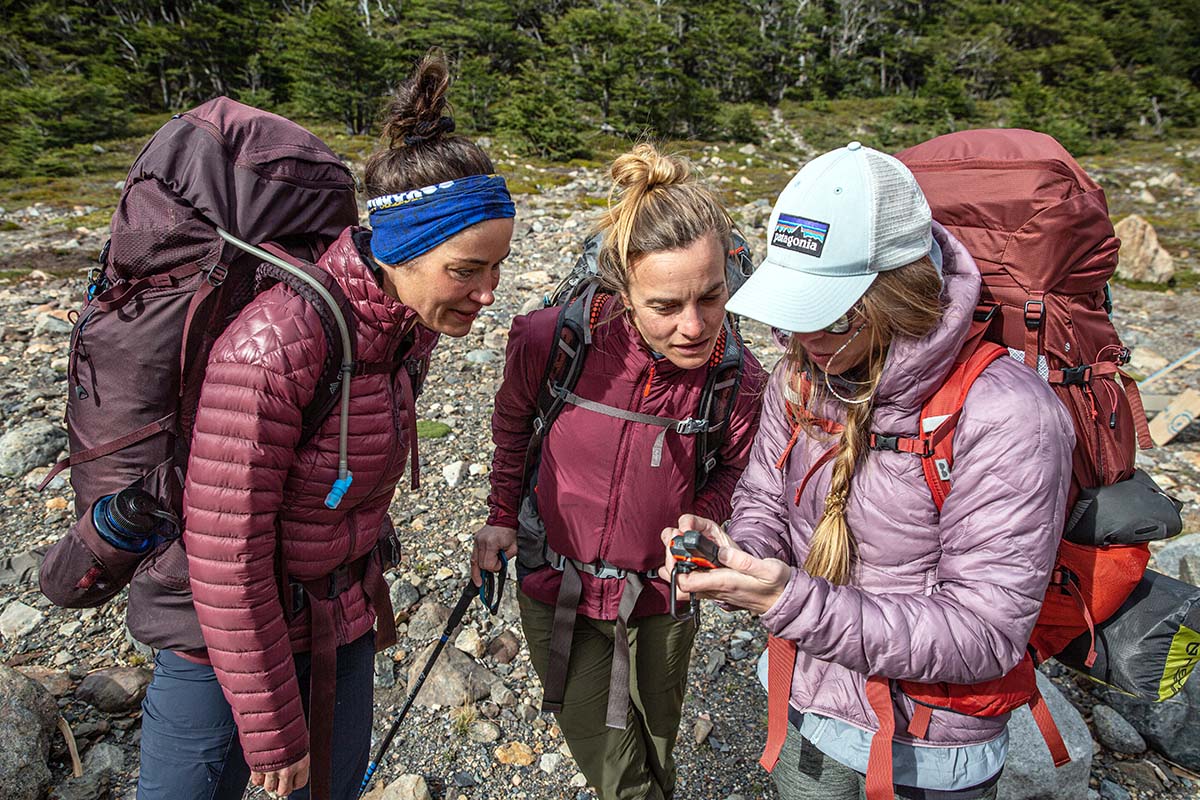 Backpack Load Range
Looking beyond how much space your gear takes up in a pack, it's also important to ballpark the total weight. Backpackers often refer to the weight of their gear (minus consumables) as their base weight: Base weights range from 8 or less pounds at the low end to over 20 pounds at the high end. Tack on food, water, and fuel, and you're looking at anything between 15 and 50 pounds on your back—or more if you're not careful. We're big fans of doing whatever we can to keep our gear (and food) light, as this generally correlates to more enjoyment on the trail.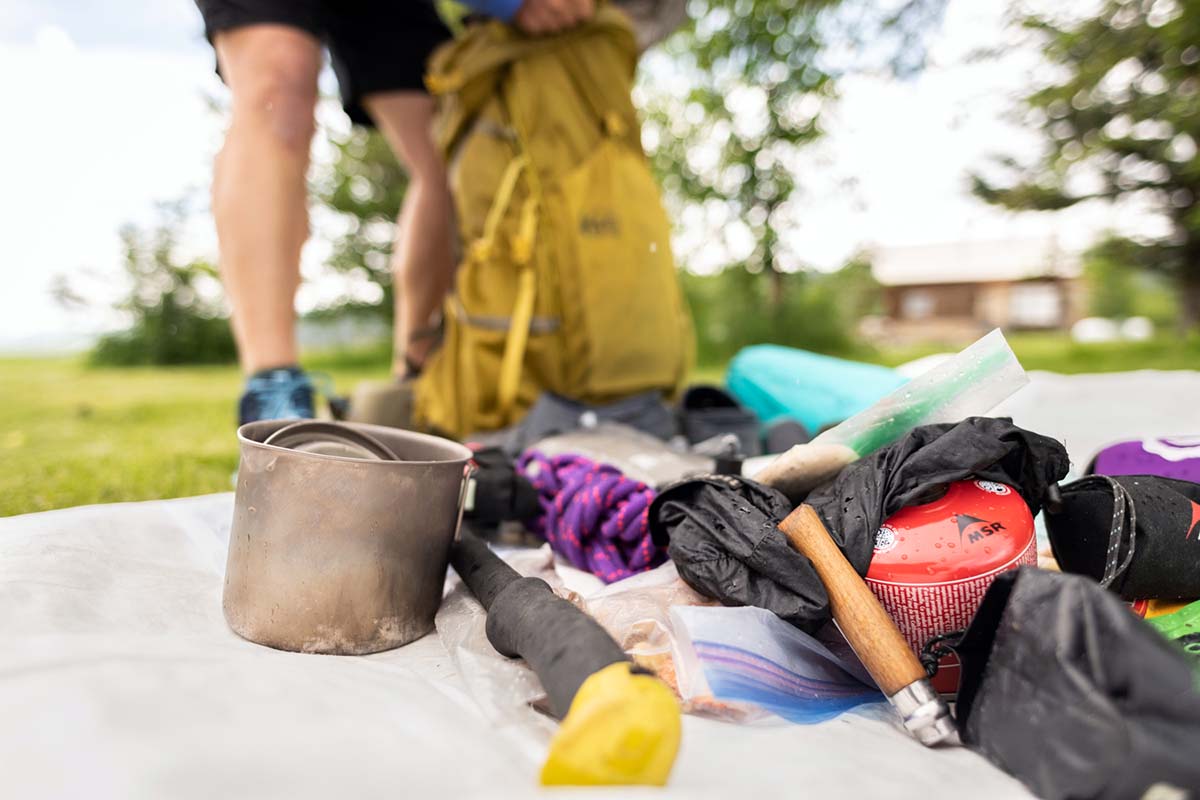 Most manufacturers list a load limit or range for their packs—on our list, these vary from 15 to 30 pounds for the REI Co-op Flash 55 to 60 pounds for the Osprey Ariel 65. There are a lot of factors that contribute to a pack's load limit, including the materials and construction of its frame, suspension, and padding. If you don't see a specified load limit, an easy reference point is the pack's empty weight—as we'll touch on more below, a heavier pack is logically most often capable of hauling more weight, thanks to its beefy frame, tough fabrics, and thick padding. In our opinion, load limits are more of a command than a suggestion: It's our experience that going over a pack's specified load limit results in an immediate drop in comfort.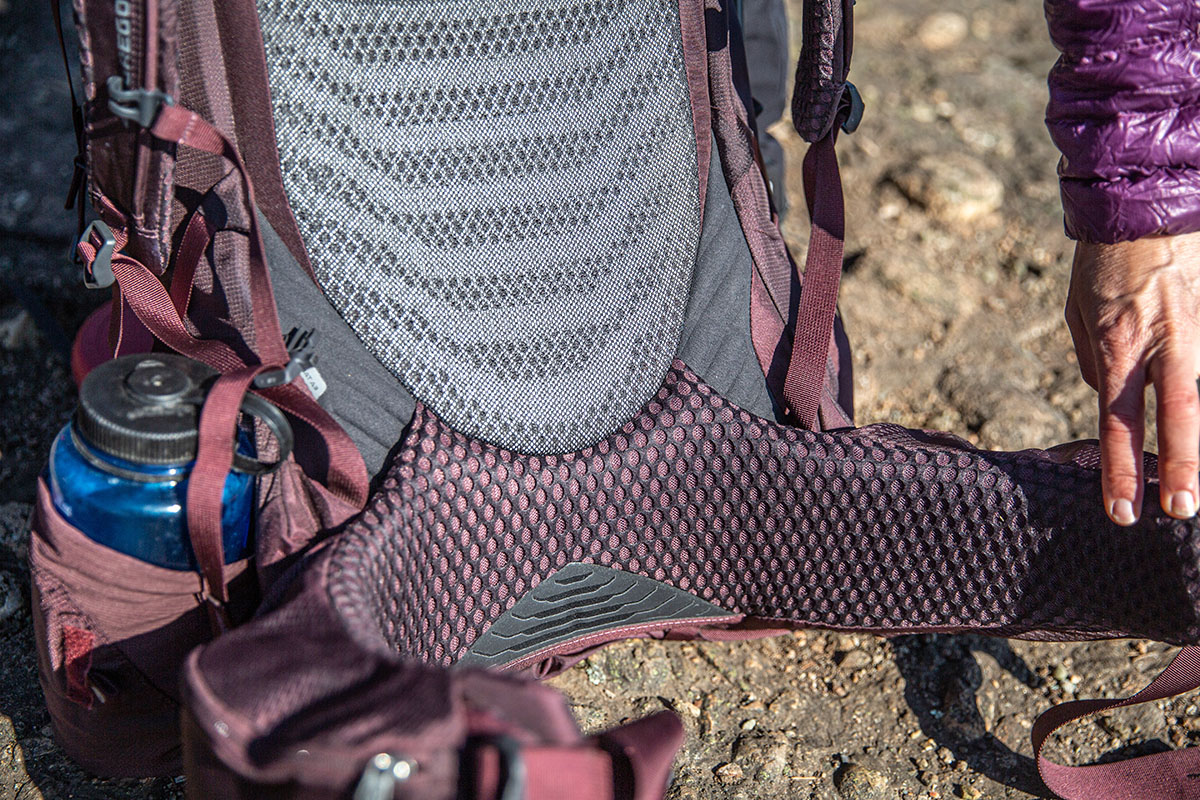 Backpack Weight
The backpacks on our list above range from 1 pound 4.5 ounces for the Zpacks Arc Haul Ultra 60L to 5 pounds 1 ounce for the Gregory Deva 70. Backpack weight is a bit of a mixed bag: On one hand, a heavier pack will add multiple pounds to your back; on the other, these packs generally have robust suspension systems and harnesses that offer an increase in comfort and load distribution compared to more minimalist designs. We've found that packs in the 2.5- to 4-pound range—such as the Osprey Aura AG LT 65 (4 lb. 0.2 oz.) and Gregory Facet 55 (2 lb. 8.8 oz.)—strike a really nice balance of weight and performance for loads up to about 35 pounds. If you anticipate a heavier load, it's worth considering a heavier pack.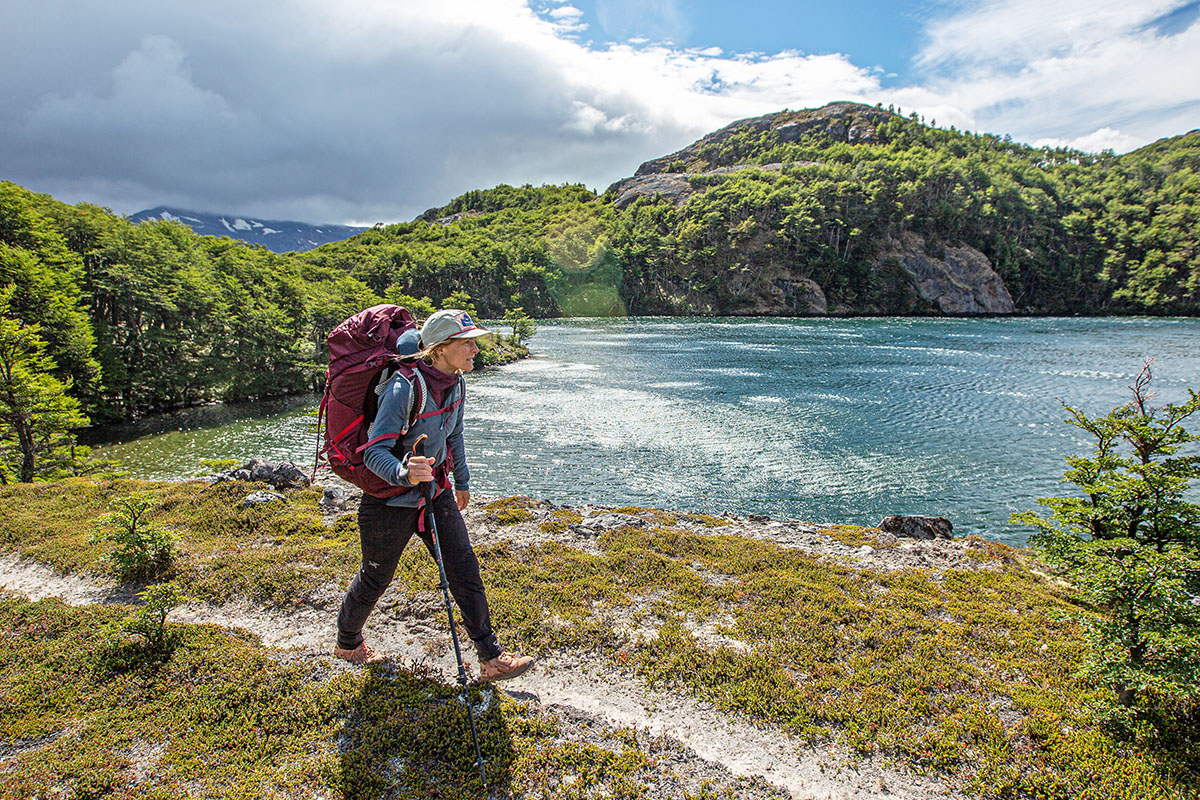 Ultralight Backpacks
Weight is so important to many backpackers that a whole category of backpack exists based on this spec alone. Ultralight backpacks cut roughly 2 to 3 pounds off the weight of a standard backpacking pack and feature bare-bones organization (the majority have one main compartment, hipbelt pockets, and a few external dump pockets). In addition to streamlined storage, they shed pounds with thin yet premium materials (Dyneema and Robic nylon are common) and simple suspension systems that generally include only an aluminum stay and foam backpanel. As a result, ultralight backpacks do compromise on comfort, especially when your load heads north of 30 pounds. But for ounce-counters who prioritize a lightweight load, the difference between a traditional and ultralight backpacking pack can be significant (for a deep-dive into this category, see our article on the best ultralight backpacks).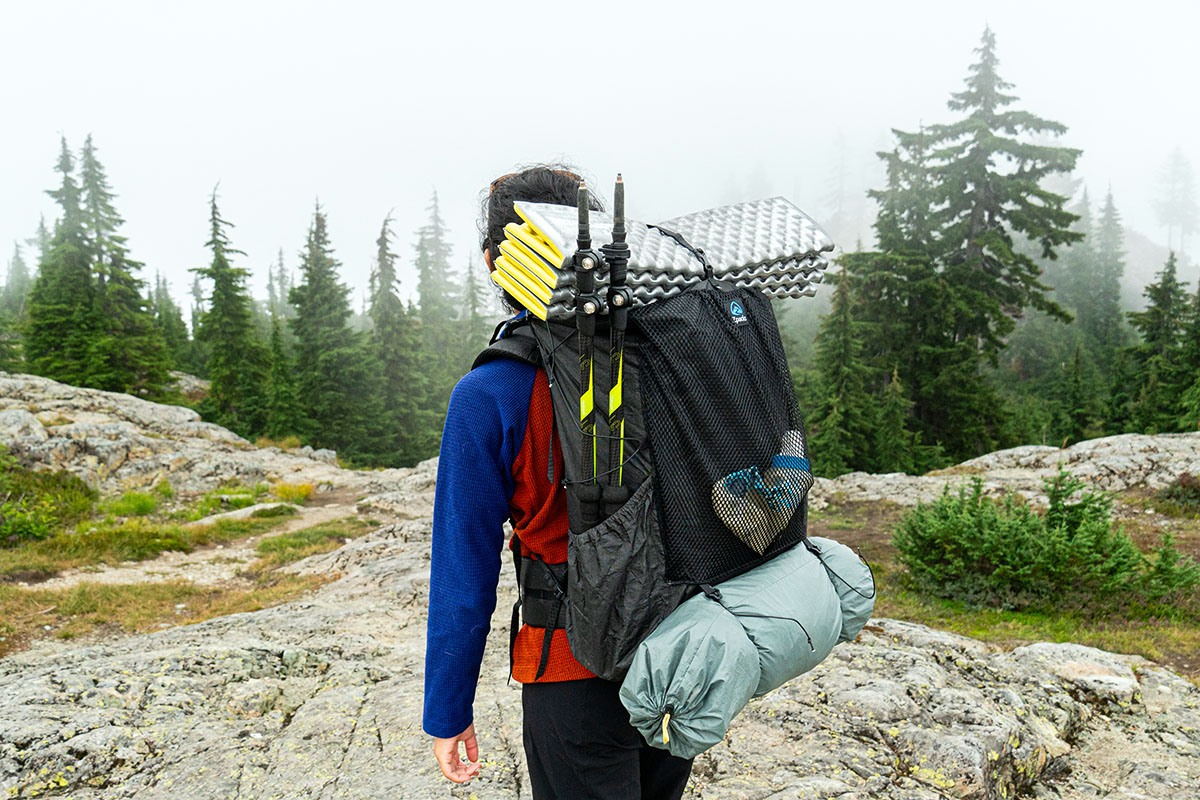 Backpack Durability
Backpacking backpacks are built to hold up to a whole lot of abuse—after all, what other piece of gear do you routinely rake past sharp branches, throw on the ground, or sit on top of? That said, not all packs are created equal, and some are much more durable than others. The fabric denier (a measure of the fabric's thickness) offers the best clue to a pack's durability—on our list, the packs range from 100-denier to 600-denier nylon, with reinforcements as strong as 1000-denier. As expected, packs are generally reinforced at their base, in addition to common wear points like the front, lid, and hipbelt pockets.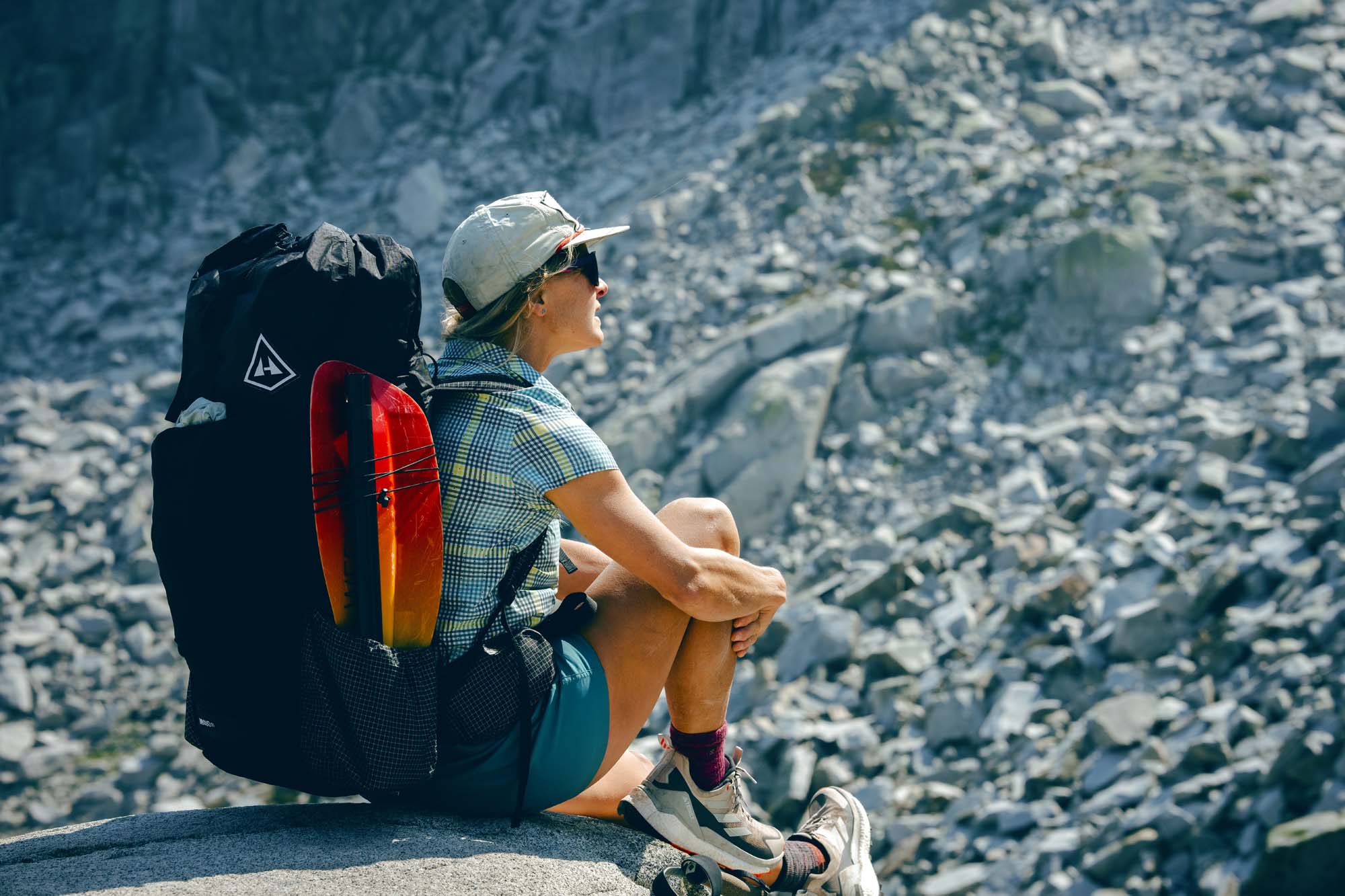 Of course, the main downside to thicker fabric is added weight. As a result, many lightweight and ultralight backpacks sacrifice a bit of durability with relatively thin builds. To maintain the best of both worlds, premium UL backpacks will often feature Dyneema, which is known for its incredible strength-to-weight ratio (and is also very expensive). But while it's worth being aware of a pack's fabric weight and composition, thin fabrics shouldn't necessarily be a deterrent, unless you're incredibly hard on your gear, love to bushwack, or wear a backpack for work (as in the case of guides or trail crew). We've been pleasantly surprised with the durability of packs like the Gregory Facet (100D & 210D) and Osprey Eja (100D & 400D), and consider them to be sufficiently durable for most users.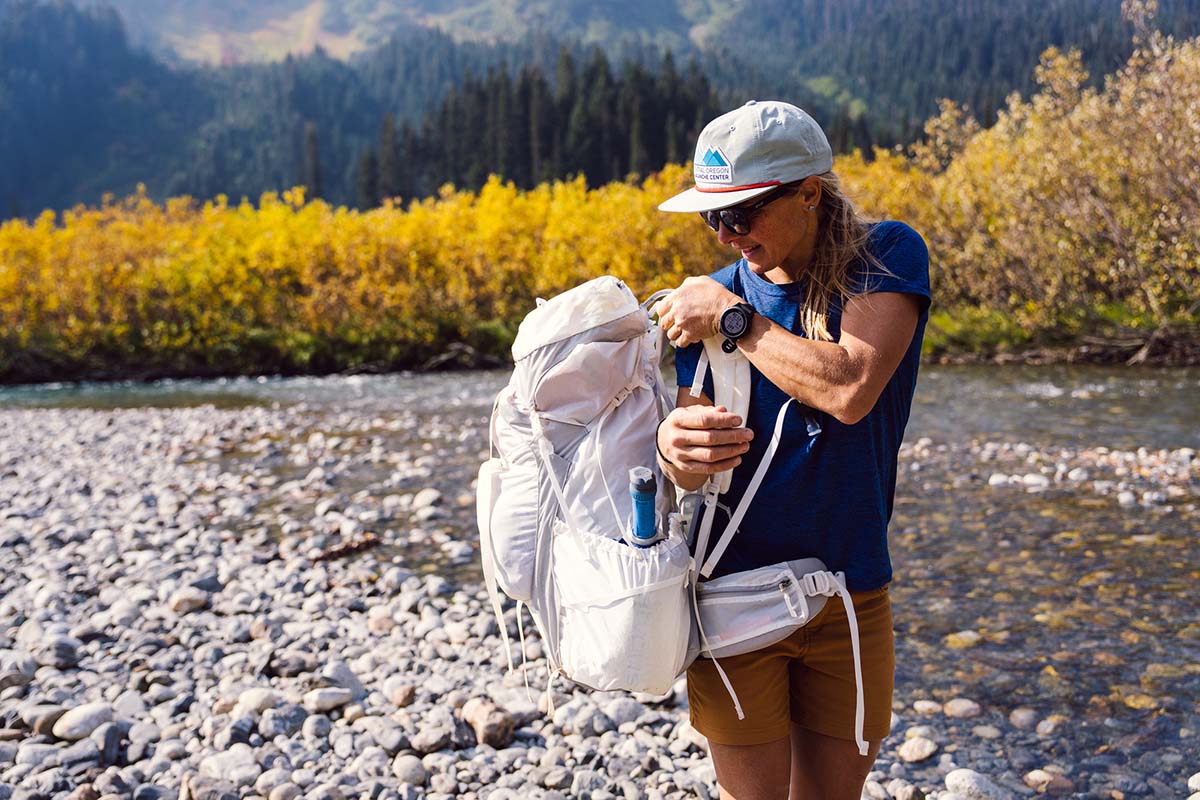 Padding and Support
All overnight packs feature foam padding in their shoulder straps and hipbelt (and sometimes backpanel), which can vary in terms of thickness and quality. The goal of the padding is to increase comfort, spread out the load, and isolate your body from the sharp contours of the pack or straps. Foam and the fabric that covers it do add ounces, so manufacturers are always trying to find the right balance of weight and comfort. In general, heavier packs offer more padding (and thus more comfort), while lighter and ultralight packs feature streamlined padding (and thus less comfort, especially with a heavy load).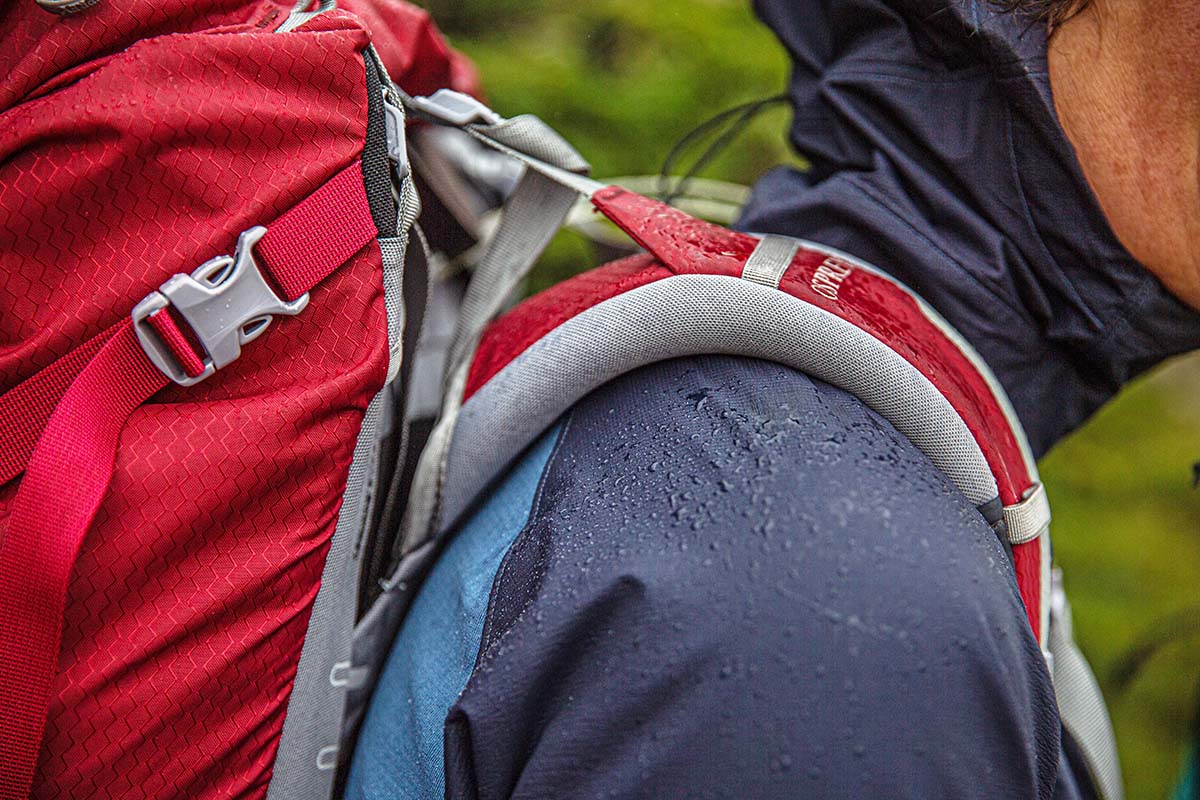 We prefer foam that errs towards firm support rather than being soft and compressible. Excessively soft padding might feel great when first trying on a pack, but it doesn't offer the long-term support needed for hauling heavier loads. Packs like the Gregory Deva and Osprey Ariel are great examples of effective use of this type of high quality, firm padding. On the other hand, many modern designs (like the Osprey Aura or Eja) swap out some padding in lieu of suspended mesh, which achieves a similar effect with less weight (and more ventilation). We were at first skeptical of the suspended mesh design, but after many years of testing various iterations, we're full converts. With loads under 40 pounds, these airy backpanels offer just as much comfort as the padded competition.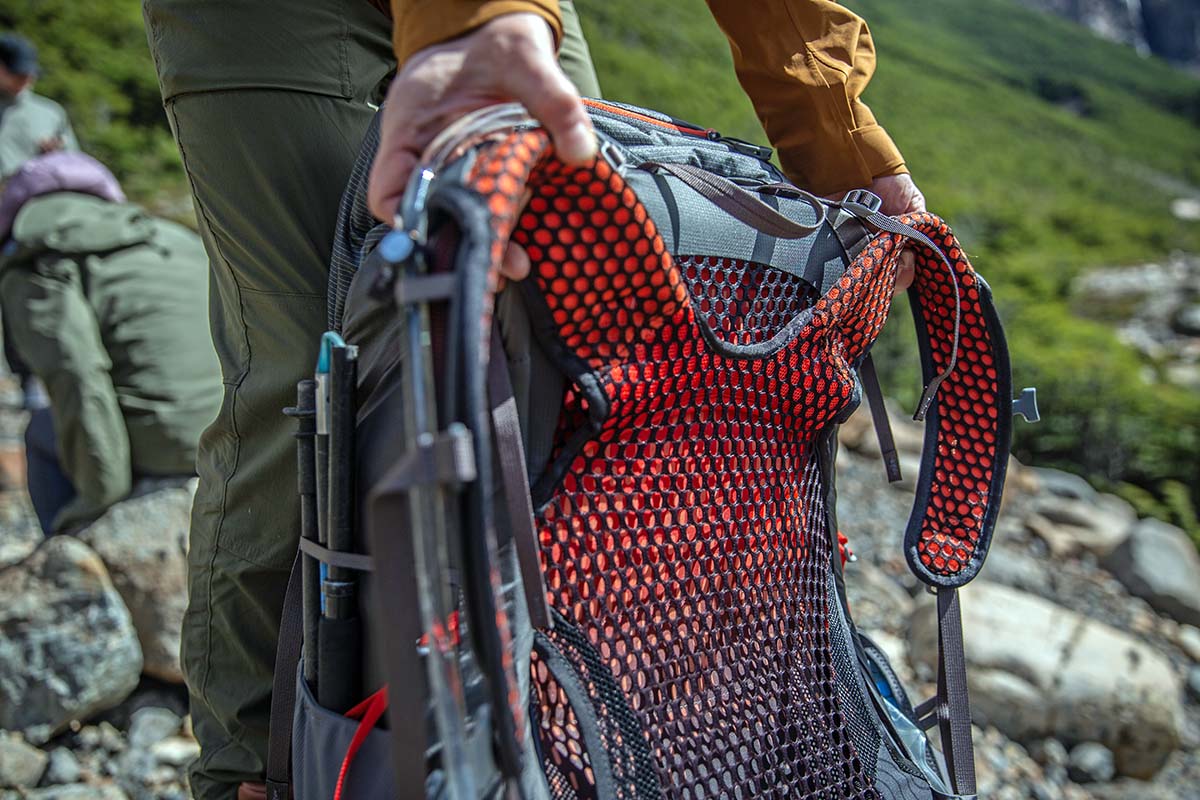 Backpack Organizational Features
When you're carrying a week's worth of supplies on your back, organization is of utmost importance. As expected, organization increases with a pack's weight. Ultralight packs often feature just one cavernous compartment and a number of external pockets, while luxury designs offer a dedicated sleeping bag compartment, multiple access points to the main compartment, a lid, and a few external zip pockets. That said, more isn't always better: How much organization you need ultimately comes down to a matter of personal preference.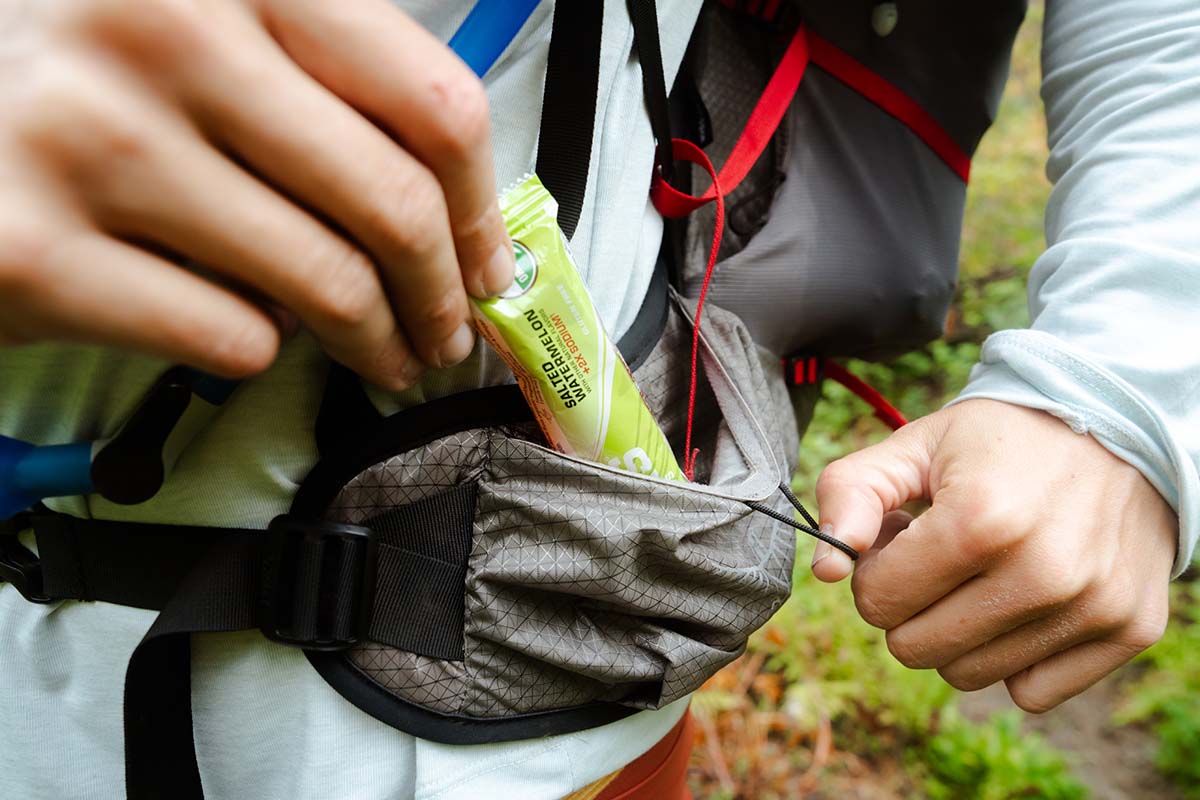 Main Compartment Access
Nearly every backpacking pack out there will have an opening at the top that is secured in a cinch cord or roll-top manner—these packs are referred to as top loaders. Additional access to the bottom or middle of the pack via a side zip or U-shaped zipper can be a big help, keeping you from having to empty your entire load to find something at the very bottom. These extra zippers add a little weight, but are often worth it. In cases like the Gregory Deva or Osprey Ariel, the U-shaped opening is so wide that you can pack and remove items much like a travel suitcase.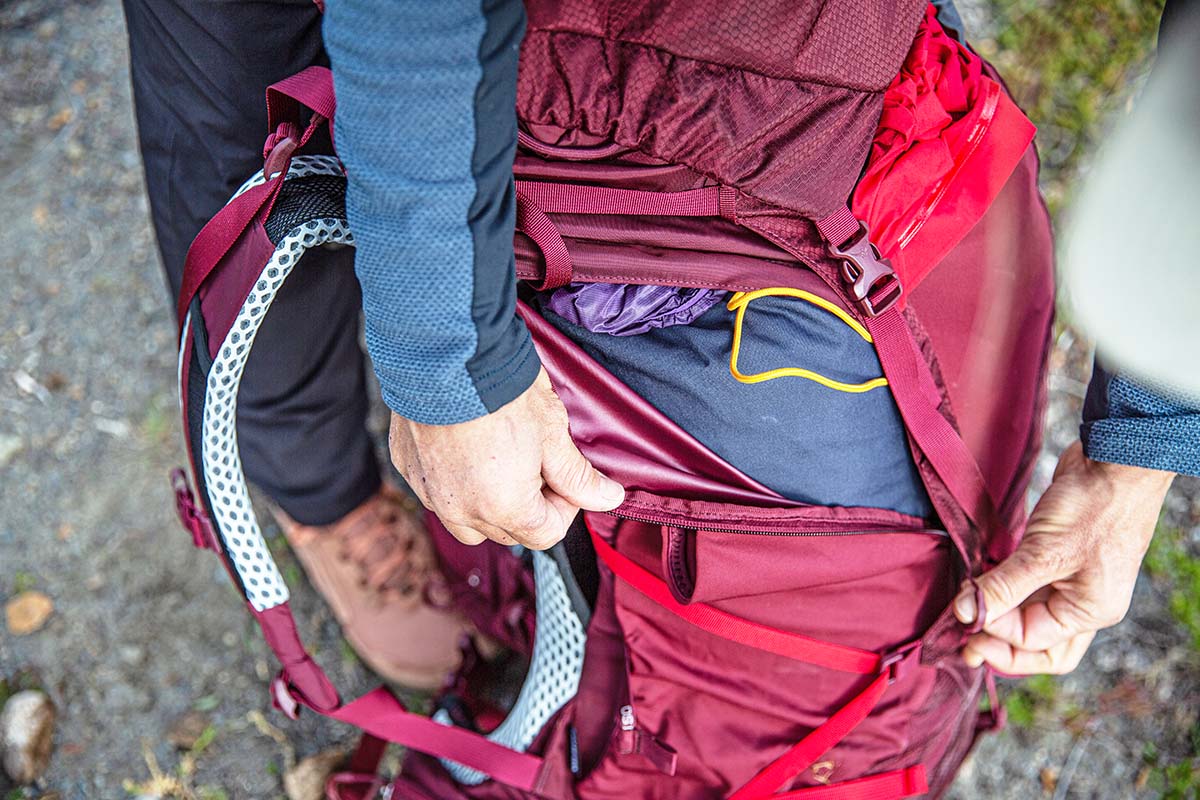 Exterior Pockets
In our comparison table above, we list the number of external pockets for each pack. Most designs feature at least five—three dump pockets and two hipbelt pockets—while many high-end packs tack on a few more. Hipbelt pockets are indispensable for quick access to items like lip balm, a phone, or—our favorite—Sour Patch Kids (an excellent energy boost on the trail). We'll almost always keep a layer or two in the front dump pocket, and side dump pockets are ideal for items like water bottles or trekking poles. Finally, most packs also feature a top lid with one or two zippered pockets—this is a great place to store small items like a headlamp or trail snacks, and can be removed for toting essentials around camp. But before you go pocket-crazy, just remember that sometimes, less is more: five to six pockets is just right, while nine is simply a recipe for misplacing your gear.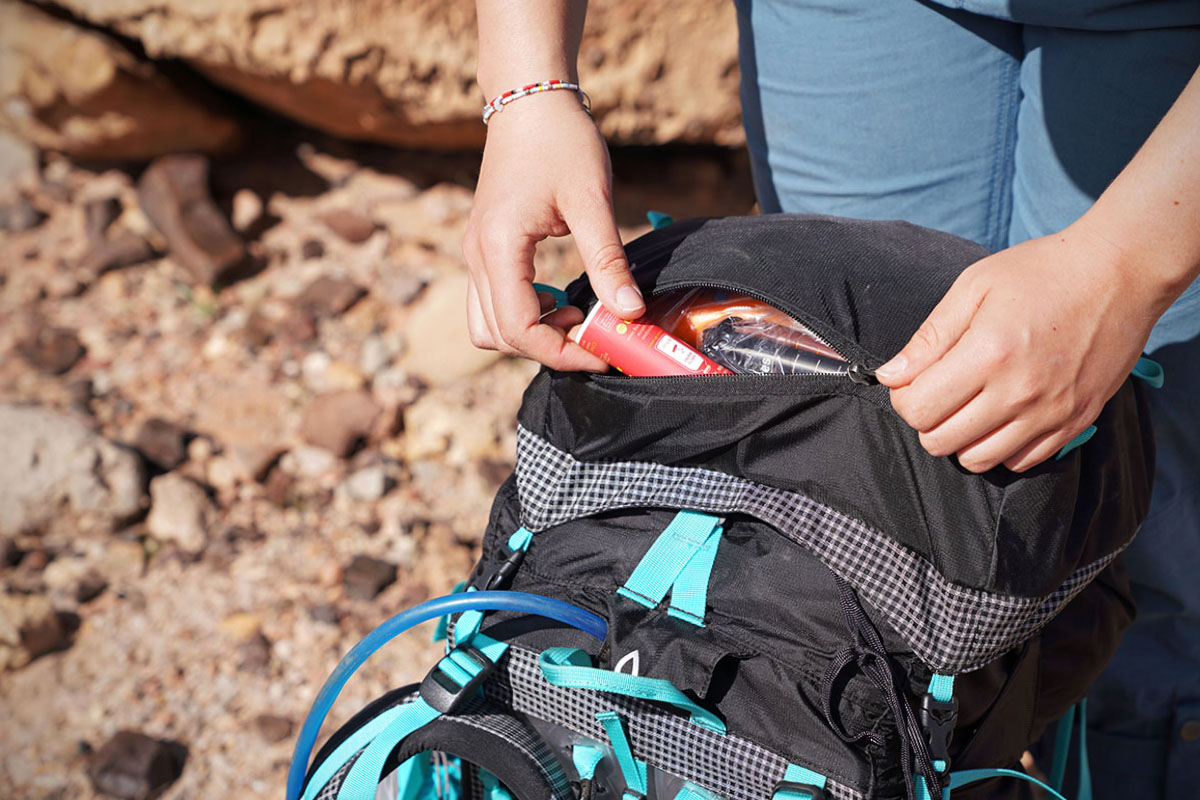 Sleeping Bag Compartment
Feature-rich backpacks will often include a dedicated sleeping bag pocket, which is almost always located below the main compartment. This pocket generally opens with a zipper, is large enough to accommodate most sleeping bags (even relatively bulky ones), and includes external compression straps to eliminate dead space. Sometimes manufacturers make it possible to merge the sleeping bag compartment with the main compartment by adding a zipper to the divider. However, all of this adds weight and bulk, and doesn't result in the most streamlined load. In the end, we prefer designs without sleeping bag compartments, which allow the freedom to stuff our sleeping bag in a compression sack and toss it, along with the tent, at the bottom of the pack.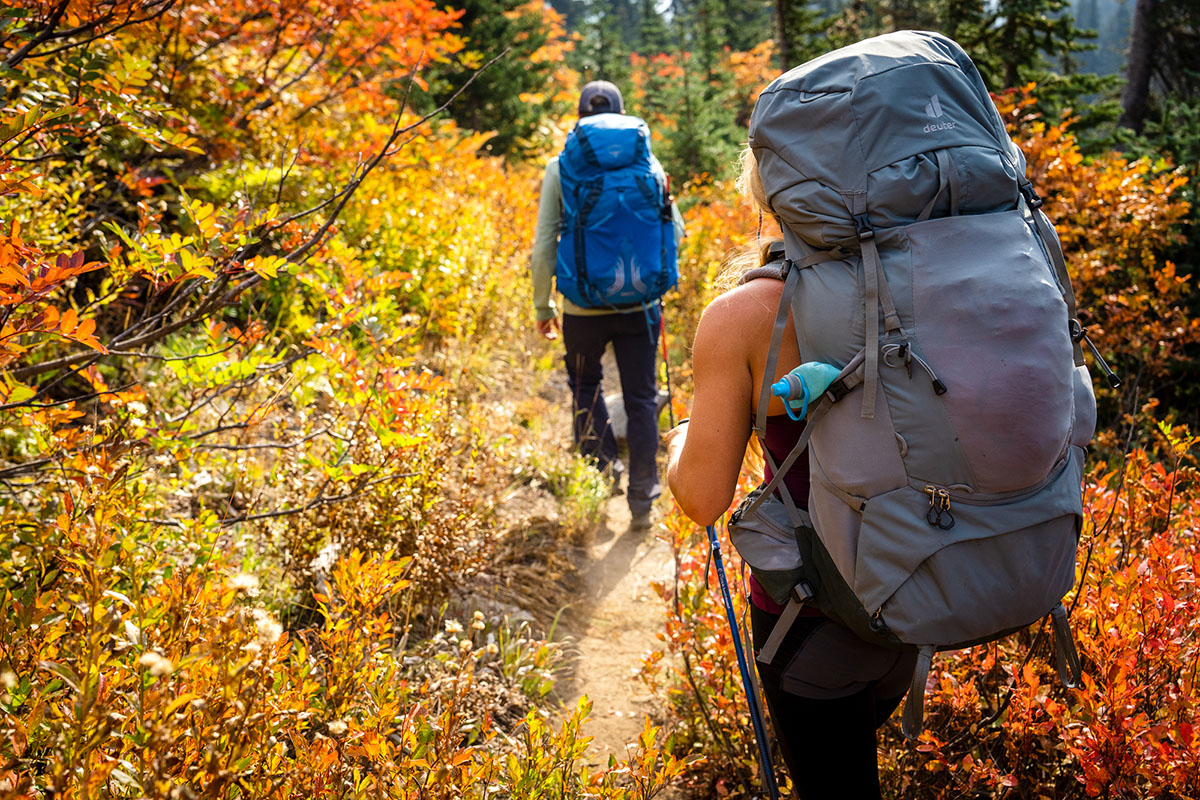 Water Reservoir (Bladder) Compatibility
Water reservoirs have become our (and most hikers') preferred way of staying hydrated on the trail, thanks to their on-the-go convenience. As a result, the strong majority of backpacking backpacks offer a number of features to accommodate reservoirs. Look for either a dedicated sleeve or clip from which to hang the reservoir, in addition to an exit port for the tube and straps or clips to secure the tube to the shoulder strap. It is worth noting that you'll want to pack your hydration bladder first before loading the rest of your gear into your pack, so that it can hang freely along the length of the backpanel. But don't fret: If you're anything like us and forget about it until your pack is fully packed, you can always rest it on top of your gear. To keep it from sloshing, invert it first and suck all of the air out of the reservoir.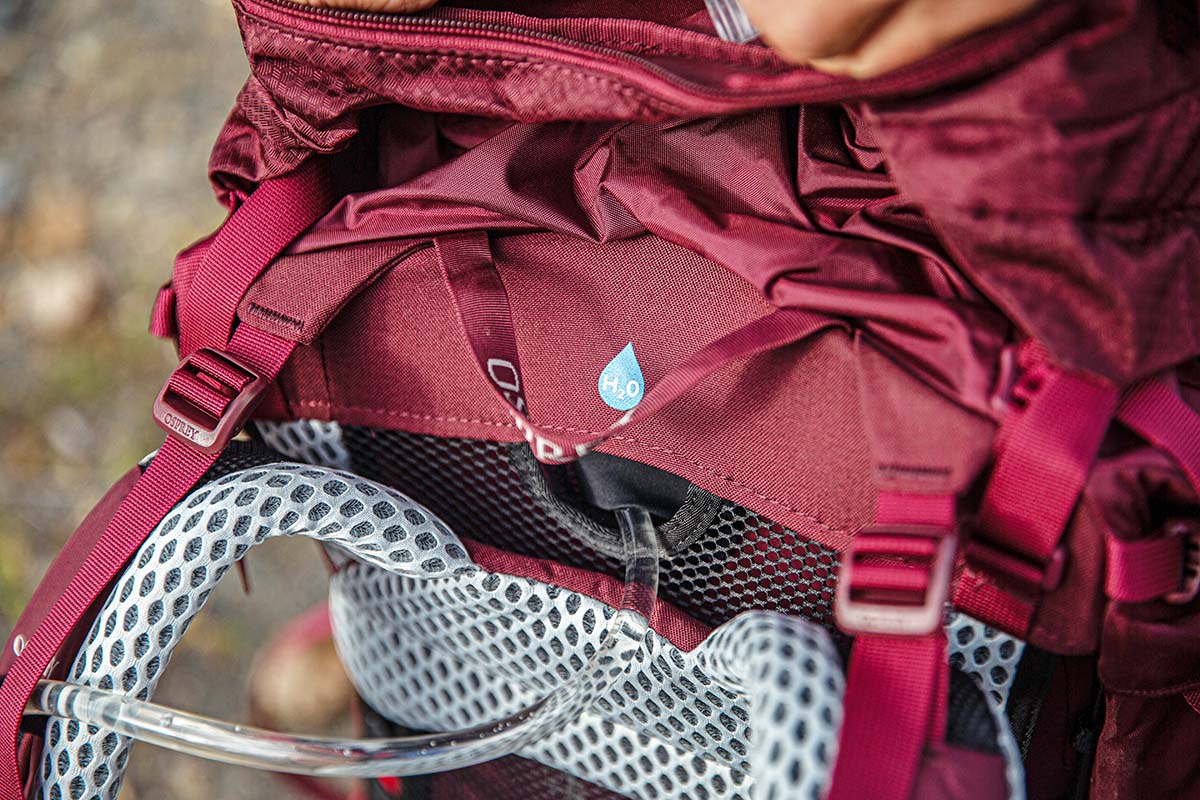 Compression Straps
Compression straps tighten a pack from front to back and pull the load close to your body, helping to keep you balanced on the trail. Make sure the pack you're looking at has these side compression straps at both the top and bottom to aid in load stability, and give them a good cinch each time you put your pack on. Compression straps are also useful for storing taller items (such as tent poles) along the side of your pack. When used for this purpose, we especially like a system like REI's Packmod—seen on the Flash 55—which allows you to move the straps to your preferred height via a series of daisy chains (or remove them altogether).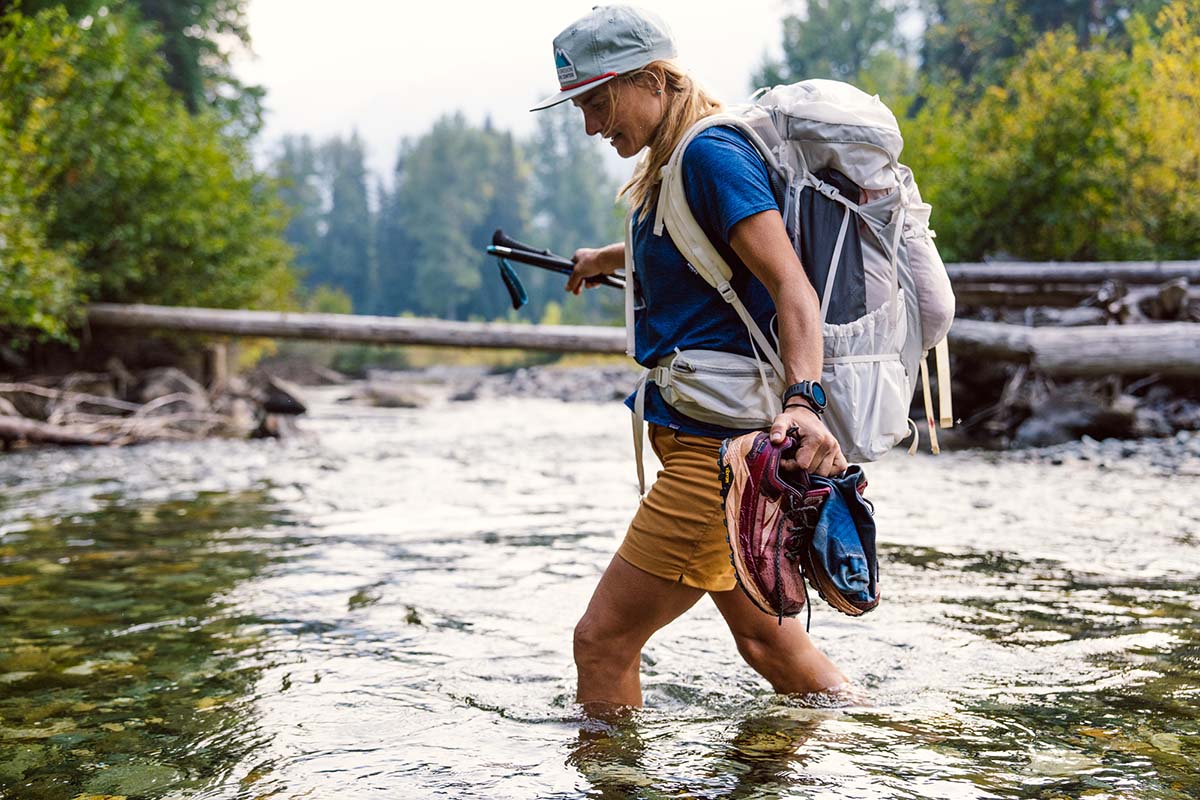 Ventilation
Backpanel and hipbelt ventilation is a biggie for some, especially if you tend to run warm or plan on hiking in the heat of the summer. But finding a backpack that breathes well can be a challenge, primarily because the point of a pack is to hug and conform to your body, moving with you as you walk. Most packs have offsetting foam and mesh panels that do a passible job encouraging airflow, but you'll likely still get sweat art on your back that traces where the foam panels contact your body. On the other hand, designs such as Osprey's Aura or Gregory's Facet feature a fully suspended mesh backpanel and hipbelt that cradle the body while still allowing for great airflow. For the most part we love this design and recommend it for those who want to prioritize ventilation, but it doesn't hold up to especially heavy loads.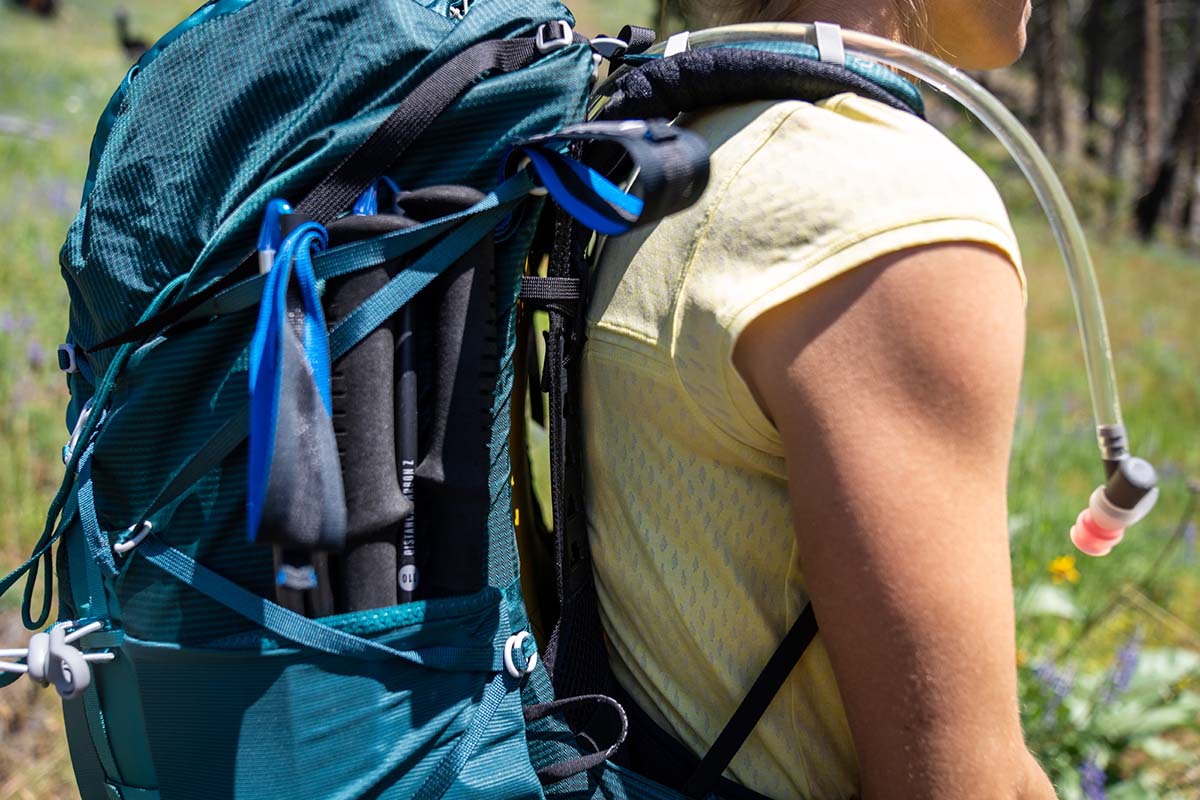 Water Protection
Many items that we store in our backpacks are vulnerable to moisture—including a camera, phone, and down sleeping bag—so we place a high priority on water protection. Most backpacks offer decent water resistance with hard-face nylon and a durable water repellant (DWR) coating, although expect sustained rainfall to penetrate the fabric. There are also a number of waterproof backpacks on the market, including those made with Dyneema. In fact, we've used the 100% Dyneema Hyperlite Windrider as a dry bag (see our in-depth review) and it didn't let us down.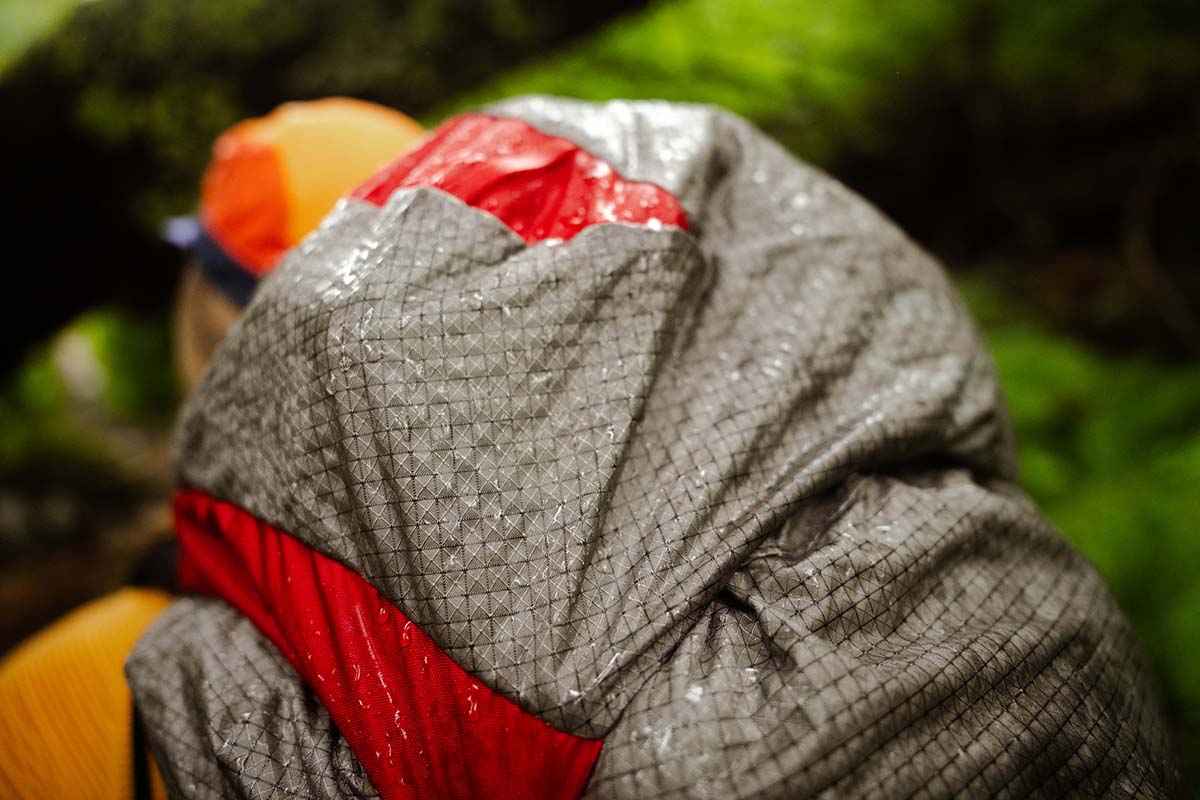 If you don't have a waterproof backpack (chances are you won't), it's a good idea to take a few extra precautions to make sure your gear stays dry. Some packs include a built-in waterproof cover that stows away inside the pack (the Osprey Aura AG LT and Gregory Deva for example). You can also purchase one separately—REI Co-op's Duck's Back Raincover gets the job done—but keep in mind that they aren't foolproof and can be hard to trust in windy conditions. Another strategy is to protect items from the inside, either by lining the entire pack body with a waterproof bag or using an assortment of waterproof stuff sacks or dry bags. You can even make do with garbage bags: when guiding in British Columbia's wet Coast Range, we used a trash compactor bag to line our backpack and always had dry gear.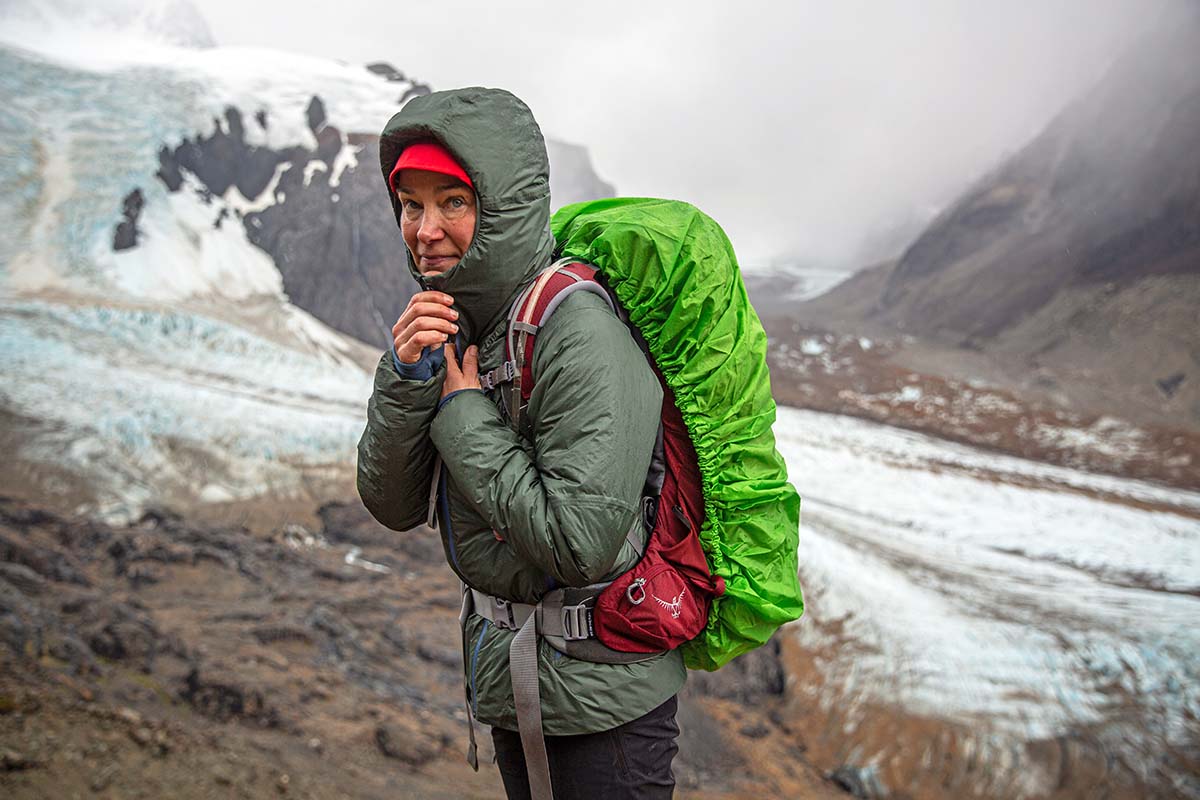 Women's Backpack Sizing and Fit
It doesn't matter how much padding or suspension your pack has—it won't be comfortable if you don't size it correctly. Almost all packs come in a women's version, which generally feature shorter torso lengths than men's packs, shoulder straps and hipbelts that are contoured specifically to fit a female shape, and—of course—dedicated colorways. The exception to this rule is ultralight packs like the Hyperlite, ULA, and Zpacks above, which are only offered in unisex models. However, thanks to their deeper range of size and customization options (for the Circuit 68, ULA lets you choose between four torso lengths, six hipbelt sizes, and two types of shoulder straps), these packs ensure a great fit for bodies of all sizes.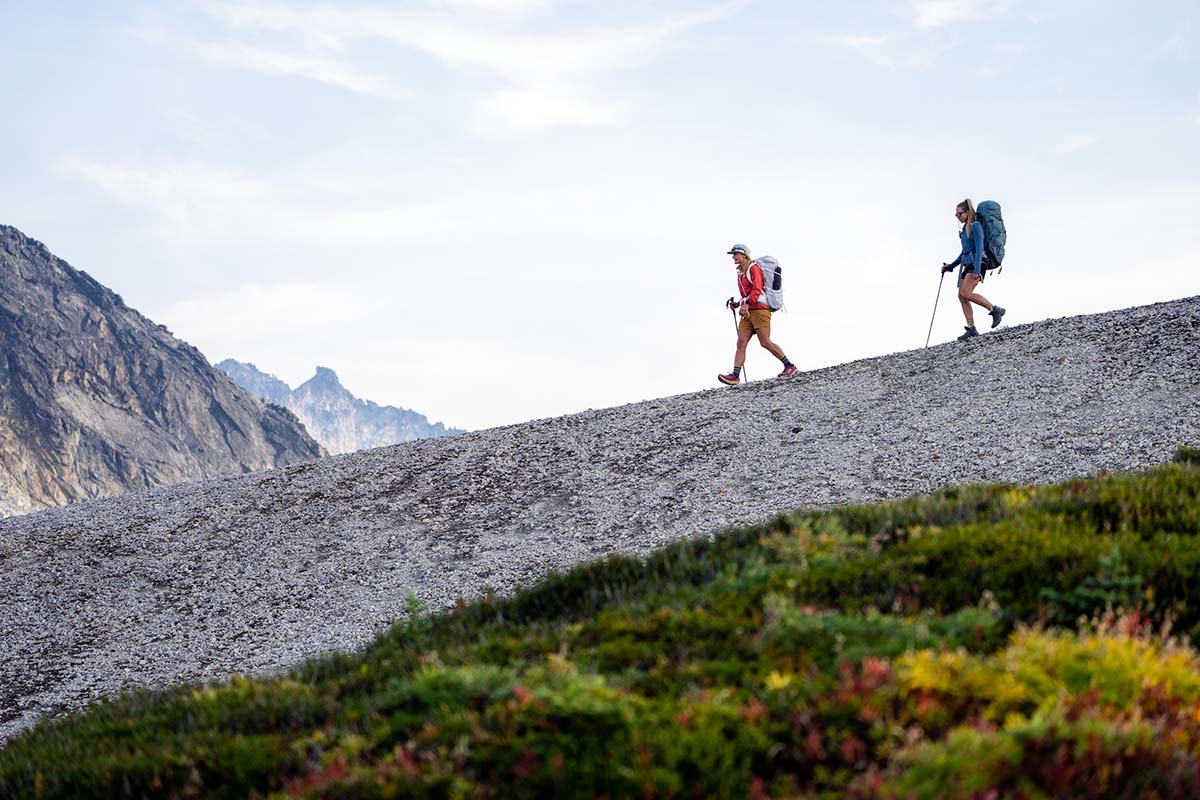 Most traditional backpacking packs are offered in two to three sizes, which vary most in terms of torso and hip measurements. Sizes are most often differentiated by their torso length; for example, the Osprey Aura AG LT comes in sizes extra small/small and medium/large, with the former built to fit those with torso lengths of 13 to 17 inches and the latter for 16 to 20-inch torsos. Most hipbelts are so adjustable that you're safe to size your pack based on torso measurement alone; for example, the Osprey Aura AG LT's hipbelt has a 26 to 50-inch range. That said, if your body doesn't fit the mold for "standard" proportions, there are designs that allow you to swap in a different sized hipbelt, including the ULA Equipment Circuit and REI Co-op Flash.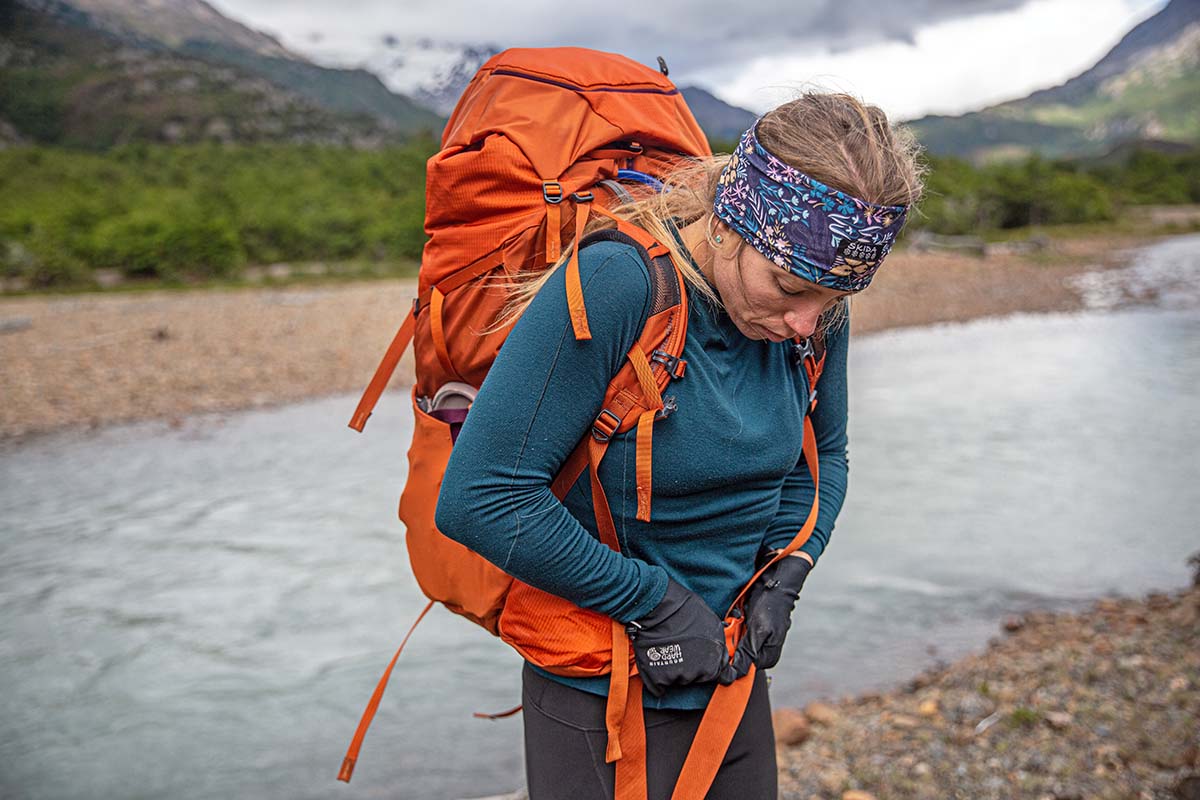 A final consideration is whether or not a pack features an adjustable torso length. This is standard fare on high-end backpacking packs—most offer at least 4 inches of torso adjustment by way of integrated velcro or ladder systems—and an especially great feature for growing bodies or if you want to share your pack between friends and family members. However, adjustability can be cut in the name of weight savings. Generally, packs that have fixed torsos come in more sizes (the Gregory Facet is offered in three sizes, while the Hyperlite Southwest comes in four), and we've been surprised by our success nailing a good fit with most of these models. It especially helps to educate yourself on how to correctly adjust your pack: With the load lifters loosened (these are the straps that secure the top of the shoulder straps to the pack), snug the hipbelt first, then the shoulder straps. Then, give the load lifters a tug so that the shoulder straps are flush with your body and the pack flush against your back. Finally, secure the sternum strap. For more on this, see our Backpack Fit and Sizing Guide.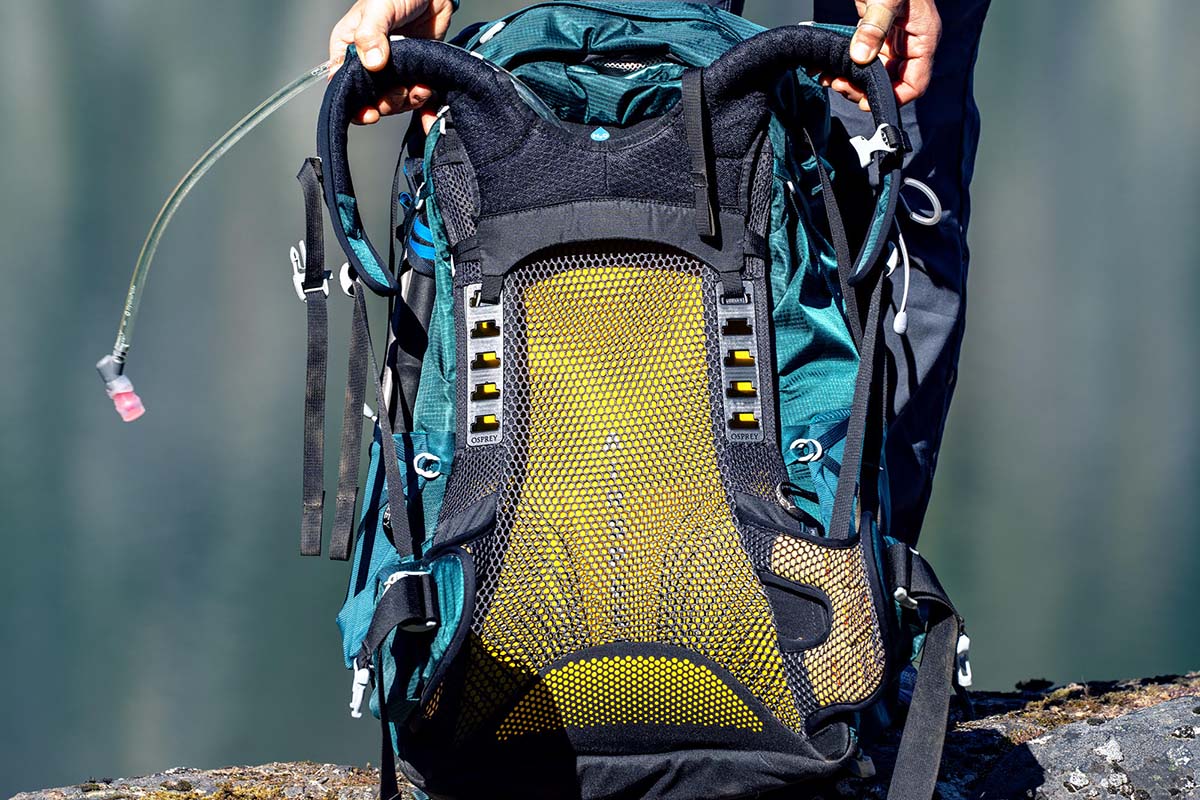 Plus-Size Backpacks
Importantly, some brands have also started to offer their most popular backpacks in plus sizes. Gregory led the charge with their women's Kalmia 60, and Osprey followed with their Ariel Extended Fit. These packs don't just increase dimensions; rather, they're thoughtfully built with a wider distance between shoulder straps, well-placed hipbelt pockets, and lots of room for adjustment throughout (read more about Osprey's Extended Fit collection and Gregory's Plus Sizing). The options are still limited, but we look forward to seeing more plus-size backpacks in the not-so-distant future.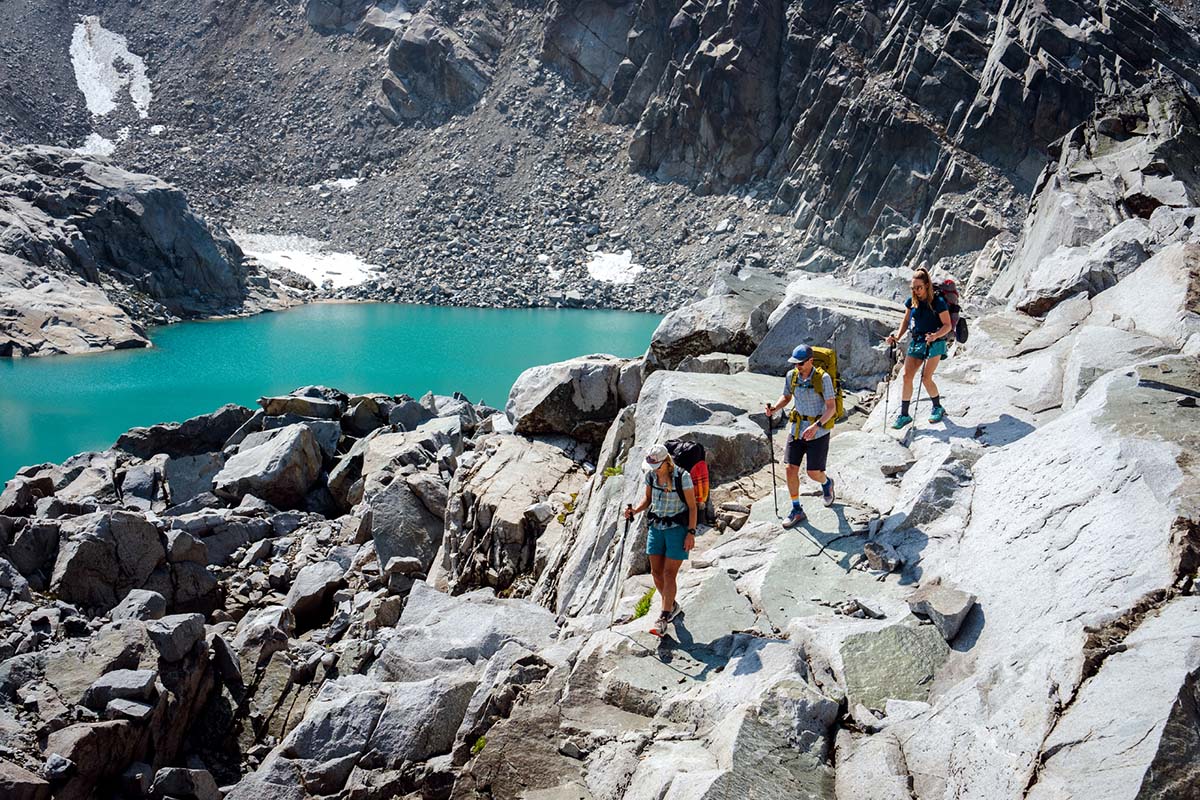 Sustainability: Recycled Fabrics and PFC-Free DWR
Our impact on the environment has never been a hotter topic (no pun intended), and it's nice to see gear companies step it up with more sustainable practices. The use of recycled fabrics has grown substantially in the past few years, with companies like Osprey, Gregory, and Deuter prioritizing these materials. We're also seeing a lot more PFC-free durable water repellent (DWR) finishes on backpacks, which eliminate the use of some—or at times, all—per- or polyfluorinated chemicals (these "forever chemicals" have been linked to a range of environmental and health issues). With many states stepping up to ban the sale of items that include PFCs, the outdoor industry is seeking better solutions for water- and stain-resistant finishes (you can read more about Patagonia's take on the issue here). All told, it's an exciting time for sustainability, we're happy to see this reflected in the backpacking pack market.
Back to Our Top Women's Backpacking Packs  Back to Backpacking Pack Comparison Table
Read More From Switchback Travel