Osprey Ariel 65
Price: $320
Weight: 4 lbs. 14.3 oz. (size M/L)
Capacities: 55, 65L
What we like: Excellent carrying comfort, durability, and fit customization.
What we don't: Heavy and a slight step down in ventilation from Osprey's AG (AntiGravity) packs.
See the Women's Osprey Ariel 65  See the Men's Osprey Aether 65
Osprey makes some of our favorite packs on the market, and the Ariel (the women's counterpart to the Aether) is their dedicated heavy hauler that's backed by years of proven performance. We recently brought the latest model to Patagonia for testing, where it carried a full load—including the standard assortment of gear, plenty of warm layers, and ample food for two—with ease. It's on the heavy end at nearly 5 pounds, but the class-leading customization, strong suspension system, and durable build are a boon for long and gear-intensive trips. Below I outline my experiences with the Ariel 65. To see how it stacks up to the competition, see our article on the best women's backpacking packs.
 
---
Table of Contents
---

Performance
Carrying Comfort
The Osprey Ariel 65 has a reputation for being a comfort-first heavy hauler, and I'm happy to report that it exceeded my expectations. For reference, I hadn't worn a backpacking pack since last summer and was a little concerned about bruised hips, but the Ariel was highly comfortable from the get-go and caused no pressure points or rubbing. The hipbelt and shoulder straps are both generously padded and fit my narrow frame perfectly. One small but thoughtful touch is the use of different materials on the shoulder straps: The upper portion that comes into contact with your shoulders is extremely thick and soft, while the lower section against the chest features lighter and more breathable mesh, which I found to be a very effective combo for distributing the weight and maximizing comfort. The padding along the lower back is also well placed and very supportive, and there are ample compression straps to help minimize swaying.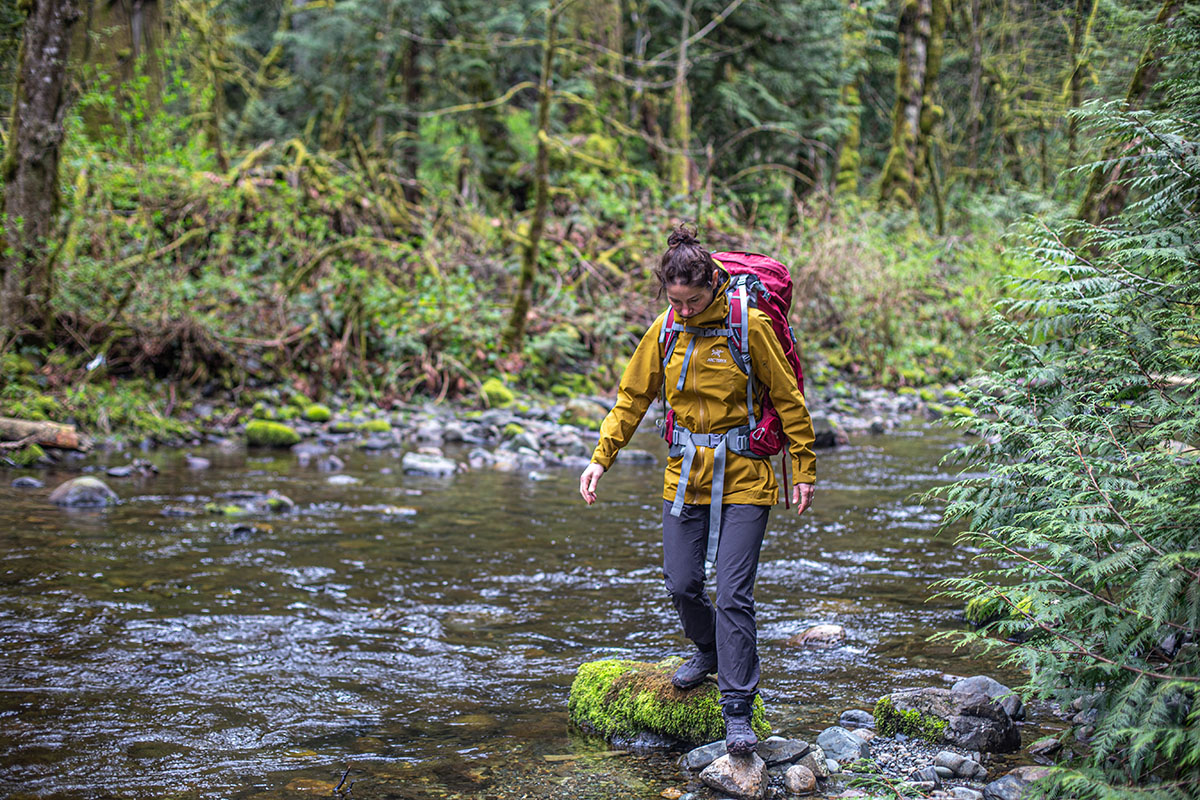 One of the Ariel's biggest selling points is its Fit-on-the-Fly adjustment system, which allows you to tweak the hipbelt and shoulder strap padding to maximize comfort and support. The process is pretty simple with a rip-and-stick Velcro design that can be pulled out or pushed into the frame to tweak the position of the cushioning. The only downside is that once extended, it's very difficult to push the padding back in given the stickiness of the Velcro, but the flip side is that it stays securely in place (plus, you shouldn't need to adjust it very often). Combined with its body-hugging fit, the Ariel moved extremely well with minimal bounce, which was very impressive given the frequently uneven and technical terrain in Patagonia. It's far from a featherweight at nearly 5 pounds (more on this below), but the well-balanced feel and heavy-hauling credentials (it's rated up to 60 lbs.) are hard to beat for long and gear-intensive trips.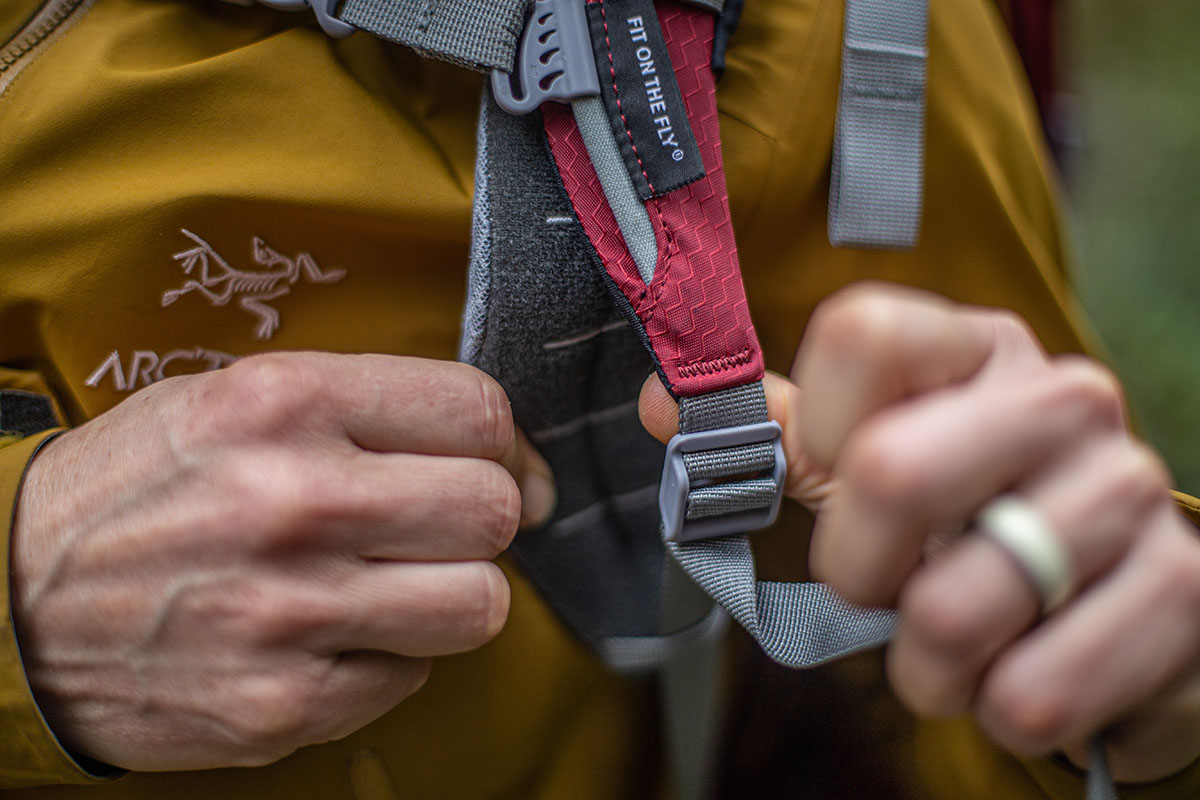 Weight
At 4 pounds 14.3 ounces for the medium/large size (4 lbs. 13.6 oz. for the XS/S), the Ariel 65 is an unapologetically hefty and feature-rich pack. For comparison, it slightly undercuts Gregory's 5-liter-larger Deva 70 (5 lbs. 1 oz. in a size medium) while clocking in heavier than leading all-rounders like Osprey's own Aura AG 65 (4 lbs. 9.6 oz. in a M/L) and Gregory's Jade 63 (4 lbs. 3.2 oz. for the small/medium). And ounce-counters can go much lighter with a dedicated UL design like Hyperlite Mountain Gear's 3400 Southwest (1 lb. 15.6 oz.) or Zpacks' Women's Arc Haul Ultra 60L (1 lb. 5.2 oz. with a medium waist belt). I personally gravitate toward the minimalist end of the spectrum and have found many UL models to be comfortable even with a heavy load (up to around 40 lbs.), including the aforementioned Southwest and Zpacks' Arc Haul Zip 64L (1 lb. 10.1 oz. with the medium torso and hipbelt). For seriously gear-intensive missions, however, the Ariel's higher weight capacity and myriad features do help justify the added heft.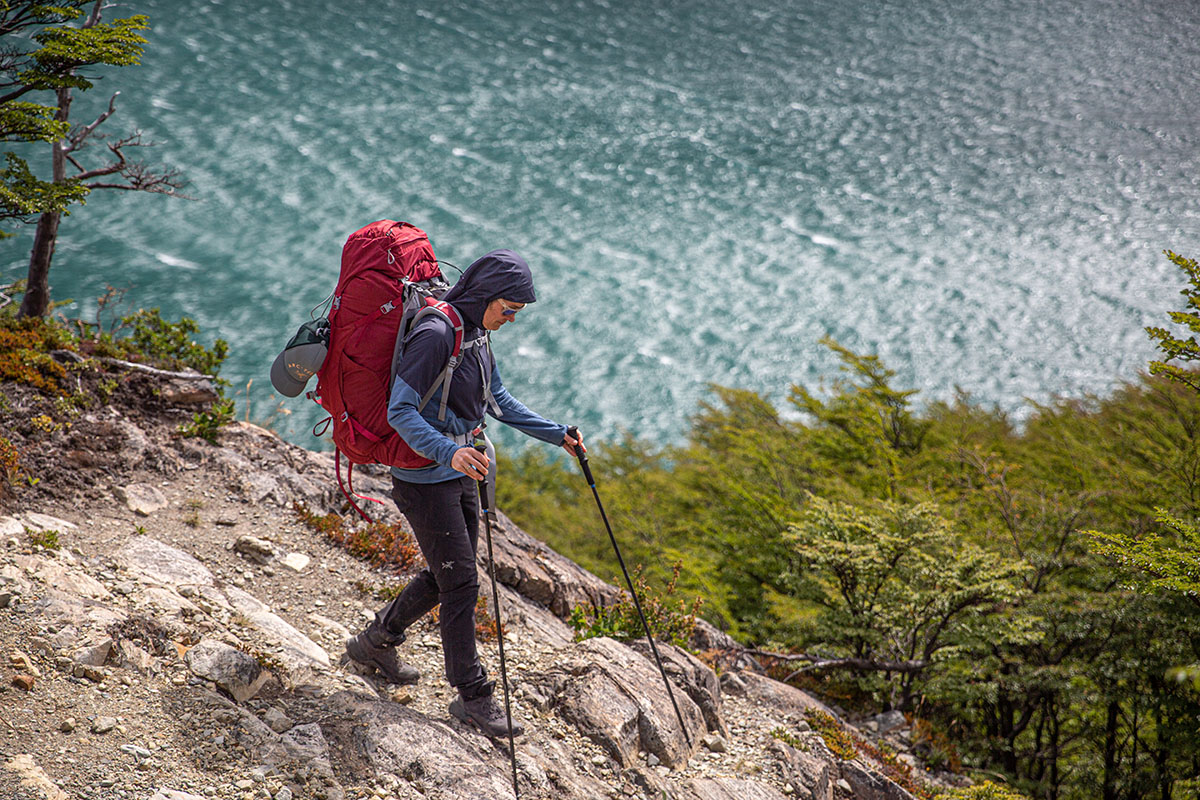 Organization
Access
We love when packs come with multiple ways to access the main compartment, and the Ariel 65 checks that box with a large U-shaped opening at the front. In practice, the front panel made it very easy to access the main compartment without having to unbuckle the lid and dig around blindly inside the pack to find what I was looking for. You do have to unbuckle the two compression straps running horizontally in order to utilize the U-zip opening, but it's a very quick and painless process. Osprey also included a dedicated sleeping bag compartment at the bottom of the pack (below the removable sleeping pad straps), which is very easy to access as well with a generously sized zipper.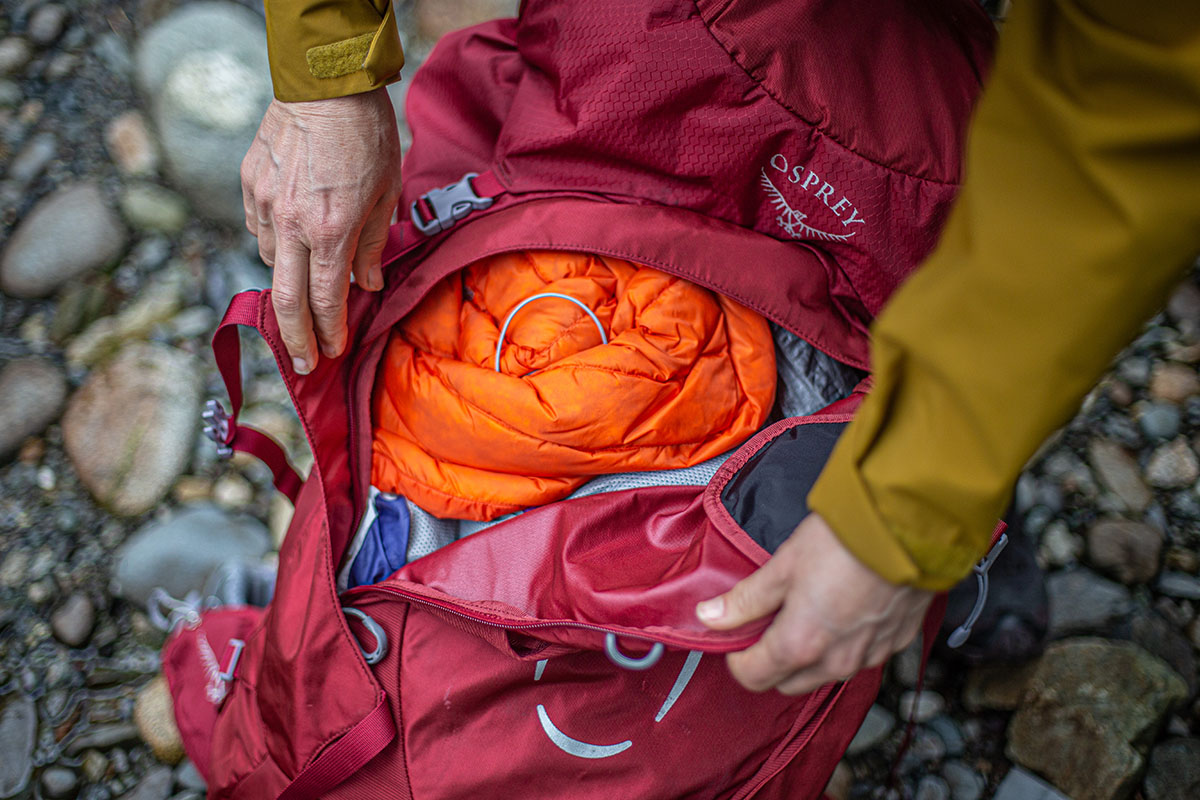 Pockets
In line with its heavy-hauling intentions, the Osprey Ariel 65 comes well equipped for stashing the essentials with seven total pockets. Starting at the top, the lid has two pockets for divvying up small valuables. The rain cover is housed in the top one, which detracts from the amount of usable space (I wish Osprey had included a dedicated space for it elsewhere), while the bottom contains a key clip, which I used to secure an Apple AirTag for tracking during travel. Moving to the front, there's a large shove-it pocket for stashing a pair of camp shoes, a layer, or snacks. This pocket has minimal stretch—it's made mostly of nylon with mesh only along the sides—but the bump in tear resistance is a welcome benefit. Rounding out the layout are smartphone-compatible hipbelt pockets and side water bottle pockets. The latter can be accessed either from the top or side, although they were too snug to hold a 32-ounce Nalgene with the pack stuffed full, and my arms came into contact with the bottle while hiking when it was placed in the lower opening.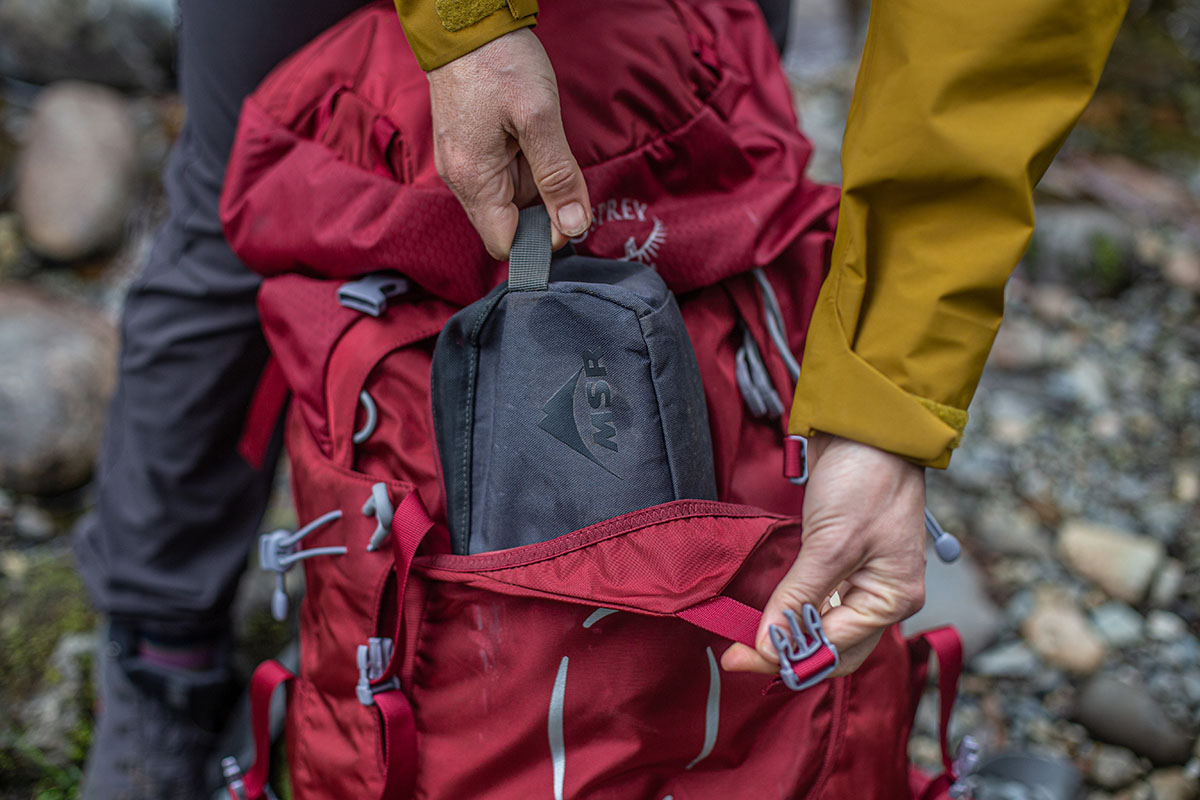 Other Features
Along with its practical storage layout and dual access to the main compartment, the Ariel 65 has a few other extras worth calling out. In line with most other backpacking packs, there's a hydration sleeve inside the main compartment with a clip for hanging a bladder and an exit port for the hose. As I mentioned above, there's also a dedicated sleeping bag compartment at the bottom of the pack with a removable divider, which I usually opted to leave out to make more room for clothing and other gear. On the outside, there are ample lash points and straps for securing extra gear and compressing a full load, ice axe loops with bungee tie-offs, removable sleeping pad straps (which I often used for trash or wet items to keep them separate), and anchor loops for securing Osprey's Daylite daypack (sold separately for $65).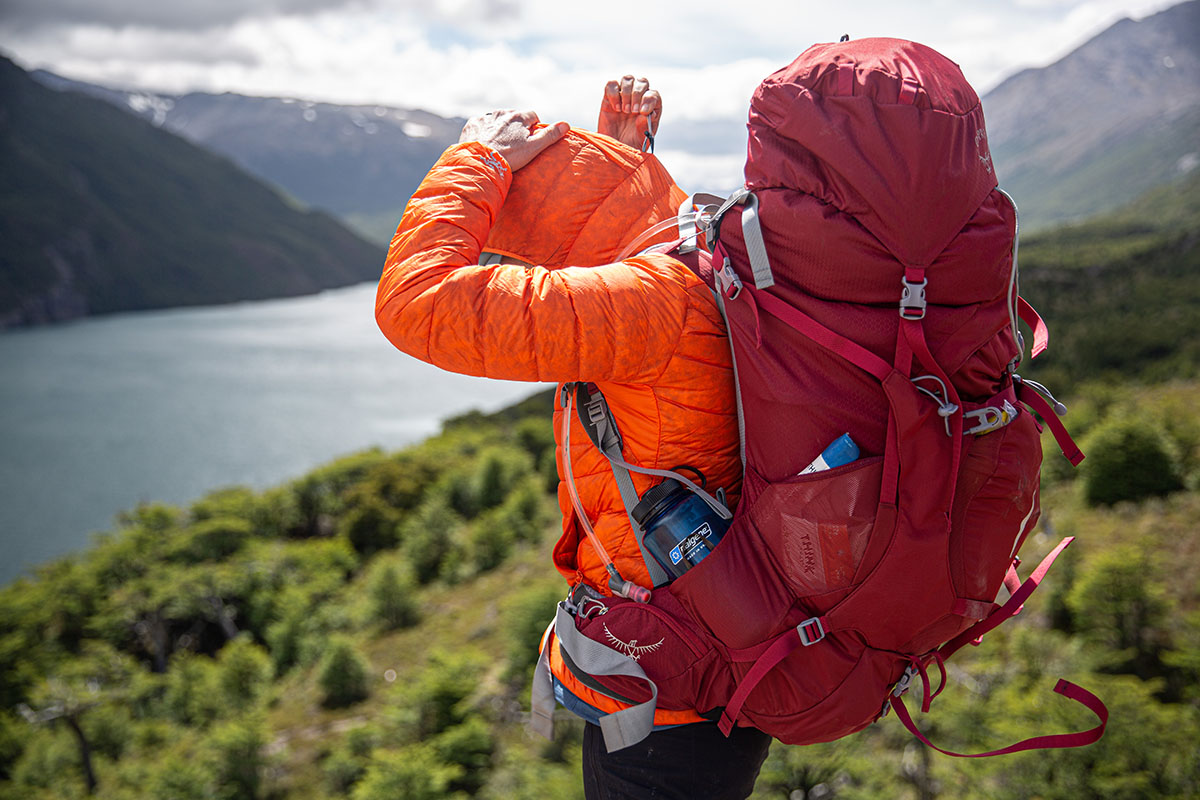 Ventilation
Prior versions of the Osprey Ariel featured the brand's class-leading AntiGravity backpanel, but the latest model swaps in their slightly downgraded AirScape design. In parsing out the differences, the AirScape backpanel boasts tensioned mesh only at the middle of the back, while the AntiGravity design—as seen in Osprey's Aura AG collection—has mesh covering the entire back (it also extends onto the shoulder straps and hipbelt). To be fair, the Ariel provided ample breathability during our treks in Patagonia, although temperatures were unseasonably cool (hovering in the low 50s to 60s Fahrenheit). In the end, the Ariel wouldn't be the best choice for mid-summer hikes in truly hot weather (like the Utah desert), but the pack's other strong suits outweigh the small drop in ventilation, in my opinion.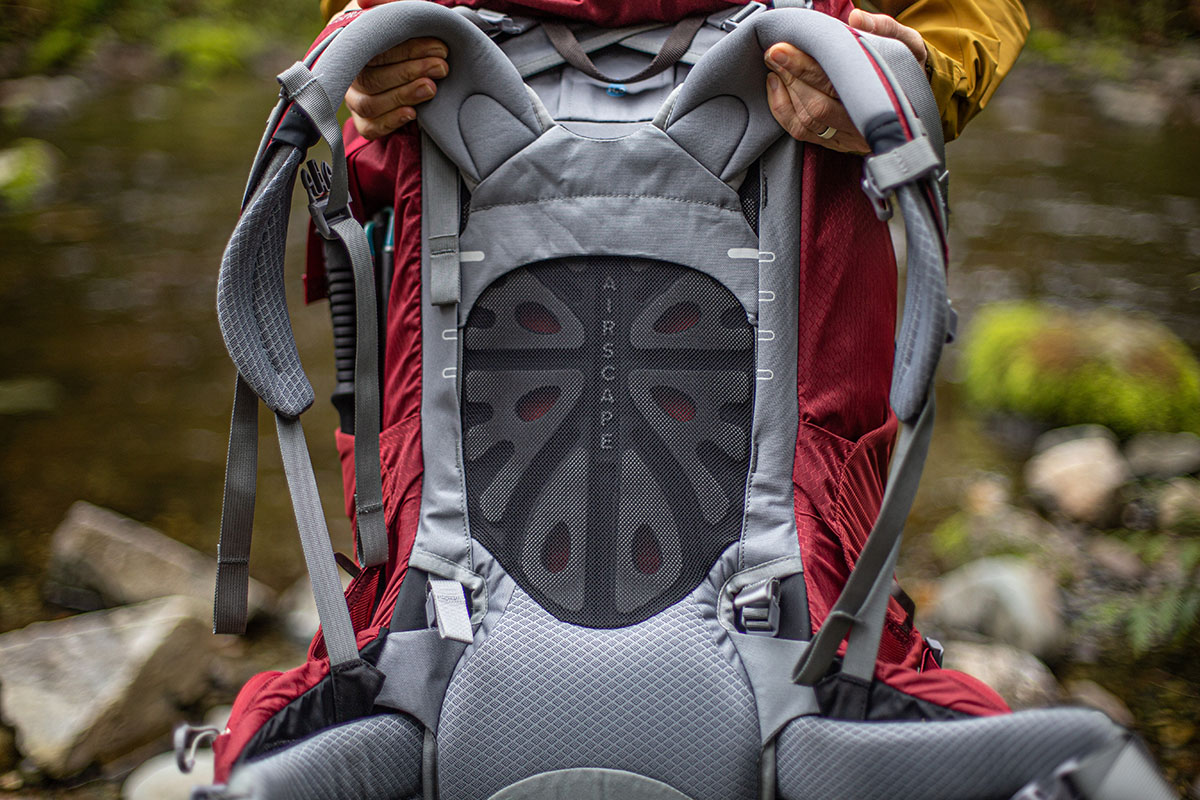 Weather Protection
The Osprey Ariel 65 comes adequately equipped for handling wet weather on the trail. As I touched on above, the pack includes a rain cover that's stored in the upper lid pocket. You also get durable water repellent (DWR) coatings along the body and base for fending off light moisture. Despite waiting to pull out the rain cover and allowing the exterior to grow wet with moisture during a couple storms in Patagonia, all of my belongings remained perfectly dry. Even my iPhone—which I left in the hipbelt pocket during an extended deluge on our way back to town—remained protected and emerged damage-free. It's worth noting that some packs tack on water-resistant zippers for added assurance in inclement weather, but the Ariel hasn't let me down yet.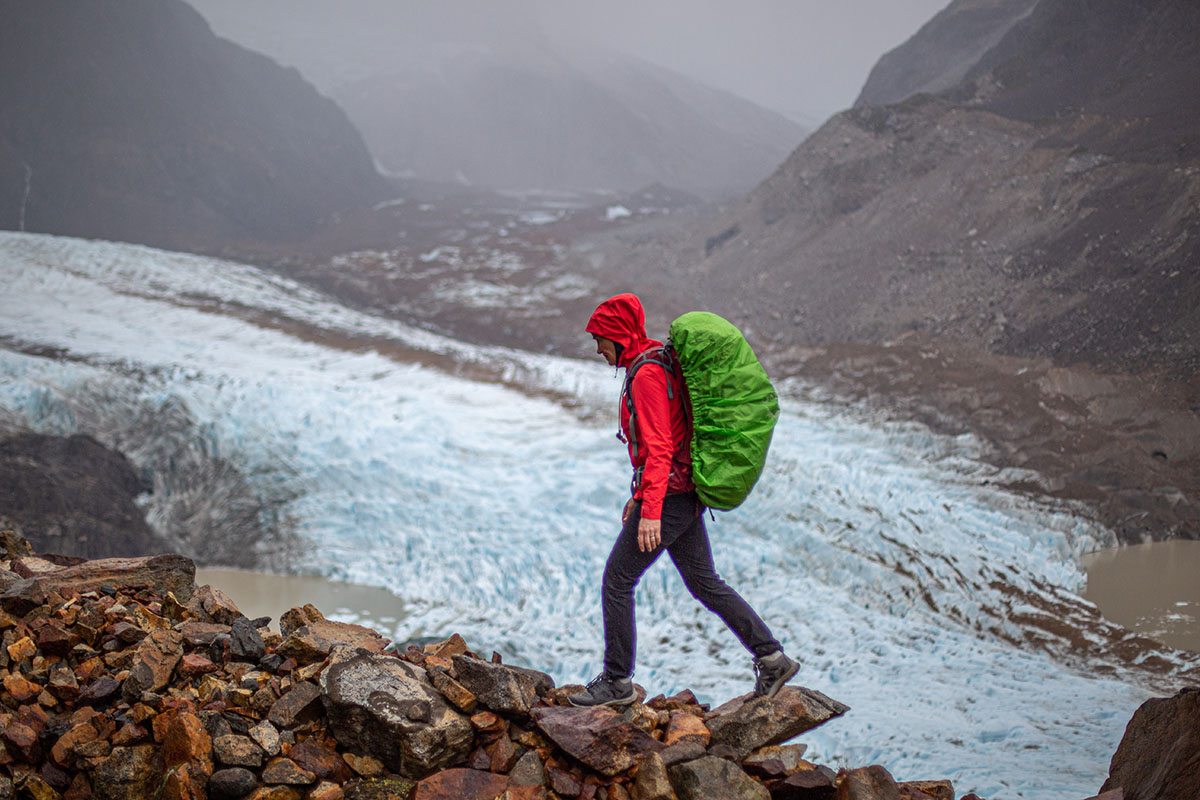 Build Quality and Durability
Osprey has been in the pack-making business for decades, and I have yet to find a flaw in the Ariel's construction. For starters, the body and base are made with noticeably thick 420-denier (D) nylon, which is substantially thicker than most competitors (200D is fairly standard). The Ariel's accents are thinner at 210D, but the entire pack has a decidedly robust and confidence-inspiring feel. I should also note that I'm not easy on my packs, and Patagonia is a very abrasive environment. During testing, the Ariel was dropped on rocks, dragged against boulders while scrambling, and poked by branches and brambles while navigating overgrown trails. Apart from some grease stains from a bus ride to one of the trailheads, my pack is showing no real signs of wear. Even the zippers—which I strained by stuffing the Ariel to the brim—continue to operate smoothly.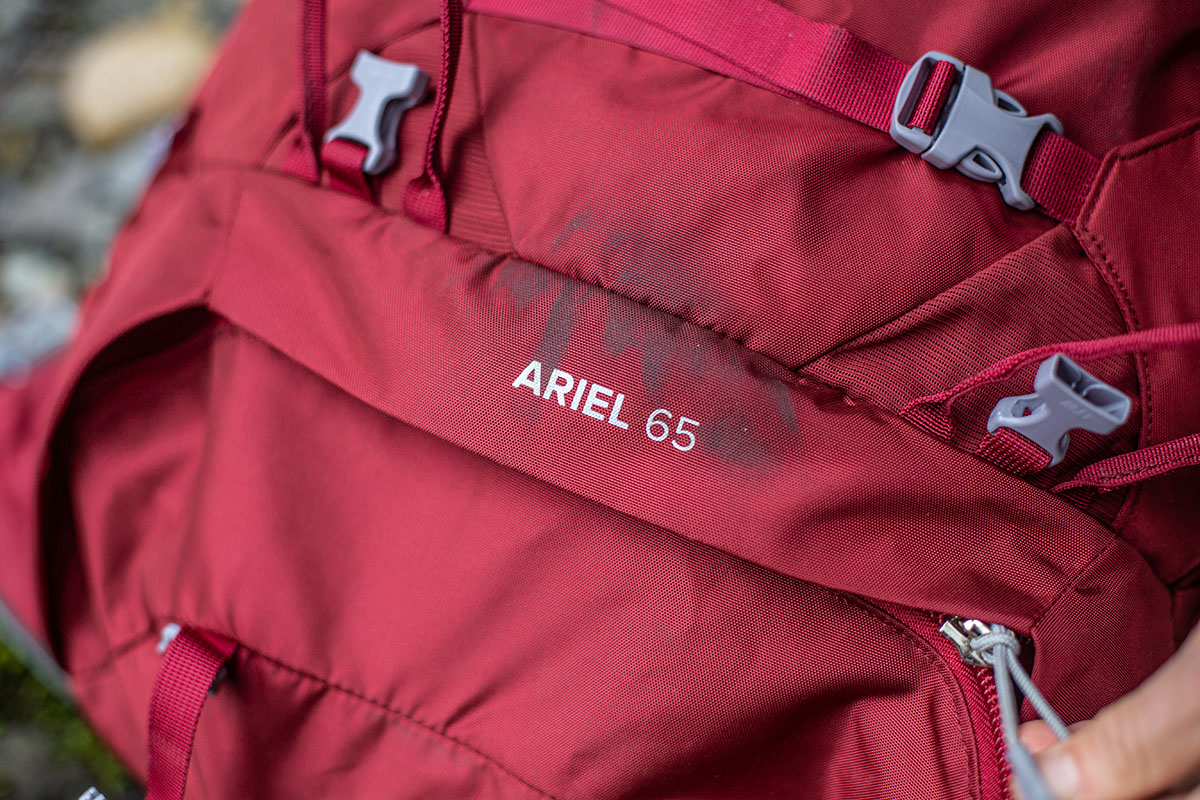 Fit and Sizing
Osprey offers the Ariel in two sizes (extra small/small and medium/large), and I opted for the latter to fit my longer torso. In addition to the Fit-on-the-Fly system outlined above, the torso length can also be adjusted (between 13 and 17 in. for the XS/S and 16 to 20 in. for the M/L) by moving the harness up or down and pulling the tabs above the hipbelt. Given my 5'8" frame, I ended up extending the torso almost to its limit, but smaller hikers should be aware that shortening the length—i.e., reducing the distance between the hipbelt and shoulder harness—can lead to instability and negatively impact head movement, especially on steep inclines. This shouldn't be an issue for most, but women with particularly small frames should aim to try the Ariel on before buying. And for those with broader builds, Osprey now offers an "Extended Fit" version for the same price that fits hips up to 70 inches and includes a longer sternum strap, extended shoulder straps, and modified pocket placement but is otherwise identical to pack tested here.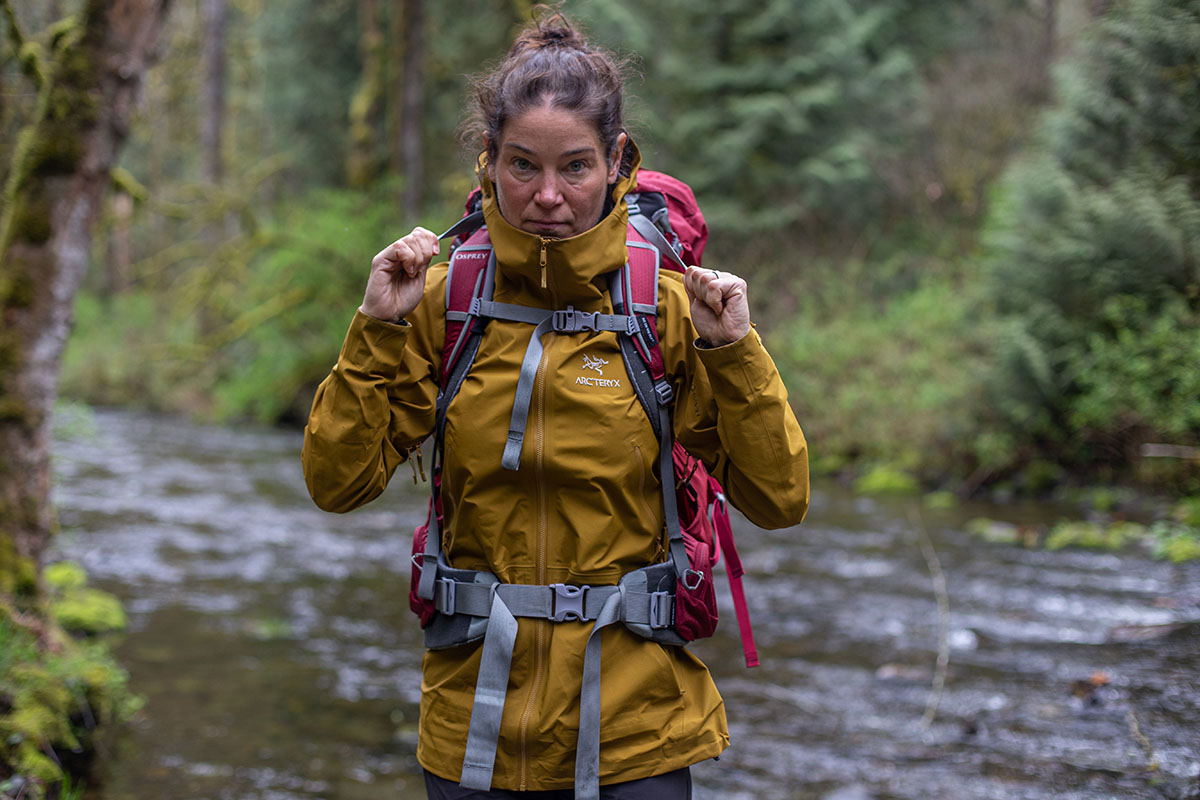 Sustainability
Osprey has made notable inroads on the sustainability front recently, and the latest Ariel 65 is case in point. The body, accent fabrics, and bottom of the pack are all made with bluesign-approved nylon that doesn't use harmful chemicals and has minimal impact on the environment. They're also equipped with PFC-free DWR coatings, which forgo the use of perfluorocarbons that are known as "forever chemicals" due to their inability to break down over time. Finally, while Osprey doesn't specify the material for the rain cover, it's also made with bluesign-approved materials and a PFC-free DWR finish. We hope to see the use of recycled fabrics in a future update, but we nevertheless appreciate Osprey's transparency and continued improvement.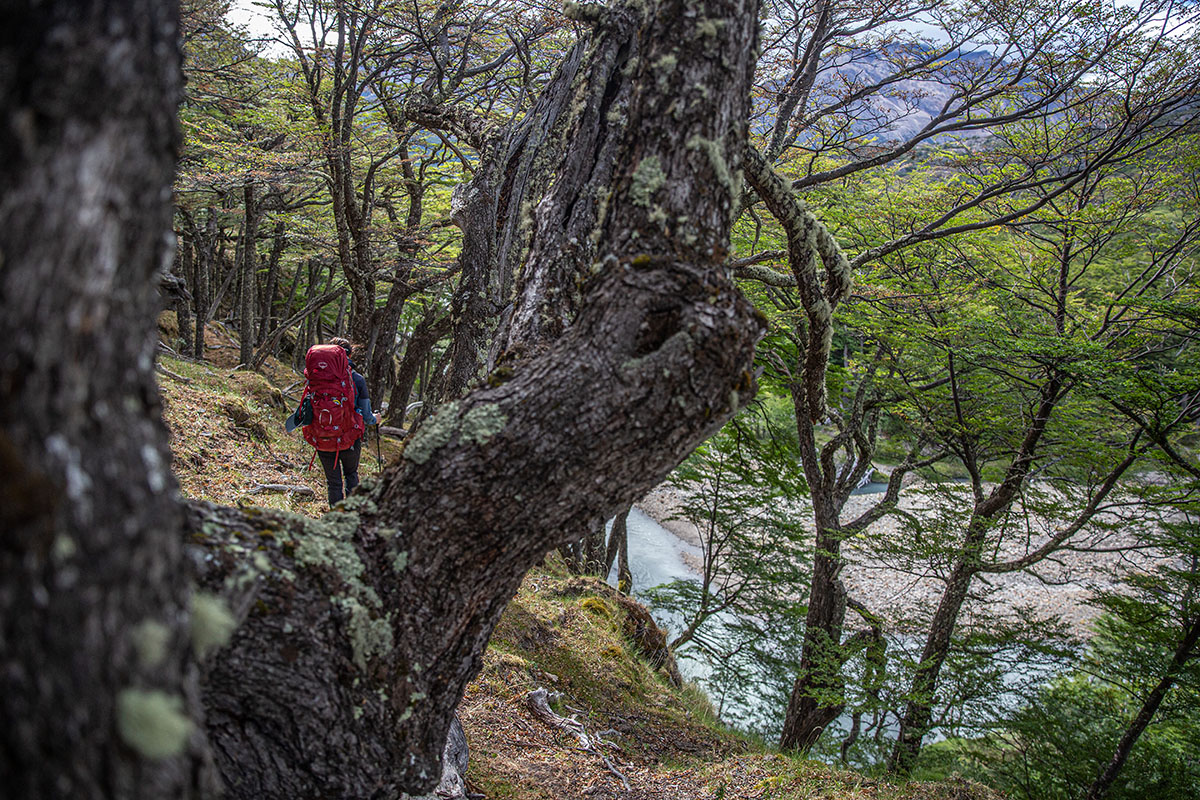 Other Versions of the Osprey Ariel
In addition to the 65-liter version tested here, Osprey also offers the Ariel in a smaller 55-liter variation that costs $20 less and checks in a little lighter at 4 pounds 13.1 ounces for the medium/large size. For a step up in organization and features, the Ariel Plus collection (offered in 60, 70, and 85L models) tacks on a couple more pockets, a detachable lid that converts into a practical daypack, and Osprey's Stow-on-the-Go trekking pole attachments. Rounding out the collection is the Ariel Pro 65, which is the most streamlined option in the collection with strippable features for uses like mountaineering and alpine climbing ($400 and 3 lbs. 13.6 oz. for a size medium).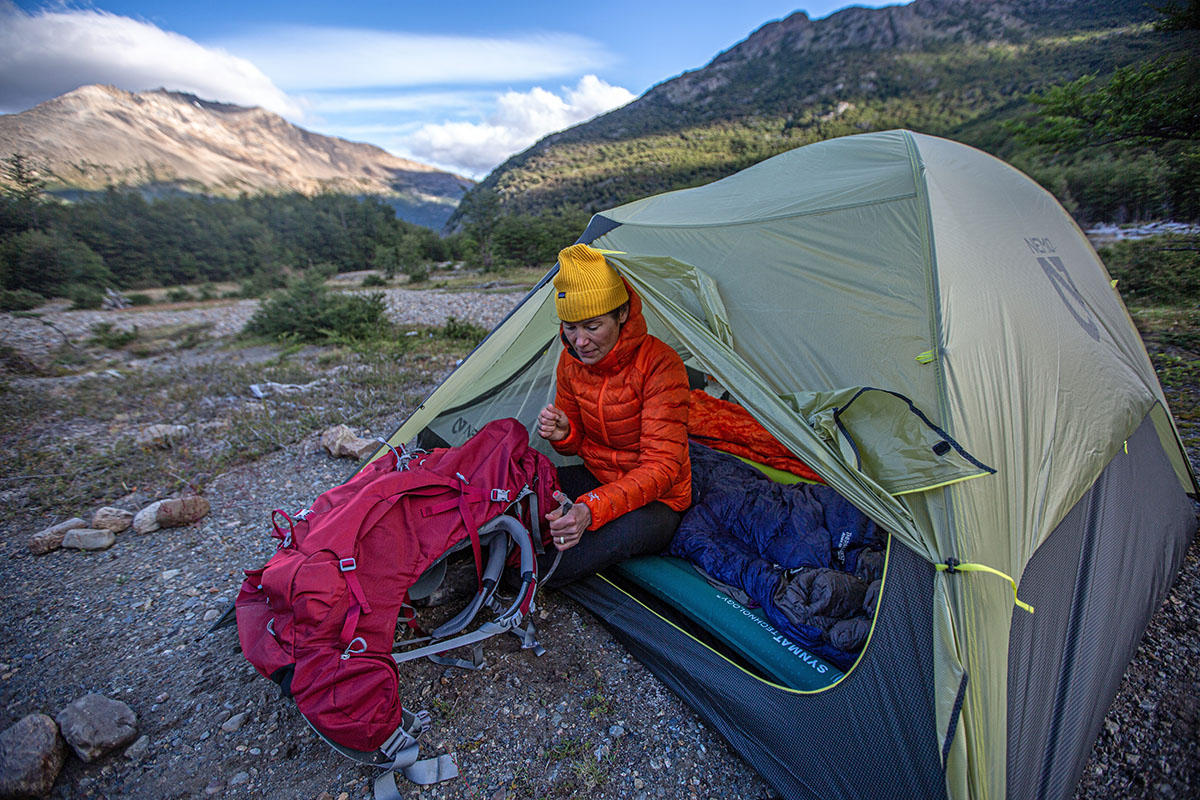 Men's-Specific Osprey Aether
The Ariel is Osprey's women's-specific heavy hauler, and the men's counterpart is called the Aether. Similar to the Ariel lineup, the Aether is offered in 55- and 65-liter capacities (the latter of which also comes in an "Extended Fit" variation), with the Aether 65 checking in a little heavier than Ariel at 4 pounds 15.4 ounces for the larger size. There are also colorway and sizing differences—the Aether can accommodate torsos from 17 to 23 inches, for example—but all other features remain the same. Mimicking the women's collection, the Aether is also available in upgraded "Plus" versions (60, 70, 85, and 100L capacities), as well as a pared-down "Pro" model for fast-and-light pursuits.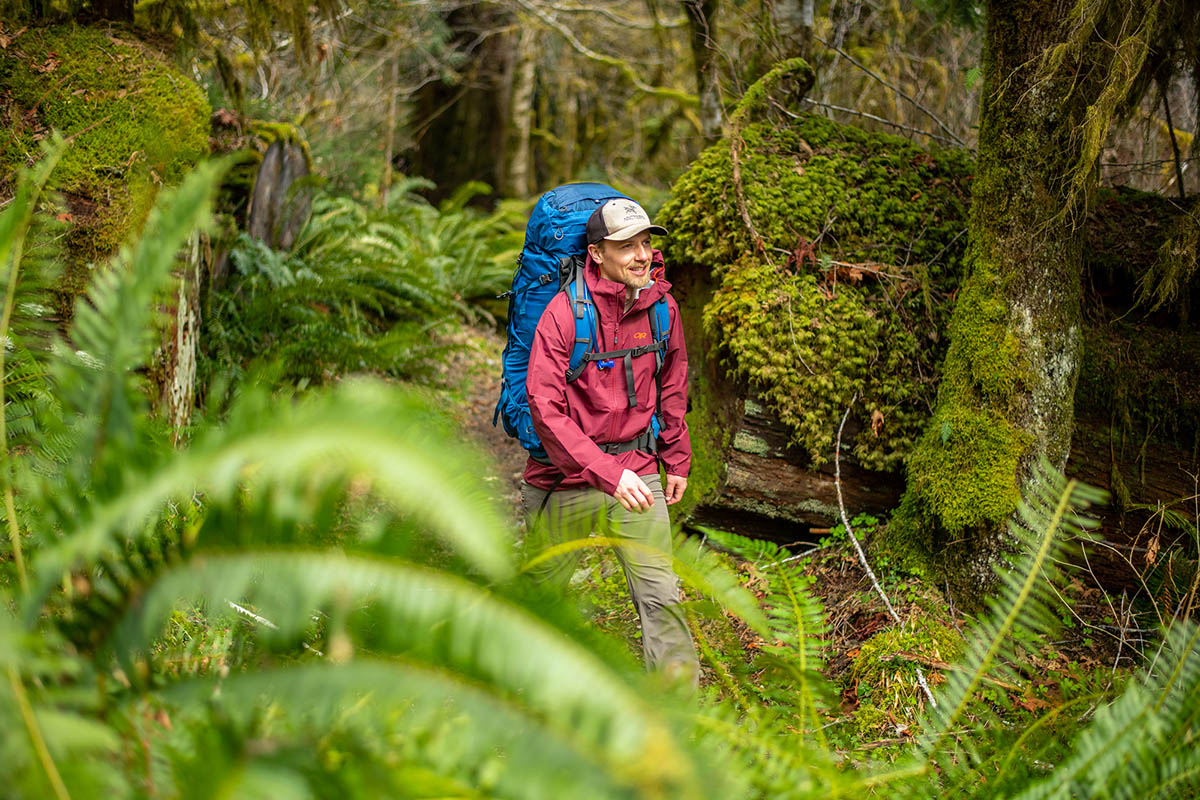 What We Like
Highly comfortable for shouldering heavy loads with thick padding, effective weight distribution, and ample compression straps to minimize sway.
Unique Fit-on-the-Fly adjustment system makes it easy to tailor the shoulder strap and hipbelt padding to maximize cushioning and support.
Excellent build quality and attention to detail, including a fabric-reinforced shove-it pocket and thicker materials than most competitors.
Well-executed feature set with thoughtful storage for divvying up the essentials, an included rain cover, and ample compression straps.
U-shaped front zipper provides comprehensive visibility into the main compartment and makes access quick and easy.

What We Don't
Heavy at nearly 5 pounds. If you don't plan to max out the 60-pound limit, you can go much lighter without compromising on comfort.
AirScape backpanel is a step down in ventilation compared to Osprey's AntiGravity design.
Rain cover takes up a good amount of space in the upper lid pocket—I wish it had its own pocket, like what you get with the upgraded Ariel Plus.
Side pockets are too snug to accommodate water bottles when the pack is stuffed full.


Comparison Table
| Pack | Price | Weight | Fabric | Capacities | Access | Pockets |
| --- | --- | --- | --- | --- | --- | --- |
| Osprey Ariel 65 | $320 | 4 lb. 14.3 oz.  | Nylon (420 & 210D) | 55, 65L | Top, front | 7 exterior |
| Gregory Deva 70 | $360 | 5 lb. 1 oz. | Nylon (210 & 420D) | 60, 70L | Top, front | 9 exterior |
| Osprey Ariel Plus 70 | $410 | 5 lb. 12.8 oz. | Nylon (210D) | 60, 70, 85L | Top, front | 9 exterior |
| Osprey Aura AG 65 | $340 | 4 lb. 9.6 oz. | Nylon (210 & 500D) | 50, 65L | Top, sides | 7 exterior |
| Deuter Aircontact 60+ 10SL | $260 | 4 lb. 11.8 oz. | Polyamide (235 & 500D) | 55, 70L | Top, front | 6 exterior |

The Competition
The Osprey Ariel 65 is a longstanding leader in the heavy hauler category, but there's no shortage of capable women's backpacking packs in 2023. Our favorite design for shuttling serious weight is Gregory's Deva 70, which checks in a little heavier than the Ariel at 5 pounds 1 ounce in a size medium but with an additional 5 liters of capacity. You also get a more generous storage layout—including three lid pockets and dual front zippered pockets with a divider—in addition to handy U-shaped access to the main compartment (similar to the Osprey). Like the Ariel, we found the Gregory to be very comfortable and supportive for hauling a lot of weight over long distances (it's rated up to 55 lbs.), and there's ample adjustability for dialing in fit. The Deva uses thinner (210D) fabrics along the body, leaves out a rain cover, and costs $40 more than the Ariel, but we consider those minor downsides to an otherwise exceptional pack.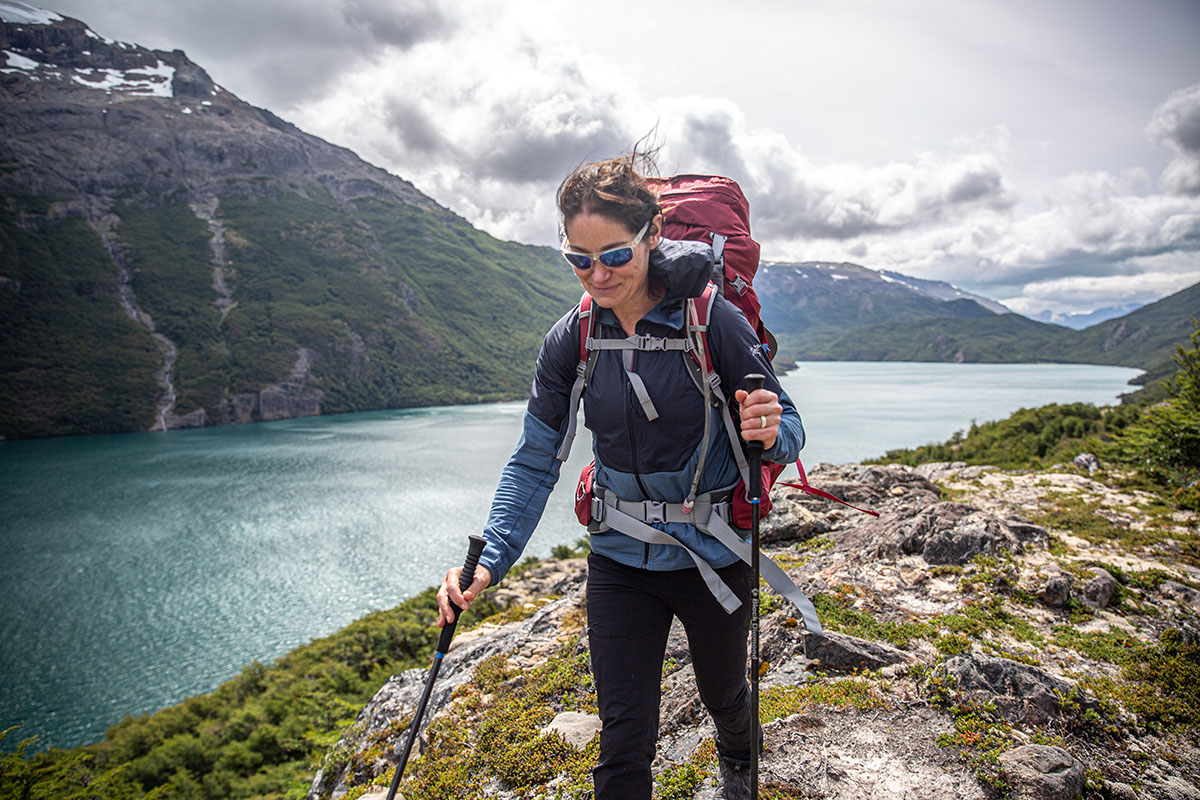 Next up is Osprey's own Ariel Plus 70 mentioned above, which is an upgraded version of the standard Ariel here. For an additional $90, the Plus model tacks on two vertical pockets flanking the front shove-it pocket, features a detachable lid that converts to a daypack for quick outings from camp, and includes Osprey's Stow-on-the-Go hiking pole attachment points. Both designs include a rain cover, but we appreciate that the Ariel Plus' has its own pocket at the bottom of the pack to save crucial space in the more easily accessible areas. That said, at 5 pounds 12.8 ounces for the medium/large size, the Ariel Plus is unapologetically hefty and overkill for all but the most gear-intensive missions. Unless the additional features are must-haves for you, the standard Ariel should be more than sufficient.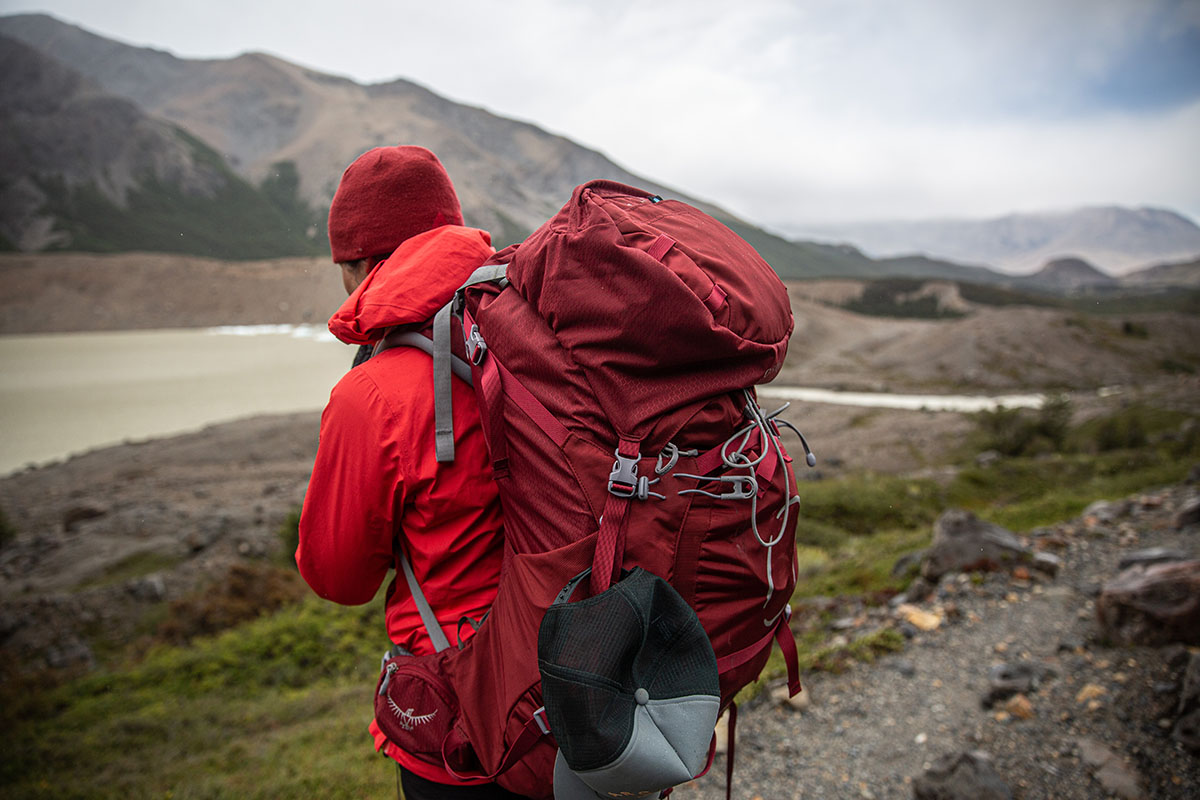 Most backpackers won't be maxing out the Ariel's 60-pound load limit, in which case a lighter pack like Osprey's own Aura AG 65 could be a better match. Compared to the Ariel 65, the Aura clocks in 4.7 ounces lighter (for the M/L size) without making too many concessions. Like the Ariel, the Aura includes a rain cover, removable sleeping pad straps, Osprey's Fit-on-the-Fly adjustment system, a zippered sleeping bag compartment, and easy access to the main compartment (although we prefer the Ariel's U-shaped design over the Aura's curved side zippers). It also tacks on Osprey's trekking pole attachments and class-leading AntiGravity backpanel, which features more tensioned mesh for a sizable boost in airflow. The Aura costs $20 more, has a lower 40-pound weight limit, and features a thinner 210D body, but most backpackers will find the benefits in weight and breathability worth those tradeoffs. If you're willing to forgo a little storage, Osprey's Aura AG LT 65 is cheaper at $290 and even lighter at 4 pounds 0.2 ounces.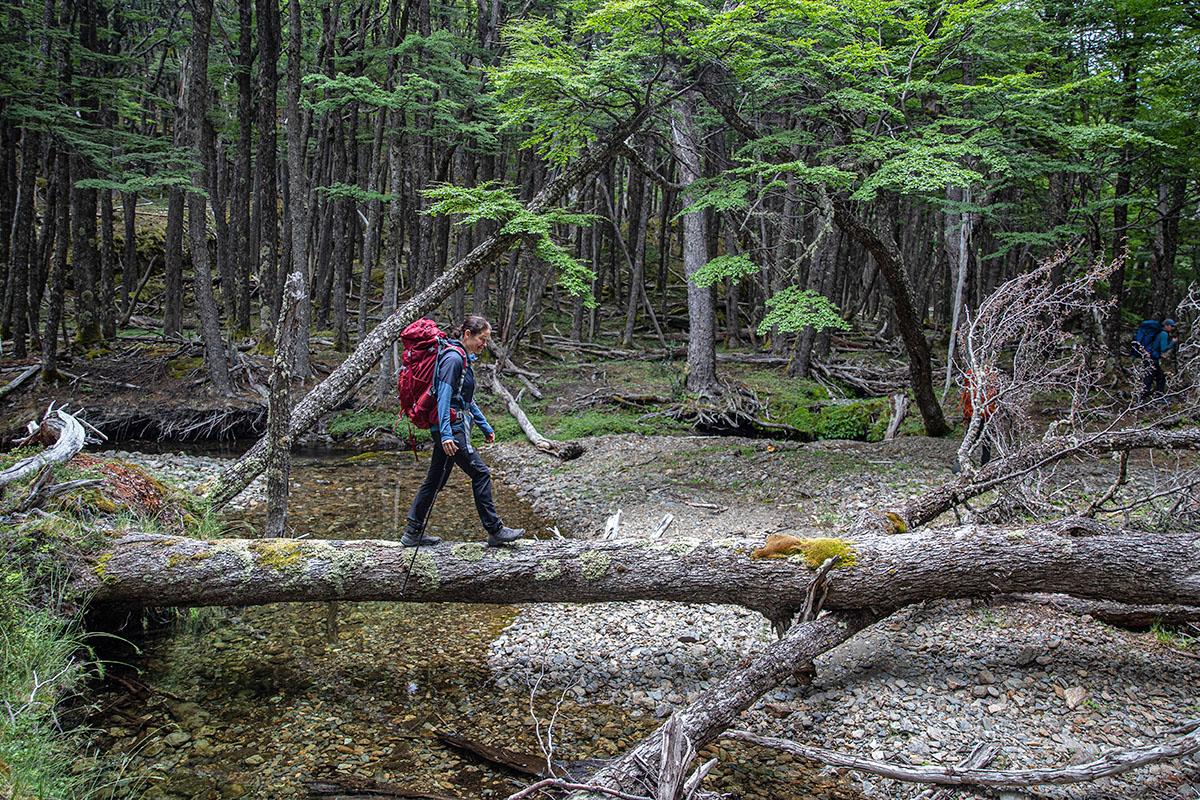 A final competitor to have on your radar is Deuter's Aircontact Core 60 + 10SL, which splits the difference between the Ariel and the Aura with a 44-pound load limit. While not a true heavy hauler like the Ariel, the Aircontact is a well-balanced all-rounder: It's a little lighter than the Ariel at 4 pounds 11.8 ounces, $60 cheaper at $260, and offers better breathability with more room for air to flow between the pack and your body. In testing the Deuter, we were particularly impressed by its great all-day comfort (even with a full load) and hardwearing build, although the single size may not work for some women. We also prefer the Ariel's U-zip opening over the Aircontact's smaller J-shaped design, but it's not a huge discrepancy. In the end, the Ariel's wider sizing selection, upgraded storage layout, and longer track record give it the edge for us, but the Deuter isn't far off (for more, see our in-depth Aircontact review).
If you're thinking about buying gear that we've reviewed on Switchback Travel, you can help support us in the process. Just click on any of the seller links above, and if you make a purchase, we receive a small percentage of the transaction. The cost of the product is the same to you but this helps us continue to test and write about outdoor gear. Thanks and we appreciate your support!
Depending on the seller, most products ship free in the United States on orders of $50 or more. International shipping availability and rates vary by seller. The pricing information on this page is updated hourly but we are not responsible for inaccuracies.
Read More From Switchback Travel