Germany-based Deuter has been pumping out quality packs since the early 1900s, and their current collection holds court with premium offerings from brands like Osprey and Gregory. The Aircontact Core is the brand's newest line (and one of their most sustainably built to date), and I recently took the women's 60 + 10 SL model on a 45-mile loop in Washington's Glacier Peak Wilderness. All in all, the pack offered great overall comfort and breathability with plenty of space to accommodate a haphazard packing job, but the hefty build and one-size-fits-all design limit its overall appeal. Below I break down my thoughts on the Aircontact Core 60 + 10 SL. To see how it compares to the competition, see our articles on the best backpacking backpacks and best women's backpacking packs.
 
---
Table of Contents
---

Performance
Carrying Comfort
In short, Deuter's Aircontact Core 60 + 10 SL is a highly comfortable and supportive design for shuttling heavy loads over long distances. Similar to my experiences with their Futura Air Trek 45 + 10 SL that I tested last year in Patagonia, the newer Aircontact Core features generous padding along the shoulder straps, hipbelt, and backpanel that's made of breathable open-cell foam and gives the pack a noticeably cushy and well-padded feel. The namesake Aircontact backpanel also does a great job of promoting a close, body-hugging fit, and the trapezoid-shaped lumbar pad makes it easy to transfer weight onto the hips. For reference, I stuffed the Aircontact Core to the brim on our recent 45-mile backpacking trip in Washington state—I estimate I was carrying around 40 pounds, which is close to the 44-pound recommended limit—and came away impressed by its ability to handle the load (and frequent steep terrain) with ease.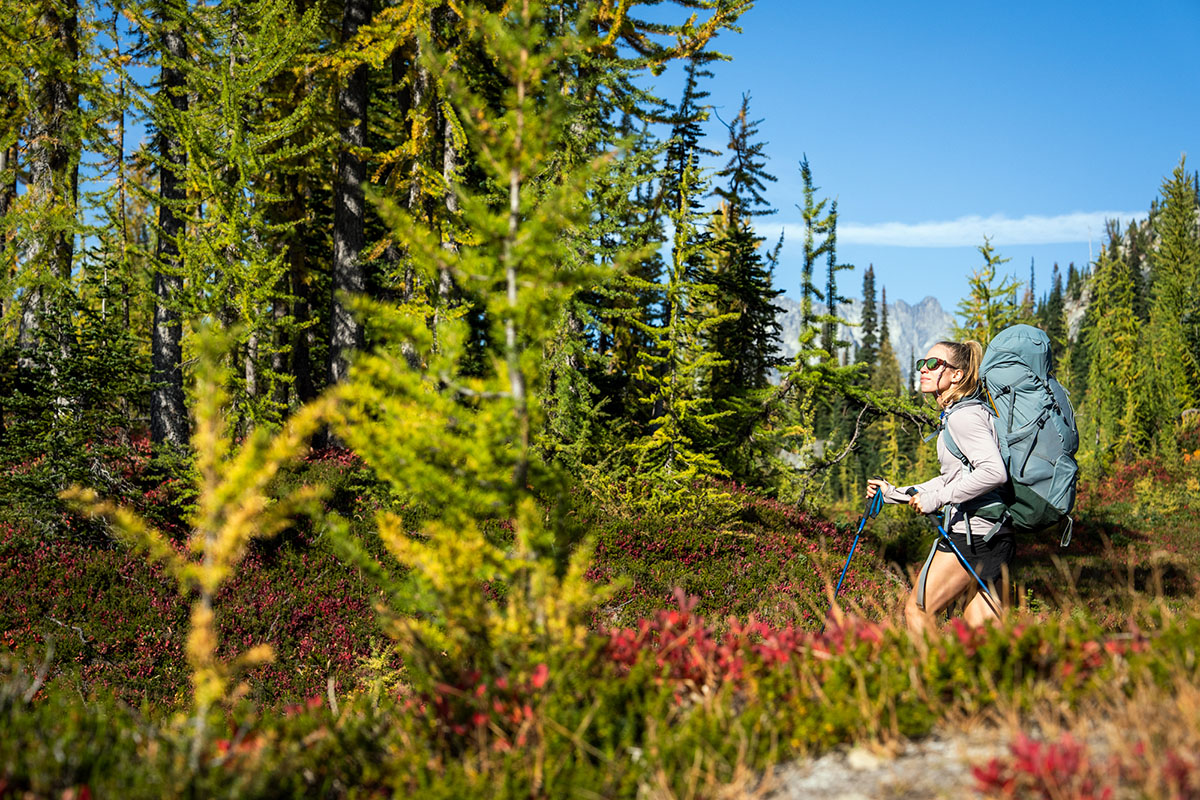 The Aircontact Core's biggest comfort-related drawback is that it's only offered in one size, which won't work for some women. On the bright side, the design is highly adjustable: Deuter's signature VariSlide system makes it easy to move the shoulder harness up or down by grabbing the lower buckle and tugging the fabric loop to dial in torso length (the adjustability range is 13.8 to 22 in.). The hipbelt is similarly easy to tweak by pulling either side with long straps to accommodate varying waist sizes, and the load lifters at the shoulders are effective at bringing the pack close to your body (more in "Fit and Sizing" below). In the end, I didn't have any issues with getting a good all-around fit, but I highly recommend trying on the Aircontact before buying (more so than designs offered in multiple sizes) to ensure that it will work for your body size and shape.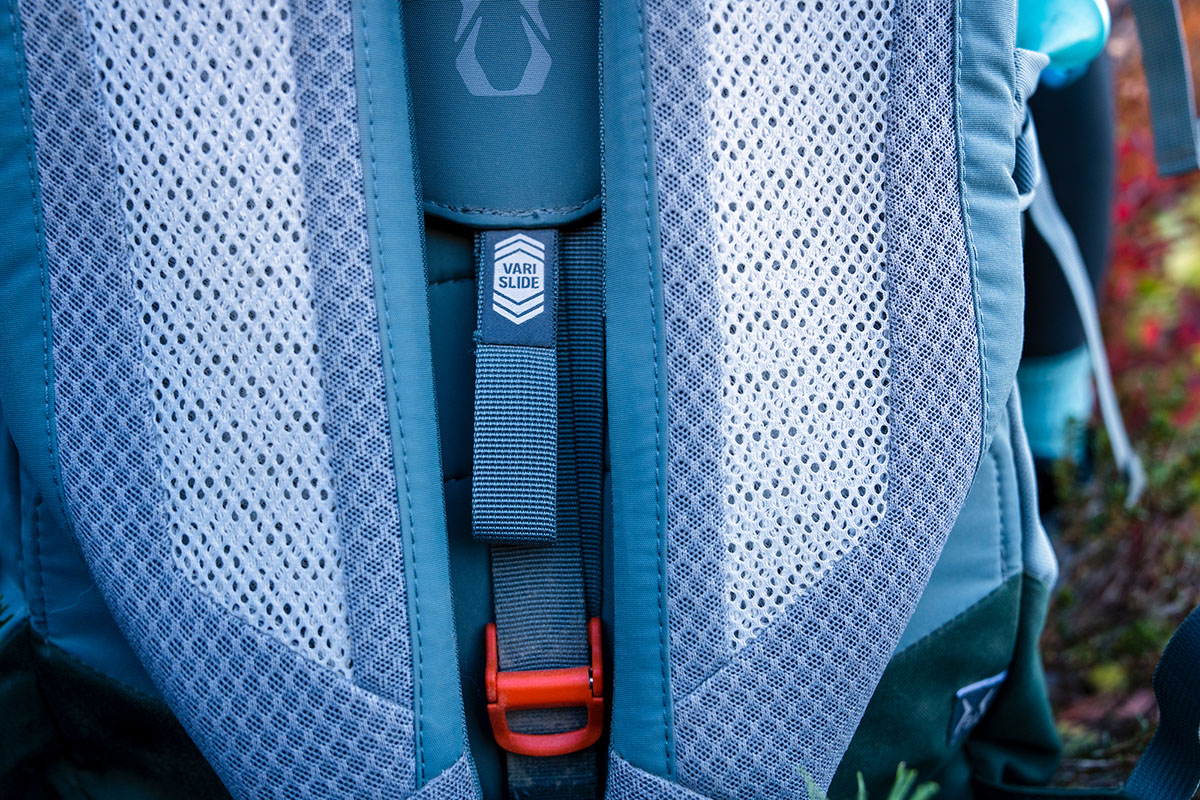 Weight
At 4 pounds 11.8 ounces, the Aircontact Core 60 + 10 SL is a decidedly large and hefty pack that prioritizes all-out comfort and features over shaving weight. For reference, it's heavier than leading competitors including Osprey's Aura AG 65 (4 lbs. 7.5 oz. for the XS/S size), REI's Trailbreak 60 (3 lbs. 11 oz.), and even Gregory's heavy-hauling-focused Deva 70 (4 lbs. 11.2 oz. for a small). At the other end of the spectrum are dedicated ultralight options like Hyperlite Mountain Gear's 3400 Southwest (2 lbs.) and Osprey's Eja 58 (2 lbs. 11.5 oz. for the XS/S size) that check in around half the weight of the Aircontact Core, although they're specialized designs that compromise considerably on features and durability. In the end, the Aircontact Core didn't feel excessively heavy or cumbersome during our ambitious 45-mile trek, but I'm more likely to reach for a lighter pack (like the aforementioned Aura) on future multi-day trips.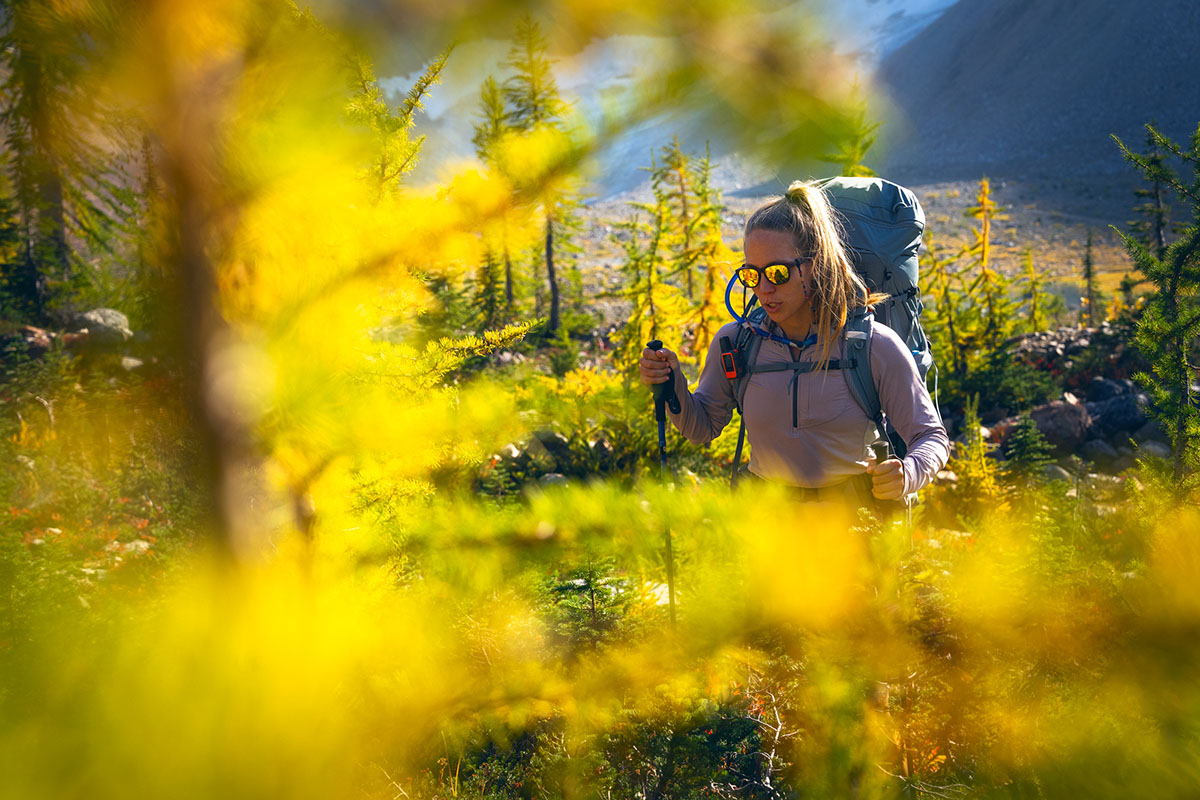 Organization
The flip side to the Aircontact Core 60 + 10 SL's heavy build is that it's rife with features and storage options. Starting at the top, the lid boasts two massive pockets—one on the top and one underneath—for stashing smaller items like a headlamp, backpacking pillow, toiletries, hat, and gloves. The underside also has a helpful SOS label with basic guidelines for emergency rescue and first-aid tips. Further, like many of Deuter's packs, the Aircontact has an expandable collar that offers a generous 10 liters of capacity (hence the name) and tucks away when not in use. The 60-liter main compartment is also easy to access via the roll-top lid or J-shaped zipper at the front, the latter of which allows you to quickly locate clothing and gear without having to blindly rummage around inside. Rounding out the interior storage, you get a sleeve and Velcro loop for securely stowing a hydration reservoir with an exit port at the middle for the tube, as well as a dedicated sleeping bag compartment at the bottom with a handy zippered divider.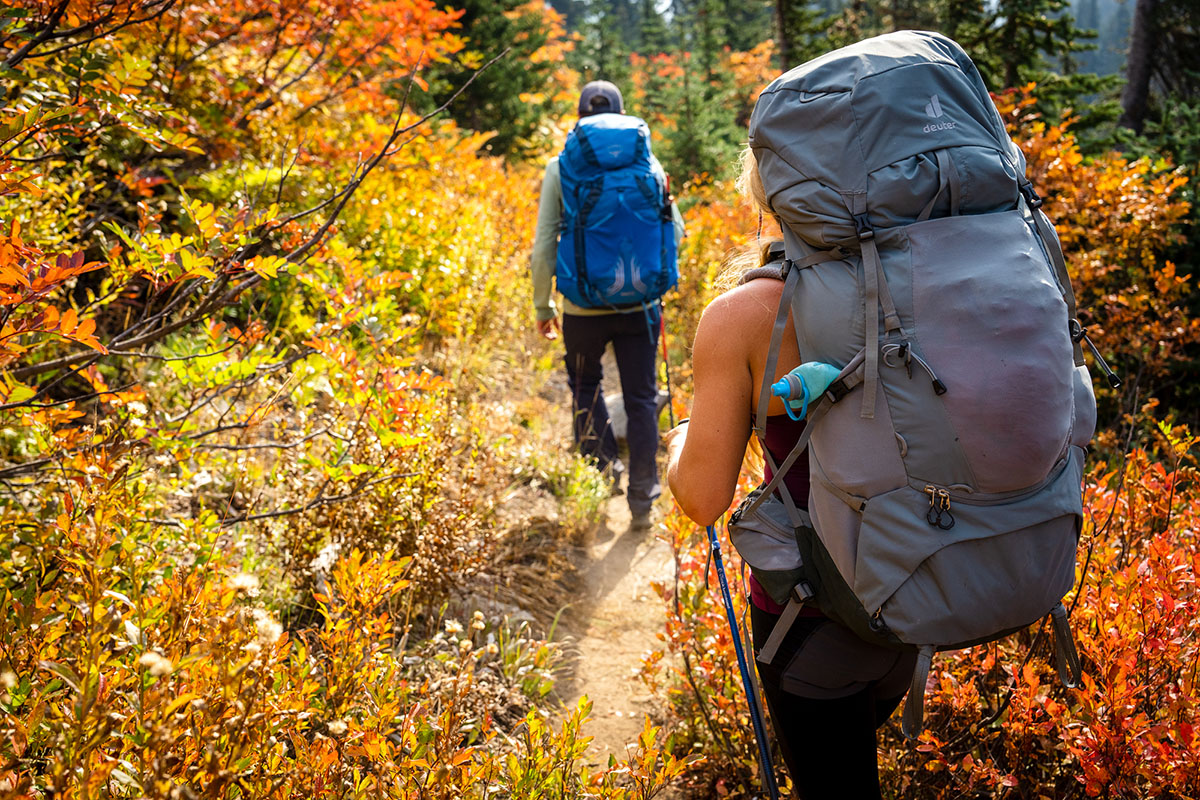 In addition to the large outer pocket on the lid mentioned above, the Aircontact Core comes with a functional array of exterior storage. The shove-it mesh pocket at the front is generously sized and great for stashing snacks and extra layers, while the side compression straps allow you to snug down the load and attach extra gear (like a ballcap or helmet) to the outside. You also get loops at the bottom to secure an ice axe or tools, dual hipbelt pockets that easily swallow a plus-sized smartphone, and elastic mesh side pockets for water bottles (of note: I wish these were angled differently, as it's pretty awkward to reach in directly from the top to retrieve bottles while hiking). Finally, there are dedicated attachment points for sunglasses and trekking poles on the shoulder straps, the latter of which is detachable. Taken together, I had no issue divvying up three days' worth of clothing, equipment, and personal items without being overly strategic about my packing job.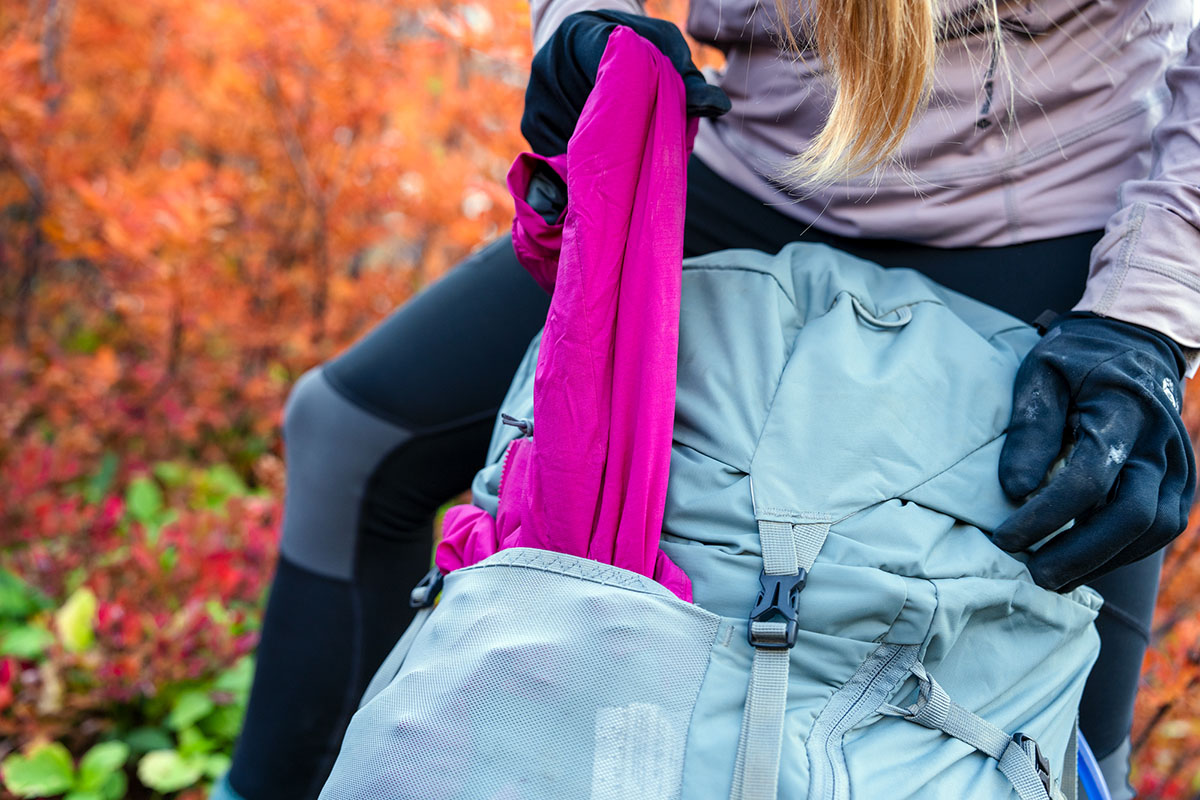 Ventilation
Along with comfort, Deuter is known for their focus on breathability, and that comes across clearly with the Aircontact Core 60 + 10 SL. The Aircomfort backpanel was recently updated with more mesh foam for even better ventilation and is tautly suspended to create a gap between your back and the frame, allowing ample room for air to flow. In testing, the pack kept my back cool and comfortable in temperatures that reached into the high 60s Fahrenheit, and I didn't experience any sweatiness even when ascending steep passes. It's worth noting that the hanging mesh backpanel on Deuter's own Futura Air Trek is positioned even farther away from the body—on the women's 45 + 10 SL model that I tested last year, there was around 2 inches of space between the pack and my back—but the difference in ventilation wasn't noticeable on the trail. In my opinion, the Aircontact's design is less polarizing while offering similar all-around breathability, which is high praise.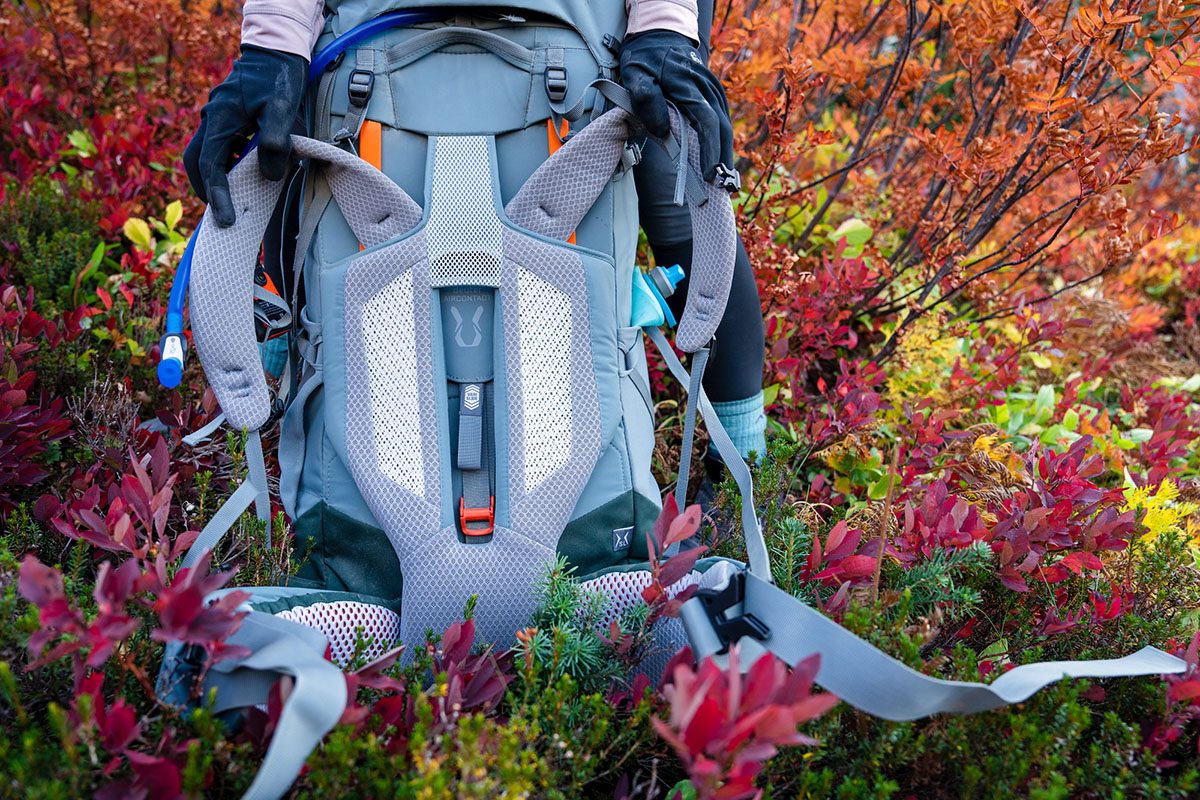 Build Quality and Durability
The Deuter Aircontact Core 60 + 10 SL had a noticeably robust and hardwearing feel out of the box, and overall durability lined up well with my initial impressions. In terms of thickness, the body of the pack is made with 235-denier (D) polyamide, while the bottom and hipbelt use a thicker 500D textured variation. In use, the Aircontact effectively fended off scrapes and tears during our backpacking trip in the Glacier Peak Wilderness, which involved sections of off-trail travel and bushwhacking through overgrowth toward the end of the loop. All of the smaller components have a similarly high-quality feel, from the smooth-operating and easy-to-grab zippers to the premium padding along the shoulders, hips, and backpanel. All in all, it strikes me as a very well-made pack that should last many more seasons without issue (and I'll follow up here if any problems arise).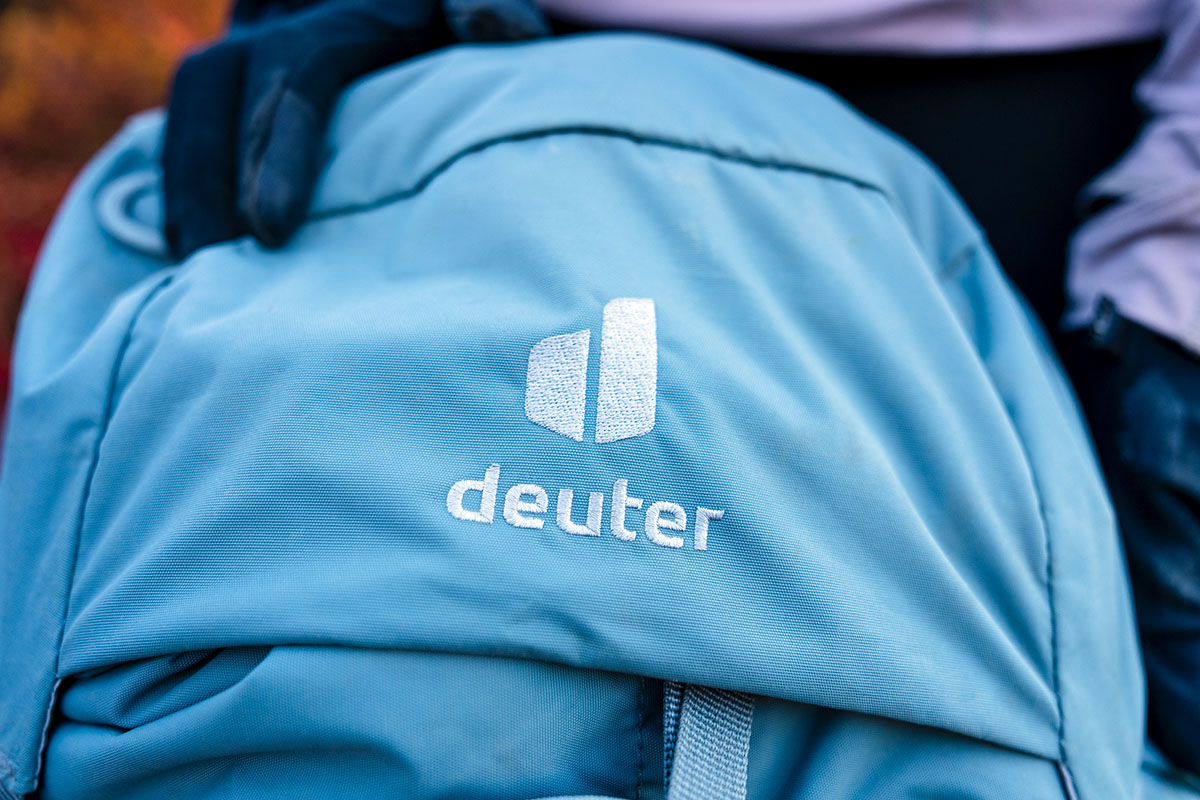 Fit and Sizing
As I mentioned, the Aircontact Core 60 + 10 SL is only offered in one size, which won't work for some women. By comparison, most competitors are offered in multiple sizes, including Osprey's Aura AG 65 (XS/S or M/L), Gregory's Deva 70 (XS, S, or M), and others. That said, I had no issue getting a good all-around fit (for reference, I'm 5'6" tall and around 135 lbs.). The adjustable VariSlide backpanel is a big help: Simply pull the lower buckle to release the tension and use the fabric loop to move it up or down depending on torso length. The hipbelt is similarly easy to tighten or loosen by tugging at either side, and the strap is long enough to accommodate varying waist sizes. Finally, the sternum strap, load lifters, and lid can also be adjusted to fine-tune weight distribution and get a balanced fit. Again, I highly recommend trying on the Aircontact before buying to ensure it will work for your body size and shape, but the adjustability should suffice for most women between 62 (5'2") and 70 inches (5'10") tall, which is a pretty healthy range.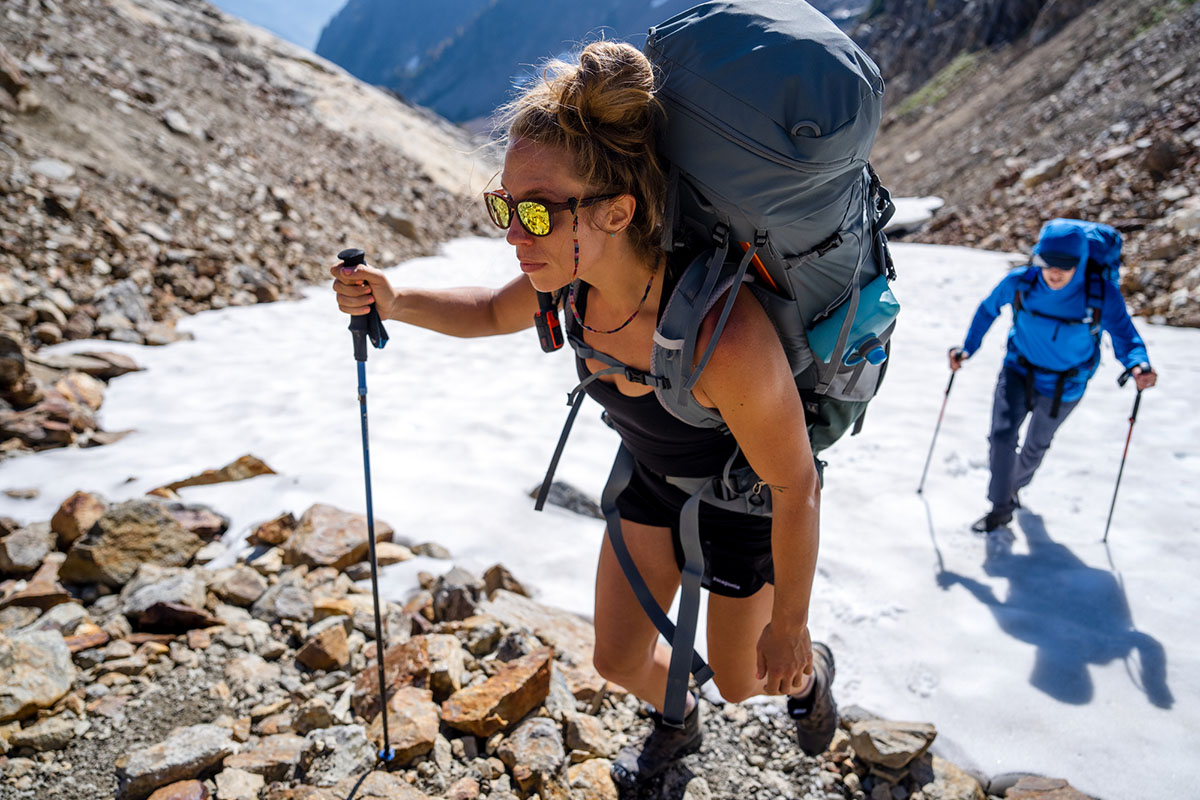 Sustainability
Like many outdoor brands, Deuter has started incorporating sustainable materials and practices into production over the past several years, and the latest Aircontact Core collection is a nice reflection of their progress. Specifically, the pack is made with over 50% recycled materials that are also bluesign-approved, meaning they've been deemed safe for consumers, workers, and the environment. Deuter also transitioned to a PFC-free DWR coating in summer 2020, and all products released since then are made without the use of harmful perfluorocarbons (the Aircontact included). Taken together, it's a strong sustainability effort that only boosts the pack's all-around appeal.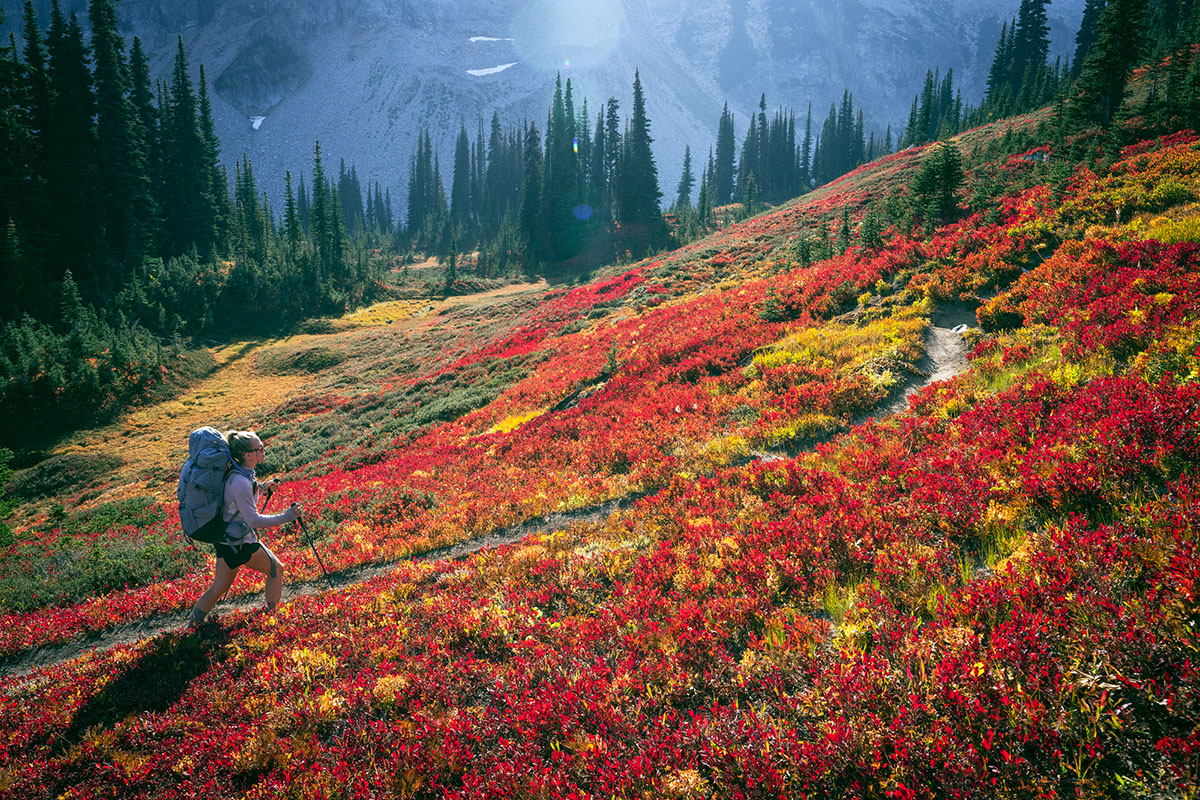 Other Versions of the Deuter Aircontact 
I brought the women's Aircontact Core 60 + 10 SL to Washington state for testing, and it's also offered in a smaller 45 + 10 SL model for women that retails for $230 and weighs 4 pounds 7.6 ounces. On the men's side, the pack is sold in 50 + 10 ($230), 65 + 10 ($250), and 70 + 10 ($295) capacities, with the Aircontact Core 65 + 10 coming in at 5 pounds 2.5 ounces. In addition to being sold in different colorways, the men's packs also vary in terms of fit: The backpanel can be adjusted between 16.5 and 24.4 inches (the women's packs fit 13.8 to 22-in. torso lengths), and Deuter lists the height range as between 66.9 (around 5'7") and 80.7 inches (around 6'9"). Rounding out the lineup are the more durable and feature-rich Aircontact X (offered in a women's 70 + 15SL model and men's 80 + 15 version) and pared-down Aircontact Ultra (available in 45 + 5SL and 50 + 5 variations).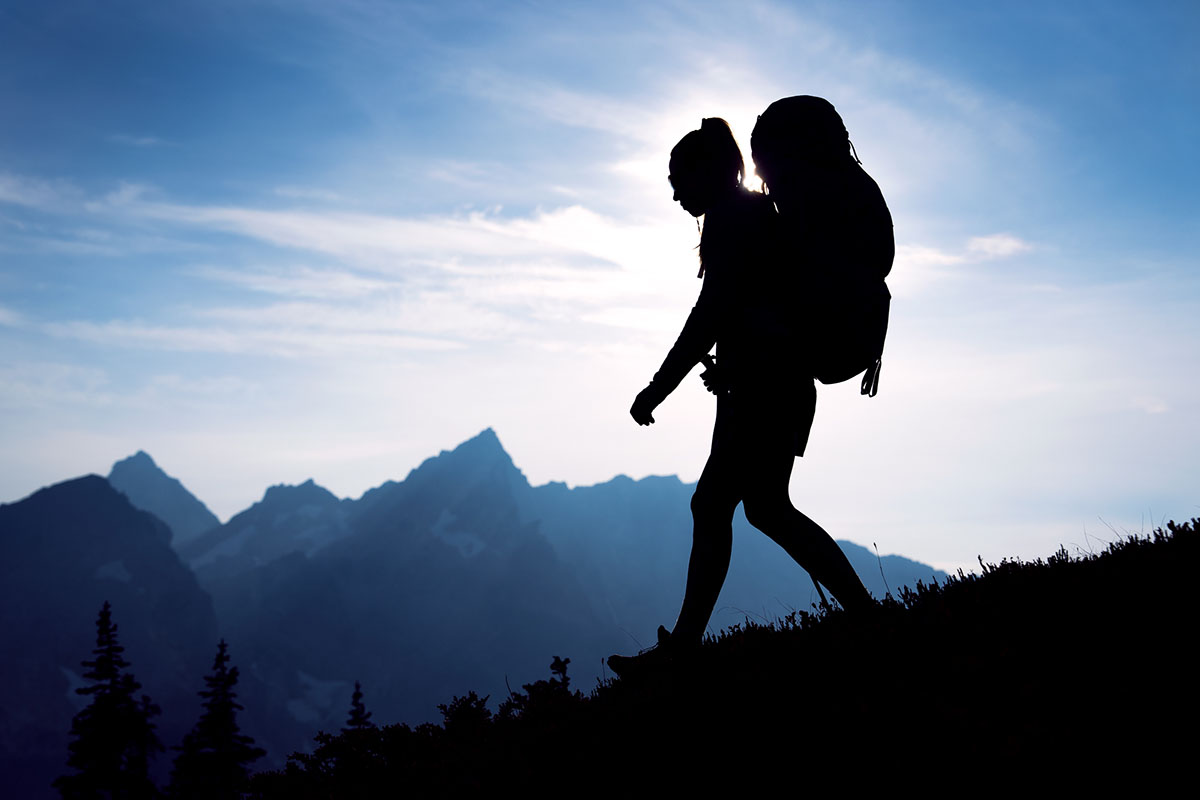 What We Like
Generous padding along the shoulders, hips, and back promotes great all-day comfort and support for shuttling heavy loads over long distances.
Hanging mesh backpanel is positioned far enough off the back to allow for generous airflow without detracting from overall stability. 
Highly adjustable with a well-executed and easy-to-use system for tweaking torso length.
Functional organization inside and out, from the handy J-shaped zipper along the front to the dual hipbelt and lid pockets.
Hardwearing build and thick materials stand up well to rough use.
Nice sustainability slant, including recycled and bluesign-approved materials and a PFC-free DWR coating.

What We Don't
Heavier than most competitors at 4 pounds 11.8 ounces.
Only offered in a single size, which won't work for some women.
Water bottle pockets are difficult to access while wearing the pack.


Comparison Table
| Pack | Price | Weight | Fabric | Capacities | Access | Pockets |
| --- | --- | --- | --- | --- | --- | --- |
| Deuter Aircontact Core | $250 | 4 lb. 11.8 oz. | Polyamide (235 & 500D) | 55, 70L | Top, front | 6 exterior |
| Osprey Aura AG 65 | $325 | 4 lb. 7.5 oz. | Nylon (210 & 500D) | 50, 65L | Top, sides | 8 exterior |
| Gregory Deva 70 | $350 | 4 lb. 11.2 oz. | Nylon (210D & 420D) | 60, 70L | Top, front | 9 exterior |
| Granite Gear Blaze 60 | $270 | 3 lbs. | Nylon (100D & 210D) | 60L | Top, front | 6 exterior |
| Deuter Futura Air Trek | $265 | 4 lb. 10.1 oz. | Polyamide (210D) & polyester (600D) | 55, 65L | Top, front | 8 exterior |

The Competition
Deuter's new Aircontact Core 60 + 10 SL is a well-built high-capacity backpacking pack for shuttling heavy loads over long distances, but it's not without competition in 2022. Our favorite design for multiple years running is Osprey's Aura AG 65 (and men's Atmos 65), which checks in around 4 ounces lighter than the Deuter while offering similar appeal in terms of comfort, breathability, organization, and durability. The AntiGravity suspended mesh backpanel is a class leader in ventilation, while the Fit-on-the-Fly harness system allows you to shift the padding along the hipbelt and shoulder straps into an ideal spot with a simple rip-and-stick design (by comparison, only the Deuter's shoulder harness can be moved up or down). The Osprey is also sold in two sizes, which will work for a wider range of backpackers, and you get additions like an integrated rain cover and two side zippers for more convenient access to the main compartment. The Aura will run you an additional $75, but we think the upgrades in adjustability and features will be worth it for most avid backpackers.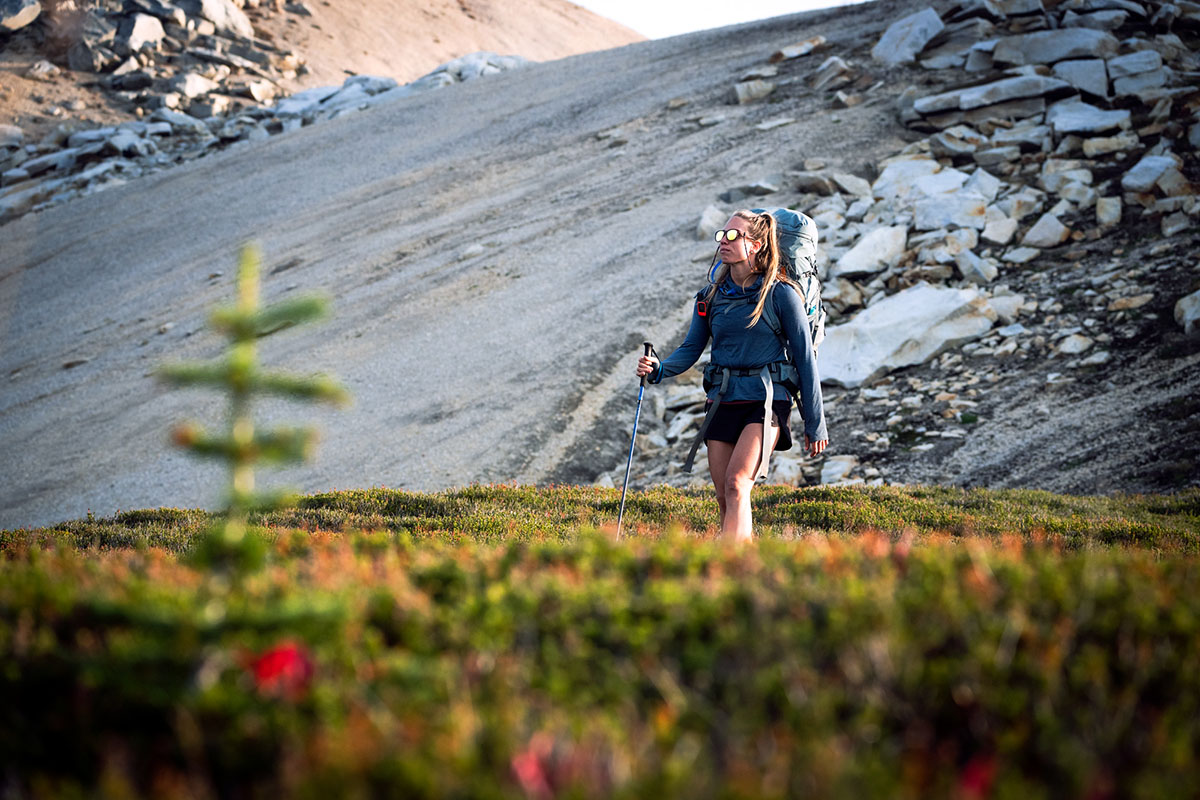 If you're looking for more of a dedicated heavy hauler, Gregory's Deva 70 (and men's Baltoro 75) is hard to beat. Like the Aircontact Core, the Deva is undeniably hefty at 4 pounds 11.2 ounces for a size small (just 0.6 oz. lighter than the Deuter) but doesn't skimp on comfort or features with firm but supportive padding and excellent organization. The Deva's hip-hugging suspension and pivoting shoulder straps keep the pack stable when hiking over uneven terrain, and the storage layout is well executed for divvying up multi-day loads—including nine exterior pockets (compared to the Deuter's six), U-shaped front access to the main compartment, and massive hipbelt pockets that are even larger than the Aircontact's. The Deva also comes in three sizing options with ample adjustability for achieving a close, body-hugging fit. The $350 price point may be too steep for some, but the advantages in fit and features justify the added investment, in our opinion.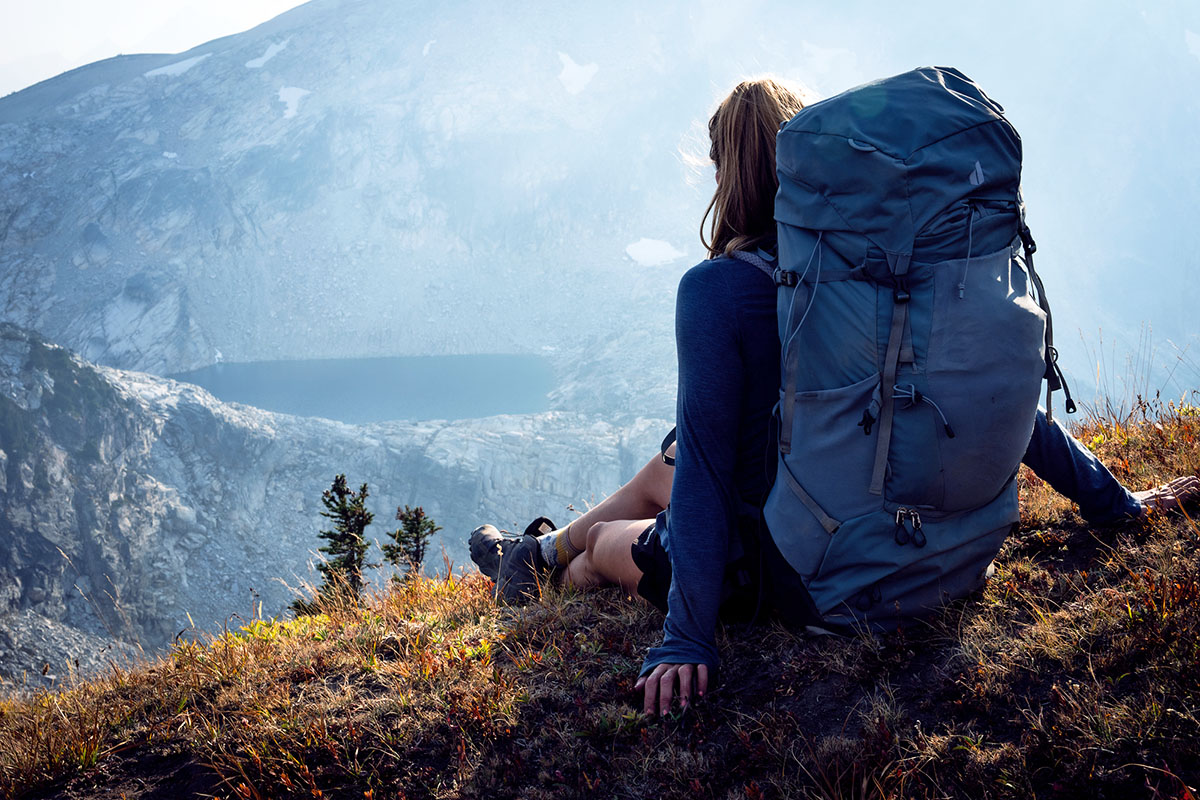 Next up is Granite Gear's Blaze 60, which combines heavy-hauling credentials and functional organization at a competitive 3-pound weight. I tested the Blaze on a difficult trek through the Grand Canyon a couple years ago and was impressed by the pack's overall performance: The sturdy frame sheet and substantial padding carried a full load surprisingly well (it's rated for 50 lbs.), and the oversized front and side exterior pockets are much larger than the Aircontact Core's and great for stashing everything from water bottles to extra layers. That said, the padded backpanel prioritizes comfort and support over breathability, and it takes some effort to adjust the shoulder straps and hipbelt (you have to reach behind the frame sheet to remove and reinsert the clips). Finally, the Blaze is less durable with a mix of 100 and 210D Robic nylon, although it's held up well to rough and frequent use. In the end, you'd be hard-pressed to find a more well-balanced pack for the weight, giving the Blaze the overall edge over the Aircontact.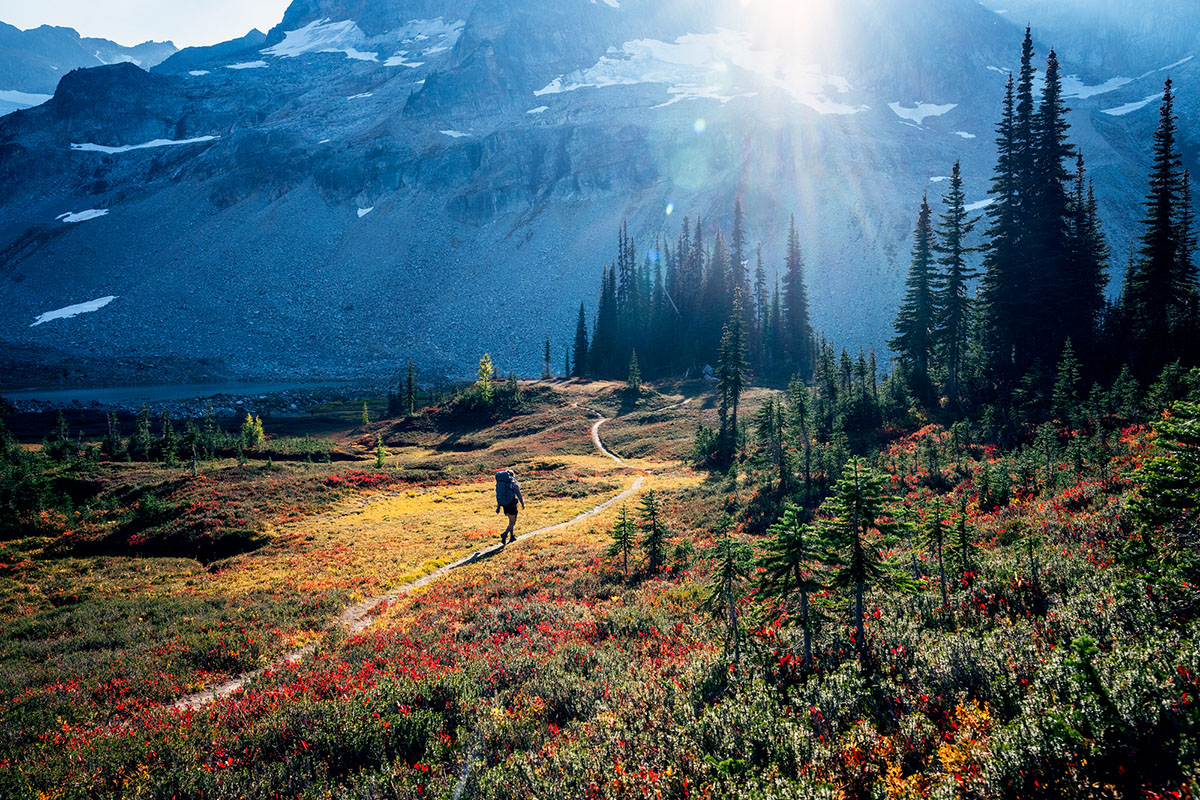 Last but not least is an in-house alternative to consider: Deuter's own Futura Air Trek 55 + 10 SL. I recently took the 45 + 10 SL variation to Patagonia for testing and appreciated the seemingly endless storage—including both top and front access, zippered compartments at each side (which the Aircontact lacks), large pockets at the hips and lid, and expandable collar. The two packs felt similar in terms of comfort and breathability, although the Futura's hanging backpanel is positioned farther away from the body, which creates a slightly polarizing look without any noticeable boost in ventilation. The 65-liter Futura is also $15 pricier, although it's around 2 ounces lighter, uses a thicker 600D fabric along the bottom, and comes with a couple extras including a rain cover and attachment loops for a helmet holder (sold separately). Whether or not the upgraded feature set and small weight savings are worth it is up to you, but both are well-built packs that nicely balance comfort, organization, and ventilation.
If you're thinking about buying gear that we've reviewed on Switchback Travel, you can help support us in the process. Just click on any of the seller links above, and if you make a purchase, we receive a small percentage of the transaction. The cost of the product is the same to you but this helps us continue to test and write about outdoor gear. Thanks and we appreciate your support!
Depending on the seller, most products ship free in the United States on orders of $50 or more. International shipping availability and rates vary by seller. The pricing information on this page is updated hourly but we are not responsible for inaccuracies.
Read More From Switchback Travel