Granite Gear Blaze 60
Price: $270
Weight: 3 lbs. (women's regular)
Fabric: Robic nylon (100D & 210D)
Capacity: 60L
What we like: Excellent mix of carrying comfort, organization, and weight.
What we don't: Limited back ventilation; takes time to dial in the fit.
See the Women's Granite Gear Blaze 60  See the Men's GG Blaze 60 
Effectively balancing weight, carrying comfort, and features is a tall order, but Granite Gear's Blaze 60 pack manages to do so with very few compromises. We took the women's Blaze on a 35-mile backpacking trip along the Grand Canyon's challenging Escalante Route and were impressed by its overall performance. Not only is the design exceptionally comfortable, adjustable, and fully featured, but it accomplishes this in a lightweight 3-pound package. Below we break down the Blaze's overall performance. To see how it stacks up to the competition, see our articles on the best backpacking packs and best women's backpacking packs.
 
---
Table of Contents
---

Performance
Carrying Comfort
Despite its decently lightweight build, the Granite Gear Blaze 60 is exceptionally comfortable. I'll start off by admitting that I was initially concerned when I took the Blaze out of its packaging. My pack for the past few years has been the Osprey Aura 65, and I'm used to its heavily cushioned and supremely comfortable feel. And given the Blaze's flimsier-looking shoulder and hipbelt straps, it seemed unlikely that it could compete. But after some struggling with the torso and waist belt adjustability (more in "Fit and Sizing" below), I found a good fit. And even loaded down with four days' worth of food, gear, extra layers, and a few liters of water, the pack carried surprisingly well. I didn't experience any pressure points, never felt off-balance, and its padding comfortably hauled upwards of 35-40 pounds for multiple 10-mile days (the Blaze is rated for 50 pounds).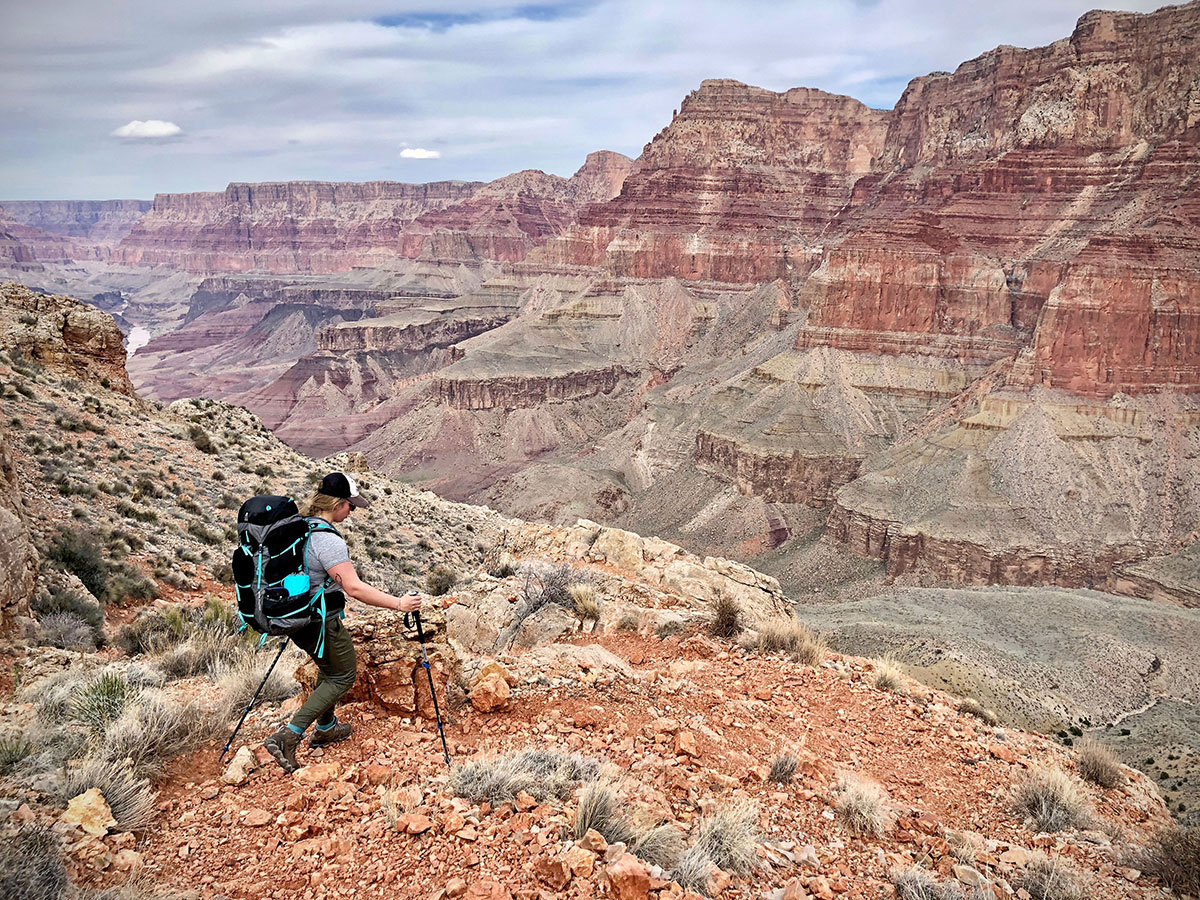 The Blaze 60 has a few components that can be removed to save weight and create a more streamlined pack, but take note that this might have an impact on carrying comfort. Starting at the top of the pack, the lid can be stripped entirely—a cinch-and-roll closure with cross webbing secures the top in its absence. The pack's sternum strap can also be taken off, as well as the entire hipbelt with two attached pockets. While I can envision removing the top lid on short backpacking outings, I plan to continue using the pack's full feature set on most trips given that it's still impressively lightweight.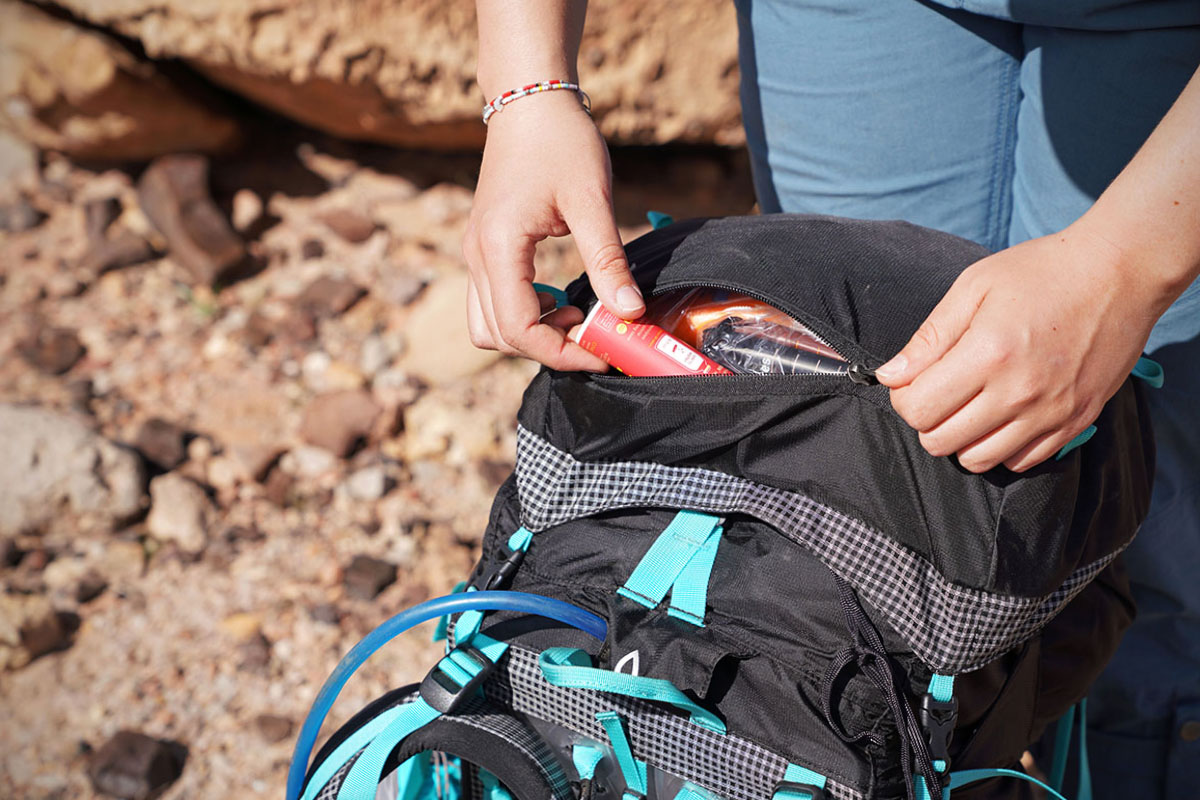 Weight
At 3 pounds for the women's "regular" size that we tested, the Granite Gear Blaze 60 packs a lot of punch in a lightweight package. True ultralight packs like the Zpacks Arc Blast 55 (1 lb. 4.6 oz.) and Granite Gear's own Crown2 60 (2 lbs. 5.8 oz.) shave significant weight, but they come with notable compromises including reduced carrying comfort and durability. Better comparisons include the Osprey Eja 58 (2 lbs. 8.5 oz.) and Gregory Maven 55 (3 lbs. 6.6 oz.), although we still think the Blaze is the best all-rounder of the bunch. You can go heavier with the 4-pound-5.4-ounce Osprey Aura AG 65, but whether it's worth shouldering the extra weight comes down to priorities (the Aura wins in ventilation and comfort, but the Blaze doesn't sacrifice much in organization or hauling capabilities). All told, the Blaze undercuts most similarly featured packs by a pound or more, which truly is an impressive feat.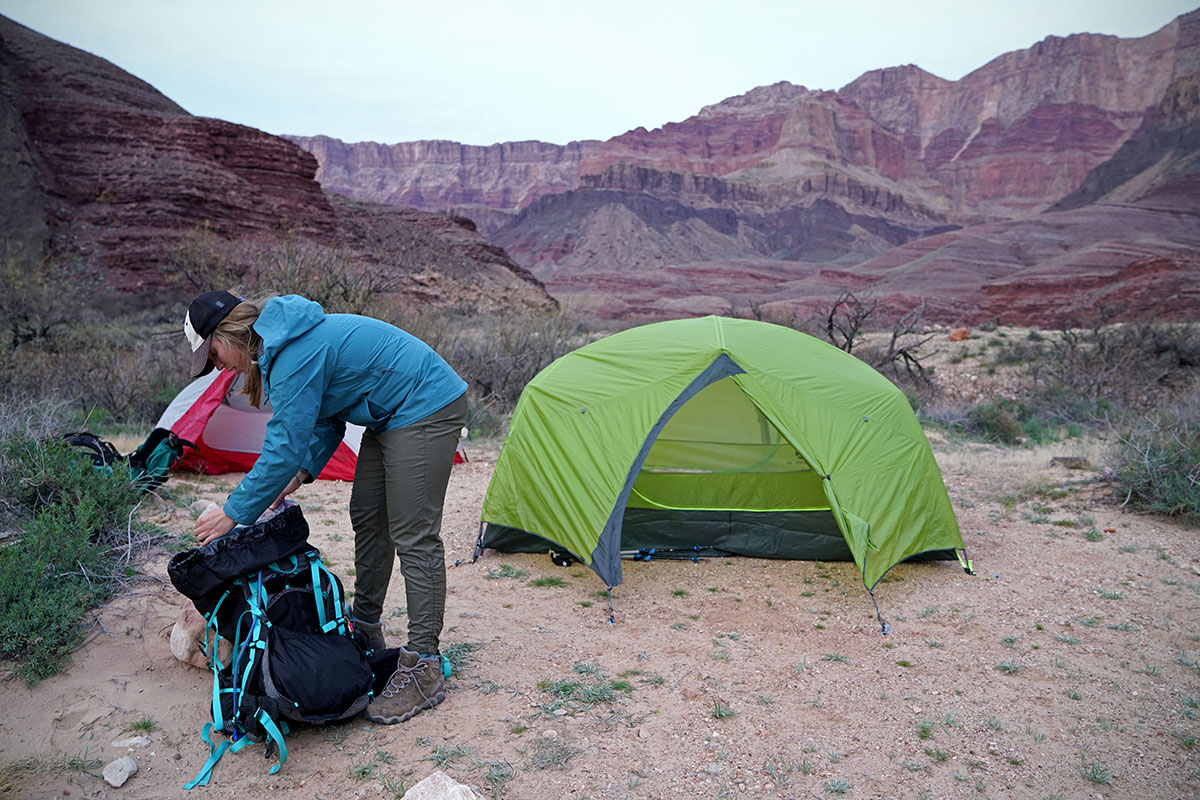 Organization
Granite Gear thought of just about everything when it comes to organization with the Blaze, and you'd be hard-pressed to find a pack that executes it better at this weight. With a total of six external pockets including one on the top lid, two massive side pockets, a front mesh pocket, and two large hipbelt pockets, I had no trouble fitting my crucial gear in easy-to-reach spots. The top lid can be removed entirely or worn as a chest pack, the hipbelt pockets easily swallow my plus-sized smartphone, and the mesh pockets at the sides can each stow two 32-ounce water bottles (I stuffed a Nalgene and my Sea to Summit Comfort Light sleeping pad into one pocket with room to spare). The pack also features a standard hydration sleeve and port.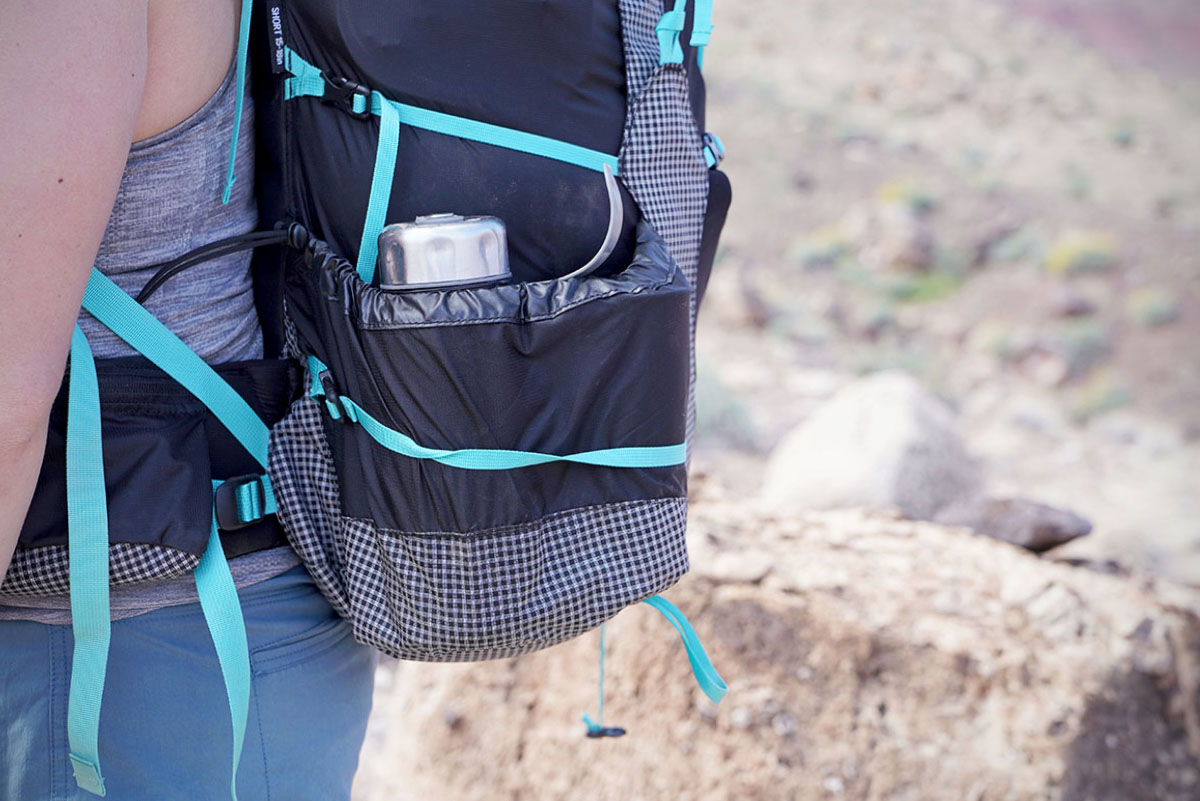 The main compartment can also be accessed via a hidden front zipper along the side of the mesh pocket—an incredibly convenient feature that we love to see on packs. This was especially helpful when we reached camp each night, as I could lay the back down flat, unzip the concealed front zipper, and reach in for my sleeping bag and down jacket without removing everything else above. Finally, there are plenty of front and side compression straps for securing extra gear to the outside, and they also serve to snug the pack down to fit the size of the load.
 
Ventilation
While the Blaze's molded foam backpanel is supportive and comfortable, it runs much warmer than mesh-heavy designs. In fact, the Blaze's lack of ventilation was almost immediately noticeable on the trail, even in moderate 50-degree temperatures. I've used Osprey packs for the last few years and have hardly noticed them on my back, but my experience with the Blaze was quite the opposite: after only a couple miles of hiking, my back was noticeably sweaty and the pack felt clammy against my body. I tend to run warm during aerobic activities, but even shedding layers couldn't solve the lack of breathability. If you're looking for the ultimate in ventilation, check out Osprey's Aura AG: its Anti-Gravity mesh backpanel is best-in-class and we haven't found a pack that breathes better.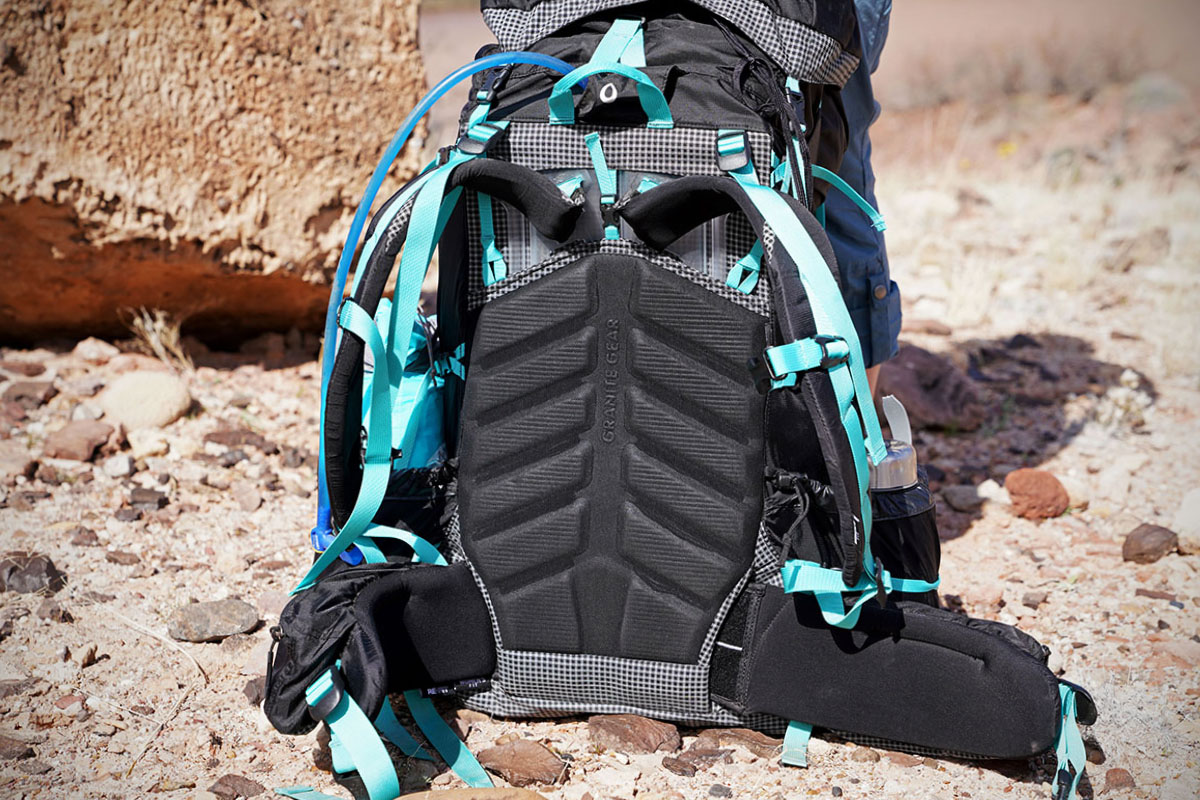 Build Quality and Durability
Using a combination of 100- and 210-denier Robic nylon, the Blaze 60 is built to handle the rigors of backpacking. As we experienced while testing the Gossamer Gear Mariposa 60 and ULA Circuit 68, Robic nylon is an impressively robust and abrasion-resistant fabric. Although Dyneema packs like the Zpacks Arc Blast often are lighter, they also are more prone to punctures (they do excel in terms of tear resistance). The only snag I've faced thus far was on day three of our trip in the Grand Canyon, when my microspikes migrated to the bottom of my pack and punctured their own case before poking through the pack itself. That said, the main compartment was fully stuffed the remainder of the trip, and the hole stayed tiny and almost unnoticeable even under considerable weight. I've since patched the pack and brought it on a number of follow-up outings with no issues.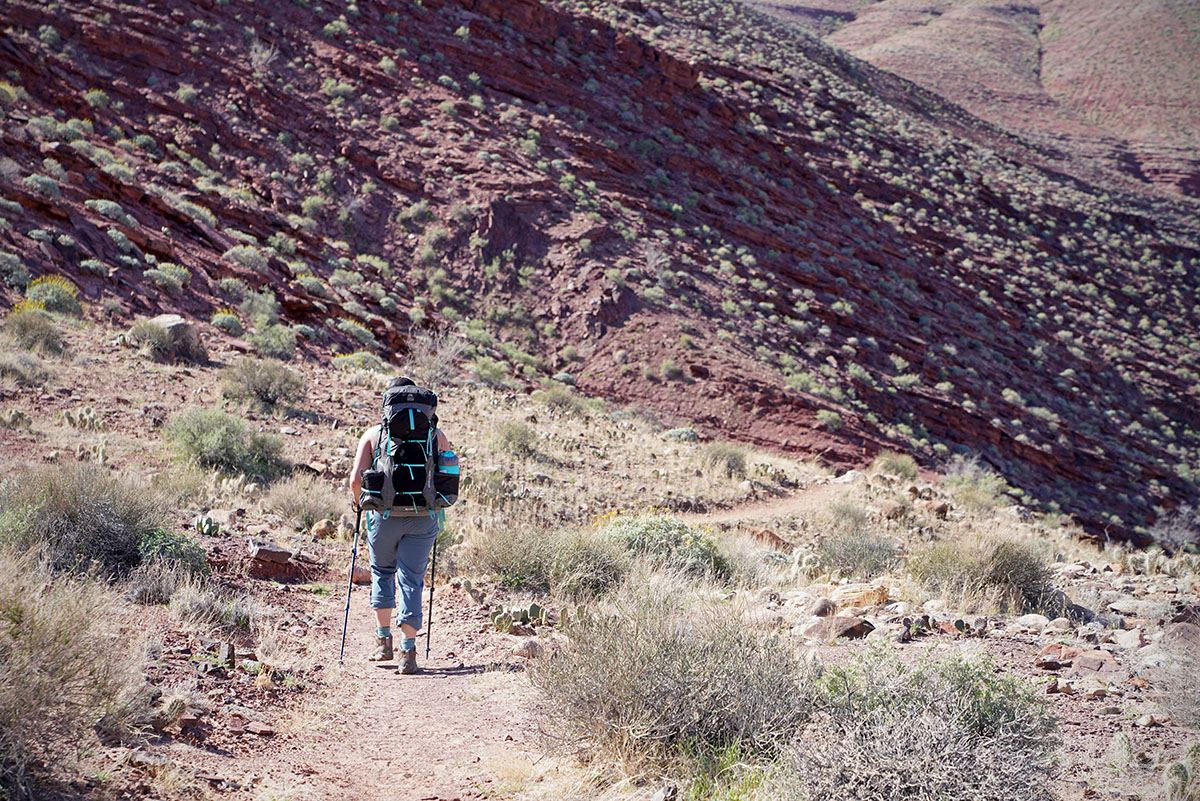 The Granite Gear Blaze 60 also has a DWR (durable water repellent) coating on its body and zippers along the hipbelt and lid. In conjunction with the tightly woven Robic nylon, this kept the contents of my pack dry even in sustained rain. However, it's important to note that a DWR finish is not a substitute for proper waterproofing. Instead, you should use a pack cover or liner in heavy rain to protect your gear. That said, I was pleasantly surprised after a wet day of hiking that my Ziploc bags of electronics and other necessities in the top lid stayed completely dry on the outside—even my phone that I left unprotected in the hipbelt pocket was safe.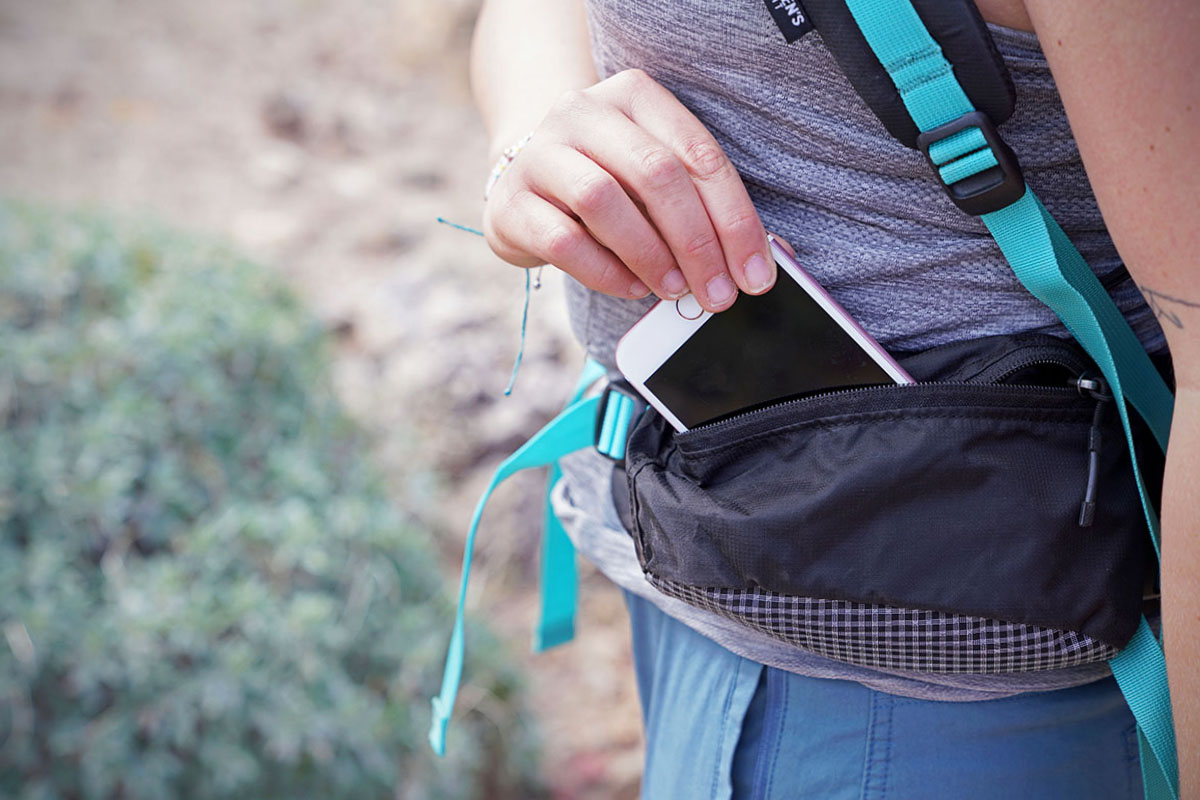 Fit and Sizing
While the Blaze 60 is highly adjustable, it takes some practice (and patience) to nail the fit. In my experience, toggling the hipbelt and shoulder straps to adjust torso length and waist measurements was a painstaking process. Specifically, you have to reach behind the framesheet to remove and reinsert the shoulder strap clips, while the hipbelt requires pushing and pulling to slide back into place. However, once the fit was dialed in, I had no other complaints. The women's Blaze 60 comes in short (15-18 inches) and regular (18-21 inches) torso length options, and with so much room for adjustment, most backpackers should be able to find a nice, snug fit.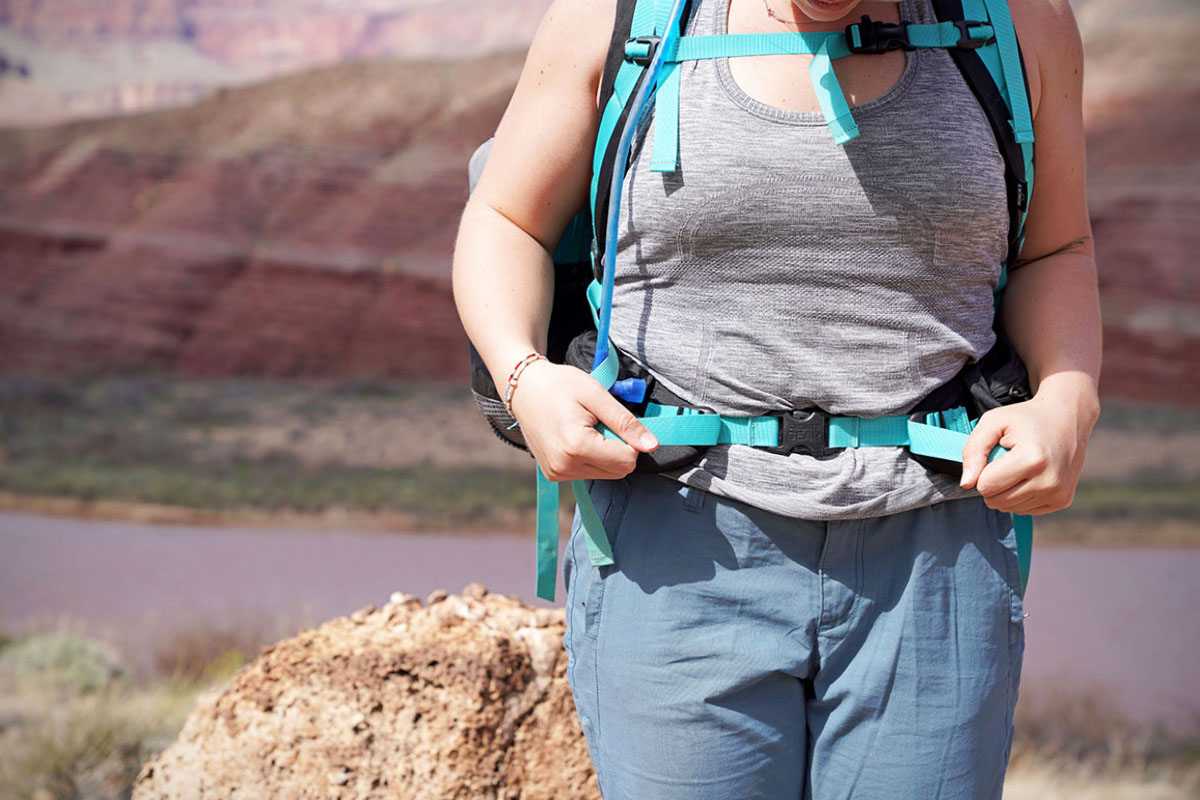 Other Versions of the Granite Gear Blaze
We tested the women's-specific Blaze 60, which complements the unisex model. The two share the same design, weight, feature set, and customization options, although the unisex pack does come in an additional long torso length size (21-24 inches; 3 lbs. 1.6 oz.). We don't yet have firsthand experience with the unisex Blaze, but we imagine it offers a very similar fit. You also get more muted color options including plain black and tan, which some might prefer over the bright teal accents on the women's pack.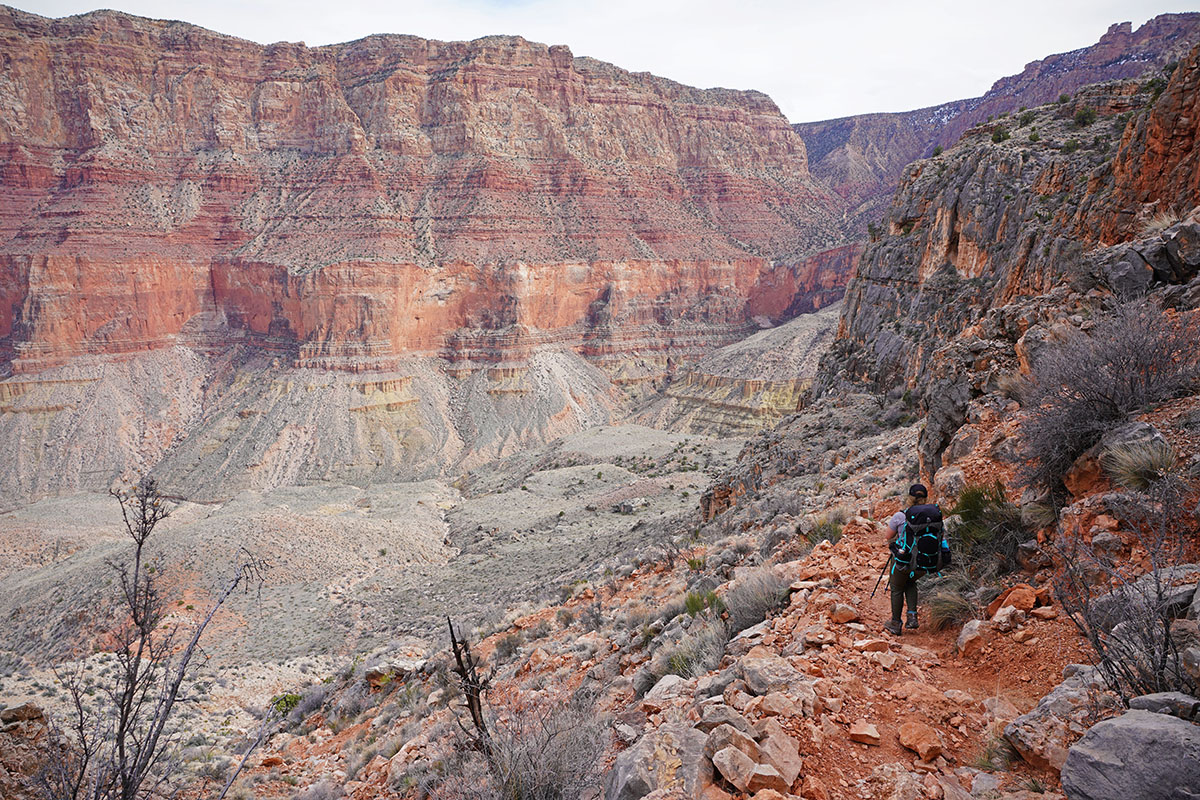 What We Like
Despite its low weight, the Blaze 60 hauls weight extremely well and is very comfortable mile after mile.
Massive side pockets, a removable top lid, and hidden zipper across the front panel all add convenience and allow easy access to crucial gear while on the trail.
The pack's many compression straps allow you to snug the pack down to fit your load—whether you're hauling half the pack's capacity or maxing it out.
 
What We Don't
While the backpanel is nicely padded, it runs much warmer than mesh-heavy designs. 
It takes time and practice to dial in the fit of the shoulder straps and hipbelt.
The women's pack only comes in one colorway (black and teal) that some might find a bit polarizing.
 
Comparison Table
| Pack | Price | Weight | Fabric | Capacities | Access | Pockets |
| --- | --- | --- | --- | --- | --- | --- |
| Granite Gear Blaze 60 | $270 | 3 lbs. | Nylon (100 & 210D) | 60L | Top, front | 6 exterior |
| Osprey Eja 58 | $220 | 2 lbs. 8.5 oz. | Nylon (100 & 210D) | 38, 48, 58L | Top | 5 exterior |
| Gregory Maven 55 | $230 | 3 lbs. 6.6 oz. | Nylon (100 & 210D) | 45, 55, 65L | Top, side | 6 exterior |
| ULA Circuit 68 | $255 | 2 lbs. 9 oz. | Robic nylon (400D) | 68L | Top | 5 exterior |
| Granite Gear Crown2 60 | $200 | 2 lbs. 5.8 oz. | Nylon (100 & 210D) | 38, 60L | Top | 6 exterior |
| Osprey Aura AG 65 | $270 | 4 lbs. 5.4 oz. | Nylon (100D x 630D) | 50, 65L | Top | 8 exterior |

The Competition
The Granite Gear Blaze 60's balance of comfort, organization, and weight pit it against some of the top backpacking packs on the market. Coming in at $50 cheaper than the Blaze, Osprey's Eja 58 is among our favorite ultralight models, with exceptional carrying comfort, a sub-3-pound weight (2 pounds 8.5 ounces), and a tensioned mesh backpanel that gives it the clear edge in ventilation (see our in-depth Eja review here). Our biggest complaint with the Eja 58 is durability: we've gotten multiple tears in our Exos pack (the Eja's men's-specific counterpart), which uses the same 100-denier nylon body build as the women's. Although the Blaze also uses 100-denier fabric, its more puncture-resistant Robic nylon fared better against rough rock. Further, the Eja lacks some organizational features like hipbelt pockets and contains fewer lash points. In the end, we like how few compromises the Blaze makes for just 7.5 ounces more.
Like the Blaze, we also think the Gregory Maven 55 (and men's Paragon 58) balances its priorities nicely. At $230 and 3 pounds 6.6 ounces, the Maven is heavier than the 3-pound Blaze but also more breathable with a mesh-heavy backpanel, comes with an integrated rain cover, and is decently comfortable on the trail. It also features similar torso length and hipbelt adjustability as the Granite Gear pack, and Gregory recently added a full-length side zip for quick access to the main compartment. However, where the Maven falls short is in its lack of features: comparatively, the Blaze has the same number of exterior pockets (six) but more compression straps and exterior gear storage options. For $40 more, we think the lighter-weight Blaze is the better all-around choice.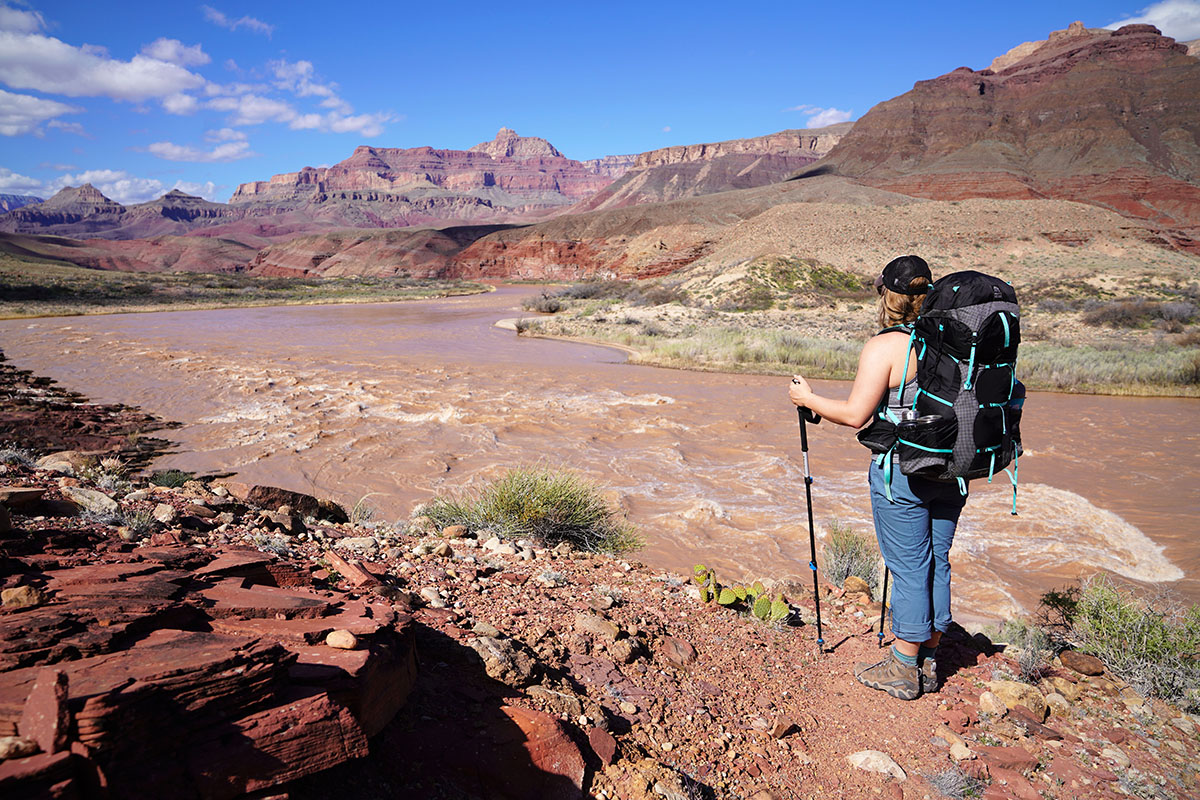 ULA packs are extremely popular among thru-hikers, and the Circuit 68 is their leading model. For $15 less than the Blaze, the Circuit is highly durable with a 400-denier Robic nylon build (much more puncture-resistant than the 100D Blaze), lightweight at 2 pounds 9 ounces, and highly customizable with a host of removable features. That said, the Circuit is only rated to 35 pounds (15 lbs. less than the Blaze) and features less padding along the shoulder straps and hipbelt, as well as fewer compression straps for snugging down the load. And for a bump in hauling power, ULA's Catalyst 75 is rated to 40 pounds, uses the same 400D nylon, and weighs the same as the Blaze with an impressive 15 additional liters of capacity. However, the more basic backpanel designs, thinner hipbelt and shoulder padding, and lack of a top lid make us more likely to reach for the Granite Gear, and especially on gear-intensive missions. 
From within Granite Gear's own lineup, the Crown2 60 is another ultralight design to consider. For $70 less than the Blaze ($200 total), you get an all-in weight of just 2 pounds 5.8 ounces, plenty of functional features like Granite Gear's generous compression straps and ample storage, a removable lid and backpanel, a roll-top closure, and an adjustable hipbelt that's identical to the Velcro system on the Blaze. How do the two packs differ? The Crown2's thinner padding along the shoulder straps and hipbelt weren't as capable at shuttling a heavy load (the pack began to suffer around 35 lbs.), while the Blaze handled similar weight with ease. You also aren't able to toggle the torso length, which is a feature we appreciated with the Blaze for nailing fit. All in all, both are excellent packs and the Crown2 is a nice alternative for those who travel fast and light, but the Blaze wins out in carrying comfort and hauling capabilities.
Finally, for those looking for a step up in comfort and ventilation, the Osprey Aura AG 65 (and men's Atmos AG 65) is a very popular backpack. We'll start off by stating the obvious: this is a fully featured, premium pack that doesn't share the same ultralight focus as the Blaze 60. Instead, the Aura offers well-appointed with thick padding along the shoulders, an Anti-Gravity mesh backpanel that offers superb breathability, and plenty of pockets and storage options. Predictably, it's also much heavier at 4 pounds 5.4 ounces—almost a pound and a half more than the Blaze. We love the ventilation and added cushioning on the Aura, but whether the added weight is worth it is up to you.
If you're thinking about buying gear that we've reviewed on Switchback Travel, you can help support us in the process. Just click on any of the seller links above, and if you make a purchase, we receive a small percentage of the transaction. The cost of the product is the same to you but this helps us continue to test and write about outdoor gear. Thanks and we appreciate your support!
Depending on the seller, most products ship free in the United States on orders of $50 or more. International shipping availability and rates vary by seller. The pricing information on this page is updated hourly but we are not responsible for inaccuracies.
Read More From Switchback Travel