Gossamer Gear Mariposa
Price: $270
Weight: 2 lbs. 0.6 oz. (large pack w/ medium hipbelt)
Fabric: Robic nylon (100D & 200D)
Capacity: 60L
What we like: Functional organization and great durability in an ultralight package.
What we don't: Backpanel is prone to bunching (although the SitLight pad is removable). 
See the Gossamer Gear Mariposa
I typically purchase gear with an eye toward fastpacking and previously thought of high-capacity packs as being useful only for slower thru-hikes or long trips into the backcountry. The Gossamer Gear Mariposa 60 backpack has changed my mind. Though spacious at 60 liters, with solid suspension, durable materials, and a slew of well-planned pockets for organization, the Mariposa weighs only 2 pounds and easily obtains ultralight status. In fact, it quickly has become my go-to pack for backpacking trips regardless of distance or number of days. Below I break down the Mariposa's performance. To see how it stacks up, see our articles on the best backpacking packs and ultralight backpacks.
 
---
Table of Contents
---

Performance
Carrying Comfort
Despite an ultralight build that weighs just over 2 pounds, the Gossamer Gear Mariposa 60 is surprisingly comfortable, even when loaded down. Much of the credit goes to its suspension system, which uses an internal aluminum stay that inserts into the hipbelt. This lightweight frame stiffens the pack and helps distribute the weight from the shoulders onto the hips. The stay can be removed to reduce weight by 3.5 ounces, but I prefer to leave it in. Without it, I feel that the pack loses its structure and makes the hipbelt ride up onto my waist.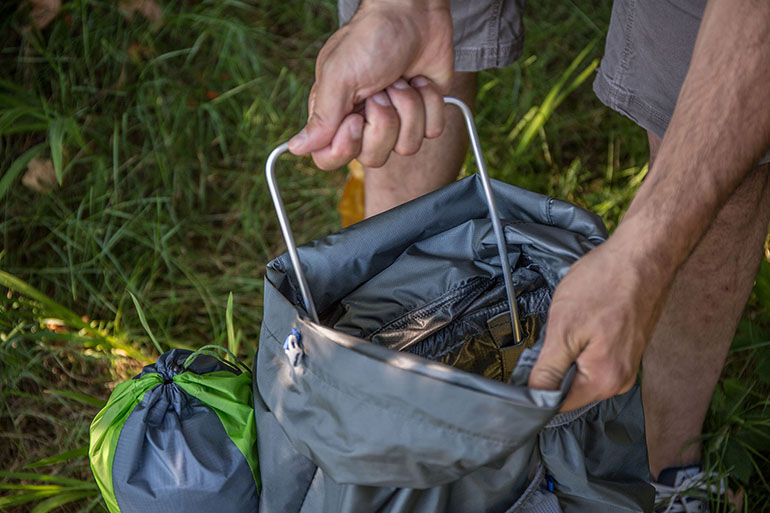 Further, with a recommended maximum load of 35 pounds, the Mariposa has a fairly high load capacity within the ultralight category. For my trip in the Canadian Rockies, I packed the basics for fastpacking along with a large amount of camera gear, pushing the pack slightly beyond its load limit. Even after multiple eight- to 10-hour days on the trail, the Mariposa remained balanced and comfortable. With proper adjustments to the load-lifter straps and hipbelt, it never felt as though it was hanging off of my back or pulling on my shoulders.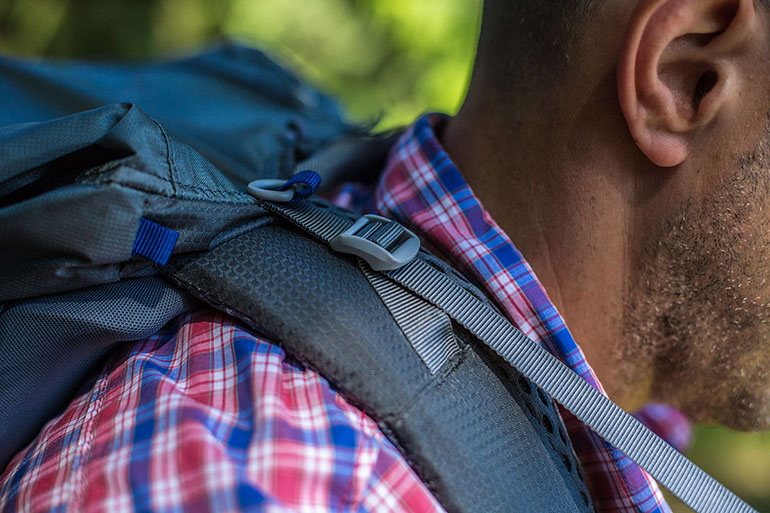 The Mariposa has a number of components that can be removed to save weight and create a more streamlined pack. As I mentioned above, I prefer to leave the stay in for comfort, but I often take out the "SitLight" backpanel. This foam piece slides into two sleeves and doubles as back support and a sit pad, but I find that it can bunch up and lead to pressure points. Unless I ever plan to reduce weight by leaving a sleeping pad behind or have gear with particularly sharp edges, I will continue to leave the backpanel at home.

Weight
The Mariposa is an ultralight pack that can weigh as little as 1 pound 1.2 ounces when stripped down. Because it's so customizable both in terms of features and sizing, your body type and preferences will determine the exact weight. For example, a small pack with a small hipbelt weighs 1 pound 12 ounces, while a large with a large hipbelt weighs just over 2 pounds (a full list of weights can be found on Gossamer Gear's website). You also have the option of foregoing the hipbelt entirely, which will save you around 10 ounces at $45, but you'll give up a lot of carrying comfort. For reference, I had a large pack with a medium hipbelt, which clocks in at 2 pounds 0.6 ounces. This is competitive with many other leading UL packs designs including the Hyperlite 3400 Southwest (2 lbs. 0.6 oz.), Granite Gear Crown2 60 (2 lbs. 5.8 oz.), and ULA Circuit 68 (2 lbs. 4.6 oz.). You can go lighter with Zpacks' Arc Blast 55 at an impressively low 1 pound 4.6 ounces, but that pack is much more compromised in terms of storage and overall comfort.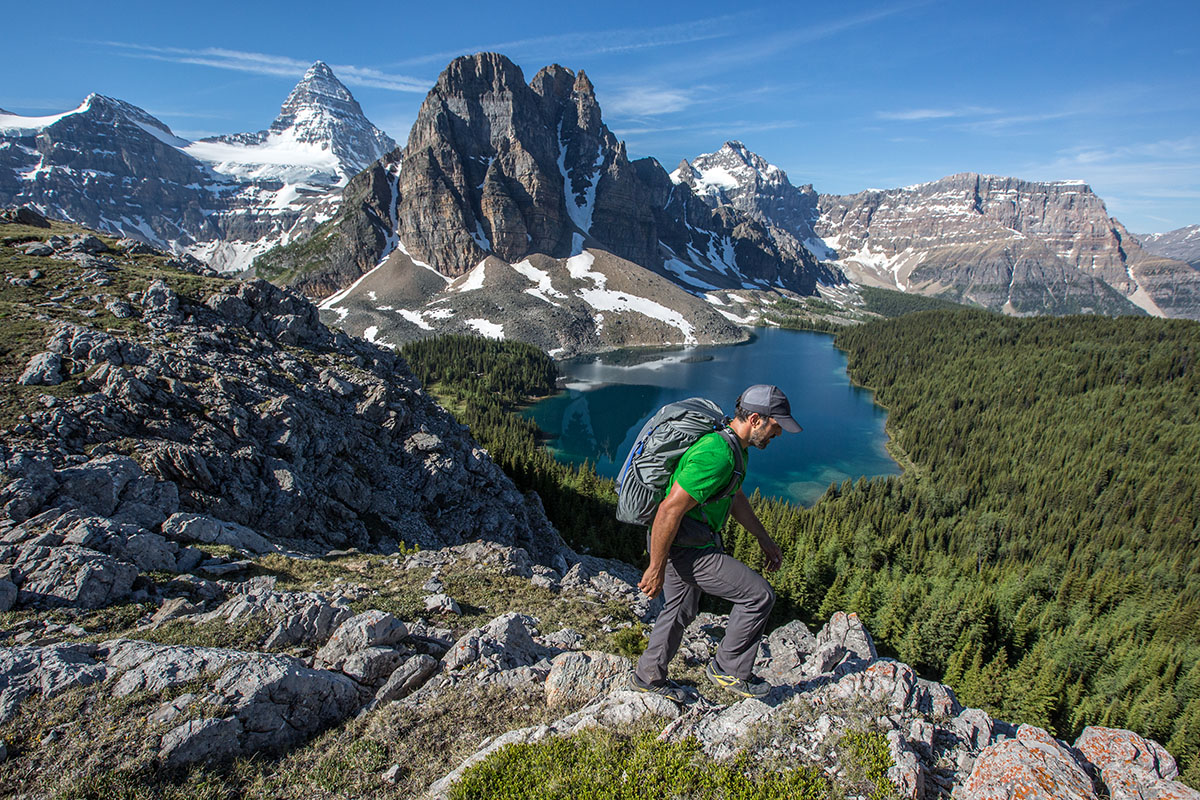 Organization
One of the first things I noticed about the Mariposa is its sheer number of external pockets. Not only does the pack have a cavernous main compartment, it also features a zip pocket on each hip and one on the top flap, two dump pockets on one side and one on the other, and a highly functional rear mesh dump pocket. Although I've never owned a backpacking pack with so many external pockets, I was an immediate convert. The four dump pockets are extremely convenient for storing items independently of each other—even large items such as a shelter or sleeping pad—and keeping gear easily accessible. Furthermore, each of these dump pockets features a drainage hole, and the ventilated design of the rear mesh pocket makes it especially ideal for stowing wet gear.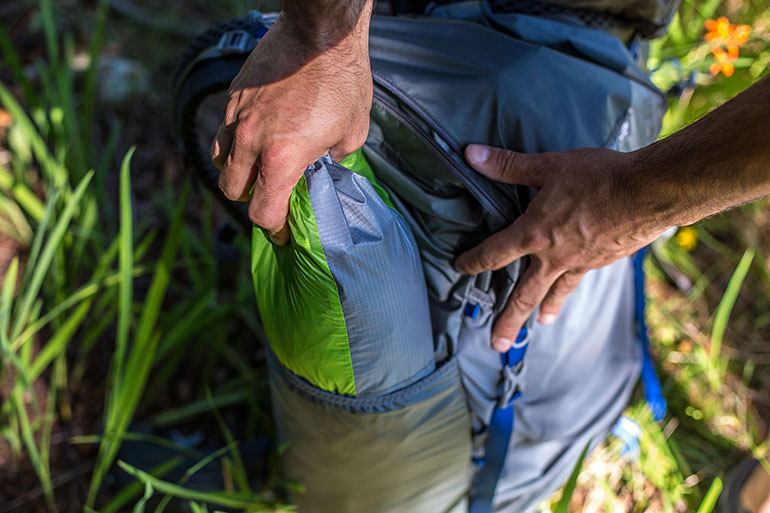 The main compartment is a deep cylinder with a large, bear-canister-friendly opening. I like the option of having a secondary zipper along the main compartment to access my heavy camera gear at the bottom of the pack, but unfortunately the Mariposa omits this feature in the name of weight-savings. For those who don't have expensive equipment that they prefer to keep stowed away in their main compartment, the lack of side entry likely won't pose a problem (the external dump pockets are extremely helpful with organization). And to round out the feature set, the Mariposa includes your typical pack essentials such as a hydration sleeve, exit hole, and straps to keep the hydration tube in place. And though I haven't used them yet, on the rear of the pack are several attachment points for trekking poles and an ice axe, along with loops for customizing a bungee attachment system.


Build Quality and Durability
Gossamer Gear overhauled their backpack lineup a few years back, and one of the most significant changes was shifting from Dyneema fabric to a 100- and 200-denier nylon called Robic. The claim is that the Robic used on the Mariposa 60 is more durable and puncture-resistant, and we can now attest to that. Despite solid abuse on trips through the Canadian Rockies and Coast Mountains, the fabric has not torn, stretched, or visibly worn in any manner. This is a notable improvement over our recent tests of Dyneema packs—both the Hyperlite Mountain Gear 3400 Windrider and Zpacks Arc Blast developed small punctures relatively quickly. Even the large mesh exterior pocket of the Mariposa, which we've stuffed to the gills, has held up admirably.
However, one benefit of Dyneema construction is its waterproofing properties. The Robic fabric isn't waterproof but is decently adept at shedding moisture. We were caught in a few torrential rainstorms while backpacking, during which I was worried about the contents in the bag. However, I was pleasantly surprised that my gear remained dry. That said, while the Gossamer Gear Mariposa can handle brief showers, I would recommend a cover if the forecast calls for heavy rain.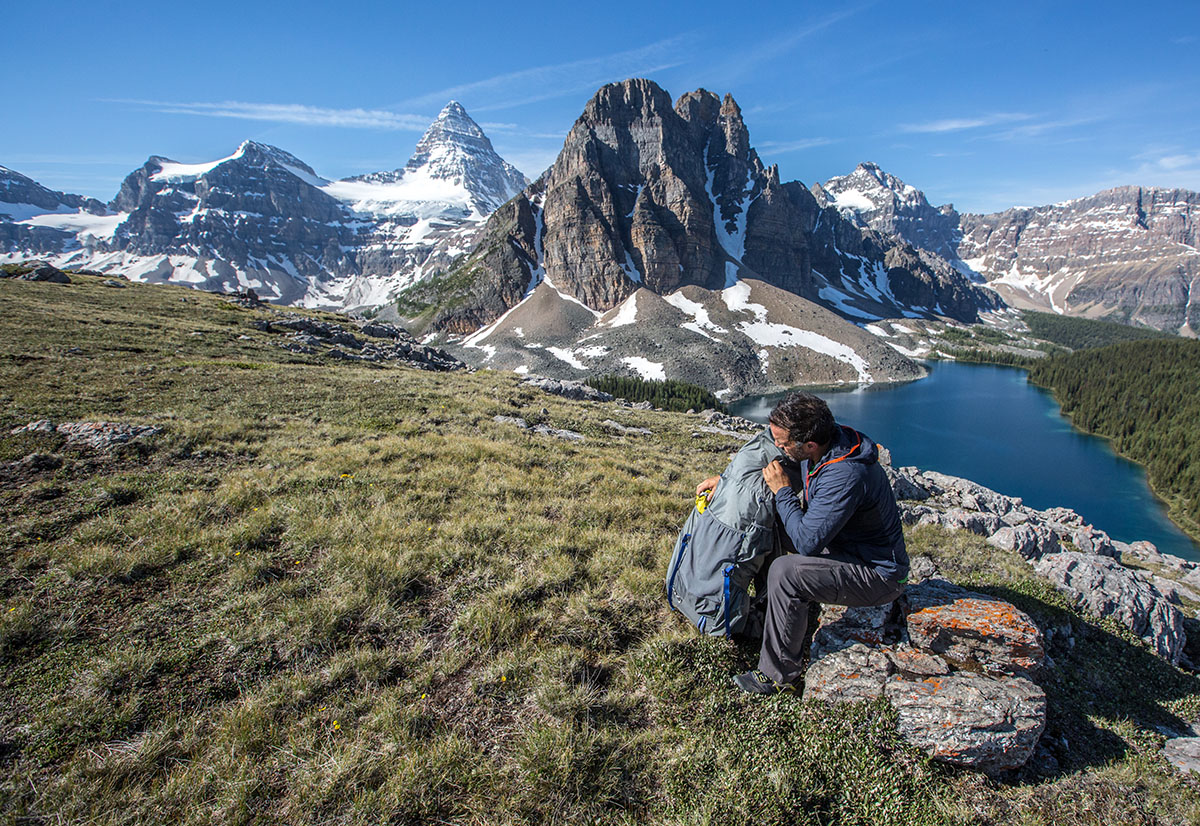 Fit and Sizing
We touched on this in the weight section above, but one of the best features of the Mariposa (and smaller Gorilla) is that it allows for an extremely customizable fit. First, you choose from three unisex torso sizes ranging from small to large. Next, the hipbelt is purchased separately, also available in small, medium, and large. Further, the unisex fitting applies to the shoulder straps, the shape of which impressively accommodates both my wife (narrow shoulders) and me (a relatively large frame). Combined with features such as an aluminum stay that can be bent to further hone in the fit, an adjustable sternum strap, and load-lifter straps above the shoulders, this pack is highly adjustable for a range of body types. And to help, Gossamer Gear provides an extensive fitting chart on their website. For further reference, my large pack and medium hipbelt comfortably fit my 33-inch waist and 42-inch chest.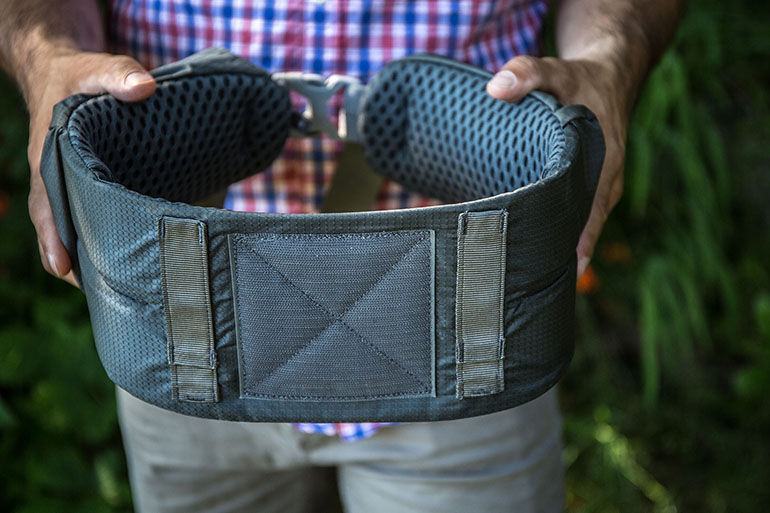 What We Like
Robic nylon fabric performs as billed: it's light, more durable than Dyneema, and sheds light moisture.
Exterior organization is a standout in the ultralight class.
The pack is comfortable right up to its weight limit of 35 pounds.

What We Don't
We found the removable "SitLight" pad along the backpanel was prone to bunching, and as a result we often left it behind.
A few more cinch straps would be great for tightening the pack when not fully loaded.
Some brighter color options would be nice.


Comparison Table

The Competition
Gossamer Gear's Mariposa is our favorite ultralight backpacking pack design for its impressively lightweight build that doesn't sacrifice much in the way of storage, comfort, or durability. Among the competition is the Hyperlite Mountain Gear 3400 Southwest, which features an identical weight (2 lbs. 0.6 oz.) and similar levels of carrying comfort but has less organizational features and a significantly higher price tag ($355). The Southwest also uses Dyneema Composite Fabric instead of Robic nylon, which is waterproof along with being lightweight. That said, Dyneema is prone to puncturing from sharp rocks and other objects and is less durable overall than the Mariposa's Robic construction. All told, the Gossamer Gear wins out in the organization and durability categories, but the Hyperlite's waterproof design is alluring for those who hike in wet environments.
The Zpacks Arc Blast 55L ($349) is another worthy UL option that uses a mix of Dyneema and polyester fabrics, giving it the added benefit of waterproofing. This combination of materials is impressively lightweight, keeping the pack at 1 pound 4.6 ounces—significantly less than the medium version of the Mariposa with a hipbelt. But with only three external pockets (none of which zip), the Arc Blast is limited in its organizational capacity, and we find that it doesn't carry a load as well. If pack weight is your number one consideration, it's hard to argue against the Arc Blast. But we give the overall edge to the Gossamer Gear Mariposa for its added carrying comfort, organization, and durability.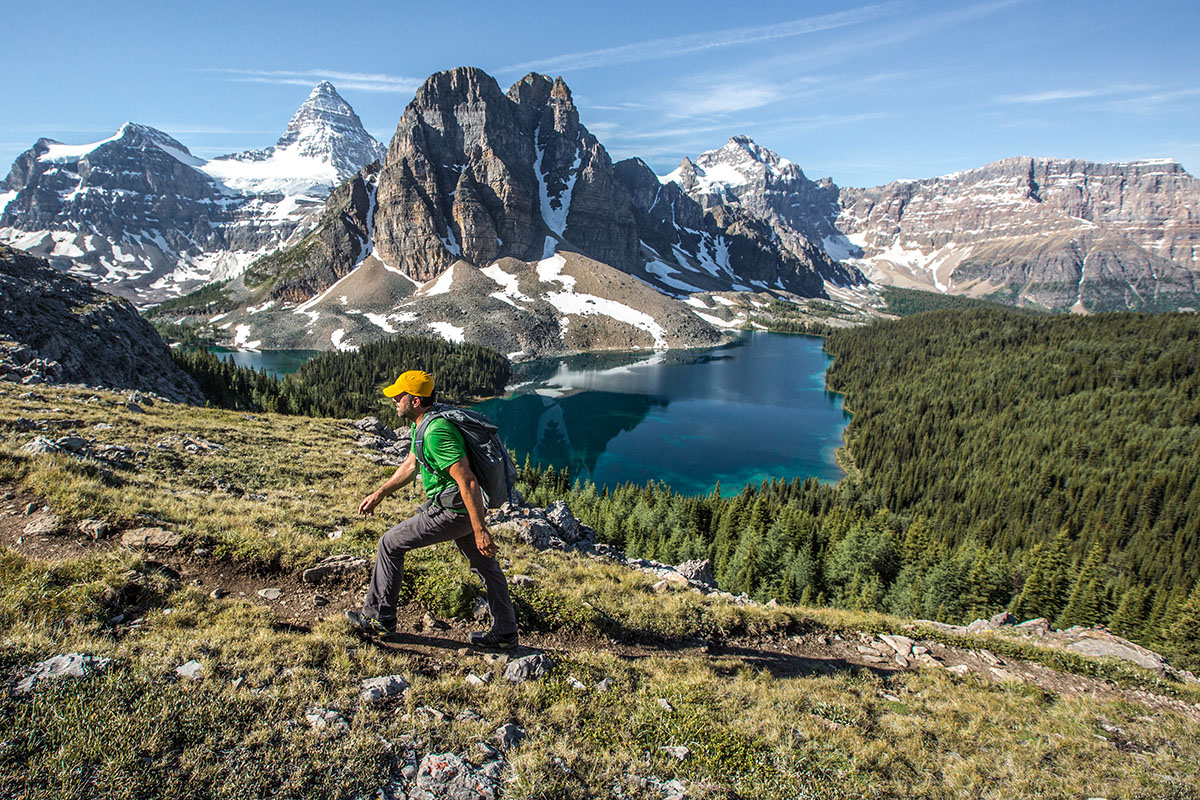 Utah-based ULA Equipment is another standout in the ultralight gear realm, and their Circuit 68 backpack is a well-rounded option in a durable yet streamlined package. Right off the bat, we'll note that the Circuit is heavier than the packs above at 2 pounds 4.6 ounces (for a medium pack with a medium hipbelt) but offers a nice balance of organization and comfort. Like the Mariposa, the ULA uses a tough Robic nylon construction (400D), which is exceptionally durable and tear-resistant. That said, we've found the Gossamer Gear to be plenty hardwearing, and we give it the edge over the ULA for its lower weight.
Osprey's Levity 60 is yet another attractive option, similar to the Mariposa in its lightweight nylon makeup and large external dump pockets. But at 1 pound 15.2 ounces, the Levity is both lighter and features superior ventilation: the backpanel is constructed from a thin mesh which allows constant airflow between your back and the pack. We find that breathability often is overlooked on ultralight packs but makes a large difference during rigorous hikes and in warmer climates. Unfortunately, this means the Levity has to shave weight somewhere, and its extremely thin 30-denier nylon along the sides requires special care and gives up a lot in terms of durability when compared to the packs above. We give the edge to the Gossamer Gear based on its superior carrying abilities and more robust fabric, but the Osprey is worth considering if you prioritize weight and ventilation.
Finally, REI isn't known for their ultralight gear—perhaps quite the opposite—but we've been impressed with the latest Flash 55. It is a super customizable design that can go from a fully featured traditional pack at 2 pounds 10 ounces to a stripped-down ultralight pack at only 2 pounds 3 ounces. Plus, the Flash features rarely seen (in the ultralight world) backpanel ventilation and a burly 420-denier bottom fabric (for more, see our in-depth Flash 55 review). Similar to the Mariposa, the Flash excels at comfort and support, even with heavier loads, but REI doesn't offer the same convenience of customizing torso lengths and hipbelt sizes. And at 2 pounds 3 ounces for the most stripped-down version (i.e. no top lid or hipbelt pockets), the Flash 55 is still heavier than the fully featured Mariposa. Despite coming up short in a direct comparison, it's exciting to see REI entering the ultralight world, and we appreciate the solid construction, entry-level price ($199), and nice feature set of the Flash.
Learn More About Outdoor Gear