I typically purchase gear with an eye toward fastpacking, and previously thought of high-capacity packs as being for slower thru-hikes or weeklong trips into the backcountry. The Gossamer Gear Mariposa 60 backpack has changed my mind. Though spacious at 60 liters, with solid suspension, durable materials, and a slew of well-planned pockets for organization, the Mariposa weighs only 2 pounds and easily obtains ultralight status. It quickly has become our go-to pack for backpacking trips regardless of distance or number of days. You don't get the waterproof Dyneema construction like ZPacks or Hyperlite Mountain Gear, but we value the durability of the Mariposa's new Robic nylon. Below we break down the Mariposa's construction, organization, fit, comfort, and more. And check out our comparison table and article on the best backpacking packs to see how the Mariposa 60 stacks up.
 
Performance
Tough Robic Nylon Construction
Gossamer Gear overhauled their backpack lineup in 2015, and one of the most significant changes was from Dyneema fabric to a 100 and 200-denier nylon called Robic. The claim is that Robic used on the Mariposa 60 pack is more durable and puncture resistant, and we can now attest to that. Despite solid abuse on trips through the Canadian Rockies and Coast Mountains, the fabric has not torn, stretched, or visibly worn in any manner. This is a notable improvement over our recent tests of Dyneema packs—both the Hyperlite Windrider and ZPacks Arc Blast developed small punctures in the fabric relatively quickly. Even the large mesh exterior pocket of the Mariposa, which we've stuffed to the gills, has held up admirably.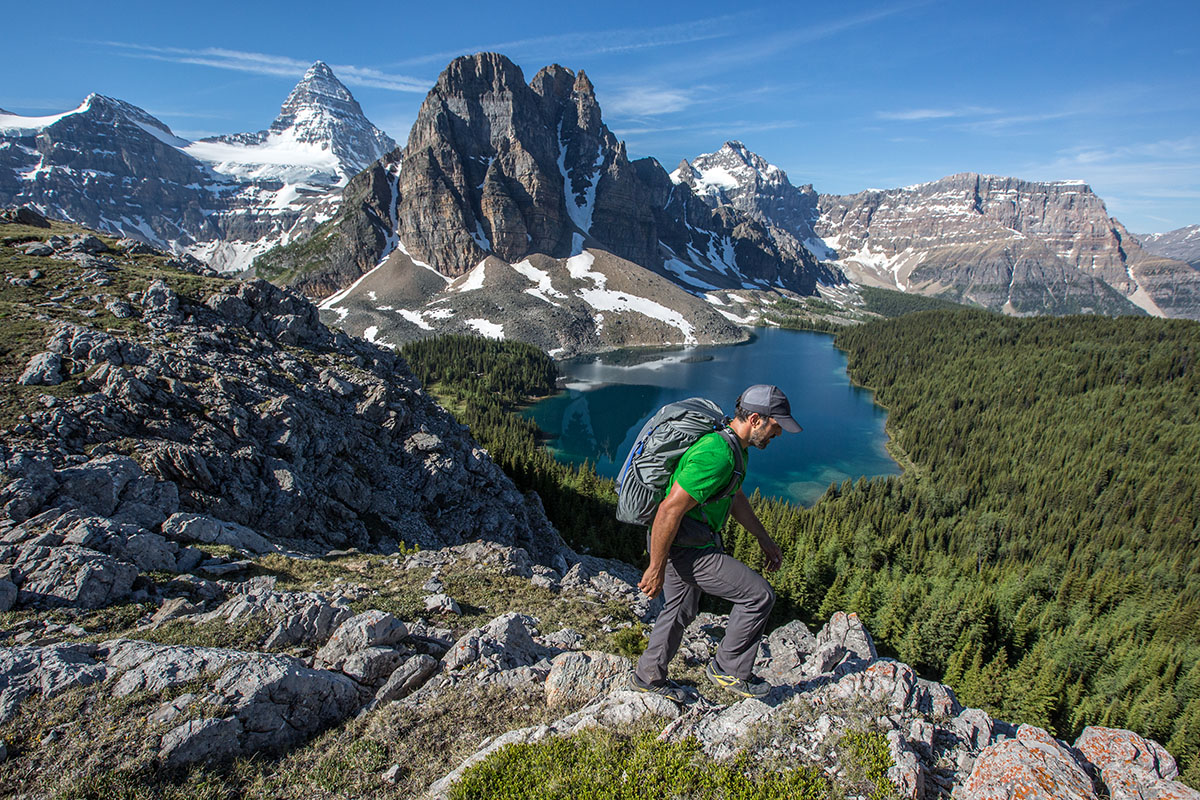 One benefit of Dyneema construction is its waterproofing properties. The Robic fabric isn't waterproof, but still is adept at shedding moisture. We were caught in a few torrential rainstorms while hiking in the Rocky Mountains, during which I was worried about the contents in the bag. However, I was pleasantly surprised that my gear remained dry. The Mariposa can handle brief showers but I still would bring a cover if the forecast calls for heavy rain.
 
Functional Organization
The Mariposa has fantastic organization with a large main compartment, seven external pockets, and a highly functional rear mesh pocket. And the diversity in size means that items can be stored independently based on their volume, weight, and desired accessibility.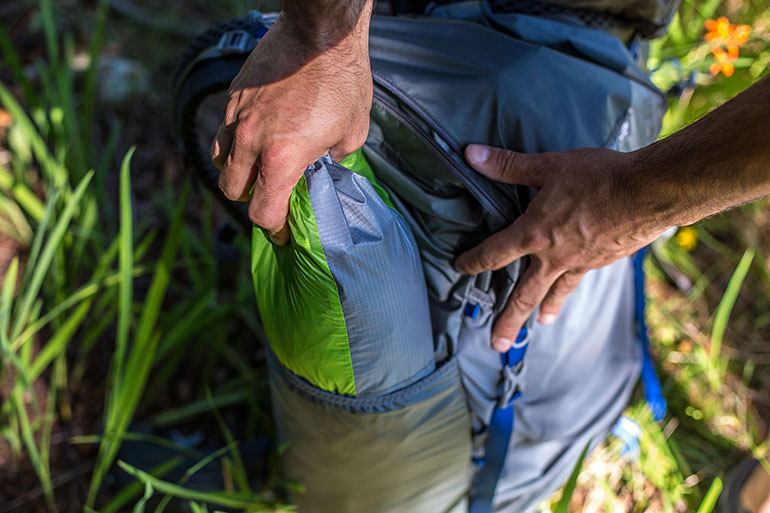 The main compartment is a cylinder with a large, bear canister-friendly opening. The tall OTT (Over-The-Top) cover drapes over and clips at the front of the pack, acting as a storm flap to protect items inside from moisture. A zippered pocket is located on the cover as well, and is great for important items like a map, headlamp, wallet and keys.
I typically carry heavy camera gear and prefer not to keep those items at the top of the pack. I'm therefore a huge fan of having a secondary zipper along the side or bottom, and adding such a zipper to the Mariposa would make it much easier to access my gear. Having said that, Gossamer Gear likely omitted a zipper to reduce weight and it is hard to argue against that reasoning.

Two hipbelt pockets are perfect for snacks and items you want close at hand. The large expandable rear pocket is mesh and has a drainage hole, making it ideal for wet gear, and I also like to store my down jacket there so that it is readily available. I find that the three side pockets, also with drainage, are perfect for my tripod, stove, and gas, or a tent. One of these pockets, on the right, is intended for water bottles and can be easily accessed without removing the pack.
To round out the organizational features, the Mariposa includes your typical pack essentials such as a hydration sleeve, exit hole, and straps to keep the hydration tube in place. And though I haven't used them yet, on the rear of the pack are several attachment points for trekking poles or an ice axe and loops for customizing a bungee attachment system.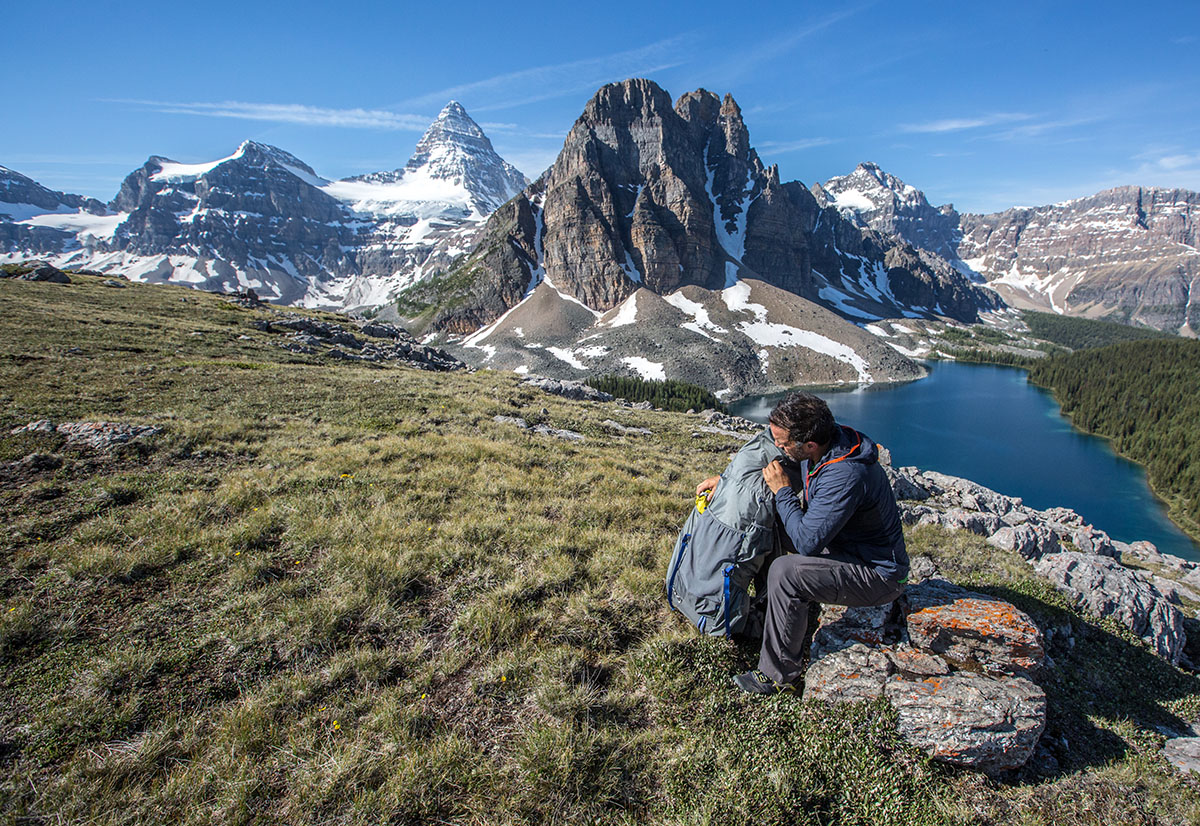 Fit and Comfort
Customizable Fit Options
One of the best features of the Mariposa (and smaller Gorilla) line of packs is that it is extremely adjustable. The hipbelt is designed to be unisex and can be purchased in various sizes from XS to XL. This feature alone means that my wife and I can share the pack by merely switching hipbelts.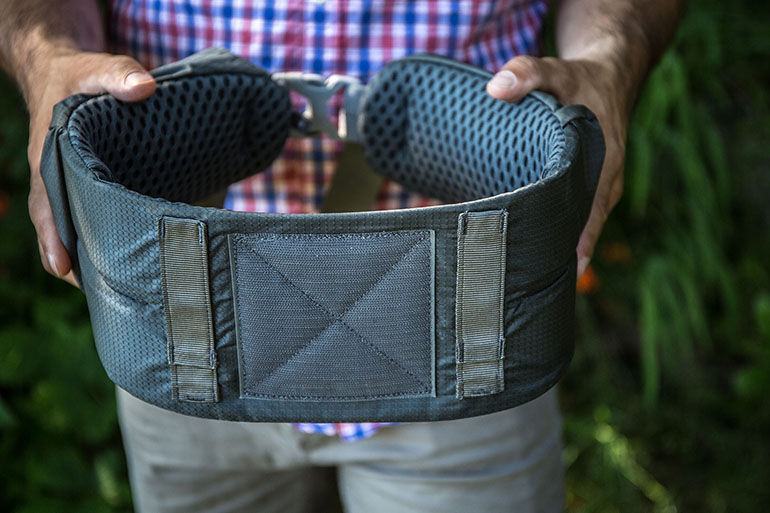 The unisex fitting also applies to the shoulder straps. They have been designed for women with narrow shoulders in mind, but I have a relatively large frame and never found the shoulder straps to be too tight. The pack also is available in multiple torso sizes ranging from XS to XL, and the aluminum stay can be bent to fit whichever one of us is wearing it. Combined with features such as an adjustable sternum strap and load lifter straps above the shoulders, this pack is highly adjustable for a range of body types. Gossamer Gear provides an extensive fitting chart, and I have a large pack and a medium hipbelt, which comfortable fits my 33-inch waist and 42-inch chest.
 
Carrying Comfort
With a fairly high load and weight capacity—the recommended maximum is 35 pounds—I can cram this pack with the essentials and then some. Loaded with the basics for fastpacking, I also squeezed in a large amount of camera gear that pushed the pack slightly beyond its load limit. Even doing this for multiple 8 to 10-hour days of hiking, the pack remained balanced and comfortable. With proper adjustments to the load lifter straps and hipbelt, the pack never felt as though it was hanging off of my back or pulling on my shoulders.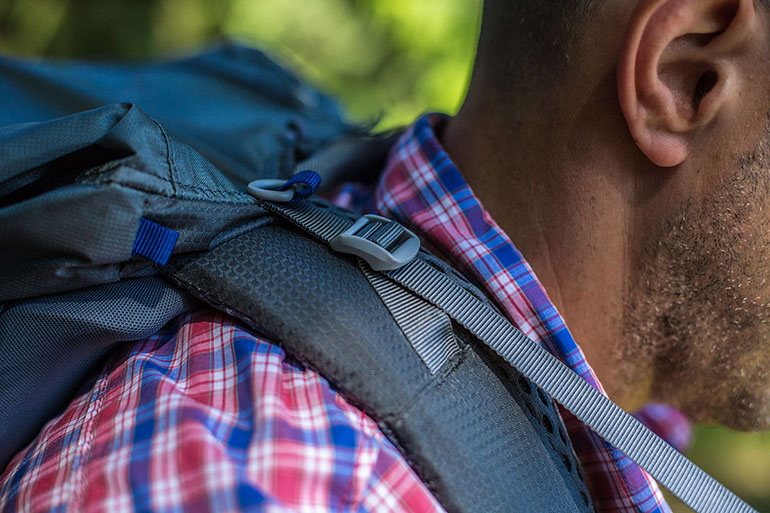 At just over 2 pounds, it's impressive just how comfortable the pack is. Much of the credit can be given to the Mariposa's suspension system, which uses an internal aluminum stay that inserts into the hipbelt. This lightweight frame stiffens the pack and helps distribute the weight from the shoulders onto the nicely padded hipbelt. Though the stay can be removed to reduce weight by 3.5 ounces, I prefer to leave it in. Without it, I feel that the pack loses its structure and makes the hipbelt ride up onto my waist.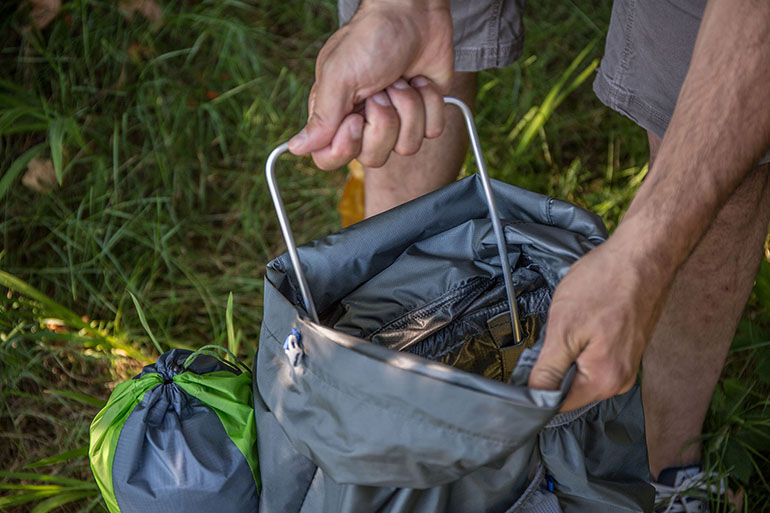 One removable item that we did want to leave behind is the "SitLight" backpanel. This foam piece slides into 2 sleeves and doubles as back support and a sit pad. I personally found that the pad bunched up and could lead to pressure points. Unless I ever plan to reduce weight by leaving a sleeping pad behind or have gear with particularly sharp edges, I will continue to leave it at home.
 
What We Like
Robic nylon fabric performs as billed: it's light, more durable than Dyneema, and sheds light moisture.
Exterior organization is a standout in the ultralight class.
The pack is comfortable right up to its weight limit of 35 pounds.

What We Don't
We found the removable "SitLight" pad along the back panel was prone to bunching, and as a result we often left it behind.
A few more cinch straps would be great for tightening the pack when not fully loaded.
Some brighter color options would be nice.


Comparison Table

The Competition
When the Mariposa was first released, it was beloved by thru-hikers and early adopters of ultralight gear but went largely unnoticed elsewhere. With this update and a competitive price of $260, the pack now has an impressive resume that should please a wider group of backpackers. In our opinion, it outperforms the popular Osprey Exos 58, which weighs 10 ounces more, is less durable, and doesn't carry a load as comfortably. Instead, the primary competition comes from ultralight brands like ZPacks, Hyperlite Mountain Gear, and ULA Equipment.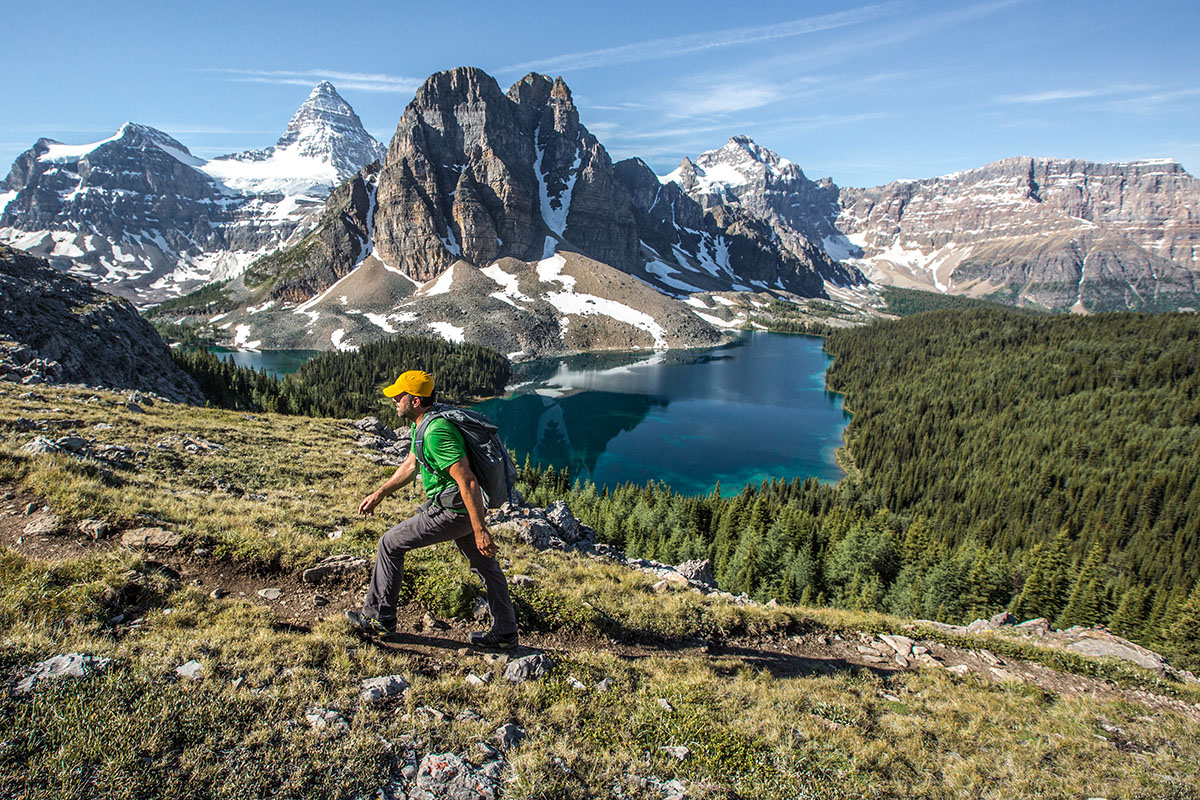 As mentioned above, the ZPacks Arc Blast 55L ($325) and Hyperlite 3400 Windrider ($340) both utilize Dyneema fabric in their construction. The material is amazingly light (our Arc Blast 55L weighs only 1 pound 8 ounces), has the added benefit of waterproofing, and both the Arc Blast and Windrider packs can comfortably haul a load up to about 30 pounds. But while we've found that Dyneema is very strong and tear resistant, it is expensive and vulnerable to punctures from rocks or other sharp objects (you can see our full take on the fabric in our review of the Hyperlite 3400 Windrider). If weight is your number one consideration, it's hard to argue against the Dyneema packs, but we give the overall edge to the Gossamer Gear for its added durability.
The ULA Circuit is the new darling of the AT and PCT, and has the Mariposa beat in overall capacity (68 vs. 60 liters). It's also the more durable option because of extensive use of 210-denier Robic nylon, but as a consequence of the size and fabric choice does weigh approximately 8 ounces more. Both are fantastic packs and their versatility in exterior organization should make them top choices for thru-hikers or any lightweight backpacker.
Learn More About Outdoor Gear