Running on varied and challenging trails is a welcome break from the monotony of pounding pavement (or even worse, the belt of a treadmill). Better yet, trail running is an immensely easy sport to get into. Below are our top trail runners of 2020, from flexible and lightweight shoes for smooth trails to tough and stable designs for tackling technical or mountainous terrain. tIf you're needing any background information on shoe types and features, see our trail-running shoe comparison table and buying advice below the picks. 
 
Best Overall Trail-Running Shoe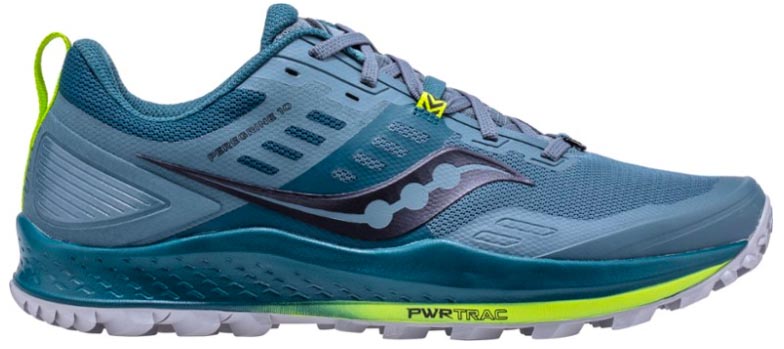 Category: All-around
Weight: 1 lb. 5.4 oz.
Cushioning: Moderate
Drop: 4mm
What we like: Excellent mix of traction, comfort, and weight.
What we don't: A bit too flexy for highly technical terrain.
Saucony's Peregrine has been a favorite of ours over multiple generations, and the "10" builds on the winning formula. Simply put, the shoe excels in all of the categories that matter: traction, cushioning, protection, and weight. We love its signature trail-eating, teeth-like tread that grips anything from wet rocks to hardpack dirt, and the premium midsole is responsive and comfortable even on high-mileage days. It's still not a standout over highly technical terrain, and it's overbuilt for pavement and gravel, but the shoe's well-balanced build earns it our top spot for 2020.
For the latest model, Saucony ditched their ISOFIT system in lieu of a more protective, form-fitting upper and swapped out the midsole for a springier foam that gives it a more energetic feel. They've also brought back the rock plate and added a dozen customizable ports in the outsole, giving you the option of drilling holes to promote drainage or adding screws for extra traction in slippery conditions. And it's worth noting that Saucony released an ST (soft terrain) version along with the 10, which adds longer lugs (6.5mm compared to the standard version's 5mm) and an abrasion- and water-resistant upper for the same price. There's also a waterproof GTX model ($150). No matter what version you go with, the Peregrine offers an impressive combination of comfort, performance, and high-quality materials.
See the Men's Saucony Peregrine 10  See the Women's Saucony Peregrine 10
Best Trail Shoe for Rugged Terrain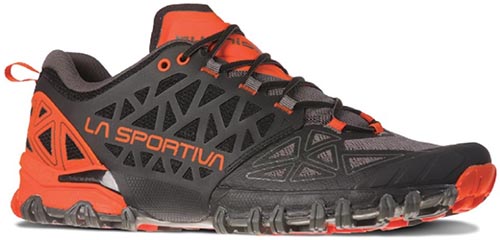 Category: Rugged trails
Weight: 1 lb. 5 oz.
Cushioning: Light/moderate
Drop: 6mm
What we like: A superb technical shoe with awesome traction.
What we don't: Overkill and stiff for easy trails.
La Sportiva is a climbing company at its core, so it should come as little surprise that their Bushido trail runner is most at home in the mountains. With a semi-stiff platform and burly lugs, the Bushido is our favorite shoe for technical trails: it's responsive, grips remarkably well, and is stable over challenging terrain. And unlike a heavily cushioned model, the La Sportiva retains excellent trail feel (this can be a downside, however, if you prefer a lot of isolation from harsh impacts). The Bushido was lightly updated to the "II" last spring with a new EVA midsole, rubber toe cap, and moderate boost to the durability of the upper. Importantly, its confidence-inspiring and fast-moving personality remains.
One thing to keep in mind with such a serious mountain runner is that the La Sportiva is stiffer than a standard trail shoe. It's intended for long runs where you'll have to climb and descend for extended stretches, and on a smooth path, this extra support is overkill and less comfortable than an all-around model like the Peregrine above. But if you tackle the steeps and want a reliable partner, we highly recommend the Bushido. Its performance fit and high levels of stability and traction truly make it stand out... Read in-depth review
See the Men's La Sportiva Bushido II  See the Women's La Sportiva Bushido II
Best Cushioned Trail-Running Shoe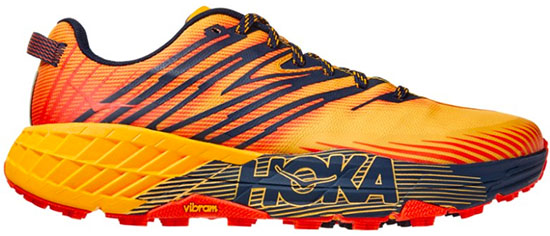 Category: All-around/rugged trails
Weight: 1 lb. 5.6 oz.
Cushioning: Maximum/moderate
Drop: 4mm
What we like: Lightweight with fantastic cushioning.
What we don't: Very thick midsole minimizes trail feel in technical sections.
Hoka One One has become synonymous with max-cushioned shoes, which feature very thick midsoles for fantastic comfort on just about any trail. From their lineup, we like the Speedgoat 4 best: it's almost exactly the same weight as the popular Altra Lone Peak below, but the shoe's thicker stack height (32mm vs. 25mm at the heel), rockered sole, and quality foam give it a more energetic feel. Further, the Speedgoat has an aggressive lug pattern with Vibram's Megagrip compound—an upgrade in stickiness from the Lone Peak—which we've found holds very well on a variety of surfaces.
The Speedgoat 4 is Hoka's technical trail offering, and the thick cushioning does inspire a lot of confidence while running over roots or sharp rocks, but the tall stack height has its downsides. When foot placement is very important, such as when descending steep switchbacks, the shoe lacks the precision of a low-slung design like the Bushido above or Arc'teryx's Norvan VT 2 below. Hoka did make some small tweaks with the "4," including a slightly firmer foam and a more durable upper, but the shoe isn't as nimble as a true off-trail model. If you prefer a waterproof design for its extra warmth and protection, Hoka now makes a Gore-Tex variation. And finally, those with wide feet will be happy to know you can get a Speedgoat in EE (men's) and D (women's) widths.
See the Men's Hoka One One Speedgoat 4  See the Women's Hoka One One Speedgoat 4
Best Trail Runner With a Wide Toe Box
Category: All-around
Weight: 1 lb. 5 oz.
Cushioning: Moderate/maximum
Drop: 0mm
What we like: Cushioned and very comfortable.
What we don't: Not everyone will love the wide fit.
Altra quickly progressed from an unknown to a go-to brand in the trail-running community, and much of their rapid ascent can be attributed to the Lone Peak line of zero-drop shoes. The most recent model retains Altra's signature wide toe box and moderate cushioning, but they've changed the midsole for improved longevity while simplifying the upper and lacing system. Furthermore, the 4.5 seems to fit a little more narrow around the instep of the foot, which can be a potential concern for those with very wide feet, although the tweaks there appear to be rather minor.
What are the downsides of the Lone Peak? First off, its wide toe box is not for everyone. If your feet have a little too much room, it can lead to a sloppy feel over technical terrain (the tighter instep and redesigned laces do help a little here). The shoe also has a slightly more sluggish feel than the Peregrine and Speedgoat above, and isn't as capable in off-camber sections of trail. As with most running footwear, however, one person's downside is another's benefit. If a cushioned, comfortable ride is a priority and you like a roomy toe box and zero-drop design, the Lone Peak 4.5 is a winner.
See the Men's Altra Lone Peak 4.5  See the Women's Altra Lone Peak 4.5
Best Minimalist Trail-Running Shoe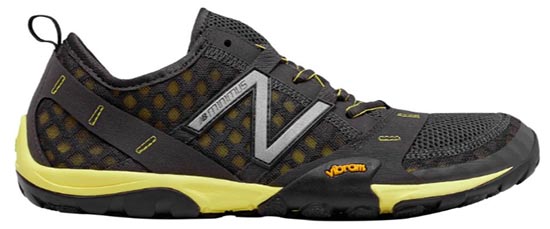 Category: Easy trails
Weight: 14.8 oz.
Cushioning: Minimum
Drop: 4mm
What we like: Ultralight and comes in multiple widths.
What we don't: Rough trails can lead to foot soreness.
The ultralight shoe craze has come and gone, but there still are a number of compelling options for those that want to maximize trail feel and minimize weight. One of the stalwarts is New Balance's Minimus 10v1, which is equipped with Vibram rubber, a stretchy and breathable upper, and an all-in weight of 14.8 ounces. At 5 to 7 ounces less than a typical trail runner, the difference is immediately noticeable and gives the shoe a sprightly and fun performance feel. Along with its modest 4-millimeter heel-to-toe drop, the Minimus has a neutral ride that is a great match for fairly smooth paths and short to moderate distances.
As expected, there are some compromises in trail running with a minimalist shoe like the 10v1. To start, the very thin cushioning can lead to foot soreness over rough trails and long distances. In addition, the fairly short lugs and generous amount of mesh in the upper favor dry conditions and struggle on wet, muddy days. Durability also falls short of a more serious option like our top-rated Peregrine 10. But if you prioritize weight and a glove-like feel, the Minimus is well worth a try.
See the Men's New Balance Minimus  See the Women's New Balance Minimus
Best of the Rest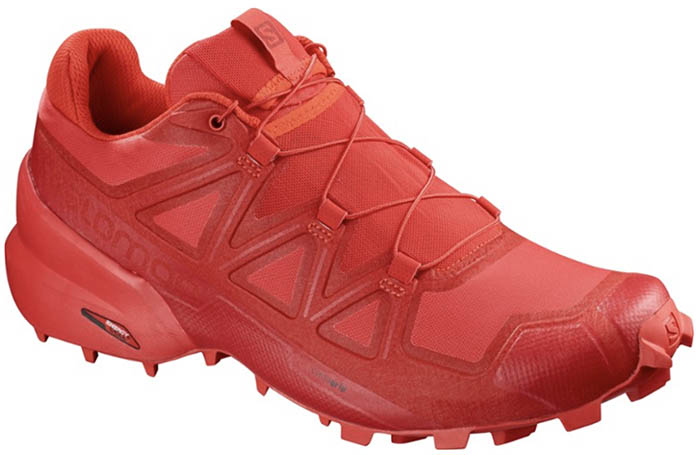 Category: All-around/rugged trails
Weight: 1 lb. 6.6 oz.
Cushioning: Moderate
Drop: 10mm
What we like: Truly excellent traction in soft ground.
What we don't: Less stable than the Bushido II above.
Salomon has been in the trail running game for a long time, and the Speedcross 5 packs in all of their well-known features: a single-pull lace system, supportive fit, and sturdy but still reasonably light chassis. What sets the Speedcross apart is its massive 6-millimeter arrow-shaped lugs (most trail shoes are about 4mm), which offer best-in-class traction over soft ground like dirt, mud, and even snow. The performance-oriented and narrow fit isn't for everyone, but the Speedcross's thick midsole and supportive upper material makes it a capable, mountain-ready design.
We rank the Speedcross 5 below the La Sportiva Bushido II, however, due to its less stable ride over sketchy stretches of trail. Whereas the Bushido sits low and is planted, the tall stack height of the Speedcross can feel tippy and prone to rolling over, particularly on rock. Nonetheless, the Salomon is a beast in terms of traction and should be at the top of the list for those that head out in rough conditions or participate in adventure races like Tough Mudders. As with previous models, the Speedcross 5 is also sold in a Gore-Tex version for those who regularly get out in the wet.
See the Men's Salomon Speedcross 5  See the Women's Salomon Speedcross 5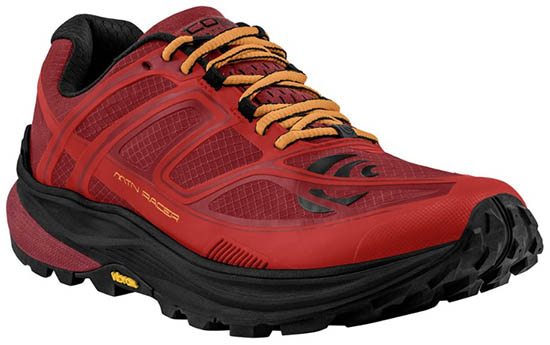 Category: All-around
Weight: 1 lb. 2.6 oz.
Cushioning: Maximum/moderate
Drop: 5mm
What we like: Lightweight, comfortable, sticky Megagrip sole.
What we don't: Narrow feet will swim in the wide toe box.
Topo Athletic might not be a household name like Salomon or La Sportiva, but their relatively new lineup of shoes speaks for itself. Founded by the former CEO of Vibram, this company knows what goes into making a good running shoe, and the MTN Racer is our favorite trail-specific model in their quiver. With a wide toe box (a signature of Topo Athletic shoes) and locked-in waist and heel, the MTN Racer fits similarly to a design like the Altra Lone Peak, but comes with a number of noteworthy differences. Most significantly, you get a 5-millimeter drop (compared to the Altra's 0mm), slightly firmer cushioning, and a small decrease in weight. We've logged over 400 trail miles in one pair of MTN Racers, and overall have been very impressed with the shoe's high degree of comfort, durability, and trail-handling.
For truly rugged terrain, we'd recommend a less cushioned and more protective shoe, like the La Sportiva Bushido II or Arc'teryx Norvan VT 2. That said, the MTN Racer holds its own on rocks and roots alike, with deep lugs, sticky Vibram Megagrip rubber (a blend often used in climbing-specific approach shoes), and a relatively stiff build. And while it doesn't come in a Gore-Tex model, the shoe is designed with minimal bulk and drainage ports, meaning that when your feet do get wet, they dry quickly. In the end, the MTN Racer is one of our top choices for a capable sidekick that's in its element cruising long distances on easy-to-moderate trails.
See the Men's Topo MTN Racer  See the Women's Topo MTN Racer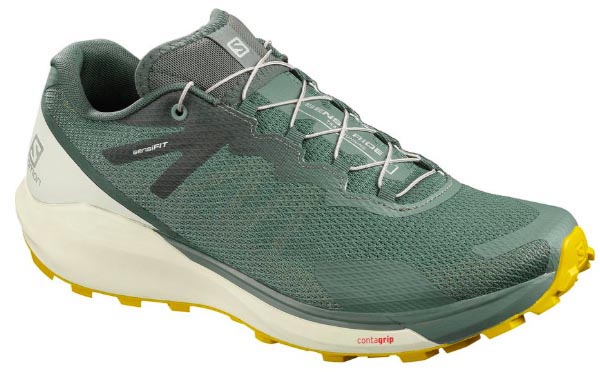 Category: Easy trails/all-around
Weight: 1 lb. 6.6 oz.
Cushioning: Moderate
Drop: 8mm
What we like: A great do-all Salomon shoe that's now even better on trail.
What we don't: Not as stable or grippy as the Speedcross 5 on technical terrain.
Salomon's Sense Ride 2 was marketed as a "quiver-killer," and the new "3" is an even more capable do-all shoe that builds off the same beloved design. The previous iteration was ideal for tackling short stretches of pavement and long distances on trail (a popular combo if you're running from home), but the updated shoe improves performance on both mediums. Two layers of foam in the midsole (inspired by Salomon's road shoes) offer great protection and cushioning for both road and trail, and the snug heel cup lends a closer fit. For when the terrain turns technical, the 3 adds raised sidewalls for more support and protection, spreads out the rock plate for more coverage, and increases grip with a 4-millimeter lug length (compared to the previous version's 3mm).
Finding one shoe to does it all is a tall order for any trail runner, but the Sense Ride 3 accomplishes the task better than most. The improvements do come at a significant weight increase (3.6 ounces for the pair), and it's important to note that any all-arounder won't excel at the extremes. For truly technical terrain (think off-trail scrambling and particularly rooty trails), the Sense Ride 3 is no match for the all-out grip and stability of the Speedcross 5 above. On the other hand, some might find it overbuilt for hard-packed trails and gravel roads. But for that happy medium of trail terrain, we think the Sense Ride 3 is one of the most versatile trail shoes of 2020.
See the Men's Salomon Sense Ride 3  See the Women's Salomon Sense Ride 3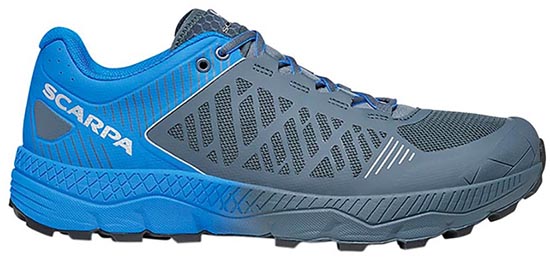 Category: All-around
Weight: 1 lb. 2.6 oz.
Cushioning: Moderate
Drop: 6mm
What we like: Cushioned for long distances but still has great technical chops.
What we don't: No rock plate and slightly less aggressive than the Sense Ride above.
For trail runners who want to have their cake and eat it too, Scarpa's Spin Ultra is one of our favorite new styles. The Italian shoe company (most known for their climbing and mountaineering lineups) puts it all together here with the stiffness and protection (both upper and underfoot) you need for rocky and off-camber terrain, alongside generous cushioning and great breathability. The outsole manages to combine the best of both worlds too: utilizing Vibram's LiteBase technology, Scarpa uses the sticky Megagrip compound (great for traction on rock) while still keeping weight low at just 9.3 ounces per shoe. All told, the Spin Ultra is another great option for long distances and off-trail exploration, giving the Sense Ride above a run for its money in the versatility department.
Scarpa did not include a rock plate on the Spin Ultra, but two layers of foam keep you fairly isolated from the ground. All in all, the feel is akin to shoes with max cushioning like the Hoka One One above and Brooks' Caldera below, but with an increased drop for more aggressive movement on the trail. You can opt for a faster and more stable shoe with the Spin or Spin RS, but we find that the Ultra's added cushion is actually a bonus on all but the most technical terrain. Finally, keep in mind that like most of Scarpa's offerings, the Spin Ultra is slightly wider than average.
See the Men's Scarpa Spin Ultra  See the Women's Scarpa Spin Ultra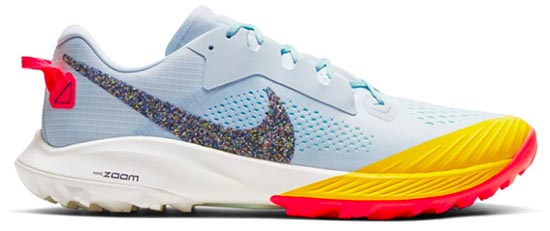 Category: All-around/easy trails
Weight: 1 lb. 4.5 oz.
Cushioning: Moderate
Drop: 4mm
What we like: Nike's proven road-running technology tailored for trail use.
What we don't: The Peregrine 10 above has a better outsole design.
Nike puts most of their efforts into road-running gear, but their Terra Kiger 6 is a quality, cushioned option for trail work. Updated this year, the newest model features a revamped mesh upper that's designed to better keep out mud and other trail debris, alongside an improved fit in the forefoot. Other familiar features remain unchanged, such as the highly responsive React foam in the midsole, segmented rock plate, sturdy toe cap, and outsole that grips particularly well in hardpack dirt and rock. All in all, the Terra Kiger 6 amounts to a solid all-rounder that's well-deserving of a spot on this list.
In many ways, the Nike Terra Kiger is a direct competitor to the Saucony Peregrine 10 above. They both weigh about 10 ounces per shoe, have a 4-millimeter offset, and provide a similar mix of cushioning, flexibility, and on-trail performance. We give the edge to the Peregrine for its superior outsole that lasts longer and grips better in muddy and wet conditions, but both are great shoes that are equally adept at short- and long-distance runs. For a beefed-up alternative to the Terra Kiger for rough terrain, check out Nike's Air Zoom Wildhorse 6.
See the Men's Nike Terra Kiger 6  See the Women's Nike Terra Kiger 6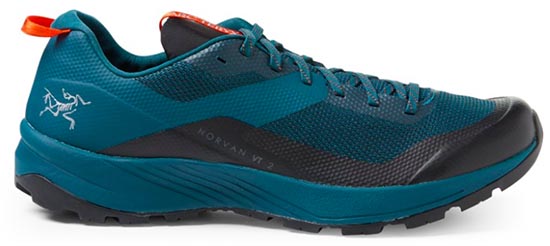 Category: Rugged trails
Weight: 1 lb. 6.6 oz.
Cushioning: Moderate
Drop: 8mm
What we like: Very capable over steep and technical terrain.
What we don't: Narrow fit; too specialized for most runners.
Arc'teryx jumped into the trail-running-shoe market a couple years ago with the mountain-ready Norvan VT, and last summer they released the updated "2." The VT ("vertical") maintains the original shoe's aggressive intentions, but does so with a more traditional feature set. Most notably, Arc'teryx eliminated the approach shoe-like lacing system that extended to the toes, updated the midsole for more cushion and shock absorption, and removed the sock-like liner for a boost in breathability. What remains is the ultra-impressive Megagrip outsole, which offers excellent traction on rock, mud, and even snow. All in all, it's clear the Norvan VT 2 was built for terrain like the often wet and technical trails surrounding Arc'teryx's headquarters in North Vancouver, BC.
Over rough ground, the Norvan VT excels, but it's overkill on anything tame. The very stable ride and reinforced upper that make it easy to run confidently over rocks and roots became stiff and a little heavy when we took the shoe over smooth dirt singletrack and rolling hills. As a result, the Norvan is a specialized shoe best for mountain-specific running. For a more cushioned and flexible option from Arc'teryx that's comfortable on moderately technical terrain, check out their Norvan LD. And as with all Arc'teryx shoes, keep in mind that the Norvan VT is on the narrow side—one of our wide-footed testers found the toe box to be prohibitively tight.
See the Men's Arc'teryx Norvan VT 2  See the Women's Arc'teryx Norvan VT 2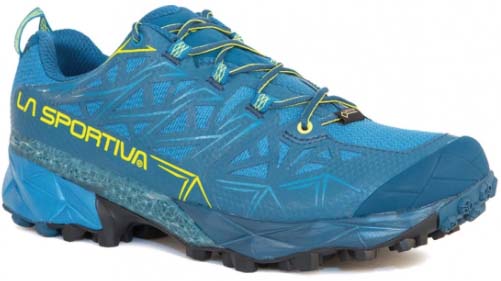 Category: Rugged trails
Weight: 1 lb. 11.4 oz.
Cushioning: Moderate
Drop: 9mm
What we like: Rugged shoe for rugged terrain.
What we don't: Heavy, sluggish, and in many cases, overkill.
La Sportiva continues to churn out quality shoes built for serious mountain environments, and the Akyra GTX is no exception. This trail runner is a stable and durable choice for fastpackers and runners who often venture off trail. In terms of protection, you can't do much better. With a toe bumper, reinforcement on the inside of the toe box, a stiff midsole, and burly, sticky lugs, the rough and tumble Akyra feels a lot closer to a light hiker than a trail runner.
However, the Akyra is the heaviest shoe on this list (its non-GTX version is only a few ounces lighter) and certainly not for everyone. If you're accustomed to a lightweight trail runner, the inflexible midsole and aggressive lugs will feel sluggish on your feet. And Gore-Tex trail runners are a specialty choice: they're great if you run in the cold or venture into wet terrain, but generally unnecessary otherwise. But in the right environments, the Akyra is a high-performance and bombproof trail runner. For those who want similar traction and stability without waterproofing, we recommend the La Sportiva Bushido II above.
See the Men's La Sportiva Akyra GTX  See the Women's La Sportiva Akyra GTX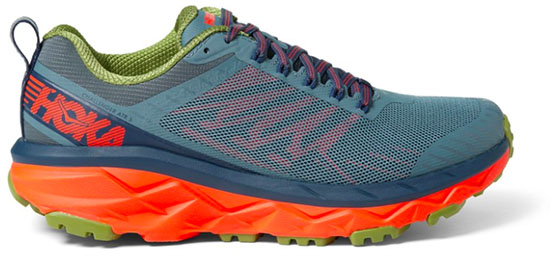 Category: All-around/easy trails
Weight: 1 lb. 2.8 oz.
Cushioning: Maximum/moderate
Drop: 5mm
What we like: One of the few capable hybrid trail/road shoes.
What we don't: Tread falls short in rough and technical conditions.
Mixing road and trail shoe characteristics, Hoka's Challenger ATR 5 offers a nice all-in-one solution. Like the Speedgoat above, the shoe has excellent cushioning and comfort thanks to a thick midsole, plus its streamlined build and rockered base give the Challenger a springy personality. For road use, the middle of the outsole is standard blown rubber to trim weight and help with efficiency, while pods of trail-worthy lugs can be found under the ball of the foot and heel. Fit-wise, the Challenger hits a nice middle ground that should appeal to a lot of runners, with decent space in the toe box but a snug-enough shape to avoid feeling overly loose.
Unsurprisingly, trying to do everything for everyone does come with some compromises. In the case of the ATR 5, its closely spaced lugs and only moderately aggressive design come up short in muddy and sloppy conditions. And on pavement, the grippy sections of the sole can feel a little sticky and slow compared with a dedicated road shoe. Serious athletes that want maximum performance will still be better off with a dedicated pair for each activity, but the Challenger is the best design we've used that can pull double duty.
See the Men's Hoka Challenger ATR 5  See the Women's Hoka Challenger ATR 5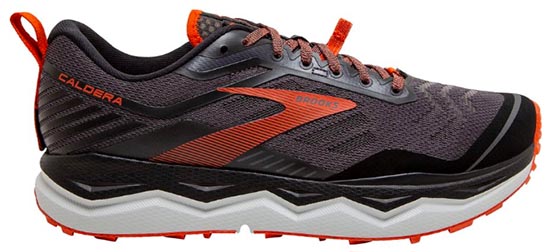 Category: All-around
Weight: 1 lb. 4 oz.
Cushioning: Maximum
Drop: 4mm
What we like: Responsive and cushioned ride.
What we don't: Pricey and only moderate stability.
Brooks is most known in the trail-running world for their Cascadia (below), a beloved shoe among both runners and thru-hikers that is now in its 14th generation. The Caldera offers a whole different take on a trail runner, with a stack height reminiscent of a Hoka One One or Altra, a lighter feel, and overall more flexibility and cushion for tackling long distances on moderate terrain. We wore the plush model in the Blue Ridge Mountains while training for (and running) our first 50K, and found it to be a comfortable, capable choice. Now in its 4th iteration, the updated design features added mesh for increased breathability, a TPU toe cap to guard against toe stubs, and an improved outsole that excels on hard-packed dirt and rock. 
The Caldera wouldn't be our first choice for technical or wet terrain (you don't get the type of underfoot protection we see in the popular Cascadia line), but it is a great shoe for door-to-door runs that cover both pavement and trail. Similar to the Altra Lone Peak above, some might find that the thick midsole and wide footbed occasionally result in lightly rolled ankles on uneven ground. But unlike the Lone Peak, the Caldera's midsole doesn't diminish trail feel and responsiveness (which may partly explain the $20 difference in price). Overall, we like what Brooks has done (and continues to do) with the Caldera, and think it hits the right mix of performance and comfort for extended runs.
See the Men's Brooks Caldera 4  See the Women's Brooks Caldera 4
Category: All-around/rugged trails
Weight: 1 lb. 5.4 oz.
Cushioning: Moderate
Drop: 8mm
What we like: New model is lighter and more capable.
What we don't: Even with the changes, it's still not a fast and nimble shoe.
For years running, the Cascadia has been Brooks' leading trail shoe, and its 14th iteration still claims that top spot. This should tell you two things: one, runners (and thru-hikers) love the Cascadia and turn to it year after year for technical trail needs. On the other hand (two), this also means that the Cascadia has been around for over a decade, and as a result is a rather dated concept. In 2020, there are a plethora of more modern and improved options, whether you're looking for a peppy ride on roots and rocks or all-day comfort for long distances.
It's not all bad with the Cascadia though. The 14 is an improvement on the previous design, with a lighter build (by 2 ounces per pair), a streamlined and revamped upper, and extra grip thanks to a new tread and rubber outsole. Importantly, the shoe hasn't lost its way over rough terrain with a decently stable chassis, reinforced mud guards, and locked-in fit and lacing system. But the Brooks' has a pretty bland feel to it on the trail (especially compared with bouncy options like the Speedgoat), and its reinforced upper does make it run warmer than mesh-heavy alternatives. Taken together, the Cascadia 14 is still good but not great, and we'll point all but the most stalwart of fans towards other options further up the list.
See the Men's Brooks Cascadia 14  See the Women's Brooks Cascadia 14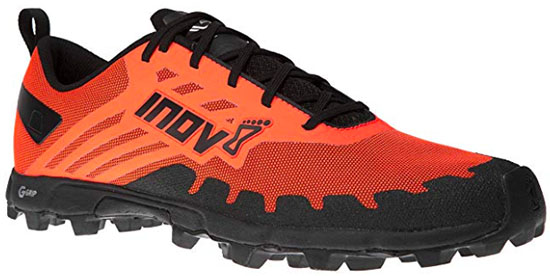 Category: Rugged trails
Weight: 1 lb. 0.6 oz.
Cushioning: Light
Drop: 6mm
What we like: Super lightweight with incredible traction on loose and soft terrain.
What we don't: Not particularly comfortable; snug fit is polarizing.
With its origins in British fell running, Inov-8 is no stranger to steep terrain, cross-country travel, and the wettest of conditions. It's here that their superlight and aggressive X-Talon G 235 excels. The 8-millimeter lugs bite into soft and slippery ground, making the X-Talon line a long-time favorite of obstacle course racers and fell runners the world over. Further, the latest "G" models include a reworked tread that features an innovative Graphene compound for increased durability and longevity. Tack on a low-slung build and minimalist ballistic nylon upper, and you have one serious pair of high-performance kicks.
Year after year, the Inov-8 X-Talon and the Salomon Speedcross top the list for the adventure racer's shoe of choice. While similar in some respects, the X-Talon is about 6 ounces lighter per pair and sports even longer (8mm vs. 6mm) lugs. For those who appreciate feeling the ground underfoot, the X-Talon offers a more responsive ride, but the Speedcross certainly is more protective and comfortable. We prefer Salomon's version as the better all-rounder, which is more bearable over long distances, has a regular fit in the toe box (the Inov-8 is quite snug), and is slightly less overkill on packed dirt. That said, if you want a no-compromise, racing-ready machine, the X-Talon G 235 is your ticket.
See the Men's Inov-8 X-Talon G 235  See the Women's Inov-8 X-Talon G 235
Category: All-around/rugged trails
Weight: 1 lb. 5.8 oz.
Cushioning: Moderate
Drop: 6mm
What we like: Durable, great traction, and stable.
What we don't: Poor ventilation and feels heavy.
Made for rough terrain and inclement weather, the Adidas Outdoor Terrex Agravic XT is a serious, mountain-ready trail runner. The aggressive Continental outsole shares a lug pattern with a mountain bike tire, and we've found it to be sticky and grip well on rock and in mud and snow. A low stack height and semi-stiff platform contribute to a stable feel over technical sections, but what's most impressive is the all-around nature of the build. The Agravic is comfortable on both steep and flat trails, and it's fully capable for crossing over into hiking and fastpacking.
One downside of the Terrex Agravic XT is a somewhat heavy feel that makes it less fun on long runs. In addition, the tightly woven upper struggles with ventilation in hot conditions (the upside is solid durability). Otherwise, the Agravic gives the La Sportiva Bushido II a real run for its money (no pun intended) as one of our favorite shoes for rough trails. And with its cushioned ride, the Terrex Agravic has better isolation from sharp rocks.
See the Men's Adidas Terrex Agravic XT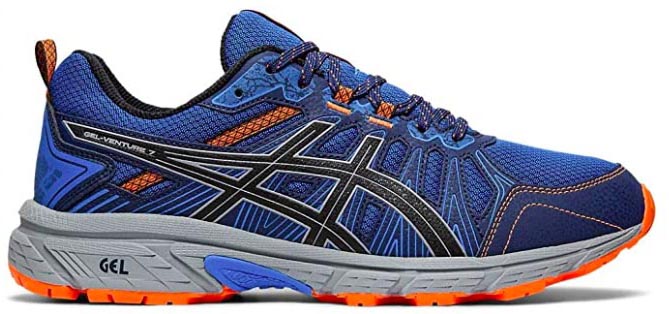 Category: Easy trails
Weight: 1 lb. 5.4 oz.
Cushioning: Moderate
Drop: 10mm
What we like: Affordable road shoe that can hold its own on dirt and rock.
What we don't: Not intended for technical trails.
If you plan to stick mostly to smooth trails or want to mix in some road miles, the Asics Gel-Venture 7 makes a lot of sense. The Gel-Venture will outgrip and offers better lateral stability and support than a road shoe without overdoing it with a large toe cap, thick materials, or massive lugs. But with a mesh upper, the Gel-Venture has the light and airy feel of a road runner. For the right person, it's the best of both worlds.
It's important to note that with the emphasis on easy trails, the Gel-Venture shouldn't really be cross-shopped with the options above. If you'll be running steep terrain or over rocks, roots, or other rough ground, the stability, grip, and underfoot feel will be a disappointment. But for light trail use, the Venture is a solid choice and a nice value.
See the Men's Asics Gel-Venture 7  See the Women's Asics Gel-Venture 7
Trail-Running Shoe Comparison Table

Trail-Running Shoe Buying Advice

Trail-Running Shoe Categories
Easy Trails
For tackling local trail networks or maintained paths that aren't very technical or steep, a shoe in our easy trails category is best. Compared with a standard road-running model, these shoes are defined by a moderate increase in traction, stability, and toe and underfoot protection. They also should outlast those pavement pounders with a more durable construction and beefed up tread design. Among the larger trail running market, these are the most flexible, prioritizing comfort over all-out grip and support. If you'll be covering serious miles or heading into mountainous terrain, it may be worth upgrading to a shoe in the all-around or rugged trails categories. But for cruising dirt or bark paths, shoes like the Salomon Sense Ride and Asics Gel-Venture are great options.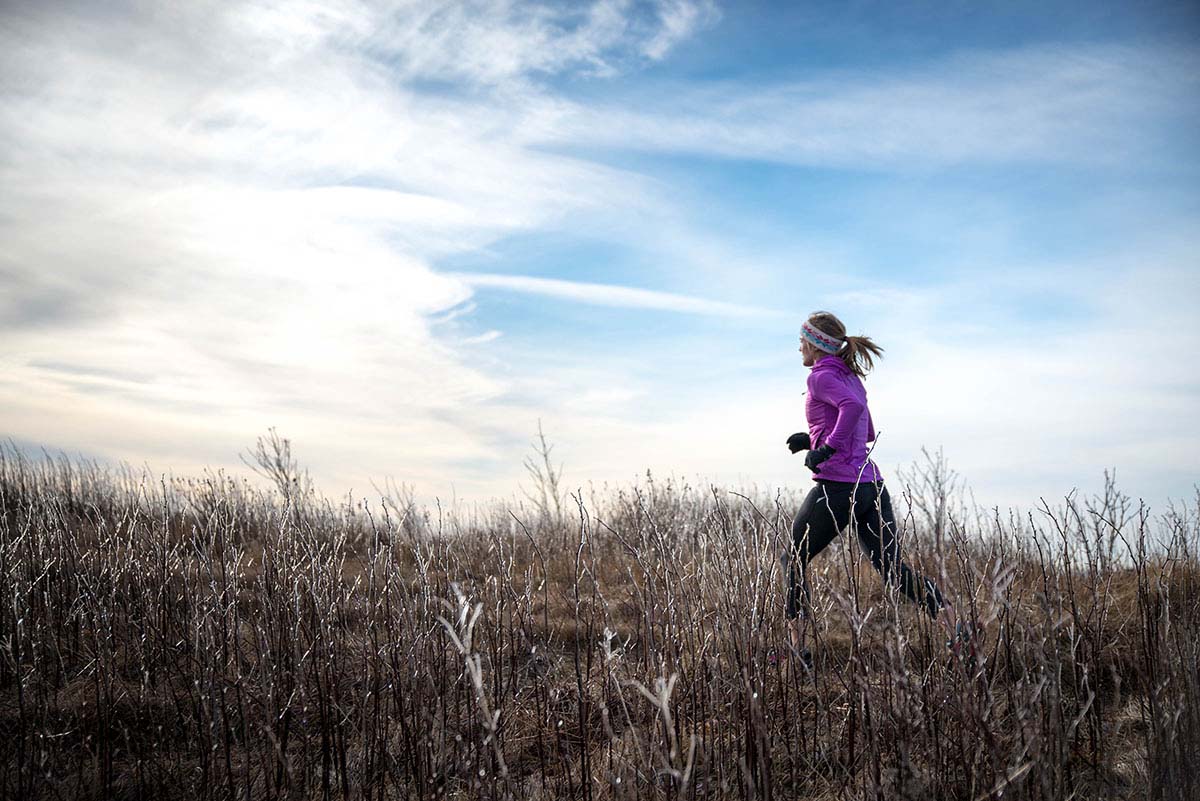 All-Around
The majority of trail runners choose a shoe from the all-around category. The reason is simple: they are the most versatile designs that offer the right balance of performance and comfort. A model like our top-rated Saucony Peregrine provides fantastic grip in dirt, mud, or over rock, and keeps your feet protected and comfortable. It won't feel stiff and overkill on easy-going singletrack, but has the chops to handle a race like the Leadville Trail 100. The main reason not to choose an all-rounder is if you need a more focused design (for example, a shoe like the La Sportiva Bushido that excels on demanding, mountainous terrain). Otherwise, we recommend most people start and end their search here.

Rugged Trails
Trail-running shoes intended for rugged terrain are the most specialized of the bunch. While the specific designs can vary from a soft-ground specialist like the Salomon Speedcross to the Arc'teryx Norvan VT's approach shoe-like grip, common features include a durable construction, stiffer build for long climbs and tricky descents, and fit systems that aim to keep your feet solidly in place. They're often heavier than an all-around or easy trails shoe, so they're overkill and not a good choice if you stick to maintained trails. But if your runs feature steep inclines, rocks and roots, mud or soft grass, and potentially snow, a rugged trails shoe is best.
Weight
We put a high priority on weight when considering a trail-running shoe. Lighter shoes are faster, feel less cumbersome, and allow you to cover more ground with less fatigue. But we also like a balanced design that doesn't sacrifice too much in the way of comfort and trail performance. For 2020, our favorite trail runners weigh a little over 1 pound per pair (measured in a men's 9 or 10). This typically gets you enough protection and support for long distances without feeling sluggish.
On the extreme ends of the spectrum are minimalist shoes like the New Balance Minimus 10v1 (14.8 oz.) and burly waterproof models like the La Sportiva Akyra GTX (1 lb. 11.4 oz., or nearly double). The Merrell feels extremely light on your feet while the La Sportiva is super tough and built for off-trail exploring. Not surprisingly, each design has compromises. Both are best for short distances—the Merrell due its lack of protection and the La Sportiva because of its extra weight—and lack the versatility of an all-around shoe that weighs just over a pound.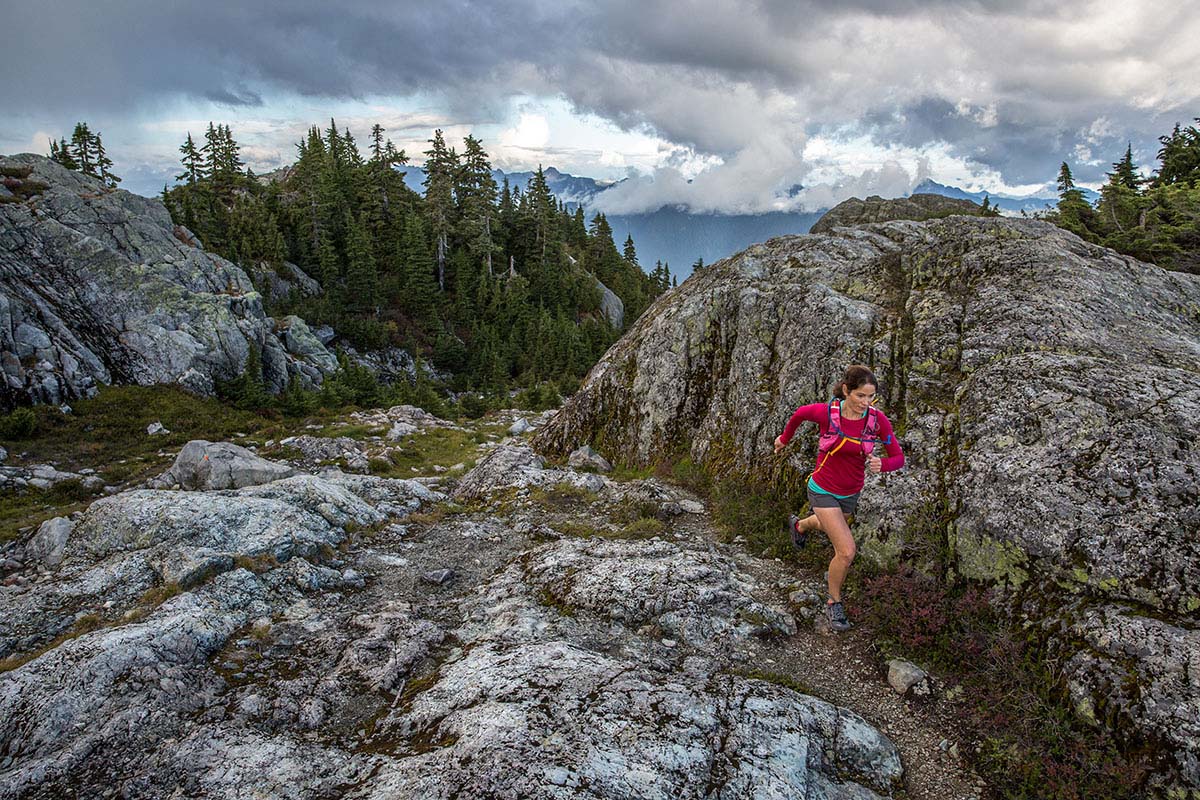 Traction
The rugged rubber outsole on a trail-running shoe is one of its defining features, but performance can vary widely between models. In general, the level of traction provided will closely follow which of the above categories a shoe falls into. Shoes for easy trails offer the least grip, particularly over difficult sections with slippery rocks, roots, and mud. All-rounders are balanced and fare well in most conditions, while those built for rugged trails often stand out in a specific environment (including mud, snow, or steep and loose inclines/declines).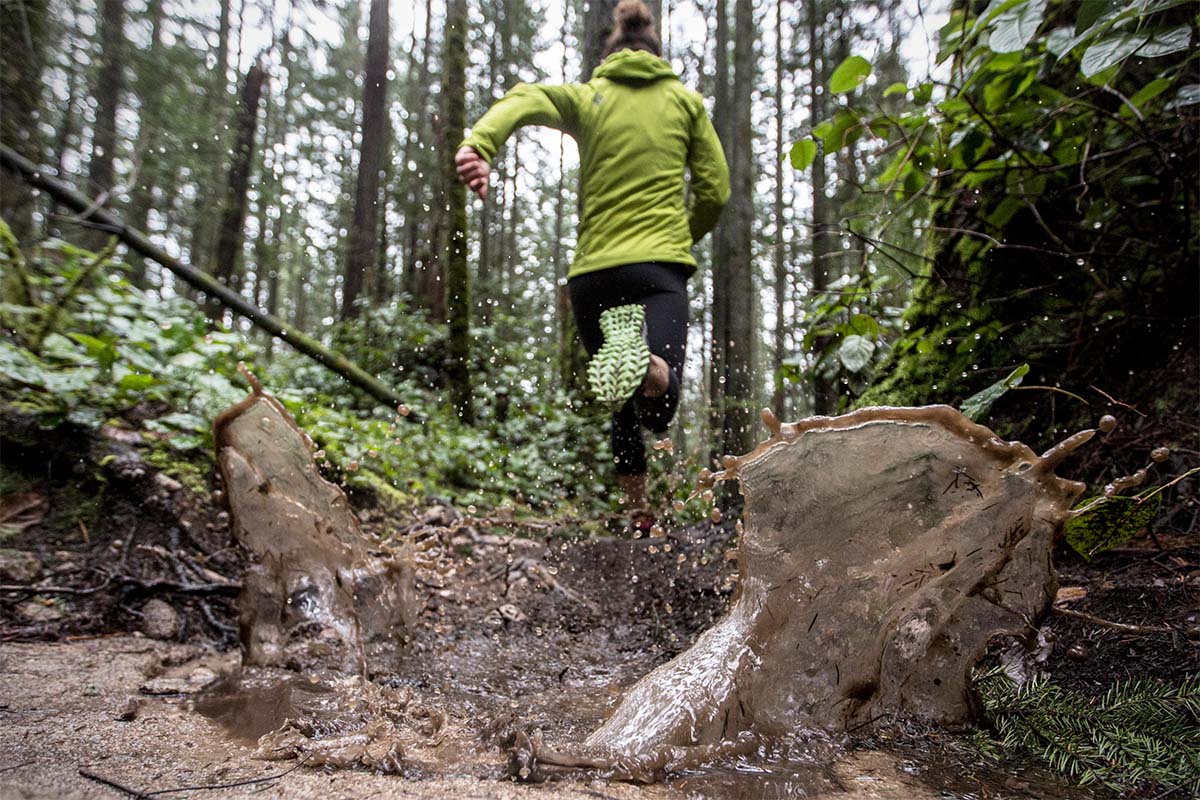 Looking closer at the nitty gritty of traction, an outsole's rubber compound, tread depth, and tread pattern all play a role in maximizing grip. Starting with rubber compound, shoes that have sticky, approach shoe-like rubber like the La Sportiva Bushido II or Arc'teryx Norvan VT 2 excel on rock, while others that have a softer and more pliable feel often do better in mud. Secondly, tread depth (or lug depth as defined by the height of the lugs in millimeters) isn't listed by many manufacturers, but you can get a good idea of the size by looking at an image of the sole. Tall lugs like you'll find on the Salomon Speedcross or Saucony Peregrine provide excellent bite in loose ground, but in the case of the Speedcross, the raised profile has a negative impact on stability. Finally, the tread design should be considered: widely spaced, tall lugs with a soft compound will outperform tightly spaced, short lugs, and sticky rubber in mud, and the reverse is typically true over rock or hardpack.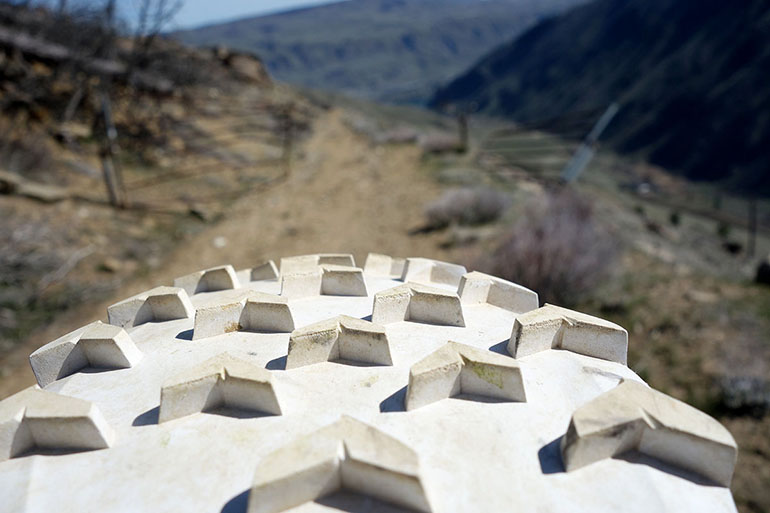 Cushioning
An area where manufacturers have tried to differentiate themselves is the amount of cushioning provided by their shoes. Known as the "stack height," which is the measured height from where the foot sits inside the shoe to the ground, trail running models range from very thin to heavily cushioned (32mm for the Hoka One One Speedgoat 4). Minimalist designs like the New Balance Minimus 10v1 only have a small amount of EVA foam in the midsole, which makes them extremely nimble and provides a close feel of the terrain. But the downside is the potential for some really sore feet as the miles pound on. On the other end of the spectrum are maximum-cushioned shoes from brands like Hoka One One and Altra. These remind us a lot of a fat bike: the ride is smooth and you barely notice the ground underneath, but there is more of a disconnect between you and the trail (and their tall heights can make them prone to rolling over).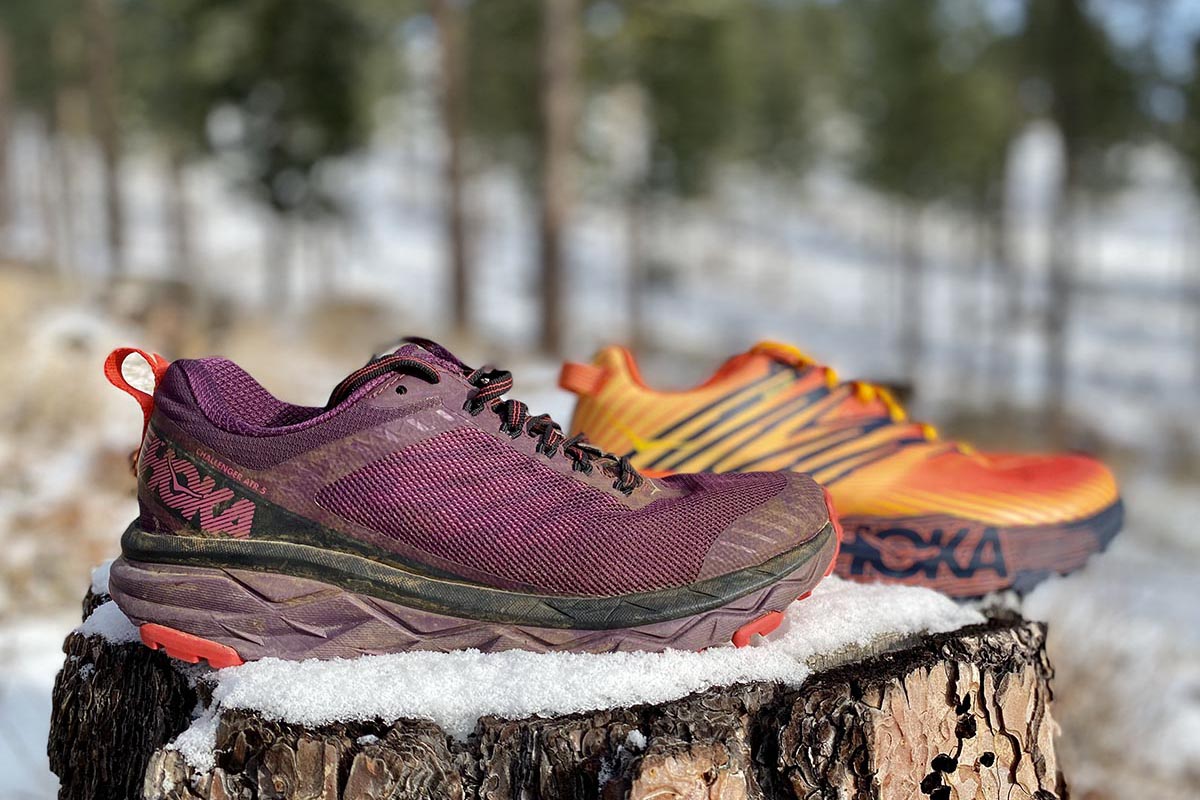 Both minimalist and max-cushioned styles have their merits—and loyal fans—but in the end, most runners are happiest somewhere in the middle. Shoes like the Saucony Peregrine, Nike Air Zoom Terra Kiger, and Altra Lone Peak are soft and springy to keep your feet happy on rough terrain and for long distances, but don't sit too tall to compromise stability and confidence. It's no accident most of the shoes we have listed above offer a moderate amount of cushioning.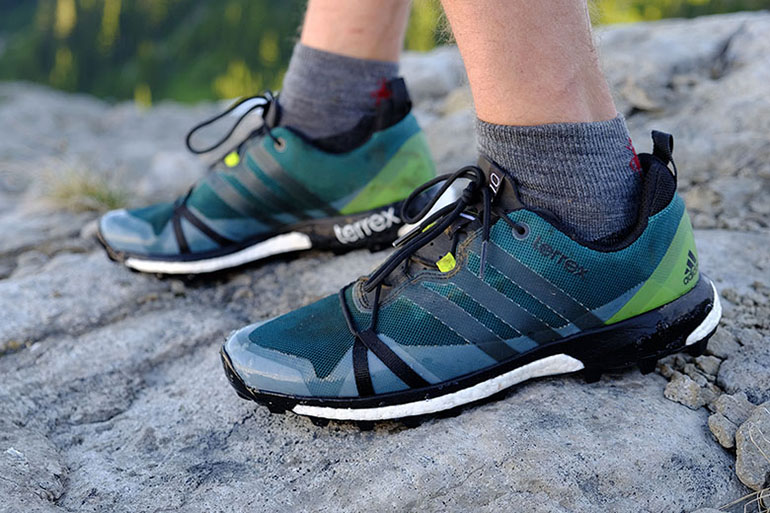 Heel-to-Toe Drop
As the name indicates, the heel-to-toe drop is the difference in shoe height, where your foot sits, from the heel to toe. This spec was barely on the radar of folks outside the hardcore running community until the zero-drop fad hit a few years ago. Many of the shoes in our all-around category have a drop in the range of 4 to 8 millimeters, which can work well for both heel and midfoot strikers. True zero-drop shoes have a 0 millimeter difference, encouraging a mid- or forefoot landing point. And many models for rugged trails have the most dramatic drops, often 8 to 10 millimeters.
Our take is that drop is a matter of comfort and personal preference more than anything else. Many people like a moderate drop in their trail-running shoes, while others prefer a zero drop design. The trend is toward lower drops for running shoes in general, although the performance and injury prevention science are hotly debated. The key is that you don't make a major change to an extreme end of the spectrum and then head straight out for a long run. Instead, if you're interested in a zero-drop design, try it out by easing in and developing confidence on the trail. This will reduce the chance of injury and ensure that it's the right choice for you.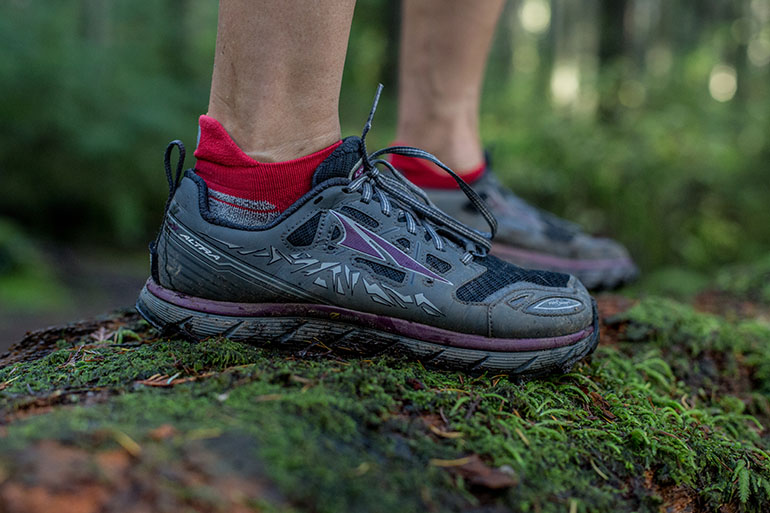 Stability
Trying to move fast over rough terrain in a pair of lightweight low-top shoes may seem like asking for an injury (and it can happen), but today's trail-running shoes do offer a stable ride that is resistant to ankle rolls. It starts with a solid platform, which is wide and rigid enough to sustain hard impacts on uneven ground. The chassis, which is the perimeter of the base of the shoe, is beefed up with trail runners to create that solid base. In addition, some shoes include a shank, which is a semi-rigid piece of plastic or nylon that's been slid in-between the midsole and outsole for added stiffness. Finally, some manufacturers create what amounts to a partial plastic exoskeleton around the heel cup for added structure and rollover protection.
The relative stiffness and stability of a shoe will most often correlate with its intended use, or as we've defined it, the trail-running shoe category. A race or mountain-oriented shoe like the Inov-8 X-Talon G 235 is stiffer and has more of a structure, while easy trail options are more flexible and comfortable out of the box.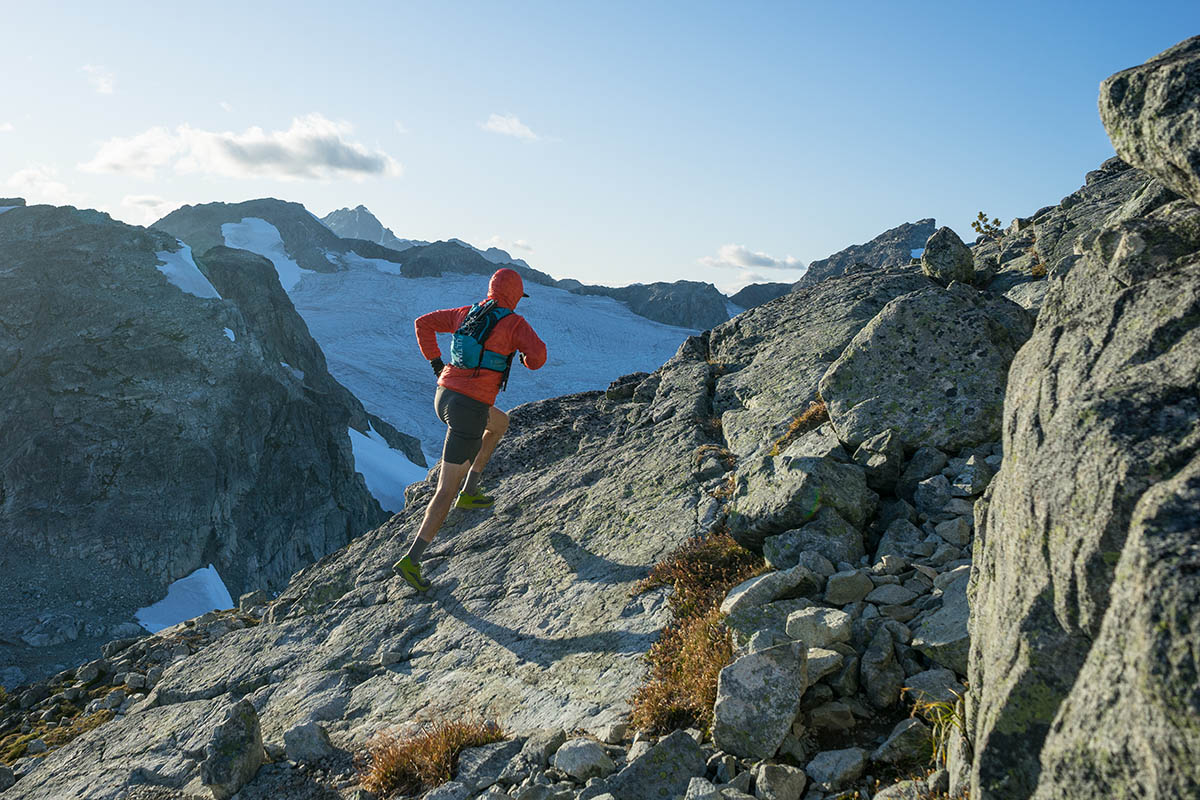 Waterproofing
The most common waterproof design for trail-running shoes is made by Gore-Tex, and consists of a waterproof and breathable lining that is inserted between the outer fabric and the shoe's inner lining. The extra layer does add a little weight—typically about 2 ounces total—and makes the shoe feel less sprightly than a non-waterproof option. For those looking to go light and fast, waterproofing is probably not the best option, but for running in the rain in cold weather or in slushy snow, we've found a Gore-Tex lining does a great job preventing freezing toes.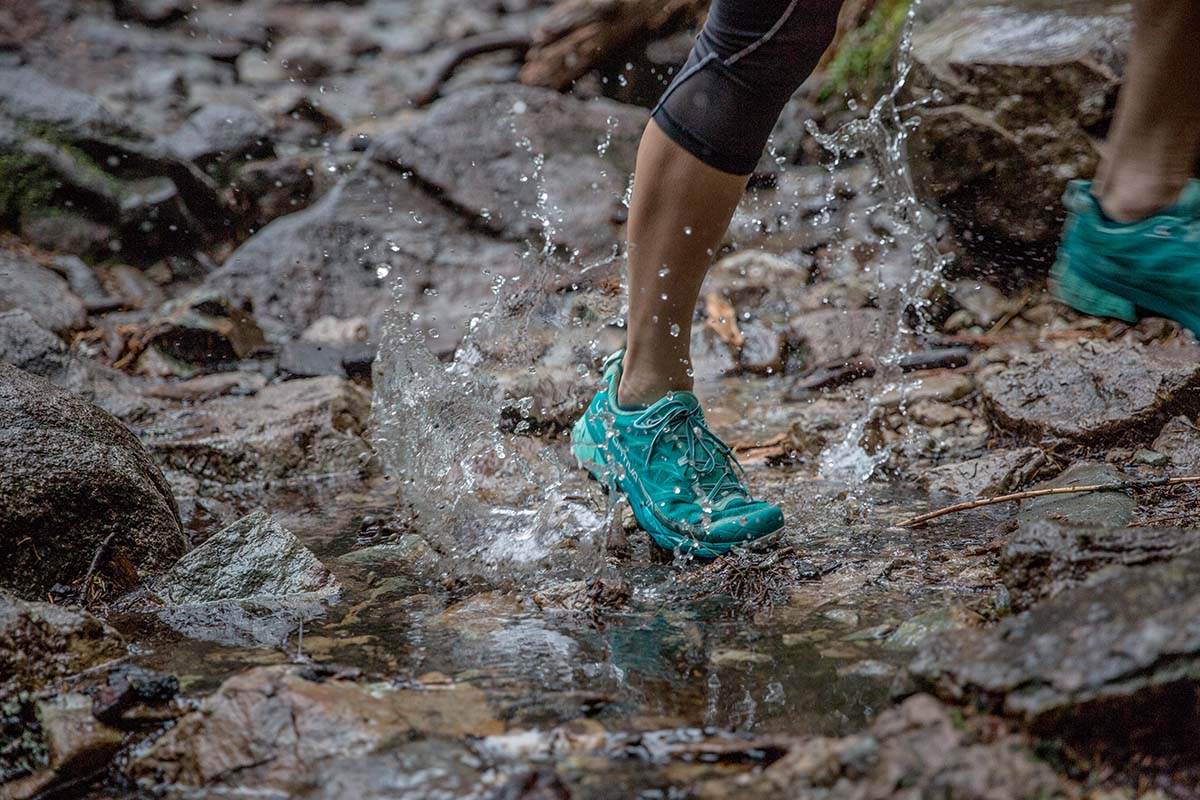 A waterproof shoe like the La Sportiva Akyra GTX makes the most sense when the extra warmth (i.e. less ventilation) is a good thing, such as during the shoulder seasons or winter. Summer runs, even if you'll be crossing a stream or two, are oftentimes still best in a pair of mesh non-waterproof shoes that drain reasonably quickly. Another scenario where waterproofing may come in handy is if you use your trail runners for year-round hiking. In this case, you may run warm in the middle of the summer but have some added protection from the wet.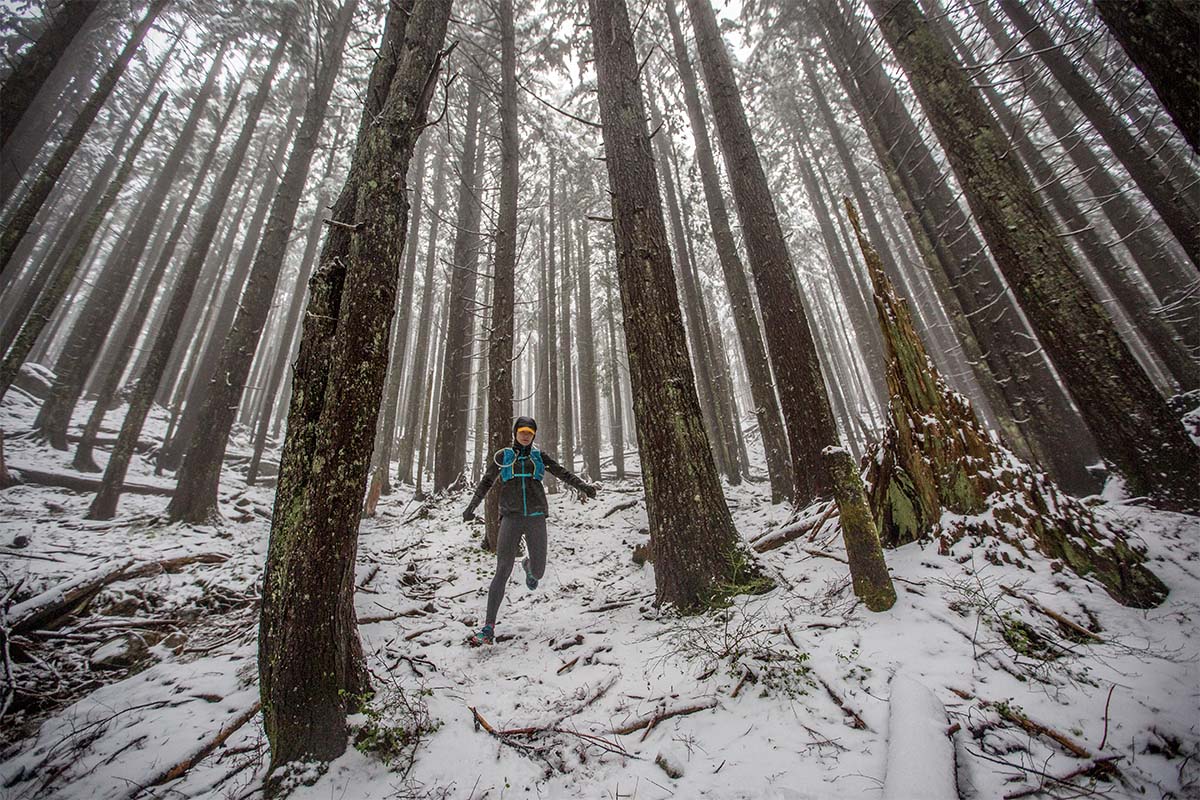 Breathability
A sweaty foot is an uncomfortable foot, which is the last thing you want to be thinking about while wheezing your way up a steep climb. As such, the ventilating ability of a shoe is one of the most important factors for runners. Nylon mesh is a common material used in trail-running shoes for the obvious benefit of increased breathability. To retain durability, many manufacturers use a combination of a tight weave and thin fabric to both resist tears and reduce the barriers to air and moisture flow. And as we've found, some are more accomplished than others. In comparing a couple popular shoes, the Adidas Terrex Agravic XT and Nike Air Zoom Terra Kiger 6, we've found the mesh-heavy design of the Terra Kiger to be better for long runs in the heat of summer, while the Terrex's more substantial synthetic upper material can get warm.
 
Toe Protection
Trail running naturally puts you in terrain far more challenging and potentially hazardous than what you'll find around town. As such, you get some added protection in the shoe's construction. Almost without exception, trail-running shoes have some form of toe protection. It's usually a rubber toe guard or cap that is capable of absorbing direct hits pretty well. Because of the lightweight intent of a trail runner, the toe protection isn't as substantial as a hiking shoe, but it should prevent your toes from turning black and blue should you accidentally kick a rock or root on the trail.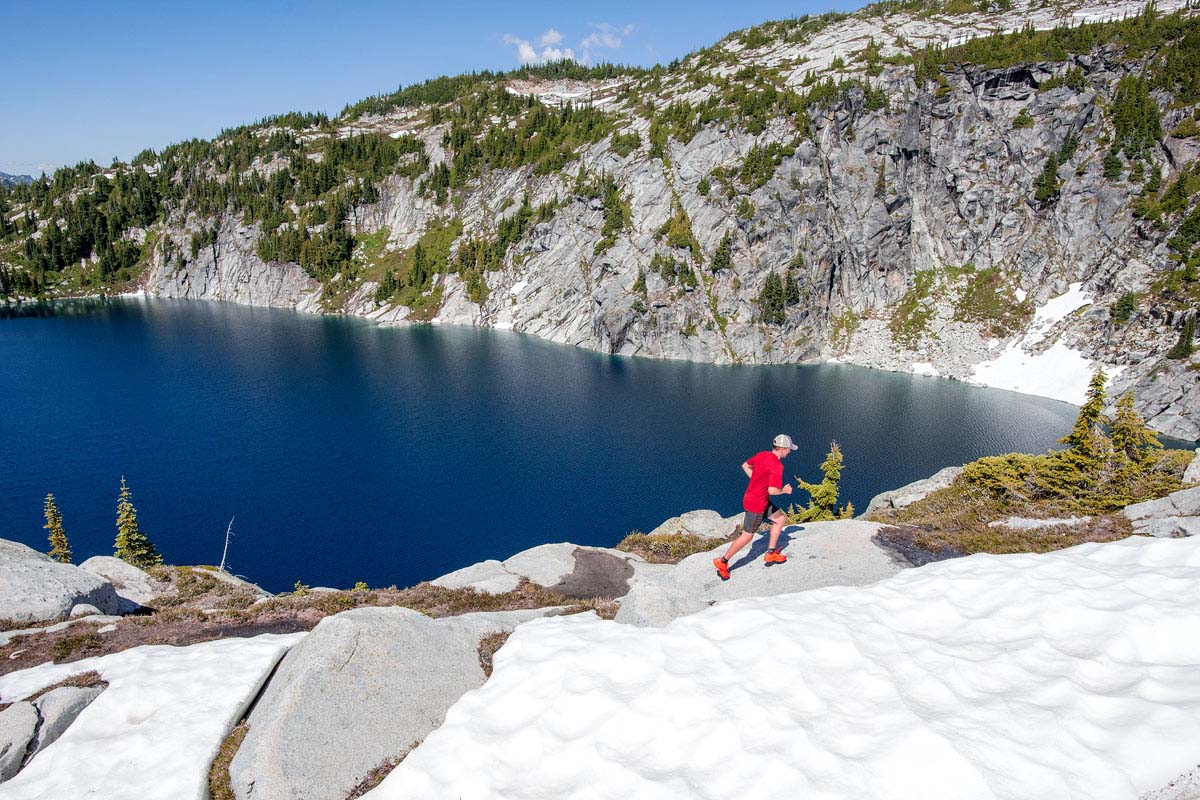 Rock Plates
Much in the same way that a protective toe cap isolates you from a sharp rock or other trail debris, lightweight rock plates are inserted between the midsole and outsole on many trail shoes. These plates vary in thickness, coverage, and materials, ranging from thin and flexible ESS foam under the ball of the foot to a stiff TPU shank. How much protection is needed will vary based on personal preference and the terrain you'll be running over (more miles on rough trails will merit burlier protection), but overall, we find rock plates to be a great feature. They're unobtrusive, keep foot soreness to a minimum, and only add a small amount of weight.
 
Lacing Systems
Laces are easy to overlook but play a fundamental role in shoe comfort. Most use a standard lace-up method, but Salomon and Adidas are doing things a little differently: both feature a single pull quick lace system on their trail-running shoes. We love the design on the Salomon Speedcross 5 for its ease of use and speed. It only requires a single pull, and then you can tuck away the excess laces and forget about them. We've found that the laces hold extremely well—better than some traditional sets in fact. There is a potential downside, however. For those with finicky feet that need to customize the fit around certain parts of your feet, there isn't really a solution with the quick lace design. The laces will fit equally tight around the entirety of your foot. Accordingly, we recommend avoiding quick laces if you often fiddle with your laces to get the fit just right.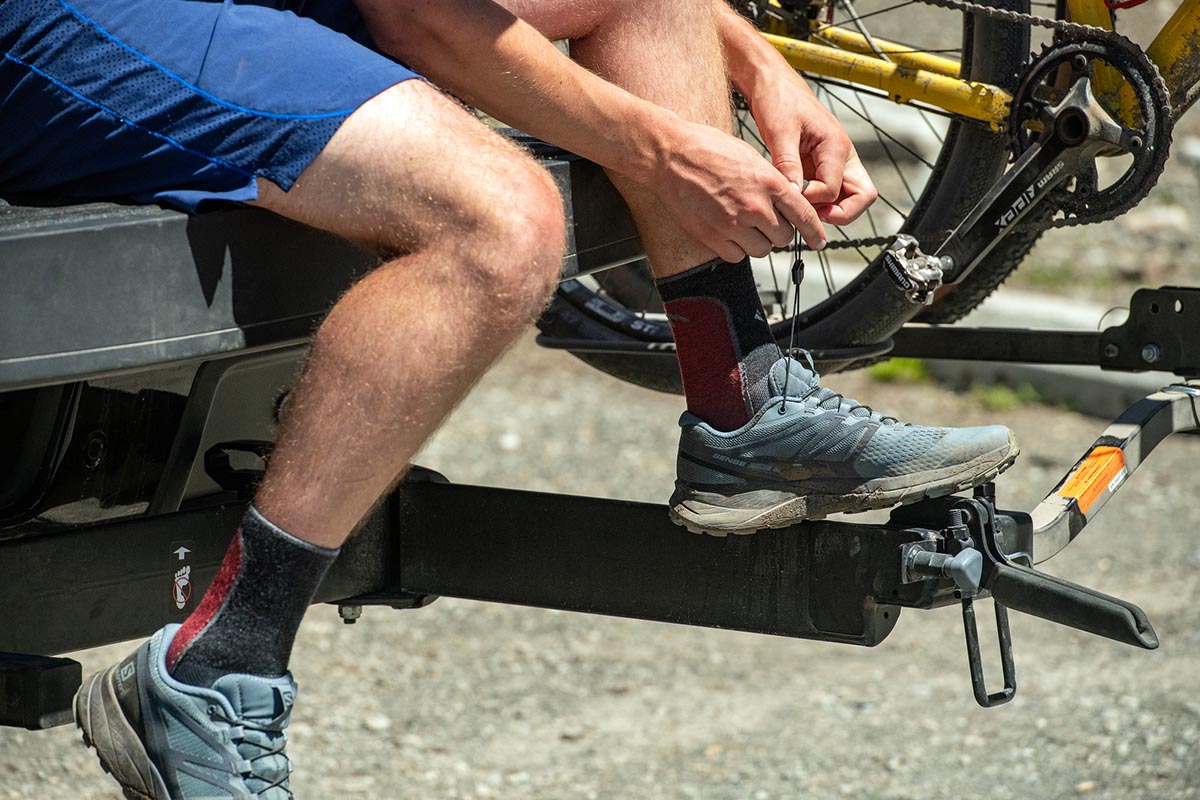 Hiking and Backpacking in Trail-Running Shoes
It's not uncommon for trail-running folk to start turning to their trail-running shoes for their day hikes. On most day adventures you're not hauling a lot of weight, so the extra ankle support isn't as important. And as long as the trail isn't too nasty, a trail runner is a great pick. With a flexible feel but solid traction, a trail-running shoe can serve the fast-moving weekend warrior quite well. But if you're carrying a heavy pack and need additional support, a lightweight hiking shoe or even a full-on hiking boot may end up being the better choice.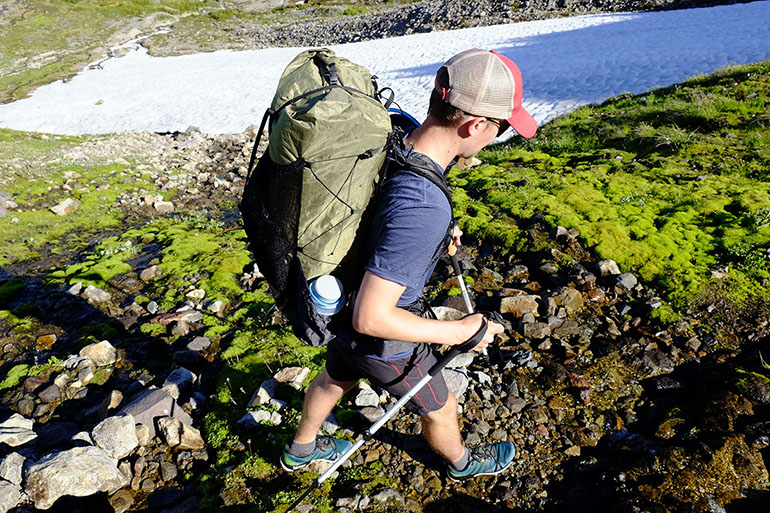 In recent years, trail-running shoes have absolutely taken off as a go-to choice for fastpackers and thru-hikers. And, it makes a lot of sense: thru-hikers are putting serious miles on nearly every single day, and a lightweight shoe can help them cover more ground with less effort. But there are a number of obvious issues. One is durability. It's unlikely you'll get as many miles out of your trail runners as you would a hiking shoe or boot, which makes it important to plan out your replacements (and mail drops) along the way. Despite some potential downsides, trail runners seem to be here to stay as a popular thru-hiking option. We've spoken to a number of PCT thru-hikers who made the switch from boots to trail runners mid-trip and they've had nothing but good things to say about their levels of comfort and nimble feel—provided they kept their pack weight down.
 
Wearing Trail-Running Shoes on Pavement
As a result of the unique designs for both trail and road shoes, it's difficult to try and use one single shoe for both activities. Often, it can actually be painful to run with a trail-running shoe on pavement, or vice versa for long distances. There is the occasional shoe that can do an OK job of crossing over, but we wouldn't make a habit of using a single shoe exclusively for long runs on both dirt and pavement. If you have to get you a short stretch before hitting dirt, we've found both the Hoka One One Challenger ATR and Asics Gel-Venture are suitable hybrid options.
Back to Our Trail-Running Shoe Picks  Back to Our Trail-Running Shoe Comparison Table
Learn More About Outdoor Gear