For high-output activities, it's hard to beat a softshell jacket. Their breathable and stretchy fabrics offer fantastic performance and a really comfortable fit that moves with you, and as long as you don't take them out in a rain storm, their durable shells can wihthstand light wind and precipitation. You'll be hard-pressed to find a more versatile shell for a wide range of outdoor activities. Below we break down our favorite softshells for 2020, ranging from casual jackets for daily use to performance pieces for backcountry skiing and ice climbing. For more background, see our softshell jacket comparison table and buying advice below the picks.
 
Best Overall Softshell Jacket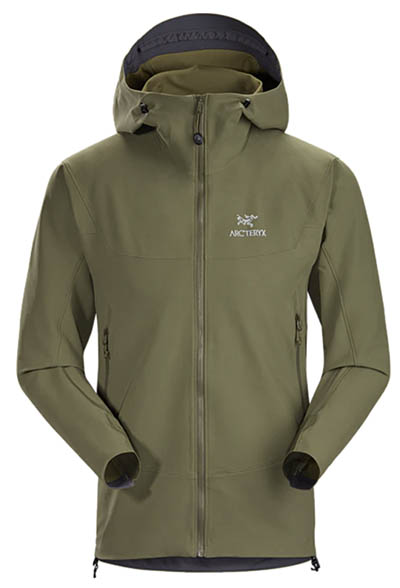 Category: Performance/casual
Weight: 1 lb. 3.2 oz.
What we like: Arc'teryx fit, quality, and all-around performance.
What we don't: Long sleeves don't fit well with some gloves.
The Arc'teryx Gamma LT takes our top softshell spot for putting it all together: solid performance, quality materials, and a great fit. This isn't a super warm softshell with a thick fleece lining, but its thin construction is what gives the jacket its versatility. The durable outer fabric can withstand a day of backcountry skiing, but the Gamma LT also breathes really well and allows enough air in and out to keep you cool while on the go. And with clean looks that are completely passable around town, it's a great all-rounder.
As with almost all Arc'teryx products, the fit of the Gamma LT is athletic. It's designed to accommodate a puffy underneath and a little roomier than some other softshells, but retains fantastic range of motion nevertheless. And it has the long sleeves and helmet-compatible hood necessary for activities like climbing, biking, and skiing. Keep in mind that the long sleeves do create some challenges if you want to wear under-the-cuff gloves as the openings are on the small side (gauntlet gloves or liners work just fine). For a warmer softshell with the same general characteristics, check out the Gamma MX below.
See the Men's Arc'teryx Gamma LT  See the Women's Arc'teryx Gamma LT
Best Budget Softshell Jacket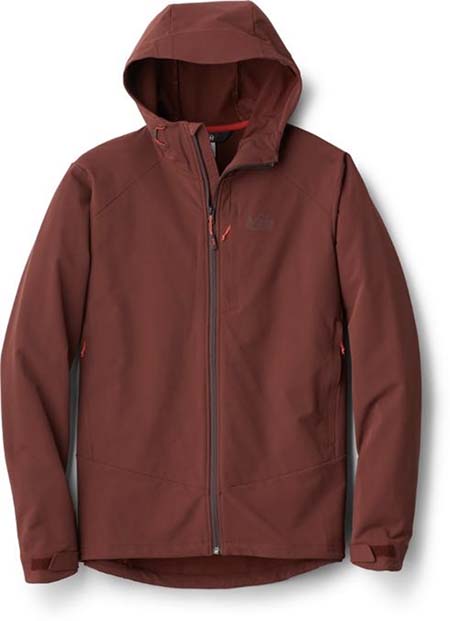 Category: Casual/performance
Weight: 1 lb. 2 oz.
What we like: A great value and super versatile.
What we don't: May be too warm for some.
We've been impressed with REI Co-op's in-house line of late, and the Activator jacket continues that trend. For $100, it checks all of the boxes we look for in a softshell: you get a stretchy face fabric that is water resistant and finished with DWR, an adjustable hood and hem, and three zippered pockets (two handwarmer, one chest). Even more impressive, REI nails it with the details, including a fleece backer for extra comfort and warmth, and articulated elbows for mobility. All in all, that's a whole lot of jacket for the price.
What is the REI Activator best for? The build and feature set are ideal for hiking, biking, snowshoeing, and even climbing. And the concealed zippers and modern colorways mean the jacket blends in nicely around town too. That said, you don't get quite as many technical details as a softshell like the Arc'teryx Gamma LT above—the Activator does not have a helmet-compatible hood, for example—but you aren't paying for them either. At $100, the Activator is a super versatile jacket and our top budget pick for 2020.
See the Men's REI Co-op Activator  See the Women's REI Co-op Activator
Best Softshell for Everyday Use
Category: Casual
Weight: 1 lb. 3.7 oz.
What we like: Good price and all-around comfort.
What we don't: Boxy fit and drop in performance.
The Apex Bionic is casual first and performance second, which truthfully is what a lot of people want. If everyday wear is your priority, then this jacket should be near the top of your softshell list. The Bionic has a regular fit (The North Face calls it "relaxed"), which translates to being a little boxy and less mobile than the other jackets here, but it works just fine for hiking, wearing around town, or reaching for that post-trip beer.
It's also priced right at $149, but doesn't hide the cost-cutting as well as we would like. The fabrics and zippers feel like a step down in quality compared to some of the pricier options above and below. All things considered, we might opt for the Marmot ROM as a crossover casual and hiking jacket if we had 40 extra bucks, but with a great casual look and high level of comfort, we completely understand the Apex Bionic's widespread appeal.
See the Men's The North Face Apex Bionic  See the Women's The North Face Apex Bionic
Best Softshell for Backcountry Skiing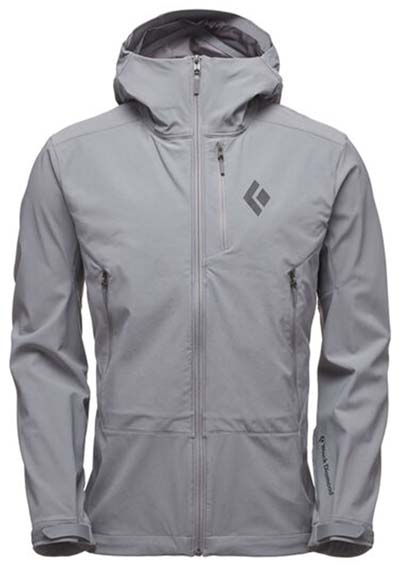 Category: Performance/casual
Weight: 1 lb. 3 oz.
What we like: High performance jacket, lots of pockets, classy looks.
What we don't: Cuffs bunch up when cinched down.
In a few short years, Black Diamond has asserted itself as a major player in performance apparel. In fact, when it comes to a lightweight, breathable, and protective layer for high-output activities, the Dawn Patrol is competitive with class-leading softshells like the Gamma LT Hoody above and Ferrosi Hoody below. Similar to these jackets, the Dawn Patrol leaves the extra warmth of a fleece lining behind for a jacket that's made to move and breathe with you, which is a real boon on the skin track. And with pockets that can be accessed over a harness and a helmet-compatible hood, the Dawn Patrol is even more backcountry-ready than the OR Ferrosi.
For $50 less, the Dawn Patrol is a viable alternative to our top-rated Gamma LT Hoody. It comes with adjustable cuffs, which make it more accommodating when wearing ski gloves (unfortunately those cuffs are less comfortable if you're not wearing gloves). Additionally, you'll find two extra internal drop pockets (great for stashing skins) and a zippered chest pocket on the exterior. However, we prefer the more adjustable StormHood on the Gamma, and Black Diamond's workmanship cannot yet match the quality construction of Arc'teryx. The Gamma LT still gets our pick for the best all-around softshell, but if you're looking for a backcountry-specific option (that also looks great for daily use), the Dawn Patrol is worth a second look. And for a thinner 3-season alternative, check out Black Diamond's Cirque ($175).
See the Men's BD Dawn Patrol  See the Women's BD Dawn Patrol
Best Waterproof Softshell Jacket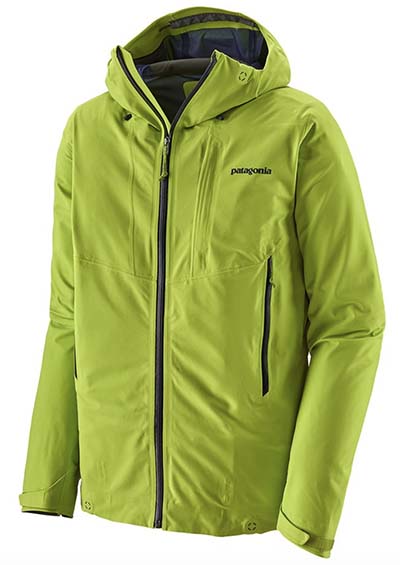 Category: Performance
Weight: 1 lb. 2.6 oz.
What we like: Stretch and comfort of a softshell, full-on weather protection of a hardshell.
What we don't: Expensive and breathability can't match a non-waterproof softshell. 
If a hardshell and a softshell had offspring, the Galvanized would be the result. With Patagonia's high-end, 3-layer H2No membrane and a durable water repellant (DWR) finish, the jacket has the full wind and water protection of a hardshell, comparable even with burly Gore-Tex models like Patagonia's own Pluma. But it doesn't stop there: the shell fabric is comprised of 12-percent spandex, meaning the supple and stretchy Galvanized can move with you during active pursuits. It also has all the bells and whistles of a high-performance jacket, including pit zips, a helmet-compatible hood, well-designed cuffs, and harness-compatible pockets.
Held up against our top pick, Arc'teryx's Gamma LT, the Patagonia Galvanized is slightly lighter, and far more impervious to wind and water. So why is it ranked here? For one, the Galvanized's waterproof membrane means it can't match the all-out breathability of the water-resistant, 2-layer Arc'teryx. Moreover, with a slightly thicker face fabric, the Gamma LT is set up to offer more durability and warmth for its weight. Most folks aren't looking for full-on wet weather protection in their softshell—and don't want to pay the price for it either—but if the versatility of a hybrid jacket suits your needs, the Galvanized is an excellent choice... Read in-depth review
See the Men's Patagonia Galvanized  See the Women's Patagonia Galvanized
Best Ultralight Softshell/Windbreaker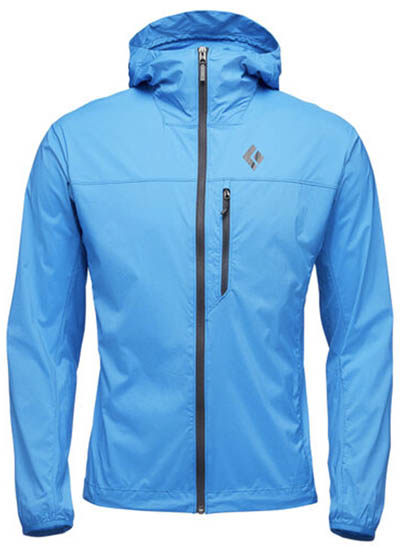 Category: Performance
Weight: 7.4 oz.
What we like: Lightweight, packable, and versatile softshell.
What we don't: Thin fabric offers little in the way of insulation.
The Black Diamond Alpine Start is one of the lightest softshells on our list and arguably the most versatile. Whereas burly jackets like the Arc'teryx Gamma MX below can only be worn when temperatures drop, the Alpine Start is a year-round layer. It's easy to wear over anything from a t-shirt to a lightweight down jacket, depending on conditions. Made with thin stretch-woven nylon coated with BD's proprietary NanoSphere water repellant, the Alpine Start is designed to keep out wind and rain without compromising ventilation. And in practice it delivers: throughout an all-day drizzle on a recent trek in Patagonia, the Alpine Start's shell beaded water and kept us dry while our hiking partners were all forced to don their (less breathable) rain jackets. 
The Black Diamond Alpine Start blurs the line between softshell and windbreaker jacket, a trend we expect to see more and more of as demand increases for lighter, more breathable, and more versatile layers. Don't expect any insulation from the Alpine Start's thin fabric though, and the stretch knit at the cuffs and hem will also limit how much you layer underneath. But for runners, backcountry skiers, and climbers wanting a weather resistant, breathable softshell that packs down small (into its chest pocket) and weighs nothing, the Alpine Start is our favorite ultralight offering... Read in-depth review
See the Men's Black Diamond Alpine Start  See the Women's Black Diamond Alpine Start
Best of the Rest
Category: Performance
Weight: 15 oz.
What we like: Thin, light, breathable, and a great price.
What we don't: Less weather resistant and not as durable.
The Outdoor Research Ferrosi is a far cry from the bulky, boxy design that epitomizes softshell jackets of old. At only 15 ounces, it's a thin, lightweight shell that won't weigh you down, and excels at just any high-output outdoor activity: hiking, biking, climbing, skiing, you name it. Plus, the Ferrosi is decently tough and abrasion-resistant, will block out a good amount of the elements, and has excellent stretch and breathability. All in all, it's an extremely versatile piece: you can wear this jacket over a T-shirt in mild weather and over a puffy in the winter. And the cherry on top: the Ferrosi packs down really small for a softshell, stuffing into its own hand pocket.
 
One notable omission on the Ferrosi jacket is the lack of a helmet-compatible hood. The hood does adjust and cinch very easily, but many of the activities mentioned above are done with a helmet. Additionally, the hand pockets are not set high enough to be compatible with a harness, but that does make them more convenient for day-to-day use. Aside from these nitpicks, the Ferrosi is one of our favorite budget softshells, and the most recent upgrade adds even more durability and a trimmer fit. For added warmth, check out OR's Ferrosi Grid Hoody—which adds a fleece backer to the core and hood of the standard Ferrosi design—or the synthetically insulated Winter Ferrosi below.
See the Men's Outdoor Research Ferrosi  See the Women's Outdoor Research Ferrosi
Category: Performance/casual
Weight: 1 lb. 3.6 oz.
What we like: Tougher and warmer than the Gamma LT.
What we don't: Quite a bit more expensive.
The Arc'teryx Gamma MX has been on the market for years with plenty of summits and deep backcountry days to its name. As with the Mammut Ultimate below, it performs and is priced like a serious backcountry softshell. You get bomber outer fabric, tons of storage (five total exterior pockets), and that glorious Arc'teryx tailored fit that guides and the hardcore crowd love. But unlike the Ultimate, the MX's clean styling means you can more easily get away with wearing it off the mountain. And with a 2020 update, this time-tested classic got a little bit better, with an altered fabric that's warmer for the weight, retooled cuff and hood adjustments, and taped seams.
In comparing the Gamma MX to its sibling Gamma LT above, the MX is quite a bit warmer with an added fleece lining. This can be a good thing or bad thing depending on your use, but the lining is quite comfortable and great on cold day. We like the versatility that comes with the non-insulated LT, but the more significant reason for the difference in ranking is price. There just isn't enough there to justify an extra $100 in our eyes. That's to take nothing away from the Gamma MX—its popularity is reaching legendary status in the alpine community.
See the Men's Arc'teryx Gamma MX  See the Women's Arc'teryx Gamma MX
Category: Casual/performance
Weight: 1 lb. 2.6 oz.
What we like: Great for daily use and shoulder-season activities.
What we don't: Less of an alpine piece.
Despite the performance attributes, many people wear softshell jackets for daily use, so we love when we find a nice mix of both. Enter the ROM jacket from Marmot, which has a Windstopper shell that is great for keeping the elements at bay but is equally friendly around town. With features such as hand pockets that sit at a normal height—this is a welcome change for those annoyed by high, harness-friendly pockets—a hood that cinches down when not in use, and clean styling, the ROM is a well-rounded softshell from a respected brand.
In a mountain environment, the ROM is capable but not a top performer. Weather resistance is good with the use of the Windstopper fabric, but breathability is negatively impacted for activities like ski touring. On the plus side, the Marmot has a nice fit that can accommodate a midlayer (we still prefer the athletic cut of the Arc'teryx Gamma LT, however), and the stretchy fabric allows for great range of motion (hence the R-O-M). All told, the ROM is a cozy all-around piece and a nice hybrid softshell option.
See the Men's Marmot ROM  See the Women's Marmot ROM
Category: Casual/performance
Weight: 10.2 oz.
What we like: A good-looking option for mild conditions; impressive weather protection for the weight.
What we don't: Offers very little warmth and not designed to wear with a harness or helmet. 
Arc'teryx's Gamma series is a clear leader when it comes to softshells, with three models in our top 10 for 2020. The Gamma SL is the lightest of the bunch and best-tuned for mild conditions with a thin build, excellent breathability, and trim fit (the LT and MX above have "regular" fits for easier layering underneath). This streamlined design makes for a very versatile piece—while hiking in the Yukon this summer, the SL became our go-to layer for wind protection, pesky mosquitos, and even fending off light rain. And it doesn't hurt that the SL is also arguably the most appealing Gamma jacket for casual use, with a smaller, non-helmet-compatible hood, hand pockets that sit lower (just above the hip), and a less technical look than the MX in particular.
As a hiking and everyday piece, there's not a lot to complain about with the Gamma SL—except the price. $225 is steep for such a thin jacket, especially when you can get much of the same performance with a windbreaker like the Black Diamond Alpine Start ($165) above. And unlike the Alpine Start, the SL doesn't pack into its own pocket, which is a bummer for climbers in particular. In terms of warmth, the SL falls short of most jackets here, and it's less protective overall in wind and snow than the burlier Gamma options. Tack on the aforementioned smaller helmet and pocket placement, and the SL becomes less desirable for skiers and ice climbers. But for mixed hiking and everyday use, we think this new jacket is a solid option.
See the Men's Arc'teryx Gamma SL  See the Women's Arc'teryx Gamma SL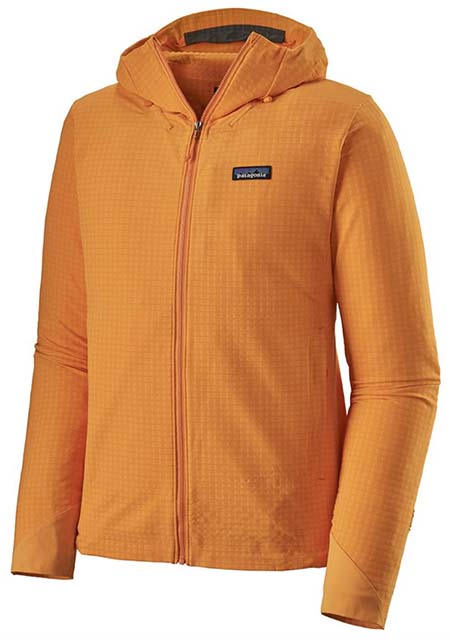 Category: Casual/performance
Weight: 13.8 oz.
What we like: Great-looking jacket and a stretchy combination of warmth and protection.
What we don't: You'll get more versatility by layering a thin fleece with a lightweight softshell.
Patagonia's R1 TechFace Hoody is a unique and modern take on the standard softshell jacket. You get a stretchy woven face fabric (the common denominator among softshells) with the addition of a soft fleece backer (in the form of Patagonia's ever-popular R1). The result is the warmth and breathability of a fleece with the durability and weather protection of a softshell, all wrapped up into one, 13.8-ounce package. And as we've come to expect from Patagonia, the R1 TechFace is a good-looking jacket too, proving its chops as a highly versatile jacket that you can wear both on the trail and around town.
In many ways, the R1 TechFace is an all-in-one answer to a popular layering choice for backcountry skiing, hiking, and cold-weather climbing: a thick baselayer and light shell. That said, we'll take the versatility of two layers over one, which is why the R1 TechFace is ranked here. The R1 can't wick moisture like a true baselayer, and it's cut too large to wear on its own, plus the added warmth limits it to truly cold days. But if you want a warmer and well-made design that crosses over nicely to daily use, the R1 TechFace delivers.
See the Men's Patagonia R1 TechFace  See the Women's Patagonia R1 TechFace
Category: Casual/performance
Weight: 1 lb. 9.6 oz.
What we like: Waterproof and tough.
What we don't: Heavy, bulky, and a bit stiff.
Like the Patagonia Galvanized above, the 3-layer North Face Apex Flex jacket is completely waterproof: it has a Gore-Tex membrane and boasts one of the best DWR coatings we've ever seen, instantly beading up and shedding water. That said, we're not talking about a raincoat: the Apex Flex has a stretch-woven exterior and a soft knit interior, providing the flexibility, warmth, and comfort of a softshell. With pit zips, plenty of storage, adjustable cuffs, and an easily tunable hood with good coverage, it has all the bells and whistles.
The North Face Apex Flex GTX is not too good to be true, however, as all of these features come with a lot of bulk and weight. Additionally, we've noticed that the jacket is a bit stiffer than a typical softshell—including the Galvanized—and the updated 3.0 is even less stretchy than previous versions. Furthermore, with the added waterproofing, some breathability is compromised. For these reasons, we don't recommend the Apex Flex as a high-performance piece, but it's a super comfortable rain jacket alternative that can be taken to the hills every so often. It's worth noting too that the Apex Flex is less boxy in the torso than other gear from The North Face (such as the Apex Bionic above), offering a more athletic fit... Read in-depth review
See the Men's The North Face Apex Flex  See the Women's The North Face Apex Flex
Category: Performance
Weight: 1 lb. 3.1 oz.
What we like: Well-rounded set of features for backcountry skiing.
What we don't: Not a versatile piece.
Backcountry skiing is characterized by finicky weather and high-output uphill travel, making it the ideal environment for a softshell jacket. Sure, a hardshell provides a more bombproof defense against rain and snow, but only a softshell can so deftly balance the conflicting demands of protection and breathability. Among the various options, Outdoor Research's San Juan stands out for its thoughtful build and great price. Designed for backcountry use, you get a thin, breathable shell, dedicated pockets along the interior for climbing skins, and a generously sized, helmet-compatible hood. All told, if your use for a softshell is limited to backcountry skiing, the San Juan won't disappoint. 
However, there are a number of other options here that fit the bill for skiers without having such narrow intentions. Our top pick for backcountry skiing, the Black Diamond Dawn Patrol, provides similar wet-weather resistance and air permeability, but it can also pull double duty for hiking, climbing, or even grabbing a beer at the neighborhood watering hole. On the lighter end of the spectrum, the 7.4-ounce Alpine Start is our go-to for most days on the skin track, but it's also our daily driver for both trail running and climbing. In the end, the OR San Juan is a bit of a one-trick pony, and this lack of versatility pushes it toward the bottom of our rankings.
See the Men's Outdoor Research San Juan  See the Women's Outdoor Research San Juan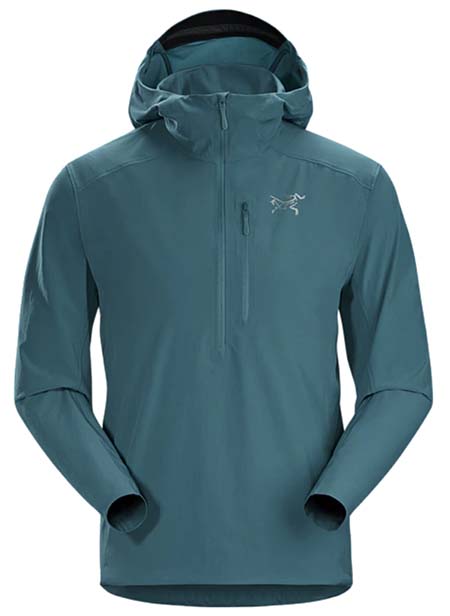 Category: Performance
Weight: 10.4 oz.
What we like: Climbing-specific features paired with great weather protection.
What we don't: We wish the chest pocket doubled as a stuff sack.
Softshell jackets haven't always been embraced by climbers, namely due to their bulk and weight. Instead, many have turned to incomplete solutions—clammy windbreaker jackets or non-durable baselayers—to get the wind protection and warmth they need. With the Sigma SL Anorak, Arc'teryx sets out to change this trend for good. In a lightweight 10.4-ounce build, this pullover features a highly breathable, stretchy, and wind-resistant fabric with a durable water repellant (DWR) coating. A number of climbing-specific details round out the build, including a helmet-compatible hood and foam inserts in the hem to keep the jacket snug under a harness.
Compared to the Alpine Start above, the Sigma SL offers a bit more stretch (14 percent elastane vs. 7 percent), although in practice the two offer similar freedom of movement. You do get slightly improved weather protection and a bit of insulation with the Sigma's thicker fabric, but it comes at the cost of breathability (that said, the Alpine Start is one of the most breathable windbreaker jackets we've tested). Overall, the Alpine Start manages to be a bit more well-rounded with its lightweight build for everything from backcountry skiing to trail running, while the Sigma SL is more focused (and a protective one at that) for colder alpine environments.
See the Men's Arc'teryx Sigma SL  See the Women's Arc'teryx Sigma SL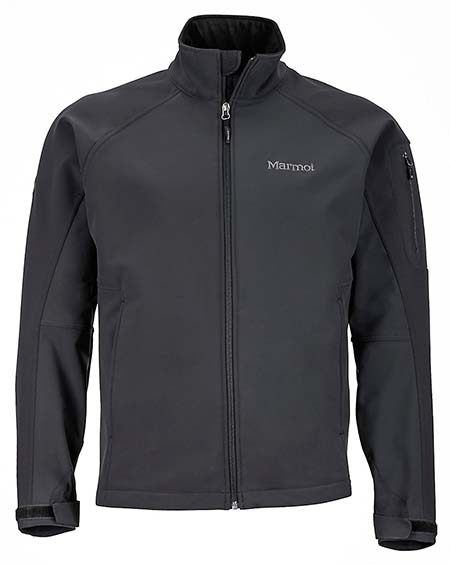 Category: Casual
Weight: 1 lb. 8.2 oz.
What we like: Style meets practicality.
What we don't: Not a performance piece.
The Gravity doesn't claim to be a technical, performance-oriented softshell, but that doesn't seem to hold it back: it's a top seller for Marmot year after year. Similar to The North Face Apex Bionic above and Columbia Ascender below, the Gravity is ideal for braving weather around town and the occasional dip into the mountains. Among the more casual options on our list, it provides solid weather protection. Expect the Gravity to be nearly windproof and highly water resistant when subjected to light to intermittent rain, but keep in mind that it's not very breathable.
With a nearly identical price and feature set as The North Face Apex Bionic, there isn't a lot separating the two softshell jackets. We do prefer the straightforward pocket arrangement of the Apex—the zippered sleeve pocket on the Gravity looks a little out of place around town—but the Marmot does have adjustable cuffs, which can be nice to cinch out the cold. Fit may be the deciding factor: the Gravity is a little tighter in the arms and can be more difficult to layer underneath, with the upside being a sleeker and more athletic look.
See the Men's Marmot Gravity  See the Women's Marmot Gravity
Category: Performance
Weight: 1 lb. 12 oz.
What we like: The beloved Ferrosi construction with winter warmth.
What we don't: Not an all-season, versatile layer.
The original Ferrosi above is one of the most timeless softshells on the market, loved by many for its combination of comfort, breathability, and wind-blocking prowess. But its thin construction means that devotees are forced to pile on baselayers and/or midlayers on ski descents or while taking a break. Made for cold-weather activities in particular, the "Winter" version adds synthetic insulation to the classic design, resulting in the same general characteristics that made the Ferrosi so popular but with added warmth.
Like the Arc'teryx Gamma MX above, this jacket is heavy and winter-specific. It's a shell that you will wear while skiing or ice climbing in cold conditions, but one that you'll likely put in storage for the summer. The burly 90-denier face fabric and 80-gram synthetic insulation spell B-U-L-K, and the jacket weighs a full half-pound more than the standard Ferrosi. Further, we were disappointed to see that this year's model does not come with a hood, which greatly detracts from its use as a dedicated shell. But for a jacket that combines warmth, protection, and breathability better than most, the Winter Ferrosi is a solid cold-weather option.
See the Men's OR Winter Ferrosi  See the Women's OR Winter Ferrosi
Category: Performance
Weight: 15.5 oz.
What we like: Feature-rich but light weight and athletic fitting.
What we don't: Full length side/pit zips aren't necessary for most people.
The Mammut Ultimate V ticks just about every box for a feature-rich shell. To start, the jacket is one of only two here with pit zips. While not always necessary because of the breathable nature of softshell fabrics, those prone to overheating will appreciate the option to quickly dump heat. 3-layer construction and a lightweight backing with wicking finish further increase ventilation. Combine that with a trim fit, helmet-compatible hood, thumb loops, and harness-accessible pockets, and the Ultimate V is a standout for high output activities. Plus, Mammut dropped almost 6 ounces in the most recent update of the jacket, packing all these features into an impressive 15.5 ounces.
Mammut turns to a proven 3-layer Gore Windstopper fabric for the Ultimate V's shell material, which makes the jacket fully windproof, albeit a little less pliable than we'd prefer. The V performs best in cold conditions, and its thickness plus full coverage hood and tall collar provide impressive warmth. Among the feature-rich midweight softshells, we prefer the Gamma MX above for its exceptional warmth, quality construction, and exclusion of pit zips. That said, the Ultimate V is close behind and saves you a significant $70. 
See the Men's Mammut Ultimate V Hoody  See the Women's Mammut Ultimate V Hoody
Category: Performance
Weight: 4.9 oz.
What we like: The lightest and most packable softshell here.
What we don't: Minimalist build limits versatility.
Like the BD Alpine Start above, Mountain Hardwear's Kor Preshell Hoody merges the weather resistance of a windshirt with the breathability and stretch of a softshell. We've been blown away by the performance chops of this style, and the Kor Preshell does it all in a 4.9-ounce build that packs down to the size of couple energy bars. This gives it a notable 2.5-ounce advantage over the Alpine Start, and they managed to retain hand pockets and a full-zip front (some resort to a pullover style to cut weight). For anything from trail running to climbing or even fair-weather skiing, the Kor Preshell can serve as a solid minimalist layer.
Keep in mind that you won't get any amount of insulation out of such a basic piece, and the jacket's trim fit limits its use to mild conditions or high-intensity exercise. Further, the thin fabrics won't be as abrasion-resistant against rock, nor will they provide a lot of resistance in sustained moisture. In the end, most people in the market for a softshell won't land on the Mountain Hardwear Kor Preshell, but it's a noteworthy jacket for the right user. 
See the Men's MH Kor Preshell  See the Women's MH Kor Preshell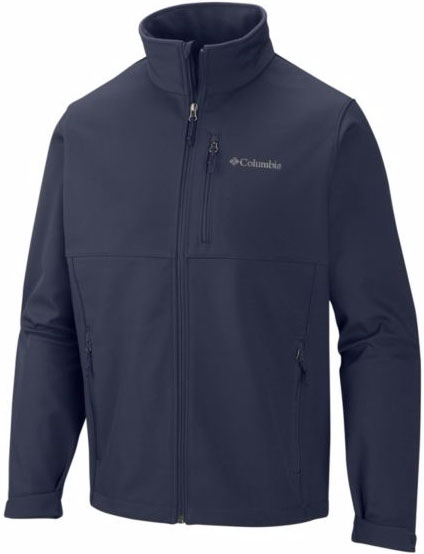 Category: Casual
Weight: 1 lb. 7 oz.
What we like: Works great for daily wear.
What we don't: Generic fit; not a performance piece.
Like the Apex Bionic and Marmot Gravity above, the Columbia Ascender is geared toward everyday use and not necessarily for summiting mountains. If you want a softshell for daily wear from fall through spring or quick jaunts in the snow, the Ascender is just about ideal. It's priced right and matches up well with the Apex and Gravity in durability and warmth, with a sturdy shell and fleece-lined interior.
What are you giving up at the Ascender's budget-friendly price? The fit is pretty generic, but you can squeeze a midlayer underneath or wear it over a dress shirt to and from the office. And don't expect it to keep up if you're working hard, but you probably already knew that by checking the price. On the topic of price, we often see the Ascender on a significant discount (sometimes half off or more), which makes it an even better value.
See the Men's Columbia Ascender  See the Women's Columbia Kruser Ridge II
Softshell Jacket Comparison Table

Softshell Jacket Buying Advice
What is a Softshell Jacket?
As the name suggests, a softshell is a flexible outer layer that serves as an alternative to a traditional hardshell jacket. A fairly wide range of products fall under this jacket type, but all softshells are made with a woven nylon or polyester that gives them their signature stretchy feel. The face fabric is smooth and quite durable, while the interior is usually some form of brushed polyester or fleece grid that provides varying levels of warmth. Softshell jackets are not designed to be impervious to the elements; instead, they're meant to balance water and wind resistance with performance characteristics like breathability and mobility. We've found them to be the ideal choice in cool weather and when you're working hard. For an even deeper dive into this topic, we've written a dedicated article answering the question: What is a Softshell Jacket?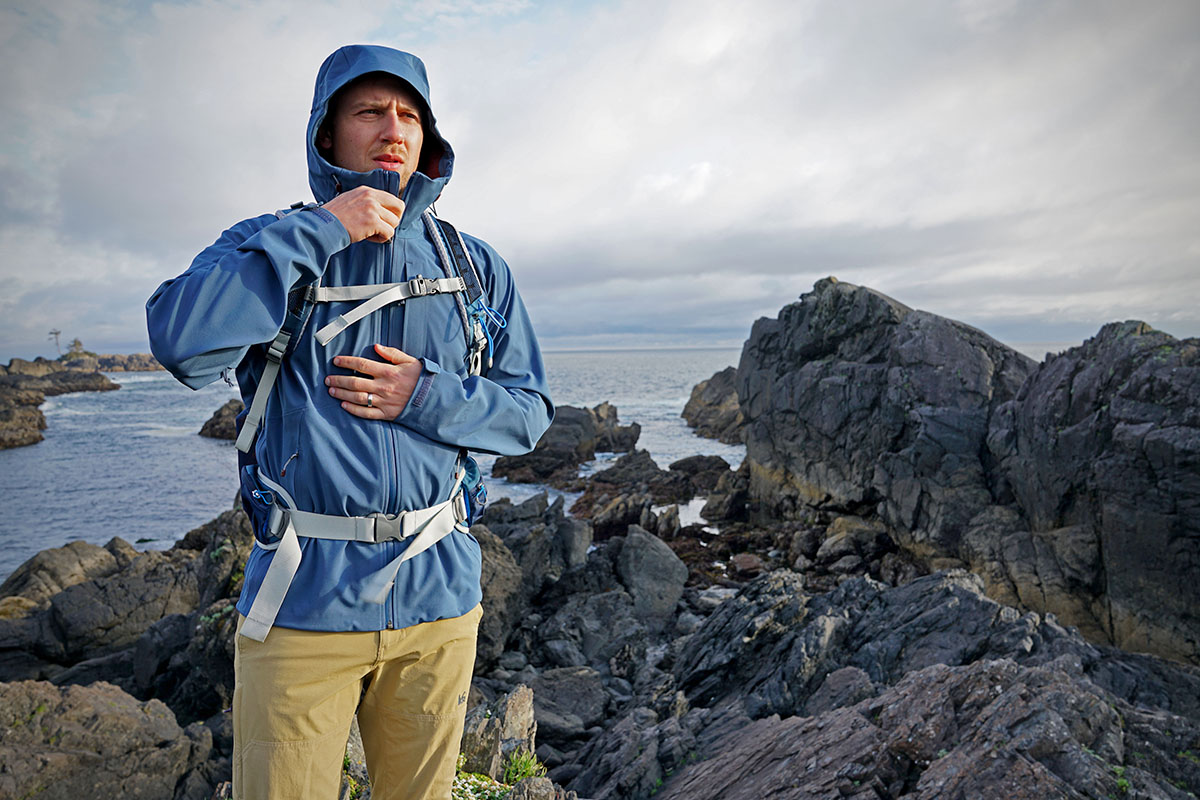 Softshell Categories: Casual vs. Performance
Much like rain jackets, the softshell market is large (and growing), but it can be broken into two general categories: casual and performance. Casual softshells have a generous fit and a basic feature set for use as an outer layer from fall through spring. They excel as a daily piece because their stretchy fabrics are far more comfortable and breathe better than a rain jacket. Even through a Seattle winter, we'll still reach for our softshell jacket so long as there isn't heavy precipitation in the forecast.
Performance softshells are intended for activities like climbing, mountaineering, and ski touring, and leverage the two primary benefits of a softshell: breathability and mobility. Furthermore, these jackets have outdoor-specific features like helmet-compatible hoods, pockets that are set high to accommodate a hipbelt or harness, and a tailored fit. Relative to other performance outerwear, cost doesn't increase substantially between the casual and performance options, in part because the technology is largely the same across the board. Two notable exceptions are The North Face's Apex Flex GTX and Patagonia Galvanized, which merge softshell and rain jacket designs with their 3-layer constructions.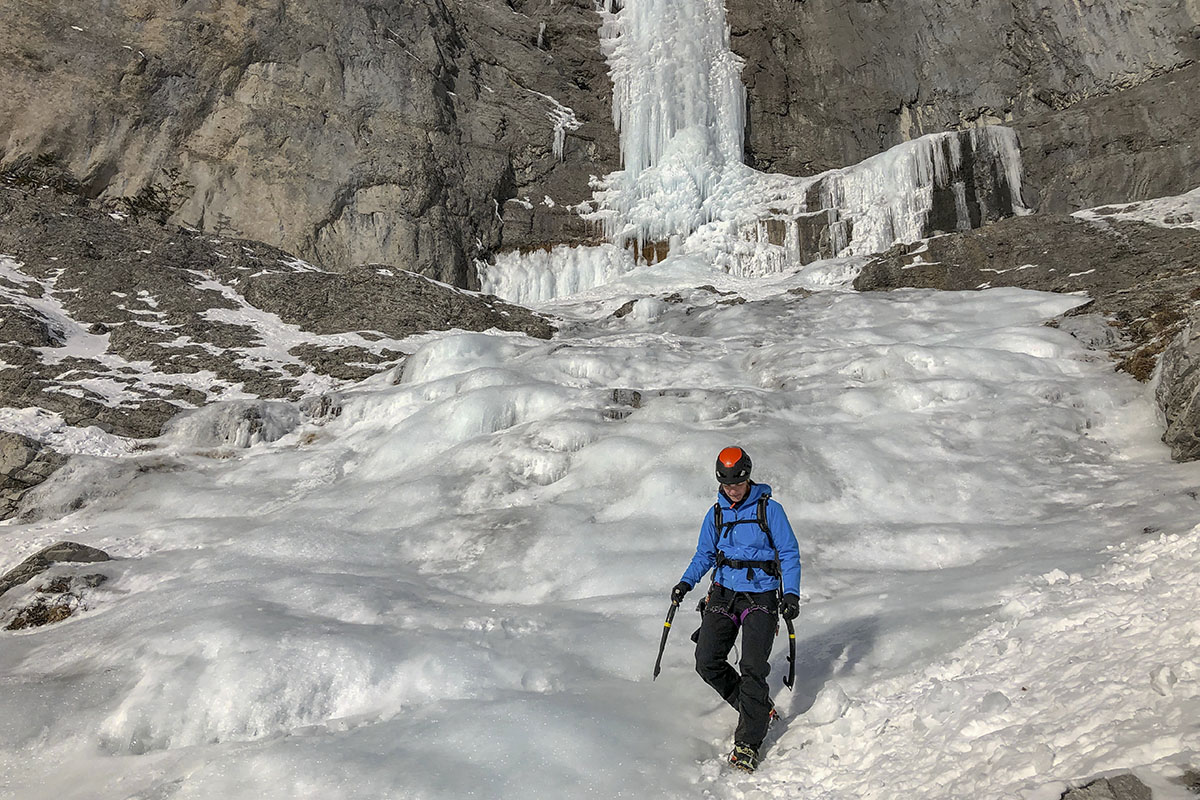 Wind and Water Resistance
One of the reasons that people hesitate in buying a softshell is that it lacks the security you get from a rain or hardshell in terms of waterproofing. But with a durable water repellent coating (DWR) to bead up and shed water, and a tough outer fabric, most softshells can handle light rain showers or wind gusts just fine. Additionally, a number of top softshells use Windstopper fabric, which does a great job keeping you protected. Sustained moisture will make its way through most jackets, however, because they lack seam taping and a waterproof membrane.
The Patagonia Galvanized and North Face Apex Flex GTX are two of the closest on our list to being fully wind and waterproof, with their 3-layer constructions, seam taping, and waterproof front zippers. However, these layers sacrifice some stretchiness and breathability, and thus teeter on the fringes of true "softshell" jackets. In the end, don't get a softshell with the goal of battling the most extreme precipitation or conditions—hardshell jackets still are the best in that type of weather. And at lower elevations, if you need an emergency waterproof jacket, we recommend bringing along a light and packable rain shell as a backup.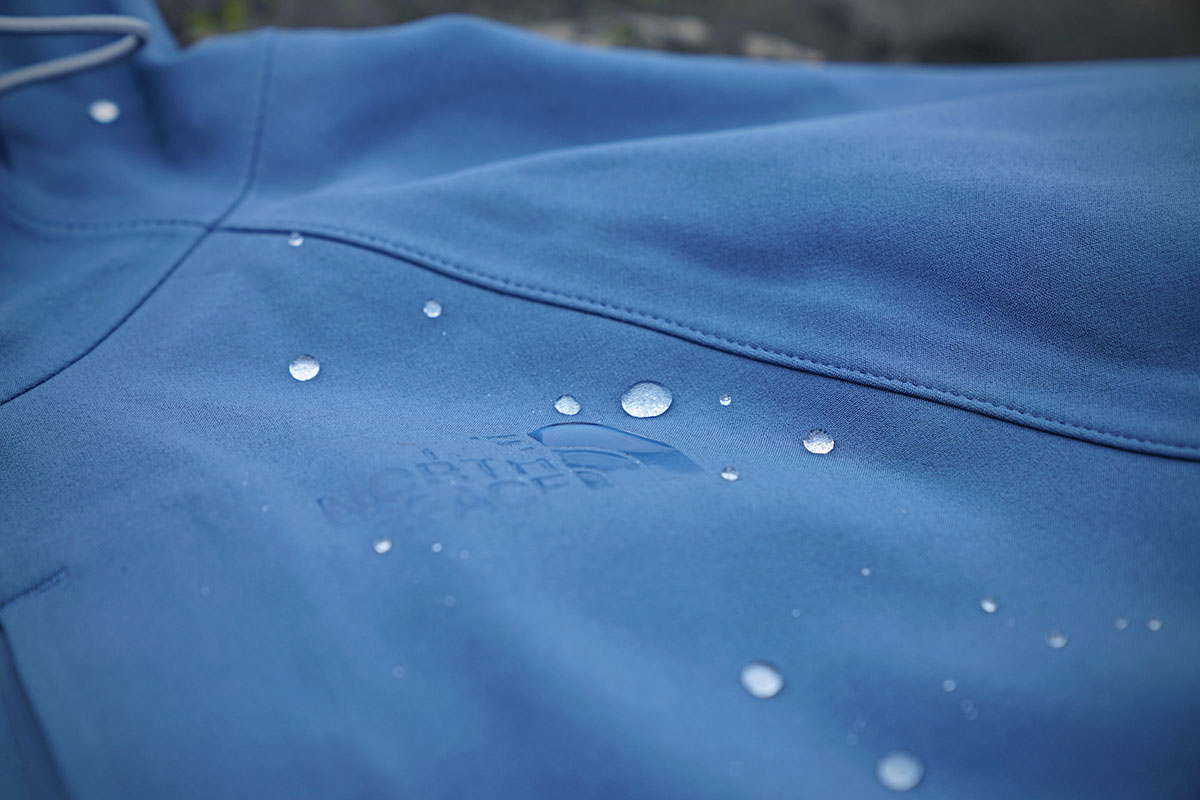 Breathability
Along with stretchiness, the breathability of a softshell is one of the main reasons to purchase one. They far outperform waterproof hardshells in high-exertion activities like climbing or backcountry skiing. How well a softshell breathes does vary and is usually associated with a few common features. The most breathable softshells are thinner designs without a tightly woven and super tough (and less air permeable) outer layer. For maximum breathability, air permeability is your friend as it moves more air in and out of the shell. On the other hand, too much airflow compromises weather resistance and warmth. It's always a balance, but most softshells offer very good breathability for an outer layer, with standouts including the Arc'teryx Gamma LT, Outdoor Research Ferrosi, Marmot ROM, and Black Diamond Alpine Start.

Thickness and Warmth
Softshells can vary dramatically in thickness and warmth, from thin shells offering no insulation to thick, fleece-lined jackets. For use in the dead of winter, activities like ice climbing, or even over a puffy around town, thick softshells like the Arc'teryx Gamma MX or the OR Winter Ferrosi are great options. We often, however, prefer the versatility of a lighter weight jacket, which can always be worn over insulating layers, and offers better breathability and the option to be worn in milder temperatures. Jackets like the Arc'teryx Gamma LT and Black Diamond Dawn Patrol are just as ready for a backcountry ski trip as they are for a spring hike.
It's also important to note that uninsulated softshell jackets will not be warm enough on their own in subfreezing temperatures. Even if you're working hard, you'll need a good system of base and midlayers to stay comfortable. For recommendations on other insulated pieces, check out our articles on the best down jackets, synthetic jackets, and fleece jackets.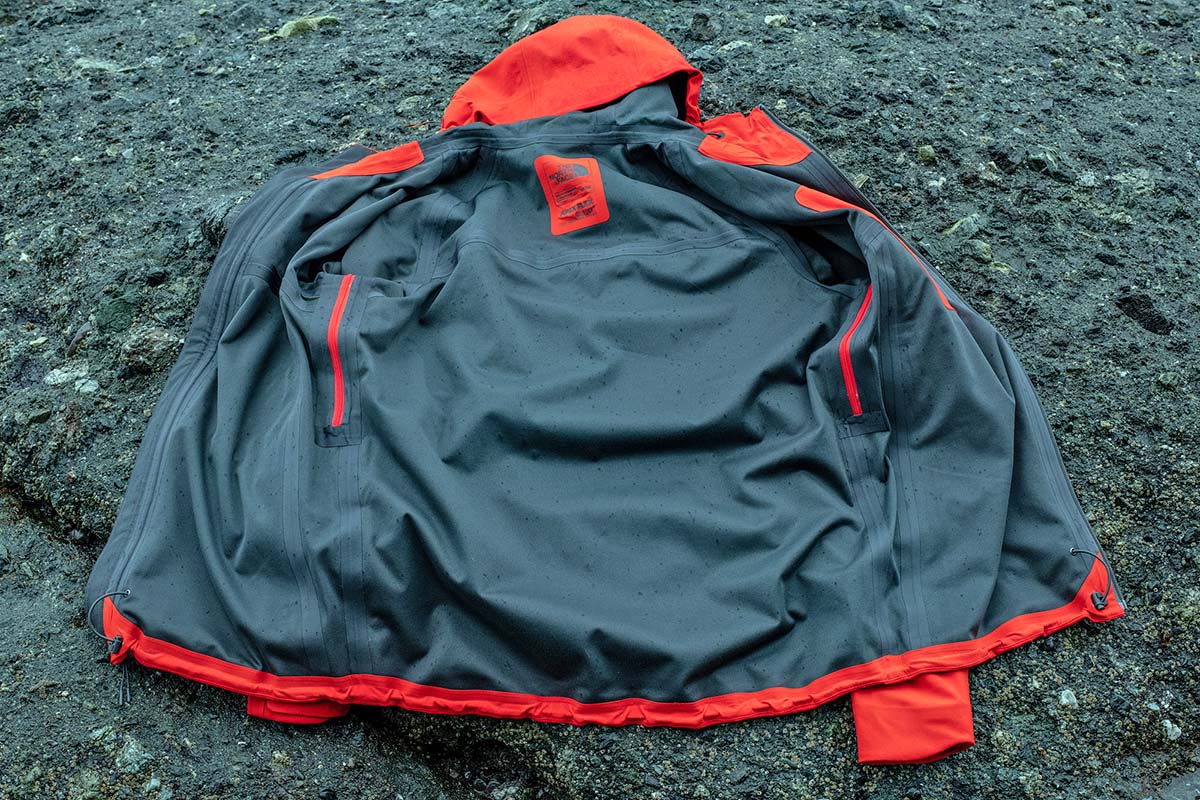 Weight and Packed Size
In general, softshell jackets are one of the heavier and least packable outer layer options, losing out to both hardshells and rain jackets in this regard. The weave of the stretchy fabric and fleece linings add both bulk and weight, so it follows that the worst offenders are the warmest and most feature-rich softshells (the heavyweight on this list is the Outdoor Research Winter Ferrosi at 1 lb. 12 oz. ounces). Even the chart-topping Gamma LT Hoody (LT for "lightweight") doesn't pass the fast-and-light test, at a substantial 1 pound 3.2 ounces.
All that said, with minimalist gear growing in popularity, the softshell category is swiftly following suit. There are now are a number of lighter options that dip under 1 pound, including the Outdoor Research Ferrosi and 10-ounce Arc'teryx Gamma SL. Beyond that, we've begun to see a whole new style developing, merging the uberlight intentions of a windbreaker jacket with a softshell's stretchy and breathable fabric (for more, see our section on "Windbreaker Jackets" below). Jackets like the Black Diamond Alpine Start (7.4 oz.) and Mountain Hardwear Kor Preshell (4.9 oz.) pack down to the size of a piece of fruit and are excellent for weight-conscious activities (trail running and climbing, for example) when you need a jacket to protect against the elements while still dumping heat.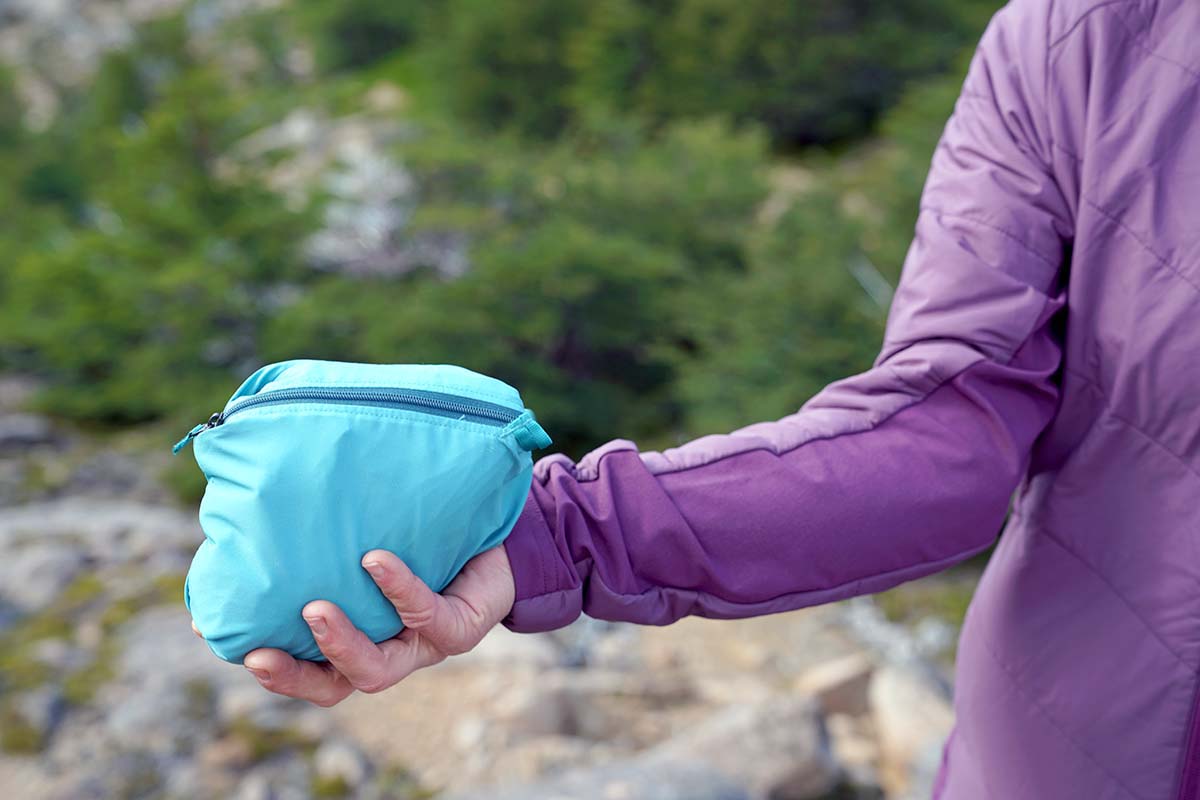 Stretch Fabrics and Mobility
While there aren't exact parameters stating what is or isn't a softshell jacket, one defining feature is the stretchiness of the shell fabric. In contrast to a rigid and sometimes confining hardshell or rain jacket, a softshell jacket flexes and moves with you. This stretchiness is particularly helpful for demanding activities like climbing or fast paced aerobic activities such as hiking or cross-country skiing. The extra give in the fabric also means you can be quite comfortable even with a trim, athletic fit, which makes them all the better for the activities mentioned above.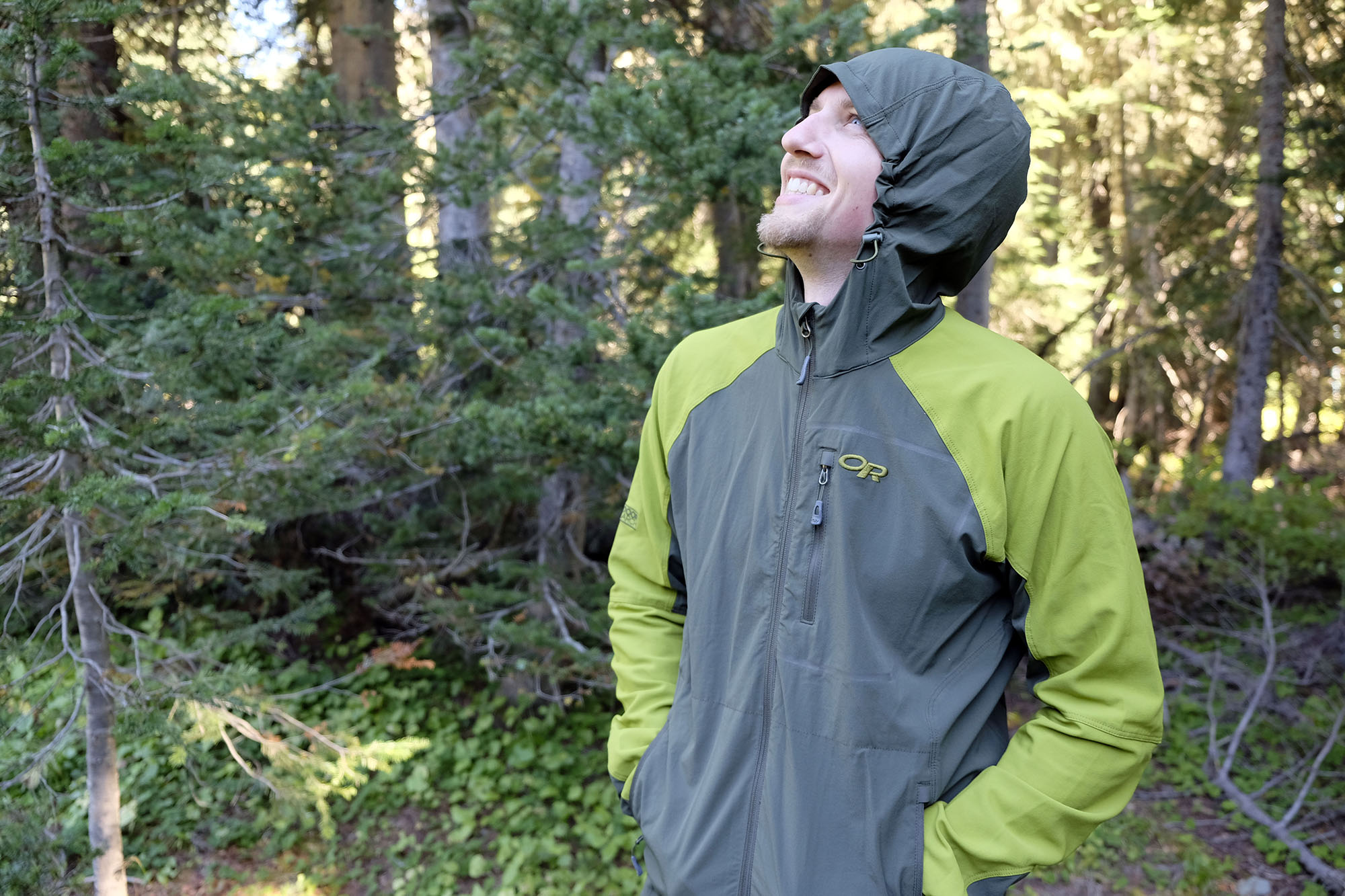 Fit and Comfort
The fit of a softshell will most often correlate with its category, with casual jackets having a more generous, relaxed cut than tailored performance pieces. The fact that these jackets have extra stretch means that in most circumstances it's still easy to slip a puffy underneath. If you'll be taking the jackets into high elevations or need the added warmth of a winter-weight insulated jacket, you may need a more generous fit (or size up). Our ideal softshell has an athletic cut to fully enjoy the stretchy and very mobile characteristics of this jacket type.
Comfort is another area of strength for softshells, particularly next-to-skin feel. The soft-touch fleece liners on many of these jackets make them quite comfortable even when worn over a short-sleeved shirt. And as with fit, their stretchy nature is a boon for daylong enjoyment.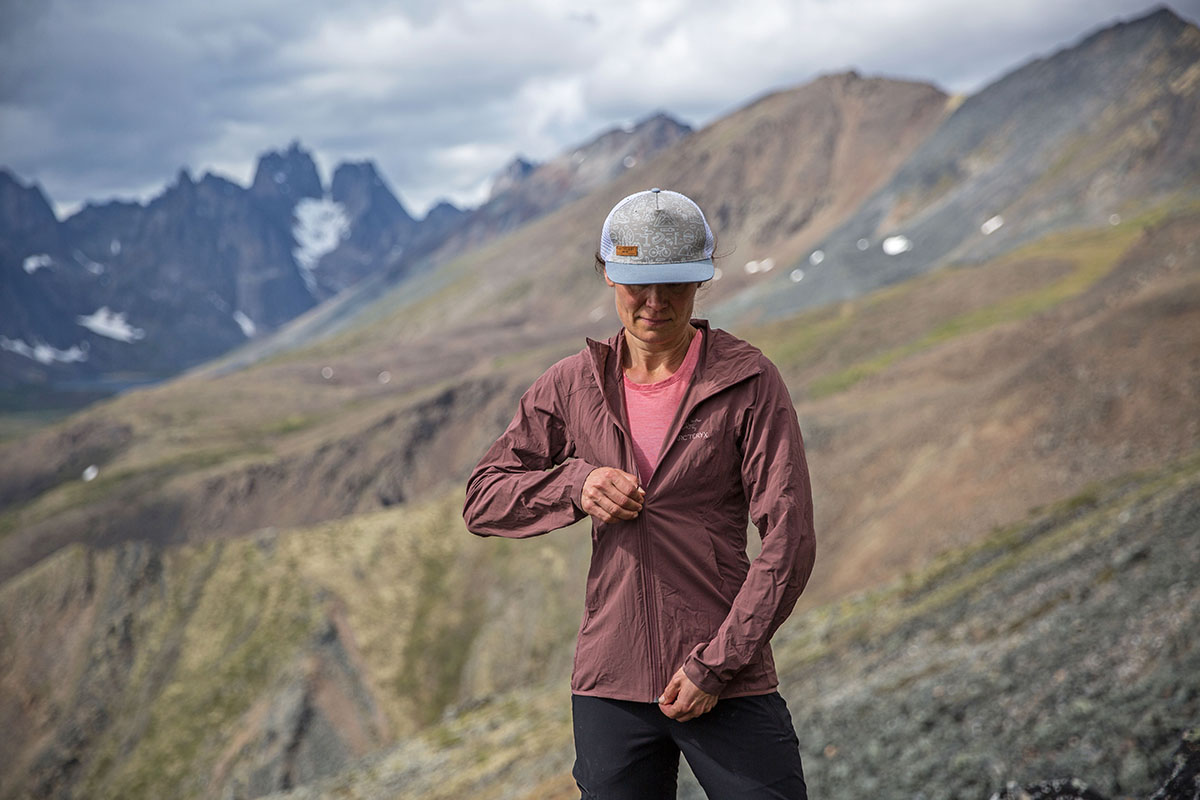 When to Buy the Hooded Version
A good number of softshells are sold in both hooded and non-hooded styles, including our top-rated Arc'teryx Gamma LT. In general, those that choose a performance softshell will opt for the hooded version for better protection from the elements. While the hood isn't waterproof, it can provide sustained relief from light rain and wind, and it offers additional warmth. If you'll be using the softshell as a midlayer or around town, the standard jacket may be your better option. We prefer a hooded softshell because we prioritize warmth and protection, but your needs may differ. And if you're using a helmet, make sure the softshell has a helmet-compatible hood.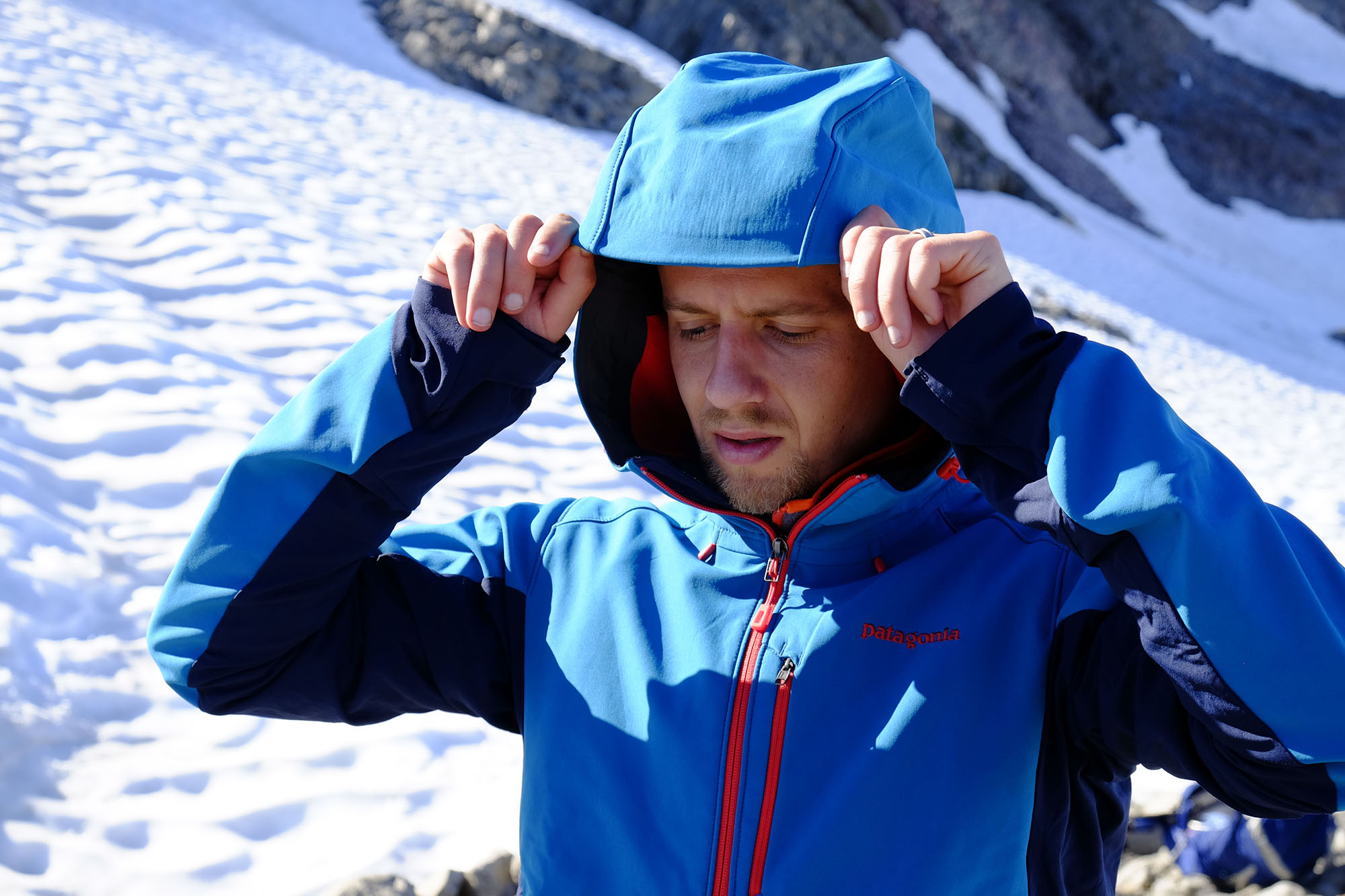 Pockets
Pockets are a great place to start if you're wondering about a jacket's true intentions. You'll find a range of storage options among softshells, from the single chest pocket on a minimalist jacket like the Black Diamond Alpine Start to the six-pocket design of the skiing-focused San Juan from Outdoor Research. In a casually minded jacket, we look for two standard-height handwarmer pockets (just above the hip) and one to two chest pockets for storing valuable items. Performance-oriented softshells are more of a mixed bag depending on their end use, and you'll have to decide whether you want to prioritize weight savings (less pockets) or convenience and organization (more pockets). When it comes to softshells in our performance category, look for torso-height handwarmer pockets (for easy access when wearing a harness or hipbelt), interior dump pockets for storing goggles or skins, or streamlined pockets that double as an integrated stuff sack for the jacket.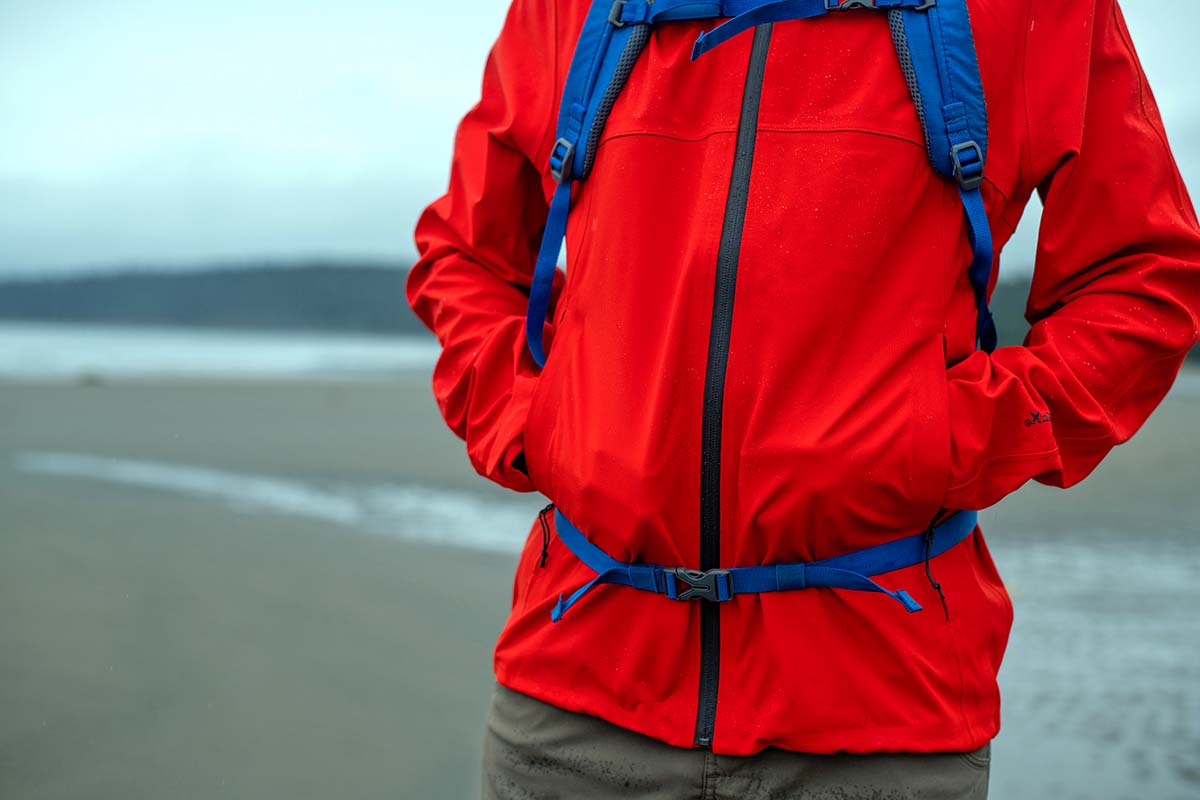 Windbreaker Jackets
Outdoor gear is becoming more and more streamlined by the year, and windbreaker jackets sit at the helm of this movement. Also referred to as windshirts, these jackets are exceptionally lightweight—generally between 2 and 7 ounces—and commonly stuff down to about the size of a coffee mug. And they're small but mighty—made with breathable and water/wind-resistant nylon, they provide valuable warmth and weather protection. Climbers will often bring a a windbreaker jacket in lieu of an insulating baselayer, as it easily attaches to their harness with a carabiner. They're are also popular with weight-conscious bikers, runners, backcountry skiers, and thru-hikers.
We certainly wouldn't classify all windbreaker jackets as softshells. Some, like the Patagonia Houdini, do not stretch and are significantly lacking in breathability. That said, we see a trend towards wind layers becoming more and more stretchy and breathable—in other words, taking on the properties of a softshell. This results in a best-of-both-worlds hybrid layer that's light and packable, breathable and pliable, and still impressively weather resistant. We've included a few windbreakers in this year's article—including the Black Diamond Alpine Start and Arc'teryx Sigma SL Anorak—but expect to see more and more of these hybrids pop up on our list as we continue testing them.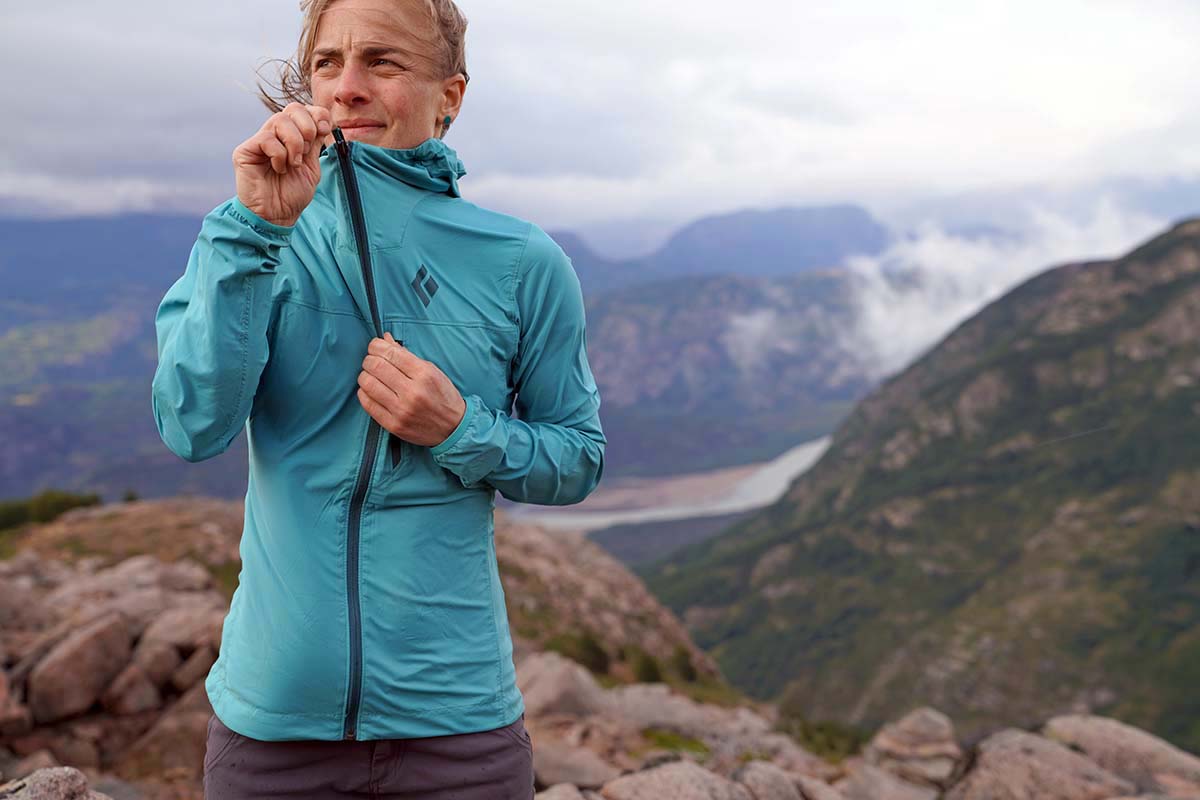 Softshells vs. Hardshells
Softshells are a relatively young product, and early versions were simply fleece jackets with a tougher, more weather resistant face fabric. They've quickly grown in popularity and technology and are now a realistic competitor to a hardshell for a number of alpine sports. Where softshells excel is breathability, range of motion, and comfort. On the other hand, hardshells win out in harsh conditions with waterproof and windproof exteriors and lighter weights. There is some crossover between categories, including jackets like the Patagonia Galvanized (reviewed here), which includes mechanical stretch in its fully waterproof design. That being said, it's not quite as stretchy as a softshell and its fully waterproof design does result in slightly compromised breathability.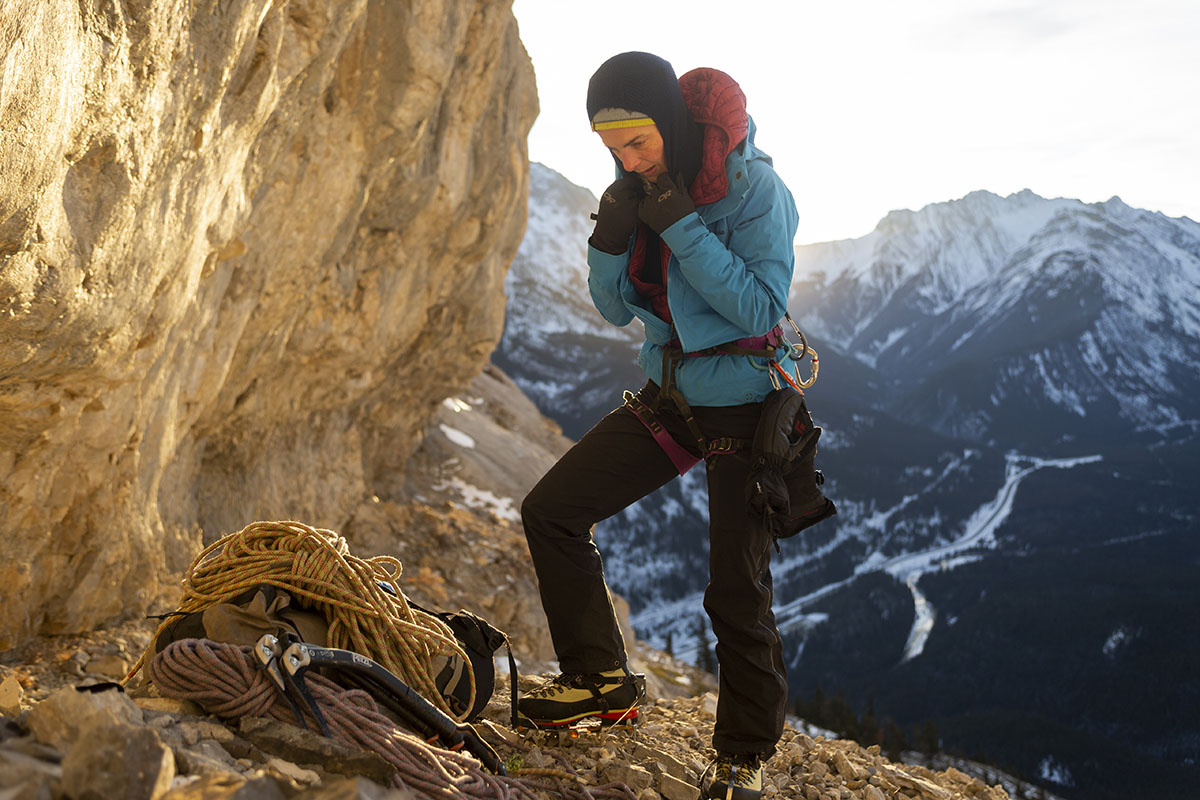 Both jacket types are completely viable options for activities like mountaineering, climbing, hiking, and skiing, among others. Your priorities should push you in one direction or the other and, realistically, those that spend a lot of time in the outdoors have at least one of each type. From our experience, the more familiar we've become with our gear and the conditions we'll be heading out into, the more willing we are to reach for our softshell. It may not have that extra security blanket that comes with all the "proofing" of a hardshell, but its breathable and very comfortable nature make it a lot more enjoyable to wear the entire day. For a deeper dive into the topic, see our article on Hardshell vs. Softshell Jackets.
Back to Our Top Softshell Jacket Picks  Back to Our Softshell Jacket Comparison Table
Learn More About Outdoor Gear