Slotting in as the warmest and most weather-ready softshell in Arc'teryx's Gamma family, the Gamma MX Hoody is built for serious backcountry pursuits like skiing and ice climbing. Throughout a season of testing in the variable North Shore and Cascade mountains of the Pacific Northwest, we found the jacket to be extremely comfortable with a cozy fleece lining, impressively durable with a robust outer shell, and highly wind-resistant. It's fairly heavy and runs far too warm for mild conditions, but it's a great match for alpine missions and demanding cold-weather adventures. Below we break down our experiences with the Gamma MX. To see how it stacks up to the competition, see our article on the best softshell jackets.
 
---
Table of Contents
---

Performance
Weather Resistance
The "MX" in the Arc'teryx Gamma MX's name is short for "mixed weather," and the jacket does a decent job repelling powdery snow and light precipitation. To help protect against the elements, the Gamma has a durable water repellent (DWR) finish along the exterior, the brand's well-respected StormHood that provides great all-around coverage, and a Fortius 2.0 softshell fabric that's proven to be an excellent wind blocker. In fact, I've transitioned on ridgelines in strong, bitterly cold gusts without growing cold or uncomfortable on multiple occasions. I have had moisture penetrate the shell and migrate to my baselayer in heavy rainstorms typical of the West Coast, but this wasn't too surprising given the jacket's construction (softshell jackets aren't designed to be a primary layer of defense). If a deluge or big snowstorm is in the forecast, I simply reach for a waterproof hardshell instead.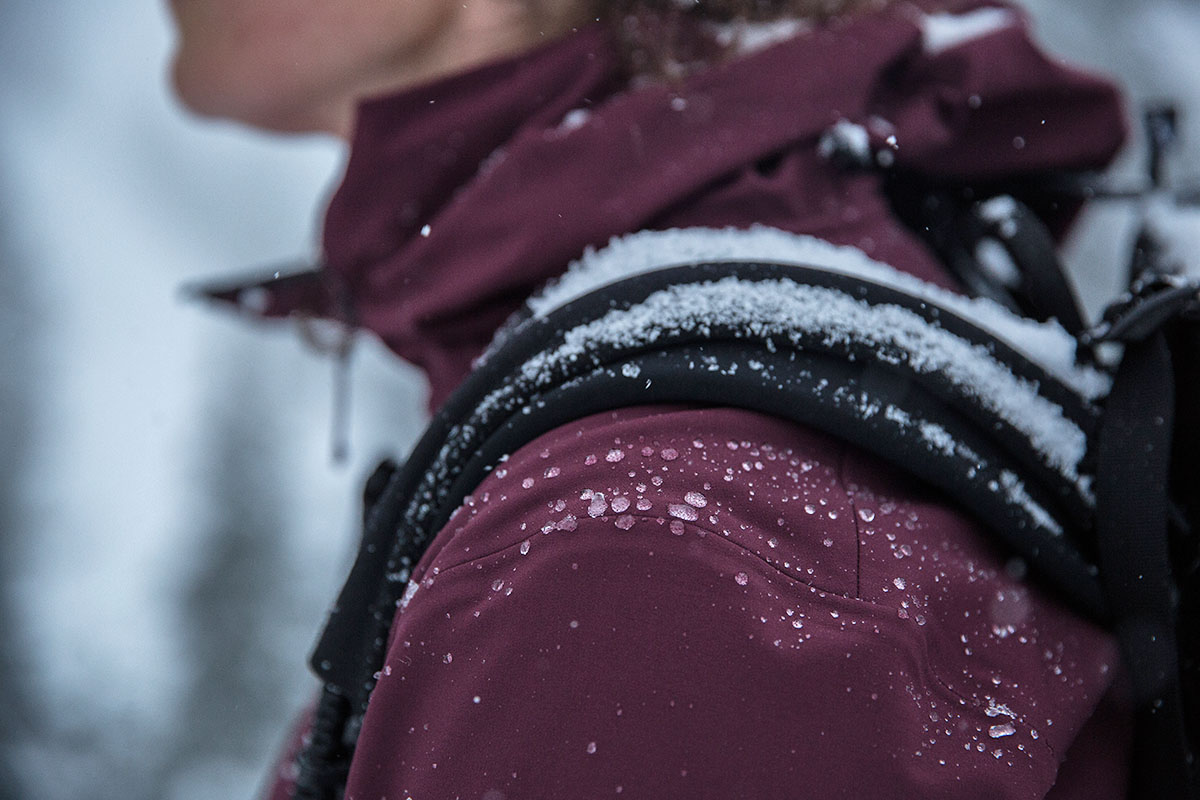 Warmth
With a warm and cozy fleece lining and burly outer fabric, the Arc'teryx Gamma MX Hoody is purpose-built for truly frigid weather. My first few outings with the jacket were especially telling: I tend to run cold while backcountry skiing, so the Gamma MX seemed like an obvious choice. However, during my first tour with the jacket, I quickly overheated and promptly tossed it in my pack for the rest of the day. My experience was similar on follow-up outings, where I was forced to shed the jacket whenever temperature rose above freezing.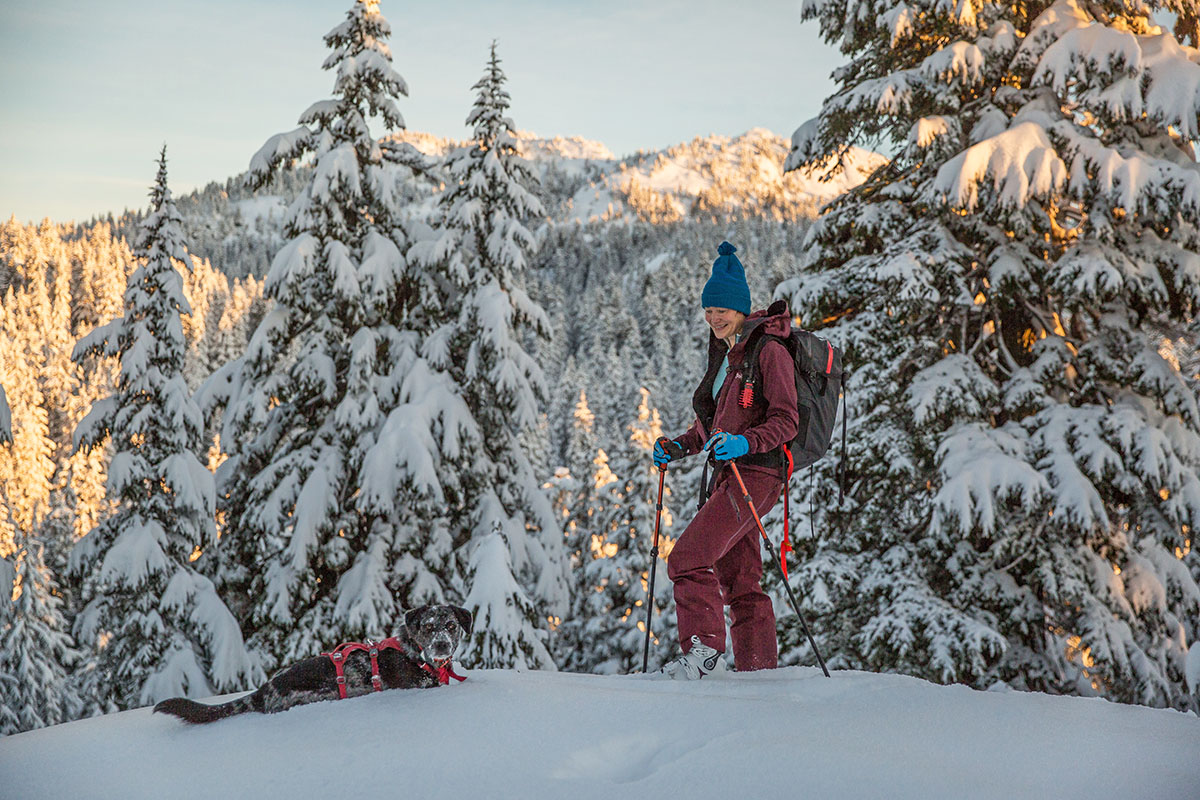 All in all, I've found that the Gamma MX is overkill for mild conditions, longer tours, and other aerobic activities when you're likely to work up a serious sweat. That said, it's an excellent match for lower-output pursuits in below-freezing temps or frigid alpine adventures (I wear it while taking photos on cold ski days, transitioning in windy conditions, etc.). And to help seal out the cold, the jacket features elasticized cuffs that fit snugly and prevent drafts from entering, a tall collar with soft fleece at the chin, and the aforementioned adjustable StormHood that can be cinched tightly over a ski helmet or hat.

Breathability
The Gamma MX is great in cold weather, but the tradeoff is that breathability suffers even in mild temperatures. To be clear, the softshell fabric breathes much better than a 3-layer hardshell jacket, and I'm able to wear the Gamma MX on short tours and while doing yo-yo laps in temperatures below around 25 degrees Fahrenheit. However, in above-freezing conditions or during extended exertion, the Gamma simply isn't breathable enough to prevent me from overheating (and this is coming from someone who doesn't typically sweat while touring). 
The pockets do have mesh linings and can be opened to help with ventilation and airflow, but I've found that I need to fully open the front zipper as well to dump enough heat. This is perfectly fine in dry conditions but not ideal when it's snowing or sleeting. And to make matters worse, snow tends to stick to the inner fleece lining, which only adds to the dampness. In the end, unless you truly need the winter-ready warmth, I recommend going with a more versatile and breathable option like the uninsulated Gamma LT or SL.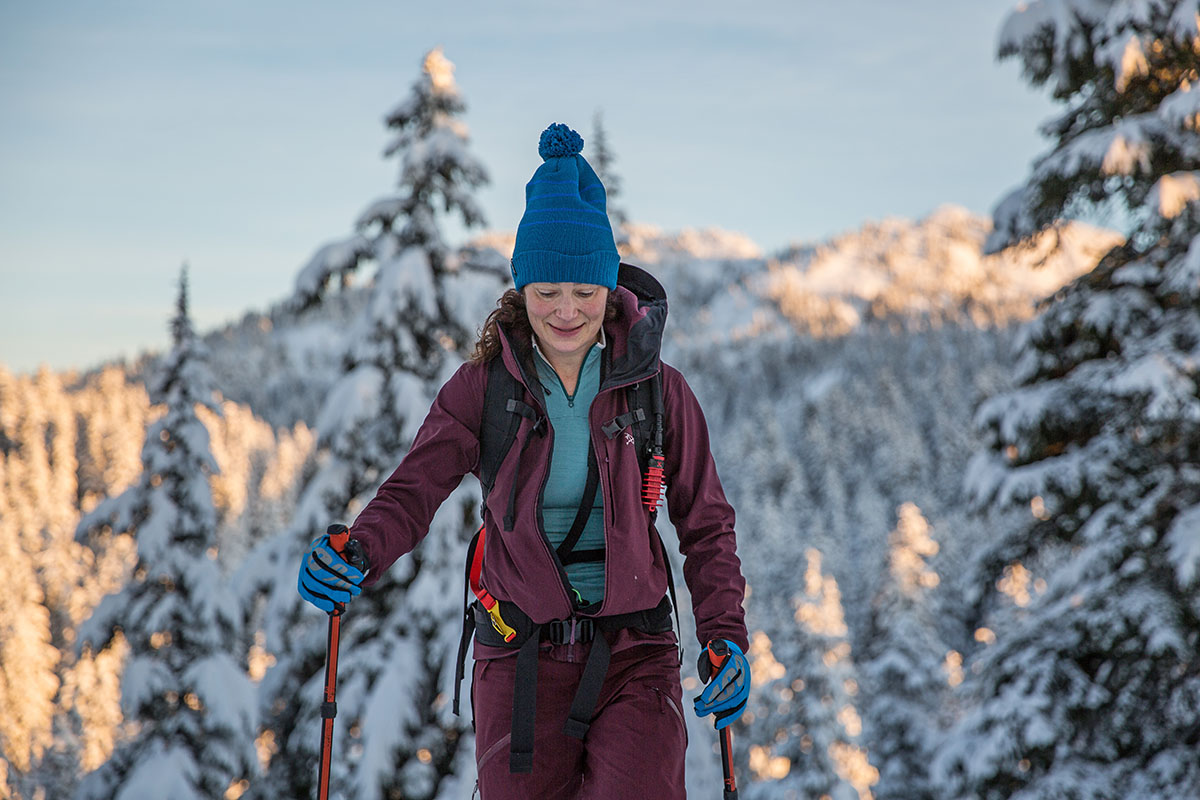 Weight and Packability
My women's small clocks in at a fairly hefty 1 pound 2 ounces (it's listed at 1 lb. 0.9 oz.), which is to be expected given the level of warmth but is nevertheless heavy for a softshell jacket. For reference, you can go much lighter in this category with options like Patagonia's R1 TechFace Hoody (11.9 oz.) or Arc'teryx's own Gamma SL (9.3 oz.), although both of those options lack insulation and are designed for warmer temperatures. Other winter-ready options like the Outdoor Research Winter Ferrosi (1 lb. 2.5 oz.) and Mammut Ultimate VI SO (15.8 oz.) are closer in weight, although all three are decidedly pretty burly for backcountry use (especially considering you'll likely have to pack a waterproof layer as well). And the Gamma MX doesn't come with a stuff sack, nor can it be packed into a pocket, but it's pretty easy to compress into its own hood to about the size of a large cantaloupe.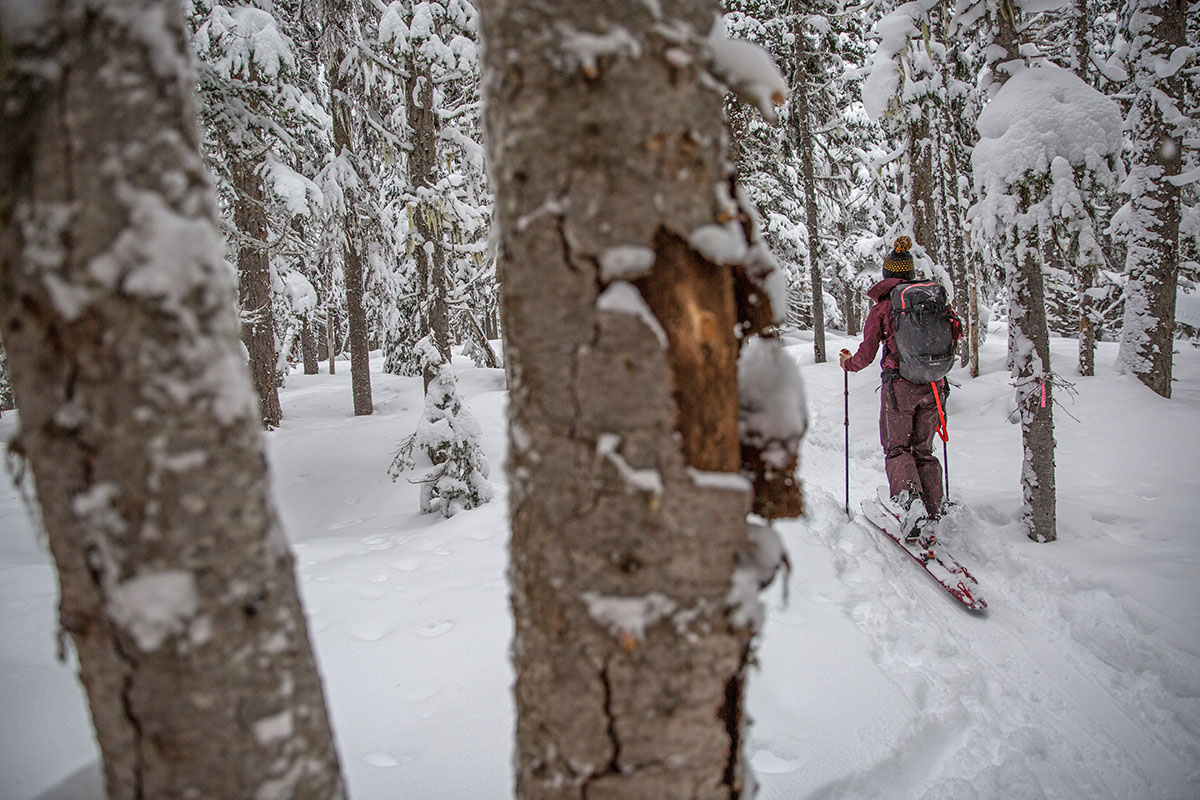 Comfort
As we found with the lighter Gamma SL, the Arc'teryx Gamma MX is a real standout in the comfort department. The Fortius 2.0 softshell fabric incorporates 16 percent elastane, which translates to excellent stretch and mobility (I imagine the jacket would be great for cold-weather rock or ice climbing). Additionally, the articulated elbows reduce bunching, and the gusseted underarms enable me to reach overhead easily and without restriction. And on the inside, the interior is noticeably soft and plush and feels cozy against bare skin. In fact, I happily and frequently wear the jacket over just a t-shirt.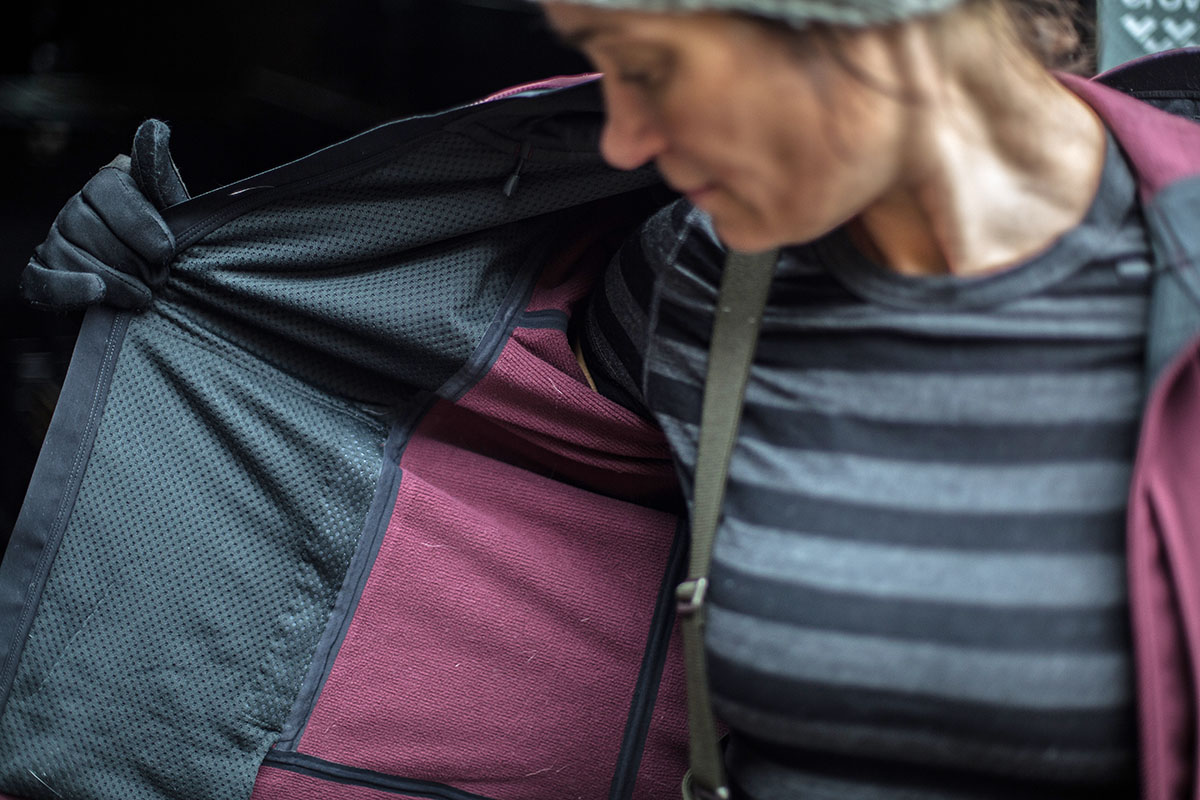 Build Quality and Durability
Put simply, build quality is up to snuff and meets the high standards we set for Arc'teryx gear. Despite regular mistreatment including numerous days in the backcountry, being thrown clumsily into our van and my ski backpack with sharp gear, and getting jumped on by an overly excited dog, the jacket shows no signs of wear or abrasion, and there are no loose threads or visible pilling. Further, all seams and the toggles for the hood and hem are all holding up well, and the zippers are running smoothly (bonus: I love the long plastic tabs that make them easy to move up and down). All in all, from a construction and quality standpoint, I couldn't be happier.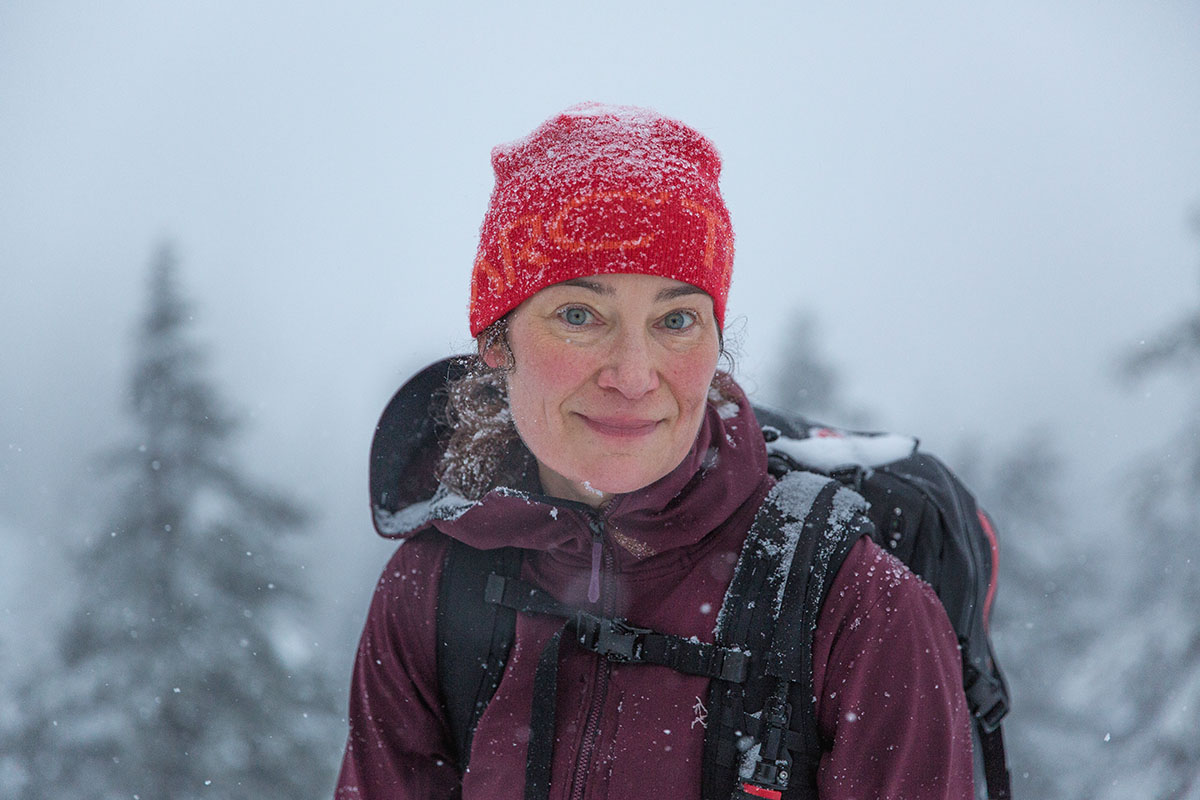 Key Features
StormHood
Arc'teryx does hoods extremely well, and their StormHood design is a real winner. First, it's helmet-compatible and offers great all-around coverage without impeding peripheral vision. Second, the drawcords are easy to manipulate even with gloves on, and the hood can be effectively tightened over just a hat or beanie. And finally, the laminated brim holds its shape nicely and shields against precipitation dripping onto my face and eyes. Taken together, it's a highly functional and well-built design that I'm always excited to see on Arc'teryx jackets.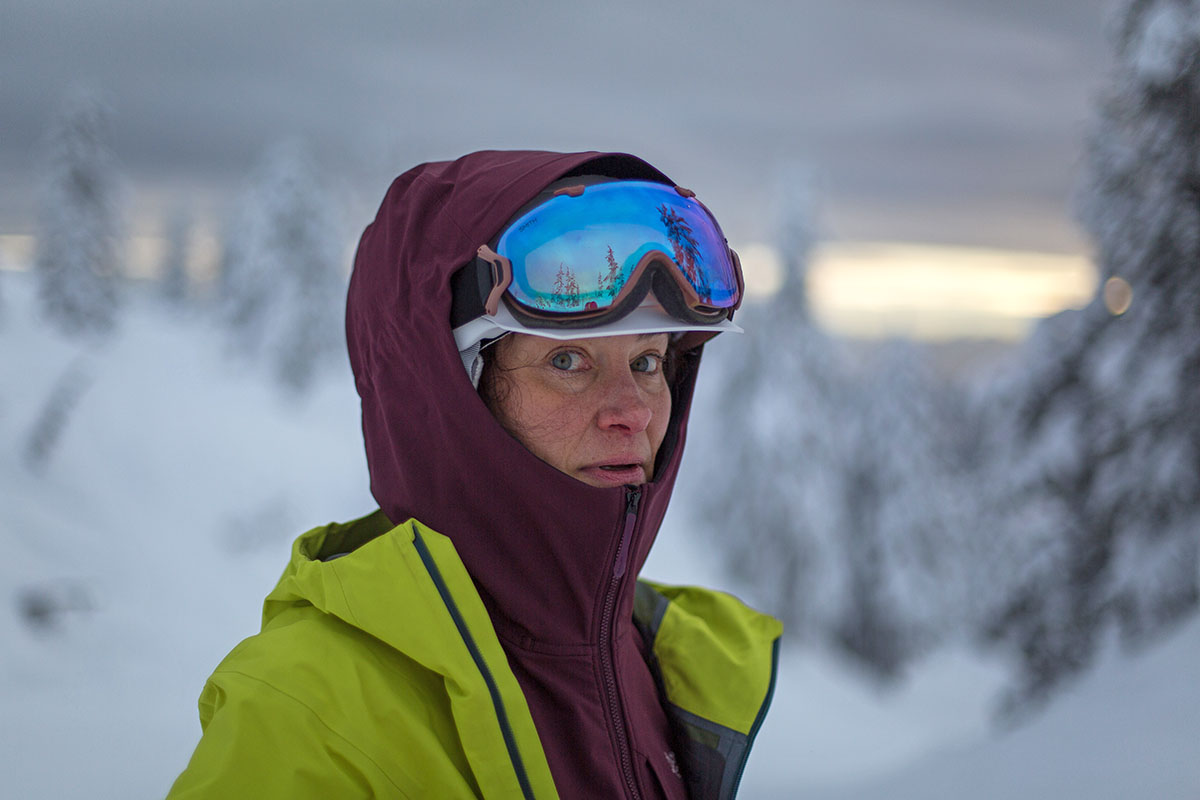 Storage: Pockets
The Gamma MX comes adequately appointed in the storage department with three zippered pockets, including two mesh-lined hand pockets and one mesh-lined chest pocket. The previous generation of the Gamma MX also sported a sleeve pocket for stowing items like a credit card or license, but I didn't find the omission on the latest version to be too impactful. The chest pocket is large enough to house a plus-sized iPhone, although I don't keep my phone here unless it's protected in a plastic bag. The hand pockets are also adequately sized, but they're a bit snug if I'm wearing bulkier ski gloves (they work great with liner gloves). And the mesh lining inside all of the pockets is soft and fleece-like, which feels very comfortable against bare hands and increases ventilation when the pockets are open.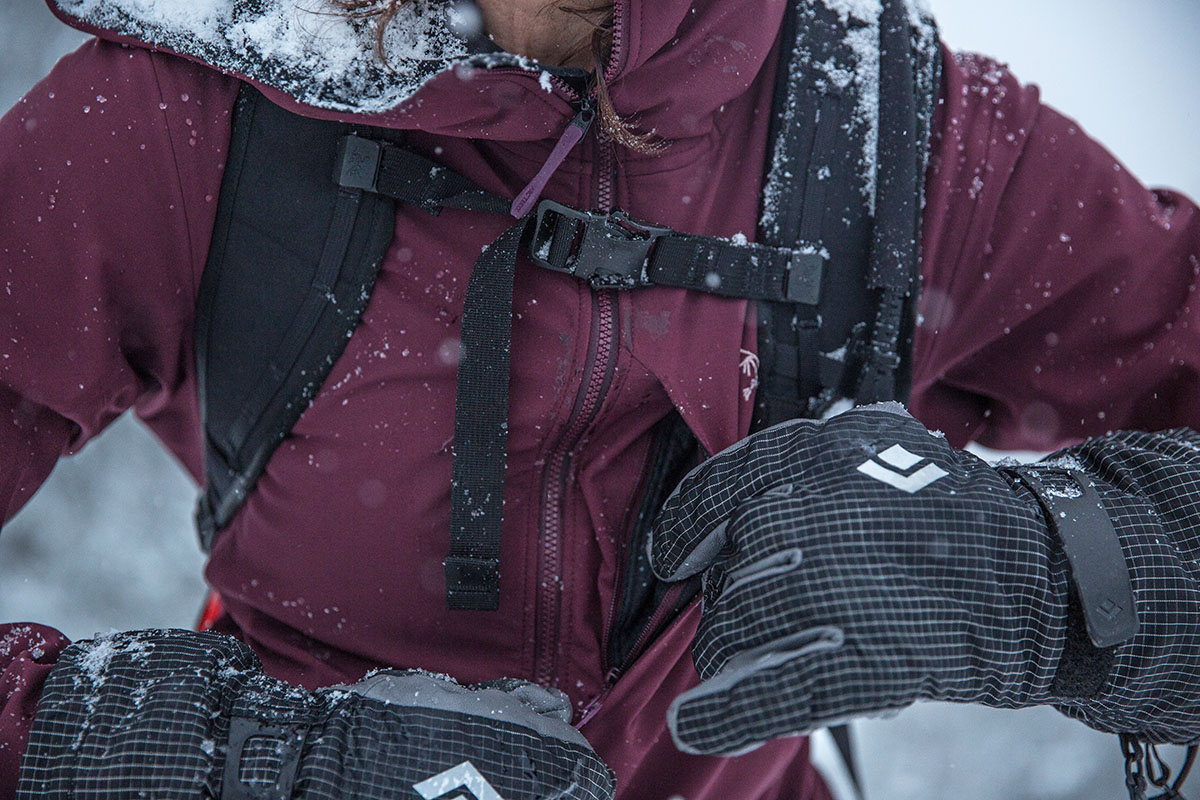 Fit and Sizing
Arc'teryx labels the Gamma MX's fit as "regular," and I agree with that designation. While not boxy, it's loose and roomy enough to easily accommodate base- and midlayers underneath. This cut also allows me to add another layer of insulation overtop when transitioning or taking photos (my go-to is Arc'teryx's Cerium SV). To dial in fit, the hem can be easily cinched, and the sleeves are the perfect length for me (for reference, I'm 5'8" and wear a women's size small). Finally, the cuffs aren't adjustable, but they're snug enough to prevent drafts from entering and sport elasticized openings that make the jacket easy to get on and off.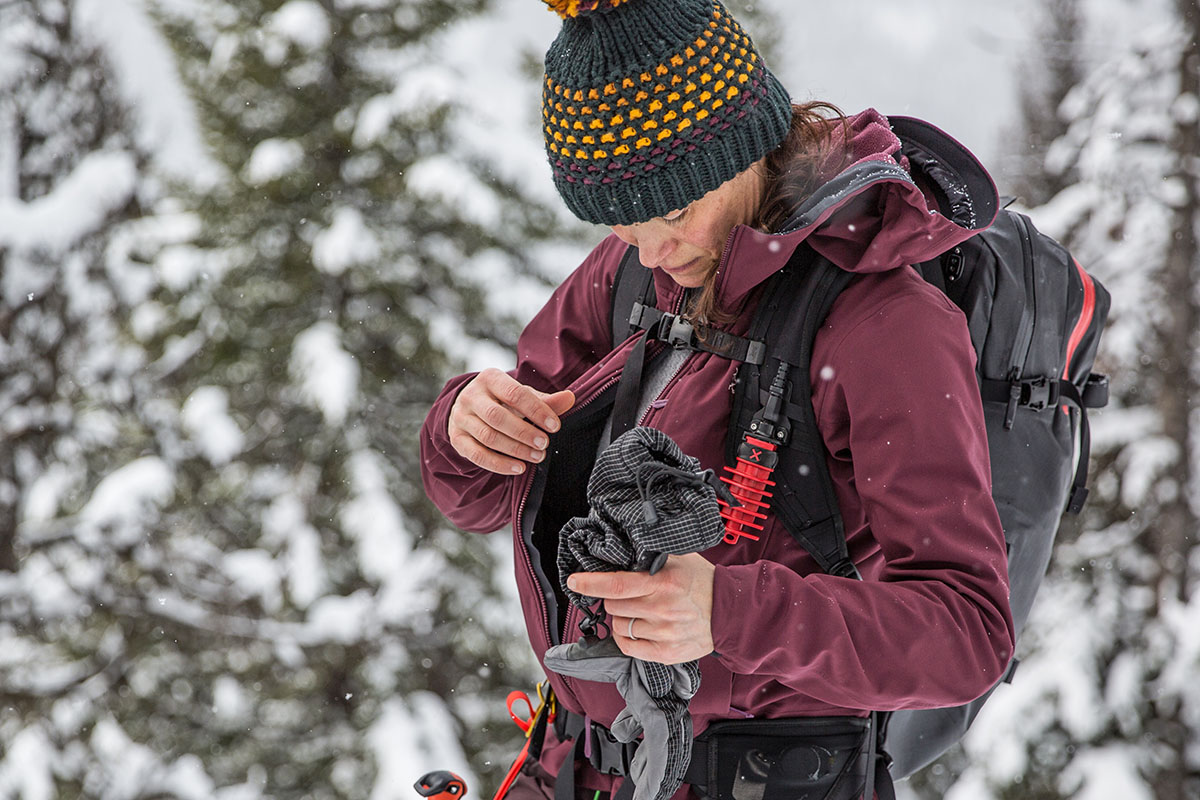 Other Versions of the Arc'teryx Gamma MX
We put the women's version of the Gamma MX to the test for this review, and Arc'teryx makes a nearly identical men's variation. The men's Gamma MX Hoody checks in a little heavier at 1 pound 3.6 ounces, comes in different colorways, has a longer center back length, and boasts an additional chest pocket, but all other features and overall construction remain the same. Finally, Arc'teryx also sells Gamma MX pants for men and women, which retail for $299, use the same Fortius 2.0 fabric as the hoody, and also have a fleece lining for comfort and warmth.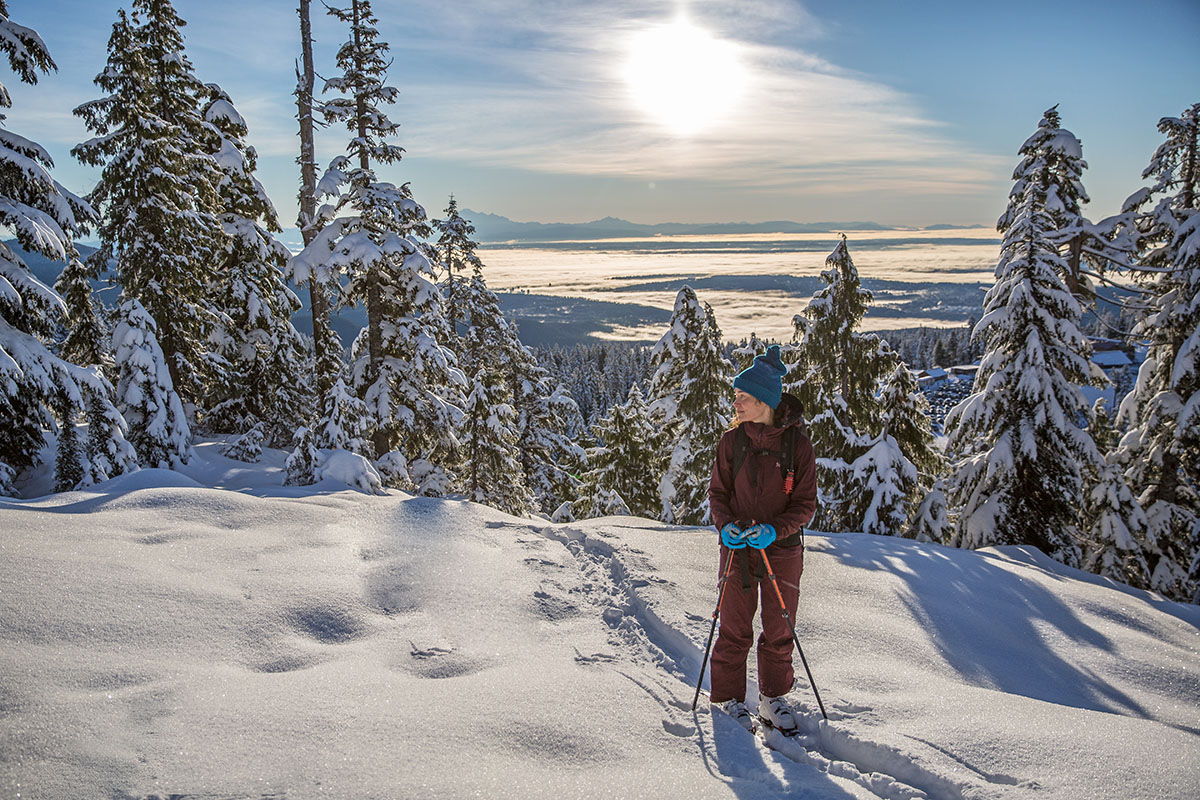 What We Like
Remarkably soft and comfortable, and the addition of elastane in the build provides great mobility and stretch.
Fortius 2.0 fabric is a great wind blocker, even in particularly blustery conditions.
The addition of a fleece lining make this jacket exceptionally warm and a great match for backcountry activities in temperatures below freezing.
Thoughtfully designed feature set and the high attention to detail we've come to expect from Arc'teryx.

What We Don't
At over 1 pound, the Gamma MX is fairly heavy for backcountry use, and especially considering you'll likely also be packing a separate waterproof layer.
Fleece lining impedes breathability, and the Gamma MX runs warm even in mild temperatures (it's best in below-freezing conditions). 
Pricey at $349, especially given the specialized, winter-specific build.
Outer fabric wets out quickly in sustained rain or snow, although it's adequate in light to moderate precipitation.


Comparison Table
The Competition
Arc'teryx's Gamma MX is the warmest softshell jacket in the Gamma lineup, but we think the LT ("lightweight") Hoody is the more versatile all-rounder. How do the two differ? For starters, the LT is non-insulated with no fleece lining, which means it's not a true cold-weather piece like the MX but is perfectly serviceable for mild conditions and shoulder-season temperatures. Like the MX, the Gamma LT also has a burly outer fabric that's highly tear-resistant and hardwearing, and the lighter materials make it a much better breather. And from a features standpoint, the two are very similar: the LT has a helmet-compatible StormHood, three pockets, and a DWR finish for fending off light rain and snow. All in all, it's not a high alpine-ready piece like the MX, but we consider the LT the more well-rounded option and a much better value at a full $100 less.
Rounding out the Gamma collection, Arc'teryx also offers the Gamma SL Hoody. Short for "superlight," the SL checks in at a feathery 9.3 ounces but retains a fairly full feature set, including an adjustable StormHood (although it's not helmet-compatible), two hand pockets, and a similar outer fabric as the Gamma MX that's mobile and stretchy but also impressively durable. The SL also wins out in breathability, and we found it to be a great match for summer and shoulder-season activities like hiking, biking, trail running, and backpacking (for more, see our in-depth Gamma SL review). That said, it falls noticeably short of the MX in all-out protection and is too thin to keep you warm in colder winter conditions. In the end, we think the LT hits the best middle ground of the bunch, but the SL is a nice summer-specific option.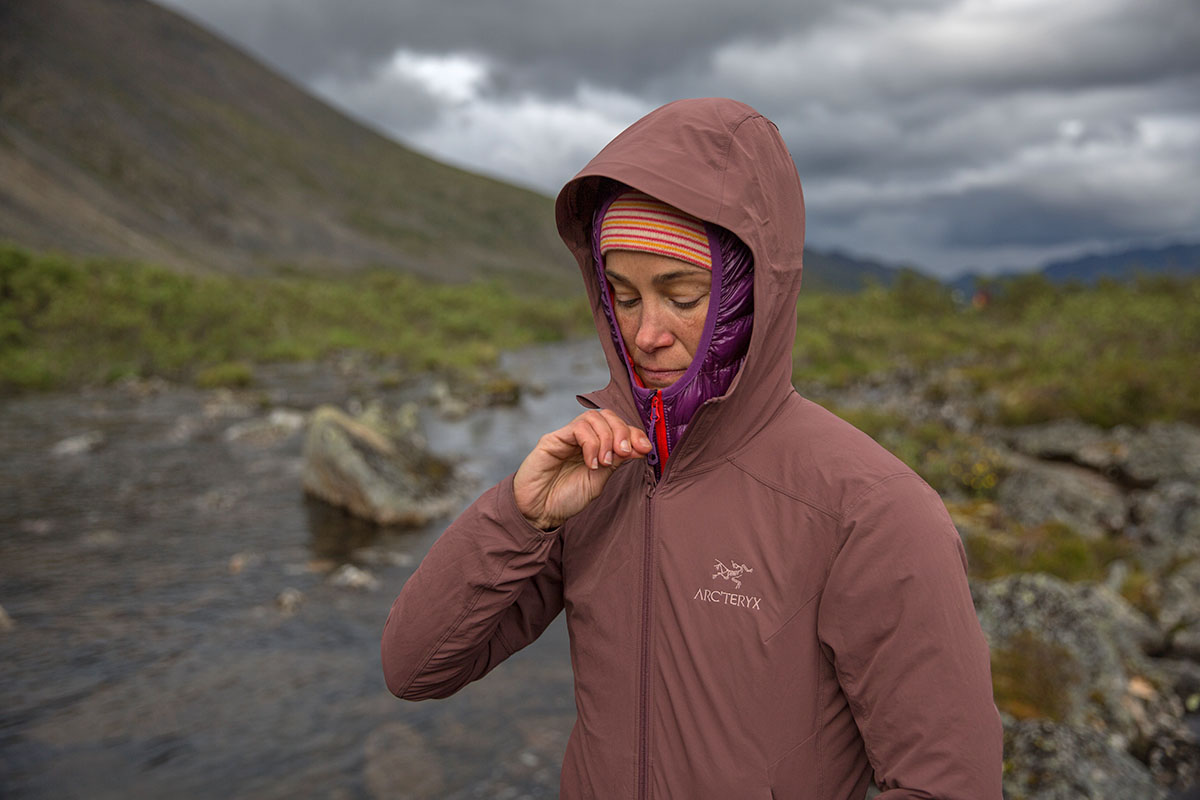 The Gamma MX is a decidedly technical option, and Patagonia makes another intriguing alternative in their Galvanized Jacket. Like the Arc'teryx, the Galvanized comes equipped with a helmet-compatible hood, hipbelt- and harness-friendly pockets, and excellent mobility for movement-dependent uses like ice climbing and ski touring. However, the Galvanized gets the clear edge in weather protection with a 3-layer H2No build, which translates to full water- and windproofing. You also get pit zips for dumping heat quickly, as well as a lighter 15.5-ounce weight. The Gamma wins out in warmth and durability, but the Galvanized is an excellent hybrid hard/softshell option for those looking to better balance protection, breathability, and comfort.
Like the Galvanized, Mammut's Ultimate VI SO Hoody also boasts a more weather-ready build than the Gamma MX. In this case, Mammut opted for a 3-layer Gore-Tex Infinium construction, which offers great wind resistance but isn't fully waterproof like many of Gore's other membranes. The Ultimate VI SO also incorporates four-way stretch for freedom of movement and full side zippers for excellent ventilation and easy access to a harness. Rounding out the technical feature set, you also get a helmet-compatible hood, thumb loops, harness-friendly pockets, and a storm flap behind the front zipper for added assurance against moisture. In the end, we prefer the sleeker and more streamlined look of the Gamma MX, but the Mammut is the better breather and will save you a considerable $70.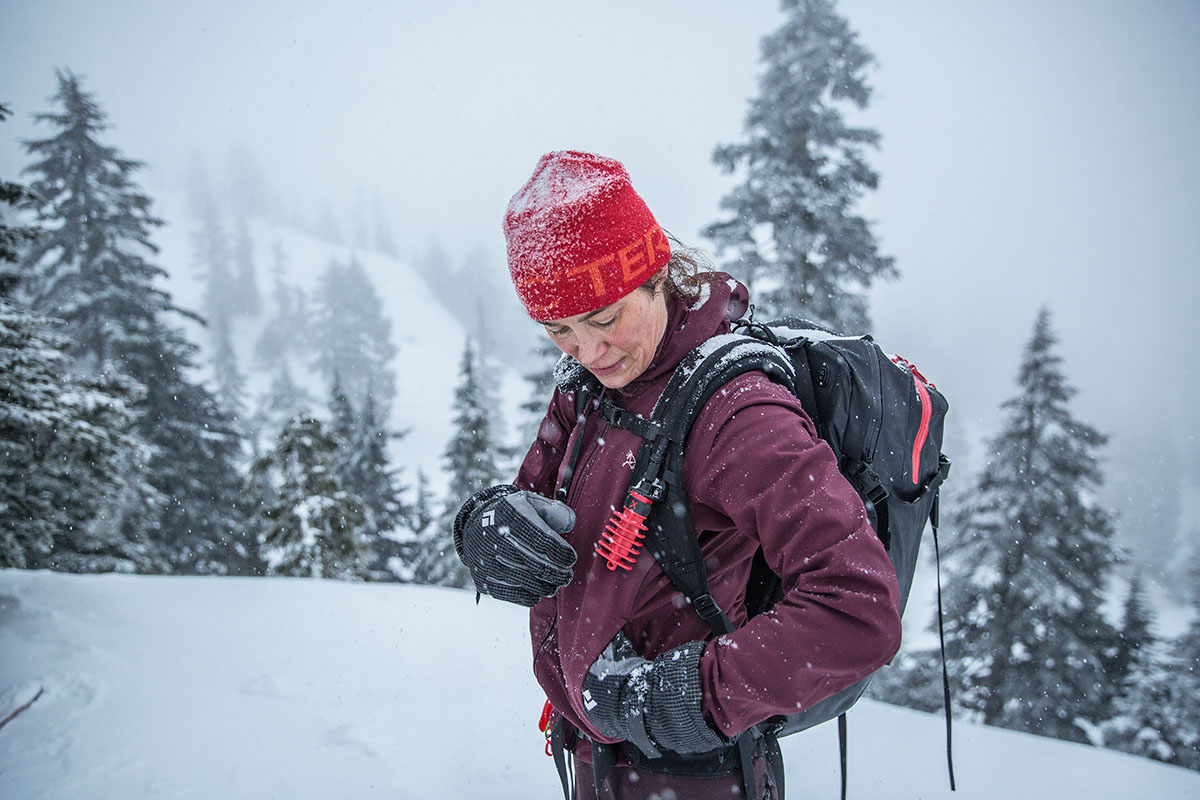 For a casual winter-ready design, we also like Outdoor Research's Winter Ferrosi. Instead of a fleece lining, the OR uses synthetic insulation (80g VerticalX) for warmth, which is great for frigid ski days and wearing around town. You also get a burly 90-denier face fabric that can withstand significant abuse, as well as a nice dose of stretch (14 percent elastane) for good all-around mobility. The only notable omission is a hood, which detracts from the Ferrosi's appeal as an outer layer but doesn't matter much if you plan to wear it under a shell. All in all, for a full $150 less than the Gamma MX, the OR is hard to beat as an everyday piece. But if you plan to get after it in the alpine, the Arc'teryx is the better match.
If you're thinking about buying gear that we've reviewed on Switchback Travel, you can help support us in the process. Just click on any of the seller links above, and if you make a purchase, we receive a small percentage of the transaction. The cost of the product is the same to you but this helps us continue to test and write about outdoor gear. Thanks and we appreciate your support!
Depending on the seller, most products ship free in the United States on orders of $50 or more. International shipping availability and rates vary by seller. The pricing information on this page is updated hourly but we are not responsible for inaccuracies.
Read More From Switchback Travel