You can leave your dehydrated, salty, and unsatisfying meals at home—today's camping stoves bring a whole new level of gourmet to your car camping and basecamping adventures. With a modern, quality design you can expect consistent fuel output, strong flames, and superior simmer controls. Camping stove sizes vary from small tabletop models to freestanding behemoths for large groups. For first-timers or those desiring some background information, it's worth checking out our comparison table and buying advice while narrowing your search. Below, you'll find our favorite camping stoves for 2023. If you are looking for lighter and smaller options more in-line with backpacking, see our article on the best backpacking stoves.
 
---
Our Team's Camping Stove Picks
---

Best Overall Camping Stove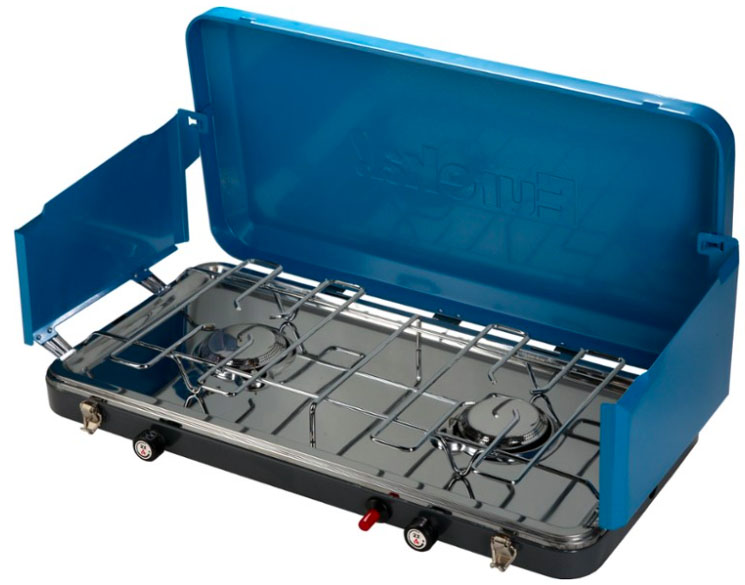 Category: Tabletop
Fuel: Propane
Burners: 2 @ 10,000 BTUs
Weight: 12 lb.
What we like: Generously sized cooking area and all the features we look for in a quality design.
What we don't: Pricier and less powerful than some of the competition.
Eureka's Ignite Plus is one of the most well-rounded designs on the market with a solid build, good simmer control, and wide, 23-inch cooking area that can accommodate bigger pots and pans. Unlike much of its budget-friendly competition, the Ignite Plus includes push-button ignition, which keeps your hands safe from large bursts of flame and makes the prep process a bit quicker. It's not a deal-breaker for many, but it's a nice feature that we appreciate when setting up camp. Added up, the Eureka has all the ingredients of a high-end tabletop camping stove while coming in at a pretty reasonable price point.
All that said, the Eureka Ignite Plus does fall a little short in value. For around $70 less, you can pick up the Coleman Triton below, which features more output per burner at 11,000 BTUs. However, the Triton forgoes push-button ignition, and the Ignite Plus has a more hardwearing build—including high-quality metal latches—that will stand up better to regular use and abuse. Eureka also makes a cheaper version of the Ignite ($125), which sports a smaller cooking space and less simmer control but remains a solid all-around choice. But in the end, you'd be hard-pressed to find a better combination of features, quality, and output for the price, earning the Ignite Plus our top spot for 2023.
See the Eureka Ignite Plus
A Close Second (With More Power)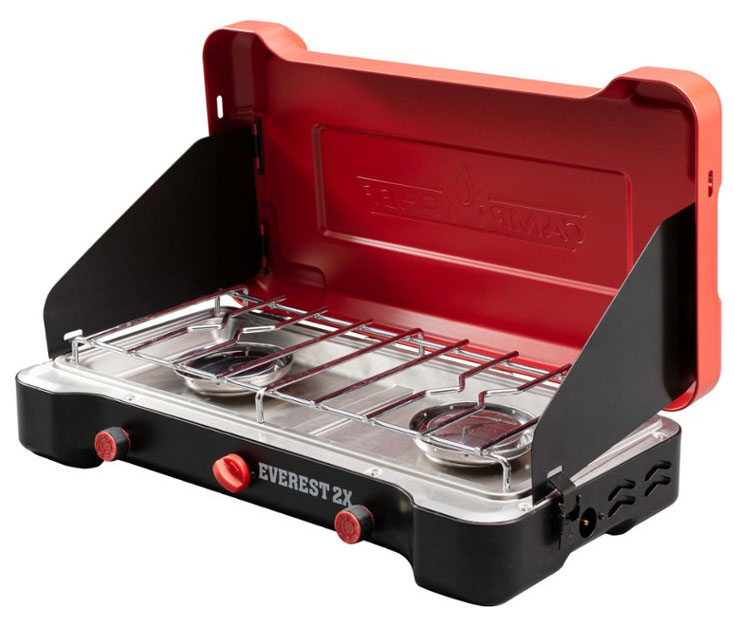 Category: Tabletop
Fuel: Propane
Burners: 2 @ 20,000 BTUs
Weight: 12 lb.
What we like: Quality build and excellent all-around performance.
What we don't: Expensive and a little heavy and bulky.
Camp Chef's Everest is one of the most popular and proven designs in the world of camping stoves, offering a hard-to-beat combination of cooking power, convenience, and superior reliability. In terms of output, you get two large burners that pump out plenty of heat (20,000 BTUs each) but also have excellent simmer control for cooking more diverse and intricate meals. And with their latest update (to the "2X" model), Camp Chef gave the design a nice upgrade with locking metal latches at each side, a more protective windscreen, a slightly larger cooking space, and a beefed-up build that's also more modern. Combined with a reasonable 12-pound weight and integrated handle, the Everest 2X is hard to beat.
The biggest knock against the Camp Chef Everest 2X is its $190 price tag. Those who get out a lot and like to cook intricate, diverse meals may find the investment worth it, but the 20,000-BTUs-per-burner output is decidedly overkill for most. In our experience, quality 10,000-BTU burners provide plenty of power for most meals, which is why we have the Eureka Ignite Plus ranked higher. In addition, the 2X model is a little larger and bulkier than the prior generation, although it's still reasonably compact and easy to haul around (note: The standard Everest is still available at a discount while supplies last). But there's no denying the high-quality build and impressive cooking performance, making the Everest 2X a competitive option for discerning camp chefs.
See the Camp Chef Everest 2X
Best Budget Camping Stove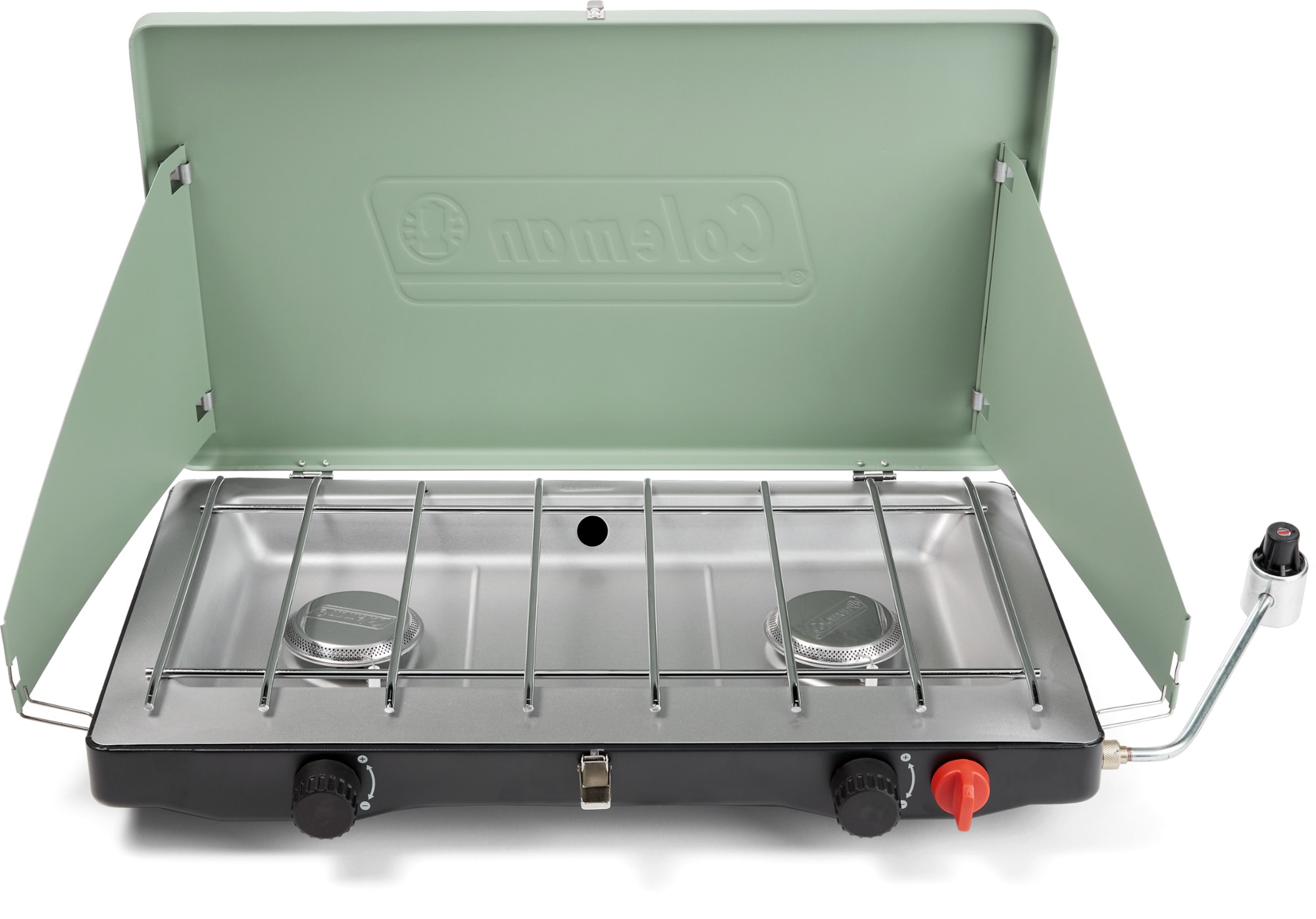 Category: Tabletop
Fuel: Propane
Burners: 2 @ 10,000 BTUs
Weight: 11 lb. 14.4 oz.
What we like: Reliable performance and nicely appointed for the price.
What we don't: Less refined than pricier designs.
For years, campers have turned to Coleman stoves for simple, reliable performance. Toward the lower end of their camping stove lineup is the Cascade Classic, which lacks the refinement and all-out durability of pricier designs but is nevertheless a solid value for what you get. For a considerable $60 less than the top-ranked Eureka Ignite Plus, the Cascade offers similar power with two 10,000-BTU burners, includes push-button ignition to keep your hands safe during start-up (fairly uncommon among budget designs), and boasts sizable windscreens to keep the flame protected in gusty weather. Added up, it's a very well-rounded option for occasional campers and those who don't need the top-end performance and power of more premium designs.
The Cascade Classic is our favorite entry-level camping stove, but budget seekers might also consider Coleman's own Triton (listed below) and Classic Propane. The former is a little more powerful with two 11,000-BTU burners, has a larger cooking space, and costs around $25 less on Amazon at the time of publishing. However, the lack of auto ignition is a notable downside and the main reason we give the edge to the Cascade Classic. Alternatively, the longstanding Classic Propane retails for $75 and matches the Cascade in power, but it too lacks matchless ignition and is largely unavailable at the time of publishing. The Cascade certainly isn't perfect—it's been plagued by reports of a faulty ignition out of the box, and simmer control is a sizable step down from high-end designs like the Camp Chef Everest 2X above. But for low-maintenance campers in need of a simple and affordable stove, it checks all the right boxes.
See the Coleman Cascade Classic
Best Compact Camp Stove System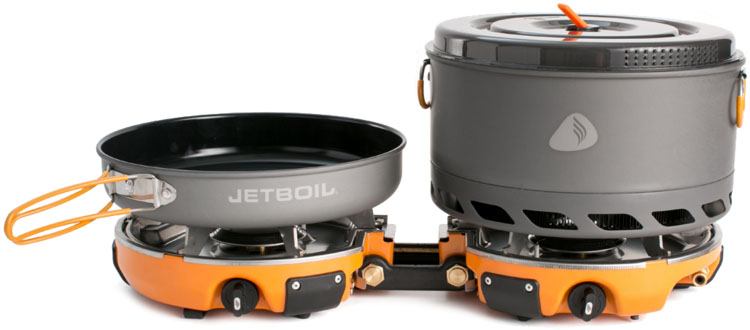 Category: Tabletop
Fuel: Propane
Burners: 2 @ 10,000 BTUs
Weight: 9 lb. 5 oz.
What we like: An entire cook system for under 10 pounds.
What we don't: The priciest design on our list.
Jetboil is best known for their lightweight backpacking stove systems, but they made a serious foray into the camping world with the Genesis. The concept is the first of its kind: an all-in-one camping system that comprises two burners plus a 5-liter pot and 10-inch ceramic pan. Jetboil designed the system to nest neatly together for compact storage, and total weight (other than a 16 oz. propane bottle) is less than 10 pounds, which is lighter than almost all the standalone stoves on this list. Additionally, simmer control and burner output are excellent, and because the burners were specifically created to pair with the included pot and pan, there's less fuel waste.
Despite the high praise, the system's $400 MSRP is borderline astronomical, especially compared to an option like the Eureka Ignite Plus above—for well under half the cost, the Ignite Plus offers the same burner power and is only about 2 pounds heavier (without cookware). Alternatively, campers who already own compatible cookware can save $120 with the standard Genesis, which is identical to the version here minus the pot and pan. Jetboil also makes the $210 HalfGen, but that model only includes a single burner and is less versatile overall (it does have appeal for tailgating and solo travelers). But if you can get past the steep price point, the Genesis Basecamp System is an innovative and well-executed all-in-one design with a lot of positive reviews to its name.
See the Jetboil Genesis Basecamp System
 

Best Single-Burner Camping Stove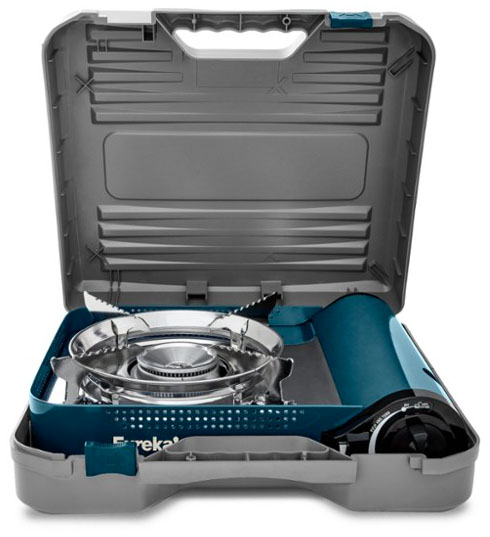 Category: Tabletop
Fuel: Butane
Burners: 1 @ 11,500 BTUs
Weight: 3 lb. 4 oz.
What we like: Compact and decently powerful.
What we don't: Single burner is limiting and butane fuel doesn't work well in the cold.
Let's start with the obvious: This Eureka stove isn't for serious camp chefs or large-group cookouts. But the SPRK+ Butane is an affordable single burner that performs well for limited use or as a backup. The stovetop easily accommodates a small kettle or pan (up to 11 in.) and performs admirably considering its diminutive size. We also love the adjustable feet to keep the unit level and slightly inset design that adds crucial protection against wind. All in all, it's a great choice for bringing along if your primary cooking will be done over a fire pit but you need a stove for quick items like heating water.
As its name suggests, the SPRK+ runs on butane, which isn't as readily available as the ubiquitous green propane canisters. In addition, butane struggles in cold temperatures (around and below freezing), so it's less versatile than the propane designs on our list and also falls short of more winter-ready liquid-fuel models. That said, the SPRK+ is very well rounded for a butane model and handily beats out Coleman's Classic 1-Burner Butane Camping Stove in heat output, weight, and wind protection. If you don't mind the tradeoffs in opting for this fuel type, the Eureka is an affordable and thoughtfully designed single-burner stove. Other leading one-burner options to consider include Fore Winds' sleek and rugged Luxe Camp Stove and Snow Peak's compact Home & Camp Burner (although both designs are much pricier than the Eureka).
See the Eureka SPRK+ Butane Camp Stove
Best Freestanding Stove for Large Groups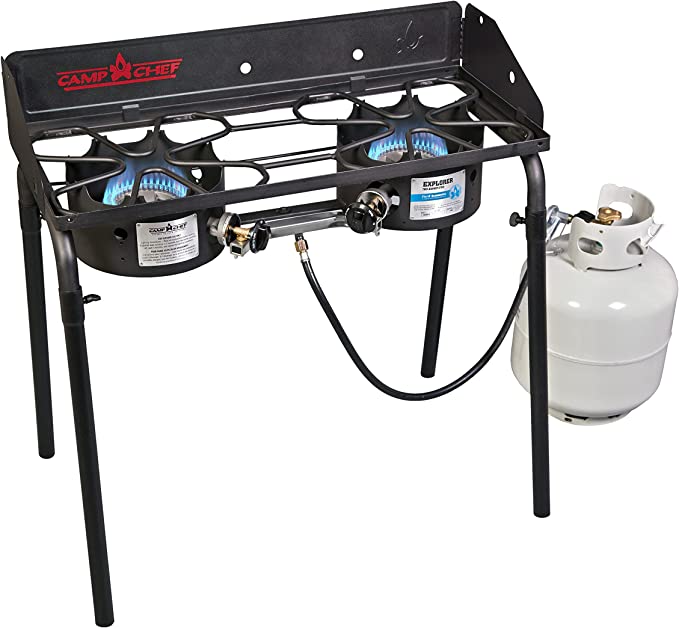 Category: Freestanding
​Fuel: Propane
Burners: 2 @ 30,000 BTUs
Weight: 30 lb. 8 oz.
What we like: Great value for the output.
What we don't: Pretty barebones on features and bulky.
In terms of burner performance, you'll be hard-pressed to find more quality output for your dollar than the Camp Chef Explorer. The 60,000 total BTUs from the two burners are a great pairing for large-group camp cookouts or even emergency use at home. The stove also sets up quickly, and its sturdy legs are individually adjustable to adapt to uneven ground. In keeping the price down, however, the Explorer is pretty low on features: There is no push-button ignition, and the burners are less protected from wind than premium offerings.
The upside of the simplistic design is that the Explorer is ripe for the various accessories from Camp Chef, including a barbecue box, griddle, or pizza oven. Large dials are easy to use and function in the same way as your cooktop at home, but unfortunately, it's not a whole lot lighter than that home stove: The powder-coated assembly tips the scales at 30 pounds 8 ounces. Leaving behind the legs will trim some of that weight, but the Explorer remains overkill for less serious campers. Bigger groups should also check out the three-burner version of the Explorer, which adds an additional 30,000 BTUs of output for $260. And for a more fully featured two-burner alternative from Camp Chef, check out their popular (but much pricier) Pro 60X.
See the Camp Chef Explorer
Best of the Rest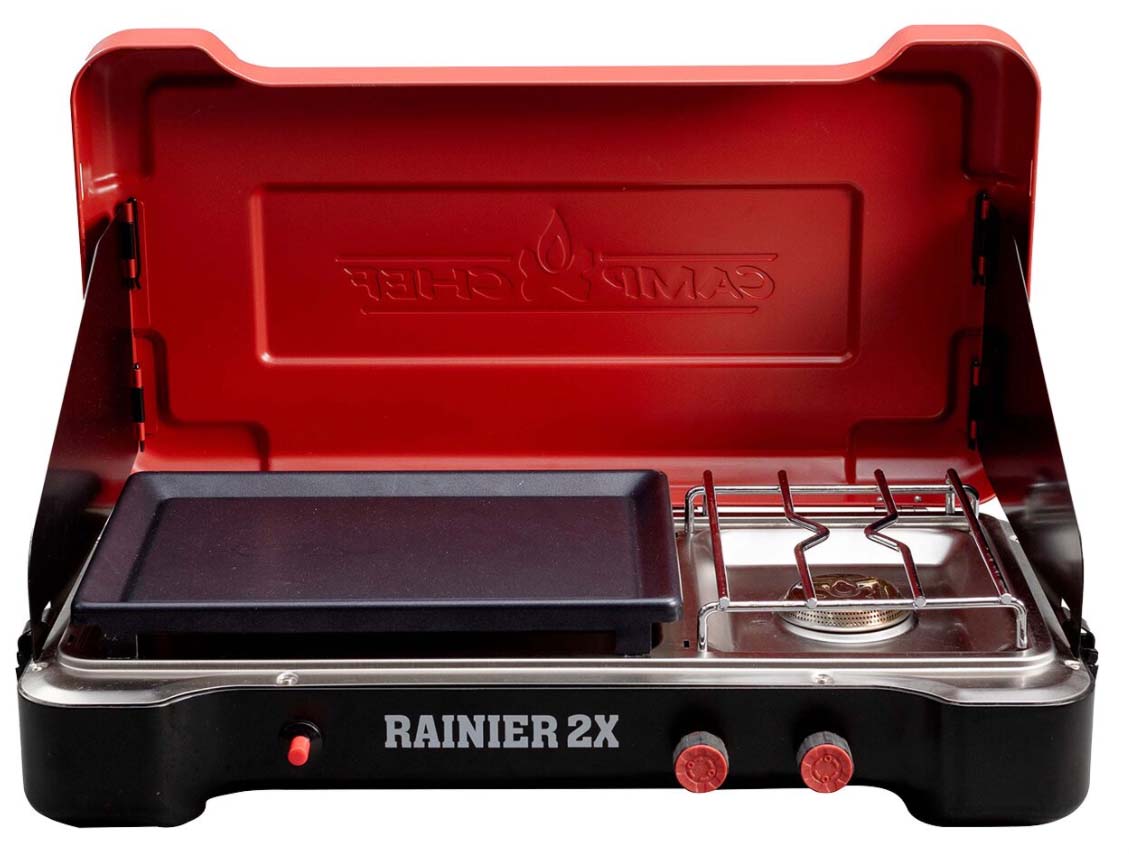 Category: Tabletop
Fuel: Propane
Burners: 1 @ 8,000 BTUs, 1 @ 10,000 BTUs
Weight: 16 lb.
What we like: Hybrid stove/grill combo increases efficiency for more complex meals.
What we don't: We prefer to purchase a grill accessory separately.
Most tabletop stoves on this list feature two standard burners, but Camp Chef's Rainier 2X bucks that trend with a single burner on one side and built-in aluminum grill and griddle plate on the other. This can make cooking meals with multiple components much quicker and more efficient: For instance, you can boil water for coffee or tea on one side of the stove while simultaneously whipping up sausage and bacon—no need to wait for a burner to free up. And importantly, the rest of the design is well sorted, including protective wind shields, a stainless steel drip tray, auto ignition, and good flame adjustability.
However, as with most hybrid designs, there are some tradeoffs to choosing the Rainier 2X as your primary camp stove. Most notably, the grill portion takes up about 2/3 of the cook space, which can be limiting should your meal require more than one pot, pan, or kettle (even a single larger pot or pan can cause issues). To maximize versatility, we recommend buying a standard two-burner stove (like Camp Chef's own Explorer above) and swapping out accessory tops. Alternatively, Coleman's Cascade 3-in-1 below makes it easy to alternate between interchangeable cooktops, including standard burners, grill grates, and griddles, although it's a bit less premium than the Rainier. Final hybrid options to consider include the Primus Profile Dual Stove & Grill and Coleman Classic 2-in-1 Camping Grill/Stove, although we consider the Rainier the most reliable and well rounded of the bunch.
See the Camp Chef Rainier 2X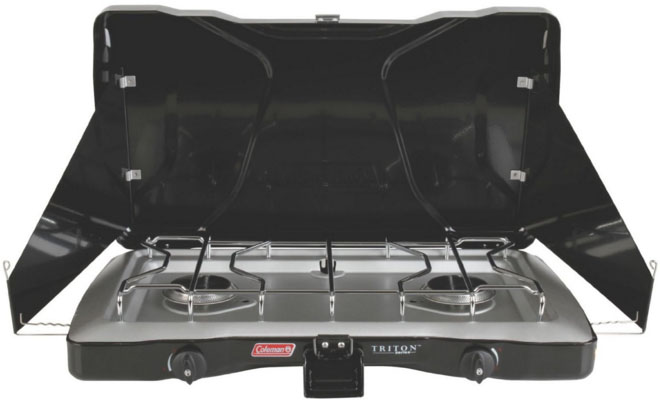 Category: Tabletop
​Fuel: Propane
Burners: 2 @ 11,000 BTUs
Weight: 11 lb.
What we like: More powerful and cheaper than the Cascade Classic above.
What we don't: No auto ignition and less flame precision than pricier units. 
Joining the Cascade Classic above is another well-rounded budget design from Coleman: their Triton Camping Stove. The tabletop design features two strong, highly adjustable 11,000 BTU burners that run on a standard 16-ounce propane canister (adapters are available to make it compatible with a larger tank). With decent simmer control and solid output at full tilt, the Coleman is one of only a few stoves in its price range that's capable enough for cooking diverse meals. Last but not least, its 11-pound weight and manageable size make the Triton easy to transport in a car and store at home.
What are the downsides to the Coleman Triton? True camp chefs may want to upgrade to a more refined unit that delivers better precision, like the Eureka Ignite Plus or Camp Chef Everest 2X above. Further, cooking space is a little on the small side compared with premium tabletops (the Ignite Plus and Everest included). That said, it's roomy enough for most meals and easily can accommodate two 10-inch pans side by side. Finally, you miss out on auto ignition in this model—there is a piezo-equipped version available for $110, or you can opt for the $100 Cascade Classic above. These nitpicks aside, the Triton still offers impressive cooking power and reliability at a very competitive price, earning it a respectable finish on our list.
See the Coleman Triton Camping Stove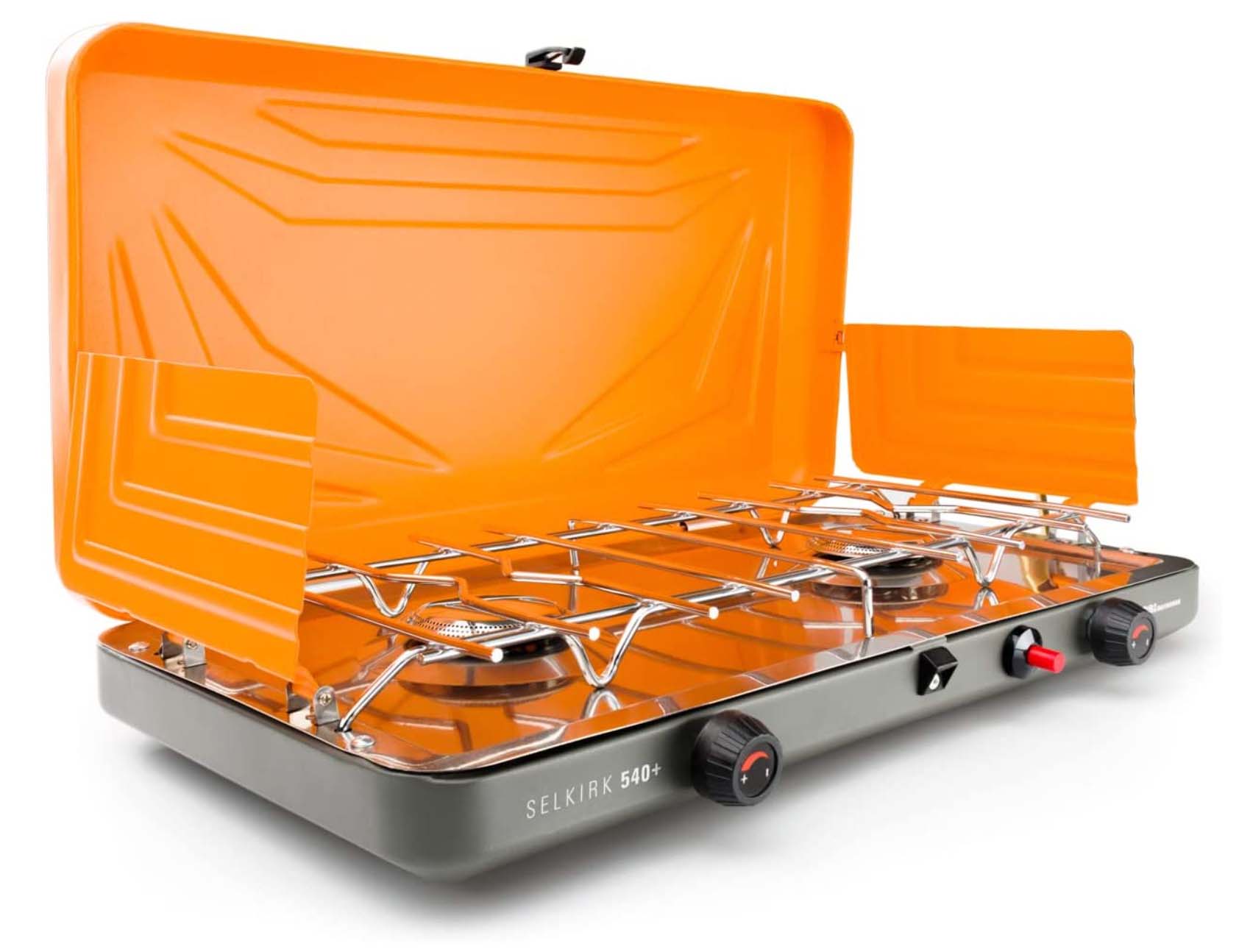 Category: Tabletop
Fuel: Propane
Burners: 2 @ 14,000 BTUs
Weight: 10 lb.
What we like: Good all-around performance—with a recent boost in power—for less than the competition.
What we don't: Still not a standout in cooking space or build quality.
Camping specialist GSI released the Selkirk 540 a few years ago as a competitor to two-burner designs like the Eureka Ignite Plus and Camp Chef Everest above, and the latest 540+ is more competitive than ever. The biggest change was the substantial boost in power: While the original model was pretty average with two 10,000-BTU burners, the new 540+ ups the ante with 14,000 BTUs of output per burner, beating out alternatives like the Ignite Plus (10,000 BTUs), Coleman Triton (11,000 BTUs), and many others here. Despite the upgrade, the Selkirk 540+ is relatively affordable at $150 (just $10 more than the past-generation model) and includes handy features like push-button ignition, micro control valves to tweak the flame, and plenty of space to accommodate two larger pots or pans side by side. Plus, GSI nailed the details with a built-in and easy-to-grab carry handle, a powder-coated exterior, and generous windscreens to block light gusts.
Where does the Selkirk 540+ fall short of its competitors? The first knock is cooking space, which is a couple inches smaller than what you get with both the Everest 2X and Ignite Plus (21.4 in. vs. 25.2 and 23 in., respectively). Plus, the Ignite can be connected to other Eureka or Jetboil stoves to increase efficiency and speed when cooking more intricate meals. Finally, some users have reported issues with the igniter and general build quality, but no stove is perfect, and the Selkirk is reasonably dependable and well built for the price. Of note: GSI also sells the stove in a 460+ model for $120, which also features two 14,000-BTU burners but in a smaller, more compact design that sacrifices some cooking space.
See the GSI Outdoors Selkirk 540+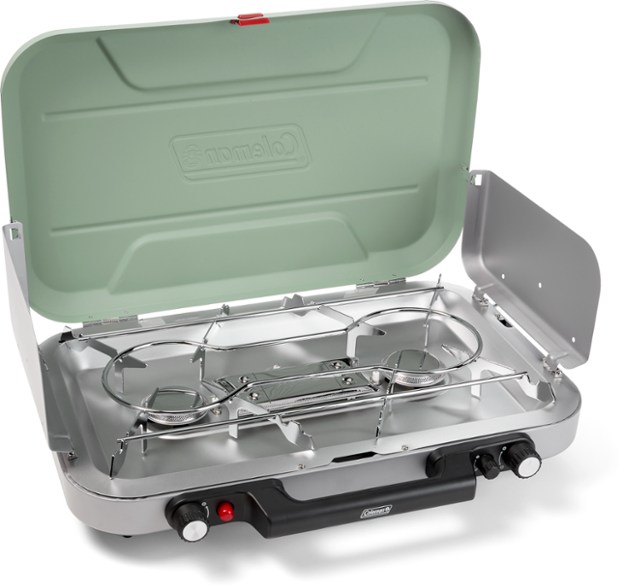 Category: Tabletop
Fuel: Propane
Burners: 3 @ 9,333 BTUs
Weight: 19 lb.
What we like: A manageably sized three-burner option.
What we don't: A little low on refinement and cooking space.
Two burners are sufficient for most campers, but aspiring camp chefs or those who typically head out with larger groups might want to step up to a three-burner stove. Coleman's Cascade 328 3-Burner Camping Stove stands out as one of only a few tabletop designs on the market, which makes it far easier to transport and less cumbersome to set up than a freestanding design like the Explorer above. To be clear, the Cascade 328 is no featherweight at 19 pounds, but it's reasonably sized and perfectly manageable for one person to carry from car to campsite (for reference, it's around the same size as Eureka's two-burner Ignite Plus above). And like Coleman's own Cascade Classic above and Cascade 3-in-1 below, the 328 model comes equipped with helpful touches like matchless ignition, intuitive temperature controls, and an integrated windscreen.
All that said, the Cascade 328 3-Burner isn't without limitations. In addition to being relatively heavy, the stove is a little limited on output with 9,333-BTU burners and has a noticeably flimsier feel than premium alternatives from Camp Chef and others above. The burners are also situated very close to each other, which limits the amount of space for larger pots and pans (the stove can fit three 8-in. pans or two 12-in. pans side by side). For a step up in power, Stansport's 3-Burner Propane Stove boasts 60,000 total BTUs with three evenly spaced burners (25,000 for the two end burners and 10,000 for the center one) and retails for $40 less than the Coleman, although it has an even smaller cooking area and a similarly flimsy feel. Realistically, the Cascade's output and space limitations shouldn't be a big issue for most, making it our favorite three-burner stove this year.
See the Coleman Cascade 328 3-Burner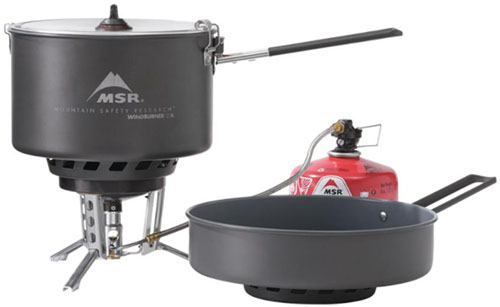 Category: Tabletop
Fuel: Canister
Burners: 1 @ 7,000 BTUs
Weight: 1 lb. 13 oz.
What we like: Versatile backpacking and camping option.
What we don't: Output and performance fall short of propane two-burners.
We've used MSR stoves all over the world for backpacking, but most of their light and compact designs have limited appeal for car camping. Enter the WindBurner Stove Combo System, which includes one of MSR's highest-performing canister stoves, the WindBurner, along with a 2.5-liter pot and 8-inch skillet for groups. As with the backpacking model, the accessories connect directly to the stove for efficient cooking and consistent heat even in windy conditions. The system is no small investment at $300, but the all-in-one setup has obvious appeal for those new to camping and backpacking.
To be clear, the WindBurner Stove Combo cannot come close to the output or overall cooking abilities of the traditional camping stoves above. The system only has one small burner, you can only use WindBurner-specific pots and pans, and total output and burn time falls well short of a propane-powered unit. What the WindBurner does succeed at is bridging the backpacking and car camping worlds—you can bring the compact 1-liter pot (sold separately) for keeping it light in the backcountry, and then break out the pots and pans for camping.
See the MSR WindBurner Stove Combo System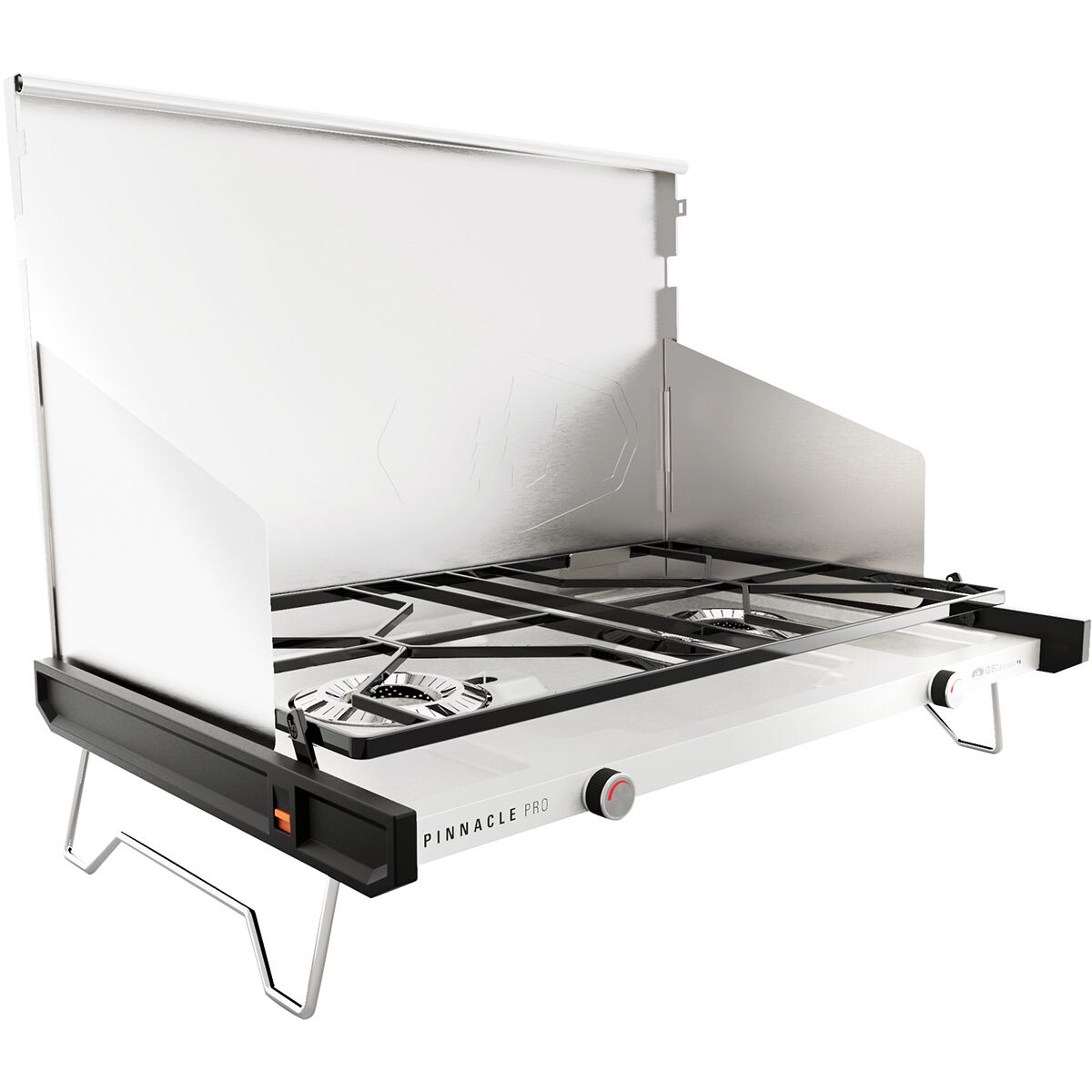 Category: Tabletop
Fuel: Propane
Burners: 2 @ 11,000 BTUs
Weight: 11 lb.
What we like: Super sleek and streamlined.
What we don't: Less robust and portable than the competition; no spot to store the regulator.
For those limited on space in their vehicle or gear storage, GSI Outdoors offers a unique solution in their sleek and modern Pinnacle Pro Stove. At just 1.4 inches tall when closed, the Pinnacle Pro is significantly thinner than most two-burner alternatives, including the Camp Chef Everest 2X (5.6 in.), Eureka Ignite Plus (4 in.), and others above. That said, you still get respectable output with two 11,000-BTU burners, as well as premium features like a three-sided windscreen, dual push-button igniters, and a coated, non-stick drip pan that makes cleanup quick and easy. Additionally, we found the deployable legs helpful for raising the stove to a convenient height when cooking on a camping table.
Why do we have the GSI Pinnacle Pro ranked here? Trimming weight and bulk almost always translates to a drop in durability, and the Pinnacle Pro is noticeably less confidence-inspiring and robust than alternatives like the Everest 2X, Ignite Plus, and Selkirk 540+ above. Further, the windscreens at the sides are short and not all that protective, the stove lacks a carry handle for transport, and there's no spot to secure or stow the fuel adapter when not in use. GSI does sell a padded storage case that will house both the stove and adapter, but it'll run you an additional $30, bringing the grand total up to nearly $300. Whether or not the minimalist design is worth that steep of an investment is up to you, but we prefer the easier-to-trust constructions of the two-burner models above (most of which are also cheaper).
See the GSI Outdoors Pinnacle Pro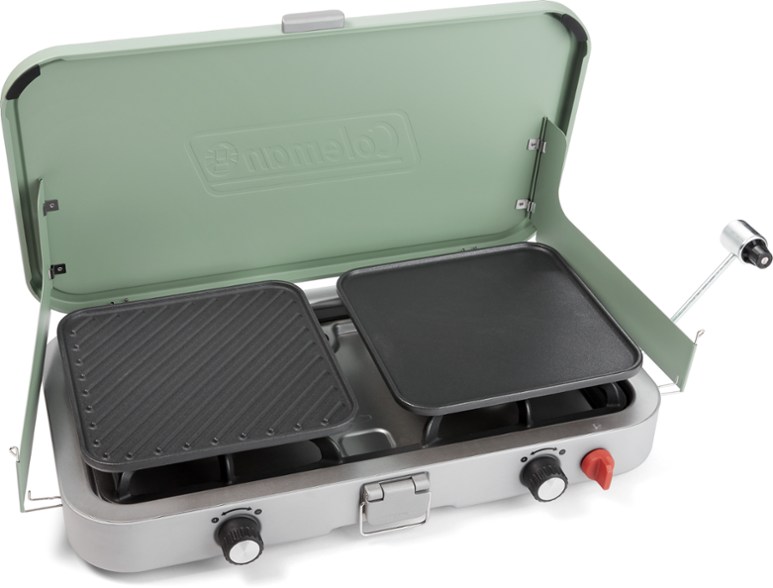 Category: Tabletop
Fuel: Propane
Burners: 2 @ 12,000 BTUs
Weight: 14 lb. 13 oz.
What we like: Functional 3-in-1 design and good output.
What we don't: Pricier but less premium than the Camp Chef Rainier above.
Camp Chef's Rainier 2X is our favorite stove and grill combo, but the grill portion takes up most of the cook space and therefore limits the types of meals you can make. Enter Coleman's Cascade 3-in-1 Stove, which addresses our main complaint about the Rainier (lack of versatility) with swappable grill and griddle accessory tops. The concept is simple but effective: If you need to use a burner or two, simply leave off the add-ons; if you're whipping up breakfast or burgers, place one (or both) of the cast-iron plates over a burner and fire it up. The Cascade is on the pricier end at $210 and relatively heavy at nearly 15 pounds all in, but the 3-in-1 functionality does help justify the cost and heft.
In addition to being more versatile than the Rainier 2X above, the Coleman Cascade is also lighter by around a pound and more powerful with two 12,000-BTU burners (the Rainier has one 8,000-BTU burner and one 10,000-BTU burner). But the devil is in the details: Some users report food easily sticking to the Coleman's accessory tops due to the lower-quality cast iron (be sure to treat them ahead of time for the best results), and the windscreens at the sides are very short and will do very little to combat strong gusts. Finally, you'll need to find a flat surface for the stove when using the accessory tops to prevent grease and other juices from dripping onto the ground (and potentially also your clothes and shoes). But if you can deal with these drawbacks and plan to use both the burners and add-ons regularly, the Cascade is a well-executed and versatile option.
See the Coleman Cascade 3-in-1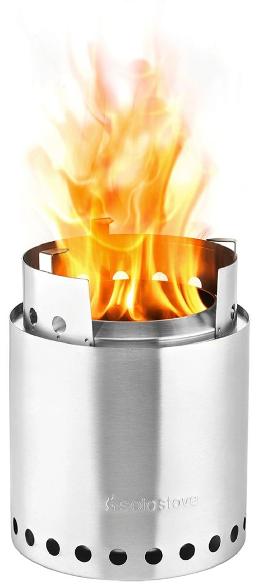 Category: Freestanding
Fuel: Wood
Burners: 1
Weight: 2 lb. 3.2 oz.
What we like: A light and portable wood-burning stove that doubles as a fire pit.
What we don't: Not as versatile as many of the picks above.
Solo Stove is known for their thoughtfully built and portable fire pits, and their Campfire Stove is arguably the most well rounded of the bunch. Like BioLite's CampStove 2+ below, the Campfire runs off wood rather than gas, eliminating the need to purchase and pack fuel canisters on trips. However, unlike the BioLite, the Solo Stove is decidedly low-tech and simple. How it works: Intake holes along the bottom of the chamber channel air up and through smaller openings at the top, minimizing smoke and allowing the fire to burn hot and evenly. And when it comes time to cook, an inset ring at the top of the stove concentrates heat at the center of your pot or pan while also providing protection against the wind.
The Campfire is a unique but functional option for cooking easy meals in certain areas, but there are some inherent downsides to the wood-burning design. First and foremost, we recommend researching ahead of time to check on terrain, conditions, and regulations—you'll want to make sure you have plenty of dry wood and that there are no fire bans in place. And from a performance standpoint, you get far less precision and finesse compared to standard two-burner models, and output can vary depending on the type and quality of wood you use, the construction of your fire, outside factors like wind, and more. That said, we love the two-for-one nature of the Campfire—it's both a stove and fire pit in one—and see a lot of appeal for use at home too, whether you're hosting a backyard gathering or just want to roast some marshmallows with the kids.
See the Solo Stove Campfire Stove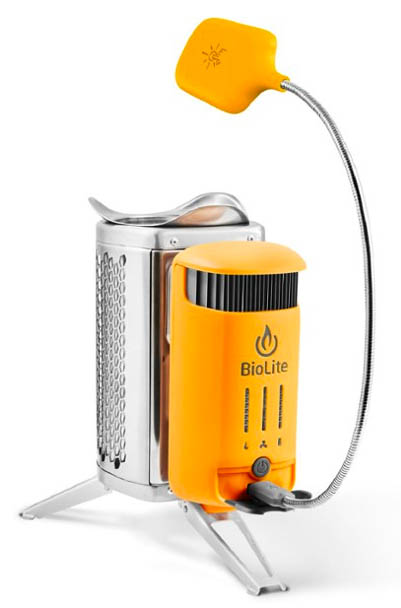 Category: Freestanding
Fuel: Wood
Burners: 1
Weight: 2 lb. 1 oz.
What we like: Inspiring mission and charging capabilities.
What we don't: Less cooking control and wood isn't always readily available.
BioLite does things a little differently: Instead of using propane or butane, the company was founded around the concept of harnessing power from a cooking system. In short, their stoves use wood or pellets to run an integrated generator, which in turn powers a fan to boost heating efficiency as well as collect energy to power electronics (you also can pre-charge the battery before heading out). The CampStove 2+ is their portable model, which features easy-to-read LED indicators that display fire strength, available power, and fan speed. And as an added bonus for those limited on space, the BioLite packs down to the size of a 32-ounce water bottle when not in use.
As your primary cook stove while camping, the CampStove 2+ is a fun but somewhat limited option. The basic design comes without accessories (you'll have to purchase a grill top separately for $60 or opt for the all-in-one kit for a steep $250), and reliance on wood or pellets doesn't allow for as much control over the flame and heat. And you can go much cheaper and simpler in this category with alternatives like Solo Stove's Titan or Lite, which are smaller versions of their Campfire above. That said, you can switch between four fan speeds to adjust the size of your fire, and the ability to charge your phone or other devices in the woods will be a perk for some.
See the BioLite CampStove 2+
Camping Stove Comparison Table
| Stove | Price | Category | Fuel | Burners | Weight | Ignition |
| --- | --- | --- | --- | --- | --- | --- |
| Eureka Ignite Plus | $160 | Tabletop | Propane | 2 @ 10,000 BTUs | 12 lb. | Matchless |
| Camp Chef Everest 2X | $190 | Tabletop | Propane | 2 @ 20,000 BTUs | 12 lb. | Matchless |
| Coleman Cascade Classic | $100 | Tabletop | Propane | 2 @ 10,000 BTUs | 11 lb. 14 oz. | Matchless |
| Jetboil Genesis Basecamp | $400 | Tabletop | Propane | 2 @ 10,000 BTUs | 9 lb. 5 oz. | Matchless |
| Eureka SPRK+ Butane | $65 | Tabletop | Butane | 1 @ 11,500 BTUs | 3 lb. 4 oz. | Matchless |
| Camp Chef Explorer | $150 | Freestanding | Propane | 2 @ 30,000 BTUs | 30 lb. 8 oz. | Manual |
| Camp Chef Rainier 2X | $200 | Tabletop | Propane | 1 @ 8,000 BTUs, 1 @ 10,000 BTUs | 16 lb. | Matchless |
| Coleman Triton | $74 | Tabletop | Propane | 2 @ 11,000 BTUs | 11 lb. | Manual |
| GSI Outdoors Selkirk 540+ | $150 | Tabletop | Propane | 2 @ 14,000 BTUs | 10 lb. | Matchless |
| Coleman Cascade 328 3-Burner | $200 | Tabletop | Propane | 3 @ 9,333 BTUs | 19 lb. | Matchless |
| MSR WindBurner Stove Combo | $300 | Tabletop | Canister | 1 @ 7,000 BTUs | 1 lb. 13 oz. | Manual |
| GSI Outdoors Pinnacle Pro | $250 | Tabletop | Propane | 2 @ 11,000 BTUs | 11 lb. | Matchless |
| Coleman Cascade 3-in-1 | $210 | Tabletop | Propane | 2 @ 12,000 BTUs | 14 lb. 13 oz. | Matchless |
| Solo Stove Campfire | $150 | Freestanding | Wood | 1 (no BTU rating) | 2 lb. 3 oz. | Manual |
| BioLite CampStove 2+ | $150 | Freestanding | Wood | 1 (no BTU rating) | 2 lb. 1 oz. | Manual |
Camping Stove Buying Advice
Stove Categories: Freestanding or Tabletop
Camping stoves come in two basic designs: tall freestanding models with legs and more compact tabletop models. Freestanding stoves are typically associated with larger, high-output models, which would take up a lot of real estate if placed on a picnic bench or table. They're far heavier and more difficult to transport, but are an amazing tool for the discerning camp chef. With a lot of cooking space, you can get creative with your backcountry meals. If you think you might benefit from a freestanding stove but dread having to lug it around on every trip, fear not: Most stove legs are removable.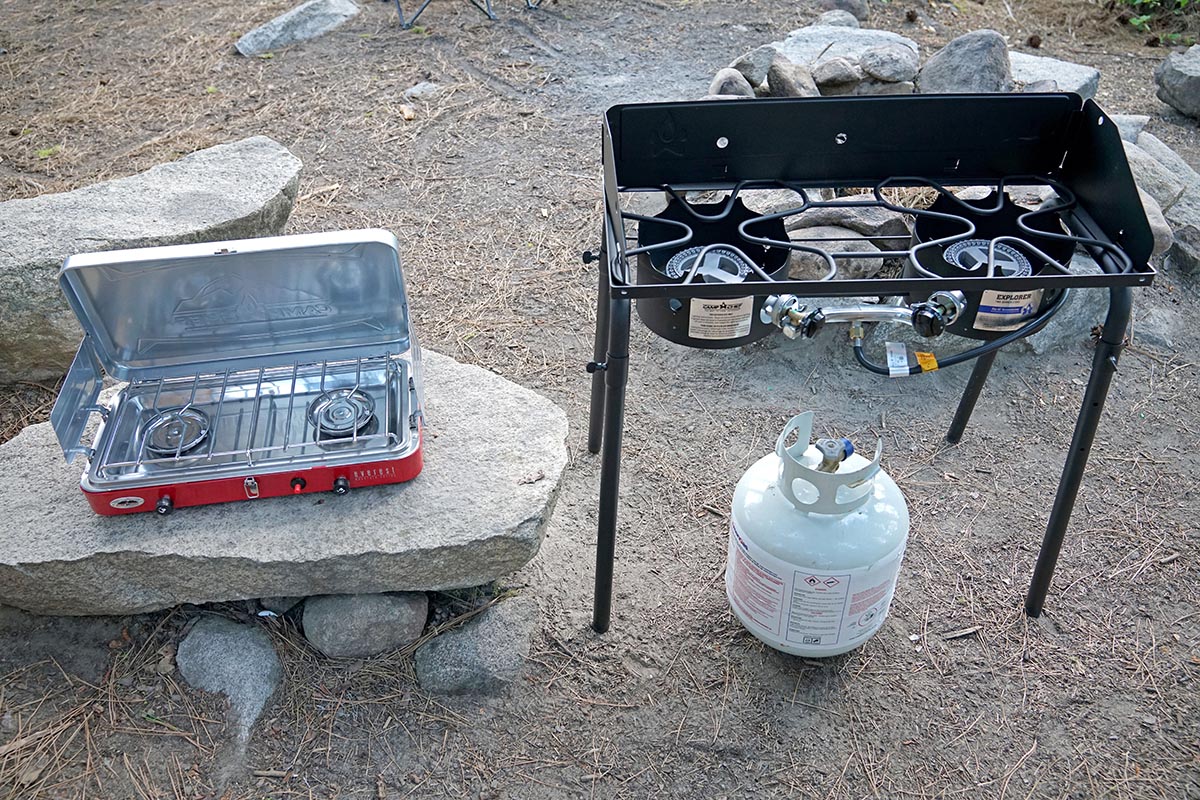 By and large, campers prefer the tabletop stove. Their small(er) footprint and lighter weight is easy to pack up and fit into a car, and on a high-quality build like the Camp Chef Everest 2X, the drop in performance is fairly minimal. You do need something to set it on, however. If you're heading deep into the unknown or are basecamping in a remote location but still desire a gourmet meal, you'll probably need to bring a camping table not only for the stove but also for any prep work.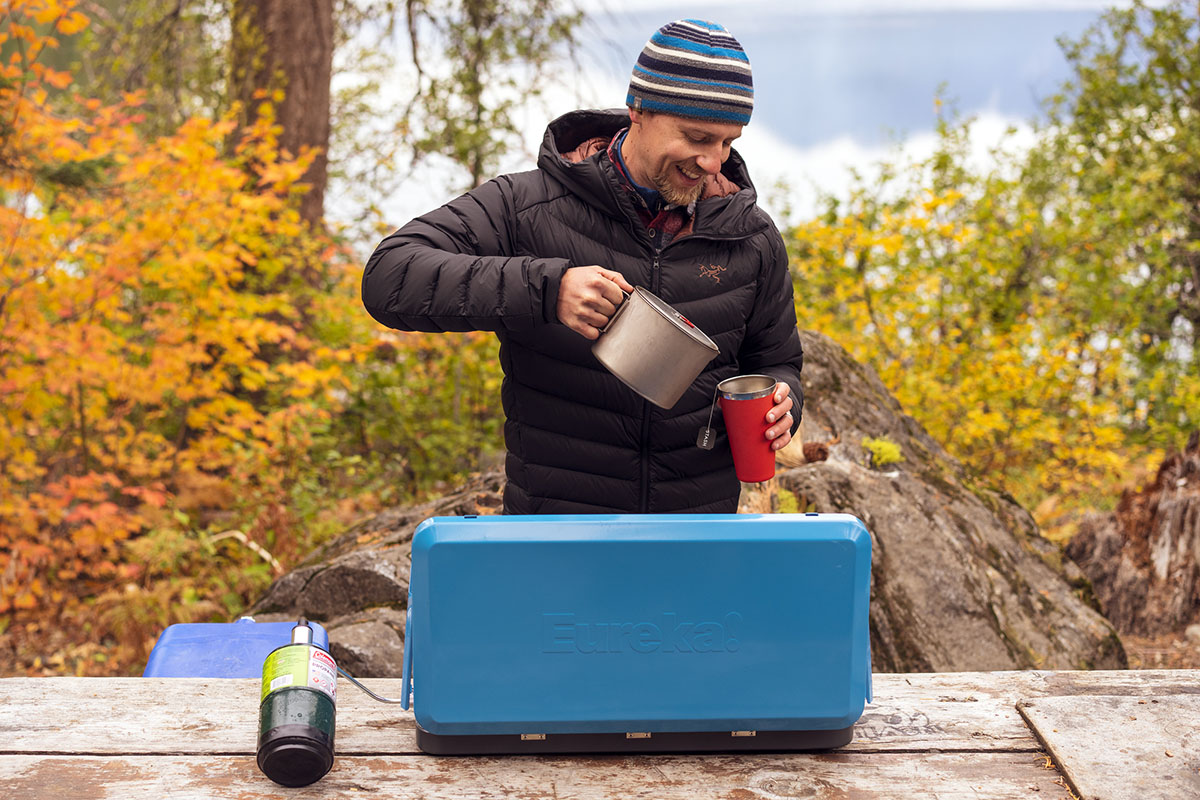 How Many Burners?
It's no coincidence most of the big-time sellers come with two burners—they're all the vast majority of us will ever need. As with cooking at home, two burners going at the same time will get most meals cooked in a timely manner. Additionally, it's often the better choice over the more limited single-burner stove, although some designs (like the MSR WindBurner Stove Combo System) do have appeal for crossing over into backpacking. And for large gatherings, there are three-burner stoves like the Coleman Cascade 328. In many cases with a large group, however, it's not a bad idea to put the onus on someone else to bring along a second stove, as packing a three-burner can be burdensome from a weight and bulk perspective.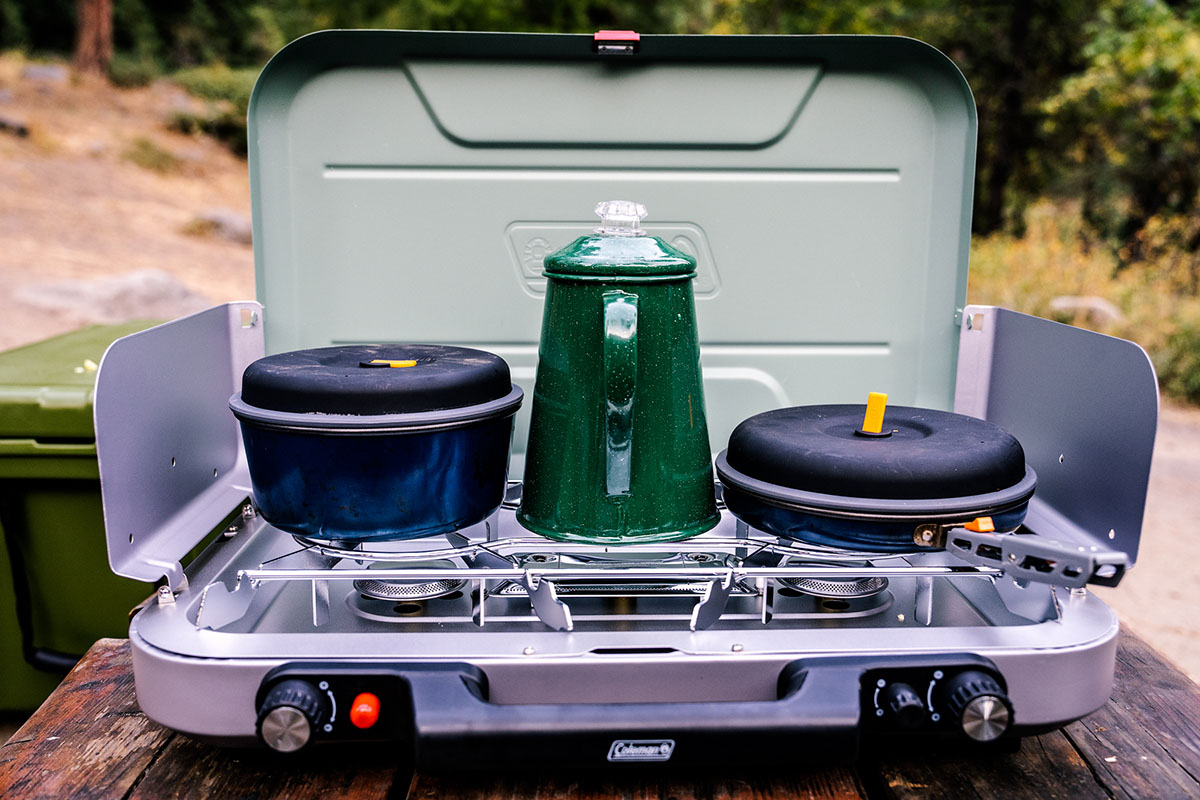 An alternate option for larger groups is to choose a stove that can be daisy-chained to another system. For example, the Jetboil Genesis Basecamp System and Eureka Ignite Plus can be linked to other Jetboil or Eureka models and connected to a single propane bottle. This allows you to increase cooking space without having to lug around a heavy freestanding stove. And on outings where you don't need the added burner(s), simply leave one of the stoves behind.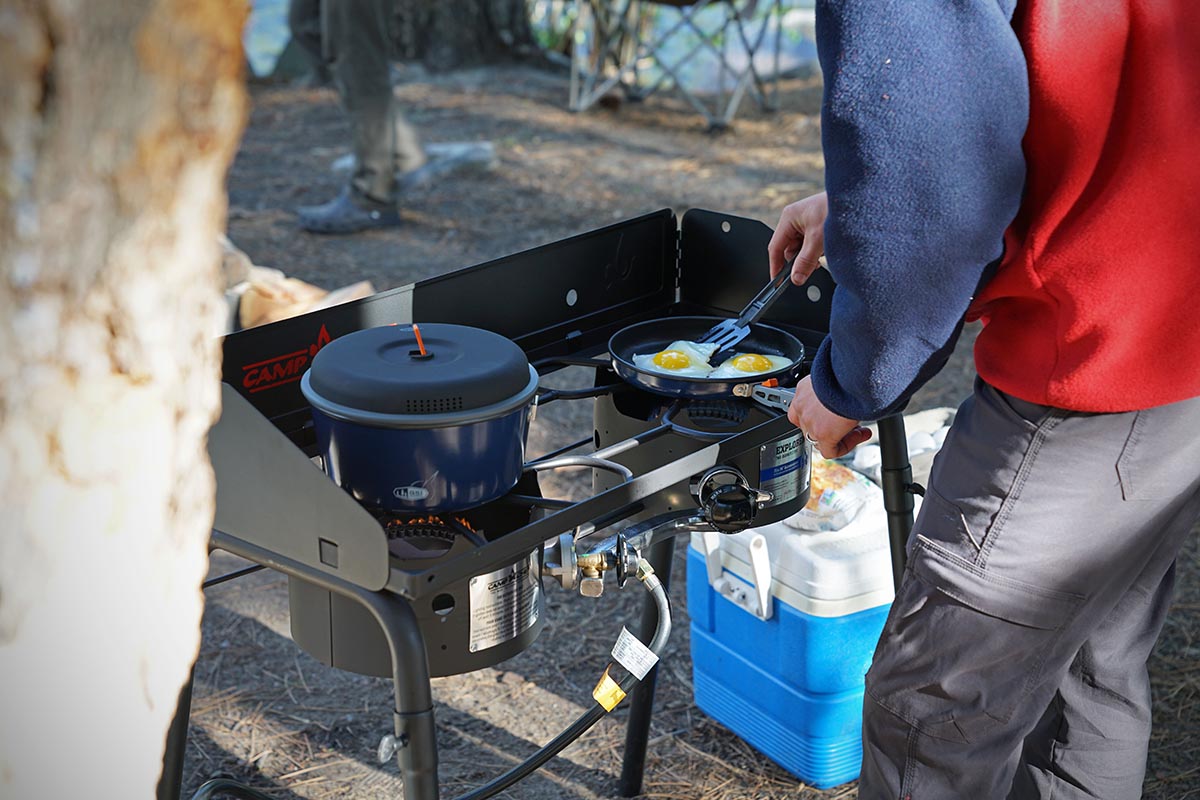 Burner Power: BTUs
BTU, or British Thermal Unit, is a measurement of heat output. More specifically, it's the amount of energy needed to heat 1 pound of water by 1 degree Fahrenheit. In the context of camping, it serves as a standard for determining the performance potential of a gas stove. While BTUs shouldn't be looked at as the sole indicator of power—cooking surface area can impact the flame's actual intensity—it's a great way of comparing stoves overall. If you're used to a 10,000-BTU burner and are eyeing a 20,000-BTU-per-burner model like the Camp Chef Everest 2X, we can guarantee you that the difference will be noticeable.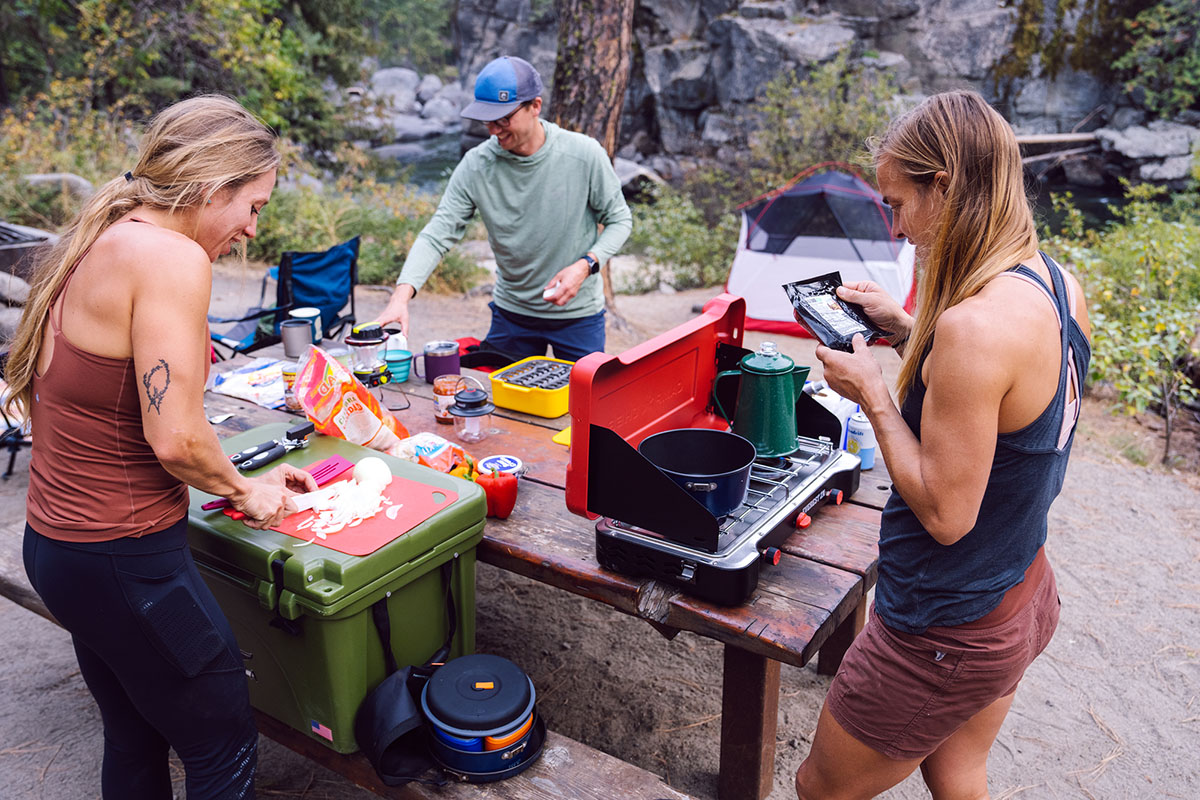 The boost in power comes with various benefits. For one, a stronger flame will allow you to cook more food faster—you can trim minutes off your time when boiling a large pot of water. As such, for large groups a more powerful flame (20,000 BTUs and up) is recommended. With that extra output comes greater fuel consumption, which can become an issue if a powerful stove is fueled by a small 16-ounce propane bottle. You'll definitely want to bring along a few back-up canisters if you'll be out for more than an overnight trip, and we've found that two quality 10,000-BTU burners are ample for most uses.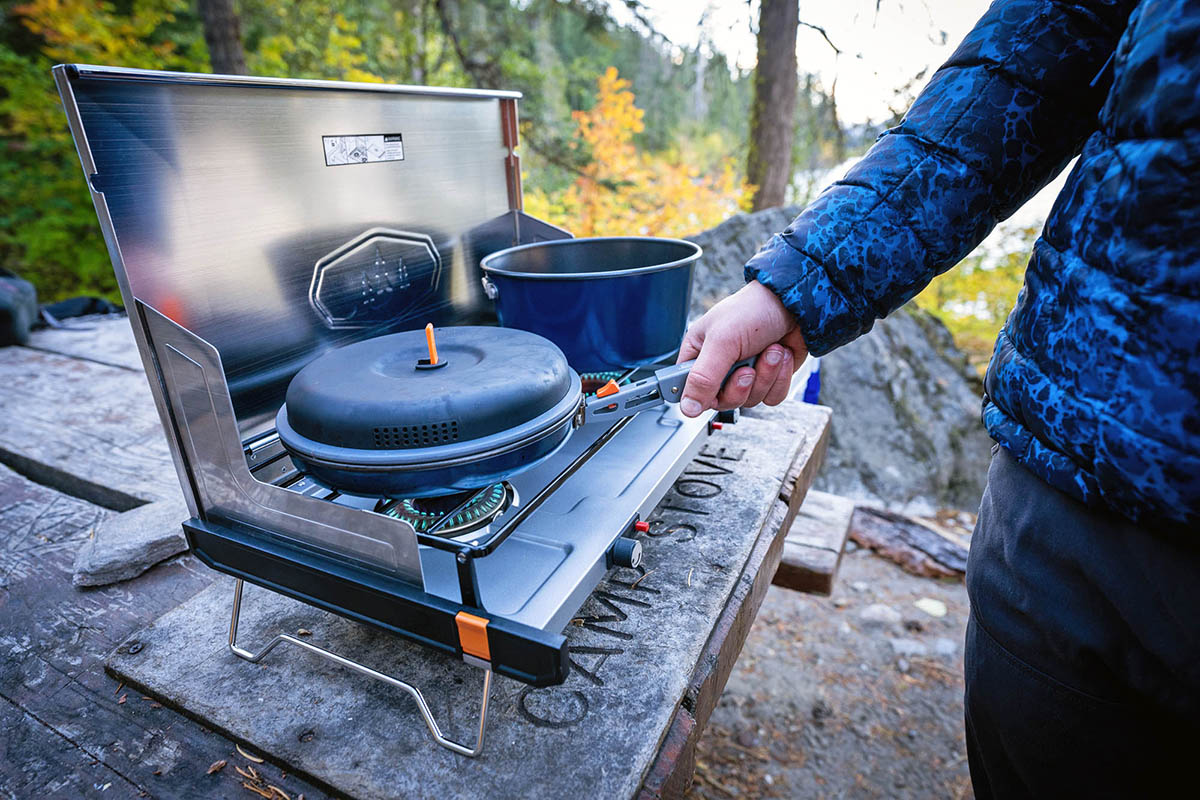 Fuel Type and Capacity
The vast majority of camping stoves run on propane: The fuel performs well in a range of temperatures, and not by any coincidence, the little green bottles are readily available at just about any outdoors or big box retail store. For the sake of space, and if you won't be setting up camp for an extended period of time, the 16-ounce bottles should do. However, we highly recommend bringing a few of them no matter the length of your stay. At high heat with some of the more powerful stoves, you can burn through most of a bottle in a single day. For max cooking convenience, the classic 4.6-gallon tank (also referred to as a 20-lb. tank) is a tried-and-true choice. They're easy to fit into the back of a pickup bed, refillable in just about every town, and will last you many, many meals. Note: Most tabletop stoves come only with an attachment for the 16-ounce bottle, but an adapter and hose are often available to fit the larger-capacity tanks.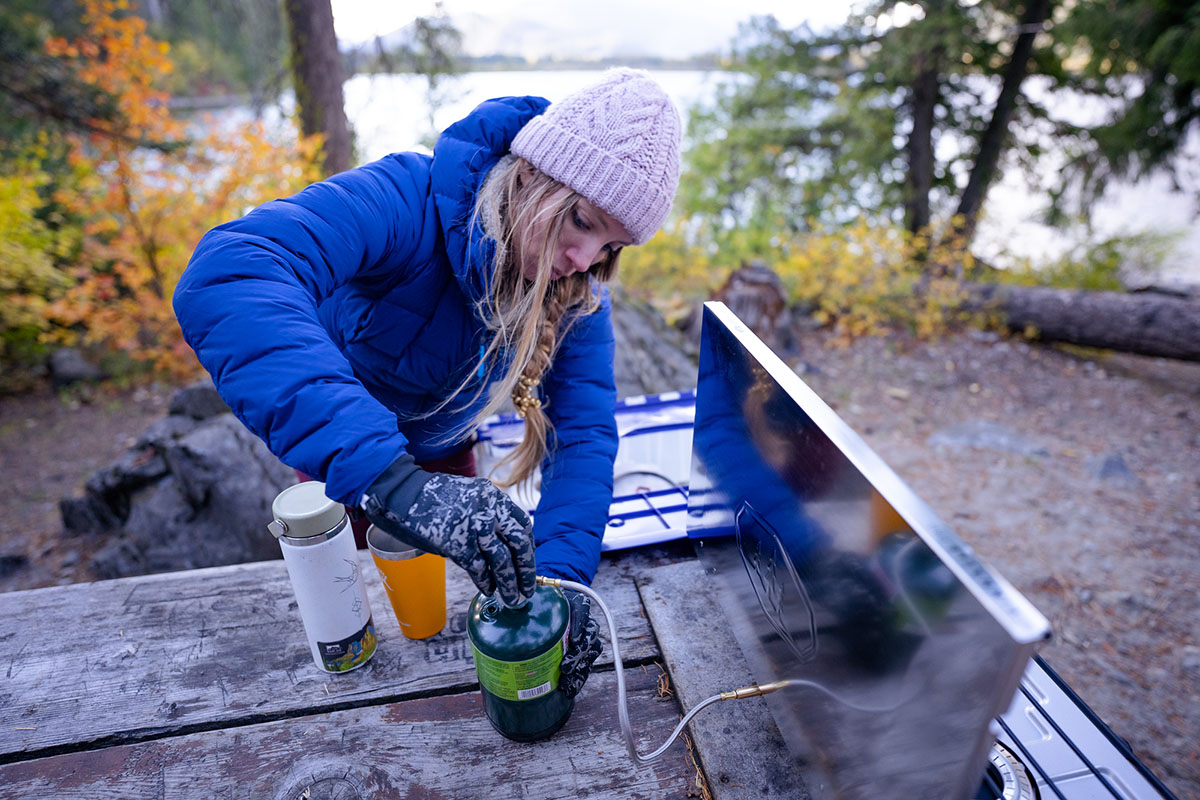 Propane does start to see its performance diminish once the temperatures dip below freezing. Butane, used in the Eureka SPRK+ Butane Camp Stove, does even worse and isn't as readily available as propane, but the canisters are lighter and more compact (this is more of a consideration for backpackers). That said, if you'll be doing a lot of four-season camping, liquid fuel is the most reliable choice and can come in the form of white gas, unleaded gasoline, jet fuel, kerosene, or diesel. White gas is one of the best choices for backpacking and basecamping in extreme conditions, but there aren't a whole lot of options in a full-size camping stove style. If you're a hardcore adventurer, consider a stove like the Coleman Guide Series Dual Fuel (not listed here), which can run on either white gas or unleaded gasoline. Liquid-fuel stoves cost more than propane models and don't offer any performance benefits in mild conditions, so for most folks, propane remains the best option.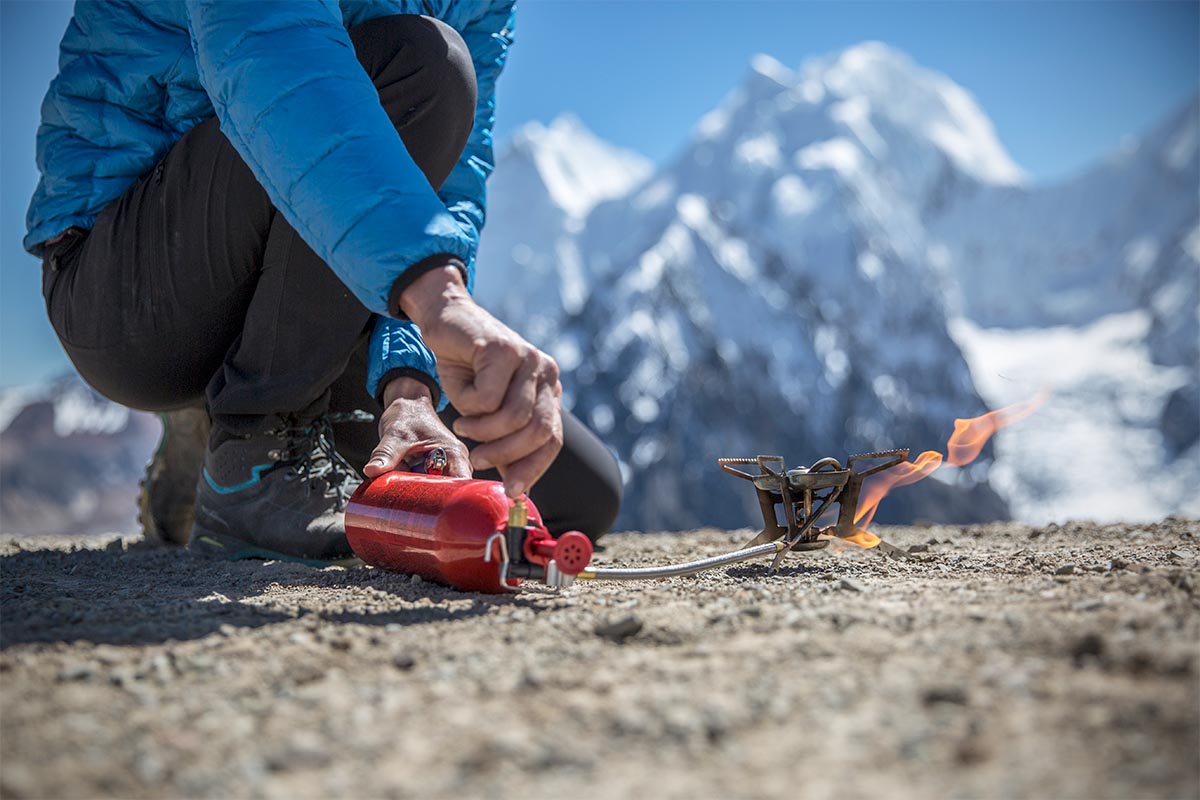 Alternative Fuel Options: Wood and Solar
Propane and other gases aside, there are a couple alternative fuel types that may work depending on your needs and expected conditions. Wood-burning stoves like the Solo Stove Campfire and BioLite CampStove 2+ have gained popularity in recent years, and the allure is clear: There's no need to buy or bring along fuel canisters—you simply collect twigs and sticks at camp and burn them to cook your food. However, these systems have more limited flame and heat control compared to other models, are restricted during fire bans, and rely on a resource that might not be readily available depending on the terrain and weather. Finally, there are solar-powered designs like GoSun's Sport Solar Cooker (not included here), which again can't compete with the convenience or dependability of traditional models but allow for fuel-free cooking in the right conditions.

Simmer Control and Performance
While a blazing 20,000 BTU burner is great for a spaghetti feed, for items that require a little more finesse you'll want to make sure the stove has effective simmer control. This requires fuel regulation that doesn't fluctuate and a flame that remains strong even at low heat. Good simmer performance isn't something typically found on a spec sheet, but a high-end model will typically perform better in these conditions. Moreover, having a good windscreen will help keep the flame lit if you're running the heat on low. The Camp Chef Everest and Eureka Ignite Plus have excellent simmer control, while budget stoves like the Coleman Cascade Classic struggle. Spending up will increase your chances of mastering that complex backcountry meal.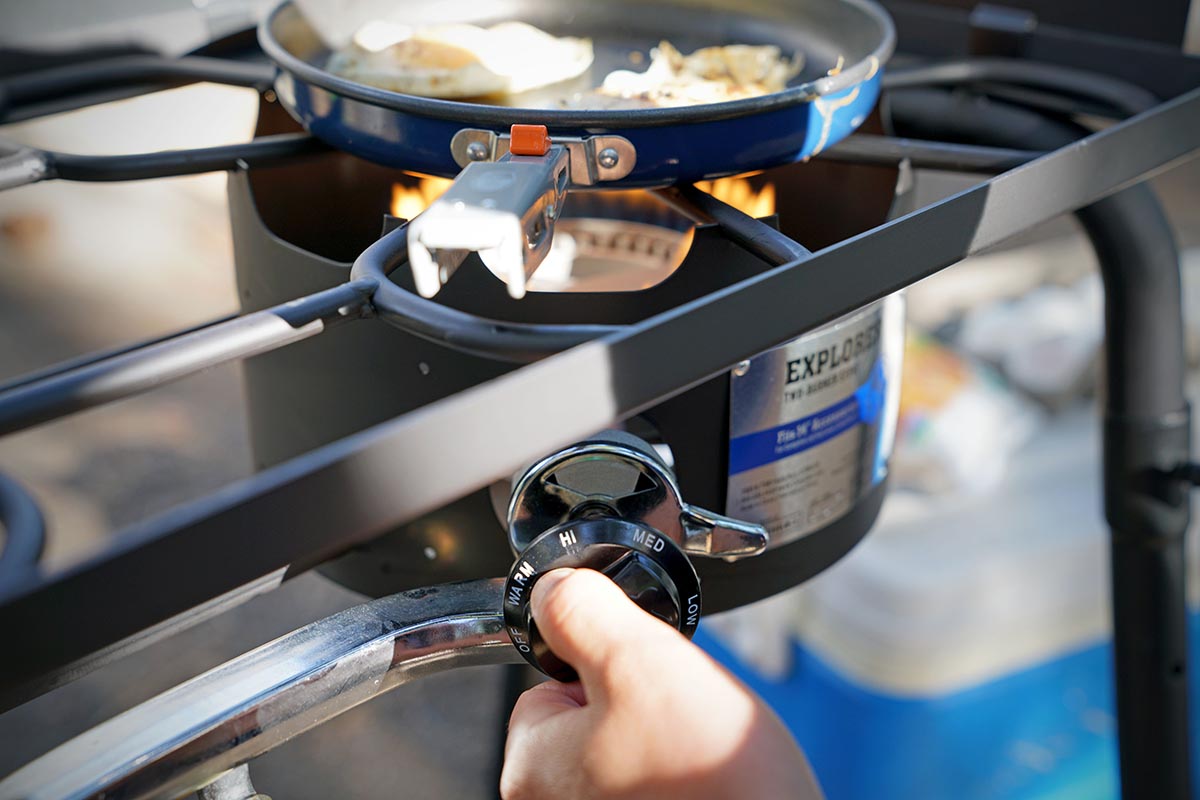 Windy Weather Performance
The weather can be variable even in the fairest of months, but the show must go on. And that includes cooking up a decent hot meal. The flame on any stove is sensitive to shifting and blowing wind, and it'll be important to find a somewhat protected space no matter the stove you choose. To help, there are wind shields on many models that cover three sides of the stove. This type of protection is a must-have, but it still won't protect you from really strong gusts. In general, we've found that the smaller the footprint the better the wind resistance, but large freestanding stoves can be set up just about anywhere, so hopefully you can find a decent wind break.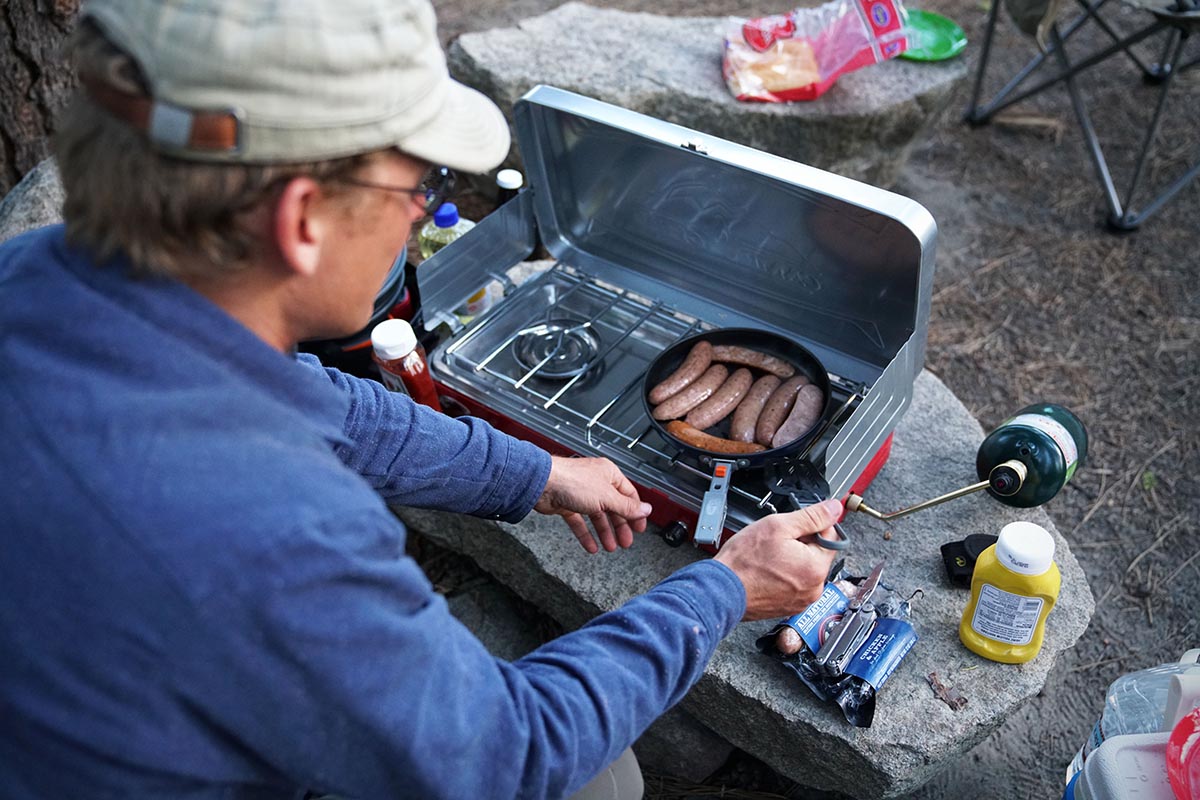 Camping Stove Width
The width of camping stoves varies significantly and can have an impact on what types of cookware you can use. For example, we like the Eureka Ignite Plus because it features a wide 23-inch cooking surface that can accommodate medium to large pots side by side. Smaller units, like the Coleman Triton, can only fit two 10-inch pans. If you regularly use larger pots or pans, it's worth digging into this spec closely before making a purchase (most manufacturers and retails will publish the dimensions). Alternatively, if your stove will be your first purchase, make sure the cookware you buy will fit on your unit's cook surface.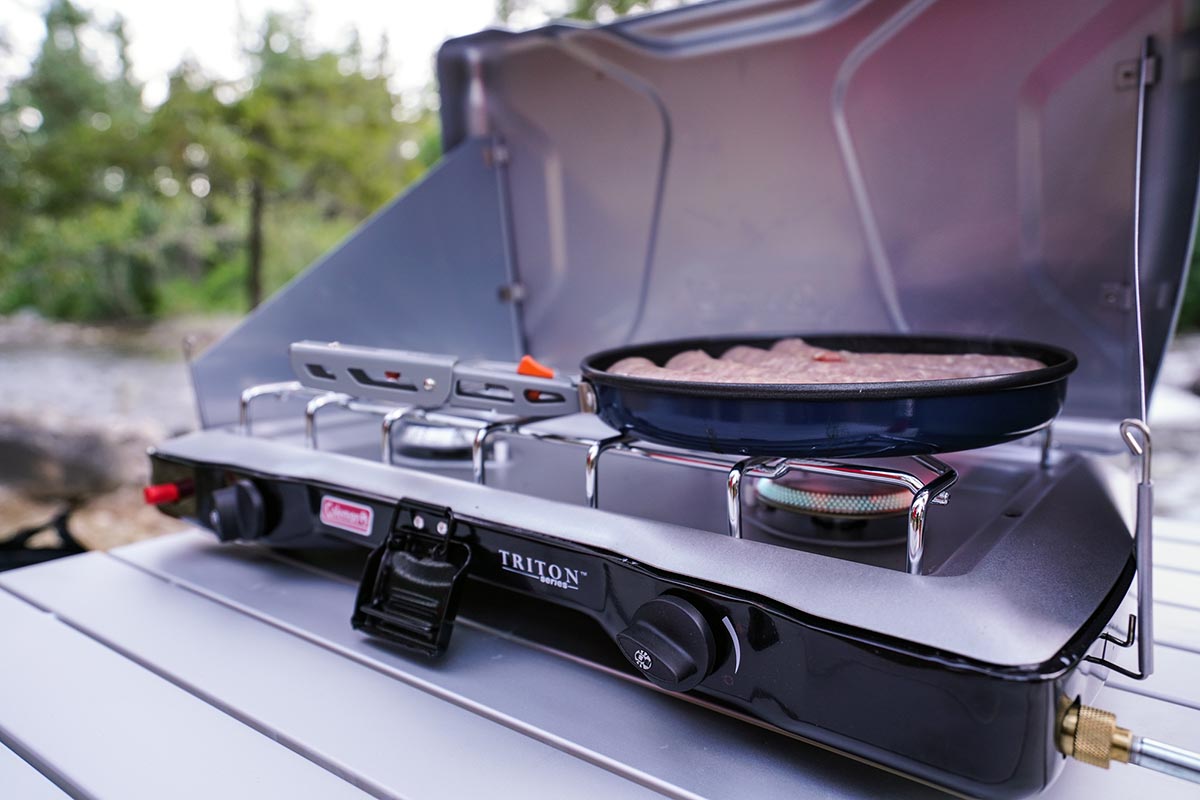 Automatic (Matchless) Ignition
Piezoelectricity is a pressure-based (read: matchless) form of ignition that is popular in camping stove applications. Rather than the sometimes-harried process of turning on the fuel and quickly lighting a match or clicking a lighter, this form of push-button auto ignition keeps your hands safe from any large bursts of flame. We prefer this type of ignition for the added convenience and ease of use, but it does come at an extra cost. Upgrading to the piezo-equipped Coleman Triton+, for example, will cost you $36 more than the base model (through Amazon at the time of publishing). It's also true that these igniters are not perfect and often fail over time (sometimes surprisingly quickly after purchase), so always bring along a set of extra matches or a lighter just in case.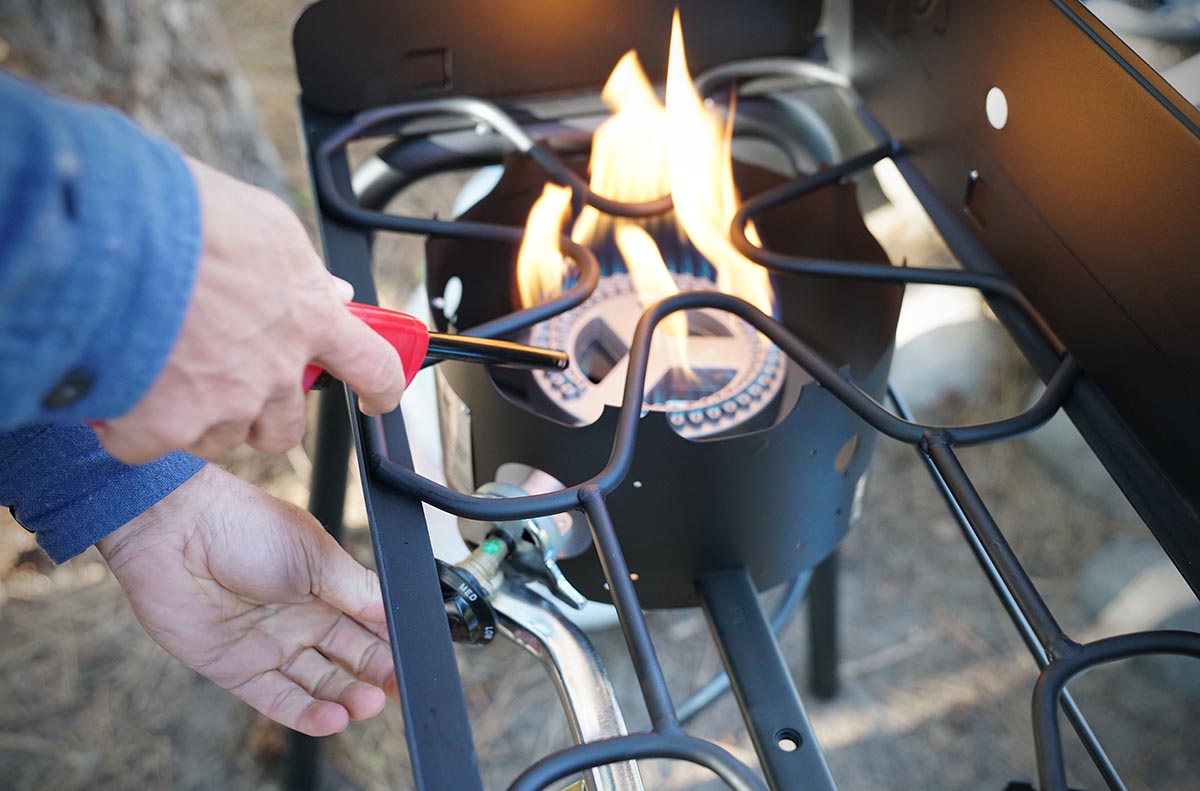 Cooking Grate, Grills, and Griddles
The most common form of stove is the traditional two-burner with a single, large cooking grate. But should you want a grill and stove combo, say, for cooking sausage and eggs, a hybrid option like the Camp Chef Rainier 2X is pretty appealing. Keep in mind that the grill portion takes up about 2/3 of the cooktop, which can swallow valuable space for fitting a large skillet or pot. Coleman's Cascade 3-in-1 solves that problem with both burners and removable grill/griddle accessories. Similarly, stoves like the Camp Chef Explorer allow you to swap out accessory tops, including a barbecue box or pizza oven. Griddles are separate attachments that fit over top the burners, and just like at home, they're great for cooking up items like pancakes or a grilled cheese.

Weight and Packed Size
As with most camping equipment, weight and packed size aren't necessarily specs to be overly concerned about. Compared with backpacking gear, it's all heavy and large, but you still need to store and transport the stuff. In general, we look for an effective balance of performance and weight, which is why we rank the Eureka Ignite Plus so highly. It clocks in at a very manageable 12 pounds, folds down easily to fit into a duffel bag, and provides ample output for most car camping adventures. At the extreme end of the spectrum, MSR's WindBurner Stove Combo System is the lightest option on our list at a scant 1 pound 13 ounces, but you only get one burner, and the MSR lacks the output and cooking capabilities of more traditional camping designs (we consider it a great crossover option for camping and backpacking).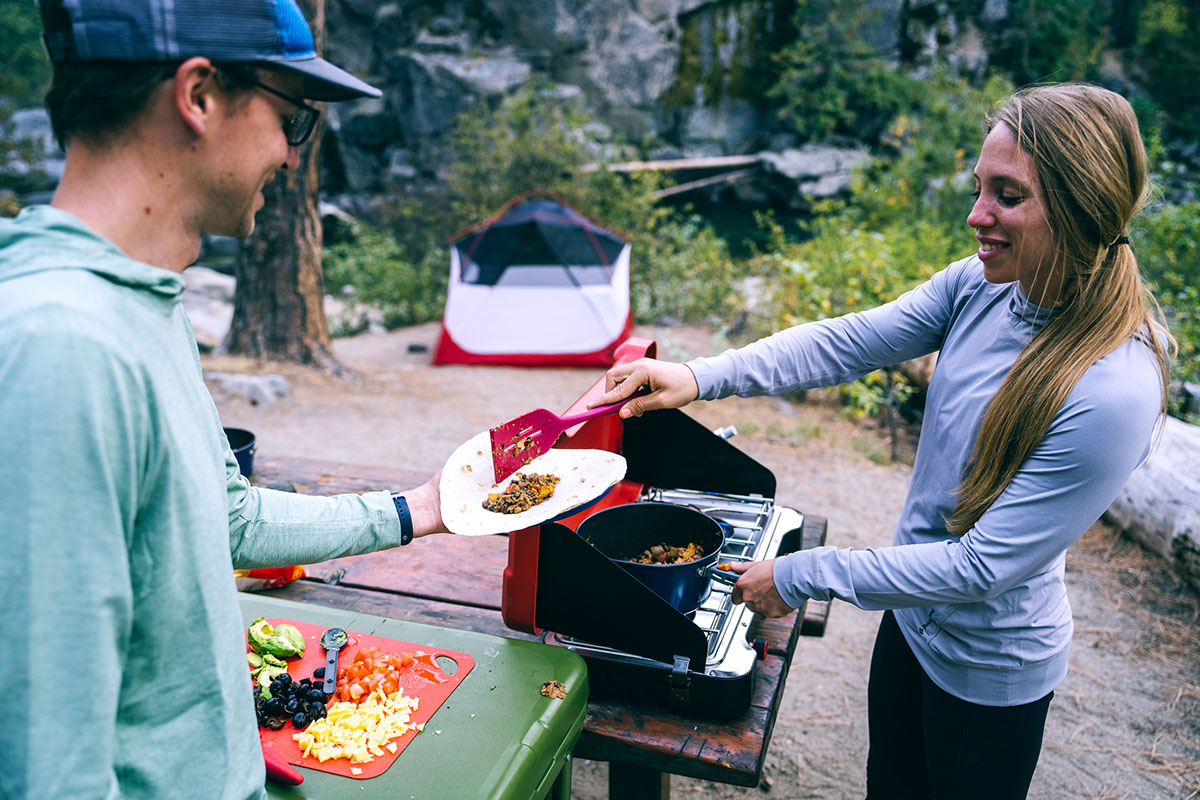 Depending on your needs, packed size may or may not play a big role in your buying decision. If it does, a model like the GSI Pinnacle Pro is a great option at only 1.4 inches tall when packed (for reference, the aforementioned Ignite Plus is 4 in., and a freestanding unit like the Camp Chef Explorer is 14 in.). This makes it easy to slide into the crevice of a vehicle or back corner of a gear closet. Taking it a step further, we also like Jetboil's Genesis Basecamp system, which includes a stove and cookware, manages to weigh less than 10 pounds, and folds down to nest into the included pot. Again, these considerations don't matter to some campers, but they can be a difference-maker for those limited on space.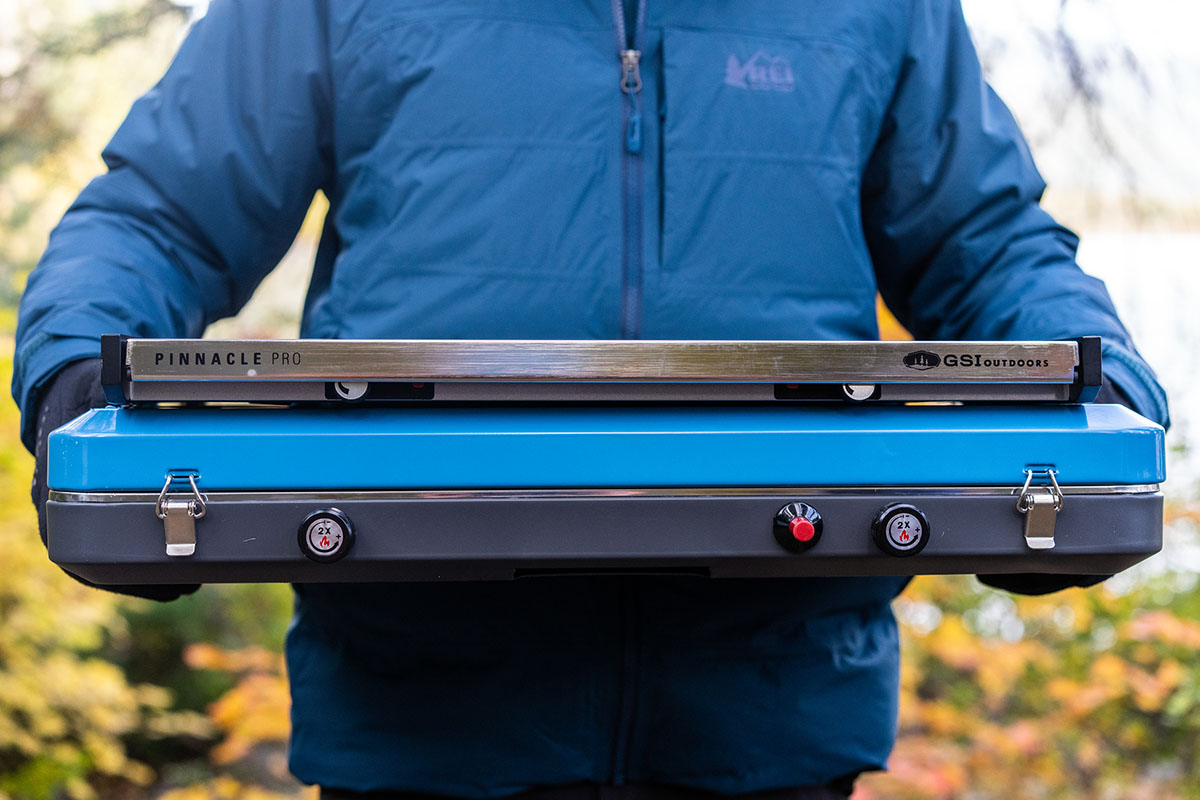 Camping vs. Backpacking Stoves
For those weighing the decision between camping and backpacking stoves, there are some important tradeoffs to consider. In addition to a lighter weight and smaller packed size, backpacking models only feature a single burner that can hold a pot or pan, which limits cooking space and the types of meals that you can cook (most backpackers stick to simple foods like dehydrated or one-pot meals). In addition, backpacking stoves are much flimsier, less stable, and don't simmer as well as camping models. If you won't be traveling far from your vehicle, a camping stove will offer a substantial increase in performance and the added heft and bulk likely won't matter much. However, if you trek deep into the backcountry regularly, the weight savings are well worth the sacrifice in cooking ability.
Back to Our Top Camping Stove Picks  Back to Our Camping Stove Comparison Table
Learn More About Camping Gear