If you've ever gone camping, hiking, backpacking, climbing, mountain biking, trail running, or nearly anything else in the outdoors, chances are you've used a headlamp. While this handy piece of technology requires little introduction (everyone knows the benefit of hands-free illumination), the impressive leaps in headlamp technology over the past few years deserve some recognition. The industry is in the midst of a horsepower war, with one-upmanship seen in maximum light output (rated in lumens) and battery options, and we the users are the happy beneficiaries. Below are our team's favorite headlamps for 2023. For more information, check out our detailed comparison table and buying advice after the picks.
 
---
Our Team's Headlamp Picks
---

Best Overall Headlamp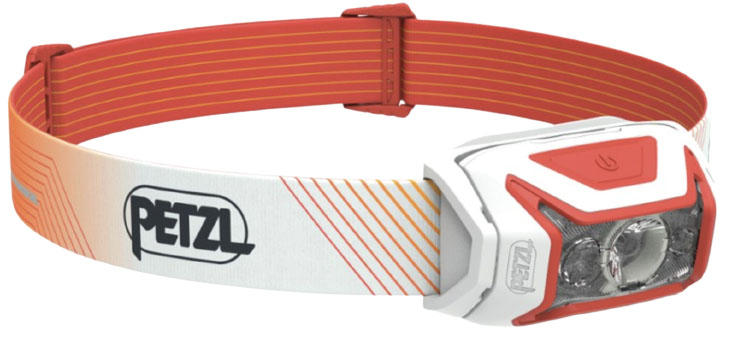 Weight: 3.1 oz.
Max lumens: 600
Batteries: Rechargeable/AAA
What we like: Reliable, long-lasting, and bright.
What we don't: Front-heavy design is not ideal for running.
Selecting our top pick isn't always easy, but Petzl's Actik Core is a no-brainer choice among the headlamp competition. The Actik Core is high on value and performance, with 600 lumens at maximum brightness, a long-lasting and reliable battery with consistent performance across its burn time (some headlamps peter out but the Actik stays bright until the end), and simple operation—all for a reasonable $80. France-based Petzl has been leading the charge with headlamp innovation for years now and their recently retooled Actik Core is case in point.
Throughout years of testing headlamps, we've noticed that most designs fall far short of their advertised burn time, often dying right when you need them most. In a sea of disappointment, Petzl's offerings truly stand out for their reliability and long battery life—on one occasion, our Actik lasted through a six-day backpacking trip, while our BioLite needed several charges. You also get a nice backup with Petzl's Core technology: If the Actik's included rechargeable lithium-ion battery runs out of juice, you can simply replace it with three AAAs (or a second Li-ion battery). Our one gripe is that the design can be too front-heavy for running (most headlamps of this brightness place their battery pack on the rear), but on the other hand the Actik is impressively streamlined for what you get. For the best all-around headlamp, the Petzl is as good as it gets.
See the Petzl Actik Core
Best Budget Headlamp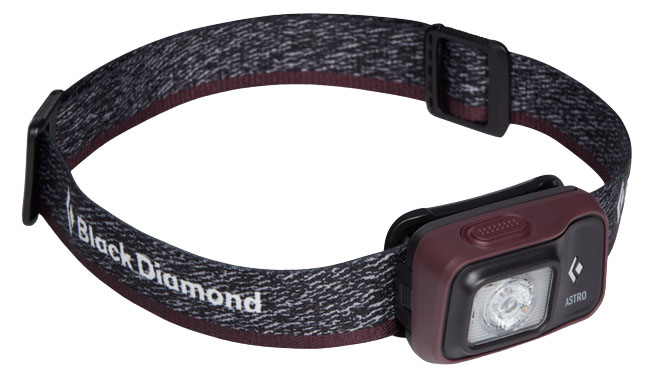 Weight: 2.6 oz.
Max lumens: 300
Batteries: AAA (rechargeable available)
What we like: Gets the job done for just $20, or $40 with a rechargeable battery.
What we don't: Not super water resistant and few lighting options.
If you're on the hunt for a simple headlamp that will come in handy both at camp and around the house, the Black Diamond Astro 300 delivers. For just $20, the Astro puts out a very practical 300 lumens—including dimming and strobe modes—and lasts for four hours on the brightest setting (140 hours on low). What's more, at 2.6 ounces and with a compact shape, it's light enough to go practically unnoticed on your head or in a pack, which makes for a great emergency backup too. You can spend a lot of money on a brighter or longer-lasting headlamp, but the Astro is a great value and fully sufficient for most campers, hikers, and backpackers.
The Astro was updated last spring, and the newest version features Black Diamond's Dual Fuel technology, which gives it the ability to run off of either AAAs or a lithium-ion rechargeable battery (purchased separately for $30). This is a massive improvement over the outgoing version in terms of versatility, and $50 is a competitively low price for a rechargeable headlamp (on the other hand, the rechargeable Astro 300-R is just $40, although it lacks AAA compatibility). Keep in mind that with such a budget device there are inherent downsides in terms of features and durability: The Astro's IPX4 rating means it won't survive submersion in water, and you don't get distance and proximity lighting or a red light mode like we see in BD's more premium lamps. But simplicity is a strong suit for many applications, and it's hard to beat the Astro's combination of price and performance. 
See the Black Diamond Astro 300
Best Headlamp for Running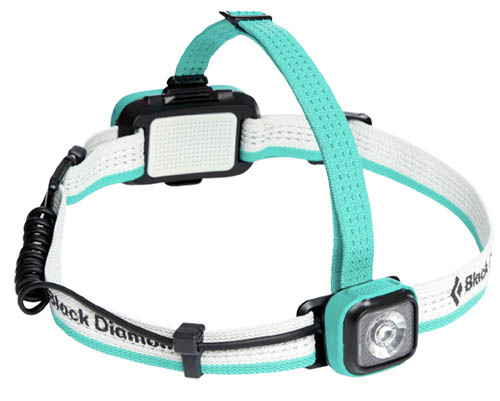 Weight: 3.7 oz.
Max lumens: 500
Batteries: Rechargeable/AAA
What we like: Compact front lamp and flashing red light at the rear.
What we don't: Relatively heavy; battery pack is bulky. 
When it comes to selecting the right headlamp for the job, running poses some unique challenges. For such an inherently bouncy activity, you'll want a lightweight lamp that sits close to your head and doesn't shift as you move. It's also worth considering a model that includes a rear light—especially if you run on roads—or at least some reflective material on the headband. Within this category, the Black Diamond Sprinter is our favorite design. Its 500-lumen lamp is compact and decently bounce-free, and you also get a top strap (removable), reflective logos, and a rear flashing light. Finally, Black Diamond's Dual-Fuel battery system is an ideal setup for long runs, giving you the option of swapping to AAAs if the USB-rechargeable battery runs out.
The Sprinter's bright oval beam provides a great balance of distance and proximity lighting, but without a dedicated flood mode or red light option, its function is rather limited for use around camp. Further, its rear battery pack is rather bulky, and you'll want to be sure you cinch it up well to mitigate bouncing. The BioLite 425 is worth mentioning as an alternative—it's more streamlined, an ounce lighter, and $20 less—but we've been really disappointed with its battery life, especially in the cold (you also don't get the option of using AAAs in a pinch). For a more premium design, check out the Petzl Iko Core below. And finally, Black Diamond also makes the 2-ounce Sprint 225, which ditches the top strap and rear battery for a less powerful yet more streamlined and affordable ($50) setup.
See the Black Diamond Sprinter 500
Best Bright Headlamp for High-Performance Use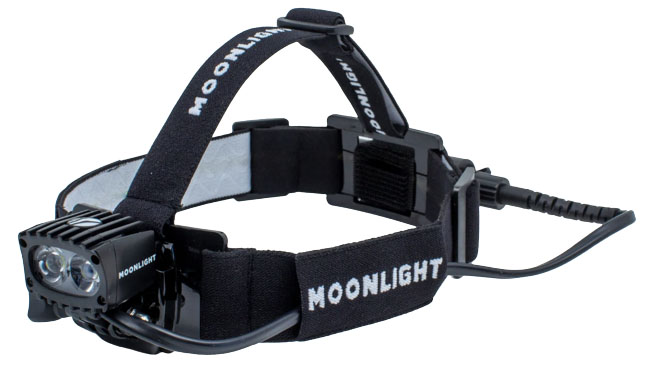 Weight: 8.7 oz.
Max lumens: 800
Battery: Rechargeable
What we like: Reliable and bright headlamp for serious running, skiing, and mountaineering.
What we don't: Expensive and heavy.
Three hundred to 600 lumens is sufficient brightness for most activities, but if you're moving quickly or route-finding in the darkness, you don't want to mess around. Norway-based Moonlight offers some of the most reliable high-performance solutions, backed by the legend himself, Kilian Jornet. Their Bright As Day collection includes five offerings from 800 to 4000 lumens, all of which feature removable batteries that are easy to recharge or swap out (at an aid station, for example) and can be stored in your chest pocket while in use (keeping a battery warm helps preserve its lifespan). Given that battery issues are a primary downside of high-powered headlamps, we really appreciate this design. 
The Bright As Day 800 will get the job done for most (it was Kilian's choice for running both the Hardrock 100 and UTMB in 2022), but skiers and mountain bikers will likely want to step up to a brighter model. And while these headlamps are undeniably heavy (the 800-lumen version is 8.7 oz.), the ability to extend the battery to your pocket goes a long way. What's more, each Bright As Day model features a removable light, which can be affixed on a Go-Pro mount or bike handlebar (mounts sold separately). All told, you'd be hard pressed to find a more reliable high-performance headlamp. If you're running through the night in an ultramarathon, skimo training at your local hill, or rallying on mountain bikes in the darkness, a Moonlight headlamp is worth the investment.
See the Moonlight Bright As Day 800
Best Ultralight Headlamp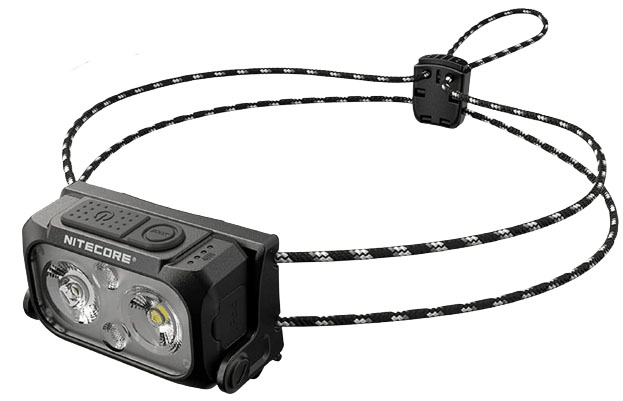 Weight: 1.6 oz.
Max lumens: 400
Batteries: Rechargeable
What we like: Superlight yet still quite bright. 
What we don't: Thin elastic strap isn't as comfortable as a wider band.
For minimalists and true ounce-counters, our favorite ultralight headlamp of 2023 is the Nitecore NU25 400 UL. At just 1.6 ounces, the Nitecore secures via a streamlined elastic headband, is surprisingly bright with a 400-lumen max output, and is rechargeable via micro USB. We've also found it incredibly easy to operate (cryptic toggling between modes is a common issue with headlamps), with one button for the white beam and one for red, and the battery seemingly lasts forever. All told, as a high-powered emergency light or for those trying to keep their load as light as possible, the NU25 UL is a bright and relatively cheap option.
Keep in mind that the Nitecore NU25 UL has four brightness settings: 400, 200, 60, and 6 lumens (the red mode is a constant 10 lumens). There's no dimmer, which is a bummer, but certainly something we can get used to. And while the elastic strap goes a long way toward streamlining the weight, it's certainly not something you'll want to have on your head all night. But for those in the market for an ultralight headlamp, it's our top all-around pick of the year. You can save 0.4 ounces with the Petzl Bindi below, but the Nitecore offers twice the light output for $8 less.
See the Nitecore NU25 400 UL
Best of the Rest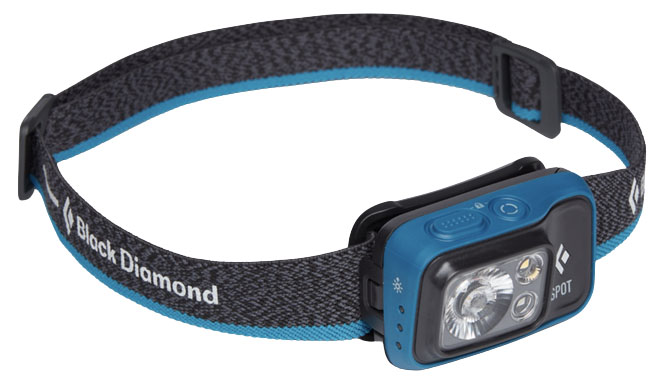 Weight: 2.7 oz.
Max lumens: 400
Batteries: AAA (rechargeable available)
What we like: Slim profile, weather resistant, and easy to operate.
What we don't: Disappointing battery life; rechargeable battery must be purchased separately.
The Black Diamond Spot has always been a solid all-around headlamp, but with a recent overhaul, it's better than ever. The newest Spot comes in two versions—the 400-R with included rechargeable lithium-ion battery, and the 400 here, which uses BD's Dual Fuel technology to operate with either AAAs or a rechargeable battery (purchased separately). The headlamp features a streamlined profile (much slimmer than the previous version) for minimal bounce, and weight is low at just 2.7 ounces, including batteries. What's more, the button layout is easy to use (finally), with a large central button that turns the headlamp on and off and a second button to scroll between modes. You also get a full suite of lighting choices, from the long-range LED to a softer proximity LED and red light for use around camp, and an IPX8 waterproof rating means the Spot 400 is reliable no matter the weather.
The Spot 400 is $30 less than the Actik Core if you choose to run it off AAA batteries, but you'll have to pay an additional $30 for similar rechargeable technology (the 1500 Battery and Charger). At $80 all in, the full-package BD is the same price as the Petzl, and it's simply not as good. For one, the need for a charger is unfortunate—it's just one more item to carry and potentially lose (Petzl eliminates the need for a charger with a micro USB port directly on the battery). In addition, the Spot is not quite as bright as the Actik, with 400 lumens versus 600, and battery life is not up to snuff: On a recent outing, our partner's Petzl offered illumination throughout the night, while our fully charged BD dimmed to almost nothing. We've gotta hand it to Black Diamond for radically improving their headlamp lineup with the latest versions, but they still fall short of Petzl in almost every category.
See the Black Diamond Spot 400

Weight: 1.8 oz.
Max lumens: 325
Batteries: Rechargeable
What we like: Sleek and comfortable design; easy to operate.
What we don't: Poor battery life.
The BioLite 325 HeadLamp is one of our favorite headlamps for around-home use, whether we're walking around the block, fixing a leak underneath the sink, or reading in bed. The key to the 325's success is a sleek design that integrates the light and strap into one low-profile unit, making it much more comfortable and easy to wear than models like the Black Diamond Spot and Petzl Actik above. It's also incredibly simple to operate with a single button that cycles between four modes (including both white and red lights), and quickly recharges via micro USB. For a no-frills headlamp that both looks and feels good, give the BioLite a look.
The 325 is one of the best deals here for those looking for a simple, rechargeable headlamp for casual use. However, we don't recommend it for backcountry environments: BioLite's batteries have consistently underperformed in our testing, and the 325 will need to be charged a lot more than other similar designs. Within this category of rechargeable, entry-level lamps, the R version of the Astro above is a more reliable option and $10 less, while the Tikkina below (with additional Core battery) offers a big step up in battery life for just $5 more. But there's a lot to be said for the BioLite's streamlined and user-friendly design, which is why we continue to reach for it time and time again. Finally, it's worth noting BioLite's business model, which uses proceeds from their outdoor product lineup to bring affordable energy to the developing world.
See the BioLite HeadLamp 325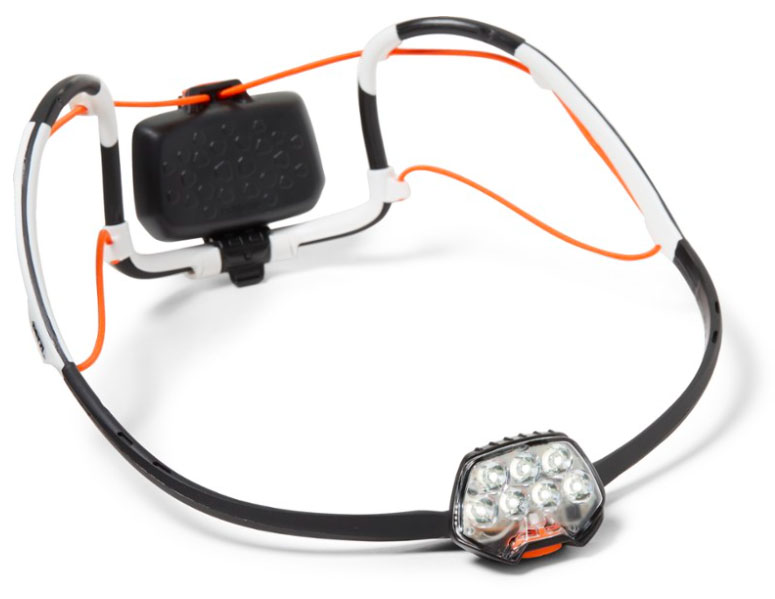 Weight: 2.8 oz.
Max lumens: 500
Batteries: Rechargeable/AAA
What we like: Trail runners will love the strong light, low weight, and versatile battery design. 
What we don't: Expensive; somewhat polarizing headband design.
Petzl has been pushing the boundaries on strap designs for years, and one of their latest creations is the unique Iko Core. This minimalist headlamp splits its weight between a battery pack at the rear and a low-profile lamp on the forehead, connected by a semi-rigid strap that tightens with a simple cinch. The design keeps weight in check, and with an impressive 500 lumens of light, the Iko is a standout for trail running. Additionally, you get Petzl's Core rechargeable battery pack, which can be subbed out for three AAAs to keep you moving through the night during an adventure race or ultramarathon.
The Iko Core is somewhat pricey at $100, and we've had a hard time getting used to its rigid strap system (pairing it with a headband or hat helps). What's more, its polarizing design is fairly impractical for casual use. But the Iko's snug fit and high-performance beam is a winning combination for serious trail and mountain athletes, and the capability for both flood and mixed lighting is a big upgrade compared to the single spotlight of the BD Sprinter above. For serious trail races or long FKT pushes, it's our top choice. And if you need even more brightness, you can bump up to 1500 lumens with Petzl's NAO RL. 
See the Petzl Iko Core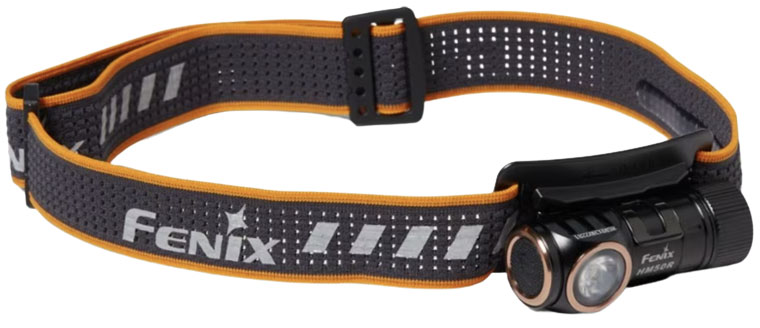 Weight: 2.8 oz.
Max lumens: 700
Batteries: Rechargeable/CR123A
What we like: About as bombproof as it gets.
What we don't: Battery drains fairly quickly in turbo mode.
For activities like high-altitude mountaineering, alpine climbing, and backcountry rescue, you'll need a headlamp built to withstand significant abuse, and Fenix's HM50R fits the bill nicely. This headlamp is rugged with a full aluminum casing, powerful with a 700-lumen max output and beam distance of around 370 feet, and dust- and waterproof with an IP68 rating, which means it can handle being submerged in up to 2 meters of water for 30 minutes. And the rest of the design is equally well-executed, including a single side switch that makes it easy to toggle between settings (the headlamp has four output levels), a reflective headband, and compatibility with cold-resistant CR123A batteries (in addition to the included rechargeable lithium-ion battery).
Not everyone needs the specialized features or ultra-tough build, but the good news is that the Fenix is reasonably priced for the amount of output and performance you get. Sure, you could step up to a more serious model like Fenix's HM65R, but that will run you an additional $40 and tack on a bulkier design. Finally, keep in mind that with all high-powered headlamps, you'll want to only use the brightest mode when it counts. The Fenix's 700-lumen "turbo" mode will drain the battery in only 1 hour, while the lower settings range from 8 hours to 42 days, respectively.
See the Fenix HM50R V2.0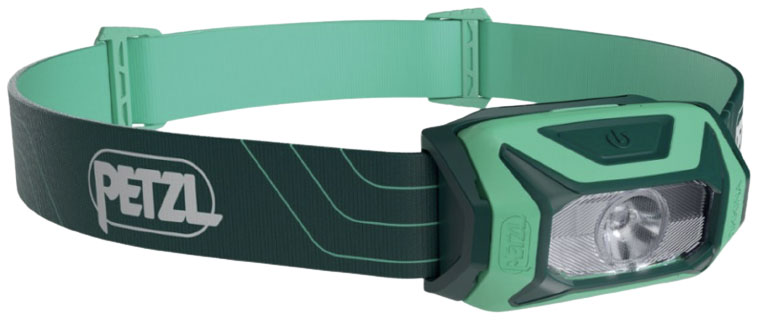 Weight: 3.2 oz.
Max lumens: 300
Batteries: AAA (rechargeable available)
What we like: Easy to use and a good price.
What we don't: Average light quality and no red light option.
For camping trips or use around the house, a simple headlamp like the Petzl Tikkina is a fine choice, featuring 300 lumens of maximum output from a single white LED. The center button is easy to find and operate, and the beam is ample for nighttime cooking and setting up tents in the dark. As with the Actik Core above, the Tikkina is compatible with Petzl's Core rechargeable battery, although in this case it's an accessory that is purchased separately (for $30). If you're looking for a rechargeable headlamp there are better values out there (including the BioLite 325 above); but for the casual user who doesn't mind AAAs, the $25 Tikkina hits a nice balance of performance, weight, and price.
The Tikkina goes head to head with our top budget pick, the Astro 300 above. The headlamps are identical in terms of brightness, and they both have IPX4 ratings, and are designed to run on either AAAs or a rechargeable battery (the lithium-ion batteries from both Petzl and BD will cost you an additional $30). Neither model has a red light—which some might want for nighttime reading—but the Astro does have a lockout mode (helpful for preventing accidental battery drain) and is lighter, less bulky, and $5 cheaper. But it's hard to go wrong with Petzl (we've found their headlamps to be very reliable and long-lasting), and the Tikkina is nevertheless a high-quality budget option.
See the Petzl Tikkina Headlamp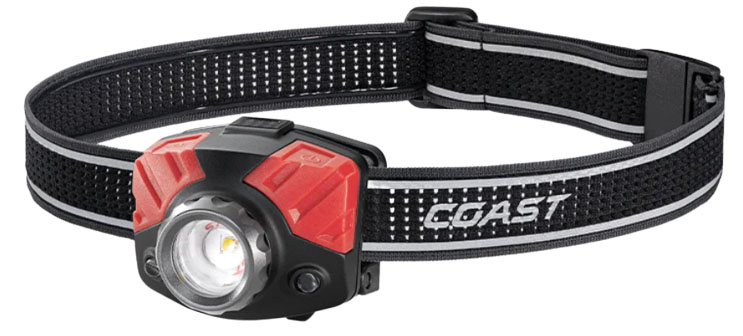 Weight: 3.7 oz.
Max lumens: 1,000
Batteries: Rechargeable/AAA
What we like: The longest beam distance here; great value.
What we don't: Short battery life; outdated looks.
Oregon-based Coast Products flies a little under the radar compared to Black Diamond or Petzl, but they have a strong lineup of quality headlamps. A shining example (no pun intended) is their FL75R: With a retail price of $60, the FL75R packs up to 1,000 lumens and an easy-to-use focusing ring that works just like a high-powered flashlight, twisting to adjust from flood to spot. Its simple functionality is absolutely painless in use (unlike some of the more confusing headlamps above), and there's no need to cycle through various modes to swap between proximity and distance. Coast doesn't skimp on brightness either: In turbo mode, the FL75R can illuminate up to 168 meters (551 ft.), which is the longest beam distance here by a long shot.
So why the mid-pack finish for the Coast FL75R? Its major shortcomings are battery life and bulk. For reference, our top-ranked Petzl Actik can keep you illuminated for up to 100 hours, while the Coast will last you just 14 hours on its lowest setting (which admittedly is still quite bright at 110 lumens). And for those who are looking for a suitable hiking or backpacking lamp, the FL75R is on the larger side and a bit archaic-looking to boot. But we definitely appreciate the giant buttons and easy-to-toggle focusing dial, and the beam distance is truly impressive—great for spotting the route, finding friends, or navigating back to your campsite. For budget shoppers who don't want to sacrifice performance, the Coast FL75R is a great value.
See the Coast FL75R

Weight: 1.4 oz.
Max lumens: 250
Batteries: Rechargeable
What we like: An inexpensive running headlamp.
What we don't: Not as bright as the BioLite 325; pricier than the Nitecore NU25.
The Sprinter 500 and Petzl Iko Core above are great options for dedicated runners, but budget-oriented shoppers should consider the Ledlenser NEO1R. Designed specifically for running, the NEO1R has a sleek, well-balanced design and running-specific features like a reflective, snug-fitting headband that mitigates bouncing. Its bright 250-lumen "boost" mode can illuminate up to 80 meters down the trail, and you get quick and easy power refreshes via a magnetic charging cable. For only $50 (compared to the $80 and $100 price tags of the aforementioned models), the NEO1 is a great value in a running headlamp.
But the Ledlenser falls short when compared to the general headlamp competition—particularly entry-level, rechargeable options. With only 150 lumens of brightness on high, it offers a lot less illumination for the price than the BioLite 325 and Nitecore NU25 above, and you only get a few tenths of ounces of weight savings. It's also not significantly more comfortable than the BioLite, which has a very runner-friendly design (on the other hand, the Nitecore's elastic-band strap is less than ideal). We have a hard time recommending the NEO1R over the brighter and—in the case of the Nitecore—cheaper rechargeable designs above, but for dedicated runners in need of a backup device, it's a suitable solution.
See the Ledlenser NEO1 Running Headlamp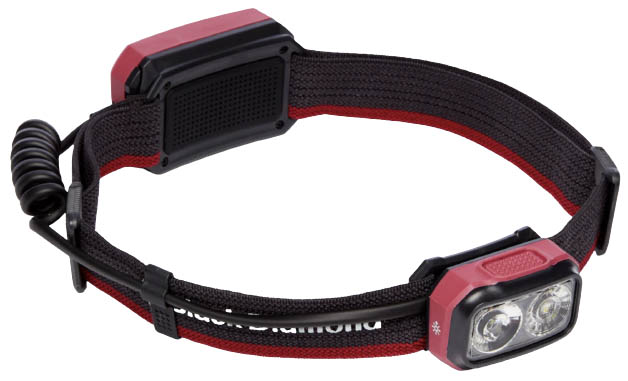 Weight: 4.8 oz.
Max lumens: 375
Batteries: AAA (rechargeable available)
What we like: Purpose-built design for climbing at night.
What we don't: Heavy and bulky.
If you've ever tried to climb at night, you'll know it's not easy. The world shrinks down to one square foot in front of you, and finding the way can be a challenge. But a good headlamp can make a night and day difference (no pun intended), and the Black Diamond Onsight 375 is purpose-built for the job. The standout feature here is the two, easy-to-toggle beams: In climbing mode, you get 300 lumens of disbursed light to flood the area in front of you, while route-finder mode offers a 375-lumen long distance beam for scouting the anchors or the route ahead. And operation is refreshingly simple, with one button to turn the lamp on and tap technology on either side to switch between modes.
In addition to the dual-beam design, the rest of the new Onsight 375 is well thought out for climbers' needs. Like many of Black Diamond's recent offerings, it features Dual Fuel technology, meaning it can be powered by three AAAs or a rechargeable battery (purchased separately), which is a nice option to have when you're out for numerous days at a time. An IP67 waterproof rating means it's fully submersible and dust proof (great for durability), and the SOS mode is helpful during an emergency. But at 4.75 ounces the BD is a lot heavier and bulkier than most headlamps here, and despite being climbers ourselves we're not sure if it's worth it for the extra features. If you plan to night climb (that was Tommy Caldwell's strategy on the Dawn Wall, after all), the Onsight 375 is a great niche piece at a reasonable price, but we'll stick with the lighter options above for emergency use.
See the Black Diamond Onsight 375

Weight: 1.2 oz.
Max lumens: 200
Batteries: Rechargeable
What we like: The lightest and most streamlined headlamp on our list.
What we don't: Lower light output and a little pricier than the Nitecore NU25 above.
Joining Nitecore's NU25 above, Petzl's Bindi is another targeted ultralight option for minimalists and ounce-counters. The Bindi is the lightest design on our list at a scant 1.2 ounces (0.4 oz. less than the Nitecore) with a decidedly sleek and streamlined build to match. The thin, cord-like strap helps keep the overall package impressively compact and boasts reflective threading for increasing visibility at night. And like the Nitecore, the Petzl is very easy to use with a single button to toggle between lighting modes (proximity, movement, and distance), a red light for night vision, and two lock functions to prevent it from turning on when stuffed away in a pack. All told, it's a highly capable UL pick that doesn't compromise on features.
Diving deeper into the details, the Petzl Bindi has a maximum output of 200 lumens (compared to 400 for the Nitecore NU25), max beam distance of 36 meters (the Nitecore reaches up to 81m), and lasts up to 50 hours on the lowest setting (the NU25 can last up to 45)—all for $8 more. Given the better output, the Nitecore is the better choice for committed hikers that need illumination on the trail, but the Bindi is perfectly serviceable for use around camp while backpacking. For another cord-equipped UL option at a lower price, Black Diamond offers the Flare, which is best for emergency, backup use. It maxes out at 40 lumens, clocks in at 1 ounce flat, and is $15 cheaper at $30. However, in addition to the lower max output, the BD also runs on CR2032 (rather than rechargeable) batteries, which may be a deterrent for some.
See the Petzl Bindi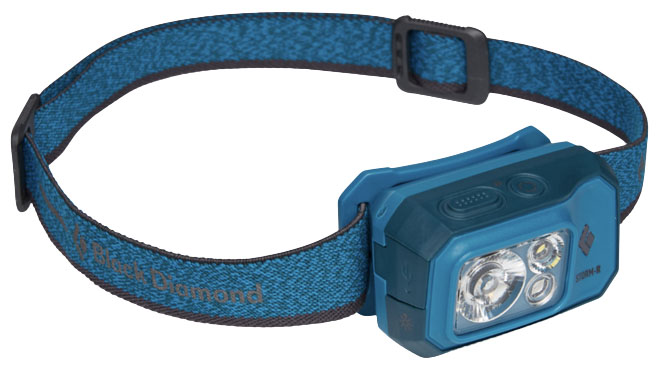 Weight: 3.5 oz.
Max lumens: 500
Batteries: Rechargeable
What we like: Great battery life and brightness in a relatively light and streamlined build. 
What we don't: Not compatible with AAA; the Spot above is a better all-rounder for most.
Black Diamond's Storm and Spot (above) dominated the headlamp market for years with well-rounded and reliable designs until recently, the Storm started to feel a little antiquated with its bulky, 4.2-ounce build. But Black Diamond's recent revamp puts it back on the map for those looking for a boost in brightness over models like the Spot and Actik Core above. With 500 lumens of output that stretches almost 400 feet, you get an impressive amount of light in a small package, along with multiple proximity and distance modes, dimming and strobe functions, and red, green, and blue night-vision. Black Diamond also tacked on a powerful 2400 mAh lithium-ion battery (7 hrs on high and 350 hrs on low) and simplified the Storm's user interface in the latest update, making it easier than ever to find your desired light.
But aside from the extra 100 lumens, the Storm doesn't have that much to offer compared to the Spot. Sure, we recommend brighter (or equally bright) lights above, but they all have something else going for them: The Fenix HM50R, for example, is incredibly durable, while the Moonlight Bright As Day 800 is both hardwearing and bright (to the tune of 800 lumens). And then there's the issue of Black Diamond's R-series headlamps lacking the versatility of Dual Fuel technology (i.e. you can't use AAA batteries)—so if you like the idea of the Storm, we recommend purchasing the Storm 450 ($60) instead and tacking on the 1500 battery and charger ($30) to your order. But in the end, for $25 less and almost a full ounce lighter, we think the Spot 400 above is by far the better value for most.
See the Black Diamond Storm 500-R
Headlamp Comparison Table
Headlamp Buying Advice
Brightness: How Many Lumens Do You Need?
When buying a headlamp, one of the first questions you might be asking is, "how bright of a light do I need?" Brightness is measured in terms of lumens, and the lamps here have max outputs ranging from 200 (the Petzl Bindi) to 1,000 (the Coast FL75R). Most headlamps also have dimming capabilities or numerous modes that allow you to choose your level of brightness for any given situation—for example, the Bright As Day has four settings ranging rom 40 lumens to 800.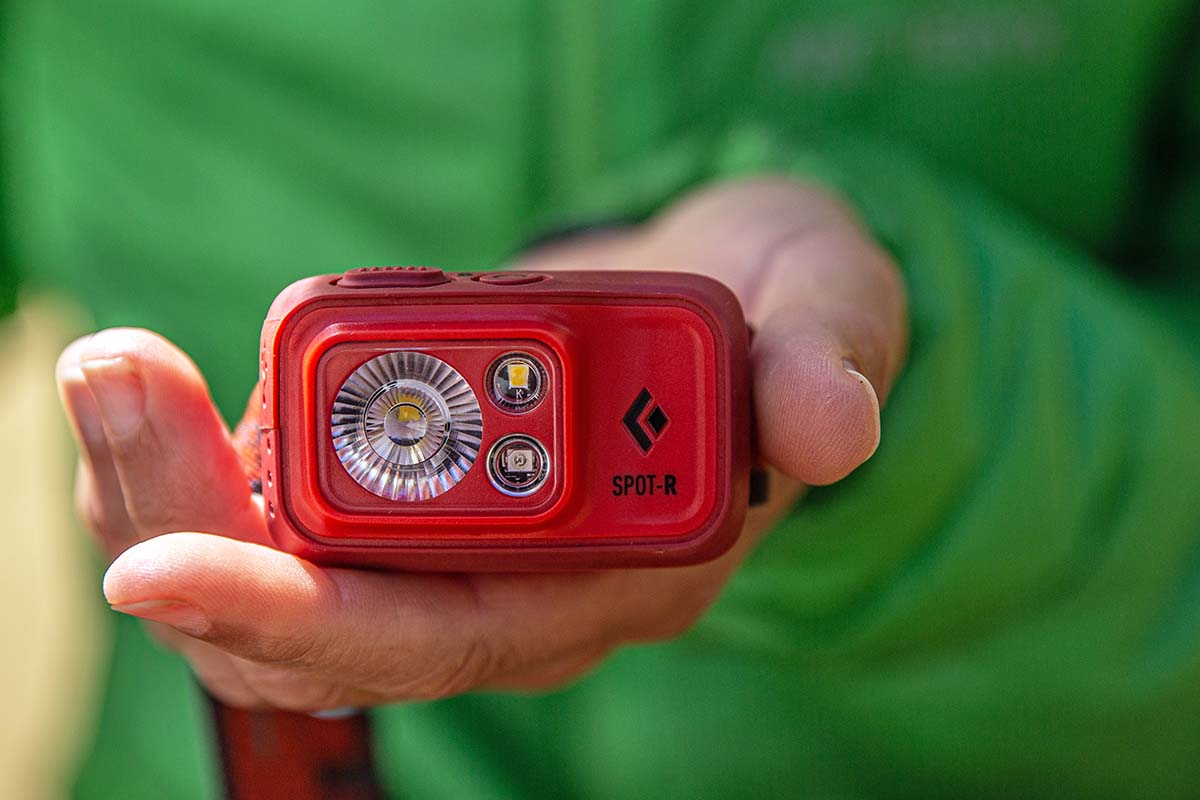 When deciding on the proper number of lumens, it's worth considering that you shouldn't plan on using the light's maximum setting for extended stretches as it will drain the battery quickly, but it's sure helpful to have a strong beam just in case. In general, we've found that 100-300 lumens are great for around the house and as a backup for hiking, backpacking, and camping. For a navigational aid in complete darkness, you'll want to jump into the 300-plus-lumen category. And for extremes like spelunking, climbing at night, or when you'll be traveling at higher speeds (such as a night trail run or mountain bike ride), plan on starting your search at 600 lumens.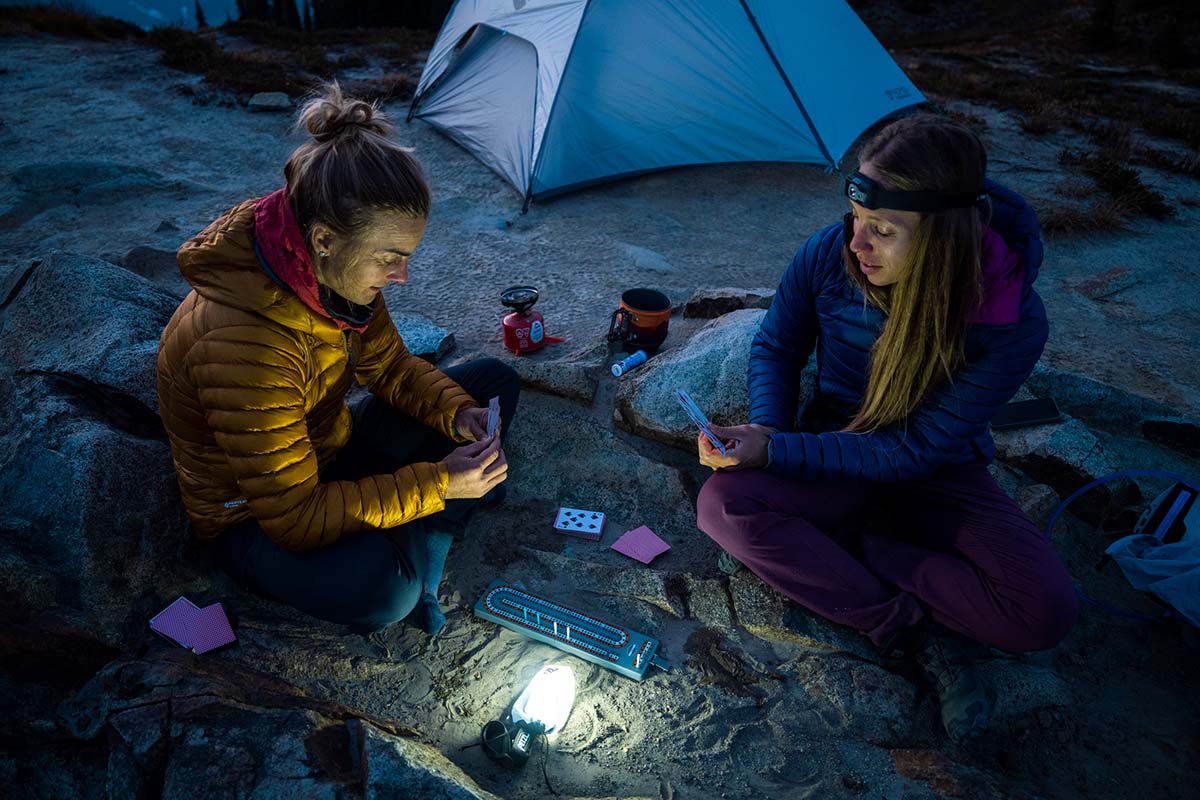 It's important to note that lumens do not perfectly represent the brightness and quality of a headlamp. What a lumen actually measures is the amount of visible light that these lamps can generate, which doesn't always translate to distance or how well it will illuminate a trail or campsite (for more on this, see "LED Types" below). The good news is that the picks listed above are quality headlamps with advanced optics (and we call out any exceptions), so lumens remain a helpful indicator of how bright your headlamp will be. Just be sure to also take into consideration beam distance, beam type, and brand reputation as opposed to relying solely on the lumen spec.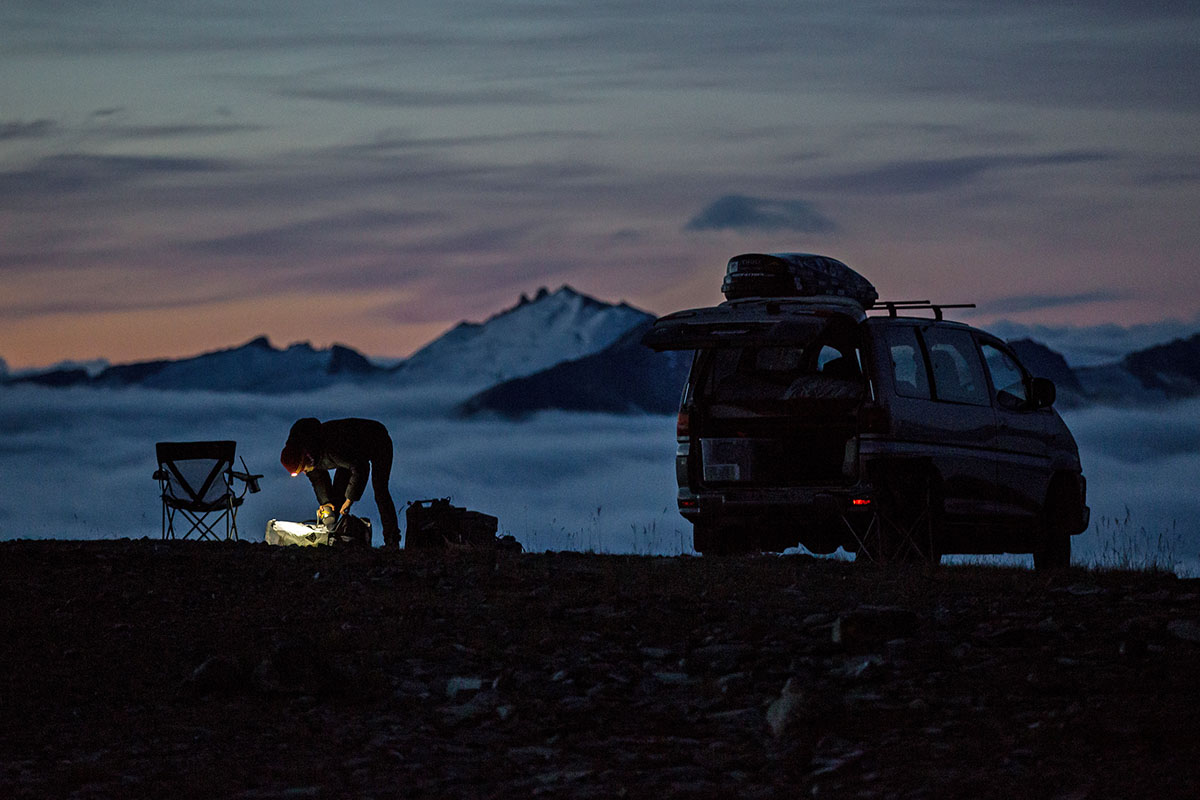 LED Types: Spot, Flood, Colored, and Strobe Lights
The average headlamp features a range of lighting modes, including spot, flood, colored, and strobe lights. The default setting for most lamps is their powerful LED spot beam, which focuses the light at a distance rather than casting it wide around you (the max distance these can reach is listed in the "max beam" section of our comparison table). While not necessary in all circumstances, a long-distance beam can be helpful for looking far down a trail, trying to spot an anchor while rappelling, or even for extreme uses like caving.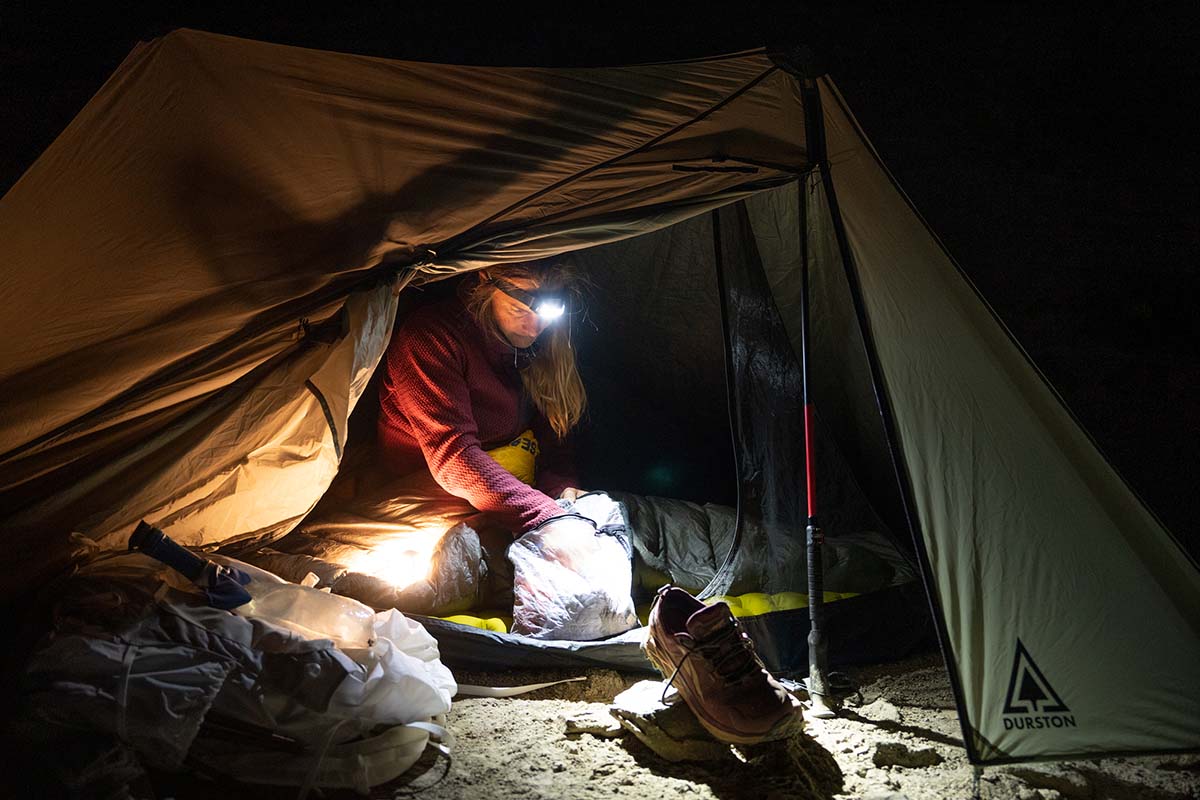 Not all headlamps have a flood light option, but it's a great function to have for proximity lighting. Best for around camp or in a tent, flood lights cast a wide beam and maximize the view right in front of you. Some headlamps will have two LEDs, one for spot lighting and one for flood lighting, while others (like the Coast FL75R) allow you to shape one single LED into a distance beam or an up-close flood. In their specs, most manufacturers will call out a lamp's beam distance—for example, the BioLite HeadLamp 325 has an 10-meter flood and a 70-meter spot.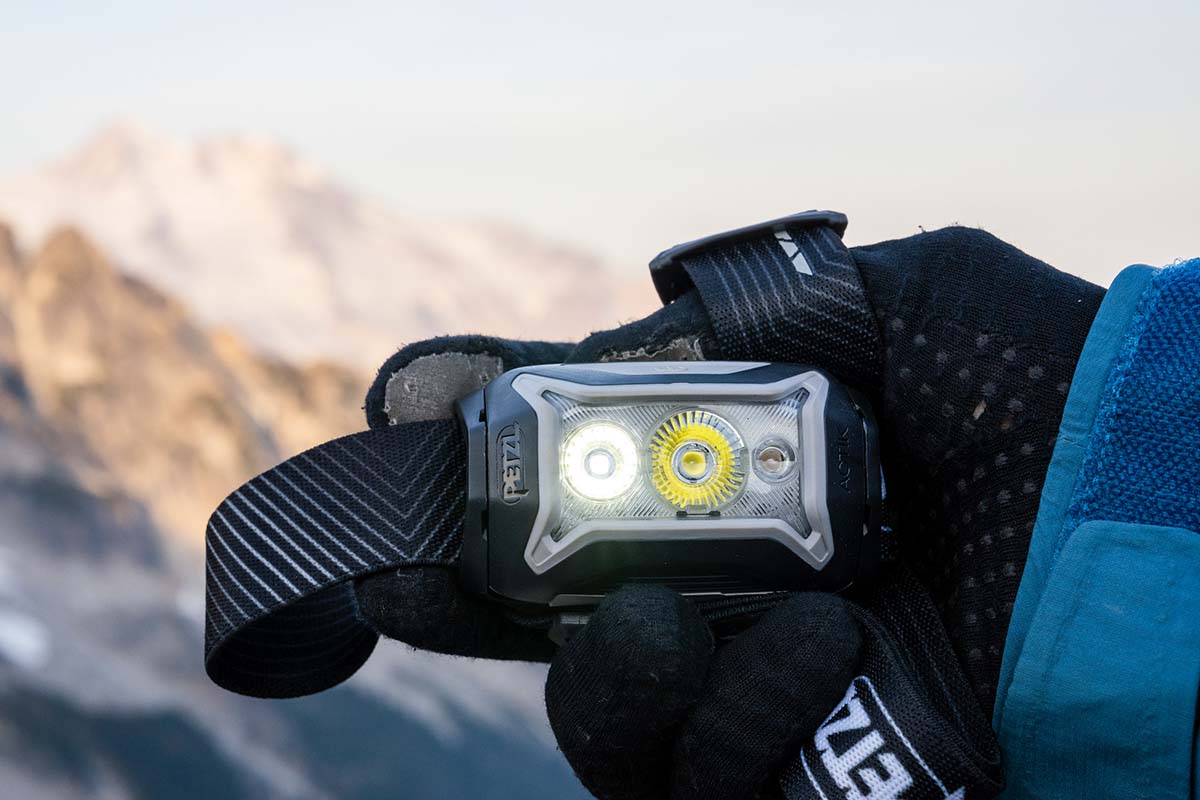 Many mid-range and high-end headlamps also include red (and sometimes blue and green) LEDs. We've found these useful for reading or hanging out at night as the soft light doesn't blind your friends or disturb your tentmates. Another plus is that these lights don't make your pupils readjust when you turn them on, so they're great for navigating a dark tent. Those with specific night needs will find that blue and green LEDs have their place (hunters, for example, will use blue for tracking as it allows them to differentiate between green foliage and the red blood of the animal). A number of headlamps also have some sort of emergency strobe function, which simultaneously is very visible and doesn't eat into your batteries as quickly.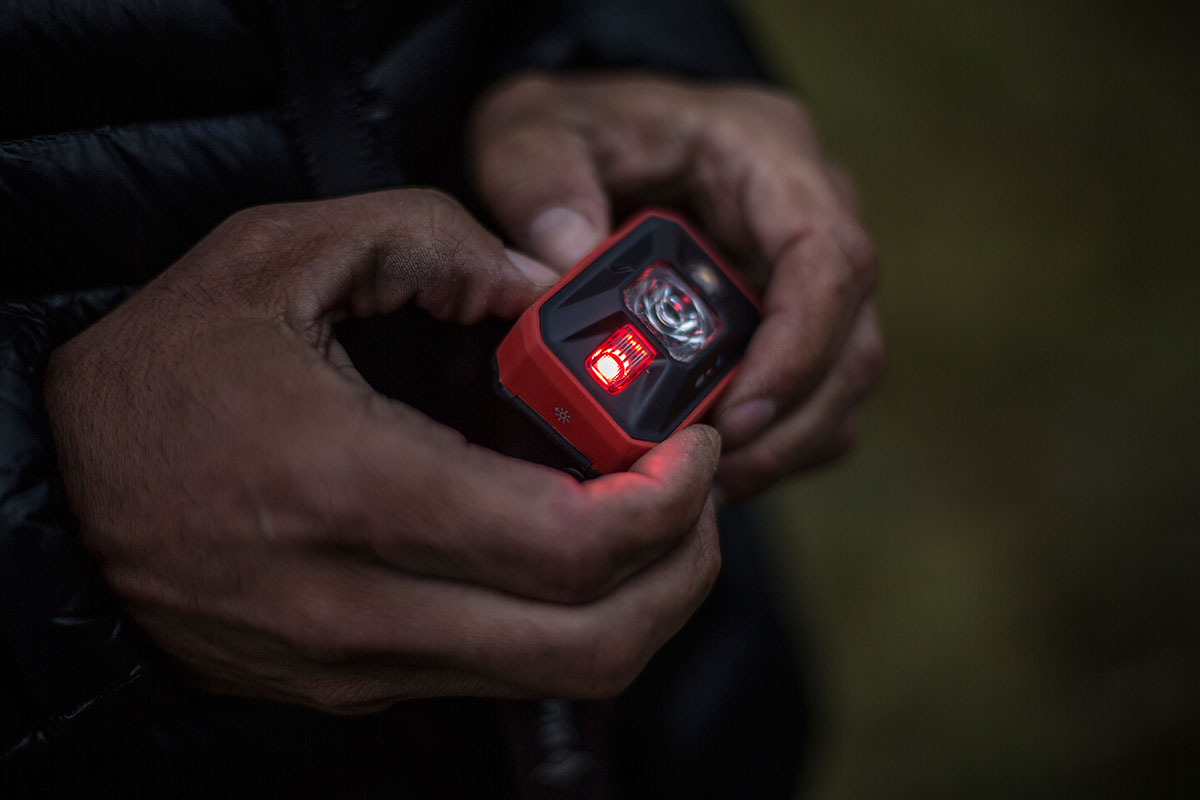 Headlamp Batteries
Battery Types: AAA, Rechargeable, and Hybrids
Most standard LED headlamps are powered by AAA batteries or a rechargeable lithium-ion battery, housed in either the main body of the light or at the back of the strap. Rechargeable batteries have become more ubiquitous in the past few years and are our preferred style for their convenience and streamlined size. The main downside with rechargeable batteries is that reviving a dead lamp is not as easy as swapping out AAAs, meaning you'll need to bring along a power bank or solar panel if you're in the field for days on end. For all rechargeable options, you do pay a little price premium, but keep in mind that the cost and waste of AAA batteries certainly can add up. In the end, we recommend rechargeable headlamps for most people and uses, but if you're looking to save money, want a cheap backup, or don't anticipate using your headlamp often, a AAA model can be a fine way to go.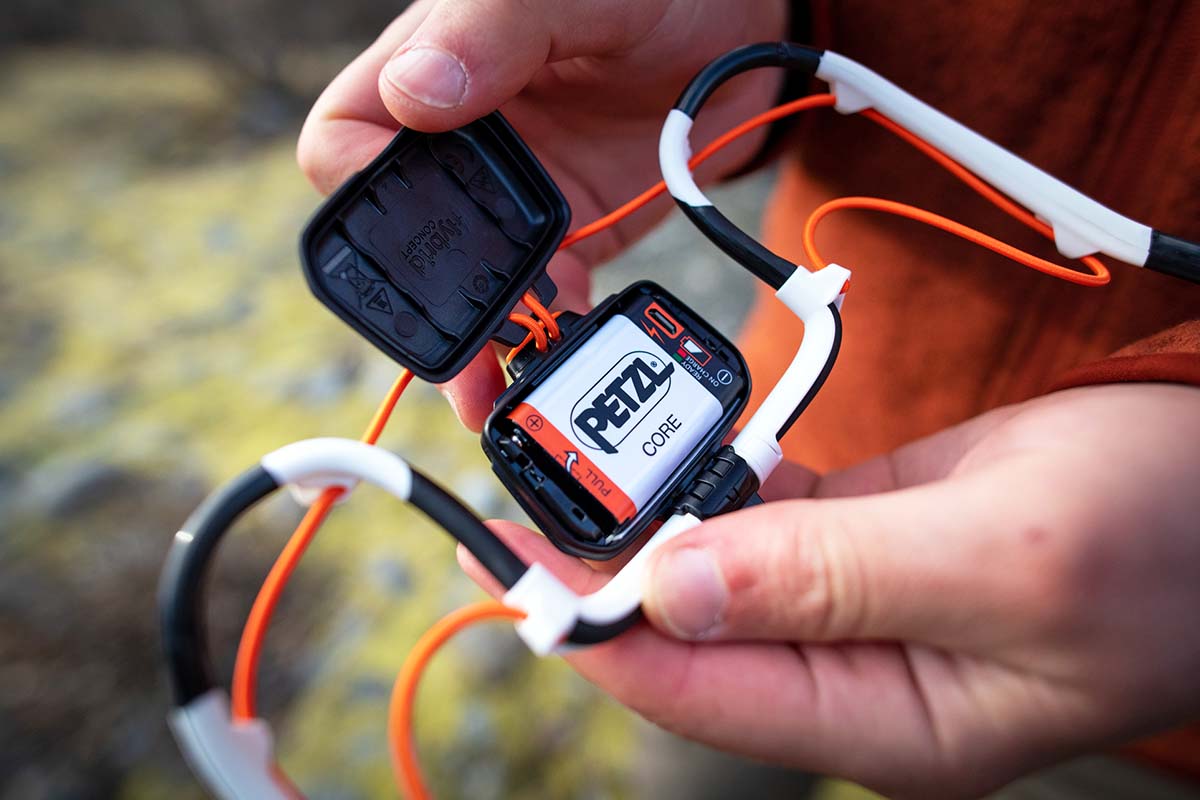 Some headlamps offer the versatility of both a rechargeable battery and compatibility with AAAs. Petzl was the initial brains behind this technology: Their USB-rechargeable Core battery can be purchased separately ($30) and functions with any of their headlamps that also run off three AAA batteries. A few years later, Black Diamond released a similar design (they call it Duel Fuel technology) in a number of their models, including the Storm, Spot, Astro, Onsight, and Cosmo. These headlamps come with AAA batteries, but are compatible with BD's 1500 lithium-ion battery (purchased separately for $20, or $30 with the charger). Our main gripe with BD's design is that the battery must be charged on the included charging dock, whereas Petzl's Core eliminates the need for extra equipment with a micro-USB port right on the battery. Both are great options for those wanting the benefits of a rechargeable headlamp alongside the versatility of AAAs, but we much prefer Petzl's design.
The majority of weight-conscious headlamps combine the LED and battery pack into one unit on the front of the head, but more powerful lights place their battery packs on the back of the strap. This is a bulky system, but it's often the best option for distributing the weight. Further, to help carry the load, this style typically features an additional strap running right over the top of the head for support and a secure fit. Finally, some headlamps have a detached battery pack that allows you to carry it close to your body to keep it warm in cold temperatures (for more on this, see "Cold-Weather Performance" below).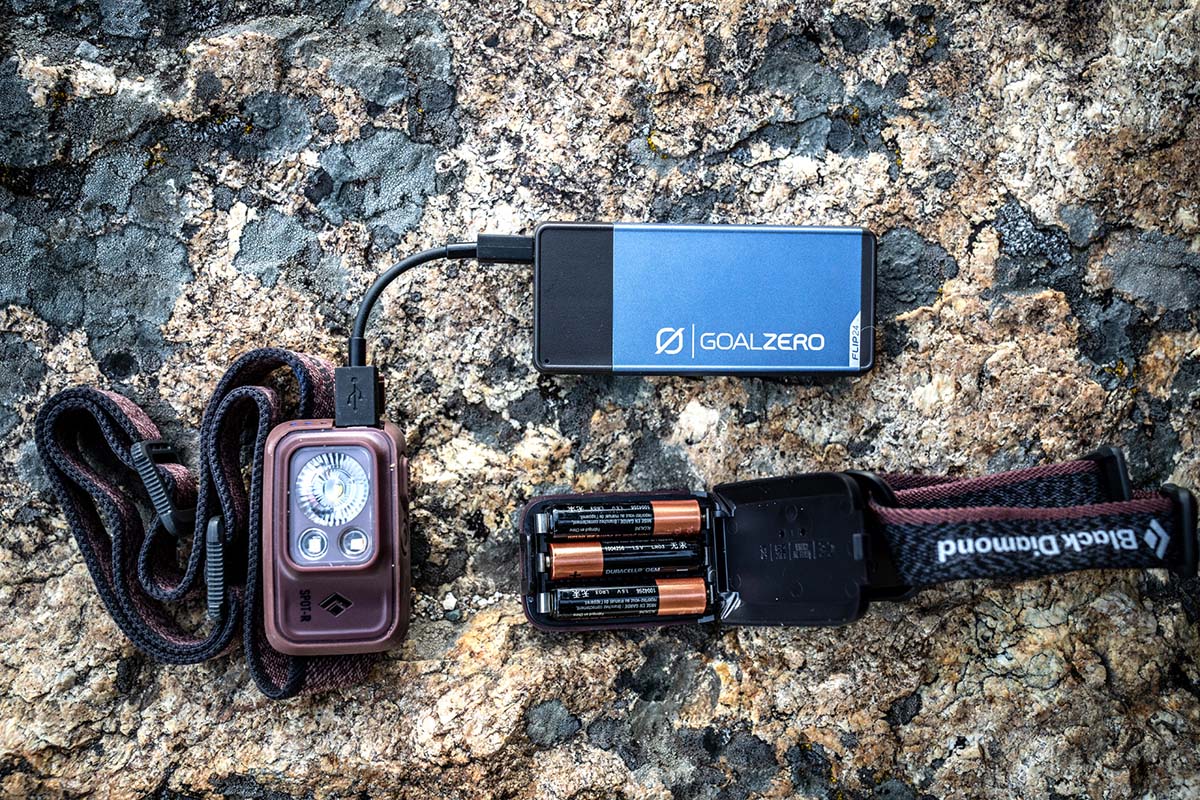 Battery Life
While we're on the subject of batteries, let's dive into a few thoughts on battery life. We used to list the advertised specs from the manufacturers (which often include the battery's lifespan in low, medium, and high), but over time found these numbers to be wildly unreliable. What's more, factors such as temperature, the age of the battery, and the recovery time (i.e. how long the light has been off) can have a big impact on longevity. In the end, there are a few general rules worth following: Using more lumens will drain a battery significantly faster than using fewer lumens (for this reason, we recommend being conservative with your brightness setting), and lithium-ion batteries are more powerful than AAA. And in terms of rechargeable batteries, we've found Petzl's Core batteries to be among the longest lasting between charges, and BioLite's to be among the quickest to die.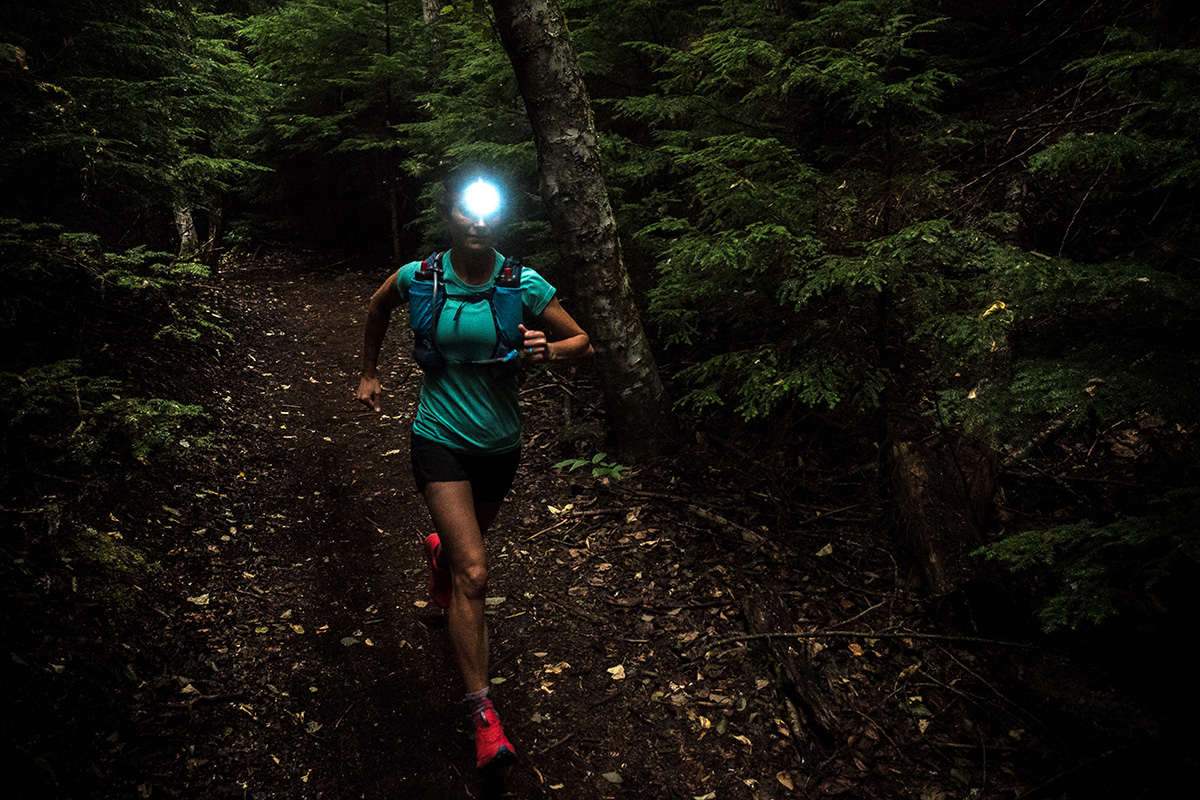 Keep in mind that some lights are regulated (like the Petzl Actik Core or Moonlight Bright As Day 800), where you'll get a near-constant light output before it drops off a cliff when the battery is spent. Other headlamps will fade as the battery life wanes. Headlamp manufacturers are getting much better at reporting these specs, but it still sometimes takes some digging to get the full answer. Look for charts that list the runtime alongside the lumens level, or, if the light is unregulated, check and see if the manufacturer lists the maximum beam distance throughout the lifespan of the batteries. These will give you a better like-for-like comparison.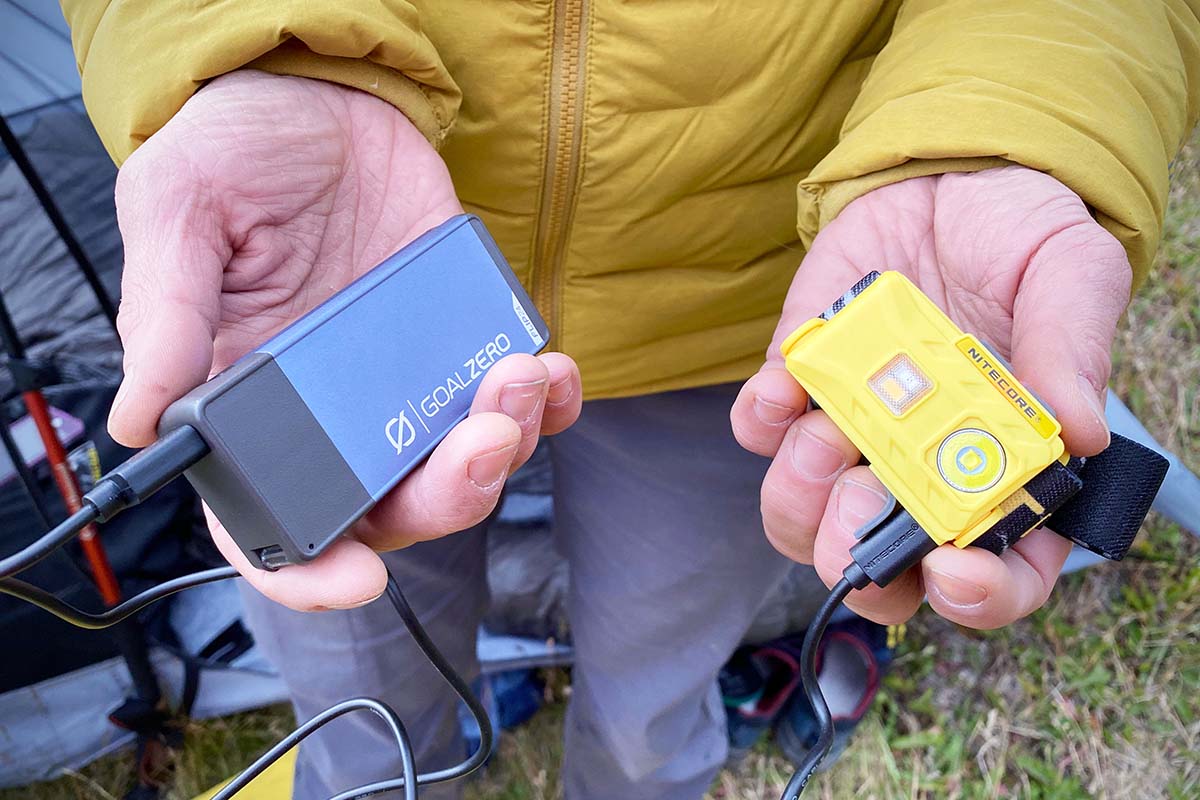 Weight
The weight of a headlamp varies from barely noticeable (the 1.2-oz. Petzl Bindi) to downright hefty (the 8.7-oz. Moonlight Bright As Day 800). Typically, the more powerful the headlamp and the more serious its intent, the heavier the lamp. Lightweight headlamps are made with thin plastic casing and require fewer batteries, while heavier options use aluminum or thick plastic to better handle hard impacts. If you don't need the most extreme lighting options, it's a good idea to purchase a lightweight lamp. They're more comfortable to wear, don't inhibit movement, and are easier to squeeze into a pack.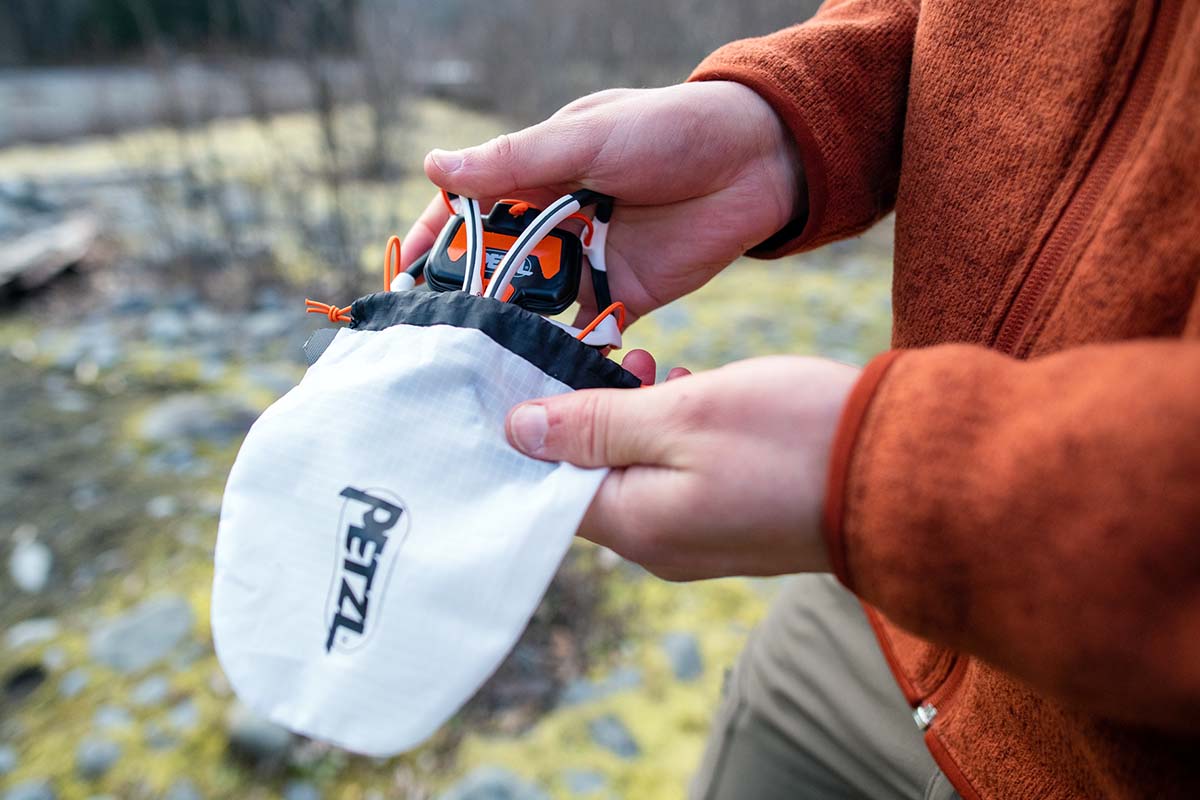 How the weight is distributed also plays an important role. The Black Diamond Spot 400 and sibling Storm 500-R both carry the batteries at the front, but the 2.7-ounce Spot feels much lighter on the head than the marginally heavier 3.5-ounce Storm. What seems like a minuscule decrease in weight makes a big difference in use: the Spot is comfortable doing just about anything, while the Storm starts to bob up and down if you start running. Putting the battery pack at the back of the strap becomes necessary as the weight continues to climb.
 
 

Straps and Carrying Comfort
Tied directly to the weight of the headlamp, strap styles range from minimalist to strong and supportive. There are two primary strap designs: a simple elastic nylon that wraps around the sides of your head and a two-piece system that has an additional strap running over the top of your head. The two-strap style is popular for heavier lamps or more serious adventuring when you'll be wearing a helmet like rock climbing, mountaineering, or caving. Most folks, however, still choose the simple around-the-sides design. They're usually helmet-compatible, easy to adjust, and plenty supportive for most uses around the house or in the outdoors.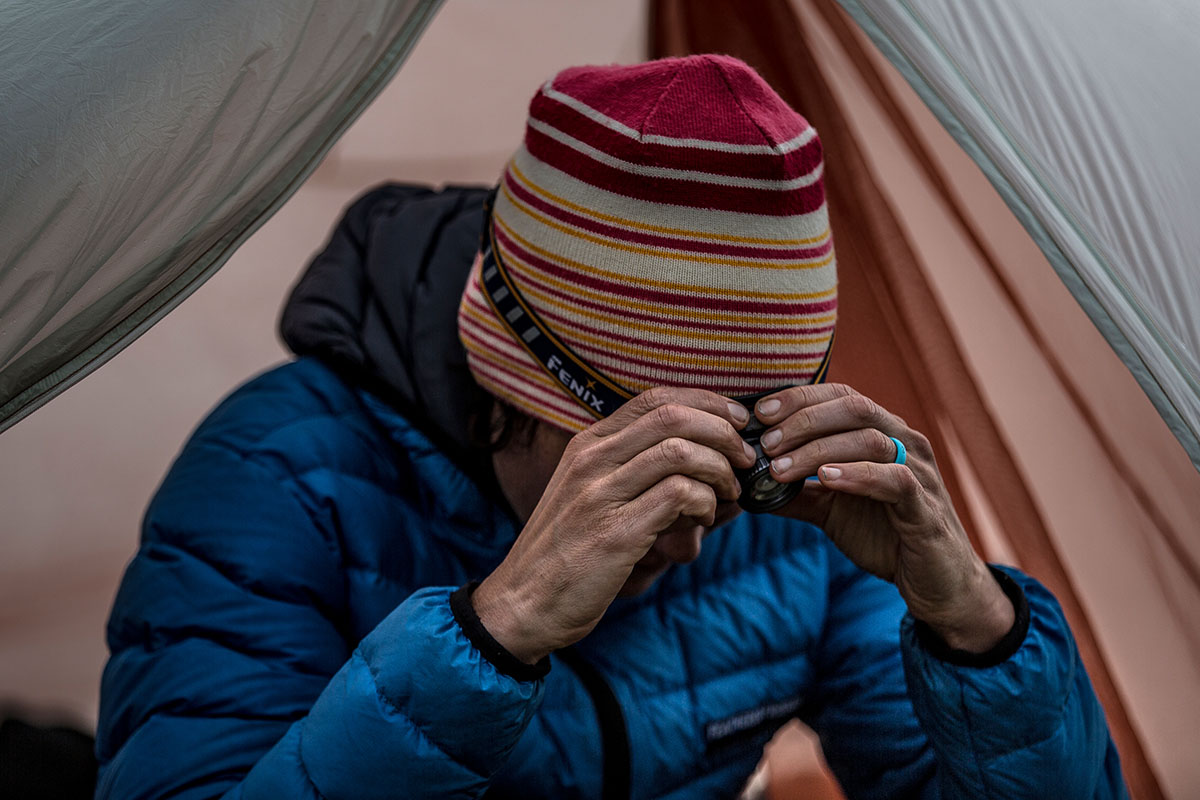 Water Resistance and IP Ratings
For serious outdoor use and extended exposure to the elements, you will want to consider the weather resistance of your headlamp. Some cheap headlamps offer little to no protection—as soon as the rain starts to pour, you're best off covering up and heading for your tent. But most mid-range and high-end models bump up the protection. The weather worthiness of electronics is tested using the IP ratings scale: On the low end, IPX0 equates to no protection at all, while IPX8 at the high end means the item can sustain prolonged immersion. Our high-performance pick, the Moonlight Bright As Day, gets an impressive IP67 rating, which means that it should continue operating even after being underwater for 30 minutes. The majority of the headlamps on this list are certified to at least IPX4, which should be enough to handle most rain and snow. The bottom line is that if you plan on spending time exposed to the elements, check the IP rating of your headlamp before buying (it's the right column in our handy comparison table above).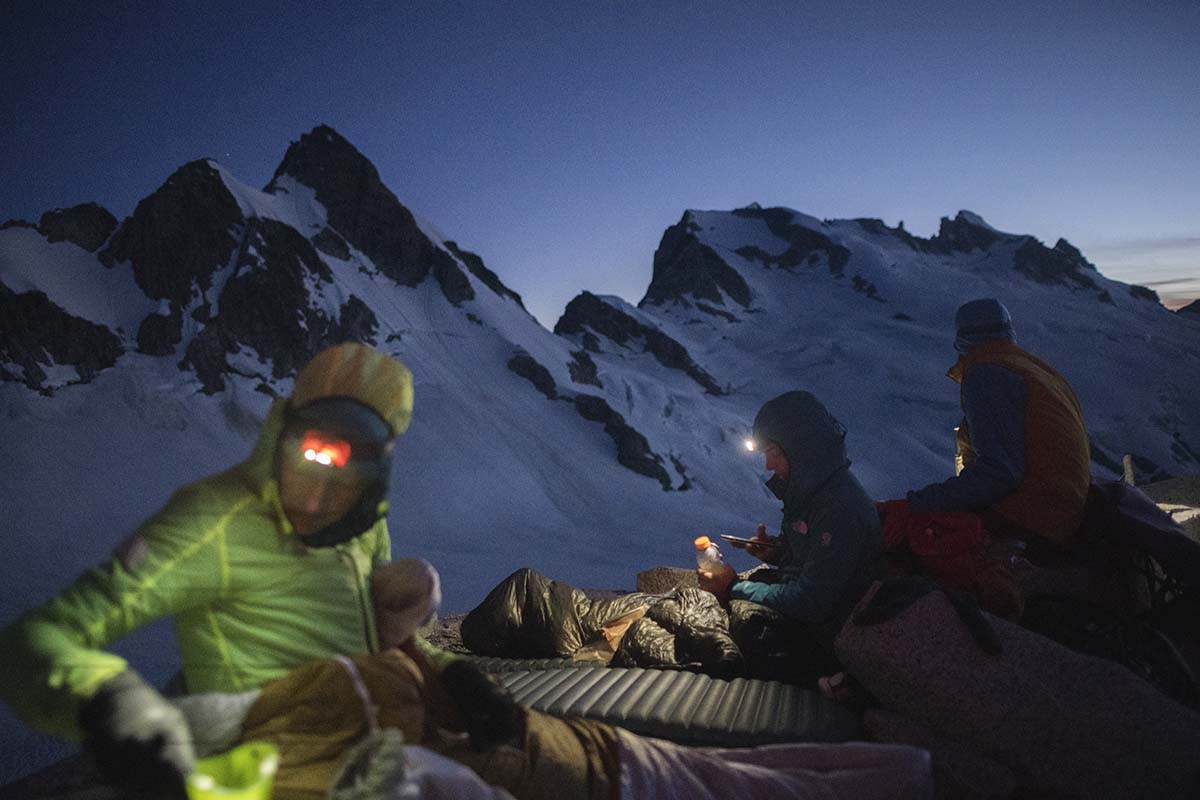 Cold-Weather Performance
Taking care of your electronics in the cold and keeping them operating can be a challenge (we know this well from taking camera batteries into the backcountry). In terms of headlamps, the first consideration is battery type. Traditional alkaline batteries are the worst of the bunch at working in the cold, so it's best to step up to lithium or rechargeable NiMH batteries for better performance. In addition, exposure to the cold can contribute to draining any type of battery, but there are ways to mitigate. Some headlamps, like those in the Moonlight Bright As Day collection, are made with a removable battery pack that can be stowed inside a pocket while powering the headlamp. And no matter what model you have, you'll want to keep your headlamp in a relatively warm place when you're not using it (we like to pack ours inside of wool socks) and even sleep with it inside your sleeping bag at night.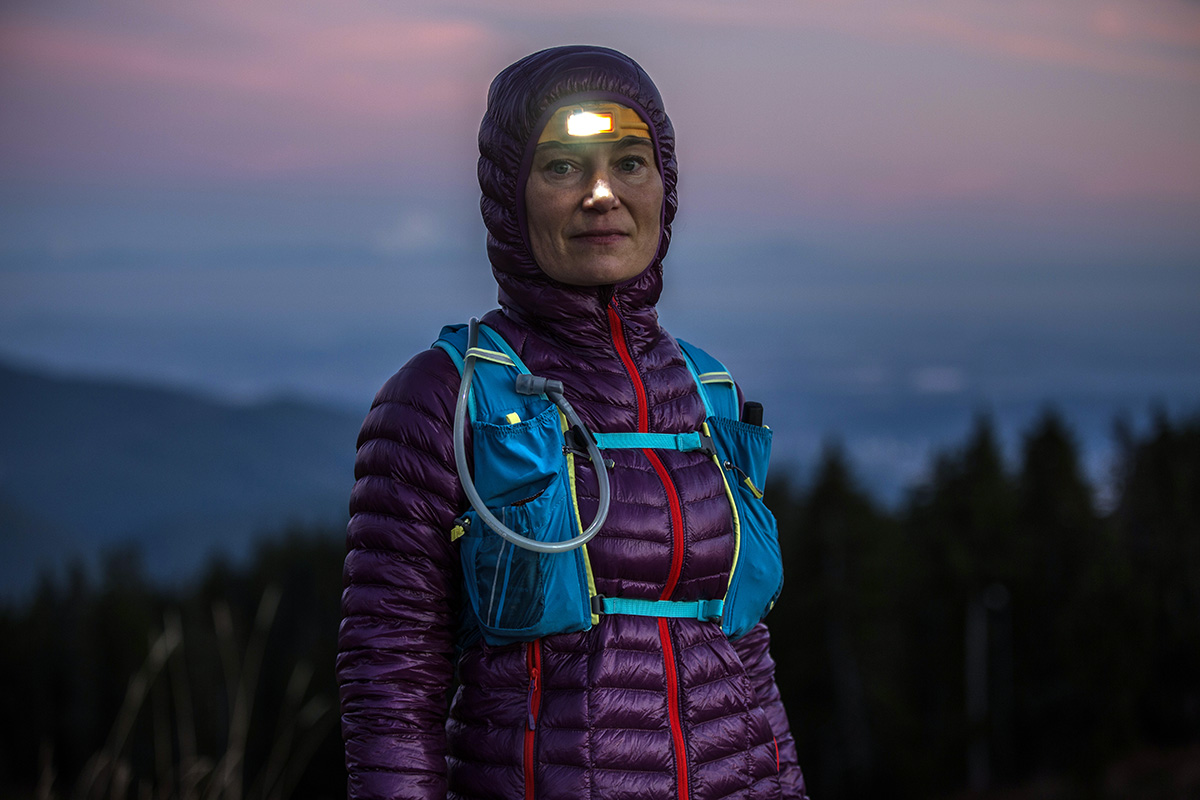 Running Headlamps
If you've ever run at night, you know that a good running headlamp is worth its weight in gold. The best headlamp for running will have a lightweight and streamlined build for minimal bounce and a well-balanced beam that lights up both your immediate surroundings and the path ahead. Many have features like red taillights for visibility on the road and reflective markings on the band. Our top pick for night joggers (the Black Diamond Sprinter) is a running-focused design that offers a top strap for security, a compact lamp, and both reflective logos and a rear red light. Keep in mind that by opting for such a running-specific light, you do give up some all-around versatility—the Sprinter's one LED doesn't switch between distance and proximity modes, making it less useful for around-camp use or spotting far-off anchors while climbing.
Back to Our Top Headlamp Picks  Back to Our Headlamp Comparison Table
Learn More About Outdoor Gear