The mirrorless camera revolution is in full swing. These impressive digital cameras pack large sensors into compact bodies, offering image quality that is far superior to point-and-shoots without the bulk of a digital SLR. And unlike other compacts, you can buy interchangeable lenses at the focal length or zoom range of your choice. As the lens choices continue to expand, buying a mirrorless camera makes more sense now than ever before. Below we break down the best mirrorless camera models of 2017, the cheapest of which are well under $500 with a kit lens included. Our mid-range picks add advanced features like electronic viewfinders and weather sealing, and the high-end cameras move well into professional territory. For more information, see our mirrorless camera comparison table and buying advice below the picks.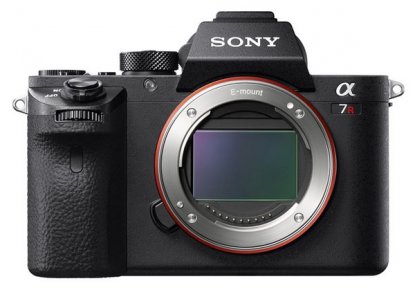 Megapixels: 42.4
Sensor size: 864 sq. mm
Weight: 22.1 oz.
What we like: The best mirrorless camera on the market.
What we don't: Videographers beware: the a7R II may overheat when shooting 4K for extended periods.
Lenses: 10 Great Sony FE (Full Frame) Lenses
The Sony a7R II is beyond the budget of most photographers, but it's hands down the best mirrorless interchangeable-lens camera on the market. This successor to the original a7R takes the strongpoints of the old version—a compact size and massive full-frame image sensor—and hones in the things that matter. The camera features an extremely impressive 42.4-megapixel back-illuminated image sensor, 4K video, improved low light performance, and built-in image stabilization. You also get weather sealing and a reinforced lens mount that can take on larger lenses (some people use an adapter on the a7R II for their Canon or Nikon lenses). With the second generation there really isn't much that this mirrorless camera can't do. The biggest obstacle here is price, which is higher than full-frame DSLR competitors like the Nikon D810 and Canon 5D Mark III. For those with less to spend, the Sony a7 II (no "R") is about half the price but only has 24.3 megapixels of resolution and no 4K video. It's still a fantastic camera and comes in at less than $2,000 with a 28-70mm kit lens.
See the Sony Alpha a7R II
Megapixels: 20.3
Sensor size: 225 sq. mm
Weight: 25.6 oz.
What we like: Hands down, the top mirrorless camera for video.
What we don't: Not full frame.
Lenses: 14 Great Micro Four Thirds Lenses
Serious video shooters have been heaping praise on the Panasonic GH4 for years, and the new GH5 ups the ante even more. Released in 2017, this is the top Micro Four Thirds camera on the market and an absolute beast on the video front. Among its most notable features are 4K functionality that rivals any DSLR, a highly advanced autofocus system, and a weather-sealed body that can handle long shoots in a variety of conditions. This impressive combination makes the GH5 a leading choice among serious videographers who want a compact and lightweight set-up.
How does the Panasonic Lumix GH5 differ from its predecessor? The camera now shoots 4K up to an impressive 60p, has in-body image stabilization, and higher resolution at 20.3 megapixels vs. 16 on the older model. We could go on and on, but videographers will be very pleased with the plethora of advanced features like 10-bit recording, an improved viewfinder, and a full HDMI socket, among others. And the cherry on top: we love the wide variety of lenses available in the Micro Four Thirds mount, the most extensive of any mirrorless camera type. If you don't want or need a full-frame camera, the GH5 is an excellent choice.
See the Panasonic Lumix GH5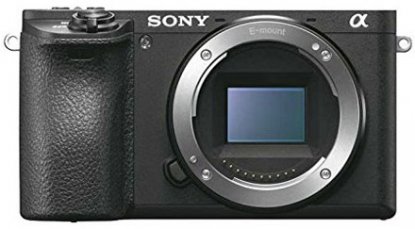 Megapixels: 24.2
Sensor size: 366 sq. mm
Weight: 16 oz.
What we like: Compact yet packs a serious punch.
What we don't: We still aren't crazy about the E-mount lens options.
Lenses: 11 Great Sony E-Mount (APS-C) Lenses
Just when you thought Sony couldn't keep innovating at the same blistering pace, at the end of last year the company released the new a6500 (only months after its predecessor, the a6300). Why the quick upgrade? Both are leading mid-range mirrorless cameras that offer 4K video, advanced autofocus, and weather resistant bodies that are well suited for the outdoors. But the a6500 adds in-body image stabilization and touchscreen functionality to the rear LCD, both of which are useful changes that improve image quality and user experience. With a $400 increase in price over the a6300, both models are excellent and the choice comes down to budget.
As is the case with the full-frame Sony cameras like the a7S II and a7R II, some users have reported overheating when shooting 4K video for extended periods of time. This means that the Panasonic GH5 above likely will retain the top spot among serious videographers, but the a6500 is a terrific all-around option nevertheless. It's one of the go-to cameras for outdoor photographers wanting a compact setup.
See the Sony Alpha a6500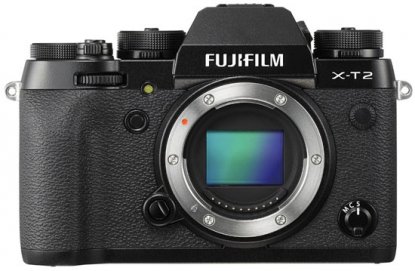 Megapixels: 24.3
Sensor size: 368 sq. mm
Weight: 17.9 oz.
What we like: A major improvement from the X-T1, which was already a stellar mirrorless camera.
What we don't: The addition of 4K is nice, but for serious videographers Sony and Panasonic cameras still reign supreme. ​
Lenses: Best Lenses for Fujifilm X-T2
First, we unabashedly love Fujifilm mirrorless cameras. They have the truest color rendition on the market and offer superb image quality for uses like travel and people photos. Released last year, the second generation X-T2 is a major step up from the X-T1, offering more megapixels, 4K video, and the best autofocus of any Fujifilm mirrorless model to date (autofocus was an issue with our X-T1, but the X-T2 is much more advanced in that regard). Along with the array of quality Fujinon lenses, the X-T2 is a serious camera that should make discerning photographers happy, and particularly those that like the classic look and feel.
It's interesting to note that Fujifilm has skipped competing with Sony's full-frame mirrorless lineup and has gone straight to medium format with the GFX 50S below. This camera has a massive sensor and 50.4 megapixels of resolution, but in our opinion is too much camera for most people (you're looking at $10,000 or more with lenses). Instead we give the nod to the more practical X-T2, which still offers great image quality and a sturdy build. Another Fuijfilm camera to consider in this price range is the X-Pro2, which is more rangefinder-like in design but behind the X-T2 in most other features.
See the Fujifilm X-T2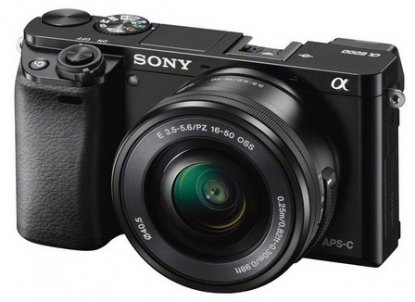 Megapixels: 24.3
Sensor size: 366 sq. mm
Weight: 12.2 oz.
What we like: A tremendous value.
What we don't: Lacks 4K video and isn't weather resistant.
Lenses: Best Lenses for Sony a6000
The Sony a6000 was the original successor to the NEX series and now is a couple years old and counting, but is a great value at around $600 with a kit lens. Most importantly, you get a 24.3-megapixel APS-C image sensor, fast shooting at up to 11 frames per second, 1080p video, and built-in Wi-Fi and NFC. With a weight of just over 12 ounces and very approachable price tag, there is a lot to like about the Sony a6000.
What do you sacrifice by going with the older model? The a6000 lacks 4K video, in-body image stabilization, and weather resistance. It's also true that the 16-50mm kit lens is merely decent but won't make your photos really pop, so you may want to add a superior zoom or prime in the focal length range you shoot most. But we can't overlook the value—the a6000 literally is just over one-quarter the cost of the flashy Olympus OM-D E-M1 Mark II below but still does a darn good job in terms of performance. If you want a quality mirrorless camera on a budget, the Sony a6000 is our top choice.
See the Sony Alpha a6000
Megapixels: 20.3
Sensor size: 226 sq. mm
Weight: 20.3 oz.
What we like: Absolutely packed with features and functionality.
What we don't: Too expensive for our tastes, and particularly if you don't shoot action.
Lenses: 14 Great Micro Four Thirds Lenses
For those who love the Micro Four Thirds system and have money to spend, the OM-D E-M1 Mark II is a very impressive mirrorless camera that shows just how far this technology has come. This camera has pretty much all the bells and whistles that enthusiasts need and want: in-body image stabilization, fast burst rates for action photography, 4K video, and a weather-sealed magnesium alloy body that is great for shooting outdoors in tough conditions. For everything from street and travel photos to landscapes, this camera does it all.
Our biggest issue with the OM-D E-M1 Mark II is the cost. At $2,000 for the camera body alone, this Mark II is more expensive than popular full-frame DSLRs like the Nikon D750 or Canon 6D, and roughly the same as the impressive Nikon D500, another action specialist. But if you're willing to pay for Olympus's Pro lenses that can match the quality and performance of the camera, the E-M1 Mark II is a viable lightweight alternative to just about anything on the market.
See the Olympus OM-D E-M1 Mark II
Megapixels: 24.3
Sensor size: 368 sq. mm
Weight: 15.7 oz.
What we like: Hybrid optical/electronic viewfinder is a rarity.
What we don't: Can't compete with the X-T2 in terms of features.
Lenses: Best Lenses for Fujfilm X-Pro2
First, the Fujifilm X-Pro2 is an excellent mirrorless camera, and particularly for those who specialize in still photography. However, the release of the X-T2 above made it much less relevant and bumped it down this list. Both cameras produce similar image quality overall with 24.3-megapixel image sensors, but the X-T2 wins out in features with 4K video, superior autofocus, an articulating rear LCD, and faster burst rates. The X-Pro2 does have a hybrid viewfinder that offers both optical and electronic functionality, which is a notable upside for those who frequently use manual focus and prime lenses. But in a head-to-head matchup, we still favor the X-T2.
Who should choose the X-Pro2 over the X-T2? If you don't care about video and want a mirrorless camera with an optical viewfinder, the X-Pro2 is the ticket. Other rangefinder-esque cameras from brands like Leica will cost you considerably more. And it's worth noting that the latest firmware update did improve the autofocus on the X-Pro2 to make it more competitive.
See the Fujifilm X-Pro2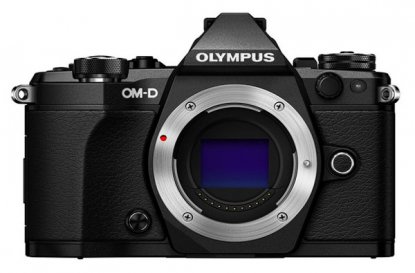 Megapixels: 16.1
Sensor size: 225 sq. mm
Weight: 14.4 oz.
What we like: One of Olympus' best mirrorless cameras for video.
What we don't: No substantial improvements in image quality over the E-M5 (we'd like to see more megapixels).
Lenses: Best Lenses for Olympus OM-D E-M5 Mark II
Following in the footsteps of the highly popular OM-D E-M5, the Mark II is a beast of a mirrorless camera given its small size. Upgrades include improved video performance, a larger rear LED screen, faster burst rates and shutter speeds, and a beefed-up grip. You also get weather sealing and a wide selection of Mirco Four Thirds lenses to choose from. All of this functionality does have an impact on battery life, which is shorter than the E-M5.
Two main competitors for the Olympus OM-D E-M5 Mark II are the older Sony a6300 (now replaced by the a6500) and Fujifilm X-T20 below. Both the Sony and Fujifilm have larger sensors and win out for still photography, but the E-M5 II is a really nice all-rounder for both videos and stills. We also prefer the Micro Four Thirds lens options to Sony E-Mount.
See the Olympus OM-D E-M5 Mark II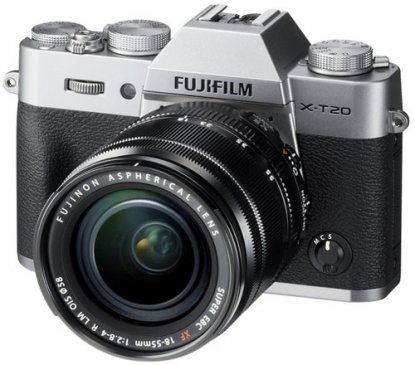 Megapixels: 24.3
Sensor size: 368 sq. mm
Weight: 13.5 oz.
What we like: The same sensor and processor as the X-T2 for about $600 less.
What we don't: No weather sealing.
Lenses: 10 Great Fujifilm X-Mount Lenses
Fujifilm's two flagship mirrorless cameras are represented above in the X-T2 and X-Pro-2, but we still really like the cheaper X-T20. Essentially, the X-T20 is a simpler version of the X-T2, forgoing features like weather sealing, an autofocus joystick, and an advanced LCD screen. But image quality is basically the same—both cameras have the same 24.3-megapixel sensors and processors—not to mention the X-T20 is lighter and considerably less expensive. We love the X-T2, but if you want access to Fujifilm's legendary image quality and color rendition at a sub-$1,000 price point, the X-T20 is the way to go.
Keep in mind that the X-T20 is behind the field in some ways. As mentioned above, it's not weather sealed (comparable mirrorless cameras like the Sony a6300 and Olympus OM-D E-M5 Mark II are weather sealed). And Fujifilm video quality still is inferior to brands like Sony and Panasonic, although it has improved significantly over the last couple of years. But for those who shoot mostly still photography and want premium image quality in a compact package, the X-T20 is a terrific mirrorless camera at a good price.
See the Fujifilm X-T20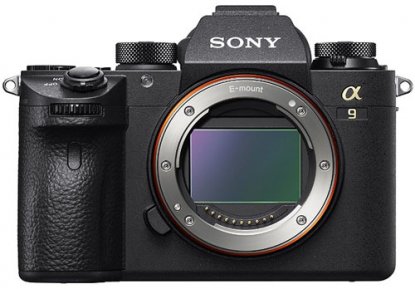 Megapixels: 24.2
Sensor size: 864 sq. mm
Weight: 23.7 oz.
What we like: Incredibly fast shooting at 20 fps.
What we don't: Only makes sense for serious action photographers.
Lenses: 10 Great Sony FE (Full Frame) Lenses
Until the spring of 2017, mirrorless cameras provided stiff competition in terms of resolution and video quality, but speed was the exclusive realm of digital SLRs. Professional sports and action photographers carried blazing fast full-frame DSLRs like the Canon 1DX Mark II and Nikon D5, and there wasn't even a close competitor in the mirrorless world. But nobody has been innovating at the pace of Sony, and it should come as no surprise that the new Alpha a9 is the fastest interchangeable-lens camera on the market, mirrorless or otherwise. Just how fast is the Sony Alpha a9? It shoots a whopping 20 fps, which dwarfs the Canon 1DX Mark II (14 fps) and Nikon D5 (12 fps). More, you get an ultra-advanced, 693-point phase-detection autofocus system, built-in image stabilization, 4K video, and almost all of the other features that have made Sony's full-frame mirrorless cameras so popular.
Like the Fujifilm GFX 50S below, practicality and cost are what keep the Sony Alpha a9 from ranking higher on this list. Few people outside of professional action photographers need anything close to 20 fps of shooting speed, and many of them aren't paying for their camera in the first place. In addition, the a9 has 24.2 megapixels of resolution, which is perfectly respectable for an action camera but markedly less than the a7R II at 42.4. We really like this camera and expect it to be a big hit among enthusiasts (kudos to Sony for making a big jump in technology, again), but it remains a niche model that only appeals to certain people and uses. For non-action and taking price into account, we prefer the a7R II above.
See the Sony Alpha a9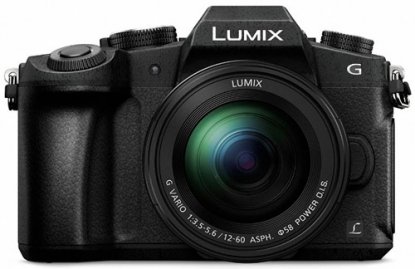 Megapixels: 16
Sensor size: 224 sq. mm
Weight: 14.6 oz.
What we like: 4K video and high fun factor.
What we don't: Lower resolution than most other cameras on this list.
Lenses: 14 Great Micro Four Thirds Lenses
The Panasonic G85 is a bit of a tweener: it's not a true enthusiast mirrorless camera, but definitely is not entry level either. And if you compare it to premium point-and-shoots like the Sony RX100 V that is similar in cost, we would take the G85 in a heartbeat. Simply put, if you're looking for quality photos and videos but don't need quite as many features as the mirrorless cameras above, give the Panasonic G85 a serious look.
Panasonic is known for video, so it's no surprise that the G85 shoots 4K and is darn good at it. You also get a 16-megapixel Micro Four Thirds sensor, fast continuous shooting, and good autofocus for the price. New to this model (the G85 replaced the G7) is weather sealing and built-in image stabilization. Compared to a camera like the Canon M5, you don't get quite the resolution with a smaller image sensor and fewer megapixels, but the 4K video, sleek design, and access to good lenses all are big selling points. For video shooters looking in the sub-$1,000 price range, the G85 may be the ticket.
See the Panasonic Lumix G85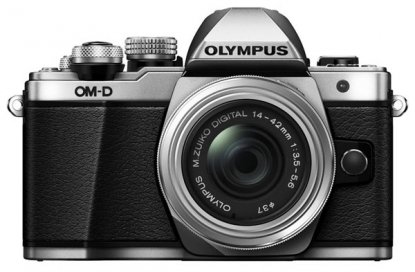 Megapixels: 16.1
Sensor size: 225 sq. mm
Weight: 13.8 oz.
What we like: Great image quality for the price.
What we don't: Camera is small in the hand and can be tough to grip.
Lenses: 14 Great Micro Four Thirds Lenses
Olympus makes some of the top mirrorless interchangeable-lens cameras, but some consumers have felt the squeeze when considering high-end models like the OM-D EM-1 Mark II and OM-D EM-5 Mark II. Enter the OM-D E-M10 Mark II, a more affordable option that offers Olympus' signature image quality and easy-to-use functionality for around $600 with a kit lens. With this camera you get the same image sensor as the pricier E-M5 Mark II, and new to the camera is 5-axis image stabilization and an improved electronic viewfinder, among other features.
This is a terrific little mirrorless camera and one of the best values in Olympus' heralded OM-D lineup. Keep in mind that the E-M10 Mark II feels considerably less substantial than the cameras above. This is ideal for some, as the low carrying weight and compact size are ideal. But serious photographers may be frustrated with the small form factor compared to the DSLR or pro mirrorless model they are used to. It also lacks weather sealing, an important consideration for enthusiasts and landscape photographers who frequently shoot outdoors.
See the Olympus OM-D E-M10 Mark II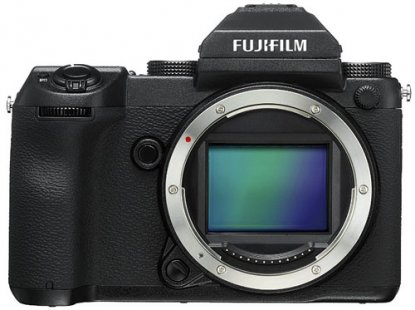 Megapixels: 51.4
Sensor size: 1,441 sq. mm
Weight: 29.1 oz.
What we like: The highest resolution on this list by far.
What we don't: Too much camera for most people.
Recently we asked a Fujifilm rep whether they were making a full-frame mirrorless camera to compete with the likes of Sony's venerable Alpha series. They were stoically silent and now we know why: Fujifilm skipped full frame altogether and jumped right into medium format. Instead of an already large 36 x 24 mm (864 sq. mm) full-frame sensor, Fujifilm's medium format is a massive 43.8 x 32.9 mm (1,441 sq. mm). If you thought full-frame sensors captured a lot of light and information, try medium format.
We love the concept of the Fujifilm GFX 50S, but have a few reasons why we wouldn't buy it right now. The first is practicality—there's a legitimate argument about how much resolution one actually needs. We've compared photos shot on the Fujifilm GFX 50S with those from the Sony a7R II with fast Zeiss lenses, and to us the Fujifilm isn't discernibly better (at least on a computer, albeit a rather large one). More, the GFX system is new and the lens options are very sparse—Fujifilm currently offers five G-mount lenses and the roadmap is limited. Finally, the camera is extremely pricey at $6,500 for the body alone, so you can expect to spend $10,000 and up with lenses. The GFX 50S is an outrageous camera and we very much appreciate the quality of Fujifilm images, but realistically it's out of most people's league.
See the Fujifilm GFX 50S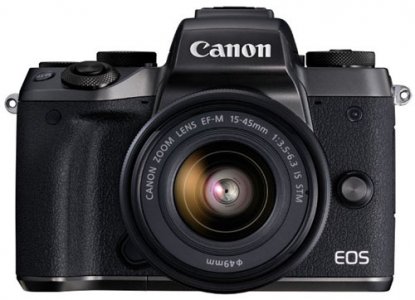 Megapixels: 24.2
Sensor size: 332 sq. mm
Weight: 15.1 oz.
What we like: You can use your Canon DSLR lenses with an adapter.
What we don't: The camera doesn't stand out in any way.
Everyone keeps waiting for Canon or Nikon to make a big splash in the mirrorless camera market, but unfortunately the M5 was merely a ripple. Nothing is inherently wrong the M5: it comes with a 24-megapixel APS-C image sensor, a tilting touchscreen around back, a crisp electronic viewfinder, and reasonably fast continuous shooting at up to 9 fps. But the mid-range mirrorless field is just too competitive in 2017, and the M5 lacks features like 4K video and weather sealing that have become almost standard. Compared to the options above from Sony and the Micro Four Thirds family, the M5 just does not stand out in any way.
One notable upside of buying the M5 is that Canon EF-S (DSLR) lenses are compatible with an adapter (this includes both autofocus and image stabilization, which aren't guarantees in the world of lens adapters). Going mirrorless can be intimidating, so if you own Canon lenses and want to make the jump without starting over entirely, the M5 is a decent option.
See the Canon EOS M5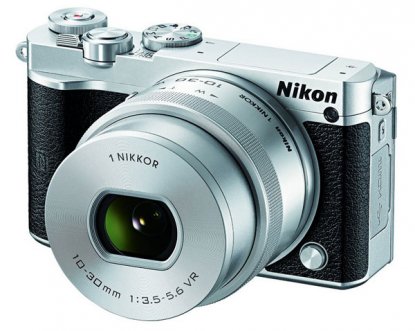 Megapixels: 20.8
Sensor size: 116 sq. mm
Weight: 9.4 oz.
What we like: Fast shooting and good styling (finally).
What we don't: Small image sensor.
Nikon has had a mixed foray into mirrorless cameras: their models to date have smaller sensors than the competition but are packed with functionality. The new Nikon 1 J5 is the best one yet, featuring more megapixels than its predecessors at 20.8, better ergonomics with an improved grip, and Nikon's fast EXPEED 5A processor. In addition, the 1 J5 does not have an optical low pass filter like many of Nikon's latest DSLRs, which results in better sharpness, and has built-in Wi-Fi and NFC.
All things considered, we really like the improvements on the 1 J5. The classic styling looks better and should be easier to carry and work with. Our biggest gripe still is the relatively small CX sensor—all of the other mirrorless cameras in this list are in the Micro Four Thirds or APS-C size range (or larger in the case of Sony's A series). But if you're willing to sacrifice sensor size for features and speed, the Nikon 1 J5 is an intriguing option.
See the Nikon 1 J5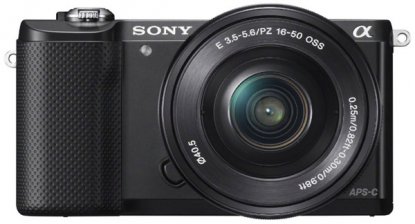 Megapixels: 20.1
Sensor size: 357 sq. mm
Weight: 9.5 oz.
What we like: Compact and cheap: the a5000 is the least expensive Sony mirrorless camera.
What we don't: Slightly lower resolution than other Alpha models and fewer features.
Lenses: 11 Great Sony E-Mount (APS-C) Lenses
This is the fourth Sony camera to make this list and the company clearly dominates the market from top to bottom. The a5000 is the cheapest Sony mirrorless camera you'll find, having replaced the old NEX-3 at the entry-level point of the lineup. Despite not coming equipped with features like touchscreen functionality, an electronic viewfinder, a fast burst rate (the a5000 is relatively slow for mirrorless at 4 fps), or weather sealing, we like the image quality and size for the price. For just over $500 with a kit lens, you get 20.1 megapixels of resolution in a compact camera body that weighs only 9.5 ounces. If you want advanced features and better image quality you'll have to spend up for the privilege. But for those getting new to mirrorless and Sony's Alpha system, the a5000 is a good starter camera.
See the Sony Alpha a5000

Mirrorless Camera Comparison Table
| Camera | Price | MP | Sensor Size | Weight | EVF | 4K | Burst | Weather |
| --- | --- | --- | --- | --- | --- | --- | --- | --- |
| Sony Alpha a7R II | $2,698 | 42.4 | 864 sq. mm | 22.1 oz. | Yes | Yes | 5 fps | Yes |
| Panasonic Lumix GH5 | $1,998 | 20.3 | 225 sq. mm | 25.6 oz. | Yes | Yes | 12 fps | Yes |
| Sony Alpha a6500 | $1,348 | 24.2 | 336 sq. mm | 16 oz. | Yes | Yes | 11 fps | Yes |
| Fujifilm X-T2 | $1,599 | 24.3 | 368 sq. mm | 17.9 oz. | Yes | Yes | 8 fps | Yes |
| Sony Alpha a6000 | $598 | 24.3 | 366 sq. mm | 12.2 oz. | Yes | No | 11 fps | No |
| Olympus OM-D E-M1 Mark II | $1,999 | 20.4 | 225 sq. mm | 20.3 oz. | Yes | Yes | 15 fps | Yes |
| Fujfilm X-Pro2 | $1,699 | 24.3 | 368 sq. mm | 15.7 oz. | Yes | No | 8 fps | Yes |
| Olympus OM-D E-M5 Mark II | $999 | 16.1 | 225 sq. mm | 14.4 oz. | Yes | No | 10 fps | Yes |
| Fujifilm X-T20 | $1,149 | 24.3 | 368 sq. mm | 13.5 oz. | Yes | Yes | 14 fps | No |
| Sony Alpha a9 | $4,498 | 24.2 | 864 sq. mm | 23.7 oz. | Yes | Yes | 20 fps | Yes |
| Panasonic Lumix G85 | $998 | 16 | 224 sq. mm | 14.6 oz. | Yes | Yes | 9 fps | Yes |
| Olympus OM-D E-M10 Mark II | $549 | 16.1 | 225 sq. mm | 13.8 oz. | Yes | No | 8.5 fps | No |
| Fujifilm GFX 50S | $6,499 | 51.4 | 1,441 sq. mm | 29.1 oz. | Yes | No | 3 fps | Yes |
| Canon EOS M5 | $1,099 | 24.2 | 332 sq. mm | 15.1 oz. | Yes | No | 9 fps | No |
| Nikon 1 J5 | $497 | 20.8 | 116 sq. mm | 9.4 oz. | No | No | 20 fps | No |
| Sony Alpha a5000 | $528 | 20.1 | 357 sq. mm | 9.5 oz. | No | No | 3.5 fps | No |




Mirrorless Camera Buying Advice
Image Sensor
Here at Switchback Travel we praise image sensor size over megapixels, which has a larger impact on image quality. The good news for consumers is that virtually all mirrorless cameras have large sensors that are similar to most entry-level and mid-range SLRs (Nikon is the exception with its small CX sensors). The two most common sensor types on mirrorless cameras are APS-C (Sony and Fujifilm) and Micro Four Thirds (Olympus and Panasonic). Sony's A7 series of full-frame mirrorless cameras boast full-frame sensors, the second largest in this category to Fujifilm's new medium format GFX 50S.
1" (Nikon CX): 13.2 x 8.8mm = 116 sq. mm
Micro Four Thirds: 17 x 13mm = 224 sq. mm
APS-C: 23.5 x 15.6mm = 368 sq. mm
Full Frame: 36 x 24mm = 864 sq. mm
Medium Format: 43.8 x 32.9mm = 1,441 sq. mm
It's true that Micro Four Thirds is smaller than APS-C, but 224 sq. mm is ample sensor real estate for professional quality images that can be enlarged and hung on your wall with pride. Sony and Fujfilm utilize larger APS-C sensors that are nearly identical to the majority of Canon's and Nikon's DSLR lineups, but the differences won't be discernable in many situations and print sizes. Professionals are increasingly flocking to Sony's full-frame A7 series, and particularly the second generation like the a7 II and a7R II that improved upon of the weaknesses of the first.

Megapixels
Megapixels matter, but not nearly as much as marketers would lead you to believe. All of the non-professional mirrorless cameras on this list have megapixel counts somewhere between 16 and 24.3. Given that the majority of image sensors are either Micro Four Thirds or APS-C, you get fairly comparable image quality from the image sensors across the board (factors like autofocus and ISO sensitivity also play a role). A mirrorless camera like the Sony Alpha a6500 with 24.2 megapixels and an APS-C sensor will produce slightly superior images than a camera like the Olympus OM-D E-M10 with 16 megapixels and a Micro Four Thirds sensor, but they are in the same ballpark. If you buy quality lenses, any megapixel count on this list will perform very well.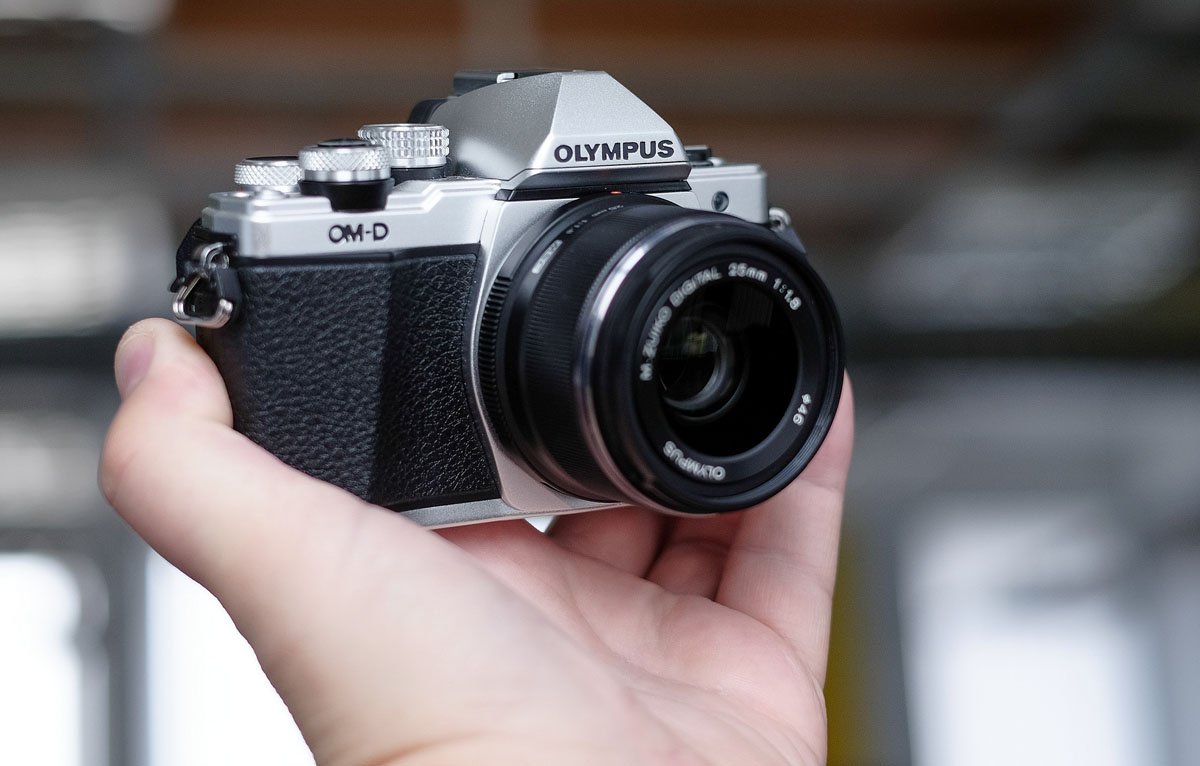 Electronic Viewfinder (EVF)
One of the biggest differences between entry-level mirrorless cameras and mid-range and high-end models is the inclusion of an electronic viewfinder, or EVF for short. No true entry-level model above has an electronic viewfinder—you align images and shoot via the LCD screen on the back much like you would with a point-and-shoot camera or smartphone. This is one of the ways that the camera manufacturers are able to offer such large image sensors in inexpensive cameras, but it is something to consider when making a purchase. Many casual shooters may not mind, but an electronic viewfinder is a desired trait for serious photographers.
What is the cutoff for an electronic viewfinder? None of the mirrorless cameras on our list that are less than $500 have an electronic viewfinder, and all above $500 do. To check whether your desired model has an electronic viewfinder, see our mirrorless camera comparison table above.

Autofocus
With specs like megapixels and image sensor getting the lion's share of attention, try not to overlook the importance of autofocus in your buying decision. Many cheaper mirrorless cameras cut costs with inferior autofocus, including the number of focus points and types of autofocus (phase detection and contrast detection).
To illustrate the importance of autofocus, a couple years ago I purchased a Fujifilm X-T1 for outdoor photography and hiking (the camera and kit lens are weather sealed). The X-T1 can produce outstanding images with color and detail that rivals much more expensive and heavier full-frame cameras that I have used in the past. However, the autofocus on the X-T1 proved to be very unsatisfactory for this type of work. When returning from a shoot—usually a challenging hike to a distant location—I would discover that as many as half of the photos were out of focus and essentially unusable. Apparently the contrast was too low in many situations and this negatively affected the ability of the camera to find the proper focus points.
What was the root of the problem? The Fujifilm X-T1 had a rather elementary 49-point contrast detection autofocus system. For comparison, the Sony a6300, which is less expensive, has a superior hybrid autofocus that is a whopping 425-point phase detection and 169-point contrast detection. Despite the fact that the X-T1 created fantastic images when in focus, the autofocus was a major handicap to my photography with just 49-point contrast detection and I was ready to sell the camera and move on. Fortunately, Fujifilm recognized the issue and released a firmware update that overhauled the entire autofocus system. The new Fujifilm X-Pro2 has improved its autofocus up to 196-point contrast detection and 77-point phase detection.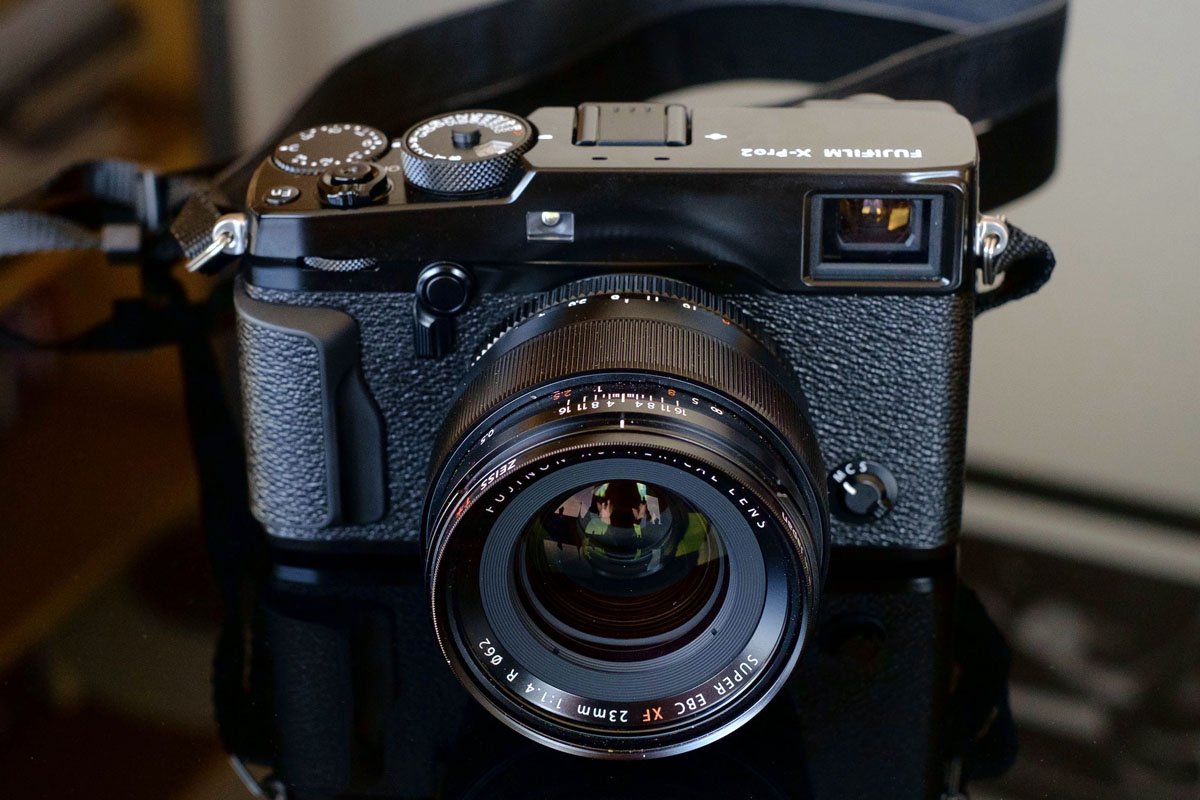 There aren't hard-and-fast rules as to what constitutes great autofocus, but good places to start are the number and type of focus points. Multiple focus points help improve accuracy, so the more the better. In addition, Contrast Detection is slower than Phase Detection, and cross-type sensors are more accurate than simpler vertical line sensors. Understanding the full complexities of autofocus is worthy of a full article in itself, but generally you can expect autofocus to be less accurate on cheaper cameras and more accurate on pricier cameras. If a camera is an outlier to this rule, we will let you know in the write-ups above.

Wi-Fi
Plugging your camera into a USB port on a desktop or laptop and uploading photos manually is becoming increasingly unnecessary. Built-in Wi-Fi is a nice perk available on most new mirrorless cameras, allowing you to transfer and upload photos and video to your device or social media platform directly from the camera (some even offer light editing in-camera). The software and Wi-Fi platforms vary by manufacturer, and some are easier to use and less buggy than others, but we like the option of using Wi-Fi. One consideration to keep in mind: using Wi-Fi to transfer photos all of the time can eventually take a toll on your camera's processor. Don't be afraid to use Wi-Fi, but if you have a cord handy and it's convenient to transfer photos in that manner, doing so will help prolong the life of your camera.

Weather Sealing
Some mid-range and high-end mirrorless cameras are weather sealed for added protection from the elements. Weather sealing varies by manufacturer and model and there aren't universal standards, but the process involves adding rubber sealing and housing on the body and around the buttons to make the camera more resistant to moisture and dust (both can be an absolute killer to your electronics). Calling these cameras weatherproof or waterproof would be an exaggeration, but they certainly can handle tough conditions well and are popular among professionals who are frequently out in the field in inclement weather. We have published a list of weather-sealed mirrorless cameras, and popular models include the Sony a7 series, Fujifilm X-T2 and XPro2, Olympus OM-D E-M1 Mark II and E-M5 II, and Panasonic GH5.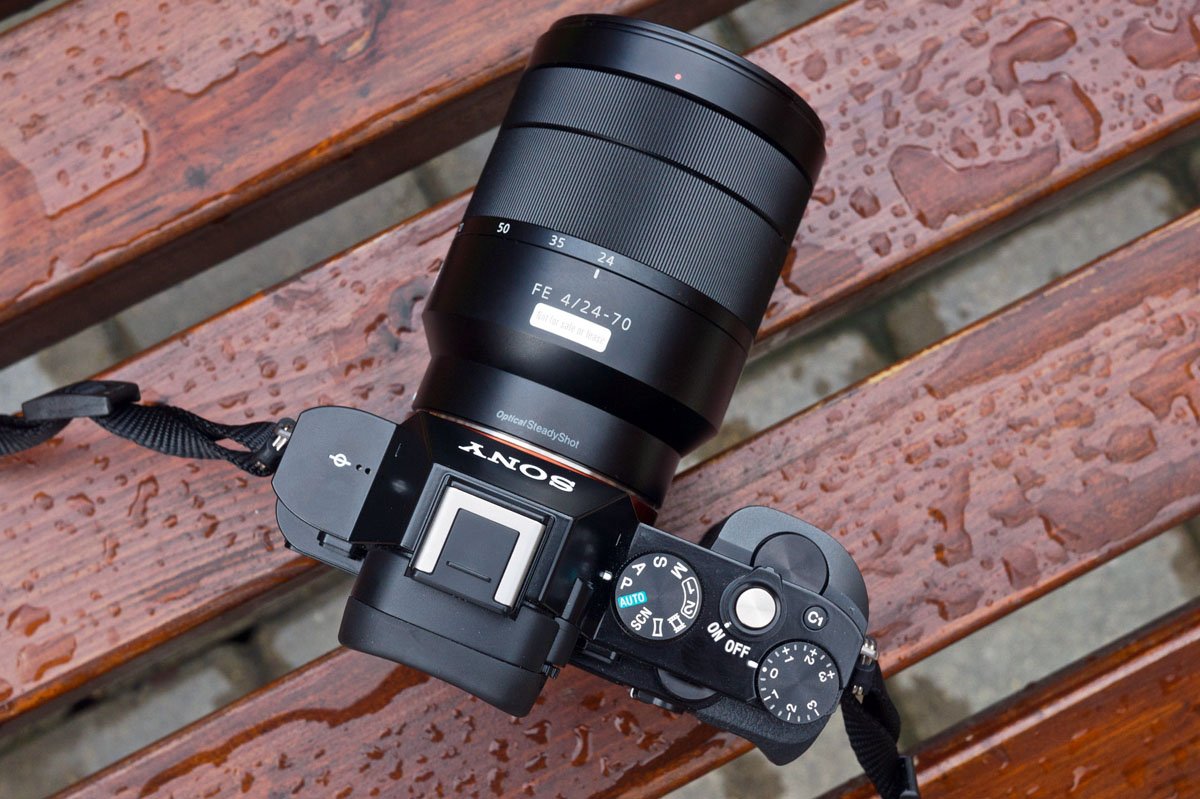 Lens Types
Mirrorless cameras are still relatively new, with most having been released in the last five years. Accordingly, the lens selection is less varied than it is for Nikon and Canon DSLRs, which have been on the market for decades. Olympus and Panasonic mirrorless cameras have Micro Four Thirds mounts and you can use these cameras and lenses interchangeably. The selection of Micro Four Thirds lenses is massive and ranges for budget to professional. Sony's E-mount lens offerings have grown significantly, and there are plenty of good options for their Alpha series cameras (albeit less than Micro Four Thirds). Fujifilm has fewer XF-mount lenses but there are plenty of quality models. Samsung and Nikon have much more limited lens collections and many people stick with the kit lenses.
We recommend giving serious thought to the camera system you are buying into when making a purchase. For example, if you buy a Micro Four Thirds camera and start compiling a small collection of lenses, it's very likely that you will want to stay in the Micro Four Thirds family when upgrading your camera down the road. This is parallel to the old Nikon vs. Canon decision for digital SLRs: once people choose a side, they often stick with it for the duration. Realistically, all of the major mirrorless camera manufacturers are demonstrating a commitment to the technology and the lens options continue to grow. You can feel confident buying a Sony, Olympus, Panasonic, or Fujifilm camera body. Samsung and Nikon still are more towards the fringe but that likely will change as their lineups continue to evolve. And for those who want more flexibility, you can always buy a lens adapter.

The Future of Samsung Cameras
Last year we had the Samsung NX-1 near the top of our rankings, but the tech giant has begun phasing out camera sales in the UK and rumors are that it may be shuttering its camera division altogether (Nikon is rumored to be acquiring all or part of Samsung's camera division but nothing has been substantiated to date). The NX-1 is a terrific high-end mirrorless camera that rivals the Panasonic GH4, but the possible dissolution of Samsung's camera division makes purchasing one more of a risk. Accordingly, we recommend waiting until the dust fully settles before considering a pro-grade Samsung camera. We also recently removed the entry-level Samsung NX3000 from this list—after Samsung's camera division was a no-show at CES 2016, it seems even more likely that the end is near.
Back to Our Top Mirrorless Camera Picks Back to Our Mirrorless Camera Comparison Table
Read More About Photography