Jason Hummel is a leading adventure photographer and ski mountaineer based in Tacoma, Washington. He authored Alpine State of Mind, a beautifully presented book of adventure stories and photographs detailing three primary trips: the American Alps Traverse, Pickets Traverse, and North Despair. Jason currently is in the process of skiing all 213 named glaciers in the state of Washington, with 134 under his belt and counting. We recently caught up Jason and were refreshed by his passion, knowledge, and love for the outdoors and home state. You can read more about him and follow his adventures on his website.

Tell us about how you got into what you are doing now.
Growing up in the country, I only had a couple of channels on TV, no video games, and the closest kids outside my brothers were miles way. To stay entertained when blowing stuff up or throwing rocks became boring, I buried myself in books. Of course, I read National Geographic and all I wanted to be was an adventurer. Being a photographer was the closest I could manage.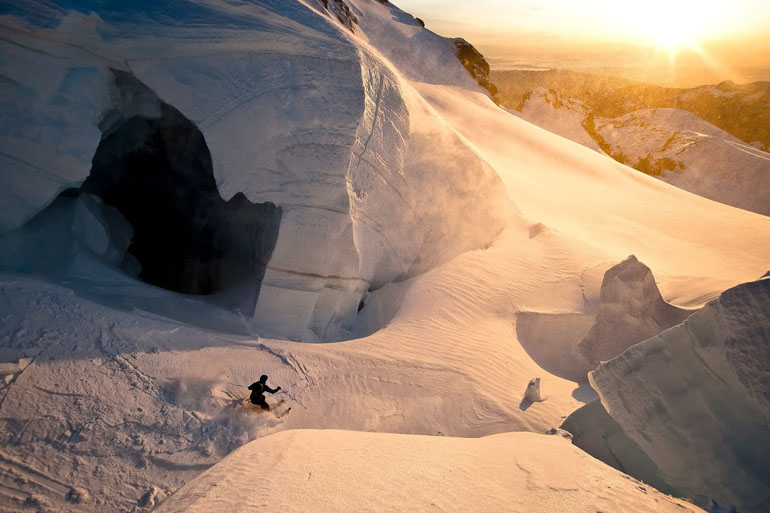 For a while, photography never came to fruition. The cost of entry was high. A good friend of mine Ben was a photographer, and in 1998 or 1999 before there were even blogs, he started Cascade Classics, which were among the first trip reports in the Northwest. Trip reports with photos were rare then, and until about 2003 we wrote several hundred trip reports on skiing, whitewater kayaking, and backpacking trips throughout the Cascades. This was before any of the forum-type web pages you see now. 
Ben passed away in a kayaking accident and afterward I found I wanted to continue telling stories. I took up Ben's beloved camera and set out to adventure and photograph. Shortly afterward I started Cascade Crusades. At that point I didn't know anything about photography or film, and he would have been peeved if he knew I touched his camera. I was intimidated by photography and had a lot to learn. But I learned by trying and failing over and over again, and I was thrilled to get out there to seek adventure.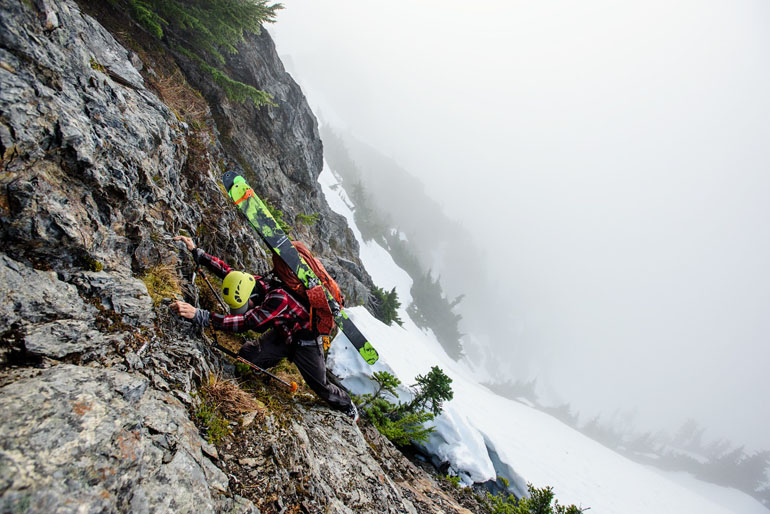 In the summer of 2006, I bought my first digital camera. Photography started getting a little easier for me at that point. I was a financial advisor at the time and had a big view of Mt. Rainier from my office. A couple years later the downturn hit, and I decided to leave and take a year off for adventuring and photography. Eventually I started getting emails from magazines and companies interested in publishing my stories and imagery. 
 
Did you study photography or are you self-taught?
Basically all self-taught. I've always wanted to work with other photographers to be able to push ourselves, but I've actually found photography to be a very solitary experience and haven't had a ton of luck bringing photographers together. We are so busy and have to work so hard that there is little time for anything else. It's a 12-hour-a-day job, all year long. Most people don't realize what it's actually like to be successful as a photographer. You have to go all-in heart and soul and then some.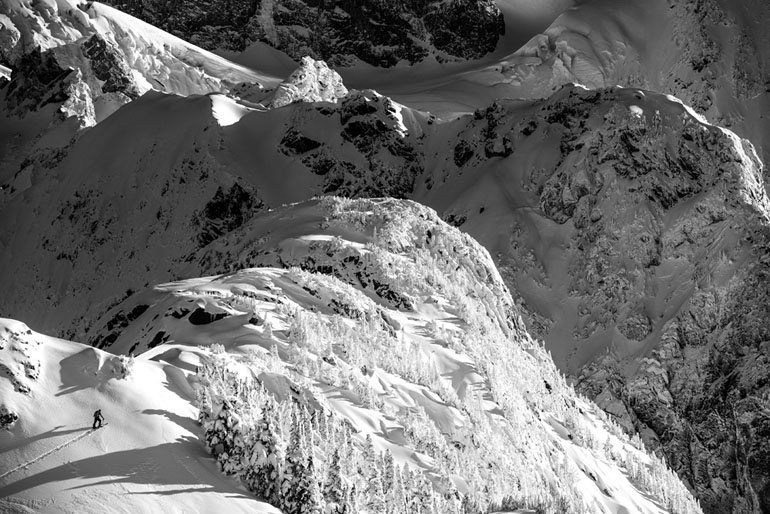 As a photographer you have to find what you like. Some companies don't want black and whites. Some companies don't want anything edited. You can lose track of what you like in the process. At times I've had to retreat from all that and find my core again. It's a little scary, but I've kept an eye on that and whenever I get too far away, I pull myself back. 
 
Tell us a little bit about your recent Olympic Traverse.
For me, trips like the Olympic Traverse are about celebrating a backyard adventure. It's something that I think is really special. In the first paragraph of my story on the site, I mention that you can see the Olympics from a million doorsteps, yet there are places there where no human has ever walked. Most people think of adventure as being a distant place in some other country. As a photographer, you can go to the Himalaya, but I don't like to shy away from what I have at hand, right here at home. It's still adventure and it's cost effective. This amazing, life-changing experience into the Olympics costs $150. Most of my foreign trips are $3,000 to $5,000 or more.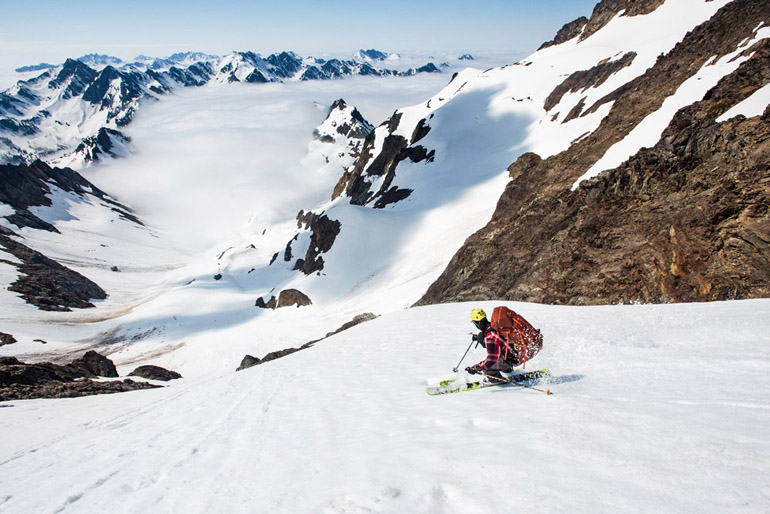 What is another of your most memorable adventures?
In my book Alpine State of Mind, I have a story about the American Alps Traverse. Lowell Skoog, a ski historian and pioneer, created the trip as a sister to the famous Haute Route in Europe but in Washington. He imagined it as a trip that maintained the crest and didn't drop into valleys. What he did is link together several major traverses into one. Unlike ski traverses in Alaska where broad glaciers cut through mountainous terrain, every mile of the American Alps traverse was 1,000 vertical feet up or 1,000 vertical feet down. Unfortunately he was never able to complete it due to bad weather. I have a little more freedom and with a fortuitous weather window, a friend Kyle Miller and I completed it in 16 days.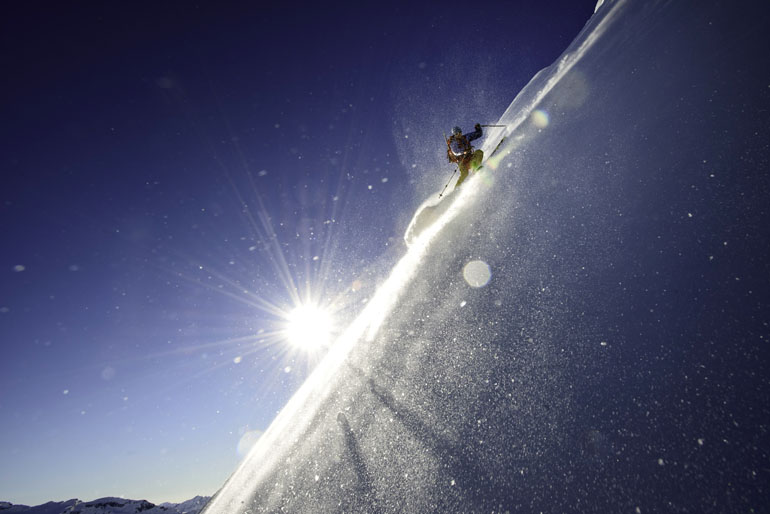 Also in the book is a story about skiing the Northeast face of Mt. Fury. It's a scary, wild peak in the middle of nowhere, and one of the most incredible lines in Washington. But there are so many memorable trips and every trip is memorable in its own way. 

What is your go-to gear in the field?
I carry a lot of camera gear. 15-20 pounds on each trip. 9 batteries. A tripod. A flash. A camera bag. I carry at least 3 lenses, maybe 4. And my Nikon D810. I've used Nikon since the beginning and those are the only cameras I have ever shot with. I have to admit I've been tempted to try the lighter-weight Sony mirrorless cameras.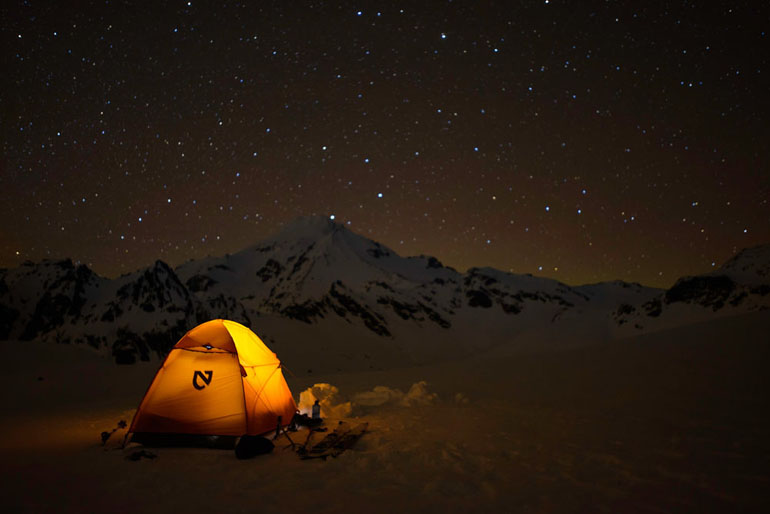 In the spring, all I bring are ski pants, long johns, a down jacket, a couple of pairs of socks, gloves, and a hat. That's all I have for clothes no matter how long the trip is. No extra BS or knickknacks. I try to carry a good double-wall tent. Bad weather is a pain in the butt and I hate single-wall tents in the Cascades. They just don't cut it. I'm using the Nemo Kunai tent right now and it's fantastic. It's a 4-season, double-wall tent at 4 pounds. It's not too expensive and is freestanding, which is super important to me.

Tell us about the Washington Glacier Ski Project and how it's progressing.
One day I was sitting at my computer and I became curious about how many glaciers are in Washington. It's complicated because of the definition. There probably are a couple thousand or more actual glaciers in Washington. On maps, only certain glaciers are named. In order to define a glacier I limited it to all the named glaciers in Washington.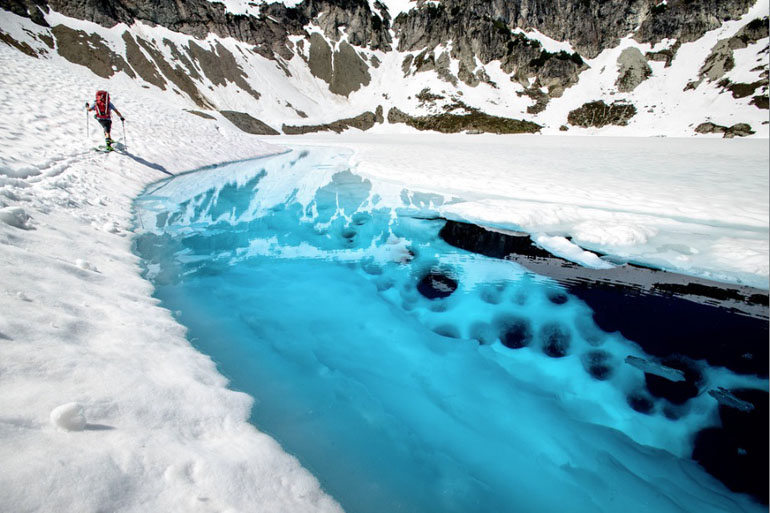 Primarily the method behind the madness of this project is to force me to visit locations in Washington I would never choose to go to. It's easier to fall into familiar patterns. This way, if I ever complete the project, I'll be able to tie everything I've accomplished on skis into one narrative. 
Currently I've finished 134 of the 212 or 213 named glaciers in Washington. From the glaciologist I've worked with, the number I got is 212. But the Muir Snowfield still is a glacier so I call it 213.

Do you have any other current projects?
You'll have to buy me a beer to hear about those and probably more than one!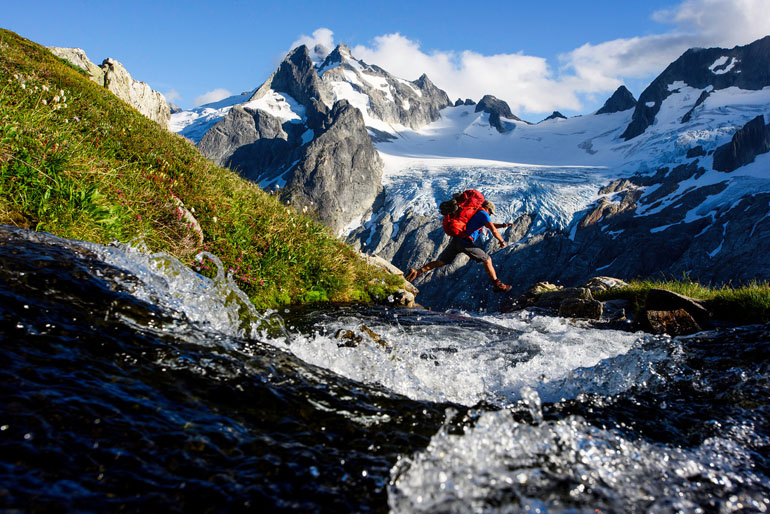 Read More From Switchback Travel