Thanks to a considerable rise in backcountry adventuring of late, splitboarding is having a moment. With the ability to separate your board on the way up and secure the halves together for a true snowboarding experience on the way down, splitboards open up access to untracked terrain and big-mountain objectives. There are a wide range of options to consider, from stiff, mountaineering-focused designs to lightweight carbon and powder-hungry models, and we've picked our favorites below for the 2021 season. For more background information, see our comparison table and buying advice below the picks.
 
Best Overall Splitboard
Category: Mountaineering/powder
Weight: 5 lbs. 15.2 oz.
Flex: Medium-stiff (7)
Shape: Directional
What we like: Lightweight, durable, and a great performer in a wide range of conditions.
What we don't: Expensive and not ideal for switch riding.
In choosing the best overall splitboard, we focused on balance: not only did this board need to excel in everything from deep powder and spring corn to big-mountain couloirs, but it also had to tackle uphill climbs with relative ease. The Weston Backwoods Carbon achieves this combination with aplomb, mixing a crazy-light carbon build, versatile shape and stiffness, and good overall durability. Carbon boards have gotten a bad rap over the years—and we've actually had one split in half on us—but Weston has things dialed. After spending more than 50 days on the Backwoods Carbon last season, we think it's the industry's best effort yet.
For riders who spend a fair amount of time on the skin track, the Weston's sub-6-pound weight and well-rounded performance is simply unmatched. In fact, the only real downside is price: at $1,099, you're paying a real premium for the carbon construction (if weight isn't a major concern, you can save $200 with the standard Backwoods Split, which clocks in at 7 lbs. 4.8 oz.). And riding preferences may vary: the Jones Solution below is a stiffer offering for more powerful riders, while the Cardiff Goat is slightly more playful with its directional twin shape (the Backwoods isn't ideal for switch riding). But as the board that does it all better than most, the Backwoods Carbon gets our top pick for the 2021 season.
See the Weston Backwoods Carbon
A Close Second (for $200 Less)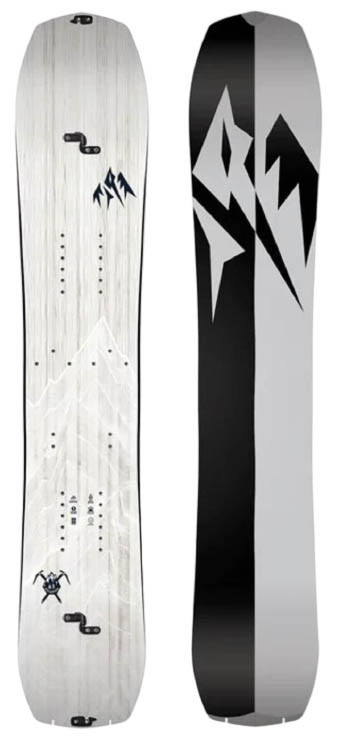 Category: Freeride/mountaineering
Weight: 7 lbs. 0.8 oz.
Flex: Stiff (8)
Shape: Directional
What we like: Great in firm snow and stable at high speed.
What we don't: Not very playful and too stiff for some.
Jones is one of the most respected brands in splitboarding, and their Solution helped popularize the sport back in 2010. Now, over a decade later, their flagship model remains one of the most well-regarded and premium designs on the market. The Solution's particularly stiff build gives it power on big steeps, and camber underfoot means you can drive it hard on icy terrain. The biggest change for this winter was a more powder-specific shape, with an even balance of spoon bevel at the nose and tail for better float and improved performance when riding switch (especially helpful when dropping into technical terrain). In our opinion, this all adds up to the best Solution yet and a top-notch quiver-of-one option for advanced to expert riders.
For the same price as the standard, non-carbon Weston Backwoods mentioned above, it can be tough deciding between the two. Some riders will find the stiffer Solution to be too much to handle, but we appreciate the added stability and edge control in consequential terrain and on hardpack. And in terms of durability, some of our testers have found that Jones boards lose their rigidity more quickly than other designs, and the edges and bases don't hold up as well to knocks and dings. But these are fairly minor nitpicks, and we appreciate that Jones makes the Solution in a women's-specific version as well. Finally, like the Backwoods above, the Solution also comes in a stiffer carbon model (the Ultra Solution), which checks in at 6 pounds 9.8 ounces and retails for $1,400.
See the Men's Jones Solution  See the Women's Jones Solution
Best Budget Splitboard for Beginners
Category: Freeride
Weight: 7 lbs. 8 oz.
Flex: Medium
Shape: Directional twin
What we like: Affordable, easy to maneuver, and comes with preinstalled pucks.
What we don't: Heavy and decidedly basic build.
For beginner splitboarders or those looking to save, Voile's Spartan is our favorite budget option. The Spartan is decidedly basic, with an all-black base and unassuming topsheet, a simple profile (rocker-camber-rocker) and directional twin shape, and a no-frills construction that makes it as durable as it is cheap. However, we love that the Spartan comes with pucks preinstalled, which cuts out an extra step (and an extra expense). Most splitboards have a stiffer flex for more aggressive riding, but the Spartan's softer build is great for beginner snowboarders or folks looking for a more forgiving ride.
It's hard to be overly critical at this price point, but the Spartan's 7.5-pound weight will feel heavy underfoot if you're logging serious miles or vert (for a lighter alternative, check out the $100-pricier Spartan Ascent, which weighs 6 lbs. 13 oz.). And as we touched on above, intermediate to advanced riders will likely find it too soft for anything remotely aggressive, but the good news is that it's very playful and fun (while not a true twin, it rides switch surprisingly well). For riders who are on a budget but want a board more adept in powder, check out the Rossignol XV Sushi LG below.
See the Voile Spartan Splitboard
Best Mountaineering Splitboard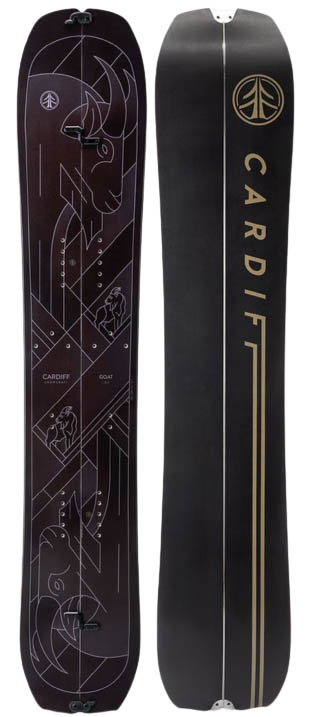 Category: Mountaineering/freeride
Weight: 6 lbs. 4 oz.
Flex: Medium-stiff
Shape: Directional twin
What we like: Directional twin shape is maneuverable and great on the skin track.
What we don't: Expensive and not as stiff as the Solution above.
With roots in the Wasatch mountains of Utah, Cardiff Snowcraft is a backcountry specialist. Each of their splitboard models is available in Enduro and Pro Carbon variations to customize durability, weight, and stiffness. The Goat is Cardiff's premium big-mountain offering, designed for stability and efficiency on the skin track and top-notch performance in a variety of terrain. We especially love the directional twin shape, which is helpful for billy-goating into a line, dipping around rocks, and navigating through tight sections while riding switch. 
The Backwoods Carbon and Jones Ultra Solution were also top contenders for our favorite mountaineering design. However, The Goat gets the nod for its exceptional uphill performance (thanks in part to premium details like Cardiff's RADIcAL Sidecut technology) and versatility for everything from powerful carving to maneuvering tight trees. And with the Pro Carbon option, The Goat is also ridiculously lightweight at just 6 pounds 4 ounces, although less committed riders will likely prefer the $300-cheaper Enduro version (7 lbs. 3 oz.). Cardiff is a relative newcomer to the scene, but with years of backcountry splitboard riding experience on their team and designs that are built as splitboards first (most companies start with a snowboard and work backwards), this brand is one to watch.
See the Cardiff Snowcraft Goat Pro Carbon Split
Best Powder Splitboard
Category: Powder
Weight: 7 lbs. 0.8 oz.
Flex: Medium (6)
Shape: Directional
What we like: A great value and excellent performance in deep powder.
What we don't: Not ideal for long tours.
Put simply, the Rossignol Sushi is a powder hound's dream. The board features a massive nose, a stubby swallow tail, and a wide waist for floating the white stuff on the deepest of days. Further, the short build (the Sushi LG only comes in one 145cm length) allows for quick turns in tight trees and amazing responsiveness. And outside of powder, the Sushi carves well (even on groomers), and we found it to be more fun than expected in slushy spring conditions too. Few splitboarders will opt for the Sushi as their primary board, but for soul riders who want that highly sought-after, surfy feel, it doesn't get much better.
The Sushi is too soft to ride aggressively, and its dramatic swallow tail and set-back stance limit its maneuverability in mountainous terrain. But perhaps its biggest drawback is in uphill prowess (or lack thereof), which is no surprise given its short and stout shape. In the end, it's a nice match for running laps on your favorite powder stash, but it's not a great daily driver, especially for those who like to head deep into the backcountry. But we've always found Rossignol boards to be durable, well-made, and reasonably priced, and the Sushi is no exception. Powder chasers should also have Spline Snowboards on their radar, a BC-based company that makes well-rounded designs that excel on both the uphill and downhill.
See the Rossignol XV Sushi LG Split
Best of the Rest
Category: Mountaineering/freeride
Weight: 7 lbs. 1.6 oz.
Flex: Medium-stiff (6) 
Shape: Directional
What we like: Very fun for a freeride board.
What we don't: Too soft for powerful carving and high-speed stability.
Venture is a small-scale company out of Silverton, Colorado, with a fairly humble collection of four core offerings, but their boards are well-regarded in the splitboard community and for good reason. This is a classic case of "built by the people and for the people," and the result is expertly crafted and scrupulously tested boards that show a painstaking attention to detail. The Storm listed here is one of Venture's most popular designs and features a freeride-focused build for variable mountain conditions and tackling terrain from steep couloirs to tight glades. 
With a mid-range flex, large (and softer) nose, and rocker profile, the Storm is surfier and more adept in powder than a lot of the freeriding designs here, including the Jones Solution and Weston Backwoods above. In other words, while the Jones and Weston offer better chatter control and more stability at high speeds, the Storm is more maneuverable and playful. The differences are minimal, but most splitboarders have spent enough time on a board to understand their riding style, and small variations between models allow you to really hone in on what works best for you. For uphill-focused riders looking to shave weight, the Venture also comes in a carbon version, which checks in around 11 ounces lighter at 6 pounds 6.4 ounces and retails for $1,219. 
See the Venture Storm Splitboard
Category: Freeride
Weight: 7 lbs. 8 oz.
Flex: Medium-stiff (7)
Shape: Directional
What we like: Fun in powder yet stable at high speeds; short tail is great for jump turns.
What we don't: Not the most efficient on the uphill.
The Jones Hovercraft is another classic design that has gained a cult-like following over the years. With a massive nose, almost no tail, and a very setback stance, it's as directional a splitboard as they come, and as a result absolutely shines in deep snow. But despite its powder-specific shape, the Hovercraft is surprisingly well-rounded: the large nose dampens chatter in firm conditions, and the stiff, blunt tail allows for powerful carving and jump turns in steep and technical terrain. We've ridden the Hovercraft in everything from knee-deep powder to steep corn descents off of Cascade volcanoes, and it's excelled across the board.
Like most of Jones' boards, the Hovercraft is stiff and has a long sidecut radius, meaning that it prefers wide, arching sweepers over short and snappy turns. We've found that this sort of design can be challenging to navigate through tight spaces, meaning it wouldn't be our first choice for gladed and sub-alpine areas. And while the Hovercraft can hold its own on the skin track, it does sacrifice some security and speed due to its massive nose. But for riders who don't mind trading some uphill efficiency for better playfulness in powder, it's a nice (and slightly cheaper) alternative to the Solution above.
See the Men's Jones Hovercraft Split  See the Women's Jones Hovercraft Split
Category: Powder/freeride
Weight: 6 lbs. 3.2 oz.
Flex: Medium-stiff (7)
Shape: Directional twin
What we like: Playful in powder and great switch-riding ability.
What we don't: Only comes in one size; not super versatile.
The first thing you might notice about Weston's Hatchet Split is its shape, which features a wide waist and short length (it's only available in 152cm). This fairly unique design makes it noticeably nimble and floaty, perfect for spinning and popping off pillows or running laps in a big powder bowl. The blunted tip and tail and low weight only add to this playful attitude, making the Hatchet easy to throw around and maneuver. For park rats headed into the backcountry, that combination is hard to beat.
That said, the Hatchet isn't quite as much of an all-rounder as the Jones Solution or Weston's own Backwoods above. As a result of its short and wide build and mid-stiff flex, it's not the best match for aggressive riding or carving spring corn or hardpack. But that's not to say it isn't fun, and we consider it a highly capable freestyle design, and especially in powder. All in all, we appreciate Weston's continued innovation, and we commend them for donating a portion of sales to the American Institute for Avalanche Research and Education (AIARE). 
See the Weston Hatchet Pow Slayer Split
Category: Mountaineering/freeride
Weight: 7 lbs. 8 oz.
Flex: Medium-stiff (8)
Shape: Directional
What we like: Hardwearing and great balance of up- and downhill performance.
What we don't: Heavier than many other mountaineering options.
When we think of Never Summer, "burly" is the first word that comes to mind. This Colorado-based company has a reputation for cranking out durable boards (our 6-ft.-tall, 200-lb. tester concurs), with design features that include highly customized wood cores and layers of rubber around the perimeter for bonding the layers together and protecting against abrasion. Their small splitboard lineup features three men's boards and one women's, and the Atom here is their dedicated mountaineering model, ideal for long days on the skin track, variable snow, and steep terrain. 
In the past, the Atom suffered some complaints about its rocker-camber profile being inefficient on the uphill, but Never Summer has made some improvements over the years. Most notably, the 2021 model features camber directly under the touring bracket, which provides great traction on the uphill and stability on the descent (it also has an early-rise nose and tapered tail to maintain powder performance). In the end, the Atom balances uphill and downhill performance better than most other dedicated mountaineering models, but those who log serious mileage and thousands of feet of vert will likely want something a little lighter.
See the Never Summer Atom Split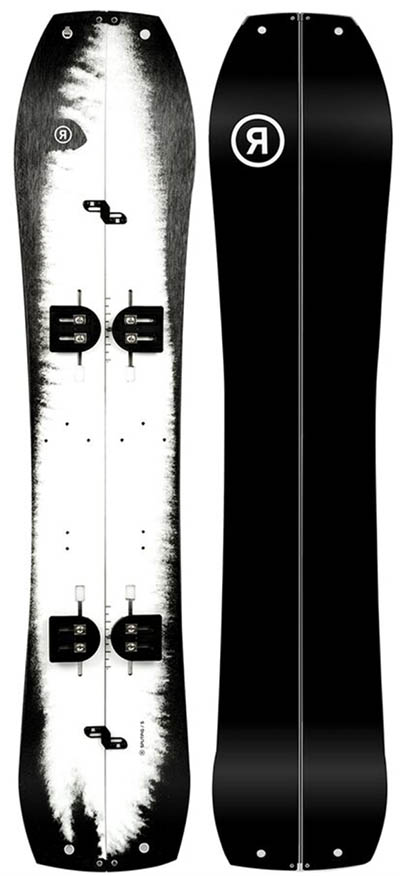 Category: Powder/freeride
Flex: Medium
Shape: Directional
What we like: Great performance on variable terrain and extra float in powder.
What we don't: The modern shape is not for everyone.
A surprise release for the 2021 season, Ride's Splitpig is already turning heads amongst backcountry powder lovers. Based off the design of Ride's award-winning Warpig, the Splitpig features a short and stout shape (it's available in 148 and 154 cm lengths) that just begs to be taken into deep snow. But it's not just a pow surfer: the board's shorter profile and camber give it maneuverability and control on more variable terrain, too. And to boost performance on the uphill, Ride added a lightweight carbon race base, and a bit of extra camber improves contact with the snow. All told, the Splitpig is an attractive new offering for those who gravitate towards powder but still want a reliable tool for all the rigors of backcountry riding.
Short and fat boards are gaining traction amongst backcountry snowboarders, and the Splitpig joins the ranks of models like the popular Weston Hatchet above and Spline Yam Fries below. Traditionalists might be put off by the newfangled shape, but in the hands of the right rider we think this design is incredibly versatile. Of course, you'll be able to charge harder with a stiffer, longer board like the Jones Solution, and the Rossignol Sushi offers even more flotation. But for the best of both worlds, the Splitpig is an attractive choice (for proof, the Warpig has won awards both in all-mountain and freestyle categories). Finally, the Ride comes ready to go with Pomoca Climb 2.0 momix skins and preinstalled pucks, which makes the price point a bit more palatable.
See the Ride Splitpig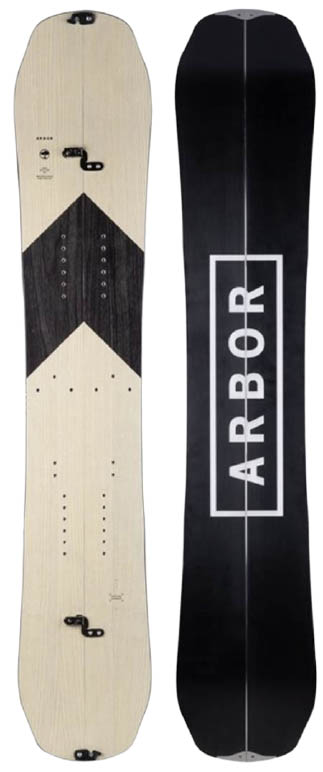 Category: Freeride
Flex: Medium-stiff (7)
Shape: Directional twin
What we like: A great carver and good stability on the skin track.
What we don't: True camber profile is limiting in powder.
There aren't many true camber splitboards on the market, which makes sense considering that some rocker is good for powder—and that's what most splitboarders are chasing, after all. But Arbor pulls off the true camber profile relatively well with their Coda Split Camber. This board is especially enticing for those who like to carve hard, with Arbor's "Grip Tech" design that maximizes contact with the snow for better control, as well as a directional twin shape and centered stance that keep things peppy and responsive. For spring mountaineering missions, this also translates to great efficiency while touring. 
The Coda Split Camber is a nice match for terrain like spring corn and East Coast hardpack, but it does start to suffer in the deep stuff. If that's what you're after, Arbor also offers their Coda Split Rocker, which retains most of the Camber's overall build but boasts a dedicated rocker profile instead (unfortunately there's no middle ground here). Neither option is particularly versatile, but for splitboarders who know what they want in a board and experience consistent conditions, there are some tangible benefits to choosing such a targeted design. And a brief note: at the time of publishing, the 2022 Coda Camber Split is already available for purchase, featuring a new graphic and slight ($30) price increase.
See the Arbor Coda Split Camber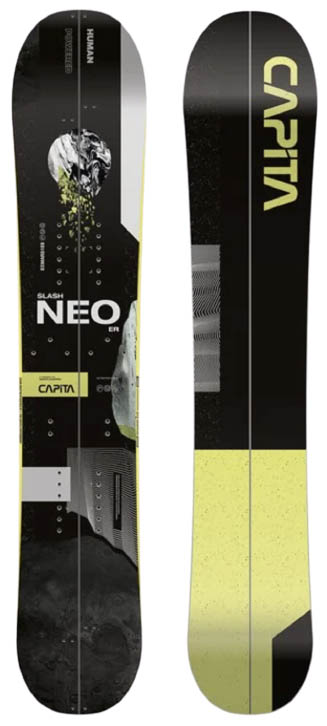 Category: Freeride
Weight: 7 lbs. 9.6 oz.
Flex: Medium-stiff (7) 
Shape: Directional twin 
What we like: Freestyle meets the backcountry.
What we don't: Not great for big-mountain terrain.
CAPiTA is best known for their pipe- and park-focused snowboards, but they're off to a promising start with their first splitboard design: the Neo Slasher. The recipe is familiar—a directional twin shape (CAPiTA lists the Neo Slasher as directional, but among splitboards it's a directional twin) with a medium-stiff flex—but it's softer than more mountaineering-focused competitors like the Jones Solution and Weston Backwoods Carbon above. This translates to a surfy personality that excels in powder. We've ridden CAPiTA boards in the park for years and love their playful, poppy style, and the Neo Slasher carries the torch. 
For riders who love big terrain but still like to pop and spin off features on the way down, the Neo Slasher splits the difference between a freestyle-oriented board like the Weston Hatchet and big-mountain ripper like the Cardiff Goat. However, as we've come to expect from jack-of-all-trades designs, the Neo Slasher doesn't really excel in any one area. Further, some riders might not like the feel of the flat zone behind the back foot (designed to boost efficiency on the uphill), which detracts from overall maneuverability. But the Neo Slasher nevertheless is an intriguing option for riders who like to butter around and hit the occasional backcountry booter.
See the CAPiTA Neo Slasher Splitboard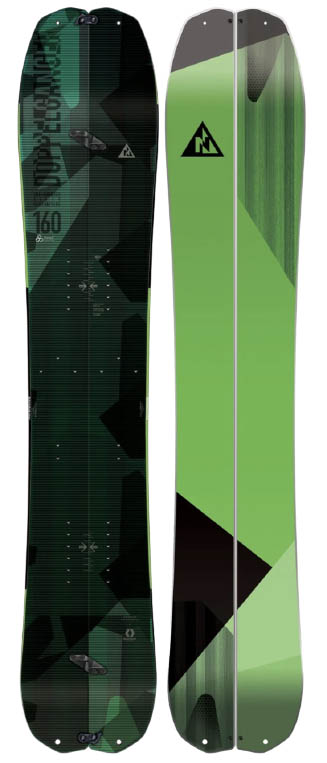 Category: Freeride
Weight: 6 lbs. 11.2 oz.
Flex: Mid-stiff (7)
Shape: Directional
What we like: An affordable and well-built one-quiver board.
What we don't: Not the most high-quality hardware.
Seattle-based Nitro has a fairly modest lineup of four splitboards (including the women's-specific Volta), and the Doppleganger here slots in as their top-end build. Checking in at $700, however, it costs less hundreds less than the other premium designs above, making it an appealing option for bargain-hunters. With a Cam-Out camber shape that nicely balances float and edge grip, 25-millimeter setback, and progressive sidecut, this is a nice do-everything board that can hold its own across variable terrain. You get decent uphill performance too, with a light, sub-7-pound build and generous edge underfoot for good contact with the skin track.
Putting together a splitboard set-up can be time-consuming, but Nitro has simplified the process slightly with the option to tack on pre-cut Kohla skins with your purchase (and the Doppleganger comes with predrilled holes to easily secure them). You don't get the same high-quality fit and finish of some of the more expensive boards here—for example, the Doppleganger uses Nitro's proprietary tip and tail clips rather than more premium Karakoram hardware found on the Jones and Weston boards above. But for new riders or those on a budget, it's an undeniably good value. And keep an eye out this coming season for Nitro's new Quiver Slash, a split take on their popular Slash snowboard series.
See the Nitro Doppleganger Splitboard
Category: Powder/freeride
Weight: 6 lbs. 1 oz.
Flex: Medium-stiff
Shape: Directional
What we like: Nice craftsmanship and very fun in powder. 
What we don't: Spline's boards are built to order, so expect a longer wait.
Two-time Olympian and ACMG splitboard guide Justin Lamoureux of BC-based Spline Snowboards has created some promising designs, and our current favorite is the Yam Fries. The most traditional model in the FAT series—a group of short and wide boards designed to surf powder—the Yam Fries features a large nose, stubby and tapered tail, and casual set-back stance ideal for floating over deep snow. Tack on a generous section of effective edge near the heel and the toe (great for carving), and the Yam Fries is a capable companion across a wide variety of mountain terrain.
Spline's collection also includes the quiver-of-one Killer Split, the asymmetrical What? The Split, and the speed-focused Fish Sticks, all of which feature carbon in lieu of fiberglass, inside steel edges for better hold on the skin track, and Voile hardware for holding the boards together. For seasoned riders who know exactly what they're after, Spline also offers customizations, including the addition of extra carbon stringers, a choice of sidewall materials, and holes drilled to your exact stance. The steep prices (keep in mind, these are in Canadian dollars on their website) and long wait times will deter many, but Spline is a brand to know if you're after fine craftsmanship and creative designs.
See the Spline Snowboards Yam Fries
Category: Mountaineering
Weight: 6 lbs. 15 oz.
Flex: Stiff
Shape: Directional
What we like: A great price for a carbon build.
What we don't: Powder-specific shape isn't ideal on hardpack and chunder.
The $900 price point certainly is stacked, but G3's Scapegoat is another solid option for the powder hunters among us. In terms of shape and profile, you get a directional board with mid-firm stiffness, and the shovel-style nose, tapered tail, and powder-specific rocker keep you afloat even on the deepest of days. Add a double-layered carbon construction and PU sidewalls for durability and chatter suppression, and the Scapegoat adds up to a well-rounded backcountry companion. We've ridden with AMGA and ACMG (the Canadian equivalent) guides on a couple occasions, and it speaks volumes that they were on this board each time.
If you're looking for a lightweight carbon board that won't break the bank, the Scapegoat is a solid choice. It's not as feathery as models like the Backwoods Carbon (5 lbs. 15.2 oz.) or the Goat Pro Carbon (6 lbs. 4 oz.) above, but the $300 savings are a worthwhile tradeoff for many. Keep in mind that as with any carbon boards, long-term durability is a concern, although G3 is pretty much synonymous with backcountry adventuring and known for their hard-wearing and well-built products. For an option that performs slightly better on hardpack, G3 also offers the Axle ($849), a cambered board built for more variable conditions.
See the G3 Scapegoat Split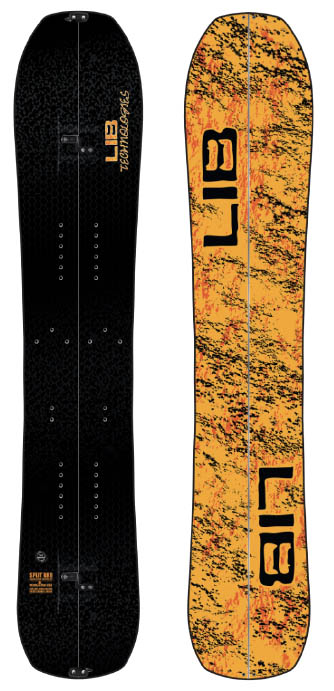 Category: Freeride
Weight: 7 lbs. 5.6 oz.
Flex: Medium
Shape: Directional
What we like: Playful and maneuverable but still pretty versatile.
What we don't: Not ideal for hard chargers.
Based out of the Pacific Northwest, Lib Tech has been churning out snowboards since the 1980s and is one of the last major brands to have kept production in the USA (not to mention, their factory is committed to producing zero hazardous waste). The Split BRD is their classic splitboard offering with a classic design to match. With a directional shape and medium stiffness, the BRD floats through pow nicely, but you still get enough tail to ride switch on more playful terrain (especially compared to a more directional powder board like the Jones Hovercraft above). And while Lib Tech's C3 Camber profile might look a little funky, the Split BRD essentially rides like a standard camber board, but with an extra dose of forgiveness. 
Compared to other options in this price range including the Weston Backwoods and Jones Solution above, the Lib Tech falls short in a couple areas. The stiffer Solution is a better match for speed and those who love to ride aggressively, but you'll get a more playful, forgiving ride with the BRD. And while both the Lib and Weston are great floaters, the Backwoods' overall build quality is hard to match, and we love Weston's devotion to splitboard innovation. A final decision between the three will likely come down to cost (the Weston is pricier than both the Jones and BRD by around $200) and personality. It's also worth checking out Lib Tech's new Orca Split ($1,000), an early release for the 2022 season that's already making waves in the big mountain splitboarding scene. 
See the Lib Tech Split BRD
Category: Freeride
Weight: 7 lbs. 
Flex: Medium (6)
Shape: Directional
What we like: An affordable board from one of the best brands in the business.
What we don't: The Voile Spartan above costs less and comes with preinstalled pucks.
Weston's splitboards are some of the best and most well-regarded on the market, including their premium Backwoods and Hatchet above. For those new to the sport, however, the brand makes a competitive budget option in their Switchback. For $699, you get a dependable, directional camber-rocker profile (similar to many of our favorite all-rounders above), along with a medium flex that's easy to maneuver and fun in powder. This isn't the tool for tackling steep couloirs or icy terrain deep in the mountains, but it gets the job done for sidecountry and close-to-home tours. 
How does the Switchback stack up to the other "budget" models on our list? In addition to its lower, $550 price, the Voile Spartan above comes with mounting hardware already installed, which removes an extra step and expense from the set-up process. And the Nitro Doppleganger ($700) offers better overall performance at a similar price point, plus Nitro's collaboration with Kohla makes it easy to purchase pre-cut skins to pair with your board. But Weston's designs are expertly crafted and built to last, making the Switchback another viable option for new splitboarders who don't want to break the bank.
See the Men's Weston Switchback Split  See the Women's Weston Seeker Split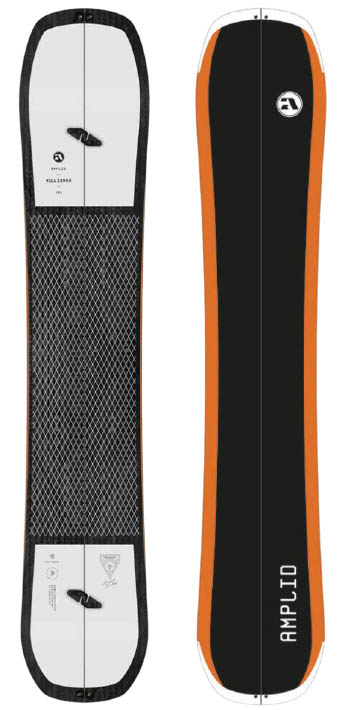 Category: Mountaineering
Weight: 6 lbs. 6.2 oz.
Flex: Medium-stiff (7)
Shape: Directional
What we like: Lightweight but still fun on the descent.
What we don't: Expensive and hard to find in the U.S. 
Owned and operated by riders in the European Alps, Amplid is a leader in innovation. The result is a cadre of boards that are durable, fun to surf, and capable on the skin track too. Upon its release a few years ago, their carbon Milligram took the splitboarding world by storm, garnering a handful of awards for its lightweight build that doesn't sacrifice downhill performance. At a scant 6 pounds 6.2 ounces, the Milligram is clearly built with the uphill in mind, but its softer core dampens the ride (carbon boards often are overly stiff), making it responsive and impressively capable on the descent.
Despite its great all-around performance, we have the Amplid Milligram ranked here for two main reasons: availability and cost. Amplid's collection is growing by the year and can be purchased online through their website or a couple online vendors, but availability in the U.S. is very limited. And at $1,140, the Milligram is the priciest board on our list, even beating out the lighter-weight Weston Backwoods Carbon. But if you can track one down and have the budget, the Milligram won't disappoint. 
See the Ampid Milligram Split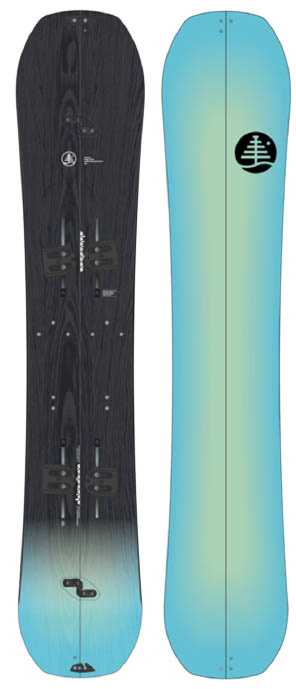 Category: Freeride
Flex: Medium-stiff
Shape: Directional
What we like: An affordable splitboard offering for Burton fans.
What we don't: Not designed first and foremost as a splitboard.
Burton hasn't jumped into the splitboarding market quite as readily as some other snowboard brands, but their Family Tree Hometown Hero is a nice option at a reasonable price. Like many of the freeride boards above, the Burton features a directional camber shape, a rockered nose and shorter tail, and a mid-range flex that stiffens towards the front and relaxes towards the back for a nice combination of stability and pop. And to simplify the set-up process, we appreciate that Burton tacked on pre-mounted pucks.
Burton tops our round-up of all-mountain snowboards, but their splitboard offerings aren't quite up to snuff just yet. Companies like Jones, Weston, and Cardiff have put in the time and research to build dedicated splitboards unique from their standard snowboard collections, which reflect the different demands of the sport. Burton, on the other hand, seems to have taken their snowboarding lineup and repurposed some of the models as splitboards. Those who have ridden Burton boards will appreciate the company's foray into the splitboarding world, and new backcountry-goers might not notice the difference, but many of the options above deliver better performance and more thoughtful design features. And a quick note on availability: at the time of publishing, you can take your pick between the 2021 and 2022 models, which differ only in terms of aesthetics.
See the Burton Family Tree Hometown Hero
Splitboard Comparison Table
Splitboard Buying Advice

What is a Splitboard?
Put simply, a splitboard is a snowboard cut in half lengthwise, which allows backcountry riders to use the two halves as skis on the uphill and secure them together to ride as a traditional snowboard on the descent. Due to the relative newness of the sport, splitboarding comes with some unique challenges: transitioning from the uphill to downhill is time-consuming, traversing in tour mode can be difficult, and you have considerably less versatility and efficiency than with skis (especially on long, flat sections). But for many snowboarders, the rewards of untracked powder, solitude, and earning your turns is well worth those downsides. And the good news is that splitboarding gear is still in its infancy and seeing massive improvements year after year.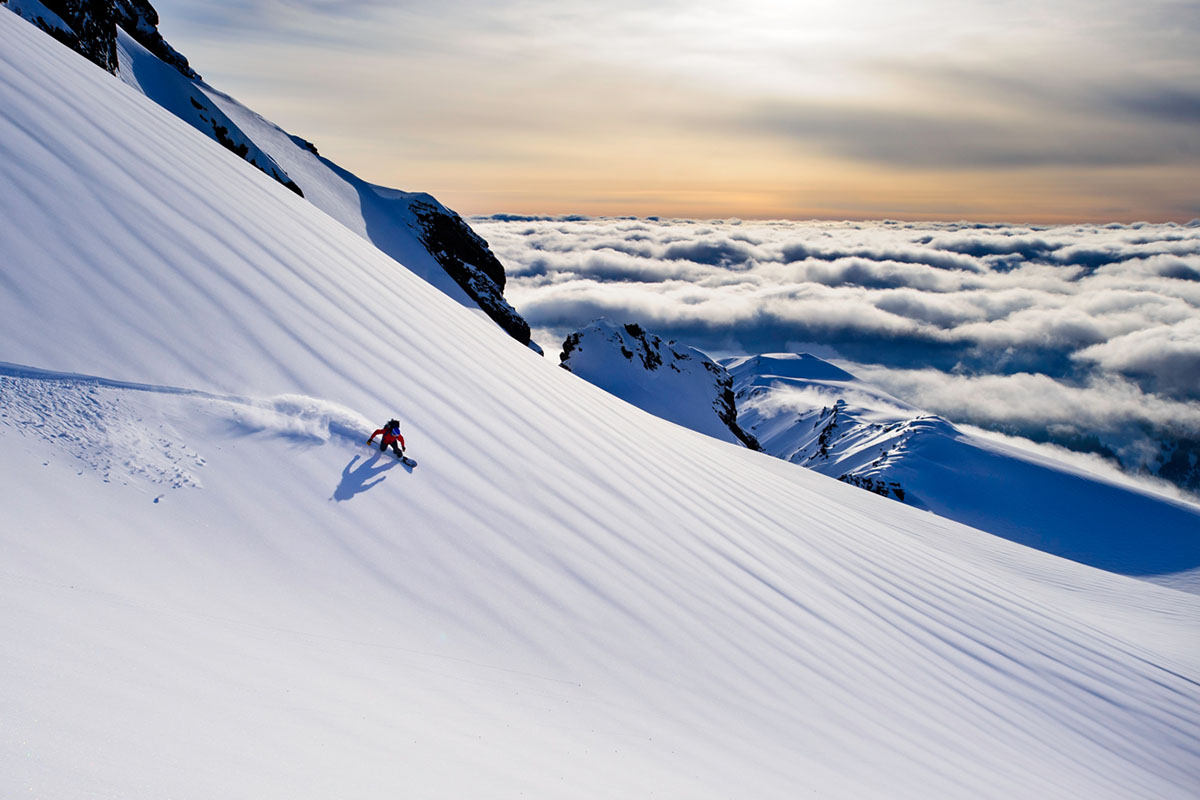 Broadly speaking, splitboards are very similar to snowboards in their materials and core technologies. They also feature an additional metal edge on the inside of each plank, which provides extra traction on the skin track. Further, all splitboards come with preinstalled split hooks and clips at the tip and tail, which allow you to attach and separate the two halves. You'll also find two sets of mounting holes on a splitboard: one for bindings in ride mode, and the other for bindings in tour mode. With all the added tech, splitboards generally run around $200-$500 more than standard snowboards, but most modern models are so well-engineered that you'll feel little to no difference when bombing downhill.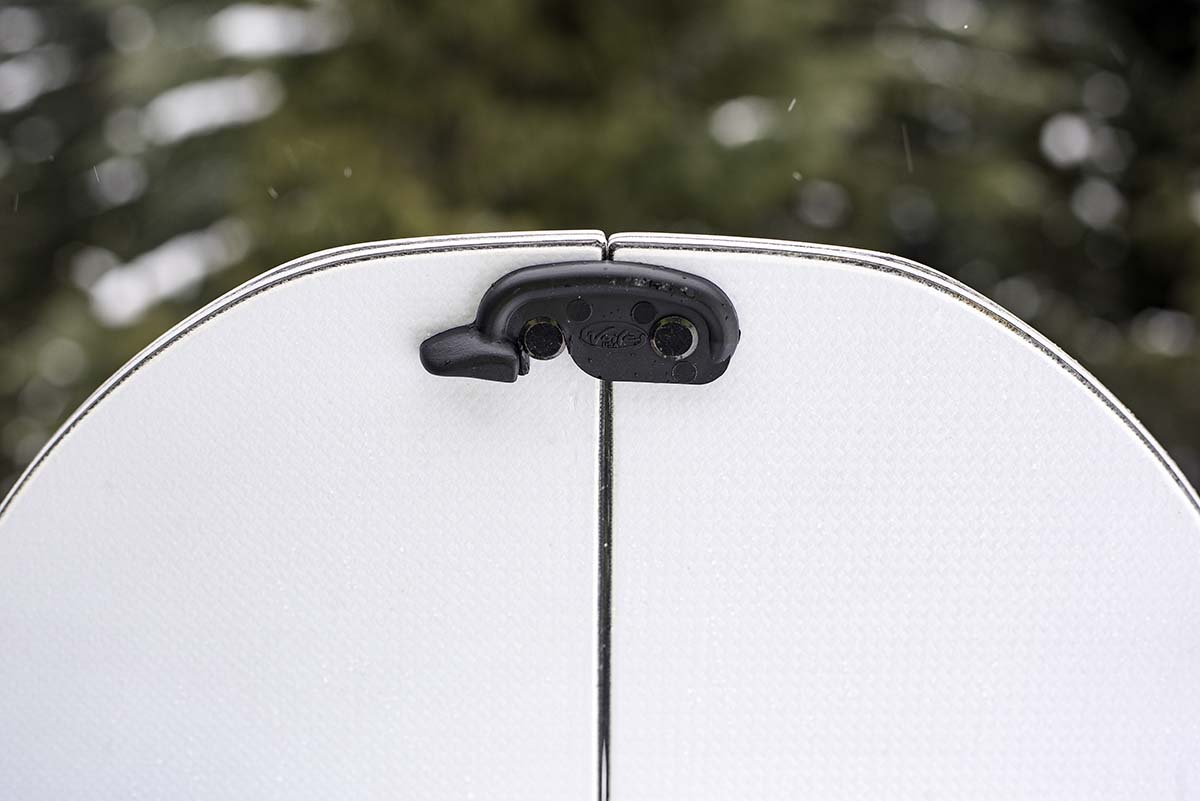 Splitboard Categories 
Freeride
The most versatile style, freeride splitboards are quiver-of-one boards built to handle a variety of terrain, including deep powder, spring corn, and big-mountain lines. Common features in this category include a mid-stiff flex for stability on steep terrain, a directional twin shape with a significant setback, and a rocker profile that prioritizes float over speed and edge control. Freeride boards come up a bit short on the deepest powder days and aren't always top performers on the skin track, but they're far and away the most versatile option and our top choice for most riders. Some of our favorite freeride designs include the Lib Tech Split BRD, Jones Hovercraft Split, and CAPiTA Neo Slasher.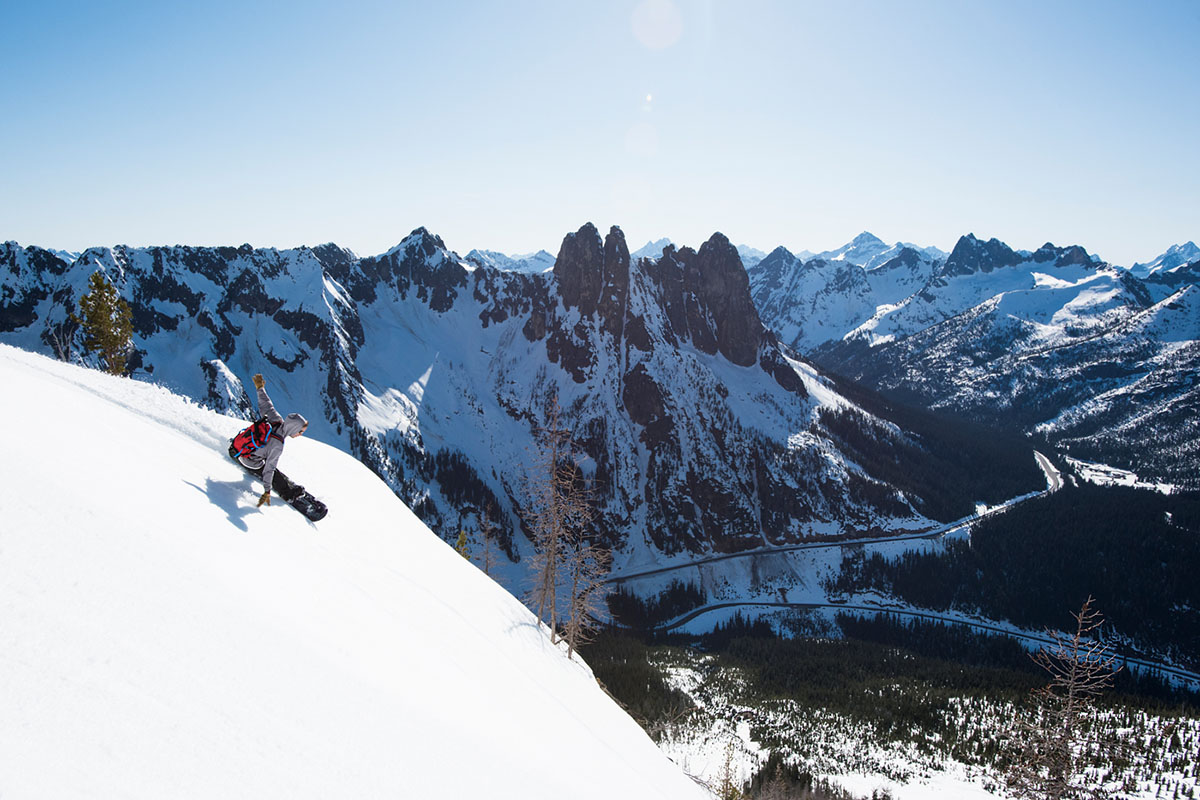 Mountaineering
At the premium end of the spectrum, mountaineering models are built for maximum performance in technical backcountry terrain and nicely balance uphill and downhill capabilities. These boards are defined by their directional shape, rocker/camber profile for maximizing both float and edge grip, and stiff flex ratings that give you the ability to charge hard in high-consequence terrain (some mountaineering boards will have more of a directional twin shape, making it easier to drop into a big line switch). They're also stable and efficient on the uphill, with lightweight builds (often carbon) and premium edge designs for hold on icy, traversing skin tracks. As a result of all this tech, splitboards in this category are some of the most expensive on the market, but the cost is worth it for intermediate to expert riders hoping to get the most out of their ride in consequential terrain. Our favorite mountaineering designs this year are the Weston Backwoods Carbon and Cardiff Goat Pro Carbon Split.

Powder
The quest for deep powder brings many a rider to the backcountry, and an aptly named powder board is the best tool for the job. Powder-focused splitboards are characterized by their large, rockered noses, set-back stances, wide waist widths, and tapered tails. Some modern powder boards are built extra-wide and short—like the Rossignol XV Sushi LG Split, which even features a notched swallowtail design—while many old-school options are longer and have a very large swallow tail (like the Voile Hyper V Tail). Keep in mind that most powder boards don't offer great versatility. In other words, they shine in deep conditions (and sometimes corn) but sacrifice performance in variable snow, and particularly on ice.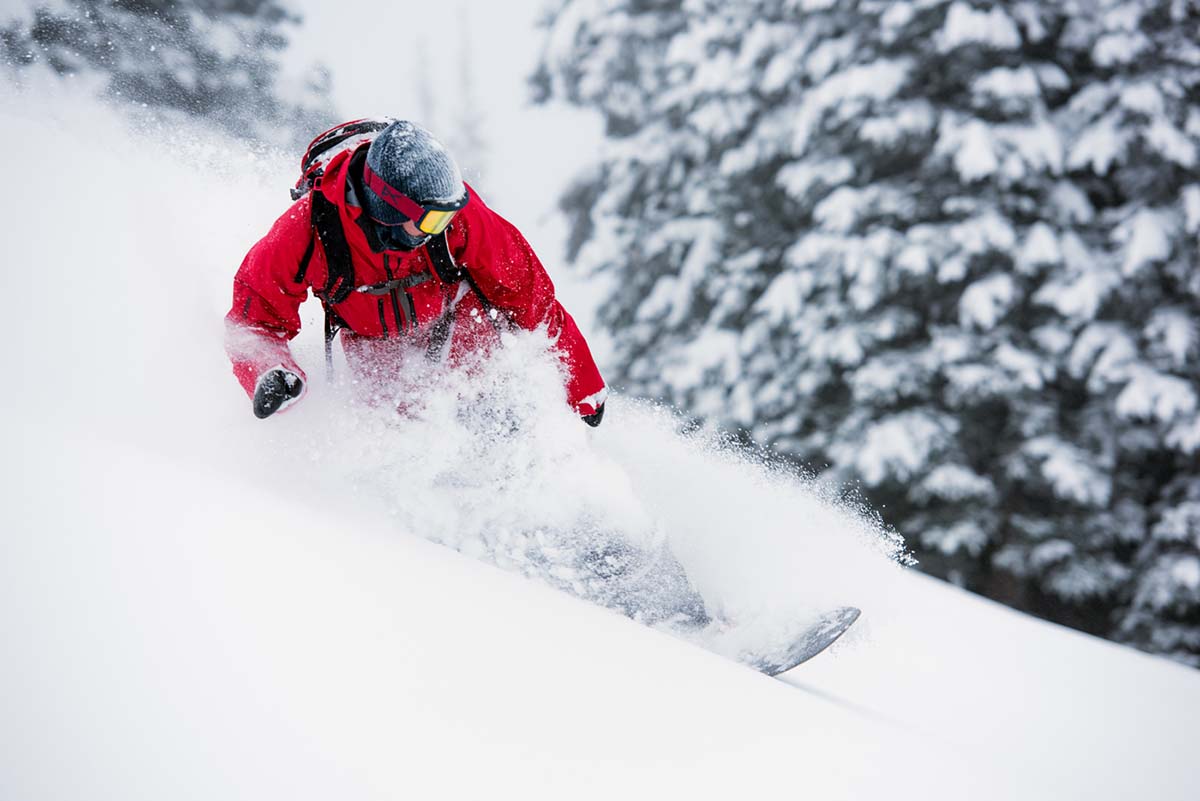 Uphill vs. Downhill Performance
One of the trickiest factors in selecting a splitboard is finding the right balance between uphill and downhill performance. In the end, this will come down to your individual goals as a splitboarder. Do you want to prioritize speed and efficiency on the skin track, or would you rather have stability and power on the descent? As we outline below, a splitboard's performance both on the uphill and the downhill is a function of multiple factors, including weight, width, profile, and shape. 
As with skiing, weight is a primary factor for uphill-focused riders embarking on long tours or multi-day trips. Carbon tends to be strong and stiff while keeping weight low, which makes it a common (and expensive) material used in lightweight designs. But weight isn't the only factor here—you'll also want to look for a mid-to-narrow waist (opting for an overly wide board will mean breaking trail even on the skin track), a camber profile for good control while traversing icy slopes, a relatively long length for ample flotation, and a stiffer flex for stronger ski performance when split skiing. In general, mountaineering boards are the best options here, especially those designed particularly for uphill travel like the Weston Backwoods Carbon and Jones Ultra Solution. We've found that powder boards like the short and wide Rossignol Sushi are notably poor performers on the uphill, which is in large part due to their softer flex, rockered profile, and heavier weight.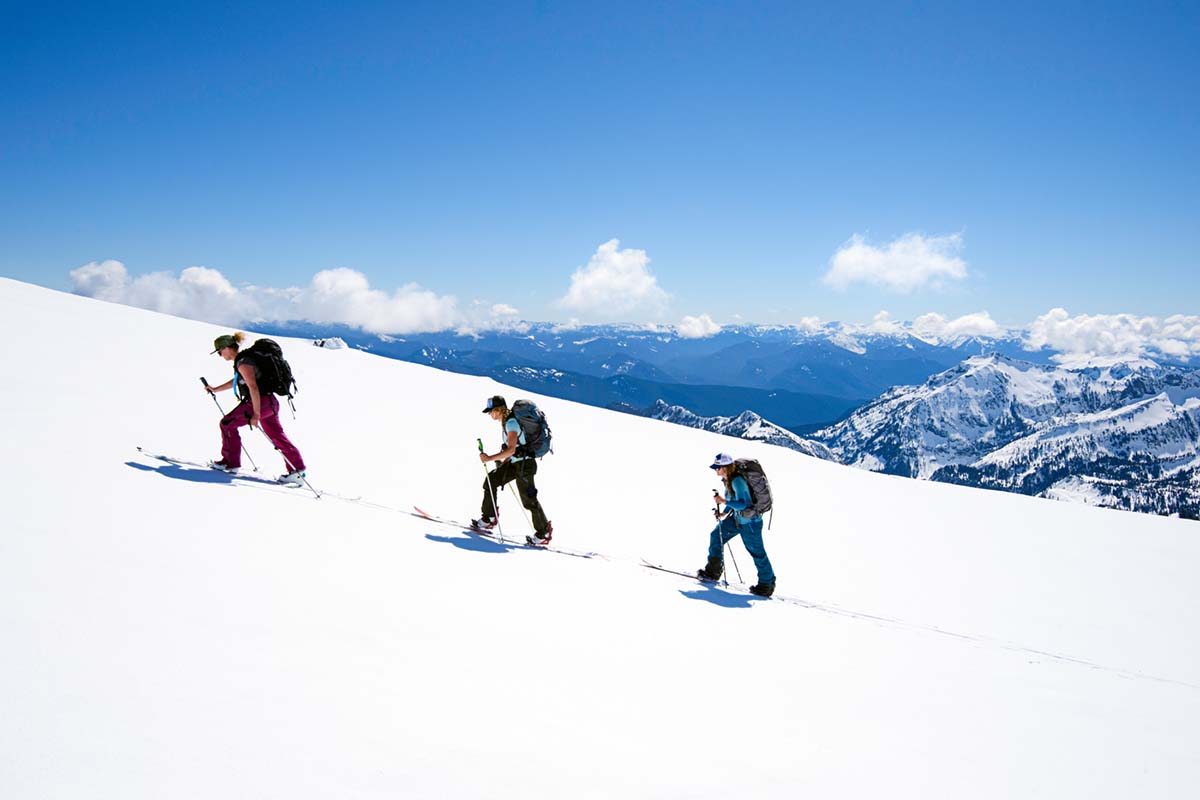 As always, however, there are some inherent tradeoffs in opting for an uphill-focused splitboard. First, these boards can be too stiff for some riders, and shaving weight can sometimes result in a lack of durability. Many splitboarders will find that these designs also lack the "surfy" feeling that drew them to splitboarding (rather than skiing) in the first place. Further, carbon boards like those mentioned above can run you over $1,000, and that's before tacking on bindings, boots, and skins. As a result, all but the most discerning and weight-conscious splitboarders will likely prefer the boards in our freeride category, which often strike a nice middle ground between up- and downhill abilities. 
 
Splitboard Design Features
Splitboard Shape
Splitboards come in a variety of shapes, which can be broken down into three main styles: directional, true twin, and directional twin (or semi-twin). The shape of a board is a key indicator of the style of terrain it's built to handle and often correlates with the freeride, powder, and mountaineering categories above. Powder boards, for example, are directional and generally feature large noses and small tails, while freeriding boards are closer to a true-twin shape, which lends great versatility for switch and freestyle riding.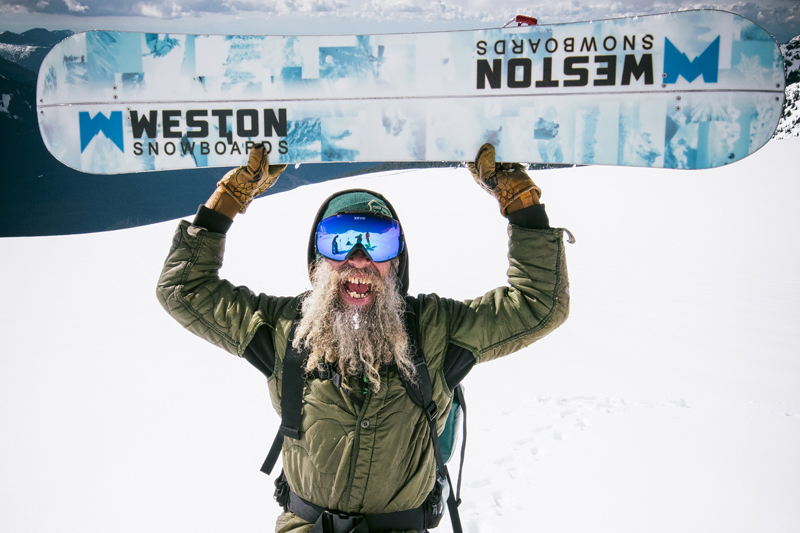 As the name suggests, directional boards are designed to be ridden in one direction. These boards often feature set-back bindings, larger noses, and small, stiff tails (some powder-specific models sport a swallowtail for a surf-like feel in soft snow). Boards with a directional shape are generally built for stability and carving at speed and are popular in the powder category. True twin boards, on the other hand, are symmetrical at the nose and tail (generally both in shape and rocker/camber). Popular among freestyle snowboarders, this shape is great for riding switch but lacks power and stability at speed and in deep powder—as a result, true twin splitboards are not popular among backcountry snowboarders. Finally, directional twin (or semi-twin) boards combine the strengths of both styles, with a nearly symmetrical shape and slightly longer front end that are great in powder and variable conditions. Their well-rounded nature makes directional twins the most common shape among splitboards, seen in models like the Cardiff Goat and Voile Spartan.
The width of a splitboard's waist also plays a big role in its on-snow performance. In order to increase floatation, powder boards will often have wider waists, while most freeride boards are narrower for less chatter and more control at speed. And width matters on the uphill too: the narrower your plank is, the more control and stability you'll have on steep traverses and icy terrain. On the flipside, with a board that's overly wide (like the powder-focused Weston Hatchet Pow Slayer), you'll feel like you're breaking trail even when you're on an established skin track.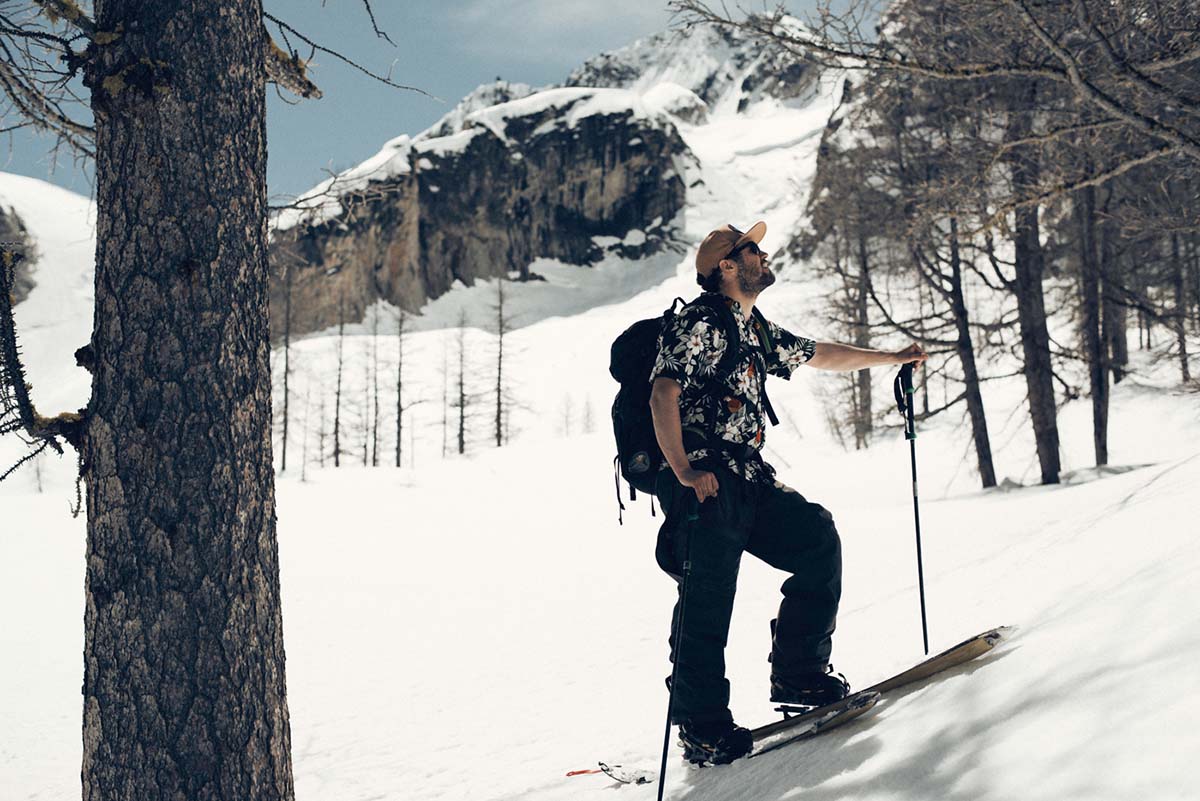 Sidecut Radius 
We won't dive too deep into the nitty gritty here, but sidecut is a measurement of what size circle would result from the arc created by a splitboard's design (similar to a vehicle's turning radius). In general, a splitboard with a narrow waist width compared to its tip and tail will have a shorter sidecut radius, while a board with a wider waist will have a longer sidecut radius. A board with a short sidecut (5-6m) will have an easier time making snappy, narrow turns but can struggle at higher speeds, while one with a longer sidecut (8m and above) will prefer wide, arching turns and offer better stability when going fast (at the sacrifice of maneuverability).
As a very general rule of thumb, mountaineering boards have a long sidecut, freeriding boards have a short-to-medium sidecut, and powder boards fall somewhere in between (although often shorter than longer). However, there are many exceptions to the rule: for example, a powder board that is meant to be more aggressive may have a longer sidecut for high-speed, arching turns, while a powder board designed for riding mellow trees may have a shorter sidecut for making quick, snappy turns.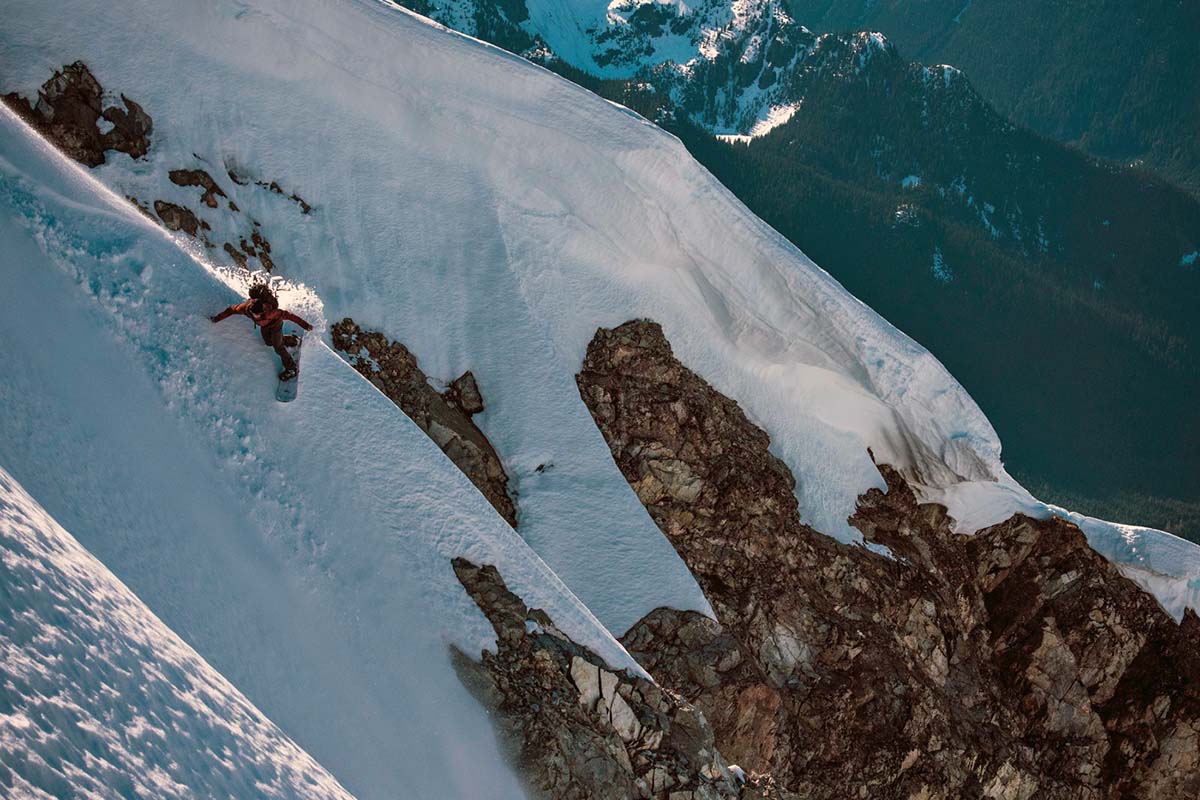 Splitboard Flex
Another key consideration is the flex or stiffness of your splitboard. Most boards are rated on a 1-10 scale, with 1 being a soft, freestyle-oriented board and 10 being a stiff, high-end mountaineering design. Others are simply designated as soft, medium, or stiff (and sometimes a mix). It's important to note, however, that ratings are not standardized across the industry and can vary significantly from one brand or board to another. 
Most splitboards fall into the medium-to-stiff flex range, or about 5 to 8. Softer boards allow for easy flex and a quick response when turning, but they tend to get "chattery" at high speeds and struggle in variable terrain (which is often what you'll find in the backcountry). Stiffer boards, on the other hand, are great for charging big lines and maintaining control, although they can be challenging to turn and are not very nimble in tight spaces. For big-mountain pursuits and mountaineering, we recommend a stiffer design like Never Summer's Atom Split, while many will prefer a medium flex (like the Cardiff Snowcraft Goat or Weston's Hatchet Pow Slayer) for Japan's pillows or Colorado's tight aspen trees.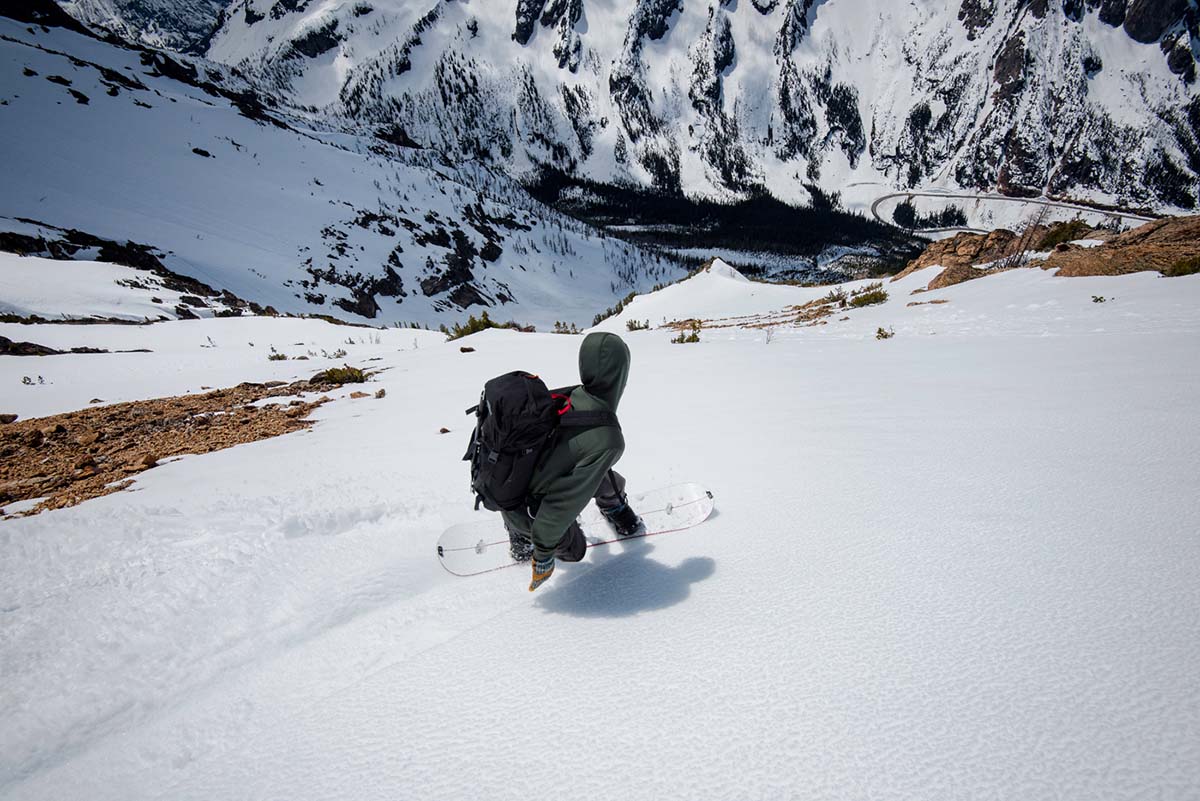 Splitboard Profile 
Understanding a splitboard's profile—that is, its rocker, camber, or a combination of the two—is an important aspect in choosing the right model for you. The classic design is a camber profile, which features a high point between your feet (about an inch above the ground) and a gentle bow toward the tip and tail. Camber advocates like the aggressive snap you get when initiating a turn, but the flipside is that the board takes a lot more power to control and often turns slower than other profiles. 
On the other hand, a rocker profile is flat between your feet and bows up at the tip and tail (like a banana). These boards initiate turns quickly and float in powder with ease, but the tradeoff is that you get less stability at high speed and more of a chattery feel. And a third style is a combination of rocker and camber profiles, which—when executed well—manages to provide an excellent balance between the two. Each brand has their own take on this concept, but it often involves camber between the feet and rocker at the nose and tail. With this profile, you get both snappy turns and stability at speed.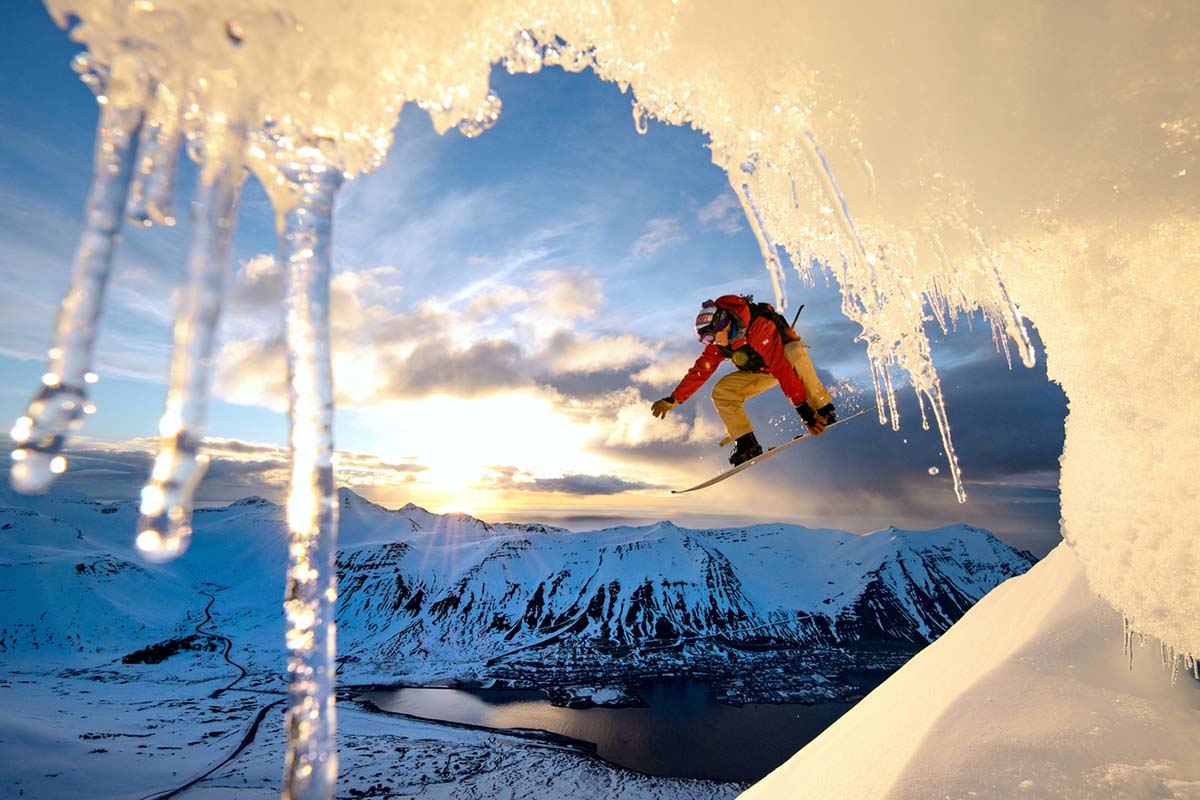 When deciding on the profile of your board, it's important to consider your uphill objectives too. Contact points with the snow are crucial for maximizing traction on the skin track, especially when traversing steep slopes or climbing icy terrain. A heavily rockered splitboard will struggle to maintain grip, while a cambered board (or a mix of camber and rocker) maintains a much wider surface area with the snow and will be more efficient on the way up. For this reason, most splitboards feature a camber profile or a combination of both camber and rocker underfoot.

Setback 
To understand setback, let's first consider a true twin snowboard. In most cases (although not all), the bindings will be centered on the middle of the board, with an equal amount of distance between the center and the front binding and the center and the rear binding. This is referred to as a "centered" stance, or zero setback. As we move the rear binding back, the setback increases (measured in terms of distance from a centered stance and often expressed in millimeters). Looking at the setback of a board is a great way of determining its intentions and the style of terrain it's designed to ride. In general, the more setback your stance is, the more float you'll have in powder. Less setback, and you get a more playful, freestyle-feeling board that can easily ride switch.
In most cases, a board's setback correlates with its shape: most true twins will be centered, while directional boards will have the largest setbacks (and directional twins are in the middle). For example, powder boards like the Rossignol Sushi and Spline Yam Fries have dramatically setback stances, while more all-around directional twin splitboards might be setback 15-25 millimeters to maintain performance for a variety of terrain and riding styles. Board shapers can get creative with this too, by combining a centered stance with a directional twin shape (as in the case of the Arbor Coda Camber and Weston Hatchet) for performance in both powder and freestyle riding. Finally, keep in mind that a board's setback generally is fixed with its profile so that the feet are centered around a rocker or camber in the middle. For this reason, we don't recommend altering your board's setback (unless you really know what you're doing).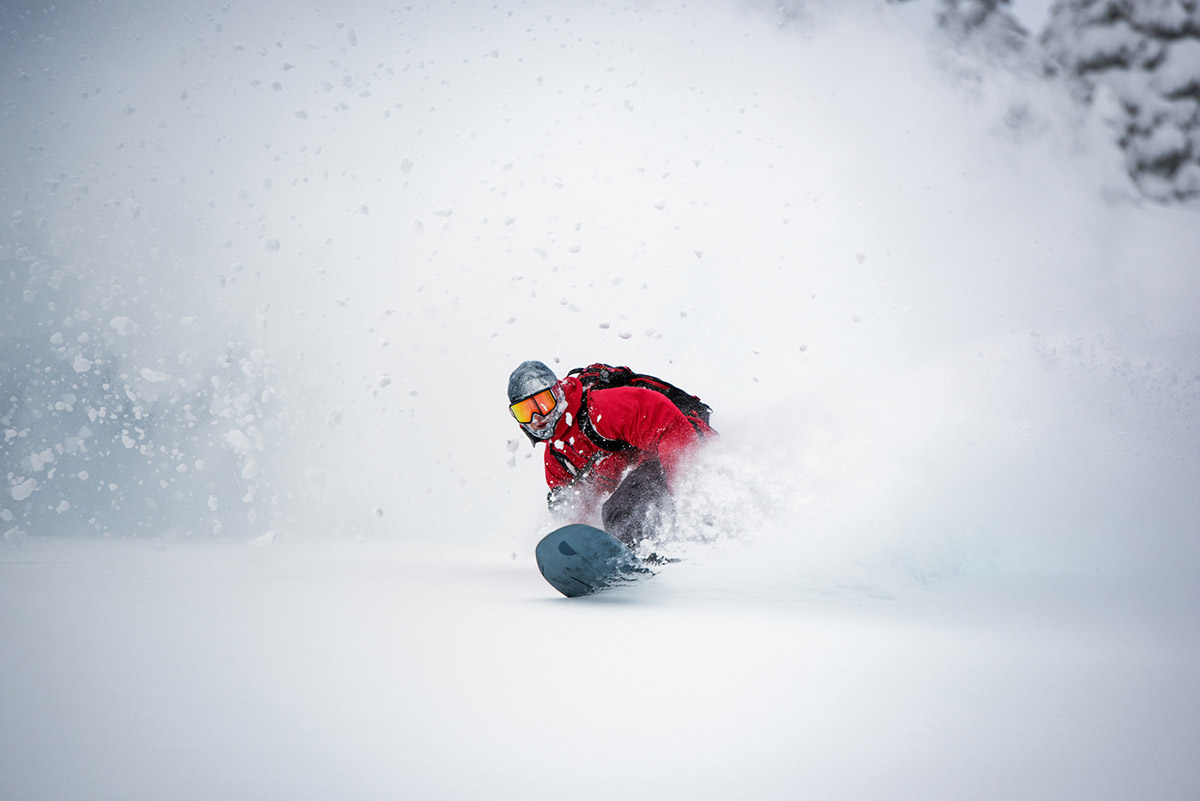 Sizing: Length and Width
Splitboard lengths range from around 145 to 170 centimeters, which is a lot less dramatic of a range when compared to skis. However, finding the right length for your weight, stature, and riding preferences nevertheless is crucial for maximizing performance. Manufacturers and retailers provide recommended size charts for each of their models, but in general you'll want a longer board for aggressive downhill carving and a shorter design for freestyle riding and maneuverability. Some powder boards feature a shorter length, but be mindful that too short of a board will sacrifice some uphill efficiency. 
In terms of width, when sized correctly, your boots should hang over the edges of the board but not touch the snow while you're edging. Those with larger feet will want to look for a wide board, which is often indicated by a "W" after the length (for example, 165W). Manufacturers often publish helpful info on when to size up to a wide board, which is commonly around an 11 or 12 for men and 9 for women (women who need a wider model can also consider regular-waisted men's versions). And as we've mentioned above, a splitboard's width is an important factor to consider when it comes to uphill travel too. For the best stability on the skin track, we recommend sticking with a regular-waisted version unless sizing up is absolutely necessary.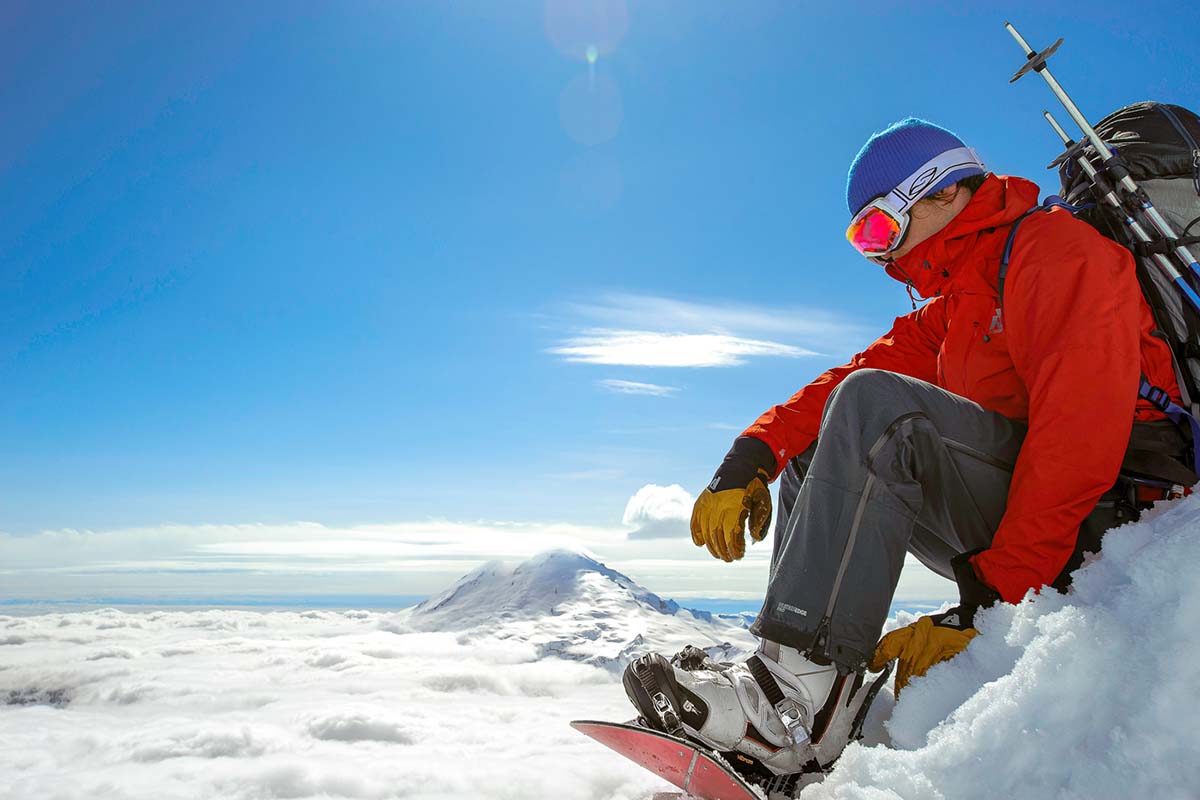 Weight
The splitboards on our list range from 5 pounds 15 ounces to 7 pounds 9.6 ounces (without bindings), with the majority of models clocking in around 7 pounds. While splitboards generally have less focus on weight-cutting than backcountry skis, it does become important if your objectives entail hauling your set-up far into the backcountry. If you're looking to cut weight, look for a board that utilizes carbon and weight-saving technology in the core (our mountaineering category is a great place to start). You'll pay a premium for these ultralight designs—the Jones Ultra Solution, for instance, is $500 more than the standard Jones Solution—and carbon boards can be overly stiff, but for long tours and multi-day mountaineering objectives, those ounces add up quickly. 
 
Women's-Specific Splitboards
In 2021, women's-specific splitboards are much more than just different-colored and smaller versions of their men's counterparts. The best women's boards take the female body into account with narrower widths (women generally have smaller feet relative to their height than men) and softer flexes to pair with lighter frames. Female-specific boards are also available in a range of shorter lengths and come with unique deck and base designs and colorways. Weston leads the charge in women's splitboards with four at the time of publishing, including the Rise, Riva, Seeker, and Eclipse. When applicable, we list the dedicated women's models above, and we hope to see more options as the market continues to evolve. Finally, keep in mind that women with bigger feet or more aggressive styles might prefer a men's model in the end—it's all about your riding preferences and priorities.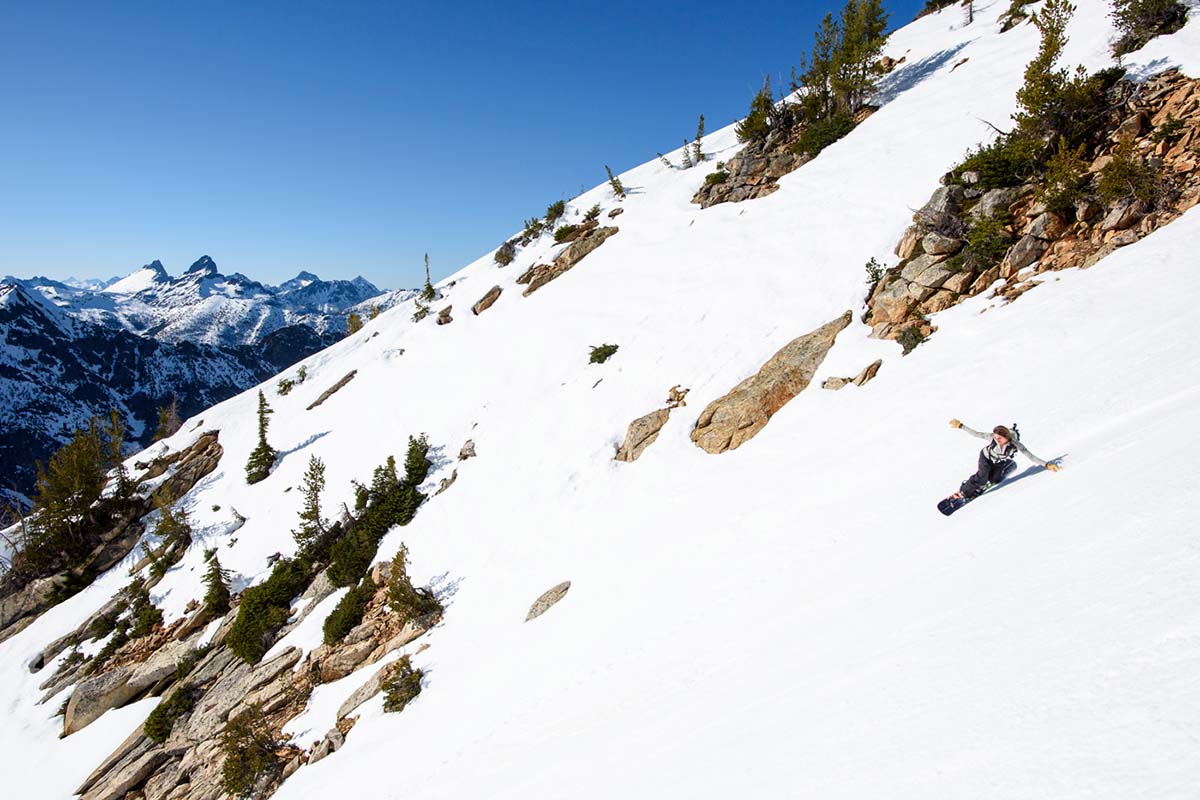 Completing Your Set-Up
Splitboard Boots and Bindings
Some aspects of splitboard technology are still far behind the ski industry, and boots are one glaring example. The market in 2021 still is fairly limited, and most splitboarders end up using their inbounds boots for touring (our favorite is the relatively stiff K2 Aspect), which are comfortable yet offer limited performance for steep traversing, kicking steps, and pairing with crampons. As a result, some splitboarders turn to ski boots (Phantom is the only company that makes splitboarding-specific hardboots), but these come with a few major downsides, and we only recommend them for mountaineering missions. If you're on the hunt for a quality pair of boots (we're sure more and more will continue cropping up), look for design features like crampon compatibility, solid toe boxes for kicking steps, the ability to adjust the upper and lower boot separately, heel lock-down technology (important for minimizing blisters at the heel), and a low weight.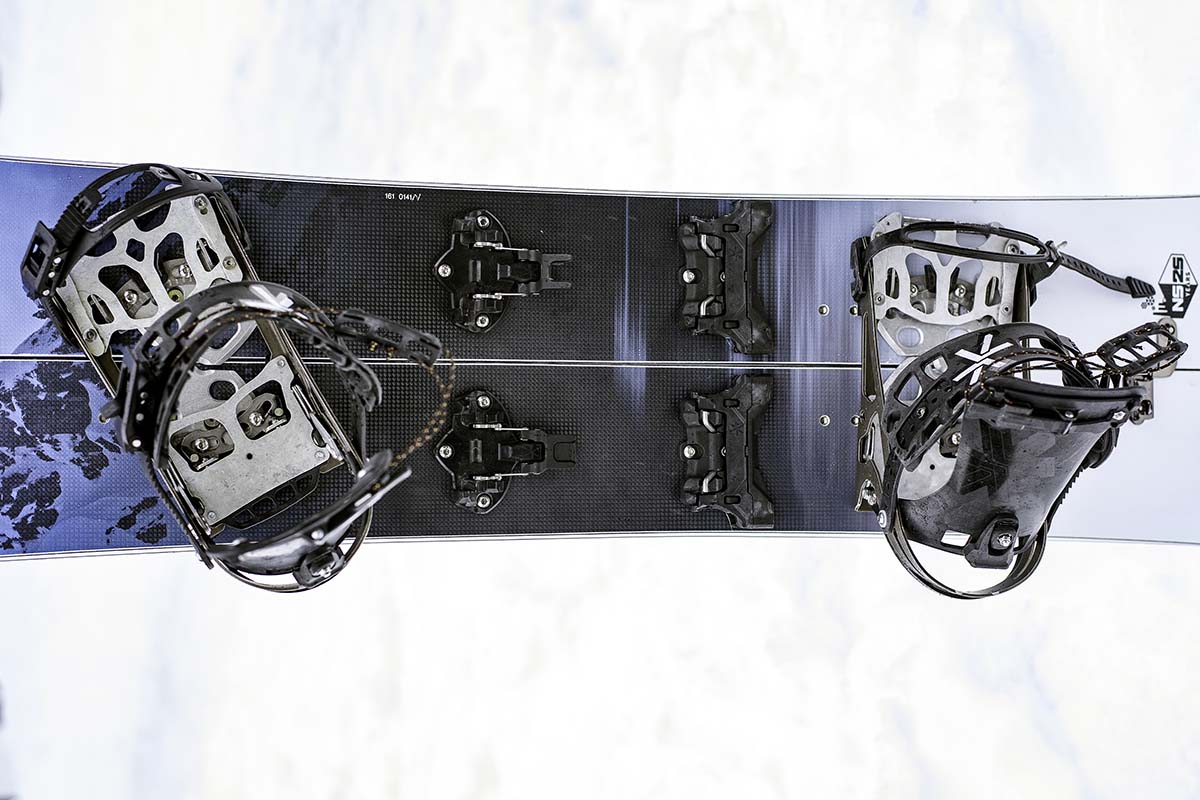 In terms of bindings, there are two main styles to choose from: softboot bindings and hardboot bindings (the vast majority of splitboarders opt for the former). Splitboard bindings offer increased range of motion for uphill travel, are generally lighter-weight and more durable than standard snowboard bindings, and are compatible with splitboard mounting hardware. They also include backcountry-specific features like the ability to lock your heel in to skate and heel risers for more efficient climbing. If you want to save money, it is possible to use your standard snowboard binding and pair it with Voile's Slider Track, although this set-up is fairly heavy, clunky, and won't offer the best performance.
In terms of mounting hardware, you have a few options. The most popular system is the classic puck, which mounts to your splitboard and allows you to slide your binding on or off (we like Spark's pucks for their durability and simplicity). Other splitboarders favor the Karakoram system, which includes both an interface and a binding. Unlike the puck style, Karakoram's interface pulls the two boards together in addition to securing your binding, which Karakoram claims improves ride quality and makes transitioning your binding to ride mode easier with self-clearing snow removal. Karakoram bindings also have the ability to switch from ride mode to tour mode while staying on your feet, which eliminates a step in the transition process.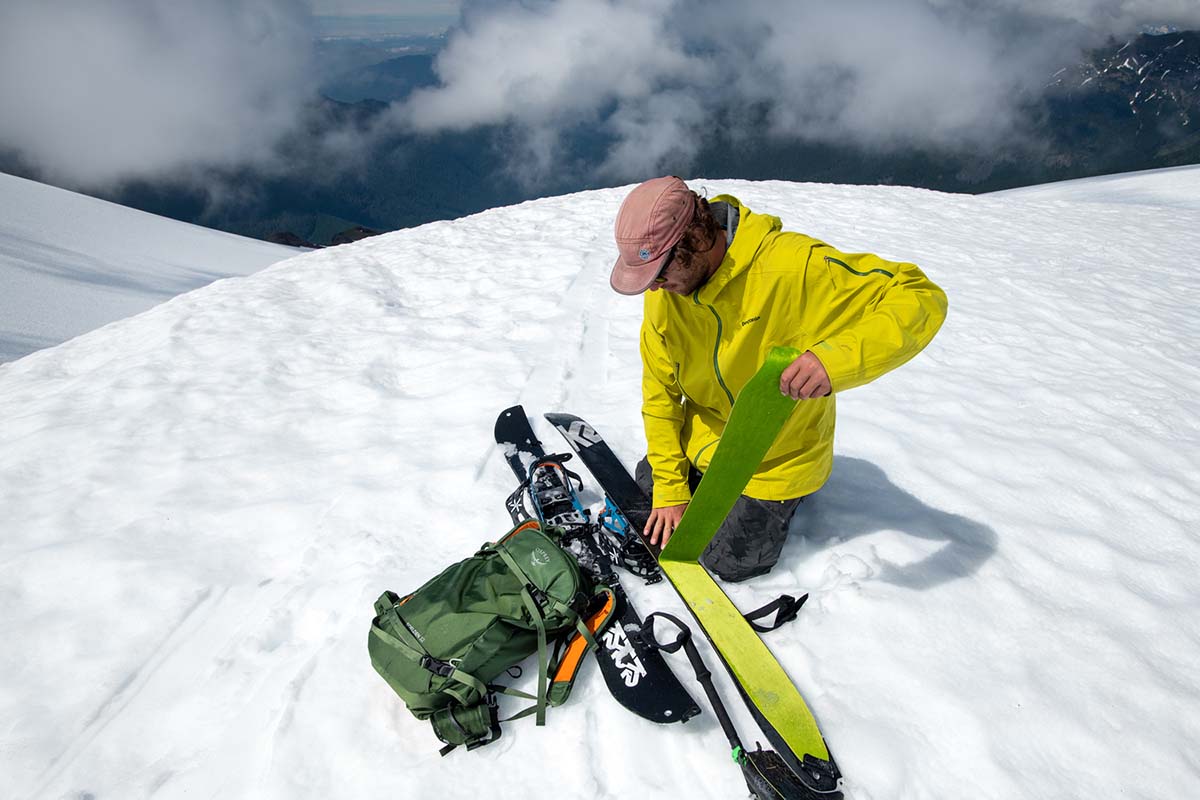 Splitboarding Skins
Climbing skins adhere to the bottom of your two planks by way of glue and toe and tail clips, allowing you to grip the snow as you slide uphill. The majority of skins are made either with nylon, mohair, or a mix of the two—nylon is heavier, more durable, and offers a more secure hold, while mohair is lighter and faster on the skin track. For most backcountry explorers we recommend a nylon/mohair mix, also known as momix, although nylon skins are perfectly passable for beginners. 
Because skins' original (and still most popular) application was in backcountry skiing, most splitboarding designs are made by ski companies like G3, Black Diamond, Pomoca, and Contour. It's also common for board-makers to partner with these manufacturers to help expand their offerings—for example, Jones' branded skins are made by Pomoca, while Nitro and Karakoram's skins are made by Kohla. Most skins are compatible with a wide range of splitboards and must be trimmed to fit your specific model (this is a fairly easy DIY process). On the other hand, some brands offer custom designs for specific boards—no cutting required. The Jones Nomad, for example, is available in multiple models depending on the size and style of your Jones board. And finally, some boards—namely the Ride Splitpig—include pre-cut skins with purchase. 

Other Splitboarding Essentials
In addition to a splitboard, bindings, boots, and skins, you won't be able to get very far into the backcountry without a number of other essentials. First and foremost is your avalanche safety gear, which includes a beacon, shovel, and probe, plus the ability to use them properly and efficiently (for more, see our section on avalanche safety below). Second, a set of poles is key, and you'll want a durable and collapsible model that's strong on the uphill but can disappear into your pack on the way down (we love the Backcountry Access Scepter 4S). To carry it all, we recommend purchasing a snow backpack with backcountry-specific features like a dedicated avalanche-tool pocket, external ice axe and pole carry, straps for securing a snowboard, and oversized zippers for easy manipulation with gloves.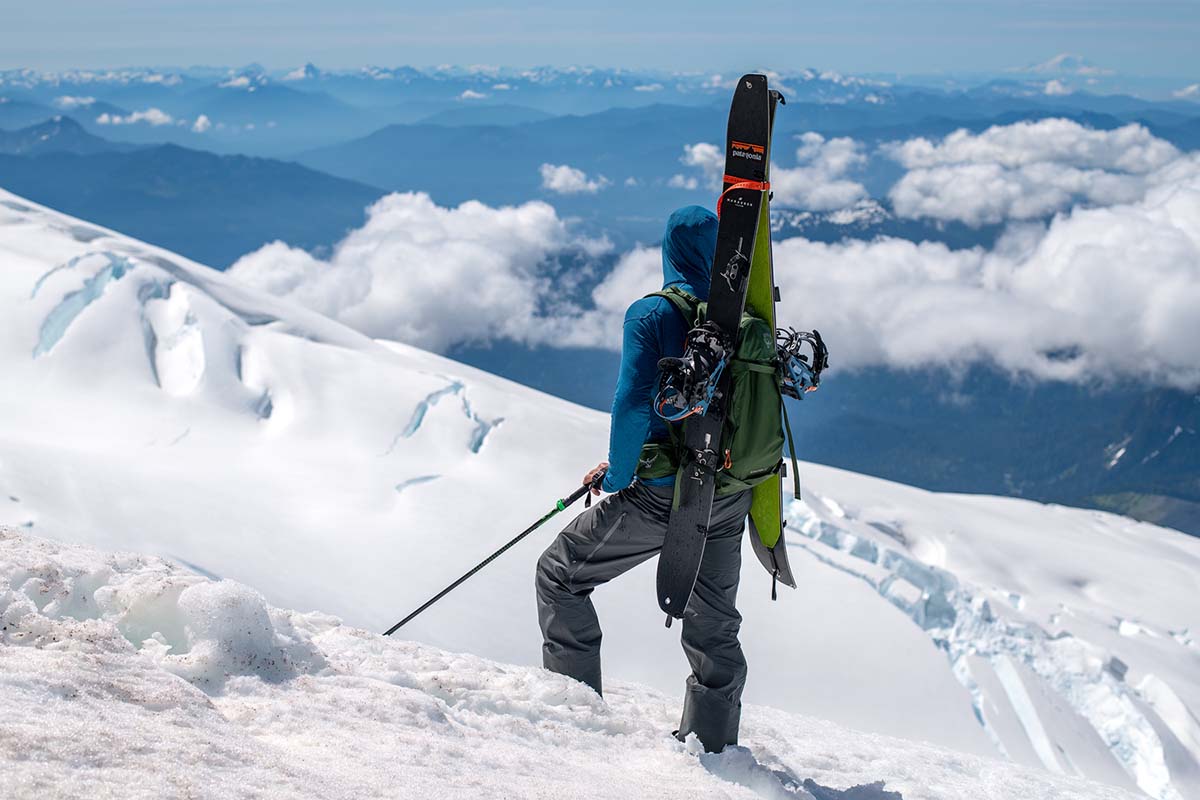 Splitboard Alternatives 
Before you go all-in on a splitboarding set-up, it's worth considering all your options. Many riders start with a standard snowboard, strap it to their pack, and use snowshoes to tackle the uphill. However, while this works for recreational snowboarders and those who only tour a few times a season, it's not a great long-term option. Snowshoeing is physically challenging on long days, slower than skinning, and oftentimes requires breaking trail next to a nice, packed-down skin track (you don't want to ruin the track for others by snowshoeing in it). Choosing a splitboard for the uphill is far more efficient and allows you to cover more mileage with far less effort. 
For DIYers, there's also the option of cutting an old snowboard in half and drilling dedicated holes for splitboarding hardware. Voile sells their Split Kit for this exact purpose ($160), which comes with all the parts you'll need to convert an old board, as well as step-by-step instructions. But while splitting an old board may seem like an easy and cheap way to get into an expensive sport, we don't recommend it from a performance standpoint. Having ridden many DIY splitboards, we're confident in saying that they're hard to build, sloppy to ride, and end up costing more than you expect.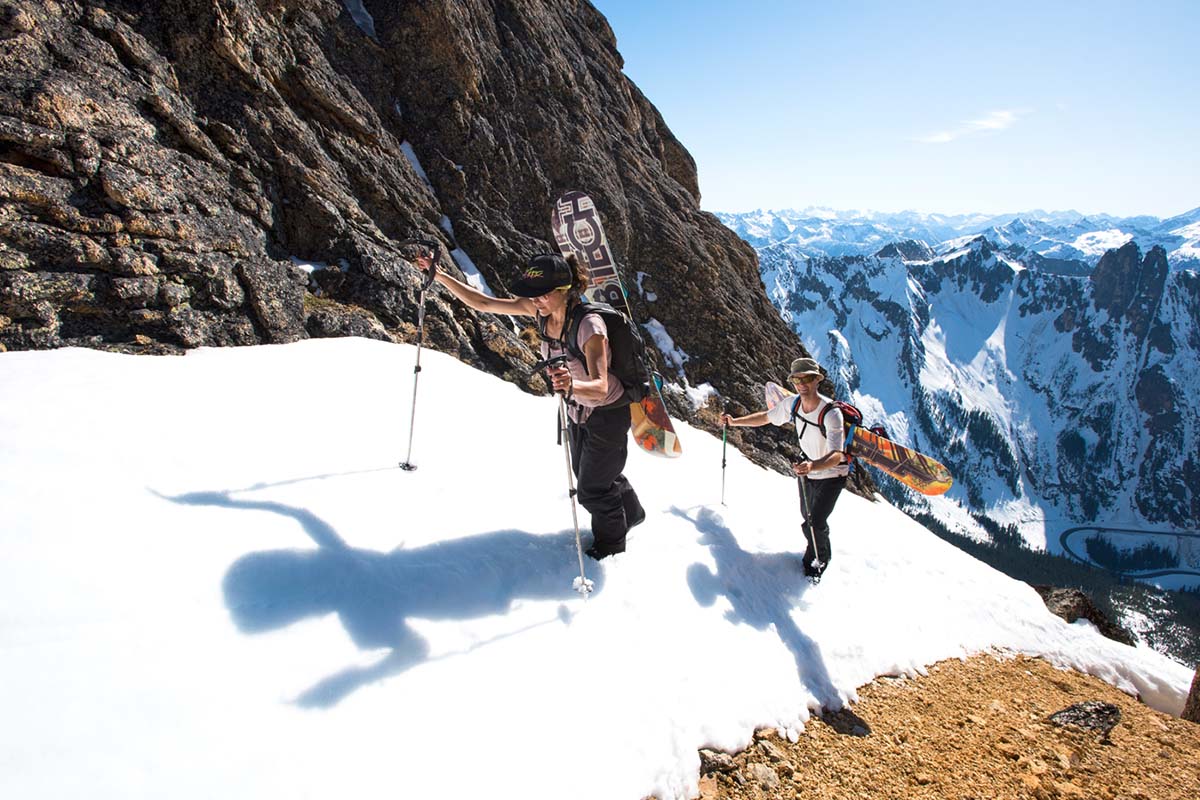 A final alternative to splitboarding is learning to ski. If you are a beginner snowboarder or not particularly attached to the sport, skis offer a few tangible benefits. Most notably, they're more efficient on the uphill, offer quicker transitions (no need to assemble a board or move bindings around), and are easier to ride and maneuver over flat terrain. To be sure, splitboarding is an excellent way to travel in the backcountry—and especially in deep powder—but if you're on the fence and haven't yet invested in either sport, many consider skis to be the more versatile set-up.
 
The Importance of Avalanche Safety
The most crucial backcountry tool is education, and we highly advise getting the proper avalanche training before heading out. The American Institute for Avalanche Research and Education (AIARE) offers Level 1 courses that are considered the gold standard among backcountry enthusiasts and give you a comprehensive overview of how to travel safely and use your gear properly, evaluate potential risk, and rescue your partner(s) in the event of a slide. There are a host of other ways to supplement your learning, including books, videos, seminars, podcasts, and more—many of which are free (we highly recommend "Staying Alive in Avalanche Terrain" by Bruce Temper). Backcountry travel can be incredibly rewarding, but it's important to understand the inherent risks (which are many) and ensure you're properly equipped before heading out.
Back to Our Top Splitboard Picks  Back to Our Splitboard Comparison Table
Read More From Switchback Travel