You can't overvalue a great pair of hiking socks: they keep your feet comfortable and dry while helping to prevent blisters and hotspots. We tested the full array of quarter-height and crew styles in varied conditions from the heat of Utah's Canyonlands to the snow of Washington's North Cascades, and below are our picks for the best hiking socks of 2021. Most of our favorites are made with merino wool, which has become the standard-bearer in socks and performance outdoor apparel in general. It's true that quality hiking socks are pricey—they generally run in the ballpark of $20 per pair—but all of the options below are tough enough for trail duty and made to last. For more information, see our hiking sock comparison table and buying advice. And for more on hiking footwear, we've tested and written about hiking boots and lightweight hiking shoes. 
 
Best Merino Wool Hiking Sock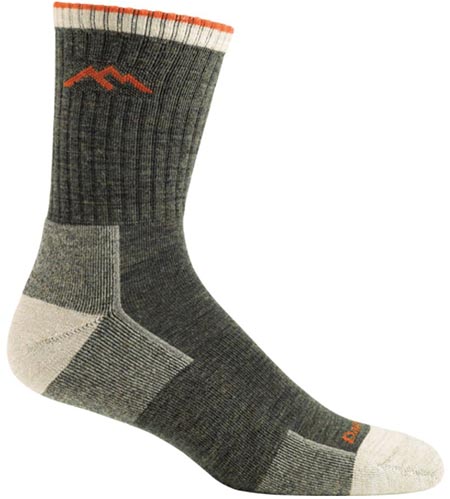 Materials: 61% merino wool, 36% nylon, 3% spandex
Cushioning: Light/medium
What we like: Comfortable and last forever.
What we don't: Tough construction means they aren't quite as plush as some other socks on this list.
Smartwool used to be synonymous with hiking socks, but over the past few years Darn Tough has taken the lead. With cozy seamless construction, high-quality merino wool, and a lifetime warranty to back it up, Darn Tough socks simply are the best. Our favorite model for hiking and backpacking is the Micro Crew Cushion. High-density knitting creates excellent padding and breathability for virtually any 3-season outdoor activity. The fit is super comfortable, not overly elasticized around the arch or forefoot, and doesn't bunch or create pressure points.
As we've found, no sock is totally perfect. Our nitpicks with the Micro Crew are that the cushioning underfoot can make the sock a little warmer on hot days than thinner models like the Smartwool Performance Hike Light below, and the tough construction means losing a tiny bit of plushness. But this is telling: in all the miles we've racked up with our Micro Crews (some are 7+ years old and counting), we haven't put a hole in one sock. And if you like Darn Tough socks but are looking for something a little more breathable, check out their Light Hiker Micro Crew Light Cushion, which is a thinner alternative with a performance fit similar to the Smartwool below.
See the Men's Darn Tough Micro Crew  See the Women's Darn Tough Micro Crew
Best Lightweight Sock for Summer Hiking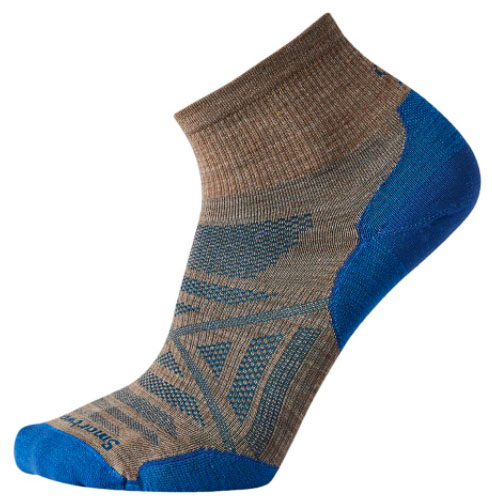 Materials: 48% merino wool, 48% nylon, 4% elastane
Cushioning: Ultralight
What we like: Great for summer hiking.
What we don't: Thin for extended trips.
For warm-weather hiking, trail running, and casual use with your sneakers, a minimally padded sock makes a lot of sense, and Smartwool's PhD Outdoor Ultra Light Mini is our favorite ultralight option. Well-priced at $17, you get a great fit, superb breathability, and a very comfortable feel. And as with the Performance Hike Light Cushion Crew below, Smartwool added Indestructawool to these socks for a boost in durability. They still won't last forever, but the Ultra Light Mini is a nice option for summer when you don't need serious cushioning.
What are the downsides of choosing an ultralight hiking sock like the Smartwool? The materials are considerably thinner than the lightweight Darn Tough above, even in critical areas like the heel and toe box. But if you have tough feet and can avoid blisters, these socks will help keep your feet cool even during the hot summer months. If you need some extra cushion, Smartwool does made a padded quarter-height model, but in that category we prefer the Darn Tough cushioned version below.
See the Smartwool PhD Ultra Light Mini
Best Budget/Synthetic Hiking Sock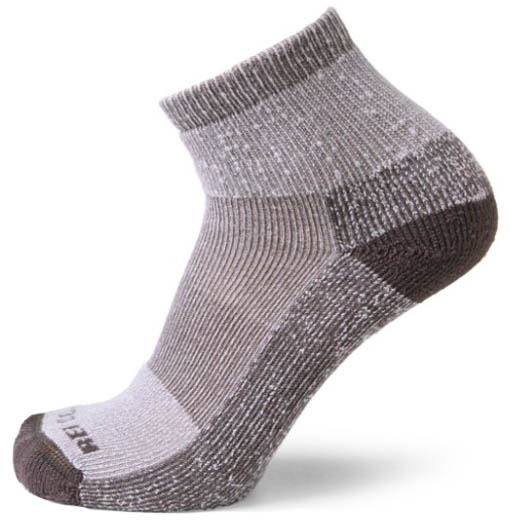 Materials: 77% Coolmax EcoMade, 22% nylon, 1% spandex
Cushioning: Light
What we like: Around $5-$10 cheaper than the merino competition.
What we don't: Holds onto stink more than wool.
Not everyone is willing to spend $20+ on a pair of hiking socks, which we understand, and REI Co-op offers a budget-friendlier alternative to merino wool with their Coolmax EcoMade Lightweight Hiking Quarter. Made with fabric constructed from recycled plastic bottles, these socks provide a soft next-to-skin experience without the usual environmental burden of polyester (REI has been strong of late on the sustainability front). They wick moisture well too, making them a great choice for hot-weather adventures when you still want decent cushioning and support.
What do you sacrifice by saving with the REI Coolmax EcoMade? For starters, the synthetic material holds onto stink more than merino. And compared to Darn Tough's Coolmax sock below, the REI generally fits a bit less snugly, especially over time (although they are the better value). In the end, if you're anticipating a long-term investment for hiking and backpacking, it's probably worth going the merino route. But the REI Coolmax excel for casual outings and light outdoor use, which is all many hikers need. Finally, this series also includes thinner, ultralight quarter socks ($12), as well as higher-riding crew options ($14-$16).
See the REI Coolmax EcoMade Lightweight
 

Best Hiking Sock for Winter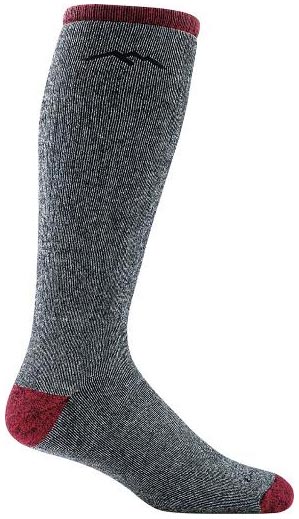 Materials: 73% merino wool, 25% nylon, 2% spandex
Cushioning: Heavy
What we like: Top-notch cushioning and warmth.
What we don't: Overkill for many conditions.
You don't actually have to be a mountaineer to appreciate this sock. The Darn Tough Mountaineering can be worn as a cold-weather hiking sock, for snowshoeing, and it makes a pretty nice partner for lounging around a chilly mountain hut. Some people even use this sock for regular non-winter backpacking as the thick cushioning is superb (for sizing your boots, make sure to account for the extra thickness).
Keep in mind that the Darn Tough Mountaineering Sock runs up to just below the knees—the elastic does keep things nice and tight, so slippage is rare. Most people will find them way too hot for summer, but they can be nice for blister prevention on long hauls. In the end, they have fairly limited year-round appeal but are an interesting option for those who desire the extra thickness and/or warmth. And for a cheaper option in this category with less merino and a lower, crew-cut height, check out Smartwool's Trekking model below.
See the Men's Darn Tough Mountaineering  See the Women's Darn Tough Mountaineering
Best No-Show Hiking Sock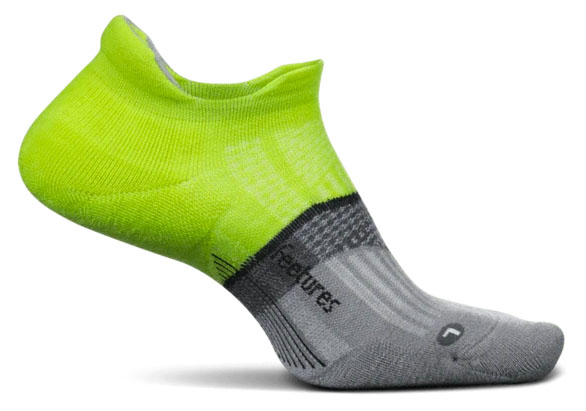 Materials: 46% nylon, 25% merino wool, 25% Tencel, 4% spandex
Cushioning: Ultralight
What we like: The most low-profile socks on our list.
What we don't: No-show design and ultralight cushioning fall short for high-mileage days or backpacking.
The crew and quarter-height socks above cover the heel and ankle, but no-show designs like the Feetures Merino 10 Ultra Light No Show ride even lower. We've seen a growing trend of hikers wearing running socks like the Feetures while out on the trail, and we think it makes a lot of sense: paired with a low-profile hiking shoe or trail runner (there isn't enough clearance for ankle-height shoes boots), the Feetures is a great choice for fast-and-light missions. The short, ultralight design will keep your feet cool during warm outings, but the moderate dose of merino (25%) will still wick moisture and resist odor better than synthetic. All told, it's a competitive combination for those who want to minimize bulk underfoot.
Like the Smartwool PhD Outdoor Ultra Light Mini above, the Feetures' ultralight cushioning is notably thin and falls short for backpacking trips or even long-mileage day hikes (long-term durability is also a concern). Further, it's important to match the sock with low-riding footwear—if the collar of your shoe rises too high, it could cause uncomfortable rubbing. And finally, a no-show model is more prone to letting dirt and grime sneak in through the top. But for those who don't mind the obvious sacrifices in protection and padding, the Feetures Merino 10 is nevertheless a capable lightweight companion (and did we mention no sock tans?). If you want a boost in padding for more ambitious outings, check out Feetures' popular Elite Max Cushion No Show and Balega's Hidden Comfort below.
See the Feetures Merino 10 Ultra Light
Best of the Rest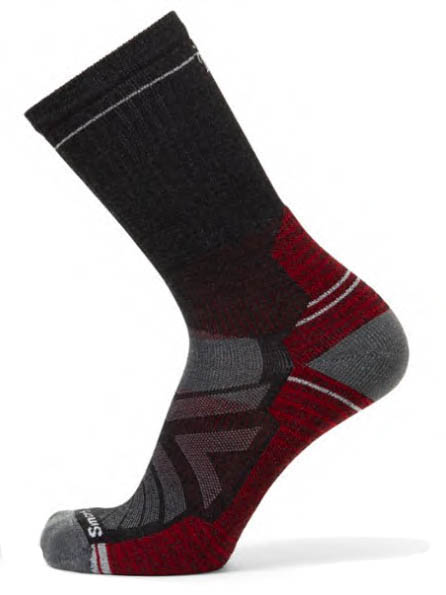 Materials: 56% merino wool, 42% nylon, 2% elastane
Cushioning: Light
What we like: Performance fit and now made with recycled materials.
What we don't: Can't match Darn Tough's lifetime guarantee.
Smartwool recently overhauled their popular PhD collection with a number of notable tweaks to the design. Key changes include the use of sustainable materials (the Hike Light here uses 31% recycled nylon), increased cushioning (especially under the arch), and Smartwool also updated the mesh zones and overall fit. But most of the winning recipe remains largely the same, including sufficient padding under the heel and forefoot for trail running, hiking, and lightweight backpacking, as well as good breathability and a secure, foot-hugging shape. And we love the modernized designs and patterns, including mountainscapes and brighter colorways.
We've had durability issues with previous Smartwool models—particularly at the heel—but the brand now uses Indestructawool technology, which is a denser and tougher wool blend. The Performance Hike Light has Indestructawool in the heel and toe, and we must say it has proven to be durable over the past few years without a noticeable change in comfort. Smartwool still can't match Darn Tough's lifetime guarantee (although two years is pretty good), but we think the updates to the new Performance collection are positive and give them a leg up in some areas, including fit and plushness.
See the Men's Performance Hike Light  See the Women's Performance Hike Light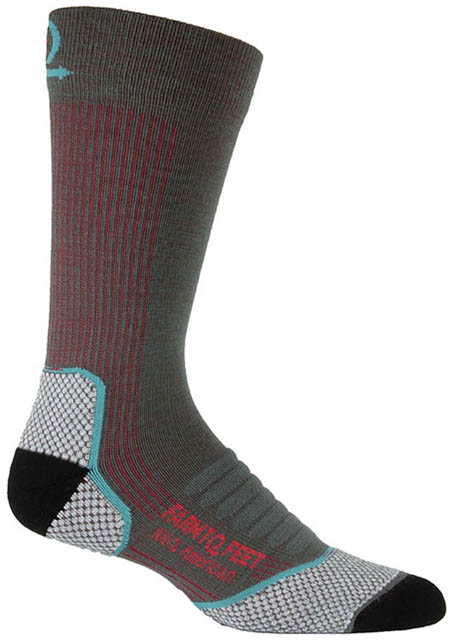 Materials: 51% merino wool, 46% nylon, 3% Lycra
Cushioning: Light
What we like: High-quality design that is sourced and made in the U.S.
What we don't: Less merino and pricier than the Smartwool Performance Hike Light above.
Designed with thru-hikers in mind, Farm to Feet's Damascus Lightweight Technical Crew offers a nice blend of breathability and cushioning for long days on the trail. With a seamless toe area for minimizing bulk and preventing blisters, strategic padding in high-wear areas, and a snug performance fit, the Damascus is purpose-built to handle trail life. Further, all Farm to Feet socks are backed by the company's generous lifetime guarantee that rivals Darn Tough's well-known warranty. But what sets Farm to Feet apart is that their products are 100% sourced and made in the United States, including American-raised sheep providing the merino wool. 
The Damascus' closest competitor on this list is the Smartwool Performance Hike Light Cushion Crew above, which boasts slightly more merino (56%) at $1 less per pair. However, the Farm to Feet is no slouch. Specifically, we like the sock's vibrant accents and superior warranty (Smartwool's is only two years), which could be a deciding factor for those who put in a lot of miles. The Damascus lineup also includes no-show, quarter-height, and medium-cushioned crew socks that share similar overall designs and features.
See the Men's Farm to Feet Damascus  See the Women's Farm to Feet Damascus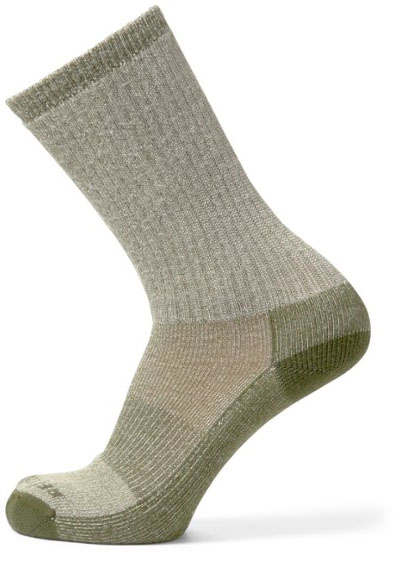 Materials: 79% merino wool, 20% nylon, 1% spandex
Cushioning: Light/medium
What we like: Good value, soft feel, and now certified to the Responsible Wool Standard.
What we don't: Spandex loosens over time. 
If you're sold on the benefits of merino but are looking to save, the REI Merino Wool Lightweight hiking socks are just the ticket. For a reasonable $17, you get the comfort and temperature regulation one expects from merino (and a lot of it at 79%) with few compromises. With good cushioning, especially at the heel, the socks perform similarly to the more expensive Darn Tough Micro Crew Cushion above. And REI recently tacked on an RWS (Responsible Wool Standard) certification, which ensures that sheep were treated responsibly during production.
The primary sacrifice with the REI Merino Wool Lightweight is that the spandex around the arch can get a bit loose after extended wear and doesn't last as long as more expensive models on this list. And over time, we have seen some pilling if you put them in a dryer (they line dry just fine). But at a significant cost savings, many people think they are worth it, and particularly for crossover hiking, mountain biking, and everyday use. And for a more casual and stylish option from REI that can still pull double duty for light trail work, check out their new Out the Door collection.
See the REI Co-op Merino Lightweight Hiking Crew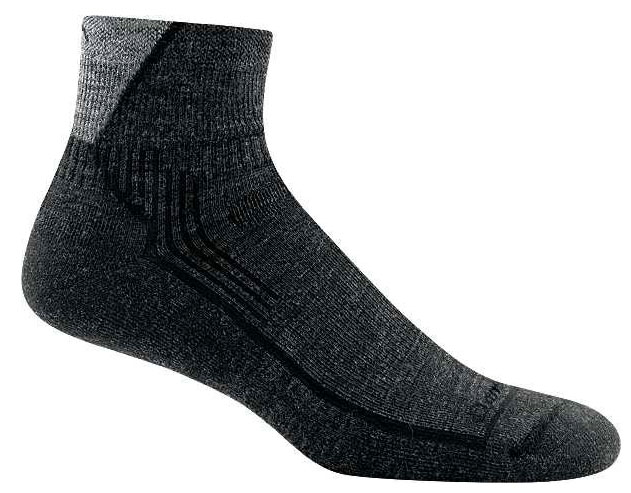 Materials: 61% merino wool, 37% nylon, 2% spandex
Cushioning: Light/medium
What we like: Cool and light. 
What we don't: The lower cut means less protection.
For those who prefer to move fast and light, we love the Darn Tough Quarter Cushion. With these hiking socks, you get all of the comfort, moisture-wicking ability, and odor protection of crew-height socks, but in a trimmed-down form. It's true, they aren't tall enough for all hiking boots, but they're a great pairing with ankle-height hiking shoes or trail runners (and importantly, they offer considerably more coverage and protection than no-show designs like the Feetures above and Balega below).
Keep in mind that the Darn Tough Quarter Cushion aren't true ultralight socks like the quarter-height Smartwool PhD Ultra Light Mini above, meaning that your feet can get warm in the heat of summer and won't dry out as quickly. But we appreciate the less bulky feel and heartily recommend these socks to anyone who doesn't care for the higher cut but still wants the cushioning and coverage over the heel and ankle. There's a reason these socks are popular with high-mileage thru-hikers and serious backpackers: they get the job done.
See the Men's Darn Tough Quarter Cushion  See the Women's Darn Tough Quarter Cushion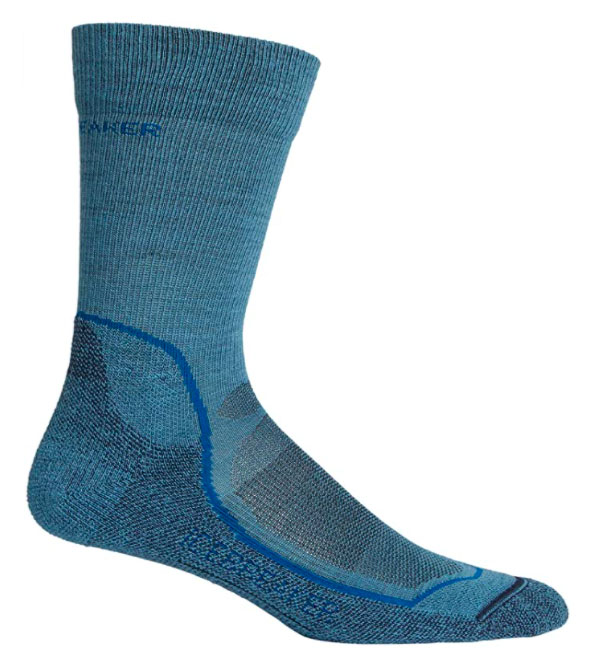 Materials: 61% merino wool, 37% nylon, 2% Lycra
Cushioning: Light
What we like: Well-fitting and anatomical toe box.
What we don't: Cuff has a tendency to slide down and bunch up.
Icebreaker is a merino specialist based in New Zealand, sourcing wool straight from sheep in their home Southern Alps. We'd be remiss not to include their Hike+ sock in our mostly merino lineup—wool just doesn't get much better than Icebreaker. Sized anatomically, these socks have a "left" and "right" label and some of the best-fitting toe boxes of any we tested, which is particularly nice if you have narrow feet or your socks tend to bunch up around the toes. The fit reminds us of the Performance socks from Smartwool above, but a bit less extreme.
Keep in mind that Icebreaker's "Lite" is on the thinner end of the cushioning spectrum, and it's closer to an ultralight sock than other lightweight models. They ventilate well and are great for warmer weather, but for backpacking with a load, we'd opt for the medium weight. And the crew style fits a little longer (in other words, taller) than the Darn Tough Micro Crew above, and the cuff can eventually stretch with use, giving these socks a tendency to droop slightly (particularly for those with skinny calves). Overall, we like the Hike+ Light, but it's tough to compete with the Darn Tough warranty.
See the Men's Icebreaker Hike+ Lite  See the Women's Icebreaker Hike+ Lite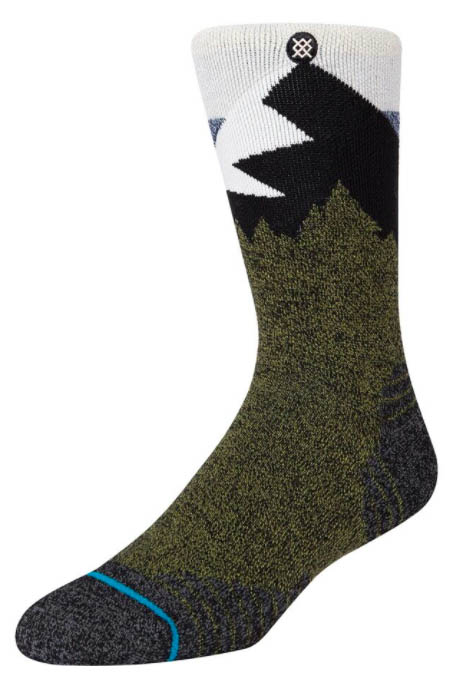 Materials: 33% merino wool, 33% polyester, 31% nylon, 3% elastane
Cushioning: Medium
What we like: Super comfortable and fun patterns.
What we don't: Lower percentage of merino wool than the more established brands.
A couple of things are clear in 2021: hiking socks have become hipper, and there are even more alternatives outside of the Darn Tough and Smartwool realm. We first tried Stance socks for running and came away impressed: they have a premium feel and build quality, come in attractive designs, and are as comfortable as anything on the market. In fact, we liked Stance so much that we re-ordered multiple pairs to overhaul our workout and daily-wear sock collection. And while we've used the lower-cut training version for day trips with lightweight shoes, the dedicated Divide ST Gold comes in a crew height that can be worn with hiking boots. 
Here's what you get with the Stance Hike collection: a functional blend of materials that is 33 percent merino wool (this is notably less merino than leading models from Darn Tough and Smartwool), a tight feel around the foot, and attractive patterns that are a far cry from the hiking socks of old. Many of the designs (including the Divide ST here) are downright fashionable. Keep in mind, however, that the high percentage of polyester (also 33%) means it doesn't do as well with stink prevention, and you're paying a premium for the fun looks. But for done-in-a-day adventures, Stance is a great option.
See the Stance Divide ST Gold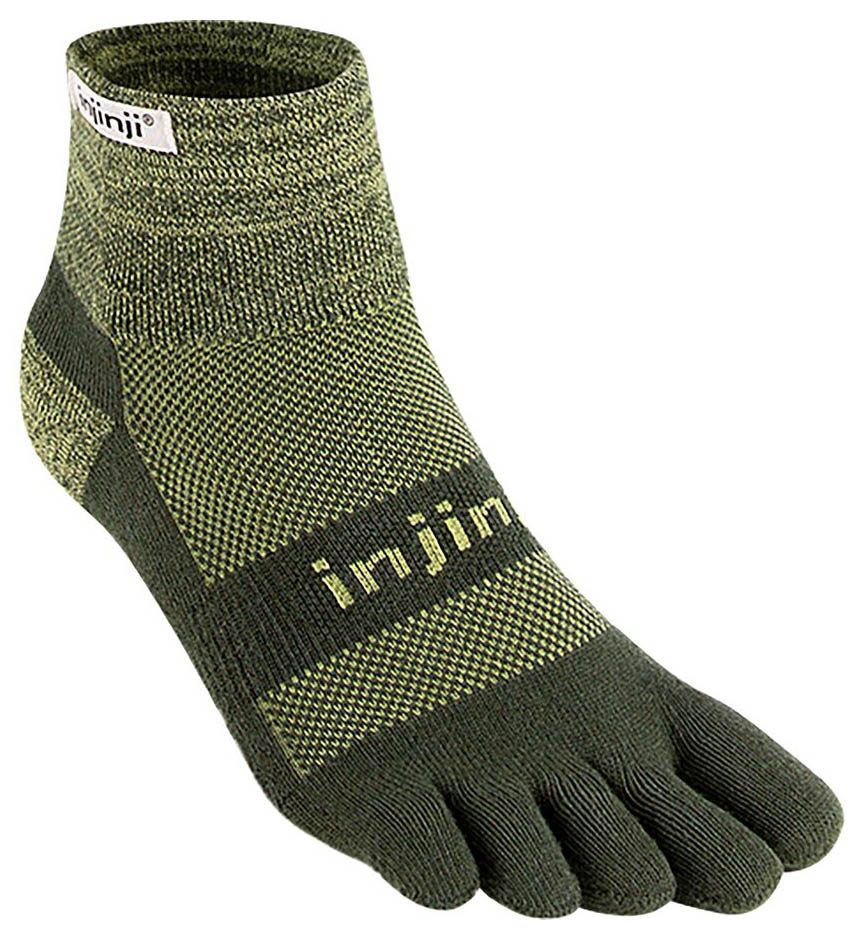 Materials: 39% Coolmax, 58% nylon, 3% Lycra
Cushioning: Medium
What we like: Five-toe design can help with hotspots. 
What we don't: Takes longer to put on than other socks and can spread out the toes.
Right off the bat, we'll note that Injinji socks are a far cry from the more traditional designs above, and the polarizing looks will be enough to deter many hikers. And we'll admit that we were skeptical too before trying them out, but we've come to appreciate some of the performance benefits. Essentially, instead of a standard sock, Injinji uses a five-toe design that claims to reduce the possibility of blisters and hotspots. And in use, we've suffered no discomfort, and the separation has left our toes dry even after long and sunny days on the trail (although the "Midweight" sock here runs warmer than their "Original Weight" models).
All that said, there are some downsides to be aware of with the Injinji's unique design. First and foremost is the added effort that it takes to put on these socks, as each toe needs to be worked into the appropriate slot. And it's taken some time to get used to the feeling of having each toe separated in our hiking shoes, although the slight awkwardness did fade after a short time. In the end, here's our take: If blisters and hotspots are a major issue for you, it may be worth giving the Injinji a shot. If not, traditional hiking socks perform great and require less work.
See the Injinji Trail Midweight Mini-Crew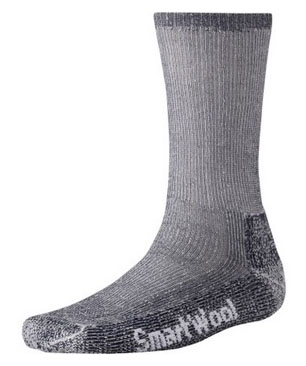 Materials: 70% merino wool, 29% nylon, 1% elastane
Cushioning: Heavy
What we like: Durable and cozy.
What we don't: The fit isn't quite as tailored as Darn Tough's Mountaineering socks.
Chances are that if you like Smartwool's lightweight hiking designs, the Trekking Heavy Crew will make you happy as well. These burly socks are made from 70% merino wool and have the same traditional look and feel as the brand's popular Hike Light Crew. You do get a noticeable boost in warmth and thickness around the foot, which works well for winter outdoor activities and summer backpacking for those who want maximum cushion (at the sacrifice of breathability). As with the Darn Tough Mountaineering socks above, make sure to take your boot size into account: these socks won't necessarily bump you up a size, but they do add noticeably more bulk than lightweight hiking socks.
For a slightly cheaper option that is similar to the Smartwool, check out the popular $21 REI Co-op Merino Wool Expedition. Comparing the two, the Smartwool is thicker, more durable, and has a better overall fit (the REI is a little too loose for our tastes). As such, we think the Smartwool is worth the extra money in most cases. But for easy-going activities, the REI is a fine choice.
See the Smartwool Trekking Heavy Crew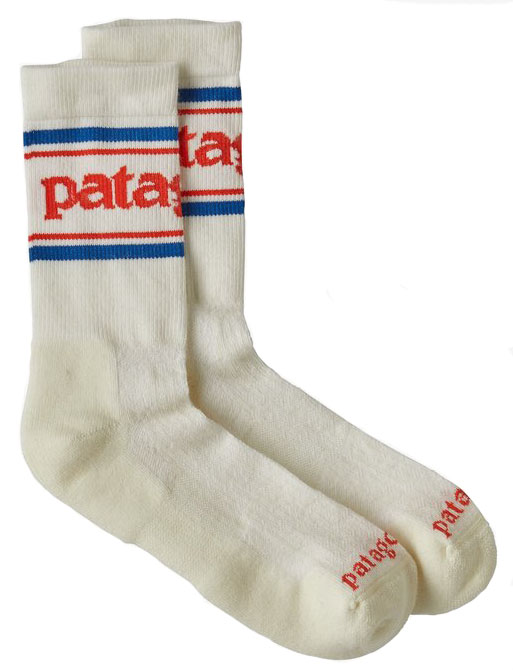 Materials: 59% merino wool, 39% nylon, 2% Lycra
Cushioning: Light
What we like: Typical Patagonia build quality and comfort.
What we don't: Not as performance-focused as similarly priced models on our list.
Patagonia is best known for their performance outerwear, but their sock collection is nothing to scoff at. The Lightweight Merino Performance Crew Socks listed here are a competitive addition to the hiking market: you get a healthy dose of merino that's certified to the Responsible Wool Standard (RWS), along with a quality construction, classy styling, and a nice array of attractive colorways (we especially like the retro-looking birch white). As we've come to expect from Patagonia, this sock is well-made, good-looking, and built to last.
The Patagonia goes head-to-head with two other lightweight, crew-cut models on our list: the Icebreaker Hike+ Lite and Smartwool Performance Hike Light above. All three use a similar mix of materials including around 55-60 percent merino wool, and they cost around the same at $22-$23 per pair. In parsing out the differences, the Smartwool offers the most foot-hugging fit, while the Icebreaker has an anatomical toe box that isn't prone to bunching (and both are a bit more specialized than the Patagonia). But for mixed hiking and everyday use, we like the Patagonia's balance of performance and all-day comfort, which is why we've included it here.
See the Patagonia Lightweight Merino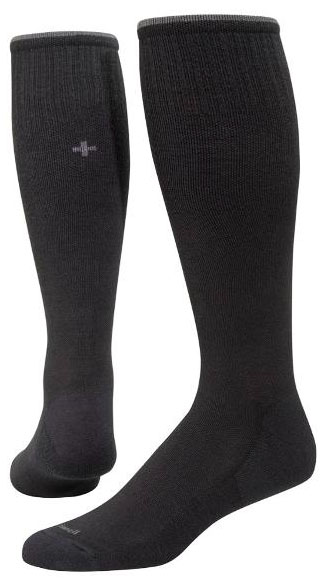 Materials: 32% merino wool, 32% stretch nylon, 31% rayon, 5% spandex
Cushioning: Light
What we like: Very snug and secure fit.
What we don't: Knee-high design isn't for everyone; fairly pricey for the amount of wool.
For long-distance trekking, peak-bagging, and other mileage-heavy pursuits, some hikers and backpackers now turn to compression socks to improve blood flow and help with overall support. The jury is still out on the true efficacy of compression technology, but we've found that the added snugness does help with minimizing fatigue over long distances (it's also a plus for those who suffer from chronically cold feet). In this category, Sockwell's Circulator is a great pick for those looking for a supportive, calf-hugging design that adds an extra dose of security on the trail.
 
At $27 and with very little merino in the build, the Sockwell Circulator is fairly pricey for the mix of materials you get. Further, the Circulator comes up to just below the knees, which helps with coverage and protection when venturing off-trail but isn't everyone's cup of tea. Finally, compression socks in general are more popular among the ski and road cycling communities (where the tech has more of a potential impact on recovery), but some hikers find the boosts in security and added performance worth the slight cost penalty. If you're regularly putting in the miles and want to try something a little different, give the Sockwell Circulator a look.
See the Men's Sockwell Circulator Socks  See the Women's Sockwell Circulator Socks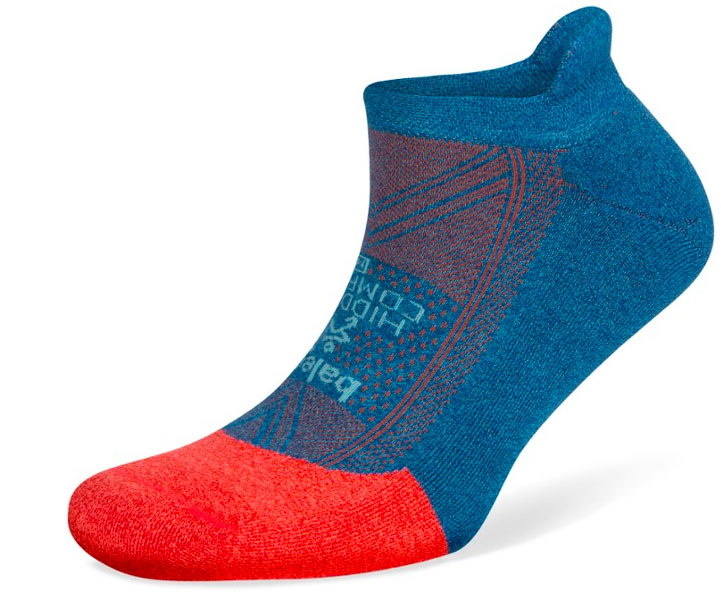 Materials: 32% Drynamix, 11% nylon, 3% neofil, 2% elastane
Cushioning: Medium
What we like: Breathable, comfortable, and very stylish.
What we don't: Minimal coverage and no wool.
Many no-show socks (including the Feetures Merino 10 above) are minimally padded, but Balega's Hidden Comfort socks are a nice choice for those who like the low-profile design but want a bit more comfort. The thicker cushioning underfoot translates to added protection and better impact resistance, which is especially helpful on long-mileage days or while backpacking. And while many medium-cushioned socks run too warm during hot summer months, the Hidden Comfort's synthetic Drynamix construction wicks moisture and ventilates well. All in all, these socks are comfortable, breathable, and stylish to boot. 
As we touched on above, merino resists odor better than polyester, and remember that no-show socks like the Hidden Comfort offer very minimal coverage against trail debris and need to be paired with low-profile hiking shoes or trail runners. But we've been impressed by Balega's designs, and the Hidden Comfort is well-made, good-looking, and super soft, which is a great combination for hiking. Finally, it's worth noting that we had the brand's Blister Resist ranked here previously, which adds in mohair to prevent uncomfortable rubbing, although we haven't experienced hot spots in either design even after all-day outings.
See the Balega Hidden Comfort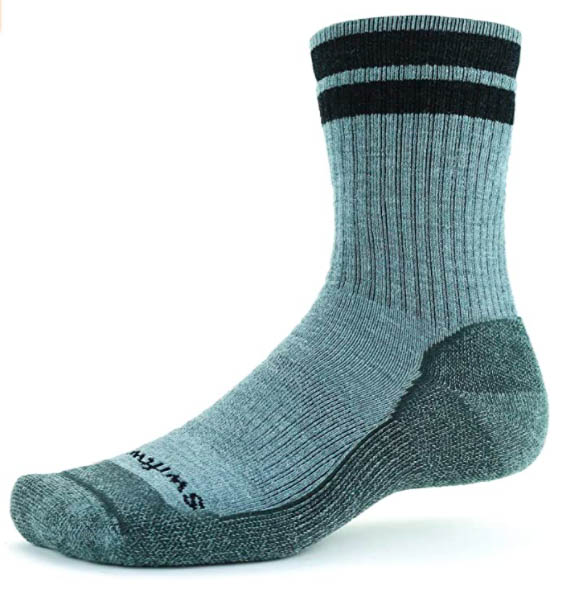 Materials: 69% merino wool, 15% nylon, 13% Olefin, 3% spandex
Cushioning: Medium
What we like: Medium thickness and cushioning yet breathable.
What we don't: Uninspiring looks and high price.
There are a dizzying number of hiking socks on the market, and Tennessee-based Swiftwick throws their hat into the ring with their Pursuit Hike collection. Made in light and midweight thicknesses, the socks have a snug fit around the heel and arch, seamless toe, and durable feel overall (they're a bit less soft and plush than the Patagonia above but still plenty comfortable for all-day use). And their main calling card is their use of moisture-wicking Olefin fabric (it's takes up 13% of the construction), which we found to be particularly functional for high-output activities like trail running (they were a favorite of ours this past winter) and backpacking.
We think the Pursuit Hike line is a solid all-around effort, and we especially like the medium-thickness option for its combination of cushioning and breathability. But in a crowded and seemingly ever-growing field, that doesn't strike us as enough for them to become a big-time player. Plus, Swiftwick's styling falls on the conservative and rather bland end of the spectrum, which doesn't help their cause when alternatives like Stance and Smartwool's latest Performance Hike collection above are more attractive. That said, if its performance characteristics appeal to you and you don't mind the primarily gray and black colorways, the Pursuit Hike is undeniably a quality offering.
See the Swiftwick Pursuit Hike Six Medium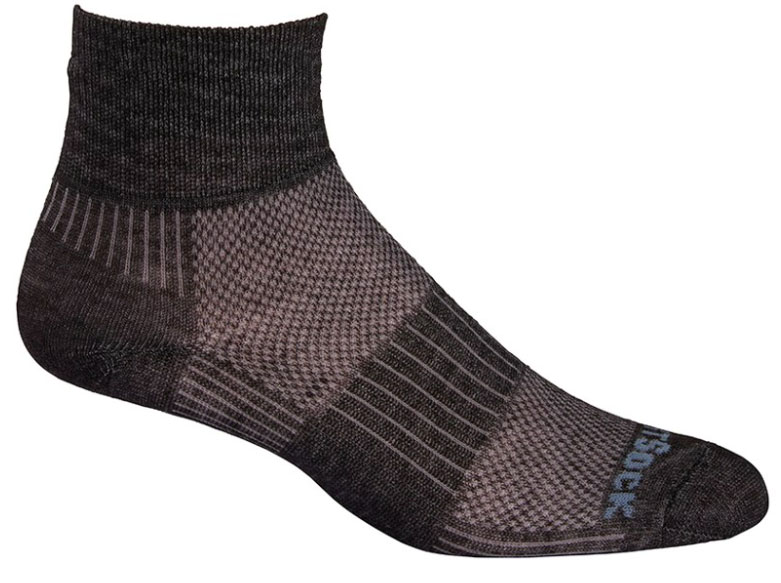 Materials: Inner layer: 70% polyester, 26% nylon, 4% Lycra; Outer layer: 71% polyester, 24% nylon, 5% Lycra
Cushioning: Light
What we like: Great protection from blisters.
What we don't: Not very cushioned.
Wrightsock has come up with an interesting solution for those with tender feet that are prone to blistering. Made with a unique double-layer construction, the Coolmesh works to absorb friction from your shoe or boot to limit potential trouble spots. Additionally, the moisture-wicking inner layer keeps your feet dry, providing yet another barrier against blisters. In fact, Wrightsock believes in their designs so much that they offer a "blister-free guarantee" (a refund won't matter much if you've been suffering on the trail, but we do appreciate the confidence).
The Coolmesh II Quarter is an alternative to most of the merino styles here, made with a polyester/nylon/lyrca blend. If you're looking for a warm or highly durable sock, this isn't it. But if you want a light hiker for the summer months that will keep your feet cool and ward off hot spots and blisters, we recommend checking out Wrightsock. And if you like the design but prefer more coverage, Wrightsock makes the Coolmesh in a crew-height version for $15 (both models strike us as a decent value).
See the Wrightsock Coolmesh II Quarter  See the Women's Coolmesh II Lo Quarter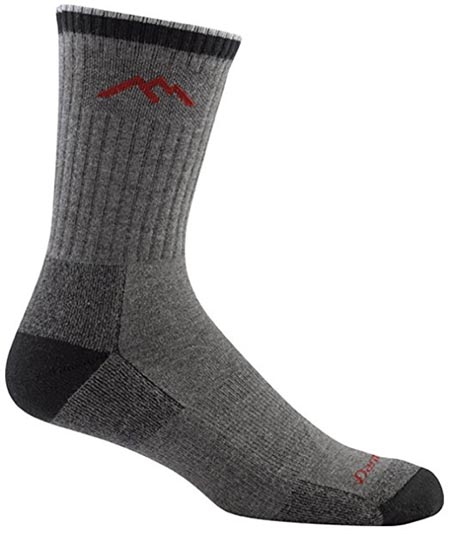 Materials: 37% nylon, 34% Coolmax, 26% acrylic, 2% Lycra, 1% other
Cushioning: Light/medium
What we like: A high-performance synthetic sock.
What we don't: We still prefer merino over Coolmax.
On particularly hot summer days, you just might not want to put wool on your feet, which is understandable. For these occasions, Darn Tough makes a synthetic sock with Coolmax polyester (the same material used in the budget REI option above), a highly porous fabric that is made specifically to keep your feet cool. These socks are a nice option for hot-weather hikers, and like our favorite merino models, they are snug-fitting, well-cushioned, and do not stretch with use. All that, and the bump in breathability is noticeable.
Compared to REI's Coolmax sock above, Darn Tough's version is better-made and offers a much closer fit (the downside is a jump in price). In fact, it's one of the only non-merino socks that you'll find us recommending for serious performance use. Unfortunately, Coolmax socks undeniably hold stink far more than merino models, which is a big downside for multi-day backpacking trips. Unless you're specifically looking for an alternative from wool or hiking in the warmest of temperatures, we still deem merino to be superior in almost every way.
See the Men's Darn Tough Coolmax  See the Women's Darn Tough Coolmax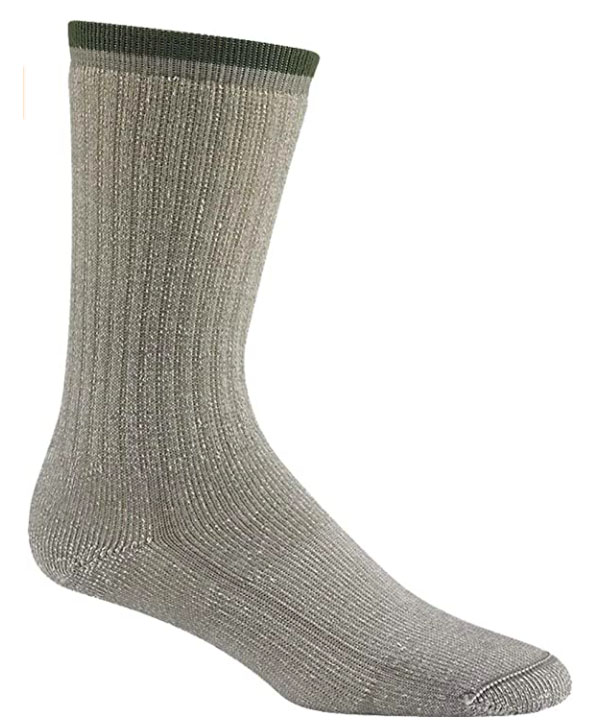 Materials: 62% merino wool, 34% nylon, 2% polyester, 2% spandex
Cushioning: Medium
What we like: Another good value for merino wool socks and made in the U.S.
What we don't: Fit is less tailored than the models above.
You don't have to pay an arm and a leg for merino wool hiking socks, which is evidenced by Wisconsin-based Wigwam. Their design undercuts most of the competition above by quite a bit (for reference, our top-rated Darn Tough costs $5 more per pair with a nearly identical mix of materials), and Wigwam stands behind their products with a guarantee against defects. Finally, we appreciate that these socks are manufactured right here in the U.S.A. and use wool sourced from American yarn spinners and growers.
Why do we have the Merino Comfort ranked here? REI's Merino Wool Lightweight socks above cost the same but boast considerably more wool (79%), although we like the wide array of colorway options you get from Wigwam. Additionally, the Comfort Hikers are relatively thick all around the foot and have a less tailored fit than some of the performance-oriented models above. But for cold weather, hanging out at the cabin, and shorter hikes where bunching won't be an issue, Wigwam is a great way to save on merino hiking socks without compromising much on quality.
See the Wigwam Merino Comfort Hiker
Hiking Sock Comparison Table
| Sock | Price | Materials | Cushion | Height |
| --- | --- | --- | --- | --- |
| Darn Tough Micro Crew | $23 | 61% merino, 36% nylon, 3% spandex | Light/medium | Crew |
| Smartwool PhD Ultra Light | $17 | 48% merino, 48% nylon, 4% elastane | Ultralight | Quarter |
| REI Coolmax EcoMade Lightweight | $14 | 77% Coolmax EcoMade, 22% nylon, 1% spandex | Light | Quarter |
| Darn Tough Mountaineering | $30 | 73% merino, 25% nylon, 2% spandex | Heavy | Calf |
| Feetures Merino 10 Ultra Light | $18 | 46% nylon, 25% merino, 25% Tencel, 4% spandex | Ultralight | No-show |
| Smartwool Performance Hike Light | $23 | 56% merino, 42% nylon, 2% elastane | Light | Crew |
| Farm to Feet Damascus | $24 | 51% merino, 46% nylon, 3% Lycra | Light | Crew |
| REI Merino Wool Lightweight | $17 | 79% merino, 20% nylon, 1% spandex | Light/medium | Crew |
| Darn Tough Quarter Cushion | $18 | 61% merino, 37% nylon, 2% spandex | Light/medium | Quarter |
| Icebreaker Hike+ Lite Crew | $22 | 61% merino, 37% nylon, 2% Lycra | Light | Crew |
| Stance Divide ST Gold | $20 | 33% merino wool, 33% polyester, 31% nylon, 3% elastane | Medium | Crew |
| Injinji Trail Midweight Mini-Crew | $16 | 39% Coolmax, 58% nylon, 3% Lycra | Medium | Quarter |
| Smartwool Trekking Heavy Crew | $22 | 70% merino, 29% nylon, 1% elastane | Heavy | Crew |
| Patagonia Lightweight Merino | $22 | 59% merino wool, 39% nylon, 2% Lycra | Light | Crew |
| Sockwell Compression Socks | $27 | 32% merino wool, 32% stretch nylon, 31% rayon, 5% spandex | Light | Calf |
| Balega Hidden Comfort | $14 | 32% Drynamix, 11% nylon, 3% neofil, 2% elastane | Medium | No-show |
| Swiftwick Pursuit Hike Six | $24 | 69% merino wool, 15% nylon, 13% Olefin, 3% spandex | Medium | Crew |
| Wrightsock Coolmesh II Quarter | $14 | Inner: 70% polyester, 26% nylon, 4% Lycra; Outer: 71% polyester, 24% nylon, 5% Lycra | Light | Quarter |
| Darn Tough Coolmax Micro Crew | $21 | 37% nylon, 34% Coolmax, 26% acrylic, 2% Lycra, 1% other | Light/medium | Crew |
| Wigwam Merino Comfort Hiker | $17 | 62% merino wool, 34% nylon, 2% polyester, 2% spandex | Medium | Crew |
Hiking Sock Buying Advice
Hiking Sock Materials
Merino Wool 
Years ago, you might have seen a smattering of cotton and polyester hiking socks on the trails, but merino wool is now the leader far and away. Merino—the namesake wool from a highly prized type of sheep that lives predominantly in harsh mountain environments, including New Zealand's Southern Alps—is extremely comfortable, wicks moisture well, and does a nice job of breathing and regulating temperature. It also takes much longer to build up stink, allowing for extra days of wear on a hiking or backpacking trip (how many days is up to you). Cotton, on the other hand, is heavier, absorbs moisture, and doesn't dry when wet. And while polyester may keep you cool, we are yet to find an option that doesn't start stinking rather quickly.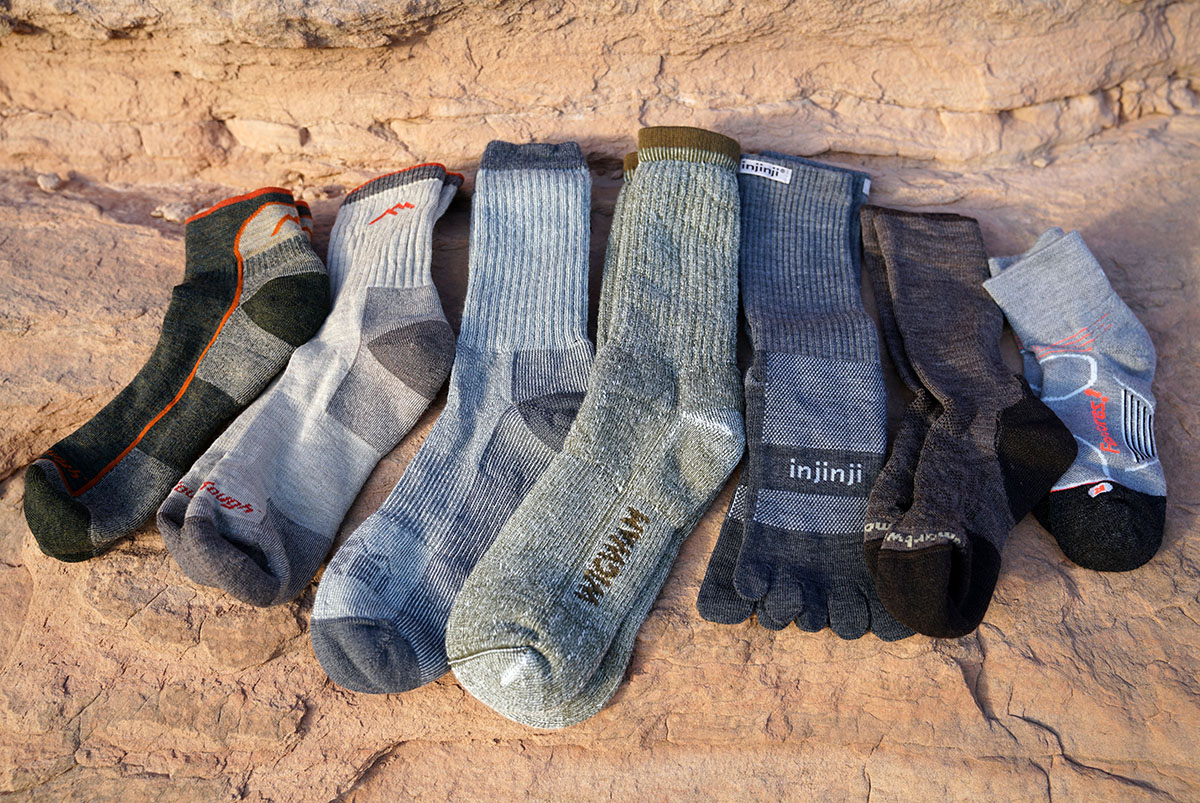 That said, it's important to note that even merino wool hiking socks aren't 100 percent merino: you'll notice in our picks above that the percentage of merino is between around 30 and 80 percent, with the rest being a blend of nylon and spandex. The density varies by sock as well—just because the REI Lightweight Merino Hiking Socks are 79 percent merino doesn't mean they are the highest-quality option. Darn Tough's Micro Crew Cushion socks, for example, are around 61 percent merino but the weave is denser, and they tend to hold their shape better and last longer. 
Polyester
In general, we strongly prefer merino wool over polyester. Merino is known for its natural antimicrobial properties, whereas polyester socks hold stink in a serious way (this alone has us firmly in the merino camp). Moreover, merino wool is a naturally sourced material, whereas polyester is made from plastic fibers.
That said, polyester does have a couple of redeeming qualities. For one, it is highly durable, lasting longer than pure merino. In addition, it does not soak up water to the extent that merino does, allowing it to dry faster. And some of the Coolmax models like the Darn Tough Coolmax Micro Crew provide excellent breathability for adventuring in hot conditions. Finally, for those looking for synthetic material that is kind to the environment, check out Coolmax EcoMade (seen in the REI Co-op Coolmax EcoMade Lightweight), a polyester made from recycled plastic bottles.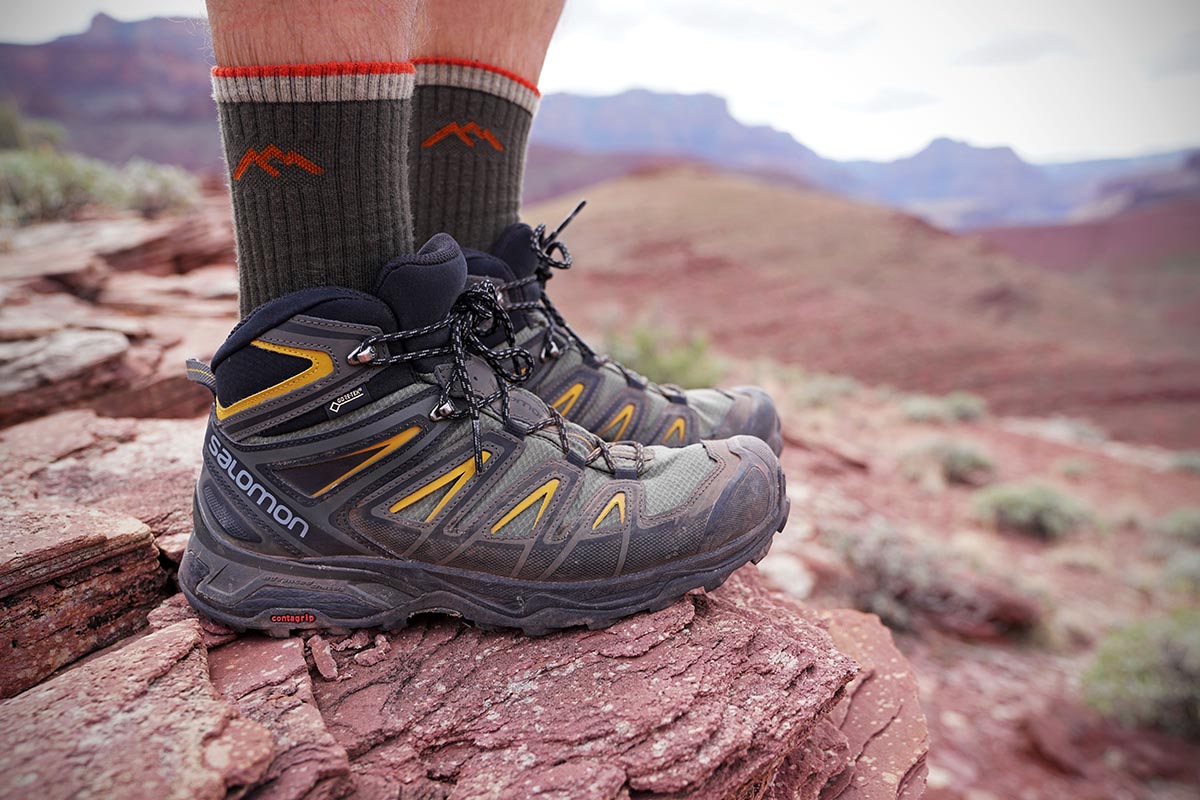 Thickness and Warmth
Sock manufactures offer a variety of thicknesses designed for everything from summer hiking to mountaineering. For the purposes of this section, we are evaluating overall sock thickness (ultralight, lightweight, midweight, etc.) and not the strands themselves as described above. For three-season hiking, backpacking, and casual wear, we recommend the lightweight versions, which provide solid levels of padding and insulation for temperatures from approximately 40 degrees to 80 degrees Fahrenheit. They also wear well around the house and under your favorite pair of shoes, provided there's enough room.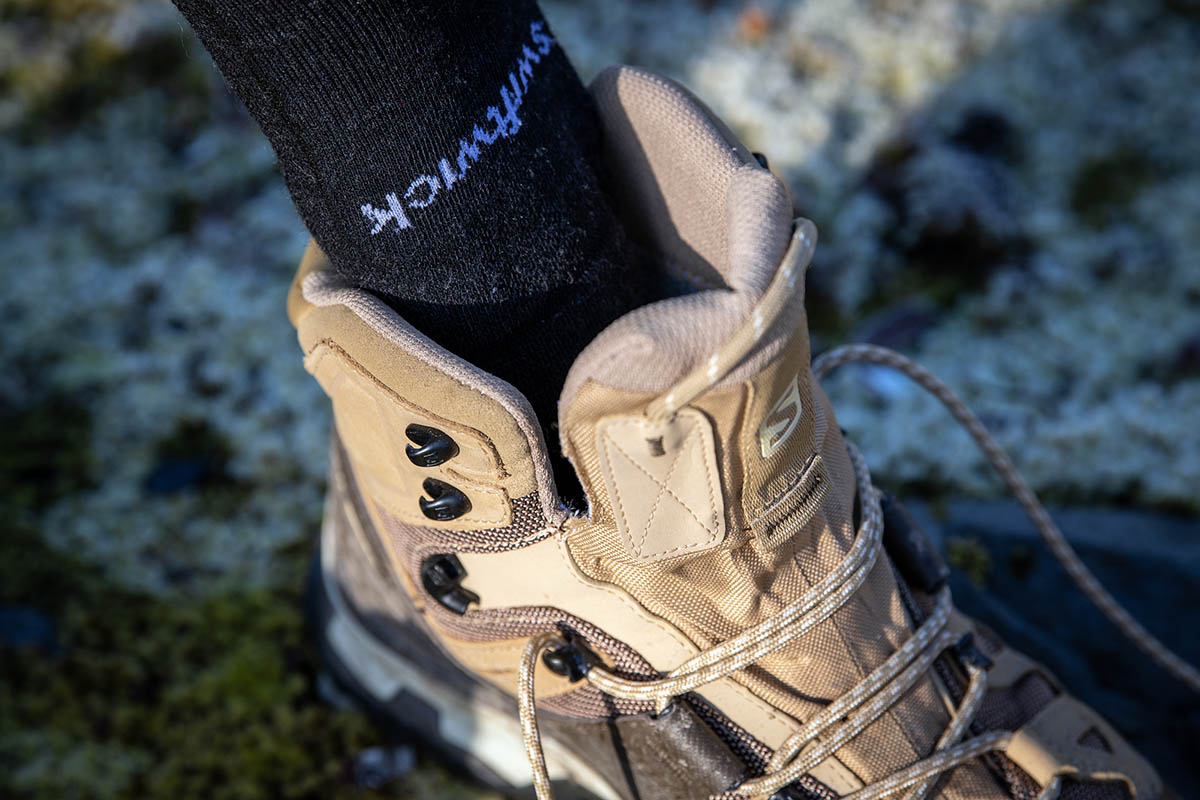 If you're hiking in hot places like Utah or Arizona in lightweight hiking shoes, you may want to consider an ultralight hiking sock. The downside is that ultralight socks are thin on the foot and offer significantly less padding and blister protection than lightweight and midweight socks. Another option for summer hikers is a lightweight hiking sock in a 1/4 height, which has less leg coverage and a more airy feeling but the same cushion on the foot. For winter hiking and mountaineering, the major brands make midweight and heavyweight options that provide much more warmth than the lightweight versions. Keep in mind that these burly socks are overkill for three-season hiking and casual use. In normal temperatures your feet will sweat, and despite merino's impressive ability to wick moisture, you will get unwanted dampness.
 
Sock Height
Crew Socks
Crew is the most common hiking sock height, which extends 6 to 8 inches above the heel and at a least a couple of inches above just about any pair of hiking boots. We feel that this is the optimal height for hiking: crew socks don't make you excessively hot and offer some added lower leg protection from brush and rocks. Hiking pants can be quite thin, so the extra cushion is helpful, and particularly if you're wearing shorts on all but the easiest of trails, crew is the way to go.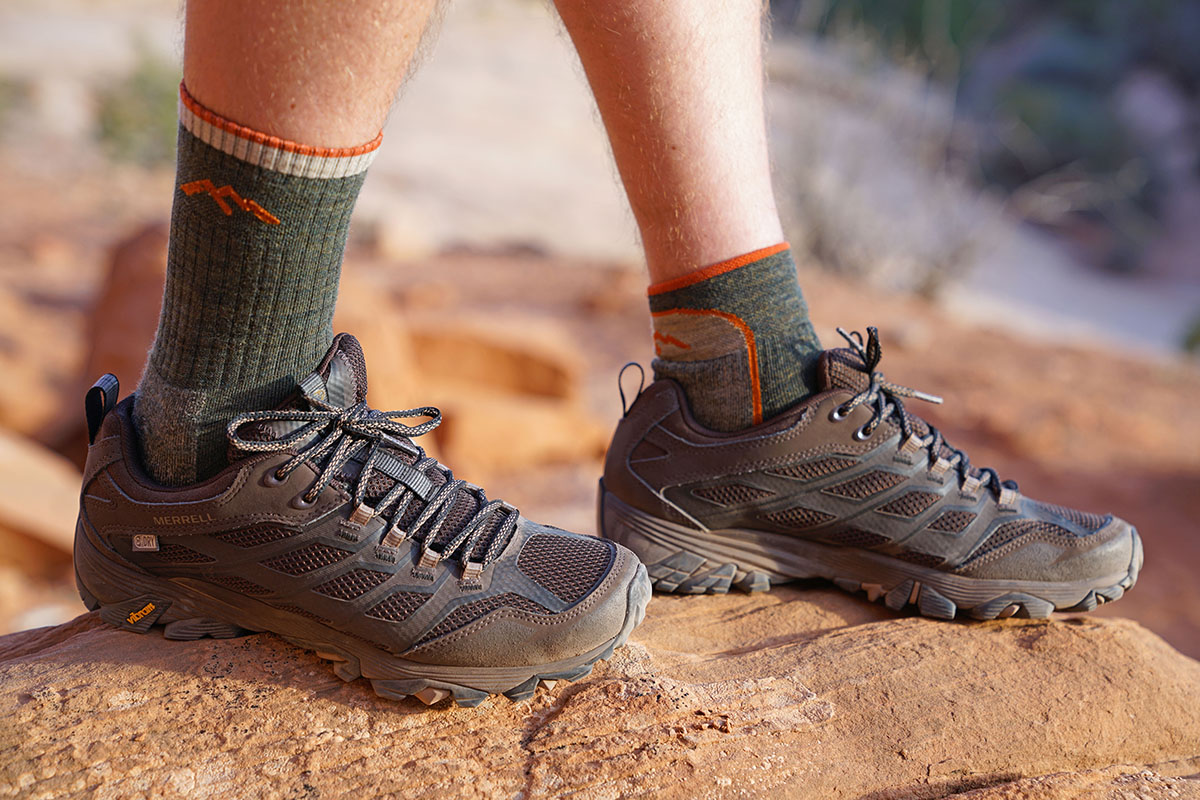 Quarter Socks
Quarter (1/4) height hiking socks cover the heel and ankle but don't extend up the leg as far as crew socks. Minimalist hikers and those out in the heat of summer may prefer 1/4 socks like the Smartwool PhD Outdoor Ultra Light Mini, which work well so long as you aren't wearing boots with high ankles (you may end up feeling some friction) and don't need protection from abrasions. This style also crosses over well to wear with running shoes.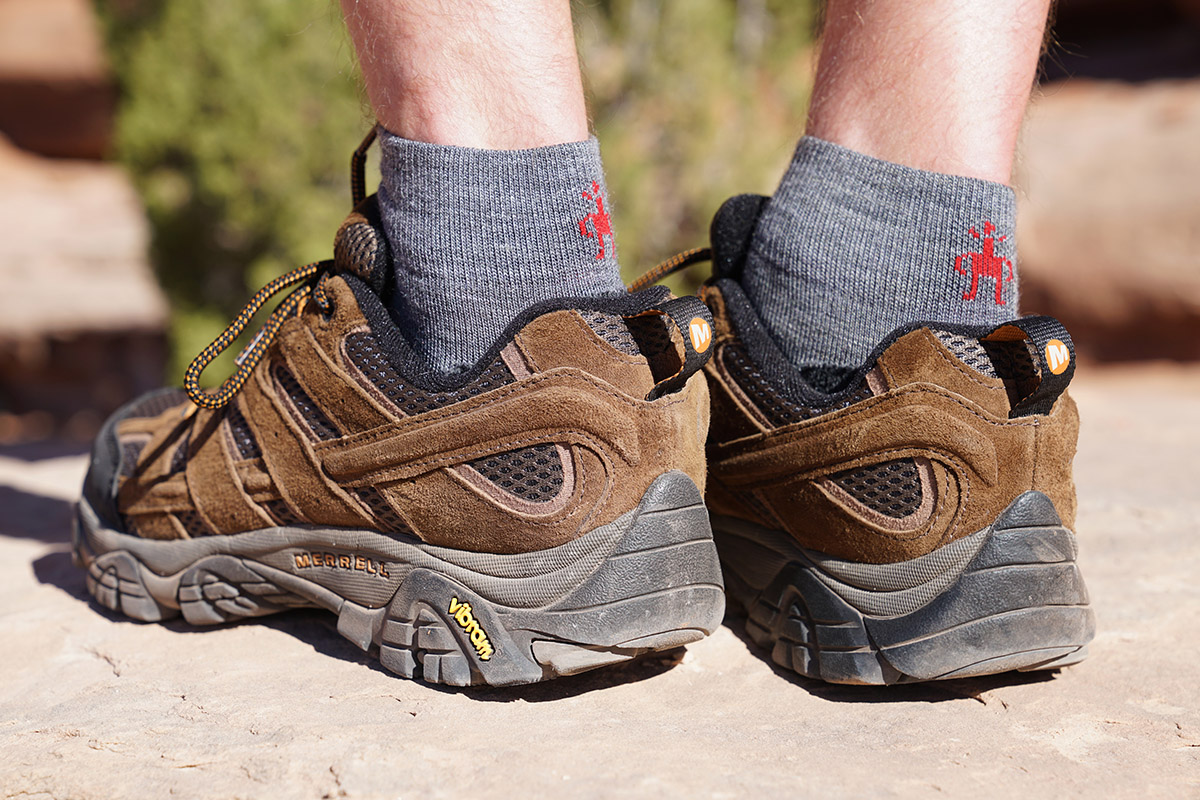 No-Show Socks
Even lower than quarter-length are no-show socks. If you're wearing low-riding hiking or trail-running shoes, a no-show sock should rise just above the collar and still offer padding and protection between your ankle and shoe. However, keep in mind that no-show socks have a greater chance of letting in trail debris like gravel or dirt, and a poor fit could lead to rubbing along your heel and ankles. We prefer 1/4 socks for most of our outdoor endeavors simply for the added coverage, but shorter socks, like Feetures' Merino 10 Ultra Light No Show and Balega's Hidden Comfort, are undoubtedly lower-profile and have appeal for those looking to minimize bulk.

Over-the-Calf Socks
As their name implies, over-the-calf socks rise higher than crew socks to just below the knee. By covering more of your leg, they can be a great option for hiking off-trail through high grass or brush, or in cases where you need extra warmth. On our list above, the Darn Tough Mountaineering Socks fall just below the knee and perform well for cold-weather activities such as snowshoeing. Sockwell's Circulator Compression Socks are also knee-height and add a boost in security around the calf, which some find helpful for muscle recovery and maximizing circulation. However, in most scenarios, crew socks should provide ample coverage and protection.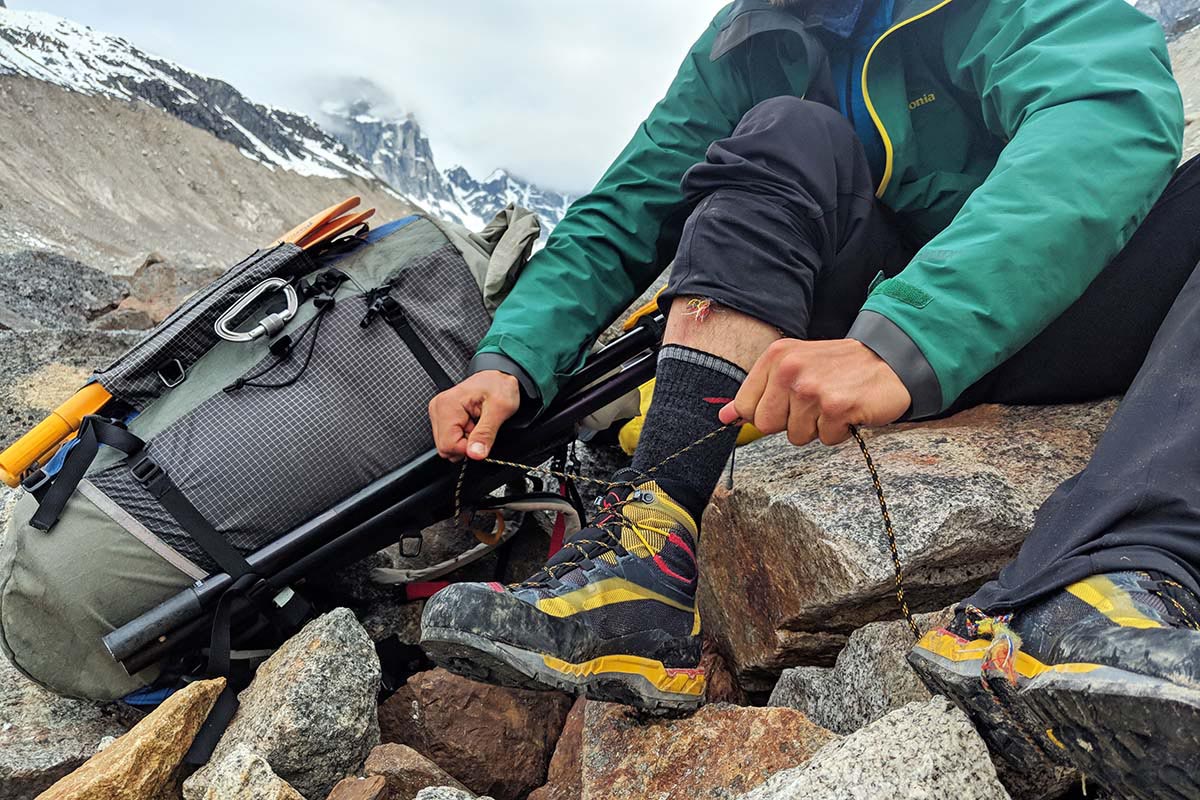 Compression Hiking Socks
Compression is a bit of a buzz word among outdoor athletes these days, praised for its ability to help with muscle recovery and reduce overall fatigue. In the hiking realm, some trekkers find compression socks helpful when covering long distances or traveling in cold weather, as the added support can help alleviate soreness and encourage blood flow. We included one compression model on our list above—the Sockwell Circulator—which is a nice match for those who want a bit of added snugness and security on the trail. You can expect to pay a bit more for dedicated compression models—and they're certainly not for everyone—but some may find the potential benefits worth the investment.

Comfort
After countless miles on the trail, our observations on hiking sock comfort are as follows: Darn Tough makes the best overall hiking socks taking into account comfort and durability, but they have a slightly thicker and denser feel than Smartwool. This isn't a bad thing—Darn Tough socks can really take a beating (hence the name). Smartwool hiking socks have great breathability and an excellent fit, particularly the Performance (formerly the PhD) line, but over the years, we've had more issues with durability and holes. There also are a handful of up-and-comers like Balega and Stance that are a slight step down in overall comfort but have more attractive styling that many hikers appreciate. Last but not least, brands like REI and Wigwam aim for more value-oriented buyers, and the snugness and durability can't match Darn Tough and Smartwool.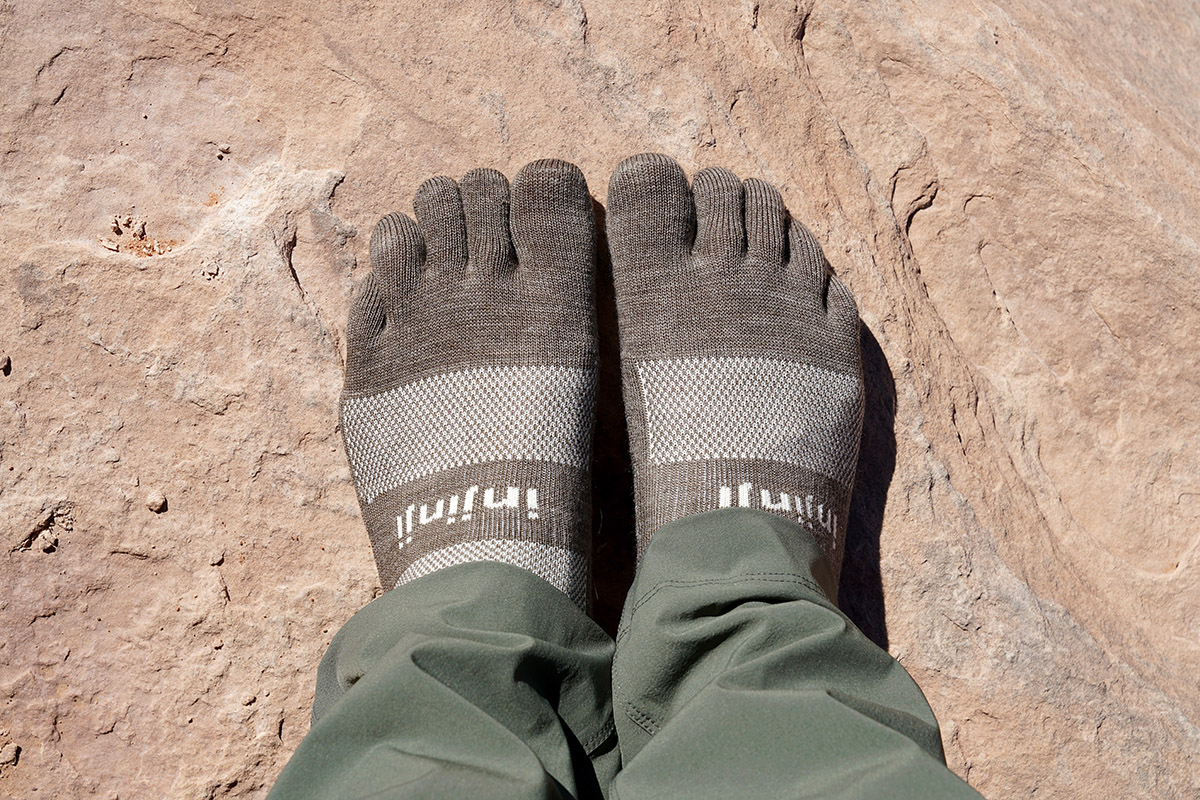 Durability
It's incredible how many times we've put our hiking socks through the washer and dryer and had them come out feeling and fitting like new. Durability is brand specific and we've seen changes throughout the years even among the same manufacturers. Smartwool, for example, has soft and comfortable socks but we've noticed holes developing more quickly than they used to (the recent change to Indestructawool has helped). Our REI socks have held up fairly well, but they seem to loosen over time. Darn Tough socks aren't the softest but we have had no issues to date with holes with either their Micro Crew or Quarter Cushion, which is frankly pretty amazing. Virtually all wool socks have issues with pilling, which can be lessened by line drying. 
No matter the brand, you will be pleasantly surprised with how long a $20 pair of hiking socks can last. If you have a few pairs in the rotation, you can expect most hiking socks to last at least a couple of seasons if not more. We have multiple pairs in our sock drawer that are used both for outdoor adventures and around town, and we rarely have to replace them.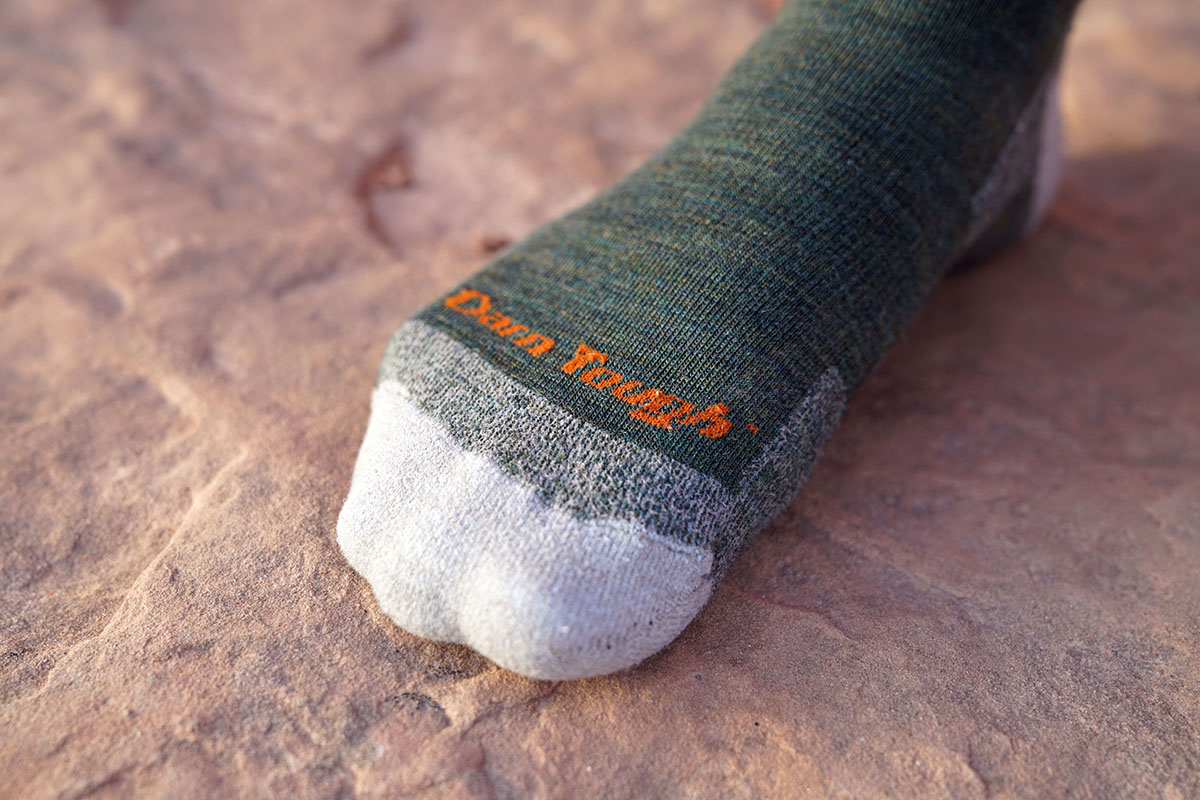 Women's-Specific Socks
Many companies sell both men's- and women's-specific socks, but in most cases, there are no major performance differences between the two. Women's socks often differ in color and are offered in smaller sizes in general, but otherwise sport the same overall design and fit as their men's or unisex counterparts. Overall, it's best to simply make your decision based on sizing rather than nailing down if the sock is unisex or women's-specific.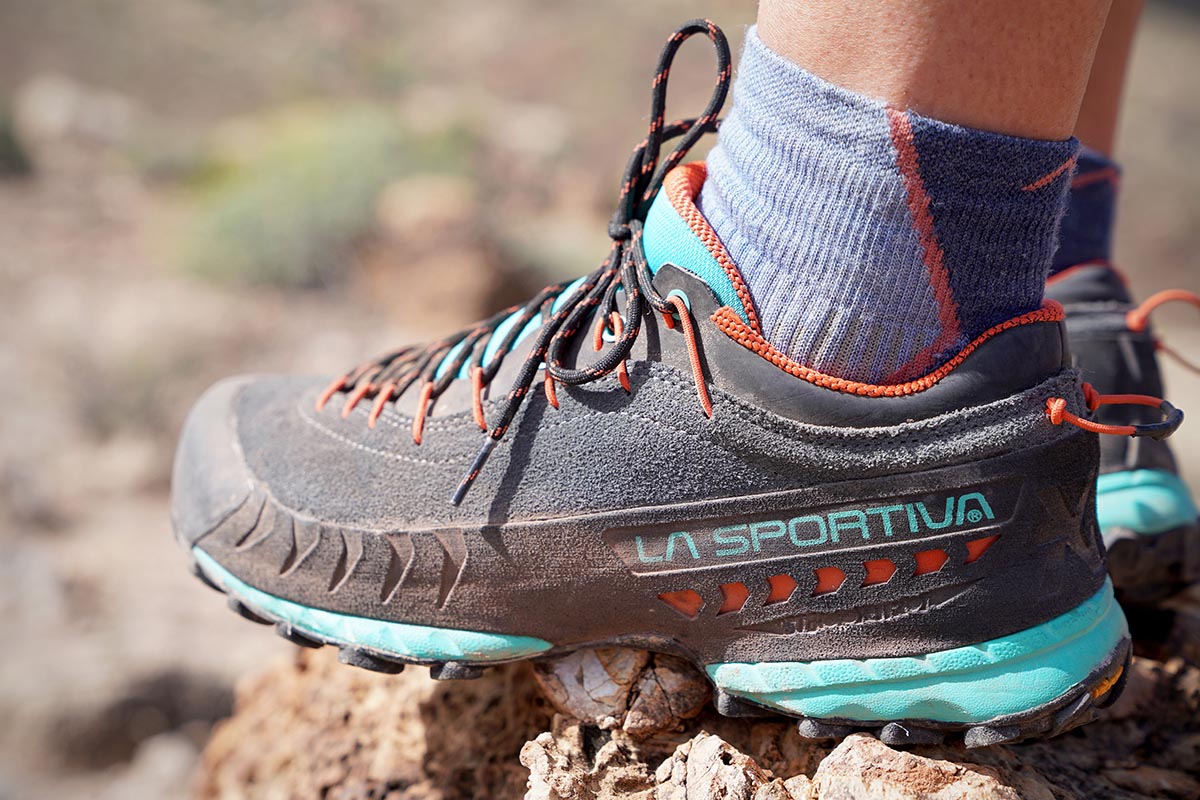 What About Liner Socks?
We'll start off by saying that we think liner socks should be a last resort for those who suffer from blisters or uncomfortable rubbing. Before going this route, it's better to pick up a quality pair of moisture-wicking wool or synthetic socks (rather than cotton) and nail down a well-fitting shoe or boot. Why? First and foremost, liner socks can give a somewhat sloppy feel—it's another layer between your foot and your shoe and there can be some unwanted movement as a result. Liner socks are also notably thin, which translates to a shorter lifespan than your regular socks and more care required. In the end, with the quality of hiking socks improving so significantly, liner socks are becoming less and less common for hiking and backpacking.
All that said, if you've exhausted all other options and want to give them a try, a liner sock could be a viable way to boost padding and protection between your foot and shoe. Worn under your hiking socks, liner socks bear many similarities to the models above but are thinner and generally cost around half the price. If you want to try them out, make sure to pair your liner and sock accordingly: you should use a merino liner with a merino sock or a synthetic liner with a synthetic sock. Alternatively, socks like the Wrightsock Coolmesh II above have two-part designs that essentially blend the two components together, and Wigwam's Arbor NXT Crew takes a similar approach by knitting an inner lining into the design. And as a final solution, blister dressings like Moleskin or tape can be an effective way to treat or prevent hotspots.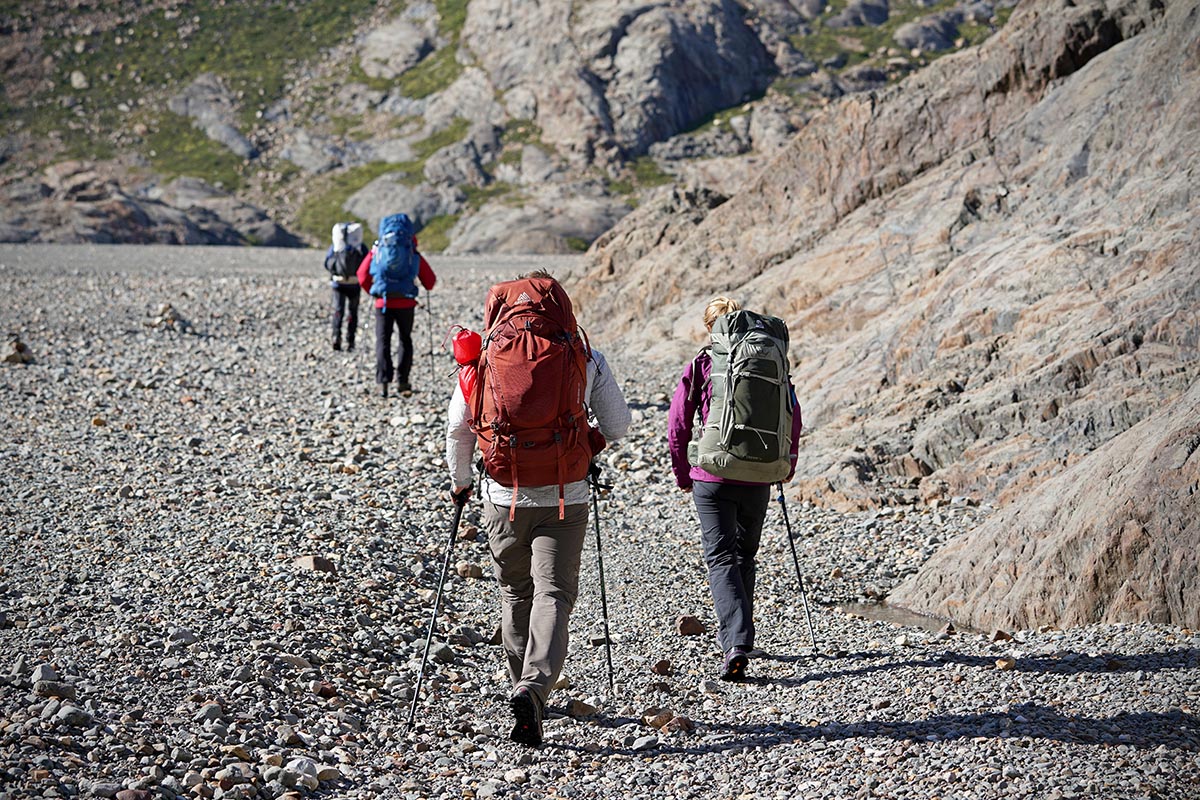 Hiking Sock Warranties
Hiking socks have gotten fairly expensive in recent years, which has made their warranties a noteworthy part of the buying process. The long-time leader in this department is Darn Tough: their lifetime, unconditional guarantee means you can get a replacement pair sent for reasons ranging from complaints about comfort to a hole developing in the heel. Stance, Feetures, and Farm to Feet also have strong lifetime guarantees, with the latter two brands also offering full refunds (with proof of purchase). The next tier down are warranties with a set timeframe, including Smartwool (two years) and REI Co-op (one year). Finally, you'll often find shorter or more limited policies from budget-oriented brands. In the end, while we wouldn't base our final decision solely on the guarantee, but it's something to have in mind.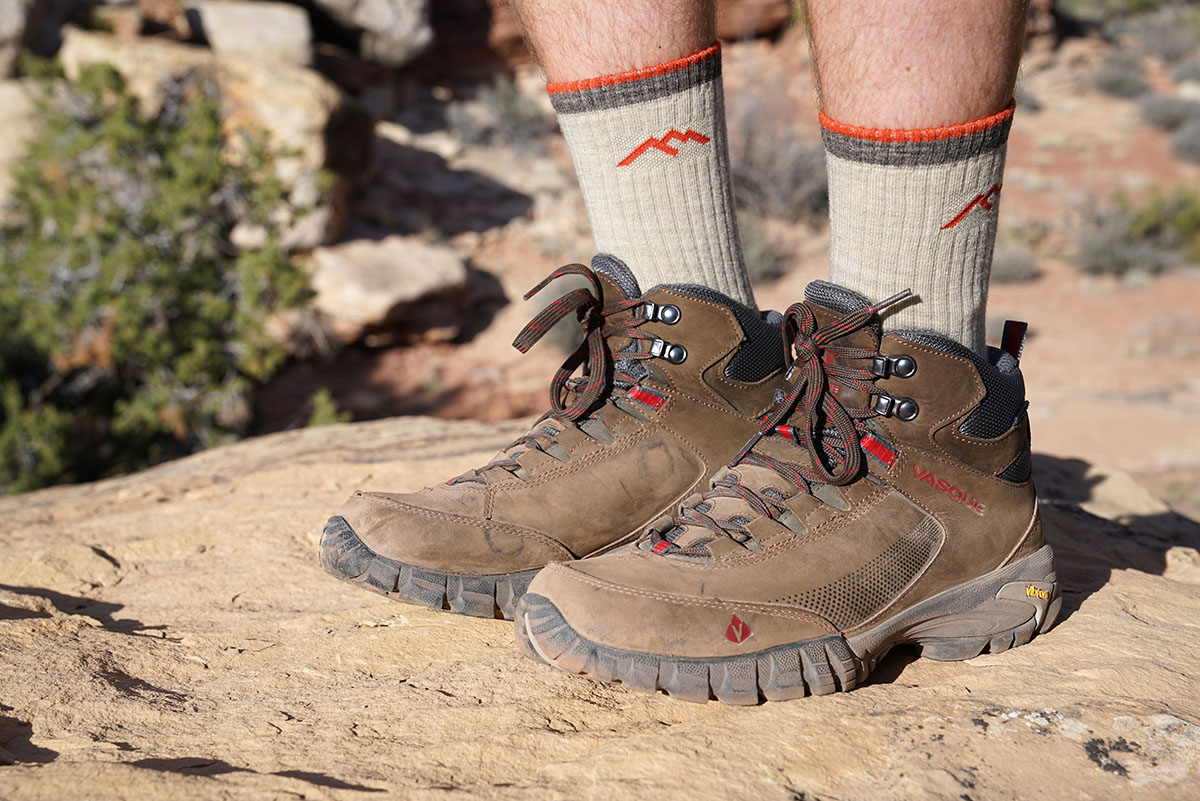 Hiking Sock Care
For most merino wool products, we recommend washing in cold water and line drying. The directions vary by manufacturer and some claim merino can be machine dried, but we find that this significantly shortens the lifespan. However, merino wool hiking socks—along with their polyester counterparts—are one of the few items that we often throw in the dryer with our regular clothes. They just don't tend to have the same durability issues as other merino products and the warm dryer has a nice way of getting the socks back to their original shape. We think you can go either way here in terms of line or machine drying, but keep in mind that you may get slightly more pilling and shrinkage in the dryer.
Back to Our Top Hiking Sock Picks  Back to Our Hiking Sock Comparison Table
Learn More About Outdoor Gear