Thoughts of camping chairs may conjure up images of $10 specials out front a big box retailer, but let's reorient ourselves to a slightly higher standard. We expect a proper camping chair to not only fold up for easy transport, but to be comfortable, supportive, and made to last—even in rough and tumble weather. Below are our top picks for 2020, which run the gamut from budget-friendly models to comfort-first chairs and fun designs that recline, rock, and swivel. For more background information, see our comparison table and buying advice below the picks.

Most Comfortable Camping Chair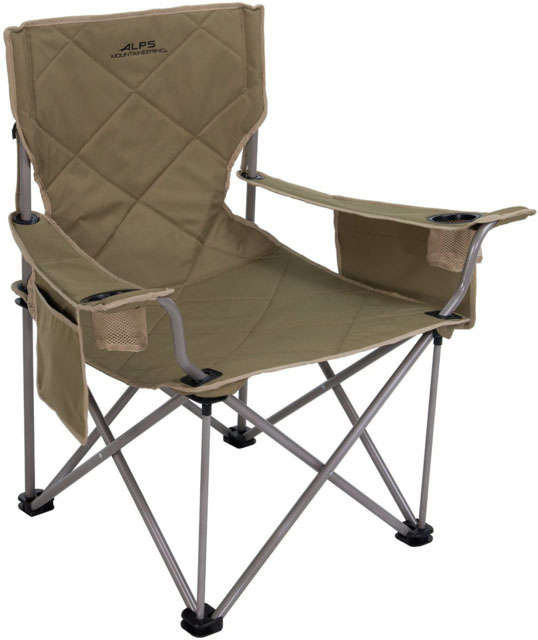 Dimensions: 20 x 38 x 38 in.
Seat height: 18 in. 
Weight: 13 lbs.
What we like: A supremely comfortable and spacious chair.
What we don't: Heavy and overkill for some campers.
People look for different things in a camp chair, and if comfort is at the top of your list, the aptly named King Kong is our top pick for 2020. All told, this is one the largest and most heavily padded chairs on the market, with a wide 24.5-inch seat, tall back, and burly 600-denier seat fabric. The listed 800-pound limit feels more like showing off than a target number that Alps set out to hit, but that still crushes the competition. And at around $60 and often less on sale, the King Kong hits a really nice balance of comfort and value. 
Keep in mind that the Alps Mountaineering King Kong isn't for minimalists. It's one of the heaviest chairs on this list at over 13 pounds, takes up a significant amount of space in the back of your car or truck bed, and not everyone needs such a huge seat (one of our 5'10" testers found that when sitting down, his feet were barely touching the ground). Don't get us wrong: this is a supremely comfy and large chair that has its appeals, but you can cut cost and weight with the Coleman Quad below.
See the Alps Mountaineering King Kong
A More Compact Alternative (For $20 Less)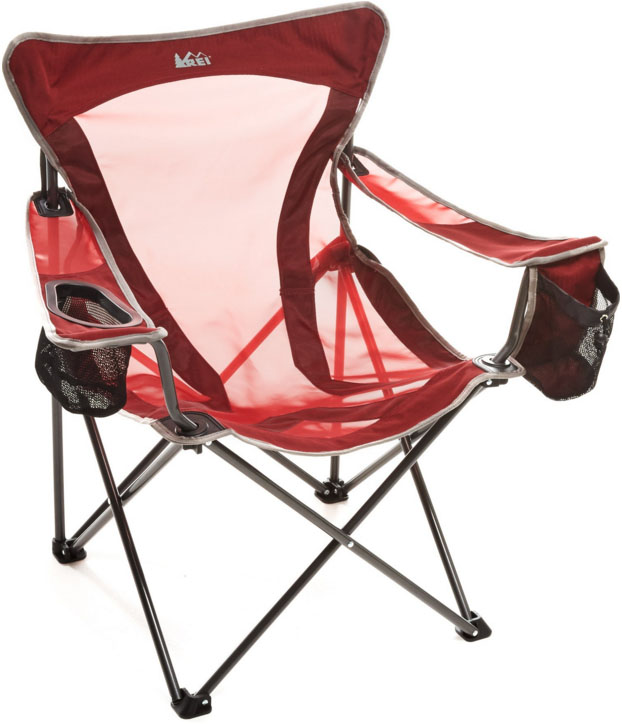 Dimensions: 20 x 31.25 x 31 in.
Seat height: 15 in.
Weight: 7 lbs. 3 oz.
What we like: Lighter and more compact than the Alps King Kong above, and made with quick-dry fabrics. 
What we don't: Lower to the ground and the back height is a touch short. 
The Alps King Kong is a behemoth of a camp chair that can't be topped in terms of outright comfort, but that doesn't mean it's the most well-rounded or practical model out there. Enter the REI Co-op Camp X, which does a great job at balancing comfort, features, and durability while remaining easy to carry. The mesh fabric doesn't sag and is plenty tough—we've experienced zero issues after years of use—and breathes better than chairs with solid fabrics in warm weather. And should the Camp X get wet, it dries extremely quickly, which is something the thick fabrics on the Alps fail to do nearly as well.
What are the downsides of the REI Camp X? The chair sits lower to the ground and some may prefer a taller back height like you get with larger models like the Alps King Kong above or Coleman Quad below. That said, we've found that both of those chairs are very bulky when packed and take up a tremendous amount of space in the back of your vehicle, especially if you are bringing multiple. While the Camp X may not be quite as comfortable or supportive, it's noticeably easier to pack and carry and costs less. 
See the REI Co-op Camp X
 

Best Lightweight Camping Chair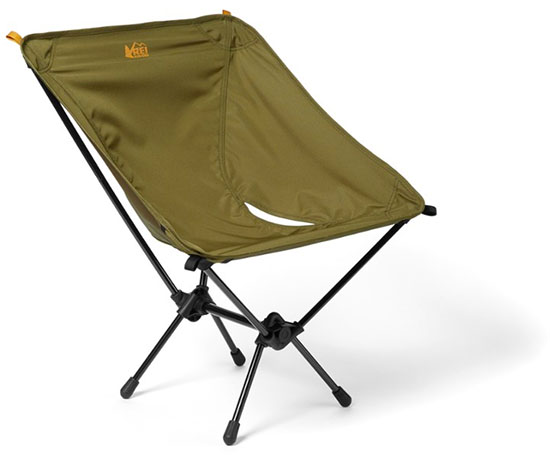 Dimensions: 25 x 20 x 20 in.
Seat height: 11 in.
Weight: 1 lb. 11 oz.
What we like: Lightweight and compact. 
What we don't: Not as comfortable and supportive as the options above. 
There are inherent compromises in opting for a lightweight and packable camp chair. The height and width of the seat go down, as do back and neck support, and you can say goodbye to features like a cup holder. That said, the REI Flexlite is pretty darn nimble compared to the much heavier and bulkier options above. At less than 2 pounds, it's surprisingly comfortable, and the 11-inch seat height is tall enough for most, although it is a little more difficult to get in and out of than a standard camping model. It's worth noting that the Flexlite was updated for 2020 with a ripstop seat in place of mesh, and importantly, a $20-lower price tag. 
Among lightweight camp chair options, we give the edge in overall comfort to the REI Flexlite over other popular options like the Helinox Camp Zero and Crazy Creek Hex below. Taking into account price, weight, and packed size, it's a great choice and a design that can go anywhere, including hiking and backpacking. Due to the popularity of the Flexlite, REI has expanded the line to include the low-slung Flexlite Air (just 1 pound all-in and truly geared for backpackers), Boss (20 percent larger than the original), and Camp Dreamer (large and feature-packed).
See the REI Co-op Flexlite
Best Luxury Camping Chair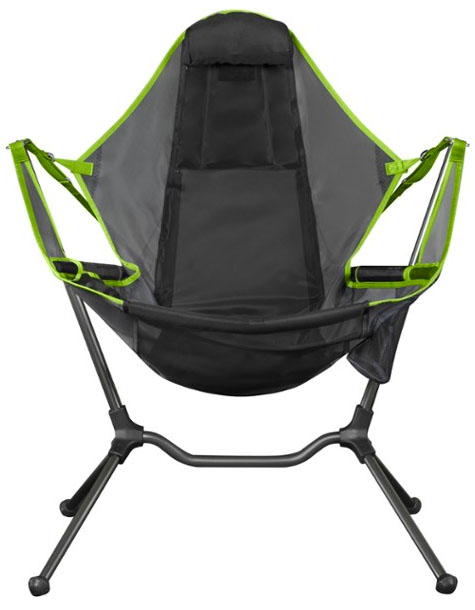 Dimensions: 25.5 x 36 x 45.5 in.
Weight: 6 lbs. 5 oz.
What we like: Very versatile and comfortable design.
What we don't: Pricey; set up takes time.
Now for something a little different: the Nemo Stargaze Recliner Luxury Chair is equal parts recliner, hammock, and rocking chair. The chair's mostly mesh body is suspended above its aluminum frame, allowing it to swing back and forth, recline, or stay upright—all equally as easily—depending on how you position your back and feet. And feature-wise, the Stargaze is no slouch with a padded headrest and armrests that are both comfortable and functional, plus plenty of storage with a cup holder and phone pocket. 
The Stargaze's most obvious drawback is cost. Simply put, it's hard to justify spending $220 on a camp chair when big-ticket items like a sleeping bag and tent could run you the same amount (or less). In addition, the Stargaze requires considerable time to set up compared to the quick, easily foldable models above. Finally, the frame is on the narrow end and doesn't fit all body types as well as a traditional camp chair. But these complaints aside, it's hard to deny the versatility and all-around fun factor of the design.
See the Nemo Stargaze Recliner Luxury Chair
Best Loveseat for Two Campers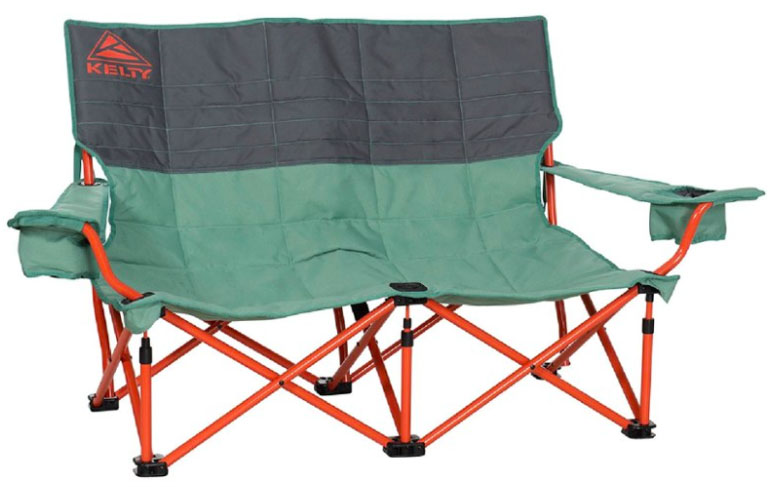 Dimensions: 44 x 23.5 x 31.5 in.
Seat height: 13.5 in.
Weight: 15 lbs. 6 oz.
What we like: Very comfortable and good build quality for the price.
What we don't: Bulkier and not as versatile as a single seater.
Other camp chair models on this list are made for one person, but why stop there? Kelty's Discovery is a totally viable option for camping and even can double down as cheap outdoor furniture for your patio. Importantly, it's a comfy option with a wide (double wide, to be exact) and supportive seat, nice detailing like adjustable arm rests and insulated drink holders, and a reclined back. Keep in mind that the seat is rather low at just 13.5 inches off the ground (many camp chairs are closer to 18 inches), but the upside is that the Discovery is stable and still fairly easy to get in and out of.
Clearly, the Discovery Low Loveseat is a unique camp chair option being a double, and there are downsides compared to choosing single camp chairs. The Kelty is rather heavy at over 15 pounds, and even though it breaks down nicely into its storage tote, the chair is bulky for hauling. The other big issue is cost: you can find two similarly comfortable chairs and save some cash in the process. But if you want a double chair and the low height is appealing, the Discovery is well-built and fun. 
See the Kelty Discovery Low Loveseat
Best of the Rest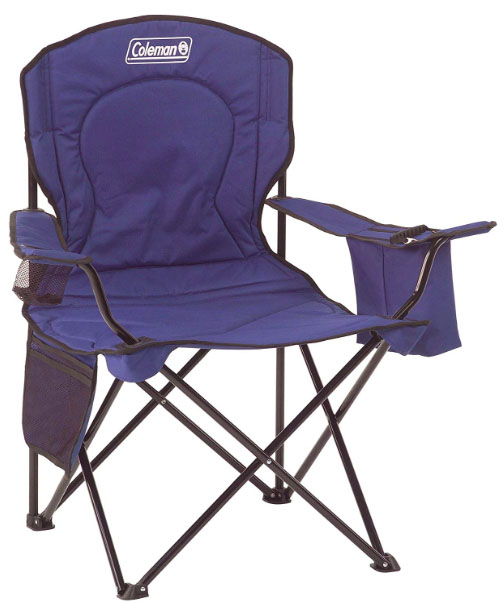 Dimensions: 24 x 37 x 40.5 in.
Seat height: 18.1 in.
Weight: 9 lbs. 14 oz.
What we like: Cheap, comfy, and comes with a built-in drink cooler.
What we don't: A step down in build quality from the Alps King Kong above. 
The popular Coleman Oversized Quad checks all the boxes we look for in a camp chair. Its padded seat and back panel are comfortable, it's spacious enough to accommodate most campers, and it's simple to fold up and carry. If you've been tempted by those ultra-cheap $15 camp chair models beckoning on the internet, trust us: the additional $10 or so for the Coleman is worth it. The steel frame and burly fabric will outlast its flimsier competition by years, and it's hard to argue with a built-in cooler in the armrest.
What complaints do we have about the Coleman Oversized Quad? At this price, it doesn't feel quite as comfortable or confidence-inspiring as the Alps King Kong above, and the materials are good but not great (the frame will start to rust if you don't take good care of it, for example). That said, we still think the Coleman outperforms its price tag and offers more than enough camp chair for most people and uses. 
See the Coleman Oversized Quad Chair with Cooler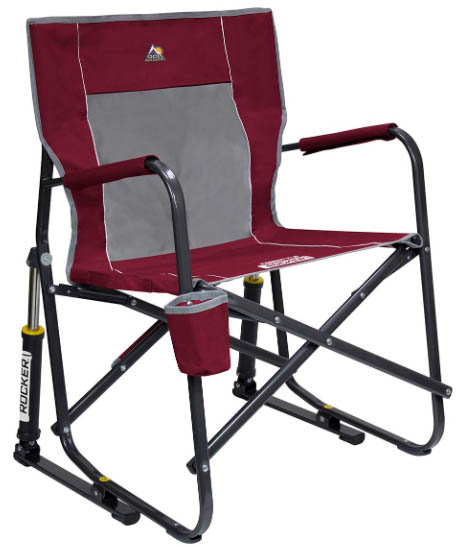 Dimensions: 24 x 25 x 34.8 in.
Seat height: 19.7 in.
Weight: 11 lbs. 13 oz.
What we like: Just like Grandpa's rocking chair.
What we don't: Heavy.
A few chairs on our list allow you to rock back and forth, but none come closer to resembling a traditional rocking chair than the GCI Outdoor Freestyle Rocker. GCI achieves this with a spring-action "tube" at the back of the chair, which allows the metal frame to move up and down as you push off the ground. And when you're ready to pack up, the chair folds down in one smooth motion with its attached carrying handle—no need to stuff it into a tote on the way out.
Although the Freestyle Rocker includes a handle for transport, it's one of the heaviest options on our list and fairly bulky for hauling. Further, a number of users have reported that the rocking mechanism becomes squeaky and loud after only a few uses and the spring-action system feels noticeably less durable than the rest of the chair. But while the Freestyle Rocker might lack the overall fit and finish of some of the options above, it's nonetheless a fun way to spend an afternoon at camp.
See the GCI Outdoor Freestyle Rocker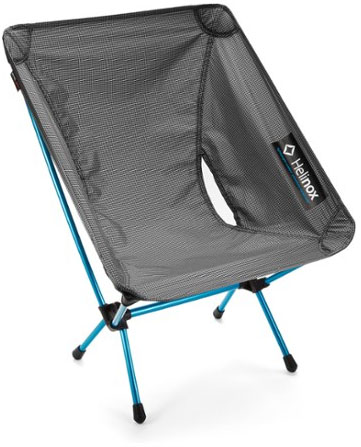 Dimensions: 20.5 x 18.9 x 25.2 in.
Seat height: 11.5 in.
Weight: 1 lb.
What we like: Incredibly lightweight and packable.
What we don't: Expensive.
With the superlight Chair Zero, Helinox makes it that much easier to justify hauling a chair into the woods or even the backcountry. Weighing a low 16 ounces, the Helinox is surprisingly sturdy thanks to an aluminum structure with poles from highly regarded DAC (the same DAC that make poles for many of the top lightweight backpacking tents). The shock-cord design also means that the Chair Zero packs down to a compact size that fits on the inside or outside of a backpack. In terms of portability, you'll be hard-pressed to find a lighter or more compact camp chair. 
What are you sacrificing with the minimalist Chair Zero? To start, we recommend this chair only for those that want to keep weight to an absolute minimum—overall comfort and stability just can't compete with a standard camp chair. The good news is that the Chair Zero is only slightly less comfortable than the REI Flexlite above—although not everyone loves the Helinox's upright seating position and narrow dimensions—and undercuts it in weight by 11 ounces. But with a steep $120 price tag, the Chair Zero undoubtedly is an impressive piece of lightweight tech for backpackers but offers too little in the way of support and comfort for most car campers. 
See the Helinox Chair Zero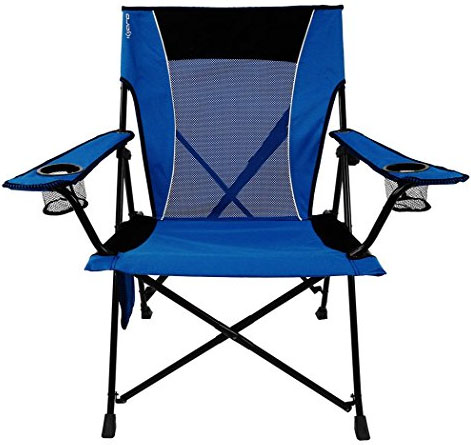 Dimensions: 26 x 35.5 x 37 in.
Seat height: 20 in.
Weight: 9 lbs. 8 oz.
What we like: Large and very comfortable
What we don't: Tall ground-to-seat height may be too tall for some.
Kijaro's Dual Lock Folding model is among the most popular camp chairs on the market due to its high levels of comfort and value. As the name indicates, the chair locks in both the open and closed positions for stability and easy hauling inside the stuff sack. And the chair's strong seat and slightly reclined back offer an excellent feel overall. The Kijaro's 300-pound weight capacity falls well short of the burly King Kong above, but the chair still is made to last.
Within our top grouping of chairs for car camping, the Kijaro is a formidable competitor. Build quality exceeds the slightly less expensive Coleman, although it does fall a little short of the well-made REI and Alps Mountaineering options above. The reason it gets dropped slightly on our list is that the relatively tall ground-to-seat height of 20 inches can leave some people with their feet dangling off the ground. But this can be a plus for some folks, and the wide and comfortable seat and budget price makes it a nice choice for camping.
See the Kijaro Dual Lock Folding Chair
Dimensions: 30 x 36 x 25 in.
Seat height: 17 in.
Weight: 13 lbs. 5 oz.
What we like: Super durable and comfortable. 
What we don't: Pricey, heavy, and overkill for casual campers. 
After the extreme success of its premium coolers, Texas-based Yeti has expanded its product offerings substantially over the last few years. Not surprisingly, the Trailhead Camp Chair sticks to the formula: it's super durable and built with high-quality materials, is both comfortable and sufficiently large, easy to fold, and has a sleek design that looks the part. At $300, the Yeti is the priciest chair on this list by far, but it's a fun option for camping, sporting events, and concerts that should last for many years. 
It's worth noting that Yeti also makes a second camp chair model in the Hondo. The price is the same but the Hondo weighs more at over 16 pounds, making it slightly more difficult to lug any significant distance away from your car. The Hondo also has horizonal bars running along the bottom for support, which work well when things are relatively flat but aren't quite as good as the four feet on the Trailhead at campsites with varied terrain. Both are quality chairs, but we prefer the lower weight and better stability of the Trailhead.
See the Yeti Trailhead Camp Chair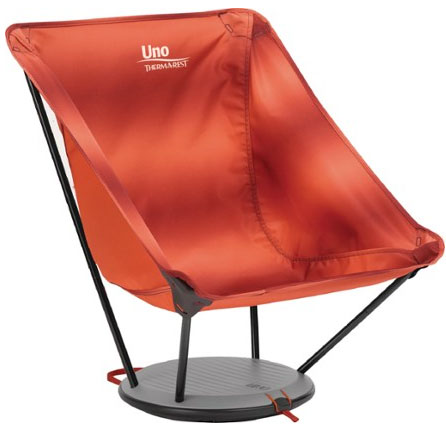 Dimensions: 14 x 16 x 21 in.
Seat height: 8 in.
Weight: 2 lbs. 3 oz.
What we like: Lightweight and doubles as a table.
What we don't: Caught in between backpacking and camping categories.
Better known for their sleeping pads and bags, Therm-a-Rest has recently assembled a sneaky-good collection of camp chairs. Their Uno is a compact and low-slung chair designed for camping, outdoor concerts, and travel. What sets the model apart from other lightweight chairs is its disc base, which provides a solid foundation and stores the legs and seat for transport. Additionally, inserting the poles into the bottom side of the disc turns the Uno into a small table.
We like the fun design and dual functionality of the Therm-a-Rest Uno, but it falls short from a practical standpoint. The weight of just over 2 pounds makes it somewhat viable for backpacking, but the plastic base makes it too bulky to fit into a bag like the REI Flexlite or Helinox above. And for festival use or car camping when weight isn't as big of a consideration, there are more comfortable options. As such, we think the hybrid design hits a relatively small niche in the market, pushing it down our rankings.
See the Therm-a-Rest Uno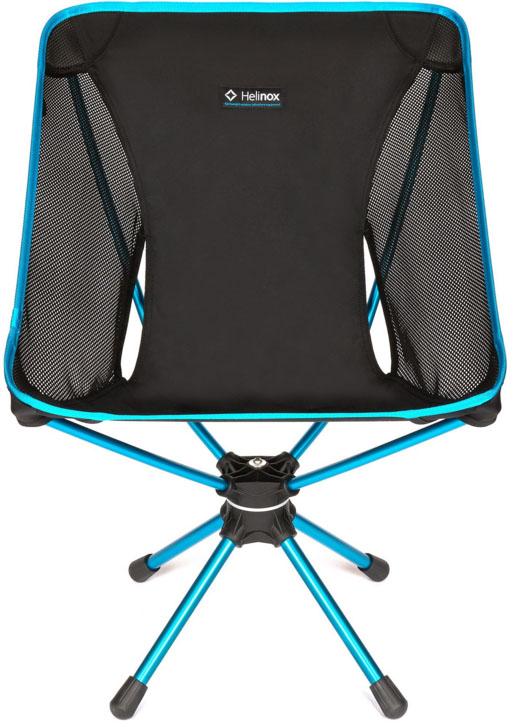 Dimensions: 21 x 20 x 28.3 in.
Seat height: 15.5 in.
Weight: 2 lbs. 8 oz.
What we like: Swivel function is convenient, stable construction.
What we don't: Expensive; pushing the weight limit for backpacking use.
As camp chairs get more and more comfortable, it's only logical they start to mimic the features we enjoy at home. Helinox is taking a stab at the lightweight swivel chair, and with a stable, four-legged platform, it's a great product. As with all Helinox gear, it's comfortable and very supportive for its diminutive size, but also comes with an astronomical price tag. Avoid giving it a test sit if you want to save those extra dollars.
Alternatively, Helinox makes the ultralight Chair Zero above as well as a traditional portable model, the Chair One. Compared with the REI Flexlite, their frame and leg designs are similar, and while the Chair One is slightly more comfortable, the REI undercuts it in price by $40—enough to supplant it on our list.
See the Helinox Swivel Chair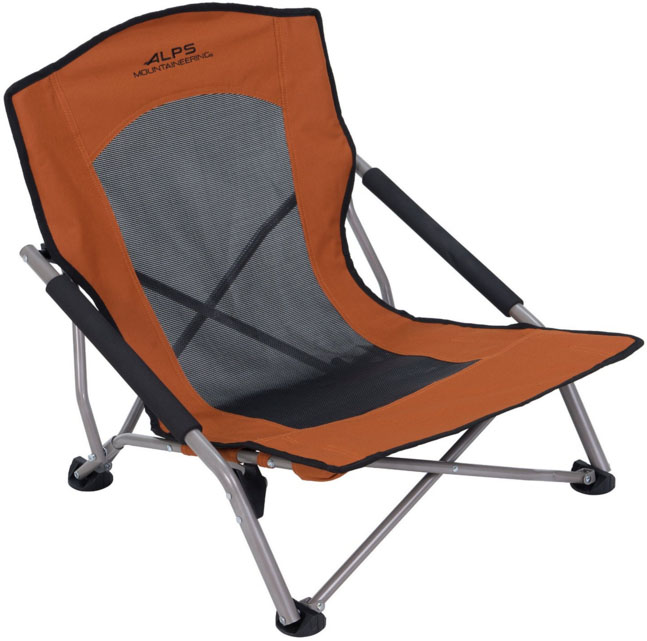 Dimensions: 14 x 20 x 24 in.
Seat height: 6 in.
Weight: 6 lbs. 13 oz.
What we like: Our favorite low-slung model.
What we don't: Unless you need a low chair, there are more comfortable options.
Chairs with a low seat height like the Alps Mountaineering Rendezvous excel in places where it's required, like an outdoor concert, or for times when it's best to be low to the ground, like a beach. Of these chair types, the Rendezvous is a standout in terms of comfort—the chair sits at a recline to stretch out your legs—and material quality. It's also a good value, consistently priced around $30-$40 online.
At a campsite, we find the Rendezvous low and not as comfortable overall as an upright model, and we do miss having a cup holder. The 600-denier fabric and a powder coated steel frame is borderline overbuilt for its use, but other than costing a little more, we sure won't complain about a tough construction. The Rendezvous is a great long-term purchase for certain uses.
See the Alps Mountaineering Rendezvous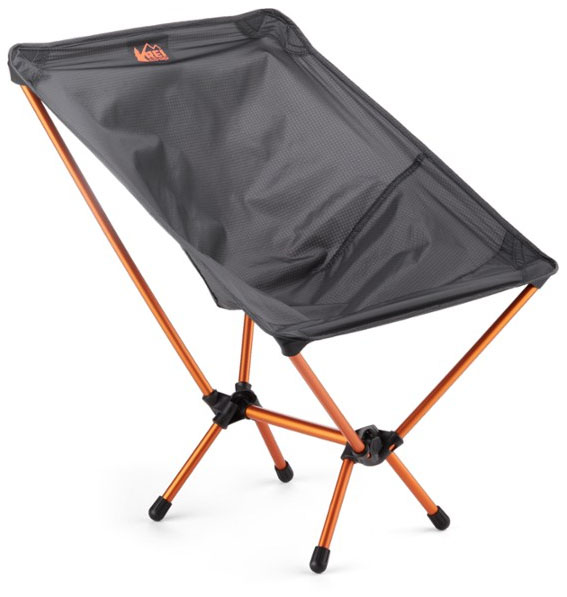 Dimensions: 19 x 22 x 22 in.
Seat height: 11 in.
Weight: 1 lb.
What we like: Lighter than the Helinox Chair Zero and costs $20 less.
What we don't: Super thin fabric has questionable durability.
REI expanded their very popular Flexlite line last year with the ultralight Air. Sporting the same pole structure as the standard model above, the newer chair incorporates a lighter fabric and slightly smaller dimensions to trim away an impressive 12 ounces. The changes do have a negative impact on overall stability and comfort, making it less desirable for camping and everyday use. But those who want to add backpacking to the mix will appreciate the significant weight savings and smaller packed size.
How does the Flexlite Air compare with Helinox's Chair Zero above? The REI has the edge in weight by about 1 ounce, costs $20 less, and has a slightly wider shape that puts you in more of a reclined position compared with the upright Chair Zero. That said, we prefer the Helinox's deeper seat, which provides a little more support, and the Chair Zero has a smaller stuff sack (4 x 14 in. compared with the REI's 5 x 16 in.). The deciding factor may come down to durability: the Flexlite Air is inferior in this regard with a noticeably thinner fabric and shorter manufacturer warranty (1 year compared with 5 years for the Helinox).
See the REI Co-op Flexlite Air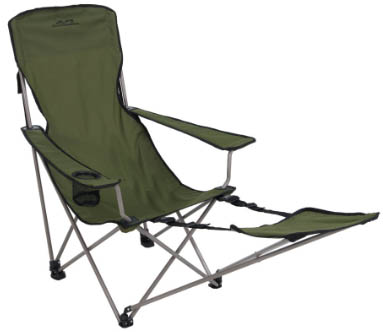 Dimensions: 32 x 26 x 41 in.
Seat height: 14 in.
Weight: 10 lbs. 
What we like: Functional and well-designed footrest.
What we don't: Pretty low weight limit.
With a kicked-back design, the Alps Mountaineering Escape Chair is a great choice for lounging around camp. The integrated footrest is adjustable to fit your height, and removal is easy for times when reclining isn't optimal (like cooking over the fire, eating at a table, etc.). And while fairly bereft of other defining features, there's beauty in the simplicity of this otherwise traditional-looking camp chair. 
What's not to like about the Escape? Despite using a sturdy 600-denier polyester fabric and powder-coated steel frame, the weight limit is fairly low at 225 pounds (even the sub-2-pound REI Flexlite above exceeds that at 250 pounds). Further, we'd prefer to have the option to adjust the back height for stargazing, although that would likely come with a significant jump in price. Overall, the Escape Chair is solid all-around value for those that want to bring a taste of home—namely an ottoman—on their camping adventures.
See the Alps Mountaineering Escape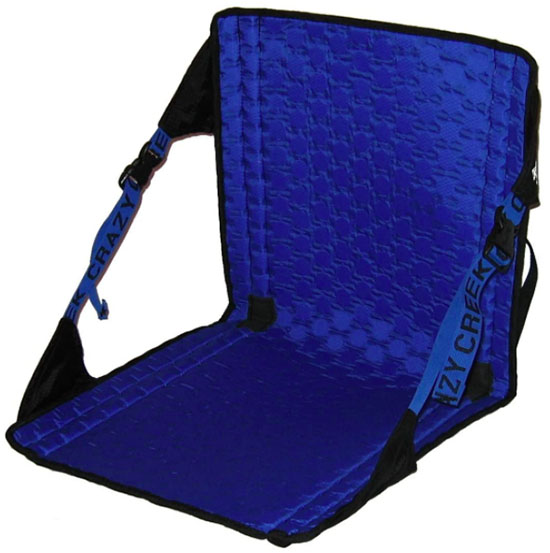 Dimensions: 16.5 x 15.5 x 16.5 in.
Seat height: 0 in.
Weight: 1 lb. 5 oz.
What we like: Lightweight and packs down small.
What we don't: Legless design isn't nearly as comfortable as a standard chair.
Before lightweight chairs like the REI Flexlite and Helinox Chair Zero hit the scene, simple legless designs like the Crazy Creek Hex 2.0 were very popular. They still have their appeal: the Hex costs just $52, takes less time to set up and take down, and you can adjust the back angle by tightening or loosening its nylon straps. At 1 pound 5 ounces and rolling down small enough to fit into a tiny crevice in your car or even the water bottle pocket of your pack, there's a lot to like with the Crazy Creek Hex.
The biggest knock against the Hex 2.0—and the reason why we're seeing fewer of them at campsites—is that it doesn't get you off the ground. It's true that the EVA foam keeps you protected and reasonably comfortable, but the lightweight chairs above are much more convenient (and in the case of the Helinox Camp Zero, lighter). But the Hex 2.0 beats them all in price and simplicity, which is why it gets a spot on this list. 
See the Crazy Creek Hex 2.0
Camping Chair Comparison Table
*Editor's Note: "Height" refers to the measurement from the ground to the seat bottom.
 
Buying Advice
Categories: Comfort, Budget, and Lightweight
Comfort
The term "camp chair" encompasses just about any type of chair that can be folded up, squeezed into a car, and carried to your destination, so your first order of business is narrowing down your intended use. True "comfort" camping chairs—provided you have the space in your car—can be large and luxurious. They have taller backs, are farther off the ground, and offer the best support and stability. In addition, they have the most features, from cup holders to storage pockets, and some even have a recline option. Because weight isn't a major factor, you can get a well-made and comfortable camping chair at a reasonable price—starting at around $50 and reaching as much as $300 for the Yeti Trailhead. Top choices from this category include the Alps Mountaineering King Kong and GCI Outdoor Freestyle Rocker.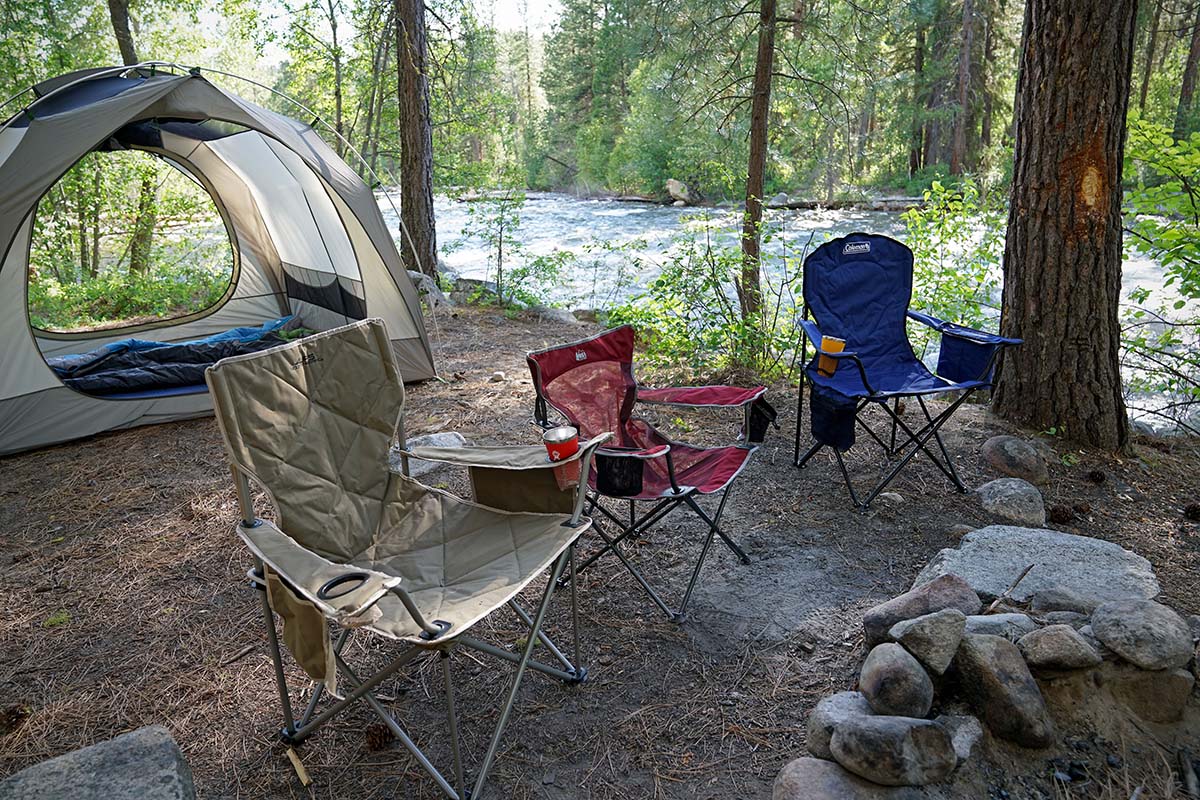 Budget
Some people only go camping a couple of times each summer, or just don't want to spend much on their camp chairs. The good news is that we've had good luck with budget models that start at $40 and sometimes dip down to around $25. The Coleman Quad Chair, for example, often is available for less than $30 on Amazon, offers high levels of comfort and support, and has held up well after years of use. It's true that budget frames generally aren't as well-built, the seat and back may use thinner materials, and stability and features tend to go down with price. But so long as you stay away from the true bargain basement offerings, our budget category is a totally viable place to shop. Top picks here include the aforementioned Coleman Quad Chair and REI Camp X. 
Lightweight
For those who want to minimize the amount of space that camping takes up in their car, along with those who don't need the highest levels of comfort, the lightweight category is where weight and packed size become the top priorities. All dimensions of these chairs shrink dramatically, the fabrics and frames become a lot thinner, and they'll pack down small enough to strap to the outside of—or sometimes even squeeze inside—a backpacking or hiking pack. The compromises make them less than ideal for camping and everyday use, but the streamlined design is popular among minimalists and when space is at a premium. Popular models in this category include the REI Co-op Flexlite line and Helinox Chair Zero.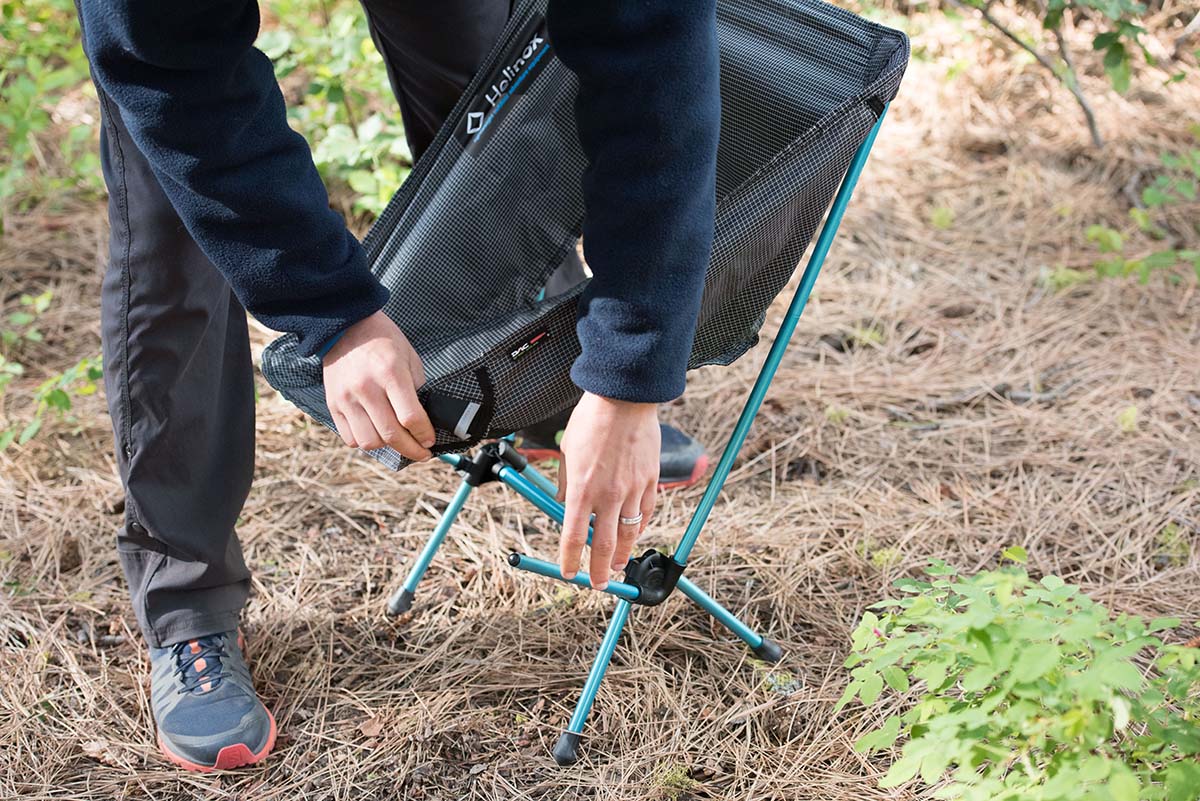 Double Camping Chairs
Double camping chairs, like the Kelty Low Loveseat above, can be a nice choice for couples. Most have two armrests and an open double-wide seat for two, although some resemble two single chairs fused together with a middle storage compartment or cup holders between them. There are some inherent drawbacks with these set-ups, though. Double chairs are predictably much heavier than their single-person counterparts (the Kelty Low Loveseat comes in at over 15 pounds), which makes them bulky for hauling. Further, they're often pricier than purchasing two separate chairs. We've only included one double camping chair on our list due to the overall lack of utility—we'd rather purchase two separate single-seaters and save a few bucks in the process.
 
Build Quality: Seat Fabric and Frame Construction
We've found that overall build quality correlates with price, but it's slightly more nuanced than that. A budget camping chair like the Coleman Oversize Quad, which has no business on a backpacking trip, is durable and reliable because Coleman didn't have to worry about keeping weight down. It can withstand a whole lot more abuse when compared with a lightweight model like the Therm-a-Rest Uno. Backpacking chairs cost more because they require thin but strong frame materials, like aluminum, which is more expensive than thick steel. That said, the build quality of the Coleman is still lower than the similarly designed but more expensive REI Co-op Camp X or Alps Mountaineering King Kong.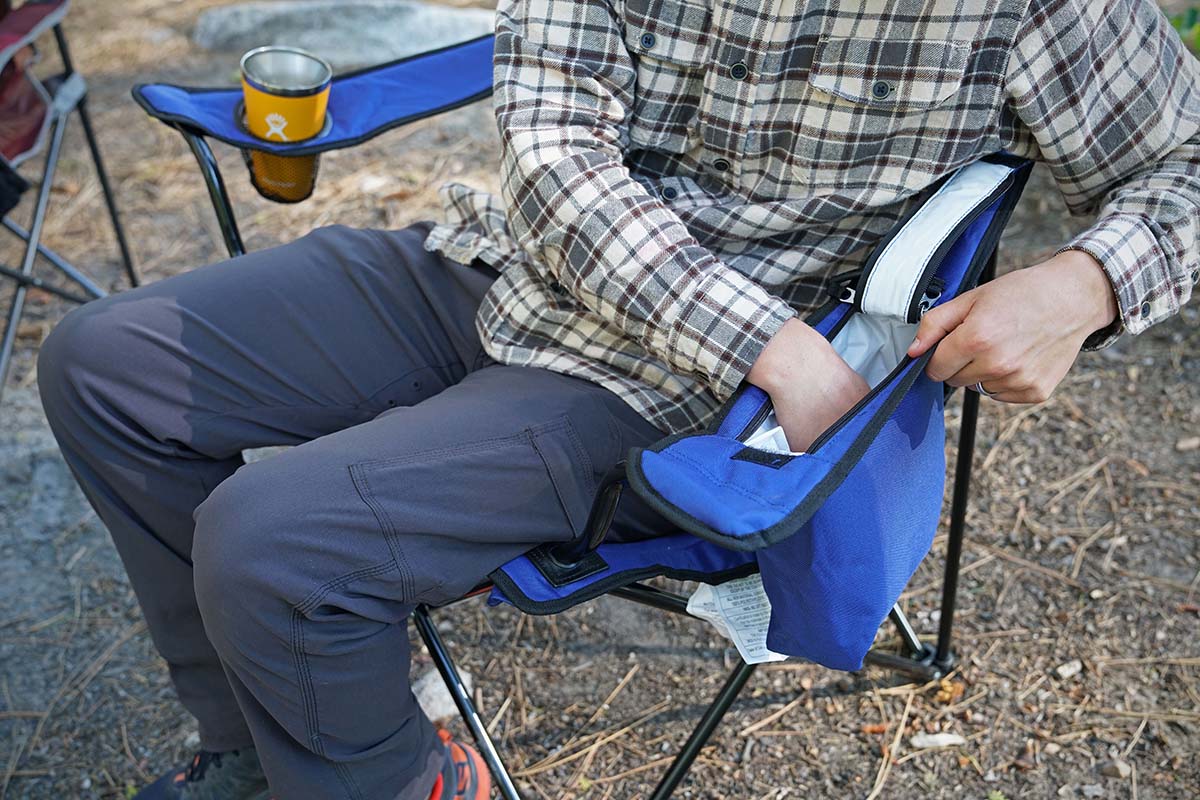 Build quality is more than simply the frame and rivets: seat fabric quality also improves with price. Cheap camp chairs are notorious for seat fabrics that sag over time, seams that fray, and mesh that develops holes. All of the models that made our list generally avoid these maladies and are designed to perform well for years. True, we'd expect the cheaper Coleman Quad's fabric to start to fail before the King Kong or GCI Freestyle, but they cost 2x as much and may not last you 2x as long.
 
Weight and Folded Dimensions
The question isn't if the camp chair folds but how it folds. Some fold flat—and the GCI chairs do so by pulling up as you naturally would on the carry strap. The advantage is the folded dimension is pretty thin (around 4 to 6 inches), but it takes up a very significant 30 x 30 inch square in your car. Carrying it on your back can also be cumbersome, which is why these chairs sometimes come with backpack style straps. The more popular style folds inwards, like the REI Co-op Camp X, and ends up a torpedo shape that you can slide into a carry bag. The smaller, more manageable dimensions make these chairs easier to carry.
While few people fret over the weight and packed size of a camping chair (camping gear in general is bulky and comfort-oriented), backpacking-ready chairs are a lesson in creative packaging. The Flexlite, Flexlite Air, and Chair Zero all pack down to extremely small dimensions, with the disadvantage being you have to reassemble the chairs each time. None of the styles take all that long to set up, but it is a small sacrifice in time that you make with the portable chair style. For us, we try and keep our packable chairs under or around 2 pounds to minimize their impact on our pack weight. Bringing along a chair is already outside of the typical realm of "essentials," but 2 pounds can be something worth swinging for a short weekend trek.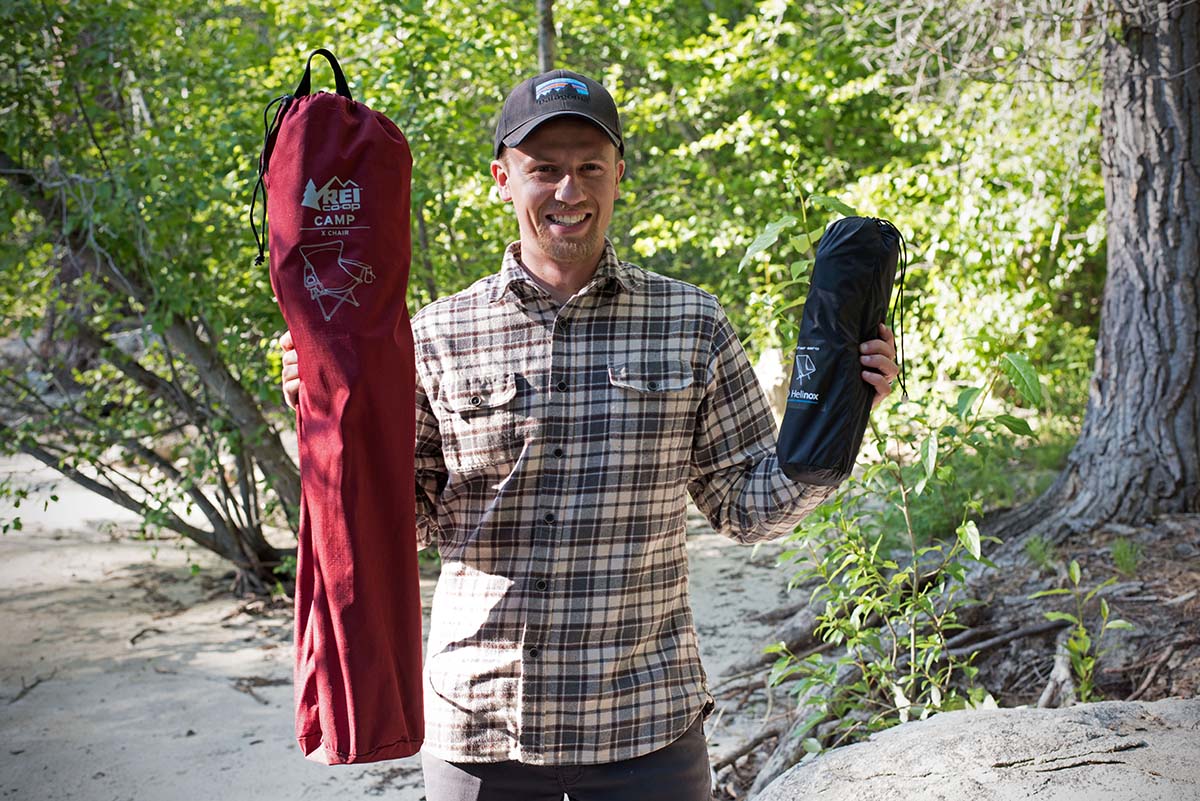 Ground-to-Seat Height
Ground-to-seat height—listed as "height" in the table above—is simply a measurement from the ground to the bottom of the seat. For those that frequent concerts or sporting events and don't want to bother folks behind them, a low seat height is important. That said, a low seat height means a less comfortable position for your legs and more effort for getting in and out. If you're needing to stay low, a chair that's 5 to 9 inches off the ground is best, with the lower options obviously the safer choice for a concert venue.
The taller the chair the more natural the seating position for most folks, and chairs like the King Kong and Coleman Oversized Quad are standouts in terms of a tall seating height. In fact, at 18 inches, they're downright throne-like. We've found the most comfortable chairs have a seat height ranging from 15 to 18 inches. This is another area where backpacking chairs have to compromise—most range from 9 to 13 inches. No matter their height, just remember: it sure beats sitting on dirt.
 
Seat Back Height
As with seat height, seat back height is a consideration for concerts. But for general use, it's also a great indicator of back and neck support. Backpacking chairs aren't known for providing great support of your back—they're too small and focused on trimming weight to cover much more than the top of your lumbar. The chairs with the best support will be the large camping chairs that we've touched on in the sections above: Coleman's Oversized Quad, Alps Mountaineering's King Kong, and Kijaro's Dual Lock Folding chair.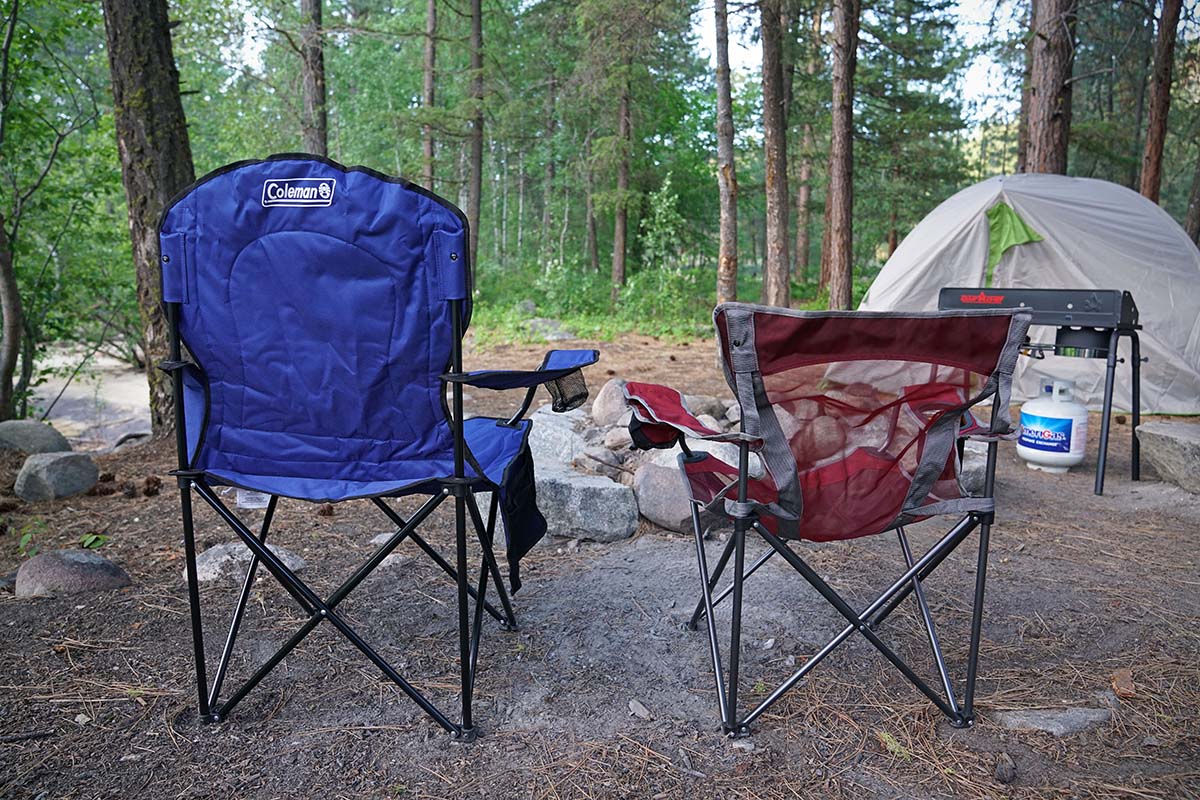 Weight Capacity
Many camp chair manufacturers provide a "weight capacity," which can helpful in a number of ways. At the high end of the spectrum, the burly Alps Mountaineering King Kong has a very healthy 800-pound maximum, while the lightweight REI Co-op Flexlite is listed at just 250 pounds. Importantly, the size of the seat tends to correlate with weight capacity, as does overall stability, so we find this spec to be somewhat useful. In general, comfort seekers and larger campers should stick to chairs with higher weight capacities, and minimalists and those who want to bring their chair longer distances from their car won't be as concerned with that number. And it's worth noting that weight capacities are provided by the manufacturer and we haven't had the opportunity to verify each one. In general, we've found that manufacturer-proved specs often tend to be generous, so we don't recommend pushing the limits.

Stability: Leg Design
Backpacking chairs are much lighter than traditional camp chairs, but they also often sport different (and non-conventional) leg designs for easy packability and weight savings. This frequently has a major impact on stability compared to ultra-solid, standard camping chairs like the REI Co-op Camp X and Alps Mountaineering King Kong. For example, a crossover camping/backpacking option like the REI Co-Op Flexlite is easy to rock back and tip over due to its thin legs that are connected to the middle of the chair rather than the sides. Depending on your needs and how far you plan to haul your chair from your car, it's worth considering how much stability and support you want. In our experience, if you don't need an ultralight model, traditional camp chairs offer the most foolproof structure.
 
Storage: Cup Holders and Pockets
Camp chairs are not feature-rich items, but storage is one area where a few thoughtful extras can be really handy. Let's start with beverages. Cup holders are a must for a chair that'll be used for camping—ground-based beverage storage is a camping faux pas (and inconvenient). Some of the larger models include side mesh pockets, which are great for items you need close at hand or want tucked away, including keeping your stuff in place on a windy beach day. And Coleman's Oversized Quad takes it to the next level with a small built-in cooler. Backpacking models eschew most if not all of these features. And the reason is rather obvious: there's little need for them when precious ounces matter. But if you don't have to haul your chair very far, we recommend making storage a priority.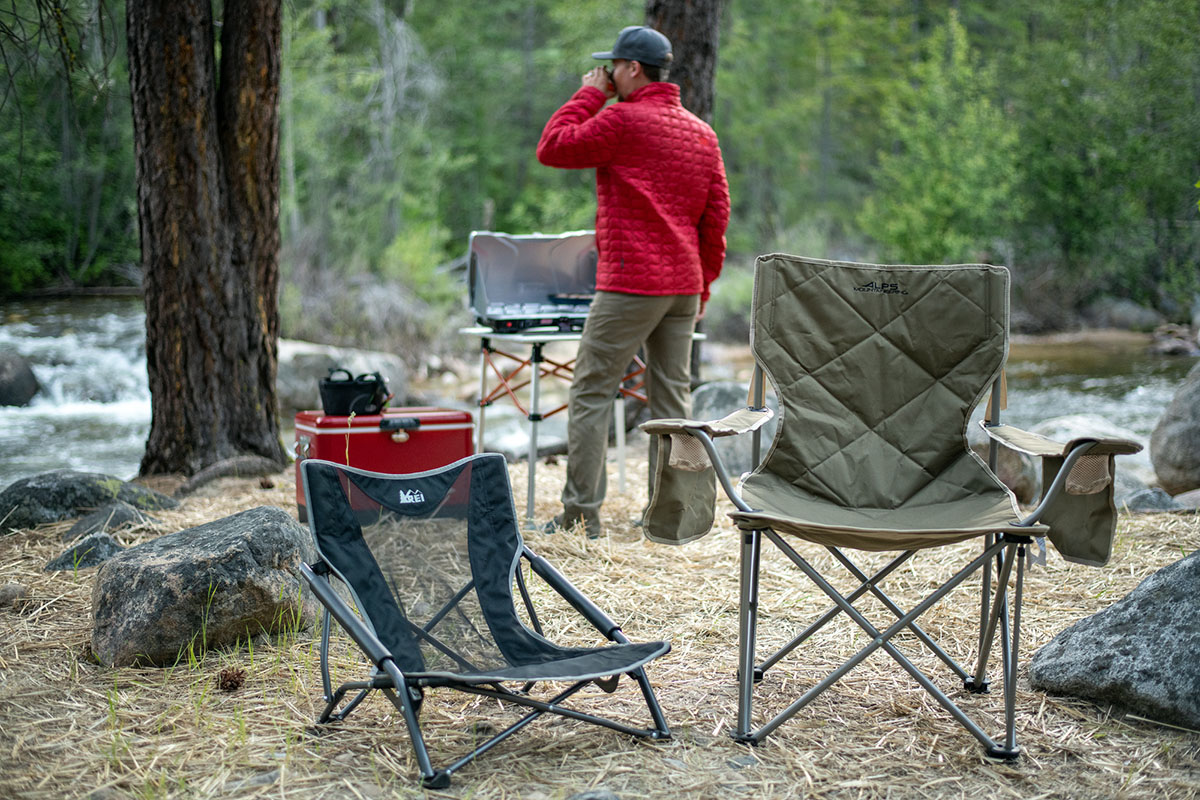 What About Backpacking Chairs?
This article covers camp chairs, which generally are heavy, comfortable, feature-packed, and meant to be carried short distances from your car to a campsite, ball field, or concert. However, a few of the models included above are sometimes used for backpacking, including the REI Flexlite Air, Helinox Chair Zero, and Crazy Creek Hex 2.0. Instead of weighing upward of 10 pounds or more, these streamlined designs are as low as 1 pound and pack down small enough to fit in the water bottle holster of your backpack. In practice, most serious backpackers we know don't bring a chair along—the extra weight is notable and it's often easy enough to find a stump or log to sit on. But for short backpacking trips or those who want the option to use their chair both camping and in the backcountry, the models listed above are prime contenders.
Back to Our Top Camping Chair Picks  Back to Our Camping Chair Comparison Table
Learn More About Camping Gear