It almost goes without saying: dinnertime is one of the best parts of any backpacking trip. There's just nothing quite like warm, filling food after a long day on the trail. In choosing the best backpacking meals of 2020, we focus on taste, nutritional value, packability, preparation time, and cleanup. In addition, weight and calories certainly matter to most backpackers, so we calculated a handy "calories per ounce" spec for each. For more background information on choosing the right meal, see our comparison table and buying advice below the picks. To complete your mealtime toolkit, see our article on the best backpacking stoves.
Note: Due to the Coronavirus outbreak, we are seeing that backpacking meals are in limited supply (not only are they great for the outdoors, but they're ideal for emergency preparedness as well). We'll do our best to keep our links updated to sites with inventory whenever possible. 
 
Best Overall Backpacking Meals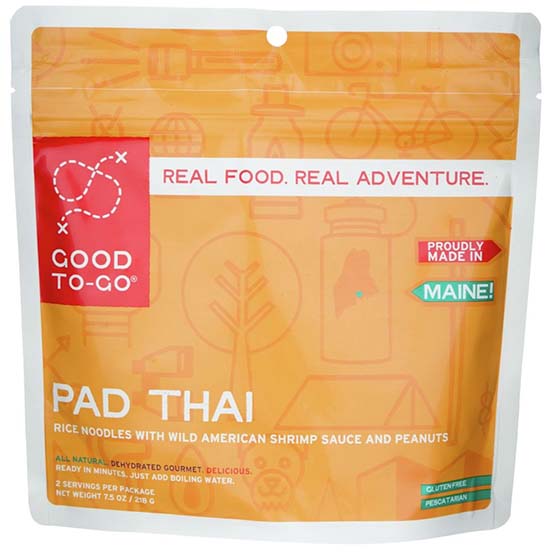 Cooking method: Pouch
Average cook time: 15-20 minutes
Calories per ounce: 112
What we like: Great flavors and healthy, real ingredients.
What we don't: Expensive; slower to cook than many of the options below. 
Good To-Go represents a new generation of backpacking meals: food that we actually would consider eating at home. Designed by professional chef Jennifer Scism, the assortment of all-natural, gluten-free meals have serious flavor and an ingredient list that is short and readable (translation: real food). The volume of offerings can't match some of the companies below—Good To-Go has 11 dinner options to date—but the combination of flavor, quality ingredients, and calorie-to-weight ratio earns this Maine-based company a resounding numero uno.
Not surprisingly, the premium ingredients make Good To-Go meals among the most expensive on this list. Another potential drawback worth mentioning (although it may have been an anomaly): we once had a Good To-Go pouch of Thai Curry that was too spicy to finish, so flavors may vary. Finally, all-natural ingredients slow the food-prep process—the meals take up to 20 minutes to rehydrate, which is on the long end of the spectrum. If you need quick calories, other pouch meals such as Mountain House and AlpineAire cook in half the time. It's no contest for us, though: Good To-Go is worth the wait.
See Good To-Go Meals
A Close Second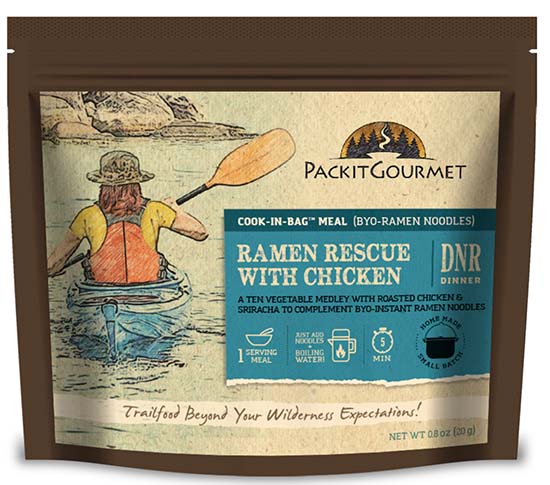 Cooking method: Pouch / pot
Average cook time: 10-15 minutes
Calories per ounce: 114
What we like: Tasty food with all the accoutrements. 
What we don't: Short shelf life. 
Packit Gourmet isn't a household name like Mountain House below, but the small online marketplace boasts an impressively diverse lineup including prepackaged meals, bulk dried ingredients, individually packaged sauces, and even separate Cook-in-Bags for DIY dehydrated food. They offer 16 different tasty dinners (with a variety of options for special dietary needs) that are more flavorful than most of the competition. Packit sweats the details too: for example, their Austintacious Tortilla Soup comes with a packet of lime powder, dehydrated jack cheese, and tortilla chips. And although their meals are advertised as one serving, take a closer look at the label: some of them have more calories than two-serving meals from other brands.
Packit meals are packaged in recyclable materials, which is a nice bonus, and their new pouches are low profile and disappear easily into your pack.  Unfortunately, the shelf life of most of these meals is short—only about a year and a half. Some also require you to bring your own ingredients: for example, the Big'un Burrito with Fajita Chicken is BYO-tortilla). Additionally, most of the dinners are high in sodium. But at 114 calories per ounce, Packit meals have a very respectable caloric density for such unique, flavorful dishes, and they even offer some cold-water lunch options too. And did we mention dessert?
See Packit Gourmet Meals
Best Calorie-to-Weight Ratio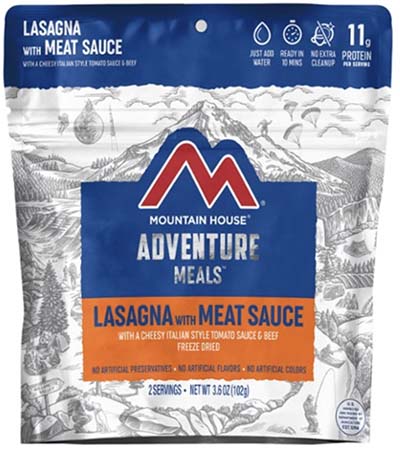 Cooking method: Pouch
Average cook time: 8-9 minutes
Calories per ounce: 122
What we like: High caloric density and cheaper than Good To-Go. 
What we don't: Lots of preservatives and sodium. 
The Mountain House name is practically synonymous with freeze-dried food, and for good reason. They may not knock it out of the park in terms of taste, but these meals remain a reliable and lightweight standard for backcountry cuisine. Mountain House's home-cooked style dinners—like Chicken & Dumplings and Chili Mac with Beef—taste pretty darn good and cook quickly. Importantly, they have a significantly higher calorie-to-weight ratio than most other brands. Plus, all Mountain House meals come with a 30-year Taste Guarantee, so you can buy now and eat much, much later. 
All of this convenience does come at a price. Mountain House doesn't prioritize all-natural or organic ingredients, has few special-diet options, and their meals contain more sodium than most other brands (which can be a good thing, depending on your needs). In addition, their menu hasn't changed much in years and you won't find eye-catching options like Bibimbap or Cuban Coconut Beans and Rice. But as a functional standby for hungry backpackers, Mountain House—after all these years—still is one of the best in the game. And keep an eye out for Simple Sensations, Mountain House's new selection of all-natural freeze-dried meals.
See Mountain House Meals
Best Selection of Health-Conscious Meals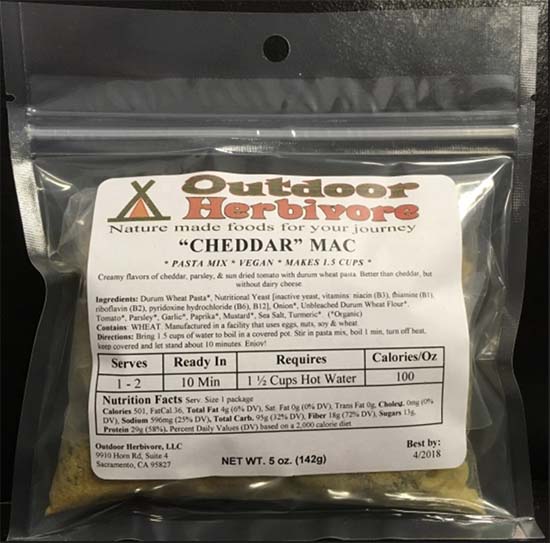 Cooking method: Pot
Average cook time: 10 minutes
Calories per ounce: 117
What we like: Super quick and convenient for a "pot" meal.
What we don't: You'll have to carry and dirty a pot.
Outdoor Herbivore offers a nice combination of all-natural ingredients and calorically-dense meals. Their single and double servings come in small, lightweight, and 100% recyclable packages with no unused space. And the company prides itself on being 100% vegetarian, over 80% organic, and all natural. If, you value eating locally-produced, whole foods while out on the trail, Outdoor Herbivore may be your backcountry answer. An added bonus: their website is a wealth of information and even offers "trail sprouts"—sprout seeds that grow as you hike to provide a fresh and crispy garnish for your meals!
Unlike the options above, Outdoor Herbivore's meals cannot be heated in their packaging, making them less convenient and requiring more gear and clean-up. That said, as far as "pot" meals go, they are some of the easiest and quickest to cook and require less fuel. Some can be made in a bowl by just adding boiling water and sitting for 10 minutes (you can get by with using a Jetboil in this case). Others need to be simmered over a flame for a minute or two, but that is much less than the 5 to 10 minutes that other brands require.
See Outdoor Herbivore Meals
Best Tasting Backpacking Food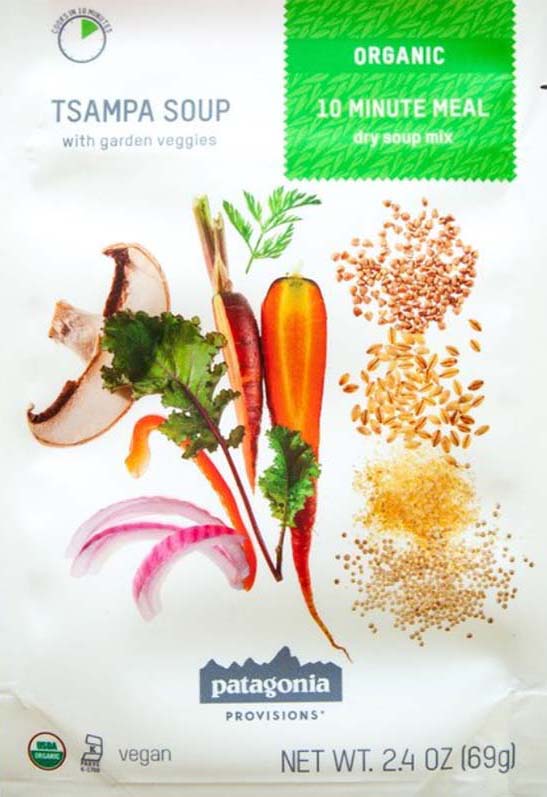 Cooking method: Pot
Average cook time: 10 minutes
Calories per ounce: 96
What we like: Responsibly sourced, manufactured, and distributed food.
What we don't: Small selection of side dishes and snacks only.
No, you're not seeing things. Patagonia—the legendary clothing company—is indeed making an appearance on our list of backcountry meals. Known for their environmental consciousness, the company's food branch—Patagonia Provisions—fits into the same mold. They responsibly source, manufacture, and distribute fruit and nut bars, buffalo jerky, salmon, hot cereals, dry soup and chili mix, ancient grains mix, and even beer. The food is designed and packaged for the backcountry, but to no surprise, it's all good enough to eat at home.
We hope to see Patagonia Provisions expand their lineup to include full dinners, but for now, their organic soups, chili, and grain mixes are great side dishes for times when you have a pot available. Soup is a perfect way to hydrate after a long day on the trail with warm, sodium-rich liquids, and many hikers will slurp one every evening alongside their dinner. And paired with salmon, their savory grains almost make a complete meal (but be forewarned, these meals do require more cleanup than usual). Plus, with an average of 96 calories/ounce, it's not super dense in calories. All gripes aside, many will find the Provisions offerings worth it for the class-leading flavor and nutrition.
See Patagonia Provisions Meals
Best of the Rest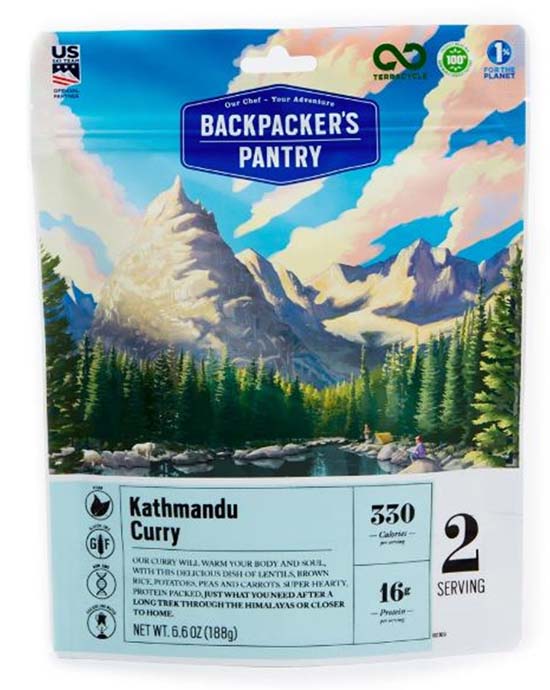 Cooking method: Pouch
Average cook time: 15-20 minutes
Calories per ounce: 113
What we like: Comes in a flat, packable pouch.
What we don't: For a pouch meal, these take a long time to cook.
Similar to Mountain House, Backpacker's Pantry has been making dehydrated meals for decades and still is among the most recognizable backpacking food brands. The company has one of the largest selections of backcountry meals on the market, including many gluten free, vegan, and organic options. And they've kept up with the times, with meals for a foodie palate like Jamaican Jerk Rice with Chicken, Chicken Piccata with Tagliatelle Pasta, and Pad Thai (which even comes with a small package of peanut butter and handful of separately packaged peanuts). Additionally, all Backpacker's Pantry meals are MSG-free and have a shelf life of 7 years (25 years for their bulk cans).
If you visit the food aisle of just about any outdoor store, you'll see Backpacker's Pantry, Mountain House, and AlpineAire compete for the title of most ubiquitous backcountry meal. Mountain House is our favorite, but it's a tougher call between Backpacker's Pantry and AlpineAire. Both have flat, packable pouches, large serving sizes, and a plethora of special diet options. But Backpacker's Pantry meals, quite simply, taste better than AlpineAire. You'll have to wait a bit longer to enjoy a Backpacker's Pantry meal but we think the added flavor is worth it.
See Backpacker's Pantry Meals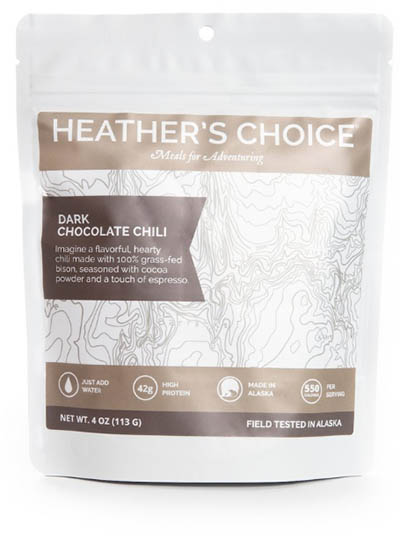 Cooking method: Pouch
Average cook time: 20 minutes
Calories per ounce: 125
What we like: Nutritionally dense and ethically sourced food.
What we don't: Expensive; not a ton of options.
After dehydrating her own backcountry food for years, Alaska-based Heather Feather launched Heather's Choice via a Kickstarter campaign in 2015. Now, this small and growing company is one of our favorite choices when it comes to taste, ingredients, and gluten-free options. Heather takes care in putting together her meals, using high-powered foods such as coconut, maple syrup, wild-caught Alaskan Sockeye salmon, and 100-percent grass-fed bison and elk. Impressively, many of the dinner options contain a whopping 40 grams of protein per serving and average out to 125 calories per ounce (among the most calorically dense meals here).
You don't get a ton of options with Heather's Choice, especially if you're a vegetarian (although each dinner is gluten, soy, egg, and dairy-free). Further, the one-serving dinners will run you as much as $15, which is pricey, but could be well worth it if you value eating nutritious and ethically sourced meals in the backcountry. Each meal comes in an impressively tiny package (kudos to Heather for conserving on materials!) and is prepared by adding boiling water and waiting 20 minutes. For more than just dinner, we also recommend looking at Heather's Choice's breakfast options ($7) and her popular Packaroons, which offer 170 calories of healthy fats and sugars in a one-ounce package.
See Heather's Choice Meals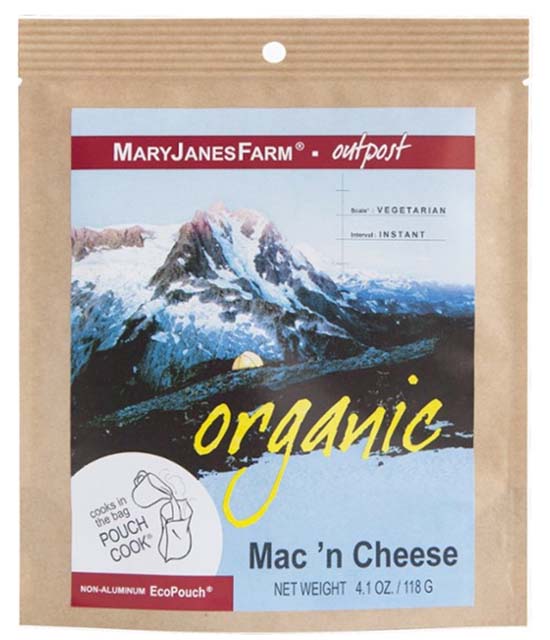 Cooking method: Pouch
Average cook time: 10 minutes
Calories per ounce: 103
What we like: A whopping 30 dinners to choose from.
What we don't: The flavors leave much to be desired.
MaryJanesFarm offers a large assortment of all-natural, organic, mostly vegetarian meals at reasonable prices. Similar to Good To-Go above, you'll recognize all of the ingredients on their labels as real food. These meals (take your pick of 30 dinners) cook up almost as quickly as Mountain House and are more nutritious and lower in sodium to boot. Another bonus is paper packaging that is recyclable or burnable. Plus, the MaryJanesFarm website offers bulk servings, perfect for decreasing packaging waste with large groups. 
What are our complaints about MaryJanesFarm? It might be a matter of personal preference, but we found the dinners to be over-seasoned. Additionally, the eco-friendly packaging lacks a resealable closure for cooking your meal in the pouch, but squeezing the air out of the bag and folding the top underneath to cook is a fairly simple workaround. Finally, the advertised "single serving" is actually 1.5 servings, although this will be good news for hungry hikers.
See MaryJanesFarm Meals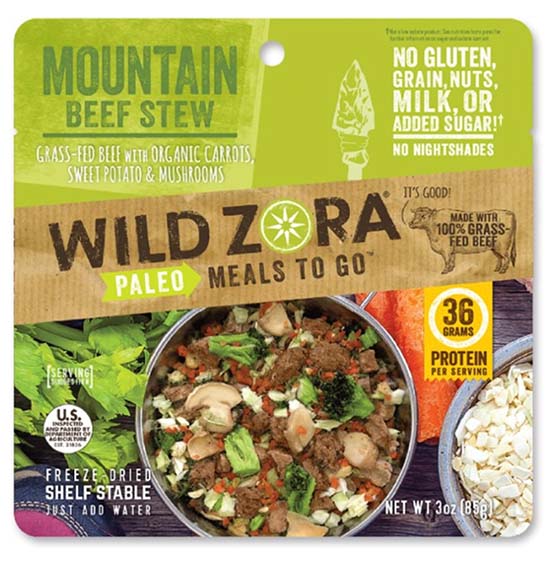 Cooking method: Pouch
Average cook time: 10-12 minutes
Calories per ounce: 110
What we like: Incredibly nutrient dense.
What we don't: Steep price tag of $13 for a single serving.
In a world of noodle-heavy backcountry meals, Paleo Meals To Go's gluten-free and protein-rich offerings are refreshing, and you don't have to be paleo to enjoy them. The Mountain Beef Stew Pouch we tried had an impressive ingredient list: beef, vegetables, spices, and sea salt. The meat (free range, grass-fed, and 100% natural) especially stood out: it retained the taste and texture of real meat better than other freeze-dried meats we've tried.
One notable drawback to these tasty meals is shelf life, which according to the Wild Zora website, is only two years from the date of manufacture. That said, we ordered our meal in April and it came with an expiration date of November 11 of the same year. Paleo Meals To Go also come at a high price: $13 for one serving, to be exact. For that cost, you could have almost three servings of Mountain House. But that price difference shows in the nutrition comparison: for one serving of Mountain House Beef Stew, you'll get 15% of your recommended daily Vitamin A, 15% of Vitamin C, and 8% of Iron. One serving of Paleo Meals To Go's Beef Stew Pouch is packed with 320%, 45%, and 90%, respectively. That's a huge difference for those who are focused on getting more than just calories from their backcountry meals.
See Wild Zora Paleo Meals To Go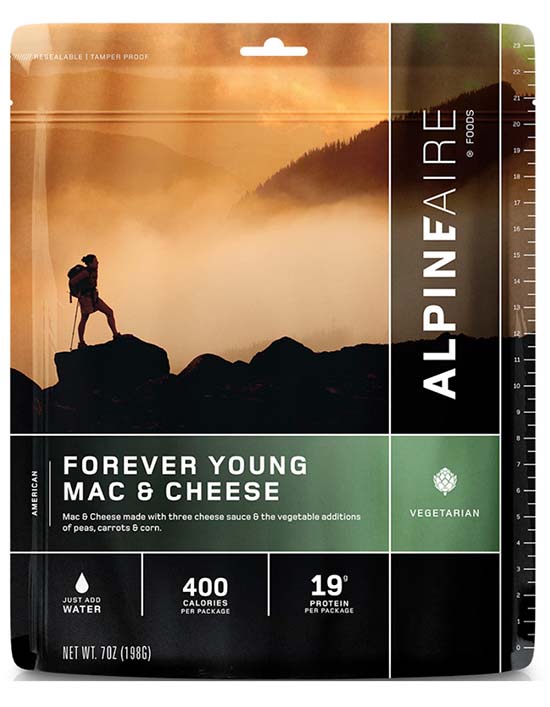 Cooking method: Pouch
Average cook time: 10-12 minutes
Calories per ounce: 106
What we like: Low price and fun menu items.
What we don't: Tastes like standard backpacking fare.
We'll start by saying that AlpineAire meals sound delicious. With names like Wild Quinoa Pilaf with Hemp Seeds, Honey Lime Chicken, and Southwestern Style Beef Nachos, you practically feel like you're ordering from a restaurant. They also offer a plethora of special diet options: low sodium, vegetarian, vegan, gluten free, cholesterol free, and all natural. And their eye-catching packaging clearly displays information on ingredients, serving size, and nutrition. The pouches are flat and packable, and the main courses are as speedy to cook as Mountain House meals. With a relatively low price, AlpineAire seems like the whole package. 
Unfortunately, the taste of AlpineAire meals just doesn't measure up. Perhaps their names and labeling create overly high expectations, or maybe mixing healthy ingredients with a short cook time stresses the flavors. Whatever it may be, we find that AlpineAire dinners are either noticeably bland or so over-spiced that they are hard to finish. If you find one you like, stick with it. Otherwise, the pouch meals above are both tastier and more calorically dense.
See AlpineAire Foods Meals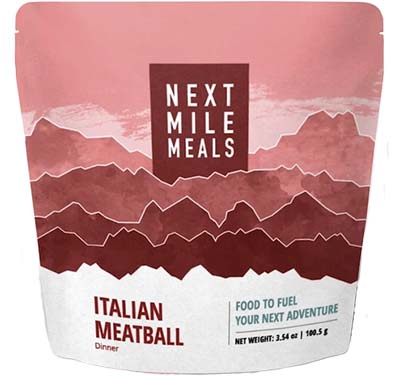 Cooking method: Pouch
Average cook time: 6 minutes
Calories per ounce: 142
What we like: Incredibly nutrient dense and generous serving sizes.
What we don't: Expensive and not many offerings.
Next Mile Meals is a small company that hasn't been around for long, but we took their meals on a recent trek in Chile's Parque Patagonia and came away very impressed with the flavors, ingredients, and quick cook time. Like Good To-Go and Patagonia Provisions above, Next Mile Meals actually taste like real food, which shouldn't come as much of a surprise after looking at the ingredient label. These ketogenic meals cut the carbs and pack in calorie and nutrient-dense foods like meat, veggies, and cheese. It all adds up to an impressive 142 calories per ounce on average, which is far and away the best calories-per-weight spec here.
Our one gripe about Next Mile is the price: $14 will get you a one-serving pouch (Good To-Go, in comparison, sells their two-serving meals for the same price). That said, Next Mile isn't shy on the serving sizes and many of their pouches include close to 600 calories (similar to MaryJanesFarm above, we think of these as 1.5 serving meals). You also don't get many options (6 dinners at the time of publishing), but we expect Next Mile Meals to expand their offerings in time. All in all, we're pleased to see yet another all-natural option hit the shelves, especially for the keto and paleo hikers among us.
See Next Mile Meals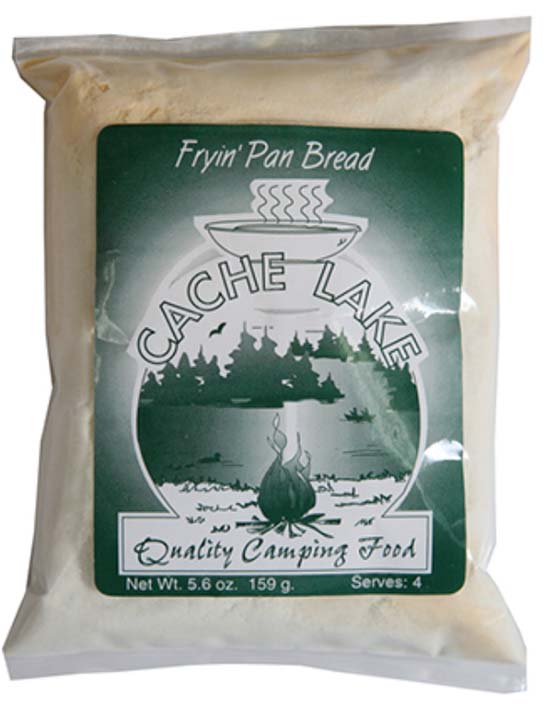 Cooking method: Pot
Average cook time: 10-20 minutes
Calories per ounce: 92
What we like: The Fryin' Pan Bread is a delicious treat.
What we don't: Old-fashioned backcountry food. In the words of one of our testers, "What is this meal supposed to be?"
Hands down, the best thing about Cache Lake meals is their wildly popular Fryin' Pan Bread, which comes in an assortment of flavors like onion, cornbread, and blueberry scones. It is delicious. We also found it simple and fun to make, even on our non-simmering MSR Whisperlite. And the company is unique in offering an overstock section on their website where deal-seekers can purchase larger serving size packages at discounted rates.
The Cache Lake entrees are typical backcountry fare, with dinners such as Chicken ala King, Beef Stroganoff, and Chicken Noodle Casserole. Like Patagonia Provisions and Outdoor Herbivore, Cache Lake dinners must be cooked in a pot over a flame, requiring a stove with a simmering function and more fuel. However, Cache Lake lags behind these brands because they do not offer all-natural ingredients or many special diet options. Although our meal had sizable pieces of broccoli, the ingredient list was full of preservatives and additives. Further, their dinners don't come in single-serving packages, although it'd be easy to make them by putting half of the meal in a zip lock bag.
See Cache Lake Meals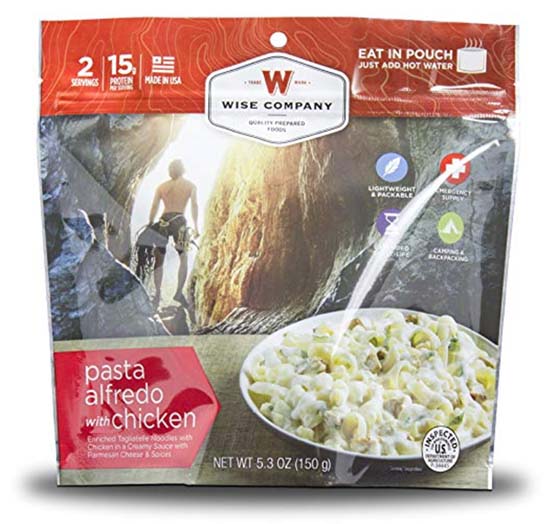 Cooking method: Pouch
Average cook time: 12-15 minutes
Calories per ounce: 118
What we like: Pasta dishes are filling and satisfying for the hungry hiker.
What we don't: Meals lack flavor.
Chances are, you haven't heard of Wise Company. The Utah-based brand specializes in emergency preparedness and shelf-stable food and happen to carry a small assortment of backpacking dinners. Their six available backcountry meals are less expensive than most (especially when purchased in a 6-pack) and boast impressively high caloric densities—second only to Mountain House.
In all honestly, Wise Company meals are nothing special. All but one is made with pasta (but after a long day on the trail, it's hard to argue with noodles and cheese). However, they tend to lack flavor and have an unnatural, gelatinous texture (one reviewer described the chili mac as having a "vague tomato taste"). In addition, the ingredient list is long and hard to pronounce. If you're looking for nutrient dense, flavorful meals, Good To-Go and Paleo Meals To Go are much better options. And if you're looking for an inexpensive, lightweight option and aren't too picky about ingredients, we'd stick with Mountain House. 
See Wise Company Meals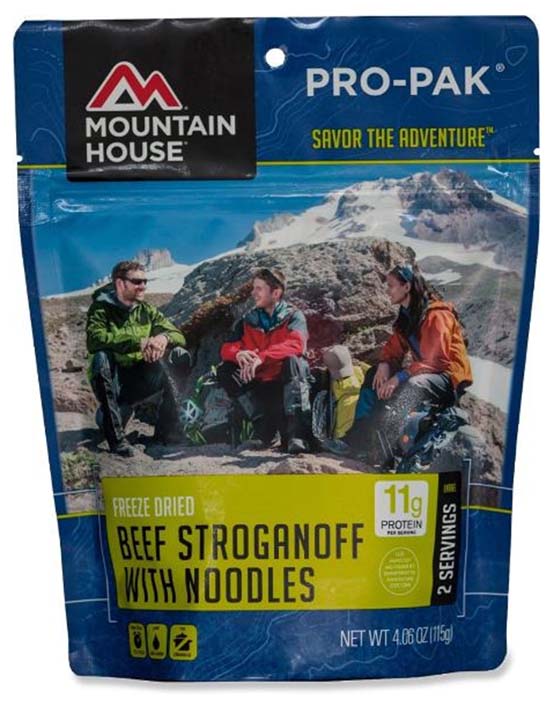 Cooking method: Pouch
Average cook time: 8-9 minutes
Calories per ounce: 117
What we like: The vacuum-packed pouches are great for high-altitude pursuits.
What we don't: Surprisingly, these are less calorie-dense than standard Mountain House meals.
Even the lightest, most calorically dense meal can be too bulky for climbers who saw off half of their toothbrush. Plus, at high elevations, packages expand with air and take up even more room in your pack. For these scenarios, Mountain House makes their Pro-Pak, which is essentially a vacuum-packed version of their regular meals. Pro-Paks come in six dinners and two breakfasts, and all have the same 30-year Taste Guarantee as the regular pouches.
If space is at a premium, these are some of the most packable meals on the market. But take note: Mountain House's standard meals are actually more calorie-dense. The average Pro-Pak meal is 117 calories per ounce, whereas standard meals are 129. For all applications but high-altitude endeavors where every tiny bit of space matters, we'll just stick with the standard packaging. Note: Pro-Paks are currently in short supply, but Mountain House plans to release a new lineup in May of 2020.
See Mountain House Pro-Pak Meals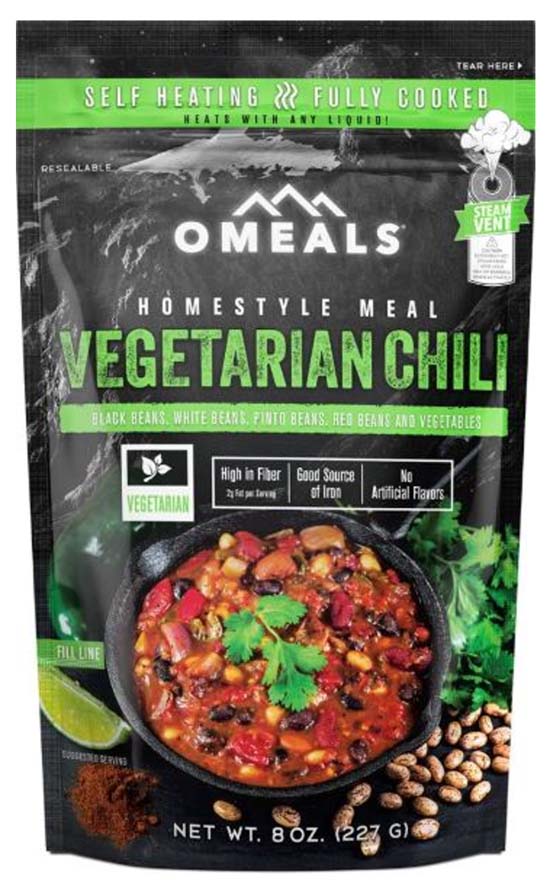 Cooking method: Pre-cooked
Average cook time: 5 minutes
Calories per ounce: 22
What we like: Tasty, convenient, and a fun cooking method.
What we don't: Way too heavy to be practical.
All of the meals above are made up of dry ingredients, but Omeals is a pre-cooked option that can be eaten straight from the package, hot or cold. It even comes with a heating element that is activated with 3-5 ounces of any kind of liquid (even sea water or coffee). You don't need a stove or running water to heat up a warm dinner, making convenience the forte of an Omeals meal. And because they're not dehydrated, Omeals taste a lot better than standard backpacking fare. Their flavor and texture are more along the lines of canned chili than rehydrated mush.
If they're tasty and convenient, then why are Omeals all the way down at the bottom of our list? Take a look at the Calories Per Ounce spec above: the average Omeals dinner weighs 10.4 ounces (including the heating element) and is only 230 calories. For the weight of one Omeals package, you could bring five Mountain House meals, which would add up to over 1,300 calories. Furthermore, the heater becomes bulky when activated, so your load won't decrease too much after dinnertime. You won't find us bringing Omeals into the backcountry very often, but for certain applications—going without a stove, emergency food in the car, canoeing, or the novelty of watching a flameless heater at work—they can be a tasty choice.
See Omeals Meals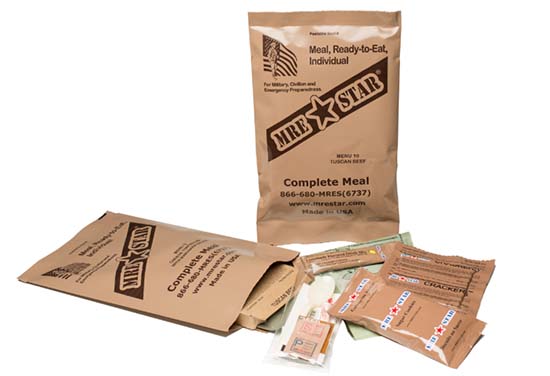 Cooking method: Pre-cooked
Average cook time: 10-15 minutes
Calories per ounce: 70
What we like: Cheap calories and everything you need in one package.
What we don't: Not much emphasis on taste or ingredients.
If you're military personnel, a firefighter, or a search and rescue volunteer, just hearing the acronym MRE—meals ready to eat—might send shivers down your spine. It's likely you've had your fill. Similar to Omeals, MREs are pre-cooked and can be eaten hot or cold, though they too come with a flameless heater. Each complete meal comes with everything you'll need: an entrée, side dish, dessert, crackers/bread, spread (cheese, jelly, etc.), powdered beverage mix, utensils, a beverage mixing bag, chewing gum, napkin, coffee powder, and various seasonings. 
If you're looking for flavorful or all-natural ingredients, look elsewhere. MREs are made for function: they can withstand parachute drops from over 1,000 feet and have a shelf life of 3 years in 80-degree heat. These meals are heavier than most because they're pre-cooked, but unlike Omeals, they still pack in an impressive amount of calories. Take note: the supply of MREs seems suspect, so take care when purchasing. Civilian MREs are now made by many manufacturers, and websites such as Be Prepared allow you to pick your flavors and ensure that the meals you purchase aren't past their expiration date. 
See MRE Complete Meals
Backpacking Food Comparison Table
| Food | Price | Method | Time | Cal/Oz* | Special Diet Options |
| --- | --- | --- | --- | --- | --- |
| Good To-Go | $14 | Pouch | 15-20 min | 112 | Gluten free, vegan, vegetarian, pescatarian |
| | $11-13 | Pouch / pot | 10-15 min | 114 | Gluten conscious, vegetarian, dairy free |
| Mountain House | $8-11 | Pouch | 8-9 min | 122 | Gluten free  |
| Outdoor Herbivore | $6-10 | Pot | 10 min | 117 | Gluten free, vegan, vegetarian |
| Patagonia Provisions | $7 | Pot | 10 min | 96 | Gluten free, dairy free, vegan |
| Backpacker's Pantry | $6-15 | Pouch | 15-20 min | 113 | Gluten free, vegan, vegetarian, soy free, dairy free |
| Heather's Choice | $10-15 | Pouch | 20 min | 125 | Gluten free, soy free, egg free, dairy free |
| MaryJanesFarm | $5-12 | Pouch | 10 min | 103 | Gluten free, vegetarian, vegan |
| Wild Zora Paleo Meals | $13 | Pouch | 10-12 min | 110 | Gluten free, milk free, soy free |
| AlpineAire Foods | $6-9 | Pouch | 10-12 min | 106 | Gluten free, vegetarian, vegan |
| Next Mile Meals | $14 | Pouch | 6 min | 142 | Paleo, ketogenic, low carb, gluten free, soy free |
| Cache Lake | $7-11 | Pot | 10-20 min | 92 | Vegetarian |
| Wise Company | $8-9 | Pouch | 12-15 min | 118 | No |
| Mountain House Pro-Pak | $8 | Pouch | 8-9 min | 117 | No |
| Omeals | $8 | Pre-cooked | 5 min | 22 | Vegetarian |
| MRE Complete Meal | $12 | Pre-cooked | 10-15 min | 70 | Vegetarian |
*These numbers represent the averages of weight and calories per serving for the top five meals from each brand (when available).
 
Backpacking Food Buying Advice

About Our Rankings
Backpacking food is a difficult gear item to rank because taste is highly individualized. Some of us love high-sodium meals in the backcountry, while others crave all-natural ingredients. Some prioritize flavor and nutrition, while others look for calorie-dense meals that pack down small. Our rankings above take all of these factors into consideration: price, weight, flavor, ingredients, packaging, variety of menu, and more. But because we're all looking for something different to eat, you simply might not agree with our numbering. That's okay. Using the chart above, you can hone in on what matters most to you and compare the specs for all of the meals we included.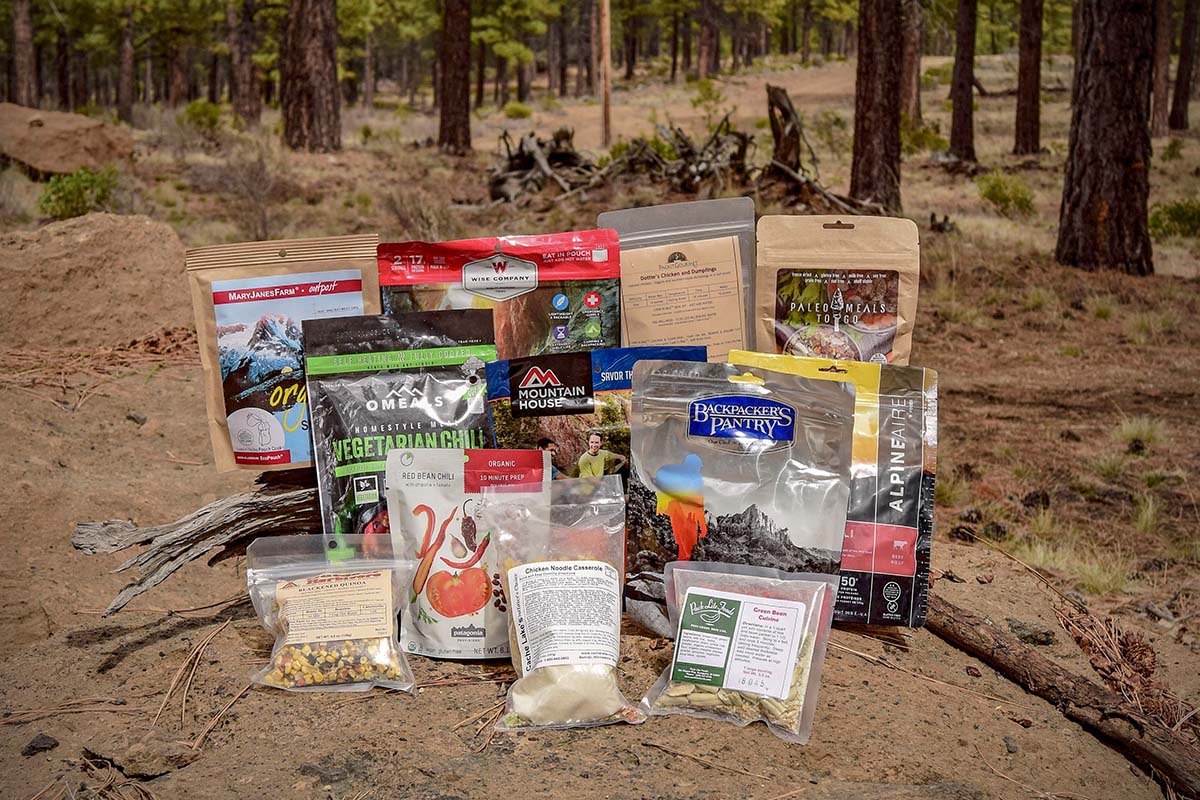 Cooking Method: Pouch, Pot, and Pre-Cooked
One way we've categorized the meals in this article is by cooking method: pouch, pot, or pre-cooked meal. In 2020, many backcountry travelers opt for "pouch" meals like Good To-Go due to their ease of preparation and cleanup. You simply add boiling water to the pouch and let it sit for the specified amount of time, and no bowl or pot is required (nor is cleaning said bowl or pot after your meal). On the other hand, "pot" meals require that you pour the dried contents into a pot, add water, and most often heat the meal over a flame. Sometimes instructions will require that you simmer the meal for up to 10 minutes (requiring a backpacking stove with good flame control). Of course, when the meal is finished, you have to clean the pot and pack it away for your next day on the trail.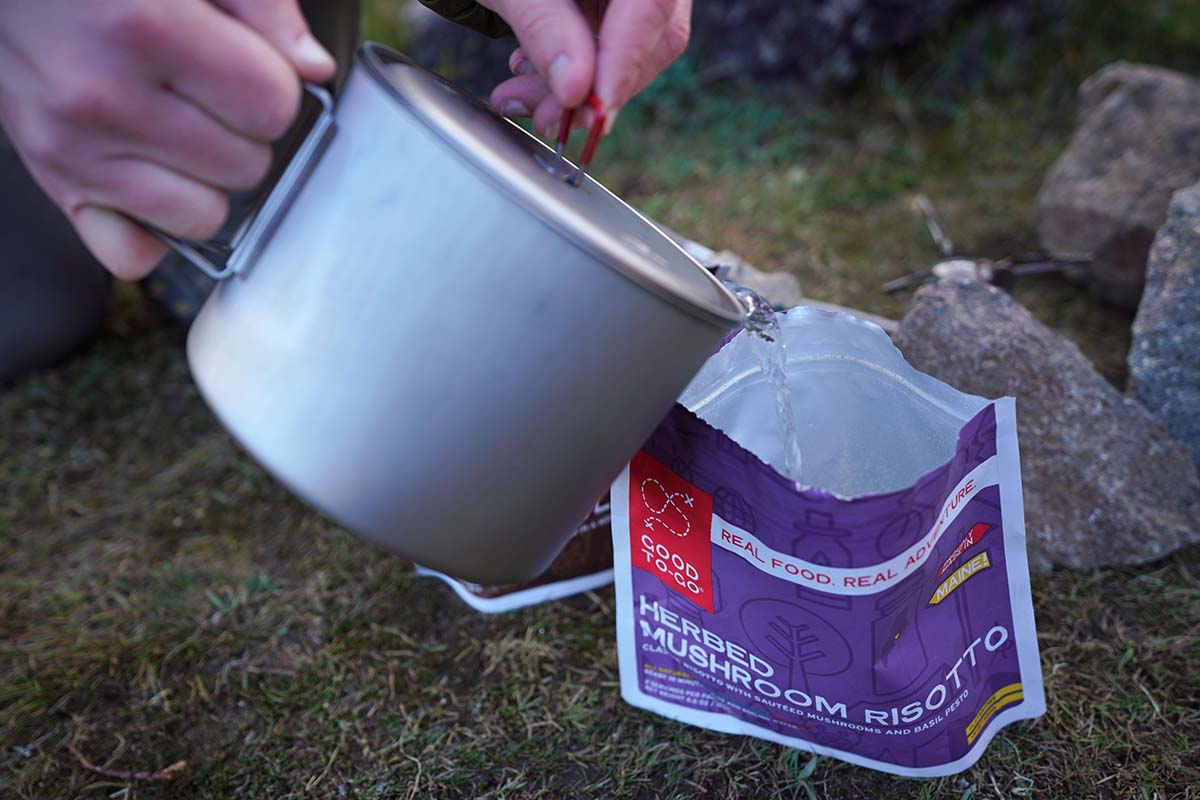 Pre-cooked meals use a preservation process similar to canning, resulting in a shelf-stable meal that can be eaten with or without warming. The two pre-cooked meals on our list, Omeals and MRE Complete Meals, come with a small flameless heater, so you can leave your stove and pot at home. The heaters only need a small bit of water to activate, making these meals a huge plus when traveling in dry environments like Utah. But before you get too excited about going sans stove, check the calories per ounce column of the comparison chart. Pre-cooked meals are significantly heavier than the dehydrated or freeze-dried competition and aren't viable for most weight-conscious backcountry travelers. That said, depending on factors including the length of your trip, they could be lighter than the combination of dehydrated meals and a stove with fuel.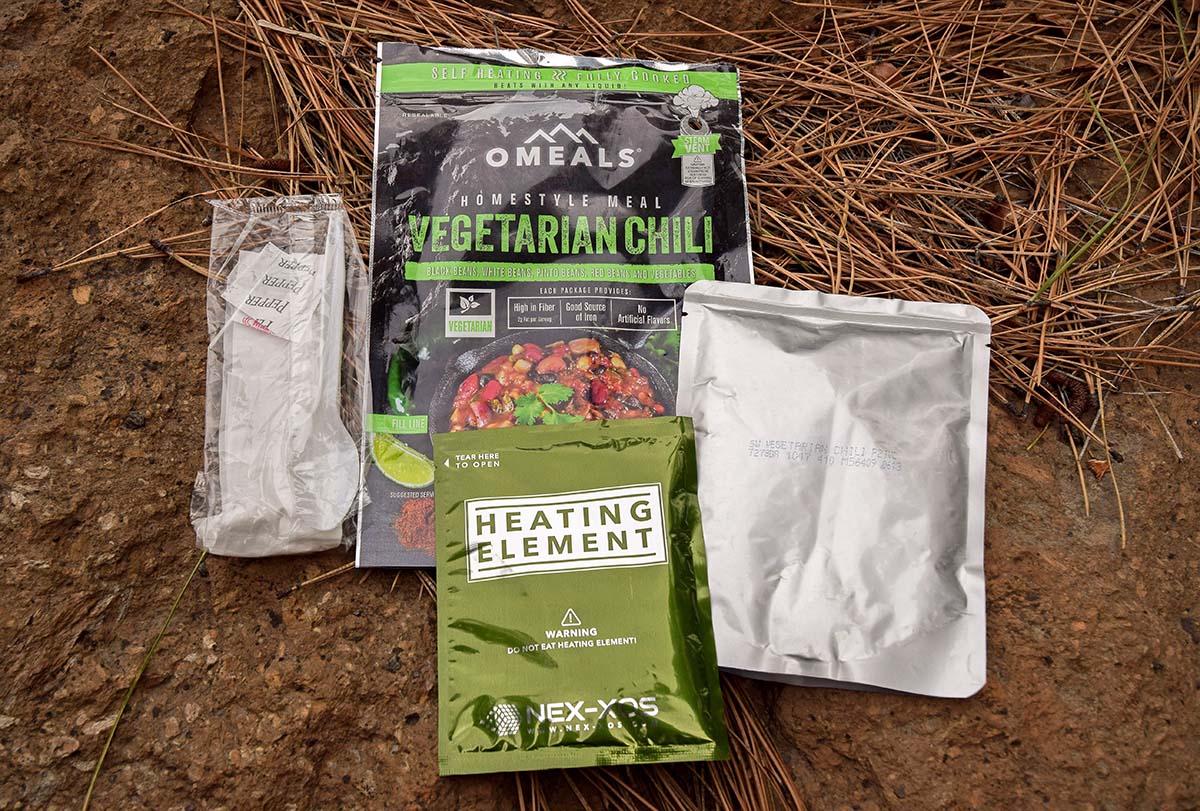 Cooking Time
Depending on the cooking method, the meals in this article take anywhere from 5 to 20 minutes to cook. For pouch meals such as those made by Good To-Go, you simply let the food sit in hot water for 15-20 minutes—no need to tend to it. Pitch the tent, collect more water, sit down and work on a crossword with your hiking partner—20 minutes will fly by. We personally don't mind this waiting time and find the distinction between 8 and 20 minutes almost inconsequential (although this doesn't mean that we don't dig in a little early and eat crunchy noodles on the rare occasion). On the other hand, pot meals like Cache Lake's Beef Stroganoff require that you stir the meal occasionally as it simmers, meaning you'll need to be beside your stove for the duration of the cook time.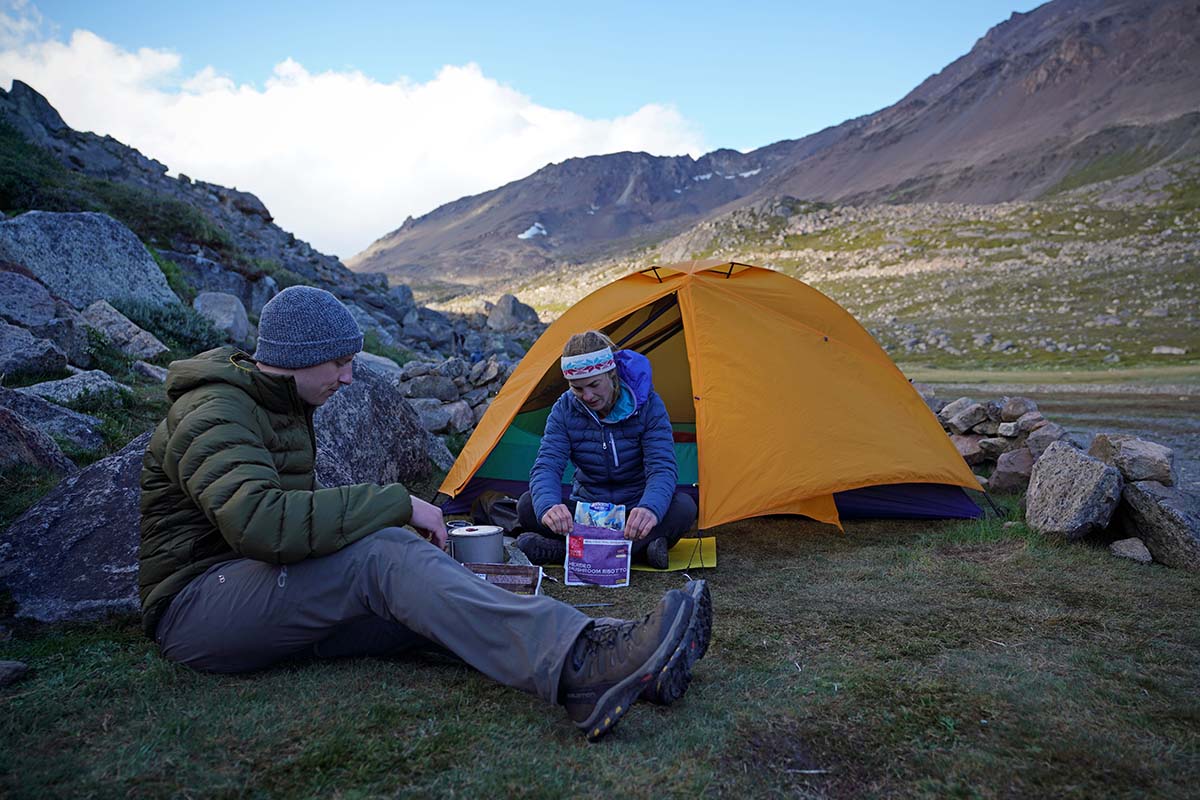 Calories and Serving Size
We're not here to provide an equation for calories burned based on mileage, elevation gain, pack weight, altitude, body weight, and metabolism, or give our opinion on whether or not a backpacking trip is a prime time to start a diet. We'll leave that to the experts and to your own personal discretion. But we will say if you want to stay strong and energetic during outdoor activities, you'll generally need to eat more than you would on a normal day at home. It's quite simple: for every calorie out, you want to put at least one in. With that in mind, calories are your friends in the backcountry and the numbering on nutritional labels deserves your attention. 
When you find the calorie number on the back of your food pouch, take note that it denotes the number of calories in a single serving. This is not necessarily the number of calories for the whole pouch: some are single serving, others are double, and some are even made to serve four people. And keep in mind that companies vary significantly on serving size. A standard MRE, for example, contains 1,055 calories per serving, while an average Mountain House meal serving contains 264 calories. Speaking from personal experience, on a serious backpacking trip we find that we need a double serving from most brands to satiate our hunger at dinnertime. For this reason, we recommend that you pay more attention to the calorie count than the serving size, and don't be shy about eating far more than one serving. Not often does food go to waste in the backcountry…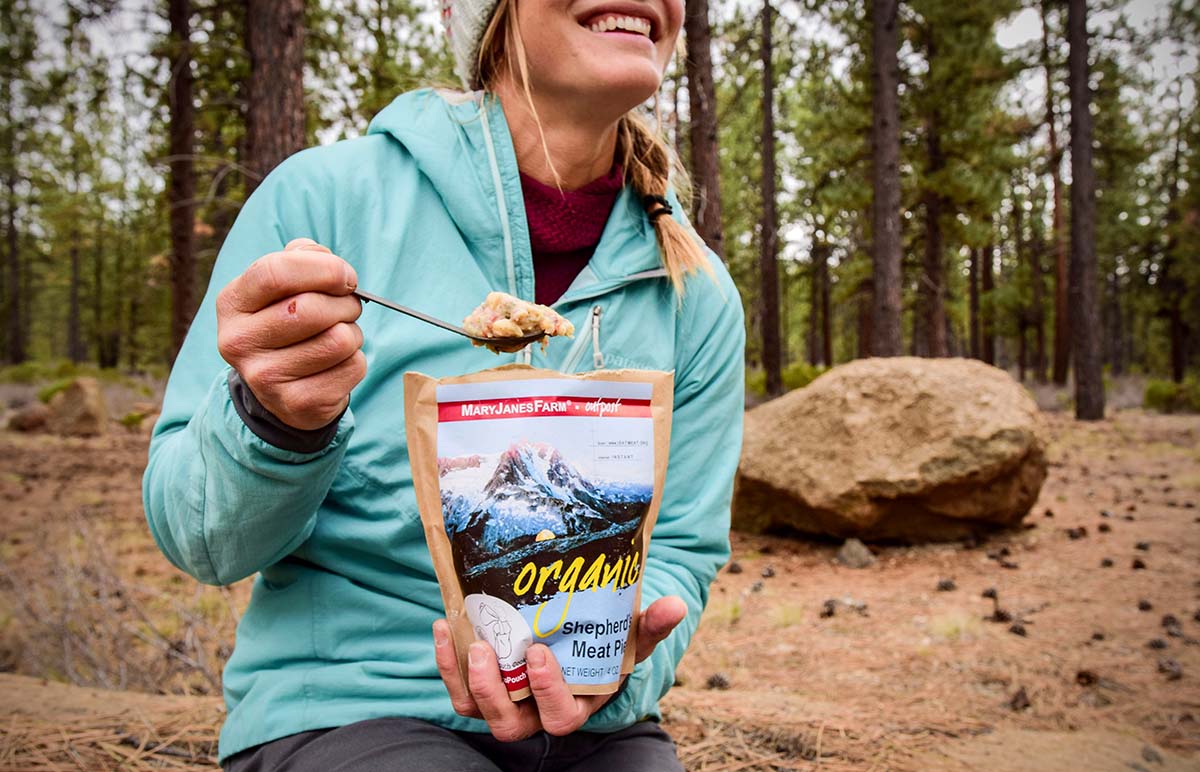 Weight (Calories per Ounce)
Whether you're a thru-hiker who saws off half your toothbrush and tears completed pages out of your book, or a weekend warrior who enjoys creature comforts on the trail, all backcountry travelers share some level of concern about weight. Because food is such a large portion of your load, the goal is to maximize taste and calories for the least number of ounces. For this, our "calories per ounce" spec can be your guide.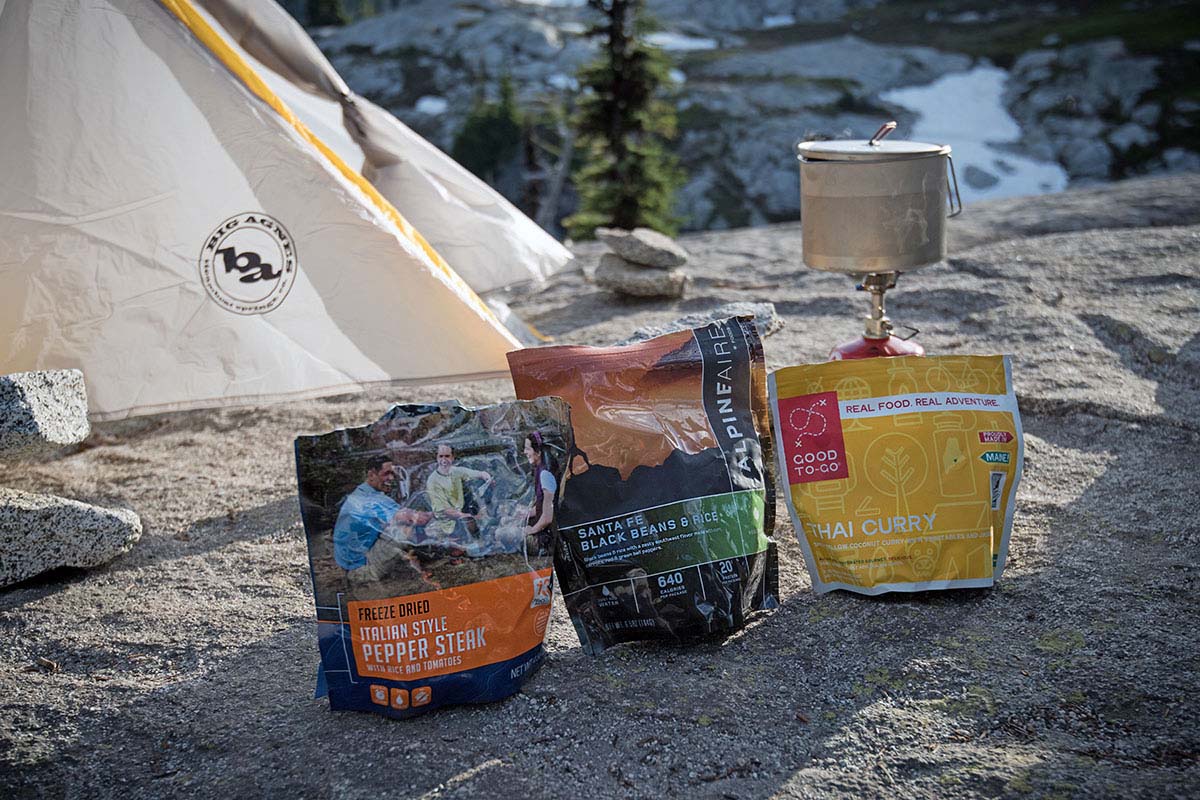 To come up with this number, we divided the number of calories by the weight of the packaged meal. For example, Packit Gourmet meals average 558 calories per 4.88 ounce serving: divide 558 by 4.88 and you get 114, the calories per ounce. You'll want to aim for around 100 calories per ounce, and the larger this number, the better. To illustrate, an average Omeals meal contains only 27 calories per ounce, whereas Mountain House meals contain 129 calories per ounce. So, if you're hoping to consume a 700-calorie dinner, Mountain House will weigh 5.4 ounces, and your Omeals dinner a whopping 26 ounces. Add it all up over a week-long trip and with Omeals, you're either going on a death march with a very heavy backpack or a hunger march with an empty stomach.

Shelf Life
Shelf life denotes the amount of time that a meal retains its flavor, nutrition, and edibility. Meals have different shelf lives depending on their preservation method (dehydration, freeze-drying, or pre-cooking). Each manufacturer guarantees a specific shelf life for their foods (Mountain House is 30 years, for example, while Good To-Go is 2 years). Backcountry meals do not need to be refrigerated but should be stored fully sealed in a cool and dry environment. For those storing food for emergencies or buying in bulk for trips well into the future, this is a specification worth considering. But because the everyday outdoor enthusiast is likely just shopping for an upcoming adventure in the relatively near future, we do not list the various shelf lives in our article. This information is easy to find on the packaging or manufacturer website.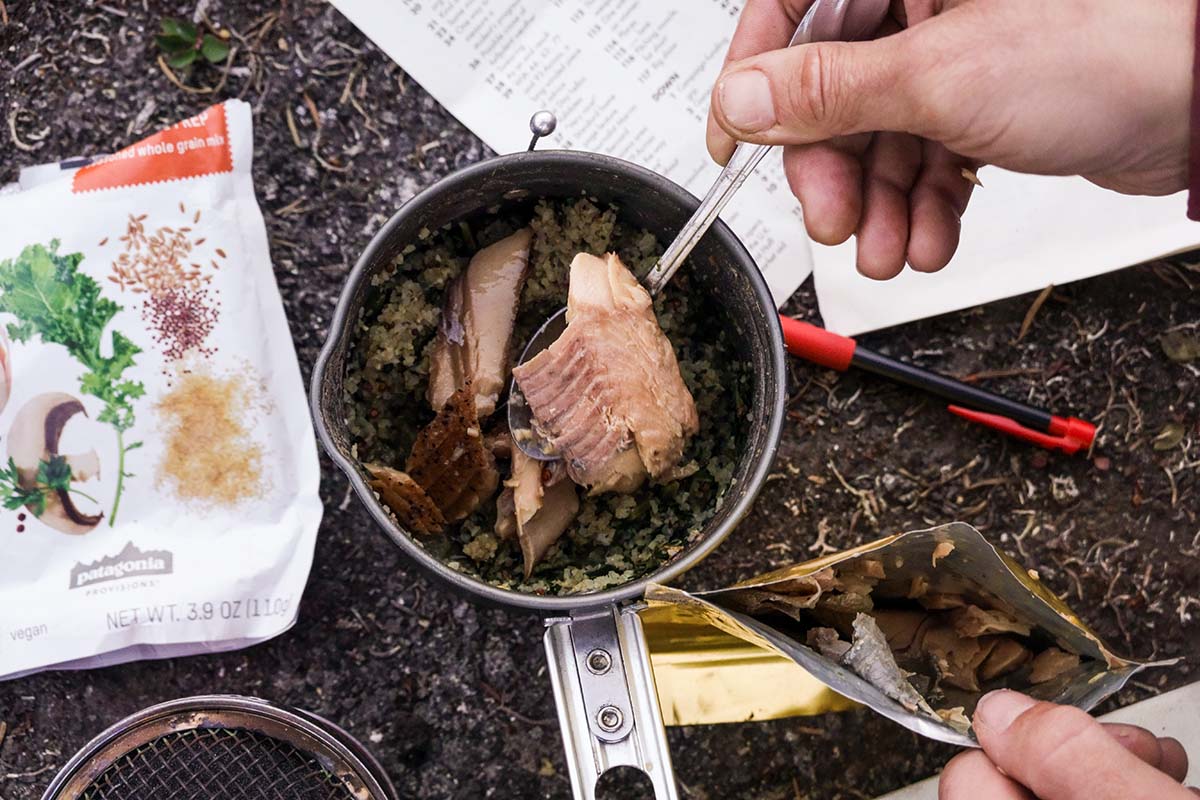 Sodium
The American Heart Association recommends that adults limit their sodium intake to 2,300 mg per day, and ideally not exceeding 1,500 mg. However, most healthy and active individuals who spend much of the day sweating in the hot sun will need—and thus crave—high-sodium foods to replenish what is lost. With an average of 400 to 700 mg of sodium per serving (and remember, you're probably eating more than one serving), it's no secret that most backcountry meals are high in sodium. That said, many manufacturers have an assortment of meals for the sodium conscious (Backpacker's Pantry, for example, has a filter on their website to show their low-sodium options). Additionally, many meals offer relatively moderate sodium levels, including Outdoor Herbivore, Good To-Go, and AlpineAire.

All-Natural Options
Much to the delight of the health-conscious, there are a growing number of all-natural (meaning real food: no artificial flavors, additives, or preservatives) backcountry meal options. Manufacturers such as MaryJanesFarm, Good To-Go, Patagonia Provisions, and Outdoor Herbivore pride themselves on using only natural ingredients. Others, such as AlpineAire, have many all-natural options and strive to use only real food ingredients whenever possible.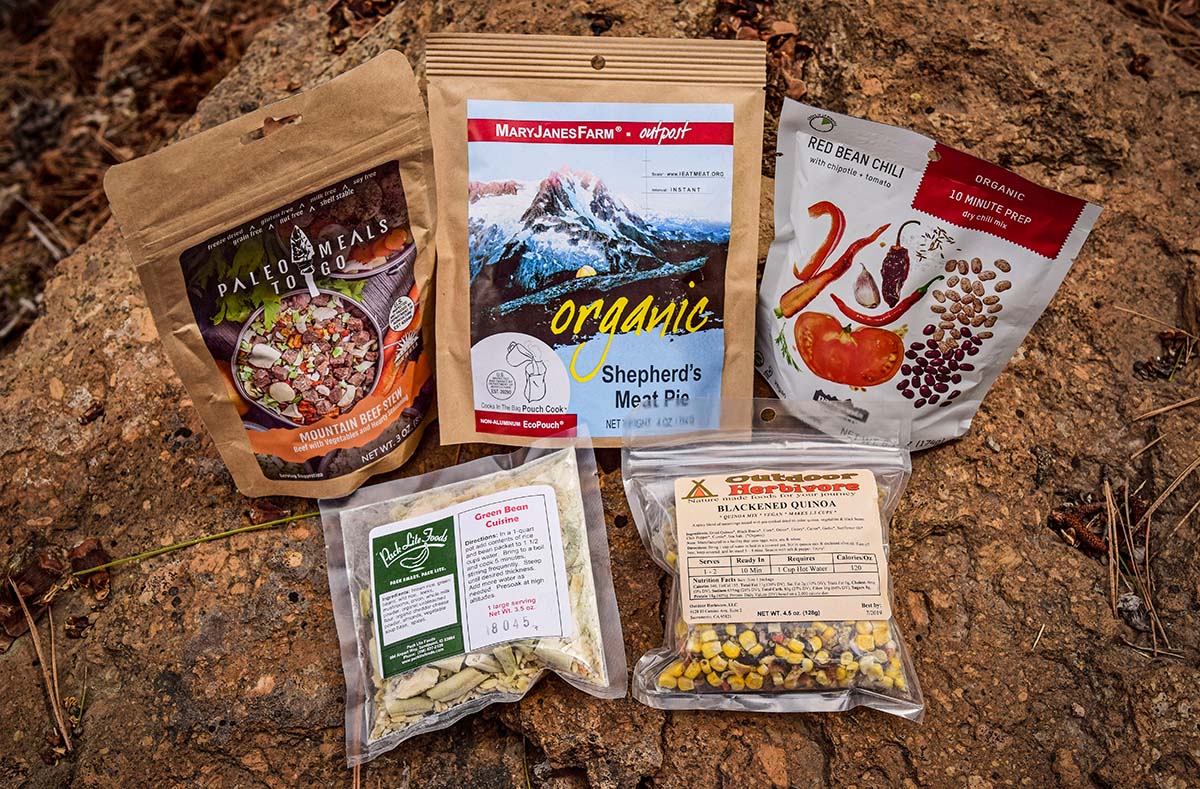 Preservatives are one of the most common unnatural offenders in backcountry meals, added to increase the shelf life and guard food from being spoiled by microorganisms such as mold, bacteria, and yeast. Although some preservatives are natural (salt, garlic, spices), many are manufactured chemicals. Take one look at the ingredient label—if you know what each ingredient looks like and where to find it in the grocery store, chances are it's natural. On the other hand, if there are words that you can't pronounce or ingredients that you wouldn't cook with at home, the meal likely contains some unnatural "foods."

Special Diet Options
Most backcountry food brands have adapted their menus to accommodate the growing vegan, vegetarian, gluten free, dairy free, and soy-free markets. Generally, it shouldn't be difficult to find meals that suit your dietary needs. Good To-Go pouches, for example, are fully gluten free. Outdoor Herbivore only sells vegetarian and vegan cuisine. MaryJanesFarm meals are organic, and Heather's Choice only uses ethically-sourced meats. Additionally, AlpineAire offers a filter feature on their website that allows users to find meals with specific ingredients or special diet options. To help highlight the possibilities, we've included the "special diets" spec in our table above.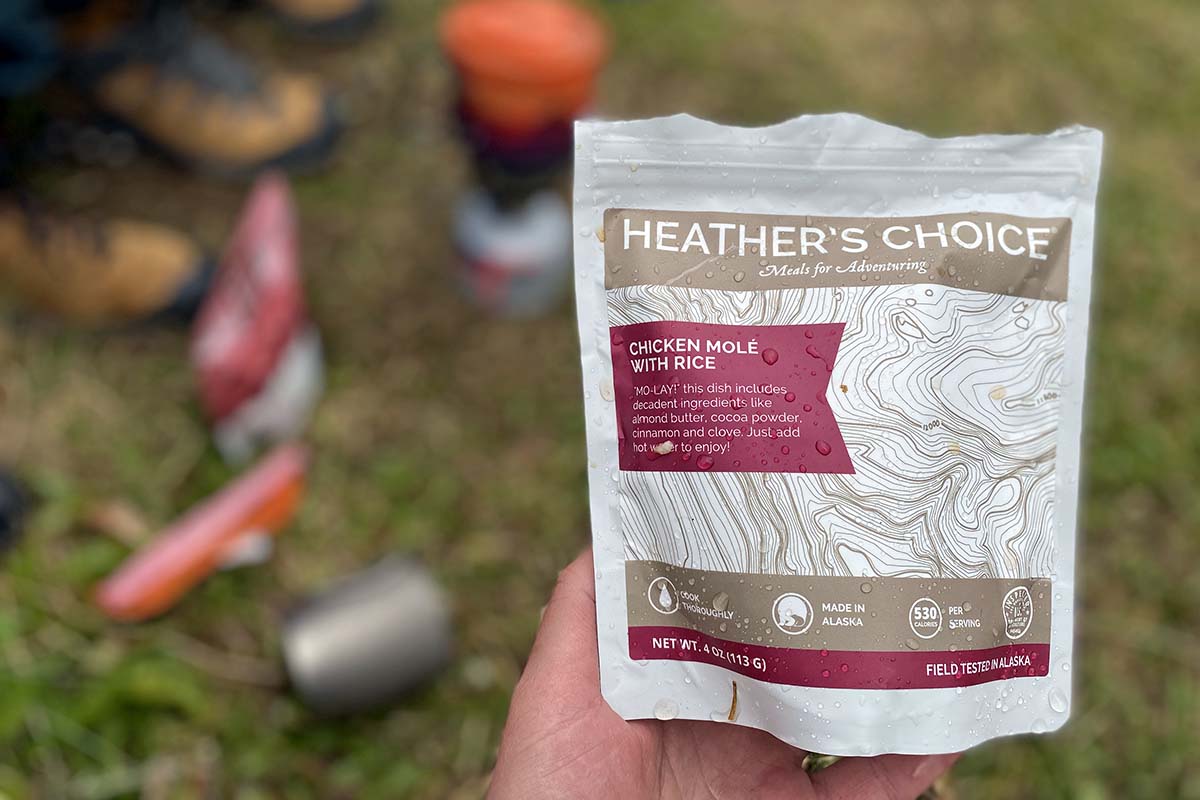 Taste
We know what you're thinking. This is an article on backcountry meals, and you're including a section on taste? What is this, a Michelin review? We all know that all freeze-dried dinners taste like cardboard. To that we say: it sounds like you need to try some of the meals on our list! 
Sure, taste is subjective, and some folks would relish even the taste of cardboard after a long day on the trail. Some may even prefer an MRE over a fresh salad. But we've shared these meals with our friends, debated flavors (i.e., AlpineAire vs. Omeals chili? Is the Good To-Go Bibimbap too spicy?) and come out with some semblance of consensus. And the good news: taste is improving in backcountry food. Over the past handful of years, we've seen more interesting meals with more unique flavors, and the push for real ingredients has hit the outdoor industry as well.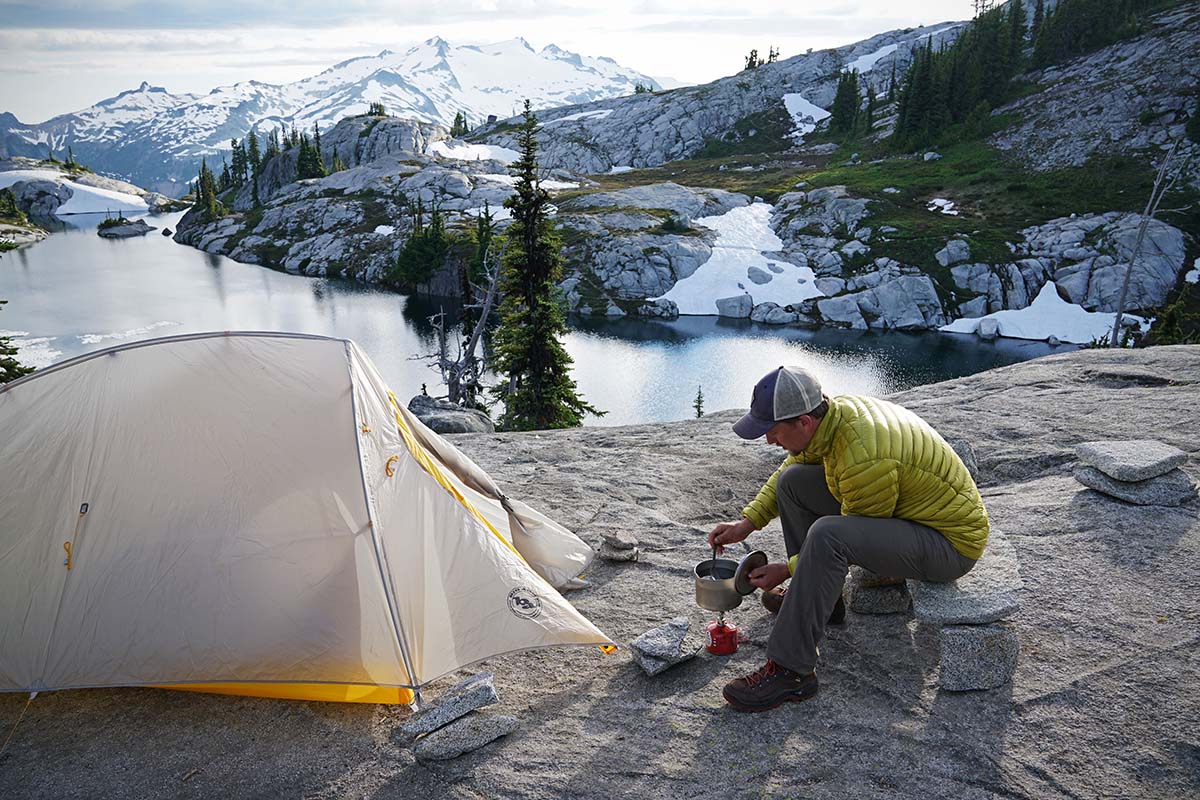 Dehydrated vs. Freeze-Dried
Dehydrating and freeze-drying are two distinct methods of food preservation. In the freeze-drying process, food is placed in below-freezing temperatures and gradually warmed, moving water in the food from a solid to gaseous state. On the other hand, dehydration process exposes food to hot and dry air over several hours (this includes processes such as smoking and sun-drying). 
Both processes result in dried food, but with noticeably different characteristics. Freeze-dried foods are lighter and have a longer shelf life than dehydrated foods because the freeze-drying process removes 98 to 99% of moisture from food, as opposed to 95% with dehydration. Both dehydrated and freeze-dried foods need to be soaked in water to regain their size, texture, and edibility. But freeze-dried foods rehydrate almost twice as quickly as dehydrated meals. For proof, reference the cook time for freeze-dried Mountain House meals vs. dehydrated Good To-Go meals.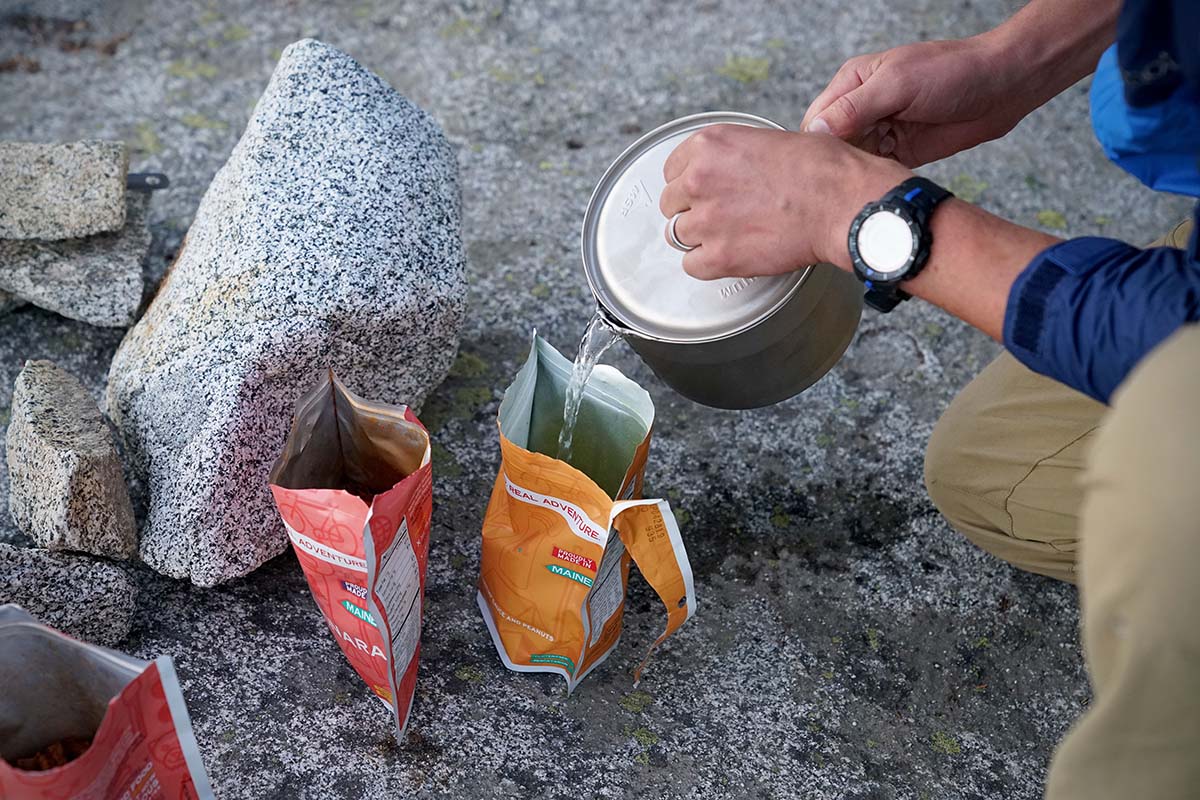 Adding all of this up, why is dehydration even used? First, it's a simpler, less expensive process (that you can even do using your oven at home). Second, dehydrated ingredients shrink more than freeze-dried (think plum to prune), meaning they'll take up less room in your pack. Third, though freeze-dried ingredients might maintain more flavor, they're known to lose their original texture. And despite studies to the contrary, we'd say the jury is still out on taste. Our number one Good To-Go meals—the tastiest we know of—are made exclusively with dehydrated ingredients. 
While some brands (like Good To-Go and Mountain House) use either exclusively dehydrated or freeze-dried ingredients, most use both. Manufacturers use discretion when choosing which process works best for each ingredient, weighing the pros and cons of flavor, size, and price. In short, the freeze-dried vs. dehydrated debate matters little to the everyday consumer. The companies do the legwork to find the best way to dry food, so we can sit back after a long day on the trail and enjoy the outcome. 

Breakfast
For many of us, breakfast is a lighter, quicker, and simpler meal than dinner. Maybe your backcountry morning routine includes hot cereal and coffee, or perhaps just a bar and some dried fruit. If you're pinching your pennies, bulk oatmeal likely will be your breakfast of choice. That said, for those who prefer more substantial or elaborate breakfasts, there are myriad options to choose from. They can be sweet or savory, like Mountain House's Spicy Southwest Breakfast Hash or Backpacker's Pantry Granola with Bananas, Almonds and Milk, to name a few. Packaged backcountry breakfasts usually land in the $7-8 range and are available from many of the companies in this article.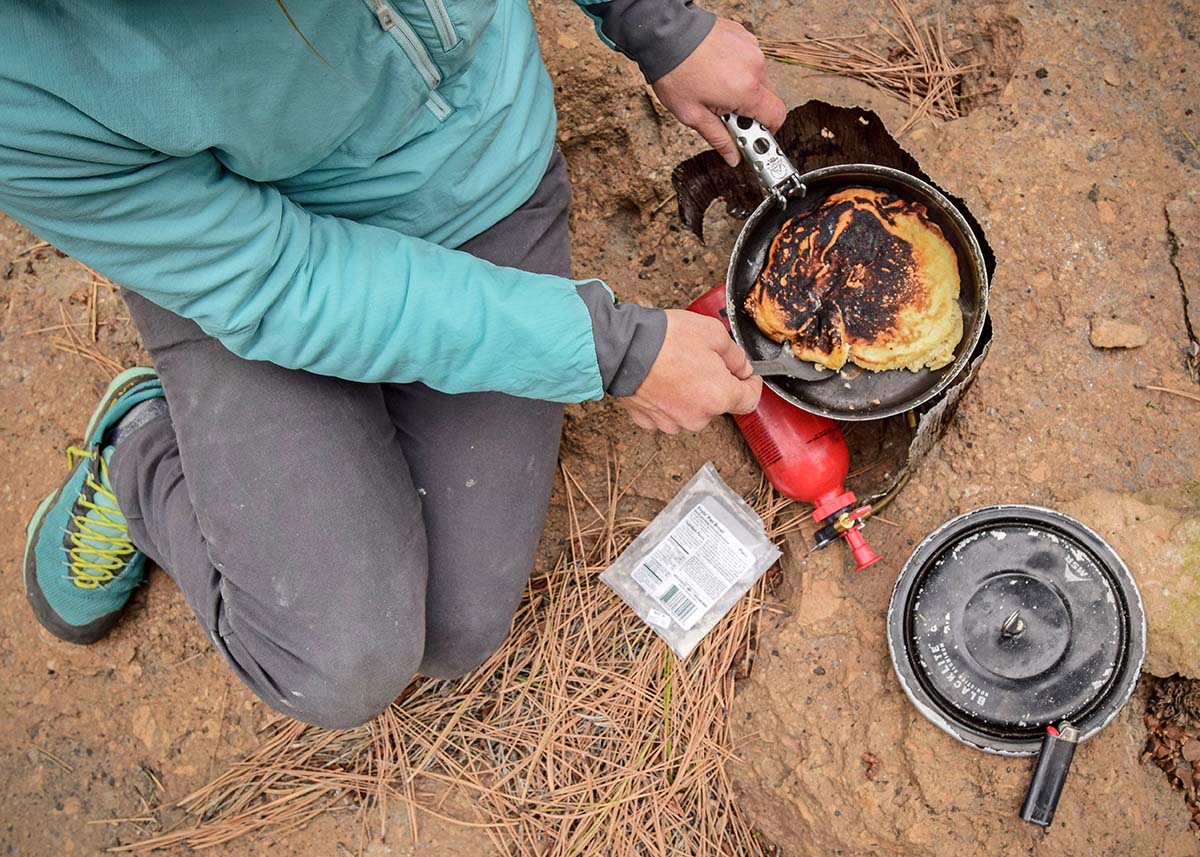 Backcountry Coffee
If we know one thing for certain, it's that going light and fast doesn't mean leaving the coffee at home. For those who just can't leave their gourmet beans behind, take a look at lightweight and portable grinders, French presses, and pour over apparatuses available online or in your local gear shop. Brands such as Kuju and Backpacker's Pantry make disposable drip coffee kits that might provide a happy medium for weight-conscious coffee connoisseurs. But in all honesty, we find instant options to be perfectly sufficient for our morning cup of jo. A number of options are available, from Trader Joe's to the ubiquitous Starbucks Via. Our personal favorite is Alpine Start, a small start-up out of Boulder that specializes in making fantastic coffee for the trail. Alpine Start can be made with hot or cold water and is good enough that we've even been caught drinking it at home a time or two.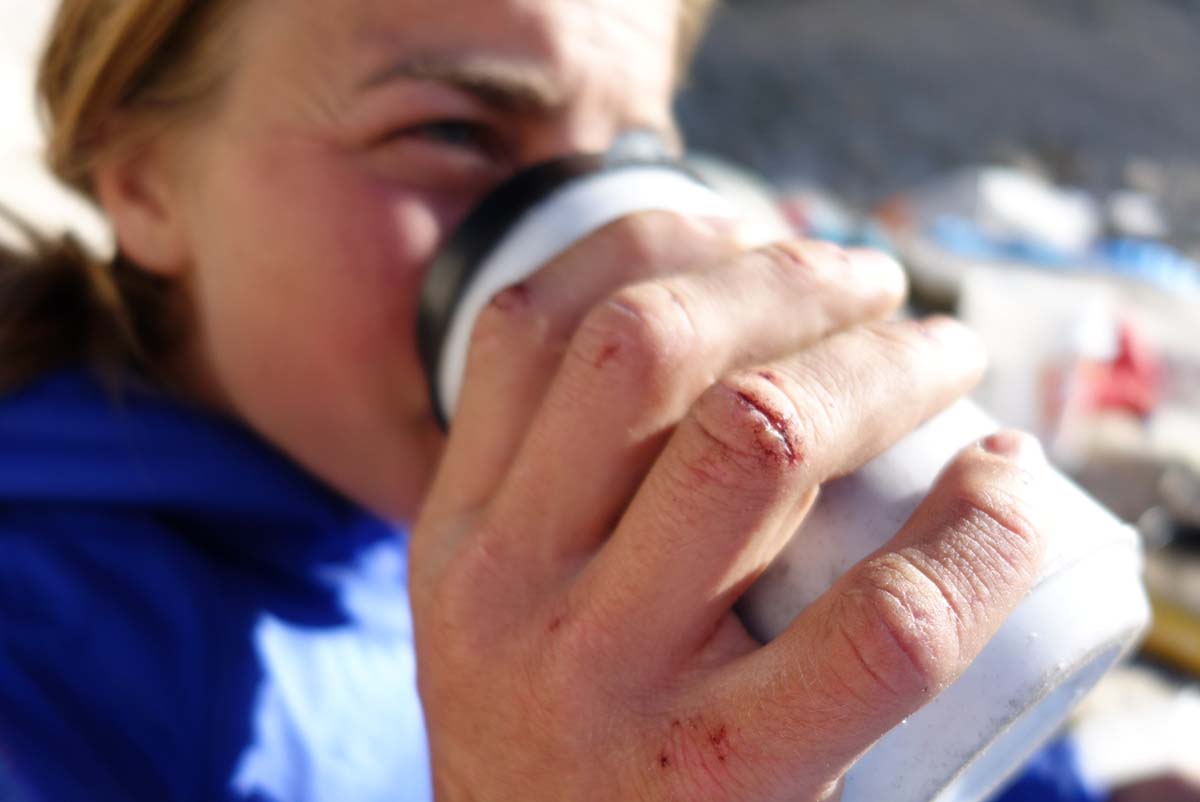 Bulk Ingredients
The meals we feature in this article, though certainly the most convenient, aren't the only way to bring dehydrated or freeze-dried ingredients into the backcountry. Maybe you're pinching your pennies, cooking for the masses, or just enjoy channeling your inner chef in the wilderness. You can find bulk dehydrated and freeze-dried ingredients from a number of online vendors, including Harmony House Foods, HQ Organics, and Packit Gourmet. And recipes aren't hard to come by. With a simple Google search you can find tasty recipes like this Beef and Barley Stew. 

DIY Dehydrated Meals
You're paying a pretty penny for convenience when you opt for the prepackaged meals above. A one-stop shop at your local gear store (or even online) can save you hours in meal planning for your next backcountry trip. That said, if you're inclined to DIY, you can save yourself a great deal of money by dehydrating your own meals. You can even do so in your oven, although most will find an actual food dehydrator works better. You'll usually want to cook your ingredients before dehydrating (a raw onion, dehydrated and then rehydrated, is still a raw onion). Many online guides provide the temperature and time specifications for different types of food. And take note: if you're dehydrating food and planning to store it for months or years, make sure that it's properly dehydrated and fully sealed.
Other Meal Options
The prepackaged meals and dehydrated ingredients we've mentioned above are the most convenient and lightest way to eat in the backcountry. That said, there really are no rules here and plenty of "real" options. Macaroni and cheese, couscous and canned chicken, a frozen burrito bought the morning of, Tasty Bites, even fresh vegetables: the sky is the limit. For some, food preparation (rather than simply pouring water into a pouch and waiting 10 minutes) can even be a fun way to relax at the end of the day. There's no denying that dehydrated meals are the easiest, but don't let this article lull you into thinking that they are the only way to go. Be creative and have fun out there.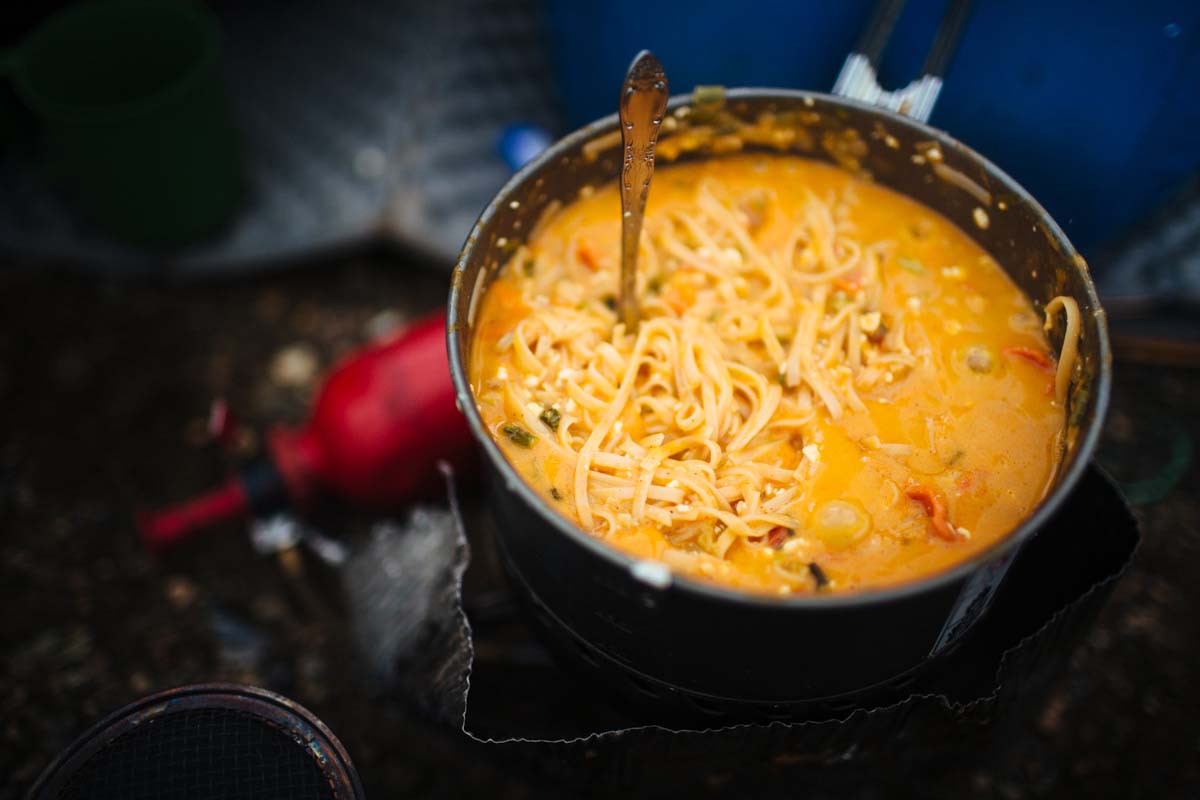 Stoves, Fuel, and Cooking Supplies
Many of the meals in this article rehydrate in their pouch, making them popular options because they only require adding boiling water. For these meals, we recommend bringing an all-in-one stove system such as the Jetboil Flash. It's compact, boils water quickly, and is reasonably priced. For "pot" meals, you'll probably want a more traditional stove with a simmering function, like the MSR Pocket Rocket or Dragonfly. For more information including our top picks, check out our article on the best backpacking stoves. If you want to leave the stove behind, consider bringing pre-cooked dinners or meals that can be hydrated with cold water.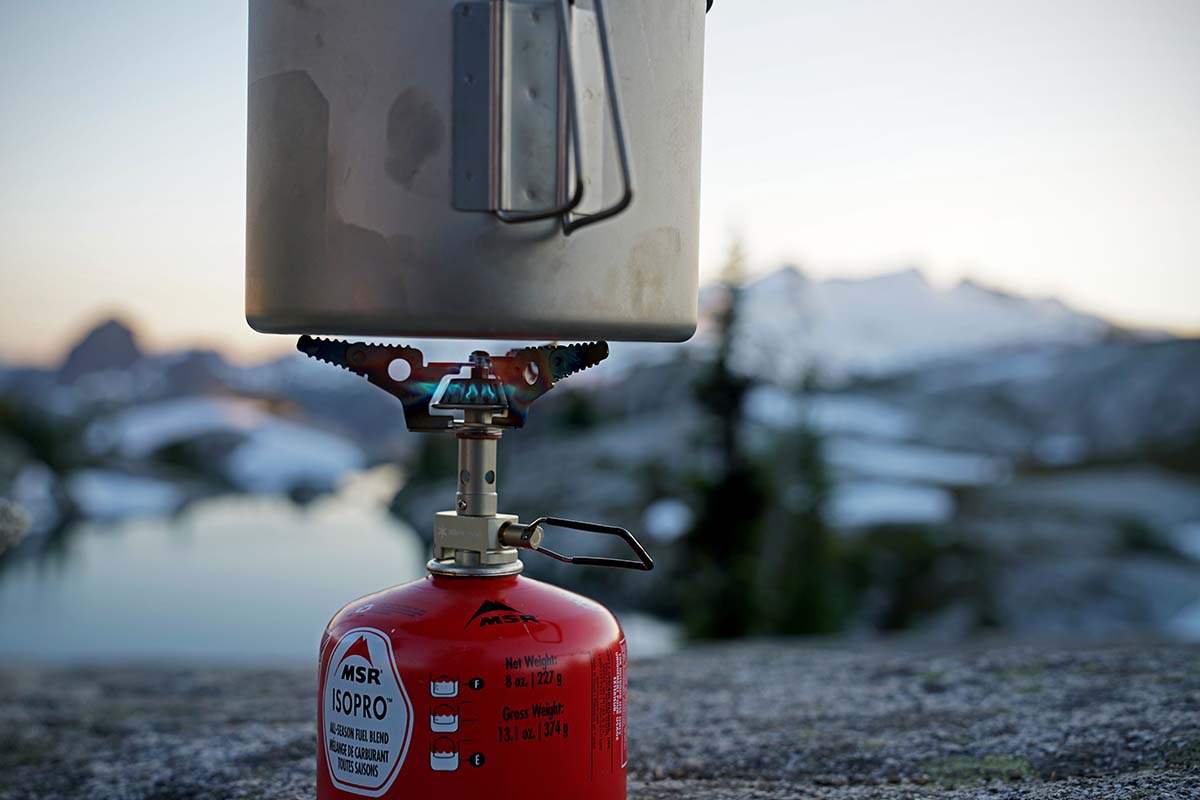 The amount of fuel you'll need on your next backpacking adventure depends largely on whether you're eating "pouch" or "pot" meals. For pouch meals, you simply boil the water, turn off the stove, and pour the water into the pouch. For pot meals, on the other hand, you might need to boil or simmer the food for up to 10 minutes. If you're out for a week, this cook time can certainly add up to a lot more fuel. Keep in mind that altitude, temperature, and wind are also factors in how much fuel you consume. 
If you're eating only pouch or pre-cooked meals, chances are you won't need to pack a pot. For meals that require cooking over a flame, take your pick from a wide assortment of pots and pans, from ultra-lightweight titanium to more durable stainless steel or aluminum. When cooking for more than one, we recommend bringing a lightweight bowl or mug/bowl combo along. If you're traveling solo, you can save weight and just eat straight from the pot. Finally, keep in mind you might want a second pot or kettle to use exclusively for boiling water for hot drinks.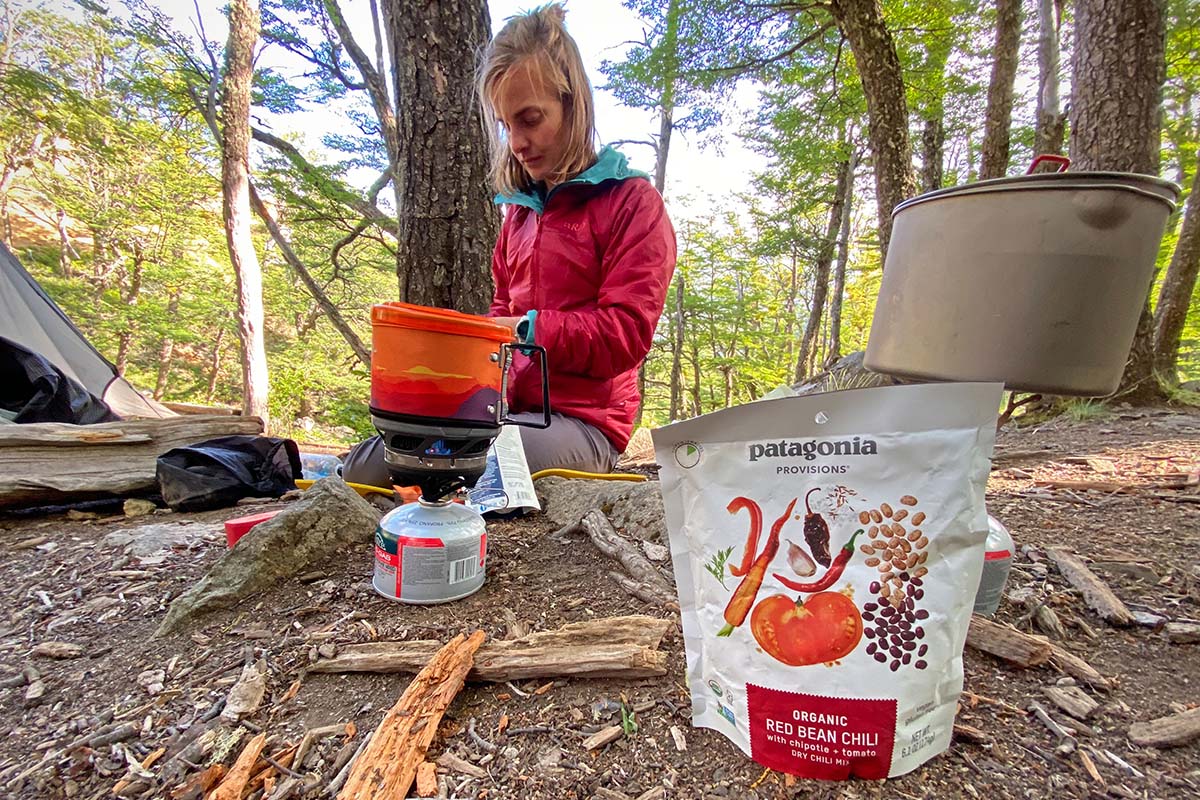 Emergency Preparedness
As we update this article, our world is in the midst of the Coronavirus pandemic. Preparing for the worst, many Americans have stockpiled food and supplies for their families. Backpacking food, as it turns out, is ideal for emergency preparedness—it takes up less space on your shelves than canned goods (the benefit of that calorie-to-weight ratio) and has a long shelf life. Many of the options above will do the trick, but if emergency food storage is your main intent, we do recommend buying in bulk. Companies like Wise Company and Mountain House offer their meals in cans and even buckets, which will take up significantly less space and save on both packaging and money.
Back to Our Top Backpacking Food Picks  Back to Our Backpacking Food Comparison Table
Read More From Switchback Travel