Whether you're training for an ultra-marathon, embarking on a leisurely trail run, or tackling a ridge scramble in the alpine, a running vest is the perfect tool for hauling your essentials. These designs have a shape and fit that's comfortable while moving quickly, front storage pockets for easy access to your phone and snacks, and multiple hydration options. Below we break down our favorite running hydration vests and packs of 2023, including budget-oriented models for recreational runners, performance-oriented designs, and adventure packs built for fastpacking and technical mountain missions. For more background information, see our buying advice and comparison table below the picks.
 
---
Our Team's Running Hydration Vest Picks
---

Best Overall Running Hydration Vest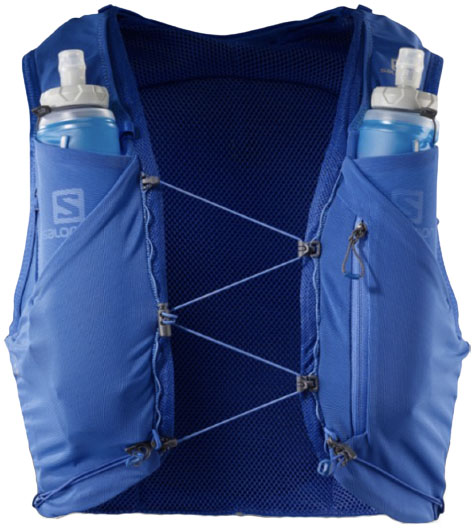 Category: Performance/recreational
Capacities: 5, 12L
Included hydration: 500mL soft flasks (2)
What we like: Comfortable, customizable, and great storage options.
What we don't: Not the most streamlined design; runs warm.
The best running vests operate like an extension of your body, with fit and feature customizations and great on-the-go access to hydration, snacks, and layers. The market is stacked in 2023, but after logging countless miles in it, we think the Salomon ADV Skin checks these boxes better than most. With a stretchy, garment-like build and easy adjustments at the front and sides, it minimizes bounce by keeping your load close, and side compression bungees and an updated sternum closure snug down a partially full pack. What's more, you can easily tweak the vest to suit your needs—including front and rear hydration, numerous pockets of varying sizes, removable straps, and multiple stash configurations for trekking poles. If you're looking for one vest to accompany you on short lunch runs, full days on the trail, and everything in between, the ADV Skin is one of the most versatile and well-rounded options available.
Our gripes are few, but the ADV Skin does fall a bit short in breathability: On hot days, we've been known to drench our vest with sweat, and you can get more ventilation by forgoing rear storage (as with the TNF below), or by going with a mesh-heavy design like the Nathan VaporAir 7L. If you're really moving quickly, the ADV Skin's plethora of front and rear pockets does cause a little bounce, but we've only noticed it while doing speedwork during long runs (otherwise, it's more svelte-feeling than most). In the end, you'd be hard pressed to find a better combination of fit, features, versatility, and durability—our vest is in great shape after three years of trail abuse and careless washing machine cycles. And in our opinion, Salomon's flasks are without rival, with a streamlined top design that's more bounce- and slosh-free than most. Finally, it's worth noting that the ADV Skin 5 is available in a unisex version (with standard soft flasks) and a women's-specific model that uses triangular soft flasks with straws, which will work for some women and not for others (our female tester prefers the unisex design).
See the Salomon ADV Skin 5 Set  See the Women's Salomon ADV Skin 5 Set
Best Budget Running Hydration Vest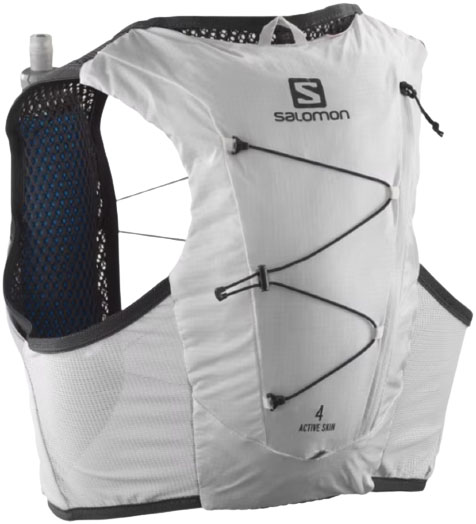 Category: Recreational
Capacity: 4, 8L (women's: 8L)
Included hydration: 500mL soft flasks (2)
What we like: Incredible value and ample features for recreational runners.
What we don't: No side storage and slightly less premium fit and finish.
It's hard to beat the Salomon ADV Skin 5's balance of quality, performance, and features, but the Active Skin 4 here might just win out in terms of value. For just $90, the Active Skin has many of the same design features as our #1 pick—including form-fitting Sensifit construction, 3D mesh for ventilation, and an easy-to-use sternum strap—but with a much more competitive price tag. Further, you get 4 liters of capacity (with an included bungee to secure a jacket or compress light loads), and it's one of the only vests at this price to come equipped with a set of soft flasks, too. If you're a new runner on the hunt for your first vest or looking to save some cash without compromising much in the way of performance, Salomon's entry-level offering is about as good as it gets.
We expect to see a fair share of tradeoffs at this low price point, but gripes are surprisingly few with the Active Skin. Salomon did save a little by reducing stretch in the body fabric (the ADV Skin features 16% elastane compared to the Active Skin's 12%), which has a slight impact on fit and feel. Further, you don't get underarm storage as we see in some of the more premium designs, nor can you access the rear compartment from the side. Finally, the Active Skin 4 only comes in unisex sizing, so don't expect quite the same body-hugging fit that you might get from the ADV Skin above. Keep in mind that Salomon does offer an 8-liter version in both men's and women's sizes, which is also a versatile option for activities like hiking and biking (the full-length zipper along the back helps with organization, too). For other budget options, check out The North Face's Sunriser Run ($89) and Ultimate Direction Trail Vest ($100).
See the Salomon Active Skin 4 Set  See the Women's Salomon Active Skin 8 Set
Best Minimalist Vest for Race Day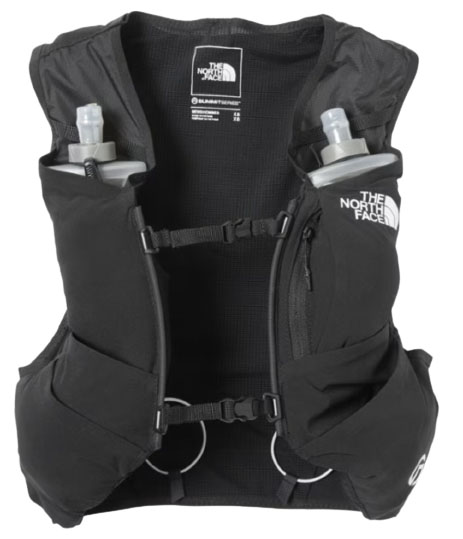 Category: Performance 
Capacity: 8L
Included hydration: 500mL soft flasks (2)
What we like: Breathable and bounce-free design is great for speed.
What we don't: Limited fit adjustments and storage.
The North Face's running gear has improved drastically throughout the past few years, from their Vectiv trail shoe lineup to retooled running apparel and hydration vests. Specifically built for moving fast, he Summit Run Race Day Vest touts a minimalist, stretchy design that balances storage with a lightweight build. Unlike the Salomon models above, the TNF forgoes a rear pouch, although it does tack on a slide-in pocket for trekking poles at the lower back. And like most performance-oriented vests here, you get two soft flasks made by HydraPak, this time with unique pull cords that cinch the flasks in place for quick reloading at aid stations.
Why might performance-oriented runners opt for the Summit Run Race Day 8 over our top-ranked ADV Skin 5? First off, the TNF is crazy light, checking in at 4.4 ounces without flasks (on the same scale, our Salomon weighs 7.7 oz.). Second, while the two vests feature similarly form-fitting designs, the Summit Run Race Day's lack of a rear compartment makes for better breathability and less bounce while moving quickly. If you're in the market for a race-ready vest, it's also worth looking at the Nathan Pinnacle and Salomon Sense Pro below, which are also streamlined for speed. But the TNF is the better value and the lightest of the bunch, making it our favorite minimalist race model of the year. 
See the TNF Summit Run Race Day 8
Best High-Capacity Running Hydration Vest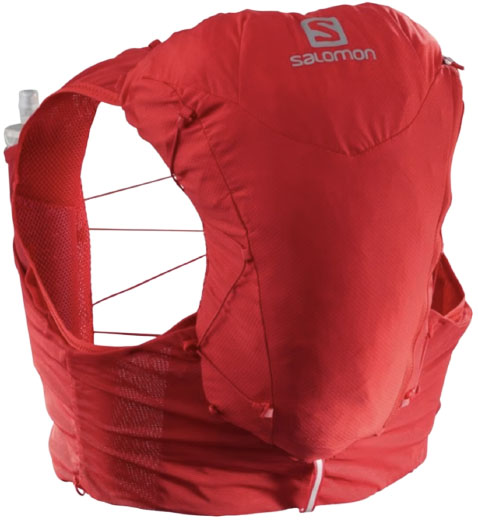 Category: Performance
Capacity: 5, 12L
Included hydration: 500mL soft flasks (2)
What we like: More than double the storage of the ADV Skin 5 for ultras, long unsupported efforts, and winter running.
What we don't: Some women will prefer the unisex design over the women's-specific model.
There are a lot of reasons you might opt for a high-capacity running vest, which generally feature around 12 to 15 liters of gear storage (most standard designs are 4 to 8L). Perhaps you're running an ultramarathon with a biblical mandatory gear list, or need enough space to pack the ten essentials for all-day unsupported jaunts. Or maybe you're winter running and require a vest that can accommodate extra layers and a puffy jacket. Whatever your reason, high-capacity running vests offer versatile storage and mercifully cinch down to be relatively bounce-free with smaller loads, too. Among the options, it might come as no surprise that our favorite high-capacity vest is in the same family as our top-ranked vest: the Salomon ADV Skin 12.
The ADV Skin 12 is everything we love about the ADV Skin 5—including comfort, fit, and convenient storage—but with more than double the capacity (despite the "12" in its name, Salomon specifies capacity at 11 to 20L). The vest tacks on an extra zip pocket at the front, but the main event is the added rear storage: Three stretchy sleeves expand to accommodate a healthy amount of gear, and an additional zip pocket boosts organization for items like an inReach, headlamp, and more. In practice, we've been so impressed with the ADV Skin 12's bounce-free carry, even with a 2-liter hydration reservoir (the reservoir tube routing is super slick). There are a number of other high-capacity vests, including the Nathan Pinnacle 12L and Ultimate Direction Ultra Vest 6.0 below, but like its smaller sibling, we think the Salomon is hard to beat. And similar to the ADV Skin 5, the ADV Skin 12 is available in both a unisex version and a women's-specific model that uses triangular soft flasks with straws.
See the Salomon ADV Skin 12 Set  See the Women's Salomon ADV Skin 12 Set
Best Running Pack for Mountain Objectives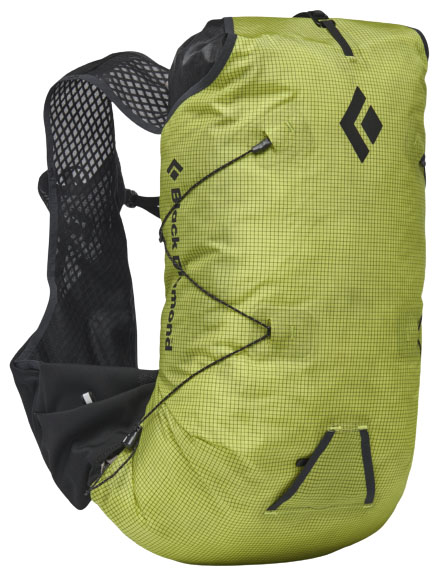 Category: Fastpacking
Capacities: 8, 15L
Included hydration: None
What we like: Functional mountain-ready feature set.
What we don't: Not our first choice for a dedicated running vest.
Black Diamond's Distance 15 entered the mountain running world with a bang, bringing alpine-ready features to a lightweight vest design. Along with a nice array of front pockets and a close fit that rides high on the torso, it features burly fabrics and technical extras like ice tool attachments, trekking pole stash pockets (our favorite), and a cavernous rear compartment that can even accommodate a minimalist climbing helmet. And with a spring 2023 update, the Distance now comes in men's and women's sizes and features a wrap-around harness (in lieu of the previous version's adjustable bungees) for a closer fit and increased storage. 
True to its intentions, the Distance is a capable companion across a wide variety of terrain: We've worn it on everything from technical ridge traverses to 50-mile trail runs and alpine rock climbs. That said, we don't recommend the Black Diamond Distance as a dedicated running vest—with its backpack-like build, it's a lot bouncier than more streamlined high-capacity designs, including the Patagonia Slope Runner Exploration Pack 18L. Further, it does not come with included hydration, and it's already one of the pricier vests here at $180. But as a durable, versatile mountain pack that can pull double duty as a running vest, the Black Diamond Distance stands head and shoulders above the competition. 
See the Men's Black Diamond Distance 15  See the Women's Black Diamond Distance 15
Best of the Rest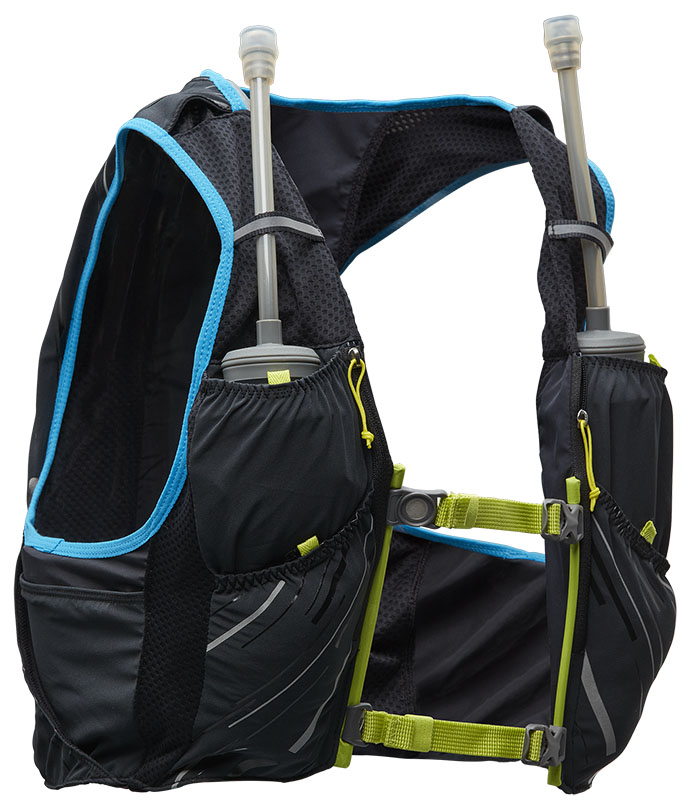 Category: Performance 
Capacities: 4, 12L
Included hydration: 20 oz. soft flasks (2)
What we like: Lightweight and breathable design with great storage.
What we don't: Lacks side adjustments and Velcro closures feel cheap.
Nathan is one of the biggest and most reputable names in running hydration, and they've put their best foot forward with the Pinnacle (which comes in both 4 and 12L capacities). Replacing the popular VaporKrar and women's VaporHowe as Nathan's most performance-oriented vest, the Pinnacle is 20% lighter and significantly more breathable with thoughtfully placed mesh throughout. You also get a generous 12 exterior pockets, including two water-resistant zip pockets at the front (our large smartphone easily fits inside) and two rear kangaroo pockets. And like the TNF Summit Run Race Day above, the Pinnacle uses soft, stretchy fabrics for a garment-like fit that prioritizes comfort and a bounce-free ride.
But despite its high-quality build, we must admit we haven't been overly impressed with the Pinnacle. Our male tester in particular has had difficulty dialing in the fit—with no cinches at the sides you're relying solely on the sternum straps for adjustment—and the many Velcro pocket closures catch on clothing and have a rather cheap feel. But we've gotta hand it to Nathan for the Pinnacle's great airflow, which served us well throughout a hot summer on the trails. Further, the hydration systems are excellent: The 12L version uses an insulated HydraPak bladder, while the 4L features soft flasks with a proprietary ExoSpine, making them easier to stuff into the chest pockets after an aid-station pit stop. If you're lucky and the vest fits (it's available in five sizes for men and six for women), it's a premium design that won't disappoint.
See the Men's Nathan Pinnacle 4L  See the Women's Nathan Pinnacle 4L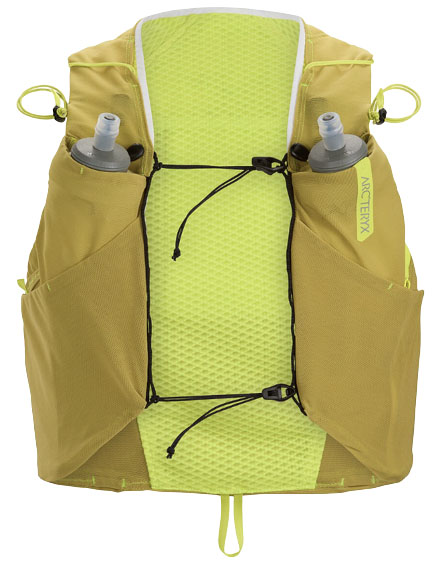 Category: Performance
Capacity: 7L
Included hydration: 500mL soft flasks (2)
What we like: Great fit, competitively lightweight, feature-rich design.
What we don't: Not compatible with a hydration reservoir; zippered pocket does not fit a modern smartphone.
British Columbia-based Arc'teryx is known for designing premium and innovative gear for alpine environments, and their Norvan 7 running vest is no exception. At first blush, the Norvan 7 feels similar to the top-ranked Salomon ADV Skin: Its stretch-mesh material rides close to the body, you get two included soft flasks and pockets throughout the front, sides, and back, and numerous cords facilitate additional gear carry. And like the Salomon, side access to the lumbar compartment allows you to access a wind jacket on the fly. We've tested the Norvan 7 throughout a spring and summer of trail running, and consider it to be a high-performance option for half- to full-day outings both in and out of the mountains.
But we rank the Arc'teryx below the Salomon for a few key reasons. First off, unlike the ADV Skin, the Norvan is not compatible with a reservoir, although we did manage to stuff a third soft flask in the lumbar compartment for a run in a particularly dry area. Second, we're not huge fans of the zipper pocket: Not only do you have to dig for it (it's hidden inside another pocket), but it's not big enough to fit a modern smartphone. We also think Arc'teryx went overkill with all the external attachment cords—if we're going to bring an ice axe running, we'd opt for the Black Diamond Distance 15 instead (unlike the Norvan, it fits a helmet on the inside)—and fit-wise, the vest only comes in three sizes (compared to the ADV Skin's five) and the sternum strap doesn't snug down as effectively. It's hard to knock the versatile feature set and close fit (and the Norvan is impressively lightweight at just 7.2 oz.), but for $20 less we'll stick with the Salomon ADV Skin.
See the Men's Arc'teryx Norvan 7  See the Women's Arc'teryx Norvan 7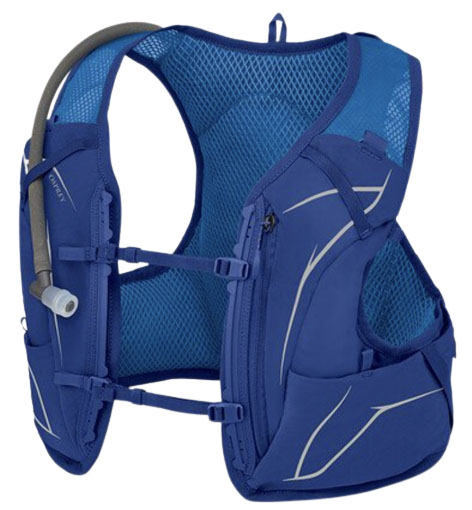 Category: Recreational
Capacities: 0.5 (LT), 1.5, 6, 15L
Included hydration: 1.5L reservoir
What we like: Thoughtful features add comfort and convenience at a low price point.
What we don't: Fairly heavy and lacking in breathability.
Osprey might not be a household name among runners, but as one of the outdoor industry's most popular pack manufacturers, their running lineup is worth a serious look. The men's Duro and women's Dyna hydration vests—which come in four capacities (0.5-, 1.5-, 6-, and 15-liter)—are thoughtfully designed, comfortable and fully featured, and among the most affordable options here. The Duro 1.5 is our top choice for shorter runs or close-to-home adventures, and includes a high-quality 1.5-liter Hydraulics LT reservoir (made by HydraPak), a secure zip pocket for valuables, and four large stretch-mesh pockets at the front for snacks, sunscreen, and more. And like many of the vests here, the Duro/Dyna comes in three sizes for both men and women, and features customizable sternum straps.
At 14.1 ounces for the size medium, the Osprey Duro is heavier than many of its competitors and not streamlined enough for most racers' needs (for reference, the 1.5L Osprey weighs over 3 oz. more than the larger 5L Salomon above). What's more, the added padding does have a negative impact on breathability. But casual runners will likely find the extra weight worth it for the added comfort and user-friendly feature set. On the other hand, Osprey now also makes the minimalist Duro LT, which features an airy mesh design, includes two soft flasks, and retails for just $95. Bumping up to the 6- or 15-liter versions ($130 and $175, respectively) will get you more storage and features, but for most runners the streamlined 1.5-liter size will be the best option.
See the Men's Osprey Duro 1.5  See the Women's Osprey Dyna 1.5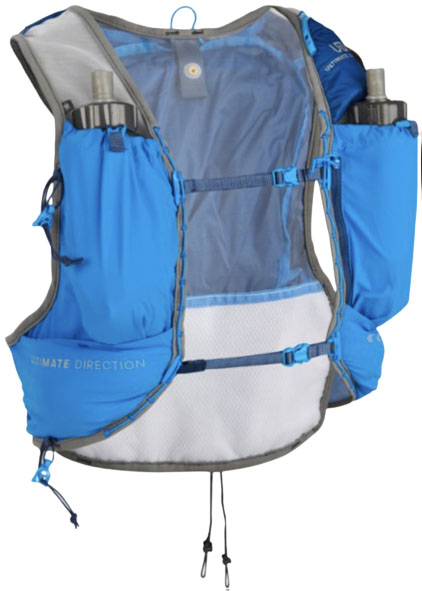 Category: Performance
Capacity: 10.3L
Included hydration: 500mL soft flasks (2)
What we like: Great fit customization and lightweight, breathable mesh fabric.
What we don't: Front pockets offer fewer options for organization than most.
Ultimate Direction's 10.3-liter Ultra Vest 6.0 is built to accommodate everything you need for a long day on the trail, including snacks, hydration, layers, and a few essential safety items. See-through mesh makes it one of the lightest and most breathable vests in its class, full side adjustments mean you can dial in a precise fit better than most, and an air mesh panel at the lower back helps to increase comfort and prevent chafing. And we especially like the rear compartment, which includes an impressive amount of storage, secures with a generous zipper, and features crisscrossing bungee straps for hauling a jacket. From Oregon's 25-mile McKenzie River Trail to the 4,900-foot climb of South Sister, the Ultra Vest has become one of our favorite companions for unsupported, all-day missions. 
That said, there are a few downsides in terms of storage. For starters, we wish the zippered pocket for the phone were higher on the chest (where it sits on the ribs can be uncomfortable), and the Ultra Vest's "pack-like" design means you don't get side entry into the rear compartment. Further, the only option for stashing trekking poles is on the shoulder strap, which is certainly not our preferred location (the Salmon above allows five different configurations). But these are all minor nitpicks, and the Ultra Vest lands near the top of our list as a capable lightweight option for unsupported runs. Ultimate Direction also offers an 8.5-liter Race Vest, 13.4-liter Mountain Vest, and 17-liter Adventure Vest (below), all of which are made with similar materials and come with flasks (but can accommodate reservoirs).
See the Ultimate Direction Ultra Vest 6.0  See the Women's UD Ultra Vesta 6.0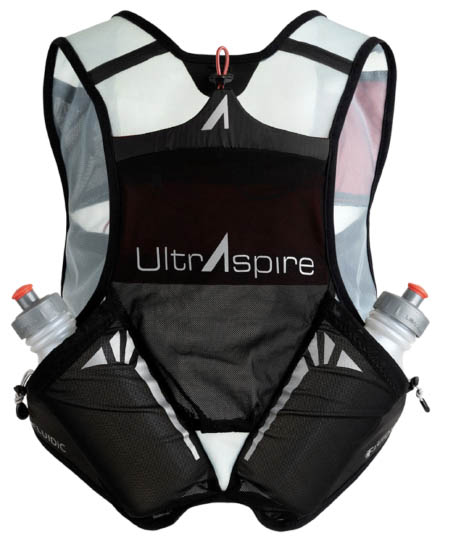 Category: Performance
Capacity: 6L
Included hydration: None
What we like: Contoured fit is comfortable and rides close to the body.
What we don't: Smells terrible and doesn't come with bottles. 
UltrAspire doesn't have the recognition of many of the brands above, but their Momentum is a comfortable option for race day and training runs alike. Its most notable feature is its contoured fit, which traces the curves of the torso better than most of the competition. The result is a streamlined build that rides close to the body and effectively distributes the load. Unlike many of the other designs on this list that carry water in the front via flasks or on the back with a reservoir, the Momentum has two rear bottle holders accessed on each side, placing the weight at your lower back rather than higher on your torso (UltrAspire sells their compatible UltraFlask 550 bottles separately for $15 each).
The updated UltrAspire Momentum 2.0 version builds off the original design with improved water bottle holsters that make it easier for you to stow your flasks on the go. Further, an upgraded shoulder pocket now accommodates larger cell phones, and the rear stash replaces the zipper closure for a more versatile (and slightly larger) dump pocket. Unfortunately, the Momentum 2.0 doesn't accommodate a reservoir—UlraAspire's Spry 3.0 is a better choice for those who prefer to sip hand-free. But you do get nice features like soft microfiber edges (great for running without a shirt) and a highly useful magnetic pill pocket (we wish every vest had one of these). If the ideas of lumbar storage or more durable hard bottles appeal to you, the Momentum is well worth a closer look.
See the UltrAspire Momentum 2.0 Race Vest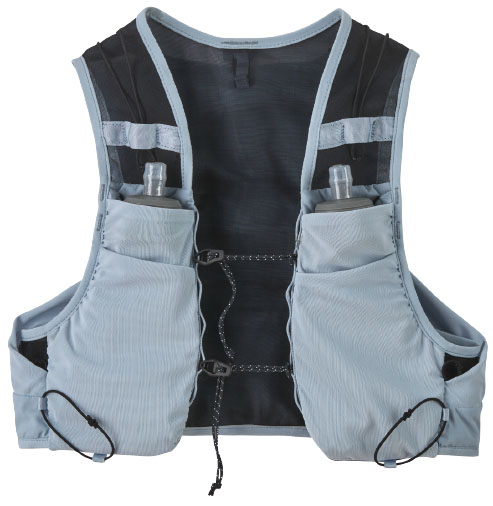 Category: Performance/recreational
Capacities: 3L
Included hydration: 500mL soft flasks (2)
What we like: Great fit and simple, lightweight design.
What we don't: Limited capacity for long days and no zippered pocket on the front.
Patagonia can't match the extensive running vest collections from brands like Ultimate Direction or Nathan, but their Slope Runner Endurance Vest holds its own. As the name suggests, the Endurance is built for races or fast, weight-conscious forays into the mountains, with a streamlined feature set and strong focus on comfort. The vest is styled like a garment (similar to the Salomon ADV Skin 5 above) and has ample fit adjustments, including two sternum straps, side straps that tighten down a smaller load, and a drawstring at each shoulder to shift weight distribution if you have heavy gear along your back.
We tested the Patagonia and our top-ranked Salomon side by side during a season of trail running in Hawaii, and the Slope Runner fell short in a few departments. In terms of organization, Patagonia placed the zipper pocket on the rear, which honestly has us scratching our heads—we love the secure storage, but it's much more useful on the front for keeping items like our phone and headphones safe yet accessible. We've also found the Slope Runner's side pockets to be prohibitively shallow. And finally, our barely christened Patagonia has a number of loose stitches and a large hole in the rear mesh, while our Salomon ADV Skin 5 still looks brand new after over 500 miles of trail use. But if you're easy on your gear and don't mind the organizational quirks, there's no denying that the Slope Runner is a very comfortable vest, and at 6.2 ounces it's one of the lightest options here. 
See the Patagonia Slope Runner Endurance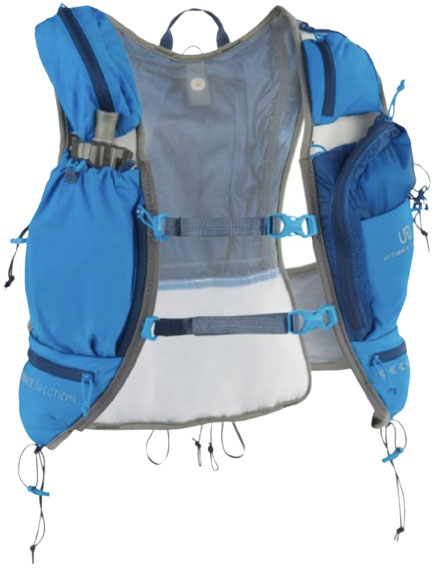 Category: Fastpacking
Capacity: 17L (women's: 16.5L)
Included hydration: 500mL soft flask (1)
What we like: Comfortably carries significant loads for big adventures.
What we don't: Can't accommodate bulkier items like the BD Distance above.
The Adventure Vest 6.0 is Ultimate Direction's largest-capacity running vest, with a whopping 17 liters of space to fit everything you need for big (and possibly overnight) adventures. True to its intended use, the Adventure Vest is packed with mountain-ready features including an integrated rain cover, water-resistant front pocket, ice tool holders, and a number of zippered pockets to secure the essentials. Our running partner wore this vest while fastpacking the 106-mile UTMB (Ultra-Trail du Mont-Blanc) near Chamonix and raved about how it handled both near-empty and packed loads with relative ease.
Similar to the Black Diamond Distance above, the Adventure Vest's most recent update replaced the side bungees with stretchy panels, improving overall fit and comfort. Of course, with such a large vest, you don't get the same close ride as you would with models like the Salomon ADV Skin and Nathan Pinnacle above, and the Adventure Vest's multiple external bungees and rain cover are undeniably clunky. And while the UD is over 3 ounces lighter than the Black Diamond Distance 15 above, its spread-out storage is limiting for bulky items like a rope or helmet. But the Adventure Vest is the more running-specific build and a great match for shuttling a light overnight kit on less technical missions.
See the Ultimate Direction Adventure Vest 6.0  See the Women's UD Adventure Vesta 6.0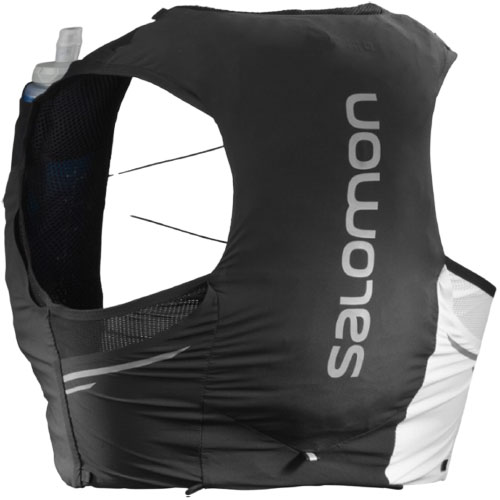 Category: Performance 
Capacities: 5, 10L
Included hydration: 500mL soft flasks (2)
What we like: Lightweight, race-ready build.
What we don't: Streamlined design falls short in durability and breathability.
If fast and light is the name of your game, the Salomon Sense Pro 5 should be on your radar. A stripped-down version of our top-ranked ADV Skin, the Sense Pro is purpose-built for racing with minimal materials, a limited feature set, and fit adjustment only at the sternum. The vest's stretchy material feels more like an actual garment than most, reducing the rubbing and tight spots you get with some of the bulkier designs. In terms of organization, the front storage is on par with the ADV Skin's (including a zipper pocket on the left chest), and the rear compartment can be accessed via the top or side. Rounding out the build, the Sense Pro comes with Salomon's updated Speed flasks, which feature a wide mouth (compatible with modern water filters like the Katadyn BeFree) and a semi-rigid base that makes them easier to load when full.
The Sense Pro 5 is so streamlined that it doesn't accommodate a bladder, so the vest is limited to race scenarios where you can refill the flasks regularly at aid stations. And while we love the close fit and underarm storage, these do come at the cost of breathability (a vest like REI's Swiftland below with open straps under the arms vents much better). Further, the Salomon's thin materials are prone to tearing, and in our experience can really hold a stink. In the end, we don't recommend the Sense Pro vest as a daily driver, but it's a well-fitting, lightweight option that will keep you moving quickly on race day. And for female runners, Salomon also makes a women's version with a more contoured fit and straws for easy drinking.
See the Salomon Sense Pro 5  See the Women's Salomon Sense Pro 5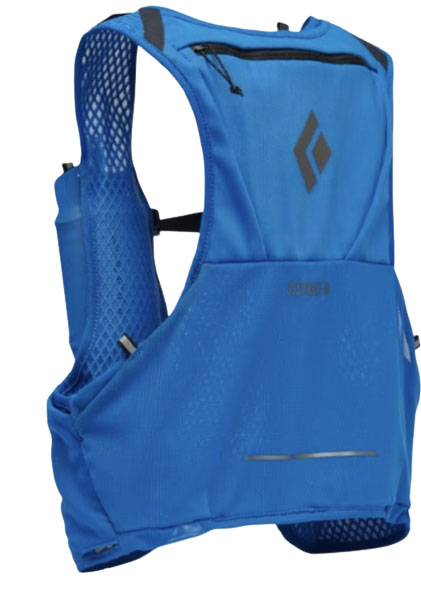 Category: Performance/recreational
Capacity: 4L
Included hydration: 500mL soft flasks (2)
What we like: Great storage options; ideal capacity for most minimalist trail runs.
What we don't: Not as close-fitting as the Salomon ADV Skin 5.
Black Diamond's Distance 15 pack is one of our all-time favorite pieces of gear, perfect for long days in the mountains when you need to carry more in the way of supplies. Freshly updated this year, their Distance 4 brings many of the features of the 15-liter model into a running-vest style geared toward shorter runs and smaller loads. Like many running vests here, you get a garment-like design, two flask pockets (two HydraPak soft flasks are included), and an assortment of zip and stash compartments. And with the recent revamp, the Distance 4 now comes in dedicated men's and women's versions and offers better comfort with softer materials and a more bounce-free design.
We tested the Distance 4 back-to-back with our top-ranked ADV Skin 5 throughout an entire trail season, and still reach for the Salomon when given the choice. The Black Diamond simply can't match the Salomon's stretchy, apparel-like fit, and its two simple sternum straps don't snug down nearly as well as the ADV Skin's zig-zagging elastic-cord system (and it's also available in only three sizes compared to the Salomon's five). But those who run with poles might appreciate the BD's on-the-go trekking pole stash, and you do get an additional zip pocket at the upper back. All told, we wouldn't opt for the Distance 4 over the ADV Skin 5 (especially given the $10 price bump), but it's nevertheless a high-performance running pack from a trusted brand.
See the Men's Black Diamond Distance 4  See the Women's Black Diamond Distance 4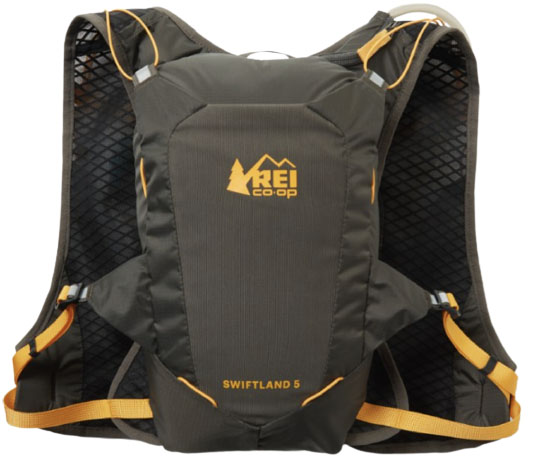 Category: Recreational
Capacity: 5L
Included hydration: 1.5L reservoir
What we like: Highly breathable and very adjustable fit.
What we don't: No side pockets or on-the-go access to the rear compartment.
Not everyone is interested in ultra or trail races, and for those sticking to the more casual end of the spectrum, we prefer an option like REI Co-op's Swiftland 5. This vest is affordable at $100, customizable with functional fit adjustments and ample sizing options (the women's version goes up to a 2X/3X), and highly breathable with an airy mesh build and light colorways. To be clear, you don't get the top-notch comfort and feature set of a performance vest—the Swiftland is far from streamlined and offers no on-the-go access to side or rear compartments—but you don't pay for it either.
Like the Nathan QuickStart and CamelBak Trail Run below, the Swiftland is more like a running pack than a garment-style vest, but you still get four easy-to-access pockets on the shoulder straps, which also hold soft flasks (we wish these were a bit deeper). Additionally, the unique top-loading compartment is a breeze to load and unload, and the back dump pocket can accommodate an extra layer. In the end, the Swiftland is a capable and affordable entry-level option for those who prefer to use a hydration bladder, but we'd stick with the Salomon Active Skin above for soft-flask use. For a bit more capacity and support, trekking pole bungees, and soft flasks rather than a reservoir, REI Co-op also offers the 7-liter Swiftland TT Hydration Vest for $120.
See the Men's REI Swiftland 5  See the Women's REI Swiftland 5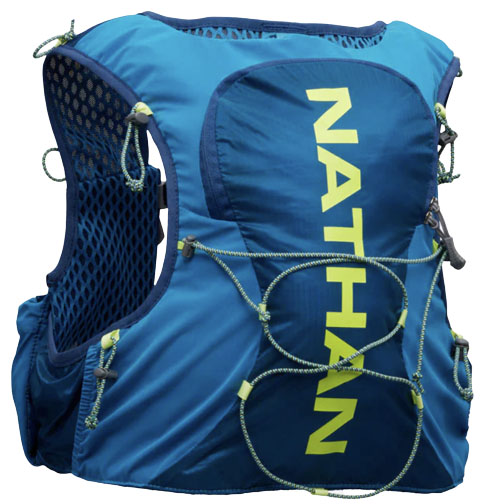 Category: Performance
Capacity: 7L 
Included hydration: 2L reservoir
What we like: Highly breathable and two front zip pockets.
What we don't: Not as sleek as the Nathan Pinnacle.
The original Nathan VaporAiress (the women's version of the VaporAir) was our go-to running vest for a number of years and accompanied us on everything from the Fat Dog 120 in British Columbia's Manning Park to long days in the Chilcotins. The pack has since undergone a few updates, but the winning formula remains. Touting a strong focus on breathability, the VaporAir 3.0 uses mesh on the shoulder straps and interior of the back, making it a great choice for warm-weather runs. You get a variety of storage options, including two generous zip pockets on the chest, a new zippered back center panel, and a variety of bungees throughout the front and back. Finally, the VaporAir comes ready to go with a 2-liter hydration bladder, and the front pockets also fit half-liter bottles and flasks.
In our opinion, the 3.0 is a great improvement over the outgoing version: The new vest features much easier zippered access to the rear compartment, and also adds a third size for both men and women (1X to 3X). Nathan did remove the side adjustments in the latest version, but we appreciate the more body-hugging fit. In the end, we still think the Pinnacle above is a more premium option for most runners, although with the VaporAir you do get trekking pole attachment points, a middle-of-the-road capacity, and slightly better breathability. For a more minimalist design, check out the VaporAir Lite 4L ($130), which tacks on an adjustable backpanel and side straps for an even more fine-tuned fit.
See the Men's Nathan VaporAir 3.0  See the Women's Nathan VaporAiress 3.0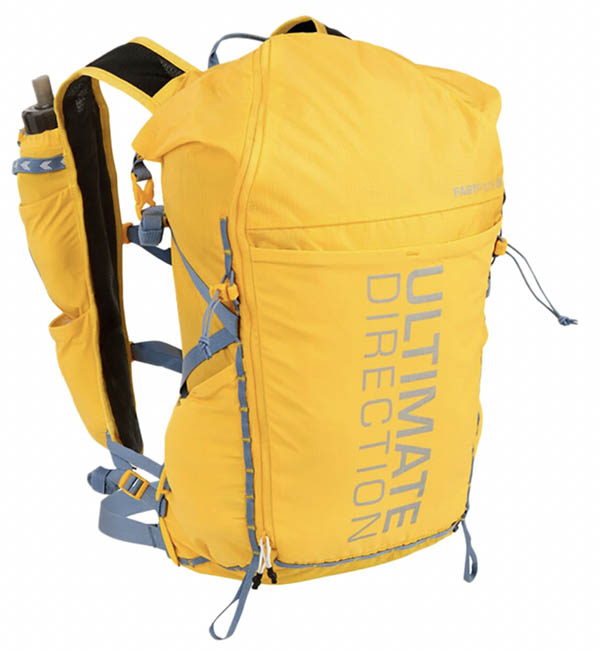 Category: Fastpacking/recreational
Capacities: 20, 30, 40L (women's: 20, 30L)
Included hydration: None
What we like: Great functionality and capacities for overnight trips.
What we don't: Too large and unwieldy for most single-day runs.
For the uninitiated, the term "fastpacking" describes the act of running (or run-walking) a backpacking route quickly, often with lightweight overnight gear. And the best way to ensure a good time while fastpacking (let's be honest, it's going to be Type Two fun regardless) is by carrying less weight. The Ultimate Direction Fastpack 20 is the perfect tool for the job, built for one- to two-nighters or single-day missions that require technical gear. Like the vests above, the Fastpack prioritizes accessibility and a close fit but tacks on a larger capacity and a host of organizational features, including external side pockets, a full side zip, and a roll-top closure. And with a recent update, it now has a seamless and more breathable backpanel, which is great news for comfort.
While it's tempting to stuff the Fastpack to the brim, we don't recommend it from a comfort perspective. With minimal suspension, the Fastpack 20 is not built to handle loads like a standard daypack, nor does it come with a hipbelt (the 30 and 40L versions do). In other words, it's crucial that you continue to think with a minimalist runner's mindset (on an overnight with the Black Diamond Distance 15 above, we appreciated how its limited capacity forced us to minimize weight and bulk). But if you can keep your load light, the Ultimate Direction is a highly specialized and nicely executed design for short overnights.
See the Ultimate Direction Fastpack 20  See the Women's UD FastpackHer 20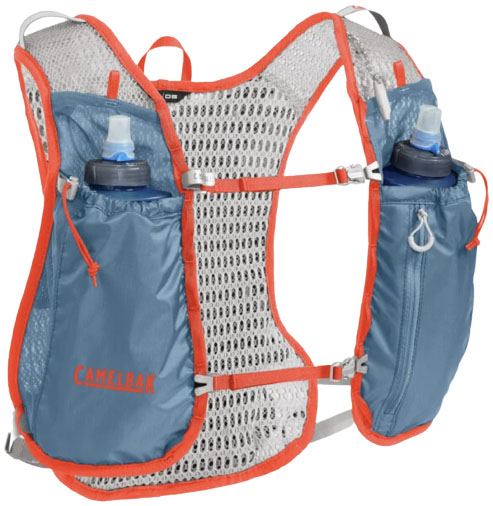 Category: Recreational
Capacity: 6L (women's: 6L)
Included hydration: 17 oz. soft flasks (2)
What we like: Inexpensive and comes with two soft flasks.
What we don't: Only offered in one size.
Over the years, CamelBak has become practically synonymous with on-the-go hydration. They've come a long way since their humble beginnings—our first hydration pack was essentially a neoprene sleeve for the bladder and a strap for each arm—and we've since come to count on them for functional products at affordable prices. The recently released Trail Run Vest is their most dedicated running vest and a good place to start if you're new to long-distance trail running and don't want to break the bank. For only $100, you get both the lightweight vest and two reliable soft flasks, which is a true steal compared to many options here.
For the entry-level runner, the Trail Run checks most of the boxes. The vest features a zippered cell phone pocket, two cavernous chest pockets for on-the-go essentials (in addition to the stretchy flask pockets), a large rear stash, and highly breathable mesh that keeps air flowing when you break a sweat. But the downside for most is that the Circuit comes in just one size, and with no side pockets, storage is limited compared to most premium designs. In the end, we don't recommend the Circuit for experienced runners, but if you're not pushing your speed or haven't yet been spoiled by a more precise fit, it's perfectly serviceable and a superb value.
See the Men's CamelBak Trail Run  See the Women's CamelBak Trail Run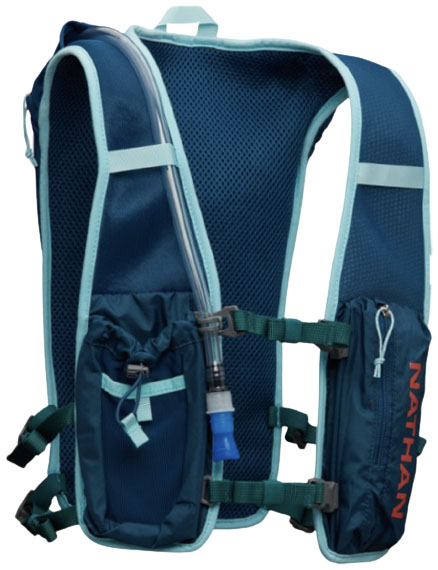 Category: Recreational
Capacities: 3, 4, 6L
Included hydration: 1.5L reservoir
What we like: Good price for a light and simple design.
What we don't: Compromises in build quality and comfort.
The final Nathan vest to make our list is their cheapest model: the QuickStart 2.0 3L. For a very reasonable $70, you get a basic, mesh-heavy design that ventilates well in warm conditions, a 1.5-liter reservoir and easy-to-access drink tube, and a zippered water-resistant shoulder pocket for securing a phone. The streamlined, one-size-fits-most build makes purchasing easy, and ample adjustment at the sides and sternum accommodates most body types. For anything from short jogs in hot conditions to half-day adventures, the QuickStart is a solid budget option.
But at less than half the price of Nathan's Pinnacle above, there are some compromises in opting for the QuickStart. The simple straps have a tendency to loosen during extended runs (causing a good deal of bounce), and are more prone to digging into your ribs than garment-like designs with stretchy side panels. What's more, the streamlined set of shoulder pockets can't compete with more featured vests that include underarm storage and on-the-go access to the rear compartment. But if you're willing to trade a little convenience and comfort, the QuickStart delivers a fair amount of bang for your buck. Nathan also offers the pack in 4 and 6-liter varieties, which add additional rear zippered storage and a couple liters of extra space.
See the Nathan QuickStart 2.0 3L
Running Hydration Vest and Pack Comparison Table
| Running Vest/Pack | Price | Category | Capacities | Hydration | Weight |
| --- | --- | --- | --- | --- | --- |
| Salomon ADV Skin 5 Set | $140 | Performance/recreational | 5, 12L | 2 soft flasks | 8 oz. |
| Salomon Active Skin 4 Set | $90 | Recreational | 4, 8L | 2 soft flasks | 7.1 oz. |
| TNF Summit Run Race Day 8 | $149 | Performance | 8L | 2 soft flasks | 4.4 oz. |
| Salomon ADV Skin 12 Set | $160 | Performance | 5, 12L | 2 soft flasks | 10.3 oz. |
| Black Diamond Distance 15 | $180 | Fastpacking | 8, 15L | None | 12.7 oz. |
| Nathan Pinnacle 4L | $180 | Performance | 4, 12L | 2 soft flasks | 5 oz. |
| Arc'teryx Norvan 7 | $160 | Performance | 7L | 2 soft flasks | 7.2 oz. |
| Osprey Duro 1.5 | $120 | Recreational | 0.5, 1.5, 6, 15L | 1.5L reservoir | 14.1 oz. |
| Ultimate Direction Ultra Vest 6.0 | $150 | Performance | 10.3L | 2 soft flasks | 8.1 oz. |
| UltrAspire Momentum Race 2.0 | $95 | Performance | 6L | None | 8 oz. |
| Patagonia Slope Runner Endurance | $159 | Performance/recreational | 3L | 2 soft flasks | 6.2 oz. |
| UD Adventure Vest 6.0  | $180 | Fastpacking | 17L | 1 soft flask | 9.5 oz. |
| Salomon Sense Pro 5 | $160 | Performance | 5, 10L | 2 soft flasks | 5.1 oz. |
| Black Diamond Distance 4 | $150 | Performance/recreational | 4L | 2 soft flasks | 7 oz. |
| REI Co-op Swiftland 5 | $100 | Recreational | 5L | 1.5L reservoir | 9.5 oz. |
| Nathan VaporAir 3.0 | $160 | Performance | 7L | 2L reservoir | 8.8 oz. |
| Ultimate Direction Fastpack 20 | $150 | Fastpacking/recreational | 20, 30, 40L | None | 20.8 oz. |
| CamelBak Trail Run | $100 | Recreational | 6L | 2 soft flasks | 8 oz. |
| Nathan QuickStart 2.0 3L | $70 | Recreational | 3, 4, 6L | 1.5L reservoir | 12.4 oz. |

Running Hydration Vest and Pack Buying Advice

Running Hydration: Vests vs. Packs
In this article, we've chosen to lump hydration vests and packs under one umbrella and often refer to both as "vests" due to the front-of-the-body storage that they have in common. In the end, packs and vests have very similar intentions: they're both purpose-built for toting minimal necessities, prioritize a close fit, and offer on-the-go access to food, water, and other supplies. Unlike standard backpacks, they sit high and tight to the torso, moving as an extension of the body rather than bouncing up and down with each step.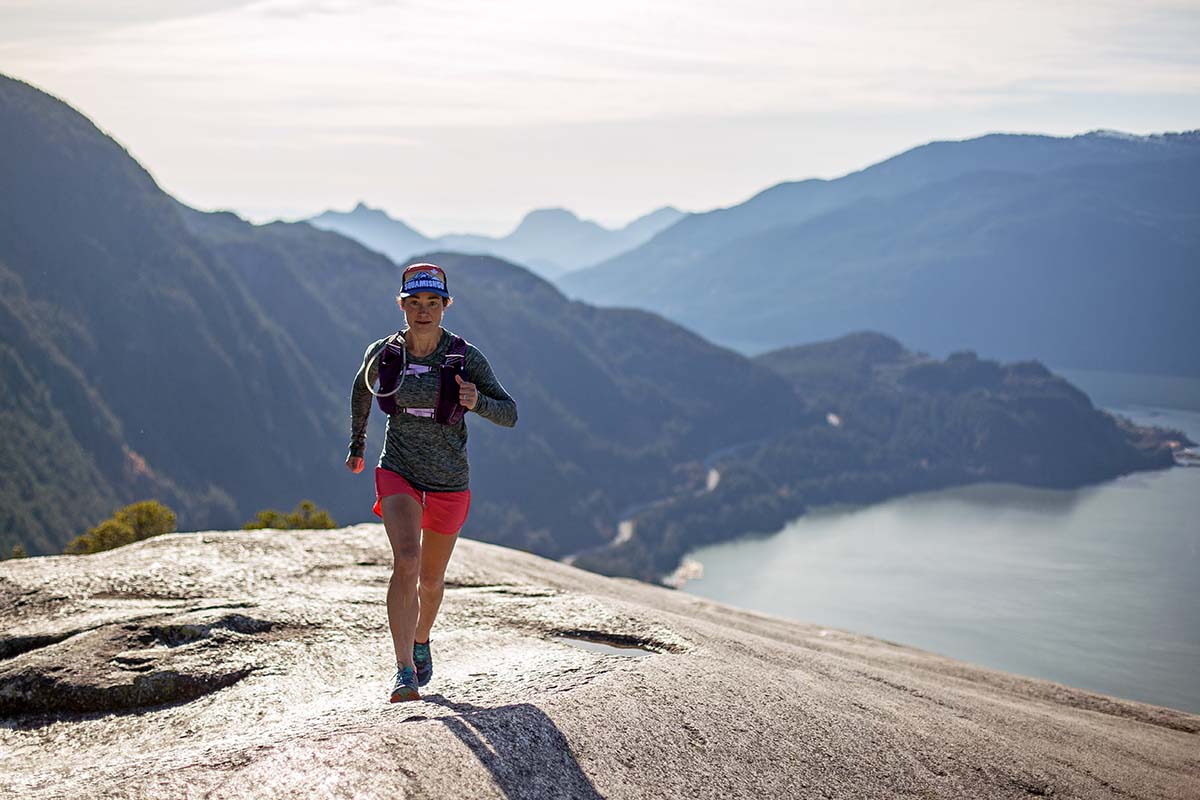 That said, packs and vests do have their differences: running vests sit flush against the torso and extend under the arms (like a standard vest), while a pack has more defined shoulder straps and a dedicated back compartment. As a result, vests (like the Patagonia Slope Runner Endurance, for example) commonly have less capacity than packs, are more comfortable for moving quickly, feature underarm storage and side dump pockets, and are intended solely for running. Packs, on the other hand (like the Black Diamond Distance 15), can accommodate more gear, will likely bounce a bit more with your stride, and can conceivably be used for a range of activities, including biking and hiking. 
But as gear companies continue to innovate, the line between the two categories has become blurred, resulting in models like the Ultimate Direction Ultra Vest (pack, or vest?). In the end, the terminology matters less than the function. For the majority of runners, you can't go wrong with a true vest, but if you need a higher-capacity hauler for long days or more complex terrain, a pack-like design is likely the better option. But the good news is that most running packs still retain many vest-specific features, including snug fits, on-the-go-storage options, and compression straps for cinching down lighter loads.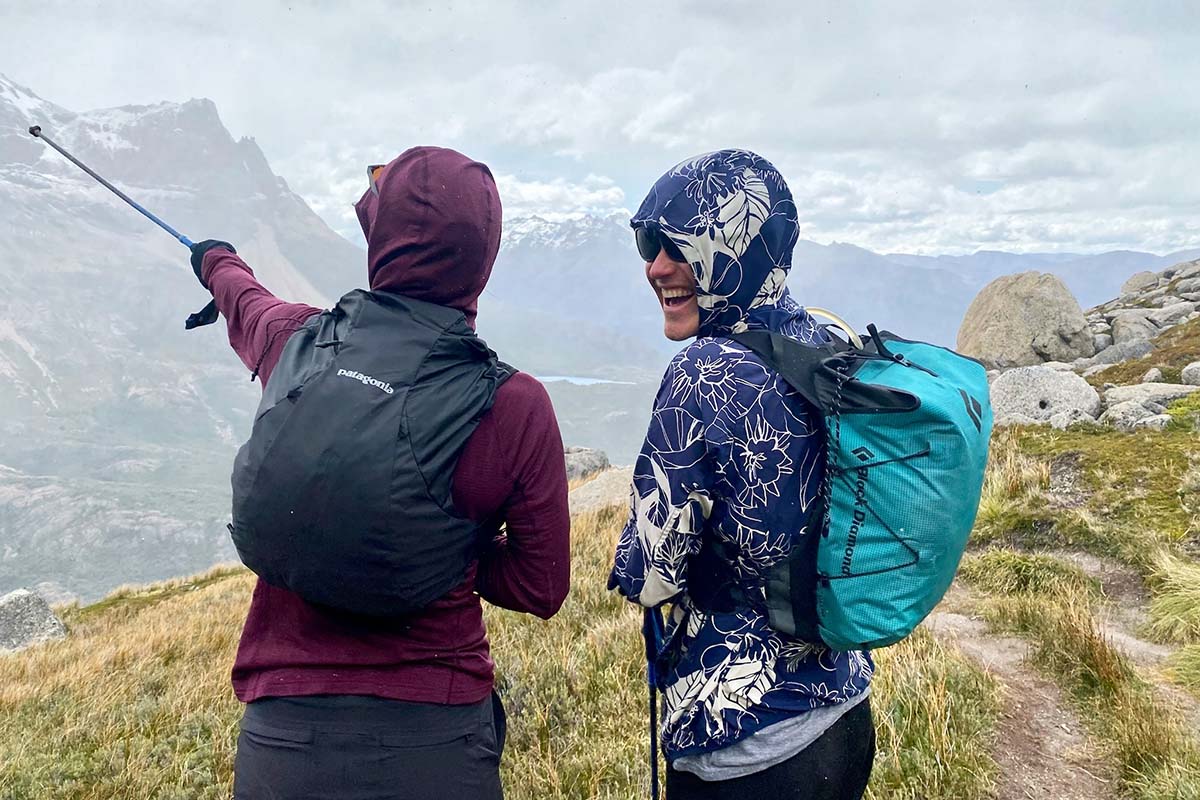 Running Hydration Vest Categories
Running can take many forms, from mile-long lunch-break outings and jogging on city sidewalks to 50+ mile races in the backcountry. Therefore, it follows that hydration vests for running come in a wide variety of styles with various intended uses, from minimalist race models and capable all-day designs to 20-liter haulers built to shuttle a light overnight kit. To help provide clarity among the various options, we've broken them down into three distinct categories: recreational, performance, and fastpacking.
Recreational
Running vests aren't just for folks who compete in ultramarathon races or embark on long sojourns into the mountains. For the entry-level or casual runner looking for a way to carry water or gear, a recreational vest is a great place to start. Here, the defining feature is typically affordability: At around $70-$100, recreational vests are often half the price of those in our performance and fastpacking categories, and ideal for those who don't need to spend up for a high-performance design, precision fit, or ultralight materials. Additionally, many of these models place a premium on versatility, with increased capacities or more pack-like designs that can play double duty for activities like hiking or biking. Finally, recreational vests will often have unisex or one-size-fits-all sizing, which is great for accommodating varying layers or those who want to share with a friend. Our favorite in this category is the Salomon Active Skin 4 Set ($90), which also comes in an 8-liter version.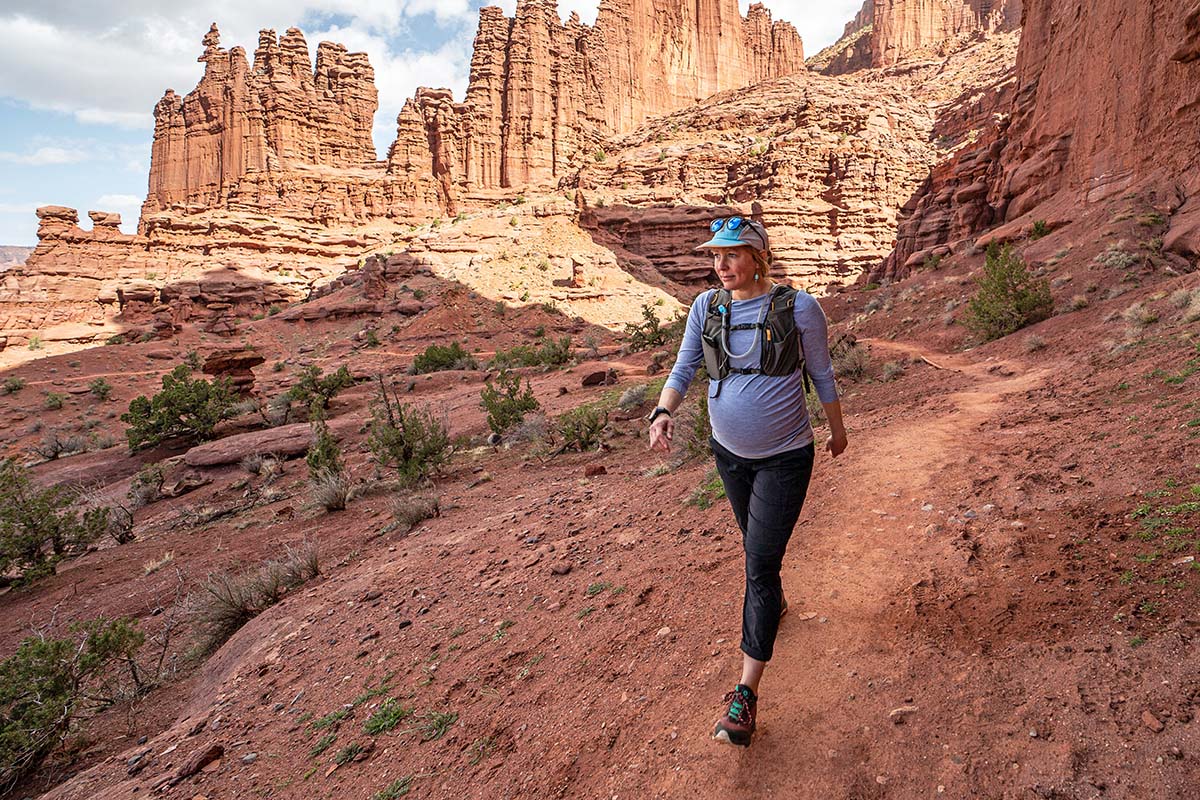 Performance
Vests in our performance category are designed for more serious runners who are willing to spend up for an increase in comfort, quality, and weight-savings. These top-of-the-line models are the most "vest-like" here, with close-to-body fits and a plethora of easy-access pockets at the front and sides. Performance running vests range in capacity from 1.5 liters to 12 and span the gamut from minimalist race-oriented models to fully featured designs ideal for unsupported missions. To accommodate both ends of the spectrum, manufacturers will often offer these vests in two different capacities, such as Nathan's Pinnacle 4L and Pinnacle 12L. In the lower-capacity models, look for soft flasks, thin fabrics, and minimal feature sets, while the higher-capacity designs will often come with hydration reservoirs, trekking-pole attachments, and compression straps or bungees. But whether you're competing in a supported race or headed for a day in the hills, a performance vest will be your best bet for the rigors of long-distance trail running.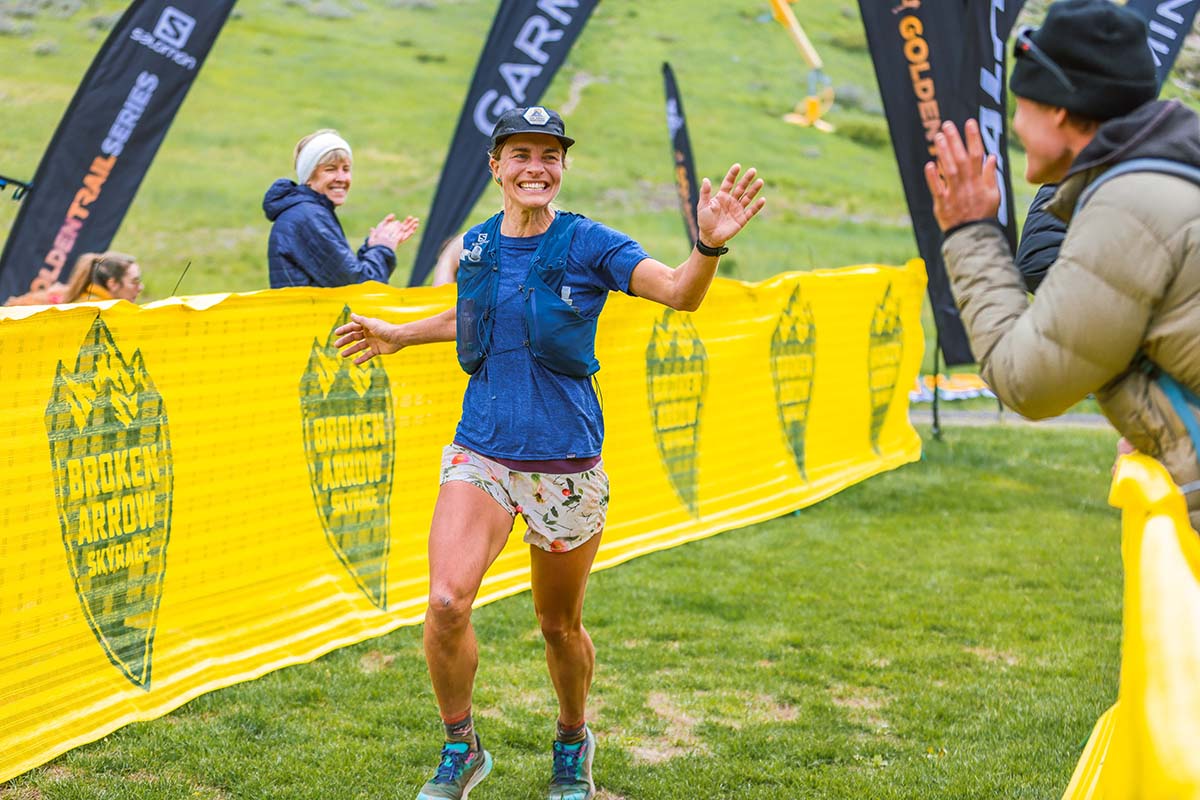 Fastpacking
Blending trail running and backpacking into one ultralight and extreme activity is the growing sport of fastpacking. Involving speed-focused overnight or multi-day adventures—examples include running Mt. Rainier's 93-mile Wonderland Trail or a hut-to-hut circumnavigation of Mont Blanc—they require hauling additional gear like a shelter (or on the other hand, technical equipment like a helmet, rope, or ice tool). As such, the vests and packs in this category are the largest and most featured, including capacities ranging from 15 to 40 liters, durable fabrics, and mountain-specific add-ons like ice axe loops (the Black Diamond Distance 15 is a great example). Like performance vests, hydration options typically include both a reservoir sleeve and front bottle pockets. Mountain runners won't be moving at race-speed (in large part due to the heavy load), but fastpacking models are still engineered to move with your body, and their pocket layouts allow easy access to water and snacks on the go (a notable difference compared to standard hiking daypacks).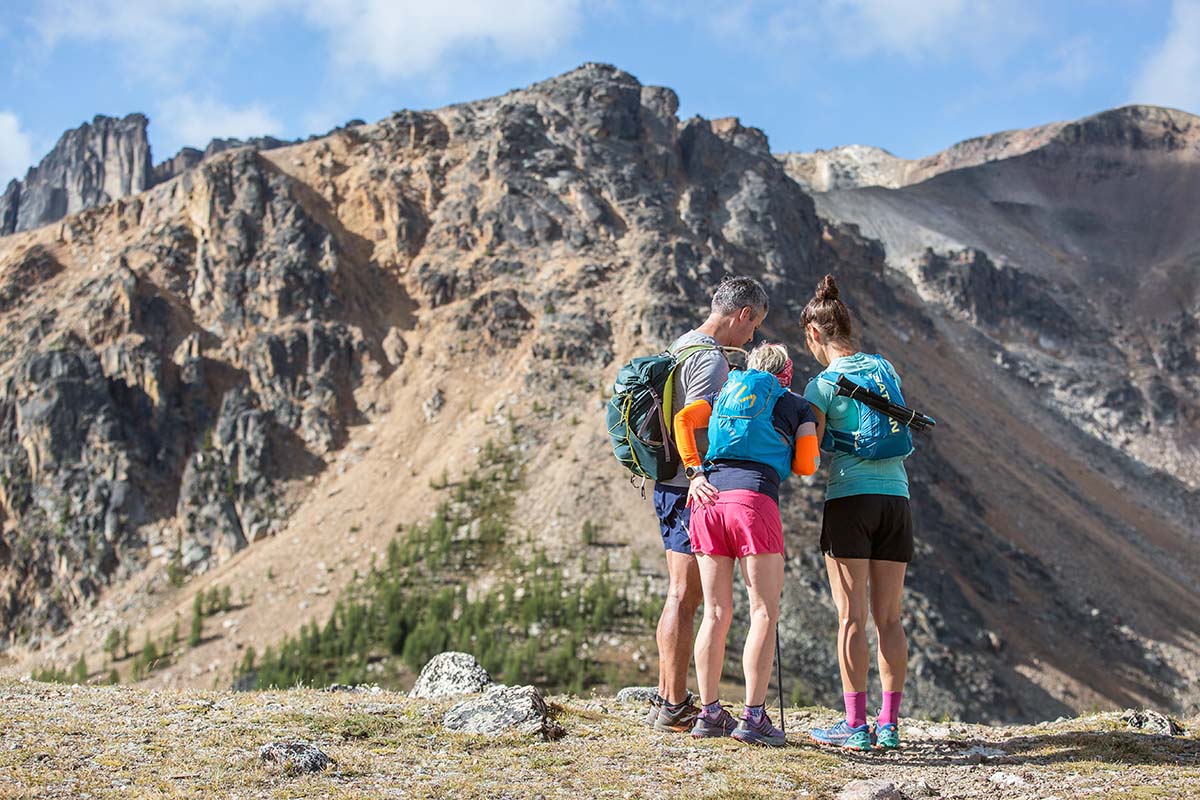 Storage Capacities
When deciding which running vest is right for you, capacity should be one of the first considerations. Vests generally range from 1.5 to 15 liters, while some fastpacking models for mountain pursuits can accommodate 30 liters or more. A number of factors come into play here, including weather, whether your run is supported or unsupported, and both its length and difficulty. It's also crucial to consider access to streams, lakes, and other water sources. If you're headed out for a full day, you might consider carrying an ultralight water filter or purifier so that you don't have to shuttle more water than necessary—our favorite for running is the Katadyn BeFree. Finally, make sure to choose a pack that will have more storage than you need, as wearing an overstuffed pack can be quite uncomfortable, especially over longer distances.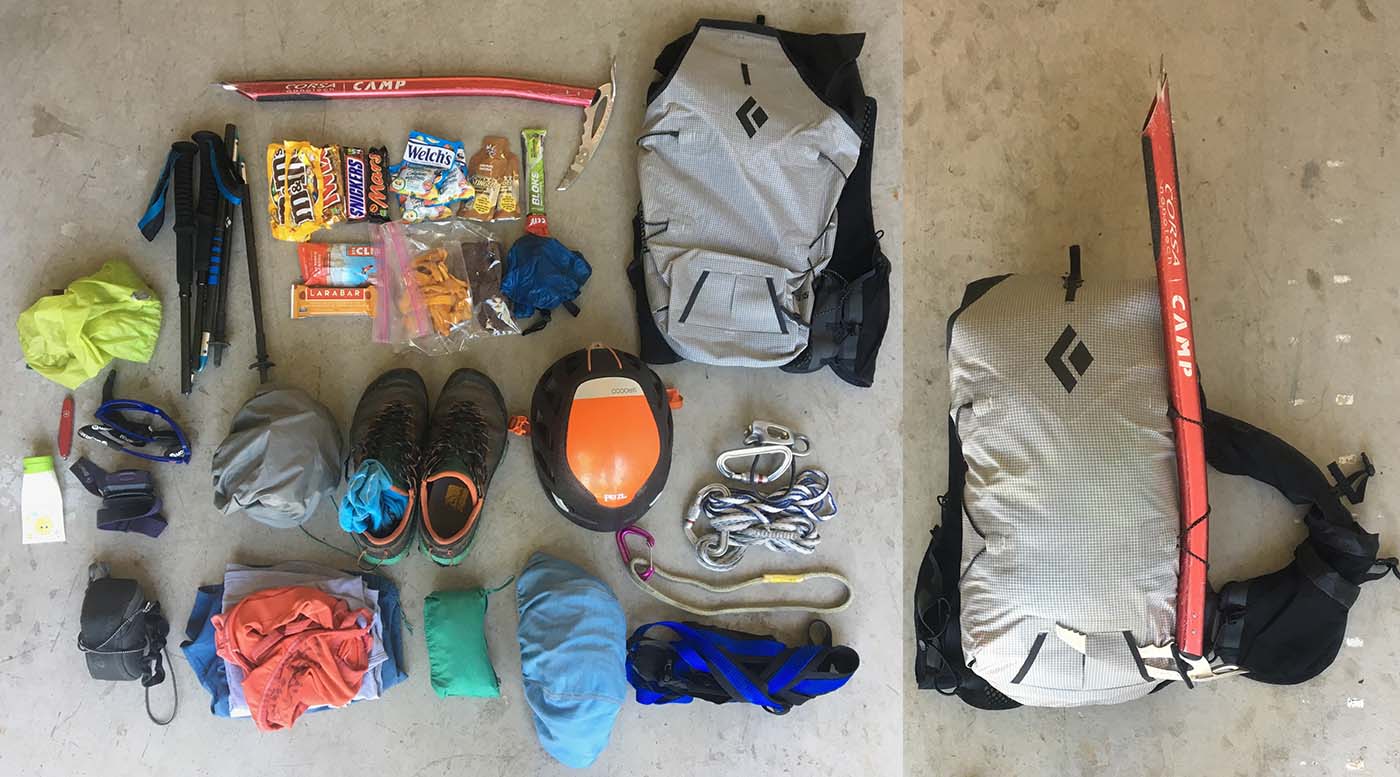 The majority of runners will opt for a vest in the 1.5- to 7-liter range, which is ample for carrying a liter of water, snacks, and an extra layer. Consider a higher-capacity pack (7 to 14 liters) for all-day runs requiring more food and water, and perhaps some of the 10 essentials. We find these packs to be the most versatile—load them up when you need the space or use the external compression bungees to snug down a less-than-full load. And for overnight missions or if you're carrying gear for technical terrain (such as a rope and harness), you'll likely want a larger-capacity vest like the Ultimate Direction Fastpack 20 or Black Diamond Distance 15.
Every vest here has a listed capacity in liters, and many manufacturers provide more of a range than an exact number (like the 11 to 20L capacity of the Salomon ADV Skin 12 Set). Unfortunately, this spec isn't standardized: Some capacities include the space taken up by the reservoir, while others do not. Further, vests with stretchier fabrics are likely to have more storage than their capacity spec suggests—Ultimate Direction's Fastpack 20, for example, can accommodate 23.4 liters of gear—and the smallest size of a given pack will almost always have less space than the largest size. Finally, it's important to consider where the storage is located and how spread out it is, especially if you plan to carry bulky items. For instance, the Black Diamond Distance 15 carries a rope much better than the 17-liter Ultimate Direction Adventure Vest.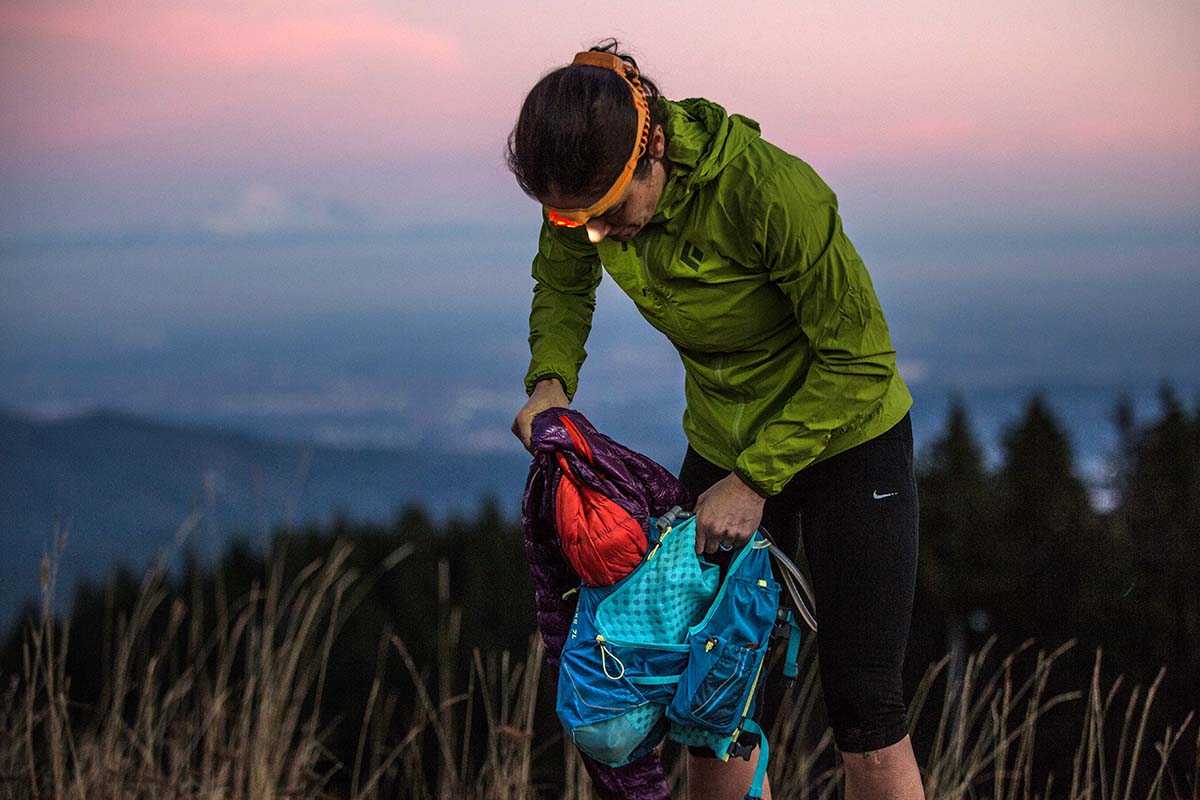 Pockets and Organization
Running vests are lightweight and often streamlined but pack a big punch when it comes to organization. There are a number of factors to keep in mind when loading your pack, including accessibility of gear (you'll want to be able to reach all the essential items without removing your pack), security (valuables in zippered pockets vs. dump pockets), and weight distribution—after all, a properly balanced load is always more comfortable. Below we break down organization by the three main storage options: shoulder pockets, side pockets, and the rear compartment.
Front Pockets
A running vest's front pockets are one of its most defining characteristics and ideal for accessing snacks, water, and other supplies while on the go. Here, you'll find a wide variety of organization, including dump pockets (great for stashing gels and soft hydration flasks), zippered pockets for valuables, sweat-proof pill pockets, and even waterproof zippered pockets for cell phones. Be sure to take a good inventory of what you'll need to access with your pack on and make sure there's ample space. Security is also important to consider: During more scramble-y runs, we appreciate having zippered or cinch closures on the front of our vest to help keep our belongings secure when we're bending over.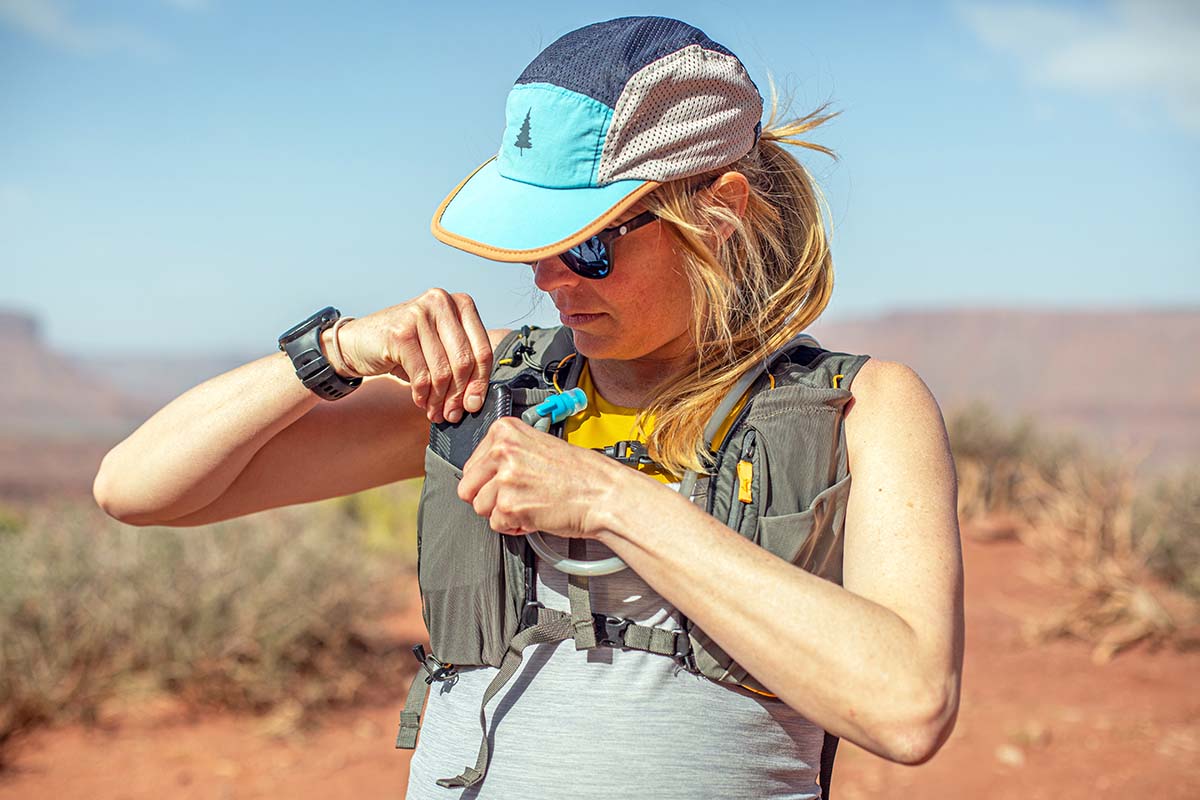 Side Pockets
If you opt for a vest that wraps around your body (rather than a backpack-style design), chances are it will come with pockets under the arms on each side. In general, we love the additional storage these offer, although we usually only use them when our front pockets are full. Most side pockets are stretchy dump pockets, and many of these pockets also reach through to the rear compartment, allowing you to grab a layer without taking off your vest. In the end, whether or not a vest has side pockets will not make or break our decision, but the added organization and weight distribution certainly come in handy.
Rear Compartment
In terms of rear storage, not all vests have this option, including some streamlined race designs. Moreover, many runners prefer to have their gear and food items along the front and sides for weight distribution, comfort, and accessibility (although this is partially a matter of personal preference). That said, for those who want to carry more than a liter of water and a few snacks, the ability to store gear along your back is essential.
Rear compartments can include a stretchy dump pocket like we see on the Salomon ADV Skin series, or a cavernous compartment with top cinch, like that on the Black Diamond Distance 15. And as we mentioned above, most designs allow you to access their rear compartment from the sides, making it easier to stuff a jacket or trekking poles away or retrieve your water filter without removing the vest (essential for moving quickly). Finally, the majority of backpack compartments have a built-in reservoir sleeve, and some are even insulated to keep your water cold and separated from your back.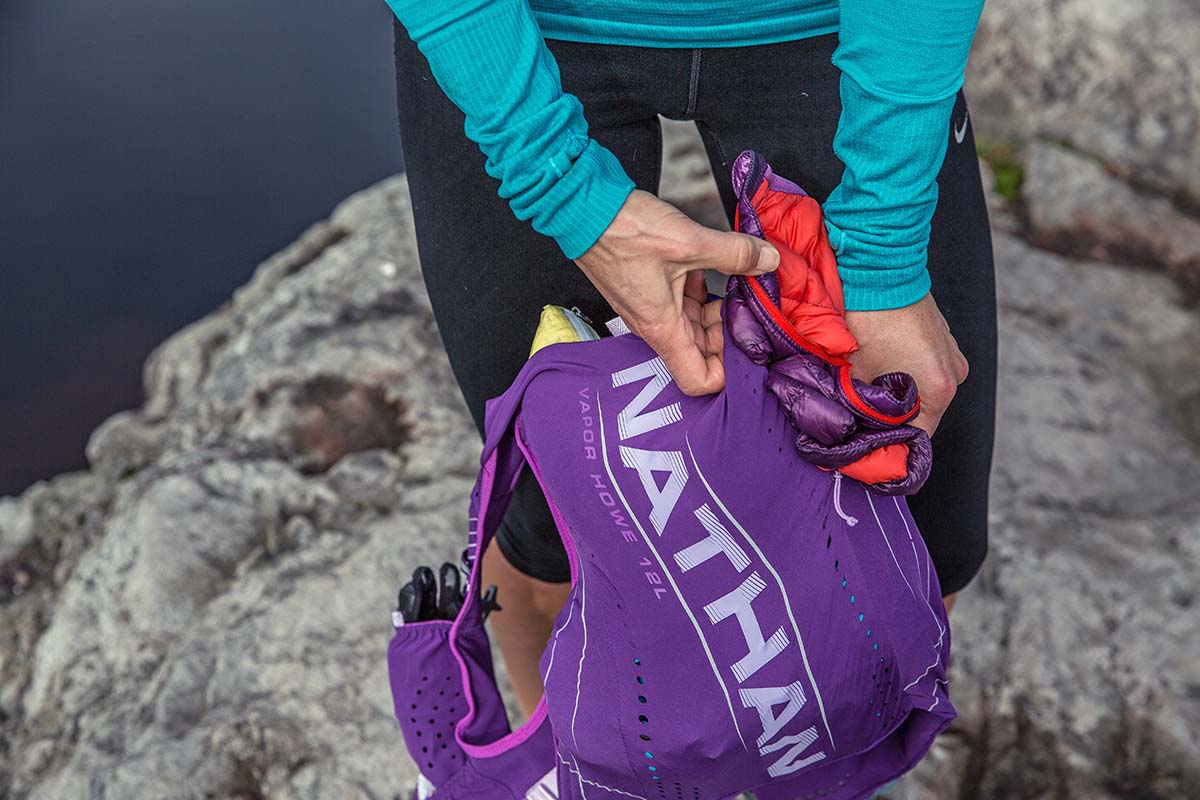 Hydration Compatibility
Quick and easy access to water is one of the biggest incentives for wearing a vest, so it goes without saying that hydration compatibility should be a key consideration. In general, vests accommodate water in two main ways: bottles and/or hydration reservoirs. However, keep in mind that not every vest comes with an included bladder or bottles (including UltrAspire's Momentum 2.0 Race and the Black Diamond Distance 15). Especially when buying online, be sure to do your research beforehand so you know what comes stock and what you'll have to purchase separately. To help, we've listed the included hydration (if any) in our product specs and comparison table above. 
Water Bottles
Bottles range in size from about 250 to 600 milliliters and are a popular form of hydration for supported races, short runs, and routes near lakes, rivers, or other bodies of water where you can replenish your supply throughout the day. The advantages over hydration reservoirs are clear: Bottles are much easier to refill and don't require that you take off your vest to do so, and they allow you to monitor how much remaining liquid you have far better than a reservoir. Finally, most runners carry two bottles (one on each shoulder strap), which allows them to drink two different liquids—often water and an electrolyte fluid—and balance the weight. 
Bottles are typically stored on the shoulder straps and stay in place via stretchy dump pockets, which often include built-in bungees that wrap around the nozzle to keep it within reach. Most bottles are compatible with straws as well (the Nathan Pinnacle 4L even includes these), which bring the water close to your mouth like a reservoir hose. Finally, some vests, like the UltrAspire Momentum 2.0 Race, have bottle pockets along the lumbar too. The majority of water bottles are soft flasks, which are lightweight, shrink in size as you drink, and allow you to drink without removing the bottle from the vest. Soft flasks, however, are much more difficult to stow away than hard flasks, and they're less durable as well (the good news is that the most common soft flask manufacturer, HydraPak, offers a lifetime guarantee).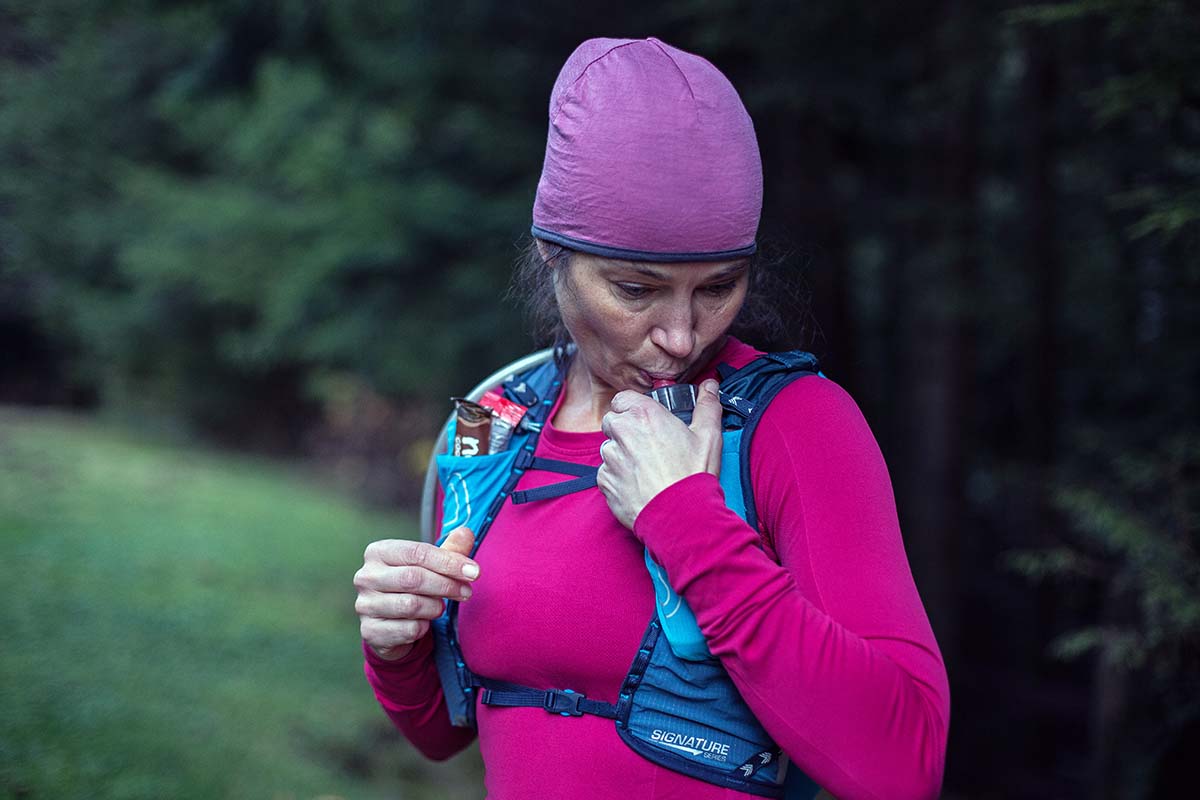 Hydration Reservoir (Bladder)
Some runners will use a hydration reservoir (also referred to as a bladder) for longer runs with less potential for resupplying, as they can accommodate more liquid than bottles. In our own experience, we prefer a reservoir over bottles when we know we'll be out all day, as the greater capacity and easier accessibility means we stop less and hydrate more often. However, reservoirs make it difficult to monitor how much water you have left, are time-consuming to refill, and can be challenging to stuff into a full pack. They also focus weight along your back rather than your front, which can be a downside for some. And a note on using reservoirs in sub-freezing temperatures: To combat ice clogs in your hose, you can purchase an insulating neoprene sleeve, or—our method of choice—just blow the remaining water back into the bladder after each sip.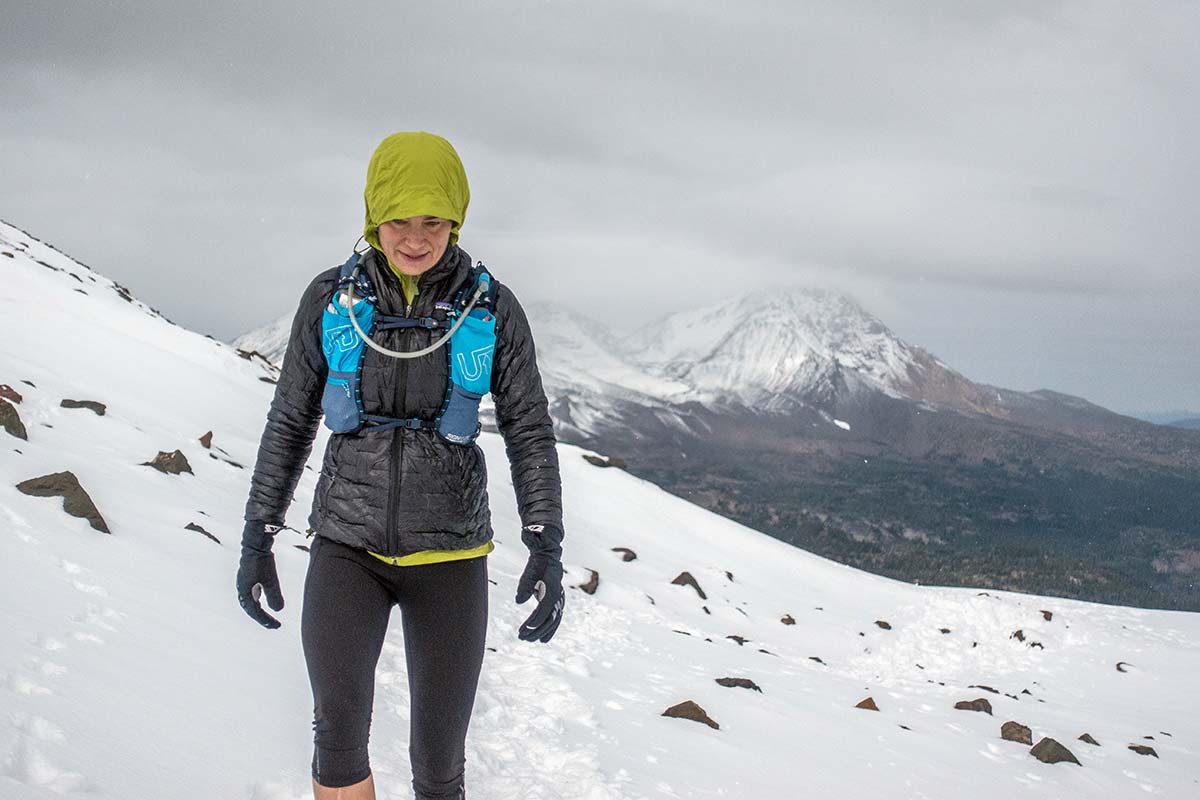 While some of the more streamlined performance vests are not compatible with hydration reservoirs, most models are built with a dedicated sleeve and hose attachment points. Reservoirs range in size from around 1.5 to 3 liters, which is the maximum we recommend for running. Those with a slider across the top are easier to fill without removing from the pack, and we find that they also provide the most secure closure. We also prefer nozzles that feature an open/close function—we've accidentally sat on our hose and drained our bladder more times than we'd like to admit. Additionally, for securing the hose to the front, a hands-free magnetic attachment—used on the Nathan VaporAir—is by far our favorite design (just keep it clear of dirt and dust). Finally, when it comes time to clean, bladders with wide openings provide the easiest access.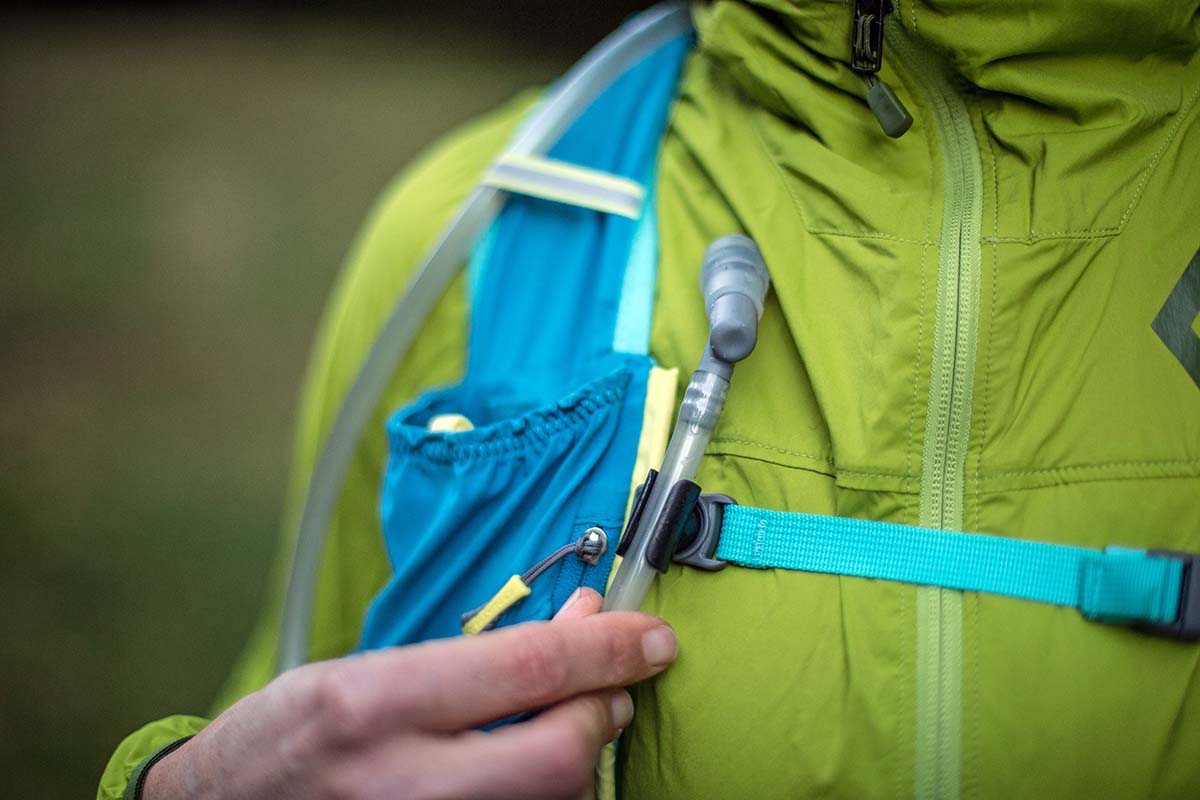 External Organization
Not every runner will want to store gear on the outside of their vest, and particularly those traveling fast and light. But for longer days that require extra supplies, it's a good option to have. Most race-specific vests do not feature much in the way of external storage, but we see more carrying features on larger-capacity models in the performance and fastpacking categories. These include trekking pole attachments, ice tool holders, and compression straps and bungees.
Trekking Pole Attachments
For those who run with lightweight trekking poles, it's nice to have a way to attach them to your vest so you can go hands-free when needed. There are a range of solutions for trekking pole storage, including along the shoulder straps, diagonally in front or across the back, or on either side of the vest. Some vests even have built-in sleeves along the lumbar or vertically on each side (as we see in the Black Diamond Distance 15). Often, vests allow you to customize the straps to configure trekking poles to suit your preference. And in 2023, add-on pole "quivers," including the Salomon Custom Quiver, have become very popular thanks to their on-the-go convenience. No matter how you choose to stow your trekking poles, the goal is that they're comfortable, out of the way, and you can access or stow them without removing your vest.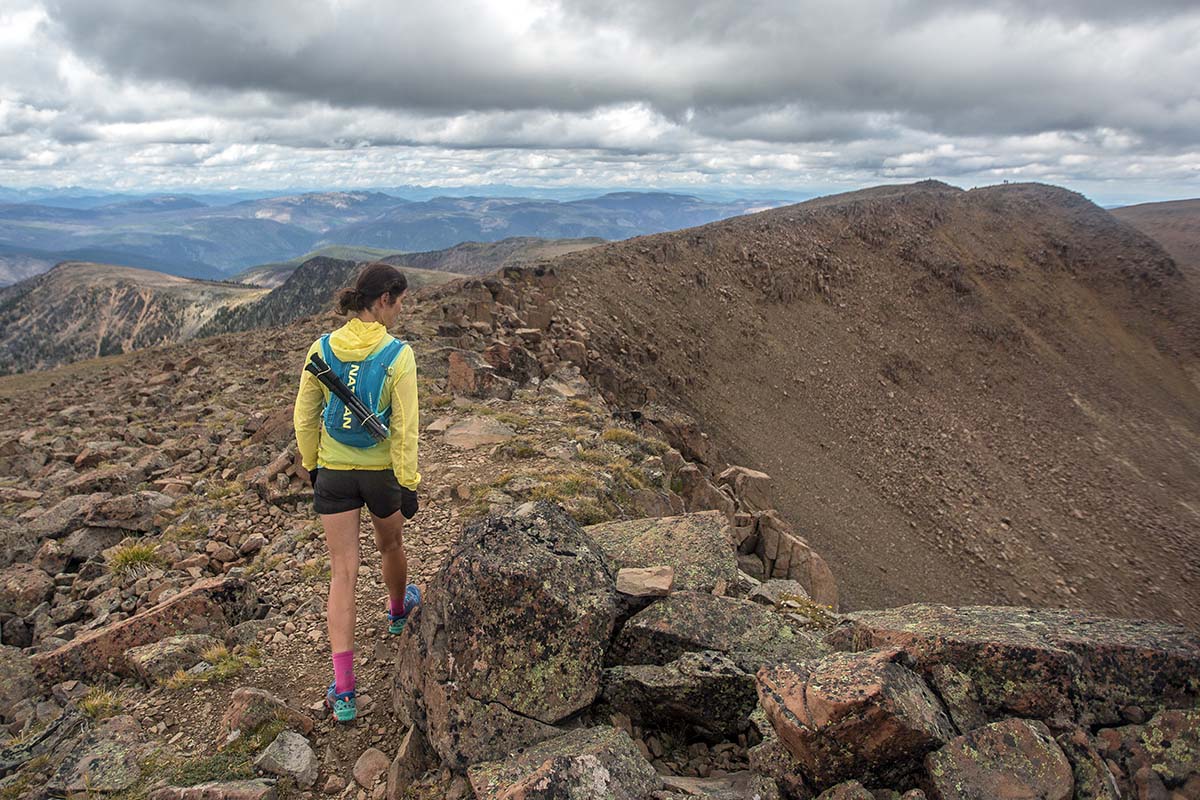 Ice Tool Attachments
Ice tool attachments are seldom found in recreational or performance vests (for good reason), but most models in our fastpacking category have one or two. In the end, very few runners need this feature, but it will prove absolutely essential for those who do. If you do plan to use them, make sure that the attachment is compatible with your tools before making a purchase. Some designs feature loops that can accommodate any ice axe with a standard pick head, while others—like that on the BD Distance—feature metal dogbones that only work with tools that have a hole in the head.
Compression Straps and Bungees
Some larger-capacity vests feature bungees or compression straps for cinching down a partially full load. The Ultimate Direction Fastpack 20, for example, has a crisscrossing compression strap on each side, while the Salomon ADV Skin 12 uses bungees in a similar configuration. In addition to being used for compression, some bungees function to secure a jacket or other light wind layer at the rear of the vest. This does make us a bit nervous—gear is much more secure inside a stuff pocket or compartment—but bungee systems are typically quite reliable. And while we're on the topic of external storage: Some running vests include daisy chains, which allow you to attach items via straps or carabiners. While these can be useful on multi-sport packs, we recommend runners keep their load as streamlined as possible to minimize bouncing and unwanted movement.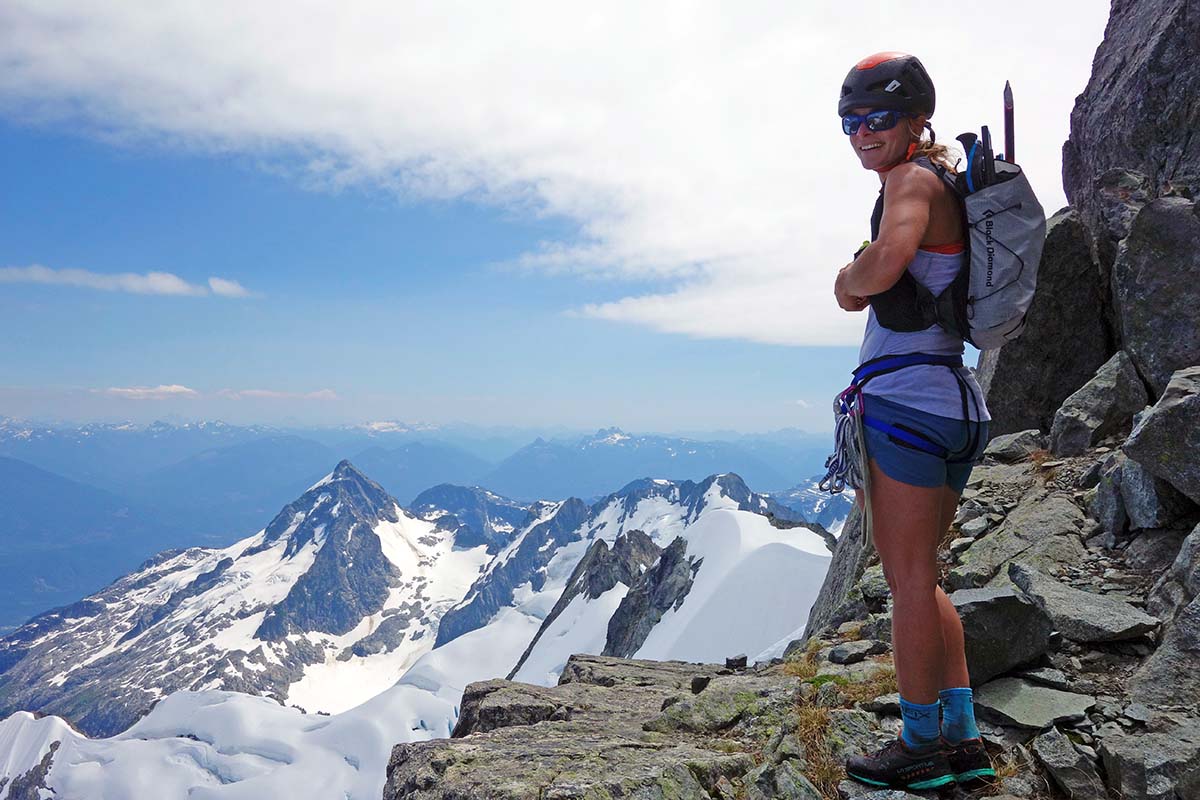 Sizing and Fit
Running is a very physically demanding activity, so it's important to nail the sizing of your vest in order to carry your load as efficiently as possible. A vest that fits well will distribute weight evenly, allow you to move freely, and be able to adapt to a changing load as you drink water, eat food, and don layers. Ill-fitting vests, on the other hand, can feel heavy, bouncy, and cause a sore back or shoulders. Over extended periods, they can even result in chafing, blistering, and nerve damage.
Sizes and Shapes
Most vests are available in a range of sizes and allow you to tailor fit significantly. To determine your size, start by taking your chest measurement and finding the corresponding size on the manufacturer's chart. If you're trying the vest on in store (which we recommend), you'll want to ensure that all the components are in their proper place. Our petite female tester, for instance, has to make sure that a vest's water bottle holders don't end up in her armpits when cinched tight. Further, look for the size that offers a sweet spot in the adjustment straps, making sure not to max them out in either direction. And keep in mind that the more loaded-down your running vest is, the snugger the fit will be—if you plan to pack a full load and are between two sizes, it's a good idea to size up. Finally, some vests and packs are one-size-fits-all (like the CamelBak Trail Run), in which case we highly advise trying it on before making a purchase to ensure you can make the necessary adjustments.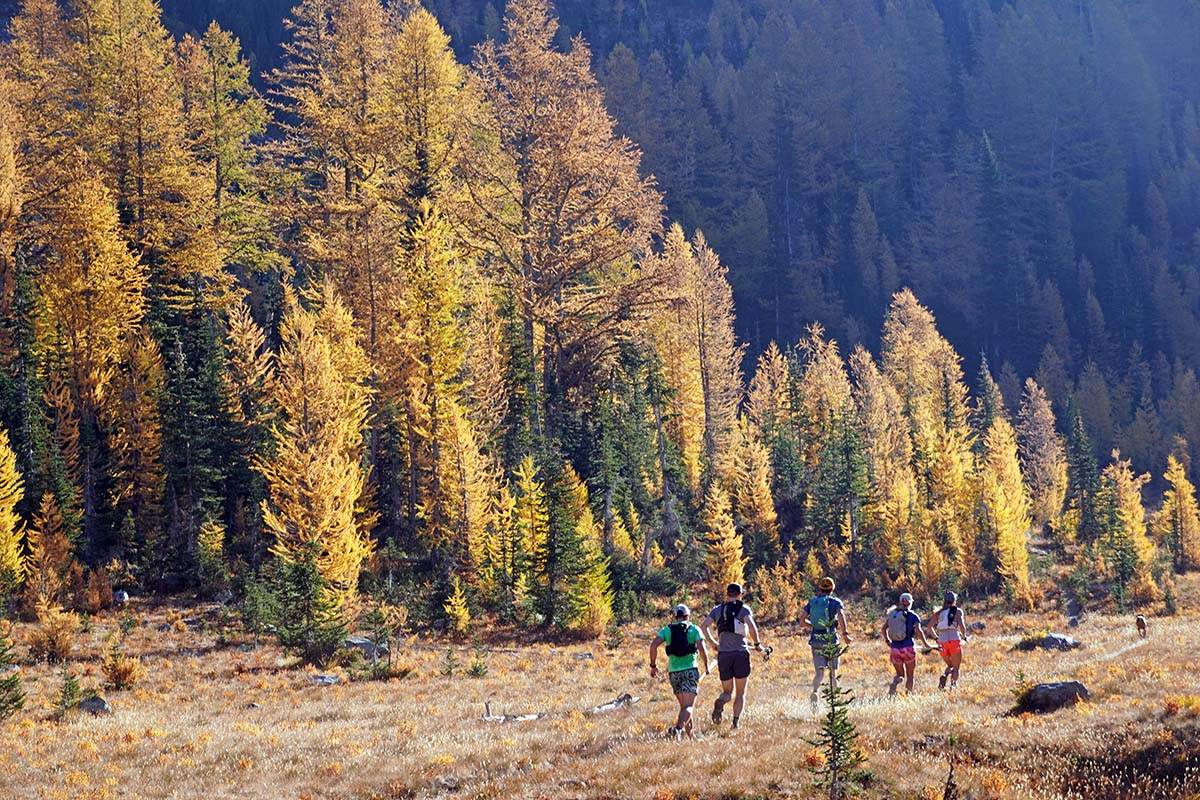 The majority of vests come in at least two sizes, with some available in up to five for both men and women. But as is common in outdoor gear, it can be difficult to find options beyond the small-to-large spectrum. For larger body sizes, the REI Co-op Swiftland 5 is the only vest we reviewed that offers both XL/1X and 2X/3X sizing. The Nathan VaporAir 3.0 comes in a 1X to 3X option, and a few others here have XL offerings. We hope that this is a sign of things to come, and look forward to seeing more manufacturers expand their size ranges.
Vest shape is also worth mentioning here, as it varies widely between models and can play a significant role in overall comfort on the trail. Some race-oriented vests in the performance category, like the UltrAspire Momentum 2.0 Race, contour around the shoulder blades to allow greater freedom of movement and shave weight, while others cover the majority of the back. We haven't felt restricted by any of these more full-coverage vests, but many runners who prioritize a quick stride will appreciate those with ergonomic shapes and less material.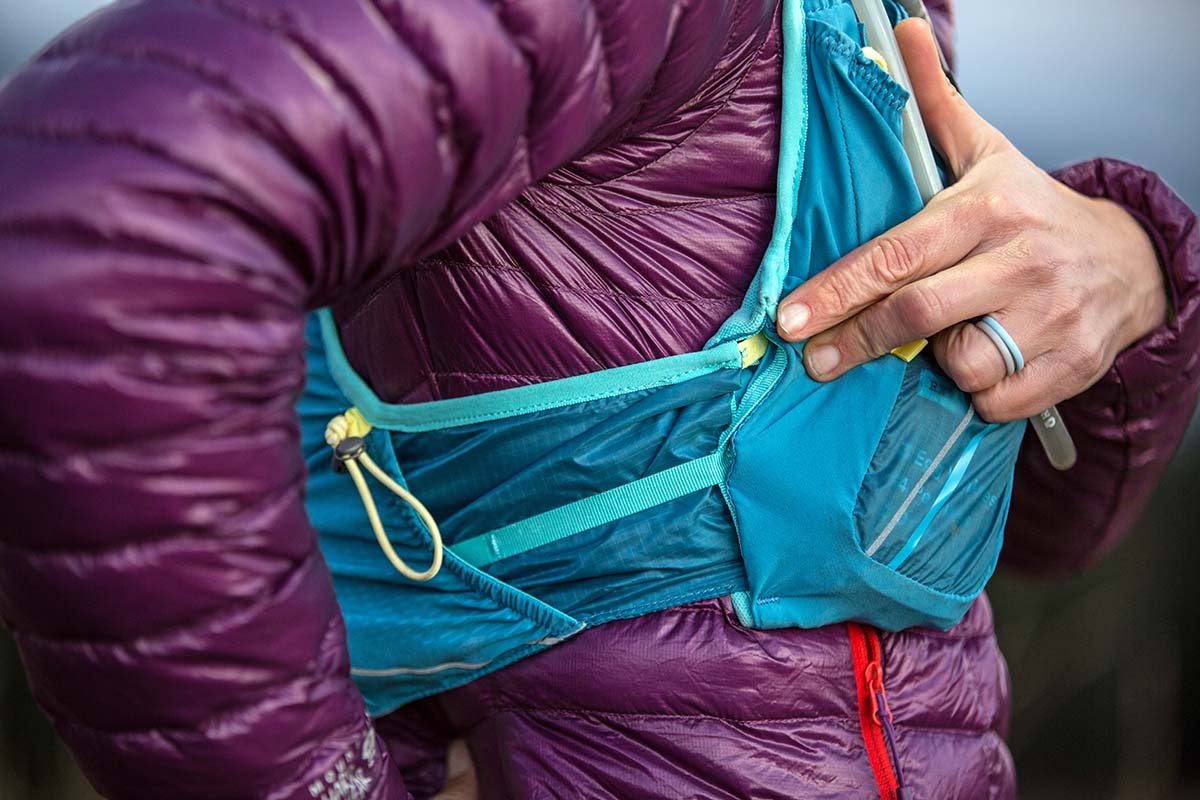 Adjusting the Fit
Once you've found the right size and shape, you'll want to dial in the adjustments—not just the first time around, but every time you wear the vest. There are two primary adjustment points: across the front of the body and at each side. Starting at the front, most vests have two straps (or a zigzagging strap or two), and we generally prefer one strap above the chest and one below. These should be snug enough to keep the vest in place but not overly tight—a good rule of thumb is about 3 to 6 inches between the shoulder straps. Next, move to the side adjustments, which bring the load closer to your body. Give these each a good, equal tug, aiming to get the vest as close as possible without compromising comfort. Some vests, like the REI Co-op Swiftland, also have load lifters on each shoulder. All in all, the goal is to get the pack evenly snug to minimize movement as you run.
 
Women's-Specific Running Vests and Packs
While we're on the topic of fit, it's important to note that many vests also come in women's-specific models. In general, male and female torsos are significantly different in both shape and size. Speaking from experience, our female testers have found that their shoulders are too narrow for most unisex vests, meaning that when they cinch the vest tight, the shoulder straps end up too close to the neck. Thankfully, women's-specific running vests are shaped for narrower shoulders and bustier chests, and often feature modified organization. Some, like the Salmon ADV Skin 8 Set, even place the water bottles below—rather than on top of—the chest, using straws to extend the water bottles to the mouth (it's worth noting that not everyone will love this design). In the end, some women may still prefer a men's or unisex option (or a women's design without straws), but it doesn't hurt to try on all of the available options to see what feels best for you.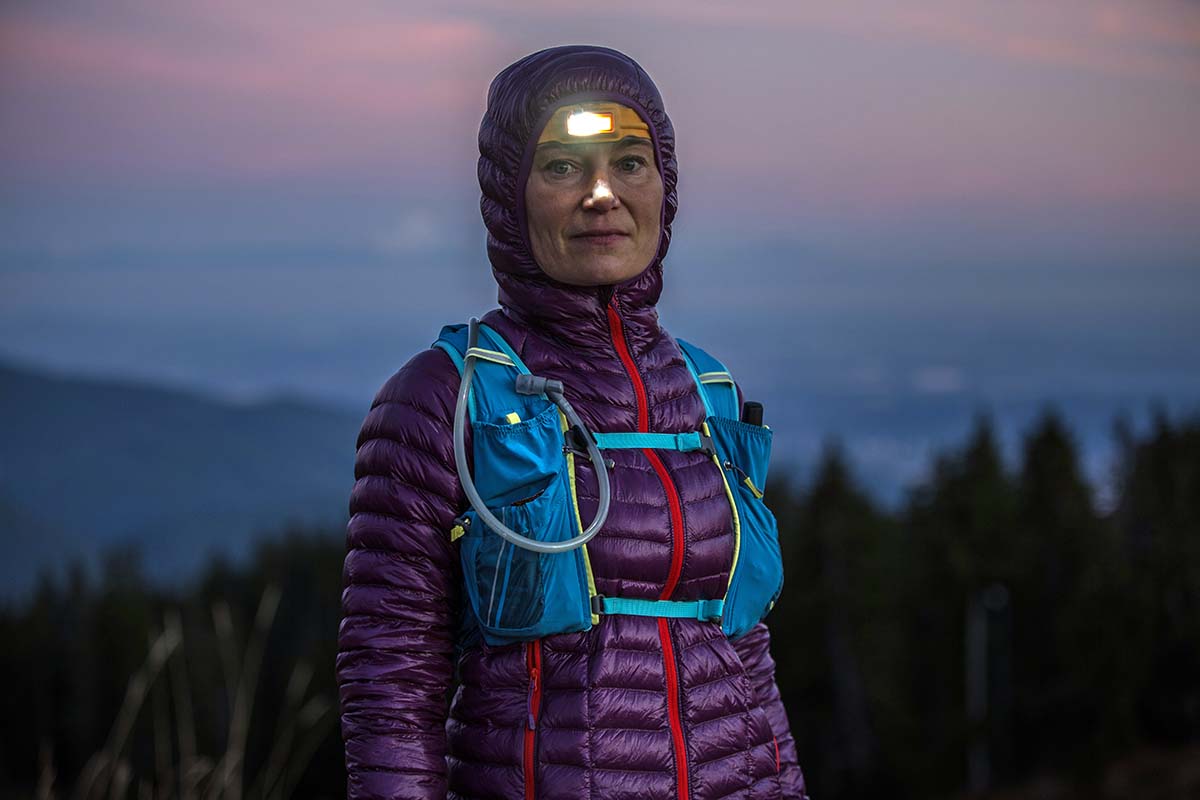 Comfort
Before we get into the nitty gritty, it's important to note that even the lightest, softest, and best-fitting vests will still be a slight burden on your stride. In fact, one of our gear testers resisted wearing a vest for so long that she ran her first ultra (a 41-mile race) with handheld bottles and gels stuffed down her shirt. But she's since changed her ways (and so have we), and the good news is that today's vests are more comfortable than ever.
In our opinion, the most comfortable vests are those that look more like a piece of clothing than a backpack. Rather than the adjustable straps typical in a pack, these use stretchy materials that sit close to your body and hug your torso. Running without a shirt is still a gamble, but to maximize comfort potential, you'll want to be sure to opt for a design that has a soft next-to-skin feel. It's also important to keep in mind that the way a pack feels against your skin when you first try it on will be different than how it feels with a full load and once you've built up a sweat. Finally, as we mentioned above, fit and sizing are crucial to consider here, as an ill-fitting vest can lead to uncomfortable rubbing and unwanted movement on the trail.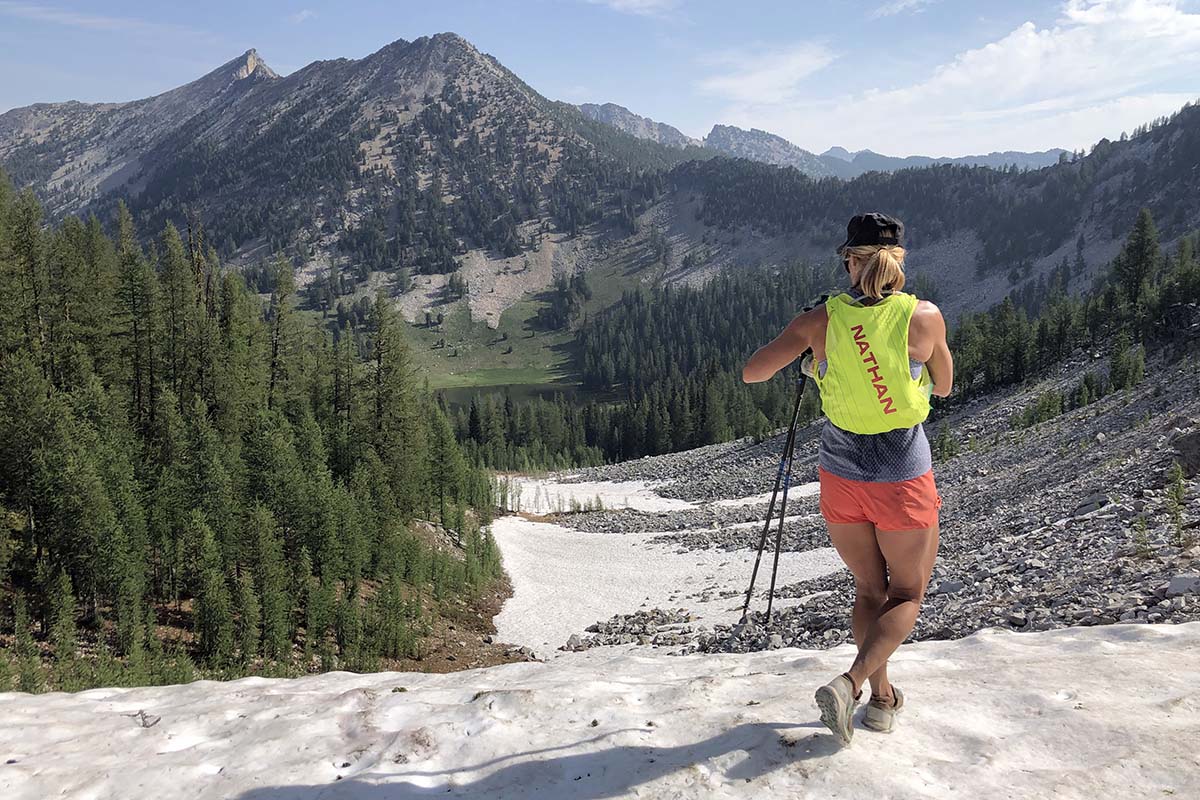 Breathability and Ventilation
Running is inherently a high-intensity sport, and therefore it's important that your vest is effective at wicking moisture as you sweat. Keep in mind that no running vest is going to do away with it completely, but some will make your outing more comfortable than others. If breathability is a top priority—say you're prone to sweating, like to run with your shirt off, or venture out in warm temperatures—there are a few features to look for that will increase your chances of staying cool and comfortable on the trail.
The vast majority of running vests are built with air-permeable materials (like mesh or other thin, well-ventilated fabrics) along the backpanel, shoulder straps, and underarm panels. We've also found that models that incorporate padded mesh with channels for airflow breathe better than thinner fabrics, as illustrated in the Nathan Pinnacle 12L. Additionally, true running vests often fall short in ventilation compared to pack-like vests, as they sit very close to the skin and allow less airflow between your body and the bag. And it almost goes without saying that a vest that covers more of your torso will offer less breathability than a smaller-capacity, more minimalist design. Finally, it does help to consider color: Black materials will run hotter than light colorways.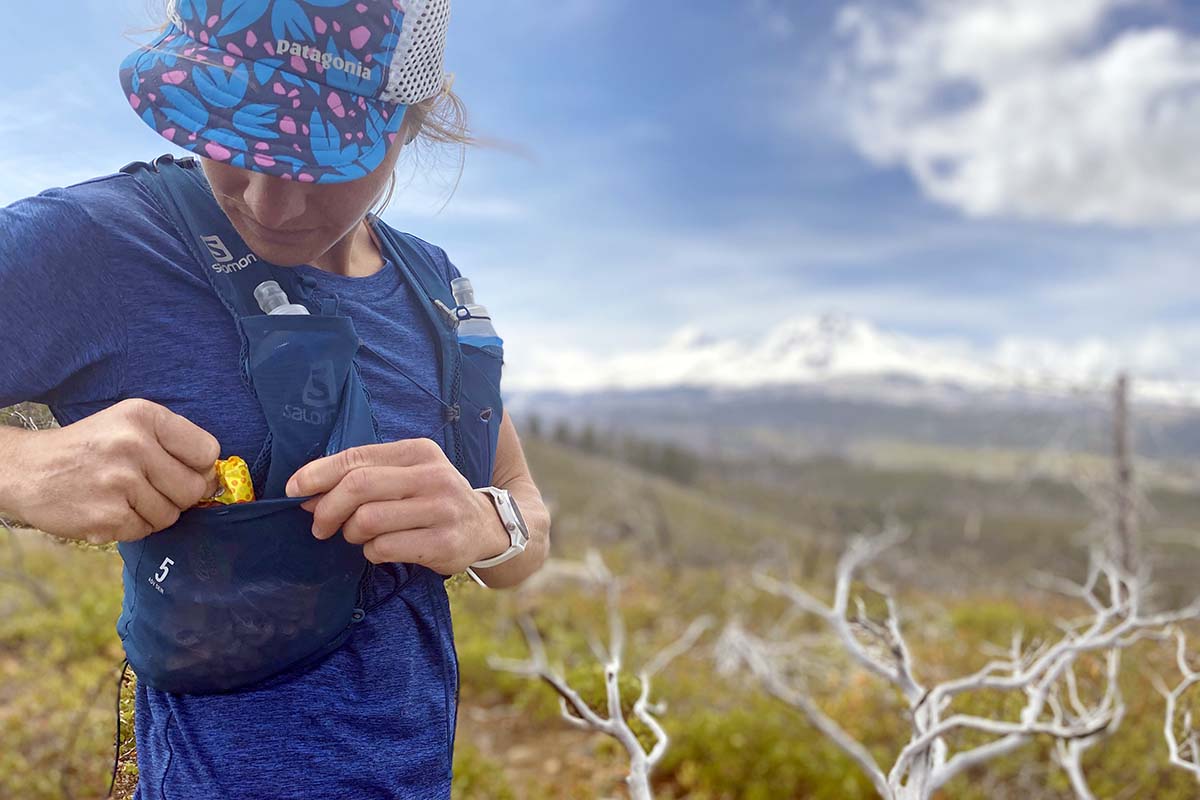 Weight
Running packs are designed to provide maximum function at minimal weight, but some models achieve this balance better than others. The packs above range from 4.4 ounces to 20.8, with most hovering in the 7- to 10-ounce range. If weight is a top priority, look for mesh materials, thin straps and buckles, limited feature sets, smaller capacities, and removable features including straps and reservoir sleeves. As is the case with all outdoor gear, however, the lighter you go, the more sacrifices you'll make in durability and comfort. Thinner fabrics are more likely to rip, stretch out of shape, or form holes with use, and they don't carry a load as well as more robust materials. And take note: whenever possible, we've listed the weight for the vest only, excluding hydration accessories. Depending on your hydration style and capacity, empty bottles or a reservoir will add roughly 2 to 6 ounces to your load.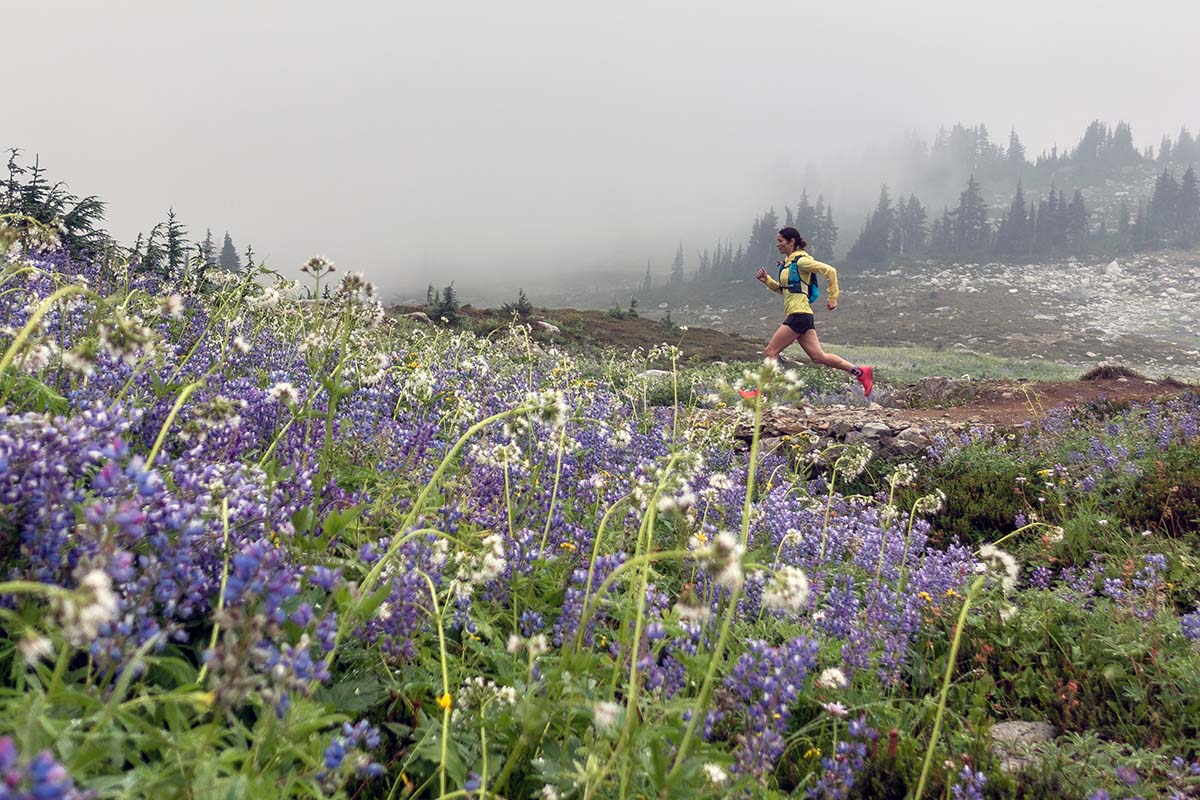 Cost
The running vests above range in price from $70 for the entry-level Nathan QuickStart to $180 for the high-capacity Ultimate Direction Adventure Vest 6.0. It's fairly typical to see bigger price tags on higher-capacity vests, but there are other factors at play here, too. In general, high-performance options use more expensive materials and often pack in impressive feature sets at a low weight. That said, not everyone needs a premium design. If you think you'll only wear your vest a few times a year or are just dipping your toes into running, we recommend starting out with one of the more affordable options before making a bigger investment.
It's also important to consider what extras, if any, are included with each vest. For example, the Patagonia Slope Runner Endurance Vest ($159) comes with two 500-milliliter HydraPak flasks, while the UltrAspire Momentum 2.0 Race Vest is only $95 but comes without any accompanying reservoir or flasks. Considering that HydraPak's UltraFlask Speed 500 soft bottles cost $22 a piece (reservoirs run around $30-$40), you'll probably end up saving a lot less than initially expected. That said, for those who already have a set of flasks or a reservoir, the savings of the UltrAspire or similar vest are undoubtedly enticing and make a lot of sense.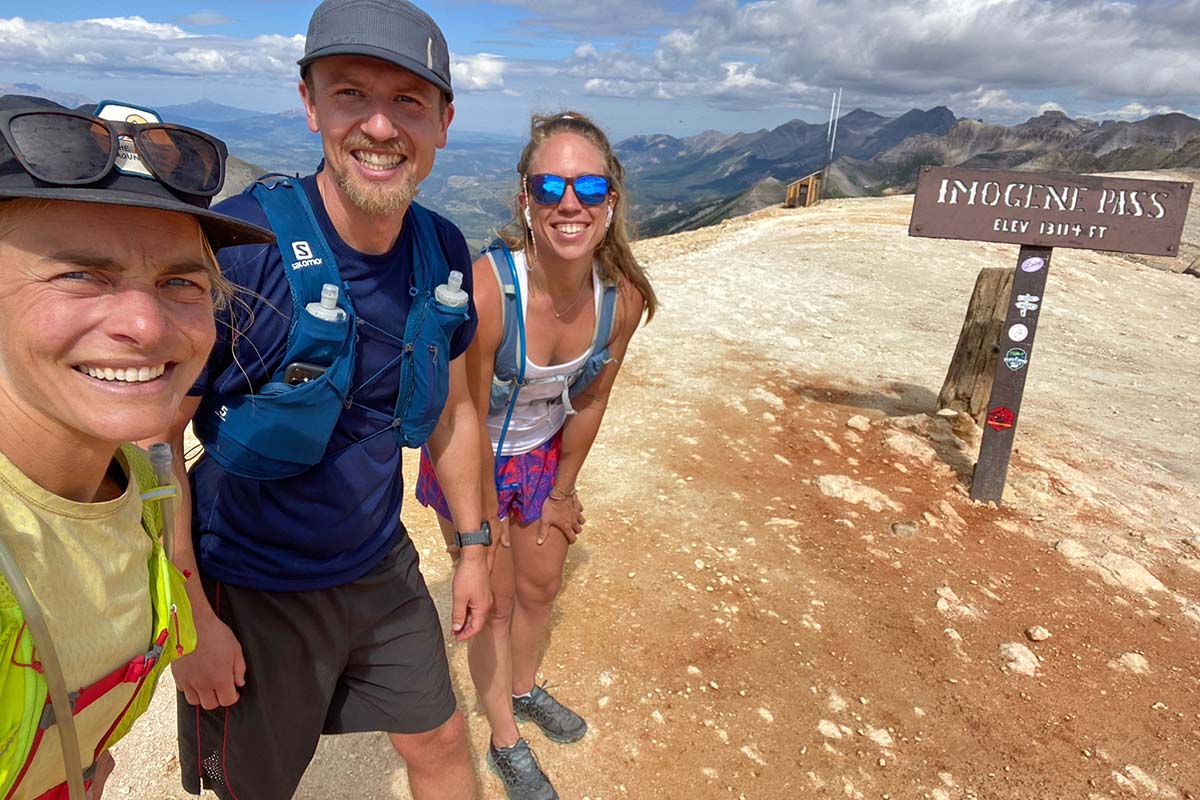 Running Belts and Handhelds
We love running vests for longer missions and carrying a liter of water or more, but for shorter pursuits or well-supported races, you may be able to get away with a running belt or handheld water bottle instead. In terms of running belts, there are a variety of great options, some of which are spin-off designs of vests above (including the Nathan Peak Hydration Waistpack and the Salomon Agile 250 Set Belt). Like vests, running belts come in an array of styles, including streamlined models that can carry a bar and a few valuables and more featured designs with holsters for water bottles and a few generous pockets. In our opinion, sleek and minimalist belts are super functional for carrying small items, but larger loads on the waist can get unwieldy and awkward.
Handhelds, on the other hand, are water bottles designed for easy portability and often feature ergonomic designs and sleeves to secure them to your hand (Nathan's QuickSqueeze Lite is a great example). This sleeve usually has a compartment for a few small essentials (a bar and your keys, for example) and wraps around your hand so that you can hold it without needing to grip. In general, handhelds are ideal for quick runs when you don't want to go without water, but their overall utility is limited. In the end, we prefer to have our hands free if the terrain gets even slightly technical and find that the added weight in our hands can be rather fatiguing over even moderate distances.
Back to Our Top Running Vest Picks  Back to Our Running Vest Comparison Table
Read More From Switchback Travel