Whether you're a first-time commuter or dedicated mountain biker, riding at night can be an exhilarating experience. But traveling along dark streets or singletrack at any speed requires a quality light (or two) to illuminate the way. Below we break down our top bike light picks, which include our favorite headlights, rear lights, and combo light sets. Some models, like Bontrager's Ion Pro RT, balance needs for both on- and off-road use, while others come with dedicated features for urban riding or serious backcountry pursuits. For more information on bike lights, see our comparison table and buying advice below the picks.
 
Best Overall Bike Headlight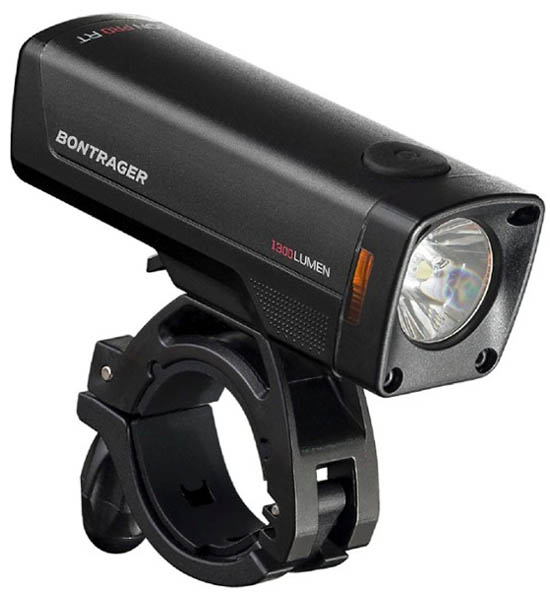 Type: Headlight
Max lumens: 1,300
Run time: 1.5–26 hours
What we like: Bright light that's versatile for both commuting and mountain biking.
What we don't: Batteries take a while to recharge.
With its bright output, quality construction, and modern features that excel both on the road and singletrack, Bontrager's Ion Pro RT headlight grabs our top spot. The versatility of the design really makes it stand out: its 1,300-lumen output is great for all types of night riding, the included handlebar mount is easy to use and very secure, and its strong, versatile beam nicely balances spot and flood characteristics. And considering that it's a one-light solution for everything from your daily commutes to serious mountain bike rides, the Ion Pro's $120 price tag amounts to a solid value.
In addition to its well-rounded light performance, the Ion Pro RT has a full suite of useful features. To start, it's one of the few options in our round-up that supports Bluetooth-equipped devices (like a GPS bike computer), which is great for checking on battery life and adjusting modes on the fly. The Bontrager also features orange side markers that help you stand out at road crossings. If we were to nitpick, the light is a bit heavy to attach to a helmet for rough mountain bike trails and its recharge times are fairly long at 7 to 15 hours. Otherwise, it checks all the boxes we look for in a quality headlight.
See the Bontrager Ion Pro RT
Best Budget Bike Light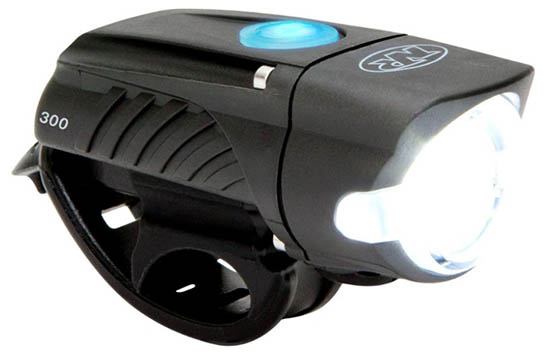 Type: Headlight
Max lumens: 300
Run time: 2–27 hours
What we like: Extremely versatile and low price.
What we don't: Not bright enough for fast and dark night rides.
NiteRider's wallet-friendly Swift 300 is a prime example of how quickly light design and LED technology have changed over the past few years. For a very reasonable $25, you get a quality 300-lumen beam that lands in between a spot and flood pattern, rechargeable battery, and the security that comes from a reputable brand. We especially like the unit for its small size that's easy to throw in a pack, five modes that are simple to swap between, and relatively long battery life (2 hours on high). Simply put, it's an ideal companion to bring along on grocery runs or moderately lit roads. 
Not surprisingly, the Swift 300's lower output limits its appeal for navigating in pitch black on or off road. As such, we wouldn't recommend using it as a sole light source for serious nighttime riders. Where it excels is for those "just in case" scenarios when you're running late, and it's also a viable option for bikepacking or touring trips. For a similar design but with a little extra power, check out the 200-lumen-stronger Swift 500 for only $10 more.
See the NiteRider Swift 300
Best Rear Bike Light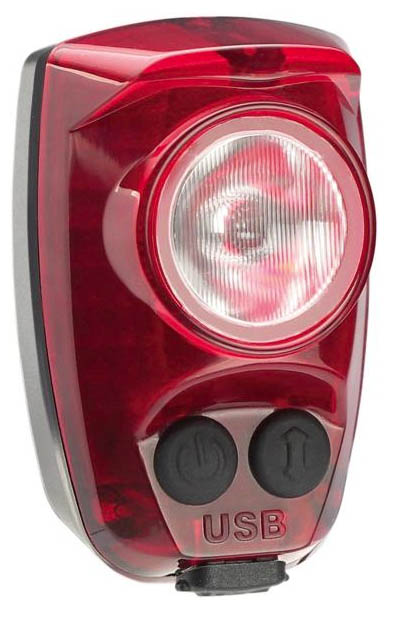 Type: Rear light
Max lumens: 150
Run time: 2–210 hours
What we like: Provides excellent visibility for approaching motorists.
What we don't: Doesn't support Bluetooth connections like other options.
Quality tail lights like the Cygolite Hotshot Pro 150 can be seen from half a mile away (or more) by oncoming motorists and are a great way to keep you safe during early-morning or late-night commutes. Many choose to go cheap in this category, but we think it's worth spending up to the $39 Cygolite due to its very bright light that functions well even on sunny days, long-lasting build, and convenient USB rechargeable system (many cheap rear lights run only on disposable batteries). Furthermore, the Hotshot includes a total of six different flash and steady-state light modes to make you as visible as possible.
As we touched on above, the Cygolite is fairly pricey for a rear light. Plenty of cheap options are available, including the $23 Planet Bike Superflash below, but that light can't come close to matching the brightness of the Cygolite at only 65 lumens. Further, the Hotshot includes both seat post and seat stay mounts, so you can place it wherever it's most effective. With what feels like an ever-increasing number of distracted drivers on the road, we think it's worth erring on the side of such a well-rounded model. For the ultimate in rear light safety, check out the Garmin Varia RTL510 below, which uses a radar system to alert you to approaching cars.
See the Cygolite Hotshot Pro 150
Best Bike Light Set for Commuting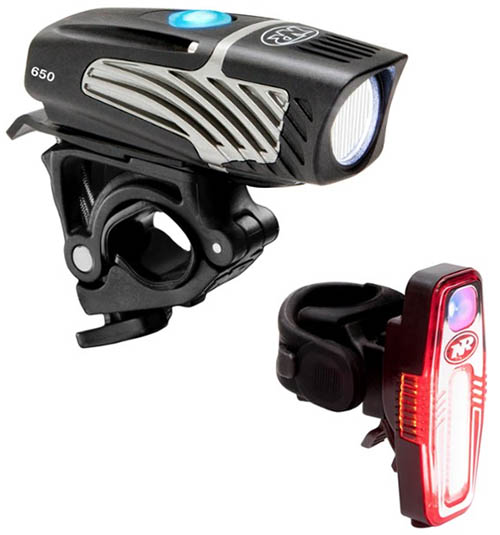 Type: Headlight and rear light set
Max lumens: 650 (front), 80 (rear)
Run time: 1.5–6 hours (front), 1.5–10.5 hours (rear)
What we like: Two quality and proven lights at a great price.
What we don't: Some high-speed commuters may want a little higher output.
Front and rear light sets simplify the buying process and are a nice way for commuters to maximize bang for their buck. Among the wide range of options, we like NiteRider's Lumina Micro 650 and Sabre 80 Combo best, which includes two of the brand's top lights for a very reasonable $70. The bright Lumina Micro headlight has a wide and long beam that we've found is more than sufficient for illuminating dark streets at just about any speed. Further, the burly handlebar mount keeps it secure on rough roads or back alleys, and the quick-release attachment system allows you to easily removing the light for charging. And finally, the compact size of the Lumina Micro is great for tossing in your bag on the way into the grocery store or office.
Tail lights are equally important for commuting, and NiteRider's Sabre 80 is a winner. Its six different light modes (three flashing and three solid) are simple to switch between and adjust depending on conditions. And like the Lumina Micro, the Sabre includes a handy quick-release function. In terms of batteries, both the front and rear are rechargeable, which helps cut down on battery waste (they're also quick to recharge at a minimum of 1.75 hours for the Lumina and 1.5 hours for the Sabre). All told, this NiteRider set is a reliable and proven choice for year-round commuting.
See the NiteRider Lumina Micro and Sabre Set
Best Bike Light for Mountain Biking
Type: Headlight
Max lumens: 1,700
Run time: 1.5–36 hours
What we like: A quality light with an excellent beam pattern; includes a wireless remote.
What we don't: Battery mounting straps aren't the most secure.
New Zealand-based Gloworm may not be a household name like NiteRider or Light & Motion, but the company has a dedicated following among hardcore riders. With its excellent track record, quality design, and included set of features, the Gloworm X2 Adventure 1700 is our top pick for mountain biking. In the box, you'll find everything you need to get on the trail: helmet and handlebar mounts, a spare lens (to swap between spot and flood beams), and a wireless handlebar remote for controlling modes on the fly. Furthermore, the X2 1700 will hold up well in wet and rowdy conditions with its IP67 waterproof rating (submersible in 1 meter of water for 30 minutes).
What really pushes the Gloworm X2 Adventure 1700 to the top for us, however, is the price. While $209 certainly isn't inexpensive, it provides one of the best values on the market when you consider all that's included. For $70 less than the popular Light & Motion Seca 2000 below, the Gloworm provides similar levels of brightness, includes a wireless remote and multiple lenses, and allows you to customize your light output and runtimes. It's true that there are stronger designs available—including the 4,200-lumen NiteRider Pro below—but the Gloworm leaves little to be desired at a $341 savings.
See the Gloworm X2 Adventure 1700
Best of the Rest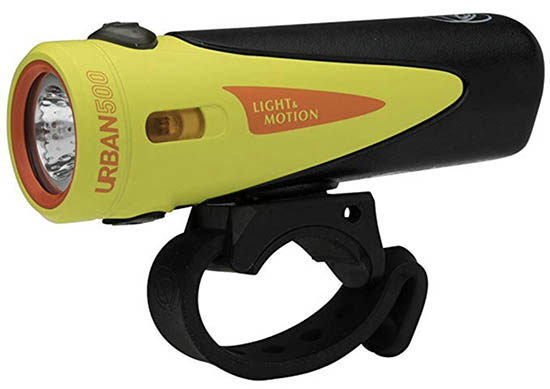 Type: Headlight
Max lumens: 500
Run time: 1.5–12 hours
What we like: Great beam pattern for road use and very durable.
What we don't: 500 lumens might not be enough for fast-moving riders.
Light & Motion is a big-time player in the bike light world, and their Urban series is a commuter favorite. The Urban lineup stretches all the way up to a 1,000-lumen version, but the 500-lumen model here hits a good balance of brightness at a very approachable $50 price. The light's small form factor is great for mounting on a road or commuter bike's handlebars, and its max output and focused beam pattern is plenty for rides home in the dark (at moderate speeds). And as with the pricier Bontrager Ion Pro RT above, the Urban 500 features amber-colored side lights for extra visibility at road crossings.
What pushes the Urban a little down our list is that it lacks the versatility of the class-leading Bontrager Ion RT above. Both lights are solid options for commuting, but even the top-of-the-line Urban 1000 falls short in terms of output for mountain biking. That said, we appreciate the Urban's rugged design, which includes an impact-resistance rating of 1 meter and an IP67 waterproof rating. While we don't recommend dunking your light, it's nice to know it's built to handle outdoor use and abuse.
See the Light & Motion Urban 500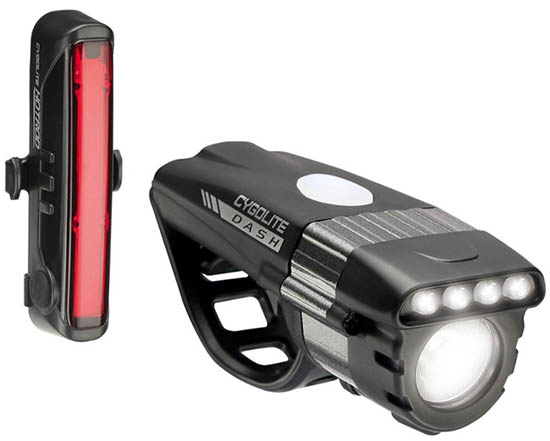 Type: Headlight and rear light set
Max lumens: 600 (front), 50 (rear)
Run time: 1–70 hours (front), 1.5–100 hours (rear)
What we like: The flashing modes were some of the brightest in our test.
What we don't: Some might not like the slightly blueish tint to the Dash Pro 600.
Coming in $11 more than the NiteRider set above is the Cygolite Dash Pro 600 and Hotrod 50. Starting with the headlight, the Dash's 600 lumens are sufficient for city riding, you get a total of eight light settings, and its strong daytime flash mode stood out as one of the brightest in the test—great for grabbing the attention of oncoming cars. The rear Hotrod 50 is a solid design with a lengthy 100-hour maximum run time, compact size, and water-resistant construction.
Where does the Cygolite set fall short? For one, the Dash Pro 600 and Hotrod 50 don't strike us as a particularly great value. Their strong flash modes and lightweight but sturdy builds are certainly a plus, but the NiteRider kit above gets you a bump in total output from 600 to 650 for the headlight (and from 50 to 80 for the tail light) at a lower price. We also don't love the blueish tint from the Cygolight's headlight, which was a little distracting and less effective overall at illuminating details in the road compared with NiteRider's Lumina Micro. The differences aren't massive, but we had just enough complaints to drop the Cygolite to a mid-pack finish.
See the Cygolite Dash Pro and Hotrod Set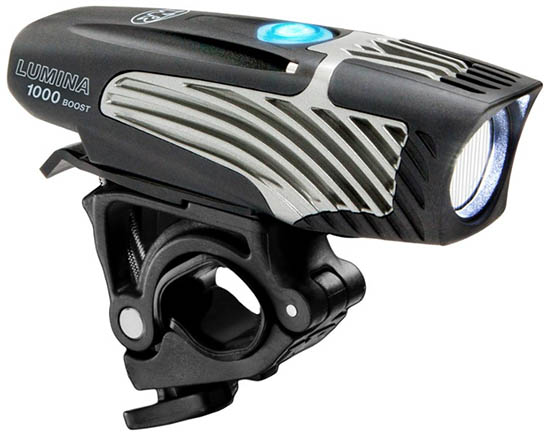 Type: Headlight
Max lumens: 1,000
Run time: 1–26 hours
What we like: Strong and versatile at a very competitive price.
What we don't: Short battery life on high.
NiteRider has arguably the most well-rounded light lineup of any manufacturer, and their venerable Lumina series aims to balance the needs of both road and mountain cyclists. The design was updated in mid-2018, with the popular 900 model being replaced by the 100-lumen-brighter Lumina 1000. In addition to the boost in output, the latest version is a little lighter and features one of our favorite mounting systems for urban use. Its tough plastic design locks nicely into place, fits a wide range of handlebar diameters, and has a quick-release function to easily take the Lumina on and off.
What's not to like about the NiteRider Lumina 1000? If you'll be doing a fair amount of riding in the rain, the light isn't as water-resistant as the Light & Motion Urban above (it's rated for only water spray rather than the Urban's 1-meter immersion). Further, dedicated mountain bikers will likely find the 1 hour runtime on high to be lacking, and the handlebar mount is a little less secure than the Bontrager above over rough terrain. But the Lumina 1000 easily undercuts the Ion RT in price and is a great option for those that want a compact, affordable, and highly versatile headlight.
See the NiteRider Lumina 1000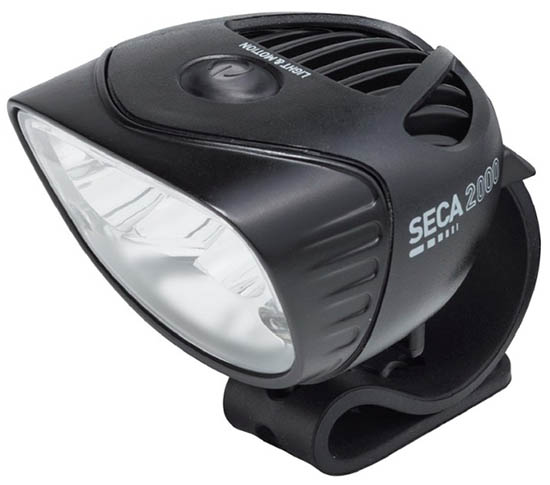 Type: Headlight
Max lumens: 2,000
Run time: 1.5–12 hours
What we like: Great beam pattern and very durable.
What we don't: Not a good value when compared to the Gloworm above.
A long-time favorite of ours for mountain biking at night, the Light & Motion Seca 2000 blends a near-ideal mix of lumens, weight, and battery life. The premium design casts one of the better beam patterns in the business, and its strong long-distance performance makes it a great choice for mounting to your helmet. And as with the Gloworm X2 Adventure 1700 above, the Seca's IP67 waterproof rating is useful for particularly wet and muddy days. Having gotten six years of excellent performance from the prior version, we're confident in recommending the latest Seca 2000 for serious mountain bikers.
Despite the Seca's solid track record, there's no denying the fact that the $280 asking price doesn't represent a great value when compared to Gloworm's X2 Adventure 1700 above. The Gloworm may take a small hit in the lumen department, but it comes with a wireless remote and an additional lens (items the Seca omits). Additionally, the X2 Adventure 1700 has a sturdier mount than the Seca and boasts a longer runtime on the lower settings. While the Seca 2000 is undeniably a great light, for $71 less, we prefer the Gloworm.
See the Light & Motion Seca 2000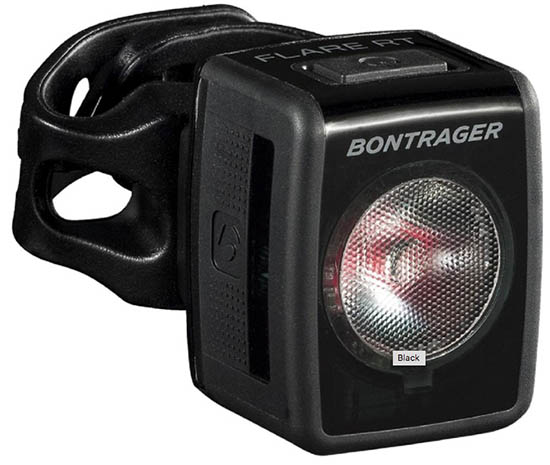 Type: Rear light
Max lumens: 90
Run time: 4.5–15 hours
What we like: Fully waterproof and connects to your bike computer for easy remote access.
What we don't: Spendy considering its max lumens.
Bontrager's Flare RT tail light is among the most feature-packed on the market. Recently updated, the latest Flare is lighter, casts a stronger and more focused beam, and includes creative solutions for attracting as much attention as possible for oncoming drivers. To start, the beam is visible up to 2 kilometers away, and its flash mode has an inconsistent cadence to make it all the more noticeable. Another great feature is that it's able to connect to most Garmin devices, which allows you to monitor battery life, toggle between different light modes, and even have it automatically turn on and off with your Garmin device–a pretty cool feature that helps ensure you remember to use the light.
Priced at $60, the Flare RT is expensive for a tail light and a little overkill for the casual rider that won't appreciate the connectivity options. Further, its 90-lumen output falls short of the 150-lumen Cygolite Hotshot Pro above, although it's hard to knock the quality and functionality of the Bontrager's beam. For those looking for a premium light set, Bontrager offers the Flare RT along with our top-rated Ion Pro RT headlight above for $175.
See the Bontrager Flare RT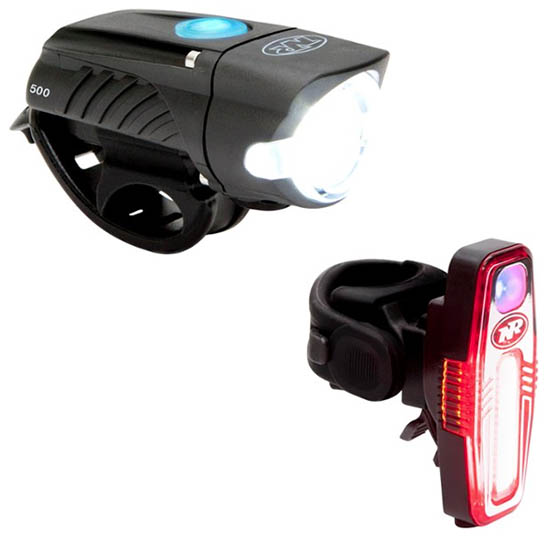 Type: Headlight and rear light set
Max lumens: 500 (front), 80 (rear)
Run time: 1.5–25 hours (front), 1.5–10.5 hours (rear)
What we like: A great value for a reliable commuting set.
What we don't: Headlight isn't anything special.
The fact that NiteRider's Swift 500 and Sabre 80 Combo are ranked this low on our list goes to show how competitive the bike light market is. While the Swift front light can't compete with the two combo picks above in terms of brightness, its 500-lumen output and well-designed daytime flash mode are plenty for the casual commuter. Plus, its 1.5-hour run time on high and short charge time (about 2 hours) are a great match for trips to and from work. And the kit includes the same Sabre 80 tail light that comes with our top-rated commuting set above.
Where the Swift headlight falls short is for commuters or road riders that find themselves on truly dark paths and streets. Its modest total output and moderately wide beam pattern don't illuminate items in the distance as well as the Light & Motion Urban 500 above, which impacts confidence while moving at speed. On the upside, the Swift 500 is much more affordable and delivers sufficient performance in dusk and dawn scenarios. All told, its all-in price of $60 makes the Swift and Sabre set among the better values on this list.
See the NiteRider Swift and Sabre Set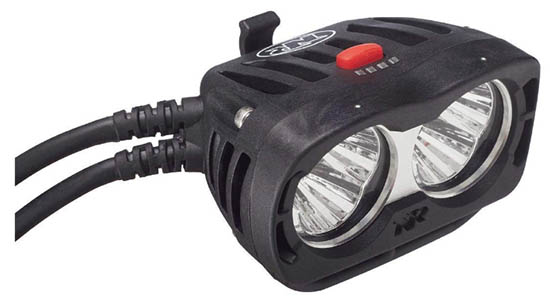 Type: Headlight
Max lumens: 4,200
Run time: 1.5–16.5 hours
What we like: Outstanding light output, solid track record, and long battery life on 1,000-lumen setting.
What we don't: Very expensive and the battery pack is quite bulky.
Packing a scorching light output but surprising versatility is NiteRider's Pro. The top-end model's 4,200-lumen beam is certainly its main talking (or bragging) point, which will more than meet the needs of any high-speed nighttime mountain biker. However, we also like the light for its ability to produce 1,000 lumens for up to 6 hours, which makes this a great 24-hour-race companion. As with other premium lights, the Pro 4200 includes a remote for easy operation, a rock-solid handlebar mount, and a storage bag to keep everything in order.
Not surprising considering its power and features, the NiteRider Pro 4200 is the most expensive model to make our list by a wide margin at $550. For a significant drop in price—as well as brightness—NiteRider also offers the Pro 2200 for $350. However, we prefer the more affordable and 1,700-lumen Gloworm X2 Adventure 1700 ($209) in that category. Most singletrack users won't be able to justify the investment, but for racers or those that get out a lot and want the best of the best, it's hard to deny the quality and truly impressive performance of the Pro 4200.
See the NiteRider Pro 4200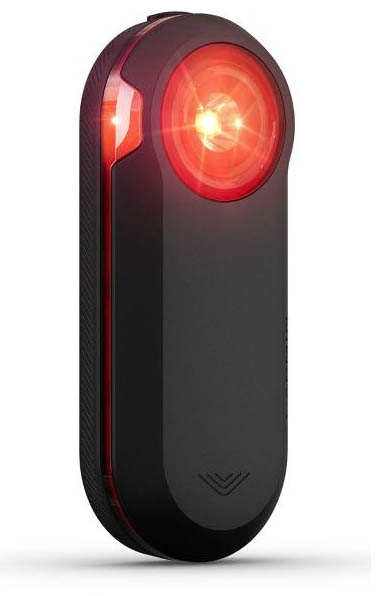 Type: Rear light
Max lumens: 65
Run time: 6–15 hours
What we like: Its unique radar system provides tangible safety benefits. 
What we don't: Pricey and not ideal for congested city use.
We'll start by acknowledging the Varia RTL510's price: $200 is a lot to spend on what looks like a simple tail light. However, this little Garmin is anything but simple. Hidden away is an innovative radar system that alerts you to oncoming vehicles from up to 150 yards. The rear unit pairs with a compatible Garmin bike computer or sport watch and works fairly seamlessly: once a car is detected, there's an audible beep and you'll see a moving dot on the display (the dot is color-coded to indicate how fast the vehicle is approaching). The tail light itself is a solid performer with a bright flash mode, reasonably long run time, and a wide, 220-degree visible range. 
The Varia's detection system excels on rural road rides or in areas without too much traffic, but falls short for city use. The sheer number of vehicles coming and going means that the radar and corresponding dot display won't provide much useful information. As such, most commuters will want to steer clear, but the Garmin provides tangible safety benefits in the right circumstances. We've heard from a number of people that "it's the best rear light I never knew I needed."
See the Garmin Varia RTL510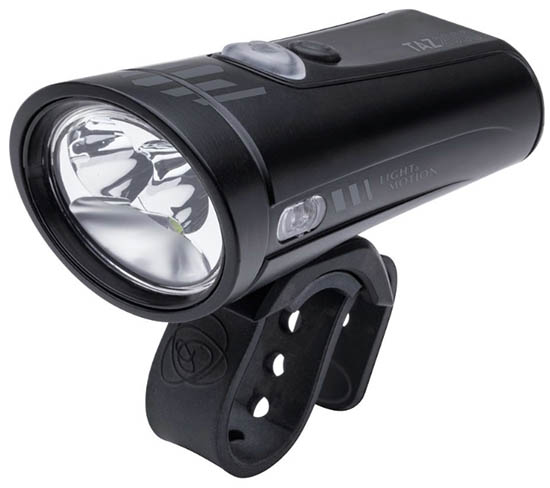 Type: Headlight
Max lumens: 2,000
Run time: 1.5–8.75 hours
What we like: Proven track record, bright light output, and great beam pattern.
What we don't: Expensive and quite heavy.
Light & Motion has been making quality bike lights since the early '90s, and their Taz series is a go-to option for serious mountain bikers. We like the 2000 model for its impressive light output, high-quality flood beam that excels when mounted on handlebars, and waterproof construction. We've had a Taz in our personal collection for about six years and have had zero durability and performance-related issues—high praise for a light that has to deal with rough Pacific Northwest abuse. If you're looking for the ultimate light source with an integrated battery pack, it's hard to go wrong with the Taz 2000.
What pushes the premium headlight from Light & Motion so far down the list? For starters, at $250, it doesn't represent a great value when you can pick up NiteRider's Lumina Dual 1800 for $100 less. It's true that you take a small hit in lumens and run time, but the difference isn't all that substantial. Furthermore, we find the Taz's attachment system to be lacking, and on rough singletrack descents, the light occasionally rotates on the bars. Despite these shortcomings, the strong, reliable performance of our Light & Motion Taz makes it a solid option for discerning off-road riders.
See the Light & Motion Taz 2000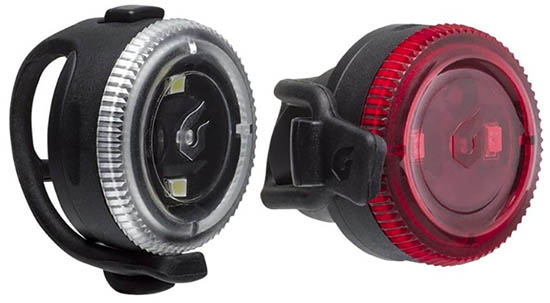 Type: Headlight and rear light set
Max lumens: 20 lumens (front), 4 lumens (rear)
Run time: 70–140 hours
What we like: Really cheap and functional for alerting motorists.
What we don't: Extremely low output.
For those simply looking to increase visibility on the road, Blackburn's Click Light Combo does the trick. Although the front and rear lights only produce 20 and 4 lumens respectively, they're bright enough to stand out to passing motorists or pedestrians at dawn and dusk. Feature-wise, Blackburn kept it simple with only two modes for each light: solid and blinking. Furthermore, both lights are visible out the sides of the lens, which is good for cross traffic, and include flexible mounting systems that hold reasonably well onto your bike. What we really like about the Click Light Combo, however, is its affordability—for only $25, you can add a significant amount of safety to your commute or road ride.
As expected at such a cheap price, the Click Light Combo shouldn't be on the radar of dedicated riders. Its light output is far too low for riding in pitch black or bright sunlight, and you don't get useful upgrades like Bluetooth connectivity or rechargeable batteries (they instead run on replaceable CR2032 batteries). But the minimalist set from Blackburn has plenty of appeal for casual users, and it's surprisingly well-made with an IP65 water-resistance rating for protection against dust and rain.
See the Blackburn Click Light Combo Set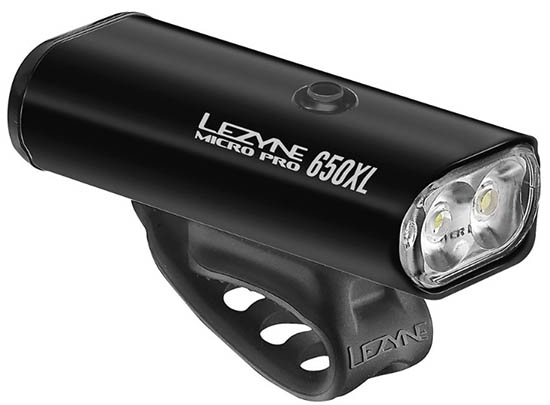 Type: Headlight
Max lumens: 650
Run time: 1.75–72 hours
What we like: Long run time on high; optional remote for $10 more.
What we don't: Unproven long-term durability and performance.
Lezyne might not be the first name that comes to mind when researching lights, but the California-based company has been producing quality bike accessories for over a decade. Their Micro Drive Pro 650XL headlight is a versatile mid-range design intended for both road and mountain use. The 650-lumen output and mixed spot and flood beam provide more than enough light for after-work commutes, and its 1.75-hour run time on high outlasts the Cygolite Dash 600 above (while pumping out 50 more lumens). We also like the option to purchase a separate remote (for $10 more), which allows you to switch between light modes without having to take your hands off the bars. 
The Micro Drive Pro 650XL's quality beam pattern, versatile lumen output, and long run time make it a solid contender in the bike headlight field. That said, Lezyne isn't as established as big hitters like NiteRider and Light & Motion, and long-term durability is still a question mark. If we were looking for a headlight in the $60 range, we'd lean towards the stronger, lighter, and more proven NiteRider Lumina Micro 850 for only $5 more.
See the Lezyne Micro Drive Pro 650XL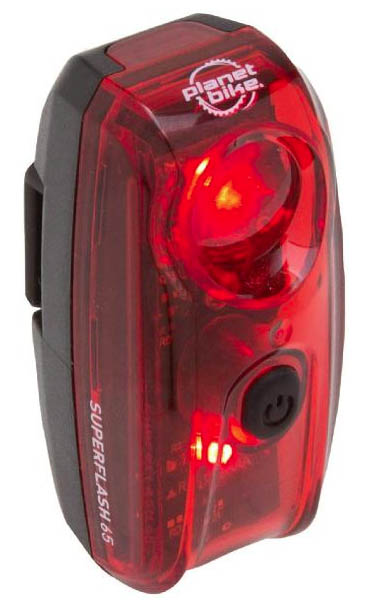 Type: Rear light
Max lumens: 65 lumens
Run time: 40–130 hours
What we like: A very economical way to boost safety.
What we don't: Runs on replaceable batteries.
Putting no-nonsense functionality above all else is Planet Bike's Superflash 65 Rear Light. The design is among the most popular on the market because it covers all the basics: 220 degrees of visibility, bright 65-lumen output on the most powerful flash mode, and a lightweight and compact design that's easy to mount. It falls a little short in features—we'd prefer a dedicated randomized flash mode for daytime use like you get with the Cygolite Hotshot Pro 150 above—but we like that it's water-resistant and easy for motorists to locate in low-light situations.  
The biggest downside of the Superflash is that it doesn't have rechargeable batteries. Instead, the light runs on two AAAs that don't have an exceptionally long run time (minimum of 40 hours), which means you'll want to haul around spare batteries during your rides. In the end, the Superflash is a great budget option, but the stronger all-around performance and rechargeable batteries that come with the Hotshot Pro give it the edge in the end.
See the Planet Bike Superflash 65
Bike Light Comparison Table
| Light | Price | Type | Max Lumens | Run Time (Hours)* | Best Use |
| --- | --- | --- | --- | --- | --- |
| Bontrager Ion Pro RT | $120 | Headlight | 1,300 | 1.5-26 | Road/MTB |
| NiteRider Swift 300 | $25 | Headlight | 300 | 2-27 | Road |
| Cygolite Hotshot Pro 150 | $39 | Rear light | 150 | 2-210 | Road |
| NiteRider Lumina Micro & Sabre | $70 | Set | 650 front, 80 rear | 1.5-6 front, 1.5-10.5 rear | Road |
| Gloworm X2 Adventure 1700 | $209 | Headlight | 1,700 | 1.5-36 | MTB |
| Light & Motion Urban 500 | $50 | Headlight | 500 | 1.5-12 | Road |
| Cygolite Dash Pro & Hotrod | $81 | Set | 600 front, 50 rear | 1-70 front, 1.5-100 rear | Road |
| NiteRider Lumina 1000 | $80 | Headlight | 1,000 | 1-26 | Road/MTB |
| Light & Motion Seca 2000 | $280 | Headlight | 2,000 | 1.5-12 | MTB |
| Bontrager Flare RT | $60 | Rear light | 90 | 4.5-15 | Road |
| NiteRider Swift & Sabre | $60 | Set | 500 front, 80 rear | 1.5-25 front, 1.5-10.5 rear | Road |
| NiteRider Pro 4200 | $550 | Headlight | 4,200 | 1.5-16.5 | MTB |
| Garmin Varia RTL510 | $200 | Rear light | 65 | 6-15 | Road |
| Light & Motion Taz 2000 | $250 | Headlight | 2,000 | 1.5-8.75 | MTB |
| Blackburn Click Light | $25 | Set | 20 front, 4 rear | 70-140 | Road |
| Lezyne Micro Drive Pro | $65 | Headlight | 650 | 1.75-72 | Road |
| Planet Bike Superflash 65 | $23 | Rear light | 65 | 40-130 | Road |
*Editor's Note: "Run Time" refers to hours of run time per light, from minimum time at max output to maximum time on the lowest setting.
 
Bike Light Buying Advice
Bike Light Types
Headlights
When talking about lights for nighttime road and mountain bike use, the first thing that probably comes to mind is a headlight. These attach to your bike's handlebar or helmet and have a simple function: illuminate what's in front of you. Styles vary widely from 1,700-lumen torches designed for fast-moving, technical mountain biking (Gloworm's X2 Adventure 1700) to modest 300-lumen models for commuting at dawn and dusk (NiteRider's Swift 300), but all of the picks above are battery-powered, include a variety of brightness modes, and offer some level of weather protection. Our top-rated light, Bontrager's Ion Pro RT, hits a great middle ground for both on- and off-road riding.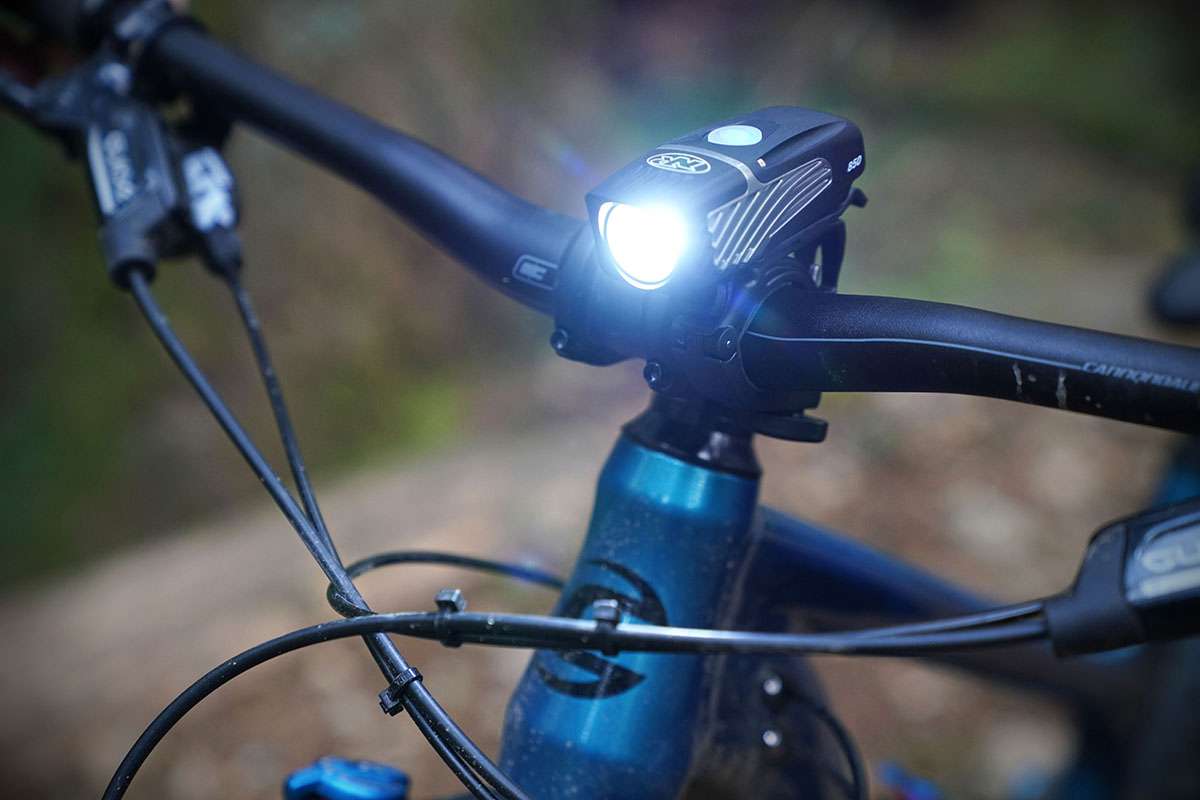 Rear Lights (Tail Lights)
For commuters and road riders alike, we strongly advise the use of a rear light, both during the day and at night. Also known as tail lights, these designs are relatively inexpensive, help draw attention of motorists with bright, focused red beams, and are typically simple to mount. We recommend looking for models that are visible from the side for cross traffic (you'll occasionally see references to "degrees of visibility") and include multiple brightness and flashing modes. Tail lights typically are mounted on one of four places: a helmet, your backpack, the seat post of your bike, or your bike's seat stay. We've found that the rear light that best balances price and performance for day and nighttime use is Cygolite's Hotshot Pro 150.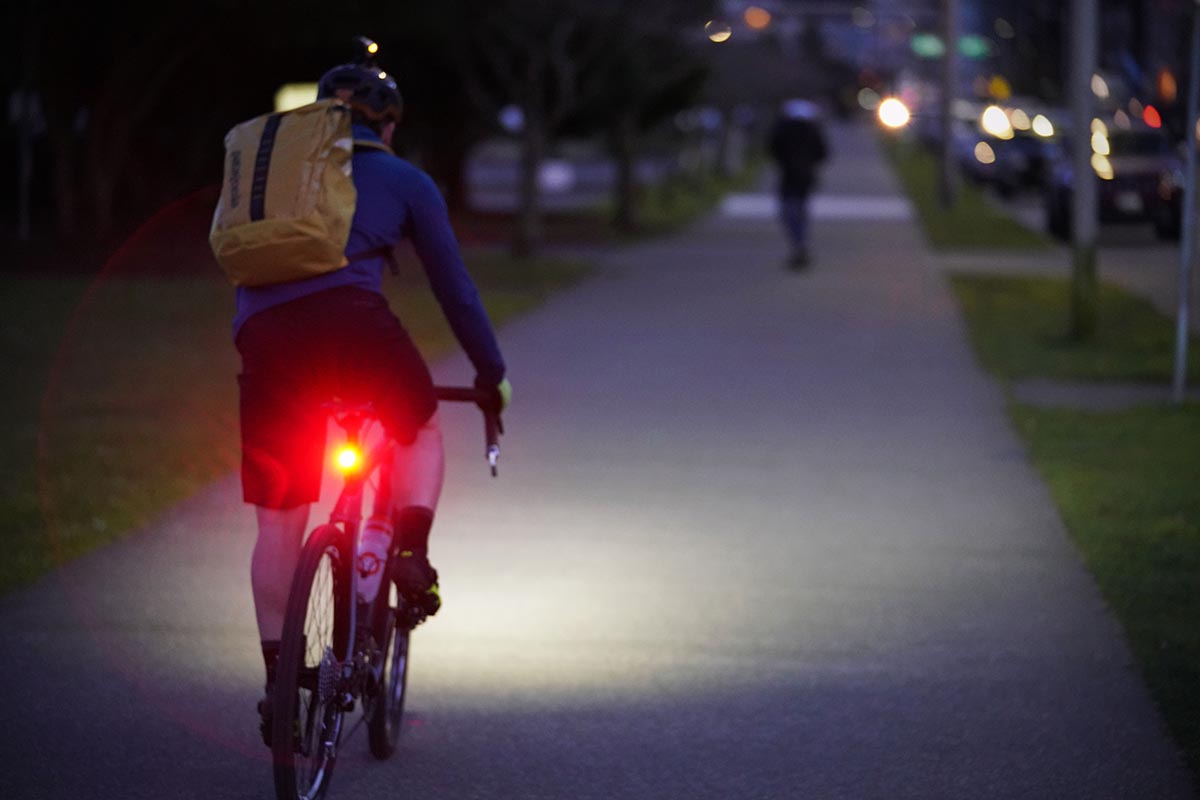 Combo Light Sets
For first-time light buyers or budget seekers that need both a headlight and rear light, a combo set makes a lot of sense. Manufacturers typically combine some of their most popular models—such as NiteRider's Lumina Micro and Sabre Combo—and package them together at a small discount (in the case of the NiteRider, you save $10 by purchasing the set). This helps take some of the guesswork out of the process, although the preselected kits do limit the total number of available options. 

How Many Lumens Do I Need?
Lumens, which are a measurement of visible light, provide an important indicator of the brightness of a given bike light. It's not a perfect science—beam quality and pattern play a significant role in light performance—but determining approximately how many lumens you need is a good way of narrowing down your headlight and/or rear light choices. Starting with headlights and on-road use, we recommend urban commuters or low-speed road riders get a quality design with at least 500 lumens. You can certainly manage with less if you don't need to illuminate a dark path, but we've found that options like Light & Motion's popular Urban 500 are just powerful enough to allow you to confidently navigate city streets. That said, should your local nighttime commute or road ride take you through rural areas in complete darkness or down fast descents, it's a good idea to bump up to the more powerful Urban 1000.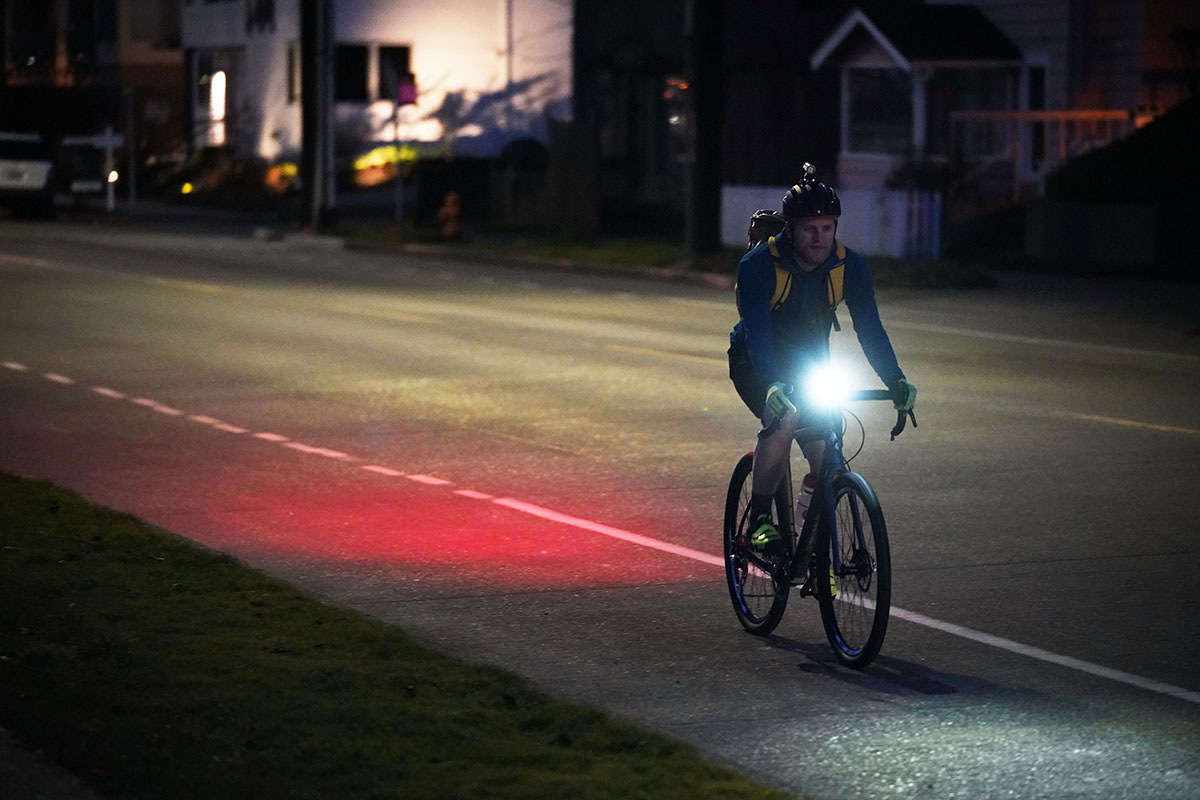 Riding a mountain bike at night on root- and rock-infested trails poses different challenges (and consequences) than a paved road or bike path. As such, we recommend a headlight with a high lumen output and strongly advise running two lights—one on the handlebars and the other on your helmet—to minimize shadows. In terms of lumens, it's best to start in the 800 to 1,000 range. And those that want to cover ground quickly will want to step up to a model like the Gloworm X2 Adventure 1700 or Light & Motion Seca 2000. The high-output numbers may seem excessive, but we've never found ourselves wishing we were running them on lower power.
Headlight lumens get most of the attention, but a bright rear light offers significant safety benefits. Quality tail lights with lumens in the 50 to 150 range can be seen from over a mile away, which can greatly reduce the potential of an accident. To further increase visibility for both day and nighttime riding, many rear lights offer their strongest outputs in flash mode (more on this in "Light Modes" below). Bontrager's new Flare RT is a great example of a well-designed model: its 90-lumen output and randomized flashing function are visible from up to 2 kilometers away during the day.

Beam Patterns: Spot and Flood
Spot
Along with lumens, a headlight's beam pattern is a key performance indicator. And in general, bike lights fall into two basic categories: spot and flood, although there are a number of models that blend characteristics of the two. Spot-style lights have a focused, small-diameter beam (commonly between 17 and 20 degrees) that projects very well over a long distance. This makes them a favorite among commuters and road riders, and for times when high speeds are attained. For mountain biking, we prefer mounting a spot-patterned light on our helmet for fast descents as its extended beam allows us to easily look through turns. From our picks above, Light & Motion's Urban Series is a great spot-oriented light for on-road use, while mounting the Gloworm X2 Adventure 1700 on a mountain bike helmet (with the spot lens attached) is a proven choice for singletrack riders.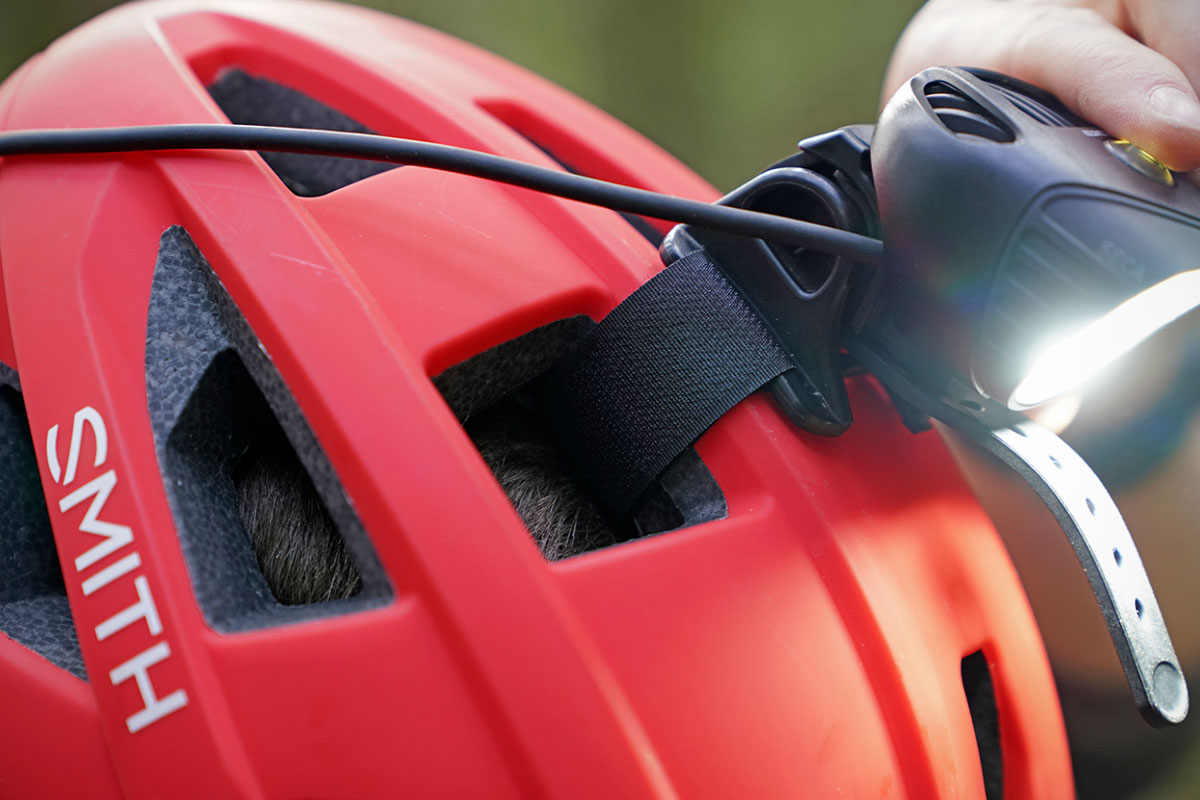 Flood
Flood lights illuminate a wide area in front of your bike and typically feature beam patterns in the 25- to 35-degree range. Although they may not project as far down the road as spot patterns, they're a great match for low-speed riding and where wide visibility is more important than outright distance. These characteristics work well with handlebar mounts and pair nicely with casual urban riding. And for mountain biking, mounting a flood-pattern light on your handlebars to compliment the spot-pattern helmet mount gives you excellent coverage. Top flood lights include Light & Motion's Taz and Seca, while Bontrager's Ion Pro RT hits a really nice balance between a flood and spot pattern—it's no coincidence the Ion is our favorite all-rounder.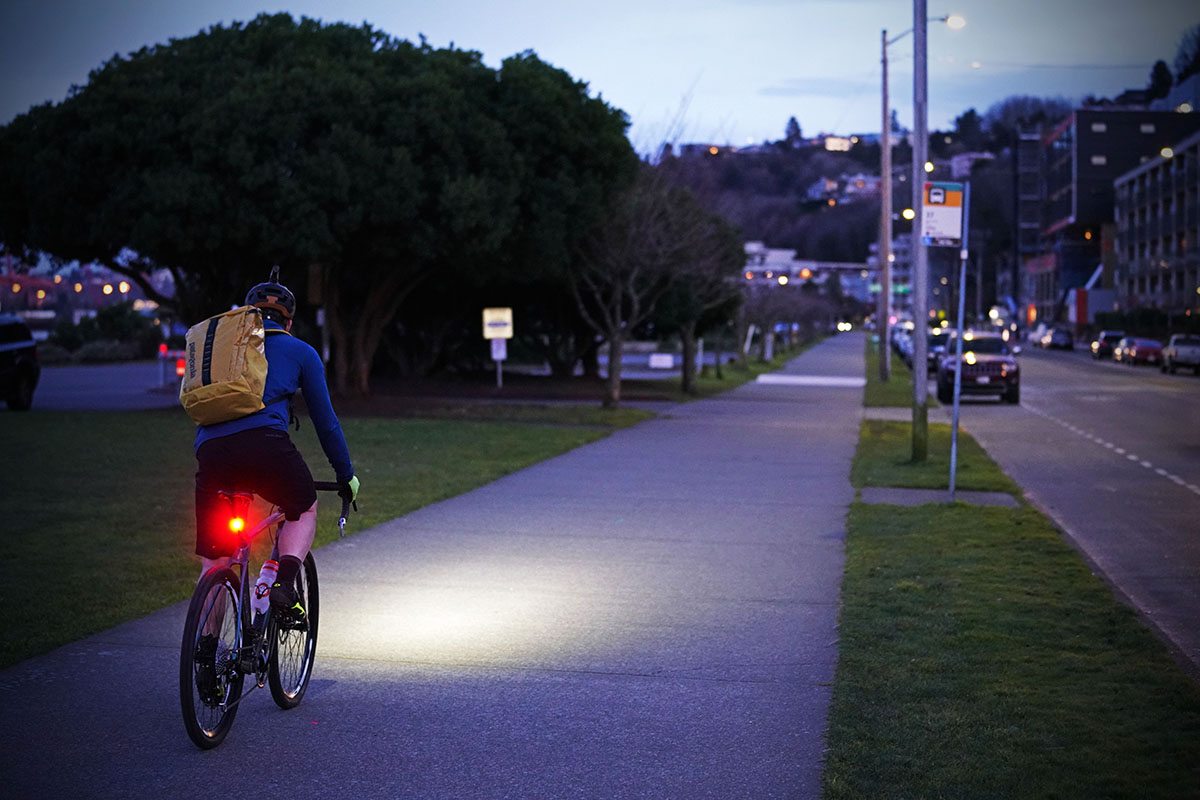 Light Modes
Every front and rear light that made our list above includes some level of adjustability between various light modes. Headlights, in their most basic form, typically have low, medium, and high settings that are controlled either directly on the unit or via a separate remote. Consciously switching between brightness modes to match your needs is a great way to increase battery life. For example, when mountain biking at night, we like to put the light on the lowest setting during sustained, low-speed climbs. And when speeds pick up in flowy or downhill sections, we swap to medium or full power. In addition to brightness modes, road- and commuter-oriented lights will include some sort of flash setting. The pulsing pattern helps make you more visible to traffic ahead of you—even in daylight—while also greatly increasing battery life compared with a steady light.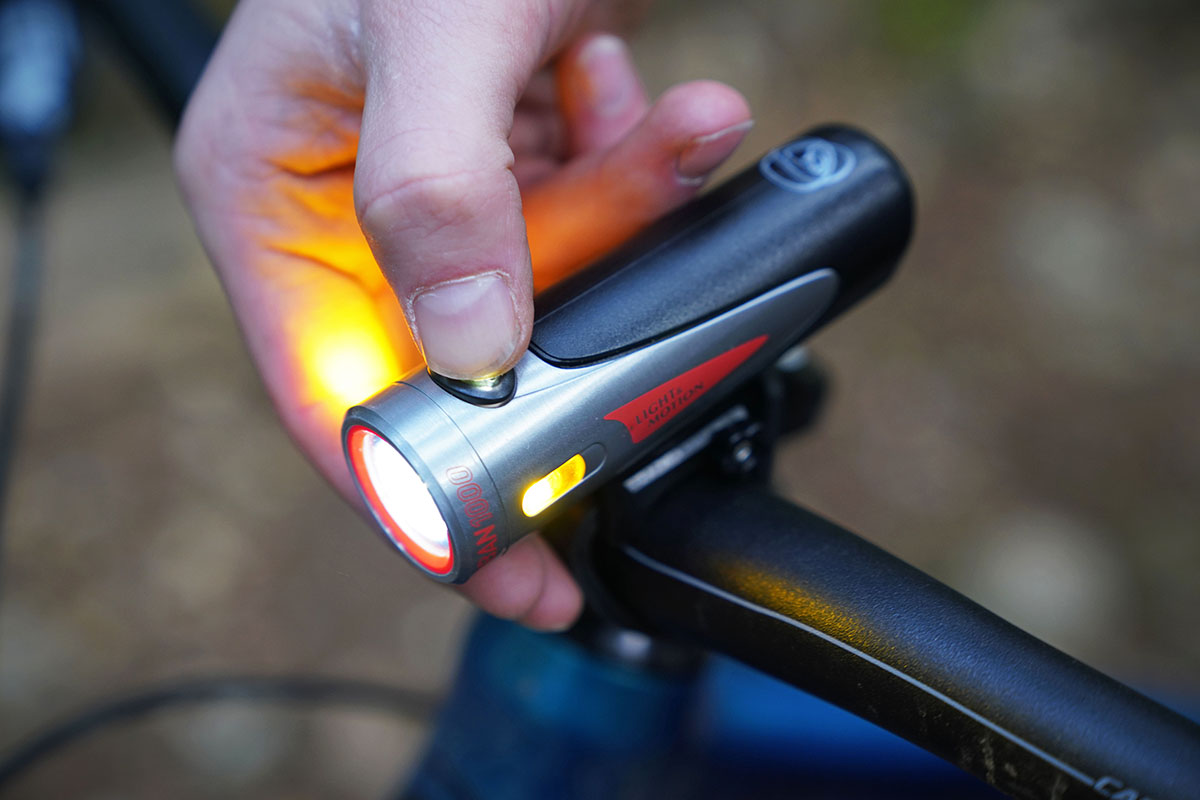 Rear lights also come with a range of modes, although the level of adjustability is usually less than a comparable headlight. The big focus here is on grabbing the attention of cars, so popular designs like the Cygolite Hotshot 150 and NiteRider Sabre 80 come with multiple flash patterns as well as a solid red light. As we've touched on above, using the brightest flash mode for daytime use is a worthwhile safety measure.
 
Battery Life and Run Time
Regardless of total output, you'll find that most rechargeable headlights and rear lights have similar minimum run times of about 1 to 2 hours when pumping out maximum lumens. For most urban riders, this should be more than enough for early-morning or late-night commutes and may even last a couple of days before charging is needed. However, mountain bikers will need to pay attention to this number a little closer, as many rides can last longer than 1.5 hours (and sometimes not on purpose). Most headlights come with multiple brightness settings, and this is where battery life starts to differ between models. On their lowest settings, run times vary from 5 to 11 hours among our top picks. Furthermore, some models like the NiteRider Lumina 1000 come with a very low lumen "walk mode," which extends the battery life to 26 hours in the Lumina's case. Although not very useful for riding, its 50-lumen output is enough to guide you in an emergency situation.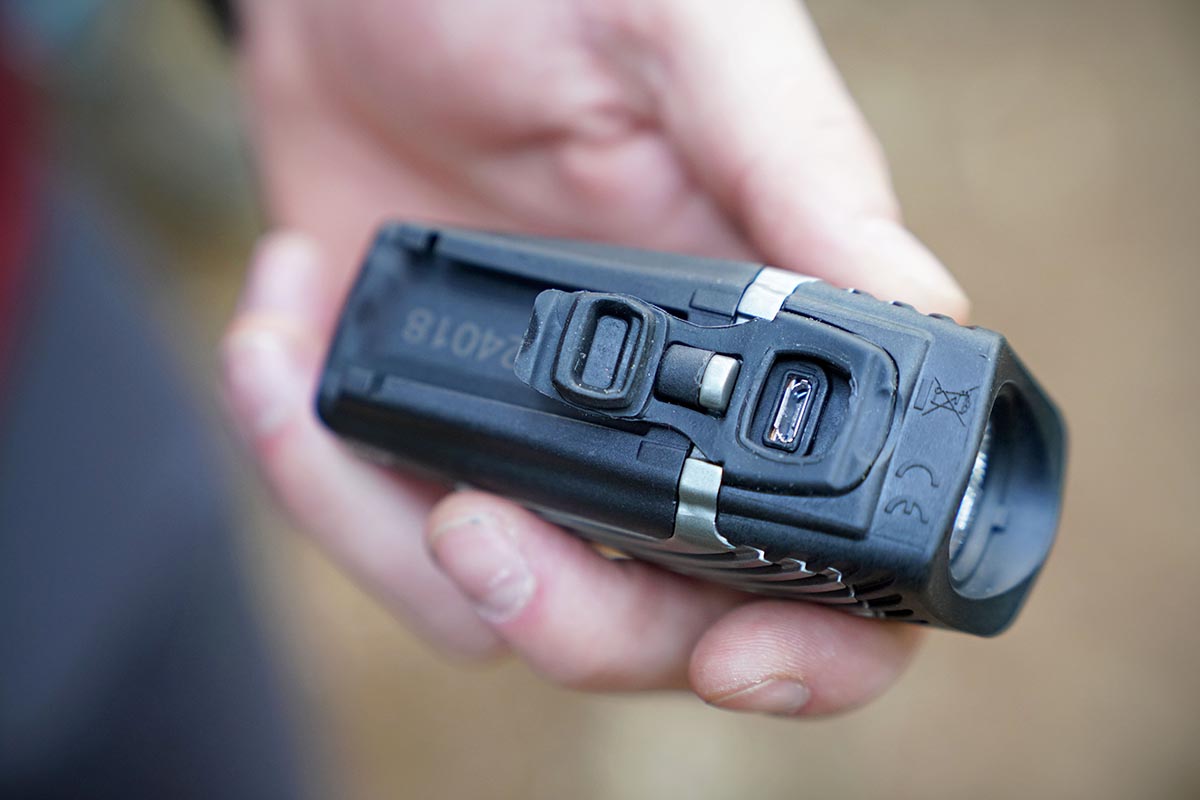 Another way to extend battery life is to purchase a light with a higher output than you actually need. While the extra lumens will likely be welcome, using the light on its low and middle settings (rather than high) will greatly increase time between charges. For instance, the Light & Motion Taz 2000 is a very bright light on its highest setting (2,000 lumens) and probably beyond what most people require. However, on its lowest setting of 500 lumens, which is perfect for climbing singletrack or low-speed commutes, it boasts a whopping 6 hours of run time. Should you plan to be out in the dark for 2 or more hours, it's worth considering upping the lumen output just so you can run it in the middle or low setting for increased battery life.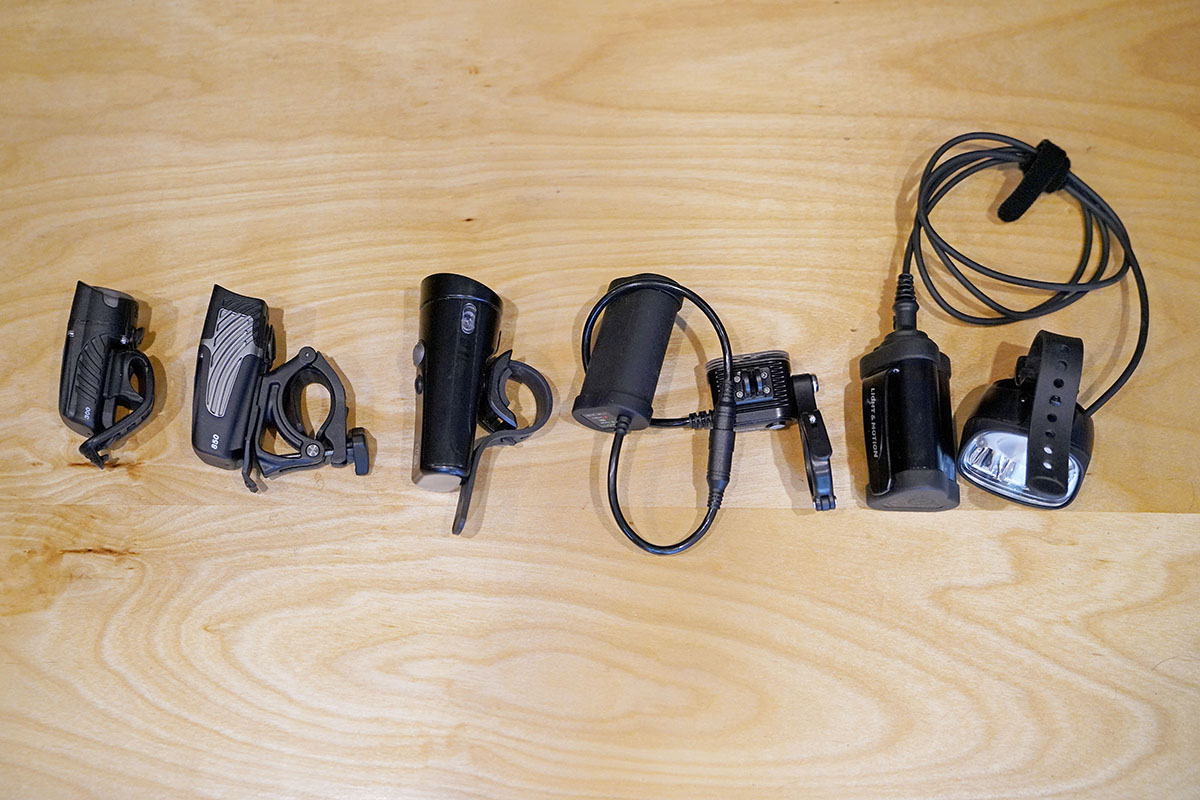 Mounting Locations
Headlights
Typically, bike headlights are mounted in one of two locations: on your handlebars or on your helmet. Mounting a light on your bars is quick and adjusting the beam's location on the road or trail is easy. We find this location to work particularly well for commuting by bike, as you rarely need to look though corners and make quick changes in direction. While a light mounted on the handlebars is perfectly fine for road riding, we prefer a light on our helmet for mountain biking at night. With the light attached to your head, the beam follows your eyes as you look up and down the trail. For the best of both worlds for mountain biking, we recommend mounting a light on both your handlebars and helmet. This helps eliminate any shadows that are often caused by a single light.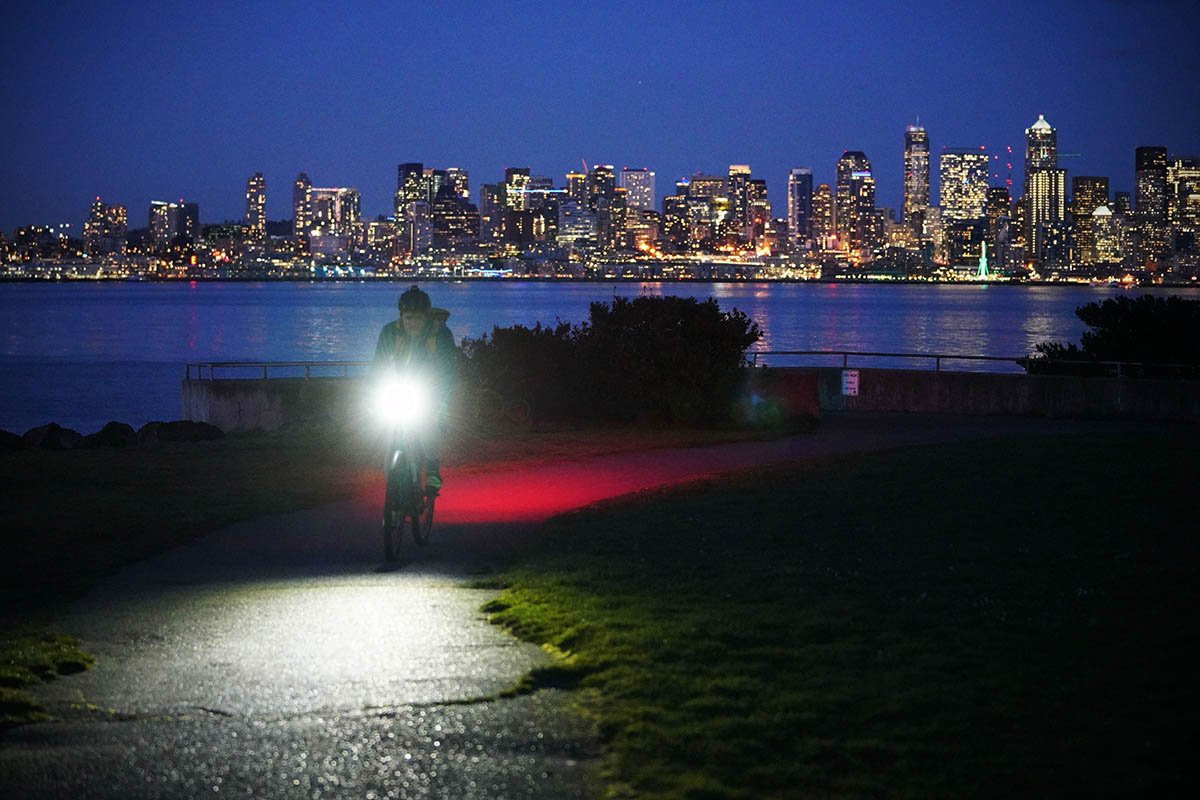 Rear Lights
The most common place to mount a rear light is on your bike's seat post right under the saddle. Located here, the light's beam is rarely obstructed by the rider or bike, providing good rearward and side-to-side visibility. Other popular mounting locations include the back of a helmet, your backpack, and the bike's seat stay. While all of these options are viable, we've found the seat post offers the most effective way of grabbing the attention of approaching motorists. With that said, it's not uncommon to have multiple tail lights for urban use, so the other locations can function well as a compliment to the seat post mount. In our opinion, anything a cyclist can do to be seen on the road—without blinding traffic or fellow riders—is worth it.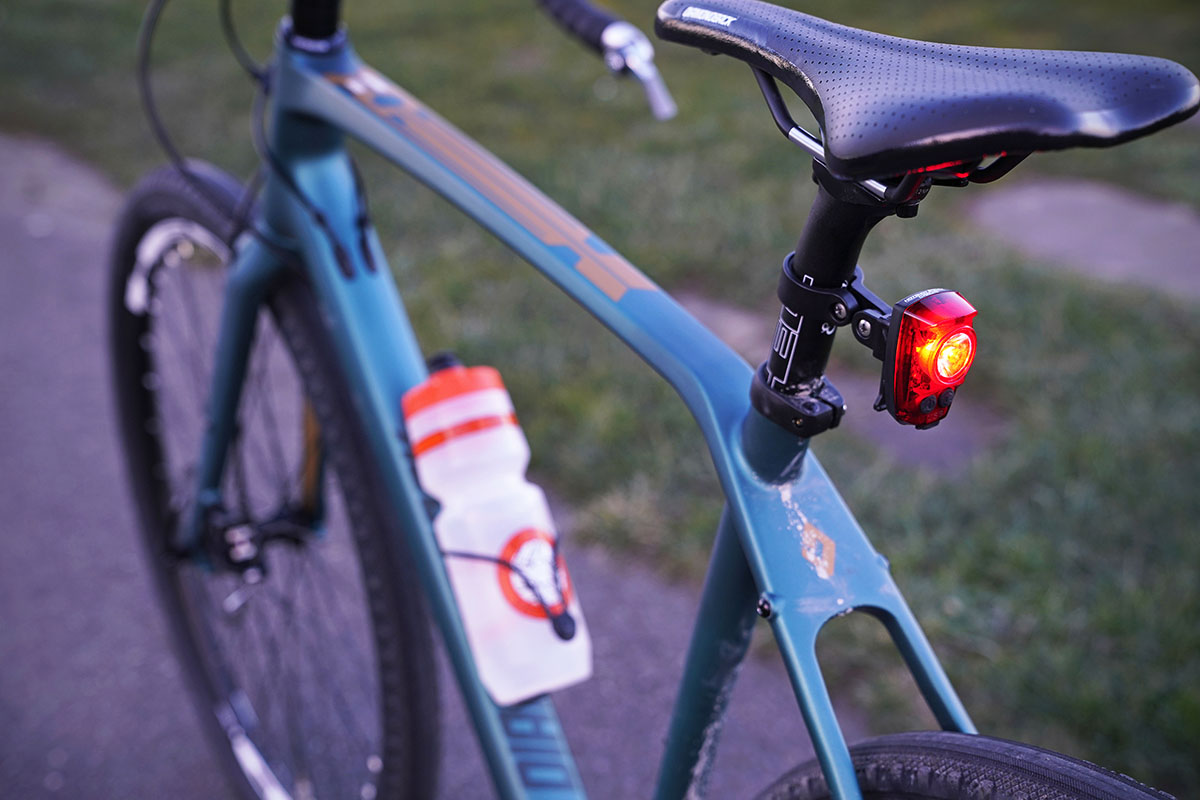 Waterproofing and Protection
If you plan to get out on your bike at night, then there's a good chance you're becoming more serious about the sport. Accordingly, there's an equally high likelihood that you'll find yourself out riding in some inclement weather. The good news is that most quality lights on the market offer some level of water resistance, often listed using the International Protection Rating (IP) system. Even moderately priced models, like Light & Motion's Urban 500, carry an IP67 rating, which makes them waterproof at a depth of 1 meter of water for up to 30 minutes. Cheaper designs compromise a little here, but the $25 NiteRider Swift 300 is a notable exception with its IP64 rating for protection against dust and water spray.
 
Weight
Overall weight generally isn't something to be too concerned about in a bike light, as your bike's handlebars, seat post, or frame does most of the heavy lifting. However, it quickly becomes a top consideration if you'll be mounting it on your helmet. There are few things more distracting than having what feels like a brick balancing on top of your head while bombing through technical terrain. Light & Motion's Taz 2000 is a great example: it's a fantastic light but its 7.6-ounce weight (216 grams) means it's far too hefty to put on your lid. If you're looking for a high-output helmet light, we recommend something like Gloworm's X2 Adventure 1700. Although you'll need to store the battery in your hydration pack, the head unit weighs less than 3.2 ounces and should go virtually undetected.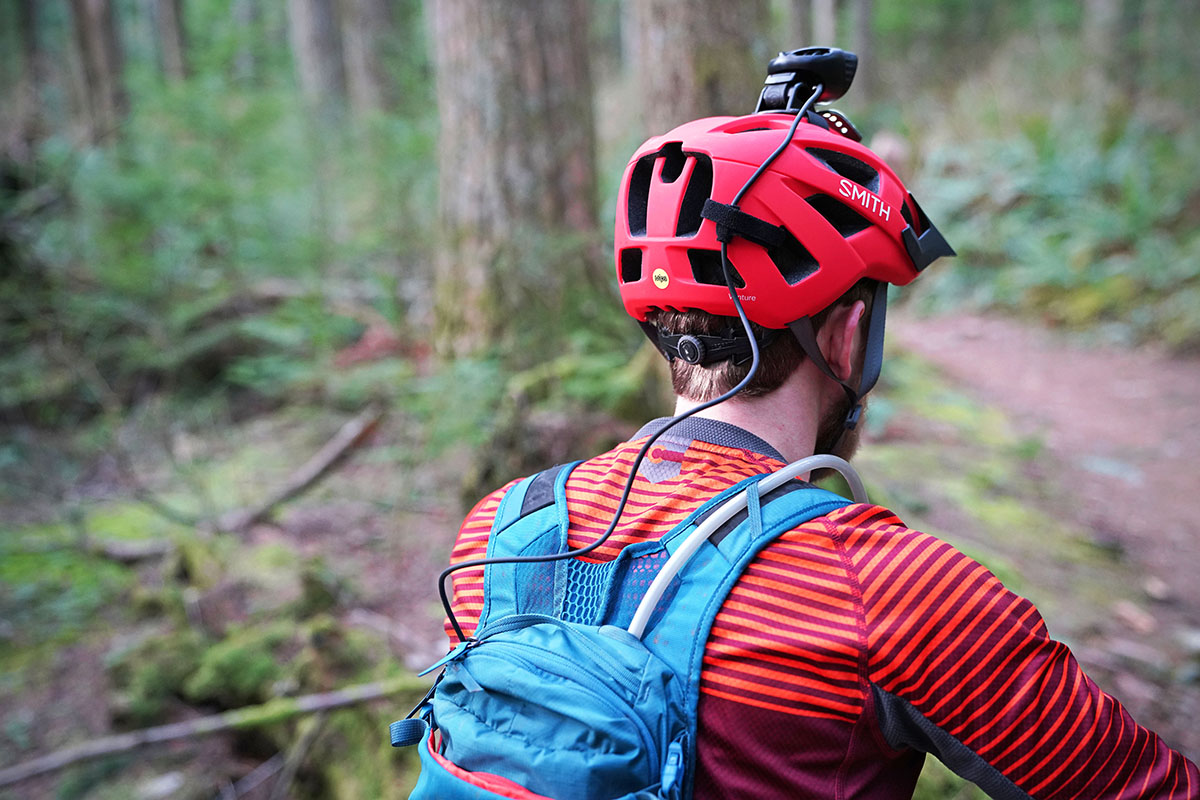 Integrated vs. External Batteries
The majority of headlights and rear lights on the market today have an integrated design, which means the batteries and light are all housed in one unit. This style is reasonably compact and easy to set up and mount onto your bike or helmet (with the proper attachments). The main downside to integrated batteries, however, is that the cramped space inside the unit puts limitations on battery power. As such, integrated-battery lights do not have very long run times and are not able to support exceptionally high-output designs (usually 2,500 lumens and up).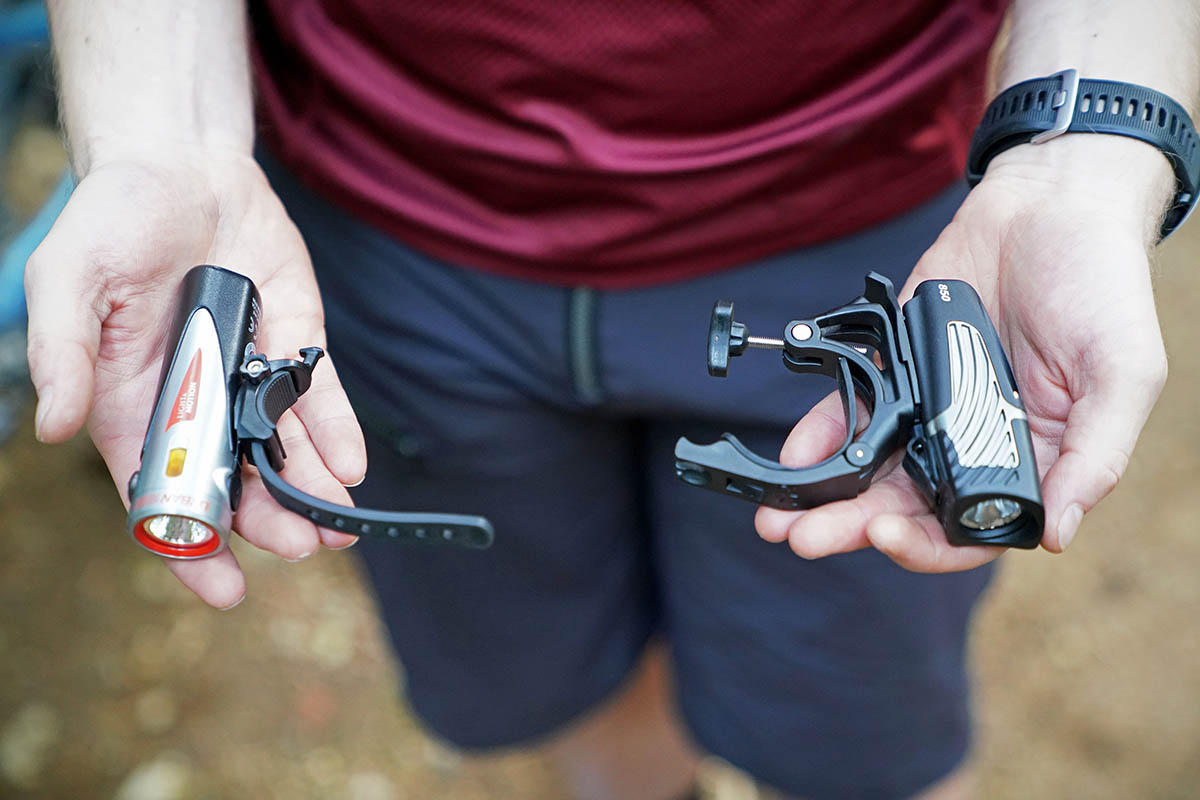 Enter external-battery lights. These styles, like NiteRider's Pro 4200, are able to support very strong outputs with remarkable run times. The aforementioned NiteRider is able to use its 4,200-lumen light on high for 1.5 hours—something that's typically not possible with integrated batteries. But like integrated systems, an external battery pack comes with its fair share of negatives. Most notably, these lights as a whole are typically quite heavy. And they're also a little cumbersome to set up and use because of the multiple parts (head unit, cable, and battery pack). That said, if you want to maximize light output, you'll most likely end up with an external-battery model.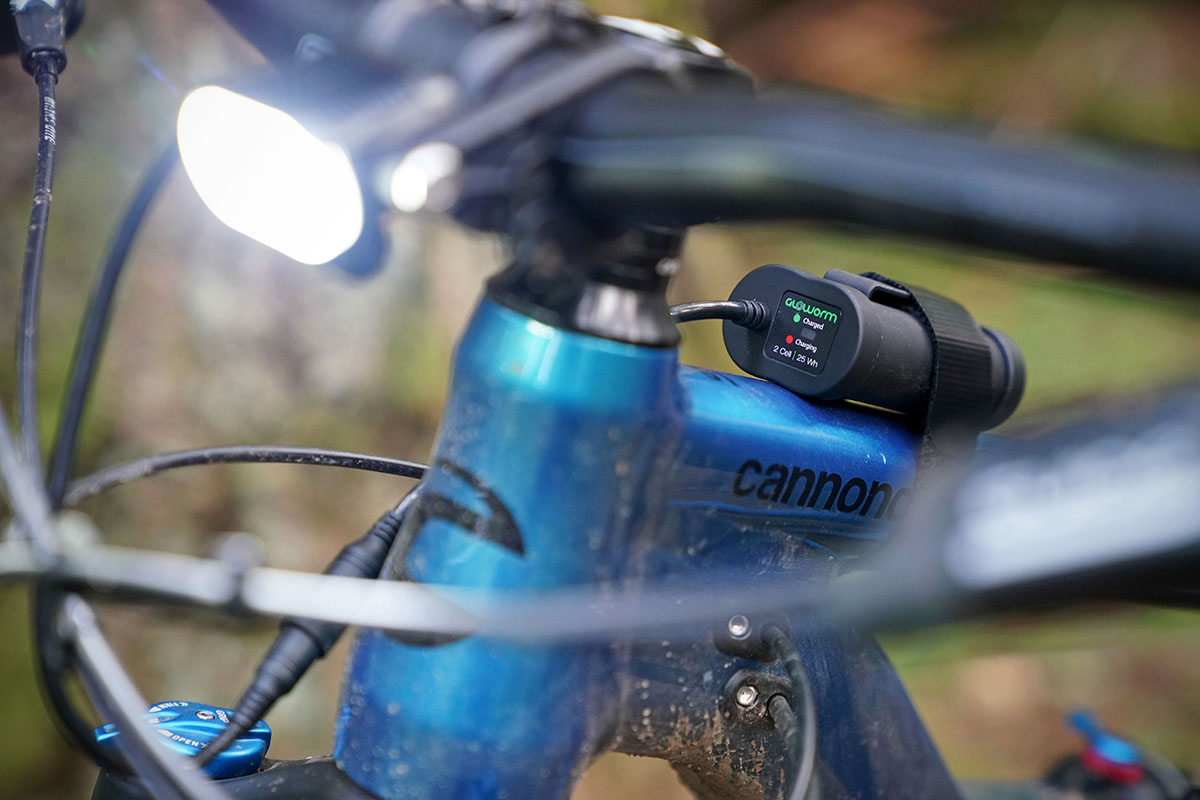 Charge Times
For the occasional nighttime mountain biker, where frequency is low and planning ahead is easy, your battery's charge times aren't all that important. However, for bike commuters, this can be a key specification. And charge times can vary widely: our top pick, Bontrager's Ion Pro RT, has a very long charge time that ranges from 7 to 15 hours. This means you'd likely need to get it plugged in right away as you arrive at work to get it back to full power in time for the ride home. On the other hand, NiteRider's Lumina Micro 650 and Sabre 80 Set (our top pick for bike commuters) can be fully charged in as little as 2.5 hours. If your workdays are short and your commutes are long (everyone should be so lucky), then a quick charge time is something to be aware of.
 
Remotes and Bluetooth Connections
While not necessary by any means, remote control of your light—via a physical switch on the handlebar or Bluetooth connection that pairs with a bike computer—can be a helpful feature in certain situations. Wireless handlebar-mounted remotes, like that found on Gloworm's X2 Adventure 1700, are great for mountain biking as they allow you to keep both hands on the grips while switching through different brightness modes. Other models, like Bontrager's Flare RT Rear Light, connect via Bluetooth to a compatible cycling computer and allow you to change modes and keep tabs on battery life. This means you don't need to jump off your bike if you want to adjust between flash settings or constantly check behind to see if it's still working. All in all, while not a top consideration, remote connections are a nice luxury item that have plenty of appeal for those that ride a lot.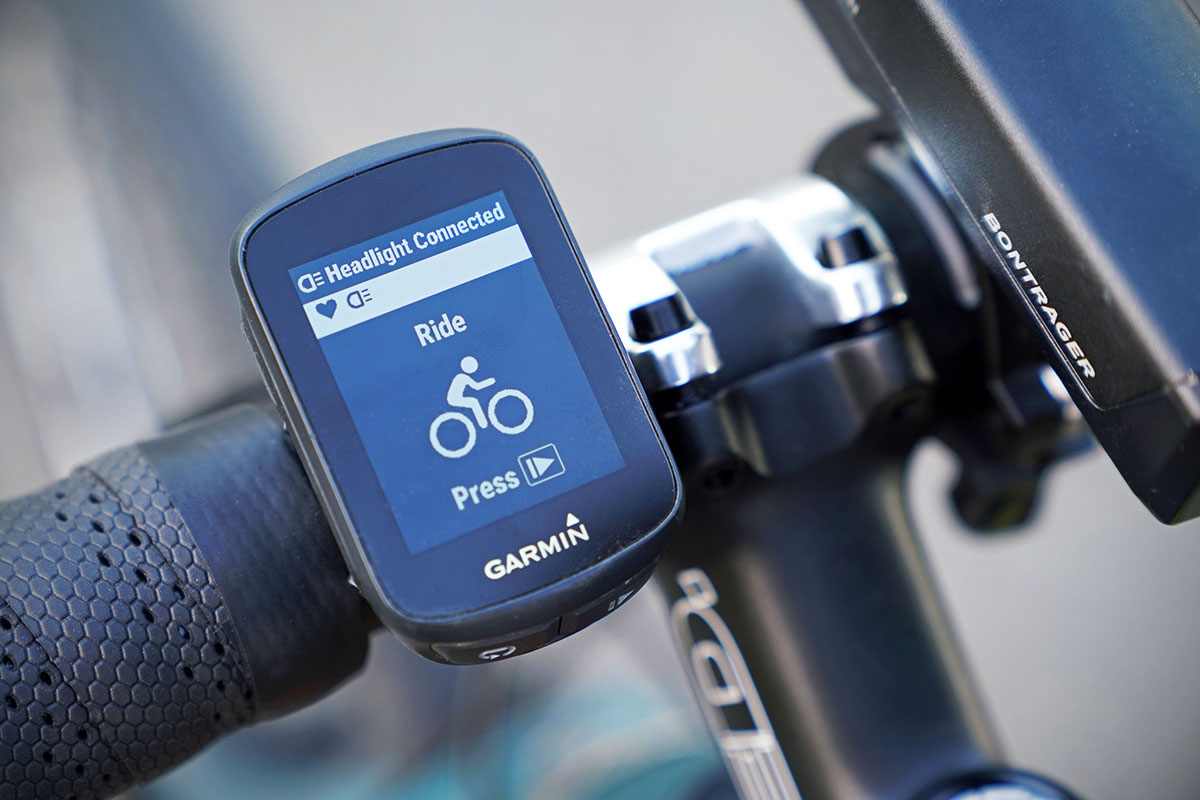 Cheap "Amazon" Lights
If you get far enough into bike light research, you'll inevitably run into someone recommending inexpensive "Amazon" or "eBay" lights. But while they certainly look like a great deal on paper, these products come with a number of downsides. First off, we find their lumen ratings to be somewhat misleading: the 1,000-lumen light selling for $25 will fall well short of Light & Motion's Urban 1000 in every possible performance metric. A big part of this comes down to lens quality, which determines how the light is cast on the path or trail—it's similar to comparing a $10 pair of gas station sunglasses to the $100 option from Smith or Oakley. Last but certainly not least, the batteries in cheap lights will typically not have the same lifespan as the quality options listed above, and it's common for run times to significantly drop after a year or less of use. In the end, with excellent designs like the NiteRider Lumina Micro 650 available for $50, we see little reason to save a few dollars for an inferior and unreliable product.
Back to Our Top Bike Light Picks  Back to Our Bike Light Comparison Table
Read More From Switchback Travel