Thule Motion XT XL
Price: $850
Gear capacity: 18 cu. ft.
Weight: 46 lbs.
What we like: Massive interior, easy and secure access, intuitive installation, and all the features we look for in a high-quality design.
What we don't: Pricey; some may want a lower-profile box to minimize road noise and drag.
See the Thule Motion XT XL
Thule's rooftop cargo box collection is undeniably extensive, from luxurious designs with felt-lined interiors and built-in lighting to soft-sided models for cheap and compact storage. The Motion slots in as their premium all-rounder, and we recently took the mid-sized XL version on an extended road trip from Colorado back home to Vancouver Island. In short, it's a real standout for gear-intensive adventures with quick and secure access to the interior, generous capacity that can accommodate large and bulky equipment (including multiple pairs of long skis), and best-in class installation that makes it easy to swap between vehicles. Below we break down our experiences with the Motion XT XL. To see how it stacks up to the competition, see our article on the best rooftop cargo boxes.
 
---
Table of Contents
---

Gear Capacity and Interior Space
With 18 cubic feet of capacity and a functional shape that can accommodate bulky equipment, the Thule Motion XT XL is a great match for gear-intensive outings and long road trips. On a recent drive through Utah and up to Oregon, the Motion XT comfortably swallowed our massive NEMO Jazz 30 Double sleeping bag and accompanying (and equally big) Roamer Double pad, as well as backpacks, off-road equipment, and a large YETI cooler. I especially loved the built-in tie-down straps inside the box, which made it easy to secure my vehicle recovery tools like Maxtrax, a shovel, rope, and shackles. I'm used to dealing with these items bouncing around and creating a lot of noise while driving on bumpy forest service roads, but the Motion XT's straps keep everything tight and quiet.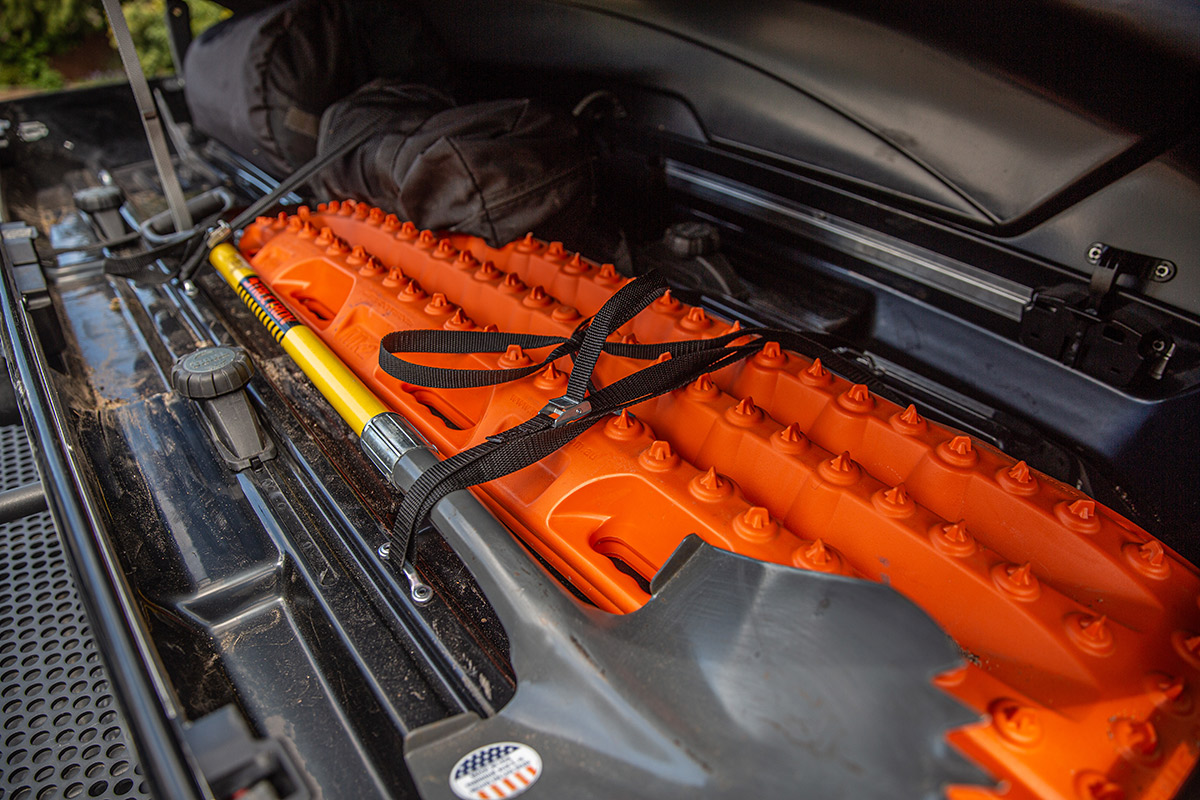 For winter use, the Motion XT XL has ample space for stowing snowboards and skis. For reference, I was able to fit four pairs of skis with room to spare, the longest of which was 185 centimeters (Thule claims you can fit five to seven pairs up to 200cm, or three to five snowboards). I also found the box to be a great place to stash wet equipment like paddles and PFDs, or dirty clothes and gear after a long mountain bike ride. The only potential issue to be aware of is that the box has a very tight seal and therefore doesn't drain well, so you'll need to be diligent about dumping any water that pools at the bottom.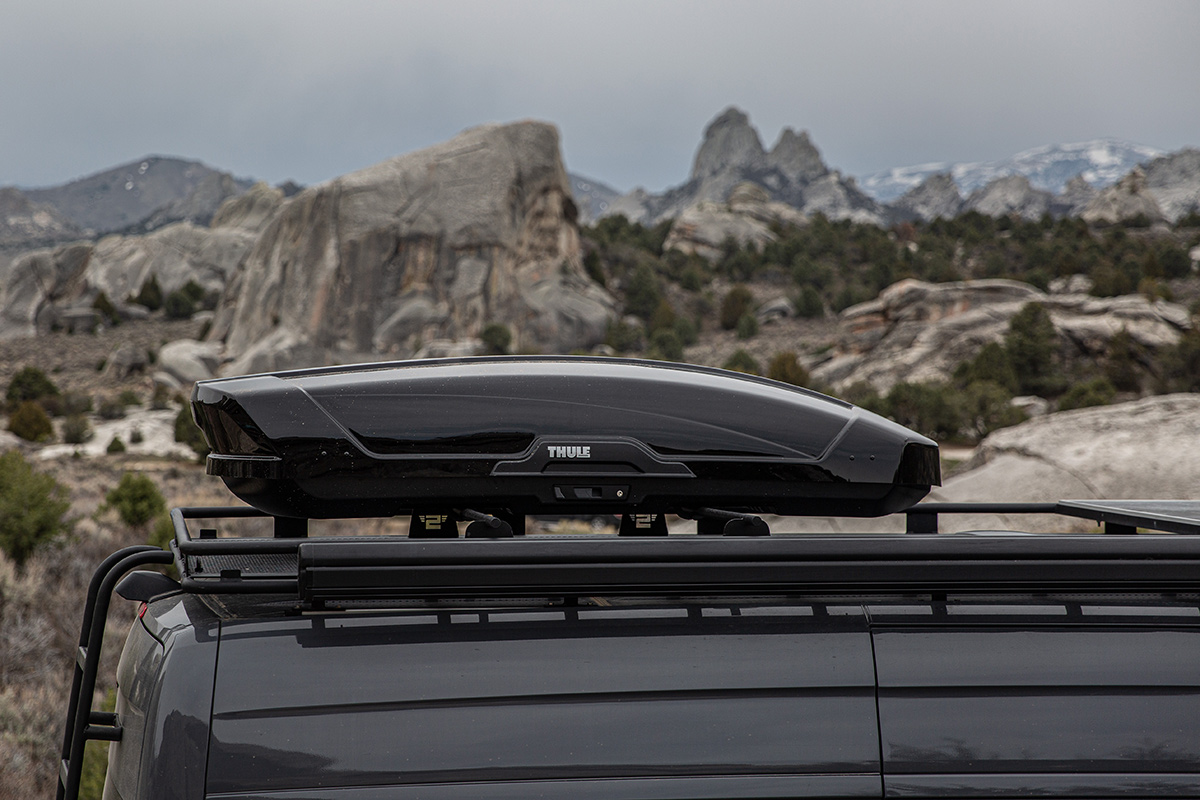 Box Dimensions and Weight
The Thule Motion XT XL offers an impressive amount of storage, even for those prone to overpacking. I opted for the XL version of the Motion XT to accommodate my longer skis (the size L maxes out at 175cm), and the box's 6.6-foot length easily accommodated four pairs with room to spare. The other dimensions are generous too, including a functional 15-inch peak height that can accommodate items stacked on top of each other. Finally, the Motion XT's 31.5-inch width (the exterior measures 36 in.) feels plenty wide but leaves open a good amount of roof space to add accessories like a bike rack. In fact, I'm hopeful that I'll be able to fit a canoe alongside the box on our Sprinter van. We're still waiting on shipment, but my preliminary measurements indicate that there shouldn't be any issues (I'll follow up here if there are).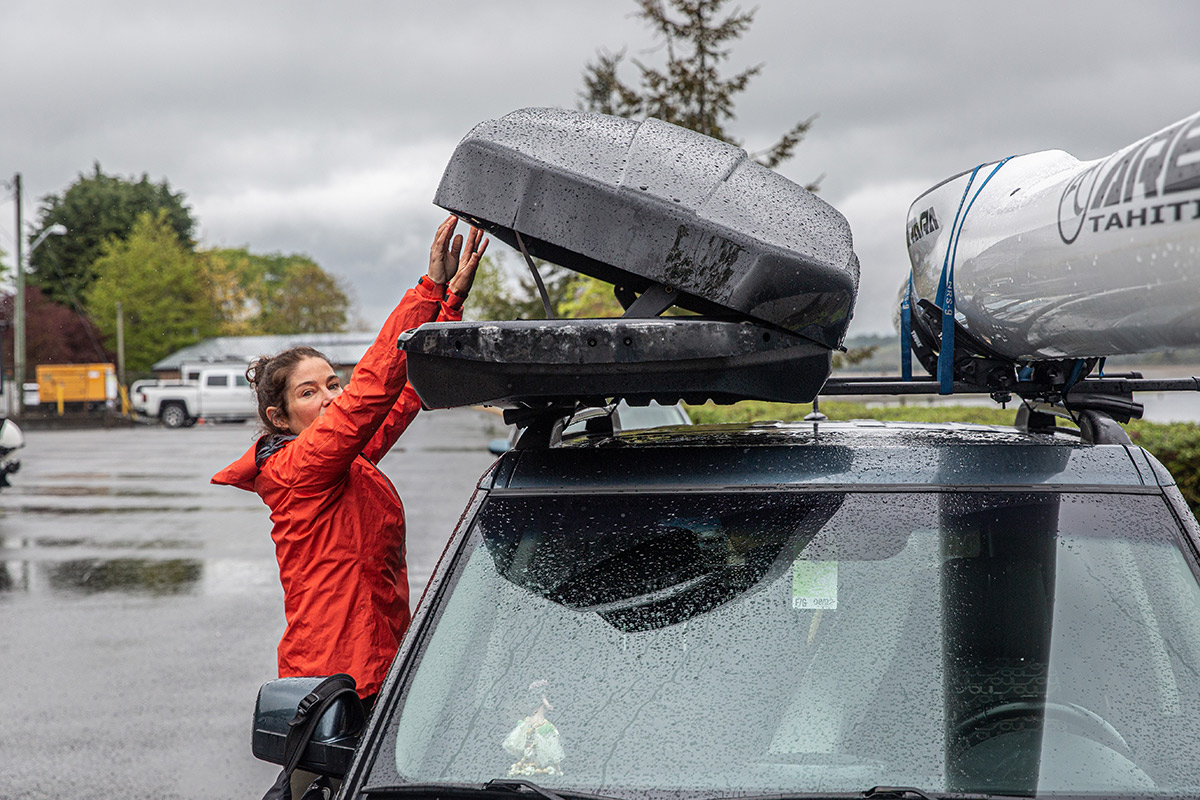 In terms of weight, Motion XT XL clocks in at 46 pounds, which leaves ample wiggle room for hauling heavier items. For reference, the box's load capacity is 165 pounds, and your vehicle's roof and rack system will also have weight limits that you'll need to factor in. In practice, the Motion XT is light enough for me to safely and confidently lift above my head and place on top of a standard sedan or SUV, but it takes a good amount of balancing and is easiest with two people. Of course, I did need assistance when attaching the box to our high-roof Sprinter—one person hoisted from below, while the other lifted from above (more on this in "Installation and Removal" below).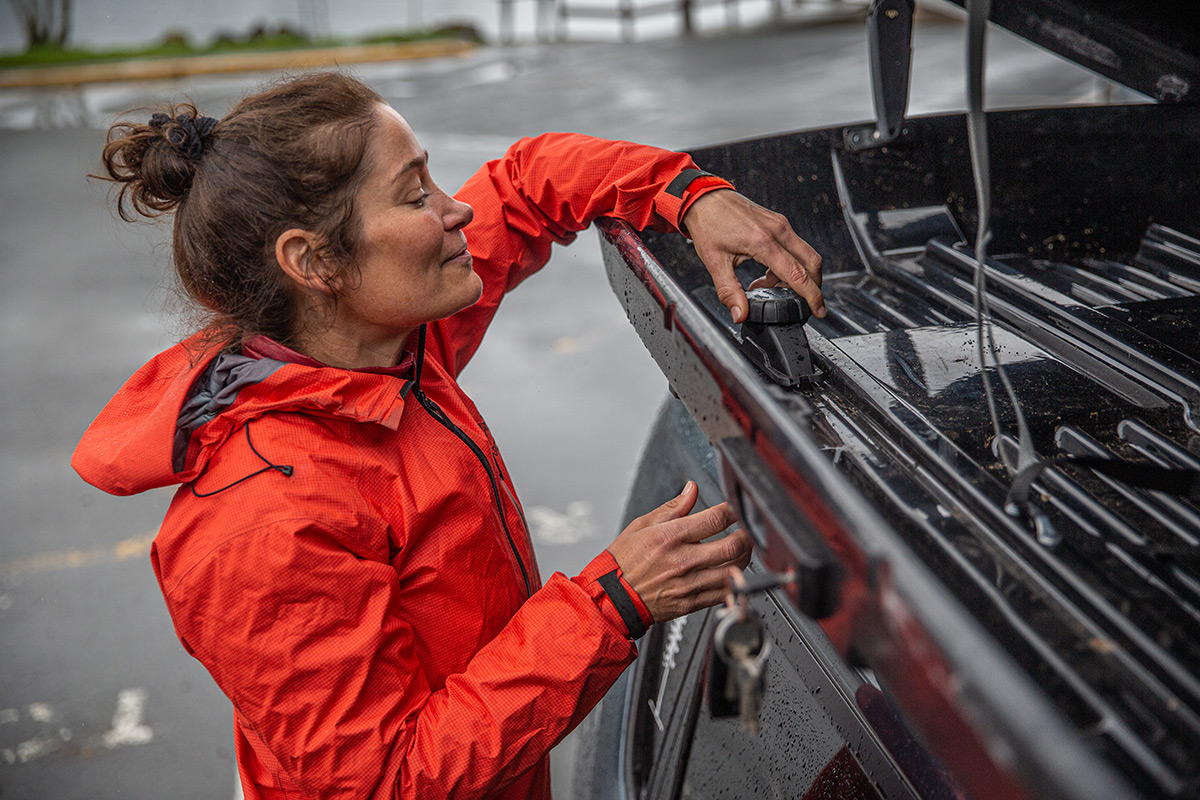 Cargo Box Access and Security
Put simply, getting items in and out of the Motion XT XL is a quick and painless process. The large handle makes access far simpler and more secure than the standard clamshell-style openings that I'm used to—in addition to providing a dedicated spot to grab, it also ensures the lid stays shut (once the box is closed, you'll need to squeeze the lower locking mechanism to pop it open). And importantly, the key can't be removed from the lock unless the box is properly latched shut. Taken together, the system eliminates a couple common issues: First, you're less likely to lose or misplace the key since it's required for access; second, there's no question whether the box is open or closed.
Another access-related highlight is that the Motion XT XL can be opened from either the driver or passenger side of the vehicle. Both sides have identical handles and integrated locks, which allow you to easily load or locate items you've stowed, regardless of where they are located within the box. It's also helpful for working around other accessories you may have on your roof, such as boats or bikes. And for closing, each side has a long (20-in.) strap hanging down in the middle that you can grab if the lid is difficult to reach. Finally, the stiff lid fits perfectly when shut (sometimes you have to jimmy floppier lids into place).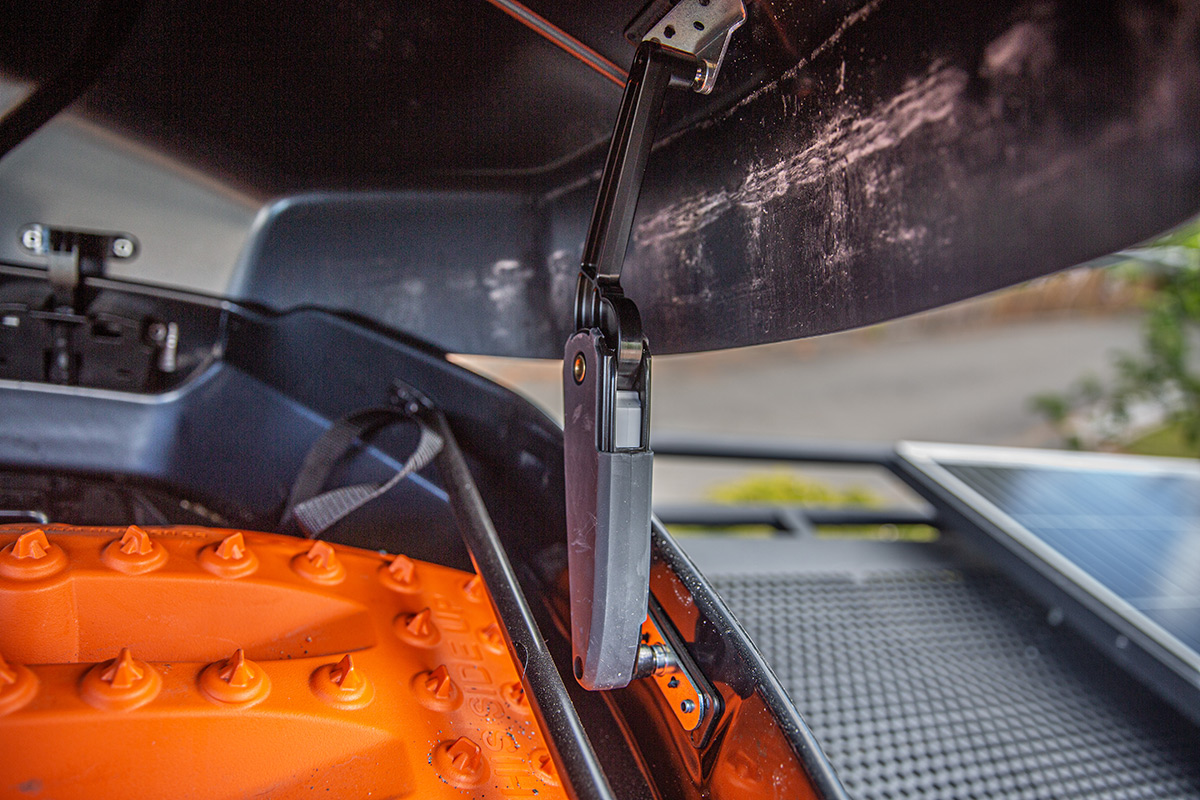 Weather Resistance
Our Motion XT has held up incredibly well to all kinds of weather, including snow, sleet, rain, and even advisory-worthy winds. The box has an overhanging lip around the edge that does a superb job at sealing out moisture, and the glossy finish seems to help with repelling snow (most slides off immediately, and any remnants can easily be brushed off). In fact, I'm confident enough in the box's weather resistance that I have no qualms about storing our double sleeping bag and pad in it. My only concern has been exposing the box to extended periods of harsh desert heat: Since my Motion XT is black and doesn't ventilate well, it can get really warm inside, and I wouldn't recommend storing anything that's sensitive to heat (like food) when driving or parking in hot weather.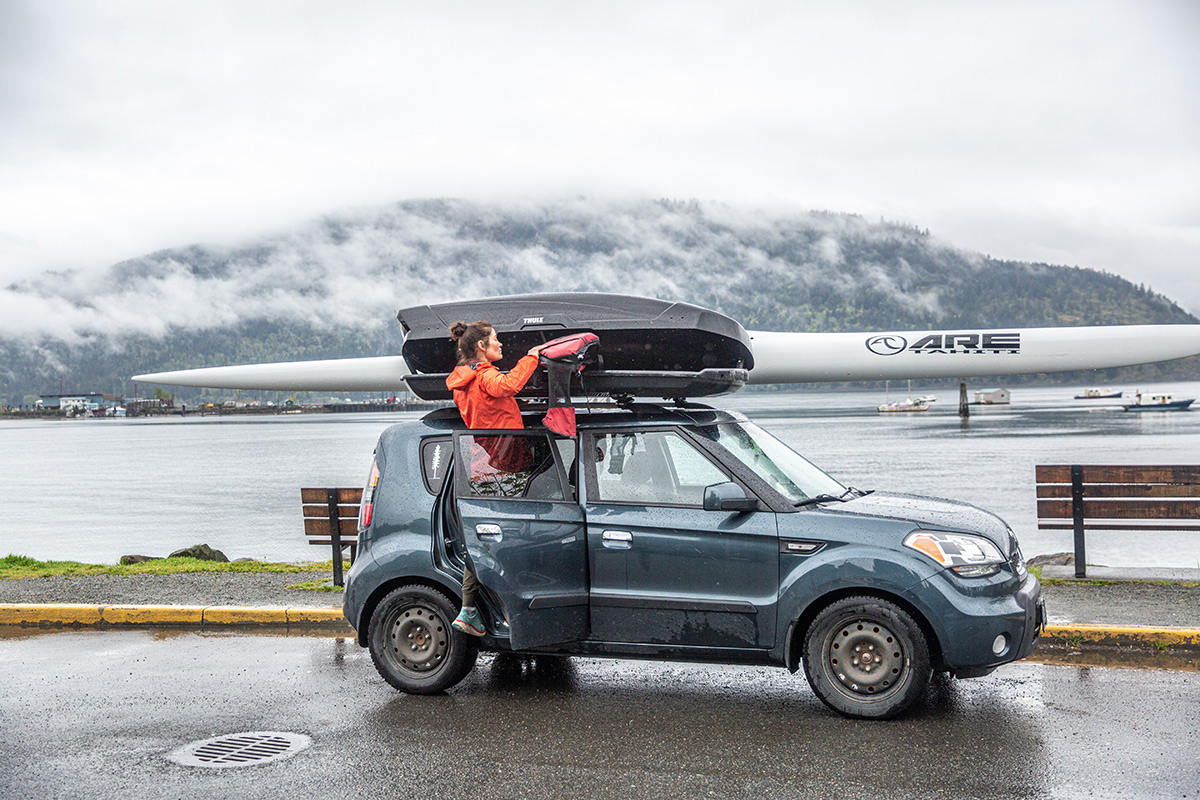 Road Noise and Aerodynamics
Some may be concerned that the Motion XT XL's larger shape will create a lot of drag, but I haven't noticed any major dip in gas mileage or increase in road noise. The exterior is sleek and streamlined with a high-end sheen, and the nose is tapered and overlaps slightly to maximize wind deflection and resist gaping. Even though our road trip was fraught with high-wind advisories, the differences in noise and gas mileage with and without the box were minimal—on windless days, it was almost imperceptible. Strong cross winds do cause a little drag and audible whooshing, but these issues are impossible to avoid on a high-profile vehicle like our Sprinter van. Those concerned about road noise or drag could opt for a lower-profile design like the INNO Wedge 660 (11 in.) or Yakima GrandTour Lo (10 in.), but you'll sacrifice a good deal of storage space.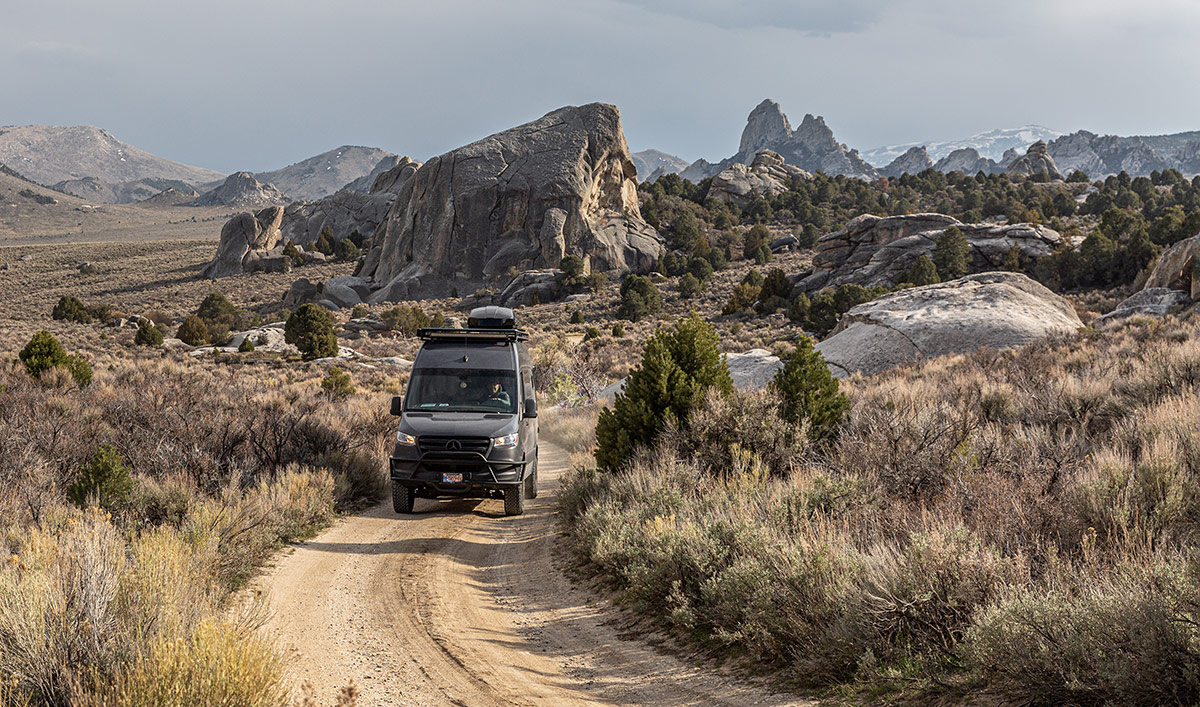 Build Quality and Durability
The Thule Motion XT XL doesn't come cheap at $850, but the good news is that it's clearly well-made and built to last. For reference, our box has been subjected to several days of rough weather, is hoisted on and off our Sprinter van repeatedly, and gets stuffed full of sharp and pointy gear and equipment (including a serrated steel recovery shovel for off-roading). So far, the only noticeable wear is a few minor scuffs from driving underneath low-hanging branches, but they're purely cosmetic. Otherwise, everything else is in great shape: The PowerClick mounts are functioning flawlessly and smoothly slide into position, and the locks look like new, with no rusting from exposure to the elements. I do wonder how the hinges will fare over the long term given how frequently I open and close the box, but they seem reasonably robust and haven't given me any issues yet.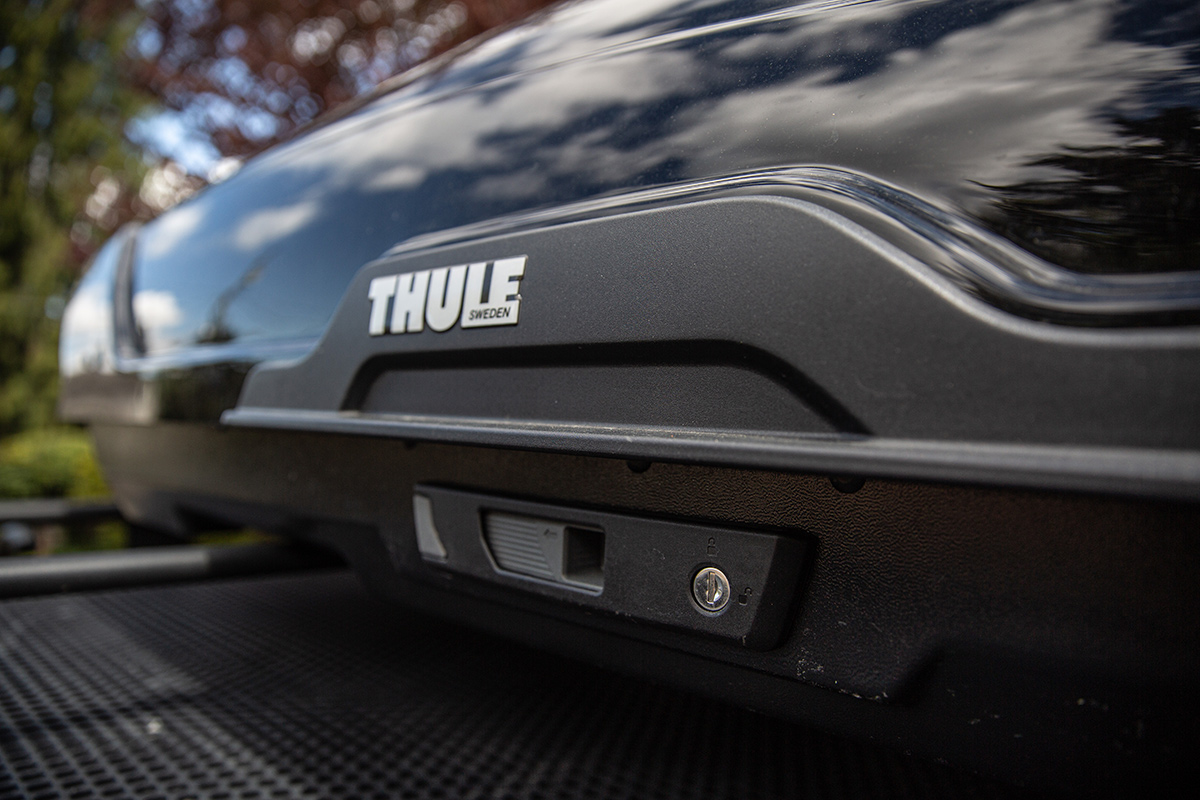 Installation and Removal
Installing the Motion XT is an incredibly simple process, even on our high-roof van. As I mentioned, the box weighs 46 pounds and can be lifted by one person onto a car or SUV, although I did need help hoisting it onto our Sprinter. For installing, the Motion comes with four removable PowerClick brackets: Remove them for installation, and the box's flush underside is easy to position properly on top of your vehicle's crossbars without causing damage. Once the box is in place, insert the brackets, slide them to align with your crossbars, and twist until the claws are tight—you'll hear an audible "click" when they're tensioned properly (for a more detailed breakdown, see Thule's instruction manual here). For reference, the Motion XT is the least complicated and involved roof box I've installed to date, and I've been able to easily transfer it between vehicles with varying crossbar setups.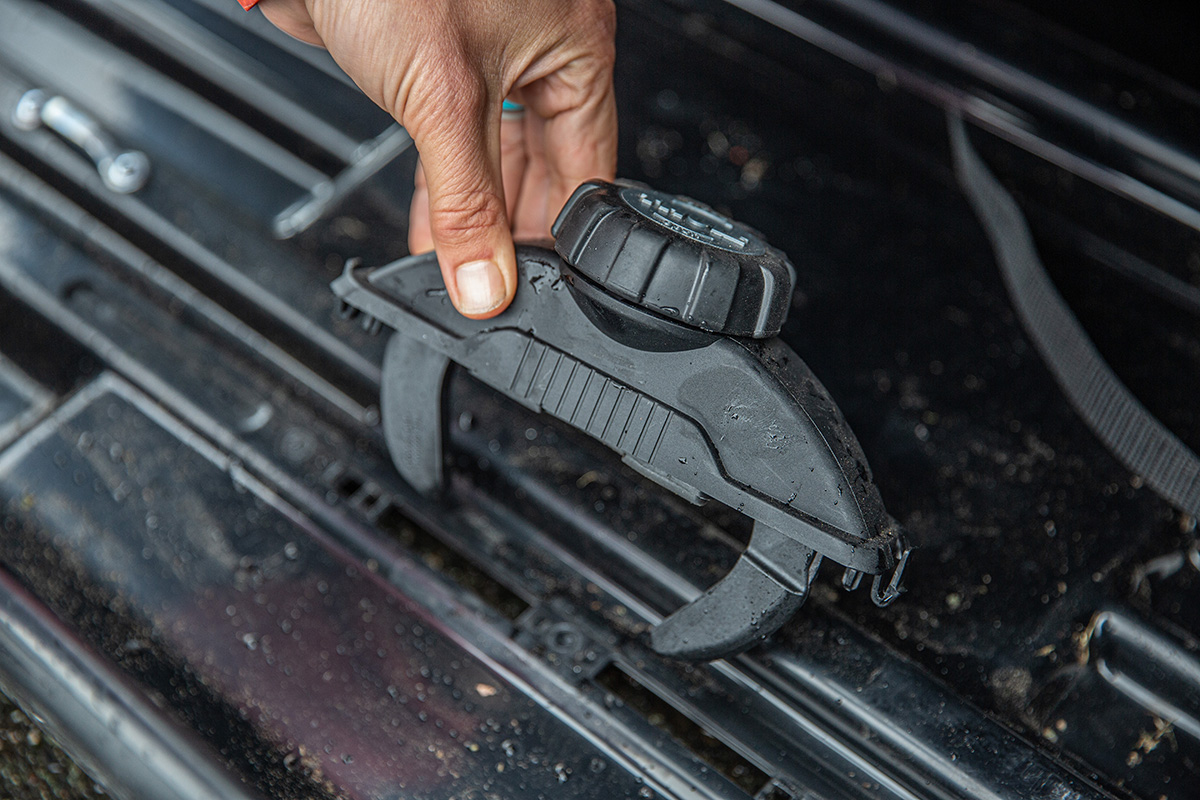 Crossbar Compatibility
Crossbar compatibility is rarely an issue with modern roof boxes, and the Thule Motion XT XL is no exception. In this case, the Motion's open clamps should work with most rack systems, including Thule's own Wingbar, AeroBlade, SquareBar, and ProBar models (keeping in mind minimum and maximum bar spreads). Most racks from other brands won't pose an issue either, including most factory bars that come from the vehicle manufacturer. Of note: You will need to purchase separate T-track adapters for Thule's TracRac (built for both trucks and vans) or Xsporter Pro (made just for trucks). And regardless of what type of vehicle you drive, it's always best to check out the fit guide before buying, including measuring if there will be any potential hatch interference (Thule has a really helpful how-to article here).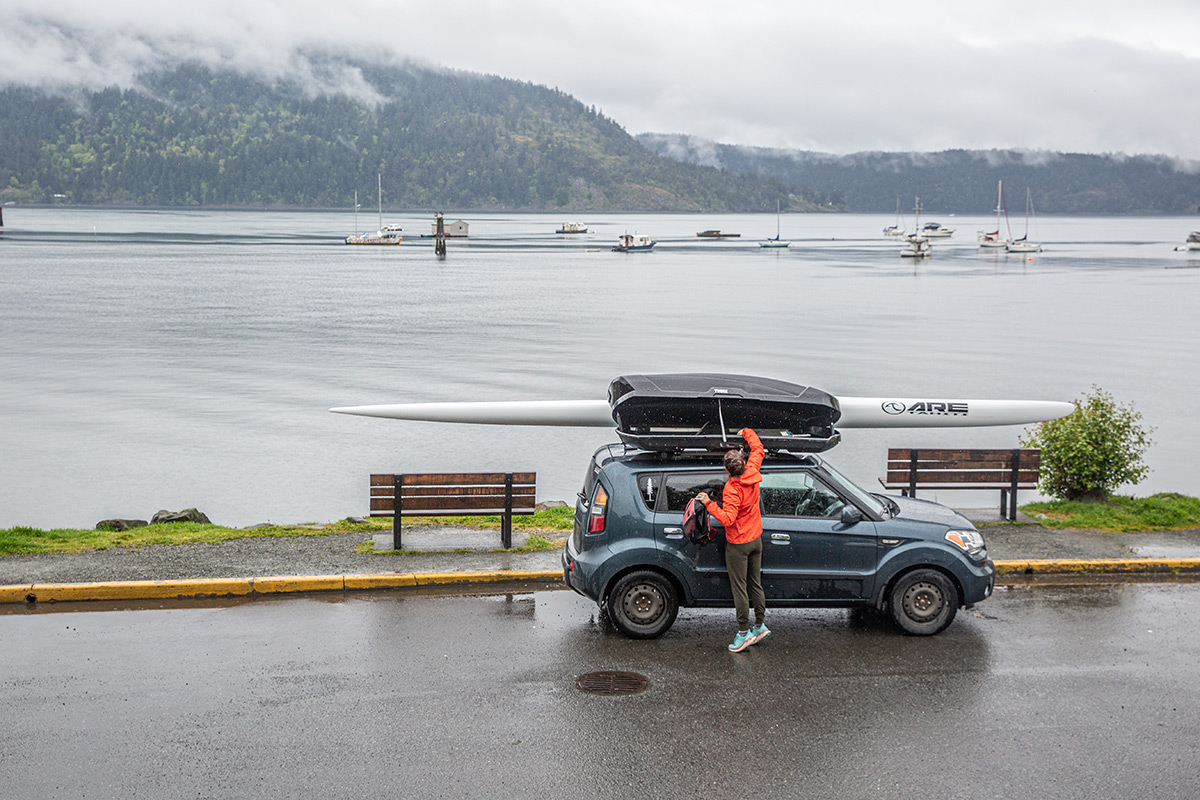 Other Versions of the Thule Motion XT
I opted for the XL version of the Motion XT to accommodate longer skis, and it's also available in a smaller L variation for $800, as well as an even bigger XXL model for $900. For reference, the Motion XT L boasts 16 cubic feet of capacity (compared to 18L for the XL here), is 6 feet 5 inches long, and weighs 42 pounds, while the XXL has 22 cubic feet of space, is 7 feet 7.5 inches in length, and clocks in at 55 pounds. Rounding out the Motion collection is the Motion XT Alpine, which is the lowest-profile and longest option of the bunch with a 13.25-inch peak height and ability to carry skis up to 215 centimeters. Importantly, all of the Motions share the same functional PowerClick mounting system, 165-pound maximum load capacity, and high-end features and finishes.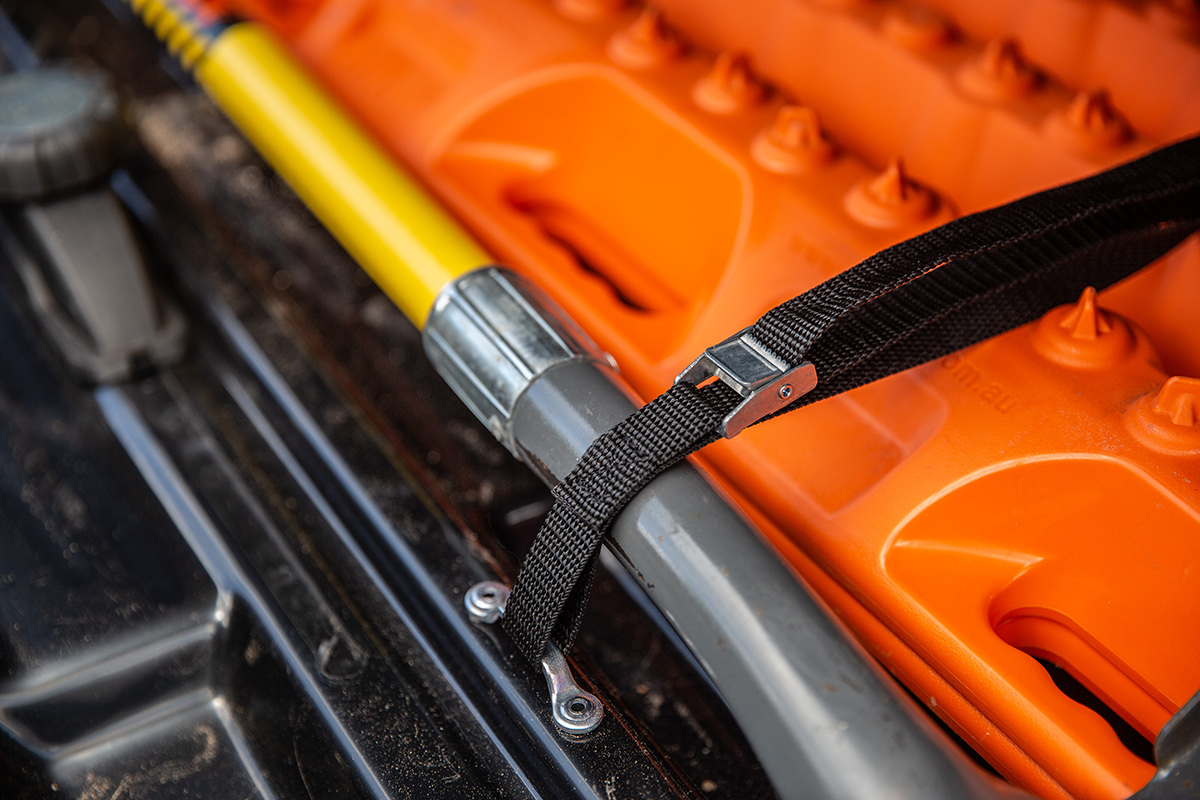 What We Like
Ample storage space for everything from bulky camping gear to off-roading tools and winter equipment like skis and snowboards.
PowerClick mounting system is very intuitive and makes installation a breeze.
Locking lid and handle offer quick access while providing a nice dose of assurance (the key can't be removed unless the box is properly latched shut).
Built-in tie-down straps effectively keep gear in place, even on rough roads.
Despite its larger size and generous capacity, the box doesn't cause a lot of road noise or heavily impact gas mileage.
Excellent weather resistance and build quality, including a high-end, glossy sheen and durable materials throughout.

What We Don't
Very expensive at $850 for the XL version.
On the taller end at 17 inches—some may want a lower-profile box to minimize road noise and drag.
Dark colorways and lack of airflow inside mean it's best to avoid storing anything that's sensitive to heat (like food) in warm weather.
You'll need to be mindful of moisture pooling at the bottom when hauling wet gear (there are no drainage ports).
The box feels a little flimsy if you open or close it from the front or back (I recommend always using the handles in the middle).


Comparison Table
| Rooftop Cargo Box | Price | Dimensions | Capacities | Access | Skis | Weight |
| --- | --- | --- | --- | --- | --- | --- |
| Thule Motion XT XL | $850 | 84.5 x 36 x 17 in. | 16, 18, 22 cu. ft. | Dual | Up to 200cm | 46 lbs. |
| Yakima SkyBox 18 | $729 | 92 x 36 x 16 in. | 12, 15, 16, 18, 21 cu. ft. | Dual | Up to 215cm | 52 lbs. |
| Thule Force XT XL | $750 | 82.75 x 33.75 x 17.25 in. | 11, 16, 18, 22 cu. ft. | Dual | Up to 195cm | 47 lbs. |
| Thule Vector Alpine | $1,600 | 91 x 35 x 12.5 in. | 13 cu. ft. | Dual | Up to 200cm | 66 lbs. |
| Yakima GrandTour 18 | 829 | 91 x 37 x 17 in. | 15, 16, 18 cu. ft. | Dual | Up to 215cm | 61 lbs. |
| Yakima RocketBox 14 | $549 | 74 x 33 x 16 in. | 11, 14, cu. ft. | One | Up to 170cm | 40 lbs. |

The Competition
Thule's Motion XT is our favorite all-around rooftop cargo box, but we see the Yakima SkyBox Carbonite on more rooftops than perhaps any other carrier. Like the Motion XT, the SkyBox features tool-free installation, dual-sided opening, and an aerodynamic shape that tapers at the rear to accommodate your car's antennae and hatch. At $729 for the 18-cubic-foot model, it's significantly cheaper than the XL Motion ($850), and over a foot longer at 7 feet 8 inches (accommodating skis up to 215cm). However, Yakima's quality simply can't compete with Thule's: the SkyBox's latch isn't as easy to operate with just one hand, the mounting system requires some finagling to get into place, and you only get one matte black option (the Thule comes in glossy black and titan grey). But if you don't mind slight fit and finish compromises, the Yakima SkyBox Carbonite is a great value and a very functional cargo box.
Sliding in just below the Motion XT in Thule's lineup, the Force XT XL is another quality rooftop cargo box for value seekers. The Force retains a lot of the Motion's premium features, including easy-to-install PowerClick mounts, dual-sided opening, six tie-down points, and built-in stiffeners. But it does fall a bit short in the details: The Force's matte aesthetic is no match for the Motion's glossy finish, and the LockKnob mechanism (which combines the handle with the lock) isn't as durable or easy to use as the Motion's more premium SlideLock. In fact, many Force owners report issues with broken handles and keys. In the end, we'd recommend the more affordable SkyBox above for those looking to maximize value, or for stick with the Motion XT for just $100 more.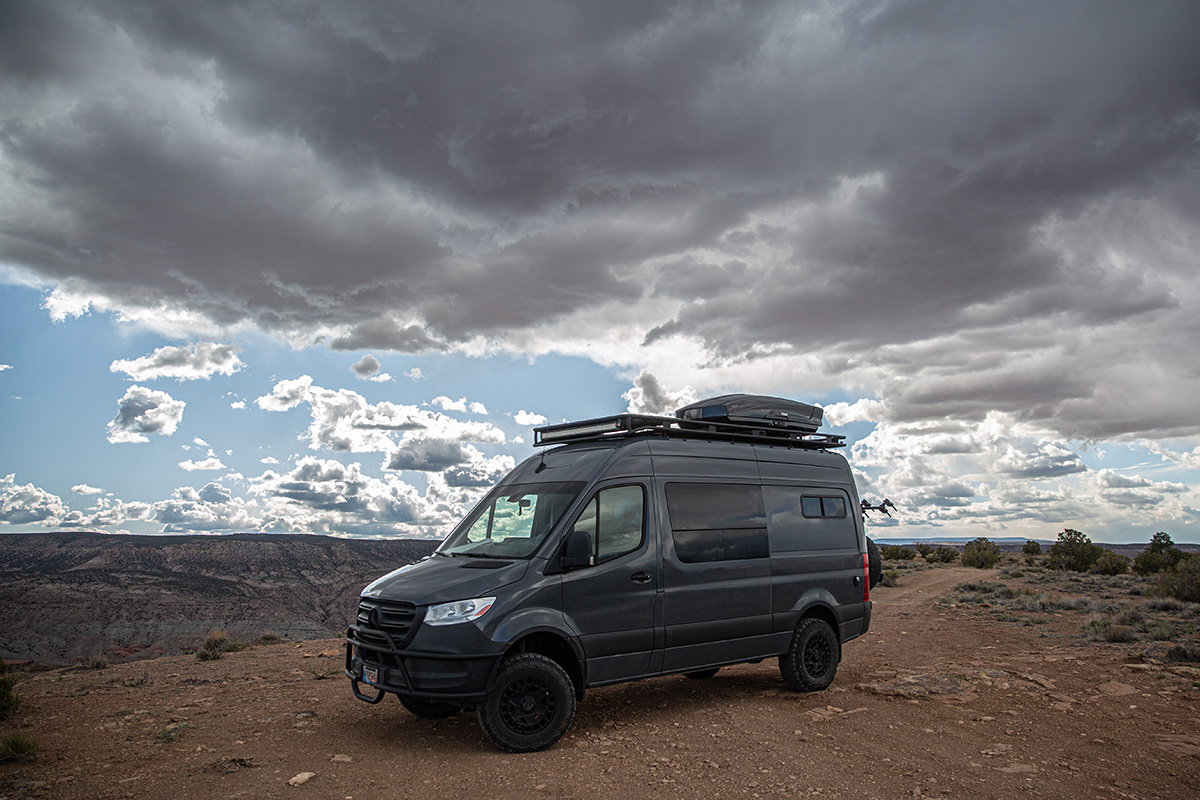 Looking in the other direction at Thule's lineup, you'll find the uber-premium Vector Alpine. For $1,600, the Vector Alpine breaks all the rules defined by utilitarian rooftop boxes, with a removable felt pad on the base to protect your gear, a white-lined lid for better visibility, and motion-activated LED lights to illuminate the interior. The construction is correspondingly premium: the nose dips below your front crossbar to mitigate wind noise, and steel reinforcements offer best-in-class structure and durability. But you'll have to ask yourself if you really need the luxurious extras, especially considering that—for almost half the cost—the Motion shares many of the same features, including PowerClick mounts, dual-side access, and the SlideLock lock and latch system. If anything, it's a nice assurance that the Motion uses the best technology Thule offers in a relatively affordable package.
 
The Motion XT is certainly an elegant rooftop cargo box, but Yakima's GrandTour gives it a run for its money at a slightly cheaper price point. At $830 for the 18-cubic-foot version, the GrandTour features a high-gloss finish, sophisticated wide profile, and contoured base that keeps it sitting low on the crossbars. And with a length of 7 feet 7 inches, it can fit multiple pairs of skis up to 215 centimeters in length. Road and weather performance drops slightly with a less robust nose design than the Motion, but the GrandTour is nevertheless a high-quality box, with large, easy-to-use handles, SKS locks on both sides, and an internal mounting knob that removes to create a flat base (and more room for your gear). If you have a luxury vehicle with an empty rooftop, the GrandTour is a solid choice (it also comes in 15 and 16 cu. ft. varieties). 
For those trying to pinch pennies, it's worth looking at Yakima's entry-level RocketBox Pro. With a name that's almost synonymous with roof boxes, the RocketBox is available in 11, 12, and 14 cubic foot sizes. At just $549 for the 14-cubic-foot version, it retains many of the Motion's premium features, including tool-free installation, dual-sided opening, and separate latch and locking mechanisms (not always available at this price point). But the Yakima is still far from premium: many users cite durability concerns with the flimsy build, and the nose doesn't resist weather as well as the Motion's overlapping design. For the same price, Thule offers their size-large Pulse, although it's an even less impressive budget design: You only get access from one side, the locking mechanism is prone to breaking, and the box lacks a contour at the rear to accommodate modern, fin-like antennae. In the end, you get what you pay for, but the RocketBox is time-tested and loved by many.
If you're thinking about buying gear that we've reviewed on Switchback Travel, you can help support us in the process. Just click on any of the seller links above, and if you make a purchase, we receive a small percentage of the transaction. The cost of the product is the same to you but this helps us continue to test and write about outdoor gear. Thanks and we appreciate your support!
Depending on the seller, most products ship free in the United States on orders of $50 or more. International shipping availability and rates vary by seller. The pricing information on this page is updated hourly but we are not responsible for inaccuracies.
Read More From Switchback Travel