Yeti Roadie 24
Price: $250
Capacity: 24 qts. (22.7L)
Weight: 13 lb. 1.6 oz.
What we like: Typical Yeti build quality, class-leading ice retention, and manageable but versatile size.
What we don't: Expensive for the capacity and no drain plug for quickly dumping melted ice.
See the Yeti Roadie 24
The Yeti name carries a lot of weight in the cooler market: Their coolers are impressively effective insulators, hold up very well over the long term, and boast the brand's laudable polished look. Their smallest hard-sided offering is the Roadie 24, which we recently put to the test on a multi-day canoe trip that involved several miles of portaging over rough terrain. All told, the cooler kept our food and drinks cold for the duration of the trip despite being in direct sunlight for hours at a time, and the tough rotomolded build handled our rough treatment without issue. The Roadie doesn't come cheap at $250 and lacks a drain plug for dumping melted ice, but it's another winner of a design from the brand. Below we outline our experiences with the Roadie 24. To see how it stacks up to the competition, check out our article on the best coolers.
 
---
Table of Contents
---

Performance
Ice Retention and Insulating Abilities
Yeti coolers are known for their premium insulating and ice-retention capabilities, and the Roadie 24 carries the torch with thick walls, quality Permafrost insulation, and a freezer-style gasket to seal in cold. To get the best possible results, we adhered to Yeti's recommended 2:1 ice-to-food ratio, kept the cooler in the shade whenever we could, and avoided draining melted ice for as long as possible (for more tips, check out Yeti's page on maximizing ice retention). We did use block ice rather than crushed ice at first to reduce melting but quickly turned to the latter since it easily fills the gaps between food and beverages. Ideally, you'll want to use a combination of both block and crushed ice to maximize insulating performance, but that would severely limit food-carrying capacity in a cooler of this size. That said, the Roadie still kept our food and drinks chilled for three full days, which was quite impressive given the summertime temperatures.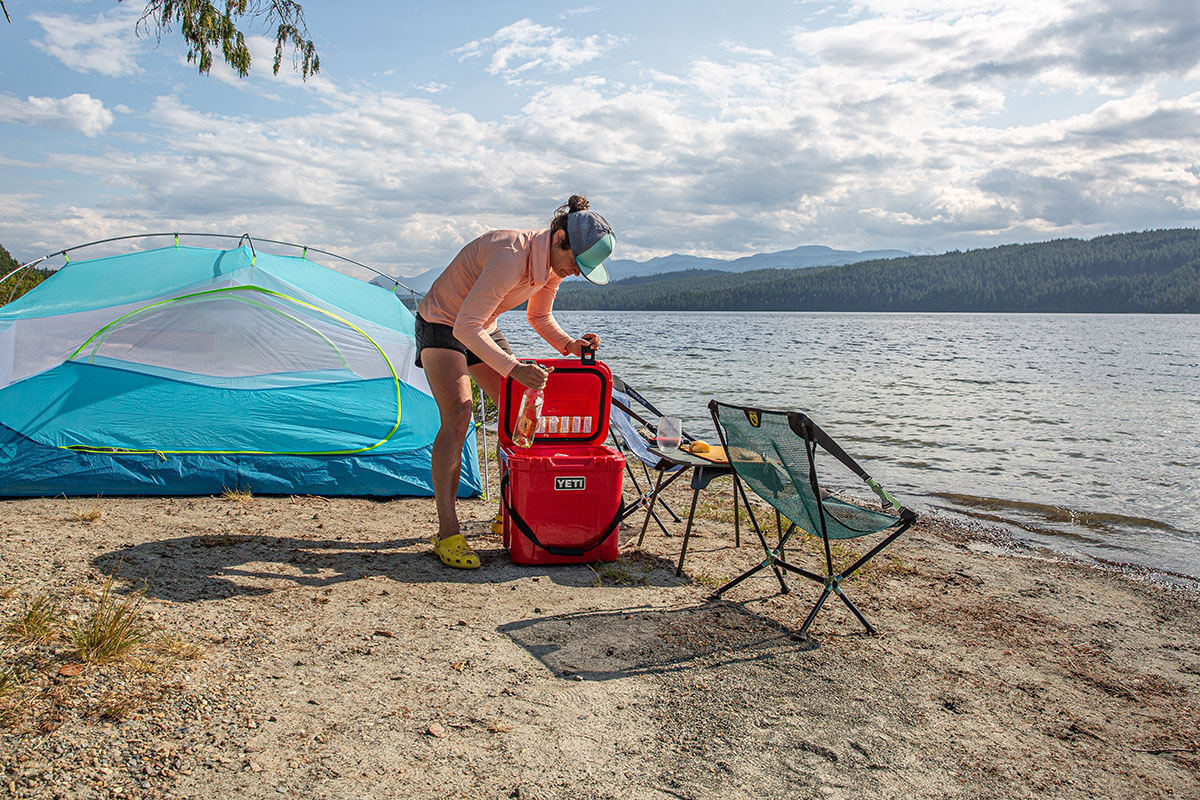 We've used a Yeti Tundra 45 for over 8 years and have been very impressed by its overall performance—we once left it full of perishables in our vehicle for three sunny days in Kootenay Lake Provincial Park and were surprised to find our food still cold at the end of the trip. With that in mind, we decided to have a showdown between our Tundra and Roadie: We filled both with the same amount of food and placed them in full sunlight (it was around 80 degrees Fahrenheit in the shade). After 24 hours, we opened both coolers to find a similar ice-to-water ratio. The Tundra did outperform the Roadie slightly, but I suspect that opting for a lighter colorway in the Roadie (such as white or tan) would have offset that gap.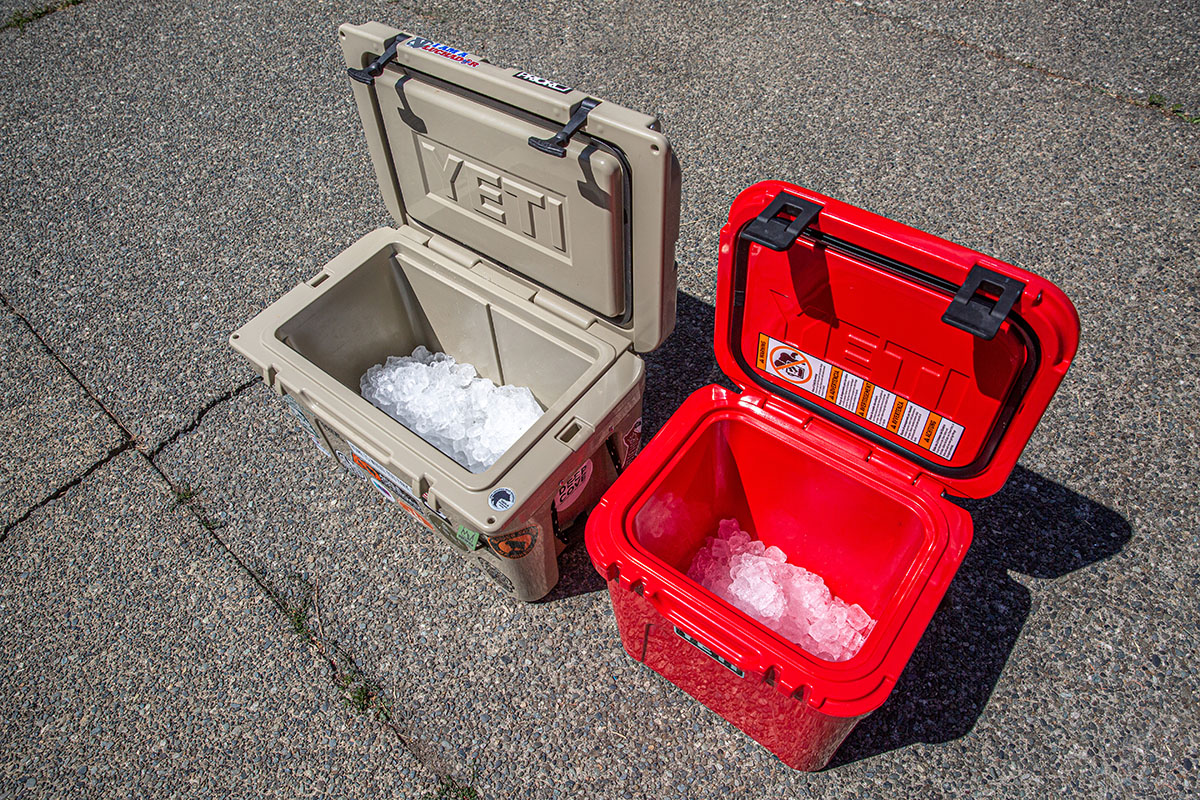 Capacity
The Roadie's interior measures 10.8 inches wide, 8.1 inches deep, and 13.4 inches high, which was enough to carry a bottle of wine, four tall cans of beer, and ample fresh food for a three-day paddle—along with a block of ice to keep it all cold. It's important to note that Yeti designed the cooler to fit taller items like wine bottles or 2-liter bottles of soda upright, which really helps maximize interior space. The Roadie can also fit two of Yeti's dry goods baskets (sold separately for $25 each) side by side to separate perishables. We didn't purchase any for testing, but it would have been helpful to prevent our cheeses from becoming waterlogged with melted ice.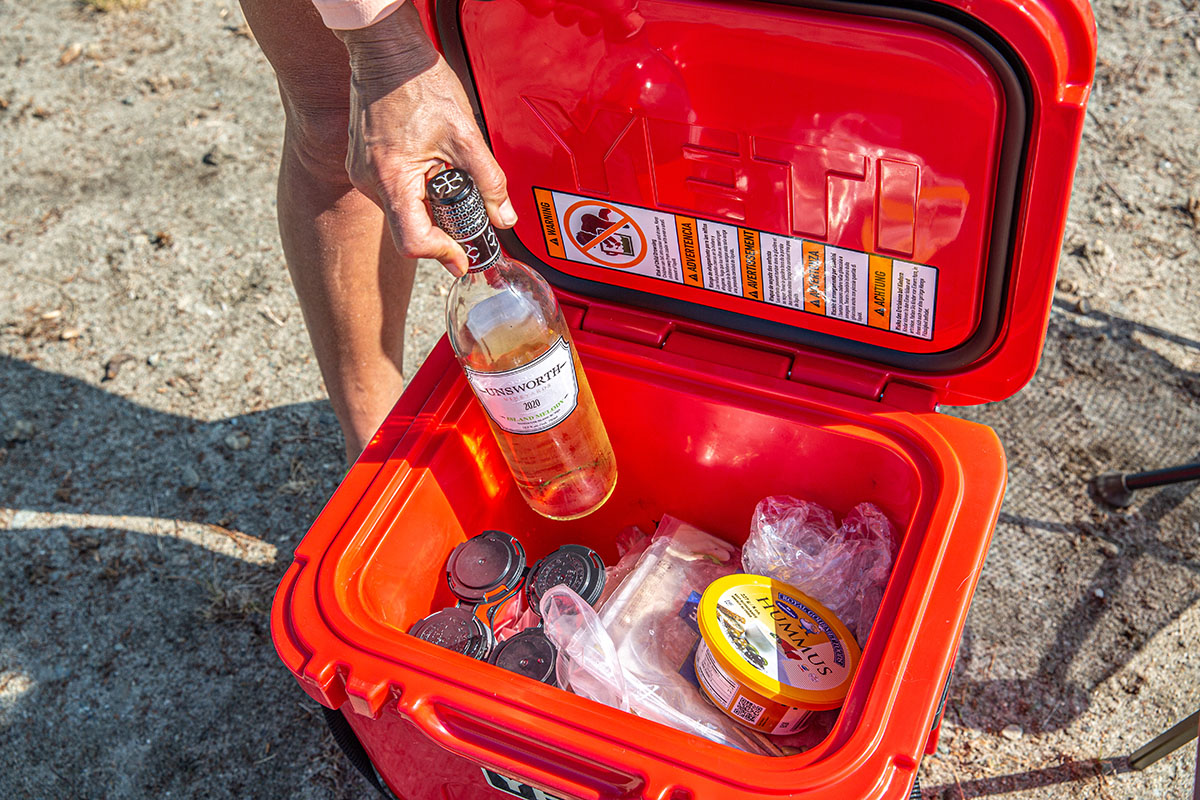 Weight and Portability
The Roadie 24 checks in at 13 pounds 1.6 ounces, which is reasonably light for such a durable rotomolded design. For comparison, Pelican's 20QT Elite Cooler is a little lighter at 12 pounds 8.3 ounces, but its injection-molded build is a step down in all-out toughness and insulating capabilities (it also offers a little less storage space than the Yeti). Most other similarly built designs check in considerably heavier, including the RTIC 20 QT Hard Cooler (19 lb.), Roam 20QT Rugged Ice Bucket (19 lb.), and Orca 20 Quart Cooler (18 lb.).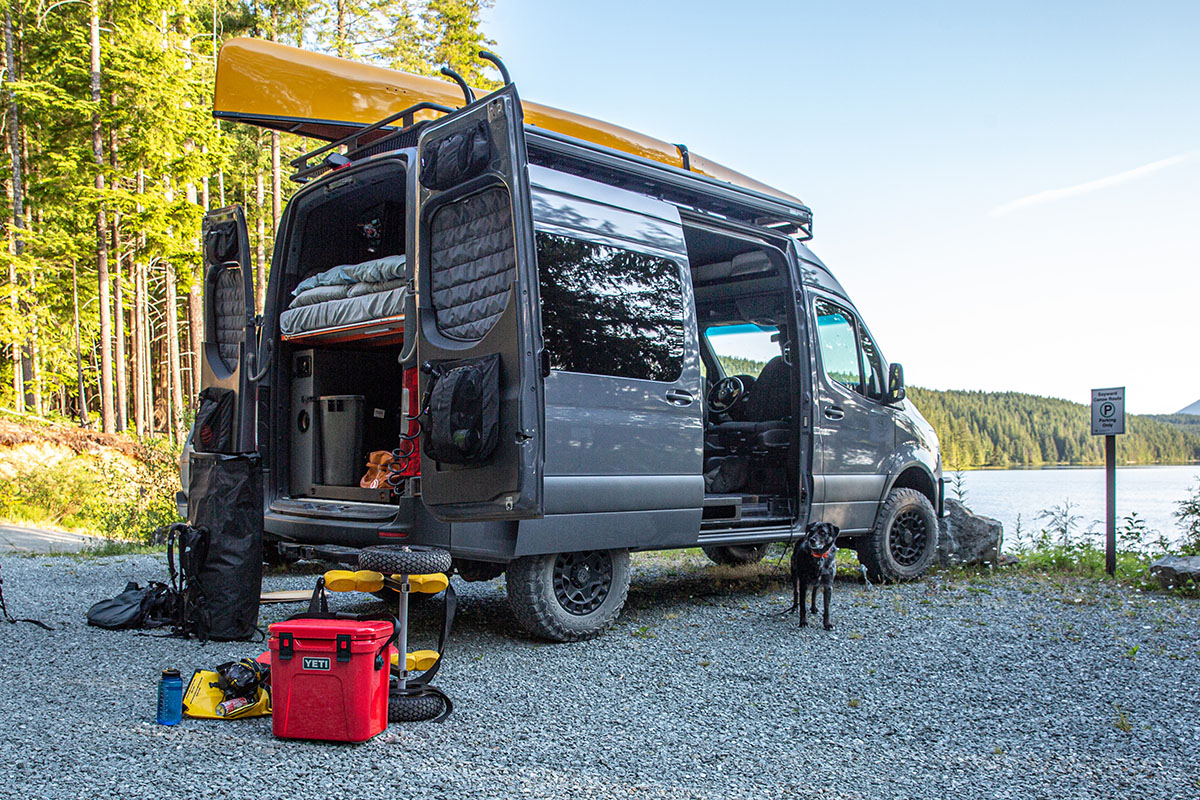 Our first outing with the Roadie involved portaging it for nearly 5 miles over bumpy and technical terrain, which was a decidedly extreme test but gave me a good indication of the cooler's portability. Because my husband was carrying our canoe, I was tasked with hauling the loaded Roadie solo and had to alternate between hooking one forearm under the carry strap (until my arm got sore) and holding it tight against my torso with both arms wrapped around for support. There are also indents along the sides that function as handles for shuttling the cooler over short distances, although I didn't have the finger strength to use them for more than a couple minutes at a time. Overall, I came away impressed by the variety of carry options but would strongly recommend a lighter and more portable soft-sided or backpack-style cooler for shuttling longer distances. Yeti also now offers the Roadie in 48- and 60-quart wheeled versions if you'll be covering relatively easy terrain.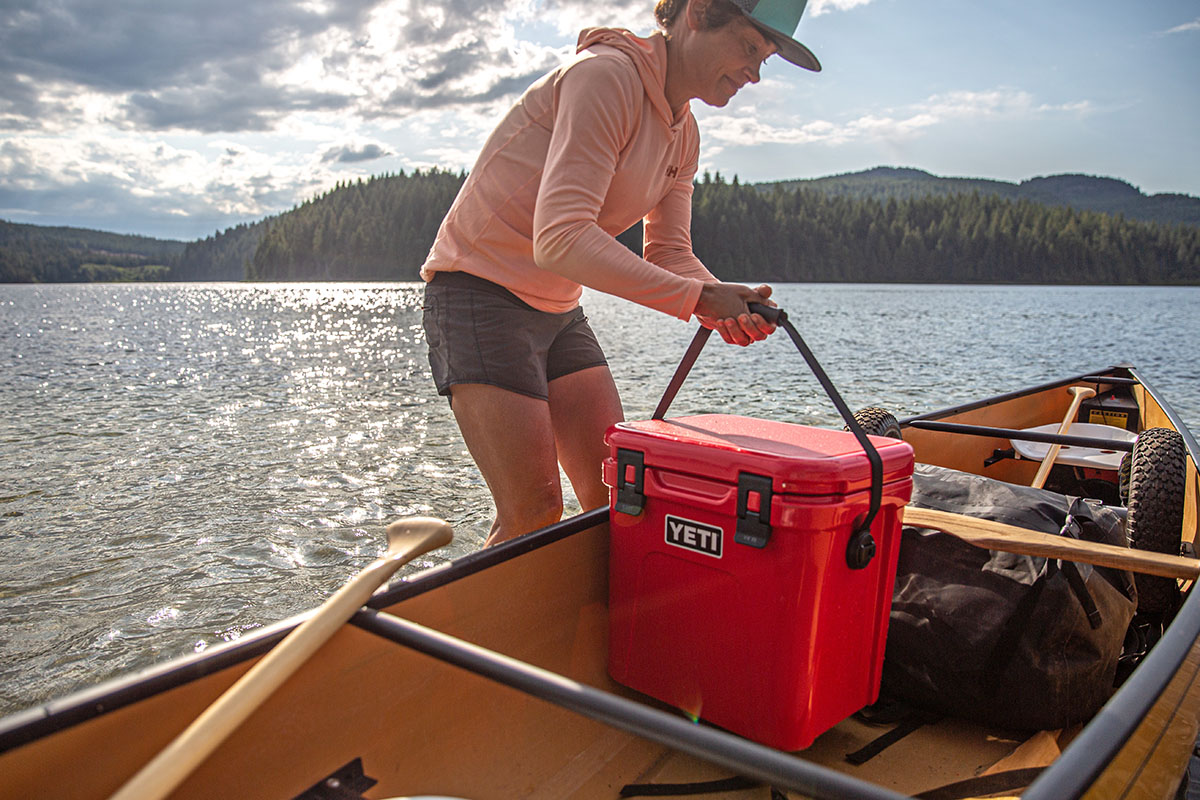 Build Quality and Durability
As previously mentioned, we've been using our Yeti Tundra 45 for many years, and all signs are positive that the Roadie 24 will fare equally well over the long term. Like the Tundra, the Roadie is rotomolded, which means that it's made from a single piece of continuous plastic that's rotated until it forms the desired shape. The advantages are fewer stress points—the Roadie is less likely to crack under pressure than an injection-molded design—and a consistently thick outer shell, which translates to exceptional durability and strength. For reference, we've hoisted the Roadie in and out of our canoe and van, lugged it over rocks and roots, dragged it across beaches, and used it as seating at camp with no issues or noticeable wear to date (other than some minor cosmetic scratches). My only complaints are that the cooler isn't fully leakproof or certified as bear-resistant—you'll need to keep it upright to prevent water from leaking out of the lid gasket, and I wish you could lock the lid (like you can with the Tundra) for use in bear country.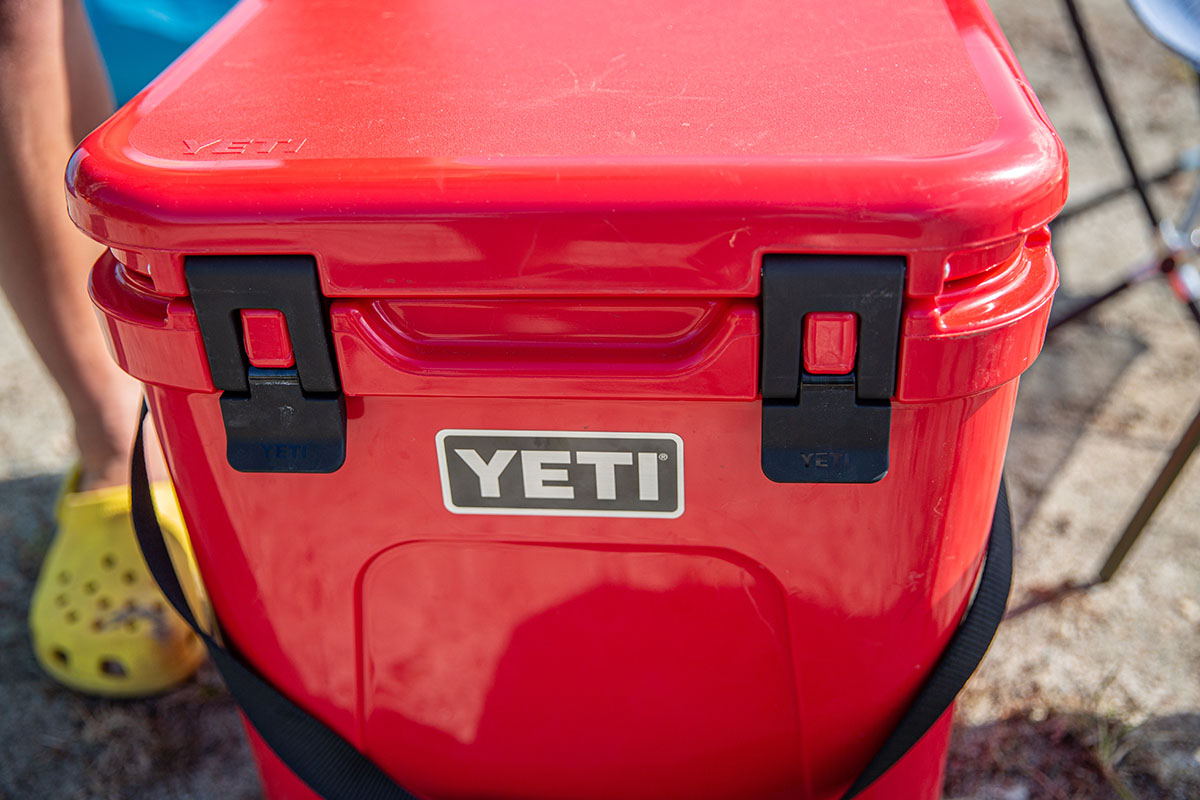 Key Features
Yeti clearly put a lot of thought into the Roadie 24's feature set. As I mentioned, the cooler is tall enough to fit wine bottles upright to maximize interior space. You also get multiple options for hauling, including the standard strap with Yeti's Heftyhauler handle for added grip and indented Lipgrip handles at the sides for two-handed carry. A removable shoulder strap would be a nice addition, but it's not a requisite feature by any means—if portability is a top priority, you'll want to opt for a soft-sided, wheeled, or backpack cooler instead. Other highlights include non-slip rubber feet to minimize sliding, tie-down slots for securing to a boat or truck bed, and quality Quicklatches that are easy to manipulate with one hand—unlike the Tundra's T-latches, which require a bit of stretching to secure the lid. The only notable omission is a drain plug for dumping melted ice. In practice, we found it difficult to drain the cooler without removing all our food, which meant allowing warm air in whenever water began pooling at the bottom.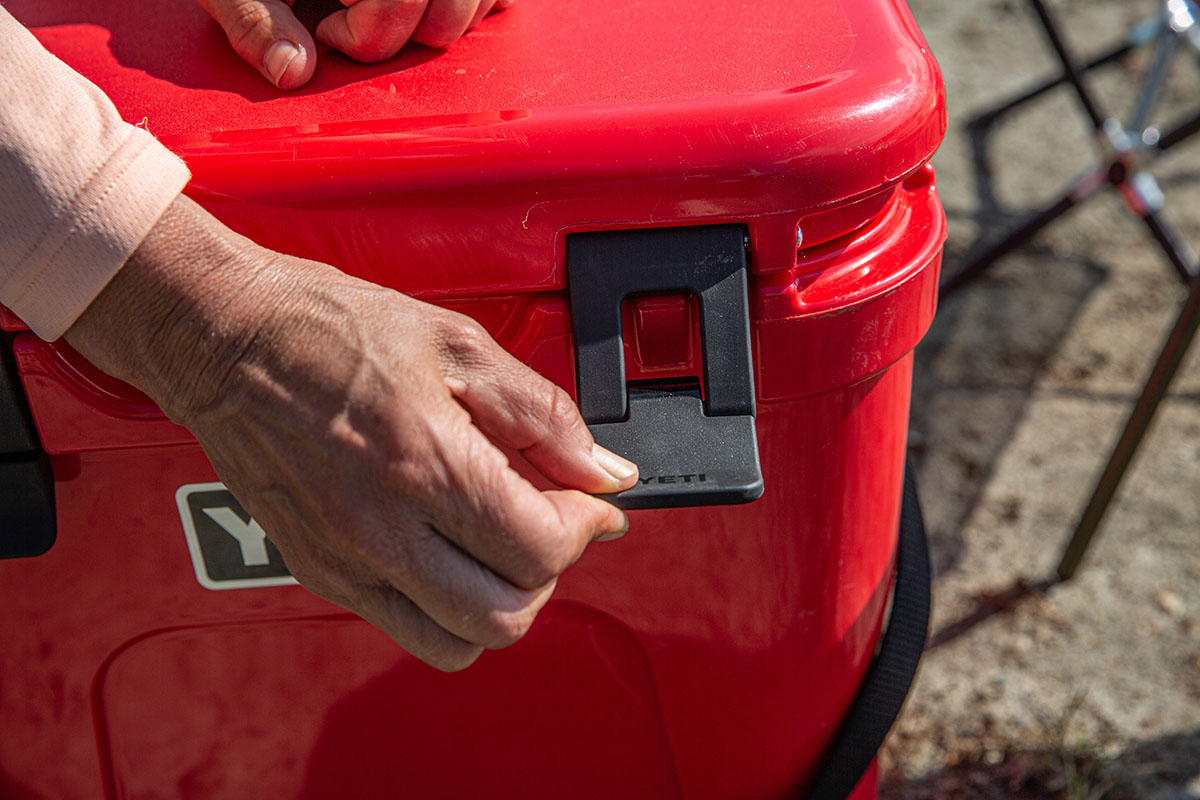 On a related note, it's worth pointing out that Yeti offers a few useful add-ons and aftermarket accessories for the Roadie. In addition to the dry goods basket mentioned above, they sell reusable ice packs of varying sizes (1 lb., 2 lb., and 4 lb.), replacement non-slip feet, and a Tie-Down Kit with ratchet straps and mounting hardware. There are also cup holders and an internal divider available for the wheeled versions of the Roadie, but neither is offered for the standard model that we tested.

Other Versions of the Yeti Roadie
We tested the flagship Roadie 24 for this review, and Yeti now also makes the cooler in two wheeled versions: the Roadie 48 and Roadie 60. The Roadie 48 Wheeled Cooler costs $200 more than the standard version and checks in considerably heavier at 28 pounds 4.8 ounces but retains many of the same features and tacks on a retractable handle, puncture-resistant tires for easier portability, a dry goods basket, and a drain plug for quickly dumping melted ice. The Roadie 60 is largely similar but with a boost in capacity—it can fit up to 98 cans without ice, while the Roadie 48 and 24 can fit 76 and 33, respectively. It's also the priciest and heaviest of the grouping at $500 and 30 pounds 9.6 ounces.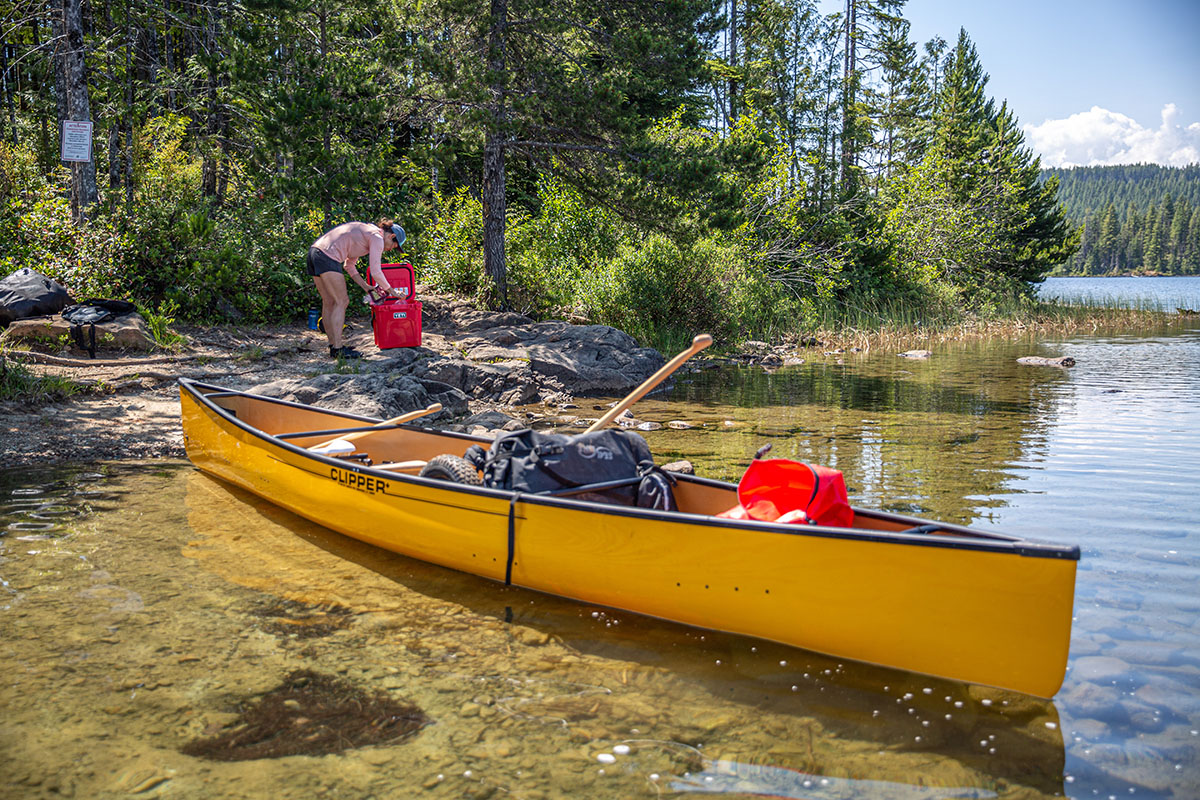 What We Like
Class-leading ice retention and durability thanks to a thick rotomolded build, quality insulation, and freezer-style gasket to seal in cold.
Versatile size: The Roadie is manageable to carry while still offering enough capacity for multi-day trips.
Tall enough to fit most wine and 2-liter soda bottles upright.
Well-executed feature set including multiple carry options, non-slip rubber feet, tie-down slots, and easy-to-use latches that can be manipulated with one hand.
Sleek and polished look with a wide variety of colorways (eight at the time of publishing) to choose from.

What We Don't
Lacks a drain plug, which can make dumping melted ice a bit of an involved process.
Pricey for the capacity at $250.
Not fully leakproof or bear-resistant.
While reasonably light for a rotomolded cooler of this size, the Roadie is fairly bulky and hefty for carrying long distances—in this case, we'd opt for a soft-sided or backpack cooler. 


Comparison Table

The Competition
Yeti's Roadie 24 is a premium and high-performing cooler through and through, but the $250 price tag is undeniably steep. For $50 less, we also like Pelican's 20QT Elite Cooler, which is a little smaller than the Yeti but can still accommodate wine bottles upright and comes with practical extras like integrated cup holders and a more robust carry handle. It's also lighter than the Roadie at 12 pounds 8.3 ounces and comes in a nice assortment of multi-toned colorways. That said, the Pelican is injection-molded rather than rotomolded, which translates to a step down in all-out durability and insulating capabilities (ice retention is listed at an unimpressive two days, although that should be plenty given the small size). And neither cooler comes with a drain plug, which can make draining melted ice a tedious process. In the end, the Pelican is a viable alternative for value-focused shoppers, but the Roadie is the better long-term buy for those who are hard on their gear.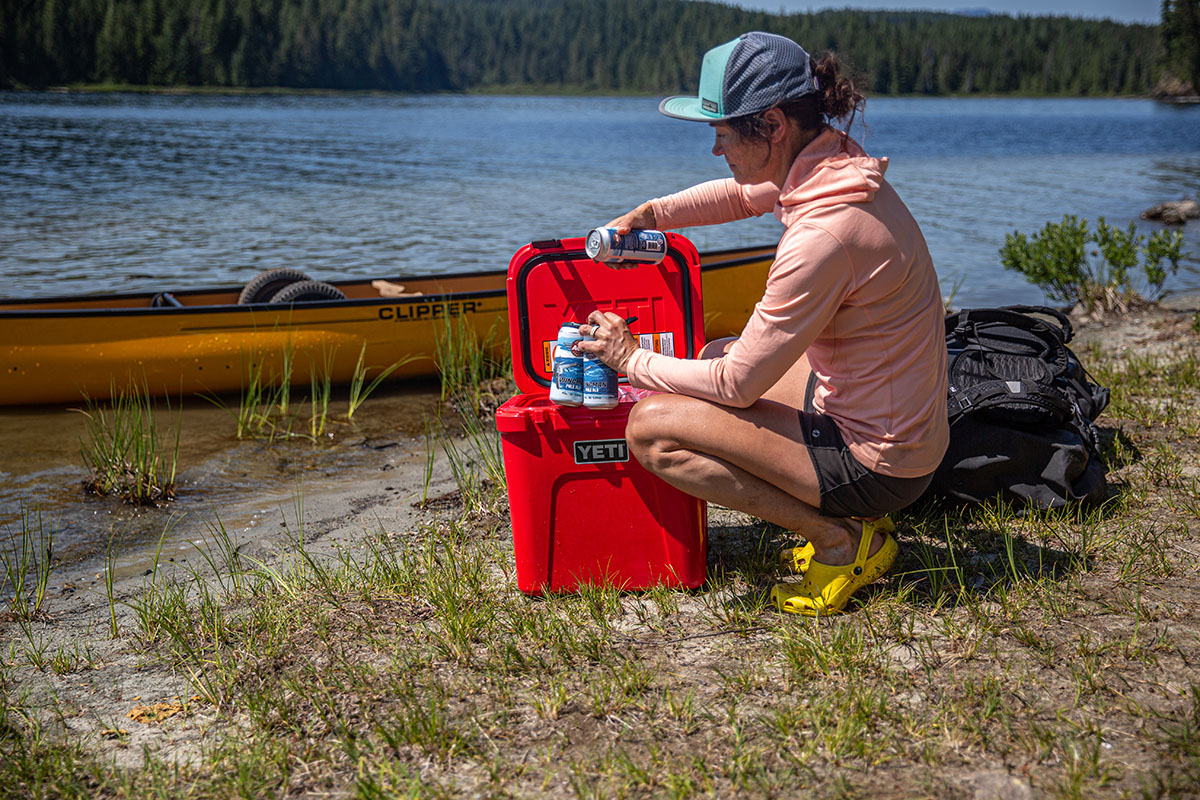 RTIC is another Yeti competitor and sells direct to consumer, which allows them to keep prices aggressively low without compromising on overall quality. Their $150 20 QT Hard Cooler is case in point: Despite undercutting the Roadie 24 by a considerable $100, the RTIC is similarly durable with a hardwearing rotomolded build and stacks up well in ice retention. It also comes equipped with a drain plug and a heavy-duty stainless steel handle that locks upright for one-handed carry, although it's heavier than the Roadie at 19 pounds (despite offering a little less capacity) and can't fit wine bottles upright. Like the Yeti, the RTIC also isn't bear-certified, which is a downside for those who frequently camp in bear country. In the end, the 20 QT Hard Cooler gets the clear edge in value but can't match the Roadie's painstaking attention to detail. 
Next up is Orca's 20 Quart Cooler, which only saves you $15 over the Yeti but stacks up favorably in terms of features and all-around performance. Highlights include a similarly durable rotomolded construction, impressive ice retention (it's listed at 10 days), a rotating stainless steel handle with a rubber grip, and an attached cargo net at the rear for stashing small extras. Unlike the Roadie, the Orca also comes with a spout for draining melted ice—a small but very impactful feature, in our experience. Tack on a multitude of classy colorways (11 at the time of publishing), a lifetime warranty against manufacturer defects, and a certified bear-resistant build (locks sold separately), and the 20 Quart Cooler leaves little to be desired. That said, we prefer the Yeti's easier-to-use Quicklatches over the Orca's more standard T-latch design, and the Orca can't fit wine or 2-liter soda bottles upright. It's also considerably heavier than the Roadie at 18 pounds, which is enough for us to recommend the Yeti over the Orca.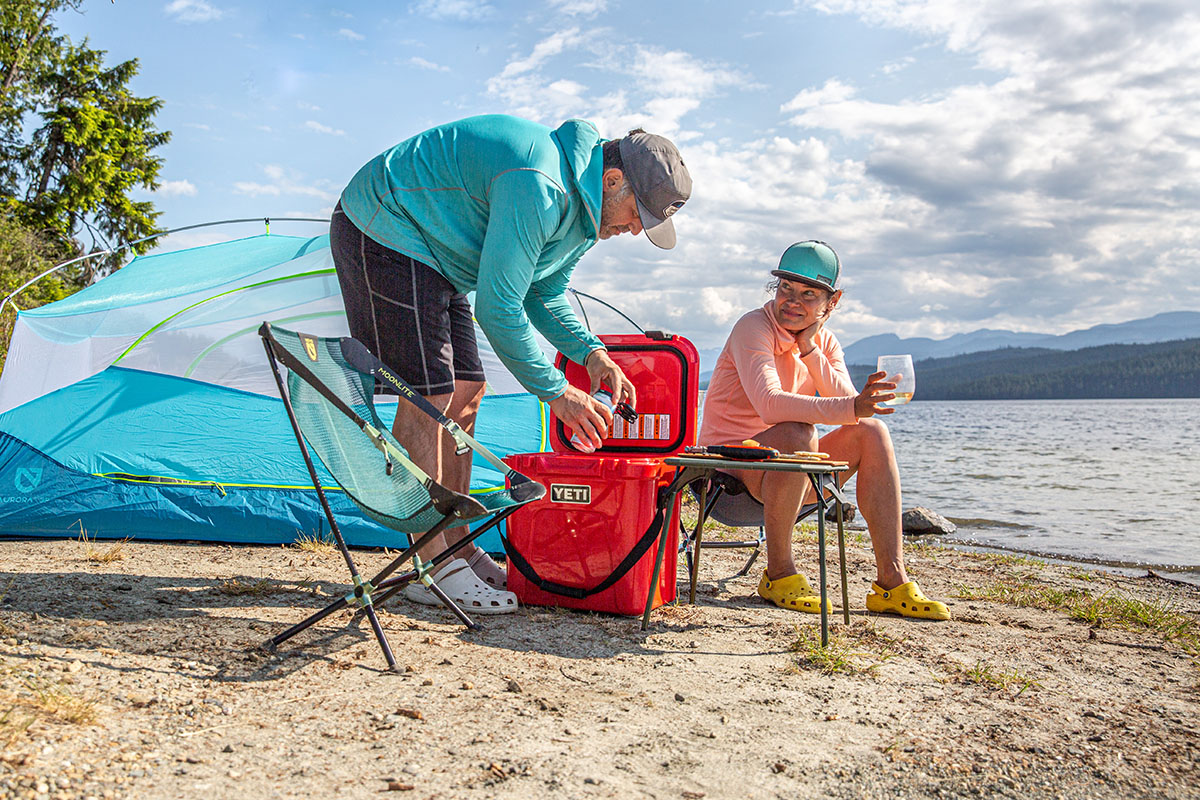 Last but not least is Roam's 20QT Rugged Ice Bucket, which—like the Roadie—is tall enough to accommodate wine or soda bottles upright. You also get two cup holders built into the top of the lid, a rigid rotating handle, and a similarly easy-to-use latching mechanism that doesn't require stretching to close. The Roam is heavier than the Yeti at 19 pounds, but it's a close match in all-out toughness thanks to the rotomolded construction and costs around $30 less (note: The Rugged Ice Bucket is discounted from $219 to $175 at the time of publishing). It also has holes on the lid for attaching locks, although it's not certified as bear-resistant (you can see a full list of certified coolers here). The Roam also only comes in four colorways (compared to eight for the Yeti) and has a noticeably more utilitarian look, which clearly reflects Roam's overlanding roots. In the end, we consider the Roadie the more well-rounded and good-looking design, but both coolers are highly durable and effective insulators. 
If you're thinking about buying gear that we've reviewed on Switchback Travel, you can help support us in the process. Just click on any of the seller links above, and if you make a purchase, we receive a small percentage of the transaction. The cost of the product is the same to you but this helps us continue to test and write about outdoor gear. Thanks and we appreciate your support!
Depending on the seller, most products ship free in the United States on orders of $50 or more. International shipping availability and rates vary by seller. The pricing information on this page is updated hourly but we are not responsible for inaccuracies.
Read More From Switchback Travel