Nemo Aurora Highrise 6P
Price: $500
Floor area: 83.3 sq. ft.
Peak height: 77 in.
Weight: 18 lb. 10 oz.
Capacities: 4P, 6P
What we like: Excellent all-around performance with quality materials throughout, easy to set up, and huge side door.
What we don't: Dome shape sacrifices some headroom along the ends; lacks a full-coverage rainfly.
See the Nemo Aurora Highrise 6P
Nemo makes some of our favorite backpacking tents but has been a relatively small player in the car camping market for some time. That's changed with the Aurora Highrise, which lands in the heart of the very competitive premium tent space. We tested the six-person version through three seasons and found it to be a strong all-rounder: The Highrise features high-end materials throughout, is very user-friendly thanks to a simple setup and thoughtful features like a huge side door, and hits a good balance of ventilation and weather protection. Below we break down our experiences with the Aurora Highrise 6P. To see how it stacks up to the competition, check out our article on the best camping tents.
 
---
Table of Contents
---

Performance
Interior Space
Spending up for a premium camping tent comes with expectations of a roomy interior, and Nemo's Aurora Highrise 6P mostly delivers. First, the standard X-shaped pole structure is supplemented with a second set of poles that runs the full length of the tent (one on each side), which stretch the walls and lead to a very open feeling inside. Peak height is also competitive at 77 inches in the middle—which stacks up well to standouts like the REI Wonderland 6—although the ceiling does slope down at either end. For reference, I measured the roof at just 49 inches high when standing about a foot away from the windows (it jumps to 73 in. once you're 3 ft. away). In practice, the sloped roof means the Highrise is a step down from the aforementioned Wonderland in overall standing space, but my family of four had zero complaints or issues moving around, even while waiting out storms for extended stretches.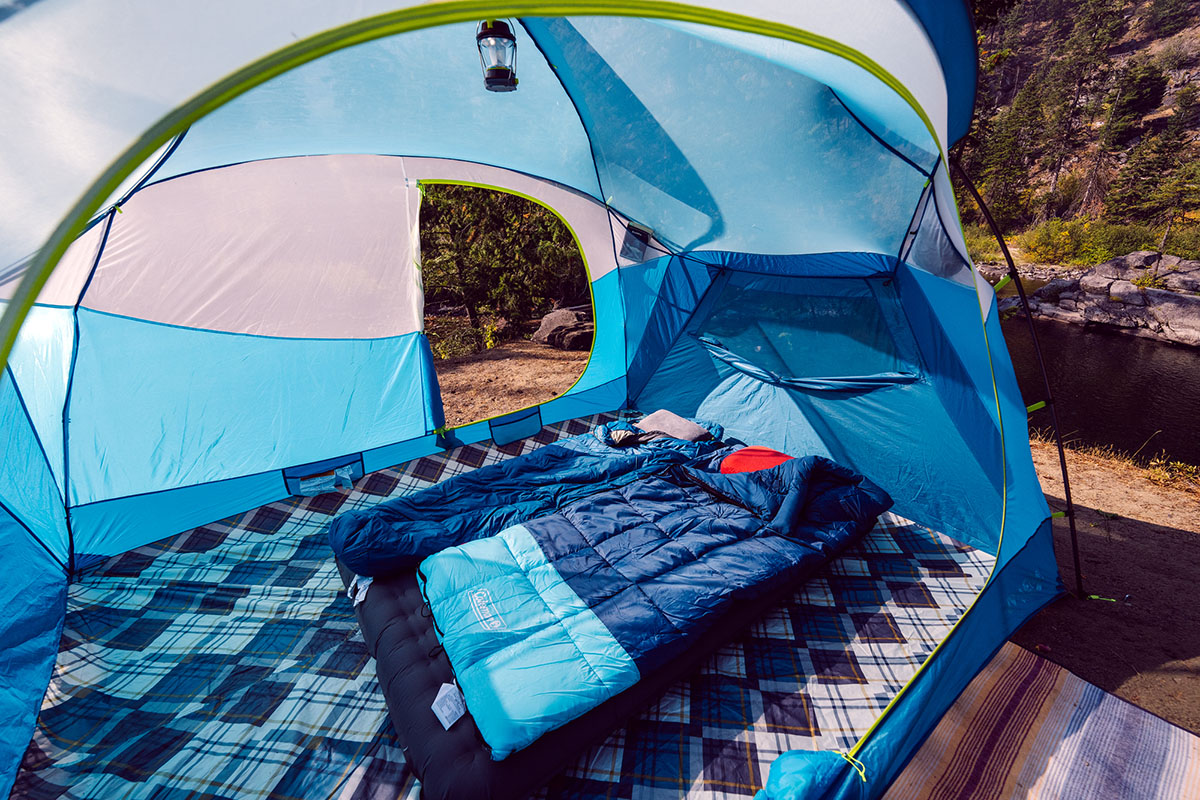 In terms of floor dimensions, the Highrise 6P is listed at 120 x 100 inches, which is fairly standard in the six-person tent market. This means it can technically fit six standard (20-in.) sleeping pads side by side (hence the 6P designation). But as with most camping tents, it's far more comfortable to stick with a lower number to leave some floor space for storing duffels, changing clothes, etc. We think the sweet spot for the Highrise for multi-night camping trips is a group of four or five, and you can push the capacity a little with younger kids who don't need full-width pads. On one occasion, we slept seven fairly comfortably, with three adults and four children under the age of eight.
A final feature to touch on is the door layout, which has a great impact on livability. On one side of the tent, you get a standard D-shaped door that's perfectly serviceable for getting in and out and retrieving items you want close at hand (we typically store duffel bags and gear on the end of the tent that has this door). But the second door is a true standout: Extending nearly the full length of the tent, it offers unmatched access to the interior—great for quickly reaching inside without dirtying the floor. Combined with two separate sets of zippers on the door (so four total) and a versatile vestibule that allows access from both sides, it's one of the most user-friendly setups we've tested to date. For everything from gear-intensive trips to just living with kids, the door has proven useful on every trip so far.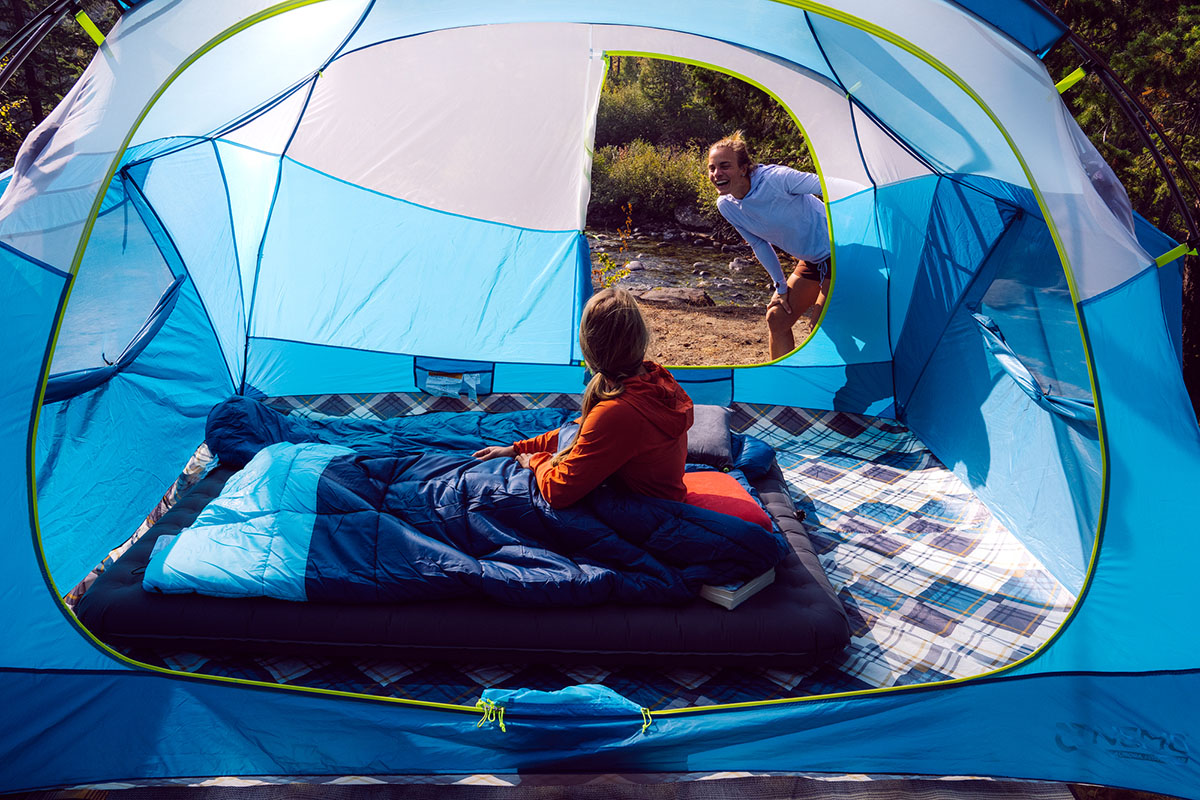 Weather Protection
Camping tents vary widely in the level of protection they provide, and the Nemo Aurora Highrise lands on the more weather-worthy end of the spectrum. The overall structure is quite sturdy with the crisscrossing pole shape, quality 13-millimeter-diameter aluminum poles, and polyester coating on the canopy and floor. Everything clicks together in a reassuring way, and Nemo included a sufficient amount of guylines to reinforce the tent in windy conditions. You also get pretty good coverage from the rainfly, which offers full protection along the sides of the tent and stretches over each end in an awning-like fashion. Finally, as expected for the price, the seams are taped in exposed areas, and the bathtub floor offers strong waterproofing.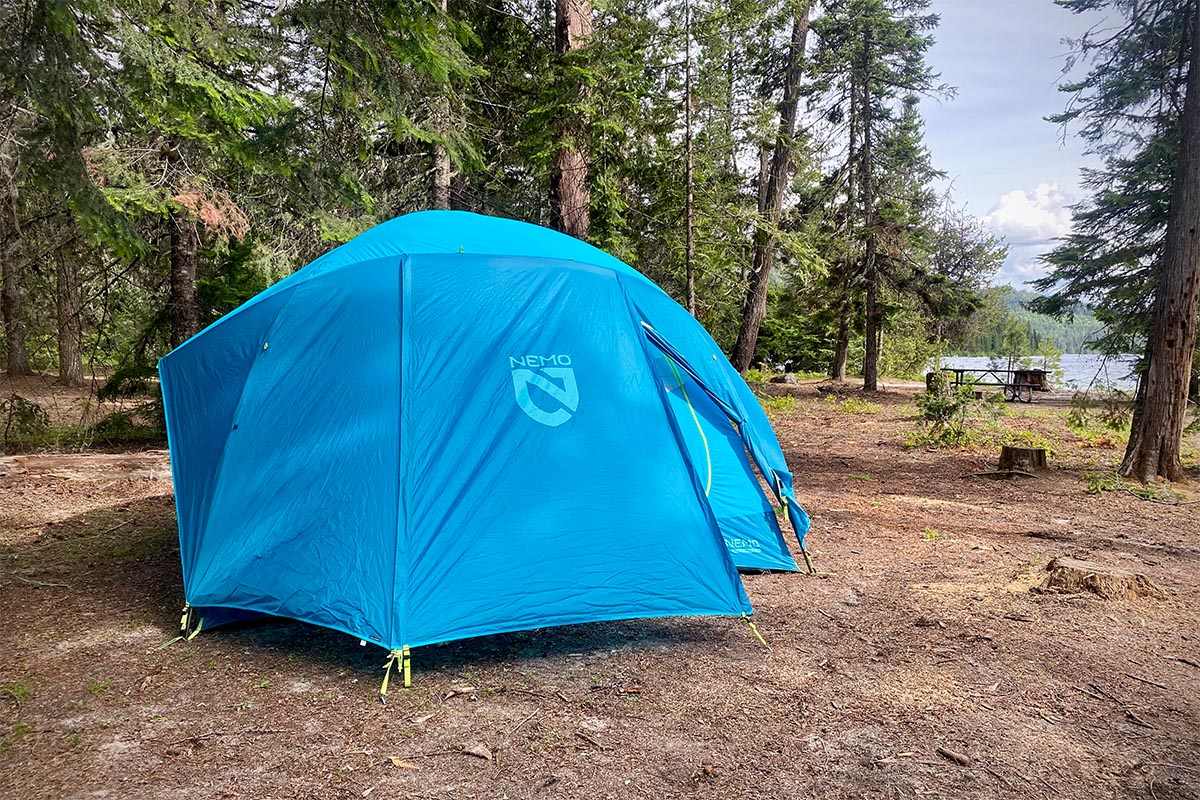 We've had a lot of opportunities to evaluate weather protection in this nearly year-long test, in conditions ranging from mid-summer heat to moderate wind, all-night rain, and even a little hail. The good news is that the Aurora held up through it all, not letting any moisture through and remaining strong in blustery weather. But we did have a few nitpicks, which are primarily focused on the exposed ends of the tent. To start, the fabric flaps covering the mesh windows are an area of vulnerability in blowing wind and rain, and we'd much rather see quality zippers in their place (like you get with the REI Wonderland). And in heavy rainfall, the side of the tent got a bit muddy as water ran off the awnings and splashed on the ground. But other than getting the end walls dirty, no moisture made its way inside.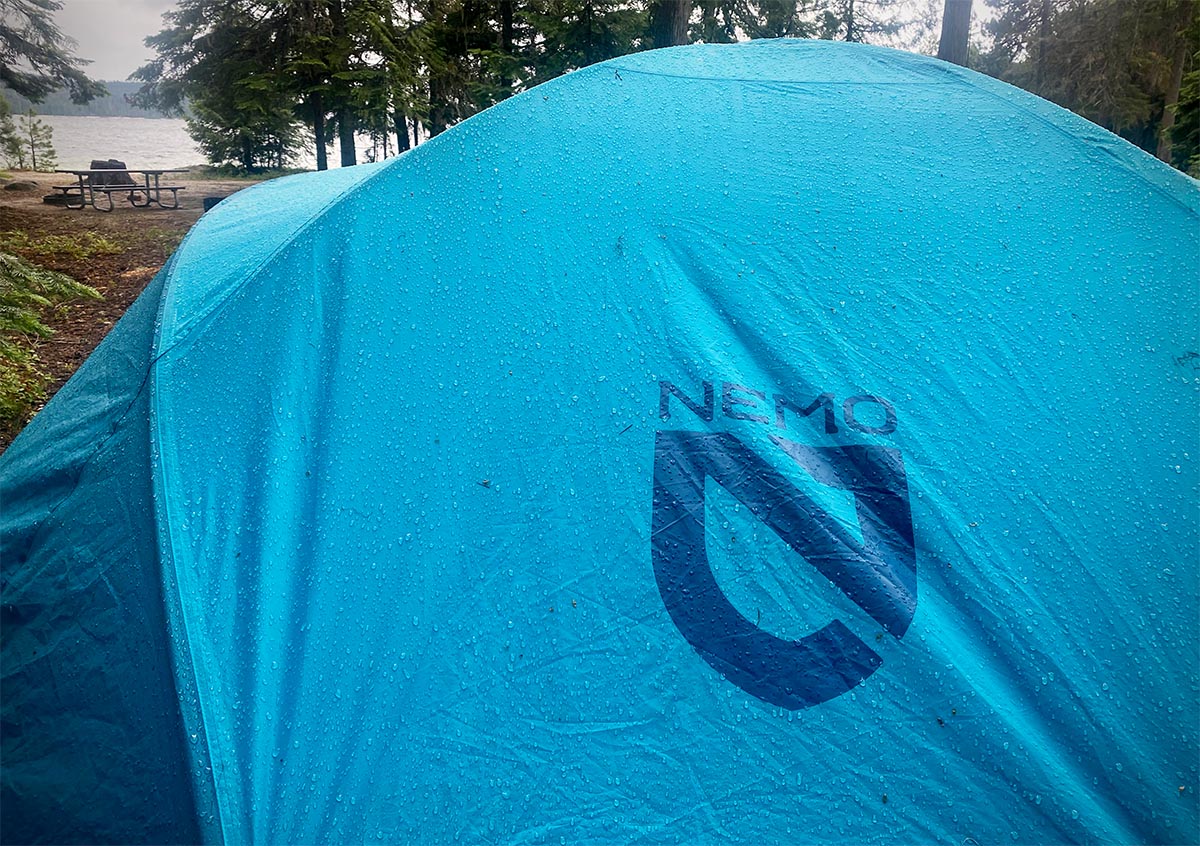 A final nitpick is that we found it impossible to get the rainfly fully taut at the area between the two end poles (right above the windows). Even when guyed out and with the rest of the rainfly stretched and secure, there's a noticeable amount of flapping in direct wind (angled wind was less of an issue). Again, these complaints didn't translate to any actual failures during testing, and realistically, this is a win for a huge camping tent (we've had some degree of weather protection gripes with every camping tent we've tested). But we do think Nemo could make some small improvements in a future update.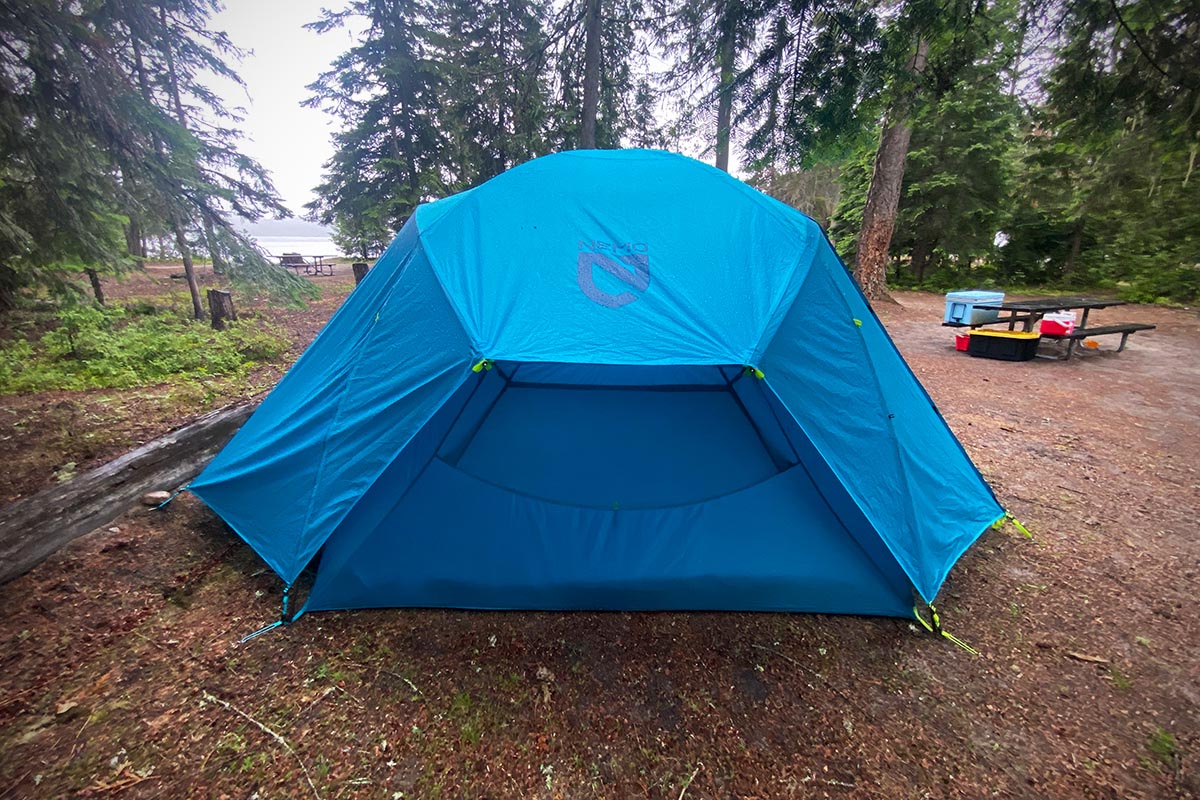 Ventilation
A lot of campers head out in the heat of summer, so we're happy to report the Nemo Aurora Highrise is a fantastic ventilator. To start, there's a whole lot of mesh in the upper part of the tent body, and the pole structure creates a nice amount of space between the body and fly to keep air moving. Additionally, the tent has large mesh windows built into each end. Opening these up not only brings in some nice natural light and fun views outside but also creates a healthy amount of cross ventilation, which was really appreciated in the midday heat. And in mild weather, you can roll back the vestibules on both sides in a variety of ways to encourage even more airflow. Added up, we think the Highrise is a great option for warm-weather camping. 

Storage and Organization
For storage, the Aurora Highrise offers decent organization overall. Starting with the positives, exterior storage is generous with two protected vestibules. Total area is 47.2 square feet split evenly between the sides. And if you primarily utilize the larger door to access the tent—as we wound up doing on most trips—you can dedicate the other side for storing bulkier items like a cooler or camp chairs that you may want protected from rain. Outside of the garage-like vestibules that you get with tents like The North Face's Wawona or REI's Wonderland (the latter of which must be purchased separately), the Highrise's vestibule space is near the top of its class.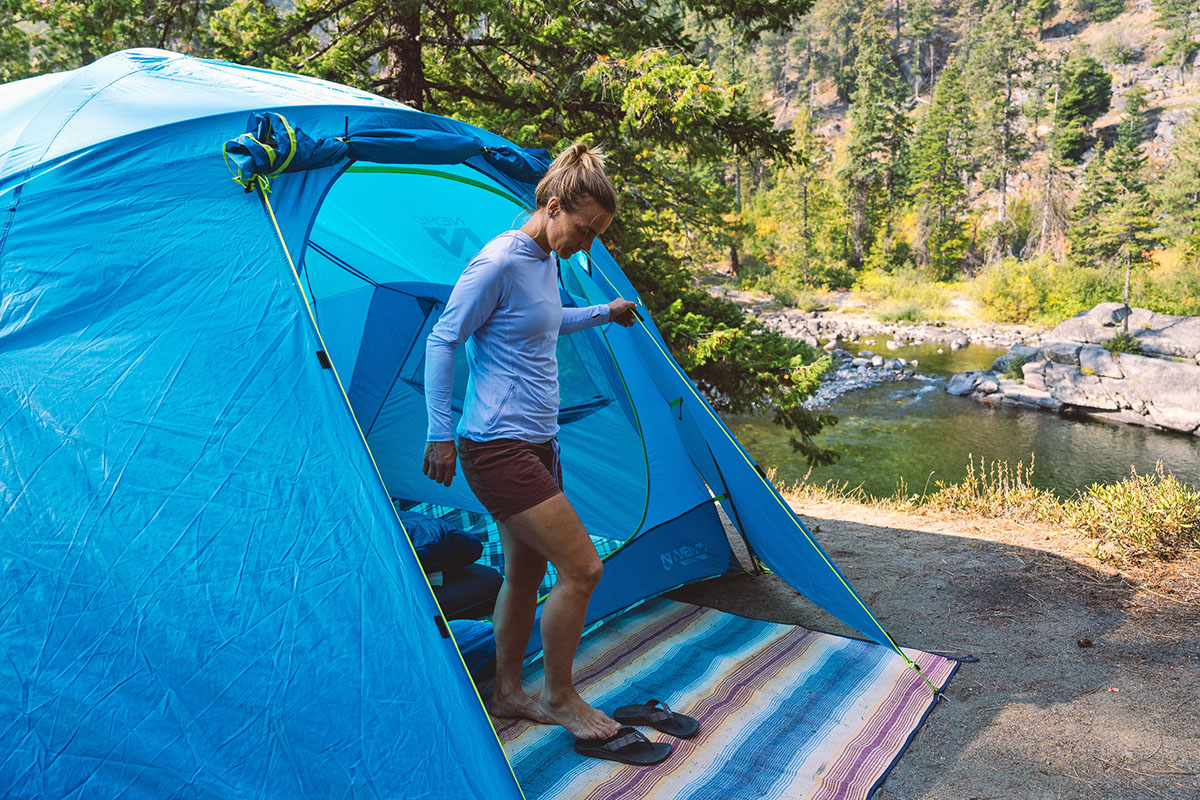 Inside the tent, however, we think Nemo could increase functionality. There are a grand total of eight pockets—four midway up at each corner, one on the ceiling with a diffuser fabric for use with a light, and three hanging pockets down low. That's a fair number, but in use, they never seemed to be in the right location. In particular, the floor-level, hanging pockets are set along the sides of the tent and out of reach for those sleeping at the ends, so you may have to decide between storing items like your phone and headlamp in your bag or higher up and out of reach. In truth, it's a relatively small annoyance, and you'll figure out a system that works for you, but we do think Nemo could improve storage by shifting some pockets to the ground level and more evenly distributing them.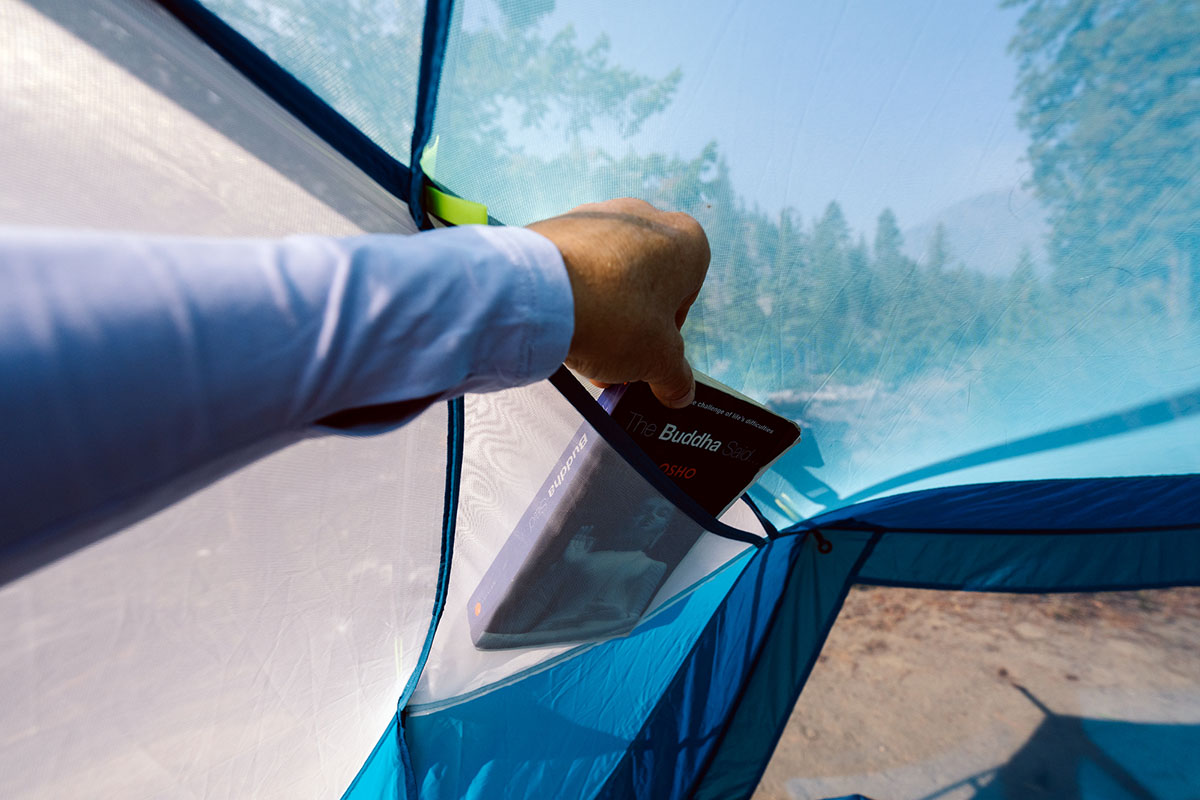 Build Quality and Durability
As we covered above, build quality is a highlight of the Nemo Aurora Highrise's design—and to be expected in a $500 tent. For starters, the Highrise includes a sturdy 150-denier (D) floor with a fun checkered pattern that's reminiscent of a 1950s diner, substantial 13-millimeter aluminum poles, and quality plastic on the clips. Additionally, the zippers have operated smoothly throughout testing, and it's clear some real R&D went into the design with the unique pole structure, well-thought-out ventilation, and practical touches like the huge door and easy-to-use door tiebacks (you simply slide a plastic toggle over the fork-like "gatekeeper" to hold them in place). And after nearly a full year of use, the tent is holding up extremely well. The only signs of wear are some scuffs on the poles and a small tear in the stuff sack—a thicker fabric on the latter would be a welcome change to avoid damage over time.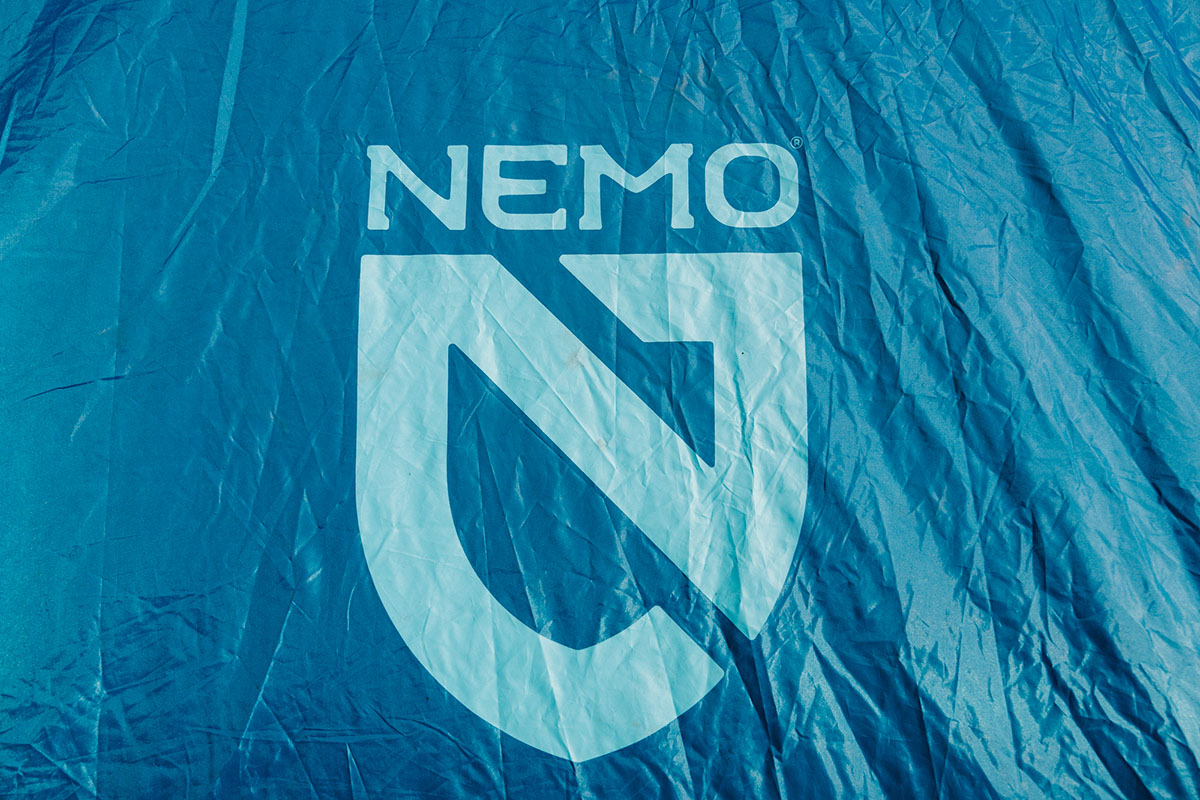 Weight and Packed Size
It's not uncommon for camping tents to push 20 pounds all in, and the Aurora Highrise nearly reaches that with an 18-pound-10-ounce packed weight. It's the price you pay for the durable fabrics and more complex pole structure, and most will be completely fine with those tradeoffs. Importantly, many similar-quality tents weigh in roughly the same, including the REI Base Camp 6 (20 lb. 10 oz.) and Wonderland 6 (22 lb. 15 oz.), Marmot's Limestone 6P (17 lb.), and Big Agnes' Big House 6 (16 lb. 14 oz.).
For storing the tent, you get a standard duffel-like stuff sack that measures 26 inches in length. It's not so huge to allow for careless packing, but we were able to squeeze the tent inside even while breaking camp quickly in rainy weather. As mentioned above, we'd prefer the stuff bag had a thicker fabric for better protection during transport and storage, but it's overall a pretty practical design. And the handles at the top are long enough to carry the bag over your shoulder if you need to haul the tent a moderate distance.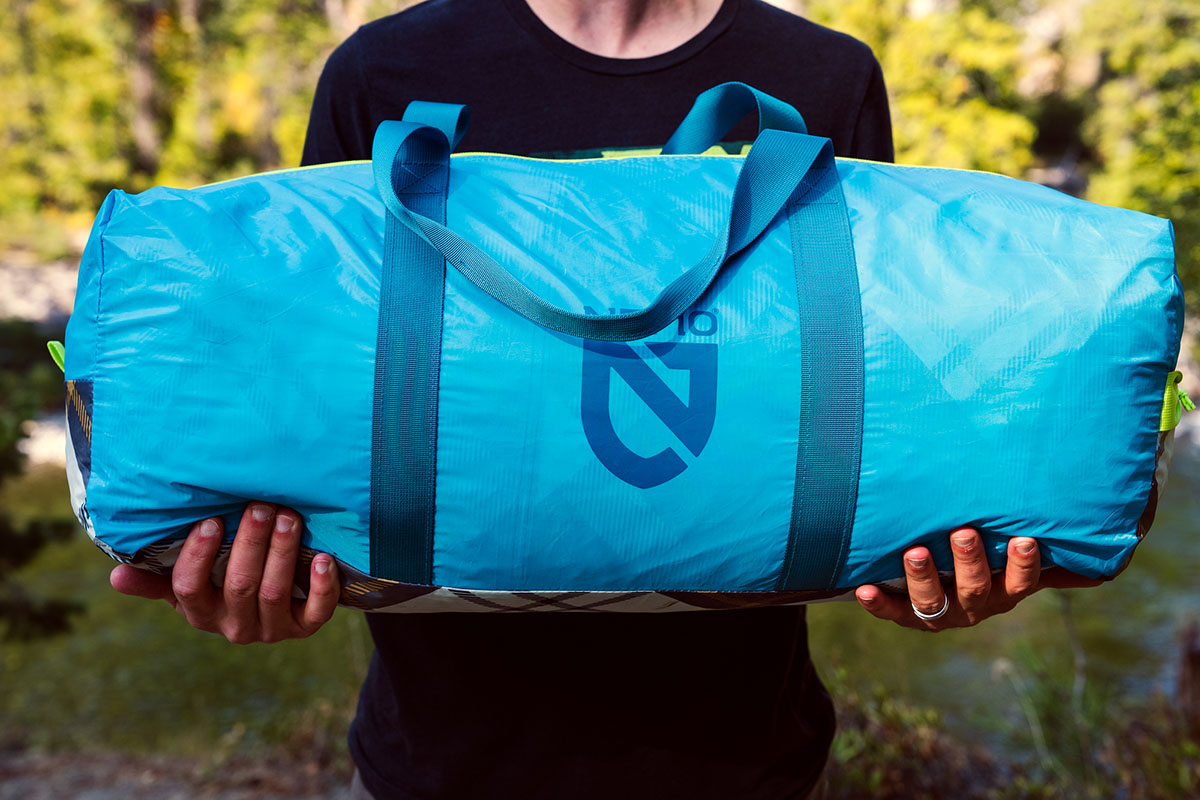 Set up and Take Down
Nemo put some effort in to make setup simple for the Aurora Highrise, and we got the hang of it quickly. To start, it's easy to figure out what to do with the four poles—the longer two are used for the X-shaped structure, while the shorter ones run the length of the sides. Importantly, I was able to set the whole tent up solo on my first try, although it's faster with a helper. One piece of advice: Before throwing the rainfly over the top of the tent, you'll want to check the colors of the buckles, as they're color-coded to match the tent body's buckles at each corner. This will ensure you have the correct door layout for the vestibules. Other than that, it takes a little muscle to pull the rainfly over the end poles, but the entire process can be completed in less than 10 minutes. That's a win for a six-person camping tent.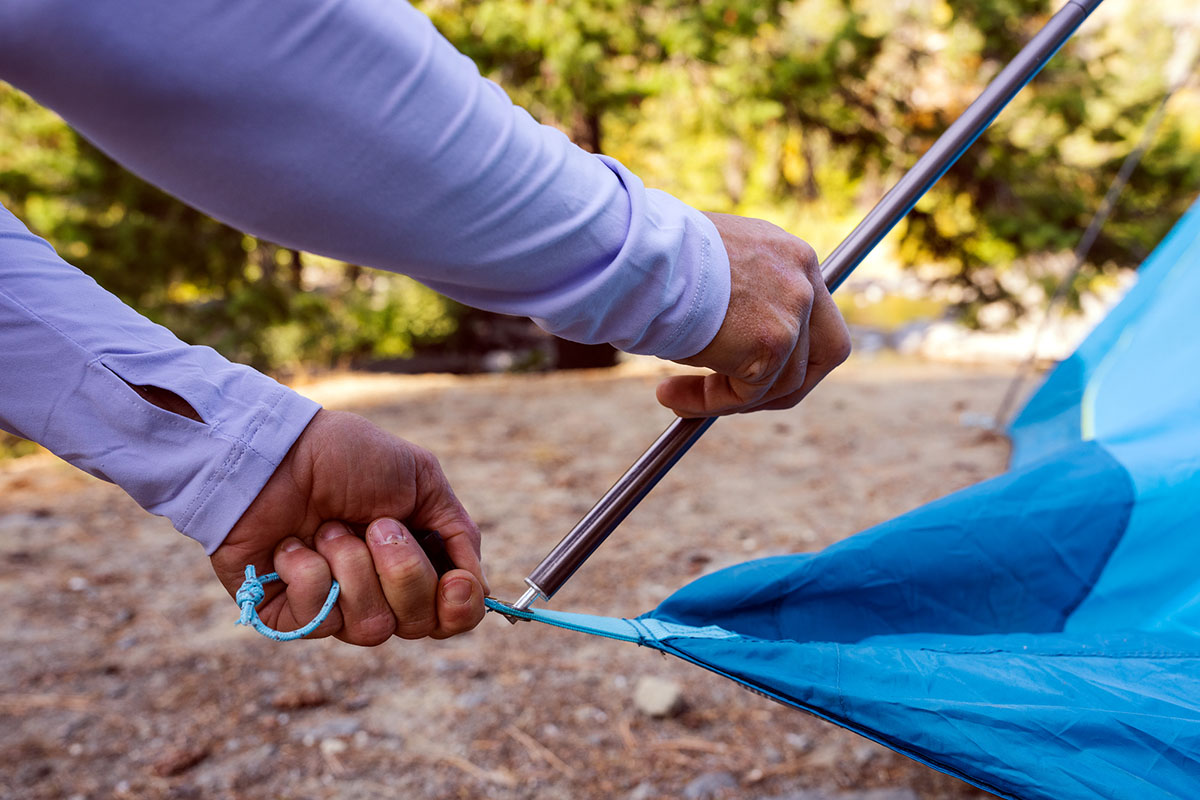 Sustainability
We appreciate when brands go the extra mile in creating sustainably built and environmentally conscious products. In the case of the Aurora Highrise, Nemo utilized flame-retardant fabrics made without the use of harmful chemicals. The tent is also covered by Nemo's lifetime warranty against defects in workmanship and materials, which is a nice dose of added assurance should you encounter an issue (we try to repair gear whenever possible before buying new). It's worth noting that most of their backpacking designs—including the Dagger, Hornet, and Dragonfly—boast the brand's innovative Osmo fabric that's woven from 100% recycled yarns and both PFC- and PFAS-free, and we hope to see that tech trickle down into their camping collection in the future.

Other Capacity: Nemo Aurora Highrise 4P
We covered the Aurora Highrise 6P for this review, and it's also sold in a four-person capacity for smaller groups and families. For $100 less, the Aurora Highrise 4P weighs nearly 3 pounds less at 15 pounds 14 ounces all in, has a 2-inch-shorter peak height, boasts 62.5 square feet of floor space (interior dimensions are 90 x 100 in.), and features 39 square feet of total vestibule space divided evenly between the two sides. As we covered above, it's often best to stay under the designated capacity in order to maximize comfort and leave some floor space for storage, meaning the Highrise 4P strikes us as best suited for groups of two or three (or more with small children). Larger groups will likely want to spend up for the six-person version.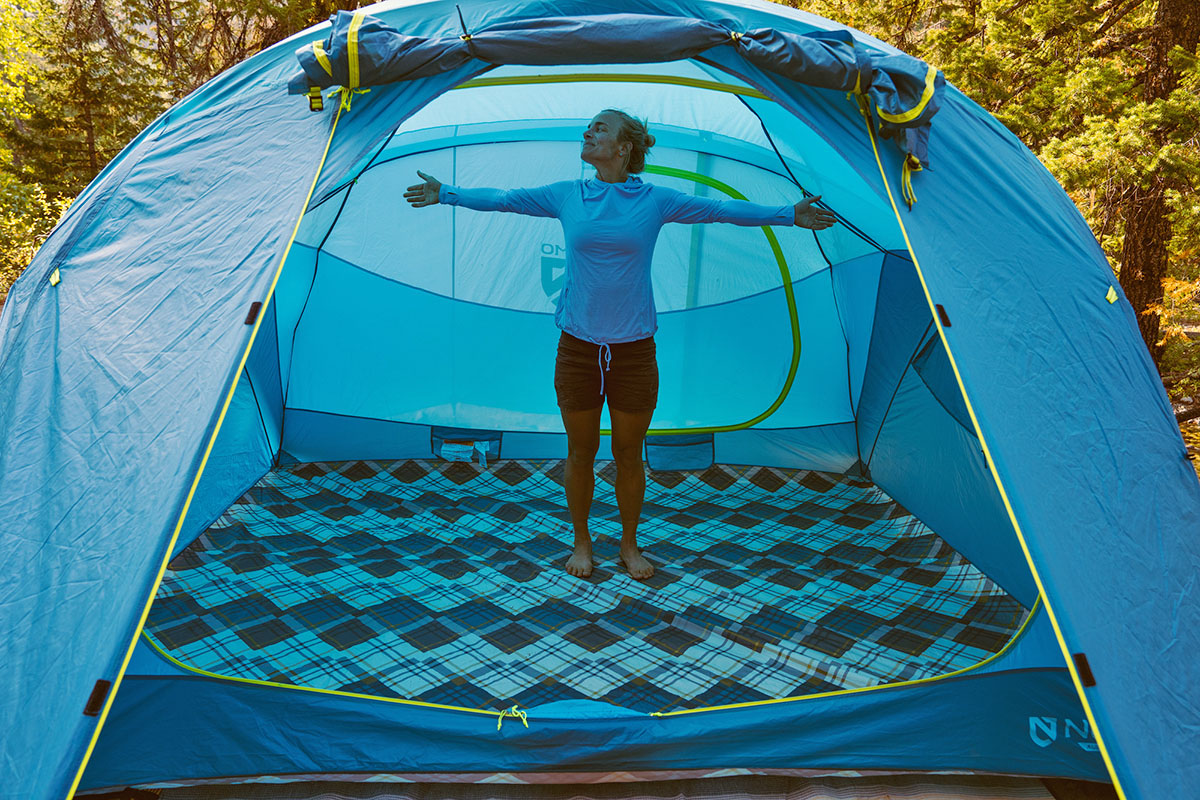 What We Like
The Aurora Highrise is an excellent all-rounder: spacious, easy to set up, and well made with durable materials throughout.
Huge door helps with entry and exit, and the two large vestibules are practical for storing bulky gear.
Excellent ventilation with plenty of space between the rainfly and tent body, built-in windows at each end, and the ability to roll back the fly in mild weather.
Fun floor pattern brings some extra life and brightness to the setup (although some may find the very blue interior a little polarizing).

What We Don't
Sloped roof sacrifices some headroom along the sides.
Weather protection is good but not great: The windows have fabric covers that don't completely seal over the mesh, and the fly flaps a little above the windows when it's windy.
Interior storage is a little lacking—we'd prefer a few additional pockets at the ends below the windows for storing items you want close at hand.
Stuff sack could use a thicker fabric to prevent snags and tears.
Second door is a standard D shape and significantly smaller than the massive door on the other side.


Comparison Table

The Competition
Nemo's Aurora Highrise is an impressively well-rounded addition to the premium camping tent market, but it's not without competition. One of our longstanding favorites for three-season camping is REI Co-op's Base Camp 6. In comparing the two, the REI gets the edge in weather protection with a full-coverage rainfly, will keep you a little warmer in cold temperatures with more solid fabric in the build, and offers superior organization with 14 total interior pockets. On the flip side, we prefer the Aurora Highrise's equally sized vestibules for exterior storage (the Base Camp has one 27-sq.-ft. vestibule and one 17-sq.-ft. vestibule) and big side door for easier access in the middle of the night. The Nemo also wins out in ventilation with windows at each side and a more liberal use of mesh in the tent body. In the end, both are quality options from leading outdoor brands, and a final decision will likely come down to your preferences on ventilation versus all-out protection.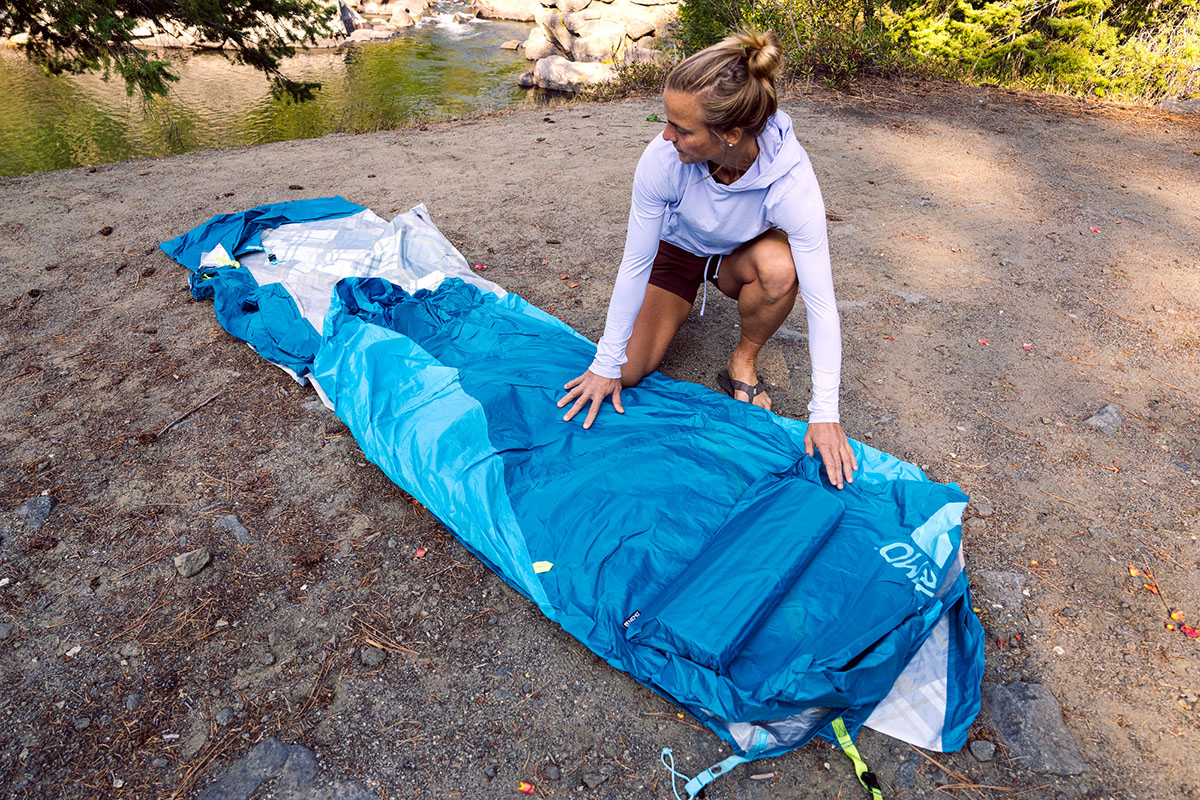 Another REI design to consider is their top-end Wonderland 6. For an additional $99, the Wonderland features a tall, tunnel-like layout and two massive doors on each end that give it standout livability. It's also a similarly great ventilator with a lot of ways to open it up in the heat, including generous mesh panels and triangular, zipper-equipped windows at each side. That said, the Wonderland is completely lacking in exterior storage with an awning-like rainfly that provides minimal coverage—for vestibule space and reliable protection in inclement weather, you'll need to tack on the Mud Room add-on for an additional $125. The REI's very upright profile also translates to reduced performance in strong winds (for more, see our in-depth Wonderland review). Unless you can get the Wonderland at a hearty discount, which REI does on occasion, we give the advantage to the Nemo.
Next up is The North Face's Wawona 6, which is our top-rated camping tent this year and shares a lot of features with the Wonderland above. These include a tunnel-like shape, super tall (80 in.) peak height, and good overall ventilation. We also love the Wawona's garage-like front vestibule, which measures 44 square feet (nearly matching the Nemo's total exterior storage) and provides a great place to store bikes or set up a couple camp chairs and a table to wait out a storm. The North Face tent isn't perfect—the mesh front door makes it drafty in the cold, and it's more complicated to set up than the Nemo. But the Wawona's excellent storage layout at the same $500 price is what gives it the edge for us.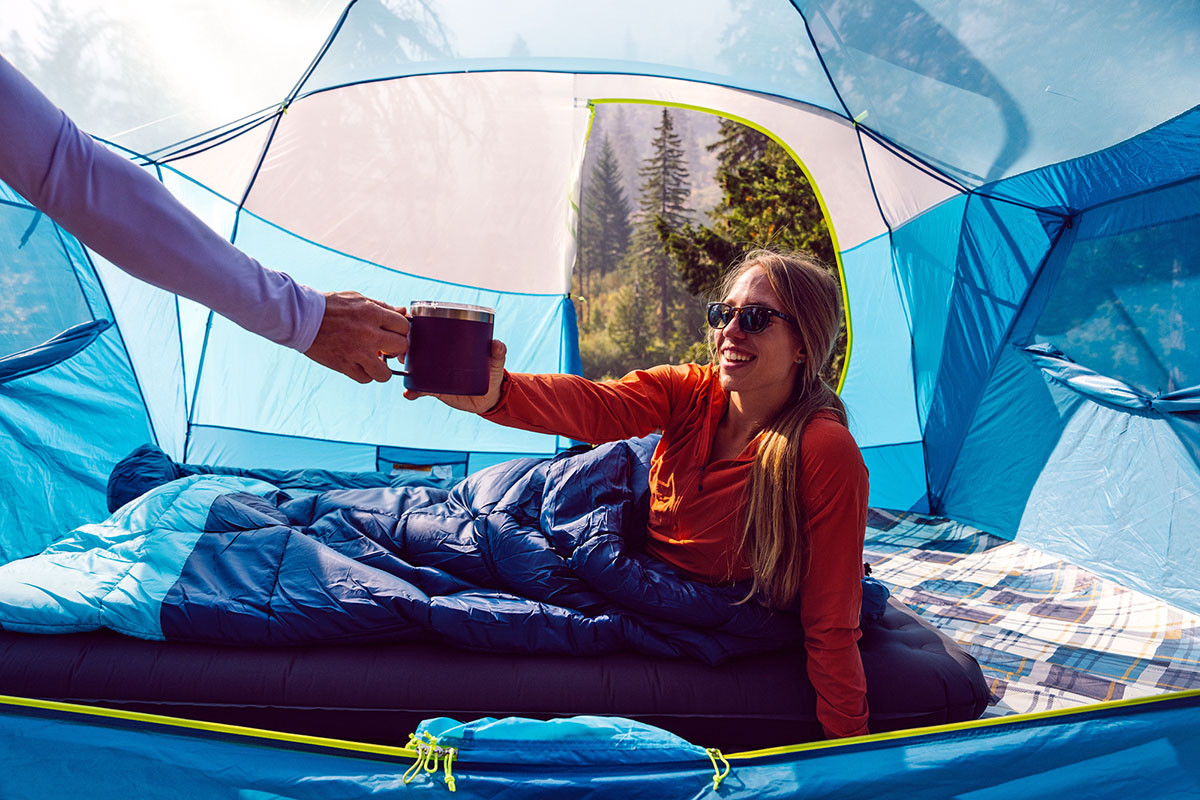 A final competitor to consider is Big Agnes' aptly named Big House 6, which is another tall and premium design from a well-respected brand. In terms of positives, the Big House includes two large doors, sets up fast with a logical pole layout, and has a generous 89-square-foot interior with an 80-inch peak height (plus, the roof doesn't slope downward as dramatically as the Aurora Highrise). However, with only a partial-coverage rainfly and no vestibules, it's a hard sell at $600. To maximize the tent's functionality, many will also want to purchase the $200 vestibule add-on and $60 footprint to set the fly up as a standalone shelter. In the end, this lack of value is enough for us to recommend the Aurora Highrise over the Big House. 
If you're thinking about buying gear that we've reviewed on Switchback Travel, you can help support us in the process. Just click on any of the seller links above, and if you make a purchase, we receive a small percentage of the transaction. The cost of the product is the same to you but this helps us continue to test and write about outdoor gear. Thanks and we appreciate your support!
Depending on the seller, most products ship free in the United States on orders of $50 or more. International shipping availability and rates vary by seller. The pricing information on this page is updated hourly but we are not responsible for inaccuracies.
Learn More About Camping Gear