Once a niche segment of backpacking, ultralight (UL) gear is gaining traction among outdoor enthusiasts who want to travel faster and further with less weight on their back. Nowadays there are countless choices of tents, sleeping bags, cook systems, and outerwear to choose from, but perhaps the most important piece of gear is the item that allows you to carry it all comfortably—the backpack. Ultralight packs are lightweight by design while also balancing carrying comfort, durability, ventilation, and organization. Below we break down our favorite models of 2023, from fully featured haulers from brands like Osprey and Gregory to streamlined and customizable packs from top ultralight brands. For background information, see our ultralight backpack comparison table and buying advice below the picks.
 
---
Our Team's Ultralight Backpack Picks
---

Best Overall Ultralight Backpack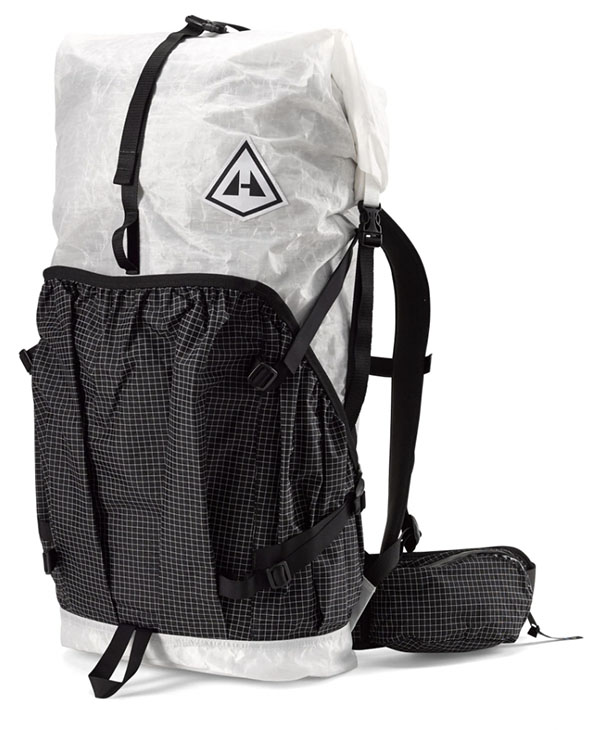 Weight: 1 lb. 15.6 oz.
Fabric: Dyneema (3.5 & 5.0 oz./sqyd)
Capacities: 40, 55, 70L
What we like: Impressively light but durable, highly water-resistant, and can carry a full load.
What we don't: Expensive; minimal organization and poor ventilation.
The Hyperlite Mountain Gear Southwest 55 is without a doubt one of the most refined ultralight packs available for a variety of hiking styles, whether you're thru-hiking the PCT, embarking on a fast-and-light weekend adventure, or off-trail scrambling. Dyneema is the headlining feature here: This burly fabric is known for its incredible strength-to-weight ratio and tear resistance, in addition to being fully waterproof. As a result, the sub-2-pound Southwest 55 is one of the lightest packs here but also ridiculously hardwearing, which is rare among ultralight packs. Importantly, with removable aluminum stays, a foam backpanel, and wide and supportive hipbelt, it's also capable of carrying loads up to 40 pounds (many packs below are rated only to 30 to 35 lb.).
Hyperlite's Southwest is our top pick for dedicated thru-hikers who log a lot of miles, but it's overkill for recreational backpackers. At $379 for the white pack ($399 for the more durable black model), the 55-liter version will cost you almost twice as much as a pack like the REI Flash below. In addition, organization is very streamlined, and the lidless design might be a shock to the system for those switching over from standard backpacking fare. Finally, the Dyneema backpanel can grow swampy: If you primarily hike in hot climates or tend to run warm, you'll want better ventilation. But you won't find a better combination of weight savings, durability, and carrying comfort, which is what many of us look for in an ultralight pack (and for thru-hikers who hit the trail no matter the conditions, the waterproofing is a huge bonus). It's also worth checking out Hyperlite's Windrider and Junction (these packs only differ from the Southwest in terms of pocket materials) or the relatively new Unbound 40 below... Read in-depth review
See the Hyperlite Mountain Gear Southwest 55
Best UL Pack for Customizing Fit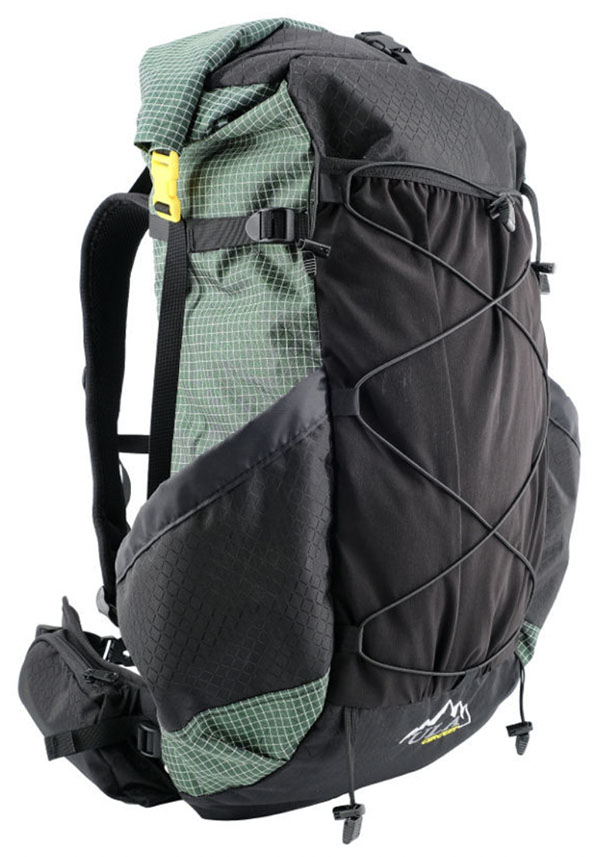 Weight: 2 lb. 5.3 oz.
Fabric: Robic nylon (400D) & X-Pac laminate
Capacity: 68L
What we like: Highly customizable fit; great carrying comfort and durability.
What we don't: Not as lightweight or durable as the Southwest.
If you were to venture out on any of the major long trails in the United States (the PCT or AT, for example), chances are you'd see many packs made by the popular cottage brand ULA Equipment. The Circuit here is their most well-rounded design: Sticking close to the standard UL formula, it features a bare-bones main compartment with a roll top, three large dump pockets, and a hipbelt pocket on each side. But what sets the Circuit apart is its wide range of sizes and fit customization: When ordering through ULA's website, you can easily customize the hipbelt (6 sizes from XS to XXL), torso (4 sizes from S to XL), and shoulder strap style (J or S straps). What's more, the site also includes helpful guidelines and instructional videos on how to take your measurements and dial in the right size. If you've had a hard time finding a well-fitting backpack, the ULA Circuit might be a game changer.
The Circuit has a lot more going for it than just its customizable fit. Carrying comfort is impressively high for such a pared-down hauler, thanks to the aluminum stay (which can be bent to fit the contour of your back), perimeter hoop, and rigid foam sheet. During a trek in Chile's Parque Patagonia, we were impressed with how comfortably the Circuit carried a 30-pound load (ULA places its load limit at 35 lb.), and noticed no pressure points or rubbing throughout four days on the trail. And while the Circuit can't quite match the low weight of the Dyneema Southwest above, its 400-denier Robic nylon and X-Pac laminate are very hardwearing and water-resistant—we've heard many reports of hikers using the same ULA pack for multiple long-distance thru-hikes, which speaks volumes (ULA's Ultra Circuit is an even more durable design). In the end, the Circuit is an exceptional value at $280 and our top pick for hikers looking for a Goldilocks fit. 
See the ULA Equipment Circuit
Standout Mix of Support and Ventilation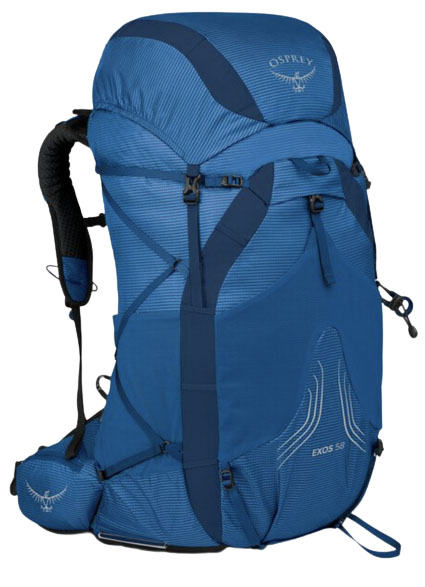 Weight: 2 lb. 13.4 oz.
Fabric: Nylon (100D & 400D)
Capacities: 38, 48, 58L
What we like: Excellent ventilation; ideal for those transitioning from traditional backpacking.
What we don't: Heavy; minimal customization.
Osprey generally focuses their efforts on comfort-first, fully featured designs for traditional backpackers, but the Exos (and women's Eja) is a successful stab at an ultralight pack. Updated last year, the Exos resembles a standard backpacking pack at first glance, with a floating lid, well-padded hipbelt and shoulder straps, and ample pockets for organization. Importantly—and like many of Osprey's heavier designs—it also features a suspended mesh backpanel that separates the pack from the body, offering unparalleled ventilation compared to the ultralight competition. And the new Exos 58 also tacks on an adjustable torso length, which is very helpful in achieving a proper fit (and a feature most UL packs lack).
We've been using the Exos for over a year now, and have been impressed with its carrying comfort, ventilation, and convenient organization. Overall, the pack seems to take all of the essentials from a traditional design with no unnecessary additions. However, the Osprey won't appeal to all ultralight enthusiasts: It's relatively heavy at 2 pounds 13.4 ounces for the men's medium, and with few removable features you don't get much opportunity to shave weight. But for weekend warriors, aspiring ultralight enthusiasts, or thru-hikers looking to prioritize ventilation and comfort, it's hard to fault the Exos for its well-balanced design. It's also worth checking out Osprey's new Exos Pro 55 ($290); we were impressed by the Pro's well-rounded feature set in our testing, but found that it makes noticeable compromises in terms of carrying comfort and durability... Read in-depth review
See the Men's Osprey Exos 58  See the Women's Osprey Eja 58
Best Frameless Ultralight Backpack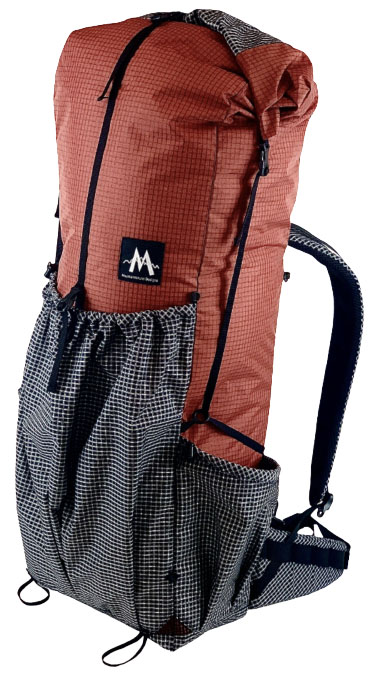 Weight: 1 lb. 2 oz.
Fabric: Ultra X (3.85 & 3.26 oz./sqyd) / nylon (210D)
Capacities: 38, 48, 55L
What we like: A lightweight and durable frameless pack for the most discerning of UL hikers.
What we don't: Not built for heavy loads.
The majority of ultralight enthusiasts will opt for a framed pack that can handle loads up to about 35 pounds, which is an ideal pairing for long-distance thru-hikes and mainstream ultralight equipment (i.e. a base weight around 12-15 lb.). That said, there's a whole category of UL packs built for serious hikers who want to travel even lighter (i.e. base weights in the 6-7 lb. range), including the Mountain Laurel Designs (MLD) Exodus 55L here. Touted by MLD as the lightest fully featured pack on the market, the Exodus keeps weight low with a frameless design, meaning it eliminates the stay, peripheral hoop, and rigid frame sheet common to most backpacking packs. This shaves a considerable amount of weight and bulk (the Exodus checks in at 1 lb. 2 oz.) and allows the pack to conform both to your body and loads of varying sizes. Because of their lower overall comfort and support, we don't recommend frameless packs for most, but they're a popular niche item for fast-moving ULers who've pared down the rest of their kit too.
Like many cottage-brand packs, the Exodus really geeks out on fabric, with your choice between Ultra X (aka Dyneema) and ripstop nylon. Whichever model you opt for (the nylon version will save you $80), this pack is built to last. And everything else is well executed, from the load-bearing features—robust S-shaped shoulder straps, a padded hipbelt, and a number of compression straps to stabilize the load—to the organization, which includes a cavernous main compartment with roll-top closure, external dump pockets, and the option to tack on shoulder and hip pockets. All told, the Exodus has all the on-the-go bells and whistles you need to move quickly down the trail, and can skillfully accommodate everything from a few items to a week's worth of food and gear. With just three sizes and few fit adjustments, it won't work for everyone, but it's all about weight-savings here: For speedy hikers who keep their base weight low, it's one of the most popular frameless packs on the trail. If you're looking for a step down in capacity, check out the MLD Prophet 48L and Burn 38L.
See the Mountain Laurel Designs Exodus 55L
Best Budget Ultralight Backpack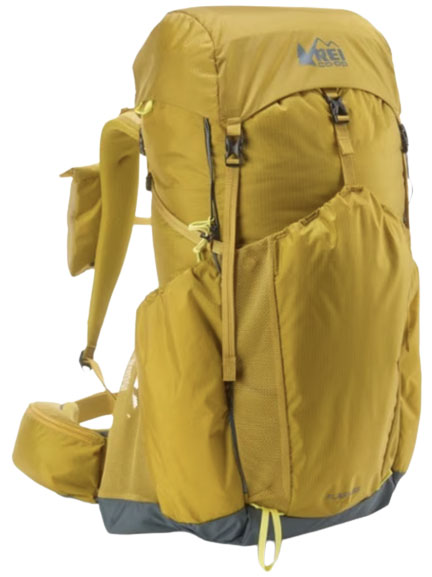 Weight: 2 lbs. 13 oz.
Fabric: Nylon (100D & 210D)
Capacity: 55L
What we like: Great value; highly customizable features and fit.
What we don't: Thin nylon pack body lacks durability; ventilation is middling.
REI Co-op's in-house gear is well known for value, and their Flash 55 pack is no exception. Designed to meet the growing interest in ultralight backpacking, the 2-pound 13-ounce, $199 Flash is a well-rounded choice for those in the market for an entry-level UL pack. REI claims the Flash can handle loads up to 30 pounds, and carrying comfort is excellent with an internal steel frame, padded mesh backpanel and hipbelt, and adjustable torso length (new in the recently updated model). Most of all, we love the Flash's adaptability: The lid, hipbelt, compression straps, and hipbelt and shoulder pockets are all removable, meaning you can modify and adjust the pack to suit your hiking style and organizational needs (removing all of these components shaves 7 oz. from the weight of the pack). 
Given its high level of customization, the Flash 55 might carry more appeal in the UL market than the more traditional Osprey above, especially for those particular about storage. And chances are it'll fit: Along with the adjustable torso, the pack comes in four sizes—small, medium, large, and a large torso/small hipbelt combo. There are a number of compromises that come along with the budget price point: Materials are thin with just 100-denier nylon in the body and 210-denier nylon on the bottom, and the padded backpanel doesn't offer the ventilation of suspended mesh designs. And with a weight approaching 3 pounds, the Flash 55 certainly won't appeal to militant ounce-counters. But for just $199, REI's UL pack carries a load surprisingly well, and represents an excellent value for ultralight-curious hikers who want to stick with a familiar brand.
See the Men's REI Co-op Flash 55  See the Women's REI Co-op Flash 55
Best Fastpacking Pack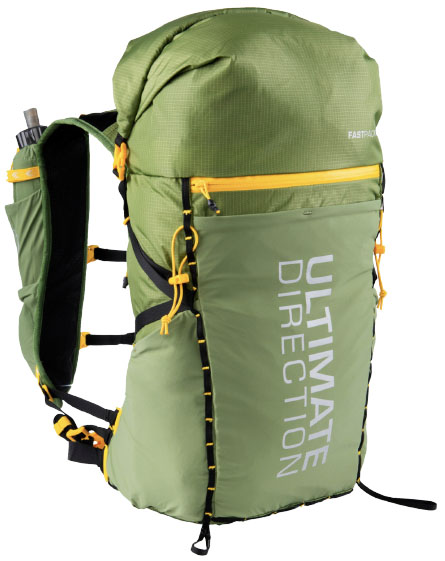 Weight: 1 lb. 9.6 oz.
Fabric: Polyester
Capacities: 20, 40L
What we like: UL pack meets running vest, with a few additional features.
What we don't: Thin fabrics; uncomfortable if overloaded.
Fastpacking is an emerging segment of backcountry travel, combining the appeal of long, multi-day routes with a fast-and-light ethic. If you have good fitness and lightweight gear, trails that might take backpackers a week or more can be tackled in just a few days. Along with the growth of this discipline has come a new style of backpack, merging the capacity of an overnight pack with the on-the-go access and close ride of a running vest. It should come as no surprise that Ultimate Direction—a solid player in the running market—makes one of our favorite designs in their Fastpack (and women's FastpackHer) series. With two capacities for both men (20 and 40L) and women (20 and 30L), you can further dial in your choice depending on your load.
The Fastpack 40 truly is a hybrid design: On one hand, it features the simple layout of a UL pack, with a cavernous main compartment, roll-top closure, and three stretch dump pockets along the front and sides (you also get a handy side-zip access to the main compartment). But it also offers a cornucopia of pockets on the shoulder straps (including two zip pockets) for storing on-the-go items like snacks, water flasks, and your phone. The fragile materials do cause some concern—UD doesn't provide a denier, but the polyester body is undeniably thin—and with just a streamlined webbing hipbelt, the pack will be uncomfortable when overloaded. But overall, the Fastpack 40 is a time-tested design for moving quickly with minimal gear. For a bit of extra support, check out Arc'teryx's Aerios 45 below, which is heavier and less comfortable for running (it features a rigid framesheet), but features a similar hybrid design.
See the Men's Ultimate Direction Fastpack 40  See the Women's UD FastpackHer 30
Best of the Rest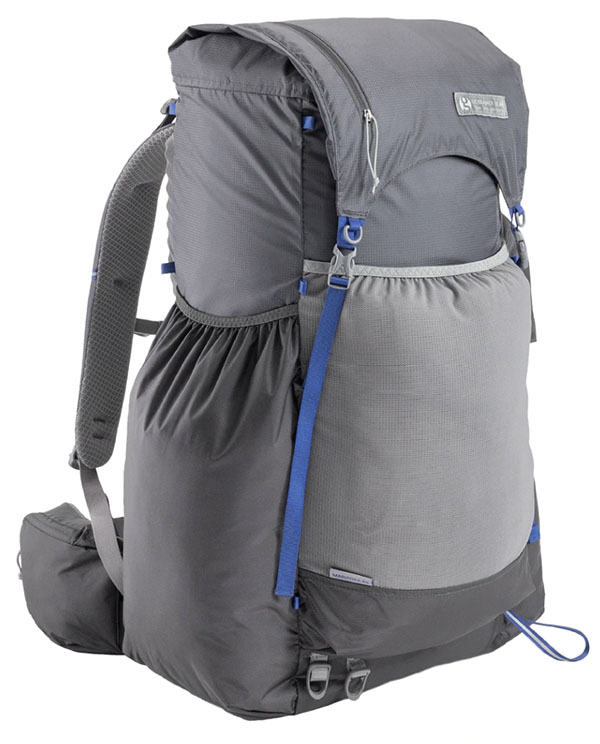 Weight: 1 lb. 14.5 oz.
Fabric: Robic nylon (100D & 200D)
Capacity: 60L
What we like: A lightweight, customizable design that will appeal to serious thru-hikers.
What we don't: Less durability and fit customization than the ULA Circuit.
Gossamer Gear is a household name in ultralight backpacking, with a popular collection of packs for a range of adventures. Their largest capacity hauler, the Mariposa 60, is one of our go-tos for everything from quick overnights to week-long missions. Despite the sub-2-pound build (for the medium frame and hipbelt), it offers 60 liters of capacity spread out between a main compartment and seven exterior pockets, and is impressively supportive for loads up to 35 pounds (we took it right up to the limit). What's more, the feature set is clearly designed by experienced thru-hikers: You get a tall side pocket to stash a tent or shelter, two pockets on the right side for water bottles and a filter, a stretchy rear pocket that offers quick access to essentials, large hipbelt pockets, and a bear-canister-compatible main compartment. Uniquely, the removable foam backpanel is located on the outside of the pack for easy accessibility and doubles as a great sit pad for trail-side breaks and camp life.
The Mariposa joins the Circuit above as one of the most popular cottage-brand UL packs on the trail. But while the Gossamer Gear is the clear winner in terms of weight, it falls short of the ULA in a few key ways: First off, the fabric is noticeably thinner, which will be of little concern to most recreational hikers (our pack has held up well to general use and abuse) but noticeable for those who spend months of each year on the trail. Further, the Mariposa offers far less fit customization—you get your pick of three torso and hipbelt sizes, compared to the Circuit's larger set of offerings (including two styles of shoulder straps). And finally, we found its foam backpanel to bunch up throughout a day of hiking, and many hikers will trade in another foam pad or inflatable pad in place of the stock design (Gossamer Gear also offers a more rigid SitLight Camp Seat). But for dedicated ULers that prioritize organization, the Mariposa is a bare-bones yet fully functional backpack... Read in-depth review
See the Gossamer Gear Mariposa 60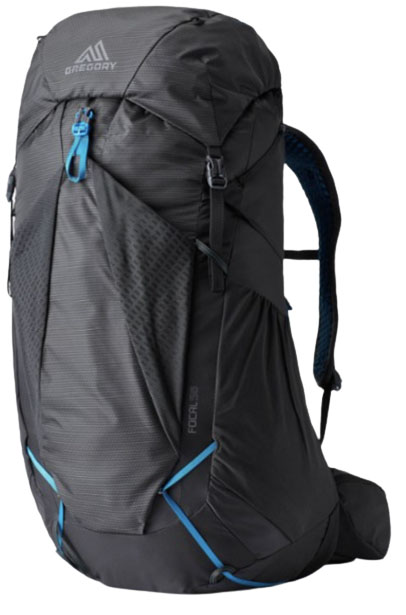 Weight: 2 lb. 10.4 oz. 
Fabric: Nylon (100D & 210D)
Capacities: 48, 58L
What we like: A bit lighter than the Exos and $10 cheaper.
What we don't: Thinner base material than the Exos and no torso adjustment.
Two of the most established pack specialists in the traditional backpacking realm, Gregory and Osprey often go tit for tat with their offerings. The Focal here is no exception, giving the Exos above a run for its money with a very similar design. Like the Exos, the Focal (and women's Facet) strikes a fine balance between a traditional backpacking pack and an ultralight hauler, and is known for its well-rounded organization, carrying comfort, and ventilation (via a suspended mesh backpanel). What's more, the Focal's shoulder straps and hipbelt are integrated seamlessly into the backpanel mesh; with no seams to rub against or cause hotspots , this makes for a very comfortable ride.
Deciding between the Focal and the Exos is an exercise in splitting hairs; the reality is that if you like one of these packs, you'll likely be a fan of the other. But there are some minor differences: The Gregory clocks in about 3 ounces lighter for the men's medium sizes, is $10 cheaper, and features slightly larger hipbelt pockets (our women's Facet accommodates an iPhone 11 in a case, but it's a tight squeeze). On the other hand, the Osprey is a better option for those who struggle with getting a good pack fit—although it's offered in two sizes compared to the Gregory's three, it features 4 inches of adjustment in the torso for a truly dialed in fit. Plus you get slightly more durable fabrics with the Exos, although the overall longevity of the packs will likely be very similar. In the end, both designs are great options for those who prefer a traditional pack over more polarizing ultralight offerings... Read in-depth review
See the Men's Gregory Focal 58  See the Women's Gregory Facet 55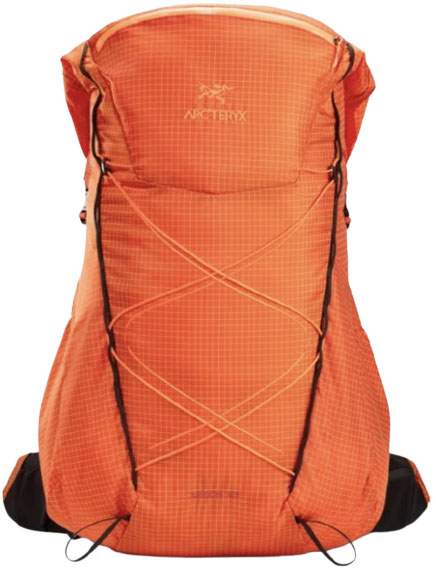 Weight: 2 lb. 6.4 oz.
Fabric: Nylon (100D & 210D)
Capacities: 15, 30, 45L
What we like: An ultralight design combined with Arc'teryx's technical savvy.
What we don't: Not ideal for running as the hipbelt is bulky and not removable.
In a category dominated by mom-and-pop cottage brands, it's a bit of a surprise to see an Arc'teryx pack in our ultralight article—but it's also a sign of how popular this once-niche activity has become. The Aerios 45 is exactly what we'd expect Arc'teryx to accomplish with a UL pack, and stands apart from other models here with its high-end construction and sleek styling. You get most of the features that run standard, including a cavernous main compartment with roll-top closure, side stash pockets, and durable yet lightweight materials. But of course, Arc'teryx tacked on some additional flair, adding an accessory pocket for quick access to essentials, zippered access to the main compartment, a breathable backpanel, and vest-style front storage (similar to designs like the Ultimate Direction Fastpack and Pa'lante v2). It all adds up to a souped-up and technically savvy 45-liter pack for supported thru-hikes, fastpacking, and quick overnights.
We have nothing but praise for the Aerios 45 when it comes to hiking, but it's not our favorite design for running. First off, the backpanel and hipbelt are fairly bulky, and the latter is not removable on either the 30- or 45-liter models. What's more, the frame is noticeable, especially when compared with running-vest-style designs that move more as an extension of the body, like the Ultimate Direction above (it also has a tendency to squeak). If you're hoping to run stretches of trail, the pack will undoubtedly feel cumbersome and overbuilt. Finally, the sternum strap has a tendency to loosen over time—even while hiking, we had to snug it up every so often. But if you keep your fastpacking at a hiking pace, the Aerios is a really solid option, and it's hard to beat Arc'teryx's build quality.
See the Men's Arc'teryx Aerios 45  See the Women's Arc'teryx Aerios 45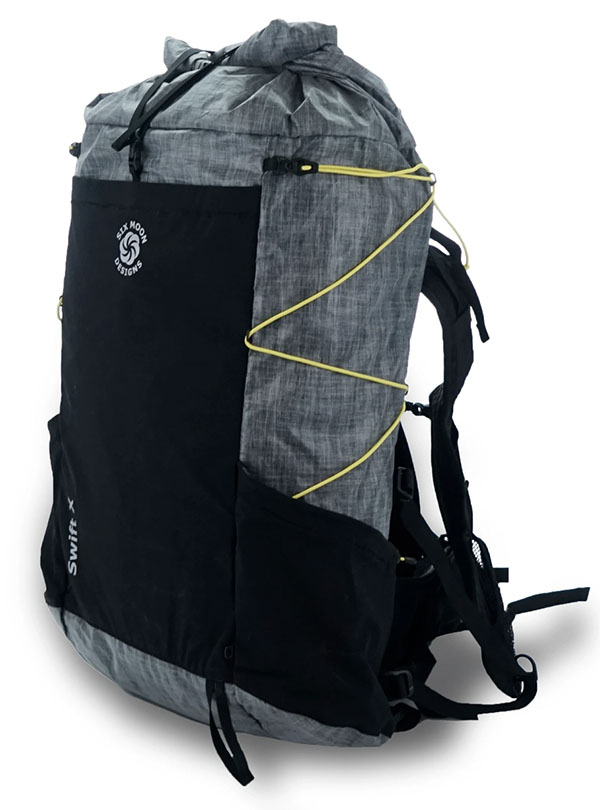 Weight: 2 lb.
Fabric: LS07 & VX07 laminates
Capacity: 49L
What we like: Highly customizable design for light loads.
What we don't: Too small and complex for those just starting out.
If you're after a classic ultralight gear experience, look no further than Six Moon Designs' Swift X. This pack offers a ridiculous amount of customization, including the choice between two different sets of materials, standard shoulder or vest-style straps, frameless or framed configurations, multiple hipbelt sizes, and more. Set up in various ways, the pack ranges from 1 pound 10 ounces to just over 2 pounds, and can play double-duty for everything from quick-moving fastpacking missions to week-long stretches of trail (like most packs here, the Swift X maxes out at 35 lb. with the suspension-hoop frame). And Six Moon Designs also offers the Swift V, which swaps in more affordable Robic nylon and appeals to the budget-conscious hiker with a $275 price point.
As we mentioned in the Exodus 55L write-up above, the choice between a frame or frameless pack will largely come down to the weight of the rest of your gear. Six Moon Designs recommends an 8-pound base weight when using the Swift X without the frame, which bumps up to 12 pounds with the suspension hoop. We like a frame pack for most backpacking trips, but there are certainly times when our load is so light that the additional rigidity feels cumbersome and overkill. With a pack like the Swift X, you have the versatility to opt for either configuration (and the 49L capacity pulls off both well), whereas packs like the Zpacks (below) and Osprey and Gregory above have a fixed frame that cannot be removed. We don't recommend the Six Moon Designs for those just dipping their toes into the ultralight world, but if you have the rest of your gear sorted and like to configure your pack to the adventure at hand, it's a premium choice from a trusted brand.
See the Six Moon Designs Swift X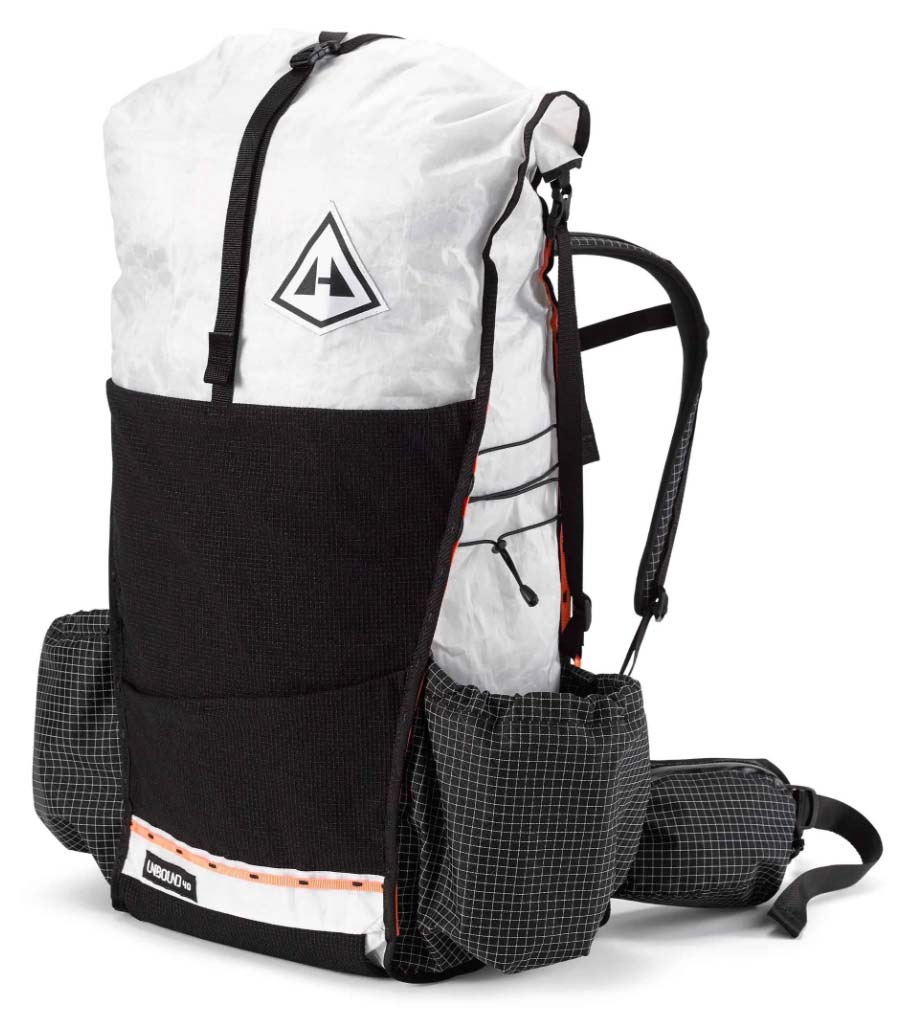 Weight: 1 lb. 14.4 oz.
Fabric: Dyneema (50D & 150D)
Capacities: 49, 64L
What we like: A purpose-built pack for serious thru-hikers.
What we don't: With just 40 liters of internal capacity, you'll need a pretty dialed UL kit.
Hyperlite Mountain Gear's Southwest 55 gets our top spot this year, but we'd be remiss not to also include their new Unbound 40. With a sleek 49 liters of capacity (40 on the inside, 9 on the outside), this pack was purpose-built for thru-hikers tackling long-distance trails such as the PCT, AT, or CDT. Like the Southwest, the Unbound uses durable and waterproof Dyneema fabric, which offers a nice amount of assurance in wet weather or for heavy use. In contrast, it features larger side pockets and a Dyneema Stretch Mesh pocket on both its front and bottom, and cuts weight with streamlined 5/8-inch webbing and a single lightweight aluminum stay (most Hyperlite packs have two). Finally, you get updated features like exterior seam binding (for a sleeker interior and improved water resistance) and a V-pull cinch that tightens the top and bottom of the hipbelt separately for a closer fit. 
If you're thinking of opting for the Unbound over the Southwest 55, there are a few considerations to keep in mind. The 40-liter version will get the job done when you're using streamlined equipment like Hyperlite's Unbound sleeping quilt and trekking-pole shelter, but it'll be a tight squeeze for longer trips or more mainstream UL gear (thankfully, Hyperlite now offers the pack in a 55-liter version, too). Second, we found that the pack lacks the tank-like feel of the Southwest: The stretch-mesh pockets aren't as durable as the Southwest's Hardline, the thinner webbing hipbelt gives up some support, and we broke one of the elastic pocket cinches after just a few days of use. Finally, neither pack has load lifters, which always has us shaking our heads. But for weekend warriors or long-distance thru-hikers who stick to trails, the Unbound is a truly purpose-built pack.
See the Hyperlite Mountain Gear Unbound 40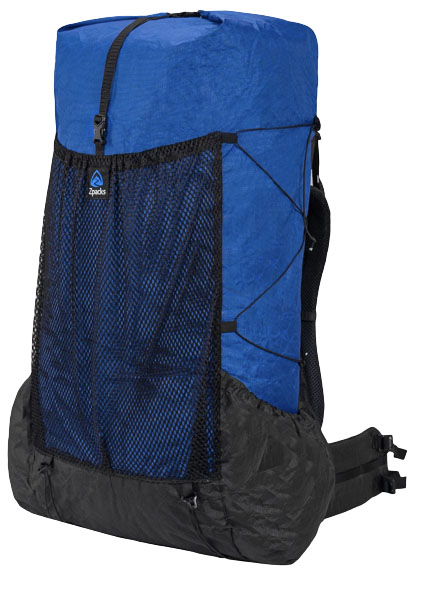 Weight: 1 lb. 5.4 oz.
Fabric: Dyneema (3.3 oz./sqyd)
Capacities: 40, 50, 60, 70L
What we like: A comfortable and nicely appointed pack with an impressively low weight.
What we don't: Uses thinner Dyneema fabric than Hyperlite packs.
Zpacks has been a pillar of the ultralight cottage industry since its beginnings, providing a one-stop shop for "The Big Three"—packs, shelters, and sleeping bags—with a reputation for impressively low weights. Case in point is their Arc Haul Ultra 60L, which checks in nearly a half-pound less than most competitive UL packs. Showcasing Zpacks' unique design, the Arc Haul Ultra uses an external frame (most frames are internal) to distribute the load and pull the pack away from the body, along with a lycra panel to support the back. This construction encourages airflow, isolates the pack's contents from the body without the added weight of a foam backpanel, and provides support for loads of up to 30 pounds. Given that the Arc Haul Ultra is built with Dyneema—which suffers in terms of breathability—this suspended backpanel makes the pack a nice alternative to the swampy Hyperlite Southwest above. 
We tested the Arc Haul Ultra throughout the spring and summer in the Pacific Northwest, and came away big fans of the Dyneema pack. The fit is noticeably refined compared to the Hyperlite above, with an adjustable torso length and load lifters. You also get the opportunity for a bit more customization, which is music to the ears of many thru-hikers—the Arc Haul Ultra comes fairly stripped down, but you can tack on various accessories, including hipbelt or shoulder pockets and water bottle sleeves. However, we do have some durability concerns given the pack's thin fabrics (3.3 oz/sqyd compared to the Hyperlite's 5.0-oz. base) and complex design, and were disappointed with the carrying comfort when we pushed it to Zpacks' advertised 40-pound load limit. But for serious hikers who prioritize weight above all else, it's a compelling option from a well-known cottage brand.
See the Zpacks Arc Haul Ultra 60L  See the Women's Zpacks Arc Haul Ultra 60L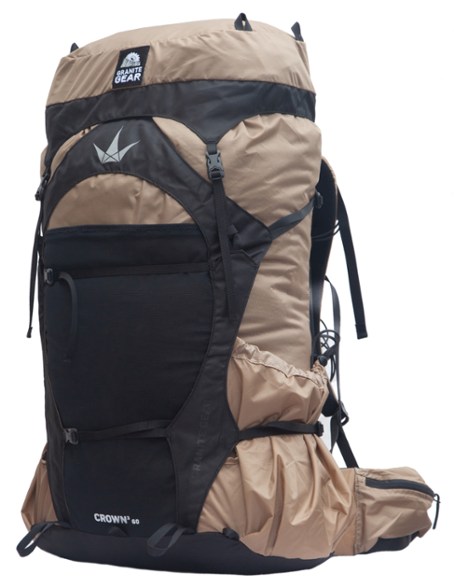 Weight: 2 lb. 9.3 oz. 
Fabric: Nylon (100D & 210D)
Capacity: 60L
What we like: Great organization and customizable design.
What we don't: Lacks a premium fit and finish; does not use recycled materials or PFC-free DWR.
Though not quite a household name like backpack giants Hyperlite or Osprey, Granite Gear has quietly established itself on the ultralight scene as a brand to trust. One of their most popular all-rounders, the Crown3 is reminiscent of a traditional backpacking design, with a relatively large volume (60L), zippered lid, and array of external straps and pockets to keep even the most organized hikers happy. With a molded plastic frame sheet, the pack is supportive up to 35 pounds (add an aluminum stay to increase the load limit to 43 lb.), and a highly adjustable hipbelt can accommodate bodies of most sizes. Finally, if you're traveling with a particularly light load, it's possible to remove some of the components (the lid, hipbelt, and frame sheet) and drop weight by a full pound.
We should note that the previous model of this pack held our top spot for best budget ultralight pack—so why the lower rating for the Crown3? The updated version left us mildly disappointed after a recent 43-mile backpacking trip. Our main gripe is the short and squat build, which felt ungainly and squirrelly on off-camber terrain (the lack of stabilizer straps at the waist did not help). What's more, with arguably too many straps (we removed a number of them before leaving home) and oversized pockets, the Crown3 lacks the premium finishes of the Osprey and Gregory above. And finally, while much of the competition has turned to recycled fabrics and PFC-free DWR finishes, Granite Gear still lags a bit behind. We might be singing a different tune about the Crown3 if the price were still low at $200, but at $240, the latest version is now less competitive than most packs here... Read in-depth review
See the Men's Granite Gear Crown3 60  See the Women's Granite Gear Crown3 60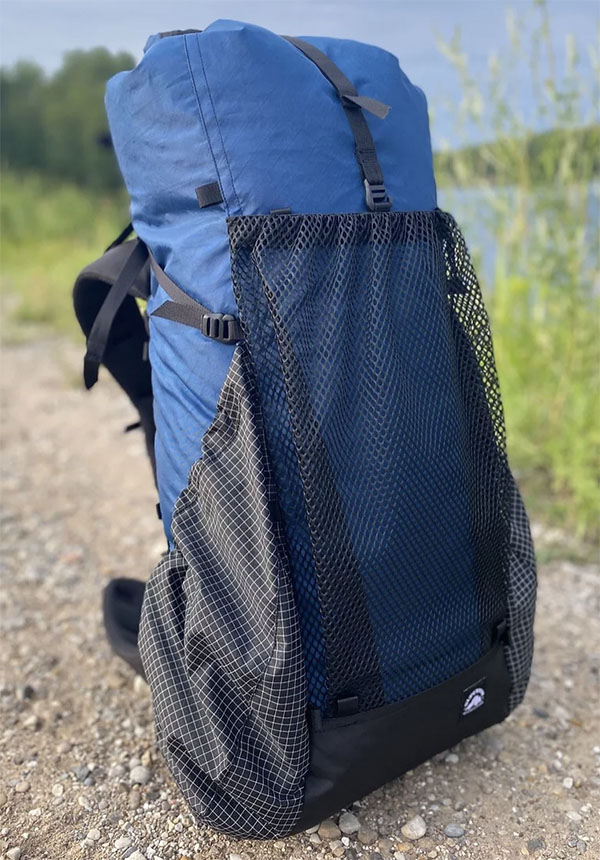 Weight: 2 lb. 2 oz.
Fabric: Ecopak (200D & 400D)
Capacities: 40, 50L
What we like: Durable construction and a 50-pound load limit.
What we don't: Handmade aesthetic isn't for everyone; long lead time.
Based in Michigan, Superior Wilderness Designs (SWD) is a small cottage brand with a variety of made-to-order UL packs and accessories. The Long Haul 50L is their most popular model—like many of the packs here, it features an internal frame alongside a simplified design, including a roll-top closure, three external dump pockets, and myriad external attachment points (you can purchase hipbelt pockets separately). Notably, SWD gives it a 50-pound load limit, which is significantly higher than similar designs like the Mariposa and Circuit above. And the pack also stands out in terms of materials: SWD recently switched from X-Pac and Dyneema to Ecopak, a new and entirely recycled fabric that is said to be even more abrasion resistant than the aforementioned fabrics while still offering a high level of water repellency. In the case of the Long Haul, you get 200-denier Ecopak, which should stand up to some serious abuse.
Only time will tell how Ecopak fares compared to more traditional fabrics like nylon and Dyneema, but all signs point to the Long Haul being a durable, ultralight workhorse (is that an oxymoron?)—and we appreciate that SWD is displaying a real commitment to eco-friendly practices. It's also worth noting that SWD also offers a few frameless designs, which (like the Exodus above) are a great option for serious ULers who want to shave even more weight. Due to being such a small operation, all of SWD's packs are handmade to order, which means you won't be able to try the Long Haul on at your local shop before buying—and at the time of writing, the wait time is about 14 weeks. But for a pack made by thru-hikers, for thru-hikers, the Long Haul is another solid pick.
See the Superior Wilderness Designs Long Haul 50L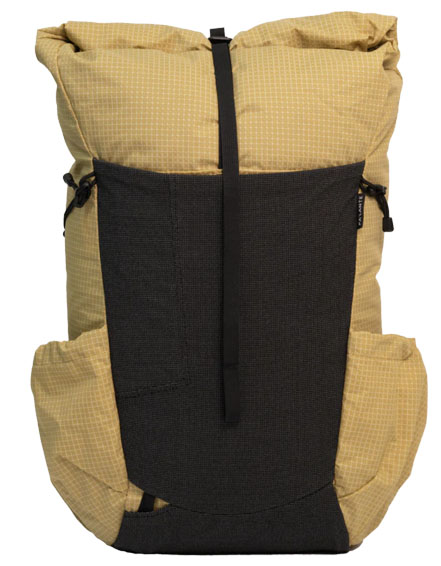 Weight: 1 lb. 2.7 oz.
Fabric: Nylon (210D)
Capacity: 37L
What we like: A premium, customizable design with great styling and thoughtful features.
What we don't: With no frame and just 37L of capacity, you'll need to keep your load very light.
Merging ultralight gear with a hefty dose of urban styling, Utah-based Pa'lante has amassed a cult following since its beginnings in 2016, regularly selling out of packs immediately upon release. The small company offers four frameless pack designs, each handmade with a specific purpose in mind (they also sell a kit that includes everything you need to sew your own pack). Among their models, the v2 here is their trademark backpacking pack, with 37 liters of capacity (not including the exterior pockets) and a variety of thoughtful storage options. For seasoned ULers well-versed in tarp shelters, sleeping quilts, and alcohol stoves (you'll likely want to keep your base weight under 10 lb.), it's an intriguing choice.
The v2 is hard to beat if you're a sucker for aesthetics, and Pa'lante also offers the option between a sand-colored gridstop nylon and black ultraweave (they break down these materials on their website). As far as design, the v2's shoulder pockets accommodate a 1-liter Smartwater bottle (or 500mL soft flask), the exterior has a sleek and seamless look, and, like all Pa'lante packs, you get a stretchy stash pocket on the bottom panel for wet storage. All told, the v2 is a more compact and better looking offering than the also-frameless Mountain Laurel Designs Exodus 55L above—you'll just need to keep your load to a minimum. For serious thru-hikers with dialed ultralight kits, it's a premium pack with great street cred.
See the Pa'lante v2
Ultralight Backpack Comparison Table
| UL Backpack | Price | Weight | Fabric | Capacities | Load Limit | Frame |
| --- | --- | --- | --- | --- | --- | --- |
| Hyperlite Southwest 55 | $379 | 1 lb. 15.6 oz. | Dyneema (3.5 & 5.0 oz/sqyd) | 40, 55, 70L | 40 lb. | Yes |
| ULA Equipment Circuit | $280 | 2 lb. 5.3 oz. | Robic (400D) & X-Pac | 68L | 35 lb. | Yes |
| Osprey Exos 58 | $260 | 2 lb. 13.4 oz. | Nylon (100D & 400D) | 38, 48, 58L | 30-35 lb. | Yes |
| MLD Exodus 55L | $245 | 1 lb. 2 oz. | Nylon (210D) | 38, 48, 55L | 20-25 lb. | No |
| REI Co-op Flash 55 | $199 | 2 lb. 10 oz. | Nylon (100D & 210D) | 55L | 30 lb. | Yes |
| UD Fastpack 40 | $195 | 1 lb. 9.6 oz. | Polyester | 20, 40L | Unavail. | No |
| Gossamer Gear Mariposa 60 | $285 | 1 lb. 14.5 oz. | Robic (100D & 200D) | 60L | 35 lb. | Yes |
| Gregory Focal 58 | $250 | 2 lb. 10.4 oz. | Nylon (100D & 210D) | 48, 58L | 35 lb. | Yes |
| Arc'teryx Aerios 45 | $250 | 2 lb. 9.4 oz. | Nylon (100D & 210D) | 15, 30, 45L | Unavail. | Yes |
| Six Moon Designs Swift X | $375 | 2 lb. | LS07 & VX07 laminates | 49L | 35 lb. | Yes |
| Hyperlite Unbound 40 | $369 | 1 lb. 14.4 oz. | Dyneema (50D & 150D) | 49L | 40 lb. | Yes |
| Zpacks Arc Haul Ultra 60L | $399 | 1 lb. 5.4 oz. | Dyneema (3.5 oz./sqyd) | 40, 50, 60, 70L | 40 lb. | Yes |
| Granite Gear Crown3 60 | $240 | 2 lb. 9.3 oz. | Nylon (100D & 210D) | 60L | 35 lb. | Yes |
| SWD Long Haul 50L | $299 | 2 lb. 2 oz. | Ecopak (200D & 400D) | 40, 50L | 50 lb. | Yes |
| Pa'lante v2 | $240 | 1 lb. 2.7 oz. | Nylon (210D) | 37L | Unavail. | No |

Ultralight Backpack Buying Advice

UL Backpacks vs. Traditional Backpacks
Most traditional backpacking packs range from about 50 to 80 liters and weigh anywhere from 3.5 to 6 pounds. On the other hand, ultralight (UL) packs range from 40 to 70 liters in capacity and weigh less than 3 pounds, with some uber-minimalist designs checking in just over a pound. But aside from being lighter, how does an ultralight pack differ from a standard backpacking pack?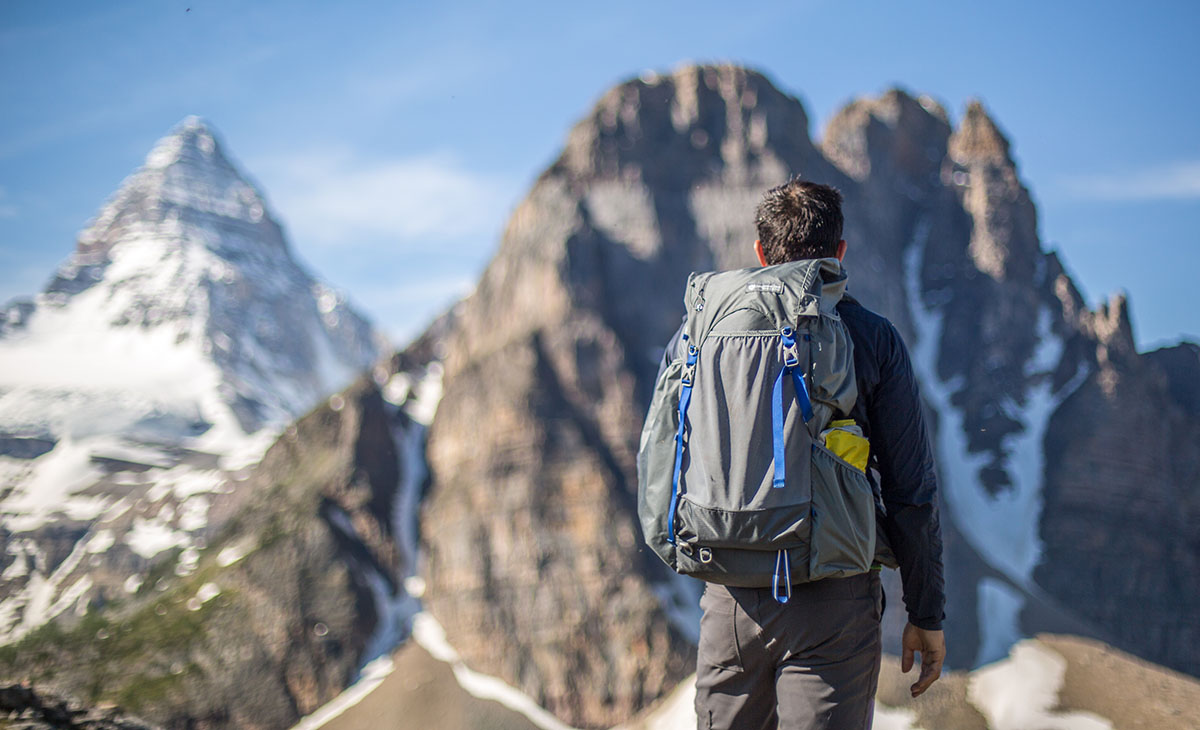 First off is organization: Instead of an array of zippered pockets gracing the interior and exterior, ultralight packs typically feature just one main compartment accessed through a drawstring or roll-top closure, along with stretchy dump pockets on the sides and rear of the pack. A second distinguishing feature is a pared-down suspension system—while traditional backpacking packs have bulky stays and frame sheets, most ultralight packs keep it simple with just one or two lightweight stays or a carbon fiber perimeter hoop (some UL packs forgo the frame completely—more on this below). It's for this reason that the majority of ultralight packs have load limits around 30 to 35 pounds, while traditional packs can carry up to 50 pounds (or more). Finally, ultralight backpacks differ in terms of their materials, employing much thinner nylon (for example, the Gregory Focal uses a 210D nylon base compared to the more traditional Baltoro's 630D base) or more expensive fabrics known for their high strength-to-weight ratios.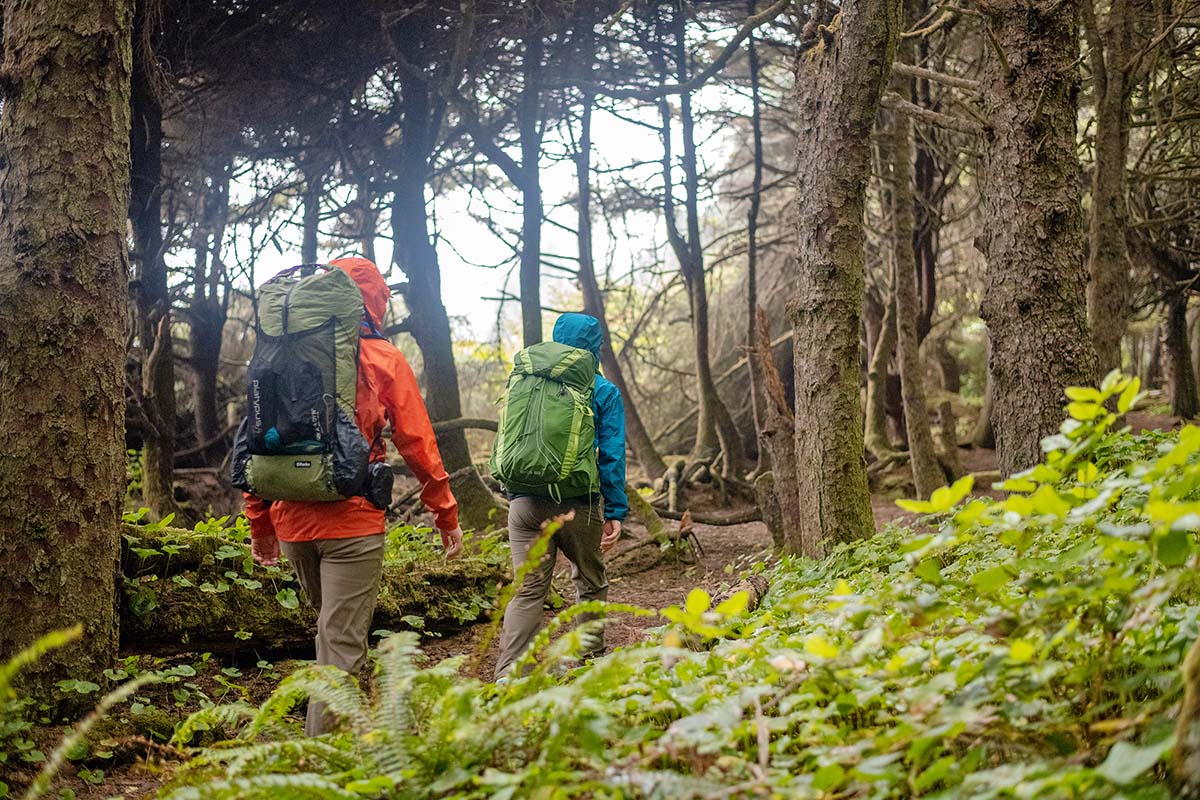 One final trait that differentiates UL backpacks from traditional models is the ability to customize, both before and after purchasing. Many ultralight packs are handmade to order by small cottage brands, which gives you the ability to pick your fabric, hipbelt and torso size, shoulder strap style, additional components (like hipbelt or shoulder pockets), and more. Once you have your pack, you can continue to tweak it, with most designs featuring a number of removable parts (great for shaving weight) or customizable components like compression straps. With larger brands entering the space this isn't always a given—for example, the Gregory Focal is far less customizable than the ULA Equipment Circuit—but it will always be a fun hallmark of the UL world and a big selling point for cottage brands.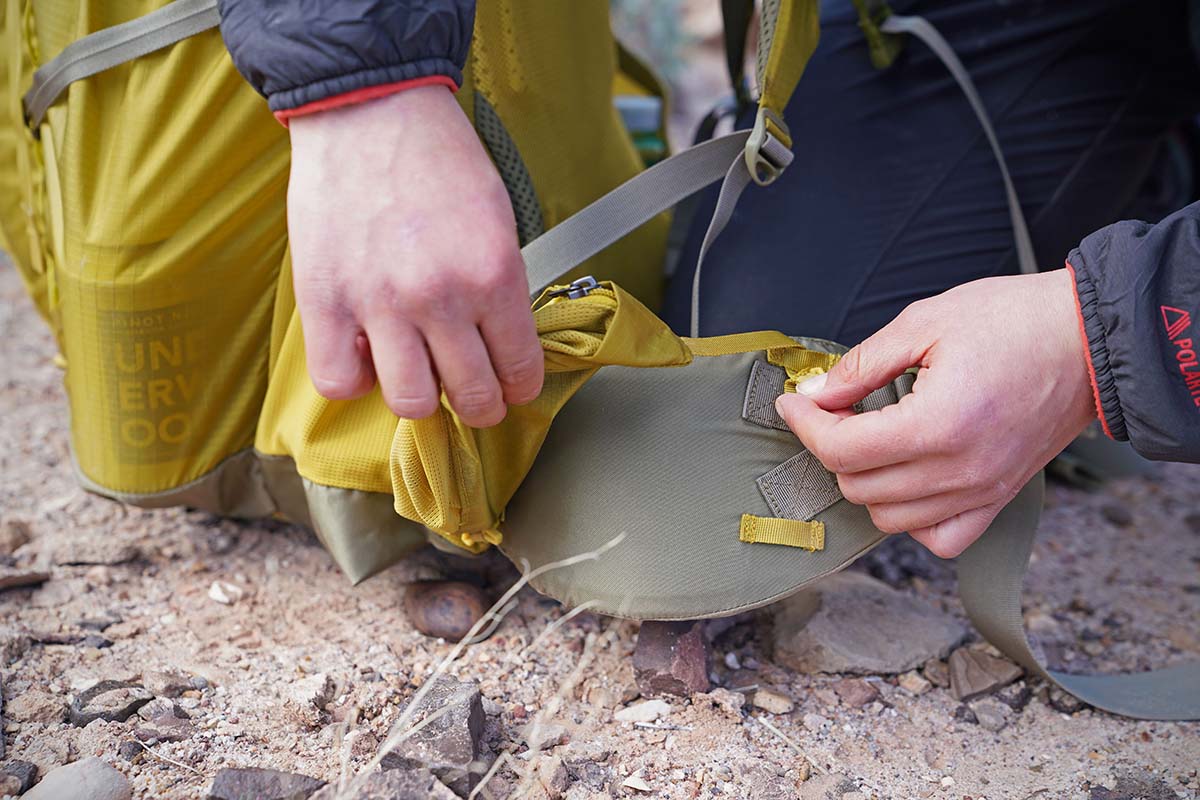 Frame vs. Frameless Packs
While most of the top ultralight packs have an internal frame that distributes weight and provides load-bearing structure, there's also a whole category of frameless designs. In general, framed packs are the better all-rounders: They can comfortably carry more weight (frameless packs tend to slouch), have larger capacities, and often offer improved ventilation. Overall, if your base weight is above 10 to 12 pounds and you plan to be on-trail for more than a few days, a pack with a frame will be more comfortable. On the other hand, a frameless pack (like the Ultimate Direction Fastpack 40) is typically lighter and can carry less weight and volume. This may be appealing if you're very focused on keeping weight down—after all, it's easy to fill whatever space is available—and with less rigid components, they operate more as an extension of your body (certainly better for running). Which type of pack you decide on will likely come down to how much weight you're carrying, length and style of trip, and experience level.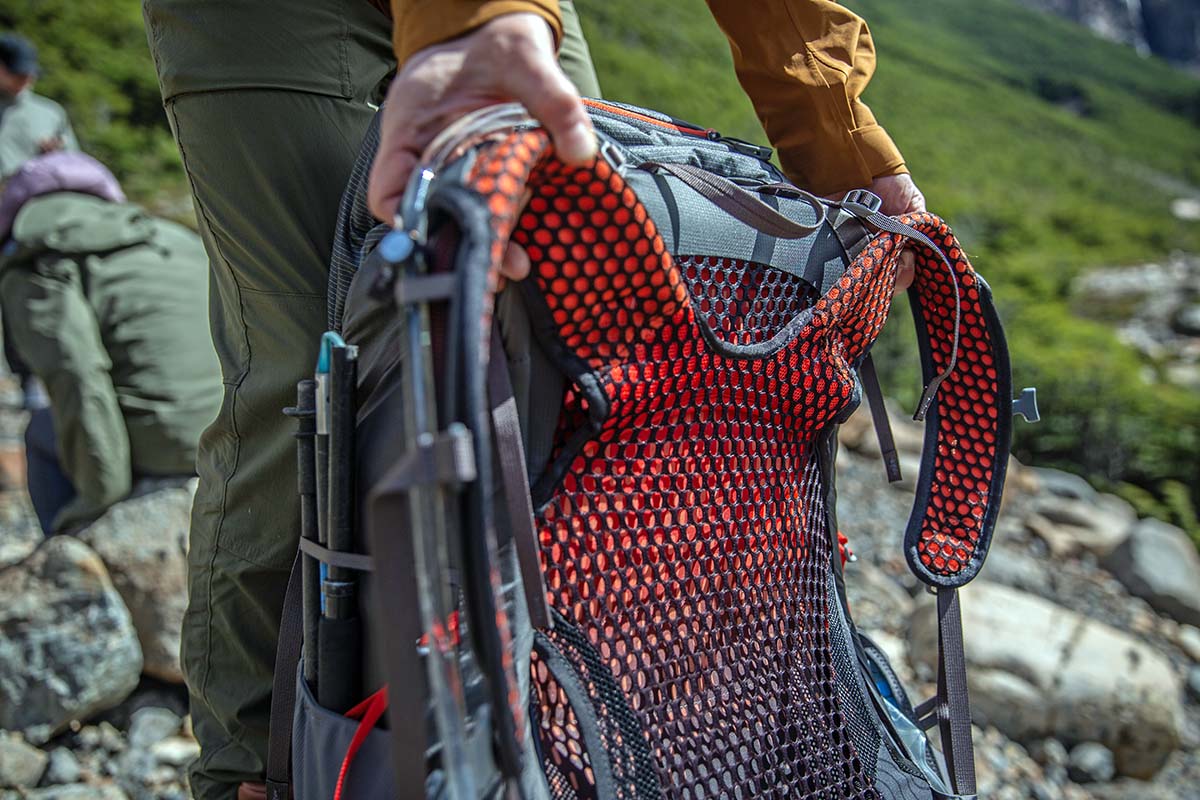 UL Backpack Weight 
As we mentioned above, ultralight packs generally check in under 3 pounds. Models that hover on the heavy side of the spectrum, like the Osprey Exos (2 lb. 13.4 oz.), are fairly similar to traditional backpacking packs, but stripped down with thinner fabrics, less external pockets, and more streamlined suspension. If you're new to ultralight gear, this is a good place to start. Around the 2-pound mark, you have packs like the Hyperlite Southwest 55 (1 lb. 15.6 oz.) and ULA Circuit (2 lb. 5.3 oz.), which feature fairly minimal organization (no lids) and backpanel designs, although they still have internal frames and fully supportive hipbelts and shoulder straps. These are the meat of the category and our top recommendation for most ultralight enthusiasts and thru-hikers. At the lightest end are frameless packs like the Mountain Laurel Designs Exodus 55L (1 lb. 2 oz.) and a few outlying frame packs like the 1-pound-5.4-ounce Zpacks Arc Haul Ultra 60L. As you might expect, uber-ultralight packs are the most compromised of the bunch, and in our opinion best reserved for experienced hikers with dialed ultralight kits.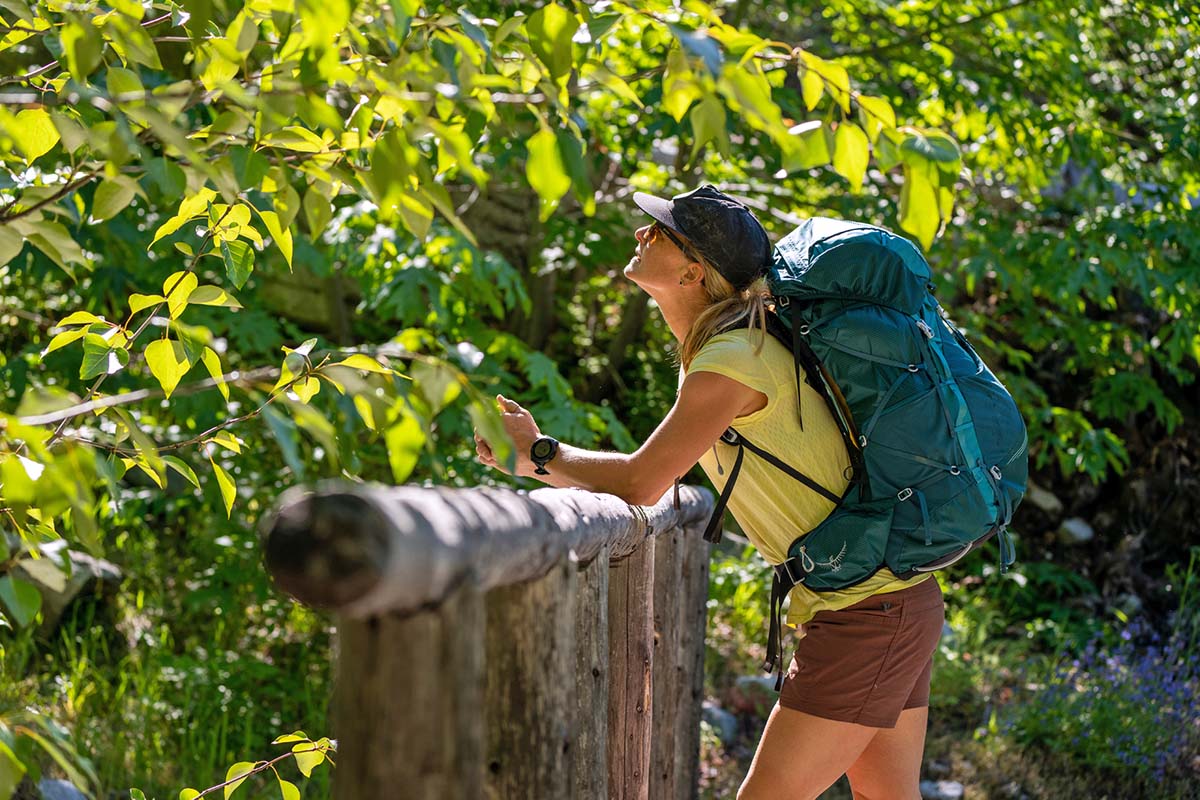 Carrying Capacity 
Most ultralight packs feature less carrying capacity than traditional backpacking packs, checking in anywhere from 30 to 60 liters. This is based on a few factors: For one, UL gear is typically a lot more streamlined than traditional backpacking fare, so you don't need a high-volume hauler to fit it all in. Second, a pack's capacity places a limit on how much you can bring, which is essential for moving fast and light. But do keep in mind that a pack's capacity does not always correspond to its load limit: For example, the Osprey Exos Pro 55 has a capacity of 55 liters and the Gossamer Gear Kumo (not listed above) maxes out at 36 liters, but they both have load limits around 25 pounds. In other words, just because you have a certain amount of space doesn't mean you should fill it (more on this in the Load Limits section below).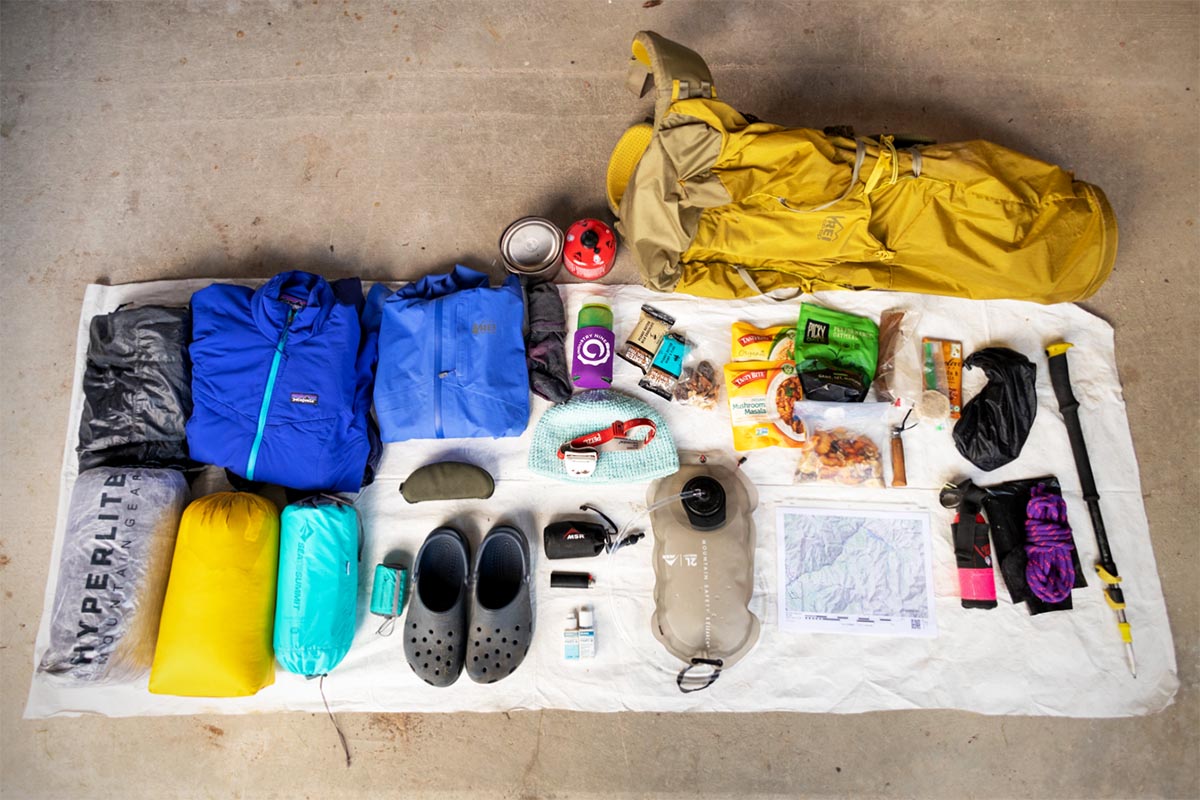 For most ultralight hikers, we recommend a 55- to 60-liter pack, which sums up the majority of our list above. If you're headed out for a quick overnight, you might be able to get away with a pack in the 40-liter range, and fastpackers might go even smaller to stay nimble on the trail. That said, it's not a bad idea to err on the side of more capacity than less: Packs with roll-top collars are particularly versatile—you can extend the collar for day one of your trip and cinch it down when your food supply begins to dwindle. External pockets can also expand and contract with a changing load (it's important to note that this space is included in the pack's total volume). In the end, the rest of your gear will determine what size pack you need for any given adventure, so we recommend dialing in your kit before opting for a smaller design.
Load Limits
Importantly, a pack's load limit is not the same as its carrying capacity, nor do the two always go hand in hand. While the carrying capacity specifies the pack's volume, the load limit—provided by the manufacturer—describes the maximum weight at which it will be comfortable. In most cases, frame packs will have higher load limits than frameless designs, thanks to the metal components that help distribute the weight throughout. You'll also want to consider factors like the structure of the frame (is it minimalist or fairly robust?), shoulder strap and hipbelt padding, backpanel rigidity, and more. We recommend that most hikers aim for a 30-to-35-pound load limit, which can support a base weight up to 20 or so pounds (depending on the length of your trip and how much food and fuel you're bringing).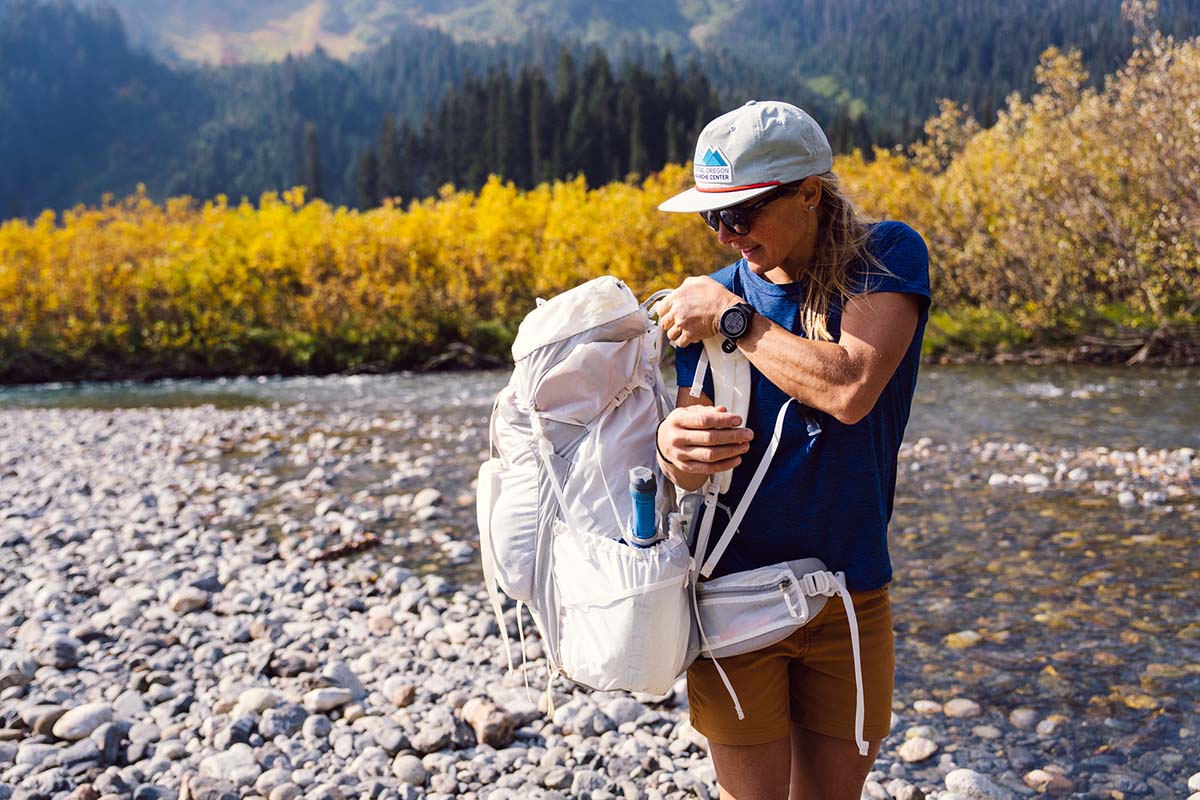 What is Base Weight?
A key aspect to consider when deciding on an ultralight pack is the base weight of your backpacking kit. Base weight is a term used to describe the heft of all of your gear (shelter, stove, layers, etc.) excluding consumables (like water, food, and fuel). While some backpackers have base weights as heavy as 30 pounds (or more), under 20 pounds is considered "lightweight," while about 12 pounds and under is "ultralight." Some serious ounce-counters even have base weights as low as 5 pounds, thanks to niche gear like hammocks, tarps, sleeping quilts, alcohol stoves, and more. Having a low base weight is especially important for long-distance, unsupported thru-hikes, as it means you can pack more food and stay longer on the trail. If you're just getting started with lightweight or ultralight backpacking and your base weight isn't under 20 pounds yet, we recommend upgrading to lighter gear first before opting for an ultralight pack.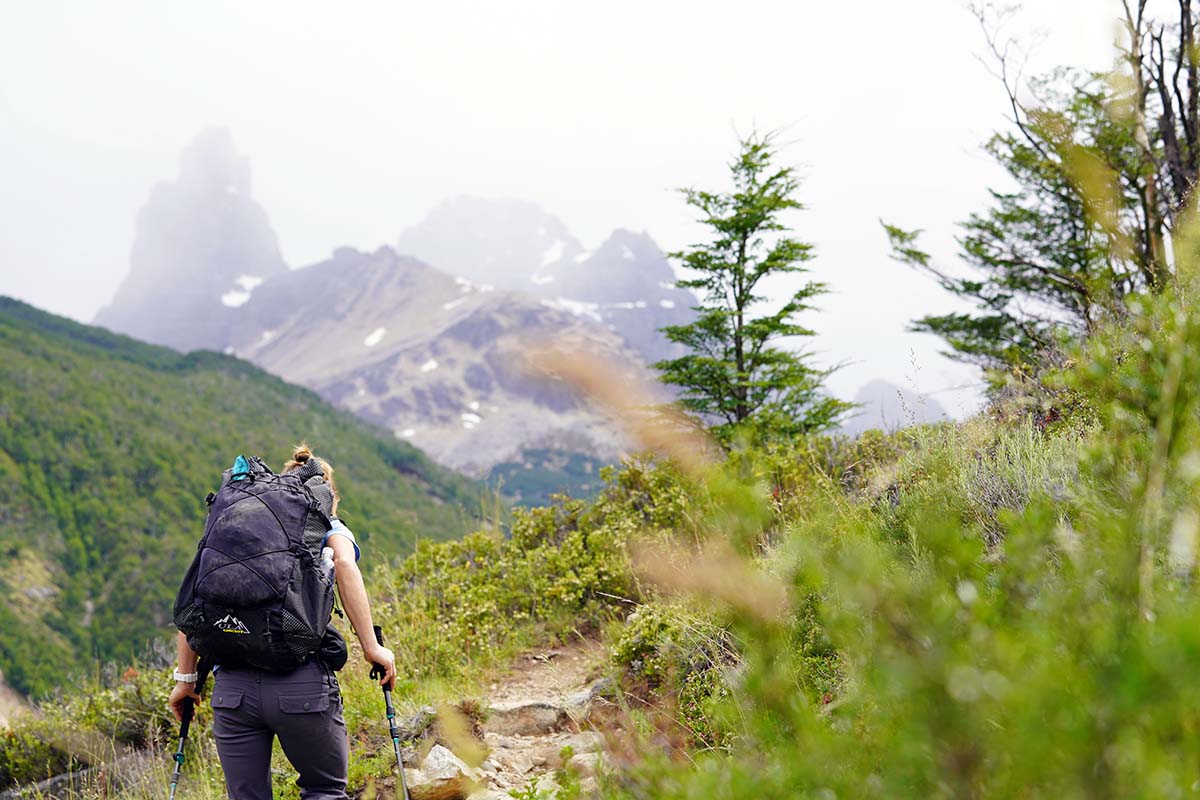 Backpack Features
Pockets and Organization
In the name of weight-savings, ultralight packs are intentionally minimal in organizational features. Almost all ultralight packs have one large main compartment with external dump pockets on the sides and rear and, in most cases, hipbelt pockets. This storage allows you to keep water, layers, and other essentials accessible without having to dig into the main body of the pack. Heavier, more traditionally styled packs like the Osprey Exos and REI Co-op Flash 55 have more features such as top lids, additional external pockets for organization, and straps to attach gear externally—if you're transitioning over from a standard backpacking pack, you might appreciate these familiar features. Finally, most ultralight packs are compatible with removable components (usually sold separately) such as hipbelt and shoulder strap pockets, which allow users to customize the pack to their needs and lighten the load whenever possible.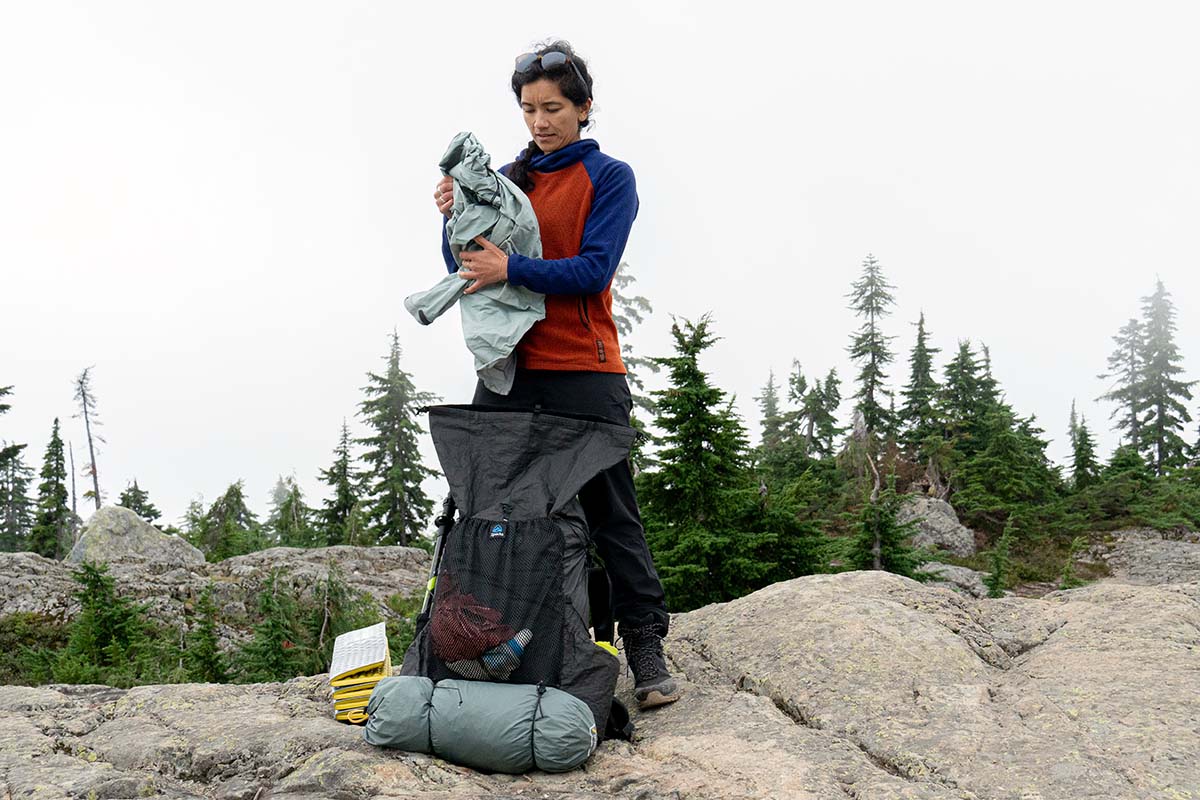 Closure System and Access
To keep complexity and weight to a minimum, most ultralight packs will feature either a roll-top closure or drawcord with a lid. Roll-tops are the more popular choice, as they provide additional weather resistance and expandable capacity, all while remaining lightweight and reducing the need for excess fabric or materials. They're especially functional when paired with highly water-resistant fabrics like X-Pac or Dyneema, providing a high level of water resistance in a streamlined design. In contrast, cinch-top closures are less common, and are almost always paired with top lids—like on the Osprey Exos, Gregory Focal, or Granite Gear Crown3. While we generally sway toward roll-top closures for their water resistance and versatility, drawstrings are easier to operate, and the additional top-lid storage will be a boon for many. 
Customizable Features
Compared to traditional designs, many ultralight packs (particularly those from cottage brands) offer a range of customization, both before and after purchase. This is a hallmark of the ultralight industry and a massive selling point for many. For example, when purchasing the ULA Circuit, you can choose between four torso sizes, six hipbelt sizes, two styles of shoulder straps, five colors, and two materials (Robic nylon or X-Pac), and you can even add on an embroidery if you'd like. After purchase, these packs can continue to be tweaked: You can remove the stay, swap in a different foam backpanel, move around accessory straps, and more. And many brands also offer a variety of compatible accessories (including hipbelt and shoulder strap pockets). 
While we're big fans of customization for experienced backpackers, we don't recommend these packs for everyone. The ordering process can be convoluted, and if you're just getting into ultralight backpacking, it's nice to have some decisions made for you. Further, unless you're especially particular about things (i.e. you have enough experience to know your preferences), you likely won't need to customize your pack after purchase. But for those who love to geek out on gear, it's a really nice option to have. On our list above, the cottage brands that offer a high amount of customization include ULA, Gossamer Gear, Six Moon Designs, Superior Wilderness Designs, Pa'lante, and Mountain Laurel Designs.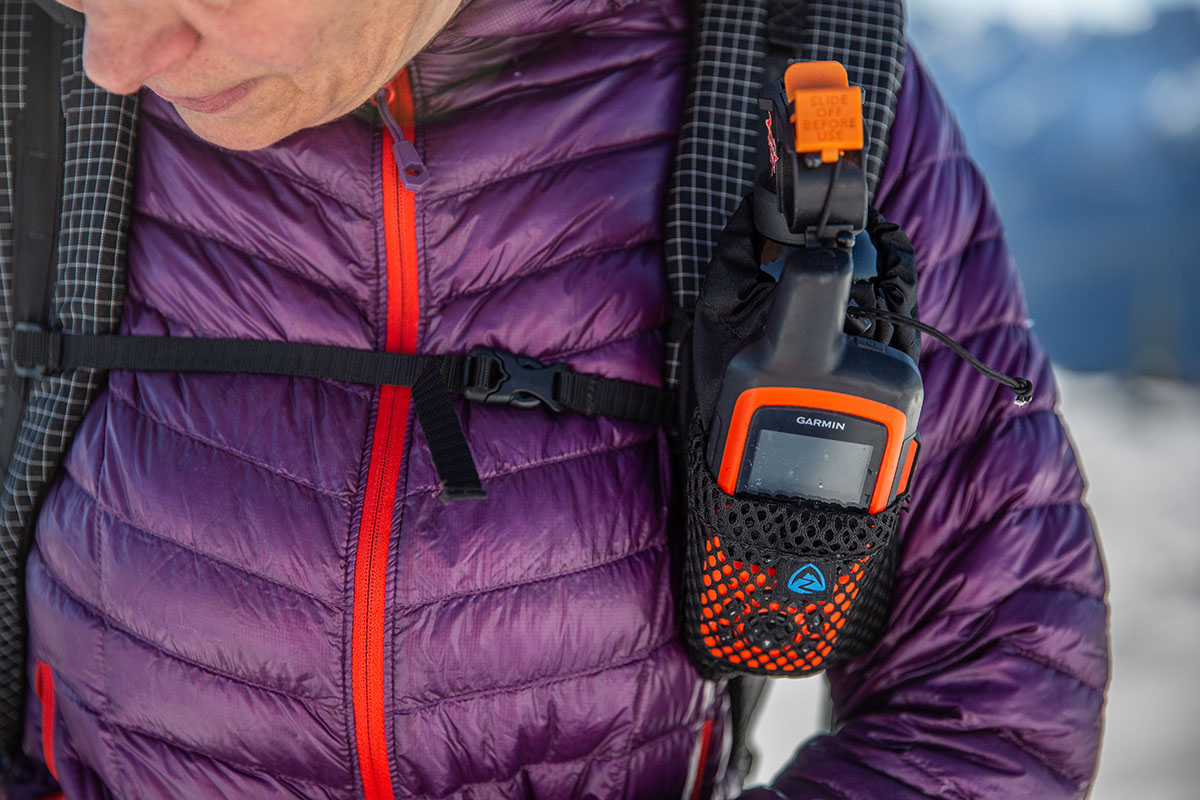 Backpanel: Padding and Ventilation
In both framed and frameless packs, the backpanel serves to add rigidity, prevents objects from poking through when the pack is fully loaded, and lends a plush feel for long days on the trail. Compared to the heavier and highly padded backpanels on traditional backpacks, most ultralight packs feature streamlined designs that include just a small amount of foam or padded mesh. The Hyperlite Southwest's backpanel, for example, is a simple piece of Dyneema fabric with a ¼-inch piece of foam on the inside; the ULA Circuit beefs things up a little with plush, mesh-covered padding. However, these designs (especially the Hyperlite) do little to encourage ventilation, which can make things particularly swampy on hot days. If you want to prioritize ventilation, look for an ultralight pack that features a suspended mesh backpanel, which leaves space between the pack and the body for air to flow. These designs include the Gregory Focal, Osprey's Exos and Eja, and the Zpacks Arc Haul Ultra 62L.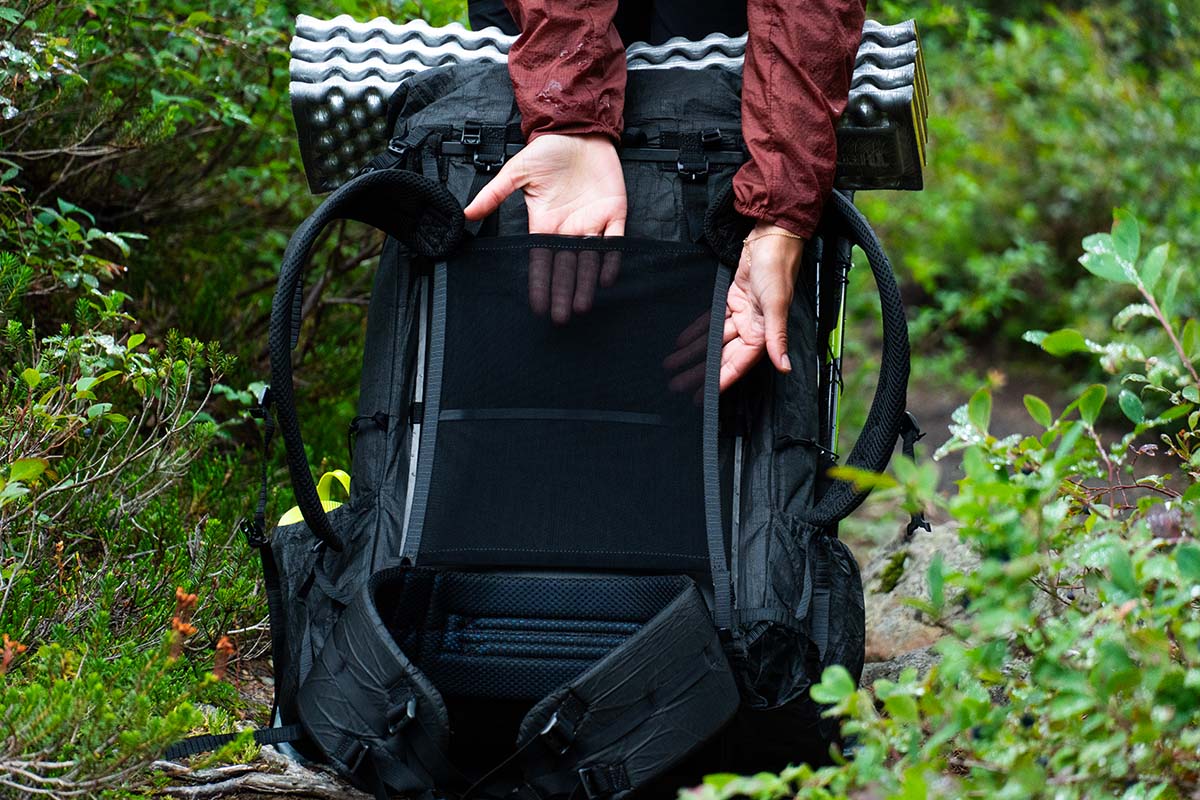 Importantly, many ultralight enthusiasts like their backpanel to be able to serve more than just one role. Many will swap out a pack's existing backpanel for a folded foam pad, which they'll use as a sleeping pad once they get to camp. Others will use the included backpanel as a sit pad for trailside breaks and time at camp. Packs like the Gossamer Gear Mariposa make this particularly convenient—the foam backpanel is placed on the outside of the pack and can easily be removed. On the other hand, more traditionally minded packs like the Osprey Exos and Gregory Focal do not have removable foam backpanels. In the end, if you're diligent about counting ounces and don't mind a bit of pack customization, this is a really nice feature to look for.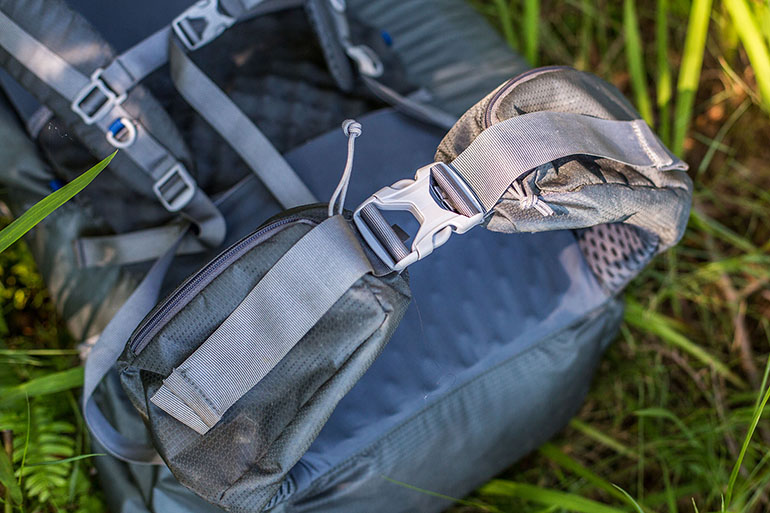 Materials and Durability
Part of what allows ultralight packs to be built so lightweight is the development of new and innovative fabrics. Dyneema, for example, is generally the lightest fabric. It's waterproof and has good abrasion-resistance, but is also the most expensive (on our list, we see it only in the Hyperlite Southwest 55, Unbound 40, and Zpacks Arc Haul Ultra 60L). On the opposite end of the spectrum is nylon, which is relatively inexpensive, but slightly heavier and less durable than Dyneema. That said, unless you're using your pack every day, even thin nylon will hold up to a lot of abuse (nylon is measured in terms of denier, or D, with higher numbers denoting thicker construction). Nylon itself is not waterproof like Dyneema, although silicone or polyurethane applications do add decent protection against the elements.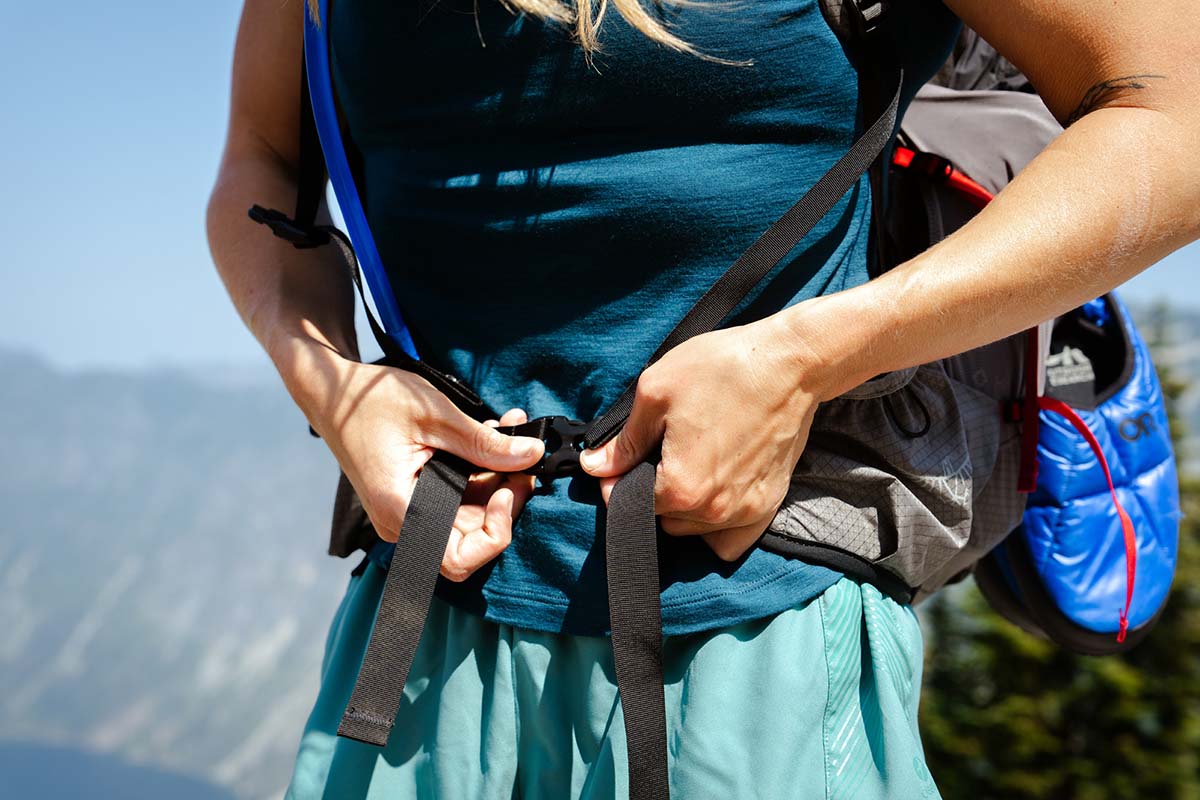 It's important to note that despite its premium reputation, Dyneema isn't the best choice for everyone. Those who hike in dry conditions won't need the 100% waterproof build, and Dyneema packs suffer more than others in terms of ventilation. A compromise between the Dyneema and nylon is X-Pac, which offers good durability, weather resistance, and affordability for the weight. And an even more recent addition to the fabric lineup is Ecopak, which is entirely recycled and meant to be even more durable than either Dyneema or X-Pac, and also lightweight and waterproof. We haven't yet tested Ecopak, but it's a good sign that it's being put to use by well-established companies like Mountain Laurel Designs, Pa'lante, and Superior Wilderness Designs.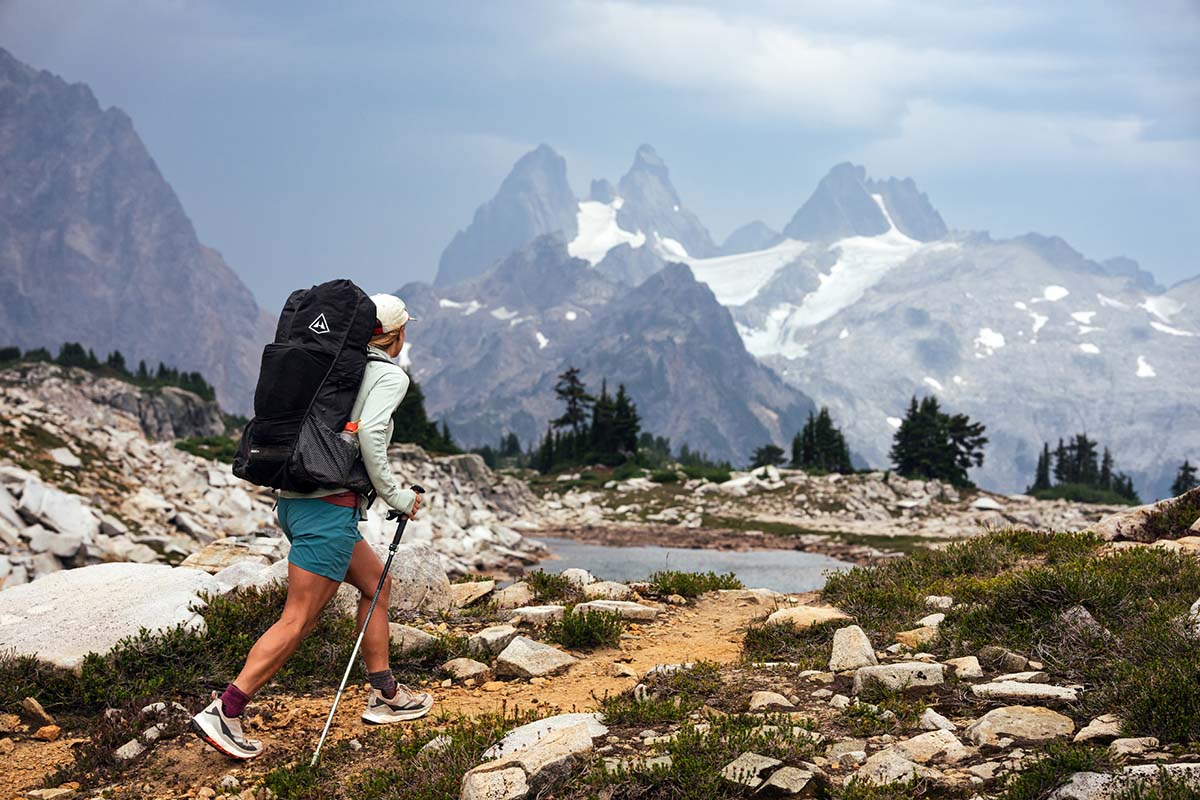 Water Protection
Most ultralight packs are not waterproof, though the fabrics they're made of might be, if they're made of Dyneema, X-Pac, or Ecopak. With Dyneema or X-Pac, we rarely worry about water intrusion through the fabric itself—more often than not it comes through seams, zippers, or the top closure (this is why many packs feature a roll-top closure). Nylon, on the other hand, is less water-resistant, and extended precipitation will begin to absorb into the fabric, potentially penetrating into the pack body. For this reason, a number of nylon packs are sold with an integrated or included waterproof pack cover, which is well worth the weight for hiking in wet conditions. And regardless of your pack's weather resistance, it's always a good idea to use waterproof stuff sacks or trash bags for packing your sleeping bag, layers, and other essentials.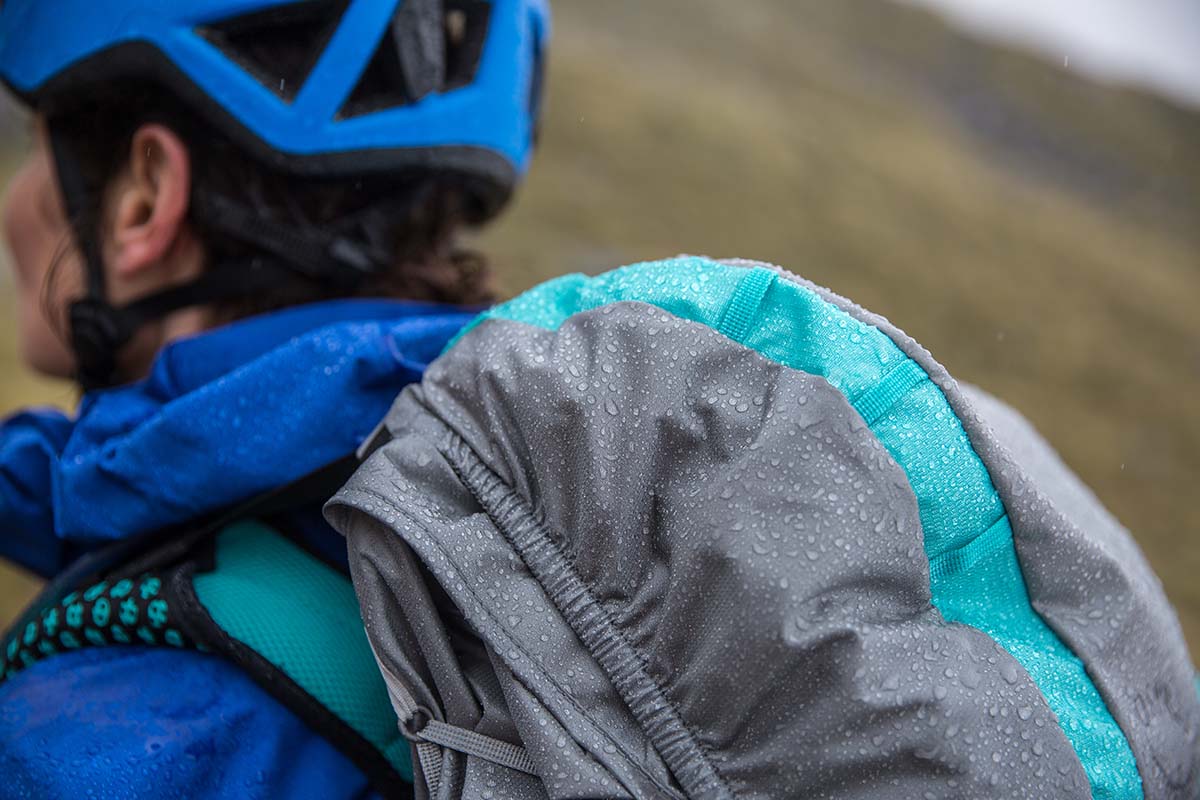 Sizing and Fit
You can concern yourself with load limits and base weights until your head spins, but the reality is that a lightweight pack won't be comfortable unless it fits well. The good news is that ultralight packs come in a range of sizes and no shortage of after-market adjustments. Cottage-brand packs are known for allowing you to customize before you buy: For example, when purchasing the ULA Circuit, you can choose between four different torso lengths, six hipbelt sizes, and J or S straps to match your body type. If your body doesn't match what are deemed "normal" proportions, the ability to select both torso length and hipbelt size can be a real benefit. On the other hand, brands from larger companies like Osprey and Gregory generally come in just a few sizes (often specified by the torso length), but many of these packs have adjustable components: The Osprey Exos has 4 inches of play in the torso length, for example, while the Granite Gear Crown3 features a fully adjustable Re-Fit hipbelt.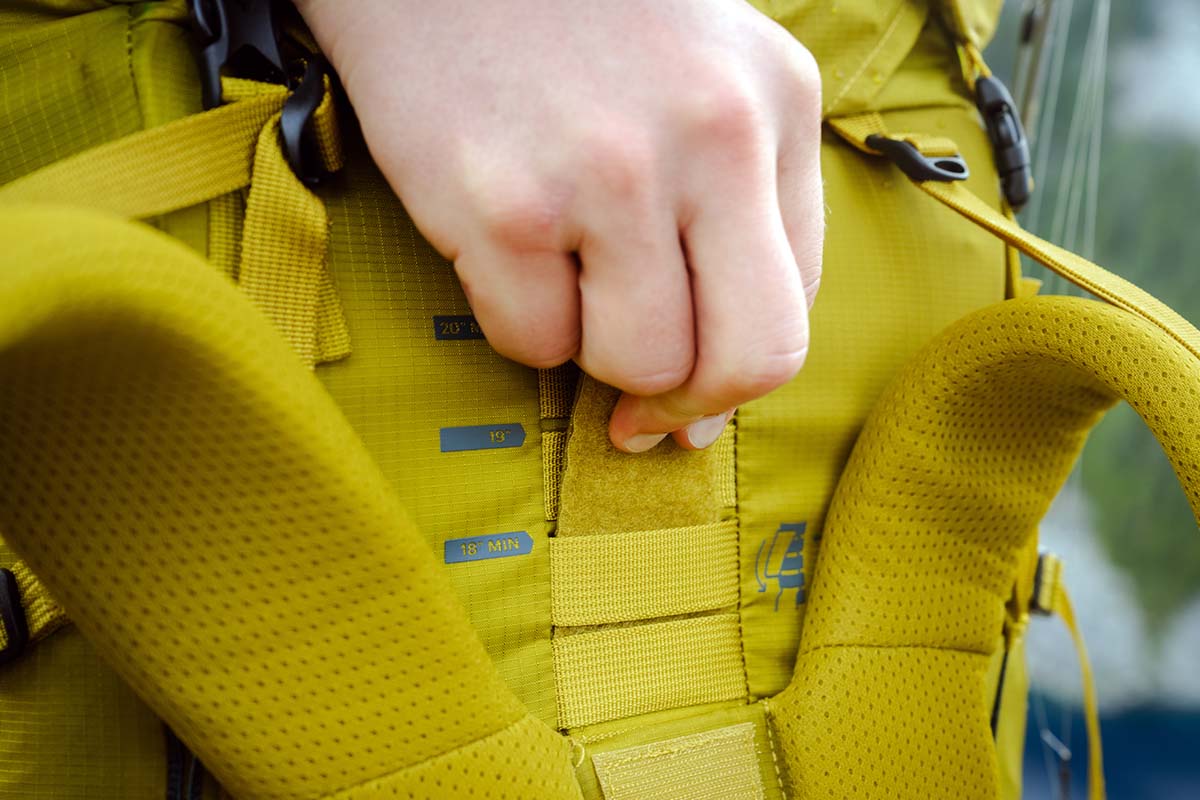 One of the benefits to buying from a brand that sells their products in brick-and-mortar stores (such as Osprey, Gregory, Hyperlite, and REI Co-op) is the ability to try the pack on before you buy. But while this is a nice perk, we've also had a lot of success buying from cottage brands online. Most of these brands have detailed instructions and charts to help you select a well-fitting pack, and we've found their customer services to be incredibly helpful both before and after purchase. 
 
The Ultralight Cottage Industry
Once a niche segment of backcountry travel, ultralight backpacking has seen a huge amount of growth in the last few years, supported by cottage industry companies—like Gossamer Gear, Zpacks, and ULA—pushing the envelope with ever-lighter and higher-quality gear. Most of these companies were founded by thru-hiking enthusiasts who noticed a gap in the market, and they continue to be small mom-and-pop operations with a strong "by the people, for the people" ethic. It's only recently that bigger brands like REI Co-op, Osprey, Gregory, and Arc'teryx are entering the scene with their own ultralight options.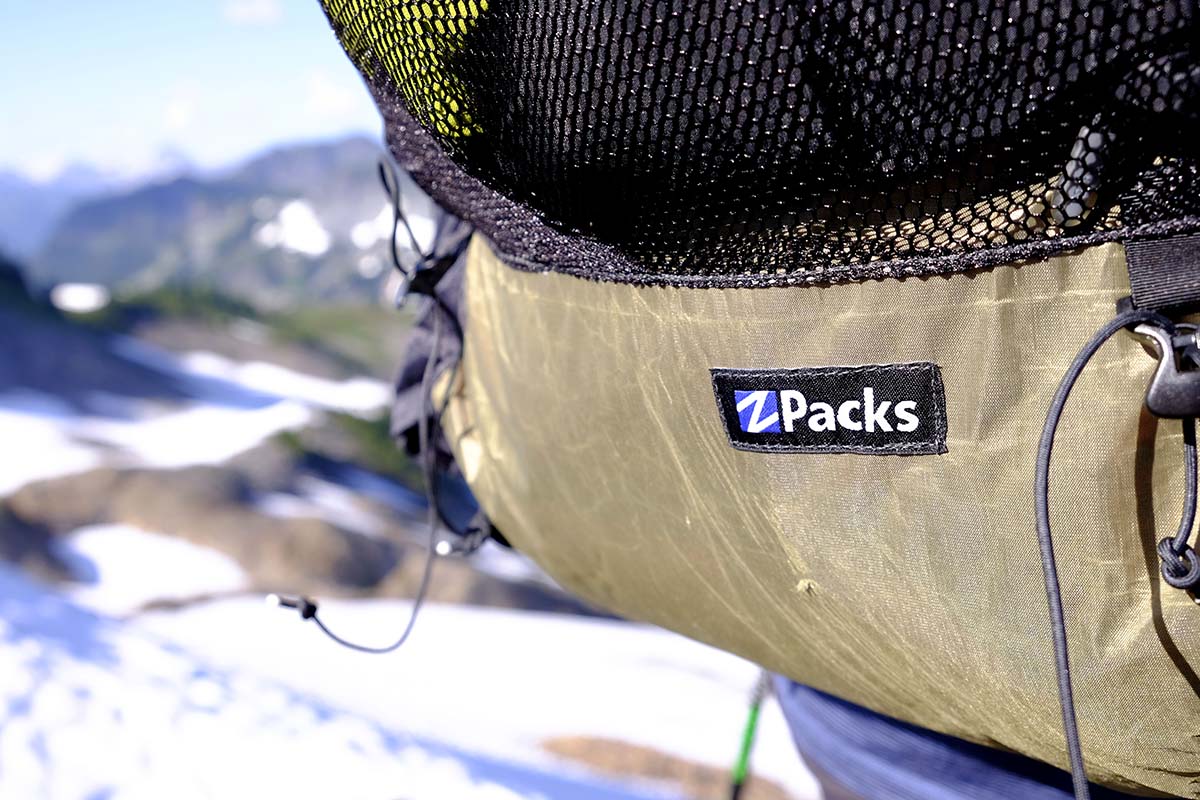 Most cottage brands have a number of things in common. First, the designers and manufacturers are users of the gear themselves, which results in well-thought-out products that nail the details and often allow the buyer to customize sizes, materials, features, accessories, and more. Further, since these are small companies, most of the gear is handmade in the United States.
While we love this culture and encourage you to support it, keep in mind that you can expect longer wait times between ordering and receiving your items (Superior Wilderness Designs has an 14-week wait at the time of writing, and you're lucky if you can even track down a Pa'lante pack). And perhaps the biggest downside for most consumers: You won't find brands like ULA and Gossamer Gear on the shelves at your local retailer, meaning you won't be able to see your pack or try it on before buying. Luckily, most of these companies include detailed videos and descriptions on their websites and have reasonable return policies.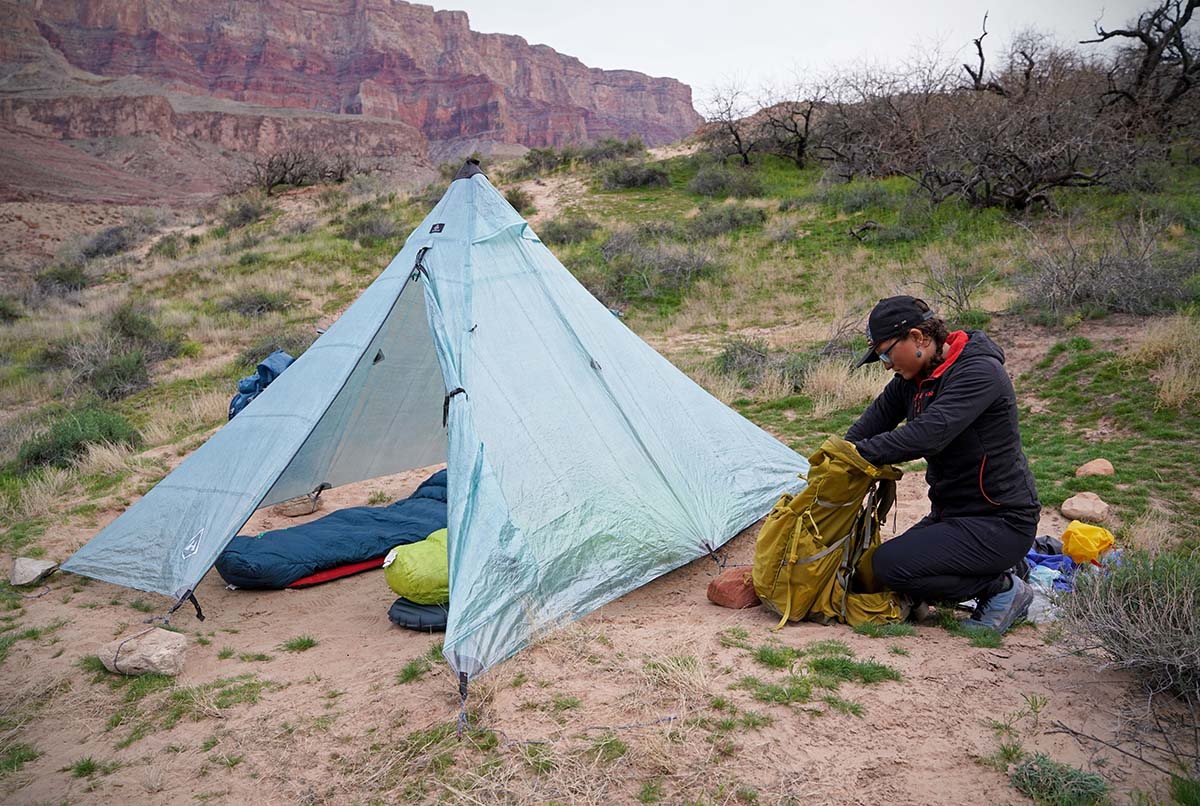 Sustainability: Recycled Fabrics and PFC-Free DWR
Our impact on the environment has never been a hotter topic (no pun intended), and it's nice to see gear companies step it up with more sustainable practices. Recycled fabrics have become standard practice in the past few years and are featured in most of the packs above, including those from both mainstream and cottage companies. We're also seeing a lot more PFC-free durable water repellent (DWR) finishes on these fabrics, which eliminate the use of some—or at times, all—per- or polyfluorinated chemicals (these "forever chemicals" have been linked to a range of environmental and health issues). With many states stepping up to ban the sale of items that include PFCs, the outdoor industry is seeking better solutions for water- and stain-resistant finishes. All told, it's an exciting time for sustainability, we're happy to see this reflected in the ultralight backpacking pack market.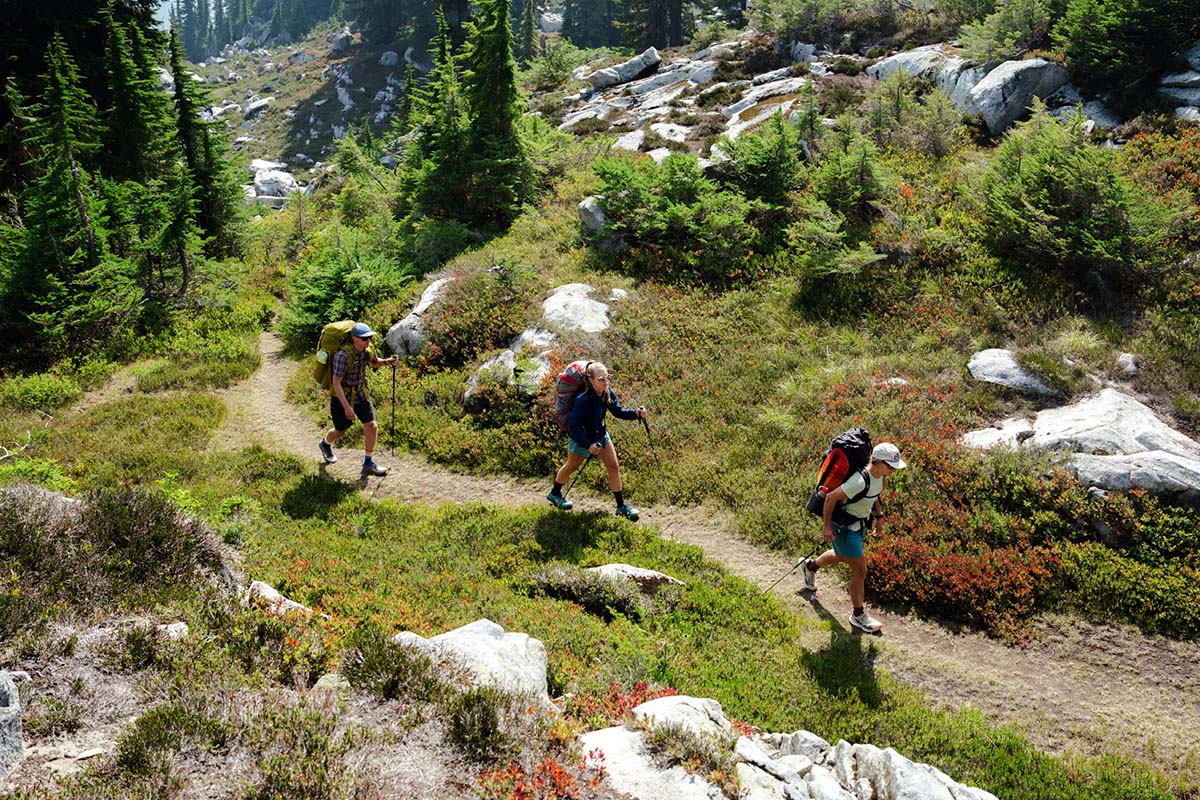 Completing your UL Kit
Ultralight backpacks are one of our favorite pieces of gear, but with streamlined carrying capacities and load limits, you'll need to ensure that the rest of your equipment is fairly lightweight too. When shopping for ultralight gear, your main focus will be on "The Big Three"—a sleeping bag (or quilt), sleeping pad, and backpacking tent or shelter. Within these categories, there are fairly mainstream models that are particularly popular among the UL crowd, and a number of well-loved cottage-brand designs, too (similar to what we see in the picks above).
Back to Our Top Ultralight Backpack Picks  Back to Our UL Backpack Comparison Table
Read More From Switchback Travel