Osprey Exos 58 
Price: $260
Weight: 2 lbs. 13.4 oz. (S/M size)
Capacities: 38, 48, 58L
What we like: Excellent mix of carrying comfort, ventilation, and build quality at a reasonable weight.
What we don't: Heavy and overly complicated for many minimalists and thru-hikers.
See the Men's Osprey Exos 58  See the Women's Osprey Eja 58
For a time, Osprey's Exos was the ultimate ultralight pack and a favorite among thru-hikers. The competition has grown significantly in recent years, but the latest Exos (updated in mid 2022) offers a very strong mix of carrying comfort, ventilation, and organization. It's not a weight leader, but the extra ounces are put to good use in making the Exos a sturdy and well-rounded design. We took the 58-liter version on a challenging backpacking trip in Washington's Cascade range, and below we outline our thoughts. To see how the Exos stacks up to the competition, see our articles on the best backpacking packs and best ultralight backpacks.
 
---
Table of Contents
---

Performance
Carrying Comfort
I had mixed impressions of the outgoing (pre-2022) Exos comfort-wise, but the latest model is greatly improved. Osprey added a nice dose of padding at the lower back and hipbelt, eliminating the pressure points we experienced with the previous design. Not only is the Exos now quite comfortable, but it also offers a noticeable amount of lower back support. Similar to its heavier sibling, the popular Atmos AG, the Osprey Exos 58's flexible backpanel is supported by a sturdy metal internal frame, the hanging mesh practically hugging you when you don the pack, providing a secure feel. On the trail, the metal structure helps eliminate sagging—a common complaint in the UL pack market—and the well-padded shoulder straps and wide hipbelt do a great job spreading out the load.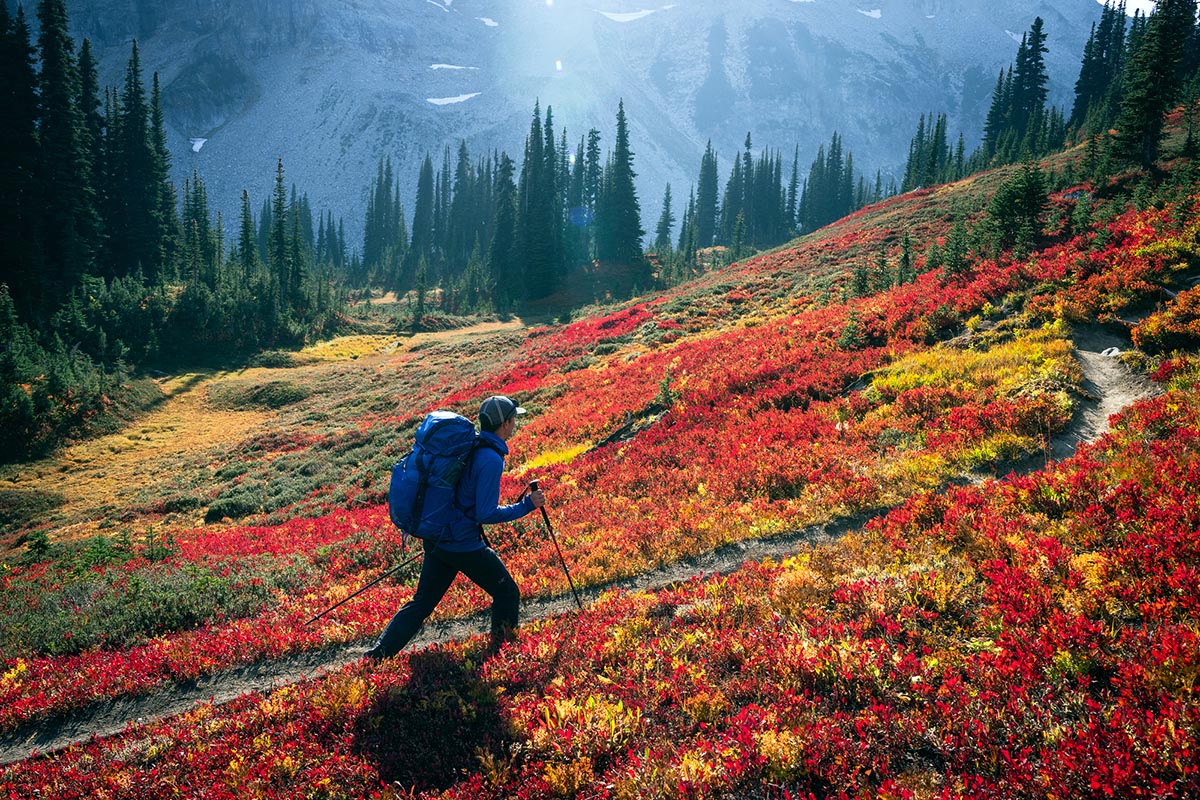 If you're coming from the world of ultralight packs, the Osprey Exos 58 might seem to have an unnecessary amount of padding and support (it actually presses into the lower back); on the other hand, those accustomed to a traditional backpacking pack will find that the Exos offers a similar experience in terms of carrying comfort (but at a much lower weight). If you consistently pack moderately light—the 25- to 35-pound range is the Exos's sweet spot—we think it's a fantastic choice. Added up, you'd be hard-pressed to find a plusher and more supportive pack in this weight class.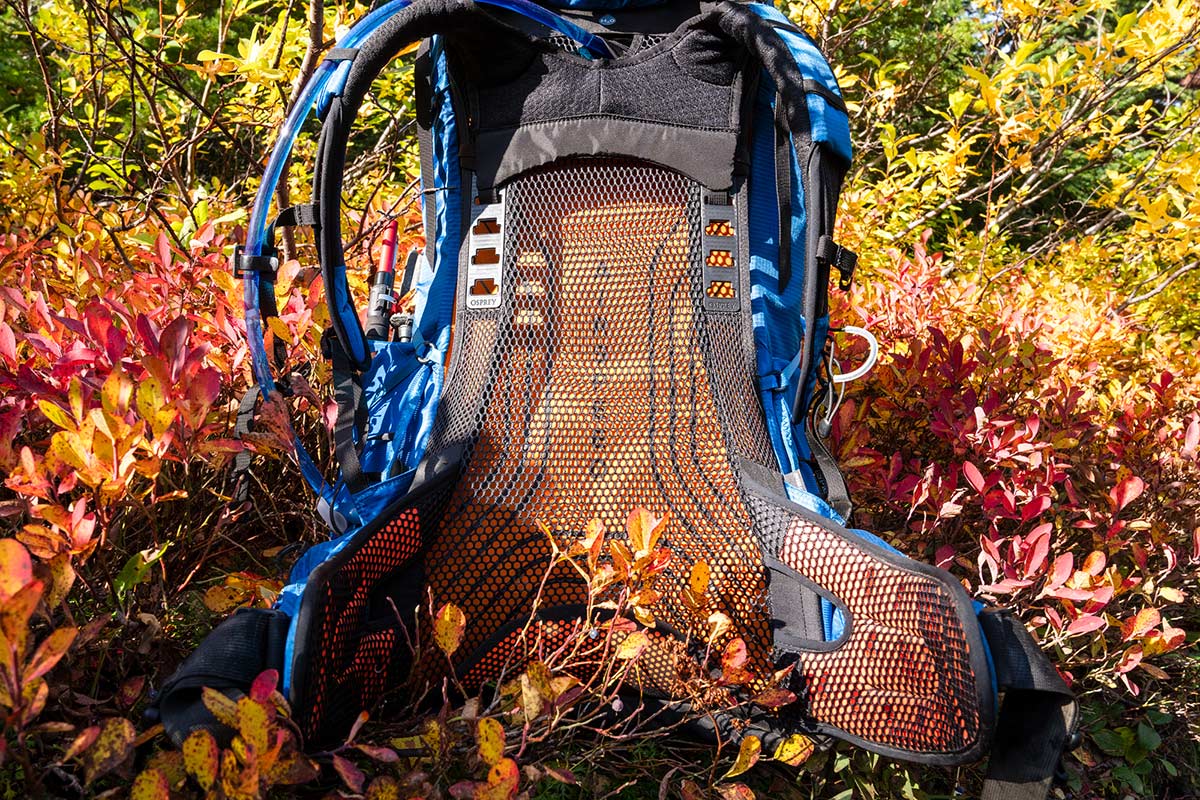 Weight
At 2 pounds 13.4 ounces for my size small/medium, the Osprey Exos 58 is at the high end of the ultralight backpacking pack spectrum, but is still reasonable for everything from fast-and-light adventures to short overnight trips. In the same weight class, Gregory's Focal 58 clocks in at 2 pounds 10.4 ounces, Granite Gear's Crown3 60 is 2 pounds 9.3 ounces, and REI Co-op's Flash 55 weighs 2 pounds 13 ounces. There are even lighter options in the UL market—including the Gossamer Gear Mariposa (1 lb. 15.5 oz.) and Hyperlite 3400 Southwest (1 lb. 15.6 oz.)—but these are more pared-down designs that cost more. All in all, the Exos strikes us as a nice compromise. And you do have the option to strip down the pack by removing the lid (there's a flap underneath that secures over the main compartment) and compression and sleeping bag straps, which shaves around 5 ounces total.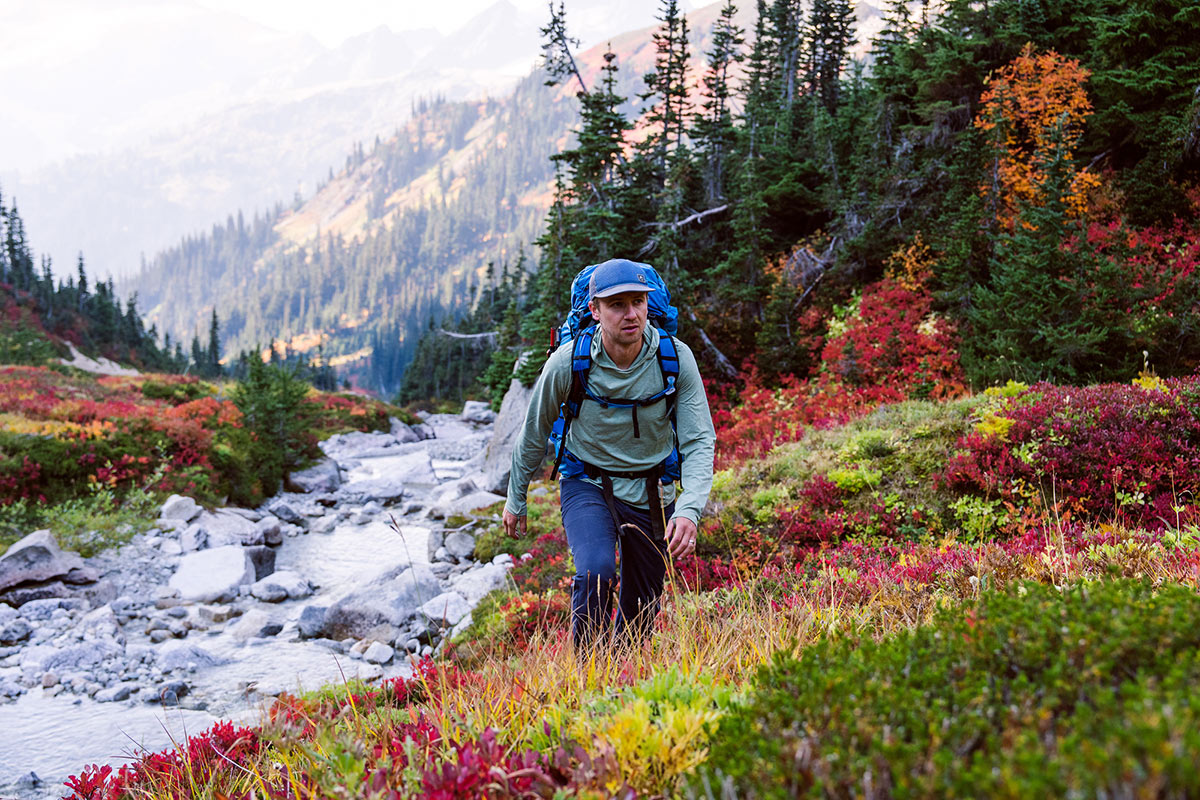 Organization
As expected from an ultralight design, organization is limited to the basics: a large mesh front pocket, dual side water bottle holders, and a top lid with zippered storage on both the top and underside (the underside pocket is mesh and features a key clip). Further, the only access to the Osprey Exos 58's main compartment is through the top lid, although it's large and bear-canister-friendly. Both water bottle pockets have a lower opening behind your elbows that can be accessed without removing the pack, which is great for on-the-go hydration. And it's easy to secure taller items in those side pockets with the crisscrossing compression straps.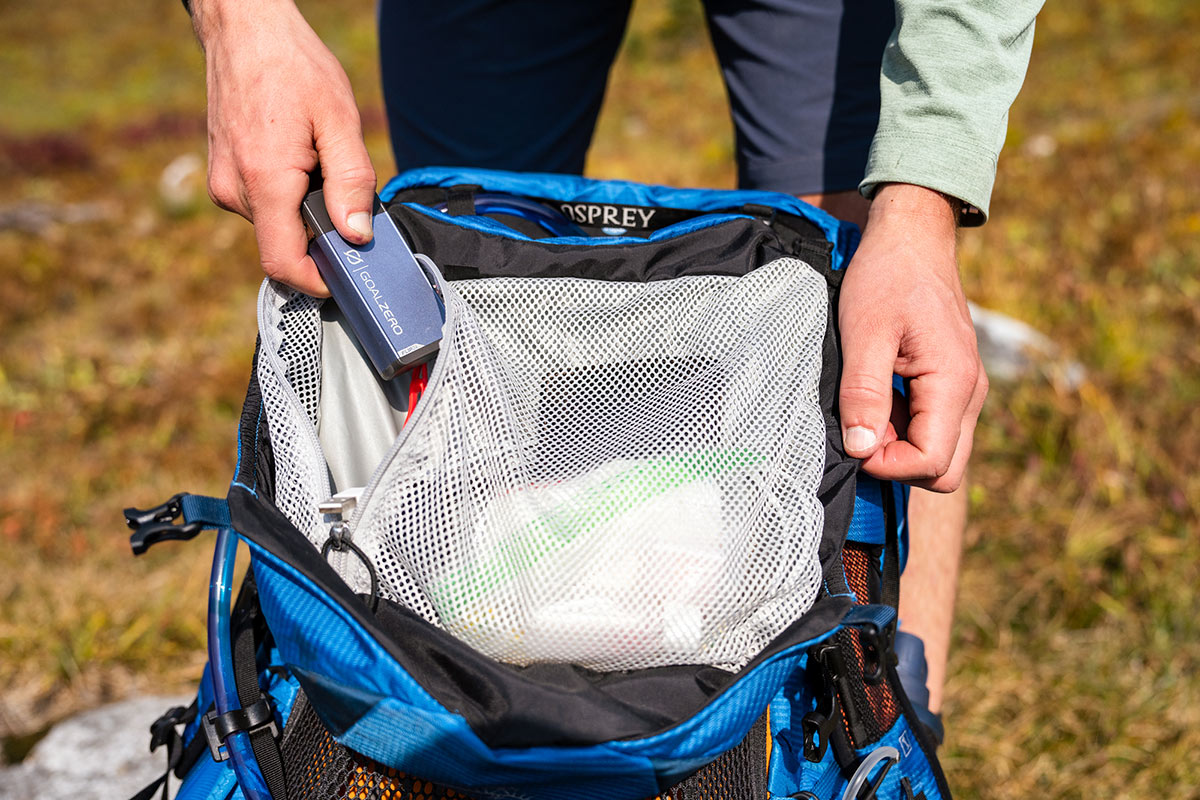 Osprey bizarrely omitted hipbelt pockets in the prior Exos, but thankfully they're back in the new version. You get a zippered pocket on each side, and they're just big enough to squeeze in my phone (an iPhone 11). That said, I do wish they were a bit larger—like the ones on the Atmos AG 65—to make it even easier to quickly slide bulkier items inside. But we still count it as a win that the pockets are included. Rounding out the Exos's features, there's an exit port, clip, and dedicated sleeve along the interior for storing a hydration reservoir and attachments at the left shoulder strap and back of the hip for stashing trekking poles.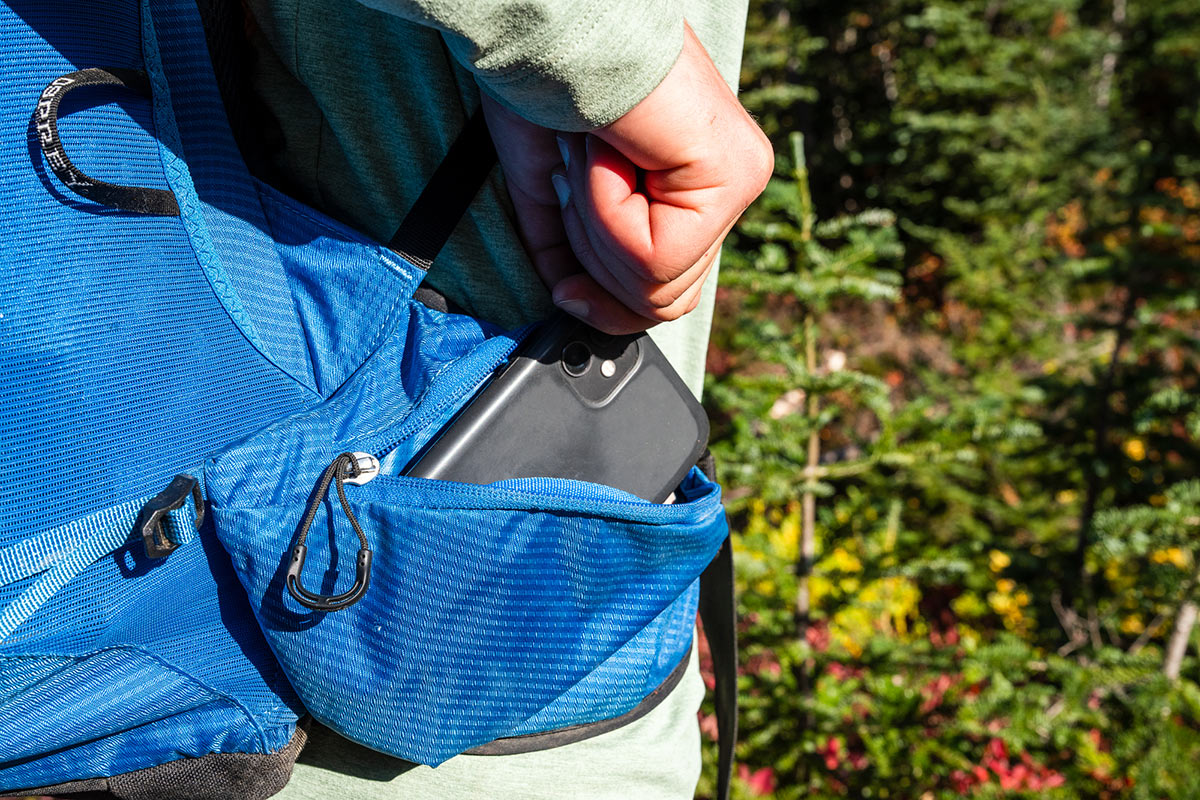 Ventilation
Osprey is a market leader in ventilation, and this holds true with the Exos. The trampoline-style backpanel is covered in mesh, and there's enough separation between the pack and your body to generate a good amount of airflow. In addition, open webbing traces the padding on the hipbelt and shoulder straps, and even the foam on both is covered in holes. The net result is a highly breathable pack that keeps you cool regardless of conditions. We still think Osprey's own Atmos wins out in this regard (it features Osprey's Anti-Gravity suspended mesh system), but the Exos isn't far behind, which is impressive considering its low weight.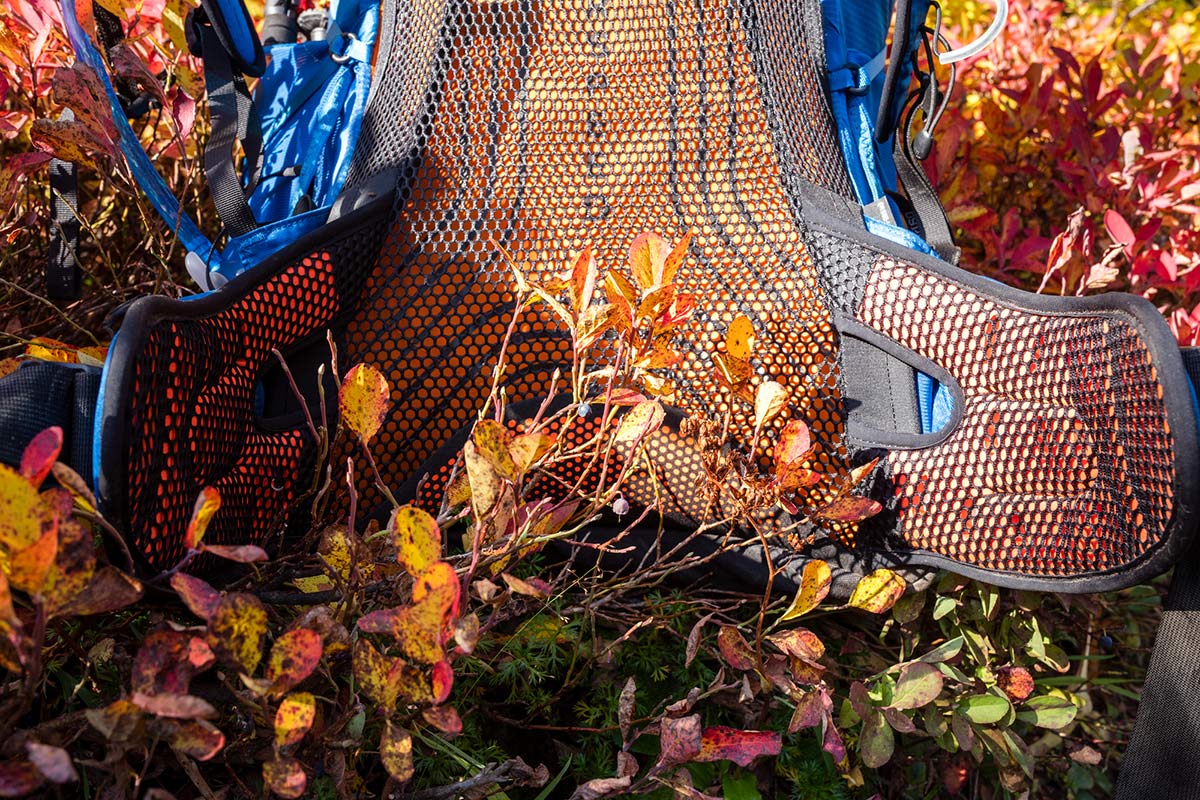 Build Quality and Durability
As we've come to expect from Osprey packs, the latest Exos 58 has a well-made look and feel. The overall construction is well-thought-out, and Osprey strategically incorporated burly and strong materials like the metal frame and substantial plastic buckles. That said, this is still an ultralight pack, so the materials are thin: You get 100-denier (D) nylon on the pack body, moderately thicker 400D nylon accents, and a reinforced base. The prior generation used a similar mix, and we put a sizable slice in the upper side of the pack just from it tipping over on a large granite rock.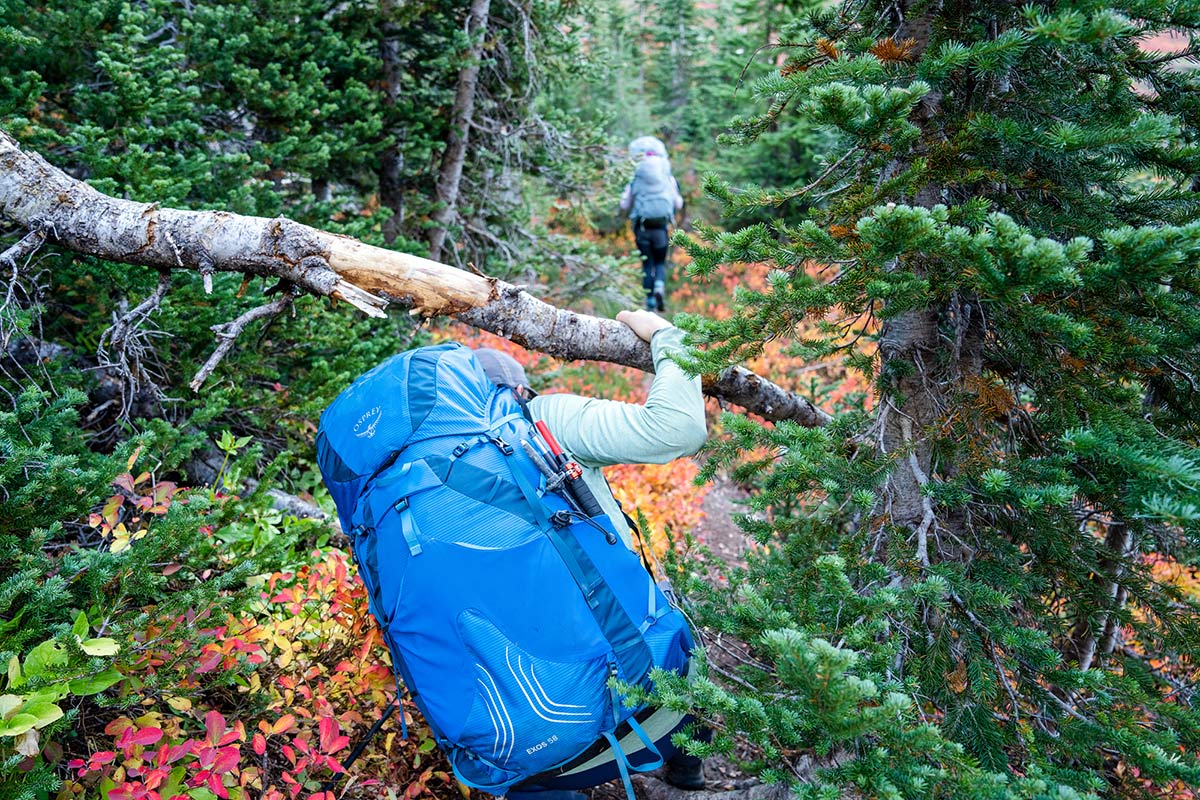 Needless to say, you'll want to be careful with the Exos, but the design is about average in the overall market. Gregory's Focal 58, REI's Flash 55, and Granite Gear's Crown3 60 all have similar builds. We tested the Exos on a pretty demanding multi-night trek in Washington's Cascade range, and a close inspection only shows light scuffs along the base of the pack where it sits on the ground. And it's worth noting we've had a similarly positive experience with the women's variation, the Eja 58. In the end, it might not be great for bushwhacking and rough use around sharp equipment, but the pack is perfectly serviceable for most overnight needs.

Fit and Sizing
The unisex/men's Osprey Exos 58 comes in two sizes: small/medium and large/extra-large. The updated pack also features a torso adjustment that easily raises and lowers the shoulder straps to five different heights (Osprey claims 4 in. of adjustment). I have an 18-inch torso, which puts me in the middle of the small/medium range, and with the tabs at the center slot, I found the fit to be spot-on. It was snug against my back and sat properly on my hips. Unfortunately, Osprey does not specify size ranges for the hips, although with decently long straps the Exos's hipbelt should be able to accommodate most bodies.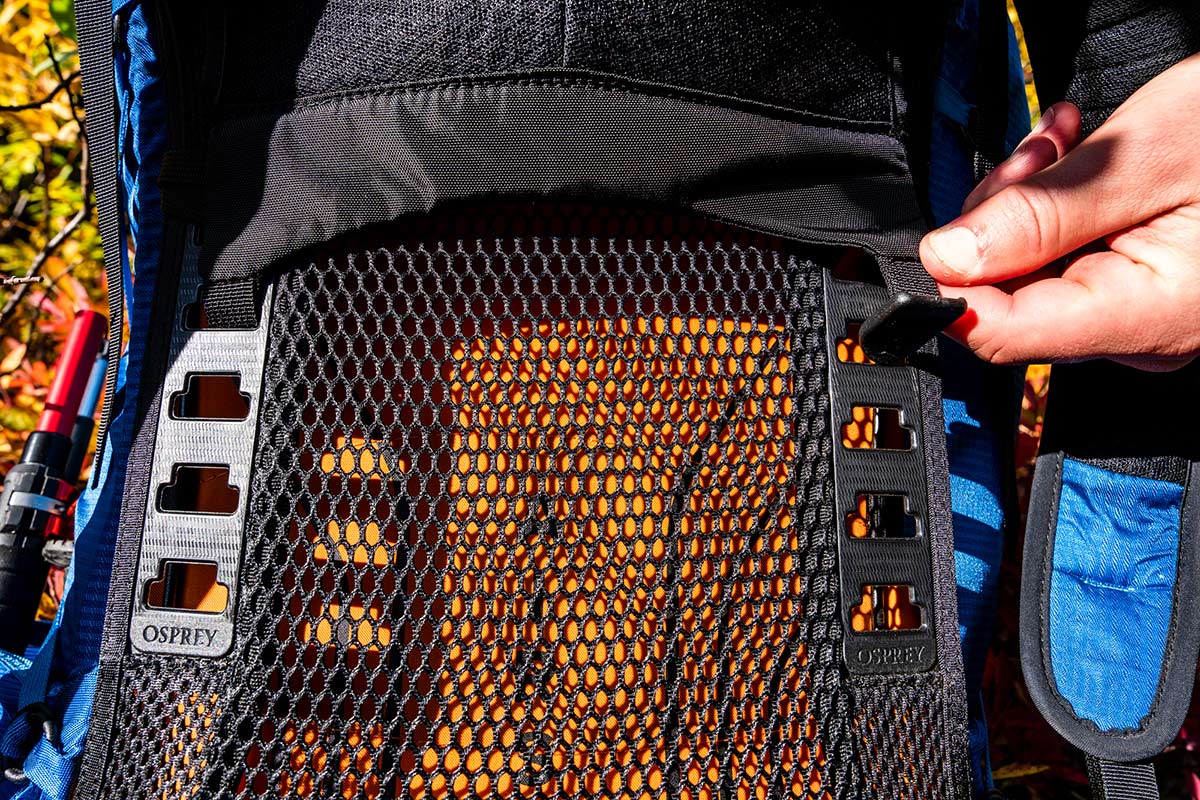 Sustainability
Like many outdoor companies, Osprey has begun to place a higher priority on sustainable materials and design. The Exos in particular features a durable water repellent finish made without the use of harmful chemicals (otherwise known as PFC/PFAS-free DWR), and the pack's fabrics are 100-percent recycled and bluesign approved. In our opinion, the best thing you can do for the planet is limit your consumption (do you really need another backpack?) or buy used. But if you're going to make a purchase, we strongly support buying from companies who are making an effort toward a healthy planet.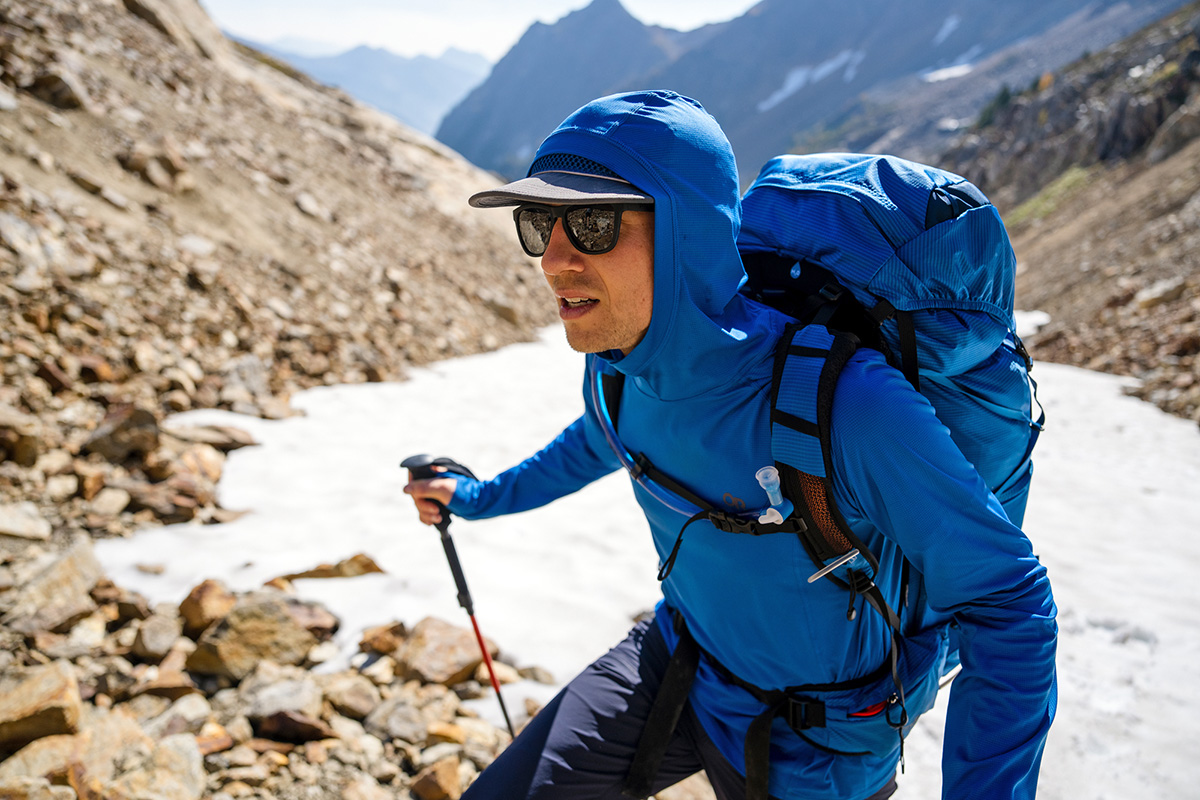 Other Capacities of the Osprey Exos
In addition to the 58-liter pack reviewed here, Osprey also makes the Exos in 38- and 48-liter variations. The 48 liter strikes us as a versatile size: If you're willing to pack light, this could be a great option for everything from overnight trips to thru-hikes. The Exos 48 Pack is lighter at 2 pounds 12.3 ounces and $20 cheaper than the 58L version, but it sports an identical feature set. Finally, the 38-liter model is a viable choice for those willing to pack light on shorter weekend outings and is rated for up to 25 pounds ($220; 2 lbs. 11.1 oz.).

Women's-Specific Osprey Eja
The Exos is a men's-specific design, but Osprey also offers the pack in a women's model called the Eja. The Eja comes in the same capacities (38, 48, and 58L), which cost the same across the board. Stacked up against the Exos 58, the Osprey Eja 58 weighs slightly less at 2 pounds 11.5 ounces for the size XS/small, comes in different colorways, and features a women's-specific fit. Otherwise, the designs are identical including the removable floating lid, dual mesh side pockets, front stretch mesh pocket, and maximum carry weight of 35 pounds (the 48 and 58L models are rated at 30 and 35lb., respectively). We also reviewed the women's Eja 58 and found it to be a good match for minimalist adventurers (see our in-depth review).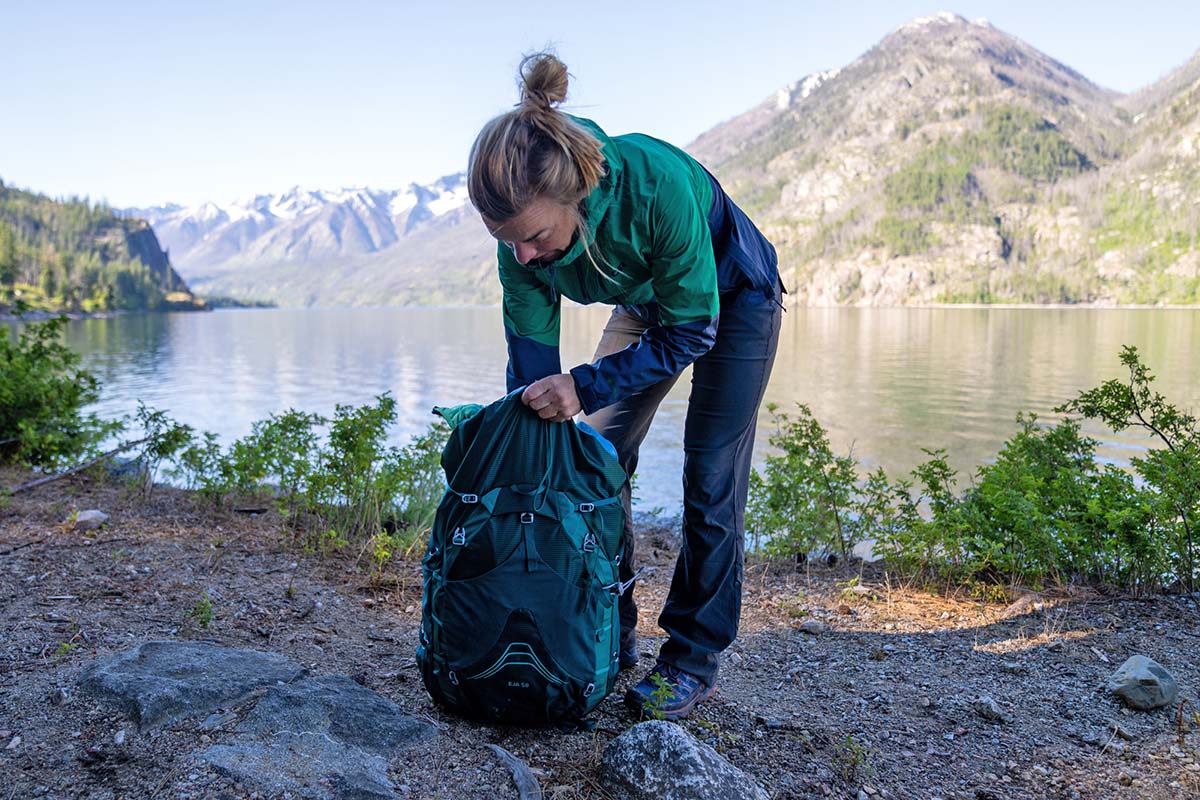 What We Like
The latest Exos 58 offers standout carrying comfort and ventilation for the weight. 
Everything from the plastic buckles to the foam padding and metal frame has a quality and well-made feel.
Torso-length adjustment is easy to use and results in a very well-fitting pack. 
Big bump in sustainability with the latest model: PFC-free DWR coating and recycled and bluesign-approved materials.
Offered in a nice array of capacity options including 38- and 48-liter variations, as well as women's-specific designs.

What We Don't
You can save a lot of weight in the UL pack market. Competitors like the Hyperlite Southwest and Gossamer Gear Mariposa are under 2 pounds. 
Minimalists and thru-hikers may find it over-featured, with extra compression straps and features like a trekking pole attachment loop on the shoulder strap.
Fairly thin fabric used for the pack body. We haven't had any issues yet, but it should nevertheless be treated with care.


Comparison Table

The Competition
As we touched on above, Osprey's Exos has been a popular ultralight pack choice for years, and one of its closest competitors is Gregory's Focal 58. Both feature a very similar design (including a suspended mesh backpanel) and load limit (35 lbs.), along with a similar price. But after logging dozens of miles on both packs, their differences are worth mentioning. The Gregory is overall a simpler pack, with no torso adjustment (it's offered in three sizes rather than two) and more straightforward compression straps on the sides and bottom. It's also over 2 ounces lighter. In our opinion, the Focal is the better executed of the two designs, and slightly truer to its ultralight intentions. On the other hand, the Exos maintains more of the plush feel of a standard backpacking pack and will appeal more to traditional backpackers looking to switch things up with a more streamlined hauler.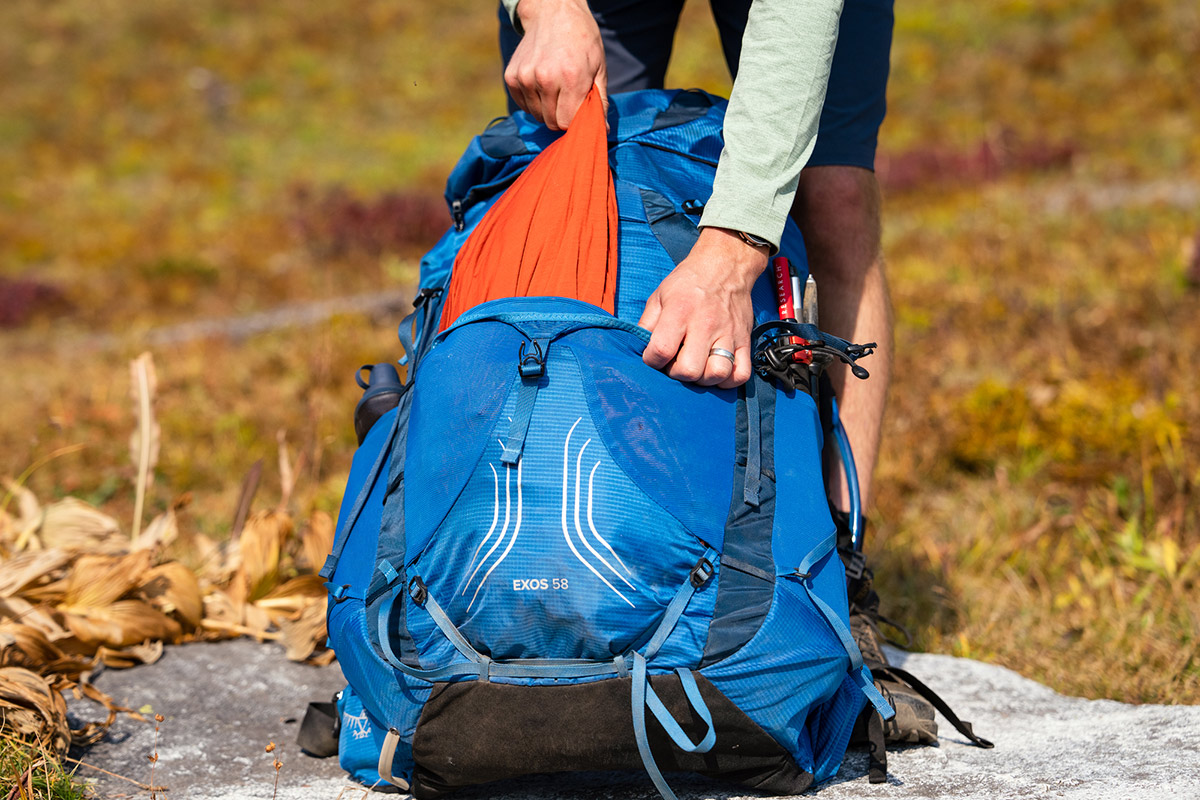 Similar to Gregory's Focal is the Granite Gear Crown3 60, which checks in a few ounces lighter than the Exos and is $20 less at $240. Additionally, the Crown3 is more customizable—including the lid, which can be converted into a chest pack—and you get solid organization considering its low weight. We also liked the highly adjustable hipbelt, and the Crown3 proved to be fully capable of hauling a load of roughly 35 pounds. But the Exos gets the clear advantage in carry comfort and ventilation with its suspended backpanel and higher-quality padding throughout. For only a relatively small weight and price penalty, we think the Osprey is the better buy.
The Hyperlite Southwest is one of our favorite overall packs, featuring strong yet lightweight Dyneema fabric and a functional roll-top closure (read: no lid). The 3400 Southwest (55L) checks in at just 1 pound 15.6 ounces and can comfortably carry up to 40 pounds—blow for blow, that's a lot more impressive than the Osprey. But there are a fair share of tradeoffs: The lightly padded Dyneema backpanel is noticeably less plush and overheats quickly in warm weather, there are no adjustment for the torso length (you do get the choice between four unisex sizes), and the Hyperlite is pricey at $379. But it's hard to beat the durability and waterproofing of Dyneema, making the Southwest a reasonable choice if you're planning on thru-hiking for months at a time. That said, those more accustomed to a traditional backpack will prefer the Exos's comfort, ventilation, and more functional organization.
For an even lighter design than the competitors above, Gossamer Gear's Mariposa 60 is a true standout. At just 1 pound 15.5 ounces for a size medium with a medium hipbelt, the Mariposa manages to retain excellent organization with a generously sized main compartment and seven external pockets (including hipbelt storage). Additionally, it's competitively robust with its Robic nylon build (100D & 200D). Stacked up against the Exos, the Gossamer Gear lacks the Osprey's solid structure and support, and we'd pick the Osprey when pushing the 30-pound mark. But for true minimalists, the Mariposa gets the edge for us.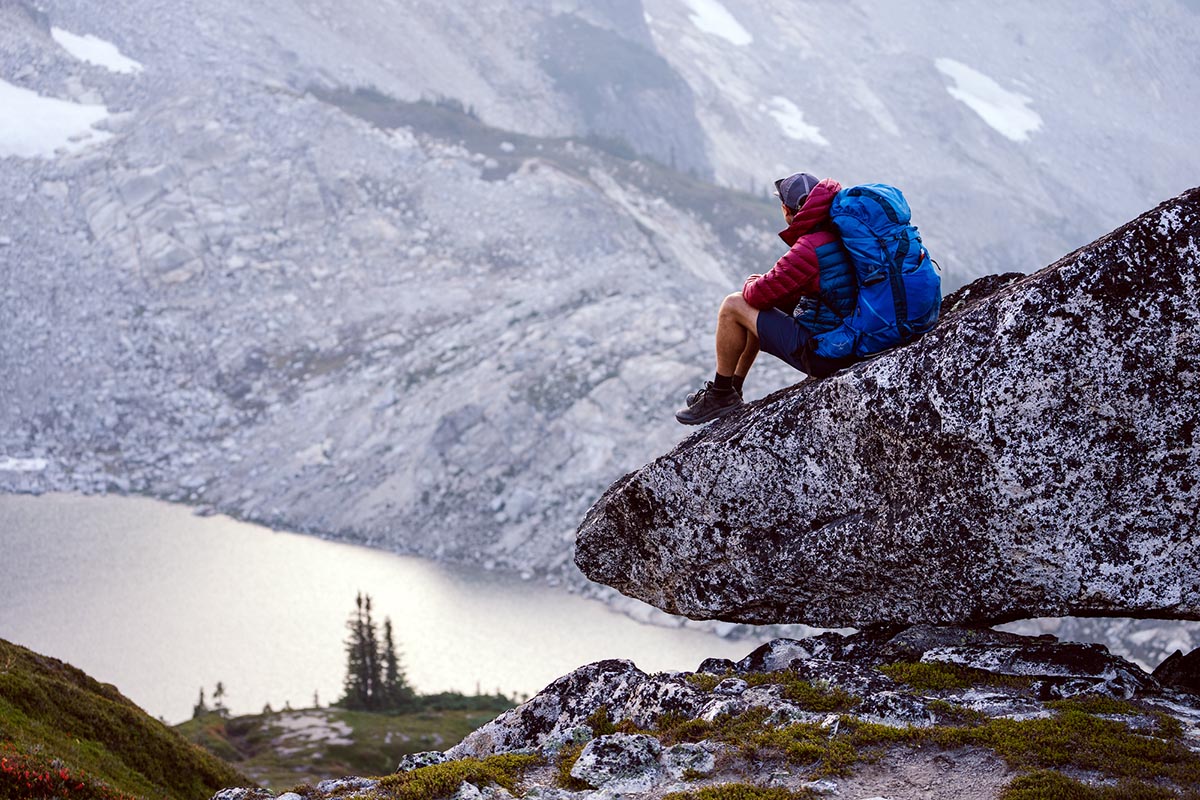 On the other end of the weight and feature spectrum is Osprey's popular all-rounder, the Atmos AG 65 ($340). The Atmos is fully featured and extremely comfortable, with a variety of additional pockets (including two front zip pockets, a sleeping bag compartment, and additional side access to the main compartment) and Osprey's premium AntiGravity backpanel. It's also more durable, with 210-denier nylon throughout the body and 500-denier at the base. Of course, all of these features do add a considerable amount of heft: The size S/M Atmos AG 65 checks in at 4 pounds 9.8 ounces and is noticeably bulkier. In the end, the Atmos is our recommendation for gear-heavy trips or long expeditions (for more, check out our Atmos AG review). But for shorter trips or those who prefer a simpler pack, the Exos achieves similar amounts of comfort and convenience in a much lighter design.
If you're thinking about buying gear that we've reviewed on Switchback Travel, you can help support us in the process. Just click on any of the seller links above, and if you make a purchase, we receive a small percentage of the transaction. The cost of the product is the same to you but this helps us continue to test and write about outdoor gear. Thanks and we appreciate your support!
Depending on the seller, most products ship free in the United States on orders of $50 or more. International shipping availability and rates vary by seller. The pricing information on this page is updated hourly but we are not responsible for inaccuracies.
Learn More About Backpacking Gear