Osprey Eja 58
Price: $240
Weight: 2 lbs. 11.5 oz. (size XS/S)
Capacities: 38, 48, 58L
What we like: Excellent comfort and ventilation for much less weight and bulk than a standard backpacking pack.
What we don't: Overkill for dedicated ultralight enthusiasts.
See the Women's Osprey Eja 58  See the Men's Osprey Exos 58
A pack specialist through and through, Osprey is known for their fully featured and comfort-oriented designs for everything from day hiking to week-long backpacking trips. Many of their high-capacity haulers check in at well over 4 pounds with robust suspension systems and a range of storage, but the Eja (and men's Exos) appeals to the fast-and-light crowd with a simplified design and lighter weight. We've tested various iterations of these packs over the years, and the most recent Eja strikes us as a wonderful combination of comfort, ventilation, and features in an ultralight package. Below are our thoughts on the Osprey Eja 58's overall performance. To see how it stacks up, see our articles on the best backpacking packs, women's backpacking packs, and the best ultralight backpacks.
 
---
Table of Contents
---

Performance
Carrying Comfort
Ultralight backpacks run the gamut from frameless designs with minimal padding to supportive haulers with carrying comfort on par with traditional models. The Osprey Eja 58 epitomizes the latter, with a sturdy internal frame that eliminates sagging, padded mesh in the harness and backpanel, and a wide hipbelt that spreads out the load with minimal pressure points. In fact, compared to most ultralight packs I've tested—including the Granite Gear Crown2, ULA Circuit, and Gregory Facet—the Eja provides the highest levels of comfort and support up to its 30- to 35-pound load limit.
The updated Eja's comfort is greatly improved from the outgoing version. Osprey added a nice dose of padding at the lower back and hipbelt, eliminating all the pesky pressure points we experienced with the previous design. Not only is the Eja now quite comfortable, but it also offers a noticeable amount of lower back support. If you're coming from the world of ultralight packs, this might feel like an unnecessary amount of padding and support (it actually presses into my lower back); on the other hand, those accustomed to a traditional backpacking pack will find that the Eja offers a similar experience in terms of carrying comfort (but at a much lower weight). Added up, you'd be hard-pressed to find a plusher and more supportive pack in this weight class.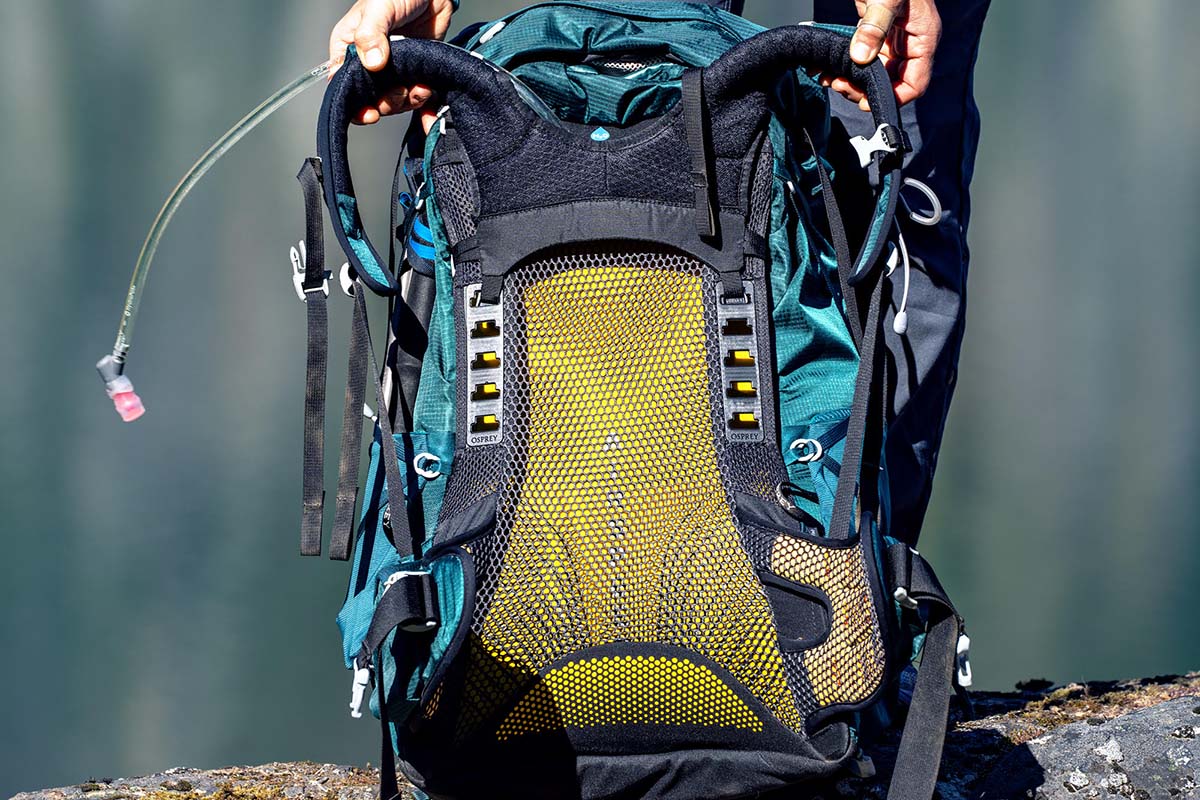 Weight
The Osprey Eja just ekes into the ultralight category, with a weight of 2 pounds 11.5 ounces for the women's size XS/S. For reference, many ultralight packs hover around 2 pounds (including the Hyperlite Mountain Gear 3400 Southwest and Gossamer Gear Mariposa 60), while frameless designs like the Mountain Laurel Designs Exodus 55L can dip as low as 1 pound 2 ounces. Bumping up above 2 pounds will get you more padding, ventilation, and features, and is where we find packs like the Gregory Facet 55 (2 lbs. 8.8 oz.) and Granite Gear Crown3 (2 lbs. 9.3 oz.). The Eja is the heaviest of the bunch (and the heftiest model to make our list of the best ultralight backpacks), but what you sacrifice in weight you make up for in comfort and organizational features.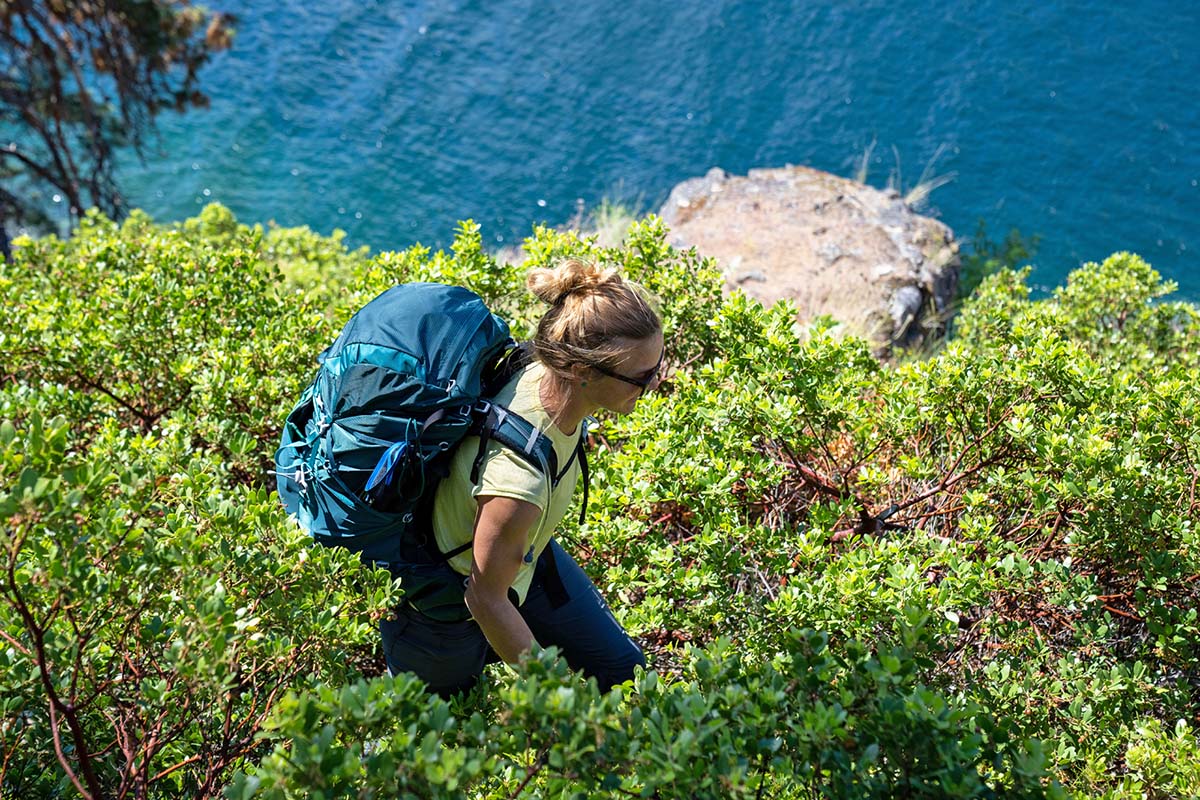 Given its weight, the Eja will likely be too much pack for many ultralight enthusiasts, and keep in mind that Osprey does make a lighter design in their sub-2-pound Lumina and Levity (see our in-depth review here). But for those transitioning from the world of traditional backpacking, the Eja hits an ideal sweet spot. Osprey's all-rounder Aura 65, for example, checks in at 4 pounds 7.5 ounces for the size XS/S and offers just slightly more capacity (65 vs. 58L) and carrying comfort (up to 40 lbs. vs. the Eja's 35 lbs.). But it's true that the Aura is undeniably plush, and it also features multiple extra pockets and additional access to the main compartment. If you value all the bells and whistles it can be worth stepping up to a traditional pack, but the Eja is fairly uncompromised for almost 2 pounds less.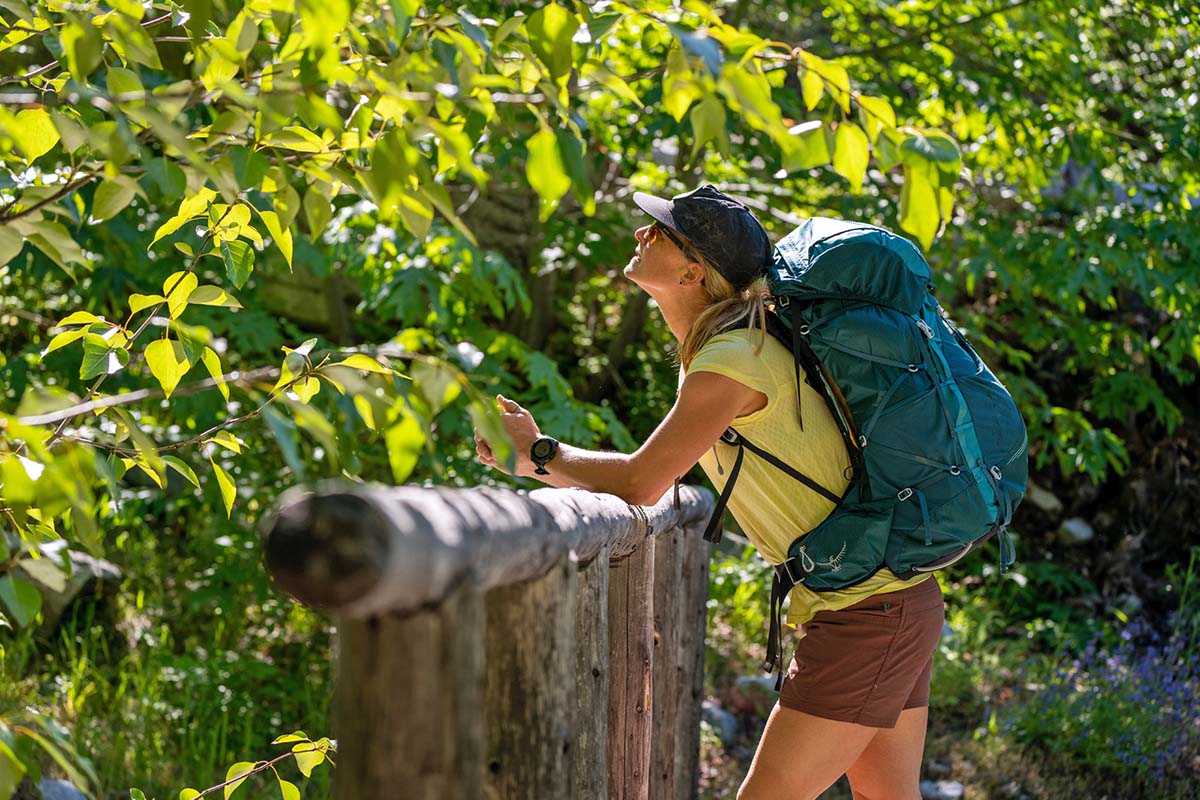 Organization
The Osprey Eja's organization finds a nice middle ground between fully featured packs and stripped-down ultralight haulers. You get one access point to the main compartment (via the top) and six external pockets, including a lid, two hipbelt pockets (added back in the most recent version), and three external dump pockets. Osprey also tacked on full-length side compression straps, which are great for strapping down long gear like tent or trekking poles. I found the Eja a breeze to pack—I stored heavy and bulky items like my tent, sleeping bag and pad, stove, and meals inside, while I used the external pockets to stash on-the-go gear (the hipbelt pockets fit my iPhone 11, but it was a tight squeeze). The floating lid—not typically found in ultralight packs—provided additional storage, and Osprey included their FlapJacket cover underneath so you can go lidless while still protecting the pack's main compartment from moisture.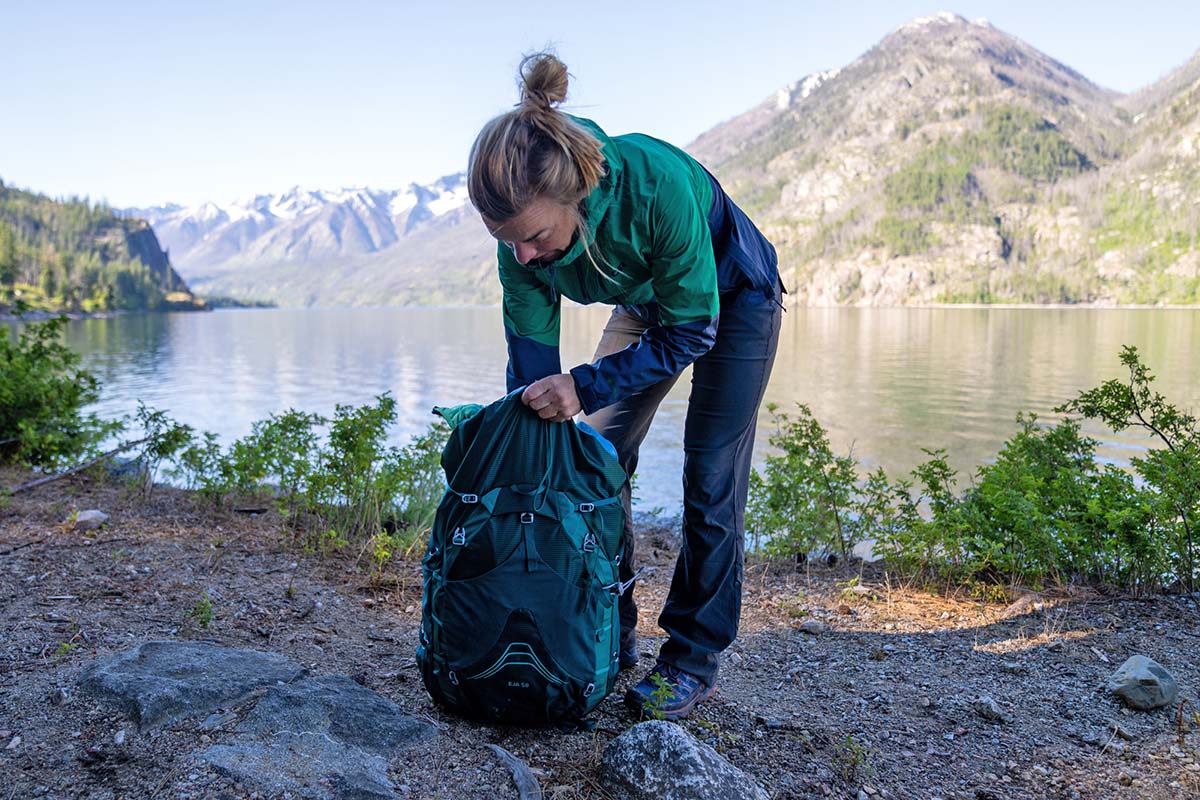 The Eja's organization is very similar to ultralight packs like the Gregory Facet and Granite Gear Crown3, but it takes a sharp turn away from the design of a traditional pack like the aforementioned Aura. The Osprey Aura AG 65 tacks on a secondary access to the main compartment (via a side zipper), a sleeping bag compartment, and two zippered front pockets, and also expands the size of the hipbelt pockets and lid. I have a strong less-is-more preference and much prefer the stripped-down Eja's design—items tend to get lost in the Aura's sea of zippers and pockets, and I find that it's easier to achieve a well-packed pack with fewer bells and whistles. That said, the Eja is even a bit too featured in my opinion: Both the side and bottom compression straps are unnecessarily complex, resulting in bunching and time-consuming adjustment. The Eja certainly gets the job done and is a great middle ground from Osprey, but I prefer an even sleeker design like the Facet or Crown3.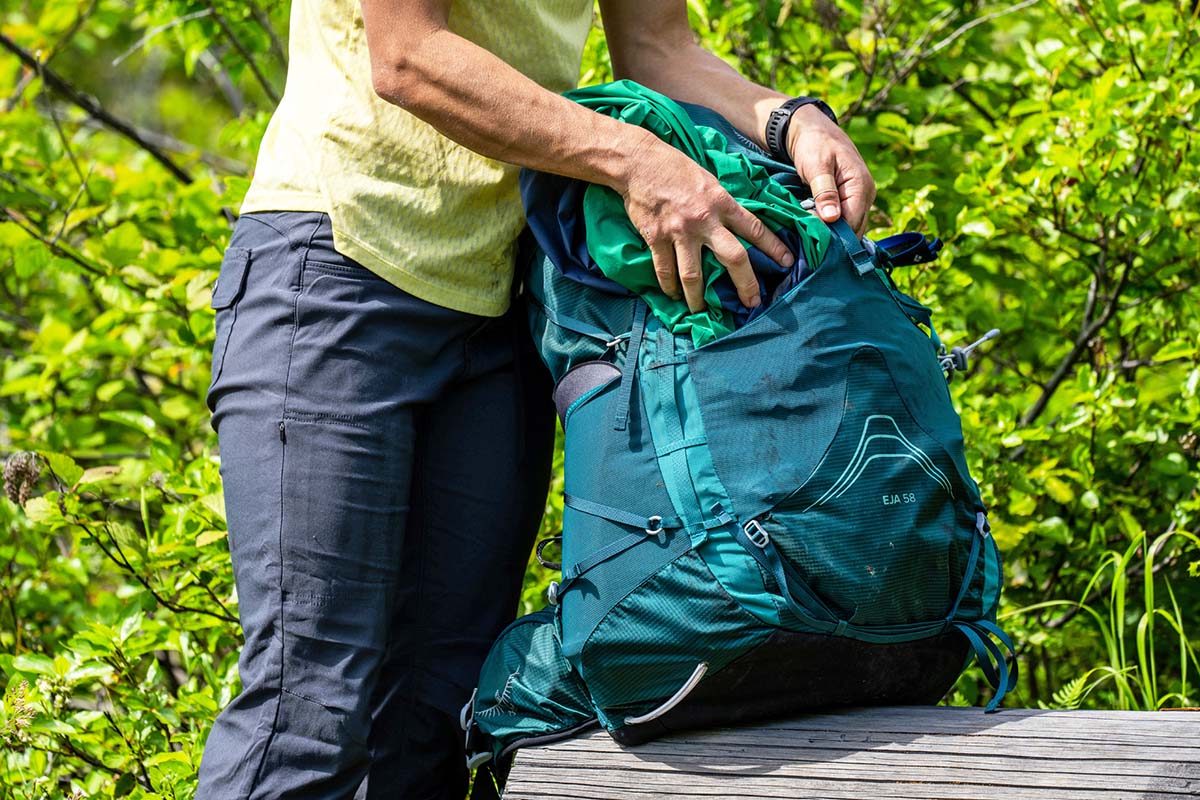 Ventilation
If there's one area where the Eja 58 especially excels over other ultralight packs, it's ventilation. Using Osprey's AirSpeed suspended backpanel, the pack features a channel for air to pass between the pack and the body. This is a common design in standard backpacking packs, but one of the first things to go when weight-savings is prioritized (as in the case of the Hyperlite 3400 Southwest, which features solid Dyneema at the back). It's true that the suspended backpanel does add some extra ounces to the Eja's build, but the boost in ventilation will be worth it for many (including those who sweat a lot or routinely hike in warm temperatures). It's worth noting that Gregory's Facet 55 also features a similar design at a slightly lower weight (and with a bit less padding).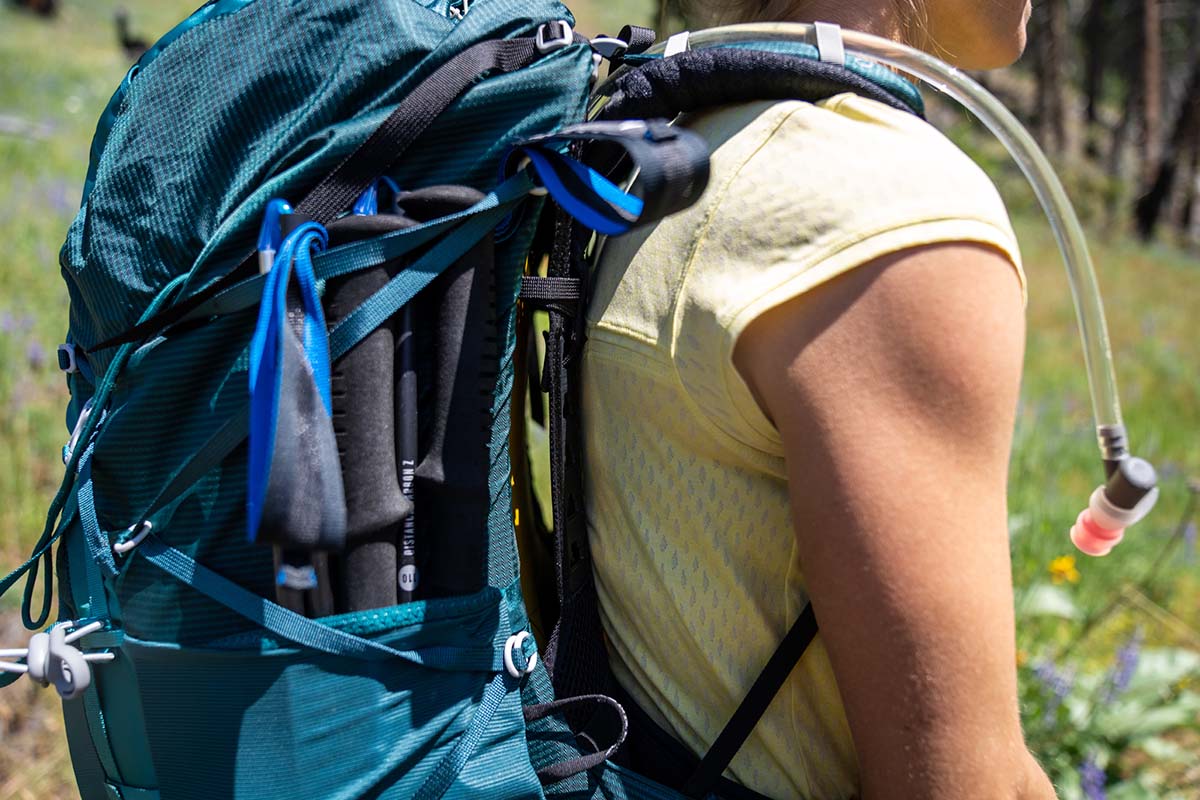 Weather Protection
The Osprey Eja is built to keep light moisture at bay, with a durable water repellent finish on all the fabrics—including the body, base, and accent—that causes water to bead up and roll off rather than soak through. Many ultralight packs use a roll-top to keep rain from seeping into the main compartment, but the Eja instead covers its drawstring closure with the lid (or if you choose to go sans lid, deploy the FlapJacket). Finally, my pack did not come with a rain cover, but Osprey offers their UltraLight Pack Raincover (2.8 oz.) for an extra $34 for the size medium (alternatively, you can line your pack with a durable trash compactor bag or use waterproof stuff sacks to protect your gear individually). All told, the Eja's water resistance is on par with most ultralight and traditional packs, although it's worth noting that you can bump up to a Dyneema design (like the Hyperlite Southwest) for full waterproof protection without the additional weight and bulk of a rain cover. 

Build Quality and Durability
The density of a fabric is often measured in terms of denier, which most commonly correlates with durability and weight. In other words, the higher the denier, the thicker, heavier, and longer lasting the fabric. Staying true to its ultralight focus, the Eja features fairly thin materials: 100-denier high-density nylon in the pack body and base, along with a thicker 400-denier accent material (the updated Eja also features more durable stretch mesh pockets, which were a weak point in the previous design). By contrast, Osprey's all-around Aura is built with 210-denier nylon in the body and 500-denier nylon in the base, and their extra-burly Ariel features 420-denier nylon throughout. Do the math, and it's obvious that you give up quite a bit of durability in exchange for the Eja's ultralight design.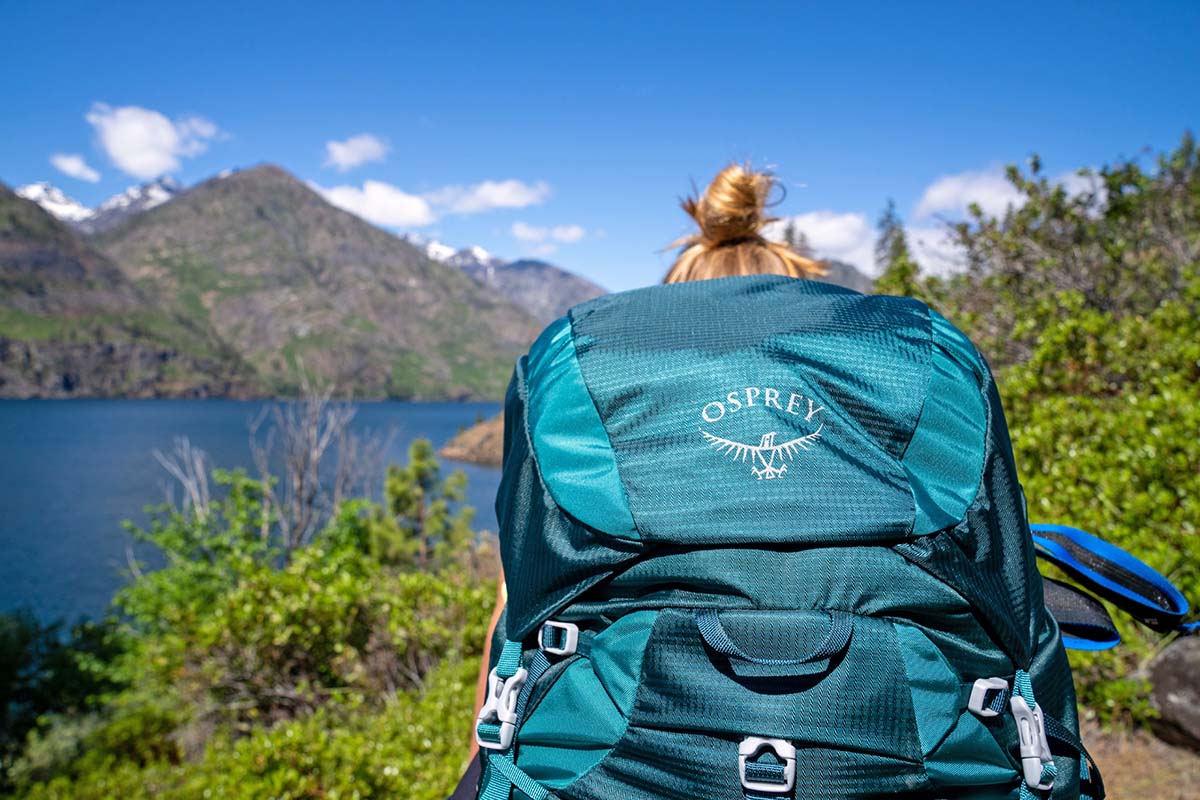 But among ultralight packs in its price range, the Eja's materials are par for the course. The REI Co-op Flash 55 ($199) uses 100- and 420-denier nylon, while the Gregory Facet ($240) uses 100-denier nylon in the body and 210-denier in the base. We've used all three of these packs extensively and have found that they hold up impressively well to the rigors of trail life despite their relatively thin fabrics. If you're willing to step up your investment, Dyneema is known for its extremely high strength-to-weight ratio and is commonly used in high-end ultralight packs (such as the aforementioned Hyperlite Southwest). If you're a dedicated weekend warrior or plan to embark on a multi-week thru hike, a strong case can be made for a Dyneema pack. But for casual backpackers or those who only get out a few times a year, the Osprey Eja should get the job done.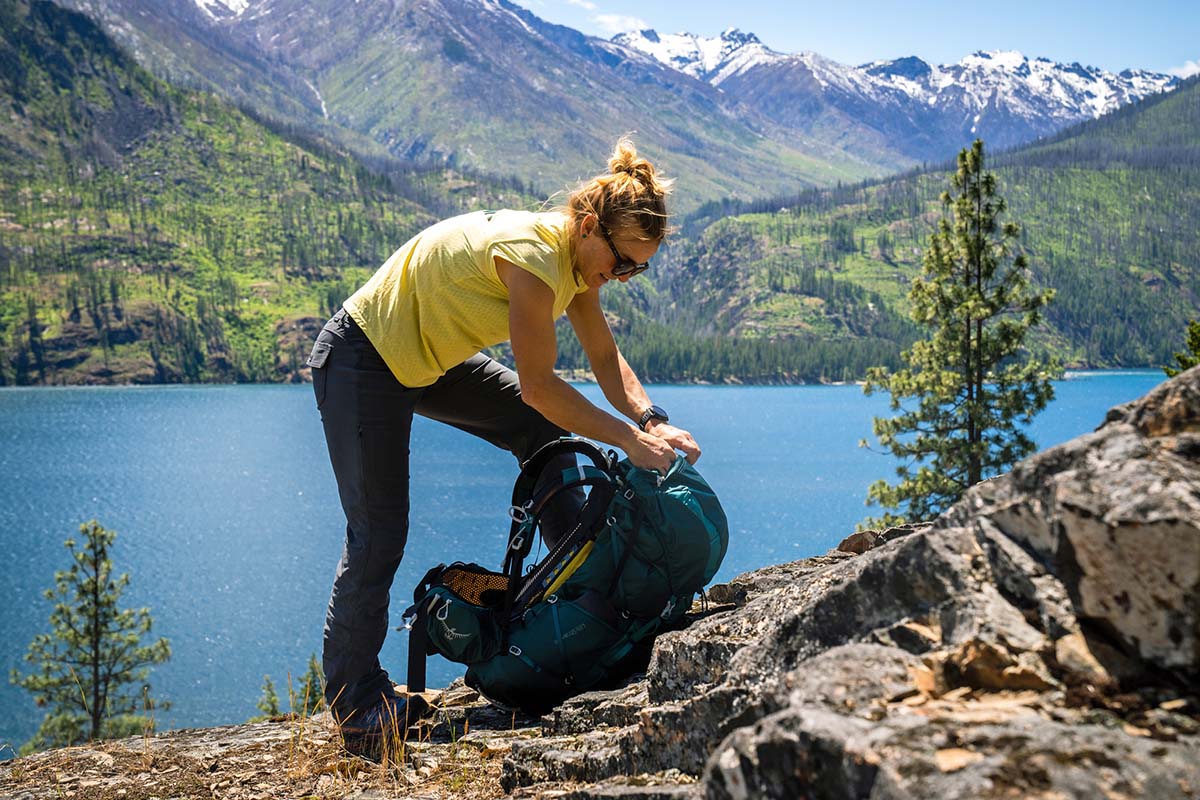 Sustainability
Like many outdoor companies in 2022, Osprey has begun to place a higher priority on sustainable materials and design. The Eja in particular features a durable water repellent finish made without the use of harmful chemicals (otherwise known as PFC/PFAS-free DWR), and the pack's fabrics are 100-percent recycled and bluesign approved. In our opinion, the best thing you can do for the planet is limit your consumption (do you really need another backpack?) or buy used. But if you're going to make a purchase, we strongly support buying from companies who are making an effort towards a healthy planet.

Fit and Sizing
The women's Osprey Eja 58 comes in two sizes: extra small/small and medium/large. The updated pack also features a torso adjustment that easily raises and lowers the shoulder straps to five different heights (Osprey claims 4 in. of adjustment). I opted for a XS/S and immediately adjusted the torso length to the penultimate height (I'm just shy of 5'6"). In the end, the Eja offered a great all-around fit that required minimal adjustment once I dialed it in.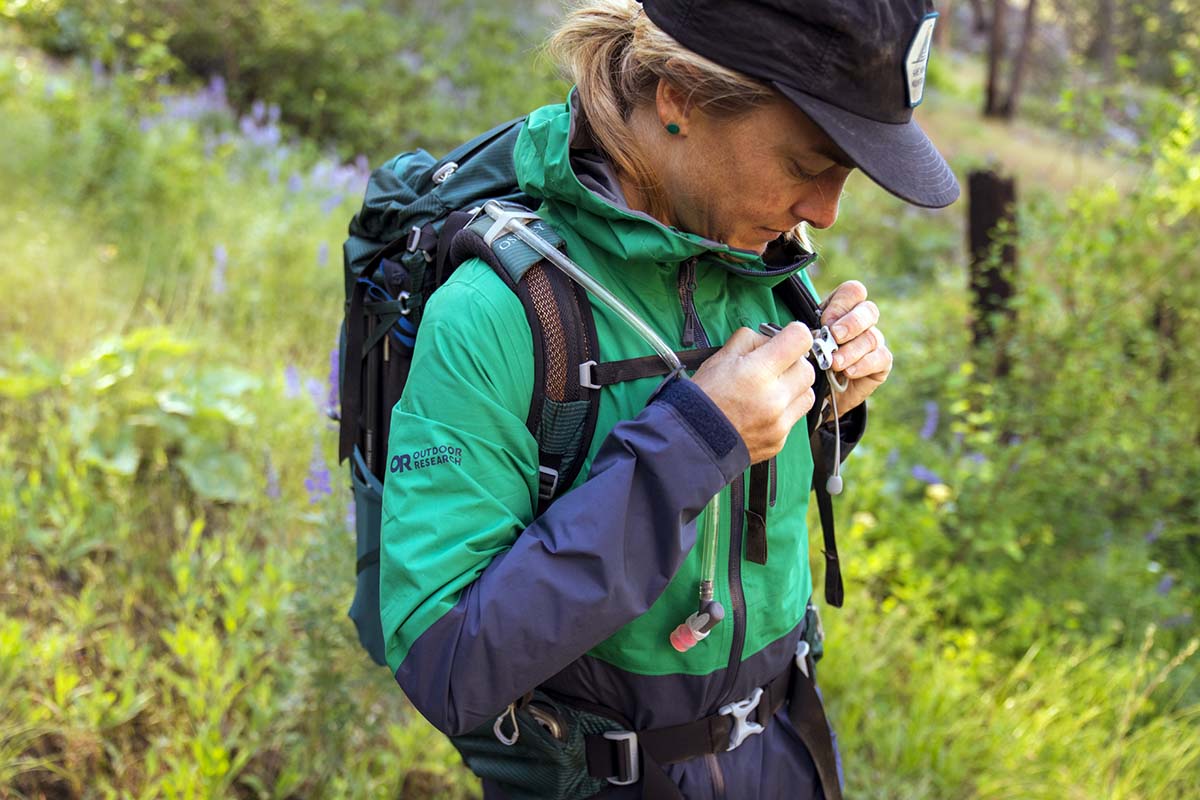 It's important to note that two sizes of the Eja will accommodate women with 13- to 19-inch torso lengths, but you can get more adjustability from Osprey designs like the Ariel Pro (up to 21 in. at the torso). Unfortunately, Osprey does not specify size ranges for the hips, although with long straps the Eja's hipbelt should be able to accommodate most bodies (those with particularly slender frames might find its limit, however). In the end, the Eja should get the job done for most, but those who are finicky about fit might be better off going with a cottage-brand design. Most of these small companies offer custom packs that place a premium on proper fit: The ULA Circuit, for example, comes with the option of four torso lengths (ranging from 15 to 24 in.), six hipbelt sizes, and your choice of J- or S-shaped shoulder straps.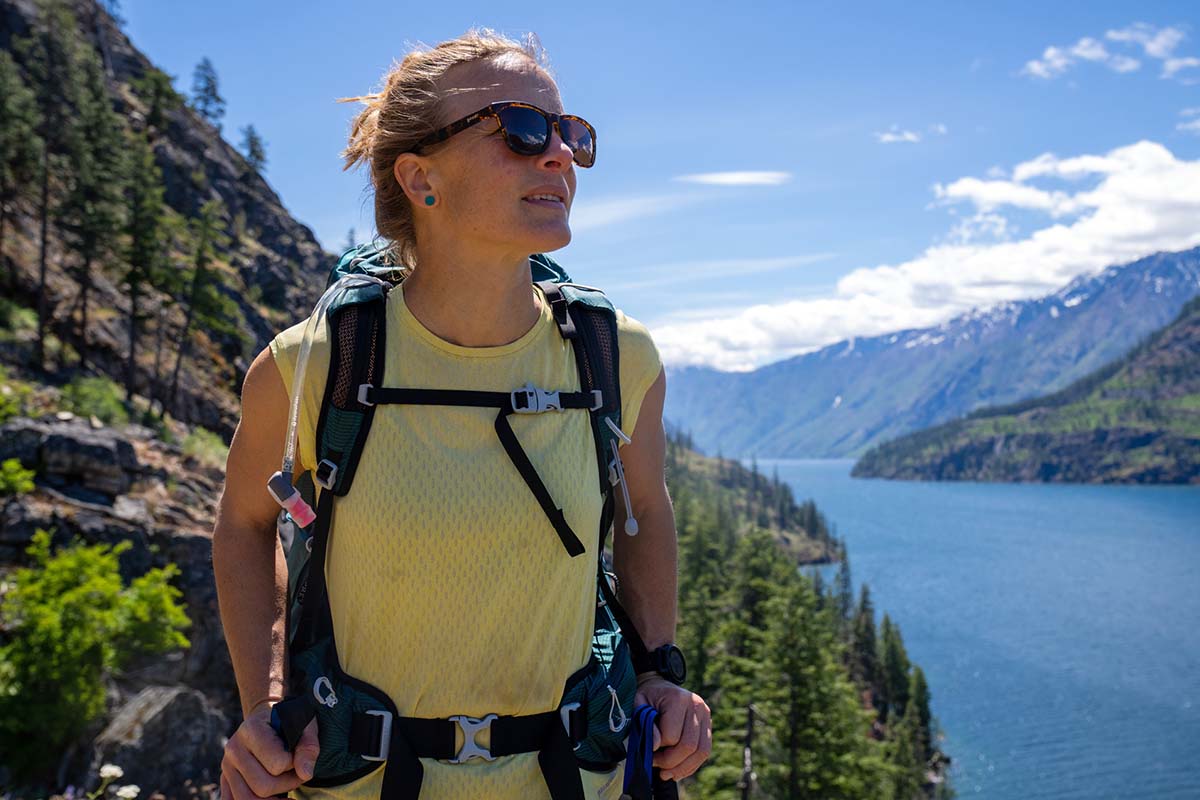 Men's Exos 58
For this review, we tested the women's Eja 58, but Osprey offers a similar design for men in their Exos (which also comes in 38, 48, and 58L versions). The Osprey Exos 58 checks in at 2 pounds 13.4 ounces for the size small/medium, is offered in two distinct colorways, and was also updated for spring 2022 (including the addition of hipbelt pockets, more durable stretch-mesh pockets, and a torso-length adjustment). Like the Eja 58, the Exos 58 has a 35-pound load limit, and price is identical at $240.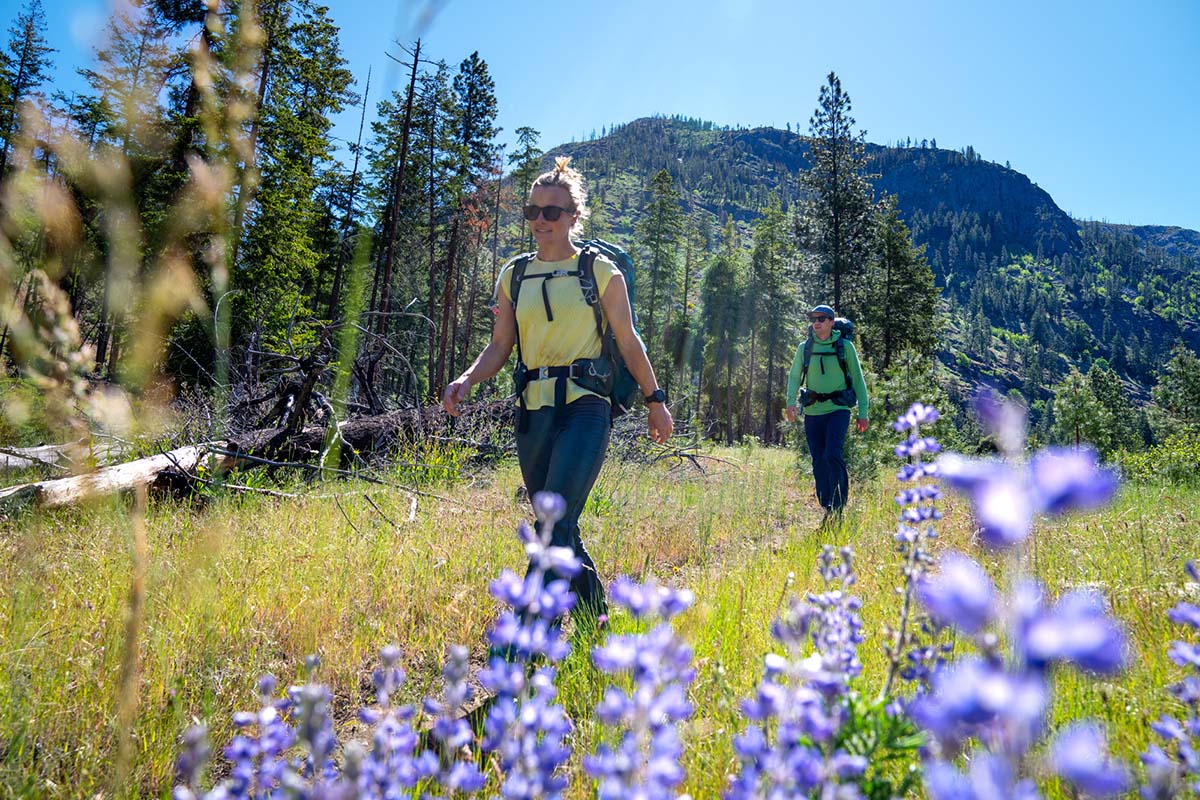 What We Like
Excellent comfort and ventilation for the weight, including a suspended backpanel with airy yet well-padded mesh.
Most of the performance and load-carrying capacity of a traditional design in a considerably lighter and more streamlined package.
Torso-length adjustment is easy to use and results in a very well-fitting pack. 
Hits a nice sweet spot in terms of organization, with hipbelt pockets, convenient stretch-mesh pockets, and a removable floating lid.

What We Don't
Overkill for most ultralight enthusiasts: Too heavy and featured, and bulky cushioning in the lower back.
The side and bottom compression straps are overbuilt, a hassle to adjust, and result in bunching.
Despite the added adjustment, the Eja accommodates a smaller range of torso sizes than most packs (including traditional and ultralight designs).
Thin 100-denier nylon in the body and base.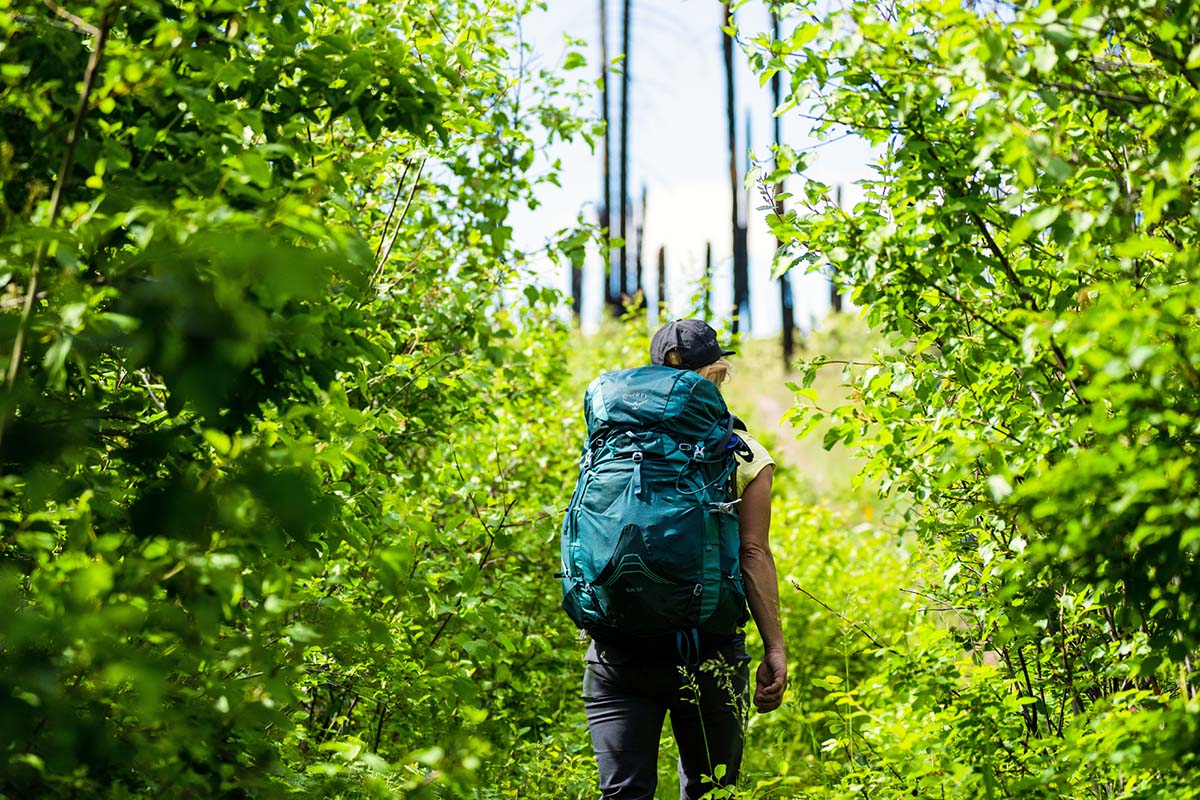 Comparison Table
| Pack | Price | Weight | Fabric | Capacities | Access | Pockets |
| --- | --- | --- | --- | --- | --- | --- |
| Osprey Eja 58 | $240 | 2 lbs. 11.5 oz. | Nylon (100D & 400D) | 38, 48, 58L | Top | 6 exterior |
| Gregory Facet 55 | $240 | 2 lbs. 8.8 oz. | Nylon (100D & 210D) | 45, 55L | Top | 6 exterior |
| Osprey Lumina 60 | $270 | 1 lb. 12.8 oz. | Nylon (30D & 210D) | 45, 60L | Top | 4 exterior |
| Osprey Aura AG 65 | $300 | 4 lbs. 7.5 oz. | Nylon (210D x 500D)  | 50, 65L | Top, front | 8 exterior |
| Hyperlite 3400 Southwest | $355 | 1 lb. 15.7 oz. | Dyneema (50D x 100D) | 40, 55, 70L | Top | 5 exterior |
| Granite Gear Crown3 | $220 | 2 lbs. 9.3 oz. | Nylon (100D & 210D) | 60L | Top | 6 exterior |

The Competition
The two most well-known backpacking pack specialists, Gregory and Osprey often go head to head with their offerings. The Gregory Facet 55 is the most direct competitor to the Osprey Eja 58, featuring a very similar design (including a suspended mesh backpanel) and load limit (35 lbs.), along with an identical price point. But after logging dozens of miles on both packs, their differences are worth mentioning. The Gregory is overall a simpler pack, with no torso adjustment (it's offered in three sizes rather than two with a 14-20 in. torso range), less padding at the lower back, and more straightforward compression straps on the sides and bottom. It's also over 2 ounces lighter. In our opinion, the Facet is the better executed of the two designs, and slightly truer to its ultralight intentions. On the other hand, the Eja maintains more of the plush feel of a standard backpacking pack and will appeal more to traditional backpackers looking to switch things up with a more streamlined hauler.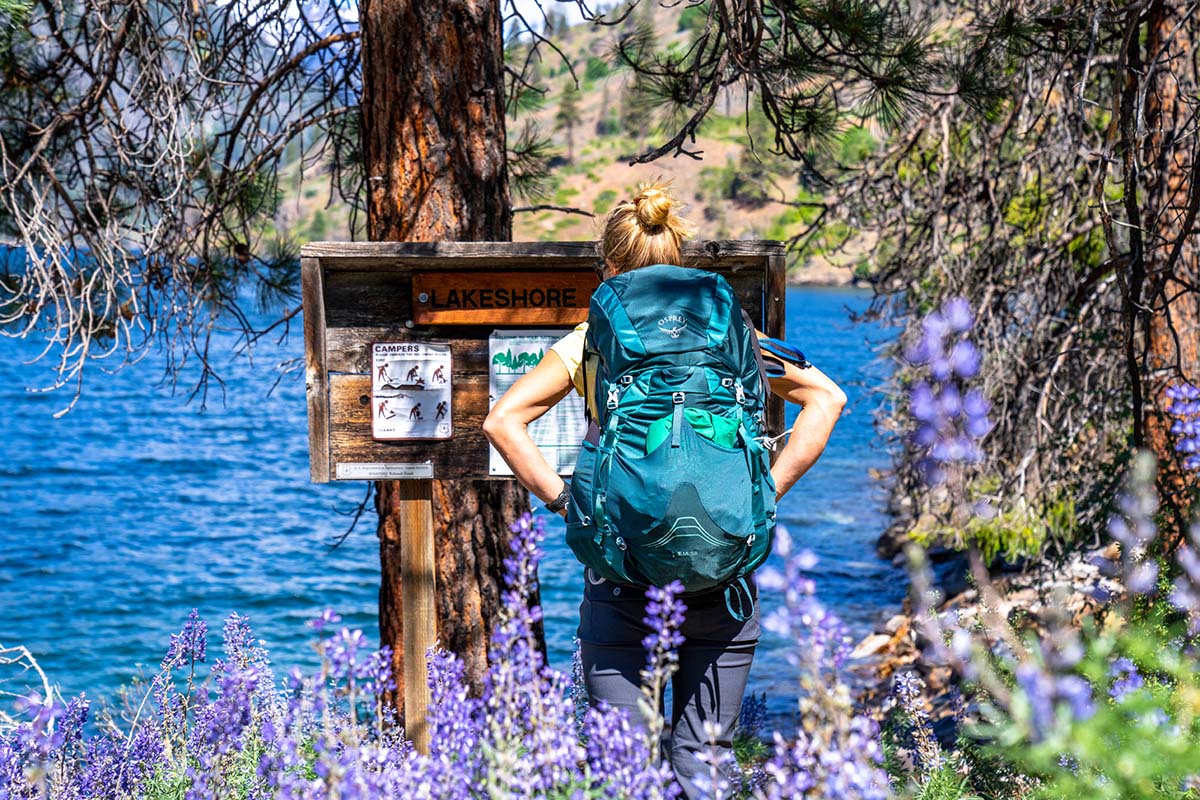 If you're considering the Eja, it's likely that Osprey's Lumina 60 (and men's Levity 60) is also on your radar. At just 1 pound 12.8 ounces for the women's small, the Lumina is Osprey's most bare-bones ultralight pack. But the compromises are immediately apparent: For one, the Lumina's body is built with 30-denier nylon, which is so thin it's see-through (the more abrasion-prone bottom is 210D). In addition, its thinly padded hipbelt quickly becomes unsupportive at the load limit (Osprey recommends 10-25 lbs.). And finally, the design does not feature hipbelt pockets, which we find to be indispensable, and it's pricier at $270. The Lumina is worth considering if the Eja is too much pack for your needs, but we'd look first to premium designs from ultralight specialists like Hyperlite Mountain Gear, ULA, and Gossamer Gear.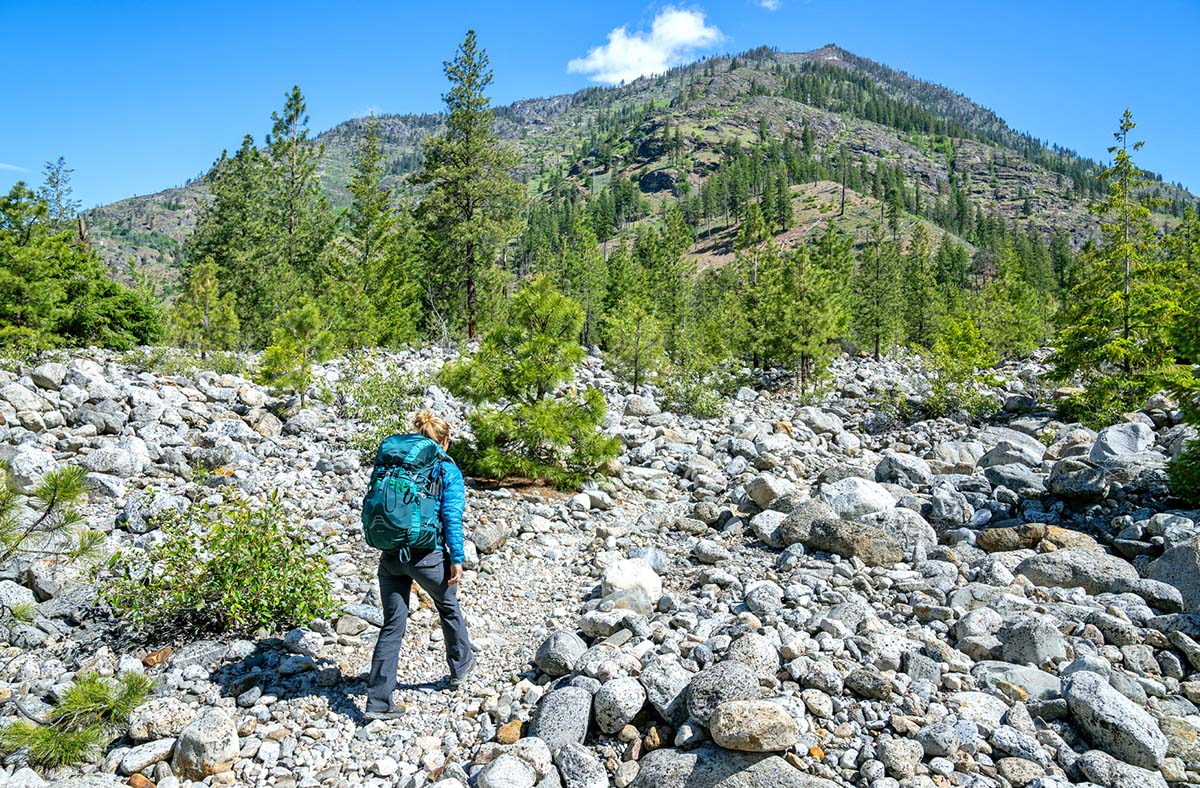 On the other end of the spectrum is Osprey's popular all-rounder, the Aura AG 65 ($300). The Aura is fully featured and ridiculously comfortable, with a variety of additional pockets (including two front zip pockets, a sleeping bag compartment, and additional side access to the main compartment) and Osprey's premium AntiGravity backpanel. It's also more durable, with 210-denier nylon throughout the body and 500-denier at the base. Of course, all of these features do add a considerable amount of heft: The size XS/S Aura AG 65 checks in at 4 pounds 7.5 ounces and is noticeably bulkier. In the end, the Aura is our recommendation for gear-heavy trips or long expeditions (it also carries slightly more with a 40-lb. load limit). But for shorter trips or those who prefer a simpler pack, the Eja achieves similar amounts of comfort and convenience in a much lighter design.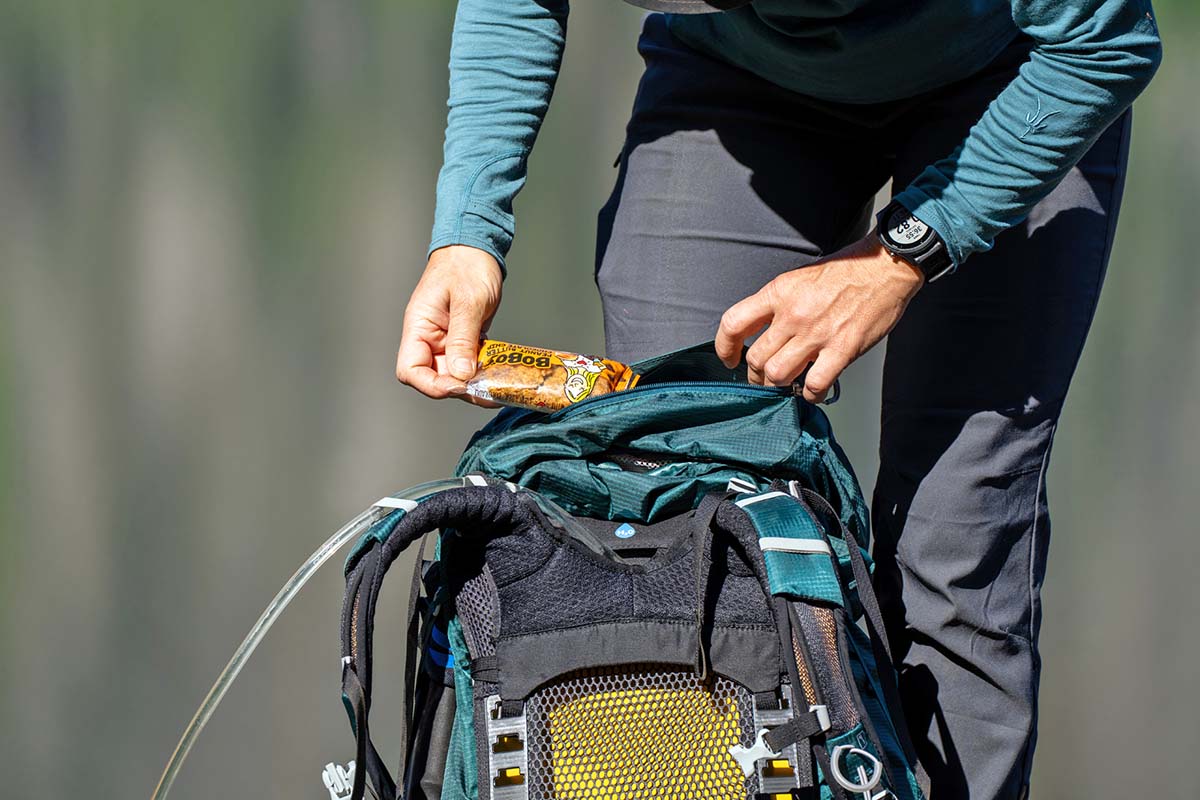 Osprey and Gregory aren't the only two players in backpacking packs. In fact, the vast majority of top ultralight designs are built by smaller, more focused brands such as Hyperlite Mountain Gear, ULA, Gossamer Gear, and Granite Gear. The Hyperlite Southwest is one of our favorite overall packs, featuring strong yet lightweight Dyneema fabric and a functional roll-top closure (read: no lid). The 3400 Southwest (55L) checks in at just 1 pound 15.7 ounces and can comfortably carry up to 40 pounds—blow for blow, that's a lot more impressive than the Osprey. But there are a fair share of tradeoffs: The lightly padded Dyneema backpanel is noticeably less plush and overheats quickly in warm weather, there are no adjustment for the torso length (you do get the choice between five unisex sizes), and the Hyperlite is pricey at $355. But it's hard to beat the durability and waterproofing of Dyneema, making the Southwest a reasonable choice if you're planning on thru-hiking for months at a time or want your pack to last season after season of hard use. However, those more accustomed to a traditional backpack will prefer the Eja's comfort, ventilation, and slightly more functional organization.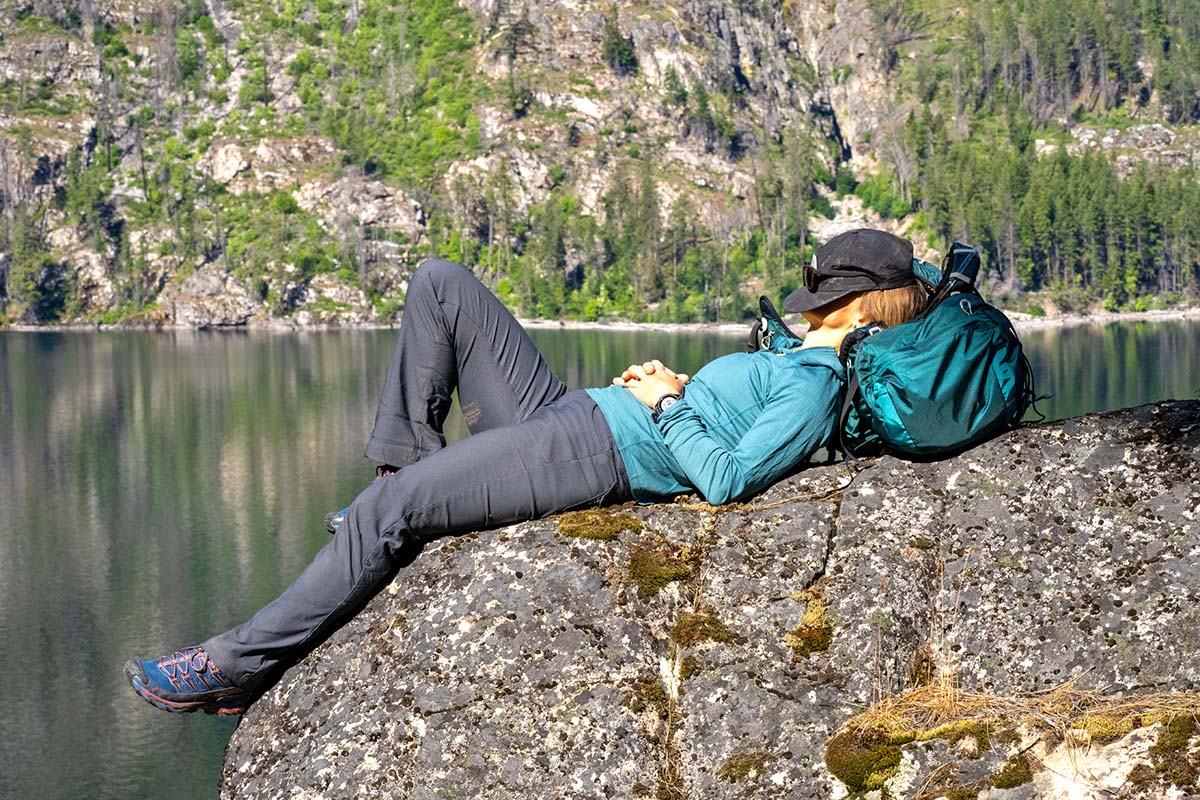 A final pack to consider is Granite Gear's Crown3, which was recently updated in the spring of 2022. Priced at just $220, the Crown3 offers a comparable amount of comfort and features in a lightweight, 2-pound 9.3-ounce package. And compared to the Eja, it's also nicely customizable: The removable lid can double as a fanny pack when attached to the hipbelt, or you can remove the frame sheet and strip the weight down to just 2 pounds. But while the Granite Gear's molded foam backpanel is nicely padded, it's no match for the Osprey in terms of ventilation, nor does it provide the same level of lower-back support. You also give up a bit of adaptability—the women's Crown3 comes in just two non-adjustable sizes for torsos measuring 15 to 21 inches in length (the unisex version is offered in three sizes)—but we've nevertheless had nothing but positive experiences with Granite Gear's fit and comfort. All told, if you're looking to save a bit of cash and don't need to prioritize ventilation, the Crown3 is well worth a second look.
If you're thinking about buying gear that we've reviewed on Switchback Travel, you can help support us in the process. Just click on any of the seller links above, and if you make a purchase, we receive a small percentage of the transaction. The cost of the product is the same to you but this helps us continue to test and write about outdoor gear. Thanks and we appreciate your support!
Depending on the seller, most products ship free in the United States on orders of $50 or more. International shipping availability and rates vary by seller. The pricing information on this page is updated hourly but we are not responsible for inaccuracies.
Read More From Switchback Travel