Whether you're headed to the resort or gearing up for a big backcountry outing, a pack is useful for carrying your essentials: extra layers, water, snacks, and—if you're going out of bounds—avalanche equipment. Unique design features that set ski backpacks apart include dedicated pockets for goggles and avy gear, multiple access points, and external ski or snowboard carry straps. It's also becoming more common to find deployable airbags built in for use in the event of a slide. Below are our top ski backpack picks for 2021, including options for day touring and resort skiing, ski mountaineering missions, and those equipped with airbags. For more information, see our ski backpack comparison table and buying advice below the picks. To complete your kit, check out our comprehensive collection of ski gear reviews.
 
Best Overall Ski Pack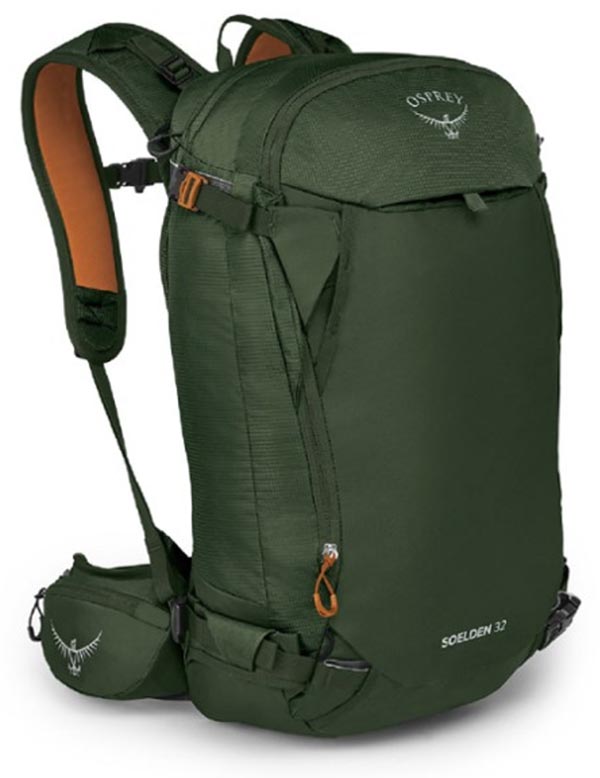 Category: Day touring
Capacities: 22, 32L
Weight: 2 lbs. 8.6 oz.
What we like: Great fit, comfortable suspension, and tons of organization.
What we don't: Unable to accommodate oversized loads for longer tours.
For day tours, sidecountry exploration, and dawn patrol laps, the Osprey Soelden 32 is an impressively well-designed pack that quickly and easily transitions between the skin track and the downhill. The Soelden checks all the right boxes for all-round use, with a durable yet lightweight build, functional organization, and both ski and snowboard carry. Lay it on its front to access your gear via the full-zip backpanel, or prop the bag on its base to grab your shovel or probe from the dedicated avy-tool pocket. And the true cherry on top is fit: Osprey consistently nails the comfort equation, and unlike most ski packs the Osprey comes in both men's (Soelden) and women's (Sopris) models. 
There are numerous styles to consider when it comes to ski packs (including weight-conscious designs, roll-top models, and packs of varying capacities), but we think the full backpanel access of a pack like the Soelden 32 is the best option for most skiers. And it nails the rest of the details too, including glove-friendly pull tabs and durable zippers, a stow-away helmet carry, and a second external pocket that is great for items like goggles or sunglasses. It's worth noting that the Soelden/Sopris is also available in a 22-liter design (20L for the Sopris) and a "Pro" version, which includes an Alpride E1 airbag unit and retails for $1,200. Osprey knows how to make a backpack (unlike most brands here, it's their specialty), and we've been very impressed with the new Soelden throughout our testing.
See the Men's Osprey Soelden 32  See the Women's Osprey Sopris 30
Best Avalanche Airbag Pack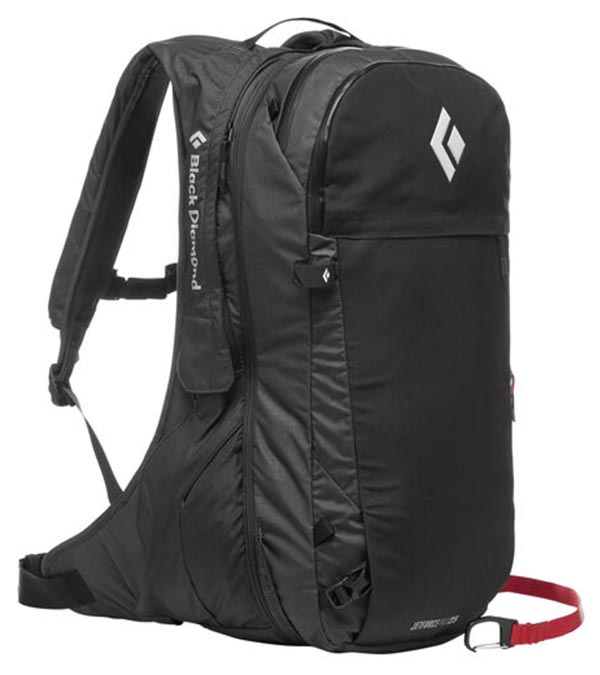 Category: Airbag
Capacity: 10, 25, 35L
Weight: 6 lbs. 8 oz. 
What we like: The most cutting-edge electric airbag available; modular design allows for multiple capacities.
What we don't: Expensive and not time-tested.
There are ski backpacks, and then there are airbag-equipped ski backpacks. In short, an airbag is deployed in the event of a slide and helps you stay on the surface of the snow as it moves down the mountain. While certainly not a substitute for proper education, good judgement, and avalanche rescue gear (including a beacon, shovel, and probe), there's growing evidence that airbags have a notable impact on survival rates. For 2021, Black Diamond's top-of-the-line JetForce Pro is our favorite all-around design, featuring a proprietary battery-powered airbag that's exceptionally lightweight and easy to recharge. Further, with its modular system ("boosters" can be purchased separately in 10, 25, and 35L sizes, as well as a 25L splitboard version), you can get just-right carrying capacity no matter if you're skiing the sidecountry or on a multi-day tour.
Compared to canister airbags, an electric airbag is more convenient and doesn't require you to refill your canister each time you pull the trigger (great for practice deployment). The fan also continues to spin once the airbag is deployed, keeping it inflated even if punctured by a rock or tree, and it's suitable for air travel (compressed air/gas canisters are not permitted on airplanes). And with added Bluetooth capability, the Pro allows you to run diagnostic tests, update software, and customize settings, which is quite simply next level. It'll cost you a pretty penny (and with an average lifespan of 5 years, you'll have to ask yourself if it's worth it), but electric airbag designs are the wave of the future and Black Diamond's JetForce Pro is far and away the best yet... Read in-depth review
See the Black Diamond JetForce Pro 25L
Best Budget Ski Pack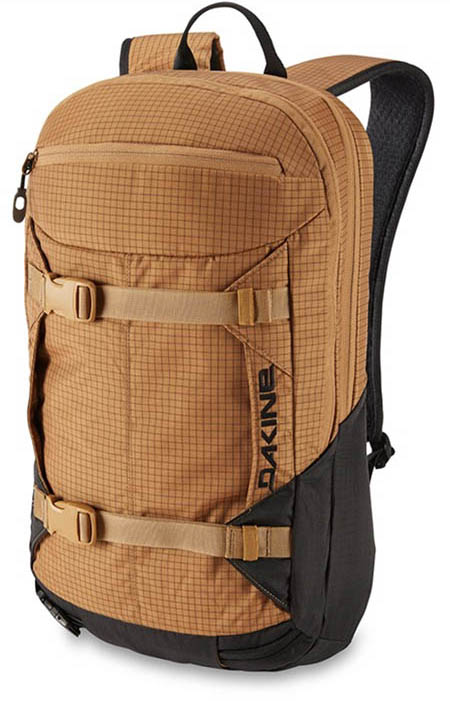 Category: Resort/day touring
Capacities: 18, 25L
Weight: 1 lb. 9.6 oz.
What we like: Streamlined and affordable design is great for the resort.
What we don't: No backpanel access or compression straps.
For resort skiers, aspiring backcountry enthusiasts, and those on a budget, the Dakine Mission Pro checks all the boxes for an in-bounds/day-touring pack in an affordable $90 package. Similar to the Soeldenn above, the Mission Pro features a dedicated avalanche-gear pocket and padded hipbelt and shoulder straps, and tacks on a fleece-lined goggle pocket (the Soelden has a compartment for smaller items, but the fleece is a nice touch). Made with snowboarders in mind, the Mission Pro offers vertical board carry (skis are strapped in diagonally) and can easily double as a skateboard pack too.
What do you sacrifice by going cheaper? For starters, the Mission Pro isn't as durable as the $79-pricier Patagonia above, and you lose the convenience of a full backpanel zipper. Additionally, the lack of external straps means you can't compress a half-full pack or carry skis in an A-frame configuration (although the streamlined exterior won't get caught on the chairlift). Finally, the Mission Pro's 18-liter capacity makes it serviceable for short missions, but the Soelden's 32 liters can better handle a full day's worth of layers and food. But for those willing to pack light, the Mission Pro is a great value for what you get.
See the Dakine Mission Pro 18L  See the Women's Dakine Mission Pro 18L
Best Resort Skiing Pack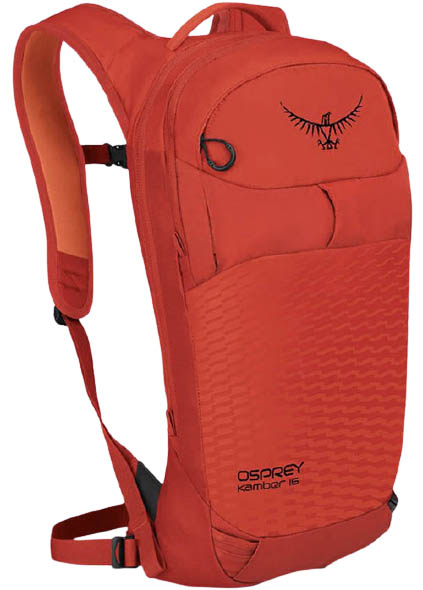 Category: Resort 
Capacities: 16, 22, 32, 42L
Weight: 1 lb. 15 oz.
What we like: All you need for the resort and nothing that you don't.
What we don't: Capacity is limited for true backcountry travel.
Not everyone will wear a backpack at the resort, but it can be a nice solution if you're headed into the sidecountry or packing food and gear for a full day on the mountain. The Osprey Kamber 16 is our favorite resort-specific pack, and for a few good reasons. First off, you get a low-profile design with minimal straps, making it a great fit for the chairlift. For the occasional bootpack to access sidecountry terrain, tuck-away straps come out to secure your ski or snowboard in various configurations. And finally, Osprey has anticipated your needs for a day on the slopes, with features like an insulated hydration sleeve, goggle pocket, and glove-friendly zippers and buckles. 
Many of the packs here could play double duty for resort skiing or riding, but 30 liters (or more) is fairly overkill (read: cumbersome) unless you're carrying skins, a helmet, and extra layers too. In the end, those frequenting lift-access terrain will benefit from the smaller capacity (16-22L is great), and you can even go more streamlined with a design like the CamelBak Powderhound 12 below. But it's hard to beat Osprey's top-notch carrying comfort and fit (women can opt for the female-specific Kresta 14), which ensures that the pack won't get in the way while you're bombing downhill. Keep in mind that the Kamber is also a great choice for winter hiking and snowshoeing, and Osprey offers a similar design in 22, 32, and 42-liter capacities.
See the Men's Osprey Kamber 16  See the Women's Osprey Kresta 14
Best Ski Mountaineering Pack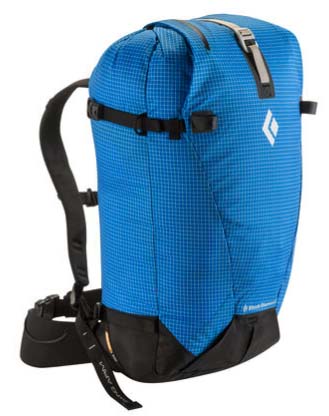 Category: Ski mountaineering
Capacities: 30, 35, 45L
Weight: 2 lbs. 4 oz.
What we like: A streamlined pack that sports all the necessary features for big missions.
What we don't: Doesn't carry heavy loads well; no snowboard carry.
Ski mountaineering objectives often require big-mileage days and an assortment of technical gear. For that, you'll need a pack that can carry everything you need without weighing you down, and the Black Diamond Cirque fits the bill nicely. The Cirque includes all the necessary trimmings for technical missions including two easily deployable ice-axe loops, diagonal or A-frame ski-carry straps, a helmet flap, and a rope strap under the top lid. It also features an internal sleeve for rescue gear that's separated from the main compartment by a flap, saving weight and giving the exterior a sleek and streamlined look. At only 2 pounds 4 ounces for the 45-liter version, you get a generous amount of space for the weight, making the Cirque a great choice for fast-and-light missions.
The Cirque has earned its place as our top pick for ski mountaineering objectives, but it does have room for improvement. For starters, although the largest version can accommodate 45 liters of gear, the lack of load lifters and stiff suspension means it isn't quite as comfortabe as we'd like. Further, because the top load strap doubles as the diagonal ski carry strap, we've found it difficult to max out the capacity while carrying our skis diagonally (and there's no option for carrying a snowboard). Finally, the Cirque's side zipper is almost too short to be useful, making it primarily a top-loading pack. We love the Cirque's low weight and streamlined build, but those looking for more features or a plusher suspension will be better served by packs like the Patagonia Descensionist or Gregory Targhee below. 
See the Black Diamond Cirque 45
Best of the Rest
Category: Airbag
Capacity: 30L
Weight: 5 lbs. 5.7 oz. 
What we like: Relatively affordable and PAS offers class-leading trauma protection. 
What we don't: Canister airbags are less convenient than battery designs.
Mammut was one of the first companies to develop an airbag-equipped ski pack, so it comes as little surprise that their Light Protection Airbag 3.0 is among the most well-respected designs on the market. Whereas the JetForce Pro above is powered by a battery-operated fan, the Light uses a canister filled with compressed air to inflate the airbag. As a result, it's over a pound lighter, far more affordable, and easy to maintain (with no complex wiring). Further, Mammut's Protection Airbag System (PAS)—unlike most other airbags—expands around the head and neck and over the shoulders to cradle your upper body. Given that many avalanche deaths are caused by trauma rather than burial or asphyxiation, the added coverage is a real plus.
There are lighter canister-powered airbags and more affordable packs (the BCA Access Float 2.0 below comes in $180 less), but the Light Protection 3.0 puts it together better than most. All told, if you don't plan on deploying your airbag often there's a fine argument for a canister design. However, we've come to prefer electric airbags for their sheer convenience: in short, their rechargeable nature means you don't have to visit a refill location each time you deploy your airbag or travel via air. But the Light Protection is an attractive option nevertheless that is significantly more affordable and over a pound lighter. 
See the Mammut Light Protection Airbag 3.0 30L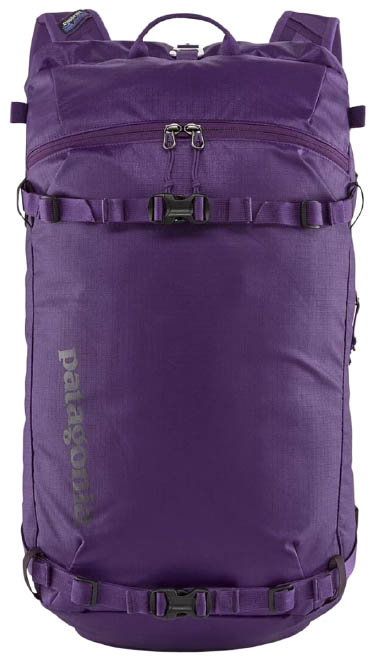 Category: Ski mountaineering/day touring
Capacity: 32, 40L
Weight: 2 lbs. 13.5 oz.
What we like: Durable, great feature set, and long side zip for secondary access to the main compartment.
What we don't: Heavier than the Black Diamond Cirque.
Like the Black Diamond Cirque above, the Patagonia Descensionist is built for long days in the mountains when fast and light is the name of the game. Available in both 32 and 40-liter versions, it features a breathable harness and backpanel that keep you cool on the skin track, and its innovative strap system carries skis or a snowboard in a variety of configurations for bootpacking. The roll top closure streamlines weight and accommodates varying loads (Patagonia also includes a helmet-carry attachment), and the full side zip and hipbelt pockets keep gear accessible. Finally, the Descensionist comes fully equipped to handle all your technical tools, with rope straps, internal and external ice tool attachments, and a dedicated safety tool pocket that keeps your avy gear organized and easy to access. 
Before you opt for such a minimalist design, keep in mind that the Descensionist (and Cirque) gives up the convenience of full backpanel access, which most skiers and riders will really appreciate for transitions. The latest 2021 version does feature better access to the snow tools pocket and has the aforementioned side zip entry to the main compartment, but it's no replacement for a large backpanel opening. And among trimmed-down designs, the Descensionist loses out to the Cirque in weight by over a half-pound, although it does get the edge in durability and has more ski and snowboard carry options. All told, the Cirque gets our top pick due to its more streamlined and time-tested design, but the new Descensionist is a very worthy choice for weight-conscious skiers and riders and will save you $20 in the process... Read in-depth review
See the Patagonia Descensionist 40L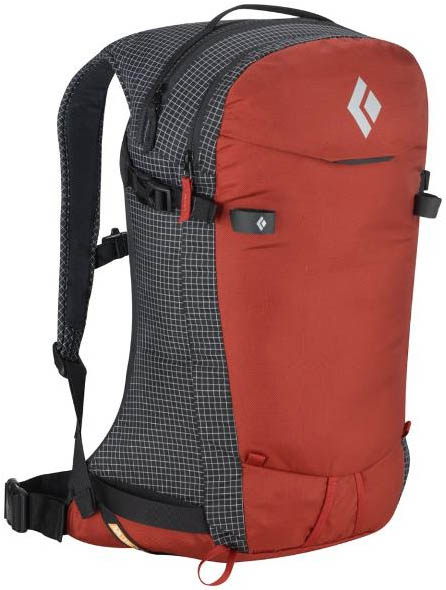 Category: Day touring/resort
Capacities: 15, 25, 32L
Weight: 2 lbs. 5 oz.
What we like: Compact enough for resort skiing but with enough space for avalanche gear.
What we don't: Too small for full-day tours; limited size adjustments.
We're suckers for lift-accessed sidecountry—on the right day, almost nothing beats the experience of logging thousands of vertical feet with minimal uphill effort. To get you through an afternoon at the ski hill, the Dawn Patrol 25L from Black Diamond is a great tool for the job. This popular pack is nicely sized and shaped to carry your avalanche gear and the bare necessities, and the clean, strapless exterior means you won't catch the chairlift when unloading. The Dawn Patrol is also AvaLung-compatible for that extra margin of safety when you venture out of bounds. 
At 25 liters, the Black Diamond Dawn Patrol is on the smaller side, although it also comes in 32- and 15-liter versions that are ideal for day tours and in-bounds skiing respectively. The 32-liter is very similar to the Osprey Soelden above, although it lacks the convenient backpanel access to the main compartment. And similar to the Patagonia, the two larger versions of the Dawn Patrol feature compression straps on the sides, allowing them to maintain their comfort and shape when underpacked. It's worth noting that some—and particularly those with broad shoulders—have reported fit-related issues with the Dawn Patrol, so we recommend trying it on before you buy.
See the Black Diamond Dawn Patrol 25L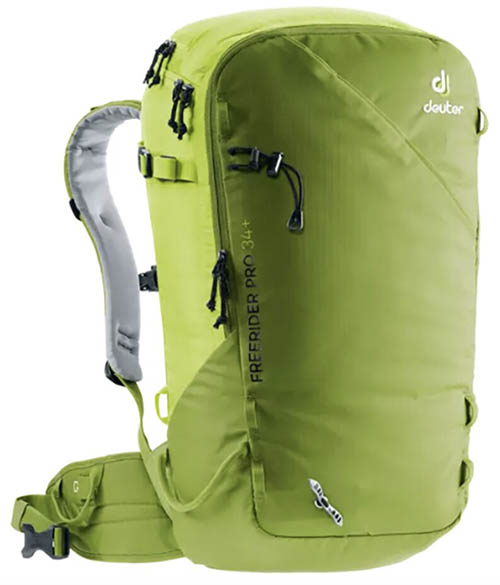 Category: Ski mountaineering/day touring
Capacity: 34 + 10L
Weight: 2 lbs. 13 oz.
What we like: A well-integrated roll-top expands to fit 10L of extra space.
What we don't: A few minor design flaws.
Like Osprey, Deuter is best known for their hiking and backpacking designs, but their Freerider series of ski packs shouldn't be overlooked. The Pro 34+ in particular stands out for its all-around nature, and it received a noteworthy update this season that gives it 10 liters of expandable capacity via a roll-top closure. We've found this redesign to be very well integrated (it doesn't get in the way when you don't need it), and the added versatility is significant: the Freerider Pro stays compact and streamlined for casual day tours yet is still able to accommodate a rope, harness, and hardware for more technical missions.
After testing the Freerider all winter, we have just a few minor nitpicks: the front pocket is a bit of a squeeze for a pair of skins (especially a bulkier model like BD's Ascension), and you have to unbuckle the shoulder straps to fully unzip the backpanel, which is an extra step compared to other designs here. And while it's true that the Pro 34+ is a bit heavy for a lightweight ski mountaineering pack, the extra ounces could be worth it for the expandable design and Deuter's reliable comfort and fit. What's more, for $40 less than the Black Diamond Cirque above you get more durable fabrics, significantly more organization (including backpanel access and a fleece-lined goggle pocket), and the choice between men's and women's sizes. It all adds up to an attractive quiver-of-one design from a dependable backpack company, and one of our go-to packs of the year. 
See the Deuter Freerider Pro 34+  See the Women's Deuter Freerider Pro 32+ SL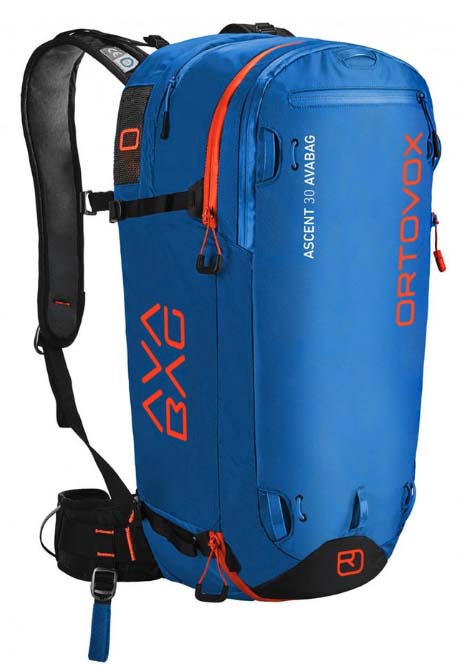 Category: Airbag
Capacity: 22, 30, 40L
Weight: 5 lbs. 8.5 oz.
What we like: Removable and interchangeable airbag; you can practice deployment without the canister.
What we don't: Airbag provides less protection than the Mammut above; thin fabric on pack body.
Ortovox's Ascent 30 Avabag is competitive in both size and weight to the Mammut Light Protection above. However, unlike other canister airbags (the Mammut included), the Ortovox allows you to practice deployment with the compressed-air cartridge removed, simulating a realistic pull of the handle without blowing through pricey and difficult-to-fill cylinders. This feature provides peace of mind as well as a good opportunity to build up muscle memory in case you need to deploy the Avabag in the field. Further, Ortovox's proprietary Avabag airbag is removable and compatible with their full lineup of packs (which include both men's and women's versions and the descent-oriented Cross Rider and Free Rider), meaning you can purchase one airbag and pair it with multiple packs depending on your objective.
The Ascent offers a full 30 liters of capacity and the streamlined airbag system takes up less than 2 liters of space inside. And similar to Ortovox's non-airbag-equipped Haute Route below, it's nicely appointed with an ice axe and pole attachment points, a rope strap, a removable helmet net, and straps for securing skis, a snowboard, or snowshoes. We do wish the pack was a bit tougher—the 100-denier fabric on the pack body is on the thin side for use around sharp ski equipment. And the airbag offers a little less coverage than the PAS system on Mammut's Light Protection above. That said, we like what Ortovox did with the Ascent, and the ability to practice without the canister might be the tipping point for many.
See the Ortovox Ascent 30 Avabag  See the Women's Ascent 28 S Avabag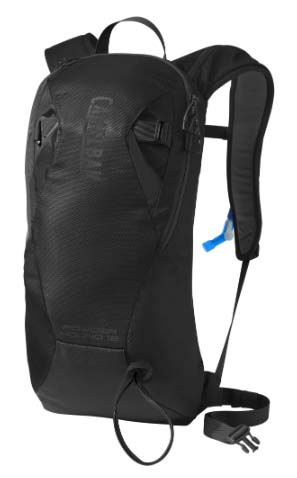 Category: Resort
Capacity: 12L
Weight: 1 lb. 8 oz.
What we like: All you really need for a day at the resort.
What we don't: 12-liter capacity is fairly limiting for other uses.
If you've ever tried to use your hydration reservoir in the winter, you've probably realized that freezing temperatures can quickly render your bladder worthless. For use in cold weather, CamelBak's Powderhound 12 is a nice solution. By adding insulation and a zippered pocket along the shoulder strap, the Powderhound help prevent water inside your bite valve and drink tube from freezing. The rest of the design is equally ski-ready with glove-friendly zipper pulls, an interior compartment for snacks or rescue tools, and external ski straps for carrying skis (although we wouldn't recommend using these over long distances due to the pack's small and lightweight build).
With only 12 liters of capacity, you won't be going very far from the car or lodge with the CamelBak Powderhound, but we think it's a great companion for resort skiers who like to stay hydrated throughout the day. Not to mention, the streamlined design means that you can get on and off the lift and down the slopes without feeling weighted down by a heavy and bulky pack. For those who want a bit more storage, CamelBak also offers the 24-liter Phantom LR, which adds hipbelt pockets and straps for hauling a snowboard vertically.
See the CamelBak Powderhound 12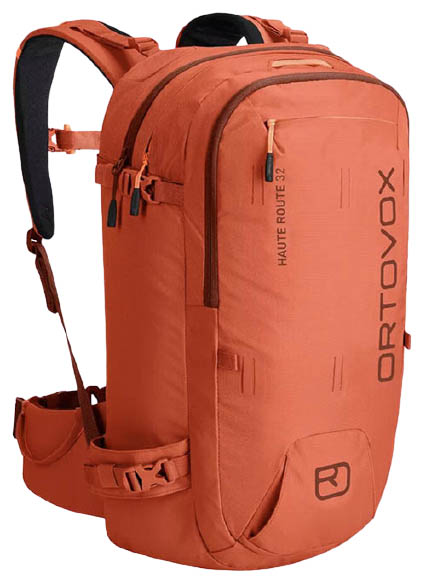 Category: Day touring/ski mountaineering
Capacities: 32, 40L
Weight: 2 lbs. 15.3 oz.
What we like: Nice mix of weight, storage, and features. 
What we don't: A bit overkill for shorter outings.
The Ortovox Haute Route 32 bears a strong resemblance to the Ascent 30 Avabag above, but without the pricey avalanche airbag and with a bit more storage for longer outings. Right off the bat, we'll note that this is one of the most feature-rich packs on our list. The 32-liter version sports an impressive array of straps and compartments for your technical gear: attachment points for snowshoes, snowboards, and skis (both A-frame and diagonal), a crampon-fastening slat in the fabric, rope-carrying and ice-axe straps, a hiking pole attachment and fixed helmet net, and even a pocket for holding a map. And with a redesigned backpanel and hipbelt in the most recent (winter 2021) update, the Haute Route is up for the task and carries a heavy load better than most.
That said, not every backcountry skier needs all these features. For example, day tourers who don't intend to embark on technical ski missions will likely find the ice axe and crampon attachments and map holder unnecessary. If this is the case, you can get away with a lighter, simpler design like the Osprey Soelden above or Arc'teryx Alpha SK below. Alternatively, the ski mountaineers needing more space for their gear will benefit from the 40-liter Haute Route. And for a similar design with more capacity and even stiffer suspension, check out the Ortovox Peak 45, which boasts a unique moisture-wicking wool backpanel.
See the Ortovox Haute Route 32  See the Women's Ortovox Haute Route 30S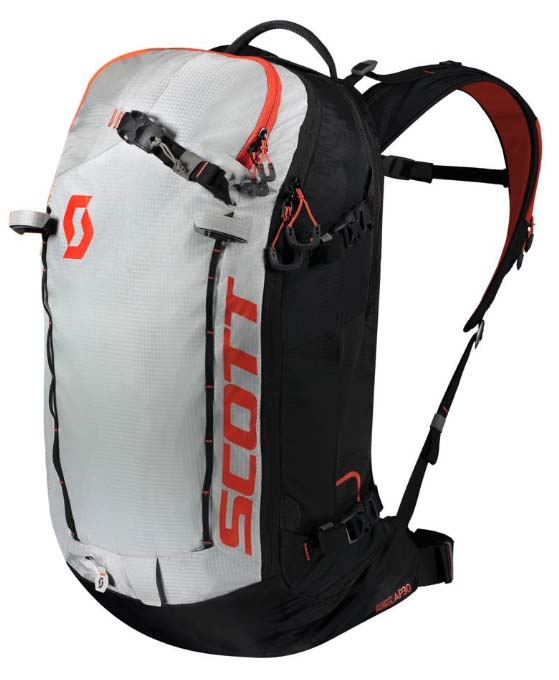 Category: Airbag
Capacity: 22, 30, 40L
Weight: 5 lbs. 14.1 oz. 
What we like: More affordable and lighter than the BD JetForce Pro above.
What we don't: Overly simplistic hipbelt; disappointing access to the main compartment.
The Black Diamond JetForce Pro above is our favorite electric airbag pack this year, but Scott's lighter and more affordable Patrol E1 is also worth a look. The Patrol features an Alpride E1 airbag that—similar to the JetForce Pro—is fully electric and rechargeable via USB (it can also be charged by AA batteries in the field). Again, compared to canister airbags, the battery design means you get unlimited practice deployments (only battery life limits you), don't have to bother with refilling your compressed air canisters, and there's no hassle in terms of air travel. And clocking in at 5 pounds 14 ounces for the backpack and airbag, the Scott is a reasonably lightweight design and $300 less than the JetForce Pro above.
What do you give up by going with the more affordable Scott Patrol E1? Despite being lightweight, the Alpride system still takes up a good amount of space in the Patrol pack, and we wish the main compartment had a larger zipper. Second, the Patrol's simple webbing hipbelt provides minimal support and does not come with a convenient stash pocket. Finally, it's only offered in one size, while many packs (like the Osprey and Deuter options above) come in both men's and women's sizing. But as an affordable electric alternative (relatively speaking) that's only $170 more than the Mammut Light Protection above, the Scott Patrol E1 is a nice option that's well-loved by many.
See the Scott Patrol E1 30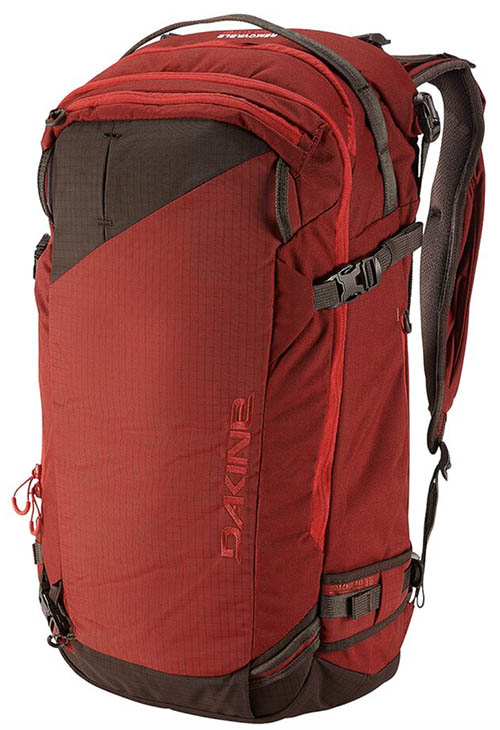 Category: Day touring
Capacities: 18, 26, 32, 36L
Weight: 4 lbs. 1.6 oz.
What we like: Quality day-touring pack with the option to add an airbag system.
What we don't: Heavy and fairly expensive.
In contrast to their relatively simple and budget-oriented Mission Pro above, Dakine's Poacher is among the more feature-rich ski packs on the market. To start, you get a range of carry options, including A-frame, diagonal, and a vertical snowboard set-up. Plus, organization is excellent with a zippered backpanel access, helmet attachment, and dedicated pockets for avy tools and a ski goggle. But what really sets the Poacher RAS apart is its compatibility with Mammut's Removable Airbag System 3.0. Adding the airbag and canister tacks on another $630 to the bottom line, but at $865 all-in, you get excellent versatility for day touring or hut adventures. 
What are the downsides of the Poacher RAS? The pack by itself is pretty spendy at $235, especially when you consider it's not markedly better than the $75 cheaper Osprey Soelden above (other than its airbag compatibility). In addition, the Dakine is rather heavy for its capacity at over 4 pounds, although that does include a mix of burly 500- and 840-denier nylon on the pack body, the extra roll top closure for the airbag, and the intuitive storage layout mentioned above. Finally, if you like the design but don't plan to get the airbag, Dakine makes a non-RAS Poacher 32 that ditches the airbag pocket and saves you about $50 (with a slight drop in capacity).
See the Dakine Poacher RAS 36L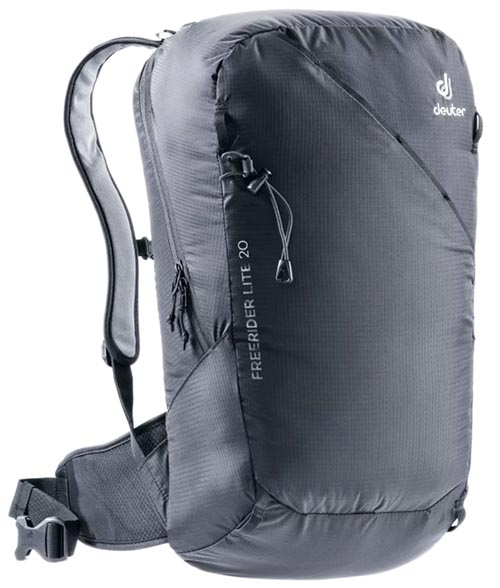 Category: Resort/day touring
Capacity: 20L
Weight: 1 lb. 13.6 oz.
What we like: Lightweight, great price, and offered in a women's-specific version.
What we don't: Thin construction, and we'd prefer a few more features.
We covered the feature-rich Deuter Freerider Pro 34+ above, but we'd be remiss not to include the Freerider Lite here as well. As the name indicates, the Lite is an ultralight take on Deuter's Freerider series, and stands out with a competitive $130 price, low 1-pound 13.6-ounce weight, and women's-specific "SL" version (packs like the Patagonia Descensionist and Black Diamond Dawn Patrol above are only made in unisex styles). The 20-liter pack also hits a nice sweet spot in terms of capacity for mixed resort and light backcountry use (especially great for weight-conscious missions), and its narrow profile and U-shaped frame help keep everything locked into place.
What do you sacrifice with this trimmed-down model? For one, an A-frame-style carry isn't possible with the Freerider Lite (you can only utilize the front panel for strapping skis diagonally or a board vertically). Second, you miss out on the convenient backpanel access that we value with the Osprey Soelden above. These won't be huge issues for resort skiers or those accessing backcountry terrain via a helicopter or sno-cat, but those earning their turns likely will want to step up to the standard Freerider 30 for a better feature set. And finally, the Lite's 100-denier pack body is notably thin for use around chairlifts or sharp ski equipment. Overall, unless weight wins out above all else, we think packs like the Dawn Patrol or Soelden are more well-rounded picks.
See the Deuter Freerider Lite 20  See the Women's Deuter Freerider Lite 18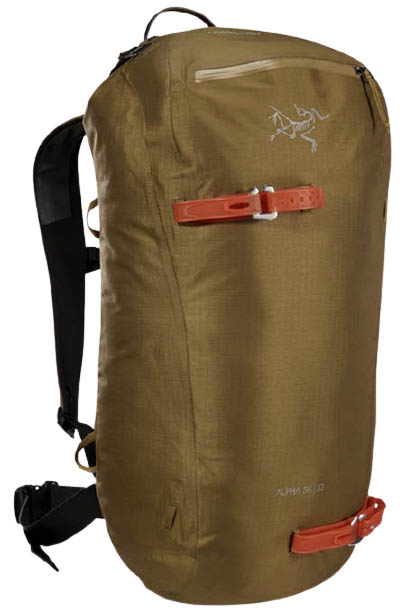 Category: Ski mountaineering/day touring
Capacity: 32L
Weight: 2 lbs. 3 oz.
What we like: Sleek design and impressively light. 
What we don't: Very pricey.
Without a doubt, the Arc'teryx Alpha SK is the most pared-down pack on our list. Taking cues from their popular Alpha FL climbing pack, the Alpha SK shares the same focus on minimalism, weather protection in harsh alpine environments, and a sleek design that moves with the body. You also get a host of ski-specific features including a simple roll-top design with a pull tab for snugging down the lid, weather-resistant side zipper for alternate access to the main area, an internal rescue gear compartment, and adjustable ski-carry straps on the outside. Perhaps most notably, the Alpha SK clocks in at an impressively low 2 pounds 3 ounces—the lightest pack on our list at this capacity.
However, while the Alpha SK is aimed squarely at the ski mountaineering crowd, the extremely simple design limits the type of gear it can carry. For example, there are no external straps for ice tools, ski crampons, or a helmet—often necessary tools for skiing big lines. And if you want to haul a snowboard or skis in an A-frame configuration, you'll need to purchase extra straps separately (keep in mind you're already spending a whopping $345 on the bag itself). Finally, we found the simple webbing waist strap to be notably uncomfortable. Arc'teryx's level of quality and craftsmanship is hard to match, but the Black Diamond Cirque and Patagonia Descensionist packs above have better feature sets, are similarly well-built, and much cheaper.
See the Arc'teryx Alpha SK 32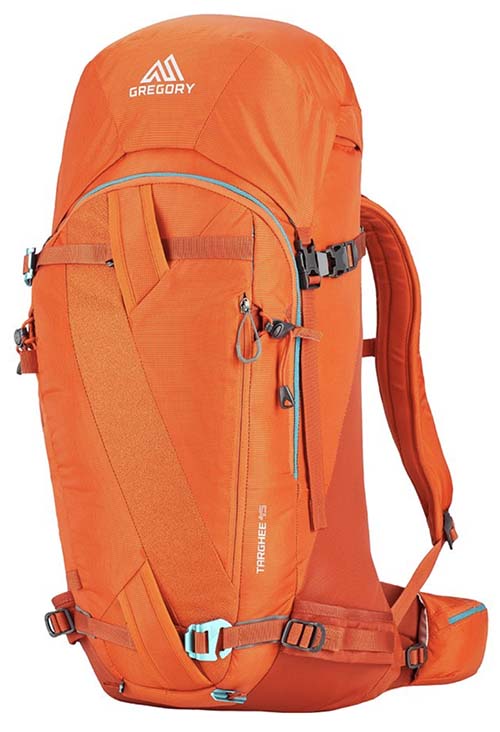 Category: Ski mountaineering
Capacities: 26, 32, 45L
Weight: 3 lbs. 10.6 oz.
What we like: Fully featured and comfortable.
What we don't: Does not ski especially well; straps and pockets add significant weight.
We've lauded many of the packs above for shaving weight and bulk, but in reality, not all skiers are laser-focused on traveling fast and light. If you're willing to shoulder a bit more weight, the Gregory Targhee is one of the most comfortable and fully featured options on this list. The Targhee sports a whopping six external pockets, as well as an insulated hydration sleeve, helmet-carry system, and convenient backpanel access to the main compartment. The 45-liter capacity with removable lid also gives you a bit more room for customization, making it a versatile choice for those looking for a quiver-of-one pack. Further, the Targhee's beefy build and thick fabrics are confidence-inspiring and made to last.
As we've come to expect from Gregory, the Targhee carries loads quite comfortably, with an alloy frame, adjustable suspension, and compression-molded backpanel. In fact, it's our in-house photographer's pack of choice when hauling heavy cameras and lenses into the backcountry. Size-wise, 42 liters is great for technical days or short overnights, but it can feel a bit ungainly when skiing downhill (resort-goers and heli or cat skiers may prefer the smaller 26-liter model). Forsaking just a few liters of capacity, we've found that packs like the Patagonia Descensionist 40 and Ortovox Haute Route 40 offer a closer and less ungainly fit. But for the ultimate in comfort and convenience when you need to carry more than an average day's worth of supplies, the Gregory Targhee 45 should be on your short list.
See the Gregory Targhee 45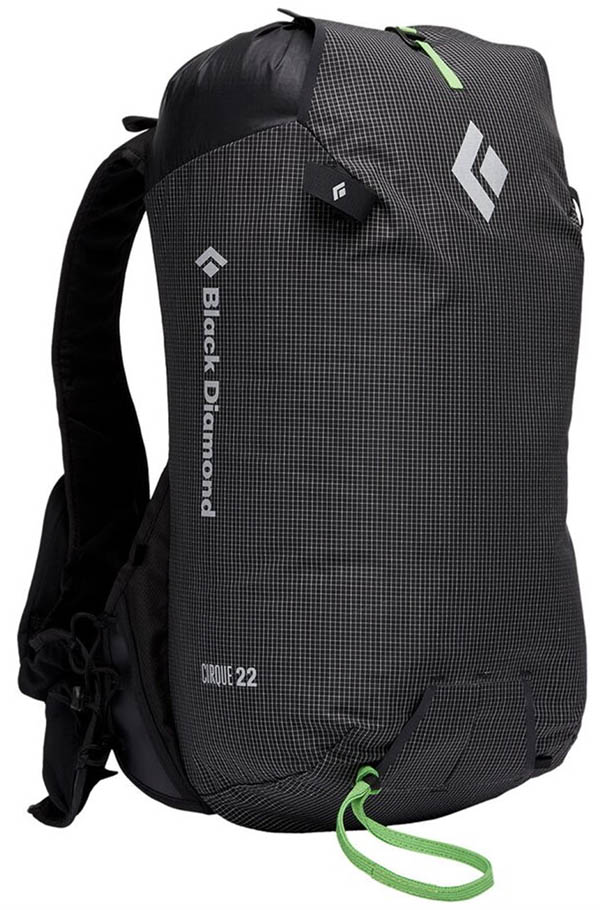 Category: Day touring/ski mountaineering
Capacity: 22L
Weight: 1 lb. 8 oz.
What we like: Purpose-built for quick transitions and on-the-go access.
What we don't: A very niche feature set and not very supportive.
Moving fast and light has never been more in vogue, and backcountry skiers are hot on the trend with everything from leg-burning dawn patrols and Everest-in-a-week challenges to big in-a-day spring missions. Black Diamond's relatively new Cirque 22 meets this style head-on, combining the on-the-go ethos of a running vest with all the storage and attachment points you need for a day of skiing. The big selling point here is accessibility: with a quick-stow diagonal ski carry, side crampon/skin stash, and front pockets for water and snacks, you'll almost never need to remove the vest throughout the day. Tack on a dedicated avy-tool compartment, removable helmet carry, and two ice tool slots, and the Cirque Vest is the complete package for fast efforts in all sorts of terrain, whether you're skimo racing, tackling your own PR, or just enjoy moving efficiently through the mountains.
But with only 22 liters of capacity and a vest-style strap system (read: no hipbelt), the Cirque Vest is fairly limited to quick hits when you're not carrying much in the way of layers or extra supplies. What's more, it's bound to feel overburdened with anything more than a fairly light ski setup (it pairs well with BD's narrow Cirque skis), and the diagonal carry system does not accommodate a snowboard. Further, while the Cirque Vest's on-the-go access will be a game-changer for some, most casual users will want the convenience of standard features like a full-zip backpanel or fleece-lined goggle pocket instead. Like any purpose-built design the Cirque has its fair share of tradeoffs, but skiers with a need for speed will be hard pressed to find a better-suited pack.
See the Black Diamond Cirque 22 Vest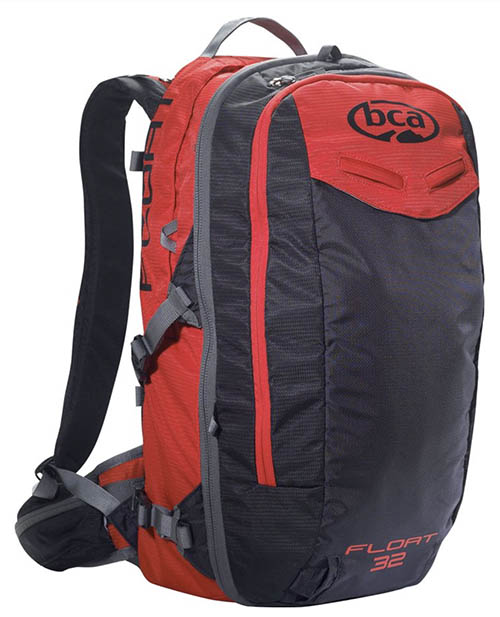 Category: Airbag
Capacities: 12, 22, 32, 42L
Weight: 6 lbs. 6.4 oz. 
What we like: Great price for an airbag pack.
What we don't: Trauma protection isn't as comprehensive as the Mammut above; difficult to pack and unpack.
Like the Mammut Light Protection and Ortovox Ascent above, the Backcountry Access (BCA) Float 32 2.0 is a canister-powered airbag pack. Recent updates to the airbag system and pack have brought weight down, making the Float slightly more competitive with the options above (although it's still nearly a pound heavier). The Float also carries skis or a snowboard in a variety of positions, and we love the external helmet-carry system for saving space inside on the uphill. But the biggest draw is price: at $785 for the bag and a full canister, the BCA Float 32 is the most affordable airbag-equipped pack on our list. 
Although BCA is a very reputable and respected name in backcountry skiing, we think the Mammut and Ortovox models above are better overall performers. Why is this? First, the BCA feels much smaller than its stated 32 liters, and we've found it particularly challenging to pack. With our goggles in the dedicated fleece-lined pocket and our helmet attached to the exterior, we were surprised at how little room was left inside. Additionally, the rectangular shape of the airbag behind the head—as opposed to the Mammut's full coverage around the head, neck, and shoulders—offers less comprehensive protection during a slide. The Float used to be one of our favorite airbag designs, but recent innovations have made it less of a standout in this increasingly competitive category.
See the Backcountry Access Float 32 2.0
Ski Backpack Comparison Table
| Ski Backpack | Price | Category | Capacities | Weight | Avalanche |
| --- | --- | --- | --- | --- | --- |
| Osprey Soelden 32 | $160 | Day touring | 22, 32L | 2 lb. 9 oz. | n/a |
| Black Diamond JetForce Pro 25 | $1,400 | Airbag | 10, 25, 35L | 6 lb. 8 oz.  | Electric airbag |
| Dakine Mission Pro 18L | $90 | Resort/day touring | 18, 25L | 1 lb. 10 oz. | n/a |
| Osprey Kamber 16 | $100 | Resort | 16, 22, 32, 42L | 1 lb. 15 oz. | n/a |
| Black Diamond Cirque 45 | $220 | Ski mountaineering | 30, 35, 45L | 2 lb. 4 oz. | AvaLung-ready |
| Mammut Light Protection 3.0 | $930 | Airbag | 30L | 5 lb. 6 oz. | Canister airbag |
| Patagonia Descensionist 40L | $199 | Mountaineering/touring | 32, 40L | 2 lb. 14 oz. | n/a |
| Black Diamond Dawn Patrol 25 | $150 | Day touring/resort | 15, 25, 32L | 2 lb. 5 oz. | AvaLung-ready |
| Deuter Freerider Pro 34+ | $180 | Mountaineering/touring | 34 + 10L | 2 lb. 13 oz. | n/a |
| Ortovox Ascent 30 Avabag | $910 | Airbag | 22, 30, 40L | 5 lb. 9 oz. | Canister airbag |
| CamelBak Powderhound 12 | $105 | Resort | 12L | 1 lb. 8 oz. | n/a |
| Ortovox Haute Route 32 | $170 | Touring/mountaineering | 32, 40L | 2 lb. 15 oz. | n/a |
| Scott Patrol E1 30 | $1,100 | Airbag | 22, 30, 40L | 5 lb. 14 oz. | Electric airbag |
| Dakine Poacher RAS 36L | $235 | Day touring | 18, 26, 32, 36L | 4 lb. 2 oz. | Airbag-ready |
| Deuter Freerider Lite 20 | $130 | Resort/day touring | 20L | 1 lb. 14 oz. | n/a |
| Arc'teryx Alpha SK 32 | $345 | Mountaineering/touring | 32L | 2 lb. 3 oz. | n/a |
| Gregory Targhee 45 | $210 | Ski mountaineering | 26, 32, 45L | 3 lb. 11 oz. | n/a |
| Black Diamond Cirque 22 Vest | $160 | Touring/mountaineering | 22L | 1 lb. 8 oz. | n/a |
| Backcountry Access Float 32 | $785 | Airbag | 12, 22, 32, 42L | 6 lb. 6 oz. | Canister airbag |
*Editor's note: prices and weights include batteries or canisters where applicable.

Ski Backpack Buying Advice

Ski Backpack Categories
Skiing can take a variety of forms, from lift-served turns to quick dawn patrol laps before work, traveling the week-long Haute Route in the Alps, or seeking out powder stashes deep in the backcountry. Given the variety and the notable differences in pack designs for each use, we've broken our picks into four separate categories: resort, day touring, ski mountaineering, and airbag backpacks.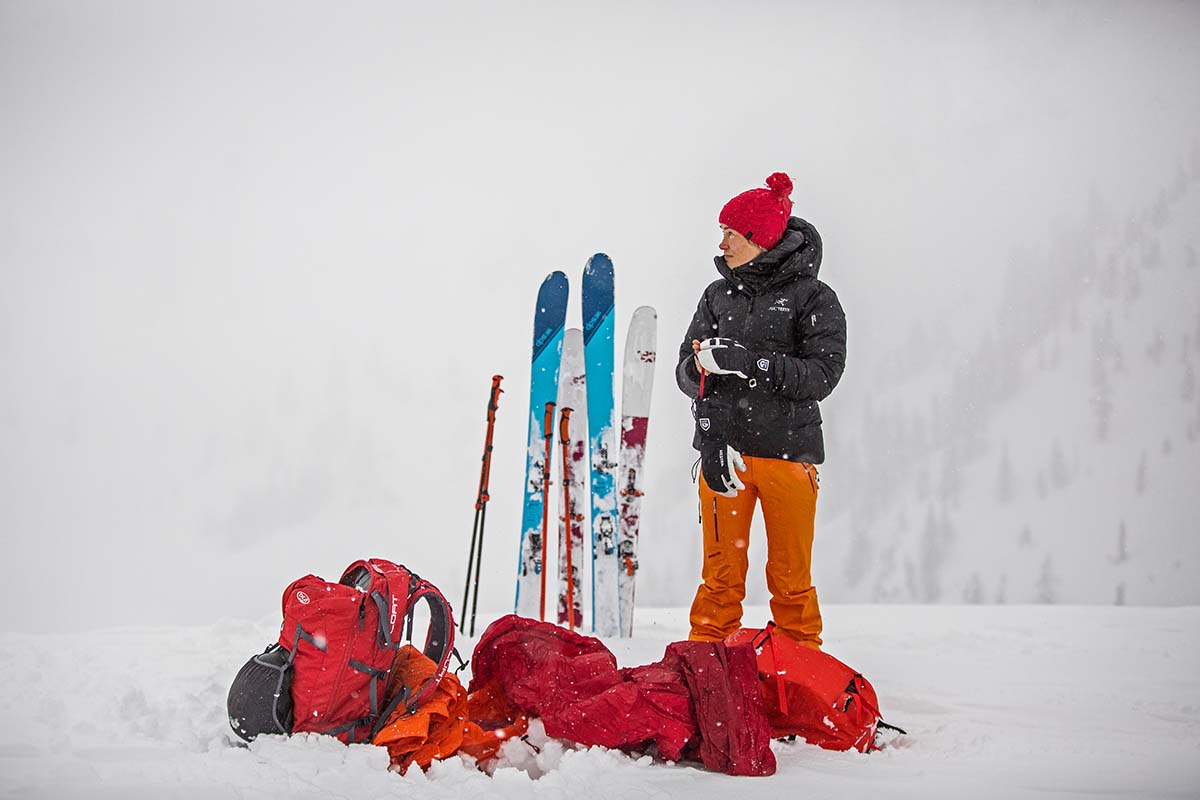 Resort
A resort pack is the ideal choice for in-bounds riding, sidecountry terrain, and even sno-cat or heli-accessed skiing. The main distinguishing factor here is capacity—packs in this category are around 12-22 liters in size, which is perfect for carrying your water and snacks, an extra layer, and avy tools (if needed). For lift-accessed terrain, you'll also want to look for a clean exterior with minimal straps to avoid snagging the chairlift when loading/unloading. Most of these packs feature an insulated sleeve for storing a water reservoir, which is great for staying hydrated without removing your pack. Some of our favorite designs in this category include the Osprey Kamber 16 and CamelBak Powderhound 12, and it's also worth checking out smaller-capacity versions of many of the other packs above.

Day Touring 
Packs in our day touring category are a great fit for close-to-home backcountry tours. When you're earning your turns, you'll be transitioning a lot from touring to skiing, so a good day-touring pack will prioritize organization with features like full backpanel access to the main compartment, external accessory pockets, and a dedicated snow goggle pocket. They also place a high priority on comfort (over the weight-savings of ski mountaineering designs), with robust backpanels and nicely padded hipbelt and shoulder straps. Most backcountry skiers and riders will appreciate a pack in the 25- to 35-liter range, which is a just-right capacity for accommodating your food and water, extra layers, avy tools, helmet (on the uphill), and skins (but not quite enough for overnight gear or technical equipment like a rope and harness).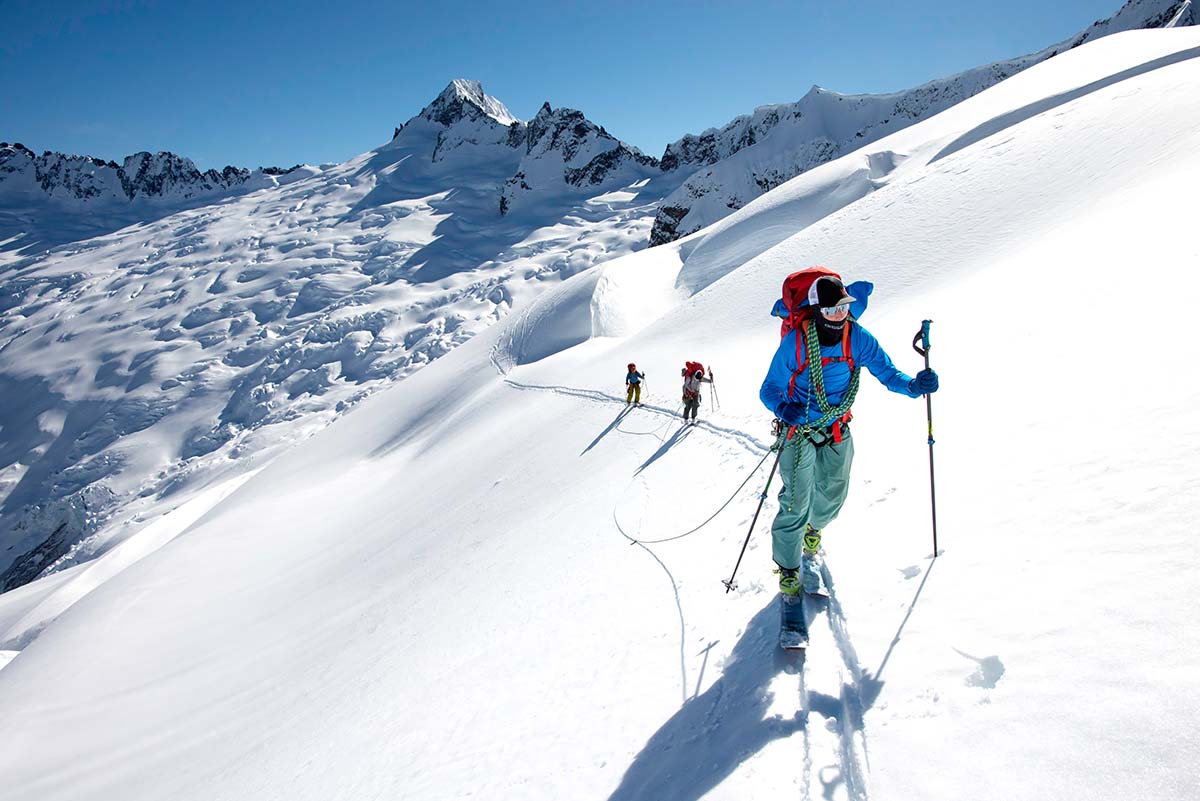 Ski Mountaineering
Ski mountaineering—not to be confused with skimo racing—is a discipline of skiing that involves venturing into more technical, mountainous terrain. Ski mountaineers might encounter glaciers, ice, steep snow, and even dry trail along their route, and missions can often be multiple days long. To account for the added gear and technicality, ski mountaineering packs offer a bump in performance in more streamlined packages to shave crucial weight. Look for dedicated ice tool and pole attachments, a helmet-carry system, external straps for ski or snowboard carry, lighter-weight fabrics, and supportive suspension systems. Ski mountaineering packs will often range from 35-45 liters to accommodate technical or overnight gear. Our favorite packs in this category are the Black Diamond Cirque and Patagonia Descensionist, which do a great job balancing weight-savings and comfort. 

Airbag 
As the name implies, airbag packs are equipped with either a compressed air/gas- or fan-powered airbag. By nature, these packs are heavier and have limited capacities, and are thus not the first choice for most ski mountaineers. However, airbag packs are commonly used in heli-skiing, cat-skiing, lift-served backcountry skiing, or day-touring applications. The most recent innovation in the world of airbags is the use of a battery or supercapacitor to power a fan, which allows for multiple deployments, is easy to travel with, and doesn't require you to refill any canisters (just recharge via an electrical outlet). From our picks above, the Black Diamond JetForce Pro and Scott Patrol E1 feature this tech, although they're also the priciest packs on the list. For a closer look at the market, see our article on the best avalanche airbag packs.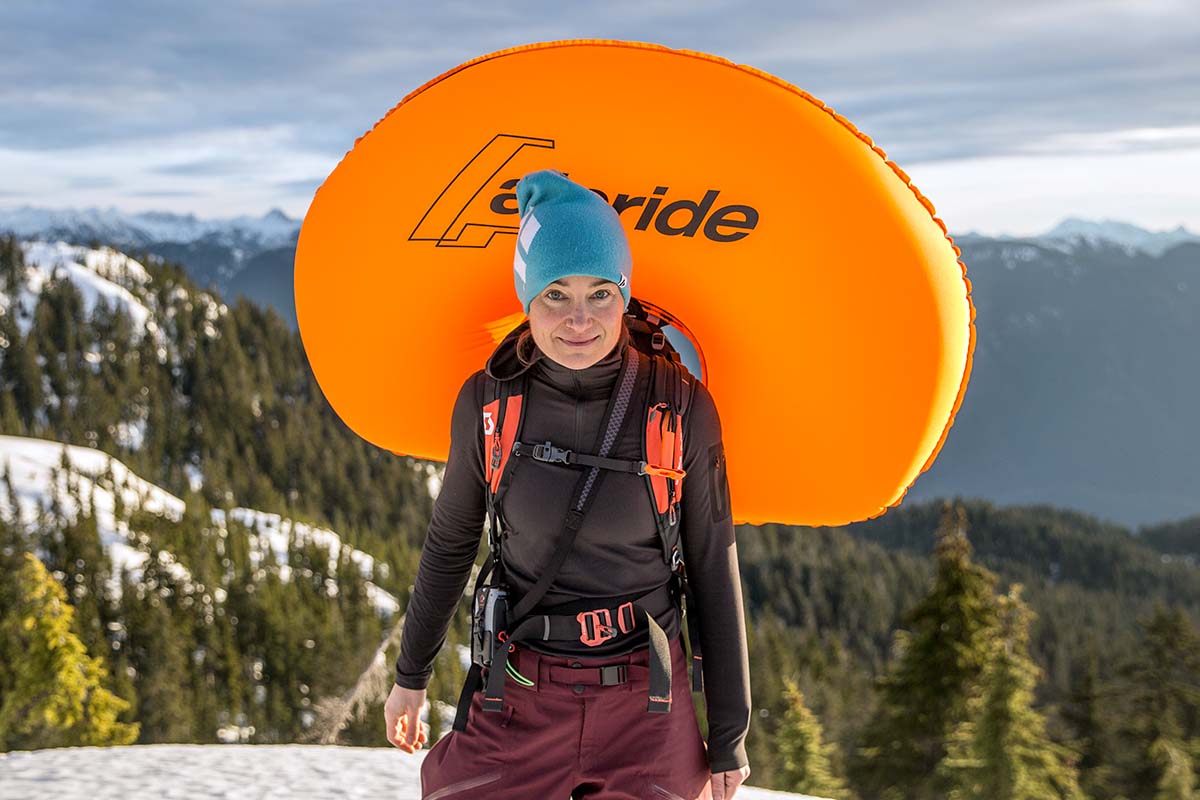 Ski Backpack Capacity
Ski backpacks come in a range of sizes, from compact 20-liter packs for sidecountry or heli-accessed skiing to large 40- to 50-liter packs for overnight trips and technical ski mountaineering. Resort-goers leaving the rescue gear behind can likely get away with an even smaller pack like the CamelBak Powderhound 12. But in our experience, the sweet spot for most skiers is in the 30- to 40-liter range, which is where the majority of the picks above fall. These are perfect skiers who enjoy long days at the resort or short backcountry outings, and provide ample space and organization for avalanche gear, extra layers, skins, food, and water. We also feature a few packs in slightly larger sizes for overnight trips or exceptionally frigid days when you want to carry along your bulky puffy jacket and thermos of tea. However, keep in mind that the larger your pack's capacity (and the more you load inside), the more cumbersome it will feel on the downhill.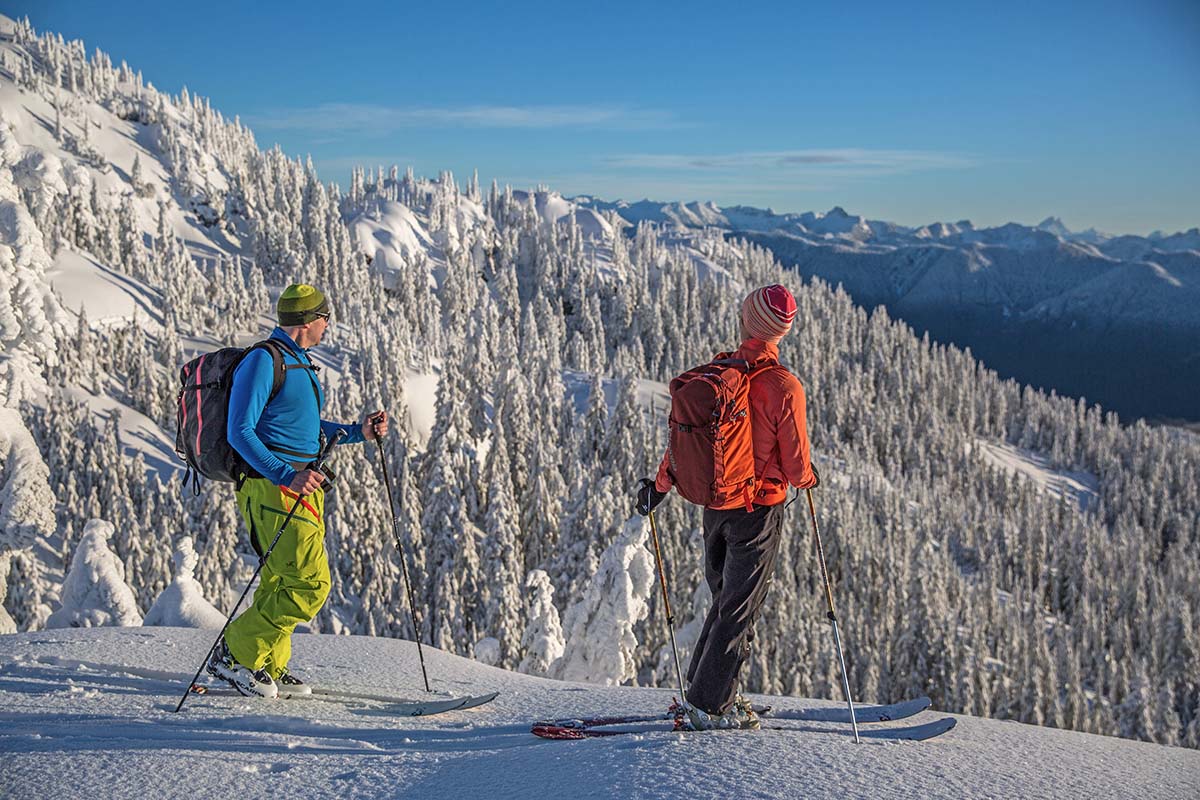 Weight
Ski backpacks range from lightweight 2-pound models to heavy airbag-equipped bags like the Black Diamond JetForce Pro which clocks in at 6.5 pounds. For those focused on moving quickly on the skin track or who don't want to be weighed down on the descent, a lightweight pack—along with lightweight gear both inside and underfoot—should be a top priority. If you want added carrying comfort or an airbag system, expect a big bump in weight. Finally, you should keep in mind that a pack's weight is generally correlated with its level of supportiveness: the lighter the pack, the less padding and suspension it offers.

Carrying Comfort
Many factors contribute to a pack's overall comfort, including the shape and size, beefiness of the suspension, and the amount of adjustment the pack offers. For those who prioritize freedom of movement on the downhill, a pack that is streamlined and sits close to the back (look for smaller capacity, minimalist suspension, and compression straps) will perform better than a pack with a beefy suspension system that separates the load from the body. On the other hand, when weighted down with 40+ liters of gear on the skin track, you'll be thankful to have a robust backpanel, shoulder straps, hipbelt, and features like load lifters that allow you to dial in fit.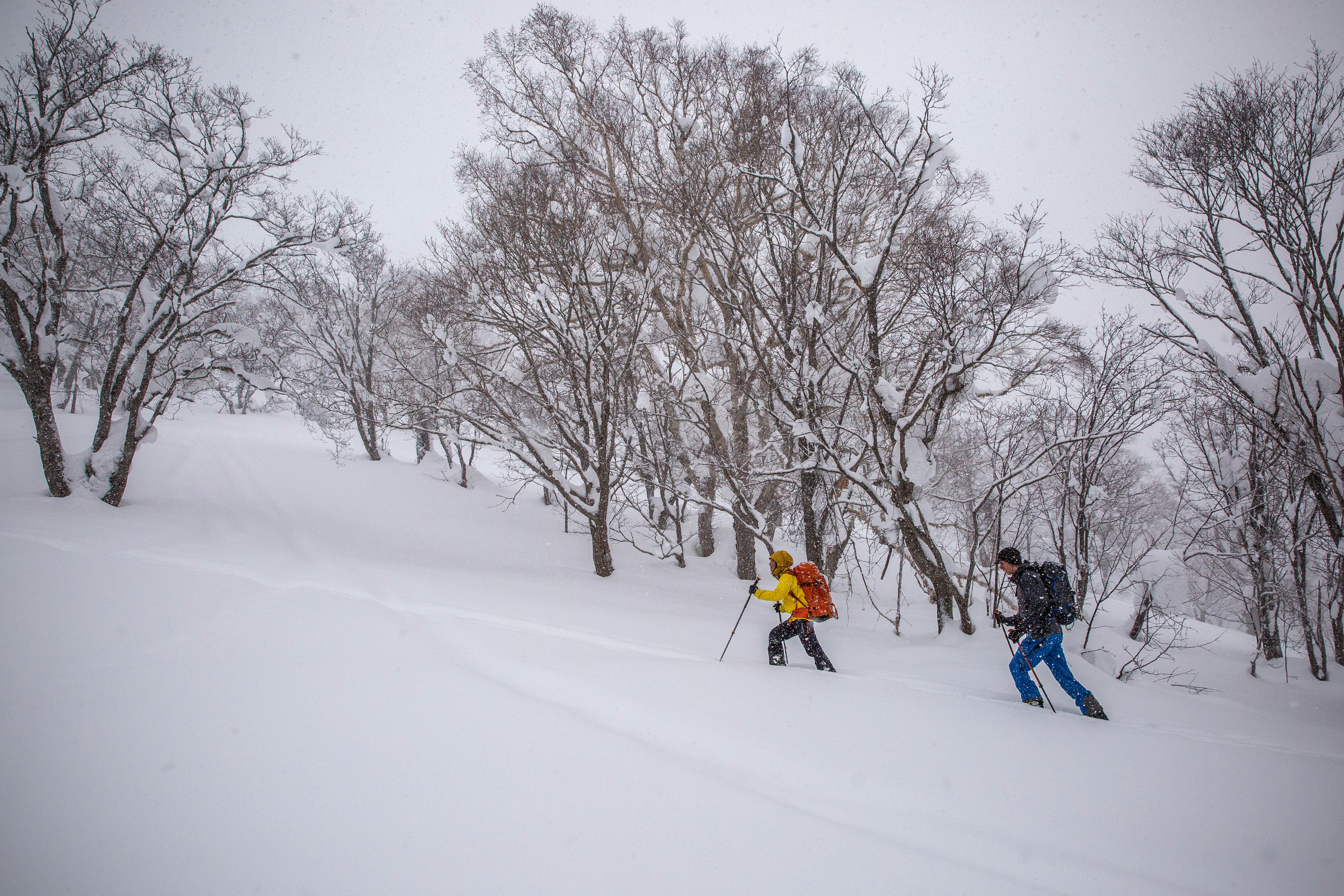 In the end, it's important to identify your priorities and understand that there will be tradeoffs with any pack you choose. A good place to start: Are you more focused on the uphill or downhill? For instance, the Gregory Targhee 45 is one of the most comfortable packs on our list, but some will find that its heavy-duty suspension is too restrictive for aggressive skiing. On the other hand, many of the lightweight options above (like the Black Diamond Cirque and Arc'teryx Alpha SK) sacrifice support to shave weight, which can make skinning and bootpacking rather arduous. And interestingly, most manufacturers offer larger-capacity packs with the same suspension as their smaller counterparts (the Patagonia Descensionist 40, for example, has the same harness and backpanel as the 32-liter version), so don't necessarily expect to find increased support as you size up.

Closure Systems and Access
One way that ski packs stand out from standard hiking daypacks or climbing packs is in their access to the main compartment. Most ski packs feature multiple access points—usually a combination of a top drawstring or zipper paired with a side zip or a back/front panel zip. Because skiing tends to be very transition-heavy and you're in an out of your pack a great deal, multiple access points allow you to get at gear in every nook and cranny without needing to take anything out.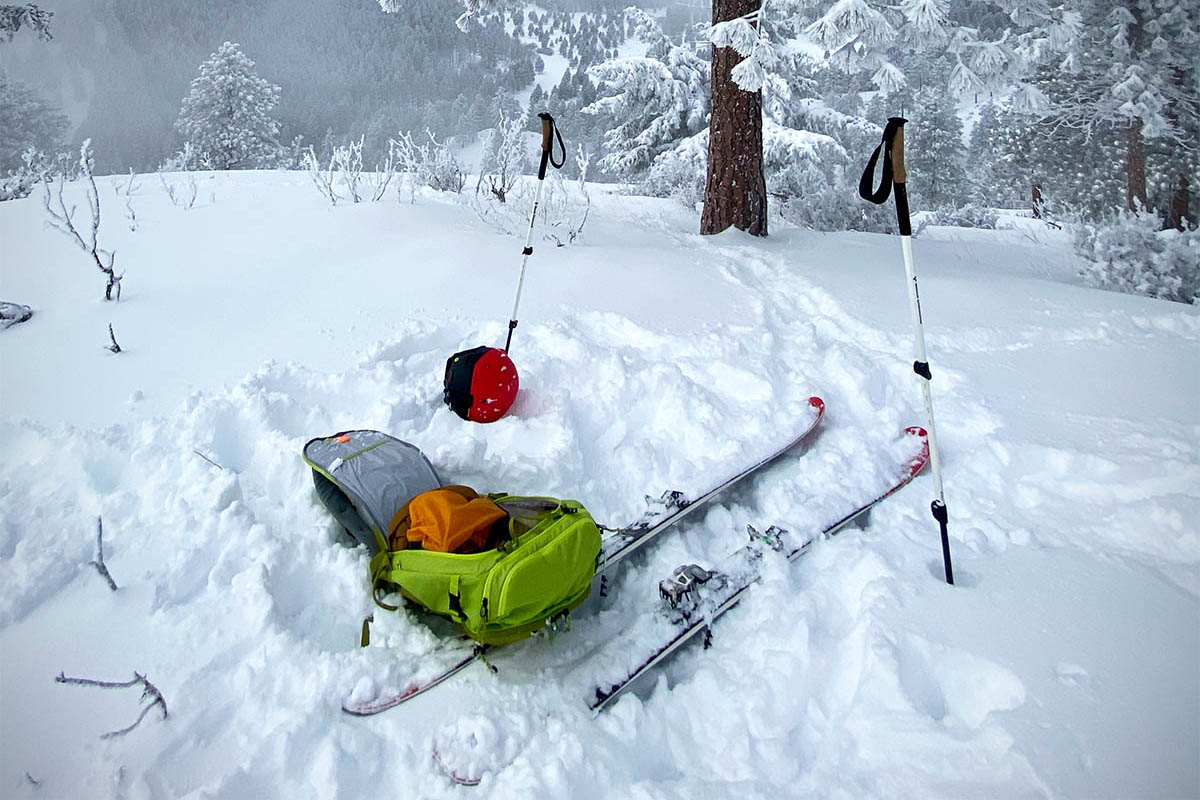 When deciding on a pack, think about how often you'll need to access gear throughout the day and in what sort of environments. For those who want to open their pack on the chairlift, a top zip is great for getting at snacks, water, or a goggle wipe. Alternatively, when skiing laps in our local backcountry bowl, we prefer a pack with a U-shaped, backpanel zip (like that of the Osprey Soelden 32 or Black Diamond Dawn Patrol) that allows us to see all our gear and use our pack as an ad hoc staging area during transitions. Ski mountaineers who have longer approaches and descents (and are thus transitioning less) can get away with a more streamlined opening (the Patagonia Descensionist features a roll top and side zip, for example). Finally, speed-focused skiers and endurance athletes will benefit from the on-the-go access of a vest-style design like the Black Diamond Cirque 22.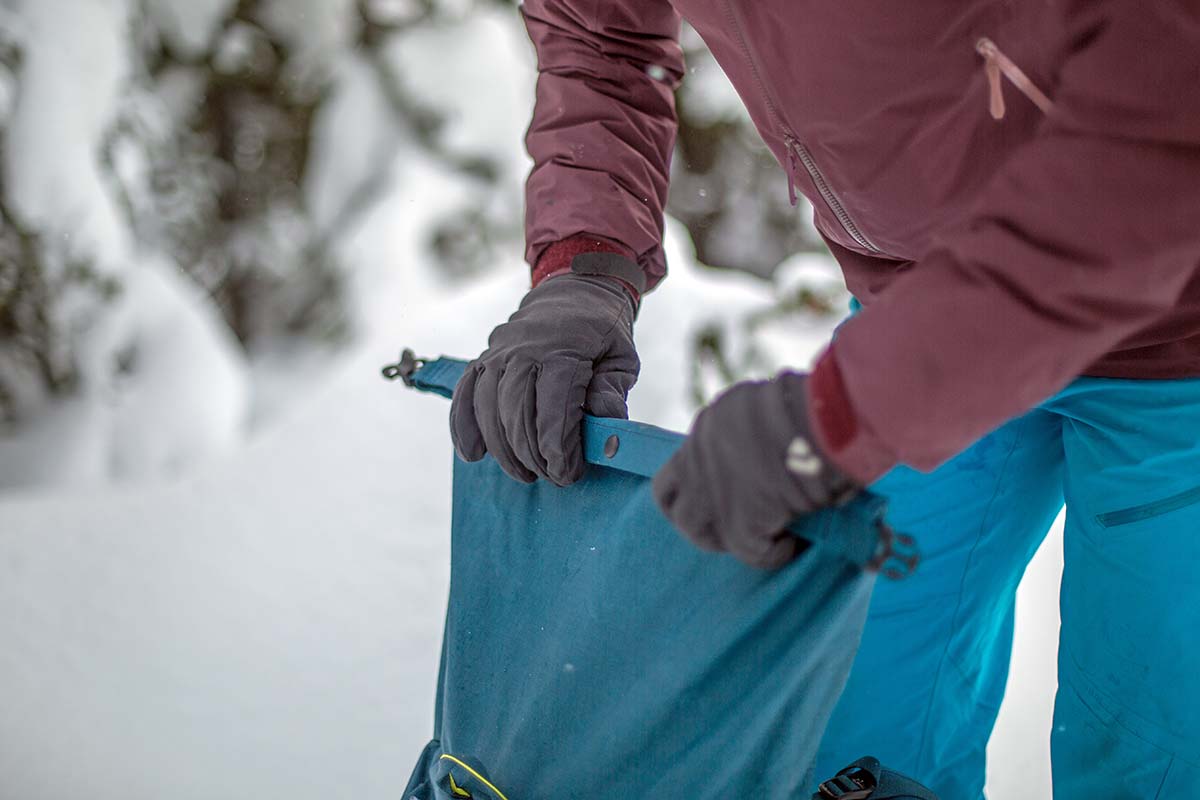 Organizational Features
Avalanche Gear Compartment
Many new skiers will use a hydration pack, climbing pack, or hiking daypack for in-bounds days or ski touring. However, we highly recommend that those venturing into the backcountry purchase a ski-specific pack for one main reason: safety. The vast majority of ski backpacks have a dedicated avalanche gear compartment, allowing for quick access to your shovel and probe in the event of a slide. Some, like the Osprey Soelden, feature a dedicated zip pocket, while others, like the Black Diamond Cirque, have a pouch in the main compartment. No matter the design, the goal is to make your rescue equipment easily accessible. When purchasing a pack, make sure the compartment is large enough to fit your gear and that it's easy to access regardless of what you might strap onto the outside.

Accessory Pockets
Most ski backpacks feature at least one pocket in addition to the main compartment and avalanche gear compartment. We find this extra pocket extremely useful for smaller items such as goggles, sunglasses, lip balm, and snacks. Often, this pocket is also fleece-lined to protect your ski goggles, which is a nice touch. Sometimes, it's located on the inside rather than the outside of a pack, which streamlines the exterior but is less convenient to access.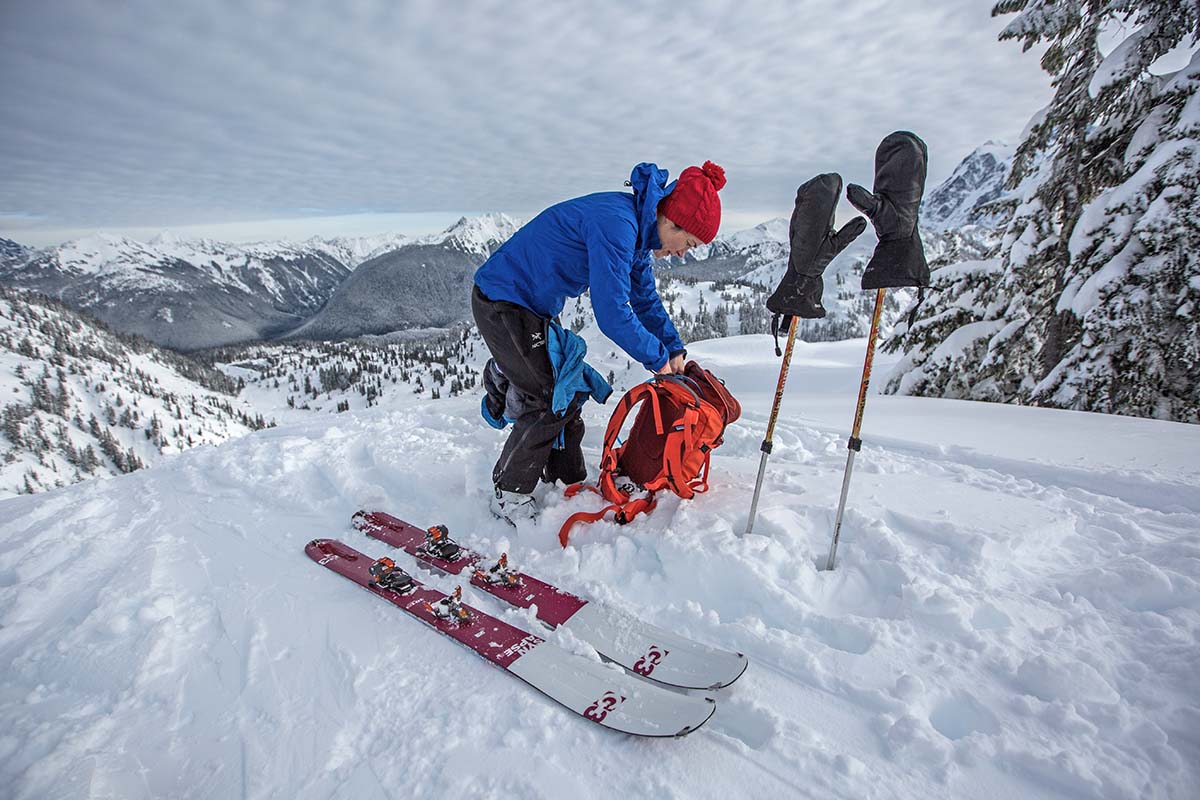 Compression Straps 
Your pack's load will likely change throughout a day of skiing as you swap layers and transition. To account for this, most ski packs are designed with compression straps along the sides that allow you to snug down a partially full load so that it rides close to your back and doesn't feel unwieldy. These straps are also especially helpful for streamlining larger-capacity bags. For example, the Black Diamond Cirque 45 is a good option for overnight trips, but thanks to its compression straps, it can be tightened down to serve as a comfortable day-touring bag.
All that said, packs with compression straps or other external straps generally aren't ideal for resort skiers, as they're more likely to get caught on the chairlift. Instead, look for packs with clean exteriors and minimal outer features. Further, you should always exercise caution while getting off a lift with a pack. The best method is to sling it over one shoulder rather than both, and make sure you've undone both the waist belt and sternum strap before unloading.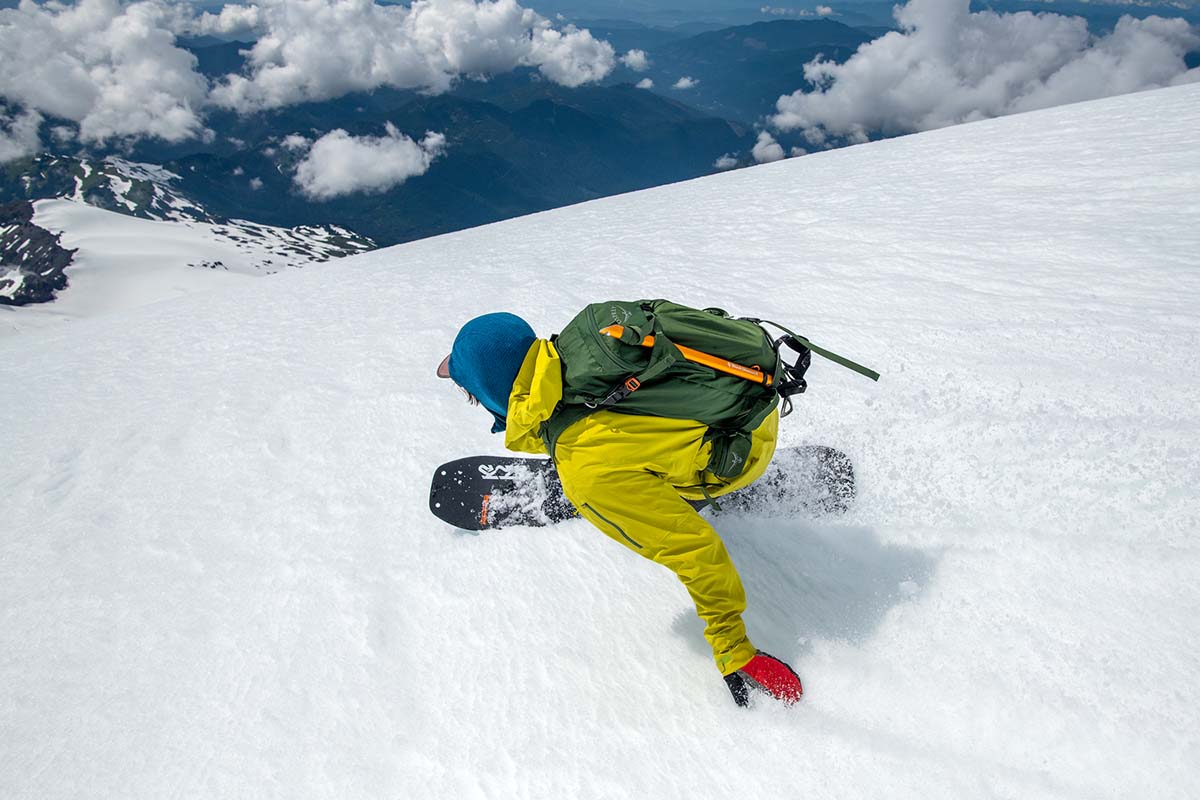 External Attachment Points
Many ski packs—and especially those tailored to ski mountaineering—are made with various external attachment points, designed specifically for convenient storage of ice tools, poles, crampons, rope, and a ski helmet. Before making a purchase, it's important to consider whether or not you really need these features—if you don't, they might feel unnecessary and burdensome. And it's worth noting that standard packs generally feature some variety of compression straps or ski-carry straps, which can be used to carry gear externally in a pinch. That said, ski mountaineers will appreciate the convenience of dedicated slots and systems for their ice tools, helmets, and ropes, like those found on the Gregory Targhee 45.

Ski and Snowboard Carry
All of the packs in this article are designed with external straps for attaching skis (or often a snowboard) to the outside. These straps are incredibly useful in the event that you need to hike with your skis on your back, which is common in ski mountaineering and accessing hike-to terrain at resorts. In terms of design, some packs allow you to attach lightweight skis in both diagonal and A-frame configurations, while others limit you to one setup or the other (many airbag-equipped packs, for example, do not support A-frame carry). Further, it's not rare to find a pack that is is unable to haul a snowboard (the Black Diamond Cirque, for example).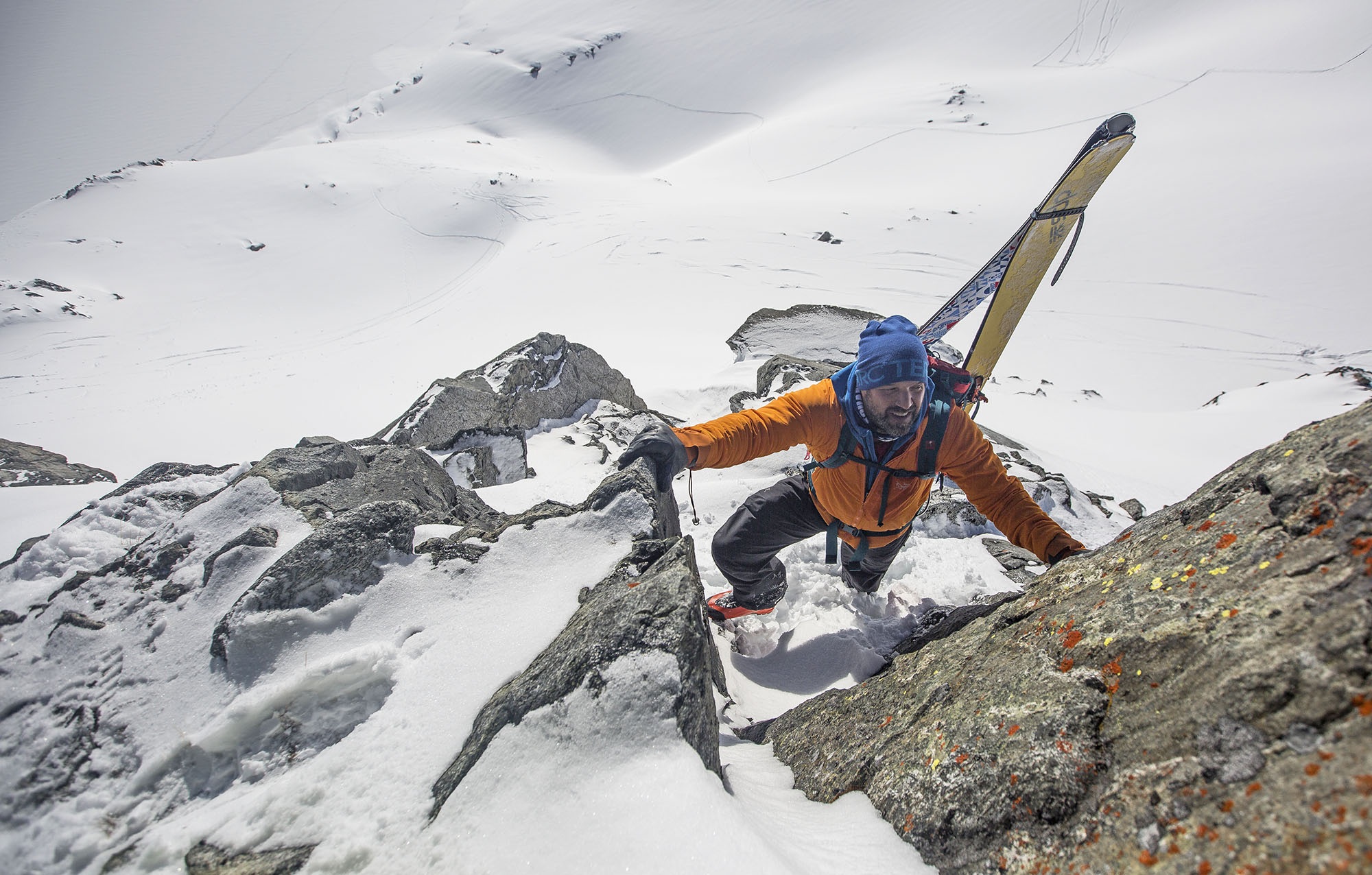 Avalanche Safety Mechanisms
Many skiers prefer to ski in-bounds, on mellow terrain, or opt to stay home when avalanche danger is high. However, it's important to remember that whenever you ski, you're assuming some level of risk. Choosing a backpack with an avalanche safety mechanism can be a big step toward ensuring your personal safety before even leaving home. That said, simply carrying the equipment is not enough—it's imperative to practice so that you have that muscle memory if you do encounter a slide. There are two main types of avalanche-safety mechanisms used in ski backpacks: airbags and AvaLungs. These two technologies differ greatly in form and function, but both serve to keep you alive and breathing. And in the majority of cases, airbags and AvaLungs are removable, which means you can streamline your pack when avy danger is low (or when you want to use your pack for other gear).

Airbags: Canister and Electric
One of the dangers of an avalanche is that it can pull you deep under the snow, making rescue a physical and time-consuming process. To help increase chances of survival, airbag-equipped packs inflate to about 150 liters, allowing skiers to stay close to the surface rather than being sucked under (this is governed by the process of granular segregation, which states that larger objects will stay on top of a mixture while smaller objects will sink down to the bottom). Additionally, airbags provide a barrier around the head and neck to guard against obstacles like rocks and trees. To maximize trauma protection, take a close look at the shape—designs like the Mammut Light Protection 3.0 offer excellent coverage around the back and sides of the head and neck.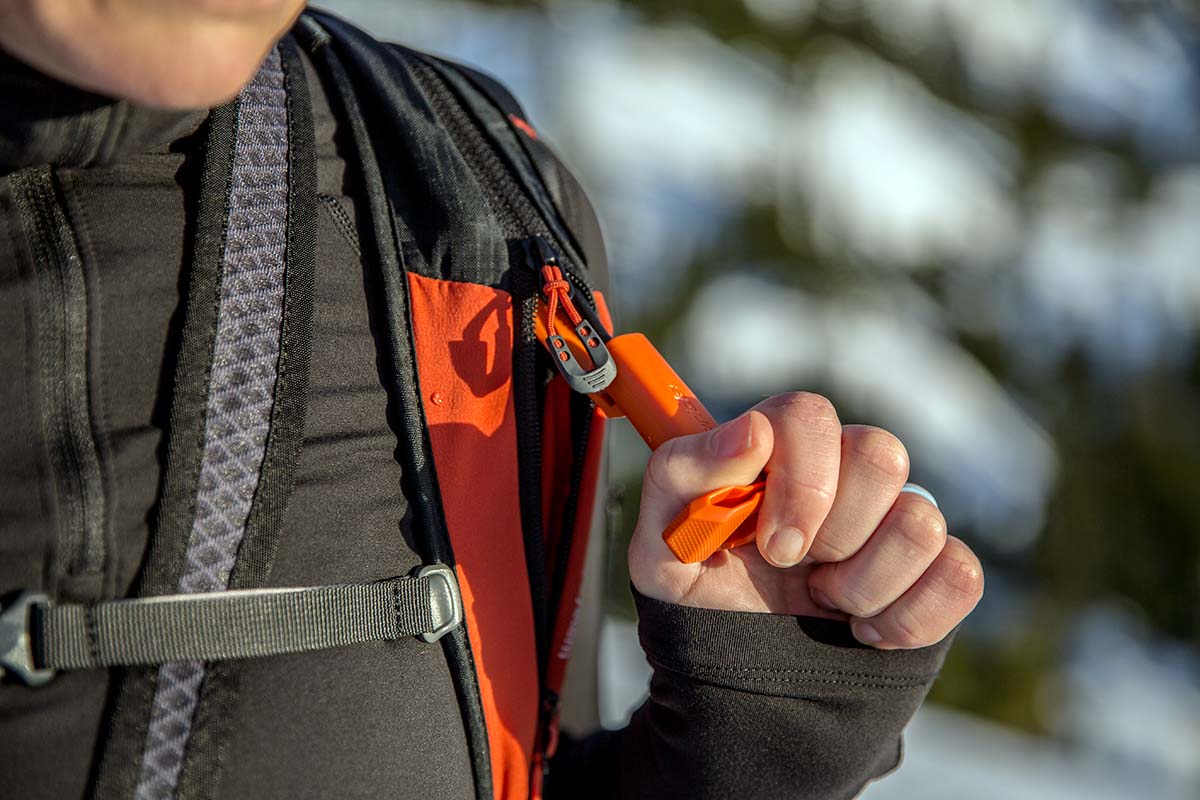 There currently are two types of mechanisms used to inflate airbags: compressed air or gas cartridges and electric fans. When a canister is triggered, it shoots air (or gas) into the bag, inflating it in about three seconds. Fans also are activated with a pull cord and take around the same time to inflate. Where do the two differ? First and foremost, while canister airbags are generally lighter and less expensive than electric systems, they can only be deployed once. Fans, on the other hand, can often be used multiple times on a single charge (like Black Diamond's JetForce Pro) and are easily recharged. This allows skiers to practice without the hassle and cost of expending canisters (if you don't live near a refill location, you'll have to mail the cartridge in for replacement). Finally, fan-powered airbags can be taken on airplanes with relative ease, while canister models are trickier and require you to empty the air beforehand (compressed gas canisters cannot be taken on a plane at all).
All told, airbags are a great safety tool that allow skiers more peace of mind when traveling in avalanche terrain. The two biggest downsides are cost and weight. For example, the most affordable design in our airbag pack round-up is the BCA Float 22L 2.0 at $735, and the fan-equipped Black Diamond JetForce Pro comes in at a whopping $1,400. Both weigh well over 6 pounds, which quickly adds up over thousands of vertical feet. And finally, it's important to note that airbags should never replace your need for an avalanche beacon and—more importantly—thorough training. We always recommend taking an avalanche course (like AIARE Level 1) before venturing into the backcountry.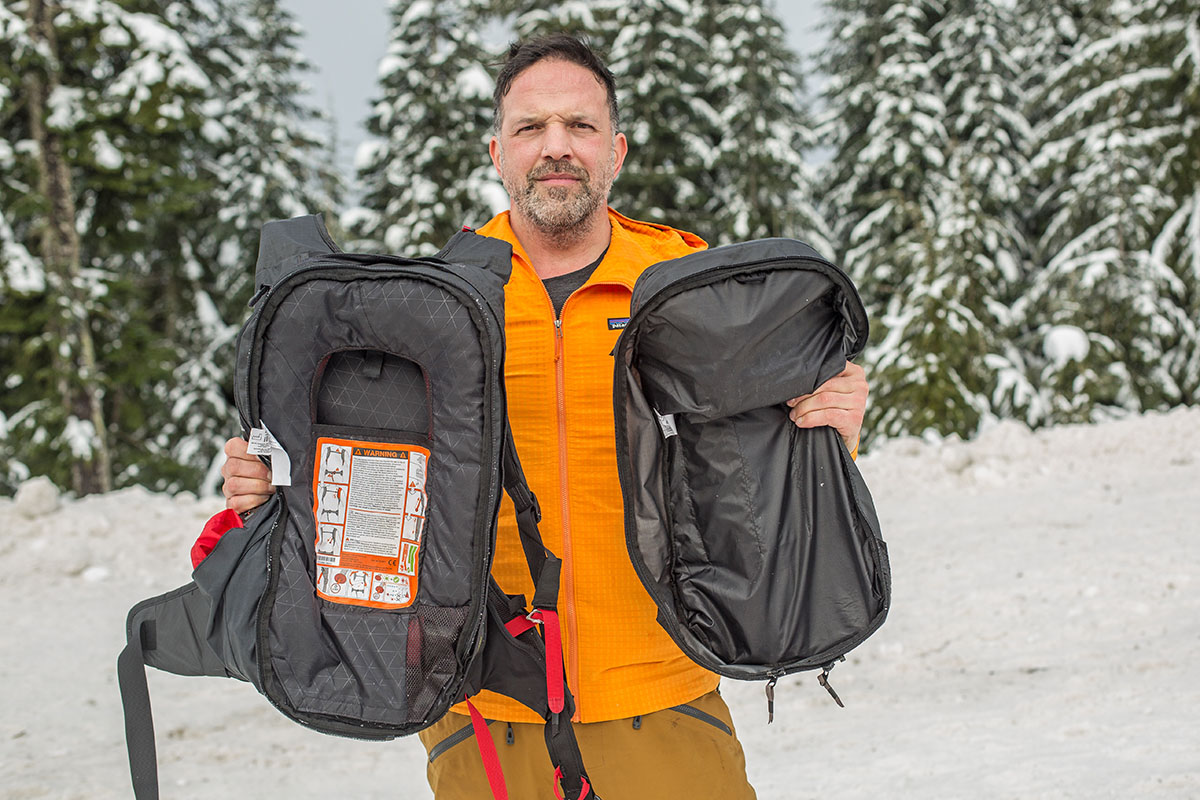 The AvaLung
Created by Black Diamond, the AvaLung is essentially a snorkel that inserts into the shoulder strap of a backpack. When used correctly, it gives skiers buried by an avalanche a supply of oxygen when trapped under the snow. We don't feature any AvaLung-equipped packs in this article, but we do list a couple that are compatible with the device, including the Black Diamond Dawn Patrol and Cirque. That said, while the AvaLung can certainly be an effective safety tool, riders must ski with the tube in their mouth in order for it to work—a very tall order should you suddenly be outrunning a slide. In the end, we prefer an airbag for its ease of use and proven performance. That said, the AvaLung is pounds lighter and much cheaper than an airbag ($100), making it a more approachable avalanche safety tool and one that we expect will continue gaining popularity. Note: Due to issues with material sourcing, the AvaLung is currently out of production and availability is limited.
 
Women's-Specific Ski Backpacks
The backpacks listed here are either unisex or men's-specific models, but many manufacturers make ski backpacks in a women's version as well (when applicable, the women's model will be linked directly below the pack's write-up). Women's packs can differ in both shape (namely of the suspension system) and capacity, and often vary in colorway as well. For example, Osprey's Kamber 16 is also available in a women's model called the Osprey Kresta 14. The Kresta comes in more muted color tones, a slightly smaller capacity, and with a hip belt and shoulder straps more contoured to fit a women's body. Many backpacks on our list are only available in unisex models, but come in a variety of sizes (the Patagonia Descensionist is offered in S/M and L/XL). We find that unisex backpacks work for most females relatively well, but for the closest fit, we recommend that women look at women's-specific packs.
Back to Our Top Ski Backpack Picks  Back to Our Ski Backpack Comparison Table