A quality mountain bike shoe plays a number of important roles. Its solid platform delivers power to the pedals, strong construction keeps your feet protected, and secure fit increases comfort for long days on the trail. Our top picks for 2020 below fall into three general categories: lightweight cross-country (XC) designs for extended and non-technical rides, all-mountain shoes that can handle rough, enduro-style trails, and downhill models for the harshest terrain and biggest jumps and drops. Another important consideration is your pedal type, and we've included our favorite options for those who prefer flats or like to be clipped in (somewhat confusingly referred to as "clipless"). For more background information on mountain bike shoes, see our comparison table and buying advice below the picks.
 
Best Clipless Mountain Bike Shoe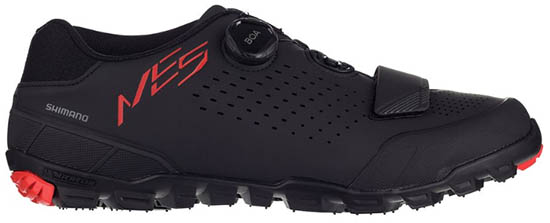 Category: All-mountain/XC
Pedal compatibility: Clipless
Weight: 1 lb. 11 oz.
What we like: Impressive performance on and off the bike.
What we don't: Roomy toe box may be too wide for those with narrow feet.
Our top pick, the Shimano SH-ME5, is a do-everything clipless mountain bike shoe. In a crowded field of enduro and trail designs, the ME5 stands out with its combination of a rigid platform for power, lightweight and breathable construction, and class leading off-bike traction. On our feet, the shoe has excelled at everything from rough trail rides in the Pacific Northwest to all-day epics. It's reasonably light at 1 pound 11 ounces but holds its own against heavier options with good shock absorption and stability on long, techy descents. All told, the ME5 is our favorite one-quiver mountain biking shoe on the market in 2020.
Aside from the excellent on-bike performance, one of our favorite things about the ME5 is how confidence-inspiring it is while off the bike. It's one of the more comfortable clipless shoes to walk in around the parking lot, and when it comes to steep or muddy hike-a-bike sections, the aggressive Michelin rubber digs in securely (the only potential issue is for those with narrow feet, as the ME5 runs a bit wide). And although we think the ME5 is the best all-around shoe in Shimano's lineup, those looking for more protection should check out the more enduro-focused ME7. With its taller neoprene cuff and additional lace guard, the ME7 sees a bump in protection and all-weather performance for an additional $30.
See the Shimano SH-ME5
 

Best Flat Pedal Mountain Bike Shoe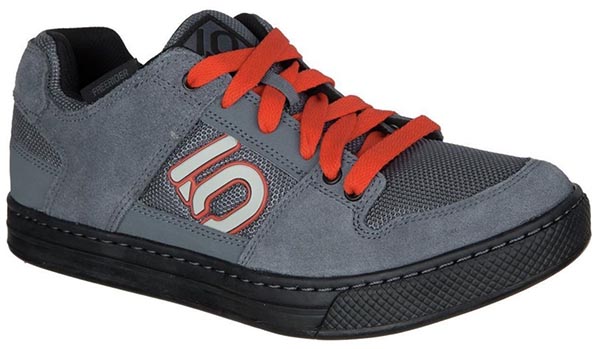 Category: All-mountain/downhill
Pedal compatibility: Flat
Weight: 1 lb. 11.6 oz.
What we like: Proven design with very sticky rubber.
What we don't: Not the most durable and less efficient than a clipless shoe.
For rough downhill trails or those that don't like being clipped in, Five Ten's Freerider is a long-time favorite. With their legendary sticky Stealth S1 rubber and a clean look, it's far and away the most popular choice for platform pedal riders. The sole is stiff enough to avoid hotspots while standing, while retaining enough flexibility and traction on rock for the occasional hike-a-bike (the dotty tread doesn't grip as well in mud, however). The thick upper material offers decent protection if you have to step off quickly in rough terrain and gives the shoe its signature look, but we've found the Freerider can run warm on truly hot days. 
Like all platform shoes, one of the downsides of the Five Ten Freerider is that you lose some efficiency and power by not being connected to the pedals. Additionally, the mesh sections of the upper material are more vulnerable to tears than we'd prefer for a shoe that's designed for technical use. Stepping up to the Freeride Pro gets you a tougher construction as well as a stiffer sole, but that will cost an additional $50. As a result, the classic Freerider still is the best all-around option for riding on flats. 
See the Men's Five Ten Freerider  See the Women's Five Ten Freerider
Best Budget Mountain Bike Shoe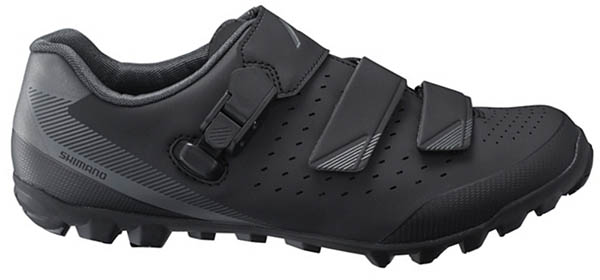 Category: XC/all-mountain
Pedal compatibility: Clipless
Weight: 1 lb. 8.2 oz.
What we like: Premium features at an entry-level price
What we don't: Noticeable step down in performance compared with the ME5 above.
Shimano's ME3 is a quality clipless mountain bike shoe at a respectable price point. The ME3 features an easy-to-use buckle system—borrowed from more premium offerings—that provides an impressively precise and comfortable fit. Further, Shimano removed the hard plastic lugs from the outsole of the previous version and replaced them with actual rubber, greatly improving walkability (it still can't match the ME5 above, however). At $100, the ME3 is a great budget-friendly option for XC riding, daily commutes to work, and light all-mountain endeavors.
Where the ME3 falls short is for enduro racers and downhill riders. There's decent protection at the front of the toes, but the sides of the feet aren't as well cushioned and we'd prefer more shock absorption underfoot. Additionally, the rubber outsole's traction is good but not great, and the moderately flexible sole isn't ideal for transferring power to the pedals. All told, if you'll be tackling rocky and root-filled trails, toeing the race line, or hiking long distances, we think it's worth upgrading to the Shimano ME5 above or Giro's Cylinder below. Otherwise, the ME3 checks all the right boxes for a budget clipless design.
See the Men's Shimano SH-ME3  See the Women's Shimano SH-ME3
Best Shoe for Downhill and Enduro Riders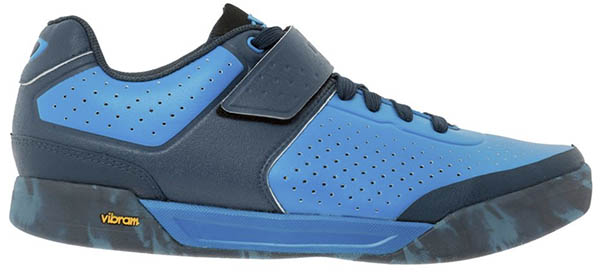 Category: All-mountain/downhill
Pedal compatibility: Clipless
Weight: 2 lbs. 3.6 oz.
What we like: Clipless compatibility combined with the look and feel of a flat-pedal shoe.
What we don't: Heavy design.
Many top gravity riders choose Giro's Chamber, and the updated II is an even more downhill- and enduro-focused race design. The shoe is perhaps most noteworthy for its casual, flat-pedal-shoe look, but don't be fooled by appearances. With an almost seamless upper, updated shank that balances rigidity under the middle of the foot with enough flex for comfortable hiking, and adjustable cleat position, this shoe offers the height of performance. The cleat setback of 10 millimeters is especially intriguing—essentially, it's the positioning of a flat-pedal shoe combined with the power of a clipless connection, resulting in less foot fatigue and better control on technical terrain.
While the Chamber II has dropped some weight from its previous iteration, there's no denying that this is not a light shoe. Its robust design, which is made to take on miles of gnarly trail abuse, does little to shave weight. Although the Chamber II is known to pedal quite well, it wouldn't be our first choice for all-day slogs or XC rides. Also, while laces can be great for getting that perfect fit, we prefer Velcro straps and ratchets for their quick micro adjustments and general ease of use. But with impressive durability and protection, and a stiff sole that offers exceptional power transfer, the Chamber II will be well worth its weight for serious riders.
See the Giro Chamber II
Best XC Race Shoe

Category: XC
Pedal compatibility: Clipless
Weight: 1 lb. 3 oz.
What we like: Powerful and ultralight.
What we don't: Lots of compromises for non-racers.
Specialized's S-Works Recon is designed for cross-country, cyclocross, and gravel racers that want an uncompromisingly powerful and ultralight shoe. At $425, it's eye-wateringly expensive, but the use of premium materials and construction provide incredible on-bike performance. The fit is very snug to maximize efficiency with a rigid Dyneema mesh upper and dual Boa dials across the top of the foot. Built on Specialized's stiffest mountain bike sole—stiff enough to make walking somewhat uncomfortable and awkward—power is transferred instantaneously and effortlessly to the pedals. And at 1 pound 3 ounces, the S-Works Recon is the lightest shoe on this list by 3.2 ounces, shedding precious rotational weight to trim every last second off of a timed segment.
If you aren't a serious rider or dedicated racer, however, you'll find plenty to complain about. The S-Works Recon essentially is a lightly protected road design, so there is minimal cushioning and reinforcement around the toes and ankle. Further, the snug fit that connects you so well to the pedals compromises long-term comfort and is difficult to wear while walking. Realistically, the S-Works Recon has very limited appeal, but that doesn't make it any less special. For a slightly detuned version that's a bit softer and heavier but still plenty powerful for race day, check out the $225 Recon 3.0.
See the Specialized S-Works Recon
Best for Cold and Wet Conditions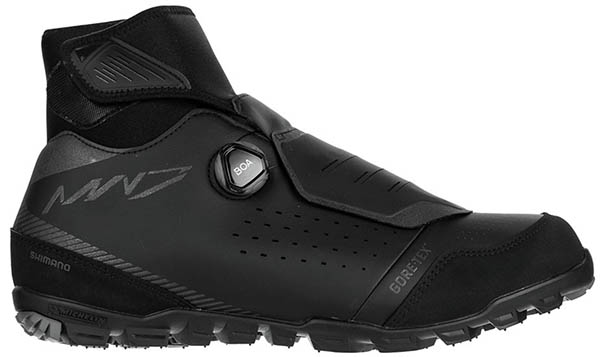 Category: All-mountain
Pedal compatibility: Clipless
Weight: 1 lb. 15.8 oz.
What we like: Glove-friendly closure system and insulated Gore-Tex liner.
What we don't: Expensive and not versatile.
For some, riding through cold, wet, and miserable weather sounds like a perfect day on the trail. For these rugged cyclists, the Gore-Tex-equipped Shimano SH-MW7 is the ideal winter mountain biking shoe. Borrowing heavily from their high-end ME7, Shimano took the MW7 one step further with an insulated Gore-Tex liner, glove-friendly closure system, and a taller neoprene cuff to keep out water and snow. And when riding isn't an option, the shoe's Michelin outsole provides superb traction when navigating muddy trails and slippery roots on foot.
What are the shortcomings of Shimano's MW7? Its polarizing looks may be hard for some to get past, although this shouldn't be a huge issue for most winter mountain bikers who gave up on being stylish long ago (ourselves included). We do think Shimano could have added a little more insulation for truly cold temperatures and recommend you size up to accommodate a thick pair of wool socks if your feet tend to run cold. And while the $300 price tag may cause many to pause, considering all the unique winter-ready features, we think the MW7s are worth it. 
See the Shimano SH-MW7
Best of the Rest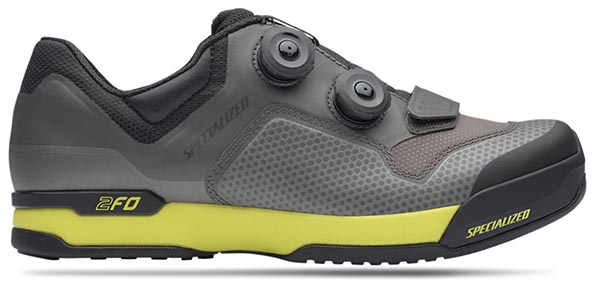 Category: All-mountain
Pedal compatibility: Clipless
Weight: 1 lb. 10.8 oz.
What we like: Lightweight and powerful.
What we don't: Not a great hiking shoe.
Mixing classic skate shoe looks in a thoroughly modern build is the Specialized 2FO Cliplite. The 2FO line includes flat pedal and traditional lace-up versions, but we prefer the top-end performance model. Its wide, recessed two-bolt cleat pocket works seamlessly with clipless pedals, and a composite nylon plate provides enough stiffness for XC rides. Moreover, all-mountain and enduro bikers testing their limits will appreciate the Cliplite's reinforced toe cap and heel cup. Finally, the dual Boa twist lacing system is one of our favorites for making micro adjustments to optimize fit. 
The 2FO Cliplite's streamlined design does come with some compromises. To start, the low collar leaves your ankles more vulnerable than competitors like the Shimano ME7. Further, it's not the most comfortable shoe to wear off the bike. It's a little too rigid for hiking, and traction in soft ground falls well short of the Shimano ME5 above or Giro Ventana below. We've also found the Boa closure doesn't loosen as much as a standard lace-up or Velcro system, so it can take some work to get your foot through the small opening. But if you're looking for a no-compromise enduro race model, the 2FO Cliplite should be at or near the top of the list.
See the Specialized 2FO Cliplite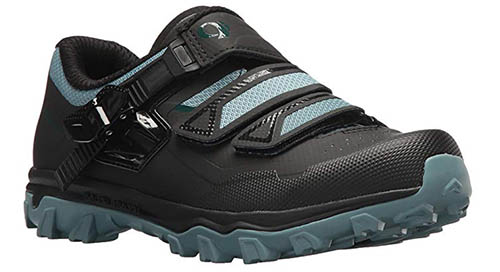 Category: All-mountain/XC
Pedal compatibility: Clipless
Weight: 1 lb. 14 oz.
What we like: A solid all-rounder.
What we don't: Wide fit and the ratchet system can be finicky.
Another big-time player in the bike shoe market is Colorado-based Pearl Izumi. The company revamped its footwear lineup last year, and we especially like the clipless X-Alp Summit. Intended for intermediate riders and all-mountain use, it has the right ingredients: a composite shank in the midsole for good power transfer, durable upper material, and decent toe protection that wraps partway around the sides of the foot. The shoe also has an aggressive Vibram outsole, which utilizes their tacky Megagrip compound—a common choice for trail running and hiking footwear. At $140, the X-Alp Summit is a solid value for a shoe that can handle anything from all-mountain ripping to long days with extended hike-a-bikes.
What's not to like with the X-Alp Summit? We found the toe box is on the wide side of the spectrum, which means we had to fully cinch the Velcro straps as well as the buckle/ratchet system. The upside is that the shoe was extremely comfortable even when locked down, but the long excess strap hanging off the side of the shoe can potentially catch on trail debris. Additionally, the ratchet system itself is a little finicky and occasionally required two hands to secure the shoe, but otherwise everything has held up well and operated seamlessly. Considering the price and its well-rounded design, the X-Alp Summit is worth a look for those that like a roomier fit.
See the Men's Pearl Izumi X-Alp Summit  See the Women's Pearl Izumi X-Alp Summit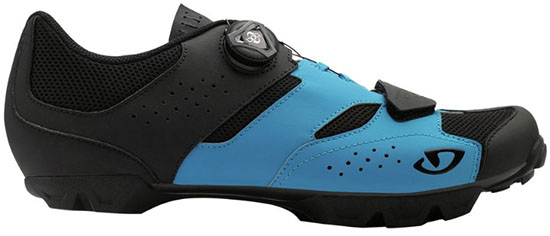 Category: XC/all-mountain
Pedal compatibility: Clipless
Weight: 1 lb. 6.2 oz.
What we like: Light and efficient at a reasonable price.
What we don't: Not quite as versatile as the Shimano ME5 above.
Giro's Ventana below is a sturdy all-mountain option, while their Cylinder offers greater versatility for cross-country pursuits. Weighing just 1 pound 6.2 ounces, it's light enough for racing or gravel riding, and the moderately stiff midsole efficiently transfers power to the pedals. That said, the shoe has enough flexibility to make short hike-a-bike sections comfortable, plus its lugged rubber outsole grips reasonably well on a variety of surfaces. Along with a highly ventilated upper, the Cylinder amounts to a great option for long summer rides. 
How does the Cylinder compare to our top-rated ME5? Both aim to be all-rounders, although the Shimano's burlier construction and more aggressive Michelin outsole give it the edge for the kind of rough and rowdy singletrack riding we do in the Pacific Northwest. On the other hand, the Cylinder is lighter by 4.8 ounces, comes in $20 less, and would be the shoe we'd take on an all-day adventure ride. In the end, both are great options, but we prefer the ME5's burlier construction, improved outsole, and all-mountain focus. 
See the Men's Giro Cylinder  See the Women's Giro Cylinder
Category: All-mountain/downhill
Pedal compatibility: Flat
Weight: 1 lb. 9.8 oz.
What we like: Comfortable with good protection. 
What we don't: Grip falls short of the Five Ten options on this list.
Shimano is a major player in the clipless world—understandably as they make the ubiquitous SPD clipless pedals—but they also have a sneaky-good flat pedal lineup. Their $140 GR7 (GR stands for "gravity") is a solid offering meant to balance the needs of trail and downhill riders. It features a similar neoprene cuff as the ME7 for keeping out small rocks and dirt, but this mid-range model has standard laces (upgrading to the GR9 gets you single-pull laces and a protective flap). We put the GR7 through a full summer of use and abuse and came away impressed by its comfortable feel and high-quality, long-lasting build.
For the GR7's all-important tread, Shimano teamed up with car and bike tire manufacturer Michelin. The result is a durable rubber compound with tightly spaced blocks in the middle for grip on the pedals, and wider lugs at the toe and heel for hiking traction. Overall, the Michelin outsole provided a nice combination of grip and longevity, but it couldn't match Five Ten's Stealth rubber in terms of pure stickiness. As such, the $40-more-expensive GR7 can't unseat the Freerider as our favorite flat-pedal shoe just yet.
See the Men's Shimano SH-GR7  See the Women's Shimano SH-GR7W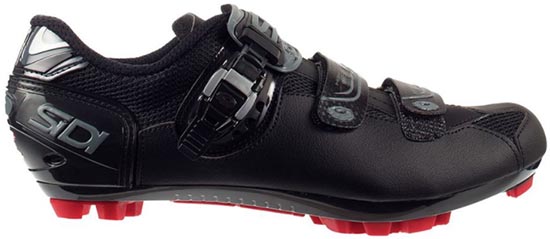 Category: XC
Pedal compatibility: Clipless
Weight: 1 lb. 9 oz.
What we like: Comfortable fit and excellent build quality.
What we don't: Still not a great walking/hiking shoe.
Sidi is well-known in the biking world for two things: high prices and premium build quality. Their most popular mountain biking model, the Dominator, is case in point. At $260, it's one of the most expensive options around but delivers on comfort and performance in a serious way. With a stiff outsole, low-volume fit (Sidi also makes the Dominator in a wide "mega" version), and sturdy upper, the shoe nearly puts down XC race levels of power. And its high-end construction and replaceable parts make the Dominator a good long-term investment to boot.
What do you sacrifice with a XC shoe like the Dominator? Despite softening the rubber compound a few years ago, this is not an impressive walking or hiking option. It's tolerable for cyclocross events where you're moving for short stretches and the strong power is a worthwhile tradeoff, but those that are off their bike for longer periods may want to choose a more flexible and grippier all-mountain model. It's also fairly thin underfoot and doesn't isolate harsh impacts as well as shoes like the ME5, 2FO Cliplite, or Ventana. But the Dominator is an excellent choice for XC riders that spend a lot of time in the saddle.
See the Men's Sidi Dominator 7  See the Women's Sidi Dominator 7

Category: Downhill
Pedal compatibility: Clipless
Weight: 2 lbs. 6 oz.
What we like: Burly clipless design. 
What we don't: Overkill and heavy for a lot of riders.
The second Five Ten shoe to make our list, the Hellcat Pro, breaks from the mold with its clipless pedal design. Compared with the Freerider above, the Hellcat puts down the power better with a midsole that's been stiffened up with a TPU shank. The shoe also has been reinforced for downhill use with heavy armor along the exterior and thick cushioning underfoot to block out harsh impacts. And as we've come to expect from Five Ten, the Hellcat has a sticky tread that holds on nicely to the pedals even when not clipped in.
What pushes the Hellcat Pro down our list is that it's overkill for most riders. Weighing well over 2 pounds, it's more than 11 ounces heavier than the Specialized 2FO Cliplite above. You do get more foot protection and the shoe performs well in bad weather, but the Cliplite is much easier to pedal and is plenty beefed up for most enduro and downhill use (plus, the Hellcat costs $30 more than Giro's similarly tough Chamber II). If you want your feet heavily armored, no matter the cost in pedaling efficiency, the Hellcat Pro is a fine choice. But most riders will be happier with one of our picks above.
See the Men's Five Ten Hellcat Pro  See the Women's Five Ten Hellcat Pro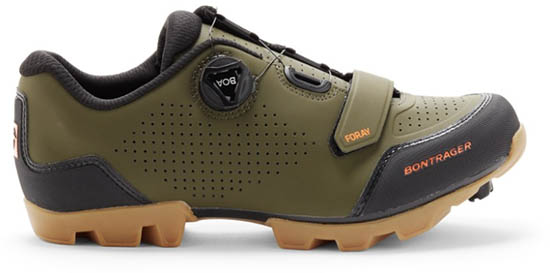 Category: XC/all-mountain
Pedal compatibility: Clipless
Weight: 1 lb. 10 oz.
What we like: Good all-around performance for various cycling disciplines.
What we don't: The traditional outsole isn't great for hike-a-bikes.
The Foray is one of Bontrager's more popular and versatile cycling shoes, and a recent update sees a number of changes. The latest Foray drops the hard plastic outsole in favor of a softer rubber compound, which helps with off-bike traction. Additionally, the shoe goes from an exclusively Boa closure to a mix of Boa and hook-and-loop system over the toe. Bontrager also reworked the tongue design, effectively improving comfort. Taken together, this host of updates makes for a better shoe that works well in a variety of situations.
At the same time, the Foray unfortunately doesn't truly stand out in any specific category. It's a bit heavy and doesn't put power down like a cross country-oriented shoe like the Giro Cylinder above, but its shock absorption and protection fall short for all-mountain riding. Further, the traditional outsole shape and tread pattern make it a below-average hiker (although the new rubber sole does help). Within the unofficial "do-everything" category, we think the Giro Cylinder and Shimano ME5 are better options, but the Foray does beat out the Shimano in price.
See the Men's Bontrager Foray  See the Women's Bontrager Foray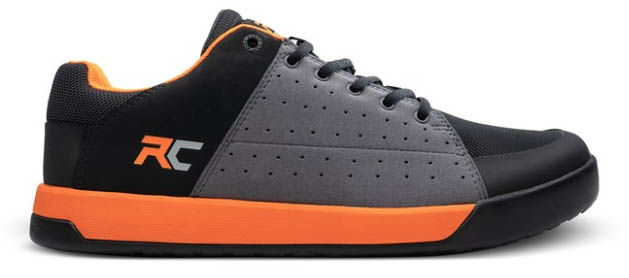 Category: All-mountain/downhill
Pedal compatibility: Flat
Weight: 2 lbs. 0 oz.
What we like: Solid alternative to popular models from 5.10 and Shimano.
What we don't: Unproven long-term performance.
Ride Concepts entered the mountain bike shoe world a little over a year ago, but the company already is making a serious name for themselves. We like their entry-level Livewire model for its grippy rubber outsole, good looks, and approachable $100 MSRP. Further, they've done something interesting with the insole of the Livewire and added impact protection on the heel and ball of the foot. Whether this improves the overall ride of the shoe is still open for debate, but we applaud their innovation nonetheless.
The biggest downside to the Livewire is that it has yet to prove itself in the durability department. When compared to the popular and similarly priced Five Ten Freerider above, the Livewire simply doesn't have the track record. And considering their recent entrance into the market, it's hard to give a final word on the Ride Concepts brand in general. But we will say this: you definitely should keep them on your radar, as we're expecting good things from their lineup of shoes. For an alternative to Shimano and Five Ten, we think they're worth investigating.
See the Men's Ride Concepts Livewire  See the Women's Ride Concepts Livewire
Category: All-mountain/XC
Pedal compatibility: Clipless
Weight: 1 lb. 13.4 oz.
What we like: Sturdy, powerful, and good looking.
What we don't: Awkwardly small cleat pocket.
Taking the place of the much-loved Terraduro as Giro's core all-mountain offering is the Ventana. This new design shares the sturdy feel of the discontinued model but has been thoroughly modernized with a sleek and minimalist upper, high-quality Boa closure, and grippier outsole. A unique touch is the placement of the cleat pocket, which is set further inboard than most designs on the market. The goal is to improve stability and control, although that's been hard to quantify while testing (the good news is it doesn't negatively impact comfort). Along with its moderately stiff construction that balances walkability with power nicely, the Ventana makes a strong case for riders that rack up serious mileage.
In using the Ventana back-to-back with our top-rated ME5 above, a few things stuck out. For one, the Ventana is the stiffer build, which was nice on longer days and for extended climbs. The Giro's average fit also has been a slightly better match for us than the moderately wide ME5 (although cinched down, the Shimano still is plenty locked in). But where the tables turn is in some of the finer details. The cleat pocket of the Ventana has been a source of consistent annoyance: it's unnecessarily compact and makes clipping in a real pain. In addition, the Giro's Boa dial has a plastic piece along the bottom for protection, but it unfortunately makes it harder to adjust on the trail (cancelling out one of the main benefits of a Boa cinch). In the end, we think plenty of riders will enjoy the Ventana, but it's a few design tweaks away from being a top pick.
See the Men's Giro Ventana  See the Women's Giro Ventana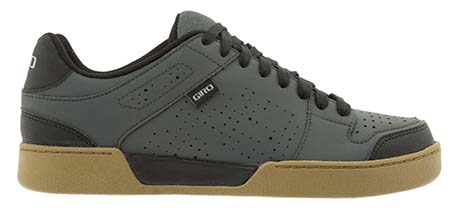 Category: All-mountain/downhill
Pedal compatibility: Flat
Weight: 1 lb. 13.2 oz.
What we like: Comfy sub-$100 shoe from a reputable brand.
What we don't: Its casual nature compromises performance.
Aimed at casual riders, the Giro Jacket II trades outright performance for a comfortable interior and easy walkability. The shoe feels great out of the box with generous padding and a fair amount of flex underfoot. Further, the synthetic upper material sheds light moisture and is sufficiently reinforced to handle rock kicks and the occasional spill. Aggressive downhillers likely will want to step up to Giro's $120 Riddance, which has an even tougher build and a better outsole, but the Jacket is the brand's cost leader at $90.
The Jacket II undoubtedly is a fine trail shoe, but the problem is that it's only $10 cheaper than the venerable Five Ten Freerider above. For that small cost savings, you get a noticeable drop in grip and inferior all-around performance from the Vibram rubber. If you prefer the Jacket's sleek looks or it fits you better (we found it to be a little narrower than the Freerider), the Giro is a suitable option.
See the Giro Jacket II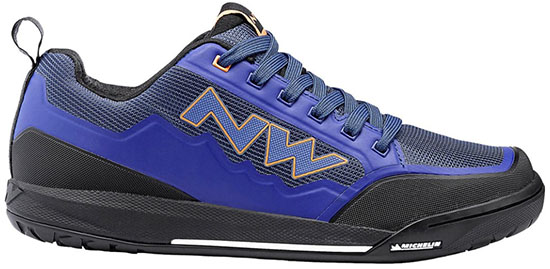 Category: Downhill/all-mountain
Pedal compatibility: Flat
Weight: 2 lbs. 2 oz.
What we like: Grippy outsole that rivals the popular Five Ten Stealth rubber.
What we don't: Heavy and likely overkill for most.
Northwave doesn't have the brand cachet of Giro or Specialized, but the Italian company offers an impressive lineup of mountain bike shoes. Released last year, their Clan flat pedal model is a compelling alternative to both the Five Ten Freerider and Shimano GR7 above. You get an internal shank for increased rigidity and efficient power transfer, reinforcements at the toe and heel for additional protection from rocks and trail-side impacts, and a simple lace-up design. And like the Shimano, Northwave employs a comparable—albeit slightly grippier—Michelin outsole. All said, there's a lot to like about the Clan.
Why isn't the Northwave ranked higher? In short, long-term durability is still a question mark, while both the Freerider and GR7 have proven themselves time and time again. And weighing in at 2 pounds 2 ounces, the Clan is a little on the heavy side for trail riding (the GR7 is 1 lb. 9.8 oz. and the Freerider weighs 1 lb. 11.6 oz). But with a sticky tread and downhill-ready construction, the Clan is a formidable option.
See the Northwave Clan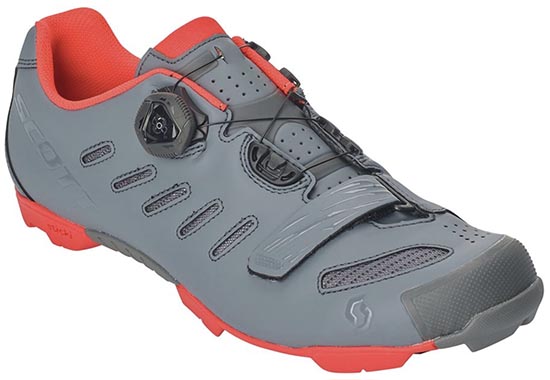 Category: XC
Pedal compatibility: Clipless
Weight: 1 lb. 11 oz.
What we like: Good price and decently powerful.
What we don't: Not a standout in terms of comfort.
Similar to their mountain bike lineup, Scott excels in the cross-country category for footwear. One of their most interesting models is the intermediate-friendly MTB Team Boa. Priced $50 more than the Shimano ME3 above, this shoe comes with an upgraded Boa dial system, moderately stiff composite sole, and rubber tread. And at 1 pound 11 ounces, the MTB Team helps keep your rotational weight in check for long days in the saddle.
For a road rider dabbling in the sport, the Scott MTB offers a familiar feel and decent performance, but there are shortcomings in the design. The synthetic upper material is fairly rigid and lacks the foot-hugging fit that you get with a nicer shoe. In addition, off-the-bike comfort is decidedly average, and traction is limited with the simplistic outsole. Overall, it's fine shoe with a solid feature set, but it's not a standout and we'd recommend trying to pick it up on sale.
See the Men's Scott MTB Team Boa
Mountain Bike Shoe Comparison Table
| Shoe | Price | Category | Pedal | Weight | Closure |
| --- | --- | --- | --- | --- | --- |
| Shimano SH-ME5 | $170 | All-mountain/XC | Clipless | 1 lb. 11 oz. | Boa, Velcro |
| Five Ten Freerider | $100 | All-mountain/downhill | Flat | 1 lb. 11.6 oz. | Laces |
| Shimano SH-ME3 | $100 | XC/all-mountain | Clipless | 1 lb. 8.2 oz. | Ratchet, Velcro |
| Giro Chamber II | $150 | All-mountain/downhill | Clipless | 2 lbs. 3.6 oz. | Laces, Velcro |
| Specialized S-Works Recon | $425 | XC | Clipless | 1 lb. 3 oz. | Boa, Velcro |
| Shimano SH-MW7 | $300 | All-mountain | Clipless | 1 lb. 15.8 oz. | Boa |
| Specialized 2FO Cliplite | $180 | All-mountain | Clipless | 1 lb. 10.8 oz. | Boa, Velcro |
| Pearl Izumi X-Alp Summit | $140 | All-mountain | Clipless | 1 lb. 14 oz. | Ratchet, Velcro |
| Giro Cylinder | $150 | XC/all-mountain | Clipless | 1 lb. 6.2 oz. | Boa, Velcro |
| Shimano SH-GR7 | $140 | All-mountain/downhill | Flat | 1 lb. 9.8 oz. | Laces |
| Sidi Dominator 7 SR | $260 | XC | Clipless | 1 lb. 9 oz. | Ratchet, Velcro |
| Five Ten Hellcat Pro  | $180 | Downhill | Clipless | 2 lbs. 6 oz. | Laces, Velcro |
| Bontrager Foray | $160 | XC/all-mountain | Clipless | 1 lb. 10 oz. | Boa, Velcro |
| Ride Concepts Livewire | $100 | All-mountain/downhill | Flat | 2 lbs. 0 oz. | Laces |
| Giro Ventana | $180 | All-mountain/XC | Clipless | 1 lb. 13.4 oz. | Boa, Velcro |
| Giro Jacket II | $90 | All-mountain/downhill | Flat | 1 lb. 13.2 oz. | Laces |
| Northwave Clan | $150 | Downhill/all-mountain | Flat | 2 lbs. 2 oz. | Laces |
| Scott MTB Team Boa | $150 | XC | Clipless | 1 lb. 11 oz. | Boa, Velcro |
Mountain Bike Shoe Buying Advice
Mountain Bike Shoe Categories
Cross-Country (XC) 
Shoes intended for cross-country riding put a high priority on covering ground as easily as possible. These designs often are lightweight, stiff underfoot, and offer a snug fit for maximizing connection to the pedal. Additionally, they almost exclusively are made with a clipless design (which confusingly means you connect or "clip" into the pedal). Compromises include less foot protection than the all-mountain and downhill categories, and the stiff constructions aren't very comfortable for walking. But for piling on miles as efficiently as possible, a XC shoe is a great choice. Leading models in this category include the Sidi Dominator, Giro Cylinder, and Specialized's race-ready S-Works Recon.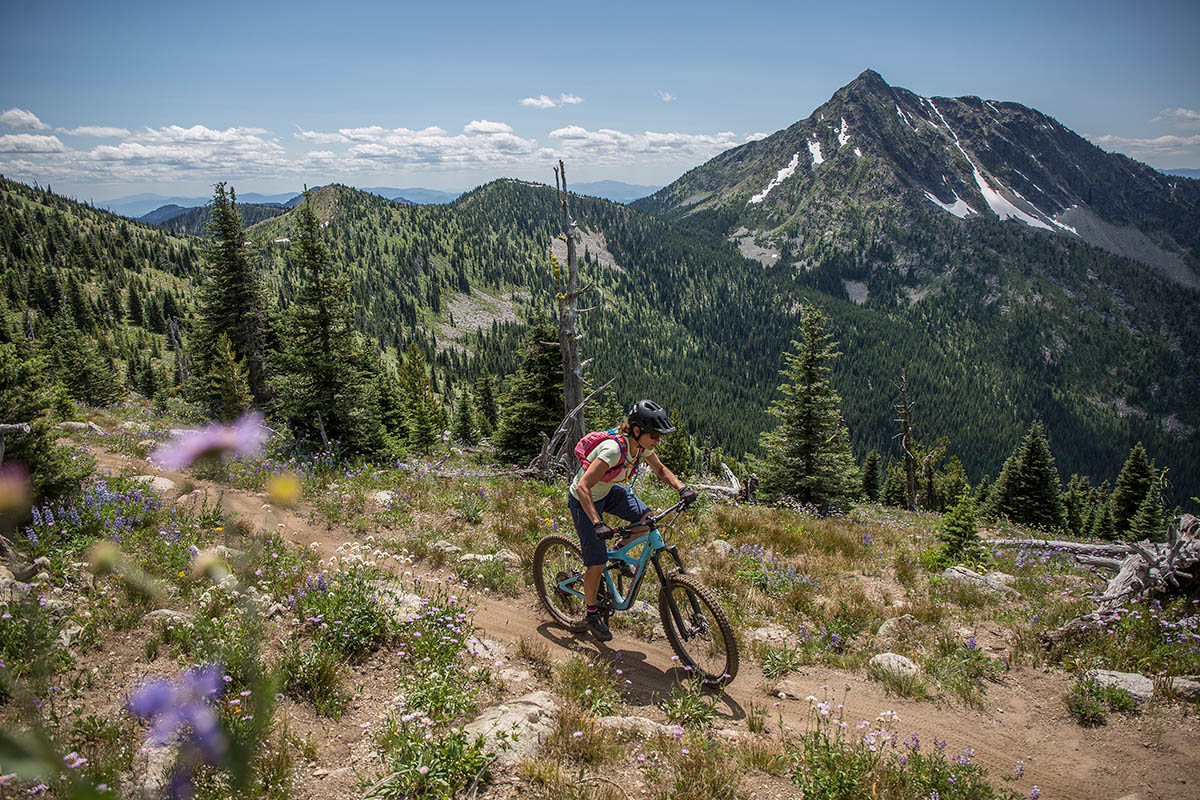 All-Mountain
For a versatile shoe that's comfortable on climbs but offers good protection for descents, choose an all-mountain or enduro model. Options in this popular category are more flexible and have better traction than a XC build, but still are reasonably stiff for good pedal power. In addition, you get more protection all around the foot compared with a XC shoe, including marginally better shock absorption underfoot. Design-wise, you have your choice between clipless and flat (also known as platform) pedals. Far and away, the most popular flat pedal all-mountain choice is Five Ten's Freerider line, while top clipless options include the Shimano SH-ME5 and Specialized 2FO Cliplite.
Downhill
The final category is the most demanding: downhill. From tackling the Whistler bike park to rocky, rooty, and steep descents, these shoes are burly and well cushioned. You'll see extra layers of protection around the toebox and collar, thick mid and outsole designs to absorb hard hits, and some even offer an over-the-ankle height for maximum defense. Because of the high degree of difficulty and need to occasionally bail off the bike, this is a category where flat shoes are commonplace rather than clipless (Five Ten's clipless Hellcat Pro and Giro's Chamber II are notable exceptions). The downside is weight—these are the heaviest options on average by a good margin and much less efficient for pedaling.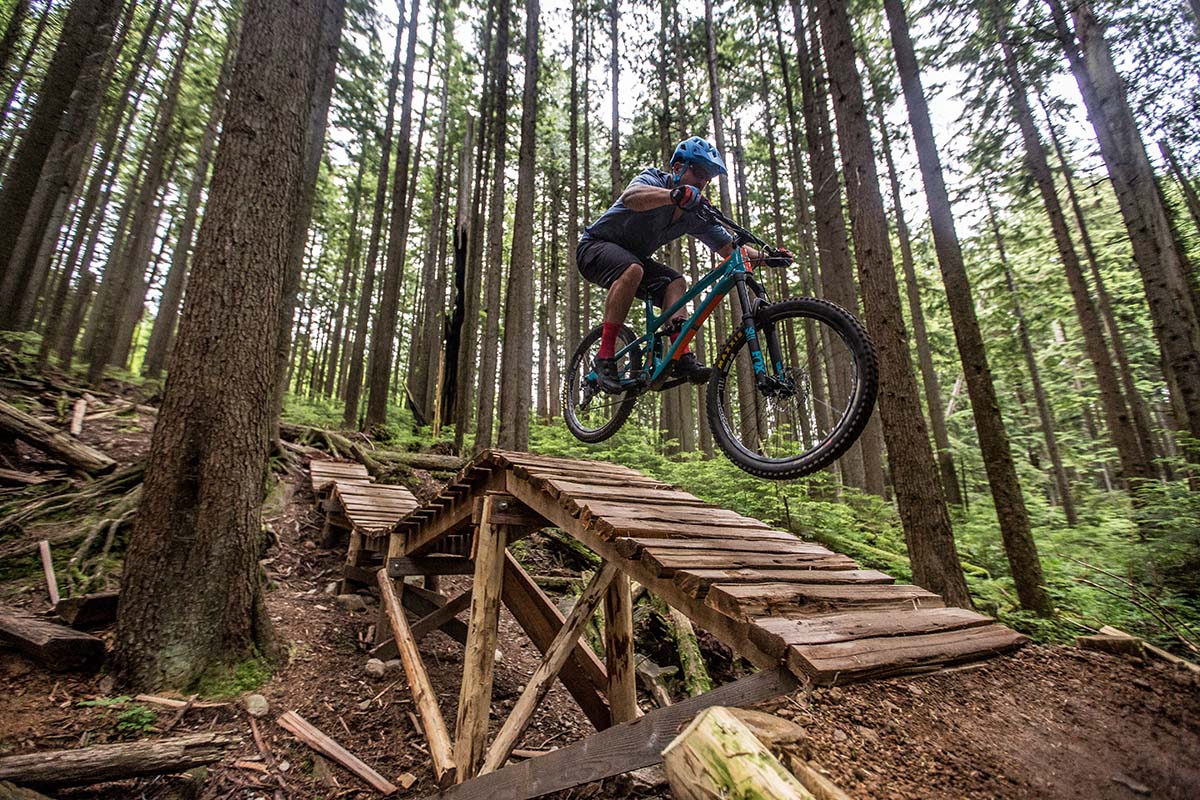 Pedal Compatibility: Clipless vs. Flat
Clipless Shoes
One of the first steps in narrowing down your mountain bike shoe search is determining pedal compatibility. Starting with clipless designs, these shoes allow you to connect or "clip" directly into the pedal with a metal cleat (sold separately). The big upside of being connected is it's easier to put the power down and pedal efficiently. This makes clipless a popular choice for longer rides and XC use. It also can be comforting to not have to worry about foot slippage while hitting jumps or riding through semi-technical terrain. That said, it takes some time to get comfortable with being clipped in and build up the muscle memory to kick the heel out to disconnect. And even once it's second nature, you still won't be able to get your foot off the pedal as quickly as with a flat pedal option. As such, clipless shoes aren't as popular among beginner riders—unless they're coming from a road riding background—and fewer folks use them at the bike park or on very rough downhill trails.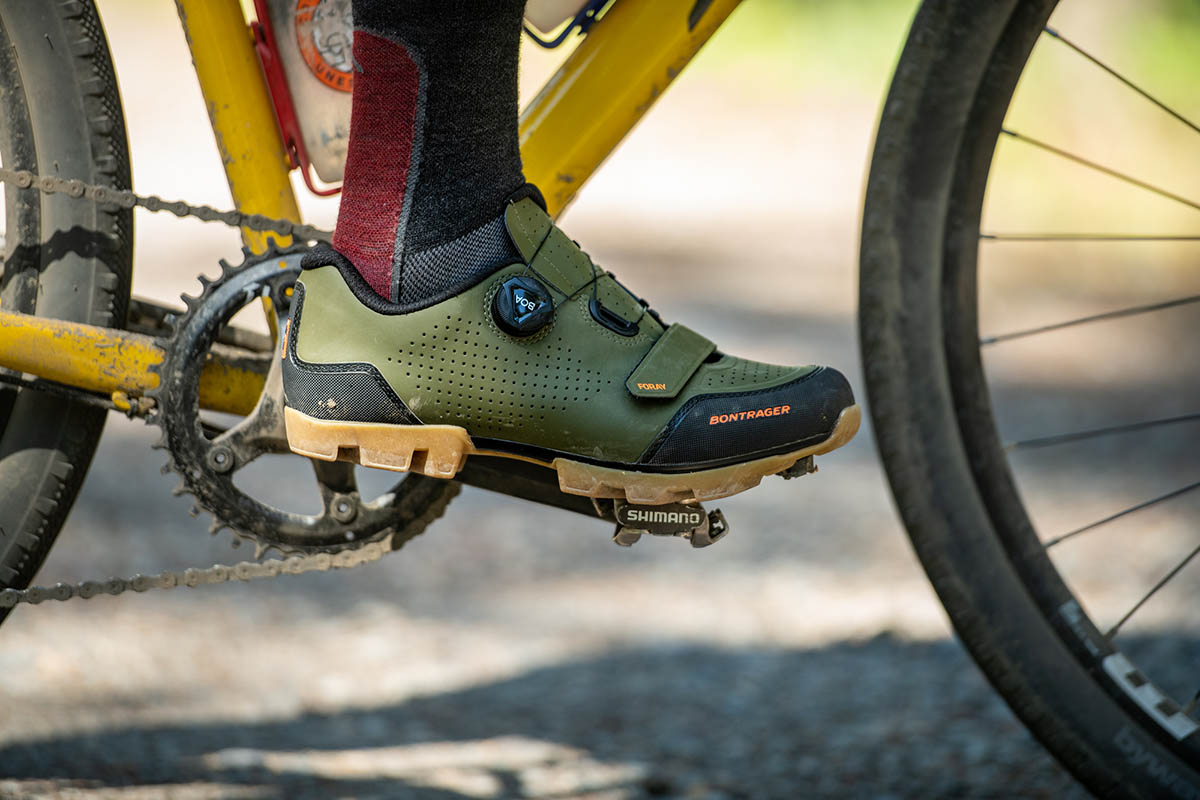 Flat-Bottomed Shoes ("Flats")
As the name indicates, flat shoes have a smooth bottom and work with standard platform pedals. What makes them popular for anyone from beginners to expert freeriders is that they offer a quick escape if you're stretching your abilities and need to bail. Plus, the use of very sticky rubber like Five Ten's Stealth S1 means you don't give up much in terms of connectedness to the pedals. Even with the best outsoles though, flats aren't as efficient and don't put down as much power as a performance clipless design. They're also less forgiving if you use poor technique—although slipping off and hitting your shins a few times will expedite the learning process. Finally, there are fewer flat pedal options—Five Ten dominates this category—and many of the best flats are missing handy features that you'll find on most clipless shoes, like a ratchet system to get a snug fit.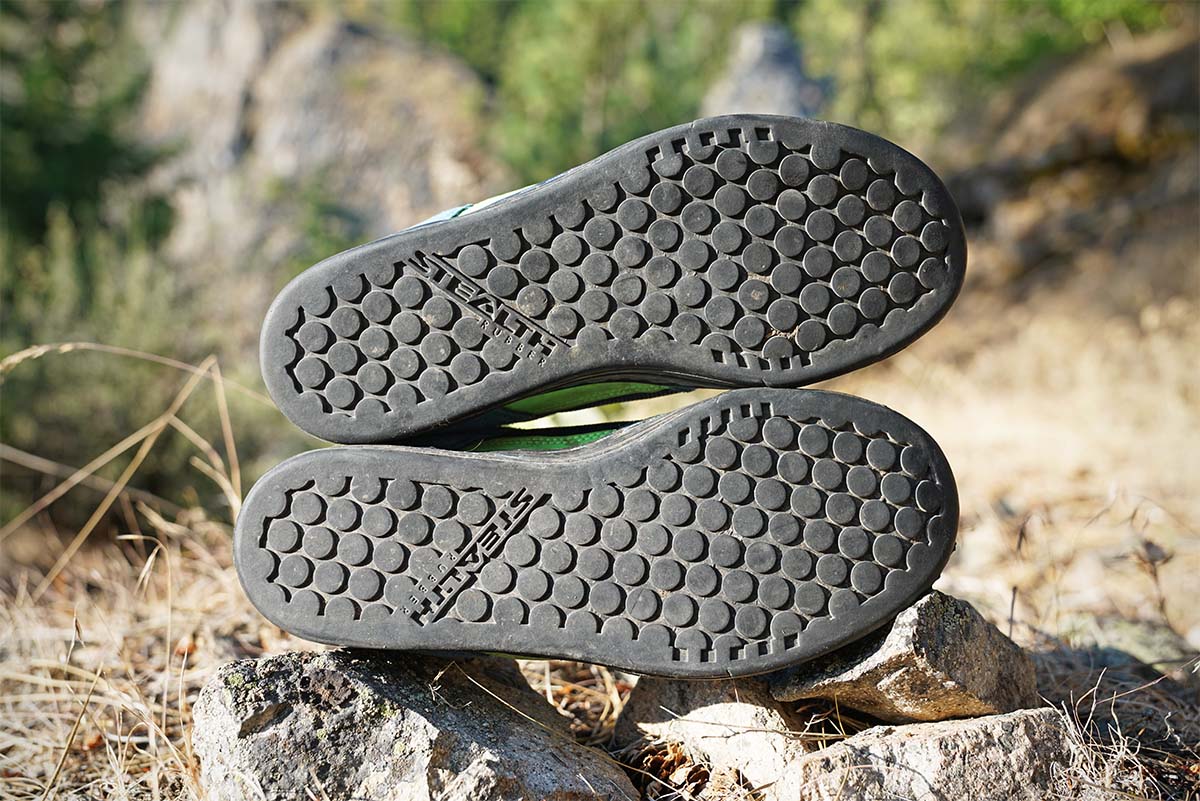 Pedal Design
The good news with choosing a new pair of shoes is that they'll most likely work with your existing pedals, as long as you're not switching between clipless and flats. Clipless pedals come in a range of designs from Shimano's popular SPD collection to Crankbrother's minimalist Eggbeaters. But all common mountain bike clipless pedals share a two-bolt cleat design (the cleats are typically included in the pedal purchase), which will work with all of the clipless shoes listed above. Similarly, there are no compatibility concerns with flat pedals and flat-bottomed shoes. Finally, if you're thinking about swapping between flats and clipless or vice versa, it's very easy to replace pedals yourself—just make sure to loosen them in the right direction.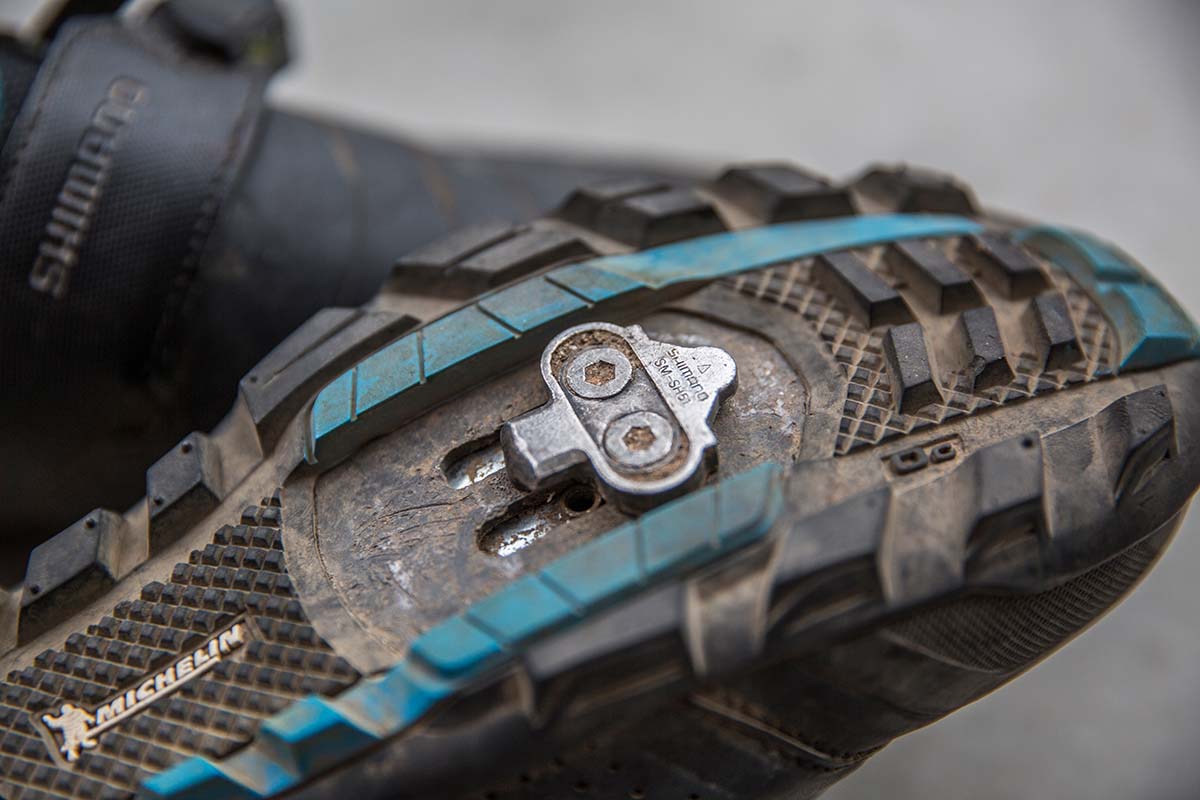 Stiffness and Power Transfer
A stiff build underfoot is a defining feature of mountain bike shoes—it's what allows you to put the power down to the pedals. But the level of stiffness varies quite a bit by model. For example, a dedicated cross-country racing shoe like the Specialized S-Works Recon is incredibly rigid and awkward to walk in, while a budget-friendly trail model like the Giro Jacket II is flexible enough to wear every day. Unfortunately there isn't an established measurement for comparing stiffness (some brands provide a "stiffness index" to compare their models), but in general, rigidity increases with price and level of seriousness. Racers, particularly those in events that require a decent amount of pedaling, will want the stiffest shoes around. For the rest of us, a well-balanced design like the Shimano SH-ME5, Five Ten Freerider, and Giro Cylinder is a better match.
Taking a closer look at construction, manufacturers incorporate stiffness in a few ways. A standard option for a moderately rigid shoe like the Pearl Izumi X-Alp Summit is to insert a ¾-length shank into the midsole. This provides decent strength for pedaling and makes it more comfortable to stand for extended periods, while retaining enough flexibility to walk around. Race-ready designs incorporate strong materials like carbon fiber into the entire length of the sole. This maximizes stiffness for putting power down but compromises in walkability and comfort. The most flexible designs are the cheapest and rely simply on a thick midsole and rubber outsole for shock absorption and rigidity.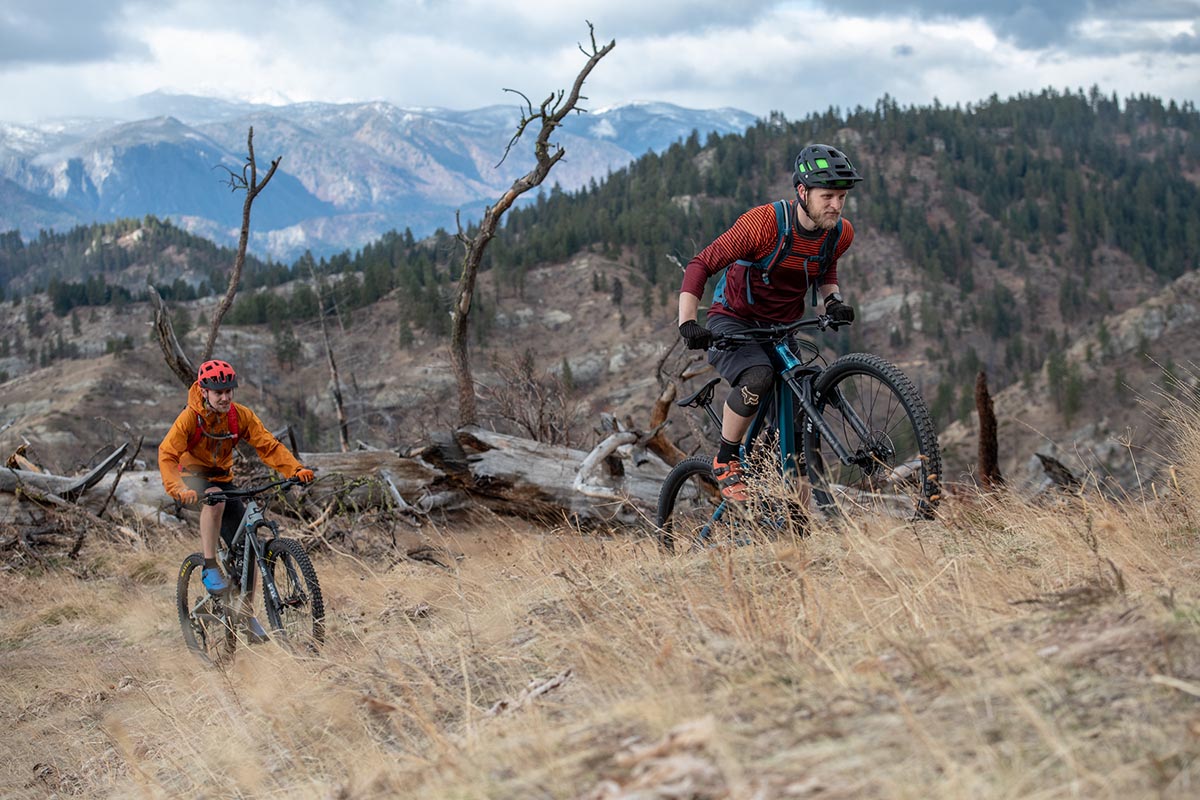 Outsole and Grip
For flat pedal shoes, outsole grip is an extremely important feature—it's what keeps you connected to the bike while hustling up and down the hill. And for years, Five Ten's rubber has stood out from the pack. The Stealth S1 compound on the Freerider line is legendary in the mountain biking world, and is known for having decent long-term durability to boot. Five Ten offers a Freerider Contact, which has a smooth patch under the ball of the foot for even better grip, but in our opinion, the marginal improvement isn't worth the compromise in off-the-bike traction. Giro and Shimano incorporate rubber specialists Vibram and Michelin respectively, and their top models offer performance that is good but not great.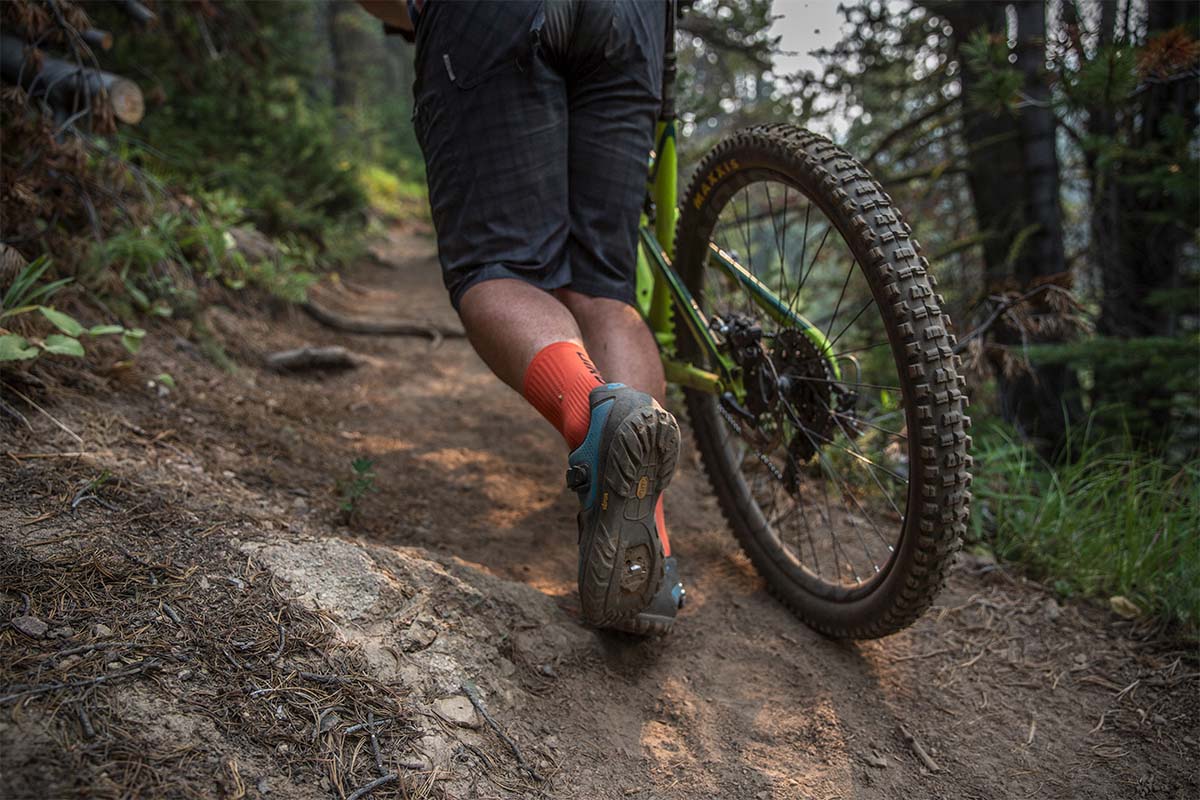 Clipless riders don't need to focus as much on the outsole design as those riding on flats, but it's still an important consideration. On the bike, a quality outsole increases your connectedness to the pedal, and can be valuable for moments when you're temporarily unclipped or trying to quickly reconnect while riding. And off the bike, traction can be a major factor. A well-designed clipless outsole maximizes grip with a recessed slot for the cleat, which allows you to walk naturally. Further, a sticky outsole is a big helper for walking on rocks, and decent lugs—not all that dissimilar from a hiking shoe—are important for sloppy trails. How often you'll be off your bike will dictate how important grip is for you, but we've found premium outsole designs to be valuable even on short (but steep) scrambles.
 
Closure Systems: Laces, Velcro, Ratchet, and Boa
More than just about any other footwear category, mountain bike shoes are made with a wide range of closure types. Our picks above vary from simple lace-up designs like the Giro Jacket to double Boa closures and a Velcro strap on the Specialized 2FO Cliplite. As with pedal type, most of the decision comes down to personal preference, but laces are mostly commonly associated with flat pedal shoes. Laces are simple to use, but you need to make sure to keep them stowed away so they don't catch on any moving parts. For quick and easy micro adjustments while wearing gloves, a Boa dial system or ratchet design is a great option. These lightweight systems are common on clipless XC and Enduro models. And finally, Velcro often is used as a secondary closure to compliment a dial and ratchet system. It doesn't tighten as snugly or precisely, but it's faster than lacing up and does the trick for those that aren't serious racers.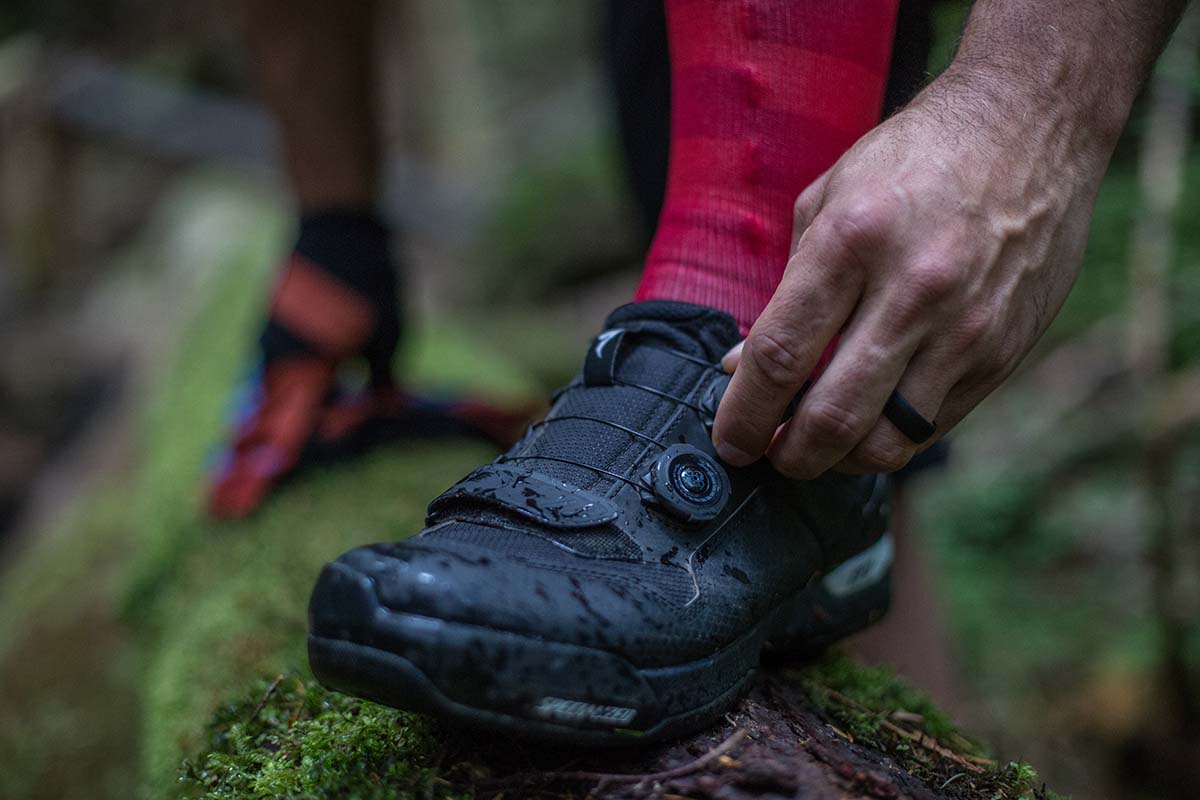 Weight
A lightweight mountain bike shoe comes with numerous benefits. Cutting away weight reduces the amount of effort required to put the power down, which also helps with fatigue on long rides. That being said, weight doesn't get nearly as much attention in the mountain biking market as it does in the running or hiking worlds. Part of the reason is that many bikers stick to shorter rides, but the main factor is that most shoes only vary by a few ounces for the pair. Taking a look at the comparison chart above, the average men's model comes in at approximately 1 pound 11 ounces. Outliers include the crazy-light Specialized S-Works Recon (1 pound 3 ounces), which is streamlined to maximize efficiency for cross-country racing. On the other end of the spectrum is the downhill-oriented Five Ten Hellcat Pro (2 pounds 6 ounces), which adds heft with its heavy cushioning and protection. But the majority of XC, all-mountain, and even many downhill designs are close enough that weight isn't a top consideration.
 
Foot and Toe Protection
Mountain biking is a rough sport, and moving quickly over technical trails demands a lot from your footwear. Nearly all shoes include a toe cap to take the sting out of a rock strike, but there are notable differences between shoe categories (XC, all-mountain, and downhill). Cross-country riding prioritizes weight and power transfer over all-out protection, so they're usually the thinnest along the sides and top of the foot. All-mountain shoes have more cushioning for taking falls, and downhill/freeride designs are the burliest.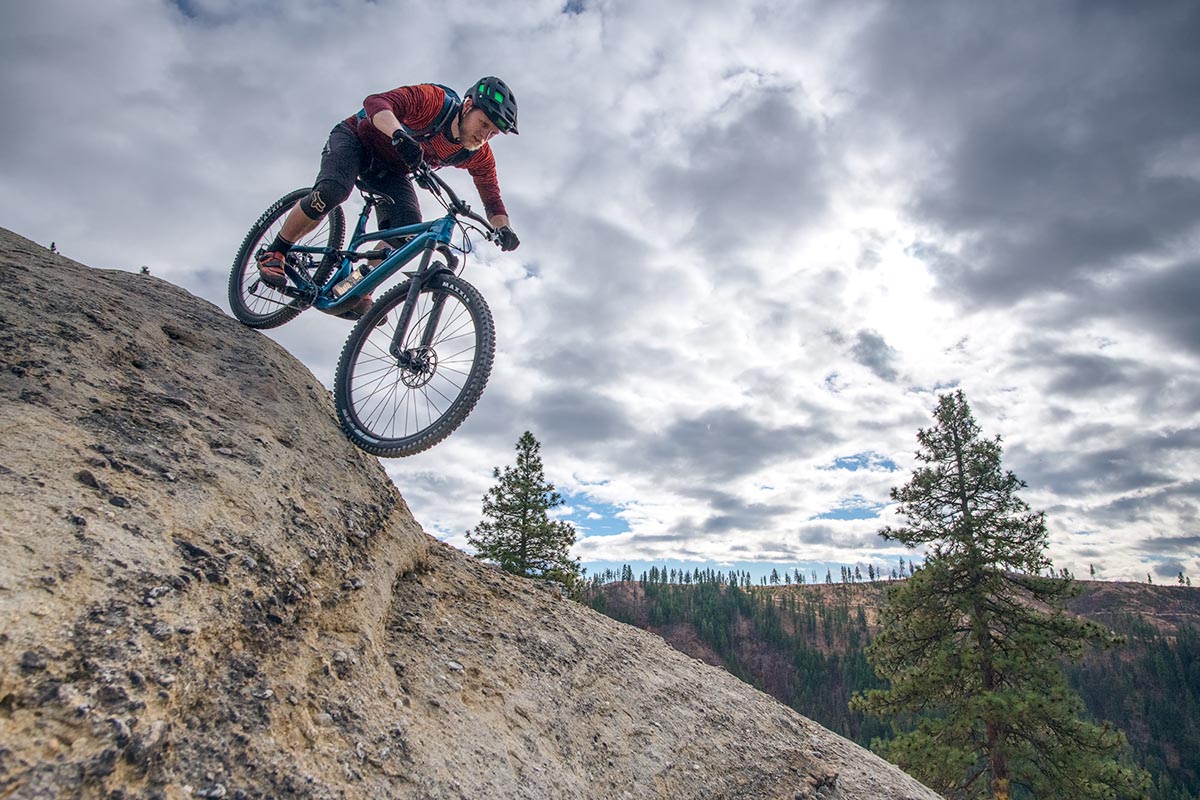 An additional consideration is protection underfoot. Shoes with thin mid and outsoles may not provide enough in the way shock absorption, which can become painful over lengthy sections of rocky and rooty trail. Again, all-mountain and downhill shoes provide the highest levels of comfort in these cases. A design like the Five Ten Impact does an impressive job keeping your feet isolated and safe.
 
Wet Weather Protection
Depending on where you ride, wet and muddy trails can be a fact of life. The good news is that most XC, all-mountain, and downhill shoes do a decent job at resisting moisture with solid synthetic or leather uppers and a DWR coating. The strongest performers, such as the Giro Terraduro Mid and Five Ten Impact High, even have a taller ankle height or extended cuff for extra protection. And shoes that are easy to clean are a nice bonus—look for minimal seams, sleek fabric, and covered laces such as those on Shimano's SH-ME7 (for more, see our in-depth ME7 review).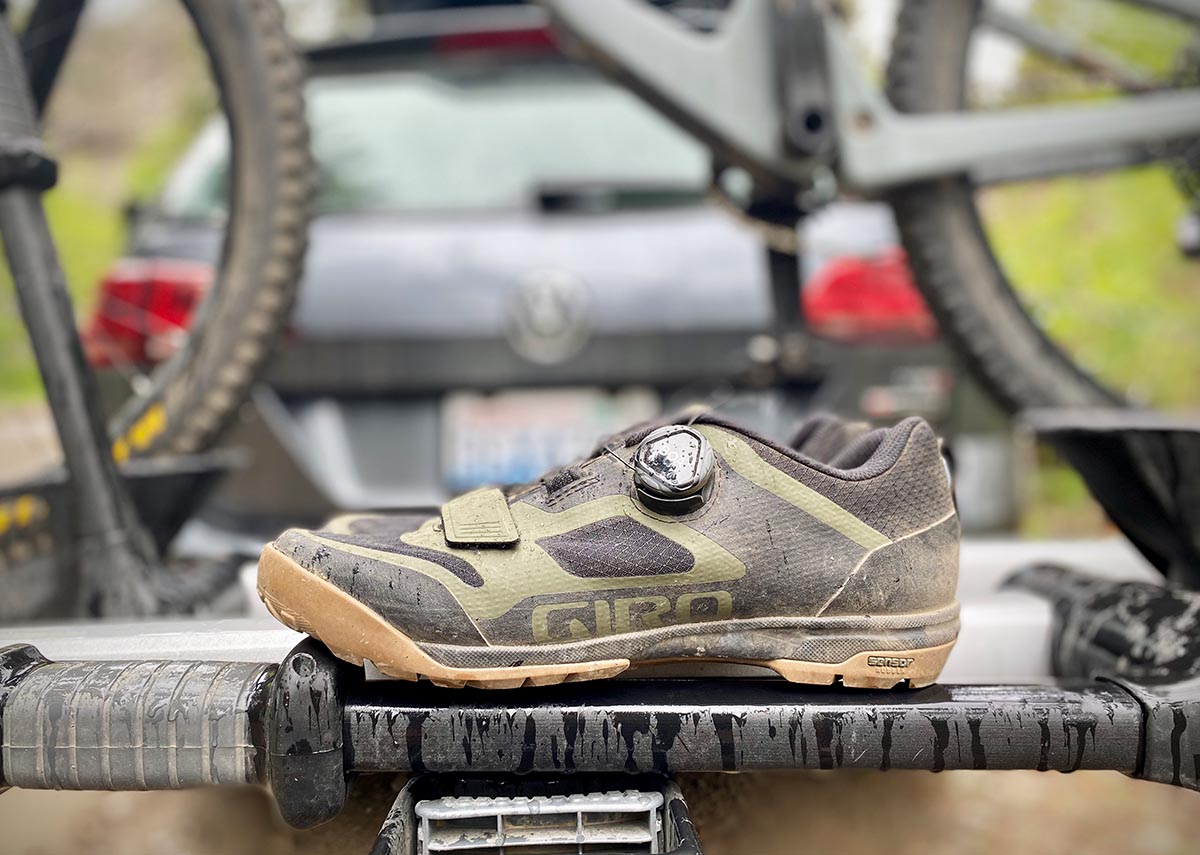 What about fully waterproof shoes? There are a few options out there, including the Shimano MW7 in our list above. For some, a fully waterproof shoe can be valuable for surviving the winter season, but in most cases, we think it's overkill. They are heavy, lack the breathability to be practical in anything but truly cold temperatures, and don't dry out nearly as quickly as non-waterproof options. Plus, they'll cost you a fair bit more than a standard shoe and you'll give up a lot in terms of versatility. An alternative is to wear a neoprene cover or bootie overtop of your standard shoes for a boost in warmth and water resistance (but keep in mind, these are vulnerable to tearing when subjected to trail abuse).
 
Breathability
If you do a lot of pedaling on your rides or live in a warmer climate, it's worth getting a shoe that emphasizes breathability. Telltale signs of a good ventilating design are large swaths of mesh or a thin upper material. On the other hand, shoes with a solid upper and thick cushioning—often found in the downhill category—are the most prone to running hot. You do compromise durability and weather resistance with a highly breathable shoe—mesh tears much more easily and doesn't resist moisture. But a well-thought-out build like the Shimano SH-ME7 balances those conflicting needs. With mesh above the toes and perforations throughout the upper material, it's impressively cool in the heat. At the same time, a flap over the laces and a water-resistant synthetic upper holds up well to abrasions, water splashes, and poor weather.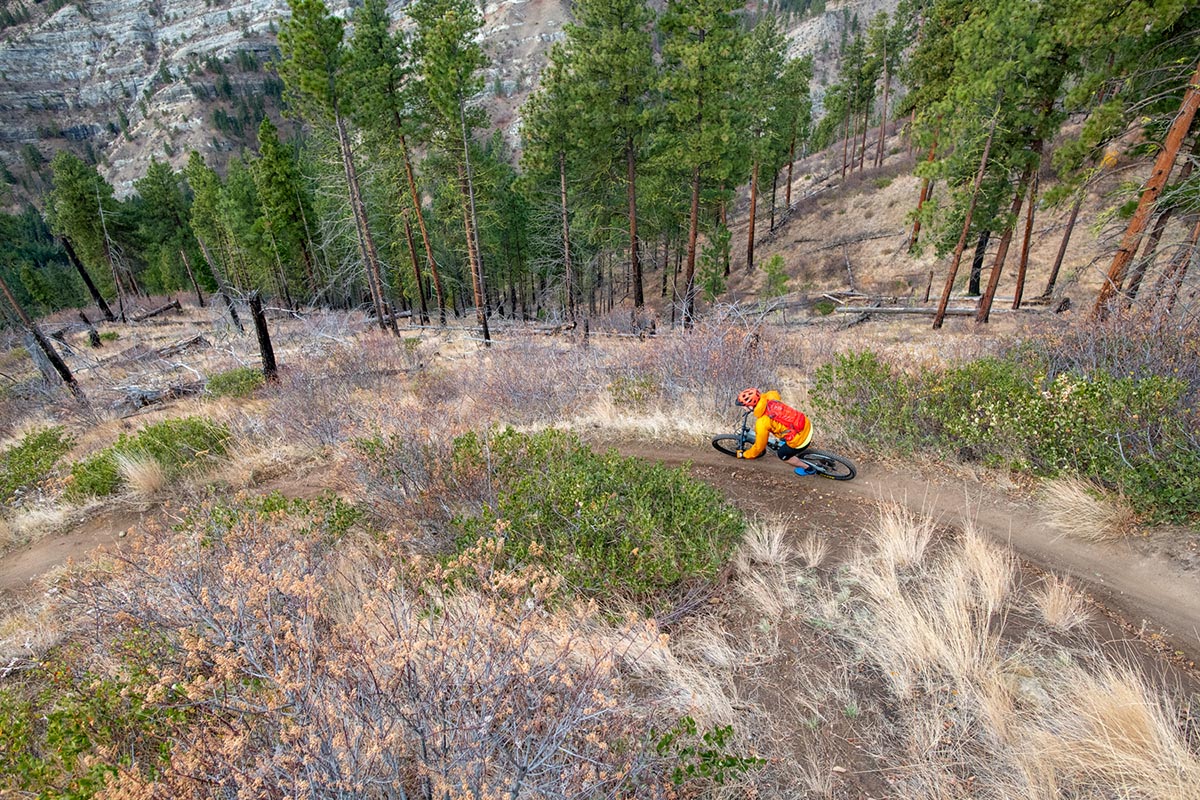 Durability
Mountain bike footwear doesn't wear down as quickly as running shoes, but they're still not well known for their long-term durability. It's not uncommon for riders that get out a lot to go through a pair every season or two. Common wear points are the upper material breaking down or getting holes, or the sole delaminating (older versions of Five Ten's Freerider and the original Giro Terraduro had issues with the latter). Additional problems include the tread of a super sticky flat pedal shoe compound wearing down from extended hiking. As mentioned above, most manufacturers don't have sparkling durability records. However, Sidi is one brand that has a solid reputation for building products that last, but they're also among the most expensive on the market.
 
Walking and Hiking Comfort 
We touched on this in the stiffness and outsole sections above, but walkability is a very important feature for some riders. Ambitious backcountry trips or bikepacking adventures can often involve lengthy climbs, which means you need your bike shoes to play two roles—one as a capable and efficient biker, and the other as a grippy and decently comfortable hiker. The best hiking shoe often is not that great for biking—moderate flexibility is good for walking but bad for power transfer—so we look for hybrid designs that are adept at both. The Five Ten Freerider is a very comfortable shoe off the bike (although its dotty tread doesn't grip well in mud), and leading clipless designs include Shimano's SH-ME5 and SH-ME7 and Pearl Izumi's X-Alp Summit.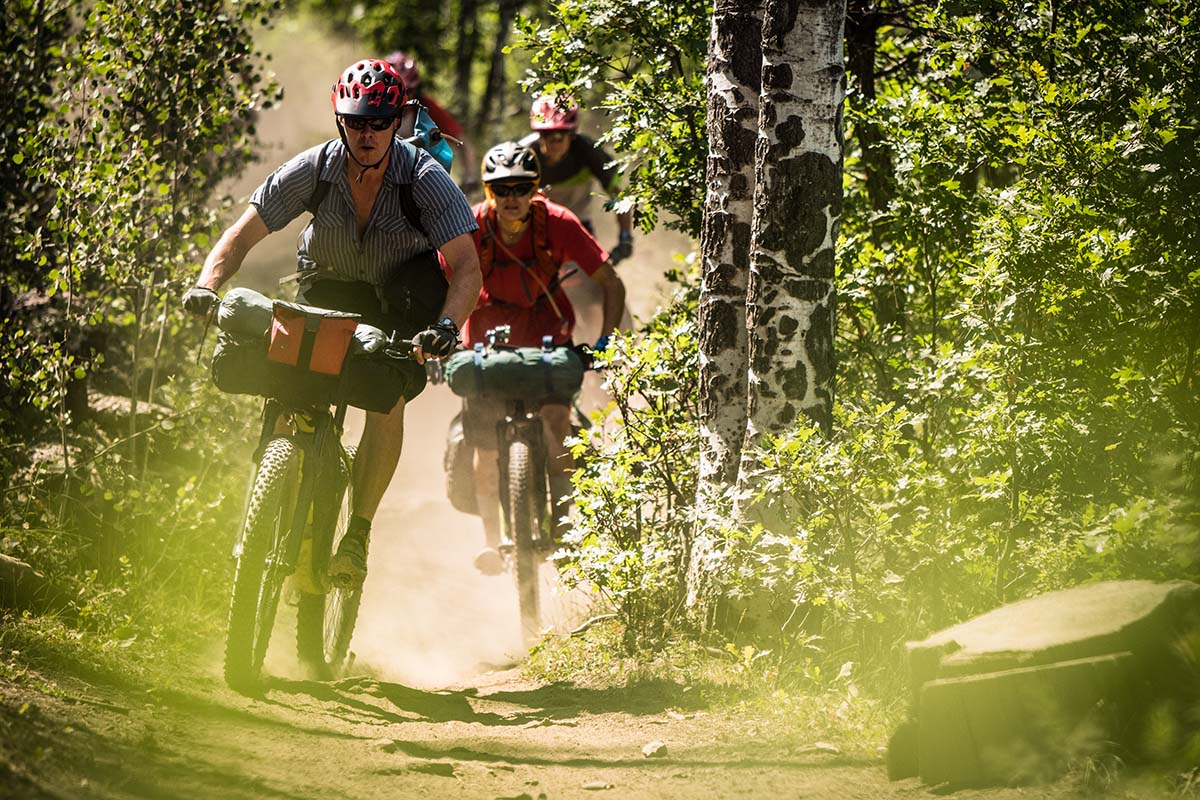 Winter Mountain Bike Shoes
Feet and toes are ruthlessly exposed to the elements while riding and very liable to numb out in the colder months, but this is where a winter-specific shoe can be a big help. Look for shoes with an insulated and waterproof liner to keep your feet dry and warm, a sealed cleat bed to keep water out while splashing through puddles, and a glove-friendly closure system for on-the-fly adjustments. Shimano's MW7, with a high neoprene cuff and insulated Gore-Tex liner, does a great job of incorporating all these features into a streamlined and relatively lightweight package. While such a shoe is not recommended for year-round use, it can be a solid investment for dedicated cyclists. And take note: if your winter months are especially brutal, it can be a good idea to size up a half to full size to make room for thick socks. 
 
Over-the-Ankle Mountain Bike Shoes
The vast majority of mountain bike shoes come in a low-top style. Sitting under the ankle, they're usually comfortable, lightweight, and a quality pair becomes nearly invisible while pedaling. But for bad weather conditions or if you prioritize maximum protection, there are a few mid-height designs. Shoes like the Five Ten Impact High protect the inside and outside of the ankle from friendly fire from the crank arm or when falling. But there is a reason most XC, all-mountain, and even downhill riders stick to a low-top shoe. The taller build runs warmer in the heat, can feel cumbersome while pedaling, and is quite a bit heavier. Serious riders that get out all year round might want a mid-height shoe in their quiver, but most should stick to the standard low top. 
 
Do I Need Mountain Bike Shoes?
The simple truth is that for casual riding with flat pedals, you don't necessarily need to purchase biking-specific shoes. Many people start out with a pair of cross trainers, skate shoes, or running footwear, and those will do the trick for a while. But as you progress, the benefits of one of the options above become clear. Mountain bike shoes offer far better power transfer, foot protection (an essential feature in rocky terrain), and—most importantly for flat pedal use—grip. And if you'll be jumping on a bike with clipless pedals, then you'll need a compatible shoe right off the bat.
Back to Our Top Mountain Bike Shoe Picks  Back to Our Shoe Comparison Table
More from Switchback Travel