Ski jackets get all the glory, but a pair of quality pants is equally important for keeping you warm and dry on the slopes. Today's designs range from waterproof and insulated resort options to full-coverage bibs and stretch-infused offerings built for the rigors of uphill travel. Most of the models here come fully dialed in with ski-specific features, including upper leg vents, an assortment of pockets, burly scuff guards, built-in gaiters, and more. Below is our list of the best women's ski pants for the 2023 season, along with a comparison table and buying advice below the picks. To complete your kit, check out our article on the best women's ski jackets.
 
---
Our Team's Women's Ski Pant Picks
---

Best Overall Women's Ski Pant

Best for: Resort/backcountry
Type: Hardshell
Insulated: No (thin fleece backer)
What we like: Top-notch build quality and fit.
What we don't: Expensive.
Arc'teryx's ski and outerwear consistently knocks it out of the park in terms of premium quality and performance, and the women's Sentinel pants (previously the Sentinel AR) are no exception. An easy choice for our top pick, the Sentinel checks all the boxes for both resort and backcountry skiing, no matter the weather. In wet and blustery conditions the 3-layer Gore-Tex construction provides a reliable barrier from the elements, while smooth-operating side vents let you dump heat quickly on warm spring days. On top of that, you get a light fleece backer for additional comfort and a touch of warmth, a solid feature set with plenty of storage, and Arc'teryx's class-leading fit. Added up, it's the full package for serious skiers who get out a lot.
The Sentinel is undeniably spendy, although $550 is fairly par for the course among 3-layer Gore-Tex pants. If you don't stray from the resort, you can save big with a 2-layer design (the compromises in breathability and bulk aren't a big deal for inbounds skiing), and many will prefer the added warmth of an insulated pant. On the other hand, dedicated backcountry-goers might want to opt for a stretchy hardshell design like the OR Skyward II below. But for the best of both worlds alongside a truly exceptional fit and finish, the Sentinel pants get our top pick for the 2023 season.
See the Arc'teryx Sentinel
Best Insulated Ski Pant for Women

Best for: Resort
Type: Hardshell
Insulated: Yes (60g Thermogreen)
What we like: Fun colorways, cozy warmth, and great fit and finish.
What we don't: Insulated pants lack versatility; fit is hard to dial in.
Not everyone will opt for insulated ski pants, but if you frequent the resort in particularly cold climates like the Northeast or the Mountain West, there's a good chance you'll want 'em. With a thin but warm dose of synthetic fill (unlike down, synthetic continues to keep you warm when wet), insulated pants are your ticket to cozying up on a lift ride no matter the conditions. Among the myriad options, Patagonia's Insulated Powder Town is a standout pick: You get 60-gram Thermogreen fill, sleek and clean styling that minimizes bulk, mesh-lined vents along the outer thighs, and a soft taffeta liner for great next-to-skin comfort (plus, all materials are 100% recycled). Tack on Patagonia's H2No Performance Standard waterproof membrane, a PFC-free DWR, and a variety of fun colorways, and the result is a pair of resort-specific ski pants that can handle brutal mountain weather season after season.
It's worth considering the inherent downsides of insulated ski pants. Most obviously, they're a lot less versatile than a standard shell—you can add more warmth by selecting a thicker baselayer, but the built-in insulation means you can't take warmth away. They also suffer in terms of breathability. As a result, an insulated pant is not our first choice for mild climates or those who tend to work up a sweat on the slopes. But for skiers who desire an extra dose of warmth, the Insulated Powder Town is a great combination of style, performance, and value. Keep in mind that the pants do run large—especially in the legs—and you'll want to beware the velcro waist cinches, which scratch against bare skin and form pressure points when wearing a backpack... Read in-depth review
See the Patagonia Insulated Powder Town
Best Budget Ski Pant for Women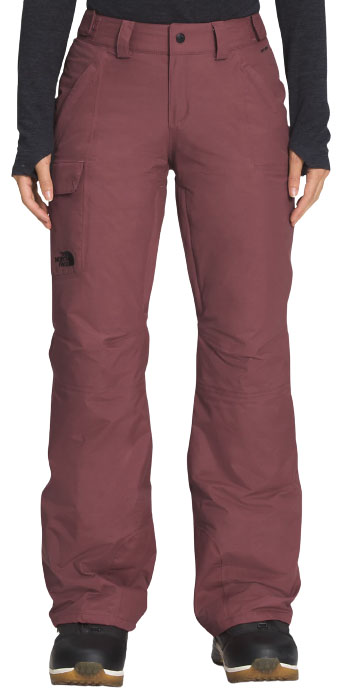 Best for: Resort
Type: Hardshell
Insulated: Yes (60g Heatseeker)
What we like: Proven and tough resort pant.
What we don't: Baggy fit isn't for everyone.
For budget-seekers and those just getting started, The North Face Freedom is a great deal and one of the most popular pants on the slopes. The value is hard to beat: for well under $200, you get a thick 2-layer construction that is super durable and blocks out wind and snow effectively. The 60-gram Heatseeker insulation is a nice touch for those wanting a little extra warmth, and the venting system is surprisingly good for a budget pant (many forgo ventilation altogether). It's true that the Freedom is a noticeable step down in quality from a design like the Patagonia Insulated Powder Town above, but it covers all the bases for many resort riders at a reasonable price.
That said, although the Freedom Insulated will do the trick for casual resort-goers, performance-minded skiers likely will be left wanting more. To start, the fit is pretty generic: there isn't any stretch built into the fabric, and the pants are quite baggy around the thighs and lower legs. Additionally, it's easy to overheat with the cheap waterproofing technology, and while we like the zippered vents, their placement along the inner thigh (and the accompanying waterproof flaps) creates extra bulk. Finally, we think TNF could do a lot better with the pockets, which are prohibitively small and oddly placed. But we keep coming back to value: the Freedom pants are a proven choice with a surprisingly long lifespan and undercut most of the competition by $30 or more.
See The North Face Freedom Insulated
Best Backcountry Ski Pant for Women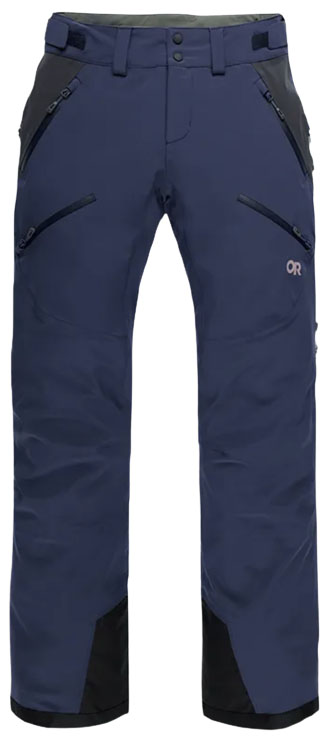 Best for: Backcountry
Type: Hardshell w/stretch
Insulated: No
What we like: Stretchy and breathable but still protective.
What we don't: A standard hardshell offers a more bombproof barrier.
Most resort-goers prioritize waterproofing and warmth, but uphill-oriented skiers need a pant that's both highly mobile and breathable. The Skyward II deftly checks those boxes thanks to Outdoor Research's stretch-infused, 3-layer AscentShell fabric, which protects nearly as well as a hardshell but moves and ventilates like a softshell. It all adds up to a pant that's capable of resisting heavy wind or wet snow while offering the range of motion and breathability you need for the bootpack or skin track. Outer thigh vents, articulated knees, waist adjustments, and a total of four pockets (including a beacon pocket with clip) round out the build, which is about as good as it gets for most days in the backcountry.
On paper, the Skyward's 50-denier AscentShell fabric isn't as impervious to the elements as thicker Gore-Tex designs, but we experienced no issues throughout a winter of testing in the Pacific North-wet. If you do plan to venture out consistently in soggy conditions, a rigid hardshell pant (like the Sentinel above) will provide a more stalwart defense, although the lack of stretch isn't ideal for active backcountry pursuits. It's true that Outdoor Research offers a more versatile solution in their Hemispheres II Bib below—patterning bombproof 3-layer Gore-Tex with panels of stretchy hardshell—but the added tech will cost you a whopping $629. In the end, we think the Skyward II strikes the best balance of performance and value for backcountry skiers. And for serious uphill athletes who want a highly mobile and breathable pant, check out the partial-softshell Dynafit Beast Hybrid below.
See the Outdoor Research Skyward II
Best Women's Ski Bib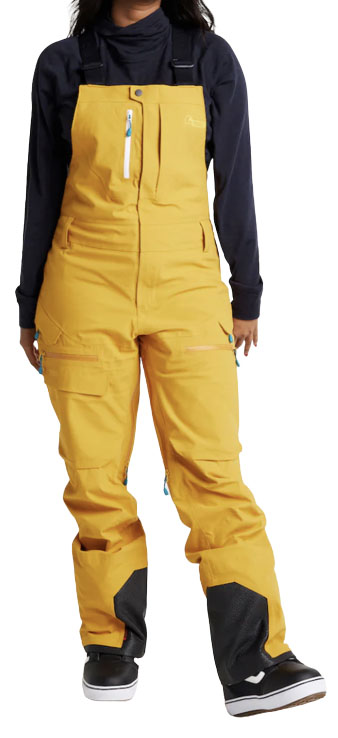 Best for: Resort/backcountry
Type: Hardshell
Insulated: No
What we like: Fantastic quality, weather protection, and breathability.
What we don't: Pricey for having an in-house membrane; runs warm in the torso.
There are a lot of reasons you might opt for a bib, including additional protection, expanded coverage, and more options for storage. Or maybe you just like the way they look, which is reason enough (look good, ski good—right?). Regardless of the why, bibs have gained serious popularity in recent years both at the resort and in the backcountry, and TREW Gear's recently updated Chariot Bib PRIMO is a runaway favorite among female shredders. The in-house 3-layer PNW Primo construction is reminiscent of premium Gore-Tex in both look and feel, and you get full seam taping with reinforcements, smooth-operating water-resistant zippers, and bomber coverage that keeps even the wettest of snow at bay. Tack on a high-quality fit and finish with stylish freeride vibes, and the Chariot Bib PRIMO is the full package for skiers looking for a quiver-of-one bib. No surprise it takes top billing in our best women's ski bibs round-up.
It's not always easy to nail a good bib fit, and many women's designs fall short when it comes to convenience for bathroom breaks. But TREW landed on a great solution with the Chariot: The wide drop seat is easy to use when nature calls, and you get your pick from ten different sizes (XS to 4X) and three inseam lengths. We do wish TREW had used softshell fabric in the torso area—this feature helps keep the bib snug yet mobile and breathable—and we don't love the Chariot's chest pockets, which are less secure as they open vertically (items are more prone to falling out). Finally, for dedicated backcountry use, we find the bib to be too baggy and featured (designs like the Outdoor Research Skytour or Patagonia SnowDrifter are more suitable). But for resort skiing, sidecountry forays, and the odd day in the backcountry, the Chariot nails the trifecta of price, performance, and style. 
See the TREW Gear Chariot Bib PRIMO
Best Slim-Fitting Pant for Resort Skiing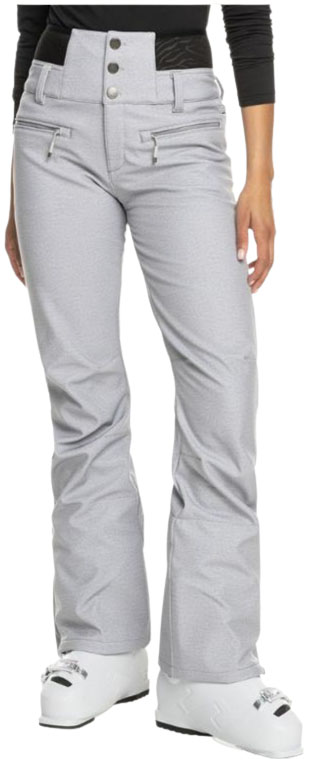 Best for: Resort
Type: Softshell
Insulated: No (polar fleece lining)
What we like: Stylish, generous coverage, and great stretch.
What we don't: Not very weatherproof and no vents.
Throwing it back to the '80s, the Roxy Rising High are a resort pant built for women that put a high value on style. Using a stretchy softshell fabric, they're form-fitting all the way from the high waist to the cuffs, where you can add a flare—or not—with the integrated zipper. On the inside, a polar fleece lining provides modest warmth, and Roxy's DryFlight waterproof membrane does a decent job keeping moisture at bay. Paired with a classy ski jacket (like the Obermeyer Tuscany II), you're sure to make a statement in the lift lines, cruising the corduroy, and even après.
Unfortunately, however, the Rising High are more style than substance. The plain-weave softshell fabric absorbs moisture far more readily than hardshell, and Roxy's DryFlight is no match for a proven Gore-Tex membrane. What's more, the pants are only taped at critical seams, which means there are more areas for water to soak through (especially bad news on slushy chairlifts). And you'll need to find the temperature sweet spot: the snug build doesn't allow for much more than a thin baselayer underneath, and the lack of vents will have you overheating on warm spring days. But the Rising High nevertheless are a nice match for bluebird days in places like Colorado or Utah, and the sophisticated styling is hard to beat. For another slim-fitting softshell option, check out Helly Hansen's Bellissimo 2 pant ($200).
See the Roxy Rising High
Best of the Rest

Best for: Resort/backcountry
Type: Hardshell w/stretch
Insulated: No
What we like: A stylish yet high-performance bib with built-in stretch.
What we don't: No beacon clip; stretchy build compromises slightly on weather protection.
Built from the ground up by a pair of Colorado ski bums in search of a better ski pant, Flylow Gear has come a long way since its humble beginnings. Their Foxy Bib is a tried-and-true favorite among female shredders thanks to its competitive combination of style and performance. This bib is versatile and hip, comfortable yet protective with a stretch-infused hardshell fabric (that's also impressively durable at 100D), and well appointed with ample storage and vents at both the inner and outer thighs. We also love that it comes in three different inseam lengths, which really helps with nailing the fit (bibs can be particularly finicky). We tested the Foxy throughout a season in the Pacific Northwest and give it our whole-hearted endorsement for those looking for a top-of-the-line bib for both resort and backcountry use.
Flylow's advertising of the Foxy as a softshell bib is a bit misleading—its 3-layer Tactic fabric is actually full-on hardshell with built-in stretch and taped seams. This also happens to be our favorite thing about the Foxy: The bibs are extremely comfortable and quiet, and the added mobility is a game-changer for both skiing and après. However, stretchy hardshell can't compete with the full-on waterproofing of a rigid design like the Chariot or Sentinel above, which some might want for wintery chairlift rides or wet days out. Additionally, the Foxy doesn't include a built-in pocket clip for a beacon, which is disappointing for backcountry use. But if you're willing to put up with a few minor tradeoffs, Flylow Gear's most popular women's bib is a comfortable, high-performance, and stylish option for resort skiers, casual backcountry-goers, and those who double dip. Keep in mind that the Foxy is fairly slim-fitting—if you're in search of a more relaxed style, check out Flylow's Moxie Bib… Read in-depth review
See the Flylow Gear Foxy Bib

Best for: Resort
Type: Hardshell w/stretch
Insulated: Yes (60g PrimaLoft Black)
What we like: Insulation, a bit of stretch, and a clean design at a reasonable price.
What we don't: Pants are prone to showing wear over time.
For a super clean resort pant with a nice dose of cold-weather warmth, give the Legendary Pant from Helly Hansen a look. The 2-layer waterproof shell is perfect for those who aren't frequently working up a sweat, and 60-gram PrimaLoft Black insulation will be a savior for frigid rides on the chairlift (especially when paired with a quality baselayer). We also like the simple design from the Norwegian company, which comes in a variety of attractive colorways and should pair well with just about any jacket.
In terms of mobility, the Legendary incorporates a mechanical stretch fabric not wholly unlike the Skyward II above. The extra "give" is great for both sidecountry hikes and downhill travel and offers a bump in performance compared to the budget The North Face Freedom above. Our main complaint has to do with durability: the build quality isn't quite up to par with Patagonia or Arc'teryx, and the pants will show more wear over time. But compared to the Insulated Powder Town above, the Legendary offers similar warmth for almost $70 less, which is very enticing for casual riders and those who only hit the slopes a few weekends a season.
See the Helly Hansen Legendary Insulated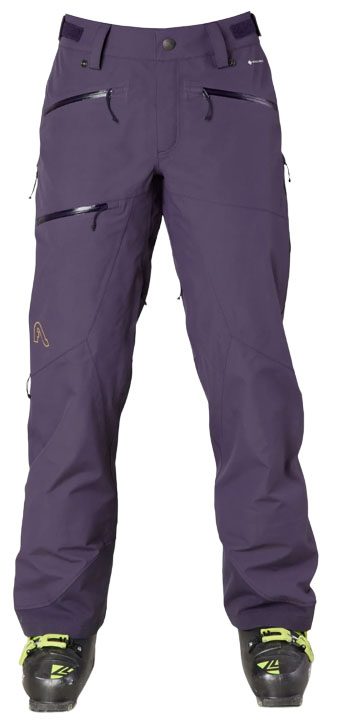 Best for: Resort/backcountry
Type: Hardshell
Insulated: No
What we like: A bomber pant with great ventilation.
What we don't: Proprietary waterproofing isn't as premium as Gore-Tex.
Flylow Gear flies a little under the radar compared to some of the bigger outdoor gear companies, but the Nina pants are another very solid offering from the Colorado-based brand. Like the Foxy Bib above, this is a super tough design with a 3-layer build, Cordura cuff patches, and waterproof zippers. But unlike the stretchy Foxy, the Nina is a standard hardshell, giving you even more assurance against fowl weather. The pants breathe well considering the impressive level of protection, and you can release hot air in four places: two zippered vents along the inner thigh and two large vents along the outside of your legs. It all adds up to a solid ski pant for both front and backcountry use, and the relaxed fit and Velcro waist adjustment should make most women happy (note: you might need to size up).
How does the Flylow stand up against the competition? It's not cheap but still comes in significantly less than our top-ranked Sentinel. And while Flylow's proprietary membrane is no match for Gore-Tex, the Nina's design does beat out the Arc'teryx in terms of ventilation, with no fleece lining and zippered openings on both sides of the legs. Style is another consideration: the Nina is a bit baggier than the Sentinel, which can be fun for resort days but slightly cumbersome on the skin track. But the Nina nevertheless is a premium 3-layer option that'll fly both in and out of bounds, and it has a cult-like following to back it up. For an insulated model from Flylow Gear, check out their Daisy Pant, which features 40-gram fill and is offered in a larger range of sizes, including both short and tall versions.
See the Flylow Gear Nina

Best for: Resort
Type: Hardshell
Insulated: Yes (40g Thinsulate)
What we like: Great fit and available in a ton of sizes.
What we don't: Fairly unimpressive waterproofing.
Based in Aspen, Colo., Obermeyer has been designing skiwear since 1947—which means they've seen the sport through a heckuva lot of fashion trends. But as resort style has moved from one pieces to snow bunnies to baggy, freeride garb, Obermeyer has stuck close to their original formula with sophisticated yet functional offerings. The Bliss here is one of their most popular women's pants, with a trim fit, 40-gram insulation, and stretchy lining for added mobility. To be sure, its weather protection doesn't measure up to Gore-Tex (or comparable) models, but the Obermeyer will get the job done for casual resort use in mostly dry conditions.
What women love most about the Bliss is the flattering fit: The high-rise waist offers great coverage when bending over to adjust your boots, and the rest of the design is contoured to fit snugly without inhibiting range of motion. Further, while the insulation provides decent levels of warmth, it's inconspicuous enough to keep bulk low. And to help dial things in, the Bliss comes in 11 sizes from 2 to 22, including short, regular, and long lengths. In many ways, it's a great hardshell alternative to the Roxy Rising High above. And if you're looking for an even more classic option from Obermeyer, check out their softshell Bond pant—and get your faux fur hat ready too.
See the Obermeyer Bliss

Best for: Backcountry/resort
Type: Hardshell w/stretch & softshell
Insulated: No
What we like: Creative mix of weather protection and comfort.
What we don't: The Skyward II above is a little better for touring.
Patagonia's backcountry pant and jacket collection has gone through a number of major revamps over the past few years, but they've landed on a real winner with the SnowDrifter Bib. The design essentially has two parts: a stretchy 3-layer waterproof hardshell protects you below the waist, while a supple softshell covers the upper body. This provides a nice balance of weather resistance (the upper portion isn't waterproof but does have a DWR coating) and range of motion for steep uphill sections and extended bootpacks. Along with creative two-way zippers at the back that double as a drop seat and large venting system, the SnowDrifter is a formidable season-long option.
How does the SnowDrifter Bib compare with the OR Skyward II above? Beyond the obvious added protection around the torso, the SnowDrifter's waterproof lower uses a burlier 75-denier fabric (the Skyward's is 50D), which helps with both windproofing and tear resistance. This makes the Patagonia a bit more appealing for resort days, although the tradeoff is less breathability and stretchiness around the legs. All things considered, we give the edge to the better-venting and more mobile Skyward II for touring, but the SnowDrifter is a great all-rounder for those who prefer to wear bibs. 
See the Patagonia SnowDrifter Bib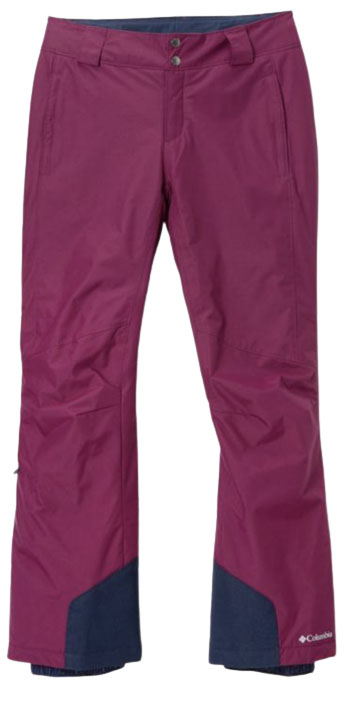 Best for: Resort
Type: Hardshell
Insulated: Yes (60g Microtemp XF)
What we like: Affordable and tough for occasional resort use.
What we don't: Not fully waterproof and pretty cheap and bulky materials overall.
Columbia's Bugaboo Pant has been a long-time favorite among beginner skiers. The price is right at $120, which includes a durable and hardwearing exterior, waterproof lining, and a healthy dose of warmth with 60-gram synthetic insulation. In addition, Columbia incorporates a surprising number of useful features: the adjustable waistband makes it quick and easy to customize the fit (it secures with Velcro), and the hand pockets are nicely sized for storing essentials like a lift pass and keys. Totaled up, the Bugaboo is everything a first-timer or occasional skier needs and nothing they don't.
The Columbia gives The North Face's Freedom above a run as our favorite budget ski pant but comes up short in a few key areas. First, the Bugaboo is less weather-worthy and can succumb to extended moisture more readily. This likely only will be an issue on especially wet snow days, but it's something to keep in mind should you frequent areas prone to those conditions. Further, you miss out on zippered vents for dumping heat, mobility is impacted by the bulky design, and the material quality is a step down and likely won't hold up as well in the long run as the Freedom. That said, for $49 less and with a similar feature set, it's hard to knock the Bugaboo's overall value.
See the Columbia Bugaboo Omni-Heat Insulated

Best for: Resort
Type: Hardshell w/ stretch
Insulated: No
What we like: Gore-Tex protection at an excellent value.
What we don't: Step down in performance and fit from the Flylow Foxy above.
REI Co-op's First Chair is proof that you don't have to spend upward of $400 for a quality ski bib. At a much more palatable $259, you get great coverage, a durable and waterproof 2-layer Gore-Tex build, and functional organization with zippered chest storage and two thigh pockets along the front. REI also incorporated some mechanical stretch into the face fabric, which is a nice touch for everything from sidecountry hikes to getting on and off the lift, and we think they nailed the styling with a clean and modern look. It doesn't hurt that you also get REI's excellent warranty to back up the purchase.
In many ways, the First Chair GTX is a budget alternative to the Flylow Foxy above. Both offer good waterproofing overall and feature stretchy shells for a boost in mobility. But the Foxy's 3-layer construction makes it the more breathable pant, and it's easier to dump heat with vents on both the outside and inside of the thighs (the REI's are only at the rear). You also get more fit customization with the Foxy, including belt loops and the option of choosing between three different lengths (the First Chair is only offered in a regular length), and the REI's drab colors are no match for the Foxy's trendy Skittles-like vibe. Taking performance and aesthetics into account, we think serious skiers and those dabbling in the backcountry will be better off with the proven Flylow. Weekend warriors and resort-goers, however, will find a lot to like with REI's First Chair.
See the REI Co-op First Chair GTX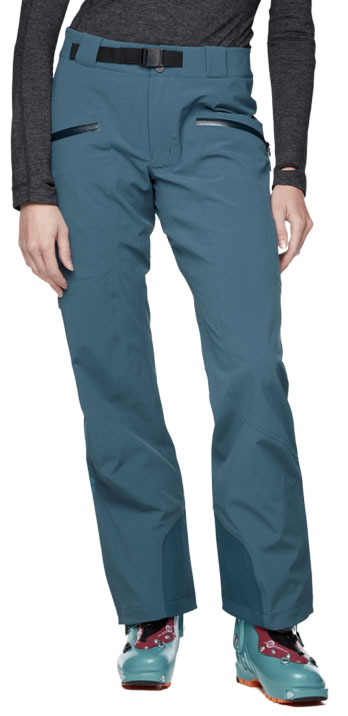 Best for: Backcountry/resort
Type: Hardshell w/stretch
Insulated: No
What we like: Great durability, mobility, and features at a reasonable price.
What we don't: Fit isn't as flattering as pricer options.
A climbing company at its core, Black Diamond appeals to a similar audience as brands like Arc'teryx and Patagonia but often gets the edge in value. Their Recon Stretch Pants are a great example: For $350, the Recon features a stretchy 3-layer hardshell construction along with premium features like a built-in belt and thigh pockets with watertight zippers. Black Diamond's in-house BD.dry membrane doesn't have the brand cachet of Gore-Tex, but it's held up well during our testing to wet chairlift rides and falling snow. For a great combination of mobility and protection for both resort and backcountry skiers, there's a lot to like about the simple but functional Recon pants.
If you're drawn to a pant like the OR Skyward II above but are nervous about potential compromises in weather resistance and durability, the Recon Stretch is a nice alternative. In a side-by-side test, the Recon's hardshell fabric has a similar amount of stretch but is noticeably thicker than the Skyward's, which makes it more appealing for frigid chairlift rides and severe mountain weather. That said, it's worth noting that Black Diamond outerwear doesn't always have the tailored fit that you get from high-end competitors like Arc'teryx or Patagonia. In this case, the women's Recon Pants have a rather baggy fit that's less flattering than options like the Sentinel above. But the savings are undeniably enticing, and the Recon remains a durable and high-performance alternative for those who split their time between the backcountry and resort.
See the Black Diamond Stretch Recon

Best for: Backcountry/resort
Type: Hardshell w/stretch
Insulated: No
What we like: Fully waterproof, stretchy, and highly comfortable.
What we don't: Pricey and not the sleekest bib design.
The Skyward above gets our pick for the best backcountry ski pant, but bib-lovers will want to take a look at Outdoor Research's Hemispheres II. Now in its second iteration, the premium Hemispheres II Bib features 3-layer Gore-Tex waterproof protection, along with stretchy (yet still waterproof) panels at the crotch, underarms, and lower back for added freedom of movement. We've tested both the previous and current versions of the Hemispheres bib, and can confidently say that the unique design offers a high degree of comfort without any noticeable compromise in weather protection. The generous stretch is a big plus on the skin track, and the bib's seam-sealed construction has withstood everything from wet snow and rainfall to deep powder days.
What pushes the Hemispheres II Bib down our list is its steep price. At $629, it's the most expensive offering here, and a full $250 more than Outdoor Research's Skytour (the bib version of their Skyward pant). Resort-goers simply won't need the added tech, and most recreational backcountry skiers will be fine with the choice between all-out weather protection or built-in stretch (but not both). And if you're shopping for style, the Hemispheres II lacks the fit and finish (and fun colorways) of designs like the Patagonia SnowDrifter or Flylow Foxy above. But for serious backcountry skiers who need maximum range of motion without any major concessions in weather protection, the Hemispheres is a formidable backcountry bib.
See the Outdoor Research Hemispheres II Bib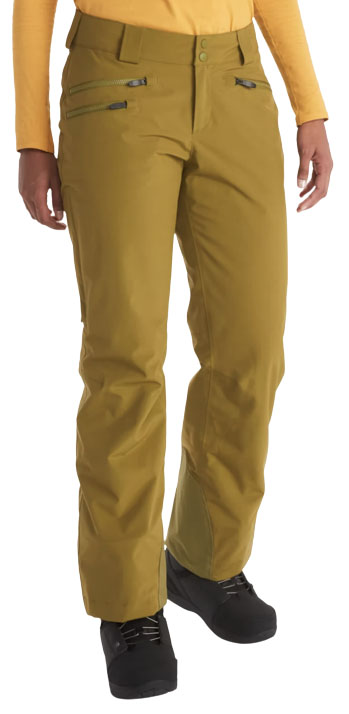 Best for: Resort
Type: Hardshell w/stretch
Insulated: Yes (40g PrimaLoft Black Eco)
What we like: Upgraded features and a more tailored cut than TNF Freedom. 
What we don't: Lackluster finishes and budget waterproof membrane.
The sub-$200 price range is chock-full of ski pant options, but the Marmot Slopestar makes its case with a nice fit and modest upgrades from many budget models. To start, you get a stretch-infused hardshell face fabric with 2-layer waterproofing (a step up from a softshell design like the Roxy Rising High above), along with premium PrimaLoft Black Eco insulation (40g). Articulated knees and slight contouring result in& a more tailored fit than The North Face Freedom or Patagonia Powder Town, and we've found that the outer-thigh vents dump heat slightly better than those placed on the inner thigh (such as the TNF's). Available in a wide range of colors, the Slopestar checks a lot of boxes for season-long resort use.
Why does the Slopestar fall toward the bottom of our rankings? Most notably, Marmot's MemBrain fabric lags behind the more premium offerings here, with noticeably more bulk and diminished waterproofing and breathability. Second, the pants lack refined finishes like waterproof zippers and a RECCO reflector, although you can bump up to the similar Refuge ($200) for the extra bit of tech. But we've found the Slopestar's fit and styling to be a nice middle ground between baggy and fitted pants, and they're a fully serviceable option if you don't plan to be out in the harshest conditions. 
See the Marmot Slopestar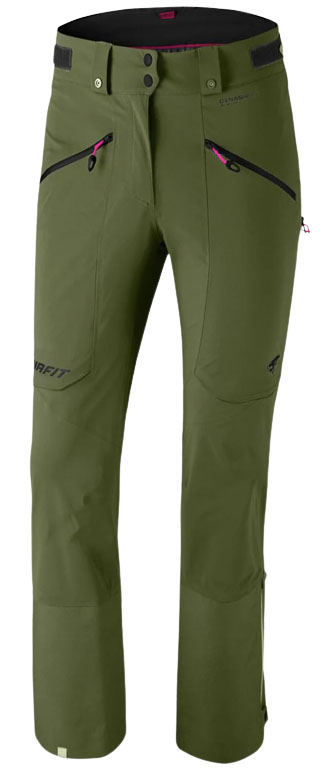 Best for: Backcountry
Type: Softshell & hardshell
Insulated: No
What we like: A souped-up softshell pant for backcountry enthusiasts.
What we don't: Not enough waterproofing for wet days.
Outdoor Research's Skyward II above offers stretchy hardshell protection for backcountry skiers, but the Dynafit Beast Hybrid takes uphill performance to the next level. This pant is business at the bottom and comfort on top, with supple softshell fabric around the waist and a burly 3-layer hardshell at the legs and rear. The result is waterproof protection where you need it and a stretchy and breathable pant everywhere else, which is great news for heated sessions on the skin track. And with outer thigh vents, two large pockets, zip cuffs for easy on and off, and an adjustable waistband, the Beast Hybrid sets itself apart from generic softshell designs as a fully featured ski pant.
Of course, there are a number of tradeoffs to keep in mind when opting for such a trimmed-down pant. In true wet conditions, you'll want the added protection of a full-on hardshell pant. Further, the fairly snug fit doesn't allow room for much more than a thin baselayer underneath, and the pants themselves are quite thin—added up, you'll definitely need to stay moving in frigid temps. And finally, we've found the waistband to be fairly bulky underneath a backpack. But we reach for our softshells for the majority of backcountry days, and the Dynafit is one of our favorite designs in this category. If you're interested in Patagonia's premium take, check out their Stormstride pants.
See the Dynafit Beast Hybrid Pant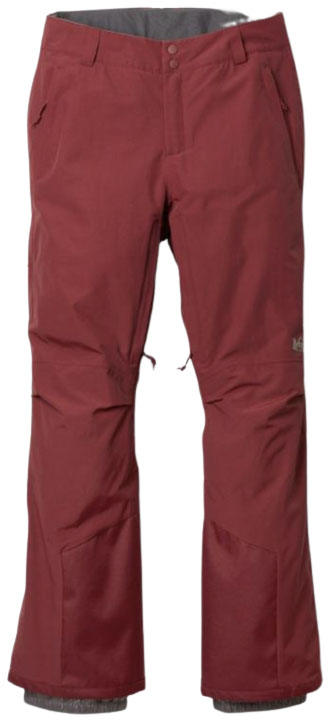 Best for: Resort
Type: Hardshell
Insulated: Yes (40g polyester)
What we like: Great value; design includes thigh vents.
What we don't: Will not hold up well to sustained moisture.
REI's in-house outerwear continues to impress us when it comes to bang for your buck, and their Powderbound ski kit is no exception. Overall, we think they've put together a solid product with the insulated pant: the 2-layer Peak waterproofing holds up to most winter weather (just don't try your luck in super wet conditions), and a moderate level of insulation (40g) will keep you happy on the lift. Tack on a wide range of available sizes and all the requisite ski-specific features—inner thigh vents, boot gaiters and scuff guards, Velcro waist adjustments, and a nice assortment of fleece-lined pockets—and the Powderbound is primed for your next trip to the slopes.
Like the Columbia Bugaboo above, the Powderbound is critically seam sealed, which keeps costs low but isn't great for staying dry in sustained snowfall. But while the Bugaboo forgoes all vents, the Powderbound features zip openings on the inner thighs (for a $29 bump in price). Along with the thinner insulation, these make it a better option than the Bugaboo for mild climates or those who overheat easily. Neither can dethrone The North Face's Freedom as our budget pick, which is far more proven and worth the extra $20. But for a casual resort pant that also gets the job done for general snow use, the Powderbound is an affordable pick from a trusted brand (note: the Co-op also offers a bib version for $199).
See the REI Co-op Powderbound Insulated
Women's Ski Pant Comparison Table

Women's Ski Pant Buying Advice

Best Uses: Resort and Backcountry
Most ski pants are designed with a specific type of skiing in mind—either resort, backcountry, or both. To help guide your decision, we've included a "best for" specification in our product descriptions and table above. Starting with inbounds-focused models, these pants are built tough: you typically get strong face fabrics, waterproof and windproof constructions, and generous fits for layering. If you ski consistently in frigid temperatures, it may be worth considering an insulated design, although we sometimes prefer the versatility of a non-insulated shell for season-long use.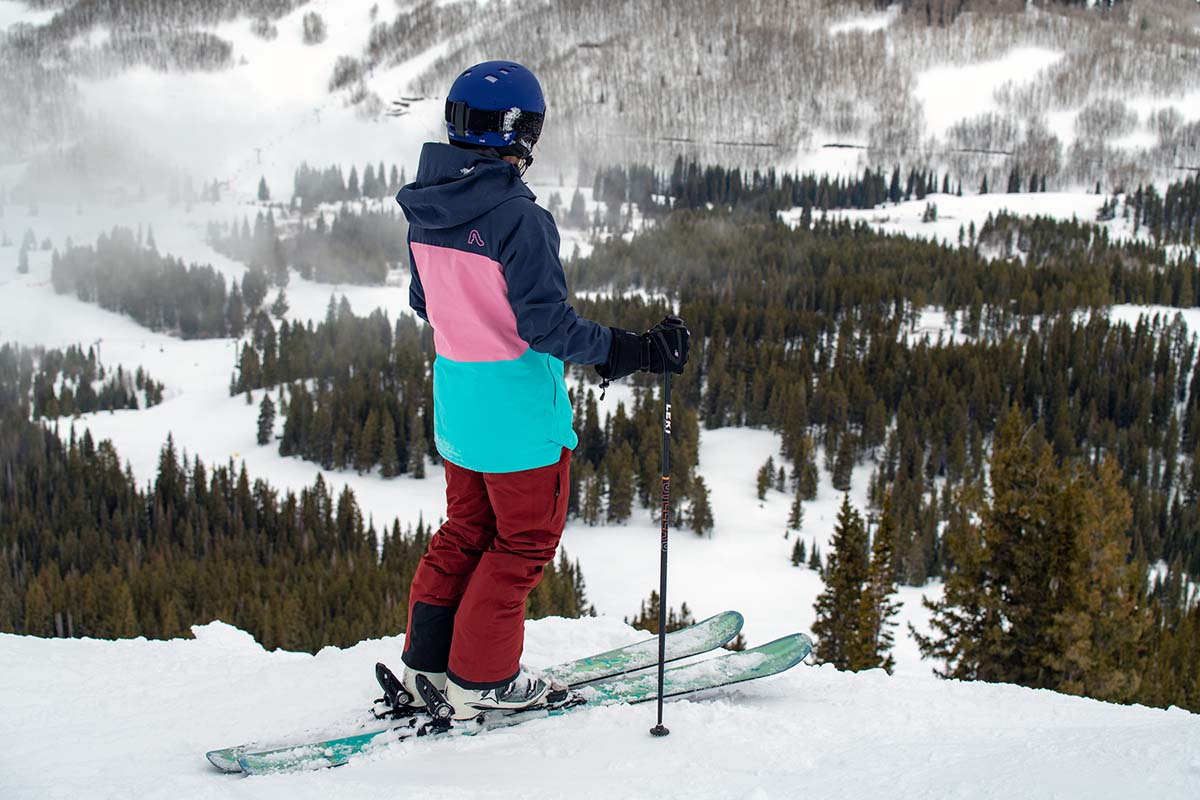 Those traveling uphill on the skin track or bootpack will have an entirely different set of needs. First off, freedom of movement is very important for backcountry use, so you'll often find some form of built-in stretch and an athletic fit so you can high step without extra fabric getting in the way. Additionally, breathability is essential—the materials are thinner, and large zippered side vents (sometimes on both the inside and outside of the legs) are crucial for staying cool. Finally, all-out weather protection can sometimes be compromised in the quest to keep you from overheating, including panels of breathable softshell or thin and stretchy hardshell (whether or not this is a good idea for you will depend on your local weather and snow conditions). 
As you'll see above, many pants toe the line for both resort and backcountry use. Generally, these are premium, uninsulated models that use high-end technology like 3-layer Gore-Tex to strike a nice balance between protection and breathability. These pants aren't cheap—the Arc'teryx Sentinel ($550) and Outdoor Research Hemispheres II Bib ($629) are two of our favorites—but for those who get out a lot both in and out of bounds, the versatility is well worth the investment.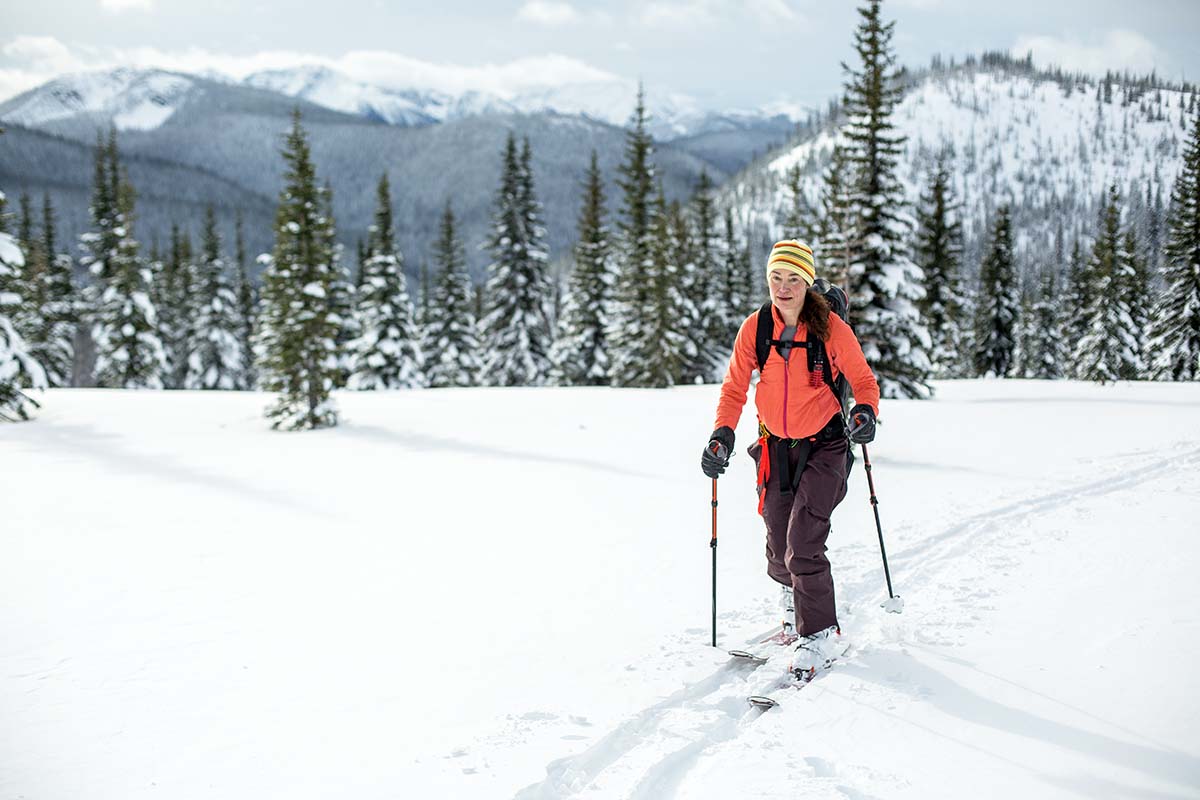 Fabric Types
In general, modern ski pants are built with one of three types of shell fabric: hardshell, hardshell with mechanical stretch, or softshell. The type of fabric you opt for will depend on where you're skiing (we favor hardshells for resort use) and how much mobility you need (stretchy designs are great for mogul skiers and uphill enthusiasts). Most skiers will opt for a pant that uses hardshell or hardshell with integrated stretch, but we've also included a few softshell models on our list above.

Hardshell
For most resort uses, we prefer the traditional hardshell. Hardshells provide a reliable barrier against wet snow and harsh winds (great for long chairlift rides), and pricier options can have impressively long lifespans. Due to their stalwart construction, hardshells aren't particularly breathable (although 3-layer designs usually beat out 2-layer), and you'll have to put up with their more rigid feel. But resort skiers generally don't need a particularly breathable or supple pant, and the good news is that most hardshells here have side vents to dump heat on warmer days. Our top-rated Arc'teryx Sentinel is a standout example, with bombproof 3-layer Gore-Tex protection, a thick 70-denier face fabric, and long side vents.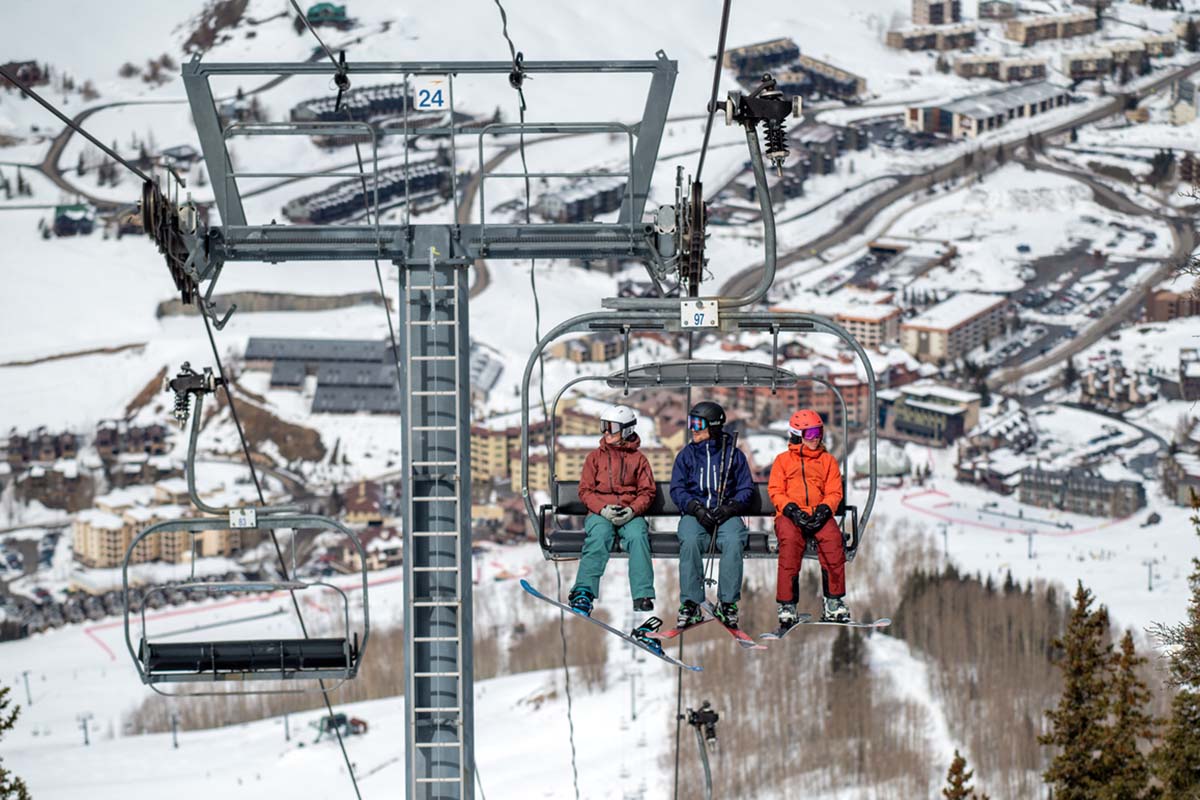 Hardshell with Stretch
Hard-charging resort skiers, sidecountry fanatics, and backcountry skiers will want a waterproof pant, but some amount of stretch is a nice touch. Designs like the Patagonia SnowDrifter Bib and Outdoor Research Skyward II feature a hardshell construction with built-in stretch, which is a lot more supple than a standard hardshell—you don't get that rigid and crinkly feel—and places a premium on freedom of movement and breathability. However, you do compromise a bit in the way of all-out protection: stretchy fabrics allow more air to flow than a hardshell, so they feel less impervious in strong gusts. Additionally, they're more prone to wetting out after extended exposure. But it doesn't get much better for most backcountry skiers, and it's for good reason that we see more stretch-infused hardshell pants on the shelves each year.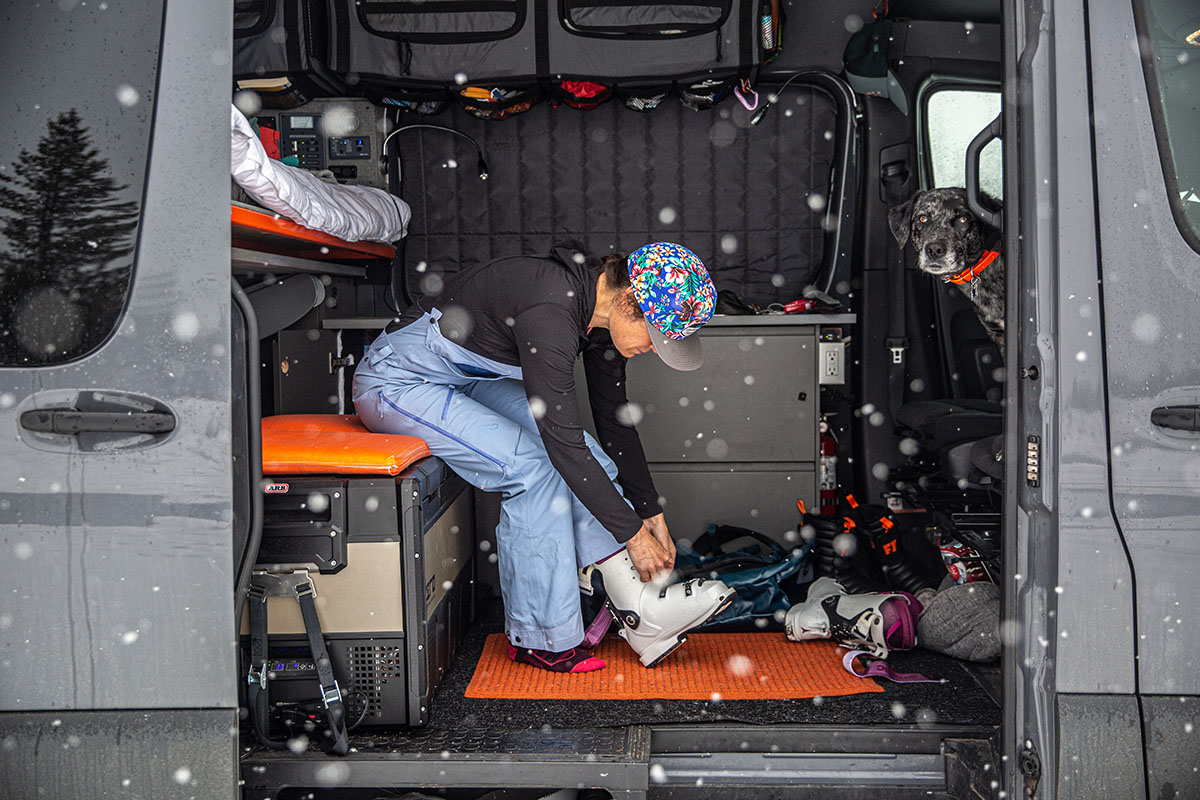 Softshell
On the far end of the spectrum are pants that feature full-on softshell constructions, such as the Dynafit Beast Hybrid and Roxy Rising High. Softshell fabrics are stretchy, air-permeable, and soft against the skin, which makes them great for high-output pursuits or (in the case of the Roxy) those who prize stylish, form-fitting designs. On the flipside, softshells absorb moisture much more readily than hardshells, which can cause them to grow heavy and less breathable (not to mention, some softshell designs do not come with a waterproof membrane). As a result, a softshell pant will fall short in wet weather, but they're still an intriguing choice for a lot of reasons. And designs like the Dynafit offer a nice mix of hardshell and softshell fabrics for ample weather protection, but we still don't recommend them for particularly soggy days out or resort use.

Insulation and Warmth
In terms of warmth, ski pants fall into two general categories: uninsulated shells and models with built-in synthetic fill. Resort skiers, and especially those that stick to groomed runs, will be best off with an insulated model. The boost in warmth is useful to fend off the chill, and the thicker construction provides an additional barrier between you and a frigid chairlift seat (or when sitting on snow). The vast majority of insulated ski pants use synthetic fill due to its affordability and that it continues to insulate even when wet (unlike goose or duck down). The amount of warmth offered doesn't vary too widely, and most use somewhere between 40- and 80-gram fill. The ideal amount for you will depend on your local conditions, skiing style (aggressive or casual), and if you're prone to running hot or cold. Opting for a pant with 60-gram synthetic is a safe bet, and a design like The North Face's Freedom Insulated is often the sweet spot for many skiers.
That being said, an uninsulated pant makes a lot of sense for hard chargers or those that plan to ski the side- and backcountry. A shell pant won't be as prone to overheating if you're a mogul rider, spend a lot of time off-trail in soft snow, or if you do any extended hiking. And if you'll be ski touring, a shell pant is a must-have to stay as cool as possible. A final benefit of foregoing insulation is that you can tune your baselayer depending on conditions: for spring-time or active use, you can opt for a lightweight model, and mid or heavyweight baselayers are great in the cold. Again, those planning on lapping the resort will most likely prefer the extra isolation and comfort of an insulated design, but there are a number of situations where a shell is the preferred option.

Fabric Layers: 3L vs. 2L
Most premium ski pants have a 3-layer construction, which incorporates three separate pieces of fabric: an outer shell, the actual waterproof and breathable membrane, and an inner lining. This makes it less bulky compared to a 2-layer design (these require a separate, hanging liner along the interior) and also improves breathability and next-to-skin comfort. 3-layer pants are more expensive than 2-layer models and often involve big names like Gore-Tex. As a result of their strengths, 3-layer pants are popular among serious downhill and backcountry skiers.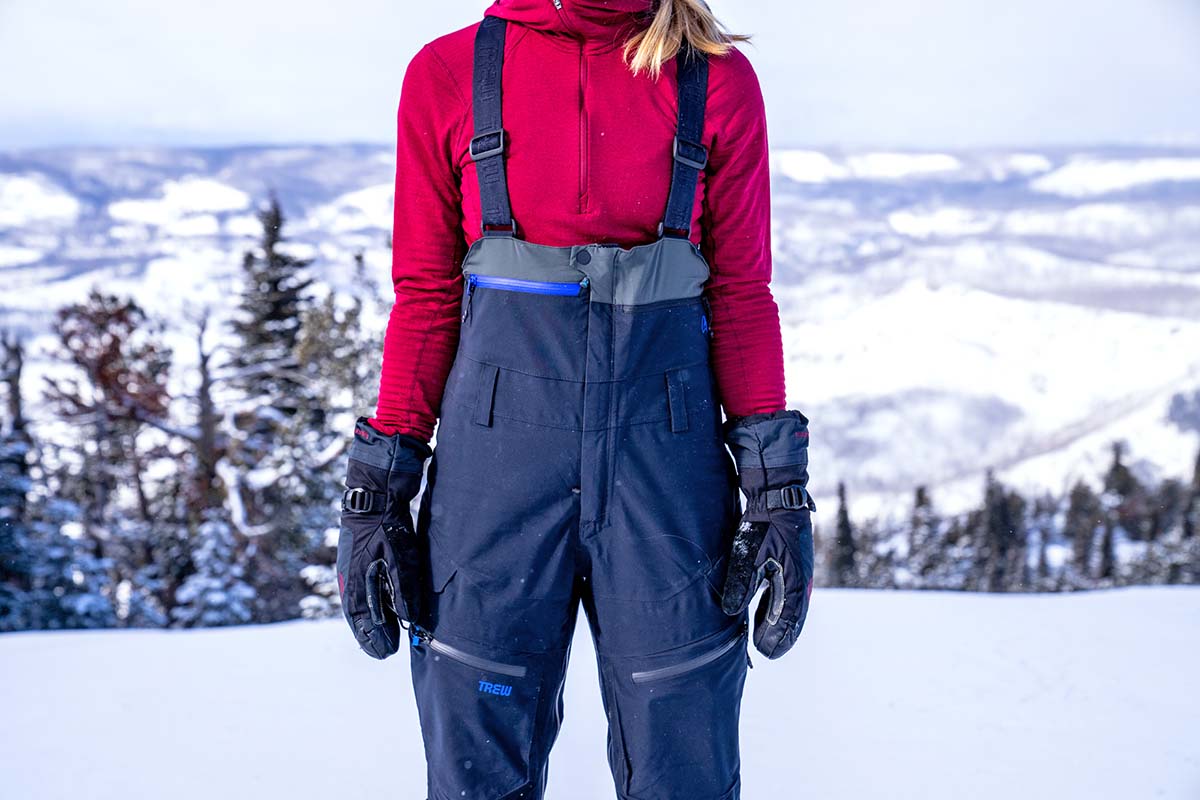 Many mid-range and budget ski pants have a 2-layer construction, in addition to most of the insulated models above. These are less breathable than 3-layer designs, although they often use thick fabrics that are quite durable. We've found that 2-layer pants are perfectly suitable for resort use where ventilation and mobility aren't as important, and they make a lot of sense for an insulated design (when an extra liner is required regardless). Further, you can save by going this route: for instance, the Columbia Bugaboo Omni-Heat Insulated costs $120, while the cheapest 3-layer waterproof pant on this list is $329 (the Outdoor Research Skyward II).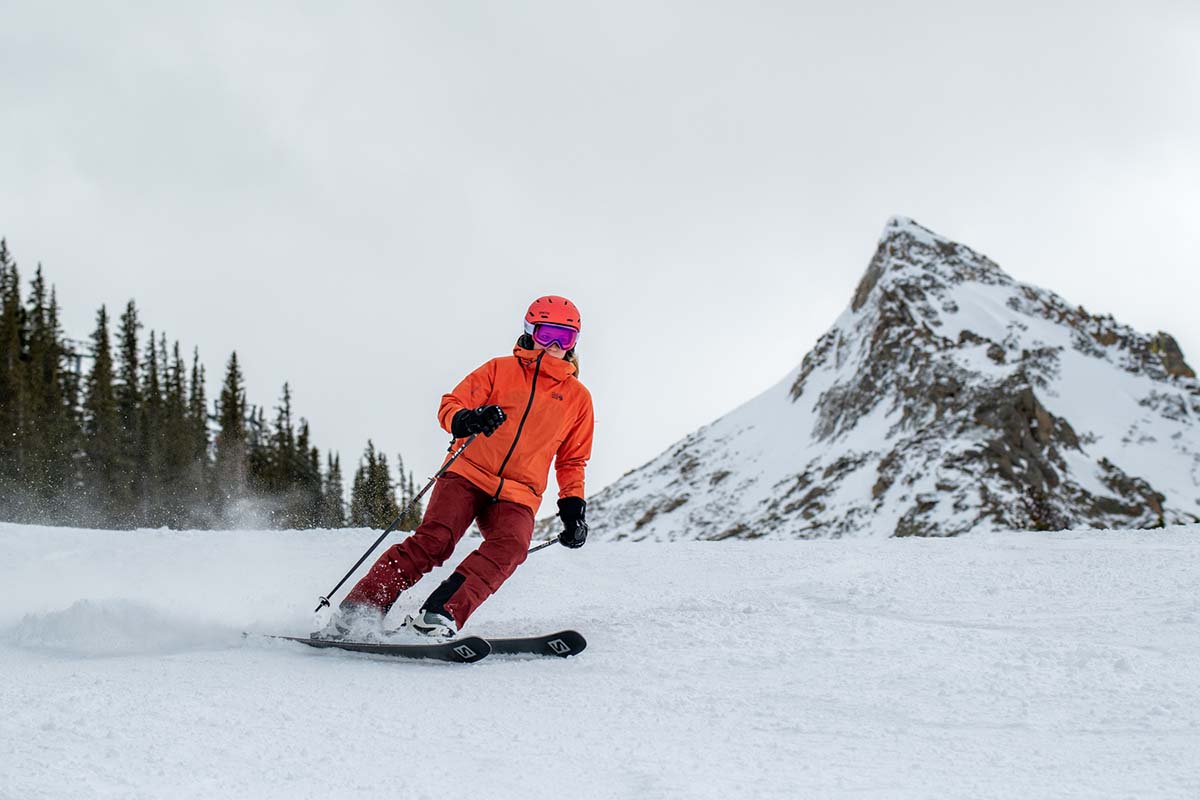 Waterproofing
Quality water resistance in a ski pant is an absolute must. They come in contact with snow on nearly every run (not to mention each lift ride) and really put the membrane and outer fabric to the test. For ultimate waterproof protection, look for a burly hardshell pant made with Gore-Tex. Mid-range and entry-level options often utilize manufacturers' in-house laminates (Patagonia's H2No and OR's AscentShell, for example) that are still fully waterproof but most likely won't have as long of a lifespan. Seam taping and a durable water repellent (DWR) coating also are important for hard chargers to keep moisture from sneaking through. And keep in mind that some budget offerings only feature seam taping in critical areas, which results in compromised waterproofing. Like most things, spending a little more does get you a nice upgrade in quality and longevity.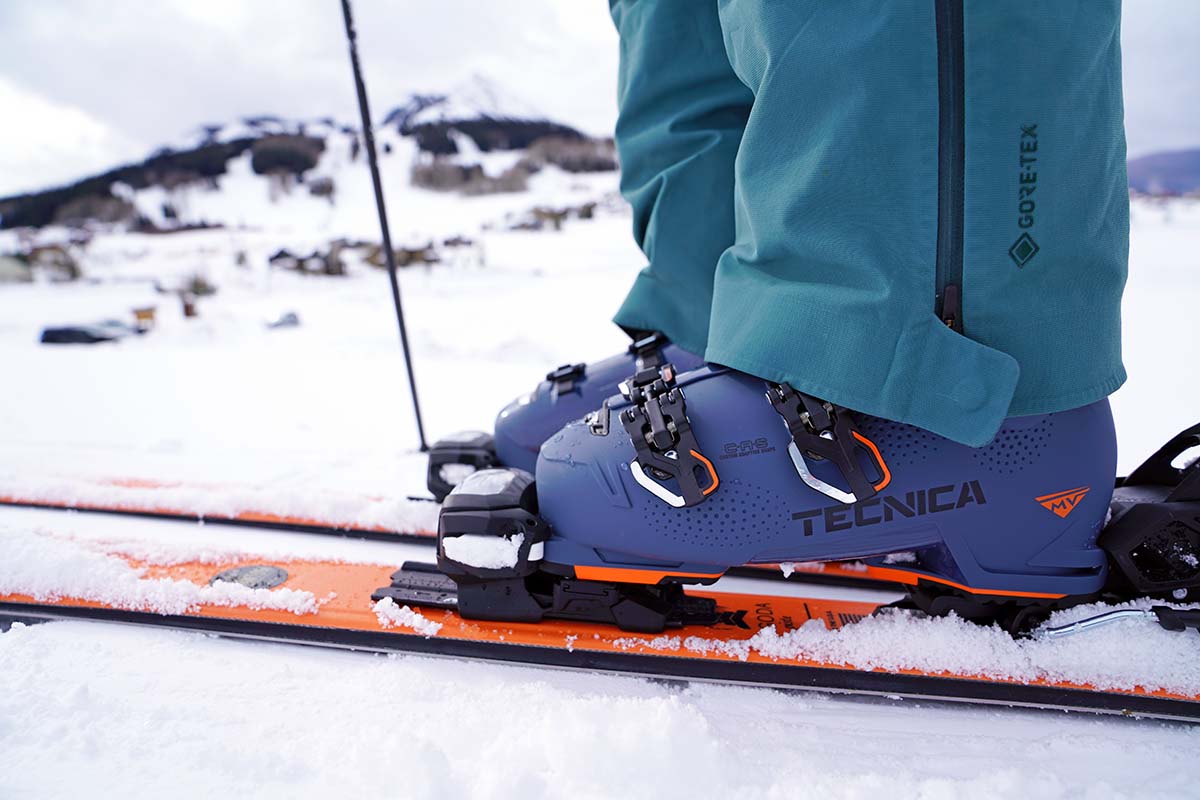 Backcountry skiers have a different set of priorities, so they do not always require full waterproofing. Less time sitting on a chair and more time on the skin track means that some backcountry skiers only need waterproofing in specific areas or a very water-resistant construction (especially in regions known for dry snow like the Rocky Mountains). Your needs will vary, but don't automatically discount a partially waterproof or non-waterproof pant (like the Dynafit Beast Hybrid Pant) for backcountry use, especially in warmer spring conditions when you need the added breathability.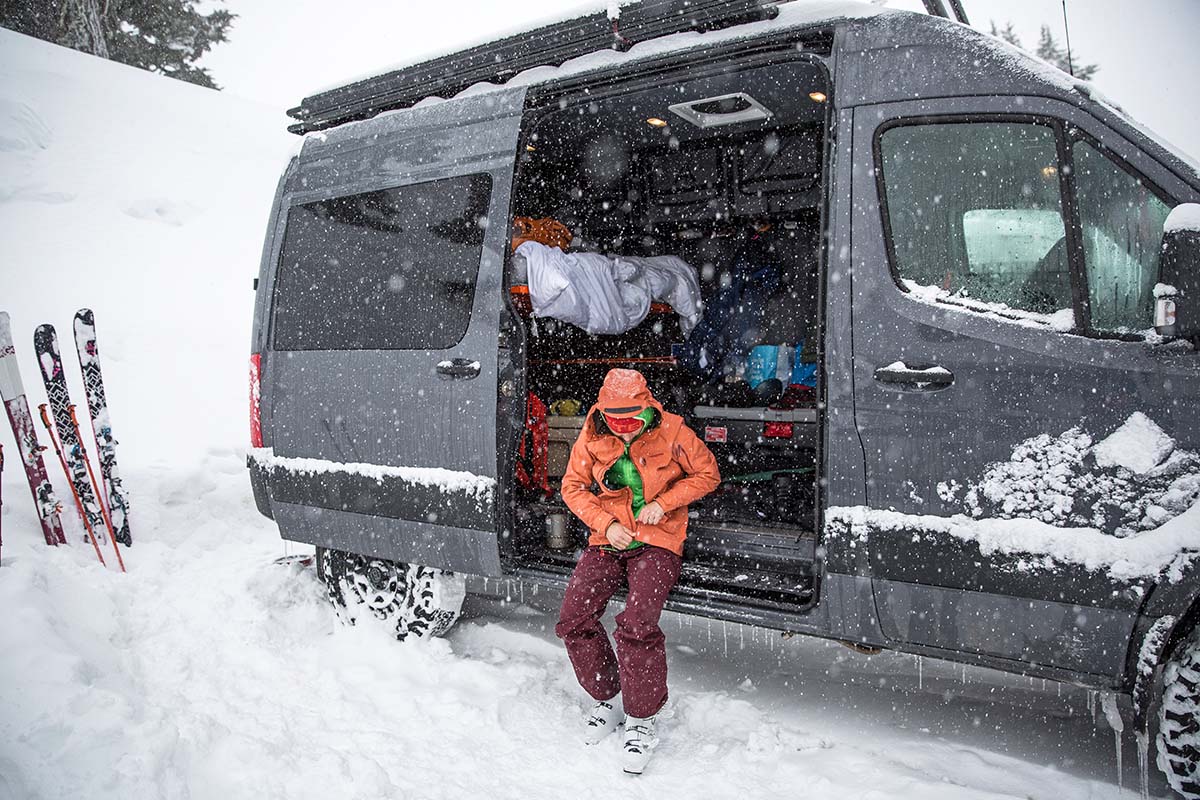 Breathability
As we touched on above, breathability needs are closely aligned with your intended use(s). Resort riders—especially those that plan to stay on groomed runs—usually don't require a light and airy design. Most standard 2-layer constructions will offer sufficient breathability, and you can always select one with zippered vents to dump a little excess heat as needed. However, if you venture into the sidecountry, plan to mix in some touring, or are a backcountry enthusiast, breathability becomes an important consideration. Among hardshell designs, lightweight 3-layer constructions are the best ventilators, and many stretchy hardshells or designs with panels of softshell fabric are even more impressive. You make compromises in all-out protection in harsh winds and wet snow, but air-permeable options like the Outdoor Research Skyward II or Dynafit Beast Hybrid Pant are great performers when working hard.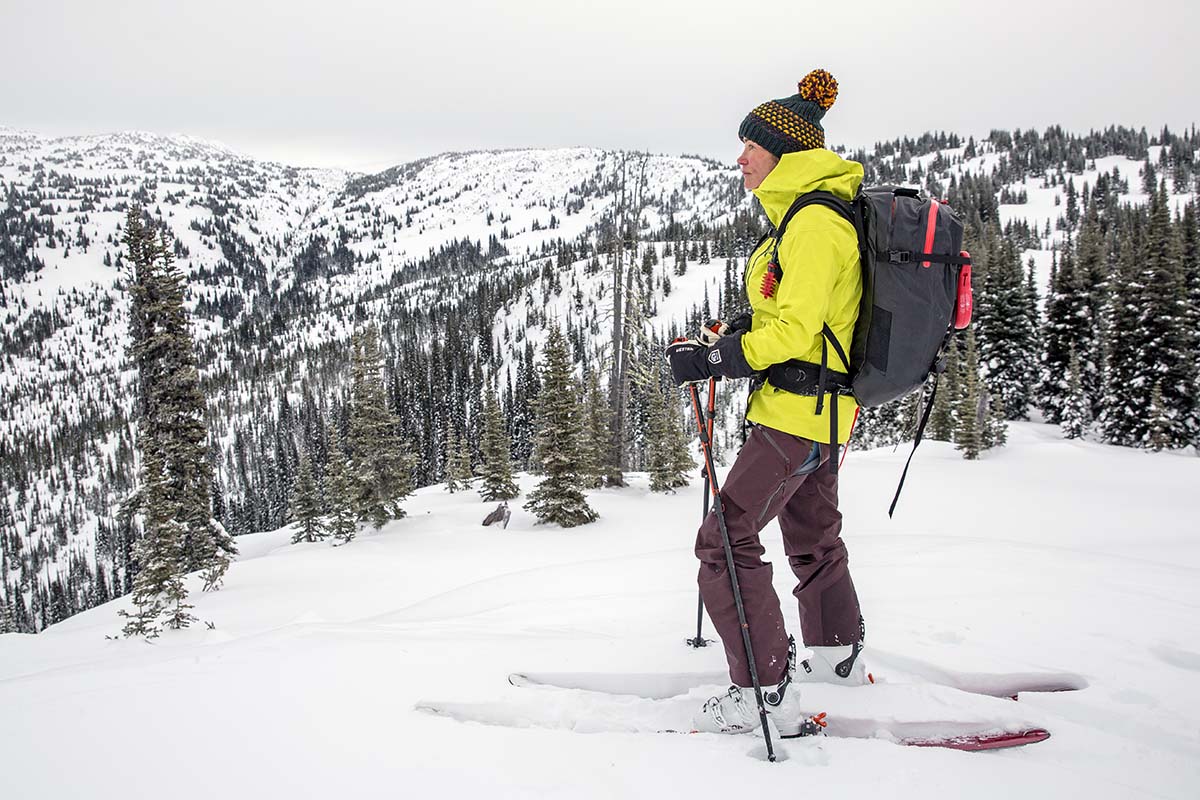 Durability
Ski pants see a lot of rough use—everything from ski boot buckles, metal edges, and chairlifts can wreak havoc on the materials. As a result, they're a tough bunch overall. The most common way of determining ski pant durability is the fabric denier (D), which measures the thickness of the threads used for the shell material. Most resort-oriented designs are pretty substantial, including the Patagonia Storm Shift (150D) and The North Face Freedom (140D x 160D). On the other end of the spectrum, touring-focused pants like the Outdoor Research Skyward II (50D) make the most compromises in durability to maximize comfort, mobility, and performance on the go. Our top-rated pant, the Arc'teryx Sentinel, does an excellent job of balancing needs for both activities with its high-quality 70D shell. Finally, it's worth noting that many pants include a reinforced patch along the inside of the cuff (sometimes referred to as a scuff guard) for additional protection from ski edges.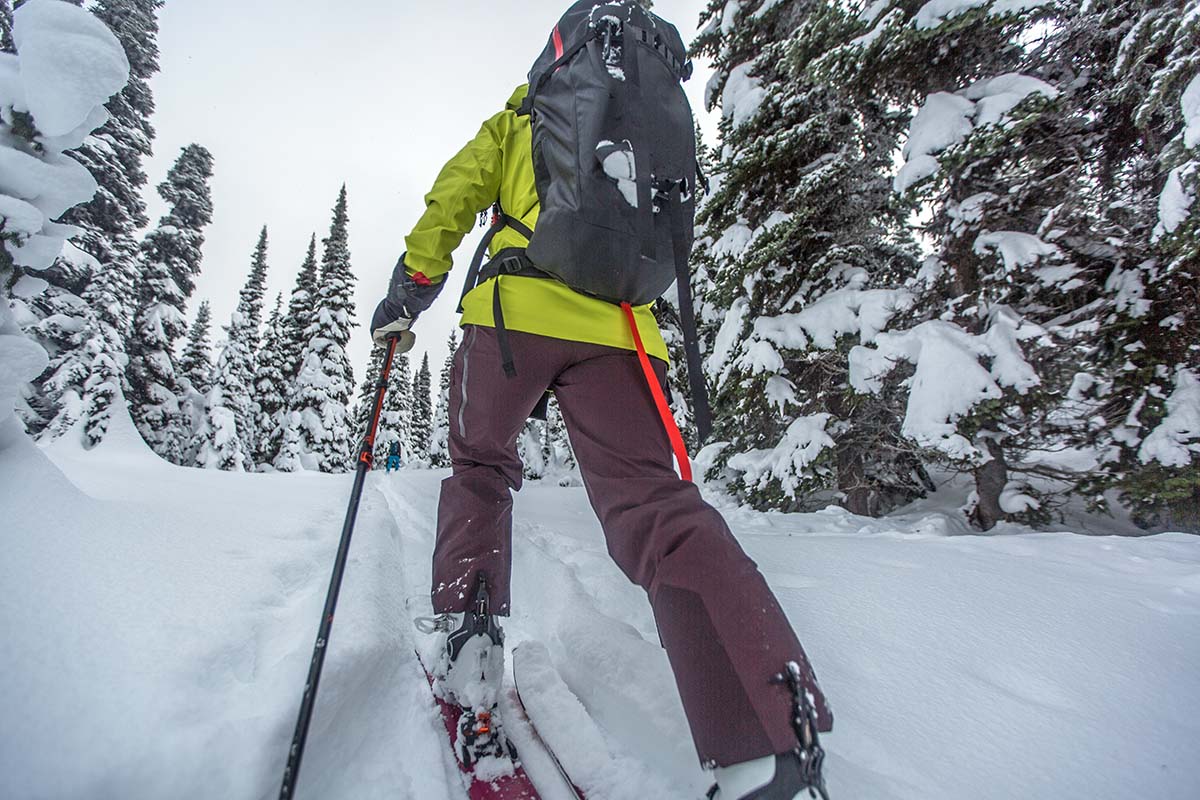 Ski Pants vs. Bibs
Another "either or" decision when choosing ski pants is if you should opt for regular ski pants or a bib. Ski pants are the traditional choice and what most folks are familiar and comfortable with. They're completely capable for resort or backcountry skiing and are much easier to slip on and off. The primary downside is felt when cold air or moisture finds its way up your back on the chairlift or after taking a fall. Bibs are the remedy for these maladies as they offer better protection from the snow, wind, and wet. They also run a little warmer thanks to the extra layering that covers part of your upper body. While you don't have to worry about any discomfort from a waistband, the straps that run over your shoulders can take some getting used to, and you'll need to dial in the fit to keep them from moving around excessively or pulling the pant legs up too high.
On a related note, fit can be a challenge when it comes to women's ski bibs. For this reason, we especially love the TREW Gear Chariot PRIMO and Flylow Gear Foxy, which come in a range of sizes including short, regular, and tall lengths. A shorter bib like the Patagonia PowSlayer is another great option—you get above-the-waist protection without too much extra bulk. For more of our top picks, see our article on the best women's ski bibs.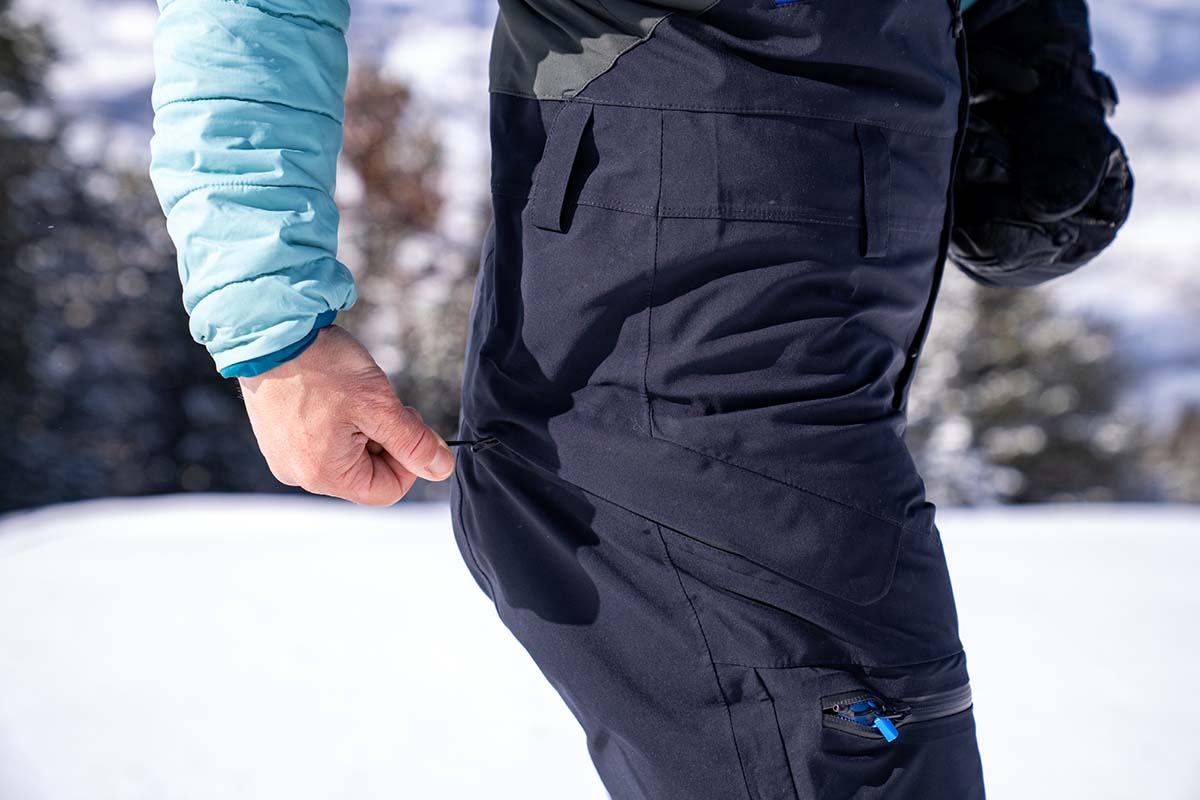 Ski Pant Features
Pockets
Typically, your jacket or ski backpack will be your primary place to store personal items, but it's still worth checking the pocket situation on a pair of ski pants you're eyeing. We recommend keeping it simple and looking for a couple of zippered pockets that can fit snacks or personal effects. Unless you really need the extra capacity, we're not huge fans of cargo pockets for resort skiing—filling them with larger items feels ungainly on the mountain. Backcountry-specific pants like the Outdoor Research Skyward II put a greater emphasis on storage with dedicated pockets for items like an avalanche beacon and extras like a map or GPS device.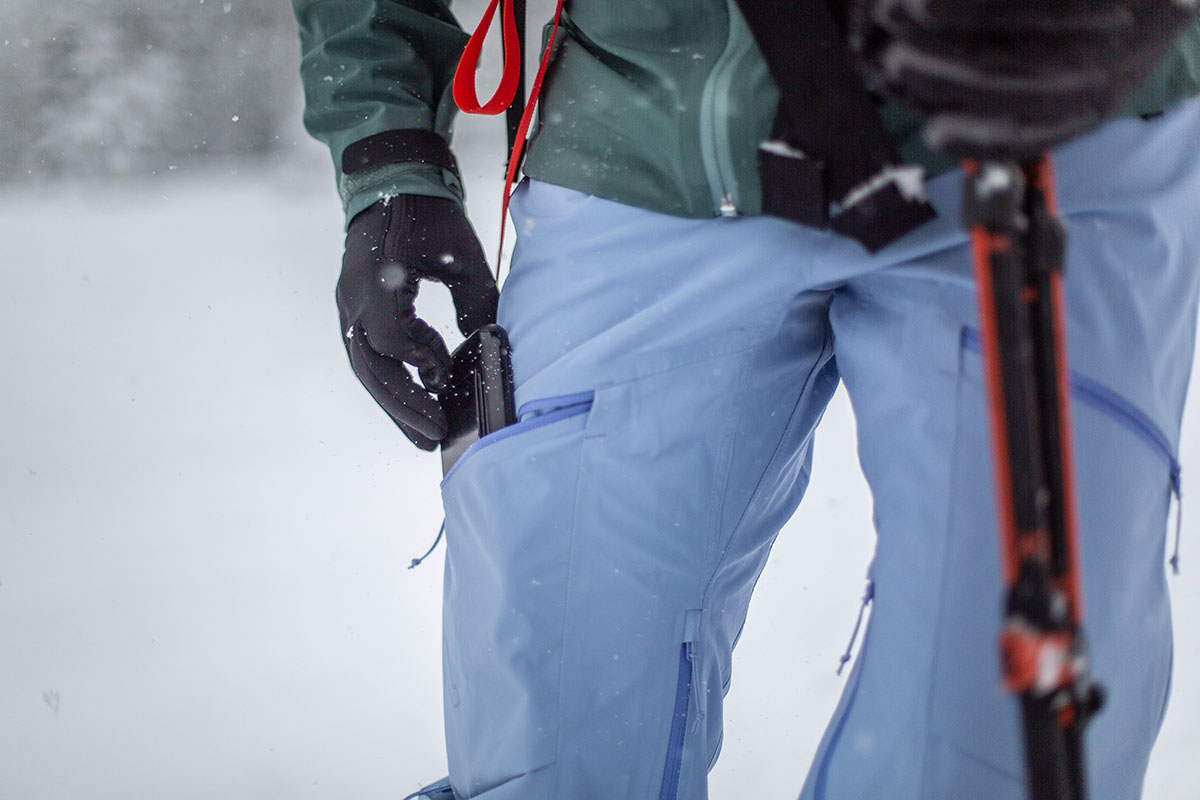 Ventilation
To aid in breathability, most ski pants boast a zippered ventilation system (essentially pit zips for your legs). The most common locations for the zippered panels are along the inside or outside of your thighs. We've found that outer-thigh vents do a better job dumping heat, while those on the inner thigh add unwanted bulk and can occasionally impact comfort (on the bright side, they are less conspicuous). Backcountry-specific pants often have the zippers on the outside of the legs in part for this reason, and some even place them on the back of the hamstrings to keep fabric from puffing out at the sides. Finally, Flylow Gear's Foxy Bib and Nina pant have vents on both sides of the leg, which provides excellent cross ventilation.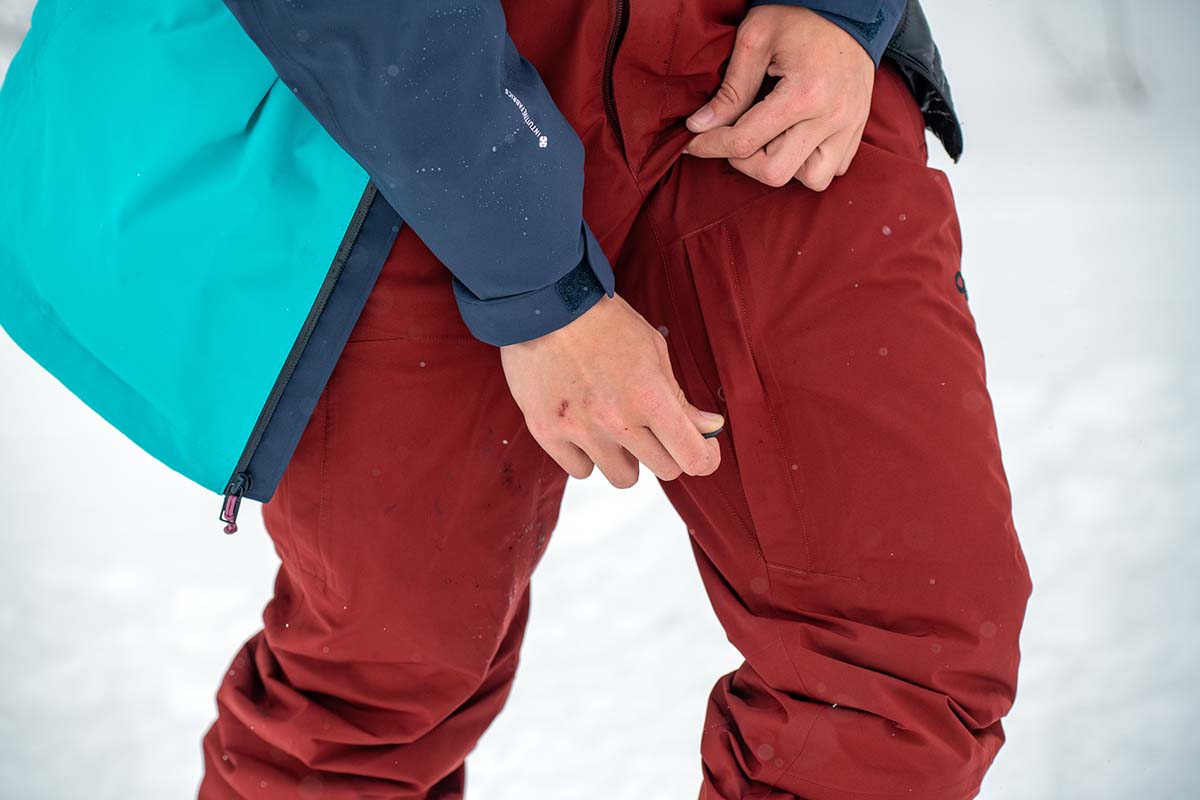 Jacket-to-Pant Attachment Systems
Let's face it: wipeouts happen, regardless of your skill level. And if you've had the pleasure of experiencing a tumble on the slopes, you know that snow is adept at finding its way into the crevices of your ski jacket or pants. To help prevent this, some manufacturers place a button or loop on the jacket's powder skirt to connect it to a corresponding attachment on the pants, forming a solid seal from the wet and cold. It's certainly not a required feature for either resort or backcountry use, but it's a nice addition for many. It's worth noting that in nearly all cases, you'll need to purchase a ski pant from the same brand for the system to work and integrate properly.

RECCO
You may run into RECCO listed as a feature on some mid-range and high-end ski pants. These are for skiers that make their way out of bounds or into areas where they may experience avalanche dangers. The RECCO reflector is a passive unit that doesn't require batteries and can be picked up by detectors often carried by resort search and rescue personnel. They lack the technology and strong signal of a dedicated avalanche beacon and should not be considered a substitute, but they do provide an additional safety measure for resort skiers that venture off-trail. For more information, RECCO's website provides a good breakdown of the tech.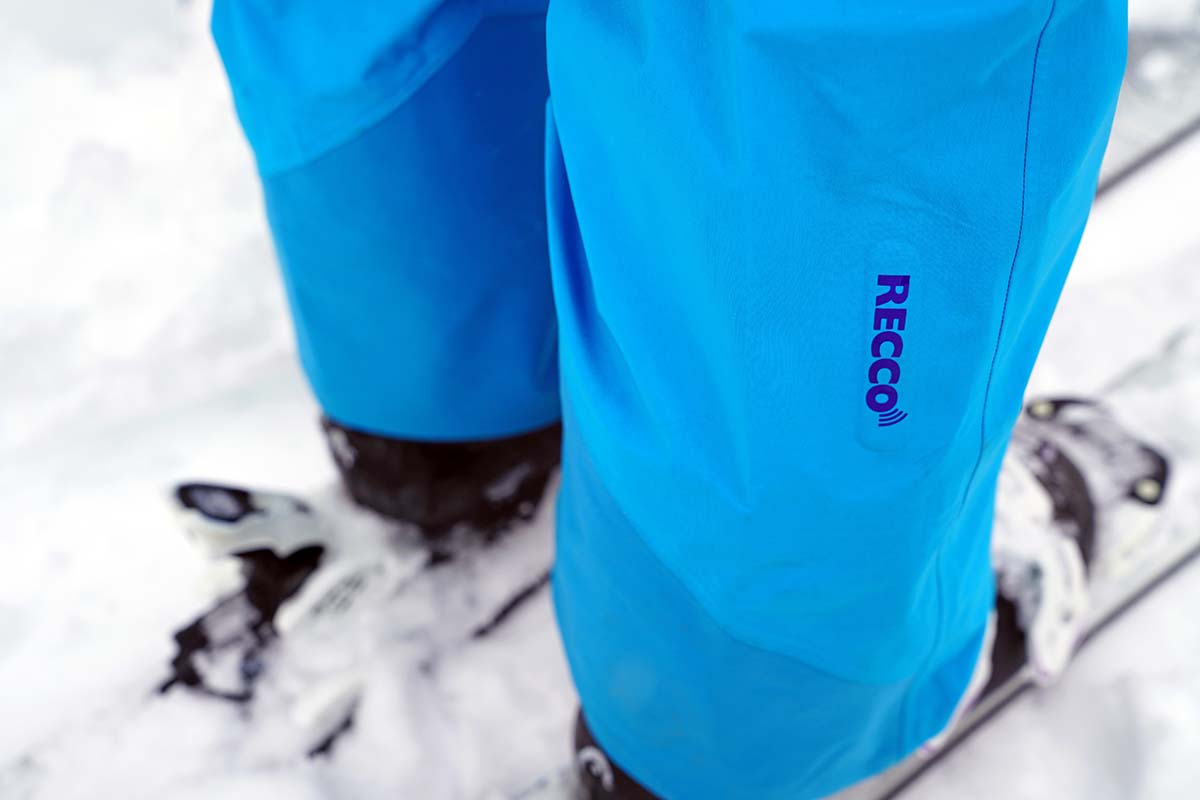 Fit and Sizing
Ski pant fit largely comes down to a matter of style and personal preference, but we can offer a few pointers for the uninitiated. Generally, most beginner and intermediate downhill skiers will opt for a comfortable fit that is neither too tight nor too baggy. Backcountry touring types lean towards a slimmer cut for less bulk (usually with built-in stretch to help with mobility). And then there's the style component, which runs the gamut from classy, snug-fitting numbers like the Roxy Rising High to baggier designs inspired by street style. In the end, the most important thing is to find a pant that's comfortable for you, and be sure to leave enough room for a light or midweight baselayer underneath (you'll want this option even with the insulated styles).
To help you get a good fit, many women's pants come in a range of sizes, including regular, short, and tall lengths. Designs like the TREW Gear Chariot, Obermeyer Bliss, and REI Co-op Powderbound lead the charge here and are great picks for women who are particular about fit or have body shapes that fall outside the industry norm (the Powderbound notably comes in petite and plus-size versions). Also look for Velcro waist adjustments and stretchy panels on bibs, which can help dial in a slightly loose pant and accommodate for varying layers as the season progresses.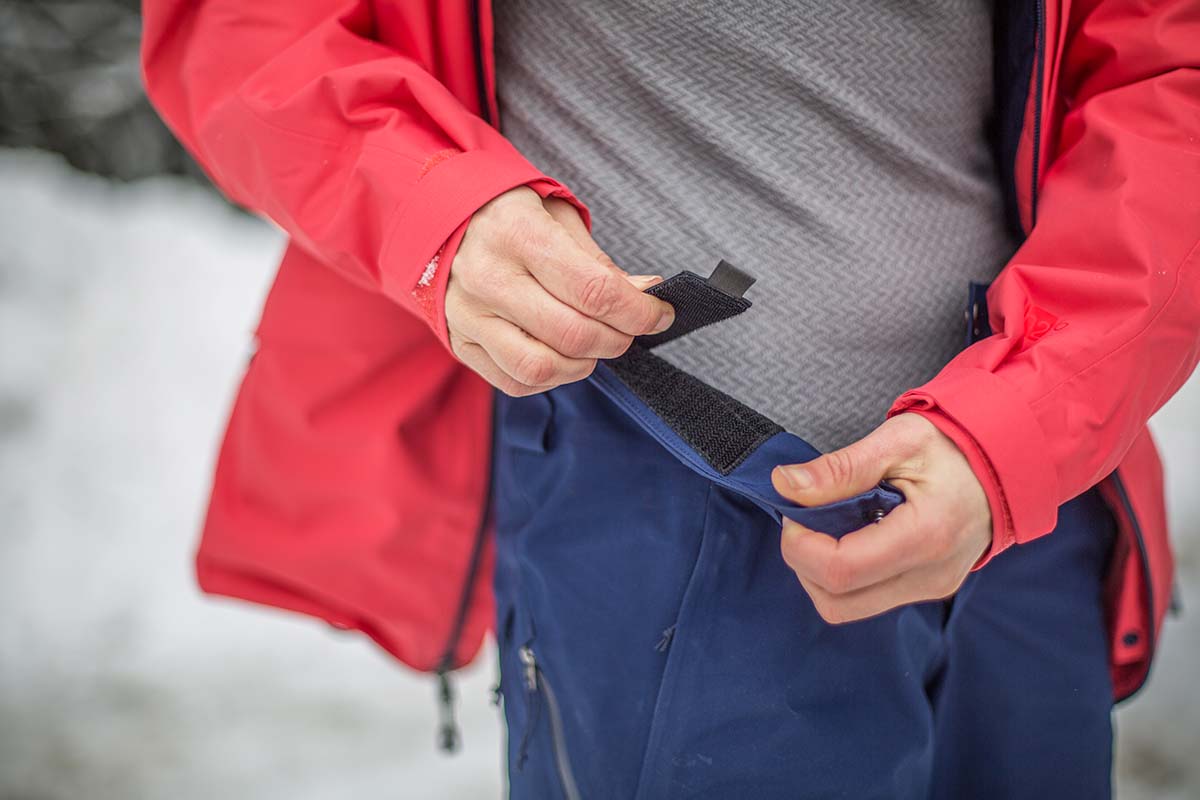 Sustainability: Recycled Fabrics, PFC-Free DWR, and More
In recent years, there's been an important shift in sustainable practices throughout the outdoor gear industry, and ski pants are no exception. With brands like Patagonia at the helm, we've begun to see a greater use of recycled materials, more responsible production practices (including the use of perfluorocarbon-free water repellent finishes—aka PFC-free DWR), and an emphasis on the ethical treatment of workers. What's more, many companies are now recognized as certified B Corps and/or utilize the bluesign system for sourcing materials responsibly. If you want to shop sustainably and support a healthy planet, the buzzwords above are a great place to start. On the other hand, we're big advocates of reducing consumption and reusing old gear: The good news is that many brands now offer repair programs and used marketplaces for their offerings, including Patagonia, Arc'teryx, REI Co-op, and more.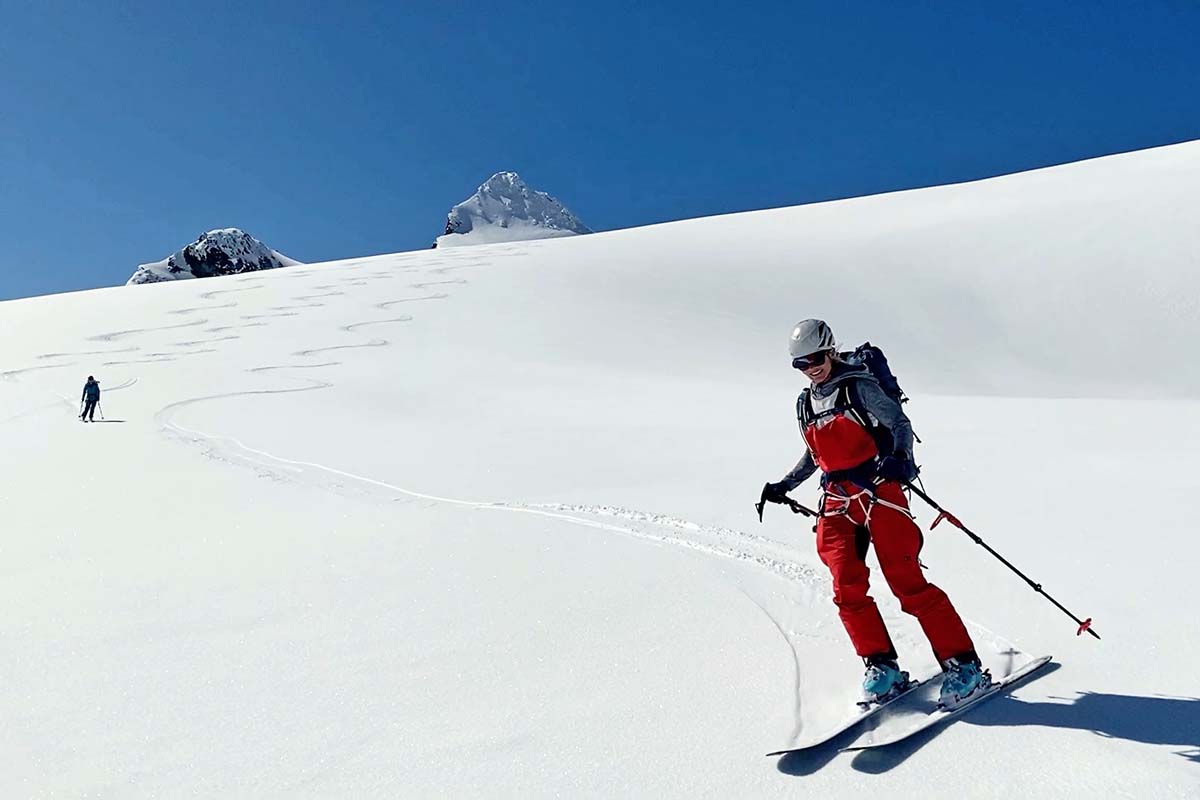 Layering Underneath Your Ski Pants
The layers you wear under your ski pants don't get as much attention as those warming your core, but they nevertheless remain an important consideration. To start, it's almost always a good idea to throw on at least a thin pair of long underwear both for resort and backcountry skiing. The extra layer not only provides insulation and protection from cold snow and freezing chairlift seats, but it also wicks moisture away from your skin. Further, the interiors of ski pants (especially uninsulated designs) are often not very plush, with exposed mesh, zippers, and minimalist liners that become less comfortable as the day wears on.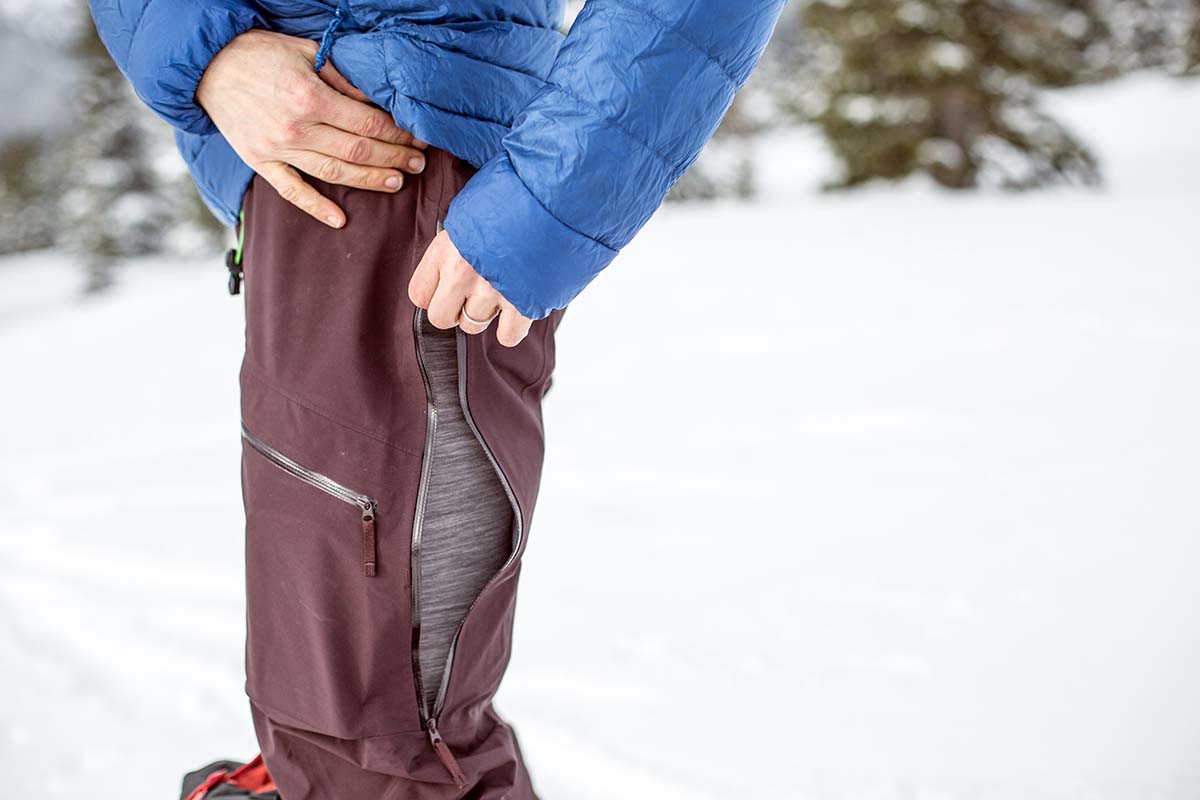 In choosing a baselayer, it's worth getting a soft and close-fitting design to maximize warmth. The best models are made with either synthetic or merino wool—cotton doesn't insulate when wet, so it's a bad idea even on a resort day. Synthetics are the cheaper option and efficiently wick moisture, but merino wool is our favorite. It's very warm for its weight, cozy and soft, and naturally resists odor better than a polyester alternative. Baselayers are offered in a range of thicknesses, including lightweight designs for warm days or backcountry use, as well as mid- and heavyweight options for cold days at the resort. And in particularly frigid conditions, you can always double up your baselayers to increase warmth.
 
Ski Jacket and Pant Sets
Matching your ski jacket and pants is by no means a requirement to looking good on the slopes, but manufacturers make it easy to do. The vast majority of the pants above have a jacket counterpart, and often under the same name. For example, the Arc'teryx Sentinel is available both as a jacket and a pant, in addition to the Patagonia Powder Town and OR Hemispheres II. In almost every case, the jacket features similar fabric and construction as the pant (for example, both the Sentinel jacket and pant are made with 3L Gore-Tex) and comes in a matching color.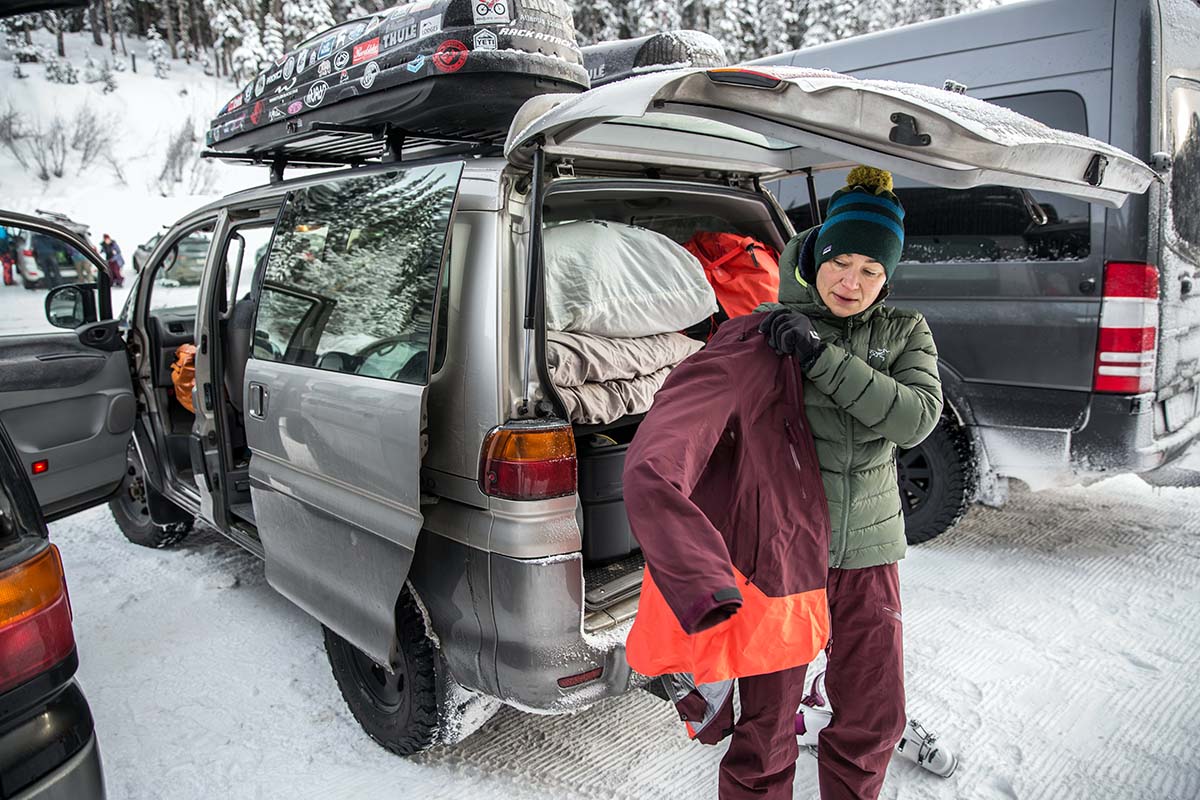 Purchasing the complete set is fine, but penny pinchers in particular will find that they can save a lot by opting for a premium jacket and more budget-oriented pants. The reasoning is this: mid-range pants (like the Patagonia Snowbelle or Helly Hansen Legendary) lag behind premium models in two key ways—breathability and added bulk. And while we don't like to make compromises when it comes to the look and feel of our top layers, in most cases (particularly at the resort), the tradeoffs are less obvious in a pant. Plus, switching it up allows you to put together a fun, complimentary ski set, whereas most matching designs feature the same color for both the pant and the jacket. For a look at the best options of the season, check out our article on the best women's ski jackets.
Back to Our Top Women's Ski Pant Picks  Back to Our Women's Ski Pant Comparison Table
Learn More About Ski Gear