Patagonia Insulated Powder Town Pants
Price: $269
Waterproofing: 2L H2No Performance Standard
Insulation: 60g Thermogreen
What we like: Reliable protection, cozy warmth, and excellent build quality at a reasonable price.
What we don't: Significantly less versatile and breathable than uninsulated designs.
See the Women's Insulated Powder Town  See the Men's Insulated Powder Town
Patagonia's ski pant lineup ranges from uninsulated shells for mileage-heavy backcountry missions to insulated designs for fending off the chill on cold resort days. The Insulated Powder Town Pants are unapologetically built for the latter with a thin but warm dose of synthetic fill, protective and durable 2-layer build, and well-executed feature set for staying comfortable and organized on the slopes. As with any insulated design, the Powder Town falls short of standard hardshells in versatility and breathability—it won't be a top choice among mixed resort/backcountry riders—but is a great match for cold climates and those who require the extra warmth. Below we break down our experiences with the Insulated Powder Town Pants. To see how they stack up to the competition, check out our articles on the best ski pants, best women's ski pants, best snowboard pants, and best women's snowboard pants.
 
---
Table of Contents
---

Performance
Weather Protection
Like the rest of Patagonia's Powder Town collection, the Insulated Powder Town Pants use a thick, 2-layer H2No shell and quality durable water repellent (DWR) finish to fend off wet winter weather. For reference, I've worn a lot of Patagonia gear over the years and have consistently found their in-house membrane to be on par with Gore-Tex, which is the gold standard among waterproofing technologies. And this has held true with the Powder Town: I put the pants through their paces in a wide range of inclement weather—from sleet and rain to heavy snow—and remained perfectly dry throughout. The DWR coating has deteriorated a little in high-wear areas, causing the exterior to appear wet, although the membrane has prevented moisture from making its way through the shell to my baselayers. 
The rest of the Powder Town's design is equally weather-worthy. For starters, the thigh pocket and vent zippers are all highly water-resistant, while the hand pockets swap in substantial fabric flaps to protect the openings, which have proven to be just as effective. Further, Patagonia equipped the pants with internal gaiters to prevent snow from making its way into your boots, along with a loop at the rear yoke for attaching to the powder skirt of compatible ski jackets (any of Patagonia's current offerings will work). I often paired the pants with the matching Insulated Powder Town Jacket and had no issues with snow creeping in, even on dreamy powder days.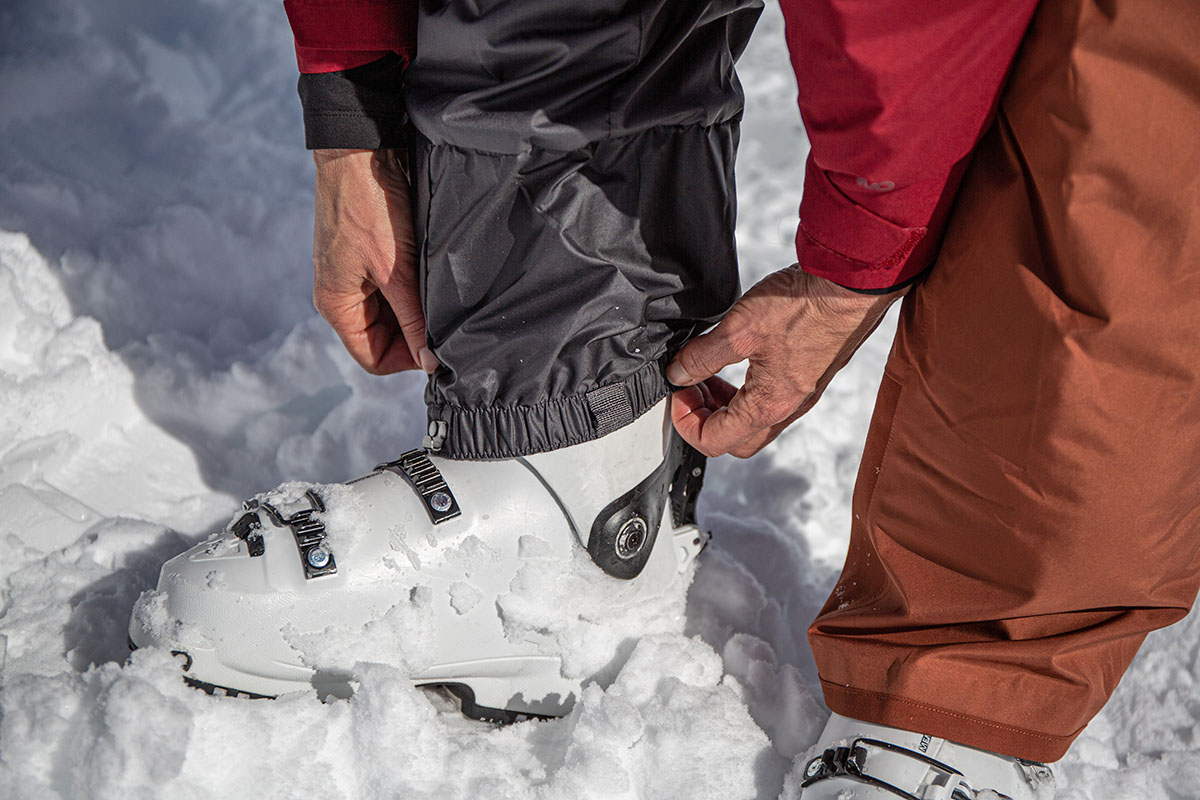 Warmth
The Insulated Powder Town Pants boast 60-gram (g) Thermogreen insulation throughout, which has provided ample warmth in moderate winter conditions. I typically wear the pants with thin (125g/m²) merino long underwear underneath and haven't needed to reach for a thicker baselayer despite skiing in temperatures down to around 5 degrees Fahrenheit. The pants even kept me comfortable while stuck on an icy chairlift in pelting wind and sleet with no noticeable drafts. That said, like all insulated designs, the Powder Town Pants do have their limitations on frigid days. While they're a great match for near-freezing temperatures at the resort with just a light baselayer underneath, you'll likely need to bump up to a more insulated design or opt for a thicker baselayer in extreme cold. If you go the latter route, make sure to size appropriately to account for the added bulk.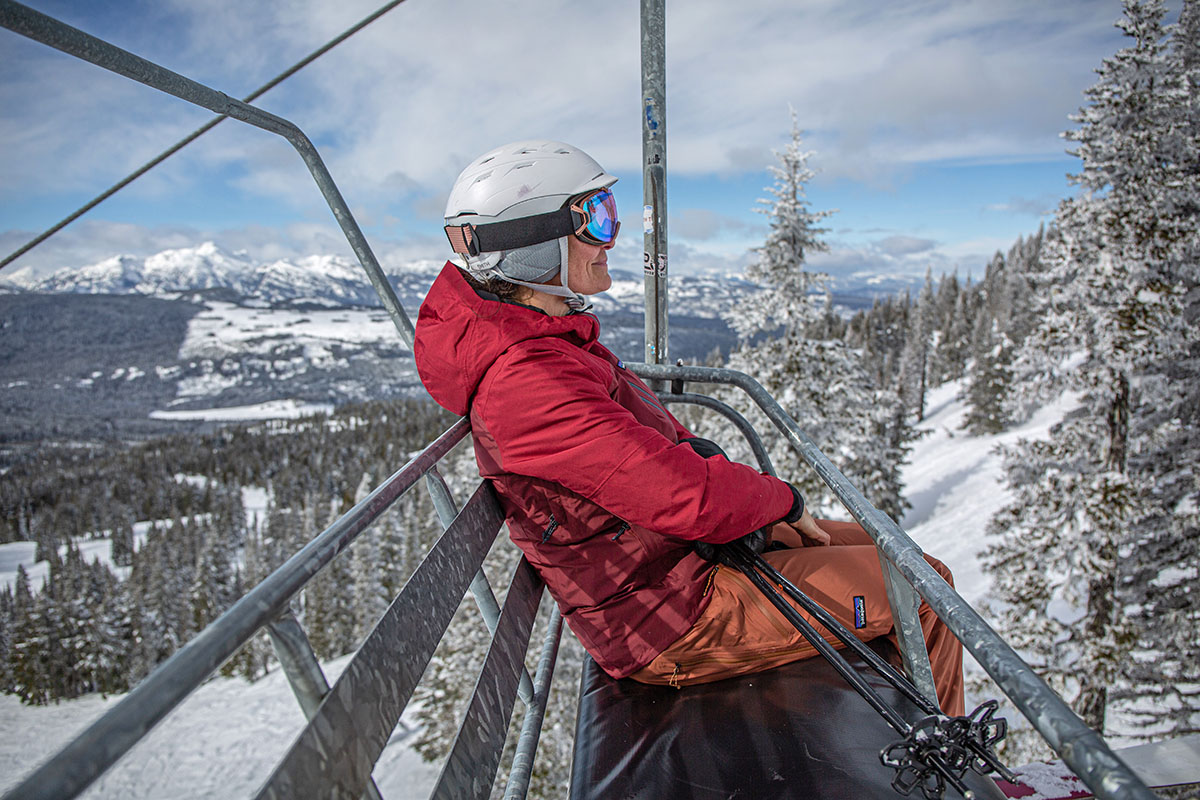 Comfort and Mobility
Along with reliable weatherproofing, the Insulated Powder Town Pants fared well in the comfort department. The supple taffeta lining slides smoothly over baselayers with no snagging, and overall mobility is great thanks to the accommodating and articulated fit—I've had no issues with range of motion when skiing or crouching down to fiddle with boots. I also didn't experience any unwanted bulk, tightness, or bunching, which isn't always the case with insulated designs. Similarly, the large cuffs allow for easy buckle adjustments, and the internal gaiters fit perfectly over boots without being too snug. Finally, it's easy to customize fit with large Velcro tabs for tightening or loosening the internal elastic waistband. I don't love the choice of Velcro—it can snag on baselayers, scratch your skin, and cause discomfort under the hipbelt of a ski pack—but thankfully, I haven't had any issues to date and appreciate the ability to fine-tune fit considering the pants were a little big on me (more in "Fit and Sizing" below).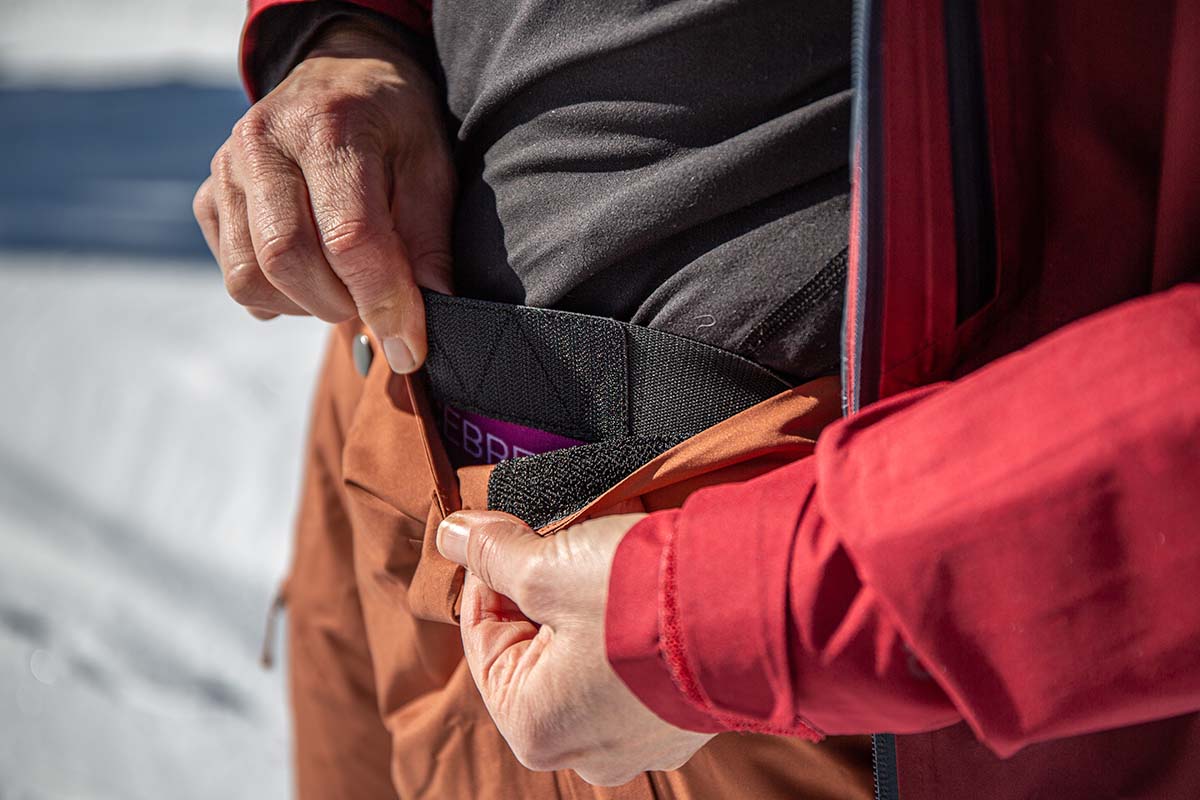 Breathability
Insulated, waterproof pants are inherently limited on breathability, but the Powder Town Pants are perfectly serviceable provided you're not working up a sweat. To help with airflow, Patagonia equipped the pants with generously sized outer thigh vents, which were surprisingly effective at dumping excess heat during an unexpected bootpack up a ski run when my husband's binding broke. To be fair, temps were in the upper teens Fahrenheit, and I do think that Patagonia could have made the mesh lining even thinner to increase the vents' effectiveness. Still, I didn't grow sweaty or damp, which helped fend off the chill on subsequent runs. In the end, the Insulated Powder Town Pants are decidedly overbuilt for miles-long slogs into the backcountry (as are most insulated designs), but they're plenty workable for season-long resort use and occasional sidecountry outings.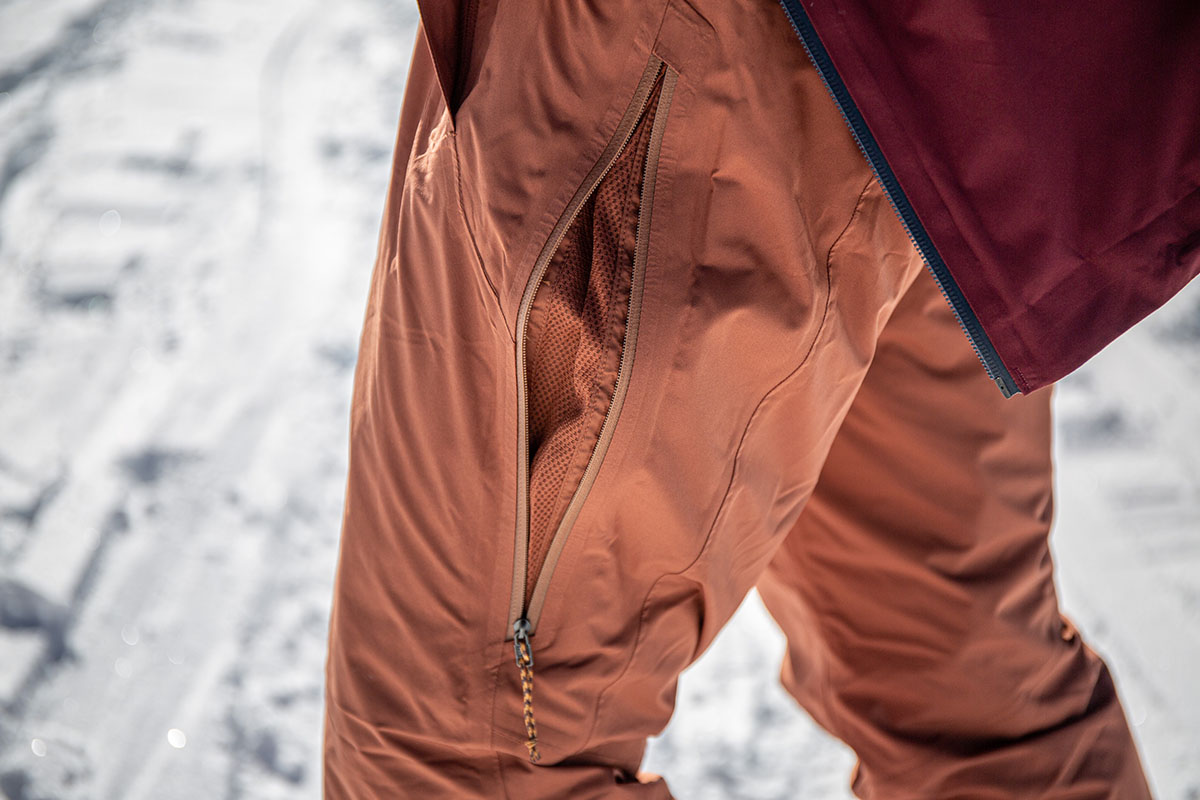 Key Features
The Insulated Powder Town Pants come nicely equipped in the features department with practical storage, effective venting, and a few helpful extras. Starting with organization, you get two hand pockets and one thigh pocket. The hand pockets are fleece-lined for comfort and protected by substantial fabric flaps, while the thigh pocket features a water-resistant zipper and boasts a loop inside for attaching keys. I often store my phone in the latter pocket, as the fit is loose enough that it sits comfortably without digging into my thigh.
As I mentioned above, you also get generously sized, mesh-lined vents at the outer thigh for dumping excess heat. These are a nice upgrade over most budget-oriented pants that place the vents along the inner thigh, which are less effective for air flow and create extra bulk. Moving to the bottom, the pants boast internal gaiters that nicely secure around ski boots and prevent snow from entering at the cuffs, along with tough scuff guards for protection against sharp gear. Finally, Patagonia equipped the pants with a hidden Recco reflector, which will transmit your location to rescuers in the event of an emergency.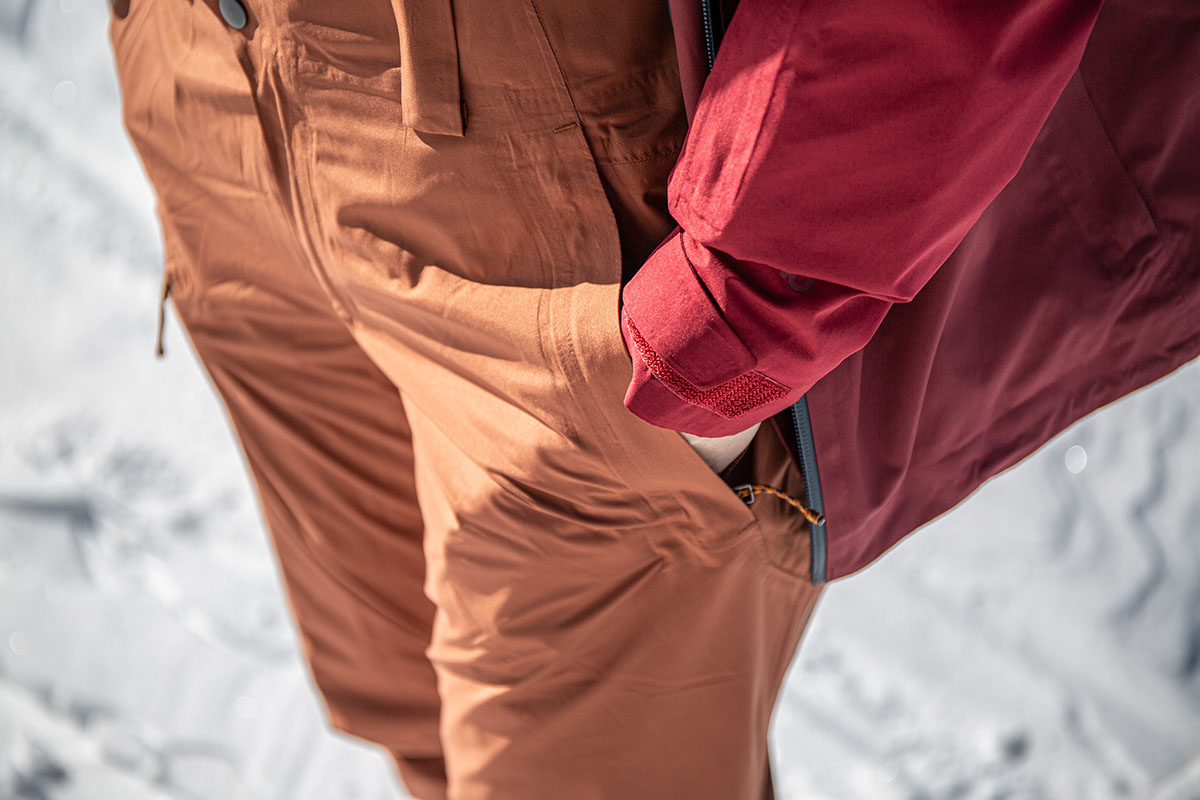 Build Quality and Durability
As we've come to expect from Patagonia, the Insulated Powder Town Pants are built to last and have held up very well to testing thus far. After considerable resort use, there are virtually no signs of wear: The insulation has retained its loft with no packing out, all the zippers are intact and working flawlessly, and the thick scuff guards have done an admirable job of fending off scratches and scrapes from sharp ski equipment like poles and bindings. It's a similar story with the outer shell, which has been robust enough to shrug off snags on lifts and tree branches. As I mentioned, the DWR finish has lost some of its effectiveness, causing the outer shell to appear wet in rain and snow, but the H2No membrane is as protective as ever and hasn't allowed any moisture to make its way to my baselayers—plus, you can always revive the coating with a product like Nikwax's TX.Direct.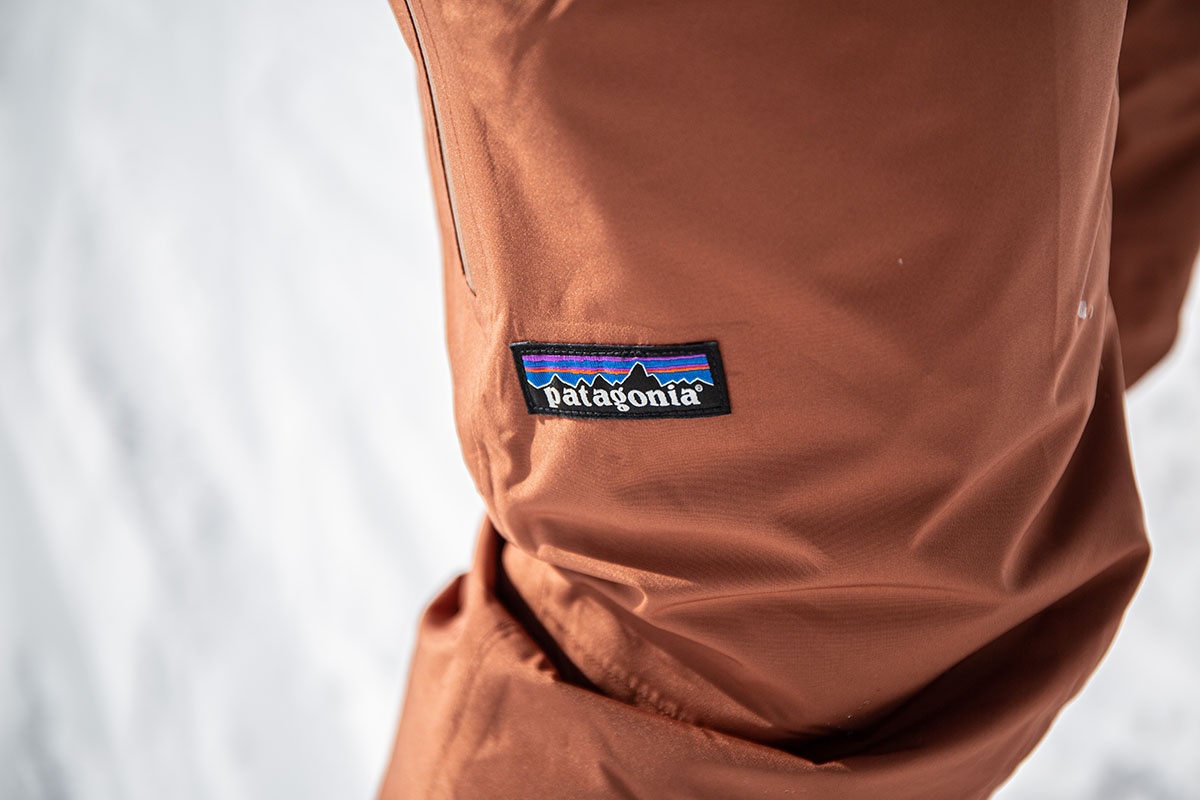 Fit and Sizing
The Insulated Powder Town Pants are labeled as a "regular" fit, which means they're designed to accommodate layers underneath without feeling overly baggy. I did experience some extra room in the hips in my usual women's size small (for reference, my hips are fairly narrow), but it didn't impact mobility or comfort and made it easier to store my phone in the thigh pocket. As I touched on above, Patagonia also equipped the pants with Velcro tabs to tighten or loosen the fit, which stayed securely in place throughout testing, along with belt loops for those with smaller waists. Finally, it's worth noting that the pants are offered in seven sizes (XXS to XXL) and two inseam lengths (30 and 32 in.), meaning most women should be able to achieve a good all-around fit.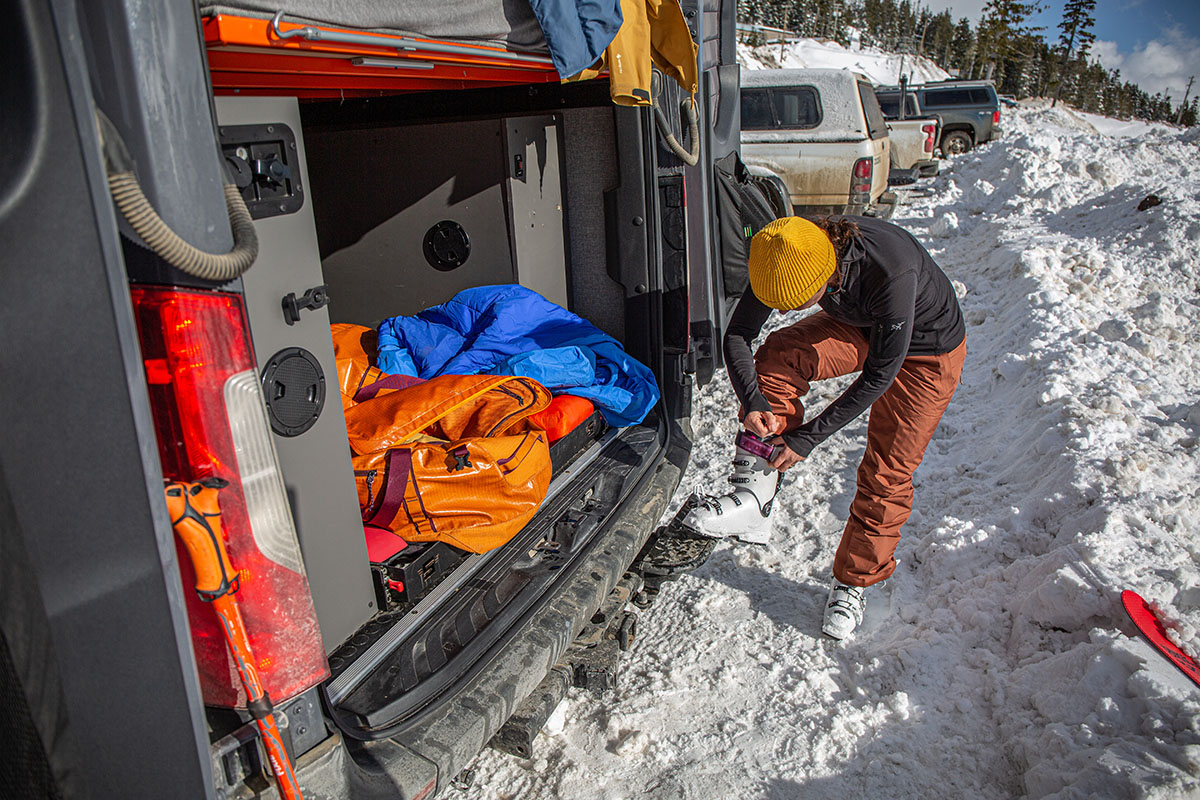 Sustainability
Patagonia is at the forefront of the sustainability push in the outdoor industry, and the Insulated Powder Town Pants are a shining example of their ongoing efforts. Specifically, the shell, insulation, and lining are all 100%-recycled polyester, and the pants are certified as bluesign-approved, which means they're free of harmful chemicals and safe for workers, consumers, and the environment. The shell and lining also boast PFC-free DWR coatings that forgo the use of perfluorocarbons, which are known as "forever chemicals" due to their inability to break down over time. Finally, the pants are Fair Trade Certified sewn, which indicates that Patagonia put extra money into production to ensure that workers are compensated justly and have access to resources like healthcare, childcare programs, and more. Taken together, the brand's thoughtful approach to both workers and the environment only boosts the Powder Town's overall appeal.

Other Versions of the Patagonia Powder Town
Patagonia's Powder Town lineup comprises everything from the insulated pants reviewed here to bibs, insulated jackets, uninsulated shells, and 3-in-1 options for men and women. To complete your kit, the Insulated Powder Town Jacket ($399) uses the same 2-layer H2No Performance Standard fabric as the pants but contains 80g Thermogreen insulation in the body and 40g in the sleeves (see our review of the women's model here). The jacket also comes in a 3-in-1 option for $499, as well as an uninsulated version ($349) that's better suited for mild weather and short backcountry outings. Rounding out the collection are the uninsulated Powder Town Pants ($249) and Powder Town Bibs ($299), which are viable alternatives to the insulated model here depending on your coverage and warmth preferences. All styles are available in both men's and women's versions, and the uninsulated pieces (jacket, pants, and bibs) come in kids' models, too.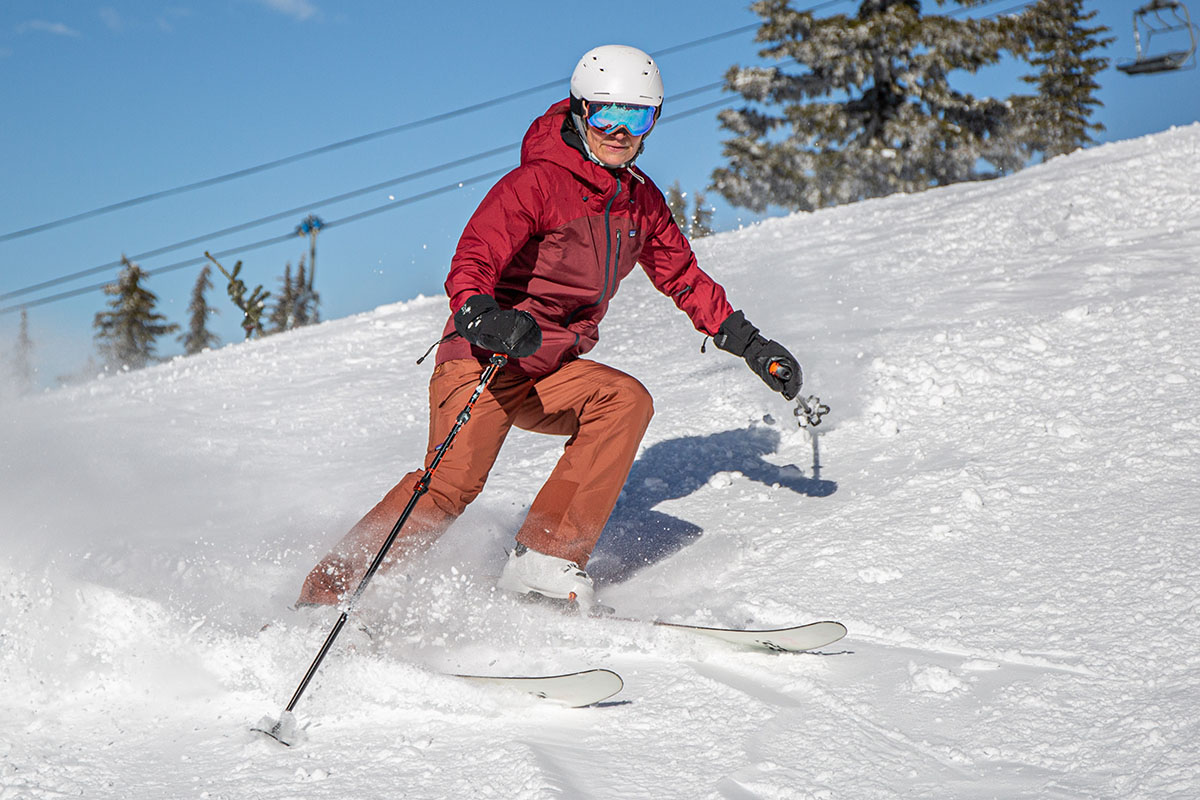 What We Like
Highly protective with a quality H2No membrane and nice assortment of weather-ready features, including built-in gaiters, water-resistant zippers, and powder skirt compatibility.
Just-right amount of insulation to take the edge off while keeping bulk to a minimum.
Offered in seven sizes and two inseam lengths, which means most women should be able to find a good all-around fit (the men's version comes in six sizes and a single inseam).
Well-executed feature set for resort use, including practical storage, generously sized vents, internal gaiters, and robust scuff guards.
Great comfort and mobility thanks to the soft taffeta lining and accommodating fit.
Sustainably built with fully recycled and bluesign-approved materials, PFC-free DWR coatings on the shell and lining, and certification to the Fair Trade standard.

What We Don't
Too warm and not breathable enough for working hard in mild conditions.
Lacking in versatility—these pants are decidedly resort-focused and overbuilt for even occasional backcountry use.
Velcro waist adjustments can snag on baselayers, scratch against bare skin, and form pressure points when wearing a pack.
DWR finish wore down quickly, causing the exterior to appear wet with moisture (although the H2No membrane has been effective at keeping me dry).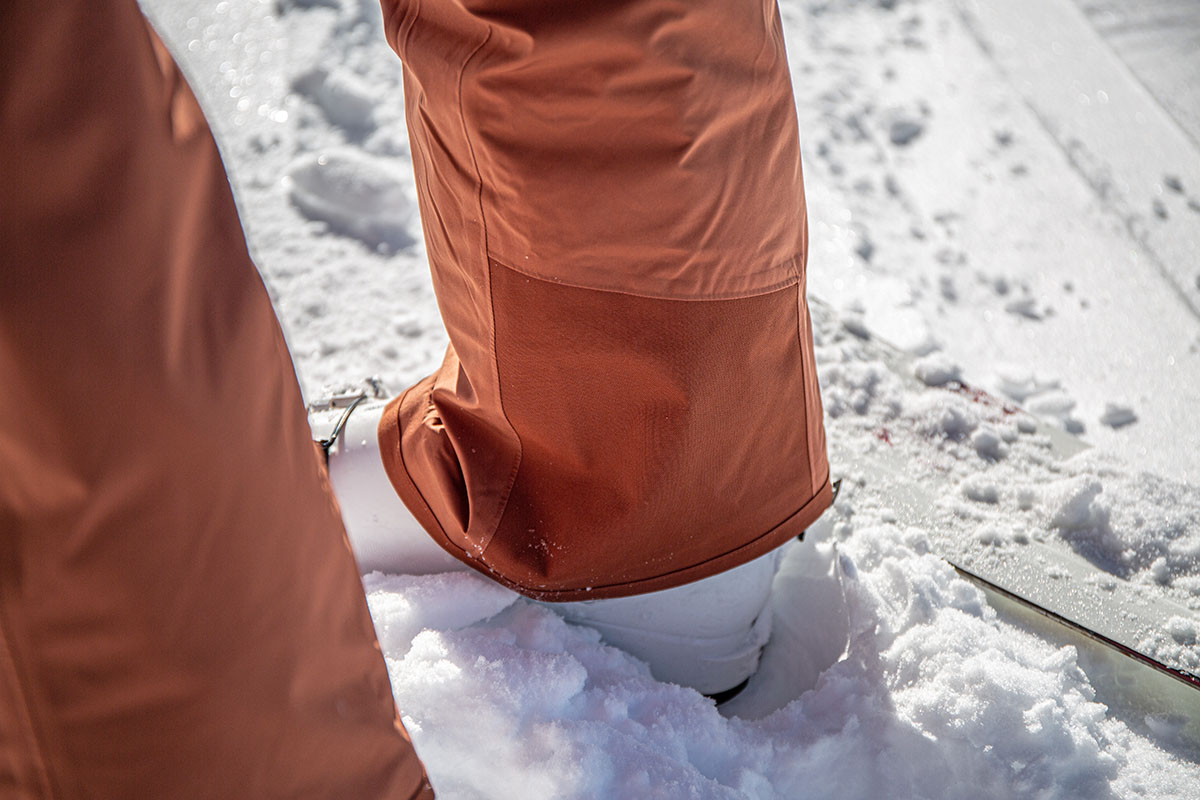 Comparison Table

The Competition
The Insulated Powder Town Pants are a great match for resort skiers who frequent cold climates like the Northeast or Mountain West, but they're less versatile than uninsulated ski pants for regulating temperature on mild days or when working up a sweat. Enter Patagonia's own Storm Shift Pants, which are considerably pricier at $399 but come with a few notable performance upgrades. These include a proven Gore-Tex membrane that's more breathable than the Powder Town's H2No construction, a 150D shell that can handle significant abuse, and a soft tricot lining that adds a touch of warmth without the bulk of the Powder Town's 60g fill. You'll likely need to add a thick baselayer in frigid temperatures, but we personally appreciate the ability to add or remove layers depending on conditions and objectives. Neither design is ideal for true backcountry outings, but the Storm Shift strikes us as the better all-rounder for season-long use.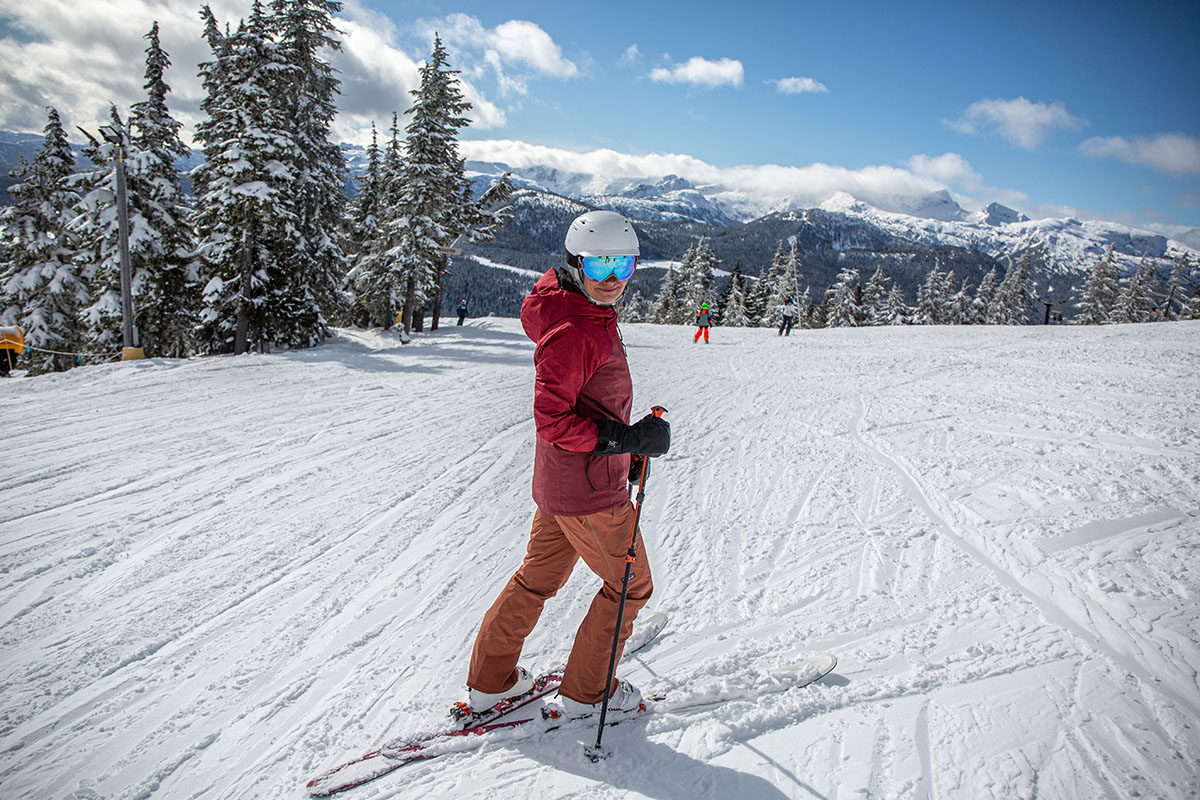 Shifting back to insulated designs, Helly Hansen's Legendary Insulated Ski Pants give the Powder Town a run for their money across the board. For around $70 less than the Patagonia, the Legendary offers comparable warmth with 60g PrimaLoft Black insulation, boasts a similarly protective 2-layer waterproof shell, and comes in a wide selection of attractive colorways (eight for women at the time of publishing) that should pair well with just about any jacket. Helly Hansen also added two-way stretch to the fabric, which is great for both sidecountry hikes and downhill travel. Our main complaint has to do with durability: The build quality isn't quite up to par with Patagonia, and the pants will show more wear over time. But dollar for dollar, the Legendary is the better value for casual riders and those who only hit the slopes a few weekends a season.
Next up, The North Face's Freedom Insulated is one of the most popular pants on the slopes and will save you around $50 compared to the Powder Town. Like the Patagonia, the Freedom features a thick 2-layer construction that's super durable and blocks out wind and snow effectively, 60g insulation for keeping you comfortable on cold resort days, and a functional feature set that includes inner thigh vents (note: These are less effective than the Patagonia's outer vents for releasing heat), ample storage, and burly scuff guards at the cuffs. That said, performance-minded skiers won't love the generic fit—the pants are quite baggy around the thighs and lower legs—and it's easy to overheat with the cheap waterproofing tech. Again, The North Face covers all the bases for occasional resort riders, but committed skiers and those concerned about longevity should spend up for the Powder Town.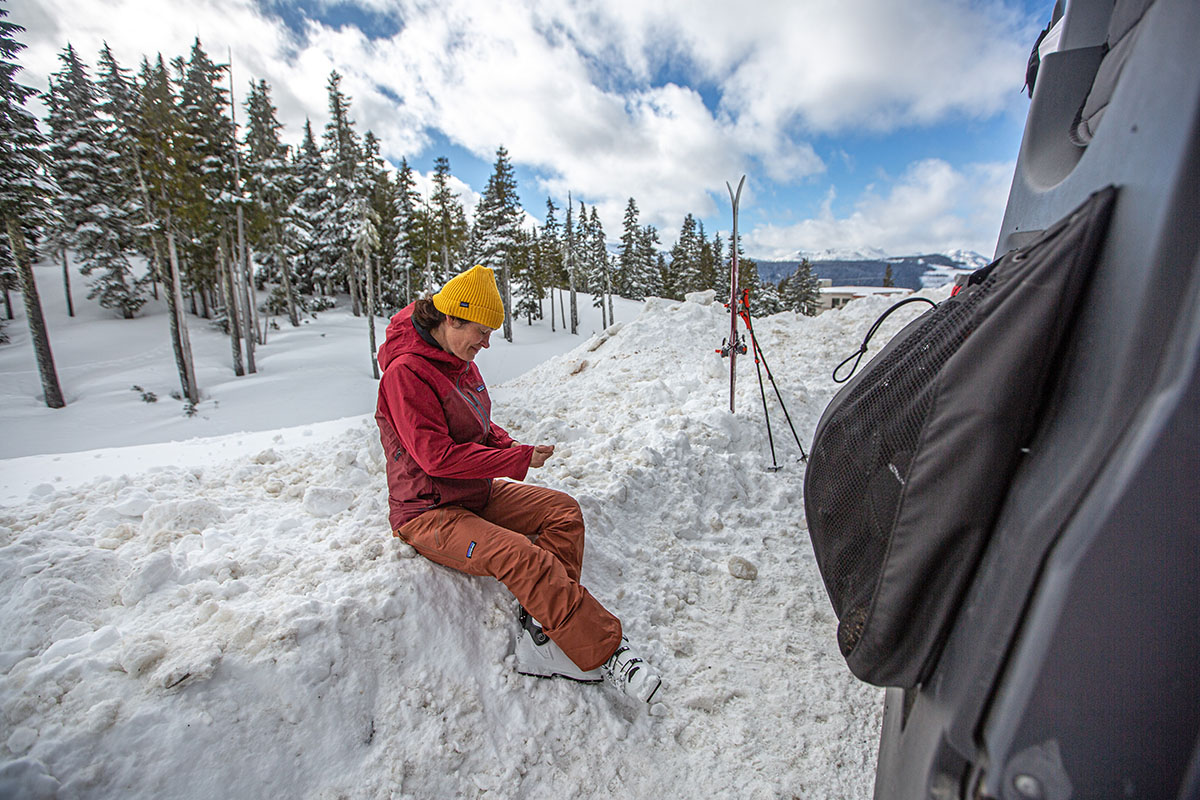 Last but not least, we'd be remiss not to include a comparison to our top-rated women's ski pant this year: Arc'teryx's premium Sentinel Pant. Right away, we'll note that the Sentinel is a serious step up in price at a whopping $550, but those who split their time between the resort and backcountry will find a lot to like. The 3-layer Gore-Tex construction provides top-notch protection with better breathability to boot, while smooth-operating side vents let you dump heat quickly on warm spring days. On top of that, you get a light fleece backer for additional comfort and a touch of warmth, a solid feature set with plenty of storage, and Arc'teryx's class-leading fit. Those who don't stray from the resort will be better off saving with the Insulated Powder Town, but if you like to earn your turns from time to time, the Sentinel is hard to beat.
Read More From Switchback Travel