On the northern end of New Zealand's South Island is the warm coastal region of Abel Tasman. Abel Tasman National Park is one of New Zealand's smallest and most visited, renowned for pristine beaches, turquoise water, and dramatic granite outcroppings. Given the area's mild weather and ease of access, Abel Tasman is a great place to visit any time of year. 
 
How To Best Experience Abel Tasman
Considering Abel Tasman's small size and popularity, the Department of Conservation has done a nice job developing an extensive network of trails, campsites, and huts. The 54-kilometer Abel Tasman Coast Track, a Great Walk, runs parallel to the coastline with ocean views almost the entire way. The trail is mostly flat with a peak elevation of 150 meters and the full distance takes 3–5 days to complete (there are 19 DOC campsites and 4 huts along the route). The Coast Track is not a loop—most people hike north from Marahau and take a water taxi back.
Abel Tasman can be thought of as having southern and northern sections with Totaranui as the dividing point. The waters of the southern section are calmer and this is where the kayaking guides and water taxis operate. The coast becomes rougher and more exposed north of Totaranui, but without guided tours the crowds quickly dissipate.
For those looking to get off the beaten path in Abel Tasman National Park, the northern section is the place to go. The kayaking is advanced but the hiking and coastal scenery are superb. Mutton Cove and Anapai Bay are prime places to camp, both being coastal and scenic, and during low tide you can pick Greenshell Mussels off the rocks and cook them beachfront. 
On your way in or out of Abel Tasman (or both), you will have the opportunity to visit the delicious Hooked on Marahau on the Marahau waterfront (Road 2). The restaurant doesn't have a fancy ambience but is one of the best on the South Island. The fish is fresh out of the water and the lamb will make you start planning your return trip to New Zealand. Wash it all down with the selection of all local wines while rehashing your Abel Tasman adventures.

Kayaking in Abel Tasman
Perhaps the best way to experience Abel Tasman is from a sea kayak. Given area's popularity, an efficient system of guided kayak excursions and rentals is readily available. The shortest guided kayaking excursion in Abel Tasman is a half day (approximately two hours on the water). This is ideal if you have children, are short on time, or only are interested in a quick introduction to sea kayaking. Full-day trips include significantly more time on the water (approximately 4–5 hours) and they reach the heart of Abel Tasman National Park via a water taxi. Overnight kayaking trips in Abel Tasman are available and can be a highlight of visiting New Zealand. It doesn't get better than watching the sunset over half-moon shaped Te Pukatea Bay and waking up early for another beautiful day on the water. Overnight trips in Abel Tasman generally are two or three days with kayak and hike options lasting up to five days.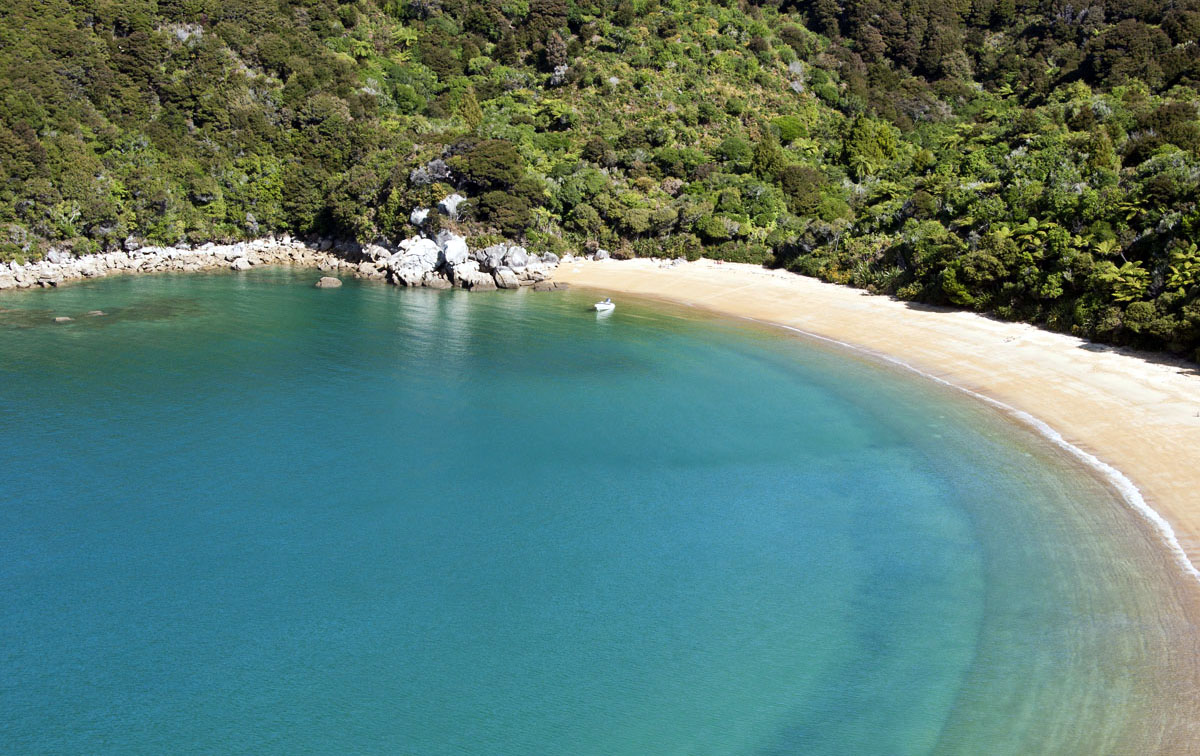 Guided Kayaking Trips
For families or those with little or no sea kayaking experience, hiring a guide is a good idea. Before paddling out you will get a full briefing on kayaking equipment, safety, and sea conditions, and your guide will ensure that everything goes smoothly on the water. Guiding companies also coordinate water taxi (water taxis can be hired by those without a guide but booking is up to you). Many guided trips, for example, start with a water taxi north into the Tonga Island Marine Reserve and take a water taxi back at the end of the day.
In terms of guiding companies,  Kahu Kayaks is small, locally owned, and runs highly regarded day trips. Sea Kayak Company is known for terrific guides with excursions from a half-day up to five days. Golden Bay Kayaks operates out of the lesser-visited northern end of Abel Tasman National Park and is the only company that allows you to paddle the entire length of Abel Tasman from north to south. Golden Bay also offers stand up paddleboard tours and rentals.

Independent Rentals
Truth be told, the water conditions in Abel Tasman are generally calm and straightforward. The southern portion of the park from Marahau to Awaroa is protected and if you have a reasonable level of water confidence and outdoor skills prior experience is not required. Similar to guided trips, independent renters get a comprehensive safety and equipment briefing before departing. The rental companies will even paddle out with you at the start of the trip to help with technique and answer any questions. Sea kayak rentals in Abel Tasman start at $48 for one day up to $150 for five days. Camping gear is available on request
One-way rentals can be arranged and your boat will be retrieved for a small fee ($32 USD). This means you can kayak into the park, drop the boat at a pre-selected point, and hike back on the Abel Tasman Coast Track. Kayak and hike itineraries are a terrific way to see the park. Kahu Kayaks offers freedom rentals that include all kayaking equipment and help with trip planning. Sea Kayak Company has modern boats, helpful sample itineraries, and great staff.

Where to Stay in Abel Tasman
There are only a few private accomodations within Abel Tasman National Park other than DOC campsites and huts. The small town of Marahau at Abel Tasman's southern boundary is the gateway to the park and offers a far greater number of options.
 
Within Abel Tasman National Park
The Awaroa Lodge has an ideal location in the midst of the Abel Tasman National Park across Awaroa Bay from Wilson's Meadowbank Homstead. The experience of staying in the park is tough to beat but overall quality at the Awaroa Lodge has fallen with a change in ownership (it receives three stars by New Zealand's trusty Qualmark rating). Like Meadowbank Homstead, there are no roads and guests must walk in or take a water taxi.
Marahau: Gateway to the Park
The Ocean View Chalets are Marahau's hidden gem. The private cabins, ranging from studios to two-bedrooms, are perched on the forested hillside behind Marahau with panoramic ocean views. The accommodations are rustic but receive 4 stars from Qualmark. For the budget and backpacking crowd, The Barn offers cabins, camping, and dorms within walking distance of Abel Tasman National Park. This is a popular establishment and the facilities can get crowded in the evening but overall it's a nice place to stay.

Department of Conservation Huts and Campsites 
DOC huts and campsites present an attractive alternative to expensive private accommodations inside the park. All in all, there are 19 public campsites and 4 public huts along the Abel Tasman Coast Track. Advance reservations are required and stays are limited to two consecutive nights (one night at Totaranui) from October through April.
Learn More About New Zealand