Built to carve, float, and bring the fun, all-mountain skis are all about versatility. Unsurprisingly, it's a vast market that can be broken down into several subcategories, from narrower designs that are best for frontside use to wide planks that surf in powder (and plenty in between). We've included the full spectrum in our list below, which details our favorite women's-specific all-mountains skis for winter 2023-2024. For more background information and help with choosing the best option for you, see our comparison table and buying advice below the picks. To complete your downhill kit, check out our articles on the best women's ski boots and ski bindings.
 
---
Our Team's Women's All-Mountain Ski Picks
---

Best Overall Women's All-Mountain Ski

Category: All-mountain
Ability level: Intermediate to expert
Dimensions: 131-98-118mm
Other widths: 84, 88, 93mm
What we like: A true all-rounder that handles well all over the mountain.
What we don't: We wish it were slightly more playful.
Nordica's Santa Ana (the women's counterpart to the popular unisex Enforcer) is an impressively versatile design and legendary in the all-mountain ski category. Key to the collection's well-rounded performance is Nordica's terrain-specific metal construction, which means that each ski utilizes a different amount of metal to tailor stiffness to the intended conditions: The narrowest 84-millimeter option is the most metal-heavy for maximum stability on hard snow, while the widest Santa Ana 104 Free is the softest and most playful in powder. The Santa Ana 98 here sits squarely in the middle, offering a real Goldilocks experience for most riders: This ski is reliable on hardpack, agile in the bumps, maneuverable in powder, and blasts through crud with control and confidence.
There's no denying that the Nordica Santa Ana 98 does everything well, but it's not the most playful all-mountain ski—for that, we turn to the Elan Ripstick 94 W below. Further, while it performs reasonably well in the bumps, we found that the Santa Ana lacks the rebound required for quickly pivoting through other types of tight spaces. To be fair, it'll certainly get the job done (especially if you're a confident rider who doesn't mind the added effort to throw it around), but those who prioritize a nimble and agile ride will be better off with an option like Icelantic's Riveter 95 below. That said, we keep coming back to versatility: The Santa Ana has a very natural and predictable feel that will make most riders happy, earning it our top spot for the 2023-2024 season... Read in-depth review
See the Nordica Santa Ana 98
Best Women's Ski for Hard Chargers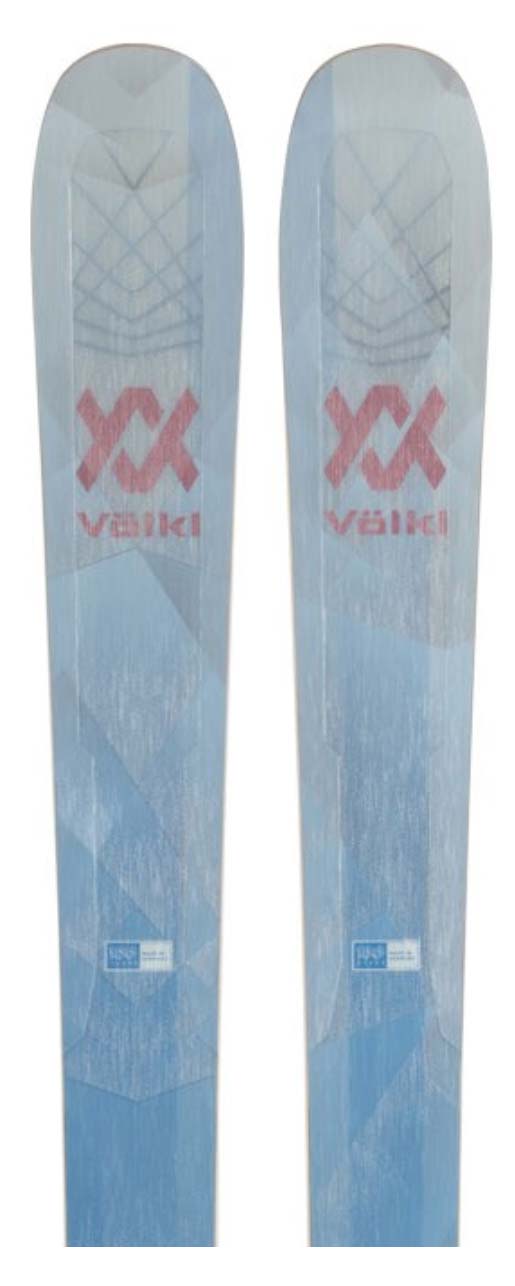 Category: All-mountain
Ability level: Advanced to expert
Dimensions: 135-96-119mm
Other width: 102mm
What we like: Damp, smooth, and extremely reliable at top speed.
What we don't: Requires a strong pilot to drive, especially in the bumps.
For skiers who love to rip from top to bottom, Völkl's Secret 96 is the ticket to the fast lane. This powerful ski reliably holds an edge at maximum speed, inspiring strong riders to push themselves on and off piste (although it does favor frontside use). Turnability is another highlight: With its 3D radius sidecut that's longer at the tip and tail and shorter in the center, the Secret 96 transitions smoothly between short, medium, and long turns without sacrificing speed or stability. Combined with the versatile 96-millimeter waist, the Secret is a hard-charging ski that can handle a wide variety of terrain and snow conditions.
Similar to Nordica's terrain-specific metal construction mentioned above, Völkl employed their "tailored Titanal frame" technology to customize stiffness—this time based on length rather than width. This means that the longer sizes of the Secret 96 are stiffer and heavier with more Titanal for added power transmission and dampness, while the shorter sizes have less metal to allow better maneuverability for smaller or lighter skiers. In practice, however, we found the Secret 96 still is a burly ski that demands a hard-driving pilot, and less advanced riders may find it challenging to control in tight spaces—regardless of how short or long you go. But if you're comfortable keeping your foot on the gas, the Secret won't disappoint.
See the Völkl Secret 96
Best Women's Ski for Intermediates

Category: All-mountain
Ability level: Intermediate to advanced
Dimensions: 132-99-121mm
Other widths: None
What we like: Intuitive feel is confidence-inspiring regardless of ability level.
What we don't: We'd love to see more length options.
While we hesitate to call the 4FRNT MSP CC "beginner-friendly", it's our top pick for riders progressing their skills—whether you're transitioning from green runs to blues or getting back into the sport after extended time away. The "CC" in the name is short for Contour Core technology: 4FRNT shifted the thickest and stiffest part of the core farther back to match the way most women generate power through a turn (via their hips, compared to men who typically drive from the torso). This makes it easier to put pressure on the shovel of the ski, allowing riders to initiate turns more easily and with more control. And for 2023-2024, 4FRNT replaced the ski's poplar core with maple and aspen to make it even more responsive and predictable. Combined with its relatively short turn radius (15.75m for the 165cm length), the MSP CC builds confidence at all levels while guaranteeing fun anywhere on the mountain.
Given the 4FRNT MSP CC's broad appeal and loyal following, we wish it were offered in more lengths. To be clear, the current sizing options (159, 165, or 171cm) cover a decent range, but adding a couple more lengths in the mid to upper 170s and low 150s would better accommodate tall and short riders, respectively. It's also worth noting that the CC model here is only offered with a 99-millimeter waist, although the unisex MSP (without the women's-specific core technology) is sold in widths down to 91 millimeters for those who spend most of their time on trail.
See the 4FRNT MSP CC
Best Women's All-Mountain Ski for Carving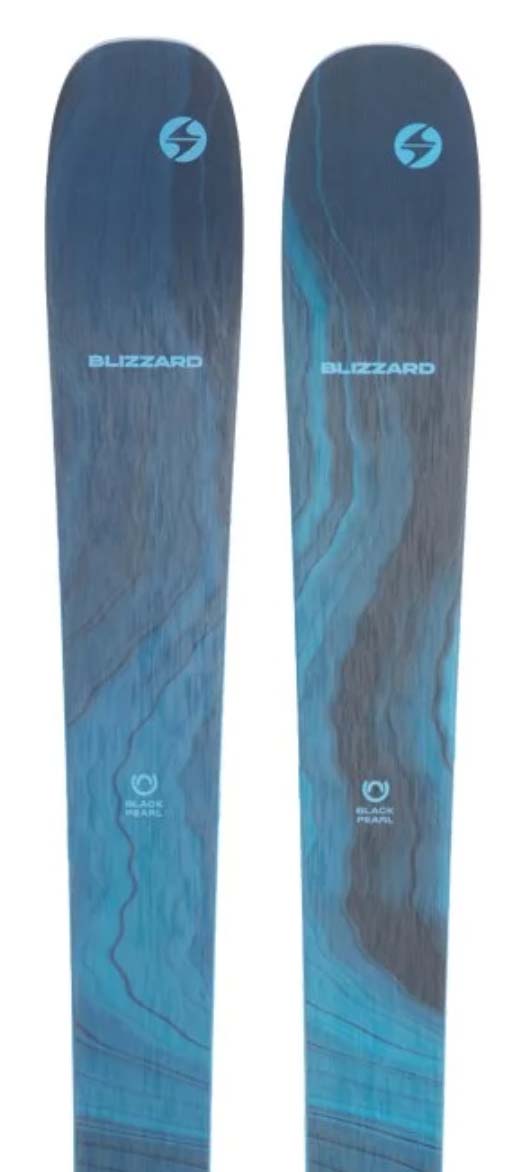 Category: All-mountain front
Ability level: Intermediate to advanced
Dimensions: 128-88-110mm
Other widths: 82, 97mm
What we like: Slices into corduroy like a hot knife through butter.
What we don't: Narrow waist flounders in deeper snow.
For skiers who look at every groomer like it's a Thanksgiving turkey, the Blizzard Black Pearl 88 is an excellent carving tool. With a narrow 88-millimeter waist, the Black Pearl moves effortlessly edge to edge, slicing clean arcs with precision and speed. It's not out of sorts off piste either: The ski powers smoothly through chop and crud and holds integrity through questionable conditions (great for the East Coast). Updated last season with a Trueblend wood core that uses woods of varying weights and thicknesses, Blizzard boosted stability without making the Black Pearl too heavy, which only broadens its appeal.
Despite its decent versatility, the Blizzard Black Pearl 88 is not without limitations. While it's extremely stable and agile off piste and through the bumps, it's not the most forgiving ski. Even expert riders will need to lean forward and drive through each turn—a notable downside for those who like to sit back and enjoy the ride on occasion. Additionally, the Black Pearl 88's slim waist and stiffer construction make it challenging to maneuver in powder. Blizzard does offer a wider 97mm variation, although it's still a pretty unforgiving ski (look to their freeride Sheeva collection—including the Sheeva 10 below—for a more playful setup). But if you primarily stick to hardpack and like a stiff and fast carver, the Black Pearl 88 is a real standout.
See the Blizzard Black Pearl 88
Best Women's All-Mountain Ski for Powder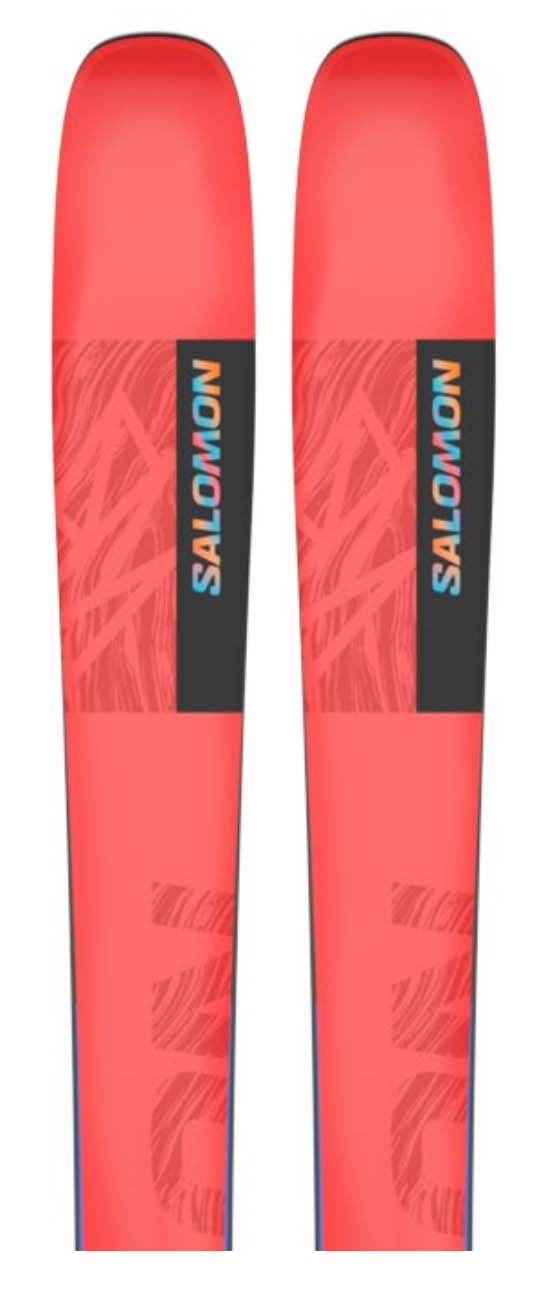 Category: All-mountain back
Ability level: Intermediate to advanced
Dimensions: 137-106-124mm
Other widths: None
What we like: Great combination of floatation, stability, and playfulness in powder.
What we don't: Too wide for areas that see low yearly snowfall.
At the wider end of the all-mountain category, Salomon's QST Stella 106 is ideal for intermediate to advanced riders with regular access to fresh snow. The poplar wood core keeps things light and surfy while offering good rebound, and the surprisingly stiff flex through the middle and tail keeps the ski stable at high speeds and through chop. Combined with a moderately deep rocker (for an all-mountain design) and tapered shape, the QST Stella is game for almost anything you throw its way, whether that's carving corduroy, charging through chunder, or hunting powder stashes deep in the glades.
All in all, the Salomon QST Stella 106 effectively toes the line between a hard-charging all-mountain design and true powder ski. That said, while it can hold its own in a variety of conditions, the ski's wider width and powder-ready shape undoubtedly prefer deep, soft snow over hardpack. It's a lot of ski to wield at 106 millimeters underfoot, and all that extra surface area will be put to waste on icy and firm days. As such, we'd only recommend the QST Stella as a one-quiver option for those who live in snow-rich areas like the Mountain West.
See the Salomon QST Stella 106
Our Favorite Playful Women's All-Mountain Ski

Category: All-mountain
Ability level: Intermediate to expert
Dimensions: 136-94-110mm
Other widths: 88, 102mm
What we like: Light, energetic, and fun but can still carve at speed.
What we don't: There are damper and more precise options (that come with a weight penalty).
From mixed spring corn and frozen hardpack in the French Alps to fluffy boot-top powder in British Columbia's Coast Mountains, the Elan Ripstick 94 W has proven its versatility—and more importantly, its fun factor. Balancing a low weight with snappy performance, the ski plasters a smile on your face as it turns on a dime off trail or flies down a zipper line. One hallmark of the design is the asymmetrical Amphibio profile, which combines rocker at the outside edge for smooth turn initiation with camber at the inside for precision and stability. As a result, the Ripstick offers reliable grip on hardpack while still maintaining enough float and maneuverability in softer snow. Elan also recently stiffened up the edges and wood core by adding carbon reinforcements, effectively increasing power and stability without incurring a major weight penalty. Taken together, the Ripstick is an impressively well-rounded all-mountain design that can even cross over for the occasional backcountry tour.
While it's a blast to ride, as with most models that aim to do it all, the Elan Ripstick 94 W doesn't really stand out in any one area. Those who prefer to carve their way down the mountain will be better off with a more precise option like the top-ranked Nordica Santa Ana, Blizzard Black Pearl above, or Stöckli Nela below. Additionally, the lightweight Ripstick can get bouncy in chop, and its lightweight build lacks the rock-solid feel of an on-trail carver when blasting through chewed-up snow and crud (the aforementioned Santa Ana really excels in these conditions). Nonetheless, there's a reason it's garnered such a loyal following: In just about all scenarios—from the first chair of the season and spring corn to the heart of winter—the Ripstick guarantees a fun time.
See the Elan Ripstick 94 W
Best Women's All-Mountain Ski for Moguls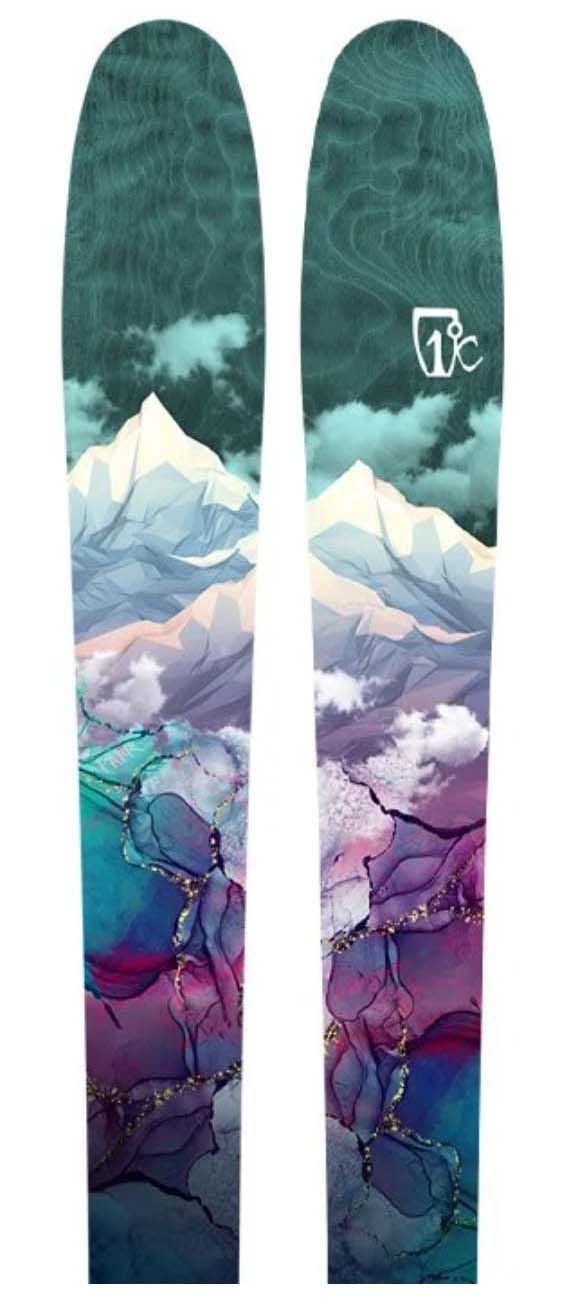 Category: All-mountain
Ability level: Intermediate to advanced
Dimensions: 130-95-117mm
Other widths: 85, 104mm
What we like: Pivots very well through the trees and bumps.
What we don't: Lacking in high-speed stability.
If your ideal day includes skiing moguls, making tight turns through trees, and taking the occasional lap through the terrain park, Icelantic's Riveter 95 should be on your short list. With springy rebound thanks to 5 millimeters of camber underfoot and fast edge-to-edge transitions for making powerful, tight turns, the Riveter performs well all over the mountain but truly shines on the frontside, where it's quick to pivot on hardpack and through the bumps. It's not the most stable ski at high speeds (and only comes in lengths up to 169cm), but the trade-off is excellent control and maneuverability in tight spaces. Finally, as we've come to expect from Icelantic, the Riveter is a great-looking ski with a beautiful, mountain-inspired topsheet design (each year's artwork is unique) that's sure to stand out.
While the 95-millimeter Riveter is the most versatile option in the collection, this ski also comes in 85- and 104-millimeter widths. As expected, the 85-millimeter Riveter provides better edge-to-edge performance on groomers, making it a great choice for East Coast skiers (especially those who love the bumps). On the other hand, the Riveter 104 is the better choice for more aggressive, hard-charging riders or those who prefer a wider setup for plowing through crud or floating on softer snow. Regardless of which option you choose, the Riveter is an impressively nimble and responsive design for those who love to dance.
See the Icelantic Riveter 95
Best of the Rest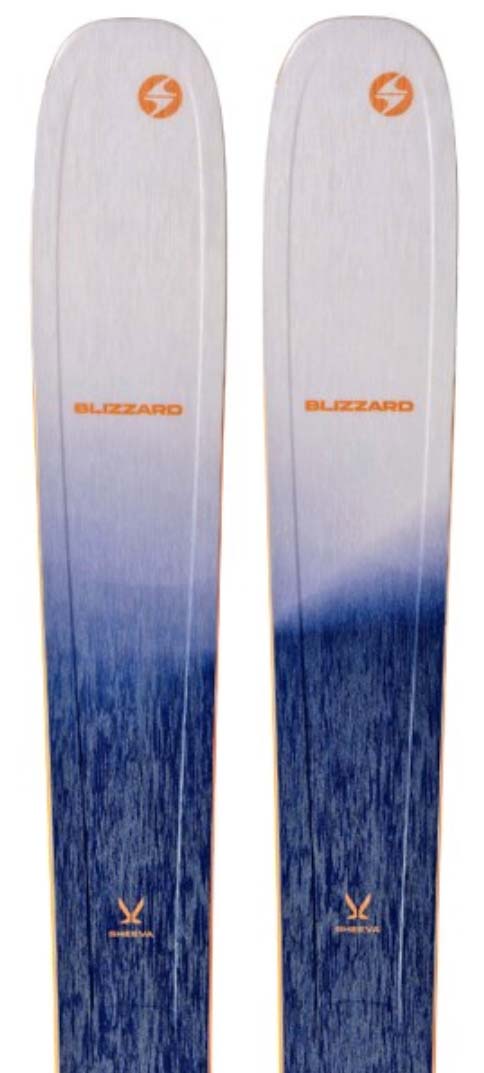 Category: All-mountain 
Ability level: Intermediate to expert
Dimensions: 133-102-122mm (168cm)
Other widths: 96, 112mm
What we like: A great all-rounder that carves beautifully on hardpack and thrives in shallow powder.
What we don't: Challenging to drive in heavy chop.
Counterpart to the popular unisex Rustler, the Blizzard Sheeva 10 is a well-rounded and approachable design for progressing intermediate through expert skiers. With an updated construction that now includes Titanal running along the edge of the ski's entire length, along with some adjustments to its sidecut and profile, the 2023-2024 Sheeva 10 is powerful when you want to push it yet predictable and forgiving when you're just out for a cruise. The ski is constructed with the brand's Trueblend Free core, which utilizes poplar, paulownia, and beech woods for an effective balance of stability, flexibility, weight, and durability. It's a surprisingly lightweight and nimble ski that thrives in soft snow—whether that's corduroy, fresh powder, or soft chop. And on the groomers, it's fun to carve (especially considering its 102mm waist) and can rip when you want to.
While the Blizzard Sheeva 10 is impressively versatile, it has some limitations. For one, it requires focus and intention to drive this ski through heavy chop—it's not as intuitive as it is on piste or through untracked powder. It's also not the most stable ski on hardpack: While it grips nicely, our testers found that the Sheeva chattered if they drove it too hard on firm groomed snow (hard chargers may prefer the slightly stiffer unisex Rustler 10 instead). All told, despite a few nitpicks, we think the Sheeva 10 is one of the most well-rounded skis on the market, and particularly for those who spend a fair amount of time off trail. And one final note: The Sheeva series also includes the narrower, frontside-oriented Sheeva 9 and the Sheeva 11, which is a dedicated powder ski with a 112-millimeter waist... Read in-depth review
See the Blizzard Sheeva 10

Category: All-mountain
Ability level: Intermediate to advanced
Dimensions: 133-96-119mm
Other widths: None
What we like: A premium and playful ski that's just plain fun.
What we don't: Expensive and best suited for skiers out West.
Balancing smoothness, dampness, and predictability, the Kästle FX96 (W) hits a sweet spot in the women's all-mountain ski market. Building on the success of their popular FX line that's beloved among performance-oriented skiers, Kästle introduced the first women's-specific model in 2020, and the latest FX96 (W) here is arguably the most fun iteration yet. One unique design feature is the Hollowtech 3.0 construction, which trims away material at the shovel to reduce swing weight and improve dampening (importantly, it's still wide enough to float in powder). Kästle also utilized three different types of wood (paulownia, beech, and poplar) at the core for a great balance of responsiveness and power, while early rise and flex at the front promote a poppy and dynamic ride off piste.
In short, the FX96 (W) checks all the boxes for a high-performing yet approachable all-mountain option. That said, due to its size and shape, the ski is best suited to all-mountain skiers in the Western U.S. Those skiing primarily in the East will likely prefer a slightly narrower-waisted design, such as Kästle's own DX 85 (W), which shares a similar Hollowtech construction but in a stiffer and more on-piste-friendly package. Finally, as expected from the high-end brand, the FX96 (W) is on the pricey end of the spectrum at $899 for the pair. But many experienced riders will find the extra investment worth it for the playful yet stable personality.
See the Kästle FX96 (W)
Category: All-mountain front
Ability level: Advanced to expert
Dimensions: 134-99-120mm
Other width: 89mm
What we like: Powerful through crud, chop, and hardpack
What we don't: Not as playful in soft snow; not a beginner ski
Hard-charging riders who place a premium on power ought to take a serious look at the K2 Mindbender 99Ti. A relatively stiff ski, the Mindbender delivers precise and efficient edge-to-edge control—and when you hit unexpected ice at full speed, it'll remain stable as you dig in an edge and pivot toward softer and safer ground. These performance attributes are largely due to K2's Titanal Y-Beam technology—a feature that's incorporated across their Mindbender Ti line, including both the unisex and women's-specific models. The design uses a forked layer of Titanal through the middle of the ski with a Y shape in the front for precise edging and a straight beam through the center for stability. K2 balances out the metal with a lightweight aspen core, which adds some flexibility, maneuverability, and forgiveness. 
While the K2 Mindbender 99Ti is a great companion coast-to-coast in a wide variety of conditions, it's not floaty and maneuverable enough to be our top pick for soft snow. Nor is it the best match for playful skiers who like to smear buttery turns and ski at different speeds. We'd point those riders to the Elan Ripstick 94 W above or the J Skis The Allplay below. However, for confident, power-hungry skiers who spend their days ripping from top to bottom with no regard for the conditions, the Mindbender 99Ti might just be your new best friend.
See the K2 Mindbender 99Ti

Category: All-mountain front
Ability level: Intermediate to advanced
Dimensions: 127-88-113mm
Other widths: 80, 96mm
What we like: A smooth, powerful, and expertly crafted frontside companion.
What we don't: The priciest ski on our list and decidedly groomer-focused.
Stöckli may lack the name recognition of brands like Nordica and Salomon in the U.S. market, but make no mistake: This Swiss company makes expertly crafted skis. Their Nela 88 is case in point, combining excellent on-piste capabilities in a high-end package. Right away, we'll note that the narrow 88-millimeter waist and $1,099 price tag will be enough to deter many, but it's a seriously capable and well-built option for those who stay on trail. The ski provides a smooth and powerful ride at just about any speed, is a deliciously good carver, and offers standout precision and control in the bends. On the flip side, the balanced design is still reasonably light for playing to your creative side in the moguls or when plowing through chop.
However, while its weight and rocker profile in the tip and tail make the Stöckli Nela 88 a serviceable off-piste companion, this ski is unapologetically groomer-focused. Though nimble and playful enough for exploring in the trees or seeking out pockets of fresh powder, skiers who spend a lot of time in the back bowls or sidecountry will almost certainly want something wider and beefier. If this sounds like you, we recommend checking out Salomon's QST Stella 106 above, and even narrower options like the Elan Ripstick 94 W and Nordica Santa Ana 98 are better options for mixed on- and off-trail use. For regions that don't see a lot of yearly snowfall, however, the Nela could very well be an ideal pairing.
See the Stöckli Nela 88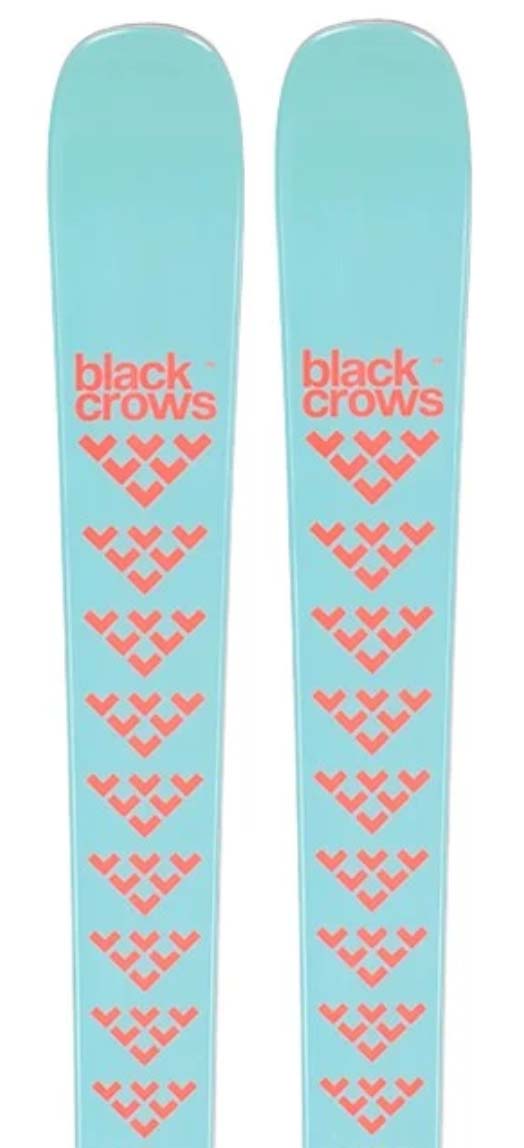 Category: All-mountain front
Ability level: Intermediate to advanced 
Dimensions: 127-90-113mm
Other widths: None
What we like: Forgiving for beginners yet responsive enough for advanced skiers.
What we don't: Too narrow for powder and too light for hard chargers.
With a lightweight build and relatively soft flex, the Black Crows Captis Birdie has broad appeal in the heart of the all-mountain market. Its 90-millimeter waist, hourglass profile, and short turning radius (11.3m in the 166cm length) offer predictable performance shaping smooth turns on trail and when dipping into the trees. And while the Captis Birdie's soft flex in the tip and tail makes it approachable to novice skiers—it's easy to turn, and the tail won't hold or catch as you release—its poplar and fiberglass core provides a nice dose of stability and responsiveness should you venture down a mogul line. Most importantly, the ingredients all add up to a Black Crows hallmark: simple and plain fun on the hill.
Of course, all skis have their trade-offs, and the Captis Birdie's forgiving and lightweight setup will be a letdown for performance-oriented skiers who land in the advanced and expert categories. While there's more power on tap than you'd expect at first blush, it's a far cry from the stability and outright power that you get on steep, firm snow and chunky crud with skis at the higher price points (including Nordica's Santa Ana 98 above and Armada's Reliance 92 Ti below). But back to the good stuff: If you're a progressing skier who loves to carve and ski playfully, we're confident you'll be quite pleased with the Captis Birdie.
See the Black Crows Captis Birdie

Category: All-mountain front
Ability level: Intermediate to advanced
Dimensions: 124-85-106mm
Other widths: None
What we like: A great tool for East Coast powder days, groomers, and moguls.
What we don't: Novice skiers may find it a bit stiff in bumps and tight terrain.
With a mission to "shred the patriarchy," women-owned Coalition Snow has turned the shrink-it-and-pink-it mentality on its head with designs tailormade for women and by women. The Rebel is their narrowest offering and tuned for icy East Coast groomers, shallow powder days, pivoting through bumps, and slicing short- to medium-width turns. In testing, we found that the Rebel's 85-millimeter-wide platform moves edge-to-edge quickly and nimbly, offering a very intuitive feel when making tight turns on corduroy or through the trees. Further, the pronounced sidecut allows it to pivot with ease through the bumps and other terrain features, while the birch wood core offers a snappy and responsive feel while minimizing chatter on hardpack and variable snow. All in all, it's a specialized but capable option for resort riders who prioritize an agile and quick-moving ride.
While it comes as no surprise that the 85-millimeter Rebel can't hang with dedicated powder skis on particularly deep days, our testers were pleasantly surprised by its performance in shallow powder. That said, we wouldn't recommend it for novice skiers venturing off piste for the first time—we found the Rebel to be fairly stiff and harsh on ungroomed terrain. Intermediate and advanced riders may not have an issue controlling the Rebel, but those dipping their toes into the world of off-piste riding will be better off with a softer and more forgiving option like the 4FRNT MSP CC above or Atomic Maven 93 C below.
See the Coalition Snow Rebel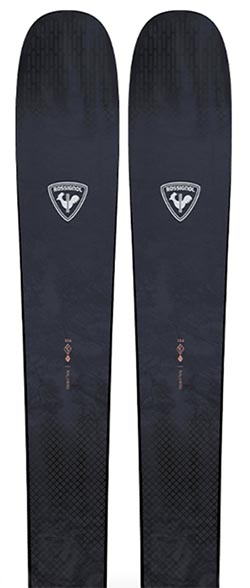 Category: All-mountain back
Ability level: Advanced to expert
Dimensions: 137-101-127mm
Other widths: None
What we like: Well-rounded and capable design for regions with plenty of soft snow.
What we don't: Lacks the discontinued Soul 7's easy drivability.
When Rossignol announced the discontinuation of their legendary "7" line, it was met with obvious surprise. The signature Soul 7's colorful tips were a common sight at the resort and in the backcountry, and the replacement, the Black Ops Rallybird (since simplified to Rallybird Ti), was a pretty significant departure in terms of design and all-around performance. But here's the good news: The Rallybird is a seriously great ski that has better hardpack hold while retaining a good dose of the Soul's soft-snow flickability. At 101 millimeters underfoot (width varies based on length), the Rallybird Ti is still best as an all-mountain choice in regions that get a lot of powder days, but it's an impressively versatile option.
How does its performance stack up to the iconic Soul 7? The main sacrifice is that it's not as easy and natural to drive, requiring more focus and experience in tricky sections off trail (intermediates likely won't be as happy with it as the old model). To be fair, the ski is more forgiving and less of a hard charger than alternatives like Völkl's Secret 102, but you do lose some of that user-friendly feel. On the other hand, the Rallybird is faster, grips better, and is more of an all-rounder for advanced skiers, and they've done a nice job keeping weight in check. For a slightly softer and more freeride-oriented option from Rossi, check out the Rallybird 102 (no "Ti"), which has a little less metal in the construction.
See the Rossignol Rallybird 104 Ti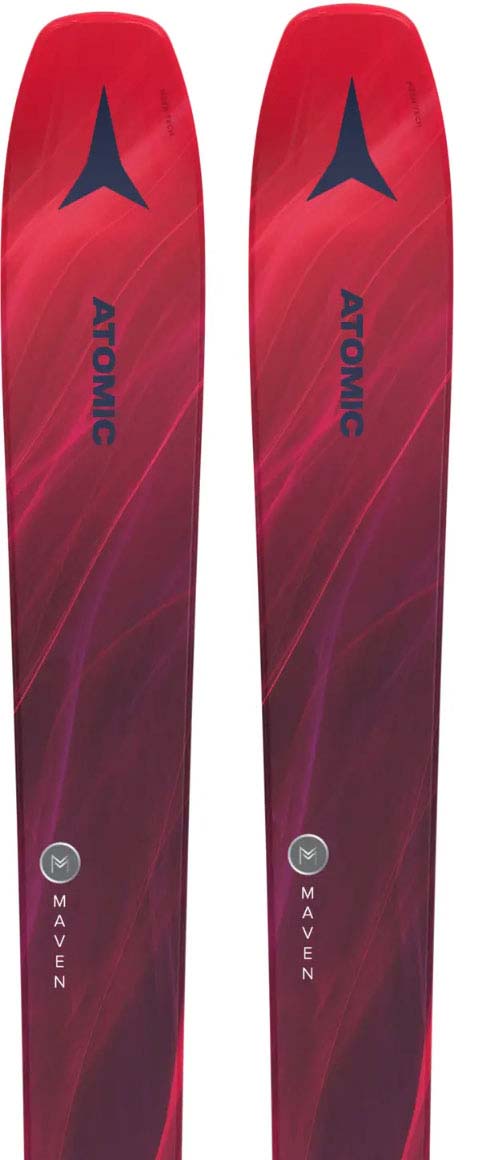 Category: All-mountain
Ability level: Intermediate to advanced
Dimensions: 126-93.5-110mm
Other width: 86mm
What we like: A forgiving and confidence-inspiring ski for intermediate riders.
What we don't: Hard chargers will be left wanting more.
Many of the top all-mountain skis are geared towards experienced riders, but Atomic's Maven 93 C is an approachable option for intermediate skiers who are starting to explore more of the mountain. The forgiving personality is immediately clear: The Maven's "Flow Profile" effectively balances tip rocker, shovel taper, and camber for maximizing edge hold during turns on hardpack, while the poplar wood core gives the ski a lively and responsive feel through bumps. And when you venture off piste, the Maven is light enough to stay on top of powder and even get some air when hitting natural features on the mountain.
That said, while the Atomic Maven 93 C is an excellent choice for advancing skiers stepping into more challenging terrain, expert riders will likely find it underpowered for their needs. The Maven likes to make short- to medium-width turns (this helps it thrive in moguls) and offers ample stability at moderate speeds, but it actively resists the long, sweeping, high-speed turns that hard chargers love to make. Further, while light enough to hold its own though soft, shallow, and choppy snow, the Maven doesn't blast through crud like some of its heavier and more serious all-mountain counterparts (such as the Nordica Santa Ana 98 or K2 Mindbender 99Ti above). But again, the forgiving and intuitive feel are hard to beat for those venturing into new types of terrain.
See the Atomic Maven 93 C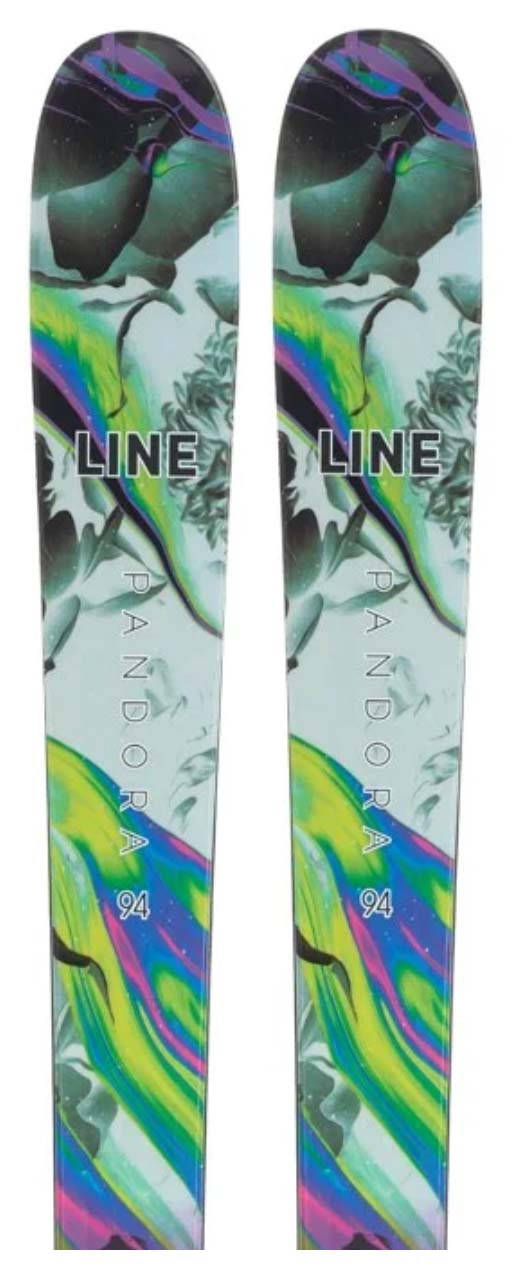 Category: All-mountain
Ability level: Intermediate to advanced
Dimensions: 131-94-117mm
Other widths: 84, 104, 110mm
What we like: A nimble and forgiving ski that's light and powerful enough for backcountry use.
What we don't: Prefers soft snow more than its width would suggest.
Light and nimble, the Line Pandora 94 is a versatile all-mountain companion that truly comes to life in shallow, soft snow. Constructed with a lightweight aspen core and carbon laminate that stretches from tip to tail, the Pandora strikes a nice balance between responsiveness and stability. The rocker profile with directional flex at the front enhances float and turn initiation, while the ski's stiffer tail provides good power, stability, and control when moving fast. Similar to the Völkl Secret above, the Pandora also boasts different turn radii along the sidecut for a very intuitive feel whether you're carving in tight spaces or making sweeping turns in the back bowls. Taken together, the Pandora 94 is a quality option at a good price—and it happens to also be light enough to bring into the backcountry.
What's not to like with the Pandora? Despite is moderate dimensions, we've found the ski is most at home in soft snow (and a little out of sorts on edge in hardpack). Line does offer the Pandora in a narrower 84-millimeter option with a longer effective edge for groomers and hardpack, although hard chargers who like to ski at full tilt will likely want something a little stiffer. On the flip side, the Pandora 104 offers better all-mountain versatility and flotation for riders out West (at the sacrifice of some top-end stability). Regardless of which model you choose, the Pandora stands out for its fun and well-rounded performance in a lightweight package.
See the Line Pandora 94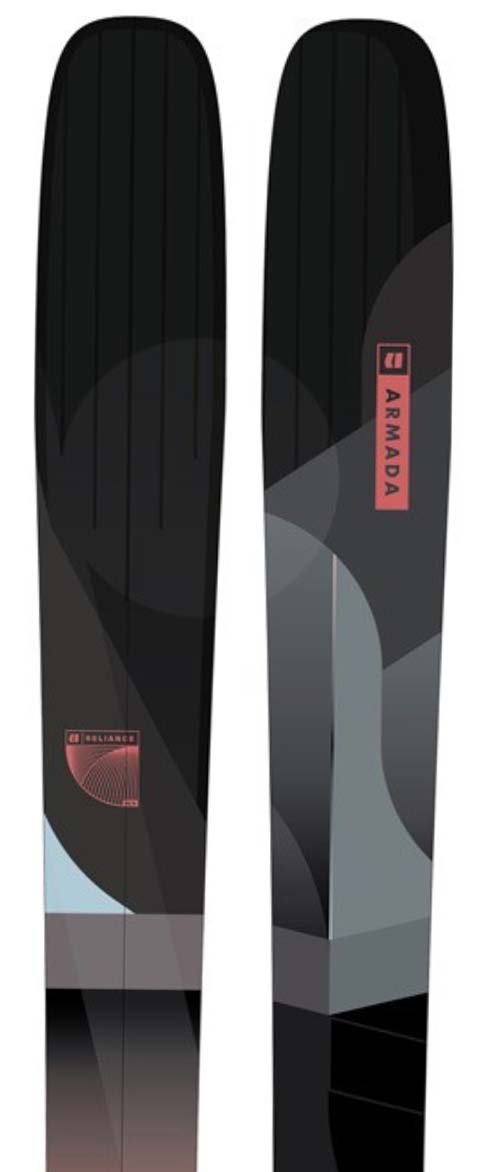 Category: All-mountain
Ability level: Intermediate to advanced
Dimensions: 130-92-116mm
Other widths: 82, 102mm
What we like: Reliable edging on hardpack.
What we don't: Too narrow to be a standout in powder.
A true Swiss Army Knife, Armada's Reliance offers women a multi-tool for skiing everything from granular slush in the Northeast to dipping into the backside glades on a Pacific Northwest powder day. The Karuba wood core delivers good power transmission and dampness while keeping things light, and the all-mountain profile with rocker at the tip and camber underfoot offers a nice balance of soft-snow floatation and hardpack carving capabilities. Further, Armada beefed things up with a Titanal laminate and carbon in the base, boosting strength and stiffness for powering through chop and crud. The result: A highly reliable (see what we did there?) ski that performs well all over the mountain.
Armada's Reliance collection is the women's-specific counterpart to the popular unisex Declivity line. Like the Declivity 92 Ti, the Reliance 92 Ti is a good all-rounder but really stands out on firm snow. As such, it's a top choice among skiers out East and riders who stay mostly on piste out West. If you live in a particularly snowy area and spend a lot of time off trail, however, it may be worth bumping up to the Reliance 102 Ti, which offers a sizable boost in float and playfulness for big powder days.
See the Armada Reliance 92 Ti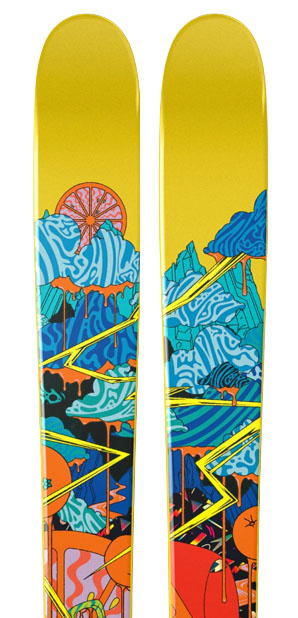 Category: All-mountain
Ability level: Intermediate to advanced
Dimensions: 122-97-118mm
Other widths: None
What we like: A supremely fun and playful option.
What we don't: Not the ski for high-speed groomer laps.
J Skis does things a little differently, with a small but thoughtful lineup of handmade skis with limited-edition graphics. Launched in 2013 by the founder of Line skis, the Vermont-based brand offers nine core models at the time of publishing, all of which are sold directly through their website, allowing them to edge out the competition in price. Our favorite in the all-mountain category is The Allplay, which is technically a unisex design but lives up to its name as a versatile and fun option whether you're flicking it around on groomers or hitting features in the park. Importantly, the construction is top-notch with a high-quality maple core that's strong and durable, while lightweight aspen at the tip and strategically placed carbon fiber give it added pop and liveliness. The result is a ski that carves, smears, and stomps quite well, making it a great companion in the trees, in the park, and even on moderate powder days.
All told, J Skis' The Allplay is a premium ski at a good price and delivers a fun and powerful ride pretty much anywhere on the mountain. That said, the playful nature does come with some downsides. For one, it's not an ideal choice for hard chargers or those who spend more time bombing groomers than hitting jumps (if this is your intended use, check out K2's Mindbender 99Ti above). It also doesn't hold an edge as well as our top picks, although J Skis updated The Allplay for 2023-2024 to carve better on piste. In the end, if you like to explore all over the mountain and put a premium on fun, The Allplay is well worth a look.
See the J Skis The Allplay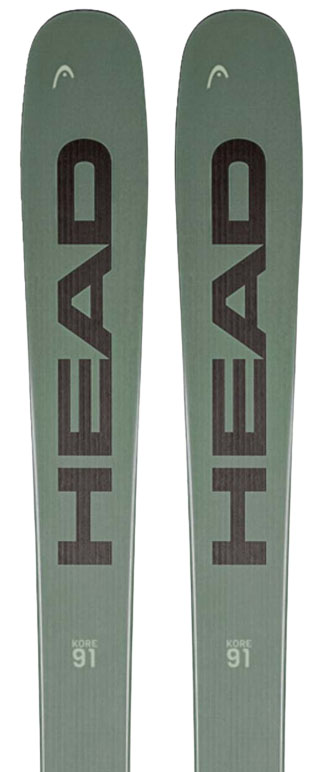 Category: All-mountain front
Ability level: Intermediate to advanced
Dimensions: 127-89-110mm
Other widths: 85, 97, 103mm
What we like: Light and stable for skiers honing their off-piste skills.
What we don't: Not as forgiving as expected for the weight.
For intermediate to advanced skiers still honing their off-piste skills, the Head Kore 91 is a great tool for testing your abilities in new-to-you terrain. This high-performance ski uses Karuba and poplar wood at the core for a light and energetic feel, while graphene in the tip and tail adds strength and stiffness while keeping weight to a minimum (the Kore collection is popular for crossover resort/backcountry use). Meanwhile, subtle rocker at the front and back, camber underfoot, and a short turn radius (13.4m for the 163cm length) promote a responsive and agile ride for navigating narrow couloirs, bumps, or tight trees.
Although the Head Kore 91 W is among the lightest in its class with a nimble feel to match, our testers found it to be far less forgiving than expected. Specifically, the Kore requires the rider to be perfectly centered over the ski to maximize responsiveness and can feel a little squirrely if you get off-balance. Given the narrower dimensions, it also comes as no surprise that the Kore 91 isn't our top choice for farming powder in the backside bowls—it's best for skiers who want a stable companion that thrives in hard snow. If the back bowls beckon, Head does make a wider 97-millimeter variation, which offers a nice upgrade in float while still keeping things light and poppy.
See the Head Kore 91 W
Women's All-Mountain Ski Comparison Table
Women's All-Mountain Ski Buying Advice

What is an All-Mountain Ski?
By definition, all-mountain skis are designed to perform anywhere on the mountain—from the frontside groomers to the backside bowls, through the trees, mogul runs, and even in the terrain park. They should also be able to handle all the varieties of snow that a skier might encounter on a typical day at the mountain, from frozen hardpack to powder and everything in between. This isn't a hard-and-fast category and has trended wider over the years but generally encompasses skis from 80 to 105 millimeters underfoot that are best for the front side of the mountain and skiing in bounds (at least most of the time). At the narrow end are focused, on-trail groomer skis and at the wide end are designs that can handle back bowls and deeper days.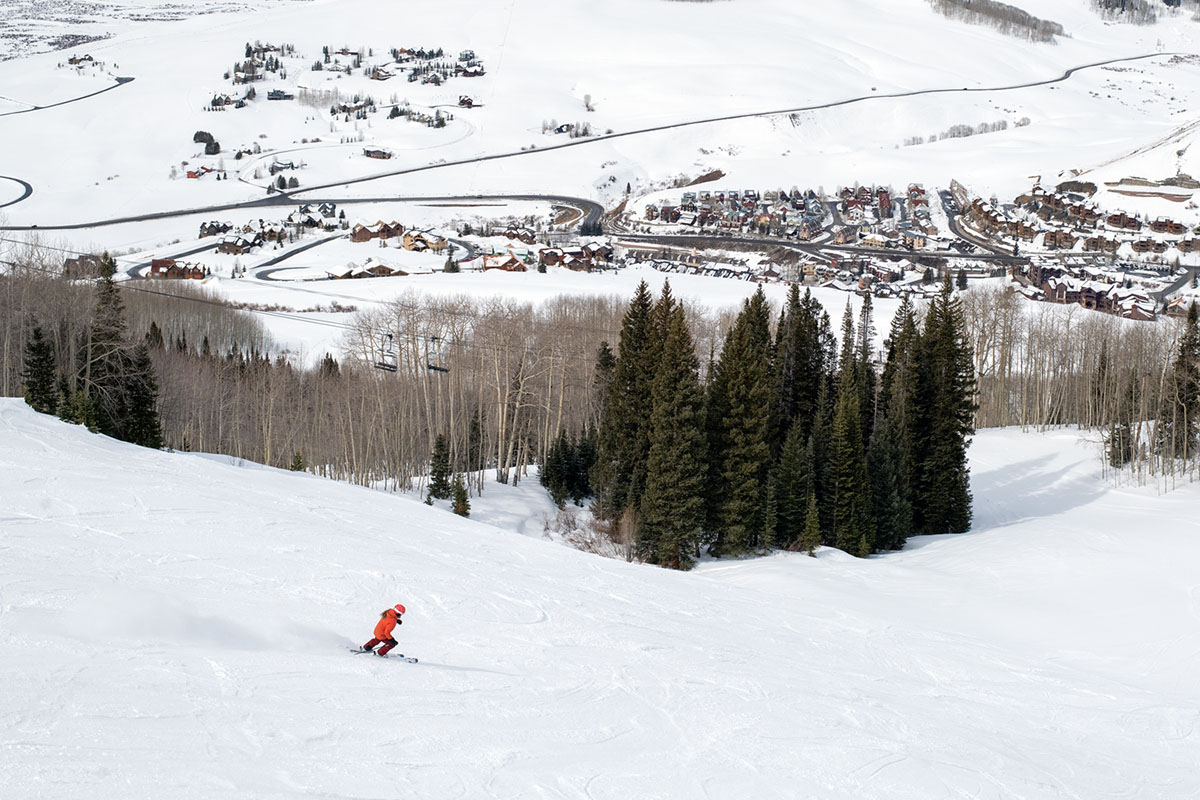 It's equally important to understand the limitations of this ski type. Put simply, while all-mountain skis do most things well, they're typically not specialists in any one area. Specifically, they're not ideal for very deep powder (we have a separate article for dedicated powder skis) or ex-racers wanting a purpose-built carver. In addition, they're often heavy for uphill travel (for alpine touring options, see our article on the best backcountry skis), although this is changing as materials continue to advance. What they do offer is that all-in-one functionality: For anything from crusty hardpack to bluebird soft-snow days, there's an all-mountain ski that fits the bill. Logically, it's not as simple as just choosing any old all-mountain model and calling it good. The decision should involve local snow conditions, skiing style, and ability level. We cover these important considerations below.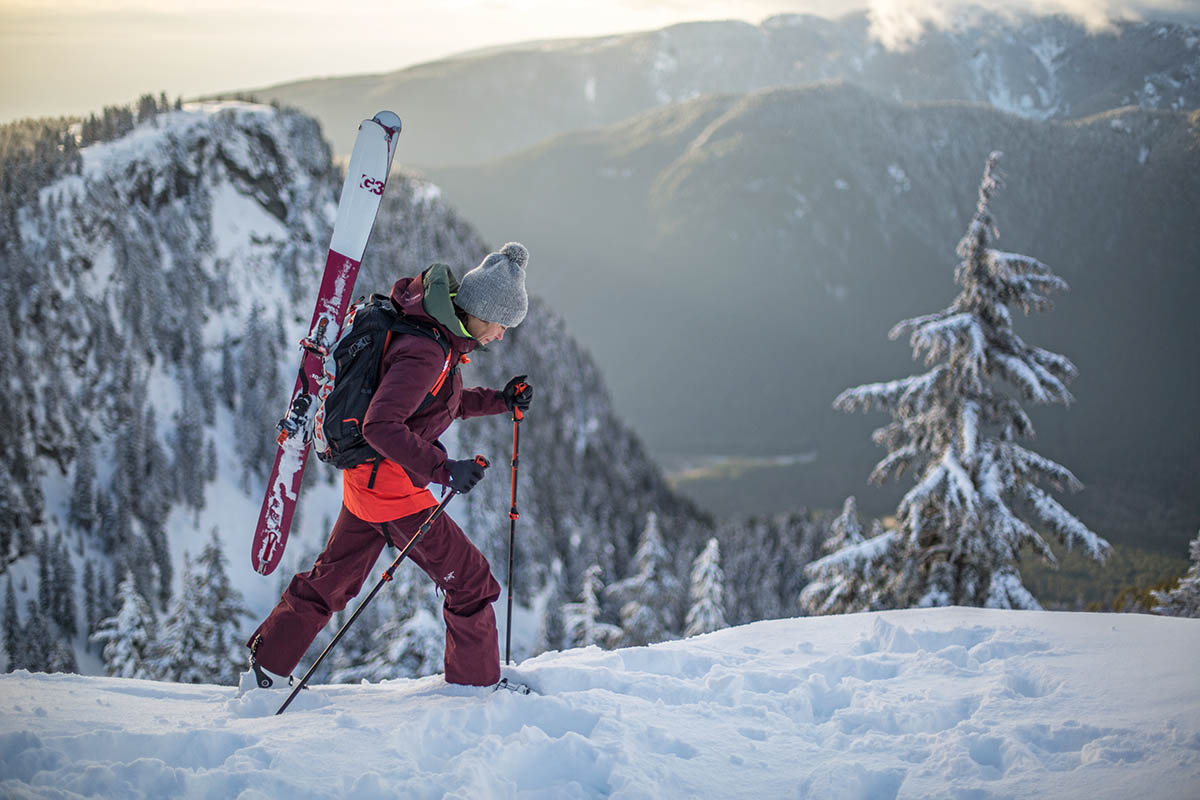 Women's-Specific All-Mountain Skis
For many years, a women's-specific ski essentially was the unisex or men's version in a shorter length, softer flex, and different colorway. The technology is evolving, however, and a number of ski manufacturers now are taking into account more advanced design elements. For 2023-2024, many women's-specific models have moved the recommended mounting points slightly forward (this better accommodates how an average woman balances on skis compared to an average man), along with a lighter overall weight. Softer flexes still are common, but many brands are now making skis to accommodate hard-charging women, such as Blizzard's Black Pearl. Summed up, it's no longer difficult to find skis designed and tested by women—Coalition Snow is a great example of a women-owned and -operated ski manufacturer with designs purpose-built for female riders.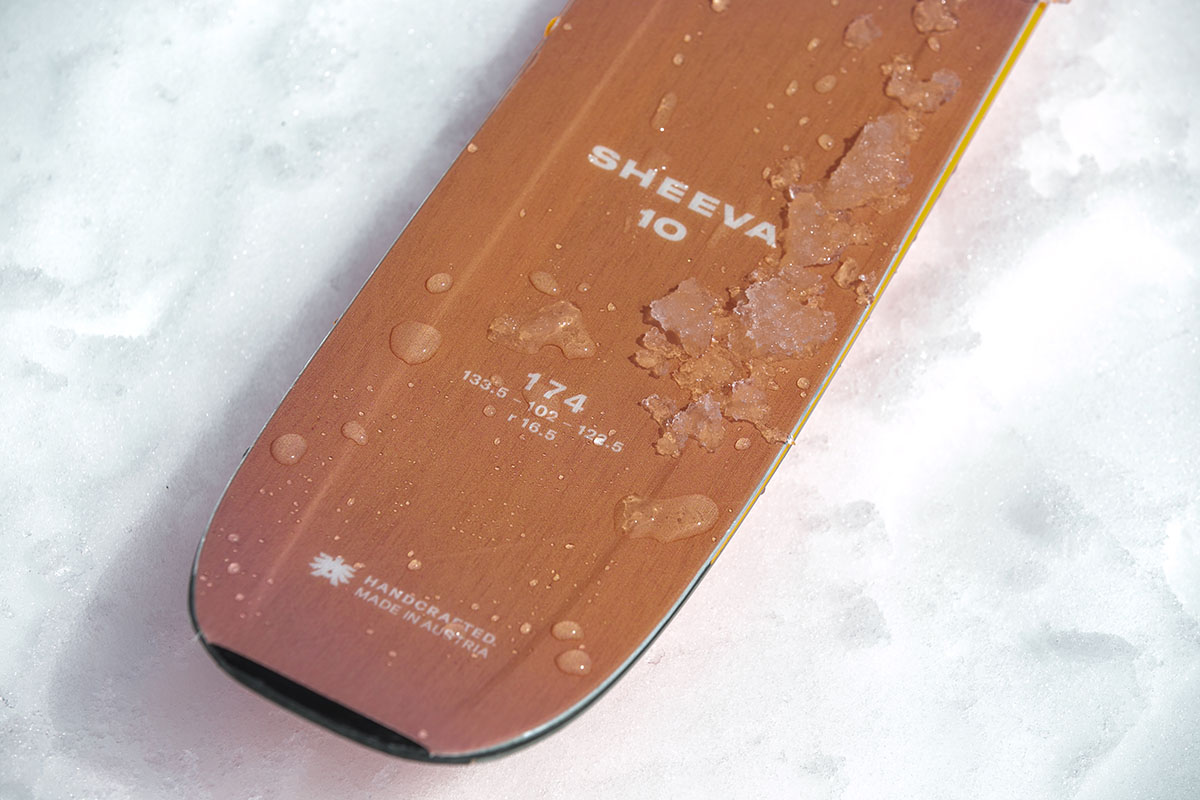 Keep in mind that the primary version of a ski isn't a "men's" version but instead unisex in nature. Our list above comprises mostly women's-specific models (with the exception of the unisex J Skis The Allplay), but your final choice should come down to personal preference and—most importantly—the quality and characteristics of each model. Some women use unisex skis, some favor women's-specific models, and many serious skiers have a quiver that includes both. We recommend getting whichever ski fits and feels best. If you're on the fence, our all-mountain ski round-up breaks down unisex models with links to the women's-specific variations whenever available.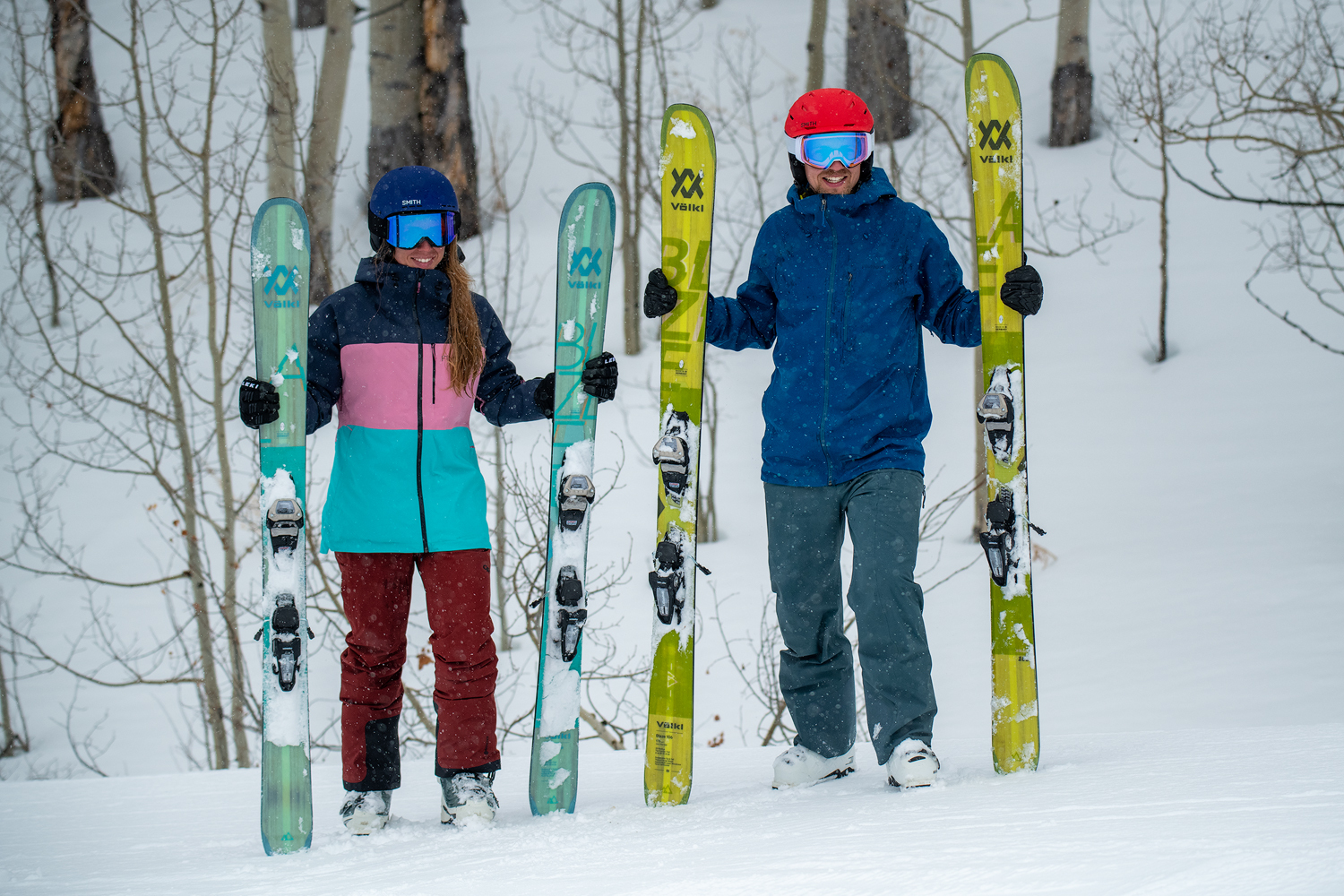 All-Mountain Front vs. All-Mountain Back
Although the all-mountain category makes a valiant effort to cover a wide range of skiing styles and terrain, there are important differences between models. As such, we've found it helpful to refer to the skis with an on-piste focus as "all-mountain front" and soft snow-oriented skis as "all-mountain back." Skis that perform reasonably well on both groomed runs and in powder are categorized simply as "all-mountain."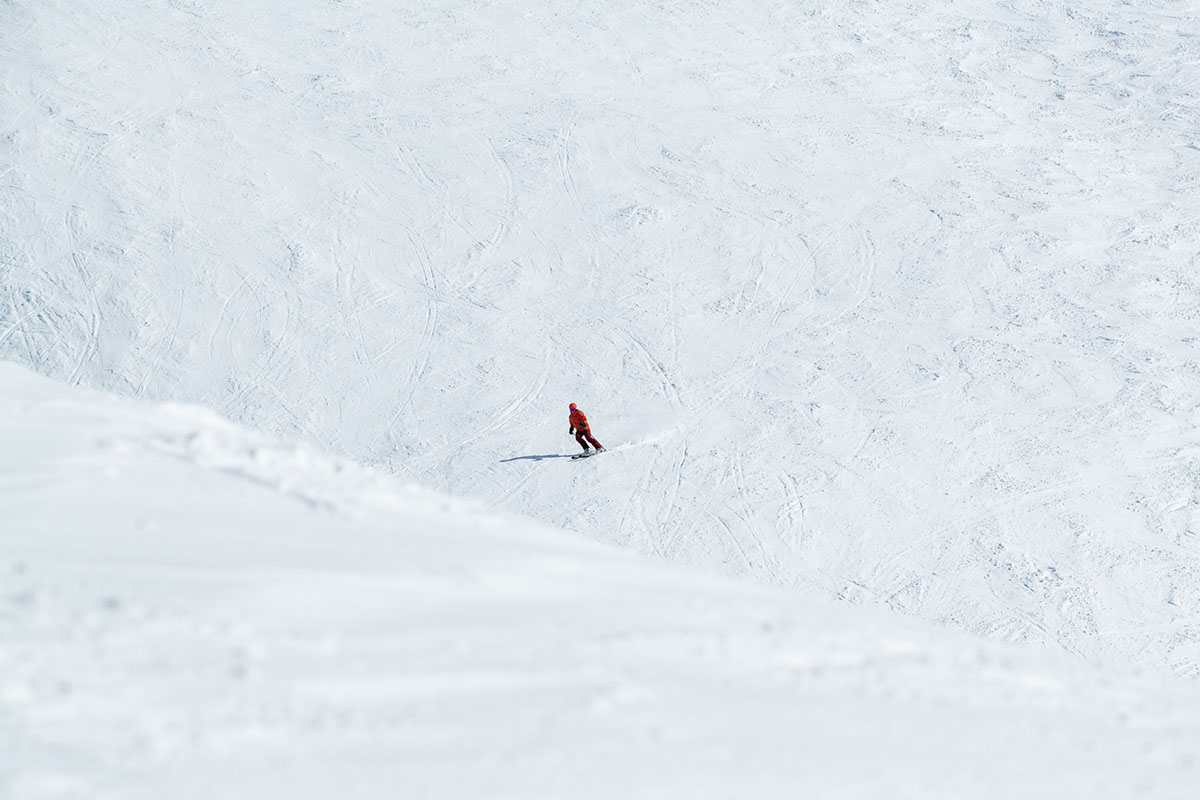 In short, an all-mountain front ski is best for tackling groomed runs. It has a narrower width, semi-stiff to stiff construction, and ski profile (covered below) that's tuned for stability and good edge hold on hardpack. A couple of our favorite all-mountain front skis are the Blizzard Pearl 88, Stöckli Nela 88, and Coalition Snow Rebel. All-mountain back skis, on the other hand, tend to be wider, softer (at least in the front of the ski), and built to float in deep snow. The Salomon QST Stella 106, for example, is just shy of a powder ski but more planted if you have to ski on piste. These designs aren't as fun for carving and can be less stable at speed, but they remain a suitable option for skiers that spend about 50% or more of their time off trail. The middle range of the all-mountain category (between 90 and 100mm at the waist) balances traits from both categories, with enough stability for moving fast on groomers and flotation to stay on top in powder.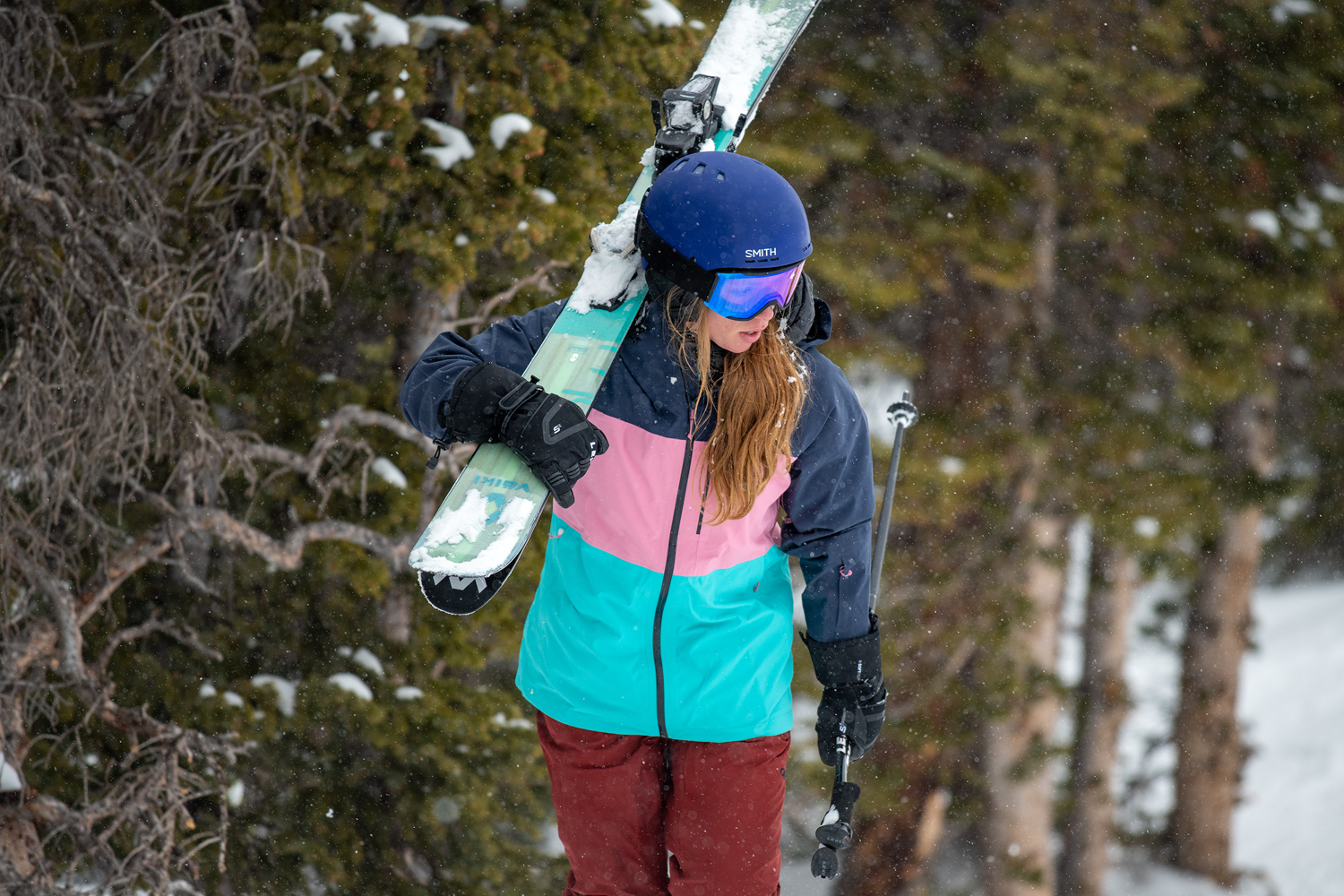 Ski Waist Width Explained
Waist width is a measurement taken from the center of the ski at its narrowest point and is a key element in narrowing your search. Within the all-mountain market, you'll find options ranging from approximately 75 millimeters up to about 110 (our picks above range from 85 to 106mm underfoot), and everything from your skiing style to local terrain and snowfall will dictate your ideal range. It's also worth noting that many popular lines of skis are made in varying widths. Nordica's Santa Ana collection, for example, is available in 84, 88, 93, and 98-millimeter widths (plus a wider 104mm Free variation), which cover nearly the full gamut of all-mountain styles.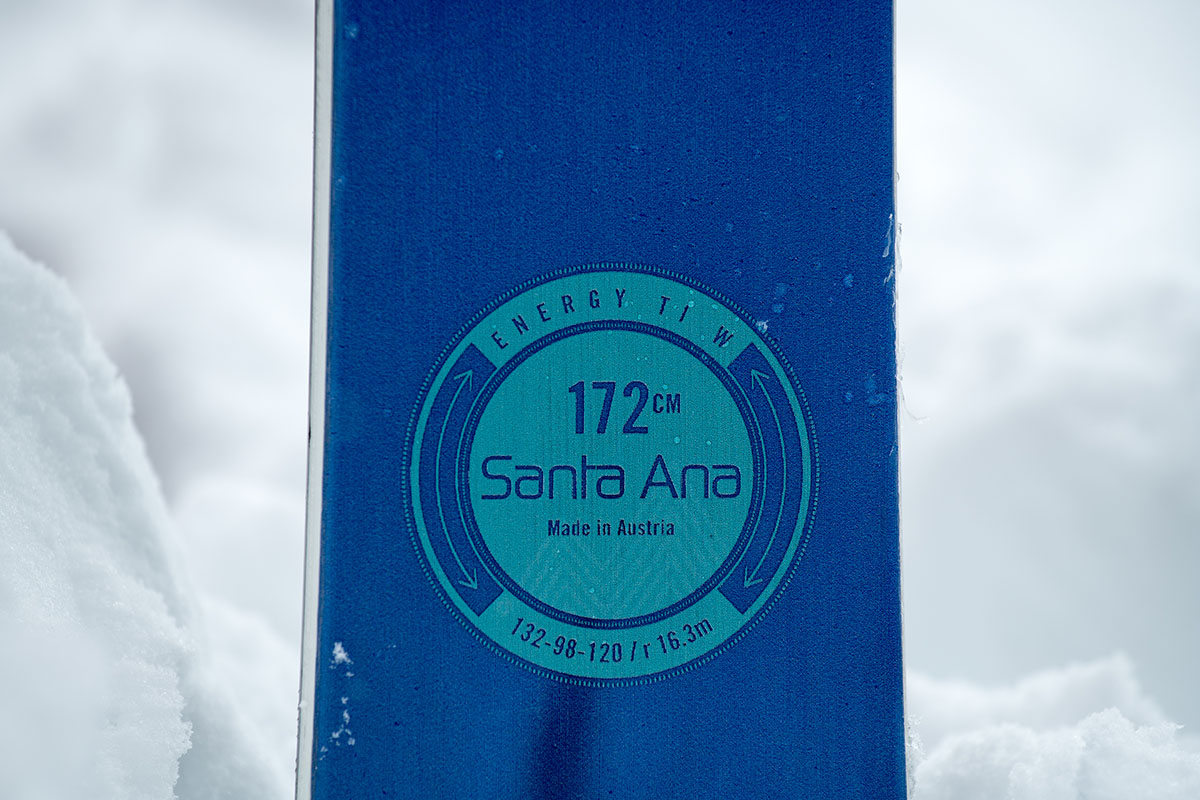 For width recommendations, skis on the lower end of the spectrum like Coalition Snow's Rebel (85mm underfoot) are best suited for hardpack and firm snow conditions. They're typically easy to control and grip well in the turns but are prone to getting bogged down in powder. Stepping into the 88- to 100-millimeter range is the core of the all-mountain market: These skis hit a nice balance of flotation for moderate snowfall (depending on the design, up to around 6 in. of powder) with reliable on-piste performance. Once you clear 100 millimeters at the waist, you get a borderline powder ski, which makes compromises in on-trail grip for excellent surfability and playfulness in the deep stuff. Below are some general recommendations based on terrain and region, and for a deeper look at topic, see our article on Choosing the Right Ski Waist Width.
All-Mountain Groomer Skis: 75mm to 90mm
All-Mountain East Coaster: 80mm to 95mm
Heart of the All-Mountain Range: 88mm to 100mm
All-Mountain Rocky Mountains/West Coaster: 90mm to 105mm
All-Mountain Powder Skis: 100-110mm

Ski Profile: Camber and Rocker
The profile of a ski can be broken into three main categories: camber, rocker, and mixed rocker/camber. There are others, including skis with a flat bottom shape, but the three listed below are the most popular—and for good reason. Each has their own strengths and weaknesses for skier and snow type, which we cover more below. For visual learners, snow sports retailer Evo has put together a helpful video explaining the various profile types.

Camber
Camber is the traditional groomer ski design and provides maximum contact and edge hold while carving down groomed slopes. Visually, it's the part of the ski that is raised off the snow if the unweighted ski is laid flat on the ground (alternatively, if you hold two skis together vertically with their bases against each other, camber is where they arc away from each other). When a cambered ski becomes weighted during the middle of a turn, the ski's edge grips the snow surface. As the skier exits the turn, camber helps the skier pop and propels them into the next turn.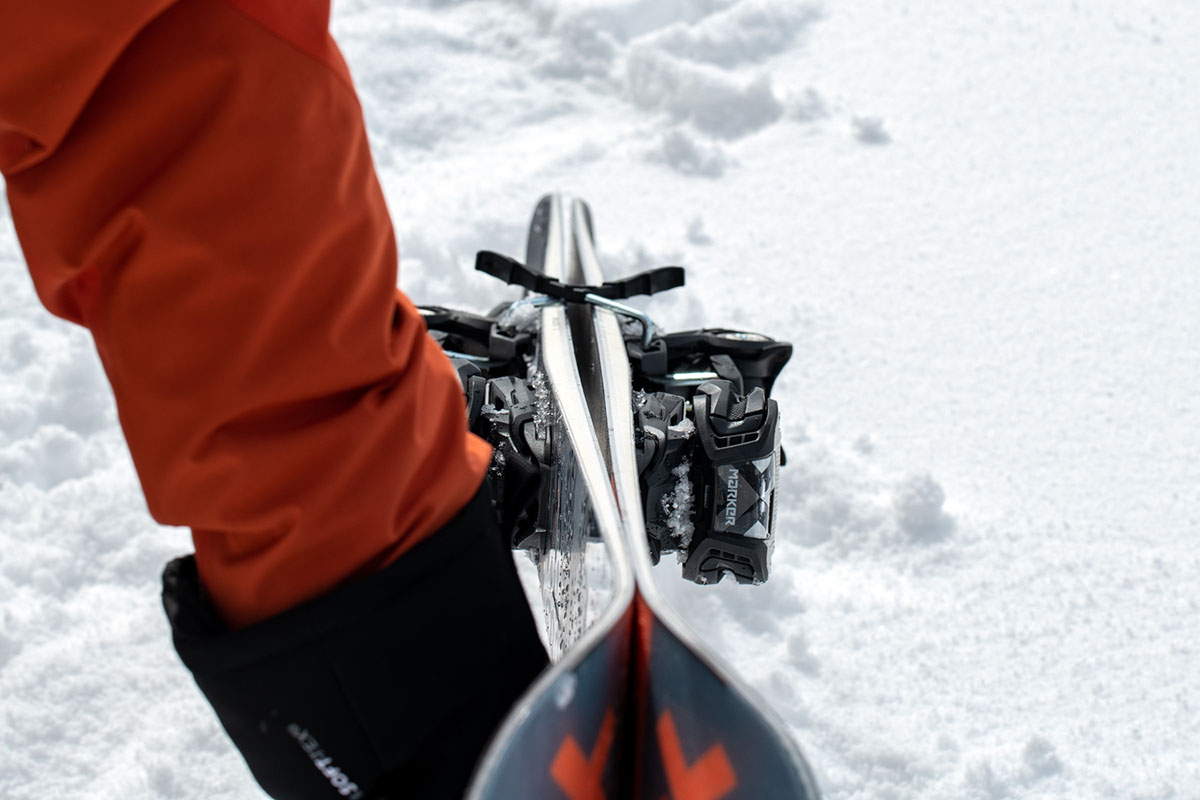 Full camber used to dominate the all-mountain category, but now it's become a bit of a rarity. This is largely due to the increased popularity of rocker and mixed camber/rocker designs, which are less susceptible to nose-diving in soft or choppy snow. However, traditional camber remains a great choice for those who like to ski aggressively on groomed runs (and don't mind some performance compromises in deeper snow).

Rocker
Rocker, also known as reverse camber, is when the tips of the skis are raised on either end, creating a sort of banana shape to the ski profile. This design originated for its benefits in deep powder but has come on strong in all-mountain setups of late. Our take is that a full rocker setup, rising at both the tip and the tail, is still best for those who like to spend more of their time off trail. The downside of a pure rocker ski is the flat surface underfoot has a tendency to be more skittish when carving on hardpack. Although it turns easily, it just doesn't hold an edge like traditional camber. From this issue was born a third category: mixed rocker/camber.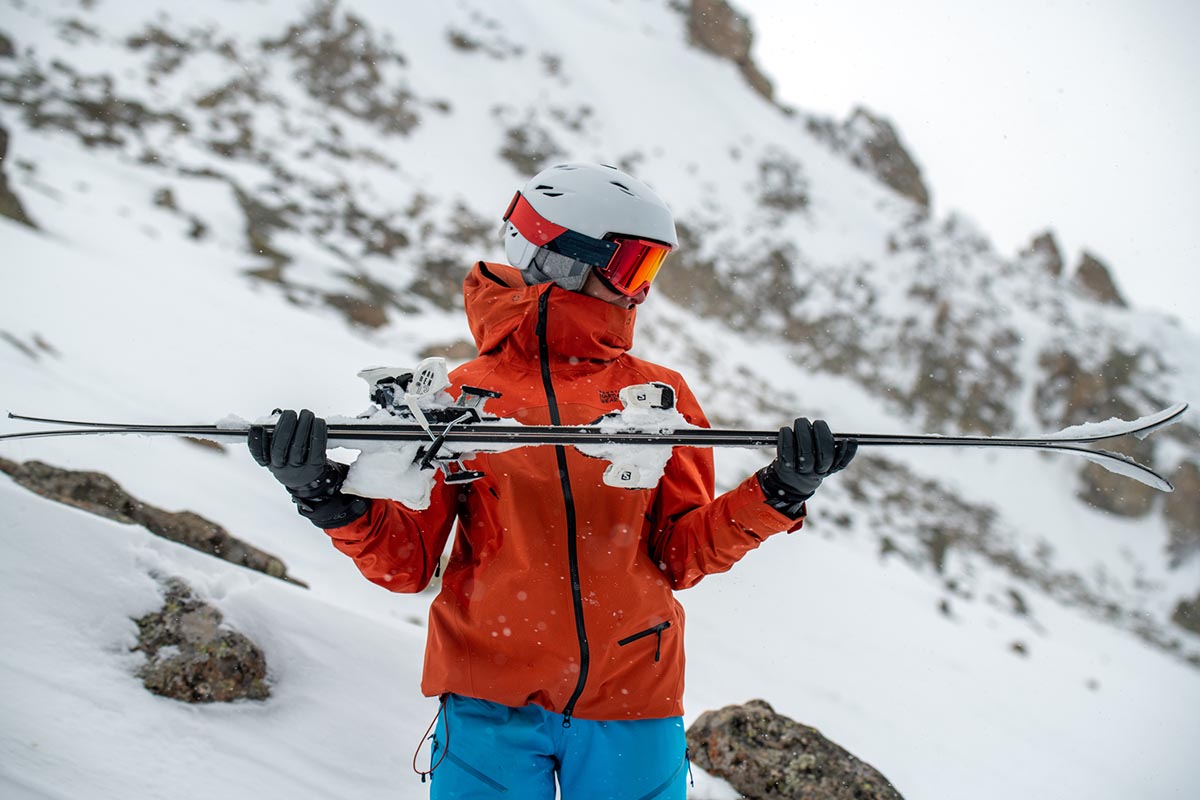 Mixed Camber/Rocker
Many modern all-mountain riders want a ski that can do it all, and mixed camber/rocker designs provide performance benefits from both types of profiles: the edge control of a traditional camber ski and the crud busting and easy cruising in deep powder that you get with rocker. There are variations in how manufacturers pull off this mix: Some go with a tip-only rocker while others go for tip and tail (the latter is great for those who spend some time riding switch, although most traditional all-mountain designs have minimal tail rocker). If you're a skier that tries to cover all of the mountain, a mixed camber/rocker setup is a great pairing.

Turn Radius (Sidecut)
A ski's turn radius (also referred to as "sidecut") is measured in meters and determined by the shape and dimensions of its tip, waist, and tail. In short, the narrower a ski's waist is relative to its tip and tail, the deeper its sidecut and smaller its turn radius. For example, skis that are built for carving small, tight turns will have an hourglass shape that's wider at the tip and tail and much narrower at the waist. On the slopes, this translates to a quick and nimble feel—a plus in tight spaces or moguls—and a ski that wants to turn sharply on edge. For reference, the Black Crows Captis Birdie has the shortest turn radius on our list at 11.3 meters and measures 127 millimeters at the tip, 90 millimeters underfoot, and 113 millimeters at the tail in the 166-centimeter length.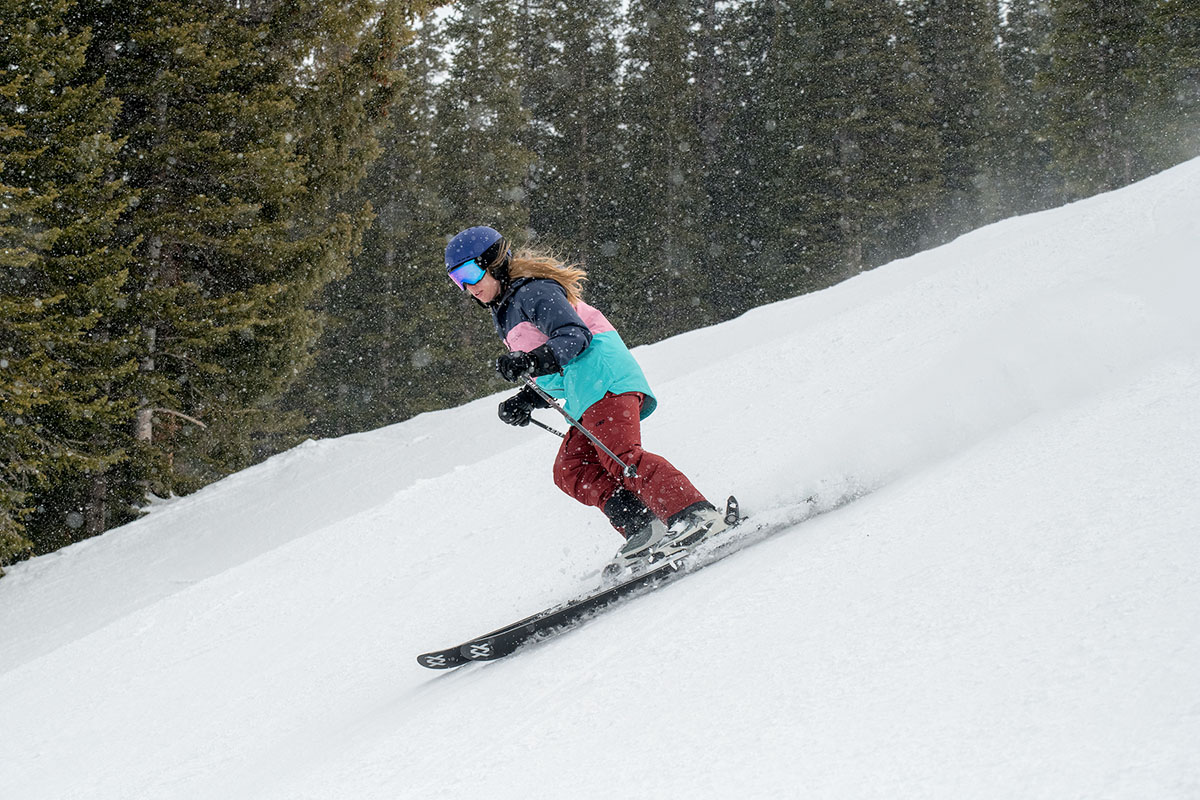 On the other hand, a ski with a more uniform width across its tip, waist, and tail will have a shallower sidecut and a longer turn radius. As the radius increases, the designs will feel more stable bombing a run at high speed or through wider, sweeping turns. All-mountain skis typically have a short to medium turn radius of around 13 to 19 meters, which is a clear reflection of their do-it-all intentions.
All that said, it's important to note that sidecut doesn't always perfectly reflect a ski's personality. Other factors like rocker/camber and stiffness play a role, but the turn radius number is a valuable piece of the puzzle. Below we list how the various radii typically perform.
Carving: Less than 16 meters
All-around: 16-20 meters
Wide and sweeping turns: 20+ meters

Ability Level and Flex
A ski's flex indicates how soft or rigid the ski is through its length and is a clear differentiator between beginner- and advanced-level models. Rigid designs typically have more metal in the construction for better stability at speed and offer the highest performance potential, although a beginner or less confident pilot will lack control and may find them difficult to turn. On the flip side, softer and more flexible skis are more playful and easier to turn, making them more approachable for beginner and intermediate riders (although advanced skiers will likely be left wanting more). Many of our favorite models land somewhere in the middle, balancing power for driving the skis with enough flex to be forgiving and maneuverable when moving at a slower clip.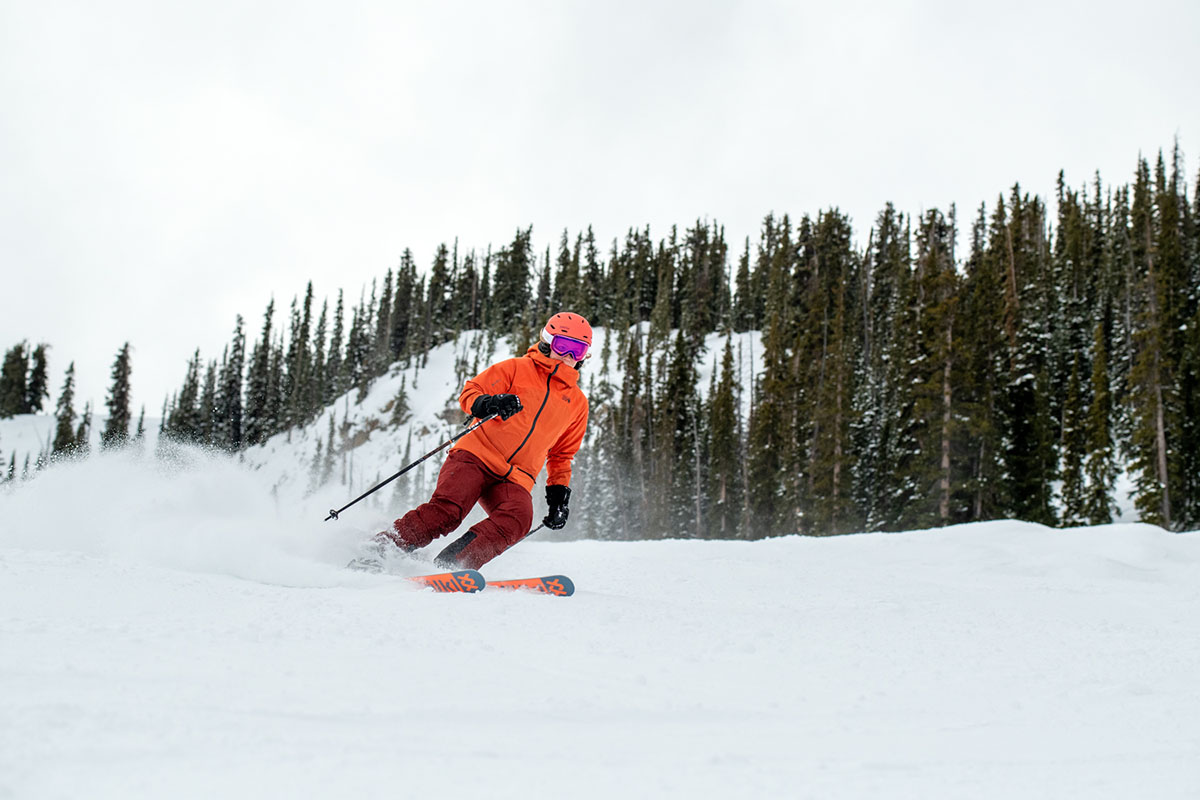 As we touched on briefly above, a ski's stiffness is the result of its material mix, and key indicators include how much metal (if any) the manufacturer is using. Commonly, a stiff ski will have two layers of Titanal (a strong alloy) that runs the full length and width of the ski. While it adds weight, the metal increases stability, and expert-level models like the K2 Mindbender 99Ti utilize this type of construction. On the other end of the spectrum is a softer ski like the J Skis The Allplay, which goes without metal completely. The focus is less on speed and more on a playful nature, which makes it a better match for off-piste exploring, milder speeds, and intermediate riders. And finally, skis that find the sweet spot of performance and flex are some of the most popular on the market, including designs like the Nordica Santa Ana 98 and Elan Ripstick 94 W.

Ski Weight
Most women's all-mountain skis check in at around 6 to 8 pounds per pair. This is perfectly reasonable for most resort riders, although those focused on getting air in the park or bootpacking into the sidecountry will likely want a lighter and more specialized design. For the rest of us, a ski's shape, profile, and construction will be the more important factors to consider in choosing the right setup. For reference, the Stöckli Nela 88 (6 lb. 14 oz. per pair in the 160cm length) is the lightest option on our list above, while the heaviest is the Nordica Santa Ana 98 (8 lb. 0.4 oz. in the 165cm size).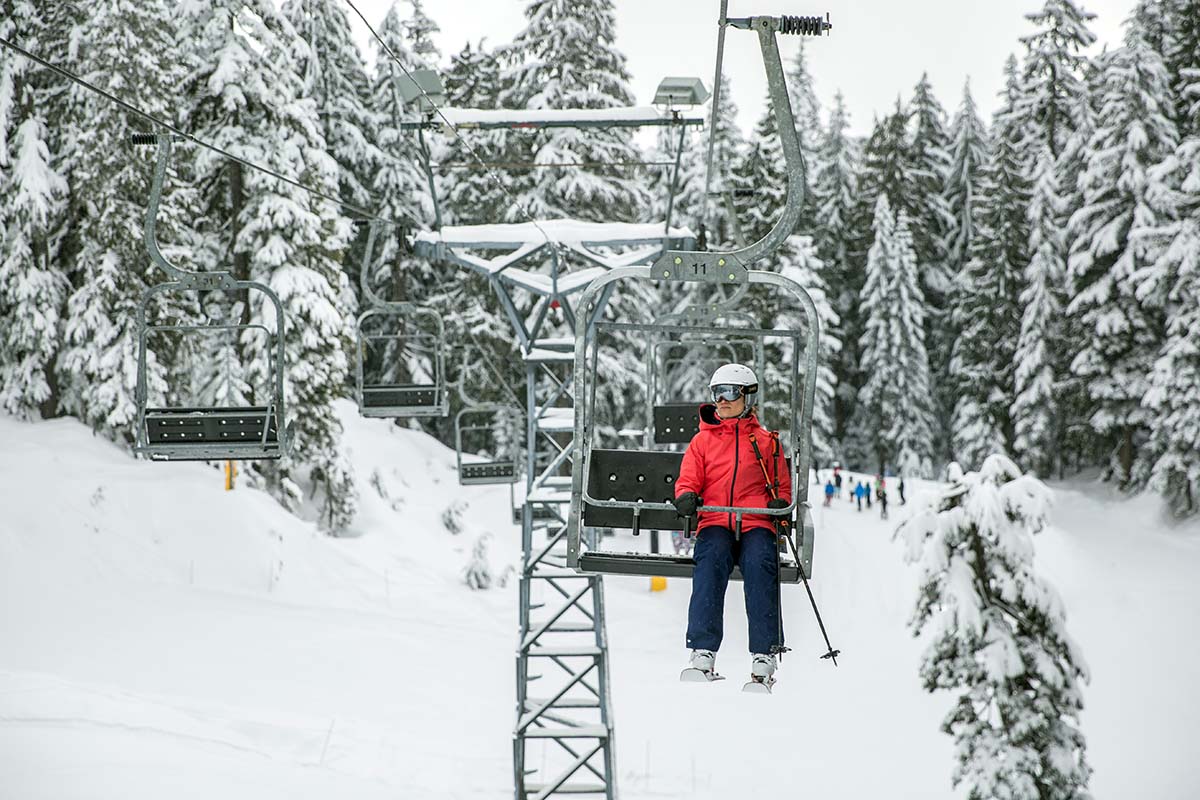 Ski Construction: Materials, Cores, and Laminates 
Modern all-mountain skis are packed with high-end materials and proprietary technologies (often with fun-sounding but confusing names), which makes it nearly impossible to accurately analyze their constructions without putting them to the test. The good news is that the modern market is flush with quality options, and each year we see incremental improvements. Poplar and aspen are two lightweight and high-energy woods commonly used in the core to reduce weight while maximizing pop and responsiveness. Paulownia is another lightweight option that's often slightly more durable, while denser woods like maple will boost power, stability, and durability but add some heft. Outside the wood core, ski manufacturers also often use some metal or composite materials—including graphene, carbon, Titanal, or proprietary blends—to increase a ski's strength and stiffness.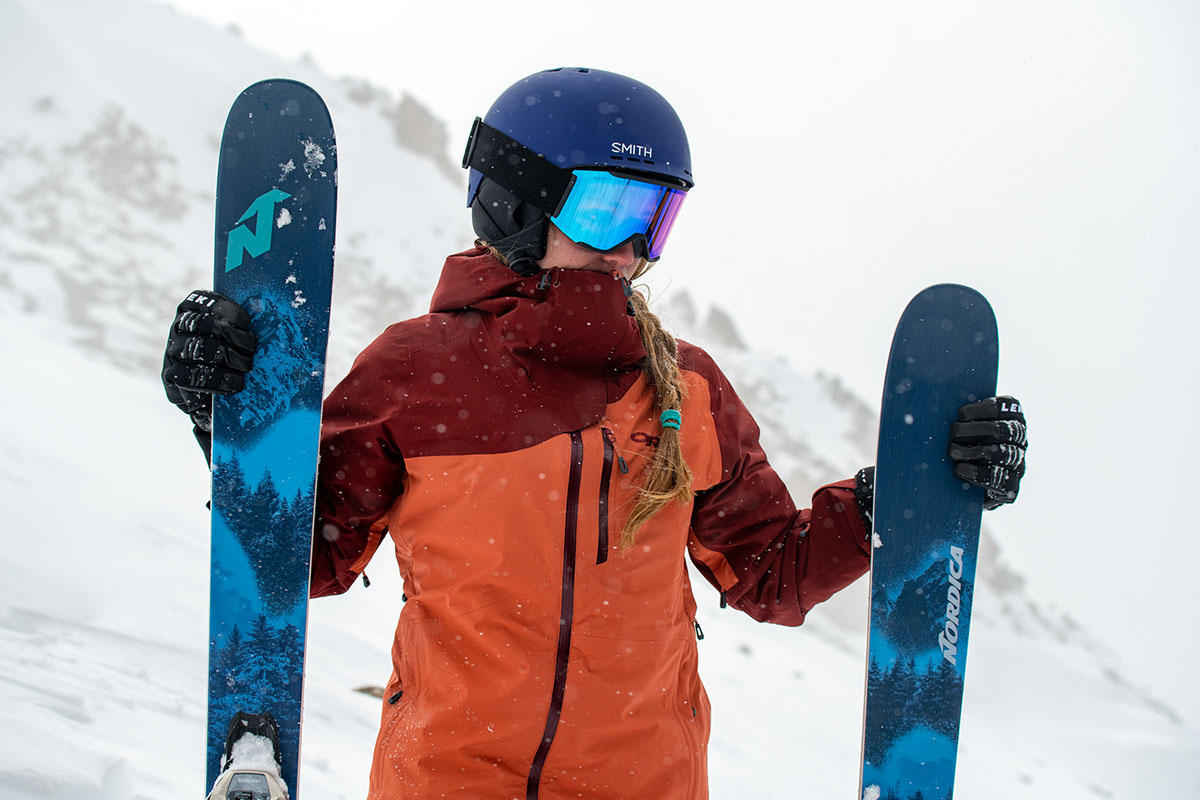 If you're looking for a top-end ski, these types of materials are well worth having on your radar. But don't limit yourself by setting too many parameters. It's hard to pinpoint performance simply based on a ski's construction, and there are a wide variety of ways to make a capable design. When researching your next ski purchase, pay attention to how the manufacturer describes overall performance, but remember to take big claims with a grain of salt. If possible, it's always helpful to demo skis with varying materials and constructions (and even in varying lengths) to see how they feel under your feet.

Choosing the Right Ski Length 
Most ski manufacturers provide size guides on their product pages that take into account your height, weight, and ability level to help determine which length is right for you. This allows you to maximize the ski's potential with proper amounts of flex and power transfer. Another consideration is skiing style: Shorter skis are easier to handle for beginners and turning faster, while longer skis float better and are more stable at high speed. Finally, it can be helpful to factor in your preferred type(s) of terrain. If you primarily stick to trees and moguls, you may opt for a shorter ski that will be easier to pivot. If you like big, open bowls and faces, a longer ski will help with making big, sweeping turns. In other words, sizing guides can be a good starting point, but choosing the right length for you will depend on several factors, including your personal preferences. We've found this sizing chart on Evo to be helpful as baseline information.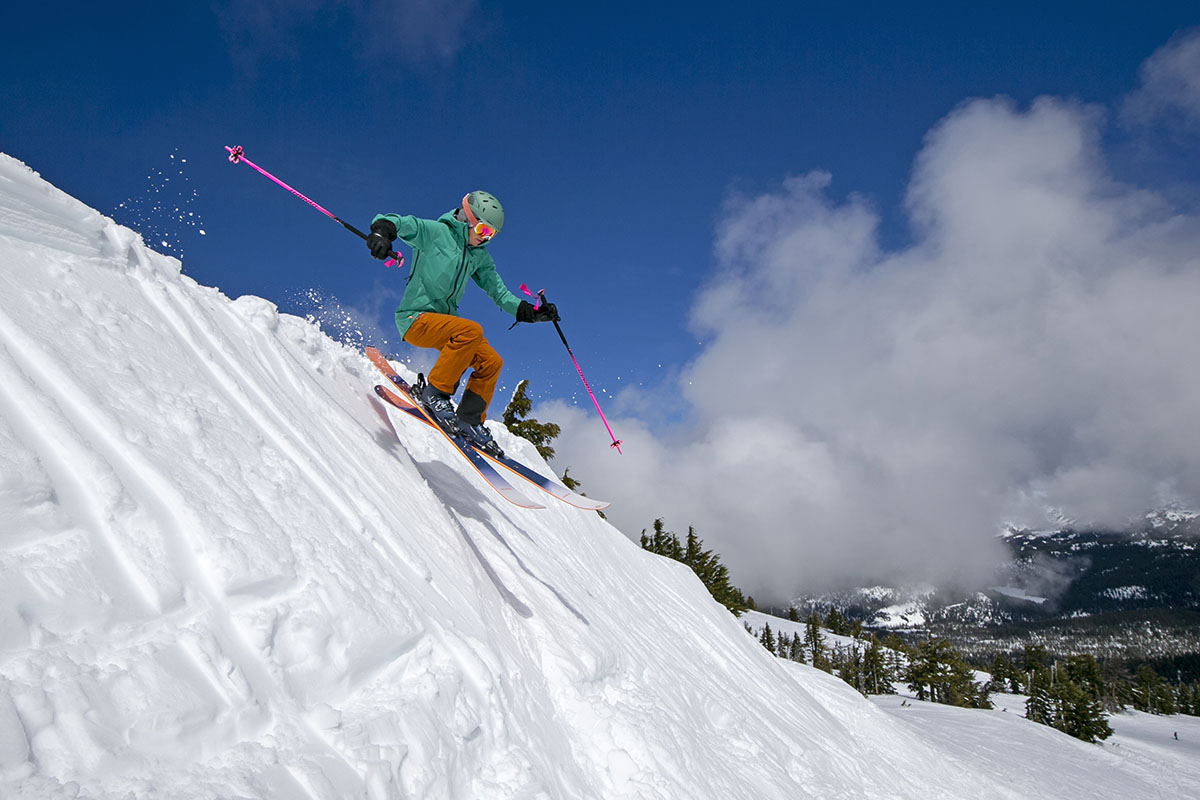 Boots and Bindings 
When choosing skis, it's important to realize how interconnected each component of your setup is. Your boots, bindings, and skis all need to be working in concert to maximize the performance potential of your gear, as well as your overall enjoyment on the slopes. For instance, if you have a stiff, performance-oriented boot, you're going to waste its abilities with a soft and cumbersome entry-level ski and binding. Alternatively, if you have a beginner, flexible boot with an advanced ski and binding set, you won't be able to transfer enough power to really carve your way down the slopes. To help ensure you end up with a proper match, our ski binding and women's ski boot articles break down the categories in a similar fashion as women's all-mountain skis: tailoring picks to ski conditions and ability level.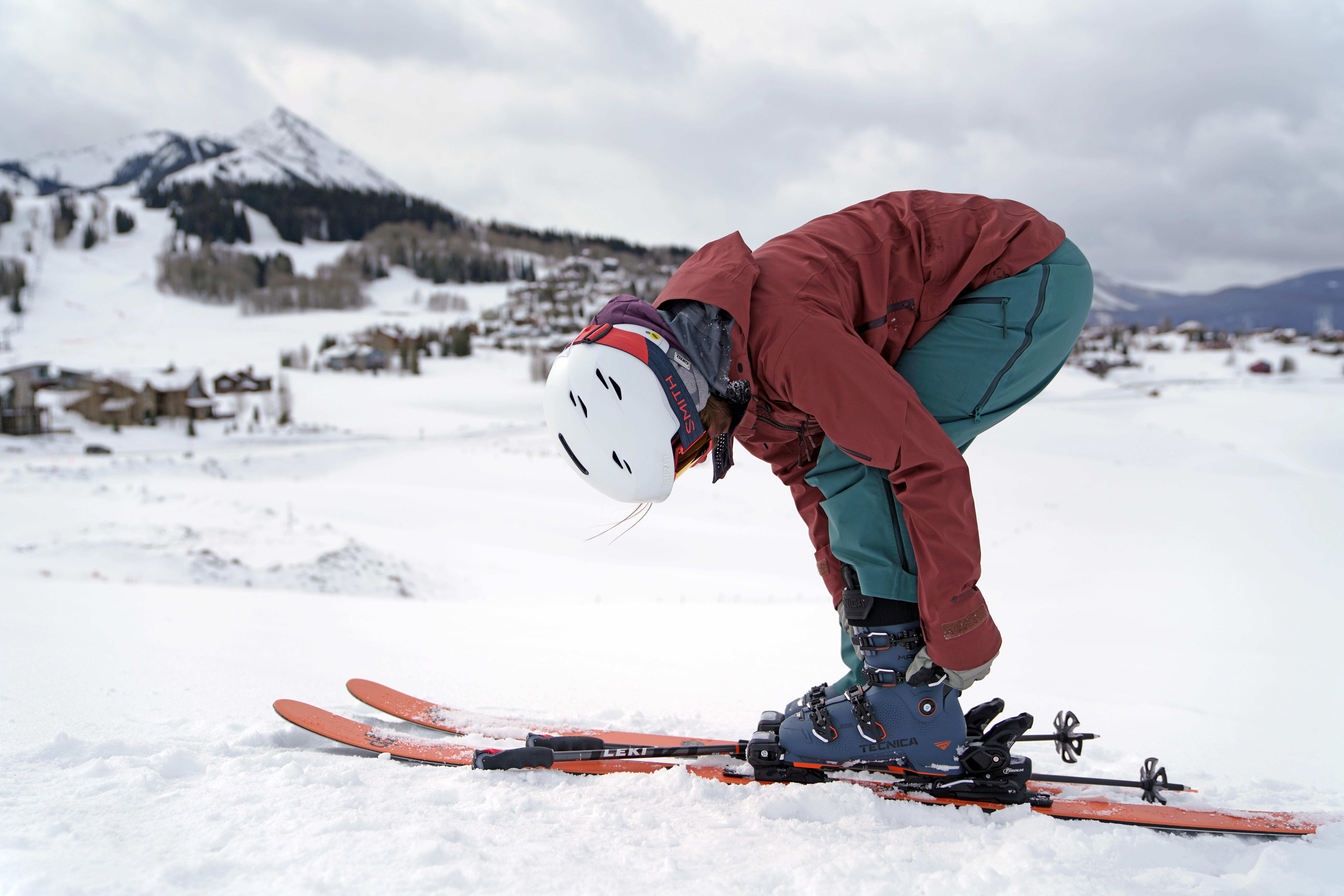 Ordering Skis Online
It goes without saying that purchasing a pair of skis is a significant investment and one that requires a good deal of research. Ideally, you'll have a chance to get your hands on the skis (and hopefully even demo them) before taking the plunge, but that isn't a reality for everyone. The good news is that ordering online is a pretty seamless process these days, with most major retailers offering free and surprisingly fast shipping.
Once you get your skis, you'll need to get your bindings mounted. Just about any ski shop will do the work for you, with the average cost ranging from about $40 to $70. Many of REI's 180+ stores also have a ski shop with good discounts on mounting services. Prices vary by store, but the rate at the flagship in Seattle last season was $60 for an alpine mounting (we will report back once they reopen for the 2023-2024 season). Importantly, members get 20% off shop services, and you'll also receive a discount if you purchase the skis, boots, or bindings from REI. Evo and Backcountry also offer mounting services at their stores, although they're few and far between compared to REI (you can see a list of Backcountry's retail locations here and Evo's stores here).
Back to Our Top Women's All-Mountain Ski Picks  Back to Our Women's Ski Comparison Table
Learn More About Ski Gear