Nordica Santa Ana 98
Price: $700
Ability level: Intermediate to expert
Dimensions: 132-98-120mm (172cm length)
What we like: Incredibly well-rounded for both on- and off-piste use.
What we don't: Wide dimensions and moderately stiff build can be difficult to control in moguls and tight spaces.
See the Women's Nordica Santa Ana 98  See the Men's Nordica Enforcer 100
Nordica's Santa Ana (and men's Enforcer) is one of our favorite all-mountain skis for its versatility and impressive performance both on- and off-piste. For 2021, Nordica retooled the ski by narrowing the waist (from 100 to 98mm), removing one layer of Titanal, extending the wood core, and adding more carbon to the build. The result: the ski is just as fun and confidence-inspiring as its predecessor but even more well-rounded for those that explore all over the mountain. We brought the Santa Ana 98 to Crested Butte, Colorado, for testing, and below we break down its hardpack performance, soft snow performance, build quality and durability, fit and sizing, and more. To see how it stacks up to the competition, see our articles on the best all-mountain skis and women's all-mountain skis.

Hardpack Performance
I've been skiing the outgoing Santa Ana 100 for the past two seasons, and the latest Nordica Santa Ana 98 retains that model's excellent performance on hardpack. Despite its wider dimensions, the original design was natural and comfortable on groomers, and the 98 is no different: the ski felt secure and powerful, even on my first run, and I noticed very little chatter at speed. Conditions in Crested Butte weren't ideal—it was a bit of a dry spell with very little fresh snow and chopped-out trails early on each day—but the Santa Ana had no trouble plowing through. And despite a new carbon-reinforced chassis, the ski was incredibly smooth and predictable, even in mixed conditions. All in all, it's a great match for all-mountain skiers who prioritize a stable, confidence-inspiring ride.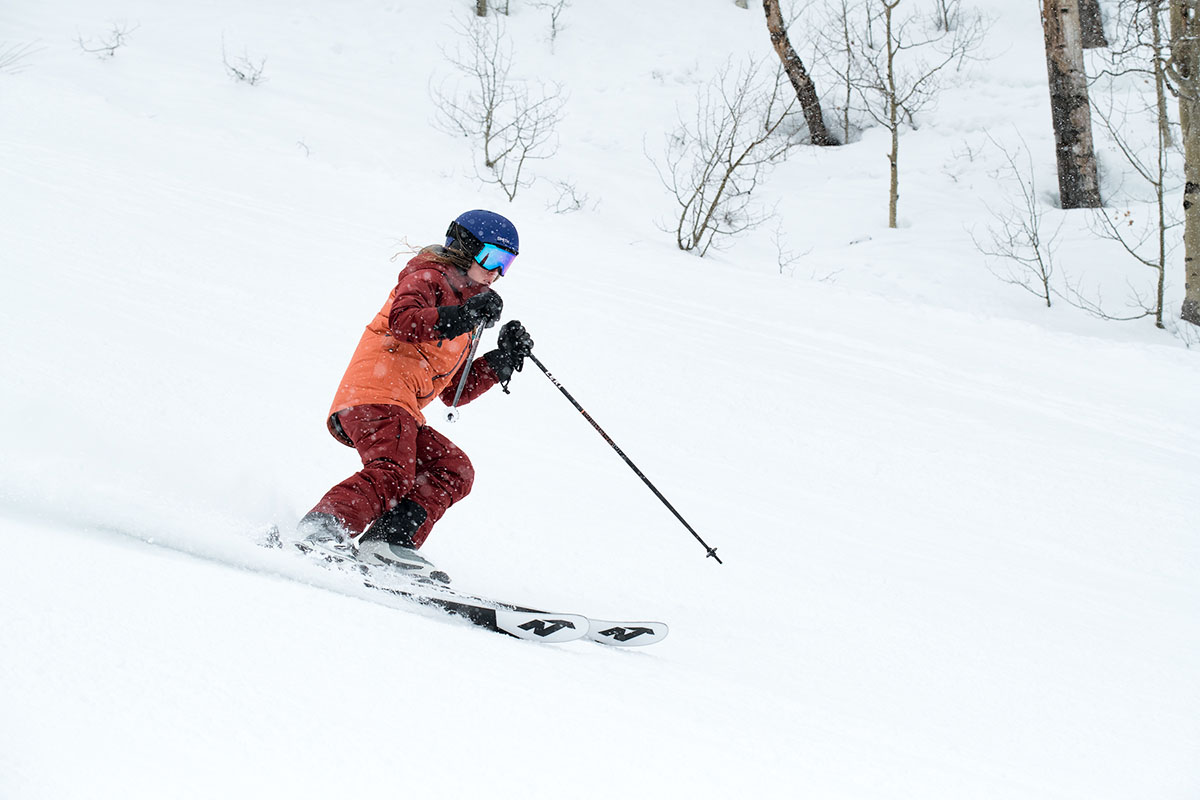 As far as turnability goes, the Santa Ana 98 handled everything from short, precise turns to wide sweepers with aplomb. The new ski has cut weight by removing one of the sheets of metal, and combined with the rockered front end, initiates a turn with very little effort. It's worth noting that the Santa Ana has a fairly tight side cut radius at 16.3 meters for the 172-centimeter version, so it's a little less inclined to do big GS-style turns, but I didn't find it overly difficult to bring around. All things considered, the Santa Ana picks up speed quickly, gets on edge with minimal input, and is nimble and easy to trust in the bends.

Soft Snow (Powder) Performance
I didn't get the chance to test the Santa Ana 98 off-piste due to the early closure of resorts this past season, but all signs are positive that it will be a capable partner. I've taken my Santa Ana 100s into the slackcountry and Colorado backcountry on multiple occasions, including Berthoud and Loveland passes, and found it to be a great match for everything from light powder to around 6-8 inches of fresh snow (I have Salomon's S/Lab Shift binding mounted on it so I can tour when the snowpack allows). The ski did get bogged down on one particularly deep day this past season with almost a foot of fresh snow accumulating in less than 24 hours, but this wasn't too surprising, and a wider width would have been more ideal choice in these conditions. All things considered, the 98-millimeter waist is just about perfect for most snow days out West, and having less metal in the construction and a lightened-up tip—Nordica removed some ABS plastic and extended the wood core—should make the 98 even more playful than its predecessor.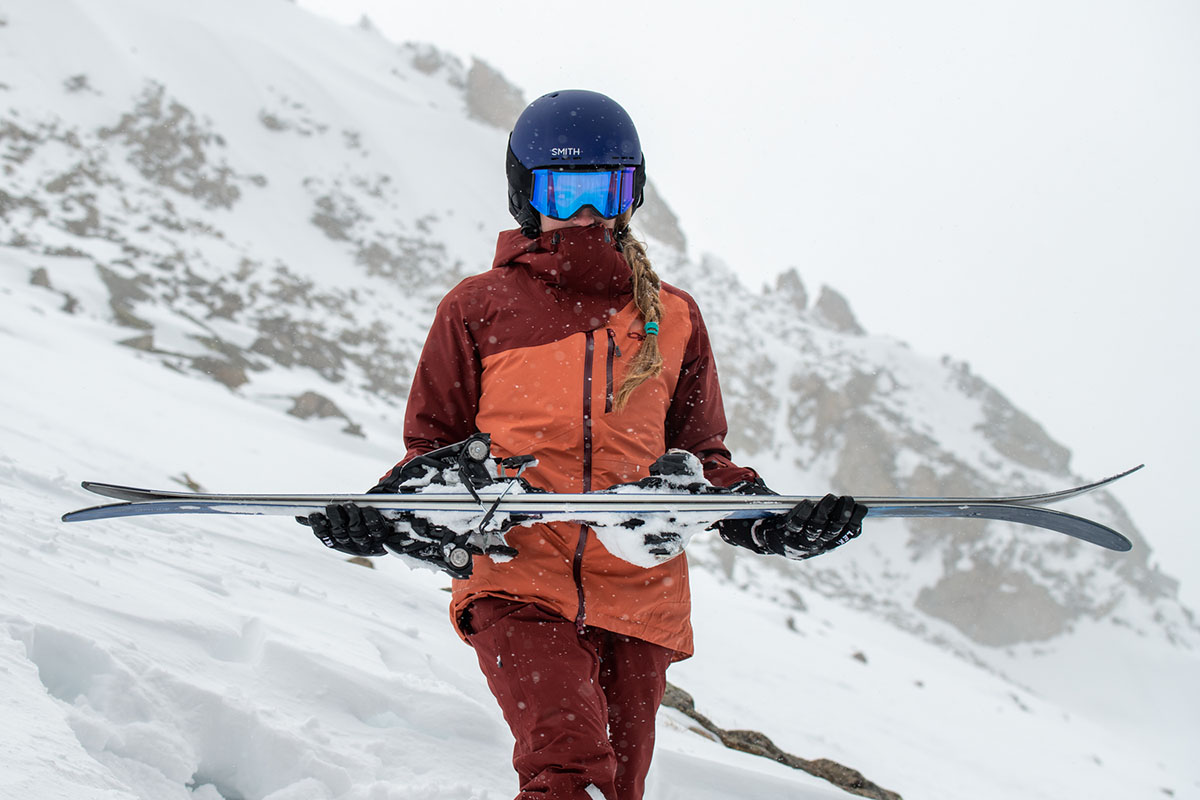 All that said, the Santa Ana still requires some effort to pilot in soft snow. I don't have to put in much work on groomers—the ski feels noticeably stable at a wide range of speeds and with very little input—but as soon as I head into deeper powder, it becomes much less maneuverable, especially in tighter spaces like trees. The 98's redesigned core should help here, but given its familiar feel on hardpack, I suspect those that want a flickable ride off trail will prefer a softer build like Blizzard's Sheeva 10. On the other hand, the Sheeva doesn't like being driven hard on groomers and can lack grip in icy conditions. In the end, it comes down to priorities and how you plan to spend your time on the slopes. If you're looking for a capable all-rounder that nicely transitions from hardpack to light to moderate powder, the Santa Ana is simply hard to beat.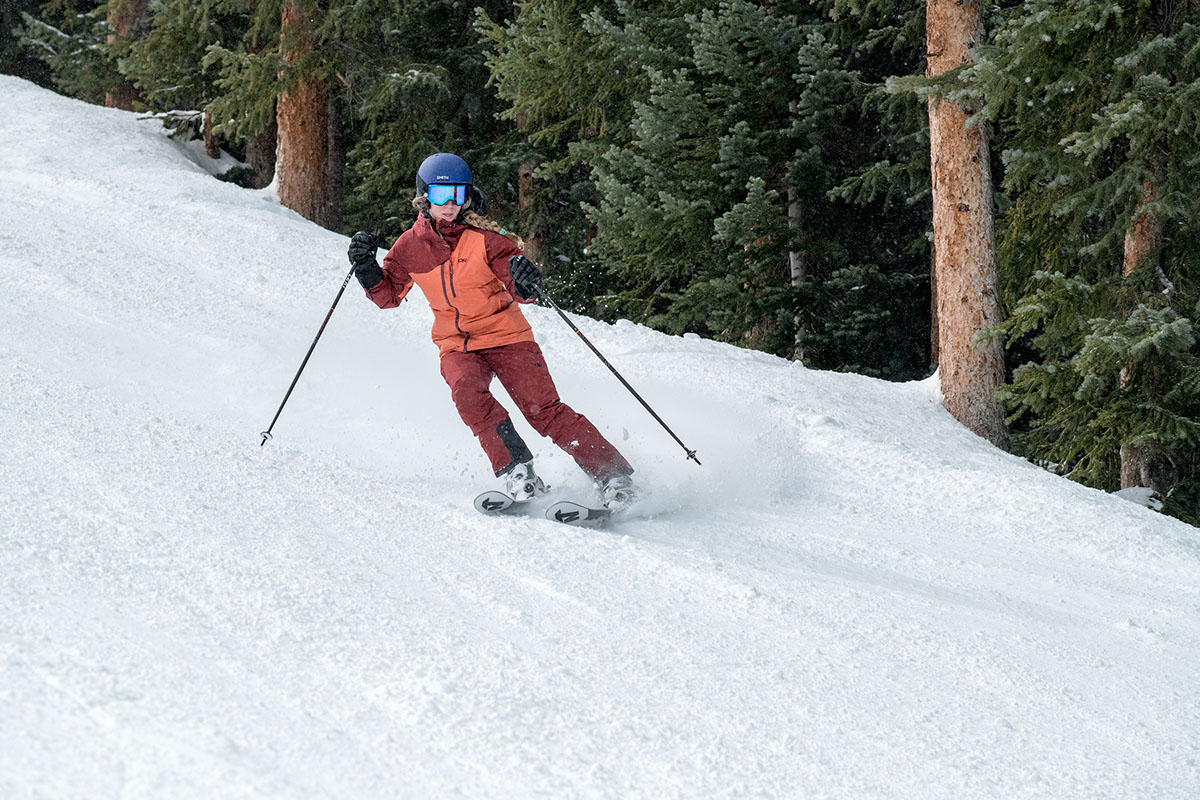 Performance in the Bumps
The Santa Ana 98 is a great performer both on groomers and in powder, but it's noticeably less maneuverable and snappy in the bumps. I'm admittedly not a mogul skier, but I found the Nordica especially tough to control on this terrain. The longer length (I was testing the 172cm version, while my Santa Ana 100s are 169cm), combined with the wide tips, made the ski difficult to maneuver through tight spaces and flick from edge to edge. Our male tester who was on the unisex Enforcer 94 felt that the ski had a good amount of pop and was more forgiving than many metal-heavy options in its class (like the Volkl M5 Mantra/women's Secret), but in general, both the Enforcer and Santa Ana are best suited to confident and experienced mogul riders.

Build Quality and Durability
I've been impressed with the durability and high-quality construction of my original Santa Ana, and I expect the latest 98 to fare similarly. For reference, my pair of 100s is still holding up well with only cosmetic wear along the top sheet and small scratches along the sides after two years of consistent resort and backcountry use. In terms of the construction tweaks with the Santa Ana 98, Nordica added more carbon fiber in the build, extended the wood core, and removed one layer of Titanal and some ABS plastic to lighten the ski (they call this their True Tip Technology). The result is a more feathery and playful overall design that doesn't sacrifice much in the way of stability or power transmission. And this is purely subjective, but I like the colorways of the Santa Ana collection—all of the skis have an attractive, fairly unobtrusive design that should age well. All in all, this is clearly a ski that's built to last, and I expect it to have a long lifespan.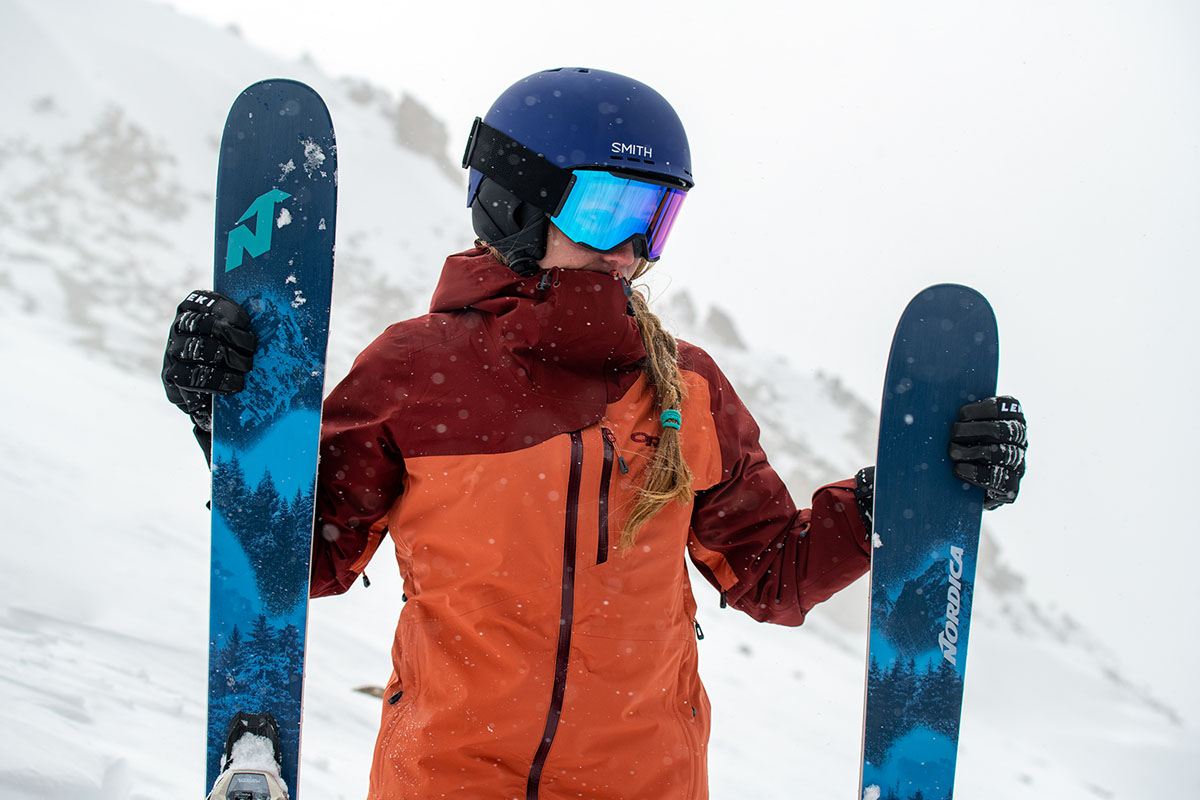 Fit and Sizing
At 5'6" and 135 pounds, I chose the 172-centimeter version of the Nordica Santa Ana 98 and found it to be a good all-around match. For reference, I have the 169-centimeter model of the outgoing Santa Ana 100, but I didn't experience any major drawbacks with the newest variation's added length. I did find it to be slightly less maneuverable and playful (turn radius goes from 15.5m with my 100s to 16.3 with the latest 98s), but this was a very minor difference and didn't have too big an impact on overall performance. In general, the Santa Ana 98 felt comfortable and natural from the get-go, and I never felt out of control, even at speed and in mixed snow conditions. And Nordica also offers the ski in 151, 158, 165, and 179-centimeter versions, so most skiers should be able to find a good match for their preferred length and riding style (although take note that tip/tail dimensions and turn radius vary between models).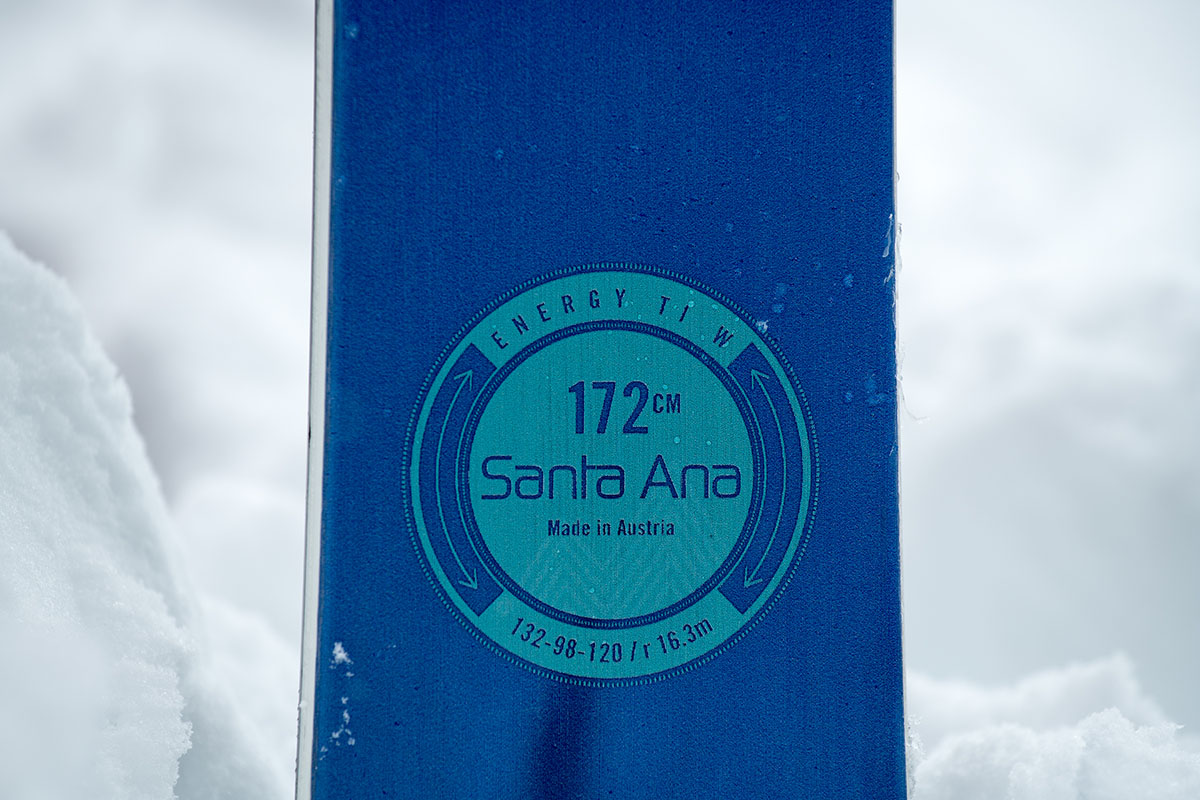 Other Versions of the Nordica Santa Ana
We brought the Santa Ana 98 along for testing in Crested Butte, and Nordica also makes the ski in a slimmer 88-millimeter model that's a nice choice for areas with less snow or those who prefer a stiffer, on-piste focus. And the Santa Ana 93 is another versatile size for all-mountain riders, although we think the 98 is the best match for Western states like Colorado and Utah with good yearly snowfall. Rounding out the collection, Nordica offers the Santa Ana in 104- and 110-millimeter Free variations that feature less metal and more rocker at the tip and tail for better performance in powder.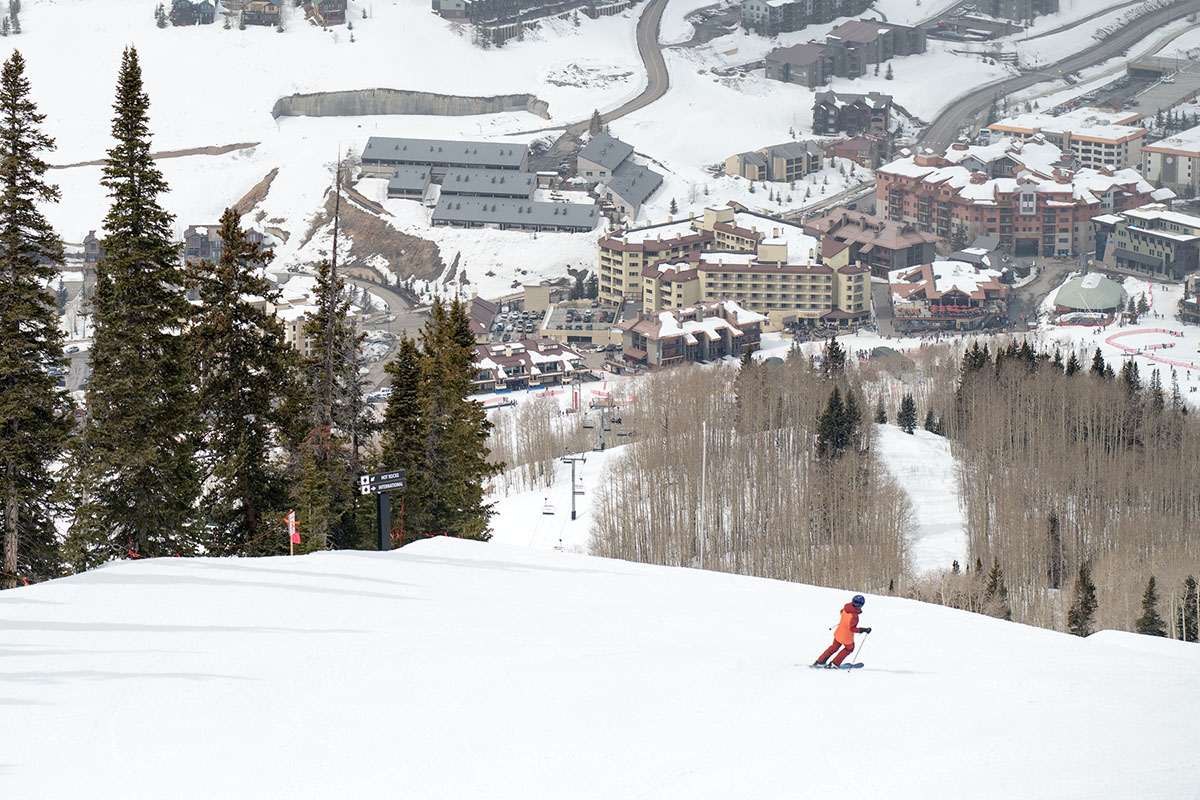 Men's Nordica Enforcer
We tested the Santa Ana for this review, and Nordica makes the ski in a unisex design called the Enforcer. We had the 94-millimeter Enforcer with us in Crested Butte and found it to be a great match for our purposes: secure and powerful at speed (it's heavier than the Santa Ana with two sheets of Titanal), confidence-inspiring in an array of conditions, and responsive both on groomers and in light to moderate powder (for more, see our in-depth Enforcer 94 review). The Enforcer is also available in 88- and 100-millimeter options, as well as 104- and 110-millimeter Free variations. Like their women's counterparts, the Free Enforcers have more tip and tail rocker, and turn radius varies slightly between sizes.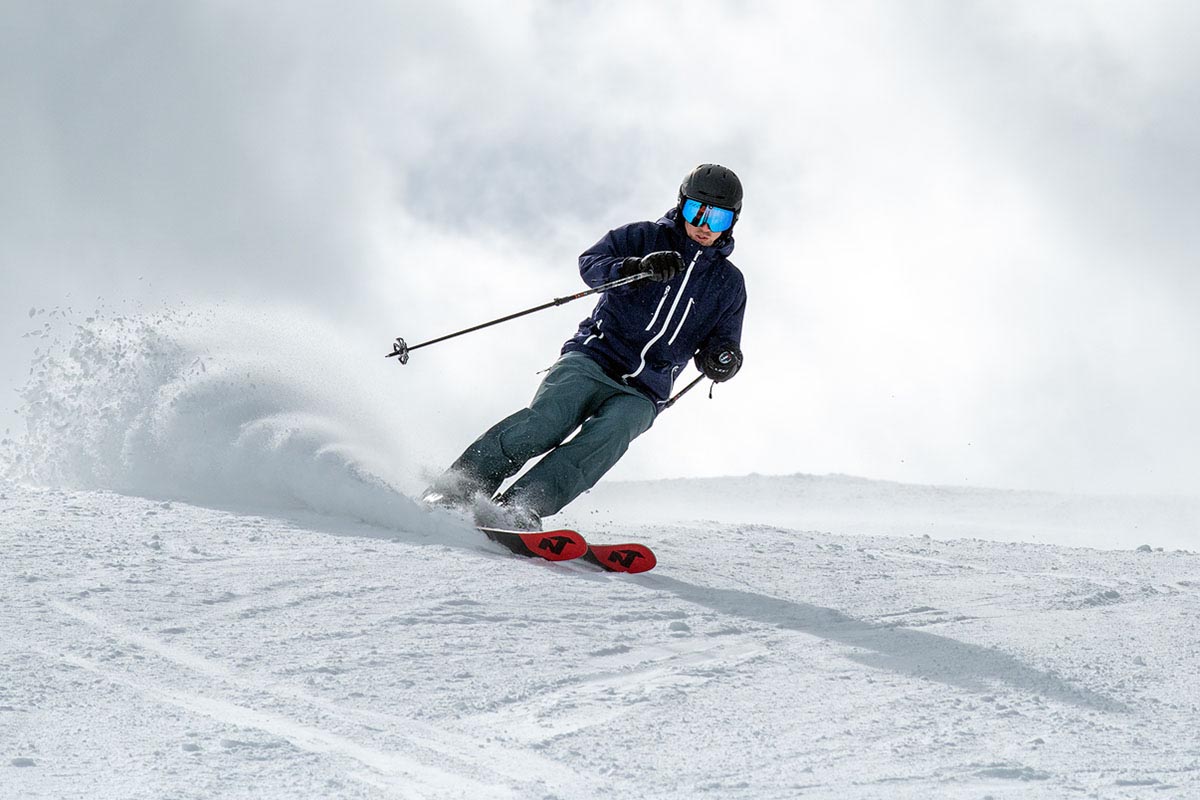 What We Like
Versatile waist width and shape for both on- and off-piste use. It's also a viable option for those that want a one-quiver ski for touring and the resort.
Smooth, predictable, and confidence-inspiring at speed and in a range of conditions.
Easy maneuverability on groomers for anything from short to wide, sweeping turns.
Premium materials and simple, attractive design.

What We Don't
Pretty unforgiving in the bumps, and we found the ski is best suited to advanced to expert mogul skiers.
Requires some work to control off-piste, and especially in deep snow and tight spaces like trees.
Ex-racers wanting a stiffer and faster ride may prefer the unisex Enforcer, which includes a second sheet of Titanal.

Comparison Table
| Ski | Price | Ability Level | Dimensions | Radius | Construction |
| --- | --- | --- | --- | --- | --- |
| Nordica Santa Ana 98 | $700 | Intermediate to expert | 132-98-120mm | 16.3m | Wood, Titanal, carbon |
| Blizzard Black Pearl 97 | $700 | Intermediate to advanced | 136.5-97-118.5mm | 15m | Wood, Titanal, carbon |
| Volkl Secret 102 | $750 | Advanced to expert | 140-102-123mm | 17m | Wood, Titanal, carbon |
| Salomon Stance 94 | $650 | Advanced to expert | 124-94-106mm | 18m | Wood, Titanal, carbon, flax |
| K2 Mindbender 98Ti | $700 | Advanced to expert | 134-98-120mm | 15.6m | Wood, Titanal |
| Rossignol Black Ops 98 | $700 | Advanced to expert | 131-98-121mm | 17m | Wood, Titanal |

The Competition
Nordica's Santa Ana is one of our favorite all-mountain designs for its do-everything personality. One of the Santa Ana's closest competitors in this category is Blizzard's Black Pearl 97. Importantly, Blizzard updated the ski for 2021 with a blended wood core that's broadened the ski's appeal for mixed conditions (prior versions were more unforgiving). And given the similar overall footprints and constructions (the Black Pearl measures 136.5-97-118.5mm), we expect it to be a great match for everything from light to moderate snowfall. We haven't had a chance to test the Black Pearl just yet, but based on our time on the unisex Bonafide 97, we expect the Black Pearl to match up well with the Santa Ana for transitioning from groomers to powder.
Another popular option to consider is Volkl's Secret (and men's Mantra). The Secret is offered in both 92- and 102-millimeter options, although the latter is a closer competitor to the 98-millimeter Santa Ana. In parsing out the differences—and apart from the obvious boost in flotation from the added width—the Volkl Secret 102 is more tuned to advanced and expert riders, has a slightly wider tip and tail (140 and 123mm respectively), and costs an additional $50. Both are a good match for those who want a stable and responsive ride, but we think the Santa Ana has a more natural feel and flex that's easier to handle. If you're a confident rider and live in an area with consistently deep snow, however, the Secret is a viable and fun alternative.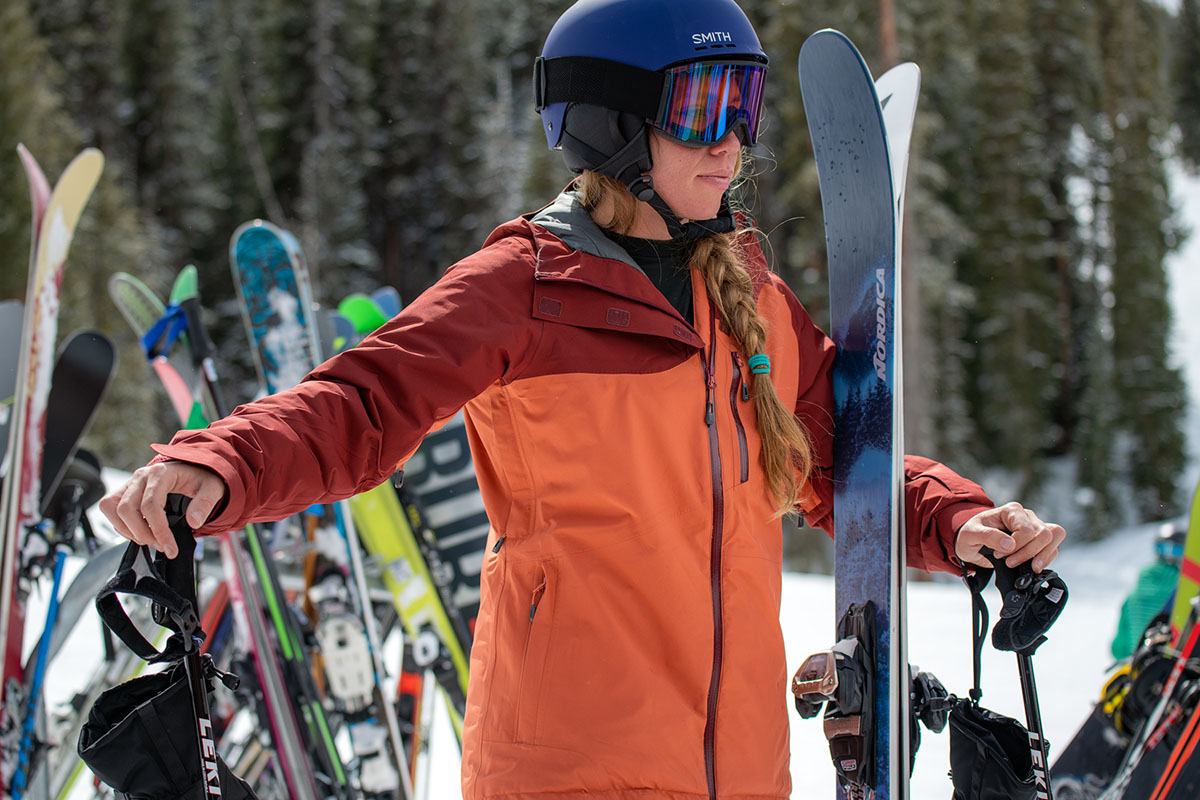 Another ski we brought along for testing was Salomon's new-for-2021 Stance 94 (and unisex Stance 96). Our first run with the Stance was telling: while we felt immediately confident on the Santa Ana and Enforcer, the Salomon ski took some getting used to and much more input to control, even on-piste. This eased up quickly, and the ski felt sturdy and fast, but the Santa Ana strikes us as the more versatile and intermediate-friendly design. We also weren't a fan of the plain colorways and dated graphics on the Stance, although that's largely a subjective complaint. And we didn't get the chance to test the Stance in anything more than light powder, but given the narrower dimensions and smaller footprint, the Santa Ana is more promising in these conditions. Our season was cut short due to COVID-19 and the closure of the resorts, but we'll follow up as we get more time on the Stance.
At the same waist width and price point as the Santa Ana, we also like K2's Mindbender 98Ti Alliance. The Mindbender is an all-mountain charger that's best suited for powder days and those tackling ambitious lines. Stacked up against the Nordica, the K2 is more capable and at home off-piste, but a little less planted on groomers (the front end of the ski is fairly soft). If you're looking for one ski to do it all, we think the Santa Ana is a bit more versatile (it's a pretty close call, however). But for those who dip into fresh powder regularly, the Mindbender is a nice alternative.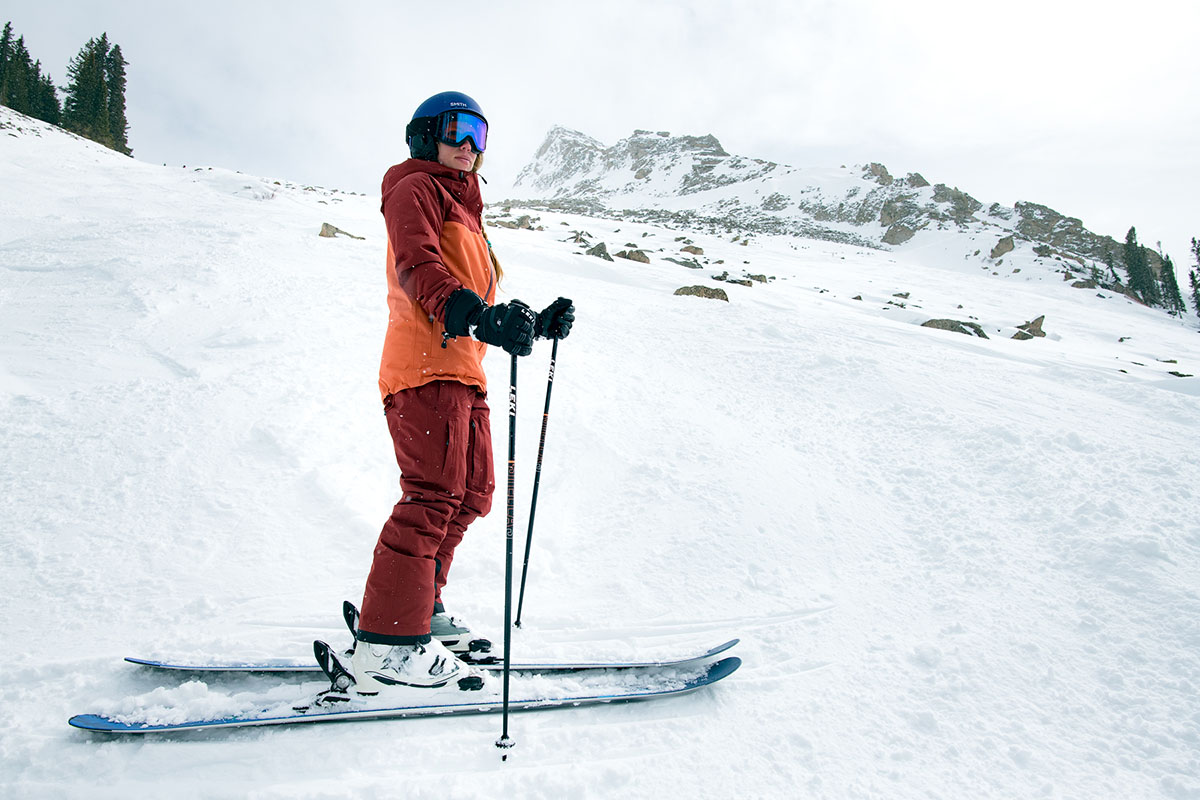 A final option to consider is Rossignol's Black Ops 98. Right off the bat, we'll note that despite the identical waist width and similar tip and tail dimensions, the Rossignol is better suited for off-trail work than the Santa Ana: the "progressive Freeride rocker" profile features greater tip rocker and a tapered tail to promote better flotation in the soft stuff. It's also a bit more playful and encourages you to hit more jumps and drops than the Nordica. But the Santa Ana strikes us as the more well-rounded design, is easier to control for intermediates, and is the superior choice for mixed on- and off-piste use. If versatility is your top priority, the choice is clear: go with the Santa Ana.
If you're thinking about buying gear that we've reviewed on Switchback Travel, you can help support us in the process. Just click on any of the seller links above, and if you make a purchase, we receive a small percentage of the transaction. The cost of the product is the same to you but this helps us continue to test and write about outdoor gear. Thanks and we appreciate your support!
Depending on the seller, most products ship free in the United States on orders of $50 or more. International shipping availability and rates vary by seller. The pricing information on this page is updated hourly but we are not responsible for inaccuracies.
Read More From Switchback Travel