Whether you drive a small hatchback or a large SUV, adding a cargo box to your vehicle's rooftop can go a long way toward improving organization, carrying capacity, and comfort. These boxes come in a range of sizes to accommodate your gear (including skis) and vary in terms of durability, ease of use, aesthetics, security, and more. Most of the top models are built by roof-rack giants Thule and Yakima, but brands like Inno and SportRack also have some solid contributions. Below you'll find our breakdown of the best rooftop cargo boxes of 2023, from premium luxury models and compact carriers to popular all-rounders that get the job done for most. For more details, check out our comparison table and buying advice below the picks.
 
---
Our Team's Rooftop Cargo Box Picks
---

Best Overall Rooftop Cargo Box

Dimensions: 84.5 x 36 x 17 in.
Capacities: 16, 18, 18 (Alpine), 22 cu. ft.
Access: Dual side
Skis: 5-7 pairs up to 200cm
What we like: The best all-around combination of quality, features, and ease of use.
What we don't: Relatively pricey and not available in smaller sizes.
If you're in the market for a rooftop cargo box, there's no shortage of high-quality options to choose from in 2023. That said, Thule's Motion XT is a standout, featuring a refined fit and finish, user-friendly installation and operation, and four sizes ranging from 16 to 22 cubic feet (including an "Alpine" version great for low clearances and toting skis). And the price is right too: some cargo boxes can cost as much as $2,400, but the Motion XT maintains a high-end feel and slides in at $950 for the XL (18 cu. ft.) model. Whether you're a road-tripper needing extra space for your climbing gear or a weekend warrior who still wants to blend in on the city streets, it's hard to go wrong with Thule's premium all-rounder.
You can save some money and opt for one of the more affordable options below, but it's good to be aware of what you're giving up. First off, Thule's installation is best in class, and with PowerClick mounts that sound an audible "click" when in place, you can get a secure fitting on most roof racks in just minutes—this is a particularly nice feature if you routinely remove your box or swap it between cars. Second, the Motion XT is easy to open, close, and secure, with large handles on each side, smooth-operating locks, and a stiff lid that fits perfectly when closed (sometimes you have to jimmy floppier lids into place). Finally, the nose design is top-notch, including an extra-solid base and generous overlap that resists gaping and provides better wind resistance than most. All told, the everyday user won't find much room for improvement with the Motion XT, making it our favorite do-all cargo box of the year... Read in-depth review
See the Thule Motion XT XL
Best Budget Rooftop Cargo Box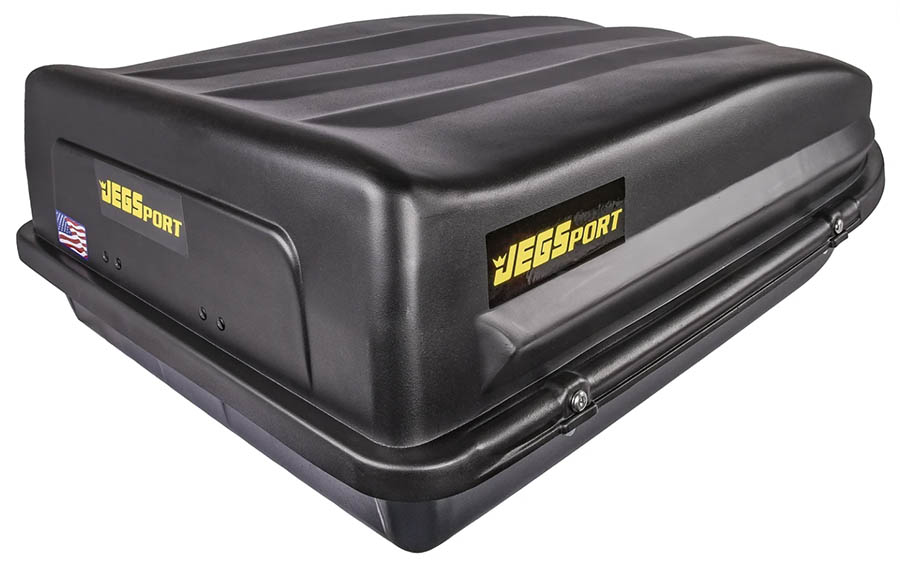 Dimensions: 57 x 38.5 x 17.8 in.
Capacities: 10, 18 cu. ft.
Access: Dual side/rear
Skis: N/A
What we like: Generous capacity and dual-side access at a low cost.
What we don't: Flimsy feel and can't accommodate skis.
You can spend up to $1,000 on a roof box, but the budget Jegs Rooftop Cargo Carrier is a popular option that will get the job done for less than a quarter of the price. At just $290, this box costs around $150 less than the next-cheapest models here while offering options for dual-side or rear access (the budget-conscious Thule Sidekick and SportRack Vista XL below open exclusively from the side and rear, respectively) and more than twice the storage capacity of the Sidekick. Further, with extra-wide and tall dimensions, the Jegs can fit a lot of bulky cargo that more bullet-shaped haulers can't (for an extra boost, opt for Jeg's 90093 model, which is almost 2 in. taller). All told, for a simple box that you don't plan to leave on your car year-round, it's an affordable and decently road-worthy option.
Of course, there are inherent downsides to opting for such a budget design. The Jegs' flimsy build feels cheap, lacks the structure of more premium boxes, and won't hold up as well over time. What's more, its tall and wide shape isn't particularly aerodynamic, and with a short 57-inch length, it can't accommodate skis (for a relatively affordable ski carrier, check out the Yakima RocketBox Pro 14 below). In terms of installation, simple U-bolt mounts attach via pre-drilled holes rather than adjustable tracks, meaning you'll probably have to adjust your crossbars or drill new holes to get a good fit. Finally, the locks aren't the most confidence-inspiring for deterring break-ins, and you'll have to undo two each time you want to access your gear. But it's hard to be overly critical at this price point, and for budget shoppers who are willing to sacrifice a bit on quality, the Jegs is a good place to start.
See the Jegs Rooftop Cargo Carrier
Best Low-Profile Roof Box
Dimensions: 80 x 33 x 11 in.
Capacities: 11 cu. ft.
Access: Dual side
Skis: 6-8 pairs up to 185cm
What we like: Contoured base helps keep a low profile without giving up too much depth.
What we don't: Expensive and limited in terms of capacity.
If you park in a garage or frequent enclosed parking lots, you'll want to think twice before purchasing a rooftop box. Many models here add almost two feet to the roof of your car (factoring in the height of the box and the rack), which is a no-go particularly for SUVs and vans. But the good news is that there are a variety of options for those who need to keep a low profile. The Inno Wedge 660 is one of the top designs in this category, featuring a contoured shape that offers 11 inches of depth while rising only 9.6 inches above your rack's crossbars. And it's got more going for it than just clearance: The Wedge has a premium fit and finish, including easy tool-free installation, a stylish and aerodynamic shape that minimizes wind noise and accommodates a rear antenna and hatch, and a dual-sided opening that increases access and organization.
The Inno might be the lowest-profile rooftop box on the market, but a few models are close on its heels. The Thule Pulse Alpine (also 11 cu. ft.) rises 11.3 inches off the crossbars (over 1.5 in. more than the Wedge 660) and only opens on the passenger side, but it's a bit cheaper at $600. On the other hand, the Yakima GrandTour Lo ($979) is more of an investment but tacks on an additional 4 cubic feet of storage while adding less than a half-inch in height (10 in. above the crossbars). If you're cutting it close on clearance, you really can't go wrong with any of these options, but it's worth doing the math before buying. 
See the Inno Wedge 660
Best Narrow Box for Additional Rooftop Accessories

Dimensions: 92 x 24 x 16 in.
Capacities: 12, 16, 18, 21 cu. ft.
Access: Dual side
Skis: Up to 215cm
What we like: Narrow profile leaves room for other rooftop gear.
What we don't: Limited capacity compared to most full-size models.
If biking, surfing, or boating is your thing, chances are there's a lot of competition for your rooftop real estate. Add a cargo box to the mix—most of which are about 3 feet in width—and you're looking at a fairly tricky situation for most vehicles. But if you want to have your cake and eat it too, Yakima's SkyBox 12 Carbonite is your best bet. At just 24 inches wide, the SkyBox 12 is one of the narrowest cargo boxes on the market, leaving half (or more) of your roof rack available for a bike, surfboards, skis, kayak, or any other equipment your multi-sporting self might desire. And with a longer profile than most, it also fits skis up to 215 centimeters in length, which is great news for winter enthusiasts.
While the SkyBox Carbonite does come in a number of different capacities (up to 21 cu. ft.), it is worth noting that the "12" is the only version with the narrow width—and at $669, it's fairly pricey given its size. But the SkyBox Carbonite 12 is far and away the highest-quality option in this category. Thule's Force XT Sport also features a narrow (24.75-in.) profile but has a number of shortcomings compared to the SkyBox (outlined in the Force XT's write-up below) and costs $30 more to boot. The SportRack Horizon Alpine ($450) is another suitable alternative, although its quality lags with a combined lock/latch mechanism, less intuitive attachments, and a flimsier design overall. Finally, no matter which design you choose, remember to consider your vehicle's dynamic load limit before filling your rooftop with too much gear—most max out around 165 pounds.
See the Yakima SkyBox 12 Carbonite
Best of the Rest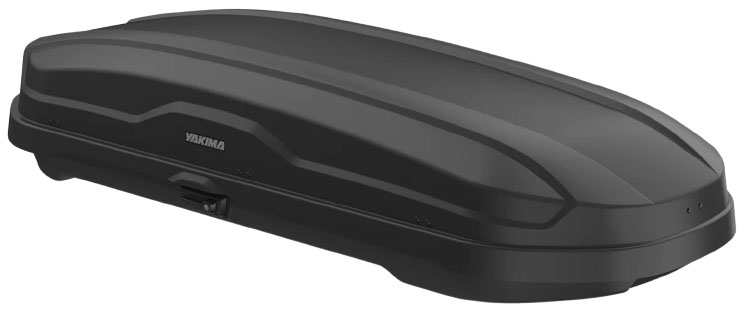 Dimensions: 16, 18 cu. ft.
Access: Dual side
Skis: Up to 195cm
What we like: Very easy to install; maximizes interior space with a tall nose and flat floor.
What we don't: Increased road noise compared to the Motion XT or older SkyBox Carbonite; we've had issues with the locks icing up in winter.
Yakima offers a range of rooftop cargo boxes from budget to premium, and the SkyBox NX 18—a relatively fresh update from the SkyBox Carbonite series—slides in as their best all-rounder. For $100 less than the Thule Motion XT XL above, the SkyBox NX 18 has a number of similar features. Like the Thule, it's easy to install and move between cars (the mounting hardware is borrowed from the high-end GBX and Grand Tour series), has plenty of front/back adjustability to avoid any hatch clearance issues, opens smoothly from both sides thanks to a durable shell reinforcement, and features a full-metal handle with included lock. And it's impressively roomy inside: With a nearly flat floor (thanks to the low-profile installation clamps), tall and wide nose, and extra-long shape, it can accommodate everything from bulky luggage to full-length downhill skis (up to 195 cm). 
But the SkyBox NX's shape does have its downsides: We've found that the blunter nose has a noticeable impact on road noise (compared to both the Motion XT XL and old SkyBox Carbonite), and it lacks the high-end appearance of more aerodynamic boxes. We've also had some issues with the SkyBox's locks icing over in the winter, while the Motion XT's key entry has been nothing but smooth. In the end, the Yakima can't quite match the premium build of our #1 pick (and only comes in two sizes at the time of publishing), but it's nevertheless a great runner-up with a boost in usable space. And it's worth noting that if you ski, the 18-cubic-foot version is your best bet—we tested the 16, and could only fit a couple of pairs of 178-centimeter skis at an angle (and with nothing else inside).
See the Yakima SkyBox NX 18

Dimensions: 74.8 x 33 x 18 in.
Capacities: 11 (Sport), 16, 18, 22 cu. ft.
Access: Dual side
Skis: 5-7 pairs up to 175cm
What we like: Durable and functional for significantly less than the Motion XT.
What we don't: Cheaper look and the LockKnob latch system isn't our favorite.
Sliding in just below the Motion XT in Thule's lineup, the Force is a quality all-rounder with a versatile shape that's great for toting skis, camping gear, suitcases, and more. For $150 less than the Motion above (at the equivalent capacity), the Force retains a lot of premium features, including easy-to-install PowerClick mounts, dual-sided opening, six tie-down points, and built-in stiffeners for added load bearing (up to 165 lb.). But it does fall a bit short in the details: The Force's aesthetic is no match for the Motion's glossy finish, the LockKnob mechanism isn't as durable or easy to use as the more premium SlideLock, and you don't get a nice grip handle to help with opening and closing. Finally, it's hard to beat the Motion's nose design, which is specially engineered to resist gaping in strong winds.
If you're not immediately taken by the high-end Motion, you might end up facing a decision between the Force XT and the Yakima SkyBox NX above. Both models represent the ideal middle ground for many users, but we place the Yakima above for a few reasons. First off, we heavily prefer its latching design, which features a large metal handle that's easy to twist and can be operated with gloves on. On the other hand, the Force's small LockKnob is difficult to toggle and puts more strain on the lock—it should come as no surprise that there have been issues over the years with broken keys. Further, the recently updated SkyBox NX has a number of key improvements, including a stiffer lid, high-end mounting hardware, and class-leading interior space. Both are solid cargo boxes, but for the same price (the SkyBox NX 16 is also $750) we give the edge to the Yakima.
See the Thule Force XT L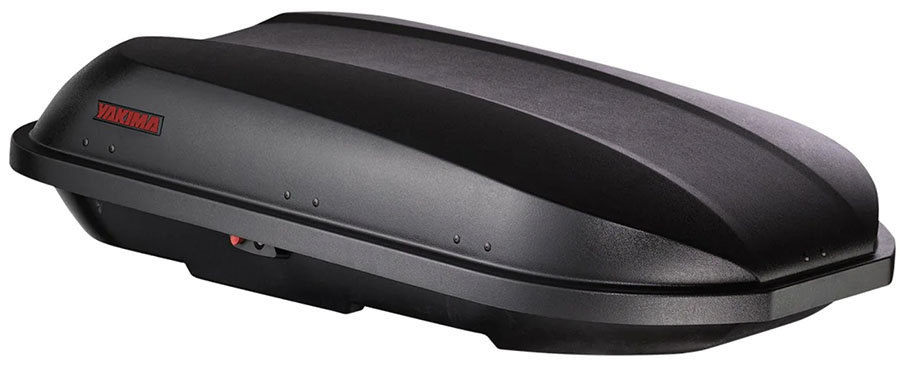 Dimensions: 74 x 33 x 16 in.
Capacity: 14 cu. ft.
Access: Dual side
Skis: Up to 170cm
What we like: Premium feature set at a good value.
What we don't: Too short for most skis and pricier than true budget options.
Yakima is practically synonymous with roof boxes, and the RocketBox is the brand's entry-level model. It used to come in a trio of capacities, but the 14-cubic-foot option is the last man standing in 2023 and a nice all-rounder size for individuals or small families. Value-conscious shoppers will appreciate the RocketBox's tool-free installation, dual-sided opening, and separate latch and locking mechanism, which aren't always included at this price point. At $599, the RocketBox Pro 14 matches Thule's budget Pulse M below in terms of price, but far exceeds it in performance, making it our favorite entry-level option from either of the two major brands.
But for all of its strong suits, the Yakima RocketBox does come with some concessions in terms of quality and performance. Many users cite durability concerns with the flimsy build, and the nose design doesn't resist weather as well as higher-end models. Further, the 14-cubic-foot capacity is on the small side for larger families or gear-heavy endeavors, and the max length of 170 centimeters will be limiting for many skiers. But the RocketBox is nevertheless a step up from true budget designs like the Jegs Cargo Carrier above and SportRack Vista XL below, including more user-friendly mounts and higher-quality latch and lock features. All told, for a practical middle ground at a good value, the RocketBox Pro 14 is well worth a look.
See the Yakima RocketBox Pro 14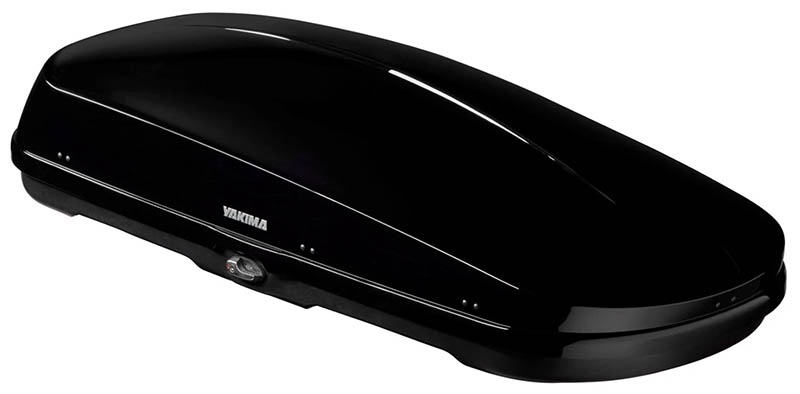 Dimensions: 79 x 35 x 18 in.
Capacities: 15 (Lo), 16, 18 cu. ft.
Access: Dual side
Skis: Up to 185cm
What we like: A luxury cargo box both inside and out.
What we don't: The Thule Motion XT is better in high winds.
Beauty is certainly in the eye of the beholder, but were we to hand out an award for the best-looking cargo box, it'd probably go to the GrandTour. If you've got a luxury vehicle with an empty roof rack, the Yakima is a worthy fit, with a high-gloss finish, sophisticated short and wide profile, and contoured base that keeps it sitting low on the crossbars. And the inside gets style points as well: the mounting system uses a removable knob to tighten each clamp and then stores it to the side, creating a sleek, flat base and more room for your gear. Whether you're looking to expand your carrying capacity for skis or suitcases, dirty bike equipment, or your child's portable crib, the GrandTour is a capable and good-looking tool for the job.
The GrandTour shares a similar feature set with many of the other premium boxes here: it can be opened from either side, has tie-down points to secure your gear (including straps), and uses stiffeners to keep lid flop to a minimum. Compared to the top-ranked Motion XT, performance drops slightly with a less robust nose design, but the Yakima costs around $20 less ($879 vs. $900 for the 16-cu.-ft. versions) and has a more polished aesthetic. Finally, like the SkyBox NX above, you get large, easy-to-use handles that toggle the box open and secure it closed, along with SKS locks on both sides (cool feature: this "same key system" can be swapped for a common core, allowing you to use the same key for all of your Yakima products). And for the ultimate in premium, sophisticated designs, check out Thule's Vector below.
See the Yakima GrandTour 16

Dimensions: 67 x 35 x 16 in.
Capacities: 11 (Alpine), 14, 16 cu. ft.
Access: One side
Skis: 3-5 up to 155cm
What we like: Thule's most affordable full-sized cargo box.
What we don't: Only opens on one side and does not contour around an antenna.
If you value function over form but want to stick with the Thule brand name, the Pulse is a great place to start. You won't see many frills built into this base model, but there are still a lot of benefits to sticking with a well-known manufacturer, including helpful customer service and compatibility with other Thule products. In terms of the Pulse's design, Thule kept things simple with a single opening (on the passenger side) and combined lock/latch mechanism, although you still get the ease of tool-free installation with FastGrip quick mounts. And in addition to the Medium here, the Pulse is also available in a Large variation (16 cu. ft.) and a long and lean Alpine model, both of which make great haulers for budget-oriented skiers.
Generally speaking, we've come to expect Thule products to be slightly better-quality than Yakima's, but the Pulse is a clear exception. Comparing it to the RocketBox Pro 14 above (Yakima's budget design), the Pulse comes up short in a few significant areas. First, you only get one-sided opening (the RocketBox opens from both sides), and the Thule's base lacks a contour at the rear, meaning it won't accommodate many modern, fin-like antennae. Finally, the Pulse's rudimentary lock/latch mechanism is middling at best, and (similar to the Force above) it has a tendency to put undue strain on the key. If you don't need the added length for fitting items like snowboards, the SportRack Vista XL below could be a better option for $150 less.
See the Thule Pulse M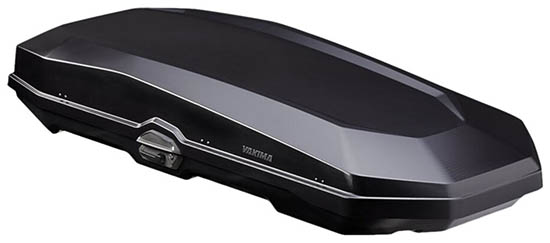 Dimensions: 83 x 38 x 15 in.
Capacities: 16 (Solar), 16, 18 cu. ft.
Access: Dual side
Skis: Up to 185cm
What we like: Rugged aesthetic and great interior space.
What we don't: Expensive and heavy.
The GrandTour above is one of our favorite designs for luxury cars, but some might want a more rugged look to match their adventure rig. Enter the CBX, another premium offering from Yakima, but this time with an angular and full-bodied aesthetic that pairs nicely with high-end utility vehicles. Like the GrandTour, the CBX's mounting system uses a removable knob to tighten and loosen the mounts, resulting in a flat floor and more usable space than similarly sized models. Tack on a very generous 83-inch length (91 in. with the CBX 18), and you get a highly functional hauler that can handle tricker items like skis (up to 185cm) and more.
The CBX 16 is one of the roomiest and longest cargo boxes here, with dimensions similar to many 18-cubic-foot designs (despite its 16-cu.-ft. spec). That said, it's worth noting that it's decently heavy at 57 pounds—unless you're packing fairly light objects, you probably won't be able to take full advantage of the space before maxing out your rooftop load limit. Further, compared to the 16-cubic-foot Thule Motion XT, the CBX 16 will still cost you $99 more, which may or may not be worth it for the chiseled facade. Finally, we should mention that the CBX also comes in a "Solar" model with a mounted solar panel, which we detail below. But priced $500 more than the standard 16-cubic-foot design, most off-grid dwellers will be better off purchasing a solar panel (or two) separately.
See the Yakima CBX 16
Dimensions: 54 x 25 x 15.5 in.
Capacity: 8 cu. ft.
Access: One side
Skis: N/A
What we like: Compact carrier for small cars.
What we don't: Requires after-purchase assembly; very basic latch/lock mechanism.
Let's get one thing out of the way first: the Sidekick is barely on the same playing field as most cargo boxes here. If the Pulse is Thule's base model, the Sidekick comes straight from their bargain basement, where it's not even fully assembled before shipping (you'll have to add the weather stripping and locks yourself). And once you put it together, the box is about as simple as it gets, featuring 8 cubic feet of volume (at least 3 cu. ft. less than most other designs), a one-sided opening with no integrated handle, and basic U-bolt mounts that use pre-drilled holes—fingers crossed they fit your crossbar spread—and require a number of moving parts (pro tip: don't lose anything).
There are a few other options available at similar price points—including the Jegs above and SportRack below—but where the Sidekick stands out is in its compact design. You won't find a better option for small cars and, like the Yakima SkyBox 12 Carbonite above, the Thule also fits the bill if you're sharing your roof rack with bikes, surfboards, a kayak, or skis. At just 20 pounds, it won't heavily detract from your rooftop's dynamic load limit either (although the box will likely be the limiting factor with a weight capacity of just 75 lb.). And buyer beware: the latch mechanism is particularly flimsy, and, to make matters worse, you'll have to undo two locks each time you open or close the box. But there's no denying the budget price, which makes the Sidekick an intriguing option for occasional outings and point-to-point trips (the less you need to access your gear, the better). 
See the Thule Sidekick

Dimensions: 91 x 35 x 12.5 in.
Capacity: 13 (M/Alpine) cu. ft.
Access: Dual side
Skis: 4-6 up to 200cm
What we like: Premium features and build.
What we don't: Expensive and only comes in 13-cubic-foot capacities.
If you thought the Yakima CBX or GrandTour were premium roof boxes, you ain't seen nothing yet. Allow us to introduce you to the Vector, Thule's top-end offering that breaks all the rules defined by utilitarian rooftop boxes. Combining luxury with function, the Vector features a removable felt pad on the base to protect your gear, a white-lined lid for better visibility, and motion-activated LED lights to illuminate the interior. Top it off with an incredibly aerodynamic shape (the nose dips below your rack's front crossbar, mitigating wind noise) and the stiffest build here (featuring steel reinforcements in the base), and it simply doesn't get any better than the Vector.
So why, you might be wondering, do we have this top-of-the-line model at the bottom of our list? Simply put, it's hard to justify a $2,400 price tag when you can get a fully functional, durable, and high-quality cargo box for a third of the price (or less). In fact, the Vector has a lot in common with our top-ranked Motion XT, including PowerClick mounts and dual-side access with a premium SlideLock lock and latch system. But the difference in rigidity is palpable (that's saying something, as the Motion is one of the stiffer designs here). And in terms of interior features, the Vector has no equal. It might look out of place on most adventure mobiles—and the 13-cubic-foot capacity will be limiting for some—but if you're hitting the slopes in a high-end vehicle (we're looking at you, Audi, Tesla, and Volvo), the Thule Vector is well worth a look.
See the Thule Vector Alpine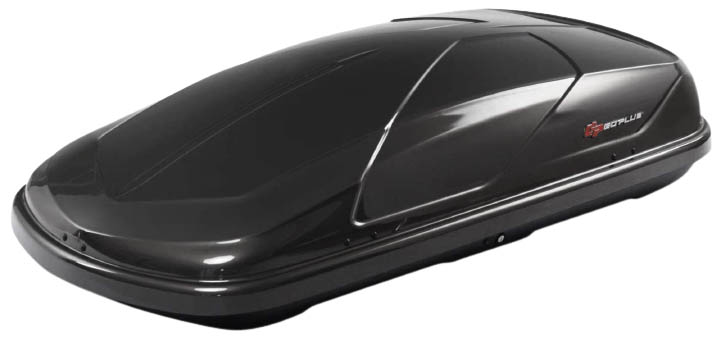 Dimensions: 62.5 x 30 x 15 in.
Capacity: 14 cu. ft.
Access: Dual side
Skis: N/A
What we like: A noticeably lightweight box with reasonable price and quality. 
What we don't: Only comes in one size and does not fit skis.
Thule and Yakima are certainly industry giants, but as it turns out, building a functional rooftop cargo box isn't rocket science. The Goplus here gets most of the formula right, with a dual-sided opening, tool-free mounts that install on most bar styles, and a nice sleek profile that—unlike many entry-level models—is available in both matte and gloss finishes. With no added stiffeners, the lid isn't as robust or confidence-inspiring as more premium offerings here, but flop is less of an issue due to its compact shape. And looking on the bright side, the tradeoff is an impressively lightweight design (25 lb.) that is easy to load and unload with just one set of hands.
With a recent price jump to $500, the Goplus has lost some of its appeal and fallen lower in our rankings as a result. Further, given its length of just 62.5 inches (the Goplus only comes in one size), skiers beware: this is not the cargo hauler for you. Finally, it's important to note that the Goplus is only compatible with crossbar spreads of about 16 to 25 inches, which can be fairly limiting (for comparison, the RocketBox's spread is 24 to 40 in.). It's nice to have an alternative to the name brands above, but the Goplus unfortunately doesn't stand out much anymore unless you can find it on sale.
See the Goplus Rooftop Carrier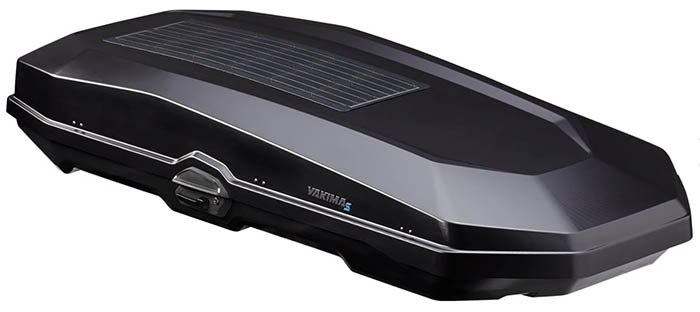 Dimensions: 83 x 38 x 15 in.
Capacity: 16 cu. ft.
Access: Dual side
Skis: Up to 185cm
What we like: A premium cargo box with an integrated solar panel for off-grid charging.
What we don't: Expensive and underpowered.
Yakima released a solar-panel-clad version of their high-end CBX rooftop box a couple seasons ago to a good bit of fanfare. The design is pretty neat: you get Yakima's most premium cargo box for adventuring (the CBX) with a 36-watt (5V) solar panel mounted on top. With a seamless and wireless integration, two USB ports sit on the inside box's roof for device-charging while in motion or at camp. All told, it's an intriguing and user-friendly option for off-grid adventurers that want the convenience of a roof box with integrated charging capabilities to power phones, lanterns, headlamps, camera batteries, and other electronics in the field.
However, before getting too excited about the CBX Solar 16, it's important to do some math. At $1,499, you're spending an additional $500 for the charging capabilities compared to the standard CBX 16 ($999). For reference, you can purchase a 100-watt, 12-volt Renogy solar panel (popular amongst van dwellers and overlanders) for just $150, which offers considerably more power for a fraction of the cost. If you go that route, you can even tack on a portable battery like the EcoFlow RIVER 2 ($239) to store power and charge devices when the sun goes down or on cloudy days. But for many, the biggest draw is convenience: the CBX takes away the DIY work, hides the wires nicely, and is more than sufficient for keeping your phone charged on remote outings. Although limited on power, it's a well-designed unit and hopefully a sign of where the rooftop cargo box market is headed.
See the Yakima CBX Solar 16

Dimensions: 63 x 38 x 19 in.
Capacity: 18 cu. ft.
Access: Rear
Skis: N/A
What we like: Inexpensive and spacious.
What we don't: Opens only at the rear.
It might slide into last place on our list, but the SportRack Vista XL still has several things going for it. First off, with 18 cubic feet of capacity, you get significantly more storage than boxes like the 14-cubic-foot Thule Pulse M above, and the 19-inch height is great for accommodating bulky items such as golf clubs or strollers (many sleeker boxes are 15 in. or less in height). Additionally, its build is a bit stiffer than that of budget alternatives like the Thule Sidekick and Jegs Rooftop Carrier, which makes it easier to operate and arguably longer lasting. And finally, unlike the Sidekick, the Vista XL comes fully assembled and installs quickly and easily without the need for any extra tools. For those in the market for an affordable and hassle-free cargo box, the SportRack is certainly worth a look.
The Vista XL used to be our top budget pick, but with a recent price jump to $450 (or $400 on Amazon at the time of publishing), it's now tougher to justify over the Jegs. Price aside, the most glaring weakness is the Vista's rear opening—we strongly prefer a box that opens at the side for more complete access to all of our gear. Further, like most of the budget options here, the SportRack does not accommodate skis, and the U-bolt mounting system isn't quite as sleek as more modern clamp styles. In the end, we'd prefer to save with the $170-cheaper Jegs above, but the SportRack is a viable alternative with a slightly more premium build.
See the SportRack Vista XL
Rooftop Cargo Box Comparison Table
| Rooftop Cargo Box | Price | Dimensions | Capacities | Access | Skis | Weight |
| --- | --- | --- | --- | --- | --- | --- |
| Thule Motion XT XL | $950 | 84.5 x 36 x 17 in. | 16, 18, 22 cu. ft. | Dual | Up to 200cm | 42 lb. |
| Jegs Rooftop Carrier 18 | $290 | 57 x 38.5 x 17.8 in. | 10, 18 cu. ft. | Dual/rear | N/A | 28 lb. |
| Inno Wedge 660 | $690 | 80 x 33 x 11 in. | 11 cu. ft. | Dual | Up to 185cm | 42 lb. |
| Yakima SkyBox 12 Carbonite | $669 | 92 x 24 x 16 in. | 12, 16, 18, 21 cu. ft. | Dual | Up to 215cm | 41 lb. |
| Yakima SkyBox NX 18 | $799 | 84 x 36 x 16.5 in. | 16, 18 cu. ft. | Dual | Up to 195cm | 53 lb. |
| Thule Force XT L | $750 | 74.8 x 33 x 18 in. | 11, 16, 18, 22 cu. ft. | Dual | Up to 175cm | 41 lb. |
| Yakima RocketBox Pro 14 | $599 | 74 x 33 x 16 in. | 14 cu. ft. | Dual | Up to 170cm | 40 lb. |
| Yakima GrandTour 16 | $879 | 79 x 35 x 18 in. | 15, 16, 18 cu. ft. | Dual | Up to 185cm | 52 lb. |
| Thule Pulse M | $600 | 67 x 35 x 16 in. | 11, 14, 16 cu. ft. | One | Up to 155cm | 34 lb. |
| Yakima CBX 16 | $999 | 83 x 38 x 15 in. | 16, 18 cu. ft. | Dual | Up to 185cm | 57 lb. |
| Thule Sidekick | $500 | 54 x 25 x 16 in. | 8 cu. ft. | One | N/A | 20 lb. |
| Thule Vector Alpine | $2,400 | 91 x 35 x 12.5 in. | 13 cu. ft. | Dual | Up to 200cm | 66 lb. |
| Goplus Rooftop Carrier | $500 | 62.5 x 30 x 15 in. | 14 cu. ft. | Dual | N/A | 25 lb. |
| Yakima CBX Solar 16 | $1,499 | 83 x 38 x 15 in. | 16 cu. ft. | Dual | Up to 185cm | 60 lb. |
| SportRack Vista XL | $450 | 63 x 38 x 19 in. | 18 cu. ft. | Rear | N/A | 28 lb. |
Rooftop Cargo Box Buying Advice
Vehicle Length and Hatch Clearance
The first step in selecting a rooftop box is to identify the maximum length of carrier your vehicle (or vehicles) can accommodate. Importantly, you don't want the box to be much longer than the roof of your car—a box that extends over your windshield (front or rear) will compromise your ability to see the road and have a negative impact on aerodynamics (see below). And second—and particularly applicable if you drive an SUV, wagon, hatchback, or van—you'll want to make sure that the backend of your box doesn't get in the way of your rear hatch opening or antenna.
Thankfully, it's easy to find a good fit without having to "try on" multiple models: Simply measure the distance between the front crossbar of your roof rack and your open hatch and compare it with the cargo box's specs (both Thule and Yakima have published helpful fit guides). Hint: To maximize your length, you can move the front crossbar as far forward as possible.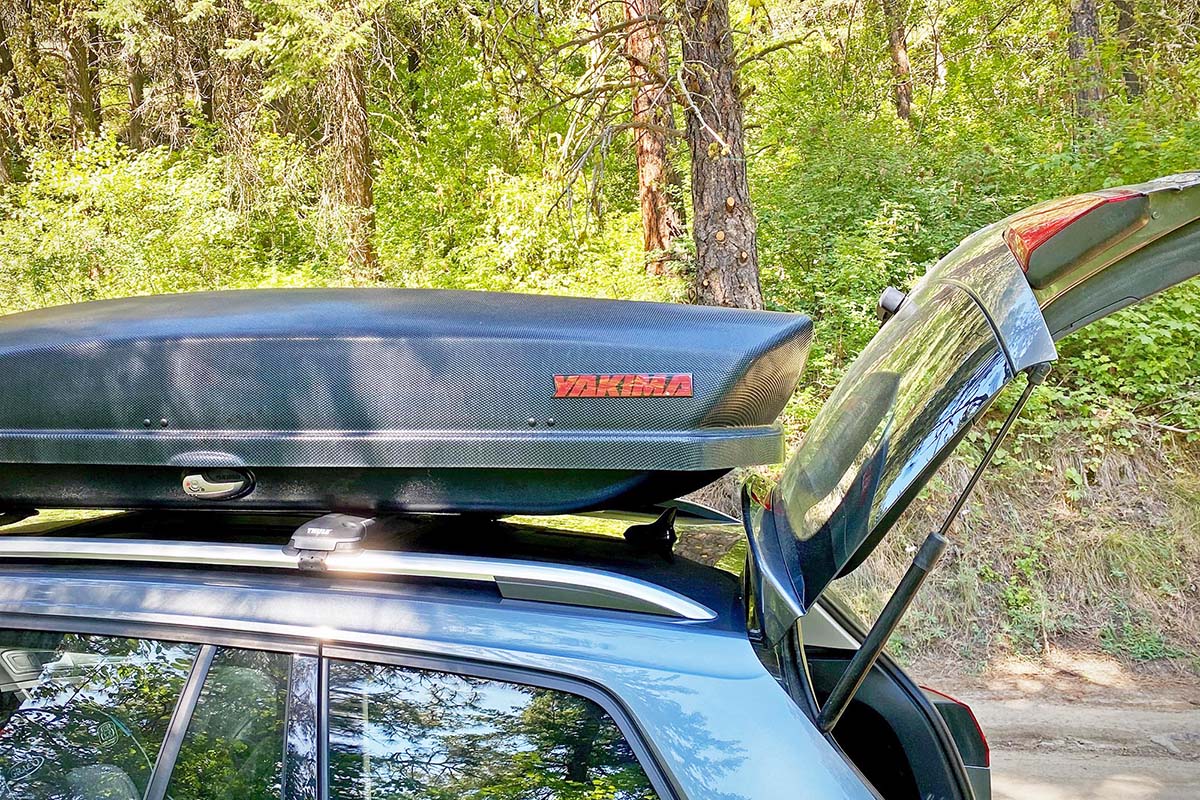 Cargo Box Carrying Capacity and Dimensions
Next, you'll want to identify the type and general size of gear you plan to haul around. For most, these versatile carriers offer a great storage solution for bulky outdoor equipment, including skis and poles, fishing rods, and camping and backpacking supplies. And the list goes on: Perhaps you're toting golf clubs, a stroller or baby carrier, or even construction and gardening tools. With your cargo in mind, you're ready to decide on the right size box for you. There are a number of factors to consider here, including volume and length. This is also where it's worth considering if you need a low-profile design (for low-clearance areas) or half-width box (to make room for a bike or kayak, for example).
Rooftop Cargo Box Volume
Rooftop cargo boxes come in a range of volumes, generally measured in terms of cubic feet (length x width x height). The options on our list start around 8 cubic feet (the Thule Sidekick) and max out around 22 cubic feet for some of Thule's XXL designs (the Motion XT and Force XT). For most users, we recommend a box in the 16- to 18-cubic-foot range, which should accommodate overnight camping gear for three to four people. If you're sizing up, you'd better have a fairly good reason for doing so. Remember that bigger isn't always better: larger rooftop boxes are more expensive, heavier (more difficult to install/remove), and create more drag, which has a negative impact on gas mileage and road noise.
Interior Length
Not everyone will be picky about the length of their cargo box, but this is an important consideration primarily for skiers and snowboarders. Because rooftop cargo boxes are so popular for toting snow gear, most manufacturers specify the length of ski (and sometimes number of pairs) that each model is able to fit. For example, the Yakima SkyBox 12 Carbonite accommodates skis up to 215 centimeters in length, while the Thule Motion XT L fits 3 to 5 snowboards and 5 to 7 pairs of skis up to 175 centimeters. The length is also an important number if you're looking to tote bulky items like strollers (height comes into play here too), gardening tools, or climbing stick clips. And a final note: if you're considering the length spec, keep in mind that it measures the box at its longest point, and it's a good idea to take a look at the shape of the box too, as tapered ends and contoured bases can result in a lot of lost space.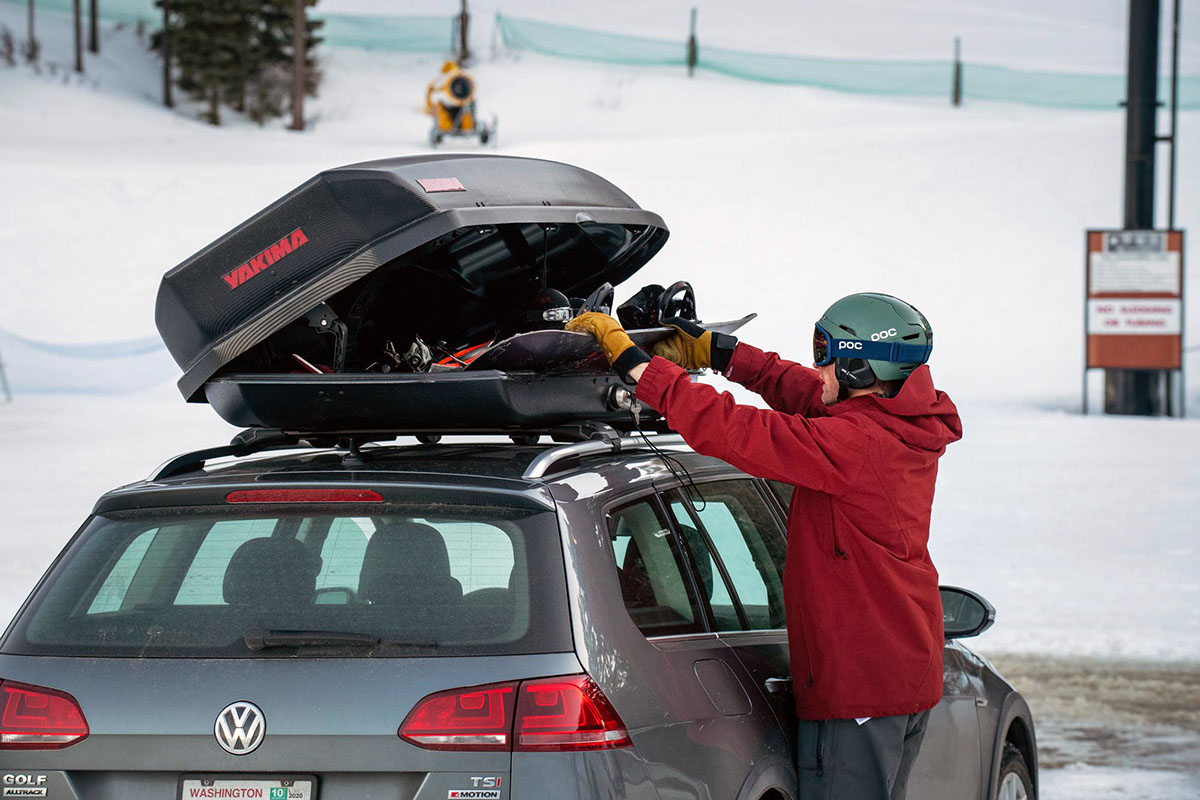 Low-Profile and Narrow (Half-Width) Designs
Most rooftop cargo boxes add about 15 to 18 inches to the height of your vehicle, but if you routinely navigate city parking garages or park your car in a garage or carport, you might want to consider a low-profile design. Low-profile cargo boxes are generally 13 inches or less in height (Thule's "Alpine" sizes fit into this category), with particularly streamlined models like the Inno Wedge 660 adding just 9.6 inches of bulk above your vehicle's crossbars. Not only do they offer lower clearance, but these designs are also more aerodynamic overall, resulting in slight reductions in drag and wind noise. And whether you opt for a standard-height or low-profile box, it's a good idea to confirm the final dimensions of your vehicle to mitigate any potential disasters in confined areas.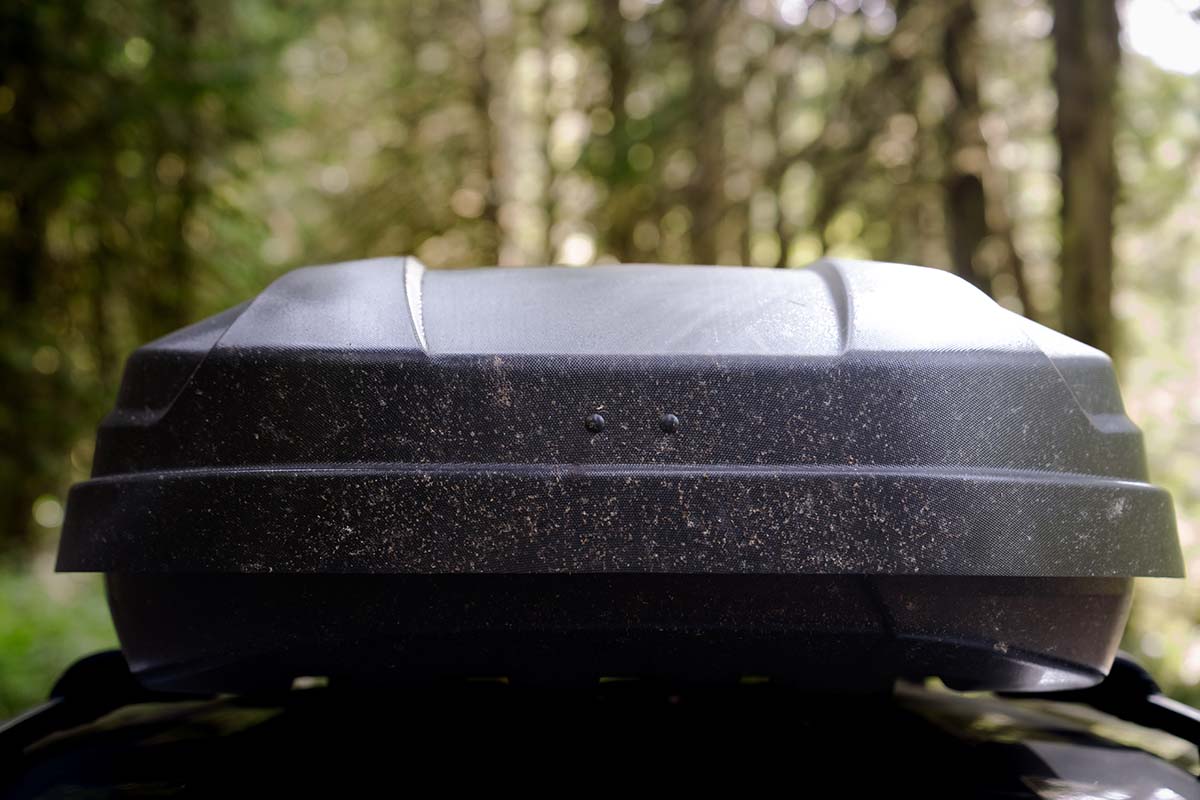 If you plan to haul additional gear on your roof rack—popular items include a kayak or bike—you may want to consider a narrow or half-width design. Compared with a standard box, 24-inch-wide models like the Yakima SkyBox 12 Carbonite and Thule Force XT Sport shave off a foot or more in width, leaving a good portion of your rack available (an average crossbar measures about 50 in. wide). The main downside in selecting a narrow model is less overall storage—the aforementioned Force has a small 11-cubic-foot capacity—and they're often fairly long, which can lead to compatibility issues with a rear hatch. But for the right user, they're a very functional option.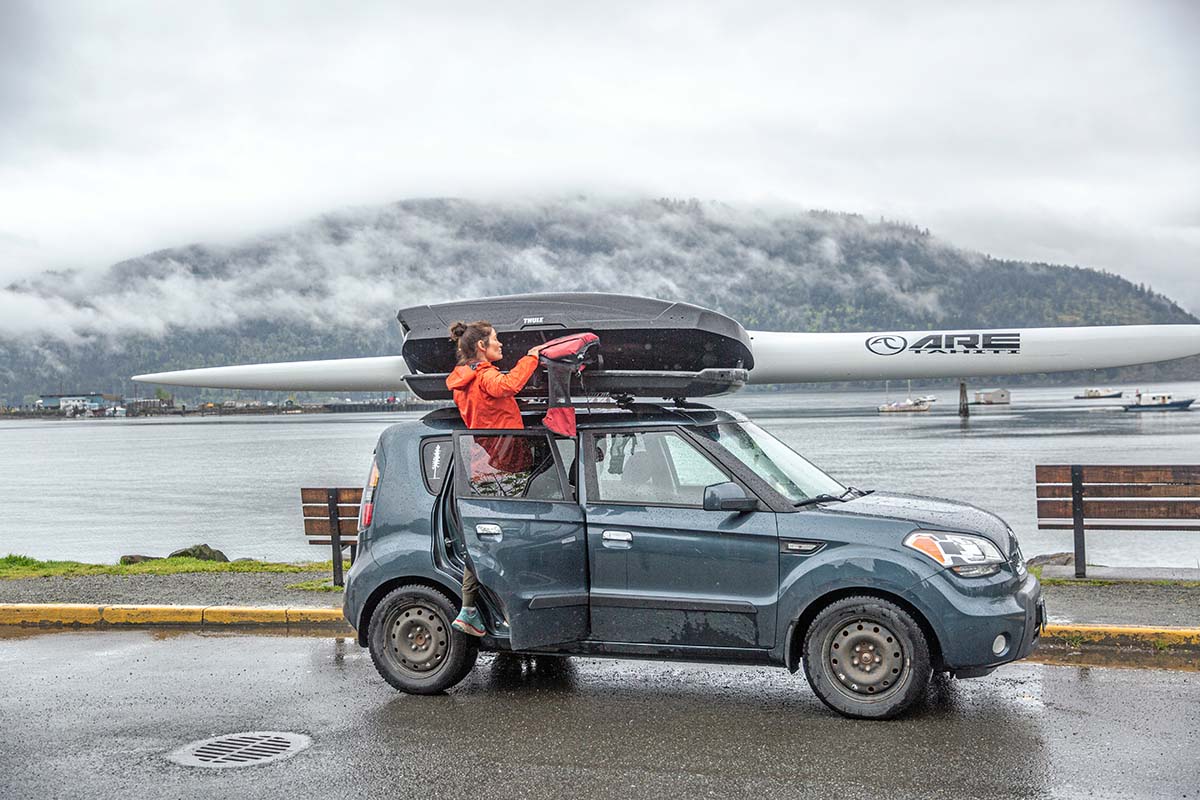 Cargo Box Access: One Side, Dual Side, and Rear
Rooftop cargo boxes consist of a stable base that connects to the vehicle's rooftop and a clamshell lid that open via hinges on both ends, giving you complete access to the contents inside. There are three main styles featured in the picks above, including one-sided (usually the passenger side), dual-sided, and rear access.
The most user-friendly carriers include dual-sided access with a handle and lock on both sides, meaning that you can open the box from either the driver or passenger side of the vehicle (but not both at once). This versatility is helpful whether you're parked on a busy street or need to find something tucked away in the far corner of a cavernous box. One-sided and rear access is more common on budget designs—Thule's Pulse opens on the passenger side, while the SportRack Vista XL is accessed at the rear. Before opting for a design with one-sided or rear access, make sure you consider the limitations, as these styles are less convenient for organizing and reaching your gear (and in the case of a rear opening, you'll probably have to close your hatch to toggle the handle).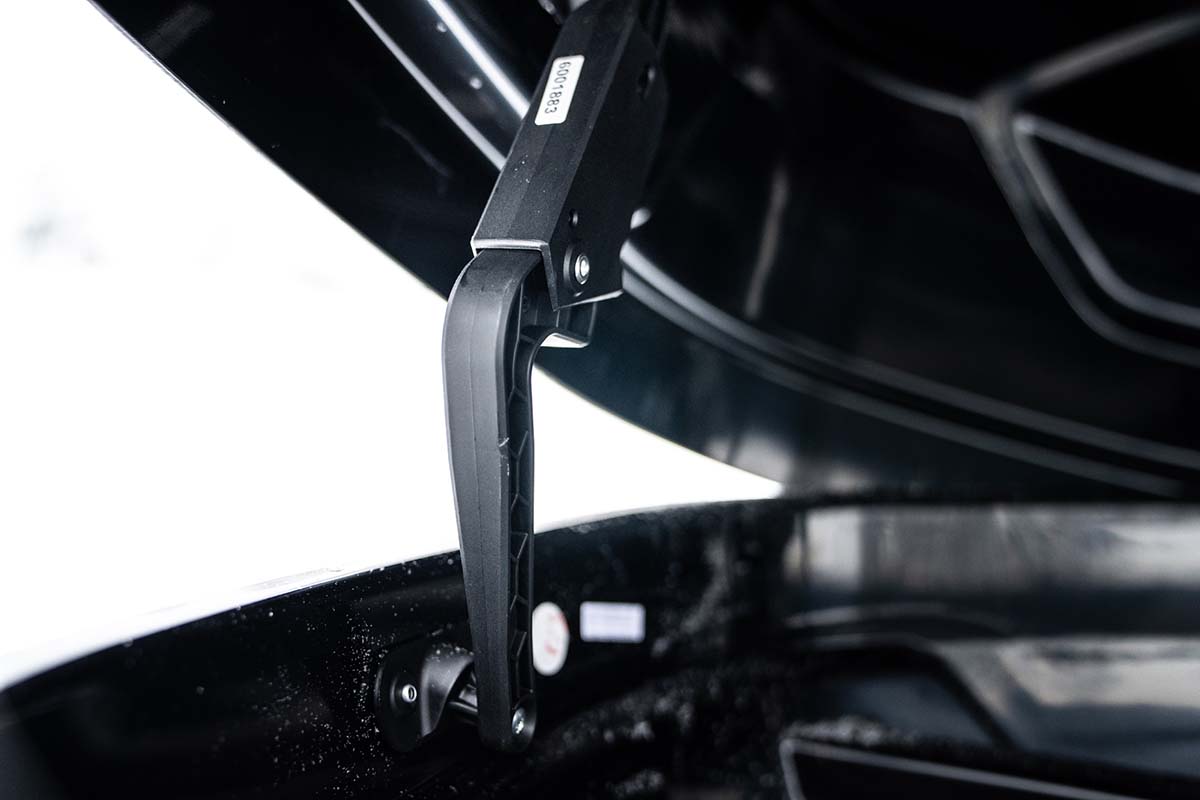 Open/Close and Lock Mechanisms
The devil is often in the details, and a box's open and closing mechanism and lock designs are some of the main features that distinguish bargain models from more user-friendly, premium haulers. Some designs combine these two features, with basic lock mechanisms that also function to secure the lid to the base (i.e., when the box is unlocked, the lid is ajar). While this simplified design saves money, it also places a lot of force on the fairly delicate lock and key (this is why Thule's entry-level designs have an issue with broken keys). On the other hand, more high-end boxes have a mechanism that opens and closes their latch—a push button, twist handle, or slider—and a separate lock that secures the closed lid. What's more, they usually have indicators that show when they're ajar (the SlideLock on Thule's Motion XT displays red), which provides an extra level of confidence that your lid is secure.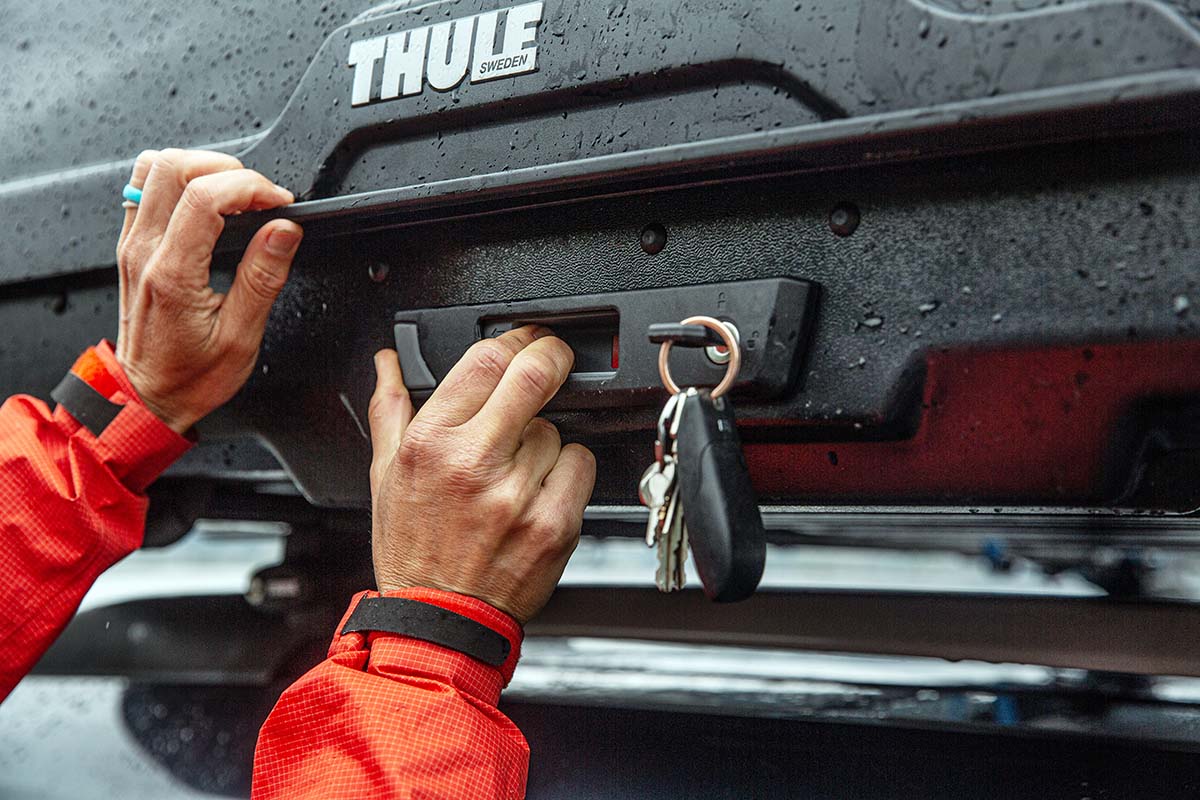 All of the picks above come with at least one lock and key (boxes with dual-sided access feature a lock on both sides). The majority of designs only permit you to remove the key when locked: although some users find this feature inconvenient, it does keep you from leaving the box unlocked or accidentally losing your keys inside. And if you have other Yakima or Thule products mounted on your vehicle(s), you might especially like Yakima's SKS (same key system) and Thule's One-Key system, which allow you to swap out the cores with an identical set so that you can open all of your accessories (including ski/snowboard racks and bike racks) with the same key. And a final note: manufacturers specify that these locks are not theft-proof, but rather meant to serve as theft deterrents.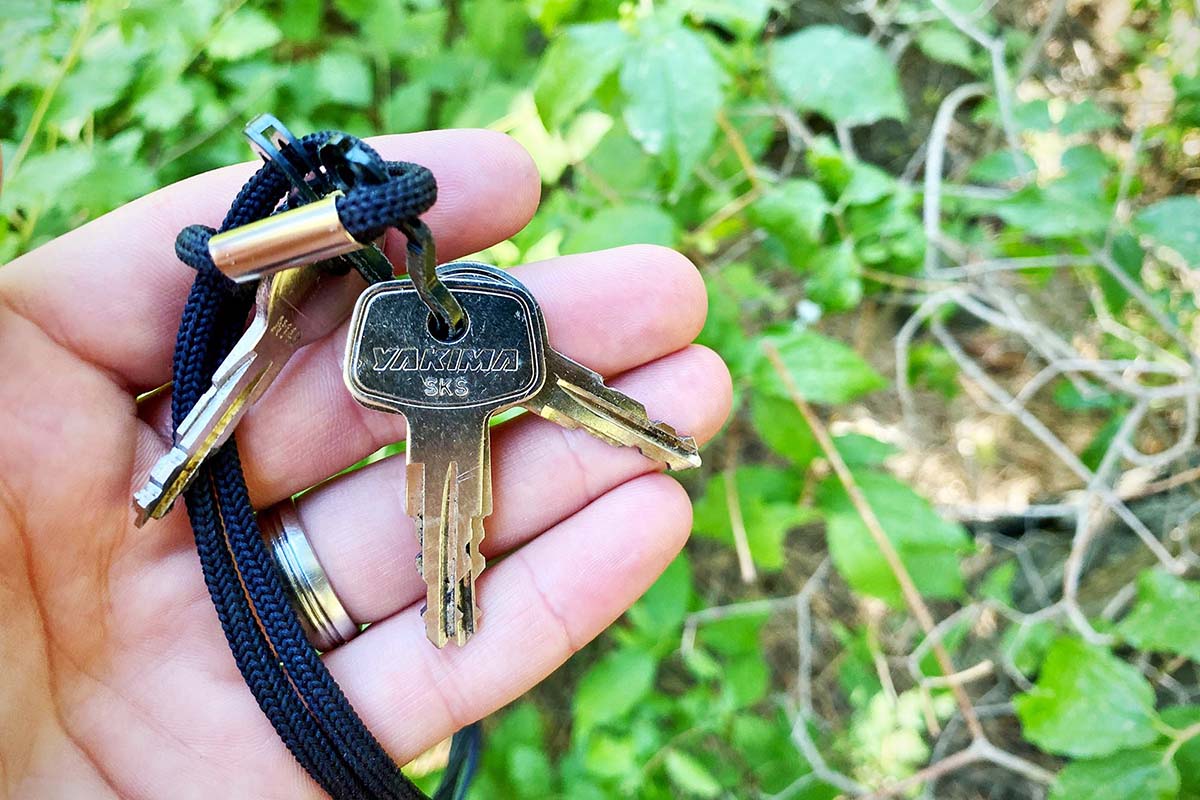 Interior Features
The majority of rooftop cargo boxes are fairly barebones on the inside, with many featuring just a simple cavernous compartment for your gear and usually a pull strap to close an out-of-reach lid. Some models incorporate tie-down points (straps included in most cases), which can be a nice feature to secure a loose load. Moving into the ultra-high-end models is where we start to see more features. For instance, the Thule Vector ($2,400) adds a removable felt-lined base to protect your gear, motion-sensing interior LED light, and white-colored lid to make it easier to see your gear. But while these are nice features, they're not worth the large price bump for most, especially when you can make similar after-market customizations to a more affordable box.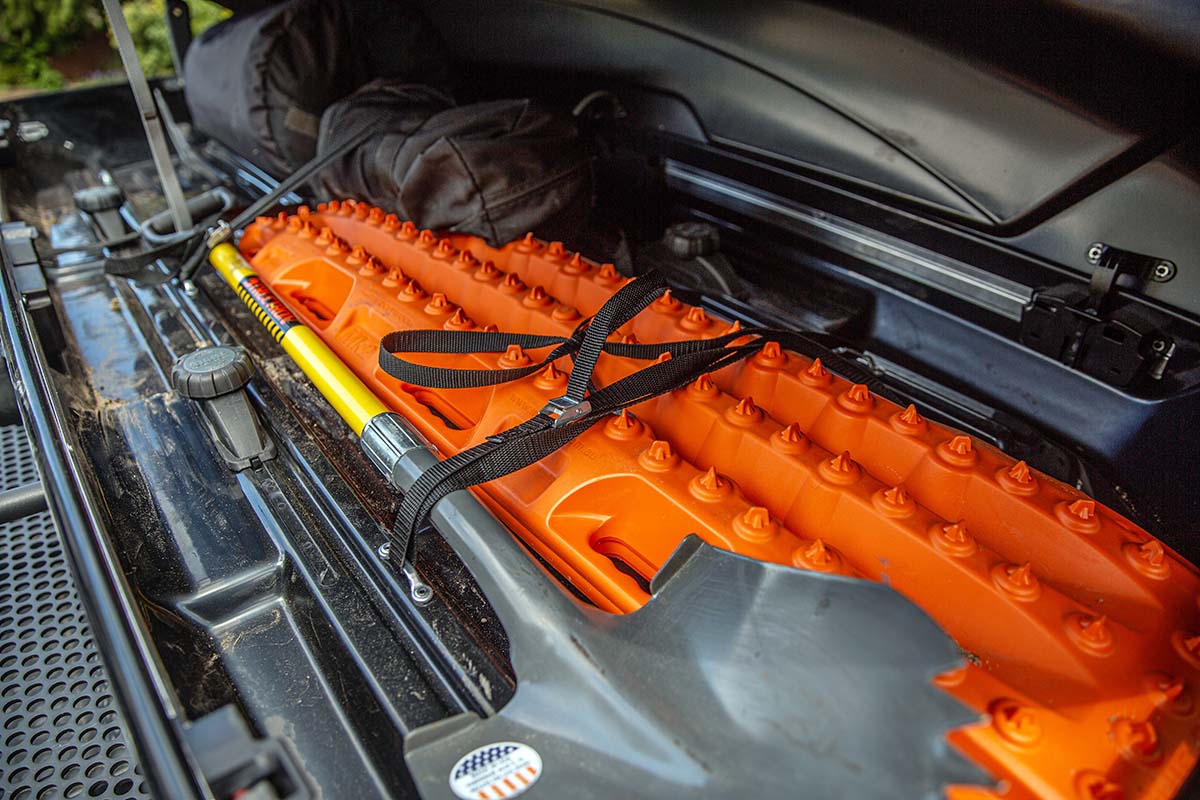 Materials and Durability
All of the roof boxes above are made with durable ABS plastic that holds up well to repeated opening and closing and the rigors of the road. However, their level of quality (or lack thereof) becomes more apparent when looking at the details. Rigidity increases with the premium models (by way of added stiffeners), while budget designs like the Thule Sidekick and Jegs Rooftop Carrier have noticeably floppy lids and bases that you'll want to be sure to carefully close and secure (they might not easily line up). Another distinction comes in the amount of overlap between the lid and base, which is important for wind resistance (especially at the nose). And all the little details add up too, including mounting hardware, hinges, handles, and locks—if these break, your box will likely be out of commission. Finally, whether or not you opt for a matte or gloss finish is mostly a matter of personal preference, although it's common to see the sleek aesthetic on more luxury designs (like the Yakima GrandTour).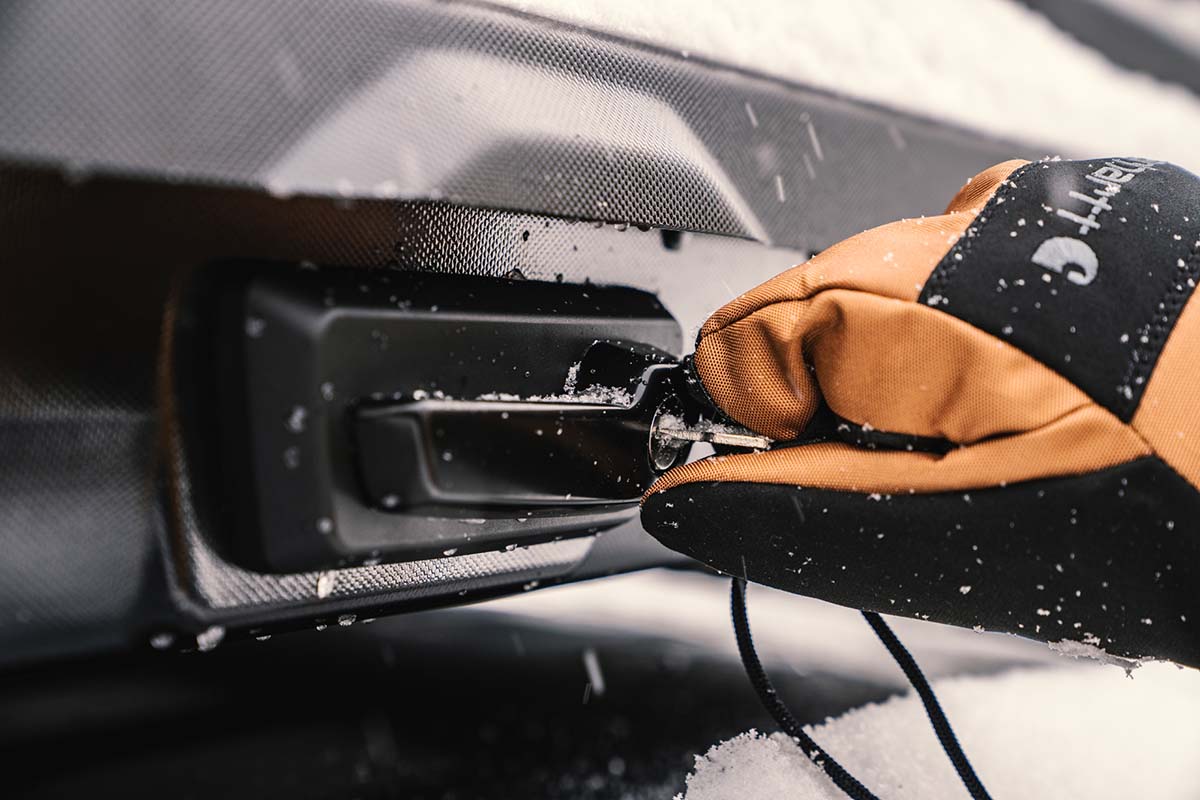 Water Resistance
One of the key advantages to opting for a cargo box over a rooftop bag or basket is the ability to keep your gear protected from the elements. The majority of rooftop boxes are highly water-resistant, with waterproof plastic shells, weather sealing around the edges, and large lips that close the gap between the base and lid. However, there are a few points of vulnerability inherent in the design. In some cases, wind can cause gaping at the front of a box (allowing moisture and air to enter), and water can also make its way in through mounting holes on the base. Some designs include vinyl stickers to cover unused holes, while more premium models have their mounting hardware loaded on a track that mitigates water entry. But regardless of the cargo box, it's a good idea to assume that it's not fully waterproof. Dry bags or waterproof duffel bags are helpful for protecting vulnerable items (make sure to place them away from the base and edges), but if there's any question, we recommend storing your gear inside the vehicle.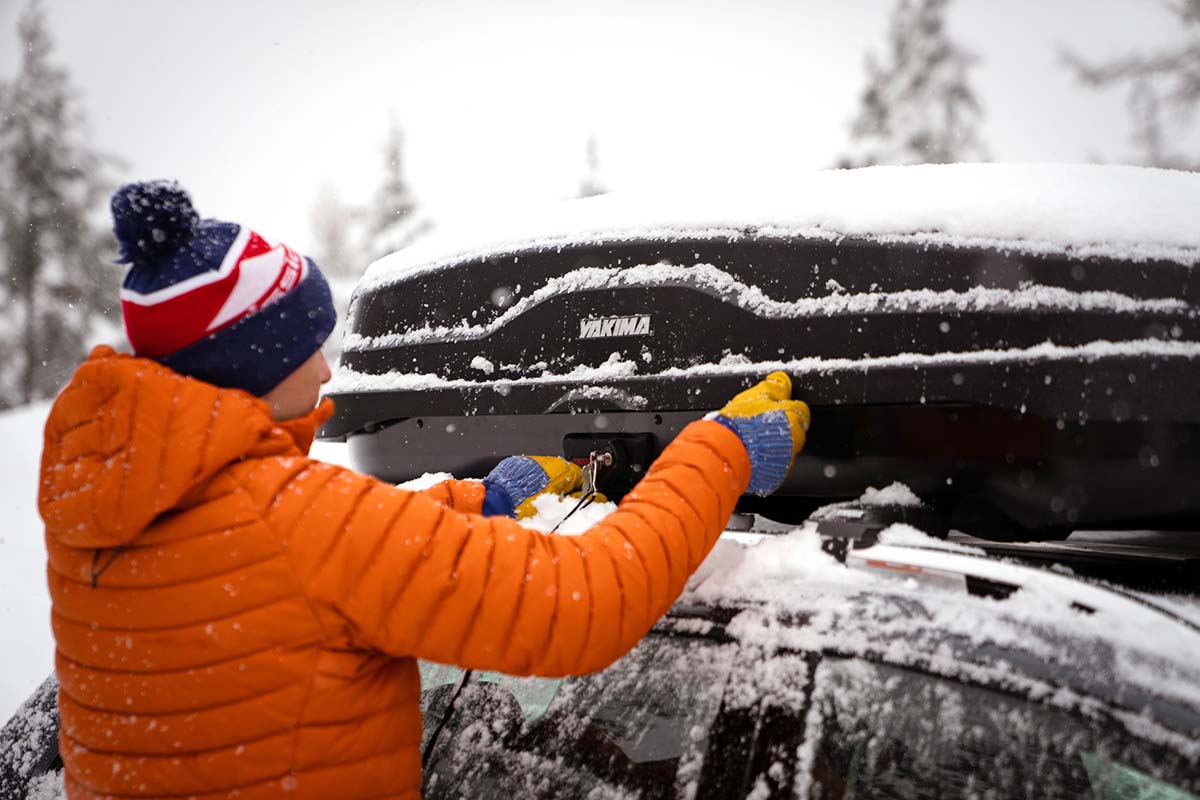 Wind Noise and Aerodynamics
Generally speaking, the bulkier your cargo box—especially in terms of width and height—the more drag it will create. And while the exact science on this is hard to figure (keep in mind that a number of factors come into play, including vehicle type, interior load, speed, and external wind conditions), more drag most often results in lower gas mileage and more wind noise. If you want to maximize aerodynamics, we recommend opting for a model that looks more like a bullet than a box, including a tapered nose (this includes most offerings from Thule and Yakima) and a relatively low profile. Looking at your cargo box head-on, the smaller the profile, the better.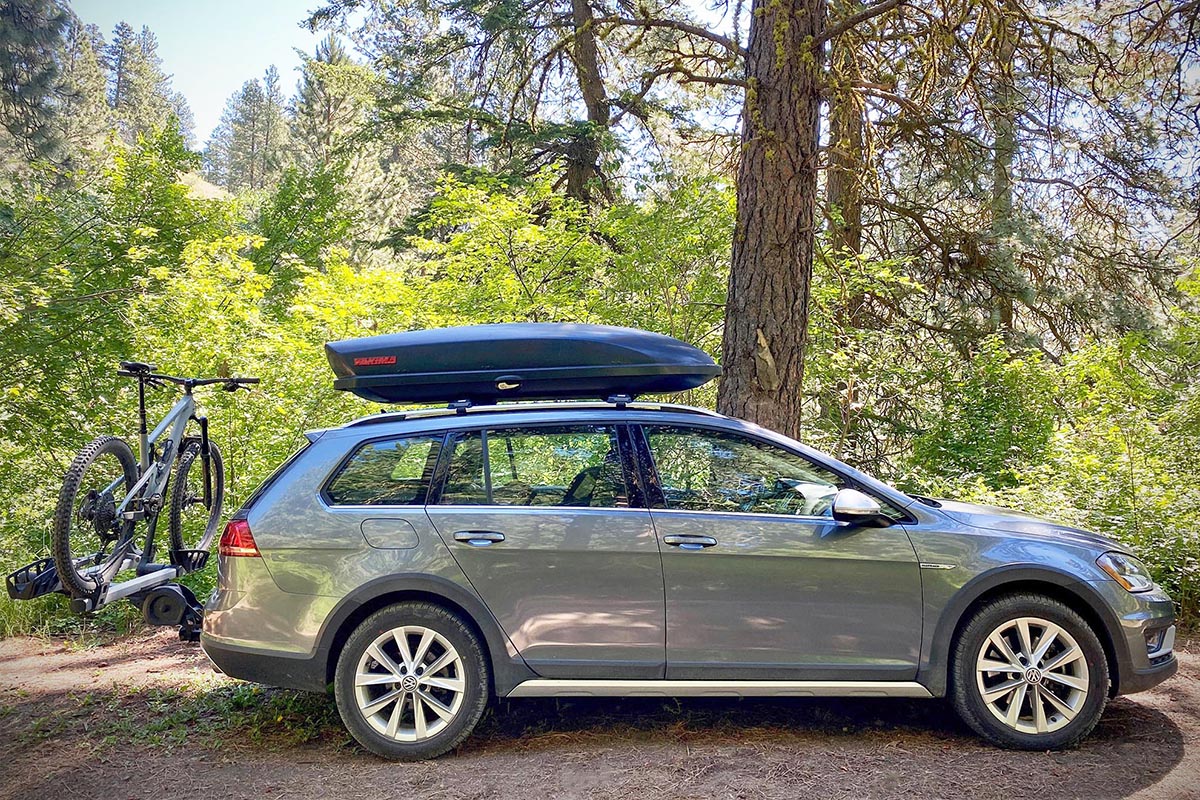 It's also worth noting that wind noise is not simply a result of the bulk of the box. In fact, much of this noise is generated by air moving in between the rack and the roof of your vehicle. Some modern box designs (like the Thule Vector) tackle this issue with noses that dip below the front rail, thus eliminating the gap between the roof and the rack. There are also a few ways to hush this whistling without spending up for a techy box design, including both DIY solutions and after-market purchases. You can wrap your front bar with a towel (and duct tape) or a bungee cord, swap in aerodynamic crossbars (Yakima's JetStream is a popular option), or add a fairing (like the Thule AirScreen XT). While these solutions might not cut the noise out completely, they'll go a long way in disrupting airflow, which is well worth it for a more peaceful drive (and the gas savings might pay off in the long run). Finally, keep in mind that wind noise can be worse with an empty box (it's less stable when not weighed down), so we encourage you to take your box off when it's not in use (for more, see "Can I Drive with an Empty Rooftop Cargo Box?" below).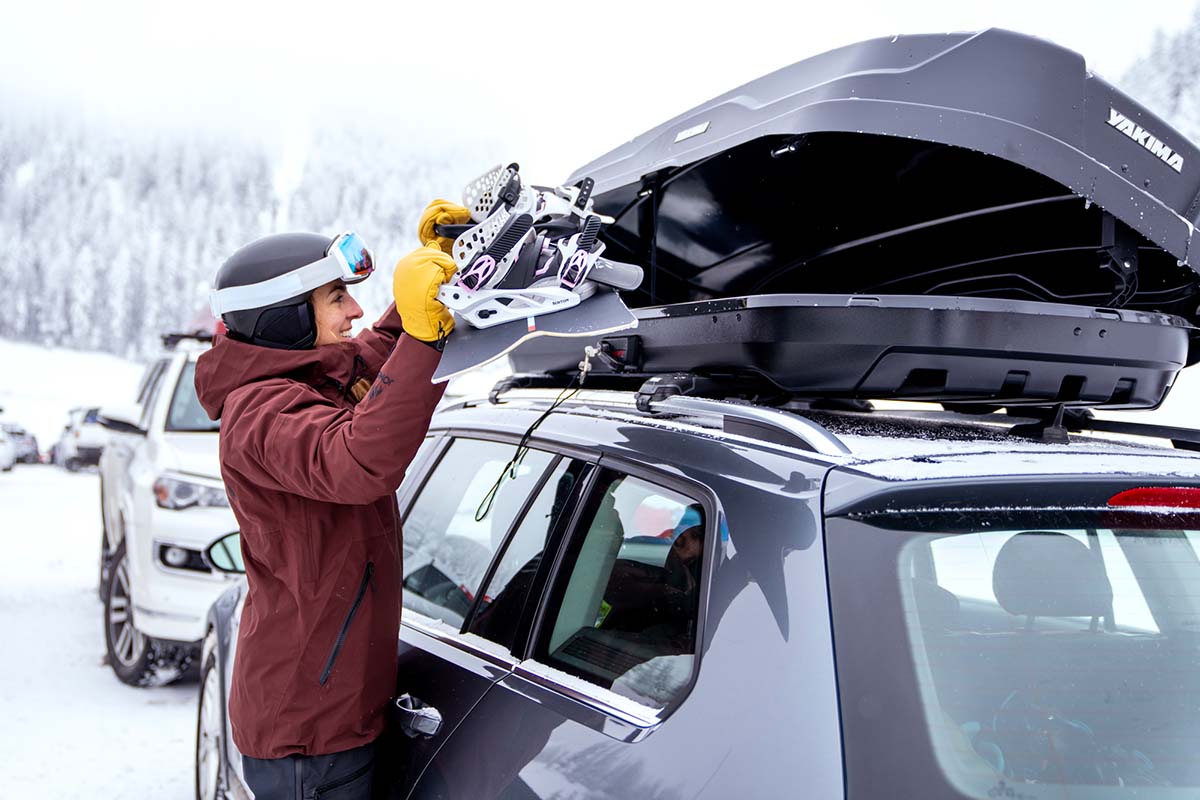 Rooftop Cargo Box Weight
Rooftop cargo boxes range from 20 pounds for the Thule Sidekick to around 65 pounds for the Thule Vector Alpine and Yakima CBX 18. Weight is an important factor for a few different reasons. For one, the heavier the box, the more challenging it will be to install and remove from your vehicle. While the Sidekick can be installed by one person, the CBX 18 will require at least two sets of hands, unless you're very strategic (accessories like the Thule MultiLift can help). Second, as we cover below, a rooftop can only handle so much weight—the more pounds you eat up with your box, the less you have left over for gear. And finally, you'll want to be wary of ultra-lightweight boxes too, as this might indicate a flimsier design. In the end, some of the best boxes clock in around 40 to 50 pounds (for roughly 14-18 cu. ft. of capacity), which is simply the price you pay for a durable, functional set-up.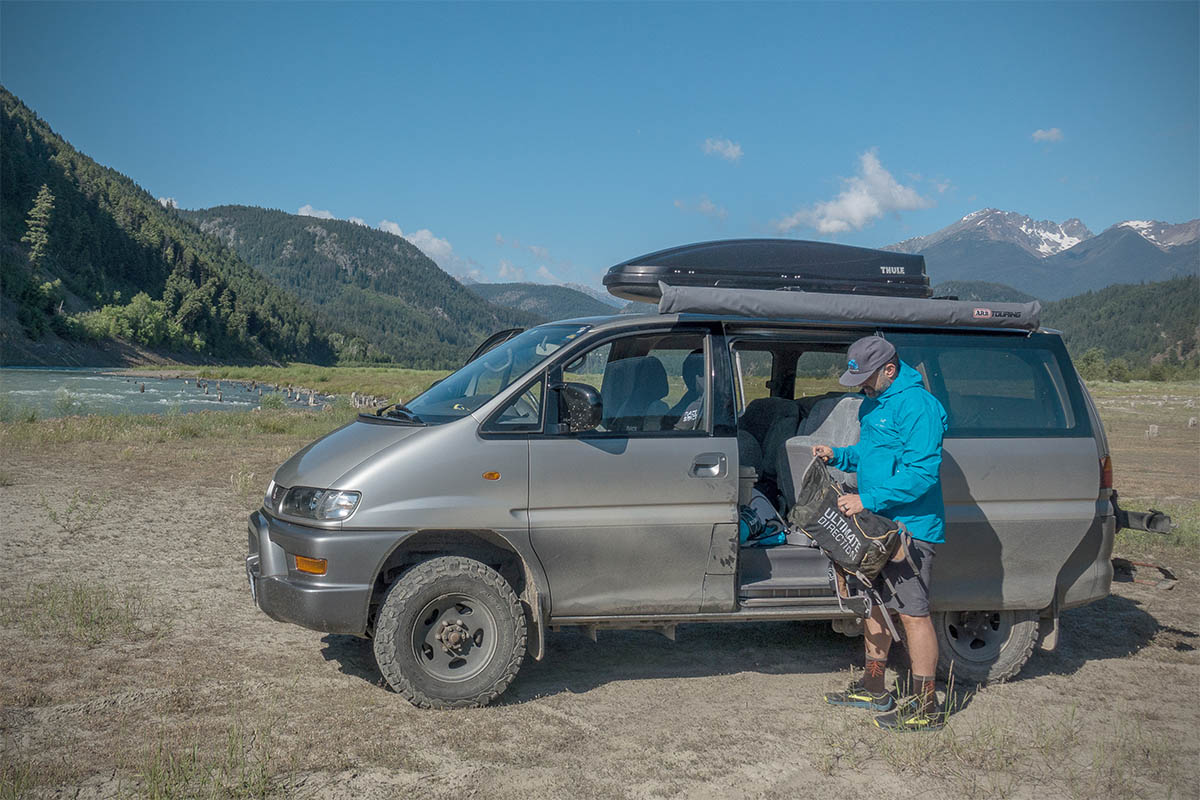 Rooftop Cargo Box Weight Capacity
When it comes to weight capacity, there are two key factors at play: the load limit of your roof box and the dynamic load limit of your vehicle (both of which are easy to find in the user manual or via a quick internet search). The models above range from a 75-pound weight capacity (for the Thule Sidekick) to 165 pounds for premium designs. But in most cases—and this is important to remember—the true limiting factor will be your vehicle's dynamic load limit. This number specifies how much weight you can safely carry on your rooftop while driving (a parked vehicle can handle much more) and generally maxes out around 165 pounds for a wagon, sedan, or crossover SUV, and up to 330 pounds for a large van. Thus, when determining how much gear you can put into your cargo box, you'll want to start with your vehicle's dynamic load limit and subtract the weight of your box and rack (and any other items on your rooftop). Most of the time, that equation will leave you with about 100 pounds left over for gear.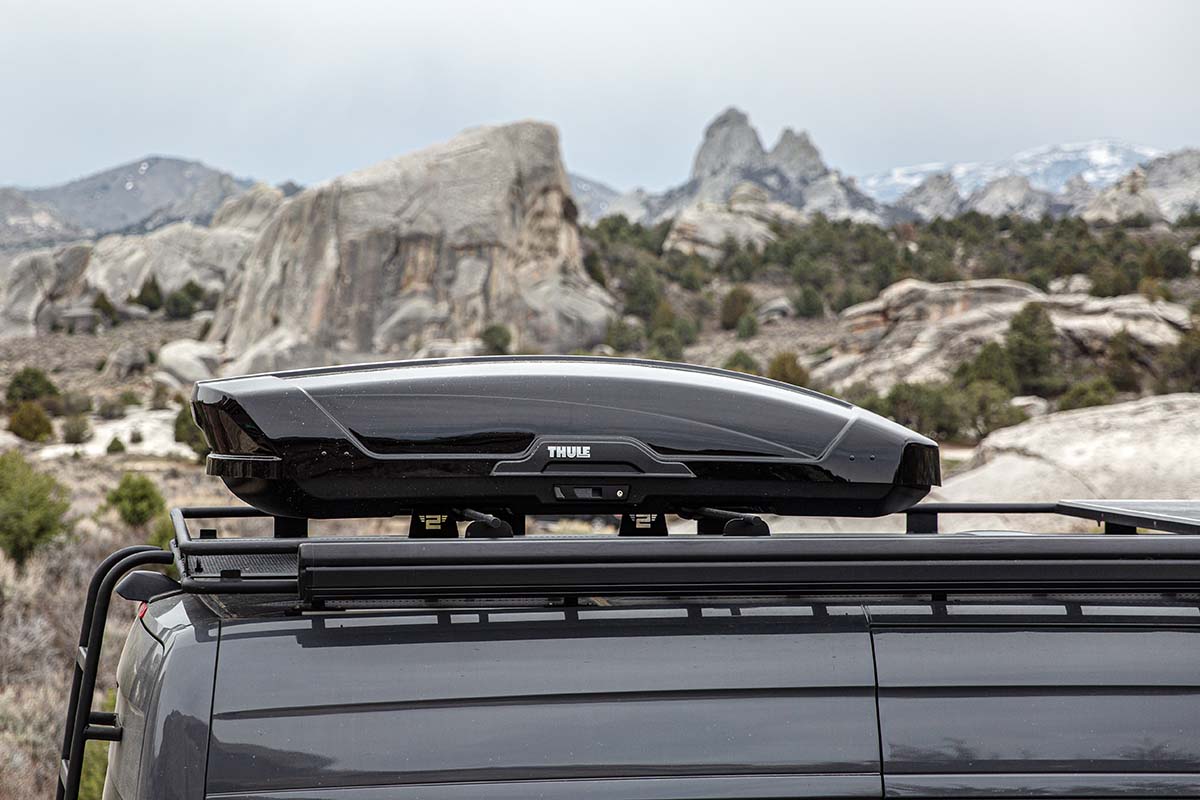 Knowing that a rooftop box can only carry about 100 pounds' worth of gear tells us a few things. For one, you'll want to be cautious about opting for one of the larger models, as 22 cubic feet of capacity might not be very useful if your weight limit maxes out when it's only half full. Second, it's a good idea to be strategic about what you put in your cargo box. We like to start with lightweight and bulky gear like sleeping bags, tents, and backpacks, which frees up room in the trunk for heavier items like food, a climbing rack, or a camping stove. Finally, while manufacturers tend to bring attention to the higher weight capacities of some boxes, vehicle load limits are the true equalizers, meaning that there's not much advantage to opting for a 165-pound limit over a 110-pound limit (like the budget SportRack Vista XL). Of course, if you're planning to mount your cargo box on a larger vehicle with a higher load capacity, this becomes more of a distinguishing factor.

Roof Rack Compatibility
Before you install your cargo box, you'll need to make sure you have the right rack to secure it to your rooftop. A lot of vehicles come with factory-installed racks, and after-market designs can also be easily matched to your make and model. There are two factors to be aware of when selecting a roof rack to pair with your cargo box (or vice versa): crossbar spread (the space between the front and rear bars) and shape.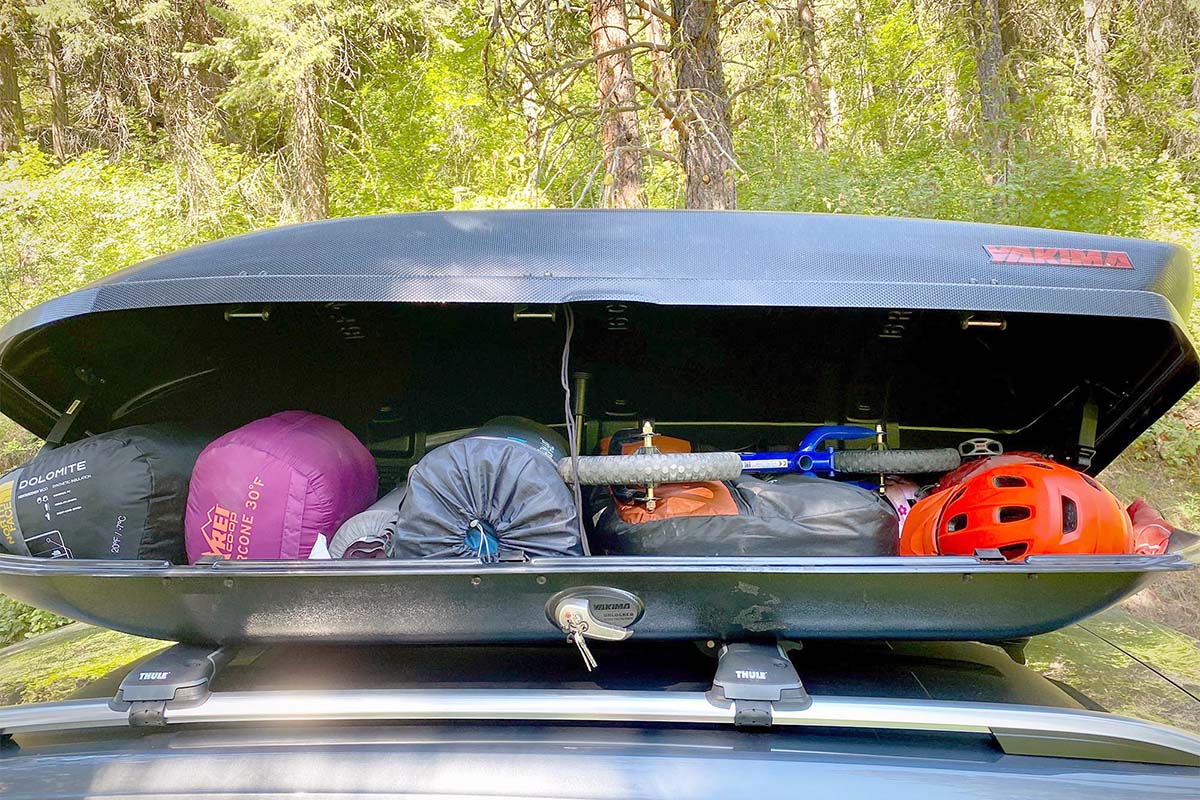 The good news is that most modern cargo boxes have a fairly wide range (the Yakima SkyBox NX 18's spread is 24 to 40 in.) and are compatible with an assortment of bar types, including round, square, and aerodynamic varieties. Manufacturers like Thule even help with the decision by listing the racks that complement each of their cargo boxes. That said, expect less versatility with some of the budget designs—the Jegs, for example, has pre-drilled holes to accommodate a 24-inch crossbar spread, but no wiggle room outside of that (you'll have to adjust your crossbars or drill new holes). All told, matching your cargo box to a roof rack shouldn't cause much headache, but it's never a bad idea to double check compatibility before hitting purchase.

Assembly and Installation 
Unless you purchase your rooftop box at your local vehicle rack store, chances are you'll be doing the assembly and installation yourself. Most boxes come already built and ready to mount, but some budget designs require more in-depth assembly (which can be arduous if DIY isn't your thing). The Thule Sidekick, for example, takes most users over an hour to put together, including attaching foam weather stripping and installing the lock assembly (wrench required).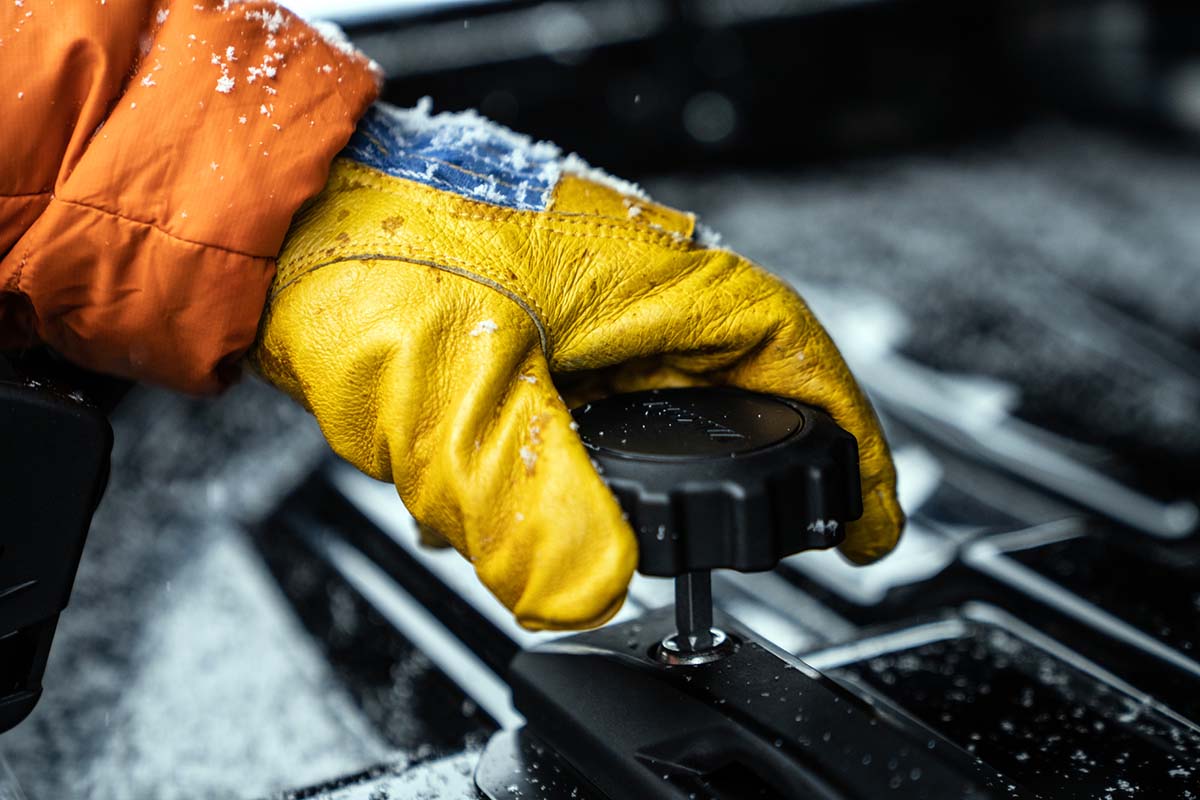 Next up is mounting the box, which again is a relatively user-friendly process for most modern designs and can be done in just a few minutes. Our favorite models feature clamps that slide on tracks to accommodate various crossbar spreads, tighten via a thumbwheel, and secure with an audible "click" or by way of an integrated lever. On the other hand, budget boxes will often use simple U-bolt mounts, which require many moving parts (don't lose anything) and can take some effort to tweak into position and secure (sometimes this involves drilling new holes or moving your crossbars). The extra time required to install these more rudimentary mounts is less of an issue if you anticipate keeping your box installed on your rooftop. However, if you plan to routinely remove your box, you might want to opt for a more premium design. And finally, make sure to complete this process with your rear hatch open to ensure you're getting proper clearance (if applicable), and check your mounts often, as they might need to be tightened from time to time.
How to Pack a Rooftop Cargo Box
When loading items into your cargo box, you'll want to give some thought to what you place where. In general, manufacturers recommend situating about half of the load (weight-wise) overtop and in between the two crossbars, with a quarter in the front and the remaining quarter in the rear. It's also important to consider the weight capacity of both your box and your vehicle—surpassing this number is never a good idea, so prioritize lighter items up top and heavier items in the trunk. Once your gear is loaded, we recommend securing it with tie-down straps (if available), which is especially helpful if you have a half-full load. And finally, as we touched on above, you'll want to think about protecting items from the elements by wrapping them in dry bags or waterproof duffel bags (even garbage bags will do the trick) and keeping especially vulnerable items away from the base and edges.

Can I Drive with an Empty Cargo Box?
Most manufacturers recommend that you don't drive with an empty cargo box on your roof, for reasons much more practical than safety-oriented. First off, an empty box is much more likely to be pushed around by the wind, which will result in a noisier ride. Second, we already know that rooftop boxes have a negative effect on gas mileage, so it behooves your wallet to remove yours when not in use. And finally, keeping your cargo box out of the elements will go a long way toward extending its lifespan, especially if you live in a particularly unforgiving climate. When not on your vehicle, we recommend storing your box in a cool and dry space (preferably inside), either base-down on the floor or hanging flat against a wall.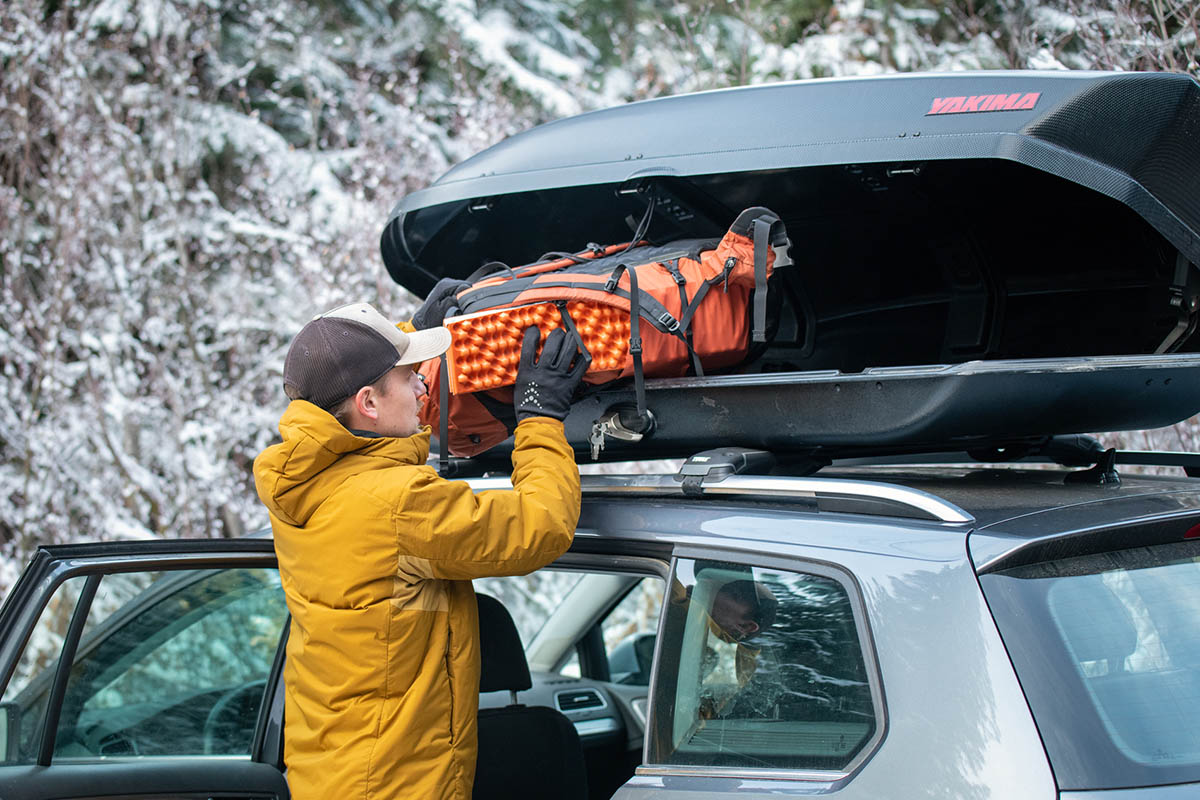 Ordering Your Rooftop Box Online
Rooftop boxes are no small item, which can create some hurdles if you like to shop online. We're generally big fans of purchasing outdoor gear from REI and Backcountry (thanks to great customer service and generous return policies), but in this case, both retailers charge oversized shipping fees (you can see them displayed at checkout after adding a box to your cart). One way to circumvent this charge is by having REI ship the cargo box to your local store, where you can pick it up for free. It's also worth noting that many other online retailers ship for free (including Amazon and Etrailer), but keep in mind that the retail price can often be higher as a result. And a final note for online shoppers: you'll want to be 100% certain you're purchasing the right product, as returning such a large item via mail isn't cheap (another benefit to picking it up at your local REI store).
 
Other Cargo Carrying Options
We love rooftop boxes for their ease of use (just throw in your gear and close the lid), weather resistance, and security, but there are a number of other solutions, including rooftop baskets and bags and hitch-mounted options. A basket mounts on a roof rack and provides a stable area for you to secure gear with bungee cords, rope, or a net. Compared to a box, baskets are more affordable (the popular Yakima LoadWarrior is $499), significantly lighter (read: easier to install and leaves more weight allotment for gear), and can accommodate bulkier items (like a cooler or Rubbermaid storage containers). On the other hand, many cargo bags—like the Rightline Gear Sport 2—retail for less than $150 and install directly to the roof of your vehicle, which eliminates the cost of a roof rack. Plus, they pack down small when not in use (fitting easily into your trunk), which is a nice solution if you don't want to have a box or basket occupying your rooftop at all times.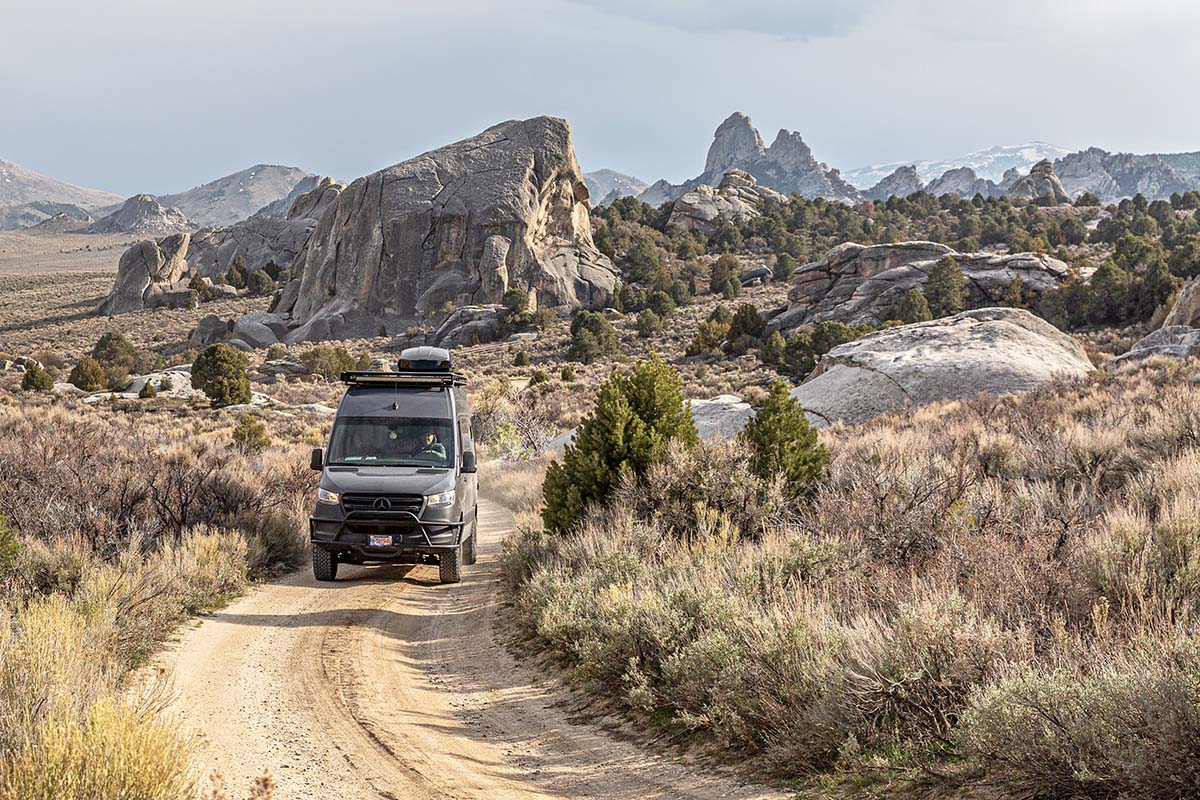 It's also worth considering if a hitch-mounted box or basket might be a better way to expand your vehicle's carrying capacity. Compared to rooftop options, hitch storage is easier to access and doesn't require that you perch on your tire or door well to load and unload gear. What's more, whistling is less of an issue, and gas mileage won't be nearly as impacted with the rear placement. And because most modern hitch boxes are designed to be easily removed, they double as a handy storage container once you establish camp (the Yakima EXO GearLocker excels in this department). But not every vehicle comes with a hitch or hitch capabilities, and rear storage can be inconvenient if you need a lot of access to your trunk. Finally, skiers will want to stick with a roof box or basket. In the end, each type of rooftop storage has its strengths and weaknesses, and taking a close look at your cargo and travel plans will help you decide on the best solution.
Back to Our Top Rooftop Cargo Box Picks  Back to Our Rooftop Cargo Box Comparison Table
Read More From Switchback Travel