Gone are the days when climbing consisted of swami belts, hobnailed boots, and weeks spent nailing pitons into swaths of granite. Current trends in climbing gear have moved toward functionality, performance, and thoughtful design, and packs have followed suit. In this article, we break down the top climbing backpacks of 2021 into three categories: crag, follower, and alpine. Each balances different demands, but these packs all share a focus on organization (whether inside or out) and generally are lightweight and durable. For more background information, see our climbing backpack comparison table and buying advice below the picks. To complete your kit, see our articles on climbing shoes, harnesses, and helmets.
 
Best Overall Climbing Backpack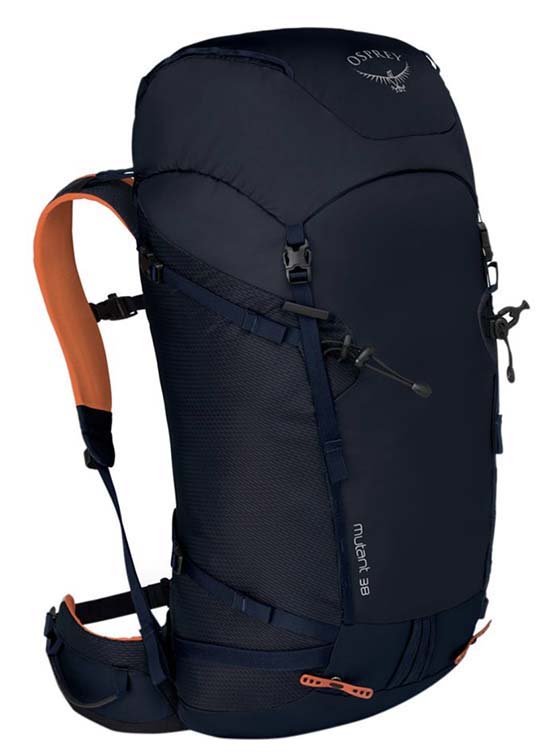 Category: Alpine
Weight: 2 lbs. 11 oz.
Capacities: 22, 38, 52L
What we like: Accommodates heavy loads well; extremely versatile.
What we don't: Heavier than most alpine packs and the hipbelt is not removable.
To be honest, we didn't think we'd ever see an Osprey—a favorite among backpackers and hikers—at the top of a climbing article, but we stand corrected. Their alpine-specific Mutant is a super impressive climbing pack, combining class-leading comfort with an array of technical features and a customizable build. With a framesheet, padded hipbelt, and comfy shoulder straps, the Mutant carries and distributes weight better than other streamlined alpine packs, even with loads up to 50 pounds. And when you're ready to climb, it easily strips down to become a fast-and-light climbing machine.
All told, the Mutant is one of the most versatile packs on this list, and so comfortable and durable that we'd even recommend it for the crag. It also has all the features we look for in an alpine-specific pack, including ice tool attachments, removable components, ski-carry loops, and glove-friendly zipper pulls. We do wish the Mutant's hipbelt was detachable—it wraps around the pack to stay out of the way of a harness, but we prefer the added customization when possible. And for a follower pack or overnight rig, check out the 22-liter and 52-liter versions of the Mutant... Read in-depth review
See the Osprey Mutant 38
Best Backpack for Cragging
Category: Crag
Weight: 4 lbs. 7 oz.
Capacities: 20, 35, 50L
What we like: Easy to pack and ridiculously durable.
What we don't: The cavernous compartment can feel like a black hole.
If you're anything like the average climber, you most likely spend more time cragging than multi-pitching or schlepping into the mountains. While any old pack will get you to the crag, a workhorse like Black Diamond's Creek 50 will make it less of a chore. With an upright base for simple loading and unloading, convenient pockets, full side-zip access to the main compartment, and the most durable fabric (1,200-denier polyester) of any pack on this list, it's ideal for day-in and day-out abuse.
The Creek 50 is one of the most rugged and well-built options out there, but unless you consistently carry a massive trad rack, you may find its 50-liter capacity to be excessive. Black Diamond also offers the Creek in a 35-liter build as well as an on-route 20-liter haul bag for those who want the same high quality without the volume. Or, consider their Crag 40: it's a lightweight, streamlined version of the Creek: half the price, but also half the bag, in our opinion. All in all, duffel-style packs like the Patagonia Cragsmith below allow for easier access to your gear than these top-loaders, but when it comes to a crag pack that can swallow a triple rack, 70-meter rope, and even your winter puffy, it's hard to beat the Creek 50.
See the Black Diamond Creek 50
Best Budget/Follower Pack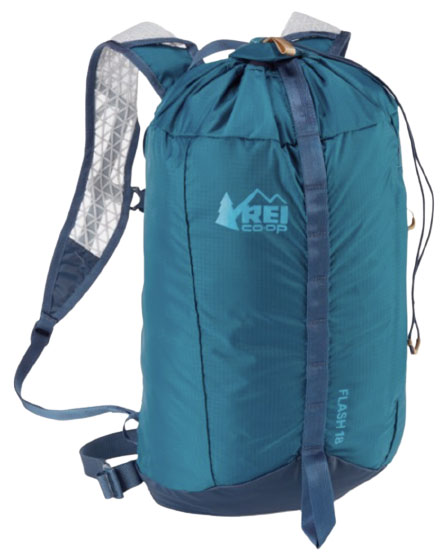 Category: Follower
Weight: 9 oz.
Capacities: 18, 22L
What we like: The lightest and least expensive follower pack.
What we don't: Thinner and less durable than the competition.
We know what you're thinking: REI? A climbing pack? The answer is a resounding "yes." In fact, the Flash 18 is the lightest and cheapest model on our list yet still manages to include a bunch of useful features. Like many other follower packs, the Flash 18 has a top drawcord that can be opened and closed one-handed, a backpanel that can be taken out and used as a sit pad, removable hip and sternum straps, and even daisy-chain attachment points and an ice axe loop. For $40 and just 9 ounces, that's a whole lot of pack. 
But despite its impressive weight and price, the Flash 18 does have its downsides, most notably in terms of durability. The 140-denier nylon construction pales in comparison to more rugged follower packs like the Patagonia Linked (940D) and Black Diamond Rock Blitz (840D) below. It is not made to be hauled up routes, won't last long in chimneys, and is bound to get ripped if you're loading it down with sharp climbing gear on the walk out. But for $40, the Flash is undeniably an excellent value, and its feature set is surprisingly functional for climbing. For those willing to trade a bit more bulk for added storage, REI also makes the Flash 22 ($55; 13 oz.), which boosts capacity by 4 liters and includes stretch dump pockets on each side and a handy top lid with a zippered compartment... Read in-depth review
See the REI Co-op Flash 18
Best Backpack for Alpine Climbing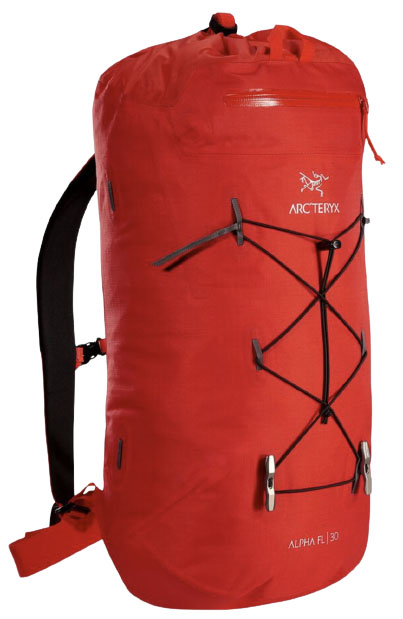 Category: Alpine
Weight: 1 lb. 6 oz.
Capacities: 30, 45L
What we like: Great durability, comfort, and waterproofing in a minimalist package.
What we don't: Compromised carrying comfort and only comes in one size.
To create the ultralight Alpha FL, Arc'teryx merged the lidless, top-loading design of a follower pack with a rugged, medium-capacity bag. This pack is an alpinist's dream: it's streamlined and lightweight, carries well, and is both waterproof and highly abrasion-resistant with a 400-denier ripstop body fabric. For mountain climbers' varying storage needs, the Alpha FL expands to 37 liters for the approach and packs down to a 30-liter (or smaller) jet pack-like shape when the going gets technical. Additionally, accessing the contents is a breeze—even with gloves on—and lash points, bungee attachments, and a top strap secure anything from a rope and crampons to a sleeping pad and extra layers to the exterior. 
With a recent update to the Alpha FL line, the new "30" here is the most similar option to the old "45," which carried 32 liters in the main pack and 45 liters with the extended collar. Other changes include a larger front pocket, additional internal pocket, and revamped shoulder straps. But many of former model's tradeoffs remain, including a slender shape that doesn't accommodate bulky items, thin (i.e., not very supportive) webbing hipbelt, and pared-down exterior with very few organization options. And unfortunately, the Alpha FL only comes in one size, which can be limiting for those with particularly small or large frames. But despite these compromises, the Alpha FL nevertheless is one of the most fully functional and well-built designs for alpine-style missions. And a note on purchasing: the pack is listed on Backcountry's website at $259 (with very limited stock elsewhere), but via their price guarantee, a customer service rep should be able to match Arc'teryx's price of $200 (this worked for us).
See the Arc'teryx Alpha FL 30
Best of the Rest
Category: Crag
Weight: 3 lbs. 12 oz.
Capacities: 32, 45L
What we like: Durable and allows for great organization.
What we don't: Can be difficult to close with a full load.
Patagonia's calls their newest iteration of a crag pack a "gear dumpster," and we think that's an appropriate designation. The Cragsmith's U-shaped zipper allows easy access to the entire contents of the pack without exposing gear—or the pack's suspension system—to dirt. It's also lined with a small layer of foam, which helps hold the structure to make loading and unloading easier. With 630-denier fabric, the Cragsmith is a strong and well-made daily workhorse that will protect your gear in most conditions.
For the right application, the Cragsmith 45L is close to ideal: it's comfortable, sleek, and even burly and protective enough to serve as a haul bag. But while the Cragsmith is one of our most durable options, it does come with its fair share of compromises. Compared to a top-loading pack like the BD Creek 50, Patagonia's offering is simply not as convenient. You can't haphazardly throw heaps of gear into the Cragsmith, and we've often seen friends struggle to seal up the top zip with a hefty load. But for sport climbing or when you're splitting the rope and rack between two people, the Cragsmith is one of our favorite crag packs.
See the Patagonia Cragsmith 45L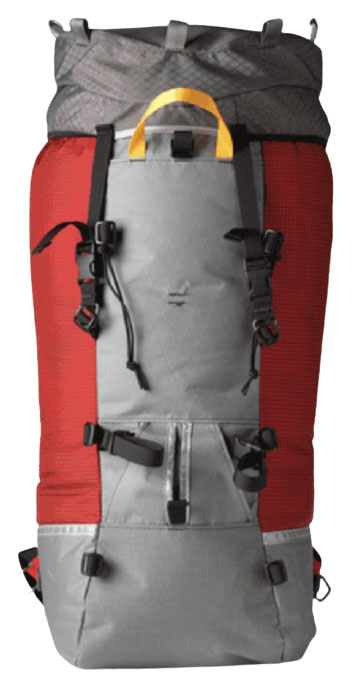 Category: Alpine
Weight: 2 lbs. 12.8 oz. (1 lb. 9.6 oz. stripped)
Capacities: 20, 30, 40, 45, 60, 75L
What we like: Extremely durable and thoughtfully designed for alpine climbers.
What we don't: Not widely available and requires time and care to customize.
If anyone in the industry is geeking out about pack materials and design, it's CiloGear. This small and quirky Portland-based company innovates and constructs all of their packs in-house, creatively piecing together materials to maximize both weight savings and durability. The net result is long-lasting packs (we've put ours through the wringer for seven years) that are also extremely customizable: the lid, hipbelt, compression straps, and backpanel/sit pad are easily removable so you can hike into basecamp in comfort and then strip the pack down into a sleek alpine climbing machine (patience required).
 
CiloGear WorkSacks range from 20 to 75 liters, and each one is made to expand and compress to fit a range of loads. The 3030 is their most versatile design and our favorite model for alpine missions: it's a 40-liter pack with the suspension of a 30-liter, meaning it can accommodate an overnight kit but streamlines once you're ready to climb. Compared to the Alpha FL above, it's a lot more customizable and a better choice for heavier loads, but you do give up the waterproof fabrics, streamlined build, and super light weight of the Arc'teryx. In terms of availability, CiloGear packs are often carried by local gear shops, but we've found that their website is the best place to buy (again, patience required). In the end, these packs might not look as sleek as the competition, but they will last a long time and earn you major street cred in the mountains.
See the CiloGear 3030 GS WorkSack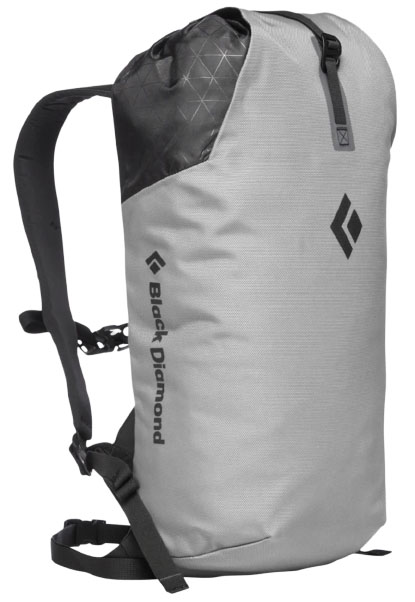 Category: Follower
Weight: 14.2 oz.
Capacity: 15L
What we like: Very durable and great shape for hard climbing.
What we don't: Pricier and heavier than the REI Flash above.
The Black Diamond Rock Blitz is a purpose-built follower pack for rock climbers, ideal for carrying a day's worth of supplies up long routes in areas like Red Rock or Squamish. You get impressively durable materials that can handle the ins and outs of multi-pitch routes (chimneys included), along with a foam-padded backpanel and shoulder straps to keep you comfortable. Shaped like a bullet, the Rock Blitz rides high on the back, close against the body, and out of the way of a harness, allowing you to climb unencumbered. And at the belay, you can access all of your snacks and layers via the top opening—which cinches closed with a one-handed drawstring—or via the small side zip pocket.
Made with durable 840-denier nylon, the Rock Blitz is a considerable step up durability-wise from the REI Flash above. We wouldn't go so far as to haul it up a wall—with reinforced haul handles, the Patagonia Linked is a much better choice—but it will hold up significantly better to routine abuse. And at 14.2 ounces, the Rock Blitz keeps things fairly light and is streamlined enough to stuff away into a larger pack on the approach (you can also remove the hipbelt and sternum strap to shave even more weight). Recreational climbers and those just getting into the sport can save money with the Flash (it's also the better option for pulling double duty as a daypack), but the Rock Blitz is a better long-term investment for those who get out a lot.
See the Black Diamond Rock Blitz 15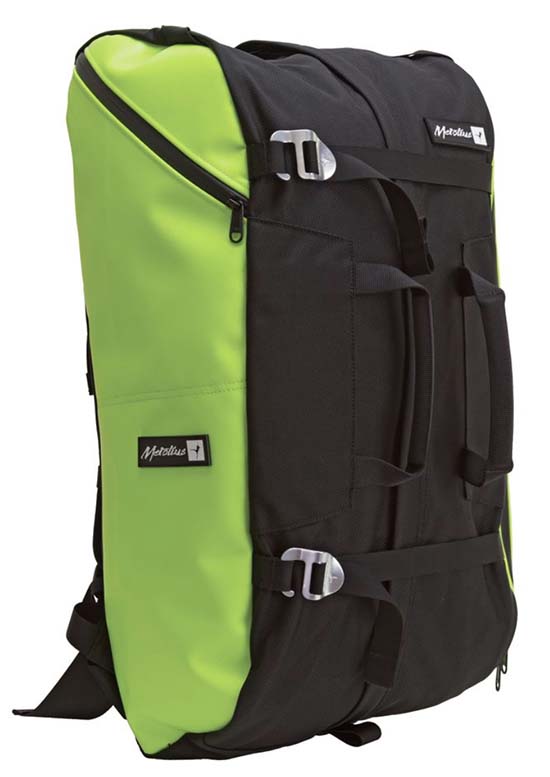 Category: Crag
Weight: 2 lbs. 10 oz.
Capacities: 41L
What we like: Extremely durable; affordable.
What we don't: Not as user-friendly as Patagonia's Cragsmith.
Combining the carrying comfort of a backpack with the superior convenience of a duffel bag, Metolius' Crag Station boasts one of the most unique designs on our list. It's business as usual until you arrive at the crag, where the pack then lays flat and zips open wide, allowing for easier access to gear than any top-loading pack. Metolius also reinforced the sides of the Crag Station with Duathane—the same material used on their haul bags—to boost durability. But just to be clear, we wouldn't advise hauling this bag as its front zip would be too difficult to access when hanging mid-wall.
What are the downsides of the Crag Station? To start, the suspension system only comes in one size, meaning it probably won't fit those with particularly large or small builds. Further, its design doesn't provide the access of the Patagonia Cragsmith's U-shaped zipper, nor is it made with padding to provide a barrier between your back and sharp equipment. Finally, trad climbers might find the 41-liter Crag Station to be too small for all their gear. Overall, if you're looking for a crag pack with easy access, we'd first recommend the more comfortable, convenient Patagonia Cragsmith. But for a bump in durability and a simple but practical design, the Crag Station is a steal at $130.
See the Metolius Crag Station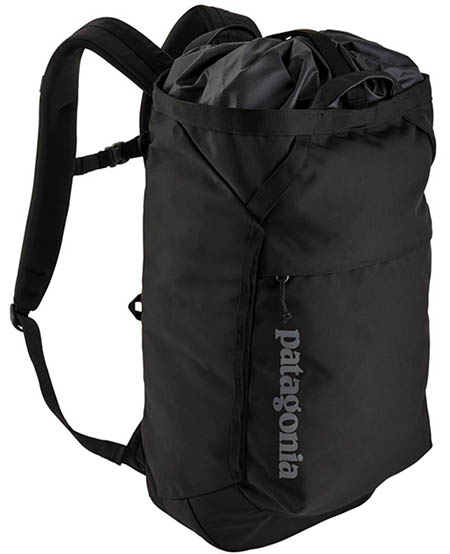 Category: Follower
Weight: 1 lb. 10 oz.
Capacities: 28L
What we like: Extremely durable, comfortable, and easy to access.
What we don't: Too big for most follower pack needs.
From hiking to technical climbing, Patagonia's bags are synonymous with toughness and reliability (at a price). The Linked is a durable and thoughtfully designed on-route pack that performs just as well on your back as attached to the end of a haul line. The tapered build sits high and close to the body and is secured with comfortable shoulder straps, while the robust 940-denier nylon body and reinforced haul handles make it burly enough to drag up coarse rock. At the belay, the Linked hangs easily from the anchor by its two loops, opening wide and providing easy access without spilling your gear.
At 28 liters, the Linked is larger than many follower packs here (Patagonia no longer makes the 18L version), and its 1-pound-10-ounce build means it's not our first choice for climbs with long approaches. For moderate routes in Red Rock or the High Sierra, the Rock Blitz and Flash packs above are more lightweight, packable options. But if you're projecting hard pitches high on a wall and plan to haul your pack rather than climb with it on your back, the Linked 28L is an ideal tool for the job. As we've come to expect from Patagonia, you get premium construction, great features and accessibility, and durability that may outlast two Flash 18s.
See the Patagonia Linked 28L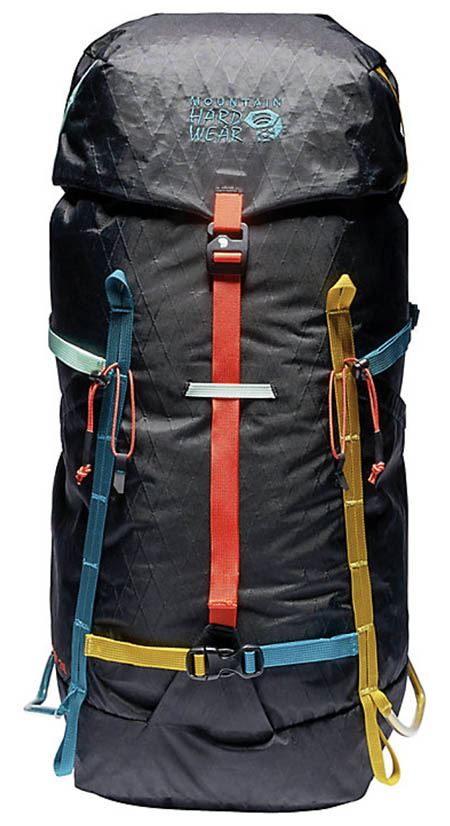 Category: Follower/alpine
Weight: 1 lb. 14 oz.
Capacities: 25, 35L
What we like: Versatile as an approach or follower pack; functional feature set.
What we don't: Not super durable and webbing hipbelt limits carrying capacity.
Mountain Hardwear's Scrambler 25 is an attractive and versatile pack for multi-pitch climbers and those headed into the mountains. Tacking on a bit of weight compared to other packs of its size, you get a fair amount of features—including a removable floating lid, internal gear loop, and side dump pockets—in a fairly streamlined build that sits high on the torso. The result is a pack that offers convenience on the trail but still climbs reasonably well. For approaches and climbs like those found in Red Rock, Yosemite, or even the Bugaboos (the Scrambler has alpine-specific features like ice tool holders and a storm flap over the top cinch), the Mountain Hardwear is a capable all-around rig.
The Scrambler also comes in a 35-liter version, which can accommodate more gear but is less suitable on-route. However, with a similar webbing hipbelt as the 25L, don't expect a high amount of comfort on the trail. And while neither model comes close to matching the long-term durability of the CiloGear GS WorkSack above, they'll cost you significantly less (the 35L is $160 compared to the CiloGear's $239). For recreational alpine or multi-pitch climbers or those looking for a hauler that can pull double duty as a daypack, the Scrambler is a solid choice that gets you the features you need without breaking the bank.
See the Mountain Hardwear Scrambler 25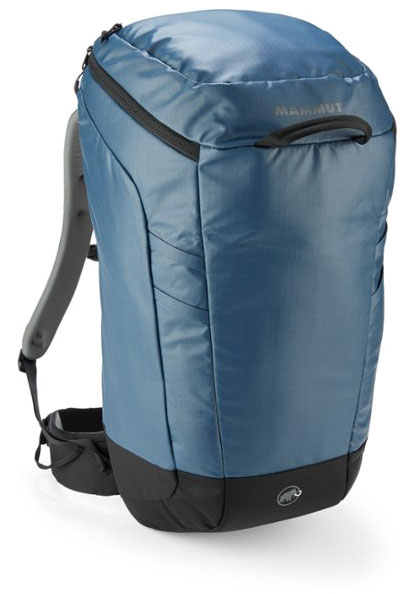 Category: Crag
Weight: 3 lbs. 1.4 oz.
Capacity: 45L
What we like: Affordable and plenty of organization.
What we don't: Some will prefer the haul bag-style design of the BD Creek.
Mammut's Neon Gear 45 is another high-quality backpack designed for hauling your gear to the crag. Like the Patagonia Cragsmith above, it features 45 liters of capacity and a full-zip backpanel for easy access to your quickdraws, shoes, rope, and more. Mammut also added two zippered pockets on the backpanel flap for improved organization, as well as a pair of internal gear loops, an integrated rope bag, and an external pocket on the lid. And for long approaches or particularly heavy loads, the Neon Gear's aluminum frame offers some of the best support here (the Patagonia Cragsmith uses a well-padded backpanel instead). It all adds up to a highly capable crag pack from a trustworthy brand—and at a very affordable price to boot.
However, while the Neon Gear beats the Cragsmith in terms of price ($160 vs. $199) and suspension, we prefer the Cragsmith for a few key reasons. For one, Mammut's pack is slightly less robust with a 420-denier ripstop nylon body (Patagonia's nylon is 630D). Second, although both models are advertised at 45 liters, in practice we've found the Neon Gear to feel a bit smaller, and it doesn't help that Mammut forewent external straps for securing a rope (the Cragsmith has an adjustable strap on each side). And finally, the Patagonia pack comes in two sizes, while the Mammut is one-size-fits-all (not ideal for those with particularly large or small frames). But if it fits you well, the Neon Gear is a more affordable Cragsmith alternative and a well-built pack overall.
See the Mammut Neon Gear 45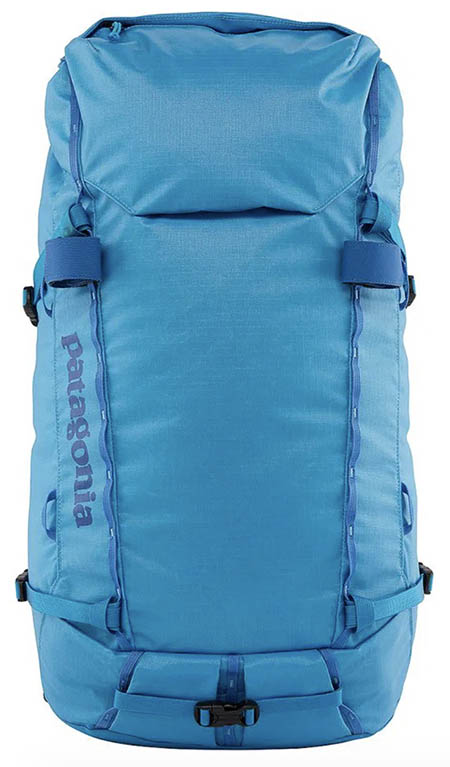 Category: Alpine
Weight: 1lb. 15 oz.
Capacities: 35, 55L
What we like: Lighter and more durable than the previous version, great all-rounder for multi-pitch climbs.
What we don't: Not as comfortable as the Osprey Mutant or as streamlined as the Arc'teryx Alpha FL.
The Patagonia Ascensionist is designed with both the approach and climb in mind, so it's no surprise that it transitions almost seamlessly between the two. When loaded down on the hike, a rope strap and side compression straps allow you to attach additional gear. Once you reach the climb, slide the pads off the webbing hipbelt, cinch the bag down tight, and you've got yourself a lightweight climbing machine. And at the belay, the Ascensionist hangs from its rear haul loop and allows one-handed access to the main compartment or top zippered pocket.
The Ascensionist was retooled last spring, with a lighter but more durable build (the new version is 420D vs. the old model's 210D), more secure ice-tool carry, and more customizable features throughout. One of our main gripes about the previous Ascensionist was its non-expandable collar, which Patagonia addressed with a tall spindrift collar in the new model that can accommodate varying loads. The result is an attractive all-rounder that resembles a streamlined version of our top-ranked Osprey but climbs even better (although we still prefer the Alpha FL). For those headed into the mountains on longer trips, the Ascensionist also comes in a 55-liter version built specifically for toting multi-day loads on the approach.
See the Patagonia Ascensionist 35L
Category: Alpine
Weight: 2 lbs. 2.1 oz.
Capacities: 40, 55, 70L
What we like: Lightweight and durable.
What we don't: Expensive and the closure system isn't user-friendly.
Dyneema is among the strongest fabrics in the world in terms of strength-to-weight ratio, resists moisture to an impressive degree, and is super lightweight. Suffice it to say, we generally trust packs that utilize this material. And the Dyneema 2400 (40-liter) Ice Pack is the most durable alpine option in our round-up, trumping even the Arc'teryx Alpha FL above and Exped Serac below. It also compresses better than both with a roll-top that gathers excess fabric and side straps that cinch the load close to the back. To top it off, aluminum stays, firm foam padding, and a padded hipbelt allow it to carry more comfortably than a pack like the Alpha FL.
At $510, the Ice Pack is the most expensive model on this list by far, and it does have shortcomings. Most notably, the closure system is overly complicated, with strong Velcro and multiple straps adding to the inconvenience of a roll-top. Furthermore, Dyneema lacks breathability: with no panel between the fabric and the back, you'll get sweaty in the summer heat (and have little buffer between you and your gear). For almost $200 less, you can opt for the less durable 50D/150D hybrid 2400 Ice Pack, but we'd go for a more breathable and easily accessible option on this list if budget is the major concern.
See the Hyperlite Dyneema 2400 Ice Pack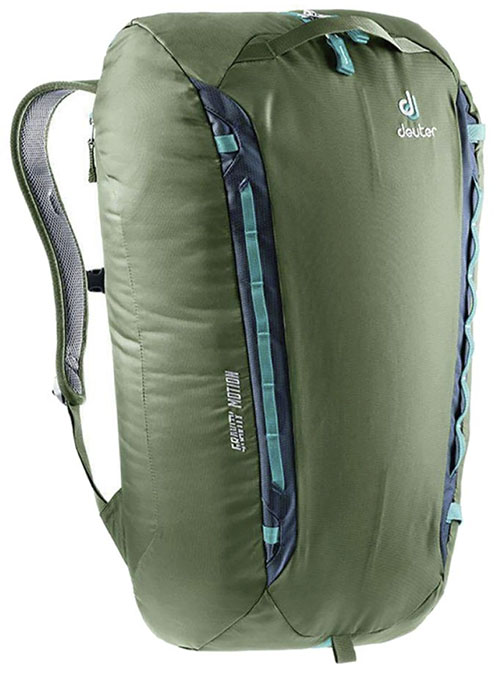 Category: Crag
Weight: 1 lb. 8.7 oz.
Capacities: 35L
What we like: Great organization for both the gym and crag.
What we don't: No hipbelt and too small for most ropes or trad racks.
Deuter is no stranger to pack design, and their Gravity Motion is purpose-built to meet the needs of most modern-day sport and gym climbers. Whether you climb indoors, outdoors, or transition between the two, this versatile backpack/duffel looks and plays the part in either environment. Organization is exceptional: you get a full-length zipper down the middle of the backpanel for convenient access to the main compartment, as well as an internal valuables pocket and two full-length side pockets. Finally, removable straps attach to the pack's external daisy chains to secure bulkier items like a lightweight camp chair or yoga mat.
That said, while we love the Gravity Motion for daily commutes to the gym or weekends at the local crag, its design is fairly limited otherwise. Most glaringly, you get an adjustable sternum strap but no hipbelt, which isn't great shuttling for heavy loads or tackling long approaches. If you're looking for an outdoor-specific hauler, we'd point you instead to larger, more supportive, and more durable designs like the Patagonia Cragsmith or Metolius Crag Station above. But for only $100, the minimalist Gravity Motion is a much more suitable choice for small loads or indoor-only adventures, and it can pull double duty for weekend getaways too.
See the Deuter Gravity Motion  See the Deuter Gravity Motion SL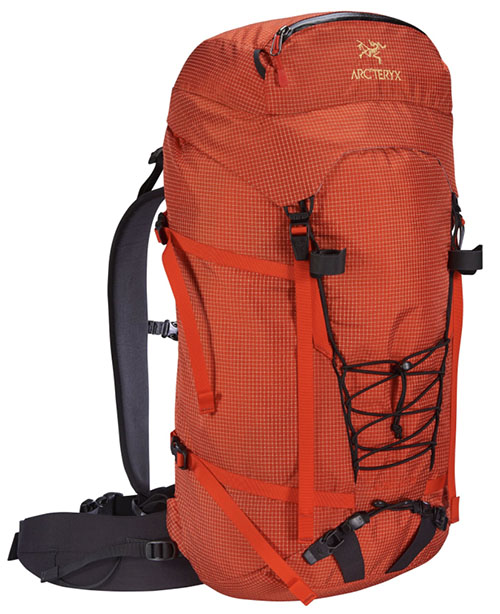 Category: Alpine
Weight: 2 lbs. 9 oz.
Capacities: 35, 55L
What we like: More comfort and convenient features than the Alpha FL.
What we don't: Not as durable as the Osprey Mutant.
Cutting-edge alpinists across the world laud the Arc'teryx Alpha FL for its no-frills, lightweight build that climbs like an extension of the body. For climbing technical rock or ice with a 30-plus-liter pack, it simply doesn't get much better. But the FL leaves a lot to be desired in terms of comfort, convenience, and capacity, and not all alpinists need that superb climbability. Enter the Alpha AR 35, Arc'teryx's "all-round" climbing backpack. With a larger feature set than the FL, including a lid, padded hipbelt, and side compression straps, the AR offers increased organizational options and is much more capable when weighted down. Further, the framesheet and lid are removable, giving the pack the versatility needed for both the approach and the climb.
The Arc'teryx Alpha AR is over a pound heavier than the FL and does not have a streamlined, torpedo-like shape that lends itself so well to technical climbing. In fact, it's more similar to our chart-topping Osprey Mutant both in versatility and comfort. Both packs clock in at similar weights and capacities, prioritize padded suspension systems for comfort on the approach, and feature a nice assortment of internal and external storage. But the Osprey is cheaper than the Arc'teryx and gets the slight edge in terms of durability with its 420-denier base (the Alpha AR's nylon is 315D). Take note: the AR also is available in a 55-liter version (great for overnight missions) that's comparable in price to the Mutant 52 but slightly lighter ($200; 2 lbs. 14 oz.).
See the Arc'teryx Alpha AR 35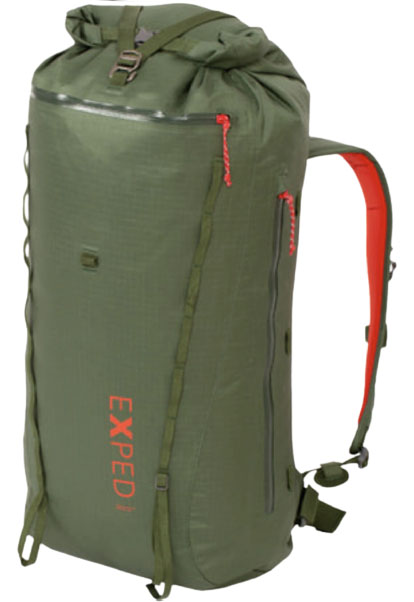 Category: Alpine
Weight: 1 lb. 13.8 oz.
Capacities: 25, 35, 45L
What we like: Better organization than the Alpha FL above.
What we don't: Heavier than the Alpha and some climbers won't need the winter-specific features.
The Exped Serac 35 goes head-to-head with our top alpine climbing pick, the Arc'teryx Alpha FL above. Both packs have a similar waterproof build and highly streamlined design with minimal padding and just a few organizational features. However, with a 420-denier fabric, the Serac is slightly more robust than the Alpha FL (400D), and we also appreciate the added durability of the pack's mostly metal hardware. You do pay a weight penalty (7.8 oz.) with the Exped, but in return get slightly more volume and a few additional features, including side-zipper access to the main compartment, a generously sized front zip, and a top strap that can compress the pack even smaller than its 35-liter body. 
For all but the most weight-conscious of climbers, we think the Exped is worth it for the added organizational features. However, whether you go with the Alpha FL or the Serac, it's important to recognize the limitations of such a minimalist design. The Exped is only rated to carry 31 pounds, compared to the 50-pound capacity of the Osprey Mutant above (Arc'teryx doesn't list a load limit for their pack, but we'd estimate it's similar to the Exped). But the pared-down build is ideal for fast-and-light approaches and on-route climbing, making the Serac a top choice among alpinists. And importantly, the Serac is a great crossover option for skiers too, with a dedicated carry system and ample room in the front pocket for items like skins or a shovel blade.
See the Exped Serac 35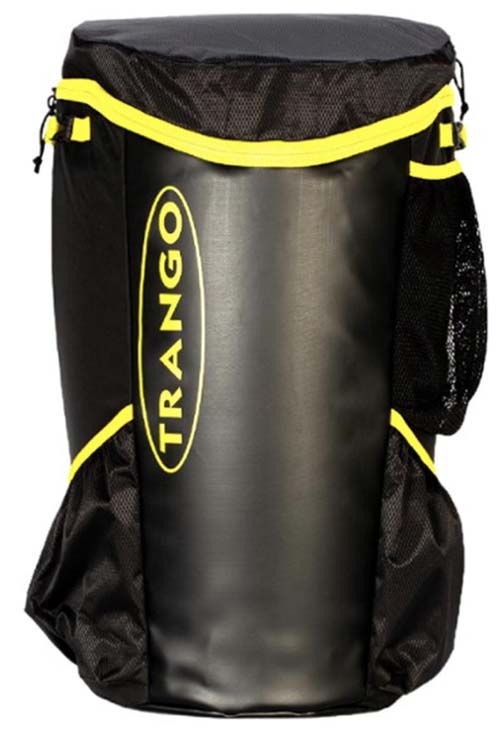 Category: Crag
Weight: 3 lbs. 2 oz.
Capacities: 45L
What we like: An affordable pack with convenient, crag-specific features.
What we don't: Not as well made as the Black Diamond Creek 50.
For the everyday cragger in need of a high-capacity bag, the Trango Crag Pack 2.0 manages to cram a whole lot of features into a $120 package. A small removable tarp extends from the pack to keep your gear clean, a large external pocket fits a guidebook nicely, and an external mesh pouch can store sweaty climbing shoes. Further, the tapered, upright design—similar to that of the Black Diamond Creek 50—makes loading and unloading gear quick and painless. And with a recent upgrade, the Crag Pack got significantly more durable 1,000-denier fabric, and even features a handy micro-fiber pocket for your phone.
Unlike the Creek 50, Trango's model uses a top zipper closure instead of a drawstring and buckle. In our opinion, this wasn't the best choice: the durability and ease of use of a drawstring closure far surpasses the top zip. Furthermore, the zipper closure leaves the Crag Pack with no way of compressing down when only half full, which can leave a lot of empty and awkwardly-distributed space. But if you want a durable pack that can carry all your gear for way less than the $210 Creek 50, Trango's Crag Pack 2.0 is a nice budget option. 
See the Trango Crag Pack 2.0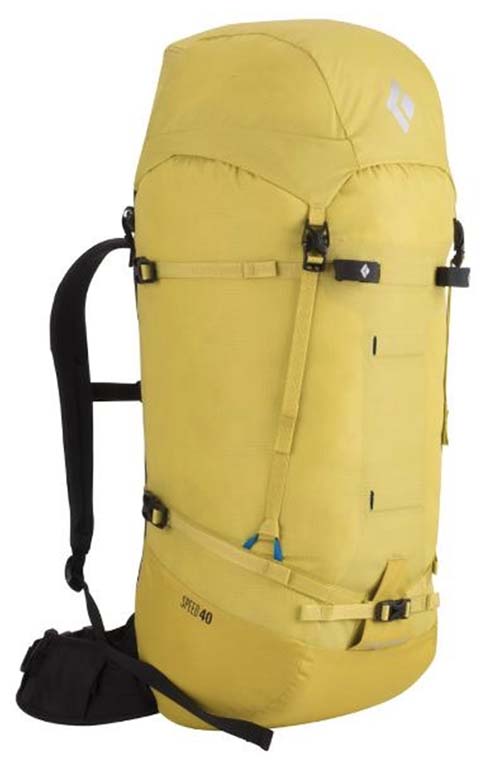 Category: Alpine
Weight: 2 lbs. 8 oz.
Capacities: 22, 30, 40, 50L
What we like: Comfortable, relatively affordable, and has a protective crampon patch.
What we don't: Not as lightweight or waterproof as other alpine packs here.
Black Diamond's Speed is a jack of all trades, but master of none. The good: it's relatively affordable and comes with all the features you'll need for rock climbing, ice climbing, mountaineering, and even skiing. In fact, we like the reinforced crampon patch and ice tool attachments better than most. And like many alpine packs, the Speed is made to comfortably carry a heavy load on the approach and then strip down (shedding almost a pound) for the climb. 
What are the downsides of the Black Diamond Speed 40? At 2.5 pounds, it's certainly not our top choice for fast-and-light missions, and given the lack of DWR finish, the fabric won't keep your gear dry in a rainstorm like other alpine packs. Further, the Speed is lacking internal organization—if you choose to remove the lid, it's nice to have at least one small pocket for convenient access. But aside from these minor gripes, the Speed is a moderately priced pack that may surprise you with its comfort. And if you're carrying heavier loads, we recommend taking a look at BD's Mission pack, which features SwingArm shoulder straps, a more expandable main compartment, and a burlier build.
Black Diamond Speed 40

Climbing Backpack Comparison Table
| Backpack | Price | Category | Weight | Capacities | Denier |
| --- | --- | --- | --- | --- | --- |
| Osprey Mutant 38 | $170 | Alpine | 2 lbs. 11 oz. | 22, 38, 52L | 210D & 420D |
| Black Diamond Creek 50 | $210 | Crag | 4 lbs. 7 oz.  | 20, 35, 50L | 1200D |
| REI Co-op Flash 18 | $40 | Follower | 9 oz. | 18, 22L | 140D |
| Arc'teryx Alpha FL 30 | $200 | Alpine | 1 lb. 6 oz. | 30, 45L | 400D |
| Patagonia Cragsmith 45L | $199 | Crag | 3 lbs. 12 oz.  | 32, 45L | 630D |
| CiloGear GS 3030 WorkSack | $239 | Alpine | 2 lbs. 13 oz. | 20, 30, 40, 45, 60, 75L | 1000D |
| Black Diamond Rock Blitz 15 | $60 | Follower | 14.2 oz. | 15L | 840D |
| Metolius Crag Station | $130 | Crag | 2 lbs. 10 oz. | 41L | Unavail. |
| Patagonia Linked 28L | $129 | Follower | 1 lb. 10 oz. | 28L | 940D |
| Mountain Hardwear Scrambler 25 | $140 | Follower/alpine | 1 lb. 14 oz. | 25, 35L | Unavail. |
| Mammut Neon Gear 45 | $160 | Crag | 3 lbs. 1.4 oz. | 45L | 420D |
| Patagonia Ascensionist 35L | $179 | Alpine | 1 lb. 15 oz. | 35, 55L | 420D |
| Hyperlite 2400 Ice Pack  | $500 | Alpine | 2 lbs. 2.1 oz. | 40, 55, 70L | 375D |
| Deuter Gravity Motion | $100 | Crag | 1 lb. 8.7 oz. | 35L | 420D |
| Arc'teryx Alpha AR 35 | $190 | Alpine | 2 lbs. 9 oz. | 35, 55L | 315D |
| Exped Serac 35 | $209 | Alpine | 1 lb. 13.8 oz. | 25, 35, 45L | 420D |
| Trango Crag Pack 2.0 | $120 | Crag | 3 lbs. 2 oz. | 45L | 1000D |
| Black Diamond Speed 40 | $190 | Alpine | 2 lbs. 8 oz. | 22, 30, 40, 50L | 210D & 420D |

Climbing Backpack Buying Advice

Types of Climbing Packs
Whether you're hiking five minutes to hang out at the crag for afternoon, taking 48 hours to ascend a towering granite spire in Patagonia, or free climbing at your limit with a day's worth of supplies, the right pack can make all the difference. To help, we've broken down our favorite models into three categories: crag, follower, and alpine.
Crag Pack
In general, cragging often means walking between five and 20 minutes and posting up in one location for the entire day. You'll not only need a pack that can carry all your gear and then some, but one that organizes it well too. Crag packs are designed with an emphasis on comfort, easy access, and durability. Some, like the Black Diamond Creek 50, have haul-bag-style bases for simple loading, while others like Metolius' Crag Station are designed with unique back or front openings for access to all your gear at once. Look for organizational pockets, comfy suspension systems, and even crag-specific features like built-in rope tarps, gear loops, or guidebook compartments.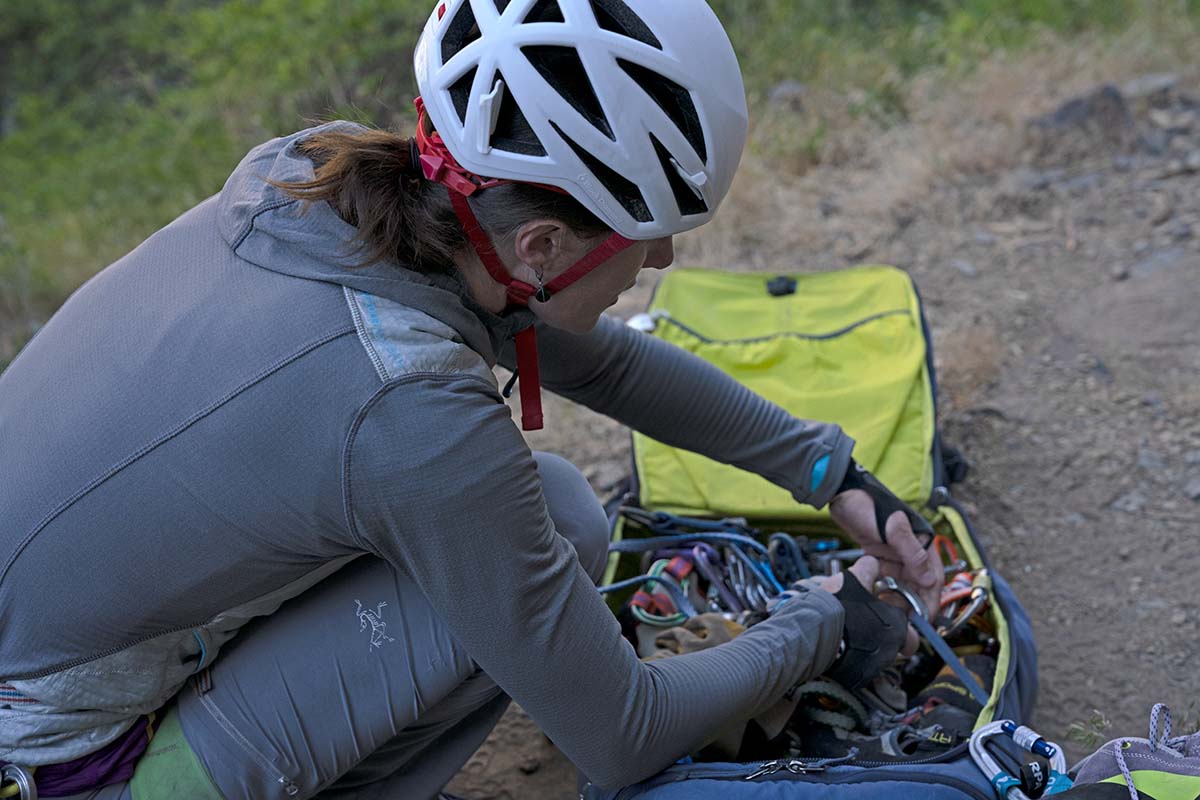 Most crag packs carry 40 to 50 liters, so you can fit a double rack, your down jacket, and maybe even a couple of post-send beers. Ideally, you should be able to fit all of your day's gear inside the bag. While carrying a rope and ice equipment on the outside of your alpine pack makes sense for mountain expeditions, there's no reason to deal with that sort of inconvenience at the crag. Get a pack that can swallow all of your gear easily without needing to stuff all the nooks and crannies or dangle things on the outside. And if you don't carry trad gear, you can likely get away with a lower-volume bag.
Follower Pack
Follower packs are designed to carry a day's worth of supplies—water, food, sunscreen, extra layers, etc.—while accompanying you on a multi-pitch route. But buyer beware: "follower pack" sometimes can be a misnomer. Most parties will climb with one 16-to-30-liter pack (carried by the follower), although the leader often will carry a small pack as well on overnight or alpine routes. Others who are free climbing long routes at their limit might choose to haul their "follower" pack rather than climbing with a bigger load.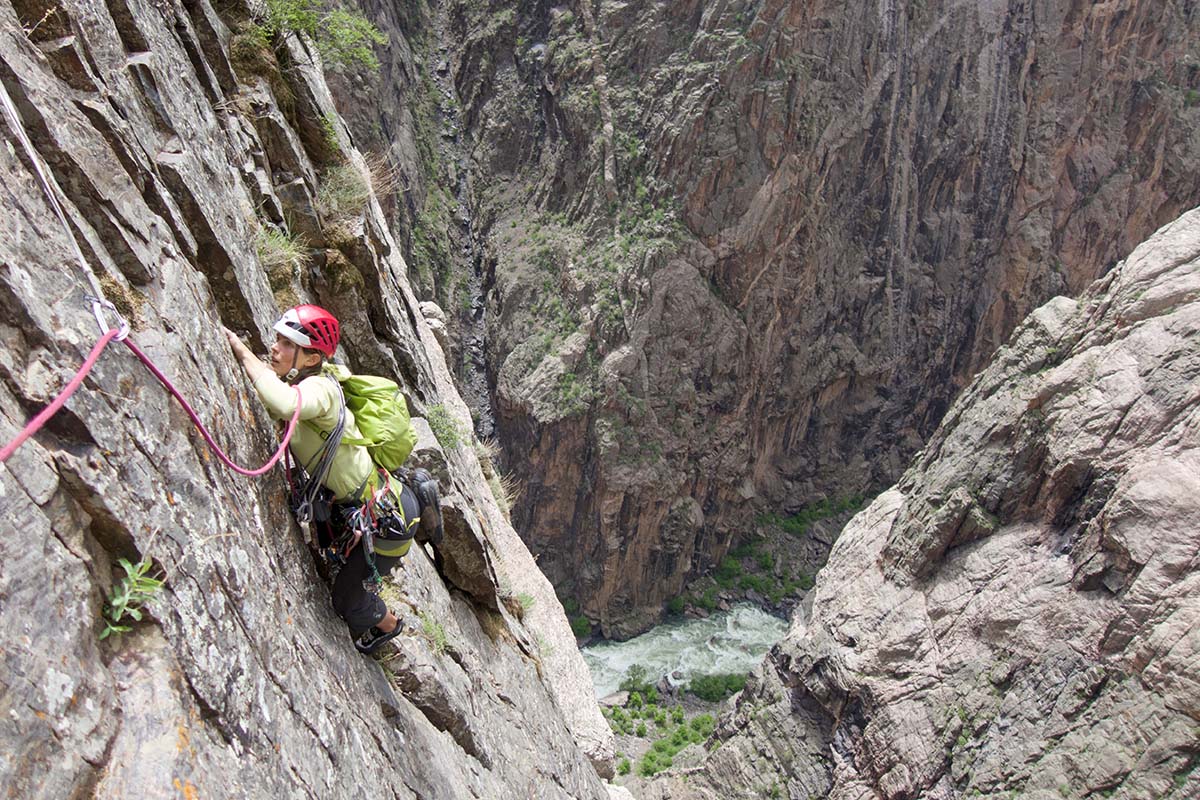 Follower packs are identified by their small capacity—generally between 16 and 30 liters—and have features like easy-to-access exterior pockets, reinforced haul loops, streamlined webbing hipbelts (or no hipbelt at all), and one-handed top drawstrings for quick retrieval of gear at the belay. Some are made with a focus on low weight and packability, while others (like Patagonia's Linked Pack) are made with high-denier fabrics for durability while scraping through chimneys or being dragged up thousands of feet of coarse granite.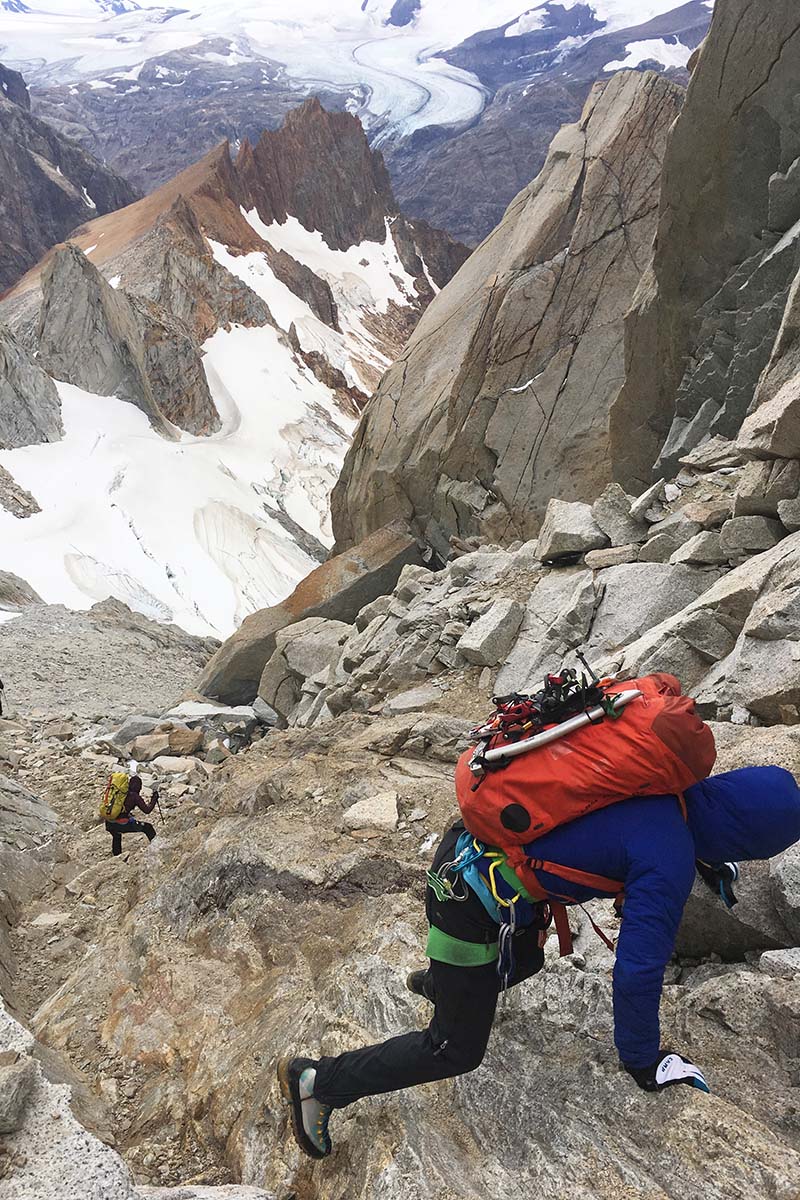 Alpine Pack
When it comes to alpine packs, the focus is less on comfortable suspension systems and organizational features and more on weight savings and versatility. Because an alpine pack needs to be useful for both hiking and climbing, most have the ability to streamline, including features like removable lids, hipbelts, and compression straps (for more, see our section on "Streamlining Your Pack"). Some also come with shock cords or accessory straps for securing crampons, ice axes, or other bulky gear to the outside so you can hike with a massive load and strip down to a tight pack for the climb. 
Alpine packs range from 30 to 60 liters, and most climbers will err on the smaller side to avoid added ounces and poor weight distribution. In general, stay in the 30-liter range for a day trip, 45 liters for an overnight, and 60 liters for multi-night trips when you're carrying many days' worth of supplies into basecamp. And be sure to pay attention to load limits—they're crucial for comfort on the trail. It's surprisingly easy to overload an alpine pack with a rope, ice tools, crampons, and climbing helmet, but hiking with 40 pounds of gear in a pack that's only designed to carry 30 soon will feel severely strenuous. 
 
Weight
When it comes to gear you're carrying on your back, weight matters. That said, it's much more of a concern when you're climbing 2,000 feet of 5.10 in a day compared to a five-minute walk to the crag. Because of this, crag packs sacrifice a bit of weight-saving for organizational features, comfort, and durability, while follower and alpine packs shave off heavy fabrics, pockets, and cushy suspension systems to be fast and light. As always, be aware that there are sacrifices when shaving weight. If minimizing ounces is not your top priority, you should consider the slightly heavier, more durable, and more comfortable options.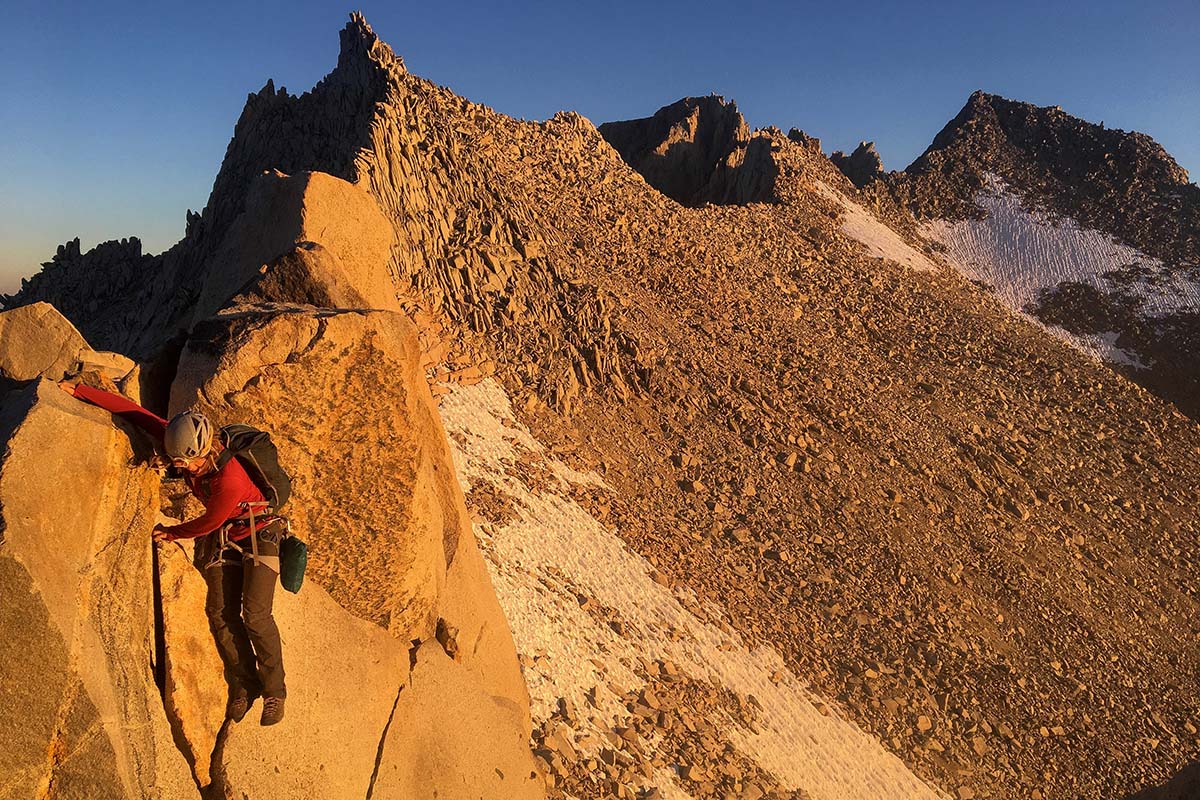 Capacity
In general, our three categories above provide general guidelines for capacities: follower packs are about 16 to 30 liters, crag packs are in the 40-to-50-liter range, and alpine packs anywhere from 30 liters for a day mission to 60 liters for a week. It's important to think about what you intend to stuff inside—a pack that's too small won't fit your necessary gear, but a half-empty pack is a waste of material and likely won't evenly distribute your load. We'd rather err on the side of too large for a crag pack, but prefer our alpine packs to be fully stuffed, even with gear attached to the outside. This is one reason we really like Arc'teryx Alpha FL 30—it's a 30-liter pack with the ability to fit 37 liters when the need arises.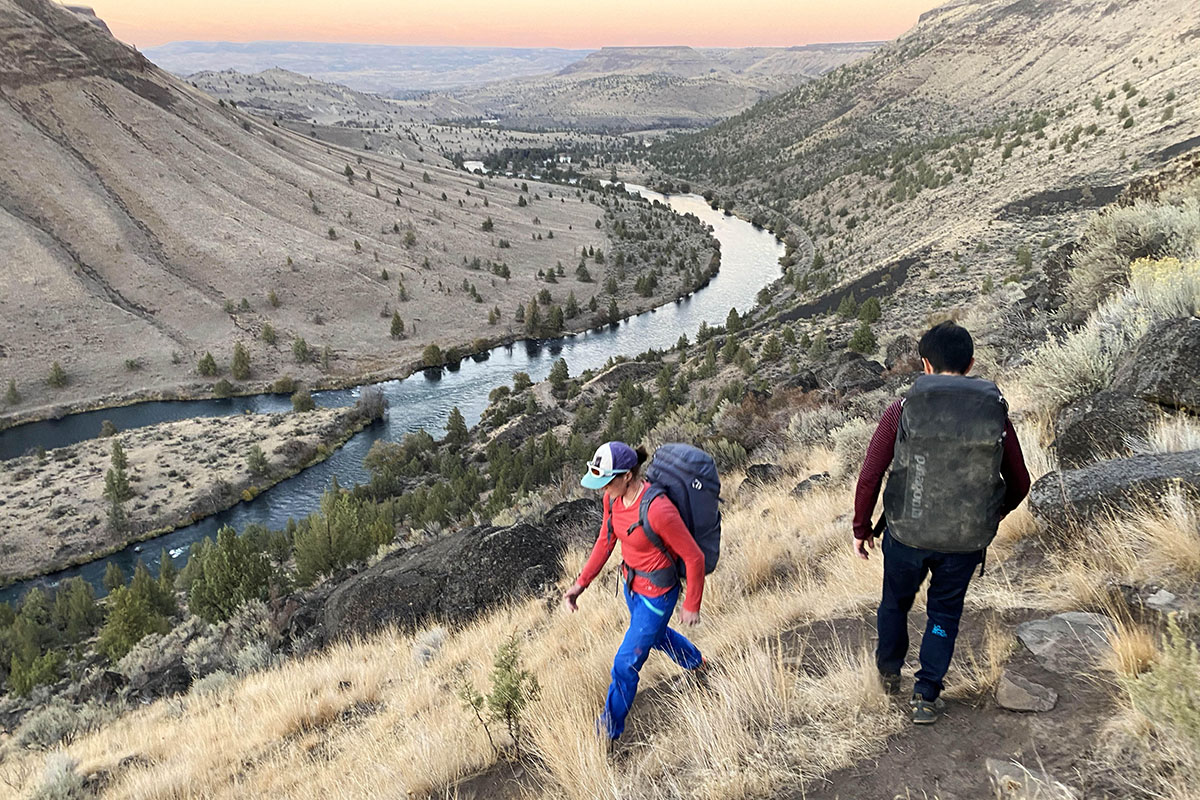 Fabric and Durability
Durability always is a consideration when it comes to outdoor gear, but it matters even more when it comes to items that are constantly dragged across rock and dropped on uneven surfaces. While some climbing packs are designed with an emphasis on durability, others sacrifice a bombproof exterior to shave weight. The materials used to construct any given pack will help you determine if it suits your purposes: the 140-denier nylon of the REI Flash 18, for example, makes it a clear choice for a lightweight bag, but it will shred quickly when hauled up rough rock. The Patagonia Linked Pack, on the other hand, is made of burly 940-denier nylon, which is perfect for hauling but almost 10 ounces heavier (and far less compressible) than the Flash.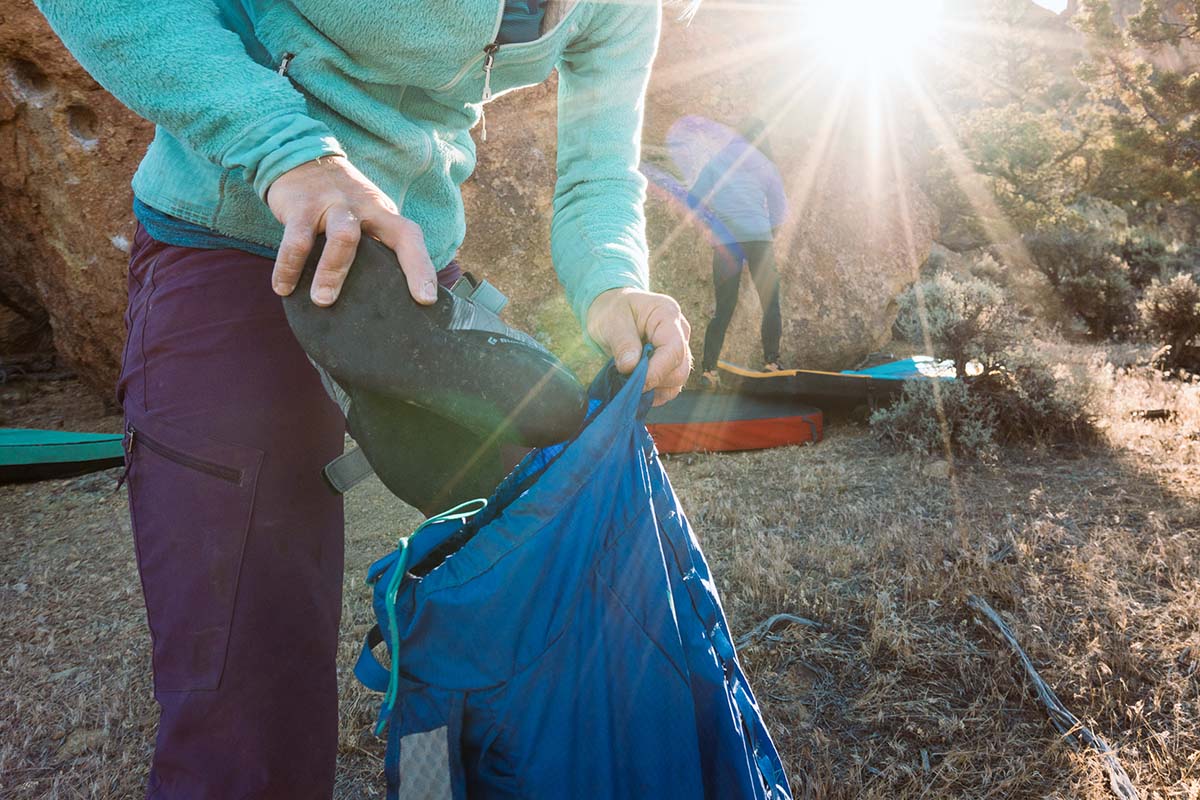 Because rock climbing generally is a fair-weather activity, most of the packs here are not made to be highly water-resistant or waterproof. Those who climb in the mountains, however, might find value in a more protective pack. Arc'teryx's Alpha FL and the Hyperlite Dyneema 2400 Ice Pack, for example, are made with waterproof or highly water-resistant materials.
 
Carrying Comfort
The three types of packs will also often vary significantly in terms of carrying comfort. For the most part, regardless of the pack, you'll want your load to rest mostly on your hips rather than your shoulders. Crag packs often have fully padded hip belts, comfortable shoulder straps, and a cushy backpanel that should be able to handle a full load with ease. You can get away with added bulk and weight when you're only hiking short distances, and will probably find that your load actually feels lighter with the beefy suspension. There's really no reason not to crag in comfort.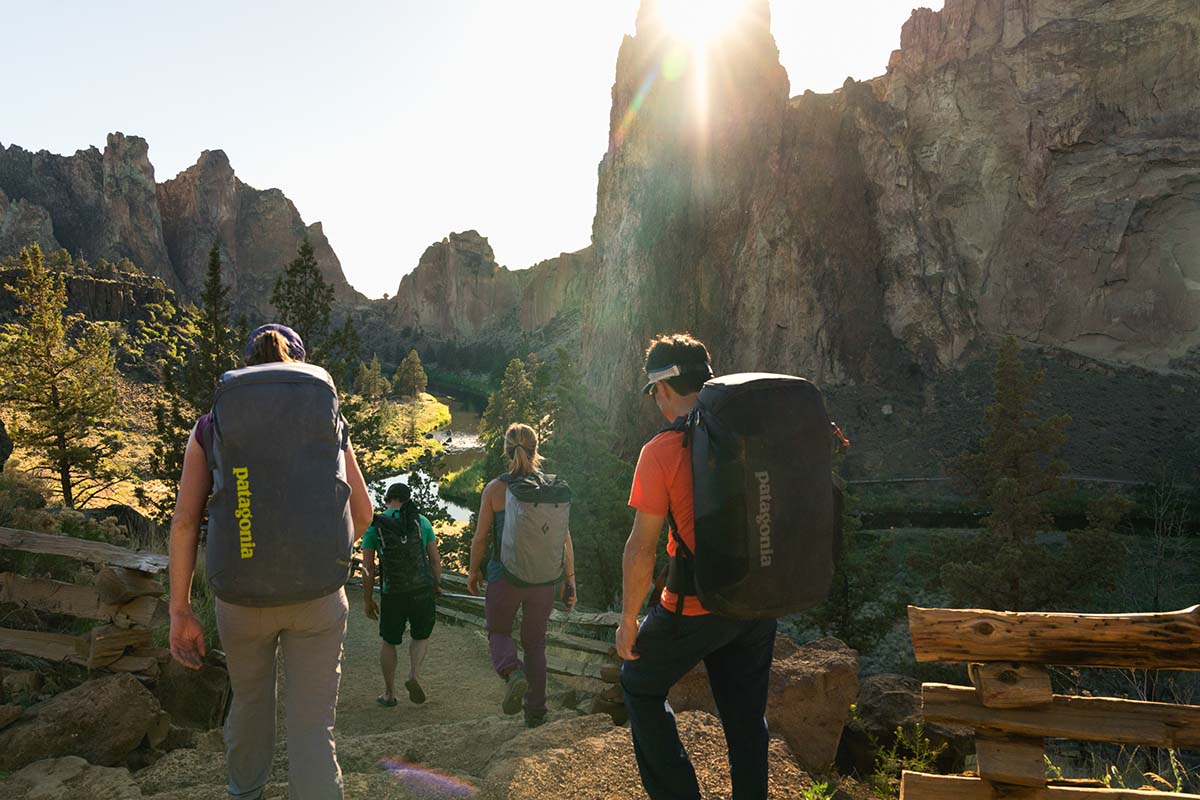 On the other hand, many alpine and follower packs will forgo padding—on the hipbelt and backpanel in particular—for a more streamlined and lighter design. Some maintain a higher level of comfort than others: the Osprey Mutant 38, for example, has a padded hipbelt and shoulder straps, while the Arc'teryx Alpha FL features just a simple webbing hipbelt. In terms of climbing with a pack on, many climbers prefer to have their small follower pack sit high on their back and out of the way of their harness rather than swinging low around their waist. All of the alpine and follower packs we feature have adjustable straps to cater to different body types and carrying preferences.
 
Closure Systems and Access
A pack's closure system is a great way to identify where it excels. Does it have a one-handed drawstring? It must be made for fast-and-light endeavors when retrieving items from your pack needs to be quick and easy. A U-shaped zip panel on the rear? Sounds like stellar organization at the crag. A removable lid with drawstring underneath? We're thinking this would make a great pack to load up for the approach and then strip down for streamlined carry on-route.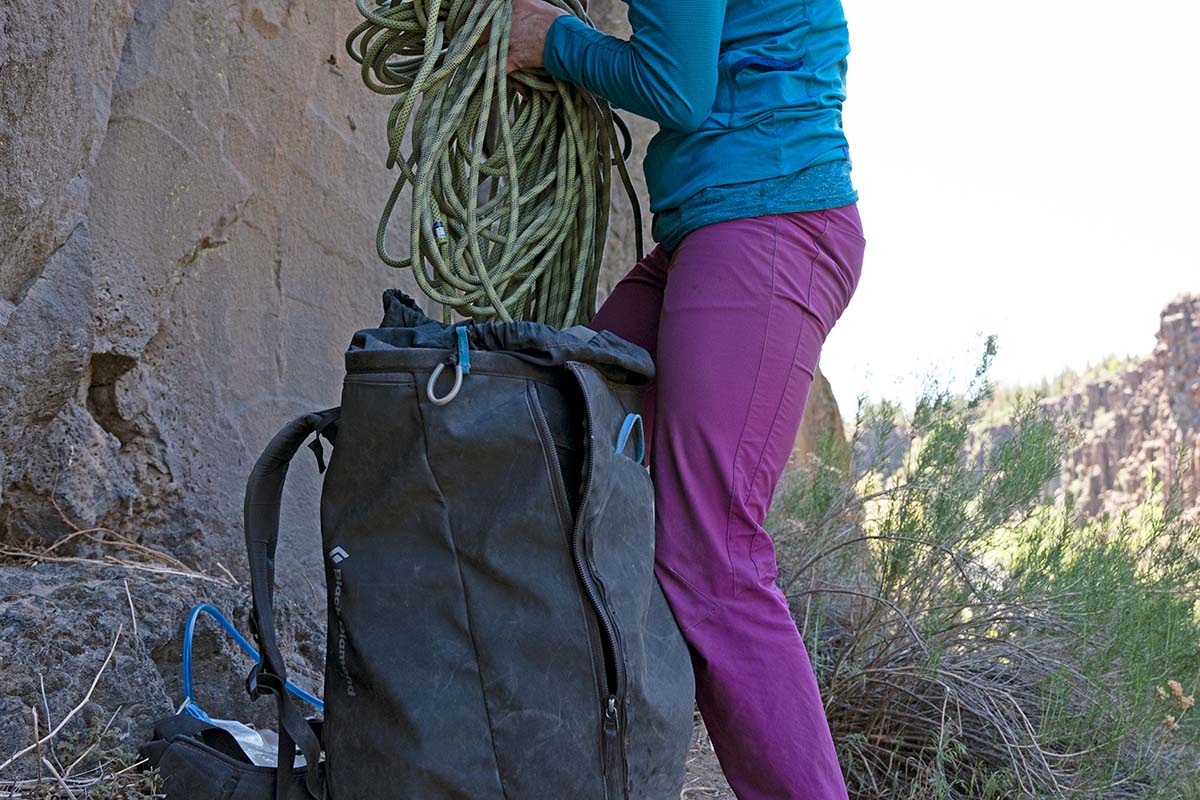 We see the most variation in access when it comes to crag packs, and this is no surprise to us. As we've mentioned above, convenience is the name of the game at the crag. Packs like the Patagonia Cragsmith and Metolius Crag Station are like traveling suitcases, designed to provide easy and organized access to your gear. Conversely, we'd find no need for the convenience of a duffel-style pack in the alpine. In fact, hanging from an anchor, we'd probably spill all our gear trying to open it.
 
Pockets and Organization
Again, we'll make a distinction here between crag and alpine/follower packs. At the crag, we'll gladly pay the price in weight and bulk for pockets of different sizes and unique loading and access. Among top-loading packs, duffel-style bags, and full U-shaped panels, it's generally personal preference. Some crag packs come with built-in gear tarps, and others have internal loops for organizing your gear. Because the approach is shorter, you don't really need pockets on your hipbelt like you might want on an alpine pack (we think the Patagonia Cragsmith's design is overkill in this respect).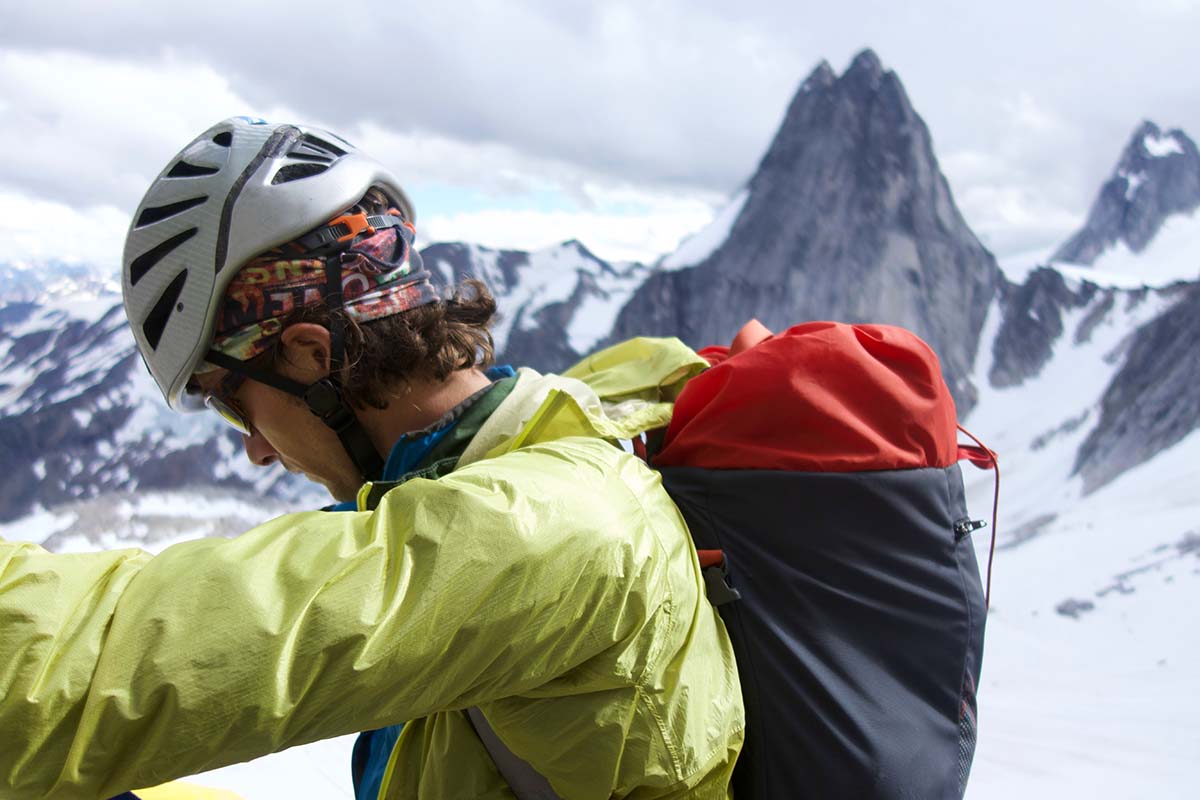 When it comes to long approaches or climbing with a pack on, climbers are willing to make all sorts of sacrifices in the way of organization shave weight and bulk. Most alpine or follower packs have just one small zippered pocket, inside or out. It might seem too small to be useful, but it's not. Having quick access to your headlamp or a bar is much better than digging around in the depths of a 40-liter pack at the belay. That said, be wary of zippered pockets on the body of the pack, like that of the Arc'teryx Alpha FL. These pockets are extremely difficult to access while the pack is loaded and cinched down.
 
Exterior Gear Attachment
Attaching gear to the outside of a pack can quickly go from organized to completely chaotic, so be careful what (and where) you attach. Generally, alpine climbers will carry an overloaded pack on the approach so that once harness, climbing shoes, helmet, rope, rack, and draws have been removed, the bag isn't unwieldy and oversized on the climb. Most alpine-specific packs come with daisy chains, rope straps, accessory straps, and ice tool attachments for this very reason. Many follower packs also have multiple gear attachment points, which is handy if you're climbing in Squamish and walking off the summit of the Chief with all your gear. It's our opinion that once on-route, you should not be climbing with a heap of gear dangling from your pack.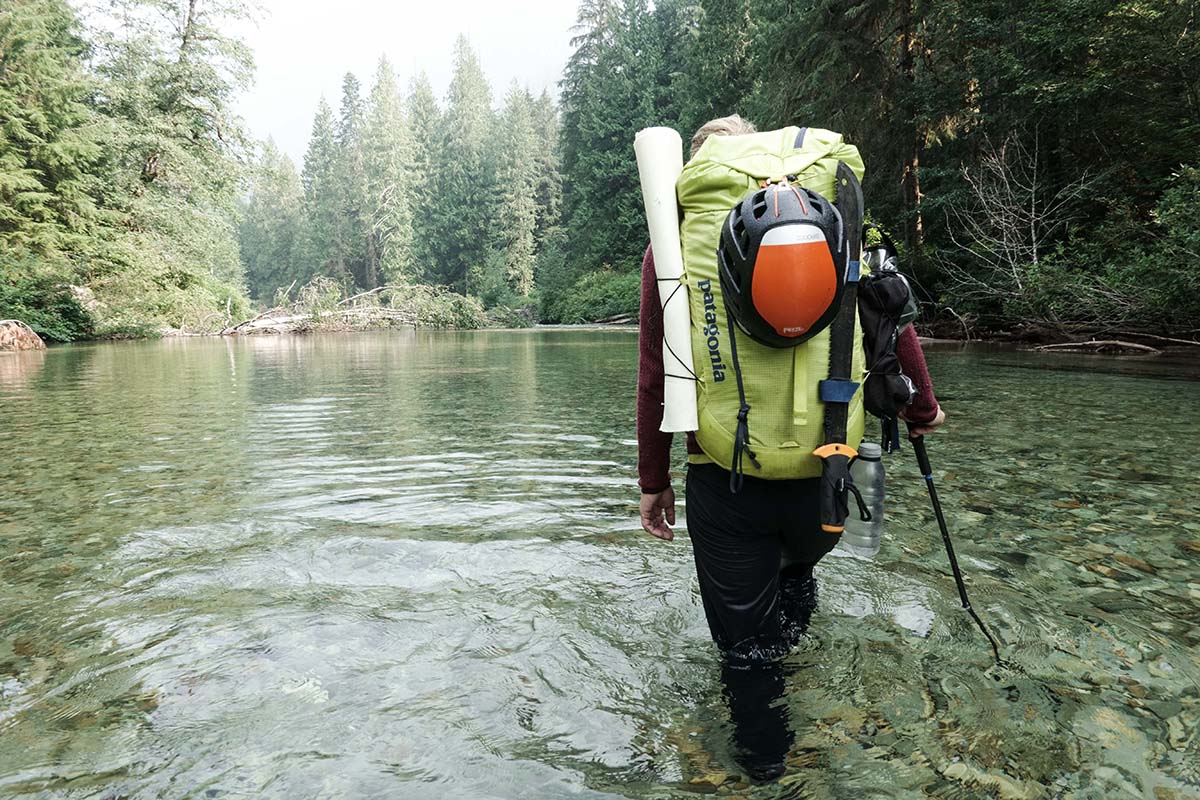 In terms of crag packs, we strongly recommend finding one that can accommodate all of your gear in the inside compartment. Being able to throw everything into a pack allows faster loading and a more comfortable carry. But in the event that you need to hang a tag line or #6 cam from the outside, most crag packs come with a few external attachment points.
 
Haul Loops
If you're hauling your pack up a climb or hanging it from the anchor at a belay, you'll want to make sure that it has a strong attachment point. Many climbing-specific packs are made with reinforced haul loops for this very purpose. The Patagonia Linked 28L outperforms the rest of our top picks in this department, with large handles that easily meet over the contents of the pack, providing two separate points of attachment for added security. If a pack just has one haul loop—especially if it's not reinforced for hauling (like that of the REI Flash 18)—we recommend looping a carabiner through both the haul loop and a shoulder strap. Two points of contact—or in climber speak, "redundancy"—is the standard when it comes to safety in the vertical realm.
 
Hydration Compatibility
We don't mention hydration compatibility much in this article, and we have our reasons. For one, craggers likely won't need to have water on the go during their short commute to the crag. Further, when it comes to follower packs, we don't recommend climbing with a hydration reservoir's tube hanging out of your pack. It can get scuffed on the rock or get in your way while you're reaching for the next hold. And as for alpinists, most climbers we know choose not to weigh their pack down on the approach with liters of water, instead attaching a small .5-liter bottle to the outside of their pack with a carabiner and filling up beside the trail throughout the day.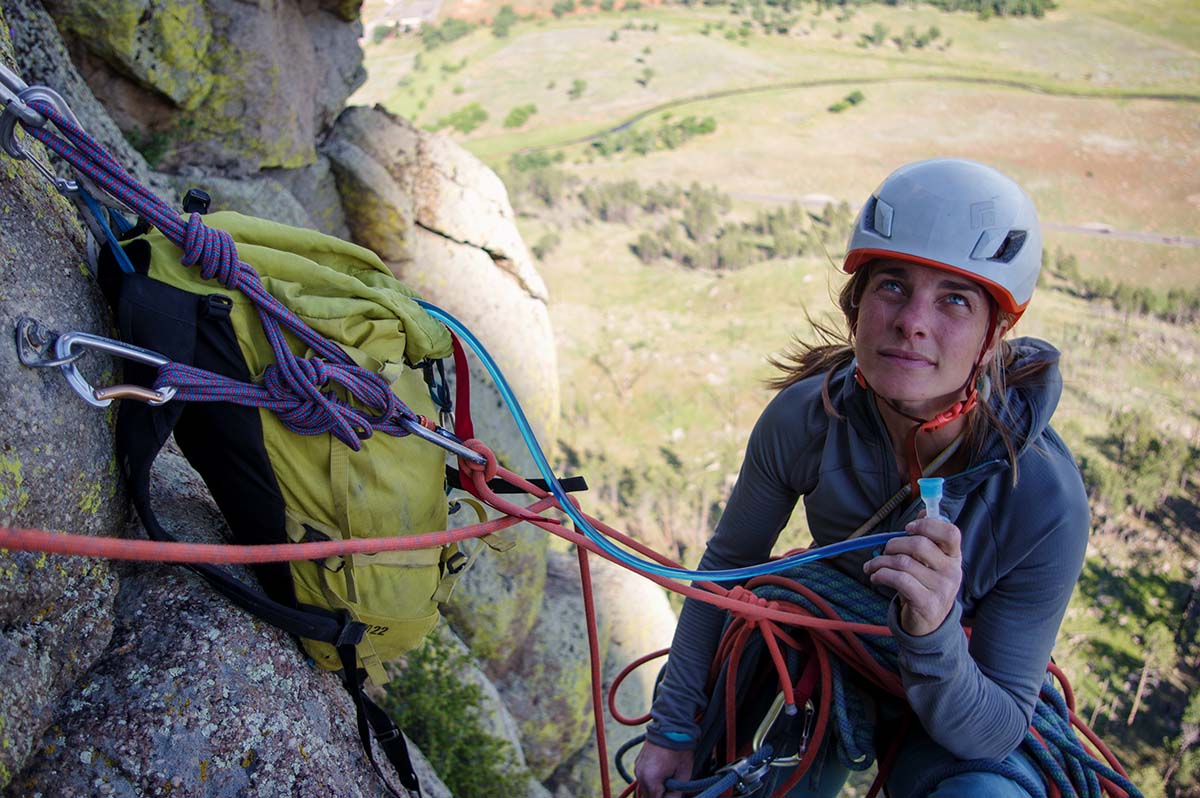 That said, there certainly are times when it's nice to have constant access to water via a hydration reservoir. In fact, most alpine and follower packs in this article are hydration-compatible, with the exception of just a couple. And crag packs are a different story—none on our list have a dedicated spot for a reservoir.
 
Streamlining Your Pack
Many climbers—especially those headed into the mountains or up a long multi-pitch route—will want a pack with the ability to shed unneeded weight and bulk. Most of the alpine packs here have features like removable straps, lids, hipbelts, framesheets, stays, and more. These components allow a pack to carry more gear on the approach, and then strip down to bare bones for the climb. Essentially, you'll want your alpine pack to look like a follower pack when you take it on-route: webbing hipbelt, no lid, and nothing more than a light backpanel/bivy pad for suspension. It will not only climb better, but also will be much lighter. Incredibly, a pack like Osprey's Mutant 38 can go from weighing 2 pounds 11 ounces when fully featured to 1 pound 13 ounces when stripped.
Back to Our Top Climbing Pack Picks  Back to Our Climbing Pack Comparison Table
Learn More About Climbing