Getting a new bike is a big deal no matter your age, but it's a particularly exciting event for kids. To help navigate the landscape, below we break down our top kids' bikes, which range from toddler-sized balance bikes to knobby 24-inch models made for adventurous pre-teens. Our favorite designs include everything from high-performance models for fast learners to tried-and-true options from well-respected brands like Trek, Strider, and more. If you're needing any background information on considerations like wheel size and weight, see our comparison table and buying advice below the picks.

Best Balance Bike for Toddlers and Kids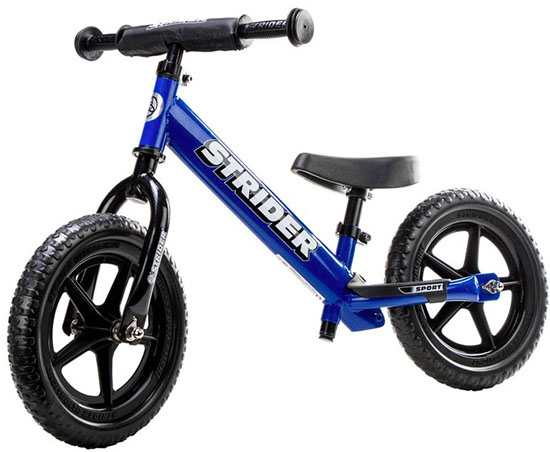 Category: Balance bike
Age range: 1.5 to 5 years
Wheel size: 12 in.
What we like: Affordable price and fits a wide range of heights and ages.
What we don't: Foam tires don't provide much cushion or traction.
For getting a toddler or young kid on two wheels, it's hard to beat a balance bike, and our top pick is the Strider 12 Sport. This popular model combines ease of use, long-lasting materials, and a reasonable $110 price tag. Set-up is quick and simple, the seat and handlebars are adjustable enough to fit most kids between approximately 1.5 and 5 years of age, and its foam tires can't go flat and require zero maintenance. Finally, all the parts have a sturdy feel, and the steel frame should hold up to rough use. Available in a wide range of colorways, the Strider checks all the right boxes for a first bike.
Strider isn't the only well-made balance bike around, and one premium alternative is the Woom 1 (included below). For another $90, you get a rear hand brake, which teaches proper technique from an early age and makes transitioning to a pedal bike even easier. The air-filled tires are also a nice upgrade over the Strider's hard foam, as they do a better job absorbing bumps. That said, you're adding additional maintenance and parts that can need repairs—not to mention the higher initial investment. In the end, both are great options, but we prefer to save a little and stick to the basics with the Strider.
See the Strider 12 Sport
Best First Pedal Bike for Kids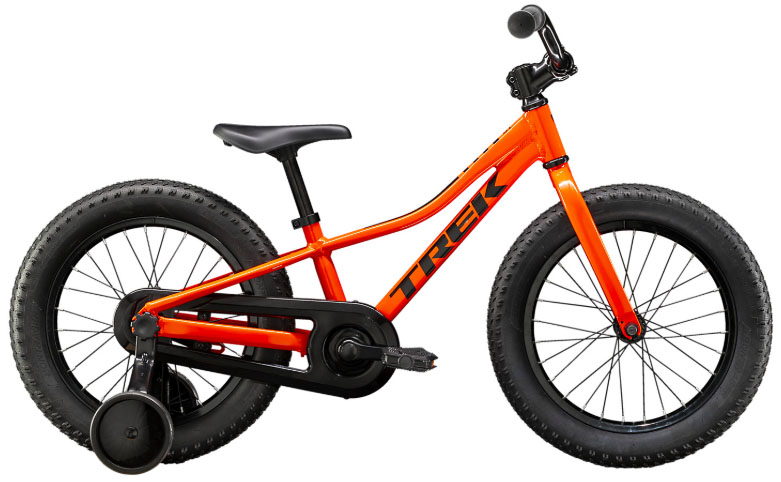 Category: Recreational
Age range: 4 to 5 years
Wheel size: 16 in.
What we like: Low standover height and easy gearing.
What we don't: Some parents may wish for a hand brake to teach proper technique.
Wisconsin-based Trek is one of the largest bike companies in the world, so it should come as no surprise that they excel in the kids' market. And we think their Precaliber 16 (the "16" indicates wheel size) is a great match for 4- to 5-year-olds getting their first pedal bike. Here's why: the simple aluminum frame keeps weight down for easy handling, the lower-than-most standover height ensures trouble-free mounts and dismounts, and the included training wheels help with the transition to a larger size. And when they're ready to ride on two wheels, it's a quick and easy process to remove the trainers.
As with the Strider above, we've put a large emphasis on value for this age group. You can certainly spend up with an option like the Cleary below ($375), but many of those upgrades will go unnoticed, and the Trek is still a quality product that will last. Our one hesitation is that you don't get a handlebar brake with the Precaliber, which may be something to consider if your kid is a fast learner. Otherwise, the Precaliber is really nicely put together and includes thoughtful extras like a handle integrated into the back of the seat for helping an adult balance and push the bike. All told, it's our top choice in the 16-inch wheel size category.
See the Boys' Trek Precaliber 16  See the Girls' Trek Precaliber 16
Best 20-Inch Kids' Bike
Category: Recreational/mountain
Age range: 6 to 8 years
Wheel size: 20 in.
What we like: Industry-leading parts at a great price.
What we don't: Some may wish for more road-oriented tires.
REI's in-house bike brand, Co-op Cycles, consistently delivers a lot of bang for your buck. And their 20-inch Rev is a great case in point: for $339, you get powerful and easy-to-use disc brakes (something not commonly found on a kids' bike) and plus-size 2.6-inch-wide tires which provide gobs of traction and do a great job of soaking up bumps. In addition, the aluminum frame is light and tough, and the included 6-speed drivetrain is a smooth operator (although the grip shift might taking some getting used to). Tack on the convenience of being able to go into an REI store for questions and the peace of mind of their standout return policy, and the Rev 20 adds up to great all-around investment.
With its large and knobby tires, the Rev excels on dirt singletrack and gravel roads, but it isn't as efficient or fast on-road. If you're looking for a street cruiser instead, Cannondale's Quick 20 is a great option, although it can't match the value and premium components on the Rev. And for off-road duty, it's worth noting that Co-op Cycles opted not to equip the Rev with a front suspension fork for cushioning impacts. But the truth of the matter is that most suspension-equipped models in this category are lacking in performance, and the oversized tires will offer plenty of comfort and support for most 6- to 8-year-old riders.
See the Co-op Cycles REV 20
Best 24-inch Bike for Big Kids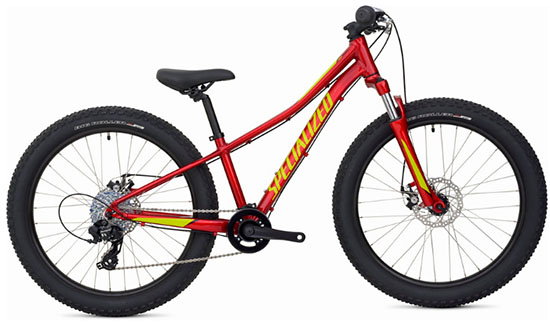 Category: Mountain/recreational
Age range: 7 to 12 years
Wheel size: 24 in.
What we like: Well-rounded design that's comfortable on- and off-road.
What we don't: Can't keep up with more capable bikes on challenging singletrack.
For a good number of kids, the 24-inch wheel size is when they start getting more adventurous and interested in tackling some singletrack. Specialized Riprock 24 is well-equipped for just that: with a front suspension and wide 2.8-inch tires, the bike nicely cushions impacts from small roots and rocks. In addition, you get reliable stopping from mechanical disc brakes, and the Shimano 8-speed drivetrain has a good range for exploring rolling hills. Importantly, the Riprock is still plenty comfortable on paved roads and for cruising the neighborhood, making it a nice all-in-one option.
Where the Riprock comes up short is for an aggressive rider that's already starting to push their limits with dirt jumps and small drops. If mountain biking is going to be a serious sport of theirs—and you're willing to make the corresponding investment—it may be worth upping the budget. Norco's Fluid 24 FS below is an example of what a premium 24-inch bike can do: its full-suspension layout, hydraulic disc brakes, and dropper seat post make it a proper trail design. But in reality, the Norco is tailored for a small number of kids, and most pre-teens will be plenty happy with the Riprock.
See the Specialized Riprock 24
Best of the Rest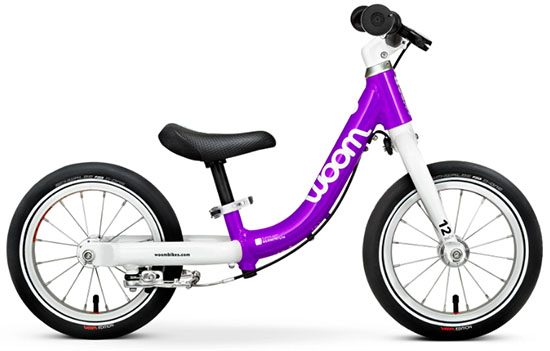 Category: Balance bike
Age range: 1.5 to 3.5 years
Wheel size: 12 in.
What we like: Rear hand brake teaches proper technique from an early age.
What we don't: Expensive for a balance bike. 
For a step up in quality from our top balance bike pick above, the Woom 1 is a nice choice for cycling-loving toddlers and families. Compared to the Strider 12 Sport, you get extras like a rear hand brake for teaching proper technique, a high-quality aluminum frame and parts that keep weight down, and air-filled tires for increased bump absorption and traction. The net result is a more comfortable and maneuverable balance bike.
What keeps the Woom from taking our top spot? For starters, the $200 price tag is likely more than most casual bike-riding parents are wanting to spend. Secondly, the Woom's seat is far less adjustable than the Strider, which means it has a narrower height and age range. And finally, unless you're a family of dedicated cyclists, the upgrades described above likely won't be used to their fullest. While we love the smart design and overall feature set of the Woom 1, it's just too much bike for many beginners.
See the Woom 1 Balance Bike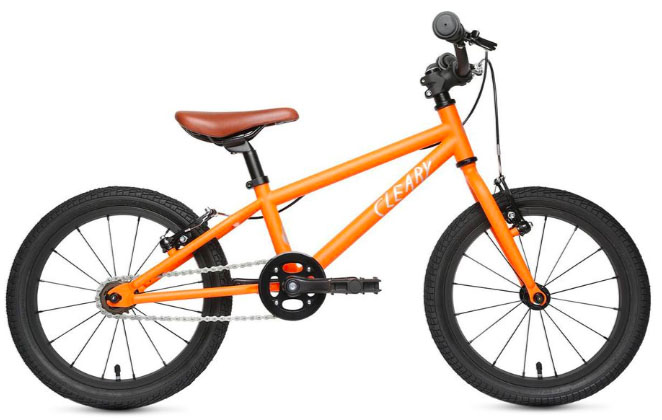 Category: Recreational
Age range: 4 to 5 years
Wheel size: 16 in.
What we like: High-quality components and lightweight build.
What we don't: Pricey for a bike that won't be ridden for long. 
California-based Cleary Bikes does one thing: design and build kids' bikes and associated gear. This narrow focus and high level of expertise means their products are among the best on the market (plus, they have a standout website that makes it extremely easy to select the proper size). For preschool-age kids, we particularly like their 16-inch Hedgehog. The bike is well-appointed with front and rear hand brakes, air-filled tires, and a lightweight yet stable build—all of which help optimize speed, comfort, and control. Compared to the Trek Precaliber 16 above, the Hedgehog is the more capable ride and a better choice for families who spend a lot of time riding bikes.
What are the downsides of the Hedgehog? The most obvious is cost: at $375, it's undeniably expensive for a 16-inch kids' bike. Given the relatively narrow fit range (intended for kids 3'5" to 3'10" tall), there's a good chance you'll only get a season or two out of it. Moreover, many of the bike's nicer components will be lost on a less-than-committed little cyclist, and the Hedgehog doesn't accept training wheels, which poses problems for hesitant riders or those just starting out. If you have plans to hand it down through multiple children or just want a quality offering, the Cleary is a great choice—plus it comes with a lifetime warranty—but most will be better off saving with the Trek above.
See the Cleary Bikes Hedgehog
Category: Recreational
Age range: 5 to 8 years
Wheel size: 20 in.
What we like: Reasonably fast-rolling tires and a front suspension.
What we don't: Downgraded parts compared with the Rev 20 above.
Like's Co-op Cycle's Rev 20 above, Cannondale's Trail 20 hits a really nice middle ground of price and performance for up-and-coming riders. The bike is spec'd with proven components that are easy to maintain from brands like Shimano and Suntour, and the aluminum frame keeps weight in check. Plus, if your kiddo is starting to launch off curbs, jumps at the local pump track, or other small features, the 40-millimeter suspension fork offers a little extra squish for their landings.
What keeps the Cannondale from taking the Rev 20's spot, however, is value. For about $35 more, the Cannondale has downgraded rim brakes (the Rev has more powerful and reliable disc). Moreover, the Rev's much larger tires (2.6 vs. 1.95 in. on the Cannondale) help compensate for its lack of suspension. Taken together, we think the Rev 20 is the superior product, but the Cannondale's smaller tires do make it a little more on-road friendly.
See the Cannondale Trail 20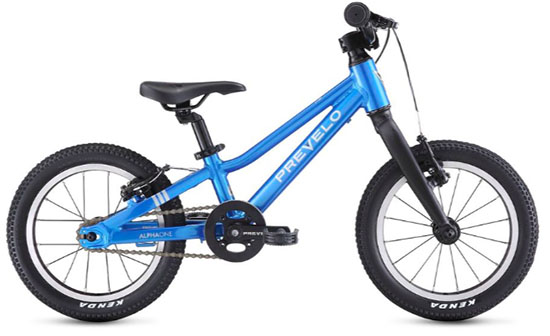 Category: Recreational
Age range: 3 to 5 years
Wheel size: 14 in.
What we like: Tweener size is great for fast learners.
What we don't: Most kids will be better off transitioning from 12-inch to 16-inch models.
Kids progress at vastly different paces with a sport like biking, so their needs will vary. For toddlers or young kids that are outpacing the limited abilities of a balance bike, a tweener model like the Prevelo Alpha One 14 is a nice choice. Splitting the difference between balance bikes (often 12 in.) and most first pedal designs (16 in.), the 14-inch wheel size is easy for smaller children to control. Plus, the bike is extremely well-made, has a comfortable geometry that optimizes stability (like Cleary above, Prevelo specializes in premium kids' bikes), and comes with nice upgrades like V-brakes to compliment the rear coaster brake.
We like the Prevelo and it's hard to fault the build quality, but its in-between sizing likely won't match up with many riders. Kids that are pushing 5 years old and about average size will likely be too large on the bike and better off on a 16-inch model (and Prevelo makes just that in the Alpha Two). In addition, like the Cleary above, you're spending a lot for only a short time period of use. But from a cycling perspective, it's easily one of the most capable and thoughtfully made designs around.
See the Prevelo Alpha One 14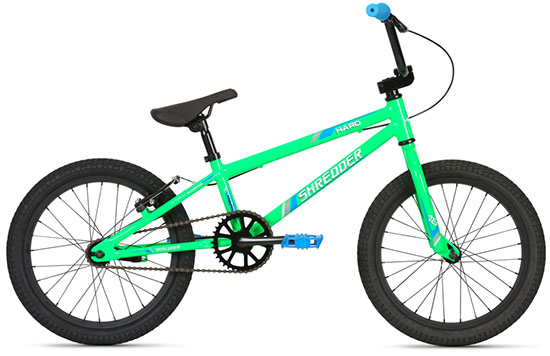 Category: Recreational/road
Age range: 7 to 9 years
Wheel size: 18 in.
What we like: Solid build and good all-around value.
What we don't: Fairly heavy.
Best known for their BMX designs, Haro is also a strong player in the kids' bike market. Sitting in the middle of their expansive Shredder line is the "18." Like the Prevelo above, this is an in-between size that's intended for kids roughly in the 7-to-9-year-old range (approximately 3'7" to 4'2" in height). The BMX roots are clear with raised handlebars that give it an upright stance and aggressive look. Combined with a long-lasting alloy frame and budget-friendly $250 MSRP, the Shredder is a nice pairing for both street riding and those starting to explore the pump track and skatepark.
The main sacrifice in opting for the more affordable Haro is its heavy construction. At over 21 pounds, the bike requires a fair amount of strength to control, which can be a problem for timid riders still learning the basics. For reference, the larger, 20-inch version of the Prevelo above weighs less than 19 pounds. In addition, the skatepark looks might not be for everyone, and the build quality in general is a step down from higher-end brands like Cleary and Prevelo (there are a number of cheaper steel parts that add weight). That said, the Shredder is a sturdy option that should hold up well to rough use.
See the Haro Shredder 18  See the Girls' Haro Shredder 18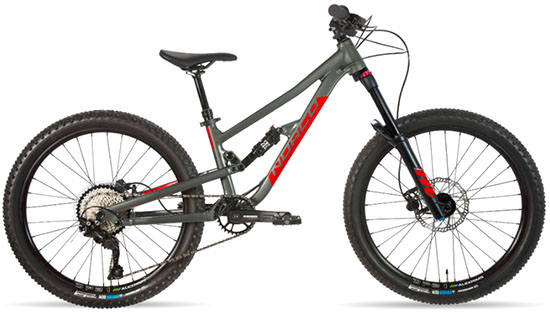 Category: Mountain
Age range: 9 to 12 years
Wheel size: 24 in.
What we like: A capable miniature mountain bike designed for technical singletrack.
What we don't: Very expensive and overkill for most kids.
For those with easy access to serious trail networks or with a kid that has racing on their mind, Norco's Fluid FS 2 24 is a dream machine. Closely resembling the adult variation, the "24" is a proper trail bike with a slackened geometry, full suspension (145mm front and 120mm rear), and thru axles for excellent stability through rock- and root-filled terrain. You also get an extensive list of features that aren't included with the bikes above, including a dropper post, strong hydraulic disc brakes, and a 10-speed drivetrain with a wide range. All told, the bike is most capable option here by a wide margin.
The little Fluid FS is most at home on singletrack mountain bike trails, which is ideal if you live in an area like Whistler, B.C. But for cruising around the neighborhood or even local trail networks that aren't overly steep or rough, the Norco's off-road pedigree is overkill. Further, at $1,899 for the "entry-level" variation, the Norco is a lot of money for something that they'll grow out of. It's worth noting Norco also offers the Fluid in a 20-inch bike, which is intended for even younger rippers (between the ages of 7 and 10).
See the Norco Fluid FS 2 24
Kids' Bike Comparison Table

Kids' Bike Buying Advice
How to Choose the Correct Size Kids' Bike
The first and most important step in selecting a kids' bike is choosing the correct size. A bike that is too big will be harder to control, while an overly small design can slow the learning curve. Age is a good starting point, but we also highly recommend using inseam and height measurements to be as precise as possible. Chances are good you'll know your kiddo's approximate height, but for inseam, this is the best method: have your child stand against a wall with their shoes on, place a book between their legs as if it were a bike seat, and measure from the top of the book to the ground.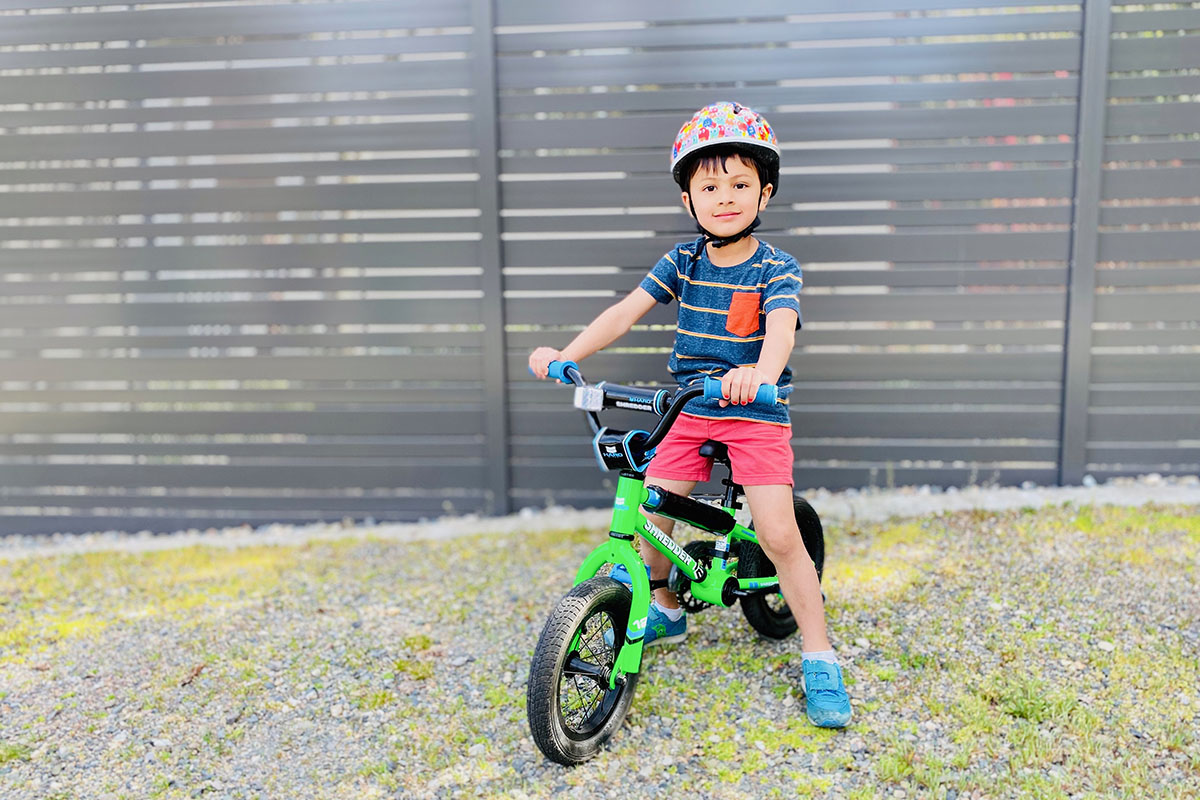 Kids' bikes are sized based off of the dimensions of the wheels and range from 12 to 24 inches. Each manufacturer will have slightly different measurements and age recommendations—and we advise using those when making your selection—but below is a basic framework to get you started:
12-inch Bikes:
Age range: 1.5 to 4 years
Height: 30 to 40 inches
Inseam: 12 to 20 inches
16-inch Bikes:
Age range: 4 to 6 years
Height: 39 to 47 inches
Inseam: 20 to 26 inches
20-inch Bikes:
Age range: 6 to 9 years
Height: 45 to 52 inches
Inseam: 23 to 29 inches
24-inch Bikes:
Age range: 7 to 12 years
Height: 49 to 57 inches
Inseam: 27 to 32 inches

Kids' Bike Categories
Balance Bikes
A balance bike is a greater starter option for toddlers and very young kids. These miniature models have no pedals, typically feature 12-inch wheels, and are propelled by your little one scooting along with their feet on the ground. The most compelling argument for these bikes (as opposed to those with training wheels), is that they teach proper technique and balance right off the bat. On the other hand, it often means they're not able to move as quickly as they could on a pedal bike with trainers (we break down additional considerations in our section on "Balance Bike vs. Training Wheels" below). Our favorite design in this category is the Strider 12 Sport, which hits a great mix of price, ease of use, and quality.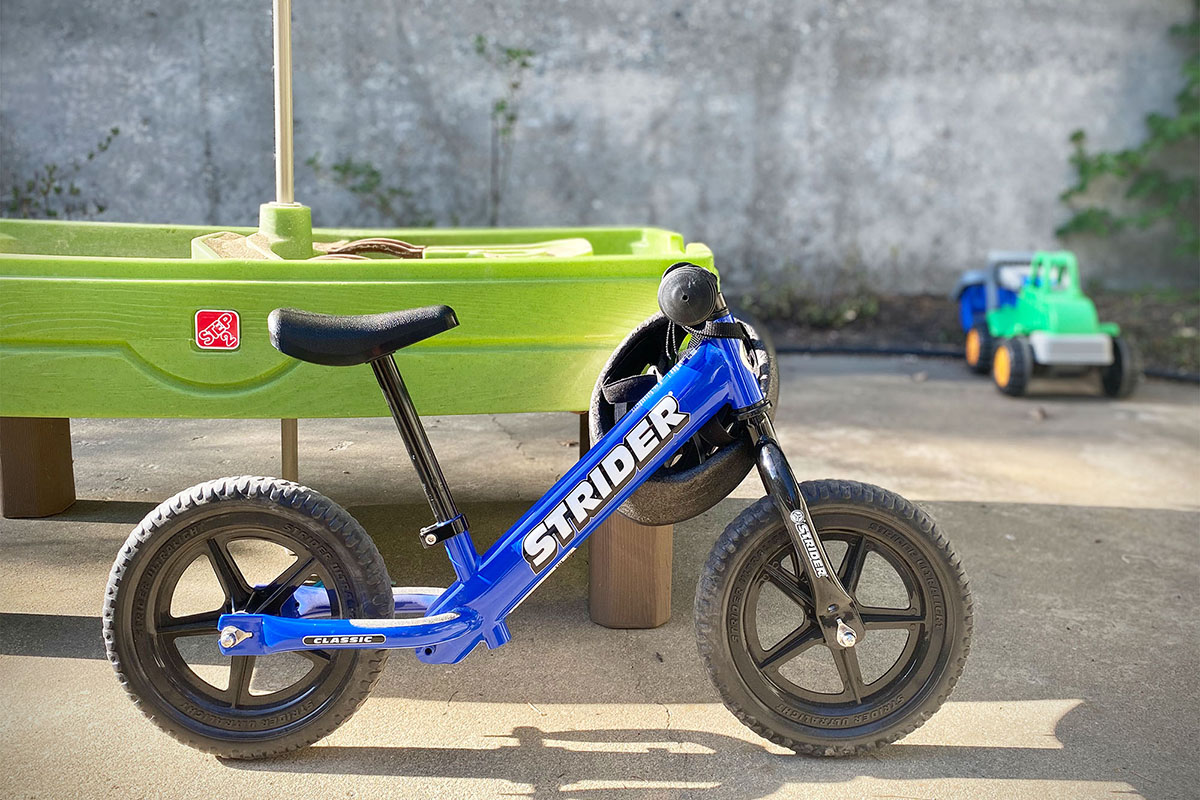 Recreational (Hybrid) Bikes
Moving into larger pedal bike options, the recreational category is the most popular for kids. These designs put a strong emphasis on pavement performance with relatively smooth tires but are sturdy and capable enough for short stretches on gravel paths and dirt trails. You'll occasionally see a front suspension fork on these bikes to offer some extra cushion, but many go without as it adds weight, cost, and complexity. Where these bikes excel is for casual riding around the neighborhood and exploring paved trail networks. They'll be hard to handle and control on anything that's rock- and root-filled—the mountain bike category below is best in those situations. Some of our favorites include the 16-inch Trek Precaliber for young kids, and the Cannondale Trail 20 and Specialized Riprock for mixed road and light mountain use.
 
Mountain Bikes
Stepping up to a mountain bike gets you a substantial increase in capabilities. The most noticeable will be knobbier tires for increased off-road traction, hand brakes and multiple gears for dealing with changing terrain, and suspension. On all but the most high-end models, it will just be a front fork to absorb light impacts, but there are a few full-suspension designs out there, including Norco's Fluid 24. Potential downsides with a mountain bike include added weight, which will require a more capable and confident rider, plus you'll need to do more maintenance to keep everything running smoothly. A final consideration is that mountain bike tires are inefficient and slow rolling on pavement. But for those with easy access to legitimate mountain biking trails, it's well worth getting a proper ride.
Road Bikes
While many kids' bikes are perfectly comfortable on paved roads, very few fall into the dedicated road category. The reasons are pretty simple: true road bikes are optimized for speed and efficiency with skinny tires and trimmed-down builds, which makes them more difficult to control and less durable. As such, no road bikes made it onto our list. That said, if you're wanting to cover a good amount of ground with your kid and they're already a stronger rider, U.K.-based Frog Bikes offers a nice selection of road-specific models for ages 6 to 14 years old.
 
Balance Bike vs. Training Wheels
When most current parents were learning to ride, training wheels were the primary option. But balance bikes burst onto the scene about 15 years ago and have quickly become the preferred ride for true beginners. The main reason is that it allows kids as young as 1.5 years old to start working on their all-important balance skills. Instead of relying on training wheels and a parent to control their maneuvers, balance bikes give kids some independence right off the bat. This also sets them up for an easier transition to a two-wheeled pedal bike. There certainly are situations when training wheels have value, including older kids starting out, timid riders wanting more time to learn, or if they want to cover ground quickly for family outings, but most young children will be better off starting with a balance design.

Kids' Bike Weight
Simply put, bikes that weigh less are much easier to handle, safer, and require less energy to propel. While there is no hard-and-fast rule, a common recommendation is to choose a bike that weighs less than 50 percent of your child's weight (and preferably closer to 40 percent or less). Referencing our picks above, the Prevelo Alpha One comes in at 14 pounds 7 ounces and is intended for kids between approximately 3 and 4.5 years old. As such, your child should weigh at least 29 pounds, but ideally be closer to 35.
It's worth mentioning that not all brands or retailers provide the weights of their listed bikes, which can create some challenges in purchasing online. But buying from a well-reputed brand and choosing a bike within your child's age/size range is a good start, plus you can learn a lot by reading the specs. More expensive bikes often use lighter materials like aluminum, while cheaper bikes save with heavy steel. That's not to say you can't choose a steel bike, but you'll want to be mindful of any extras like suspension, gearing, and brakes—all of which add weight.

Geometry
Like their adult-sized counterparts, the geometry of a kids' bike directly correlates with comfort and performance. A well-designed kids' model will have basics like a low center of gravity and standover height to make it easier to step on and off. In addition, you want the seating position to put their weight in between the wheels to increase control (rather than being set too far back) and keep important components like brake levels close and easy to reach. All of the bikes that made our list above have well-sorted geometries, but it's worth noting that spending up does get you an added degree of customization. Kid-specific brands like Cleary and Prevelo go as far as dialing in the crank arm length to maximize balance and control. For serious cycling families that hope to spend a lot of time riding together, spending up does typically get you a more refined build.
 
Coaster and Hand Brakes
There are two main brake types when it comes to kids' bikes: coaster brakes and hand brakes. A coaster brake is activated by pedaling backwards, only slows down the rear wheel, and is a fairly rudimentary system in general. It's also less intuitive to use and weighs more than hand brake alternatives. That said, coaster brakes are cheap and currently required by the U.S. Consumer Product Safety Commission (CPSC) to be included on all "sidewalk" bikes with a seat height of 25 inches or less (balance bikes are excluded). As such, you'll find coaster brakes on most pedal bikes intended for kids under the age of about 6 years old.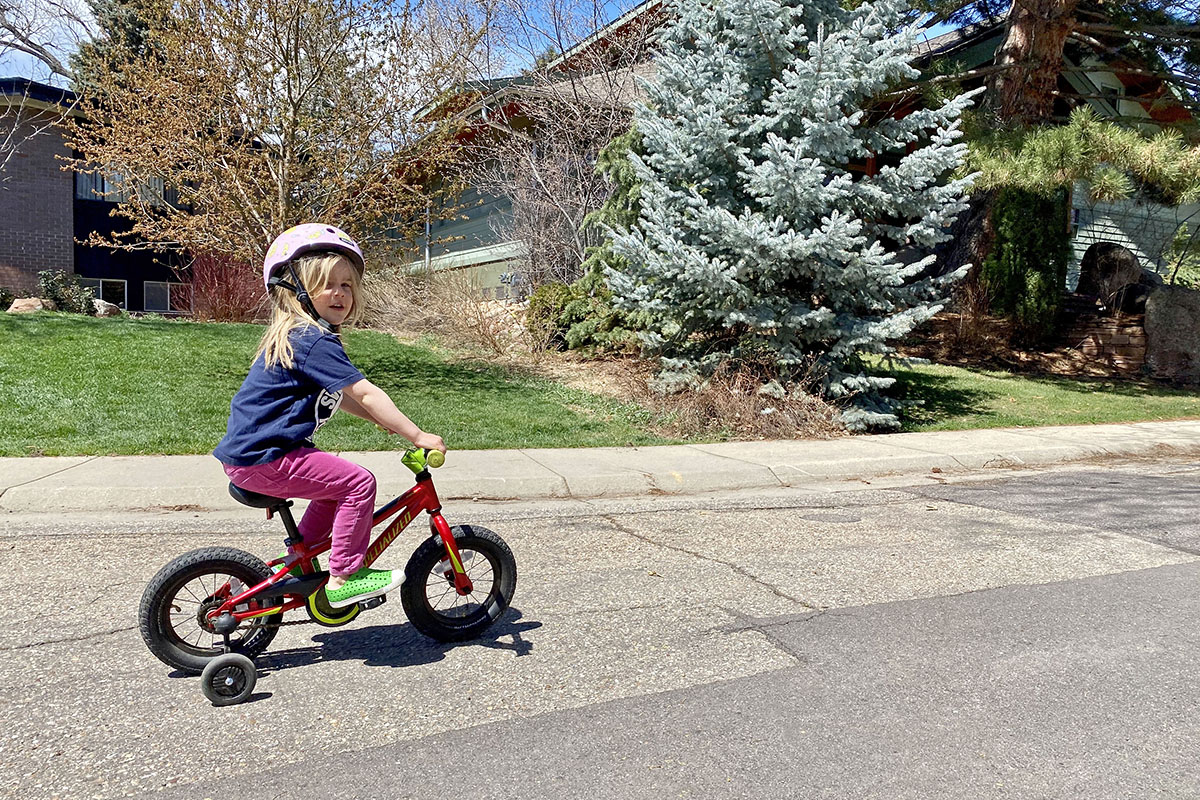 What about hand brakes? These are controlled by levers mounted to the handlebar and allow your child to slow both the rear and front wheels (operated separately). We prefer this style for bigger kids as they're considerably easier to use, offer better modulation (the ability to slow down without locking up the wheels), and make transitioning to larger bikes a bit easier. A final recent development to be aware of the hand-activated disc brake, which can be found on more expensive models and uses a rotor to slow down the bike instead of the rim. Disc brakes are the best of all: they're easier to operate, deliver more stopping power, and require less maintenance.

Bike Tires
The style and performance of a given bike tire will closely align with our "categories" above. Starting with balance bikes, you'll find a mix of foam- and air-filled options and very simple tread designs. We recommend opting for foam for simplicity—they can't go flat—and air if you want more traction and cushioning (most toddlers will be fine with foam). Recreational and road tires are filled with air and roll relatively easily on pavement to increase efficiency. But they're not very grippy if you venture away from pavement, and road-specific designs in particular are narrow and can feel tippy. Finally, mountain bike tires are the most aggressive with raised lugs and wider shapes. You compromise speed on pavement for a big boost in grip over rock, dirt, and mud.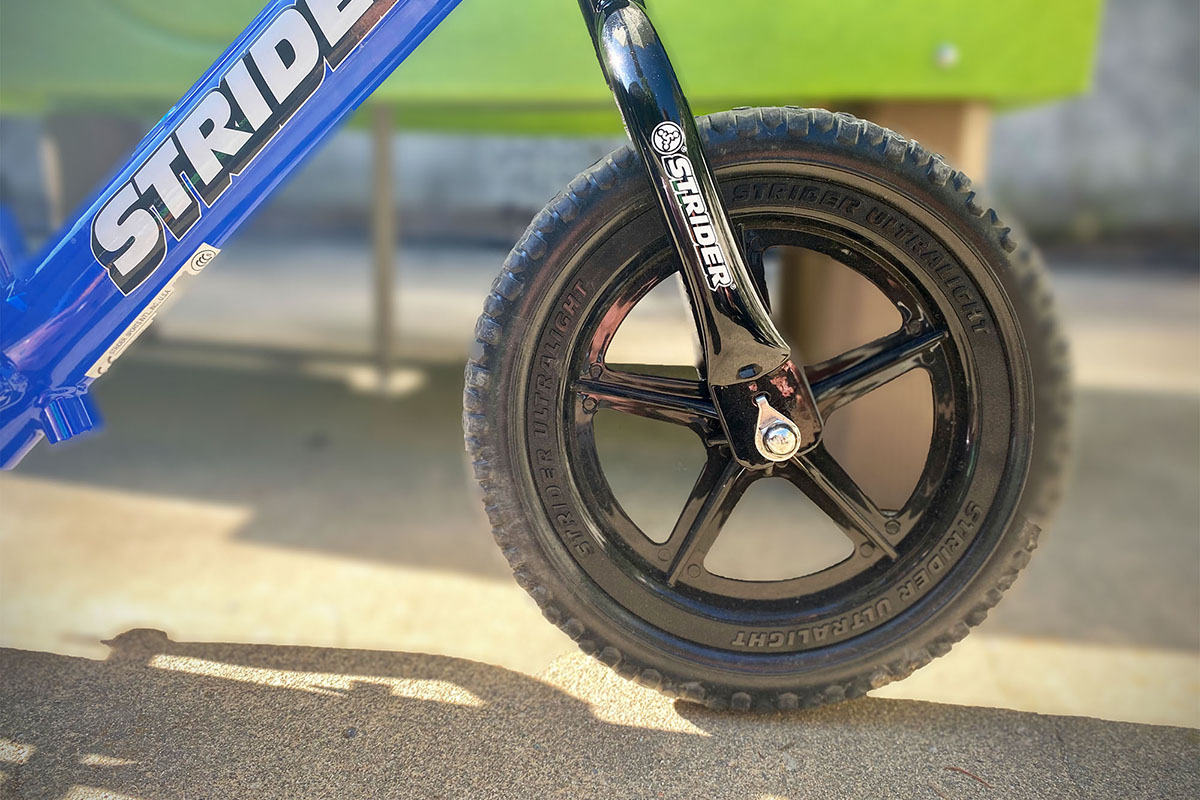 Is Suspension Worth It?
Suspension components on quality kids' bikes have a number of benefits: they do a great job of soaking up bumps on the trail, provide better traction in slippery situations, and allow little ones to better navigate tricky obstacles. Having said that, they're unnecessary for most road uses and add weight, complexity, and cost. We think they're best to avoid on most sub-20-inch bikes, while a front suspension fork can be valuable for ambitious kids on 20- and 24-inch mountain-ready models. Finally, a rear shock is smart to avoid unless your child is hitting very serious terrain and you're ready and willing to make a substantial investment in the sport. The only full-suspension bike to make our list is the spendy Norco Fluid FS 2 24 ($1,899).
Back to Our Top Kids' Bike Picks  Back to Our Kids' Bike Comparison Table
Read More From Switchback Travel