Cannondale Trail 6
Price: $825
Suspension: 100mm (front)
Tires: 29 x 2.25 in. (medium frame)
Gears: 2 x 9
What we like: Quality aluminum frame, modern geometry, and solid performance on smooth trails.
What we don't: Entry-level components are out of their element on more technical singletrack.
See the Cannondale Trail 6  See the Women's Cannondale Tango 3
Cannondale's Trail mountain bike lineup is known for its balance of price, build quality, and smart component choices for beginner to intermediate cyclists. We tested the mid-range Trail 6 hardtail, which features a 100-millimeter SR Suntour front fork and reliable drivetrain and hydraulic disc brakes from Shimano. The takeaway is that it's a great choice as a first "real" mountain bike and for riders that frequent smooth singletrack and gravel bike paths. Below we break down the Cannondale Trail 6's descending and climbing performance, key features, components and specs, and other versions in the line. To see how it stacks up, see our articles on the best mountain bikes and best mountain bikes under $1,000.

Descending
It's important to set reasonable expectations for a budget-friendly hardtail, and I found that Cannondale's Trail 6 met or exceeded them in most cases. The bike's 29-inch wheels (included with medium to extra-large frames) and 100-millimeter front suspension were a nice pairing for smooth singletrack that included the occasional root or rocky section. Further, I was pleasantly surprised with the amount of traction provided by the 2.25-inch WTB Ranger tires in hardpack dirt, although the grip runs out quickly in muddy or greasy conditions. On the plus side, the tread provides little rolling resistance, which made them great companions on some of the rails-to-trails gravel paths that we have in the Seattle region.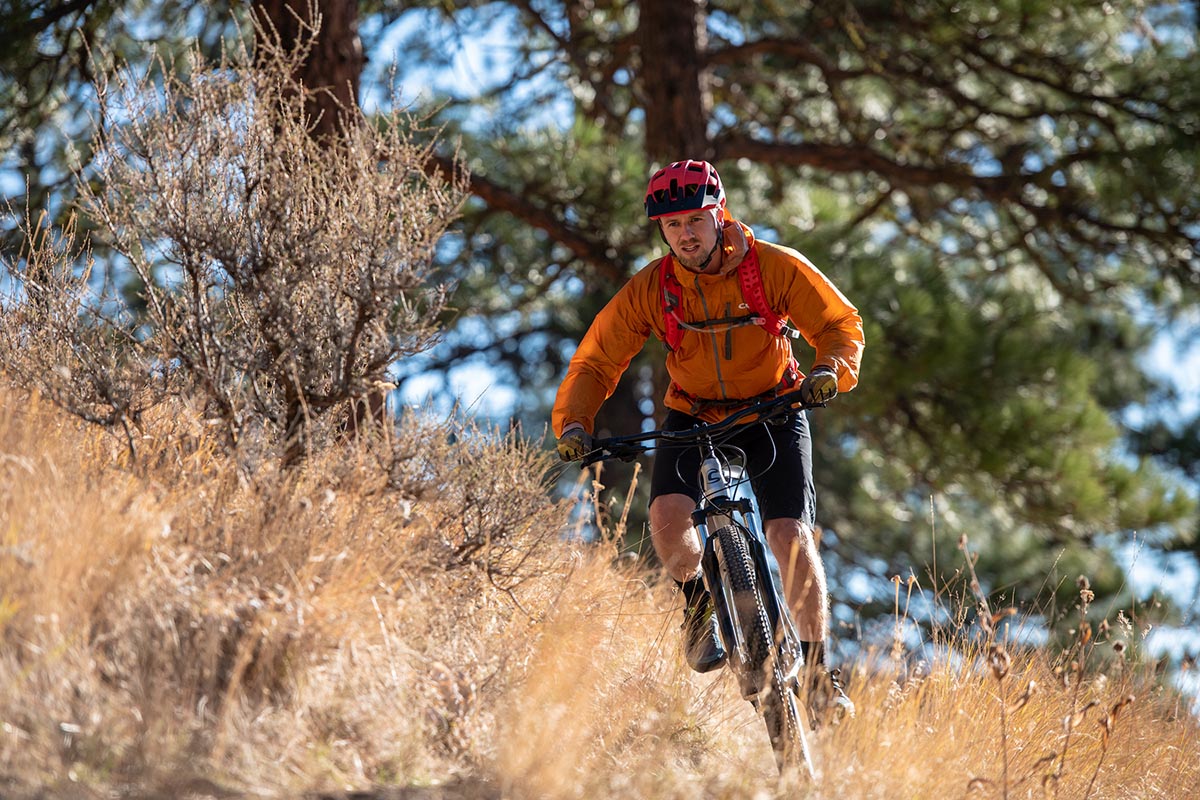 While the Trail 6 handled the aforementioned areas with ease, when I ventured into the steep and rough terrain at Tiger Mountain, the bike was quickly out of its comfort zone. Even on the beginner-friendly Inside Passage trail, I felt under-gunned. The entry-level SR Suntour fork was overmatched and consistently bottomed out, and the lack of a dropper seat post meant I needed to constantly stop and adjust the height (or continue riding with it at an uncomfortable spot). Further, the bike put me in too upright of a position to confidently tackle anything steep. Clearly, the Trail 6 has its limitations, and anyone with plans to ride anything serious should strongly consider upgrading (the Salsa Timberjack that we recently reviewed is one example). Having said that, I would put the Trail 6's overall abilities as on par with most other options in this genre, and it remains a solid choice for areas with smooth, cross-country-style terrain.

Climbing
Featuring a relatively steep head tube angle by modern standards, fast-rolling tires, and a lightweight aluminum frame, it should come as no surprise that the Cannondale Trail 6 happily motors its way uphill. The upright geometry may be a downside for the descents, but it makes the bike quite comfortable for extended climbs. And I found the 2 x 9 Shimano drivetrain provided plenty of gears for even very steep and punchy sections of trail. Furthermore, the front suspension includes a remote that's mounted on the handlebar to lock out the fork. This means it won't compress under your body weight while pedaling and ultimately makes for a more efficient ride. While it's too jarring to use over anything bumpy, it was nice to have while riding on bike paths or the road.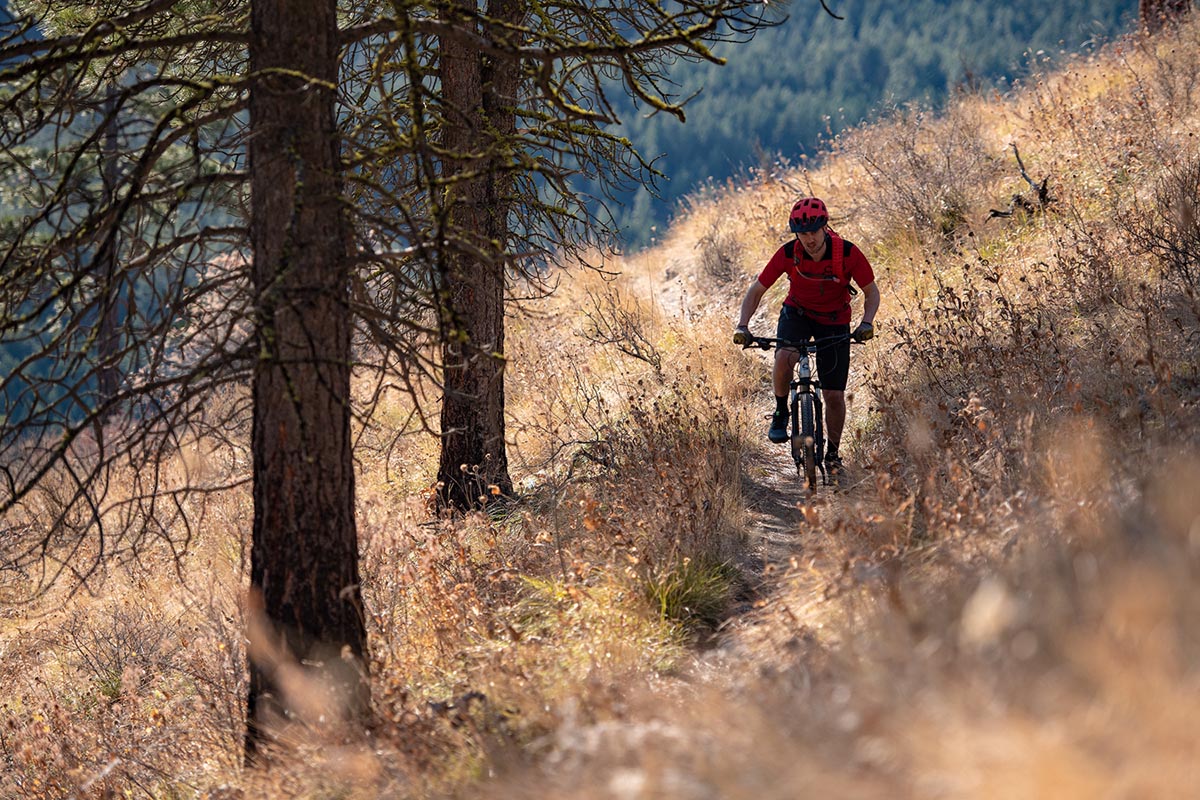 If I had one complaint about the Trail 6 in regard to climbing, it would be the weight of its wheels. You can only expect so much from an $800 hardtail, but it was clear that the wheels were adding precious rotational weight and slowing me down (these would be strong candidates for future upgrades). That being said, the bike still felt a little faster on smooth trails than the aforementioned Salsa Timberjack, which includes very wide 2.8-inch tires.

General Riding
For most of the bikes I test, I feel like they excel at either climbing or descending. However, the Cannondale Trail 6 really shines as a mellow all-rounder. It's versatile enough to not be out of sorts with anything from riding bike paths with friends and family to tackling fast-paced singletrack. Moreover, the rear rack attachment points mean that the Trail can be converted rather easily into a short-distance commuter. There are clearly more performance-oriented options on both ends of the spectrum, but the Cannondale lands comfortably in the middle as a true generalist.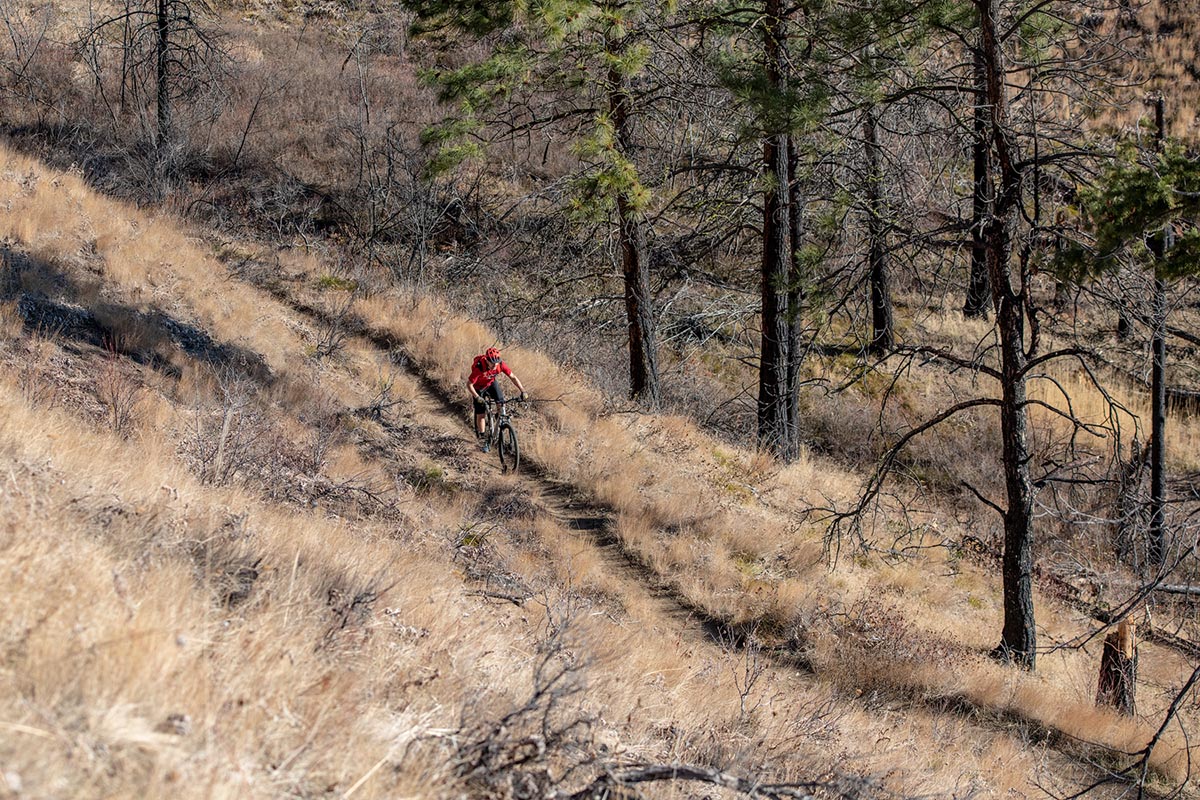 Key Features
Frame
Cannondale has been building high-quality aluminum frames for decades, so it's no surprise the Trail checks all the right boxes. The straightforward design is very clean and avoids entry-level-bike pitfalls like questionable-looking welds or oddly placed pieces of tubing. Further, they've included modern touches like internal routing for some of the brake and shifter cables. Finally, the raw color with black ascents on the "6" gives it a nice, subdued aesthetic overall (other versions of the Trail come in varying frame colors).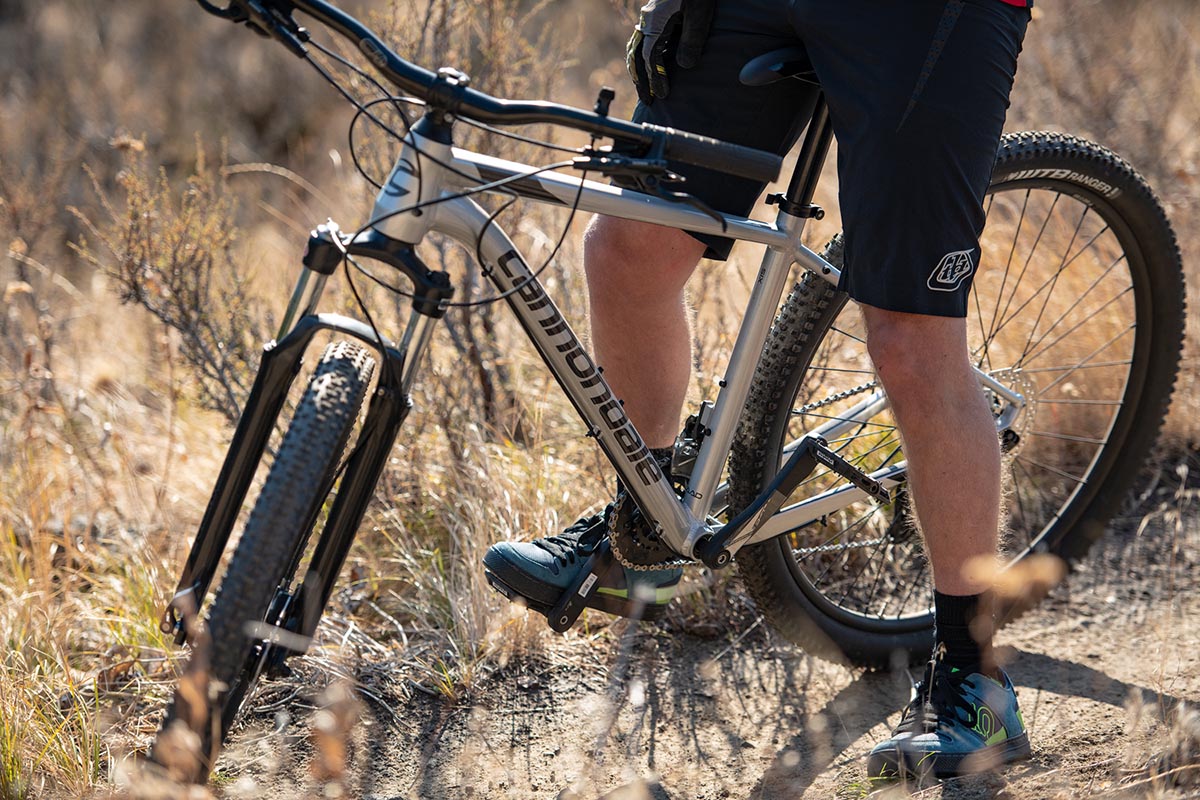 Geometry
While certainly not cutting-edge, I think the geometry is just about perfect considering the Trail 6's intended use. The head tube angle is on the slack end of the spectrum for this type of mountain bike (but steep compared to the middle and high end of the market). This puts you in a comfortable spot to be confident on moderate downhills while not feeling too sluggish for cruising up buff singletrack trails or flat bike paths. Cannondale also did a nice job with the sizing—the medium frame fit me really well (for reference, I'm 5'9"). One neat feature about the Trail line is that it features 27.5-inch wheels (instead of 29-inch) on the extra-small and small frame sizes, which only helps to dial in overall fit for different rider heights. All told, I think the entire package puts you in a comfortable and upright riding position that most people will find favorable.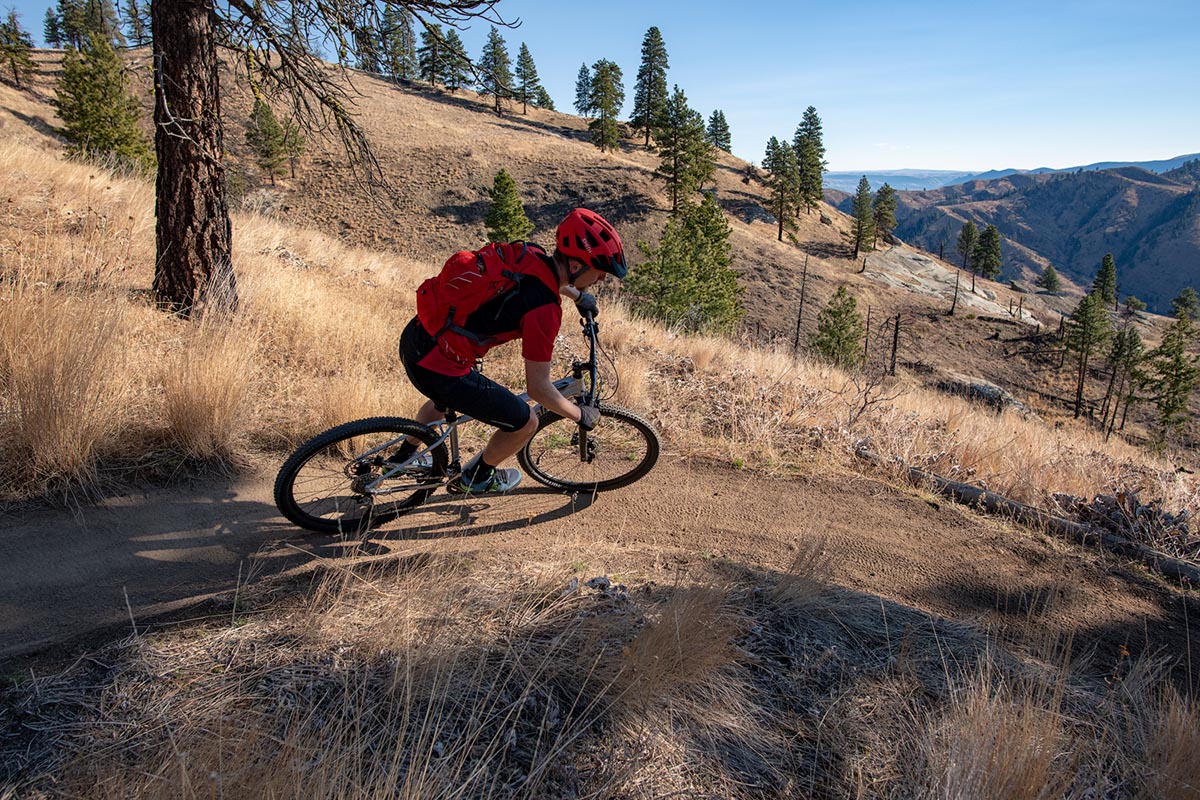 Components and Specs
Shimano Drivetrain
It's hard to go wrong with a Shimano drivetrain and my time aboard the 2 x 9 system found on the Trail 6 confirms this. While not their top-of-the-line offering, the price-appropriate Acera and Altus components happily shifted through the gears and provided sufficient range for both steep climbs and fast-paced descents. If there was one complaint regarding the entry-level components, it would be the lack of a clutch mechanism on the rear derailleur. Without this feature, the chain is not kept taut, so it makes a bit of a racket while hitting the chain stay on rough descents. This issue isn't unique to Shimano but it's something I noticed on my time aboard the Cannondale.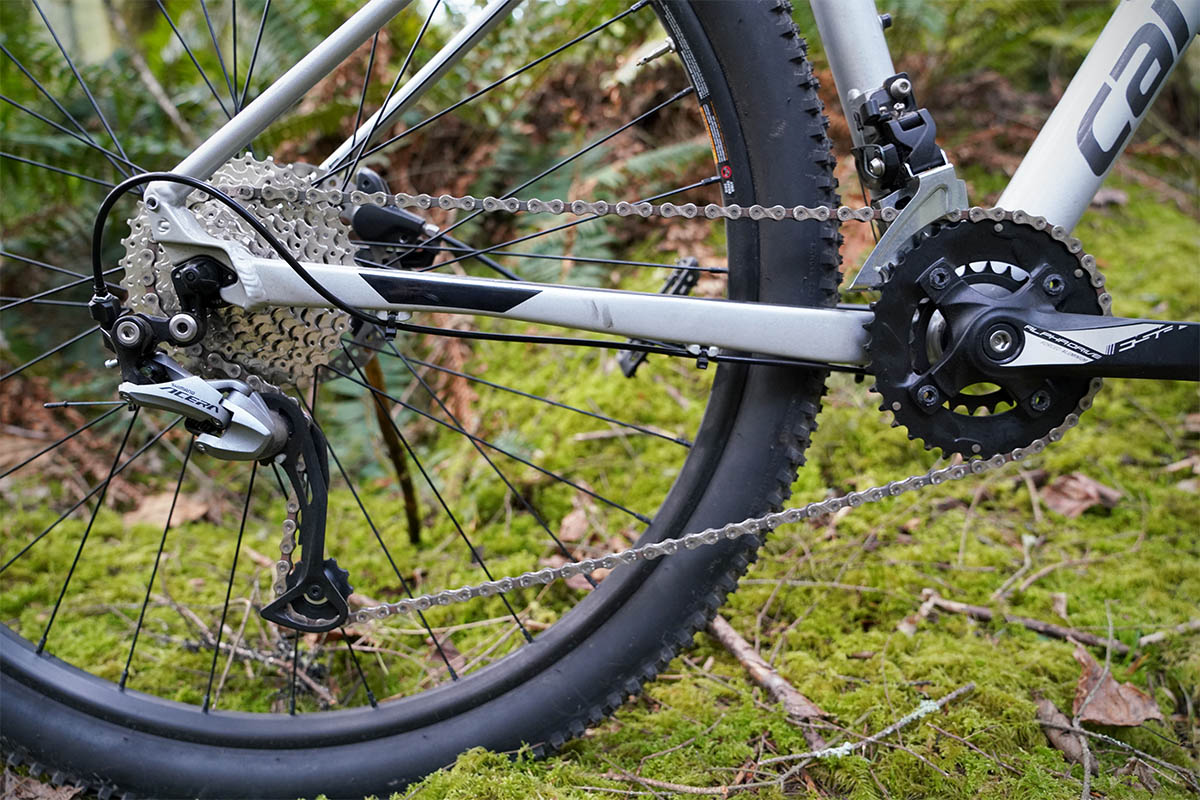 Shimano Brakes
Similar to the drivetrain above, the hydraulic Shimano MT200 stoppers on the Trail 6 proved to be more than sufficient throughout the duration of my testing. Once properly broken in, they provided reliable power for controlled braking and were free of noise or any other issues. While becoming more and more common in the sub-$1,000 price range, hydraulic disc brakes are one of the more important upgrades over a cheap bike at a big-box store (these often come with less powerful cable-actuated brakes). If you have any intentions of riding singletrack, they are a worthy investment in my opinion.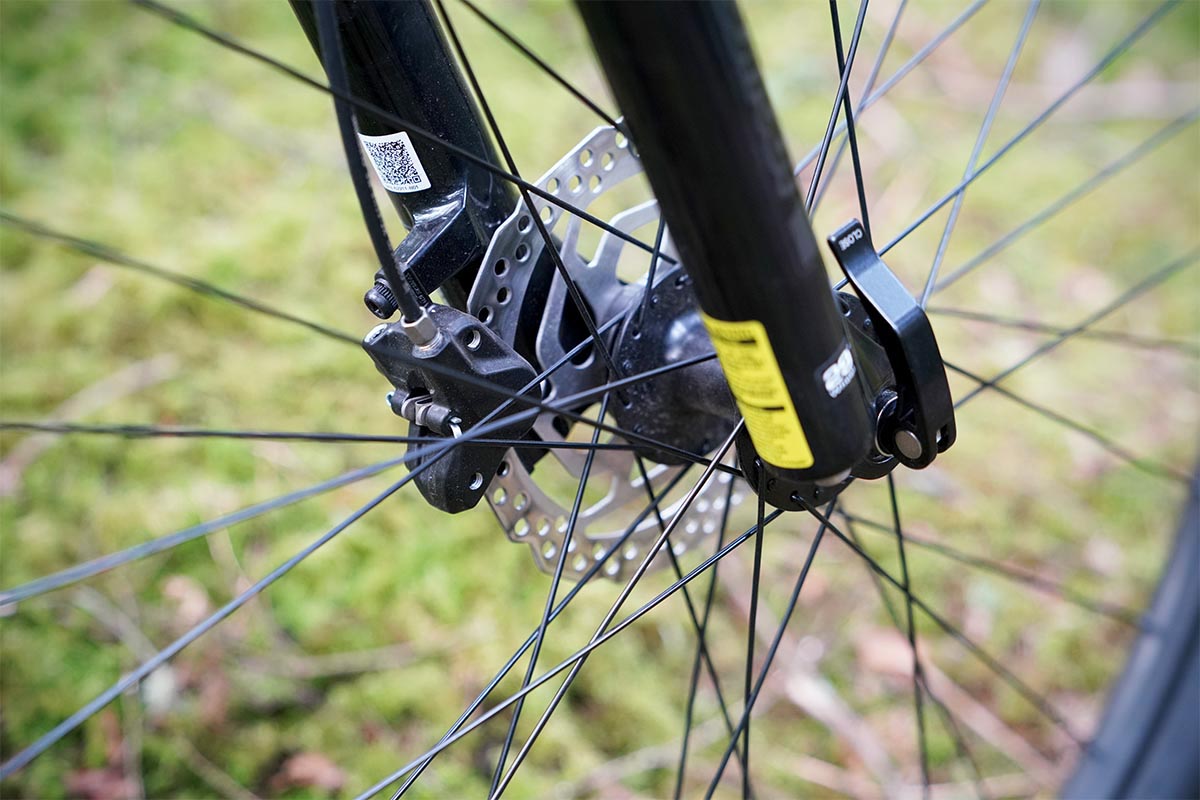 SR Suntour Suspension Fork
The brakes and shifters were both up to snuff, but I found the front fork was the main limiting factor when tackling rough terrain. The preload adjuster had very little impact on the overall ride, and the lack of a rebound adjustment had me wishing for a higher-end design. Additionally, the handlebar remote lockout feature is hard to reach and required me to remove my left hand to activate—a maneuver that's certainly not ideal while on the trail. Overall, the fork is fine for buff singletrack and bike path use, but I couldn't help but wish for something a little nicer on technical trails (it's worth noting that higher-end versions of the Trail come with upgraded RockShox forks).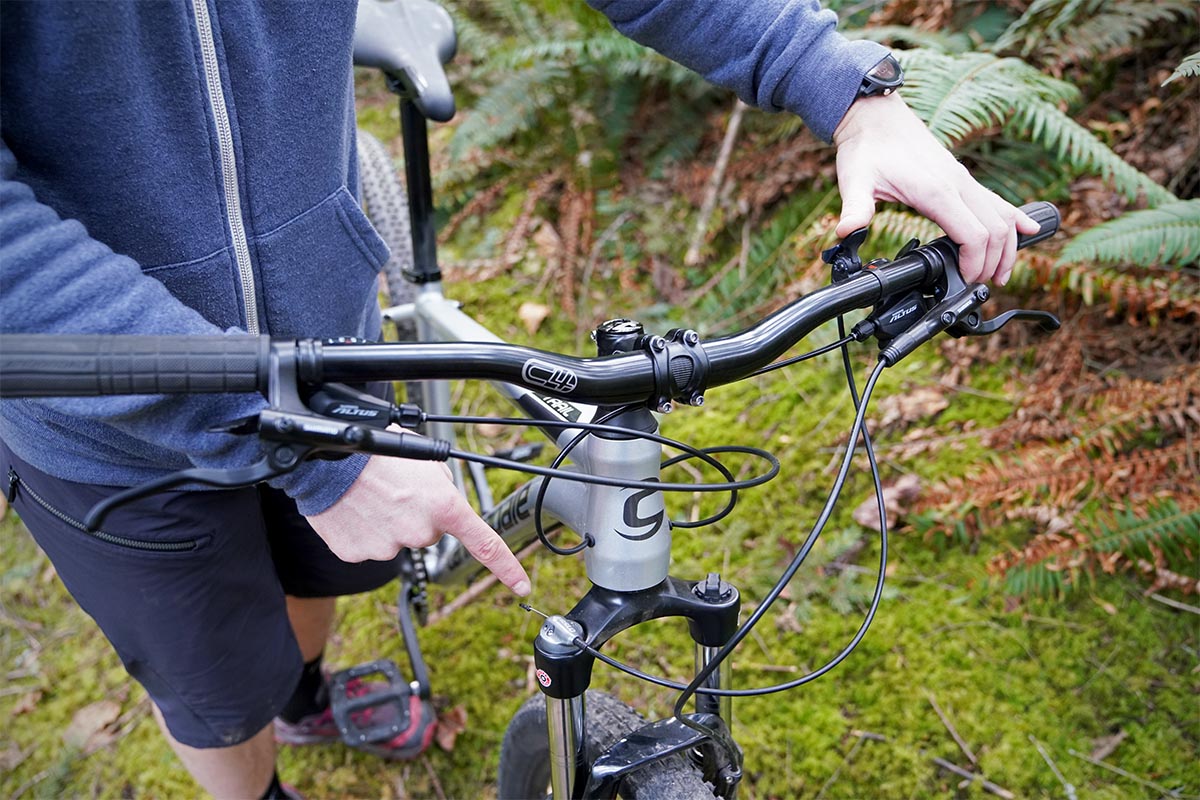 Tires
I am pretty picky about my tire set-up, so I was pleasantly surprised to see Cannondale spec a quality and well-known tread pattern on the Trail 6. The WTB Ranger tires rolled very well on pavement and hardpack trails while simultaneously providing a surprising amount of traction despite their tiny knobs. The 2.25-inch width can't match the bump-absorbing ride that plus tires (approximately 2.8 inches wide) provide, but they certainly require less effort to get up to speed and roll faster.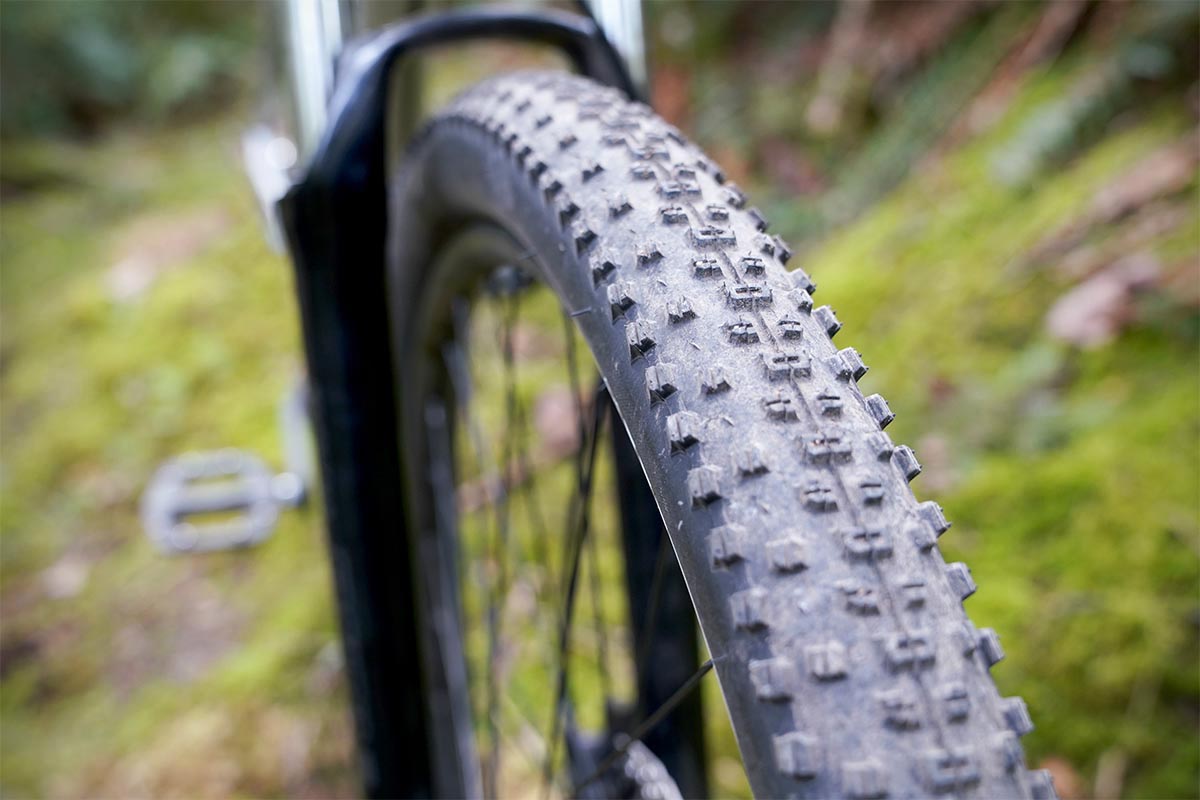 Other Versions of the Cannondale Trail
As with many product lines from Cannondale, there are a wide range of Trail models available. I tested the Trail 6, which is the second-cheapest in the collection at $825. The Trail 7 is the price leader at $720, although it comes with a slightly downgraded drivetrain and you lose the remote lockout function on the fork. If neither of those features are appealing to you, the 7 is a fine option. On the other end of the spectrum, you have Cannondale's Trail 2, which includes significantly nicer drivetrain and suspension components. Priced at $1,575, the 2 is likely worth the investment if you anticipate spending most of your time on actual trails (and less time on gravel and paved bike paths).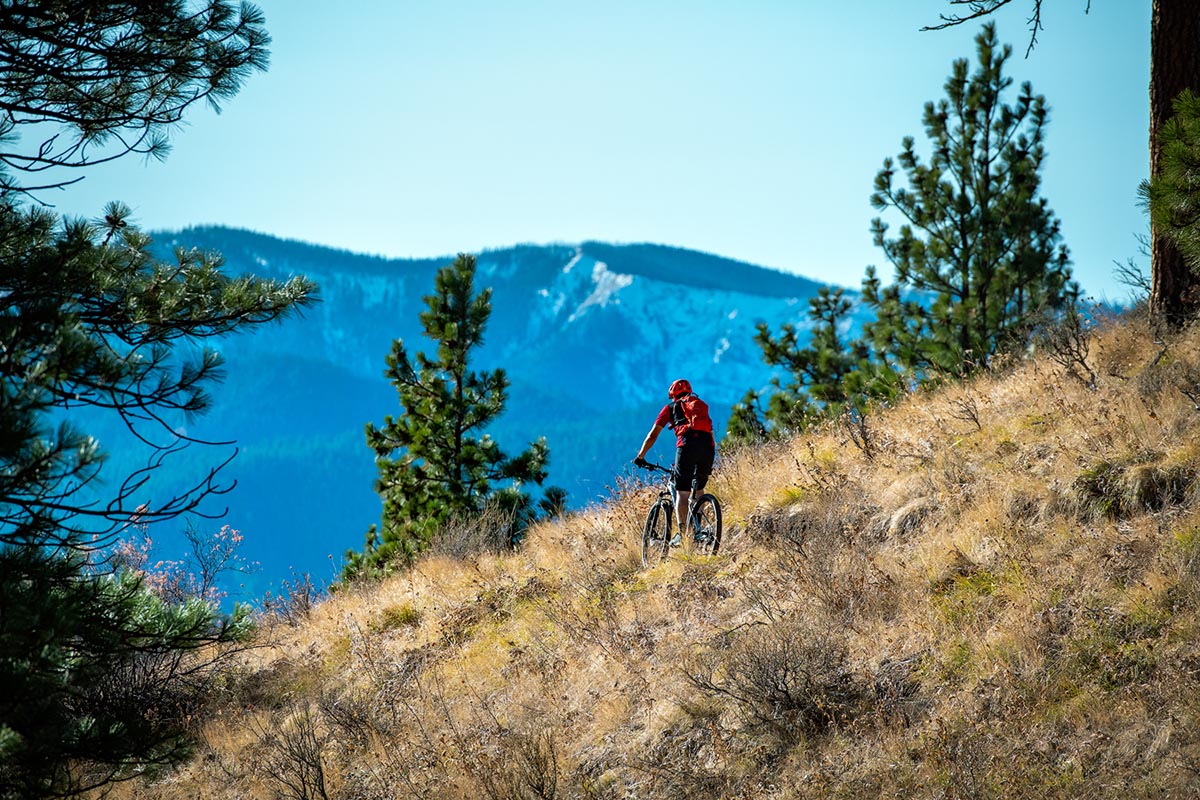 What We Like
Quality Shimano components should provide years of trouble-free performance.
The lightweight aluminum frame is a great canvas for future upgrades and has a lifetime warranty.
Fast-rolling and grippy tires work well for everything from bike paths to intermediate singletrack trails.
Smaller frame sizes feature 27.5-inch wheels, which help improve the fit for shorter riders.
Rack mounts increase the versatility of the Trail 6, making it viable for short-distance commuting.

What We Don't
SR Suntour suspension fork is underwhelming on technical singletrack trails.
Lack of a dropper seat post makes steep descents more challenging.
Use of quick release axles (as opposed to thru-axles) are dated and make for a less efficient ride.


Comparison Table

The Competition
Nearly every major bike brand has a sub-$1,000 hardtail offering that competes directly with the Trail 6. Giant is consistently a leader in terms of value, and their Talon 29 2 is a great example. The two bikes are similar in most ways: fast-rolling yet knobby tires, budget SR Suntour suspension forks, and relatively lightweight aluminum frames. But the Talon wins out in price ($720 vs. $825 for the Trail) while including a slightly upgraded drivetrain. Where the Trail 6 pulls ahead, however, is with its more modern geometry. With a longer reach and slacker head tube angle, it's a little more comfortable on the downhill. Additionally, the Trail 6 uses 27.5-inch wheels on its smaller frame sizes, something shorter riders will certainly appreciate. In the end, if you're simply looking for the best deal, go with Talon 29 2. But the $100 price premium for the Trail 6 may be worth it if you prioritize fun on the singletrack.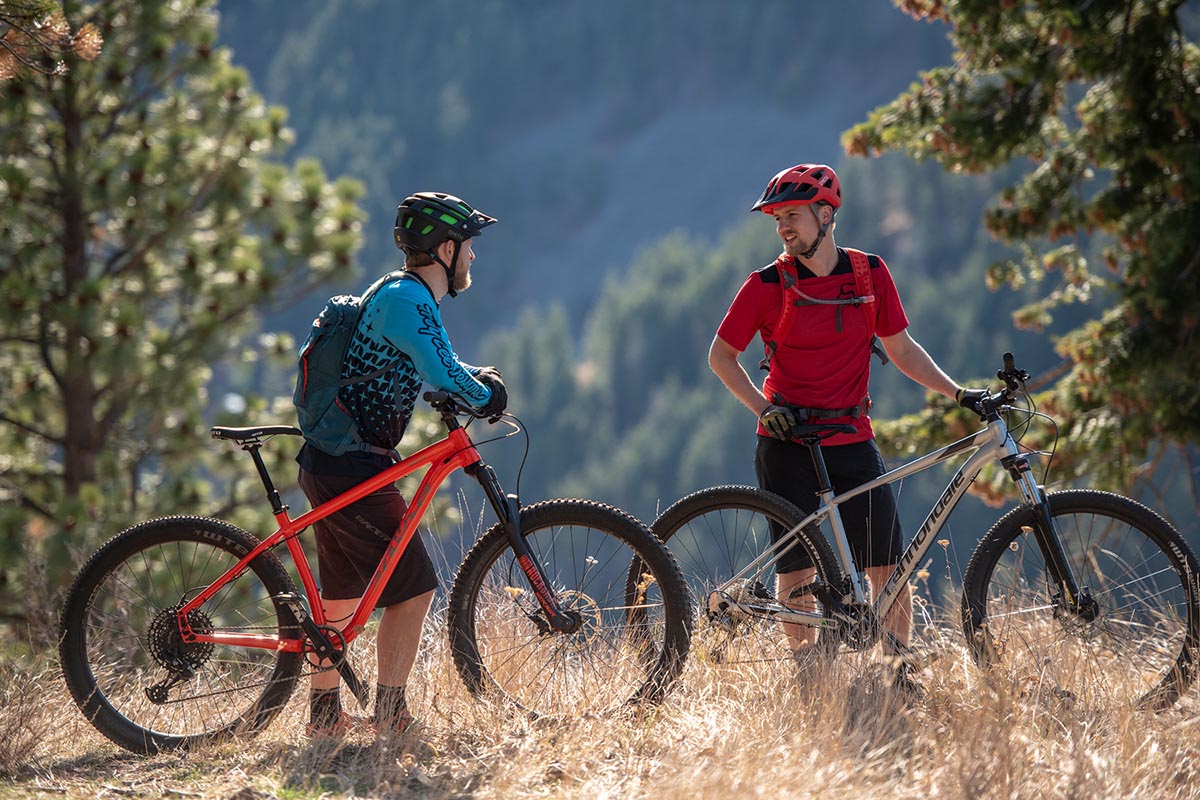 While I don't have any time on Trek's Marlin 7, I think it's another worthy competitor to the Trail 6. You get 100 millimeters of front suspension travel, a smartly spec'd 2 x 9 Shimano drivetrain, mounting locations for a rear rack, and Shimano hydraulic disc brakes. All in all, it's a well-rounded and quality package for the beginner rider. That said, the Marlin has a steeper head tube angle (69.5 degrees), which puts you in a much more aggressive position and favors XC riders. The handlebars also feature zero rise and are quite narrow, which only adds to a more bent-over riding position which racers prefer (an odd choice considering its otherwise budget-friendly build). Overall, we think the more well-rounded Trail 6, which puts you in a more comfortable, upright stance, is the better choice.
Co-op Cycles may not be a household name like Cannondale or Trek, but their DRT 1.2 model is a solid option for the beginner mountain biker. Owned by REI and sold exclusively at their stores and online, the in-house brand generally offers a lot of bang for your buck. What sets the DRT 1.2 apart is its 27.5-inch wheels used across all sizes, 120 millimeters of front suspension travel, and 3 x 9 drivetrain. Compared to the Trail 6, as well as the others listed above, the DRT 1.2 is better suited for those who prefer a nimbler bike with smaller wheels. And although I never found the 2 x 9 drivetrain lacking on the Trail 6, those who live near steep terrain may prefer the very easy gears on the DRT 1.2. But the Trail 6 wins out in price by a notable $74, its 29-inch tires roll over obstacles more easily, and I appreciate the Cannondale's more modern look and feel overall.
Editor's note: We usually provide a live price comparison table below our outdoor gear reviews, but at the time of publishing the Cannondale Trail 6 is only available nationwide at REI Co-op (for in-store pick up). You can see the Trail 6 page here and support us in the process. Thanks!
Learn More About Mountain Biking