From smooth and flowy post-work rides to rough and rowdy all-day backcountry epics, mountain biking can be an exceptionally fulfilling sport. But rapidly changing technology and the sheer number of available models makes choosing the best ride for your needs a daunting task. Below we break down our top picks for 2020, which include everything from budget-oriented hardtails to fast and fun full-suspension trail bikes and high-end carbon race rigs. For background information to get you started, check out our comparison table and buying advice below the picks. And for those sticking to set budgets, see our articles on the best mountain bikes under $1,000 and under $2,000.

Best Overall Mountain Bike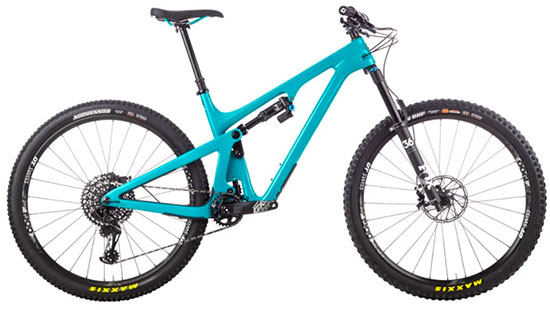 Category: Trail/all-mountain
Frame: Carbon fiber
Suspension: 150mm (front) 130mm (rear)
Tires: 29 x 2.5 in. (front) 2.3 in. (rear)
What we like: Premium construction, aggressive geometry, and superb up- and downhill performance. 
What we don't: Expensive.
While we readily admit that the term "quiver killer" is overused, we can't help but think Yeti made just that with the extremely versatile SB130. Sporting 150-millimeters front and 130-millimeters rear travel, it falls in between the trail and more serious all-mountain categories, but its progressive geometry and plush suspension mean it's planted and composed when tackling steep, technical trails. Just as importantly, it's a surprisingly efficient climber and has a very light and playful personality that's a ton of fun on flowy and smooth sections (unlike some burly bikes, it's not overkill on easier terrain). Finally, the SB130 is impeccably built and easily one of the best-looking bikes around, sporting Yeti's famous turquoise-colored frame. 
The main knock against Yeti bikes is that they're not great values, and this mostly holds true for the SB130. We have their "entry-level" model listed here, which rings in at over $5,000. That said, Yeti sticks to high-end parts, and when spec'd the same, its pricing actually is quite close to competitors like the Specialized Stumpjumper and Ibis Ripley. And with the premium price, you're getting some nice extras, including a lifetime guarantee against defects on the frame and a crash replacement warranty where they'll offer you discounted replacement parts. All told, the Yeti's do-it-all nature earns it our top spot for 2020.
See the Yeti Cycles SB130
Best Hardtail Mountain Bike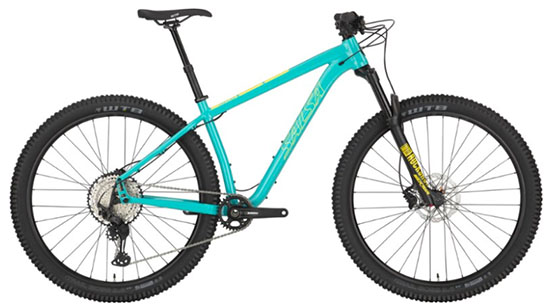 Category: Trail/XC
Frame: Aluminum
Suspension: 130mm (front)
Tires: 29 x 2.6 in.
What we like: Strong performer for everything from after-work singletrack rides to remote bikepacking adventures.
What we don't: Beefed-up construction adds weight.
Minnesota-based Salsa Cycles is best known for their bikepacking, touring, and gravel-oriented designs, but they've been making some serious headway in mountain biking of late. Their Timberjack XT 29 hardtail is a case in point with its well-thought-out spec package and adaptable design. The bike's burly 2.6-inch tires and highly adjustable 130-millimeter RockShox Sektor RL fork provide more than enough cushion for rocky and rooty descents (by hardtail standards). And the relatively slack geometry and fast-rolling tires encourage shenanigans like popping off trailside lips and manualing down the trail. What we really like about the Salsa, however, is its nod to bikepacking. You simply won't find too many other hardtails that offer as many mounting locations for gear as the Timberjack. 
Salsa added the XT model to the Timberjack line for 2020, which includes premium components like Shimano's recently released XT drivetrain. The design offers fast and reliable shifting—it even smooths out shifts that would otherwise clunk into place while on an incline—and its 12 speeds have a very wide range. This gives the Timberjack excellent versatility for hauling you up extended climbs and over variable terrain. That said, the burly construction and wide tires mean the bike isn't as flickable and fast as a dedicated cross-country design. But for a capable and well-rounded hardtail that's built to last, the Timberjack is hard to beat.
See the Salsa Timberjack XT 29
 

Best Budget Mountain Bike for Beginners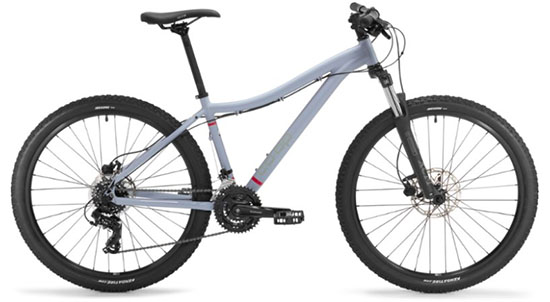 Category: XC
Frame: Aluminum
Suspension: 100mm
Tires: 27.5 x 2.1 in.
What we like: Budget-friendly price but includes nice upgrades like hydraulic disc brakes.
What we don't: Not as trail-worthy as other hardtails on the list; slightly dated design and looks.
Sub-$600 mountain bikes may conjure up images of cut-rate big-box-store specials, but REI's Co-op Cycles DRT 1.1 packs a surprisingly good punch. To start, it checks the right boxes for a budget build with a lightweight aluminum frame, 100 millimeters of front suspension travel, and proven Shimano drivetrain. Arguably its biggest selling point is the Tektro hydraulic disc brakes, which have superior stopping power compared with the cable-actuated brakes that you typically find at this price point. And it's all backed up by REI's excellent warranty—something you definitely don't get from the Targets and Walmarts of the world.
What do you give up with entry-level Co-op Cycles DRT 1.1? For starters, this bike is aimed more at gravel bike paths and mellow singletrack than anything technical. Additionally, the budget-oriented SR Suntour fork will certainly be out of its element during rough and bumpy descents. If you're looking for something much more trail-worthy but are hoping to stay under $1,000, check out the Kona Mahuna below. The Kona's updated geometry, wider tires, and better overall spec package give it a notable boost in performance. That being said, the DRT 1.1 is half the price and a great option for most recreational or first-time riders.
See the Co-op Cycles DRT 1.1
Best Lightweight Trail Bike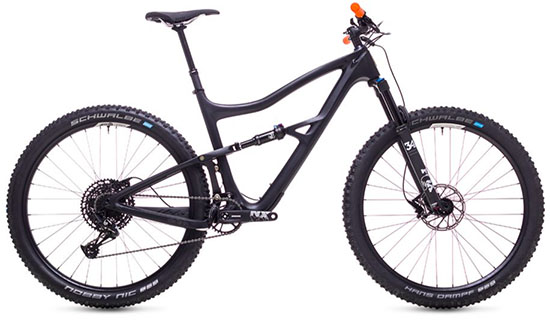 Category: Trail
Frame: Carbon fiber
Suspension: 130mm (front) 120mm (rear)
Tires: 29 x 2.35 in.
What we like: Fast and responsive on the trail, modern geometry, and a competitive price.
What we don't: Those tackling rowdy descents likely will want a little more bike.
Full-suspension trail bikes hit a sweet spot for many riders, and the light and fast Ibis Ripley currently is our favorite of the bunch. Released mid-way through 2019 as a 2020 model, the bike's well-balanced riding position, 29-inch wheels, and suspension travel (130mm front and 120mm rear) are ideal for moderately techy terrain. Plus, its high-end, stiff carbon frame delivers plenty of power on the climbs. You also get a lot of bang for your buck with the well-equipped NX Eagle model, which easily undercuts competitors from Specialized and Santa Cruz at just over $4,000.
Where does the Ibis fall short? To start, like the Yeti above, we'd love to see a true entry-level version offered with an aluminum frame for those just starting out or wanting to stick to a lower price point. If you fall into that camp, we recommend looking at Giant's Trance ($2,100) or YT's Jeffsy ($2,299) below. Additionally, riders that prioritize rough and rowdy descents likely will find the Ripley a little under-gunned—the Yeti above or Ibis's own Ripmo get the advantage for this type of terrain. That said, the Ripley is a faster, nimbler, and more efficient climber than those alternatives, which makes it a better choice for big days.
See the Ibis Ripley NX Eagle
Best Enduro Race Bike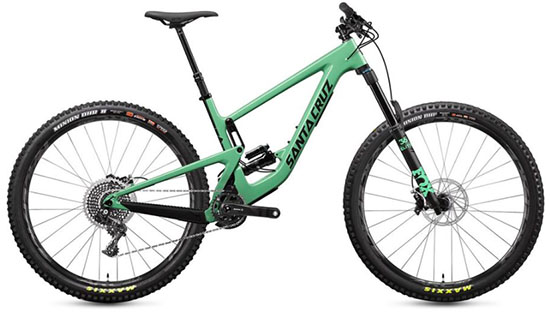 Category: Enduro
Frame: Carbon
Suspension: 160mm (front) 160mm (rear)
Tires: 29 x 2.5 in. (front) 2.4 in. (rear)
What we like: It's a big-wheeled beast with a fantastic rear suspension that soaks up bumps.
What we don't: Very expensive and overkill for mellow trails.
How could we not have a Santa Cruz bike towards the top of our rankings? The California-based company is one of the most popular brands on the West Coast and often can be seen under the fastest enduro racers in the region. We like the Santa Cruz Megatower Carbon CC X01 Eagle for its lightweight and meticulously built carbon frame, superb rear suspension design, big and grippy Maxxis Assegai tires, and nearly flawless SRAM Eagle X01 drivetrain. Further, the well-regarded 160-millimeter travel Fox 36 fork easily can handle just about anything you can throw at it, and the top-end RockShox Super Deluxe Ultimate shock provides great small-bump compliance and big-hit reliability. If it's not already clear, we're big fans of the long-travel 29er from Santa Cruz, and highly recommend it for enduro racing and general charging on the downhills.
If you're considering a Santa Cruz bike, there are two important things to know. First, they are among the most expensive in the industry. Second, you absolutely get what you pay for: they make some of the most well-thought-out and beautifully crafted frames around (plus they come with a great warranty). That said, one concern specific to the Megatower is that it's overkill on mellow terrain. Riders wanting an all-mountain rig that's a little more versatile should check out the latest Ibis Ripmo. At $4,399, it undercuts the least expensive Megatower by $100 and its 147 millimeters of rear suspension travel (compared to the Megatower's 160mm) will be more efficient on smooth trails.
See the Santa Cruz Megatower Carbon
Best Electric Mountain Bike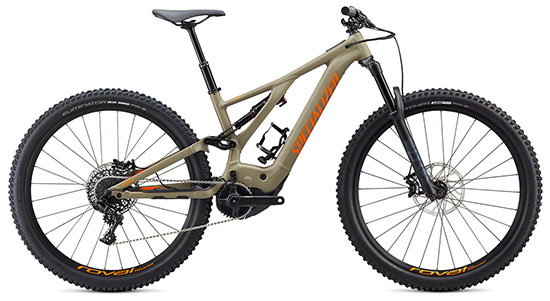 Category: E-bike/all-mountain
Frame: Aluminum
Suspension: 150mm (front) 150mm (rear)
Tires: 29 x 2.6 in. (front) 2.3 in. (rear)
What we like: Well-rounded e-bike with a strong, long-lasting battery and refined downhill performance.
What we don't: Heavy, expensive, and many trail systems don't allow e-bikes (yet).
Specialized has been at the forefront of electric mountain bikes in North America, and their Turbo Levo is a leading all-mountain design. The bike has been updated for 2020 with a host of improvements that set it apart: its platform still is based on the excellent Stumpjumper full-suspension bike, but its electronics have seen a nice upgrade with a more powerful battery and motor. Further, their Mission Control App provides quick access to the battery's status and allows for easy customization of performance. Overall, among a fast-growing and competitive field of e-mountain bikes, we think the latest Turbo Levo Comp is at the top of the list.
Currently, the biggest barrier to an e-mountain bike of any kind is price. Despite packing an aluminum frame, the Turbo Levo Comp here is nearly $6,000, and carbon models start at a whopping $8,275. Additionally, the extra drive system adds a significant amount of weight–it's not uncommon for e-bikes to weigh upwards of 45 pounds or more. This added heft also has performance drawbacks, and the Turbo Levo is quite a bit less flickable compared with the non-motorized Stumpjumper. Finally, land managers and law makers still are trying to figure out where e-bikes fit into outdoor recreation. Regulations vary by state and riding area, but oftentimes they technically are not legal to ride on singletrack trails.
See the Specialized Turbo Levo Comp
Best Cross-Country Bike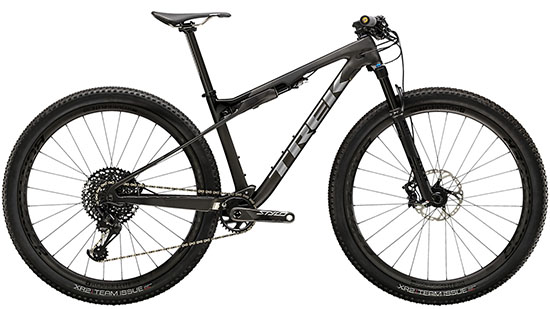 Category: XC
Frame: Carbon fiber
Suspension: 100mm (front) 60mm (rear)
Tires: 29 x 2.2 in.
What we like: Super fast, efficient, and powerful, but with just enough cushioning to handle some techy terrain.
What we don't: The focused XC design limits versatility.
Traditionally, cross-country bikes have been focused on one thing: maximum efficiency to get you across the finish line as quickly as possible. And while that remains the overarching goal, the sport has been evolving with more emphasis on technical trail features and downhill performance. This brings us to the latest Trek Supercaliber, which utilizes an innovative minimalist rear suspension (with 60mm of travel) that helps cushion harsh impacts without sacrificing much in terms of weight or pedaling power. Along with its stiff carbon fiber wheels, quick-reacting Shimano XT drivetrain, and sturdy brakes, the Supercaliber 9.8 is a seriously fast machine. 
Unlike the trail category or even some of the lighter all-mountain designs, cross-country bikes come up short in terms of versatility. Not only are you getting less suspension travel to absorb big hits, but the geometry is more upright and less confidence-inspiring in the steeps. Moreover, the fast-rolling tires prefer speed over traction. As such, the Trek Supercaliber is more of a race weapon and not something you'll likely want to spend every day with. But for the right rider and terrain, it's the real deal.
See the Trek Supercaliber 9.8
Best Fat Bike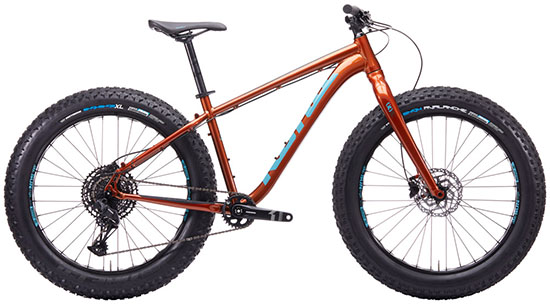 Category: Fat bike
Frame: Aluminum
Suspension: None
Tires: 26 x 4.8 in.
What we like: Great flotation in snow; quality components at an excellent value.
What we don't: Pricier alternatives like the Salsa Beargrease are much lighter and faster.
Kona may not get quite as much attention as Salsa or Surly in the world of fat bikes, but we think their Wo is a standout. Here's why: its recently updated frame (for 2019) has modern geometry and features, it sports a smart spec build with quality parts from Shimano and SRAM, and we think Kona nailed the styling. To top it off, the $1,599 Wo easily undercuts popular alternatives like the Salsa Mukluk SX Eagle ($1,999) and Surly Ice Cream Truck ($2,000) while giving up little—if anything at all—in ride performance and components. All told, for an everyday fat bike, the Wo delivers a near-ideal balance of capabilities and price. 
Where the Kona Wo falls short is for riders looking to drop some weight or toe the snowy race line. Models like the Salsa Beargrease or Borealis Crestone utilize full carbon frames and forks, which shave a significant 5 to 7 pounds compared with the Kona. And the 27.5 x 4-inch tires on the Beargrease (the Wo has 26 x 4.8-in. tires) provide similar amounts of floatation on soft snow yet roll faster on dirt. But unless you're in the minority that needs a high-performance fat bike (most serve as winter-time cruisers), the Kona is our top choice as a fun, value-packed addition to your bike quiver.
See the Kona Wo Fat Bike
Best of the Rest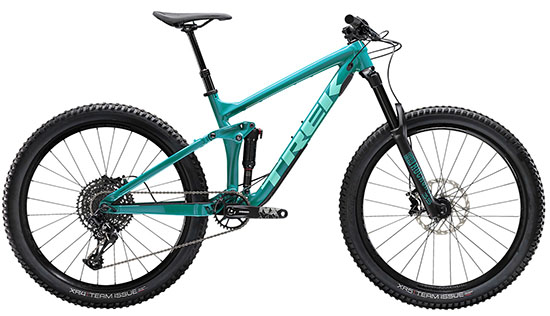 Category: All-mountain
Frame: Aluminum
Suspension: 160mm (front) 150mm (rear)
Tires: 27.5 x 2.6 in.
What we like: Proven all-mountain design with enough travel to take on all but the gnarliest downhill trails.
What we don't: At about 32 pounds, it's a bit on the heavy side.
The Remedy name has been a staple in Trek's mountain bike lineup for over a decade. The current offerings reach as high as $7,500 for the carbon-everything "9.9," but we can't help but prefer the price-conscious "7." It's a real bruiser packing a durable aluminum frame and all-mountain-ready suspension (160mm front and 150mm rear travel). Moreover, we give kudos to Trek for equipping it with reliable components like an NX Eagle drivetrain, SRAM Guide T brakes, and RockShox's stout Gold 35 fork. So, while the Remedy certainty isn't light at about 32 pounds, it's one of the more capable mountain bikes in its $3,300 price range.
The Remedy was in the running for our top overall spot above, but it fell a little short of the Yeti SB130 in a few key performance areas. The Yeti's shorter travel frame and fork (150mm front and 130mm rear) is more efficient on the climbs, yet its larger-diameter 29-inch wheels still can tackle most technical descents. Having said that, if your riding leans more toward the all-mountain/enduro end of the spectrum and you need a little more travel, the Remedy makes a great one-bike option. And should you be looking to shed some weight, the carbon Remedy 9.7 trims away about 3 pounds but comes in quite a bit more at $4,500.
See the Trek Remedy 7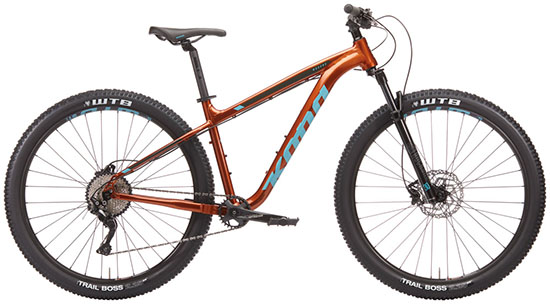 Category: XC
Frame: Aluminum
Suspension: 100mm (front)
Tires: 29 x 2.25 in.
What we like: One of the few singletrack-worthy hardtails at this price point.
What we don't: Inexperienced riders may wish for more gears; not as capable as the Cannondale Cujo 2 below on rough trails.
Kona's Mahuna hardtail is proof that inexpensive bikes don't have to be boring. It's the current top-rated model in our article on mountain bikes under $1,000 thanks to a proven 1 x 10 Shimano drivetrain, relatively wide and aggressive (for this segment) 29 x 2.25-inch WTB tires, and balanced yet fun riding position. While it won't be able to match any of the full-suspension bikes in terms of descending ability, the 68-degree head tube angle and 100-millimeter RockShox fork will safely see you down moderate singletrack. The Co-op Cycles DRT 1.1 listed above may take the cake when it comes to price, but the Mahuna will ride all over it once the trail gets bumpy and rough.
As mentioned above, hardtails simply can't keep up with full-suspension rigs over rooty and rocky terrain, and the Mahuna is no different. The Giant Trance below gets you a big bump up in performance, but the added complexity of the rear linkage brings the cost up to $2,100. Among hardtails, you can find more capable rigs by opting for a mid-fat design like the $1,300 Cannondale Cujo 2 below, and its 2.8-inch tires and additional 20 millimeters of suspension are big pluses for cushioning hard impacts. What those alternatives have in common is a higher price tag, and among bikes below $1,000, the Mahuna stands out as our favorite model of 2020.
See the Kona Mahuna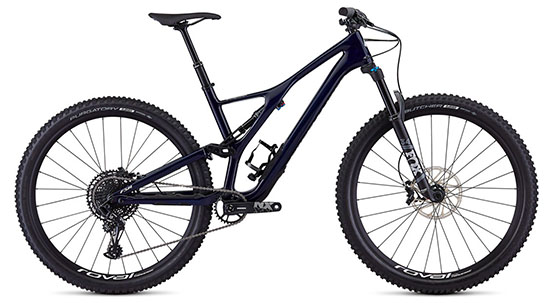 Category: Trail
Frame: Carbon fiber
Suspension: 130mm (front) 120mm (rear)
Tires: 29 x 2.3 in.
What we like: A great-performing and highly versatile trail bike.
What we don't: Pricier than competitors like the Ibis Ripley above. 
Easily one of the most recognizable names in mountain biking, Specialized revamped their legendary Stumpjumper last year. Our current favorite variation is the Comp Carbon 29 ST: its 29-inch wheels and progressive-yet-not-too-extreme geometry make it a nimble and fully capable handler. We also like the sleek carbon frame, which features a neat storage area (dubbed SWAT) in the downtube for carrying a spare tube, tools, and trailside snacks. In terms of components, it's hard to argue with the SRAM NX Eagle drivetrain, although the Fox Rhythm fork is a bit of a letdown at this price (the Ibis Ripley above has an upgraded suspension yet costs less).
With a staggering total of 27 models available at the time of publishing, one of the best parts of the Specialized Stumpjumper lineup is the wide range of choices. The "ST" (short travel) version here is great for those riding slightly less technical terrain, but Specialized also offers their standard model that bumps the travel up to 150 millimeters in front and 140 millimeters in the rear. Additionally, the "EVO" is a super long and slack version that's built to comfortably tackle the steeps. And if smaller wheels are more your thing, they offer 27.5-inch-wheeled variations. You do pay a premium for the Specialized logo, but the Stumpjumper's expansive selection and proven performance make it a favorite year after year.
See the Specialized Stumpjumper ST  See the Women's Specialized Stumpjumper ST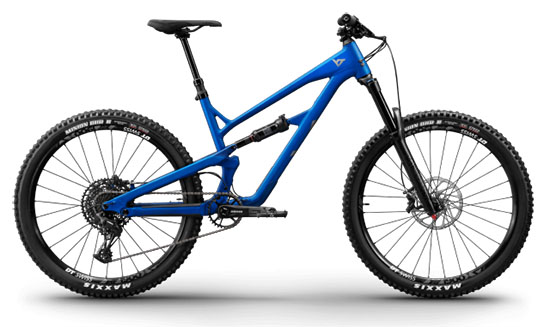 Category: All-mountain
Frame: Aluminum
Suspension: 150mm (front) 150mm (rear)
Tires: 29 x 2.4 in.
What we like: Awesome price considering the spec package and capabilities.
What we don't: Consumer-direct customer support can be lacking.
In contrast to premium brands like Santa Cruz or Yeti, YT Industries has built its popularity around offering big-time value. The German-based manufacturer is the best-known direct-to-consumer company that forgoes the middleman (bike shops) and allows shoppers to purchase directly from their website. They've recently reworked their popular Jeffsy, and the Base 29 model is a screaming deal: you get quality RockShox suspension components front and rear, a DT Swiss wheelset, dropper post, and top-performing Maxxis Minion tires for hundreds less than its competitors. And jumping up to their top-flight Pro Race model will get you components typically found on bikes that cost thousands of dollars more.
What are you giving up by shopping from a consumer-direct company? For one, inventory is hit-or-miss, and at the time of publishing, many sizes and colors are multiple months out. In addition, there are reports of poor customer service and it can be difficult to get replacement frame parts as bike shops generally don't stock them. Moreover, buying online means you don't get a chance to test ride the bike before throwing down some serious cash. But for those who prioritize saving money and are willing to take on a little extra risk, the YT is an enticing option and a solid value. 
See the YT Industries Jeffsy Base 29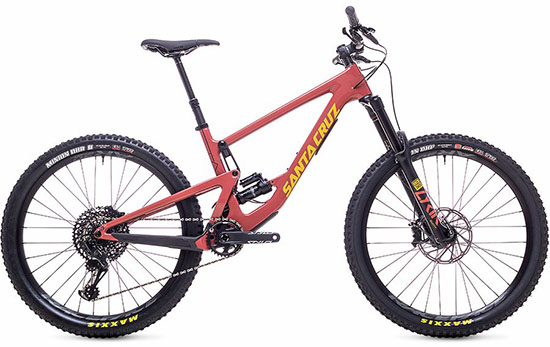 Category: All-mountain/enduro
Frame: Carbon fiber
Suspension: 160mm (front) 150mm (rear)
Tires: 27.5 x 2.5 in. (front) 2.4 in. (rear)
What we like: Fun-loving bike that enjoys being pointed down rough and steep trails.
What we don't: As with the Megatower above, you pay a premium for the brand.
Don't let the location of the Bronson Carbon S on the list fool you—the all-mountain bike from Santa Cruz is an absolute treat. We've spent more than a year thrashing it around the Pacific Northwest and came away thoroughly impressed by its plush rear suspension design and all-around refinement. The Bronson gobbles up technical trails, and it sports thoughtful frame features like a built-in shuttle guard protector on the downtube and a little mud guard on the rear shock. While we rank the Trek Remedy 7 above it due to a big price gap, the Bronson gets the clear nod when it's time to go downhill. 
For a women's-specific alternative, we recommend checking out Santa Cruz's sister brand, Juliana Bikes. While their lineup is more condensed (four mountain bikes total), Juliana takes everything we love about Santa Cruz and orients them towards female riders. Their take on the unisex Bronson is the Juliana Roubion: This bike shares the same rear linkage, amount of travel, and key specs with the Bronson but includes softer suspension tunes for lighter riders, narrower bars, and other women's-specific components. Both the Roubion or Bronson are expensive, but the build quality, well-sorted suspension designs, and attention to detail earn them a spot here.... Read in-depth review
See the Santa Cruz Bronson Carbon S  See the Women's Juliana Roubion Carbon S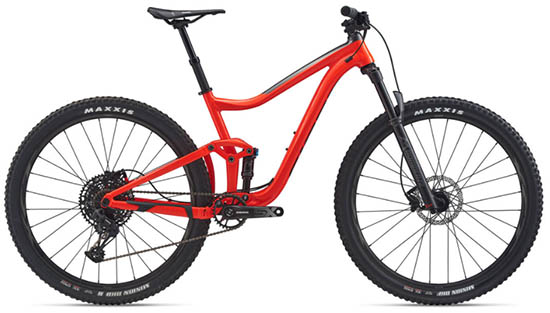 Category: Trail
Frame: Aluminum
Suspension: 130mm (front) 115mm (rear)
Tires: 29 x 2.3 in.
What we like: Fantastic price for a fun and snappy trail design.
What we don't: Less capable than the similarly priced YT Jeffsy above.
With a full-suspension layout and standout $2,100 price tag, Giant's Trance 29 3 is a great option for progressing trail riders looking to pick up their first "real" mountain bike. Giant is one of the largest bike companies in the world, and their extensive collection of in-house components help keep costs in check. But what makes the Trance special is the smart mix of quality performance pieces, including the Marzocchi Z2 front fork (which shares a lot of its internals with Fox), Maxxis tires, and hydraulic brakes from Shimano. Combined with geometry that's in-line with current trends, and you have a reasonably priced bike that can help take your riding to the next level.
How does the Trance stack up to the YT Industries Jeffsy above? Both designs are among the best at balancing price and performance, although they fall into slightly different categories. While the Jeffsy rides more like a trail bike than its 150 millimeters of cushioning suggests, it gets the clear edge in stability and control through steep and gnarly descents. On the other hand, the Trance is more efficient and livelier with its trimmed-down, lighter build. Plus, it comes with the convenience of bike shop support (if you have a local Giant dealer). It's worth noting Giant also offers the Trance 3 in a 27.5-inch wheel size that includes more squish (150mm front and 140mm rear) for the same $2,100 price.
See the Giant Trance 29 3  See the Women's Liv Intrigue 3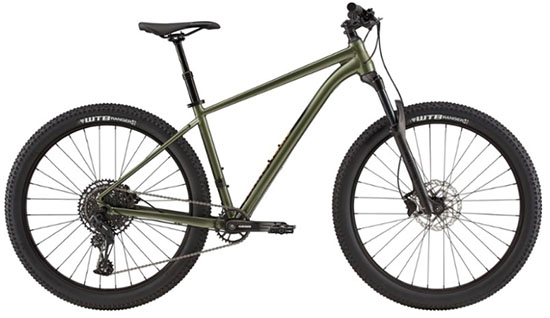 Category: XC/trail
Frame: Aluminum
Suspension: 120mm (front)
Tires: 27.5 x 2.8 in.
What we like: Plus-sized tires provide a nice boost in traction and cushioning.
What we don't: Not as strong of an all-around performer as the Timberjack above.
Connecticut-based Cannondale may be better known for their top-of-the-line road, gravel, and mountain bikes, but their entry-level Cujo 2 27.5+ hardtail is worth a serious look. We like the Cujo for its quality components—the RockShox Judy fork, dropper post, and 12-speed SRAM SX Eagle drivetrain are highlights—and its low price tag. It's also the only "plus" bike to make our article, featuring 2.8-inch-wide tires that deliver a supple ride over chattery singletrack and provide almost endless amounts of traction on off-camber roots and through sandy corners. Splitting the difference in price between the Salsa Timberjack and Kona Mahuna above, the Cannondale hardtail hits a nice middle ground for light trail work.
Why do we rank the Cujo below the aforementioned Timberjack and Mahuna? It's hard to beat the Mahuna's excellent price, and the Kona is plenty capable for those starting out or just dabbling in the sport. In addition, while we like the plus-sized tires and the high-quality aluminum frame (a hallmark of Cannondale's designs), the bike is heavy at over 32 pounds (for reference, that's more than many of the full-suspension bikes listed here). This makes it rather slow to respond on the trail and it feels even less nimble than the burly Timberjack. In the end, the Cujo won't blow you away from a performance standpoint, but it's hard to knock the component choices, plush ride, or sub-$1,500 price.
See the Cannondale Cujo 2
Mountain Bike Comparison Table
| Bike | Price | Category* | Frame | Suspension | Tires |
| --- | --- | --- | --- | --- | --- |
| Yeti SB130 | $5,399 | Trail/AM | Carbon | 150mm (front) 130mm (rear) | 29 x 2.5/2.3 in. |
| Salsa Timberjack XT 29 | $1,999 | Trail/XC | Aluminum | 130mm (front) | 29 x 2.6 in. |
| Co-op Cycles DRT 1.1 | $549 | XC | Aluminum | 100mm (front) | 27.5 x 2.1 in. |
| Ibis Ripley NX Eagle | $4,199 | Trail | Carbon | 130mm (front) 120mm (rear) | 29 x 2.35 in. |
| Santa Cruz Megatower | $7,199 | Enduro | Carbon | 160mm (front) 160mm (rear) | 29 x 2.5/2.4 in. |
| Specialized Turbo Levo | $5,975 | E-bike/AM | Aluminum | 150mm (front) 150mm (rear) | 29 x 2.6/2.3 in. |
| Trek Supercaliber 9.8 | $5,900 | XC | Carbon | 100mm (front) 60mm (rear) | 29 x 2.2 in. |
| Kona Wo | $1,599 | Fat bike | Aluminum | None | 26 x 4.8 in. |
| Trek Remedy 7 | $3,300 | All-mountain | Aluminum | 160mm (front) 150mm (rear) | 27.5 x 2.6 in. |
| Kona Mahuna | $999 | XC | Aluminum | 100mm (front) | 29 x 2.25 in. |
| Specialized Stumpjumper | $4,520 | Trail | Carbon | 130mm (front) 120mm (rear) | 29 x 2.3 in. |
| YT Industries Jeffsy Base | $2,299 | All-mountain | Aluminum | 150mm (front) 150mm (rear) | 29 x 2.4 in. |
| Santa Cruz Bronson | $5,199 | AM/enduro | Carbon | 160mm (front) 150mm (rear) | 27.5 x 2.5/2.4 in. |
| Giant Trance 29 3 | $2,100 | Trail | Aluminum | 130mm (front) 115mm (rear) | 29 x 2.3 in. |
| Cannondale Cujo 2 | $1,350 | XC/trail | Aluminum | 120mm (front) | 27.5 x 2.8 in. |
*Editor's Note: "AM" refers to all-mountain bikes.

Mountain Bike Buying Advice
Mountain Bike Categories
Cross-Country (XC)
Cross-country bikes, with their limited amount of suspension travel and skinny tires, are made to be ridden on relatively mellow terrain. These types of bikes are light, often lack a rear shock, and prioritize covering ground and uphill performance over tackling technical obstacles or jumps. XC bikes can be found in just about every price point from under $500 for the Co-op Cycles DRT 1.1 to premium carbon racing designs costing $5,000+. But all share some basic features: around 80 to 100 millimeters of suspension travel and tires that hover between 2.1 to 2.25 inches in width. A bike like the wallet-friendly Kona Mahuna ($999) is a great example of a modern XC build.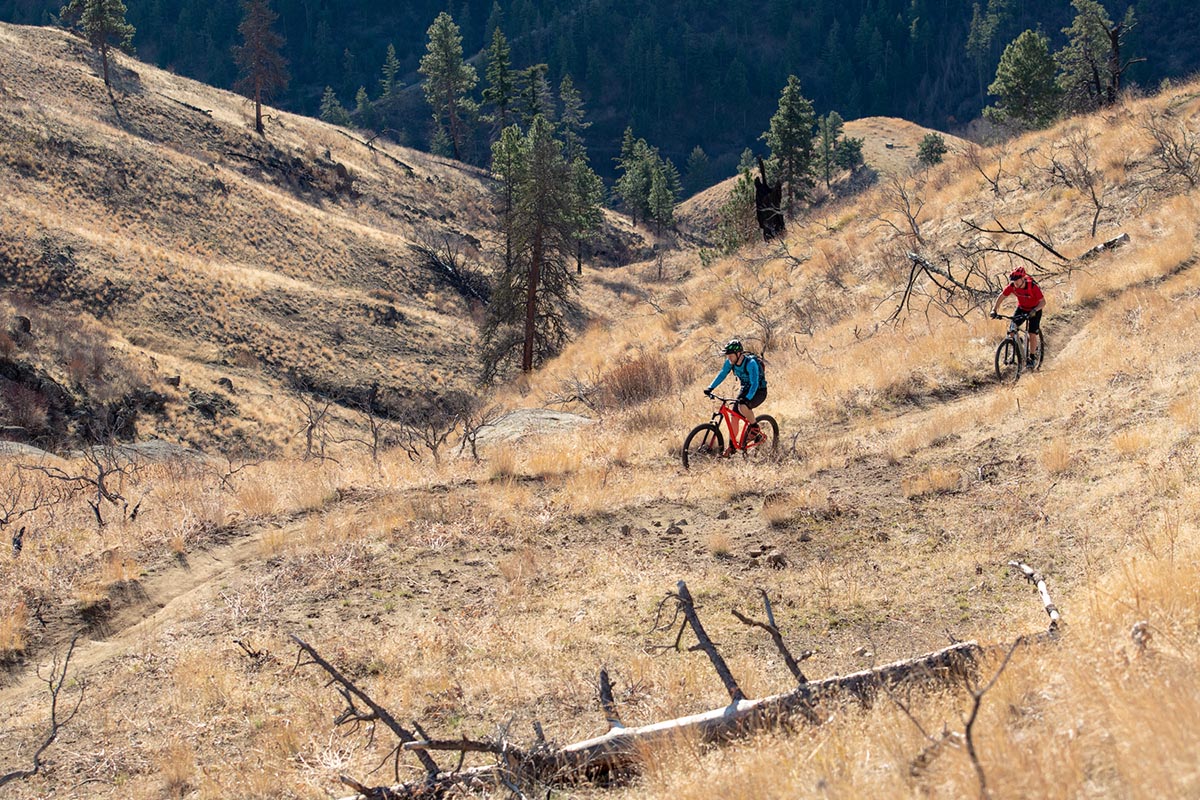 Trail
Trail models are a fairly new segment in the world of mountain biking. They bridge the gap between the efficient and lightweight XC bikes above and the more downhill-oriented all-mountain and enduro designs below. Bikes like the Ibis Ripley feature 120 to 140 millimeters of travel and 2.3-inch tires, which are a great match for most modern mountain bike trails. The efficient yet root- and rock-absorbing front and rear suspension is just enough to take the edge off rough trails but it's not so much that it sucks your energy on the climbs. If we were forced to own just one style of bike, this would most likely be it.
All-Mountain and Enduro
All-mountain and enduro bikes put a strong emphasis on descending, much more so than the trail category above. These high-end full-suspension bikes typically have anywhere from 150 to 170 millimeters of suspension travel and 2.4- to 2.6-inch tires. Their aggressive builds help to smooth out very rough trails and enable the rider to carry more speed down technical sections (a plus for enduro racing). Bikes in this category typically cost $3,000 and up, weigh in around 30 pounds, and are not as comfortable or fast for all-day rides as the XC and trail bikes mentioned above. All in all, if your riding style is heavily focused on descending but you still need to pedal to the top, this type of bike is what we recommend.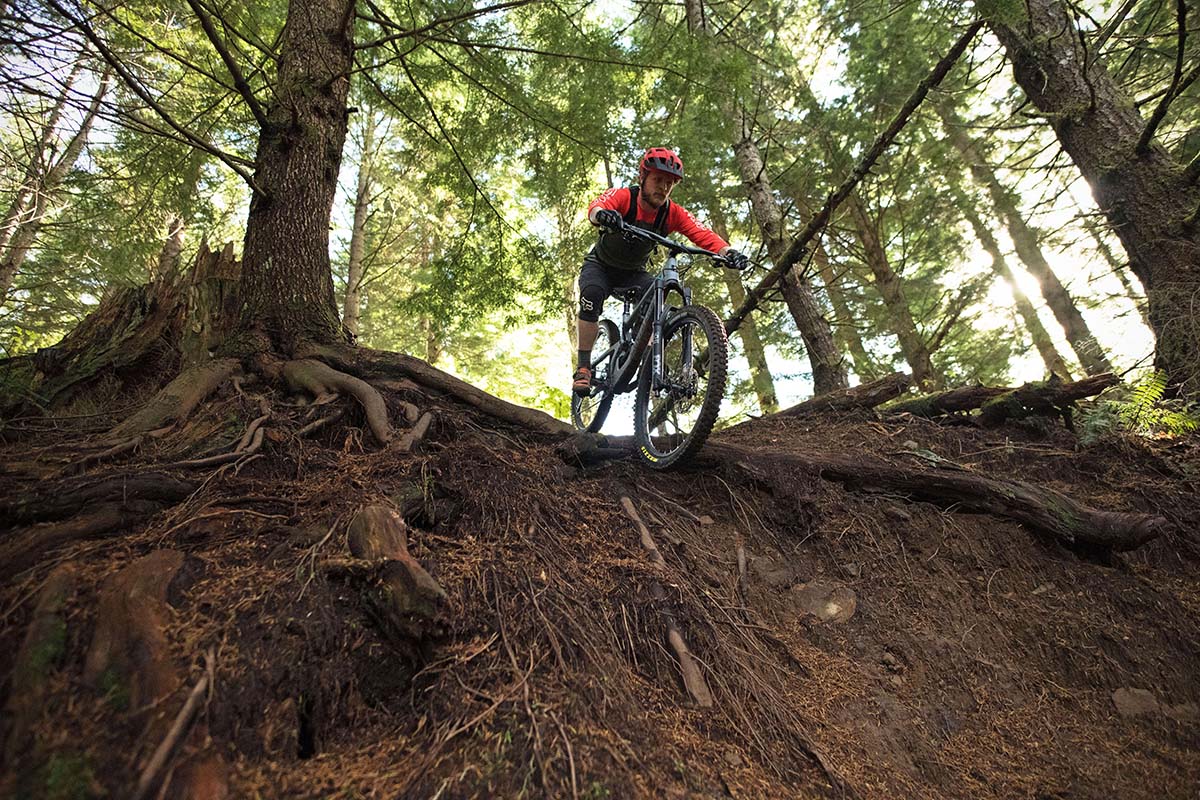 Downhill and Park
Downhill and park models have one priority: going downhill. As such, they're typically quite heavy, come with anywhere from 180 to 200 millimeters of travel (front and rear), include large and grippy 2.5-inch-wide tires, and have very slack head tube angles. This makes them truly excel at places like the Whistler Bike Park where the terrain is extremely rough, steep, and gnarly. Because of their priorities, these types of bikes are all but impossible to pedal comfortably uphill and usually require a car ride or lift to get you to the top of the trail. Those with lift-assisted terrain close by may have a downhiller as their primary ride, but the limited versatility makes it a common secondary bike.

Fat Bikes
Fat bikes, which are easily identified by their very large and voluminous tires, can float over soft trail conditions like snow and sand. This makes them a popular choice for riders looking to extend their season into the winter or adventurous types that want to cover ground in remote areas. It's also not uncommon to see fat bikes ridden on standard dirt trails—the wide tires make them more stable than a regular mountain bike, and they sometimes appeal to riders who favor safety over speed. That said, fat bikes are quite a bit heavier and slower than the traditional styles above. In terms of suspension, many designs are fully rigid (no suspension front or rear) as the wide tires do a good job absorbing impacts. Some of our favorite fat bikes include the Kona Wo for year-round cruising and Salsa's carbon Beargrease for more aggressive riding and winter-time racing.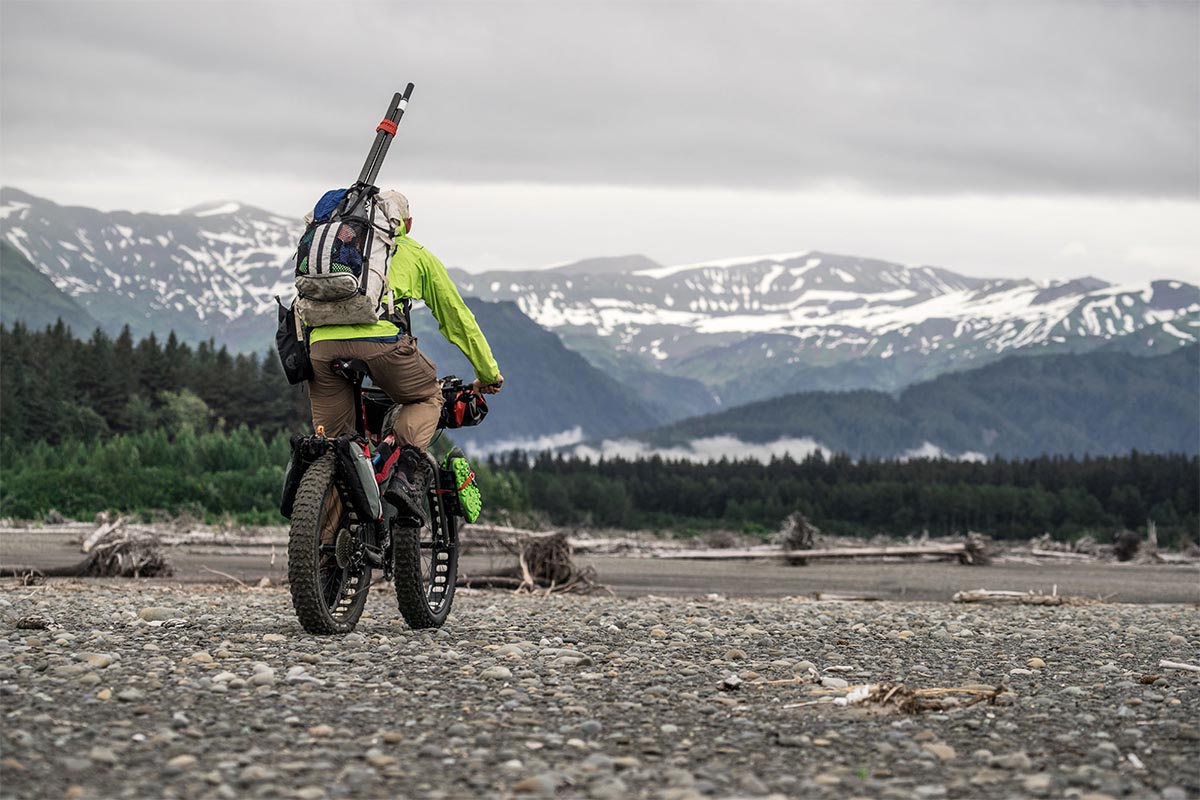 Electric Mountain Bikes
Electric mountain bikes (also known as e-mountain bikes), are a fairly new and rapidly growing category. As the name would suggest, they feature an electric motor to help propel the bicycle along. Currently, there are three popular classifications of e-bikes: Class 1 is known as pedal assist (AKA pedelec) and requires rider input to engage the motor. This is the most popular form of e-mountain bikes. Class 2 features a throttle and does not require rider input to engage the motor. Class 3 is considered a speed pedelec (it still needs rider input) but features a higher assisted top speed of 28 miles per hour (Class 1 bikes stop assisting at 20 mph).
While electric mountain bikes are certainly fun to ride, they do have a number of downsides. They are typically very heavy (averaging around 50 lbs.) and can be cumbersome to transport. And although e-bikes have been very popular in Europe for quite some time, they continue to receive pushback in the United States. There are a number of laws and trail restrictions regarding the use of E-MTBs, so it's important to check your local rules before heading out on a ride.

Full-Suspension vs. Hardtail
When buying a new mountain bike, one of the most commonly asked questions is: should I buy a hardtail (suspension fork only at the front) or full-suspension (includes both a front suspension fork and rear shock) model? There are a number of factors to consider when making this choice. Are you on a tight budget? Are you just starting out? Are your local trails smooth and with few obstacles? If so, a hardtail is probably the best choice for you (and some will even opt for no suspension at all, although this is rare). However, should your local terrain be rooty and rocky, or maybe you just like going downhill fast, then a full-suspension rig probably is the better option. This is just the tip of the iceberg, however, and we break down the additional considerations below.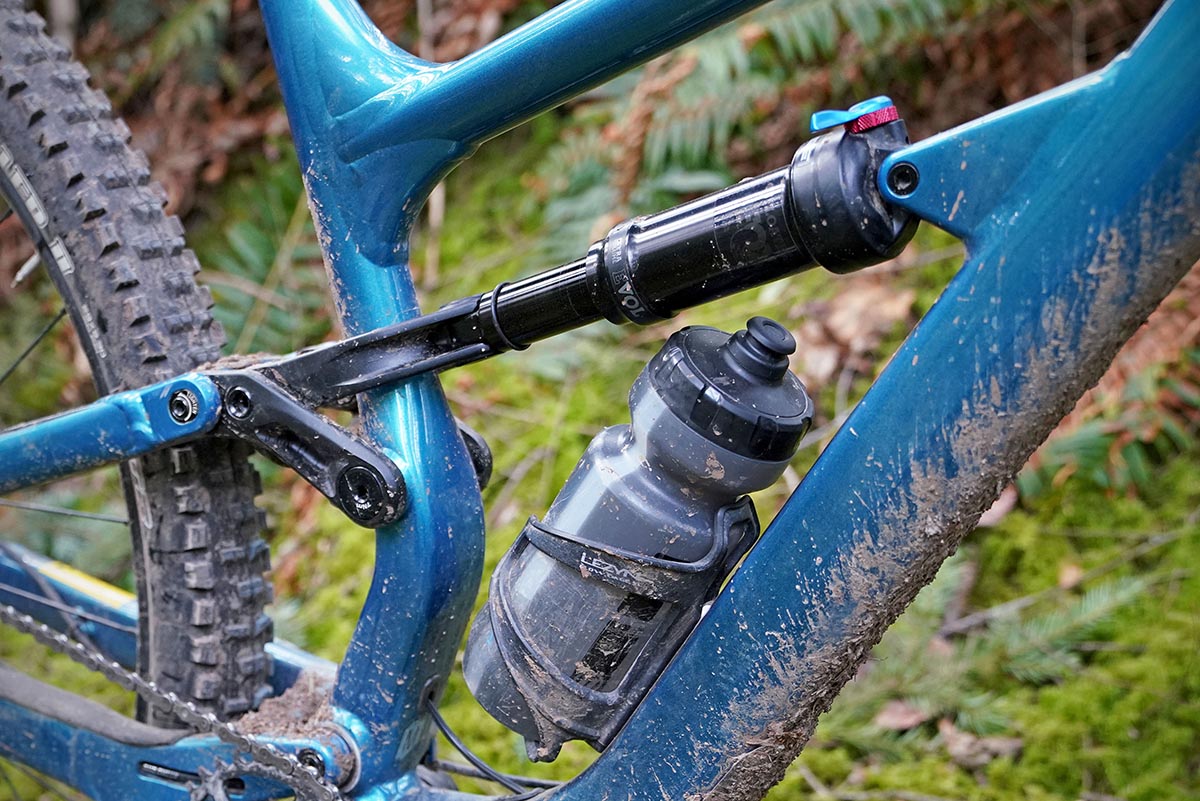 Performance
In terms of overall riding performance, hardtail and full-suspension mountain bikes each come with their fair share of pros and cons. Starting with hardtails, their lower weight and lack of suspension travel makes them fast and easy to pedal quickly. As a result, they excel on long rides and climbs and are a popular choice among XC racers. But should the going get rough—especially on the downhill—a full-suspension bike quickly takes the lead. The added rear suspension helps soak up bumps and offers a much more comfortable ride in general. FS bikes are the weapon of choice for most intermediate to advanced riders. Having said that, full-suspension designs typically weigh more, are significantly more expensive, and will not be as efficient at climbing or on non-technical trails.
Maintenance
If you're looking for a simple and low-maintenance bike, then hardtails take the cake. Their lack of rear suspension means they forgo any bushing, bearing, or pivots that generally require extra care and attention. This becomes especially true should you live in a wet and muddy climate, which can wreak havoc on full-suspension bikes should they go unmaintained. Because of these characteristics, it's not uncommon for dedicated mountain bikers to own a full-suspension bike for summer use and a hardtail for when the trails turn to slop. Bikes like the Salsa Timberjack are able to hold their own against short-travel full-suspension rigs yet are much simpler to keep fresh should you often ride in the rain.
Price
Once again, if a low price is your top priority, then hardtails are the clear choice. Quality full-suspension bikes, with their added rear shock and linkage, are simply too complex to design and build on the cheap. From the list above, the $2,100 Giant Trance 29 3 is about as low as we'd advise going with a full-suspension design (there are a few just below $2,000 that are suitable as well). Sure, you could certainly spend less than that on a bike from a big-box store, but in reality, it's going to ride terribly. The parts won't last, the suspension will be overwhelmed, and you'll be quickly wishing you bought a lighter and more comfortable hardtail instead.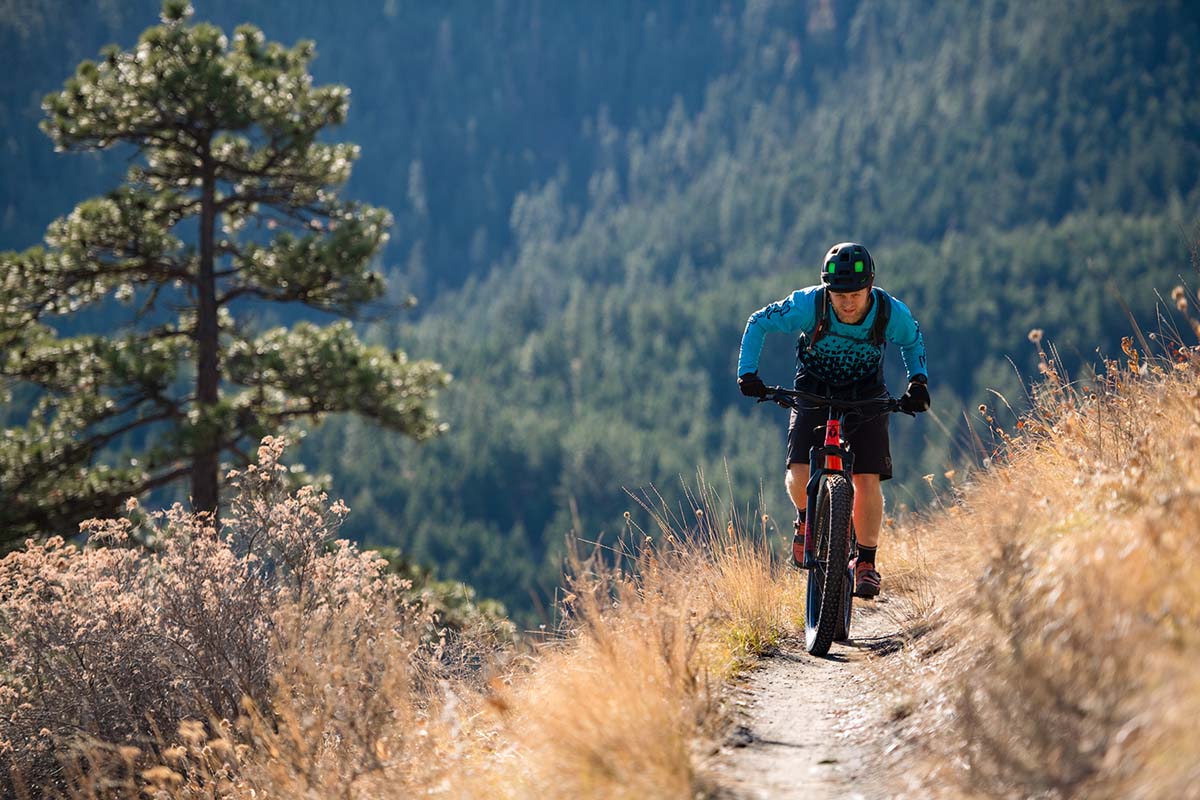 What is Suspension Travel?
The term "suspension travel" is used throughout the article and is best defined as a measurement of how much the shock absorbers can compress. This number is measured in millimeters and is assigned to every hardtail and full-suspension bike (rigid bikes logically don't have any travel). The maximum amount of travel on a given bike varies from approximately 60 to over 200 millimeters, and the more travel you have the more capable and planted the bike will be in rough sections. As such, the amount of travel correlates closely with the style of bike (hardtail or full-suspension) and intended terrain. Below is a quick summary of what to expect based on the "categories" we detail above.
Cross-Country Bikes:
Style: Hardtail or full-suspension
Travel: 80mm to 100mm
Trail Bikes:
Style: Full-suspension (sometimes hardtail)
Travel: 120mm to 140mm
All-Mountain and Enduro:
Style: Full-suspension
Travel: 150mm to 170mm
Downhill and Park:
Style: Full-suspension
Travel: 180mm to 200mm+

Wheel Size: 27.5 vs. 29er
For 2020, the old 26-inch wheel standard is essentially gone, and most mountain bikes are equipped with either 27.5 or 29-inch wheels (occasionally you'll come across "plus" variations of the two sizes, which indicate wider tires). In general, riders focused on a lighter and nimbler style will prefer 27.5, while 29ers are more popular among speed-focused cyclists tackling rougher trails. There are other considerations—including your height and local terrain—which we cover below.
27.5
Those looking for a playful ride that is easy to maneuver on tight and twisty trails will likely want to choose a 27.5-inch-wheeled bike. This smaller wheel size is lighter, quicker to accelerate, and more responsive to rider inputs—something you'll especially notice when starting from a slow speed or coming out of corners. Downsides of 27.5-inch bikes are that they're a little more fidgety when you're riding hard and can get hung up easier than a 29er in particularly rough terrain, but the differences aren't too drastic. Finally, compared to 29ers, 27.5s are typically a better choice for smaller riders (especially those 5'2" and under): they're less cumbersome, provide a better overall fit, and are offer greater control.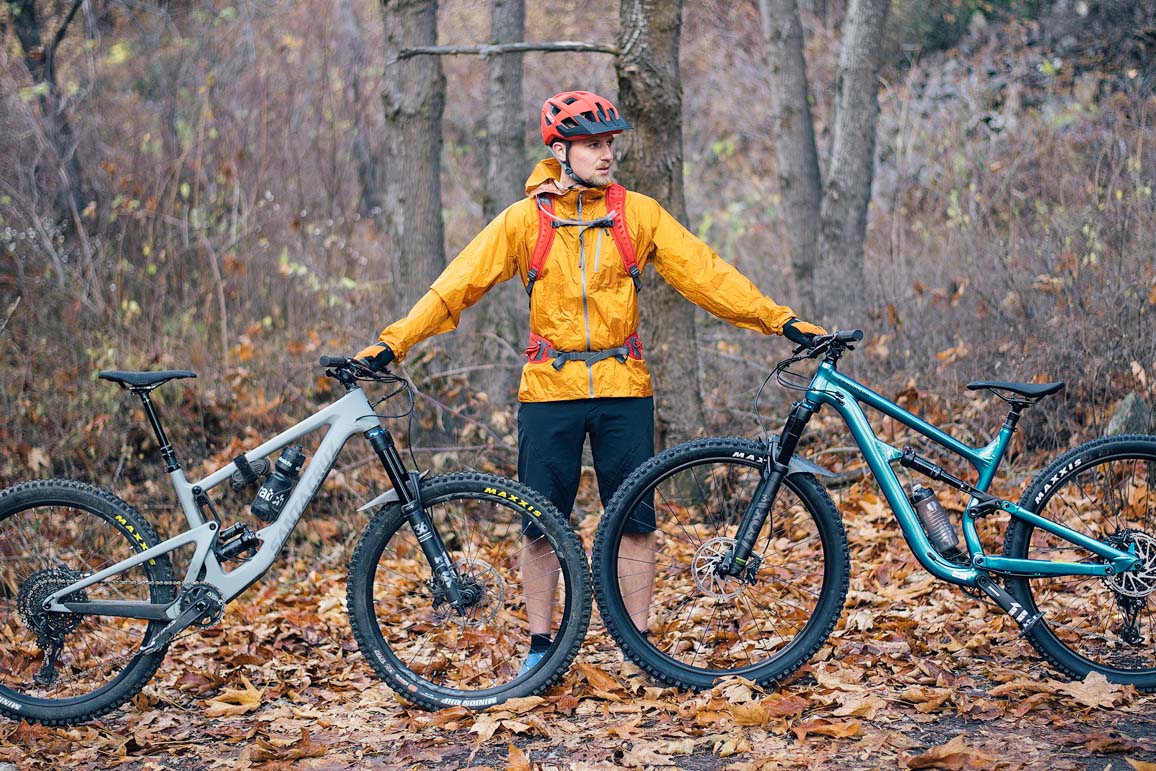 29er
29-inch-wheeled mountain bikes, often referred to as "29ers", are known for their ability to carry momentum down the trail and roll over obstacles with relative ease. While these favorable characteristics were previously sought after primarily by XC riders, this wheel size has slowly made its way into all disciplines of the sport. 29ers are also known to be more stable than 27.5-inch wheeled bikes at speed and have a larger tire contact patch with the ground, which translates to an increase in traction. In the past, 29-inch-wheeled bikes were marketed to taller riders. However, in recent years bike companies have made significant progress in bike designs, and it's not uncommon to find riders in the 5'3" range sporting this wheel size. And, of course, if you happen to be over 6 feet tall, we can't help but think you'll be best-served by a 29er in most cases. For a more detailed breakdown, see our article: 27.5 vs. 29er Mountain Bikes.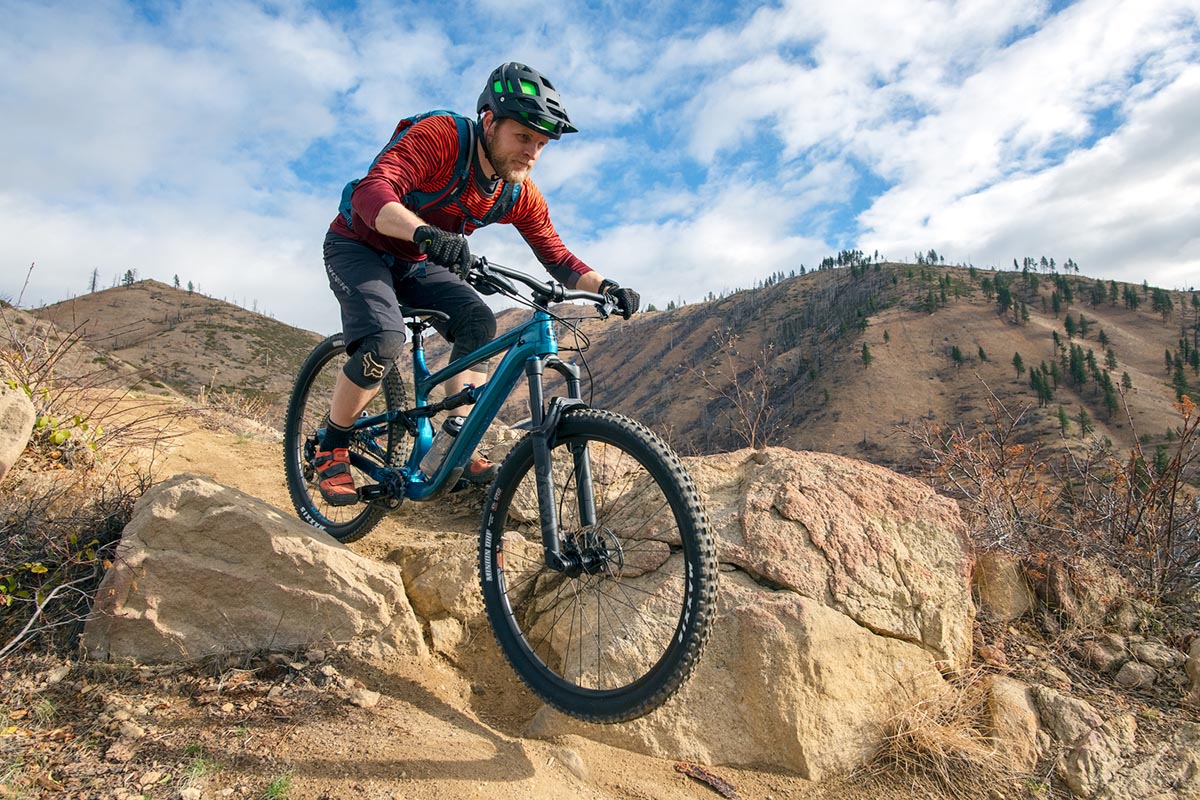 Drivetrain and Gearing
There are a number of drivetrain and gearing options currently on the market, and the quality of a given set-up often directly correlates with the cost of the bike. On budget-oriented rides like the $549 Co-op Cycles DRT 1.1, you'll find 3 x 7 or 3 x 8 gearing (for a total of 21 or 24 speeds). The "3" indicates the gearing at the front (where you're pedaling), while the "7" is for the rear cassette. The upside to the design is that you have a wide range of gears at your disposal for anything from steep uphills to fast-paced gravel paths. But it comes with a very significant weight penalty, and it can be a real pain trying to quickly swap between gears at either end of the ratio. As such, every year we see more and more 1X drivetrains that ditch the front derailleur.
For 2020, the vast majority of hardtail bikes over $1,000 and full-suspension designs over $1,500 utilize a 1X set-up. What you get by only having the gearing at the back is improved ergonomics and efficiency—there's only one shifter to manage—and less weight. In addition, with budget-friendly designs like the new 1 x 12 SRAM SX Eagle, you can still get a very wide gear range without breaking the bank (it's included on the $1,350 Cannondale Cujo 2). For riders committing to the sport and planning to tackle steeper terrain, we consider a 1X set-up to be a worthy upgrade (in fact, all but the cheap Co-op Cycles DRT 1.1 on our list use this style). And a final note here: SRAM and Shimano dominate the 1X market, and in general, as price goes up weight goes down and shifting smoothness and reliability improve.
 

Carbon Fiber vs. Aluminum Frames
While the majority of mountain bikes out on the trail today are still made out of aluminum, carbon fiber is becoming increasingly common. What's driving its growing popularity? The main advantages are less weight—approximately 1 pound depending on the frame—and increased stiffness. The additional rigidity of the material compared with aluminum leads to better power transfer and higher efficiency. For committed cyclists, that's a pretty convincing list of performance advantages.
Carbon does come with its fair share of downsides, however. Right off the bat, you can expect to pay about a $1,000 premium for upgrading from an aluminum to carbon frame. Additionally, aluminum does a better job absorbing impacts from trail debris and surviving a high-speed crash (carbon can crack from hard hits). Finally, aluminum is easier to be recycled once a bike has reached the end of its life, although that's still a hotly debated topic. In the end, it often comes down to budget: carbon has plenty of advantages but it's a hard sell if you're only dabbling in the sport. And we can't help but think that extra cash may be better spent on a visit to Whistler instead.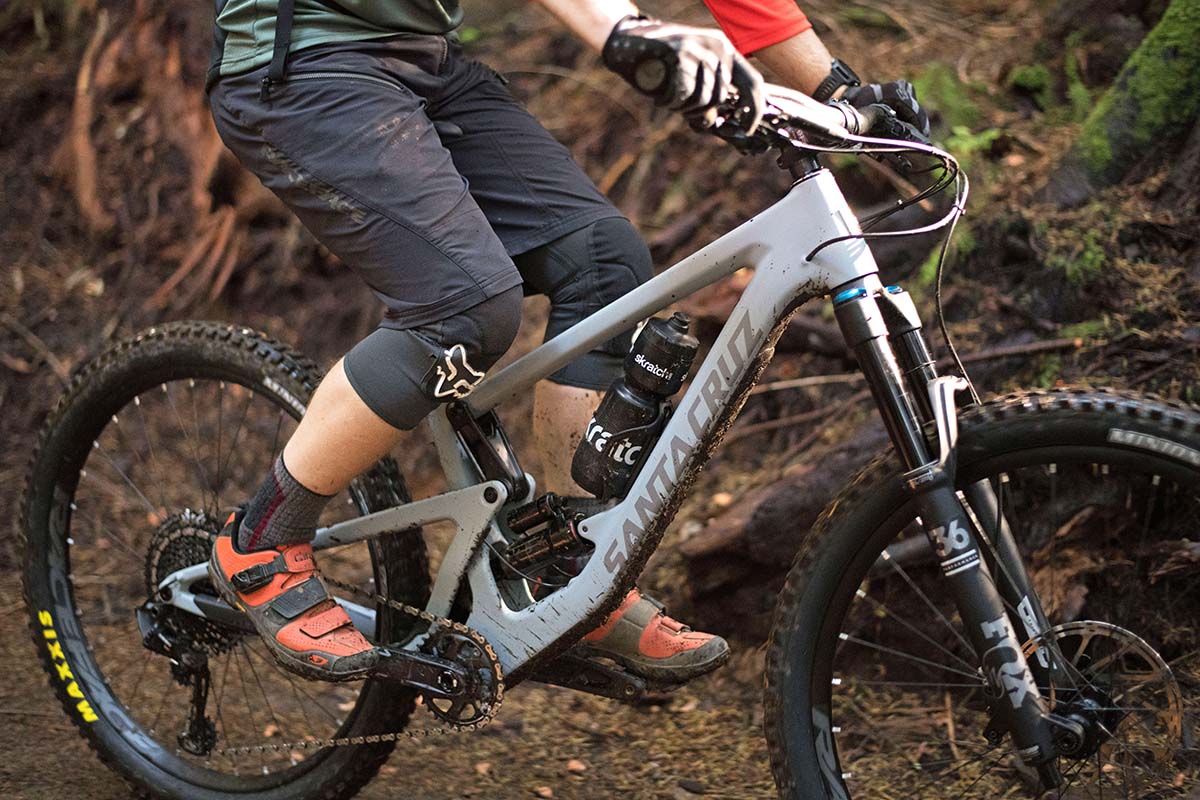 Weight
Mountain bike weight is one of the more sought-after numbers for potential buyers, but it can be difficult to nail down (not all manufactures advertise it). The good news is that it's typically easy to get a good gauge. To start, weight corresponds with the categories above. XC bikes are typically the lightest, ranging from around 30 pounds for a mid-range design to the low 20s for a race-ready steed. Trail bikes are a bit heavier than XC styles, but their moderate suspension travel makes them lighter than all-mountain and downhill rides (downhill and park are the heaviest among this trio). Finally, e-mountain bikes are on extreme heavy end of the spectrum—their batteries and complex motors push them near 50 pounds.
Taking this a step further, weight does vary a fair amount within the bike categories listed above. And in general, pounds drop as the quality of the materials and price go up. For the most part, the weight decreases are due to nicer components like the drivetrain, suspension fork, and wheels. You'll also see a drop in weight on high-end bikes when manufacturers utilize carbon fiber frames rather than aluminum. Taking a look at Trek's full-suspension Remedy line, the base aluminum Remedy 7 ($3,300) weighs 3 pounds more than the upgraded carbon fiber Remedy 9.7 ($4,500). Serious riders will often be willing to spend up for the lighter model, while casual riders or those not planning to cover significant ground can save with a heavier build.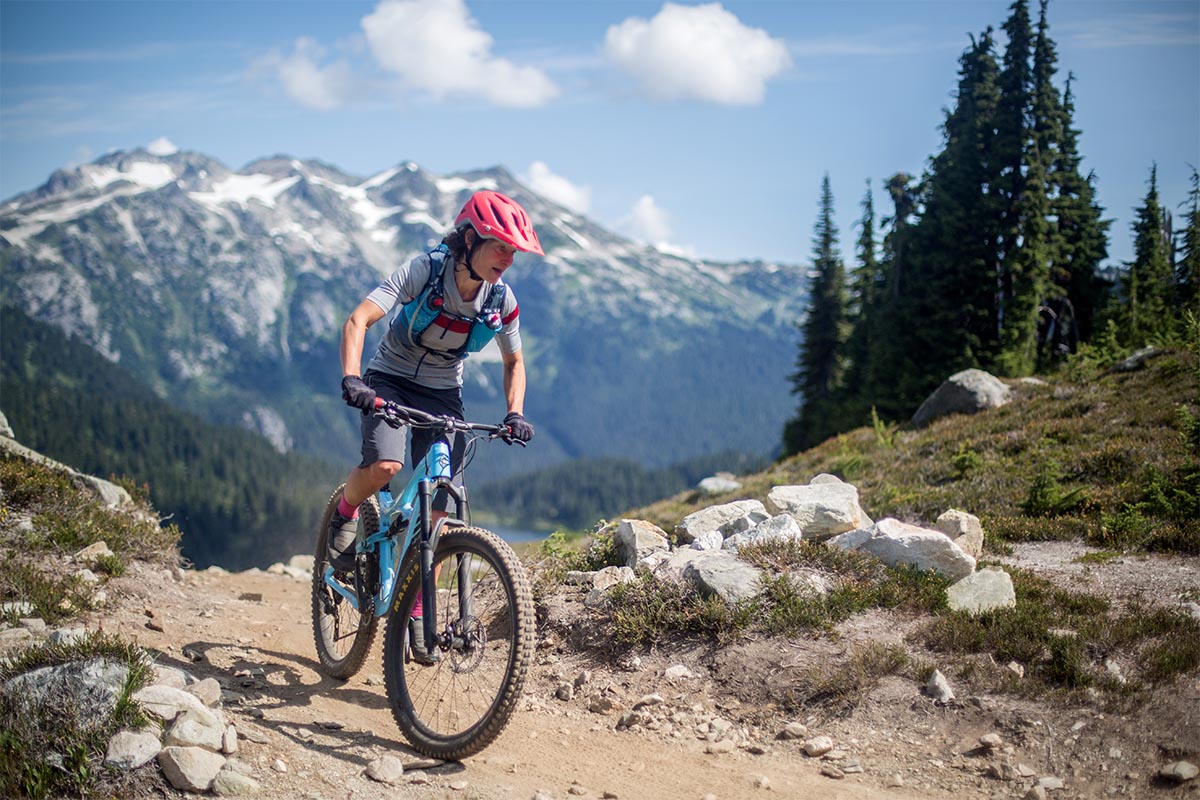 Unisex vs. Women's-Specific Models
Many mountain bikes are made in a unisex style and a range of sizes (typically from "S" to "XL"). This can work well for both men and women, although riders on the shorter end of the spectrum can run into some challenges getting an ideal fit. Some brands like Trek address this by offering a wider range of sizes within the unisex line. Taking Trek's Fuel EX as an example, the bike is made in "XS and "S" frame sizes with top tubes that dip down more aggressively right in front of the seat and smaller wheels (27.5 rather than 29). This makes it easier for shorter riders to comfortably stand over and control the bike. For many women, simply having an array of size options is all they need to get a great fit.
In addition, a number of brands make dedicated women's mountain bikes. In the past, these mostly have been shrunken-down versions of the unisex models in different colorways. And while that's still true in some cases—especially on the budget end of the spectrum—many quality brands make women's-specific designs with retuned suspensions, handlebars that are narrower with smaller-diameter grips, and reshaped frames. There also are women's-only bike brands, including Juliana (Santa Cruz's sister brand) and Liv (Giant). Liv Cycling in particular really stands out as a leader with a growing collection of XC, trail, and e-mountain bikes for women. In the end, a unisex design like the aforementioned Fuel EX can be a great pairing for many lady riders, but there are a number of potential benefits in opting for a women's-specific model.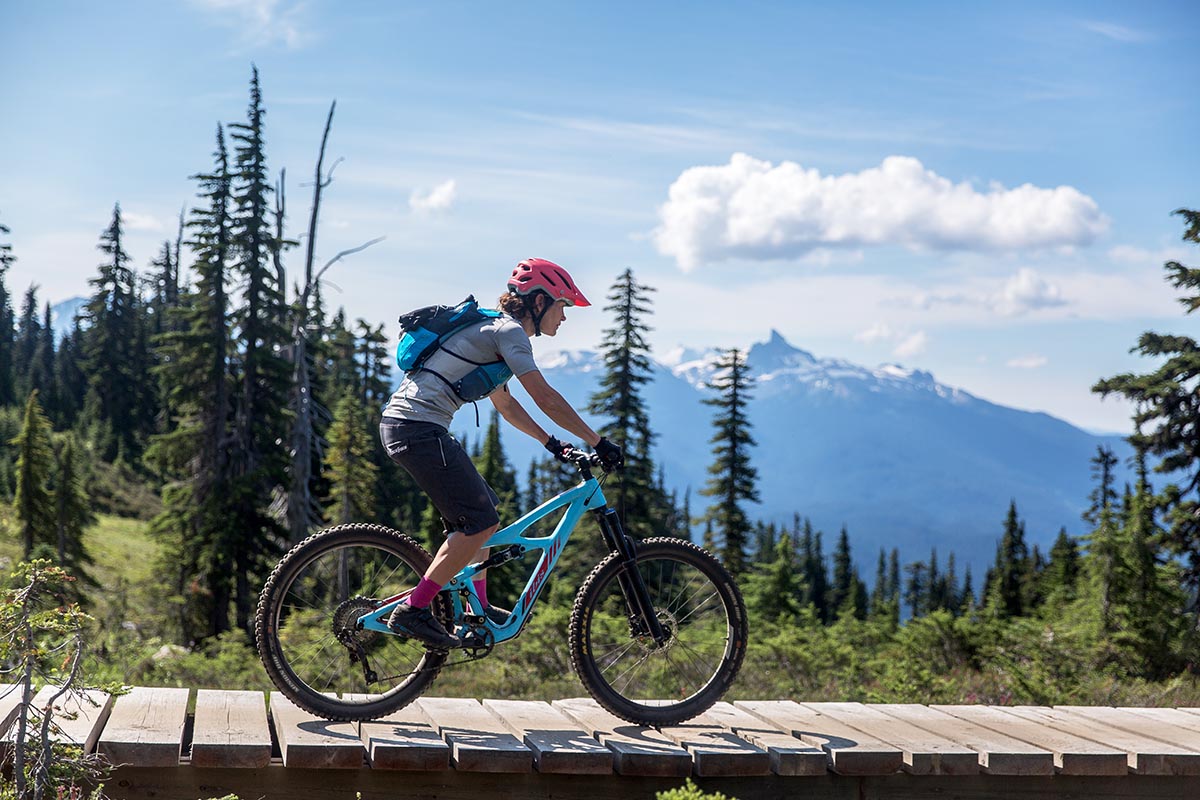 Mountain Bike Price Guide
One of the first questions you should ask yourself when purchasing a bike is how much you're willing to spend. Having an approximate number in mind helps narrow the search and will put you into one of the general categories below. It's a fairly complex topic overall—and we take a deeper dive in our article on how much should you spend on a mountain bike—but here is where things stand for 2020.

$400-$1,000
This price range will be the sweet spot for beginner mountain bike buyers. It balances affordability with reliable components and should more than satisfy those who are just starting to hit singletrack. Among the design options, we wholeheartedly recommend sticking with a quality hardtail over a full-suspension bike. A hardtail will have much better components and weigh significantly less—both important characteristics to having fun. On these bikes you should expect to see name-brand drivetrains from Shimano and SRAM, as well as a suspension fork with about 80 to 100 millimeters of travel. One of the more important parts on the bike is your brakes, and at this price point you should expect them to be disc brakes. Our best budget bike listed above, the Co-op Cycles DRT 1.1, ticks all these boxes and comes in at a reasonable $549.
$1,000-$3,000
Stepping up into this price range gets you a significantly more singletrack-worthy design. Overall, expect to see three main areas of improvement: drivetrains will become much more modern, suspension components will offer greater refinement and more adjustments, and overall weight of the bike will greatly decrease. At the lower end of this price spectrum, we still advise a hardtail. However, as you start to creep closer to $2,000, making the switch to a full-suspension bike like the Giant Trance 29 3 ($2,100) is certainly worthwhile. Overall, we consider this a great price point for finding quality and trail-worthy bikes.

$3,000-$5,000
Now we're into the holy grail of price categories among mountain bikes. At the lower end, you'll find full-suspension aluminum bikes with fully modern parts and geometry. Smooth-operating 1 x 12 drivetrains, quality suspension components from Fox or RockShox, and mostly name-brand parts should be the norm. Close to $5,000, you'll start to find aluminum bikes with top-of-the-line components as well as the introduction of carbon-fiber-framed bikes. Although $5,000 is unquestionably a lot of money to spend, if you're set on carbon, be aware that you'll still be only getting mid-range components in most cases.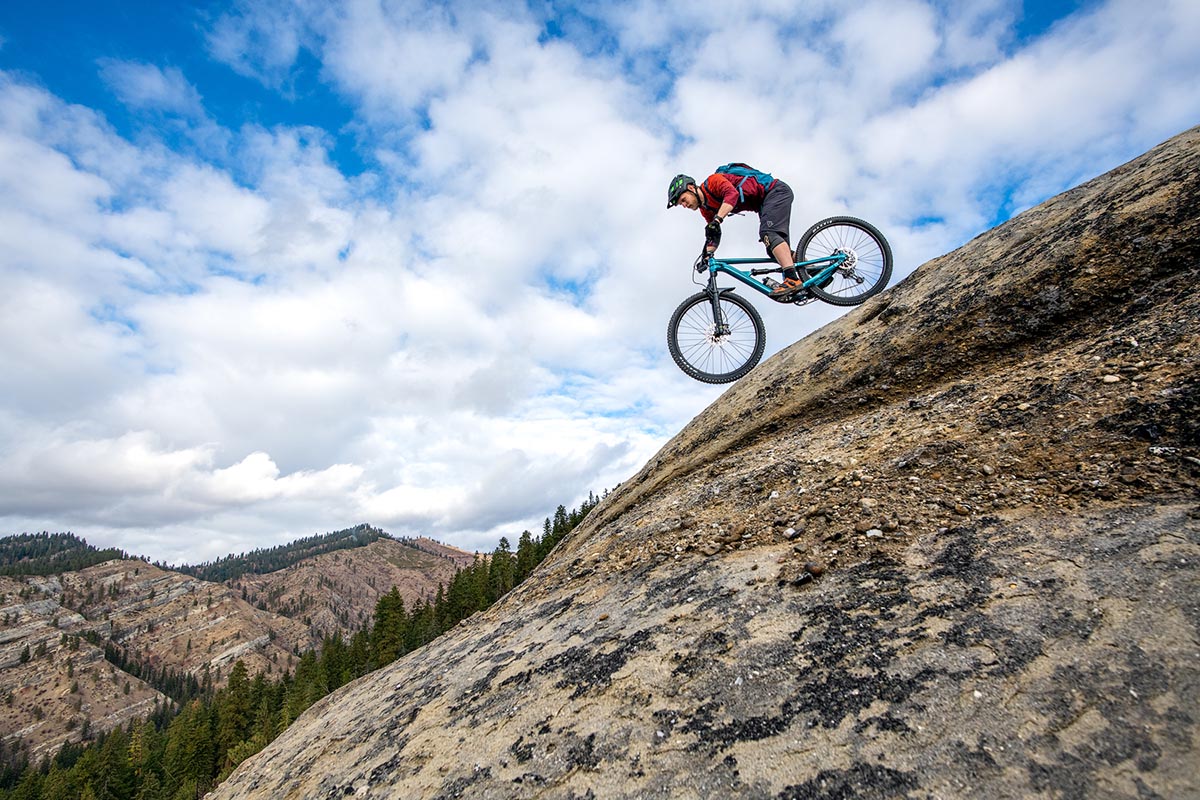 $5,000 and Above
Breaking the $5k barrier puts you in the "fully committed" category. Your bike might cost more than your car (we've been there), but it's a dream machine. There's carbon everywhere—frame, wheels, cranks, handlebars—all in the name of shaving weight. And if money really is no object, there are bikes like Santa Cruz's Megatower. Their top-of-the-line version has carbon everything, and then adds in wireless shifting for good measure. The price: $10,499. While certainly outlandish, we can't help but appreciate the crème de la crème of mountain bikes. And the final piece of good news is that the technology that goes into these high-end beasts eventually trickles down into the lower price points.
 
Buying a Mountain Bike Online
The majority of us do a significant amount of shopping online, so why not do the same when purchasing a mountain bike? They're certainly more complicated to figure out than a set of dish towels, but there's a lot of recent movement towards online sales from consumer-direct brands (more on this below), major retailers like REI and Competitive Cyclist, and even manufacturers themselves like Diamondback. If you're considering going this route, it's important to ask yourself a few questions before clicking that buy button. Are you comfortable doing basic assembly and mechanical projects? Will someone be at home to take delivery and sign for your new ride? And, perhaps most importantly, are you comfortable choosing the right size and style of bike without taking a test spin?
One of the most important pieces of the new bike puzzle is getting the correct size, which can be the difference between riding your bike down the hill or wanting to throw it down the hill. Luckily for us, most reputable online retailers and brands provide a significant amount of fit-related information. Size charts are often tailored to specific models, and you'll then get size recommendation based on your height or in-seam length. Taking this a step further, Competitive Cyclist offers one of the most comprehensive fit guides we've seen, compiling measurements for your inseam, forearm, lower leg, and more. Taking this detailed approach is one way of ensuring you wind up on a bike that fits you properly.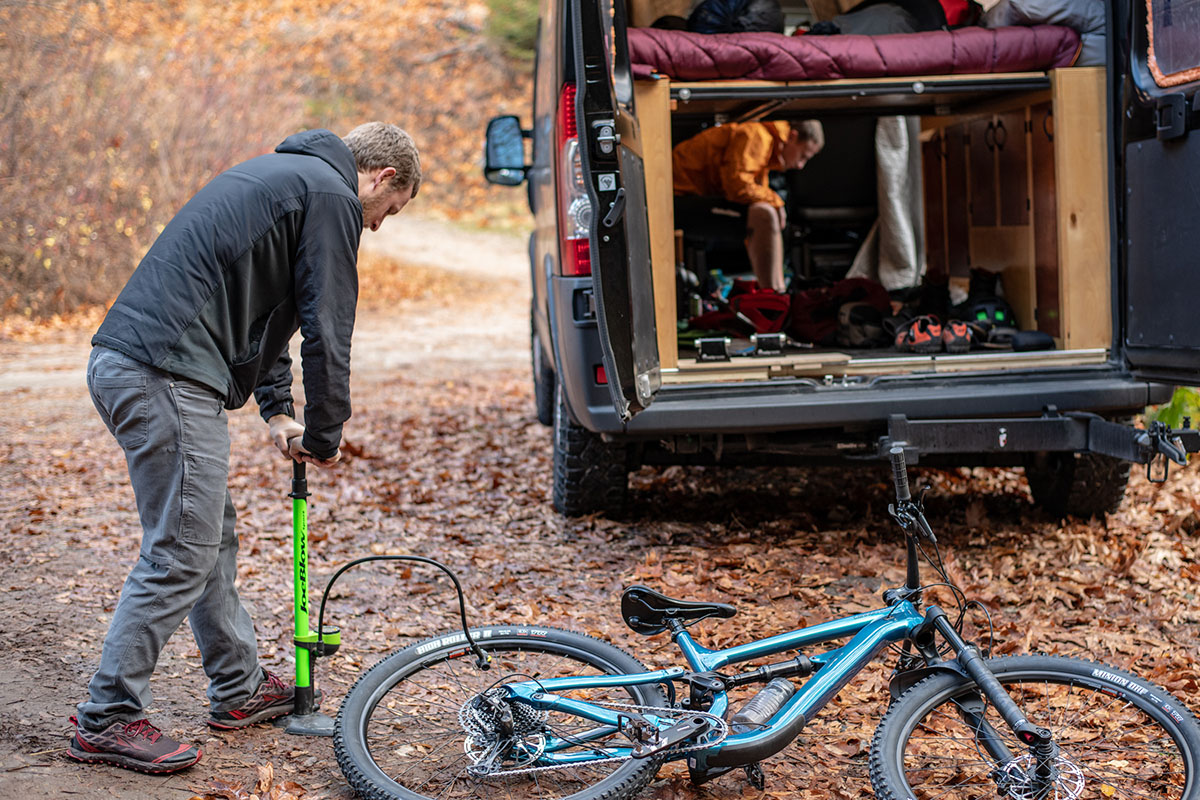 Once you decide on a bike, you need to be prepared for a very large box to arrive on your front porch. From experience, it's good to know that not all manufacturers will require a signature on delivery, so you'll want to closely follow the tracking information. The next important piece is the bike's assembly. The majority of bicycles come mostly put together with instruction on how to finish the build, and it's not overly complicated for those who have done basic work on bikes in the past or are mechanically inclined. To help, you can find a range of online tutorials, including Diamondback's Ready Ride program. And if all else fails, most bike shops will happily assemble your bike for a fee of around $50 (this can vary).
 
Consumer-Direct Bikes
Consumer-direct brands like YT Industries, Canyon, and Commencal are popular in other parts of the world but are still gaining a footing in the U.S. The appeal is obvious: by selling straight to you from an online shop, they cut out the middle man (bike shops) and save you a bunch of money. For instance, YT Industries' Jeffsy Base 29 ($2,299) comes in about $1,000 less than a similarly equipped Specialized Stumpjumper Comp Alloy 29 ($3,320). What's the catch? There are plenty of horror stories out there of poor customer service, long lead times for receiving bikes due to stock issues, and the pain of having to ship items back for warranty (instead of being able to just bring it into a shop). That said, we also know of plenty happy buyers who are riding their dream bikes at a significant discount.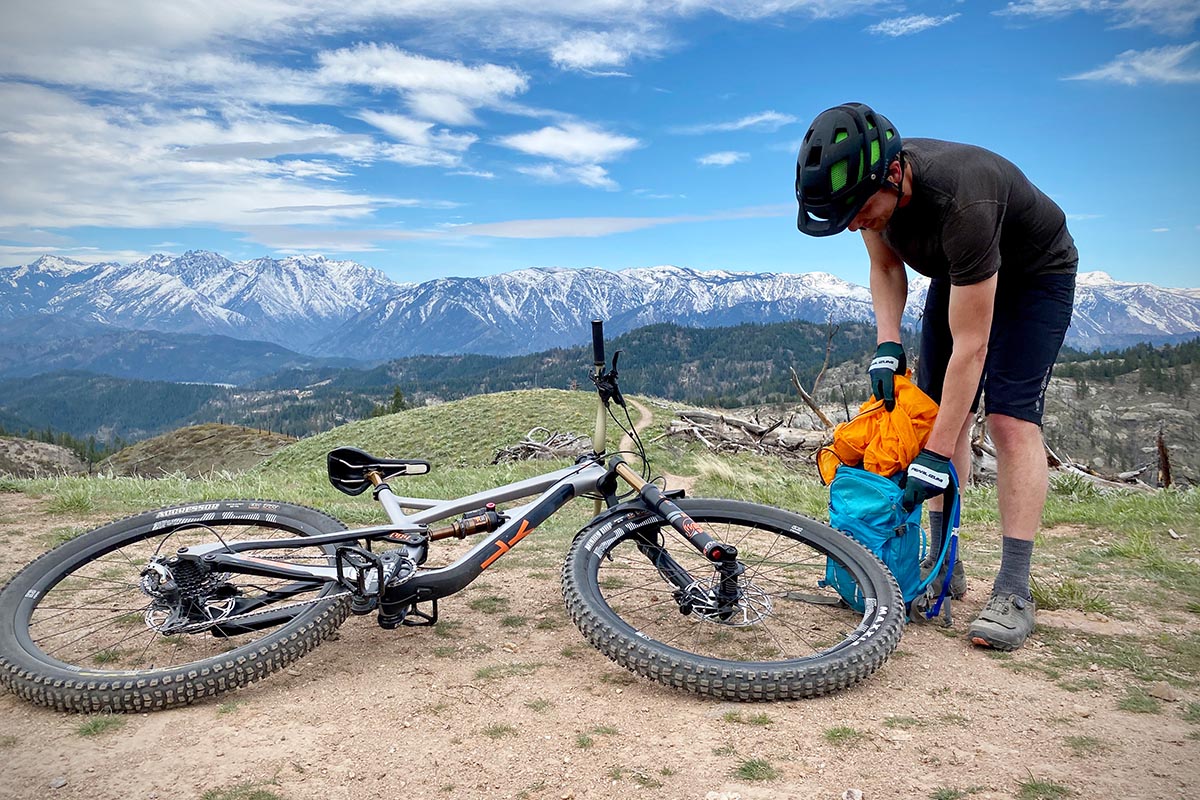 Should I Buy a Used Bike?
The bikes listed above are the latest and greatest in their respective categories, but purchasing a used model is a great way to save and cut down on waste. To start, keep in mind that mountain bike technology has been rapidly evolving even in the past few years, so we recommend picking up a pretty new design. Further, it's a good idea to closely inspect the bike in person to make sure you're not buying an unmaintained money pit. With the drivetrain, verify that the chainring teeth are shaped like triangles and less like shark fins. If they look like the latter, it'll likely need to be replaced. The frame, brake pads, and chain should also be inspected for undue or heavy wear. Finally, see if the rubber seals around the suspension components are cracking or if oil is running on the outside of the fork—both are signs that service is required.
If you're not comfortable with checking a bike's mechanical soundness, it's often worth having a local shop take a look (or you could purchase a former demo bike from a shop, so you can ensure it was properly maintained). Even a modest hardtail can set you back a few hundred dollars, and higher-end models hold their value well enough to justify getting a professional opinion. We recommend calling ahead to make sure they offer the service and that they can fit you in. In the end, used bikes have their place—especially for those just getting into the sport—but it's a good idea to make an informed, smart decision.
Back to Our Top Mountain Bike Picks  Back to Our Mountain Bike Comparison Table
Read More From Switchback Travel