Nothing beats a great down jacket, whether it's for causal use or tearing around the backcountry. This cozy insulation type offers the best warmth-to-weight ratio on the market, and also compresses more easily than synthetics for easy stowage. Below are the top down jackets of 2019-2020, including down sweaters, ultralights, and winter weight models. You'll find a healthy range of options from budget picks to specialized alpine pieces for the most discerning outdoorspeople. For further guidance on warmth, weight, shell fabrics, and more, see our buying advice below the picks. We've also created a handy comparison table to help bring it all together.
 
Best Overall Down Jacket
Weight: 13.1 oz.
Fill: 3.4 oz. of 800-fill down
What we like: Extremely versatile and looks great. 
What we don't: A bit heavy.
The down jacket market is varied, ranging from performance to casual and just about everything in between. But if versatility is what you are looking for, the Patagonia Down Sweater finds a way to deftly balance it all. The jacket is light and packable enough for backpacking and travel yet offers enough warmth to use as a midlayer for skiing. In addition, it looks great for everyday use—few outdoor companies can match Patagonia in crossover appeal. And we can't help but love the build quality. Of all of the brands we've tested, Patagonia jackets consistently last longer and end up winning us over with their longevity.
What are the shortcomings of the Down Sweater? At just over 13 ounces, it's a far cry from ultralight and you can shave significant weight with a number of the more backcountry-centric options below. Moreover, the fit is a bit boxier than we would prefer, although Patagonia has tailored things in some in recent years (the upside is that layering either over top or underneath in easy, which isn't the case with some performance pieces). Lastly, Patagonia products don't come cheap, although again, you should get a very healthy lifespan out of this jacket... Read in-depth review
See the Men's Patagonia Down Sweater  See the Women's Patagonia Down Sweater
A Close Second (With a Performance Slant)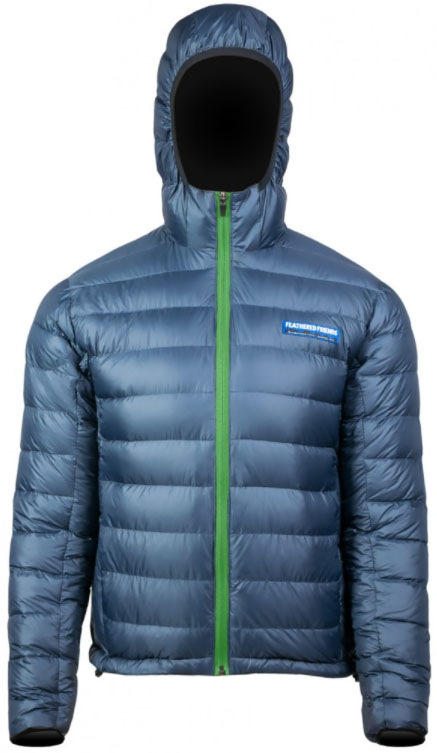 Weight: 10.6 oz.
Fill: 3.7 oz. of 900-fill down
What we like: Superb warmth-to-weight ratio.
What we don't: Color selection, and sometimes limited availability.
Down specialist Feathered Friends is held in high regard among the alpine community in Seattle and beyond (if you're in town, it's located one block down from REI's flagship store and makes for a fun visit). This small company designs and builds down gear for serious outdoorspeople who depend on it, and most of the manufacturing is done in the United States. You won't see a lot of national marketing campaigns, but we can tell you Feathered Friends is a standout in this category.
Our top down jacket pick from Feathered Friends is the Eos, which packs an impressive 3.7 ounces of 900-fill down. Therefore, it has more fill weight and fill power than any other lightweight down jacket on this list at a competitive $339 price. Why isn't it ranked #1? The Eos is built for performance and its look and limited color options aren't quite as appealing for daily wear as the Down Sweater above or Arc'teryx Cerium LT below. Also, we don't love the non-adjustable hood, particularly in windy conditions. And a final consideration is availability: in peak season, there can be a two- to three-week delay before the jacket ships out. If you're willing to wait, however, this is one of the best ultralight down jackets for backpacking and climbing... Read in-depth review
See the Men's Feathered Friends Eos  See the Women's Feathered Friends Eos
Best Budget Down Jacket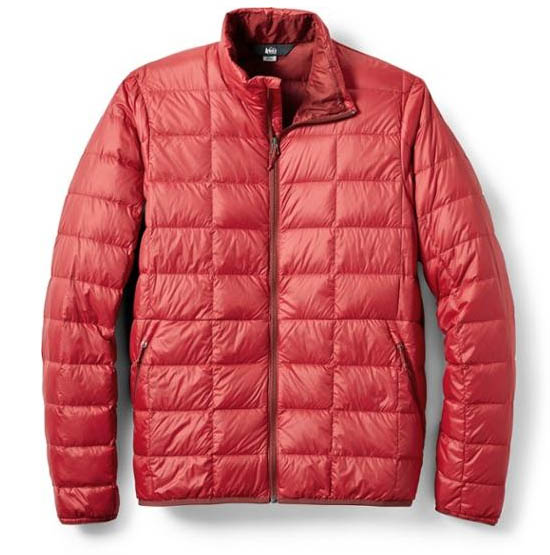 Weight: 11 oz.
Fill: 4.2 oz. of 650-fill down
What we like: Fantastic price for a well-rounded, lightweight design.  
What we don't: No hem adjustment.
REI's original 650 Down Jacket was our top budget pick for years, and their latest "2.0" sticks to the winning formula. Updated for 2019, the jacket is reasonably light at 11 ounces, provides solid warmth with over 4 ounces of 650-fill-power down, and stuffs into its own hand pocket. REI honed in the design for the new version by adding recycled shell fabric, box-like baffling, and a nice variety of good-looking colorways (five for men and six for women at the time of publishing). Importantly, they didn't change the price by much (it went up by 45 cents), which easily undercuts competitors like the Marmot Tullus and Outdoor Research Transcendent below by $75 to $100. For daily use, travel, light adventuring, and as a midlayer for resort skiing, you just won't find a better deal.
Budget-oriented products almost always come with compromises, and REI's Down Jacket 2.0 does fall short for serious performance use. The 650-fill down isn't quite as warm or compressible as the 800-fill Patagonia Down Sweater above, and the standard nylon shell isn't as durable as the ripstop constructions you get on more expensive alternatives. In addition, the REI lacks a hem adjustment, which is limiting for dialing in fit (the hem is fairly stretchy, however). But circling back to value, the 650 Down Jacket's combination of warmth, build quality, and price are simply unmatched. We even dedicated an article to breaking down why we think the REI is the best cheap down jacket currently on the market.
See the Men's REI 650 Down Jacket  See the Women's REI 650 Down Jacket
Best Ultralight Down Jacket
Weight: 8.8 oz.
Fill: 3 oz. of 800-fill down
What we like: Incredible warmth for the weight and good feature set.
What we don't: Boxy fit; non-elasticized cuffs don't seal out the cold.
Mountain Hardwear has finally gone back to the drawing board with one of the original ultralight down jackets: its popular Ghost Whisperer. Now the "2," the latest model features a small increase in weight (about 1 ounce for the men's hoody), but comes with a number of notable upgrades. To start, there's a little more 800-fill down stuffed inside, and the new recycled shell is a bit thicker, which translate to modest increases in warmth and durability. But it stays true to its roots with excellent packability and a simply phenomenal warmth-to-weight ratio, while including important features like zippered hand pockets, a hem adjustment, and decent wind and water resistance. For fast-and-light missions, the Ghost Whisperer/2 remains a go-to choice.
Unfortunately, two elements that have not changed with the Ghost Whisperer/2 are its fit and cuff design. Unlike the tailored cut that you get from Arc'teryx or even Feathered Friend's Eos above, the Mountain Hardwear is boxy and awkwardly large in the torso. It still layers reasonably well under a shell, but we're surprised they haven't given it a better performance fit considering its intended use. Further, the cuffs are loose and don't provide a very solid seal, which can let cold air sneak through unless you throw on a pair of gloves. Despite the nitpicks, the rebooted Ghost Whisperer is undeniably a cool piece that should be a top seller among serious outdoor adventurers... Read in-depth review
See the Men's Mountain Hardwear Ghost Whisperer  See the Women's MH Ghost Whisperer
Best Down Jacket for Winter Weather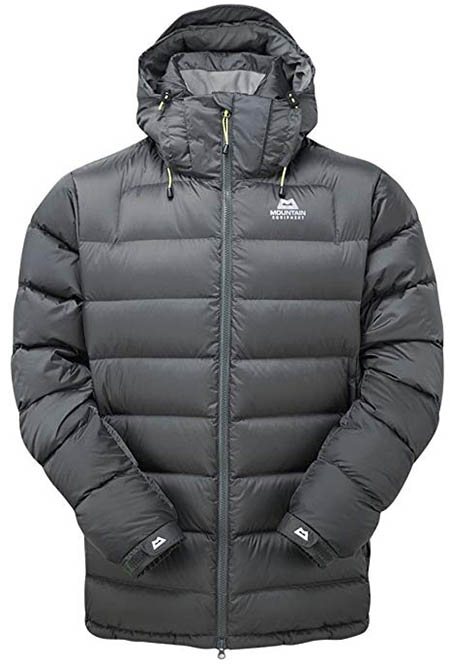 Weight: 26 oz. 
Fill: 10.4 oz. of 700-fill down
What we like: Super warm, looks good, and a great value.
What we don't: Lower fill power than many of the premium options. 
There is a lot to like about the Lightline jacket from Mountain Equipment. First, it has the highest fill weight on this list at 10.4 ounces of 700-fill down, which makes it a great option for seriously cold conditions (and earns it a spot in our round-up of best winter jackets). Second, it offers excellent protection from the elements with a windproof and water resistant Drilite shell. Third, we really like the Lightline's clean look and multitude of colorways—it's a nice choice for everything from technical use to everyday wear in cold climates. And last but not least, it's a heckuva value at $275. Many jackets with a fraction of the down cost quite a bit more.
How does the Mountain Equipment Lightline compare to other cold weather jackets on this list? The 700-fill duck down is respectable but falls short of being ultra-premium, and therefore the jacket doesn't offer quite as much warmth for the weight as the 800-fill Rab Neutrino below. It also won't compress down quite as easily for its size, although 700-fill down still does pretty well in this regard. But if you're willing to sacrifice a little on fill power, the Lightline is warm, versatile, looks great, and won't break the bank.
See the Men's Mountain Equipment Lightline  See the Women's ME Lightline
Best of the Rest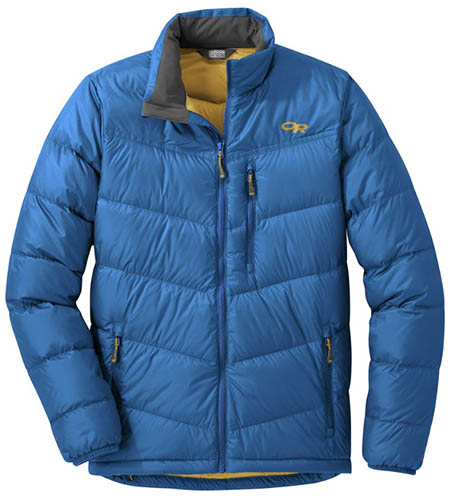 Weight: 13.1 oz. 
Fill: 3.5 oz. of 650-fill down
What we like: Comfy, durable, and well-priced for what you get.
What we don't: Less warm and doesn't pack down as small as the premium options above. 
Outdoor Research jackets aren't always the absolute best on the market, but they are some of the best values. In many ways, the Transcendent is a less expensive version of the Patagonia Down Sweater above. It provides decent warmth with 3.5 ounces of 650-fill down, comes in a number of attractive colorways, and we love features like the soft fleece-lined hand warmer pockets. For everyday use and casual winter adventuring, it's a great option.
For last year, Outdoor Research updated the Transcendent with wider baffles, a significantly softer shell and lining, and the insulation is now responsibly sourced, all while adding barely any weight (.1 ounces). All told, we like the look of the new version, which is more modern and less tired while retaining all the basics that have made the jacket so popular. Yes, the Transcendent isn't as warm and won't pack down as small as the higher-fill-power options above. But for just under $200, it's all that many people need in a down jacket... Read in-depth review
See the Men's Outdoor Research Transcendent  See the Women's OR Transcendent
Weight: 10.8 oz. 
Fill: 3.4 oz. of 850-fill down
What we like: Effective insulation design and premium feel.
What we don't: Expensive and slim fit isn't for everyone. 
Oh, the beauty of Arc'teryx products. They generally cost the most, look the best (Patagonia is a close competitor), and perform well enough for seasoned guides to put them through the wringer on a consistent basis. The Cerium LT Hoody is the company's leading lightweight down jacket and one sleek piece of gear. With a total weight of 10.8 ounces, a nearly complete feature set, and a silky interior and exterior, the Cerium LT plays and looks the part. The most direct competitor is the Feathered Friends Eos above, which has similar specs and quality but costs a notable $40 less. 
An interesting feature on the Cerium LT is the use of Down Composite Mapping: Arc'teryx added a limited amount of Coreloft synthetic insulation in the areas most prone to getting wet: the shoulders, underarms, cuffs, and collar. The rest of the jacket is premium down in areas that need maximum heating efficiency: the core, hood, and upper arms. While most of the other jackets on this list are strictly down, Arc'teryx has created a nice balance of lightweight warmth and functionality. Keep in mind that like most Arc'teryx products, the Cerium LT runs slim. For an even lighter alternative for warm summer backpacking or climbing trips, check out the 7.6-ounce Cerium SL Hoody below... Read in-depth review
See the Men's Arc'teryx Cerium LT  See the Women's Arc'teryx Cerium LT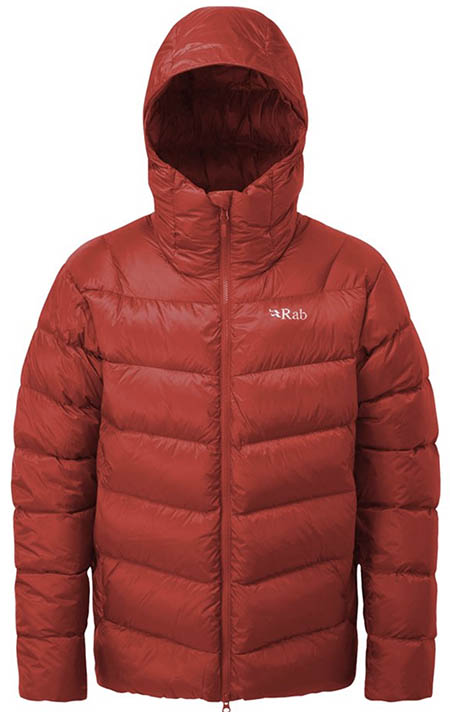 Weight: 21.3 oz. 
Fill: 8 oz. of 800-fill down
What we like: Lots of premium down. 
What we don't: Heavy for a performance piece and the left-hand zip can take some getting used to.
U.K.-based Rab is on our shortlist of favorite outdoor clothing brands, and the Neutrino is their beloved down jacket for cold weather climbing and mountaineering. Updated last year, the jacket now sports a Pertex Quantum Pro shell but retains everything else that has made it a classic. Most importantly, the Neutrino packs in a ton of down—8 ounces of 800-fill hydrophobic down to be exact—at roughly the same price as less warm options from Arc'teryx, Patagonia, and Mountain Hardwear. And its 20D shell has a quality feel and offers surprisingly good weather resistance. Even at $375, that's a lot of bang for your buck.
What are the downsides of the Neutrino Pro? The first is the total weight at over 21 ounces, which is good for serious winter weather but heavy and too warm for mild conditions. Second, Americans may have problems with the European-style left-hand zipper, which can take a while to get used to. Finally, for everyday wear and those on a budget, the Mountain Equipment Lightline above is quite competitive with the Rab for $100 less. These issues aside, the Rab is an exceptionally warm and comfortable winter piece... Read in-depth review
See the Men's Rab Neutrino Pro  See the Women's Rab Neutrino Pro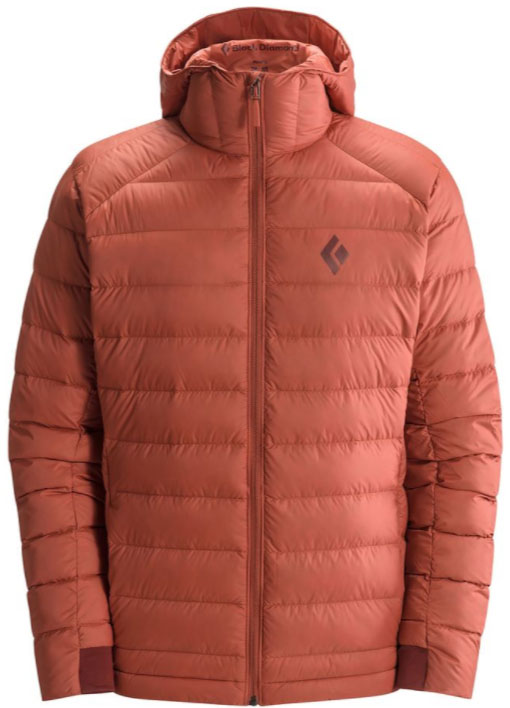 Weight: 20.3 oz.
Fill: PrimaLoft Gold Down Blend
What we like: Performs like a high-end down jacket but with better water resistance.
What we don't: A little heavy; poor cuff design.
The Black Diamond Cold Forge breaks from tradition with a hybrid down and synthetic blend, but earns a spot on our list because it delivers what you want in a premium down jacket: lofty and cozy warmth. PrimaLoft claims this high-end "Gold" blend (70% down and 30% synthetic) is equivalent to 750-fill down, and that assertion holds true in our experience. While fill weight of the Cold Forge isn't available from BD, in terms of warmth it falls somewhere in between a lightweight jacket like the Outdoor Research Transcendent and the warmer Rab Neutrino above. The use of synthetics also means the Cold Forge will continue insulating when wet and dry much faster than pure down fill.
Why haven't we ranked the Cold Forge higher on our list? At 20 ounces, there are lighter and more packable options that deliver similar levels of warmth. We're also not in love with the cuff design, which only stretches along the inside of the wrist and as a result doesn't always stay in place. Besides these minor complaints, the Cold Forge is a fantastic down piece, and the unique insulation is a major selling point for those in wet climates.
See the Men's Black Diamond Cold Forge  See the Women's Black Diamond Cold Forge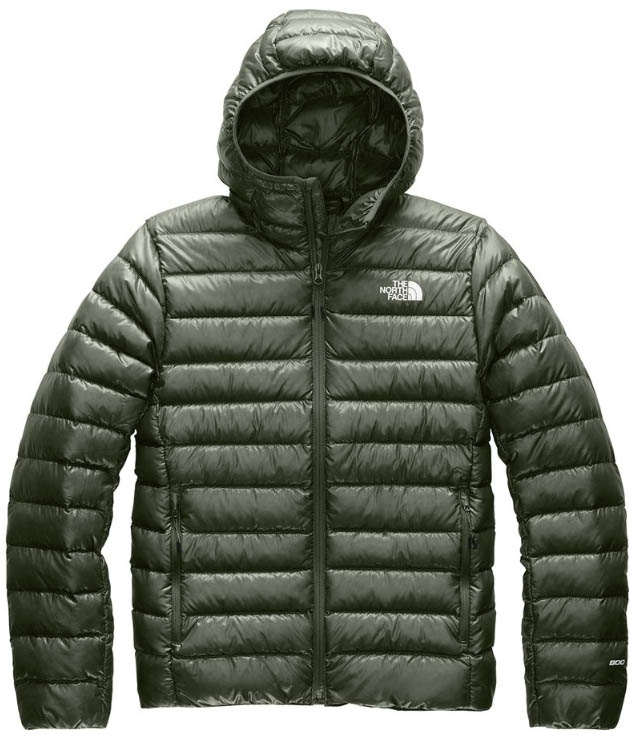 Weight: 10.6 oz.
Fill: 800-fill down
What we like: Super versatile and works well for backcountry or around-town use.
What we don't: No hem or hood adjustment.
One of our favorite new down jackets for 2019 is the Sierra Peak Hoodie. In the past, we've felt that jackets from The North Face often are either quite casual or overly techy—the L3 Summit Series is a prime example of the latter. But the Sierra Peak hits a really nice balance of performance, comfort, and price. It's fairly warm with 800-fill down (The North Face does not provide fill weight) and more durable than true ultralight models with a 10D x 15D shell. All in all, it's light and packable enough for hiking and backpacking, yet looks the part for everyday wear. And an added bonus: the fit is rather athletic and less boxy than we expected.
In terms of comparisons, the Sierra Peak is more performance-oriented than the Patagonia Down Sweater with a lower weight and greater packability. On the flipside, it's less backcountry-focused than the Arc'teryx Cerium LT—the shell fabric is a bit thicker and there are no hood or hem adjustments. At the end of the day, the Sierra Peak is one of the more versatile jackets on the list, and that's a good thing. One final consideration is that the colors are lighter in-person than they appear online, and we could faintly see down through the Flag Blue.
See the Men's North Face Sierra Peak  See the Women's North Face Sierra Peak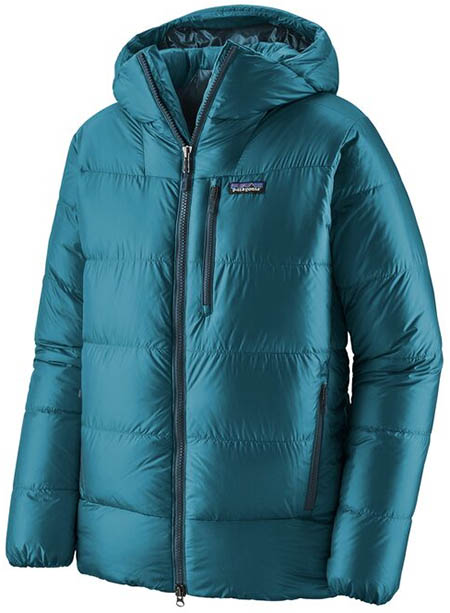 Weight: 22.3 oz.
Fill: 8 oz. of 800-fill down
What we like: Feels like you're wearing a down sleeping bag.
What we don't: More expensive and no warmer than the cheaper Rab Neutrino Pro.
For a step up in warmth from the Patagonia Down Sweater, the Fitz Roy Down Parka is built for cold winter conditions. You get approximately 8 ounces (227 grams) of 800-fill down along with a Pertex Quantum shell for moisture protection. The jacket was updated last year with smaller baffles that resemble a puffed-up Down Sweater, and the 20D shell fabric is roughly the same strength. The Fitz Roy, however, has a longer cut for more coverage during the winter months while the Down Sweater is designed more for shoulder seasons and layering. It's worth noting that 8 ounces of down fill is the same as the cheaper Rab Neutrino Pro above, which hurts the Fitz Roy in our rankings.
In many ways, the Fitz Roy Parka is a hybrid casual/performance piece. It has some advanced features like a helmet-compatible hood, a two-way main zipper for belaying, and elasticized cuffs that do a good job staying out of your way during physical activity. But the jacket still looks the part for city wear in the frigid months, making it a nice option for just about any type of winter use (although we've found the shell stains and gets dirty pretty easily). Patagonia also offers a standard Fitz Roy jacket, but we recommend steering clear as it only has 4.5 ounces of down fill yet costs $349... Read in-depth review
See the Men's Patagonia Fitz Roy Parka  See the Women's Patagonia Fitz Roy Parka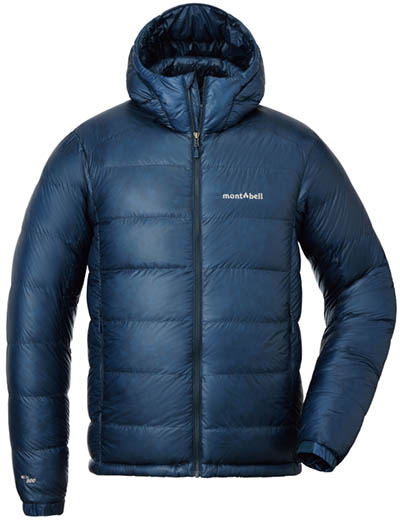 Weight: 13.3 oz. 
Fill: 5.6 oz. of 900-fill down
What we like: Impressive warmth for the weight.
What we don't: Thin 7D shell is too fragile for our tastes.
Montbell is at the forefront of lightweight warmth, and you will have a hard time finding down jackets with a better ratio of fill weight to total weight (Western Mountaineering and Brooks Range are contenders). The Mirage Parka weighs more than 13 ounces yet packs an impressive 5.6 ounces of 900-fill goose down. Its name is slightly misleading—this isn't your traditional down parka for the coldest of cold—but it's warm enough for winter camping, mountaineering, and as a midlayer for the backcountry.
What makes the Mirage Parka undesirable for generalists is the 7D shell, the thinnest on the list. This means that you really have to be careful when wearing the jacket for everything from avoiding snags on protruding twigs to tearing the shell on a climbing harness. If you are wearing this Mirage Parka beneath a hardshell, it's terrific. And if you are the careful type who babies their gear, go for it. But there is a sacrifice with this kind of warmth at this low of a weight, and that generally is a shortened lifespan for your jacket. 
See the Men's Montbell Mirage Parka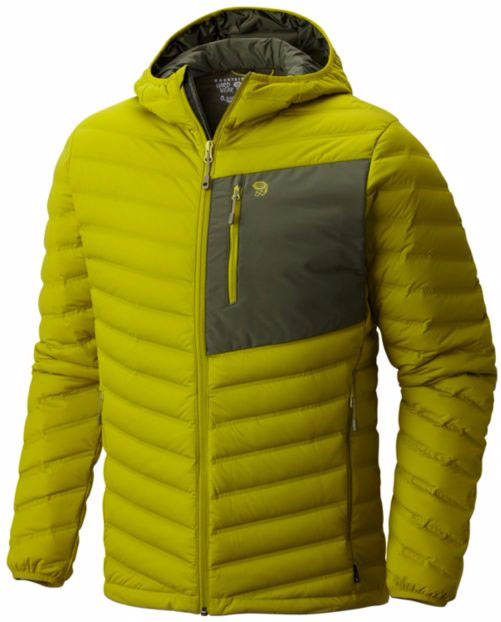 Weight: 18 oz.
Fill: 3.5 oz. of 750-fill down
What we like: Innovative design and very comfortable feel.
What we don't: The stretch doesn't merit the price in our opinion.
Down jackets are known more for warmth than range of motion, but Mountain Hardwear is aiming for a game changer in this regard. The StretchDown line was launched a couple years ago, featuring a flexible polyester shell material with welded seams for comfort that is reminiscent of a synthetic layer. In our testing, however, it became clear that the jacket is not a backcountry piece. Despite good looks and comfort, we found that the StretchDown falls short of the options above in terms of warmth to weight and packability.
Where the StretchDown excels is as an everyday jacket. The knit shell fabric is very tough, and the clean styling wears well around the city (even the logo is very understated). Additionally, the stretchiness gives it a plush feeling that you typically don't get from a down piece. But at $300, it's simply too expensive. Lightweight adventurers will be better off with Mountain Hardwear's own Ghost Whisperer/2, and those that want a stretchy athletic layer should opt for a synthetic design like the Patagonia Nano-Air... Read in-depth review
See the Men's Mountain Hardwear StretchDown  See the Women's MH StretchDown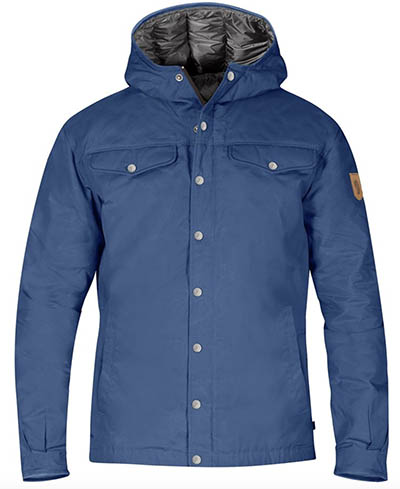 Weight: 36.7 oz.
Fill: 3.4 oz. of 600-fill down
What we like: Stylish design and burly shell fabric.
What we don't: Way too heavy for backcountry use.
Fjallraven's Greenland No.1 stands apart from the down jacket norm with its cool Scandinavian styling and tough construction. As with many of Fjallraven's products, the G-1000 shell is the focus: this durable cotton and polyester blend resists tears much better than lightweight nylon, blocks wind very effectively, and sheds light moisture (you can also apply Greenland Wax to waterproof the exterior). Fjallraven uses the lowest-quality down on our list (600-fill-power) for the Greenland, which is surprising considering the $500 price, but everything is beautifully made and wears well around town.
As mentioned above, the Greenland has a decidedly casual build that limits its appeal. The G-1000 fabric and low-quality fill doesn't stuff down small, and the total weight of over 2 pounds makes it unrealistic for carrying around in a backpack (especially considering it's only warm enough for shoulder seasons and mild winter conditions). But the build quality is there, and the burly shell makes it the only jacket on this list that you truly won't have to worry about in day-to-day life.
See the Men's Fjallraven Greenland No.1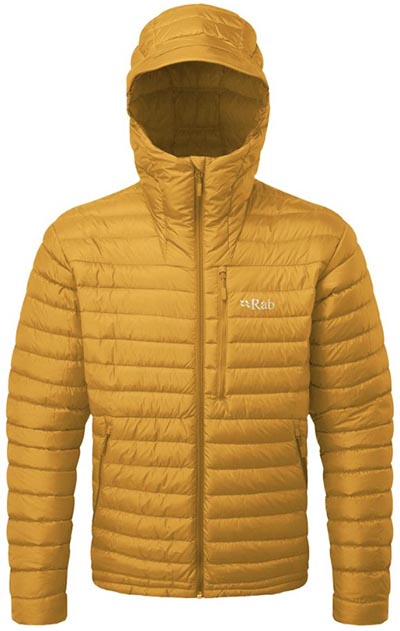 Weight: 17 oz.
Fill: 5 oz. of 750-fill down
What we like: Warm for the price; water-resistant build.
What we don't: Can't match the Down Sweater for everyday use.
Like the heavyweight Neutrino Pro above, Rab's popular Microlight Alpine Jacket pays tribute to the brand's climbing heritage. To start, it's built to handle wind and light moisture thanks to a tough Pertex Quantum shell, DWR coating, and hydrophobic down. Further, we found the rigid structure of the jacket's wire-brimmed hood has a hardshell-like feel, offering great all-around coverage and protection. You'll still want to don a waterproof layer if the skies open up, but the Microlight Alpine stands out as one of the more weather-resistant midweight down jackets we've tested. 
Packing 5 ounces of 750-fill-power down in a men's large, the Rab is warmer than competitors like Patagonia's Down Sweater Hoody (3.7 ounces of 800-fill down) and Feathered Friends' Eos (3.4 ounces of 900-fill down). But like the Feathered Friends, it can't match the Patagonia in terms of everyday appeal. The jacket's slim fit is polarizing (especially in the men's version), and the European-style left-hand zipper takes some getting used to. And for hauling in a pack, it's on the heavy side at 17 ounces, but that extra weight does come with a boost in insulation. Overall, we think the Rab's combination of warmth, weather resistance, and reasonable $280 price make it a well-rounded backcountry piece.
See the Men's Rab Microlight Alpine  See the Women's Rab Microlight Alpine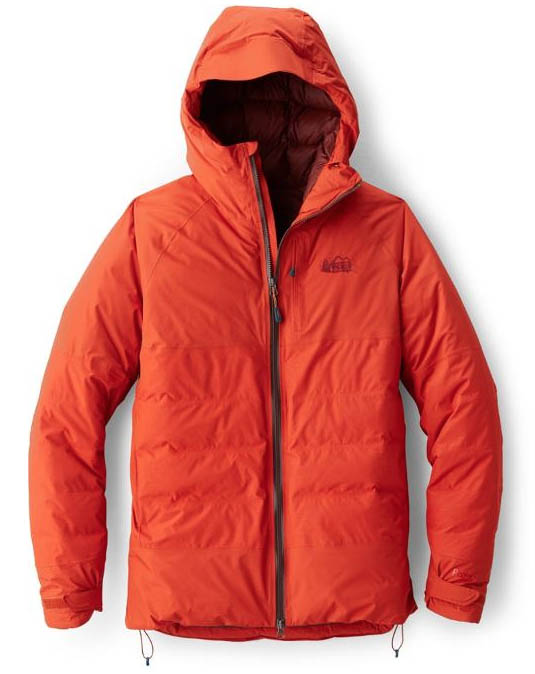 Weight: 27 oz.
Fill: 850-fill down
What we like: Waterproof and very warm.
What we don't: Heavier and bulkier than a typical down jacket, which makes it less versatile.
REI isn't known for pushing the boundaries of jacket design, but we really like what they've come up with in the Stormhenge 850. It features premium 850-fill down, a fully waterproof 2-layer shell (a rarity in the down jacket world), and nice touches like pit zips and a two-way front zipper to regulate heat. Unfortunately, REI does not provide the fill weight, but the Stormhenge is one of the warmest options on this list. We've been comfortable wearing it over a thin baselayer down into the low 20s Fahrenheit.
The Stormhenge's unique waterproof construction helps it stand out among other winter-ready down jackets like the Rab Neutrino Pro and Mountain Equipment Lightline. Both of those models have DWR treatments, but fall well short of the REI in terms of weatherproofing. However, the Stormhenge is the heaviest jacket on the list at 27 ounces and doesn't pack down very small. As a result, it lacks in versatility for uses like backpacking or climbing, but the waterproofing and warm build make it viable for everything from cold winter walks to downhill skiing... Read in-depth review
See the Men's REI Stormhenge 850  See the Women's REI Stormhenge 850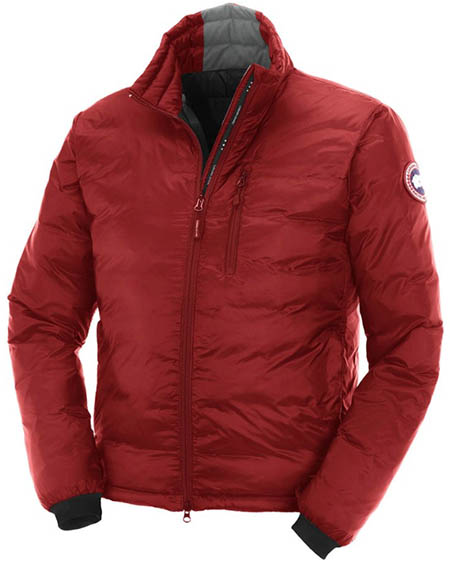 Weight: 18.2 oz. 
Fill: 750-fill down
What we like: High-end look and feel.  
What we don't: Very pricey.  
We'll start by noting that Canada Goose is about fashion more than performance, plus they make some of the most expensive jackets around. In reality, you are much more likely to spot the Lodge Jacket on the streets of New York or Toronto than the B.C. backcountry. Having said that, it's no slouch: you get a healthy amount of 750-fill down, a premium nylon shell with impressive wind resistance and a DWR finish, and a high-quality feel that can stand up to any brand. For commuting, urban use, and après-ski, the Lodge Jacket is a very attractive option. 
In terms of warmth, Canada Goose doesn't offer the fill weight of the Lodge, but it gets their TEI 2 rating with a listed temperature range of 30° to 5°F. Based on the weight and fill power, it falls into our midweight category, meaning that it should provide more warmth than the lightweight jackets on this list but won't stand up on its own in the depths of winter. But we do like the versatility and packability of the Lodge—it's less bulky than many of Canada Goose's jacket offerings and is light enough for activities like downhill skiing and snowshoeing.
See the Men's Canada Goose Lodge
Weight: 6.9 oz. 
Fill: 1.7 oz. of 850-fill down
What we like: A true ultralight option from Arc'teryx.
What we don't: Can feel drafty in cold conditions and the fit is a bit trim.
The Cerium LT above may be the more versatile all-rounder, but we really like what Arc'teryx has done with the Cerium SL. At less than 7 ounces total, the SL is an ultralight jacket for fair-weather spring, summer, and fall backpacking trips, as well as a midlayer for winter sports. We recently took the hoody version on a trekking and bikepacking adventure through Mongolia and came impressed with its packability and build quality. 
Keep in mind that the Cerium SL does have its limitations. Given the meager 1.7 ounces of down (albeit premium 850-fill power), the jacket can feel drafty and chilly if the conditions really turn. It's also worth noting that serious ultralighters may favor a jacket like the Montbell Plasma 1000, which weighs only 4.8 ounces and has nearly the same amount of down (1.6 ounces) plus a higher fill power (1000), although the Cerium does add Coreloft synthetic insulation to the mix. But as always, we appreciate the look, feel, and performance of Arc'teryx products, which is why two Ceriums made this list... Read in-depth review
See the Men's Arc'teryx Cerium SL  See the Women's Arc'teryx Cerium SL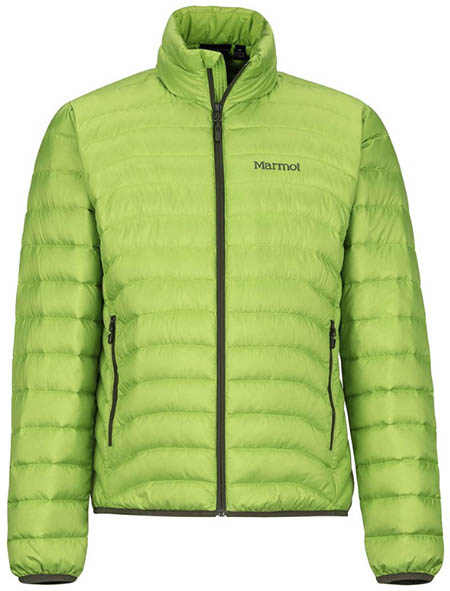 Weight: 15.5 oz.
Fill: 600-fill down
What we like: A casual piece from Marmot at a reasonable price point.
What we don't: Low fill power and sheds feathers.  
Marmot is known for outerwear, and rain jackets in particular. But if you're looking for a casual down piece or midlayer, the Tullus is a viable budget option. With 600-fill down, it does have one of the lowest fill powers on this list (competitors like the REI Co-op Down Jacket and Outdoor Research Transcendent use 650-fill down). But the difference is negligible, particularly if you're not counting ounces or worried about small differences in packability. We also like the Tullus' wide range of colorways, giving you ample options to choose from. 
Aside from price, the Marmot Tullus is pretty bare bones. The jacket has no adjustments to speak of, doesn't feel as well built as many of the options above, and has received numerous complaints for shedding feathers early and often. Given the competitive field in the lightweight down jacket market, we prefer to save $75 with a model like the REI Co-op 650, or go with the superior OR Transcendent for only $25 more. But if you can find it on sale, the Tullus is one of the cheaper down jackets available from a top brand.
See the Men's Marmot Tullus  See the Women's Marmot Aruna
Down Jacket Comparison Table
Down Jacket Buying Advice

Down Jacket Types
Down Sweaters
The down sweater is the most casual category of down jacket. Warmth and wearability are top priorities, and you won't find technical features like helmet-compatible hoods and ultralight shells. But they perform well for everyday use, travel, light adventuring, and layering for winter sports. The temperature range for these jackets depends on factors like layering and exertion, but we find that down sweaters are suitable for approximately 35 to 50 degrees Fahrenheit (2 to 10 degrees Celsius). Leading models include the Patagonia Down Sweater and Outdoor Research Transcendent. For true winter conditions or if you won't be active in the cold, consider a heavier down jacket or parka.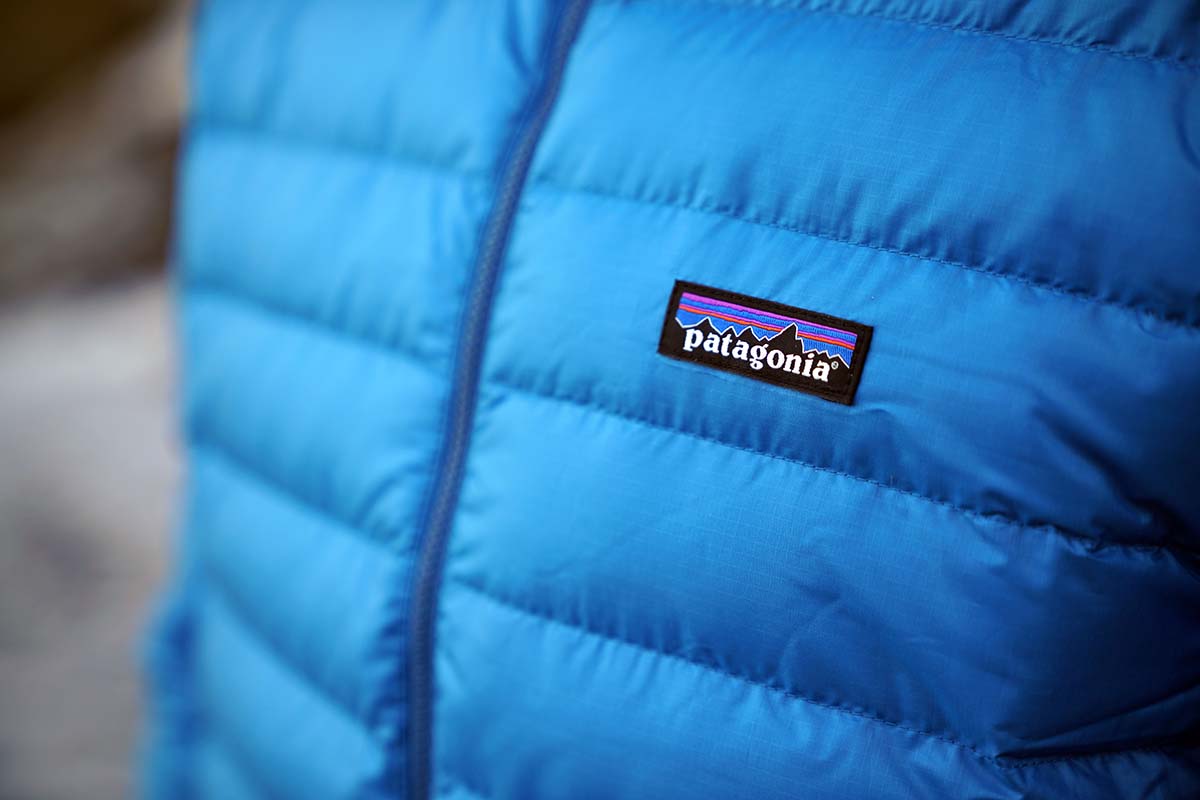 Ultralight Down Jackets
Ultralight down jackets are designed for backpacking, climbing, backcountry skiing, and other outdoor pursuits where every ounce matters. These down jackets generally have similar fill weights as down sweaters, but are ultralight due their use of premium down (fill power), thin shell fabrics (denier), and minimalist zippers and pockets.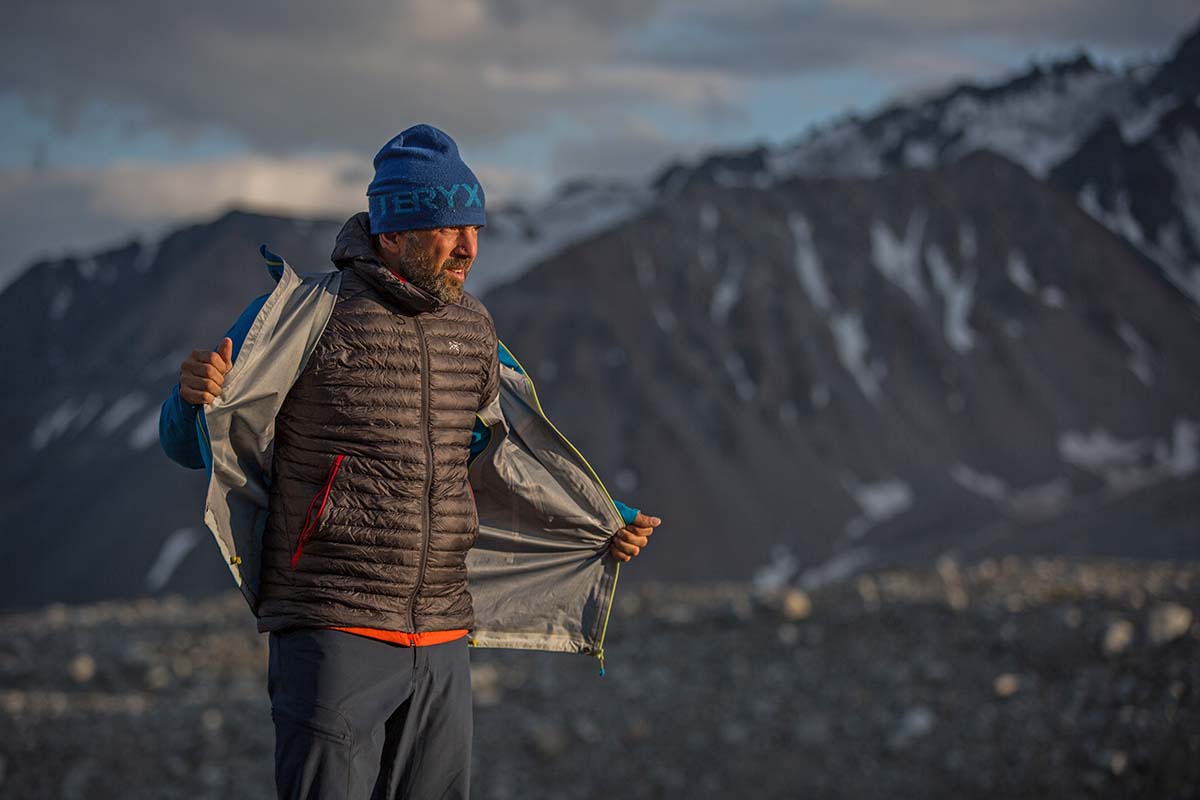 Interestingly, we frequently see this category of down jacket worn as daily pieces around cities, particularly the Arc'teryx Cerium LT.  They are high quality jackets in general, and if you are willing to take a little extra care to avoid damaging the shell, we prefer ultralights over down sweaters due to their warmth-to-weight ratio and athletic fit that's easy to layer. They still look great too, although the designs do have more of a performance cut.

Midweight/Heavyweight Jackets for Winter
Down jackets in this category represent a significant step up in warmth from down sweaters and ultralights, and are designed for serious winter conditions and uses like climbing and mountaineering. Most notably, you'll see the fill weight go up from around 4 ounces (Feathered Friends Eos) to 8 ounces (Rab Neutrino Pro) or more. They also are far puffier than the other categories with more down, and as a result take up quite a bit more space in your pack. Because of this, we only bring them along if the extra warmth is absolutely necessary. At the warmest end of the spectrum are heavyweight winter jackets and parkas.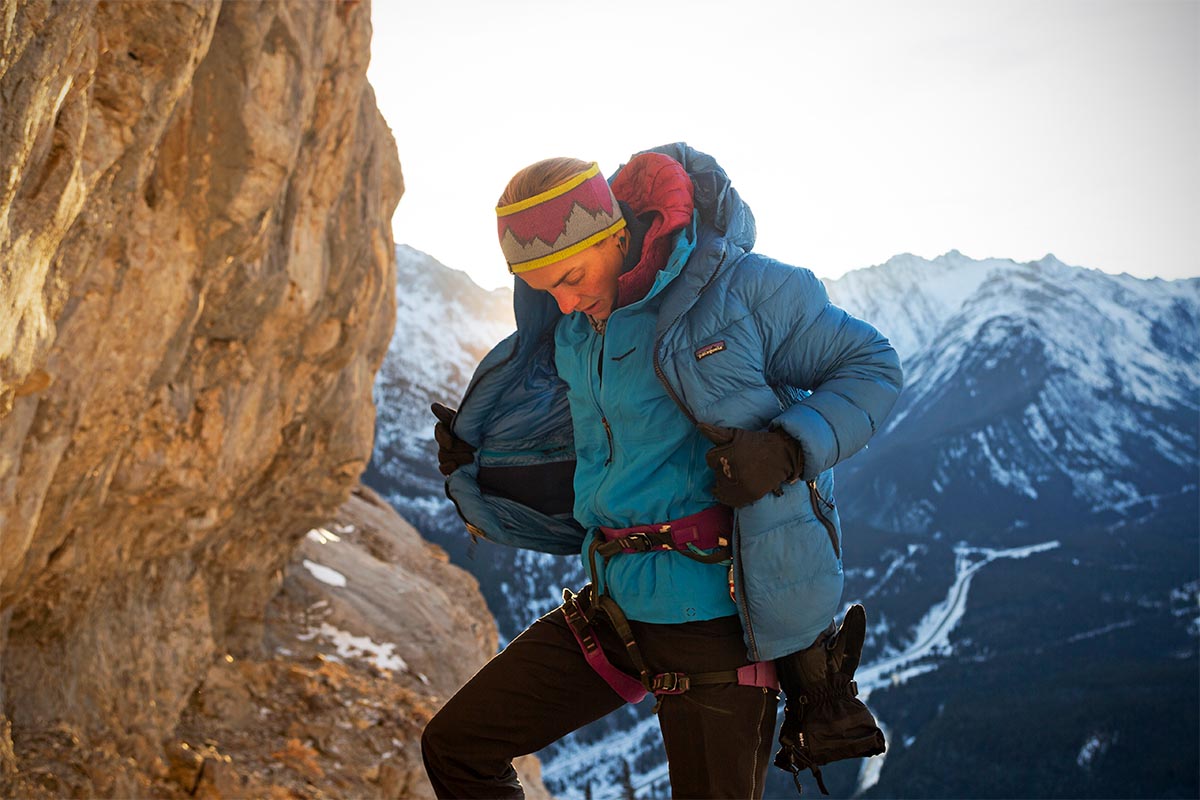 Warmth
It all starts with that lofty and premium warmth that can only be found in a down-filled product. Down insulation functions so effectively because the loose clusters of feathers are great at trapping body heat. But unlike down sleeping bags, which have an official EN rating system that tests and measures their warmth on a concrete scale, down jackets are more like the Wild West. Below is information that should help you fill in the gaps.

Fill Power
Fill power (600-fill, 700-fill, 800-fill, etc.) is how the quality of down is measured, and the higher the fill the better the down. The number is calculated based on how much space one ounce of down clusters takes up in a cylindrical tube. This is known as the amount of loft, and the more loft a jacket has, the more body heat it traps and the warmer you will be. Put another way, achieving the same amount of warmth with a lower fill power requires more down, adding weight and bulk to achieve the same comfort goals.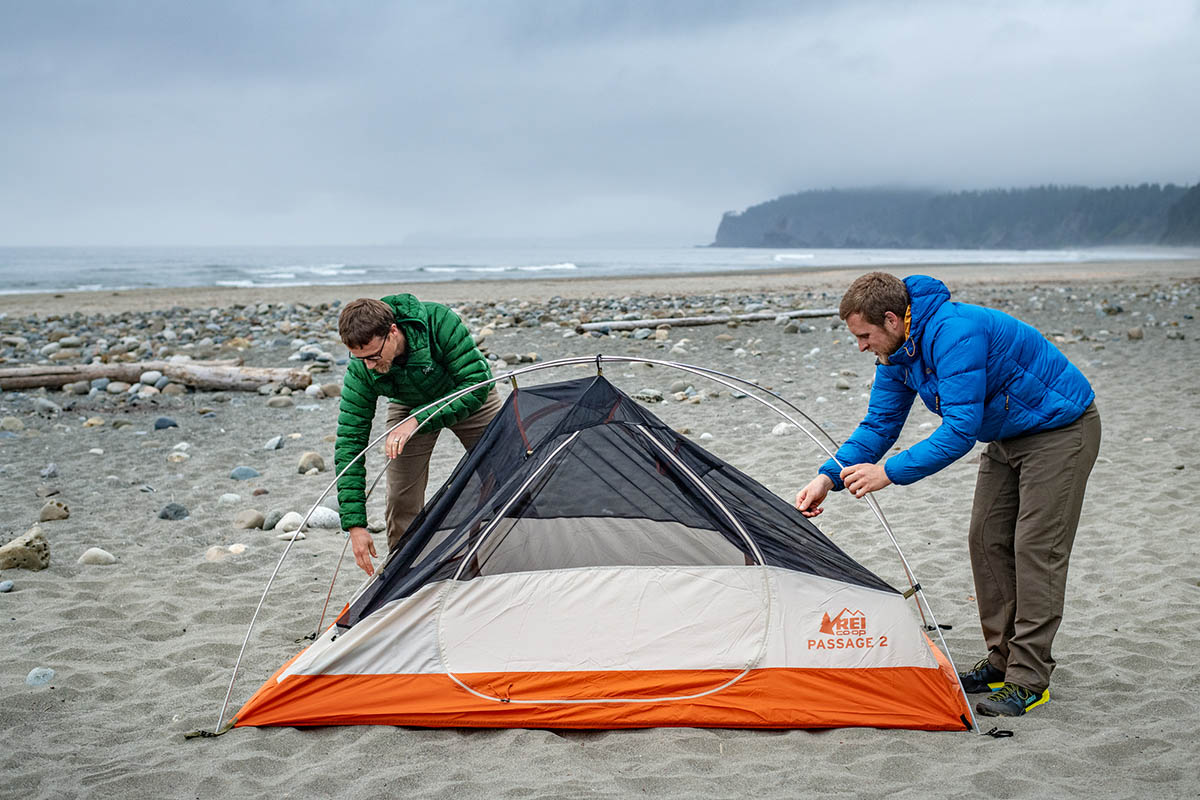 For jackets, 550 to 650-fill down is what you'll find on most entry and mid-level models, which is perfectly respectable for daily wear but falls short for performance use. Premium down is 800-fill and above, which is what Arc'teryx, Patagonia, and Mountain Hardwear use for their high-end down jackets. At this level of quality, you reap the highly touted benefits of down insulation: lightweight and ultra-compressible warmth. Some high-end climbing brands like Feathered Friends and Montbell use 900-fill down, but that high of a number is a rarity and 800-fill is considered premium. In 2013, Patagonia experimented with a 1,000-fill down jacket, the Encapsil, but hasn't yet brought it back to market. Montbell currently offers the 1,000-fill Plasma Down Jacket and Parka with thin 7D shells.

Fill Weight
Fill power gets the most press, but fill weight is perhaps the most important factor in determining a down jacket's warmth. Fill weight is the actual amount of down stuffed into a jacket, measured in ounces. For example, if Jacket A has 6 ounces of 800-fill down and Jacket B has 3 ounces of 800-fill down, you can expect that Jacket A will be significantly warmer (we estimate that it would increase comfort levels in low output activities by approximately 10-20 degrees). Lower fill power down offers less warmth per ounce, so to compare apples to apples you should use similar fill powers.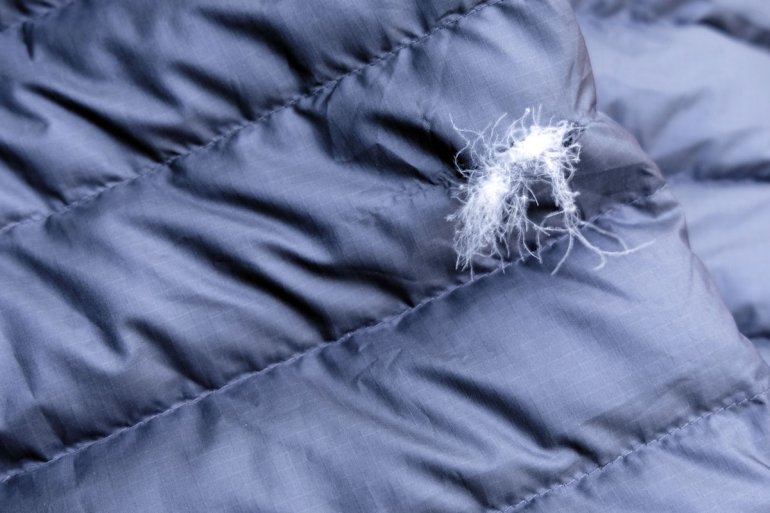 We find it interesting that fill weight is much less publicized than fill power, which leads to a lot of confusion for shoppers who associate higher fill power as always meaning more warmth. Apparently the fill power numbers are far sexier, and as a result, we sometimes have to call the manufacturers to track down fill weight as it's not always listed (for more information, see our article: Down Fill and Insulation Explained). 

Our Estimated Temperature Scale
It's tough to pinpoint an exact temperature range in which you will feel comfortable wearing a down jacket (there's a reason no one has attempted to create a standardized rating system). Factors like fit, layering, your levels of exertion and circulation, and wind all play a role.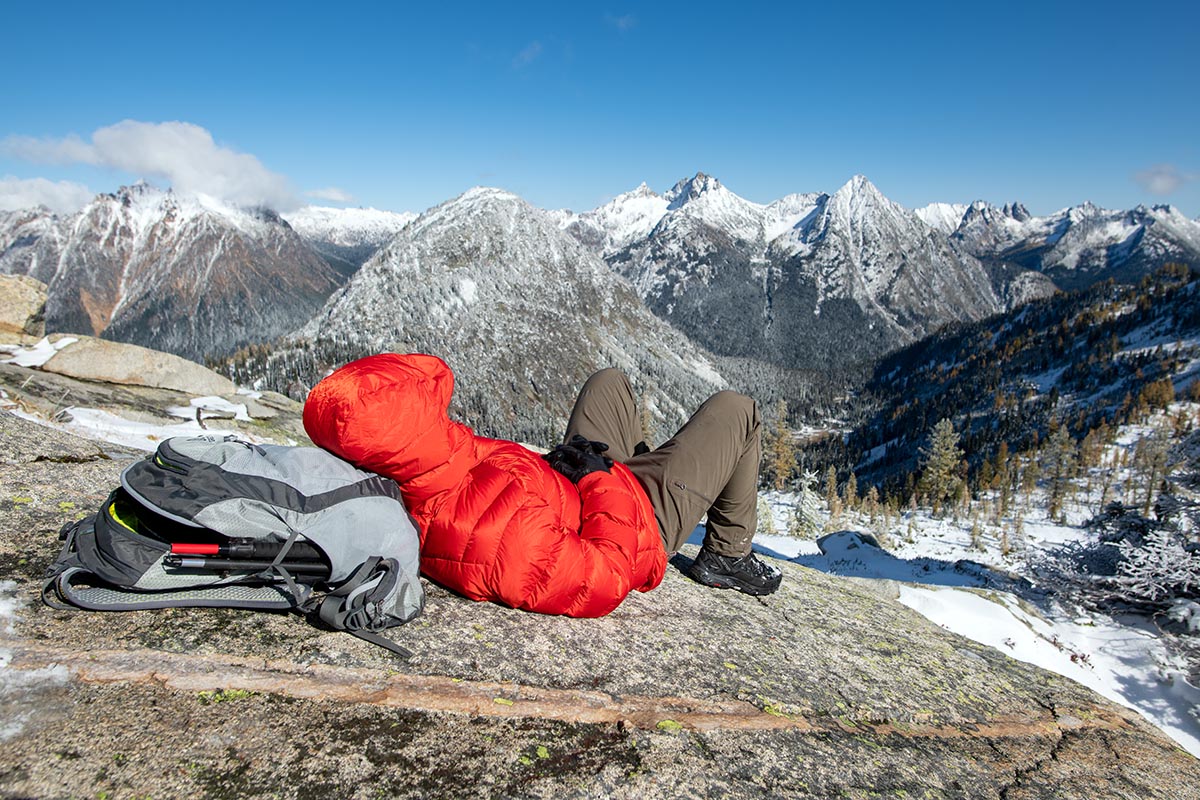 Generally, we think of down sweaters and ultralights—which usually have between 2 and 4 ounces of fill weight—as providing solid warmth in conditions ranging from around 35 to 60 degrees Fahrenheit (2 to 15 degrees Celsius) with low levels of exertion, such as puttering around a campsite. More fill will help you move toward the bottom end of the range and less will push you toward the middle. A cozy baselayer can buy you an extra 5 to 15 degrees depending on its thickness and quality. These types of jackets are very popular for three-season alpine use and in cities for everything but the heart of winter. 
When the mercury drops below freezing, you will be more comfortable wearing a true midweight or heavyweight down jacket for winter. The fill weight of these jackets should be 4 ounces at the absolute minimum and often is in the range of 5 to 6 ounces or more (the Rab Neutrino Pro and Montbell Mirage Parka). For bitter cold and climbing the highest peaks, an even heavier down parka may be in order.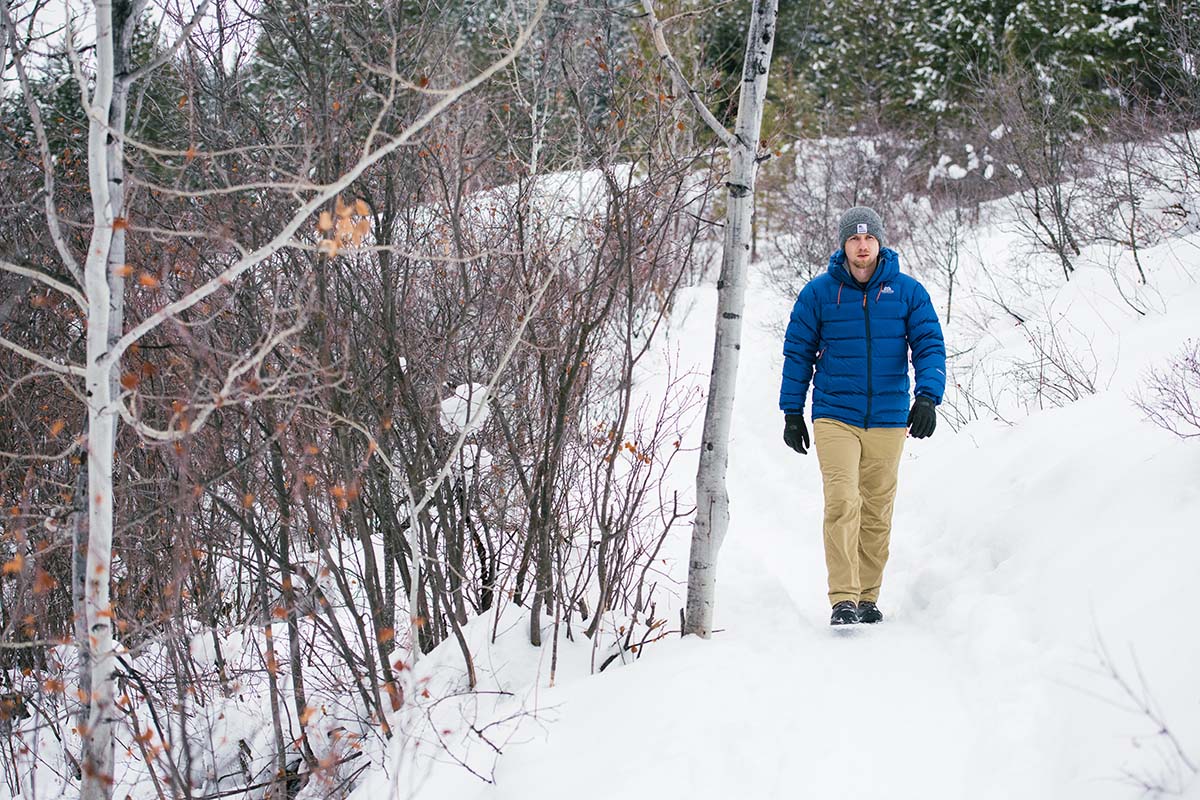 Weight
For uses like backpacking, climbing, mountaineering, ski touring, or whenever you have to lug around your own gear, the total weight of your down jacket should play a significant role in your buying decision. Jackets like the Mountain Hardwear Ghost Whisperer/2 (8.8 oz.) and Feathered Friends Eos (10.6 oz.) weigh very little for the warmth they provide and compress down extremely small in your pack. As a result of all the fun tech, they also cost considerably more than your typical down sweater.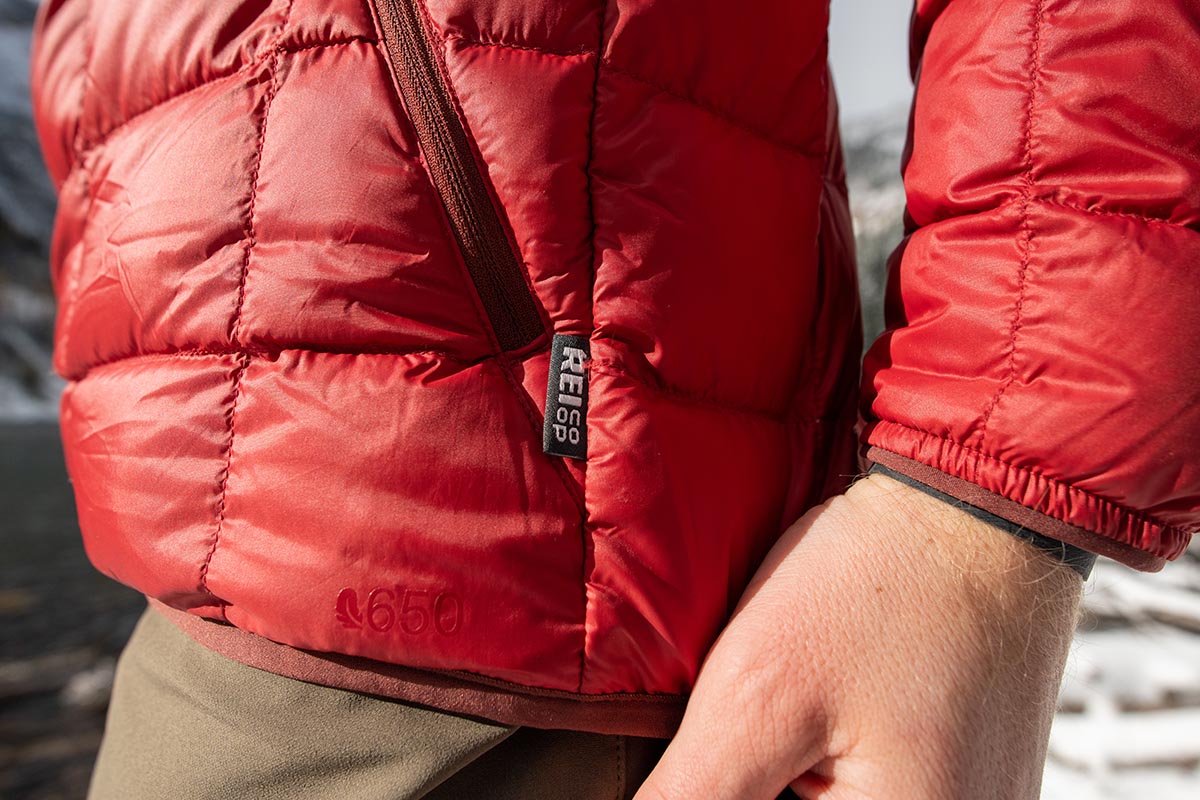 "Ultralight" is a buzzword of sorts that you will inevitably run into when shopping for a down jacket, and it's worth noting there aren't hard-and-fast rules as to what qualifies. We keep a close eye on the ratio of fill weight to total weight to see what lengths the manufacturer went to trim weight (the shell denier is a good hint too, and more on that below). Three of our ultralight picks have healthy amounts of premium down and are relatively light at around 10 ounces or less for the hooded versions. When gear companies really prioritize cutting weight, you'll see changes to zippers, a trim fit, and a lack of pockets. Some even opt for a pullover style to cut out half of the zipper. No matter what the manufacturer names a jacket, keep a close eye on fill weight and total weight to make your own determination.

Shell Fabric (Denier) 
Denier (D) is the measurement of the weight of a thread, and the lower the number the lighter the weight. A lower denier rating means the material is less durable and more prone to abrasion. Much of the difference in weight of an ultralight jacket is trimmed by using a lower denier fabric for the shell. Other factors like premium down (it provides the most warmth for the least amount of weight) and ultralight zippers play a role as well, but the shell fabric is most important.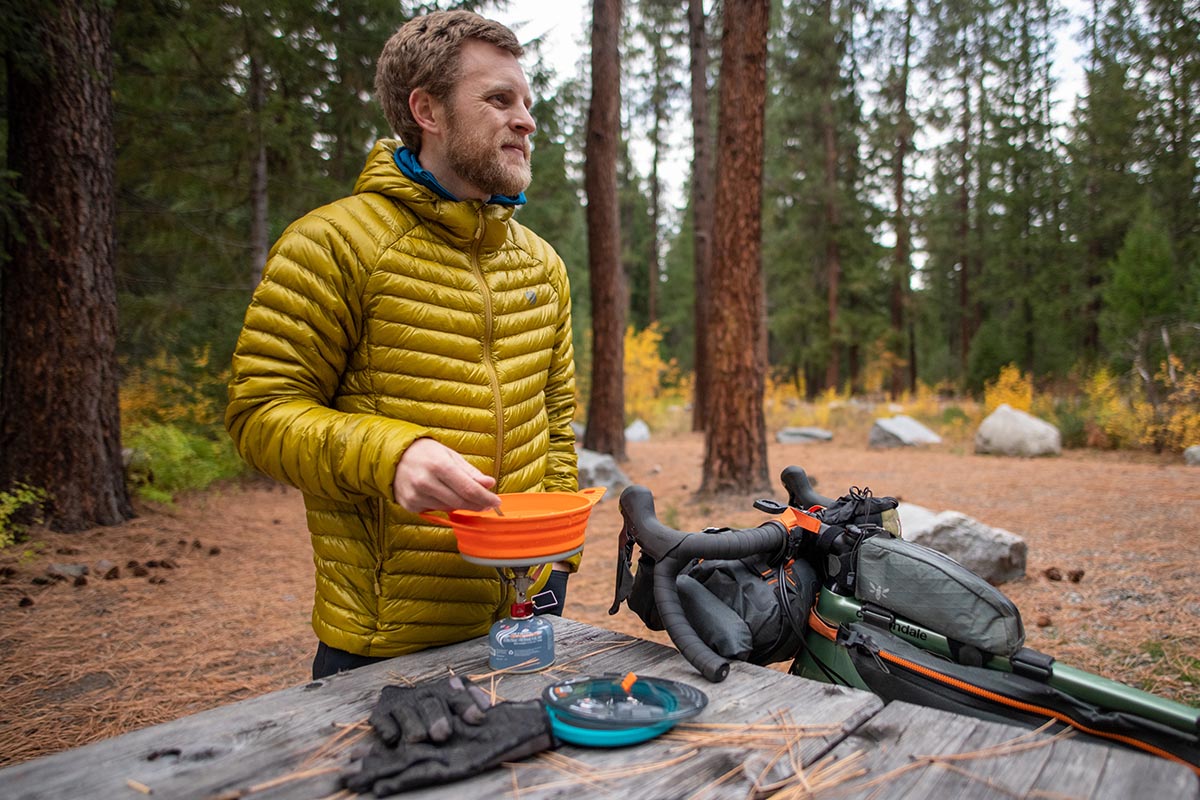 Almost every jacket on this list is made with reasonably lightweight shell fabrics. The thinnest jacket is the Montbell Mirage Parka, which has a very fragile 7D shell, and the thickest is the Mountain Equipment Lightline, which has a 40D shell. 10D is pretty standard for ultralights and a more substantial 20D is what you'll often find in an average down sweater. Don't underestimate the importance of denier: even the difference from 10D to 20D can play a significant role in the total weight and potential lifespan of your jacket. If ounces matter and you intend to use the jacket in the backcountry, treat yourself to an ultralight. If most of your use will be in the city, a down sweater is sturdier and should save you money in the process.

Compressibility
Down enthusiasts love its compressibility and for good reason. An ultralight jacket like the Mountain Hardwear Ghost Whisperer/2 can be stuffed into its own pocket and end up much smaller than a Nalgene bottle. The tiny packed size means you have little reason to leave it behind, and can fit it easily into either a daypack or overnight backpacking pack.
Keep in mind that the higher the fill power the more easily it will compress. This is noticeable when you get into premium levels of down (800-fill and above), which pack down to seemingly impossible sizes yet bounce back after only a few minutes out of the bag (as long as you don't store it compressed too long). Fabric thickness also plays an important role, and thinner denier fabrics logically pack down smaller. Along with warmth for the weight, compressibility is an area where down absolutely dominates synthetic insulated jackets.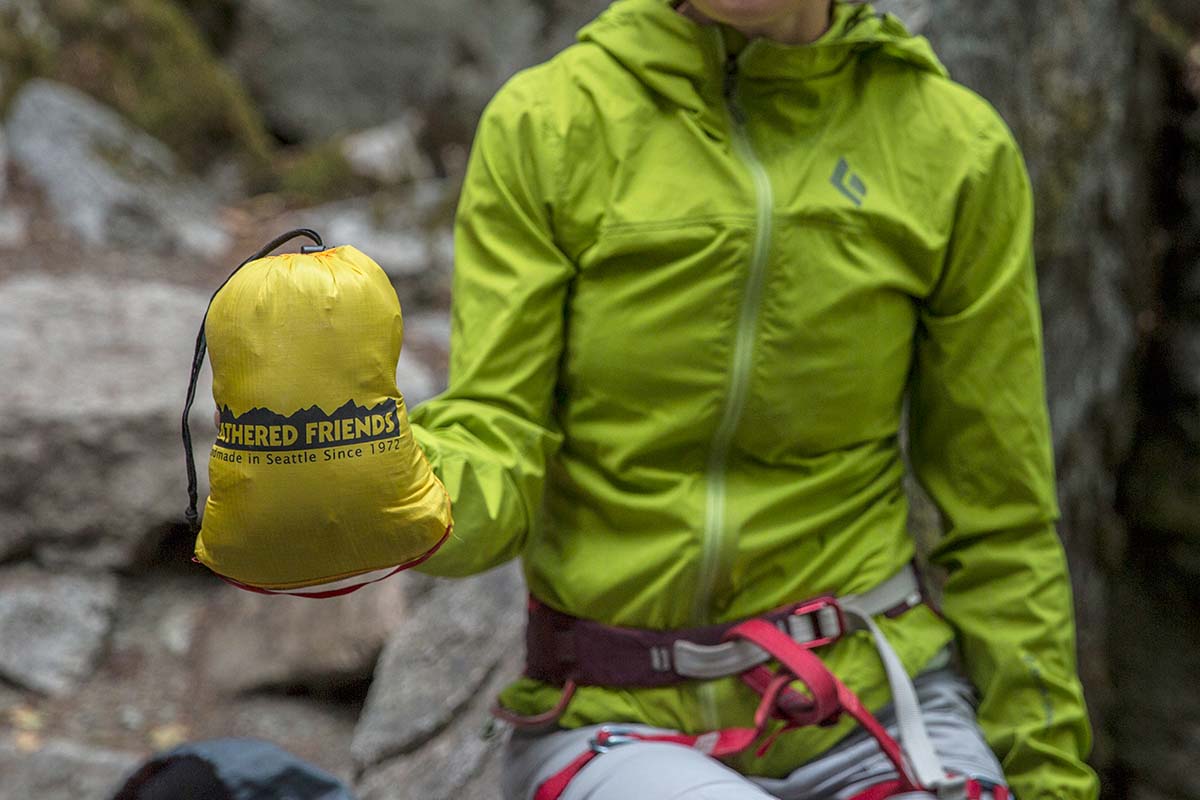 Hydrophobic Down and DWR Treatment
Down feathers unfortunately lose much of their ability to insulate when wet, turning into a clumpy and soggy mess. This makes them a serious liability in wet conditions or if you're sweating heavily, which is why some prefer a synthetic jacket that continues to insulate when wet.
Recently, gear manufacturers have started treating down to make it more water resistant. They do this by adding a polymer to the down before filling the jacket, and the result is that it resists water better and you don't have to worry as much about light precipitation. Even though it still doesn't match the wet weather performance of synthetics, we love the hydrophobic down movement. Yes, it may add a tiny bit of weight to the down, but it also adds a noticeable level of protection. If you're headed out in a wet area like the Pacific Northwest or New Zealand, a jacket with hydrophobic down (and a waterproof shell) is a smart choice.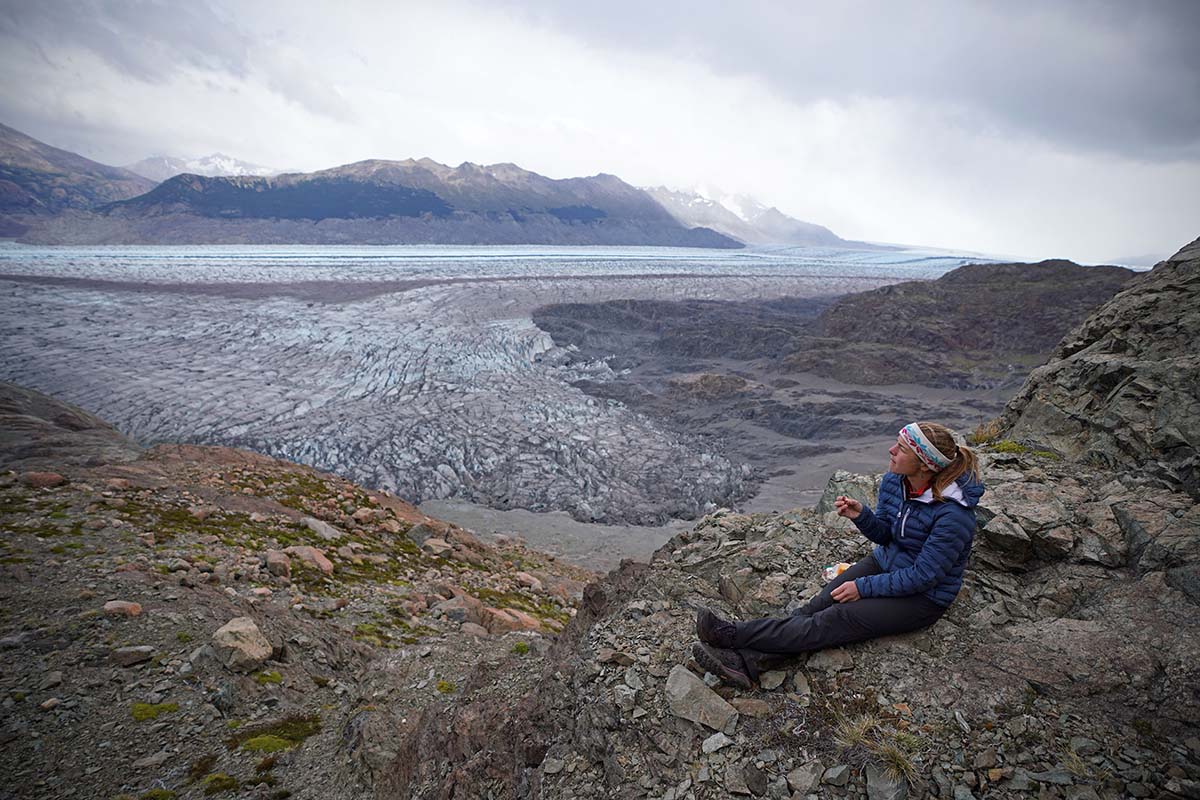 Another way that gear manufacturers fight moisture is a DWR (Durable Water Repellant) treatment on the outside on the jacket. This treatment helps prevent water droplets from forming and entering your jacket—essentially the water has a harder time staying on the fabric and beads up and rolls off instead. Neither a DWR finish nor hydrophobic down will keep your down completely dry, but they make nice lines of defense against light to moderate precipitation. 
 
Fit 
Fit is jacket-specific, but there are two main considerations here. First, down sweaters have a more casual fit than ultralight or performance jackets, including boxier torsos, arms, and hoods (when available). Fit also varies significantly by brand. From our experience, Arc'teryx jackets like the Cerium LT Hoody fit the slimmest of all, which we refer to simply as the "Arc'teryx fit." Guides and ultra-athletic folks who frequently use the gear are a key contingent for Arc'teryx, which helps explain the fit. They prioritize reduced bulk and improved range of motion, and Arc'teryx designs accurately reflect those needs.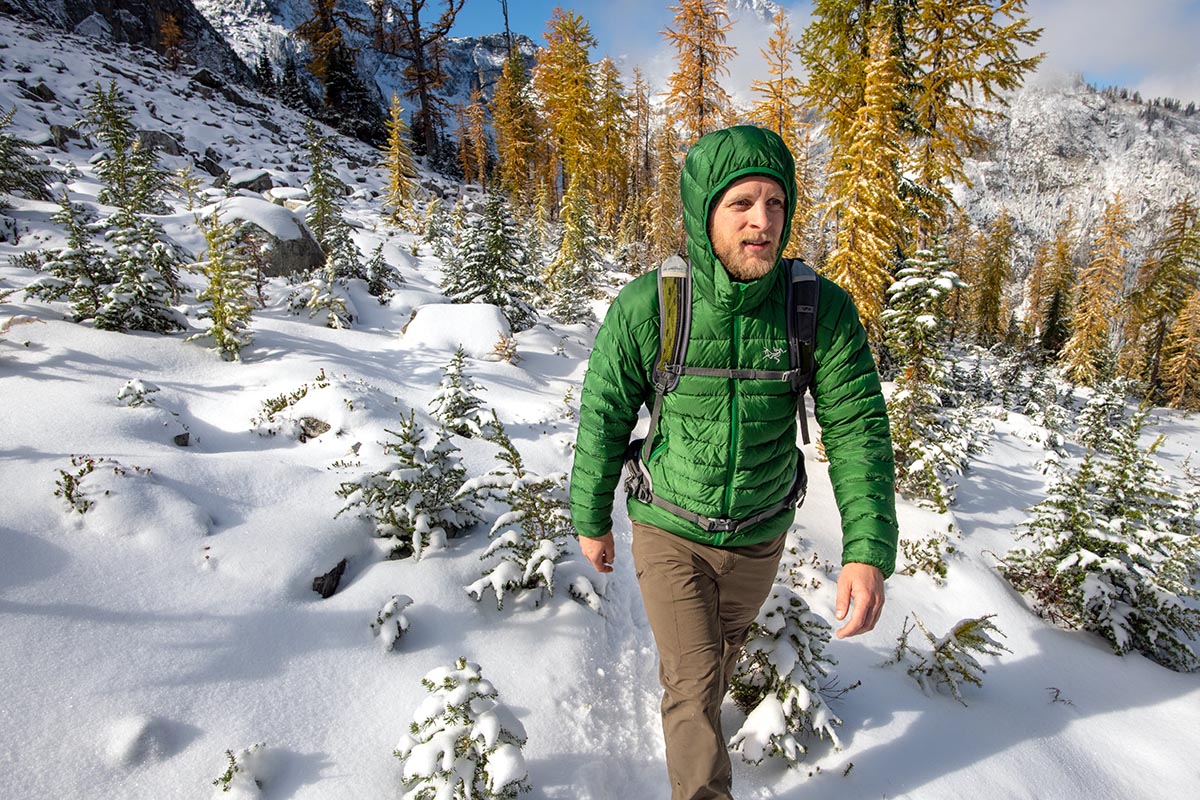 The Patagonia jackets on the list are surprisingly boxy given their quality and feature sets. Even the Patagonia Down Sweater is boxier than expected in the torso and arms (it's still one of our favorite down jackets overall so this wasn't a huge deterrent for us). This isn't necessarily a bad thing, just something to be aware of—a wide range of people wear Patagonia and a slightly boxier fit accommodates more of them. Outdoor Research and REI jackets are middle of the pack in terms of fit: not too slim and not too boxy. Rab, Mountain Hardwear, and Montbell apparel generally have an athletic cut but not to the extent of Arc'teryx. 
 
Hood or No Hood?
Most down jackets on this list are offered in hooded and non-hooded versions. The non-hooded version is slightly cheaper and weighs less, but you don't get the advantage of the extra warmth and comfort. For casual use or as a midlayer for skiing, many people opt for a down vest or go without the hood and carry a separate beanie instead. For backpacking and climbing, many people get the hood and don't regret it. You'll notice that in our picks above, we listed down sweaters in the non-hooded versions, which are the most commonly purchased, and the ultralights with hoods, also the most common for that variety of jacket. For a deeper dive into the topic, see our article: Does Your Down Jacket Need a Hood?.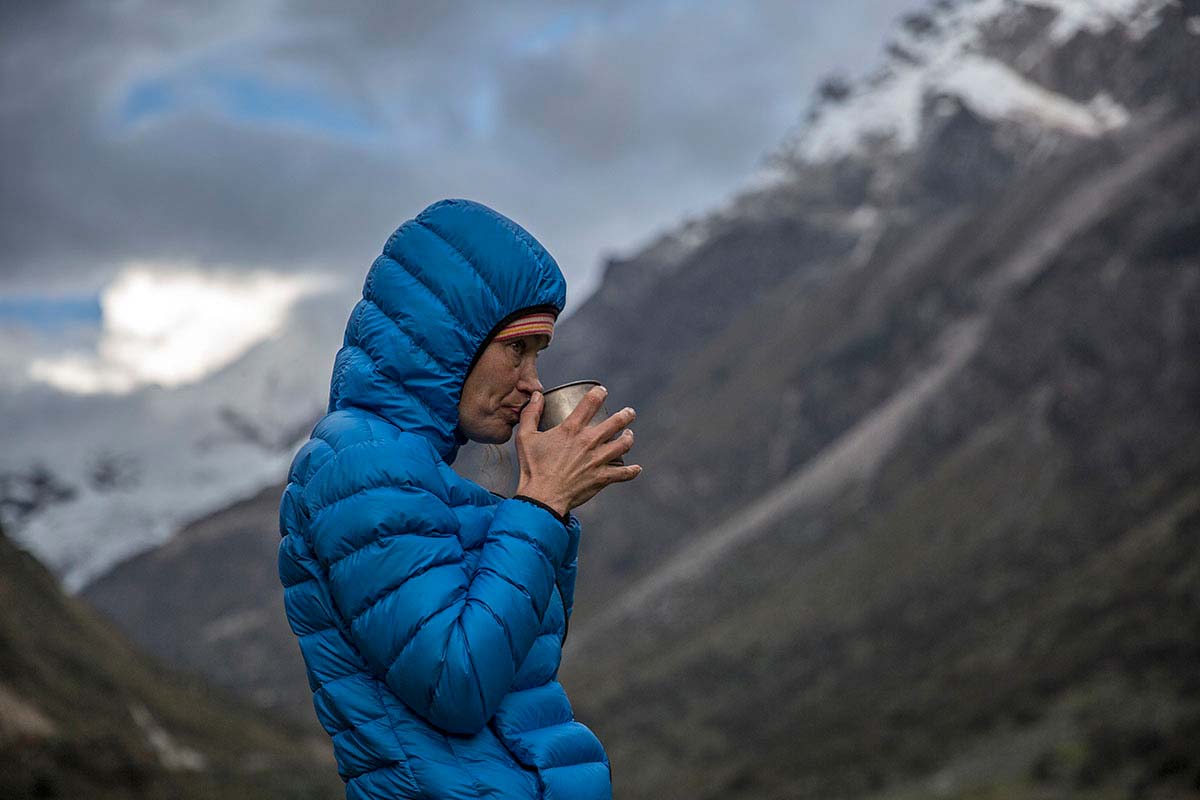 What About Synthetic Jackets?
There is a lot to be said for synthetic insulated jackets, which insulate better than down when wet, are more breathable, and cheaper. However, down still has no replacement (at least for now). The warmth-to-weight ratio is unparalleled, as are compressibility and comfort. We've tested a number of synthetic jackets like the Arc'teryx Atom LT and Patagonia Micro Puff (see our in-depth review), both are which are very comfortable and reasonably light, but the warmth just isn't the same. We often reach for synthetics for everyday use and light outdoor activities in the fall and spring, but they take up too much space in our packs for extended backcountry trips and most don't provide quite enough warmth for truly cold days. Optimally you would have both, but if you're only in the market for a single jacket, there's simply no better insulator than down. For a more detailed explanation of this topic, see our article on down vs. synthetic insulation.
Back to Our Top Down Jacket Picks  Back to Our Down Jacket Comparison Table
Learn More About Outdoor Gear