Arc'teryx's Cerium Hoody is their leading down jacket and replaces the popular Cerium LT for this year. Key changes include a slightly roomier fit, thicker shell fabric, and full suite of sustainability measures. The rest of the design remains largely the same, including a functional mix of high-quality 850-fill down with Coreloft synthetic in moisture-prone areas. You pay a steep premium for the Arc'teryx name, but the Cerium remains a crowd favorite for its lightweight warmth in a great-looking package. Below I break down my thoughts on the Cerium Hoody. To see how it stacks up to the competition, see our articles on the best down jackets and best midlayers.
 
---
Table of Contents
---

Performance
Warmth
Like the past-generation Cerium LT, the latest Cerium Hoody uses Arc'teryx's unique hybrid insulation design called "Down Composite Mapping." Premium 850-fill goose down warms the core, while a mix of 100- and 80-gram (g) Coreloft synthetic is placed in areas prone to getting wet: under the arms, around the sleeves, and along the shoulders and collar (we break this down further in the "Weather Resistance" section below). Thankfully, Arc'teryx's decision to use this mixture doesn't sacrifice the plush feel that down jackets are known for, which is largely due to the lofty fill and high-end build. Arc'teryx uses a generous 4 ounces of down in a men's medium (4.3 oz. in my size large), which we found provides similar levels of warmth to the Patagonia Down Sweater Hoody (5.3 oz. of 800-fill down in a medium) while surpassing the popular Mountain Hardwear Ghost Whisperer/2 (3 oz. of 800-fill down).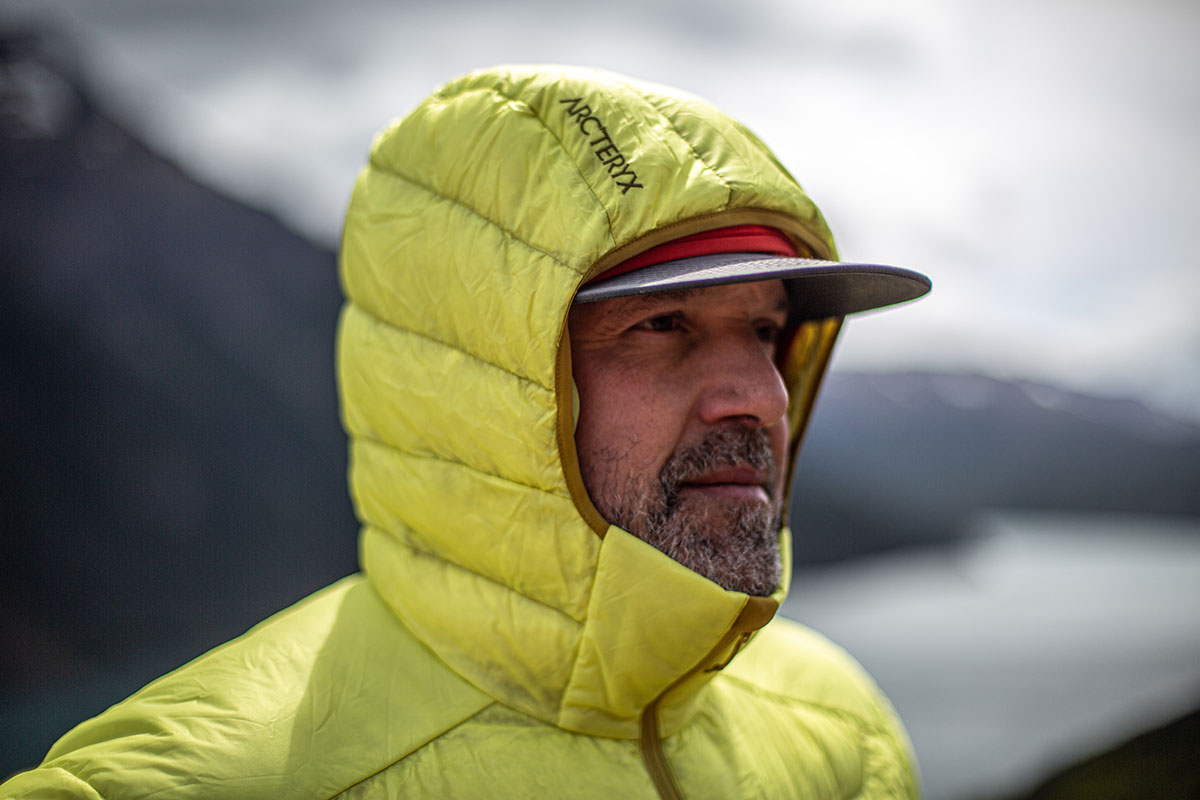 I recently took the Cerium Hoody to Patagonia, where it shined as my go-to insulator in unseasonably cool and wet conditions. Our final overnight of the trip was particularly cold and damp, and the Cerium did a great job of keeping me comfortable at camp after getting chilled to the bone on the hike in. That said, I'm glad I opted to leave it in my pack until we arrived, as the lack of breathability would surely have caused me to overheat (cold plus sweat is a recipe for hypothermia). This was confirmed on a subsequent ski tour back home: Despite frigid temperatures, I sweat out of the hoody quickly on a long, sustained climb, causing the down to wet out and lose its insulating abilities. But this is true of most down jackets—for high-output use, we turn to breathable synthetics like The North Face's Summit Series Casaval—and the Cerium nevertheless is an impressively effective insulator for its weight.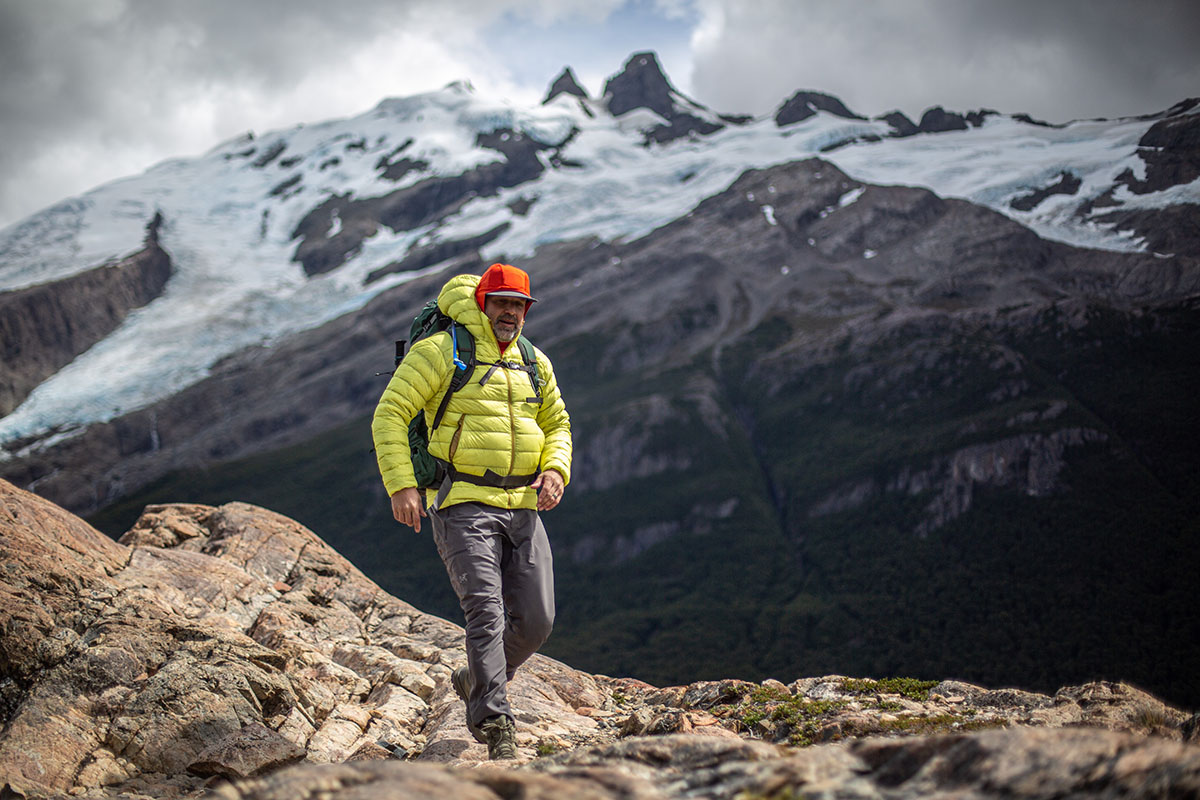 Weight and Packability
At 12.5 ounces for my men's large (listed weight is 11.8 oz. for a size medium), the Cerium Hoody isn't setting any weight records but is competitively light for the level of warmth it provides. For reference, it's slightly heavier than the Feathered Friends Eos (10.8 oz.) while undercutting Patagonia's popular Down Sweater Hoody (14.8 oz.). However, compared to true ultralight models, it does fall on the heavier end of the spectrum. For comparison, the Mountain Hardwear Ghost Whisperer/2 Hoody (8.8 oz.) and Montbell EX Light Down Anorak (7.6 oz.) both are notably lighter. That said, it's important to keep in mind that the Cerium uses a thicker (read: more durable) shell fabric and has some synthetic insulation in select areas. These features offer tangible benefits but also add a little weight.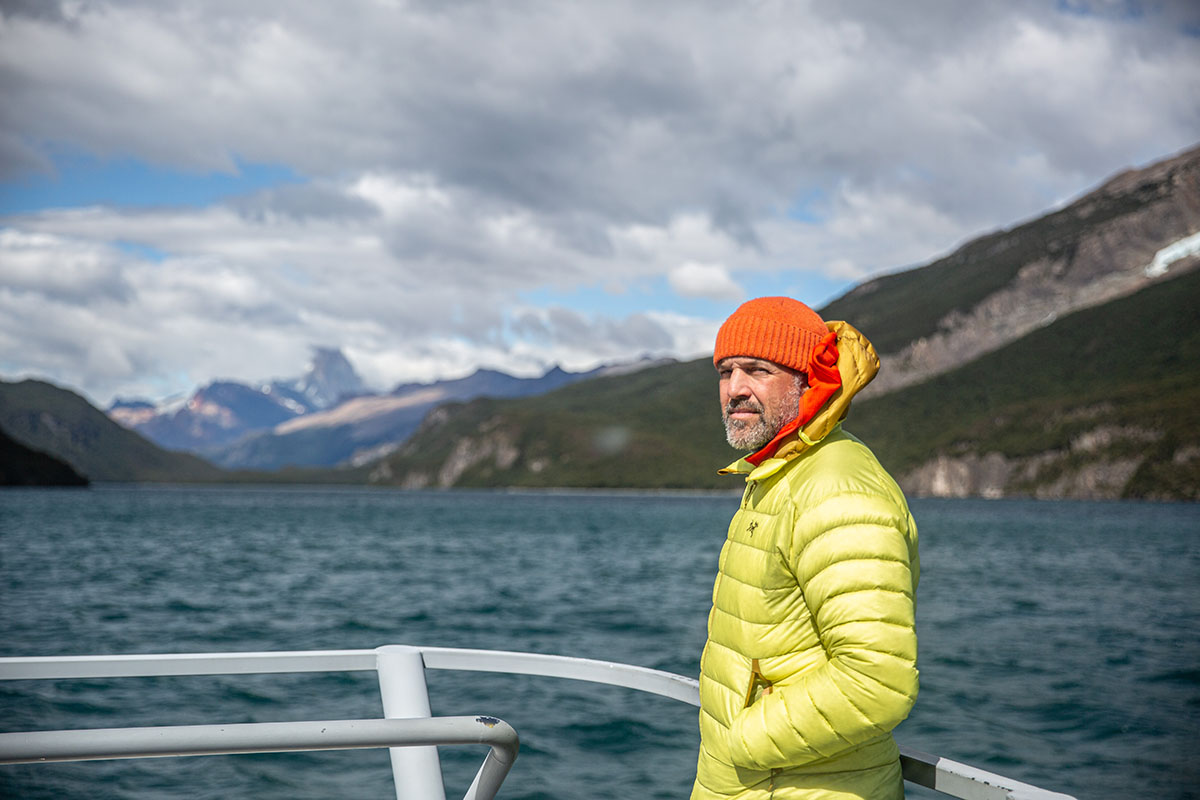 Down fill is much more compressible than synthetic insulation, but we're happy to report that the hybrid Cerium Hoody compresses like a true down jacket. For reference, it's about the size of a large cantaloupe when packed—which stacks up well with most competitors—and fits quite easily into its included stuff sack. We strongly prefer down jackets that stuff into their own pockets, but Arc'teryx did make an effort to address the primary reason to avoid a stuff sack: losing the bag. With a loop on the inside of the chest pocket (it was previously inside the right hand pocket), you can simply tie the stuff sack to that spot. It's simple and works well, although I typically just pack the Cerium into its hood given how frequently I take it on and off.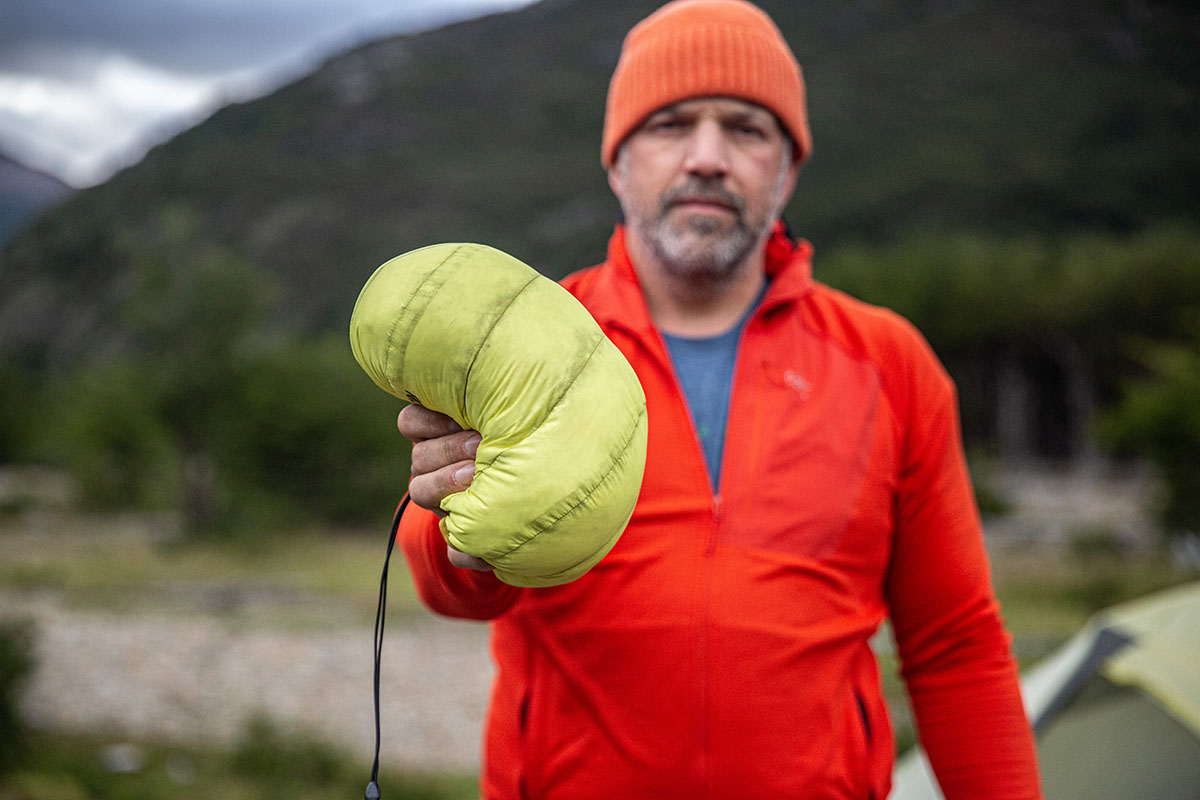 Weather Resistance
Down's biggest enemy is moisture—unlike synthetic insulation, it clumps up and loses its insulating abilities when wet. To combat this, Arc'teryx placed Coreloft, their high-quality in-house synthetic, in the areas of the jacket most prone to getting wet: the shoulders, underarms, cuffs, and collar in front of the mouth. The rest of the jacket is packed with down fill to maximize heating efficiency while offering a boost in wet-weather protection compared to most down jackets. That said, it's important to keep in mind that the Cerium is no match for heavy precipitation. Although the synthetic insulation does bring additional confidence in snow and light moisture, you'll still want to bring a rain jacket or hardshell to throw on overtop if the weather turns.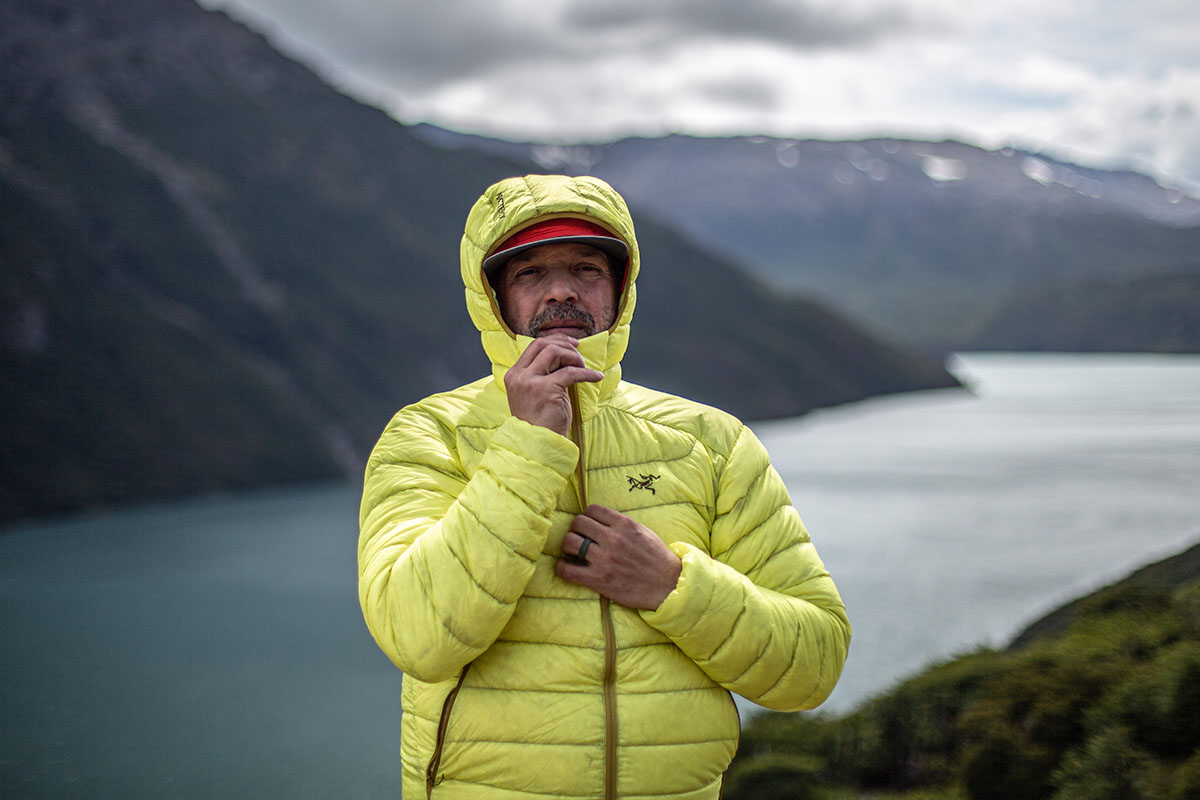 The Cerium Hoody's wind-resistant shell performed well on cold and blustery hikes in Patagonia and during a variety of snow sports, and its DWR treatment helped water bead off instead of soaking in. But it cannot compare to a synthetic jacket and, as we mentioned, you'll need to add a waterproof layer when the going gets tough. Even for climbing, the Cerium would fall short as a belay jacket in cold and damp conditions. For this sort of environment, we would opt for a fully synthetic jacket with a more weather-resistant shell material like Black Diamond's Belay Parka. But within the lightweight down jacket world, the Cerium combats the elements as well as most.

Construction and Durability
Arc'teryx's premium craftsmanship and attention to detail are second to none, and the Cerium Hoody is exactly what we've come to expect from the brand. With a 15-denier (D) shell fabric, the latest version is a little thicker and more confidence-inspiring than its 10D predecessor, which was a welcome change. While it's still a little thinner than Patagonia's Down Sweater Hoody (20D), I've had no issues to date and have been pleased with the Cerium's overall durability. The inner shell also has a noticeably soft and supple feel against the skin—including the chin guard along the collar—although it can get a little clammy and sticky with sweat (again, this isn't an active insulation piece). And a common place to cut weight is the zippers, but we have experienced no hiccups to date (including with the past-generation Cerium LT). Taken together, the Cerium Hoody is another high-quality and thoughtfully built Arc'teryx piece.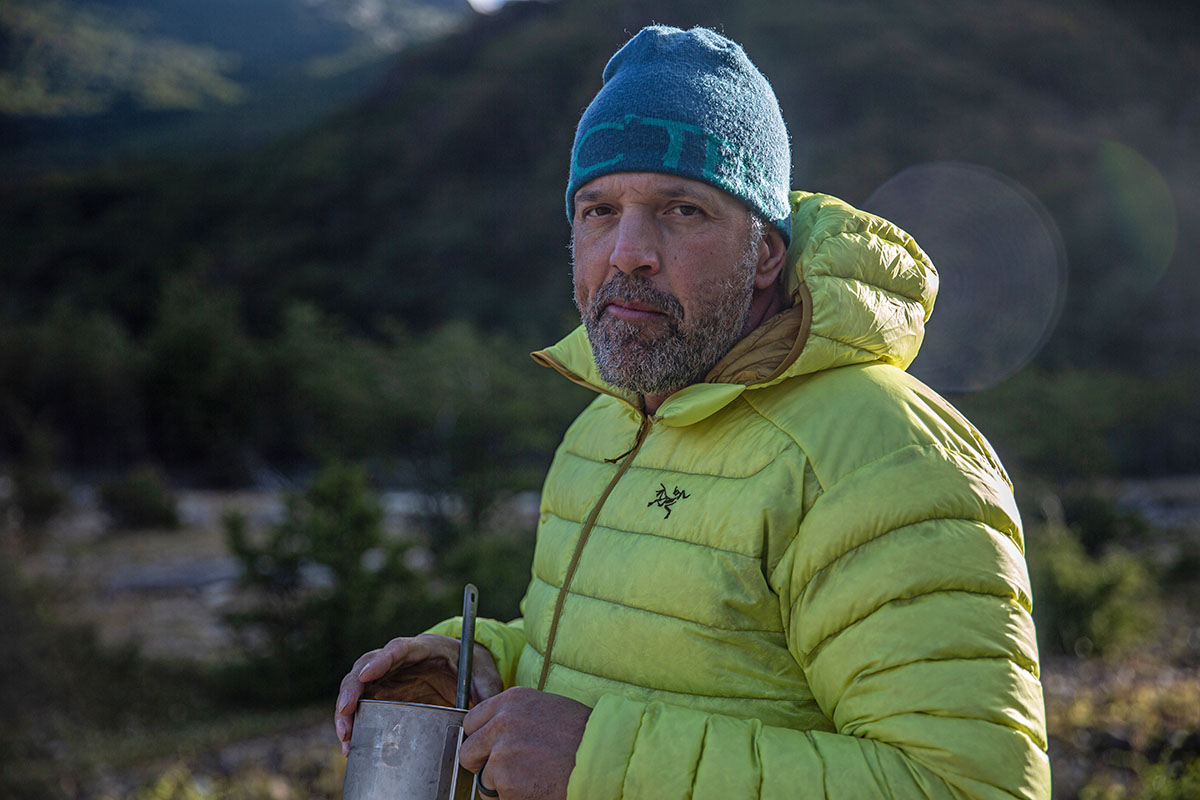 Key Features
StormHood
The Cerium is made in both hoody and standard, non-hooded jacket versions. If you opt for the extra head coverage, you're getting, in our opinion, the best hood design currently on the market for only $25 more. The large StormHood cinches just like many other performance down jackets: with a single, glove-friendly drawcord on the back of the hood. But the difference is that it tightens evenly around your head, uniformly securing around your forehead and around back. It's a relatively simple feature, but one that demonstrates the level of detail and care Arc'teryx takes in designing their products. Finally, it's worth noting that the latest Cerium is listed as having a helmet-compatible hood, but we found it's still too small to fit over a ski helmet. It does work with a lower-profile climbing helmet but causes some tugging at the neck—it's best on its own or with a beanie or ball cap.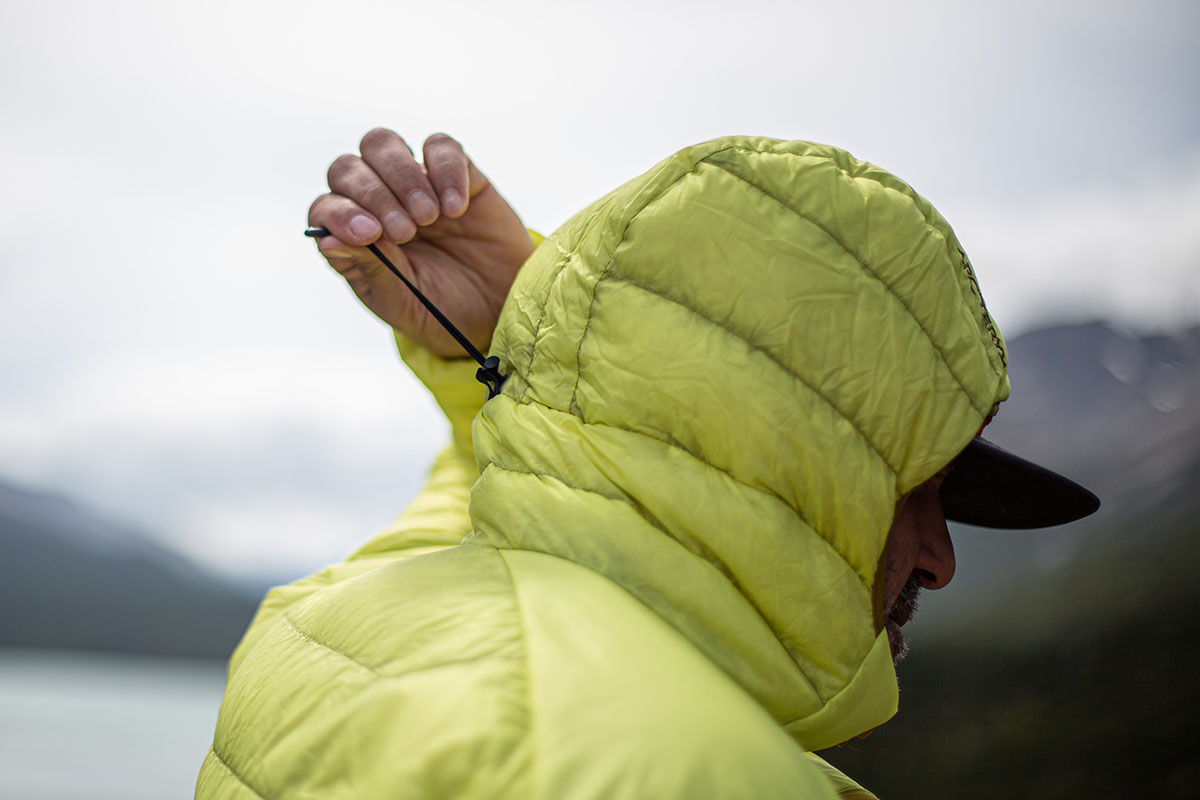 Storage: Pockets
In terms of storage, the Arc'teryx Cerium Hoody comes equipped with a fairly standard assortment: two hand pockets and one internal pocket. As we touched on above, the chest pocket features a loop on the inside that's helpful for securing the separate stuff sack (we've lost many of these over the years). The Cerium doesn't have an external chest pocket, but the internal one is sufficient for stowing valuables close to your body. That said, I don't love storing heavier items like my phone or Garmin inReach here, as they tend to end up under my armpit due to the depth of the pocket. Finally, the hand pockets are large enough to comfortably fit gloved hands or larger items like a camera lens.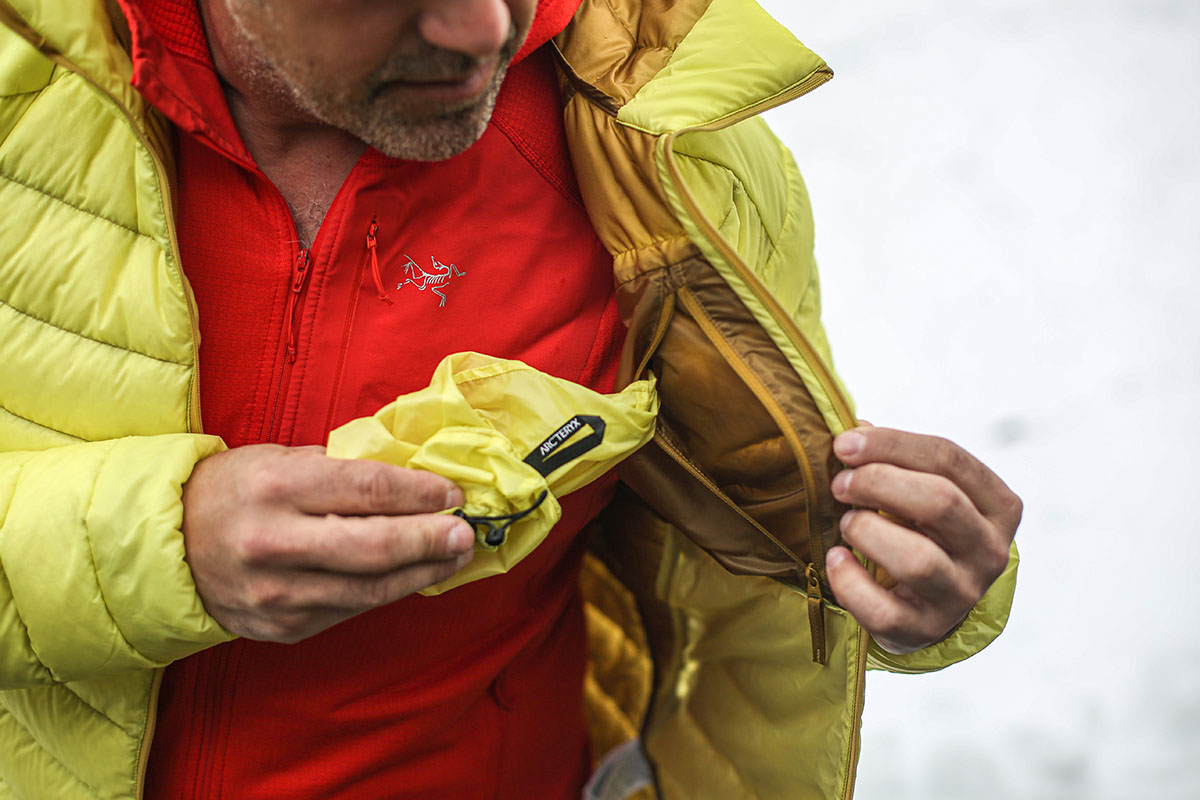 Fit and Sizing
Arc'teryx describes the Cerium Hoody's cut as "fitted," and we can strongly confirm that designation. It's worth noting that the latest model has a little more room in the midsection than the outgoing Cerium LT, but it's still clearly a performance piece. For reference, my usual men's large fits true to size, but it has the most athletic cut of any midlayer I've tested, which is great with a pack on or when layered under a shell. It comfortably fits over my usual layers—a merino wool T-shirt and lightweight fleece jacket—and offers great freedom of movement, even under a shell. The arms and back are also the perfect length for my 6-foot frame, providing ample coverage without impacting mobility. Plus, a waist cinch keeps the jacket close and eliminates heat loss at the hip, and the cuffs are integrated into the sleeves so that the arm's insulation still covers the entire wrist. There's still sufficient stretch to fit over gloves if needed, but they aren't so loose that they let cold air seep through.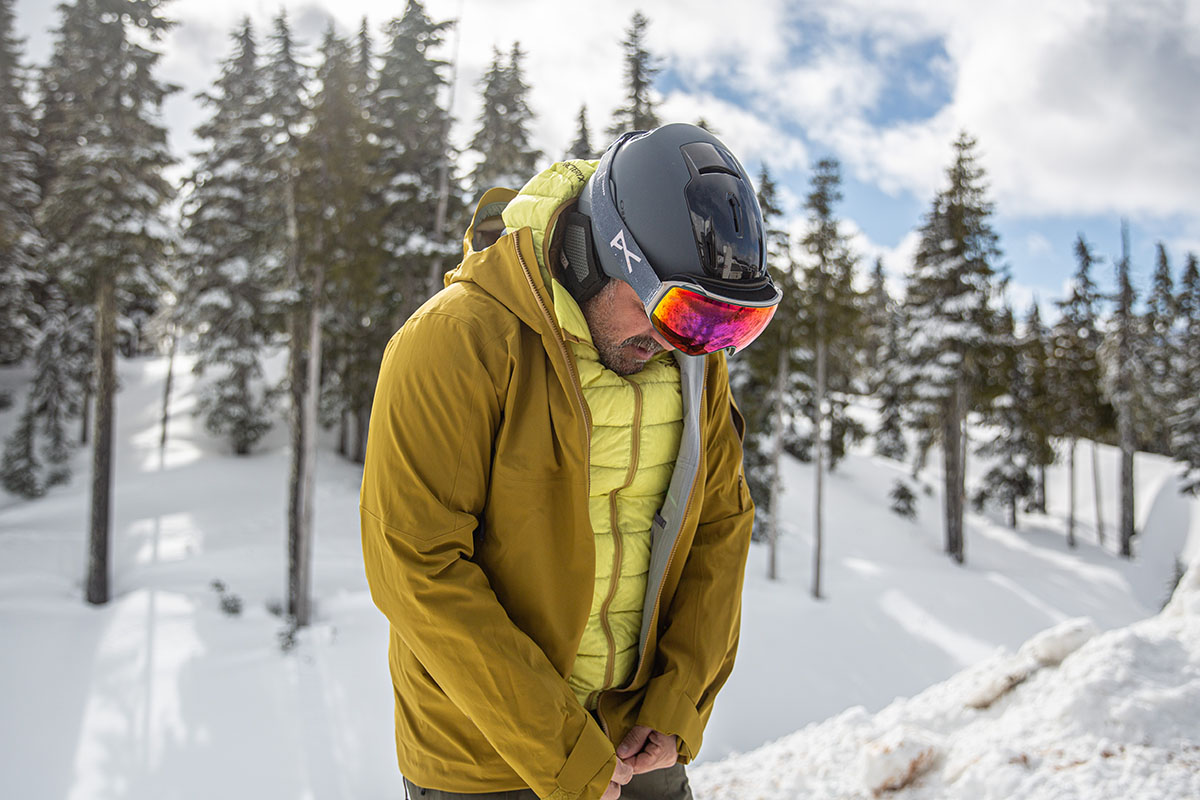 Sustainability
With the recent update, the latest Cerium Hoody is now one of the most sustainably built down jackets on the market. Highlights include the use of recycled nylon, dope-dyed fabrics that require less water and energy consumption during production, and down insulation that's certified to the Responsible Down Standard (RDS). The jacket also contains bio-based and bluesign-approved materials, the latter of which indicates that the chemicals used have been deemed safe for consumers, workers, and the environment. Finally, the Cerium has a PFC-free DWR coating that forgoes the use of perfluorocarbons, which are known as "forever chemicals" and have been linked to several health and environmental issues. Taken together, the new Cerium is a serious upgrade over the past-generation LT and a nice reflection of Arc'teryx's ongoing sustainability efforts.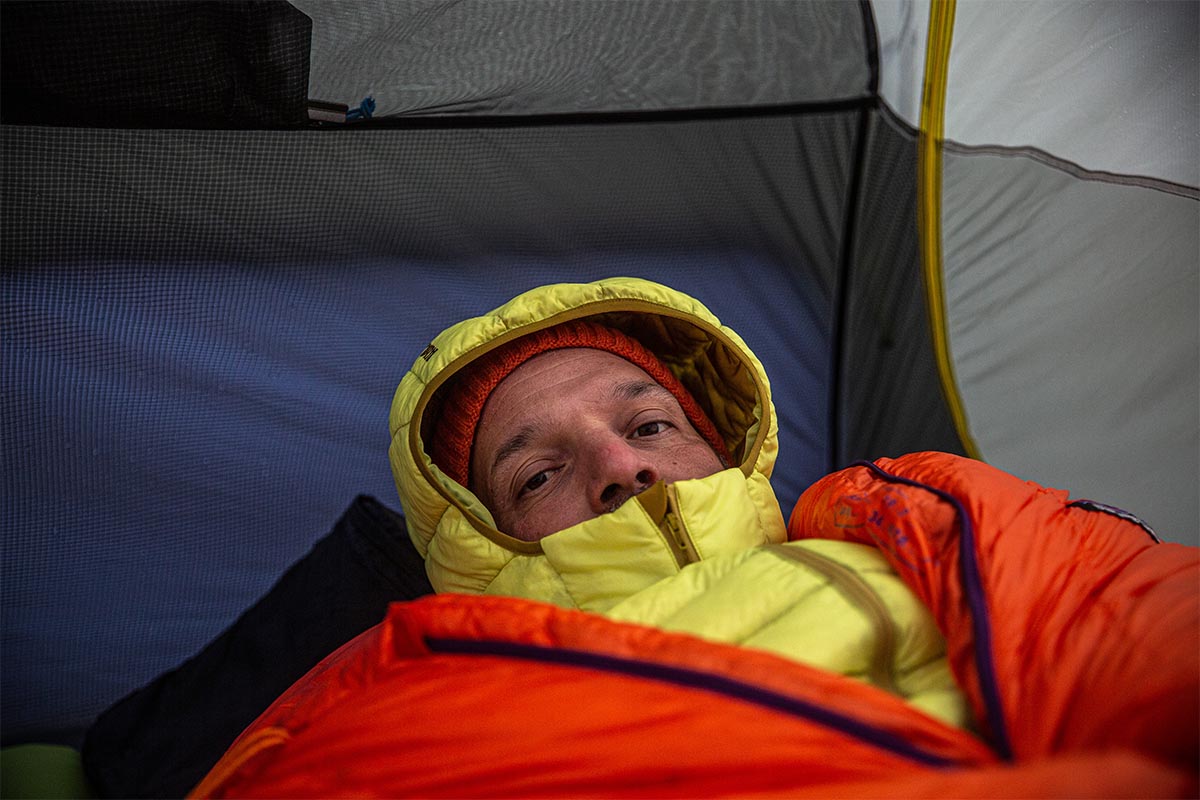 Other Versions of the Arc'teryx Cerium
We tested the men's Cerium Hoody for this review, and it's also sold in a women's version for the same price. For comparison, the women's Cerium Hoody comes in at 10.2 ounces and is sold in different colorways but has an otherwise identical build and feature set. As we mentioned above, Arc'teryx also makes a non-hooded Cerium Jacket ($375), which clocks in about an ounce lighter than the hoody at 10.6 ounces for the men's version. Rounding out the lineup, the Cerium is also offered in a vest ($275) style for men and women, a men's Hybrid Hoody ($350) that uses an air-permeable softshell fabric in key areas for better breathability, and women's-specific SV ($450) and Lightweight ($360) versions, both of which trim a little weight off the standard model.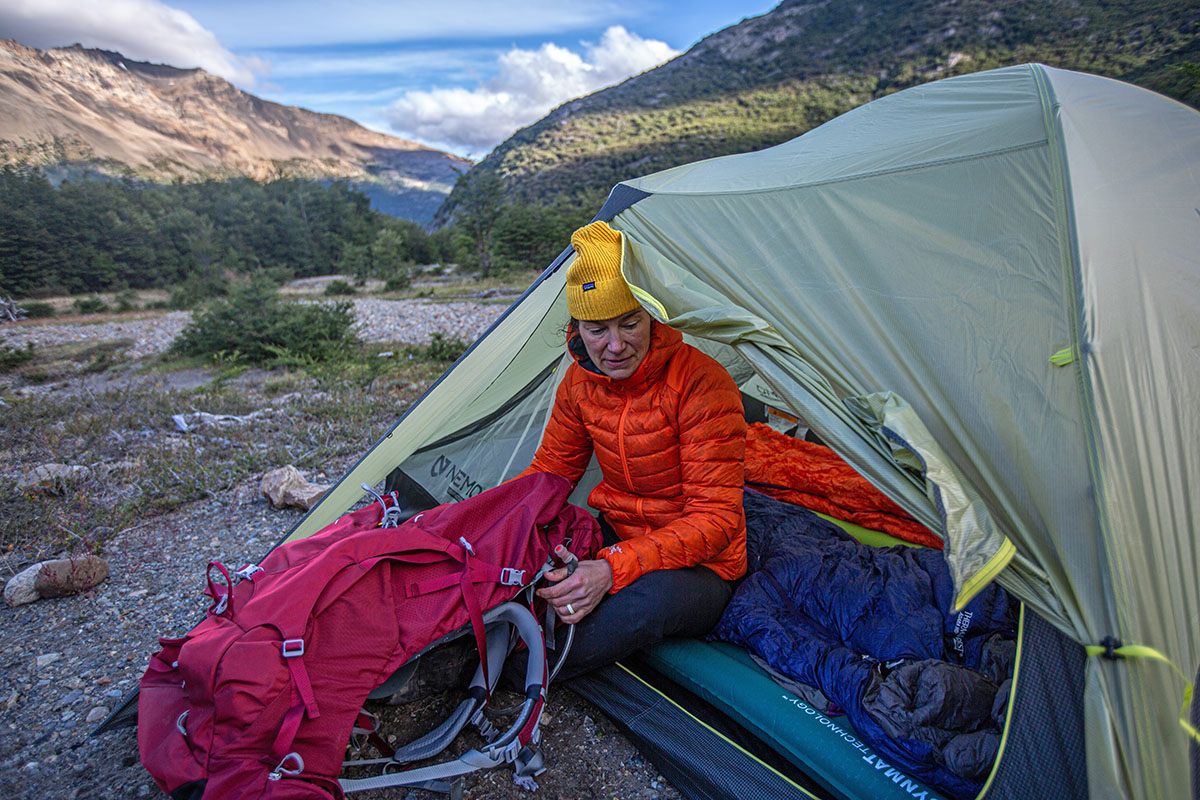 What We Like
The Cerium is one of our favorite lightweight down jackets thanks to its excellent build quality, comfortable next-to-skin feel, and athletic fit that isn't overly boxy.
Competitive warmth-to-weight ratio with a healthy amount of 850-fill down.
Synthetic insulation in moisture-prone areas adds a nice dose of assurance in light precipitation. 
StormHood fits evenly around the head and is super easy to adjust.
Wide colorway selection and very strong sustainability slant.

What We Don't
Arc'teryx products don't come cheap, and the Cerium Hoody is no exception at a steep $400.
Compared to true ultralight down jackets, the Cerium falls on the heavier end of the spectrum at 11.8 ounces.
Despite being listed as helmet-compatible, the StormHood is too snug to fit over a ski helmet and feels restrictive with a lower-profile climbing lid.
Interior is prone to growing clammy and sticky with sweat during activity—there are plenty of more breathable synthetics on the market for high-output use. 


Comparison Table

The Competition
The Cerium Hoody is a premium down jacket that offers impressive warmth for the weight. Again, it's hard to match Arc'teryx's level of quality and craftsmanship, but Patagonia is one brand that comes close. From their lineup, the Down Sweater Hoody is a direct competitor to the Cerium with 5.3 ounces of 800-fill down (in a men's medium) and a competitive $329 price tag. It's also slightly more hardwearing with a 20D shell, although you pay a weight penalty at 14.8 ounces. The Patagonia also has a roomier fit, which is good news if you plan to layer underneath but a downside when wearing a pack or pairing under a shell. In the end, we like the Down Sweater for daily wear and light outdoors use—it tops our down jacket round-up largely because of its versatility—but the Cerium offers better performance for less weight.
Another one of the Cerium's close competitors is the Feathered Friends Eos. Although not a household name like Arc'teryx, Feathered Friends is a down specialist based out of Seattle that makes high-quality jackets and sleeping bags, among other products. The Eos is a prime example: It packs 4 ounces of premium 900-fill goose down into a lightweight 10.8-ounce package. Running the numbers, that's the same amount of down for an ounce less overall, plus you get a Pertex Quantum Shell for fending off light moisture (although no synthetic insulation like the Arc'teryx). However, the latest Eos has a fairly boxy, unflattering fit that's less appealing for both daily wear and performance use, and it's even more expensive than the already-spendy Cerium at $409 (for more, see our in-depth Eos review here). In the end, that's enough for us to recommend the Arc'teryx over the Feathered Friends.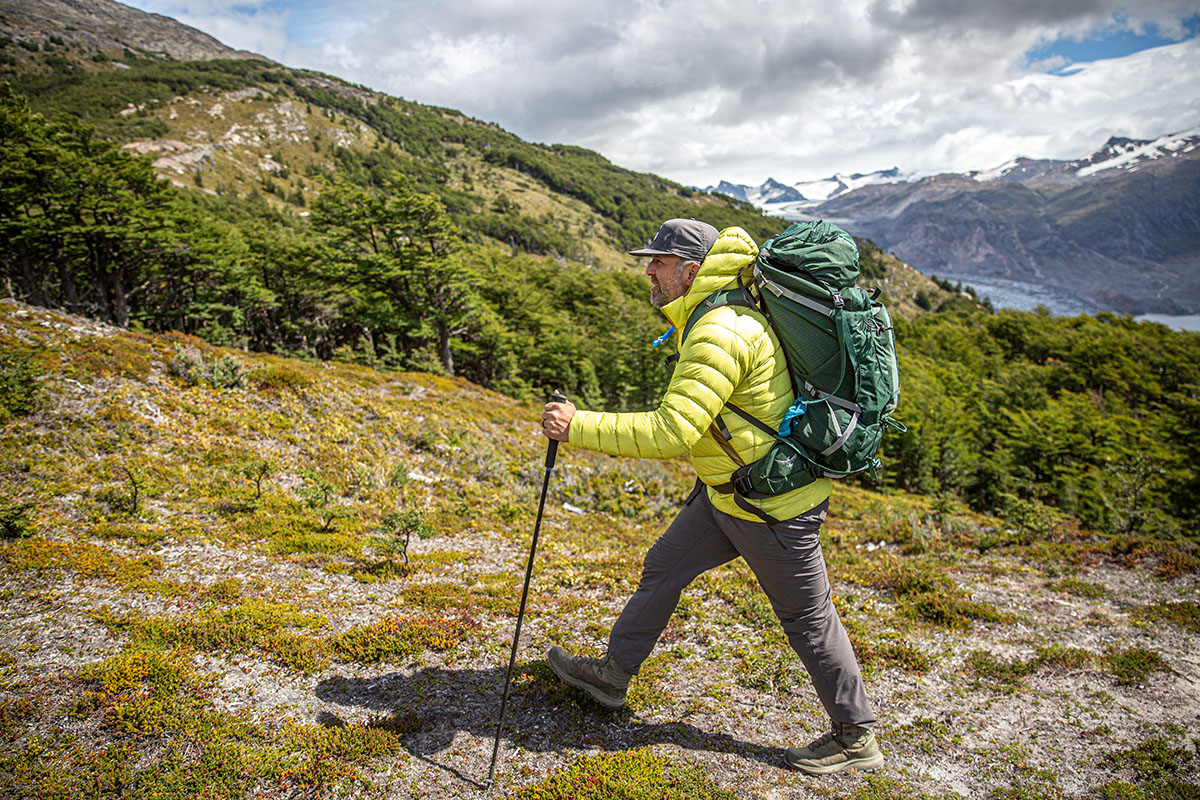 Next up is Outdoor Research's Helium Down Hoodie, which has similar intentions to the Cerium Hoody for a significant $121 less. Like the Cerium, the Helium offers a boost in wet-weather appeal compared to most down jackets with a water-resistant Pertex Quantum shell that uses their Diamond Fuse Technology for added abrasion resistance. On top of that, you get waterproof Pertex Shield—the same fabric used in OR's Helium Rain jacket—on the hood and shoulders for protection from rain and melting snow (although neither jacket can replace a fully waterproof shell in heavy, sustained moisture). Downsides include a 3.6-ounce jump in weight, less everyday appeal (the waterproof panels are a little polarizing), and reduced next-to-skin comfort. In the end, the Helium offers a competitive mix of weather resistance, durability, and price, but the Cerium is the more refined and versatile design.
We've made several references to the Mountain Hardwear Ghost Whisperer in this review—it's one of our favorite down hoodies and pioneered the ultralight category years ago. Now the "2," the retooled Ghost Whisperer is extremely light at 8.8 ounces and packs down noticeably smaller than the Cerium. You also get a solid 3 ounces of 800-fill down in a men's medium, which is less than the Arc'teryx but very competitive for the weight. However, the Mountain Hardwear's shell is even thinner at 10x10D, and we appreciate the Cerium's addition of Coreloft for better assurance in inclement weather (although both jackets will require a shell in serious conditions). Ounce-counters likely will prefer the Ghost Whisperer, but the Cerium offers a boost in warmth, durability, and everyday appeal.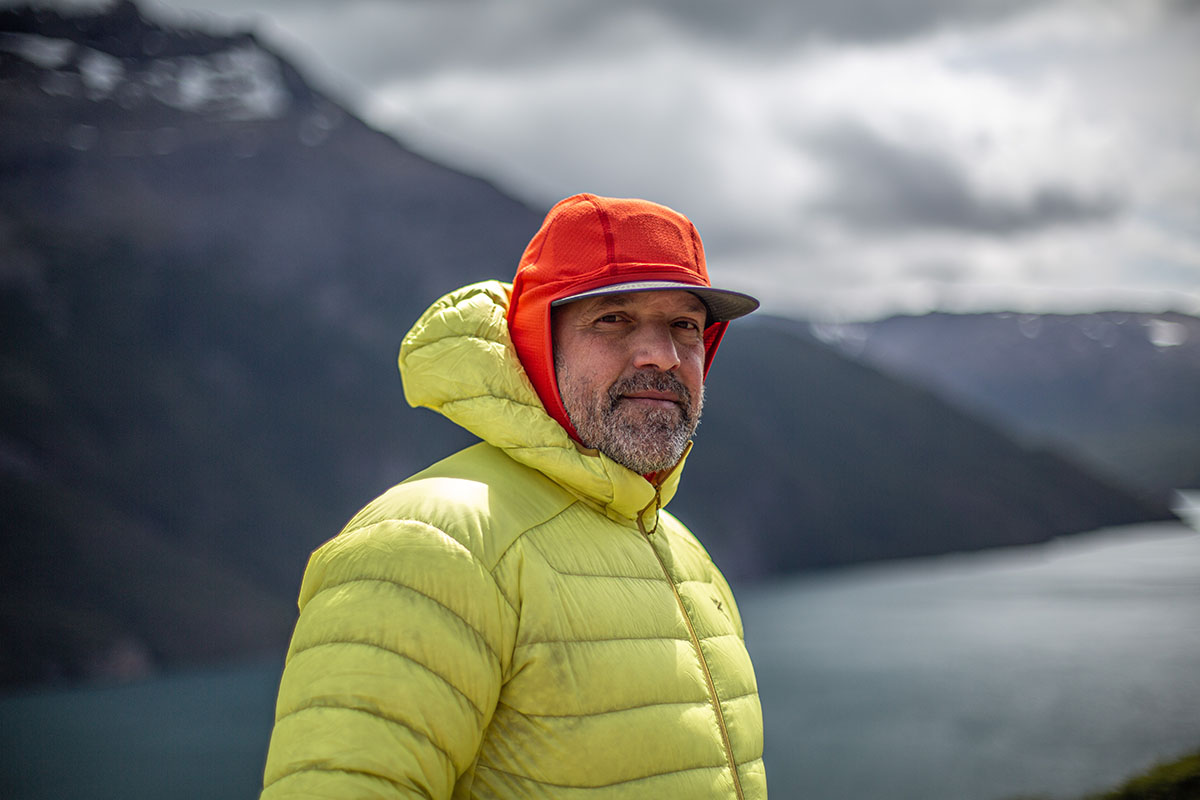 A final option to consider is Arc'teryx's own Thorium Hoody. Using a similar mixture of goose down and synthetic Coreloft insulation (in this case, 750-fill), the Thorium provides good overall warmth and decent weather protection. Despite the lower-quality down, it's slightly warmer than the Cerium (fill weight in a men's medium is 5.2 oz.) and sports a tougher 30D face fabric (the Cerium is 15D). Finally, the Thorium is billed as "regular" fit, which is more ideal for layering than the Cerium's slim cut. However, the Thorium is 6.4 ounces heavier at 1 pound 2.2 ounces, doesn't pack down as small, and costs $50 more. All things considered, the Thorium is the more versatile and everyday-friendly design, but the cheaper Cerium gets the edge for backcountry missions where weight and packability are top considerations.
If you're thinking about buying gear that we've reviewed on Switchback Travel, you can help support us in the process. Just click on any of the seller links above, and if you make a purchase, we receive a small percentage of the transaction. The cost of the product is the same to you but this helps us continue to test and write about outdoor gear. Thanks and we appreciate your support!
Depending on the seller, most products ship free in the United States on orders of $50 or more. International shipping availability and rates vary by seller. The pricing information on this page is updated hourly but we are not responsible for inaccuracies.
Learn More About Outdoor Gear