When friends get into rock climbing, they often ask us what kind of shoes, harness, or rope they should buy. We always tell them the same thing: "the first thing you should buy is a helmet." But not just any helmet: a good, comfortable, well-fitting model that they will actually wear. A helmet does no good if it's sitting in the dirt or in your gear closet back home. If it's on your head though, it can mean the difference between life and death. Below we break down the top climbing helmets on the market in 2019 from ultralight models to leading budget options. For more information, see our helmet comparison table and detailed buying advice below the picks. 
 
Best Overall Climbing Helmet
Weight: 6.9 oz.
Construction: EPP w/ polycarbonate shell
What we like: Lightweight and durable; affordable.
What we don't: Heavier than the Sirocco; webbing adjustment isn't very intuitive.
The best climbing helmet is one that manages to combine durability, protection, and comfort into a lightweight package—and the Mammut Wall Rider does just that. Using a majority of expanded polypropylene (EPP) foam, the Wall Rider can withstand multiple impacts without shattering, unlike most of the models on our list that are made with EPS (for more on these differences, see the buying advice below). Add to that a sleek look and comfortable feel—and a middle-of-the-pack price point—and the Wall Rider gets our top spot for 2019.
The biggest competitor to the Wall Rider is the Petzl Sirocco below, but the Mammut wins out in terms of value and appearance. With both helmets, you get EPP foam, which we'll always take over EPS when given the choice. The two helmets are streamlined for weight-savings, incorporating simple adjustment systems (both of which are rather finicky) and exposed foam. But the Mammut does it all for $40 less, with a more fashionable design that comes in a few different colors (unlike Petzl's standard orange and black/white combo). If you're focused on going ultralight, you might fork out the extra cash for the 1.3-ounce lighter Sirocco, but we'll stick with the Wall Rider for most purposes. And it's worth noting that Mammut recently released a version with MIPS for $180, which is the first climbing helmet of its kind. MIPS is designed to protect against angled impacts and is popular in the ski and bike world, but now is trickling over to other outdoor sports as well. 
See the Mammut Wall Rider
Best Budget Climbing Helmet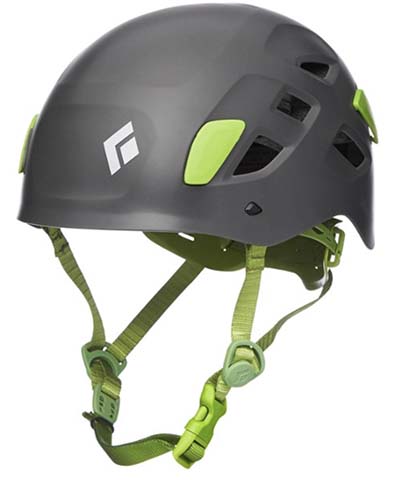 Weight: 11.6 oz. (s/m)
Construction: EPS w/ ABS shell
What we like: Durable, dependable, and affordable.
What we don't: Heavier and less durable than the Petzl Boreo.
With new climbers flocking to the sport, we'd be remiss not to give a nod to Black Diamond's tried-and-true Half Dome. This helmet isn't groundbreaking in any particular way, nor is it the lightest or most comfortable model on the market. But it's affordable, reliable, and will protect your head from falling rocks—and that's what matters most. Additionally, the rear dial (updated for 2019) offers incredibly easy adjustment—better than the comparable Boreo below—and Black Diamond also makes a women's version with more venting and a ponytail-friendly design. 
It's all about protection and toughness here: the Half Dome's heavy ABS plastic shell can absorb a sizable impact on its own without damaging the softer EPS foam inside, unlike helmets with lighter and less durable polycarbonate shells (the BD Vapor below, for example). The Half Dome is not without competition though: for just $10 more, the entry-level Petzl Boreo adds EPP foam for even greater amounts of protection and durability, and the Mammut El Cap offers better styling and ventilation. But for a quality helmet at the lowest price point, the Half Dome is still our top choice for climbers looking to venture outdoors without breaking the bank.
See the Black Diamond Half Dome  See the Women's Black Diamond Half Dome
Best Lightweight Climbing Helmet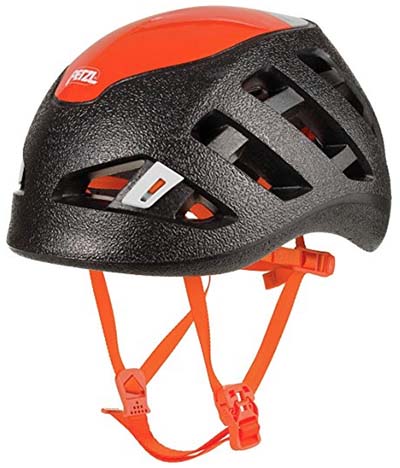 Weight: 5.6 oz. (size 1)
Construction: EPP w/ EPS & polycarbonate crown
What we like: Ultralight, comfortable, and vents well. 
What we don't: Pricey and the magnetic chin buckle can clog with dirt.
The original Petzl Sirocco shook up the climbing world with its lightweight yet durable construction, and soon earned the endorsement of many serious alpinists. The second version builds off the first, with similar fundamentals but a more traditional shape and palatable look. Like the Mammut Wall Rider above, the Sirocco uses a majority of expanded polypropylene (EPP), but with less polycarbonate covering and a lower-profile design, it weighs over an ounce less. In fact, this helmet is so feathery light that you'll forget it's on your head.
For ounce-counting alpine climbers, it doesn't get any better than the latest Sirocco. To add to its 5.6-ounce weight, it vents well and now extends further down the back of the head for more protection. But such a light build does mean a minimalist adjustment system, and we've been less than impressed: the magnetic chin buckle and a rear adjustment have a tendency to loosen or come undone while climbing. For $40 less, the Mammut Wall Rider is a better value with a slightly more durable build—but if you're looking for the lightest of the light, look no further than the Petzl Sirocco. 
See the Petzl Sirocco Helmet
Most Durable Climbing Helmet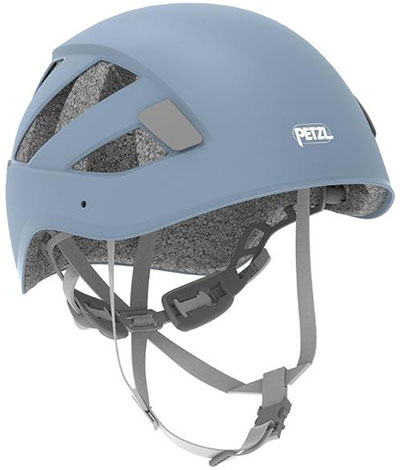 Weight: 10.1 oz. (size S/M)
Construction: EPS & EPP w/ABS shell
What we like: A lightweight yet durable entry-level helmet.
What we don't: Inferior adjustments compared to the Half Dome and costs $10 more.
Outdoor companies constantly are innovating and improving helmet technology, and even entry-level models are now reaping the benefits. True to form, Petzl has replaced their popular Elios with the Boreo, which is an upgraded all-around workhorse. It keeps the ABS shell and EPS foam design of the Elios, but adds EPP foam along the sides, offering maximum durability. In fact, this puts the Boreo in an exclusive category of multi-foam, ABS-shelled helmets, joined only by the unique Edelrid Madillo below.
The Boreo is comparable to Black Diamond's flagship Half Dome above, but the EPP foam cuts weight and increases durability. It's also designed with a few more vents, making it a better hot-weather helmet. However, we think the two-handed adjustment and fixed straps under the ears simply aren't as user-friendly as the click wheel and adjustable chin strap on the Half Dome, plus the Boreo is $10 more. It's a tough call, but whether you stick with the tried-and-true Half Dome or join the EPP movement with the Boreo, your noggin will be safe. And good news for all you women out there: Petzl still makes the Elia with its ponytail-compatible back. 
See the Petzl Boreo  See the Petzl Elia
Best of the Rest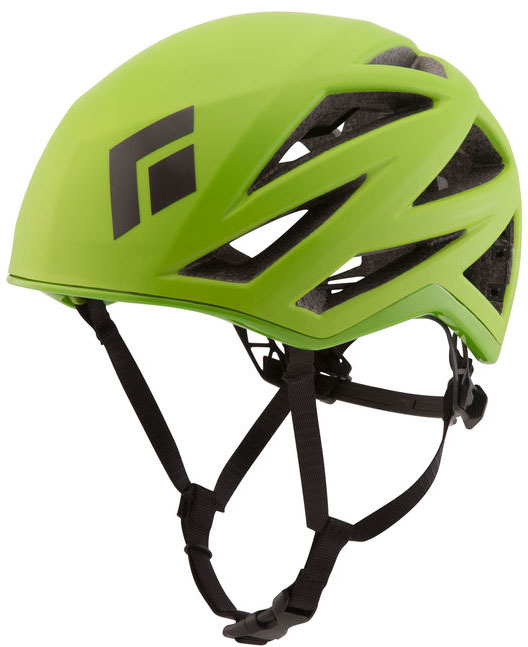 Weight: 6.6 oz. (s/m)
Construction: EPS w/ polycarbonate shell
What we like: Lightweight, comfortable, fits big heads, and ventilates extremely well. 
What we don't: Fragile and expensive. 
If you're not yet sold on EPP foam but still want an ultralight helmet, the Black Diamond Vapor is your best bet. It's almost as light as the Sirocco, adjusts better than the Wall Rider, and is virtually unnoticeable when it's on your head. And one of the Vapor's big selling points is its top-of-the-line venting, which basically surrounds the entire helmet and should satisfy just about any hot-headed climber. 
The BD Vapor is ranked here and not higher for a couple of reasons. At $140, it's the most expensive helmet on this list. In addition, the EPS foam and polycarbonate construction is less durable than the EPP foam of the Sirocco and Wall Rider or even the ABS shell on the cheaper Half Dome. We don't recommend throwing this helmet (or any EPS-constructed model) on the ground or stuffing it at the bottom of your bag underneath heavy racks and ropes, and it's important to keep an eye out for cracks in the foam before each use. But if you treat it nice, the Vapor will return the favor.
See the Black Diamond Vapor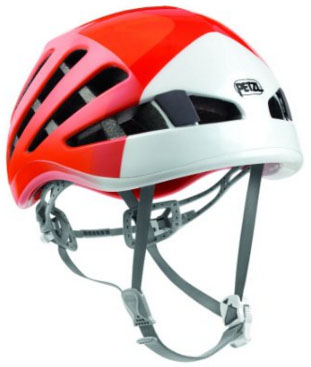 Weight: 7.8 oz.
Construction: EPS w/ polycarbonate shell
What we like: About the same feeling as the Vapor, but less expensive.
What we don't: Again, the EPS is more fragile than the Sirocco's EPP.
It was a very close call between the Petzl Meteor and Black Diamond Vapor above. On one hand, the Vapor is almost 15% lighter than the Meteor, which theoretically makes it 15% less noticeable on your head. On the other hand, the Meteor is more than 15% cheaper than the Vapor, which makes it less noticeable on your wallet. Either way, both of these EPS climbing helmets are nice choices from two of the most respected brands in the industry.
Like the Vapor, the Meteor has excellent venting and easy adjustability. If you're into helmet style, the Meteor's shell has always featured a plethora of nice, colorful designs to choose from, making it one of the best looking helmets on this list. And again, the EPS foam can be fragile, so be sure to treat the helmet gently to get the most use out of it.
See the Petzl Meteor Helmet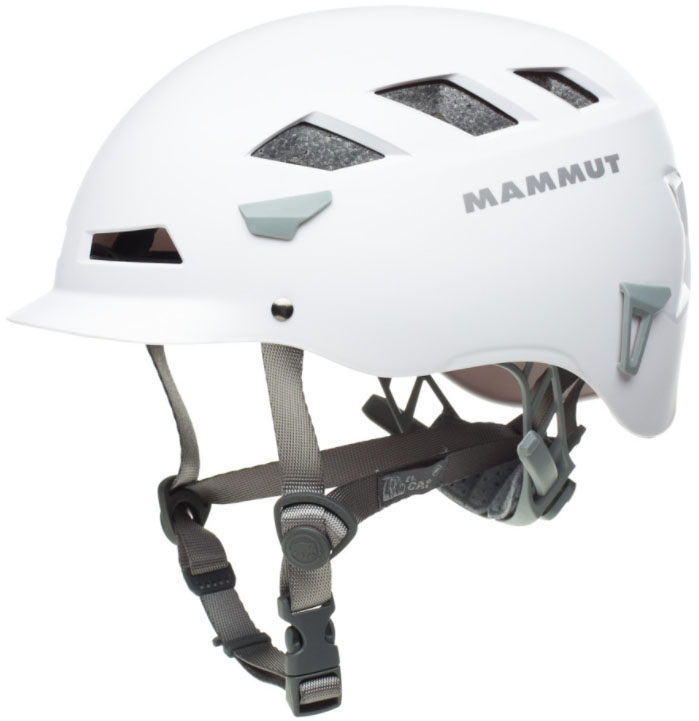 Weight: 12.3 oz.
Construction: EPS w/ ABS shell
What we like: Function meets fashion.
What we don't: About $10 more than its competition.
Like the Black Diamond Half Dome above, the Mammut El Cap is a nice value helmet that sports a traditional hard shell (ABS) construction. But there is one major difference: the El Cap is downright fashionable. With the helmet's streamlined design, you won't look like a mushroom, and the visor—designed to block out sun during long, multi-pitch days—actually is functional on the rock. At a reasonable $70 price point, the El Cap is another solid budget option. 
Stacked against other helmets with ABS shells, the Mammut El Cap certainly is competitive. It has more air vents than its counterparts and the inner foam even has small, built-in channels to facilitate airflow. In addition, the helmet's unique adjustment headband is functional and user-friendly. That said, the El Cap is a bit heavier than the Half Dome and costs $10 more, which is why we have it ranked here.
See the Mammut El Cap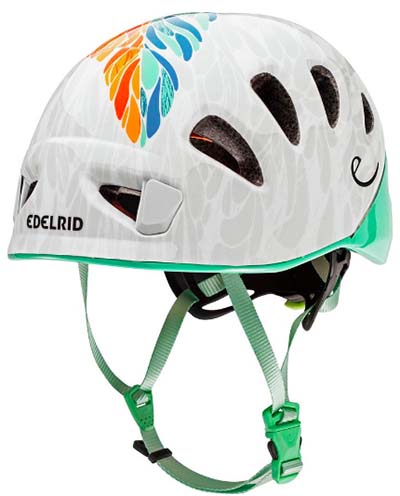 Weight: 8.7 oz. (size 1)
Construction: EPS w/ polycarbonate shell
What we like: The best looking helmet of the bunch.
What we don't: Heavier than most of its lightweight competition.
If you ascribe to the three most important rules of climbing—look good, climb hard, be safe (in that order)—then the Shield II is a worthy option. The helmet makes a bold statement with colorful designs and a visually pleasing shape. But more importantly, you get excellent coverage and a highly customizable fit system. If you struggle to find a helmet that fits your odd-sized noggin, the Shield II is a great option to try.
Despite its EPS construction and polycarbonate shell, at 8.7 ounces, the Shield II is the heaviest of our lightweight options. We also noticed that the adjustment dial doesn't fold as neatly into the dome of the helmet as it does on most other models, making the Shield II a bulky addition to a pack. But with 10 large vents, a slightly lower price tag than most, and a sleek design, the Shield II still is worth considering.
See the Edelrid Shield II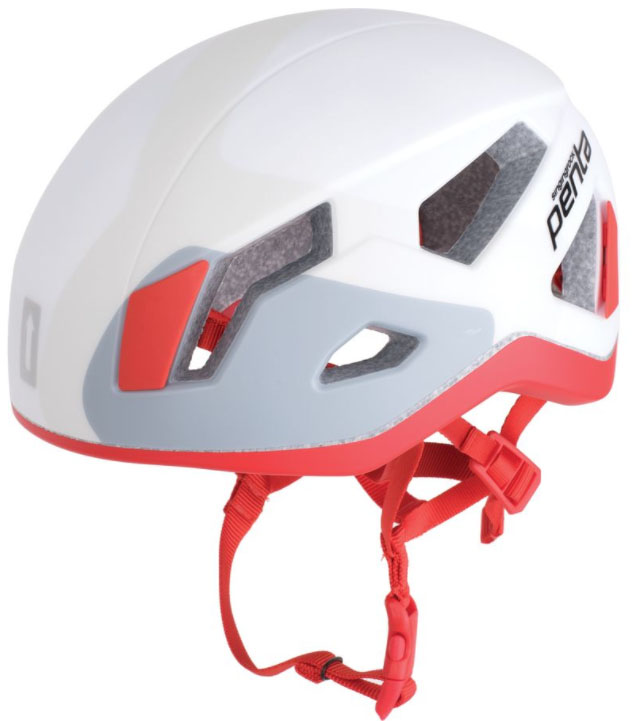 Weight: 7.2 oz.
Construction: EPS w/ polycarbonate shell
What we like: Great price for what you get.
What we don't: Adjustment system is not ideal; only comes in one size.
Singing Rock isn't the most popular brand in climbing gear, but the Czech company is known for producing some quality products. The Penta is no exception, and with a price tag $30 to $70 less than other helmets in its weight category, is one of the best values on this list. We don't like that it only comes in one size, but the Penta is light, provides good all-around coverage, and is comfortable enough to wear all day.
The Singing Rock Penta is made of the same budget-friendly combination of EPS and polycarbonate as many helmets on the market. Like the Mammut Wall Rider and Petzl Sirocco, it shaves weight by using webbing for its suspension system, which does make adjusting the fit a bit of a bear. But what's most impressive is that the Penta is just $10 more than the nearly 4-ounce heavier Black Diamond Half Dome above, and $30 less than the popular BD Vector below. If you don't have a brand allegiance and want a lightweight helmet at a good price, give this bucket a serious look.
See the Singing Rock Penta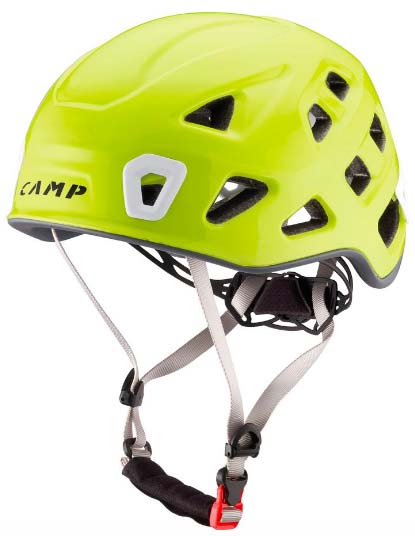 Weight: 8.1 oz. (size 1)
Construction: EPS w/ polycarbonate shell
What we like: Fits well and highly adjustable.
What we don't: Heavier than other models in its price range.
CAMP USA has made plenty of functional and durable helmets over the years, but until recently, they haven't earned many style points. The Storm is a good start: it's available in four color combinations and includes an internal adjustment system that keeps it snug and close to the head. It also takes a few pointers from CAMP's Speed 2.0 below, resulting in a comfortable, lightweight, and well-ventilated climbing helmet that is made for just about any mountain adventure.
The Storm's makeup is similar to many helmets on our list that combine EPS foam with a polycarbonate shell. It's about the same weight as the Black Diamond Vector and Petzl Meteor, and matches them both in price. The Storm also fits a broad range of head sizes and shapes and comes with a well-designed adjustment system. We know it's hard to choose among all of these options, but if you've struggled to find a helmet that fits well, the Storm is a nice choice.
See the CAMP USA Storm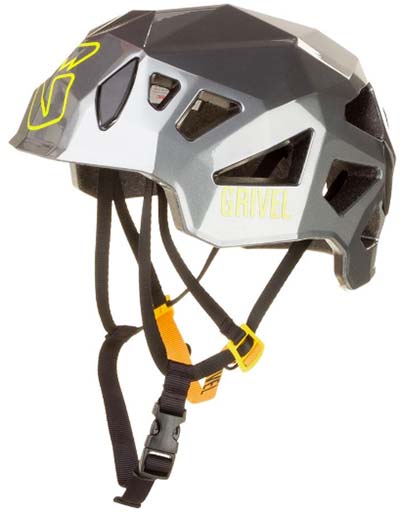 Weight: 6.7 oz.
Construction: EPS w/ polycarbonate shell
What we like: Great combination of weight, price, and coverage.
What we don't: Comes in only one size; kind of looks like it's from the Space Age.
Offering an impressive price-to-weight ratio, superior coverage, and an aggressive love-it-or-hate-it design, the Grivel Stealth is a solid do-everything option. One notable feature in particular is the unique, flat-paneled construction that sits lower on the head and is less likely to move around in the event of a rockfall or whipper. According to Grivel, this design actually provides a stronger and more protective barrier against impact than a traditional dome helmet. 
In terms of shortcomings, we'll start by saying that we aren't huge fans of its celestial vibe, but we know that style mostly is subjective. And in terms of fit, the Grivel only comes in one size. You do get a simple webbing strap for adjustment, that—unlike the Sirocco or Wall Rider—is surprisingly easy to loosen and tighten, even with gloves on. However, the focus on simplicity means that the chin strap is fixed in position and can dig into your neck. The one-size-fits-all Stealth does fit most heads, but if you're on either end of the spectrum, we recommend going with a helmet that comes in two sizes. 
See the Grivel Stealth Helmet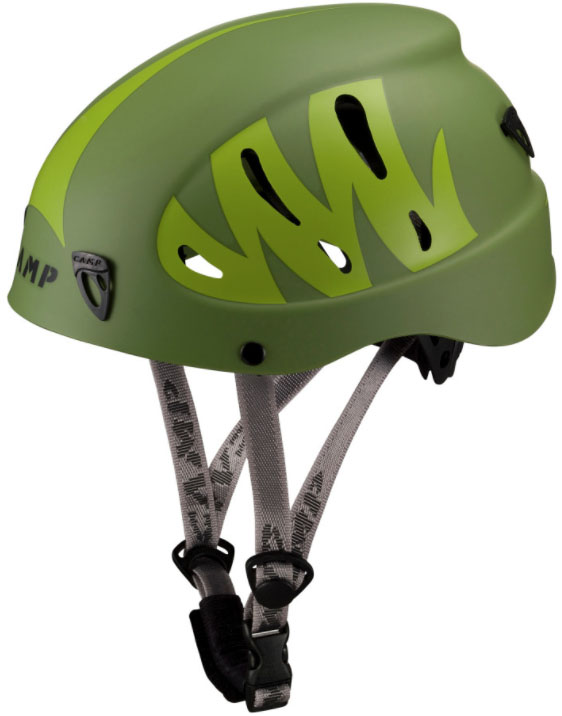 Weight: 12.5 oz.
Construction: EPS w/ ABS shell
What we like: Durability + comfort.
What we don't: This helmet is the heaviest on our list.
Similar to the Black Diamond Half Dome above, the CAMP USA Armour goes old-school with its ABS plastic shell. To recap, this translates to increased durability, longevity, and affordability, but at the cost of added weight. At 12.5 ounces, the Armour is one of the heaviest helmets on the list and definitely not our favorite to wear or carry for extended stretches.
That said, we've started seeing more and more of the Armour at the crag and on the cliffs, and it's easy to see why. For $60, this helmet is tied with the Half Dome in terms of affordability, and some consider it to be more comfortable. We're not ready to dethrone the Half Dome as our favorite budget hardshell helmet just yet, and the new Petzl Boreo gets points for being lighter and more durable. But for beginner climbers who aren't counting ounces, the CAMP USA Armour is a nice value option.
See the Camp USA Armour  See the Camp USA Armour Lady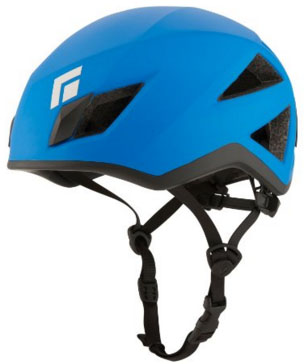 Weight: 8.1 oz. (s/m)
Construction: EPS w/ polycarbonate shell
What we like: Great adjustment system.
What we don't: Pretty unremarkable.
Petzl and Black Diamond seem to go tit for tat with their climbing helmet models. The BD Vapor above competes with the Sirocco, and the BD Vector competes with the Meteor. Between the latter two, it's a close call. Both come in around $100, and both feature similar construction, material types, and features. The most notable difference is that the Meteor weighs slightly less than the Vector.
So why is the Vector all the way down at number 13 on our list, when the Meteor clocks in at number 6? The simple answer is that there are just that many good options on the market. The Vector is less breathable than the similarly priced Storm, heavier than the $70 Penta, and looks more mushroom-like than the $95 Shield II. It is a tried-and-true option for sure, and if you're a devotee, we get it. However, if you're in the market for a new lightweight helmet, we'd recommend checking out the options above.
See the Black Diamond Vector  See the Women's Black Diamond Vector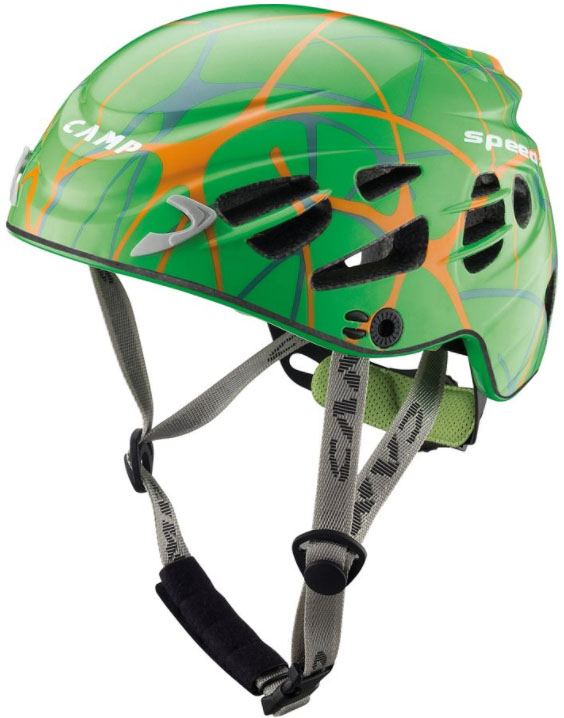 Weight: 9.5 oz.
Construction: In-mold styrofoam w/ polycarbonate shell
What we like: This helmet is a go-to alpine all-rounder.
What we don't: Heavy if you're looking for a high performance, climbing-specific helmet.
The CAMP Speed 2.0 is unique: not only is it a climbing helmet, it doubles as a ski mountaineering helmet as well. However, while it may lightweight on the slopes, it's a bit on the heavy side for an in-mold climbing helmet. Overall, we recommend the Speed 2.0 only if you spend time crossing over between alpine climbing and skiing and are looking for one helmet to do the job of two.
That said, the Speed 2.0 is a favorite of some climbers out there. It sports a relatively thick external shell and is slightly more durable than most of the EPS versions listed above. Some climbers feel that the shape is slightly rounder than they're used to, so if Black Diamond or Petzl helmets don't fit your head well, this might be your solution. All in all, unless you're looking for a two-in-one climbing and ski mountaineering helmet, we'd suggest checking out the lighter weight CAMP Storm above.
See the Camp USA Speed 2.0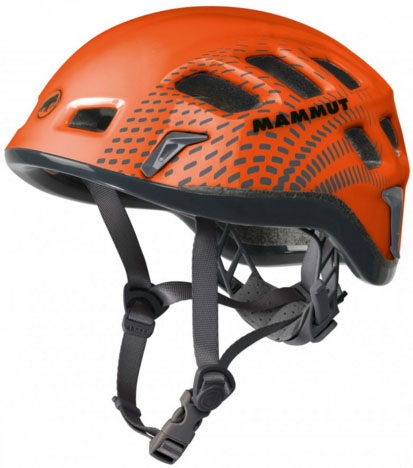 Weight: 8.8 oz. (52-57cm)
Construction: EPS w/ ABS shell
What we like: The in-mold ABS shell makes this helmet more durable than polycarbonate options.
What we don't: Comfort is more in line with a budget helmet like the Half Dome.
Mammut's Rock Rider is one of the best values on the market. It's comparable in weight to the BD Vector above, but at only $80, is less expensive. And you don't have to compromise on quality: you get similar EPS foam, buckles and venting, and a good amount of head coverage. The biggest differences are that the interior isn't as comfortable and the Mammut uses an ABS shell instead of polycarbonate, which is slightly heavier but more durable. As a result, this helmet likely will still be around when others with polycarbonate shells are long gone.
If weight is not your top priority (we are talking tenths of ounces here), the Mammut Rock Rider is a great choice. By now, you're likely noticing a pattern. In climbing helmets, as weight goes up, price goes down. The Mammut Rock Rider sits right in the middle on both, striking a nice balance between ounces and dollars.
See the Mammut Rock Rider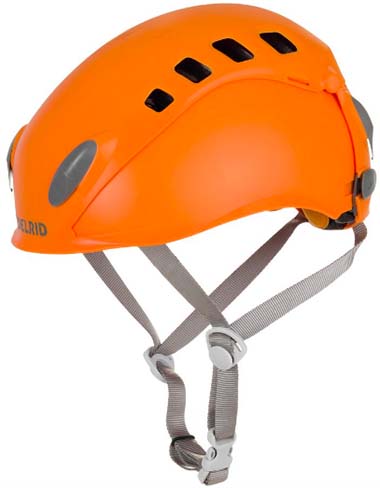 Weight: 13.8 oz.
Construction: EPP, EPS, EVA foams w/ ABS shell
What we like: Packs down to half its size.
What we don't: Weighs more than any helmet on our list.
If you're the type that hates hanging your helmet off of your pack during the approach, is always tight on space, or needs a durable helmet to abuse in the packing process, the Eldelrid Madillo is worth a look. This helmet folds down into a rather streamlined shape half its original size, allowing it to be easily packed with the rest of your gear. Packability might be the only major selling point of the Madillo though: at 13.8 ounces, it's the heaviest helmet on our list.
Made with three different foam types and an ABS shell, the Madillo, like other hard shell helmets, is a very durable choice. With more moving parts however, it's also more likely to break than a helmet like the Half Dome or the Armor. And at a price point about $40 above its competition, we find ourselves struggling to find the upsides. Unless you have a specific need for a collapsible helmet, we recommend the options above.
See the Edelrid Madillo Helmet
Climbing Helmet Comparison Table
| Helmet | Price | Weight | Construction | Best Uses |
| --- | --- | --- | --- | --- |
| Mammut Wall Rider | $100 | 6.9 oz. | EPP w/ polycarbonate | Alpine, multi-pitch, cragging |
| Black Diamond Half Dome | $60 | 11.6 oz. | EPS w/ ABS | Cragging, multi-pitch |
| Petzl Sirocco | $140 | 5.6 oz. | EPP w/ EPS & polycarbonate | Alpine, multi-pitch, cragging |
| Petzl Boreo | $70 | 10.1 oz. | EPS & EPP w/ ABS | Cragging, multi-pitch |
| Black Diamond Vapor | $140 | 6.6 oz. | EPS w /polycarbonate | Alpine, multi-pitch |
| Petzl Meteor | $100 | 7.8 oz. | EPS w/ polycarbonate | Multi-pitch, alpine |
| Mammut El Cap | $70 | 12.3 oz. | EPS w /ABS | Cragging, multi-pitch |
| Edelrid Shield II | $95 | 8.7 oz. | EPS w/ polycarbonate | Multi-pitch, alpine |
| Singing Rock Penta | $70 | 7.2 oz. | EPS w/ polycarbonate | Multi-pitch, alpine |
| Camp USA Storm | $100 | 8.1 oz. | EPS w/ polycarbonate | Multi-pitch, alpine |
| Grivel Stealth | $100 | 6.7 oz. | EPS w/ polycarbonate | Multi-pitch, alpine |
| Camp USA Armor | $60 | 12.5 oz. | EPS w/ ABS | Cragging, multi-pitch |
| Black Diamond Vector | $100 | 8.1 oz. | EPS w/ polycarbonate | Multi-pitch, alpine |
| Camp USA Speed 2.0 | $120 | 9.5 oz. | Styrofoam w/ polycarbonate | Multi-pitch, skimo, alpine |
| Mammut Rock Rider | $80 | 8.8 oz. | In-mold EPS w/ ABS | Multi-pitch, alpine |
| Mammut El Cap | $70 | 12.3 oz. | EPS w /ABS | Cragging, multi-pitch |
| Edelrid Madillo | $100 | 13.8 oz. | EPP, EPS, EVA w/ ABS | Cragging, multi-pitch |
Climbing Helmet Buying Advice

Foam Types: EPP vs. EPS
We touched on EPS and EPP foams briefly in the product descriptions above, but it's worth going into extra detail about the differences between these two materials. After all, this barrier will be protecting the most important part of your body. 
Expanded polystyrene (EPS)
Expanded polystyrene (EPS) has been the shock-absorbing foam of choice in climbing helmets for as long as we can recall. It's very hard and functions incredibly well for absorbing a serious impact—once. EPS is known for crushing and fracturing when impacted. In fact, on some of the lighter-weight EPS models like the Black Diamond Vapor and Petzl Meteor, the EPS foam is so delicate that it can fracture from simply being tossed down on the ground or stuffed under heavy gear in a pack. Once EPS foam starts to show those fractures and fissures, its integrity is compromised. If you can see cracks on the inside of your helmet, it's already time to replace it.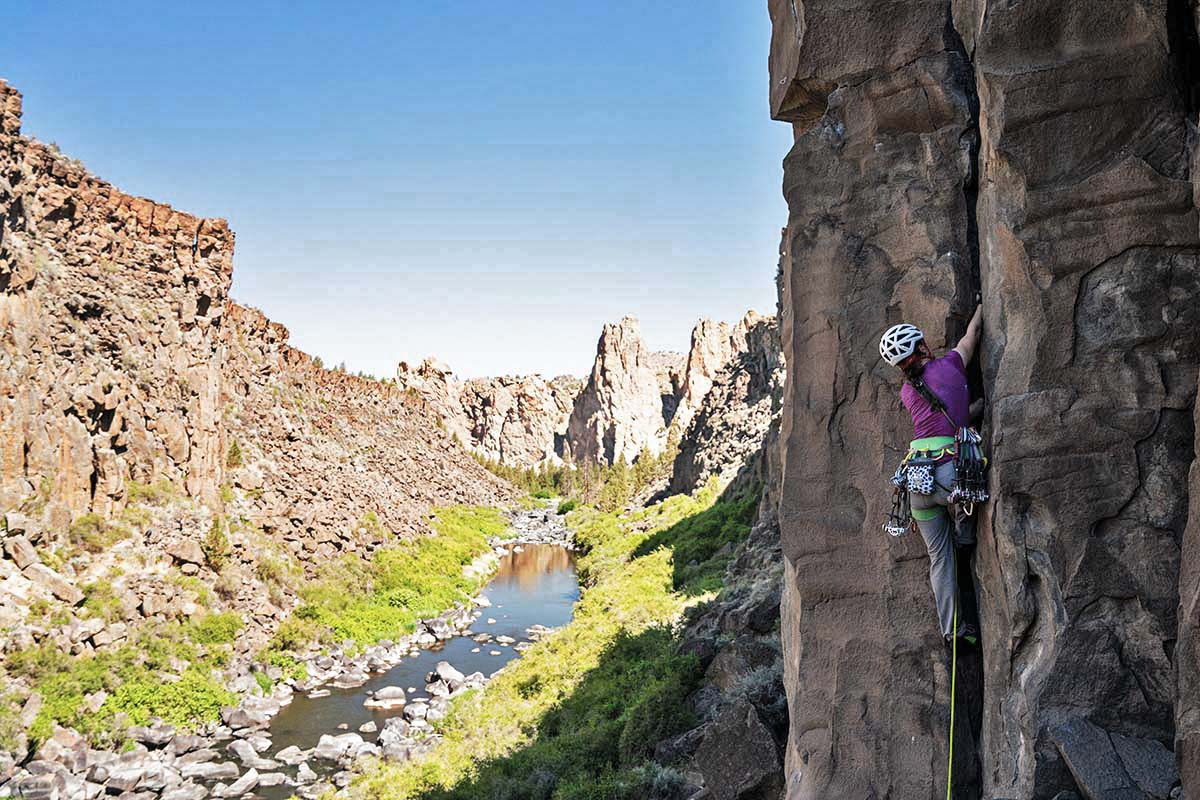 EPP (Expanded polypropylene)
Expanded polypropylene (EPP), on the other hand, is designed to absorb impacts without shattering. It's the same material found in car bumpers and is more durable than EPS. We still don't see many helmets being made with EPP—the Petzl Sirocco and Mammut Wall Rider are a couple of exceptions—although we expect this to change in upcoming years. EPP is so effective and durable that it does not even need a polycarbonate or ABS shell. That said, the Sirocco and Wall Rider both are designed with a partial covering of polycarbonate for extra protection and to improve both shape and appearance. The downside is that EPP helmets are more expensive, but they are more protective, durable, and lighter. If EPP doesn't become the de facto material of choice for climbing helmets in the future, we will be very surprised.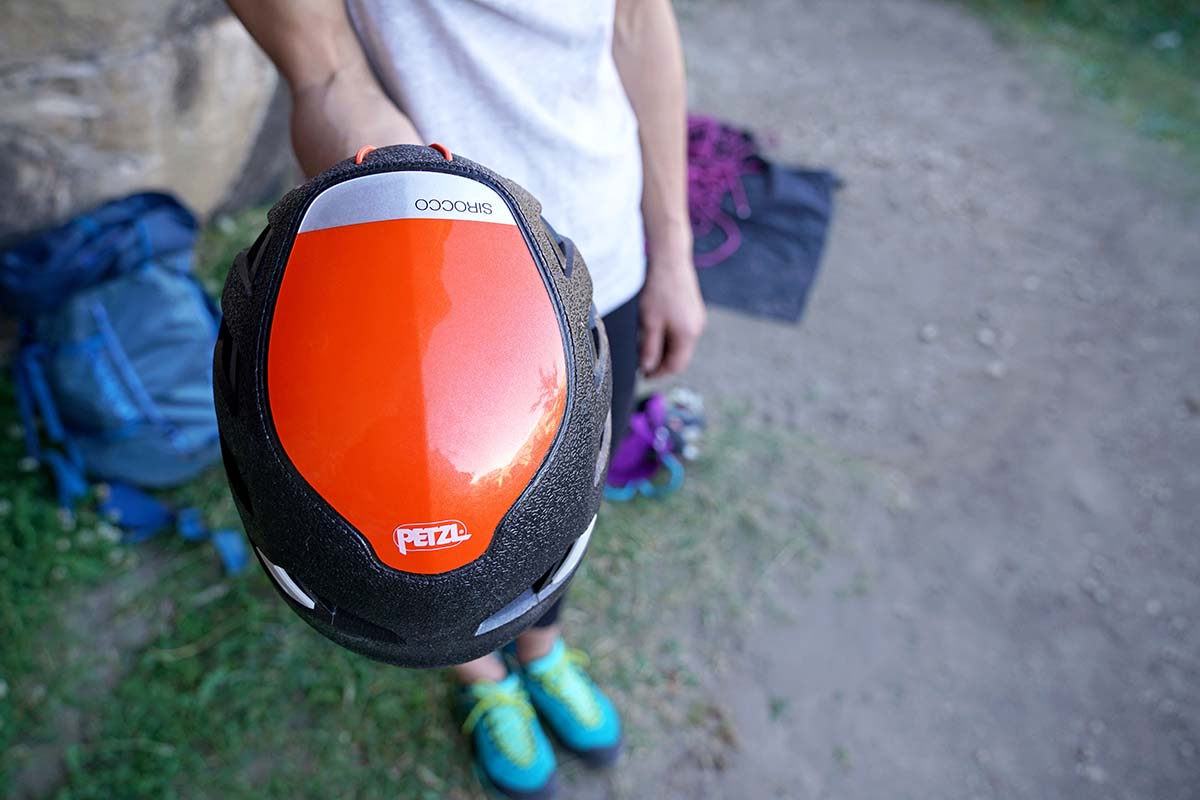 Shell Types: ABS vs. Polycarbonate
Now that we've covered the stuff on the inside, we'll break down what protects it. We've mentioned some "hardshell helmets" with ABS plastic shells, such as the Black Diamond Half Dome and CAMP USA Armour. ABS shells can absorb sizable impacts and protect well against any debris falling from above, and they're also generally cheaper than other options. That said, they typically are thicker and more durable than polycarbonate shells, and that comes with added weight (which is why we mainly recommend them for cragging as opposed to multi-pitching). 
For long days on the wall, however, opting for a helmet with a polycarbonate shell—or crown, like the Petzl Sirocco—to shave weight definitely helps. That said, lighter-weight helmets always need to be treated with more care as they will damage more easily. For budget-conscious or new climbers who want more durability for their buck, a hardshell helmet will do the trick.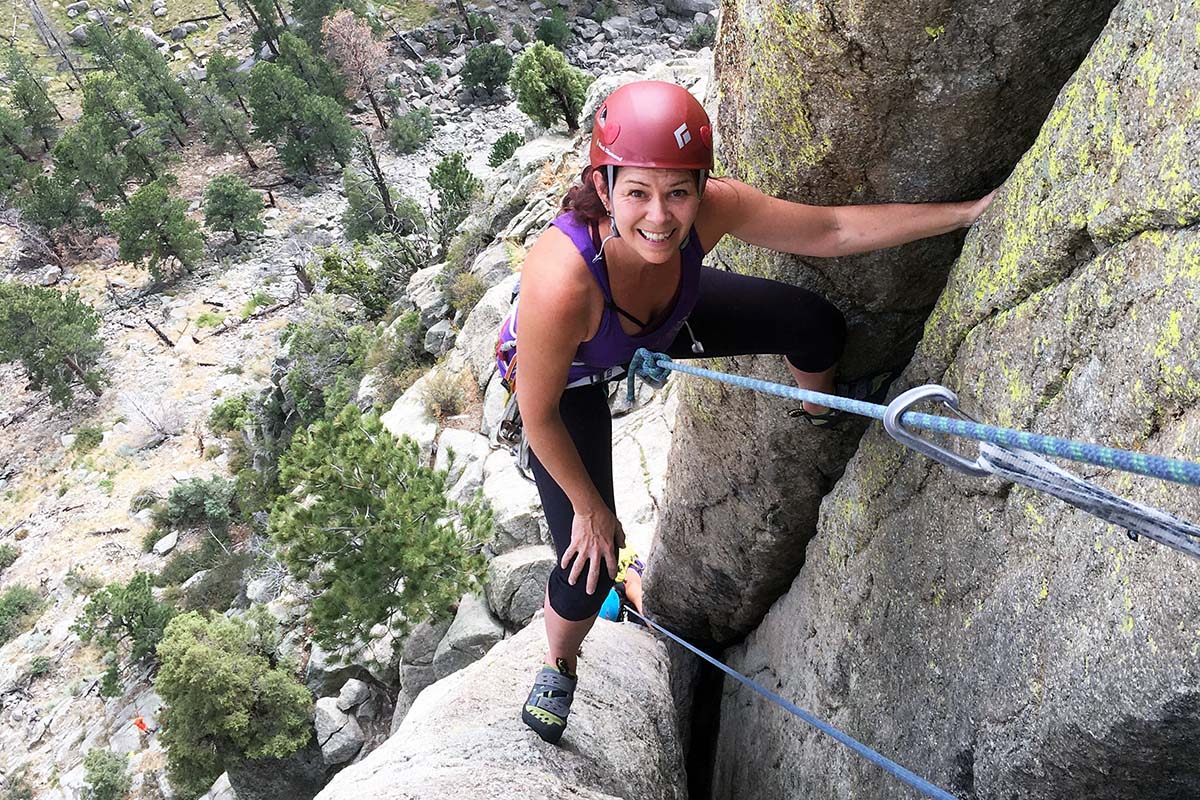 When to Wear a Climbing Helmet
It's widely accepted that a helmet is a mandatory piece of equipment for every alpine climber. The mountains are volatile and objective hazards loom large. However, it's our opinion that no matter where you're climbing—in the mountains, at the crag, or even on lead at the gym—gravity (literally) is a force to be reckoned with. Rocks can fall even in popular, established areas, people can drop things, and whippers can result in head trauma. A helmet always is essential for your safety. Now that we've cleared that up, here are our recommendations for each type of climbing.
Alpine Climbing
This one is a no-brainer—virtually no one goes to the mountains without a helmet. Rock is loose, falls often aren't clean, and snow and ice succumb to gravity too. Because approaches to the mountains can be long and you'll likely spend all day wearing or carrying your helmet, you'll want a lightweight bucket with suspension that packs down into it. Durability also is a crucial consideration here—there's nothing quite as disappointing as having gear malfunction when you're days from the car. Our top picks for the alpine are lightweight and durable helmets made with EPP foam, like the Petzl Sirocco and Mammut Wall Rider. If you get out frequently, the extra cost is worth it.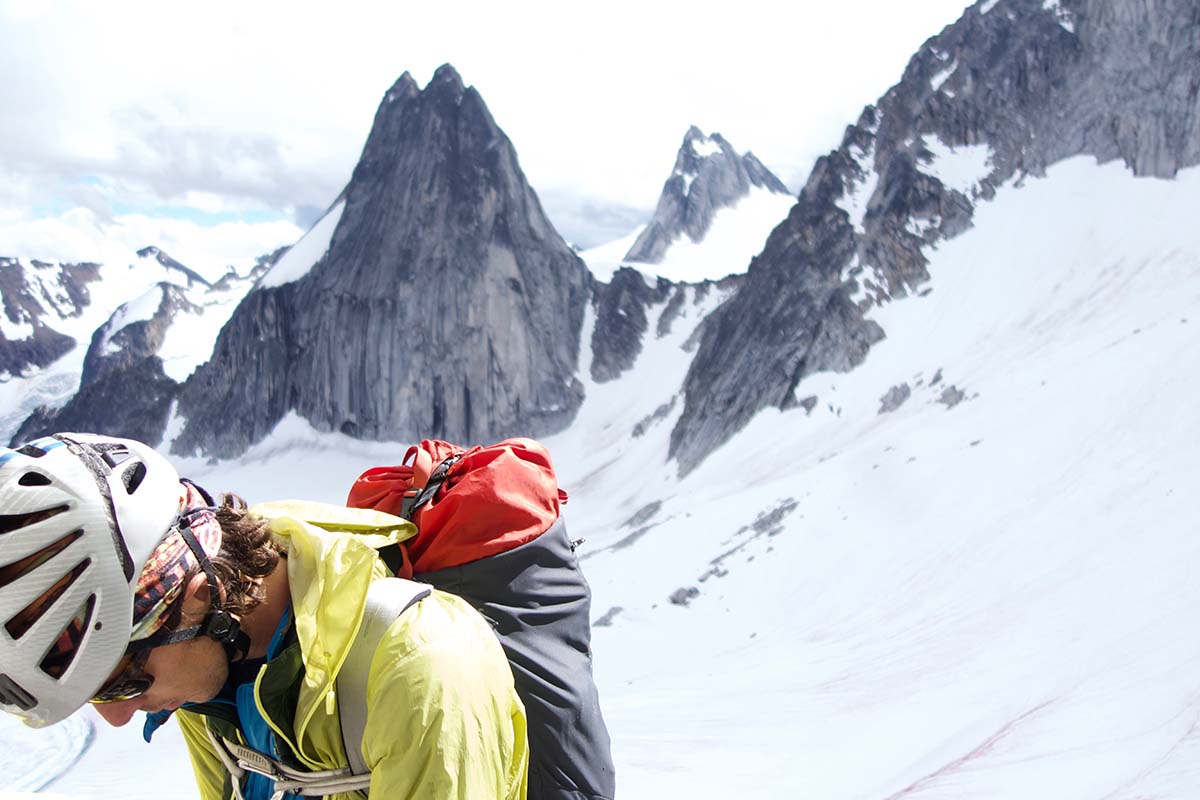 Multi-Pitch Climbing
For long days on the wall—think the Chief in Squamish or Black Velvet Canyon in Red Rock—you'll want a lightweight helmet with good adjustability, ventilation, and comfort. Helmets made with EPP foam like those mentioned above are our top recommendation for multi-pitch climbing as well, but those on a budget can definitely get away with a slightly heavier, less durable build. Look for a helmet with EPP or EPS foam with a polycarbonate overtop, a sub-10-ounce weight, a one-handed adjustment system, and a headlamp attachment. For long multi-pitch climbs, helmets like the Black Diamond Vapor, Petzl Meteor, and Edelrid Shield II are our top picks. You can get away with a helmet with a heavier ABS shell, but your neck might be feeling it at the end of the day.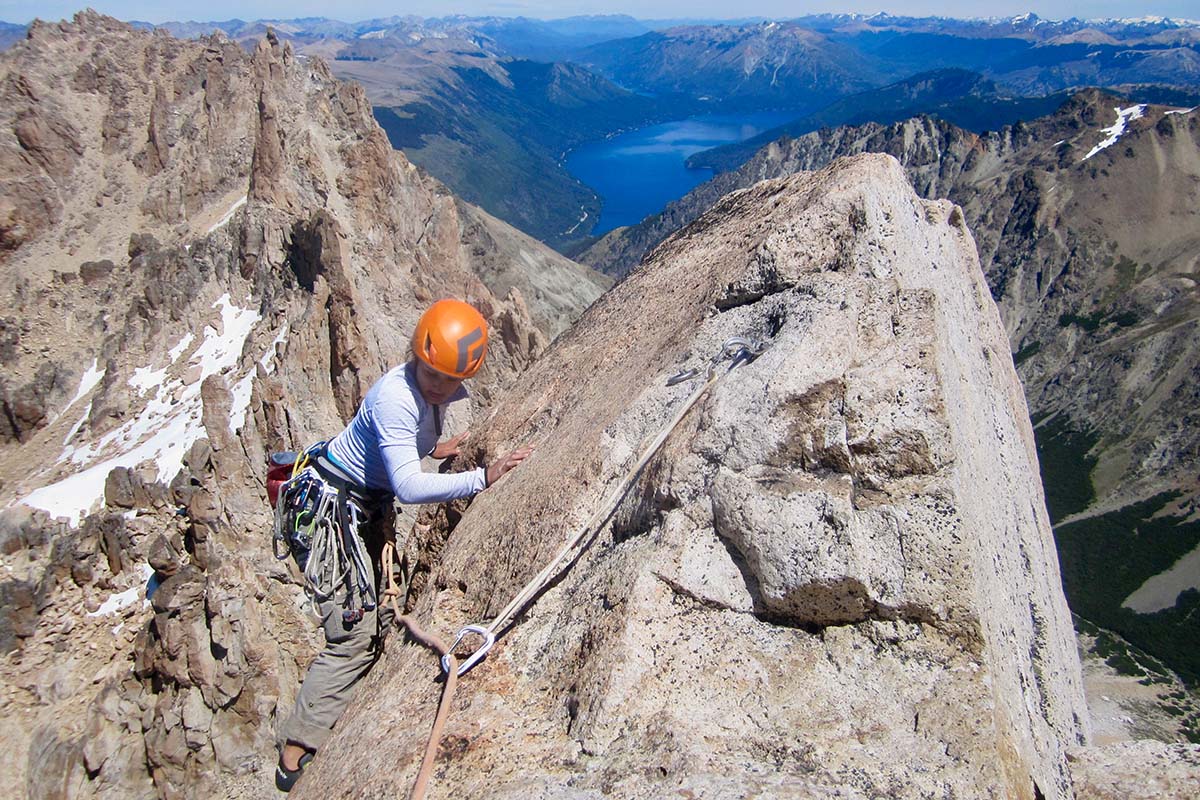 Cragging
We know too many people who leave their helmets at home for days at the crag (on single-pitch climbs), but there's a lot wrong with that logic. You're more likely to be climbing at your limit right off the ground, meaning you're also more likely to be falling at the crag. And even when you're hyper-aware of where the rope is running, you still can take a lead fall with a leg behind the climbing rope. When this happens, chances are high you'll flip upside down and swing head-first into the wall. And this doesn't just happen to newbs unfamiliar with proper rope management.  Last year, a well-known, helmetless climber was whipped upside down during a fall at Smith Rock—a crag notorious for bad rock and no head protection—and many locals since have changed their ways. 
OK, enough time on our soapbox. Ultimately, the decision is up to you, and if you do choose to wear a helmet at the crag, you've got some decisions to make. Are you pushing the grade? If so, you might want an ultralight helmet to go along with your lightweight harness and rope. Think EPP or EPS foam with a polycarbonate crown, like the helmets mentioned in the sections above. But because you'll likely be taking your helmet off when you're not climbing, most craggers can get away with a helmet that emphasizes durability and a lower price point above saving weight. Look for EPS foam with an ABS hardshell, a convenient adjustment system, and a sub-$70 price tag. The Black Diamond Half Dome and Petzl Boreo (and women's Elia) are our favorite cragging options.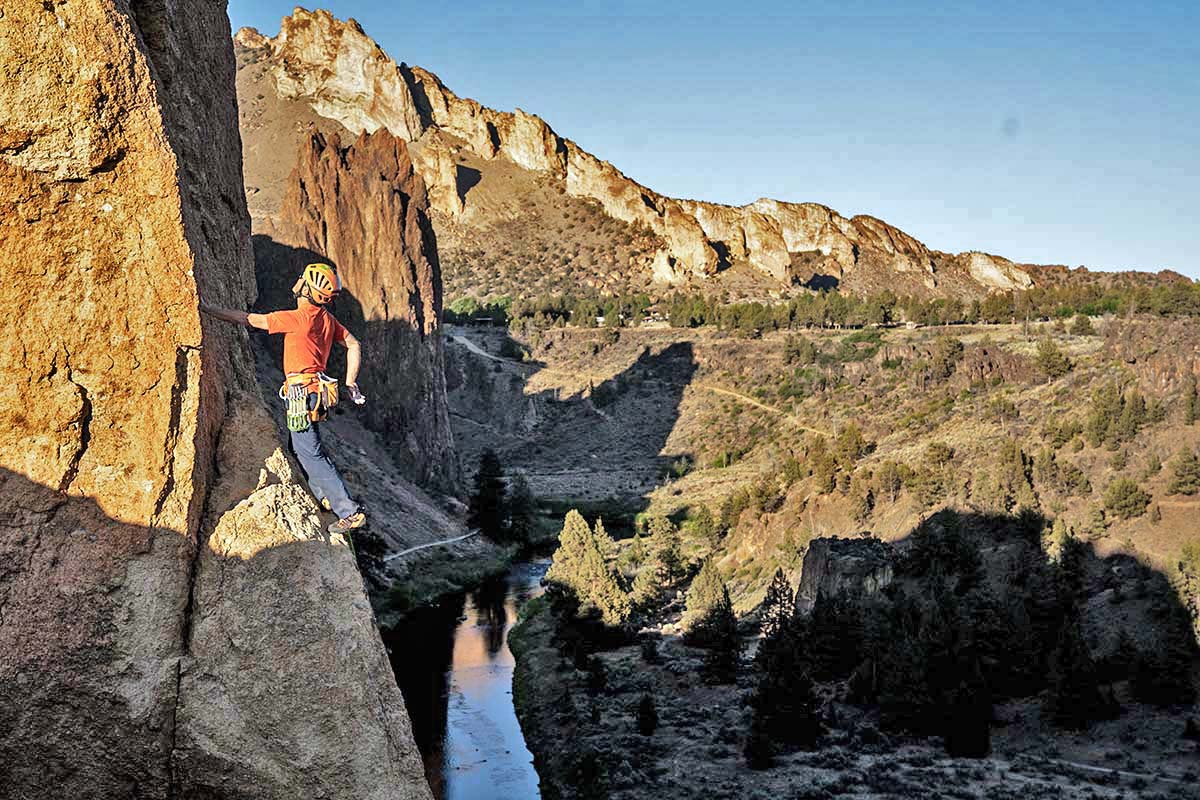 Comfort
Aside from safety, one of the most important traits in a climbing helmet is comfort. If it's not comfortable, you won't wear it. And if you don't wear it, it won't protect you. Comfort is subjective and depends a lot on the shape of your skull. For example, the biggest critique we've heard about the Petzl Sirocco is that it doesn't fit comfortably on larger heads. As with most climbing equipment, your best bet with helmets is to physically try them on before buying. That said, we haven't noticed huge variability in comfort between different companies, but we've definitely seen it between models. Almost without exception, heavier means less comfortable, and lighter is better.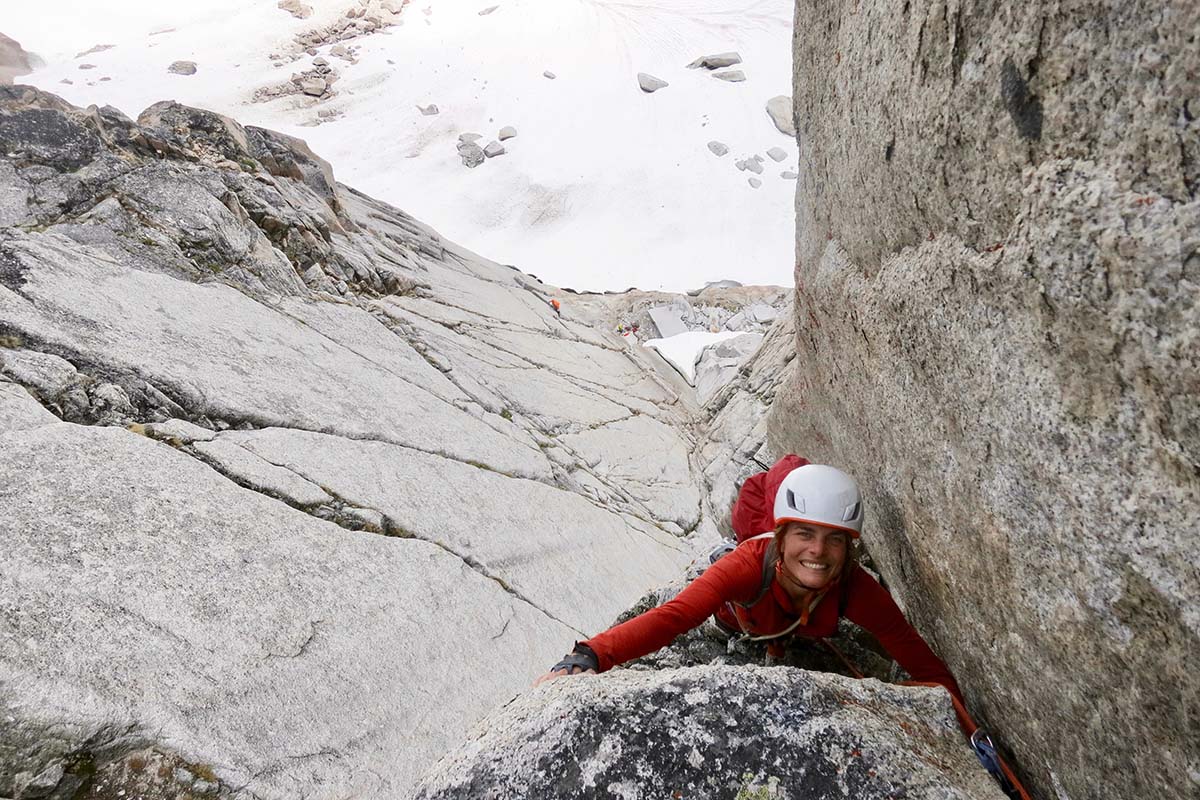 Sizing and Adjustability
A good climbing helmet should fit snugly but comfortably, and shouldn't bob around much when you move your head. When guiding, we always ask our youngest clients if they like ice cream, provoking them to nod emphatically. If the helmet fits, it won't move while they express their love for tasty cold treats. If it bobs up and down or comes to rest with their forehead showing, we tighten up the rear adjustment and chinstrap. And if the helmet just floats on top of the head more like a yarmulke than a baseball cap, it's too small.
Most climbing helmet models are available in two sizes, and there is usually some overlap between one size and the other. If you are near the cutoff point for either, we suggest you try the helmet on before buying (although this is never a bad idea regardless). In terms of adjustments, all climbing helmets offer two straps: one around the head, and one around the chin. Some helmets like the Sirocco—usually those that emphasize weight—have a strap and buckles to adjust the head strap. Others, like the Black Diamond Vapor, offer a two-sided plastic ratcheting system, which is meant to be adjusted using two hands. The Black Diamond Half Dome offers a really simple one-handed adjustment system using a circular knob that tightens when turned in one direction, and loosens in the other.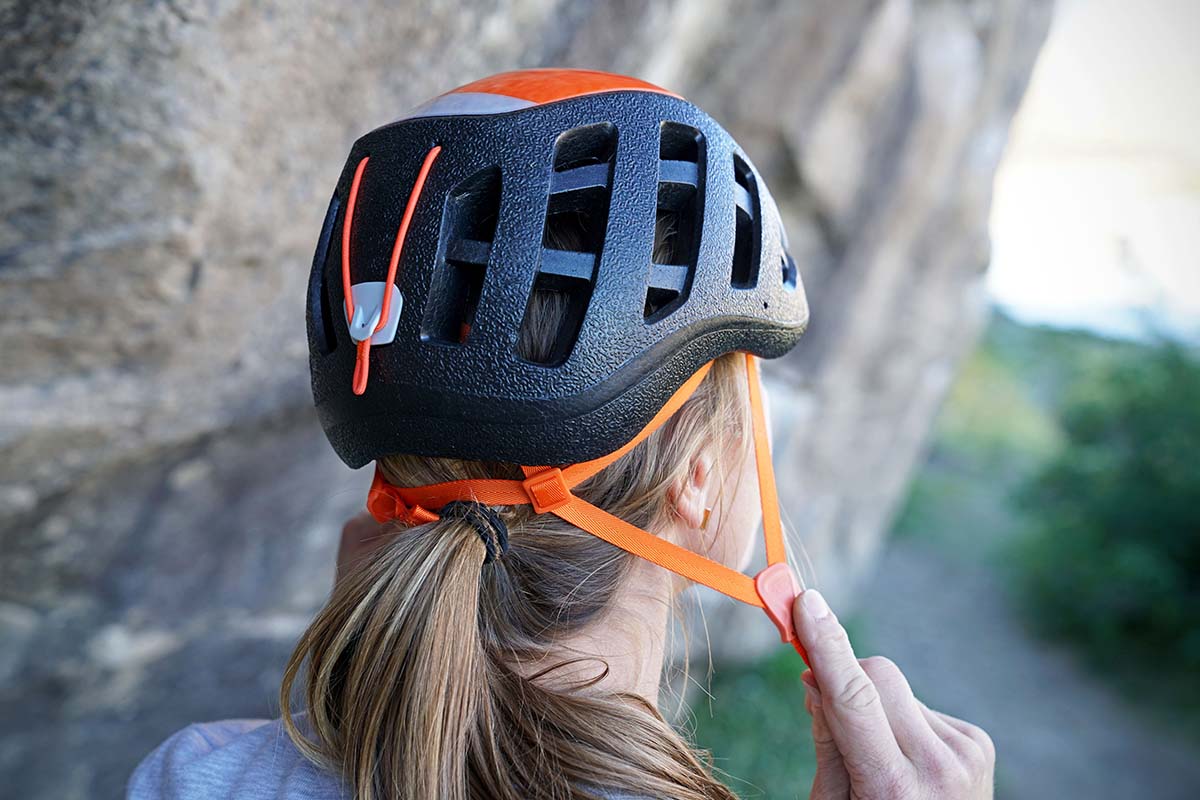 Women's-Specific Climbing Helmets
A few helmets on our list offer women's models, notably the Black Diamond Half Dome and Petzl Elia. These women-specific versions are set apart by one main feature: a "ponytail-friendly" shell and suspension system, which means an upward curve at the back of the head. For the most part (and this is coming from a ponytail-wearing woman), this doesn't seem like a particularly necessary feature, though I'm sure some women will appreciate the thought. Black Diamond also offers their Vector in a women's model, though the only difference there is color. In general, climbing helmets are a unisex piece of gear and accommodate all kinds of head shapes, sizes, and hairstyles.
 
Ventilation
In the past, one of the main complaints we had about climbing helmets is that they didn't breathe well enough, making our heads sweaty, hot, and uncomfortable. As technology continues to improve, we've seen helmet manufacturers add more and more ventilation. While we're excited about the trend, it's also worth mentions the inherent disadvantages of greater ventilation. More vents means more empty space and less material protecting your head. It's possible, although pretty darn unlikely, for a thin and narrow rock or ice shard to sneak through. And if you're primarily a winter or cold-weather climber, ventilation may be more of a drawback than an advantage. All in all, we think that helmets like Petzl's Sirocco and Meteor strike a nice middle ground of protection and breathability.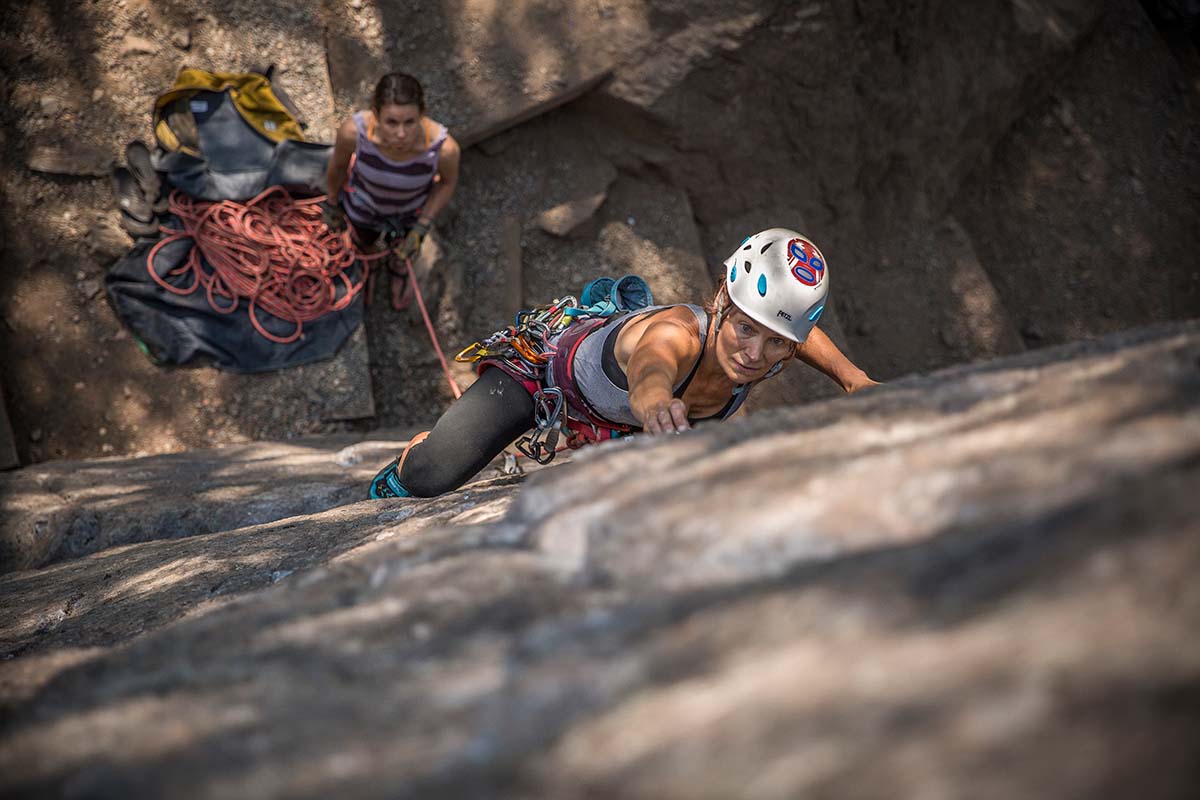 Weight
The helmets on this list weigh in anywhere from 5.6 ounces at the low end to 13.8 ounces at the high end, and there are even heavier models out there that didn't make the cut. While 13 ounces (less than 1 pound) seems like a paltry amount to complain about, it's still more than twice as heavy as the lightest helmet available. The truth is, these ounces can add up quickly. In any kind of multi-pitch climbing scenario, or even on long cragging days, the helmet goes on in the morning and doesn't come off until the end of the day. Personally, we like our helmets to be as feathery as possible. Lighter helmets also ride less on the neck and don't seem to shift around the head as much when looking up and down.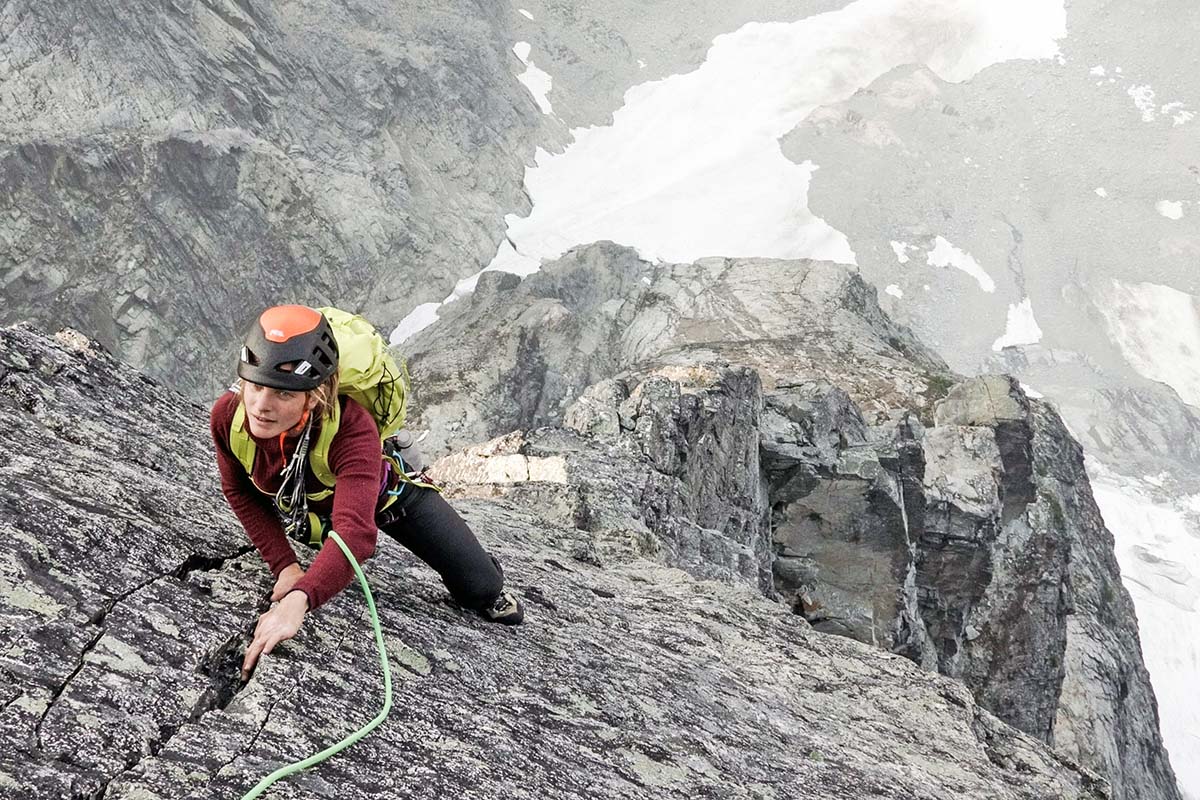 Durability
Typically, weight and durability are inversely correlated with climbing gear (or any type of outdoor gear). In other words, the lighter the gear, the less durable it will be. In the world of climbing helmets, however, this pattern doesn't always hold true. Helmets made with EPP foam, like the Petzl Sirocco and Mammut Wall Rider, are the lightest and the most durable on the market. Remember, EPP foam is made to bend and absorb impact, whereas EPS foam fractures in order to handle blunt force. Among EPS designs, those with an ABS hard shell will withstand wear much better than those with a polycarbonate shell.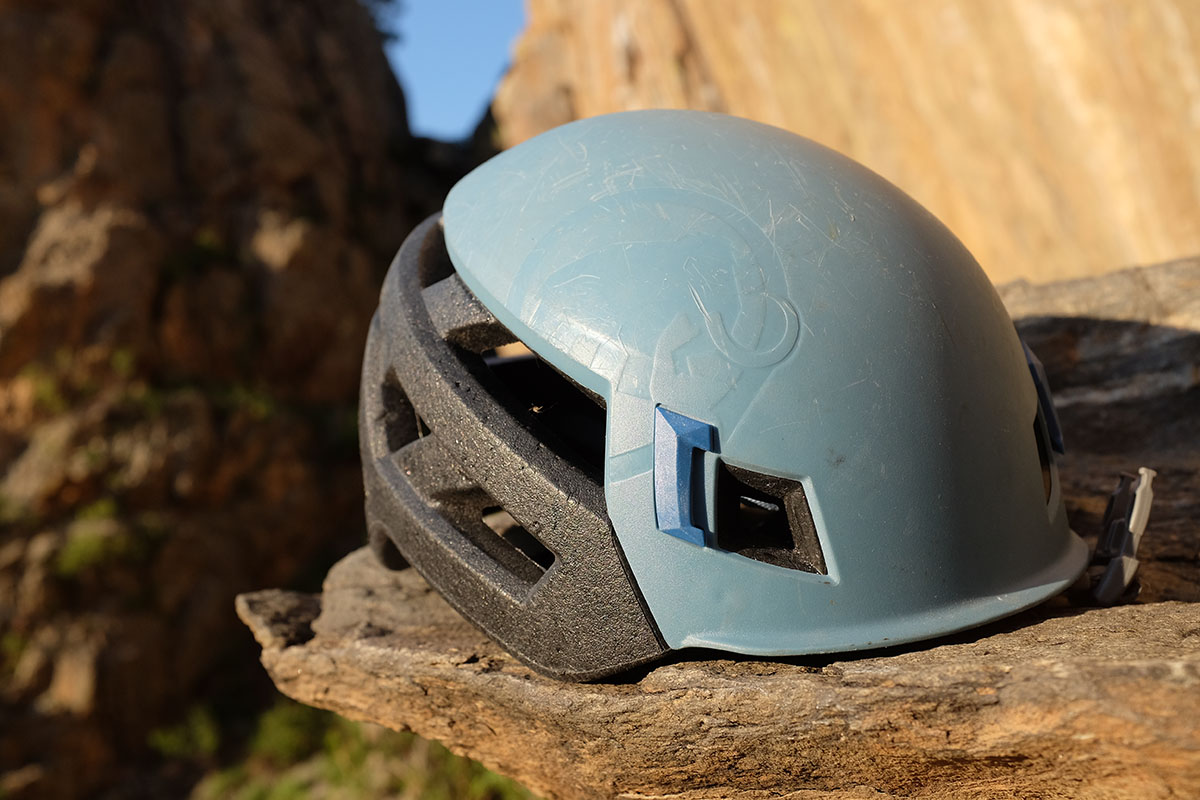 Once you've chosen your helmet, it's important to know how to gauge its wear and tear. In general, one fall or impact is enough to end the life of an EPS-constructed helmet—any sort of crack in foam means that your helmet's safety is compromised. But the tricky thing is, not all fractures are visible (some lay on the inside underneath the polycarbonate or ABS shell). To check, look for major dents on the shell as a good marker of internal damage. It's also important to inspect the webbing and suspension system, buckle, and in the case of ABS helmets, the sturdiness of the foam's attachment to the shell. On the other hand, because EPP does not fracture in the same way as EPS, these models are exempt from the "replace your helmet after impact" rule. Nevertheless, you will want to continue to inspect the foam. Given its partially exposed nature on helmets like the Sirocco and Wall Rider, this should be a rather straightforward process.
 
Headlamp Compatibility
We would be hard-pressed to find a climbing helmet that does not claim to be headlamp-compatible, so it's pretty much a given. That said, some helmets hold a headlamp better than others. For example, the convenient rear strap on Petzl's Sirroco is a breeze, while the attachment points on Grivel's Stealth are rather difficult to use. Some clips even are removable to save weight, but popping these pieces in and out of the foam may loosen and weaken the attachment points over time. The bottom line is that any helmet you buy will be headlamp-compatible, just study the system used for securing the headlamp before you make a purchase.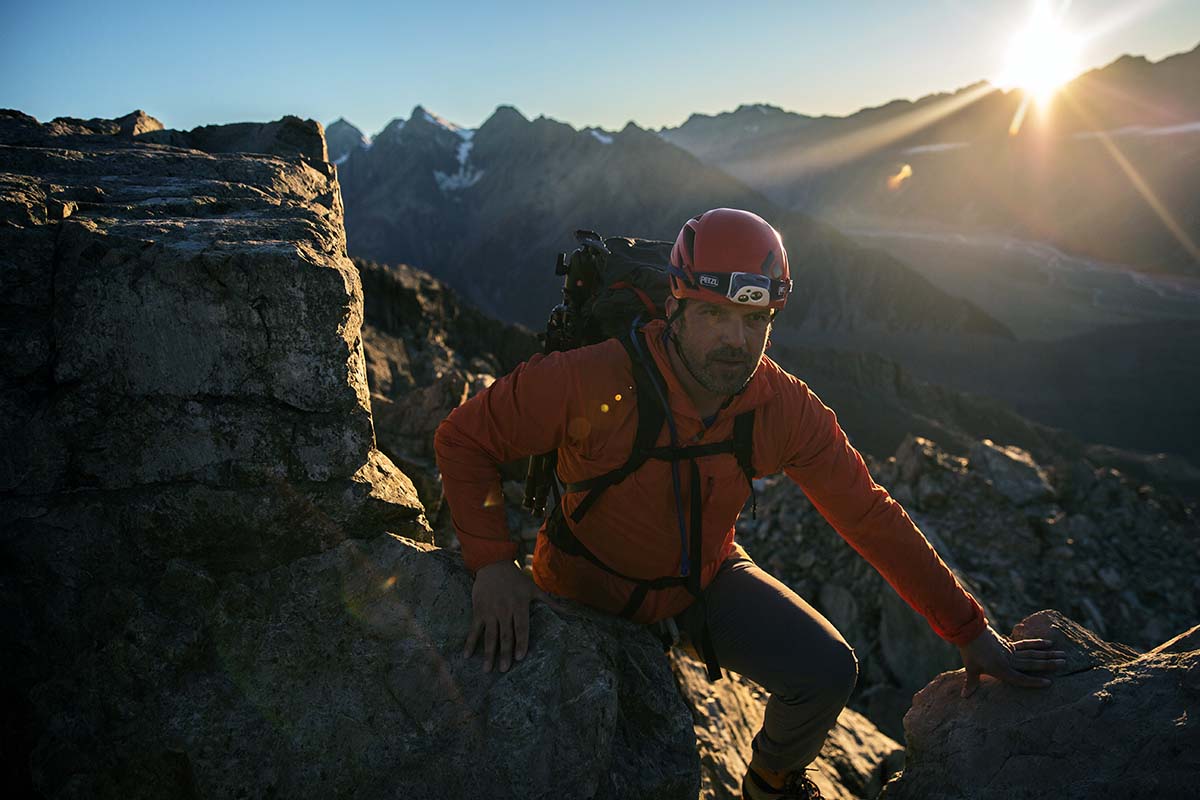 Ski Mountaineering Helmets 
Only a few helmets—and just one on our list (the Camp Speed 2.0)—are designed and certified for both ski mountaineering and climbing. However, many weight-conscious ski mountaineers opt for a climbing helmet for fast and light days in the mountains, so it's important to understand the differences between the designs.
Ski mountaineering helmets provide more coverage than climbing helmets, protecting against impact from the side as well as the top. For skiing downhill, they are warmer, more comfortable, and compatible with ski goggles. However, when you're skinning or climbing uphill, a ski helmet generally will be hotter, less breathable, and more cumbersome on the head than a climbing model. For the highest level of safety on the descent, you'll want to opt for a ski helmet. But if you're spending a lot of your time climbing or traveling in varied terrain, you might appreciate the lighter weight, added breathability, and lower profile of many of the climbing helmets on our list. Again, keep in mind that these helmets only certified for use strictly in climbing scenarios.
Back to Our Top Climbing Helmet Picks  Back to Our Climbing Helmet Comparison Table
Learn More About Climbing