Whether deep in the backcountry or on open water, proper navigation is a must. And for route finding, recording tracks, or finding a geocache, there's no more durable and long-lasting navigator than a handheld GPS. While it will never fully replace a map and compass, outdoor GPS devices allow you to plan, follow, and record your adventures, even sharing them with friends back home. As you'll see from our top picks, the market is dominated by one brand: GPS giant Garmin. Prices can vary widely, and important considerations include location accuracy, battery life, quality of on-screen mapping, and whether you prefer a touchscreen or buttons. Below we break down the best handheld GPS devices of 2023. For more information, see our detailed comparison table and buying advice after the picks.
 
---
Our Team's Handheld GPS Picks
---

Best Overall Handheld GPS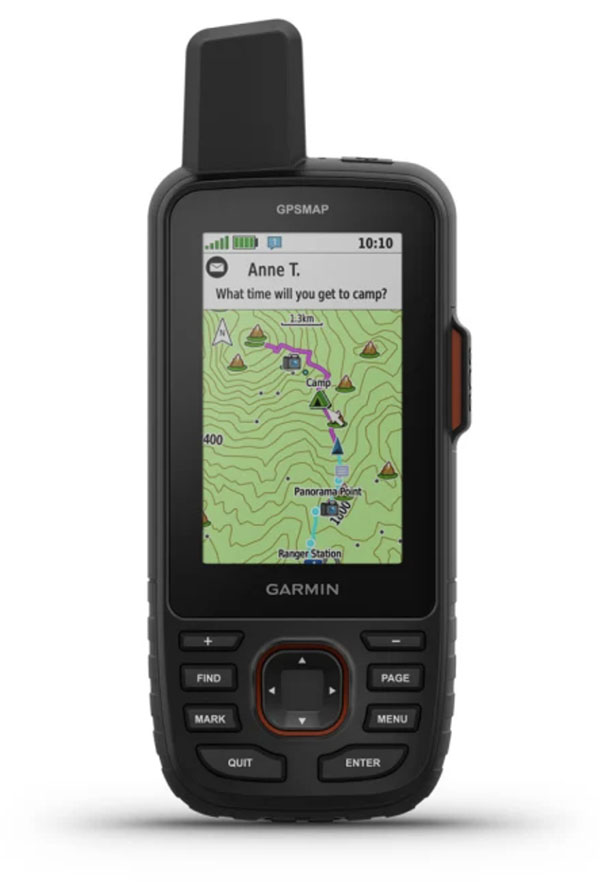 Weight: 8.1 oz.
Screen: 3 in.
Battery life: 180 hours (840 in expedition mode)
Memory: 16 GB (accepts 32 GB microSD)
What we like: A premium GPS device with satellite messaging/SOS.
What we don't: Expensive and no touchscreen capability.
The GPSMAP 67i is Garmin's premier handheld GPS device, packing their top-of-the-line navigation tools into a rugged design, along with the added benefit of satellite messaging and SOS via inReach (Garmin acquired the company in 2016). Updated this year from the 66, it offers a huge improvement in battery life—up to 180 hours in GPS mode and 840 in power-saving expedition mode—as well as compatibility with Garmin's Outdoor Maps+ subscription (previously only available with the Montana series). To top it off, the 67i's hardware is best-in-class within the GPSMAP lineup, including a high-resolution 3-inch screen, 16 gigabytes of memory, and Wi-Fi connectivity.
Like most of Garmin's GPSMAP offerings, the 67i features an external antenna, ABC sensors, and multi-GNSS support, along with the ability to connect to multiple GNSS frequencies at once. In other words, it's just about as good as it gets when it comes to location accuracy and tracking. We also really appreciated the added inReach support—for explorers headed into areas without cell service, the ability to send and receive messages, share a track, access weather forecasts, and initiate rescues is a game-changer (note: a subscription plan is required to use these features). It is worth noting that, while the 67i's lithium-ion battery is long-lasting and rechargeable, some might appreciate the simple convenience of AAs that you get with the 64x and 65 series. But all told, the GPSMAP 67i is the most impressive handheld GPS device on the market.
See the Garmin GPSMAP 67i
Best Minimalist GPS/Satellite Messenger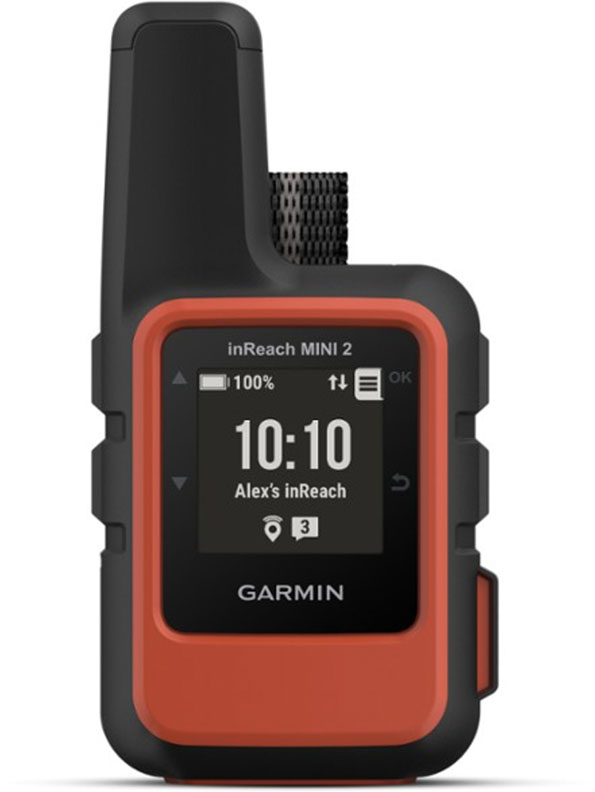 Weight: 3.5 oz.
Screen: 1.3 in.
Battery life: Up to 14 days
What we like: GPS and satellite messaging in a light and relatively affordable design.
What we don't: Not ideal for navigation unless paired with a smartphone.
 
Garmin's inReach Mini 2 looks a little different from most GPS devices here, but for weight-conscious explorers, it's definitely worth a look. The primary functions of the inReach Mini are satellite messaging and SOS (a feature we're seeing on more and more GPS devices, such as the GPSMAP 67i above), but it also offers features like tracking, weather reports, and maps and navigation. And with a recent update, the "2" is more impressive than ever: Accuracy has improved with multi-GNSS support and a digital compass, there's more storage space for preloaded maps and routes, and battery life is noticeably longer. Tack on a diminutive size and weight and fairly approachable price point, and it's no secret why the inReach Mini 2 has become a must-have for avid hikers, climbers, backcountry skiers, and other dedicated outdoor adventurers.
 
Unlike most of the competition, however, the inReach Mini 2 is fairly reliant on a smartphone–many of which have middling battery lives and aren't particularly robust. It's true that you can use the Mini as a standalone device, but with the small black-and-white screen and simple button interface, it's certainly not as user-friendly as most offerings here. What's more, you'll need a subscription to use the device's communication features, which will run you anywhere from $12 to $65 per month (most GPS features still work without a subscription). But in 2023, most backcountry explorers prefer to navigate using their smartphones, and the added safety net of satellite messaging and SOS is an undeniable perk. For a deeper dive, check out our article on the best satellite messengers.
See the Garmin inReach Mini 2
Best Budget Handheld GPS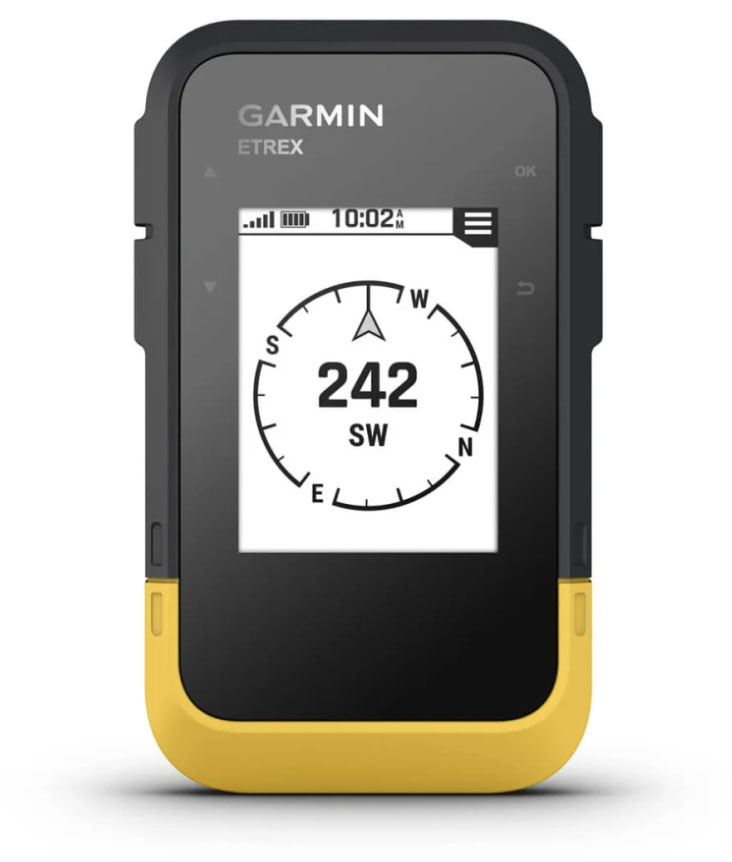 Weight: 5.5 oz.
Screen: 2.2 in.
Battery life: 168 hours (1,800 in expedition mode)
Memory: 28 MB
What we like: Incredible battery life and great feature set at a budget price.
What we don't: Requires connection with a smartphone to access many features.
Expensive GPS devices offer an overwhelming and, for some, unnecessary number of features. With that in mind, a good number of outdoor-goers will find plenty to like with Garmin's budget-friendly eTrex SE. The freshly released eTrex SE is simple to use and offers great accuracy with multi-GNSS support (including connection to GPS, GLONASS, Galileo, QZSS, BeiDou), tough, water-resistant construction (IPX7), and an impressive battery that lasts a full week in standard mode. Whether you're searching for geocaches, looking for the most up-to-date weather forecast, or following a preloaded track, it's an intriguing new entry from Garmin and priced right at just $150.
The most important thing to know about the new SE is that it requires connection to the Garmin Explore app on a smartphone to access many of its features. Garmin's eTrex 22x and 32x (which cost $30 and $130 more, respectively) have more on-board storage and functionality (including preloaded maps)—and tack on a color screen—and the 32x also includes a compass and barometric altimeter. That said, neither can beat the SE's improved position accuracy, especially in deep canyons or under heavy cover (the 22x and 32x only connect to GPS and GLONASS). Our take is that if you don't mind using your smartphone from time to time, the SE  is the most compelling budget option, especially given its much longer battery life (168 hours vs. 25). And for an even cheaper and more pared-down device, check out the $110 eTrex 10.
See the Garmin eTrex SE
Best Handheld GPS With a Touchscreen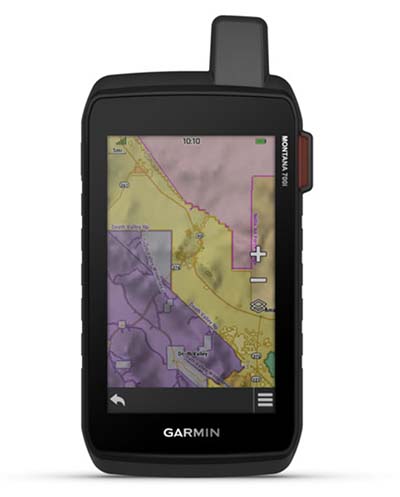 Weight: 14.5 oz.
Screen: 5 in.
Battery life: 18 hours (330 in expedition mode)
Memory: 16 GB (accepts microSD)
What we like: Massive, high-resolution display and tank-like durability.
What we don't: You might be able to get away with a smartphone.
Handheld GPS devices haven't always excelled in user experience, but the Garmin Montana 700 is about as good as it gets. The headlining feature is the colorful, 5-inch touchscreen: Instead of awkwardly making selections with archaic buttons, the Montana offers convenience on par with a modern smartphone. This makes scrolling through features and navigating via maps a breeze, and the Montana's Gorilla Glass screen is easy to read even in direct sunlight. Importantly, the modernized design also sacrifices little in the way of performance: Like the GPSMAP 67i above, the Montana 700 features ABC sensors, multi-GNSS support (GPS, GLONASS, and Galileo), and a full set of topographic maps. Finally, Garmin also offers the Montana 700i ($700), which tacks on inReach technology so you can stay connected even in areas without cell service.
 
In 2023, handheld GPS devices are falling out of vogue, which is largely due to the increased capabilities of modern smartphones. The vast majority of today's phones are GPS-equipped, and a plethora of apps give you the ability to navigate in areas without cell service. But there are still a few reasons serious explorers might want a handheld GPS device. For one, they're considerably more durable—the Montana in particular features a tank-like design that meets military standards for heat, shock, vibration, and water. Second, battery life is a lot more impressive: The Montana lasts for 18 hours in GPS mode and 330 hours in expedition mode. And finally, dedicated GPS devices are simply more accurate, with most models boasting built-in sensors and connectivity to a greater network of satellites. In other words, if you're looking for the convenience of a smartphone in a design that's built to perform in the backcountry, the Montana is a nice solution.
See the Garmin Montana 700
Best of the Rest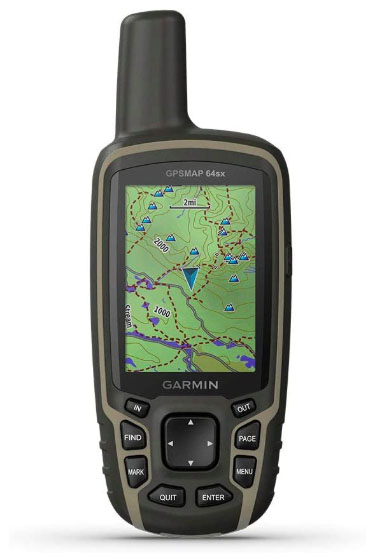 Weight: 7.7 oz.
Screen: 2.6 in.
Battery life: 16 hours
Memory: 8 GB (accepts microSD)
What we like: $250 cheaper than the GPSMAP 67i above.
What we don't: Battery has short lifespan and is not rechargeable.
For those who don't need satellite messaging or SOS, the Garmin GPSMAP 64sx offers all the GPS functionality of our top pick (including better accuracy) for $250 less. This device is feature-packed, has a clear and easy-to-read 2.6-inch screen, and includes large and well-marked buttons that are simple to operate even with gloves on. It's also a solid value at $350 for the mid-range "sx" version that includes a barometric altimeter and three-axis compass. You can upgrade to the 64csx, which features a built-in 8-megapixel camera, but we don't think it's worth the additional $100. In the end, the GPSMAP 64sx is a durable and reliable option for everything from backcountry hiking and cycling to geocaching.
For getting a reliable fix and accurate tracking, the GPSMAP has an external antenna and multi-GNSS support. Compared to the 67i above, you get compatibility with GLONASS satellites in addition to GPS and Galileo satellites, which results in even more precise navigation. But for serious backcountry use, the 64 lacks many of the high-end components of the 67: Battery life is minimal compared to the more premium handhelds (16 hrs vs. the 67i's 180 hrs), the screen is smaller and has a lower resolution, and you don't get modern features like a rechargeable battery or live tracking. In the end, the 64sx isn't Garmin's flashiest offering, but you'd be hard-pressed to find a more functional and durable GPS device at this price point. Of note: For $50 more, you can bump up to the GPSMAP 65s with a multi-band receiver for even better accuracy.
See the Garmin GPSMAP 64sx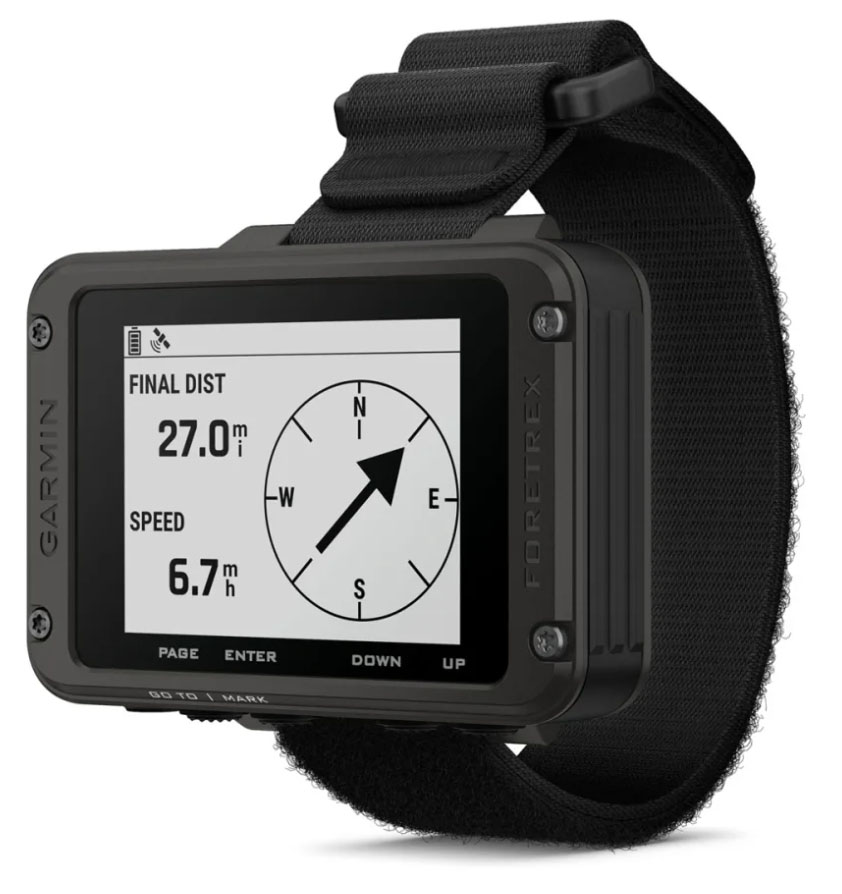 Weight: 3.8 oz.
Screen: 2.2 in.
Battery life: 100 hours (1,000 in expedition mode)
What we like: Great battery life and hands-free convenience.
What we don't: Can't download maps onto the device.
Garmin's wrist-mounted Foretrex 801 offers a unique spin on the standard GPS device, with hands-free operation that makes it popular for hunting, target shooting, and other tactical applications. Like Garmin's premium offerings, the Foretrex 801 features fast acquisition and accurate recording with GPS, GLONASS, and Galileo support, along with multi-frequency positioning, a 3-axis compass, and a barometric altimeter. Battery life is decent at 100 hours in navigation mode, and the 801 is as tough as ever with military-grade construction. Taken together, the Foretrex is all of the bones of a handheld unit but none of the bulk, and a highly functional tool for the right user.
Where does the Foretrex 801 fall short? The biggest compromise compared with the options above is that you aren't able to add detailed topographic maps. Instead, you have to use the old-fashioned breadcrumb trail and 3-axis compass for navigation. Further, the 2.2-inch screen is small compared to a standard handheld unit, but on the plus side, it's easy to read even in direct sunlight. All told, the Foretrex isn't for everyone, but its simple design, durable build, and fantastic battery life has its appeals for backcountry explorers.
See the Garmin Foretrex 801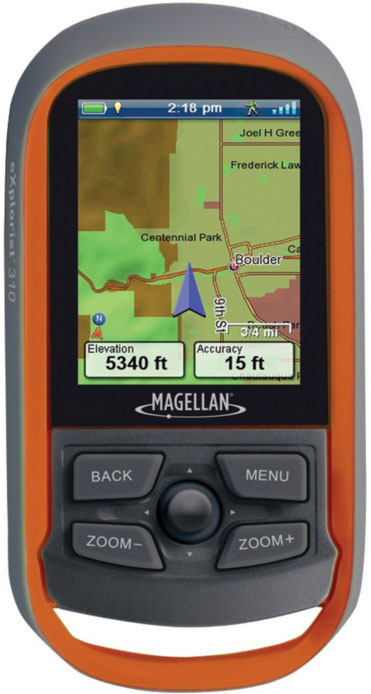 Weight: 5.2 oz.
Screen: 2.2 in.
Battery life: 18 hours
Memory: 2 GB
What we like: Great affordable option for geocaching.
What we don't: Old design and dated technology.
Proving that the GPS game isn't Garmin-only, the Magellan eXplorist 310 is a solid entry-level GPS. The eXplorist does everything a basic GPS should: create and follow routes, mark waypoints and show your trip progress with tracks. Geocache-ready, the eXplorist comes with a decent base map that includes roads and some geographic features. A summary page details your exploits, with key bits like how long it took you to uncover each cache. Also, as opposed to its closest competitor, the Garmin eTrex SE, the eXplorist's 2.2-inch screen is color and reads reasonably well even in direct light. 
What pushes the eXplorist towards the bottom of our rankings? The line is getting long in the tooth, which means the satellite lock can take a while, their software is not as well-established as Garmin, and navigating between menus can be clunky. But at a great price ($150 on Amazon at the time of publishing) and for simple uses like geocaching or route-finding on a local trail, it's a fine budget option.
See the Magellan eXplorist 310
Handheld GPS Comparison Table
Handheld GPS Buying Advice
Touchscreen vs. Buttons
As with smartphones, touchscreens are becoming more prevalent in the handheld GPS market. These devices are intuitive, easy to navigate or type with, and work in both landscape and portrait orientations. But a few of the reasons some of the best-rated models are laden with buttons, including Garmin's GPSMAP 67i, are that the touchscreen tech and the built-in software isn't as advanced as our expensive phones, nor are they as consistent in rough and cold weather. Further, using a touchscreen can be a pain with gloves—despite technologies that make some gloves work decently well.
But for all those complaints, there is an equally good argument a touchscreen is the better choice over buttons. Buttons add bulk, and if you need to type, they are cumbersome and slow to navigate an on-screen keyboard. Your preferred style will vary, but if you're wearing gloves most of the time, need to quickly navigate between screens while on the move or operate the GPS in frigid temperatures, buttons are best. As touchscreen technology continues to improve, including the current option to adjust the sensitivity setting of the screen, its benefit of a sleek and low profile design where more space can be dedicated to a screen will continue to win over more and more users.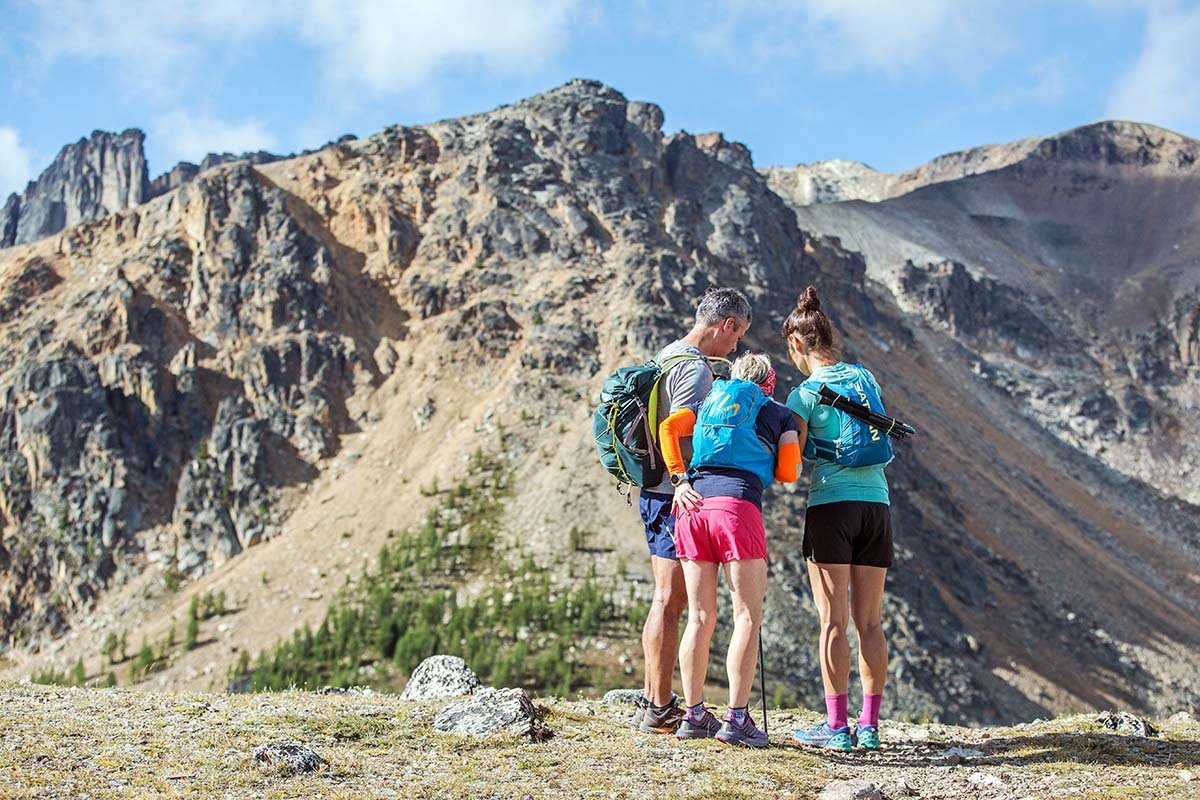 Display: Screen Size and Readability
One of the main reasons to upgrade to a high-end GPS is a large screen size. For boating, hunting, and motorized activities, a larger screen is helpful when you need to be able to see the information clearly at just a glance. Hikers, backpackers, and long-distance adventurers such as thru-hikers or bikepackers will still be happiest with a small and light device, such as the eTrex SE (2.2 in. measured diagonally) or inReach Mini 2 (1.3 in. diagonally). For geocaching, a small or midsize screen should do the trick. The larger GPSMAP 64 and 65 (2.6 in.) and 67 (3 in.) have long been popular with mountain bikers and geocachers.
The brightness of the screen and readability in direct sunlight are important considerations. Thankfully, this has been an area of emphasis for Garmin lately, and their new models excel with anti-glare screens with good backlighting and contrast that make maps and text easy to decipher. One of the best models is the Garmin Montana, while the monochrome eTrex falls a little short. In the end, other than the Magellan eXplorist, which has a small screen size and doesn't excel in bad lighting conditions, readability is a strength among handheld devices.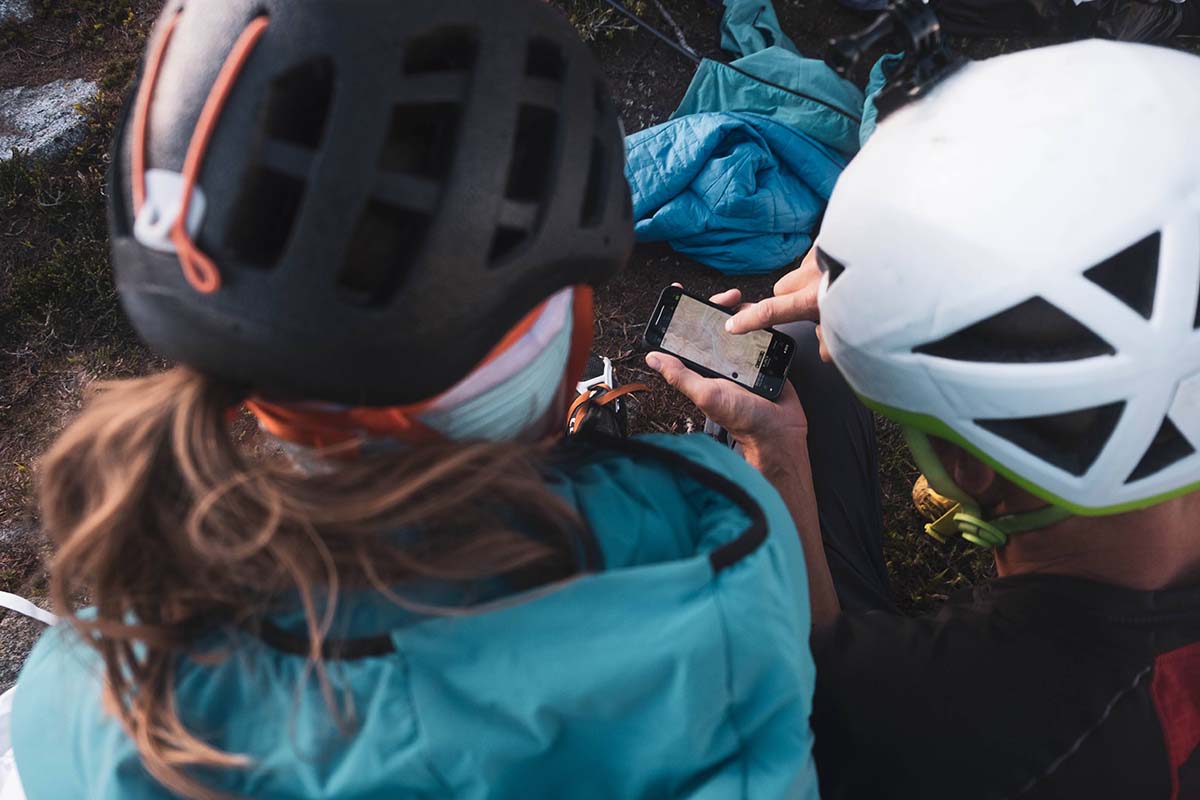 Global Navigation Satellite Systems (GNSS)
In researching GPS devices, you're bound to run across the term GNSS, which is short for Global Navigation Satellite Systems. GNSS encompasses the entire "constellation" of satellite systems, including GPS (U.S.), GLONASS (Russia), Galileo (EU), QZSS (Japan), BeiDou (China), and IRNSS (India). Thus, when manufacturers say a device offers "multi-GNSS support," this means that the device connects to more than one satellite system. For example, Garmin's Montana 700 connects to GPS, GLONASS, and Galileo, while their GPSMAP 67i offers those three plus QZSS, BeiDou, and IRNSS support. In 2023, almost all designs feature multi-GNSS support, including even the inReach Mini 2.
The big takeaway for most users is accuracy: If a device can connect to multiple satellite systems, it's more likely to be able to get a quick and precise location fix, no matter your position in the world. Do keep in mind that connecting to multiple satellite systems will drain your battery life more than connecting to just GPS; the good news is that most devices allow you to customize your connection for the best combination of accuracy and battery efficiency.
It's also worth mentioning multi-band GNSS here (also known as dual-frequency GPS), as it's become a staple of GPS technology in the past few years. Handheld devices with multi-band GNSS not only connect to multiple networks, but they are also able to use two different frequencies to connect to each network. The result is a quicker connection and even greater position accuracy, especially in areas lacking a clear view of the sky (think: tall buildings, canyons, or trees). We've found this video from Garmin to be particularly helpful in understanding multi-band GNSS.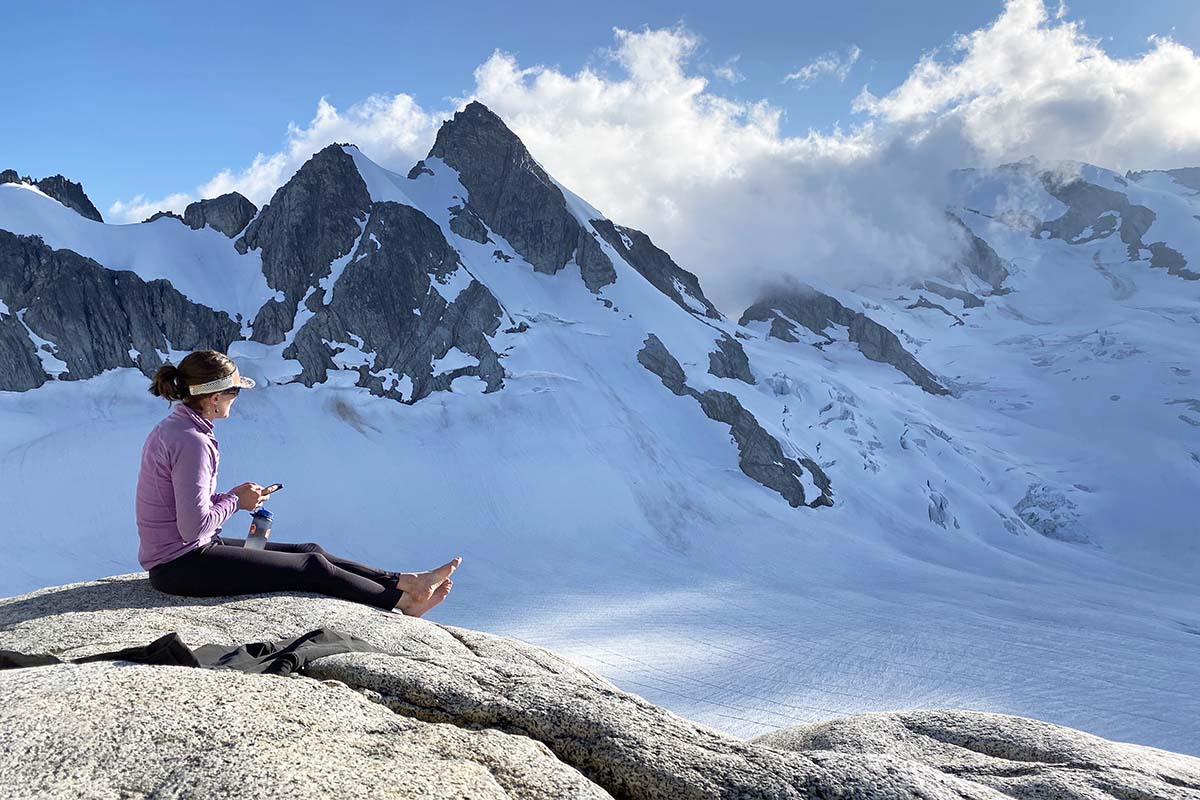 Mapping and Memory
All handheld devices come with some form of base map—essentially a blank screen that will include some major local features or a preloaded track—while many include detailed maps or the option to upload more later on. Most modern models (like the GPSMAP 67i and Montana 700) offer TopoActive mapping, a fairly extensive program with contour lines to indicate elevation gained/lost, points of interest, and some on- and off-road navigation based on your country of origin (i.e., a device purchased in the U.S. will have a North American TopoActive map). Notably, the 67i also offers an Outdoor Maps+ subscription for additional information like up-to-date public land boundaries, landowner names, wildlife areas, and more. 
One of the biggest indicators of a device's mapping power is its capacity for internal and external (i.e. microSD) memory storage—a spec that we include in our comparison table above. The more storage you have, the more detailed (and extensive) the maps can be. For example, the GPSMAP 67i has 16 gigabytes of internal storage and can accommodate a 32-gigabyte microSD card (for 48 GB of total storage). On the other hand, the eTrex SE has just 28 megabytes of storage (and does not accommodate a microSD card). While the eTrex SE only offers rudimentary breadcrumb navigation, it does pair with the Garmin Explore app (on a smartphone) to offer more detailed maps.
 
Satellite Messaging and SOS
A growing number of GPS devices now have the ability to transmit messages or SOS alerts via satellite. Paired with a subscription (often billed monthly with a one-time set-up fee), this tech allows you to connect in areas without cell service, including sending and receiving texts, posting to social media, sharing your location, and communicating between GPS devices. The benefits are endless (we've used our GPS device to get weather reports in the North Cascades and schedule flights in the Alaska Range), and especially vital in the event of an accident. Communication can be managed on the device's screen, but in the case of smaller devices (like the Garmin inReach Mini 2), the ability to pair with your smartphone via Bluetooth is a welcome feature. A number of models above come with satellite connectivity, including the Garmin inReach Mini 2, GPSMAP 67i, and Montana 700i. For a deeper dive on the topic, see our article on the best satellite messengers.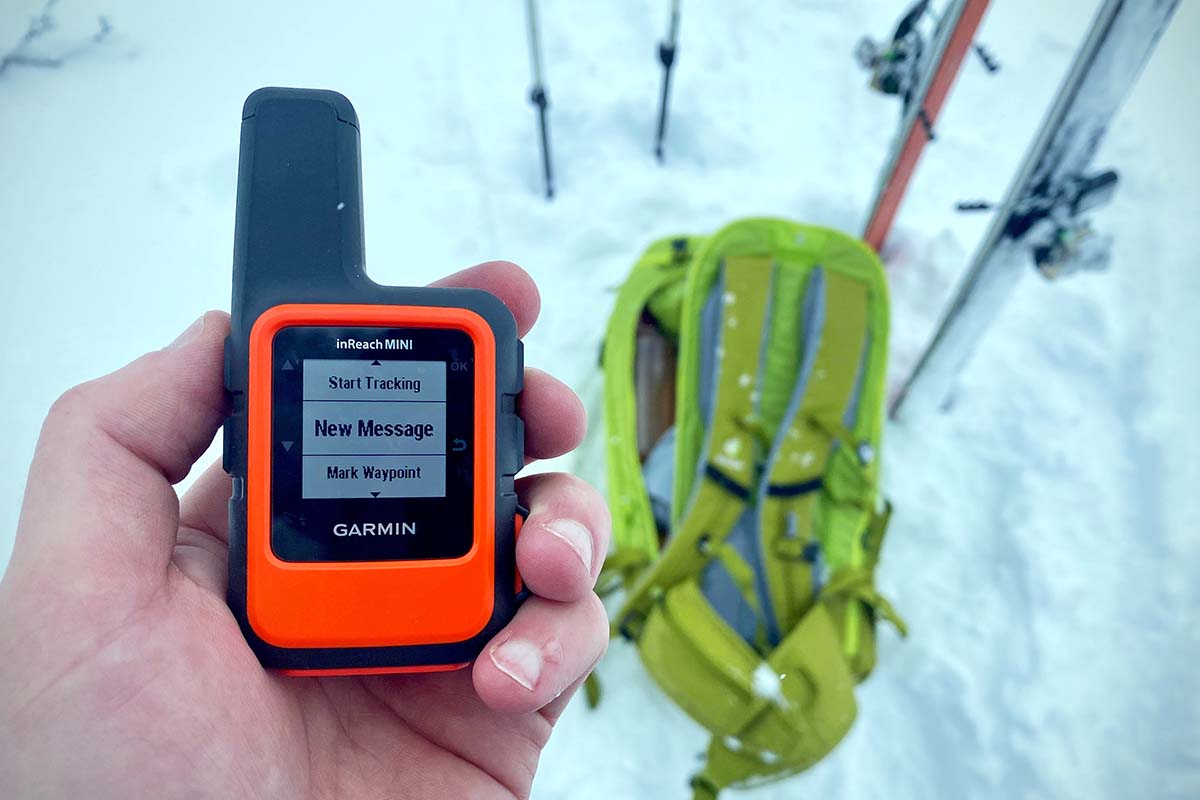 Battery Type and Battery Life
The long-time standard for batteries in GPS devices has been the trusty AA. They are cheap, have decent lifespans, and can be swapped out when they are drained. On the downside, if you are heading out for an extended stretch, you'll need to bring a number of backup batteries. With extra stuff brings extra weight and inconvenience, and then there's the hassle of disposing of used batteries correctly. So while AA batteries remain an option for many GPS devices, Garmin and others have turned to rechargeable battery packs as a compelling alternative.
The main advantage to rechargeable batteries is the ability to reduce weight and bulk from your pack—and over time the cost-savings can really add up. And with portable solar panels and power banks becoming more and more reliable (the Anker PowerCore is our favorite), there's simply very little downside. As a result, rechargeable battery packs now come preinstalled on many of Garmin's most premium models (such as the GPSMAP 67i and Montana 700), and many devices that take AAs are also compatible with a rechargeable lithium-ion pack (sold separately for around $30).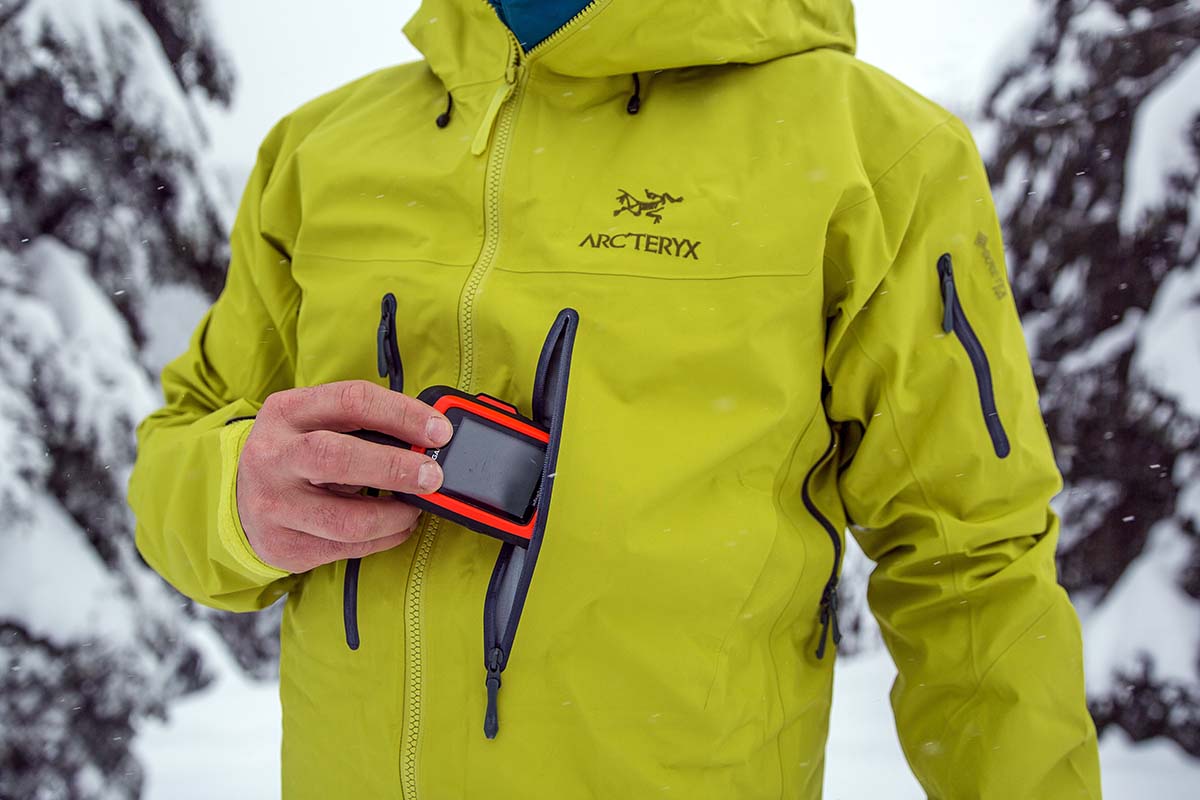 Altimeter, Barometer, and Compass (ABC)
Nearly all handheld GPS devices list a barometric altimeter and 3-axis compass. The advantage of the electronic compass is its ability to read direction no matter how you're holding the device and regardless of if you're moving or still. Standard compasses must be held horizontally to orient properly (or be moving if it's GPS-based). It's a small but nice addition, particularly if you're needing to hold the device upright to get a signal. Getting a read on barometric pressure is helpful in determining elevation because the higher you go, the lower the pressure. The science isn't perfect here, however, because when weather shifts, barometric pressure also changes, which can skew the numbers. That said, a barometric altimeter remains the best option for mountainous and backcountry use and can provide a helpful approximation of your current elevation.

Dimensions and Weight
In most cases, dimensions and weight correspond with screen size. Some of the smallest and lightest handheld options on our list, the Garmin eTrex SE and Magellan eXplorist 310, have equally small 2.2-inch screens. How you'll be using the device will dictate how important dimensions and weight are. Those that opt for high-end devices like the Montana are not typically carrying them in their hand or hiking with a pack, instead placing them on a handlebar mount for ATVing or snowmobiling.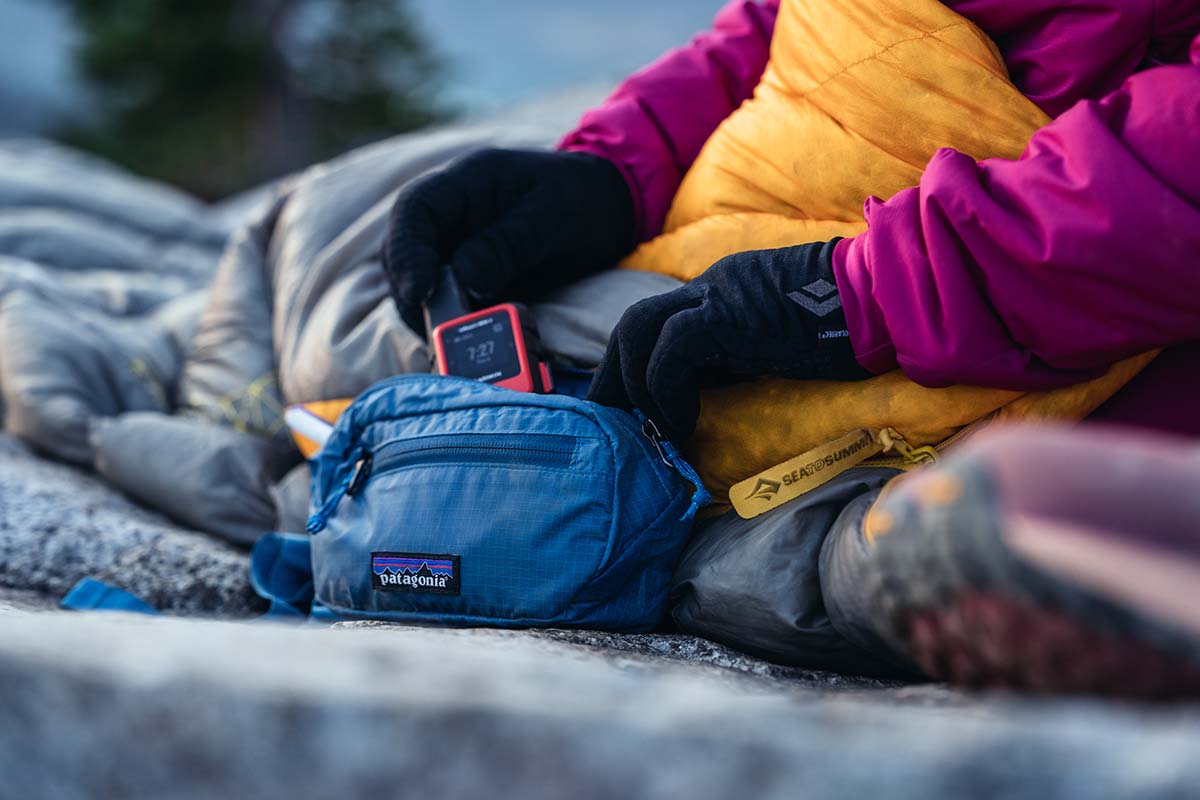 Handheld GPS vs. Smartphone GPS Apps
Smartphones have been eroding the handheld GPS market for years. And the reasons are fairly obvious: most hikers and backcountry explorers already have their phones along for capturing photos or referencing route information, and the simplicity of keeping everything on one device is a big plus. In addition, prior concerns with durability have been partially addressed with burlier carrying cases and increased water and drop protection.
In terms of mapping and accuracy, handheld devices have the upper hand with greater compatibility with a wider array of satellite systems (smartphones use cell towers and GPS), which can be valuable in deep backcountry areas with challenging coverage. That said, most hikers, backpackers, and climbers will be happy with the performance of a smartphone, and there are a number of quality mapping apps available for free or a small charge. Popular choices include Gaia (a subscription-based service) and Topo Maps, which allow you to download quality USGS topos. The main hang-up with going the smartphone route, however, is battery life. It's true you can charge up on the go via a solar panel or portable recharger, but these GPS-based apps are battery hogs and can't come close to the ease of use and longevity of a handheld GPS. As things currently stand, this is the main reason to opt for a handheld GPS over a smartphone.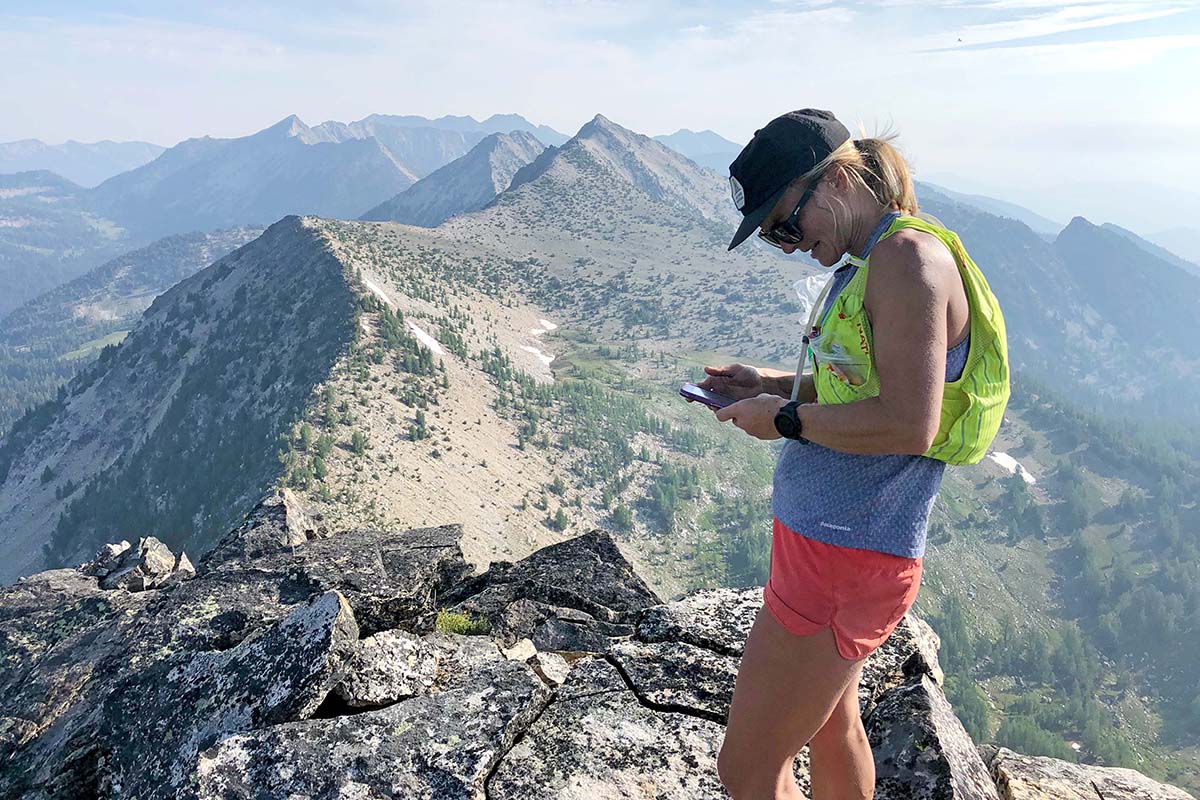 GPS Watches
In addition to smartphone GPS apps, GPS-equipped sports watches are another piece of relatively new technology giving handheld GPS devices a run for their money. Like a standard GPS device, these watches allow you to find your location on preloaded maps, upload and follow .gpx tracks, record your route, retrace your steps, and even pan out and view your surroundings. With the most basic navigation, you'll see a simple line with waypoint marker on an otherwise blank screen, while the most premium watches (the Garmin Fenix 6 Pro, for example) feature preloaded color topographic maps with detailed contour lines, geographic place names, and more. At best, you get most of the features of a handheld GPS device packed into a streamlined wrist watch.
But while the technology is impressive, we have a hard time recommending a GPS watch as a full-blown substitute for a GPS device. The small screen and controls are fairly painstaking to navigate unless you put in the time to learn the system, and the mapping functions can be a big drain on a watch's battery life. Additionally, in most cases you'll pay more for the smaller device: for example, the Garmin Fenix 7 watch will cost you $700, while the premium Garmin GPSMAP 67i handheld is $600 (including the addition of satellite messaging and SOS). But for those who value the streamlined package and only use GPS occasionally, a high-end GPS watch (other options include the COROS Vertix 2 and Garmin Forerunner 955) is certainly an intriguing option.
Back to Our Top Handheld GPS Picks  Back to Our Handheld GPS Comparison Table
Learn More About Outdoor Gear