Despite their diminutive size, sports watches can really pack a punch. These modern timepieces put the power of a GPS device onto your wrist, allowing you to track your movements, follow a preloaded route, or even navigate complex terrain—hands-free. Important for many users, they're also capable of compiling a seemingly endless amount of data, including your distance, elevation, pace, cadence, heart rate, recovery time, and sleep quality (to name a few). Below we break down the best sports watches of 2023, including rugged and navigation-rich offerings for backcountry explorers, affordable entry-level models, and sleek options purpose-built for endurance athletes. For more background information, see our comparison table and buying advice below the picks.
 
---
Our Team's Sports Watch Picks
---
 


Best All-Around Sports Watch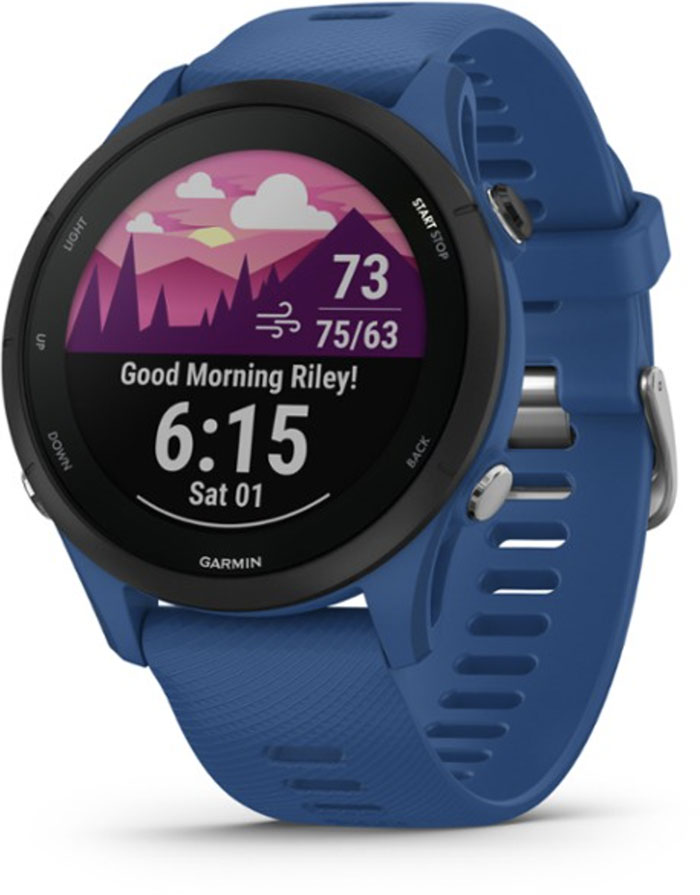 Weight: 1.7 oz.
Battery: Lithium-ion (30 hours in GPS mode)
Diameters: 41, 45.6mm
What we like: Hits a sweet spot of price and features, along with Garmin's premium accuracy and ecosystem.
What we don't: Lacks the long battery life, titanium bezel, and topographic maps of the Coros Apex 2.
We get the question all the time: What sports watch should I buy? In our opinion, the best sports watch (for the majority of those who ask) isn't the most expensive option, the one with the most features or activity modes, or even the watch that your favorite pro athlete wears. The best sports watch is the one with features you'll use—not too few, not too many—in addition to an intuitive user interface, strong battery life, and accurate tracking. With this in mind, the Garmin Forerunner 255 is our top recommendation, with a Goldilocks design that hits a sweet spot for most runners, swimmers, bikers, hikers, nordic skiers, and more. And true to its versatile intentions, the 255 comes in two sizes (the 41-mm 255S and 46-mm version here), a variety of colorways, and with the option of music storage for an extra $50 (the Forerunner 255 Music).
With an update last year, Garmin took their Forerunner 200 series to the next level, tacking on notable additions like a barometric altimeter, triathlon activity mode, dual-frequency GNSS, and power meter support. The result is a full-fledged multisport watch that was impressive enough to oust the Coros Apex 2 from the top of our list. Comparing the two, the Forerunner 255 has slightly better accuracy (especially helpful in cities or areas with a lot of overhead coverage) and offers helpful daily features like GarminPay; on the other hand, the Apex 2 has a significantly longer battery life, a more durable titanium-alloy bezel and sapphire-glass screen, and includes on-screen topographic maps (the 255 only features simple breadcrumb navigation). In the end, we think the Forerunner is still the best fit for the everyday athlete looking for a sports watch, but the Apex 2 is still a better pick for those with serious backcountry intentions. Finally, it's worth mentioning Garmin's new Forerunner 265 ($450), which adds a colorful AMOLED touchscreen display and a few more features that will appeal to data-hungry athletes, including Garmin's Training Readiness score and Running Dynamics.
See the Garmin Forerunner 255
Best Backcountry-Ready Sports Watch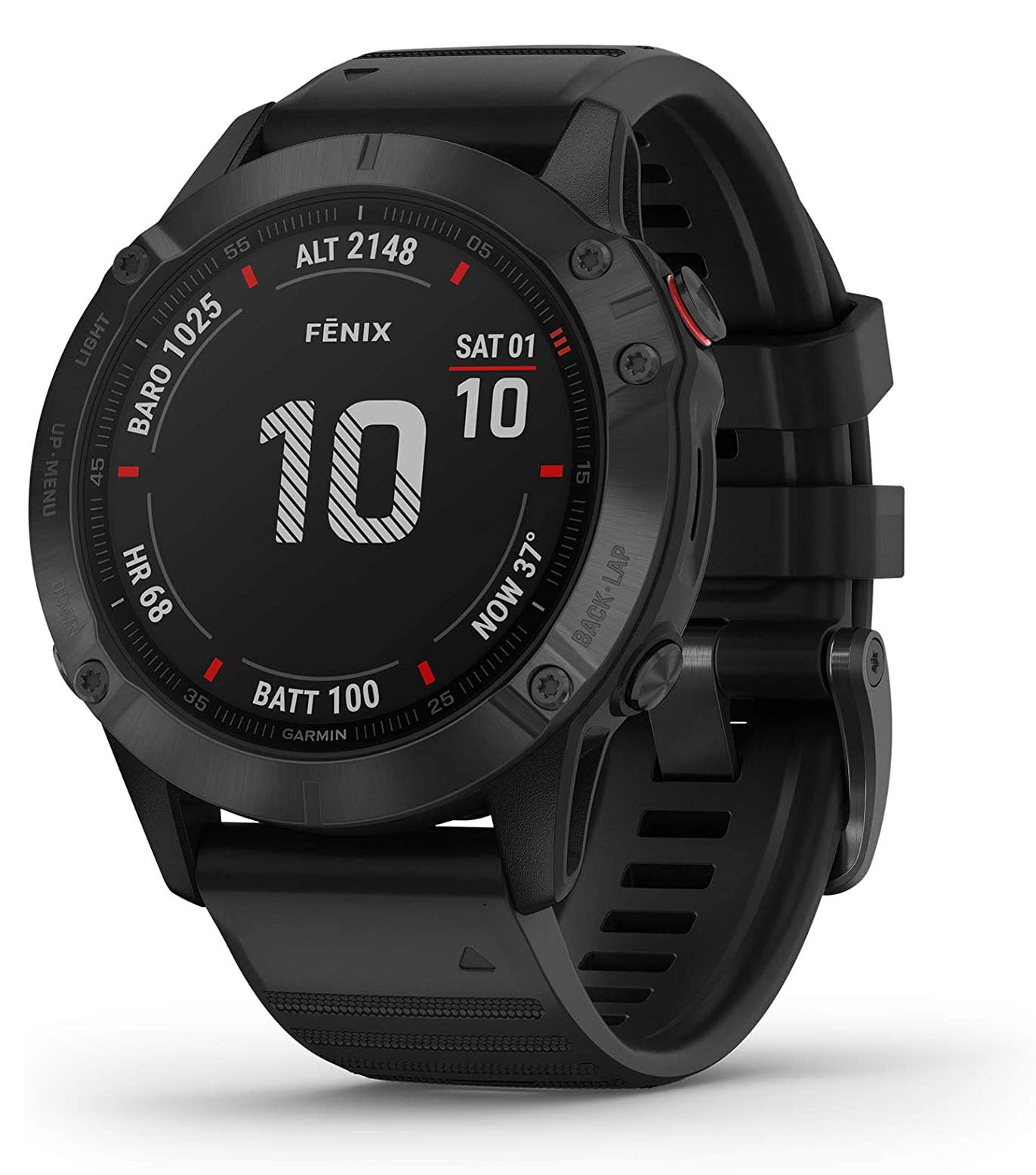 Weight: 2.8 oz.
Battery: Lithium-ion (57 hrs in GPS mode)
Diameters: 42, 47, 51mm
What we like: Durable construction and the best in mapping and navigation.
What we don't: Expensive, heavy, and overkill for casual users.
Garmin's Fenix 7 undoubtedly is expensive, but it's hands-down the best backcountry-ready sports watch collection on the market. With a number of variations (including three sizes and Solar and Sapphire models), the powerhouse line boasts top-notch build quality and durability, a crisp and easy-to-read screen, accurate tracking for a wide array of activities, and enough advanced metrics to satisfy even the most discerning athletes. Importantly, the Fenix 7 offers far and away the best available watch-based mapping: You get preloaded maps (including detailed contour lines, trails, and geographic place names) and extensive navigation tools for activities ranging from hiking and mountaineering to trail running and skiing. And the 7 now features a touchscreen (this was one of our only gripes with the 6 Pro), quite literally putting all of these features right at your fingertips.
The biggest downsides of the Fenix 7 are cost, complexity, and weight. Prices have been increasing in general, but the $700 MSRP for the base 7 puts it out of reach for many people (the Solar version is $800, while the Sapphire Solar is $900). Moreover, the tech is overkill for someone just looking for the basics like distance covered, elevation gain, and heart rate. Finally, even in the smallest "S" form, the Fenix is on the bulky and heavy side, and you will feel the extra heft during activities like running, mountain biking, and XC skiing. For a step down in features, we also really like the Coros Apex 2 (below)—and it's still a top-performer for backcountry use, with incredible battery life, a plethora of activity modes, and decent maps and navigation (for just $349). But if you're a backcountry adventurer looking for the best of the best, the Fenix is our top choice. Of note: Within this category, it's also worth checking out the Garmin Epix, which offers a similar feature set with a high-end AMOLED screen.
See the Garmin Fenix 7
Best Feature-Rich Multisport Watch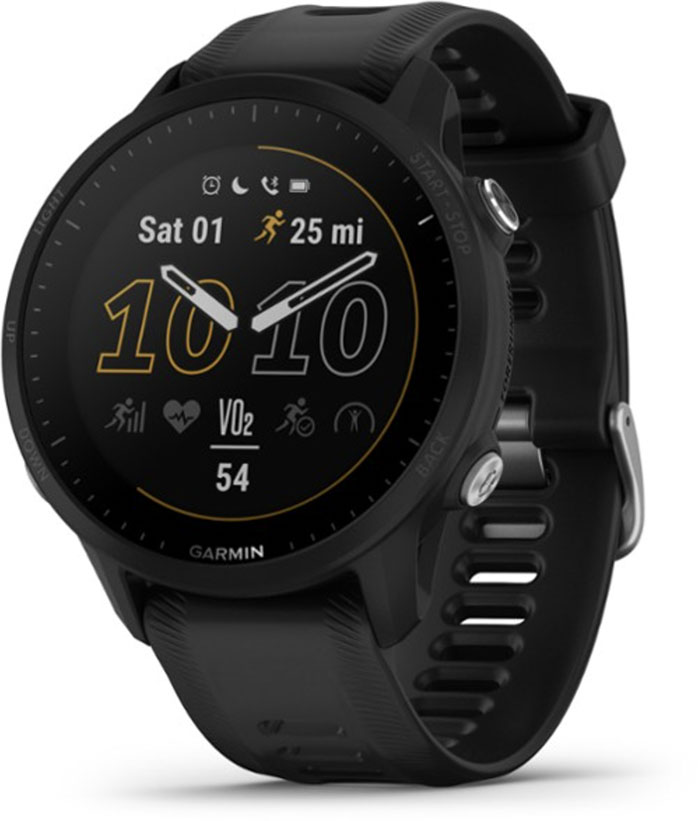 Weight: 1.8 oz.
Battery: Lithium-ion (42 hrs in GPS mode)
Diameter: 46.5mm
What we like: High-end sensors and features in a lightweight, sport-specific build.
What we don't: Only comes in one size; less durable than the Fenix.
Garmin's Fenix 7 is hard to beat for backcountry exploration, but the Forerunner 955 is a top-notch sports watch for serious and data-hungry athletes who like to stick a little closer to home. You get a very similar feature set, including multi-band GNSS support, a barometric altimeter and compass, optical heart rate monitor and pulse oximeter, music storage, and great navigation with preloaded topographic, road, and trail maps. But what stands out about the Forerunner is its size: While the 2.8-ounce Fenix can feel overly bulky for activities like running and swimming, the sleek 955 clocks in at only 1.8 ounces. It all adds up to a premium watch that's purpose-built for triathletes, runners, cyclists, and others focused on traveling fast and light. 
The Forerunner 955 gets our glowing recommendation for frontcountry use, but it's certainly not as versatile as the Fenix. Durability falls short with less rugged materials (Garmin uses a lightweight polymer bezel rather than the Fenix's steel or titanium) and a lower water rating (5 ATM vs. 10)—we've used our Forerunner a lot in the mountains and it's riddled with scratches. What's more, despite the stated numbers, the 955's battery life doesn't measure up to that of the Fenix or Coros Apex 2. But it's nevertheless one of the most featured sports watches for activity-specific tracking, and you get considerably more capabilities than with the value-oriented Apex 2. Finally, the 955 also comes in a solar version for $100 more, and Garmin now makes the Forerunner 965 ($600), which features a colorful AMOLED display and offers a few more frills, including built-in Running Dynamics.
See the Garmin Forerunner 955 
Best Budget Sports Watch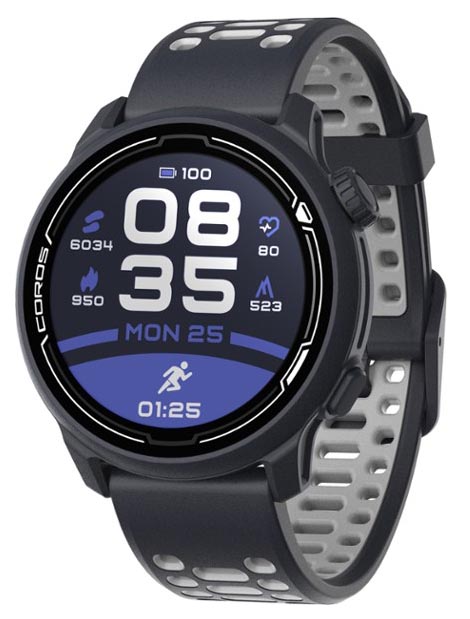 Weight: 1.2 oz.
Battery: Lithium-ion (30 hrs in GPS mode)
Diameter: 42mm
What we like: A sleek multisport watch with great battery life for just $200.
What we don't: No-frills feature set and not intended for backcountry use.
Despite its diminutive size, it's hard to overlook Coros' budget-friendly Pace 2. This watch has a lot going for it for the price: It clocks in at just 1.1 ounce on our scale (with the nylon strap) and has such a low profile that we often forget we're wearing it, which is a nice change of pace from a bulky and heavy model like the Fenix above. Battery life also is impressive (30 hrs in GPS mode and 20 days with regular use), and you'd be hard-pressed to find a more affordable watch with a built-in barometric altimeter and multi-GNSS support. And finally, with a firmware update in the spring of 2023, you can now upload tracks to the Pace and follow them via breadcrumb navigation—a truly unheard-of feature at this price point. All told, for budget shoppers or athletes who don't need the best of the best, the Pace 2 delivers in spades.
All that said, it's important to recognize the Pace 2's limitations. Most significantly, Coros very intentionally designed this model for frontcountry activities like road running, biking, and pool swimming—it doesn't even feature modes like hiking, skiing, and climbing. And its construction follows suit: the plastic build won't hold up to major impacts (nor is it a very stylish option for everyday wear), and the small digital dial is difficult to use with gloves on. Water resistance is also average at just 5 ATM, and unlike many offerings, you don't get music capability. But we've found the Pace 2's GPS tracking, mileage, and elevation to be fairly consistent with high-end Garmin watches, which is flat-out impressive given the price. If you don't mind the no-frills design, Coros' entry-level Pace is a reliable and affordable companion for daily workouts.
See the Coros Pace 2
Best Sports Watch with Everyday Appeal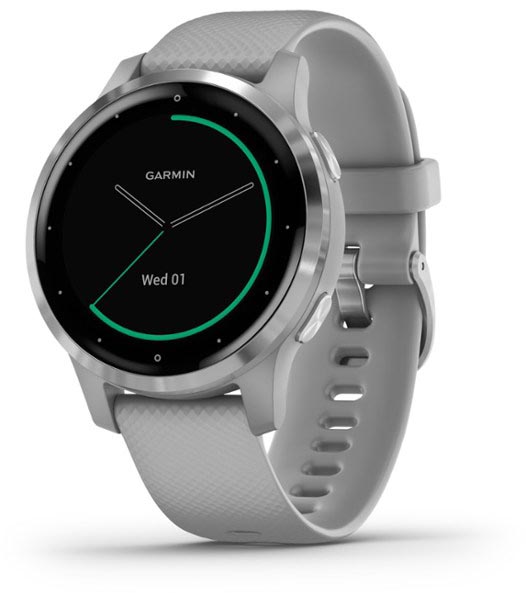 Weight: 1.8 oz.
Battery: Lithium-ion (18 hrs in GPS mode)
Diameters: 40, 45mm
What we like: Great styling and feature set for everyday use.
What we don't: Not as accurate as more performance-oriented models and average battery life.
Sports watches are designed to look good during a workout, but they don't always make the cut for wearing to work. Most users will find that models like the Garmin Fenix 7 above and Instinct 2 below are simply too bulky for everyday use, and sleek options from Coros are fairly limited when it comes to convenient extras like contactless pay, music, and health monitoring. The Garmin vívoactive 4 listed here strikes an excellent middle ground, with an elegant exterior and two sizes to choose from (the 40-mm vívoactive 4S and the 45-mm version linked here), in addition to a very capable set of features, including multi-GNSS support, a compass and barometric altimeter, 15 sport modes (but no triathlon setting), and Garmin's most sought-after smart features.
However, despite being similar under the hood to some of the best performance watches here, the vívoactive's software falls short. During our testing, its accuracy faltered while tracking steeper trail runs, and we've found the distance and elevation data to be less consistent even than the cheaper Pace 2 above. Further, we simply don't love a touchscreen for outdoor use (it can be tedious to use in rain and snow), and the vívoactive's battery life isn't a standout. But the Garmin is stylish and comfortable enough for daily wear (even in professional settings) and, true to its casual intentions, includes a host of on-screen workouts including yoga, pilates, and mindful breathing sessions. In the same category, it's also worth checking out Garmin's Venu 2 Plus ($450), which features a bright AMOLED display (similar to that of the Apple Watch), additional music storage and activity profiles, and a more modern interface.
See the Garmin vívoactive 4
Best Solar-Powered Sports Watch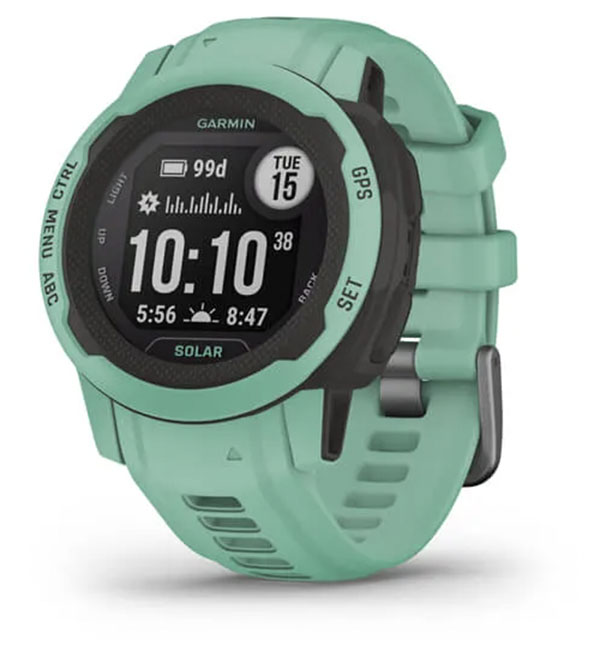 Weight: 1.9 oz.
Battery: Lithium-ion and solar (48 hrs in GPS mode)
Diameters: 40, 45, 50mm
What we like: Modern features combined with a rugged build and long battery life.
What we don't: Small monochrome screen; no maps/navigation or music storage.
With a rugged aesthetic and bare-bones black-and-white display, the Instinct Solar has long been considered Garmin's function-first watch for the outdoor and tactical crowd. That is, until a recent update gave it a new lease on life, infusing the dated design with a solid group of modern features that bring it up to speed with many watches here. The main talking point is still the inclusion of solar charging: In sunny conditions, the Instinct 2 Solar runs for up to 48 hours in GPS mode (surpassing most models by over 10 hours) and has virtually unlimited power in smartwatch or expedition GPS modes—assuming it sees three hours of sun a day. Only the Garmin Enduro (not listed here) has more impressive battery specs, but it'll cost you almost twice as much as the Instinct 2 Solar and lacks the rugged, backcountry-ready build.
As we touched on above, the second generation Instinct is an impressive update that tacks a host of multisport and everyday features onto the outgoing design, including activity profiles, power meter support, and contactless pay. It's not Garmin's most premium or featured offering by any means (the Forerunner 955's sleek build and music storage makes it a slightly better multisport option, while the Fenix offers full mapping capabilities for serious backcountry enthusiasts), but the chart-topping battery life and low price are hard to beat. If you have a tendency to lose charging cables or lack the discipline to consistently charge your watch (our Forerunner 945 needs a power boost at least once per week), the do-all Solar is hard to beat. Finally, the newest version comes in 40, 45, and 50-millimeter sizes (the 2S, 2, and 2X, respectively) and a variety of different colorways, making the watch accessible to a larger audience.
See the Garmin Instinct 2 Solar 
Best of the Rest
Weight: 1.5 oz.
Battery: Lithium-ion (45 hrs in GPS mode)
Diameter: 43mm
What we like: Ridiculously good battery life, premium materials, and on-screen topographic maps for just $349.
What we don't: Not a great fit for cyclists; lacks some of Garmin's modern touches.
In just a few years, Coros has gone from unknown entity to household name in the sports watch world. The Apex 2 is their leading mid-range model and packs in a surprising amount of features for the price, including touchscreen navigation, a titanium alloy bezel and sapphire glass screen, multi-GNSS support, eight different sensors (including a pulse oximeter), and music storage. The interface has a clear prioritization of sport-specific tracking (you get over 25 modes ranging from XC skiing to triathlon) that pairs seamlessly with a smartphone app, and the color display is easy to navigate with just two buttons and one dial. Most notably, battery life is best-in-class—our Apex 2 consistently outlasts our Garmin Forerunner 945 by a sizable margin. And although the watch only comes in one size, it hits a sweet spot at 43 millimeters and has been a great fit for both our male and female testers.
When friends ask us what sports watch to buy, we generally waver between recommending the Apex 2 and the Forerunner 255 above. The Forerunner wins out for most, but the Coros is the better watch for adventure-minded folks who will appreciate its longer battery life, topographic maps, glove-friendly operation, and more durable—and premium—materials. Keep in mind that the Apex doesn't include modern frills like live tracking, contactless payment, or music streaming, and is definitely not the best choice for cyclists—it's not compatible with ANT+ sensors, lacks a mountain bike activity mode, and has a clear prioritization of running metrics. And we just can't get behind the velcro watch band, which proudly reads #exploreperfection (you can purchase a silicone band for an extra $29). But if you need a long-lasting and durable watch for your mountain escapades, the Apex 2 is a very worthy option and a full $350 less than the Fenix 7 above. For a step up, Coros also offers the Apex 2 Pro ($449), which includes a larger display, longer battery life, and dual-frequency GPS for better location accuracy. 
See the Coros Apex 2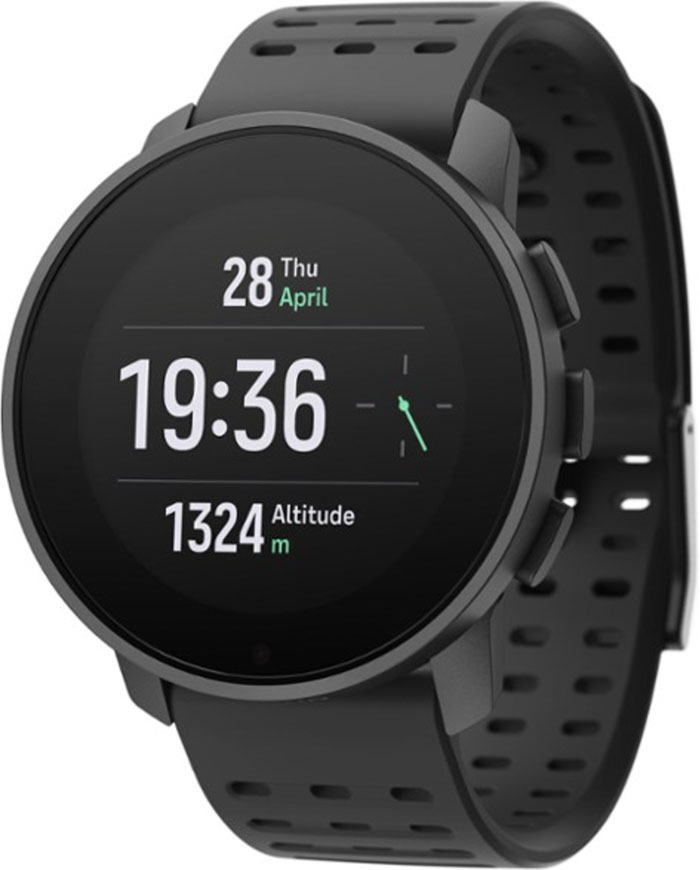 Weight: 2.3 oz.
Battery: Lithium-ion (40 hrs in GPS mode)
Diameter: 43mm
What we like: Compatibility with a wide range of sensors; sleek design is great for everyday use.
What we don't: No multi-band GNSS support or music storage.
Suunto has a reputation for reliable products and accurate tracking, but their watches have fallen short of late in terms of modern touches like smart features and convenient app support. The 9 Peak Pro all but brings the Finnish company up to speed, with bluetooth connectivity for a range of sensors, third party app support, Strava Live Segments integration (allowing you to race against your PR and the KOM), and a faster and more intuitive user interface. It also features Suunto's innovative Snap to Route setting, customizable data screens, and a built-in running power meter, which has become a popular feature in watches of late. And with a slim profile and sleek stainless steel frame (a titanium version is also available), the 9 Peak Pro is easily one of the best-looking sports watches here—we have no qualms wearing it as our daily driver. 
But despite the Pro version's improvements over the standard 9 Peak design, it still lags behind premium watches from both Garmin and Coros. Unlike most models that were released last year, the 9 Peak Pro does not feature multi-band GNSS, translating to less overall tracking accuracy, especially when traveling around tall buildings or trees. What's more, the 9 Peak Pro still does not accommodate music storage (you can, however, use the watch to control your phone's media), and the screen feels dimmer than most sports watches we've tested. But if you're partial to Suunto and like the idea of integrating your watch with a variety of different sensors and apps, this is undeniably their best offering to date. It's also worth noting that Suunto still makes the 9 Peak ($419), but it's a fairly large step down from the Pro in terms of battery life, user interface, GPS accuracy, battery life, and more.
See the Suunto 9 Peak Pro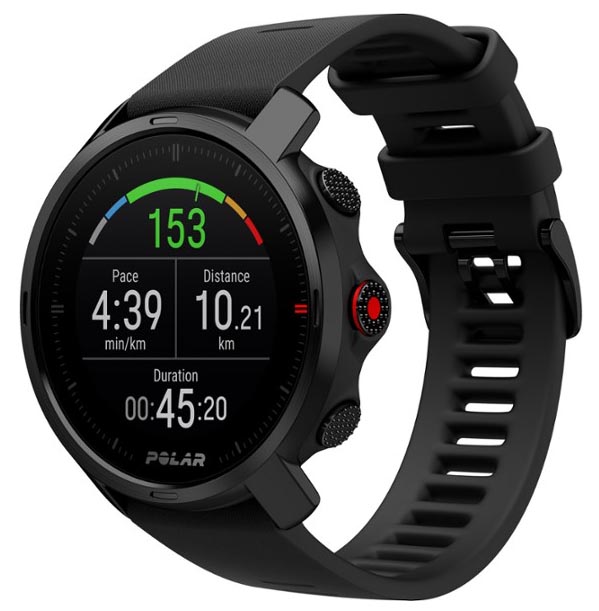 Weight: 2.3 oz.
Battery: Lithium-ion (40 hrs in GPS mode)
Diameter: 47mm
What we like: Durable build, large assortment of multisport settings, and super accurate HR monitor.
What we don't: Firmware needs fine-tuning and battery life is middling for daily use.
Polar might not be a household name like Garmin or Suunto, but their sports watches hold their own in a competitive market. The Grit X here is their most premium multisport offering, designed as a rugged alternative to their Vantage V2 and landing in between the Fenix 7 and Apex 2 above in terms of features, accuracy, and price. With a stainless steel bezel, Gorilla Glass touchscreen, and fairly streamlined build, the Grit X is durable yet sleek, and you get great tracking with multi-GNSS support and a plethora of multisport settings. Heart rate accuracy is top-notch and on par with most chest straps, sleep tracking and training stats are reliable, and Polar offers a running power metric that is best-in-class. Finally, the Polar Flow app is intuitive and can be viewed both on a phone and via a desktop computer.
Despite all of its strengths, however, the Polar Grit X simply isn't as fine-tuned as other models here. While battery life in GPS mode is fairly standard (note: you'll have to pause your tracking to view it), the Grit X lacks power-saving features and must be charged every few days even when used without GPS (by contrast, our Coros Apex 2 can last weeks). Further, the Grit X disconnects from your phone during an activity (read: no text alerts) and makes it impossible to access the compass function unless you're actively tracking. Finally, the navigation tools are extremely basic, and you don't get added smart features like music support or contactless pay. But for endurance athletes looking for a hardwearing watch with a top-of-the-line wrist-based HR monitor, the Grit X is nevertheless a great offering at a reasonable price. It's also worth checking out Polar's new frontcountry-oriented Pacer Pro, which, for $100 less, offers most of the same features in a sleeker design.
See the Polar Grit X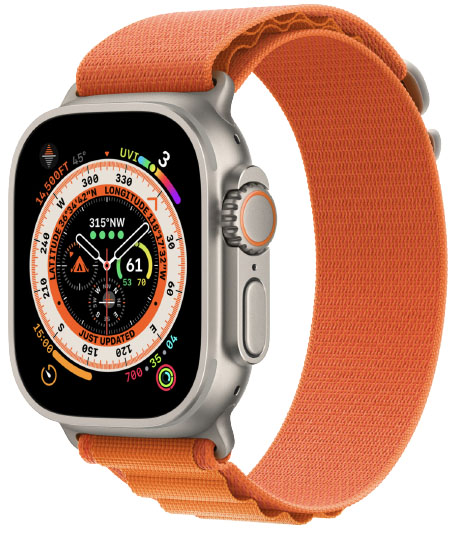 Weight: 2.2 oz.
Battery: Lithium-ion (up to 36 hrs in GPS mode)
Diameter: 44mm
What we like: A serious sports watch with the added bonus of Apple's seamless UI and app support.
What we don't: No navigational features; relies heavily on the touchscreen (not ideal for inclement weather).
For years, the Apple Watch sat on the fringes of the sports-watch world, offering just enough features to appease Apple devotees but never enough to warrant attention from the wider fitness community. Until the Ultra. With the release of the Apple Watch Ultra, Apple has made a solid entry onto the scene with a GPS-equipped sports watch that can hold court with premium designs from Garmin, Coros, and Suunto. Unlike previous models, battery life is now up to speed—Apple claims the Ultra will last for the length of an average Ironman—and updated activity profiles display all the advanced metrics an athlete might desire. Rounding out its new outdoor focus, the Ultra also features a unique emergency siren for help in search-and-rescue scenarios. Tack on essentials like reliable multi-GNSS support, barometric altimeter, and water resistance to 100 meters, and Apple's newest watch is definitely worthy of attention.
We're big fans of the Apple Watch Ultra for athletes who log most of their miles in the frontcountry, and its user interface and health tracking platforms are a solid cut above the rest. But the Ultra still falls short for backcountry use: The watch features nothing in the way of navigational features, and—despite the addition of the "Action" button and a larger rotating crown for use with gloves—relies heavily on the touchscreen, which will be a big hangup for those who regularly get out in precip or cold conditions. But for a daily training tool with a class-leading user experience, it doesn't get much better. If you want to cut costs in half, it's also worth noting that the Apple Watch 8 ($399) features the same updated software that make the Ultra a reliable training companion, but notably lacks the Ultra's longer battery life, emergency siren, and glove-friendly buttons.
See the Apple Watch Ultra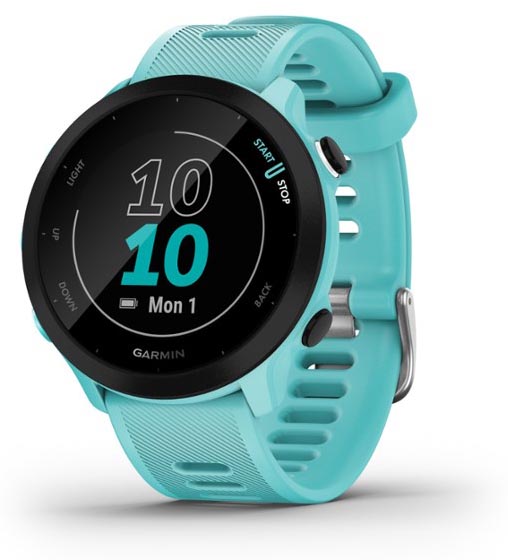 Weight: 1.3 oz.
Battery: Lithium-ion (20 hrs in GPS mode)
Diameter: 42mm
What we like: A simple and affordable watch with all the benefits of the Garmin ecosystem.
What we don't: No barometric altimeter or compass and low-resolution display.
We could wax poetic about anaerobic thresholds, wrist-based fitness coaches, and unlimited battery life, but let's face it: most of us use our watches to track daily workouts and not much else. If you're new to fitness tracking or aren't necessarily tech-savvy, you can save a lot of money by opting for a simplified design, and the good news is that these models are easier to use too. Along with the Coros Pace 2 above, Garmin's Forerunner 55 is one of our favorite basic sports watches, with an eye-catching aesthetic, bluetooth connectivity that makes it easy to upload your workouts and get firmware updates, and access to Garmin's top-notch ecosystem. And the 55 tacks a variety of features onto the older 45, including running track mode, women's health tracking, Live Track PacePro, increased battery life, compatibility with Connect IQ, and more.
The Forerunner 55 is a close competitor to the aforementioned Pace 2 (including an identical price) but falls short in a few key areas. Most notably, the Coros features a barometric altimeter and compass (giving you real-time access to data like elevation gain/loss during an activity and better tracking in the mountains), longer battery life, a higher-resolution display, and the ability to upload .gpx tracks to follow during your activity. Despite these shortcomings, however, the Forerunner still has a lot going for it, and particularly for those that value a sleek user interface and top-notch app support, health monitoring (the Garmin has a better HR monitor and offers more accurate sleep tracking), and plan to stick to the lowlands. And if you want premium extras like a barometric altimeter, more durable Gorilla Glass screen, and compatibility with external sensors like footpods and heart rate monitors, you can bump up to the Forerunner 255 for $150 more.
See the Garmin Forerunner 55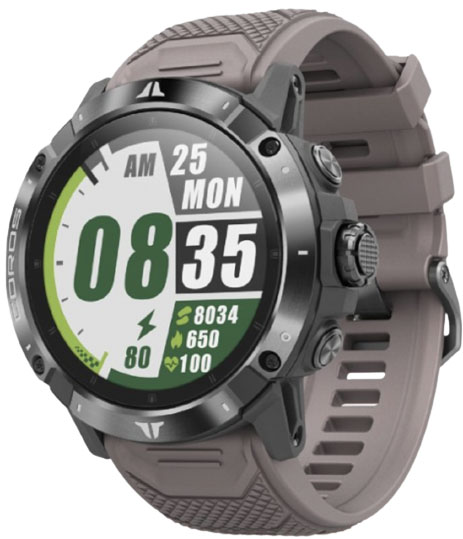 Weight: 3.1 oz.
Battery: Lithium-ion (140 hrs in GPS mode)
Diameter: 50.3mm
What we like: Incredibly durable; great at altitude and in extreme temperatures.
What we don't: Falls well short of the Garmin Fenix 7.
With a steep price tag and rugged, mountain-ready build, it doesn't take more than a quick glance to see that the Coros Vertix 2 goes head-to-head with our top-ranked Garmin Fenix 7. This is Coros' premium offering, equipped with all the sensors we look for in a high-end watch (including a barometric altimeter and pulse oximeter), a battery life of 140 hours in GPS mode (the Garmin's is 40), and great performance in extreme temperatures and at altitude—including SpO2 alerts that help you monitor your blood oxygen levels. To add to its already-impressive durability, the Vertix 2 comes in a Pelican-style hard case, and the rest of the design follows suit with a sapphire glass screen and a titanium bezel and cover. Coros even added a touchscreen, which is especially helpful when using mapping and navigation features. Plus, the large dials are a breeze to operate with gloves on.
Coros' update to the Vertix 2 included a price increase and a number of noteworthy additions. You now get music and preloaded maps (two key features the first iteration lacked), but these improvements have their caveats. To start, Coros does not include location names on their maps, and you don't get turn alerts or turn-by-turn navigation. Second, the watch does not offer Spotify, Apple, or Pandora support, making the music feature a bit clunky. Finally, for those who use ANT+ sensors, it's important to note that the "2" is not compatible (it supports bluetooth accessories only). The Vertix 2 certainly is a nice choice for Coros devotees looking for a rugged watch to take into extreme environments, but the Fenix 7 is the better all-around design, especially if you plan to use music and mapping functions (not to mention, the Garmin is offered in three sizes in addition to a few solar-powered variations, while the Coros comes in just one model and size). 
See the Coros Vertix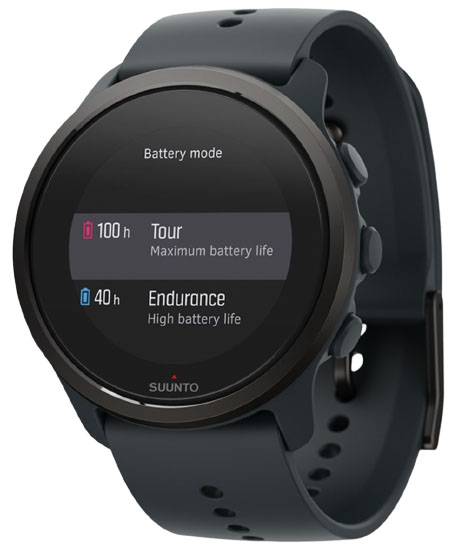 Weight: 1.4 oz.
Battery: Lithium-ion (20 hrs in GPS mode)
Diameter: 43mm
What we like: A well-rounded and reliable watch at an affordable price point.
What we don't: Entry-level models from Coros and Garmin have a bit more to offer.
The 5 Peak is Suunto's entry-level sports watch, featuring breadcrumb navigation, heart rate monitoring and training metrics, and more than 80 activity modes, along with a sleek exterior. More than most watches here, the 5 Peak toes the line for both outdoor and training use: The rugged stainless steel bezel, long battery life, and decent navigation features are great for backcountry exploration, and you get solid data collection capabilities for activities like running, cycling, and swimming. At $200, it checks in at the same price as similar designs like the Coros Pace 2 and Garmin Forerunner 55, but keep in mind the 5 Peak does lack a competitive battery life and sensor set (including a barometric altimeter and pulse oximeter). 
If you're considering a Suunto watch for fitness tracking, your decision will likely come down to the 5 Peak and the higher-end 9 Peak. Priced at $419, the 9 Peak offers a huge boost in features, including a touchscreen display, pulse oximeter, greater position accuracy via a barometric altimeter and compass, and longer battery life. It also has an innovative Snap to Route setting, which keeps your track aligned to preloaded routes (tracks can jump around with a bad signal) and is especially helpful when you need highly accurate speed and distance data for activities like road races. But the 5 Peak will save you a considerable amount of cash, and its feature set is all most athletes need. That said, the entry-level pieces from Coros and Garmin have a lot more to offer.
See the Suunto 5 Peak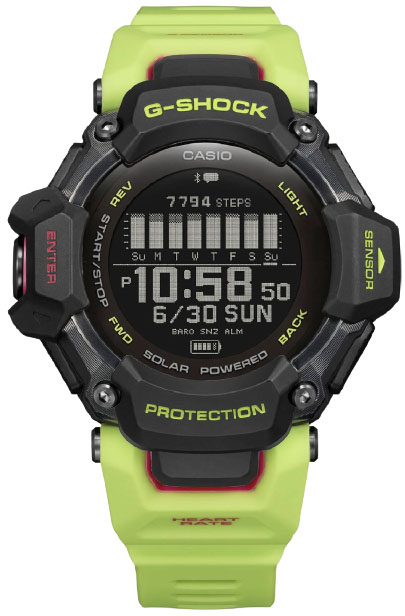 Weight: 2.2 oz.
Battery: Lithium-ion and solar (16 hrs in GPS mode)
Diameter: 60mm
What we like: Hard to kill.
What we don't: Outdated, heavy, and more expensive than modern options with similar tech.
This list simply wouldn't be complete without a Casio watch. Known for touting function over fashion, solar-powered batteries, and bulky-yet-tough constructions, Casio is a standard bearer in outdoor watches and has been slowly making the transition into the modern GPS market. Most of their designs still look and feel pretty dated, but the G-Shock Move GBD-H2000 here is fairly competitive with the options above. The watch has great bones with GPS support and six additional sensors, including an HR monitor, barometric altimeter and compass, gyroscope, thermometer, and accelerometer. And importantly, it integrates with Casio's app to make all this data more digestible.
Perhaps the most compelling reason to opt for the Casio over other watches here is the rugged and shock-resistant case, which you'll either love or hate. The G-Shock Move GBD-H2000 also features the most impressive water rating on our list (it can handle pressure up to a depth of 200m), which gives even more credence to its bombproof construction. And finally, with a built-in solar panel (a hallmark of Casio watches), it can last for weeks of non-GPS use without needing a charge. But in 2023, most of these features are fairly standard in outdoor watches, and we're partial to more modern and sleek designs from brands like Garmin, Coros, Polar, and Suunto.
See the Casio G-Shock Move GBD-H2000 HR GPS
Sports Watch Comparison Table
Sports Watch Buying Advice

Sports Watch Features
Activity Tracking and Analysis
One of the primary and most sought-after features of a sports watch is the ability to track and analyze your activities, whether you're hiking, running, biking, swimming, skiing, and more. Within each mode, a watch will record your GPS track by collecting waypoints at a set interval (usually every second, or less in battery-saving modes), which translates into information such as distance, elevation, pace (current and elapsed), and cadence—and the list goes on. In most cases, you can view this information both during your activity (on your watch) or via an app on your phone once you're finished.
As a general rule, entry-level watches like the Coros Pace 2 stick to the basics with fairly limited data points meant for sports like road running and cycling. Spending more gets you greater access to information for a wider range of activities (high-end designs like the Suunto 9 Peak Pro have over 80 sport modes, including paddleboarding, golfing, and indoor climbing). And interestingly, accuracy is pretty similar across the board. For example, the budget Coros Pace 2 is known to provide equally reliable GPS tracking data (like distance and pace) as a watch like the Garmin Fenix 7, which costs over three times as much.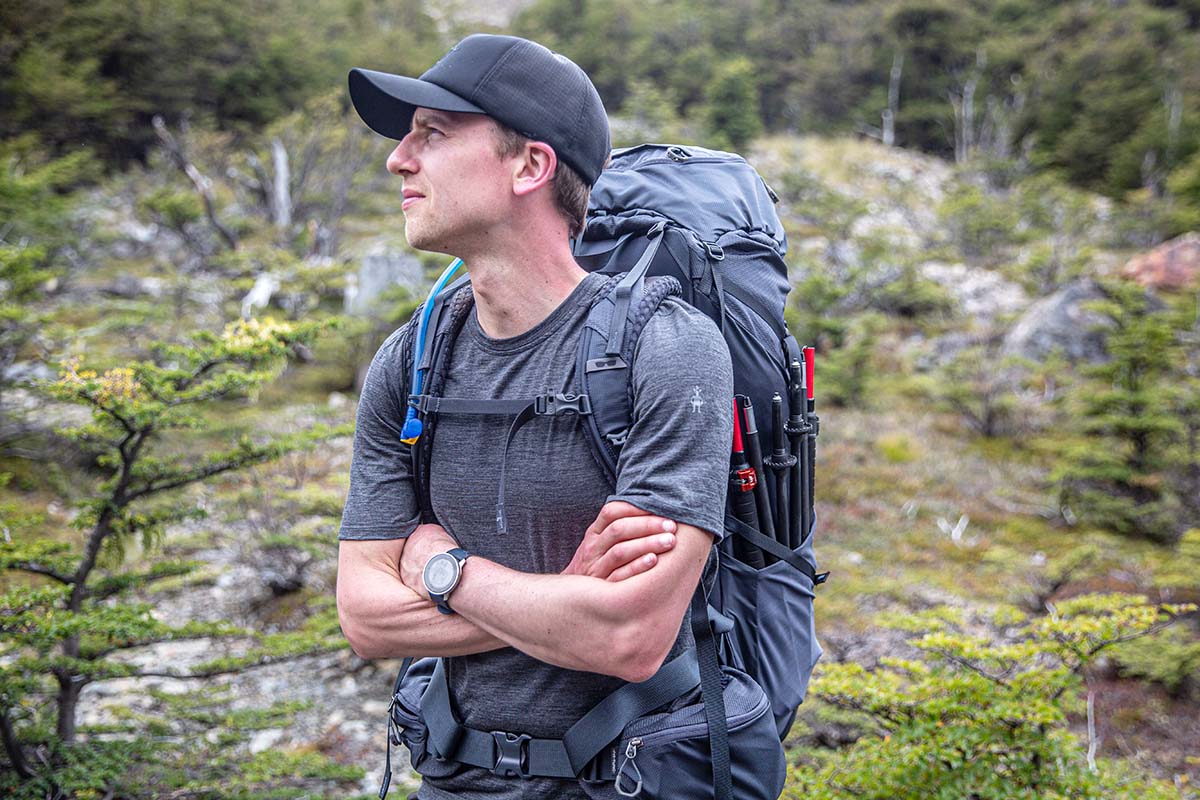 Along with tracking activities, many athletes use their sports watch to collect body-related data to aid in training. A watch is a rather impressive tool in this regard—it's able to synthesize data gathered by the optical heart rate monitor and pulse oximeter (usually only available in premium designs) and combine it with activity tracking stats to provide information such as training load, training effect, altitude acclimation, sleep quality, and more. These measurements will help you know how hard you worked, how much recovery time you need, and what to aim for during your next workout. Further, a good number of watches now feature training plans for a variety of sports, providing alerts and audio prompts based on your pace, heart rate, functional threshold power (biking), and more. The Garmin Fenix 7 even provides animated pilates, yoga, cardio, and strength workouts on its high-resolution screen. If you want to use your watch as a personal trainer, look for a high-end model that includes a pulse oximeter and prioritizes multisport features (Garmin watches excel here).

Maps and Navigation
Many (but not all) of the watches here include some navigational features. Like a standard GPS device, these watches allow you to upload and follow .gpx tracks (also known as breadcrumb navigation), pinpoint your location on a preloaded map or track, record your route in order to retrace your steps, and even view your surroundings. With the most basic navigation, you'll see a simple line with waypoint marker on an otherwise blank screen, while the most premium outdoor watches feature preloaded color topographic maps with detailed contour lines, geographic place names, and more. Models like the Garmin Forerunner 955 even include maps for over 2,000 ski resorts and 42,000 golf courses.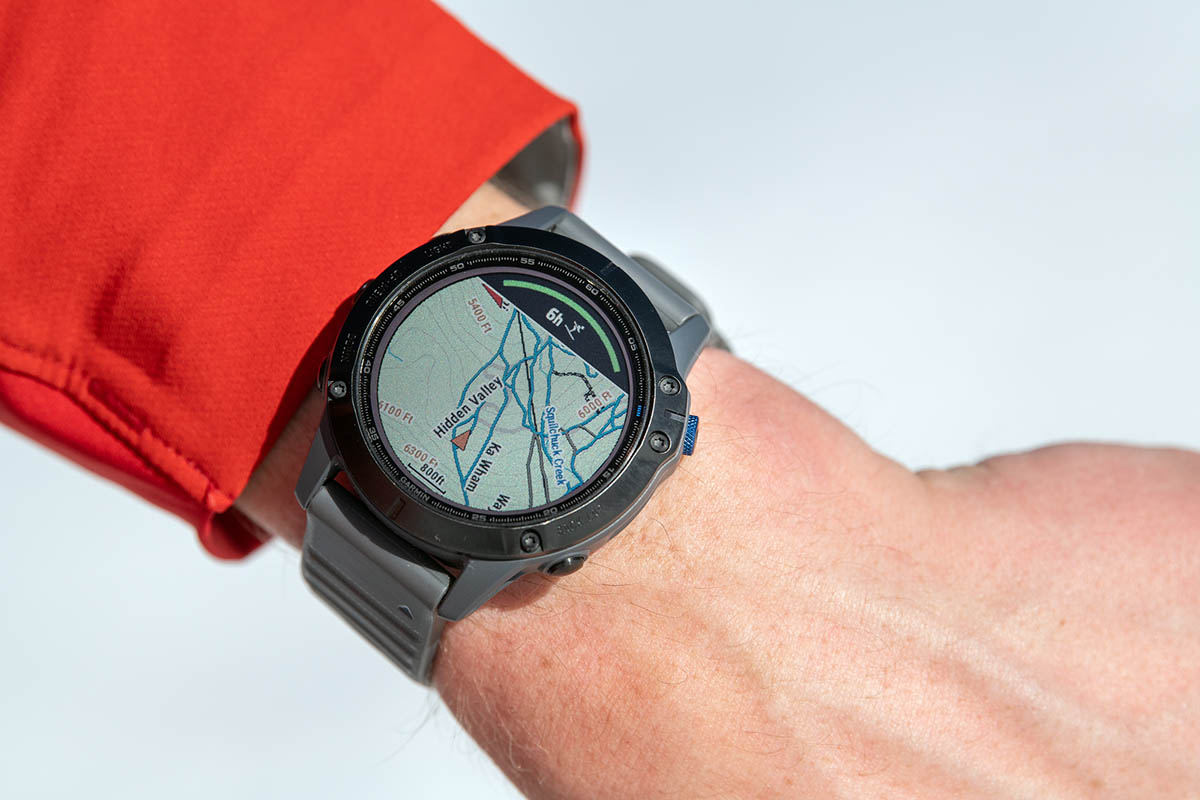 Most users will find their watches' navigational features helpful for following a preset route or retracing their steps on a breadcrumb trail. Many watches use alerts to tell you when you've gotten off track (this is super helpful and limits how often you need to look at your watch), and you can also use the "back to start" feature to navigate back to your original starting point. More advanced users will appreciate the detailed topographic mapping of premium watches, which provides helpful insights into the terrain, including expected elevation change if you're off-trail or considering a different route. If you plan to use your watch for complex backcountry navigation (i.e., in lieu of a GPS device or smartphone with mapping app), we recommend looking for premium mapping tech like that on the Fenix 7 or Forerunner 955. If you commonly travel with another device or don't intend to venture too far into the backcountry, you can get away with more basic navigational tools.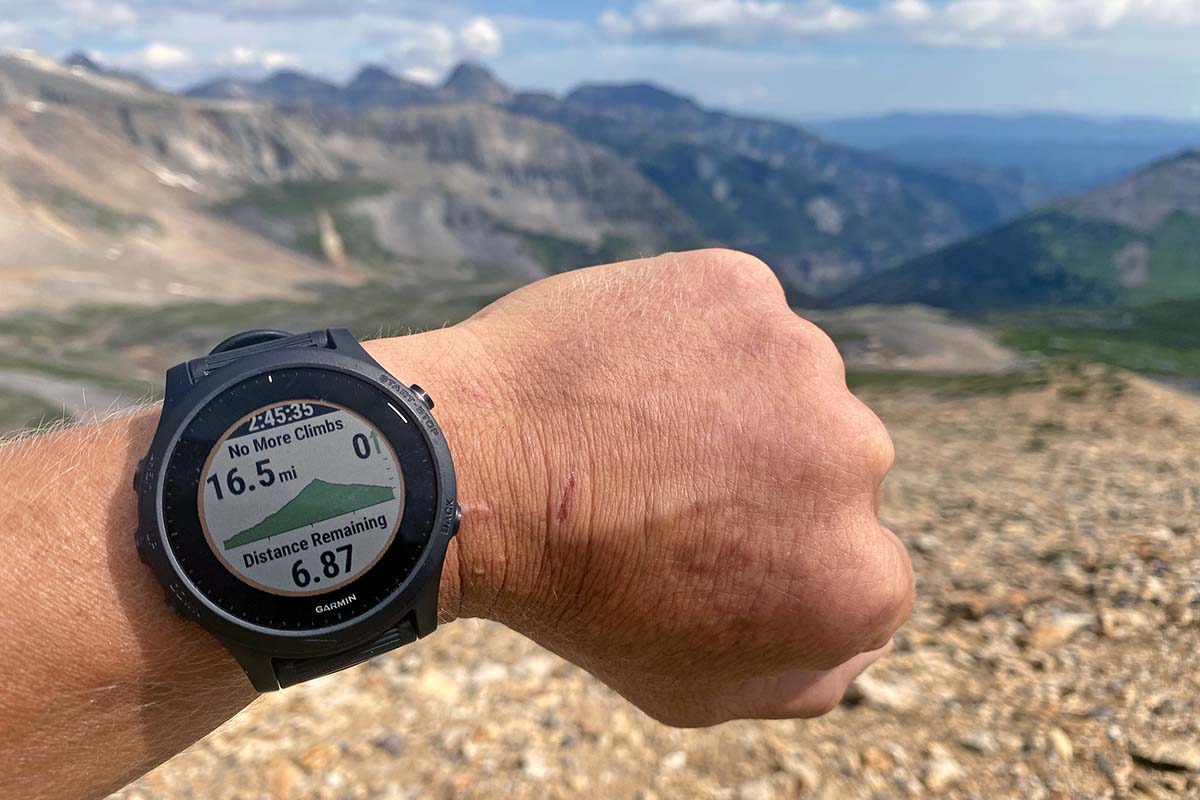 Weather Forecasting
In the past, one of the primary features of an outdoor watch (often referred to as an altimeter watch) was its ability to predict weather through changes in air pressure. This capability is still present in most modern smartwatches and uses the same age-old technology of a barometric altimeter. The Coros Vertix 2, for example, provides a weather forecast based on the most recent six hours of air pressure and includes a storm alert feature when it senses a drastic change. In addition to air pressure, many watches are able to measure ambient air temperature (we find this feature works best when you remove the watch from your wrist) and can determine sunrise and sunset based on your GPS location. If you're headed to the mountains and want a watch with weather forecasting capabilities, make sure you select one with a barometric altimeter (most models here—but not all—have this feature).

Health Monitoring
With built-in heart rate monitors and pulse oximeters, modern sports watches are able to provide users with a wealth of health data. By combining data from your workouts with stats like heart rate (active and resting) and blood oxygen saturation, you can have access to some very in-depth information, including respiration rate, sleep quality, energy and stress levels, recovery time, and more. The most premium watches can even track your hydration and offer insights for women regarding their menstrual cycles. Your watch's app is integral to its health monitoring ecosystem, with helpful alerts, extra data points, and detailed graphs that allow you to track your stats over a given time frame. Garmin and Apple are clear leaders in this department (the Apple Watch Ultra even includes an electrocardiogram), while Coros' offerings fall notably short—their interface lacks the synthesis we see from more premium brands, sticking to the basics like exercise time, steps, heart rate, and VO2 max.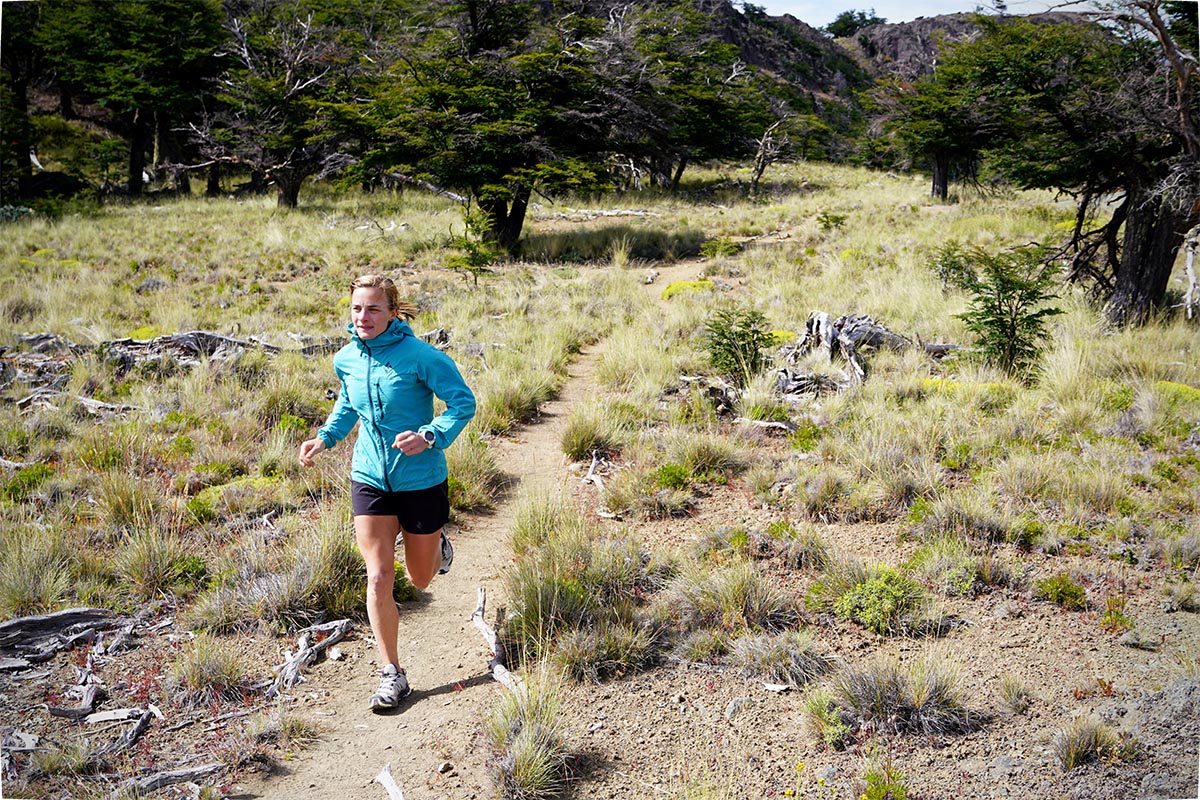 Smart Features
Sports watches are essentially miniature computers, and most can connect to your smartphone via bluetooth. This capability allows you to treat your watch like a mini phone, receiving texts, rejecting and responding to phone calls with an automatic text, purchasing goods via contactless pay, accessing your calendar, and more. One of the most sought-after smart features on a sports watch is the ability to play or control music: some watches can store songs (the Garmin Forerunner 955 fits up to 2,000) so you can work out without your phone, while others allow you to control music playing from your phone. Many of today's watches also have the option for virtual coaching or preloaded workouts (including yoga, pilates, and more). High-end watches from Garmin (and of course Apple) tend to excel in smart features, while entry-level models like the Coros Pace 2 feature only the bare minimum (no music or contactless pay, for example).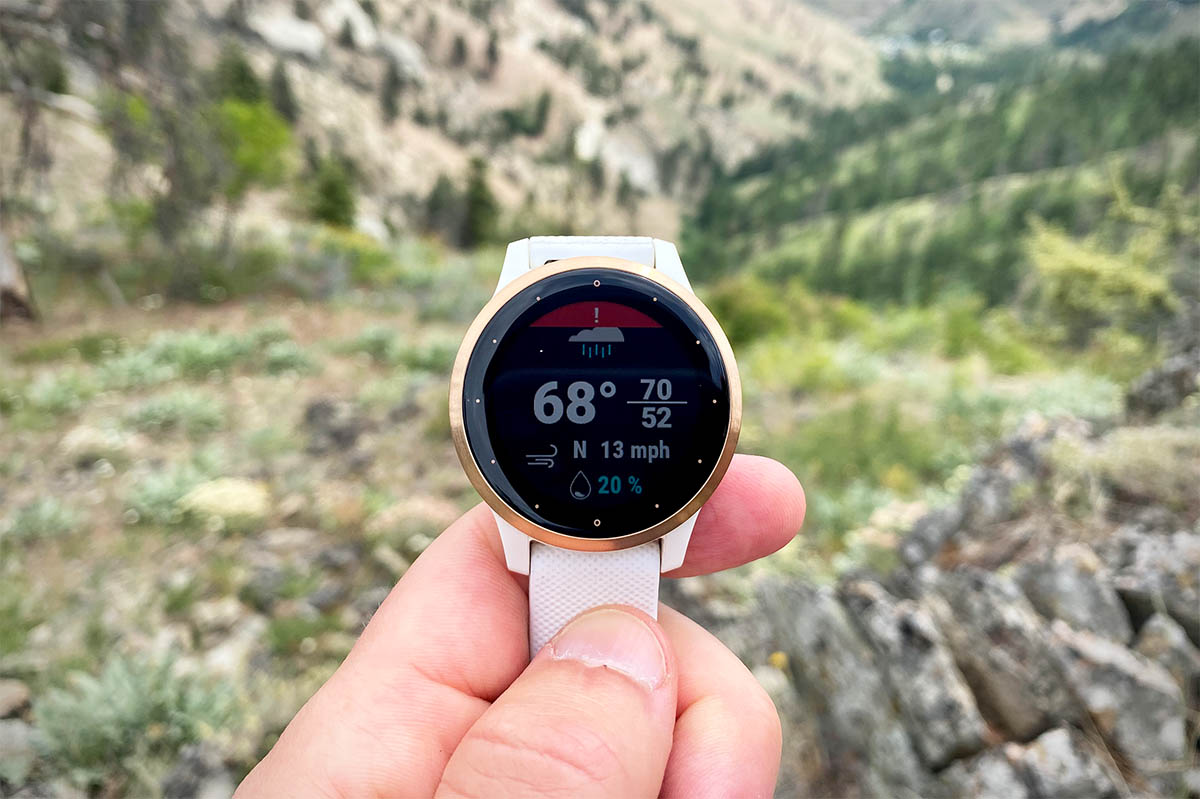 Clock Features
Lest we forget, a sports watch does offer a host of clock features as well. In terms of telling time, sports watches are fairly advanced as they're able to connect with satellites in real time: you get GPS time sync (helpful when you're out of service), automatic adjustment for daylight saving time, and the ability to determine sunrise and sunset. You'll also find common features such as a timer (many have interval timers), stopwatch, alarm clock, and more.

Sports Watch Sensors
GPS and Multi-GNSS Support
Sports watches have undergone a massive evolution in the last decade or so, and the vast majority (and every model on our list) are now equipped with GPS. Built-in GPS allows a watch to determine your location at any moment in time, which has virtually endless applications in terms of activity tracking, navigation and mapping, data collection, and more. Whether you use your watch to log mileage and elevation gain, want to pinpoint your location on a map, or get from point A to point B, you're putting GPS to work.
While every watch here connects to the United States' 31 GPS satellites, many premium designs use additional networks as well, including Russia's GLONASS, the European Union's Galileo, and China's BeiDou. The ability to connect to more satellites is often referred to as multi-GNSS (Global Navigation Satellite System) support and translates to better accuracy and availability. Most users can get away with standard GPS, but those traveling in remote areas or under heavy cover will appreciate the better connectivity of watches equipped with multi-GNSS.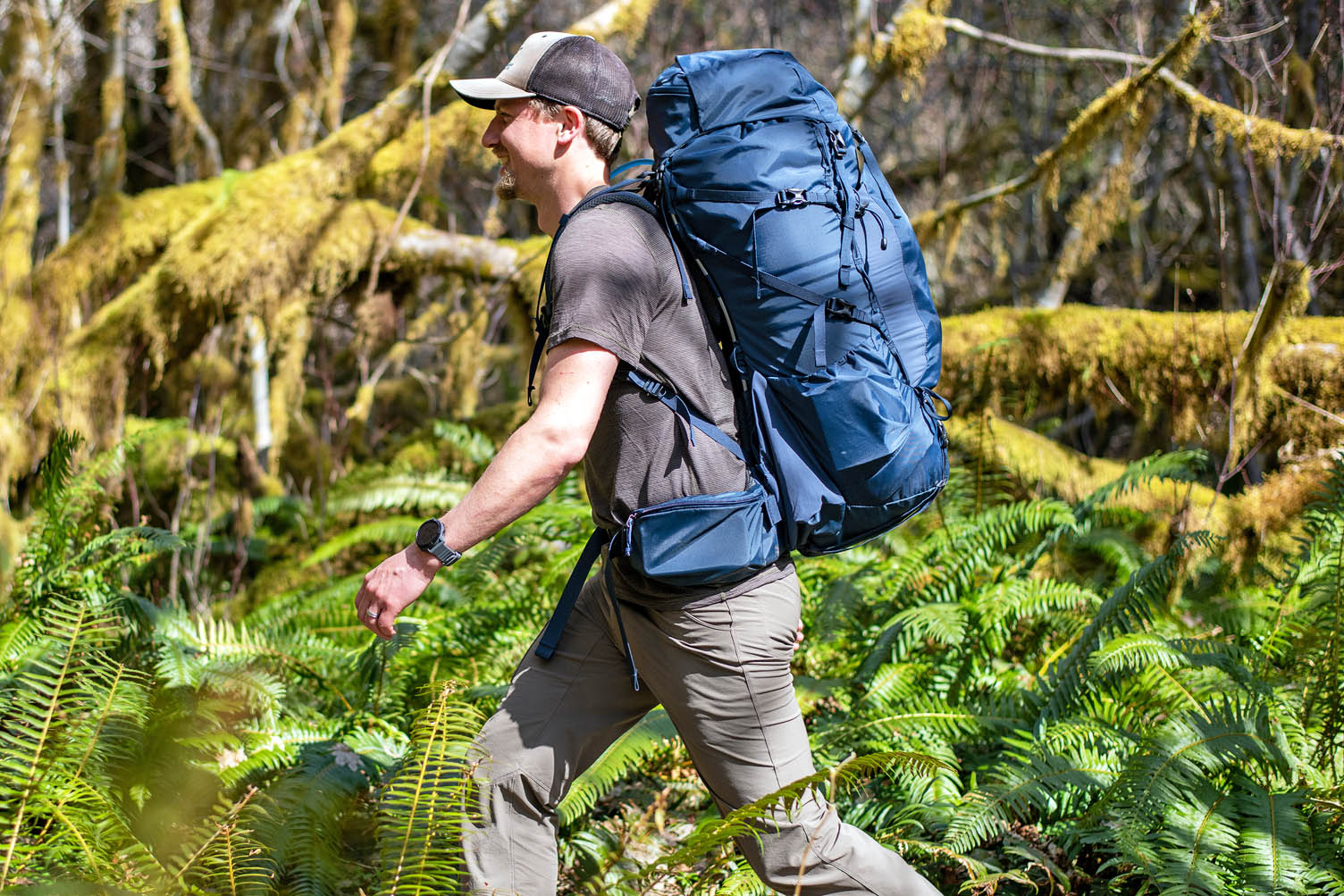 It's also worth mentioning multi-band GNSS here (also known as dual-frequency GPS), as it's become a staple of GPS technology in the past few years. Watches with multi-band GNSS not only connect to multiple networks, but they are able to use two different frequencies to connect to each network. The result is a quicker connection and even greater position accuracy, especially in areas lacking a clear view of the sky (like tall buildings, canyons, or trees). We've found this video from Garmin to be particularly helpful in understanding multi-band GNSS. 

Barometric Altimeter and Compass
The majority of sports watches also come with a built-in barometric altimeter and compass, commonly referred to as ABC (altimeter, barometer, and compass). The altimeter and barometer (working together, these are often referred to as the barometric altimeter) provide a measurement of air pressure, which is helpful both for predicting weather changes and providing accurate altitude information and ascent/descent data. A compass further aids in location accuracy and navigation and is especially helpful when you're at rest or moving slowly (GPS struggles in these cases). Combined with GPS, a watch's barometric altimeter and compass can piece together the most accurate data, and it's something most performance-oriented users won't want to go without—just make sure to calibrate these sensors every so often.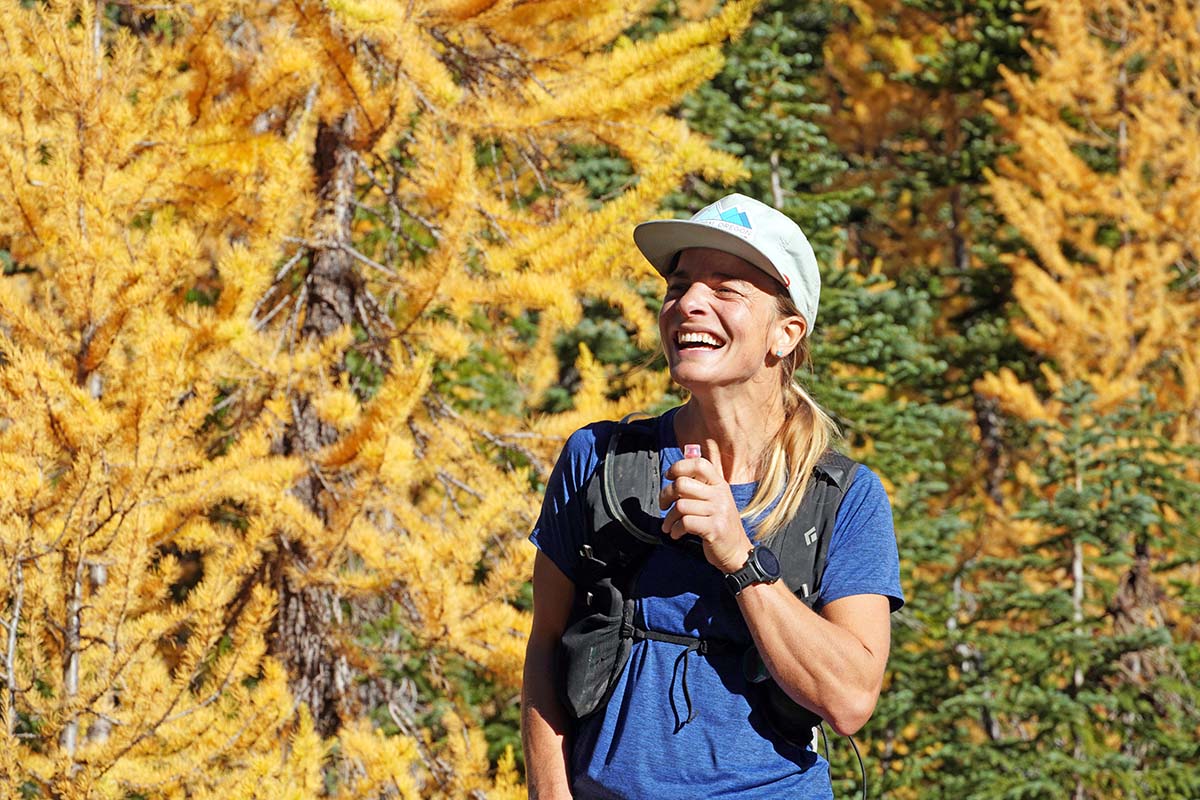 Pulse Oximeter and Heart Rate Monitor
Most watches have an optical heart rate monitor, and a number of premium designs also include a pulse oximeter (also known as a blood oxygen sensor). Optical heart rate monitors measure the speed of your blood flow (i.e., your pulse) by shining a light through your skin and provide a wealth of data regarding resting heart rate, fatigue and recovery, aerobic versus anaerobic state, and more. A pulse oximeter sensor, on the other hand, looks at the color of your blood to measure its oxygen saturation (SpO2) as a percentage—a healthy number is about 95 to 100%—which can be helpful for those with health issues or athletes pushing their limits in terms of cardio or altitude.
You can expect high-end watches to have the most accurate sensors, but the truth is that no watch-based pulse oximeter or heart rate monitor is entirely reliable. In fact, companies like Garmin and Apple clearly state that their sensors are not intended for medical use, as they can easily be thrown off by minor details like how tightly you wear your watch, where you place it along your wrist, or inconsistencies like hair or freckles (Suunto has a helpful guide on how to get the most accurate reading). If you have a particular need for accurate blood oxygen saturation or heart rate numbers, it's a good idea to opt for a dedicated pulse oximeter (these generally attach to your finger) or chest strap instead.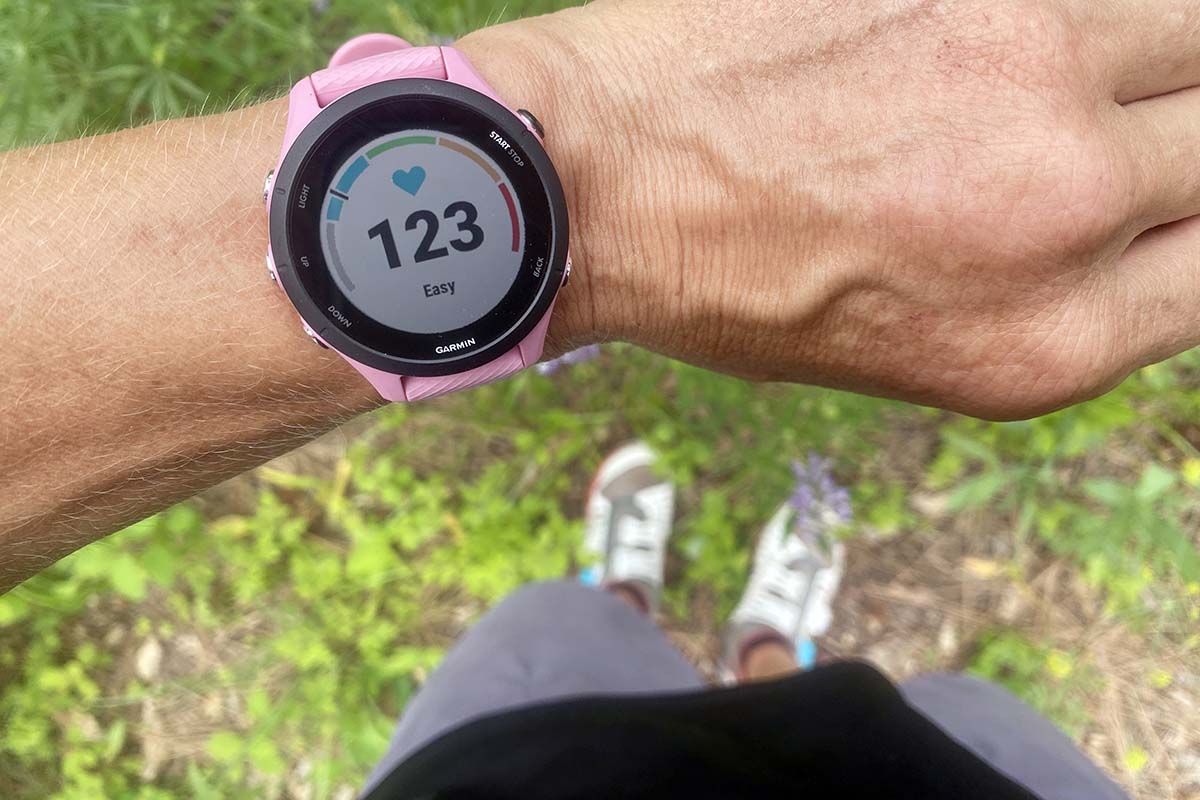 Other Sensors
In addition to those mentioned above, there are a few other sensors to have on your radar. Most sports watches will include an accelerometer and gyroscope, which help to measure speed, whether you're moving forward or backward, your body's orientation (upright, seated, lying down), step count, and more. Thermometers are also common and can measure both skin temperature (helpful for health data and menstrual cycle tracking) and ambient air temperature. And the list goes on, including skin conductance sensors, proximity sensors, brightness sensors, and more. In general, the more sensors on the watch, the more accurate your data will be. You can also purchase additional sensors separately, like the running-specific Stryd power meter or a bike cadence sensor, and pair them with your watch for even more data collection.
Power Source and Battery Life
Like a smartphone, most GPS-enabled watches rely on rechargeable lithium batteries. These batteries charge quickly (the Suunto 9 Peak Pro refuels in just 1 hr), and their lifespan seems to improve with just about every new release. Using the Garmin Fenix as an example, the old 5X maxed out at 20 hours in GPS mode, while the latest 7 has jumped to 40 hours. In addition, most watches offer various battery-saving modes: you can shut down sensors (such as GPS or the pulse oximeter) for a longer lifespan (up to 40-50 days for some watches) or use "expedition mode" to cut down on how often the watch tracks your location (keep in mind, this will affect recording accuracy). While not every user will prioritize battery life in their purchase, this is an important consideration for those logging long days (e.g. ultramarathoners) or tracking extended backcountry trips (the Coros Apex 2 is one of the best performers).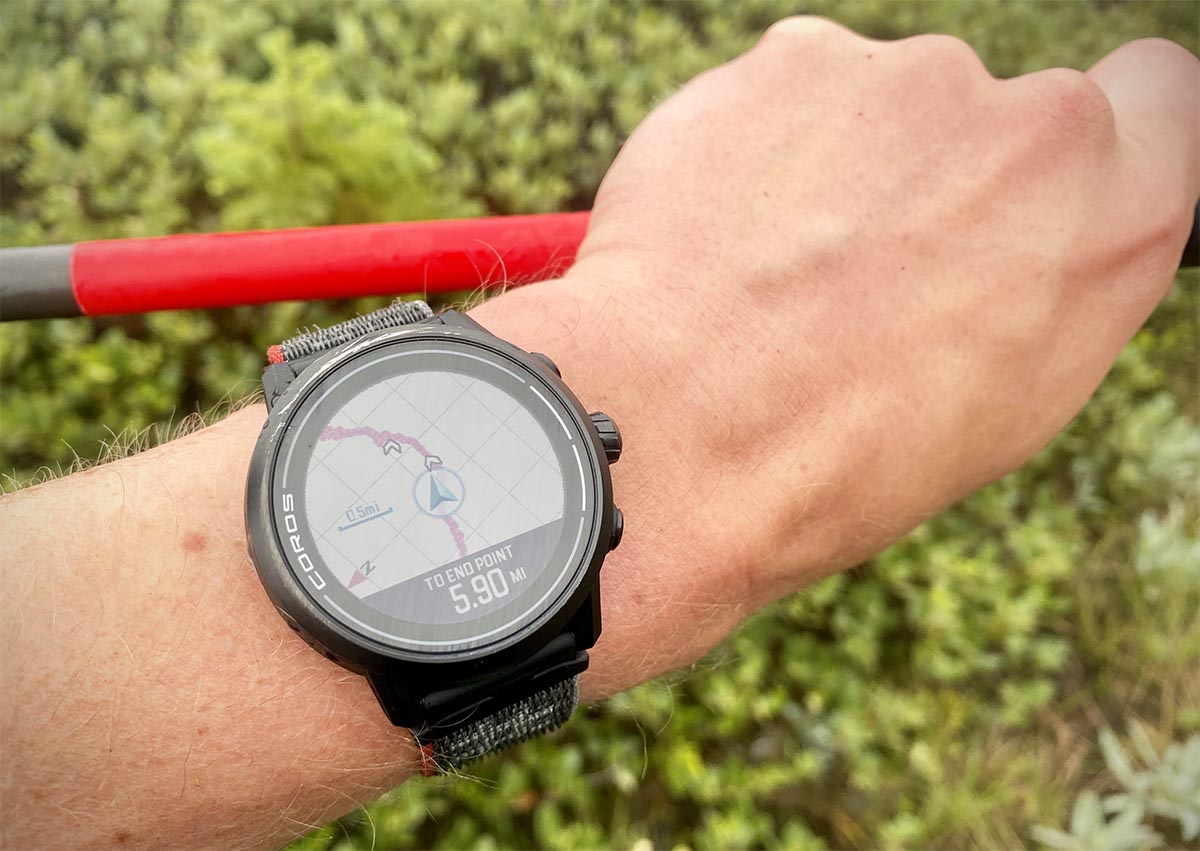 Some sports watches also come with built-in solar panels, which can go a long way towards keeping your watch running. Garmin's Instinct 2 Solar is our favorite model in this category, featuring a lifespan of up to 370 hours in GPS mode and unlimited power in expedition mode. Of course, a watch's ability to charge via the sun does depend on the intensity and duration of the rays, which makes a solar watch a great pick for sunny desert environments but not the best choice for socked-in mountain landscapes. But the good news is that you can always fall back on the lithium ion battery, which can be quickly and easily charged via a power bank in the field.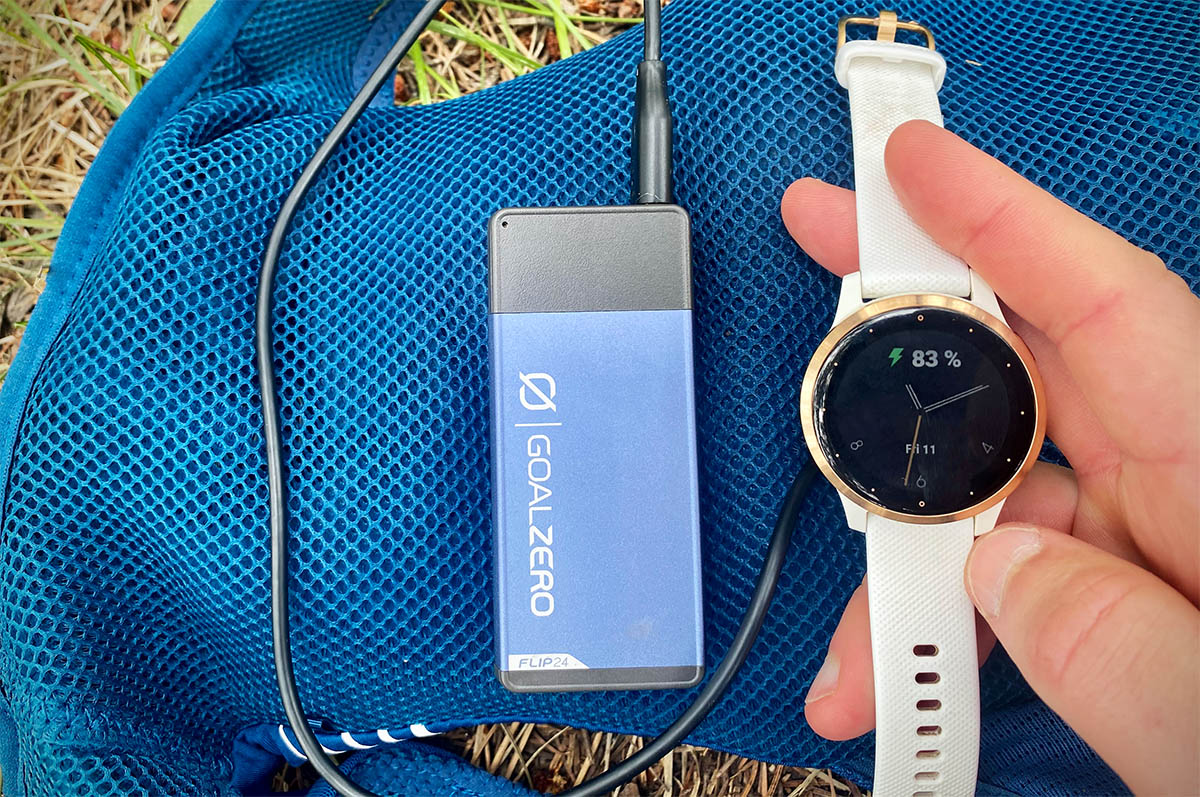 Materials and Durability 
We see a lot of variation in terms of the type of materials used to build a watch, including the lens, bezel, case, and strap. A watch's materials have a number of implications, including fit and finish (how "premium" the watch feels), durability and water resistance, weight and size, price and more. In general, the most durable and high-end watches here will feature sapphire crystal or Gorilla Glass lenses, stainless steel, carbon, or titanium bezels (rugged watches like the Garmin Instinct might also feature a polymer bezel), and silicone straps. These watches are incredibly scratch- and shatter-resistant and can take a true beating, but you'll pay for it with heavier and bulkier builds and big price tags.
On the other hand, mid-range and entry-level watches like the Coros Pace 2 feature standard mineral glass (or even polyamide) lenses and more plastic throughout. A watch's materials are also a great way to determine what it's made for: durable materials indicate a watch that will withstand the rigors of hiking, mountaineering, and climbing, while less durable (but potentially lighter) materials are best for activities like road running, cycling, and strength training.
It's also worth understanding your watch's level of water resistance, which is directly tied to its standard of materials and construction. Most manufactures list an ATM rating for their products, which, in the case of the picks above, ranges from 5 to 10 and specifies how much water pressure a watch can withstand. A watch with a 5 ATM rating, for example, can handle pressure up to a depth of 50 meters, while a watch with a 10 ATM rating can handle pressure up to 100 meters in depth. Keep in mind that this number indicates pressure, not depth—for example, showering or certain swimming motions can replicate the amount of pressure you might experience 50 meters beneath the surface. If you plan to swim with your watch, we recommend a model with a rating of 10 ATM or above, and divers should opt for dive-specific models like the Garmin Descent. That said, for the standard user (including swimmers), any watch above is sufficiently water-resistant.

Sports Watch Size and Weight
Since you'll be wearing it for extended periods, the physical size and heft of a sports watch is an important consideration. Above, we provide details on each watch's diameter and weight (including the strap), and manufacturers will often list the height of the watch as well. Many of the more rugged models here tend towards the bulky end of the spectrum, and designs like the Casio G-Shock Move GBD-H2000 look and feel overly large on small- to average-sized wrists. Even sleeker designs like the Suunto 9 Peak Pro and standard Garmin Fenix 7 take up quite a bit of real estate and can be uncomfortable for active pursuits such as running, XC skiing, or swimming. The good news is that there are a number of trimmed-down models, including the 1-ounce Coros Pace (42mm) and the smaller Garmin Forerunner 255S (41mm). You do sacrifice a little screen size, durability, and often some battery life in going with the smaller and lighter variations, but the tradeoff in comfort will be well worth it for some.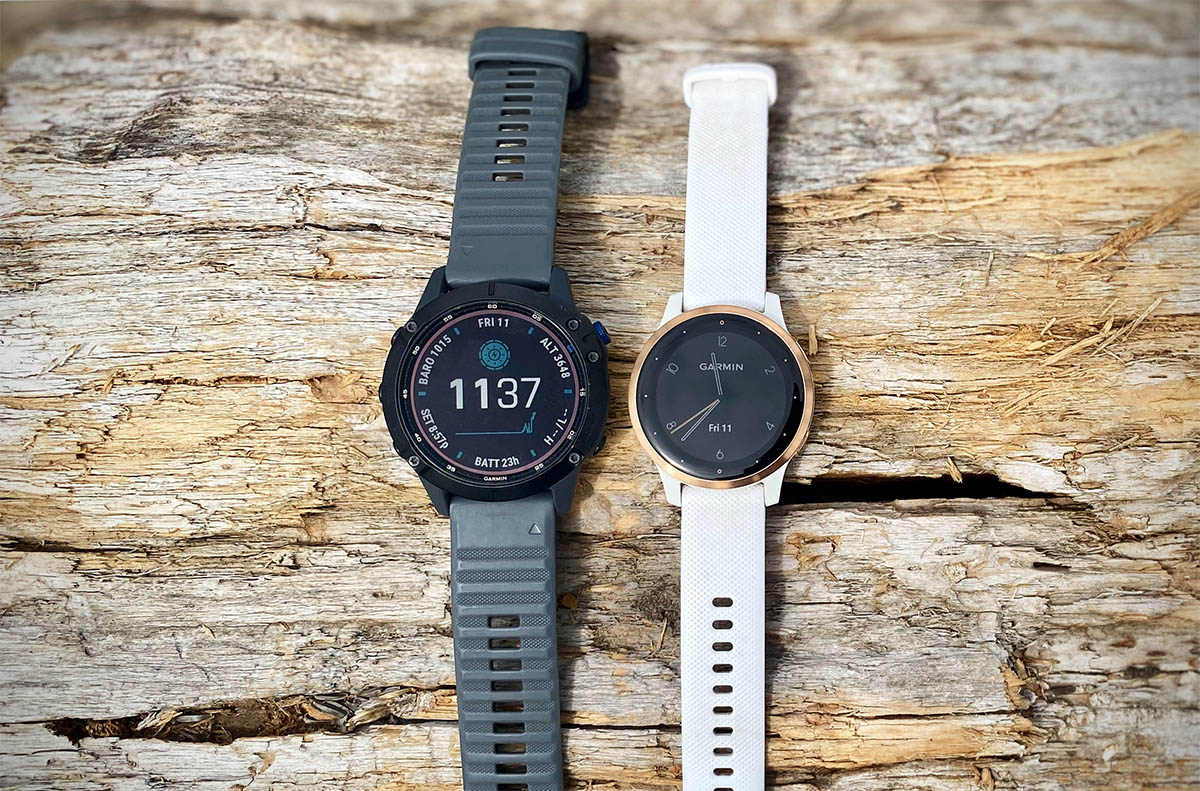 Sports Watch Displays
A sports watch's display is another important consideration. These range in terms of size and resolution, and you'll find both monochrome and color versions in the list of picks above. For example, the premium Garmin Fenix 7 has a 1.3-inch-diameter, 260 x 260-pixel-resolution color display, while the highly practical and rugged Instinct 2 Solar has a 0.9-inch-diameter and 176-square-pixel monochrome display. On the far end of the spectrum are brilliant AMOLED displays, most common in the smartwatch world and epitomized by the clear and colorful Apple Watch Ultra. For the most part, you can expect the most high-end watches to include large, high-resolution, and colorful displays, which can be especially helpful if you're doing a lot of wrist-based navigation and tracking or plan to look at your watch a lot throughout the day. If you use your watch simply to collect data to then assimilate on your phone or computer, you can get away with a smaller or lower-quality display.
Buttons, Dials, and Touchscreens
Depending on the make and model, there are a variety of ways to toggle settings and switch between modes on a sports watch, including side buttons and dials and even touchscreen functionality. Feature-rich designs like the Fenix 7 have five buttons, while watches from Coros feature just two dials/buttons. In the end, the choice will come down to personal preference. For example, we love the simplicity of our Coros Apex 2, but Garmin devotees will likely want to stick with the Garmin interface, and there's bound to be a learning curve no matter what you choose. For outdoor use, we tend to stay away from touchscreens, as water can interfere with this technology and make it hard to swipe precisely while in motion (buttons are much better for that). Plus, we like the versatility of being able to operate our watch with gloves on. That said, if you're planning to use your watch for a lot of navigation or simply like the tech for daily use, the touchscreen capability can be nice.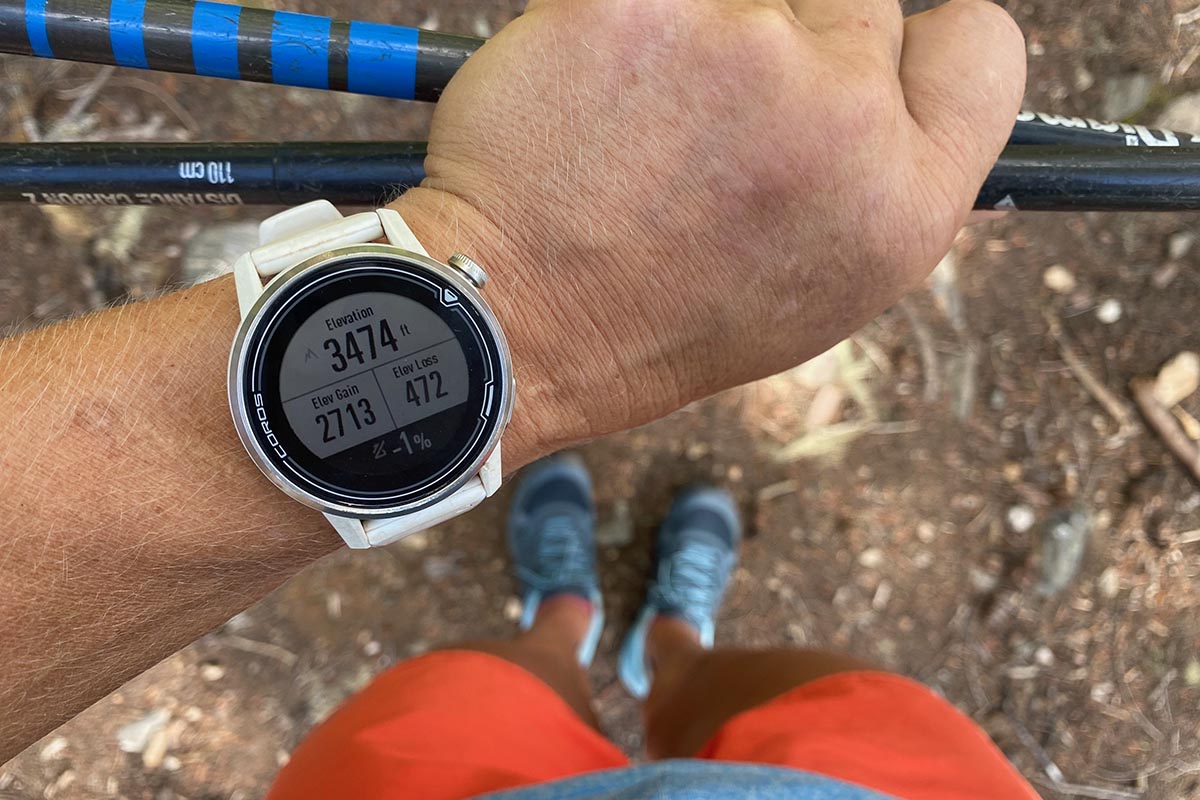 Smartphone Apps
One of the most used features of a sports watch is not actually the watch itself, but its corresponding smartphone app. Here's how it works: a user records their activity with their watch, uploads the data and track to their phone via bluetooth, and is then able to access easy-to-digest charts, maps, tracks, comparison tables, health details, and more on the phone's screen. Apps can also be helpful during the activity, whether you're wanting to share live tracks from the field or follow a prescribed workout. And the list goes on: you can export your data to your favorite training app (think Strava and TrainingPeaks), transfer music (via Spotify and Apple Music, for example), and even get motivated by suggestions and training plans smartly engineered based on your stats. 
Garmin has long been an industry leader in terms of app functionality and performed head and shoulders above the rest throughout our testing. First off, they have an entire app (Connect IQ) dedicated to customizing the watch, including downloading watch faces, tweaking settings, and syncing apps like Spotify and Trailforks. Their interface is also accessible both on your smartphone and via an internet browser on your desktop (Coros' is limited to the app), which gives you even more versatility. And to add to their dominance, Garmin has successfully created an active online community, where you can follow friends, select challenges, and share your results. And a last note: before you buy, make sure your phone and watch are compatible. For example, Garmin watches can only be paired with phones that use an Apple or Android operating system.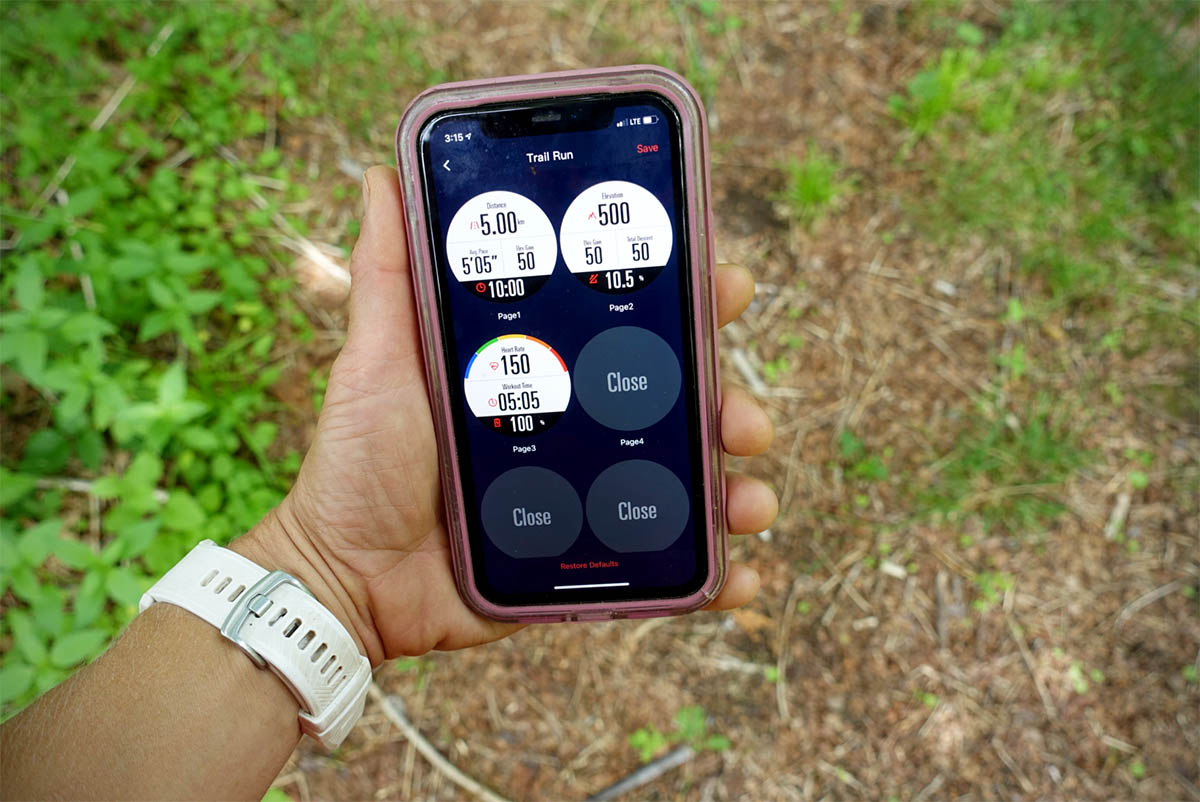 Memory and Storage
While not everyone will need to pay attention to storage and memory, these are important numbers if you're looking to get a lot out of your watch. With more capacity, you can record multiple tracks between syncs, upload maps and tracks, and store hours of songs and podcasts. The Garmin Fenix 7, for example, comes with 16 gigabytes of memory that can handle up to 2,000 songs and thousands of maps and GPS routes. On the other hand, our Garmin Forerunner 255 has no music storage and can only store running data for a limited time before it must be transferred over to the app. But if you're syncing your watch with your phone after each activity, it's likely you don't need to worry about storage.
 
Firmware Updates
As we see with smartphones, manufacturers will periodically roll out firmware updates for their watches. These updates can range from simple bug fixes to full revamps—for example, one of Coros' latest updates available for all of their models included features like a track run setting, more precise time metrics (up to 0.01 seconds), and new map layer options. We really love this part of sports watch design, as it means that you can essentially stay up-to-date on the latest features without having to buy a new watch. To update your firmware, simply connect your watch to your phone's app, and the download will start via bluetooth.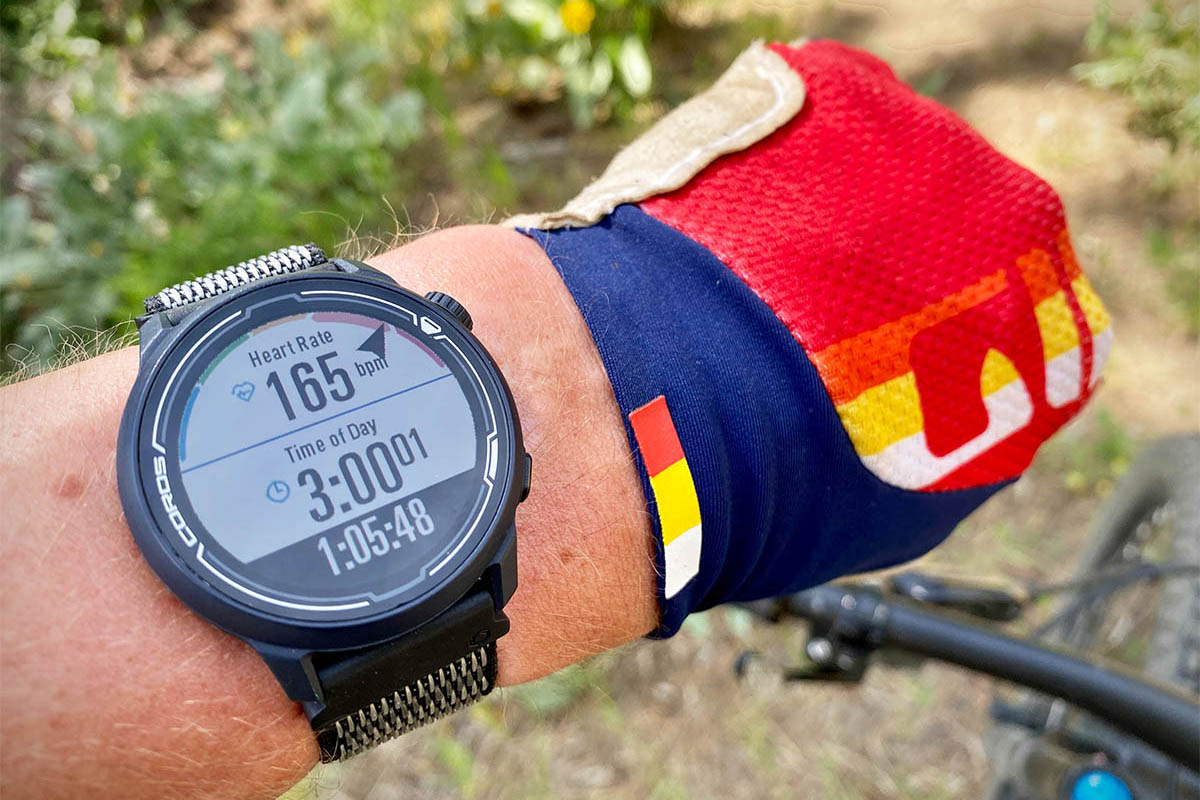 Sports Watch Accessories
Sports watches are incredibly capable devices, but if you're serious about activity tracking, you'll probably want to tack on an accessory or two during your workout. Chest heart rate monitors are one of the most popular external sensors—these provide more accurate data than even the highest-end optical heart rate monitor. Runners will also want to consider a footpod or power meter, which collect standard metrics like pace and distance, along with running dynamics like stride length, vertical oscillation, and ground contact time (and even fatigue and wind). If you plan to use additional sensors, it's a good idea to confirm that a watch is compatible before purchasing (most here are, with the exception of the Casio G-Shock Move GBD-H2000). Further, most watches can be used with accessories from other brands—for instance, Garmin designs pair easily with the Stryd footpod.
Back to Our Top Sports Watch Picks  Back to Our Sports Watch Comparison Table
Read More From Switchback Travel