Serious hikers have known the benefits of trekking poles for decades. Aside from providing stability while hauling a heavy load or moving over technical terrain, hiking poles have distinct advantages even on easy trails. They're great for setting a rhythm and significantly reduce load and impact on hips, knees, and ankles when going downhill. As with most hiking and backpacking gear, balancing weight and durability is the most common consideration. Below are our top hiking pole picks of 2023, which cover the gamut from ultralight and folding models to sturdy designs for high-mountain adventures. For more background information, see our comparison table and buying advice below the picks.
 
---
Our Team's Trekking Pole Picks
---

Best Overall Trekking Pole

Weight per pair: 1 lb.
Type: Telescoping (lever lock)
Shaft material: Aluminum
Grip: Cork
What we like: Solid construction, comfortable feel, and premium feature set.
What we don't: Long collapsed length and pricier than the outgoing Trail Ergo Cork.
Black Diamond's Trail Ergo Cork was our favorite trekking pole for years, and the new Pursuit is a very strong successor. Similar to the outgoing model, the Pursuit's all-aluminum construction is only a few ounces heavier than most of the carbon options below but still plenty sturdy for most dirt, rock, and snow travel. It also has Black Diamond's comfortable, ergonomically shaped cork grips and trusty FlickLock+ levers (a nice upgrade over the Trail Ergo's standard FlickLock design). A final bonus: The Pursuit is one of the most sustainably built designs on the market with algae-infused grip extensions and wrist straps made from recycled fibers.
What are the downsides of the new Pursuit? For travelers, climbers, or those who prioritize collapsibility, the 26.5-inch minimum length (for the S/M size) may be an issue. It shouldn't get in the way when strapped to the outside of a pack, but it is a couple inches longer than many other three-section designs (and it can't come close to a true collapsible pole). The Pursuit is also a little pricey for an aluminum design (and $30 more than the outgoing Trail Ergo Cork), although you do get snow baskets and a new integrated hex bit tool for on-trail repairs, which helps bridge the gap. In the end, we still consider it a great value for what you get, earning the Pursuit the top spot on our list just like its predecessor. It's also available in a shock-absorbing version ($190) and collapsible FLZ model ($180) that packs down to a compact 16.1 inches (for the S/M size).
See the Black Diamond Pursuit
Best Budget Trekking Pole

Weight per pair: 1 lb. 1 oz.
Type: Telescoping (lever lock)
Shaft material: Aluminum
Grip: Foam
What we like: Cheap yet functional.
What we don't: No-frills design isn't ideal for serious hikers or tough terrain.
REI Co-op's new Trailmade collection targets the budget end of the market and includes everything from sleeping pads and bags to backpacks, tents, and apparel. The Trailmade hiking pole is the brand's cheapest offering and has nearly all the features that beginning and occasional hikers need. You get an aluminum build, a telescoping design with lever locks, and a foam grip. Nothing is premium here—no carbon, no cork grip, no padded wrist strap, and the locks are about as minimal as they come. In addition, the Trailmade is only made in one size, although it is adjustable from 41 to 55 inches. But at $80, it's tough to beat the low price.
What do you sacrifice with the REI Trailmade? Sturdiness is a big concession, and for heavy use and difficult terrain, these poles pale in comparison to the build of a more rugged model like the Black Diamond Pursuit. And as we touched on above, the Trailmade is light on features, so you miss out on useful touches including choke-up extensions and longer-lasting materials like cork handles and burlier and more reliable lever locks (REI's own $119 Traverse below includes those upgrades). If you stick to established trails and are looking for the basics in balance and support, the Trailmade will certainly do the trick. But more serious hikers and backpackers may want to purchase a higher-end model. For other well-built budget options, check out Black Diamond's Trail Sport ($90) and Trail Explorer 3 ($60).
See the REI Co-op Trailmade
Best Ultralight Collapsible Pole

Weight per pair: 9.2 oz.
Type: Folding
Shaft material: Carbon
Grip: Foam
What we like: Incredibly lightweight and folds down small.
What we don't: Pricey and carbon is more brittle than aluminum.
At around 9-10 ounces per pair depending on the size, the Distance Carbon Z is Black Diamond's lightest folding trekking pole and great for minimalists (they are so light and packable that they've even become popular with long-distance trail runners). We love the Z-Pole technology: A sleeve on the top portion moves down from the grip, the sections slide together and connect, and a small button pops everything into place. From compacted to deployed is a two-second affair, and when collapsed, the poles are about 10 inches shorter than most telescoping designs. This can make a substantial difference for everyone from travelers and hikers wanting to store them in their bag to ultra-distance runners who carry their poles for extended stretches.
What are the downsides of these poles? Carbon is lighter than aluminum but also more expensive and brittle (it'll snap under heavy pressure rather than bend like aluminum). In addition, the Carbon Z comes in five length options but is not adjustable. Changing up your hiking pole length on the uphill or downhill is a nice feature, and the fixed length makes them less versatile in terms of letting other people use them. If you do value adjustability, Black Diamond makes the Distance Carbon FLZ that has one FlickLock Pro lever at the top for $20 more and with a small weight penalty. Finally, you give up some rigidity with the BD's collapsible design, so thru-hikers looking for better long-term durability should check out the telescoping Gossamer Gear LT5 below. 
See the Black Diamond Distance Carbon Z  See the Women's Distance Carbon Z
Best Four-Season Trekking Pole

Weight per pair: 1 lb. 1.1 oz.
Type: Telescoping (lever lock)
Shaft material: Carbon
Grip: Cork
What we like: Fantastic build quality, durable, and easy to trust in rough terrain.
What we don't: Overkill for most three-season uses and very pricey.
For those wanting a single pair of poles for all four seasons, ranging from summer backpacking trips to backcountry skiing and mountaineering, we turn again to Black Diamond and their proven Alpine collection. Compared to the picks above, the Alpine Carbon Cork feels noticeably more substantial in your hand, and its beefed-up construction isn't prone to flexing under heavy strain. In addition, Black Diamond outfitted the model with all their top-end components, including the trustworthy metal FlickLock Pro lever locks (the vast majority of designs use plastic), premium cork handles with foam extensions, and a full three-piece carbon fiber build. You pay extra for the poles at $200, but it's hard to knock the quality or reliability of the design.
Where does the Black Diamond Alpine Carbon come up short? In addition to cost, the poles are realistically overkill for many users. Even for wintertime adventures like snowshoeing, a cheaper option like Black Diamond's own Pursuit above will do the trick (just swap in the included snow baskets). Further, the BDs don't pack down as small as designs like Leki's Makalu FX Carbon below, which can be an issue for those needing to strap their poles to the outside of a pack. That said, we found the Alpine Carbon model to be sturdier and better suited for rough uses like ski touring and splitboarding, which is why it wins out as our top year-round choice. It's also sold in a WR ("Whippet Ready") version that's compatible with BD's Whippet and Alpine Whippet attachments, camera mount adapter, and ultralight Distance tent for $20 more.
See the Black Diamond Alpine Carbon  See the Women's BD Alpine Carbon
Best of the Rest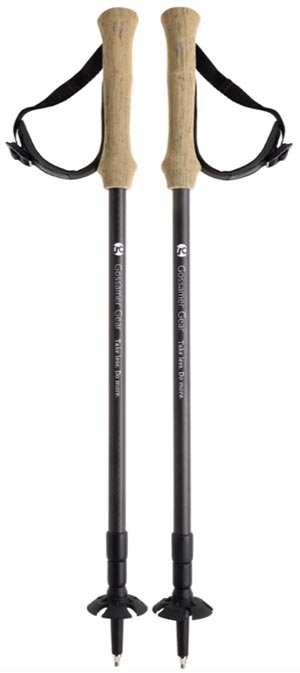 Weight per pair: 10.6 oz.
Type: Telescoping (twist lock)
Shaft material: Carbon
Grip: Foam
What we like: Incredibly lightweight and well made.
What we don't: Not too durable; expensive.
Taking the telescoping lightweight crown is the thru-hike-ready Gossamer Gear LT5. These carbon fiber sticks are listed at an incredibly low 10.6 ounces for the pair (you can save even more weight by ditching the straps), which keeps arm fatigue to an absolute minimum. Unlike the folding BD Distance Carbon Z above, the LT5's telescoping design also adds some sturdiness for uses like pitching an ultralight shelter. Combined with a simple, reliable build and comfy foam grips, and you get the ideal hiking poles for long adventures where every ounce matters. They're also adjustable, although the twist lock system isn't our favorite (we prefer the added security of a lever lock).
Naturally, there are a few compromises in making the LT5 so light. To start, relative to the rest of the market, these poles aren't super durable—it's best to stick to established trails and avoid too much snow. Further, they're a pricey investment at $195 considering their relatively simple feature set (the similarly expensive Distance Carbon Z above, for example, can be folded into a much smaller length). And finally, Gossamer Gear is a cottage brand, and we've seen the LT5 go in and out of stock frequently throughout the past few seasons. But if you take good care of them and don't need them for travel, they're about as good as it gets for an ultralight build. It's worth noting that Gossamer Gear offers replacement sections of their poles should you damage one, which is a rarity in the market.
See the Gossamer Gear LT5

Weight per pair: 1 lb. 3.5 oz.
Type: Telescoping (lever lock)
Shaft material: Aluminum
Grip: Cork
What we like: A nice upgrade from the Trailmade above in terms of toughness and features.
What we don't: A little heavier and lower-quality than the BD Pursuit.
REI's Trailmade above is their budget offering, but the $39-pricier Traverse here provides a sizable boost in all-around performance for more demanding hiking and backpacking trips. In terms of upgrades, the build (also aluminum) is noticeably sturdier and provides a more reliable feel (especially when navigating trickier terrain), and the cork grips are more comfortable when covering long distances than the foam on the Trailmade. REI also made some notable upgrades with the latest version, including foam extensions for climbing steep hills and nicer, cam-style lever locks (the Trailmade's are noticeably cheaper-feeling by comparison). Taken together, the Traverse is a well-rounded mid-range pick and a great value for what you get.
All that said, the REI Traverse starts to look a little less competitive when stacked up against the top-rated BD Pursuit above. Both poles check in around the same weight (the REI is 3.5 oz. heavier per pair), have three-section telescoping designs, and are made with durable aluminum. However, we found the Traverse to be a step down in all-around material quality (from the cork to the straps), and the BD offers a more comfortable feel overall. We also prefer the Pursuit's ergonomic grips, which are angled slightly forward to mimic the natural resting position of your hands. But these likely won't be deal breakers for most hikers, and the Traverse undercuts the BD in price by a considerable $51, which will be enough to sway many. For an even cheaper option with similar features, check out Montem's Ultra Strong, which is less premium than the REI but a great value at just $75.
See the REI Co-op Traverse

Weight per pair: 1 lb. 1 oz.
Type: Telescoping (lever lock)
Shaft material: Aluminum
Grip: Rubber
What we like: Proven toughness, good all-around abilities.
What we don't: Rubber grips aren't the most comfortable.
As a market leader, Black Diamond has a fairly extensive trekking pole lineup. A consistent favorite is their budget-oriented Trail Back, which in many ways is a trimmed-down version of the Pursuit above. You lose the ergonomic shape, cork grips, and FlickLock+ levers, but the standard FlickLocks and sturdy aluminum construction nevertheless are reliable. And among the options priced at $100 or less, the Trail Backs have a longer track record of durability than the REI Trailmade above (but do cost $20 more).
What are you giving up with a mid-range pole like the Trail Back? Despite a recent 3-ounce drop in weight, the poles are still on the heavier end at 1 pound 1 ounce for the pair and therefore not a top choice for long-distance backpackers or thru-hikers. Also, the rubber grips are a definite step down in comfort from foam or cork, which do a better job absorbing sweat and preventing chafing while on the trail. But the Trail Back's strong, no-nonsense construction makes a lot of sense for those looking to keep cost in check while not sacrificing much in terms of quality. Black Diamond also sells their standard Trail Poles, which tack on foam grips with extensions, beefier carbide tips, and come with both standard and powder baskets for $20 more.
See the Black Diamond Trail Back

Weight per pair: 13.6 oz.
Type: Telescoping (lever lock)
Shaft material: Carbon
Grip: Foam
What we like: Excellent value for the specs and quality.
What we don't: Not as tough as our top picks.
For backpackers looking to keep weight to a minimum, the REI Co-op Flash Carbon poles are a great option, undercutting other high-end competitors by $20 or more. At well under a pound and with a carbon composite build, the poles feel light in the hands and feature soft foam grips that take the sting out of impacts and do a decent job at minimizing sweat buildup. We still give the overall edge in comfort to cork, but foam does absorb and dissipate moisture well when it's hot and humid outside. And we like that REI utilizes a quality, metal lever lock system, which is a more secure and robust upgrade from the previous plastic version.
All that said, the Flash Carbon's lightweight build does come with one major drawback: lack of versatility. For example, BD's Pursuit, Trail Back, and even their Alpine Carbon Cork above are noticeably sturdier and more confidence-inspiring for navigating rough and rocky terrain. And the Flash Carbon is decidedly less suitable for four-season adventuring, which is confirmed by the lack of snow baskets. But this likely won't faze most fair-weather backpackers and hikers, and with REI's excellent return policy to back them up, the Flash Carbon poles are a nice UL option. And for those trying to keep bulk to a minimum, they're now also available in a Compact variation with a 2-inch-shorter collapsed length for the same price.
See the REI Co-op Flash Carbon

Weight per pair: 1 lb. 1 oz.
Type: Folding (lever lock)
Shaft material: Carbon
Grip: Foam
What we like: One of the most well-rounded poles we've ever used.
What we don't: Overkill for summer use and not the most comfortable grips.
Most of the poles on this list are intended for summer and light shoulder-season work, but if you're anticipating significant snow travel, it's worth getting a sturdier design. MSR's DynaLock Ascent Carbon is just that: Its Kevlar-reinforced carbon fiber build is very tough, and you get wider winter baskets to keep the poles afloat in powder. The rest of the Ascent resembles a standard trekking pole, including a collapsible construction that packs down small, 8 inches of adjustability, and a reasonable overall weight of 1 pound 1 ounce per pair (for the 100-120cm version). All told, it's one of the most well-rounded designs we've ever used. In fact, one editor even brought one on Patagonia's notoriously technical 43-mile Huemul Circuit, where he and his partner set the current mixed-gender team FKT in a sub-12-hour push—a true testament to the poles' all-around capabilities. 
Priced at $190, the MSR DynaLock Ascent Carbon offers a fair amount of bang for your buck, but it's overkill for summer use. You can go significantly lighter with something like the BD Distance Carbon Z above, and the winter baskets are unnecessary for anything but deep snow (more compact trekking discs are included). In addition, we found the foam grips of the MSR aren't as comfortable as a traditional hiking model, especially given the large dose of exposed plastic at the top. Complaints aside, if you want a pole that can be used year-round for anything from snowshoeing to ambitious high routes, the DynaLock Ascent Carbon deserves a look. Finally, it's worth noting that MSR also offers the DynaLock in the aluminum "Explore" version, which checks in a few ounces heavier per pair and doesn't pack down nearly as small (it's telescoping rather than collapsible) but will save you a substantial $70.
See the MSR DynaLock Ascent Carbon

Weight per pair: 1 lb. 1.9 oz.
Type: Folding (lever lock)
Shaft material: Carbon
Grip: Foam/rubber
What we like: Premium build; collapsible to 15.7 inches.
What we don't: Heavy for a folding carbon model; the priciest poles on our list.
Joining Black Diamond's Distance Carbon Z above is another folding carbon design to have on your radar: Leki's Makalu FX Carbon (and women's Cressida FX Carbon). In short, everything about these poles exudes quality, from the angled foam grips with rubber at the back for added security, choke-up extensions for traversing and climbing, and adjustable straps that are both lightweight and breathable. The upper portion of the shaft also boasts Leki's SpeedLock 2+ lever lock, which provides reliable hold and can be tightened with a small dial (no extra tools needed). And when you want to pack the poles away, they collapse down to a compact 15.7 inches—simply push the button on the lower locking mechanism to release the tension. They're also sold in a shock-absorbing version for $10 more, which can help reduce stress on the knees and wrists during long descents.
In addition to being the priciest poles on our list at a steep $230, the Leki Makalu FX Carbon has a few other drawbacks. As with other folding hiking poles, the Makalu is compact, but it's heavier than most similarly built designs at 1 pound 1.9 ounces for the pair. For comparison, Black Diamond's Distance Carbon Z above checks in at just 9.2 ounces, while Leki's own Ultratrail FX.One below is also considerably lighter at just 12.5 ounces for the pair. Both of those options also fold down smaller (13 and 13.8 in. respectively) for attaching to the outside of a pack when you need to go hands-free. Like all folding poles, the Makalu is also less sturdy than telescoping models, and the carbon shaft won't hold up as well to extended and rough use as an aluminum design like BD's Distance FLZ below. But Leki's reputation is hard to beat, and the Makalu leaves little to be desired in terms of features and on-trail performance (provided you take good care of your gear).
See the Leki Makalu FX Carbon  See the Women's Leki Cressida FX Carbon

Weight per pair: 14.8 oz.
Type: Folding (lever lock)
Shaft material: Aluminum
Grip: Foam
What we like: Light, packable, and more durable than carbon.
What we don't: Not as sturdy as the top-rated Pursuit.
The fixed-length Black Diamond Carbon Z above are the lightest trekking poles on this list, but the adjustable aluminum version arguably has wider appeal. In fact, for most hikers and backpackers, we think it's the better option. The poles are noticeably sturdier and more durable (we've broken one of the carbon models just from sitting on it), which makes them easier to trust and lean into on the trail. In addition, we prefer the alloy FLZ for use with an ultralight shelter as the adjustability (between 6 to 8 on. depending on size) simplifies the setup process, and the thicker material holds better in the wind.
Where the Distance FLZ runs into problems is when compared with BD's own Pursuit above. For just $10 more, the Pursuit feels even more rock-solid, has more comfortable grips, and does a nicer job absorbing impacts. That said, if you value a small packed size, the Distance wins out easily (15 in. vs 26.5 in.), and it's a bit lighter at just under 15 ounces per pair (the Pursuit is 1 lb. for the S/M size). In the end, these downsides push the FLZ to a mid-pack finish on our list, but it's well worth a look for those wanting a reliable and packable design. 
See the Black Diamond Distance FLZ

Weight per pair: 1 lb. 1.4 oz.
Type: Telescoping (lever lock)
Shaft material: Aluminum
Grip: Cork/rubber
What we like: Sturdy feel; cork grip and lever locks at a great price.
What we don't: Falls short of the BD Pursuit in a few areas.
There are plenty of pricey and premium poles on the market for committed adventurers, and budget options abound from brands like REI and Black Diamond. If you're looking for something in the middle that better balances price and performance, Leki's Khumbu Lite stands out as a competitive mid-range choice: You get a tough, sturdy, and reliable feel from the aluminum build—it doesn't flex or bend like cheaper or ultralight options—and comfort is good thanks to the mostly cork handle. And despite the reasonable $120 price tag, Leki didn't skimp on premium touches, including their well-loved SpeedLock+ lever, ergonomic grips that are tilted slightly to keep your wrists in a neutral position, breathable and adjustable straps, and light but durable carbide tips. Added up, it's a solid all-around effort and a great value from the brand.
The Khumbu Lite is a strong budget alternative to our top-rated Black Diamond Pursuit, with a similar weight, three-section telescoping design, and aluminum shaft. However, a few small nitpicks push it down our list. First, the Pursuit offers a wider range of adjustments (from 26.5-49 in. in the S/M size compared to 39-53 in. for the Leki), and the all-cork grips are a small step up in comfort from the Leki's mixed cork/rubber design. The BD also comes with both powder and trekking baskets for four-season versatility, as well as the aforementioned hex bit tool for quick on-trail repairs, which helps bridge the $50 price gap. Finally, we appreciate that Black Diamond incorporated sustainable touches like algae-infused grip extensions and wrist straps made from recycled fibers. But budget-conscious hikers will likely pay more mind to price, in which case the Khumbu Lite gets the clear edge. 
See the Leki Khumbu Lite  See the Women's Leki Jannu

Weight: 7.2 oz. (single pole)
Type: Telescoping (lever lock)
Shaft material: Carbon
Grip: Foam (cork available)
What we like: Great value for those who like to hike with a single pole; light with a comfy grip.
What we don't: A fair amount heavier than the Gossamer Gear and BD Distance Carbon Z above. 
The vast majority of hiking poles are sold in pairs, but some hikers and backpackers—particularly those of the fast-and-light variety—prefer to hit the trail with a single pole. For these folks, opting for the Zpacks Carbon Fiber makes a lot of sense: For $60, you get a quality setup that includes a lightweight carbon build, the option of cork or foam grips (the latter will save you 0.5 oz. per pole), a padded wrist strap, and a three-piece telescoping design that packs down reasonably small (24.5 in.). All told, it's a nice way to keep weight down without going overboard—we'd rather ditch a pole than saw off the end of our toothbrush, for instance—and many hikers like to keep one hand free for eating, taking photos, navigating via GPS, and more.
Clearly, there are some compromises in opting for a single pole like the Zpacks Carbon Fiber. For one, you'll sacrifice some stability over particularly rough or steep terrain (having two poles can make navigating tricky sections a lot easier). In addition, many trekking pole-supported tents and shelters require two poles to set up, including Zpacks' own Duplex, although the Altaplex and many other one-person designs only need one. Zpacks does sell the Carbon Fiber poles in a set for $100, although the 14.5-ounce weight (15.3 oz. with cork grips) is notably heavier than alternatives like Black Diamond's Distance Carbon Z above (9.2 oz.) and Leki's Ultratrail FX.One (12.5 oz.) below. Alternatively, Gossamer Gear sells their LT5 above in a single pole, which checks in at just 5 ounces with a basket but costs around $40 more.
See the Zpacks Carbon Fiber Trekking Pole

Weight per pair: 12.5 oz.
Type: Folding (button)
Shaft material: Carbon
Grip: Cork/foam
What we like: A nicely appointed option for fast-and-light enthusiasts.
What we don't: Heavier, pricier, and less packable and proven than the Distance Carbon Z above.
Black Diamond's Distance Carbon Z above is our favorite ultralight collapsible design, but Leki offers an intriguing alternative in their Ultratrail FX.One. In sum, these poles are purpose-built for covering ground quickly: They clock in at a scant 12.5 ounces per pair (in the 110cm length), fold down to just 13.8 inches for stashing in or on a pack, and come with thoughtful features like a wraparound mesh wrist strap (which smoothly clicks in and out of the pole) and Leki's sleek trail running basket and tip. Leki also beefed up the upper portion of the poles with 16-millimeter carbon fiber (the rest of the shaft is 14mm) for added assurance over the long term. Added up, the Ultratrail FX.One is one of the most specialized options here and a great match for trail runners and speed-focused mountain athletes.
In parsing out the differences between the Ultratrail FX.One and aforementioned Distance Carbon Z, the Leki is heavier by 3.3 ounces per pair, a little larger when folded down (13.8 in. vs. 13 in. for the Distance in the 110cm length), and costs $30 more (it's the second- priciest design on our list). That said, trail runners in particular will find the weight and price penalties worth it for the Ultratrail's unique strap system, which goes a long way toward reducing grip fatigue throughout a long race (and ensures that you never drop your poles). In the end, we prefer the Distance Carbon Z for technical mountain running when we need our hands from time to time but will opt for the Ultratrail in race settings. Of note: The Ultratrail FX.One is also available in a Superlite version for $20 more, which has a thinner carbon shaft that tapers from 14 to 12 millimeters, checks in at a scant 9.3 ounces per pair (in the 110cm size), and packs down to 13 inches.
See the Leki Ultratrail FX.One

Weight per pair: 1 lb.
Type: Telescoping (lever lock)
Shaft material: Carbon
Grip: Foam or Cork
What we like: Cheap and very light.
What we don't: Not built to last.
Carbon fiber typically is associated with high-end builds and premium prices, but Cascade Mountain Tech offers a pair of carbon poles for around $50-$60 (colorways vary on Amazon). On paper, the poles stack up really well with a 1-pound weight, simple lever locks, and foam grip extensions. Impressively, Cascade Mountain Tech didn't skimp on accessories either, with rubber tips and two sets of baskets for mud and snow. The Carbon Fiber poles are available with either a foam or cork grip, and while we typically prefer cork, we lean towards foam in this case as a cheap cork grip will break down over time.
The main downside in choosing the Cascade Mountain Tech poles is durability. The carbon shaft does a great job keeping weight low but is more likely to get a crack or snap under a load than another budget pole like the aluminum REI Trailmade above. Moreover, the overall construction is rather cheap, and the cost-cutting in the plastic adjustment system doesn't inspire confidence in its longevity. But if you take good care, going with Cascade Mountain Tech gets you a set of lightweight poles for about 1/3 of what you'd pay for carbon from a company like Black Diamond (even REI's composite Flash Carbon poles above are around $100 pricier).
See the Cascade Mountain Tech Carbon Fiber Quick Lock
Trekking Pole Comparison Table
*Editor's Note: "Length" is the minimum or collapsed length for the trekking poles.
 
Trekking Pole Buying Advice
Trekking Pole Types: Telescoping, Folding, and Fixed
Telescoping poles made of two or three sections are the most common type on the market, and are known for their durability and ease of use. As such, they're popular with everyone from day hikers to backpackers and even mountaineers. The different pole sections expand from each joint by a locking system that can be opened for adjustment and secured while on the trail. These points of connection also are their greatest weaknesses, so a quality locking mechanism is highly recommended (we discuss this in more detail below). In this category, we prefer light poles with simple feature sets: secure locking mechanisms, quality aluminum or carbon fiber construction, and comfortable grips.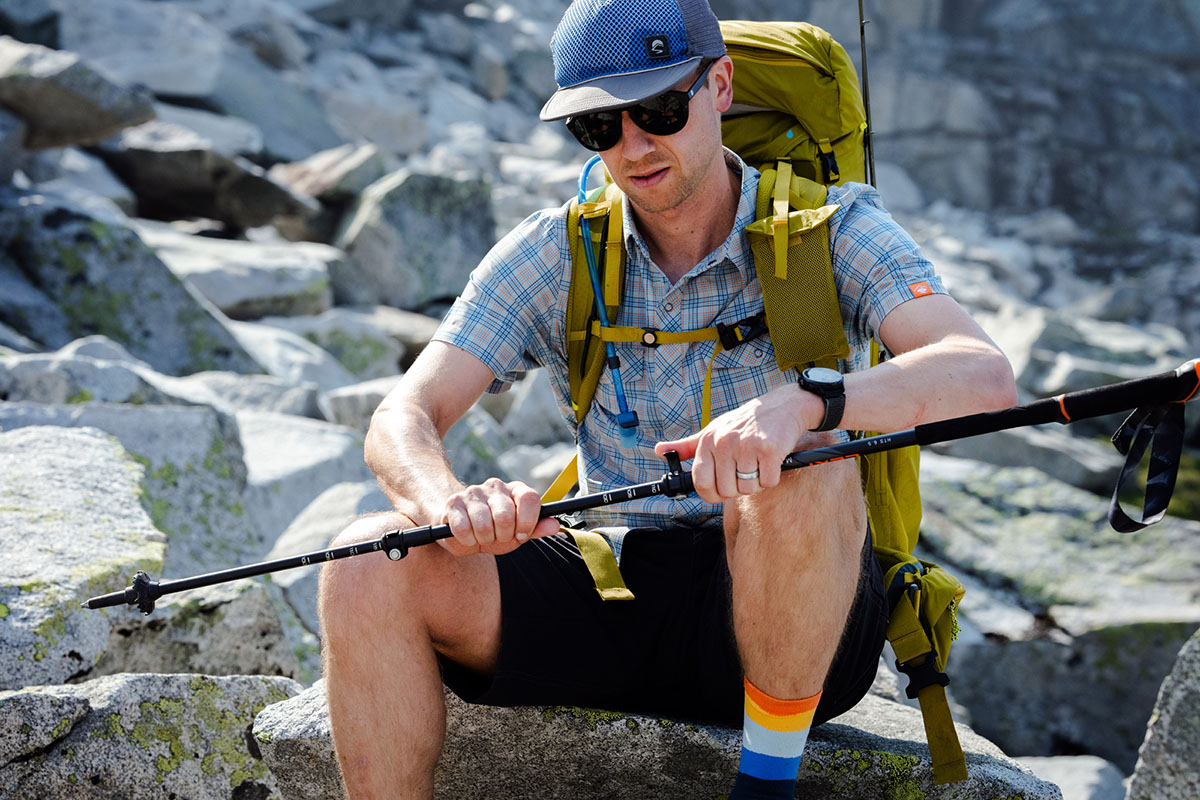 Black Diamond pioneered the ultralight folding category with their Z-Pole line. Much like the poles that come with a tent, you can separate the pieces and pack them down into a compact size (often around 10 in. shorter than a comparable telescoping pole). More recently, Leki has made a strong push with their FX series, which includes the Makalu FX Carbon and Ultratrail FX.One above (among others). In terms of downsides, most folding poles have very thin shafts, can bear less weight than their telescoping counterparts, and are either not adjustable or limited in their adjustments lengthwise. Favored by fast hikers, trail runners, climbers, and travelers, these poles will cause the least amount of arm fatigue over long miles.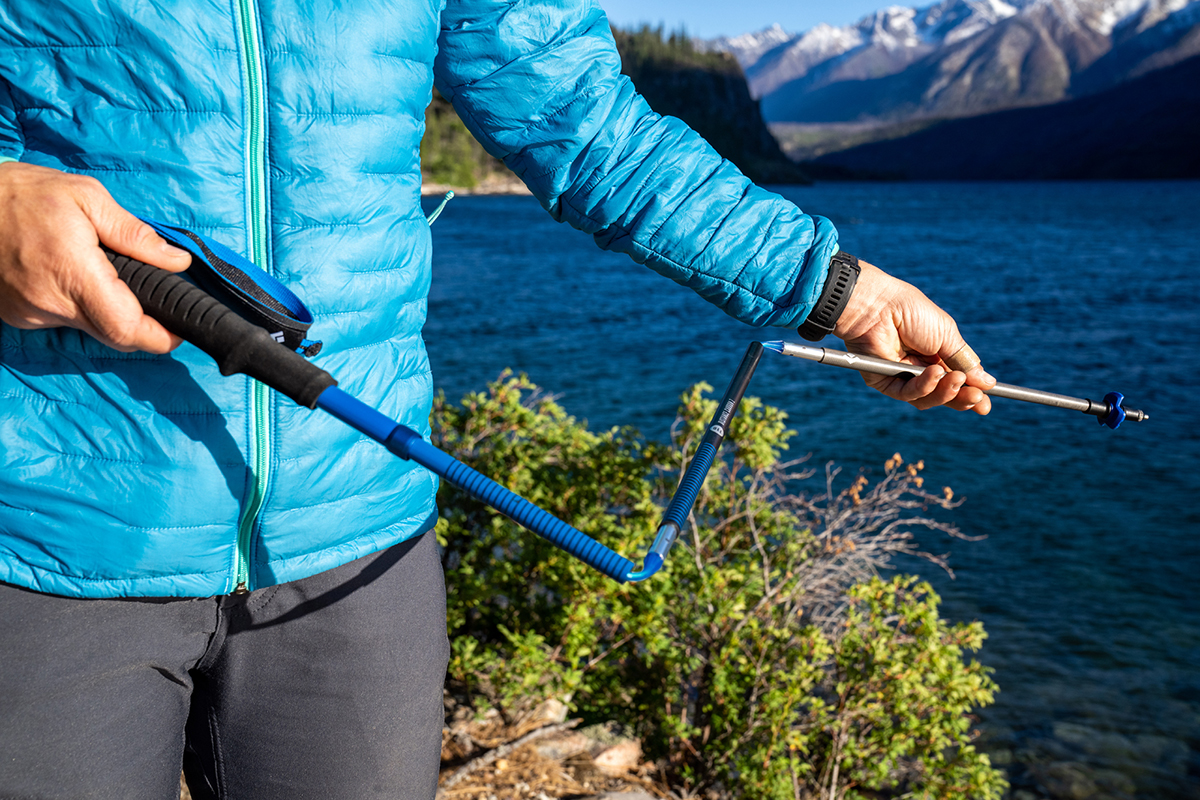 A third category of trekking pole is the straight-shaft, fixed-length design. These are relatively uncommon because it can be difficult to store or transport such a long item (especially when fastened to your pack or in a suitcase), and they can't be adjusted for up and downhill travel. As such, no fixed-length poles made our list. If you're in the market, however, we recommend checking out the Black Diamond Distance Carbon Running Poles, which weigh just 6 ounces per pair (for the 110cm length).

Shaft Materials
Generally, hiking poles are made either from carbon fiber, aluminum, or a combination of the two (a three-section pole may have two carbon upper pieces and an aluminum lower, for example). High-end trekking poles are often made from carbon, which is lighter and stiffer but also more expensive and brittle (and when carbon fiber breaks, it breaks; aluminum may just dent or bend and still be usable). Carbon's tendency to snap under hard stress can be somewhat offset by a thicker diameter construction, at the penalty of weight.
Price and overall durability are the main reasons hikers opt for aluminum poles. There's something to be said about a confidence-inspiring design like the Black Diamond Pursuit, which is super stable and has virtually no wobble even on steep descents. In the end, the casual hiker or someone who is rough on their gear will probably be happiest with an aluminum or hybrid aluminum/carbon pole. On the other hand, an all-carbon build remains the best option for the weight-focused hiker/backpacker.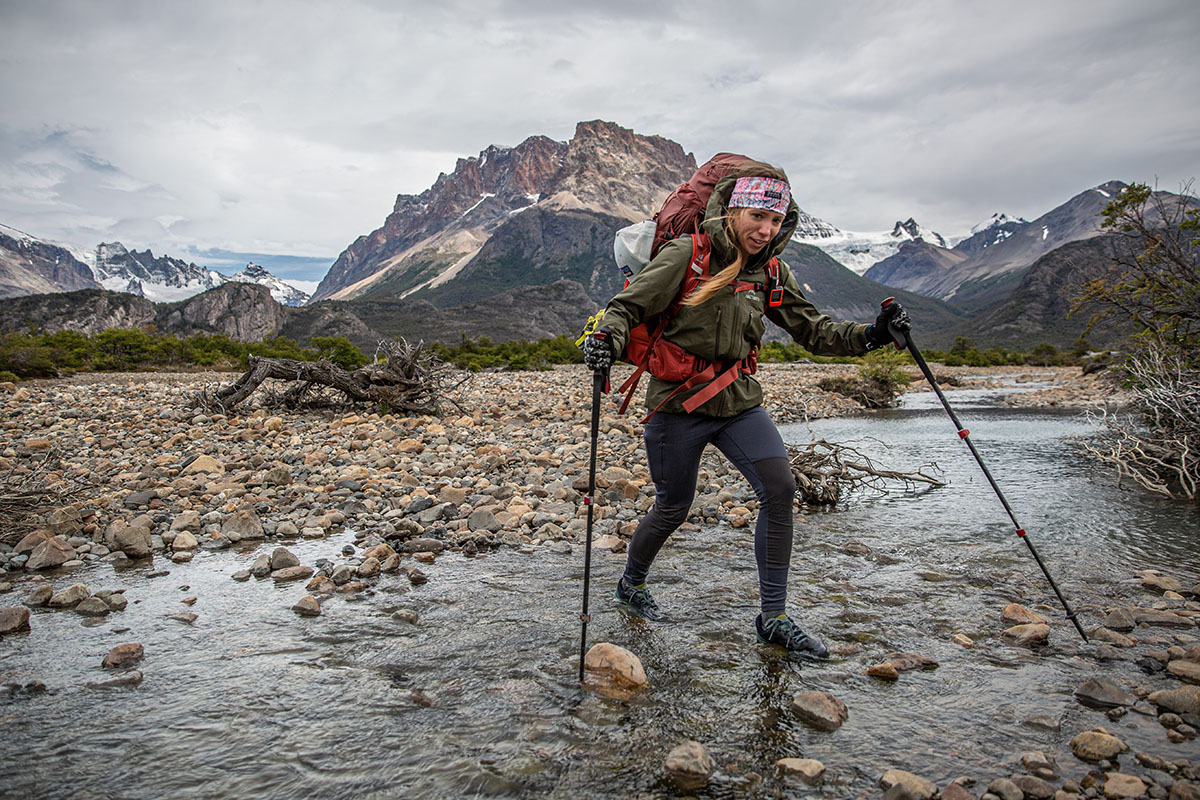 Locking Mechanisms
Outside of an ultralight folding trekking pole, chances are you'll be eying one with some sort of locking mechanism. The classic style used a twist lock: To tighten, you twist each section closed to lock the segments into place. These poles are haunted by inconsistent performance, with hikers either over-tightening to the point of seizing, or twisting too loose, resulting in perpetual issues with collapsing. Needless to say, the twist lock has gone out of vogue. And while there are a few models out there that do a good job—such as what you get on Gossamer Gear's LT5—we typically recommend avoiding the twist lock.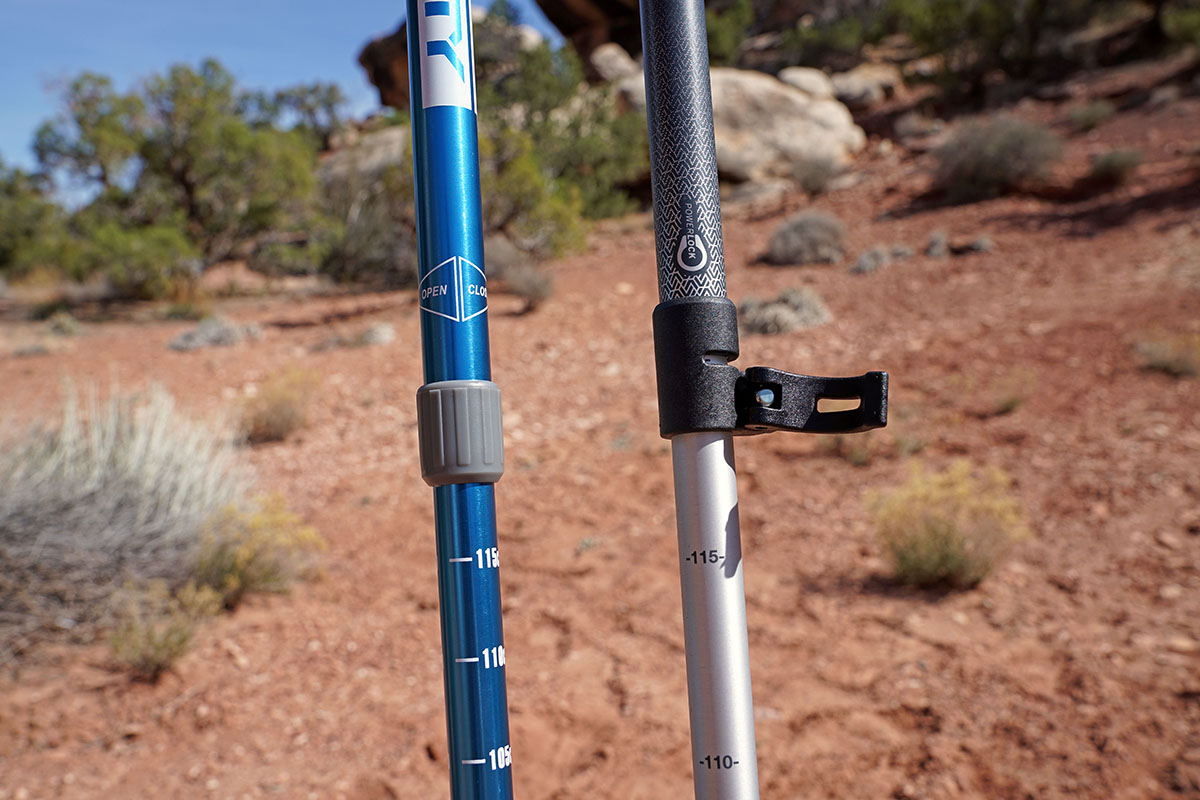 Enter the lever lock. Using an external clamp to either open to adjust or close to lock the pole sections, it's an easy-to-use system. Better still, the tendency for segments to slip when in the locked position is significantly reduced, giving additional confidence to the user. There are still a few risks of accidentally opening the lock when moving through heavy brush or the need to occasionally tighten the lever with a screwdriver (Leki's SpeedLock 2+ on the Makalu FX Carbon doesn't require a tool to adjust), but these are minor nitpicks. The lever lock is the new standard.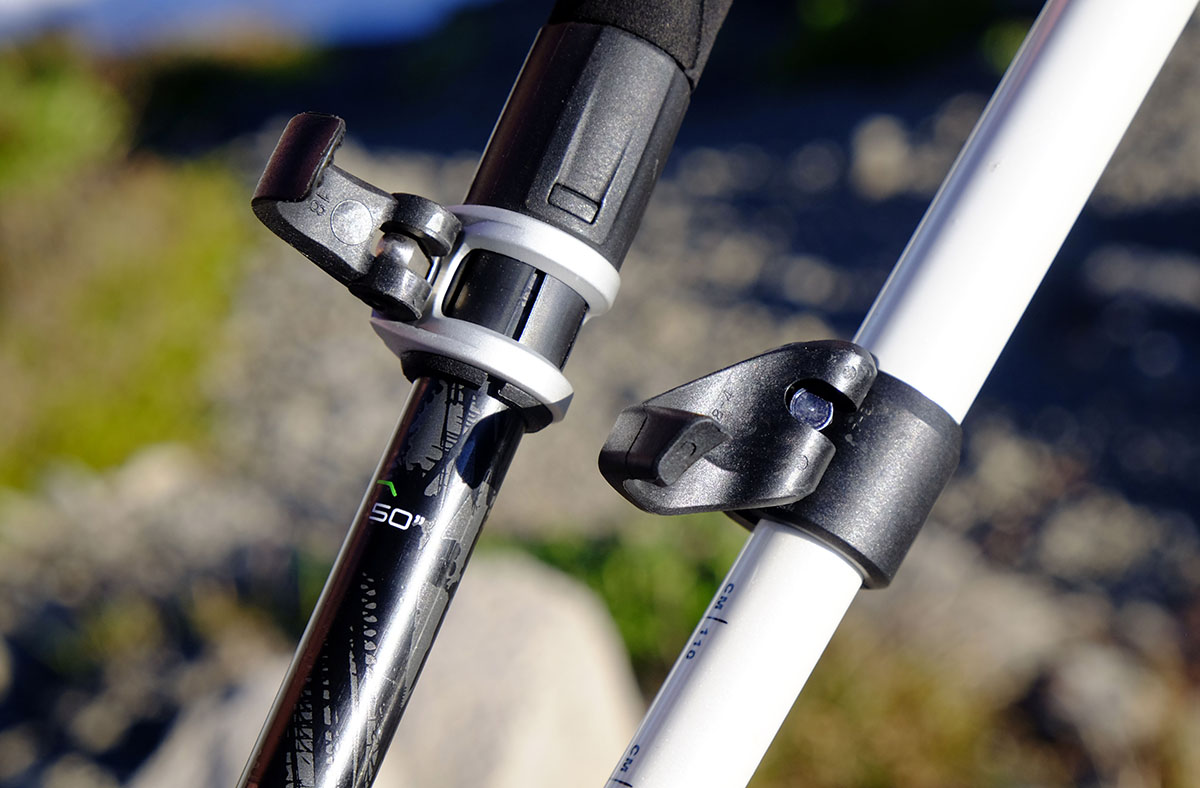 Trekking Pole Grip Construction
Materials: Cork, Foam, and Rubber
Trekking pole grips come in three main types: cork, foam, and rubber, with cork being our personal favorite. A quality cork handle has an exceptionally comfortable feel in the hand and wicks sweat very well. It also will conform nicely to your hand over time, making it great for long-distance treks and multi-season use. If cork isn't your thing, the next best bet is foam. EVA foam is soft, provides a measure of shock absorption, and does a decent job at wicking moisture in the summer months (although it will typically retain more moisture than cork). Rubber is the third option and usually found on budget hiking poles. We've found these grips to be best for cold weather activities because they shed rain and snow, but they lack the sweat absorption and premium feel of foam and cork.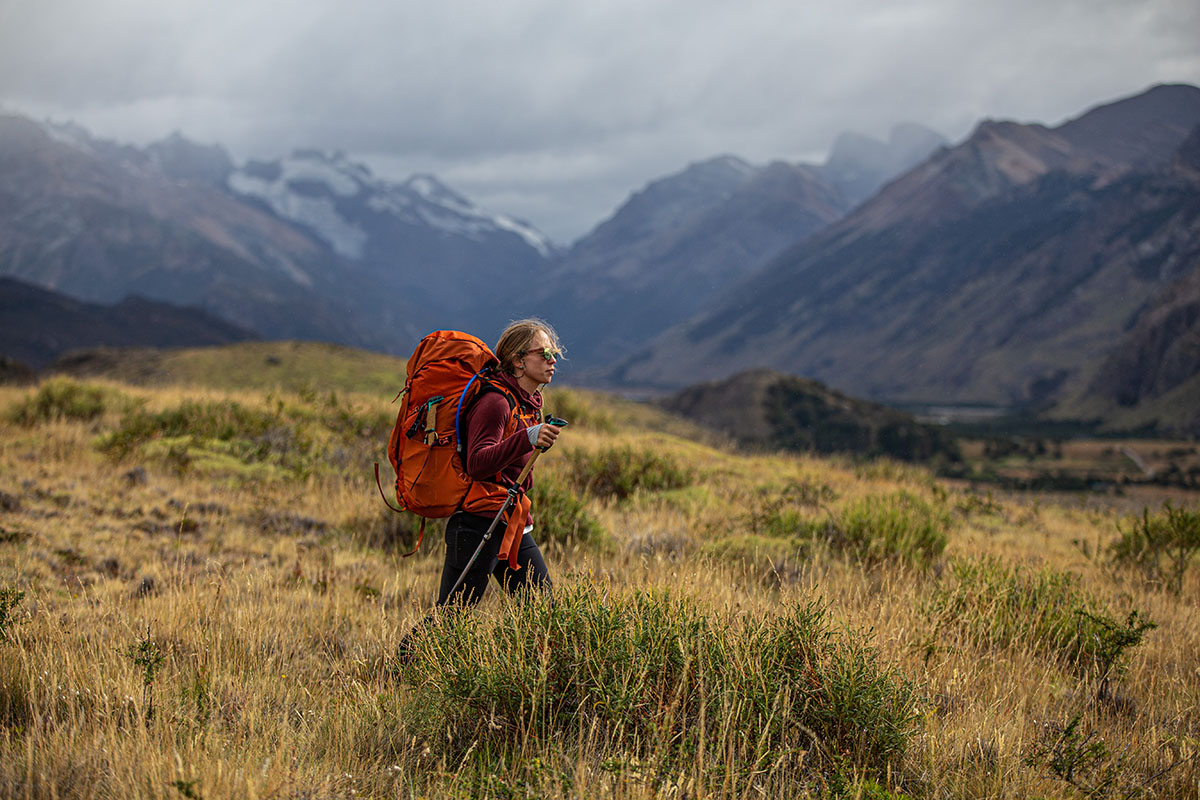 Ergonomic Handle vs. Standard Handle
Looking beyond the grip materials, another consideration is whether or not to get an ergonomic handle. These types of grips have a slight forward angle, typically around 15 degrees, which is supposed to mimic where your hands would naturally rest. Not surprisingly, what feels "natural" to one person may not to another, and this in the end is a very personal choice. That being said, we've enjoyed our fair share of ergonomic grips (Leki is a standout in this area, and we also like Black Diamond's Pursuit models).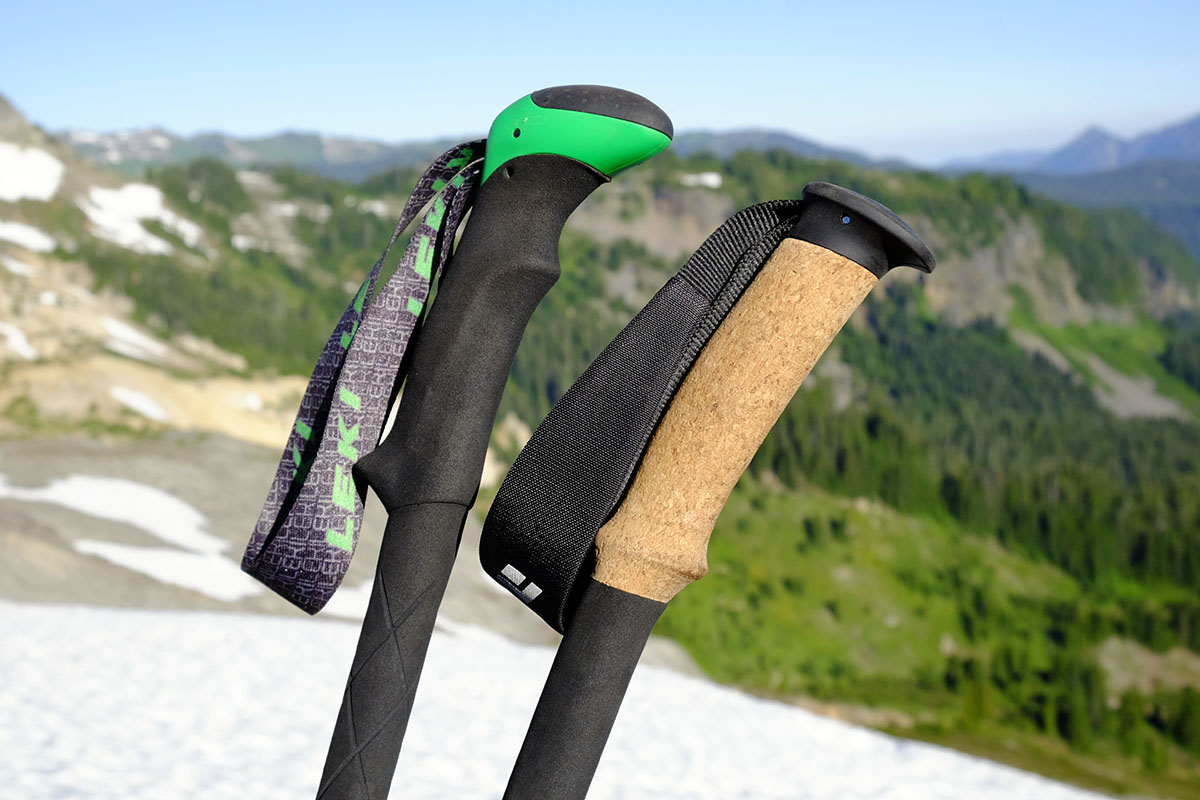 Choke-up Extensions
Many poles will have a second, smaller grip below the main one. This is what we refer to as a choke-up extension, or extended grip. These predominantly foam grips are great for finding a secure hold lower on your poles while climbing steep hills or sidehilling, improving balance and leverage. For those who often travel on steep or technical terrain, extended grips are a must-have feature. For a DIY alternative, you can wrap duct tape around your poles under the large grips for a more secure hold.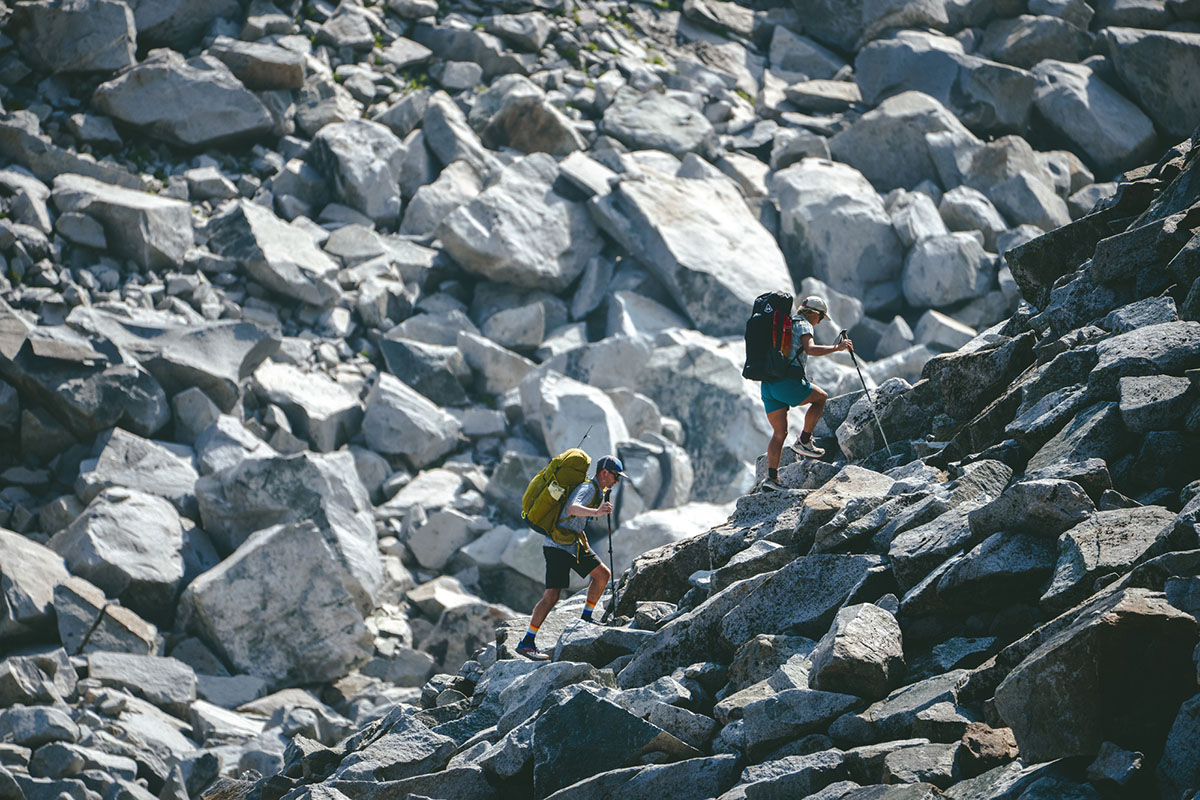 Wrist Straps
The final piece in the grip construction is the wrist strap. There is an impressive diversity of strap designs, ranging from heavily padded to simple nylon. And some hikers ditch the straps altogether because they'd rather not be connected to their poles should they take a fall or use the system improperly (correct technique is entering from the bottom opening of the strap). In choosing a strap, the biggest consideration is noticing any potential irritants. If a seam is rubbing against the back of your hand on a short walk, that can turn into serious chafing by mile 10. In general, the straps on most quality hiking poles are very comfortable—even the minimalist design on the Leki Makalu FX Carbon is very smooth. At the other end of the spectrum, Leki's Ultratrail FX.One features a wraparound hand strap that clicks into the top of the pole. However, while this is a really nice option for trail runners that adds security and reduces grip fatigue, most hikers and backpackers will find the design overkill.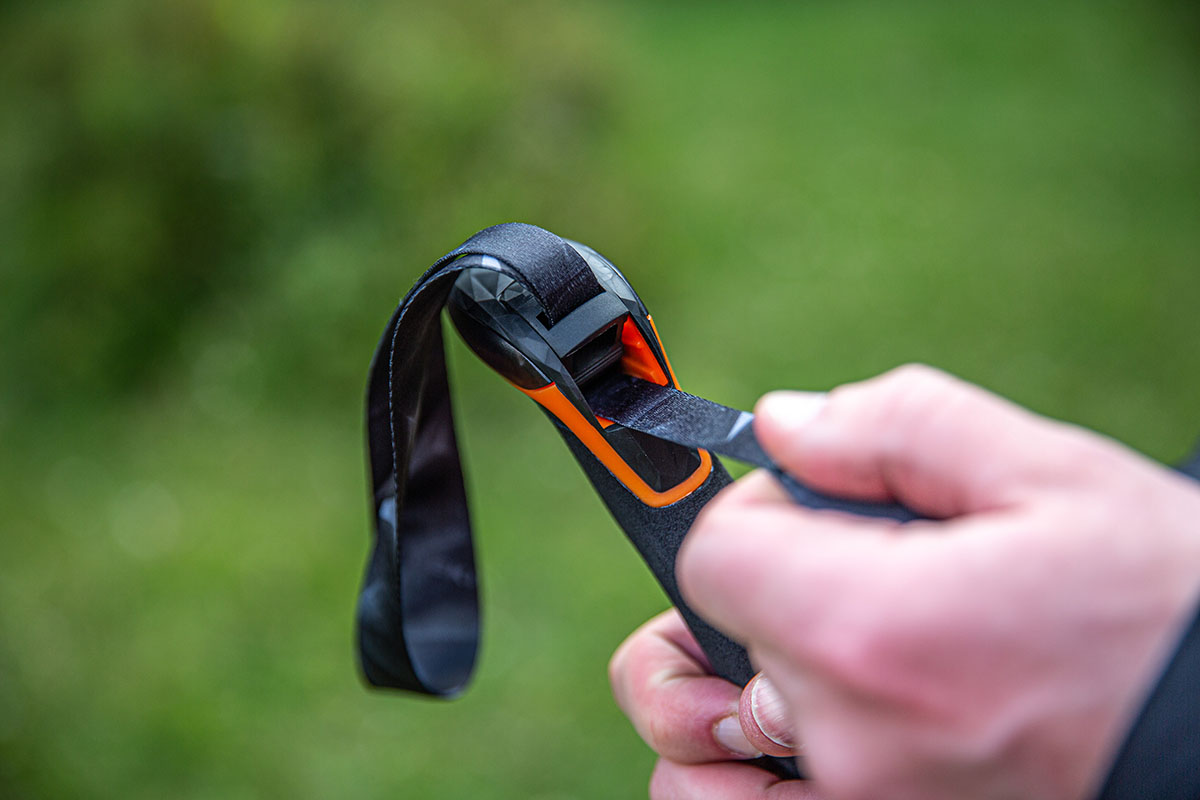 Weight
The weight of the trekking poles is our second biggest consideration (first is comfort), and we wouldn't blame you for putting it atop your priority list. A light pole will fatigue your arms less quickly, which is a big benefit on long treks. On short trips, you may not notice a 2-ounce difference, but when you think of the number of times your arms swing forward over an extended trip, it's easy to realize how a little weight savings can go a long way.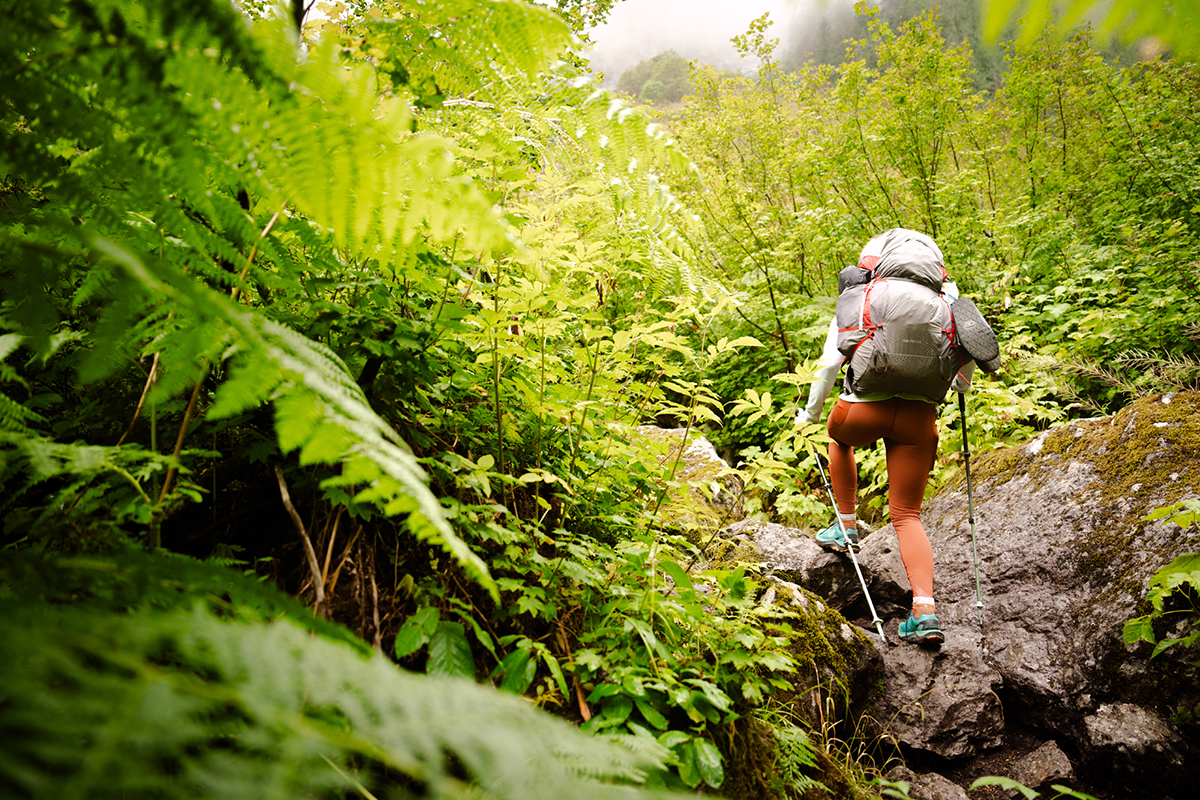 For moving light and fast, the lighter the better, with a caveat that durability diminishes once you get into the ultralight category (we see it happen right around 1 lb.). On the extreme end are poles like the Gossamer Gear LT5 (10.6 ounces for a pair) or Black Diamond Distance Carbon Z (9.2 to 10.4 ounces, depending on length). These are great for ultralight backpackers and thru-hikers, but the shaft materials are too delicate for bushwhacking or four-season use. Our preference is to go lightweight without having to be constantly worried about snapping the poles, which is why we rank the BD Pursuit at the top of our list.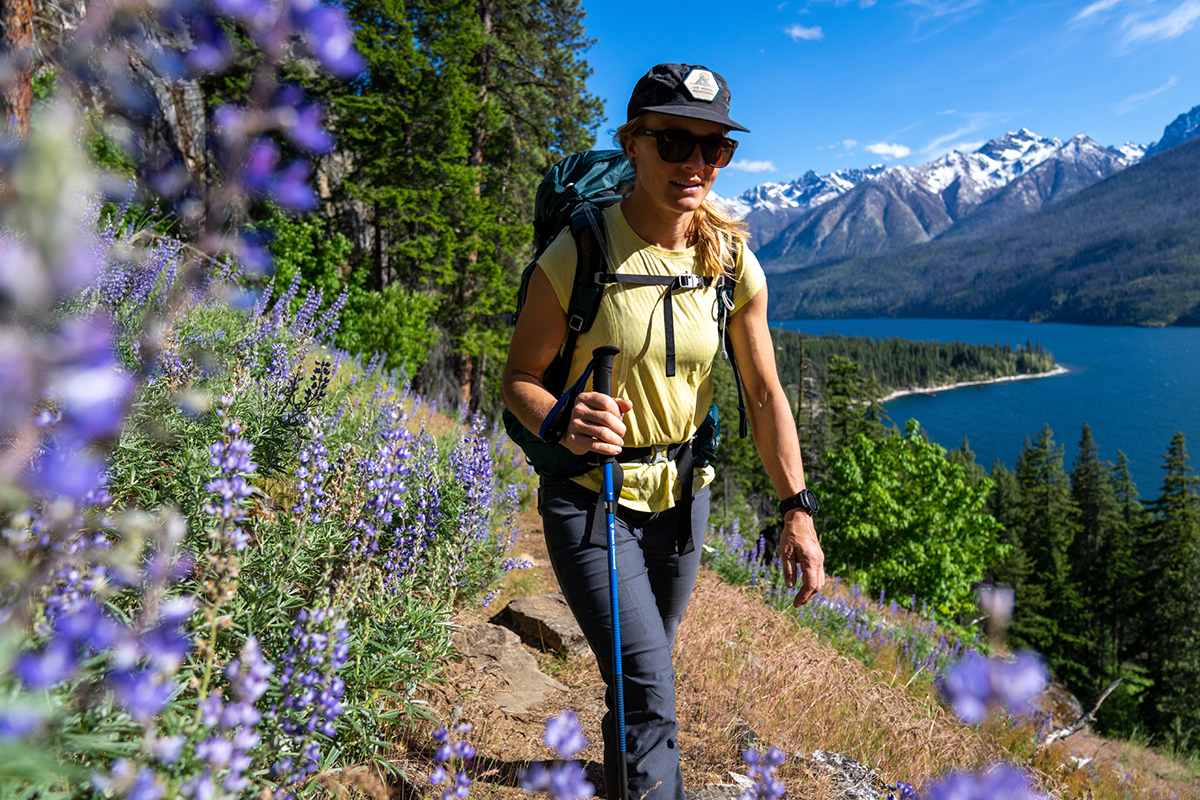 Packed Size
Packed size or collapsed length isn't a make-or-break specification for us, but it is a consideration for travelers who need to fit their poles into a suitcase and hikers who strap their poles to their pack. Folding poles take the prize for the smallest packed size, which is as little as 13 inches. Properly protected, they're even small enough to store inside a daypack.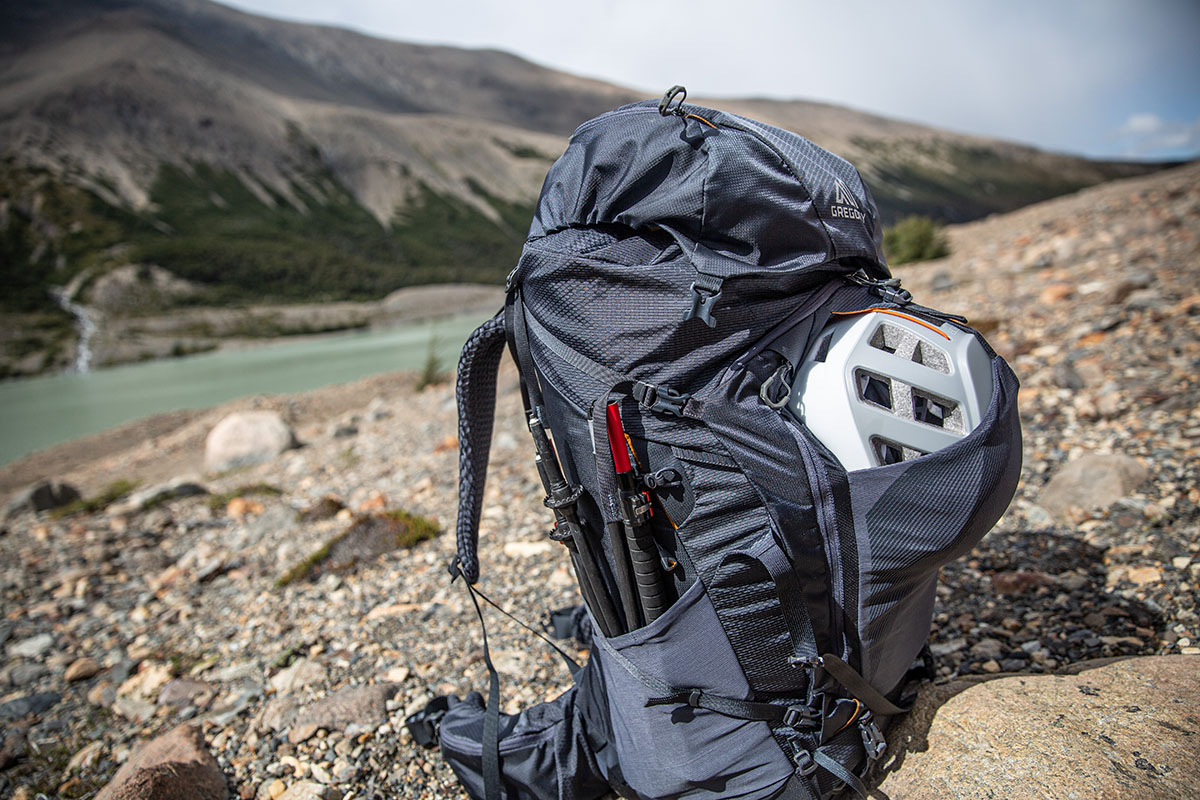 Not everyone puts such a high value on a compact size, which is partly why three-section poles remain the most popular style on the market. Their average minimum length is 24 to 27 inches, which is small enough to attach to the outside of a backpacking pack, and also can fit into most luggage. Two-section telescoping designs are where it may become an issue for squeezing into a duffel or suitcase, and you can forget about traveling with a fixed-length pole.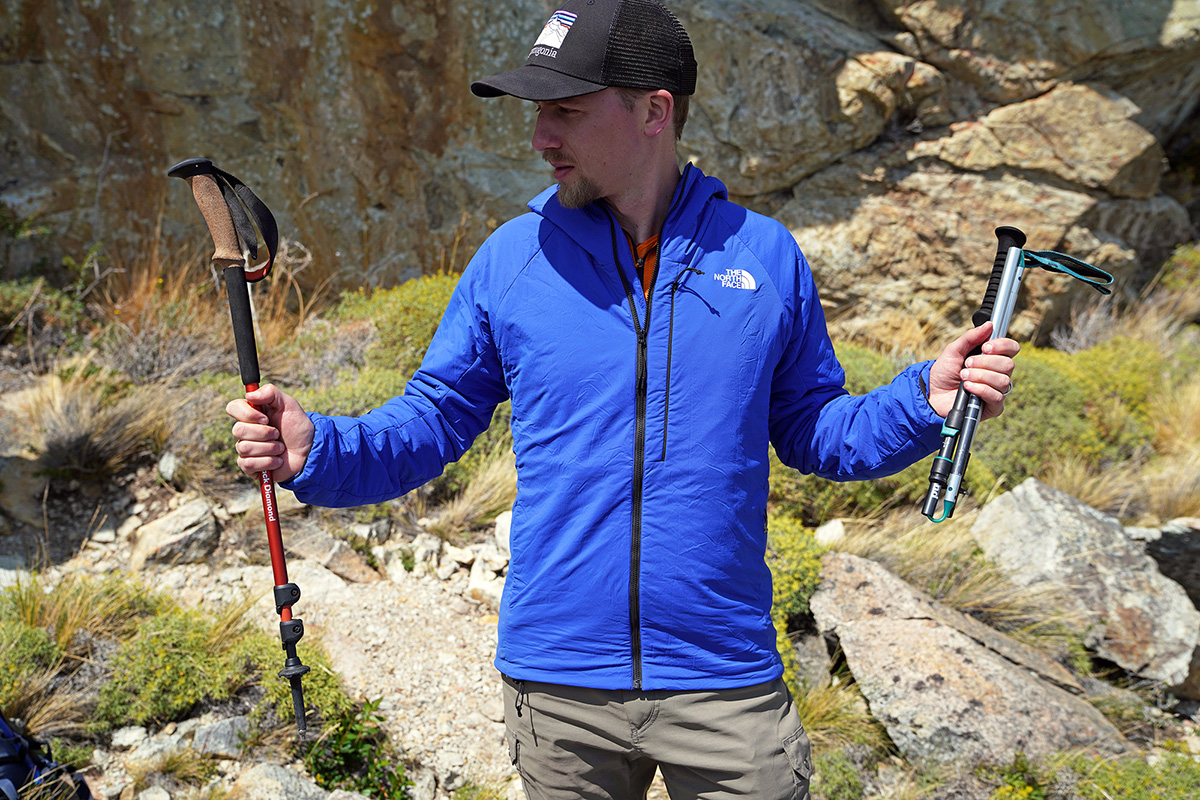 Durability
For trekking poles, durability and weight almost always go hand in hand. The first places manufacturers look to cut weight are the thickness of the material and the diameter of the pole. A smaller diameter and thinner pole logically will be less durable and flex more under pressure than its wider and thicker counterpart. The other part of the equation is the material itself. As mentioned above, even though aluminum may not be as strong as carbon fiber, it is the better choice in terms of durability because it has a lesser chance of breaking. This is why some manufacturers make a hybrid carbon and aluminum pole with the aluminum section at the bottom. Banging up against trail debris or snagging the pole in between rocks may only dent or bend the aluminum rather than crack or shatter the carbon.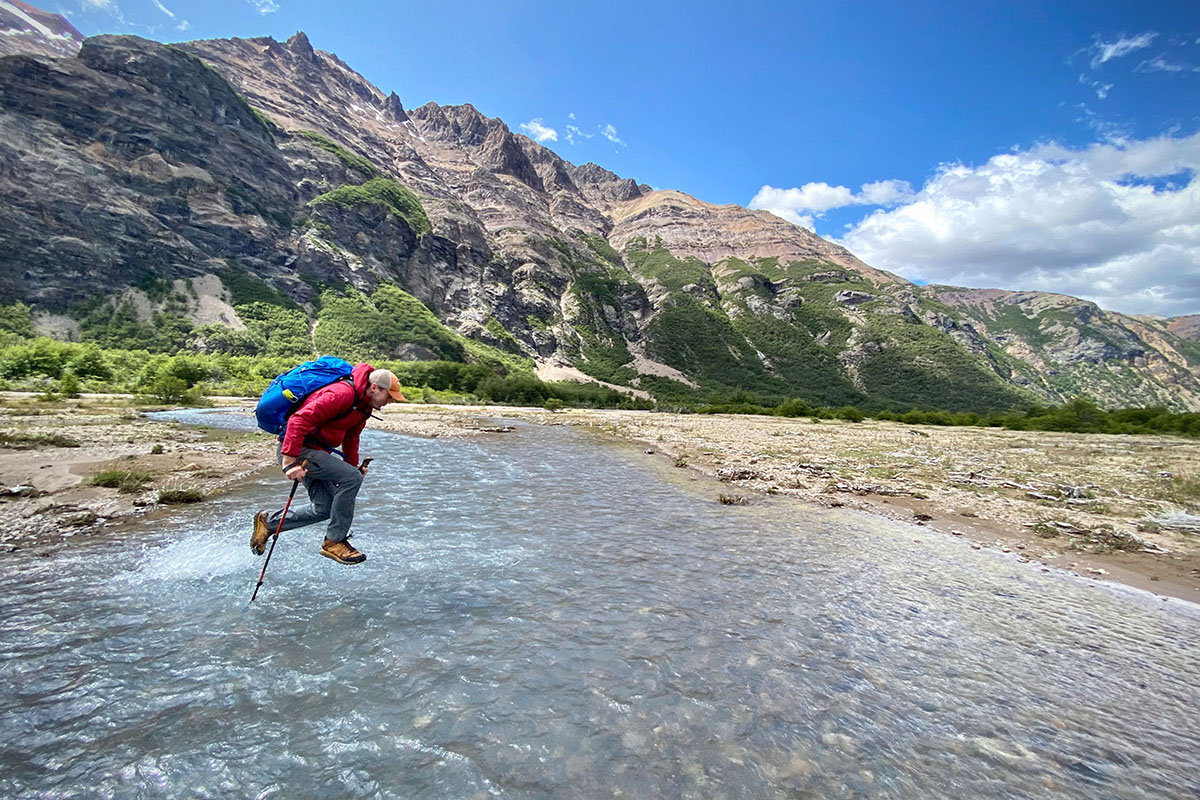 As with any piece of outdoor gear, it's best to think through your individual needs. Because we like to use our trekking poles year-round and on varied terrain, we're willing to deal with the extra couple ounces to get a more reliable build like the Black Diamond Pursuit. But if we were setting off on a thru-hike of the PCT, we'd be willing to compromise a lot more on durability.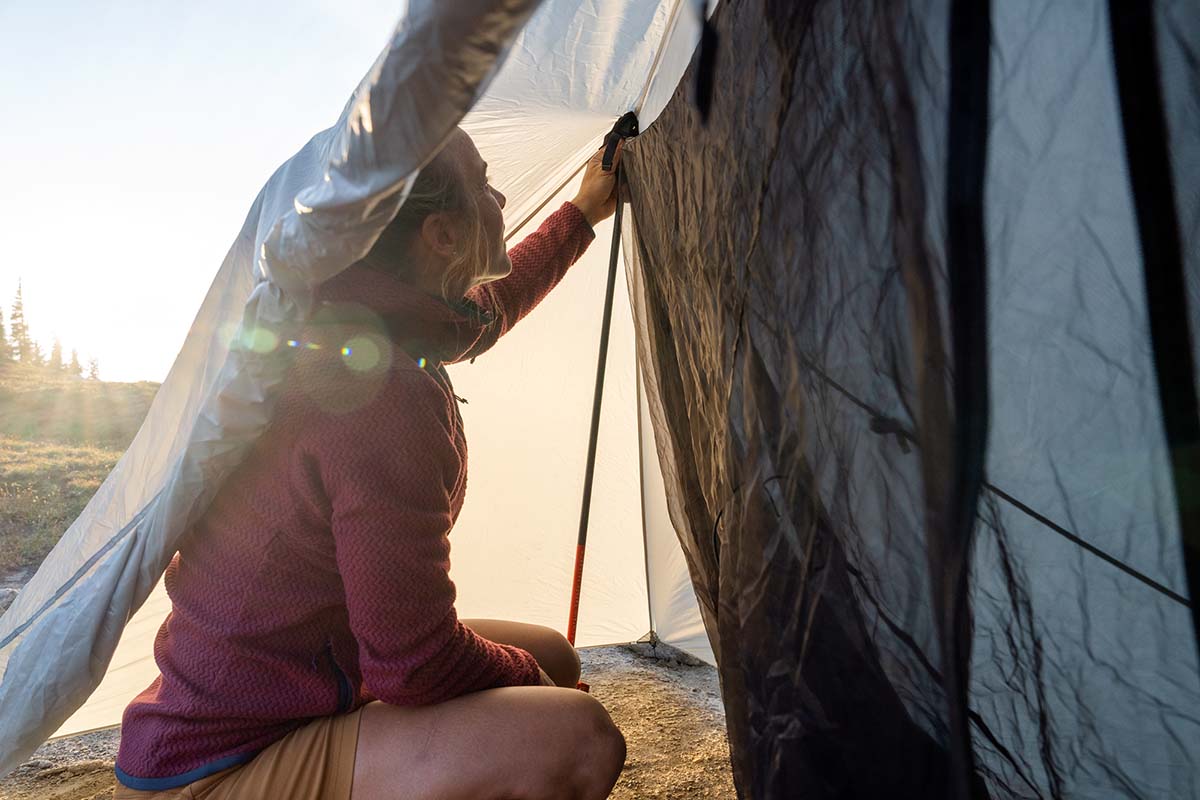 Winter Use
To keep your gear closet from overflowing (and your bank account plentiful), it's always nice to find a single piece of gear that can be used year-round. A durable trekking pole can be just that: great for simple day hikes or backpacking trips in the summer, but burly enough for snowshoeing or even the occasional ski tour. So what makes a trekking pole suitable for winter? Typically it will come from the telescoping category. The stiffer design and telescoping function is important for uphill and downhill travel, particularly for skiing or mountaineering. That said, there are some robust folding poles like the MSR DynaLock Ascent Carbon above.
Beyond having a strong shaft material, interchangeable baskets are a must for winter use. Many trekking poles come with, or offer as an accessory, powder snow baskets. The wide diameter baskets keep the poles from sinking in deep snow, just like a ski pole. Not all trekking poles have this option, however, so make sure to verify prior to purchasing.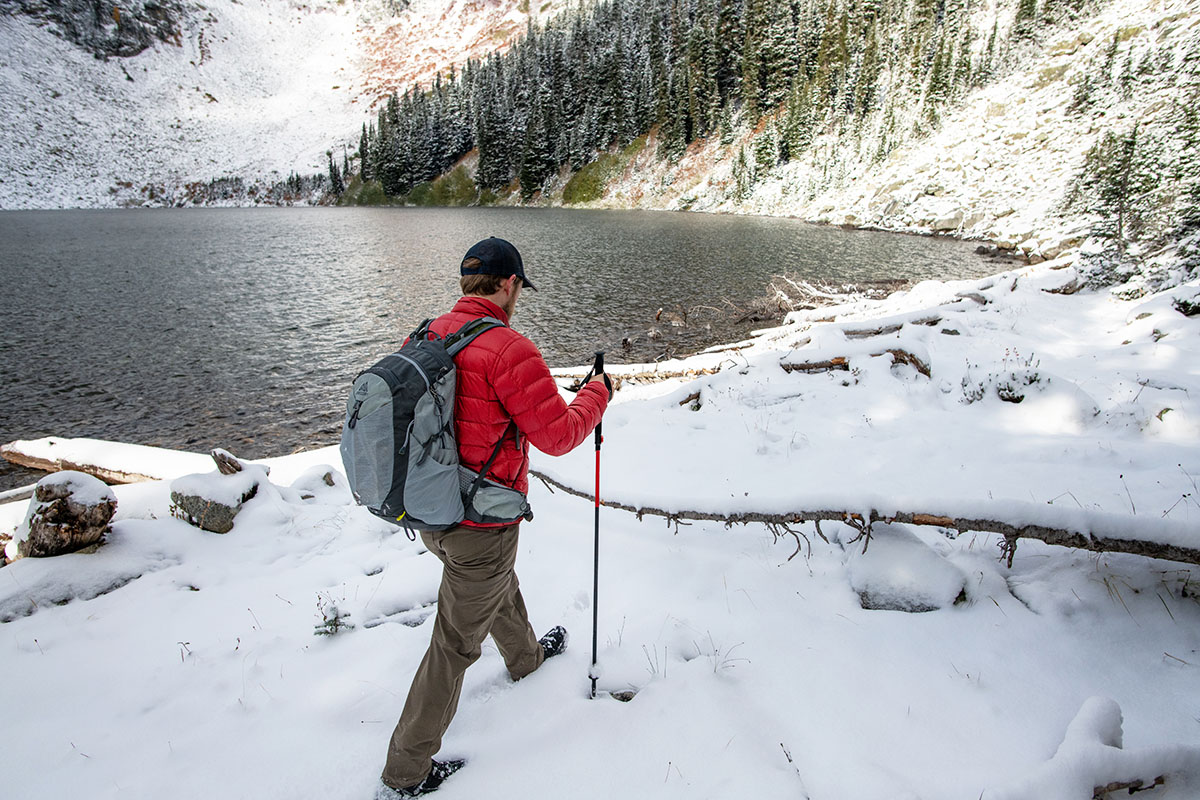 Shock-Absorbing Poles
Adding shock absorption to trekking poles seems like a no-brainer. These designs have built-in give that takes additional stress off of knees as well as your wrists on a long descent. However, a quick scan of the picks above will show no poles with shock absorption made our list. What gives? First is the extra weight—on longer treks, additional ounces can add up quickly. Cost also goes up, with shock-absorbing models costing around $10 to $20 more than standard variations. And arguably most importantly, simplicity in the outdoors is your friend, and one fewer breakable part is a win for us. There are undoubtedly good reasons to get a shock-absorbing pole, but we encourage you to think through the compromises to make sure they're worth it. If that's the case, many models—including Black Diamond's Pursuit and Leki's Makalu—are offered in dedicated anti-shock versions.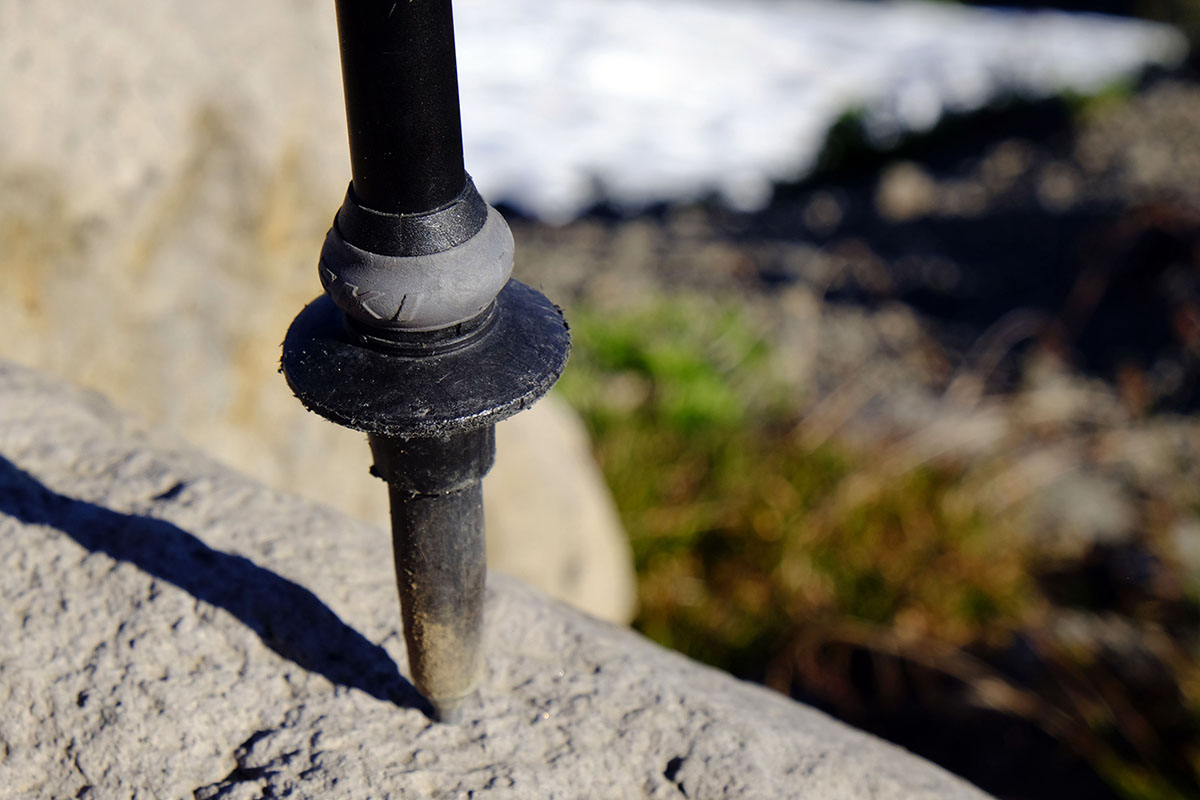 Women's-Specific Trekking Poles
Most trekking poles are billed as unisex products, but there are a number of models that include a women's version (Leki also has an entire collection of women's-specific poles). What differentiates the women's trekking pole is a narrower diameter grip, intended for smaller hands, and a shorter maximum length. For example, the women's version of the BD Alpine Carbon Cork can be extended to 49 inches, while the men's extend to 51 inches. Realistically, anyone who doesn't need the extra length and would benefit from the smaller-diameter grips should choose a women's trekking pole. Another benefit is women's poles have a shorter minimum length (typically around 4-5 in. shorter in telescoping models), which makes them easier to stow away in a suitcase for traveling.
Cheap Trekking Poles
Uncomfortable foam, cork disintegrating into your palms, wrist straps chafing your hands, frail locking mechanisms collapsing. Need we go on? A poorly made, cheap trekking pole is just not worth it. Now we're not saying you have to spend $150 to feel safe and secure; there are a number of poles under $100 that we still highly recommend. Moreover, if you are looking for a trekking pole for stability around town or want to try them without paying through the nose, you can forego some of the fancy lightweight features and get a classic aluminum pole at a reasonable price.
The REI Co-op Trailmade telescoping poles (#2 on our list) are a great deal at $80 and will do the trick for easy local trails and day hikes. If you plan to use the poles for backpacking, we still recommend sticking with the pricier options on the list. As with most items you get for the backcountry, it's well worth it to get a piece of gear you can rely on.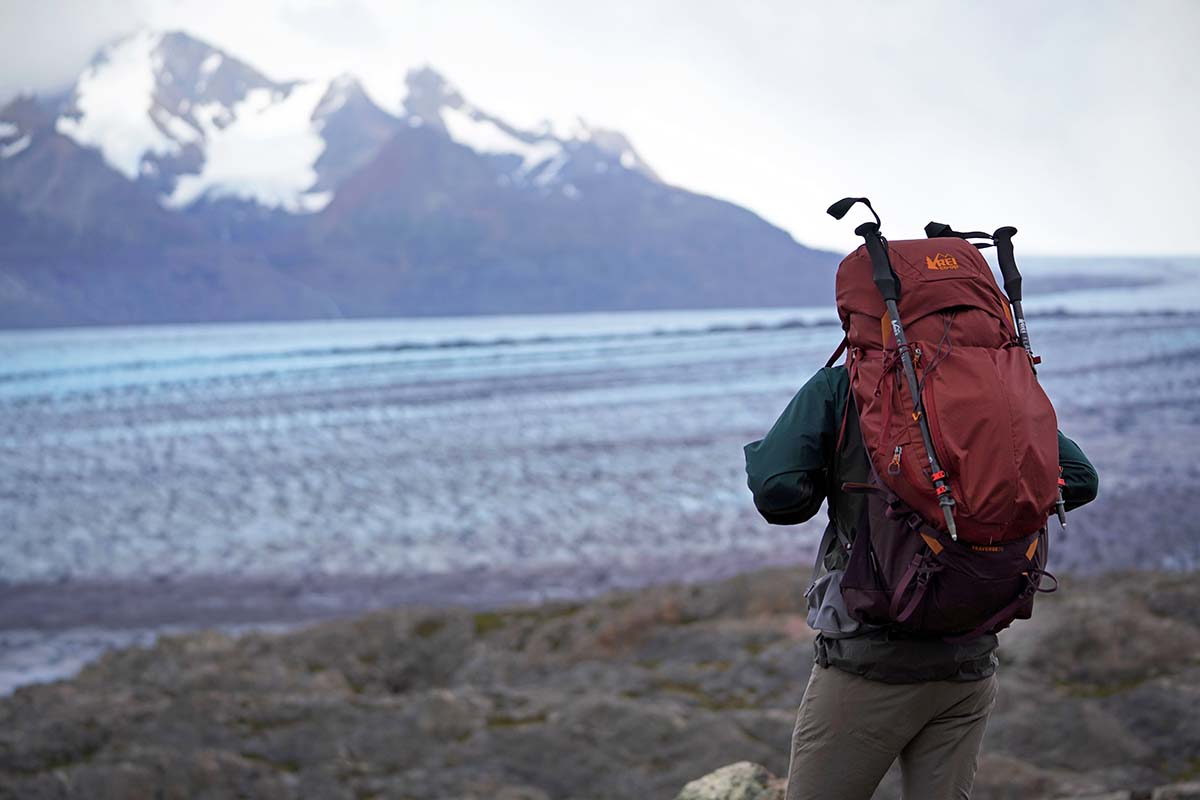 Hiking with One Trekking Pole
Although the vast majority of hikers use two trekking poles, it's worth mentioning that a certain contingent prefers one. We've found that this is most often thru-hikers who want to carry the least possible weight and gear, and one pole does afford you added balance and support compared to not using any at all. For those using an ultralight shelter with trekking pole support, obviously the design will need to require only one pole. For example, most Hyperlite Mountain Gear shelter models require one pole, while popular ultralight tents like the Zpacks Duplex require one pole on each end (two total).
In the end, the choice comes down to personal preference, and one pole can be a fine option for those who want some of the benefits while keeping a hand free. And in terms of buying, almost all hiking poles are sold in sets, although the Zpacks Carbon Fiber Trekking Pole above is a notable exception (however, purchasing as a pair will save you $20 compared to buying two individual poles). Further, some cottage brands like Gossamer Gear do allow you to order one by including a note to "ship only 1 pole and refund 50%".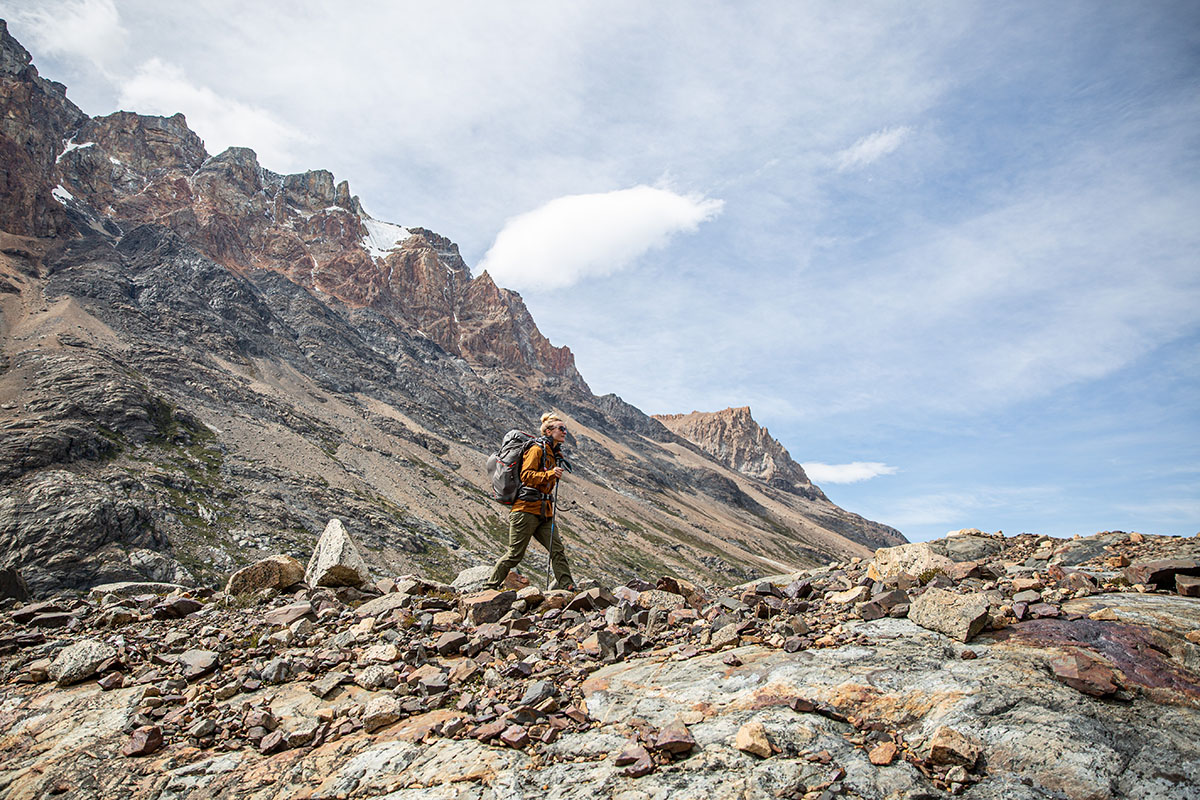 Trekking Pole Tents and Shelters
For ultralight backpackers and thru-hikers, a trekking pole-supported shelter is a great way to trim weight. If you're considering one of these designs, keep in mind you'll need a compatible set of poles. One key factor is pole length, and many shelters are designed to function with set dimensions. For example, Zpacks' popular Duplex works with poles approximately 48 inches long, while Gossamer Gear's The One is best with two 49-inch poles. In addition, we've found adjustable pole designs simplify the setup process (fixed-length poles are cumbersome and harder to get in place). Finally, the durability of your trekking poles is important: Ultralight carbon models may be great while hiking, but if they snap, you'll need to get creative to make your shelter functional. For us, a balanced design like the Black Diamond Distance FLZ makes a lot of sense. It's reasonably light at 14.8 ounces per pair, sturdy and tough with its aluminum build, and the adjustable length ensures the Distance FLZ will fit with most shelters on the market.
Back to Our Top Trekking Pole Picks  Back to Our Trekking Pole Comparison Table
Learn More About Hiking Gear