Unlike their lift-assisted alpine cousins, backcountry skis have two jobs: getting you uphill efficiently while retaining enough power to make the downhill worth the effort (and fun). The good news is that material and construction technologies are growing rapidly with the recent boom in the sport's popularity, and many of today's alpine touring skis are impressively polished and a treat to drive. Below we break down our top backcountry skis for the 2023-2024 season, which range from lightweight models for long tours and mountaineering to hybrid skis that can pull double duty on the skin track and at the resort. For more background information, see our backcountry ski buying advice and comparison table below the picks. To complete your setup, see our articles on the best backcountry ski boots and backcountry ski bindings.
 
---
Our Team's Backcountry Ski Picks
---

Best Overall Backcountry Ski

Dimensions: 133-105-119mm
Weight: 6 lb. 11 oz.
Widths: 85, 95, 105mm
What we like: A versatile touring setup that's efficient on the uphill and fun on the descent.
What we don't: Not the best ski for serious, big-mountain objectives. 
Blizzard's Zero G collection has legions of fans, and the latest model is about as well rounded as it gets. Tipping the scales at under 7 pounds for the pair, the ski is light and easy to maneuver on the climbs but really comes to life when you point it downhill. With a multi-layer carbon build that was updated last season to improve edge grip, it's sturdy enough for variable conditions and decently high speeds, yet there's a surprising amount of forgiveness that makes it a reliable partner in unfamiliar terrain. Further, the Blizzard's 105-millimeter width hits the sweet spot for season-long use on all but the deepest days.
Who is the Zero G 105 best for? Anyone from newbies to dedicated backcountry enthusiasts should find a lot to like with the construction. That said, it still isn't as burly on the descent as the DPS options or Black Crows Navis below. In addition, the ski's wide 23-meter turn radius (for the 180cm length) makes it a little trickier to manage in tight spots, although this certainly plays a role in its trustworthy and planted feel. In the end, there are more capable descenders on the market, but the Zero G's combination of low weight and confidence-inspiring performance makes it our top backcountry ski for the 2023-2024 season.
See the Blizzard Zero G 105
Best High-End Backcountry Ski

Dimensions: 137-106-121mm
Weight: 6 lb. 13 oz.
Widths: 90, 94, 100, 106, 112mm
What we like: Top-end craftsmanship and standout performance with few compromises.
What we don't: Too pricey for casual backcountry skiers.
The backcountry ski market has exploded in recent years with a seemingly endless array of options, but DPS Skis remains one of the most venerable manufacturers on the market. Their beautifully crafted and well-rounded Carbon Pagoda Tour 106 puts together the brand's strongest traits: The ski is decently lightweight for climbing at 6 pounds 13 ounces, has a great shape for smooth operation on the downhills, and boasts a premium construction that's built to last. DPS honed the design this season with improvements to the ski's dampness, stability, and durability. It's still happiest in soft snow, but the more confidence-inspiring build gives it fantastic versatility even in the 106-millimeter width (three narrower Carbon Pagoda Tour options—90, 94, and 100mm—are also available).
The Pagoda Tour's hefty price tag might make it a quiver of one by necessity, but this is a case where we think the performance, versatility, and build quality justify the steep fee. The design is absolutely packed with high-end materials, including two horizontal layers of wood sandwiched between layers of carbon fiber (both unique concepts) that make it among the most uncompromising designs out there. Additionally, the newest iteration utilizes microalgae in the sidewalls to boost the ski's downhill performance and toughness while shrinking its environmental footprint. It's high-level stuff that should put a smile on DPS loyalists and newcomers alike.
See the DPS Carbon Pagoda Tour 106
Best Ultralight Backcountry Ski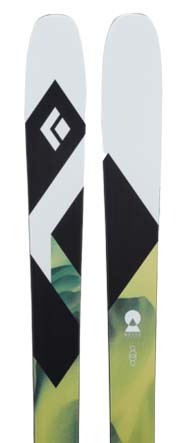 Dimensions: 120-88-111mm
Weight: 5 lb. 11 oz.
Widths: 88, 95, 104, 115mm
What we like: Superlight and efficient for long days in the backcountry.
What we don't: Narrow for season-long use.
Black Diamond's Helio Carbon line reaches as wide as 115 millimeters, but we love the nimble performance and efficiency of their 88-millimeter version. Predictably, the narrow build cuts weight, and at 5 pounds 11 ounces (170cm length), it's an ideal partner for very long treks and ski mountaineering. But what's most impressive is how confidently the 88 tackles technical terrain. The ski is reasonably stable at speed, and its full-length paulownia core and more pronounced tip and tail rocker outperform expectations off-piste. All told, the Helio Carbon is well equipped for anything from dawn patrol laps at a local hill to extended fast-and-light missions.
If we were to choose a single touring ski, however, BD's Helio Carbon 88 wouldn't be it. Even with the revisions to the rocker profile and greater use of wood, the trimmed-down build struggles in deeper conditions. Further, the lightweight front end can get tossed around more than we'd like in variable snow—it's most comfortable in powder or spring corn. But if weight wins out and you don't want to spring for a compromised skimo design, the Helio Carbon is a great choice.
See the Black Diamond Helio Carbon 88
Best Backcountry Ski for Powder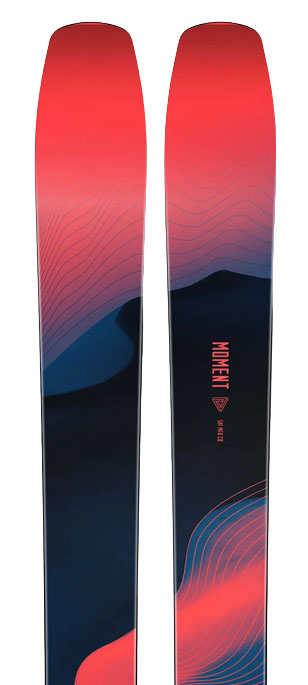 Dimensions: 141-116-131mm
Weight: 7 lb. 12 oz.
Width: 108, 116mm
What we like: They're a blast in powder.
What we don't: Not as fun in other conditions.
Moment's Wildcat Tour is the lightened and tour-afied version of one of our all-time favorite powder skis: the Bibby Pro. At 116 millimeters wide and with a rockered profile and early-rise tip and tail, the Wildcat Tour is unapologetic about its powder-loving ways. It's an effortless performer that has proven to be surprisingly adept at cutting through trees or flowing through narrow shoots. Moreover, the lighter Wildcat Tour adds a flickable nature to the fun and playful feel of the Bibby Pro.
With such a strong emphasis on powder, the Wildcat Tour probably shouldn't be the only ski at your disposal. Even at a reasonable 7 pounds 12 ounces for the width, the wide footprint means the ski isn't as suitable as others for long missions (Wildcat does now offer the Tour in a slightly narrower, 108mm variation for $10 less). And the design is totally out of place on firm snow and ice, so be sure to have confidence in the forecast and conditions before heading out the door. Get it right, though, and you're almost guaranteed to have a big smile on your face.
See the Moment Wildcat Tour
Best Crossover Backcountry/Resort Ski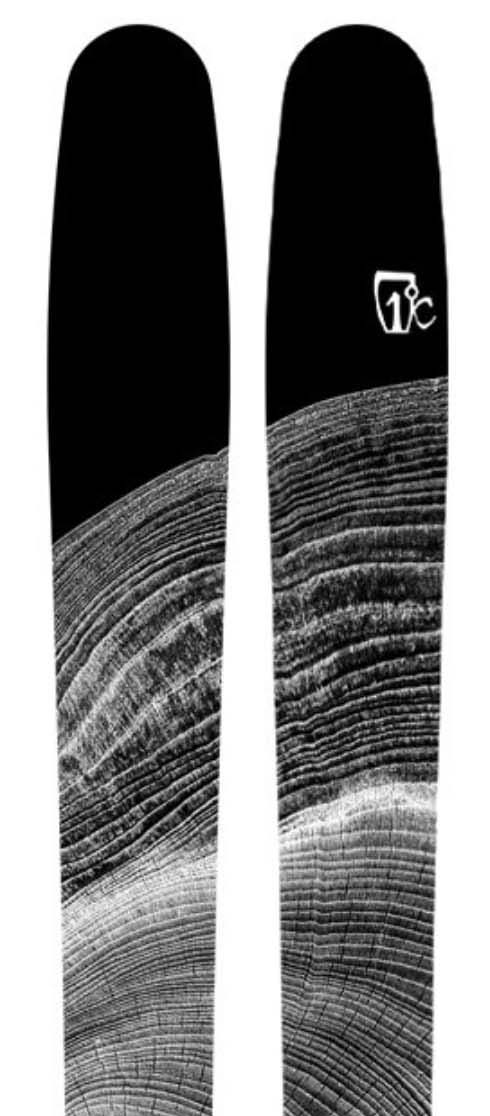 Dimensions: 132-101-117mm
Weight: 7 lb. 7 oz.
Width: 101mm
What we like: Skis powder, bumps, and steeps well.
What we don't: Doesn't grip as solidly as other skis in icy conditions.
Icelantic has been on a nice run of late, and their Natural 101 (and women's Mystic 97) earn our top spot as a 50/50 touring and resort ski. Its versatility is what makes it special: The Natural floats extremely well for its width, is pretty easy to manage in tight and steep spaces, and soaks up bumps very nicely. It also has wide appeal in terms of ability level, with a manageable flex that won't overwhelm an intermediate but enough horsepower to make a statement on big-mountain lines. With a three-year warranty and a competitive price of $899, the Natural 101 adds up to a very impressive and versatile design.
The Natural 101 is built to handle everything from mid-season blower pow to spring corn, but it does struggle a bit in icy conditions. Additionally, while not excessively heavy at around 7.5 pounds for the pair, there are plenty of lighter competitors on the market, including backcountry specialists like the Voile HyperCharger below. The upside to the Icelantic's solid build—and arguably the brand's strongest attribute along with its warranty—is that the Natural should hold up well to extended use (a big plus for high-mileage and/or downhill riders). This combination of proven downhill performance and longevity is enough for the Natural to get the nod as our top crossover backcountry/resort ski this season. Another option to consider in this category—and particularly if you're a hard charger—is Blizzard's Hustle. We've found this new ski has exceptional power and edge grip for a backcountry-ready design.
See the Icelantic Natural 101  See the Women's Icelantic Mystic 97
Best of the Rest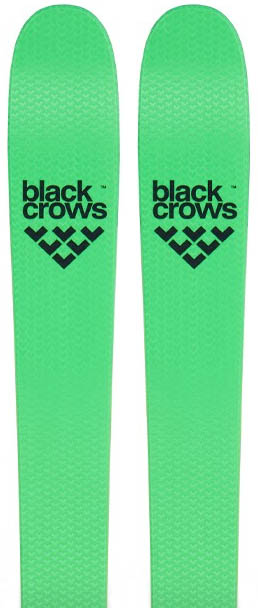 Dimensions: 138-102-119mm
Weight: 7 lb. 8 oz.
Width: 102mm
What we like: Strong, smooth, and trustworthy on the descent.
What we don't: Not a weight leader.
With their home nicely situated in the Alps in Chamonix, France, Black Crows has strong alpine and backcountry roots. And although they've only recently entered the U.S. market, their Freebird touring skis have quickly become a staple in areas like Jackson Hole. We like their jack-of-all-trades Navis Freebird best, which at 102 millimeters wide is a very versatile ski. It's proficient on the climb up but truly excels on the descent, with a smooth and very confidence-inspiring feel in just about all conditions. The ski is comfortable and easy to manage in everything from open bowls to tight and fast couloirs.
Compared to our top picks, the Navis falls short in weight by about a pound, which is a notable downside for extended tours and times when you have to strap it to a pack. On the flip side, the weight is put to good use and the ski is one of the strongest performers on this list in variable snow conditions. Like the Natural above, this do-everything nature makes it a suitable choice for crossover resort use with a hybrid binding like the Salomon Shift or Marker Duke PT. Finally, big mountain chargers and those lucky enough to have consistently deep snow should check out Black Crows' 110-millimeter-wide Draco Freebird.
See the Black Crows Navis Freebird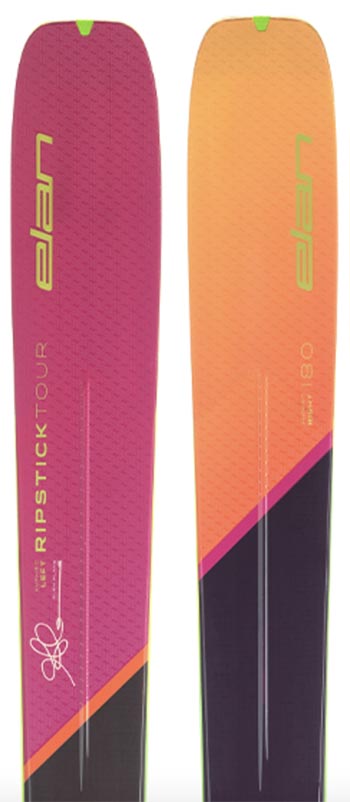 Dimensions: 128-104-122mm
Weight: 6 lb. 13 oz.
Widths: 88, 94, 104mm 
What we like: Fun, maneuverable, and very easy to live with.
What we don't: A little underbuilt for hard chargers.
Elan's Ripstick is one of the most fun all-mountain/freeride skis currently available, and the Slovenian brand recently added a touring-ready version to the line. As expected, the ski drops significant weight—it helps that the standard Ripstick was already pretty light—and the 104-millimeter option we tested is quick and efficient on the uphill at under 7 pounds (for the 180cm length). But Elan retained a lot of the goodies that have made the collection so popular, including the unique Amphibio profile that features camber on the inside of the ski and rocker along the outside. The result is impressive maneuverability in tight spots—despite its relatively wide turn radius—and a user-friendly ride that doesn't require you to always be on the gas (it leans more towards the playful side of the spectrum).
Who is the ideal skier for the Ripstick Tour 104? Intermediate to lightweight expert backcountry riders will be happy with the setup, and the width makes it viable for a good chunk of the season (the 94mm model will be better for those with lower annual snowfall). In fact, we had the Tour 104 on a few dreamy late-season powder days last season, and it punched well above its width in float and flickability. On the other hand, if you're splitting your time between the lifts and the skintrack, we recommend sticking with the slightly heavier and less expensive standard Ripstick 106, as the Tour model can get a little squirrely and chattery at speed in firm conditions. One final thing to keep in mind with all Ripsticks is that there are dedicated left and right skis–a result of the Amphibio profile—so be sure to take that into account when you step in.
See the Elan Ripstick Tour 104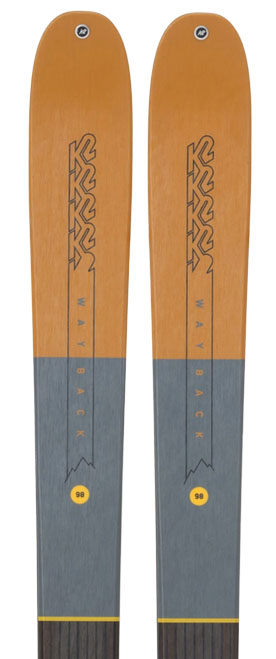 Dimensions: 126-98-114mm 
Weight: 6 lb. 2 oz.
Widths: 80, 84, 88, 92, 96, 106mm
What we like: Great price for a beginner/intermediate-friendly build.
What we don't: Certainly not the fastest or most playful ski on this list.
K2 has a proud backcountry heritage with skis like the Coomba, and we've become big fans of their Wayback line, which received a notable update for winter 2023-2024. To start, our previous-favorite Wayback 96 has been replaced by the slightly wider Wayback 98. The new version keeps things light (just over 6 lb. for the pair), has a balanced rocker/camber profile that is comfortable in everything from frozen chunder to pow, and offers impressive dampness and stability thanks to strategic use of Titanal in the construction. More commonly found in burlier downhill skis, the metal layer gives the Wayback standout predictability in sketchy terrain and rough snow conditions.
The Wayback is a great intro ski to the touring life, and it won't hold you back on the uphill with its low weight and manageable dimensions. But it still lands on the softer end of the spectrum, and we think expert-level skiers will be left wanting more. From within K2's lineup, we'd point the freeriders of the world to K2's Dispatch series (created in collaboration with guides and athletes). This unique design features Titanal in the build like the Wayback but is equipped for deep conditions and speed with its 100+mm width options (101, 110, and 120mm) and a super wide turn radius. That said, it's a far cry from the Wayback's do-everything personality. If you like the idea of blending alpine ski-like performance in a competitively light and backcountry-ready setup, the Wayback 98 is a great choice.
See the K2 Wayback 98  See the Women's K2 Wayback 98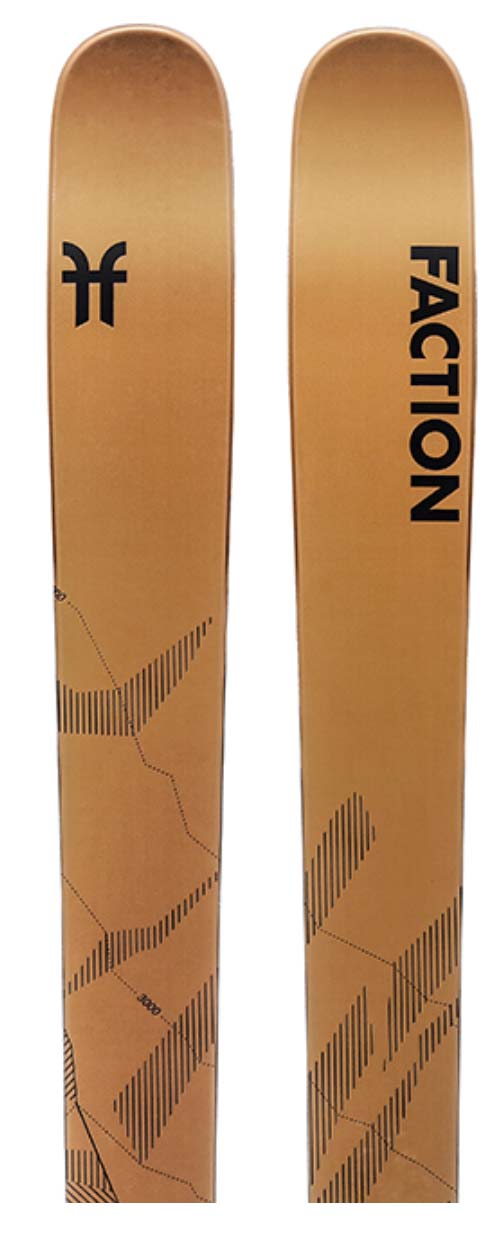 Dimensions: 134-106-124mm
Weight: 7 lb. 10 oz.
Widths: 86, 96, 106, 116mm
What we like: A well-balanced daily driver.
What we don't: On the heavy side for big spring missions.
Traditionally known for its freeride roots, Faction is quickly carving out space for itself in the backcountry category with the Agent line. We've been getting to know the Agent 3 over the past few seasons and have been delighted by how well it floats on powder (thanks to progressive flex in the tip and tail), punches through crud, and even smears spring corn. While far from the lightest ski on our list, its 106-millimeter waist strikes a nice balance for those seeking a ski that will charge downhill but won't tax your legs too much on the ascent. It's worth noting that Faction's Agent line includes widths ranging from 86 (the Agent 1) to 116 millimeters (the Agent 4), but it's the middle-child "3" that's our favorite.
While the Agent offers plenty of edge hold for variable springtime conditions, it's a bit heavy for full-day missions or ski mountaineering. If you want to take it up and down the PNW's Cascade volcanoes, you could certainly do so by mounting it with a lighter tech binding like the Dynafit Speed Radical or ATK Freeraider—the ski is light and flexible enough for lightweight bindings. That said, if you have room in your quiver for multiple setups, we'd recommend using this one as your mid-season daily driver and opting for a lighter ski, like Black Diamond's Helio Carbon 88 above, as your ski mountaineering specialist. 
See the Faction Agent 3  See the Women's Faction Agent 3X

Dimensions: 132-106-120mm
Weight: 6 lb. 1 oz.
Widths: 85, 90, 95, 98, 106mm
What we like: Exceptionally lightweight for the width and performance.
What we don't: Weight compromises dampness.
In contrast to designs like the Black Crows Navis Freebird and Moment Wildcat Tour above, Movement's Alp Tracks ski puts a premium on weight savings for moving fast in the mountains. At just over 6 pounds for the 106-millimeter-wide model (narrower and even lighter versions are available), it's built for quick ascents, multi-day efforts, and extended hut trips where ounces really matter. The craftsmanship from the Swiss brand also is undeniable, with a high-end carbon construction and very clean styling (the carbon fiber laminate is on full display), but the price is equally steep at $1,350. Clearly this is a specialized tool, but the Alp Tracks offers a very appealing combination of weight, width, and a hand-built feel.
Coming in nearly a full pound lighter than our top-rated Zero G above (which isn't a heavyweight by any means), it's unsurprising that the Alp Tracks suffers in chunky and icy conditions. Cutting that much weight means the ski will get kicked around and won't be as easy to rely on at high speed. On the other hand, the weight pays dividends in maneuverability, and its shape excels on both the up- and downhill in soft snow. And lest we forget, that carbon fiber weave delivers a lot of pop and energy for connecting turns in dreamy conditions. For those in the market for an ultralight powder machine, the Alp Tracks 106 is certainly a worthy choice.
See the Movement Alp Tracks 106

Dimensions: 126-96-116mm
Weight: 5 lb. 13 oz.
Widths: 88, 96, 104, 112mm
What we like: Playful in soft snow.
What we don't: Struggles to hold an edge in hardpack.
Last season, Armada replaced its popular 50/50 Tracer series (the Tracer 98 was a favorite crossover ski of ours) with the more backcountry-focused Locator line. While the change bumped Armada from the top of our crossover category, we appreciate the Locator's full leap into touring with a slate of offerings that still maintain downhill performance. Impressively light, the widest 112-millimeter version weighs less than 7 pounds for the pair, though we prefer the narrower 96-millimeter model here as a more versatile ski for the backcountry. The Locator 96 is constructed with a super light and strong Caruba core with carbon reinforcements and Titanal below the binding, offering plenty of power and control in soft or variable snow and a downhill experience reminiscent of the Tracer.
Like its predecessor, the Locator comes with a few compromises. Although its softer flex gives it a nice, playful ride in powder or spring slush, it's a bit chattery on firm snow and doesn't hold an edge on icy steeps as well as Black Crows' Navis Freebird or Elan's Ripstick Tour above. And while the Locator can still work as a crossover ski if you prefer something light at the resort, Icelantic's Natural 101 and Kästle's TX103 have more range when it comes to broader downhill performance. Nitpicks aside, Armada offers a promising design that we're excited to continue getting to know in the coming seasons.
See the Armada Locator 96

Dimensions: 127-99-117mm
Weight: 5 lb. 12 oz.
Widths: 99, 108mm
What we like: Lightweight yet durable; surprisingly well-rounded performance.
What we don't: Doesn't grip on firm snow as well as we'd like.
Whether you plan to stick to a one-ski backcountry quiver or several pairs of sticks, the Dynastar M-Tour 99 F-Team deserves consideration. In regions with moderate snowfall, it's a versatile choice: With a 99-millimeter waist, all-mountain profile, and lightweight-yet-solid build that features a full sandwich sidewall (which helps with long-term durability), the ski is smooth, predictable, and confidence-inspiring. It'll reliably cruise through boot-top powder, crud, heavy mush, and every skier's least favorite kind: breakable crust. Of course, specialized skis can provide superior float, and heavier skis will blast through junk snow better, but it'll come at the cost of weight and efficiency. For its weight (just under 6 pounds), the M-Pro 99 performs impressively well. 
If you're a serious backcountry skier with multiple touring setups—and live in an area where a wider ski has appeal—we recommend the M-Pro 99 as a springtime corn-harvesting tool or ski mountaineering companion. It's efficient for long days (and multi-day ski traverses) yet reliably damp on the descent if you want to let 'er rip. As expected, and like others in its class—including the Armada Locator 96, Movement Alp Tracks 106, and K2 Wayback 98 above—the M-Pro 99 sacrifices some edge hold in firm, icy conditions, especially once you get onto steeper slopes. That said, the trade-off in saved weight and better-than-expected performance in undesirable snow (because there's no such thing as bad snow) makes that minor sacrifice pretty easy to overlook.
See the Dynastar M-Tour 99 F-Team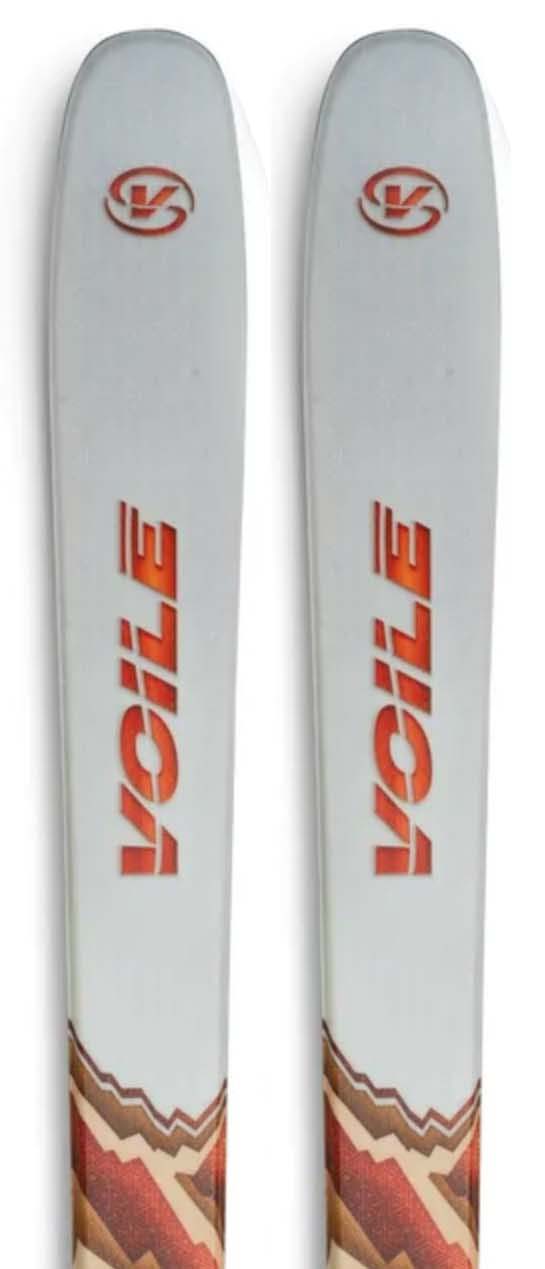 Dimensions: 140-106-124mm
Weight: 6 lb. 3 oz.
Width: 106mm
What we like: Fun factor and great all-around performance at a good value.
What we don't: DPS gets the nod for powder.
Utah-based Voilé has a strong reputation for building backcountry dream machines, and the HyperCharger is their best effort yet. What stands out in the touring world is its natural feel and performance—unlike many skis that lose a little personality and fun as they drop weight, the HyperCharger turns, pops, and carves at a high level. With mild rocker at the tip and camber underfoot the 106-millimeter waist, the HyperCharger is a true all-rounder. And at $850, it's a good deal among comparable backcountry models.
What's keeping the HyperCharger off the top of our podium? For one, the Voilé has a little more hard-snow bias than its width implies, and the ski isn't as effortless in powder as DPS models. The flat tails can sometimes catch in deeper snow—something that's not as much of an issue with the rockered tails on the Pagoda Tour above—and it's a little less predictable in crud, too. But we keep coming back to value (relatively speaking, of course): For under $900, you get a beautifully made, strong, and thoroughly enjoyable backcountry ski with few downsides. It's worth noting that Voilé also offers the SuperCharger, which has the same dimensions as the HyperCharger but uses less carbon and an aspen core for more weight (7 lb. 3 oz.) and less cost ($750).
See the Voilé HyperCharger  See the Women's Voilé HyperCharger
Dimensions: 137-108-128mm
Weight: 8 lb. 6 oz.
Width: 108mm
What we like: A hard-charging ski that's available in two profile types (camber or reverse-camber).
What we don't: Too heavy for long tours or ski mountaineering.
For a brand that just celebrated its fourth birthday, Wndr Alpine has already made a name for themselves in the backcountry skiing world. Part of this is due to the fact that they're a Certified B Corporation and a leader in using biobased and recycled materials (like algae) along with innovative techniques to minimize manufacturing waste. Since getting started in 2019, Wndr has launched four skis in widths of 88, 98, 108, and 120 millimeters. The Intention 108 here was new last season and replaced and built on the brand's first-ever ski, the Intention 110. With the 108, Wndr shortened the turn radius and stiffened the ski's flex, creating a hard charger that's willing to take on big lines, high speeds, and variable snow. 
Particularly unique—and something we haven't seen elsewhere—is that the Intention 108 is offered with either a camber or reverse-camber profile. As a result, the ski can be a versatile all-mountain companion for skiers who like to go fast regardless of conditions or a powder surfer that will maneuver through tight terrain for those who love to float and pivot. The ski's main limitation is its hefty build: At over 8 pounds for the pair, the Intention 108 is among the heaviest options here (along with DPS' much wider Carbon Lotus 124 below) and not ideal for all-day ascents or demanding ski mountaineering objectives. Intermediate riders may also find the Wndr Alpine too stiff, in which case we'd recommend opting for a more forgiving alternative like the top-ranked Blizzard Zero G 105. 
See the Wndr Alpine Intention 108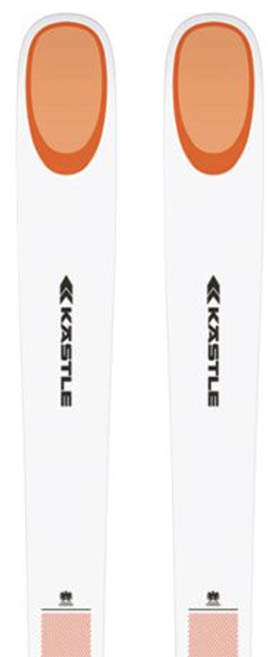 Dimensions: 138-103-120mm
Weight: 7 lb. 2 oz.
Widths: 65, 77, 87, 93, 103mm
What we like: Kästle's renowned downhill capabilities in a trimmed-down build.
What we don't: Can be hard to find online; not a weight or price leader.
Kästle has a loyal following among expert skiers of all disciplines, and their alpine touring collection is the impressive TX line. Available in widths ranging from 65 millimeters for skimo racers up to the 103-millimeter model here, the design is well respected for its downhill performance in nearly all conditions. A key ingredient is the unique Hollowtech tip, which strips away a significant amount of the material at the front of the ski to reduce weight while retaining good stability and dampening properties. Combined with Kästle's typical attention to detail and premium materials—highlighted by a carbon and fiberglass layer that sits above the wood core—and you get a ski that excels in everything from open bowls to steep chutes.
Two consistent challenges with Kästle skis are their steep price tags and availability in the U.S. While the TX103 does undercut alternatives like the DPS Pagoda Tour above, it's still among the priciest on the market at nearly $1,000 (the MSRP is the same for the narrower options). And unfortunately, the skis can be hard to track down online, especially as you get further into the ski season. Finally, at just over 7 pounds for the pair, the TX103 isn't best-in-class in terms of weight. That said, it's still pretty reasonable for all but the longest days, and we suspect downhill-focused riders will find the tradeoff to be well worth it.
See the Kästle TX103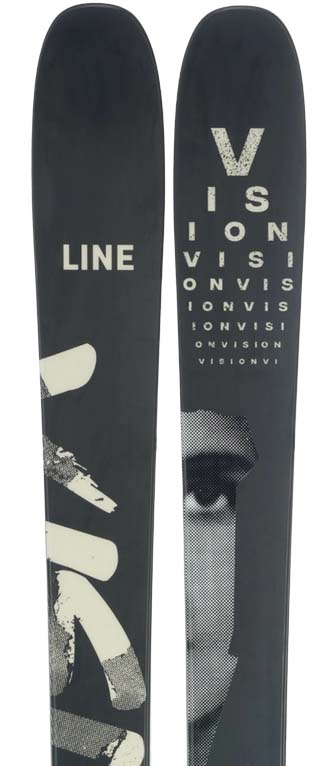 Dimensions: 142-108-128mm
Weight: 7 lb. 1 oz.
Widths: 98, 108, 118mm
What we like: A playful, freestyle-oriented backcountry option.
What we don't: Not very planted at speed.
True to the brand's freestyle roots, the Line Vision is quick, playful, and downright fun in soft snow (especially in its wider 108 and 118mm shapes). Backcountry skis often trade some personality for weight savings, but Line's touring collection is a rare exception. The Paulownia and maple wood core give it excellent pop, and a creative mix of carbon and aramid fibers (also known as Kevlar) allows the ski to float nicely atop powder or in midair off a natural feature. For playful backcountry skiers, the Vision is an intriguing option.
What you give up with the Line's forgivable nature is stability at speed. The fairly soft front end and decently aggressive rocker profile aren't very happy busting through crusty snow or skating on ice. As such, skiers who plan on tackling ambitious lines or dabbling in pucker-worthy terrain may want to steer clear (the Black Crows Navis Freebird above is far superior in these situations). But if an easy-to-drive ski that puts a smile on your face is the goal, look no further than the Line Vision.
See the Line Vision 108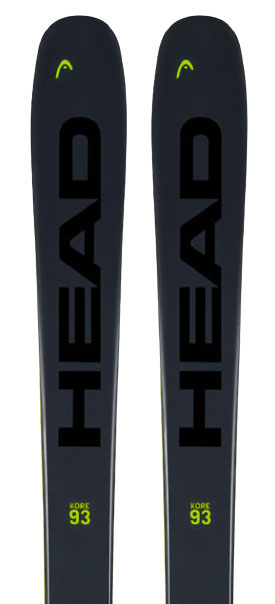 Dimensions: 133-93-115mm
Weight: 6 lb. 13 oz.
Widths: 87, 93, 99, 105, 111, 117mm
What we like: Lightweight all-mountain build that's ready to tour.
What we don't: Requires a strong and capable pilot.
At its release, Head's Kore all-mountain ski took the market by storm with its stiff yet superlight construction. And it's this focus on weight-cutting that put the Kore on the map for many backcountry riders. Now in its second iteration, the ski remains a light and strong machine—a creative mix of Graphene and carbon fiber give it a solid yet feathery backbone—but we found the latest model is a smoother operator than the original that doesn't get knocked around as much in choppy and ugly snow. We especially like the versatile 93-millimeter design, which can pull double duty on non-powder backcountry days as well as all season long at the resort.
The Kore undoubtedly is a fantastic all-mountain build and isn't out of place on a skin track, but we think there are better touring-specific options out there. The ski is too stiff and a little narrow for real powder, and it requires a confident pilot to really get the most out of it in less predictable backcountry conditions. In addition, the Kore's 16.4-meter turn radius makes it great in tight spots, but it isn't as adept at big sweeping turns in the soft stuff. Stepping up to the Kore 99 helps in some ways—particularly in soft snow where we found it floats very well—but the ski's very sturdy build limits its appeal to expert or pro backcountry riders... Read in-depth review
See the Head Kore 93

Dimensions: 146-106-128mm
Weight: 7 lb. 9 oz.
Widths: 86, 94, 106, 114mm
What we like: Great price for a mixed resort and backcountry design.
What we don't: Would like a more buttoned-down feel on groomer days.
Völkl's Blaze targets the growing market of 50/50 resort and backcountry skis. It's tailor-made for throwing on a pair of Salomon Shift or Marker Kingpin bindings: The ski is a natural in soft snow with a very smooth flex and easy-to-manage turn radius, and Völkl did a nice job keeping things light with a simple wood construction. But perhaps the most impressive feature is the price: At $700, it's the most affordable powder-ready ski on this list.
What keeps the Völkl Blaze from taking our top crossover backcountry/resort spot? The primary issue is confidence in firm snow conditions, where we found it to be fairly difficult to control. There was a decent amount of tip flap at speed, and the ski felt chattery and was hard to smoothly turn and stop on icy hardpack. We suspect adding a layer of carbon would go a long way in improving stiffness and all-around performance, but it would impact the Blaze's flickable feel as well as hurting its value. These complaints push the Blaze down our list, but it's still a quality ski, and especially in regions that have consistently good snow... Read in-depth review
See the Völkl Blaze 106  See the Women's Völkl Blaze 106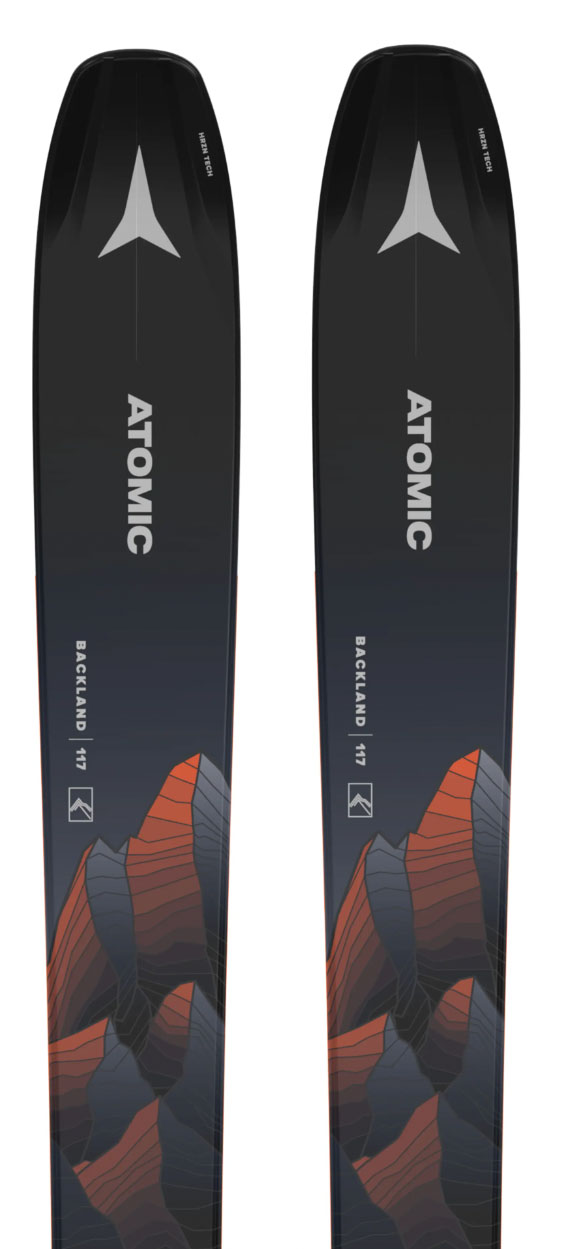 Dimensions: 140.5-117-129.5mm
Weight: 8 lb. 5 oz.
Widths: 78, 85, 95, 100, 107, 117mm
What we like: Good price for deep powder performance.
What we don't: Too flexy for aggressive skiers.
For a super wide powder ski at a darn good price, check out the Atomic Backland 117. With plenty of rocker at the tip, this ski is thoroughly capable for those days with snow dumps measured in feet but surprisingly buttoned-down with camber underfoot and light rocker in the tail. It's a far cry from the all-rounders at the top of our list, but the Backland 117 is just too much fun not to make an appearance here.
The Atomic Backland is well built and holds its own at speed, but those hitting big-time lines may want a little more ski. If that's your objective, we recommend taking a look at Atomic's own Bent Chetler line (including our top powder ski for this season, the Bent Chetler 120). By comparison, the Backland is fairly soft and won't react as well to inputs from hard-charging riders. On the other hand, it's friendly and playful for floating a wide and open bowl. This middle ground certainly has an appeal for freeride powder touring (and deep days at the resort), though the DPS Carbon Lotus 124 below is worth the splurge for Alaska-level terrain.
See the Atomic Backland 117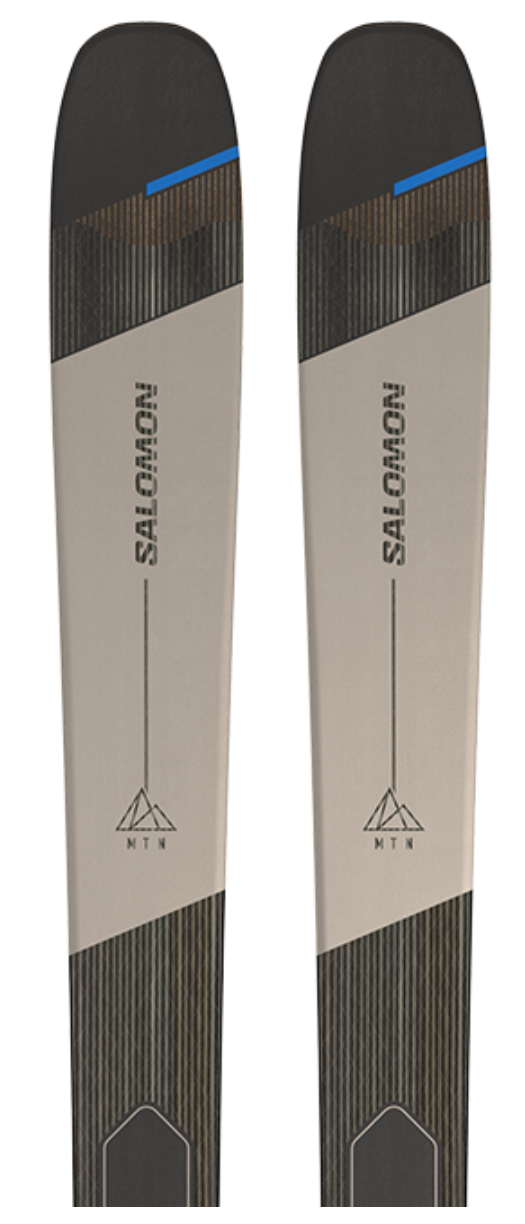 Dimensions: 130-96-116mm
Weight: 6 lb. 13 oz.
Widths: 86, 96mm
What we like: Well-rounded performance for intermediate and advanced skiers.
What we don't: Too narrow for deep days and too heavy for ski mountaineering.
Lighter and more flexible than its predecessor, the Mtn Explore 95, Salomon's Mtn 96 Carbon is even better-suited for long tours with adventurous descents. It's also less chattery thanks to cork in the tip of the ski, which Salomon claims absorbs more vibration than the Koroyd utilized in the previous version. For the core, they went with a proven mix of Karuba wood and carbon reinforcements to keep the ski light (less than 7 lb. for the pair) without sacrificing strength or snappy response on the descent. Finally, kudos to Salomon for using 40% sustainable materials in the ski, joining the ranks of Wndr, DPS, and others in their efforts to reduce their environmental footprint.
It's notable that this ski's 96-millimeter width is as wide as Salomon's Mtn line goes (there's also a non-carbon 86mm model), so deep powder seekers will need to look elsewhere (DPS's Pagoda Tour and Line's Vision 108 above come to mind). Additionally, the ski falls into the middle range when it comes to weight, so they're not our top pick for ski mountaineering, either (see BD's Helio Carbon 88 or almost any of Dynafit's skis). Instead, the Mtn 96 Carbon gets you a reasonably lightweight ski for the uphill that doesn't sacrifice much in the way of stability and precision on the descent. In other words, despite falling towards the bottom of the list, it's still a solid all-rounder—just not a standout in any one area.
See the Salomon Mtn 96 Carbon

Dimensions: 141-124-131mm
Weight: 8 lb. 10 oz.
Width: 117, 124mm
What we like: Powder dreaming.
What we don't: Way too wide for most skiers and conditions.
We debated adding the Lotus 124 to this group with the fantastic Pagoda line already represented above, but this model is too good to leave off. To be clear, this is an inherently limited ski, and we certainly hope that it isn't a top consideration unless your uphill work often comes with some assistance from a helicopter. But for the kind of powder that makes it worth hauling 124-millimeter-wide sticks (think big lines in places like Alaska and British Columbia), the Lotus won't let you down once gravity takes over. And for 2024, the fifth generation gets a slight update to its profile, as well as a touch more stiffness in the tip and tail to boost its high-speed and stomping capabilities.
What the Pagoda 124 stands for is the ultimate expression of DPS's soft-snow heritage. Simply put, the ski is a dreamboat slicing through deep powder. And equipped with an impressively damp carbon construction, it will remain composed at highlight-worthy speeds. With a long turn radius of 23 meters and healthy 141-millimeter-wide shovel, the ski is not meant for navigating anything tight, but the generous rocker profile, surprisingly reasonable sub-9-pound weight, and smooth setup make it fairly easy to control despite the large dimensions. For the select few powder hounds who need a ski of this caliber, we can't think of a better option than the Lotus 124.
See the DPS Carbon Lotus 124
Backcountry Ski Comparison Table
| Ski | Price | Dimensions | Weight | Width(s) | Radius |
| --- | --- | --- | --- | --- | --- |
| Blizzard Zero G 105 | $900 | 133-105-119mm | 6 lb. 11 oz. | 85, 95, 105mm | 23m |
| DPS Carbon Pagoda Tour 106 | $1,550 | 137-106-121mm | 6 lb. 13 oz. | 90, 94, 100, 106, 112mm | 19m |
| BD Helio Carbon 88 | $850 | 120-88-111mm | 5 lb. 11 oz. | 88, 95, 104, 115mm | 18m |
| Moment Wildcat Tour | $859 | 141-116-131mm | 7 lb. 12 oz. | 108, 116mm | 23m |
| Icelantic Natural 101 | $899 | 132-101-117mm | 7 lb. 7 oz. | 101mm | 21m |
| Black Crows Navis Freebird | $900 | 138-102-119mm | 7 lb. 8 oz. | 102mm | 19m |
| Elan Ripstick Tour 104 | $850 | 128-104-122mm | 6 lb. 13 oz. | 88, 94, 104mm | 23m |
| K2 Wayback 98 | $800 | 126-98-114mm | 6 lb. 2 oz. | 80, 84, 89, 92, 98, 106mm | 22m |
| Faction Agent 3 | $849 | 134-106-124mm | 7 lb. 10 oz. | 86, 96, 106, 116mm | 21m |
| Movement Alp Tracks 106 | $1,350 | 132-106-120mm | 5 lb. 15 oz. | 85, 90, 95, 98, 106mm | 21.5m |
| Armada Locator 96 | $800 | 126-96-116mm | 5 lb. 13 oz. | 88, 96, 104, 112mm | 21m |
| Dynastar M-Tour 99 F-Team | $850 | 127-99-117mm | 5 lb. 12 oz. | 99, 108mm | 20m |
| Voilé HyperCharger | $850 | 140-106-124mm | 6 lb. 3 oz. | 106mm | 19.5m |
| Wndr Alpine Intention 108 | $899 | 137-108-128mm | 8 lb. 6 oz. | 108mm | 20m |
| Kästle TX103 | $999 | 138-103-120mm | 7 lb. 2 oz. | 65, 77, 87, 93, 103mm | 19m |
| Line Vision 108 | $800 | 142-108-128mm | 7 lb. 1 oz. | 98, 108, 118mm | 19.5m |
| Head Kore 93 | $749 | 133-93-115mm | 6 lb. 13 oz. | 87, 93, 99, 105, 111, 117mm | 16.4m |
| Völkl Blaze 106 | $700 | 146-106-128mm | 7 lb. 9 oz. | 86, 94, 106, 114mm | 28/17/36m |
| Atomic Backland 117 | $850 | 140.5-117-129.5mm | 8 lb. 5 oz. | 78, 85, 95, 100, 107, 117mm | 19m |
| Salomon Mtn 96 Carbon | $800 | 130-96-116mm | 6 lb. 13 oz. | 86, 96mm | 19m |
| DPS Carbon Lotus 124 | $1,600 | 140-124-130mm | 8 lb. 10 oz. | 117, 124mm | 23m |
Backcountry Ski Buying Advice
What Are Backcountry Skis?
For those who want to explore beyond the crowds and lift-served terrain, backcountry skis (also referred to as alpine touring skis) are the ticket. Designed for ascending efficiently and handling variable downhill conditions, there are a wide range of alpine touring ski options for everything from deep powder to springtime corn. But their defining feature—and what differentiates them from inbound skis—is a shared emphasis on trimming weight. This focus can make some of them less powerful, stable, and durable than a pure downhill ski or powder ski, but the tradeoff is worth it for covering ground in the backcountry.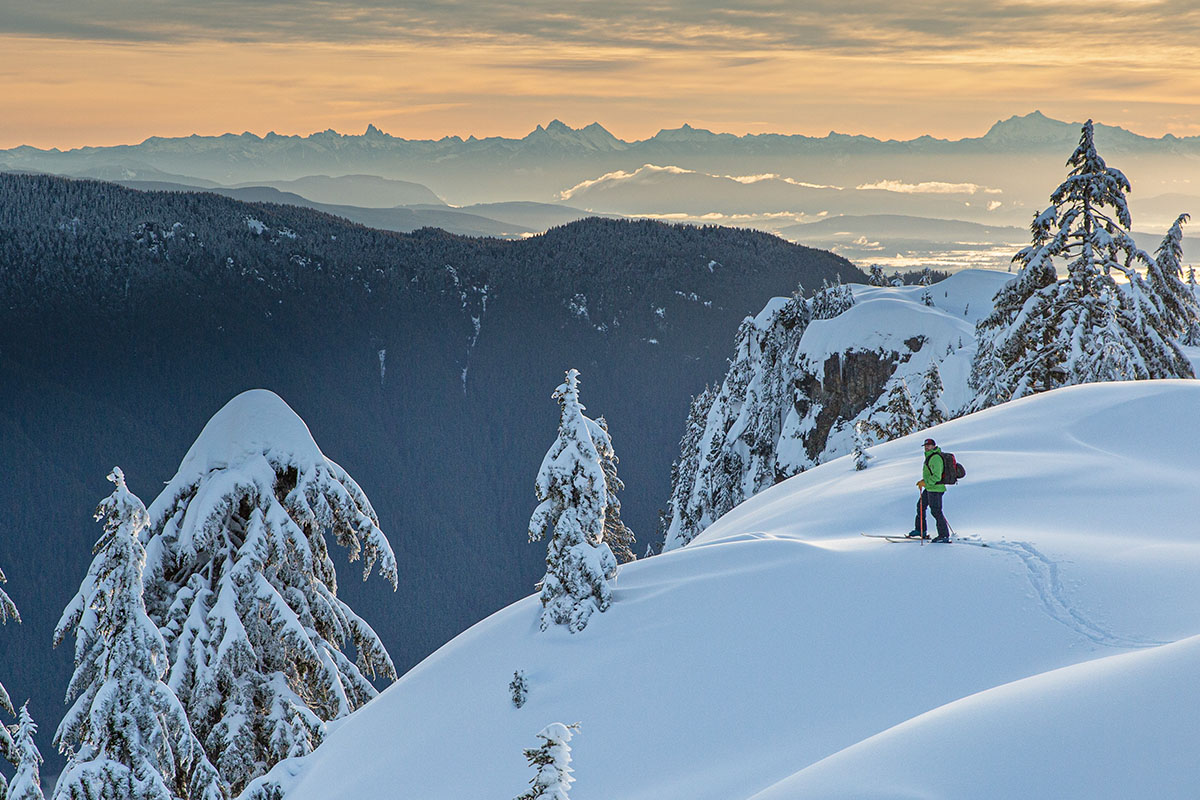 Freeride, Freetour, and Touring Skis: What's the Difference?
As you're browsing backcountry skis, you may see terms like "freeride" or "freetour" thrown around by manufacturers and retailers—and sometimes they seem to be used interchangeably to describe backcountry-oriented skis. So, what's the difference? 

Freeride
Freeride describes open, ungroomed terrain, though it typically refers to extreme terrain—if you think about events like the Freeride World Tour, steep slopes interspersed with cliffs may come to mind. Freeride terrain can also include open bowls and chutes, but it's not quite synonymous with the term "backcountry," which broadly encompasses all terrain that is not groomed or controlled for avalanches. As a result, skis designed for freeride use are going to be primarily downhill-focused and built to charge hard and land big drops. Correspondingly, they're heavier and damper than a dedicated touring design. Depending on your applications, the extra weight can be worth it: If, for example, you plan to tackle big-mountain lines, heli ski, cat ski, or spend the majority of your time on lift-assisted terrain, a freeride ski is a suitable choice. Some examples of relatively lightweight freeride designs include Head's Kore collection and the standard (non-Tour) version of Elan's Ripstick.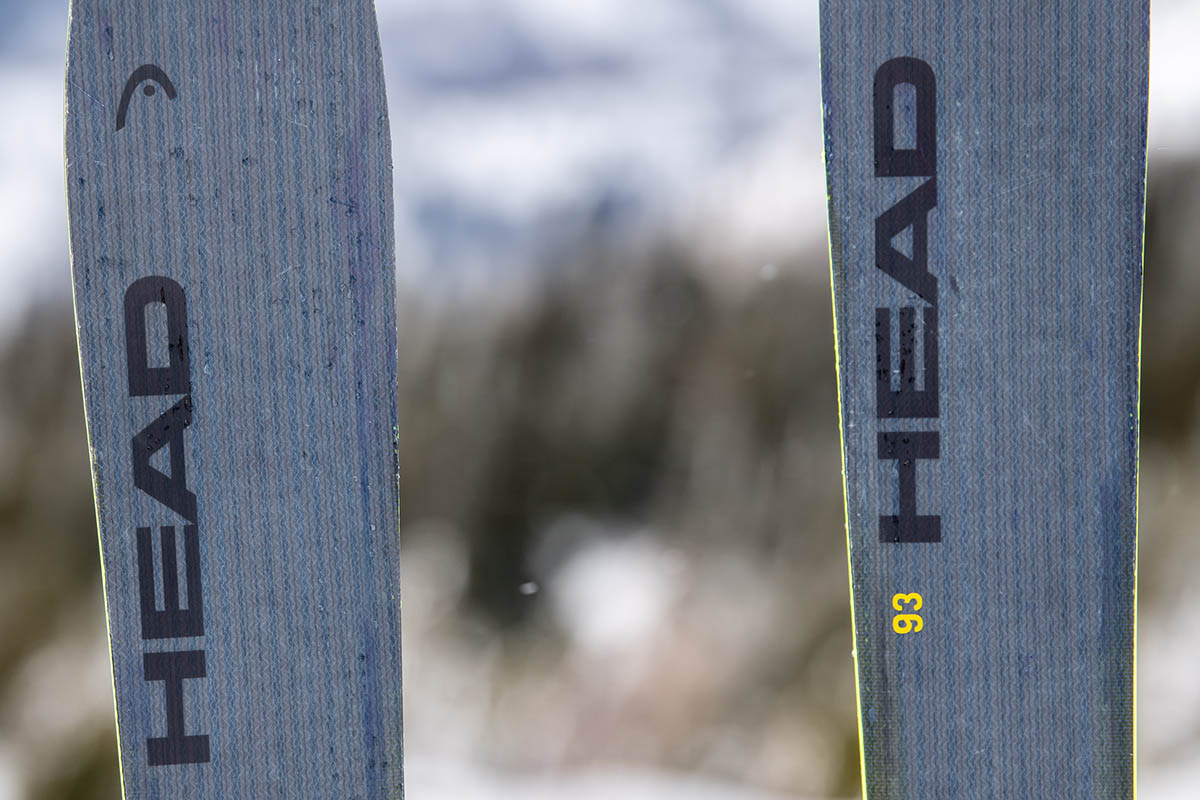 Freetour
You won't run into the term "freetour" as often as freeride, but some brands like K2 and Scott use the designation. As the name suggests, freetour skis aim to split the difference between freeride and standard touring skis, with a step up in downhill performance without a big weight penalty. Using K2 as an example, their lighter-weight and softer Wayback collection falls under their touring category, while the burlier but still backcountry-oriented Dispatch is considered a freetour ski. At a certain point, it's splitting hairs–and plenty of other factors will come into play as you narrow your search–but understanding these terms can provide a bit of clarity in finding the ideal ski(s) for you.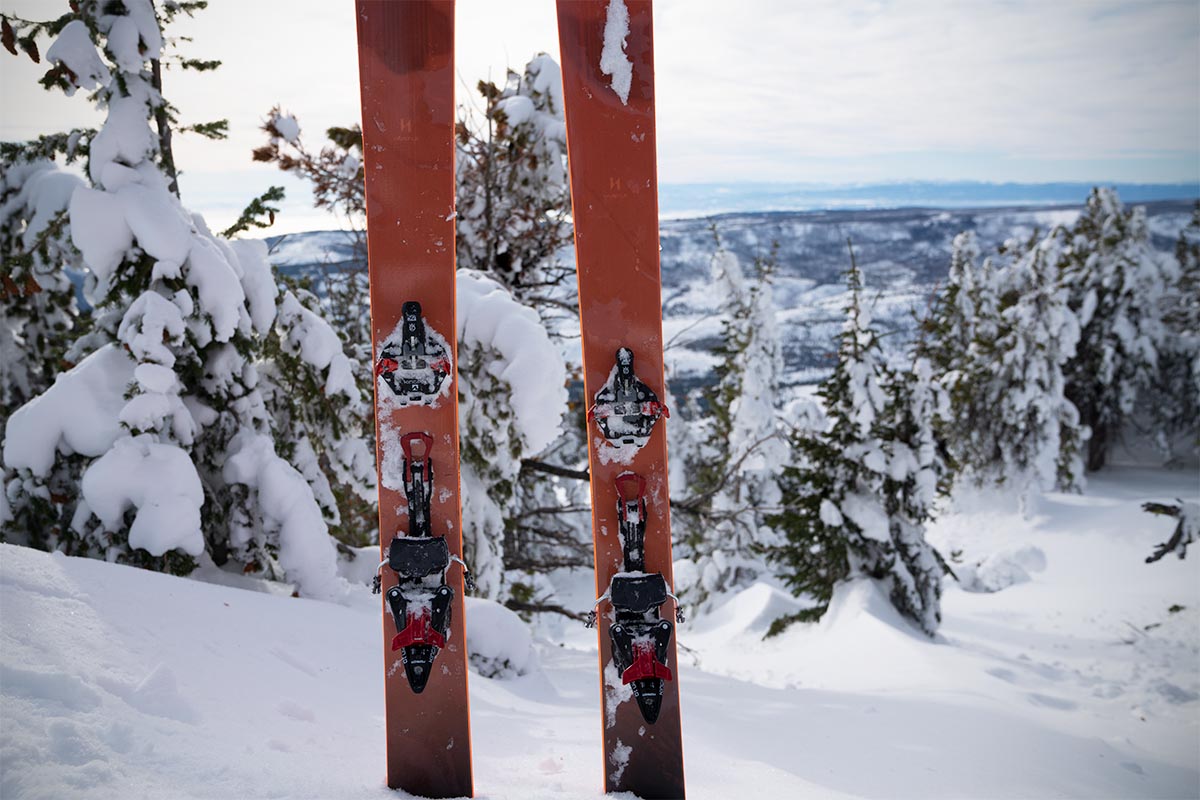 Uphill vs. Downhill Performance
This is perhaps the trickiest factor in selecting a backcountry ski: choosing between saving energy on the uphill and maximizing downhill stability and performance. Logically, choosing a narrow and thin ski to make life easier on the skin track may sacrifice some power, floatation, and control on the descent, so it's good to start by defining your priorities and your preferred style of touring. Are you looking for short uphills for rowdy freeride descents in powder? Go with a substantial downhiller that's slightly heavier, like the Moment Wildcat Tour. Or will you be doing long traverses and ski mountaineering? Then put weight above all else with the ultralight Black Diamond Helio Carbon 88 or a similar ski (Dynafit and Ski Trab are two leaders in this category).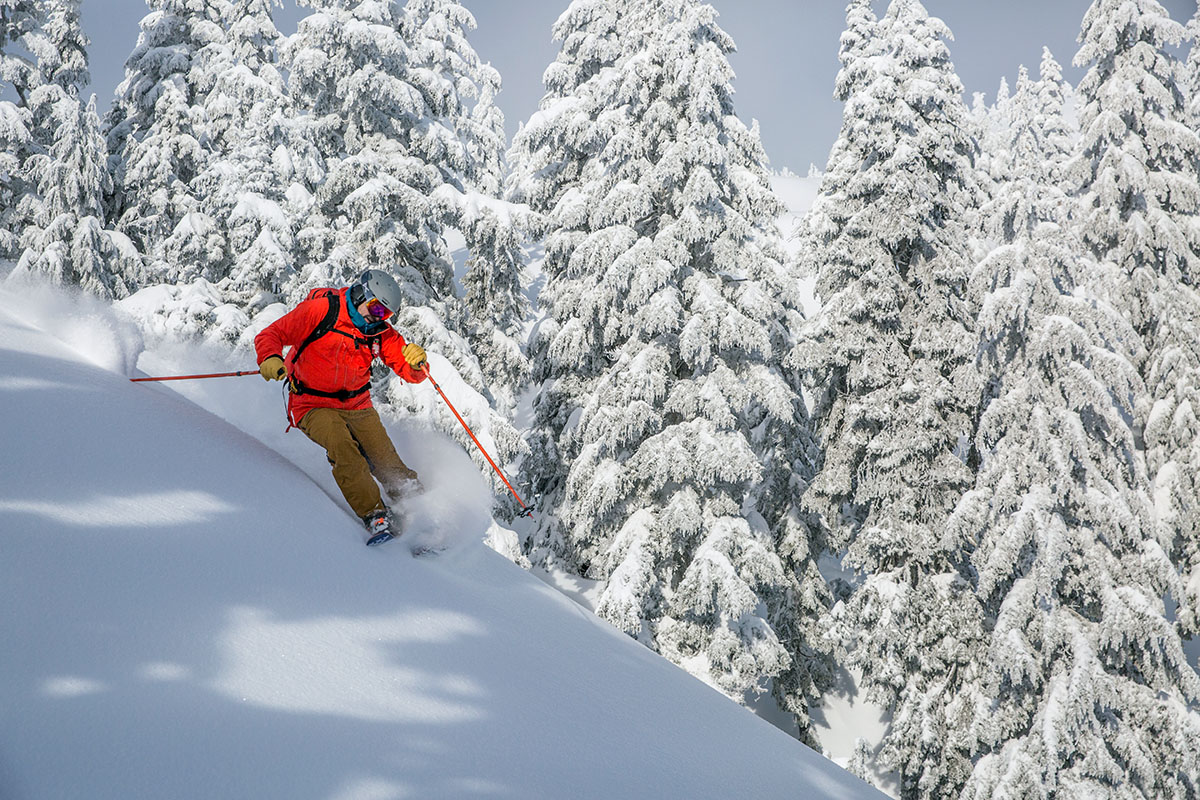 However, if you're like most skiers and land somewhere in between—you're willing to sacrifice a little speed or stability on the descent or give up some control in variable snow—there are plenty of great options that aim to evenly balance weight and performance. And, as backcountry skiing gains widespread popularity, ski manufacturers are responding with better technology and more well-rounded designs that make fewer compromises every year. A few of our favorite all-rounders include DPS's Pagoda Tour collection, Black Crows' Freebird line, and Icelantic's Natural.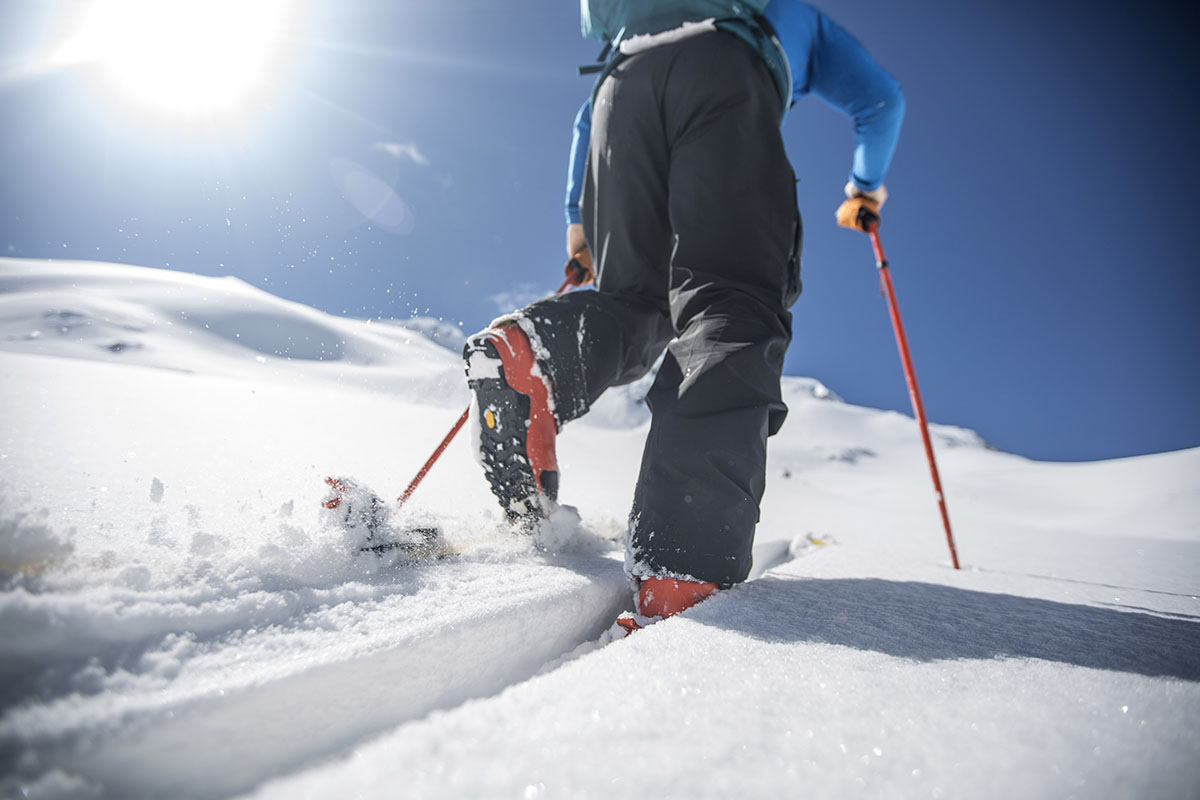 Ski Waist Width
85mm to 100mm
Even for summer ski mountaineering or logging miles of approach in the backcountry, 85 millimeters should be just about the narrowest and lightest backcountry ski you need (any narrower and you're getting into skimo racing skis). With improved rocker designs in recent years, narrower skis in this width range achieve reasonable float in variable conditions while maintaining snappy edge-to-edge movement. The smaller size and weight also make them ideal for technical mountaineering, as we see in Black Diamond's Helio Carbon skis, which include waist widths of 88 and 95 millimeters. For the budget conscious, the K2 Wayback 89 is a great option in this range as well.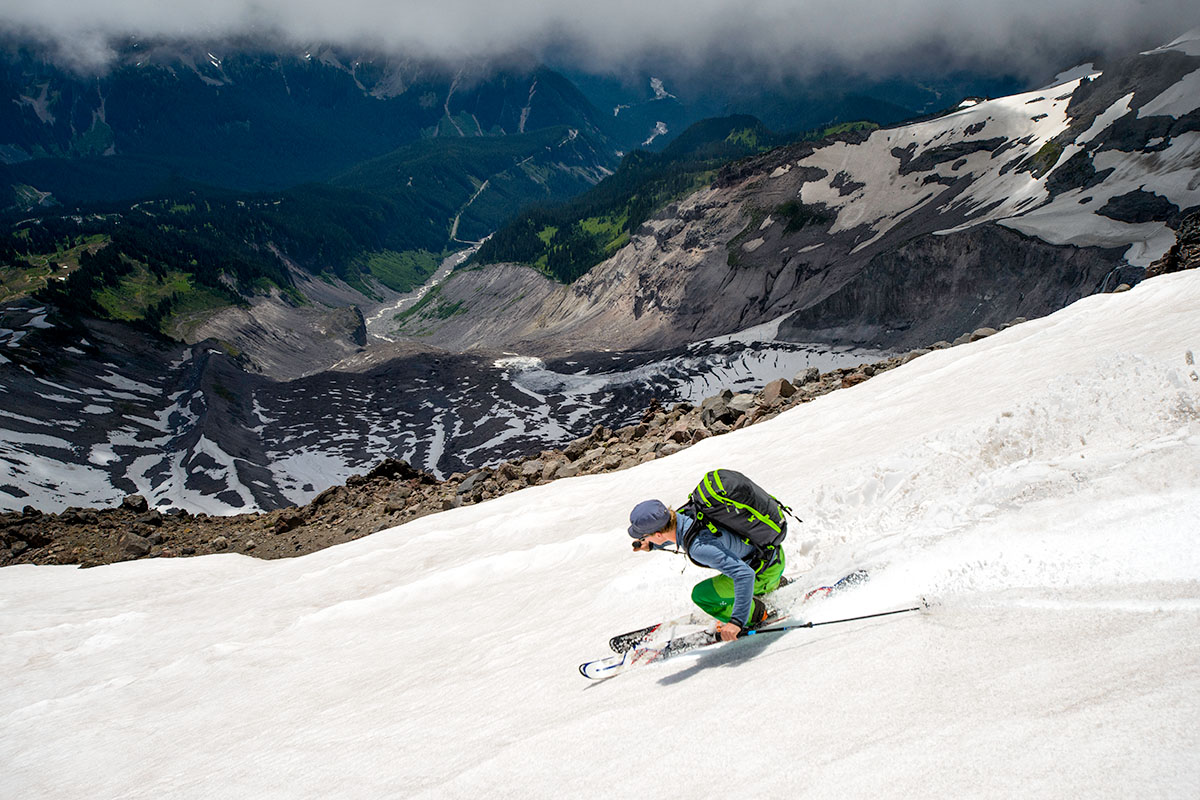 100mm to 110mm
Skis with a waist width between 100 and 110 millimeters are what we consider to be "quiver killers." In other words, if you're going to buy one pair of backcountry skis and live in an area with decent snow, these are it. More and more companies are releasing skis that hover around the 105-millimeter mark, many of which offer impressive versatility both out of bounds and at the resort. Blizzard's Zero G 105, Faction's Agent 3 (106mm underfoot) and Black Crows' Navis Freebird (102mm) are a few of our favorites in this range. While not specifically designed for backcountry skiing, one nice hybrid option to consider is the Völkl Blaze (106mm wide). Skis of this waist width are narrow enough for spring touring but really shine in the winter months when there is potential for deeper conditions.

110mm-120mm+
These skis are made to shred serous pow. In most cases, they are specialized for deep snow with exceptional float. On the flip side, this also means more weight and more ski to manage. However, "fat" alpine touring skis like the Moment Wildcat Tour and the Atomic Backland 117 are incredibly fun on the downhill and will cater to those who live for days of cold smoke. Only buy a backcountry ski of 115mm+ if you plan on skiing regularly in deep conditions or Alaska-type lines that require a big, powerful design like the DPS Skis Carbon Lotus 124.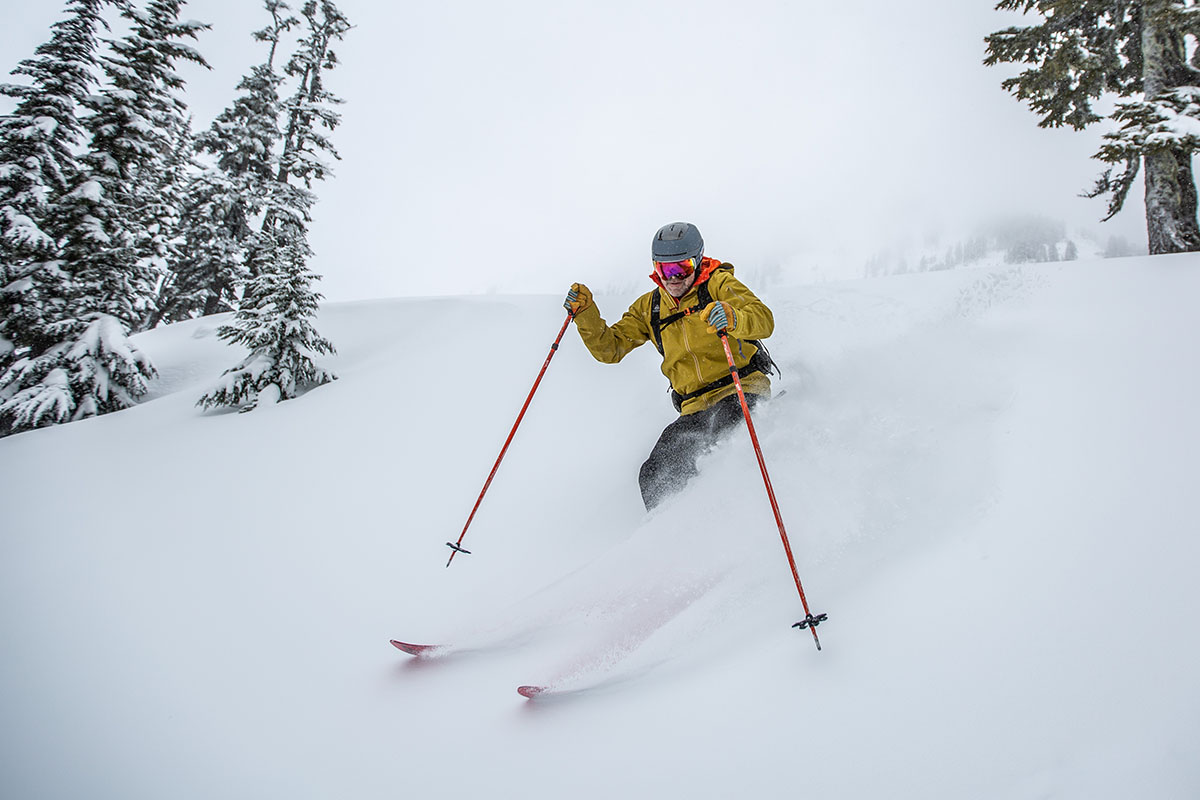 Weight
One thing on the mind of most backcountry skiers is the weight of their setup. And as you can see in the comparison chart above, ski weights can vary quite a bit, from the impressively light Dynastar M-Tour 99 F-Team (5 lb. 12 oz.) and Armada Locator 96 (5 lb. 13 oz.) to the burly Wndr Alpine Intention 108 and DPS Carbon Lotus 124 (both over 8 lb. per pair). All-rounder backcountry models like the Blizzard Zero G 105 and Elan Ripstick Tour 104 (both 6 lb. 13 oz.) land in between these extremes and are a nice match for those looking for an effective balance between uphill efficiency and downhill performance.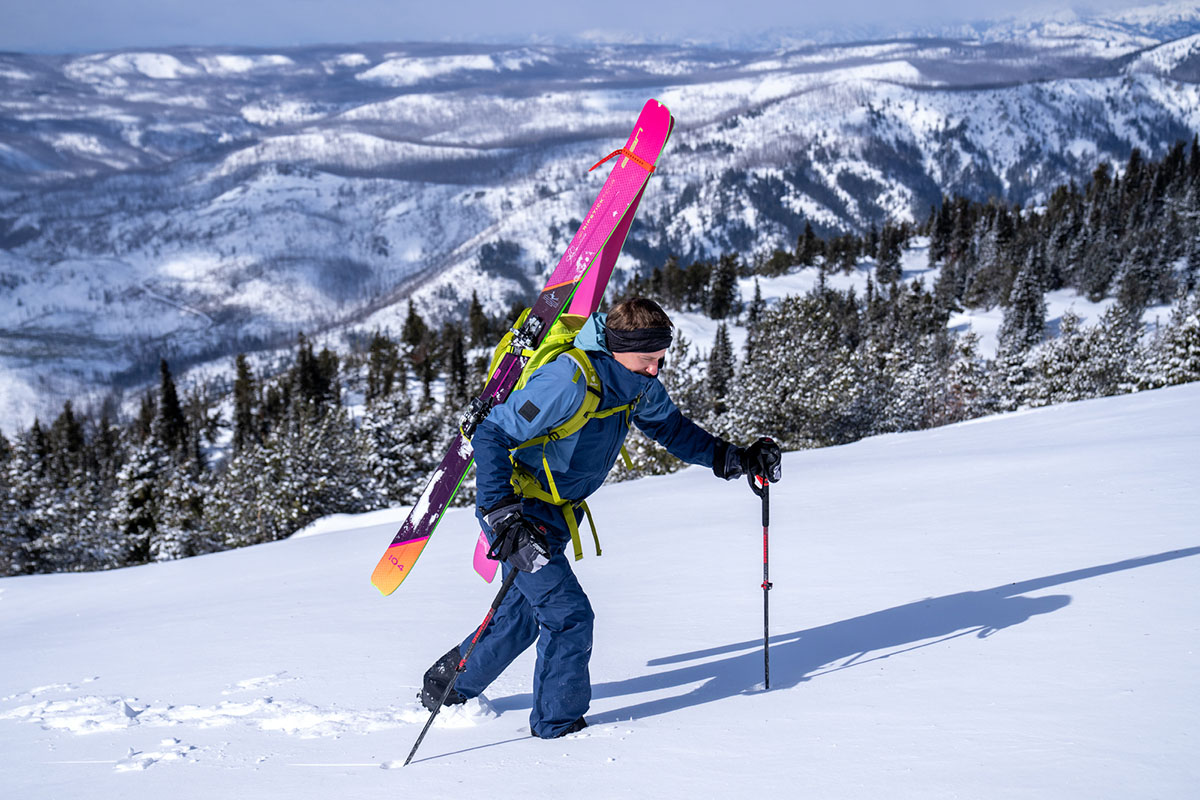 Materials and construction are notable factors in the weight of a ski. Skis built with carbon fiber will be lighter than their fiberglass counterparts. Further, different types of wood cores yield differences in weight (see the section below on "Core Materials" for more information on this topic). Some manufacturers cut back on the sheer amount of material, eliminating metal edges on parts of the ski that rarely engage the snow. This technique, in addition to honeycomb-like cutouts, reduces swing weight in the tip and tail of the ski (found in Salomon skis, for example). And Head's Kore 93 is bereft of a topsheet and has a mixed Graphene and carbon construction, making for a remarkably light ski relative to its downhill performance.
Weight also is tied directly to a ski's length and width. Obviously, shorter and narrower skis will have less material and therefore weigh less. But before you go real skinny and short, be sure to factor in the ideal length for your height, weight, and ability level, as well as the ideal waist width for your intended conditions. As we covered in the section on Uphill vs. Downhill Performance above, your preferred style of touring will push you toward a ski that is light, heavy, or somewhere in the middle.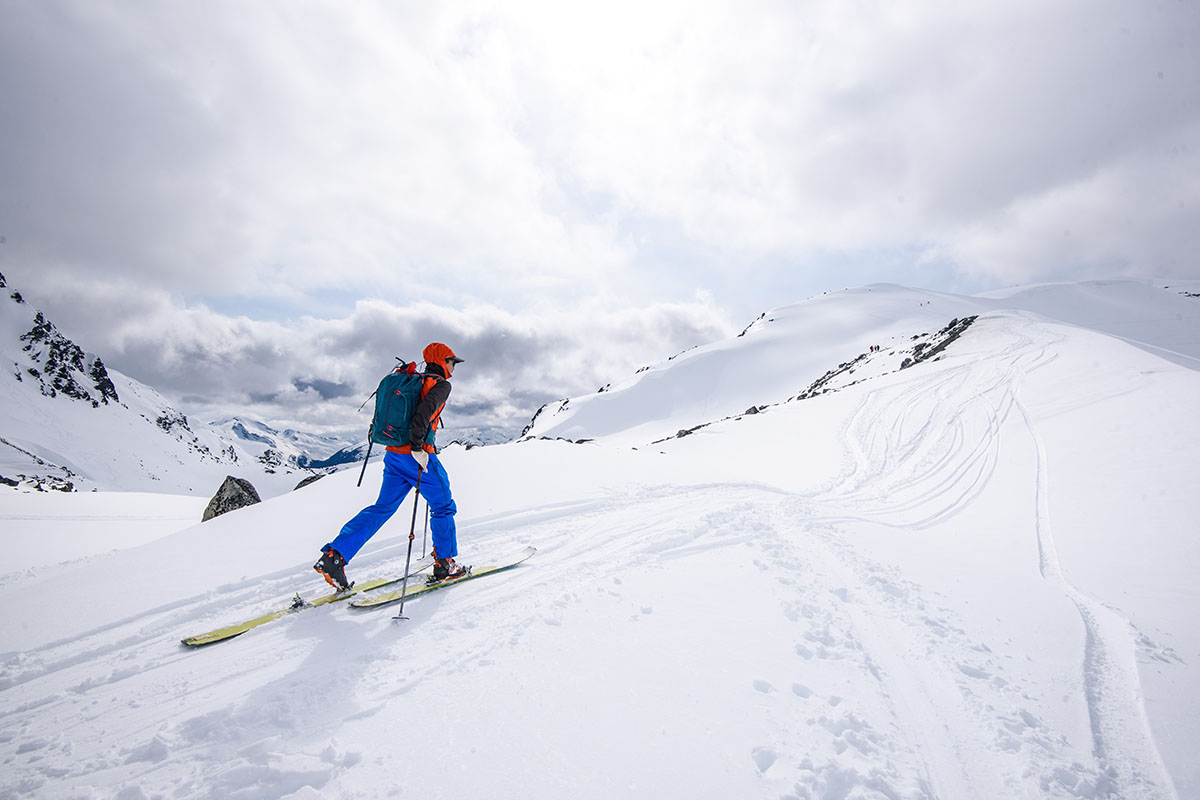 Ski Profile: Rocker and Camber
Rocker and camber are design profiles used to describe the curvature of the ski. Camber is the traditional profile that makes the ski convex in relation to the snow, with direct contact points spread widely near the tip and tail. Rocker is a more modern technique that looks akin to the bottom of a boat with early rise in the tip and/or tail. Most backcountry skis on the market today have a combination of rocker and camber in their profile, with camber underfoot and rocker in the tip and sometimes the tail.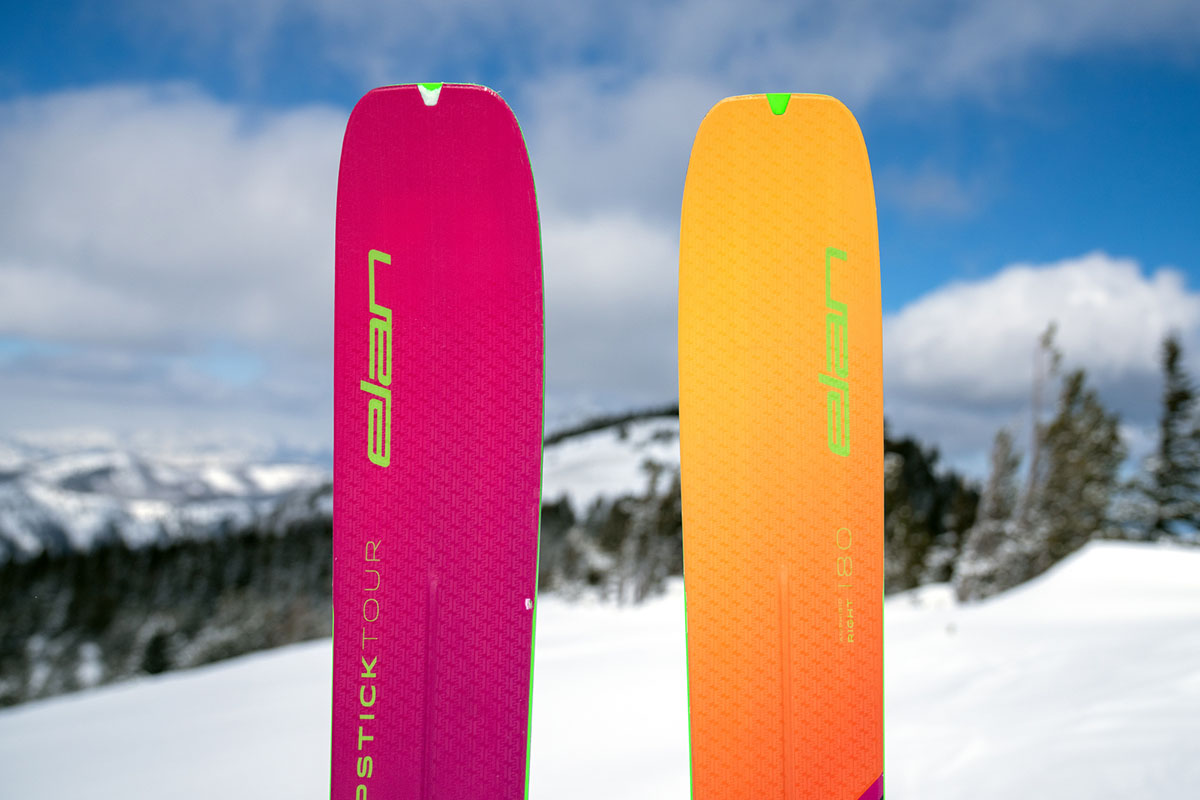 Camber and rocker greatly affect a ski's overall performance. More camber underfoot helps with edge control in steep terrain and can increase stability at higher speeds. The additional edge provided by a camber profile also improves traction while skinning uphill, especially on firm snow. Rocker in the tip increases float and the ability to power through crud and variable conditions, while a little rocker in the tail can be helpful when navigating technical sections, allowing the ski to ride backwards without difficulty and reducing the risk of catching an edge (it will also help you kick-turn while ascending). However, a heavily rockered ski can limit your contact points and make climbing more of a chore. The most versatile touring skis have some rocker in the tip, camber underfoot, and a flat or slightly rockered tail—some examples of skis with this profile include the Faction Agent 3, Black Crows Navis Freebird, and Salomon Mtn 96 Carbon.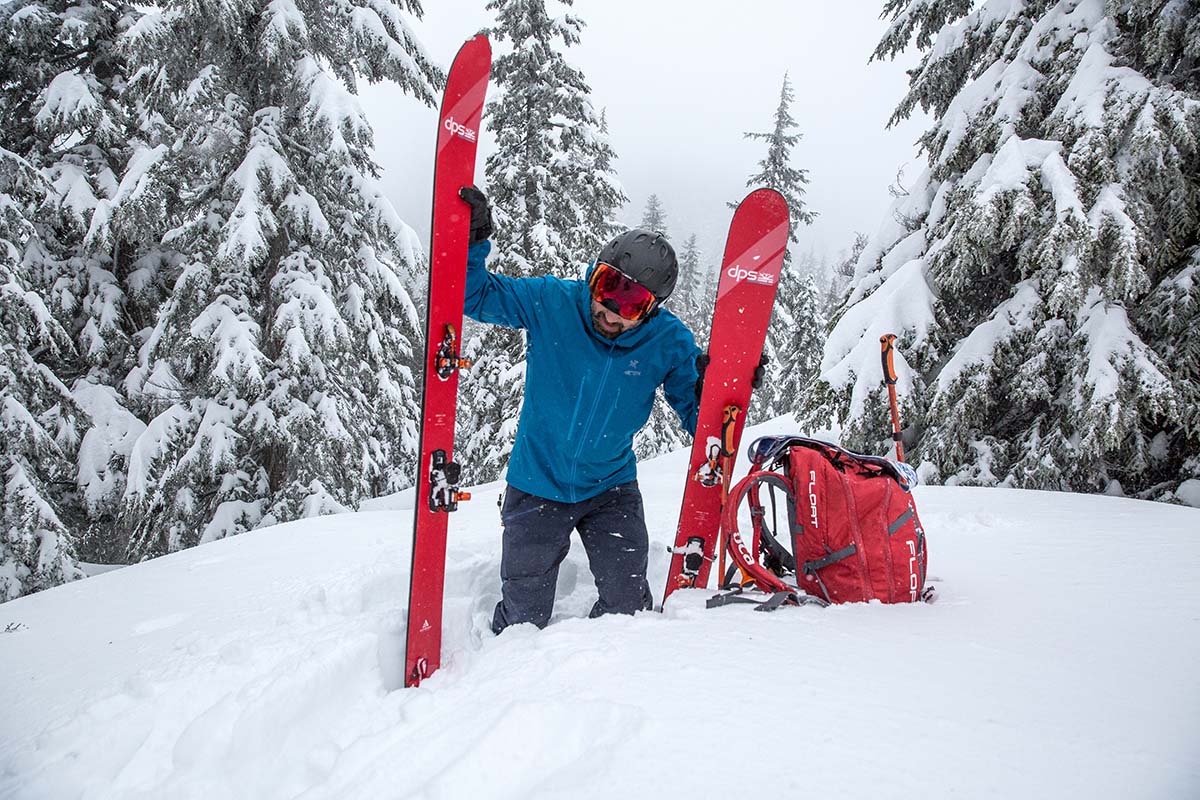 Ski Shape: Sidecut and Turn Radius
Let's keep this one simple: The sidecut profile of a ski affects how large or small of a turn the ski will naturally make. Most backcountry skis are loosely based on a traditional sidecut. This means the ski gets narrower as you move from tip to waist and then wider again from waist to tail. The more concave the sidecut is, the shorter the turn radius (listed in meters). Skis with short turn radii of less than 17 meters often are less stable when straight-lining at speed but have greater agility in technical terrain. On the flip side, a ski with a wide turn radius will be comfortable with smooth, arching turns but may be reluctant to dance quickly in the trees. Personal preferences on skiing style and conditions will lead you in one direction or the other, but the majority of our favorite alpine touring skis have a turn radius of 18 to 22 meters, which is a nice range for achieving stability on speedy straightaways and nimble turning through tight spots.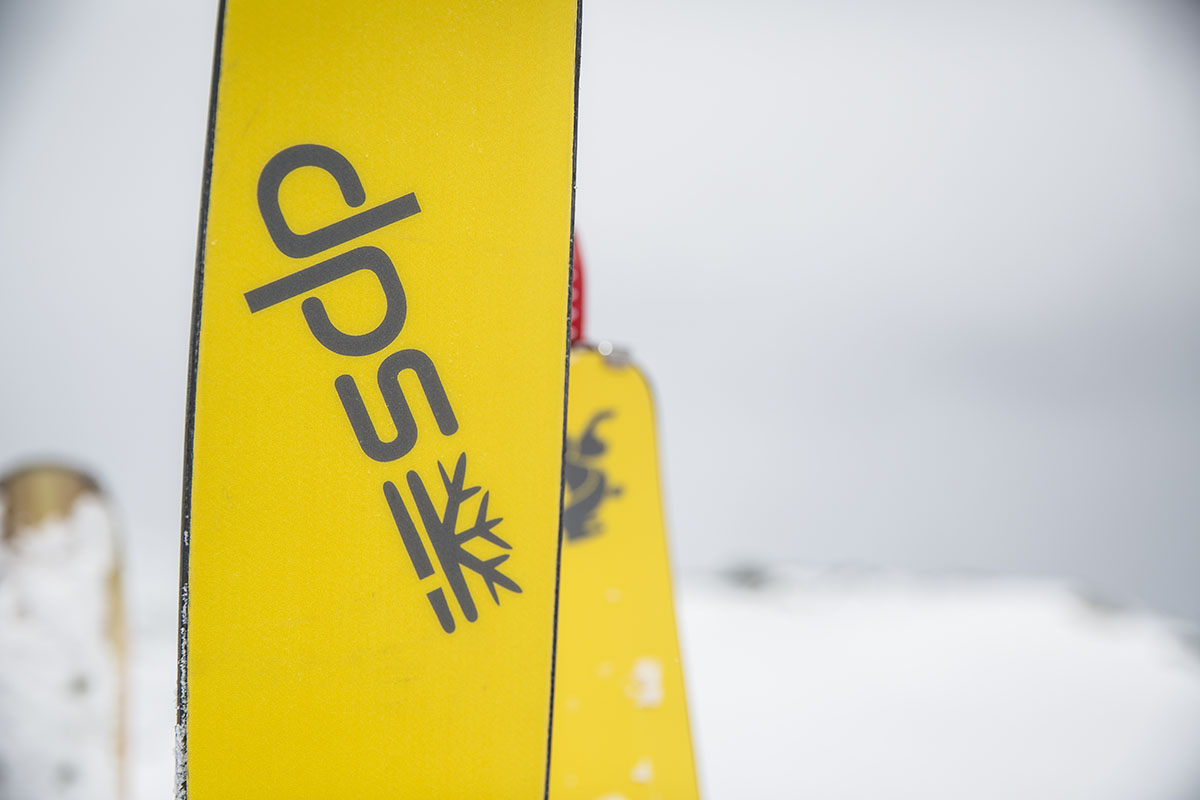 Core Materials
While experimental construction with carbon fiber and other lightweight materials are prevalent among current backcountry skis, wood cores remain the standard due to their unmatched feel and predictable rebound. There has been a shift, however, to lightweight woods like balsa, paulownia, poplar, and ash from heavier and tougher woods like aspen and maple. To combat stiffness and durability problems from this change, the rest of the ski is often beefed up with carbon, Titanal, or a similarly light but strong material. For instance, DPS' Carbon Pagoda Tour 106 uses two horizontal layers of wood between layers of carbon fiber, which translates to fantastic stiffness for the weight.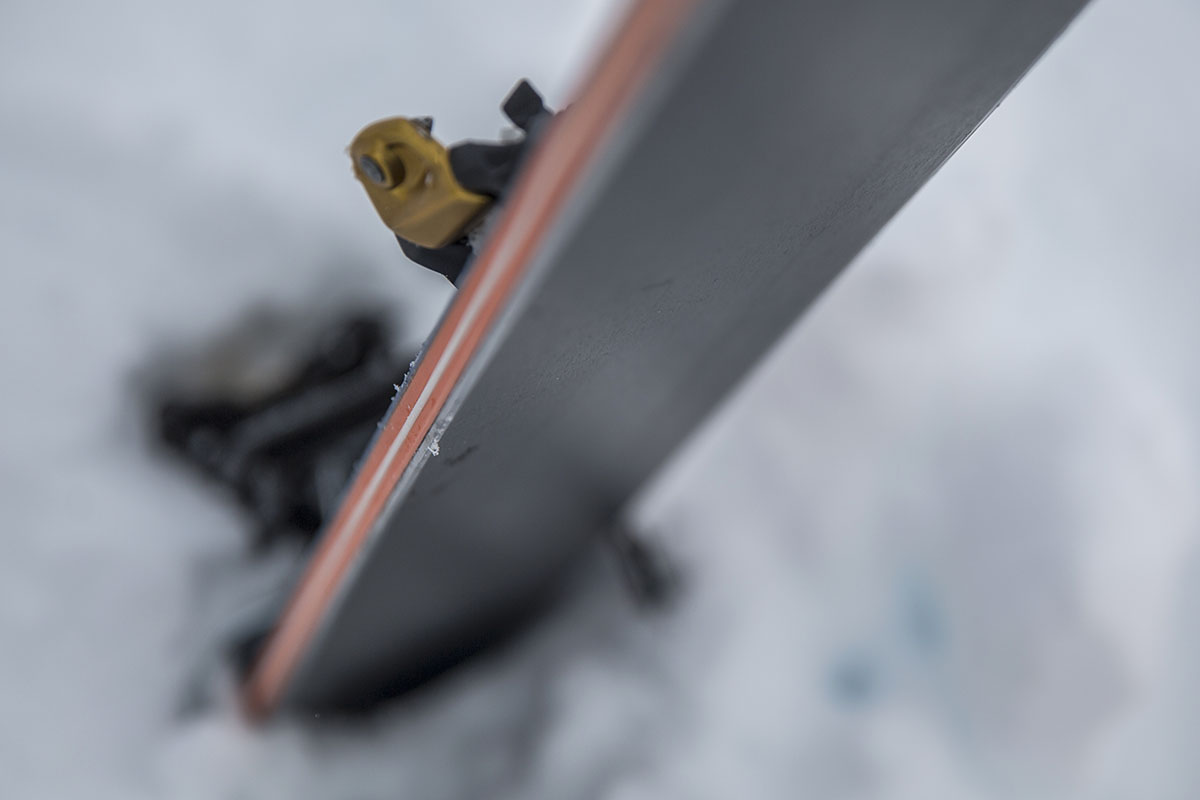 Sizing
Due to the growing variety in how skis perform, there is no longer a standard way to choose a ski length. In a pinch, however, here is a general rule of thumb to get you started: Your ski should be within 5-10 centimeters of your height. Less experienced and less aggressive skiers will be happiest with a slightly shorter ski. This decrease in length will make the ski stable at low speeds, more manageable, and nimbler. Strong skiers with tendencies to charge hard and fast will likely want a little more length for high-speed stability and to avoid overpowering their gear. As mentioned above, a shorter ski in the backcountry will have less ascending weight but decreased descending capabilities in the hands of expert-level riders. And a final note on sizing: If a particular ski has a lot of tip rocker, you can go a little longer since there's less surface area coming into direct contact with the snow.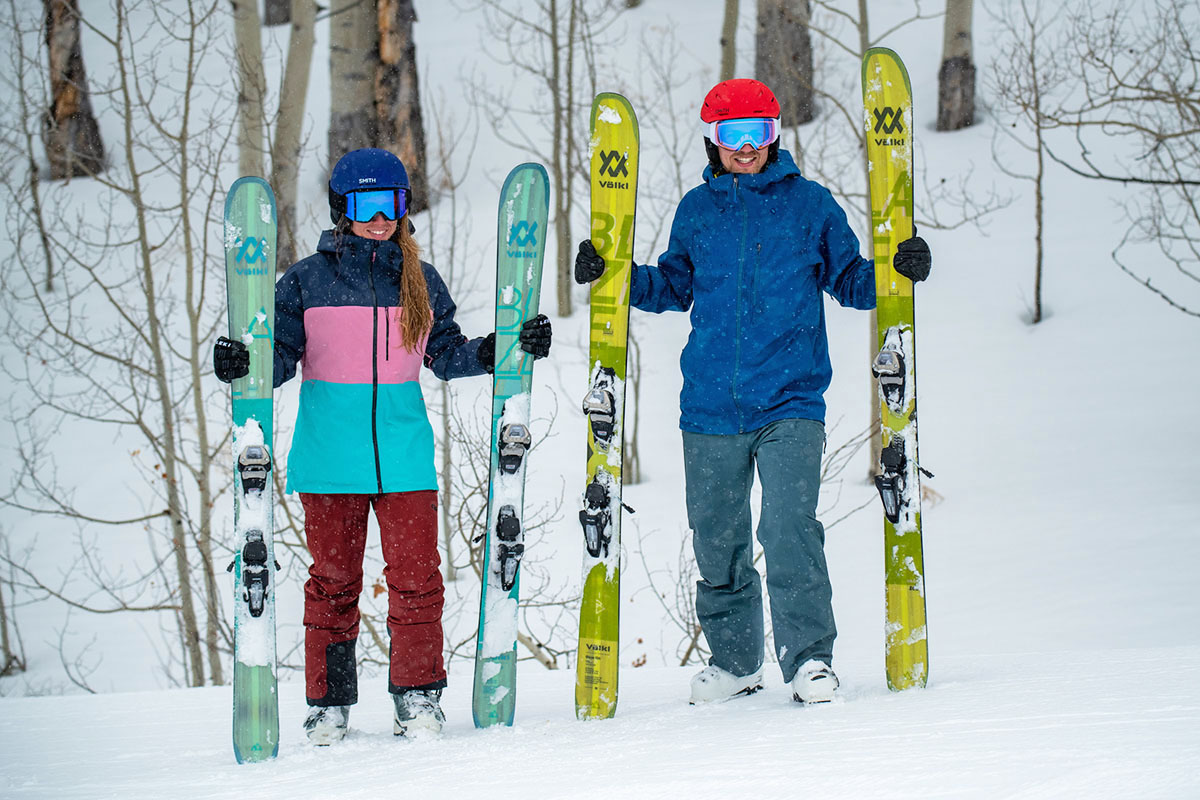 Skins and Skin Compatibility
Climbing skins are what allow backcountry skiers to ascend in snow-covered mountainous terrain. These devices attach to the ski by way of tip and tail clips and skin glue, which adheres temporarily to the ski's base. The side that is in contact with the snow is similar to animal fur, hence the term "skins." When attached, the skin keeps you from sliding backwards on the uphill while "gliding" on flat or short downhill sections. 
In terms of sizing, skins are typically sold by length and width. For selecting the correct width, you'll want to know the widest point on your skis, which is typically at the shovel, then choose a skin that is within a few millimeters of that widest part (for example, if your ski is 122mm wide, choose a 125mm or 120mm skin). You'll also need to select the length range that matches your skis. Once you have the sizing dialed in, the final step is to trim the skins to fit the sidecut of the ski, leaving the metal edge exposed. To keep things simple, some ski companies like Black Crows and Dynafit offer pre-cut skins to match their skis, meaning that the skin fits the shape of your ski perfectly right out of the box. For more information on the topic, as well as a list of our favorite designs, see our article on the best climbing skins.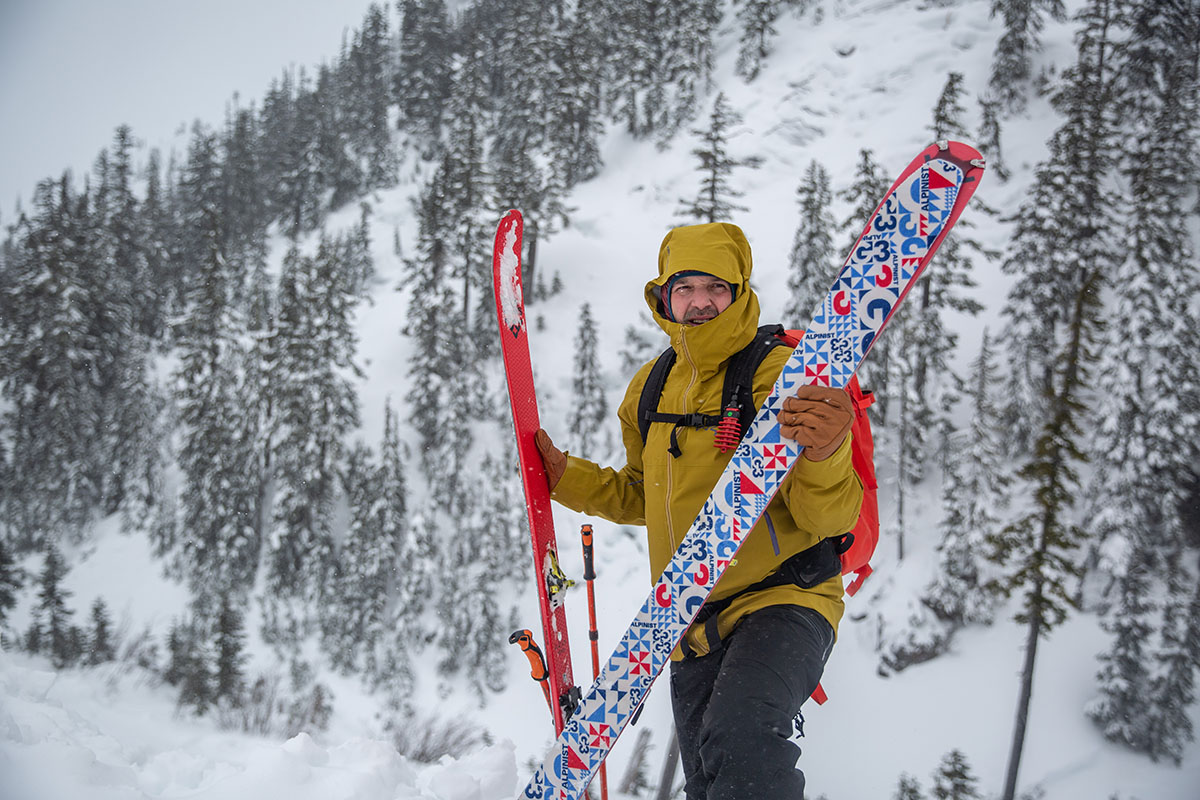 Choosing Backcountry Ski Boots
We'd argue that boots are the most important piece of ski equipment. Similar to skis, touring boots can be categorized by their strengths and weaknesses. Boots with better downhill ability tend to be heavier and stiffer, with less range of motion on the climb. Lighter boots with a greater range of motion in walk mode are often softer and provide less control and power transfer on the descent.
Right off the bat, it's best to establish whether you want more of a light and minimalist boot, a downhill-oriented boot, or something in the middle. For the greatest level of control, make sure your boots are powerful enough for your ski of choice. A soft boot paired with a stiff, burly ski wastes its performance potential. As a solid all-rounder, we really like the Scarpa Maestrale RS for its balance of weight and power transmission. The ideal touring boot is also warm and very comfortable (provided it's fitted correctly). We cannot stress this enough: The most important aspect of your boots is fit. An extremely well-equipped boot that's not fitted correctly for your foot is going to perform worse than a lesser boot that fits extremely well. Take the time to find the right boots before investing in the rest of your setup.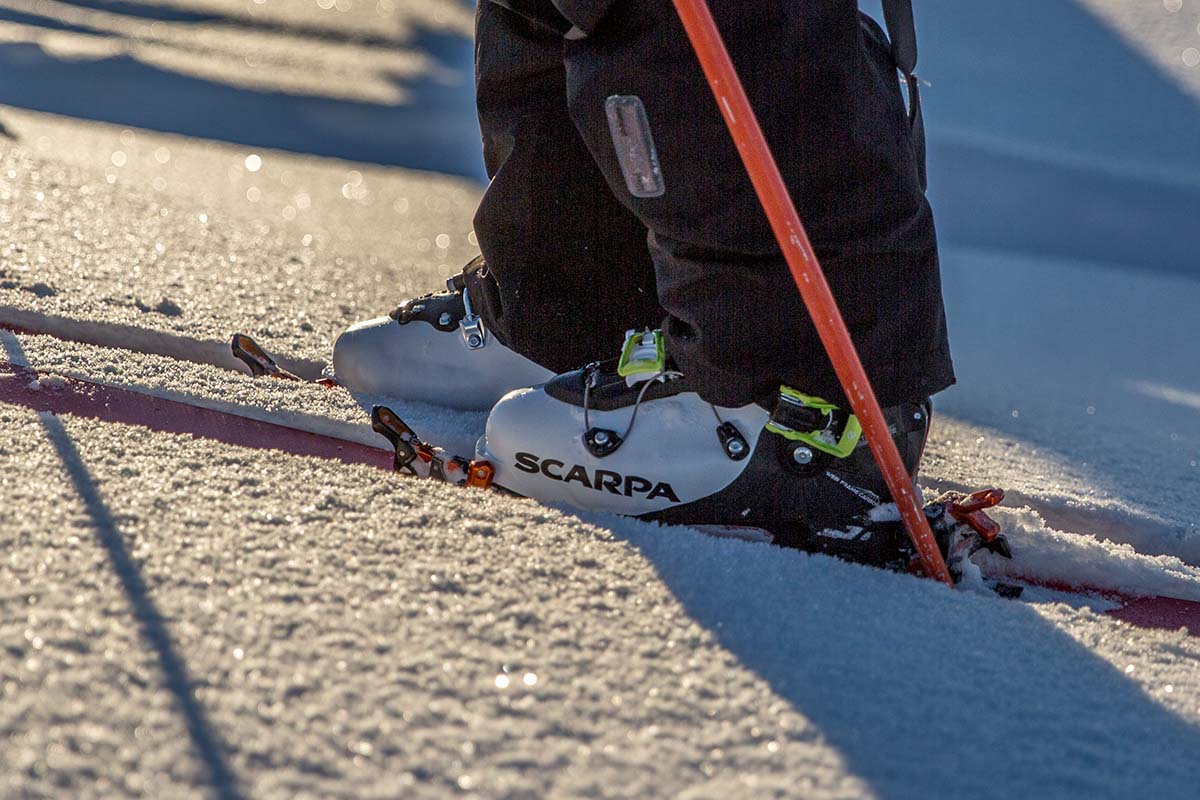 Choosing Ski Bindings
With a few exceptions, there are two main categories of backcountry skiing bindings: frame bindings and tech bindings (also known as pin bindings). Essentially, a frame binding is an alpine binding mounted on a rail that releases at the heel for skinning. Frame bindings are heavy, inefficient for climbing, and can be cumbersome. However, they could be a good option for people who mainly ski the resort but get out of bounds on occasion. Marker and Tyrolia offer some great frame bindings if this type of skiing suits you.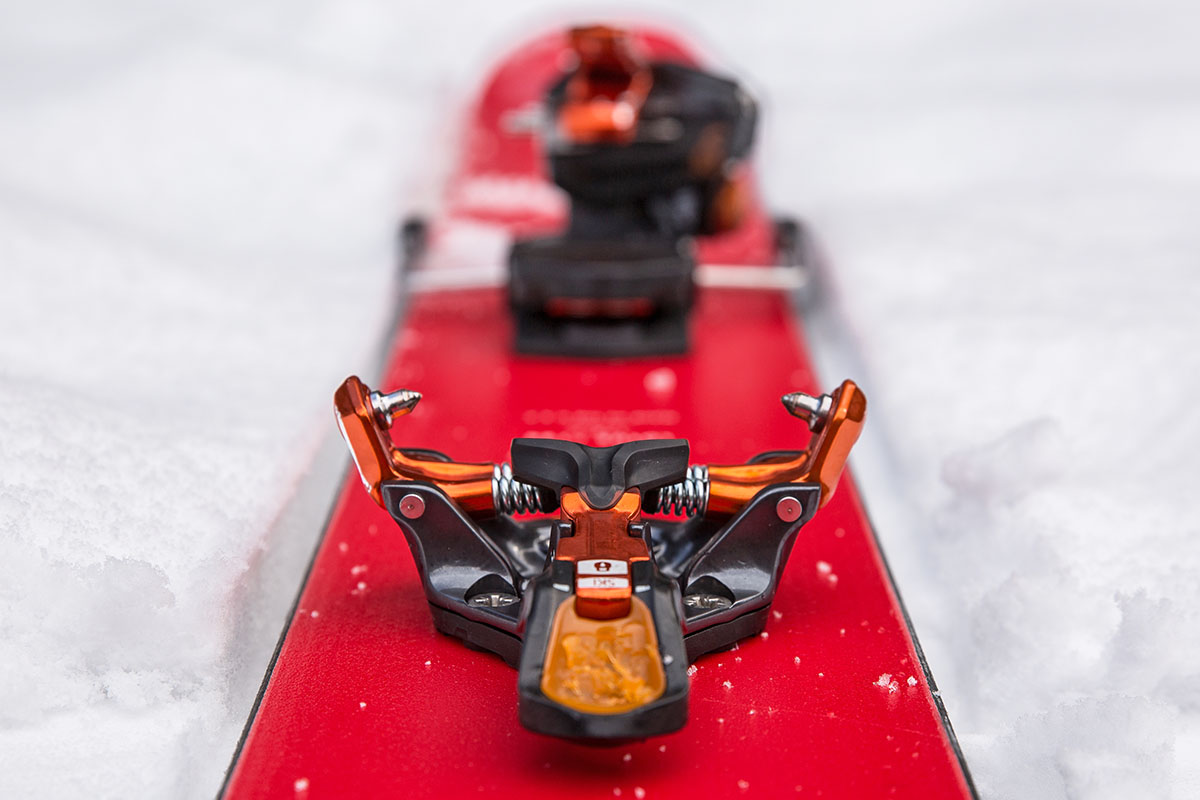 For more than the occasional ski tour, tech bindings are the way to go. They're far superior in terms of backcountry efficiency due to their lighter weight and ease of transition between climbing and descending (although they're not a great choice for frequent inbounds use). And importantly, they've only gotten more user-friendly and reliable since Dynafit first developed the original pin binding back in the 80s. While Dynafit continues to be a leader in this realm, others like ATK, Atomic, G3, Ski Trab, and Plum have more recently joined the space, offering modern options that are increasingly lightweight, durable, easy to use, and high-performing. For a deeper dive into this topic, see our article on tech bindings vs. frame bindings.
In recent years, brands that straddle both the alpine and backcountry skiing markets have introduced innovative hybrid tech/alpine bindings that are lighter than frame bindings and beefier than ultralight tech models. By combining a tech toe piece and alpine-style heel, these designs offer a best-of-both-worlds solution for skiers who want to split their time between on- and off-piste riding. Salomon's innovative S/Lab Shift was the first of its kind and has exploded in popularity since its launch in 2018 (note: It's also sold under the Atomic name), allowing your heel to move freely while touring and lock the toe and heel down on the descent (similar to a traditional alpine binding). However, in addition to being much heavier than standard tech designs, these hybrid models have more moving parts that can ice up and malfunction, especially in warmer and wetter snow climates like the Pacific Northwest.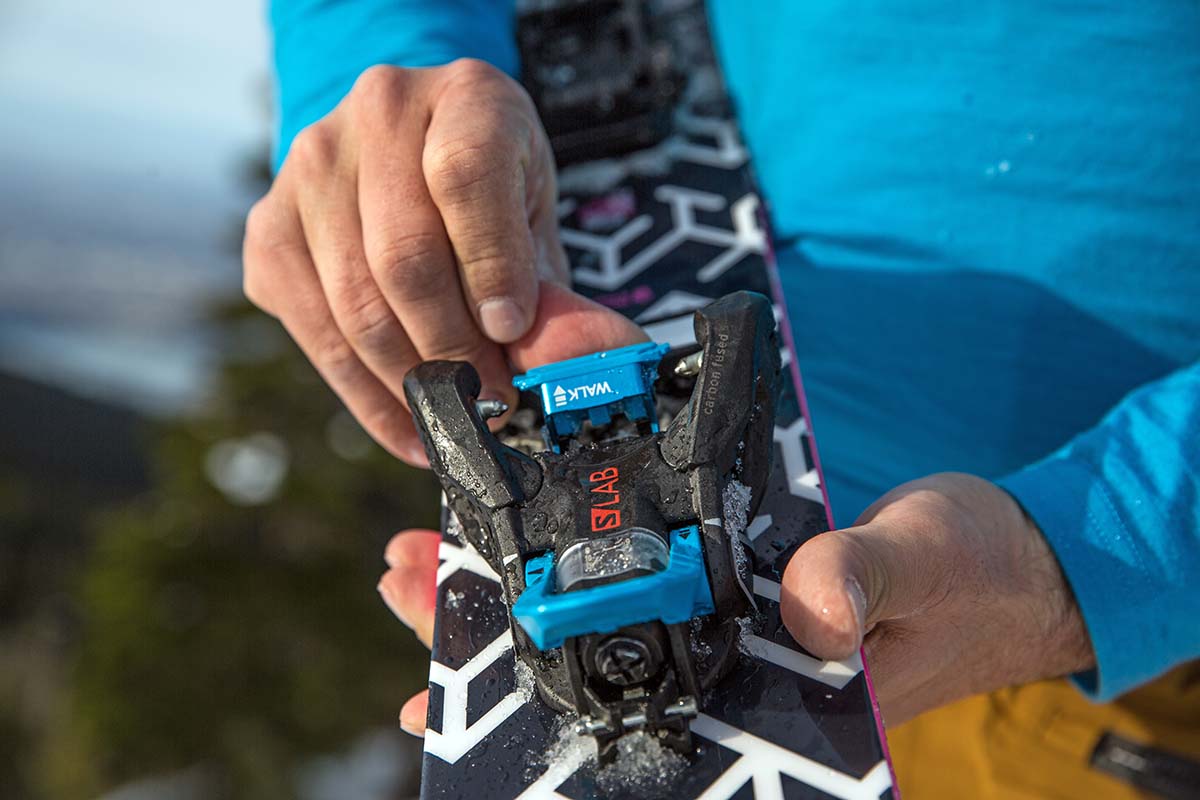 Backcountry Ski Advice for Beginners
For resort skiers looking to explore out of bounds and get some exercise, welcome to the family. Backcountry skiing may seem intimidating and expensive on first glance, but it doesn't have to be. However, there are some important concepts to consider before slapping skins to the bottom of your skis and venturing off into the blissful world of untracked snow. 
First, there is essential equipment that we didn't cover here, including an avalanche transceiver (also known as a beacon), avalanche probe, and metal shovel that's specifically designed for avalanche rescue. Additional gear to think about is a ski backpack that has enough capacity for layers, food/water, first aid, and other gear, as well as a dedicated tool pocket for carrying your avalanche probe and shovel (a 20- to 35-liter pack is a good ballpark size for most).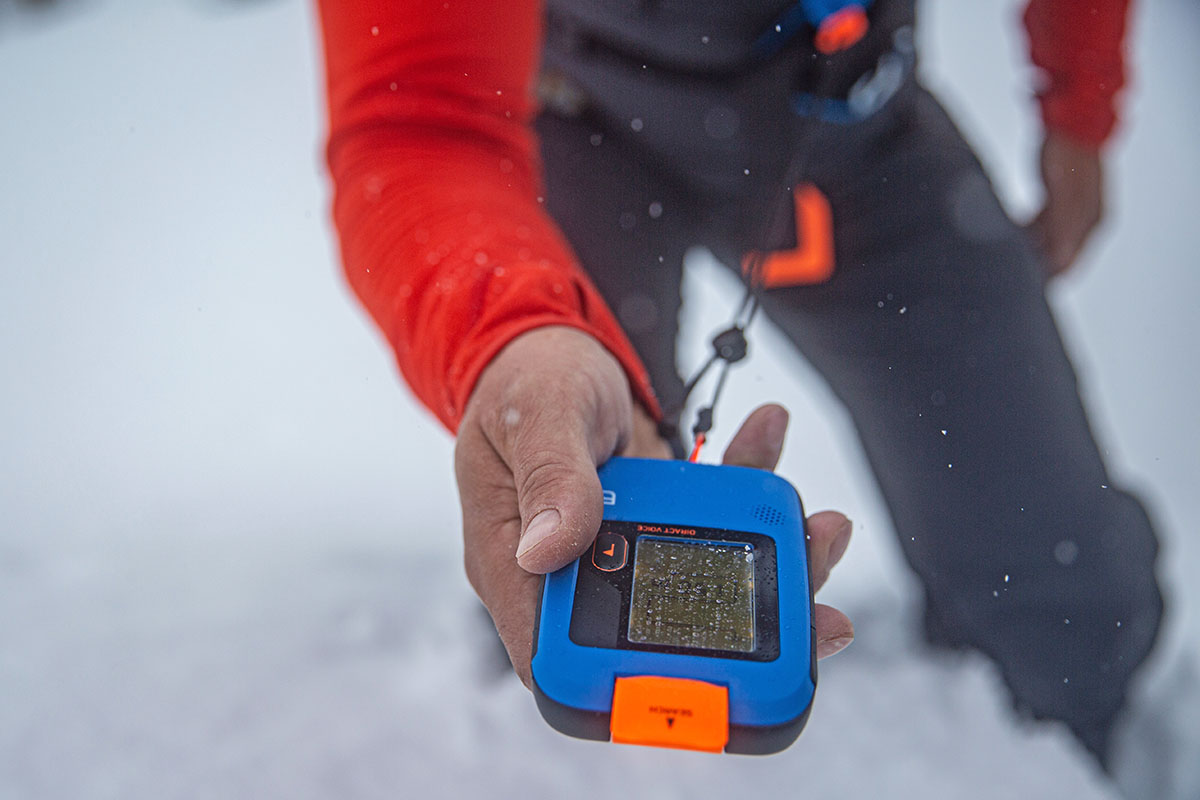 Of course, getting the gear is only the beginning—you'll also need to learn about safely traveling in avalanche terrain. Fortunately, there are enough courses and other resources available these days to provide you with a lifetime of learning. However, before you sign up for an AIARE course (which we highly advise), we recommend getting familiar with your gear and other backcountry basics like layering, mountain weather, and–if possible–avalanche forecasts and the common terminology forecasters use to discuss conditions. If you have an avalanche center in your region, check to see whether they offer free educational clinics, such as a Know Before You Go. Otherwise, you can find similar information online—the Utah Avalanche Center has some great videos, and Backcountry Access has a "101" video series for learning about your avalanche gear. Many resorts also have dedicated beacon "parks"–essentially cordoned-off areas for you to safely practice using your transceiver away from busy ski runs.
Another great way to learn: If you have experienced friends, ask them to go touring with you on safe, low-angle slopes and then bombard them with all questions you can think of (and bring some delicious snacks as a thanks). If you have a local ski guiding service, consider hiring a guide—they'll be able to find the best snow, manage avalanche risk, and teach you techniques and tricks. You could also check to see if they offer basic one-day intro courses to help you get started. If you don't have experienced friends that can act as mentors or access to a guide, many resorts offer uphill access (sometimes free; sometimes for a small fee), which can be a good way to get familiar with your gear and uphill travel before heading into consequential terrain. Check their website or call ahead of time to inquire about pricing, timing (many resorts restrict uphill use to off-peak hours), and other rules. Once you feel comfortable with the basics, an avalanche course is the best next step, with AIARE Level 1 being the gold standard among backcountry-goers.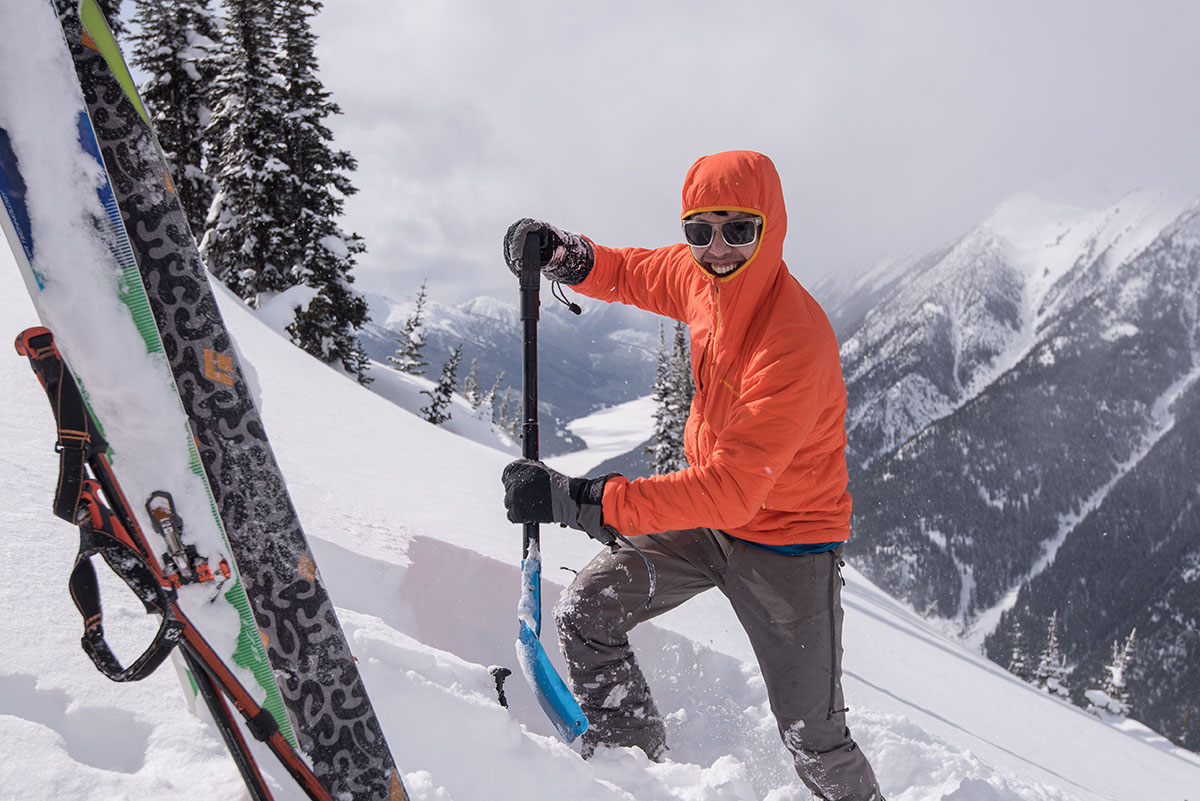 A Note of Appreciation for Cottage Ski Brands
The beauty of the backcountry ski industry as it currently stands is that small ski companies still have a legitimate shot at building a loyal fan base. The sport is somewhat young—particularly within the mainstream—and a good number of skiers are willing to pay premium dollars for premium products. As such, there is a cottage industry of sorts within the backcountry ski world of smaller companies building skis that excel in their local environment (plus, many of the ski brands listed above are somewhat young). A few examples include Prior Manufacturing out of Whistler, BC, Wagner Custom Skis from Telluride, Colorado, and Praxis Skis on the North Shore of Lake Tahoe. Many of these brands offer varying degrees of customization for anything from the topsheet design to the construction of the core. For the discerning backcountry skier, that can be a pretty enticing option.
Back to Our Top Backcountry Ski Picks  Back to Our Backcountry Ski Comparison Table
Learn More About Outdoor Gear