As your next-to-skin article of clothing, a baselayer plays a fundamental role in pulling moisture away from the body and regulating core temperature. It's far easier to justify purchasing a nice down jacket, but a baselayer can be just as important for activities like skiing, hiking, and climbing. To start, avoid cotton (like the old adage "cotton kills"). You'll need a fabric that won't stay wet, and merino wool and polyester are the most common choices. Merino is ultra soft, warm, and handles moisture well, but is very expensive. Polyester blends are cheaper and more durable but aren't as comfortable or resistant to odor. Below are our picks for the best baselayers of 2016-2017. For more information, see our baselayer comparison table and buying advice below the picks. To complete you kit, we've also written about the best midlayers and ski jackets.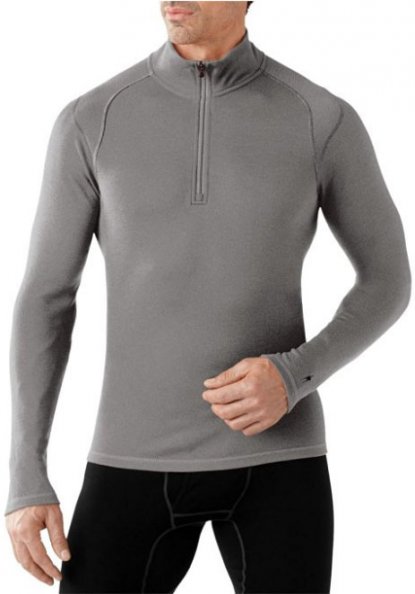 Materials: 100% merino wool
Category: Midweight
Weight: 10 oz.
What we like: Extremely comfortable and functional.
What we don't: Pure merino baselayers can have durability issues.
The NTS Mid 250 Zip T from SmartWool is the whole package in a baselayer: it's super soft against the skin, offers the right amount of warmth, wicks moisture, and repel odors as well as any pair of long underwear can. It's a great thermal option for skiing and even has a UPF 50+ rating for use as an outer layer during activities like hiking, biking, and running. We prefer the Zip Top version over the Crew, which allows for more ventilation when you're working up a sweat.
The biggest issues with the NTS Mid 250 are price and durability. If you add SmartWool merino bottoms, you're looking at around $200 for your baselayers alone. And given that it's made from 100% merino wool, it simply won't last forever (proper care can help, but from our experience merino almost always deteriorates after extensive use). If you're looking for inexpensive thermals that will last for many seasons to come, grab a synthetic like the Patagonia Capilene below. But for the ultimate in comfort and performance, the NTS Mid 250 from SmartWool is our top pick.
See the Men's SmartWool NTS Mid See the Women's SmartWool NTS Mid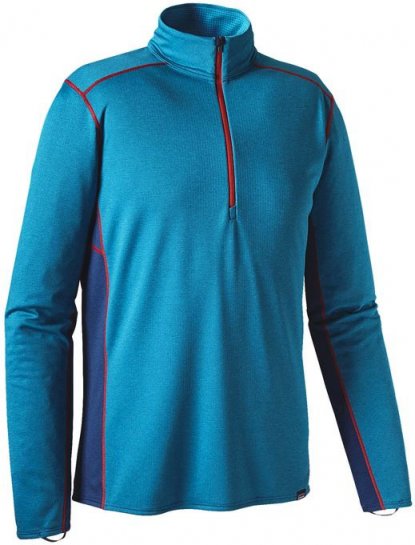 Materials: 100% polyester
Category: Midweight
Weight: 12.9 oz.
What we like: More durable and cheaper than merino.
What we don't: Not quite as soft.
Choosing synthetics over merino wool has clear upsides, the most notable being cost and durability. For half the price of the Arc'teryx Satoro AR below, the polyester Capilene Midweight by Patagonia offers similar warmth and moisture wicking capabilities. And it likely will last for many seasons—we have Capilene tops that are six years old and counting despite heavy use.
What do you sacrifice by going with a synthetic baselayer over merino? Polyester is decently comfortable but not as soft against the skin, and it doesn't repel odor as well as wool. This doesn't mean that your Capilene will get stinky super quickly, but you will find yourself putting them through the wash more often. However, not everyone wants to spend $100 or more on a baselayer, which is why we love a number of synthetic options in Patagonia's Capilene line. For less or more warmth, try the Capilene Lightweight and Thermal Weight versions.
See the Men's Patagonia Capilene See the Women's Patagonia Capilene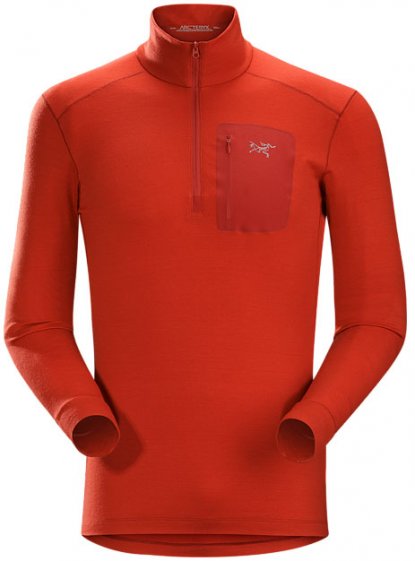 Materials: 81% merino wool, 12% nylon, 7% elastane
Category: Midweight
Weight: 8.1 oz.
What we like: Merino softness with added durability.
What we don't: Expensive.
Arc'teryx always seems to take outdoor gear tech to the next level, and the new Satoro AR is a case in point. Everyone loves the softness of merino against the skin, but its durability has long been an issue. The Satoro attempts to solve the problem by using a nylon core with merino wrapped around the outside. The result is a baselayer that still offers premium next-to-skin comfort but is much tougher than pure merino.
Arc'teryx also paid attention to a number of small details with Satoro AR. The cuffs are nicely tailored and long for added warmth over the hands. And it has a laminated zipper pocket on the chest for men (arm for women) that you can store a key or credit card, adding to its utility as an outer layer. The result is a premium baselayer at a premium price, and whether all that technology is worth it is up to you... Read in-depth review
See the Men's Arc'teryx Satoro AR See the Women's Arc'teryx Satoro AR
Materials: 100% polypropylene
Category: Lightweight
Weight: 4.2 oz.
What we like: Wicks moisture well and a great value.
What we don't: Not as warm as other baselayers on this list.
There's a lot to like about this lightweight active baselayer from Helly Hansen. At just $40, it's the cheapest option on this list yet still will keep you dry and decently warm in most conditions. The headliner is the Lifa fabric, which is made from Polypropylene and specializes in wicking moisture away from the skin (it does so much better than polyester). Along with a nice athletic fit, the Dry Stripe is great for active skiers and other high-output activities like climbing and hiking.
The downside of Polypro compared to polyester or nylon is that it isn't as warm. The Dry Stripe Crew falls into our lightweight category, meaning that it provides some insulation but requires a good midlayer or insulated shell in cold conditions. It's worth the tradeoff for many people who love the performance and value of this baselayer. And it doesn't hurt that Helly Hansen made the look a little less boring than other options on the list, with some fun colors to choose from and a signature stripe design down the sleeve.
See the Men's Helly Hansen Dry Stripe Crew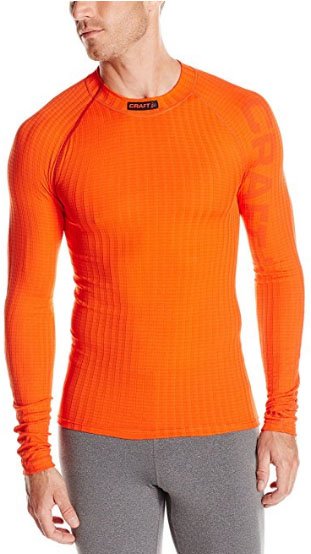 Materials: 100% polyester
Category: Lightweight
Weight: 4.3 oz.
What we like: Absolutely fantastic all-around performance.
What we don't: Technical design and fit isn't for everyone.
Craft is a Swedish gear company with a cult-like following that is known for technical baselayers. In particular, they specialize in aerobic activities like cross-country skiing, biking, and running. The fit and styling clearly have performance in mind, and Craft may be overkill for casual use, but they make go-to baselayers for a lot of serious athletes.
The Active Extreme isn't your average thermal: it's warm, wicks moisture extremely well, and has a technical fit that is among the best on the list for those that really like to move (some baselayers have an athletic fit, but Craft really takes it to another leve). In addition, the Active Extreme is impressively thin and lightweight for how much warmth it provides. Craft has released a new 2.0 version of the Active Extreme with some added body mapping and a higher price, but we haven't had a chance to give it a test yet.
See the Men's Craft Active Extreme See the Women's Craft Active Extreme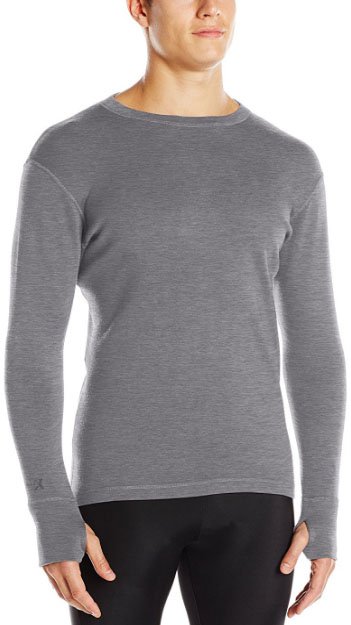 Materials: 100% merino wool
Category: Heavyweight
Weight: 16 oz.
What we like: Very warm and soft. A great value for an all-merino baselayer.
What we don't: Because of the thickness and cut, it's not ideal for high-output activities.
WoolX is a small New York-based company that doesn't get the hype of a SmartWool or Icebreaker, but the thick Glacier LS is our favorite heavyweight baselayer. Made with 100% merino wool, this piece is much warmer and more substantial than the midweight and lightweight options on the list. And because it's merino, it's still soft against the skin and breathes well. We've used the Glacier LS for everything from skiing and snowshoeing to casual use and have come away extremely impressed.
To put things in perspective, in terms of thickness the Glacier LS is 400g/m², while the SmartWool NTS Midweight above is 250g/m². Both are 100% merino and both are $100. This means that you're getting much more baselayer for your money from WoolX compared to any other merino brand. One consideration is that the Glacier LS does not have a tailored fit like some other baselayers, so it's more about warmth than anything else. We highly recommend it for downhill skiing in cold places, winter walking, and everyday wear.
See the Men's WoolX Glacier LS See the Women's WoolX Alpine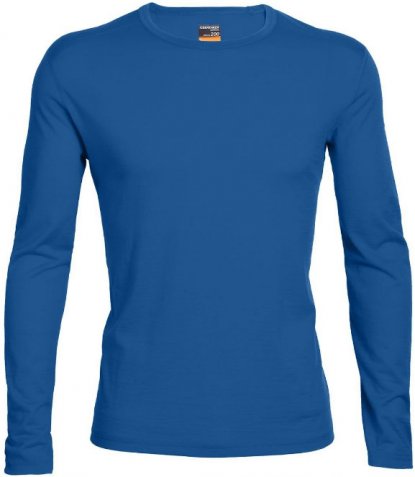 Materials: 100% merino wool
Category: Lightweight
Weight: 8.2 oz.
What we like: Softer against the skin than Smartwool.
What we don't: Slim fit and dense weave lags behind in breathability.
The Oasis Crew from Icebreaker is as versatile as any baselayer on this list. It's made from 100% merino wool, is super soft, and has a performance fit that works well for skiing and cool-weather hiking. And because of the clean styling and plethora of colorways and designs, you easily can wear it as a standalone piece.
If you're considering the Oasis, it's a head-to-head matchup with the SmartWool Midweight NTS above. Both models are made from 100% merino and the prices are similar (the zip neck version of the Oasis is $100). Both are comfortable, wick moisture well, and don't trap odor like synthetics. But we give the slight edge to the SmartWool because the dense weave of the Icebreaker's fabric doesn't release hot air quite as efficiently. Despite having a lighter fabric weight (200 vs. 250g/m2), it can start to feel muggy when you're working up a sweat. On the other hand, we do give it the edge in next-to-skin softness.
See the Men's Icebreaker Oasis See the Women's Icebreaker Oasis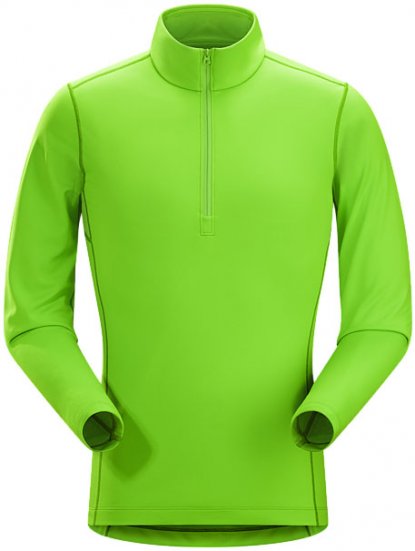 Materials: 100% polyester
Category: Midweight
Weight: 6.2 oz.
What we like: Great performance for a synthetic.
What we don't: A merino-like price tag.
In terms of synthetic baselayers, you won't find better quality than the Phase AR from Arc'teryx. Built with Phasic AR (All-Round) polyester, you get excellent breathability and moisture wicking for a synthetic, along with an athletic fit that moves well and is lightweight at only 6.2 ounces. The Phase AR is a great baselayer for hiking in fall and spring conditions and works well under a shell in the winter. You may want a more breathable piece for certain high-output activities like running and cross-country skiing, but it's a nice option for downhill skiing and walking in the shoulder seasons.
As always, Arc'teryx falls at the high end of the price spectrum and tops Patagonia's Capilene Midweight by a full $20. Many serious outdoorspeople swear by Arc'teryx from a performance perspective, but it's not for the faint of heart. If you spend a lot of days on the mountain each year and get a lot of use out of your gear, the Phase AR may very well be worth it.
See the Men's Arc'teryx Phase AR See the Women's Arc'teryx Phase AR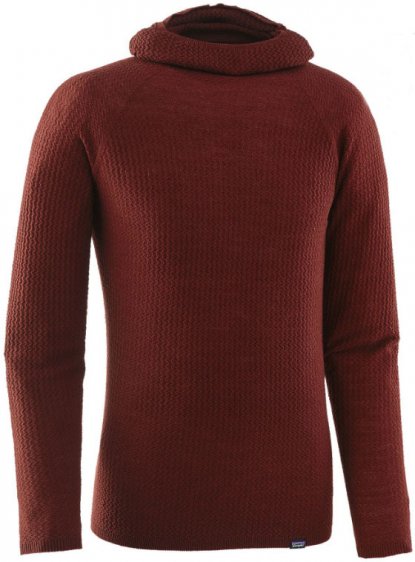 Materials: 51% merino wool, 49% polyester
Category: Midweight
Weight: 7.3 oz.
What we like: Unique high loft design.
What we don't: Very pricey for a lightweight baselayer.
The Merino Air Hoody is a specialty baselayer. New for last winter, it's made with a blend of familiar materials: merino wool and Patagonia's Capilene polyester, but the final product looks and feels like nothing else on the market. Most notable is the high loft of the wool, which sits somewhere in between a traditional baselayer and a lightweight sweater. There are no seams to speak of, unrivaled stretch, and the knitting style breathes and insulates well. And at 7.3 ounces including the hood, it's an awesome piece for climbing and other high-output activities in chilly weather.
So why isn't the Merino Air higher our list? The price is one notable downside: $150 for a baselayer is too much for most people. In addition, we have durability concerns given the extreme softness and loft of the wool, although the polyester should help in that regard. Finally, the Merino Air is overkill for activities like resort skiing where you aren't working up a lot of heat. But for ski tours and climbing trips where movement, breathability, weight, and stink prevention are at a premium, it's an intriguing performance piece.
See the Men's Patagonia Merino Air See the Women's Patagonia Merino Air
Materials: 100% merino wool
Category: Lightweight
Weight: 7.4 oz.
What we like: Soft merino at a good price.
What we don't: Reduced performance potential.
Transitioning from performance to daily usability is the aptly-named Icebreaker Everyday Crew. Sharing many of the features of the Oasis Crew above but in a more cost-effective design, the Everyday is made with the same lightweight 200g/m² merino. Both Icebreaker baselayers are described as having a slim fit, but the Everyday Crew is a little looser around the body and fits more like a shirt than a baselayer. This makes it great for casual wear but does impact all-out performance.
Who should buy the Everyday Crew? It's a great option for resort skiers who want the comfort and performance of merino at a more reasonable price point, and it works well for fall and spring for hiking, too. Where it falls short are activities that are heavy on upper body movement like backcountry skiing or climbing.
See the Men's Icebreaker Everyday See the Women's Icebreaker Everyday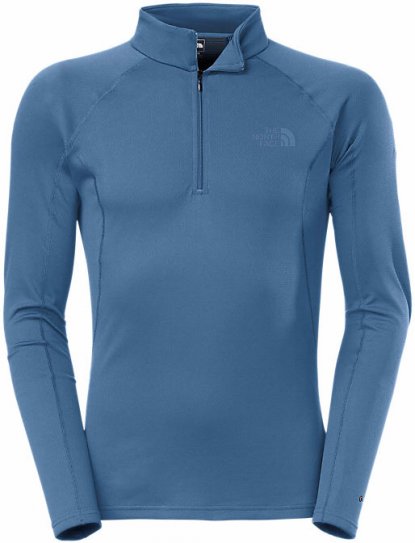 Materials: 100% polyester FlashDry Eco
Category: Midweight
Weight: 8.8 oz.
What we like: Front zip is handy for releasing heat.
What we don't: Taller collar gets in the way when unzipped.
For resort ski days or sliding into your sleeping bag on a chilly backpacking trip, the North Face Warm Zip-Neck is a nice budget synthetic. Its polyester fabric offers comparable wicking properties to the merino baselayers on this list but at a cheaper price. The FlashDry Eco fabric does a decent job at resisting odor, but still falls short of any merino design. And of course, next-to-skin comfort isn't quite as high as wool but you get a welcome bump in durability.
With any synthetic baselayer, we prefer the half zip over the crew, which helps compensate for the fabric's marginal ability to regulate heat. Our main issue with The North Face Warm Zip-Neck is that it's similar in cost to Patagonia's Capilene line but we have more confidence in the build quality and performance of the latter. If the $10 matters or you find this baselayer on sale, go for it. Otherwise, we give the nod to the Capilene.
See the Men's North Face Warm Zip Neck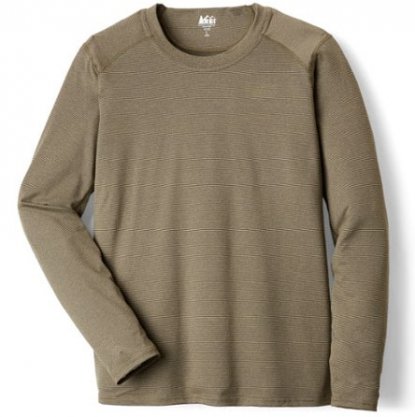 Materials: 89% polyester, 11% spandex
Category: Midweight
Weight: Unavailable
What we like: Simple yet functional.
What we don't: Still more expensive than the HH Dry Stripe Crew above.
In terms of bang for your buck, it's hard to top REI baselayers. For $50, this REI Midweight Crew offers most of the performance of the more expensive options above in a simple yet functional design. With the matching bottoms, you have a full long underwear kit for just $100, which is the same cost as just a merino top from SmartWool.
What are the downsides? We've found the midweight model works well for resort skiing and casual use, but you may overheat pretty quickly during aerobic activities like snowshoeing or hiking. And although the fabric is soft in a silky kind of way, it can't compete with merino or even Patagonia Capilene in softness and comfort (older versions had a softer brushed interior that we prefer to the current iteration). These issues aside, the REI Midweight Crew is a good way to kit yourself out this winter on a budget.
See the Men's REI Midweight See the Women's REI Midweight
Baselayer Comparison Table
Baselayer Buying Advice
Baselayer Materials
Merino Wool
Merino wool, despite a higher cost than synthetics, is our recommended baselayer material for a number of reasons. It's ultra soft and comfortable, has superior temperature regulation, and resists odor. Granted, merino wool baselayers are expensive and less durable than their polyester competition, amounting to roughly double the cost. Take good care of them, however, and you should be able to get at least a few seasons of extended use. Our top baselayer pick, the SmartWool NTS Mid 250 Zip T, is 100% merino. For more information about the pros and cons of the material, check out our article: Merino Wool: Is It Worth It?

Polyester
For a cost effective baselayer alternative, you can always turn to polyester. Led by Patagonia's legendary Capilene line, polyester fabrics can keep up in terms of moisture wicking and the comfort difference isn't that far off. The downside is stink prevention, which is an area of emphasis for many manufacturers. Thus far, odor-resistant polyesters still can't compete with the natural benefits of merino but they are improving. In addition, polyester fabrics don't regulate temperatures as well, so it's more important to match the fabric weight with intended use and conditions (more on that below). Despite the downsides, polyester fabrics are what we recommend most often for resort skiers. At approximately half the price of a comparable merino option, the cost saving is too significant to overlook.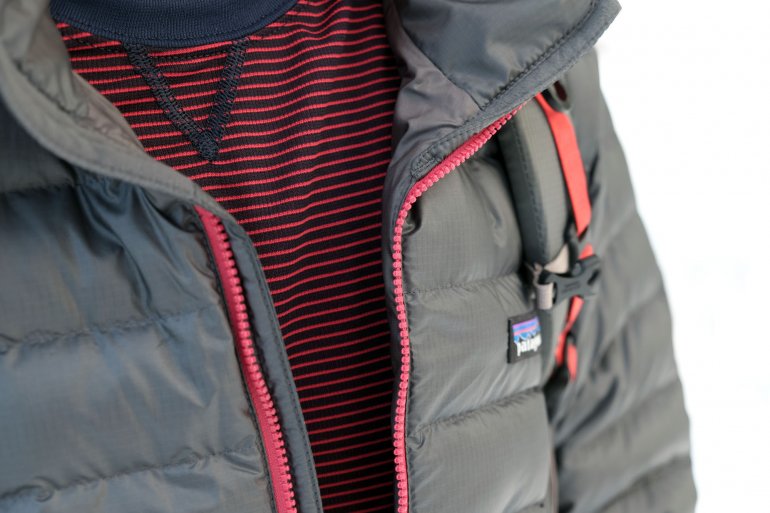 Blends
It's not quite as simple as deciding between an all-merino or all-polyester baselayer. Some performance-oriented brands like Arc'teryx and Patagonia are experimenting with blends that aim to offer the comfort and performance of merino wool with the durability of polyester. One example is the Arc'teryx Satoro AR (#3 on this list), which has nylon core for durability wrapped in merino for next-to-skin comfort. Another is the Patagonia Merino Air (#8), which is roughly half of each material for an attempt at the best of both worlds. The commonality is that these are the highest priced items on this list, so these blends are more about performance than cost savings.

Thickness and Warmth
One way to measure the warmth of a baselayer is insulation weight, measured in g/m². We've tested lightweight baselayers that are 150g/m², many midweight thermals are around 200 to 250g/m², and our top heavyweight choice (the WoolX Glacier LS) is a whopping 400g/m². This isn't an exact science as the type of insulation, loft, and other fabric specifics all matter too. But it's a decent place to start and should give you a point of comparison, particularly for baselayers of the same materials. We've also come up with our criteria below that is listed in the product specs and comparison table:

Lightweight
Logically, lightweight baselayers are the best breathers but do the least in keeping you warm. This is where merino wool shines—it does an admirable job of temperature regulation for the weight and thickness. Breathability of lightweight midlayers is strong and they are great for mild conditions and high-output activities like backcountry skiing and hiking. Resort skiers in cold temperatures may benefit from a midweight baselayer and a warm midlayer, but lightweight baselayers are great for early season skiing and warm bluebird days.

Midweight
For the widest variety of conditions, a midweight baselayer makes the most sense. It will provide the warmth you need but still will be breathable enough for physical exertion. Midweight baselayers are the most popular choice for downhill skiers: they're plenty warm for the lift ride up but you are unlikely to overheat on the descent. They are less popular than lightweight baselayers for hiking in warm conditions as the extra warmth corresponds with a drop in the fabric's ability to regulate temperatures (even merino can get too hot in warm temperatures). But in cool spring and fall conditions, a midweight baselayer can perform great as an outer layer.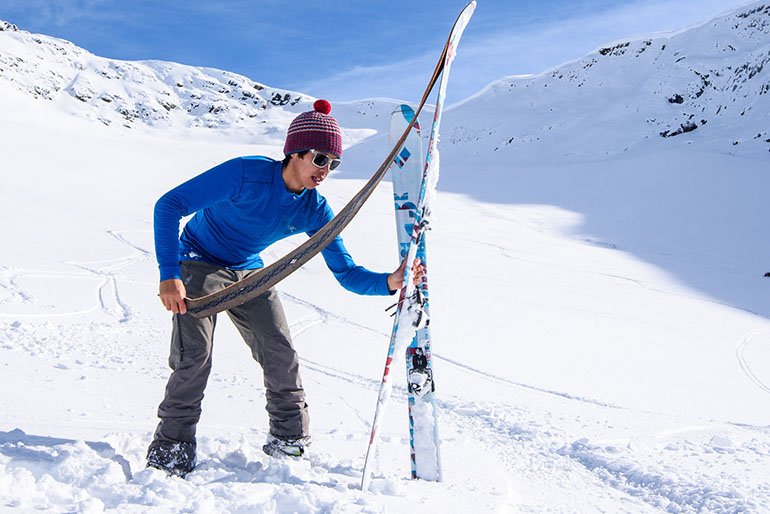 Heavyweight
Heavyweight baselayers are specialty items for cold temperatures or if you'll be relatively sedentary. The extra thickness inhibits breathability and it's easy to start sweating even on short walks. Keep in mind that you don't need all of your insulation from a single article of clothing, and as a result, you can always add warmer layers on top of a midweight baselayer. If you do go the heavyweight route, we love the WoolX Glacer LS, which is a 400g/m² all-merino baselayer that still breathes decently well. Patagonia's Thermal Weight Capilene can get swampy unless it's very cold.

Best Uses
Baselayers have two primary uses: beneath a midlayer or shell during the winter months for skiing, or as an outer layer during the fall and spring for activities like hiking and biking. The thickness and material of your baselayer will have big impacts on warmth and breathability, so make sure to keep this mind when making a purchase. Below are some common activities and the corresponding baselayer weights we recommend:
Alpine (resort) skiing: Lightweight or midweight
Backcountry or cross-country skiing: Lightweight
Hiking, biking, or climbing: Lightweight or midweight
Around camp/sleeping baselayer: Midweight
Mountaineering or extreme cold: Heavyweight

Breathability
The breathability of a baselayer is dependent on a number of factors, including the type and quality of the fabric, thickness, and openness of the weave. In general, a lightweight merino wool will offer the best in terms of breathability, although some high quality synthetics are a close second. This means that for high-exertion activities where you will be working up a sweat (think ski touring, cross-country skiing, biking, and climbing) it's probably worth spending more to get a higher performing baselayer like the all-merino SmartWool NTS 250 or synthetic Patagonia Capilene. Craft's Active baselayer is another very breathable synthetic option. Spending less, particularly on a thick baselayer, will yield less breathability. Whether or not that's a deal breaker is up to personal preference and your tendency to overheat.

Odor Prevention
Merino wool excels at pulling moisture away from your skin and does a great job avoiding any stink build up. If you're taking a multi-day backcountry trip and don't want to carry multiple baselayers or rinse them each night, merino wool is the way to go. Synthetics do fine for odor prevention, provided you aren't working up a huge sweat. We've hiked for extended periods in Patagonia's Capilene in cool weather and it's held up just fine. But nothing beats merino in keeping you dry and odor free.

Durability
Here is where the tide changes: merino is super soft but prone to developing small holes over time that eventually hamper the performance of the product, whereas synthetics should last for multiple seasons. To put this in perspective, we usually get a season or two out of a standard merino baselayer, even from the top brands and by following their washing instructions (cold water and line dry). Admittedly, these shirts get a lot of use, but that's still a very short lifespan. But with synthetics, one or two seasons would be on the short end of the spectrum and we would hope for more like 3 or 4.
Some companies are blending wool and synthetics to increase the strength of the baselayer without compromising next-to-skin comfort, which is a good idea in our opinion. We haven't noticed much of a drop off in terms of comfort or performance, but merino/synthetic blends are a step up in durability.

Crew Neck vs. Quarter or Half Zips
Nearly every baselayer on the market is made in a number of styles, including long-sleeve crew and half/quarter-length zippered shirts. Most folks opt for a crewneck style, but there are number of reasons to think about a zippered shirt. One upside is the ability to adapt to changing weather conditions. Zip up for added warmth at the start of the climb, and unzip as you work up a sweat. More, the extra coverage you get with the raised collar is a nice boost in warmth. We've found the quarter or half zip long sleeves also have a decent look for around town. The downside is the collars can flop around if you unzip the shirts while running. And having a zipper on your next-to-skin layer isn't as comfortable as the cleaner crew style. As a result, zippered shirts are commonly used as lightweight midlayers.

Fit
To perform best, baselayers do need to have a snug fit. This helps the fabrics draw moisture away from your skin most efficiently. Some folks like wearing their baselayers for casual use, and that's when a dedicated performance product like the Ibex Woolies is less useful. The shirt conforms to your body like a performance piece should, but it's far too tight to wear anywhere else. A product like the Icebreaker Everyday long-sleeve is on the opposite end of the spectrum, with a roomier fit that sacrifices a little in moisture wicking and breathability, but is a great choice for those that prefer a dual use baselayer/casual shirt. In the end, your decision is a personal one, and we recommend looking at fit based on intended use and preferences on style.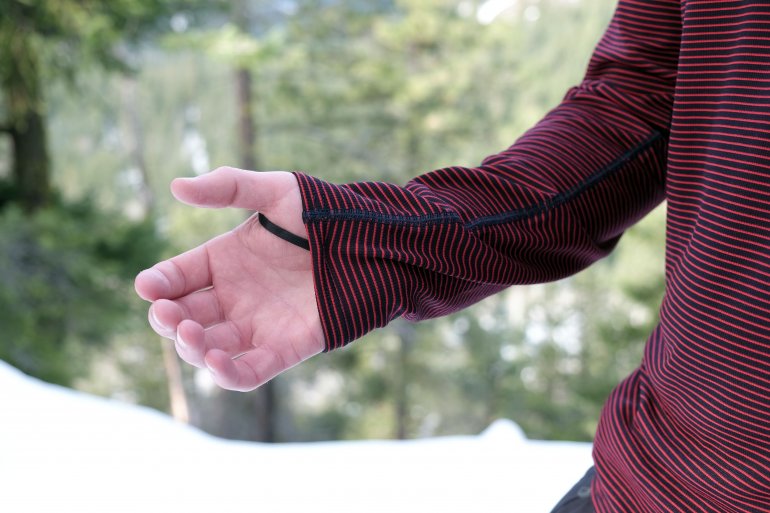 What About Baselayer Bottoms?
Every baselayer on this list has a matching bottom with the same construction and a similar or identical price. For organization sake, we list the tops here as they are more popular, but the bottoms are readably available and share the same pros and cons. With getting too graphic, one thing to keep in mind with baselayer bottoms is that many people still wear underwear beneath, and particularly for high exertion activities. It's not mandatory from a comfort perspective, but it will extend the cleanliness of your baselayer, and particularly if you're wearing a synthetic.

Layering Systems: Mid and Outer Layers
To get the most out of your technical clothing, it's important think of everything as a system. Each piece relies on the layers around it to perform well. As an example, if you have a baselayer that wicks moisture well, but your mid or outer layer doesn't, it won't matter how nice of a merino fabric you have: you'll still be wet and miserable. As such, take the time to put together mid and outer layers that are as high performing as the baselayers listed above.

Midlayers
For high output activities, such as hiking, backpacking and climbing, breathability is top priority. We recommend a fleece jacket or synthetic jacket for balancing warmth and ventilation. High performers include the Arc'teryx Atom LT and the R line of fleeces from Patagonia. If you only plan to grab your insulating layer during downtimes, such as hanging around camp after the sun goes down, consider a warm and super packable down jacket. Skiing is a similar story, and conditions will dictate the best midlayer for you. Options can range from a puffy down jacket to a light fleece.

Outer layers
Outer layers are the most specialized part of the system, and their complex designs can get quite pricey. A waterproof, breathable and packable rain jacket is needed for activities like climbing and hiking/backpacking. Winter conditions are much harsher, so durability takes precedence for ski jackets. Their designs offer more pockets for storing gear or personal effects and a longer fit to protect you from snow sneaking through. There are a few backcountry ski shells that blur the lines, but it's most often a good idea to use a shell that's been specifically designed for the activity.
Back to Our Top Baselayer Picks Back to Our Baselayer Comparison Table
Learn More About Outdoor Gear